I am so, so happy to be writing this feature. Since I met Caroline Arthur at the launch of one of her earlier collections, she's constantly been on my wedding radar as one of the loveliest, most talented designers around.
Caroline, as you're about to find out, does things a little differently and she just exudes passion and joy. We thought it was time that you met Caroline the couturier and what better setting could there possibly be than the National Trust's gorgeous Ham House.
Photography by Alexander J Collins, location provided with thanks to the National Trust, Ham House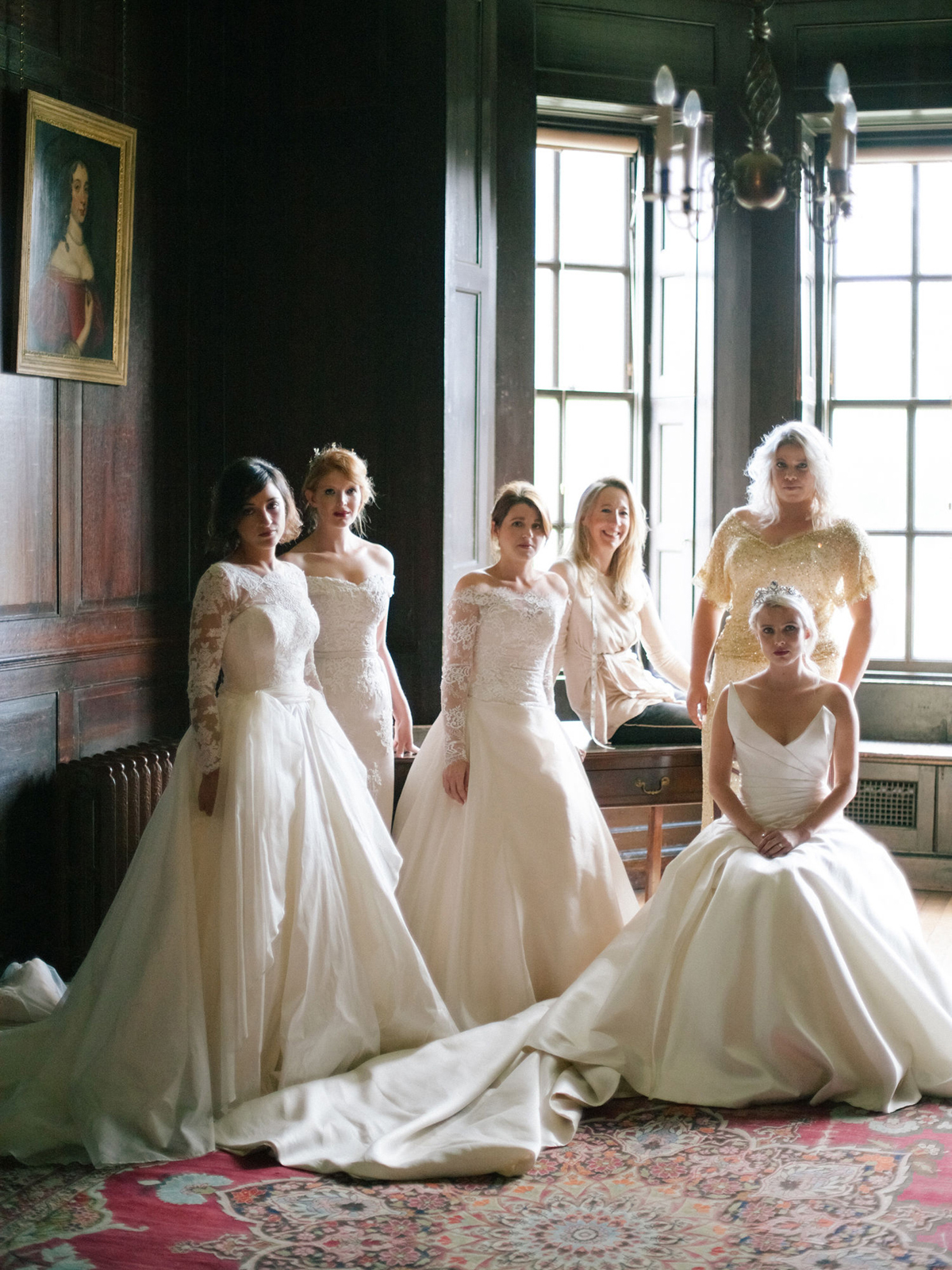 Caroline, please introduce yourself to our readers…
"I would describe myself, at heart, as an authentic, dressmaker geek. I'm known for designing breath-taking bespoke gowns. Abigail, one of my brides, says that '… Caroline creates THE most wonderful wedding experience. As well as being one of the most lovely people on the planet, she is also an incredibly skilled designer/seamstress. She went above and beyond to help me create my dream dress and made every step there such a beautiful part of the journey. She is incredible at listening and has this perfect way of bringing life and expression to your ideas…'"
"With many years developing my technical sewing skills, I feel now I can prioritise putting each individual bride at ease, threading my calm, friendly, experienced approach seamlessly through the whole bridal gown journey. Behind the scenes, I love to work quietly at my leafy Surrey atelier, absorbed in the unseen, painstaking and thoughtful process, sketching, draping and sourcing the finest materials."
"I was taught to sew by my mother, and encouraged by my extended family of hobby dressmakers, I did an Italian degree, went on to study couture bridal wear at the London College of Fashion, and I have an absolute passion for inspiring individuality."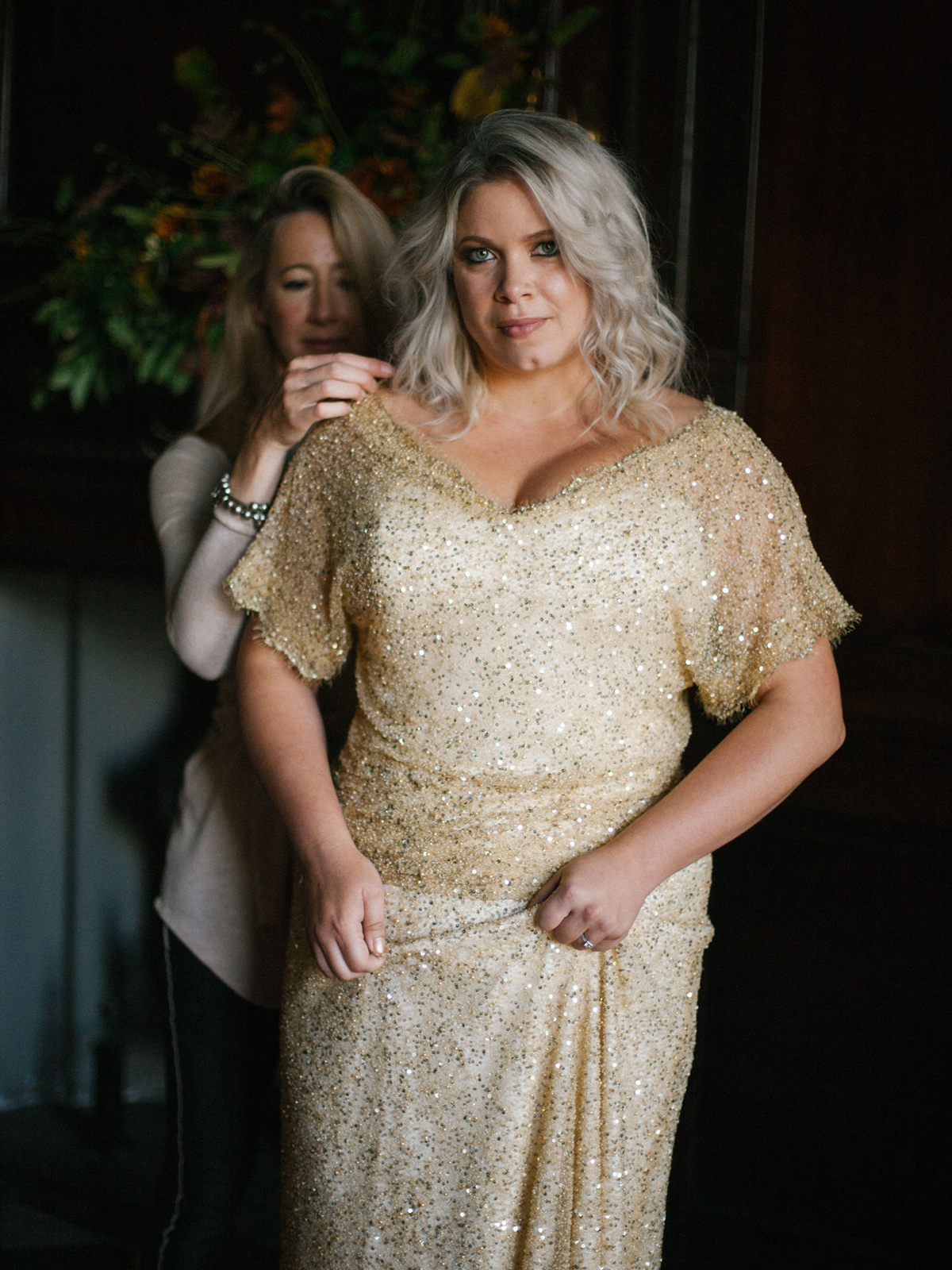 How long have you been designing for now?
I have been designing and making custom gowns for the discerning and creative bride for 17 years, and love working collaboratively with brides during their fittings, to incorporate their ideas into a perfectly fitting bridal gown. Another of my brides, Mary says '…Caroline is so calm and friendly and reassuring, I was never worried that she'd make anything less than perfect, and she continually gave thoughtful suggestions on how it could be that bit more special.'"
You provide a wonderful and unique 'design your own dress service'. Can you talk our readers through how this works?
"CoutureKit has evolved as a FREE simple online design tool that every bride can use to help edit the whirlpool of ideas, which inevitably begin swirling around, once the wedding dress journey begins."
"From listening carefully to our brides, we found many liked the top of one dress, the skirt of another or they like the embellishment of one, but the fabric and colour of another. CoutureKit provides a fun, online platform for brides to explore different silhouettes BEFORE coming for a consultation, and without having to try on 100s of dresses."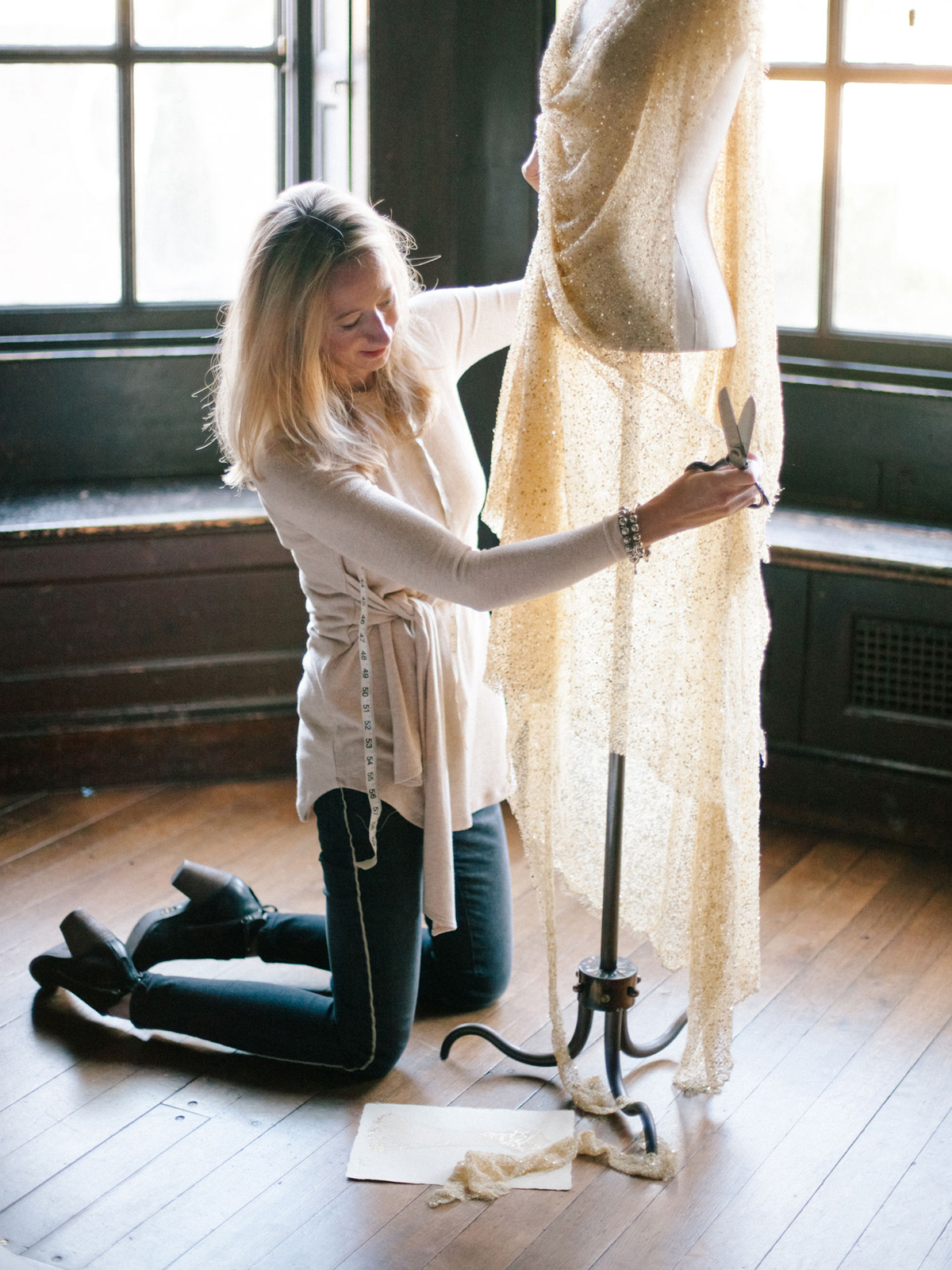 Your beautiful studio is located within the grounds of a National Trust property – tell us about this?
"I am so proud to be the first designer to have been approached by the National Trust, to have our London boutique at Ham House in Richmond and I know our brides love it too. Sophie says that she '… fell in love as soon as I walked through the door! Caroline has the most beautiful studio and the most gorgeous dress pieces. Everything about this place is a bride's dream world!'"
"This is a unique collaboration, in which we use the Parlour Room within the main House, to see our brides for appointments, and in return, we support this treasured charity by buying gift National Trust membership for our London brides."
"Our recent photo shoot at Ham House showcases many of the stunning rooms within this historic property, and features me in my element, at work with my fabrics, brides and sketchbook, in the Parlour Room itself. For me, this was also a very special and emotional day where I was reunited with five of my real brides who came and wore the gowns I had created for them for their own weddings."
What can our readers expect on visiting your studio for the first time?
"When you come to see my team and I, you can expect a warm welcome into a fun, relaxed, creative world. We have boutiques in both London (Ham House in Richmond), and in Surrey (Wildacre, my main studio, home and atelier). Our brides describe it as an amazing experience that's totally unlike trying on a dress from a rack in a shop."
"Instead, you will find a luxurious collection of fabrics; separate samples of all the template silhouettes shown on the CoutureKit app, and a generous range of shapes and sizes, which means we can guarantee there will be may beautiful options to try. This 'mix and match' system allows brides-to-be to experiment in real life with a number of different top and bottom halves, to find a design which really suits you. In effect, you can basically design your own dress!"
"We have a beautiful selection of stunning veils and accessories from the best of British suppliers, and most importantly, we have the skill and dedication to draw YOUR vision, to sketch your dream gown, and to help hone your bespoke gown ideas into the prefect dress for you."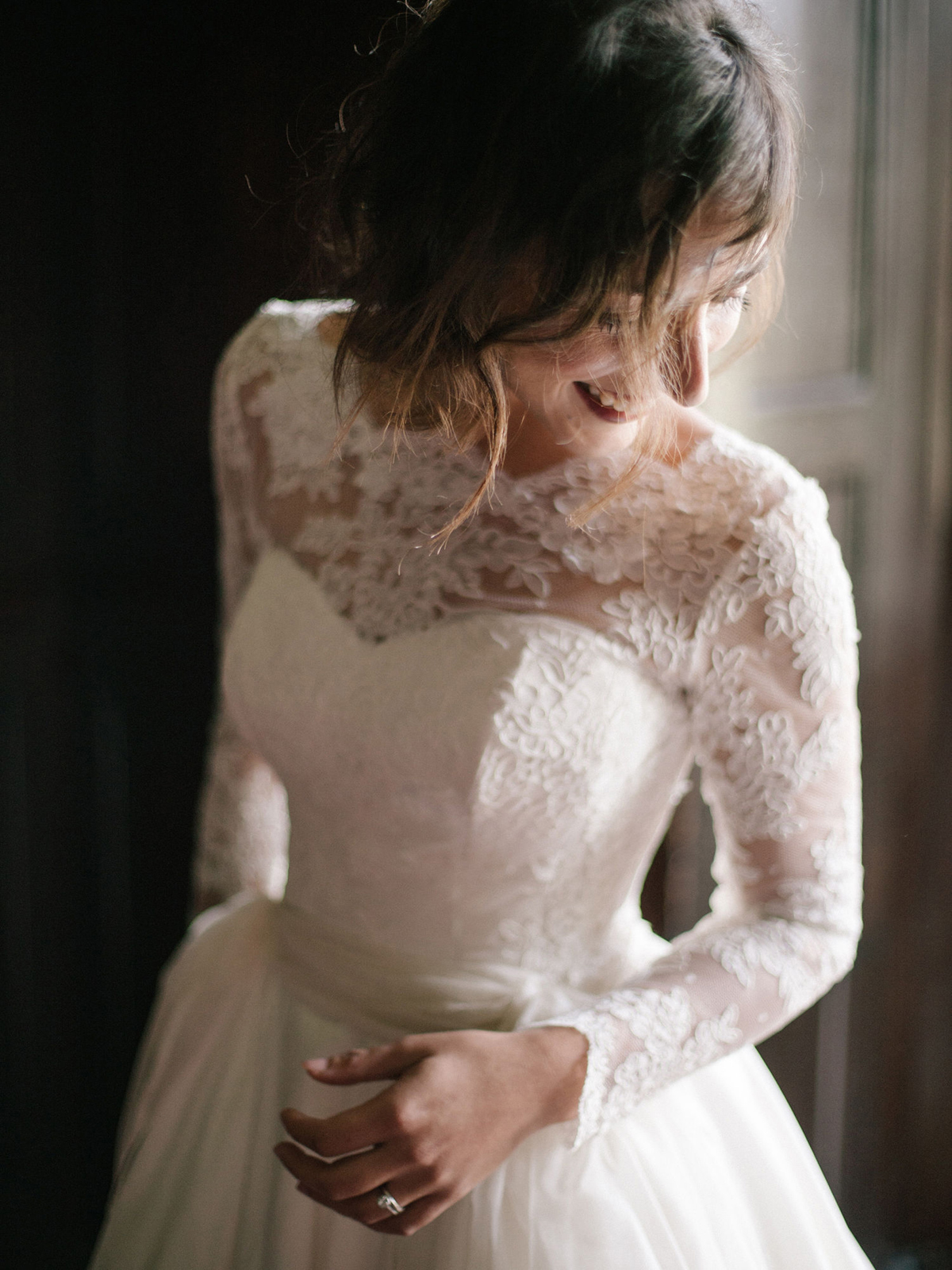 Many of our readers simply don't know where to start when it comes to their wedding dress – what would you say to them?
"I believe weddings are all about friends and family. I would always suggest asking those close to you for a recommendation or advice – they know you well, and have your best interests at heart. They also know how you like to dress, and within your own network, you'll often find there is a connection somewhere with a bridal shop, a dressmaker, a designer, just to start you on your journey."
"We understand the choice for a newly engaged bride-to-be can be overwhelming, but trust your own instinct, and if you don't feel comfortable in a particular shop or with a particular supplier, then move on. We love to really get to know our brides, and try to make the experience as relaxed as possible. We have already distilled the main elements of a wedding dress through our CoutureKit framework, allowing you to swiftly identify your ideal silhouette, and then free your imagination, to focus on the details and original features of your vision, which make it unique."
How long does the process of creating a bespoke dress take?
"To make the perfect gown takes as long as it takes, and we are proud to make our gowns here in Blighty. A made to measure gown usually takes upwards of 40 hours to measure, cut, stitch and fit, spread over the four months preceding a bride's wedding day. But our adaptability is legendary, which is probably one of the reasons we get so many recommendations."
"We believe strongly that our precious brides should not have to worry if they find they change their mind about some details of their design, or they find their weight changes…this is real life, you are the bride, and it's not your problem. You have something made because you want it like you want it, and it is our job to ensure it fits beautifully on the day."
"Another of my brides, Carole, says this about her experience: 'Watching my dress then evolve from the page to reality was such a pleasurable experience I would love to go back and do it all again. Caroline is a true master of her craft, I trusted her every step of the way. I was honoured to wear the beautiful dress she created for me.'"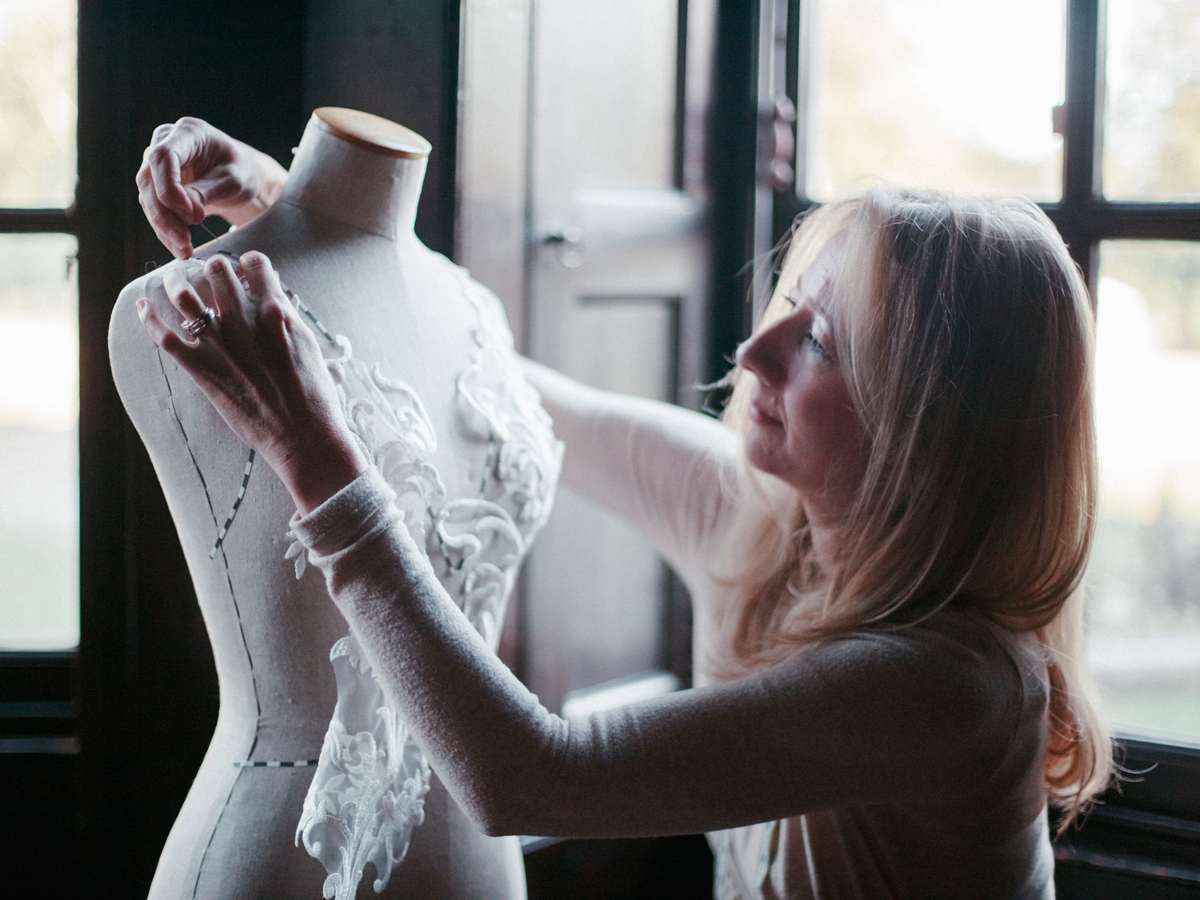 Tell us what you love the most about working with brides?
"My favourite thing about working with brides, is that the world slows for a moment. The choosing of a gown is something to take time over, something to experience your own way, either alone or with friends and family."
"I love the simple pleasure of being allowed to join a creative bride at a precious time in her life, and having a window on her life, loves and passions. Every day, we see fabulous, inspiring, stylish women (whether or not they think they are), full of joy, hope and laughter."
What's the favourite part of your job?
"My favourite part of the job is my freedom of choice. How I spend my time, how I can adapt it to spend time with my family, how I react to others, and how I can support and nurture young dressmakers, who I love to mentor and coach. Jenny, an aspiring bridal dressmaker says that I'm 'passionate about helping the next generation of seamstresses.' But mostly, it is the rare and magic opportunity to liberate those around me to be creative, to relax and have confidence."
Wow! Thank you Caroline – it's been a huge honour to step into your world.
Caroline Arthur bespoke bridal gowns are silk lined and made in the UK, starting at £2500. It usually takes a lead time of around 6 – 8 months to create a gorgeous custom made gown so if you would like to find out more, I'd urge you to get in touch with Caroline. In the meantime, why not visit her website and start to build your dream wedding dress with CoutureKit. Enjoy yourselves – I know I have!
Love,
Tamryn x