I don't know about you, but I absolutely adore flowers, and often think being a florist would be my absolute dream job (if I knew my gladiolus from my gerberas, which I don't).  Today's glorious peach-filled London wedding is stuffed with the most wonderful blooms and laughter- a real delight.
Georgina (known as George), Operations Director at Seedlip Drinks (who are founders of the world's first distilled non-alcoholic spirits which, according to our founder, Annabel, are utterly delicious), and Gavin, a firefighter, married on the 28th July 2018 at Loft Studios, London. Through their wedding, the couple brought together their family and friends in a fun filled and joyous Jewish wedding ceremony.
"We soon started to form an idea of what our day might look like; you might summarise it as coppers, concretes and greenery and that ended up flowing perfectly through our stationery, our engagement shoot, gifts for the wedding team and then onto the day itself."
Photography by We Heart Pictures
Hector of We Heart Pictures was the talent behind these light and love filled photos, and I'm delighted to welcome him back to the blog once again.
"From our first emails and Skype calls with Charlie and Hector we were so excited to work with them.  We had an engagement shoot with Hector around Granary Square / Kings Cross and he made us feel so relaxed, happy and at ease.  When we saw the photos from this shoot we simply couldn't wait to have him shoot our big day.  He was very unobtrusive, slotted into the flow of the day easily and captured the whole day perfectly in a style that mirrored our personalities and the relaxed and happy feel of the day. We couldn't recommend him highly enough."George's fabulous gown and veil were made just for her by Chenca Williams at Ritva Westenius, and what a gown she created.  I adore the cheeky lace cutout section at the waist, and the super elegant silhouette.
"With Chenca I was able to design from scratch my perfect dress. I can't say it was the dress of my dreams as I had no idea what I wanted, and that's where Chenca made all the difference.  By the time we finished the dress and I got to wear it on the day, I couldn't dream myself in anything else!"
On her feet George wore cool chunky heels (Carvela from Kurt Gieger), while for perfume she chose her favourite 212 NYC by Carolina Herrera.
"I chose to wear a selection of jewellery given to me at various times in my life so far, plus a watch from my mother.  These were a pair of pearl earrings (a 21st birthday present from my parents) a bracelet which was a Batmitzvah present from my grandma and a bracelet which was an 18th birthday present from godparents."
The bridesmaids matched the colour scheme perfectly in bespoke blush satin skirts (made to match the David Austin Juliette Rose used in the bouquets), paired with a variety of tops from the separates range at BHLDN and paired with nude sandals and a rose gold bracelet from Skagen.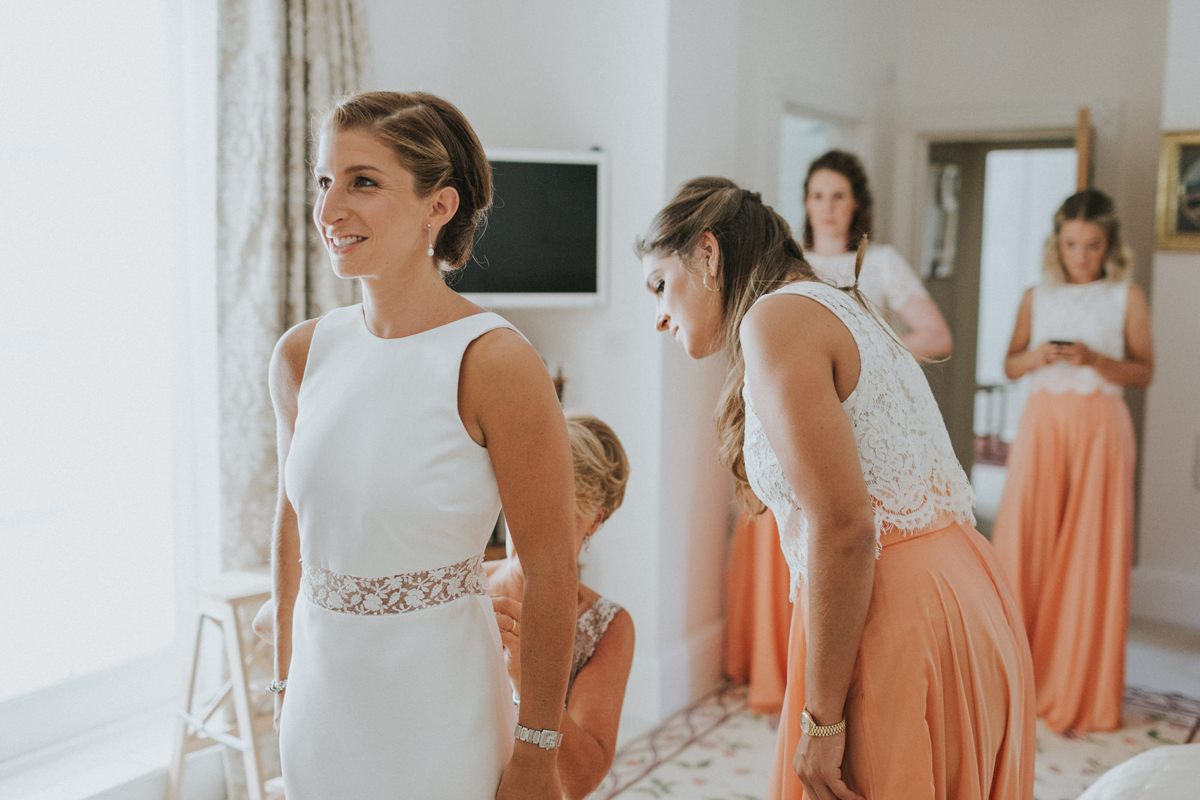 George wore her hair in a braided up do with plenty of volume and chose a very natural make up style, both of which were the work of stylist and make up artist Karen Mason.
Gavin's nephews were pageboys and looked very smart in trousers, shirts and braces from H&M, paired with Converse.
Gavin lived and worked south of the river and George describes herself as a through-and-through North London girl, but their paths crossed one afternoon when Gavin's fire truck was sent to cover a shift in Camden and through the app Happn, they matched online.  A few weeks of chatting was followed by a year of dating before they moved in together and after another eighteen months they got engaged on Wells beach in Norfolk.
"Gavin was brought up Christian with his family being active members of the Salvation Army (though he is not religious himself), while I am a reform Jew and feel my religion most strongly through my family and heritage. We reached out to my rabbi to understand how he could work with both our family values and background to give a Jewish Religious blessing that was authentic and respectful to these."
"The result was a two-part wedding ceremony – with the first part being a standard civil wedding officiated by Hammersmith and Fulham, and then the second half being a Jewish Blessing during which we exchanged vows and had religious elements relevant to both our families – focusing on families and values."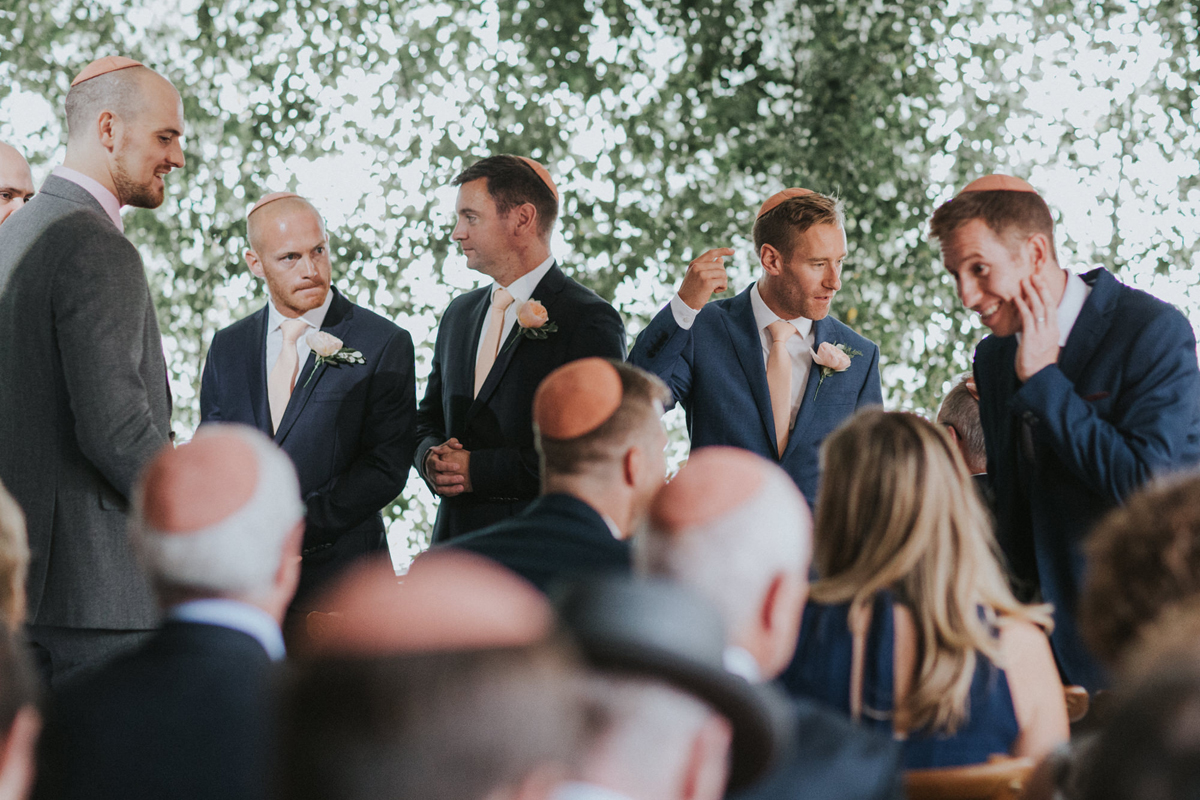 George's two-year old niece was flowergirl in a dress from Marks and Spencer, shoes from Converse and a little bracelet from Pandora.
"On the day she didn't want to wear her flower crown, and chose to wear her sunglasses instead.  We wouldn't have had it any other way!  She's a little red-haired fire cracker, and she was a joy on the day (even if she did scream "I want the big flowers!" in the middle of the ceremony)."
Gavin waited at the end of the aisle in a suit by Richard James, paired with shoes from Dune and a blush tie from Swagger and Swoon (who were able to colour match to the bridesmaids skirts perfectly).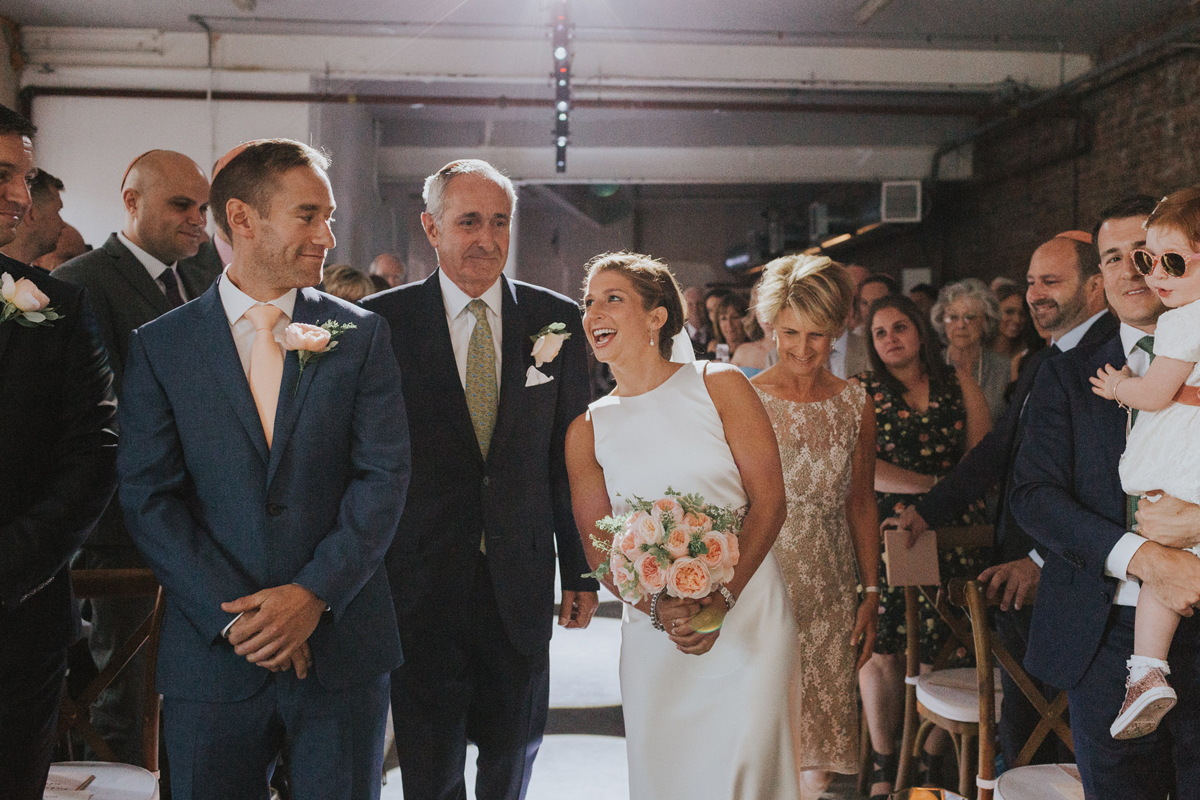 "I was walked down the aisle by both my Mum and Dad.  I have a very close relationship to them both (and them to each other) and I wanted to be given away by both my parents.  We walked in to our string quartet (Fortissimi Strings) playing 'Viva la Vida' by Coldplay)."
"We read the following vows to each other, which were taken from the covenant we had written up with the Rabbi and signed in a ceremony in our home a couple of weeks before the wedding:
1. We commit to building a Jewish home that is warm and welcoming – a place where family and friends, both present and future, feel relaxed and at ease.
2. We will continue to push each other to learn and explore – through adventure, travel and experiences.
3. We commit to never stop laughing, and to never stop having fun.
4. We agree to raise any future children with an awareness of their heritage, open and accepting minds and a love for life.
5. We commit to continue respecting each other, as equals, in all aspects of our life."
The couple chose two readings, one humorous ('He Never Leaves the Seat Up' by Pam Ayres) and one serious (an extract from George Orwell's 1984).
"The 1984 reading was in recognition of our dog Orwell who couldn't be there (too naughty) – but also a poignant recognition of the power of love – and that other people might not get it, but it's a feeling that can't be altered."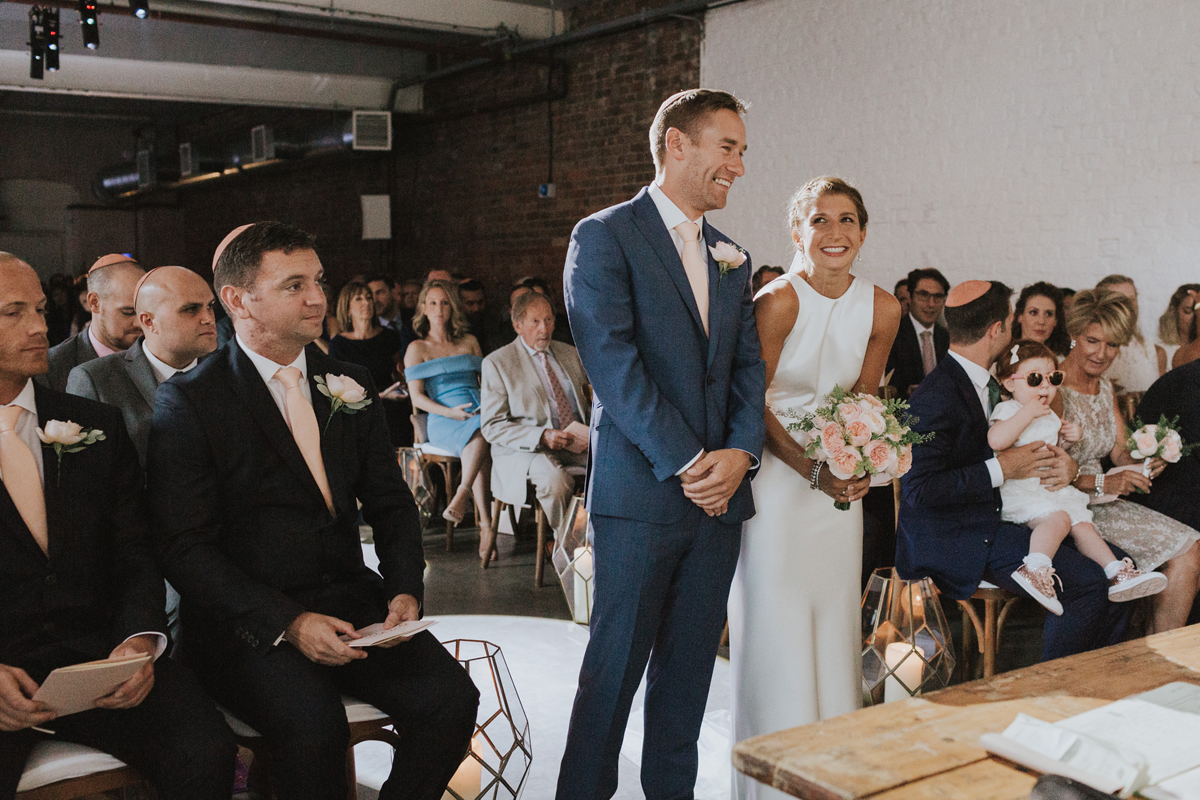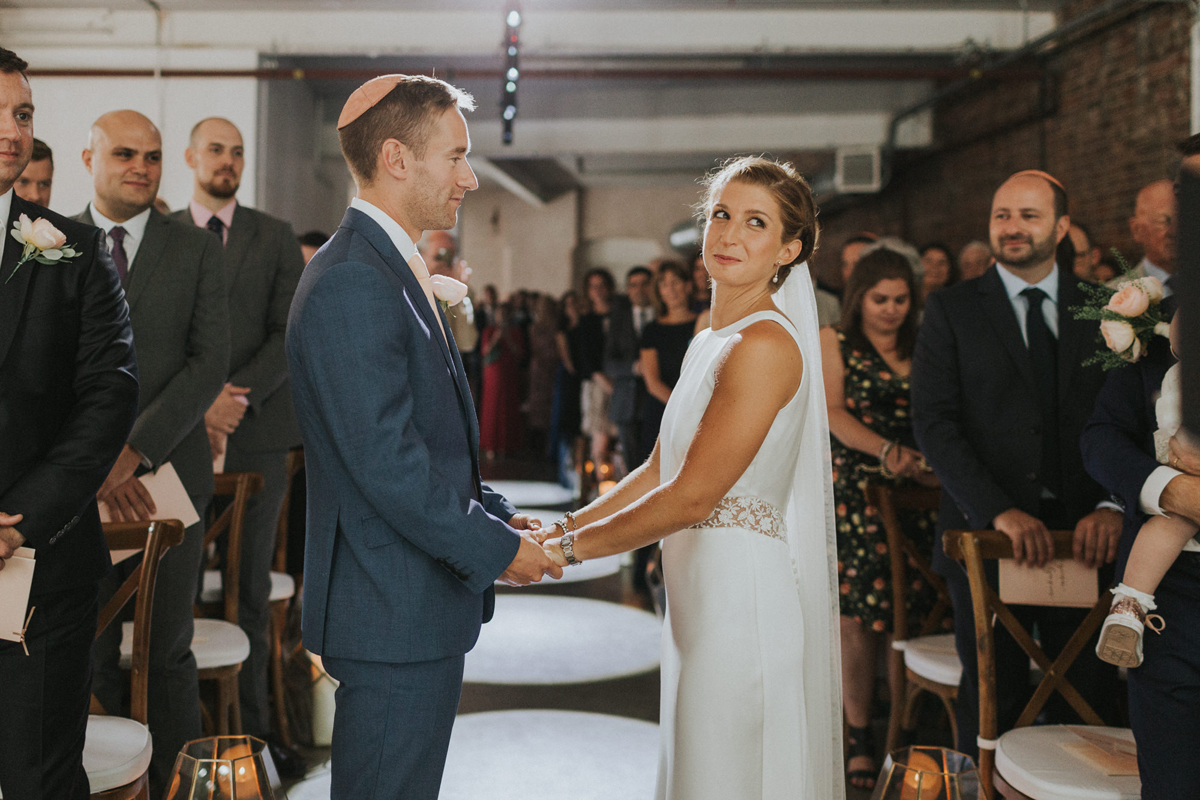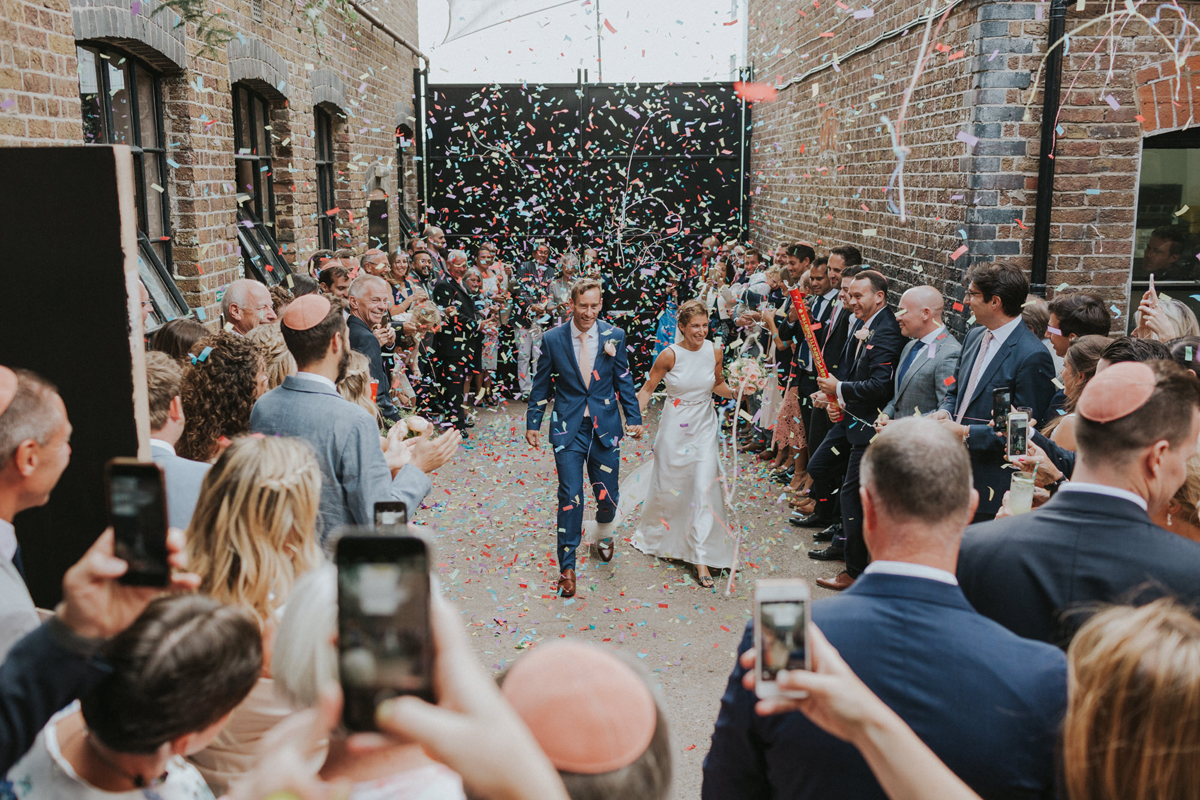 "We were hugely privileged (and lucky) that Gavin's cousin is Paul Thomas – a top London florist, with previous experience of Royal weddings and the like.  He was hugely excited to work on something a little out of his normal realm and we gave him and his event planner Jess free rein. We didn't have a clue what kind of flowers we wanted, but when we showed Paul and Jess our mood boards they found the absolute perfect single flower to tie it all in together in David Austin's 'Sweet Juliet'."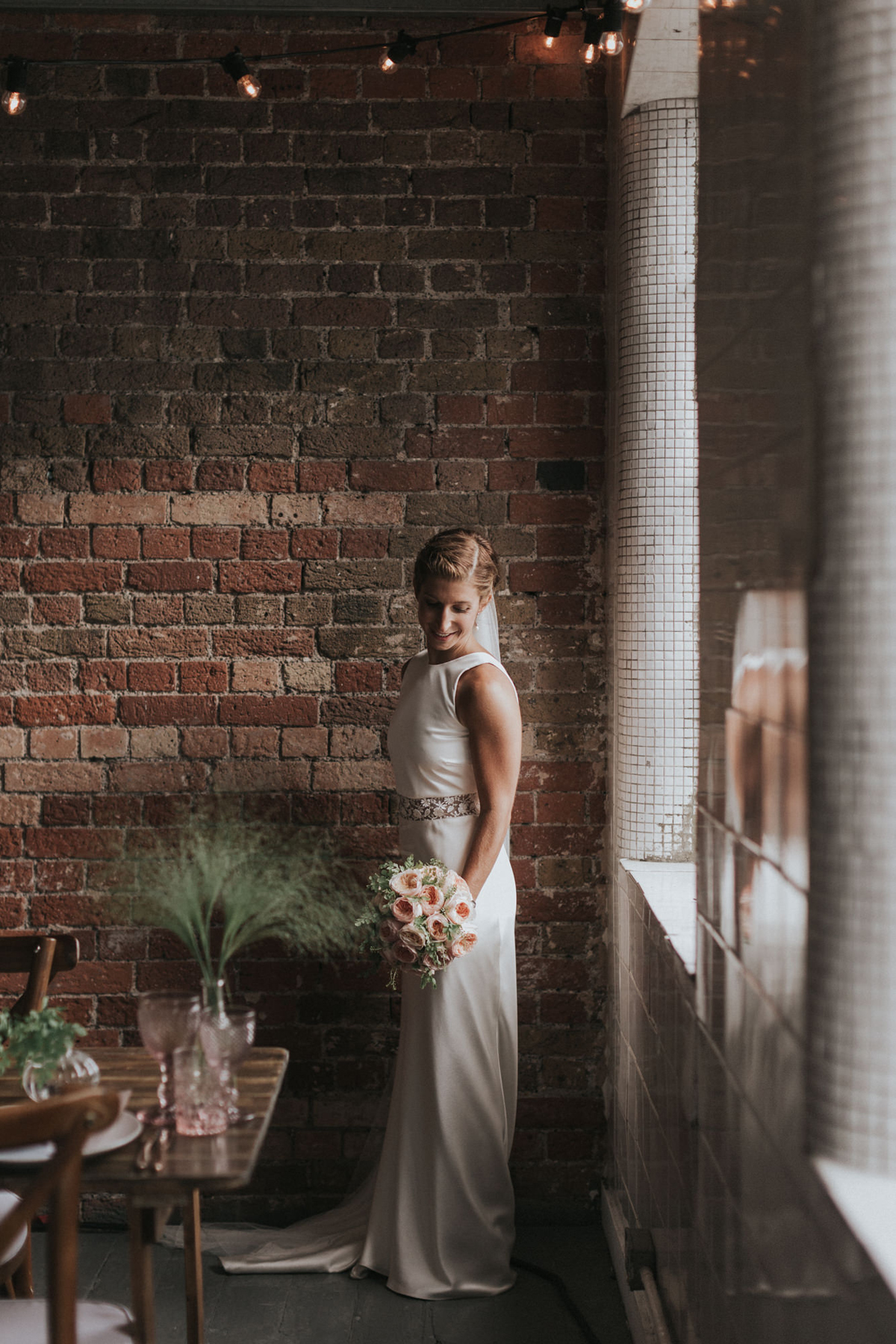 Table decor was the work of florist Paul Thomas and his team.  George and Gavin added to the styling with six copper and marble poseur tables found on Gumtree, a copper-sprayed metal grid as a table plan and festoon lighting throughout and the overall effect is gorgeous.  I love the peach glassware.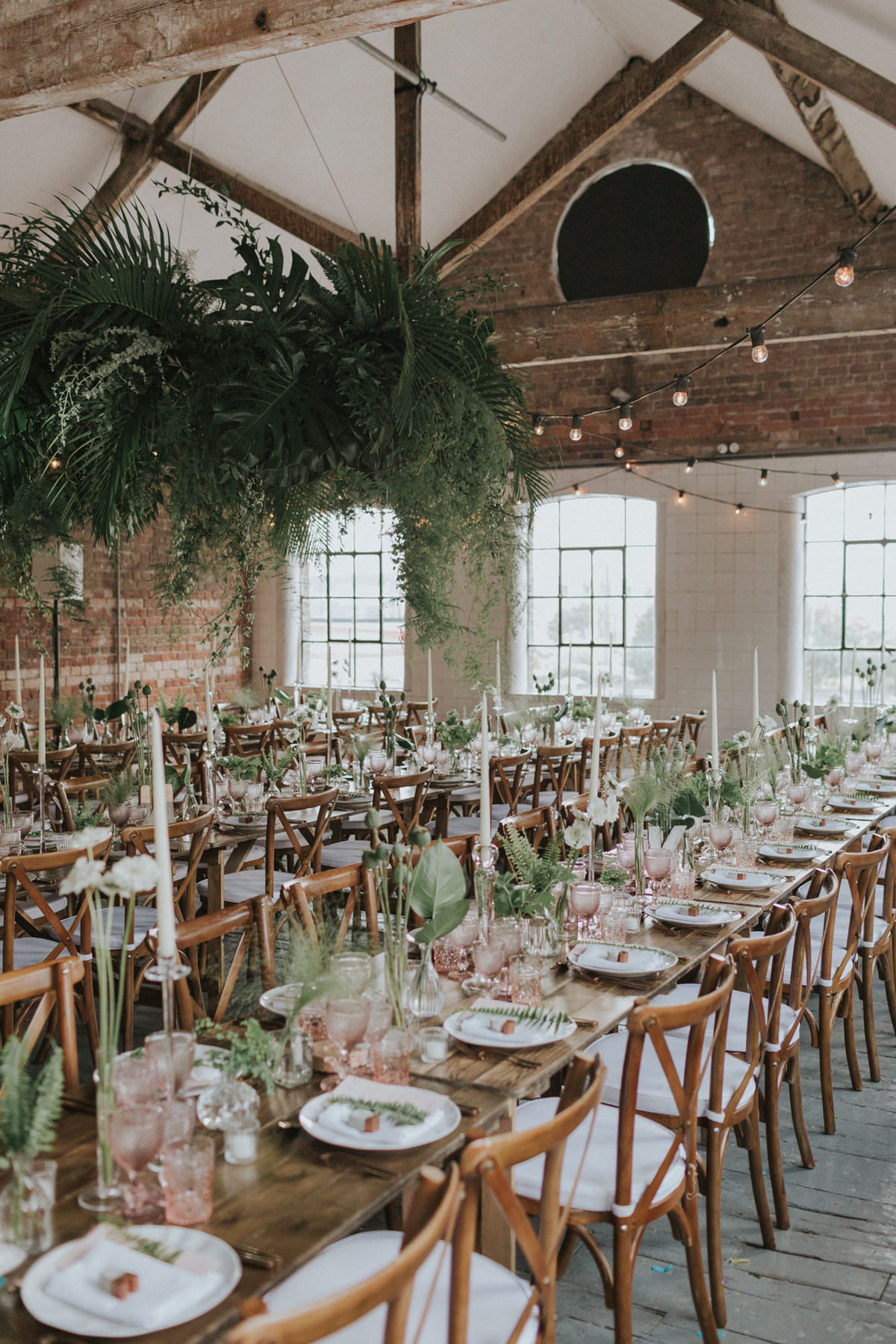 Stationery was designed by Lauren Cooper of Oh Wonder Calligraphy.
"With Lauren we bespoke designed our invites, table places/menus, individual name cards, and order of ceremony booklets.  They were absolutely a key part of pulling the whole day together."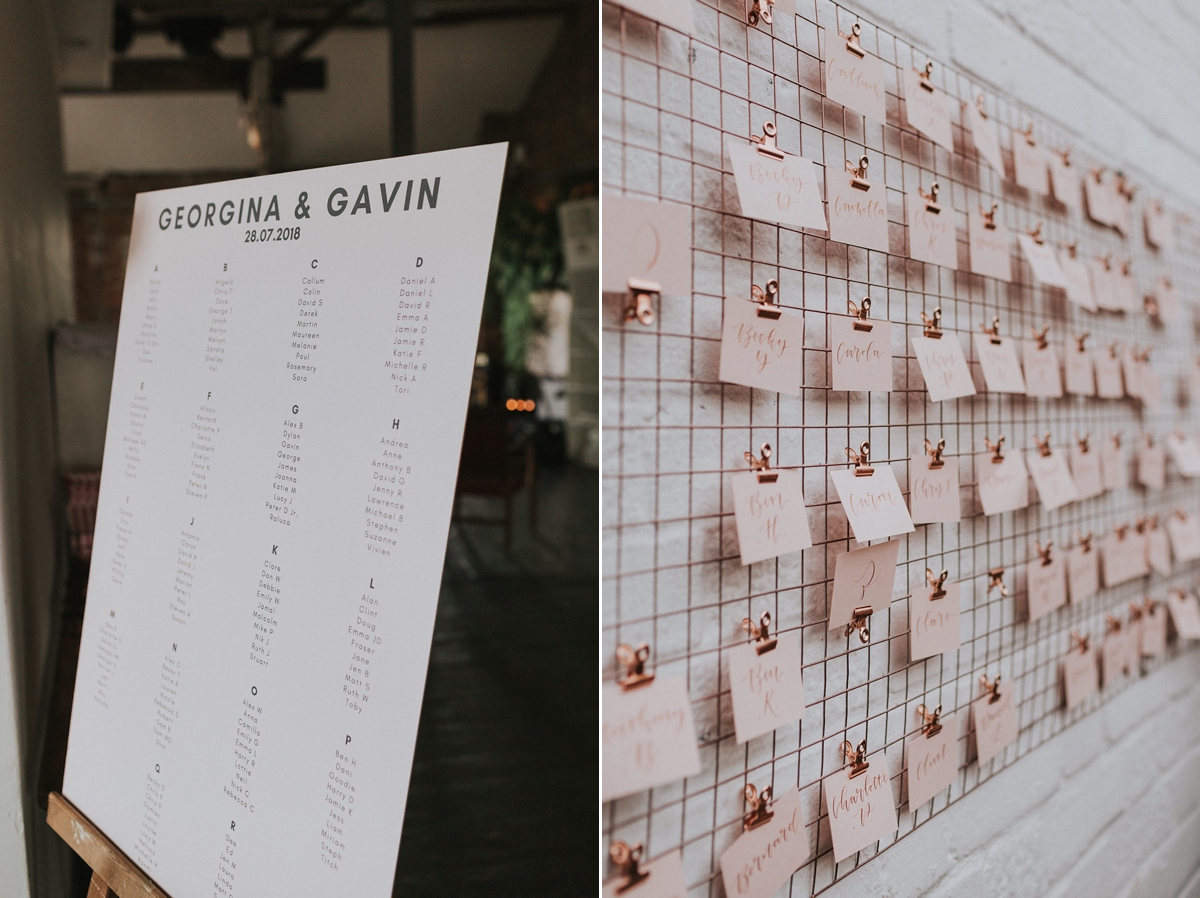 "Every guest got a hand-made concrete and copper painted letter as a gift.  These were all hand made by us and was a long, long, long task – but having these hand-made personal touches meant a huge amount to everyone on the day.  Each table also had a table letter (rather than number), also hand made."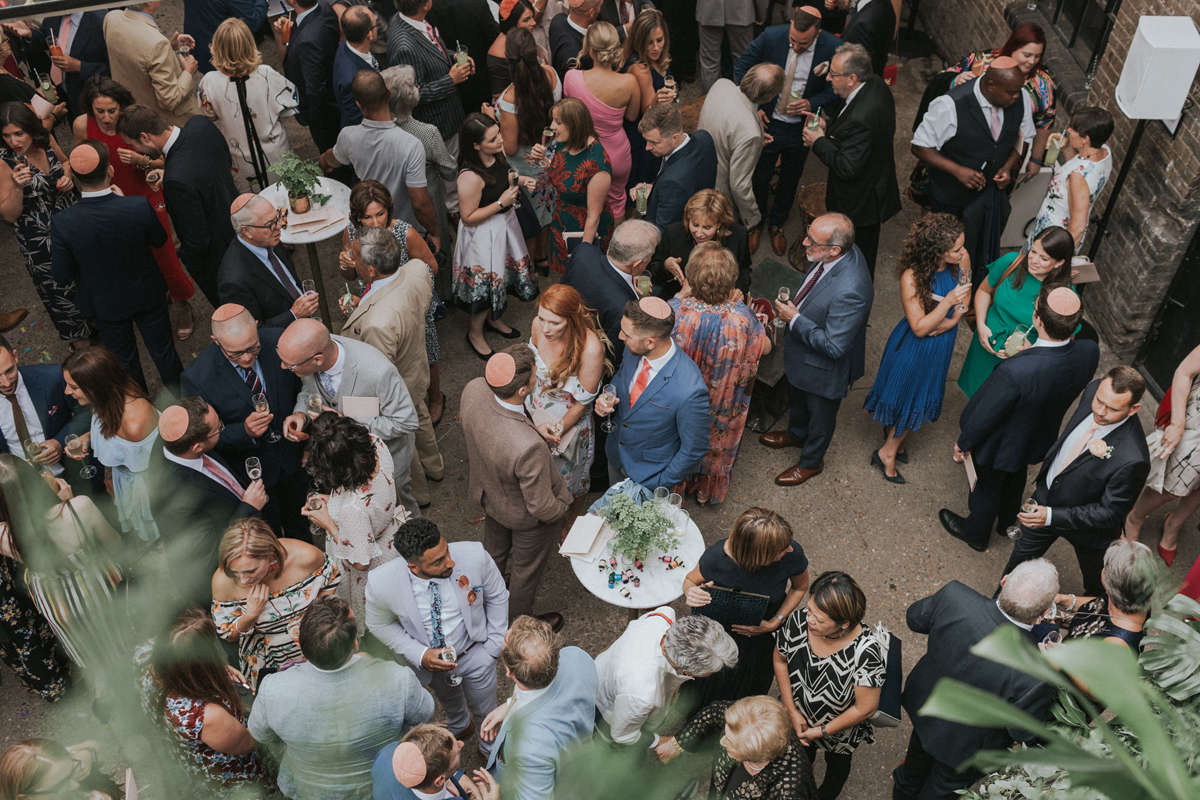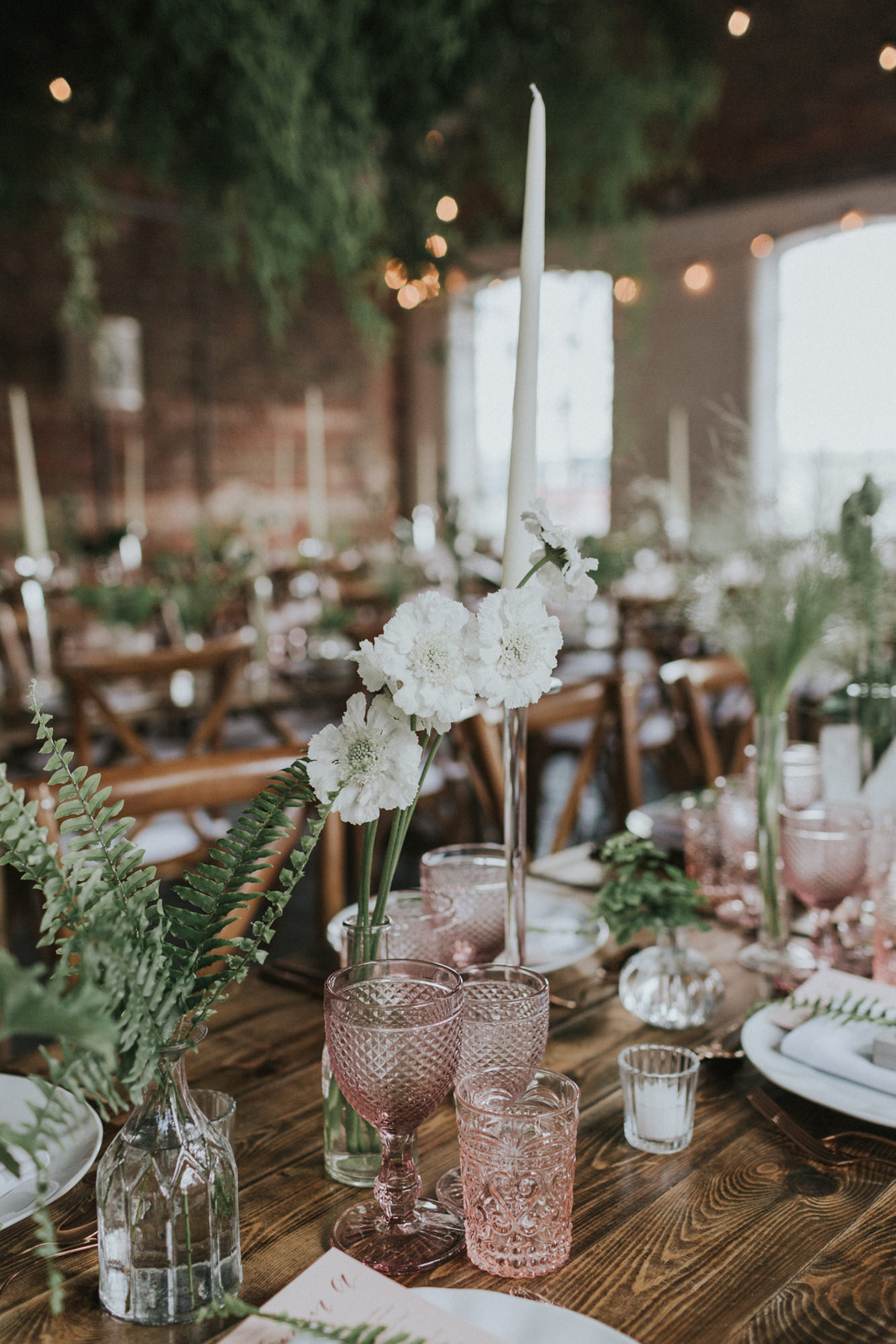 Evening entertainment came in the form of the London Party Band who kept the dance floor full and allowed George to pull on her personalised white Nike ID trainers for the evening dancing
Words of Wedded Wisdom
"Share the organising and excitement of planning the day with your partner – don't do it all yourself!  This is an experience to be shared, and so should be the planning.
On the day, don't be scared to let go and let others deliver your plan."
"Pack yourself some comfy shoes so that you can jump around and dance and enjoy the party.
Be present with your friends and family, but share the day with your new husband and find the time to share it alone together."
So many thanks to George and Gavin for sharing their beautiful day, and to Hector of We Heart Pictures for these fabulous photos.  Although winter draws ever closer and blooms are not exactly blossoming right now I'm more inspired than ever to indulge my flower passion and maybe learn the differences between a daisy and a daffodil (I do actually know that one…) before spring!
Much love,
Shona x