This weekend I am attending a family get-together to celebrate my Grandfather's 90th birthday, so this beautiful family-orientated Swedish wedding really resonated with me, particularly the bride and groom's beautiful engagement story.  You're in for a treat today, lovely readers, I hope you enjoy it as much as I did.
Meet Rachel and Rich, who married on the 30th June 2018 at Stallgården, near Rich's parents home in southern Sweden.  The couple met in 2012 at a company event and the rest is history.  Rich proposed five years later and Rachel tells the proposal story in such a beautiful way. Allow me to introduce the wedding with this beautiful film from Lumos Produzioni, who, alongside photographer Nina Wernicke, captured every moment of the day for posterity.
Film by Lumos Produzioni
"My Grandfather (Jack) met my grandmother (Cynthia) at the foot of Mount Snowdon in North Wales over 70 years ago.  They had a long and happy life together. When Cynthia passed away, Jack and the family took her ashes to be scattered in the place that they met. When Jack passed away (two years after Rich and Rachel met), we went as a family to scatter his ashes in the same place."
Photography by Nina Wernicke
Rachel wore an elegant gown by Enzoani, which she purchased at Surrey Brides, paired with a full-length veil from the same store.  I just love the cut out bodice and the detailing along the edge of the skirt.
"I loved the intricate detail of the lace, the straps and the train.  It was easy to move in and suited my body shape."
Beautiful Stallgården was chosen due to its natural and rustic setting and as Rachel adores lavender, they decided to make this their theme.
"We incorporated Swedish traditions such as any guest being welcome to make a speech, aquavit shots and singing traditional Swedish songs during the meal, the rule that when all guests clink their glasses, the bride and groom must stand on their chairs and kiss, the rule that when all guests stamp their feet, the bride and groom must kiss under the table and the rule that when the groom leaves the room all the men run to kiss the bride and when the bride leaves the room all of the women run to kiss the groom!"
[JP-VIDEO]
On her feet, Rachel wore a pair of heeled sandals by Dune, while her hair accessories were made by her own mum.  For scent, she chose Tiffany Eau de Parfum by Tiffany & Co, while her necklace was also by Tiffany & Co and was a gift from Rich on the morning of the wedding.
Hair and make-up were the work of Jacqueline Fredriksson, who piled Rachel's hair into an elegant up-do.  For make up Rachel opted for a glamorous smokey eye with pink lip which goes beautifully with the relaxed elegance of the day.
The bridesmaids' gowns were from Lipsy London's bridal collection and beautifully echoed the detailing of Rachel's own gown.
Rachel's father accompanied her down the aisle to 'I'm Kissing You' by Des'ree (from the film adaptation of Romeo and Juliet) and the ceremony was led by celebrant Marie Louise Arendt.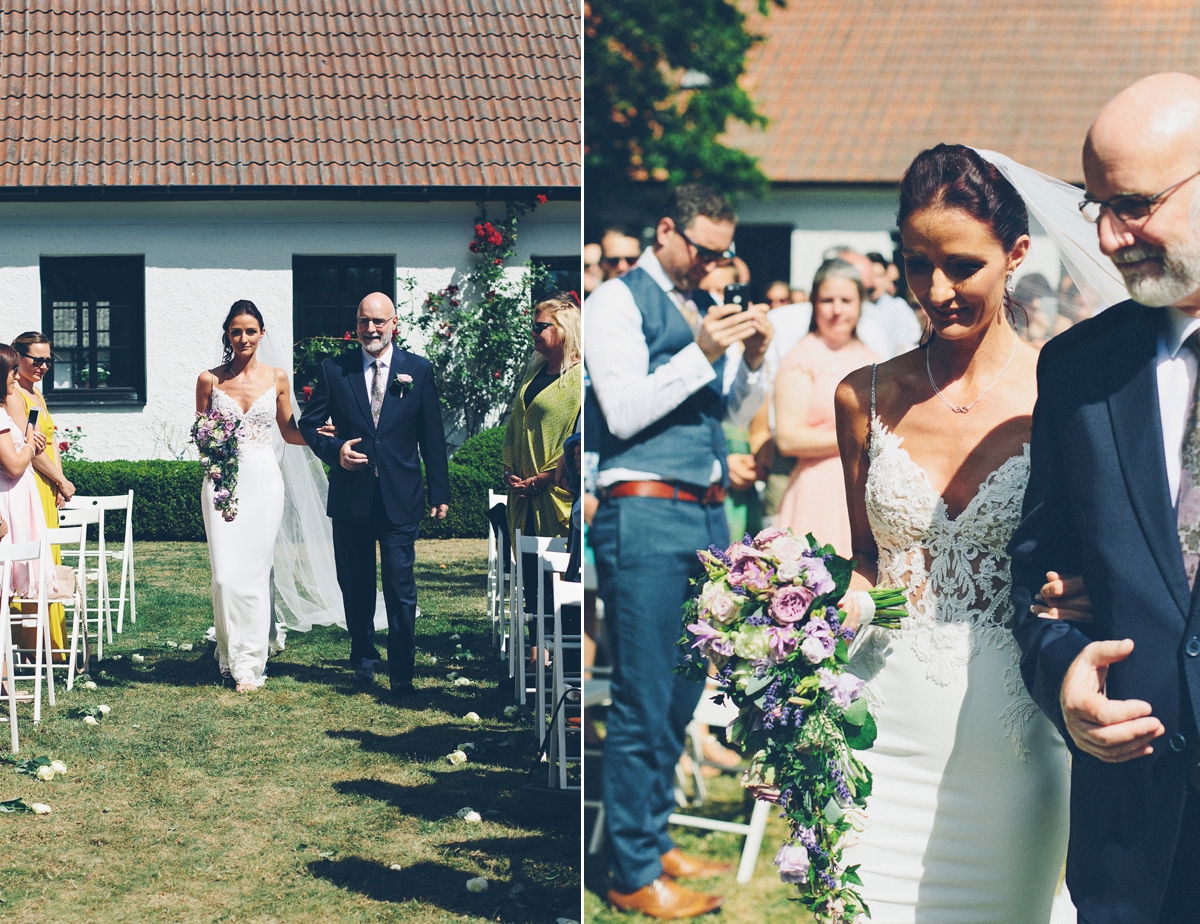 "In June 2017, Richard took me to North Wales to climb Snowdon as a late birthday treat.  We climbed to the peak on one of the hottest days of the year."
"It was a beautiful clear day and we took in every moment.  After the descent we went to visit the place where Jack and Cynthia are resting. "
"Rich referred to the long and happy memories of Jack and Cynthia and knelt on one knee to ask if I would spend the rest of my life with him.  In the beautiful and special moment, I truly believe that my grandparents were with us in spirit."
Rachel and Rich wrote their own vows and spoke them to one another on the day, where they promised to 'celebrate with you, laugh with you and walk beside you through whatever our lives may bring' and to be "faithful and supportive' as well as 'a true and loyal friend'. 
"The ceremony was non-religious and focused on love, trust and the realities of a long and happy marriage."
For readings, they chose 'He's not perfect – you aren't either' by Bob Marley (read by Rachel's mother) and an extract about love (author unknown, extract below), read by Richard's mother.
Sooner or later we begin to understand that love is more than verses on valentines and romance in the movies. We begin to know that love is here and now, real and true, the most important thing in our lives. For love is the creator of our favourite memories and the foundation of our fondest dreams. Love is a promise that is always kept, a fortune that can never be spent, a seed that can flourish in even the most unlikely of places. And this radiance that never fades, this mysterious and magical joy, is the greatest treasure of all – one known only by those who love."
Rich wore a textured blue suit from Ted Baker, paired with a Ted Baker tie, belt and shoes, and a shirt from Charles Tyrwhitt.  His cufflinks were a gift from his parents.
"Nina Wernicke was an absolute pleasure to have with us on the day.  She gave clear direction when needed but captured such beautiful and unexpected natural moments between us."
"The photos are absolutely stunning and we cannot stop looking over them and reflecting on the day.  We are so lucky to have found her and so grateful."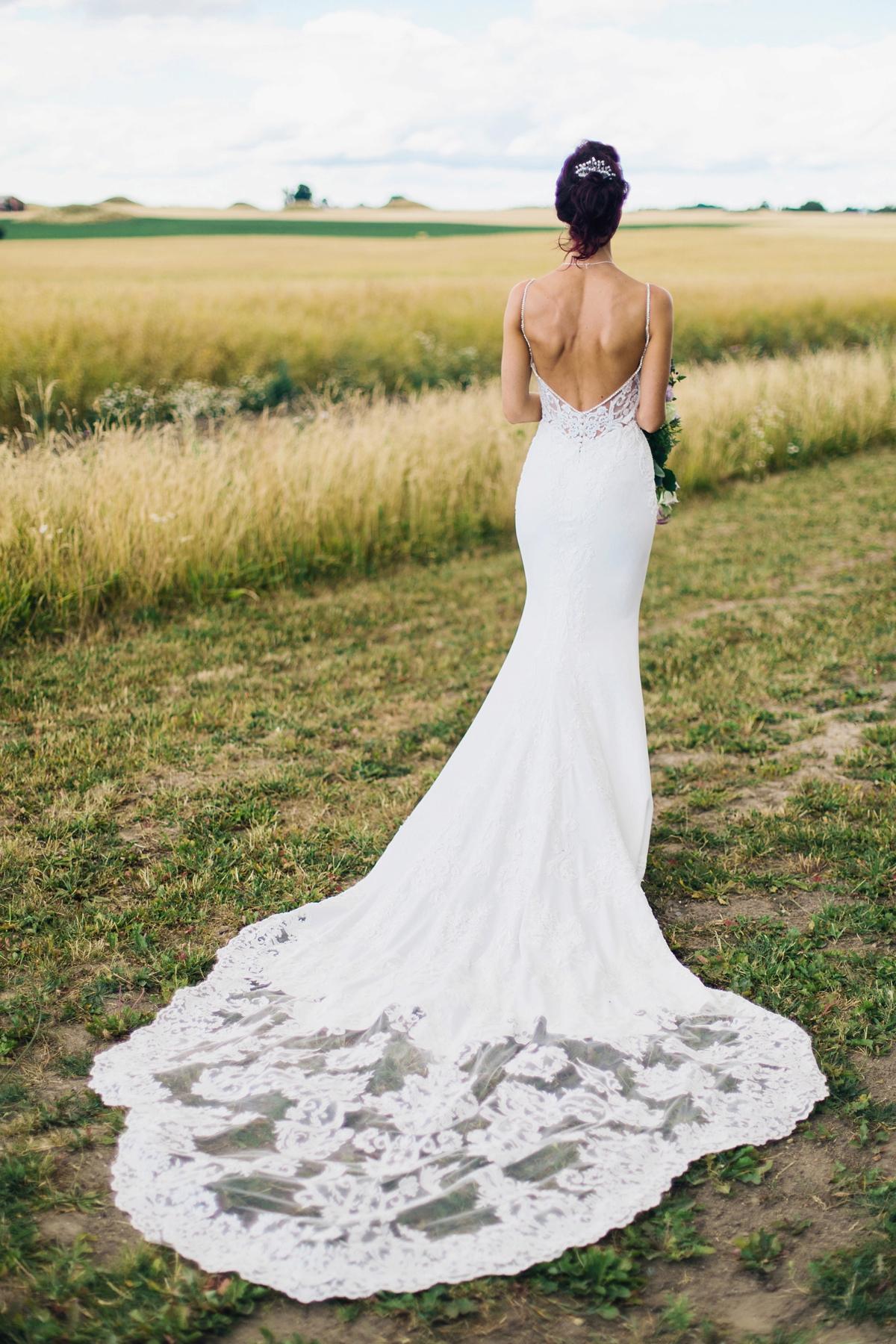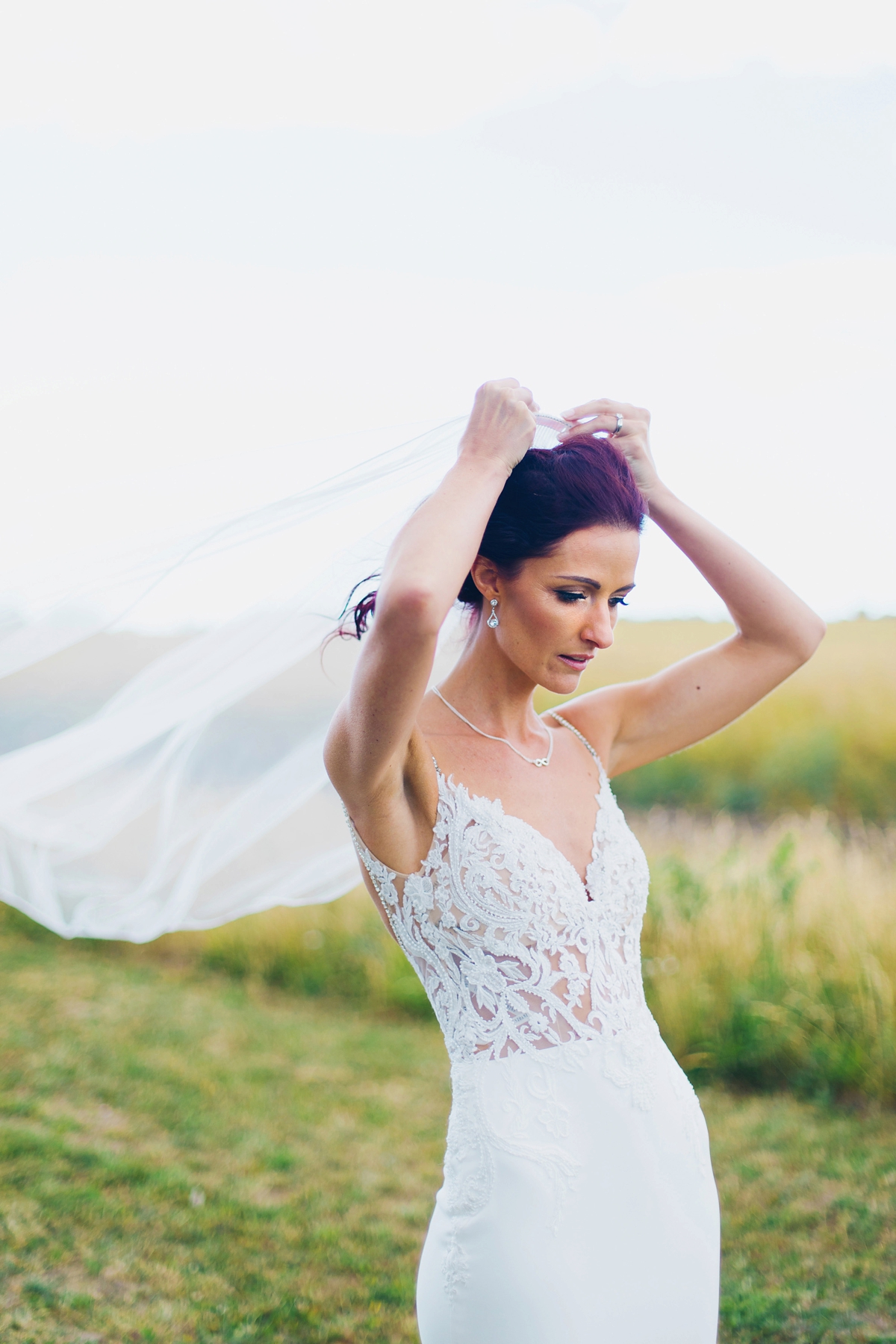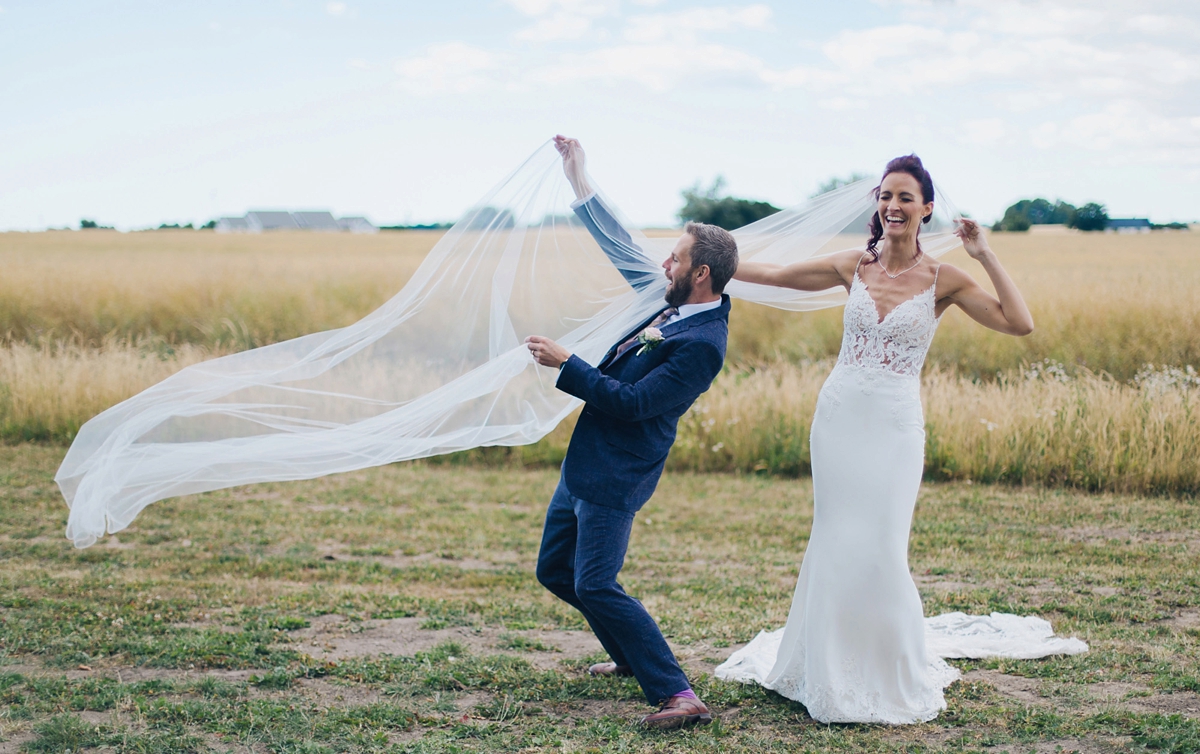 Flowers in shades of pink, purple and cream graced every surface and flowed from Rachel's waterfall bouquet, and were created by Stallgården's resident florist, Pamela Andersson.  I particularly adore the bursting table decorations and the romantic floral arch the couple said their vows beneath.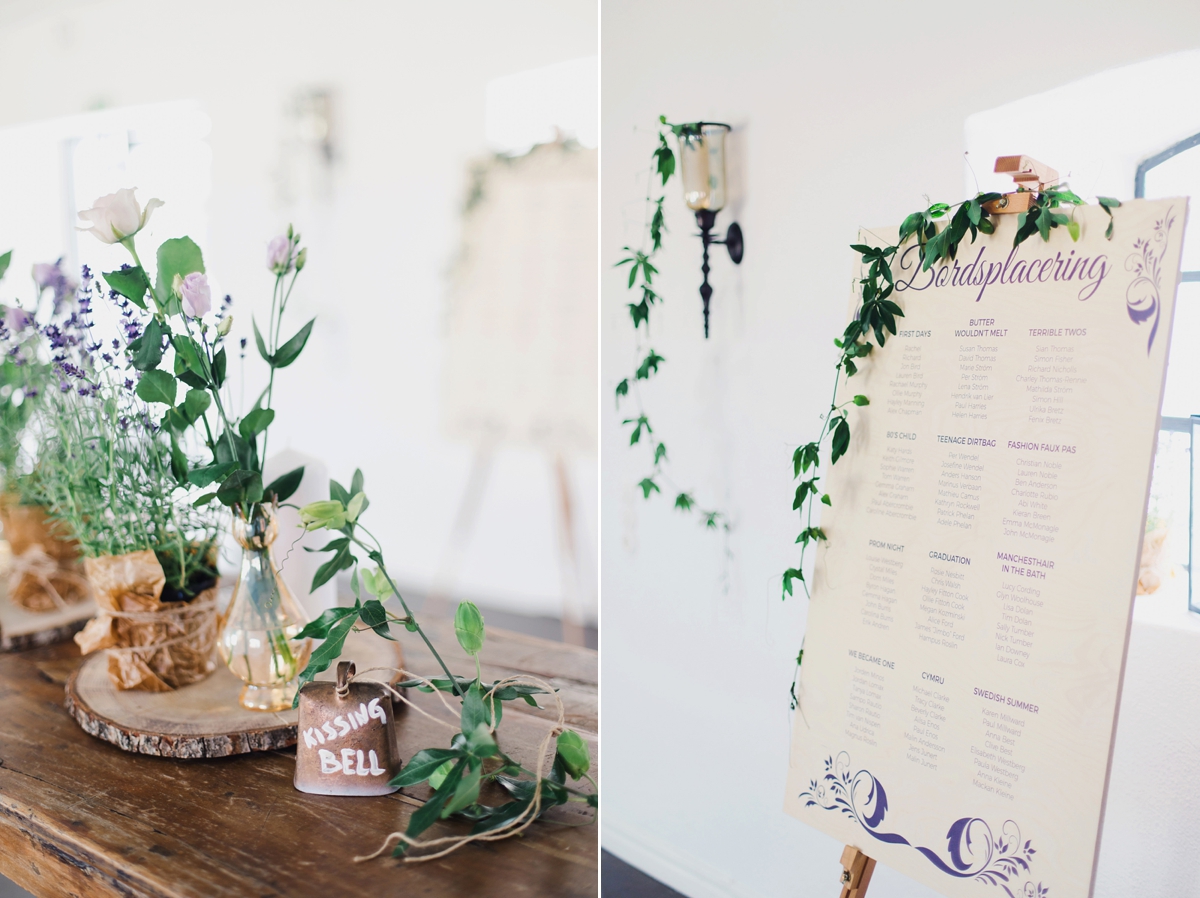 Catering was the work of Peter Ringstroem and favours had a food theme also- with engraved shot glasses and Welsh love spoons (to represent Rachel's welsh paternal roots) gifted to the lucky guests.
"There was a special moment during dinner when we looked out over the room and saw the faces of all of our loved ones together.  All were there to celebrate our love and had come from far and wide.  It was such a magical moment that will stay with us forever."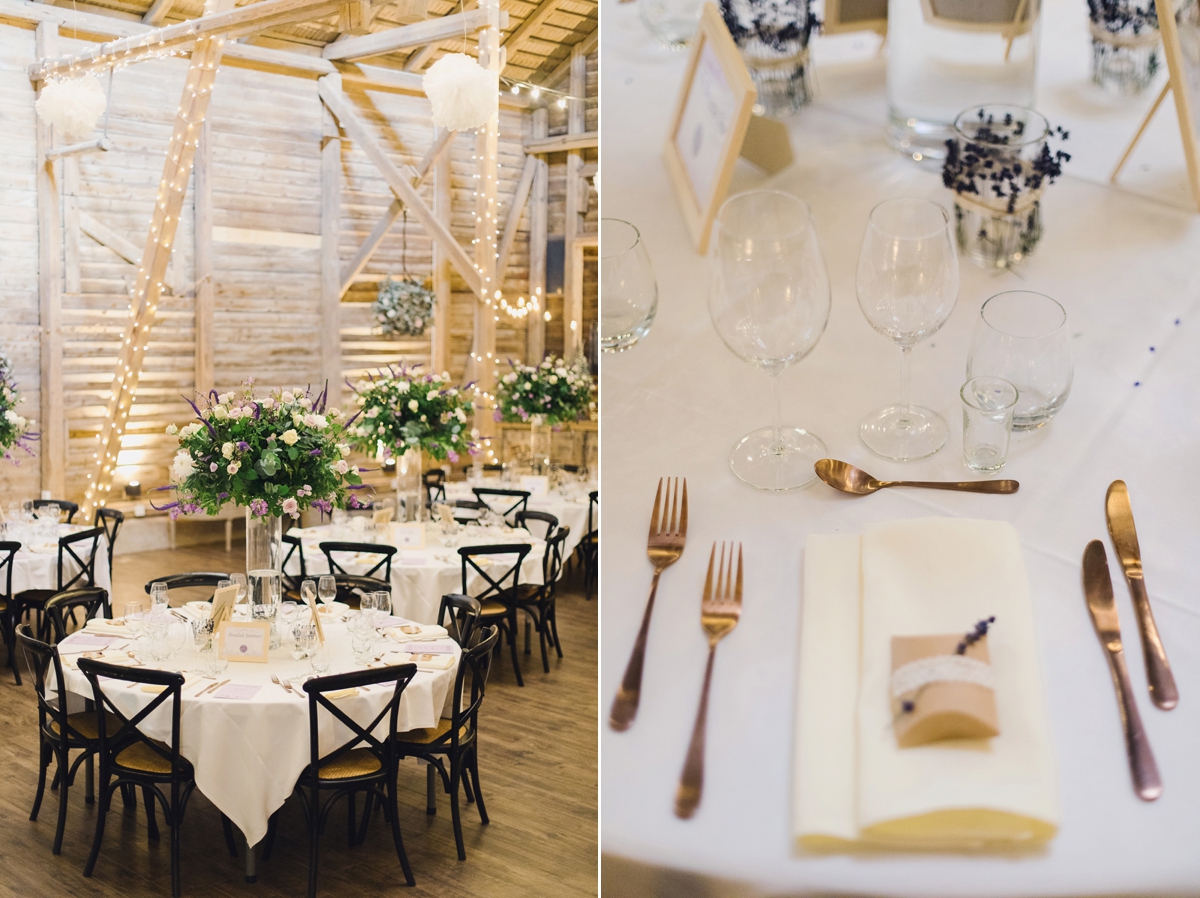 Band Starscream from Denmark kept the dance floor full all evening, once Rachel and Rich has busted some impressive moves for their first dance song.
"For our first dance we mixed a slow song ('I lost it' by Kenny Chesney) with an upbeat song ('I Like to Move it' by Will.i.am) and planned an unexpected routine that got the crowd cheering and brought energy to the room."
"It might sound cheesy but every single part of the day was overwhelming and so special. It was better than we could ever have imagined and totally worth every moment of planning and every penny spent.  From the moment we woke to the moment we went to bed (at five am the next day) we didn't stop laughing and smiling."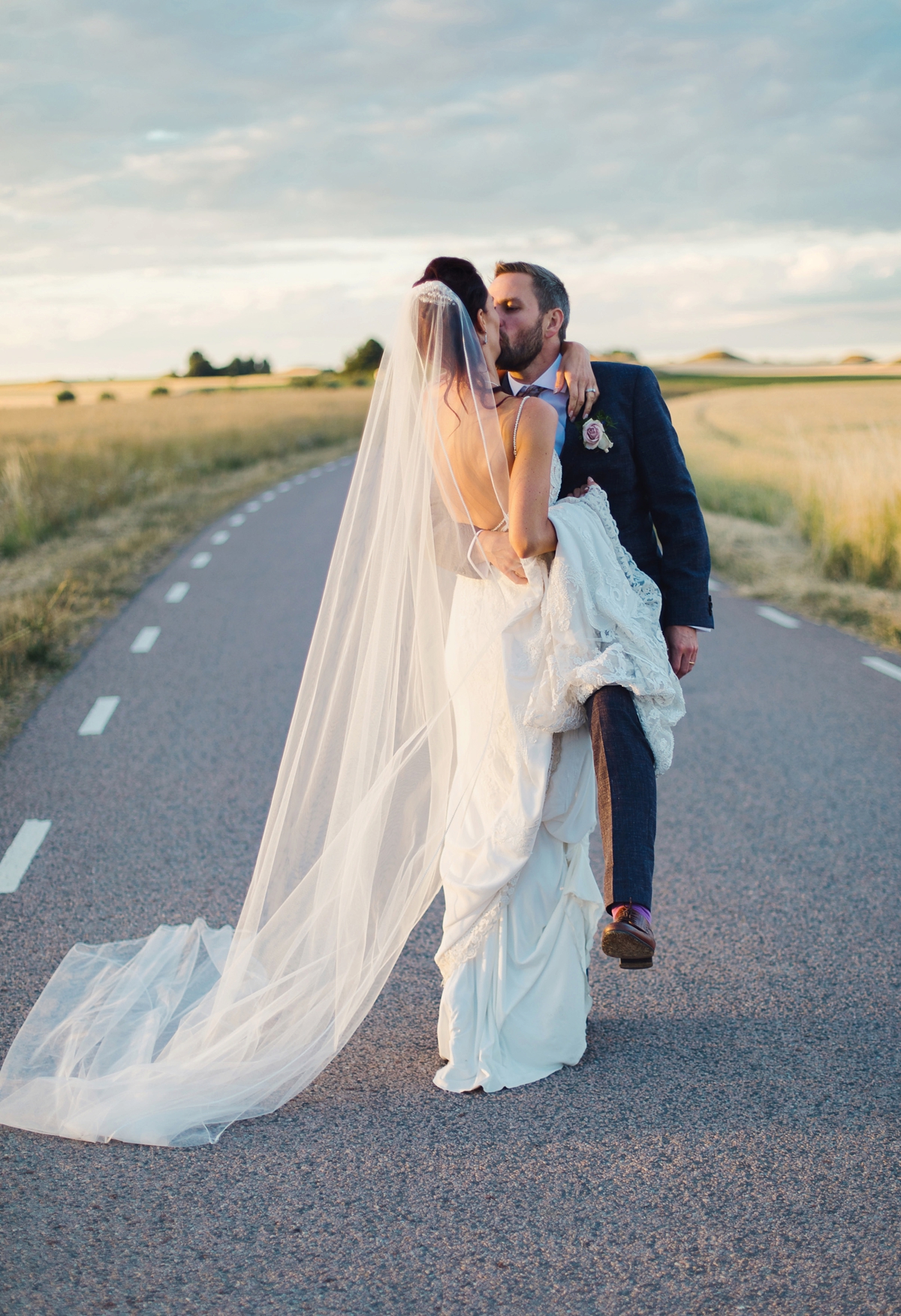 Words of Wedded Wisdom
"On reflection, every moment of worry or stress could have been viewed with a pinch more excitement.  It can become overwhelming at times, when you imagine the pressure of expectations, but that's exactly it, it's all in the imagination.  The truth is, that your loved ones are there to celebrate you as a couple, your love for each other and the beginning of your future together."
"Focusing on your love for each other and what the day represents is so important.  There is nothing wrong with focusing on the details and wanting to create something special but I cannot stress enough the importance of waking on that morning full of love and excitement.  By that point, all has been done and the day ahead of you is set, set to be the beginning of the rest of your life.  Enjoy every moment and never forget those butterflies."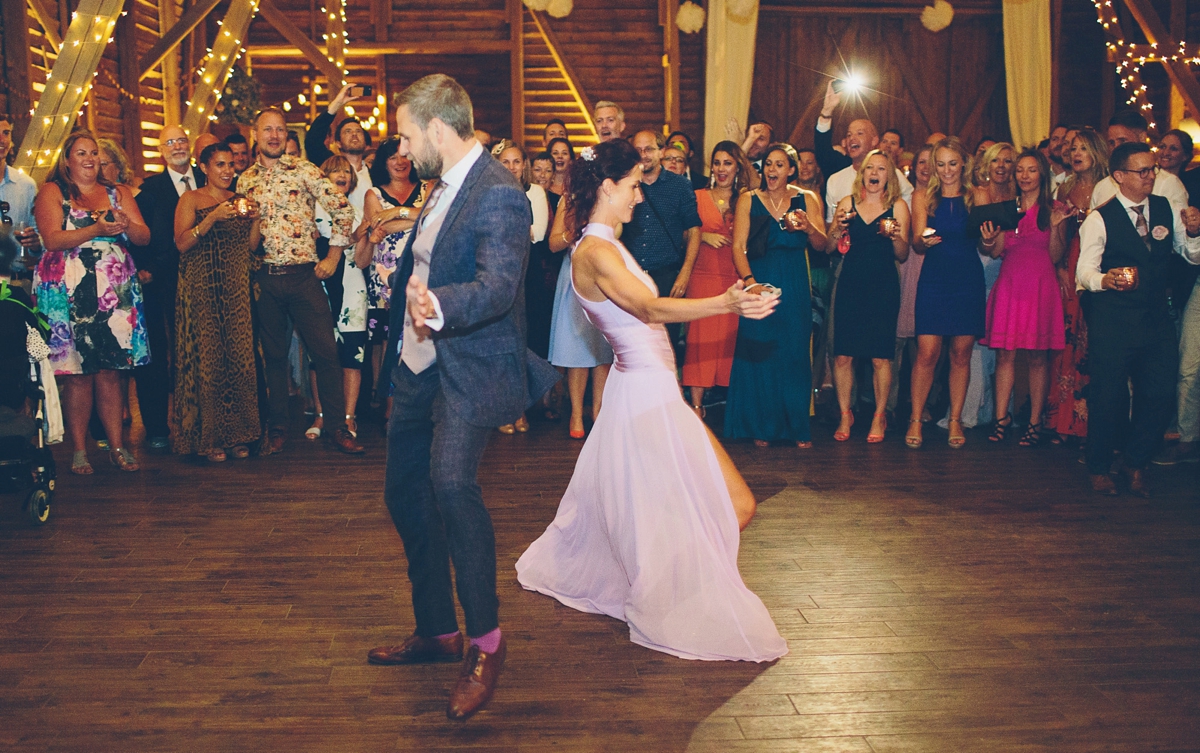 Huge thanks to Rich and Rachel for sharing their beautiful day and to Nina Wernicke for the wonderful images.  Have you fallen in love with Rachel's Enzoani gown too?  If so, take a look here for more beautiful gowns on fabulous LMD brides.
Much love,
Shona x