We're going stateside today for the wedding of Eoin and Dana. Now, what makes this particular wedding so very special is that the couple married in the same place as the bride's parents, fifty years before.
And, if you look carefully, you'll be able to see how the newly-weds recreate the same pose that her parents were captured in as newly-weds, all those years ago.
Photography Hannah Larkin Photography
Eoin, an engineer originally from Ireland and Dana, a teacher, married on 23 April 2016 in a Roman Catholic ceremony at US Naval Academy Chapel in Annapolis, Maryland, USA with a reception afterwards in the US Naval Academy Alumni House. Dana's father was in the US Navy class of 1967 and married her mother in the same venue, so it was a very special place for the bride. The day was inspired by details from the couple's different Irish and American backgrounds, and focused on honouring their families and their stories – cue lots of family portraits framed so beautifully. All of this was woven into a pretty colour palette of deep plum with splashes of fresh green and bright pinks.
Dana and Eoin met online on match.com and sparks flew over a first date of dinner and drinks.
"We dated for about two years before Eoin proposed. He proposed on the dock at my parents' house on the Chesapeake Bay on the day after Christmas. While getting down on one knee, he 'accidentally' dropped a fake engagement ring into the water but then proceeded to pull out the real ring… only, of course, after allowing for a couple of moments of sheer panic on my part!"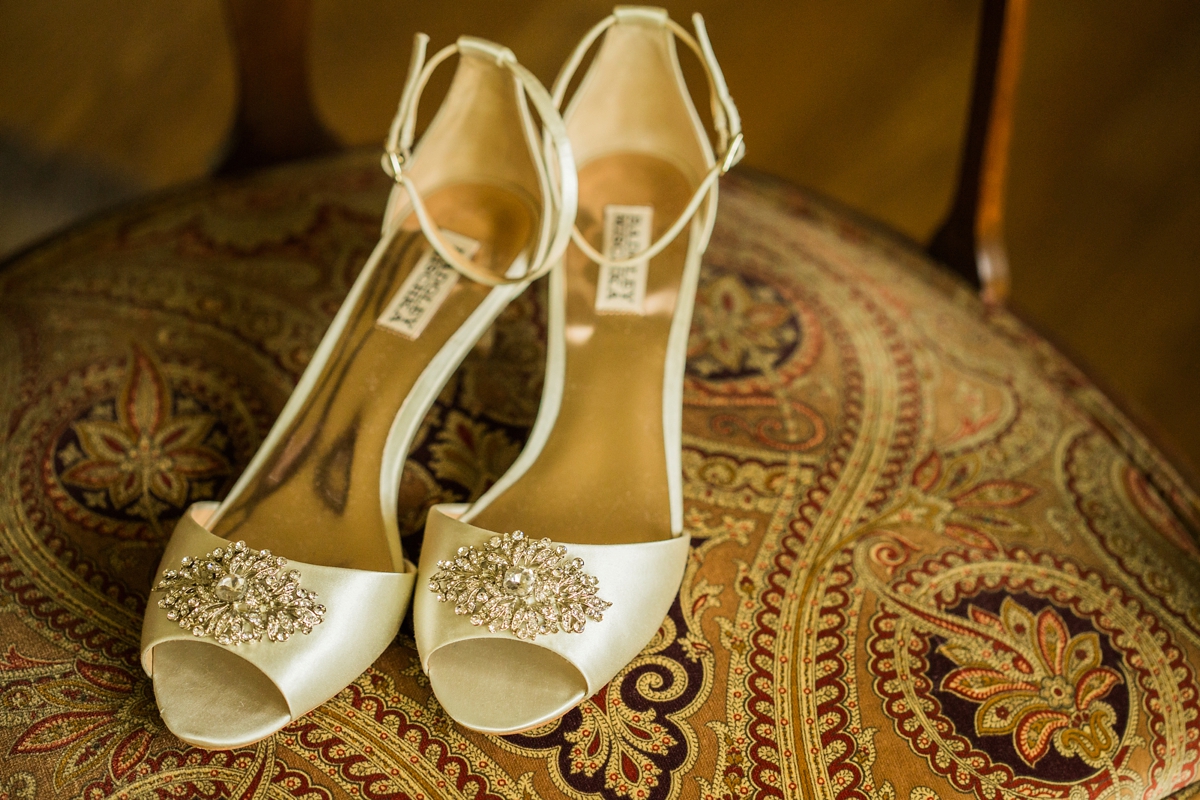 "Shock from Eoin's little prank quickly gave way to elation, and (rather than pushing him in the water as revenge for his mean little trick) I said a resounding 'yes'."
"We had a short engagement of four months and married the following April."
Dana's hair was swept up and back to reveal her face, and accessorised with a dainty tiara-like headpiece studded with little pearls, from Pronovias. She added rhinestone drop earrings and Badgley Mischka peep-toe kitten heels with an embellished upper for an elegant finish.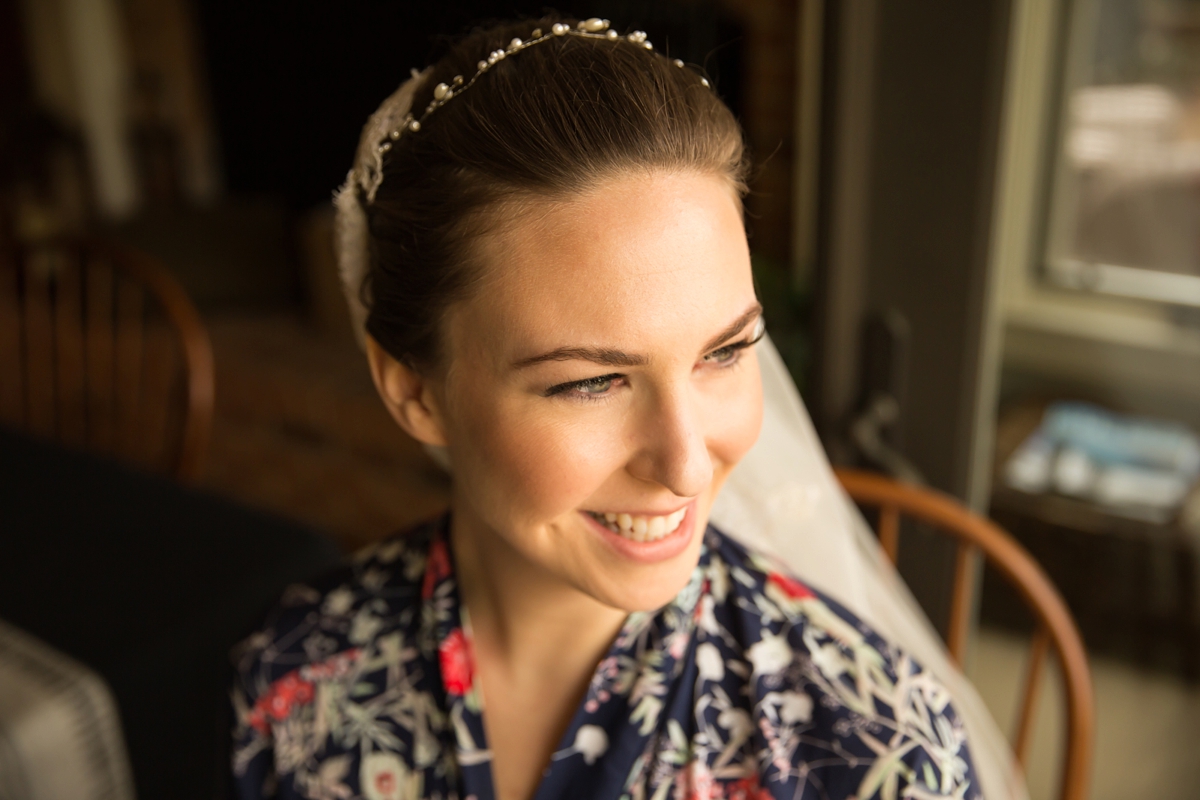 Dana chose a classically beautiful lacy dress at Pronovias in New York and she added her mother's re-embroidered Alencon lace veil from her own wedding in 1968; a detail which I just love. The high neckline of the gown is so pretty whilst the sleek skirt and train keep the look so modern.
[JP-VIDEO]
"I tried on a few dresses prior to the one I chose, but I'll never forget feeling like a bride when I first slipped into my wedding dress. I especially loved the lace on the bodice of the dress and ¾ sleeves, the 'eyelash' neckline and the clean simplicity of the crêpe skirt. It made me feel like I was stepping in to something classic and elegant."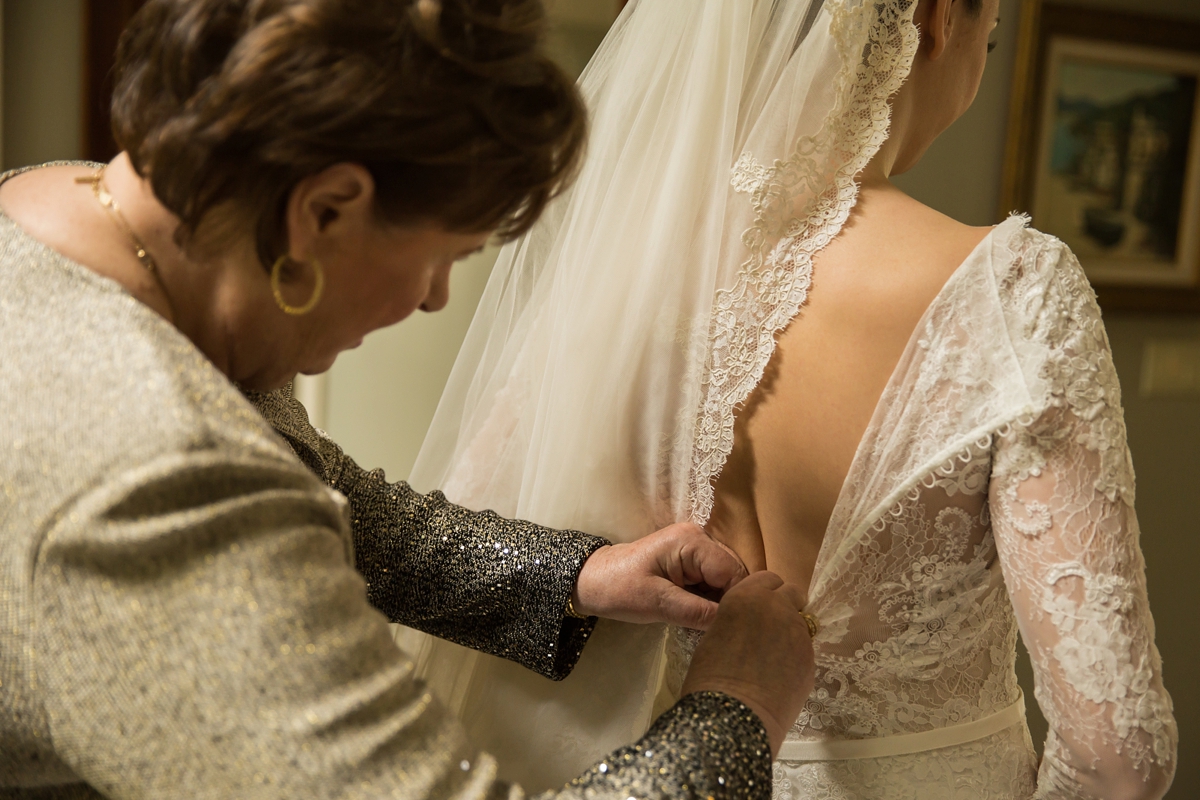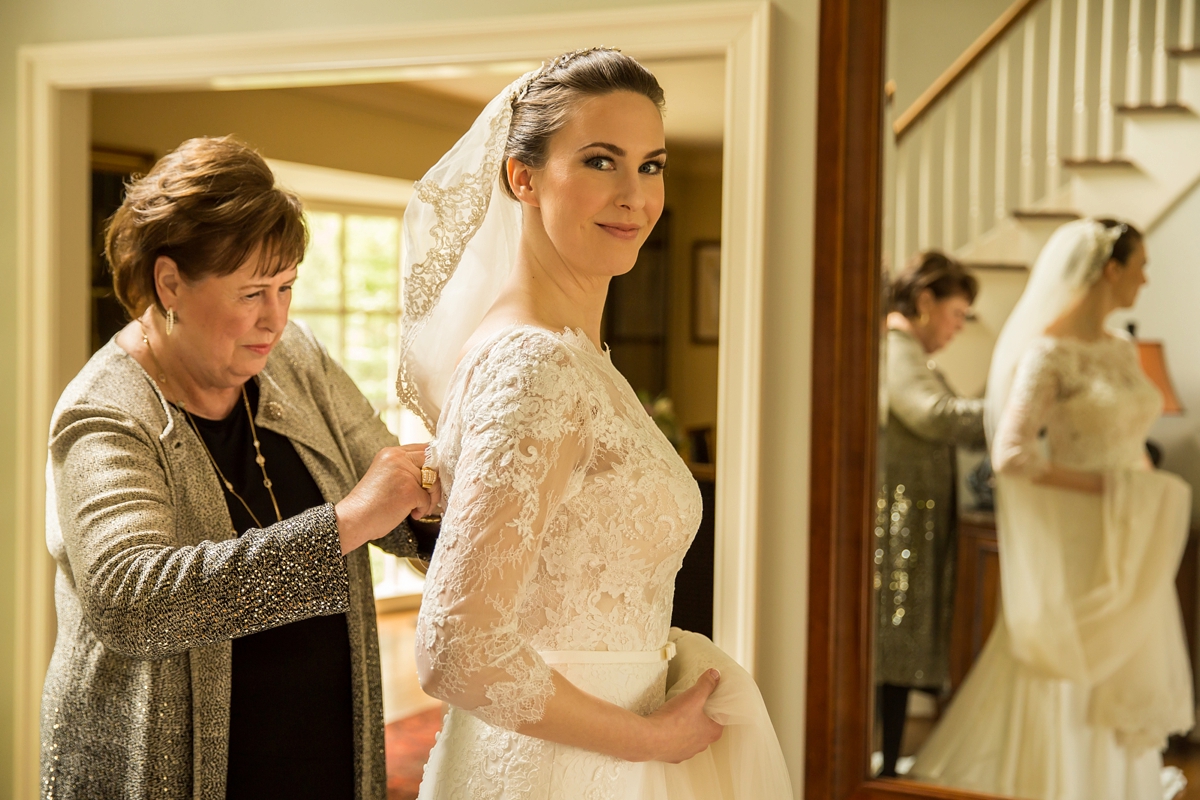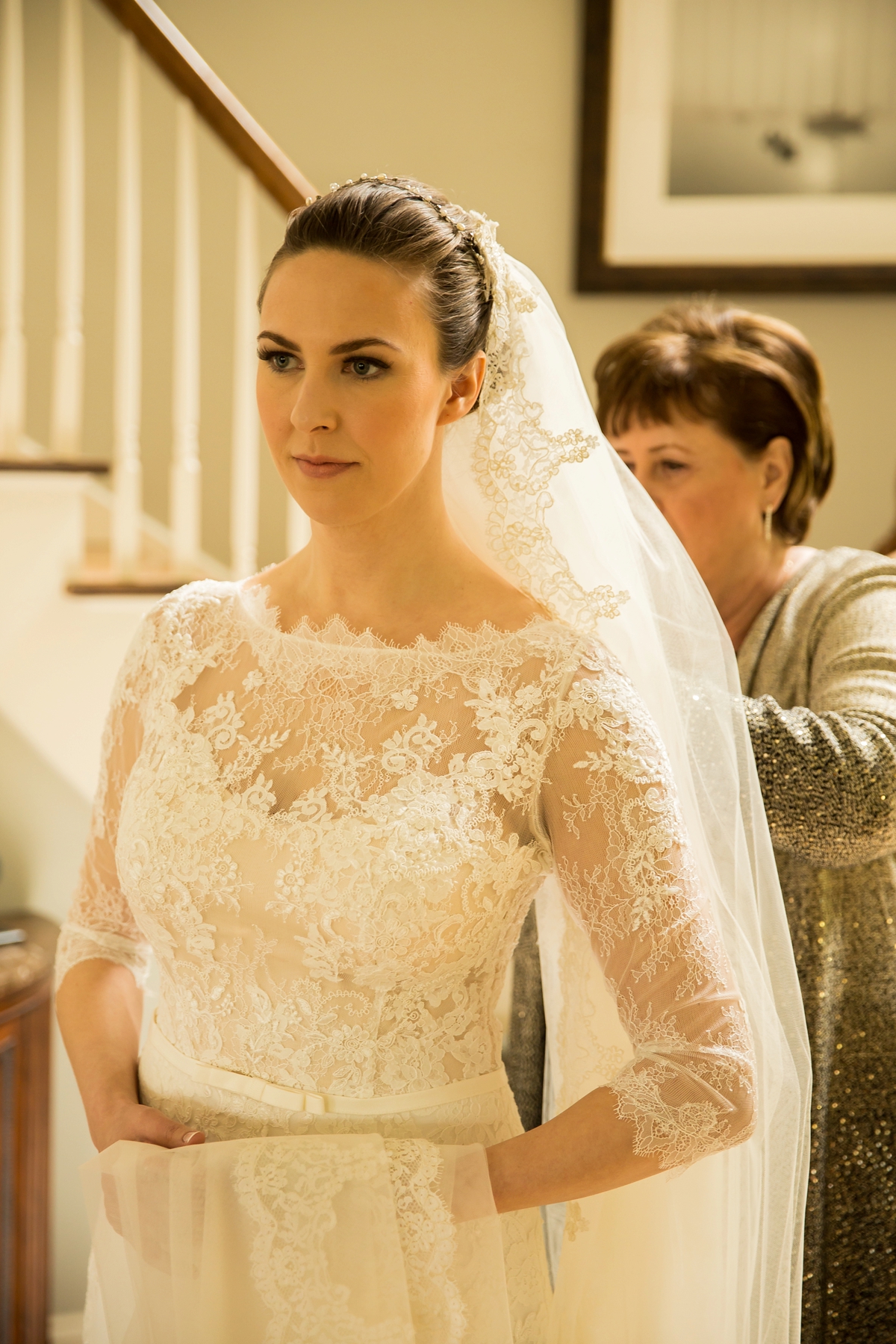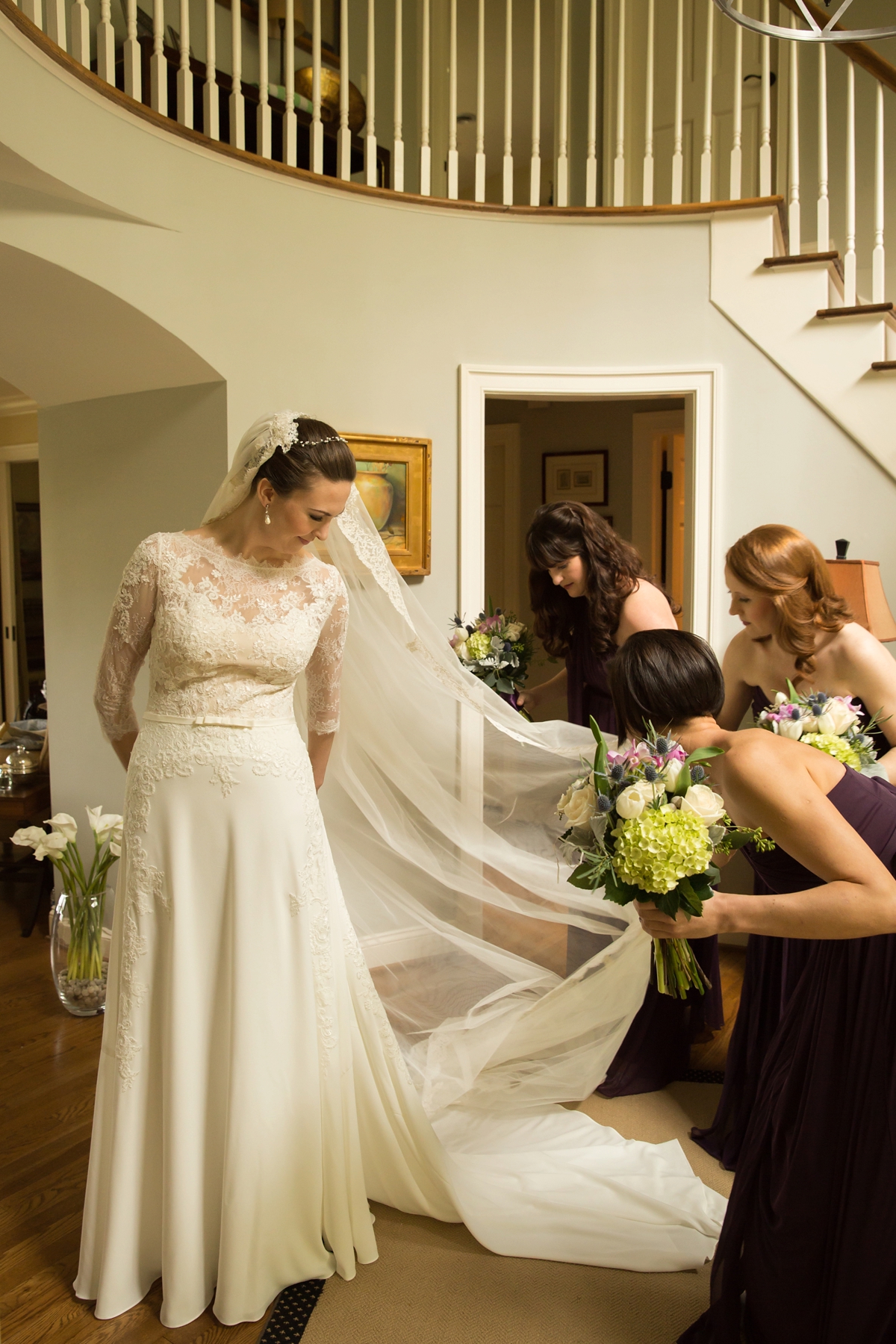 The colour palette of deep purple was apparent in the bridesmaids' gowns which were a floor-length, convertible style to allow for their own taste and shape. They wore their own choice of silver open-toed heels.
The gowns' colour was picked up in Eoin and his groomsmens' outfits. They wore plum ties and soft purple shirts with their deep grey Men's Wearhouse suits. Dana gifted the groom a lovely set of cufflinks from Etsy, engraved with their wedding date and initials.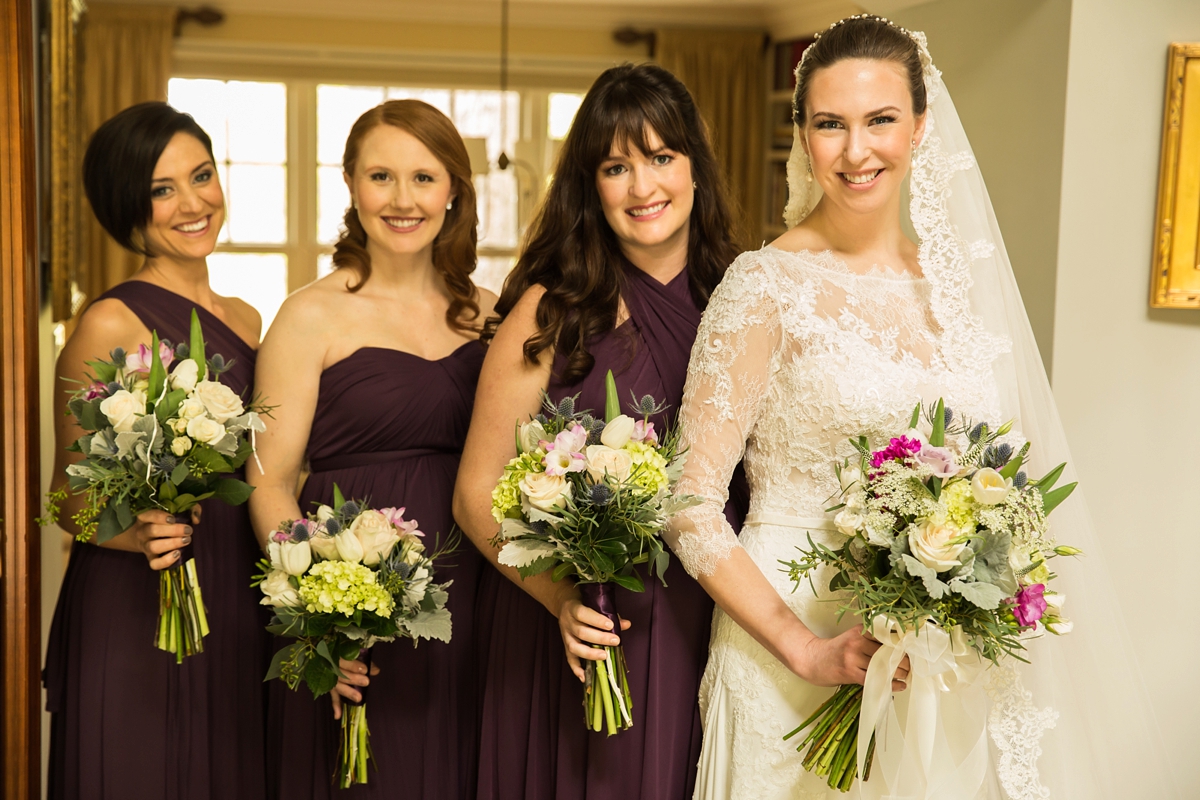 The little ring-bearer was Dana's youngest nephew and his two elder brothers acted as ushers at the church. They all look so smart in matching grey suits and cute bow ties.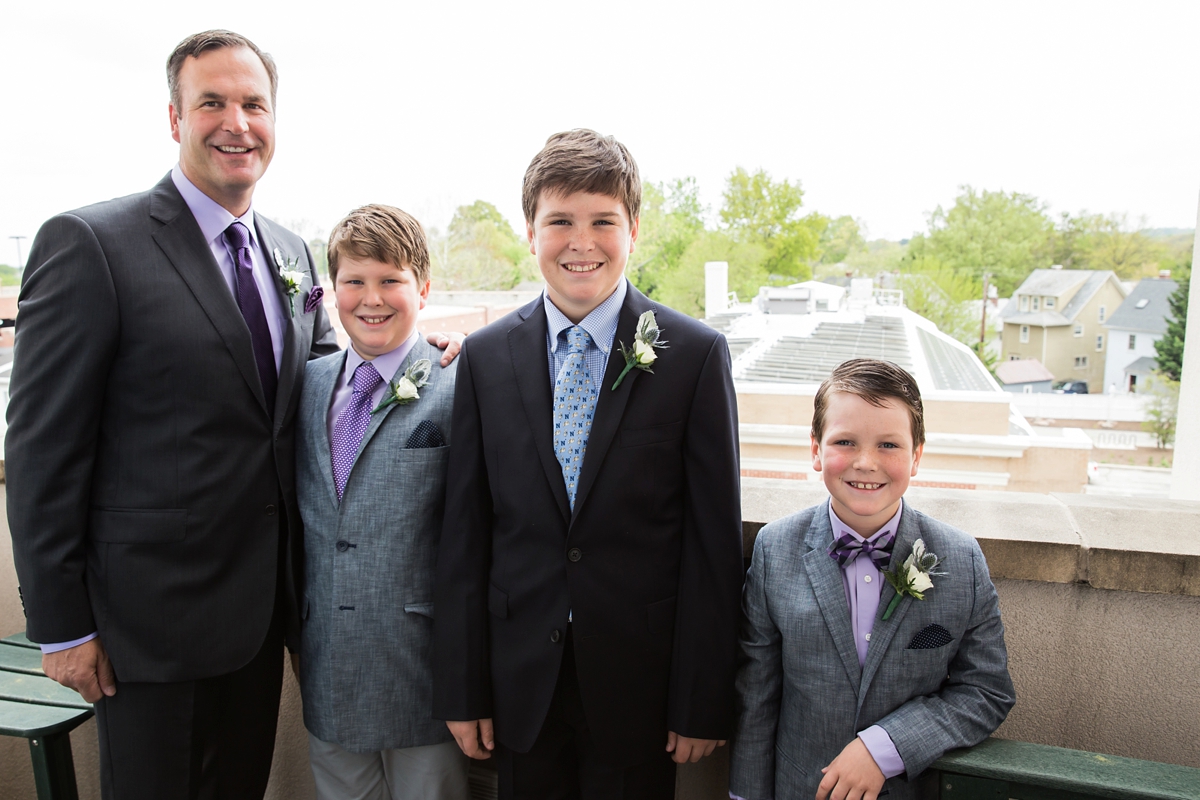 The inspiration for the couple's wedding flowers was 'English country garden', which Michael Designs Florists interpreted to create these gorgeous bouquets full of clean white and pink flowers with lots of fresh greenery.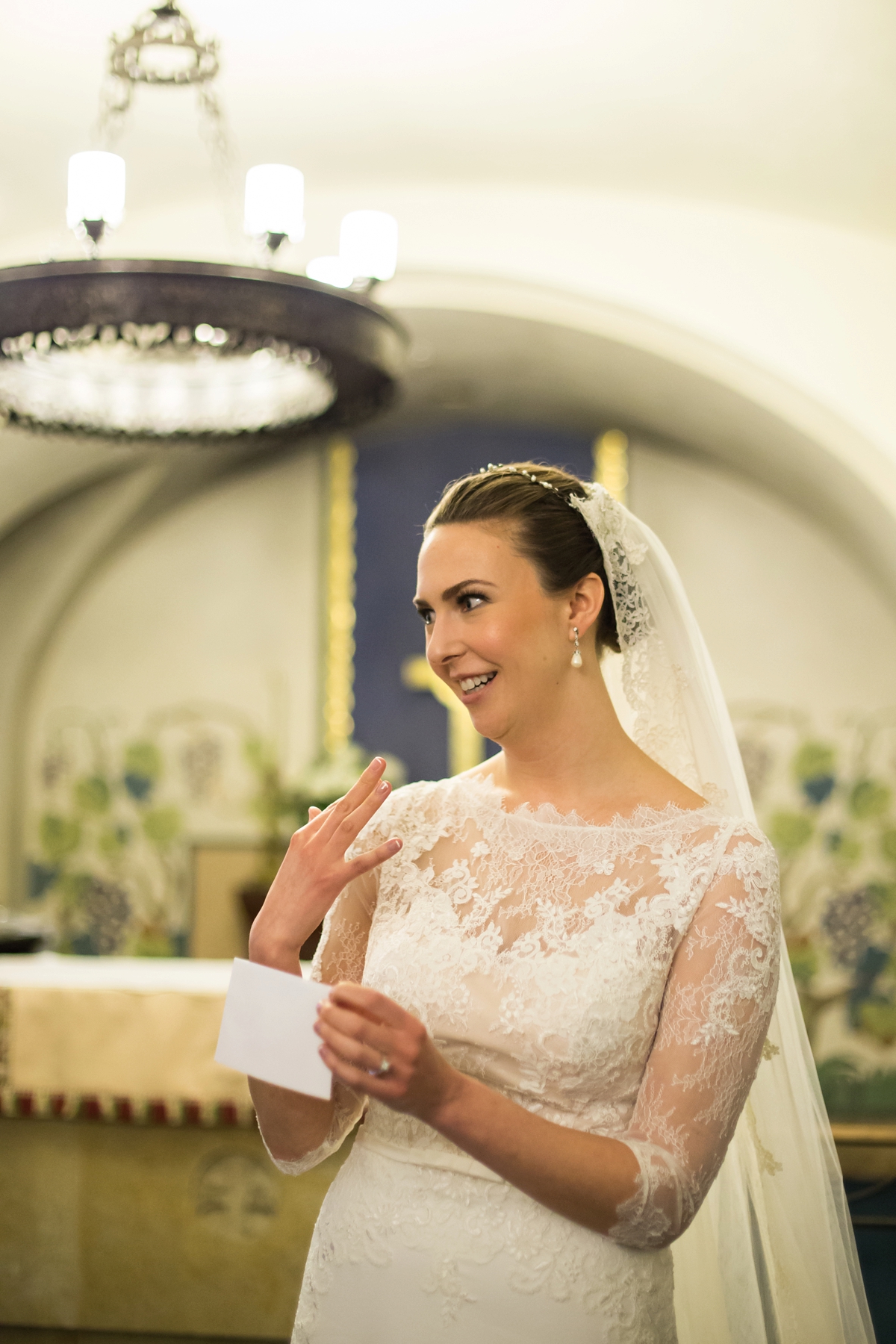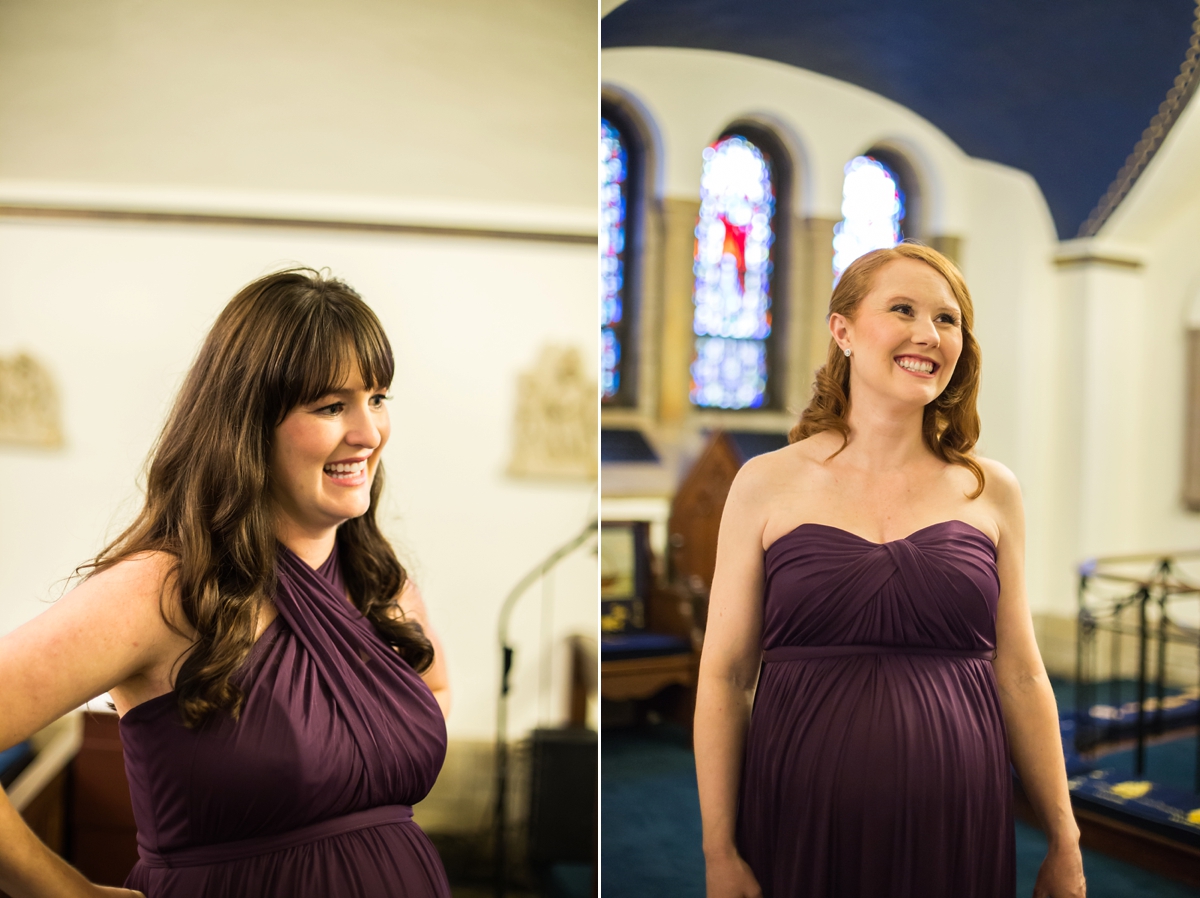 Dana and Eoin got creative, creating the order of service themselves.
"We created and printed the program for the ceremony ourselves. This was especially fun for Eoin and me because we included short blurbs about each person in the wedding party, including little details about our relationship or memory spent with that person."
Dana and Eoin had a traditional Roman Catholic ceremony, and the USNA's Chapel Organist played the bride and her father in to Pachelbel's 'Canon in D Minor'.
"We chose from a selection of scriptures and asked family members and close friends to read them at the service.  One of these was Tobit 8:4b-8 (801-5). It was read by Eoin's uncle John. We chose this reading because we are drawn to the reading's message to create a marriage that is a true partnership, in which each individual mutually supports one another through the lifespan."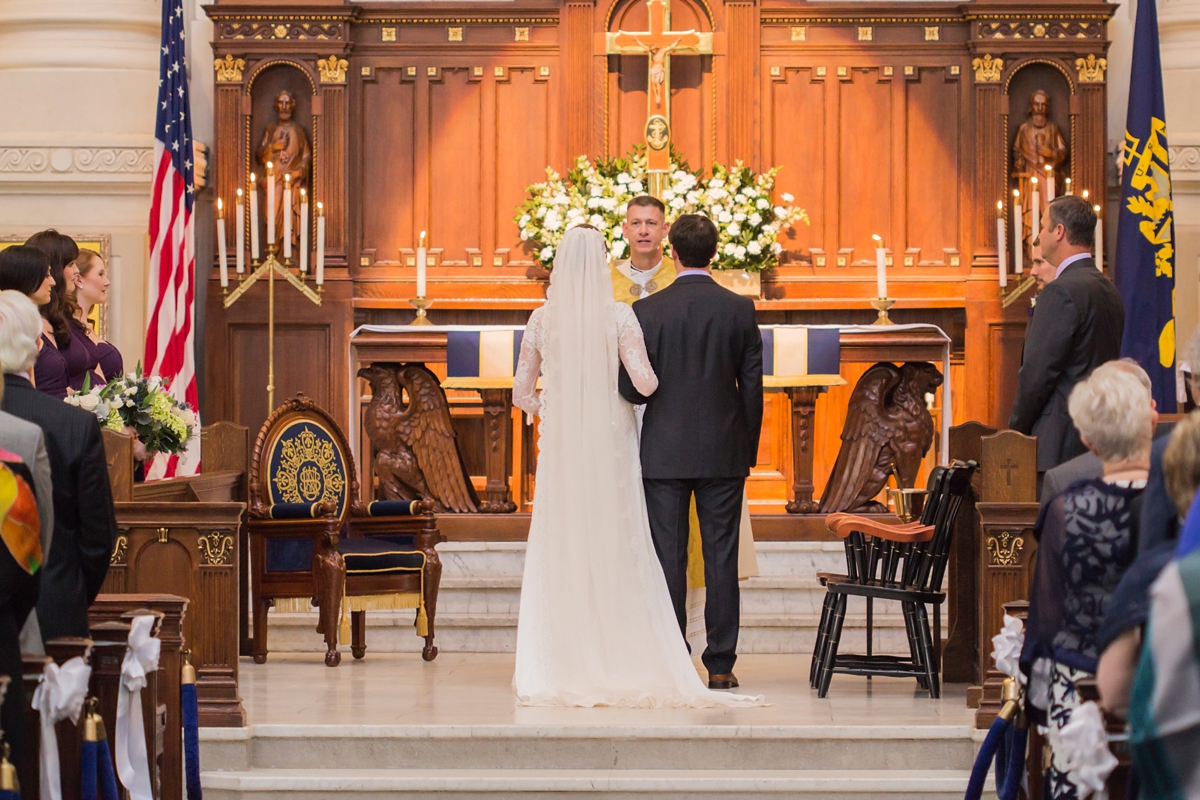 " In the reading, it mentions 'the Hebrew word for partner which is neged, which means a relationship of equality, harmony, and cooperation.'  These are values which we have always prioritised in our relationship and plan to uphold in our marriage."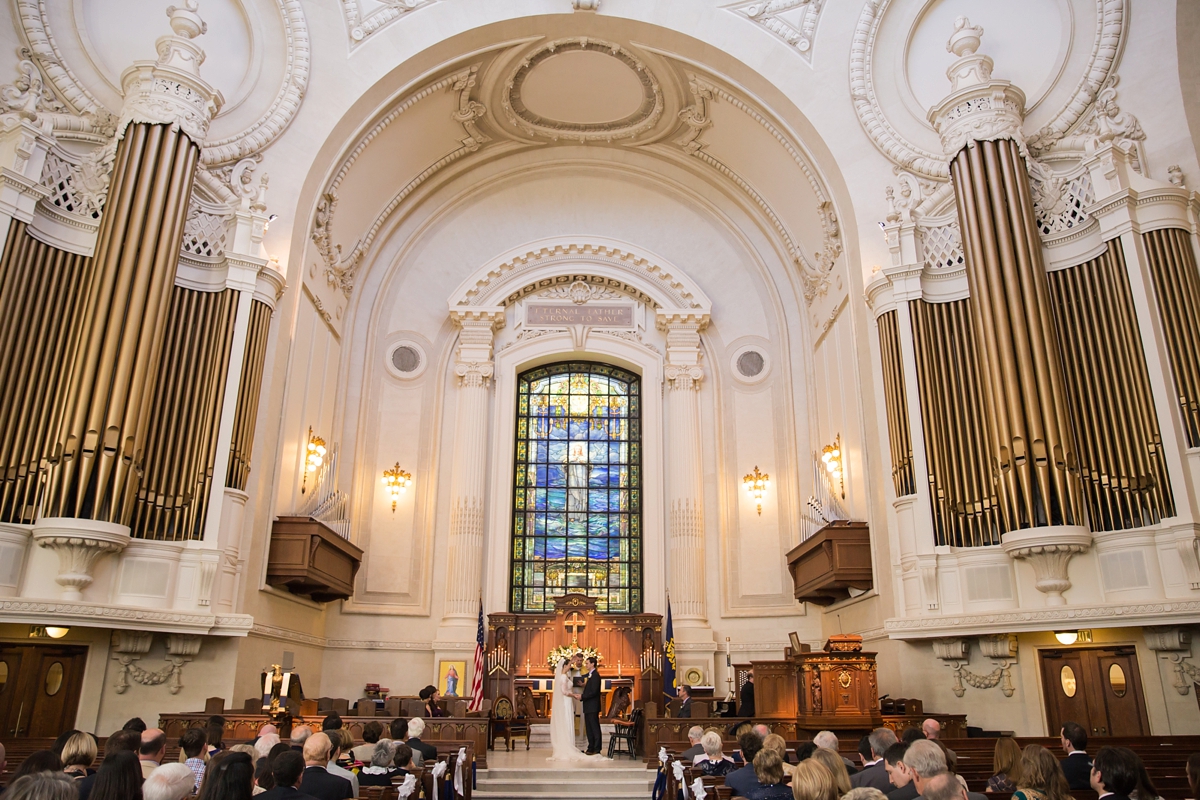 The couple exchanged rings, a plain wedding band ring for Eoin and a half eternity band for Dana, before being pronounced husband and wife. Very importantly, they were able to spend a little private time with each other before the afternoon's celebrations began in earnest.
"A very memorable highlight for both Eoin and me was having our photos taken in the Superintendent's garden behind the chapel directly after we were married.  As the afternoon sun beamed down on the garden, this was a special time for us to kind of catch our breath and take in the moment before heading to the reception."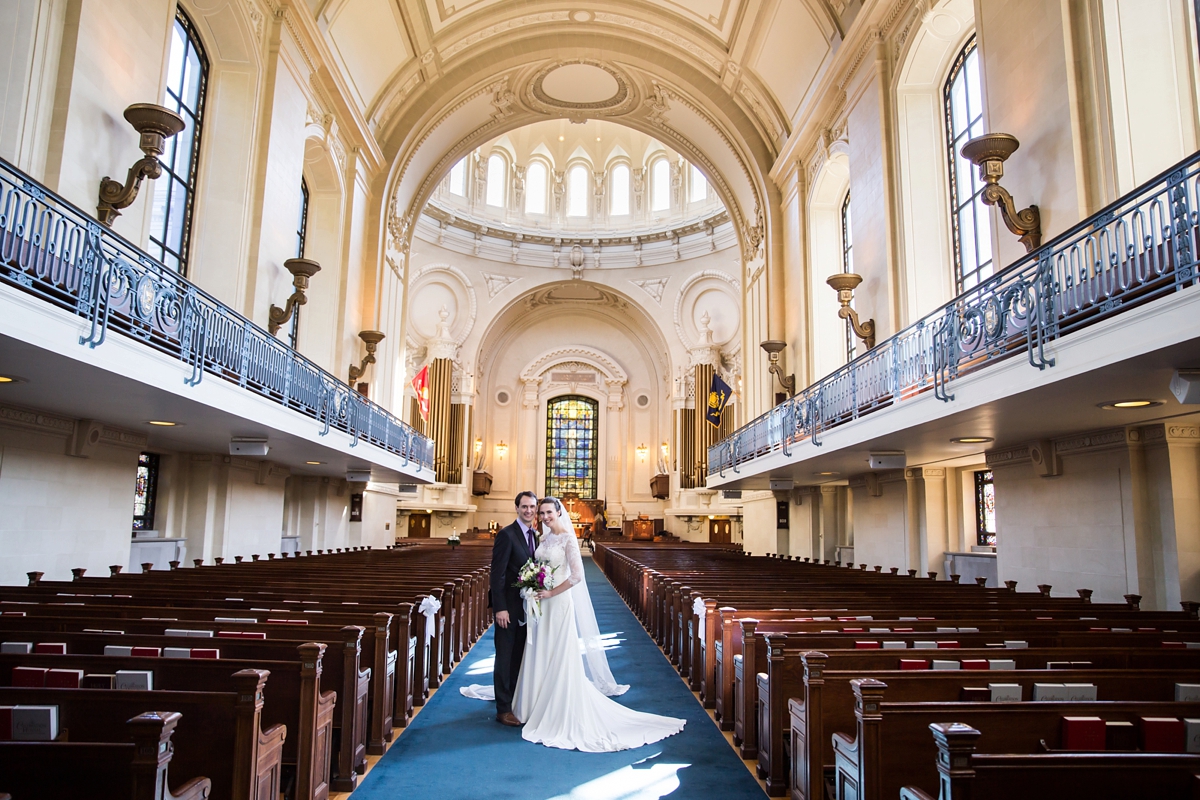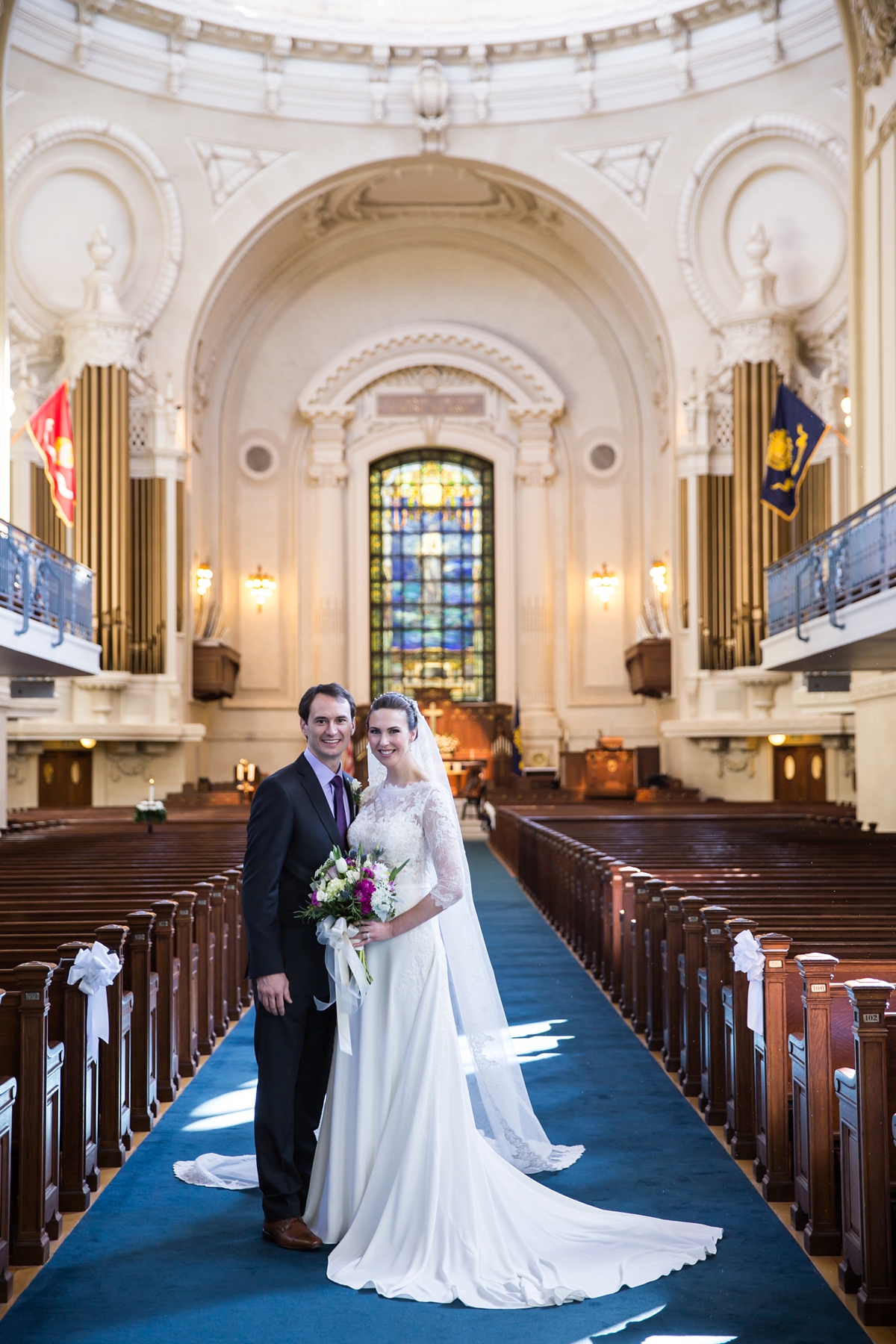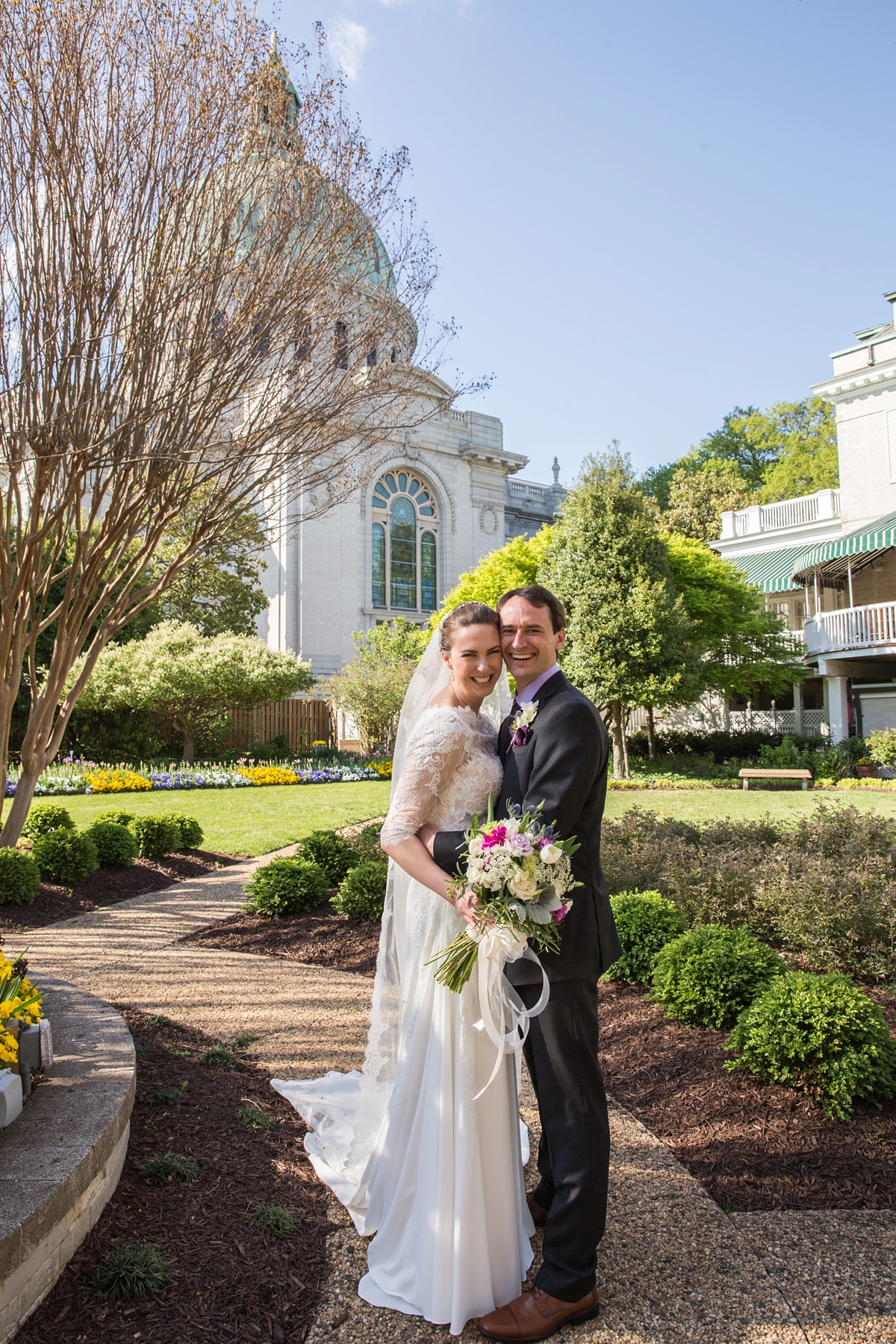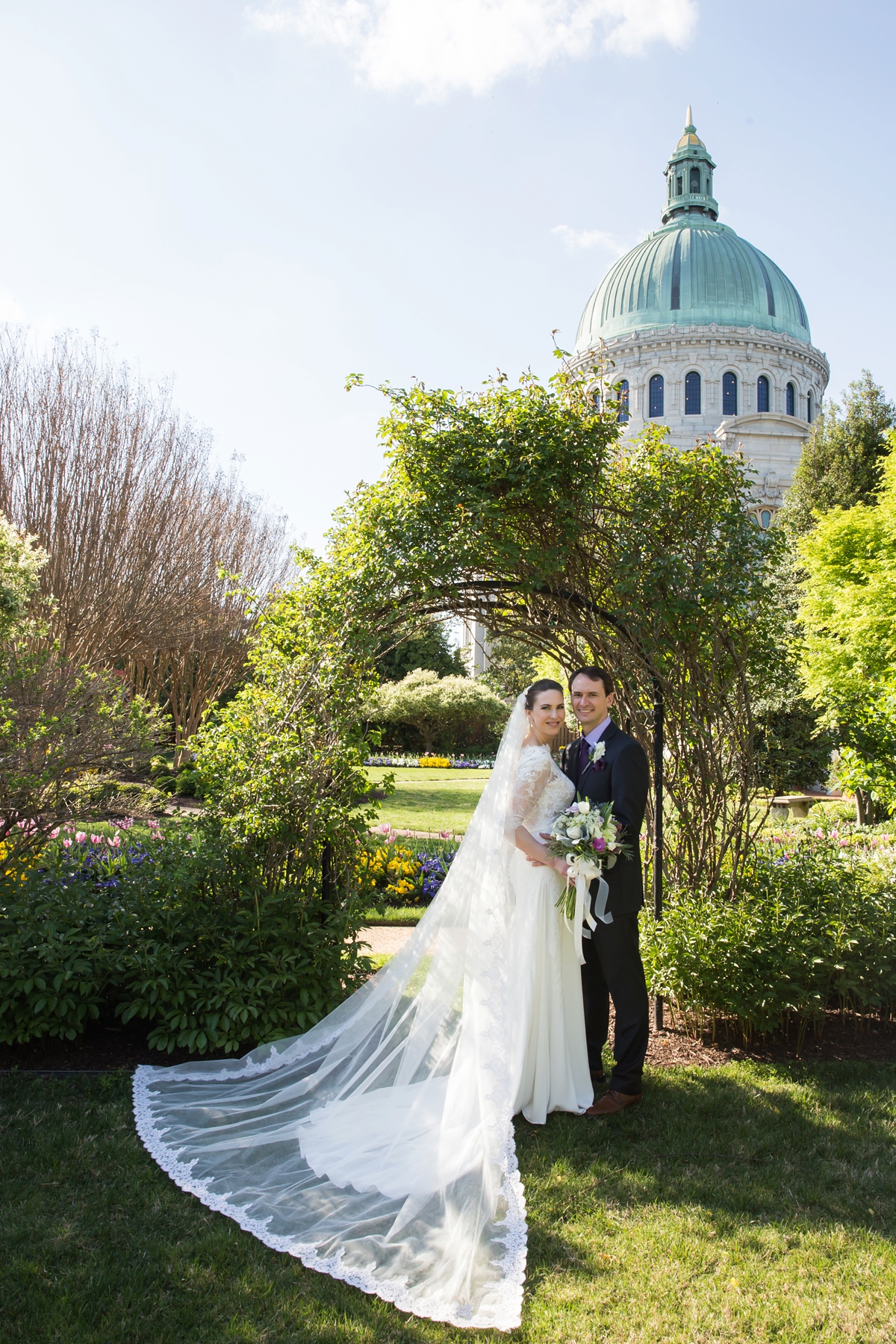 I think that these photographs, full of fresh new leaves and the newly-weds' joy, have to be some of my favourites.
In a lovely reference to Dana's teacher status, the guests travelled from the chapel to the reception in iconic US school buses.
"We used school buses to transport guests to and from the chapel on the USNA campus, referred to as "the yard", because there is a secured entrance gate. These buses also picked up guests to take them to the after-party from the Alumni House, where the reception was held."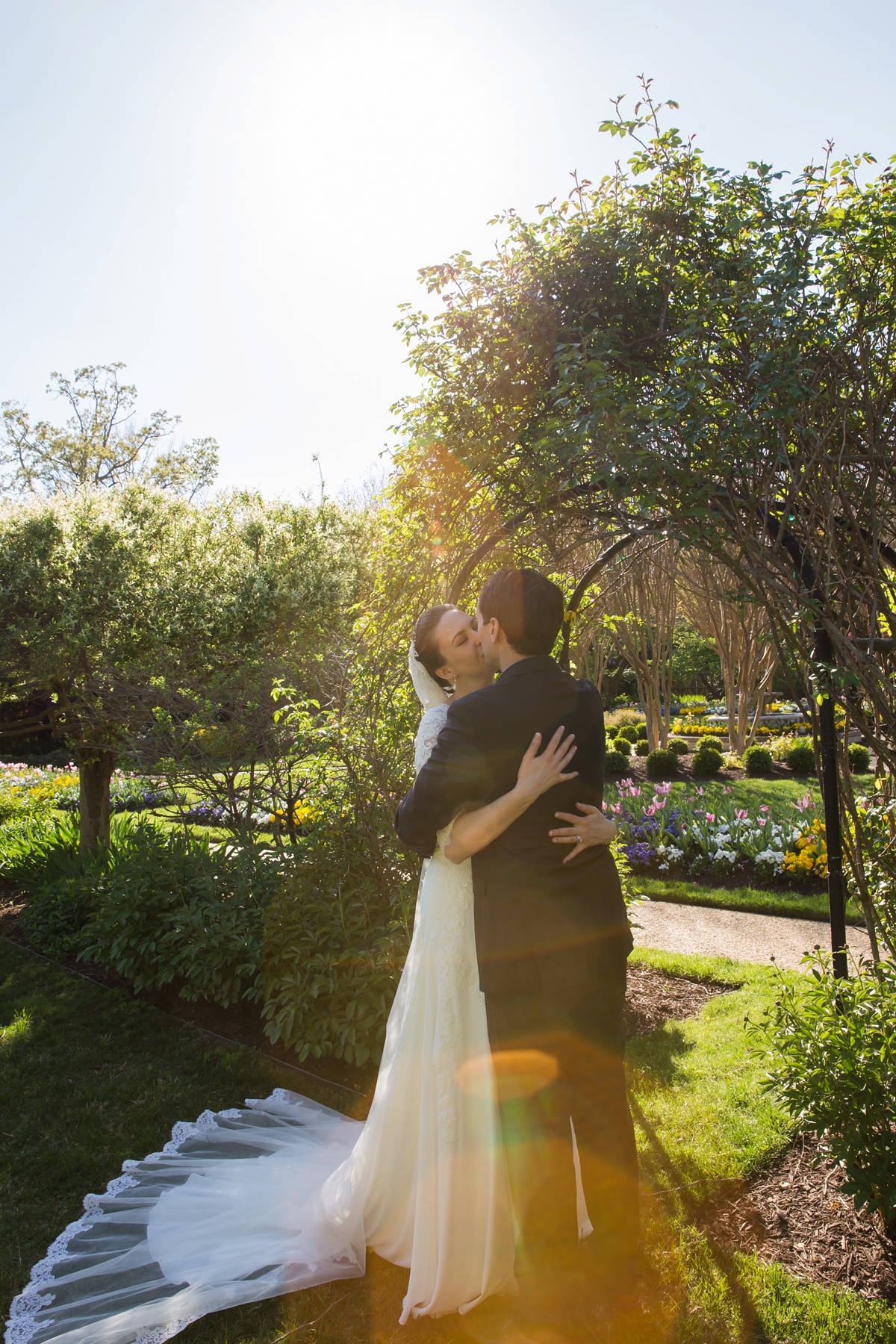 "Because my parents were married at the US Naval Academy's chapel and had their reception at the USNA Alumni House, which were both the same venues for our wedding and reception, the location of the whole day held a lot of special meaning for me. Eoin grew up in County Clare, Ireland and a lot of his family and friends travelled quite far to be there. So, when planning, we were both focused on honouring our families and different backgrounds."
"I think this sentiment was really at the heart of our planning, in which we displayed old photos of various family members on their wedding days, named the tables at the reception by cities and places in both of our pasts and where we've been together, as well as including an Irish sing-song at the after-party. It really felt like both a celebration of our love, as well as of our friends. loved ones, and unique cultures."
At the reception venue the styling for the day really shone, with a beautiful collection of framed pictures of family members on their own wedding days for the guests to enjoy. Guests were also given a goody bag which really celebrated Dana and Eoin's cultures.
"Upon arrival at their hotel each wedding guest received a goody bag that included 'Taytos' (Ireland's beloved national crisps), a small corked bottle of 'Old Bay' (famously used in the Annapolis bay area on fresh crabs and well, anything else you fancy!) and a National Bohemian beer brewed in Maryland, accompanied by a small packet of Advil and a bottle of water to treat any (ahem) sore dancing feet the following morning."
"The décor included florals, 'Message in a Bottle' wishes for the bride and groom instead of a guest book and a book of 'Advice to the Bride' from my Kindergarten class that year, full of funny and endearing shared wisdom from five year olds on marriage."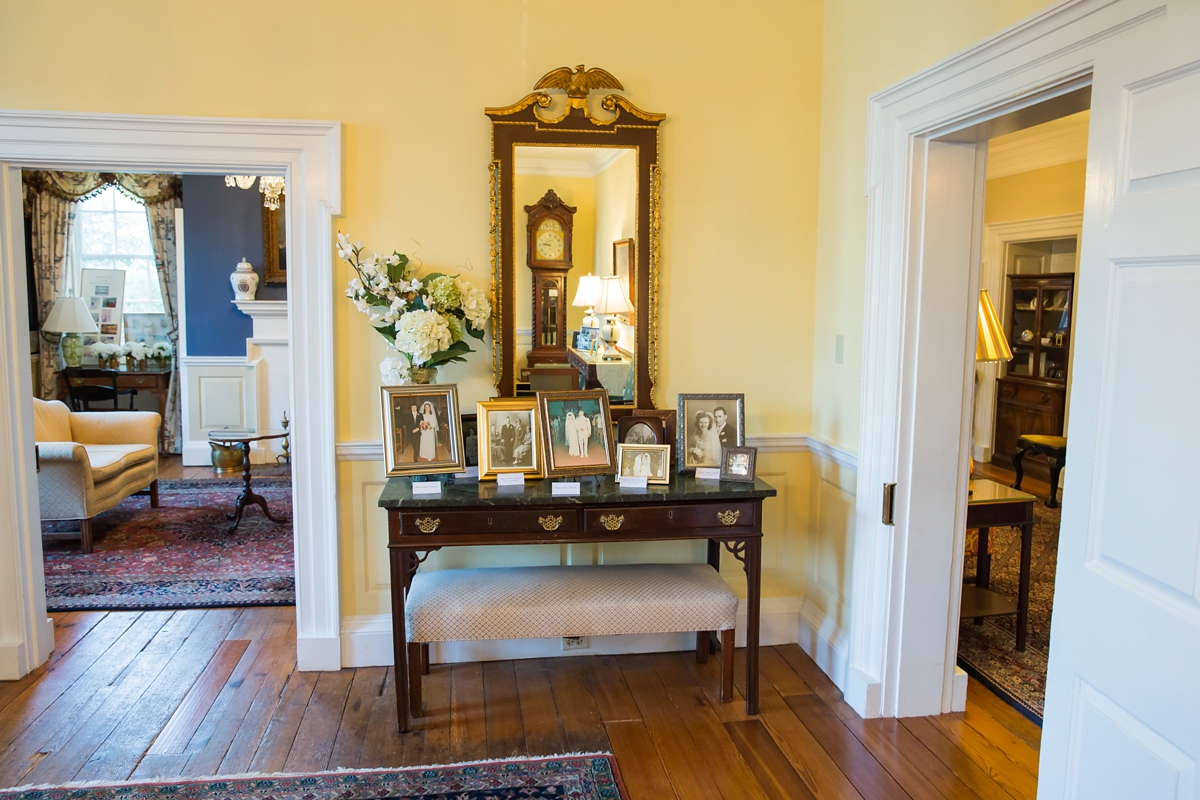 These photographs by Hannah Larkin Photography are so crisp and fresh, and I really admire her thoughtful approach. I love how she asked the bride and groom to recreate the bride's parents wedding photographs. This is what Hannah has to say:
"When I learnt that Dana's parents got married in the same venue, I asked if I could see some of their wedding photos. Their favourite was taken in the doorway of the Alumni House and so I recreated it; with Dana and her new husband and also with her parents. I believe it's important as a wedding photographer that I spend time getting to know each couple, to understand the wedding choices they make and to learn what' s most important to them. It helps them to feel comfortable with me & helps me create photos that truly reflect their story."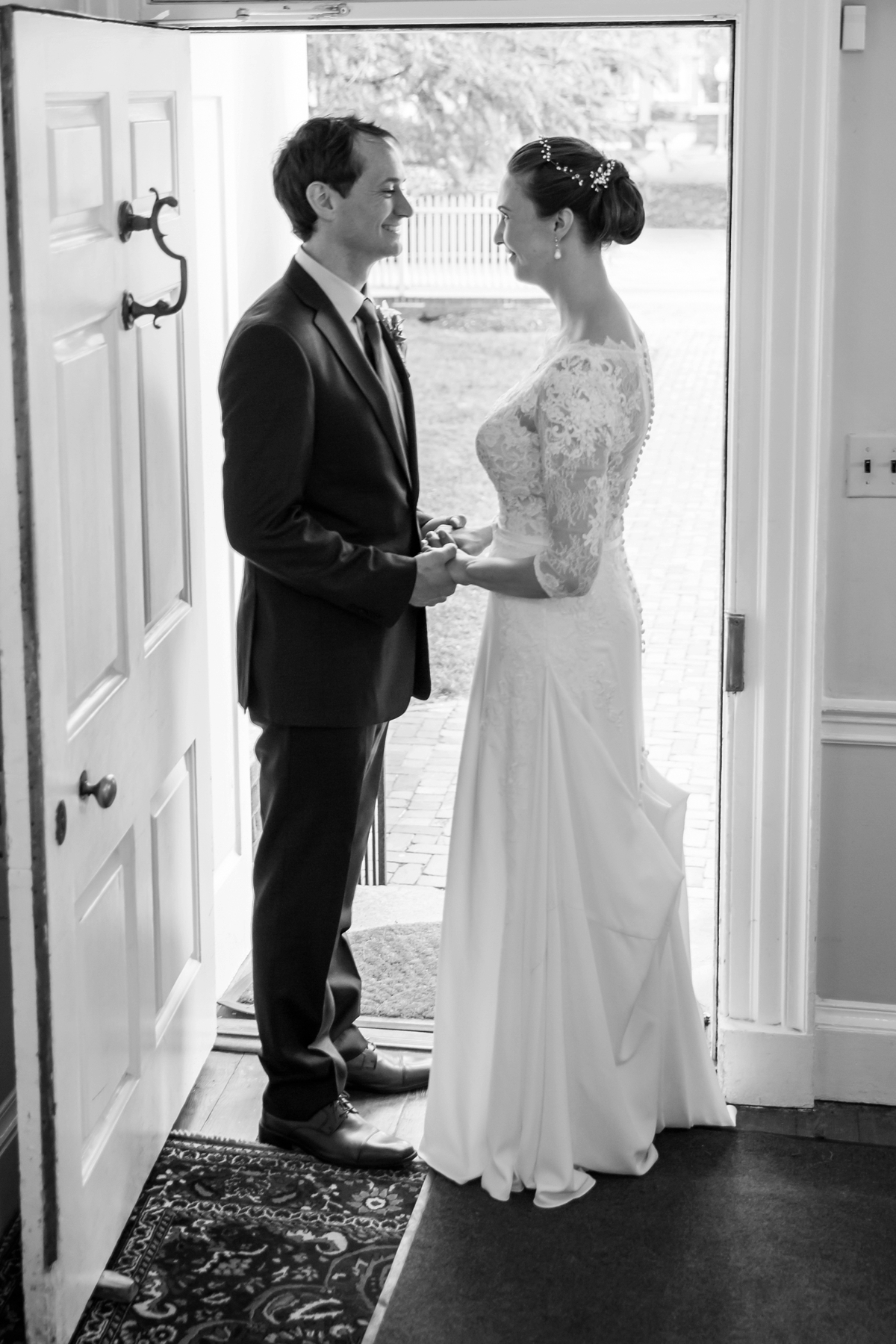 Dana and Eoin were thrilled with the resulting photographs.
"Hannah has a natural talent for capturing beautiful, candid moments from your wedding day, that each seem to tell their own little story! She puts everyone at ease, from the groomsmen joking around before the ceremony to the more structured, formal photos of the entire family. Hannah was particularly thoughtful about the little things that she knew Eoin and I would appreciate being included, like the book of 'Advice to the Bride' from my Kindergarten class that year. It's clear that Hannah has a love and passion for photographing such memorable days and it shines through in her pictures."
"One of my very favourite photos of my parents on their wedding day is one in which they are looking at one another in the front doorway of the Alumni House. I love how it seems to capture this small, private moment at their reception. It's a photo in their album that I've always admired. As Eoin and I had our reception in the same venue, we asked Hannah if she could recreate this photo of Eoin and myself in the same doorway. Her portrayal turned out beautifully and is a lovely part of our wedding album, especially as we celebrated my parents' 50th wedding anniversary this year."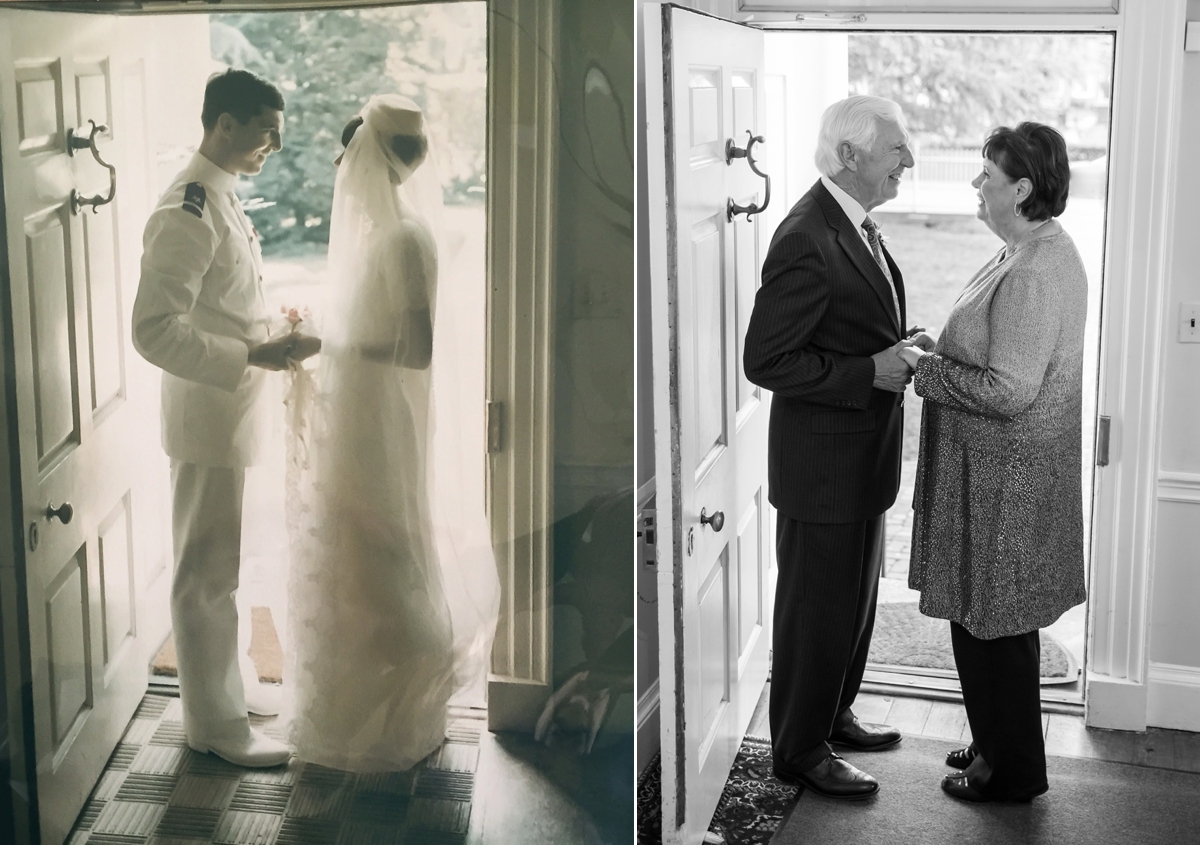 The wedding breakfast was catered by Main & Market, who also designed the traditional tiered wedding cake which was decorated with more fresh flowers. I love the long table runners of garlands of foliage with pops of colour from the lush fresh flowers.
"The white cake was vanilla with a fruit filling, simply decorated with plum-coloured flowers. We chose a cake topper of romantic dipping dancers from Just Cake Toppers."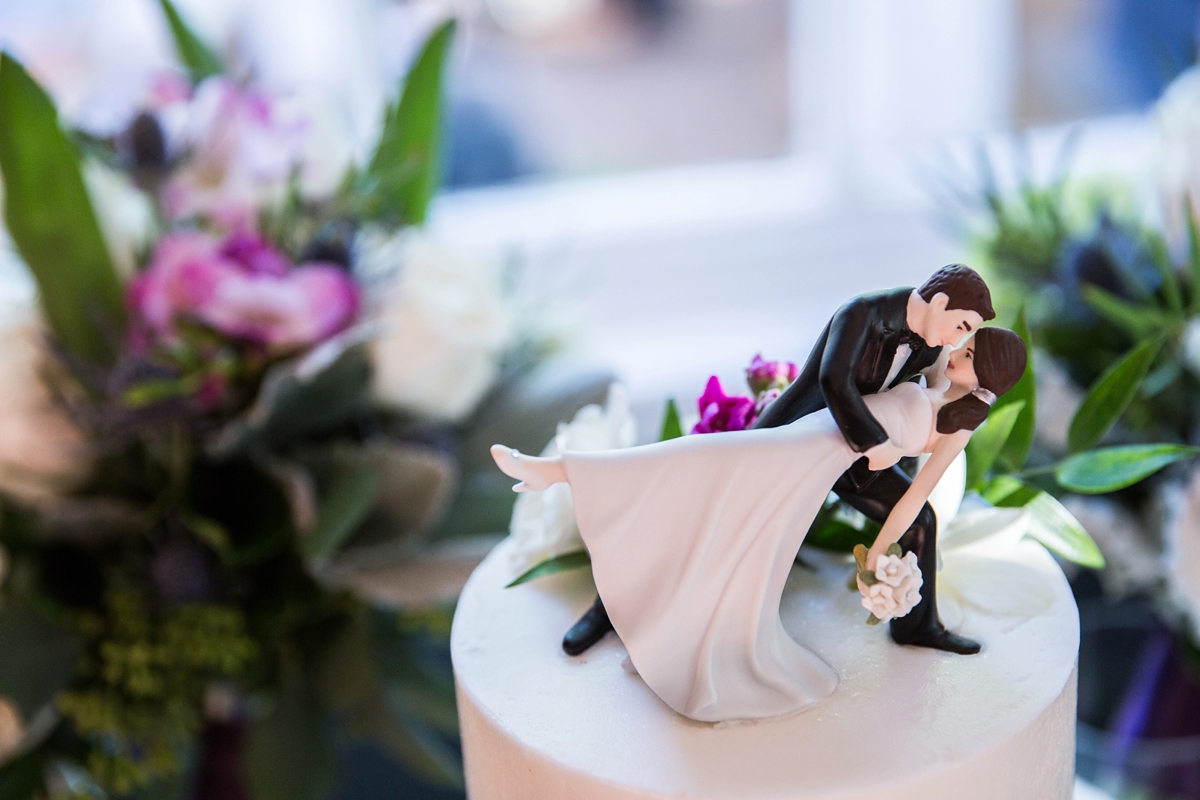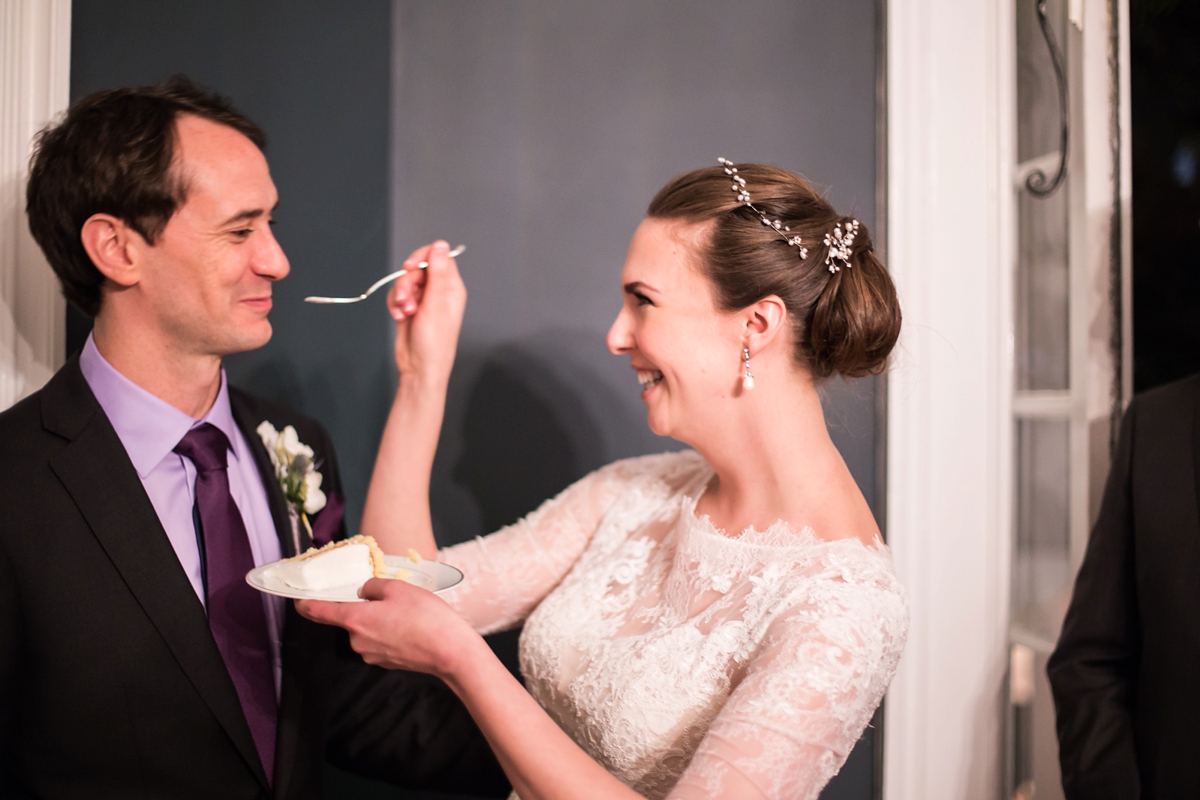 The newly-weds had a charming first dance to an acoustic version of 'I'm Gonna Be (500 Miles)' by The Proclaimers. The same song was used by Hannah Larkin for the photographic slideshow.
"Eoin and I have always liked the song and have a fun memory associated with it, so we thought it would be fun and romantic to have the band play a slow version of the song. Hannah used an acoustic version by Sleeping At Last for our wedding slideshow."
"We chose to hire a local band called Sons of Pirates. Funnily enough, the band happens to technically be a Jimmy Buffett cover band that plays a variety of tunes beyond Jimmy Buffett. Even though we didn't have a beachy wedding, we just love them and how the songs they play really get an audience dancing! That's just what they did at the reception, too. They played all the best covers that had everyone out on the dance floor."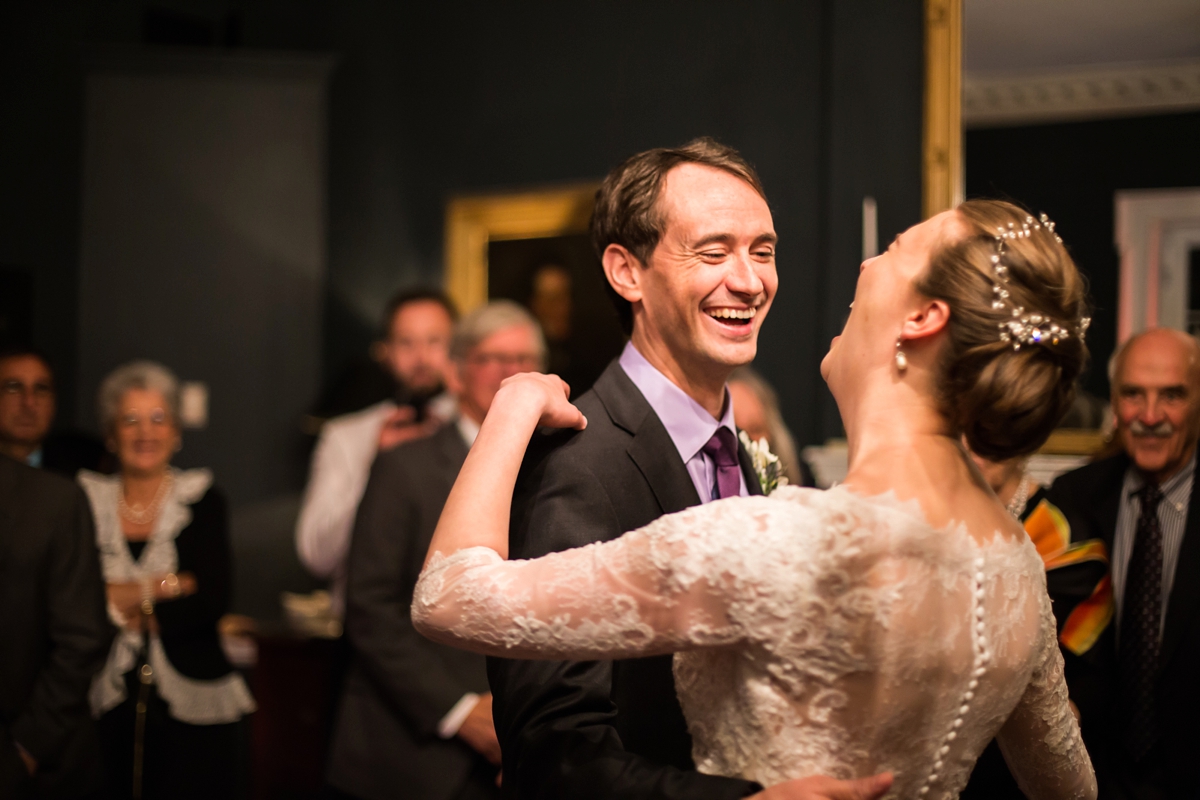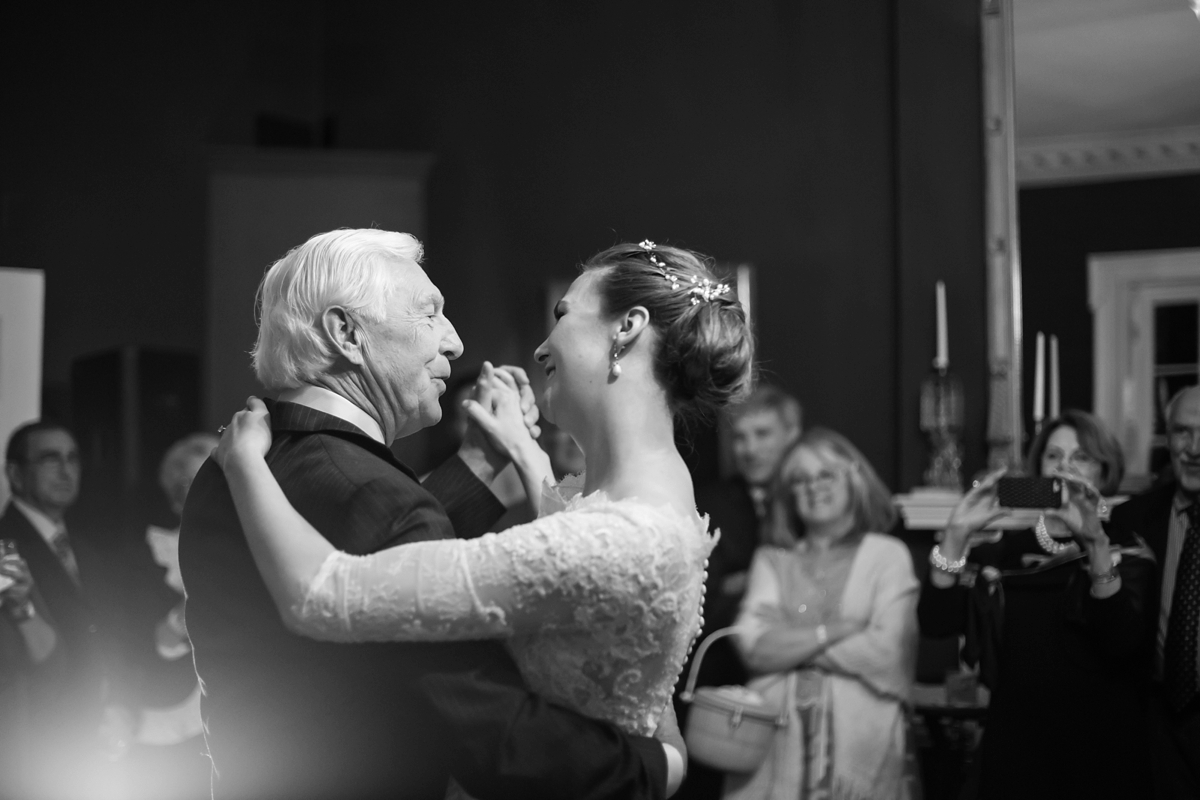 Words of Wedded Wisdom
"Relax and have fun. You will be with all your family and friends who want to celebrate the day with you and they won't care about the details. Try and "enjoy the moment" and find a minute to take it all in. It flies by!"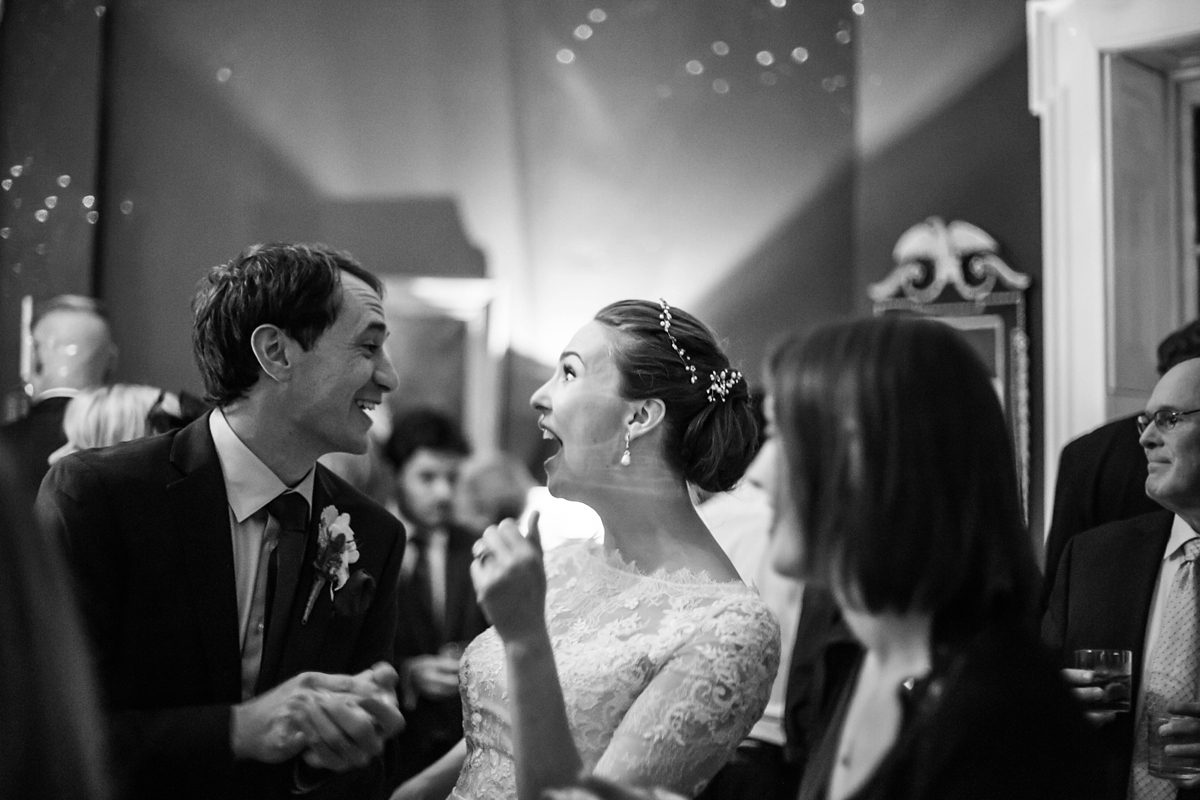 Thank you Dana and Eoin for sharing your US wedding with us all today. I love the family elements that you included, and the recreation by you and your parents of that original 1968 wedding photograph is just wonderful. Please join me in sending thanks to Hannah Larkin too for such thoughtful, emotive images.
Ele xx