Today's vibrant wedding is the perfect injection of colour and joy into a cold December day.  When I first opened up the folder of photographs for this wedding my eye was instantly drawn to the wonderful batik evening gown that bride Linda designed and made herself.
For all of you lovelies looking for inspiration to do your own thing that celebrate you and your partner, please read on. I invite you to come with me to Kent today for the springtime wedding of Linda and Fred, who married on 20 May 2018 at Hayne House, Saltwood, Kent.
Photography Shelby Ellis Photography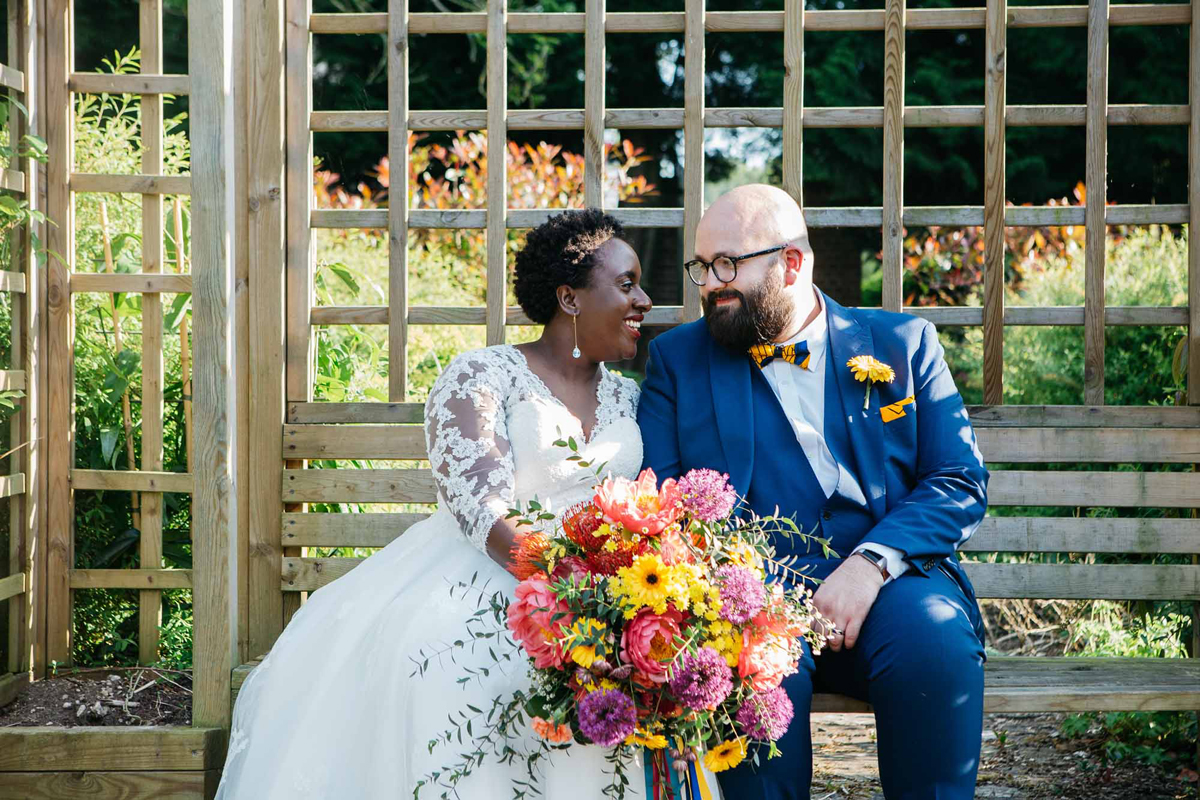 Linda, a menswear designer, and Fred, a broadcast engineer, were inspired by their Ghanaian and English heritages to create a day full of joyful colour, with accents of gold and bold batik design. The backdrop was the beautiful countryside location of Hayne House, which drew the couple in with its secluded, romantic feel and historic importance.
"It was important for us to have a mixture of our heritage Ghanaian and English on the big. We have such an eclectic taste separately and wanted to express this on the day. We went with a bright bold palette with accents of Gold. We had traditional batik hand-printed cloth, sourced from Ghana by relatives, running through the all the wedding party's outfits, table decorations and even the cake."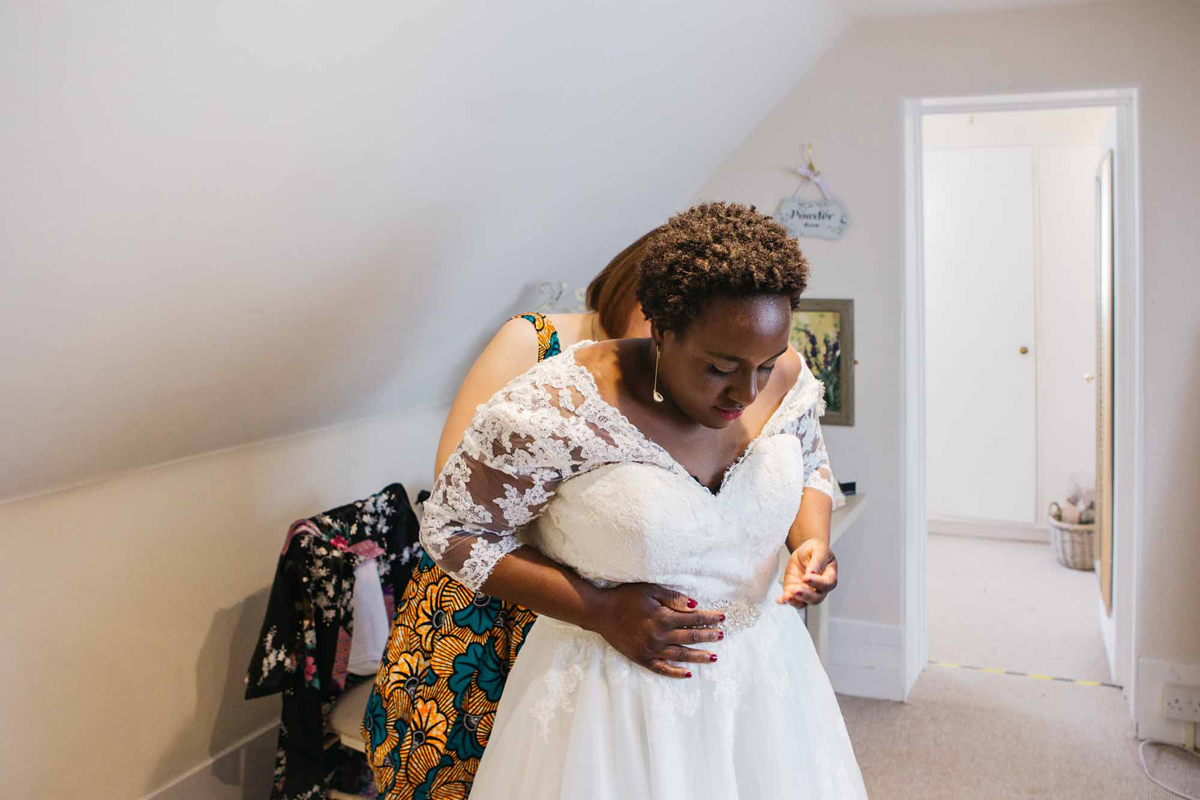 Her white wedding dress with its illusion and appliquée lace sleeves was from Berketex Bride. Fun and playful, I really feel that it represents Linda's spirit as well as showing off her beautiful figure.
"I loved the midi length and the 50's style, the ¾-length lace sleeve, plunging neckline and the lace button details that finished the dress."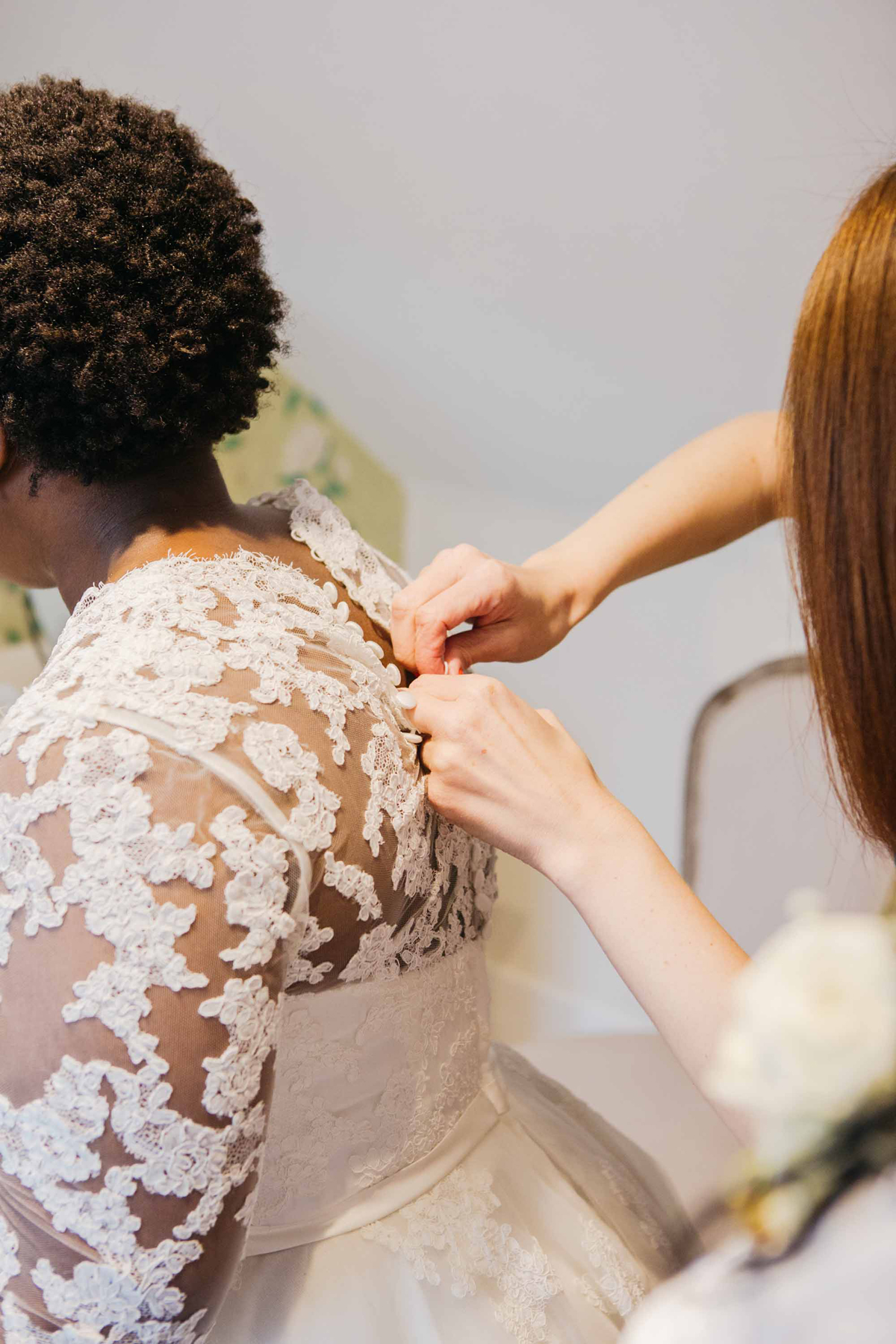 The shorter length also meant that her gorgeous shoes were on show; this flirty pair of chunky block heels with their faux fur trim are actually from high street staple M&S. Blue pendant drop earrings from & Other Stories added a subtle splash of colour, and she styled her own hair and make-up.
[JP-VIDEO]
Her hot pink lip colour is a fresh and modern bridal look, and was a great match for the extravagant, vibrant bouquet of flowers that she carried, put together by Emily&Me.
"We chose Hayne House for its beautiful secluded surroundings. We also loved the history of the property and its grounds being Edward VIII's and Wallis Simpson's lodge. I was really inspired by Edward VIII's style whilst studying at university and used him as my muse for my pre-collection. The venue cleverly highlights all its historic features and is elevated with the contemporary orangery, this was such a great fit for our fusion wedding."
The couple have been together since their teens.
"We met through a mutual friend whilst we were both studying for our A Levels. We got engaged in Prague on a long weekend break; we were star-gazing on the terrace drinking Champagne (as you do…). We were engaged for two years before getting married and started planning the wedding after a year of being engaged."
The ceremony was held in the light and airy orangery at Hayne House, gloriously decorated with foliage and fresh flowers. The pew ends were adorned with slate 'Love' hearts and bright blue delphiniums.
Linda entered the orangery with her mother Lucy Dzide, as a mash-up of Dixie Cup's 'Going To The Chapel' and an Andrew Oldham's orchestral cover of The Rolling Stones' 'The Last Time' was played.
"We didn't want anything too religious and kept our vows quite simple. We asked Fred's sister (my bridesmaid) to do a reading of 'Here's To The Right Now' by Ms Moem."
"Our rings are from Diamond Geezer who were recommended to Fred by a friend."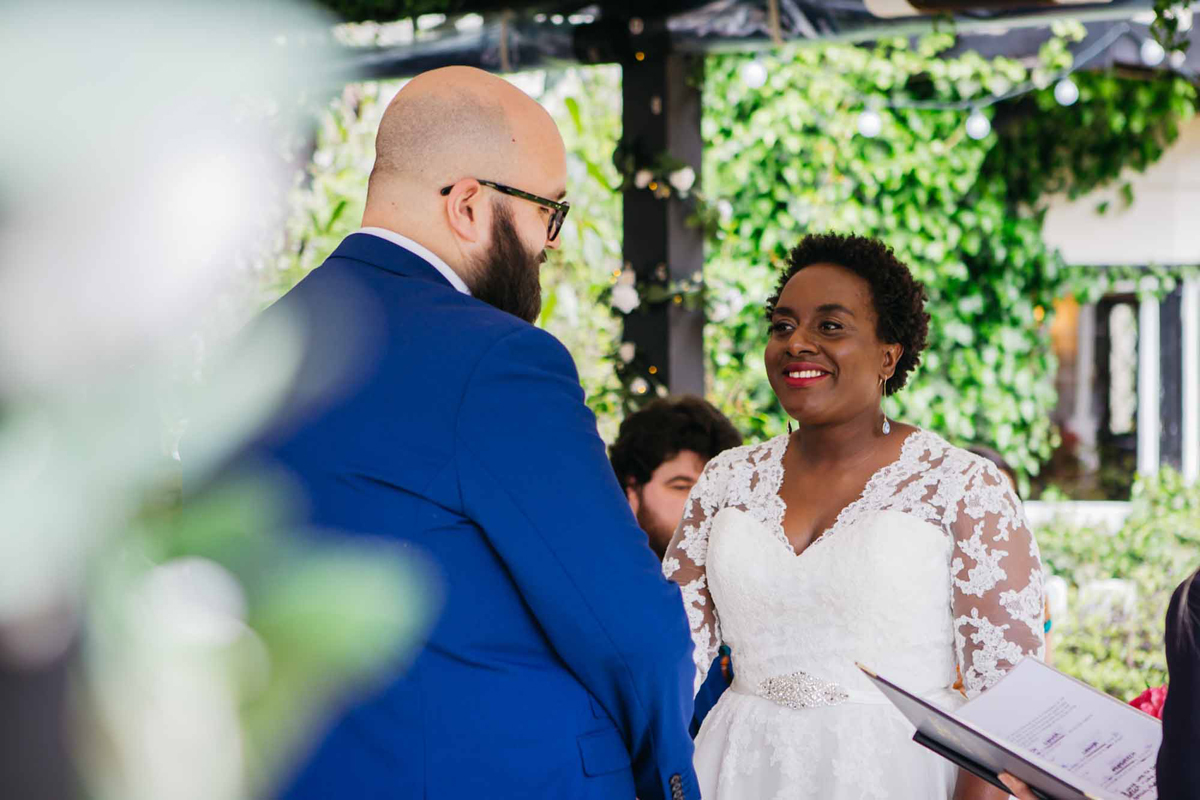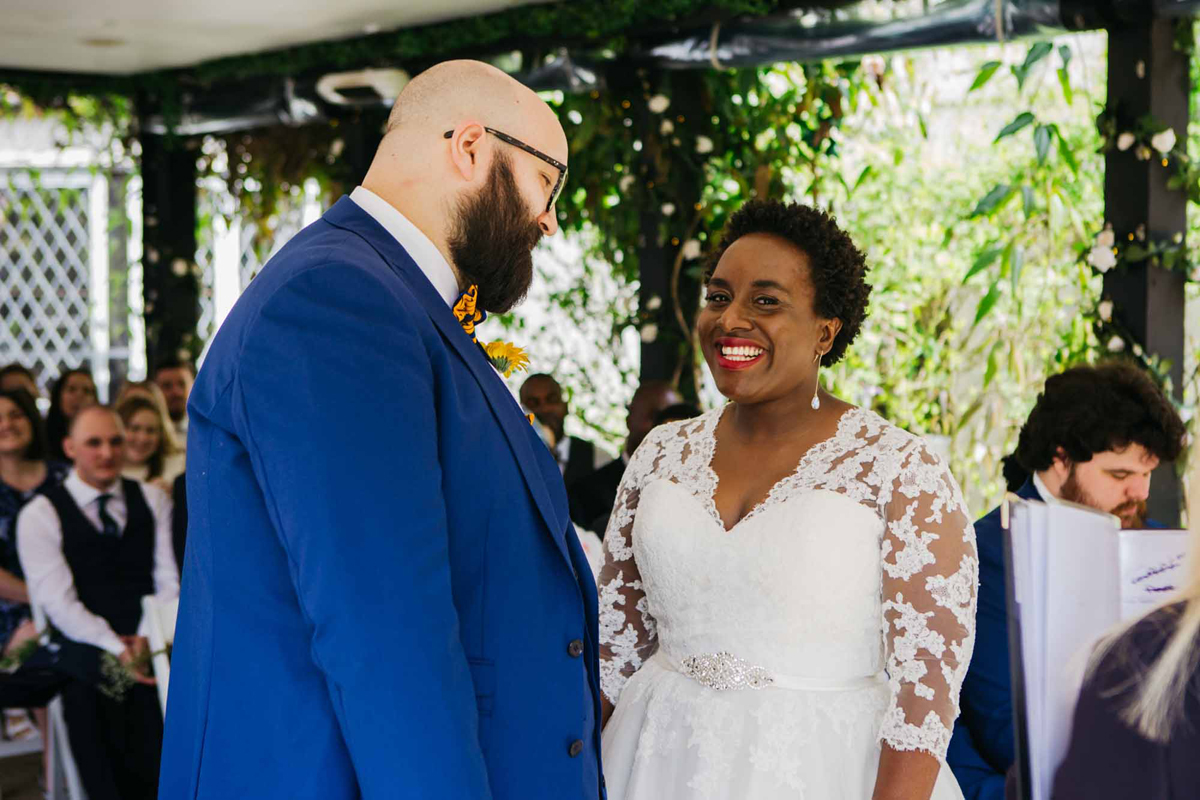 "We chose Emily&Me due to their handwriting they are contemporary florists who were open-minded and loved the challenge of putting together such a colourful arrangement for our day. We were in Notting Hill on our engagement shoot when we saw a tray of colourful cacti on a market stall."
"We instantly decided we wanted these as table arrangements and favours. This is not your typical request but the team at Emily&Me were not fazed at all; they sourced us the most colourful assortment."
The joy and vibrancy of this wedding have been so well recorded by Shelby Ellis Photography. I love the feel of movement and happiness that shine out from these images, and her natural, unstaged style means she's fantastic at capturing the raw emotion and sheer joy of Fred and Linda. We're delighted to recommend Shelby Ellis on our Little Book, and you can get to know her a little better on her listing here.
"We had the pleasure of being guests at a wedding that Shelby worked on and we knew straight away that she was the photographer for us. Shelby is super-friendly and professional. She went above and beyond just a photographer as she listened to our ideas and gave suggestions and advice."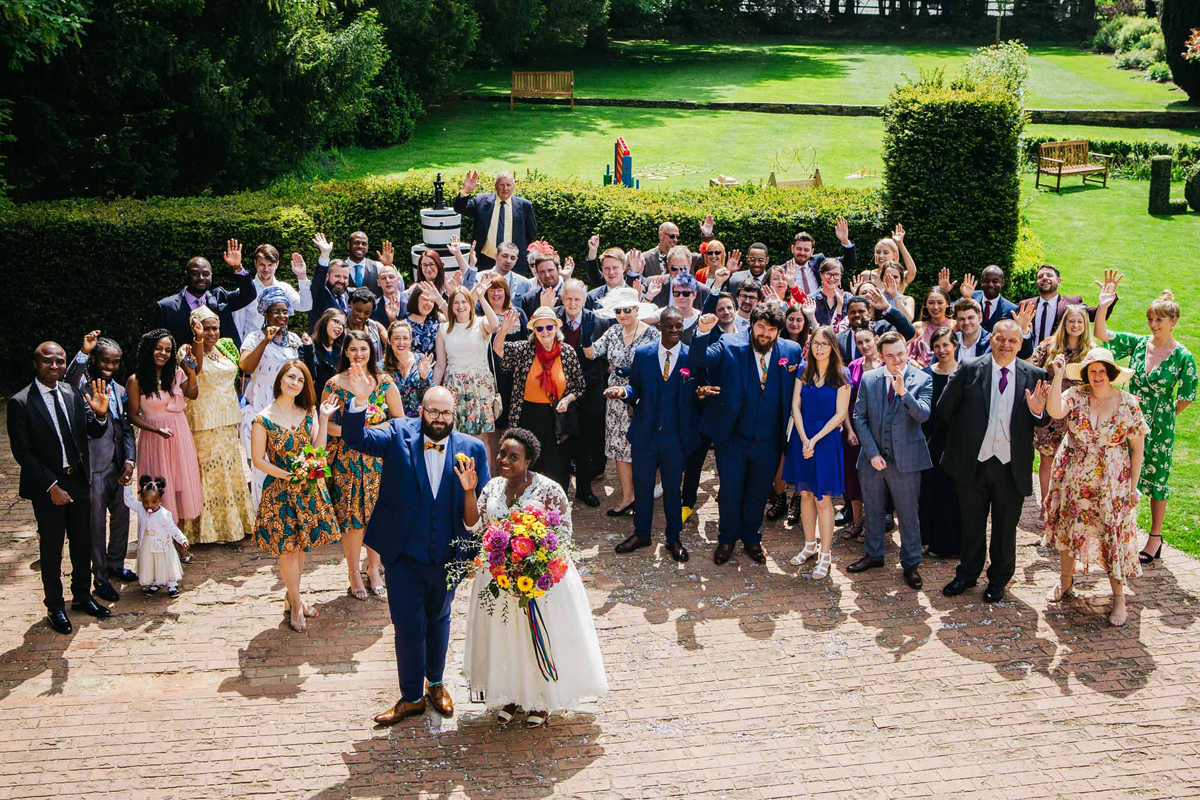 "She was on board with our vision and just as excited as us for the day. She is such a natural at capturing all the amazing moments of us and the guests and ensuring it didn't feel too staged which we absolutely wanted."
"She is competitively priced and the service she gave us was worth her fee and more. We would highly recommend her to other couples."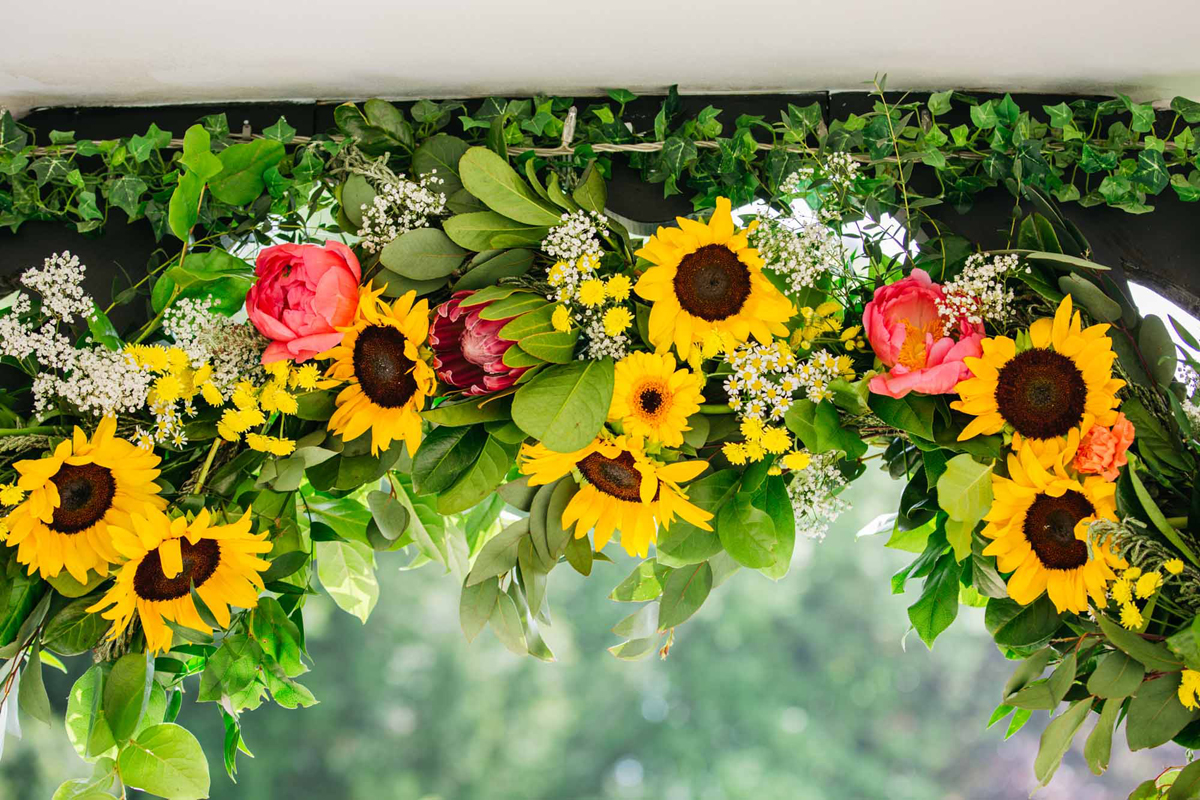 The May weather was absolutely perfect, so the newly-weds and their guests spilled out into the house's grounds to relax together and play garden games. Shelby Ellis also swept Linda and Fred away for some really charming photographs together, all against the backdrop of fresh spring leaves.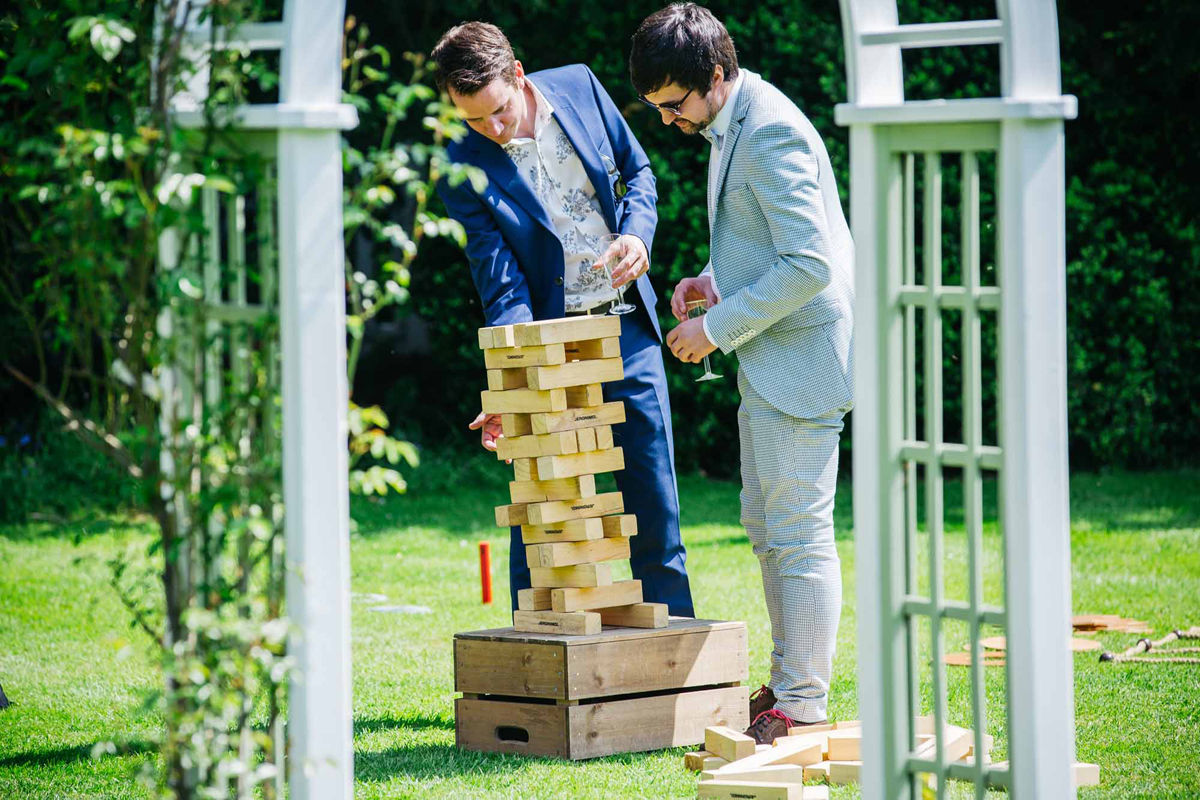 The bridesmaids' gowns married a vintage off-the-shoulder style with an authentic Ghanaian print fabric in blue and mustard yellow, and were handmade by N16 Vintage. Their glittery metallic shoes from ASOS echoed the bride's in style and they finished their look with their own jewellery and carried pretty posies of flowers.
"Inspiration was taken from vintage 40s/50s Horrockses dresses. The fabric was sourced from a Ghanaian fabric market by my mother and aunt."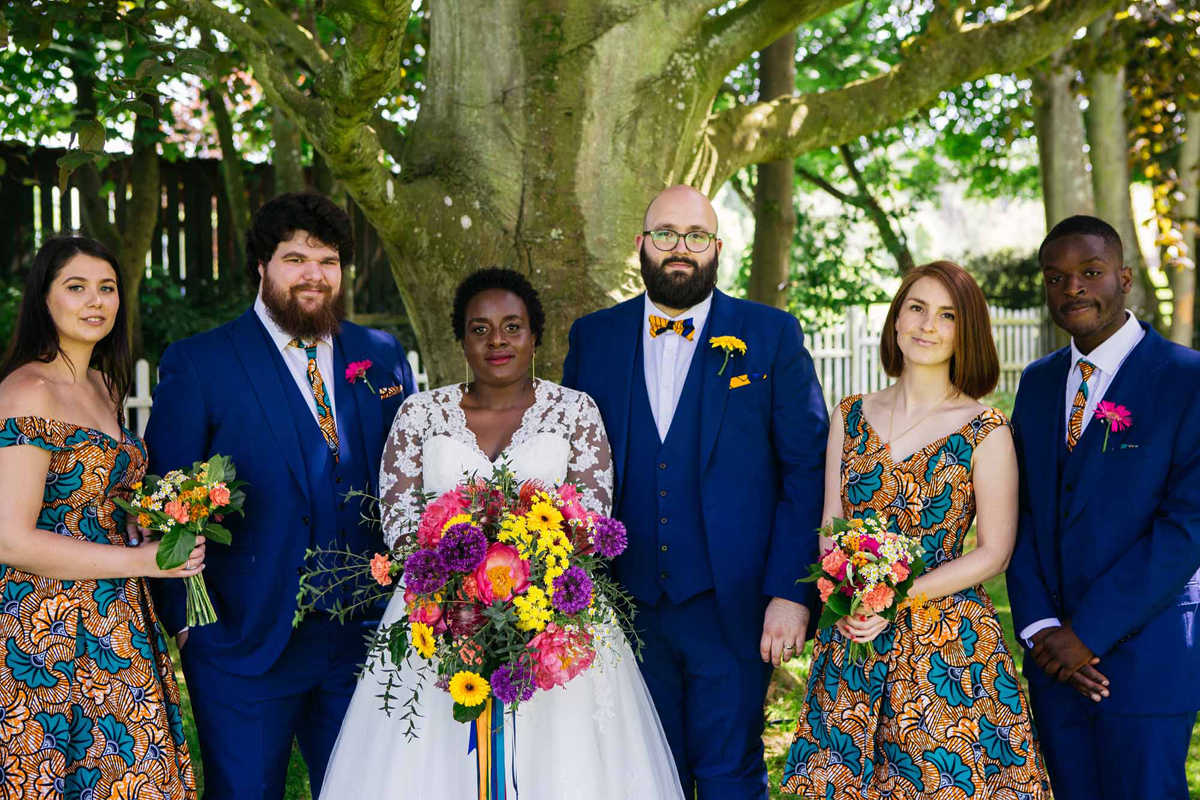 I really liked the bright blue of the men's suits, which were FCUK hired from Moss Bros. The contrasting accessories – a bow tie and pocket square for Fred – were handmade by Linda using the same African batik fabric as her evening gown; a lovely, personal way to tie their looks together.
Fred's finishing touches were a pair of Oxford brogues in tan from Next and striking leafy socks from Happy Socks. N16 Vintage used the same material as the bridesmaids' gowns to make a set of ties for the groomsmen.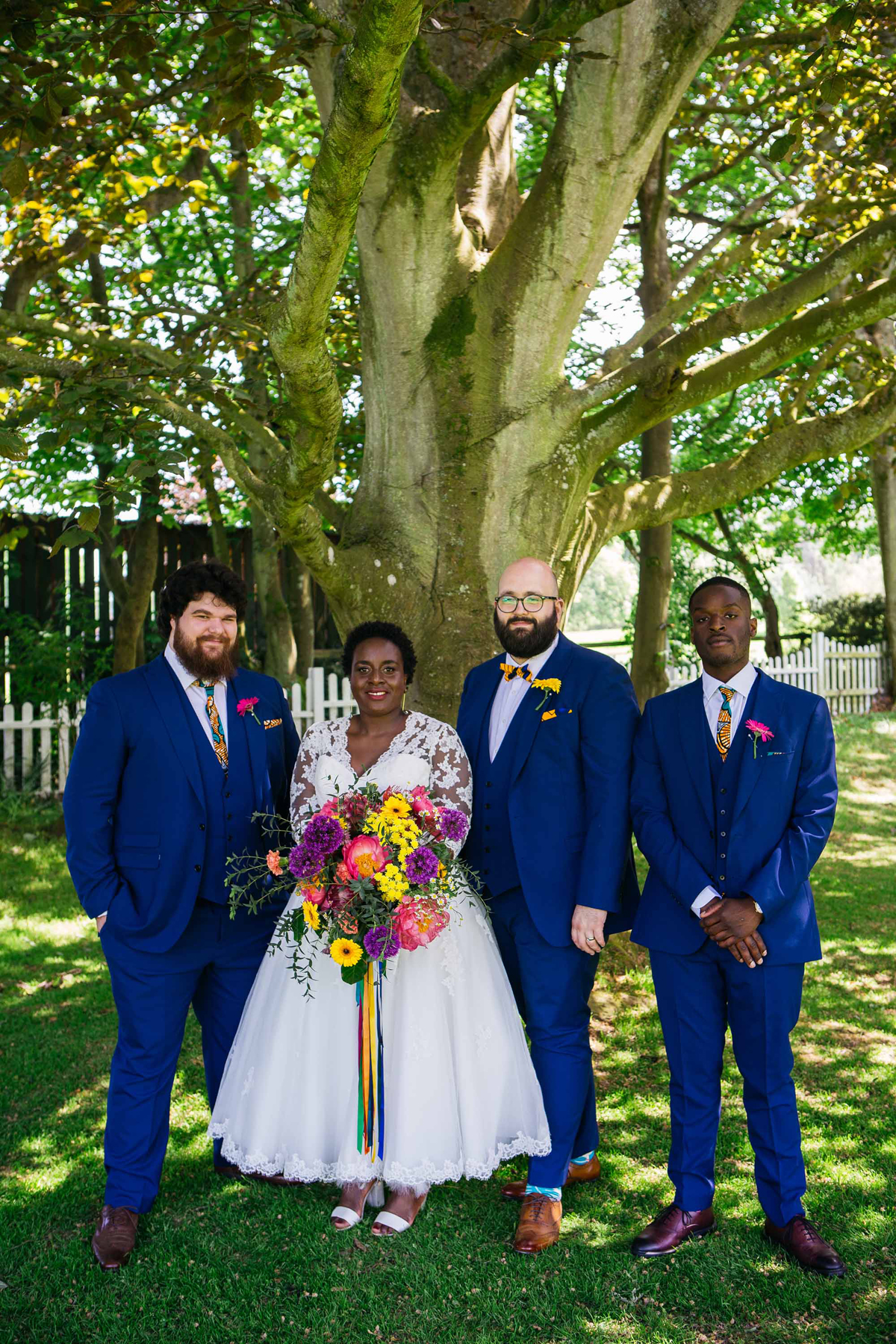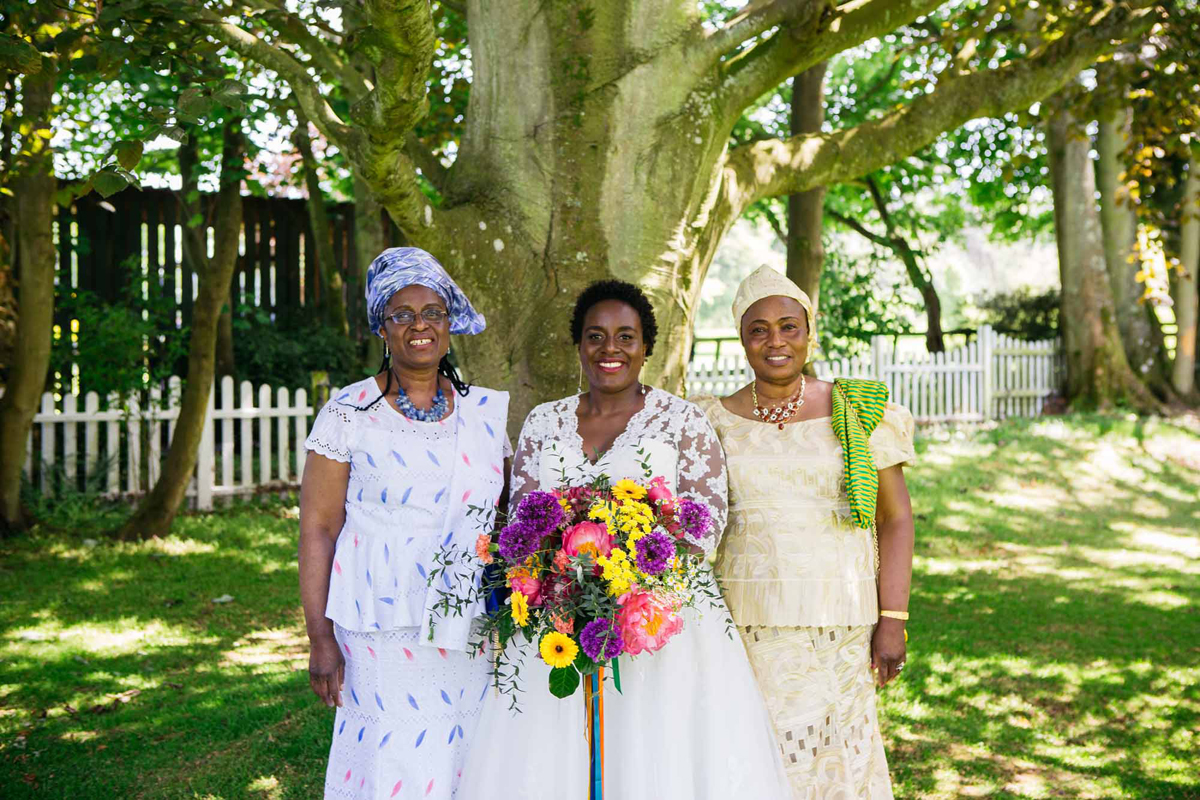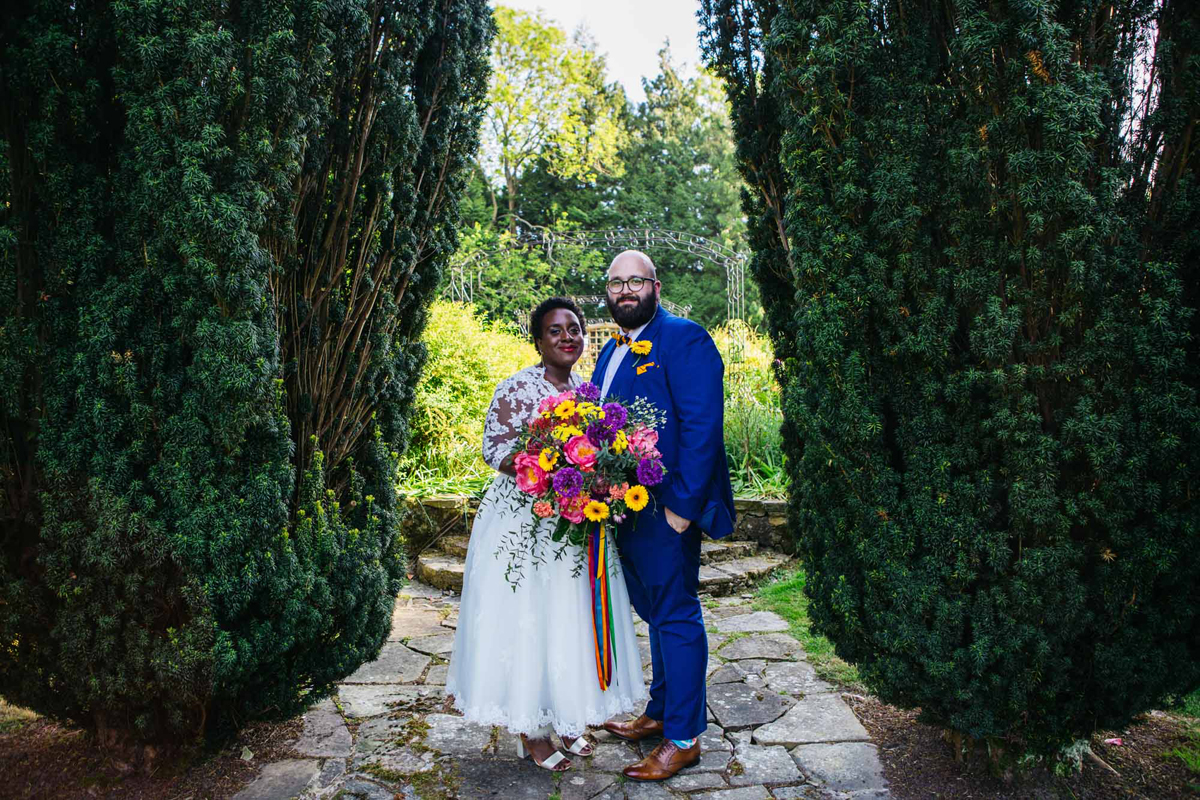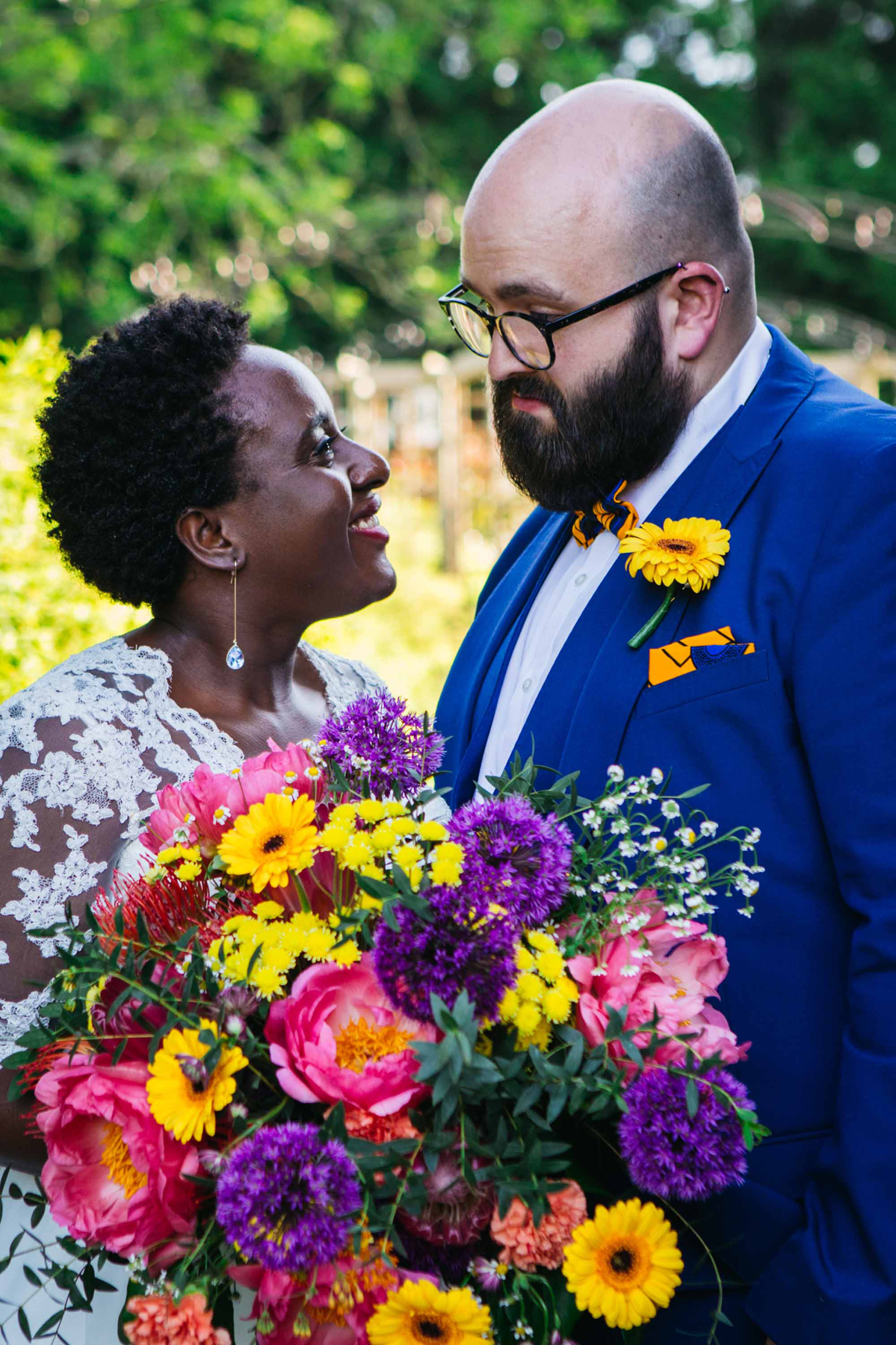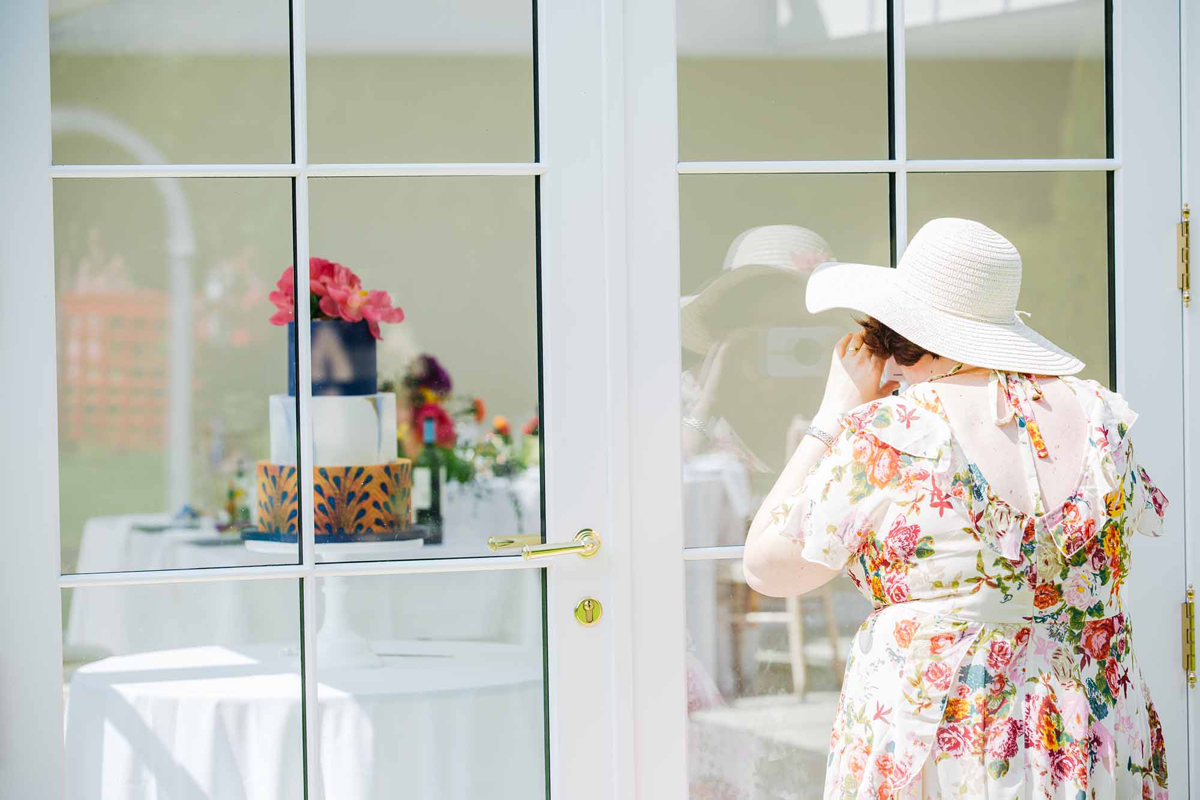 The dinner tables were decorated with yet more colourful flowers and fresh foliage, table runners made in Ghanaian batik fabric which were hand-made by Linda, and beautiful wedding stationery, all created by the bride. The centre-pieces were flowering cacti plants, and there was an array of condiments too.
"Wedding favours were Cadbury Freddo Frogs and Lindt Balls. This was a fun twist on our nicknames."
The show-stopping wedding cake, with its crisp tiers and bold design, was designed by Linda and made by Cobi & Coco Cakes.
"We wanted to ensure we captured the colours and Ghanaian batik patterns through this. The bottom layer was an edible printed pattern."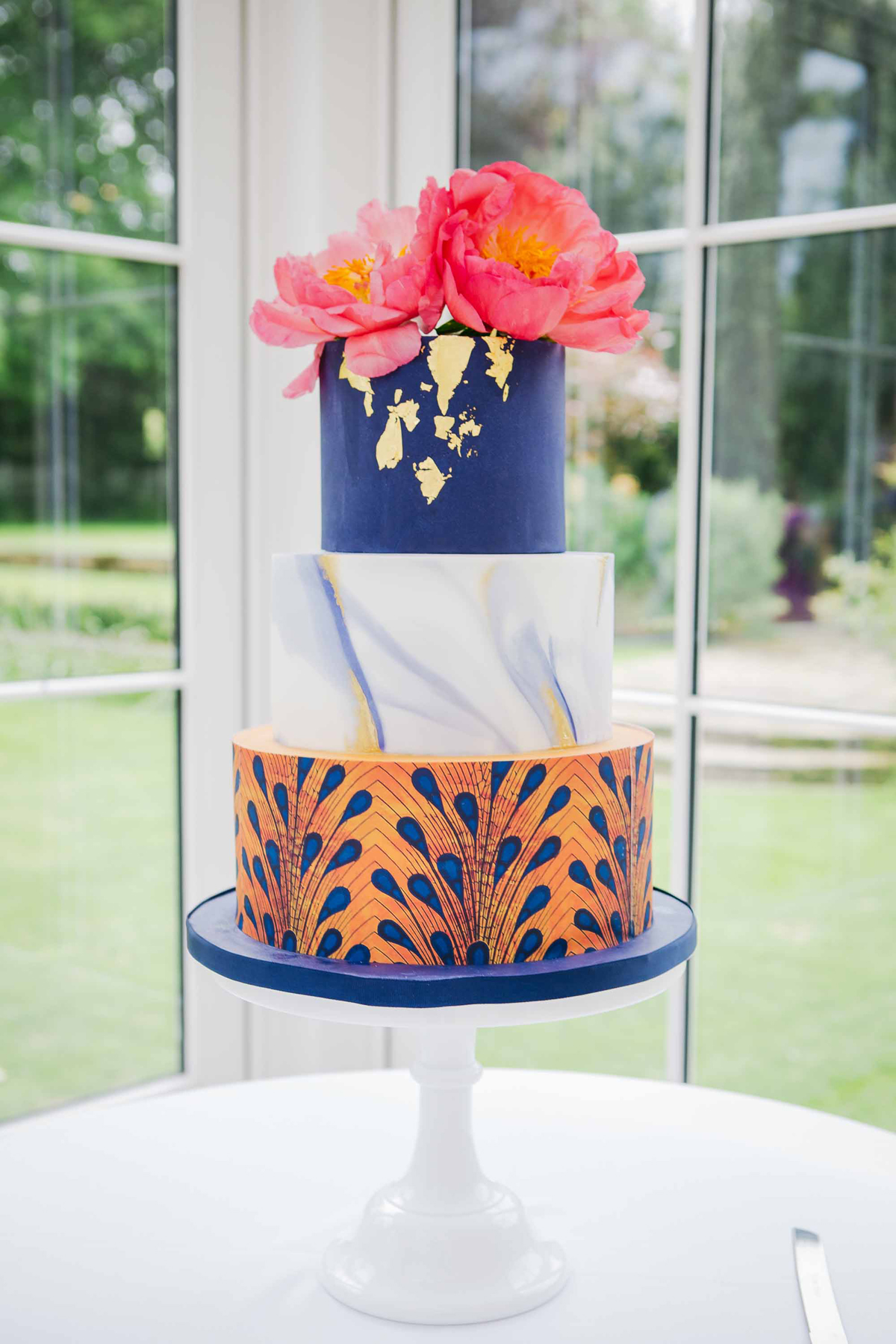 The wedding breakfast was a real celebration of the couple's cultures, provided by caterer Touchays.
"They went above and beyond to learn how to cook Ghanaian cuisine to create an amazing day full of fusion food."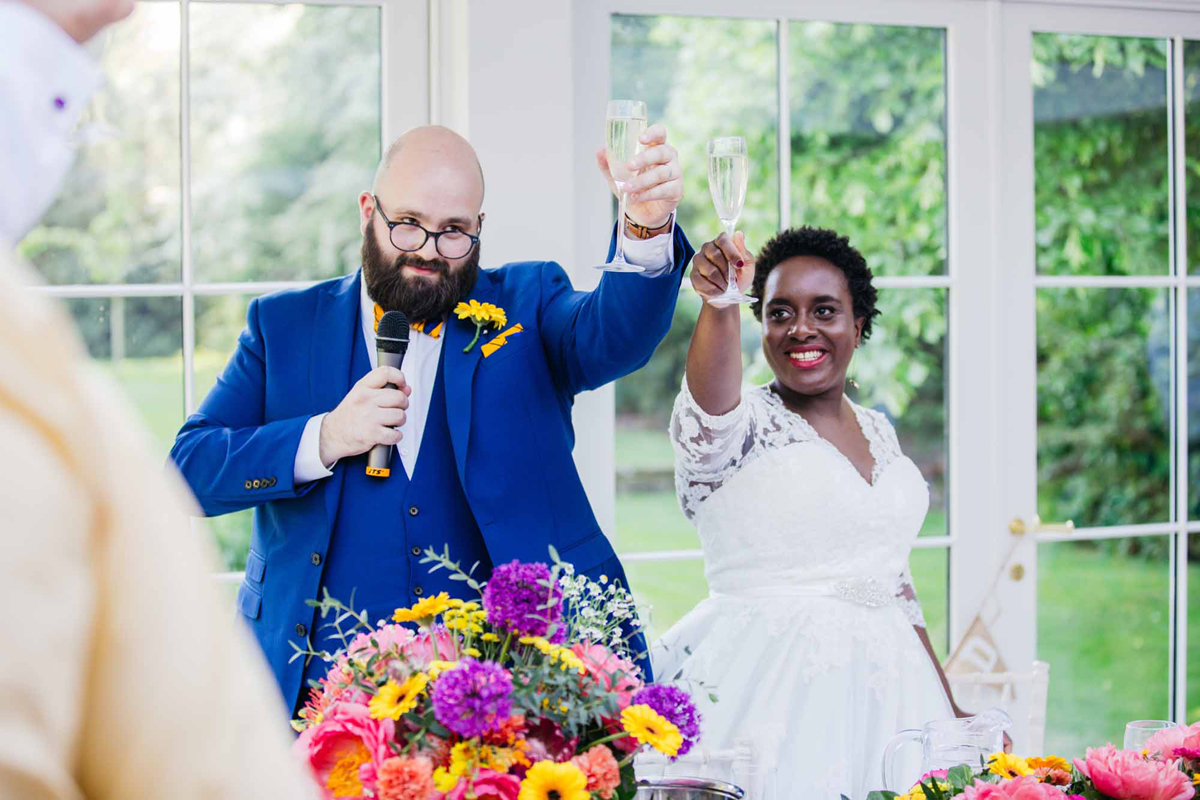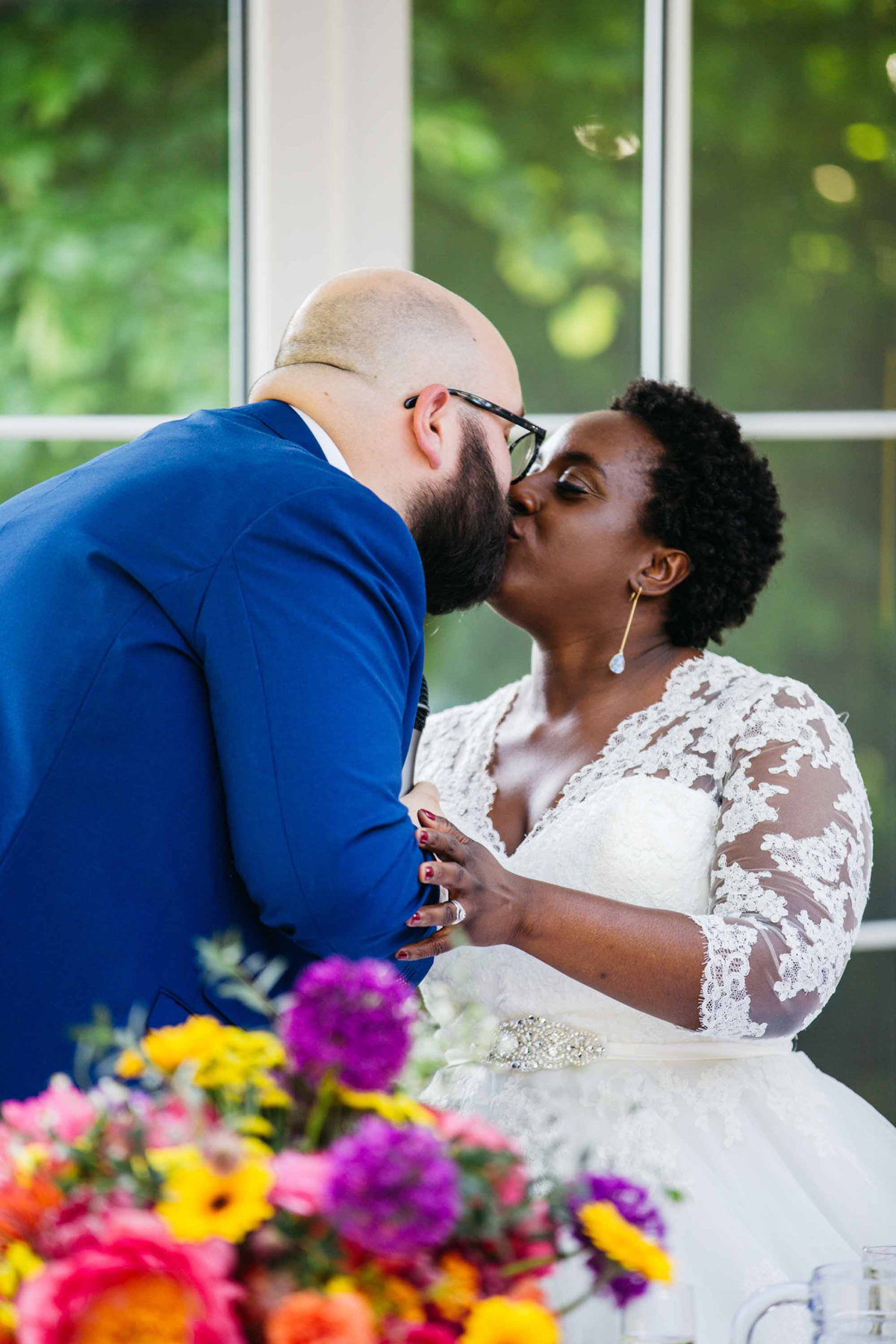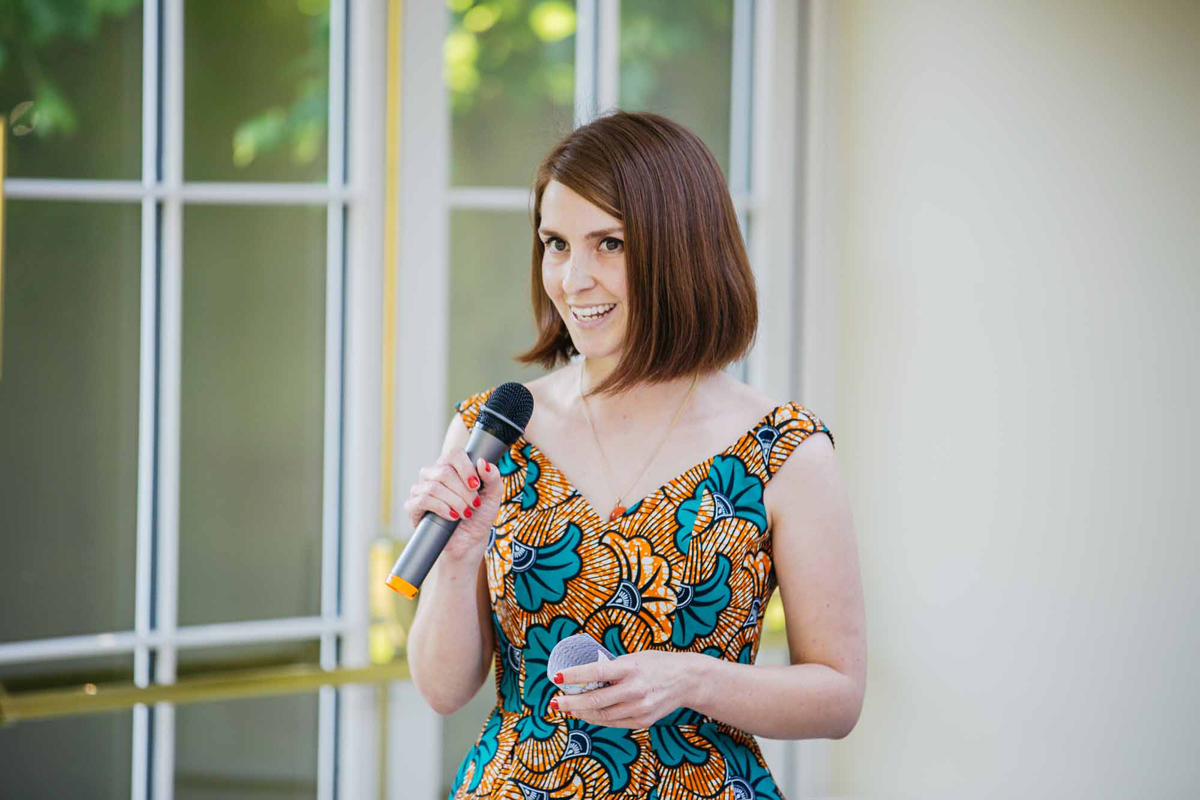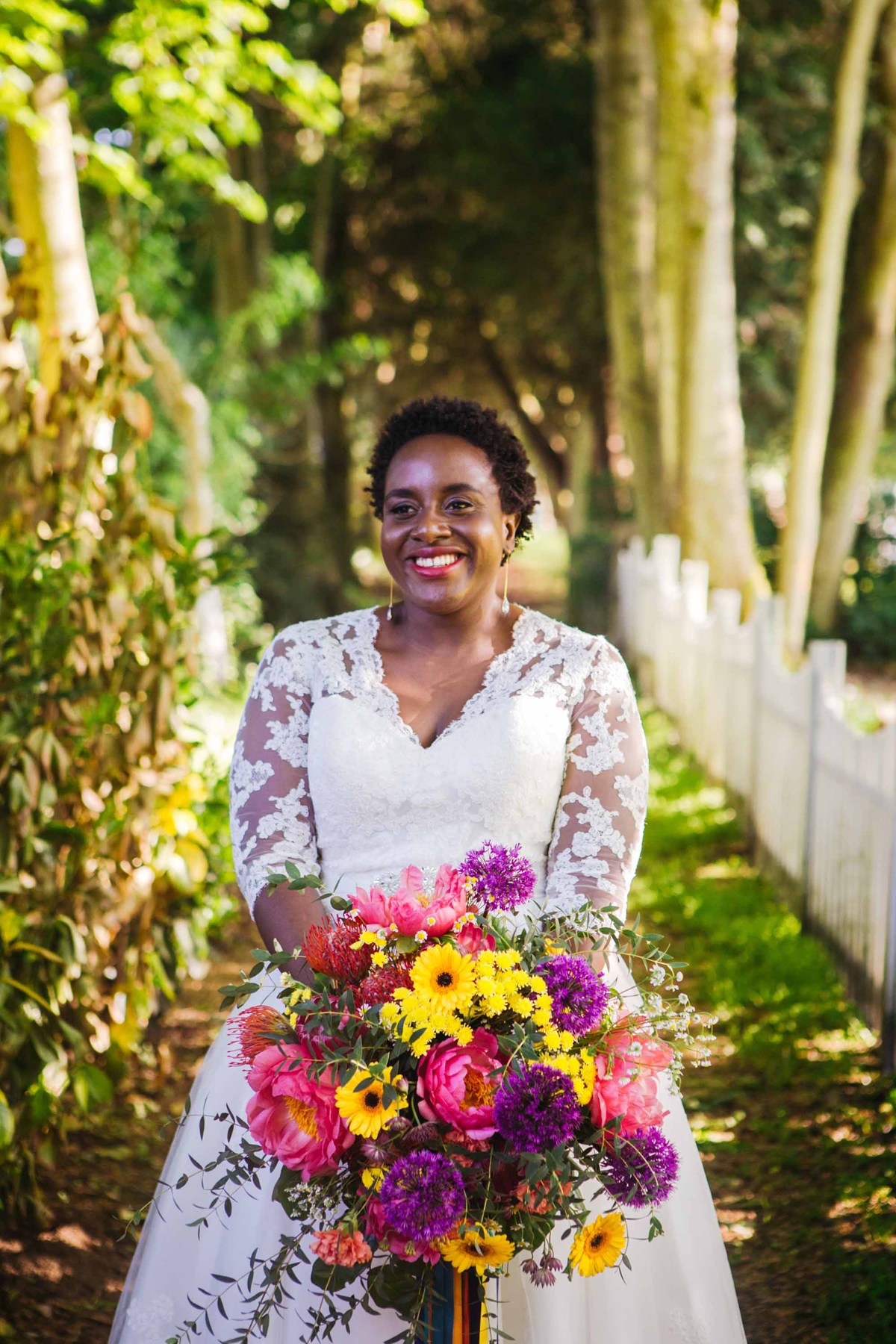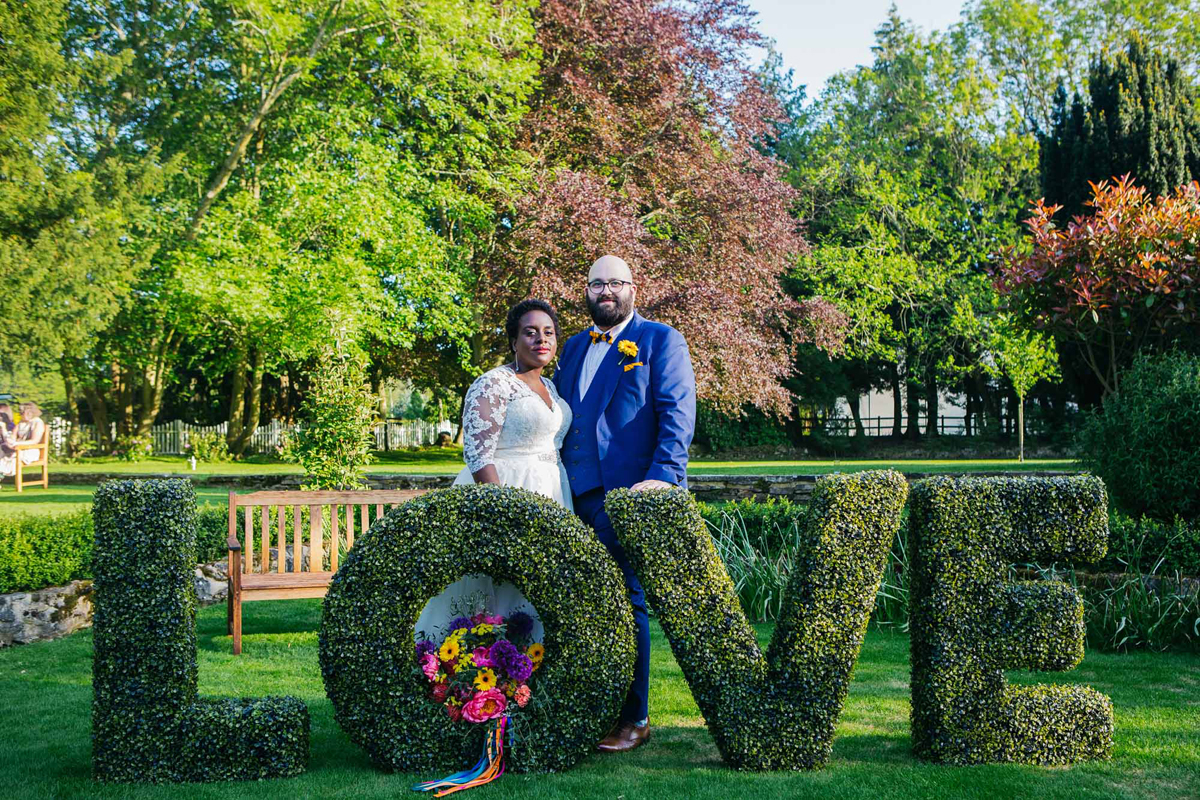 Linda chose two gowns for her day; a tea-length wedding gown for the ceremony and a hand-printed batik design for the evening party.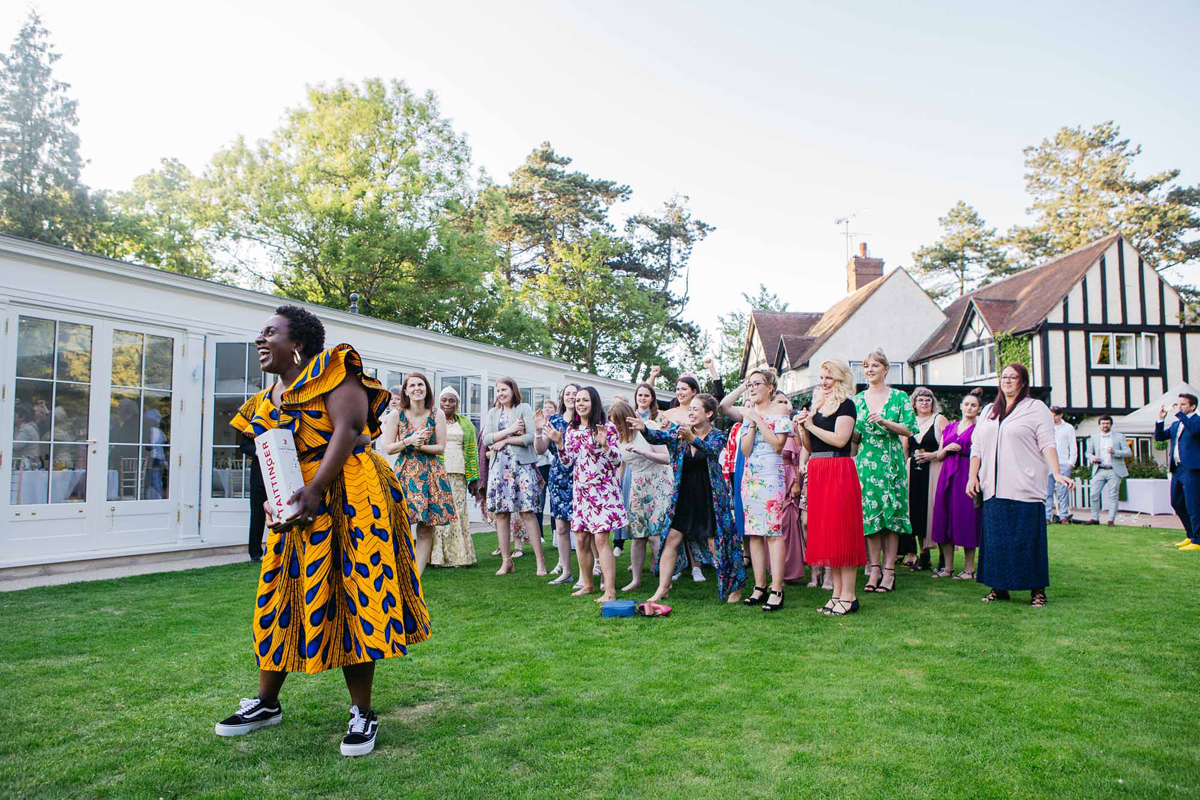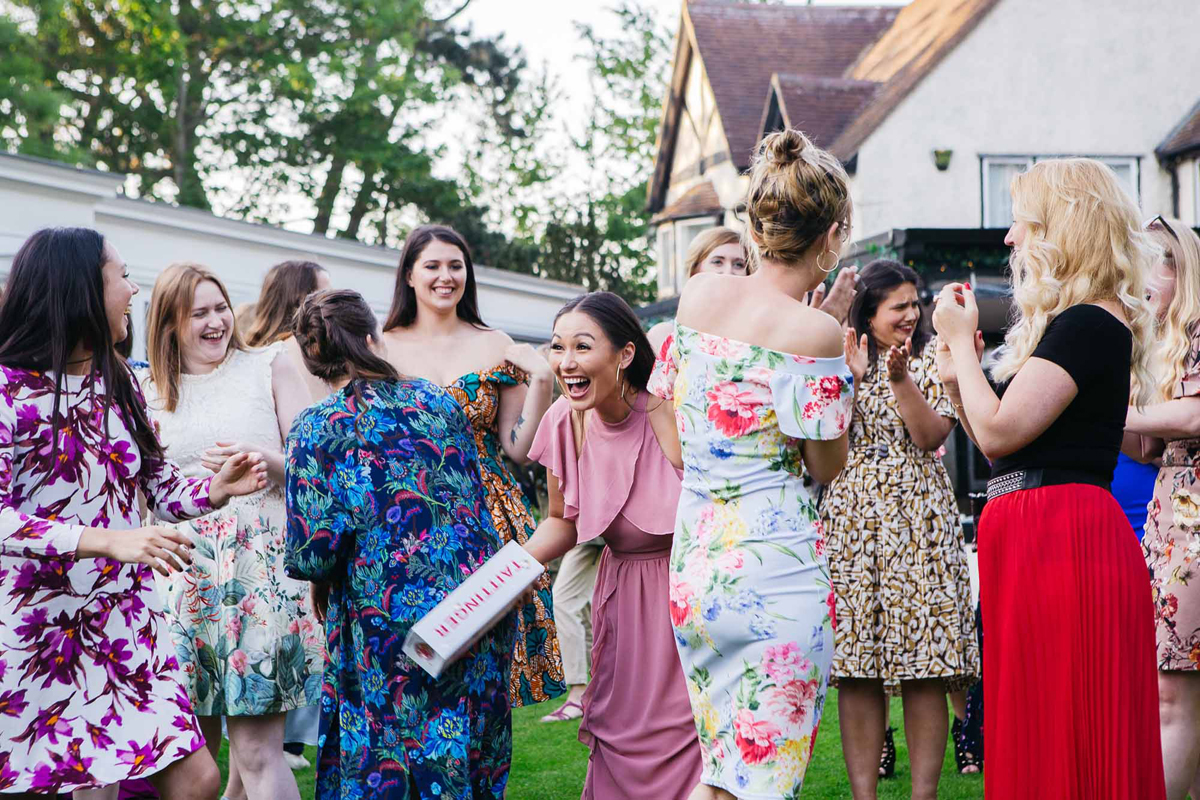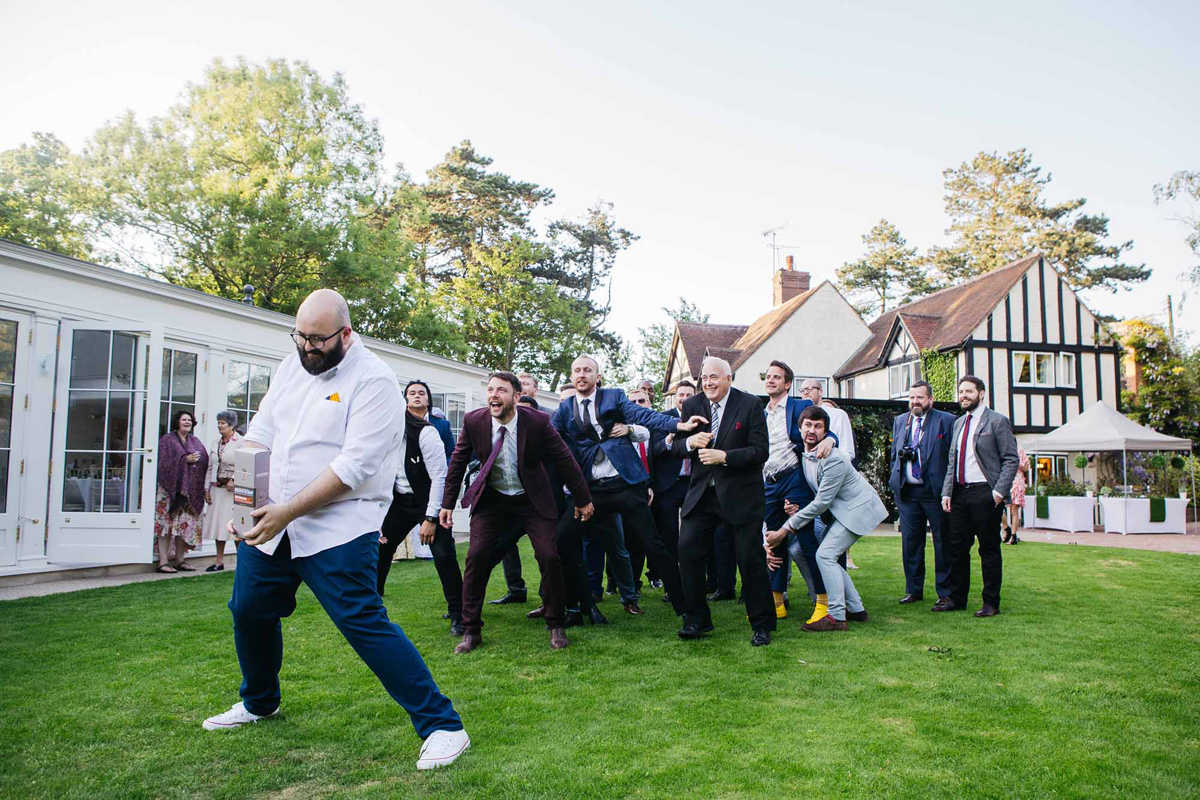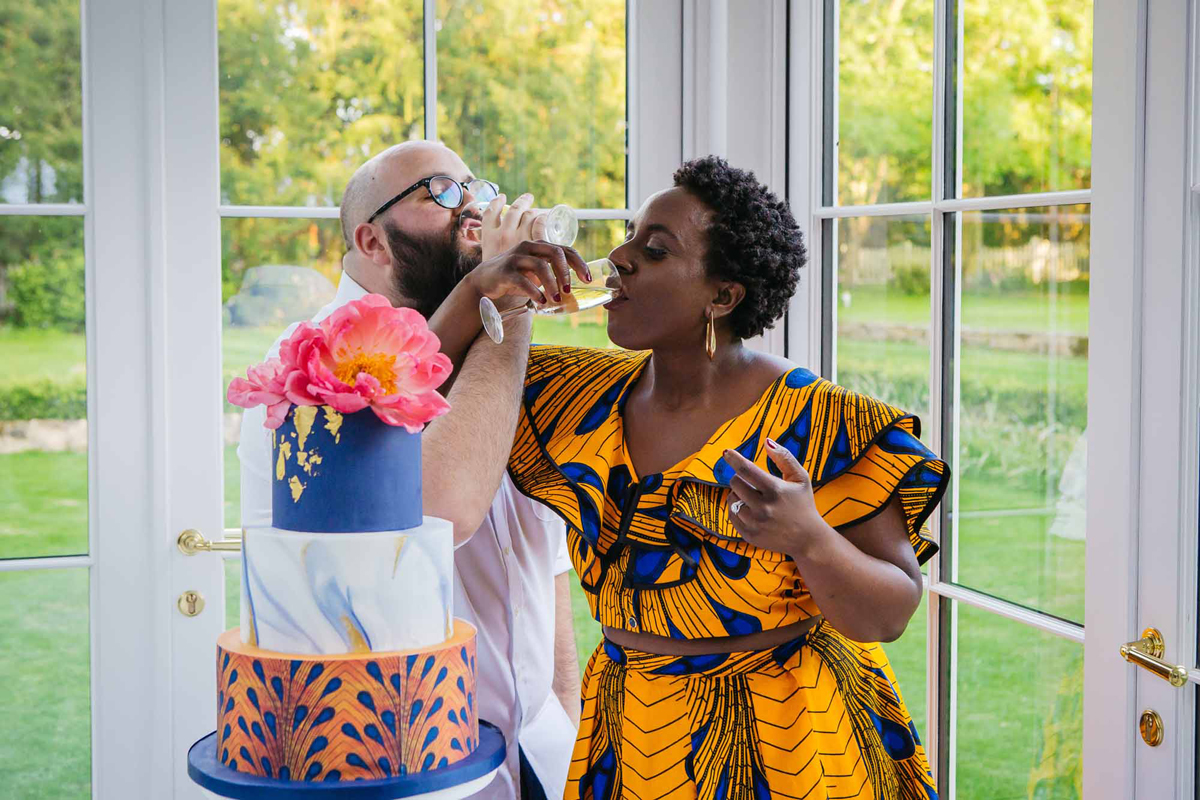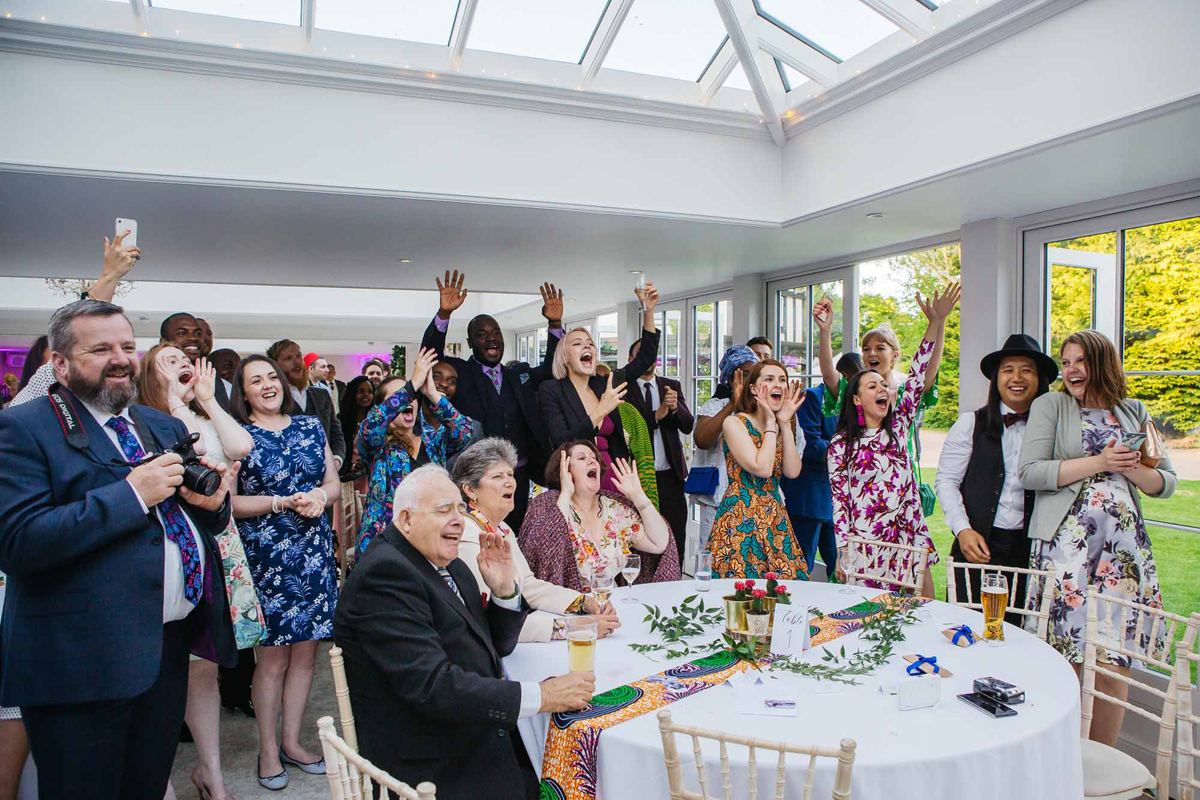 It sounds as if the couple had the time of their lives.
"We have such amazing memories of every part of the day – from the ceremony which was quite humorous with Linda forgetting her own name through to our fabulous master of ceremonies getting everyone pumped for our Moet and Whiskey Toss and the  Mr & Mrs game. Having all of our friends and family together getting along, laughing and enjoying the day with us was just amazing."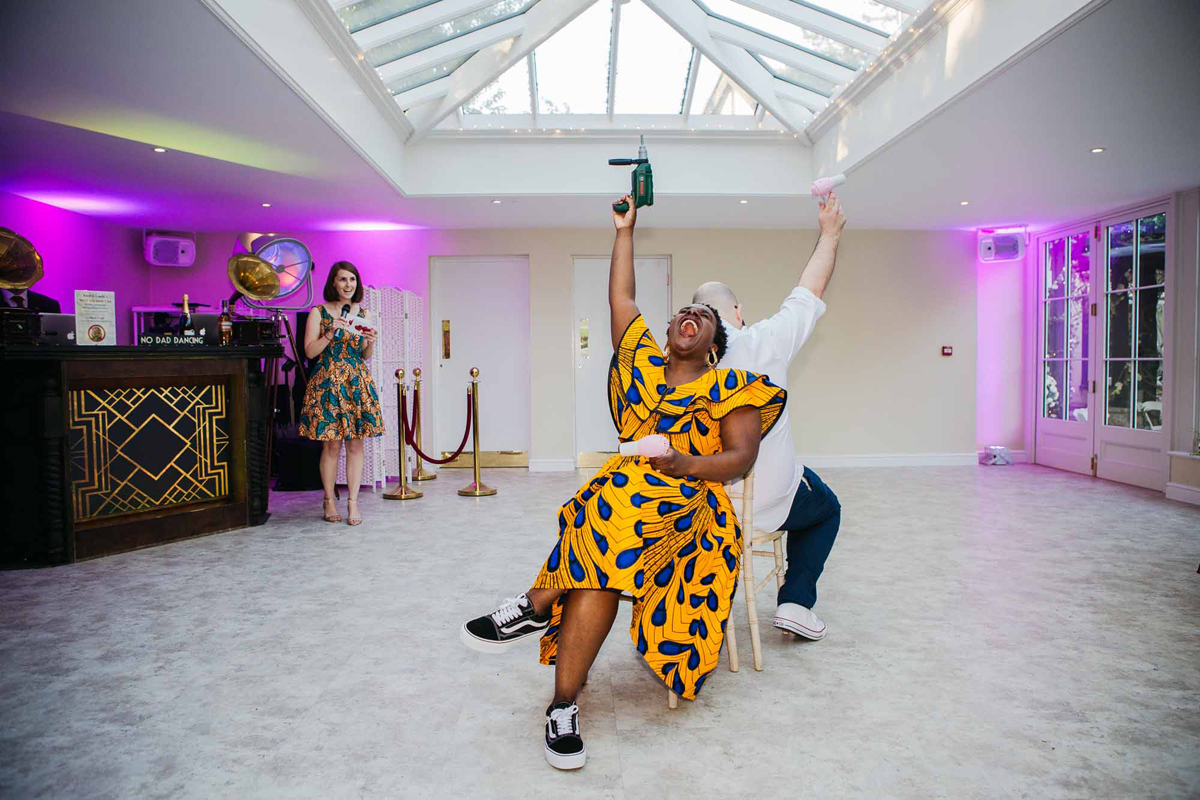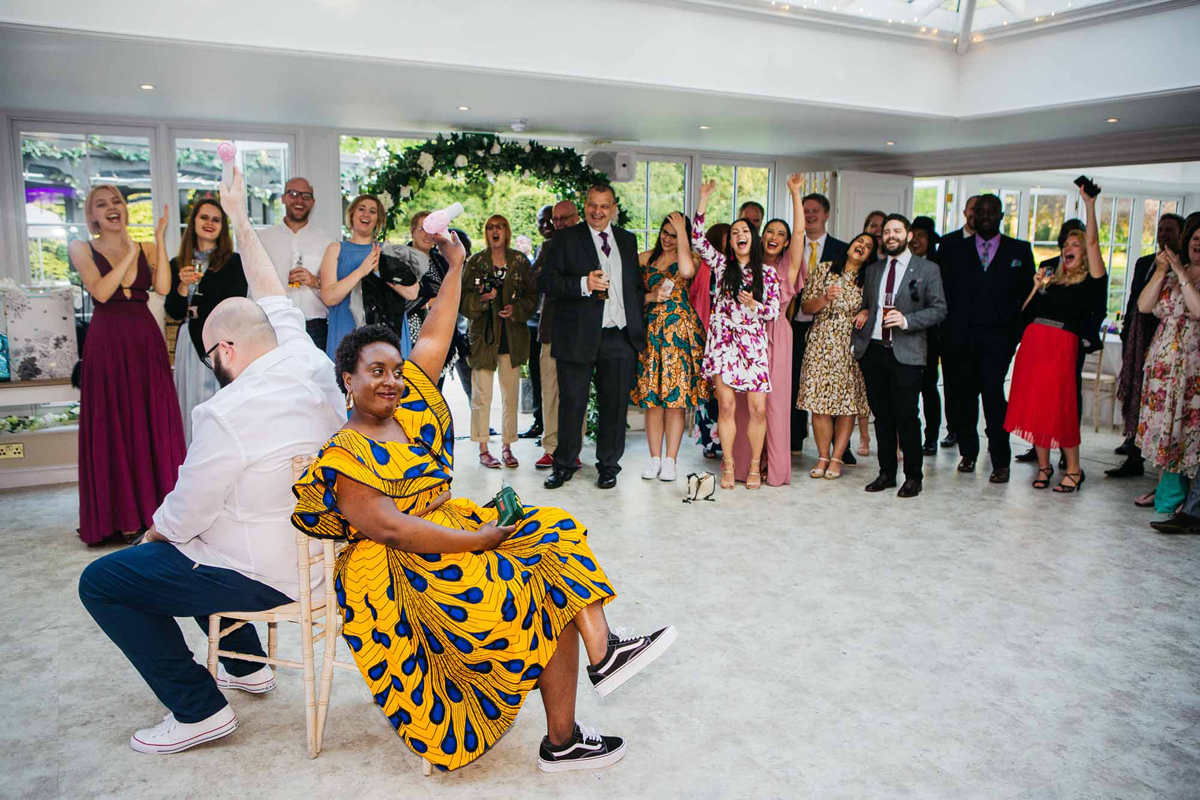 Come party time, Linda changed into a batik evening two-piece gown, which she designed and made herself. I love how it perfectly matches the bottom tier of the cake. It's perfect for dancing too, with its full skirt and flirty cropped bodice.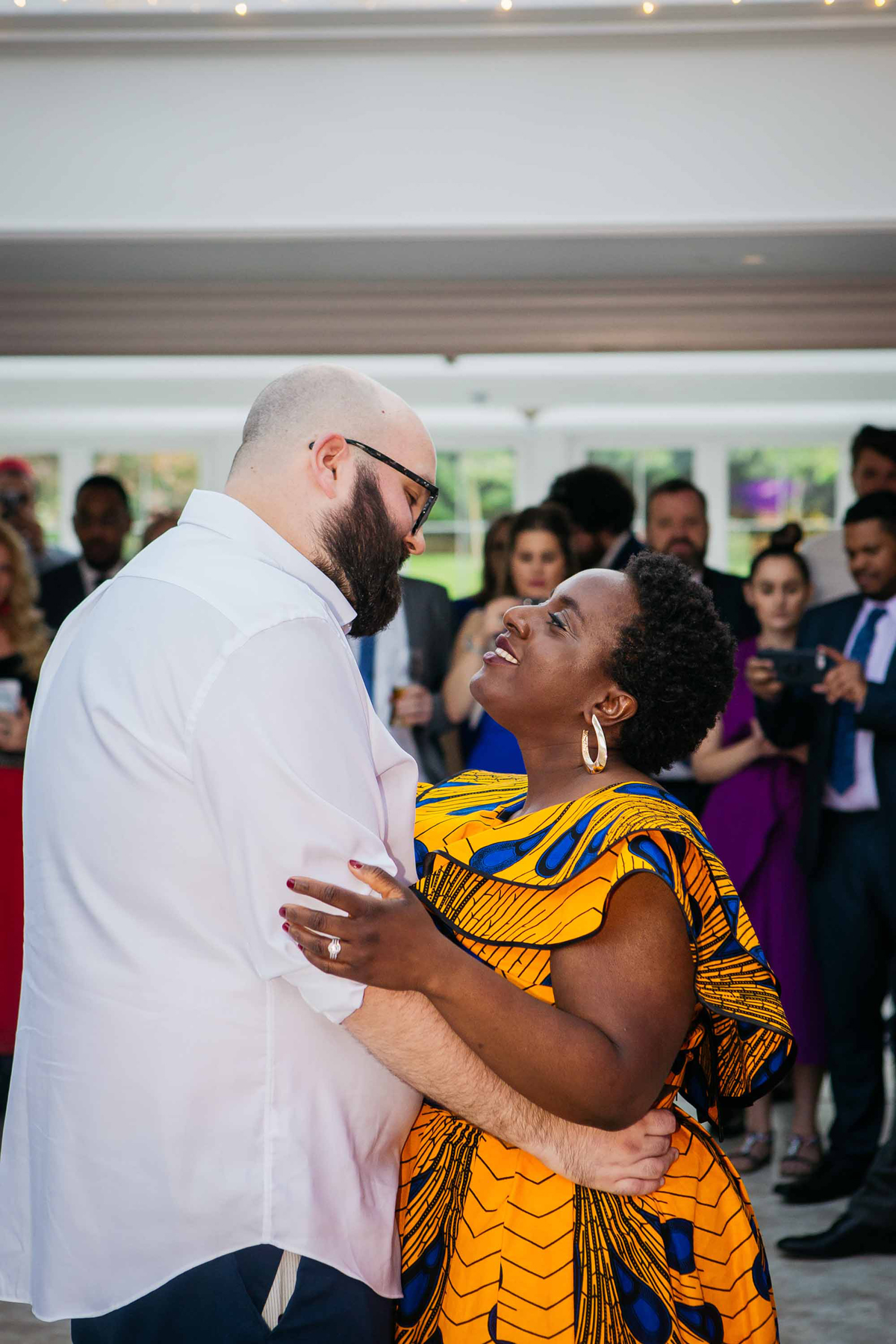 "Our first dance was a mash up of Kodaline's 'The One'. Linda lived in Germany for a few years and just before we left we went to see Kodaline preform a small intimate gig at the Garden Museum in London. This was a magical evening and it felt right to reference it for such a monumental occasion. The second song was a cover of 'Can't Take My Eyes Off You' by Lauryn Hill."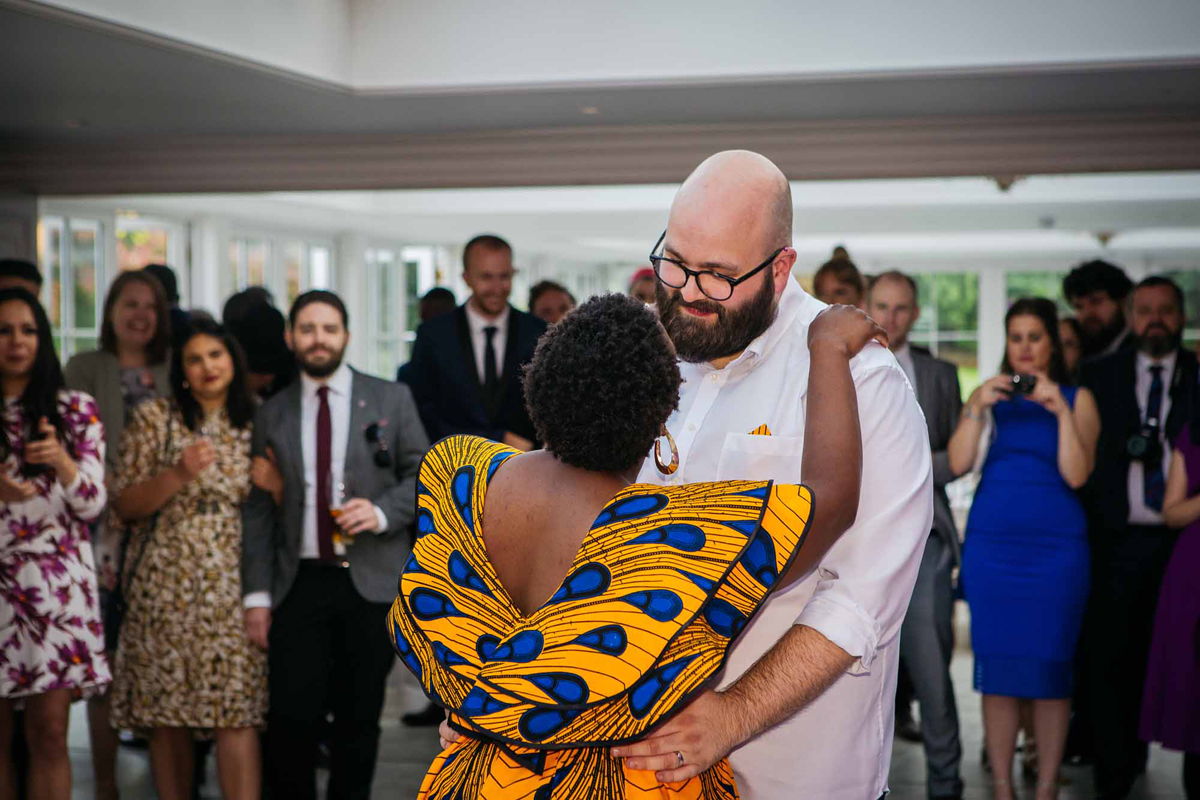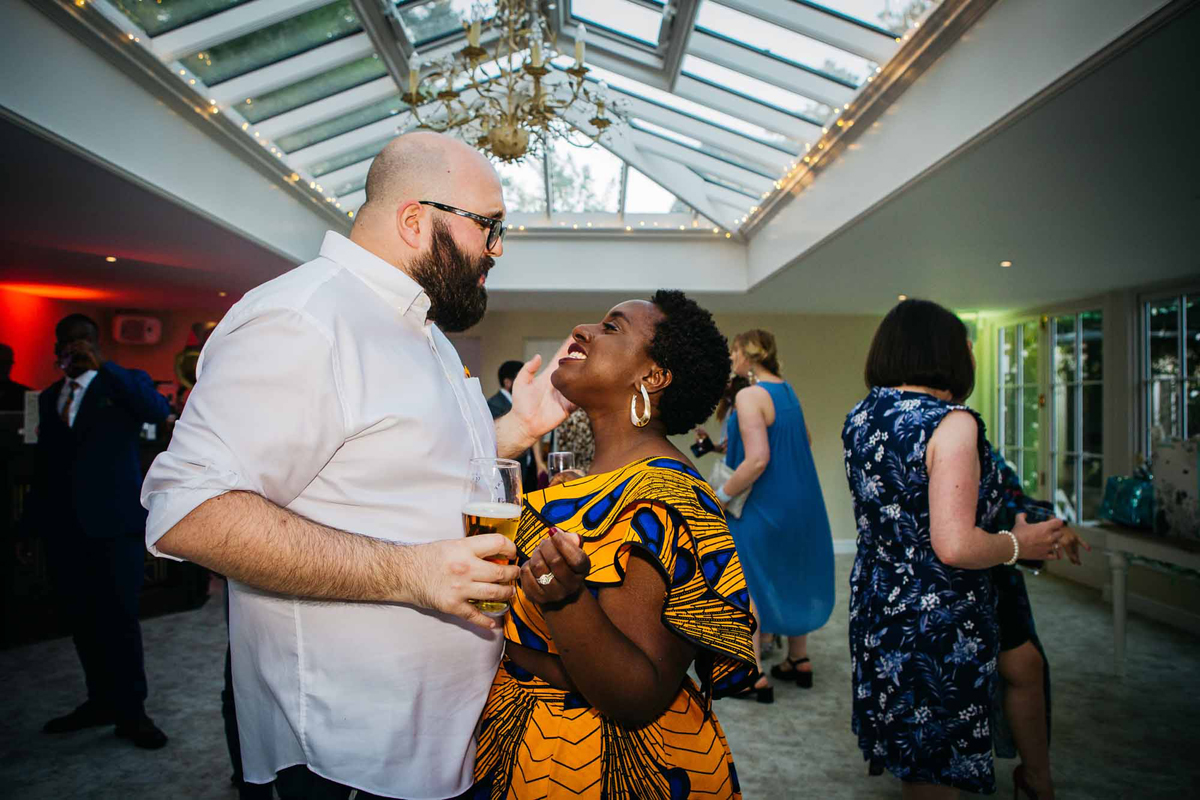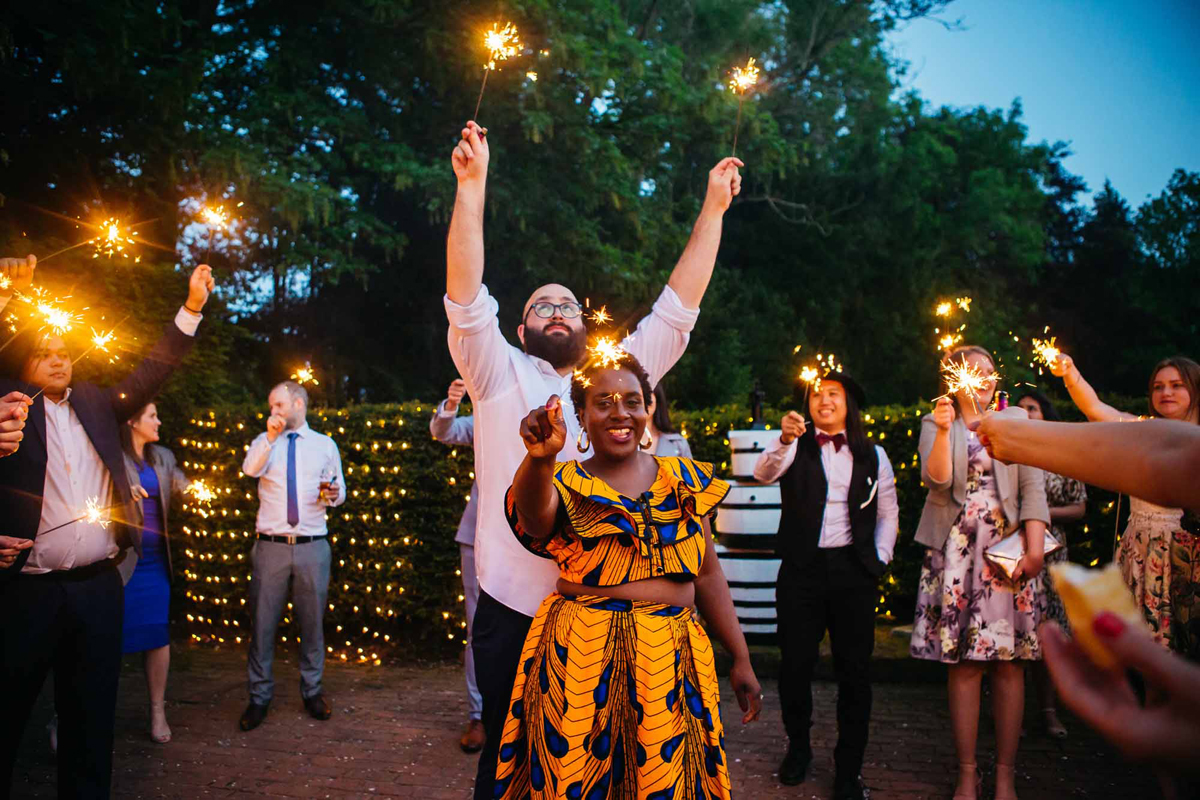 Words of Wedded Wisdom
"Don't stress about the little details. The most important part of the day is you and your husband-to-be."
"Make a spreadsheet so you can keep an eye on outgoings. Be clever; shop around and if you are asking someone for a service, don't go in with your max budget – go under and negotiate."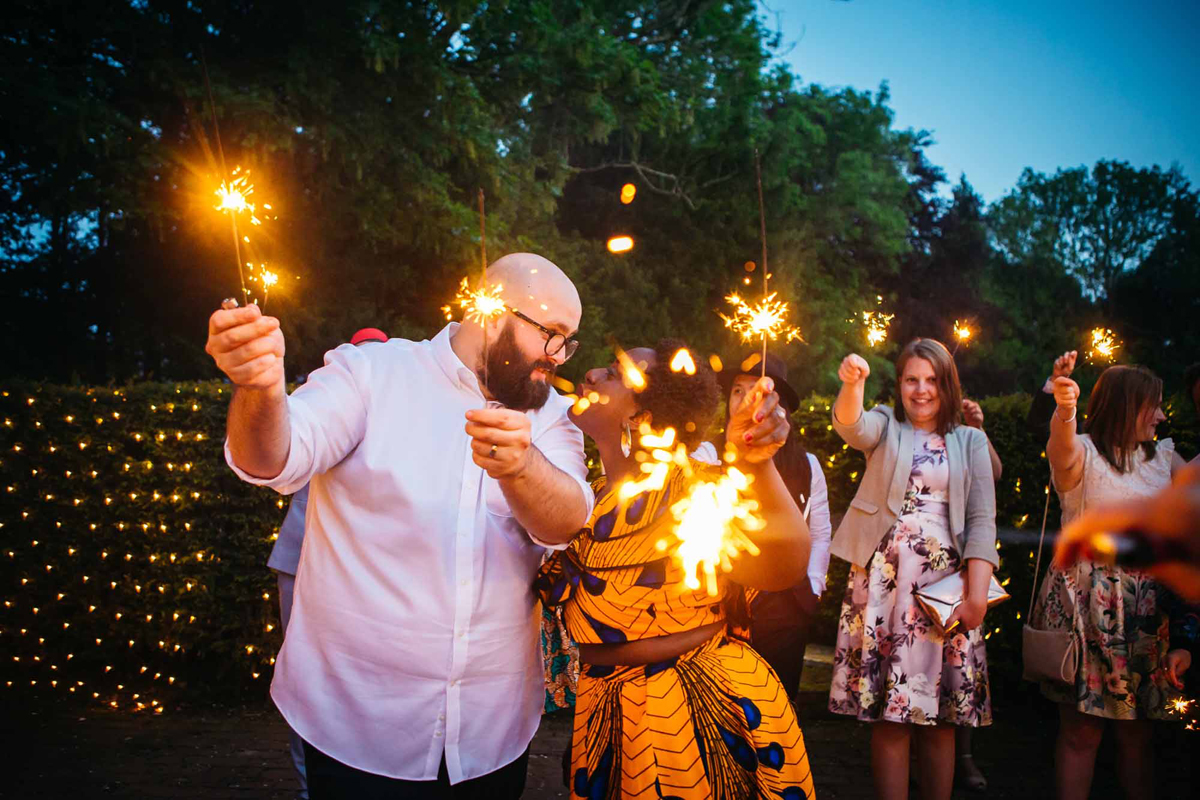 What a colourful and joyful day. I love these light-filled images and the pure colours, so thank you so much Shelby Ellis for your work. I'm sending so many congratulations and thanks to you Fred and Linda on your wedding day. It's been a real pleasure to share your fusion celebration. For more fusion weddings to inspire you on Love My Dress please do head here.
Ele xx