Today's wedding takes place in sunny Devon, and it's an elegant country house weekend to fall in love with. The ceremony took place in a chapel originally built to contain Captain Cook's treasures!
Meet Sarah, a Human Resources Head for a healthcare company, and Serle, a personal trainer and windsurfing instructor. They were married on the 8 July 2017 in the elegant Georgian surroundings of Bridwell, Devon.
"We wanted a weekend house party feel and Bridwell was perfect – up to 40 guests were able to stay with us on site in beautiful accommodation, beautiful scenery and parkland and lots of different venues so were able to use different spaces each time for the various gatherings over the course of the weekend, which kept things feeling fresh and new."
Photography by McKenzie Brown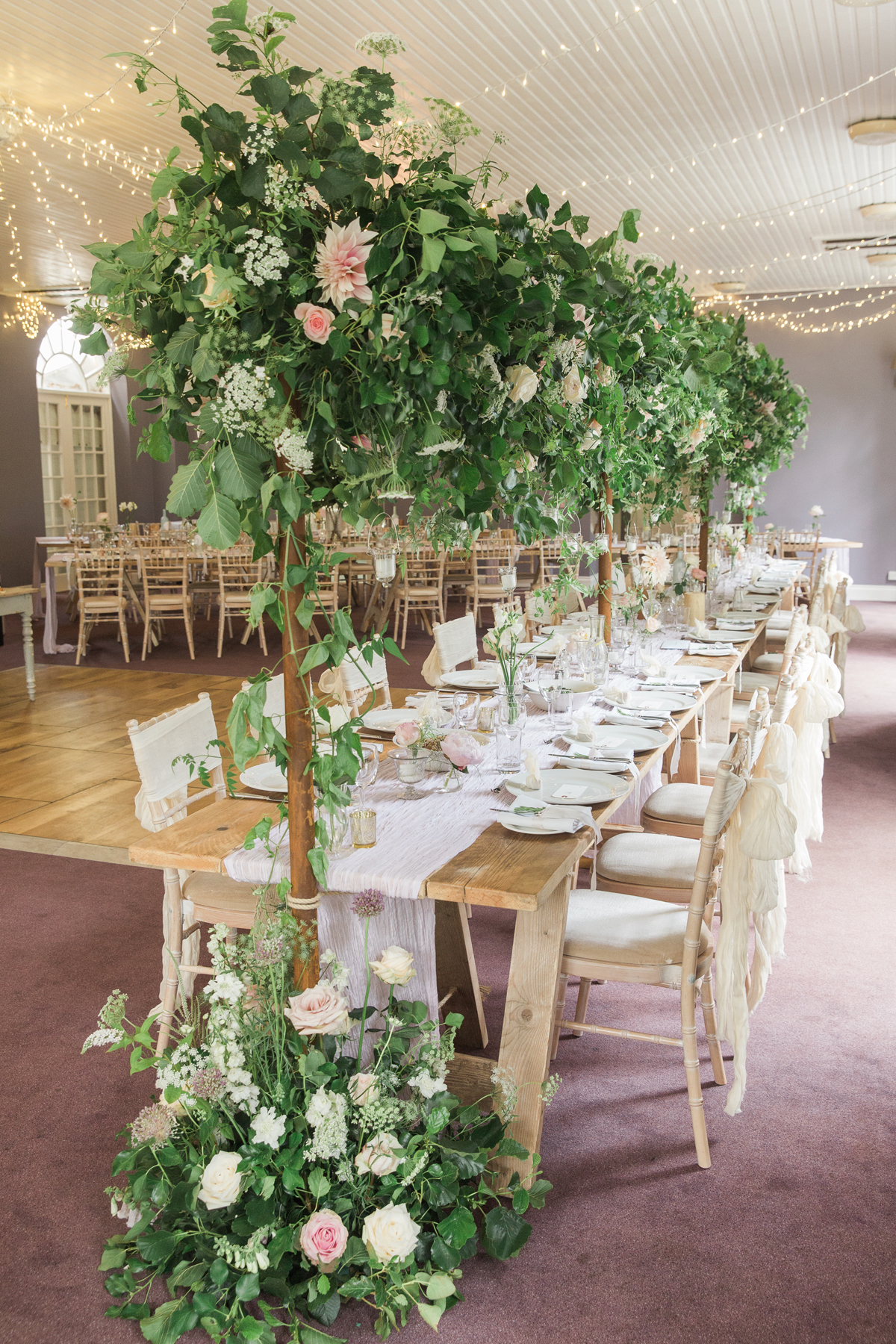 These warm and natural light-filled images come to us courtesy of amazing Little Book member Natalie of McKenzie Brown Photography.
"Natalie was a lot of fun and I liked her down to earth style from the moment we first connected via FaceTime – she coaxed and cajoled everyone very nicely on the day and was a lot of fun to hang around with. She was very professional, managed to draw people out of themselves (even the guys who really were dreading being photographed) and she captured some truly beautiful and natural images of people."
"This was very important to us, we really didn't want a lot of posed, formal shots. We are extremely happy with the photos and at every stage I have found Natalie has gone above and beyond to give that little bit more. She is one of the best wedding choices we made."
The couple's chosen stationery beautifully reflected the aesthetic of the day, in a soft blush pink with gold lettering, courtesy of Knots and Kisses.
"We wanted a British weekend house party feel – especially as many of our friends have been living and working abroad over the years, so many were travelling long distances, we wanted to give both a taste of English country summer and also it was important to us be able to spend time with people beyond the wedding day itself which goes in a flash! I love soft, pastel colours – we picked a colour scheme of blush, off white and old gold with lots of natural herbs and greenery thrown in…"
The Event Studios styled Sarah's hair in a soft curled half up-do, with gorgeous make-up from Eve Ashby. Sarah added a simple tulle veil from The White Room with a pretty beaded hair comb from Blossom.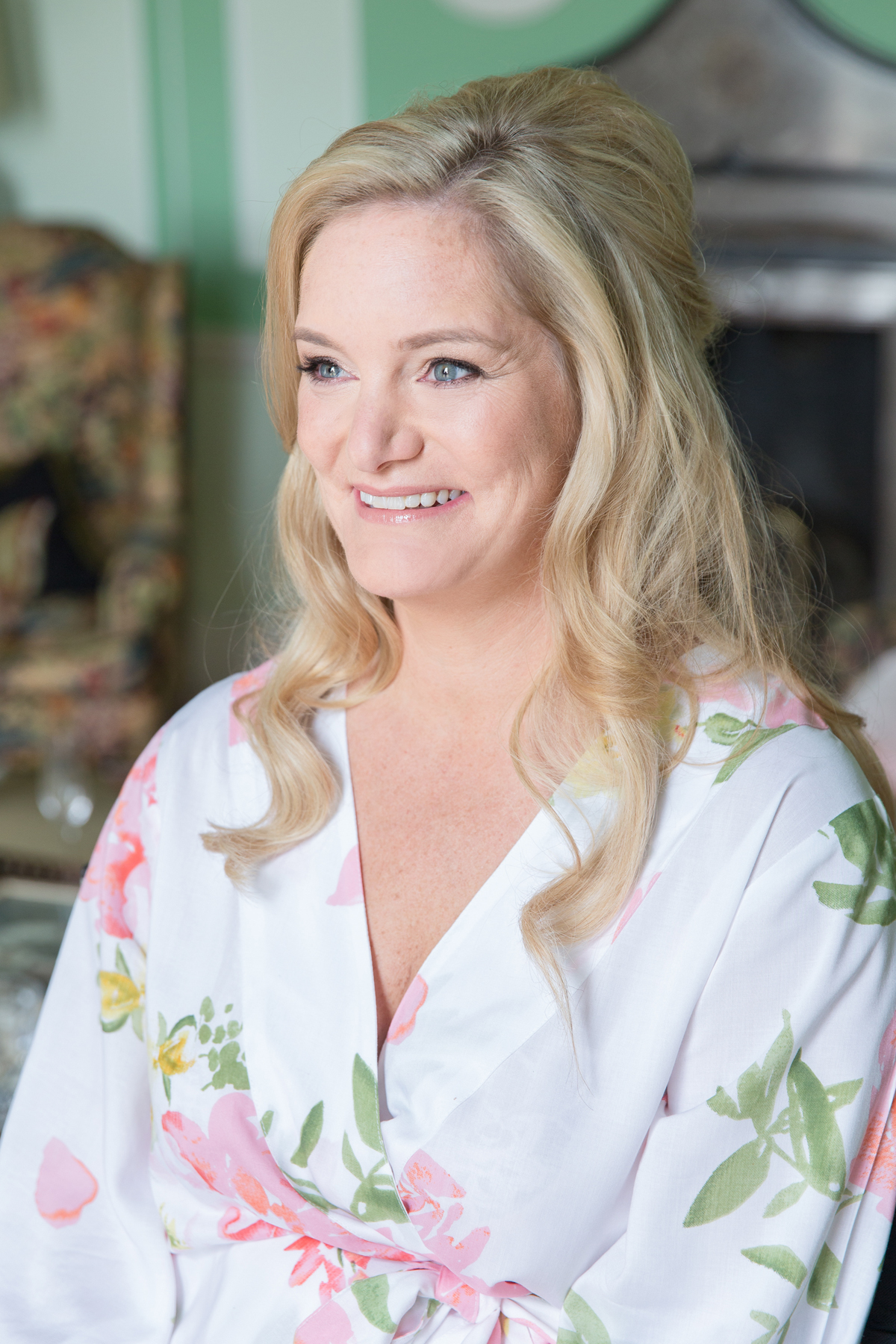 Sarah wore a dreamily light and romantic gown by Suzanne Neville, which she purchased at The White Room in Minchampton. The contrast between the embellished bodice, embroidered with bugle beads and crystals, and the delicate, gauzy skirt is really beautiful.
[JP-VIDEO]
"I absolutely loved the way the dress felt on me – it was so light and floaty and I felt I would be able to move naturally, pick Alfie up and feel like me on the day…. I wasn't feeling that great about my body shape at the time having had a baby not long before, but The White Room were fantastic throughout the process and I'd highly recommend Lesley and Rachel."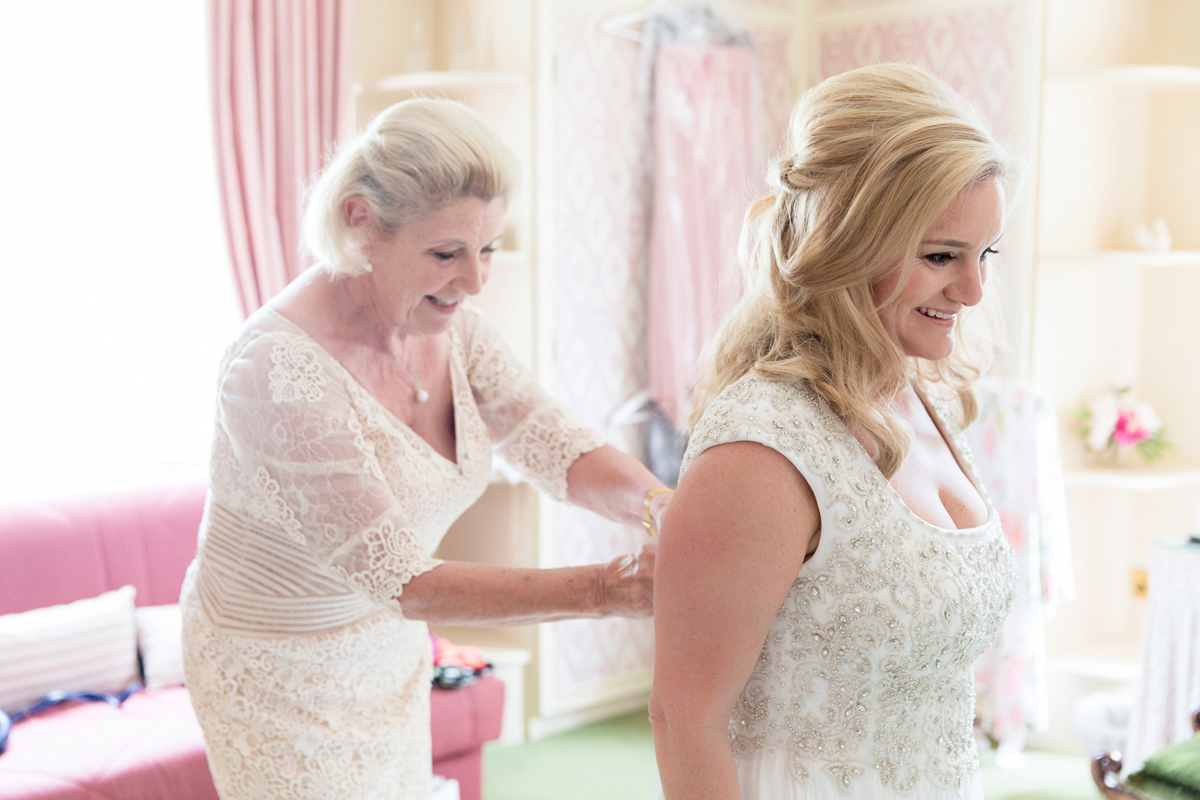 "The crystals on the dress are genuine Swarovski crystals from Austria, the fabric in the skirt is sourced from France and Italy, the dress is cut and made in the UK (I wanted to support a British designer so this was important to me!) and then the bodice is sent to India where every single one of the beads is hand stitched – a true labour of love … aside from the cut and feel of the dress, I loved the idea of it being fundamentally British but being made in Asia and Europe – places that have been a big part of my life."
"The White Room also had a designer day with Suzanne and invited me to meet her and try my dress in front of her so she could give tips and adjustments. This was amazing and Suzanne drew me a personal, signed sketch of my dress – very special, that's going on my wall in a frame!"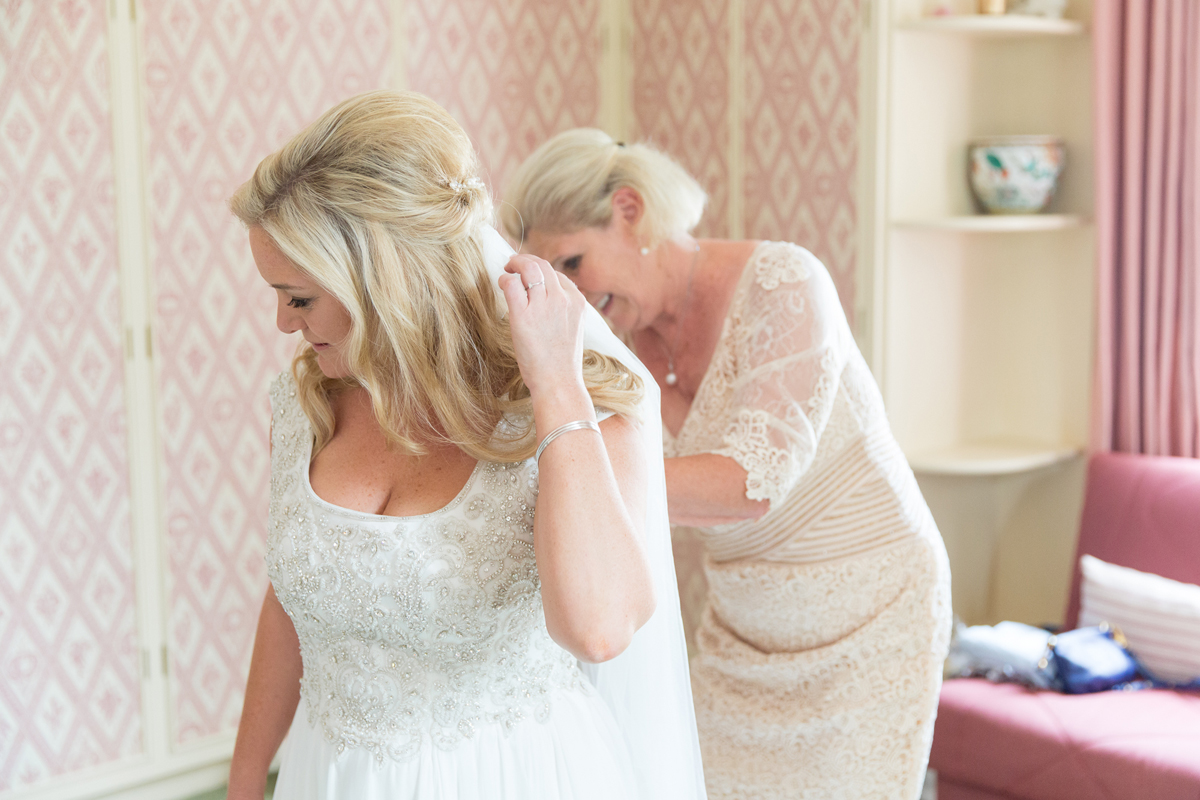 Sarah also wore a pair of beautiful ivory lace shoes by Little Book member Harriet Wilde and earrings, which she borrowed from her mum. Serle also gave her a bracelet from Daniela Draper, which had been engraved with their wedding date.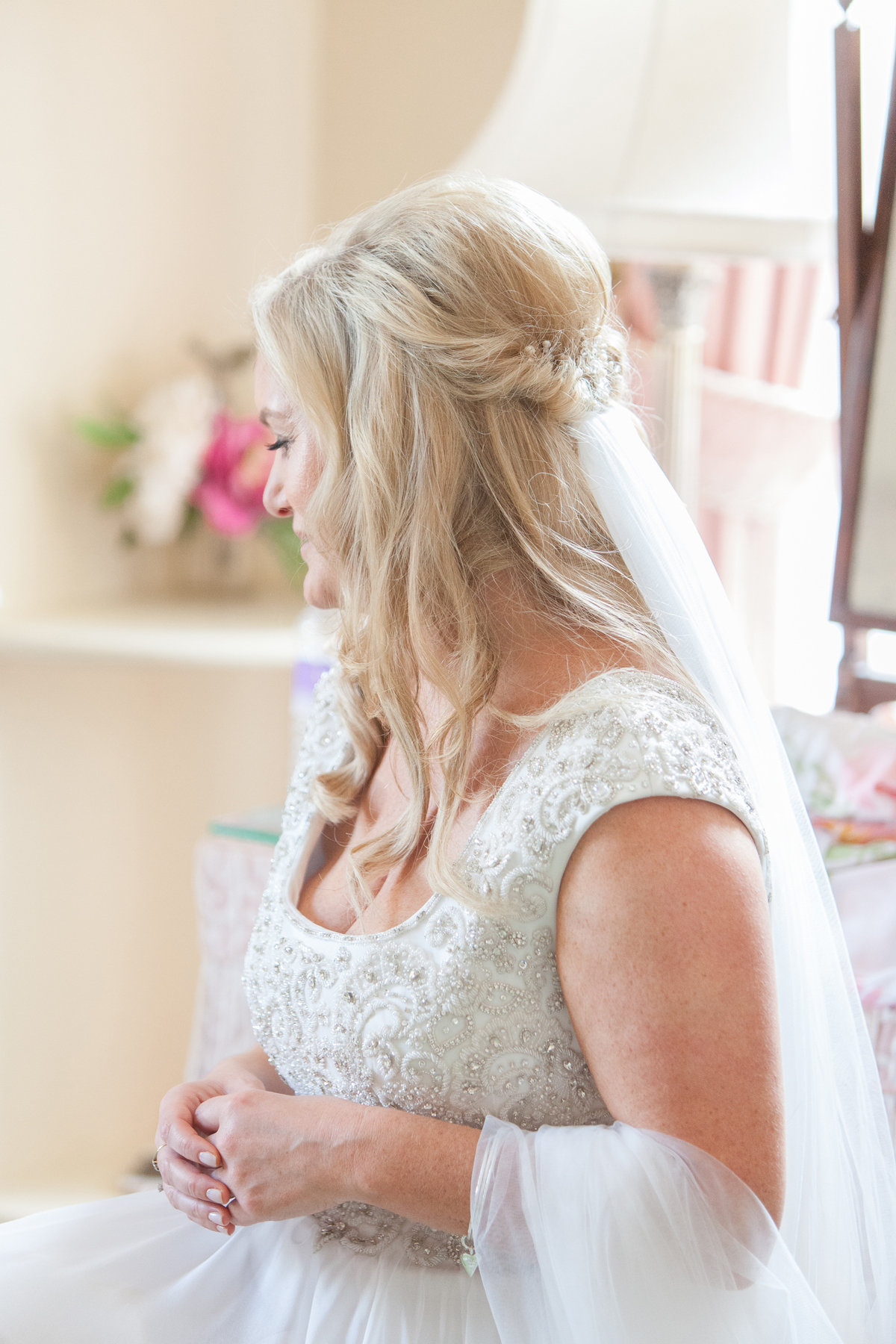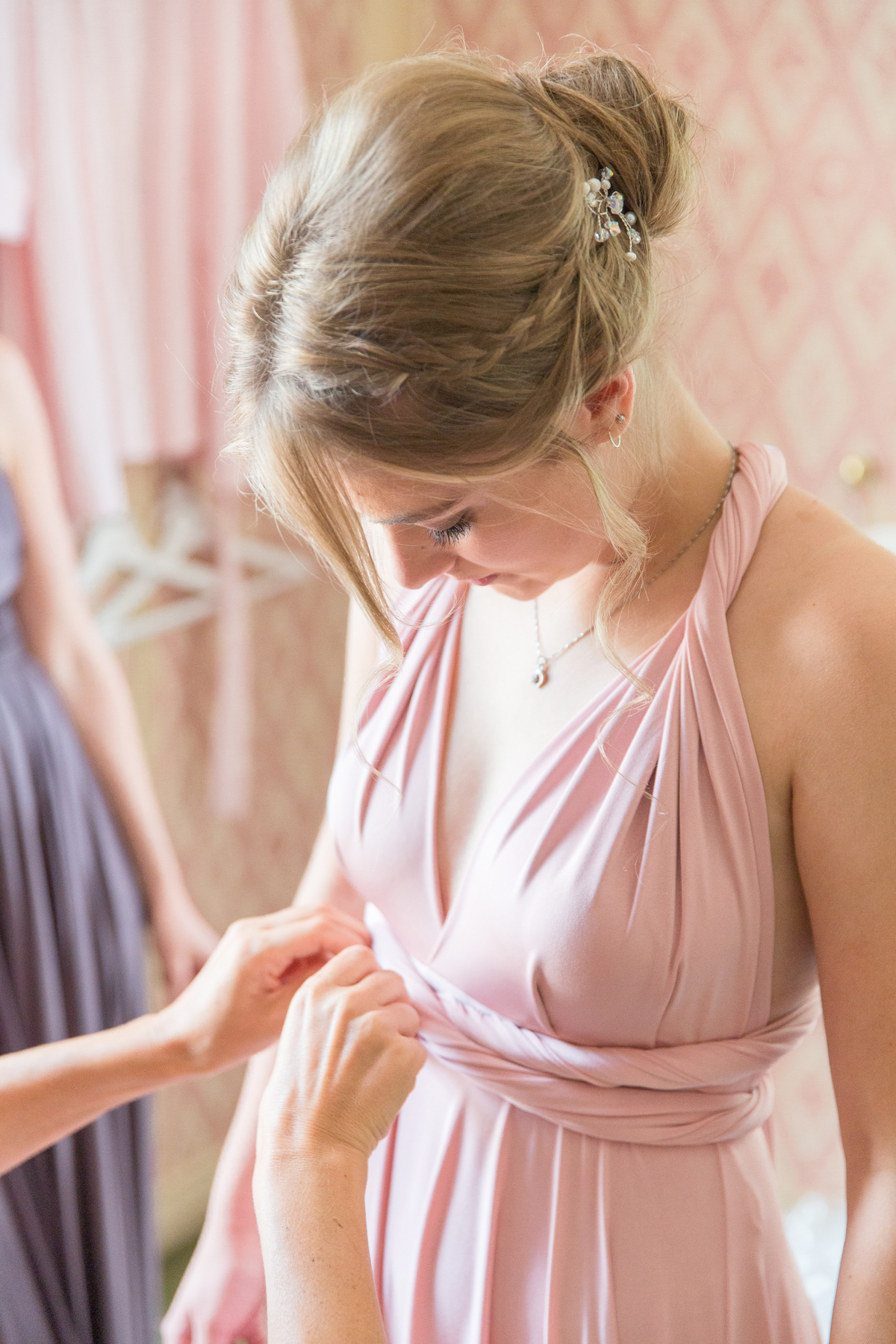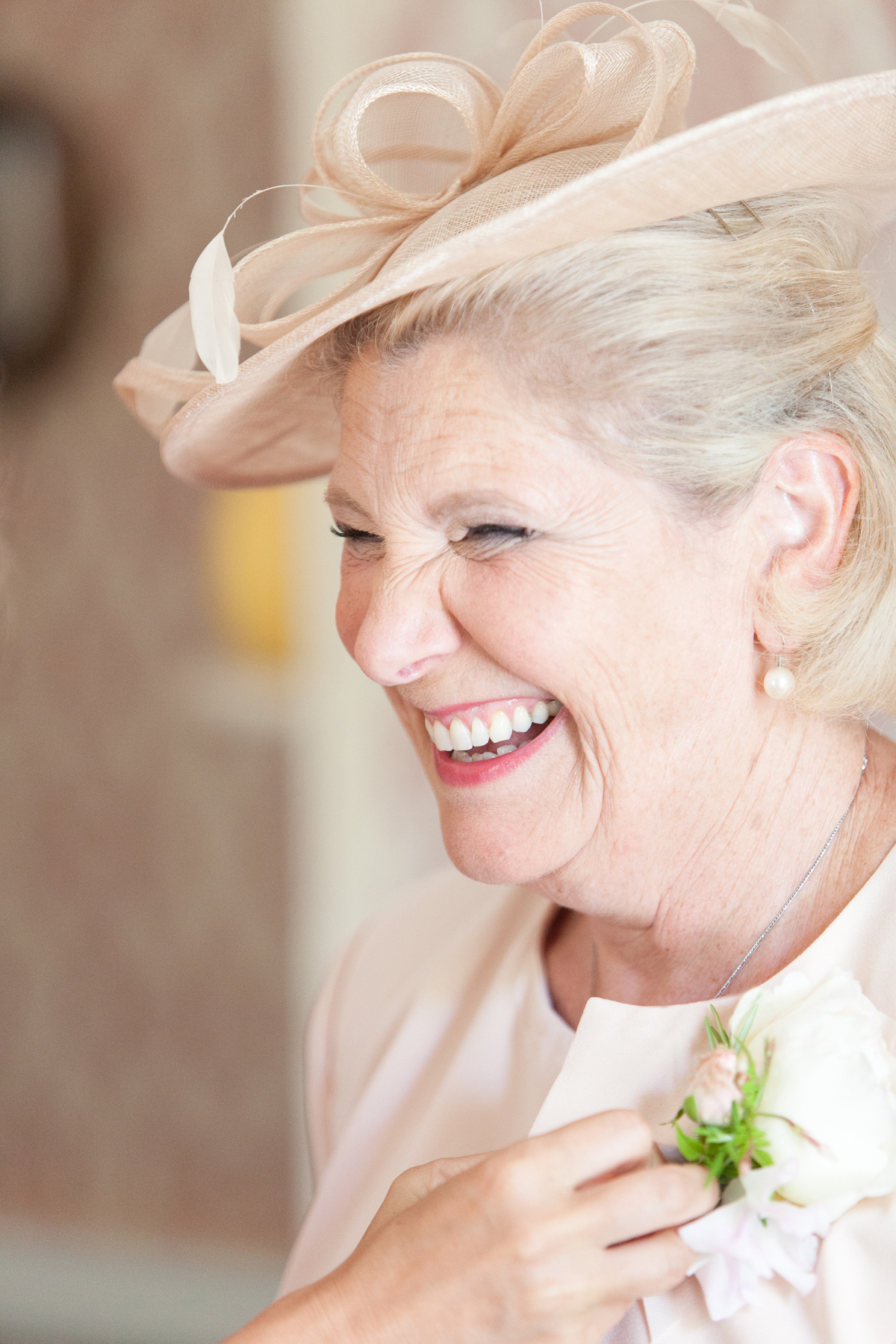 The bridesmaids wore multiway dresses from Two Birds, two in a pale blush pink and one in a striking aubergine shade.
A favourite part of the day for Sarah and Serle was their pre-ceremony 'first look.'
"Natalie convinced us to do a first look, which I am really pleased we did and I would recommend it to other couples. It meant Serle and I got to see each other on our own ahead of the ceremony which was special as from the ceremony on the day just flies by and its hard to find a moment alone. It also meant we got a lot of the couple shots done before the wedding when hair, make up, flowers etc were fresh and we didn't have to disappear from the drinks reception and leave our friends and family."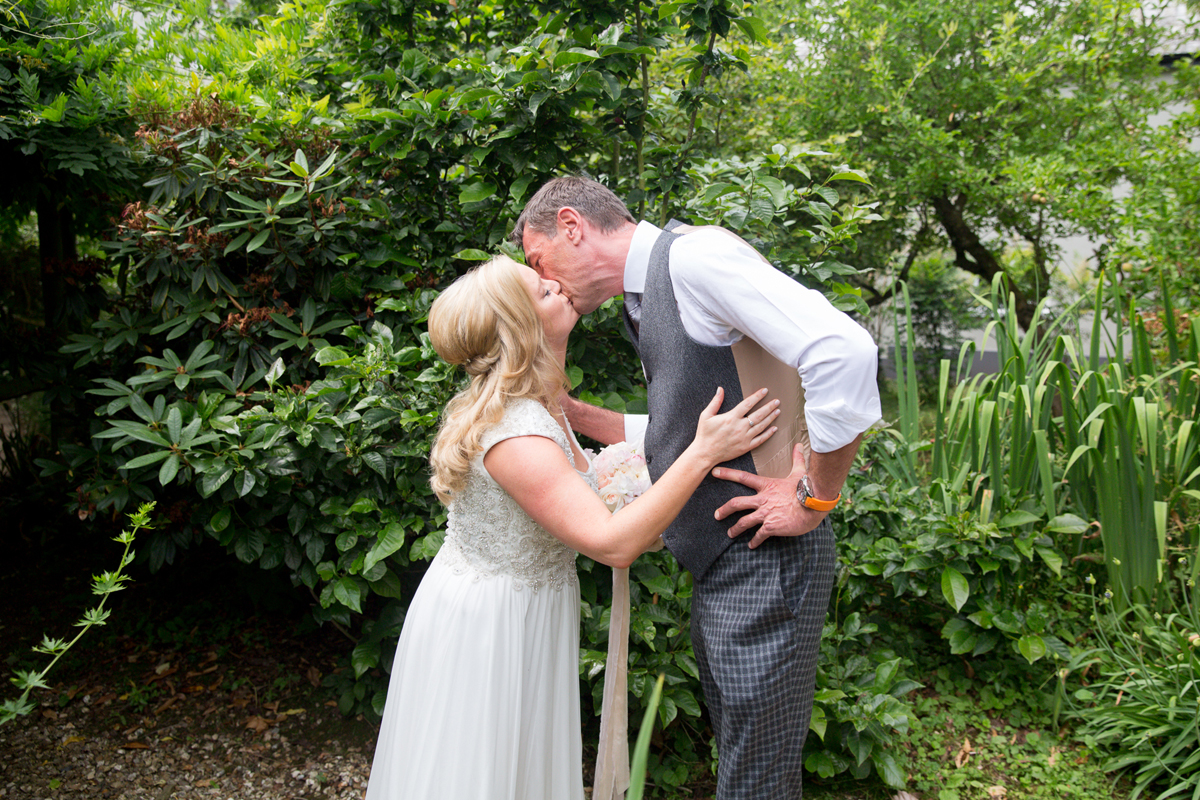 The couple first met through a mutual friend, on a beach in Egypt. Sarah was working in Asia and Serle in Egypt. They kept in touch via Facebook for a couple of years until they both found themselves living and working in Europe – Sarah in Belgium and Serle in Spain.
"I went to visit him for a summer break. We then embarked on a long distance relationship with me in Brussels and Serle in the Cayman Islands, which made for some fun trips over the next year or so, before we decided this was it, Serle moved to Brussels (which was about as far from beach and windsurfing as you could get) and then in 2014 we moved back to the UK and Serle proposed on the day we got the keys to our first real home together."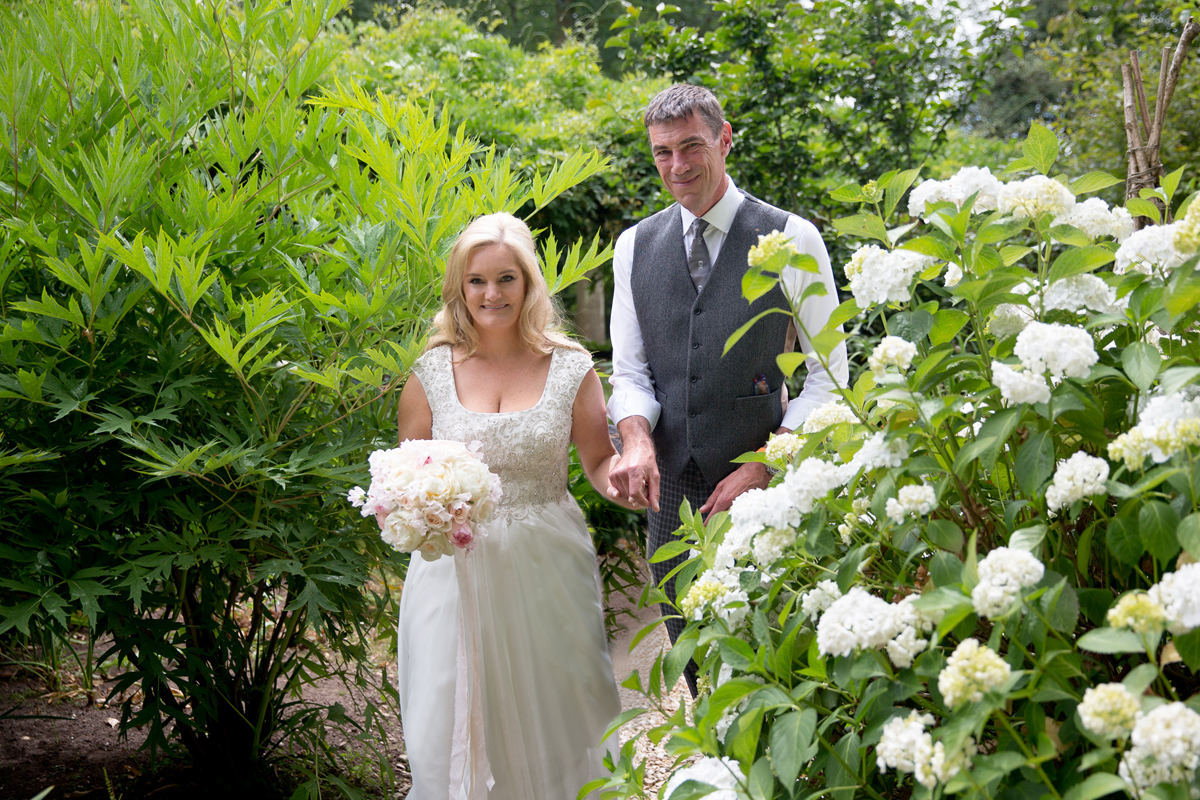 "He wrapped the ring up in a massive box…I had no idea what was happening and absolutely wasn't expecting it, I thought he was giving me a recipe book or a set of Aga gloves for the Aga I was all excited about and then suddenly there was this ring!"
"We ended up engaged a long time before the wedding as by May 2015 we discovered the next happy news, that we were going to have a little boy – Alfie Jack, who was born in February 2016. He is an absolutely gorgeous, happy, sunny little boy and we were so happy he could be part of the wedding and it was a true family affair…"
Florist Amber Persia worked with Sarah to create some lovely, memorable floral pieces for the day, including metal crooks with hanging posies and lanterns dotted around the paths at Bridwell. Sarah and Serle chose to hold their ceremony in a non-consecrated chapel at the venue, which had been built by Captain Cook to house his treasures.
"It is non-consecrated so we were able to have a civil ceremony with a church like feeling. We lit it all with masses of candles and it was beautiful. We have both travelled a lot and lived abroad a lot of our lives, so the Captain Cook and 'finding your treasure' theme felt romantic to us."
Sarah's bouquet was full of fragrant sweet peas, peonies and roses in the most delectable ice-cream shades and must have smelled incredible!
"Amber Persia was absolutely amazing; I just love her flowers. I did a whole load of pins on Pinterest before I realised that over half of them were her flowers, so I contacted her. She got my brief right away and designed a beautiful mood board."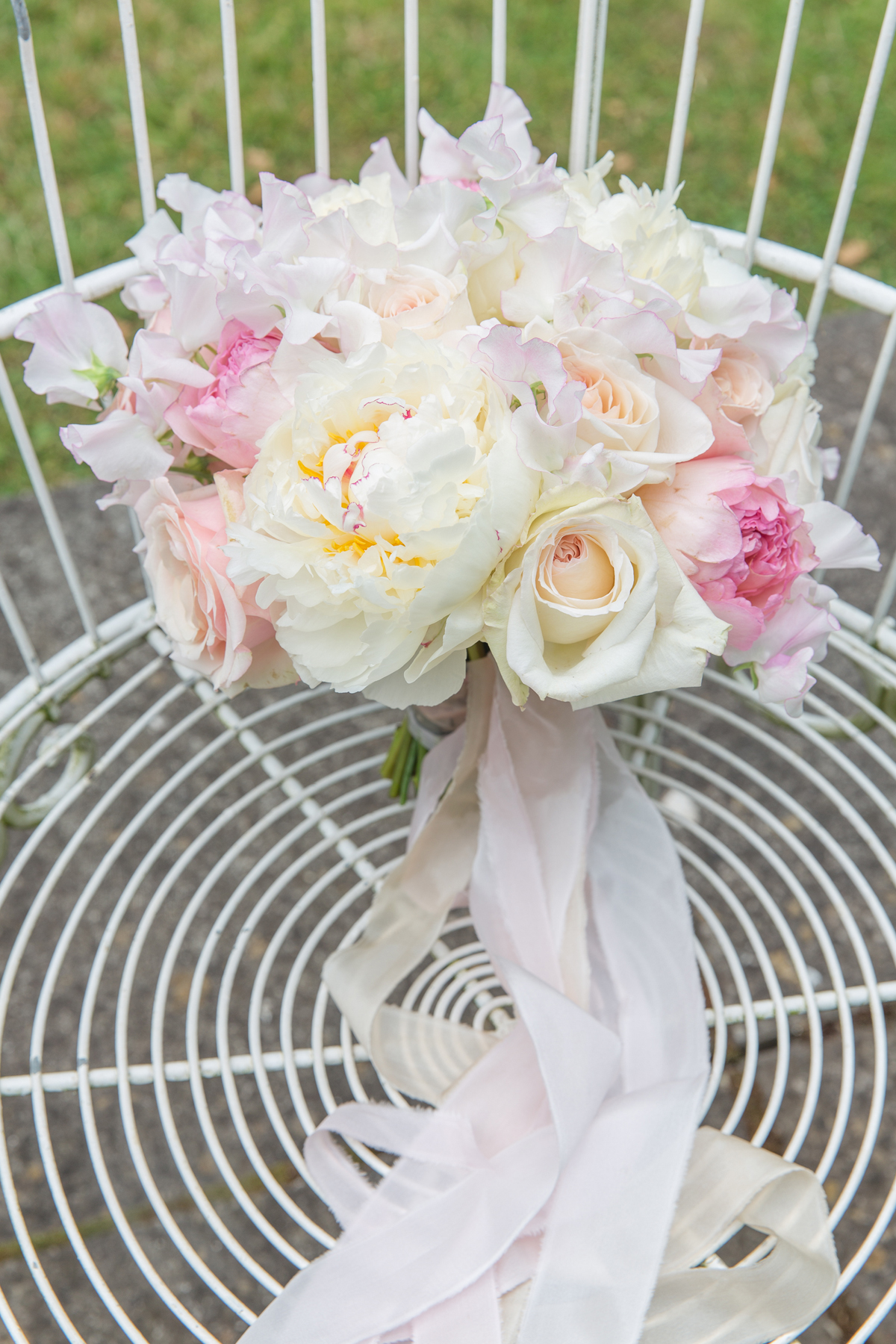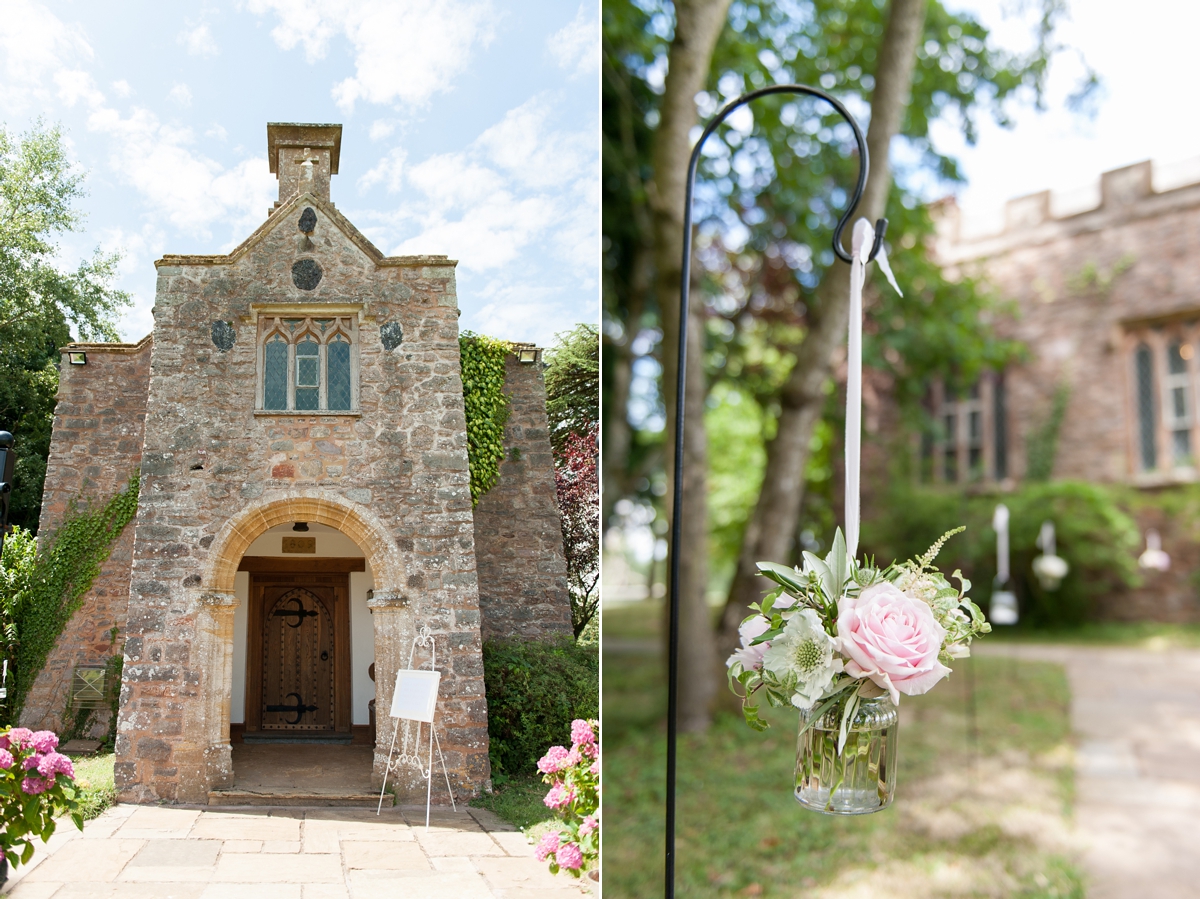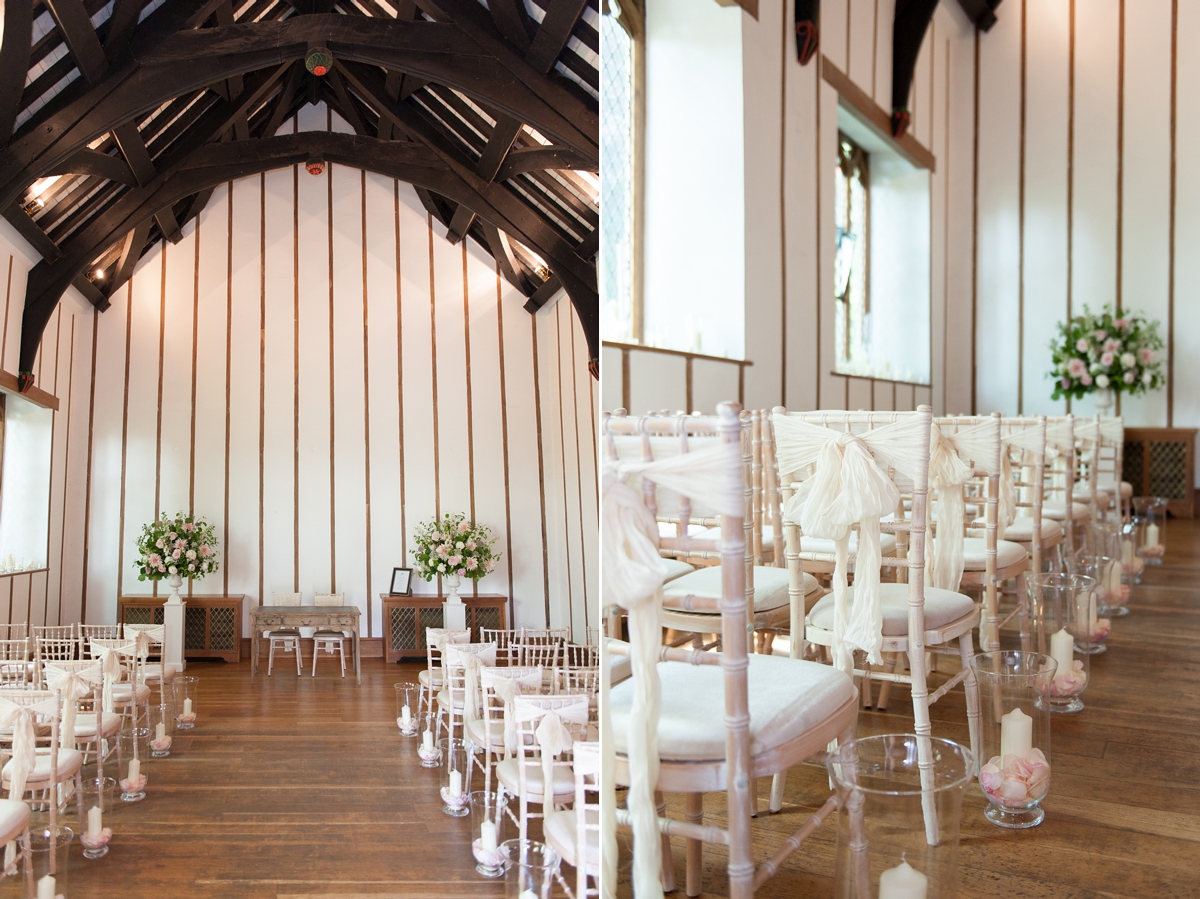 To Eva Cassidy's Songbird, Sarah was accompanied down the aisle by her proud dad.
"We did not tailor our vows, but I have to say the ceremony was one of the best moments of the day for me. I expected that a civil ceremony would be short and sweet but the registrars created a lovely relaxed feeling in the room, there was laughter and interaction with the guests throughout the serious and emotional part of the vows and she used wording I have not heard used before in a civil ceremony."
"It was very special for Serle and I and all our guests commented on what a beautiful ceremony it was too."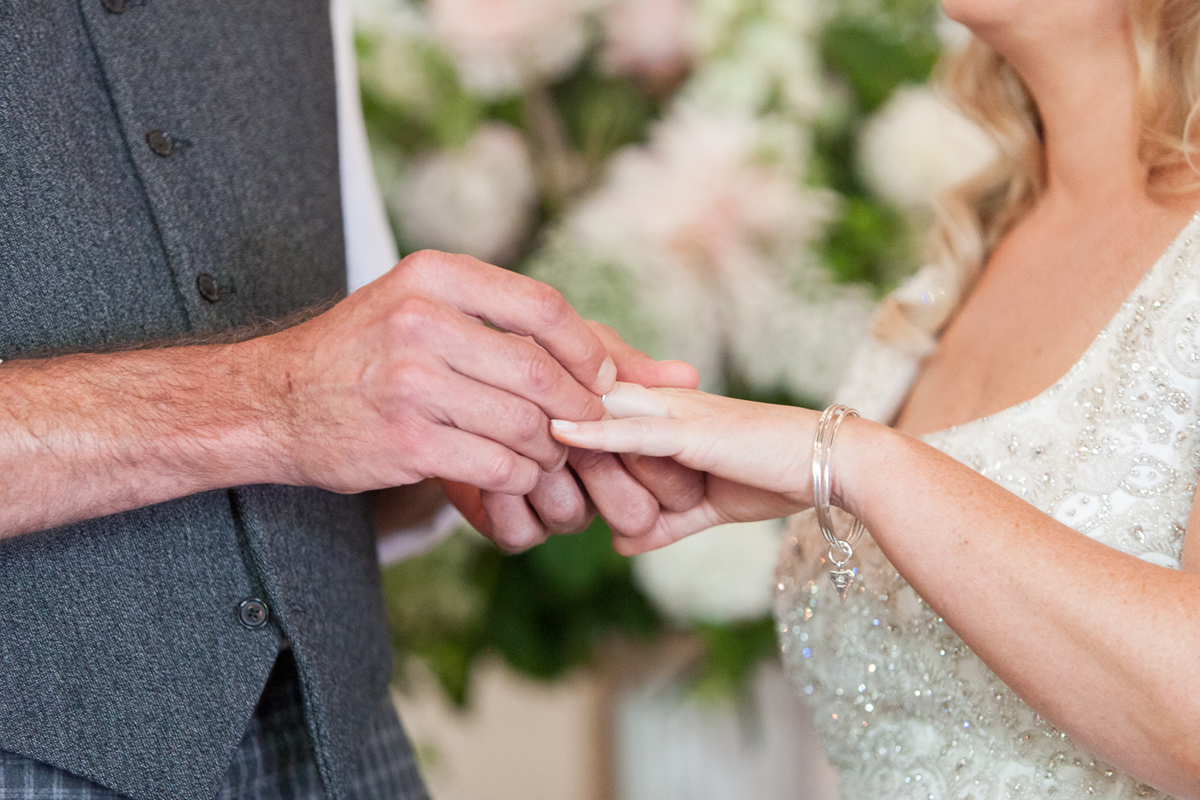 "We kept the readings light and fun but with messages that were meaningful to us. We had an extract from the Velveteen Rabbit by Margery Williams and a reading by Bob Marley. My friend Laurence managed to deliver Bob Marley in a way that had half the room in tears."
"The ceremony way surpassed my expectations – the setting, the candles, the aisle strewn with petals, the intimacy and the relaxed but ceremonial feeling has become one of my most lasting memories of the weekend."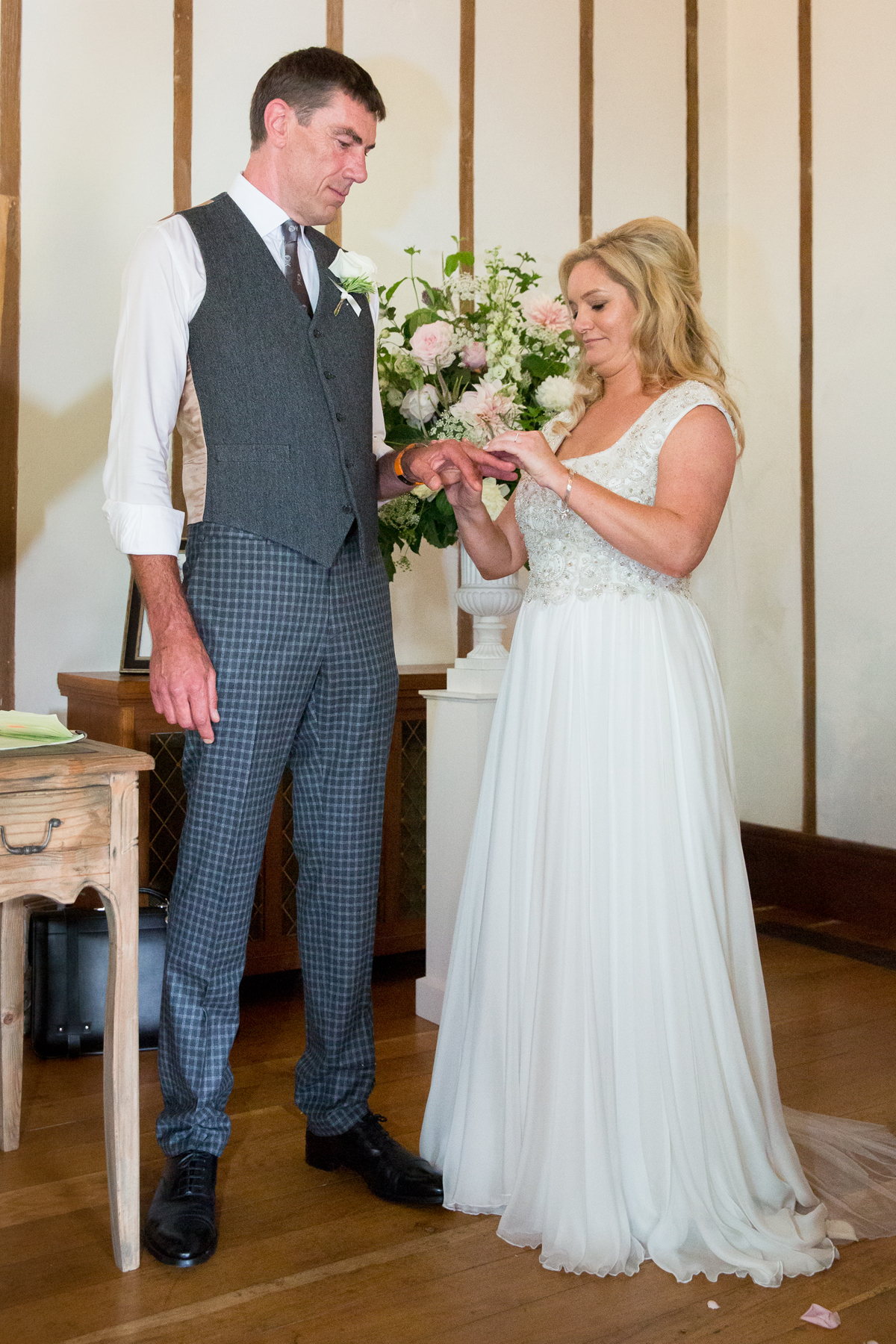 Canapes and drinks, and jazz from Franki Capri were followed by a wonderful meal from Wild Fork West, which Sarah and Serle designed together with the team.
"…In keeping with our English summer countryside theme, we went for a British picnic, which included roast beef, poached salmon, sausage rolls and some lovely colourful salads – radish, mint and feta, green couscous and pomegranate and barley."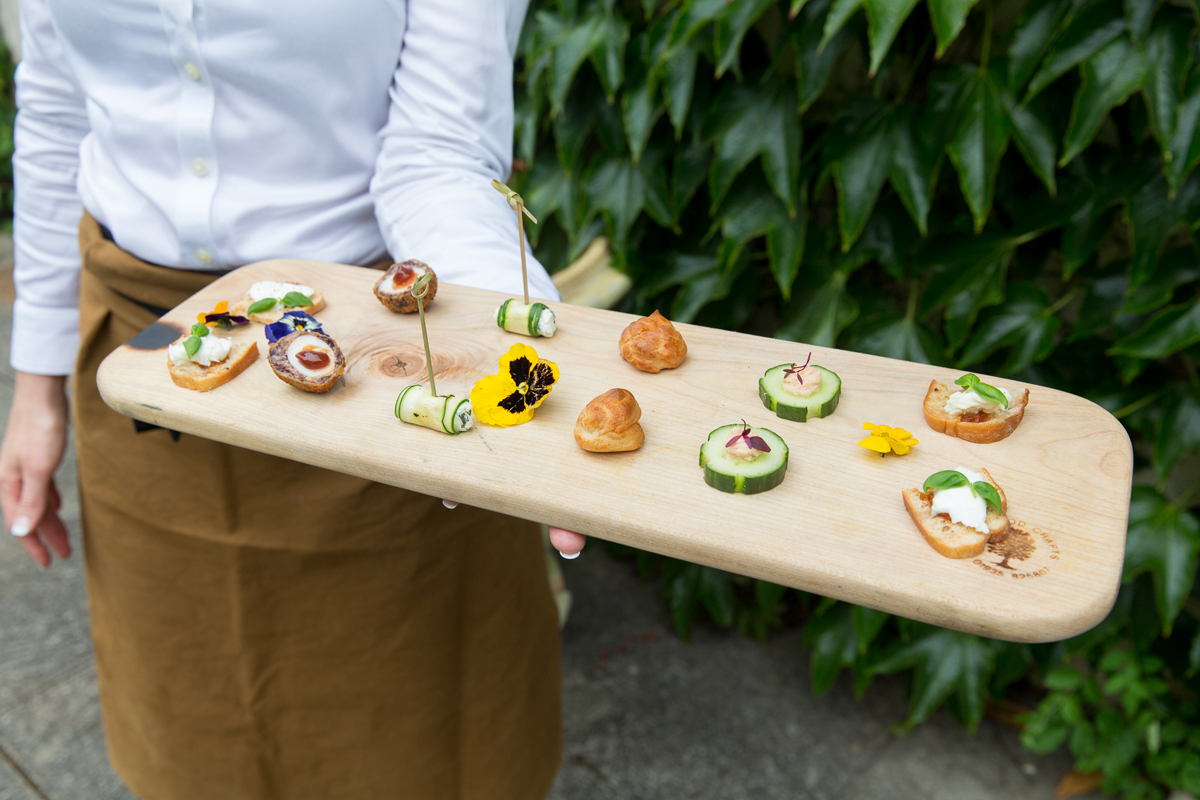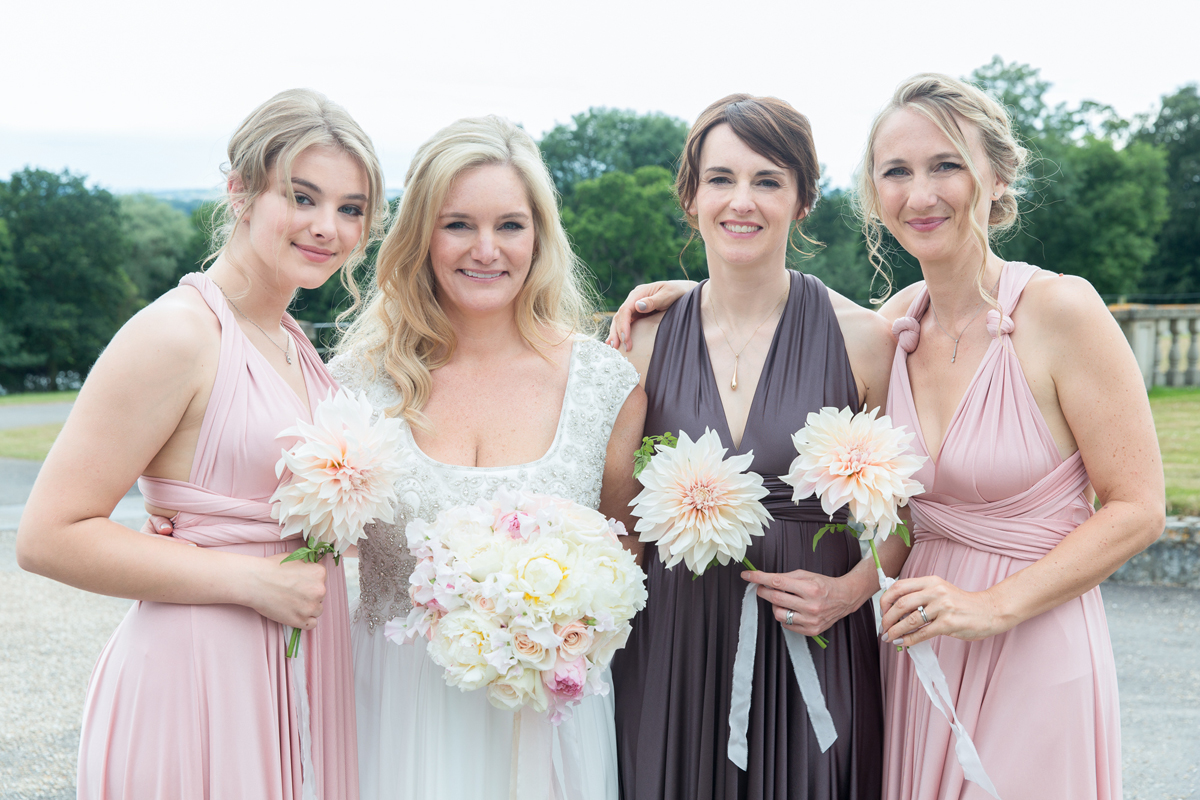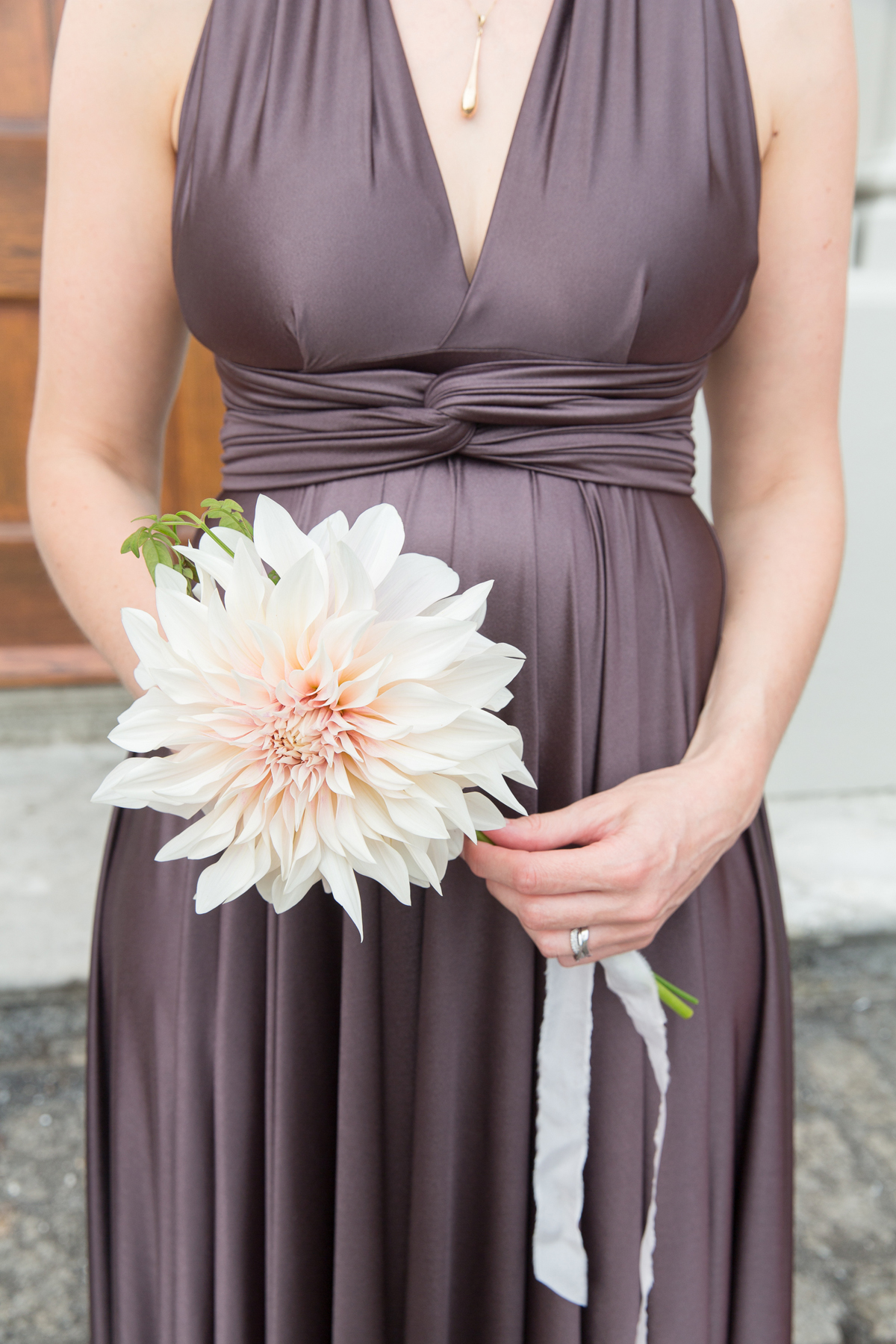 Serle's dapper outfit was custom-made at a tailor in Salisbury (sadly, no details provided) – a grey waistcoat and white shirt paired with a coordinating tie and checked trousers, and the outfits for the groomsmen coordinated beautifully.
"These are not guys who like to dress up! We kept things very simple, with off the peg waistcoats and grey chinos, they wore their own shoes and white shirts and we coordinated their ties. The result was that they both felt comfortable and happy and will wear all the items again – the chinos are really everyday trousers."
"It's really easy to get lost in expense and wedding sites but not everything has to cost a fortune or be super fancy to look good on the day. To us it was really important, that people felt like themselves as then we knew we would have the relaxed and fun wedding we were aiming for."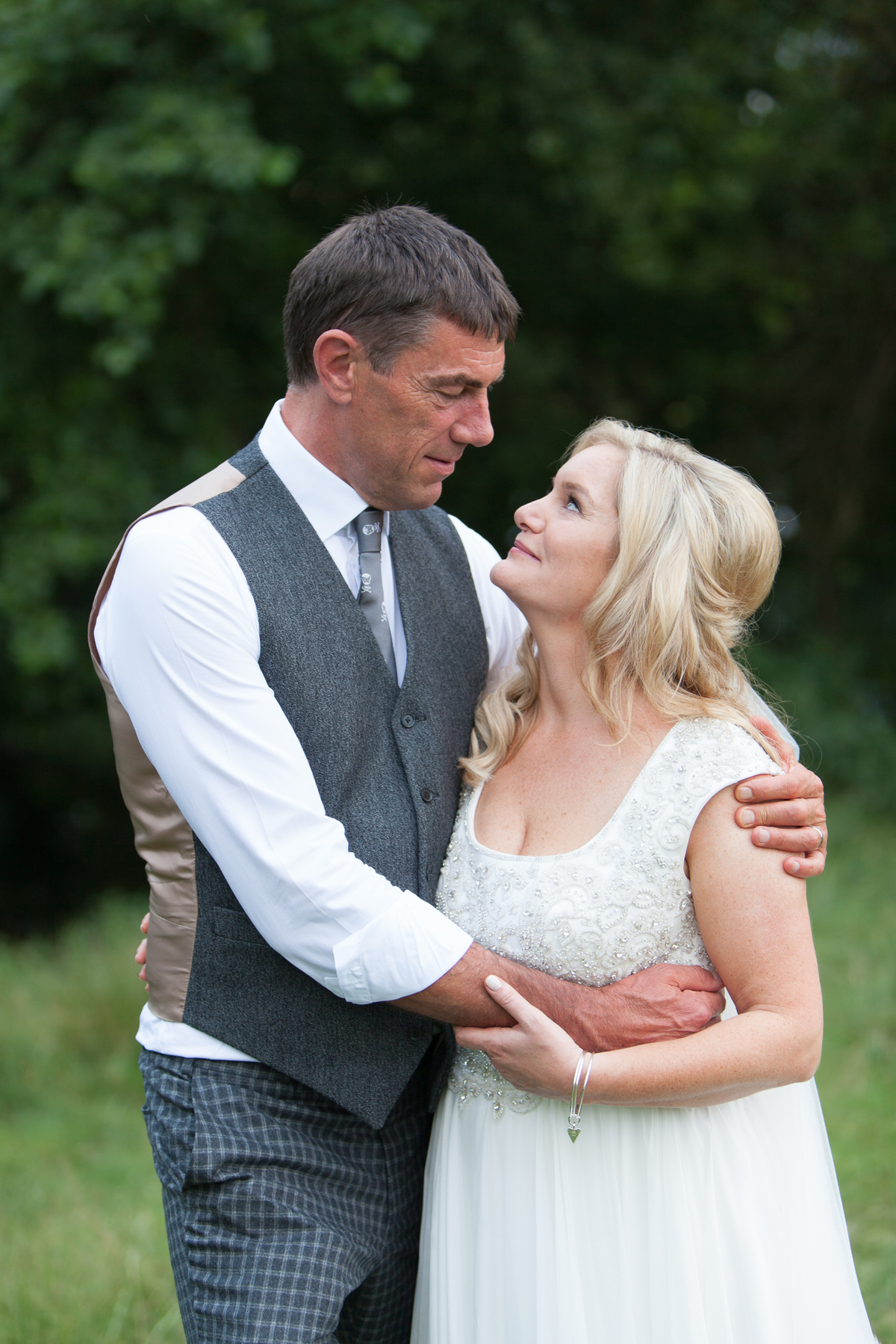 To ensure everything ran smoothly, the couple hired event management professionals Blue Fizz Events.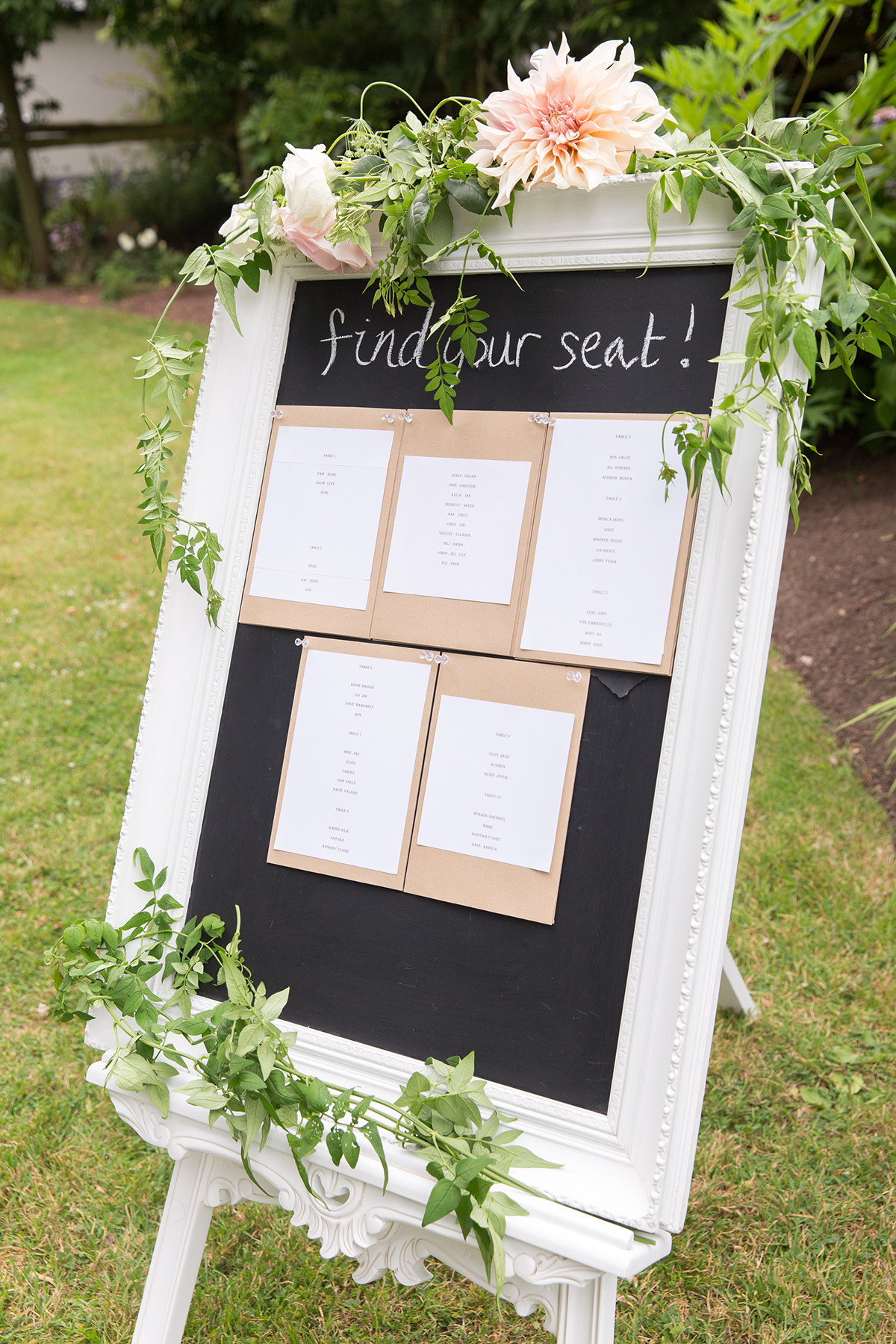 "I think a bit of help given the DIY nature of the venue was essential. We still did a lot ourselves, but Blue Fizz were invaluable in terms of contacts in the region for sourcing items and in ensuring and coordinating set up, deliveries, etc and that all ran as planned over the weekend."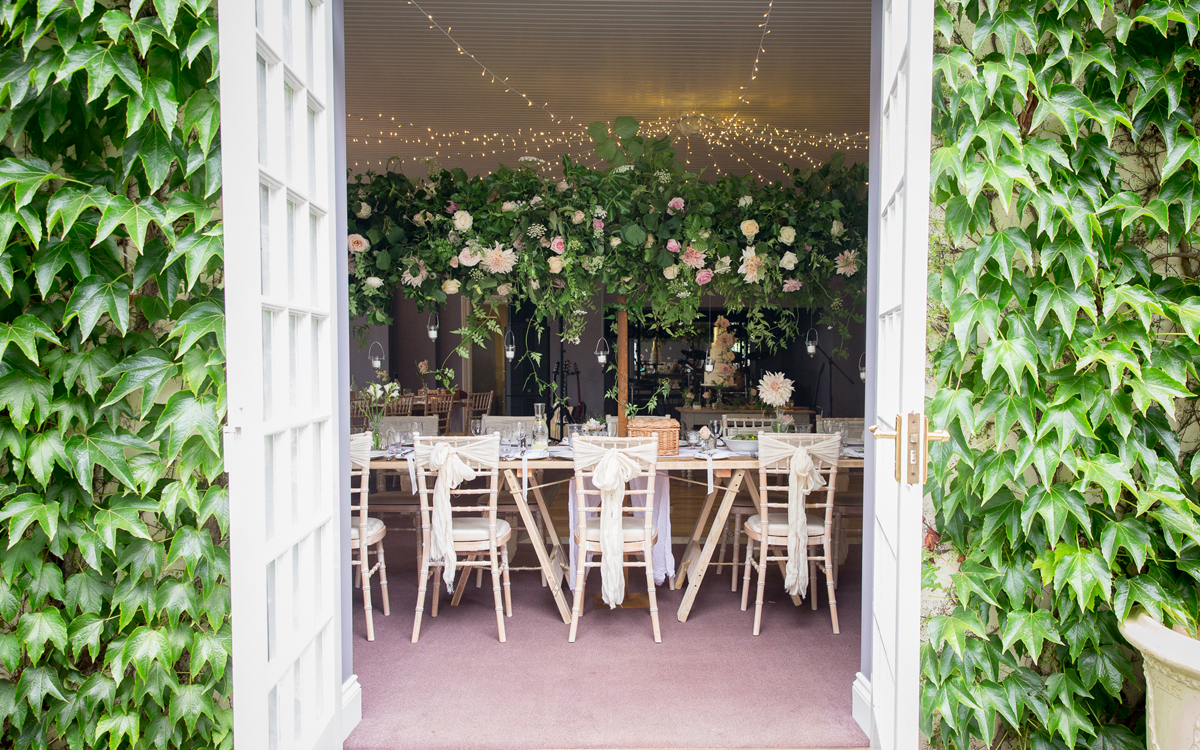 "We sourced lots of outdoor lighting, vintage wooden trestle tables from Virginia's Vintage Hire, which were gorgeous and outdoor tents, sofas etc from Funky Tents. Amber, our florist styled these with flowers and some beautiful cabbage and roses cushions."
There were sweet favours of fudge wrapped in linen, and tied with brown string and placed on each guest's dinner plate alongside crisp white napkins adorned with sprigs of fragrant herbs.
"I wanted one big 'wow' statement piece in the reception and Amber designed this amazing structure over the top table which was covered in greenery and flowers and beautiful hanging candles. She and her team worked really hard and we had so many compliments on the flowers both from guests and the venue who said they had never seen their venues as well dressed!"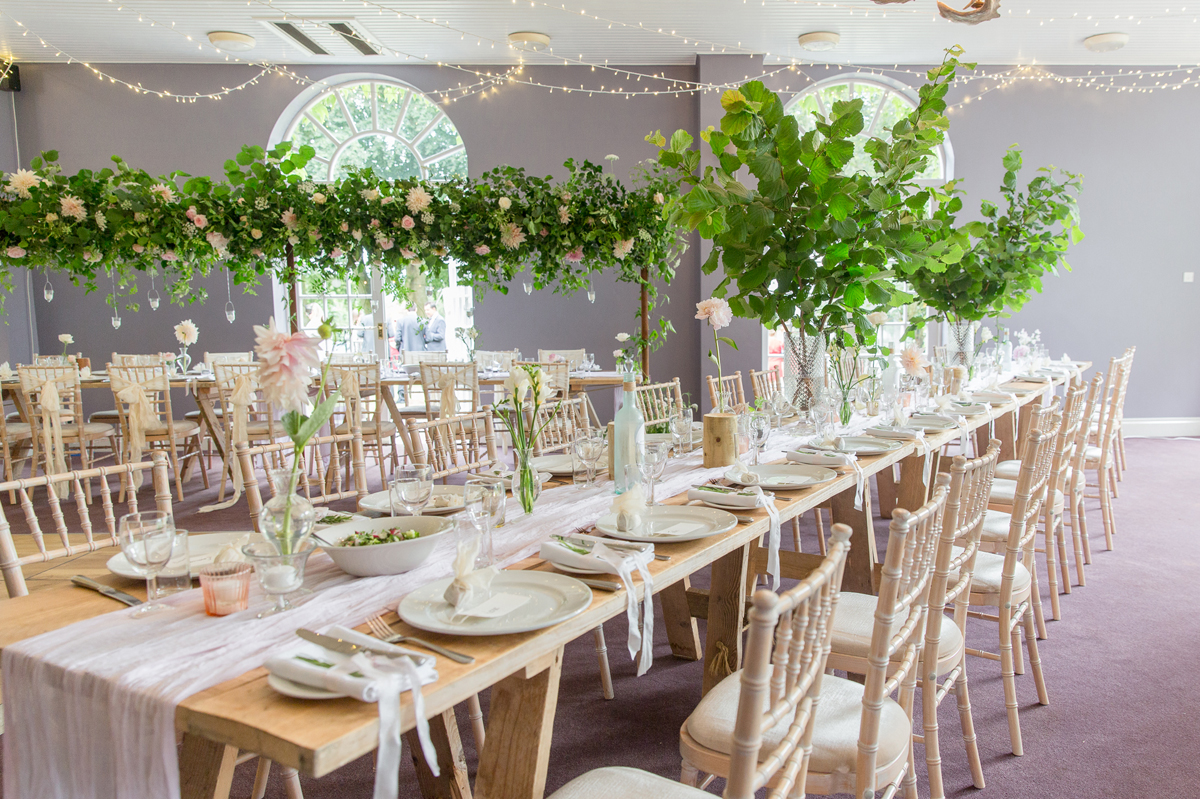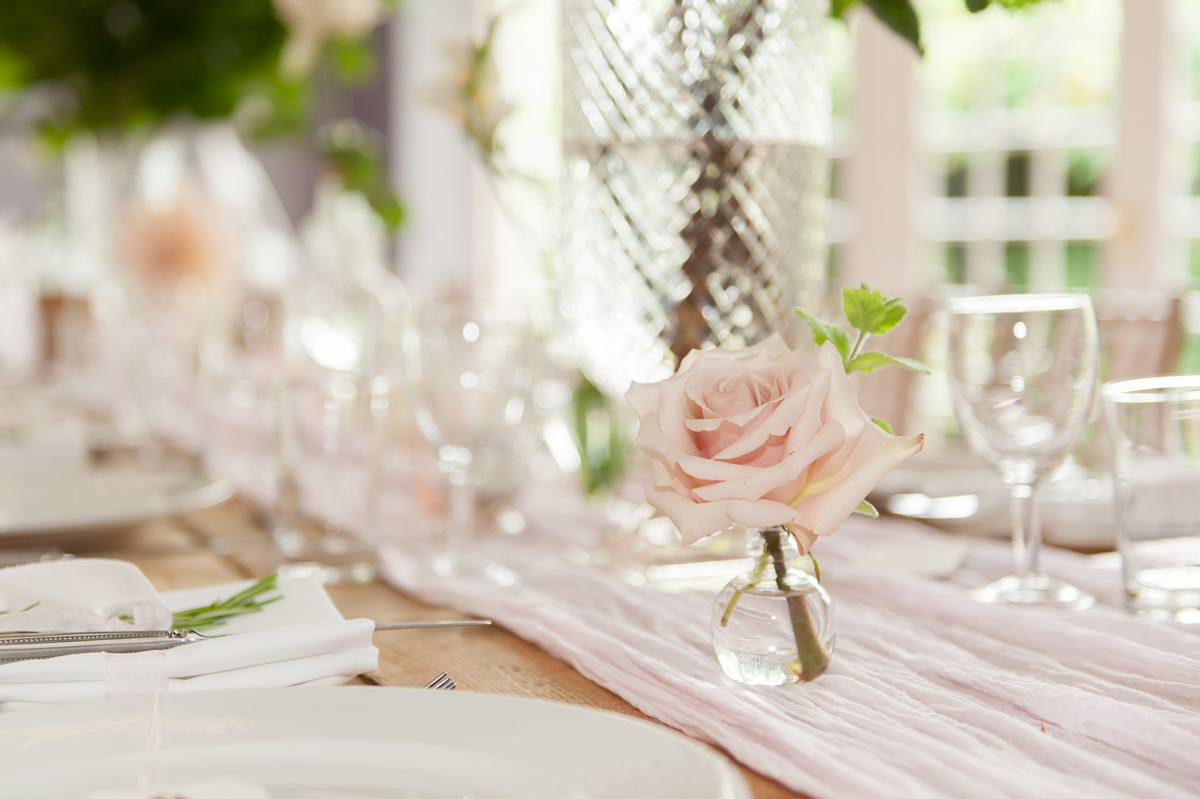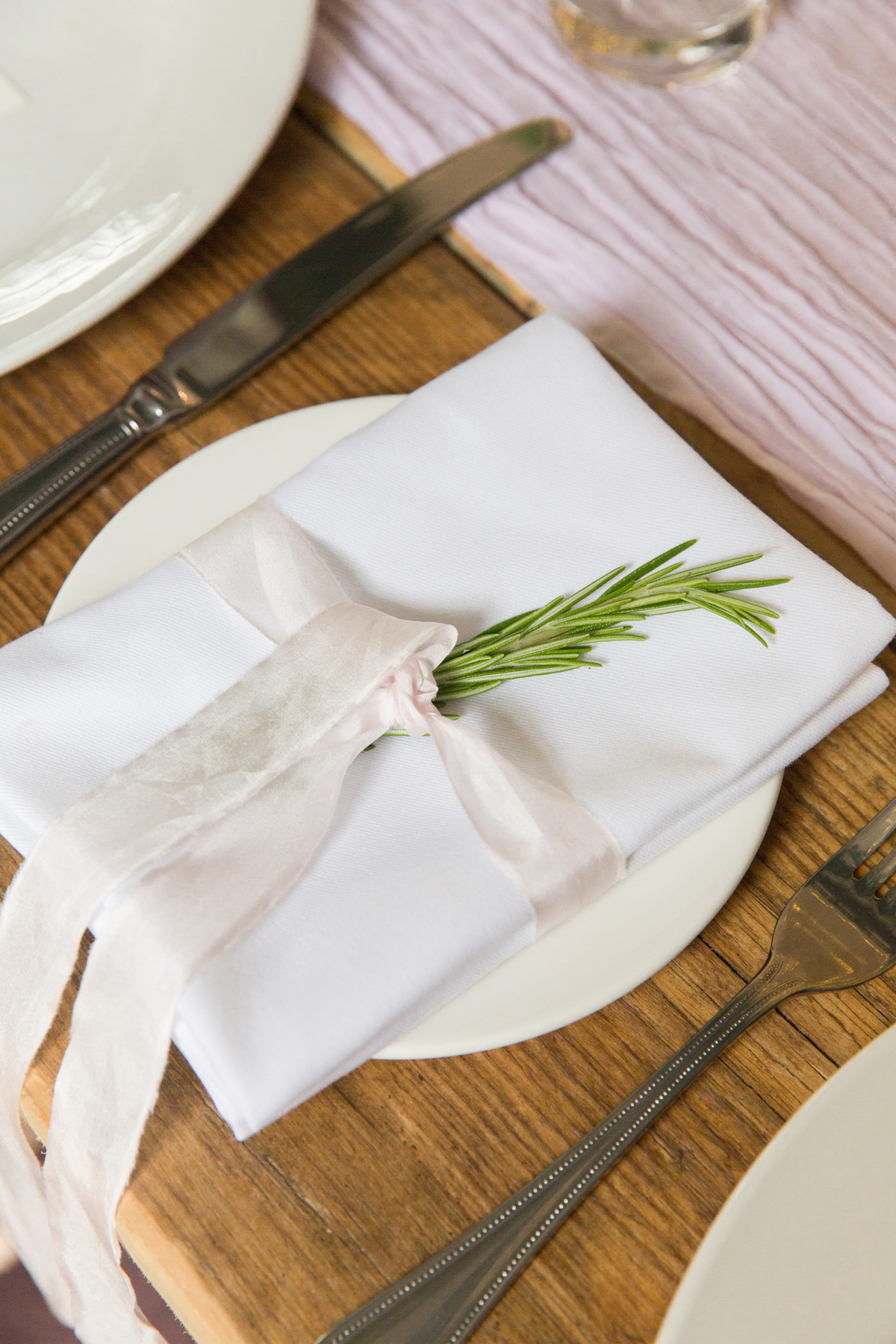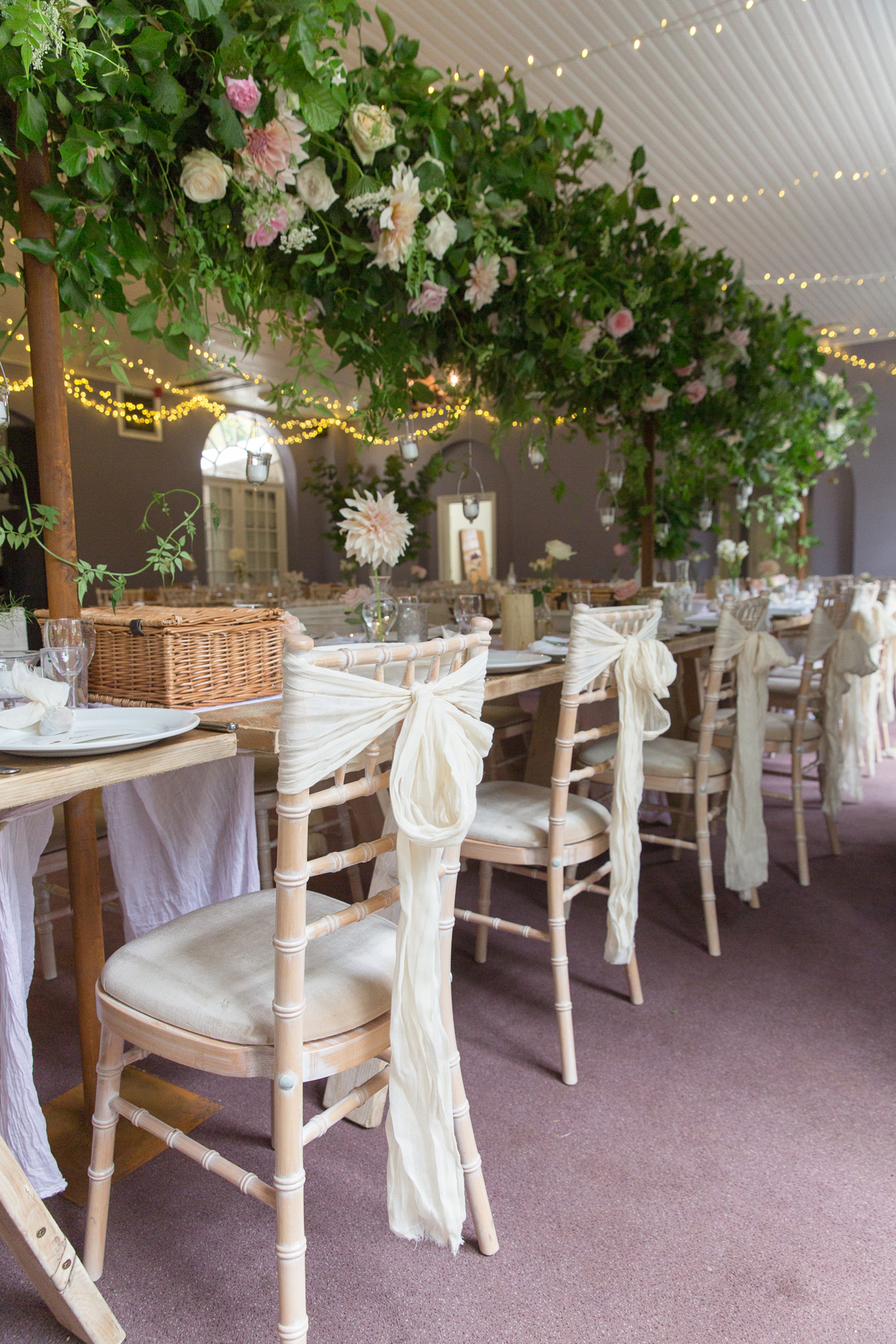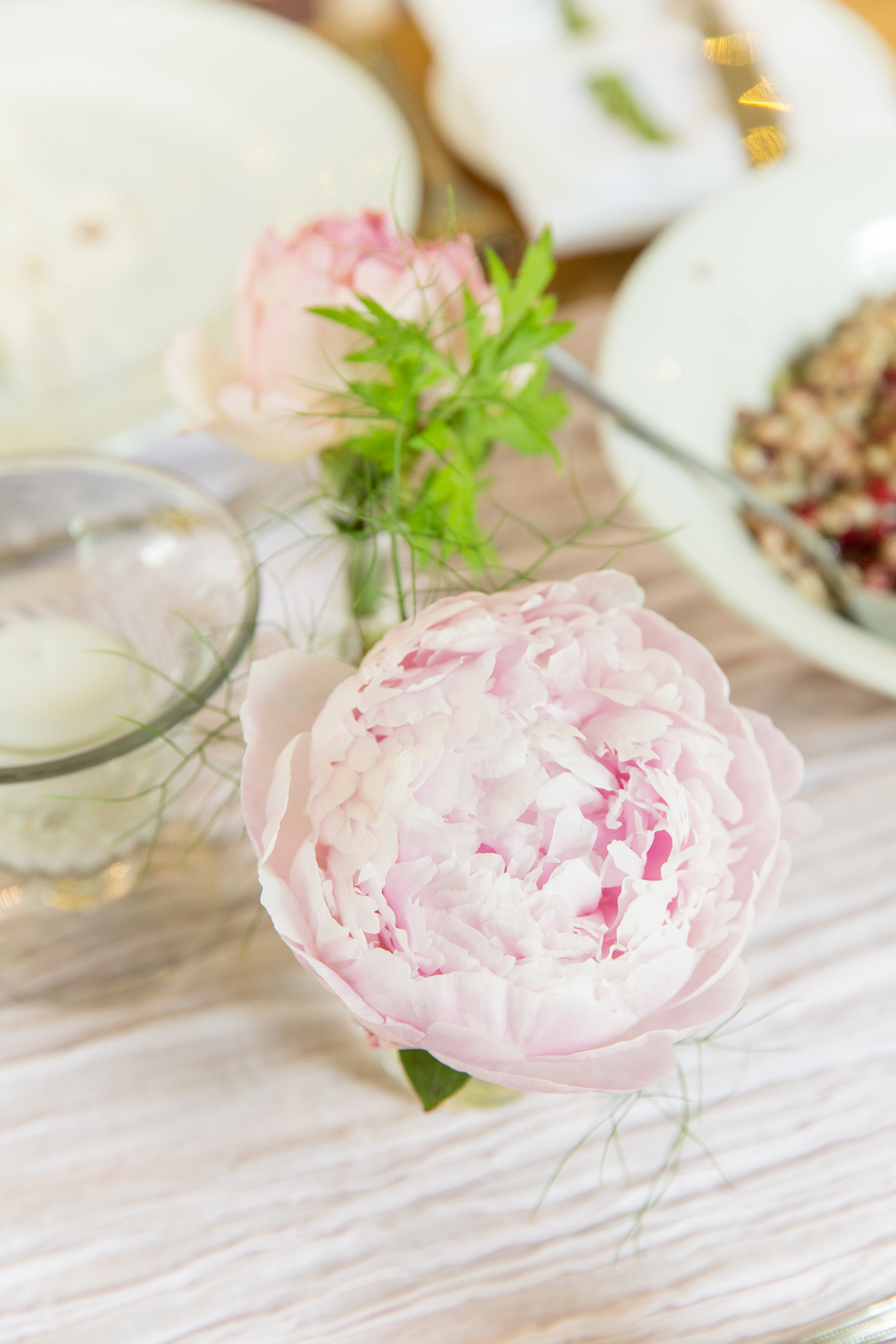 The couple's cake was an elegant four-tier semi-naked creation, with the top two tiers decorated with gold leaf, made by Edible Essence.
"Jennifer's cakes not only taste amazing with lots of flavours to choose from, they are absolutely beautiful.. I chose a semi-naked cake, but with a top-tier done in gold leaf to complement our theme with lots of fresh natural flowers … simple, but beautiful. We also had a cheese and pork pie cake from the West Country Cheese Co., which everyone loved!"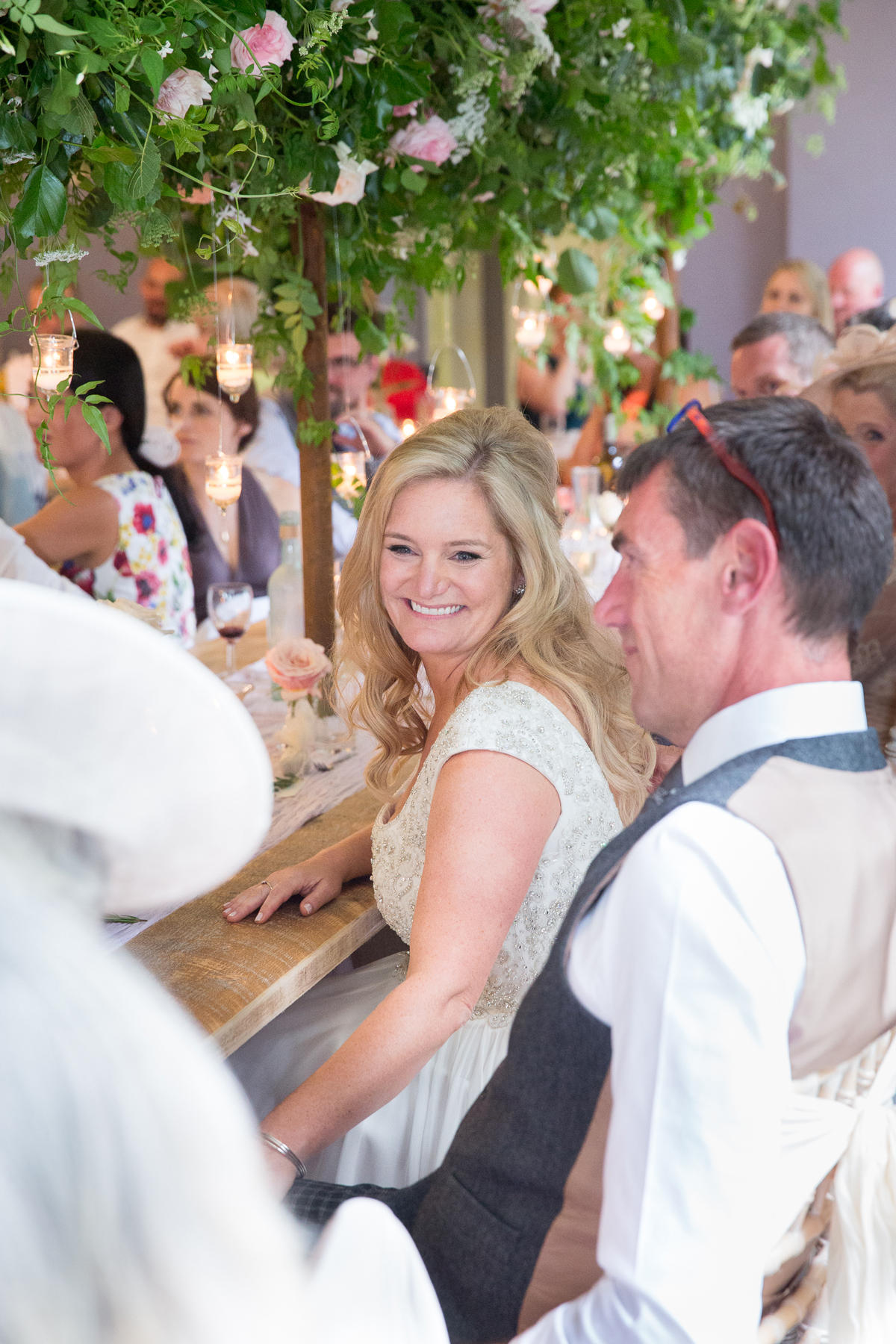 Later, for their first dance Sarah and Serle chose Happy by Pharell Williams, and this was swiftly followed by live music from Jam Sandwich.
"Jam Sandwich were fantastic and had people on their feet from the moment they started. Their frontman Andy is a friend of my brother from uni, so we were really lucky as they are not really a wedding band! This made the party feel more personal – after the official reception, we had a candlelit after party in the chapel and the band came and joined us in the dancing!"

Words of Wedded Wisdom
"Relax and enjoy the day. I've been to a lot of very beautiful weddings where you can almost feel the tension and stress in the air. We really didn't want ours to be like that and I think we pulled it off as people told us that they genuinely felt they had a lovely, relaxed and fun weekend."
"I did put a lot of work and thought and planning into the wedding, but I told myself that if something goes wrong on the day I just need to let it go – and things did go wrong… there were some last-minute issues…and you know what – no-one noticed as they didn't know that things were planned differently … the vibe you give off is the one your guests will pick up, so just relax, have fun and be yourself … you will be beautiful and your day will be beautiful if you can just do this!"
Sarah and Serle, congratulations and thank you very much for giving this glimpse into your beautiful day. Thanks also go to McKenzie Brown Photography for such effortlessly lovely photography.
Until next time!
With love,
Laura