What could make this wintry January day even better? I can offer you a summery wedding with an abundance of bright and joyful flowers, a Temperley London gown smattered with intricately embroidered flowers, all against a sunny Scottish farm.
Oh, and the bride works in one of our very favourite bridal boutiques in Edinburgh, Rachel Scott Bridal Couture. Please meet Amber, bridal shop manager at Rachel Scott Bridal Couture and James, a painter and decorator, who married on 20 June 2018 at the blank canvas venue Dalduff Farm, Ayrshire in Scotland.
Photography Carley Buick Photography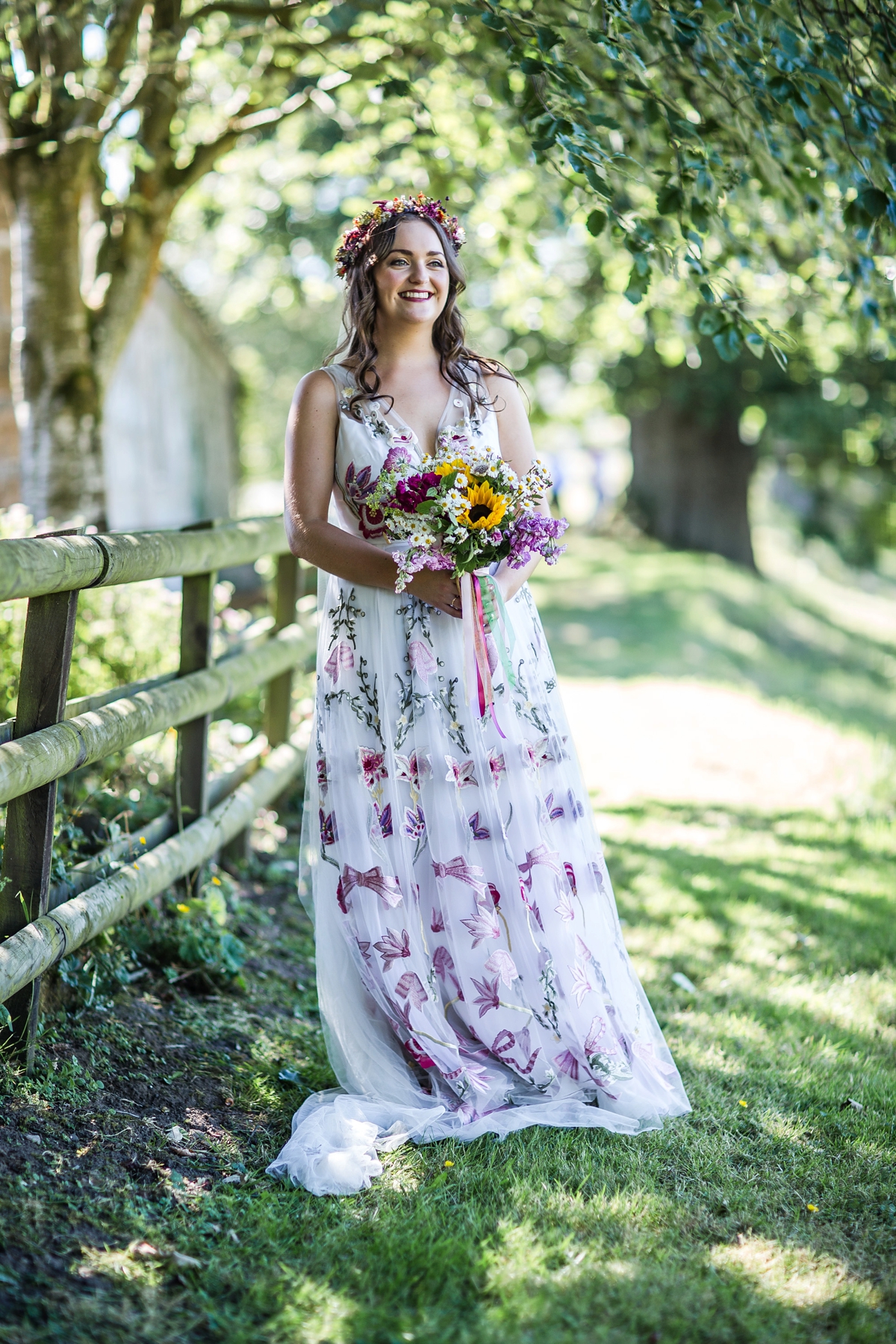 A desire for a bold and bright day and a wish to create a Parisian floral fiesta to reflect their visits together to France led the couple to fill the farm and barn with wild summer flowers and an eclectic mix of jugs and tins for a cosy, homely feel.
The floral, Parisian vibe for the day was set from the start with their wonderful stationery, all designed and hand-made by James' sister Fran Holden.
"For our save the dates we sent out large orange train tickets with all the details for a bit of fun. After that all our stationary followed a similar theme with the colourful wild flowers and the hand-drawn illustrations of James and I. Fran also made the most adorable Parisian street signs for our table plan."
For a relaxed, fiesta feel, Amber kept her long hair down in silky curls, and topped off her look with a bespoke dried flower crown from Parsons Wreath. Makeup artist Felicity hunt created the bride's fresh, glowing look.
"Felicity is a dear friend of ours and also an amazing make up artist. She made me look like a bronzed goddess on the day and I'm forever grateful for her taking the time to help all the bridal party with their make-up."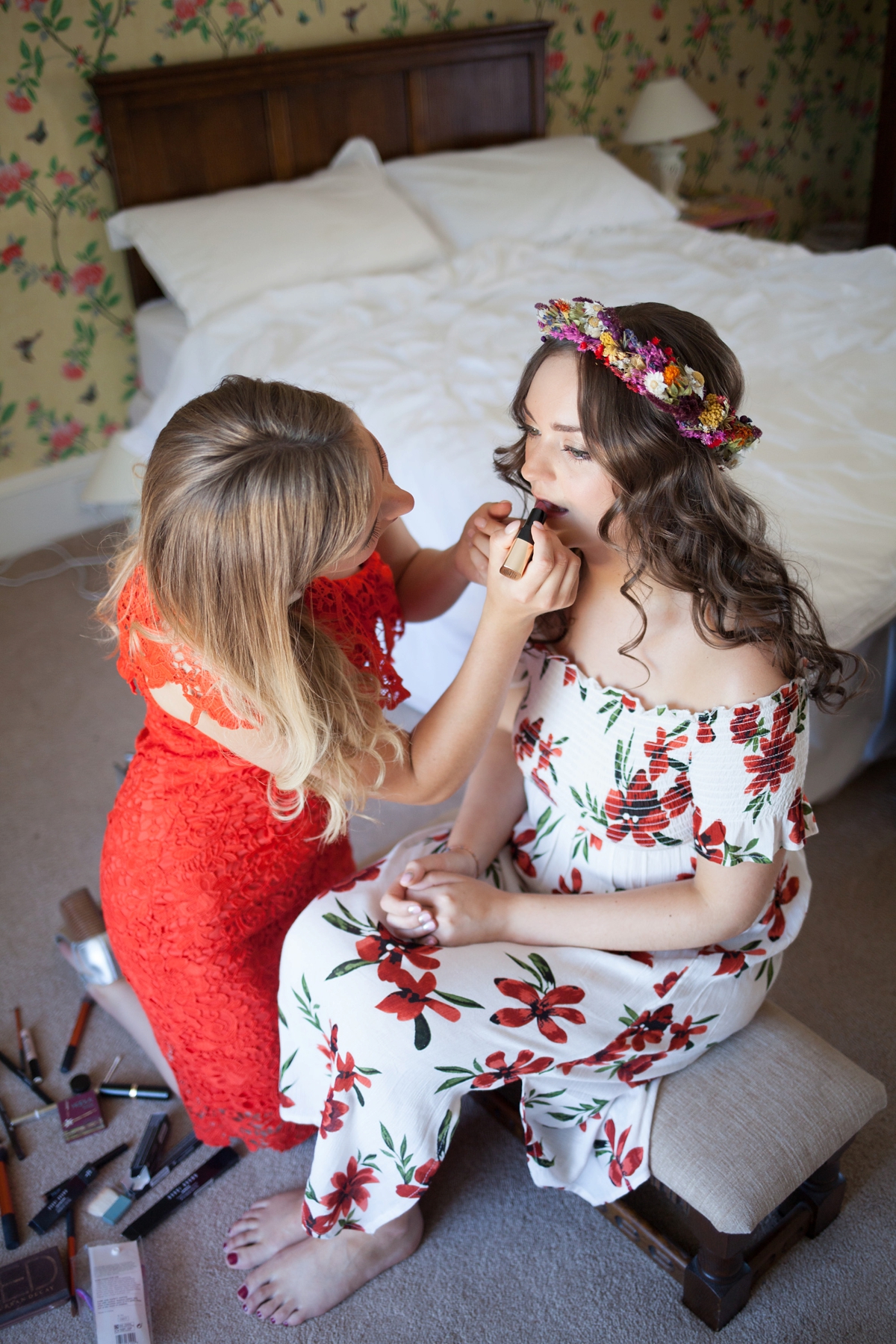 It's clear that Amber has such a passion for beautiful gowns, and for Love My Dress too. We are so proud to feature Rachel Scott Bridal Couture on our Little Book and you can see it profiled here. We've also been lucky enough to profile many brides who found their gowns in this boutique; follow this link to take a look.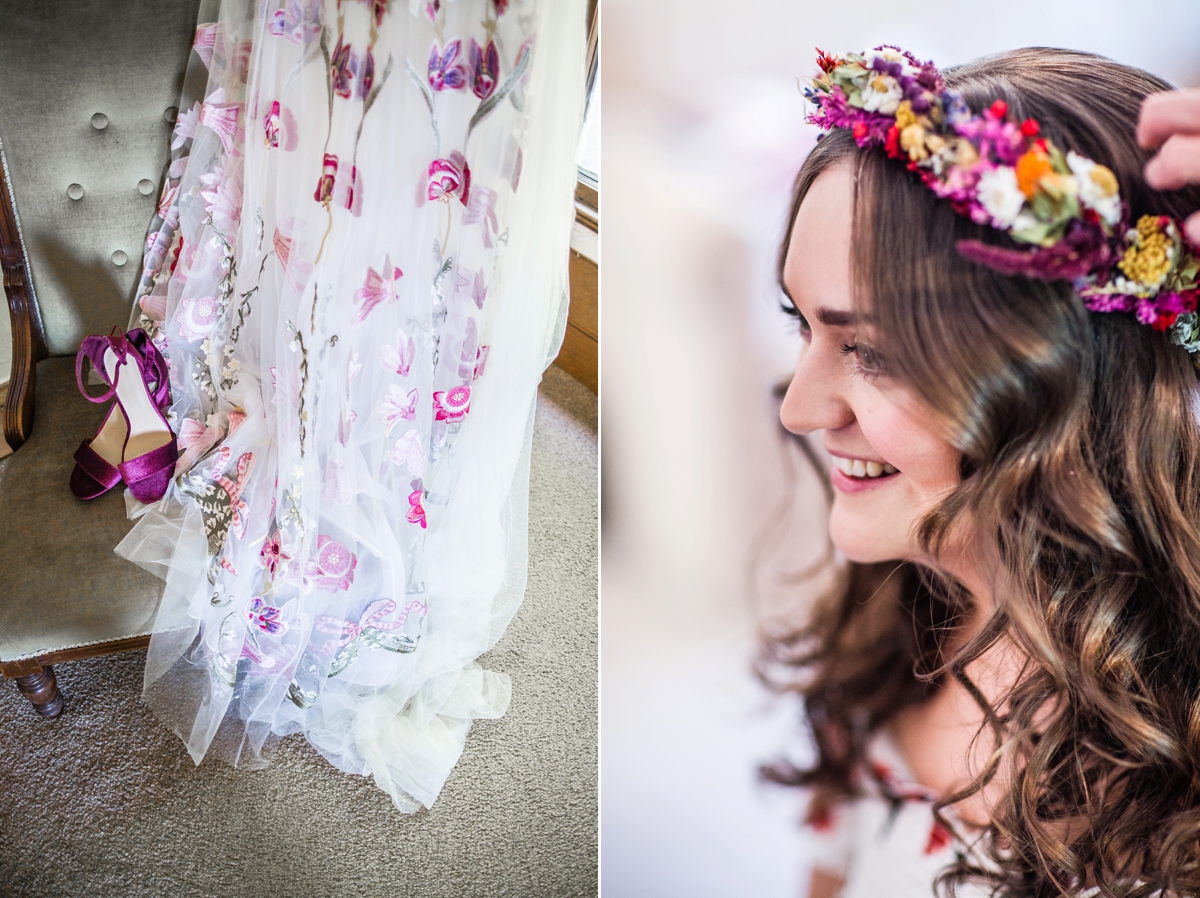 "Over the eight years I've spent working in the bridal industry I've always been inspired by Love My Dress and have spent many hours lusting over the weddings featured. If I didn't already work in a bridal shop and have connections I definitely would have found our shop Rachel Scott Couture in the directory. Love My Dress' Little Book really is the holy grail for brides-to-be."
[JP-VIDEO]
"My favourite part of Love My Dress is the real weddings! I feel like the real wedding blogs have so many good ideas straight from people who have been through the experience."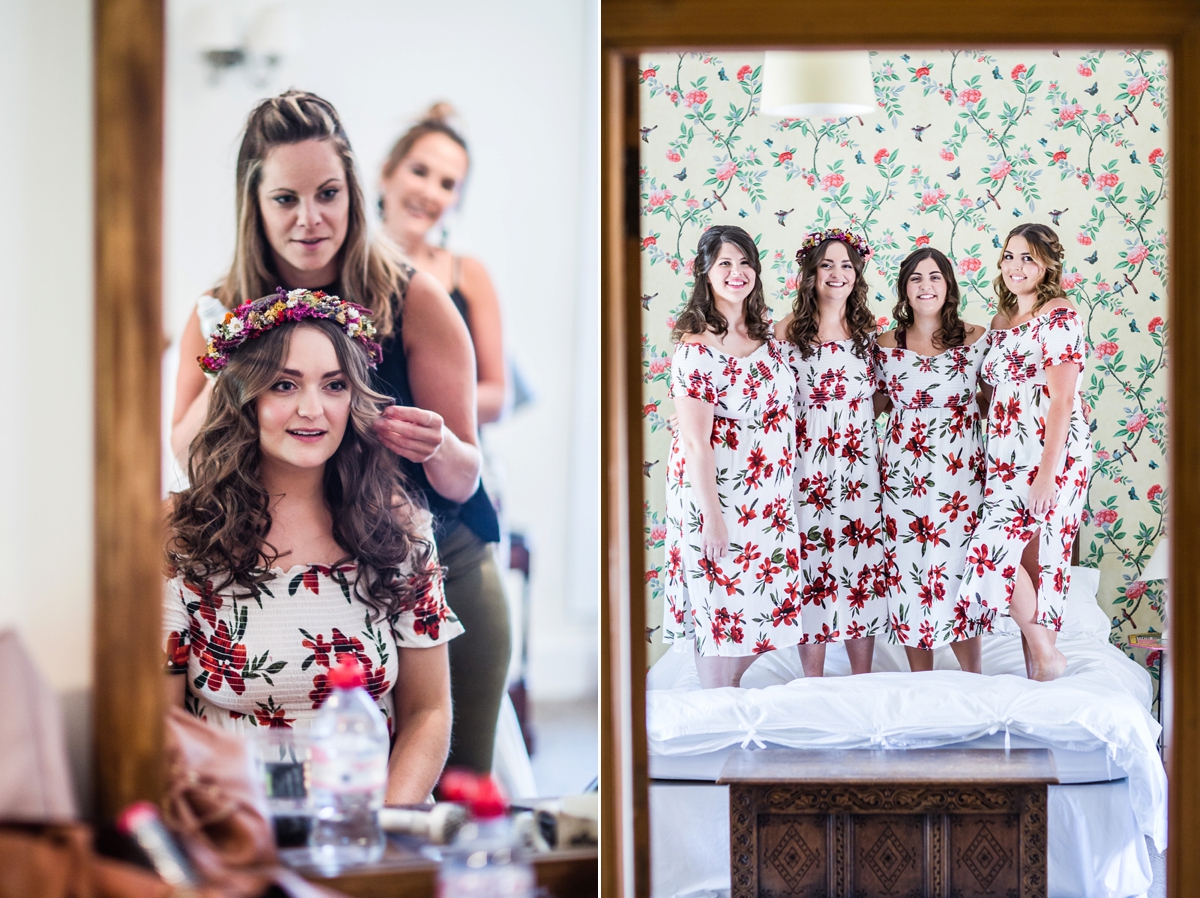 Amber was in the perfect situation to see many, many gowns and she knew her Bibi dress from Temperley London was the one for her. It is so incredibly special with the delicate yet vivid pink embroidery over the ethereally light tulle. The gown is absolutely perfect for the summer wedding.
"I remember sitting in a café in Paris after just getting engaged in 2016 and showing my bridesmaid a photo of the Bibi dress from Temperley as it had just been released that week. We were in awe of the dress and it always lingered in the back of my mind. Fast-forward to a year later, and 40 dresses later!"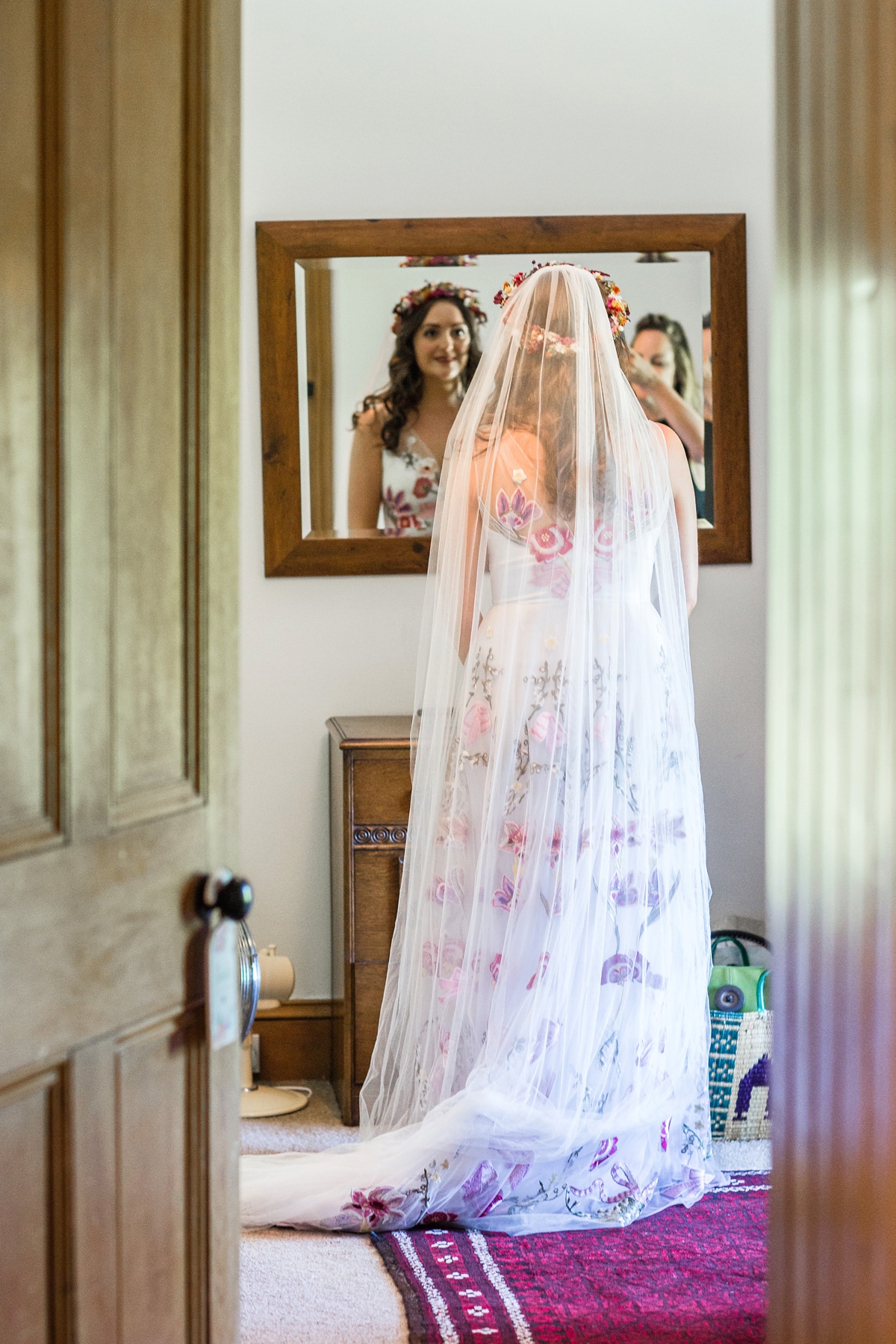 "We finally had a Temperley trunk show at the shop so of course I requested the Bibi dress to be sent up from London. As soon as I put it on I knew it was my dress. It had the ultimate wow factor and felt completely me. I loved how comfortable the dress was, how special I felt in it and of course the incredible Temperley craftsmanship."
The boldness of the gown was offset by the vintage soft tulle, full length veil by Sassi Holford, also from Rachel Scott Couture, and Amber visited high street favourite Gap for her deep pink bridal shoes.
Her iridescent red floral earrings were borrowed from my mum (she also wore them on her wedding day) and she added a star bracelet. Amber finished her preparations with a spritz of Moschino I Love Love.
"It was given to me on the wedding morning by my mum as I've always been her 'Little Star'.  I wore my everyday perfume that I have worn for the last eight years and I wanted to smell like me on the day."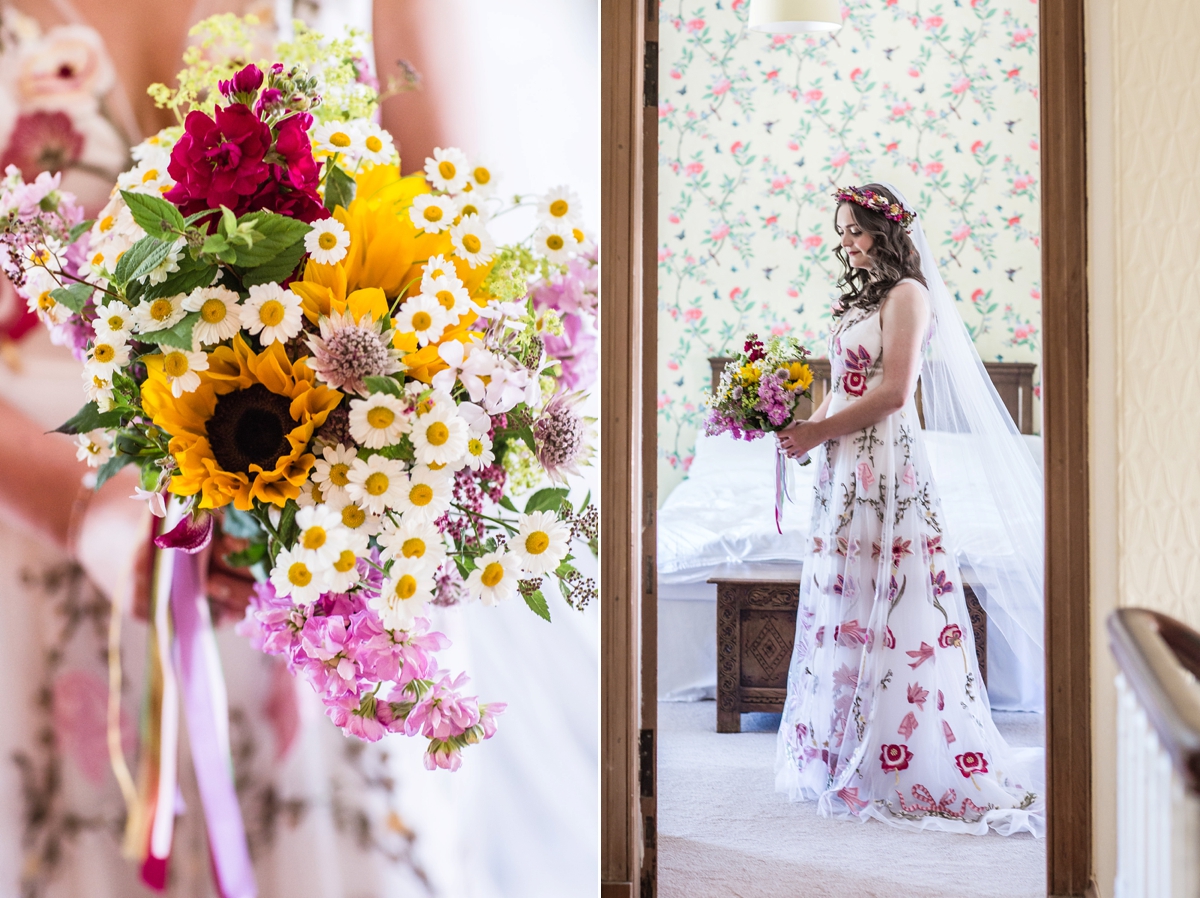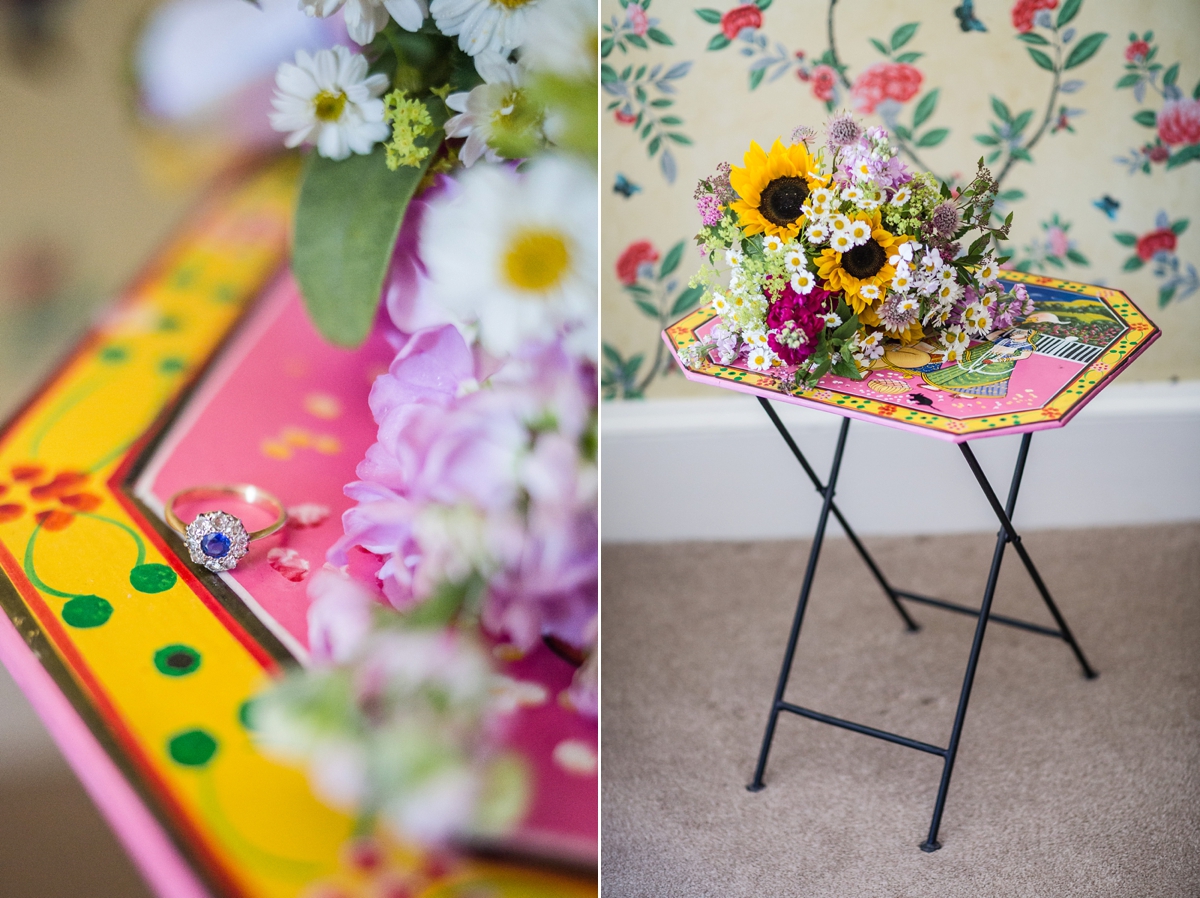 Amber's grown-up bridesmaids wore short ASOS gowns in soft hues of green for a fresh, summery vibe. Their bespoke hair combs, also from Parsons Wreath, were designed to complement Amber's and they carried vibrant, joyful bouquets of flowers.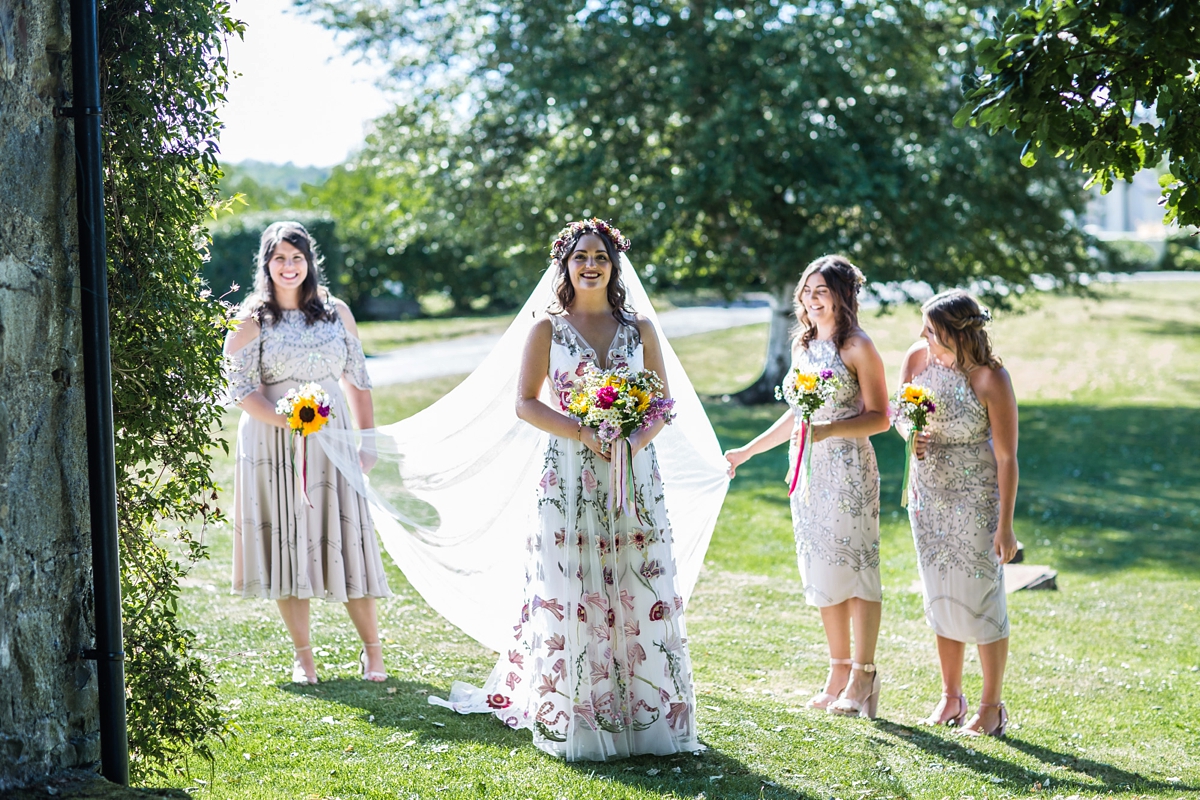 Talking of which, I love, love, love the bright combination of colours in these wild summer bouquets.
"My mum and her best friend Lucy very kindly offered to do our flowers. I found the website Flowers From The Farm which searches for all the local wild flower growers in your area. Many of the growers offer you buckets of flowers for a set price so we ordered ten buckets and gave the farmer a rough idea of the colours we wanted. The flowers were absolutely beautiful, we wanted them to look as though they'd just been plucked from the ground and to not be too stylised – they were perfect."
"My mum and Lucy were flower queens and made the most beautiful bouquets, table displays and buttonholes. When using Flowers From The Farm you can't guarantee that you'll get all the flowers you want. Unfortunately sunflowers were out of season from our farm and they were the number one flowers we wanted. Fortunately Tesco had some amazing fresh sunflowers in stock so I picked up a few bunches to add in!"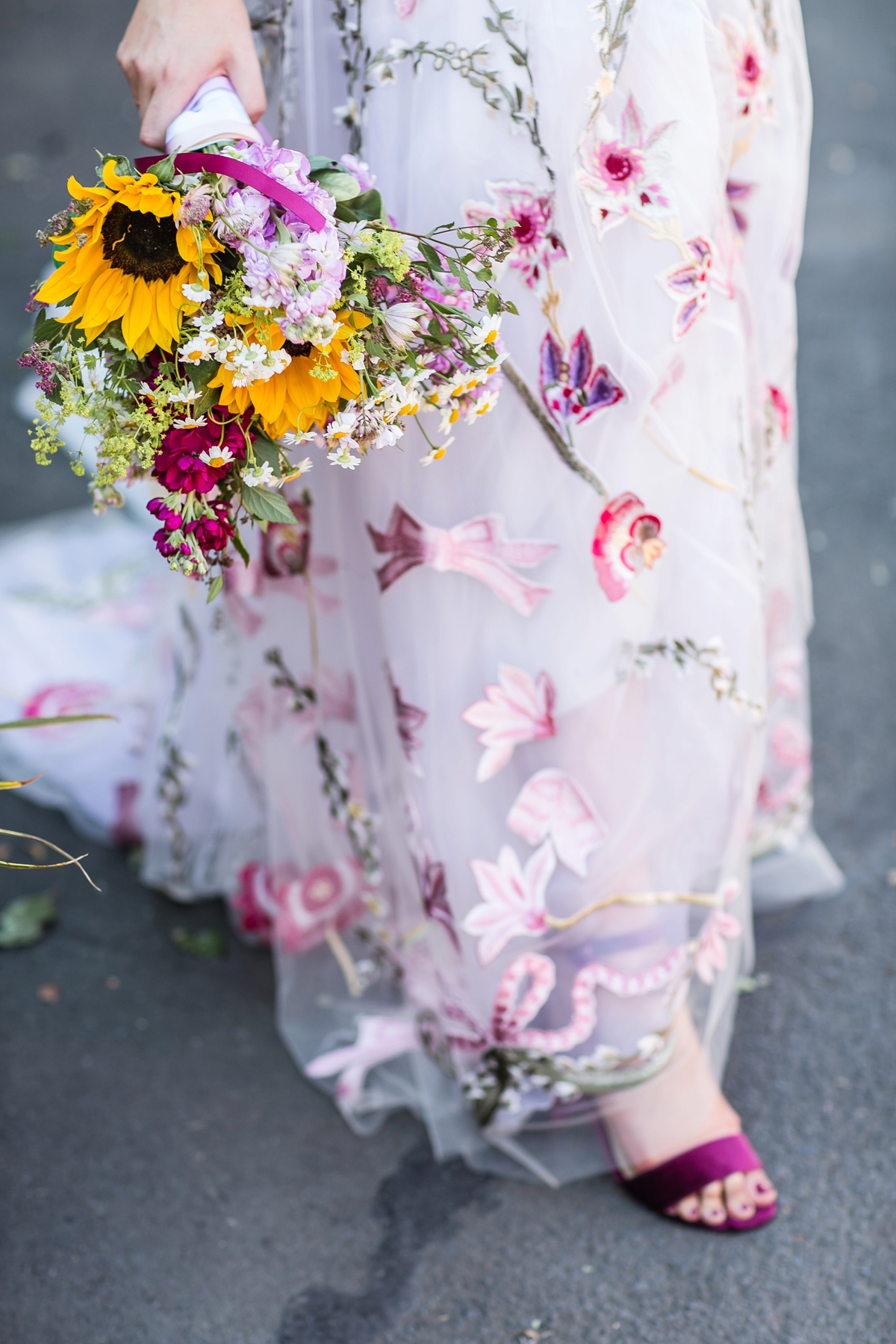 The couple met back in 2010 and had an engagement of a year and a half.
"We met on a train in 2010 from Manchester to Edinburgh that had been delayed by nine hours. We visit Paris each November and 2016 was no different. We travelled from the airport by train to Paris city centre and once again our train broke down!"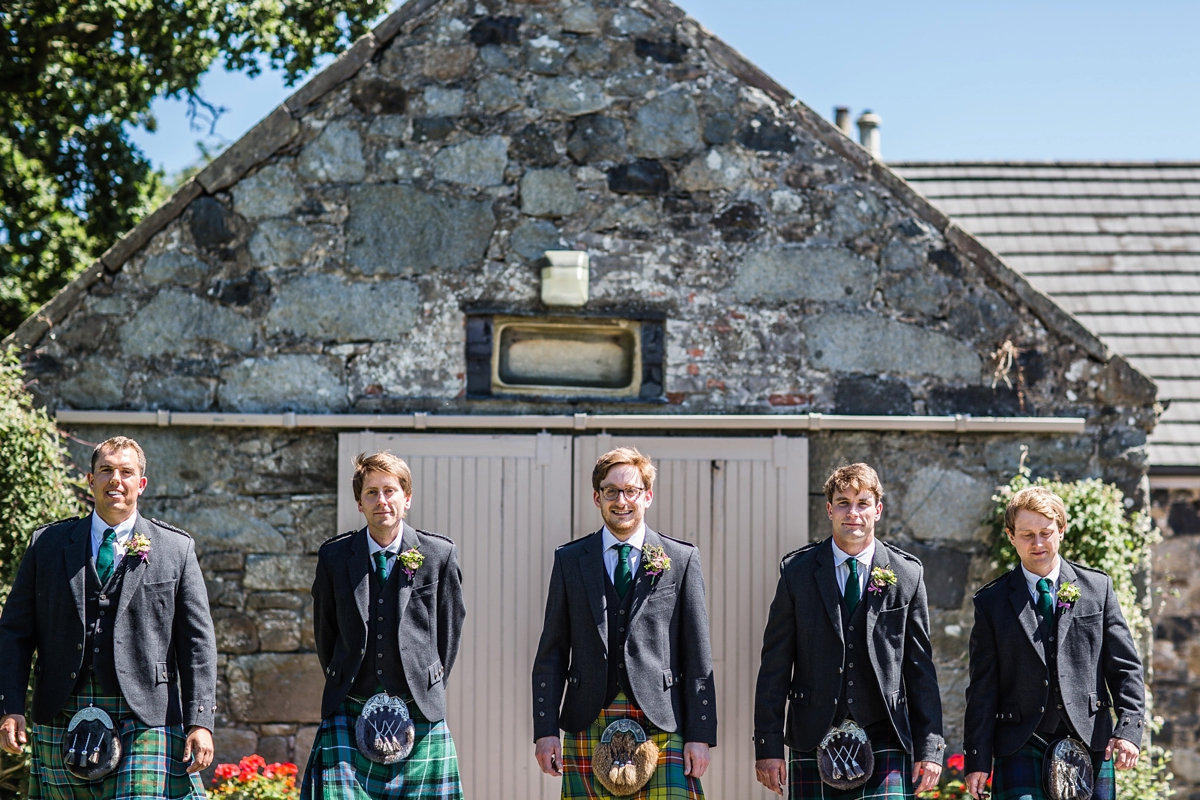 "James had organised a Michelin-starred lunch for us so I was worried we would miss our reservation. Unbeknown to me, James was more worried about fitting in a proposal before the lunch! After a taxi ride to the city we made the lunch just in time. After eating James asked if we could walk to one of our favourite bridges to attach a padlock that we brought along with us (another tradition we have)."
"When we reached the bridge the padlocks had all been cut off and plastic barriers replaced them. Poor James then suggested that we walk thirty minutes to the bridge we usually attach our padlocks on to each year. Once we arrived at the bridge I reached into my bag to grab the padlock and turned around to find James on one knee with a padlock that read 'Marry me?' and a sparkly ring attached!"
"For the ceremony in the garden my mum and I made a floral arch with silk flowers and ivy to frame James and I as we got married. We added some Persian rugs to the aisle to make it look a bit cosier and had sunflowers and ribbons hanging from the ends of the rows to add a pop of colour."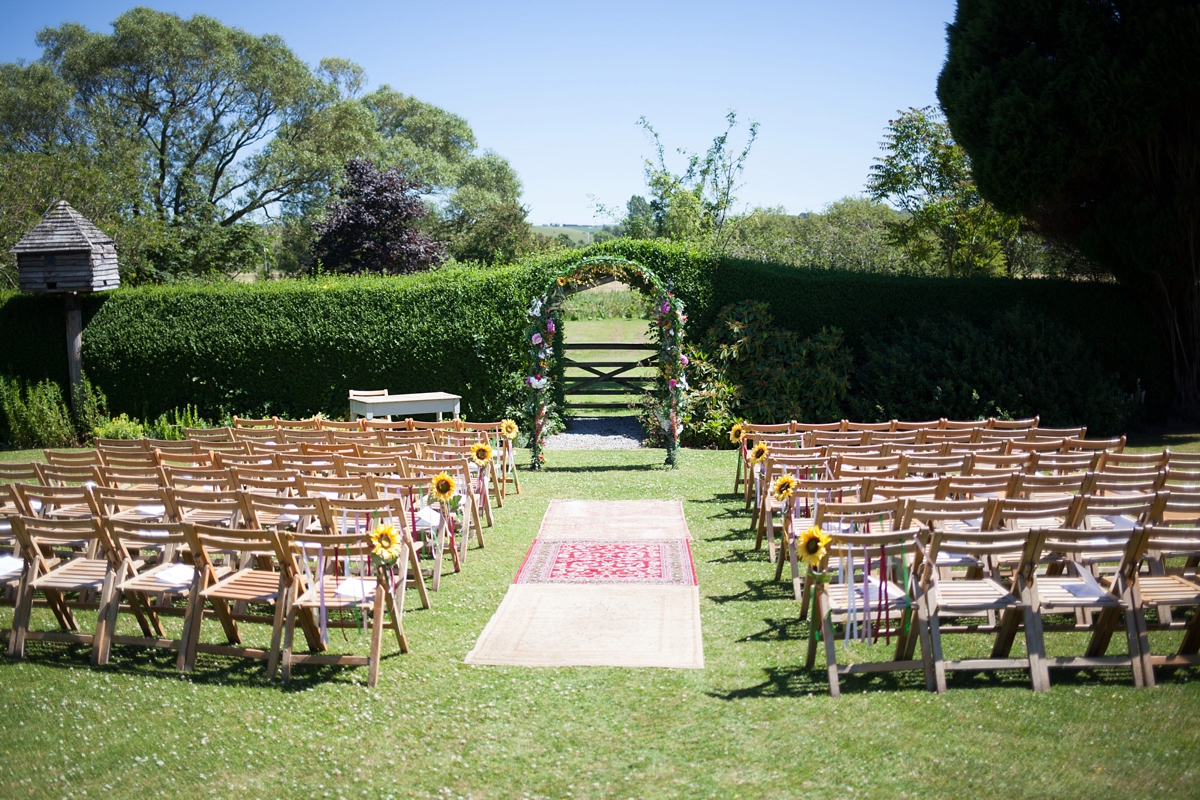 James and Amber married in an outdoor humanist ceremony, performed by celebrant Janet Hamilton in the fresh June air. Have you seen the make-shift aisle crafted from old Persian rugs?
"My dad Nick accompanied me down the aisle. It was a very special moment for us. Our guests commented that he looked as proud as punch walking me down. I walked down the aisle to 'To Build A Home' by the Cinematic Orchestra. It's a song that we've always loved which has such beautiful lyrics. Now the song is even more special to us."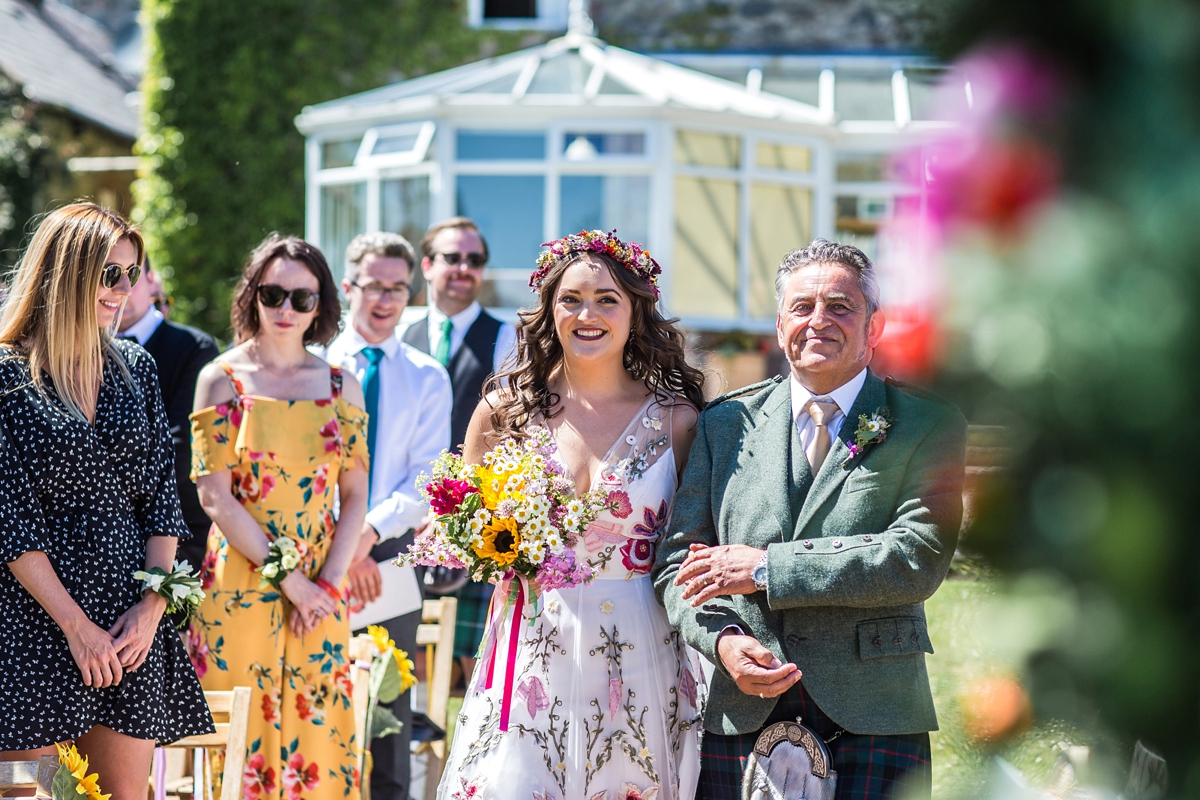 The couple wrote their own vows for a truly personal ceremony.
"We wanted to keep our vows short and simple. We didn't know how nervous we would be on the day and wanted to make sure we'd make it through them with no blips! We both decided that vowing the same thing to each other made words seem even stronger."
"I promise to support you in whatever you do, I pledge to always be there for you, I believe that we'll grow old together in happiness, I vow to always love you."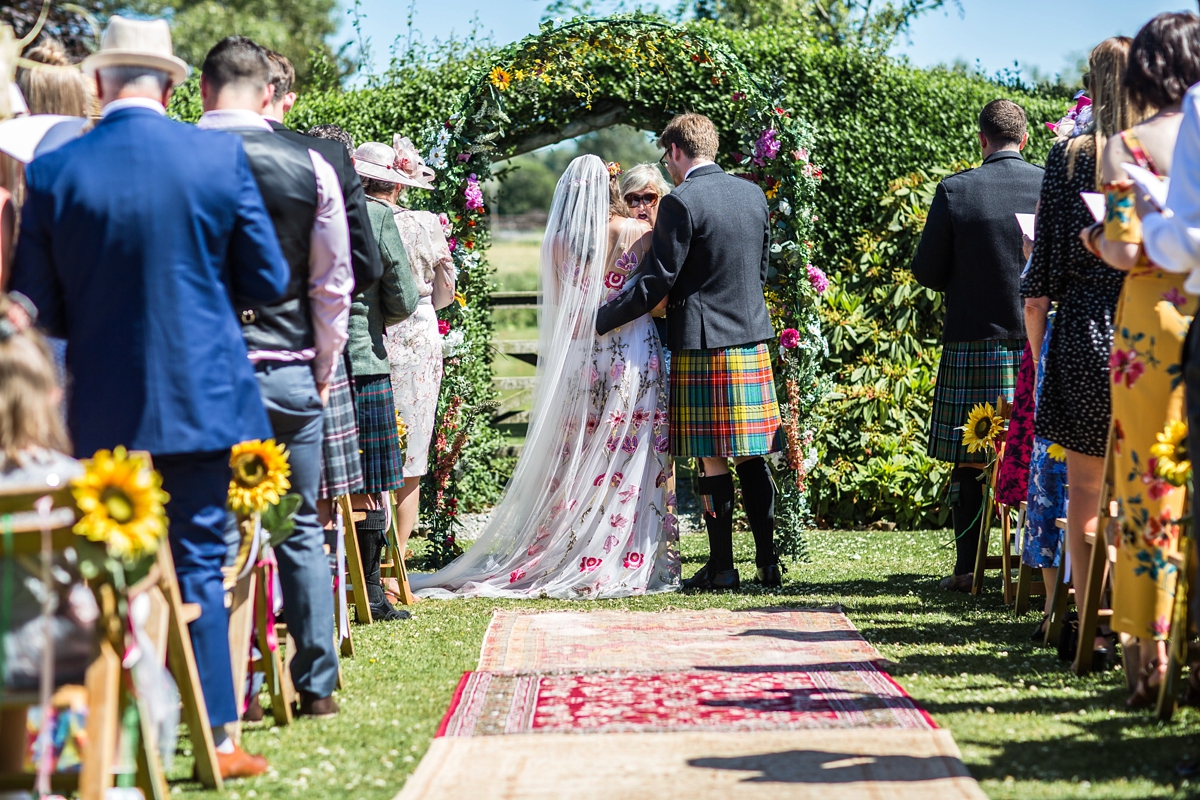 The couple's readings were 'The Promise' and 'The Owl and the Pussycat'.
"We chose 'The Promise' simply because the words were so relatable. The reading was sweet and upbeat and really reminded me of mine and James' relationship. 'The Owl and The Pussycat' is a poem that I've always loved. It was read to me as a child so holds fond memories. It's a very feel-good reading so we ended the ceremony with it to give everyone a fuzzy feeling."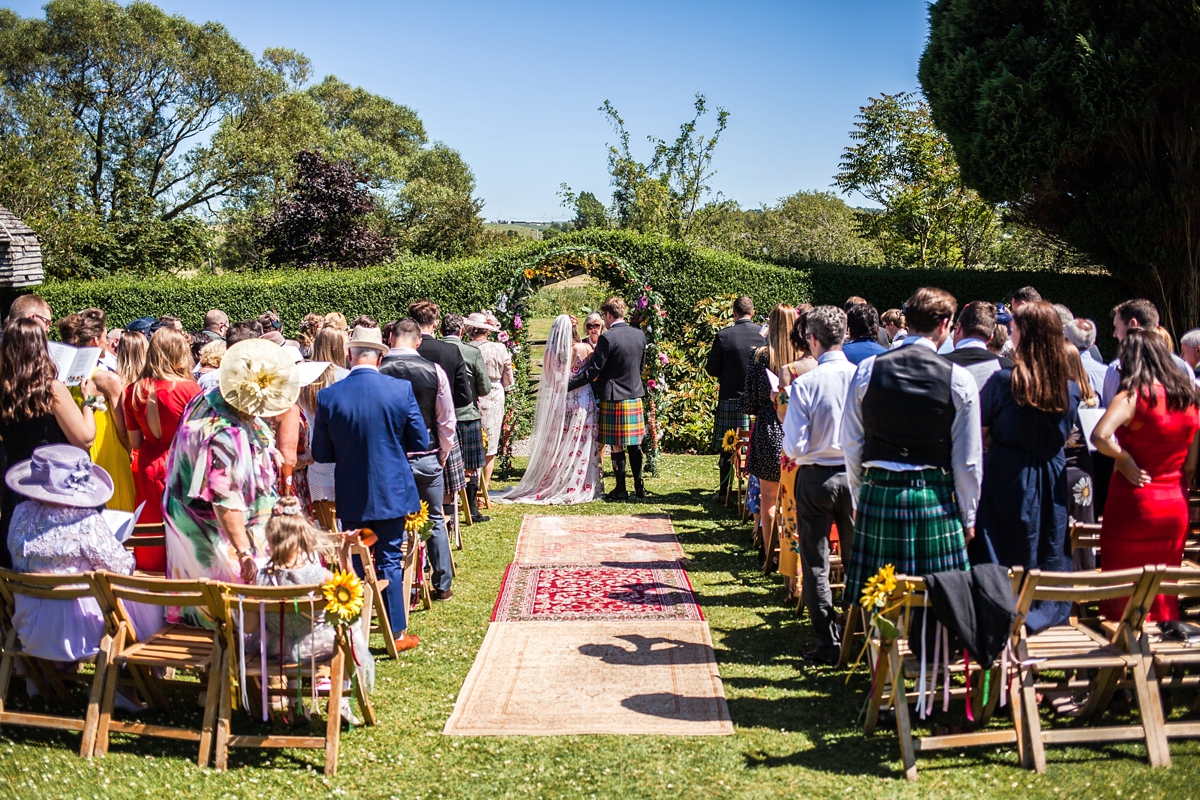 "My diamond and sapphire engagement ring was James' great-grandma's from the 1920s. I wanted a wedding ring that would compliment this so I went for a chunky gold antique ring with small diamonds and sapphires that just tucks underneath my engagement ring. I'm not a dainty jewellery person so I knew it would have to be something big and bold."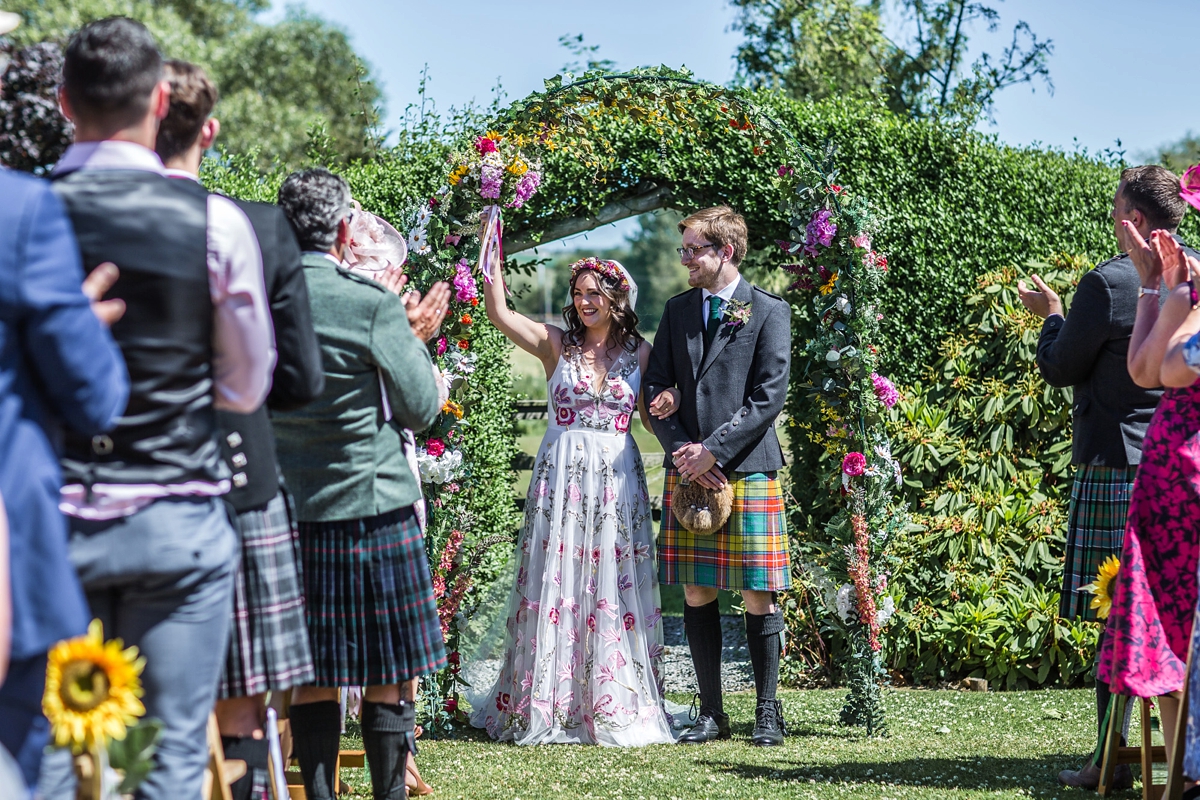 "James' ring had to withstand his manual work so he chose a titanium ring with an inlay of battered copper. We thought this style of ring would wear well as it already has a kind of worn look."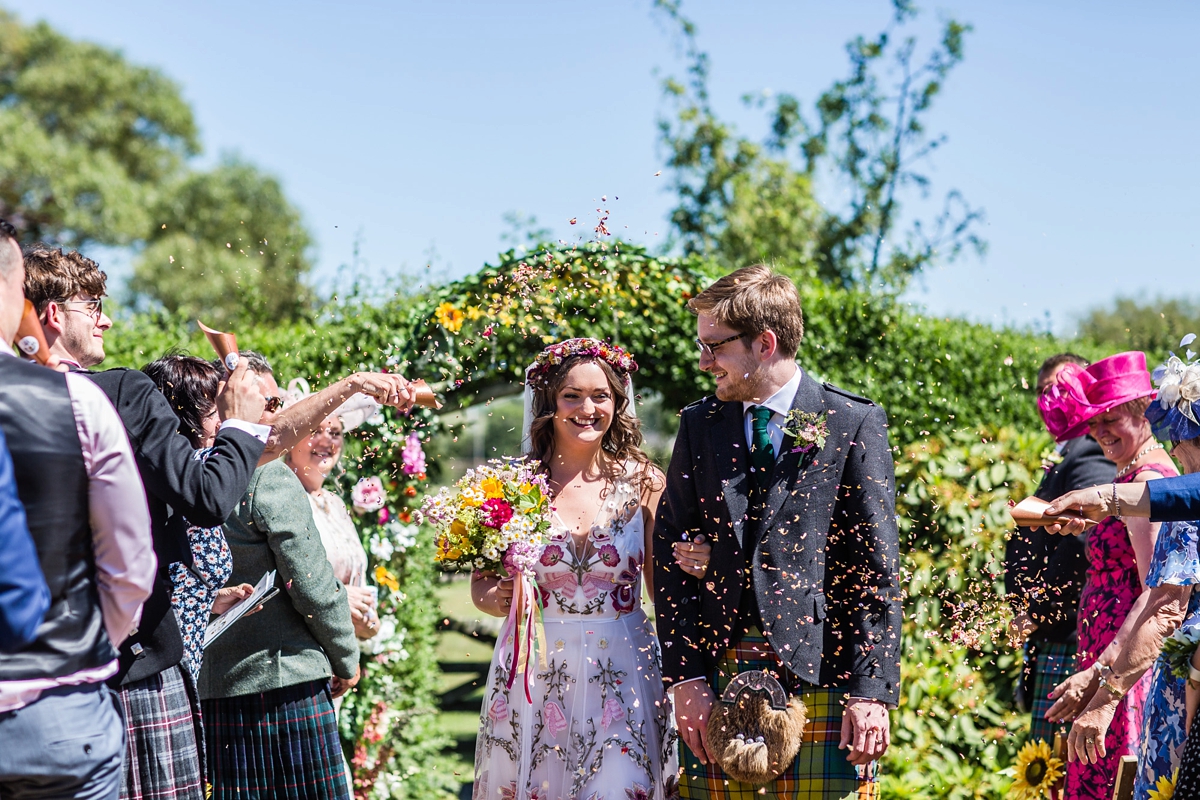 The bride and groom came across their photographer, Carley Buick, through Amber's work. Her light-filled pictures are so crisp and clean, and really capture the floral vibe.
"Carley bought her dress from our shop a few years ago and her beautiful wedding day is always one I could relate to style-wise so when I started to think about which photographer to choose I thought Carley would be perfect as she'd totally understand our look and style."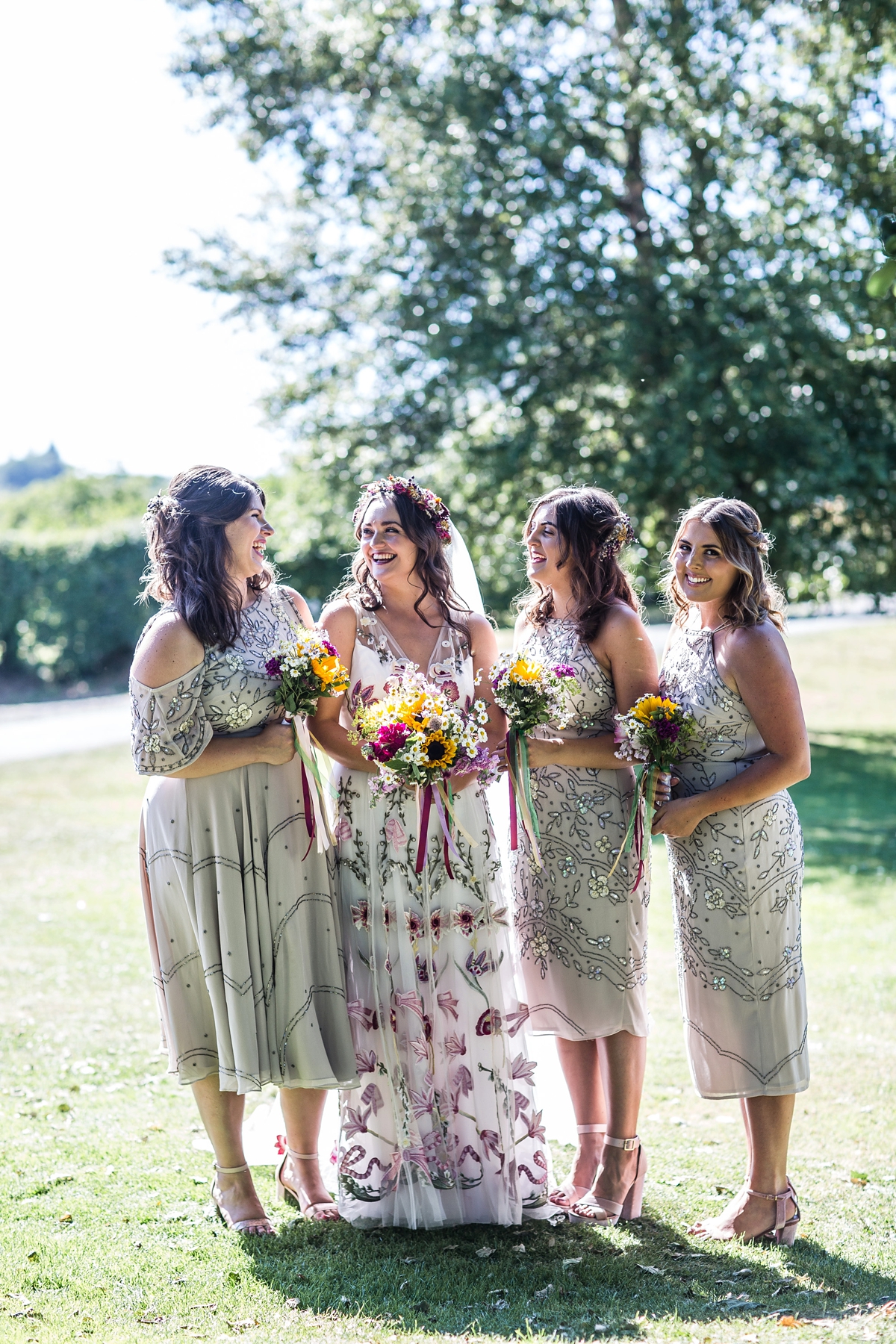 "Carley was an absolute dream on the day, she made us both feel completely comfortable whilst having our photos taken and was almost invisible for the day! The wedding day was extremely bright and sunny so she did a fab job of capturing all our moments with the intense sunshine. We're so pleased with our photographs – our memories that will last forever."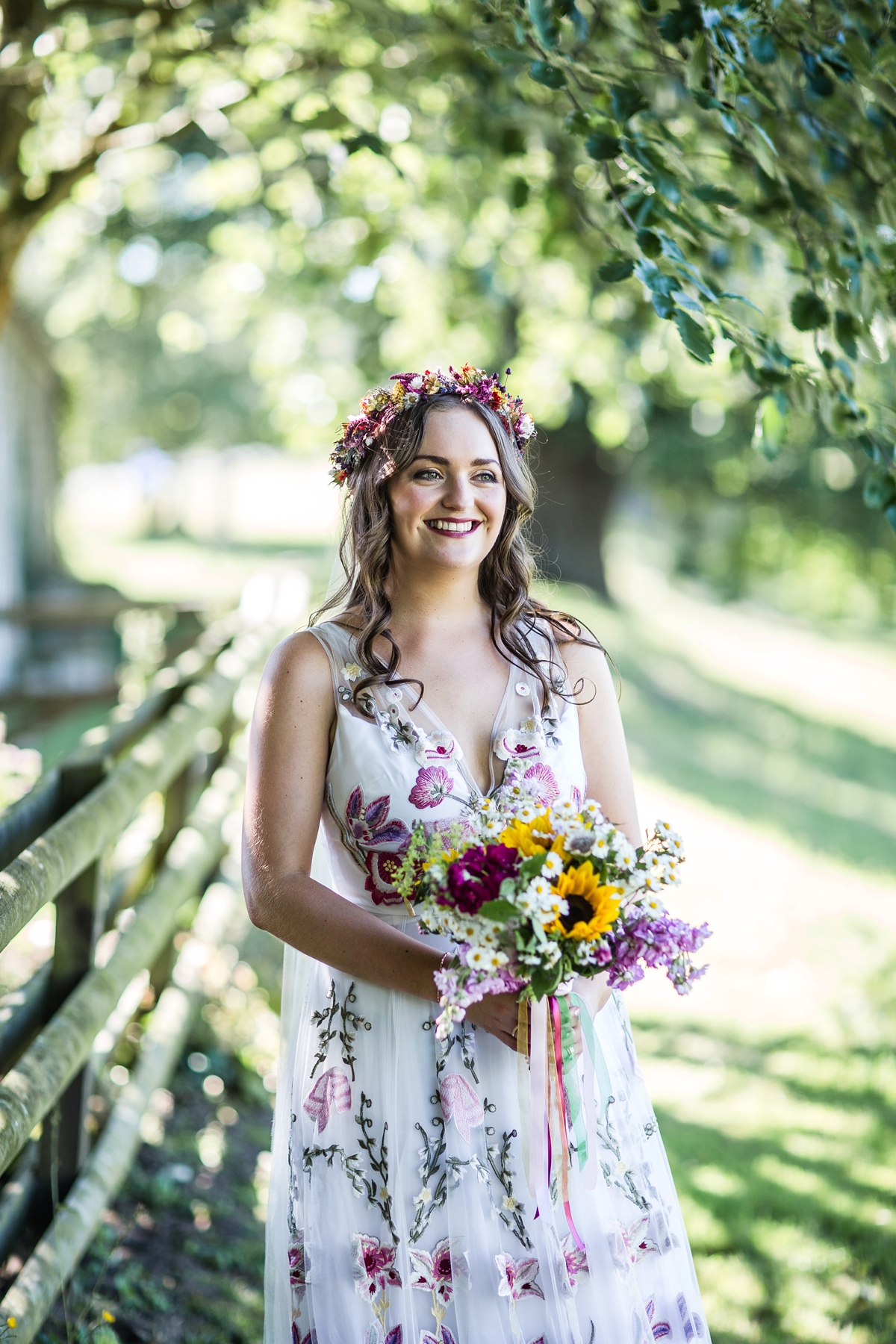 I can't get over the beautiful countryside and grounds of Dalduff farm which make a wonderful setting for the newlyweds to spend time together.
James chose a traditional Lochcarron Scottish kilt with a modern twist through its bright tartan of Ancient Buchanan. Worn with a MacGregor MacDuff jacket and waistcoat and an Artisans of Scotland sporran, he looks contemporary and confident. The final touches were a deep green tie and pretty buttonhole. His groomsmen's kilts were hired from McCalls.
"We wanted all the groomsmen to have different coloured tartans – I love the look of all the colours! We stuck to tones of green and blue so there was some link between them."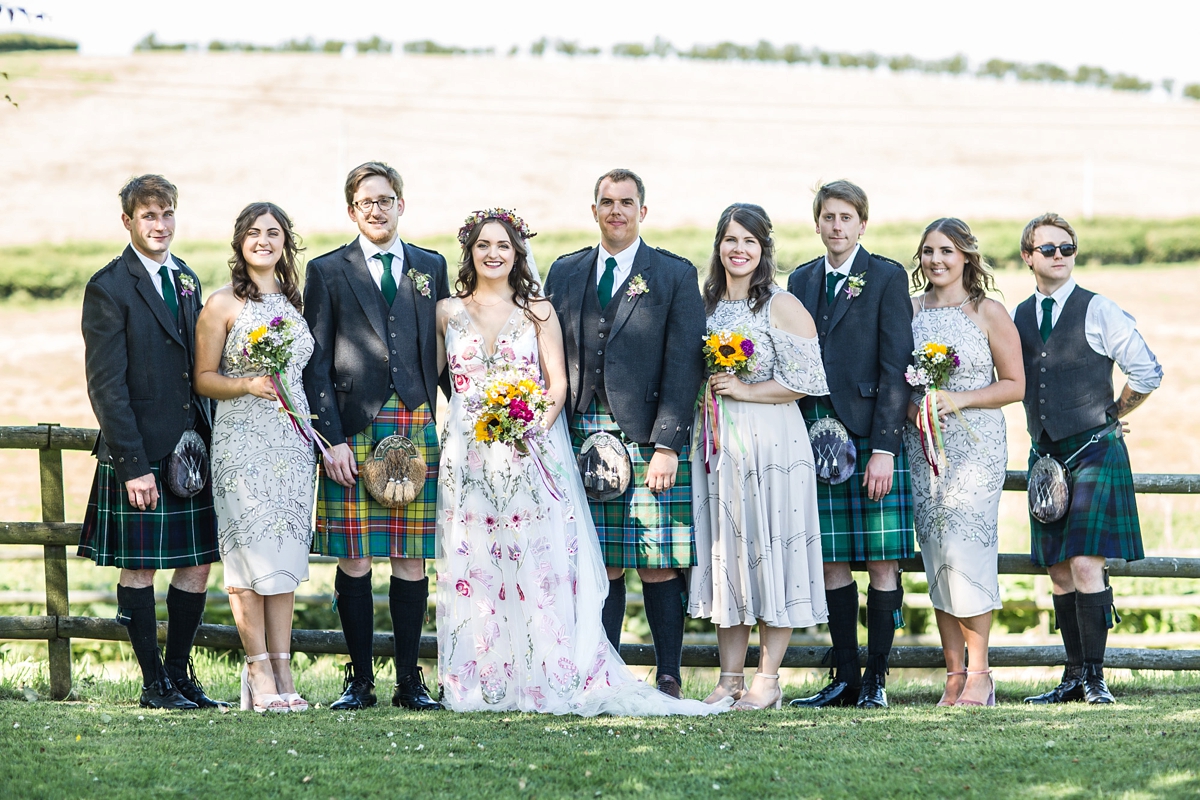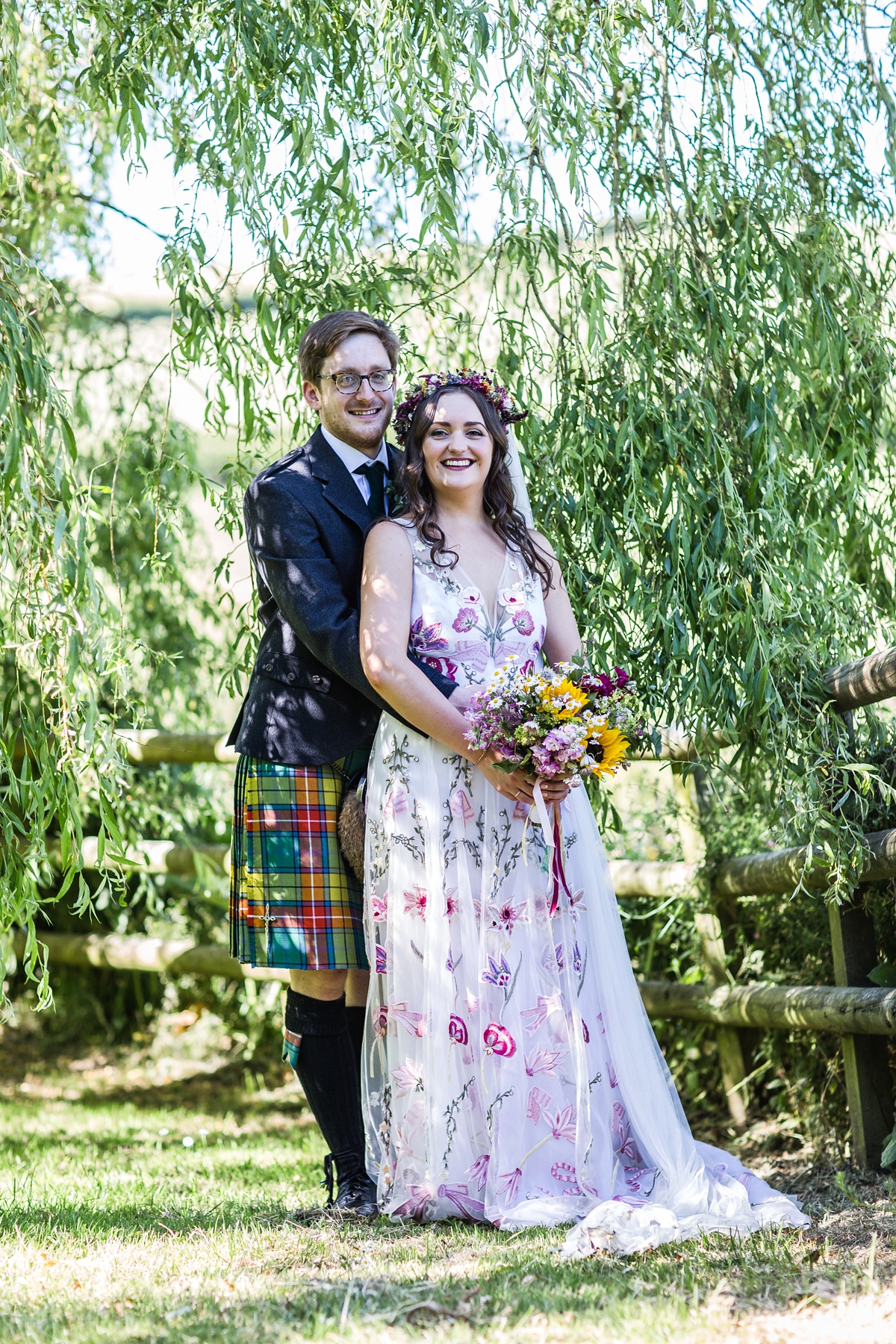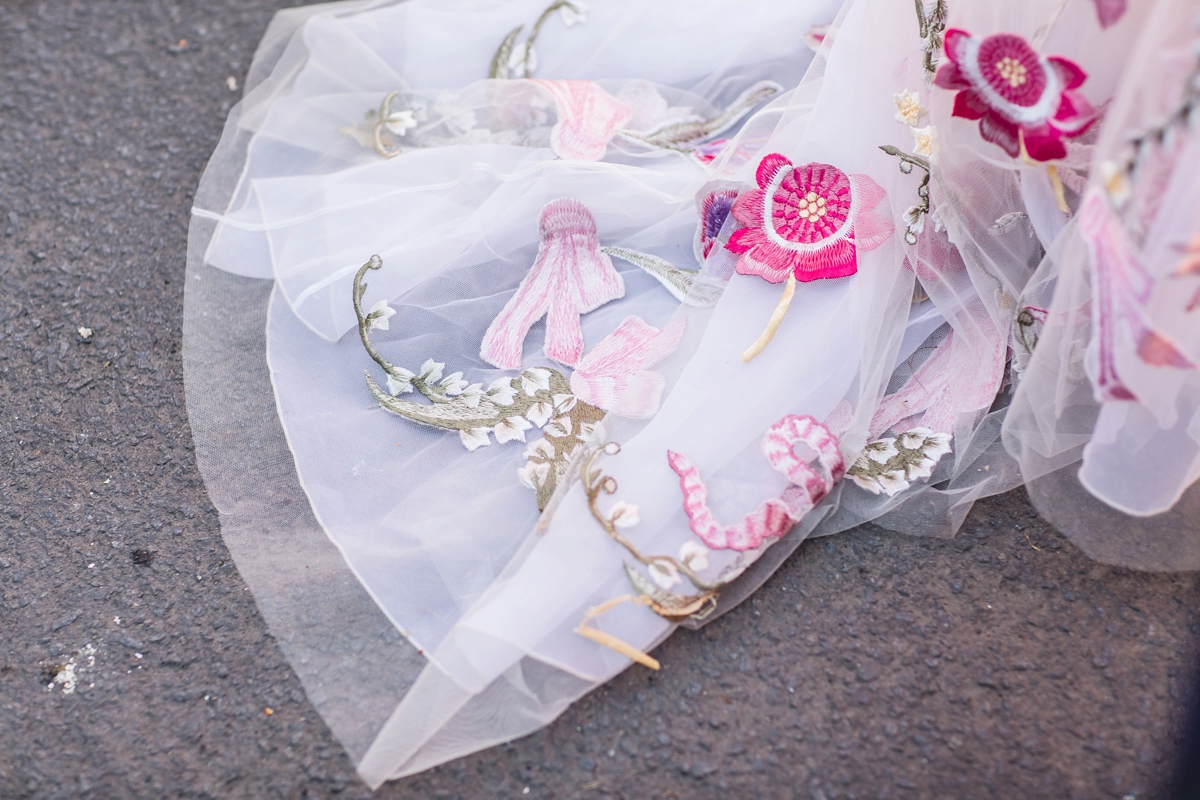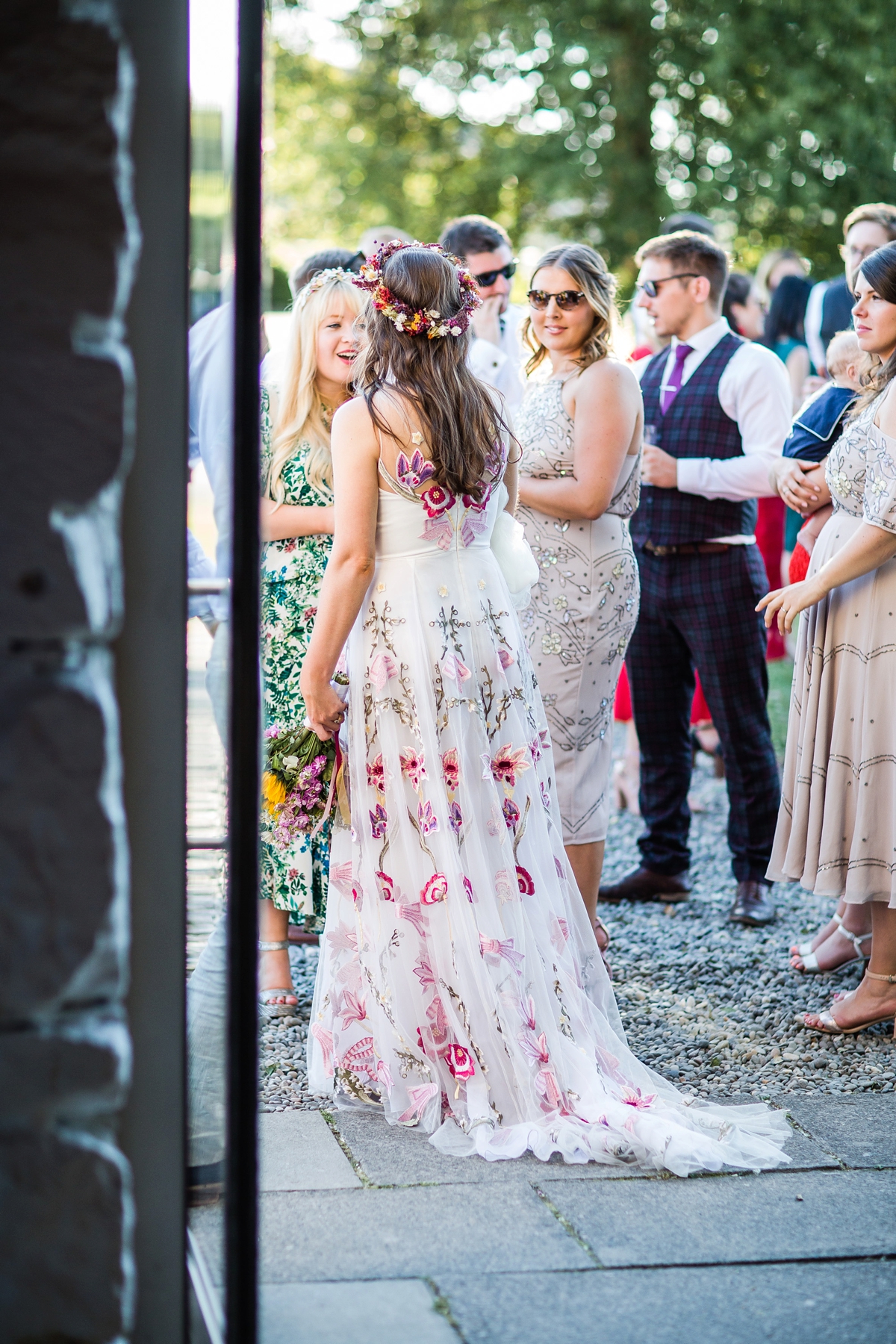 "We chose our venue, Dalduff Farm, for many reasons! We loved that the farm was a complete blank canvas so we could really get creative with all the spaces and make it completely personal. The farm is also surrounded by beautiful rolling countryside and we liked the idea of being slightly secluded."
"The biggest draw to Dalduff was their passion for good food! As food fanatics ourselves it was really important to us that our wedding food was amazing. Dalduff's food comes fresh from the farm and is served on big sharing platters as a wedding 'feast' it sounded perfect."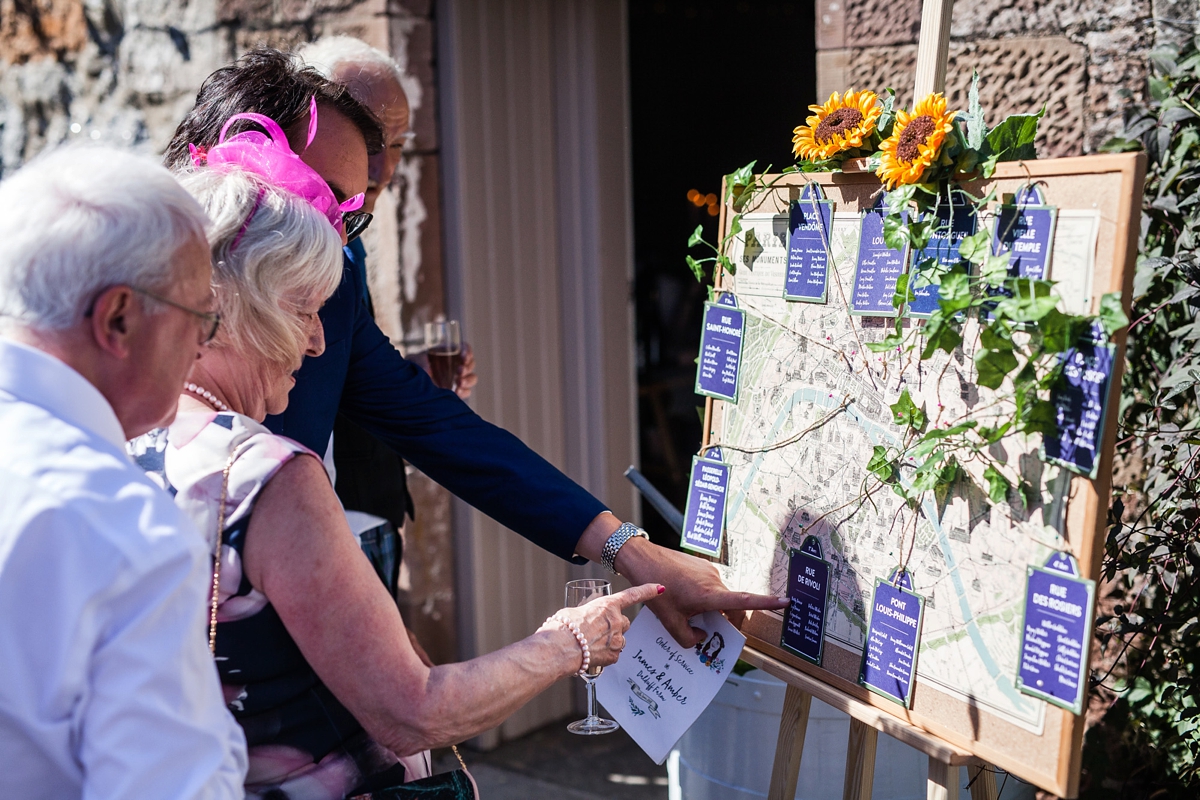 After the ceremony, the guests piled into the magnificent Dutch barns for the reception. Amber has shared details about how she and her talented friends and family created this bright look using flowers, ribbons and trinkets. My favourite detail has to be the ribbon and flowers bunting which fluttered in the breeze.
"Having grown up under the influence of my mum as a stylist the whole styling of the day was very important to us. I knew that I wanted the day to be bold and bright so the wild summer flowers we sourced set the colour scheme which was basically every colour possible! I wanted the main barn to feel cosy and homey so we ransacked my house and mum's prop/jug/tin collection to create an eclectic mix of colourful displays. We also felt like we had to have some of our Parisian past represented on the day so we added Parisian touches throughout and ended up creating a colourful Parisian floral fiesta!"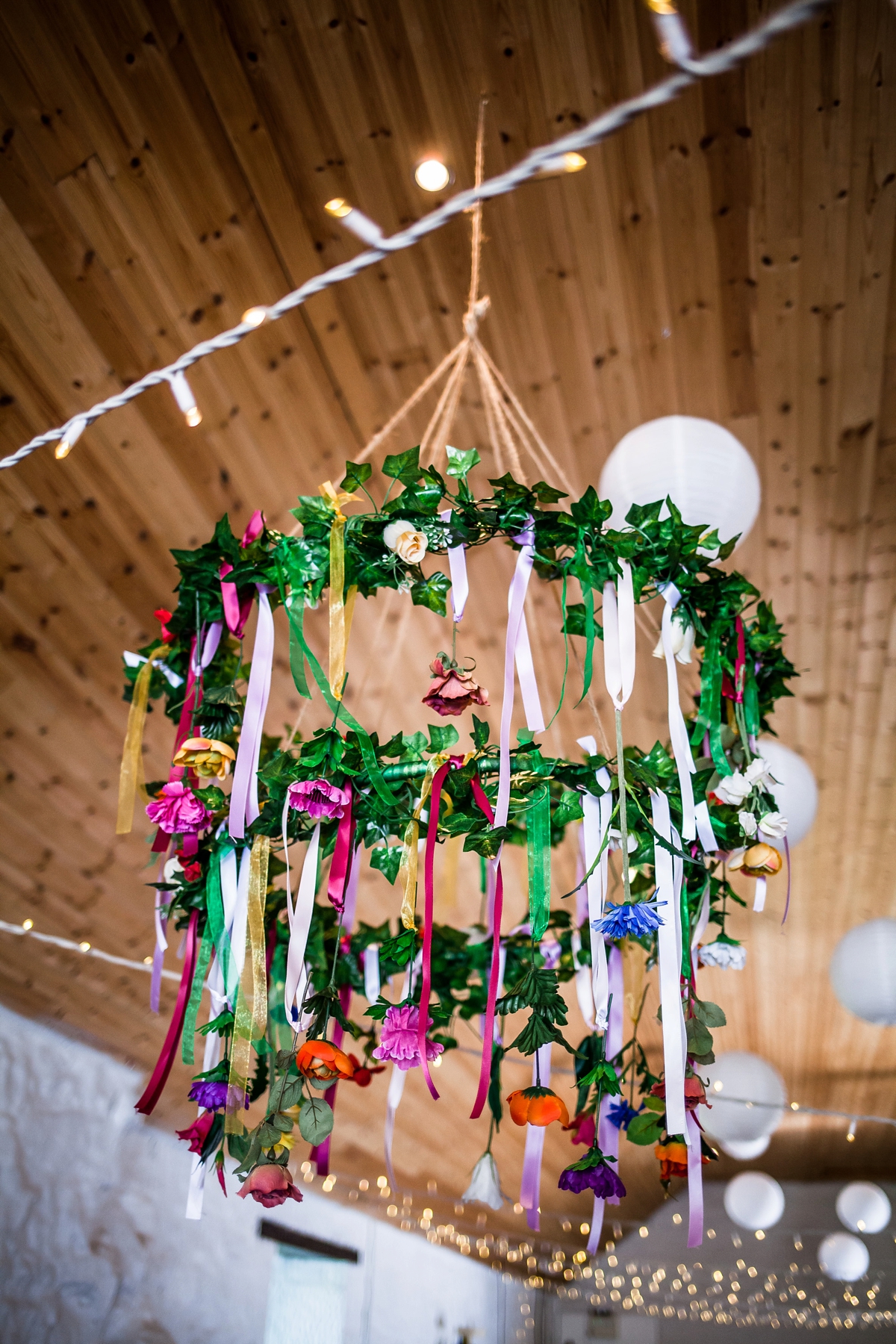 "We wanted the main barn to be filled with colour so I made metres of dangling fake flowers with ribbons and threaded colourful petals onto string to hang too. My mum made a big chandelier of ivy and fake flowers which sat over the top table."
"We ran lace runners down each of the trestle tables with foliage and had a selection of colourful vases/tins/pots with either wild flowers or funky plants in them. My dad made the most amazing copper candelabras which sat at each table with white dinner candles to add a bit of height."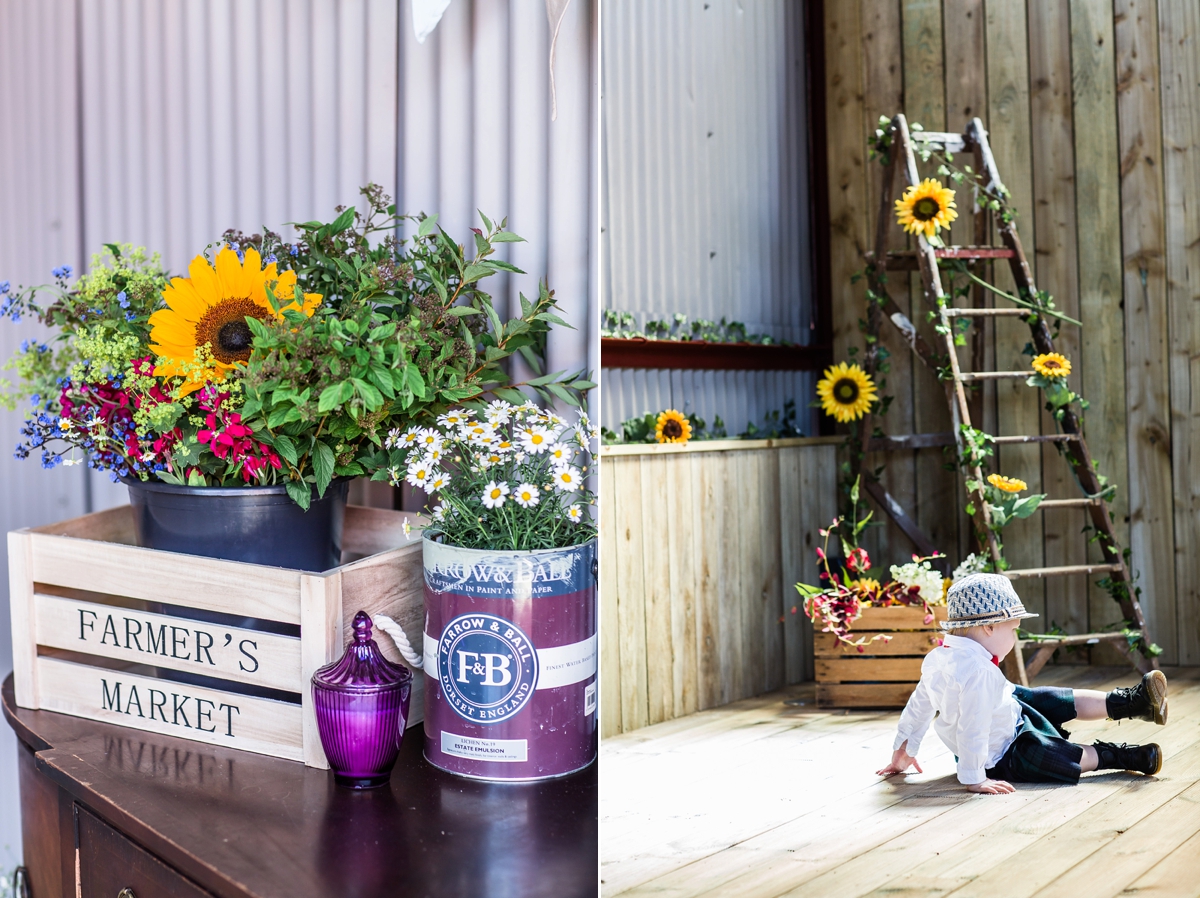 "We filled the windowsills in the barn with more flowers and props and also with our Anthropologie candles which filled the barn with our favourite scent."
"We wanted the meal segment of the day to feel the most Parisian so we played French music throughout and had a map of Paris as our table plan with our favourite streets in Paris as the table names. James made incredible Parisian street signs for each table name out of wood and vinyl transfers, they were so effective."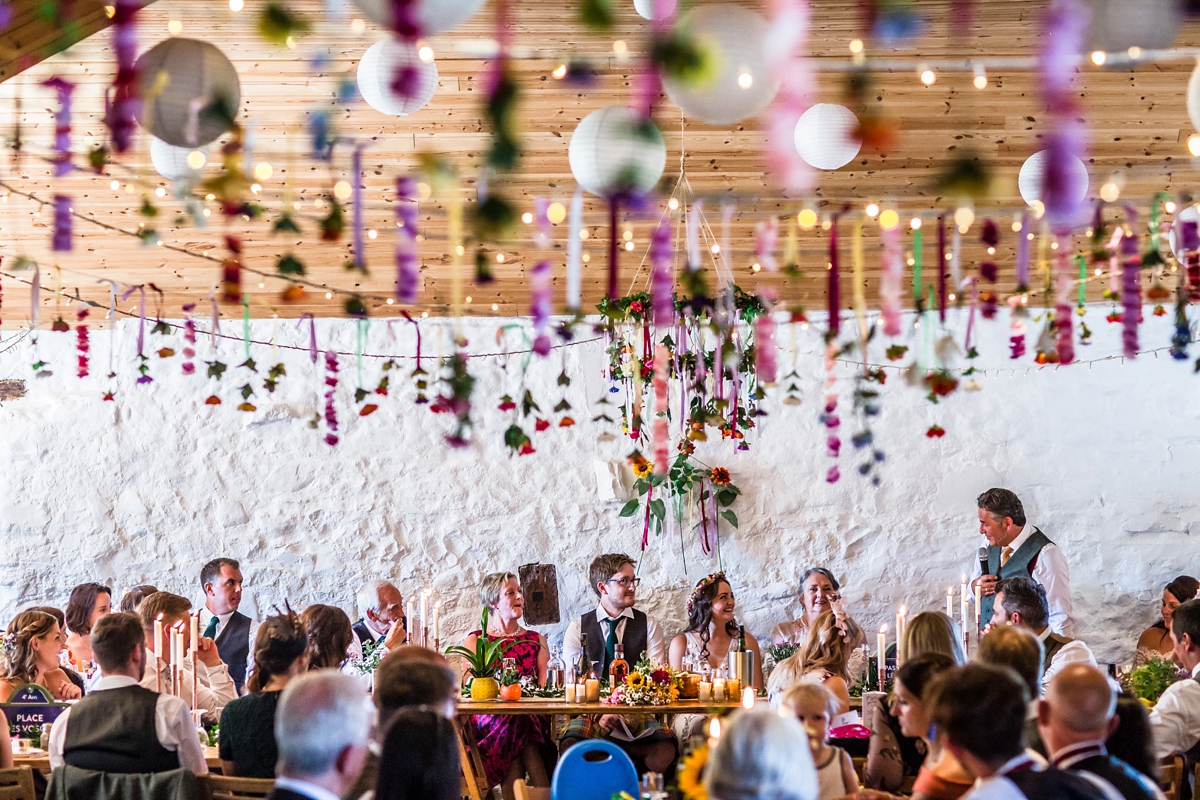 "The red Dutch barns at Dalduff already look so cool so we just dotted some flowers in bright vases, some blankets and plants potted in Farrow and Ball paint tins as a nod to James' profession."
Doing a lot of the styling themselves meant that the couple could keep to their budget.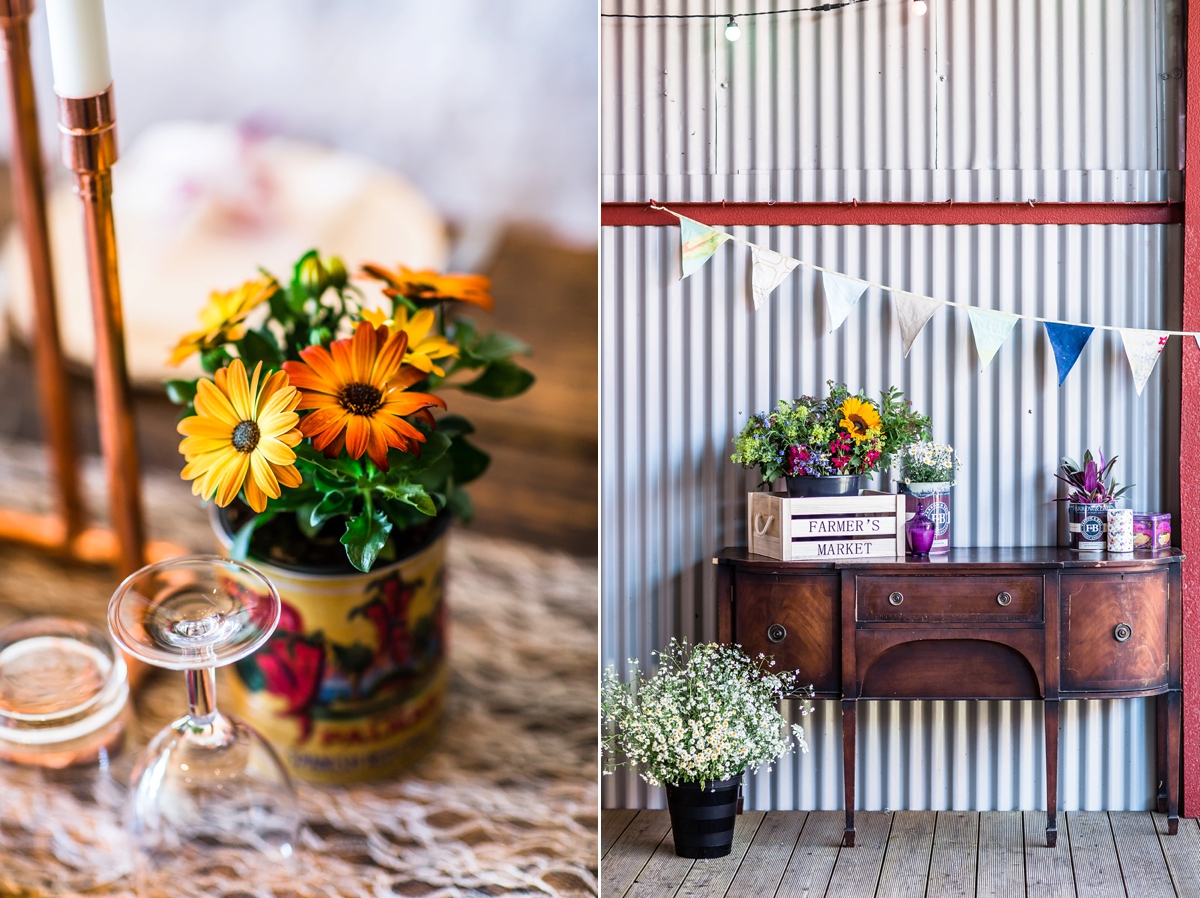 The wedding breakfast was provided by the Dalduff Farm team and, if you've not eaten yet, it's guaranteed to make you feel hungry.
"Our wedding feast was incredible! We had Southern fried chicken, rump steak with Chimichurri sauce, seafood paella and rack of lamb with gremolata all matched up with Dalduff chips, black pudding mash, roasted summer veggies and homemade coleslaw. In the evening we had various brioche buns and welsh rarebit to soak up some of the alcohol."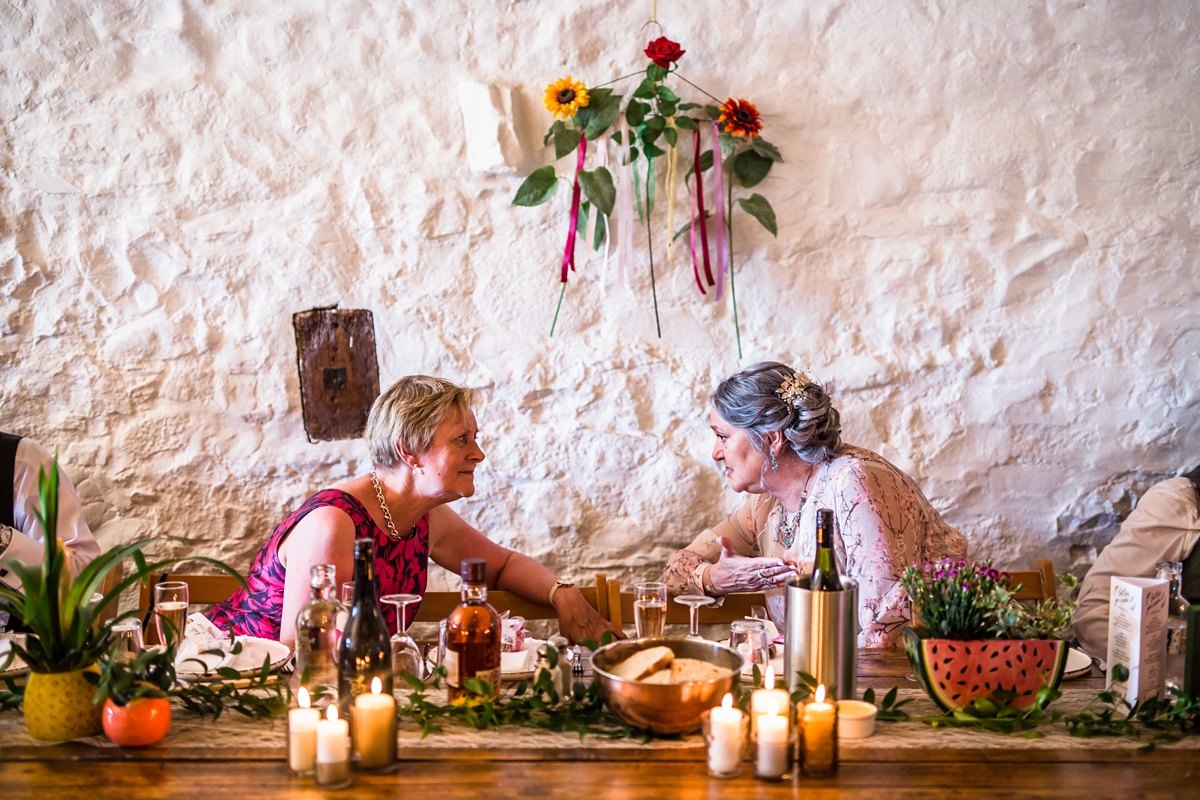 "For our pudding we had an entire cake table with doughnuts, Guinness gingerbread, Bailey's cheesecake, brownies, Clementine cake and a lemon drizzle cake. All the cakes were made by my mum, James' mum and sister."
"To follow the Parisian theme of the wedding we had two macarons for each guest as our favours. We sourced these from Costco and tied them in a little bag with a ribbon and name tag to double up as the place name too."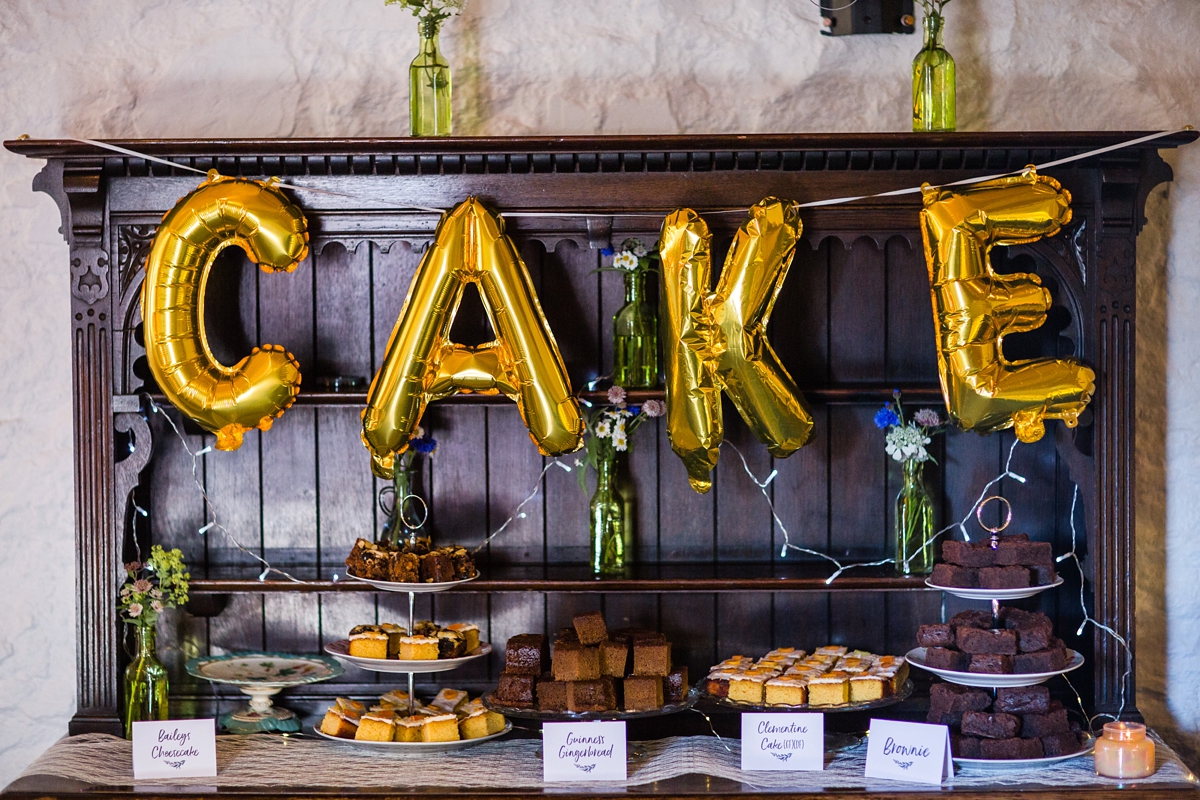 The star of the cake selection was the majestic tiered confection, adorned with tumbling sugar flowers.
"My mum is an incredible cake maker so it was an easy choice to have her make our special cake. She created a beautiful four tiered cake with cascading fondant wild flowers in our wedding colours. I let mum design the cake and surprise us both on the day with the grand reveal. She's a clever lady."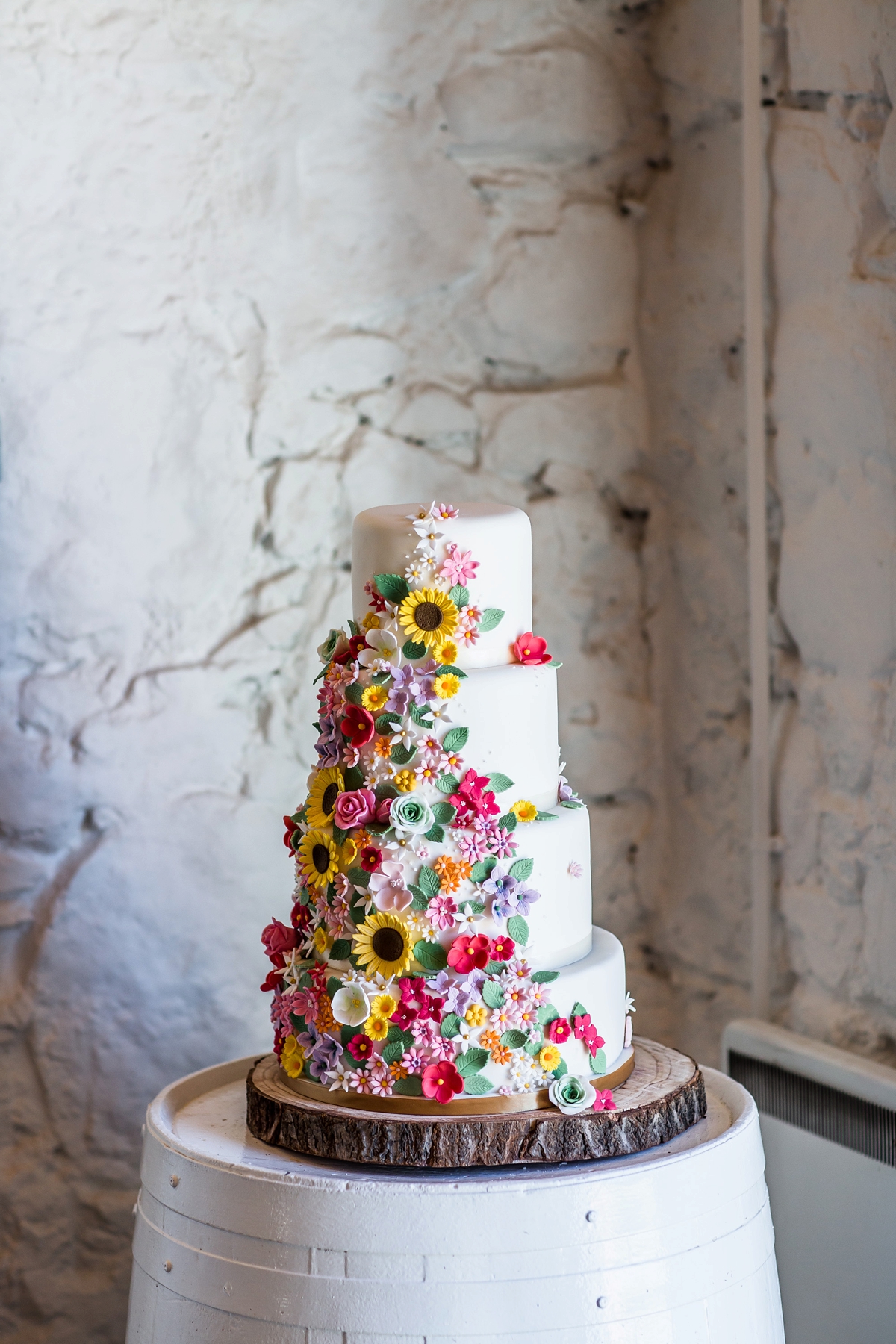 Amber and James have both shard their highlights of the day with us for you to enjoy.
James: "The suspense of waiting for Amber to walk down the aisle and then finally seeing her in her beautiful dress. The party – we danced for five hours straight with all our friends and family. The dance floor was on fire!"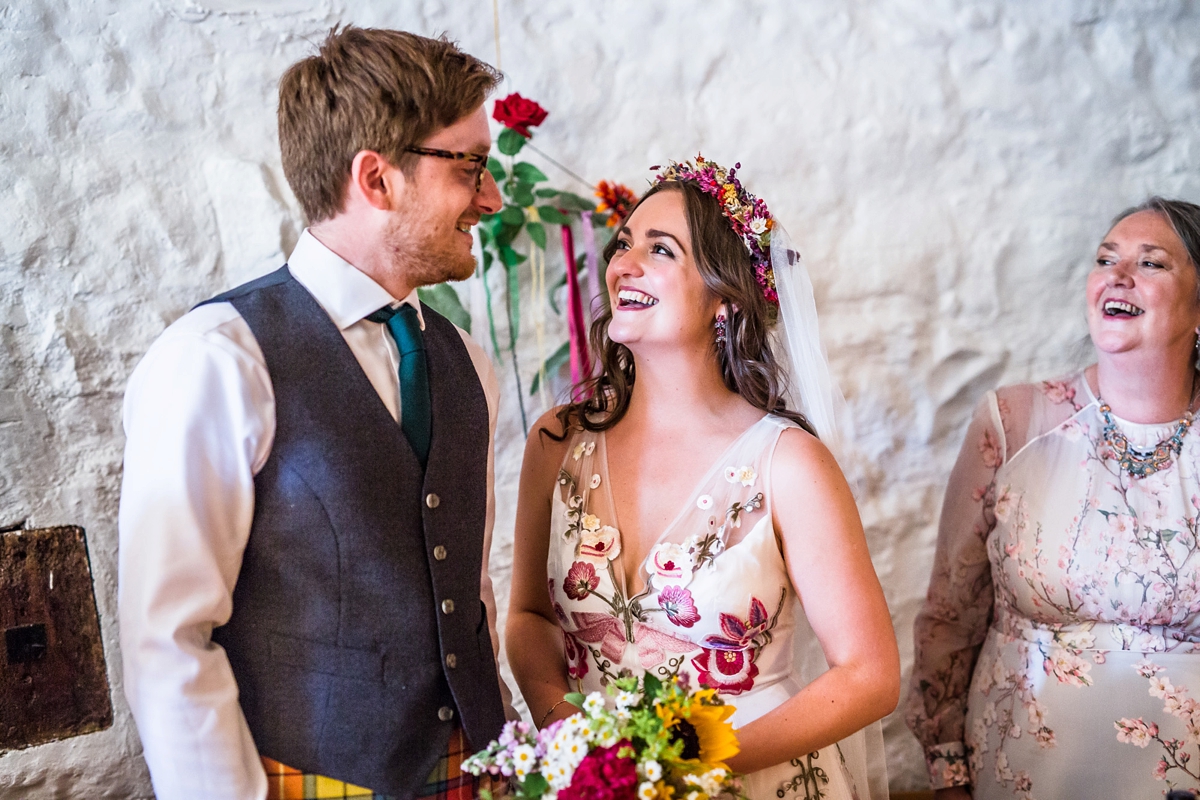 Amber: "Having a moment alone with my mum on the morning of the wedding to exchange gifts (which just so happened to be the same gift – a hanky!). Feeling so giddy whilst waiting with my dad to walk down the aisle and so proud that he was accompanying me. Our first dance, when James whispered to me as we were dancing. 'I don't care how many people are watching us right now, I'm just happy to be here with you."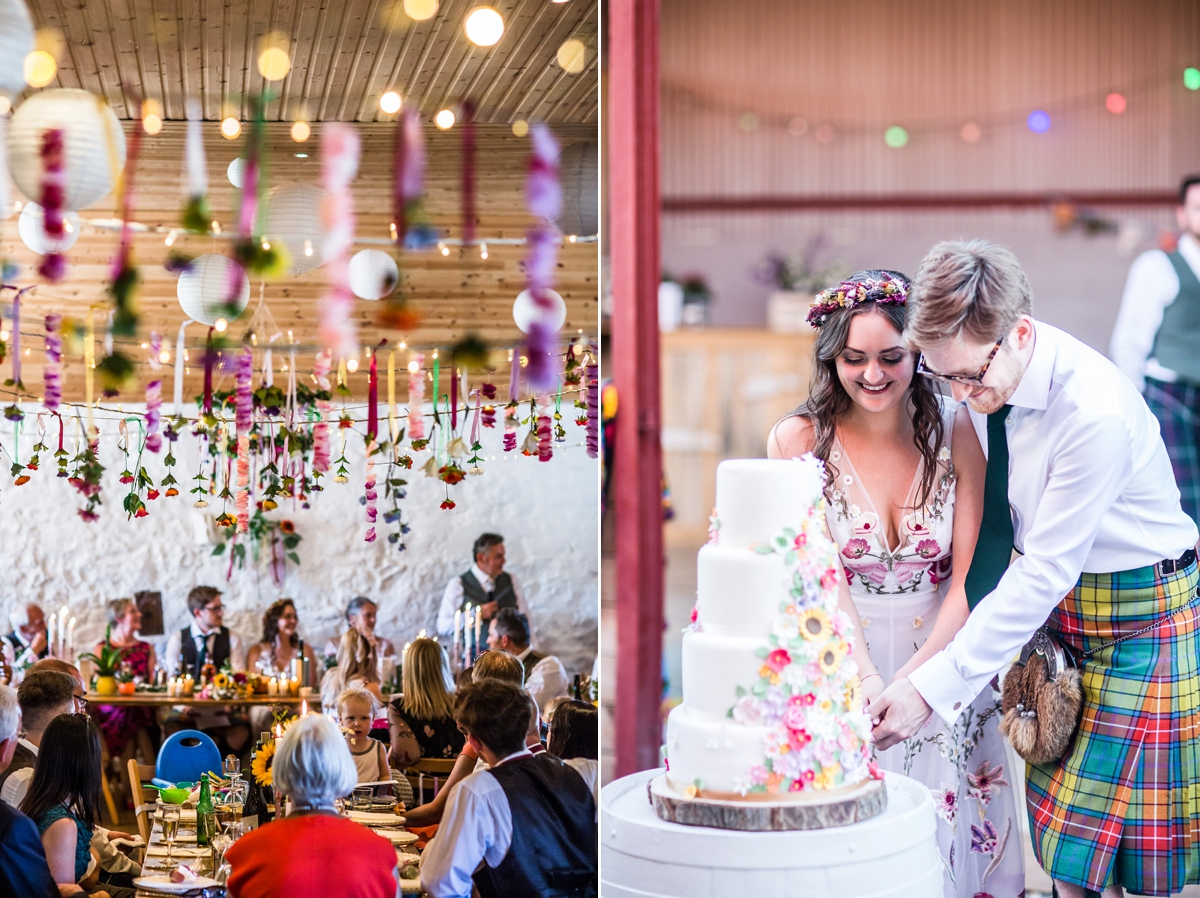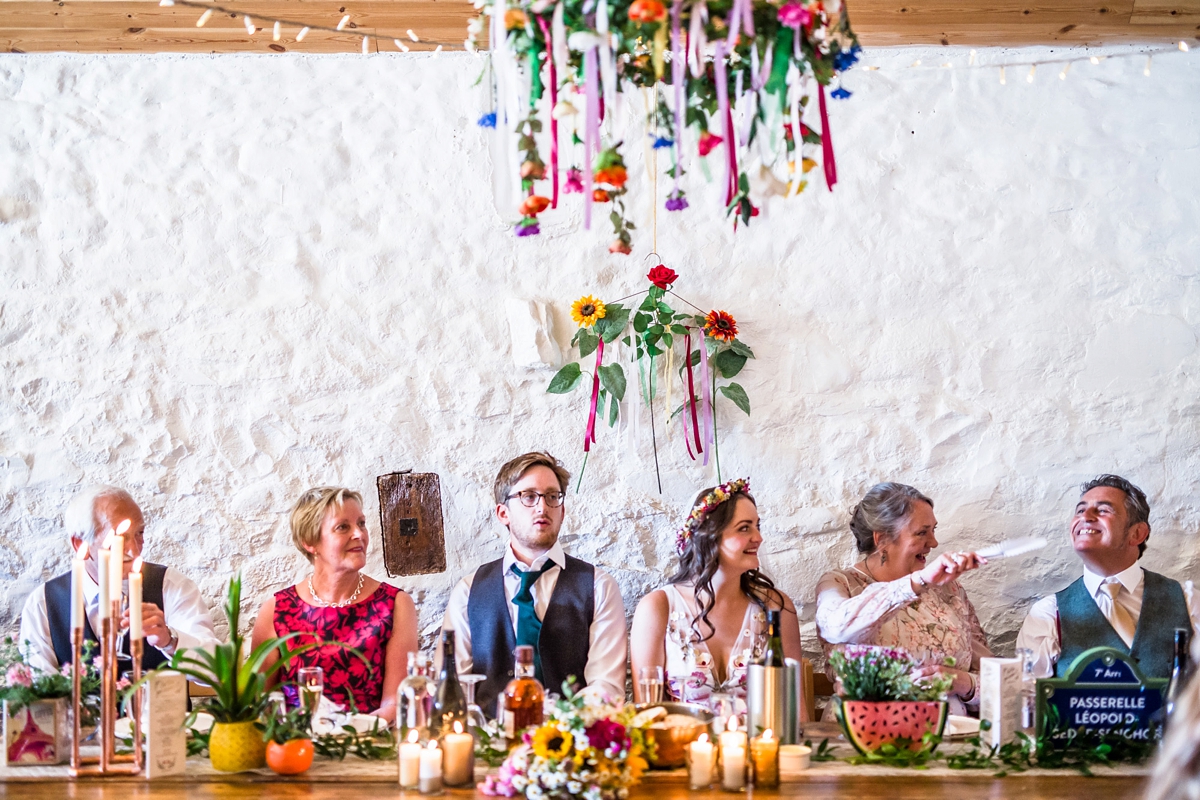 The evening's dance picked up pace with a ceilidh dance to Jim Jam Ceilidh Band after the couple took to the floor for Nick Cave's 'Into My Arms'.
"We debated our first dance for some time and worried that 'Into My Arms' was too slow but eventually I thought, 'Who cares what the guests think? This is our first dance and our song', so it had to be that!"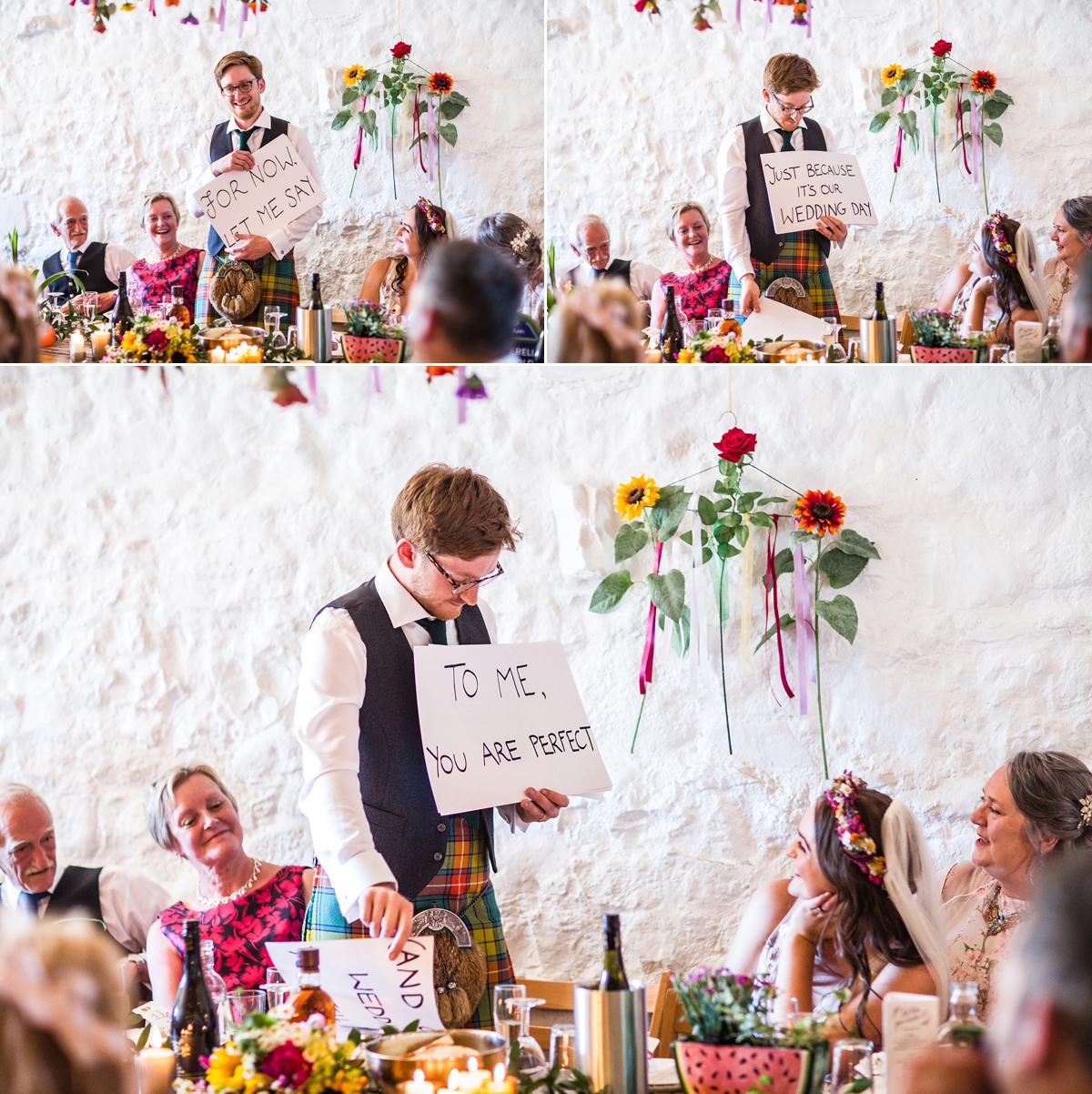 Words of Wedded Wisdom
"Choose a dress that you absolutely love, whether that be ivory, coloured, short, long – don't feel like you have to choose a typical wedding dress."
"Choose a dress (or outfit) that you can't wait to wear on the day and don't want to take off at the end of the night."
"Stick to your plan – don't be swayed by family/friends on any aspect of the day. If you want it, have it."
"Don't get hung up on little things. If something doesn't go quite to plan either before or on the day of the wedding, don't stress. The people around you will make things right. It's one big party and you need to have a blast!"
"Don't be nervous, feel excitement. Everyone one at the wedding is there to love and support you."
"We knew that we didn't want our wedding budget to spiral and we wanted to keep it under £15,000. With a family of such creative people and being in the wedding industry made this much easier to stick to/ By doing most things ourselves we saved so much money and definitely stayed well under £15,000 whilst also creating a completely personal wedding day."
Oh wow Amber, I am head over heels with everything about your day; from your vibrant gown to the abundance of summer flowers. You and James look so happy together, and it sounds as if you had a really wonderful day. Thank you so much for sharing it with us, and thank you also to Carley Buick for your bright, joyous images.
Love
Ele xx