Is anyone else a little tired and fed-up of winter yet? I'm definitely looking forward to the return of spring and am keeping my eyes peeled for the first signs of snowdrops and crocuses in the garden.
Who can guess why I'm just so happy to share today's wedding with you today? It's because the photography is by one of my very favourite photographers, Georgina Harrison. The very first time I saw her work I was captivated by her fine art, dreamily romantic style as well as her incredible use of light. So, let's take a look at the magic she's woven in today's wedding.
Allow me to introduce you to Ida, a designer at See Saw Creative, and Howard, an air traffic controller. They married in a humanist ceremony on 18 August 2018 at Hillhouse, Troon, Ayrshire, a country house estate which provided the most wonderful backdrop for their celebrations in which a riot of flowers played starring role.
Photography Georgina Harrison Photography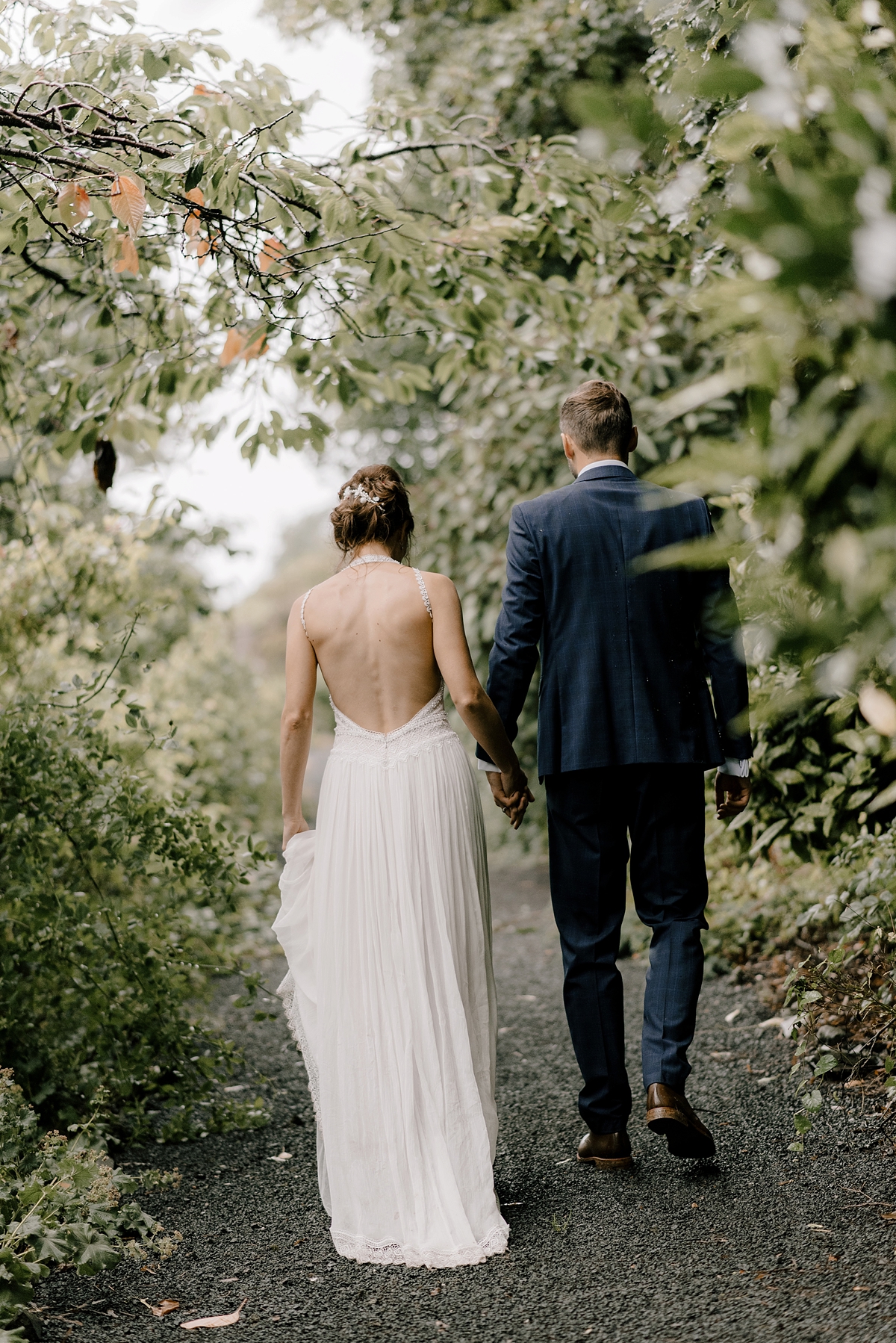 The bride's entrance on her horse, and the walled garden setting, meant that photographer Georgina Harrison could work her magic to capture these divine images. If you'd like to find out more about Georgina please take a look at her Little Book listing – our readers receive a special saving on Georgina's usual wedding photography fees.
"We originally booked a lovey photographer from Fife but due to unexpected circumstances she could no longer help us. She did, however, recommend Georgina Harrison. She was everything I ever wanted in a photographer and completely surpassed our expectations."On the morning of the wedding, Ida's hairdresser came to the manor house to style her hair into this chic, swept-up side bun. Makeup was also sophisticated and timeless, with a gorgeous bronze smokey eye.
"I used my hairdresser, Katie from Rootz in Stewarton and Jay McLoughlan did all my makeup."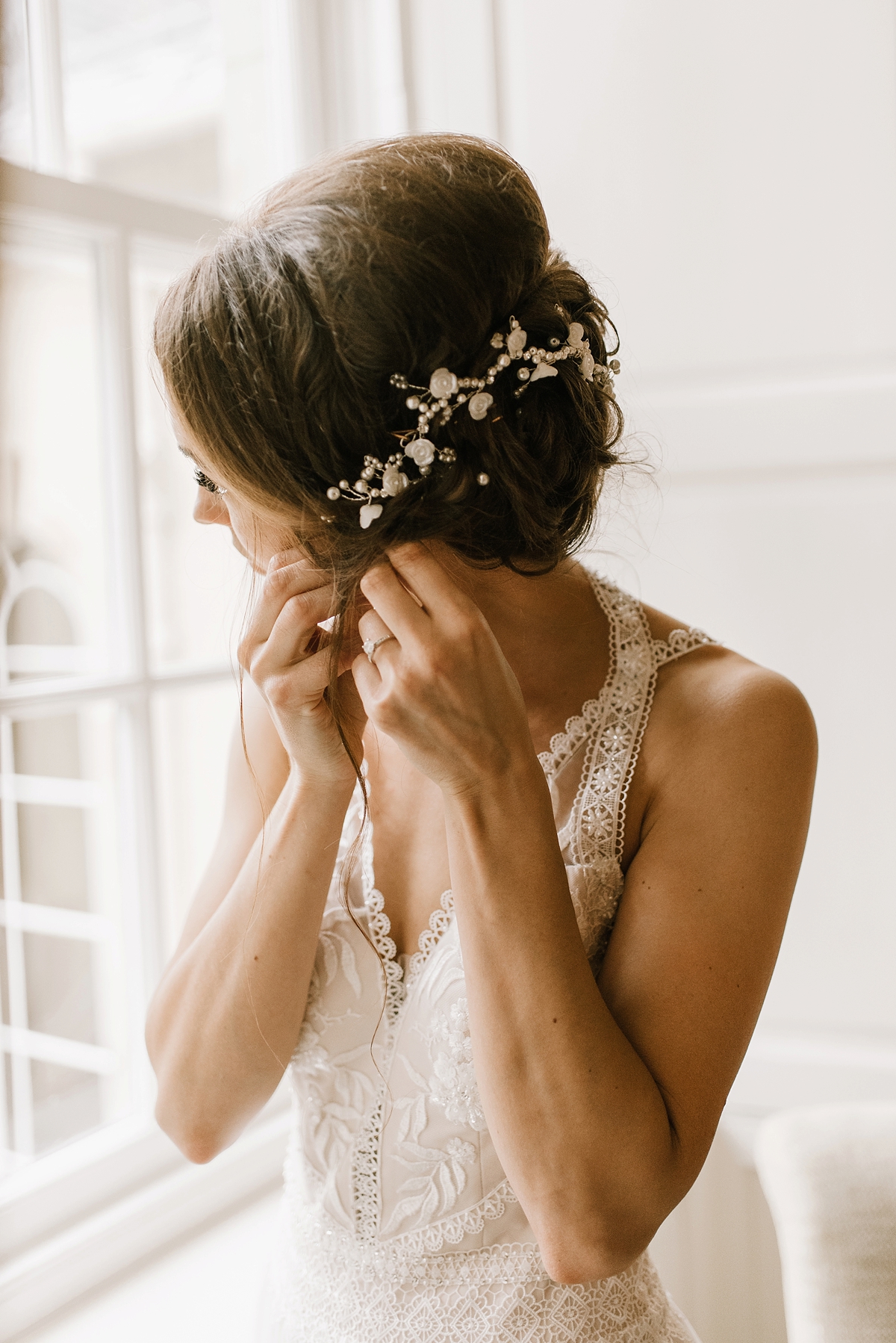 Her pink, embellished heels were from Dune London and in her hair she wore a dainty floral wired crown, also from Emily at Unbridaled Boutique.
[JP-VIDEO]
"It was a lovely crown originally to be used on top of my head but me and my hairdresser changed our minds and decided to plait it in at the back. It was a little masterpiece."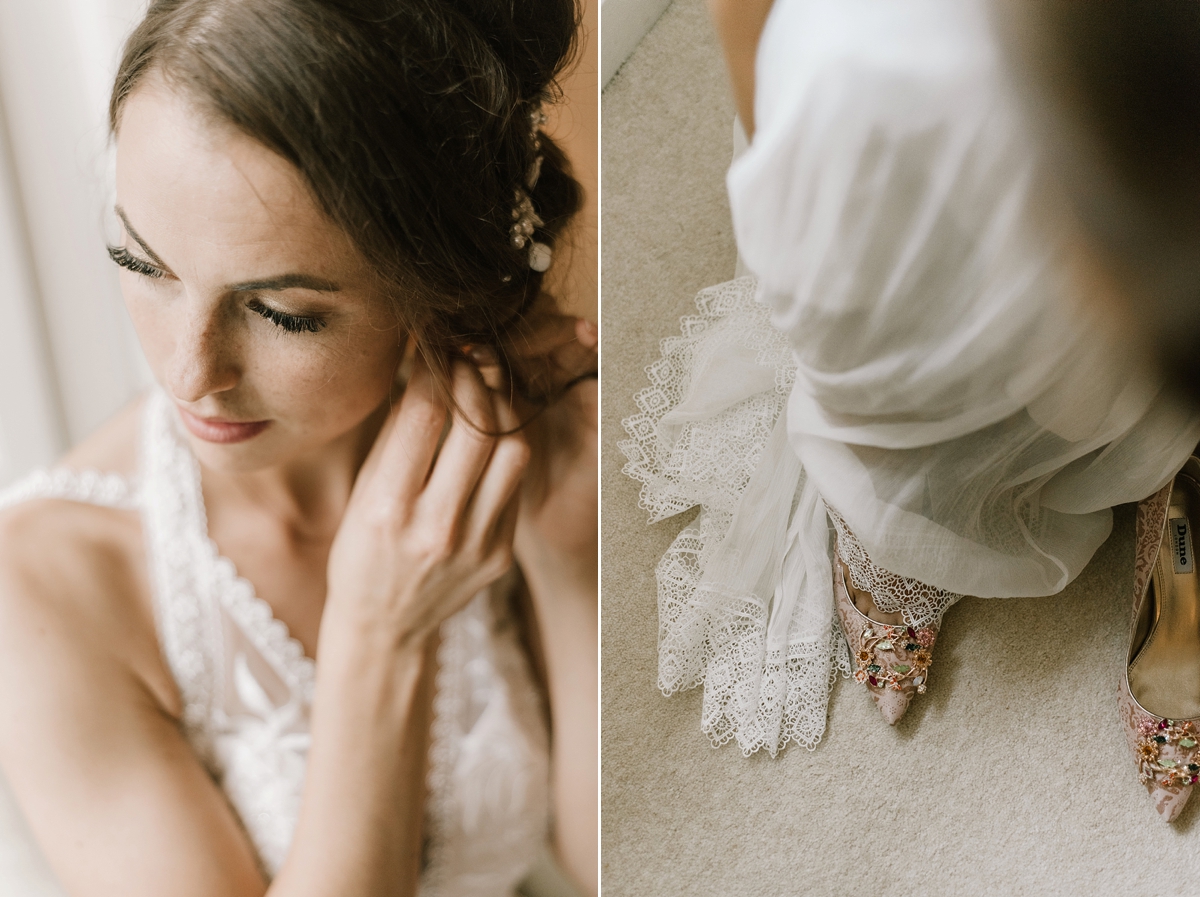 Ida's Norwegian roots and love of flowers inspired her choice of gown from Chic Nostalgia, which she discovered at Unbridaled Boutique in Ayr. I adore its blend of bridal elegance with couture; just look at the daring low dip back and those delicate lace straps as well as the romantic, soft skirt in blush pink.
"I loved the open back and it was so light. It had a 'Norwegian'  lace pattern together with the pearls. It was just so beautiful."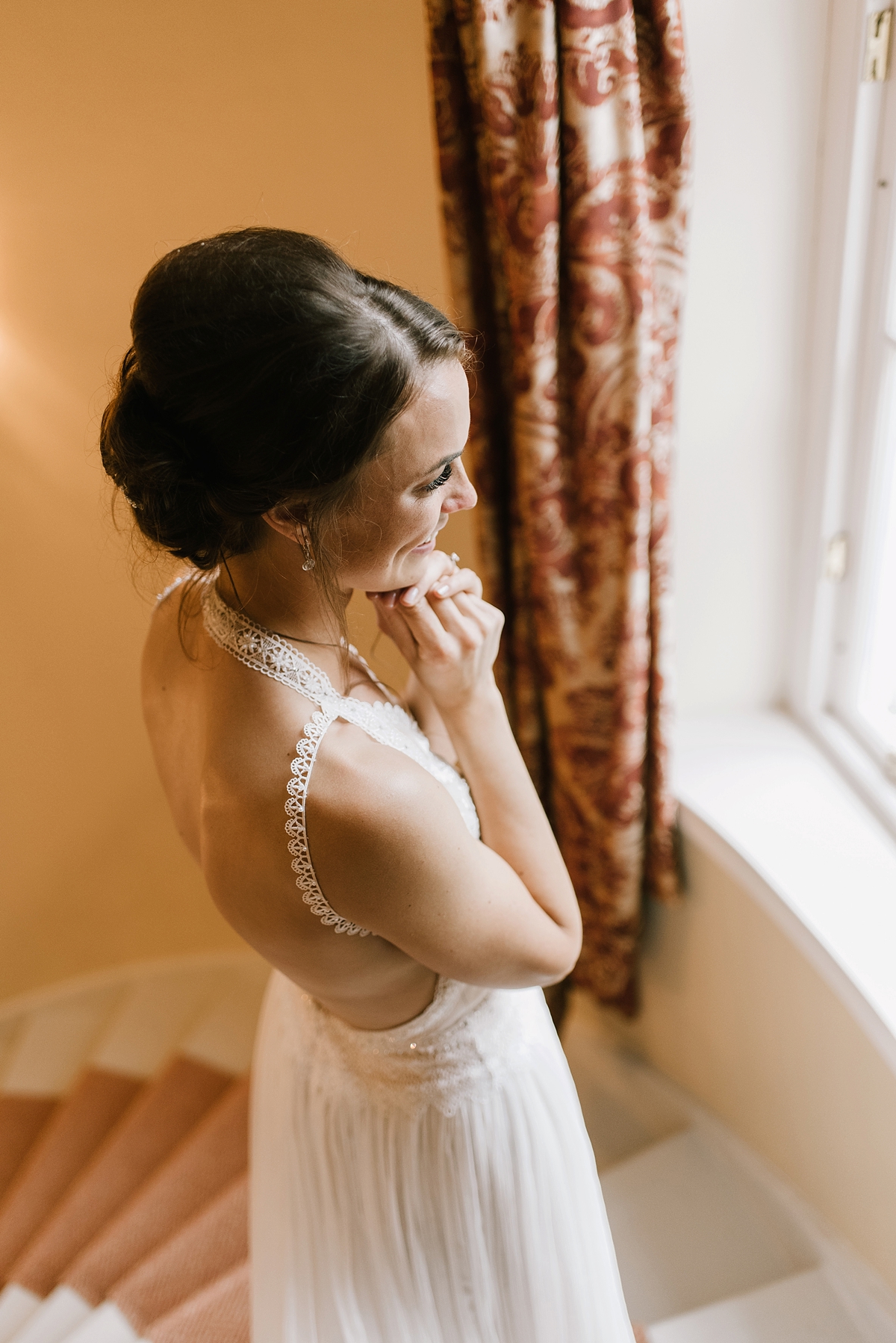 From the moment of her engagement Ida had a clear vision for her wedding décor, stemming from her love for flowers. The beautifully modern floral and foliage stationery was designed by the bride, too.
"I designed everything myself but got it all printed by Dougie from Brown Brothers in Irvine. They were so helpful, even with my last-minute demands."
The hand-tied bouquet which Ida carried was by Abbie from Paper White Floral Design in Troon. I love the combination of wild, summer flowers in such an array of colours.
"She understood my thoughts and ideas and made them ten times better than I could ever imagine. The marquee was very white but with the greenery and the colours from the flowers, it lightened up the whole marquee."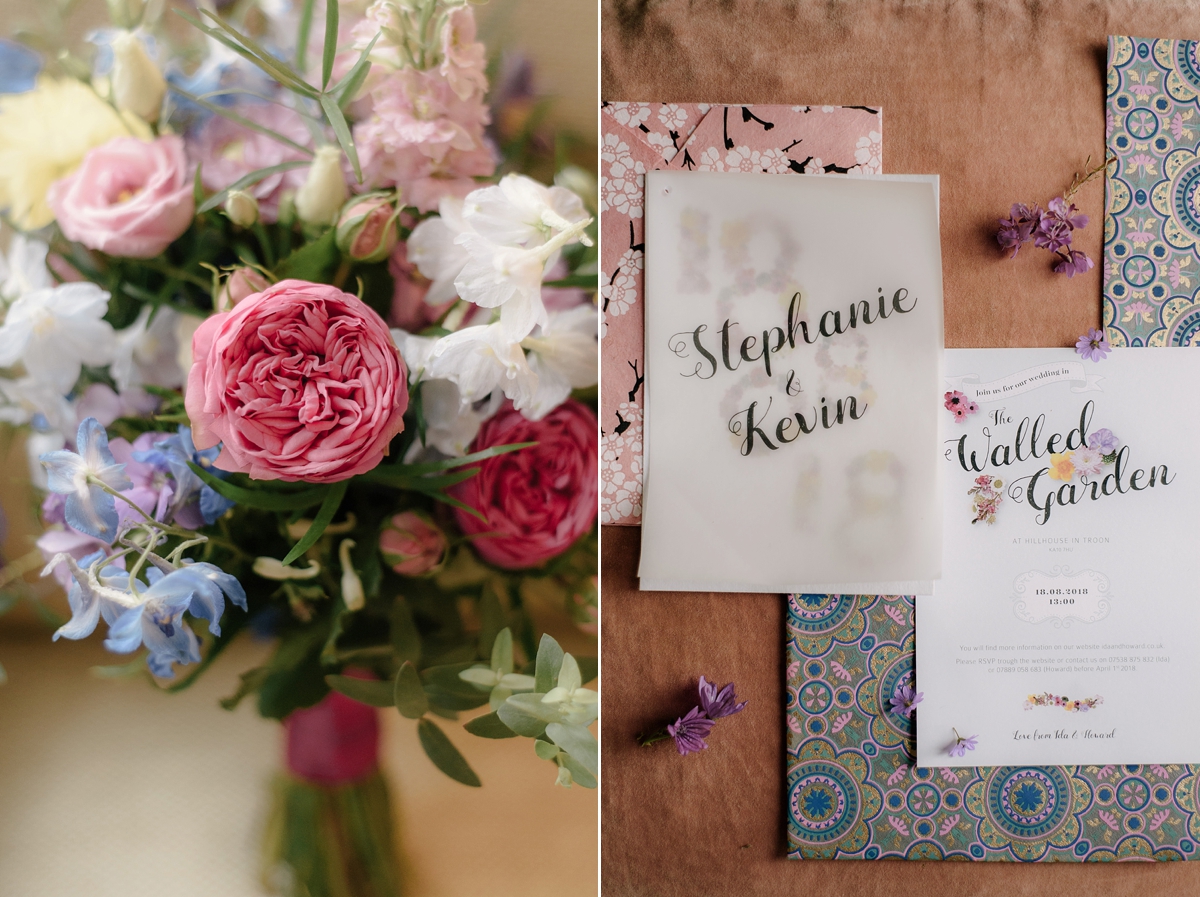 Ida gave her bridesmaid free rein to choose her own gown which she brought over from Norway. The deep blue lace acts as a lovely contrast to Ida's dainty pink.
"I only had one bridesmaid and she bought her dress from Samsøe & Samsøe in Norway a few weeks before the wedding. I had all my faith in her – and she picked a lovely dress – that went perfectly with my outfit."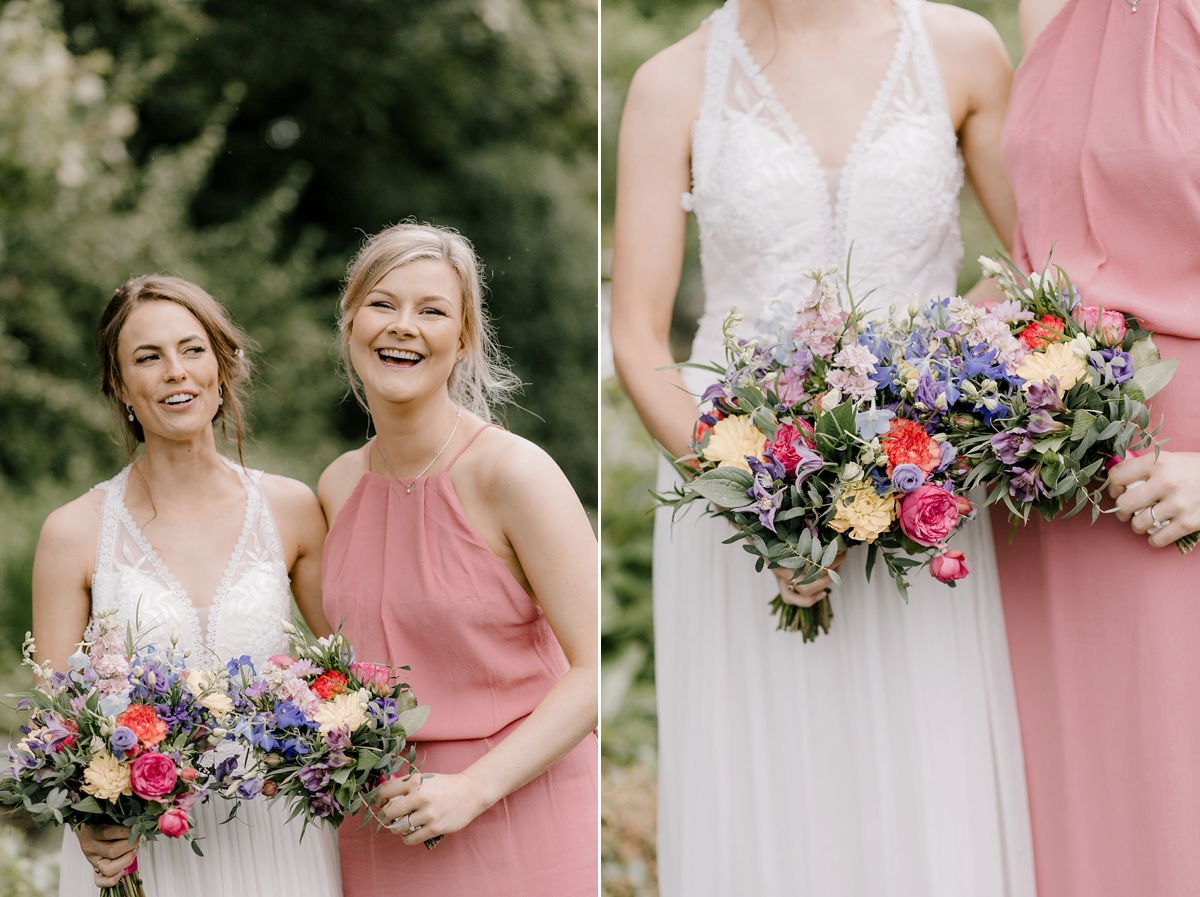 Whilst Ida and her bridesmaid prepared, Howard was busy dressing in a blue suit from Remus Uomo, teamed with a shirt, cufflinks and tie clip from T.M. Lewin and shoes from Loake. I love a modern blue suit for a summer wedding.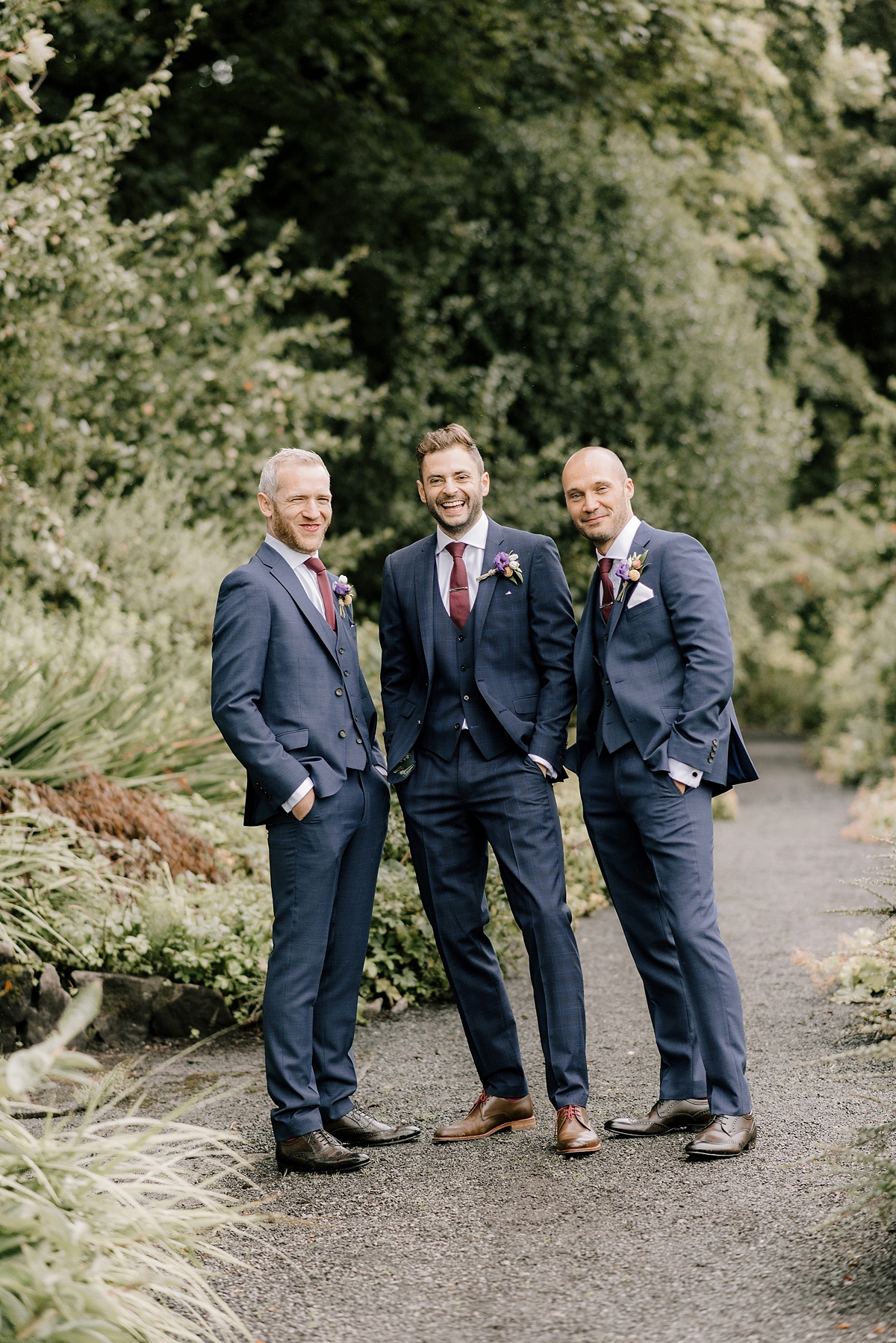 Ida, a keen equestrian, rode her horse to the ceremony which was held in a marquee in the estate's walled garden. Just gorgeous.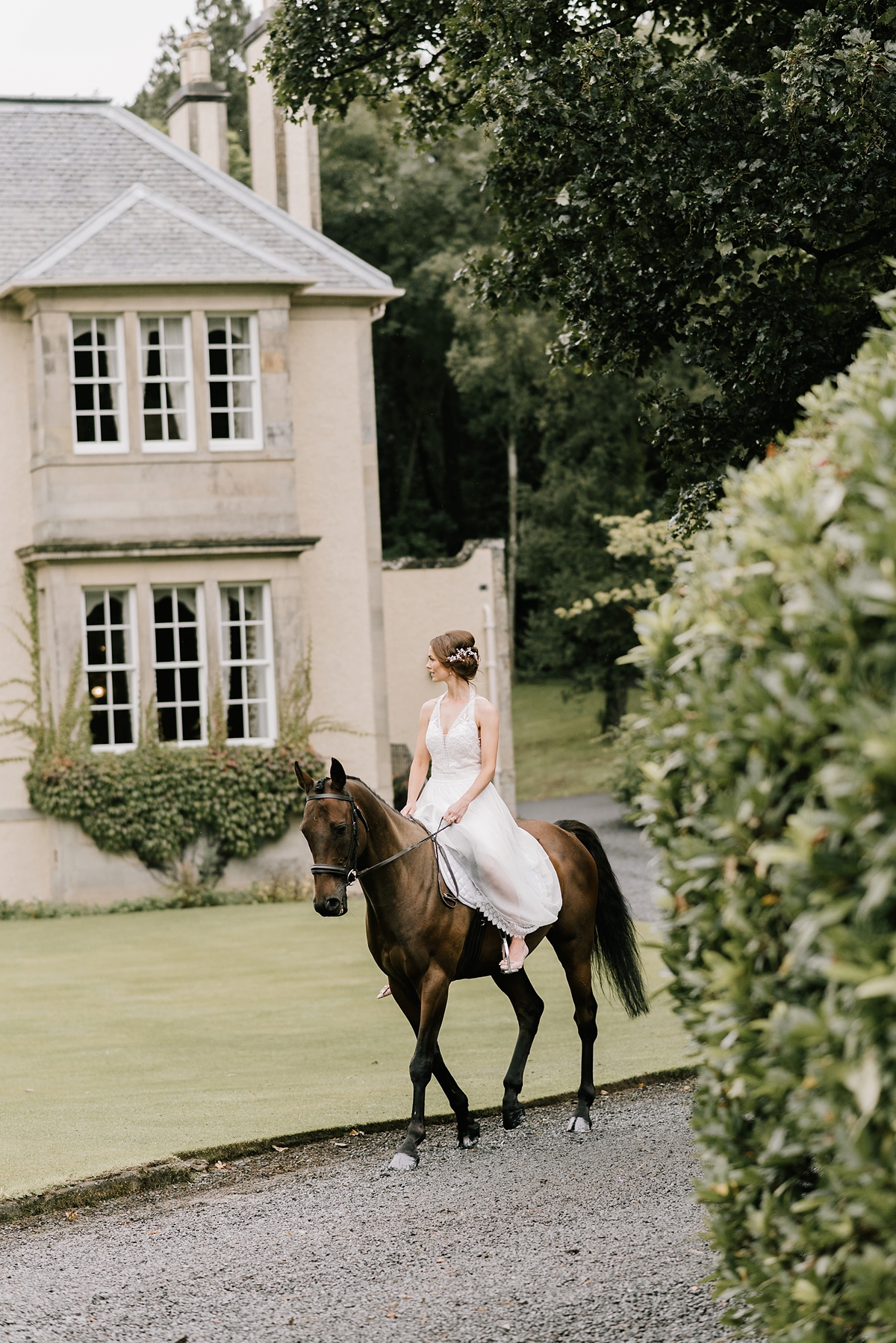 "We chose Hillhouse firstly because it was stunning but also because it ticked every single box for us. After meeting Andrea, the general manager, I was completely sold and knew we were in the safest hands possible. Nothing was ever a problem and all the staff were exceptional from start to finish."
"We rented the estate's Manor House which had ten bedrooms for our close family and friends to stay. The ceremony, wedding breakfast and party were all held in a marquee within the estate's walled garden."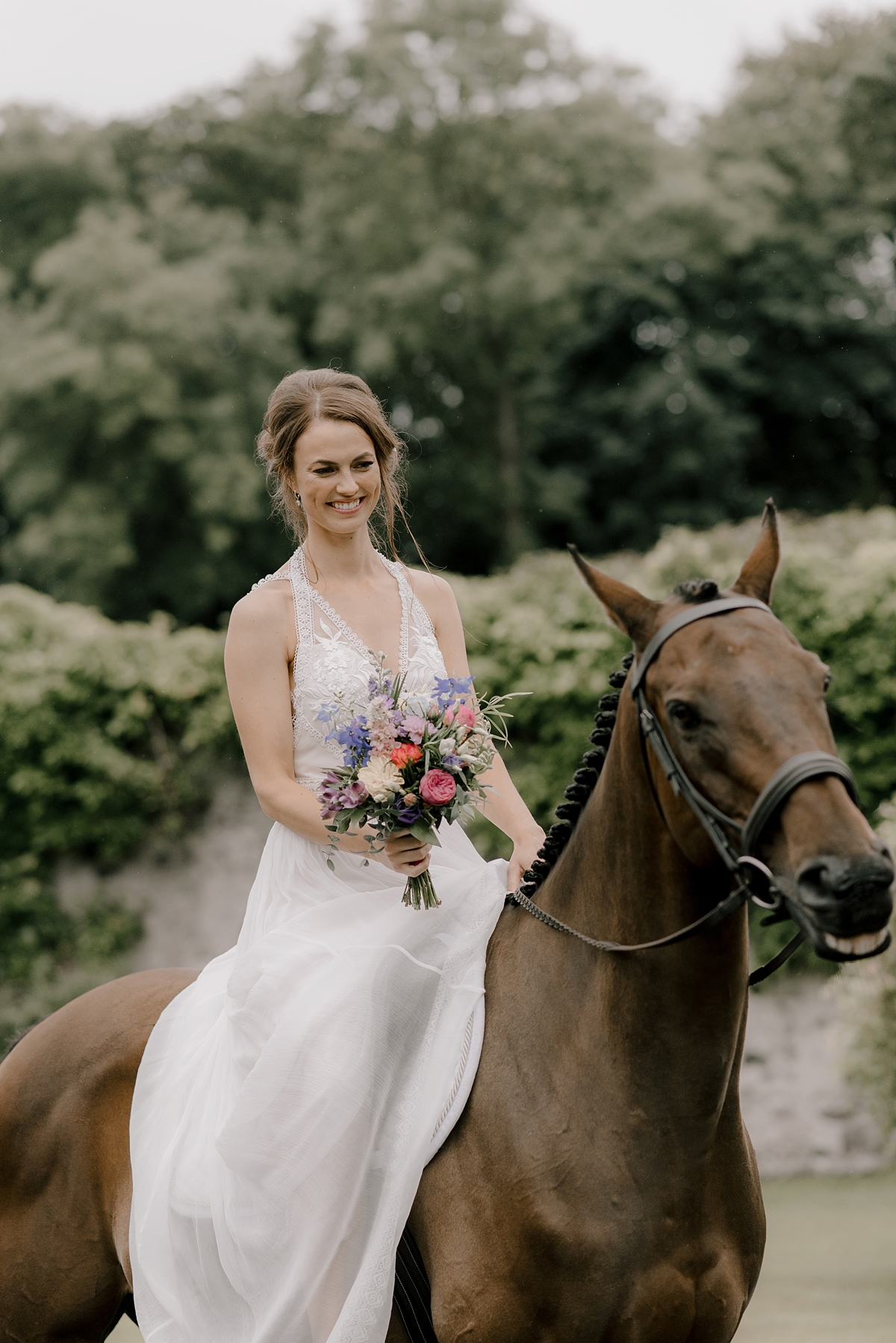 Ida and Howard originally met back in 2008 when they worked together in Sydney, Australia.
"We travelled throughout Australia and South East Asia before I returned home to Norway to study graphic design and Howie returned to the UK and started his training in Bournemouth to become an air traffic controller. Howie was posted to Scotland and I moved over to Glasgow in 2012 after four years of long distance."
"We subsequently bought a bungalow in Troon, followed by a horse and a miniature schnauzer. Howie proposed in May 2017 at the end of an amazing weekend after we had been away in Edinburgh where I had been Eventing on my horse at Dalkeith Palace. We got married 16 months later."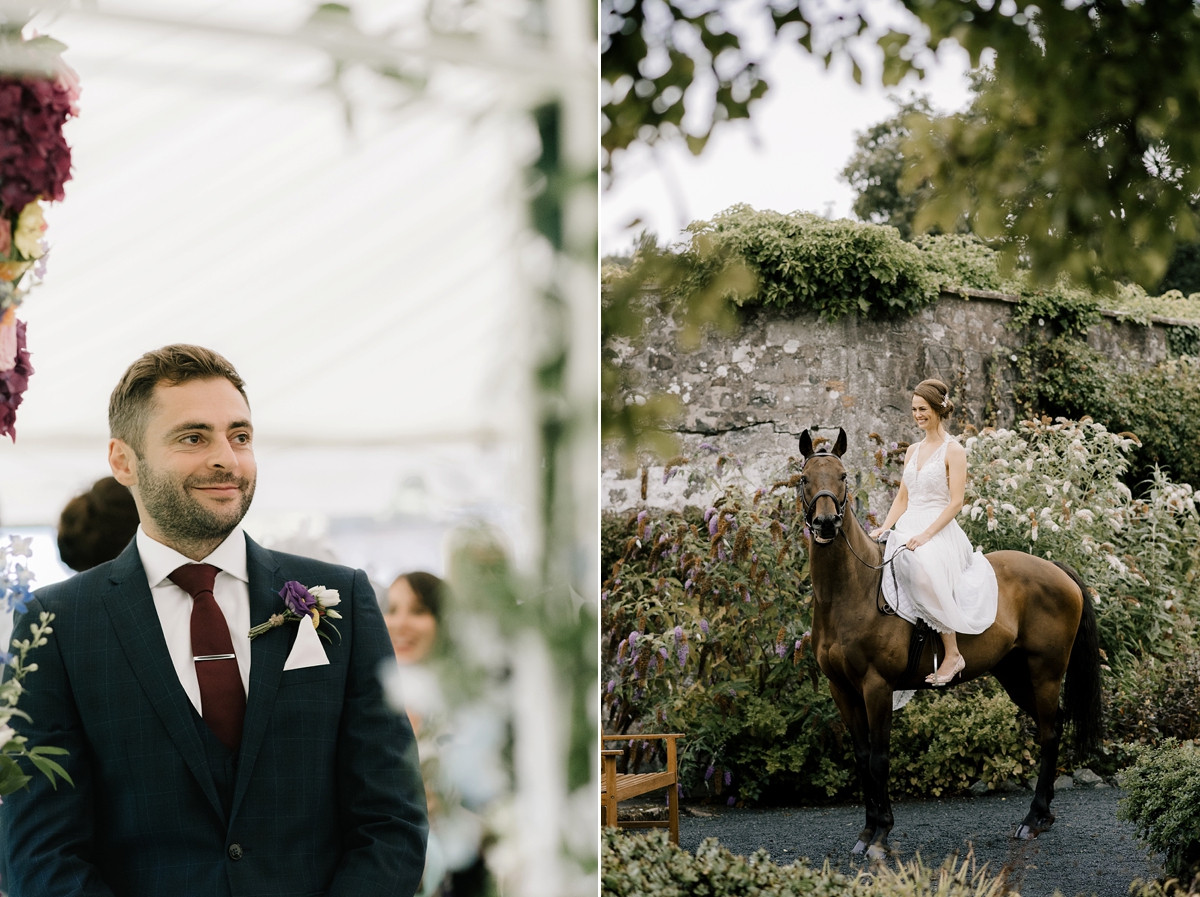 The humanist wedding ceremony was held in the airy marquee beneath a floral arch put together by Paper White Floral Design. Rather than a more traditional entrance, the bride made a surprise approach on her dear horse Rebel to 'Una Mattina' by Ludovico Einaudi.
"I rode down on my horse Rebel. It was a secret but I thought everyone knew I was riding in, but the marquee lifted when I rode through the arch. That was a moment I will NEVER forget."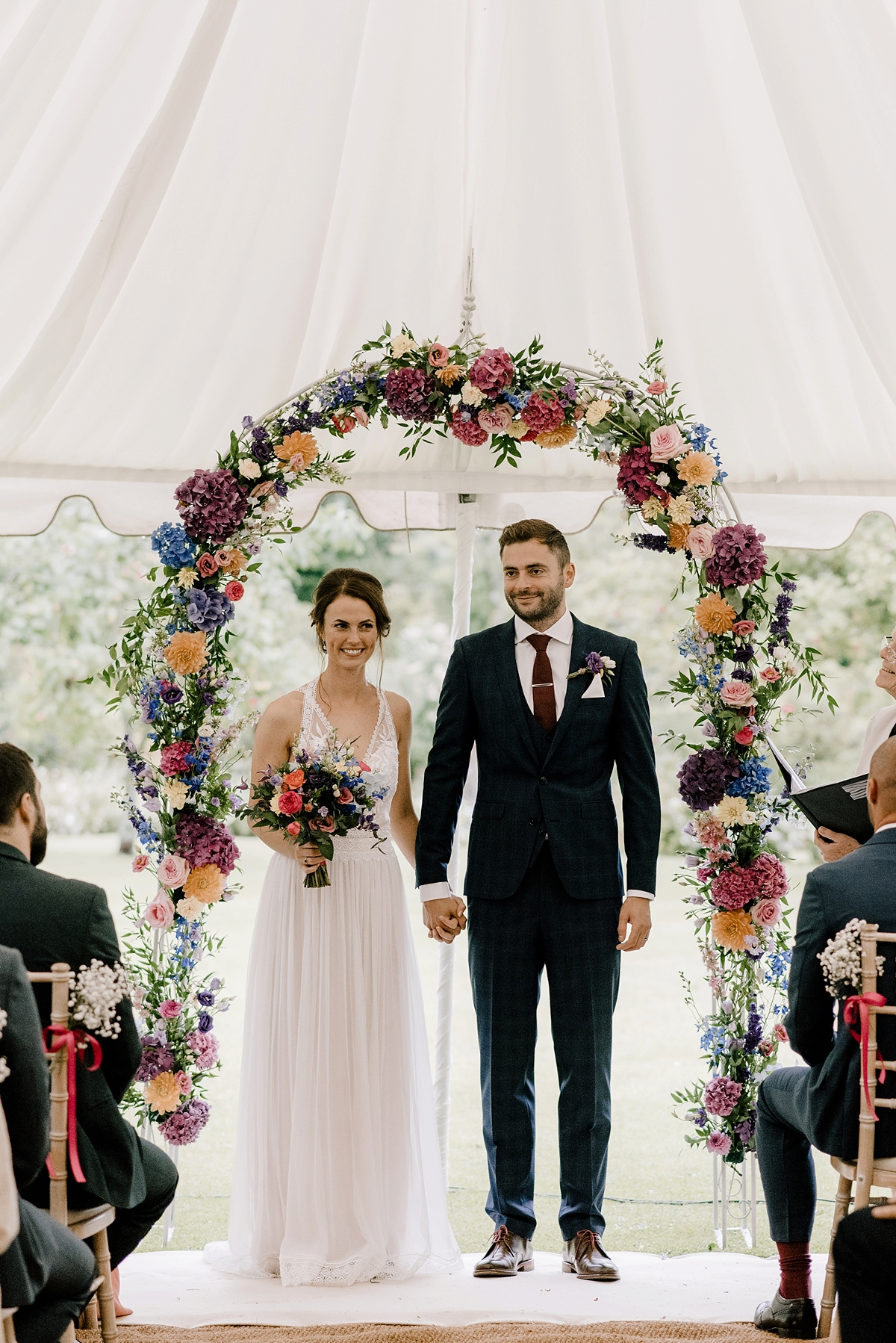 The humanist ceremony was led by Maggie Roebuck and made personal by its inclusion of Ida and Howard's story, as well as by friends singing in English and Norwegian.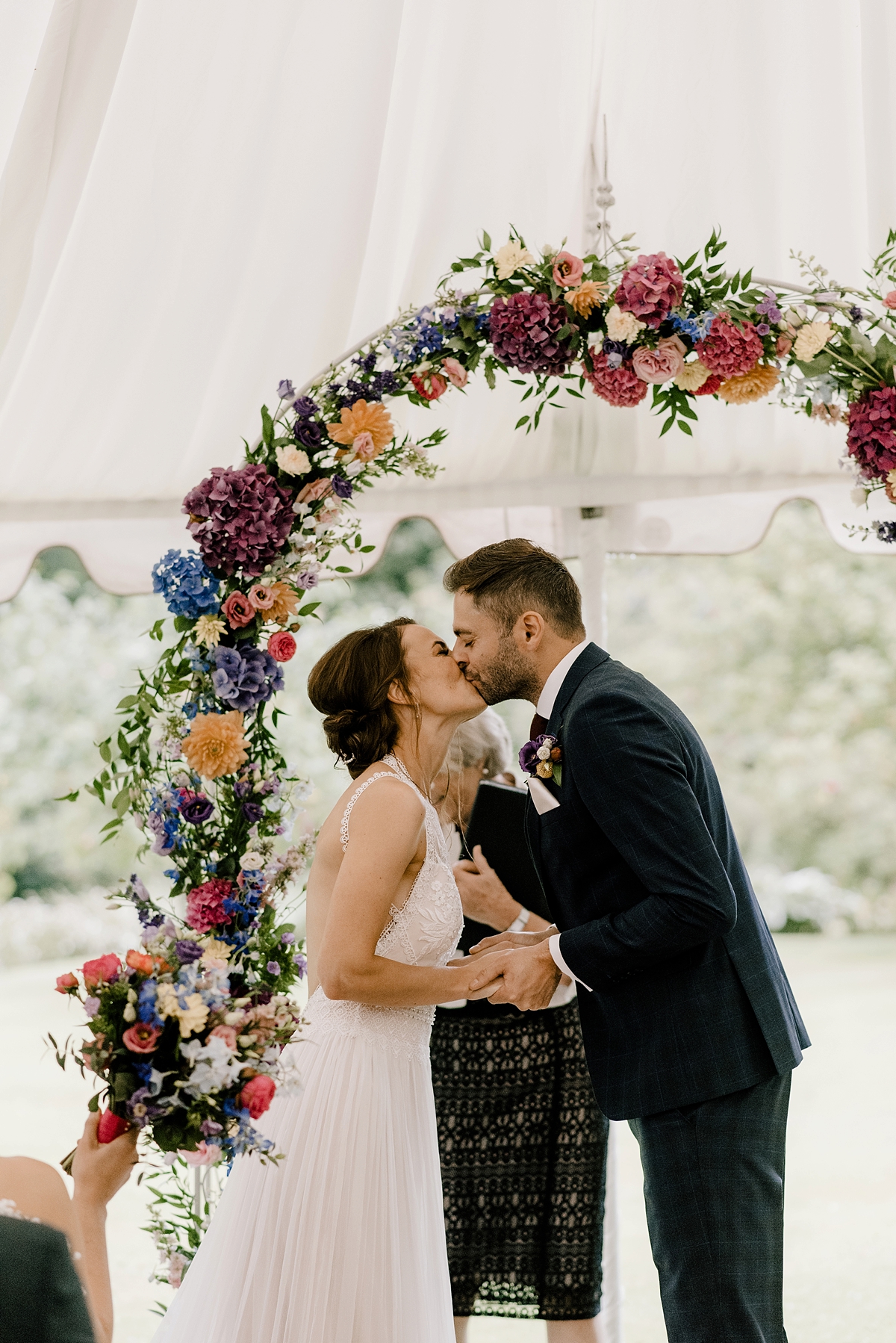 "We didn't make our own vows but had written down the story of how we met which the celebrant read out at the beginning of the ceremony. It was very personal, emotional and funny. My very good friend and her husband sang 'Make You Feel My Love' by Adele, half in English and half in Norwegian. That made all our guests tear up – it was stunning."
"I had my ring made out of gold from both my mum and grandma and a sapphire stone my auntie bought years ago. Howie, on the other hand, went to H. Samuel and asked for the cheapest ring he could find. It turned out titanium rings were the cheapest, and he argues that they look exactly the same as the more expensive platinum or palladium alternatives (he´s so romantic!)."
"We loved how relaxed the day was. Our friends and Howie's mum played cricket with apples in the garden between our speeches and the first course. All the starters were served and we had to call them back in. We loved that as we wanted the day to be fun and relaxed."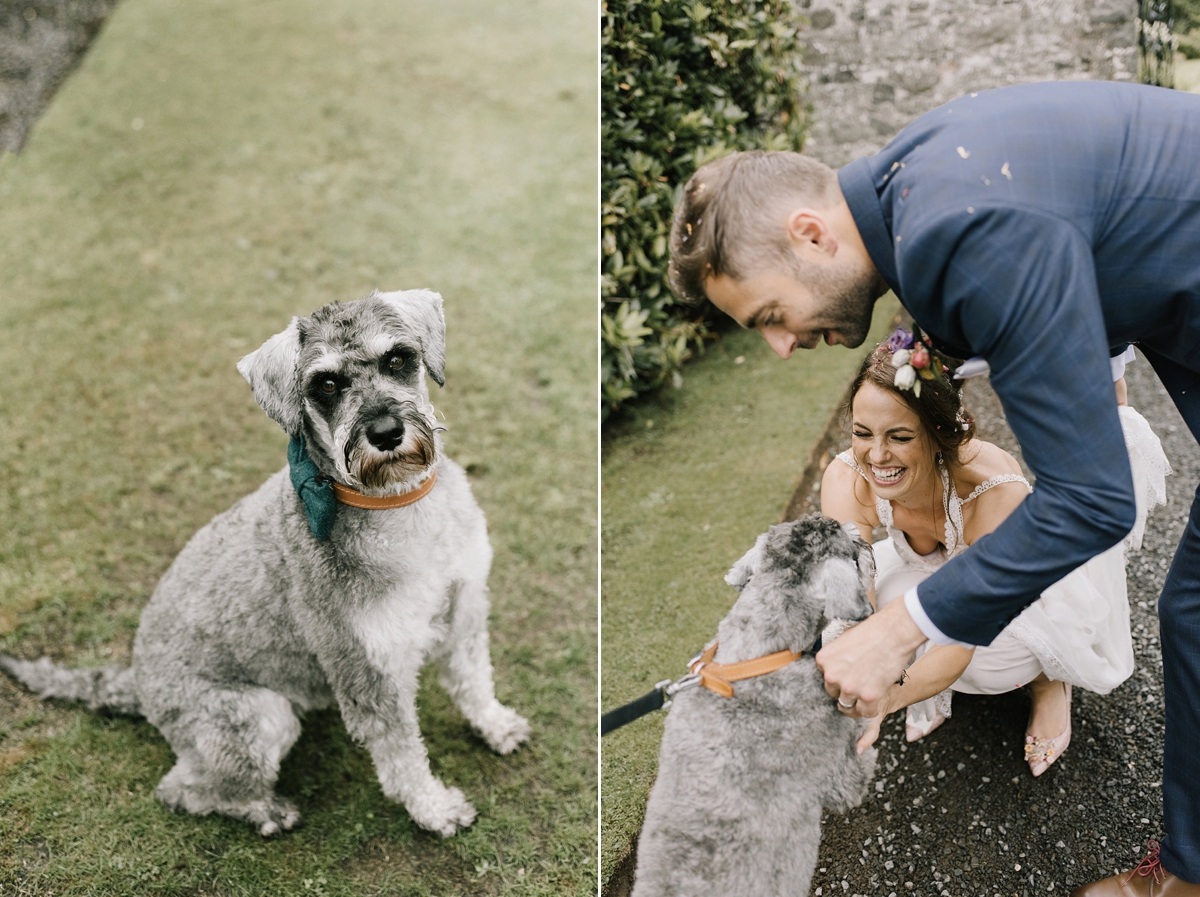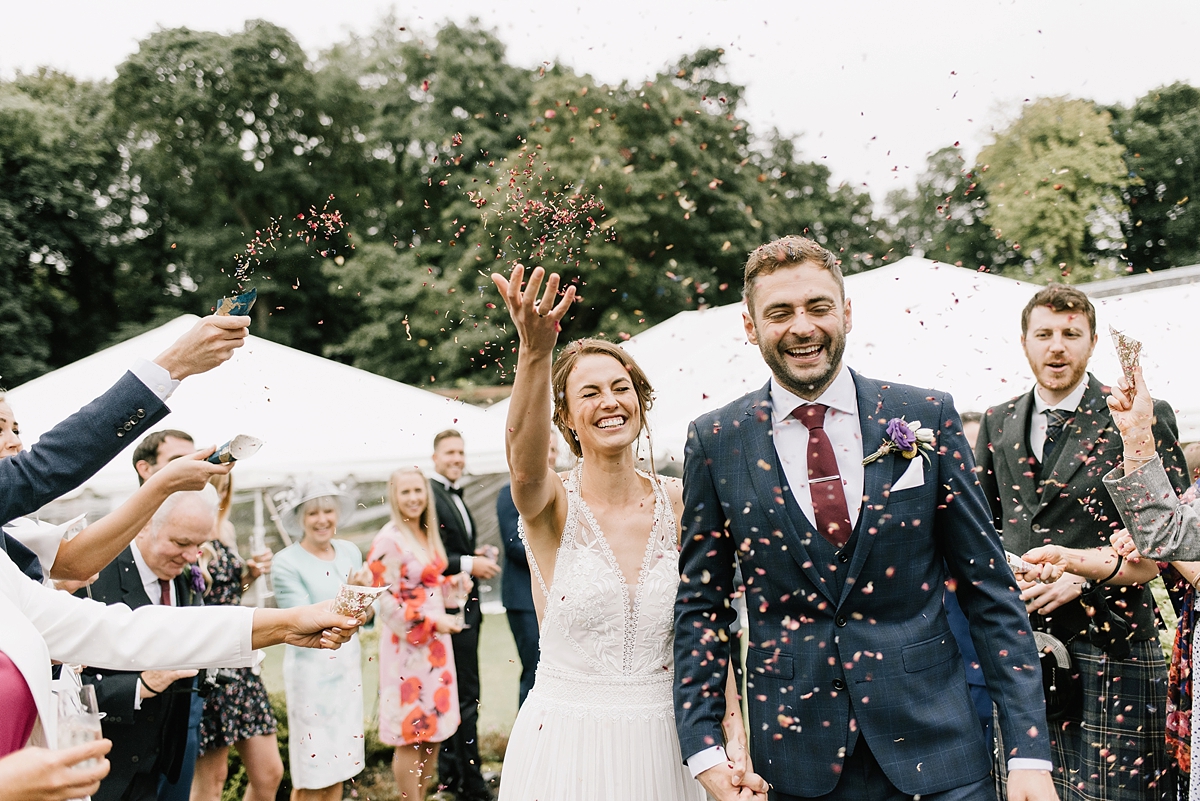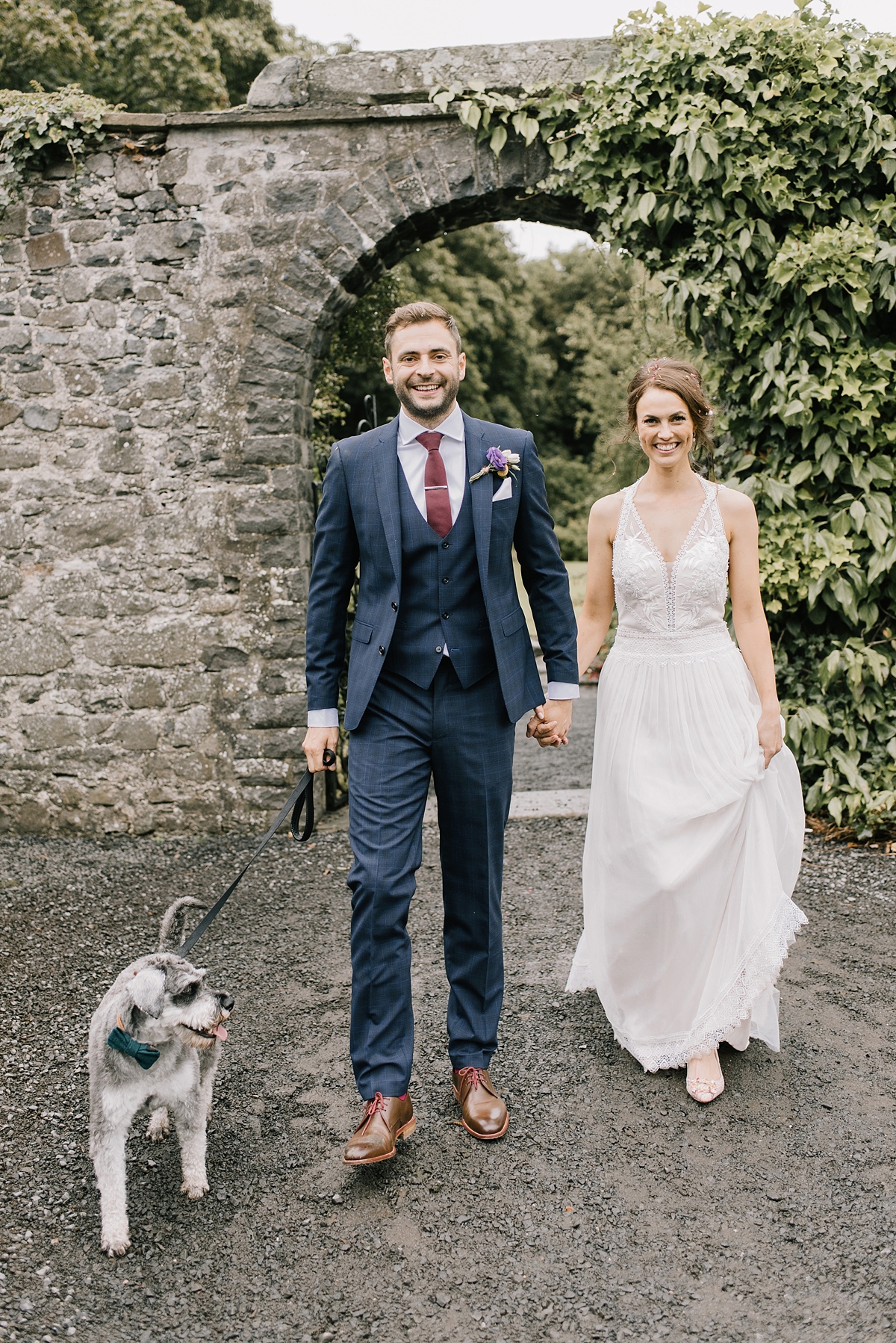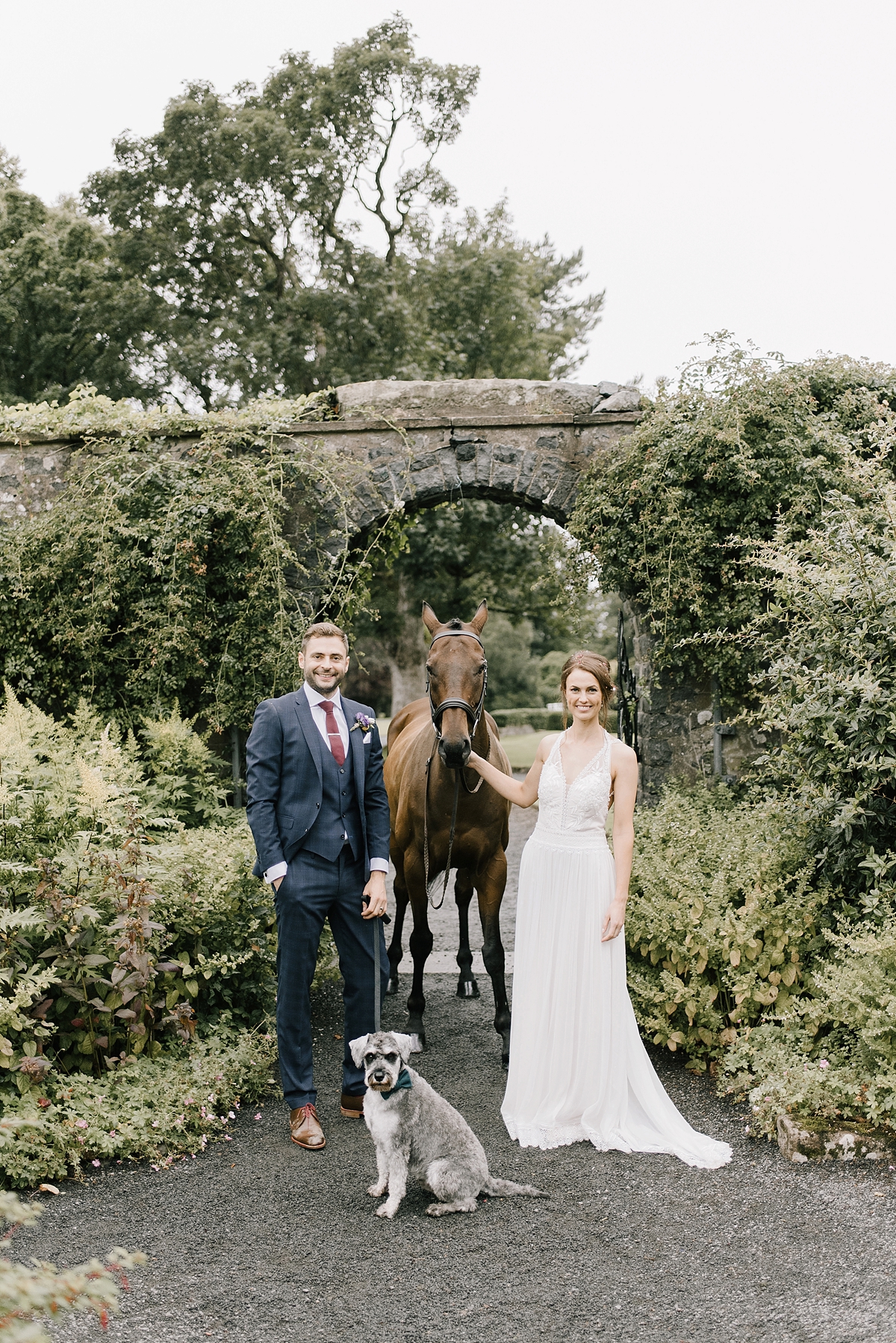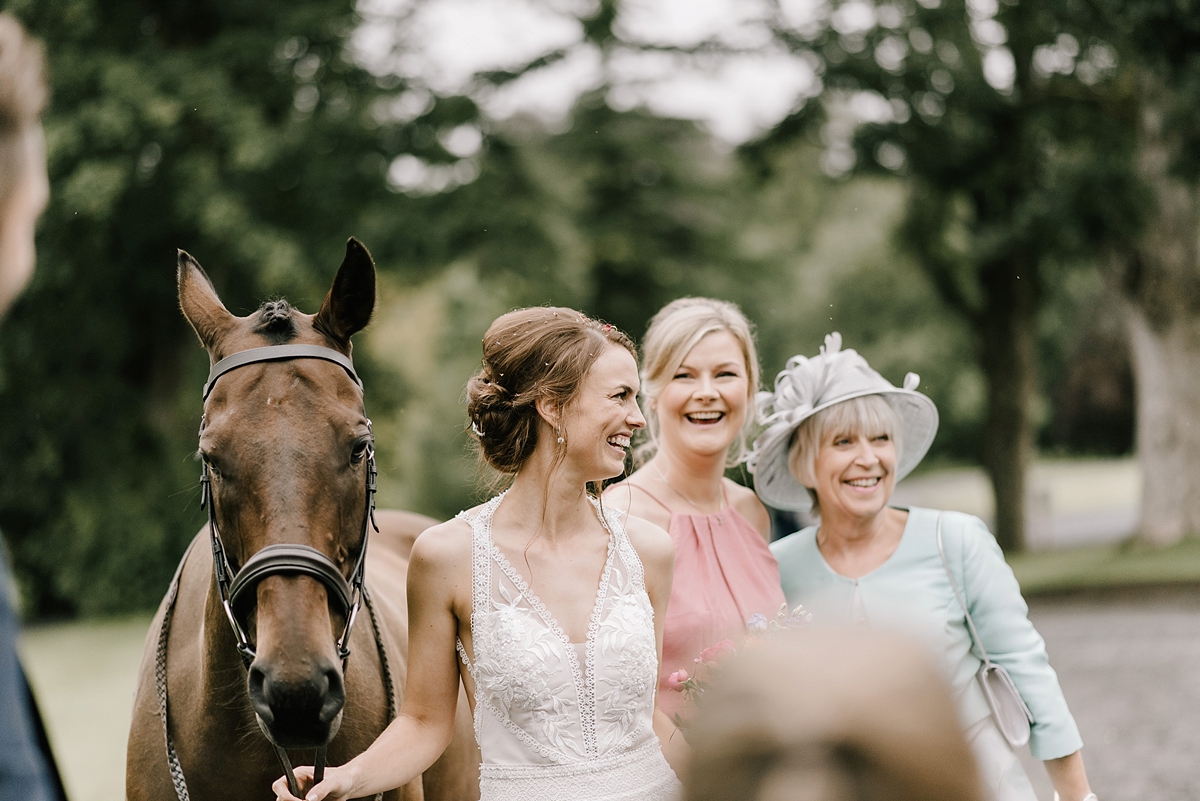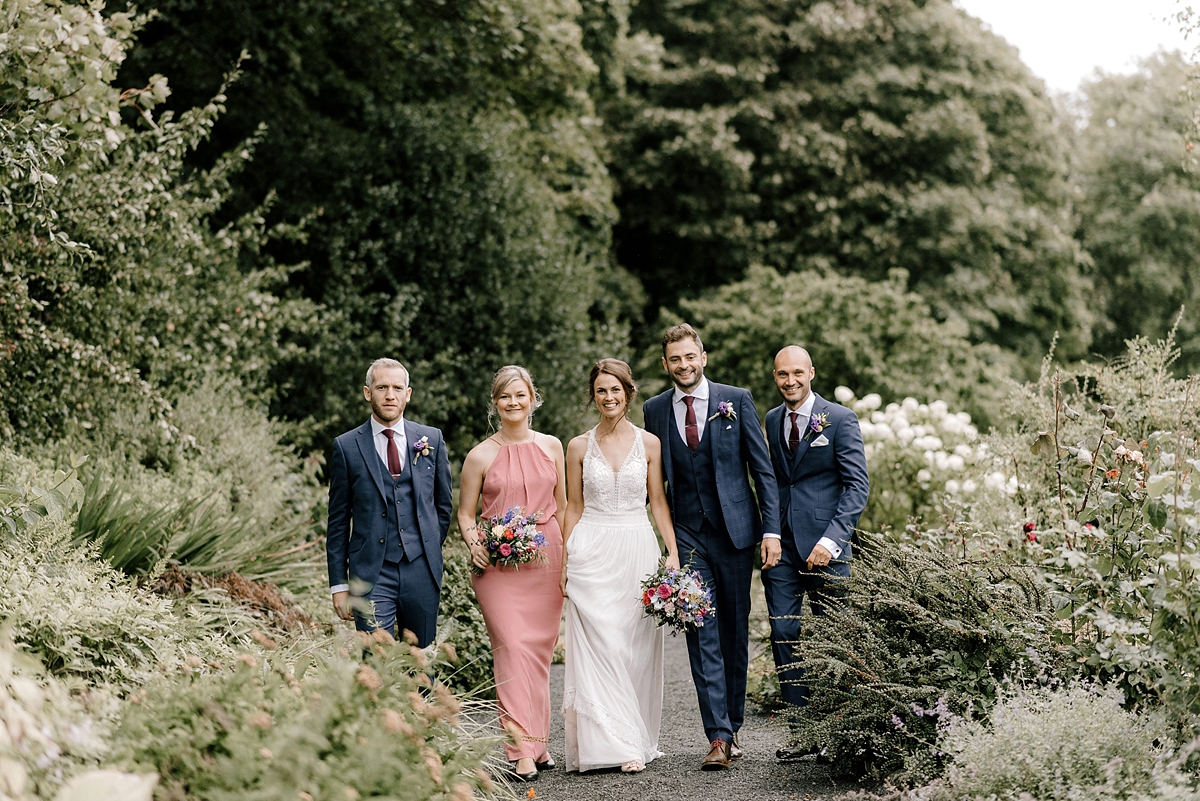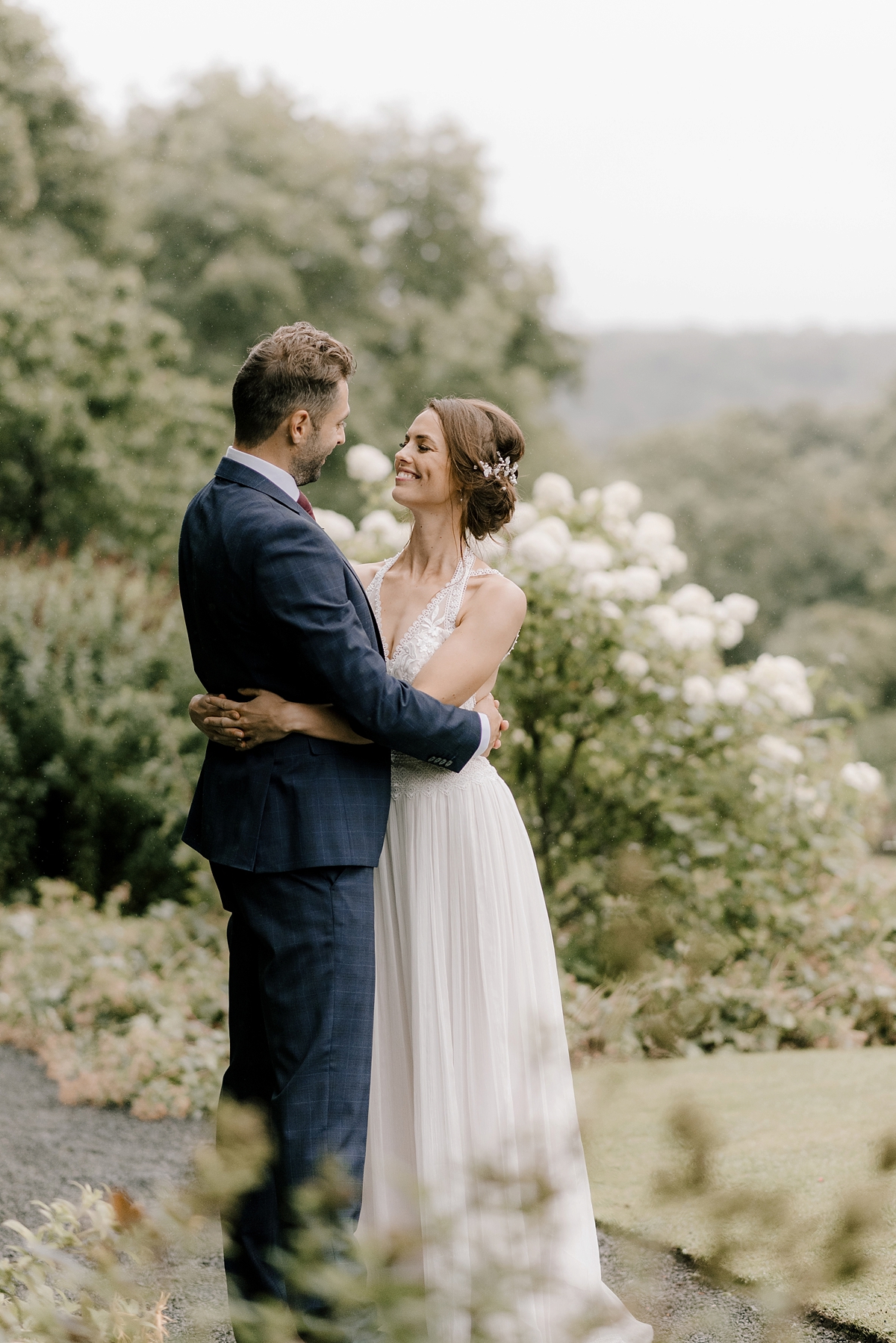 "I am very fond of colours and wanted the flowers to stand out. Every table had one type of flower instead of numbers or a name."
"My bouquet and the flowers on the top table had a sample of all the different flowers from every table. We thought that was a nice touch to incorporate them all together."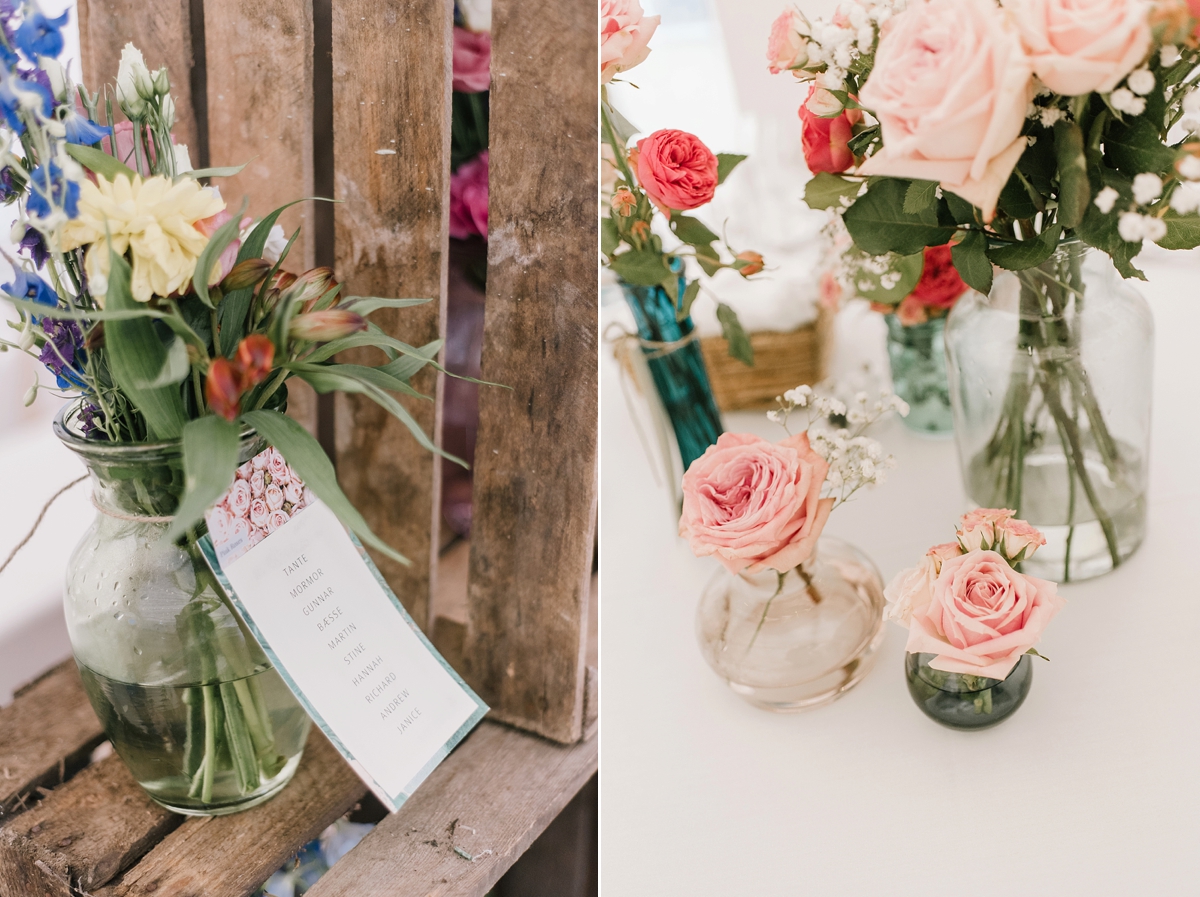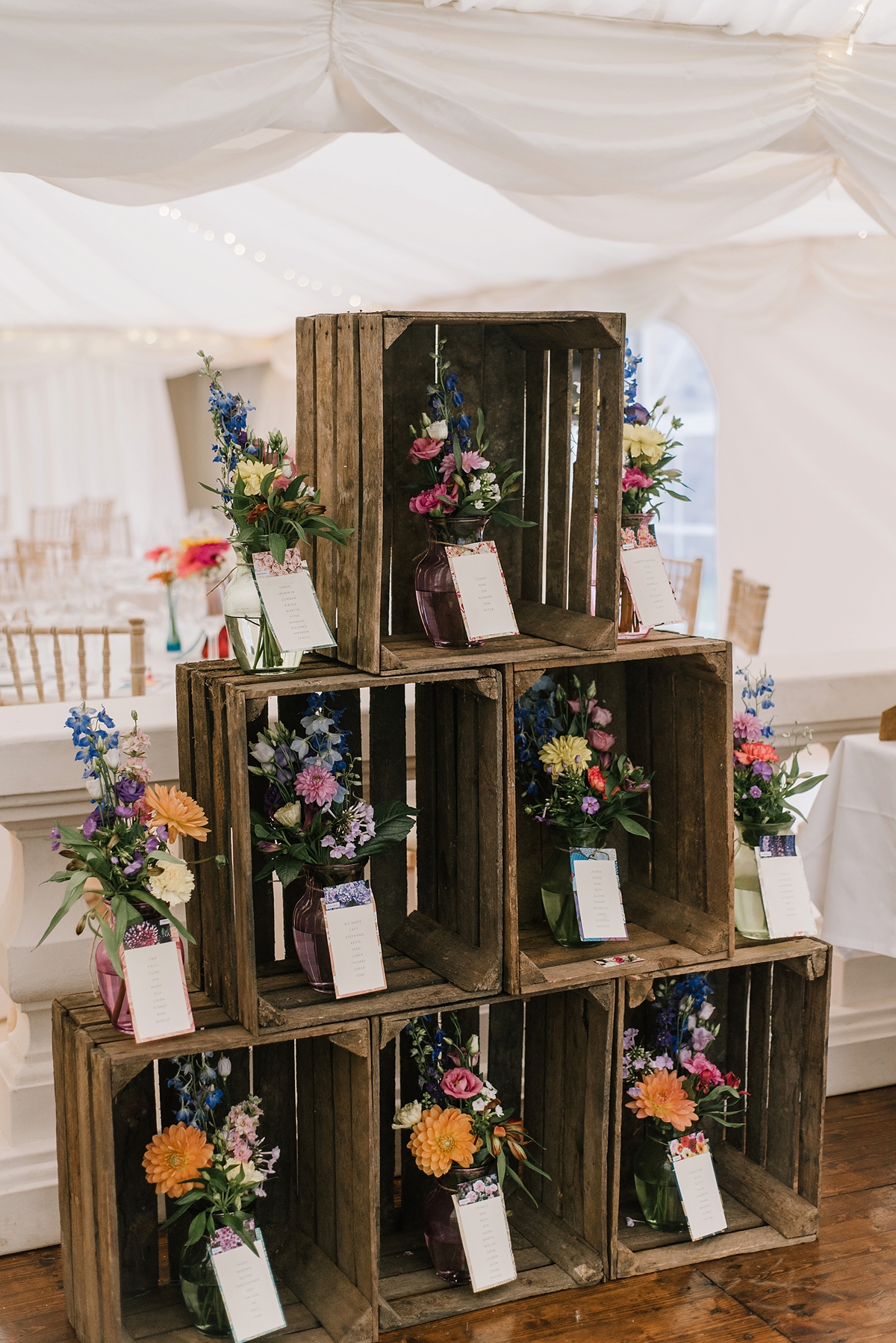 By Alice, based at Hillhouse, provided the food whilst the bride's mum and grandma were behind the vast array of cakes.
For favours, the newly-weds donated to Blue Cross and MS Society, as well as providing glitter pots for a touch of wedding sparkle.
"We set out tiny jars of glitter for every guest, not explaining what it was for. Between the main course and dessert the staff came out with glue and paint brushes and explained that it was for face decorations. At the end of the night I think we were all covered in glitter and jewels, and everyone got involved."
"We let our florist, Abbie, take full control of all the flower arrangements. Andrea and the crew from Hillhouse decorated the marquee on the Friday before the wedding, while we had dinner with all our friends who had travelled from Norway and England. I actually didn't see the final setup until I arrived on Rebel."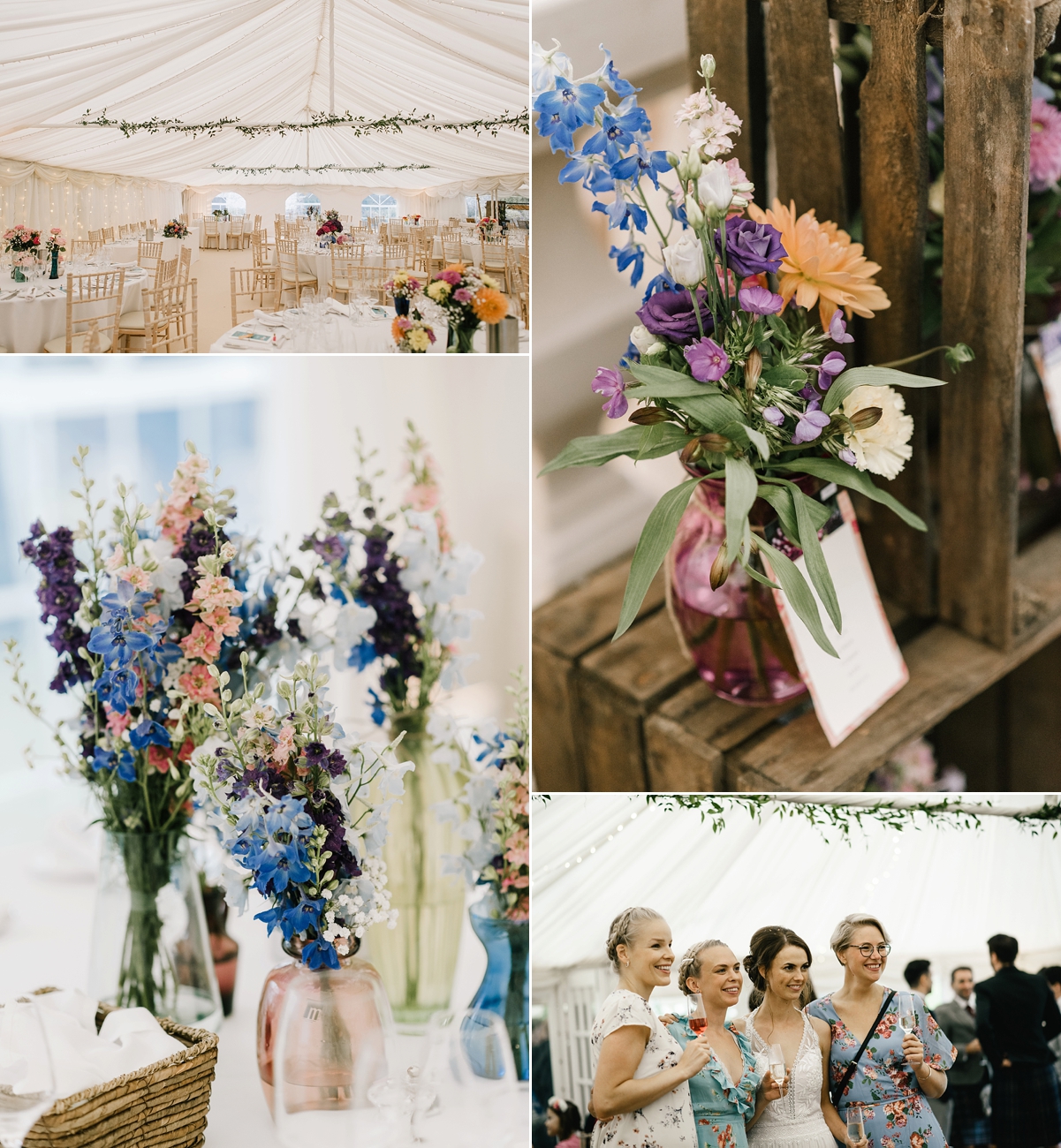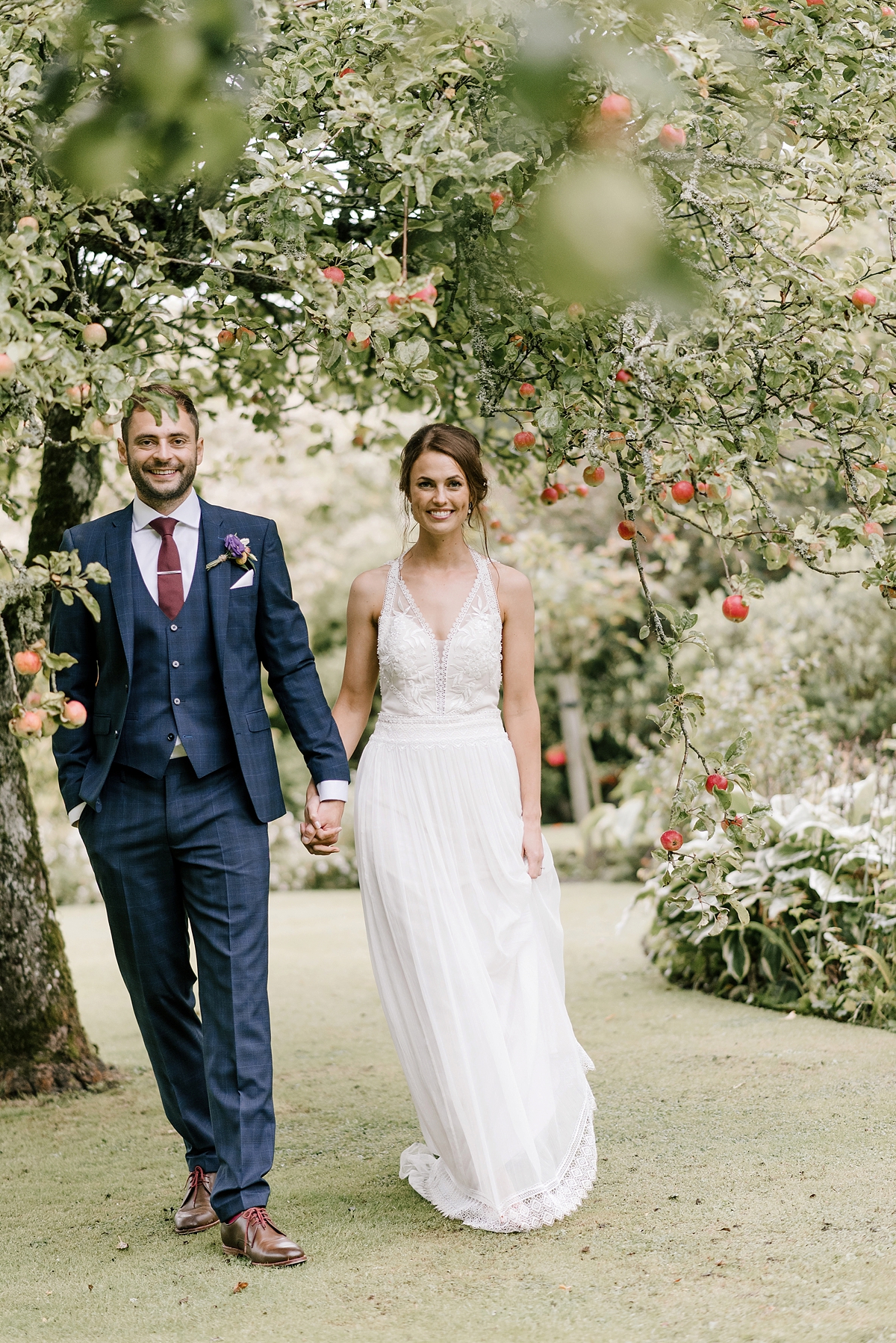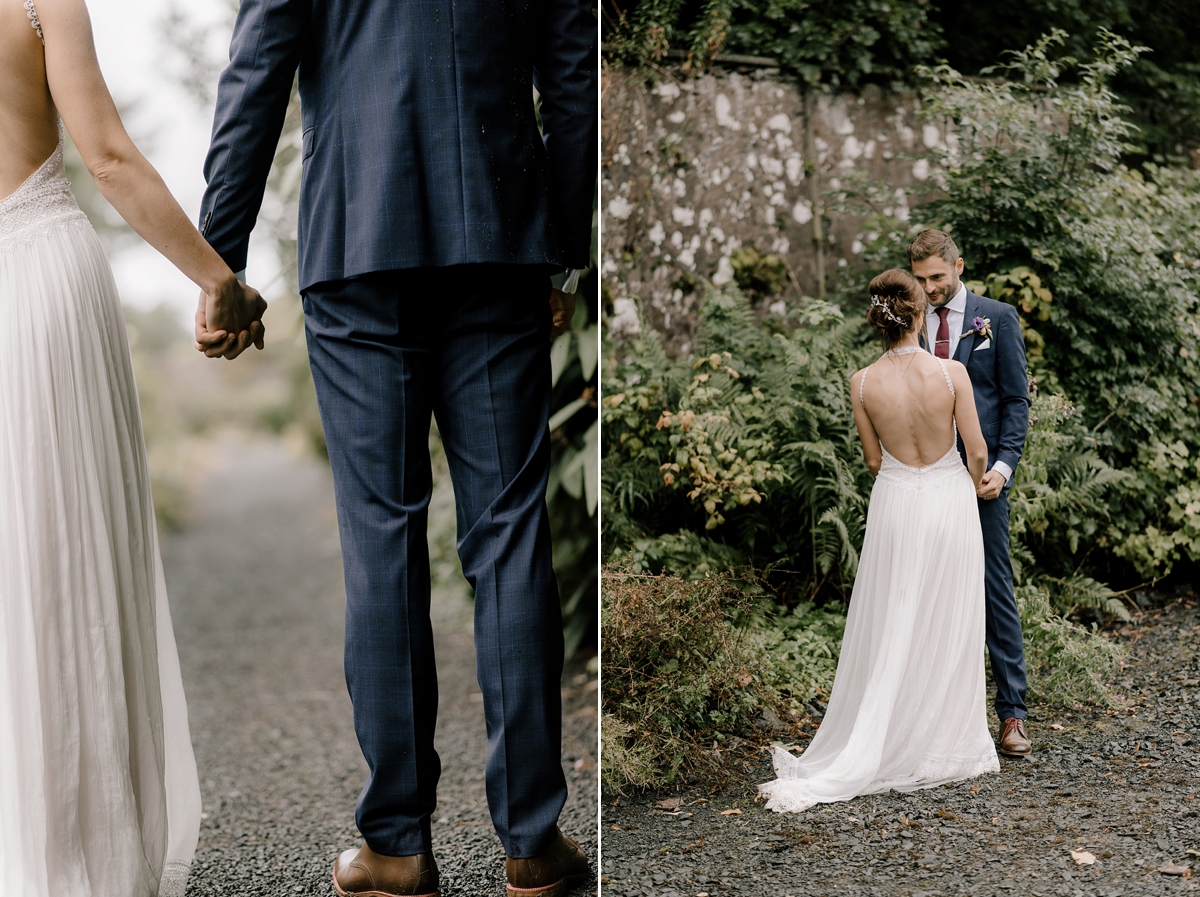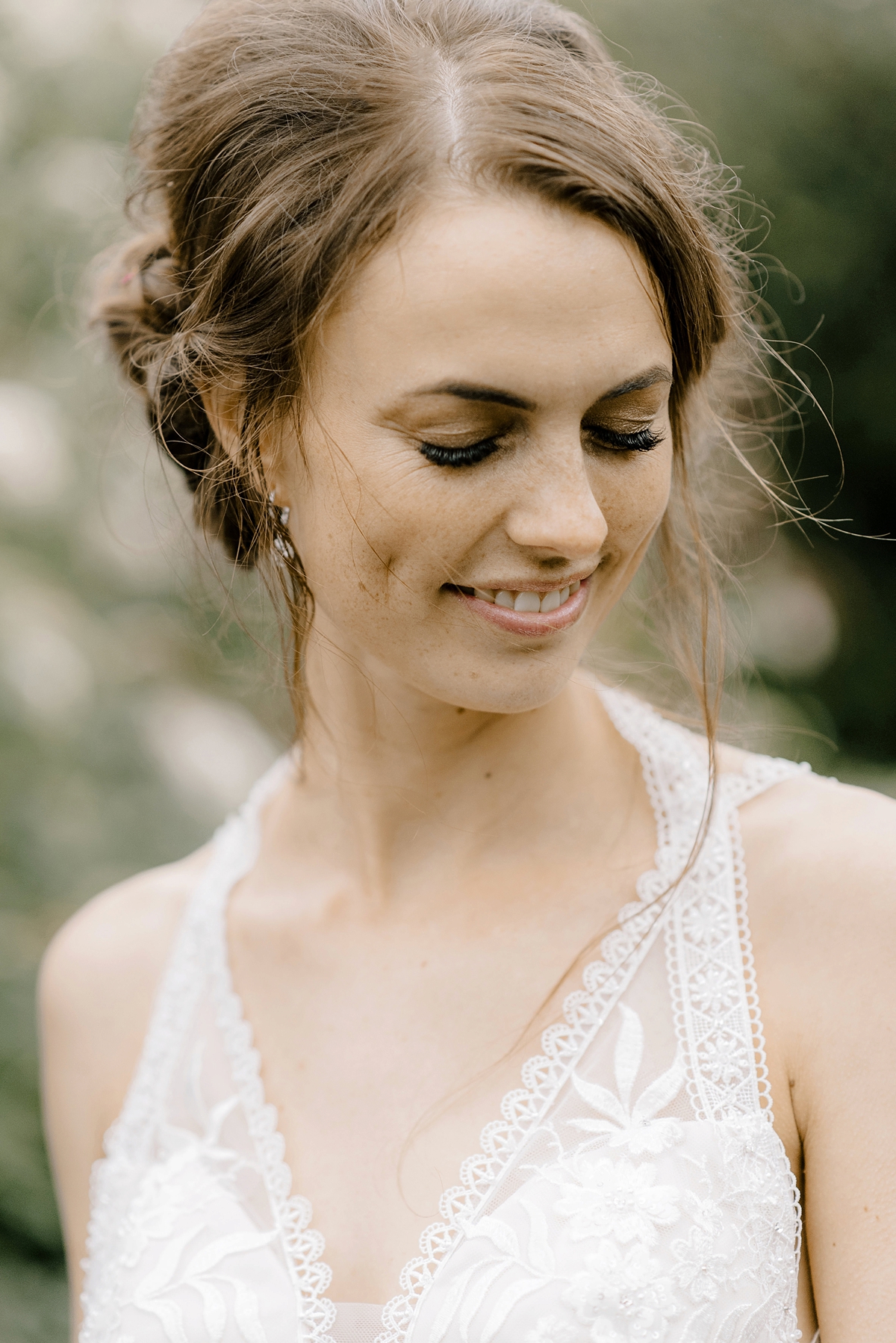 The wedding breakfast and party sound like they were super-relaxed and laid-back.
"We had a saxophonist – Marshali Scott – playing just after the ceremony whilst people mingled and we were taking photos. That was a last-minute idea but I'm so glad we did that as she was so good and created a great atmosphere."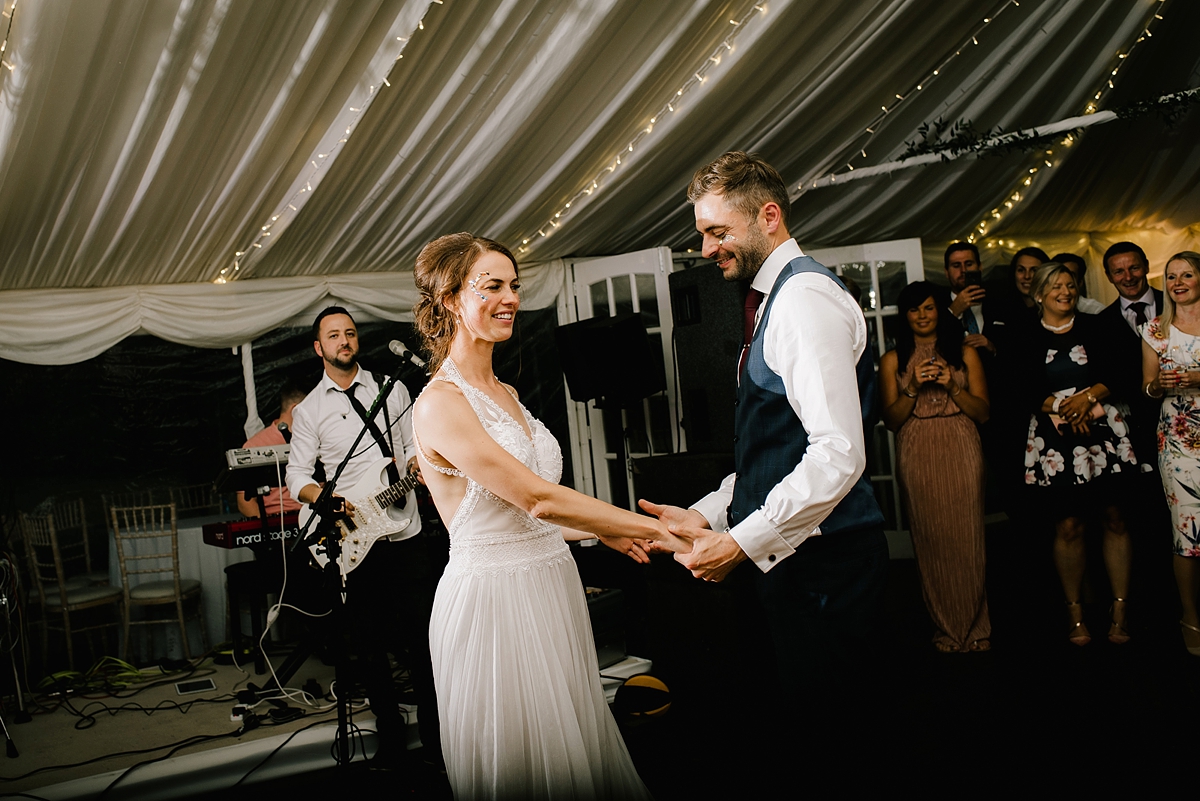 The party got off to a fantastic start, with the guest  needing no encouragement to get up and dance.
"4Play were meant to play a few Scottish Ceilidh songs to encourage people to dance. However they decided not to as the dance floor was full from start to finish, with people dancing like there was no tomorrow."
The first dance was to George Ezra's 'My Girl'.
"I heard it on Spotify in my car on the way home from the yard one evening. When I got home I played it to Howie and we both agreed that it was going to be our song."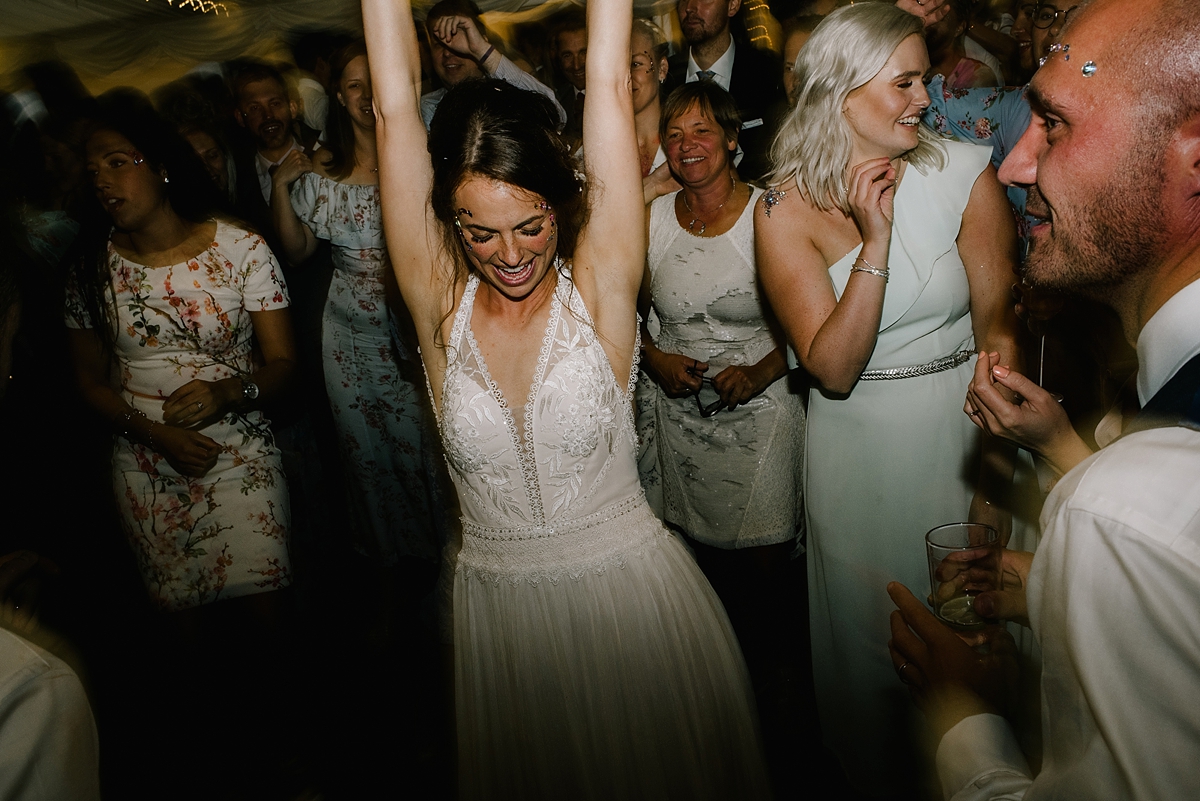 Words of Wedded Wisdom
"There is SO much – I could write a book about it but here are a few pointers."
"Don't wait with anything if you can do it today especially when it comes to booking the venue, photographer and entertainment."
"Have alcohol-free Prosecco or Champagne for those who are pregnant but haven't told anyone. We didn't and regretted that when we found out two friends were ten weeks pregnant on our wedding day."
"Be bold and brave. You don't have to do anything – or follow any rules. Make your own traditions."
"Spend your money on what's important to you and make savings, or get rid of things you don't think are as important or necessary. For me a good photographer was vital as well as good entertainment."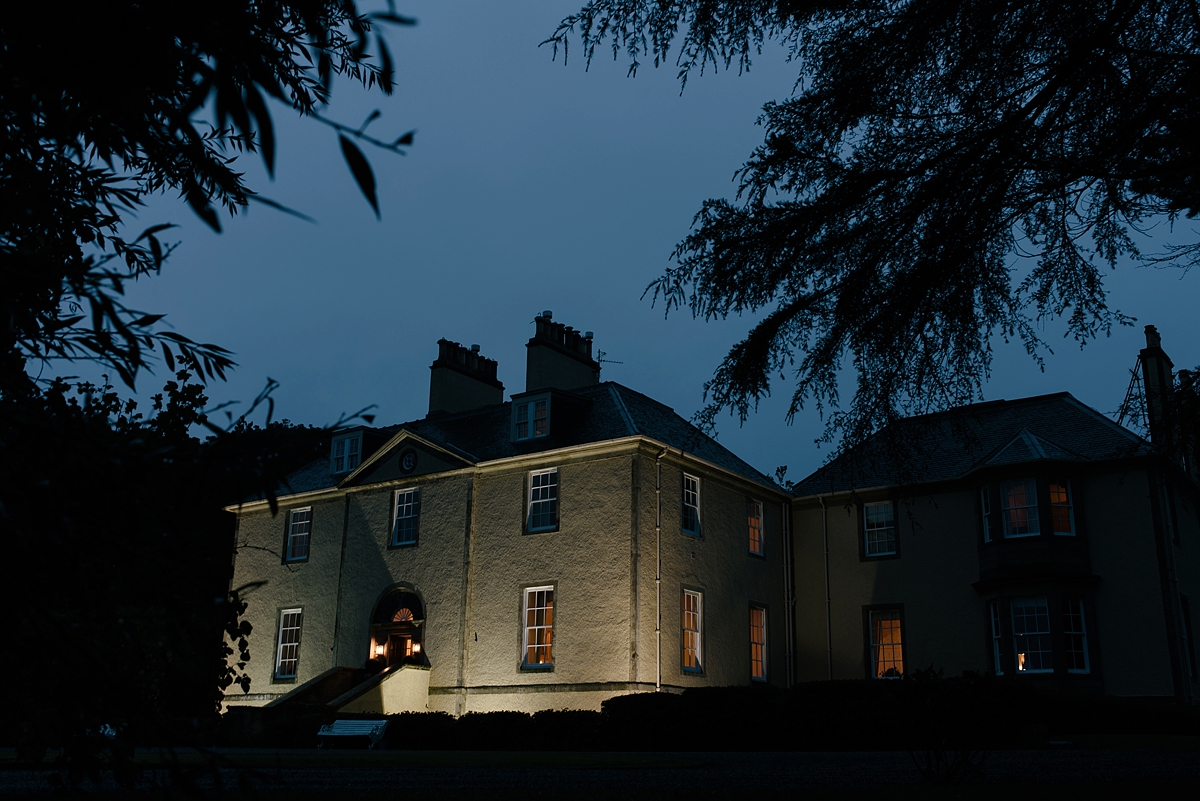 Please join me in sending Ida and Howard many congratulations on their summer marriage, as well as thanks for sharing it with us here today. And Georgina Harrison, thank you as every for your divine work; it's always a treat to see your photographs. Do you love this flower-filled style? Please take a few minutes to enjoy these garden-inspired weddings.
Ele xx