Dear Readers, if you're here in search of summer wedding inspiration, look no further than this fresh and contemporary wedding filled with greenery and flowers, and held across two of the coolest venues in East London.
Fashion designer Hilary married Kit, a film editor on the 14 July 2018 at the Art Deco beauty, Hackney Town Hall followed by a reception at Clapton Country Club, a former tram shed turned super-cool event space. Their wedding day was also their six-year anniversary, too!
Images by Joanna Bongard Photography
"We wanted the entire day to reflect us and our creativity. We went for a modern, minimal look with a relaxed vibe for the day with loads of greenery and flowers, and not too much fuss. Tones of grey, pure white and earthy dark green foliage with a touch of copper was our colour scheme….We chose Hackney Town Hall as it is just down the road from where we live. We loved the idea of getting married locally and Kit being able to walk there in the morning…"
"We met in a bar in Shoreditch. Kit says he saw me from across the bar and said to his best mate 'I'm going to be with that girl'. I've never believed this story but I certainly knew from the moment I met him that I would spend many years with him and definitely marry him some day. A few years later we then moved in together not far from where we met in Hackney."
"Kit then proposed to me, finally, after 4 years together. He popped the question while we were hanging out in a hammock on holiday in Colombia. It was an incredible moment and I knew straight away the answer was yes.We then decided we wanted to marry in Hackney. It seemed the right thing as we met, fell in love and lived in Hackney."
Hilary chose a wonderfully striking gown by Rime Arodaky from The Mews Bridal, Clifton, in an incredible silk fabric with botanical-inspired embroidery across the back. The bride added a single tier veil in soft tulle, also from The Mews Bridal, wore shoes from Carvela and gold and pearl hoop earrings from J.Crew.
"It took me a long, long time to find the right dress. I think I went to 8 boutiques and must have tried on over 45 dresses! Being a designer and knowing dress shapes and fabrics made it hard to find my dream dress. I wanted my dress to be modern yet classic with a slightly alternative edge."
[JP-VIDEO]
"I found this really hard to find until I tried on the Rime Arodaky 'Eddie' dress. It ticked all the boxes being modern yet classic and made in such a beautiful silk gazar fabric. I felt like myself in it. I love the embroidered back, the long train and the plunging neckline. Also the shape was so easy and comfortable which was really important to me but ultimately I felt so confident in it!"
Kit chose a navy blue two-piece suit with a crisp white shirt and pocket square from Reiss, while his groomsmen wore their own suits and the pageboys wore shorts from Marks & Spencer, shirts from Zara and braces and bow ties from John Lewis.
Hilary was accompanied down the aisle by her dad to the song Only Love by Ben Howard.
"This is one of our favourite songs! We always play it on a Sunday afternoon while cooking together and Kit is always singing along and dancing. So it felt only natural to have this lovely song as part of our big day…It was such a lovely moment, which I will remember for years to come. Seeing Kit's face at the end of the aisle and everyone smiling up at me was so special."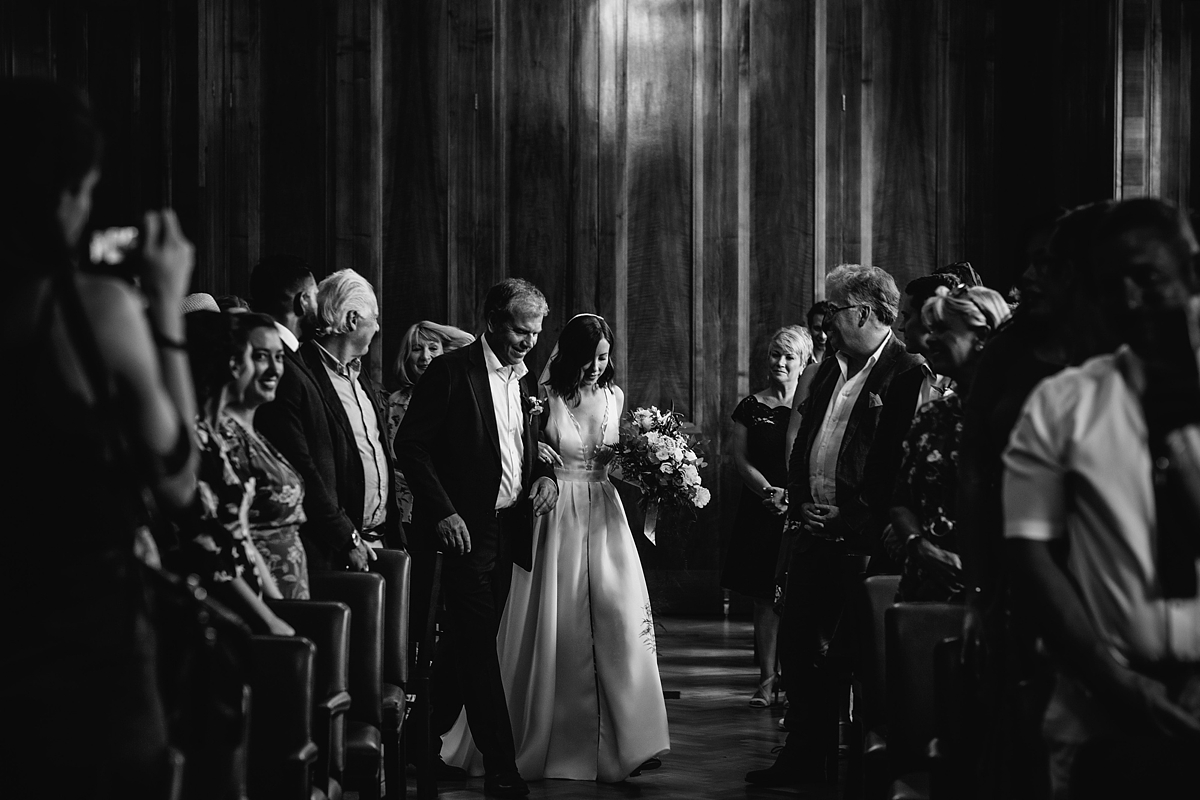 Gorgeous make up came courtesy of Hilary's talented sister-in-law, Anna Wells.
"Anna is an extremely talented make up artist. It was one of the hottest days of the year and my make up lasted very well considering. I felt glowy and fresh all day and most importantly felt like myself. It was also so lovely having Anna, instead of a stranger, there in the morning to keep me and my bridesmaids company. It made it really relaxed and definitely helped calm any nerves."
All that remained to add was Hilary's favourite perfume – one she has worn for years, Chanel Coco Mademoiselle.
"It is a modern but feminine scent, which I thought was perfect for our wedding day."
Luscious summer foliage and pretty white flowers played a big part in the overall styling of the day, especially when it came to decorating the space at Clapton Country Club, and all the bouquets and amazing displays were created by Worm.
"I have a massive love for peonies, roses and eucalyptus so I knew I wanted these incorporated in my wedding flowers. I asked for big blooms in white, with tones of green foliage to fit in perfectly with my colour scheme. Worm did such an amazing job. As soon as I saw my flowers on the morning of the wedding I fell in love!"
"I totally underestimated how flowers can really transform a venue and pull together mine and my bridesmaids outfits. They were more amazing than I ever imagined they could have been. Also having my bouquet delivered on the morning made me so excited it took all my nerves away! I never knew flowers could have that effect but now I do!"
The couple kept to simple, classic vows and chose rings from antique and vintage jeweller A.R Ullman Ltd.
"I used to work around the corner from this beautiful little shop and always loved looking in the window. Kit bought my engagement ring from them,and I wanted my wedding ring to be vintage also, so we went back to the same shop."
For readings, Kit's Auntie Jane read a beautiful extract from Captain Corelli's Mandolin, by Louis de Bernieres – Love Is A Temporary Madness.
"My brother Ben also did a reading – All I Really Need To Know I Learned In Kindergarten by Robert Fulghum. It's a really fun reading in contrast to our first one and was lovely coming from my little brother. He read it so well and it made everyone laugh."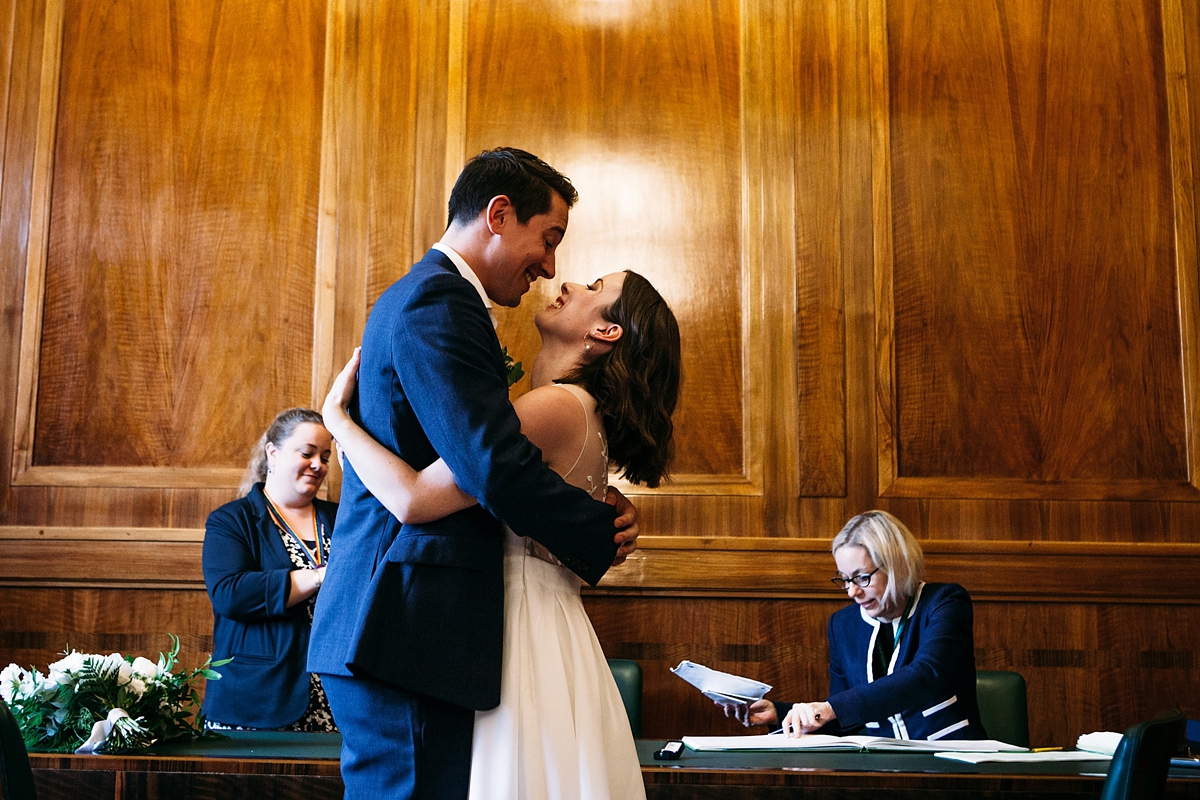 Hilary and Kit's three lovely nieces were flowergirls. After struggling to find ivory dresses with a wide enough age range for them all, Hilary took the decision to make them herself.
"I bought the fabric from Goldhawk Road and made them at home using my sewing machine and pattern cutting skills I learnt at uni. It also saved me a lot of money doing this instead of buying them."
"I will never forget…when we were signing the register, our niece Esmée, decided to stand in the middle of the aisle and flash her nappy to everyone. It was so funny and cute and created a relaxed and run atmosphere to the ceremony!"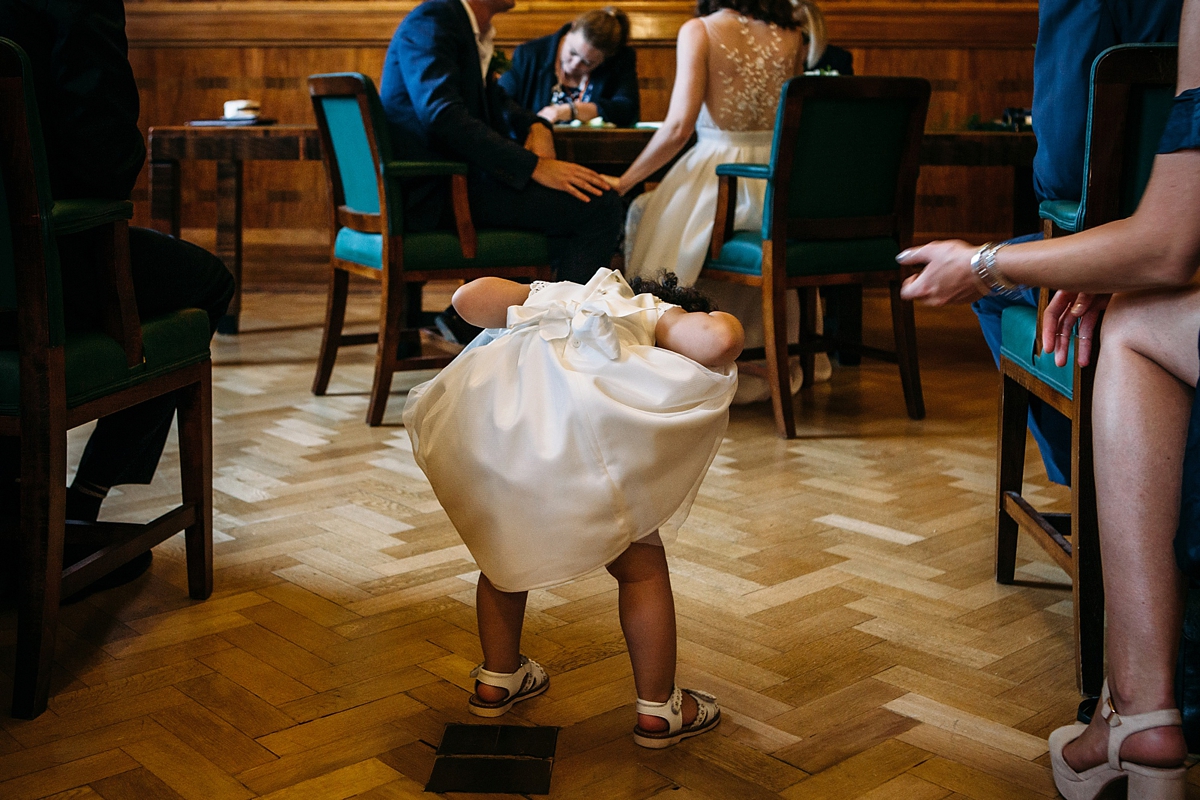 These gorgeous, intimate images, perfectly in keeping with the fresh and modern aesthetic of Hilary and Kit's day are by Joanna Bongard Photography, who also happens to be one of our wonderful Little Book members, too.
"Joanna was incredible,and her photos are so awesome! From first meeting her to chat about ideas, to her fun and enthusiastic personality on our wedding day, she was just amazing. She is a very talented photographer and the photos she took for us are stunning!"
"There are so many 'WOW' photos that really capture the laughter and fun we had on the day.When we look at her photos we remember how we felt on the day which really is what it is all about!"
"They show the real emotion.We will always look back at them with huge smiles on our faces.Thank you Joanna!"
Hilary's bridesmaids wore grey dresses from brilliant Little Book member Rewritten, whose graceful and modern designs have been featured here before on our blog pages.
"I wanted my bridesmaids to look modern and cool and this is exactly what Rewritten does best! I also loved the concrete grey colour they do that fitted with my colour scheme perfectly. My bridesmaids chose the shapes that they loved and felt most comfortable in. My sister choosing a beautiful wrap dress, perfect as she was breastfeeding, and Abigail choosing a cold shoulder drape dress, which she looked very elegant yet modern in."
After the ceremony guests headed over to a vintage Routemaster bus (sadly no hire details provided), where they were treated to Prosecco and music as they made their way over to the reception venue. Hilary and Kit took a ride in a stunning vintage convertible Mustang, which carries with it a lovely family story.
"Kit's uncle has a convertible vintage Mustang that belonged to his grandma when she lived in America. So we knew that would be transport sorted for us and it would also have an extra meaning to it."
"It was so fun riding around Hackney in the vintage car. So many people whooped at us and shouted congratulations."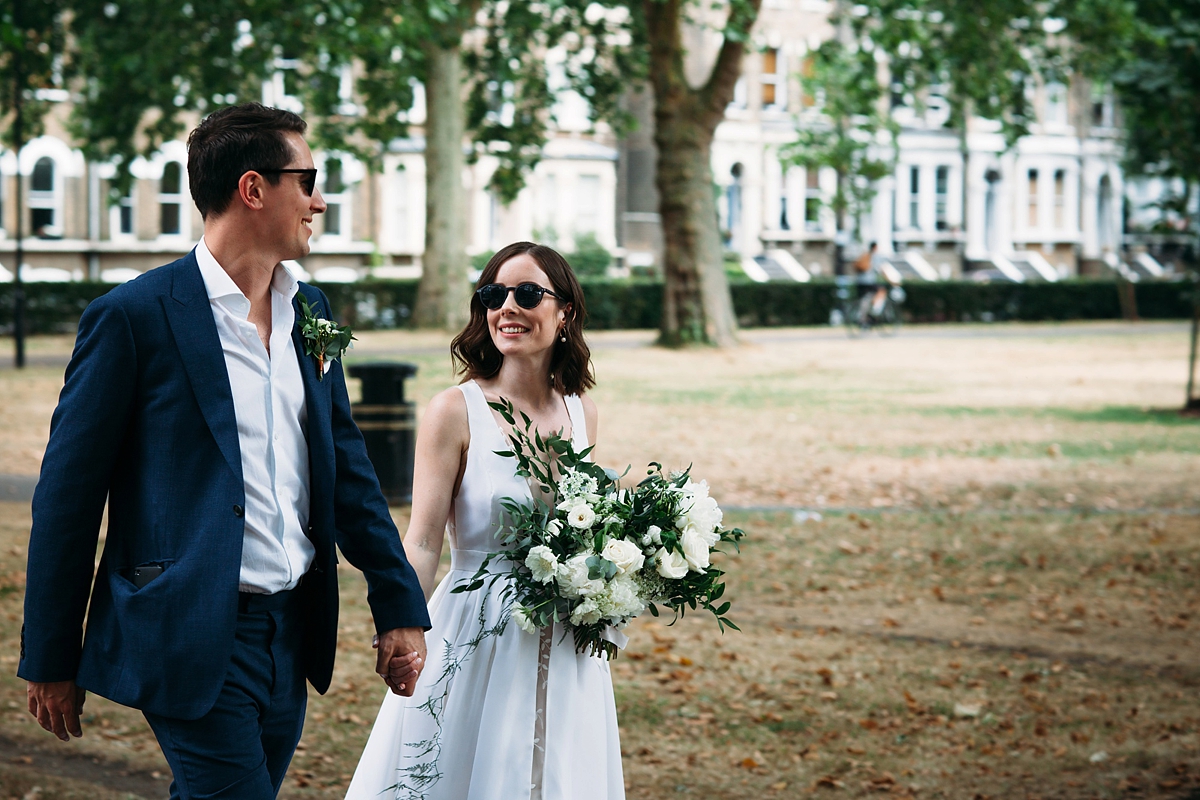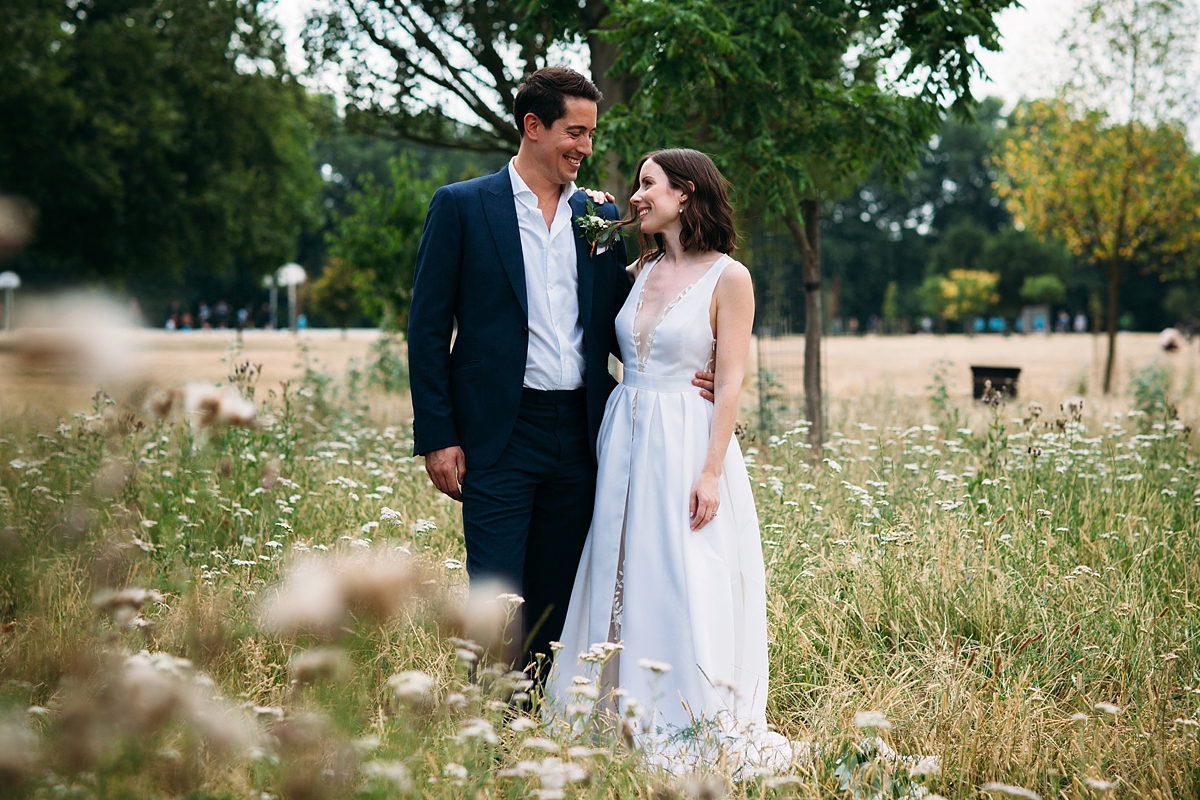 Hilary and Kit were instantly drawn to Clapton Country Club when they first visited, falling in love with its industrial details, high ceilings and exposed brickwork.
"The outdoor area with its wild plants and festoon lights was a real bonus, which a lot of London venues don't have, perfect for enjoying on a hot summer evening."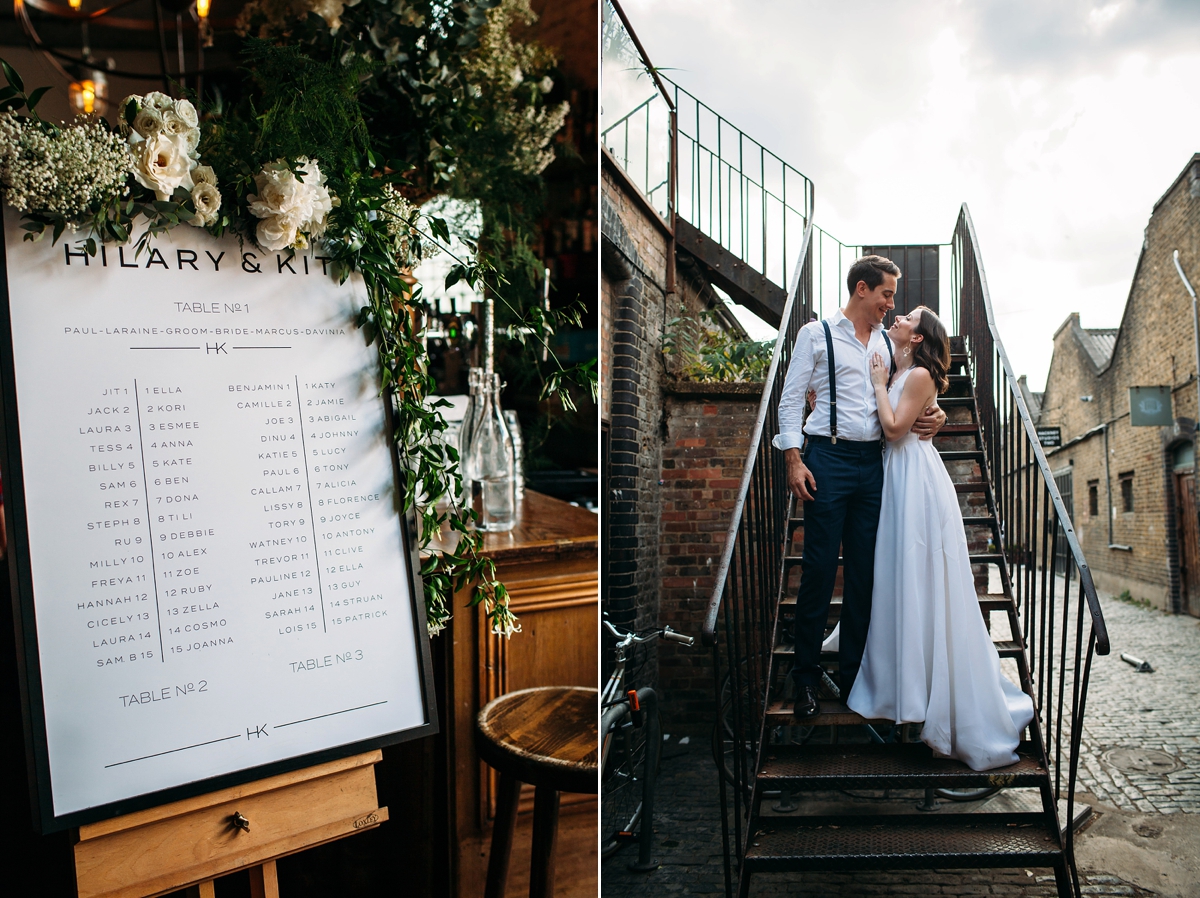 The team at Clapton Country Club cooked a real feast – Moroccan lamb shanks, green lentils with herbs and a fennel and pomegranate salad.
"Kit and I are massive foodies so this was really important to us. We decided to go with Clapton Country Club's catering instead of an external caterer, as their food is really tasty and made using local and organic produce."
As well decorating long dining tables with floral displays, Hilary and Kit also hired two birch trees (sadly no details) to be placed behind the top table, and strung the ceiling with festoon lights.
"Being a designer I decided to design and make all my menus, place cards, table plan and welcome sign myself, and got them printed at our local printers. Worm London decorated the signs beautifully with flower garlands. The tables were set beautifully with flowers laid on top of grey linen table runners that my mum hand sewed. These tied in well with the grey table cards with copper clips. I am so glad I designed and made these myself, not only did it save us money, it added a personal touch to our day."
Instead of a wedding cake there was a cheese tower, which Kit's brother Jack arranged as a nod to their Welsh heritage, from Penylan Pantry in Cardiff.
"Welsh cheese is just so delicious. Worm London decorated it so beautifully with flowers tying it in with our grey, earthy tones and pure white minimal colour scheme. People are still raving about how awesome the cheese was!"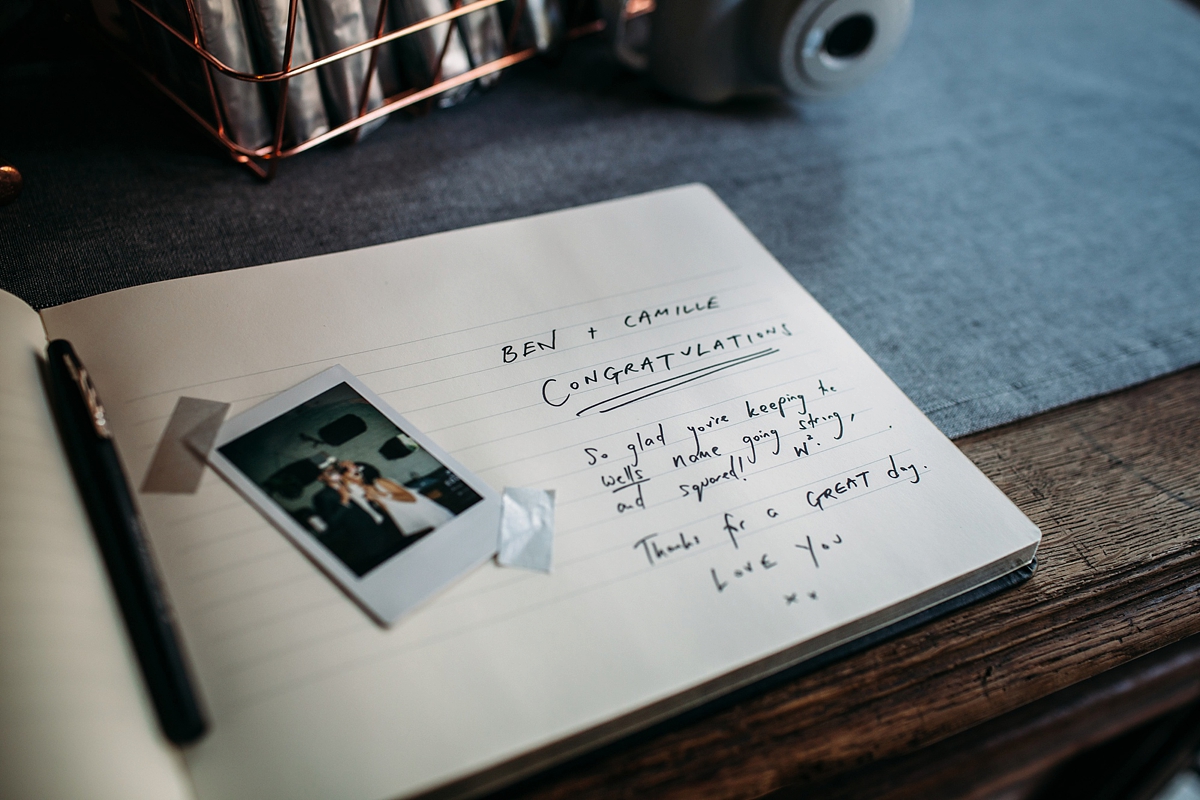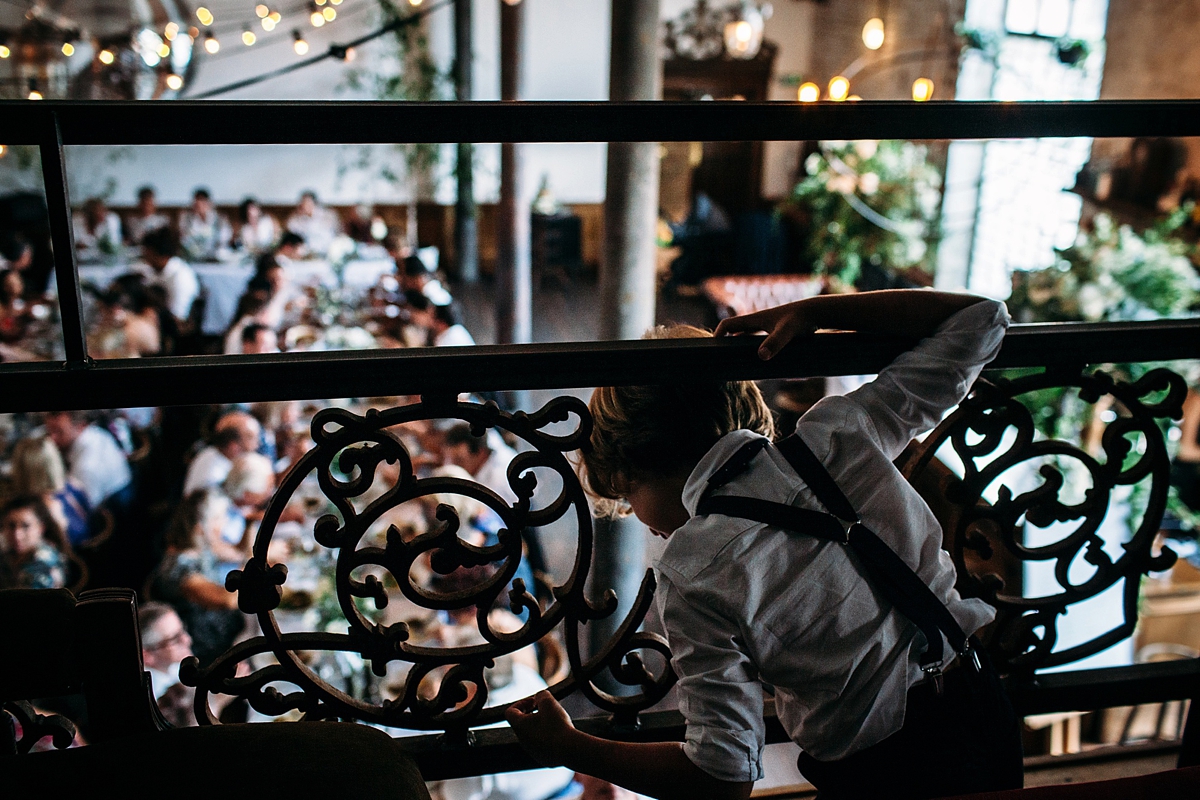 For their first dance together the couple chose Can't Take My Eyes Off You by Frankie Valli, performed by the evening band, Blue Lion Band.
"This is the one song I constantly have in my head and always sing out loud to Kit when I am feeling happy… Also, the lyrics are lovely and we thought it was a great song to start off the band and a night full of dancing!…Blue Lion Band were awesome! They got the party started and kept it going all night long. I highly recommend them!! They are extremely talented and have the best repertoire that is not too cheesy!"
"There were so many favourite parts of the day it is hard to choose just one. I loved dancing all night with my husband and our friends and family to the most awesome band. I loved having a quiet minute together outside of the venue before being called in for dinner as Mr & Mrs Wells. Also driving around Hackney in the Mustang with everyone whooping and shouting congratulations was pretty awesome!"
Words of Wedded Wisdom
"People love to share their opinions on your day, but it is your day and you want it to reflect you as a couple, so stick to your gut feeling and go with it."
"Remember that the day is about you two. Not anyone else. So do what makes you happy. Enjoy every minute of the planning. It goes by so quickly."
"Relax and enjoy the day and don't worry about the small things. Only a few little things went wrong on our day but I was so happy they didn't even bother me one bit."
"If I could do anything different I would have organised transport to our hotel at the end of the night or changed into a different outfit before leaving. I felt a little silly waiting in my wedding dress for a taxi to arrive at the end of the night!"
Huge thanks Hilary and Kit! It's been brilliant to share your joyful, relaxed day, and Hackney Town Hall and Clapton Country Club are fast becoming some of my favourite London venues that I've had the pleasure to write about. Thanks also go to Joanna Bongard for her lovely images.
Until next time!
Love, Laura