Every time I begin to write about a wedding held in Manchester, I tell you, our brilliant readers how much I love the city. Well, at the risk of sounding like a broken record, I'm going to tell you again, because I do…a lot!
This is a celebration held in the beating heart of this incredible city – a fun and informal day filled with the weathered and beautiful industrial features that Manchester is famous for, and an entirely stylish couple decked out in both vintage and vintage-inspired attire. Meet Anne, who works for YMCA Milton Keynes, who provide accommodation and support to young people at risk of homelessness.
Images by Lucy Little Photography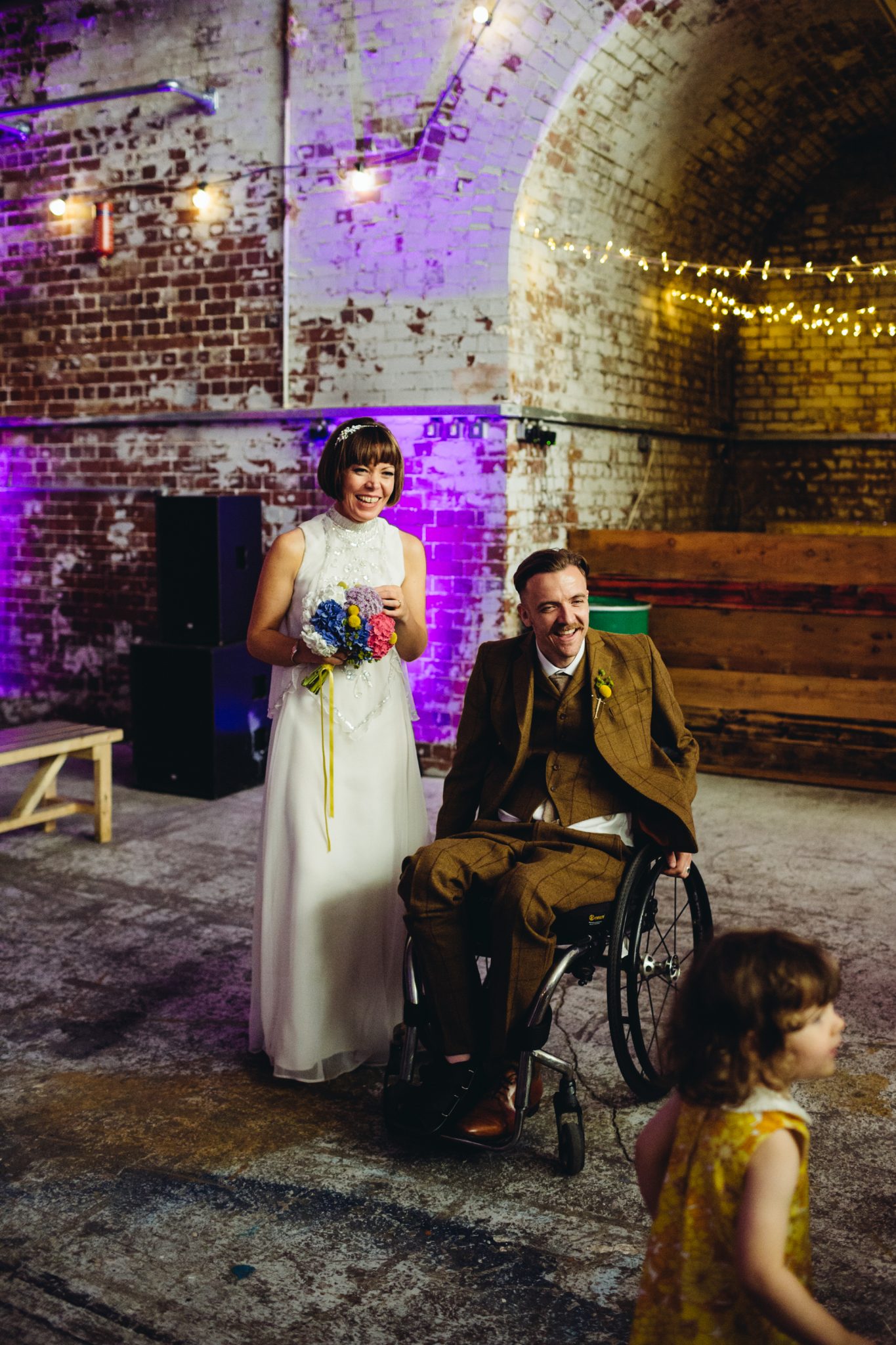 She married Jamie, who works for national disability charity Spinal Injuries Association, supporting newly injured individuals in rebuilding their lives, on the 1 September 2018. They held their ceremony at Manchester Hall in Bridge Street before heading to Artisan (sadly now closed) for drinks, and then to Fairfield Social Club for food and partying.
To choose her wedding gown, Anne headed to Little Book member Elizabeth Avey's London boutique, where a collection of the most wondrous vintage gowns awaited her. Anne chose an embellished 1970s evening dress with a sparkly high collar, and she looked incredible.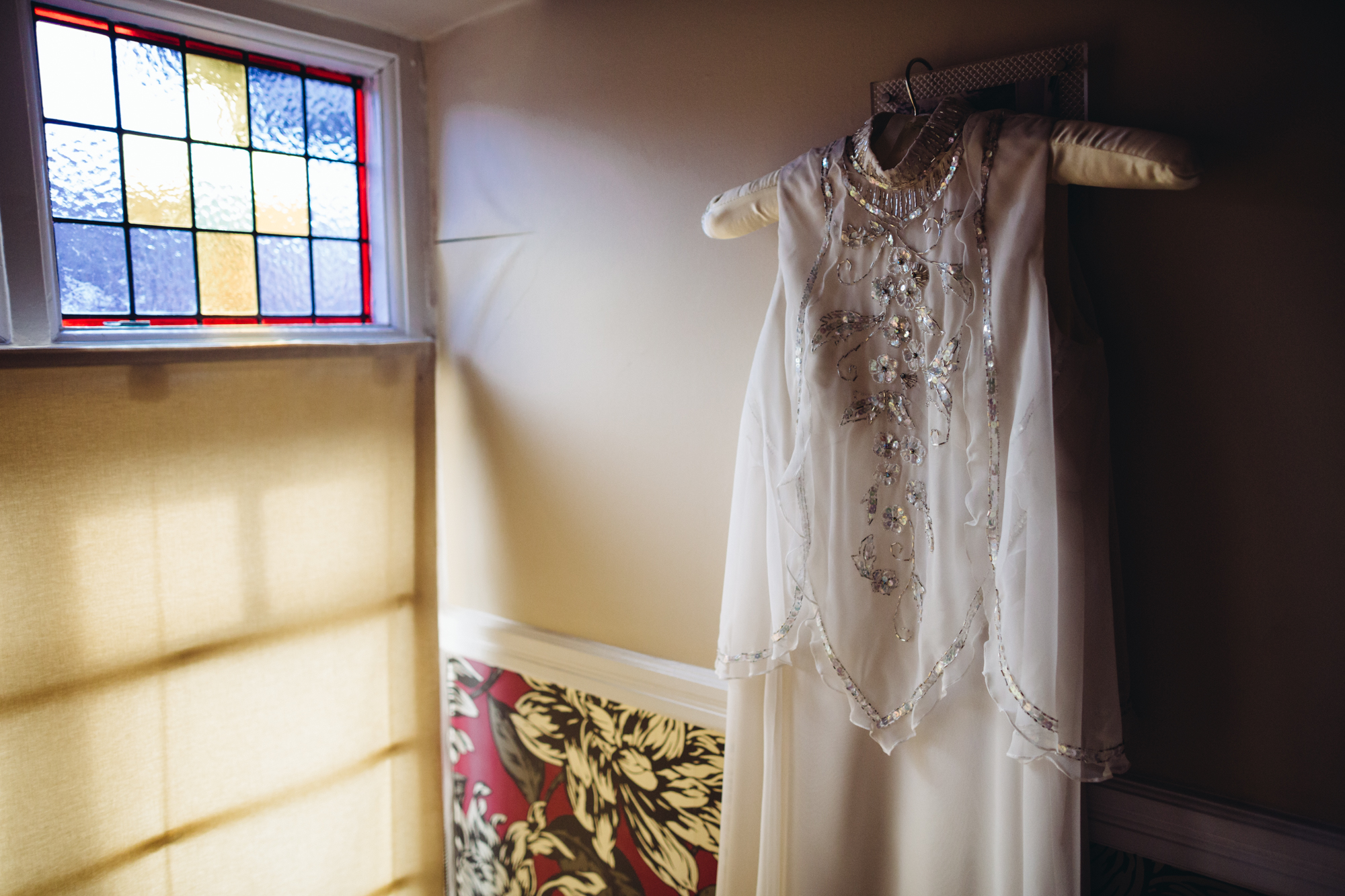 "I loved the fact it had a past and that I could give a new story to an old dress. I visited Elizabeth's boutique and fell in love with ALL the dresses! I liked the idea that this was an evening dress rather than a traditional wedding dress, and it felt incredibly glamorous to wear. I always knew I wanted vintage, but originally thought I may wear a jumpsuit…but then I tried on my dress!"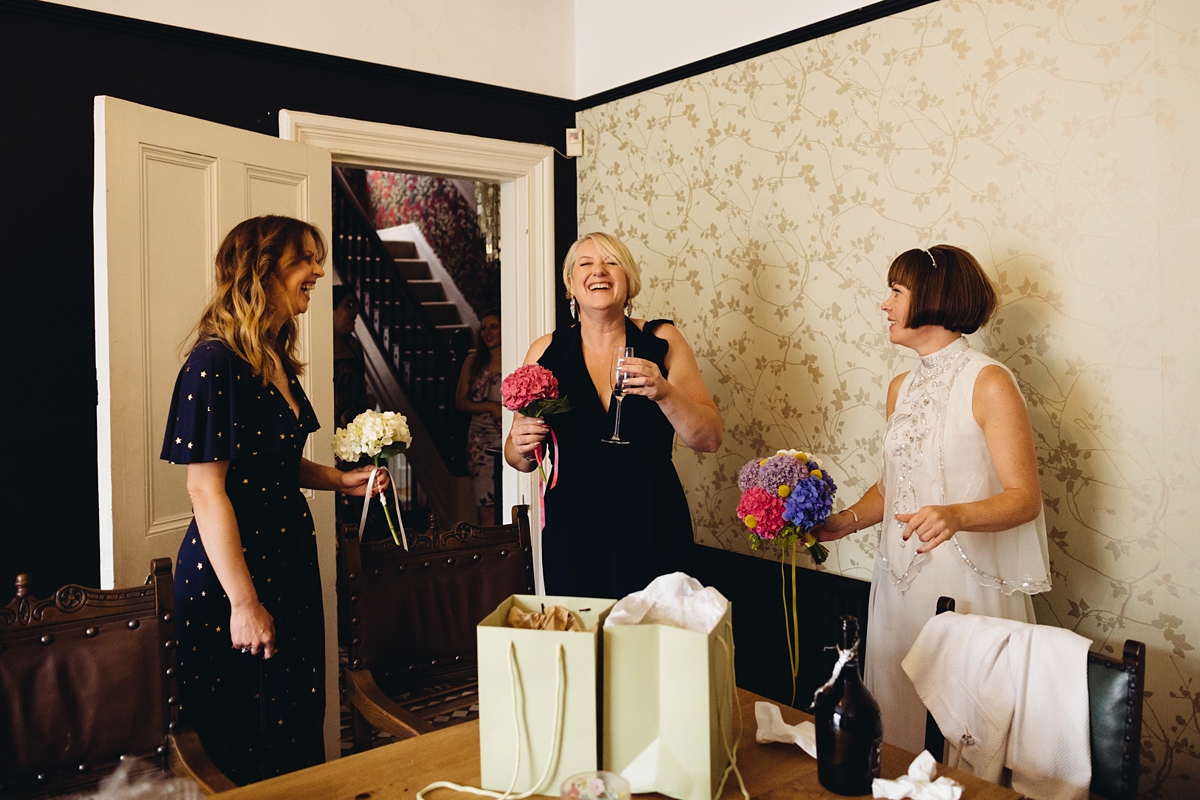 On her feet Anne wore shoes by Rachel Simpson – a pair of the silver ballroom inspired 'Gigi' heels, a vintage bracelet found at a jewellers in Brighton, and earrings from Dower and Hall.
Hair and make-up artist Rebecca Anderton worked vintage magic on Anne and her party, and added to Anne's chic bob was a headband from Ivory & Co. All that remained was for a spritz of the perfume Anne wore on her first date with Jamie, Chanel Chance.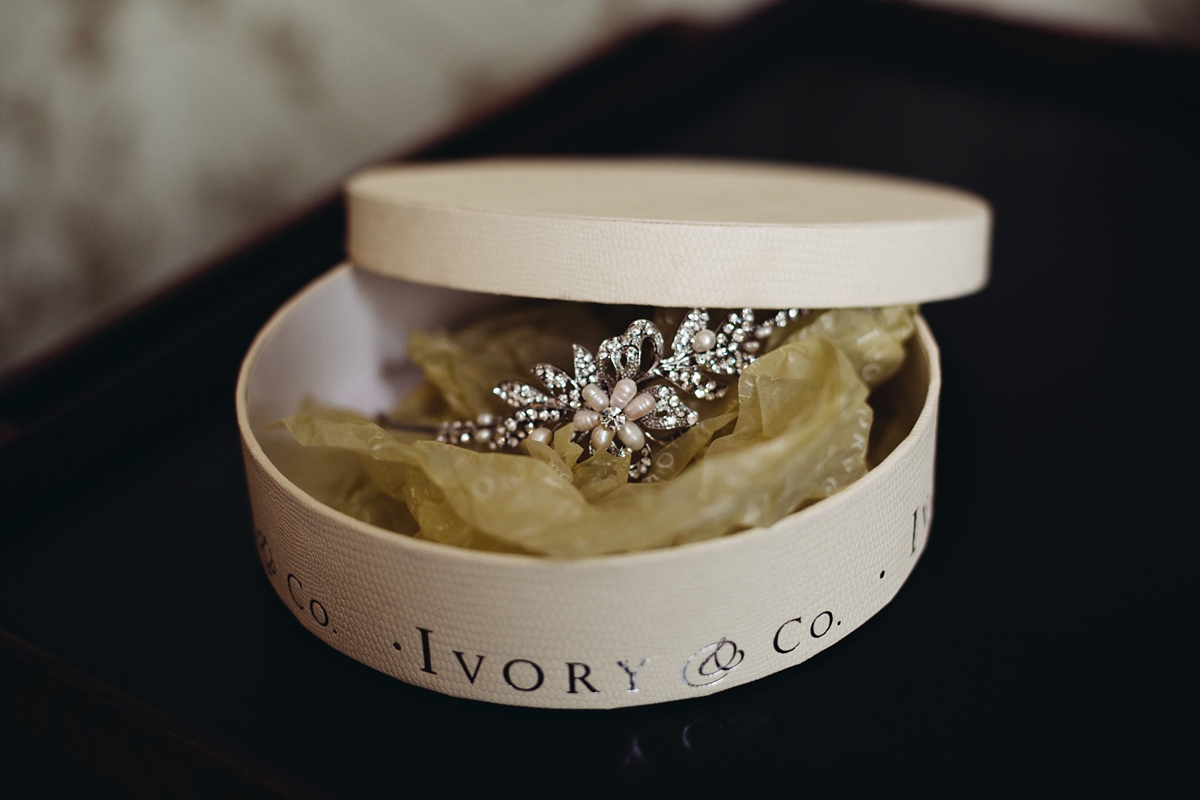 The bridesmaids headed to Manchester Hall in a Porsche, whilst Anne was whisked off in a spectacular 1960s Mercedes, with both cars provided by Jamie's friend, an avid car collector.
"It had to be Manchester, and to embrace the industrial background that Manchester has, as a result we chose both the traditional Manchester Hall for the ceremony in the heart of the city and then a disused railway arch or the party! Given Jamie is a wheelchair user, we wanted to choose somewhere that was accessible for him without lots of ramps, lifts… and hassle!"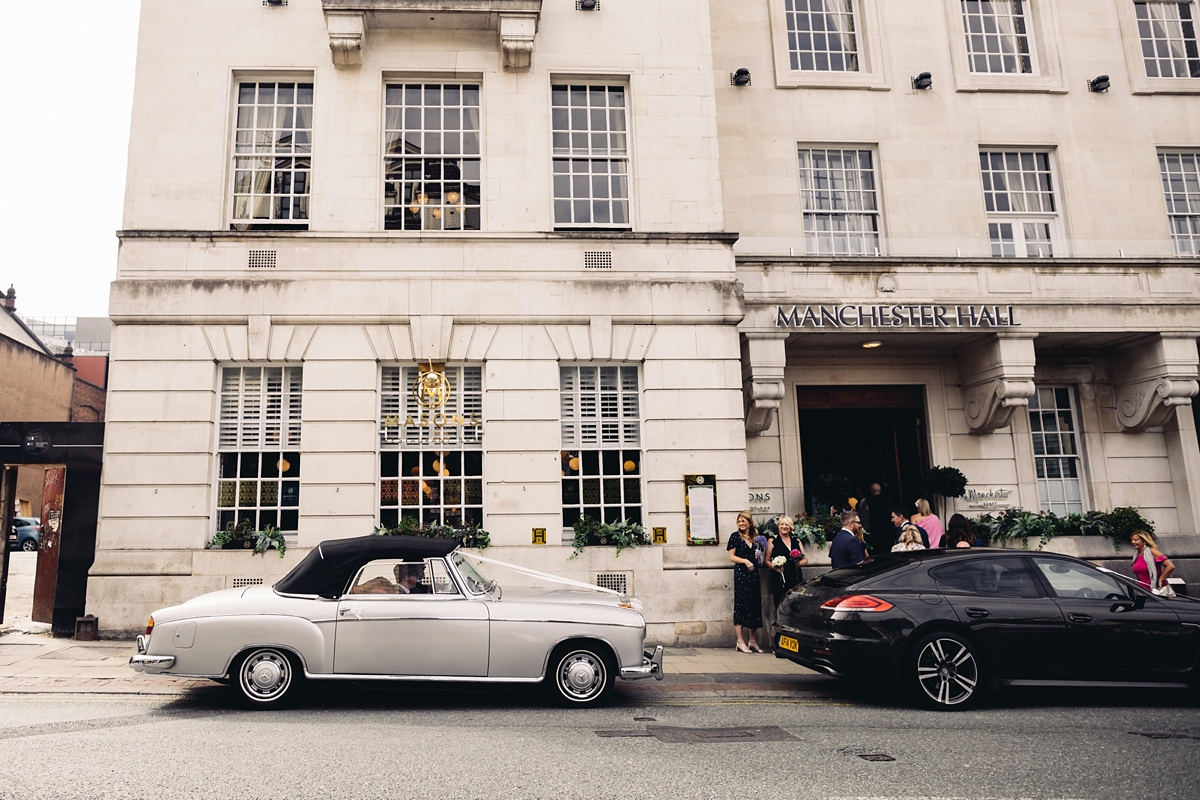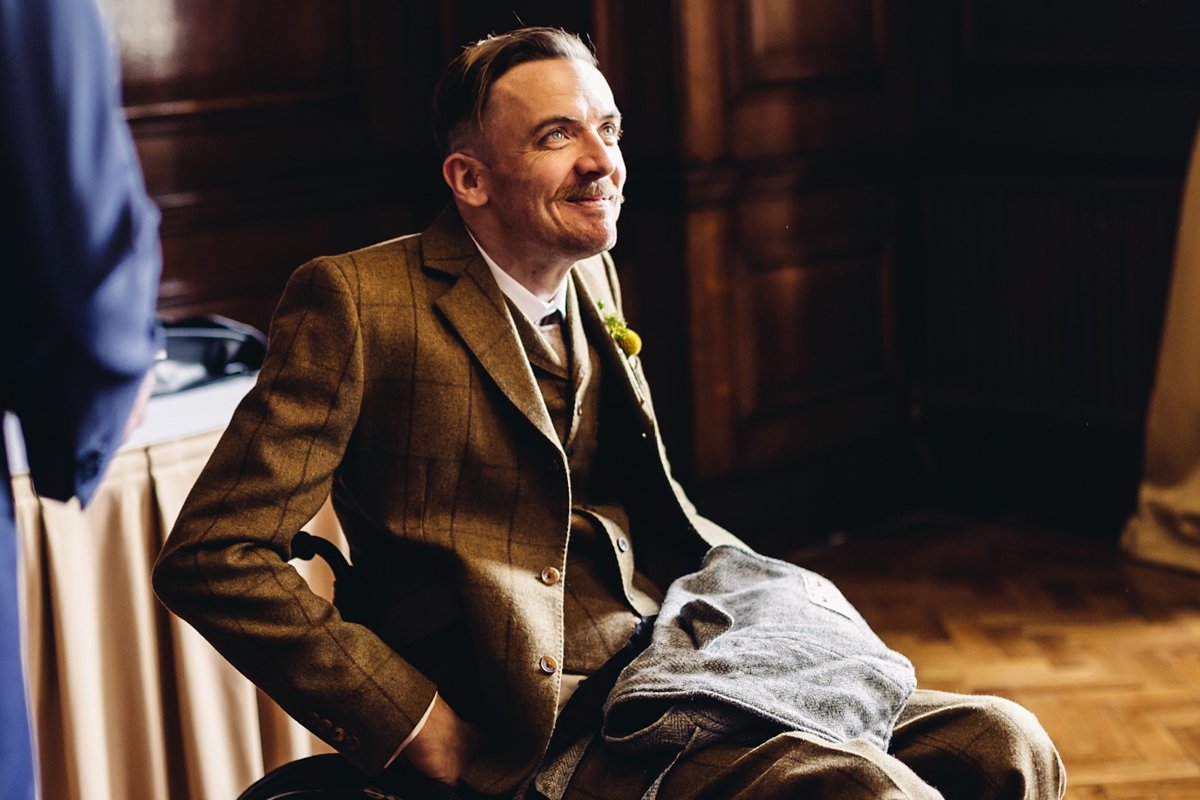 Jamie wore a smart and stylish three-piece suit in a warm brown tweed from Tweed Addict.
"Jamie accessorised with a walker boot supplied by the NHS…He broke his leg 5 weeks prior to the wedding!"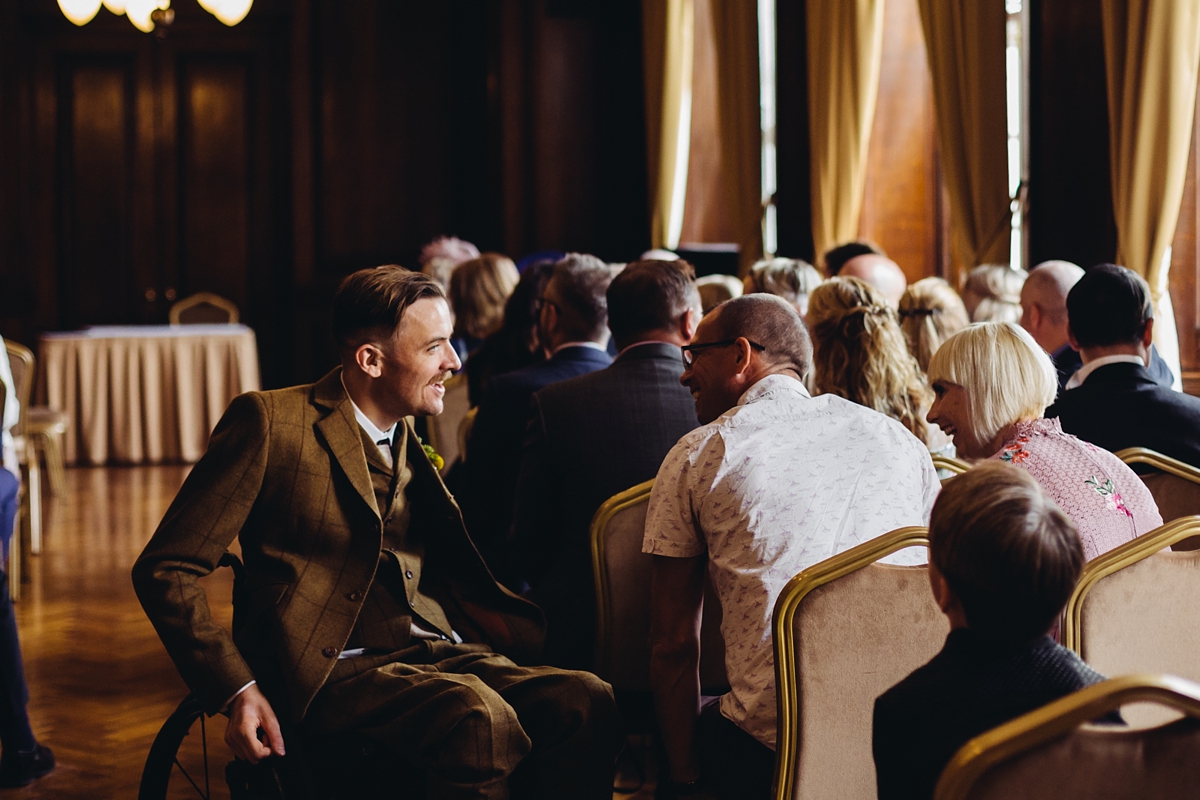 How incredibly sweet to the flowergirls look in their bright yellow 1970s inspired floral dresses from Little Bird by Jools Oliver, at Mothercare?
Together with the colourful hair bows and tiny posies of craspedia heads, just perfection!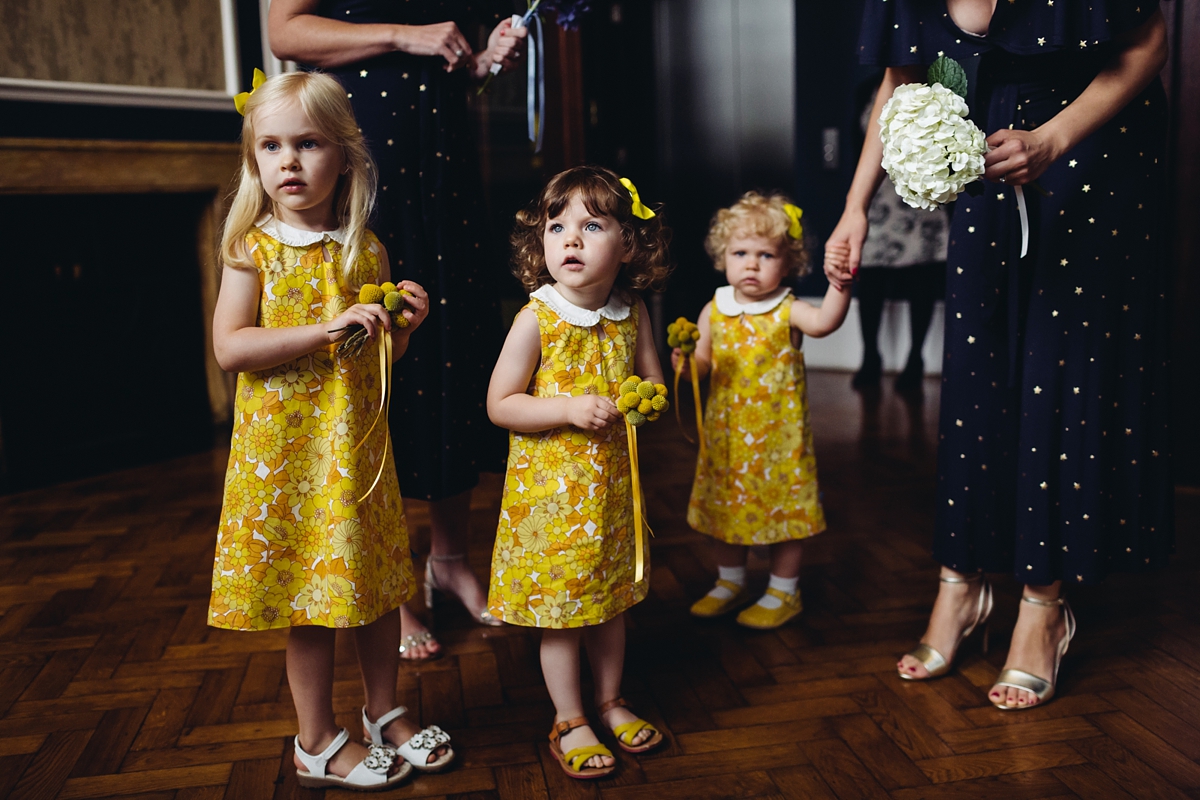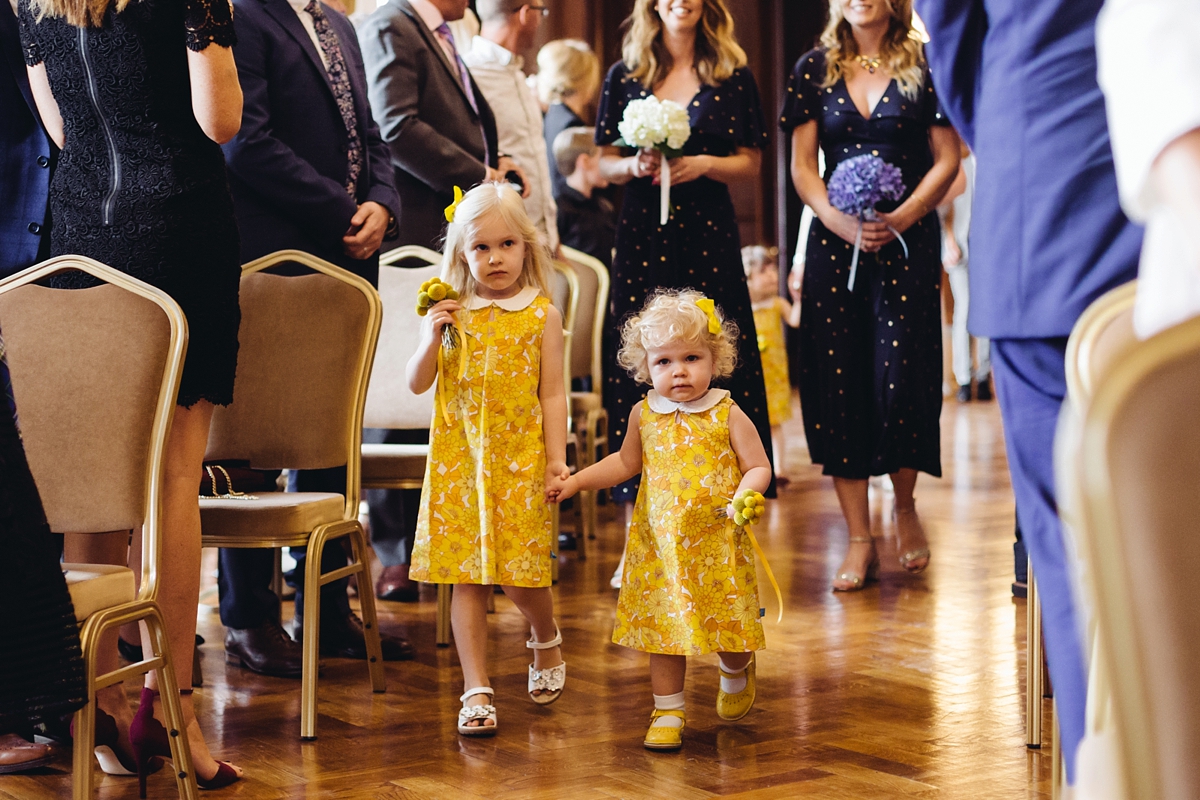 The bridesmaids wore navy blue star print jumpsuits from Rock The Jumpsuit, and together with Anne carried posies of gorgeous hydrangea blooms from Northern Flower.
"I always knew I wanted hydrangeas. I just loved the colours and Billy Button heads (AKA craspedia) went perfectly with flower girl dresses!"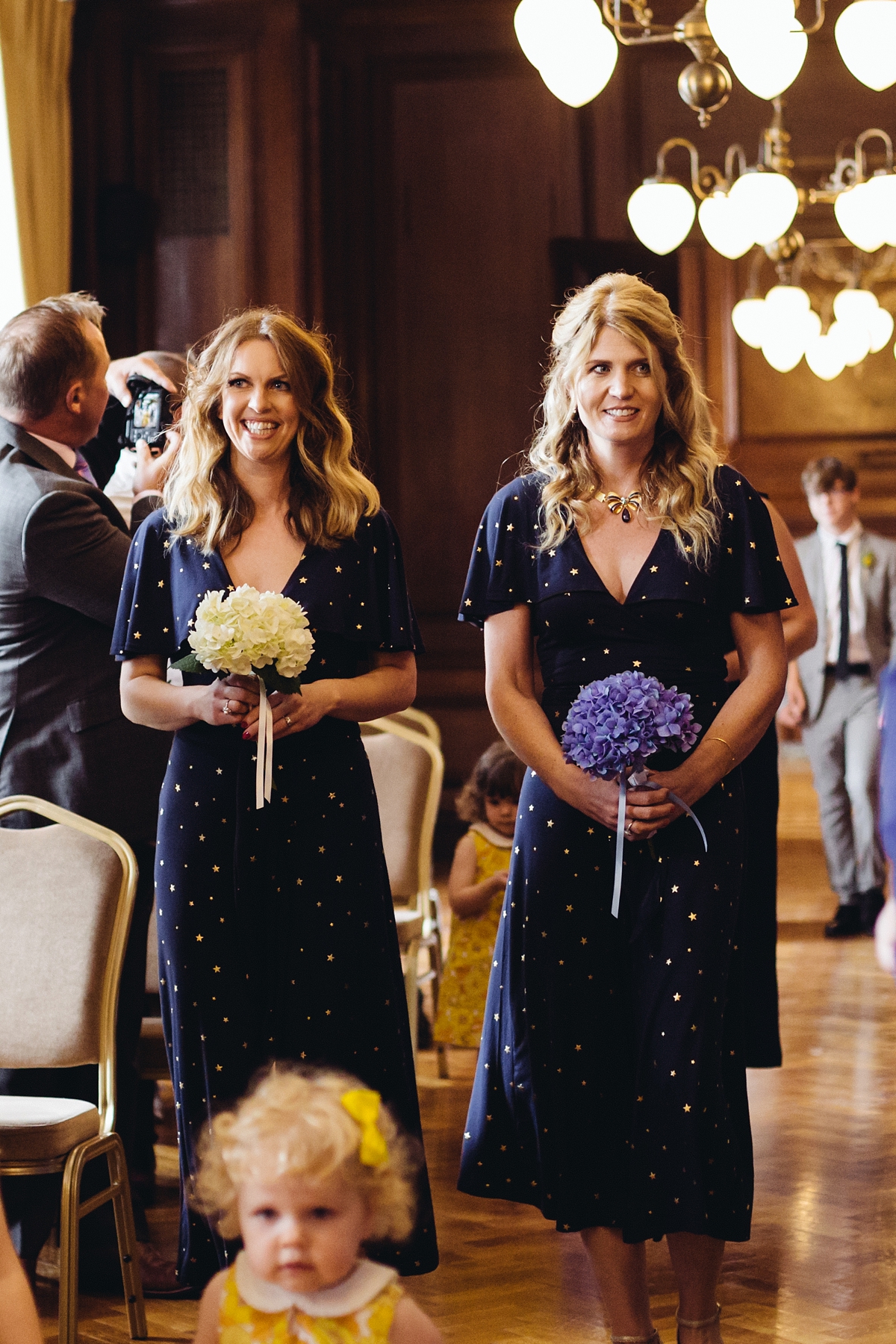 Anne was accompanied down the aisle by her two sons Patrick (16) and James (14). Anne chose Paul Smith of Maximo Park's version of Northern Sky for this emotional moment, as a Maximo Park album had been the first music she and Jamie had listened to together as a couple.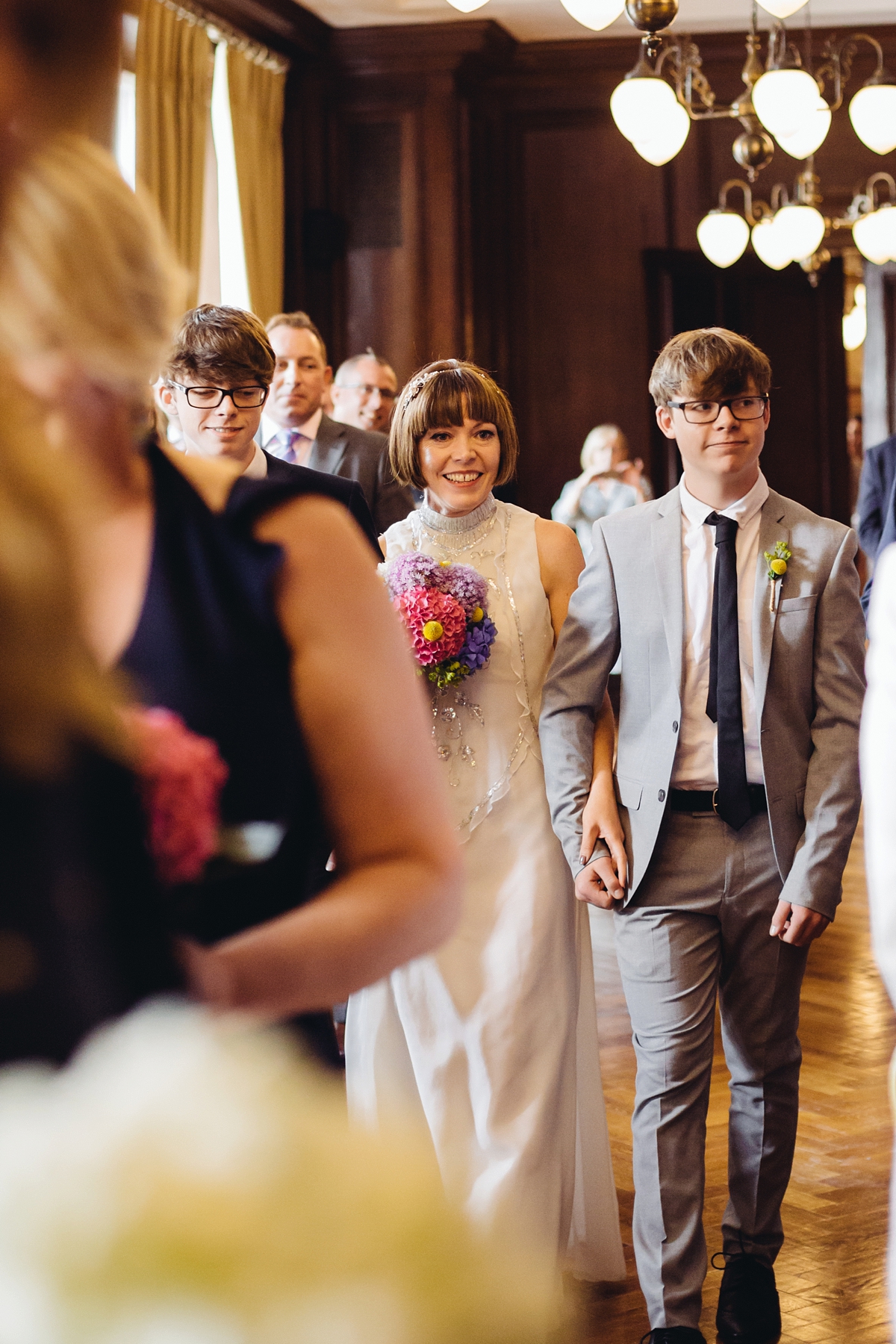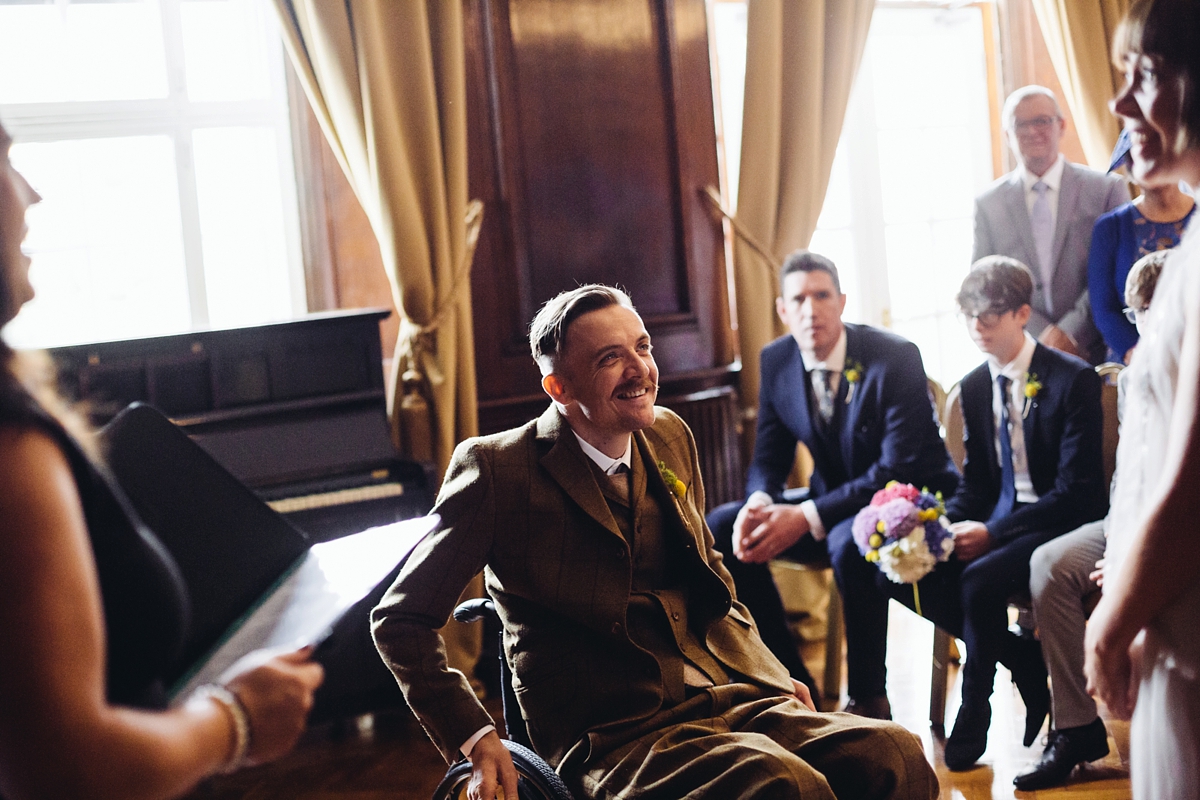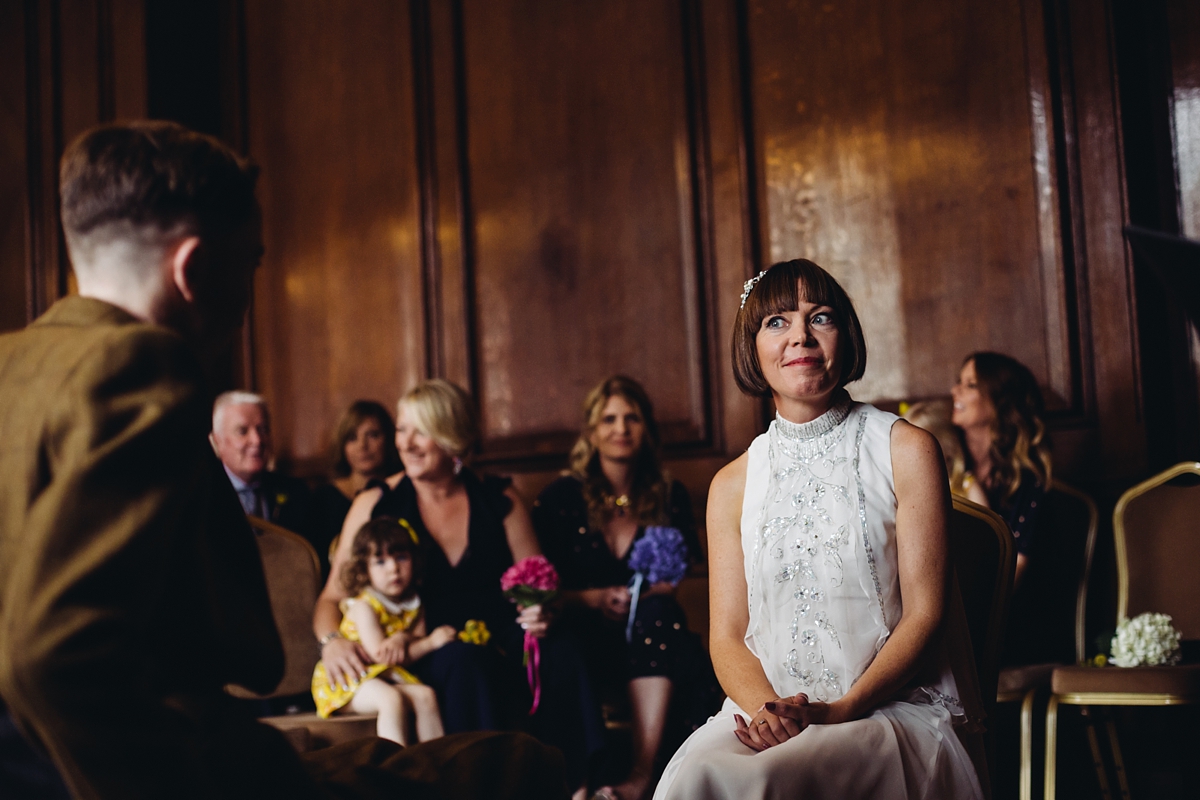 The couple kept their vows to one another simple, and exchanged rings, too. Anne found hers at Stockport Vintage Fair and Jamie chose to wear his dad's engagement ring, engraved with the date of his parents' engagement (how lovely!).
It's brilliant to read that Anne and Jamie discovered their wedding ceremony reading on these very blog pages, and they chose the fantastic and funny I Wanna Be Yours by John Cooper Clarke.
"The ceremony was probably our favourite part, even though we did think beforehand that this was just the formal part and then the fun happened! It was a beautiful venue and seeing all our friends and family in once place, it was pretty overwhelming. Our registrar was really friendly and made it feel special for us, the music…the readings, it all was just pretty magical."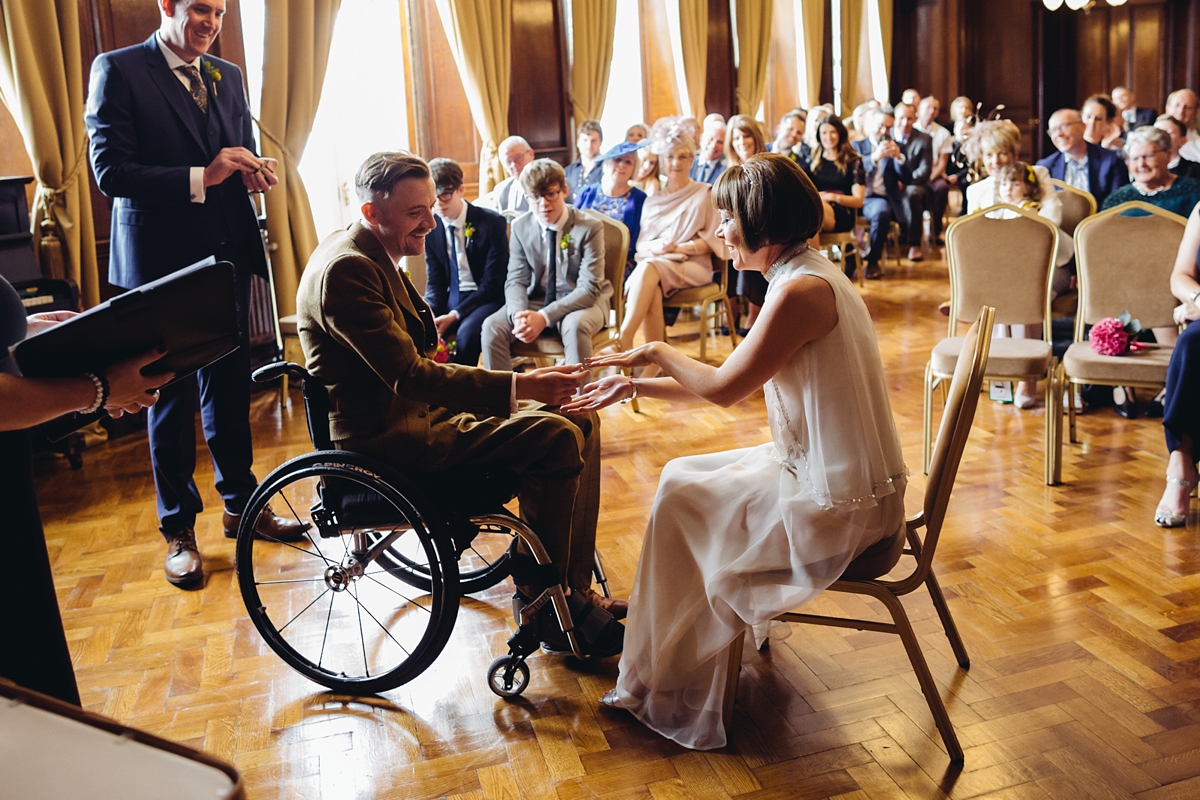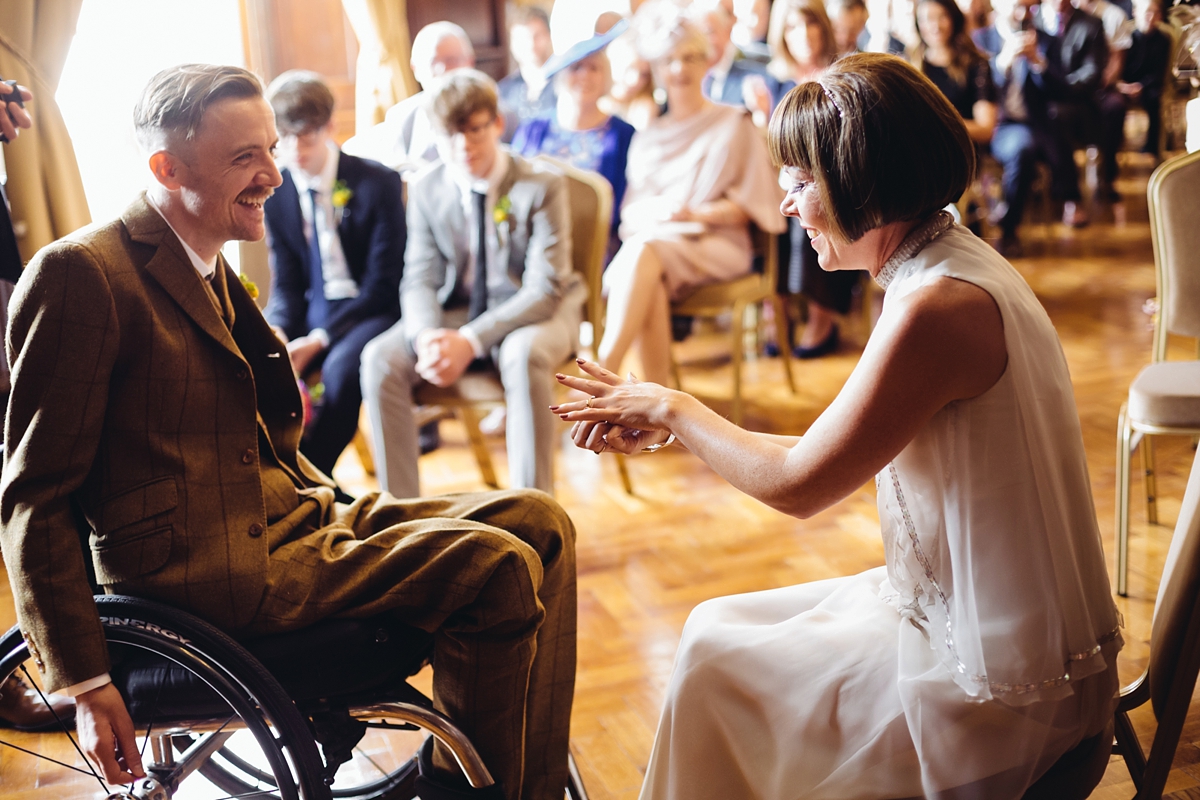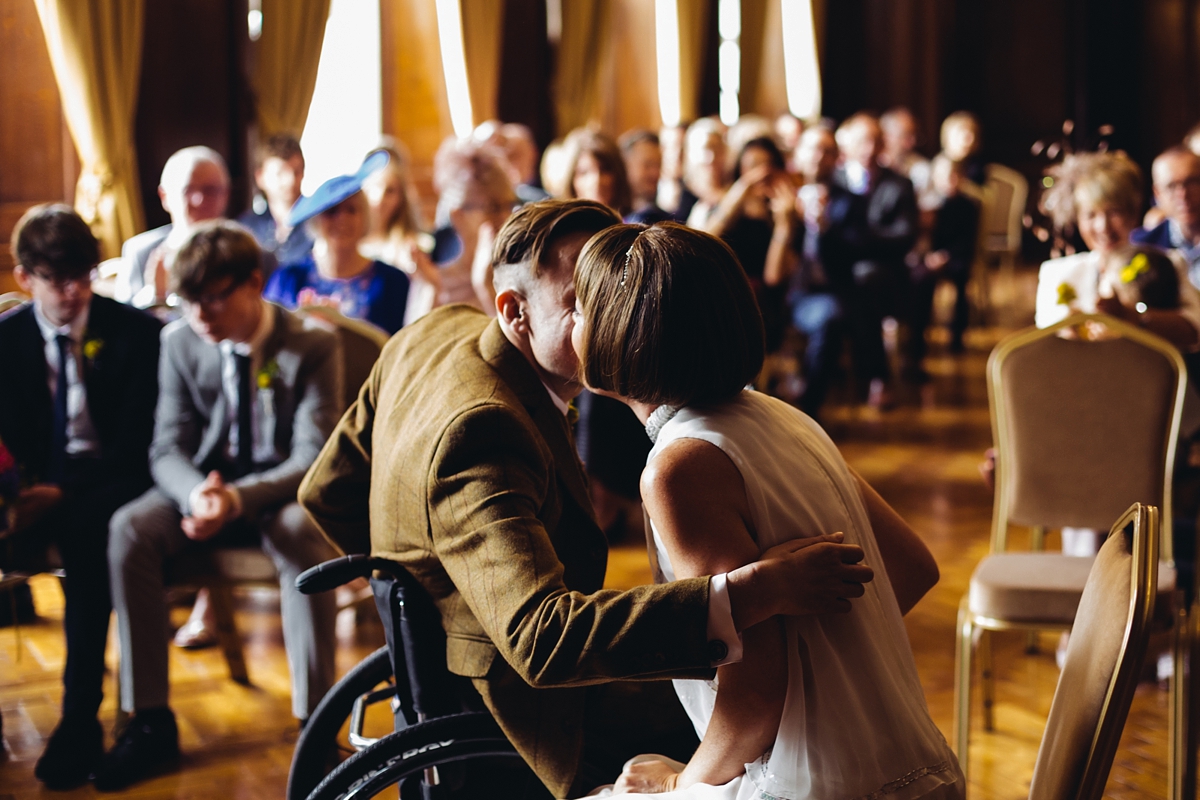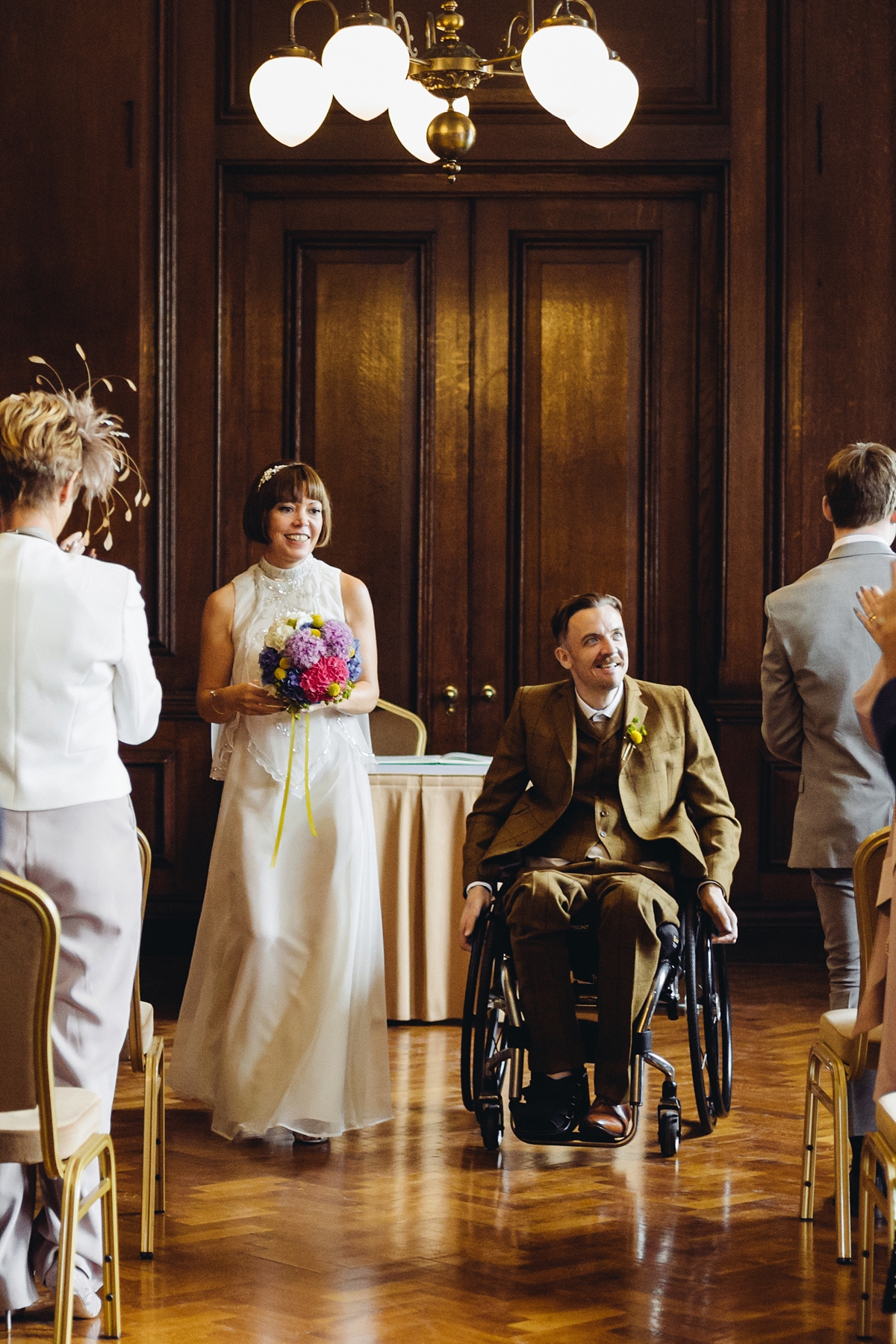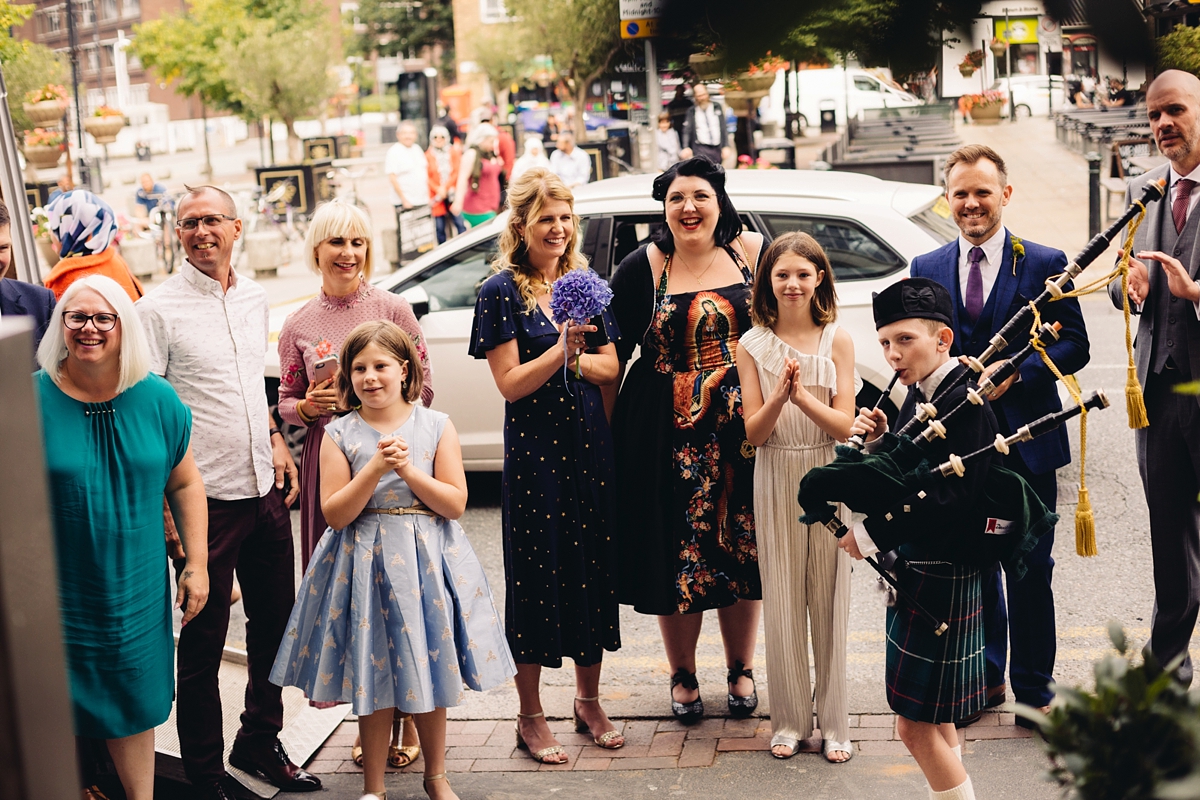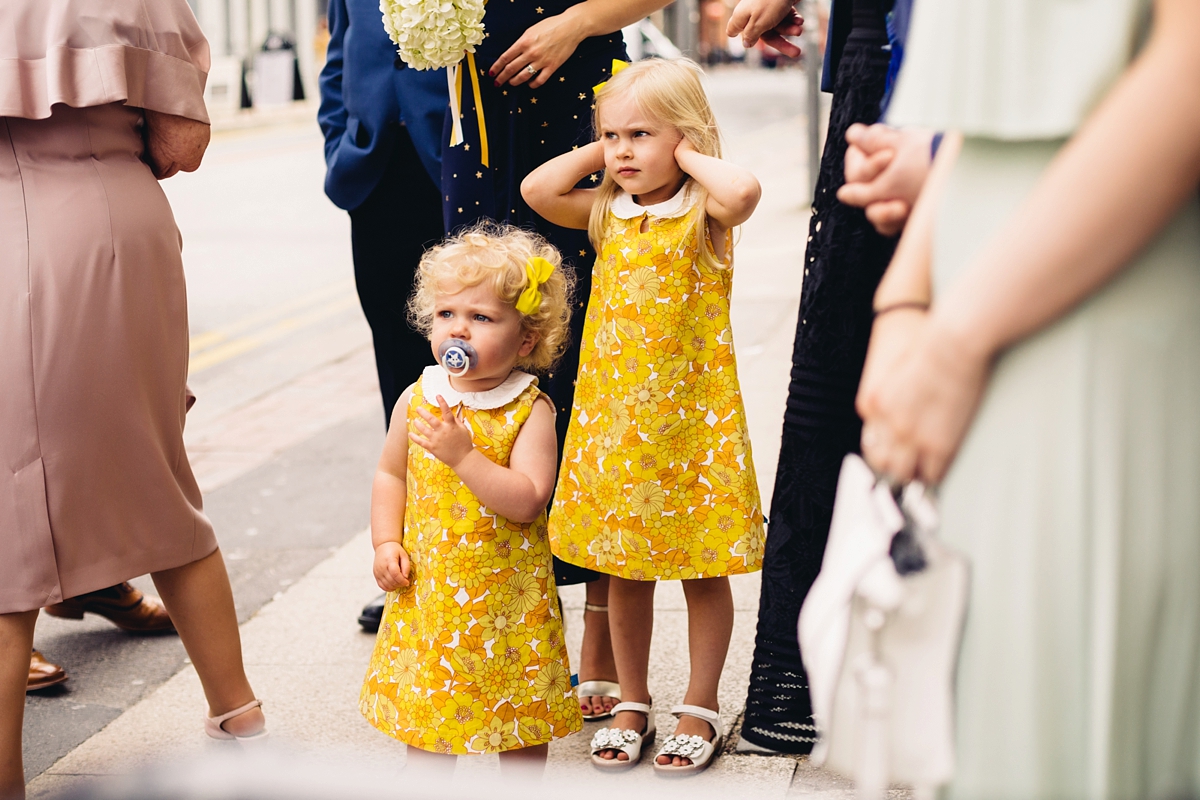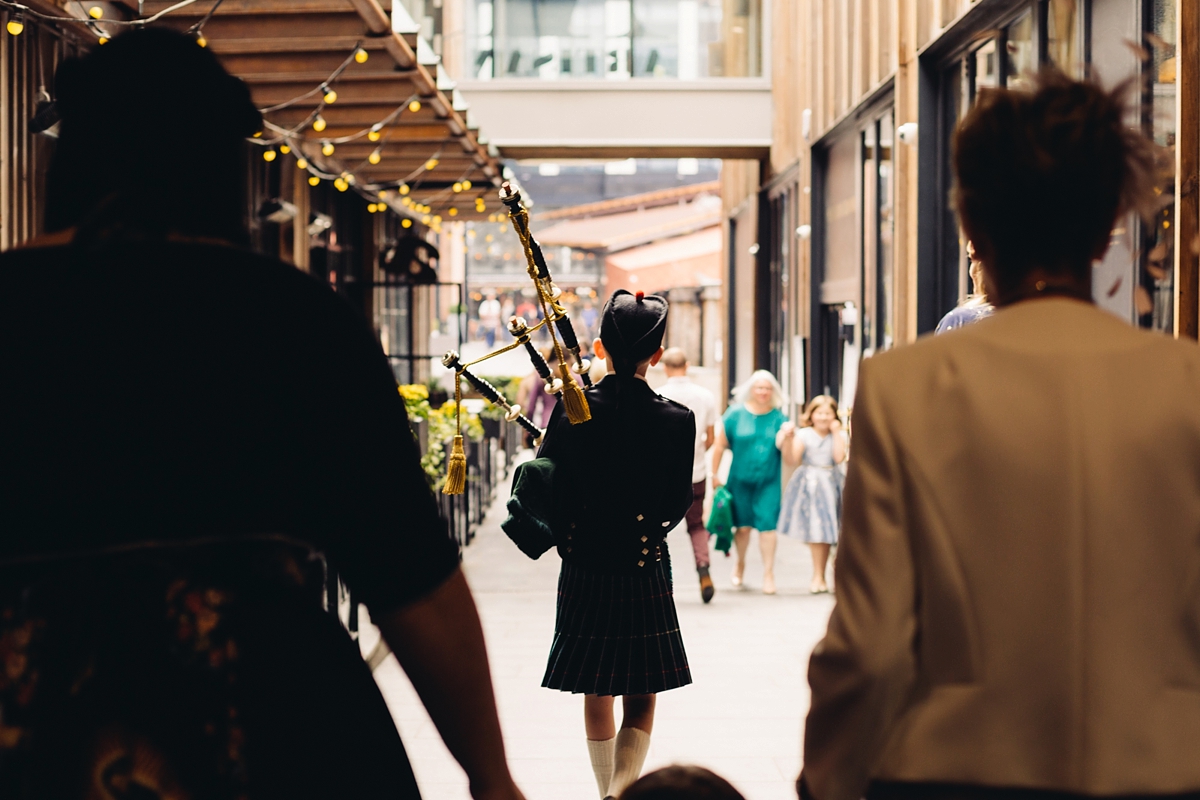 After the ceremony, Jamie and Anne were met outside by a piper (no details supplied), who serenaded everyone as they made their way to nearby Artisan for a drinks reception.
"A vintage bus from The Yorkshire Heritage Bus Company took us from the ceremony/drinks to the reception. It was really good fun to have everyone on the bus!"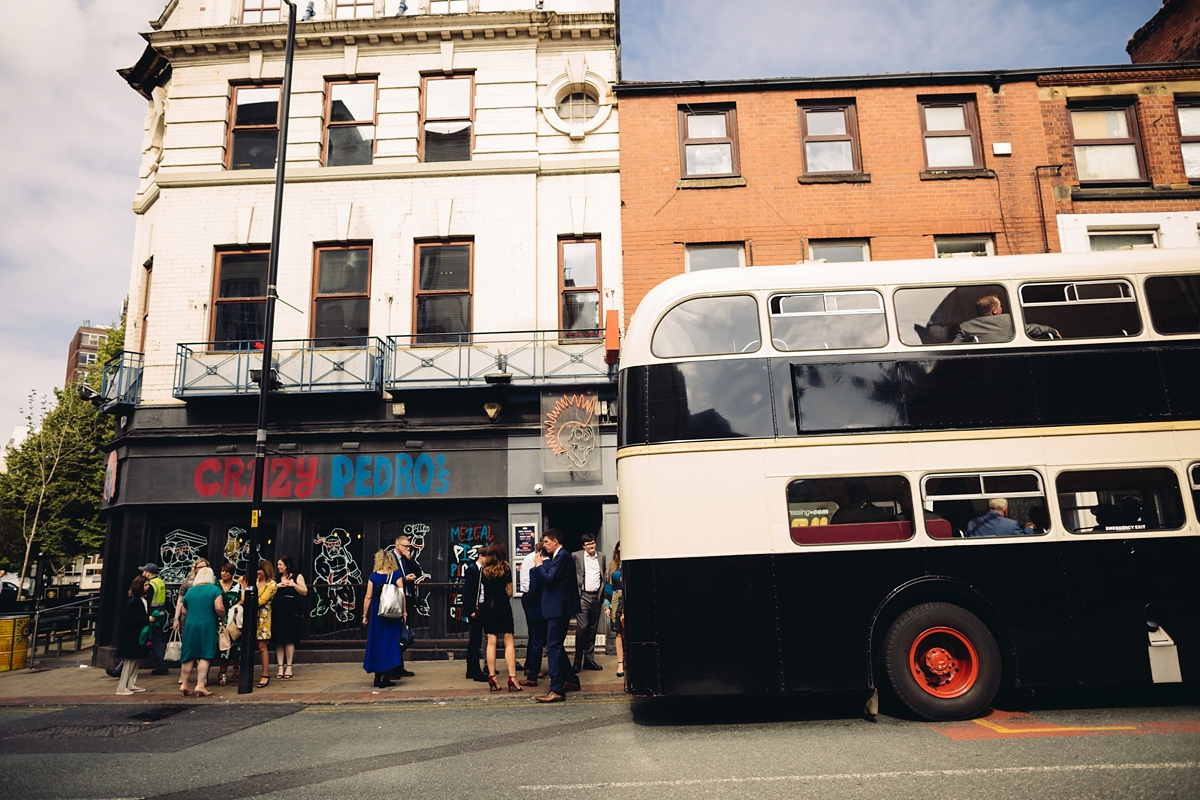 This jubilant, colourful collection of images comes to us courtesy of Lucy Sugden-Smith of Lucy Little Photography, and Anne and Jamie could not have been happier with the results, too.
"After we confirmed the registrar date, Lucy was the next person for us to confirm they could do it. Lucy had shot a family member's wedding and taken photos of our little girl after she was born. She has an intimate, engaging style and every single person who saw our photos said she captured the feel of the day perfectly."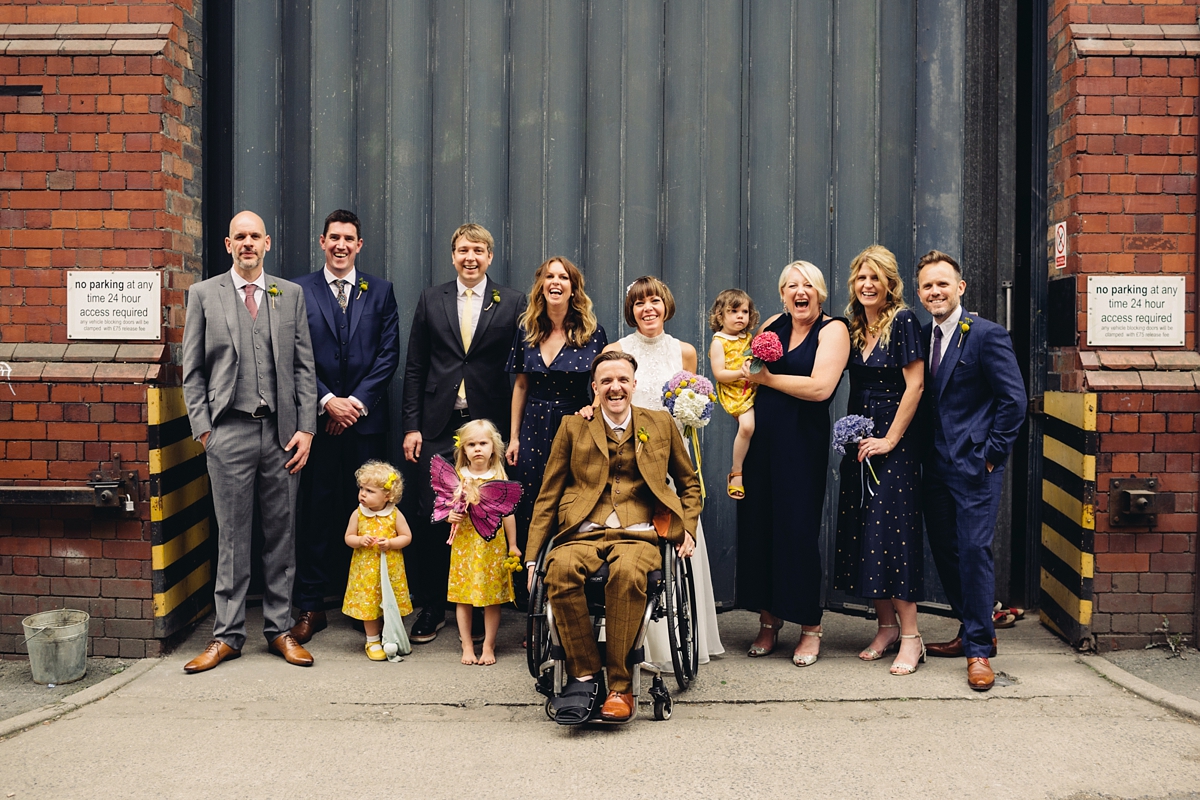 "I can honestly say we didn't notice Lucy on the day, she has this amazing skill of immersing herself in the day and capturing the key moments. Plus the fact she is one of the loveliest folk you'll ever meet! Feels like we are back there every time we look at our photos."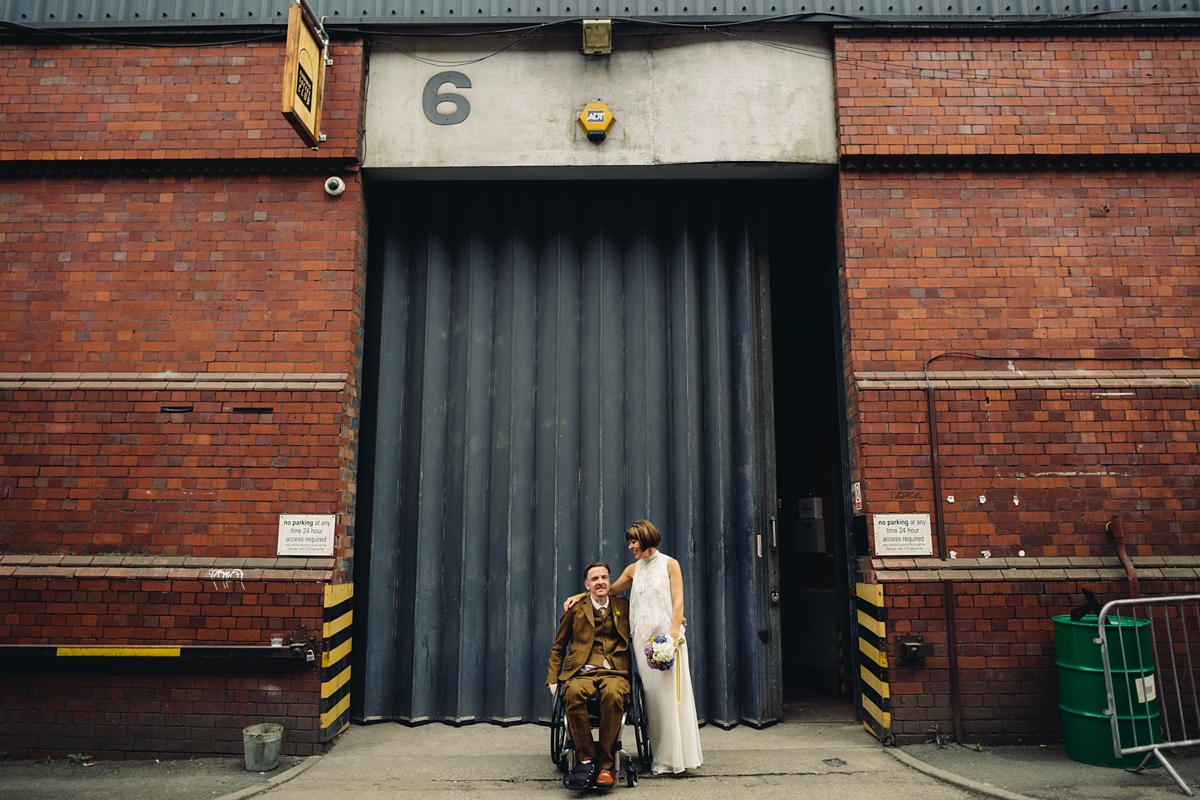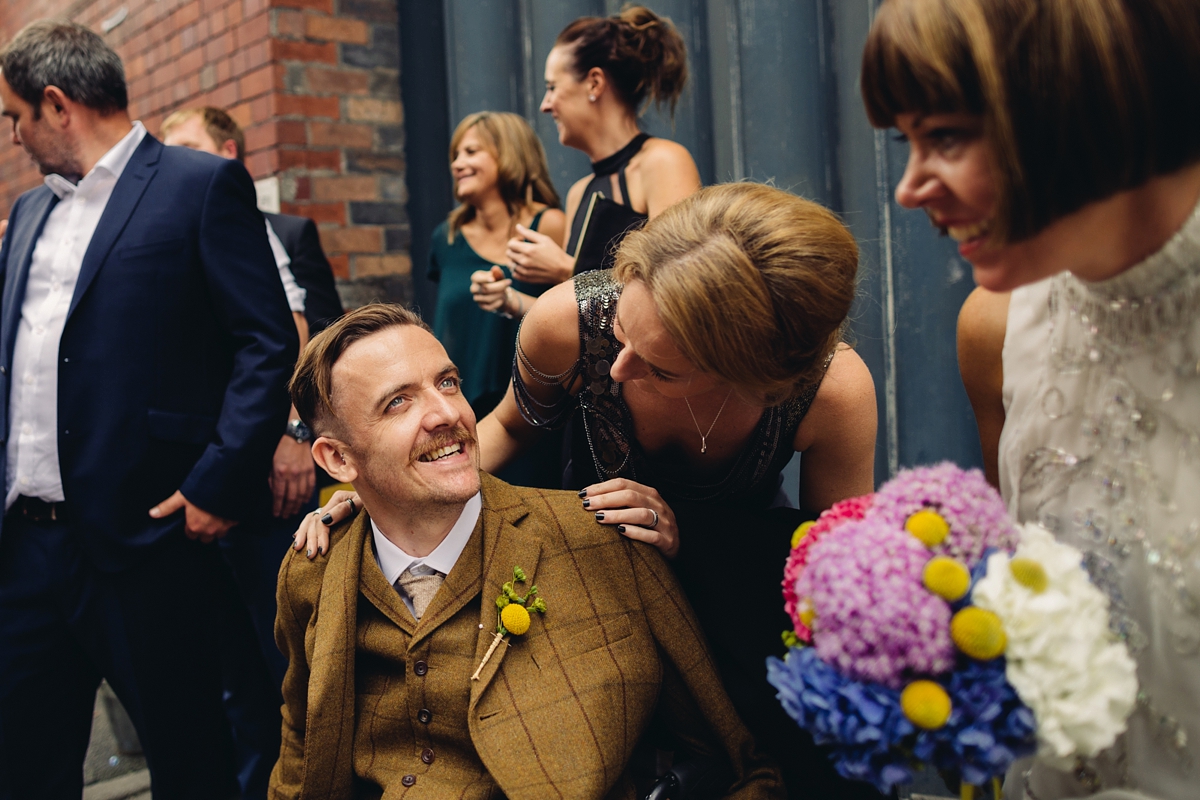 The reception venue was Fairfield Social Club, a disused and re-purposed railway arch tucked down a Manchester side street (the fantastically named Temperance Street).
"We just wanted it to be really relaxed and informal. Food and music are really important to us, so choosing a venue where we could bring in our own caterers was key. Fortunately Fairfield Social Club is renowned for its street food events and we actually met our caterer at one of these. Likewise somewhere that could host a couple of bands, DJ etc made FSC perfect, along with its immense beer list! Lots of room for little ones to run around too."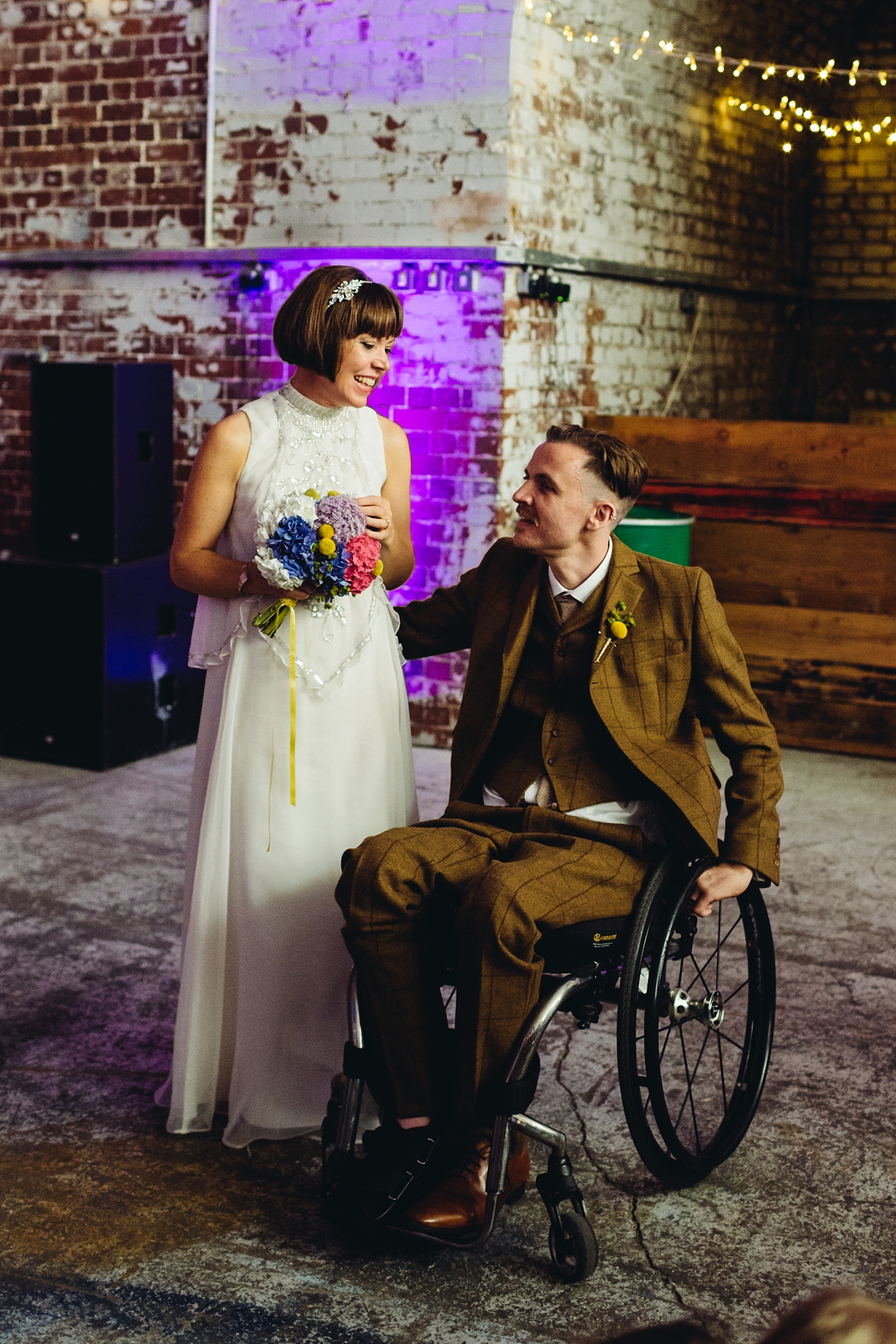 The soaring space was decorated with festoon lights, and Anne and Jamie added more up-lighters for extra atmosphere in the evening. The long banqueting tables were dotted with beer and gin bottles filled with flower stems, with bright hydrangea flowers from Marks & Spencer adorning the top table.
"Jamie's friend, Jon, designed our email invites (keeping costs down) and the table plan. We sent him a photo of the flower girl dresses and he based these on the flower pattern in the dress!"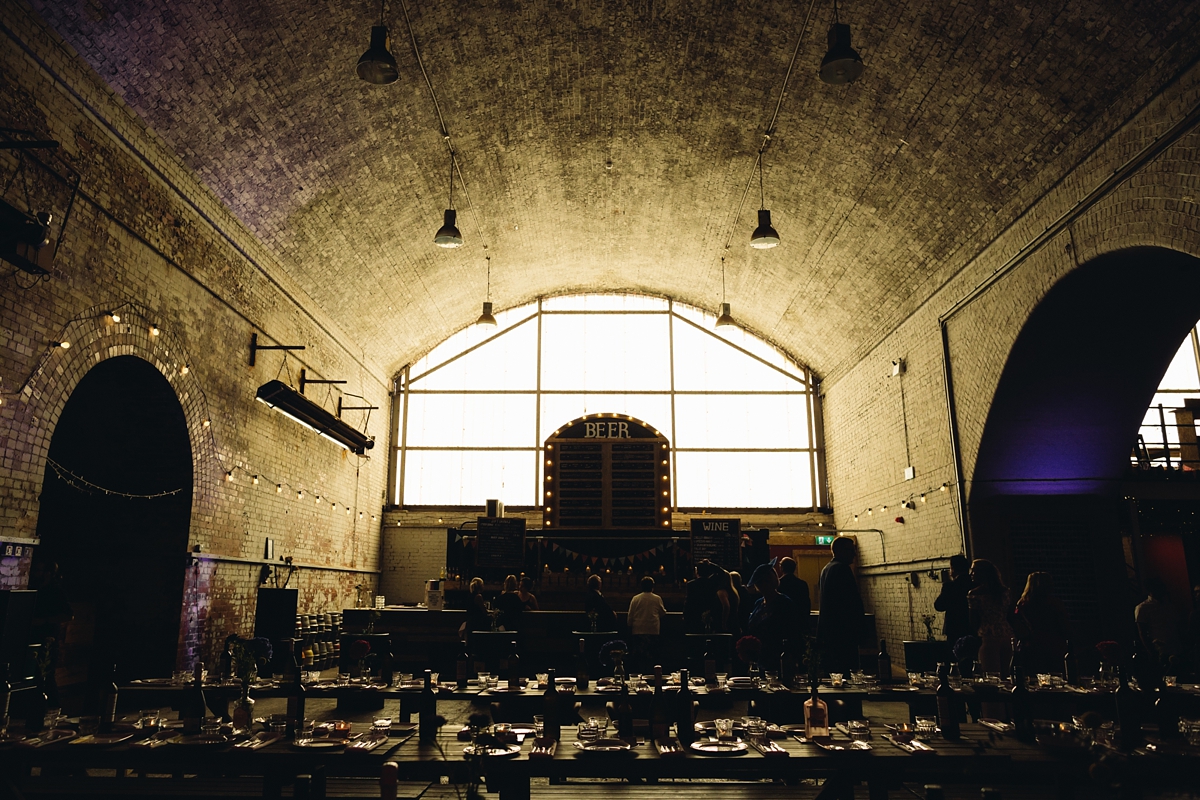 There were lots of candles, too, and in one corner, a children's area with toys, games, arts and crafts to keep them occupied and entertained.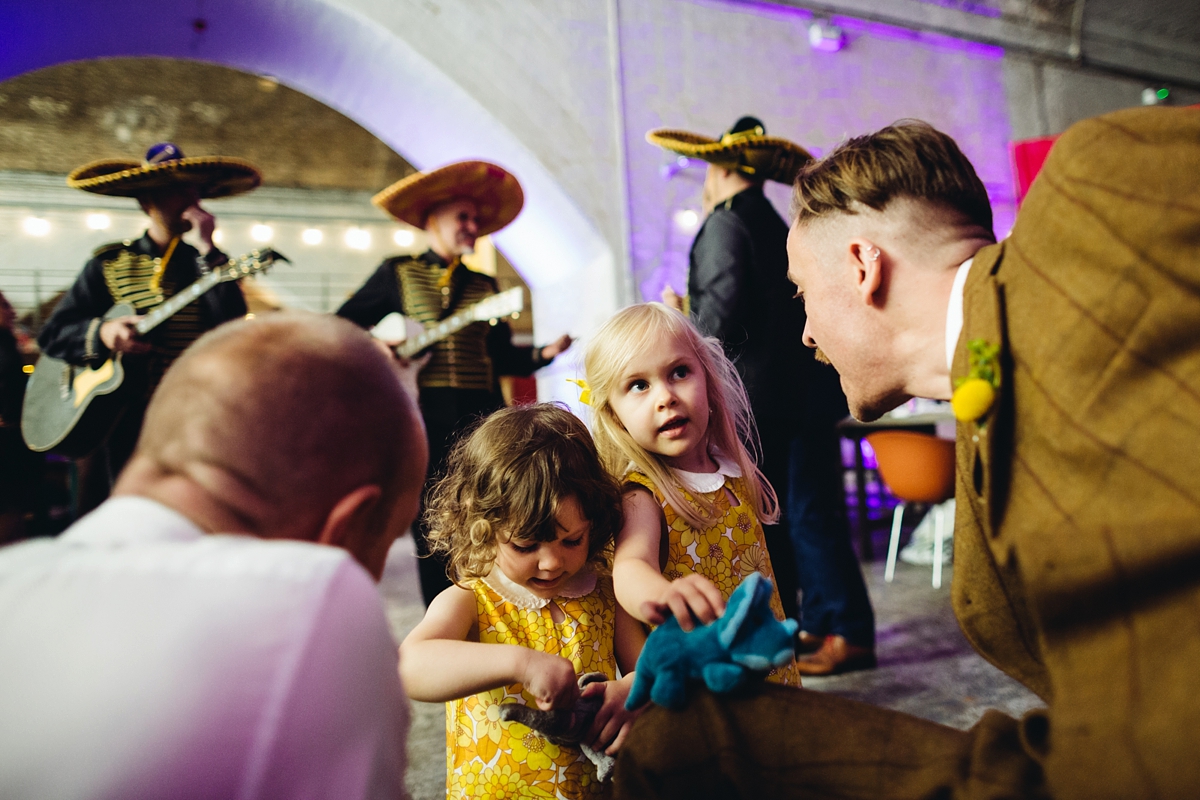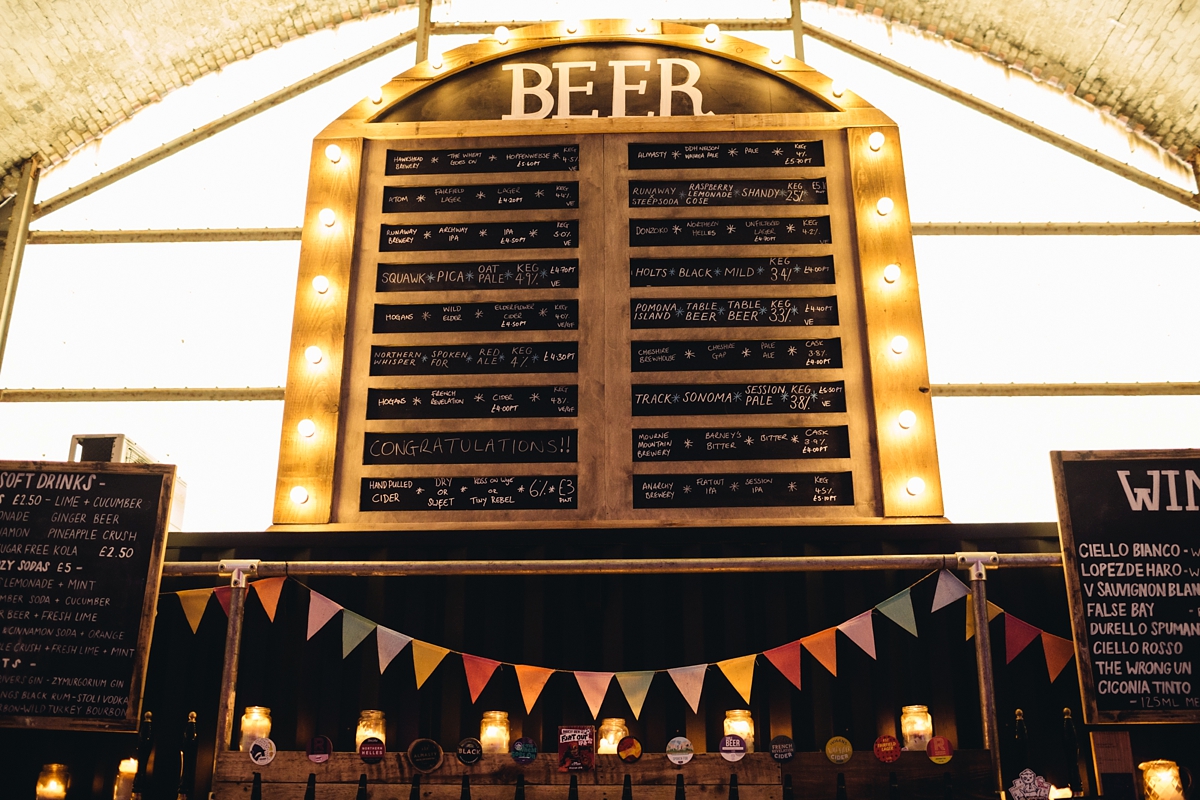 Jamie and Anne's daughter was also a huge fan of Mariachi band the Beat Banditos, who played during drinks upon arrival at the social club.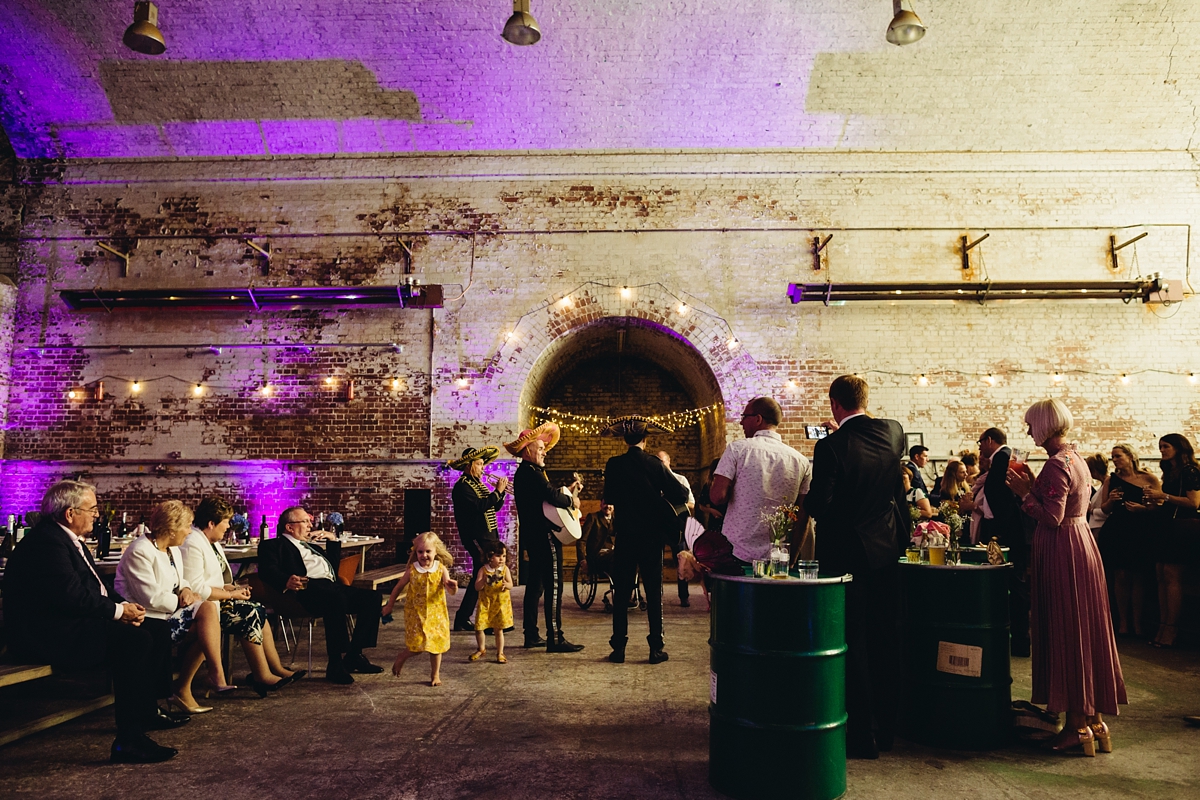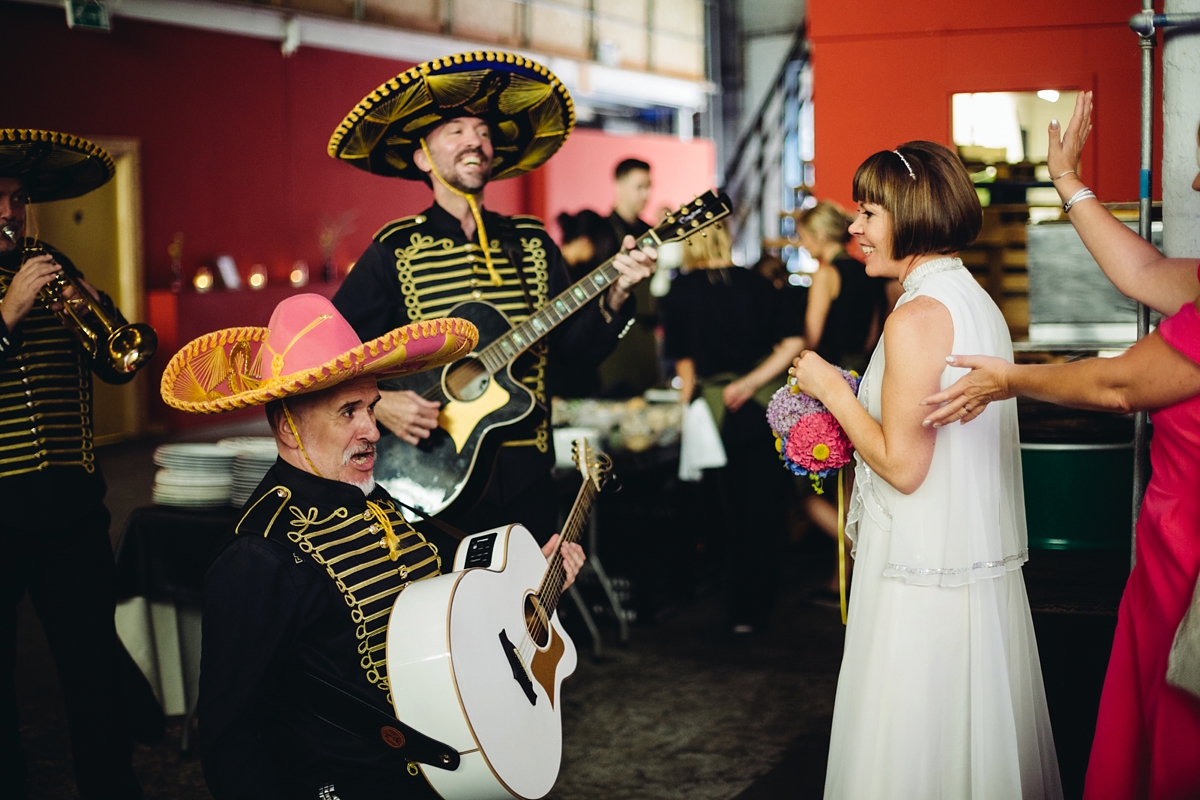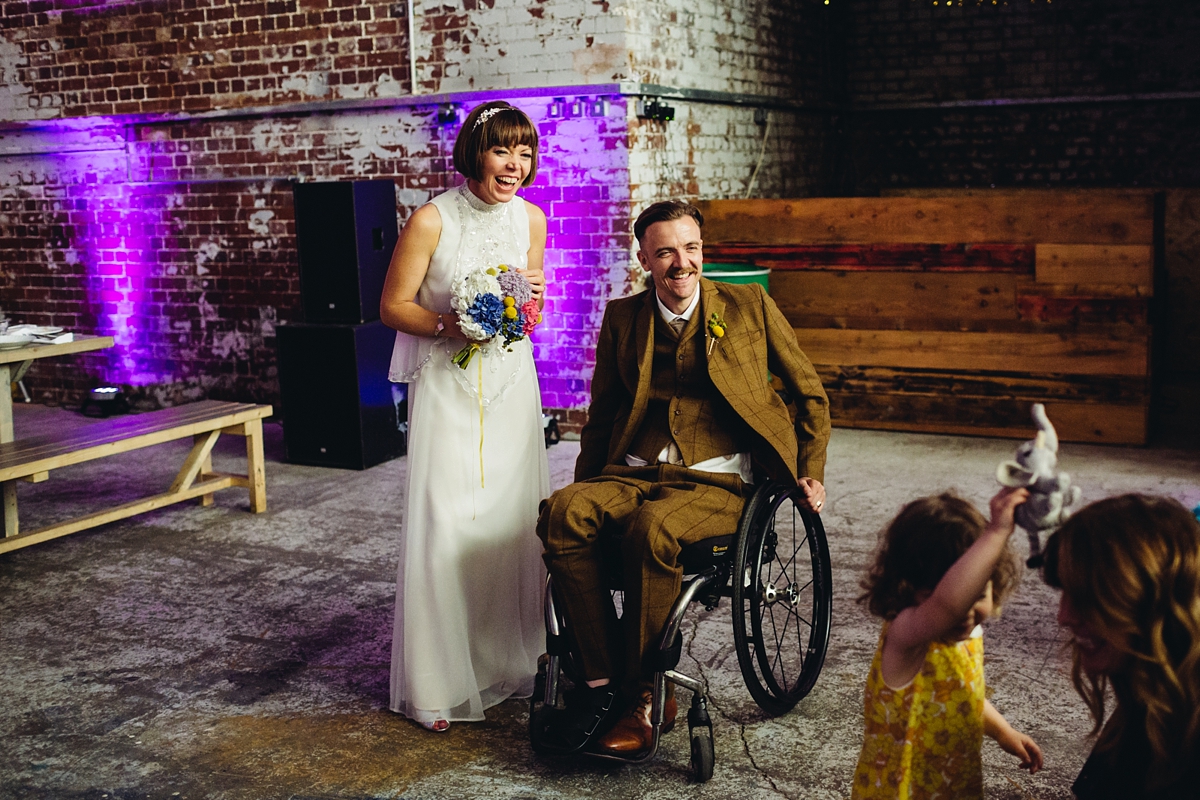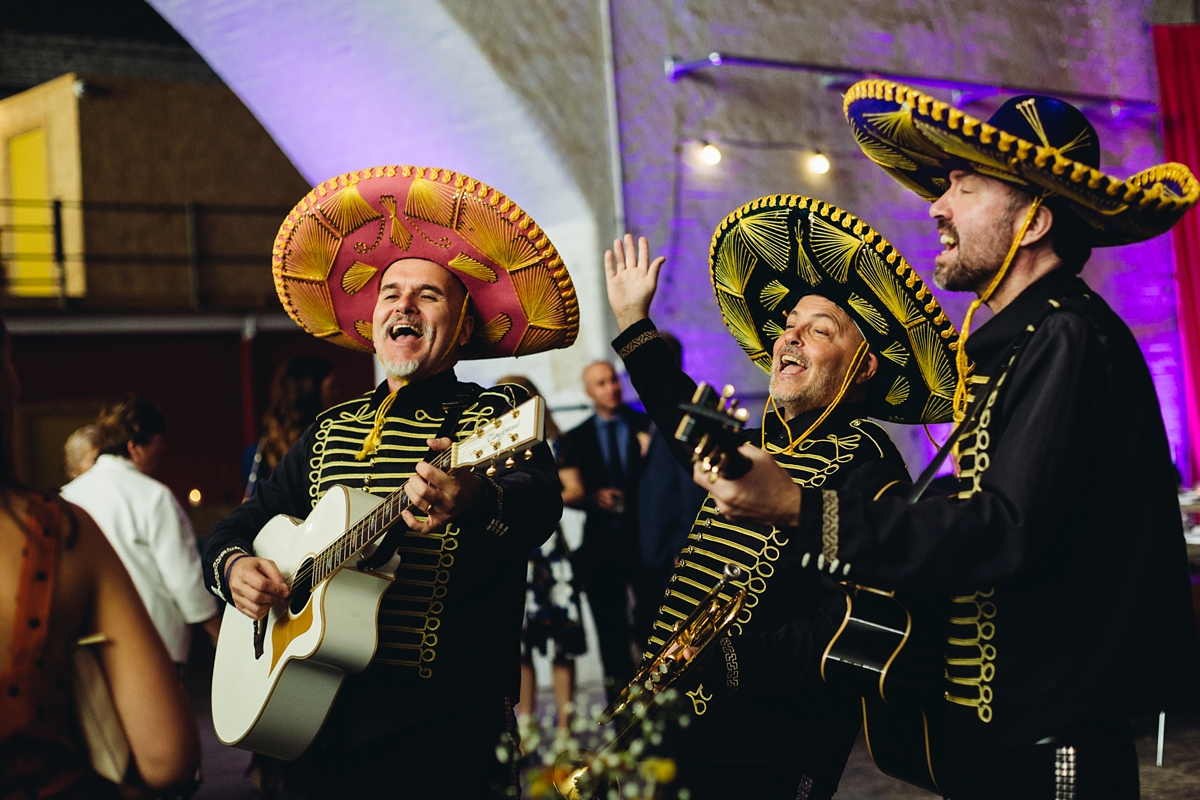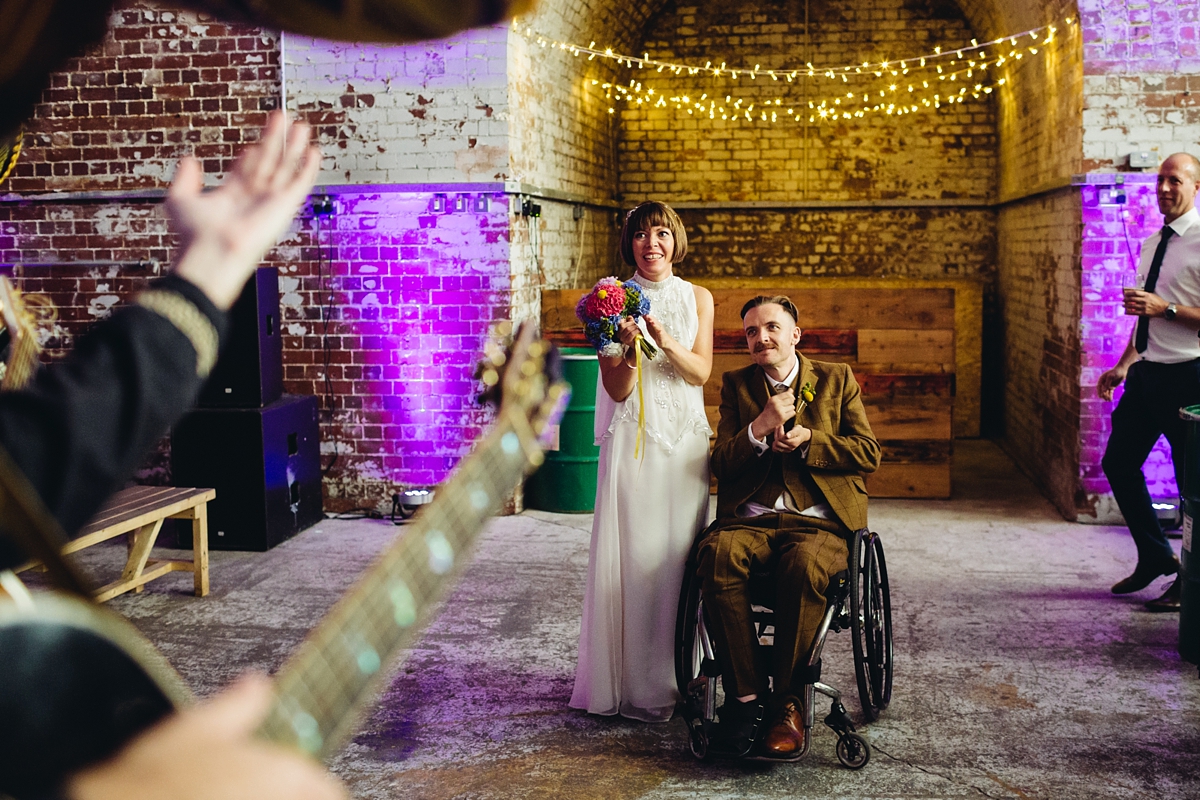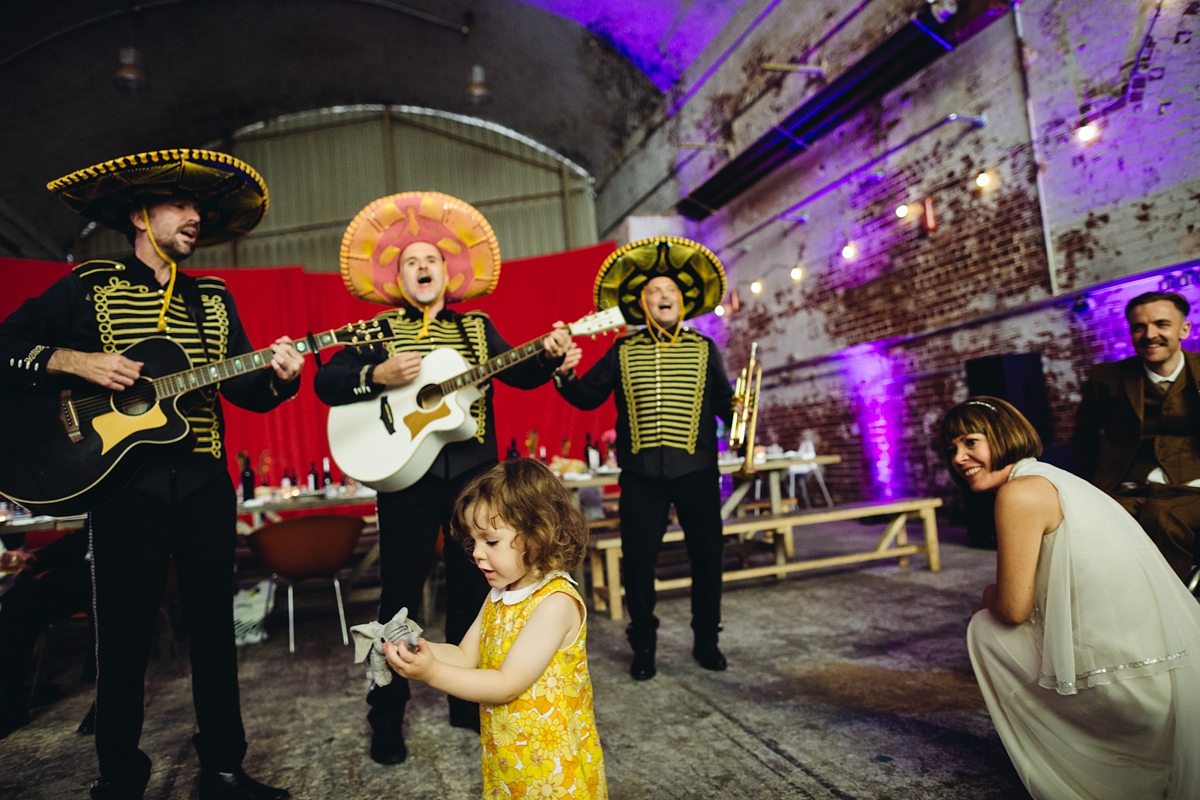 The Otto-Men created a spectacular Middle Eastern and Mediterranean inspired feast for everyone to enjoy.
"James and Nick are just so passionate about their food and it was totally delicious. They did our canapes, a sit down banquet and evening wraps. Great for vegetarian and vegan choices too! Highly recommend."
Instead of a traditional wedding cake, Anne and Jamie instead chose a delicious selection of pastries and eclairs from Vanessa at ChouxChoux, who they first met at a street food fair held at the reception venue.
"Our brother-in-law, Chris, did all the music at the ceremony, drinks and during the meal with the most awesome Spotify playlist."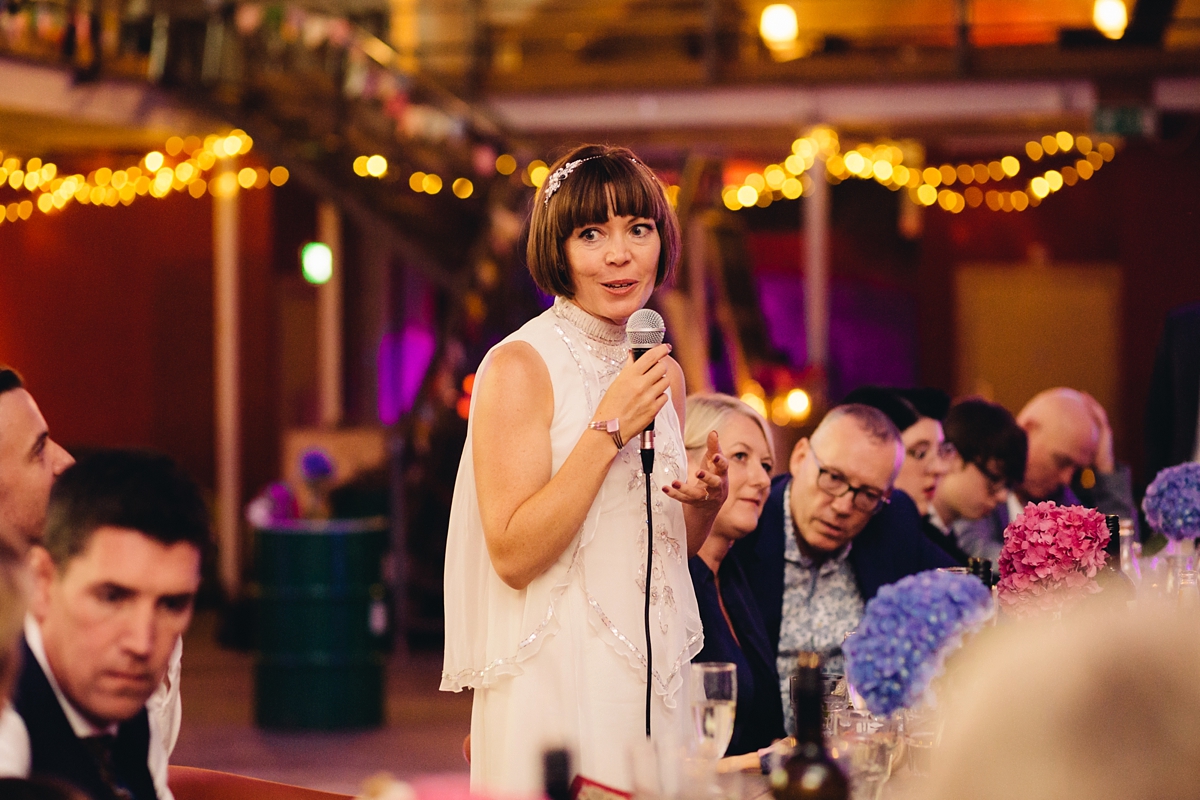 In the evening, Anne changed into another fabulous gown (sadly no details on this), and it was time for her and Jamie to enjoy their first dance together. They chose My Lady's On Fire by Ty Segall.
"We had been to Levitation Festival in Austin, Texas earlier in 2018 and saw Ty Segall and fell in love with this song. It just felt right to have this, even though not many others knew it!"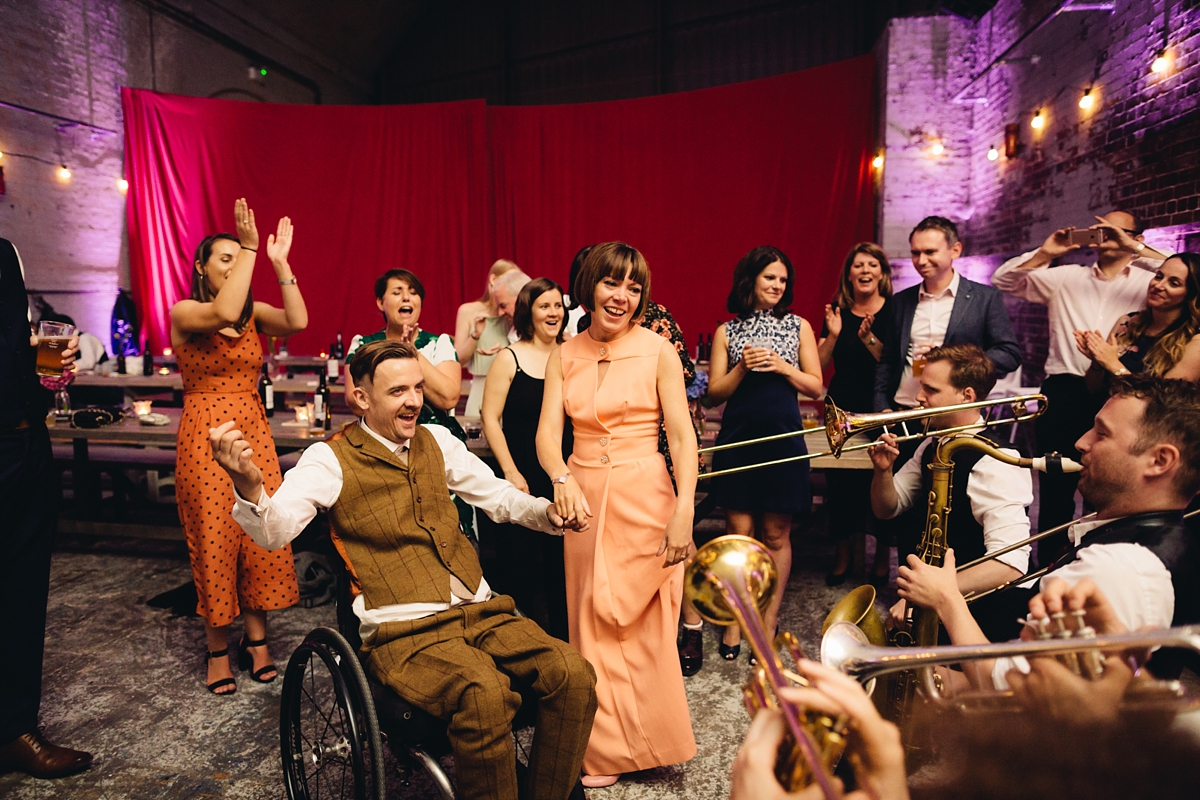 This was followed by live music from Back Chat Brass, who made a fantastic entrance, and later on, more music from a DJ friend.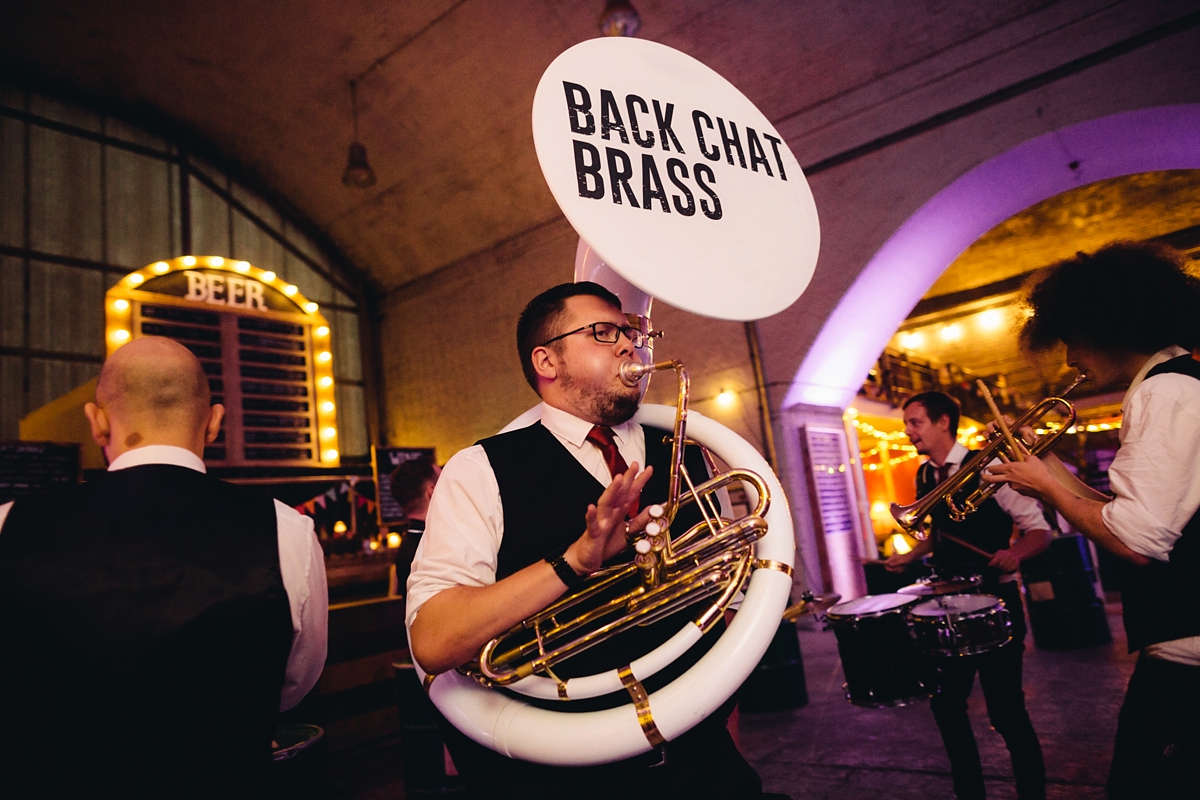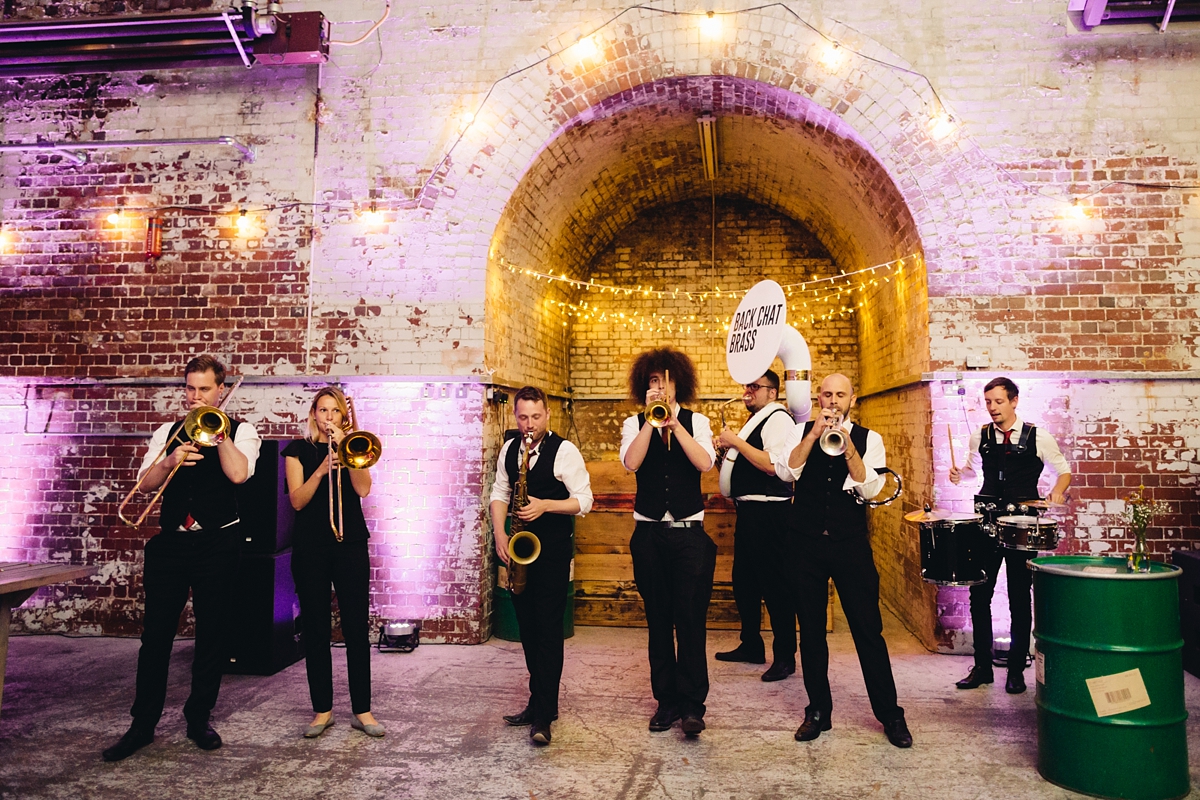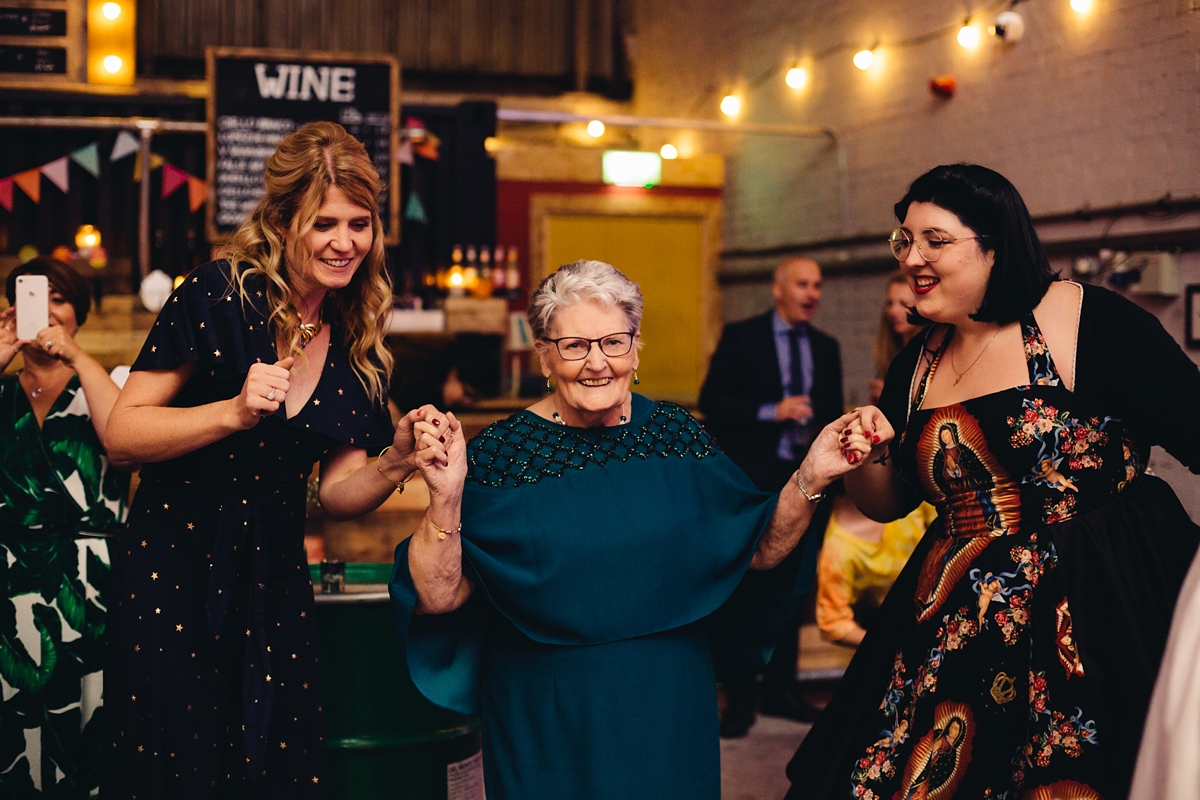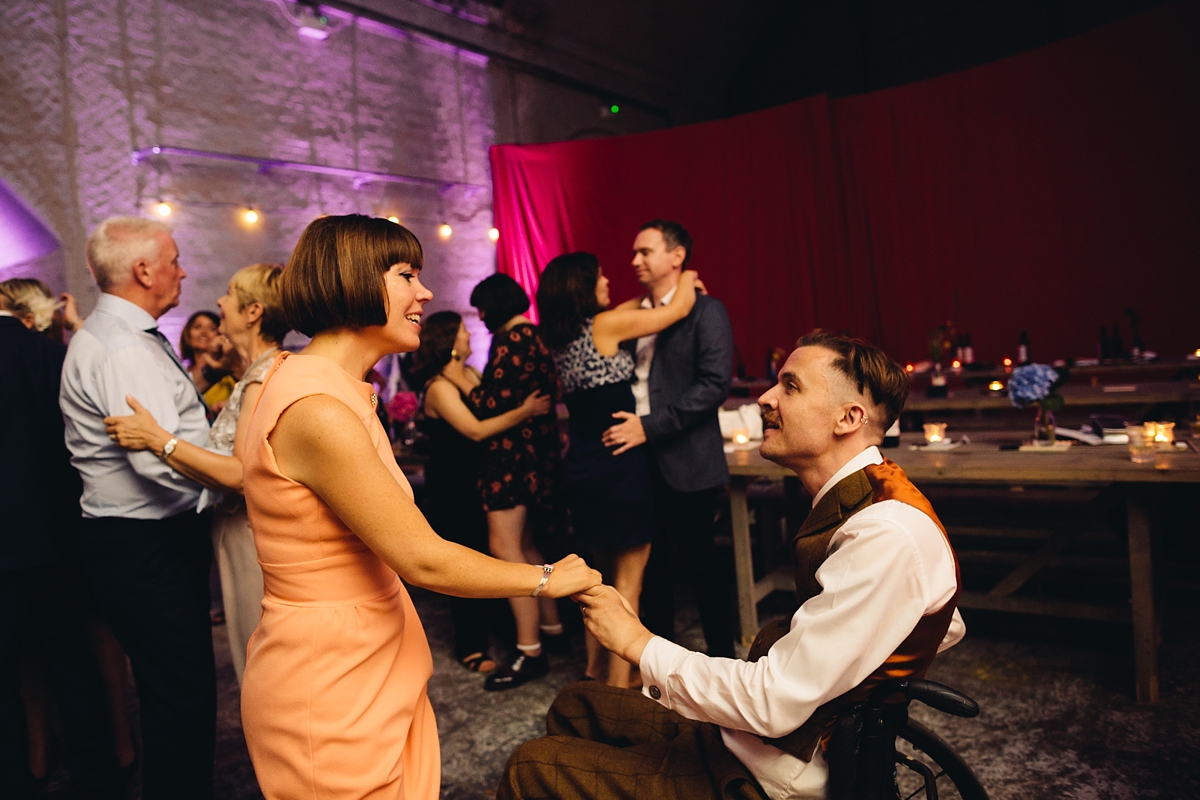 Words of Wedded Wisdom
"Focus on the things that are important to you…for us it was music and food, so they were the first things we sorted, and spent most time/money on. Everything else just fell into place."
"It's a cliché…but don't sweat the small stuff, no-one notices, no-one cares…folk just wanna celebrate with you. No one notices flowers, place cards, bunting….even though you think all of that is crucial in the lead up."
Anne and Jamie, many congratulations and thank you so, so much for giving us this peek into your vibrant vintage day. Thanks also go to Lucy Little Photography for these wonderful images. If you love the look of Anne's beautiful gown as much as me, and want to see more vintage treasures from Elizabeth Avey, do take a look here.
With love,
Laura