Sometimes something really special arrives in your inbox, and today's wedding is no exception. It's a dreamy swirl of era-inspired detail, an exquisitely-beaded gown and an iconic hotel in Liverpool's historic docklands. Have I captured your attention?
I'm personally even more excited as the bride is from my own home town of Cleethorpes. The bride and groom are doctors Sophie and Eoin, who married on 28 April 2018 at St Anthony's Church, Liverpool with a reception afterwards at the city's Titanic Hotel. The couple live in Liverpool and with Eoin being Irish and Sophie's family hailing from the east coast, the city was a wonderful half-way point to bring them all together. Sophie's love of 1920s fashion was behind the day's styling, and the magnificent hotel also provided a fantastic backdrop for their vintage inspiration.
Photography Little Vintage Photography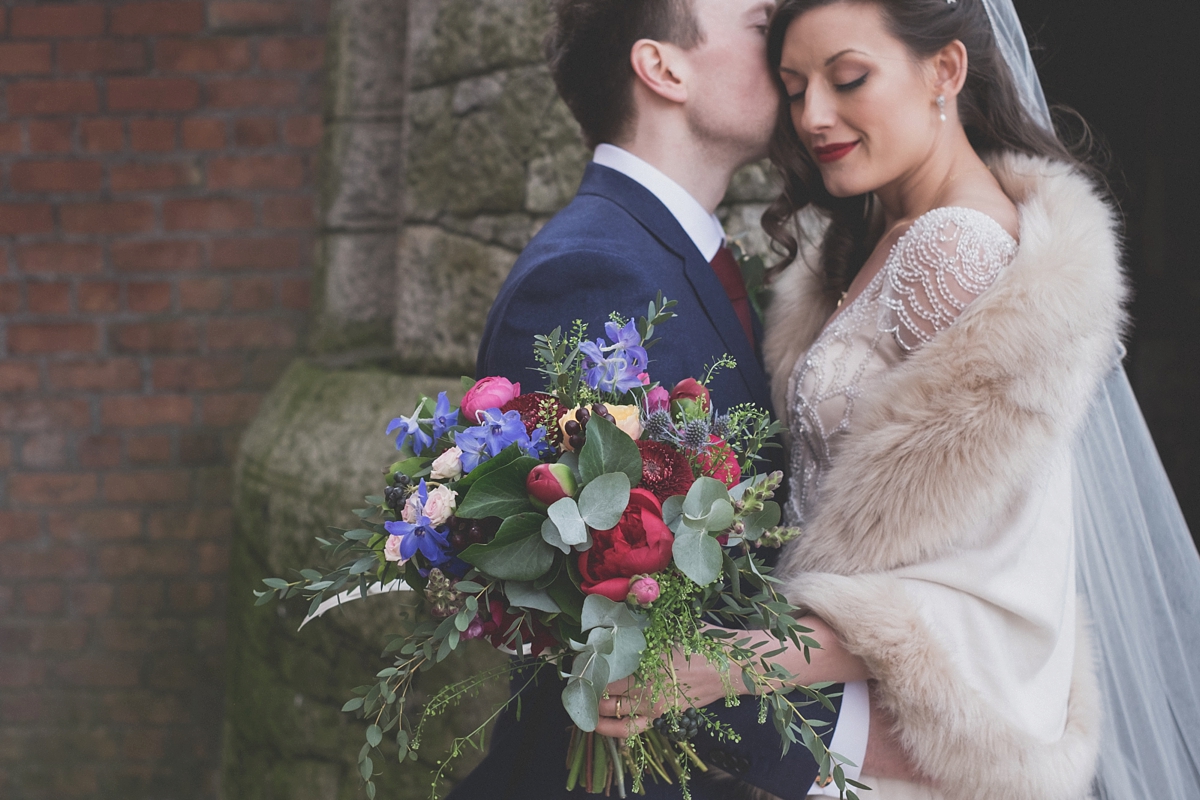 "I've always loved 1920s style fashion, with the flapper girls and all the beading that went into the dresses. We chose Liverpool because Eoin is from Ireland, I am from the east coast of England and we both live in Liverpool. The venue itself had a wonderful vintage feel that was perfect for our day and my mum also fell in love with it as soon as she saw it."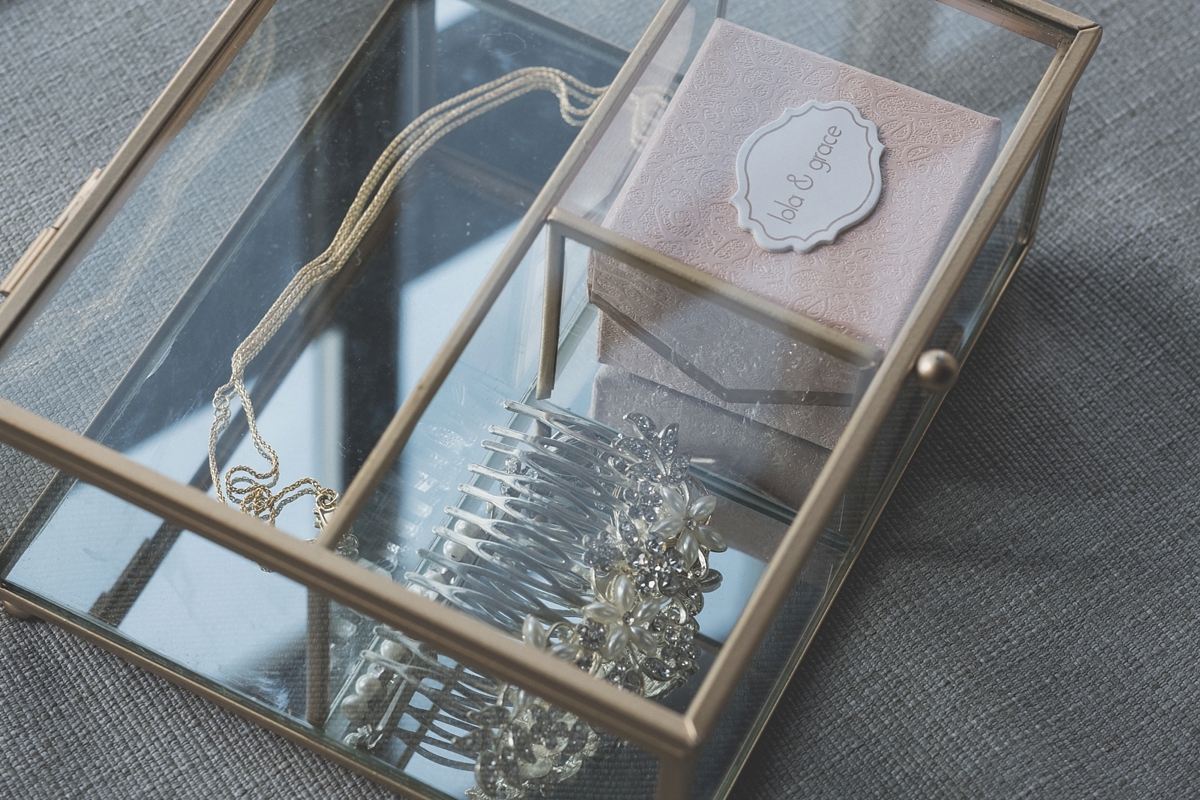 When I opened this folder of images I was instantly struck by their days-gone-by, nostalgic feel. Sophie and Eoin's photographer, Little Vintage Photography, works with real film, Polaroid and digital to create a timeless look and reportage style which the couple fell in love with.
"I absolutely love traditional black and white photography so it made total sense to incorporate this genuine vintage element into our day. Rachel was an absolute gem to work with and the photos are just AMAZING! She made us feel so comfortable and the photographs really show that. I love all of the action shots that she captured that really show the feel of the day."
"She shot some of our portrait session using vintage cameras too and hand-processed the film afterwards which made it even more special. We were both over the moon with the final photo box that we received containing our Polaroids, instant photos, film and memory stick. All I can say to her is thank you so much."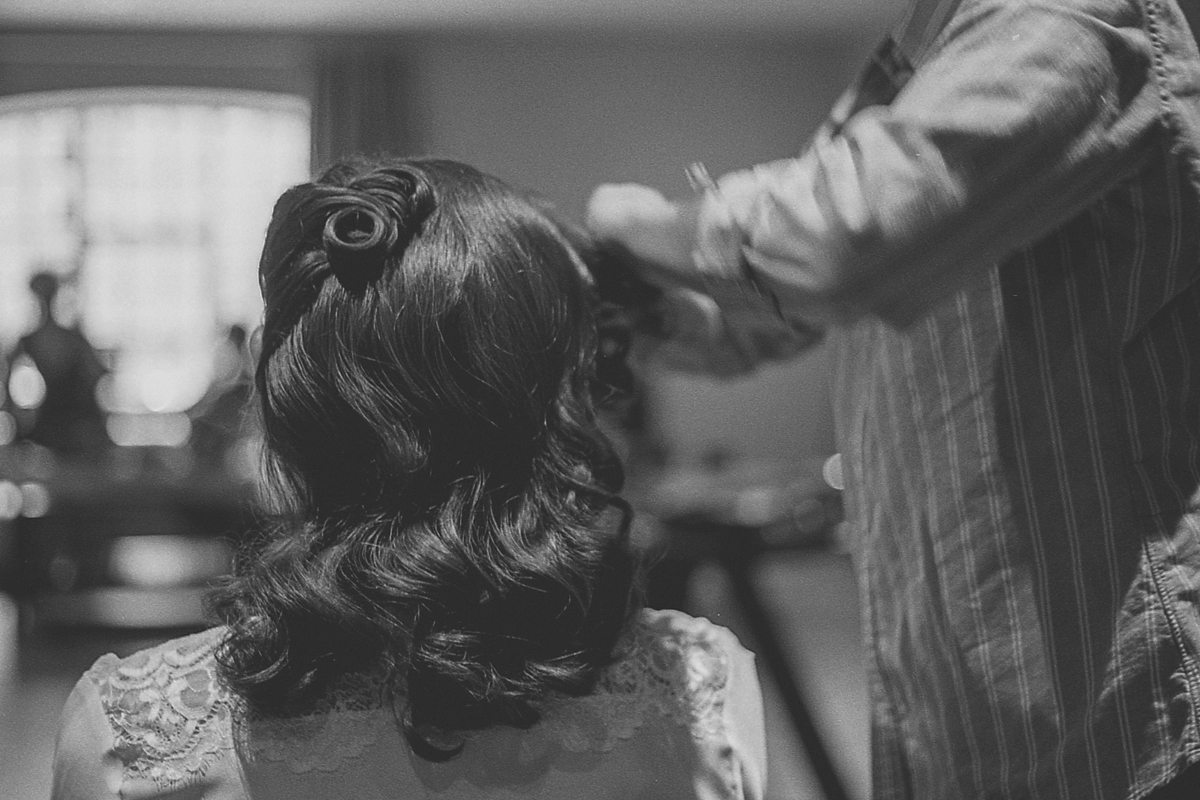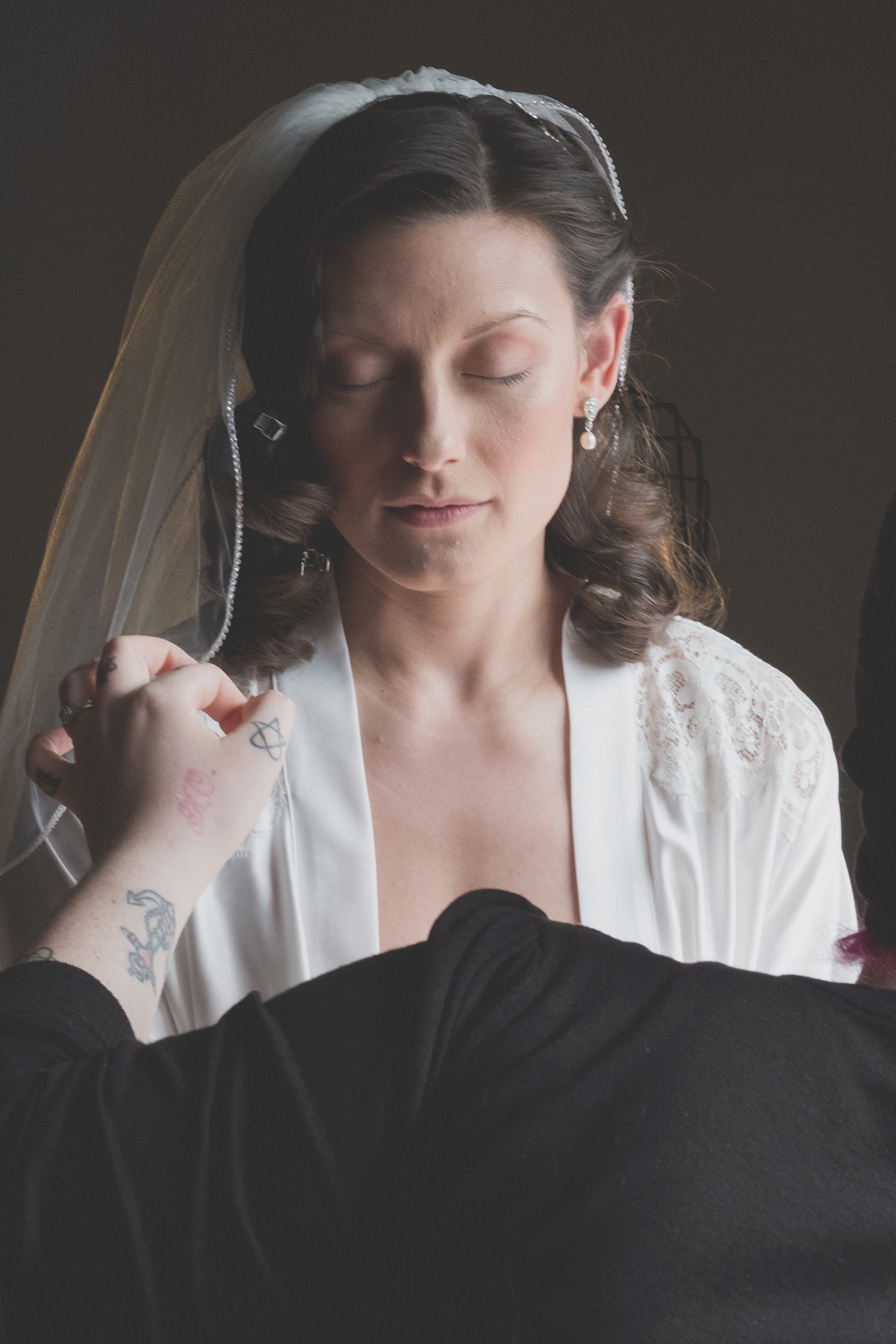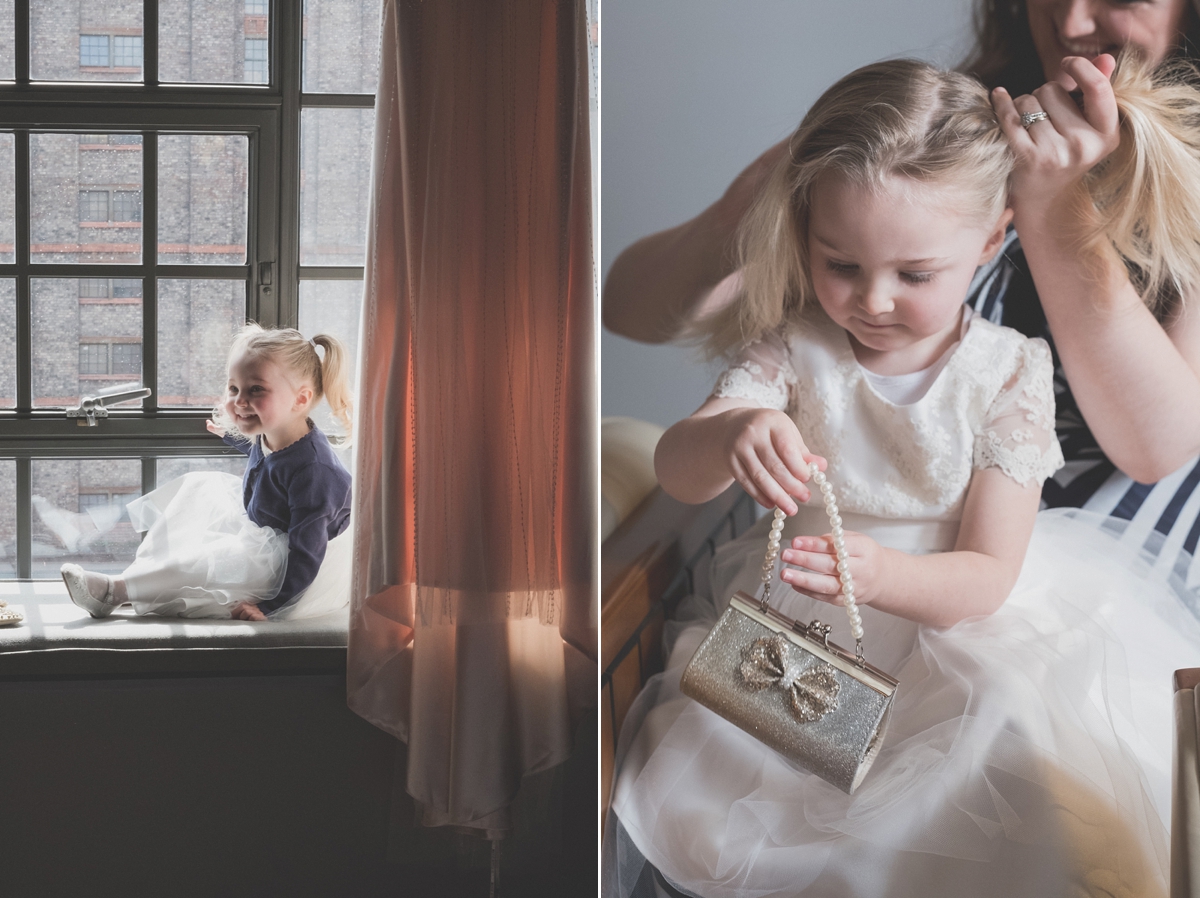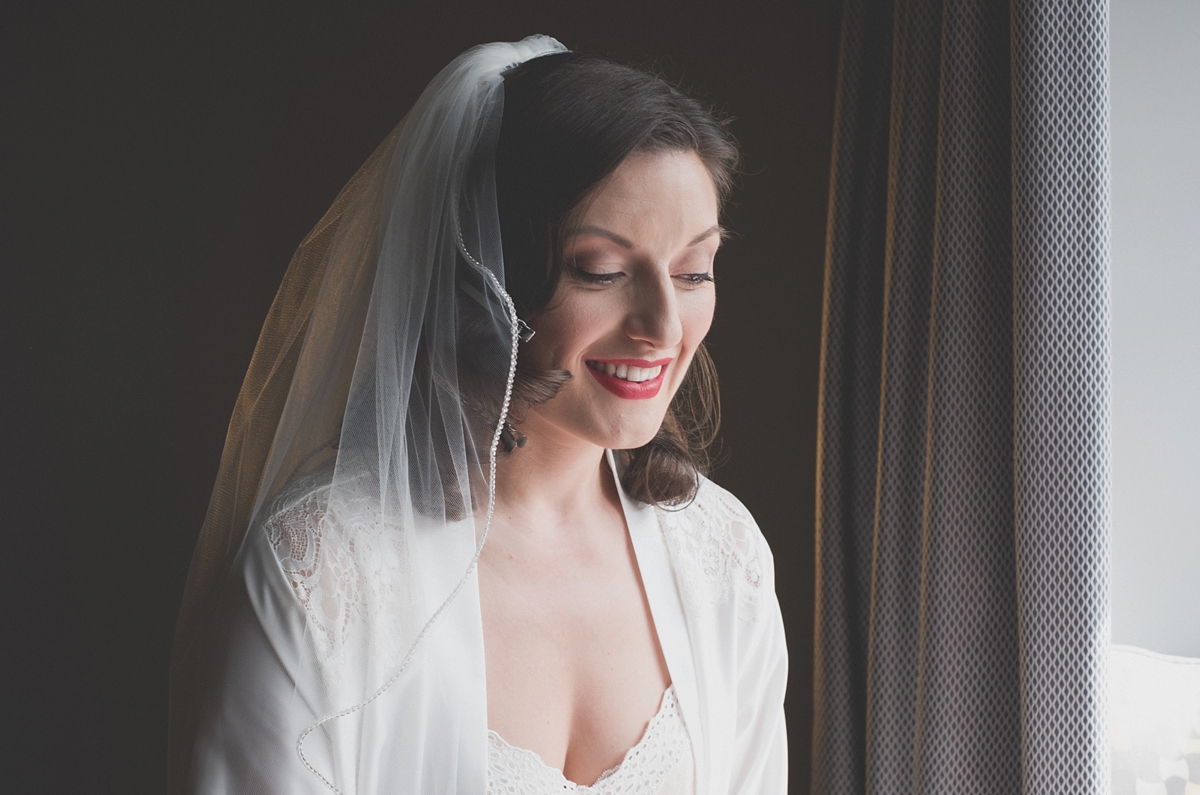 Liverpool bridal boutique Cloud 9 at The Wedding House was where Sophie and her mum found this lavishly-embellished Maggie Sottero number. It suits her and her wedding style so well and I adore the unusual off-white hue and the warmth it brings. I cannot get over the elegant sweet-heart neckline and sheer beaded sleeves, too.
"My mum found this dress for me and I fell in love with it. I loved the capped, scalloped sleeves, the beautiful detail in the beading and the gorgeous Champagne colour. It fitted the overall vintage style for the day that I love so much too."
Delicately-beaded sling-back heels in soft blue came from Jenny Packham and the fabulously-vintage hair-comb was a throwback to her school days as she wore the same piece for her school prom when she was sixteen.
I adore the elegant, era-inspired look which was enhanced by her choice of hair and make-up. Emma at Russell & Browns Vintage Hair created this starlet-inspired wavy do, and Zoe at The Little Hairmaid applied flawless make-up with a gorgeous pop of red lipstick for added 20s vibes.
"I wore Jean Paul Gaultier Classique because that is my perfume!"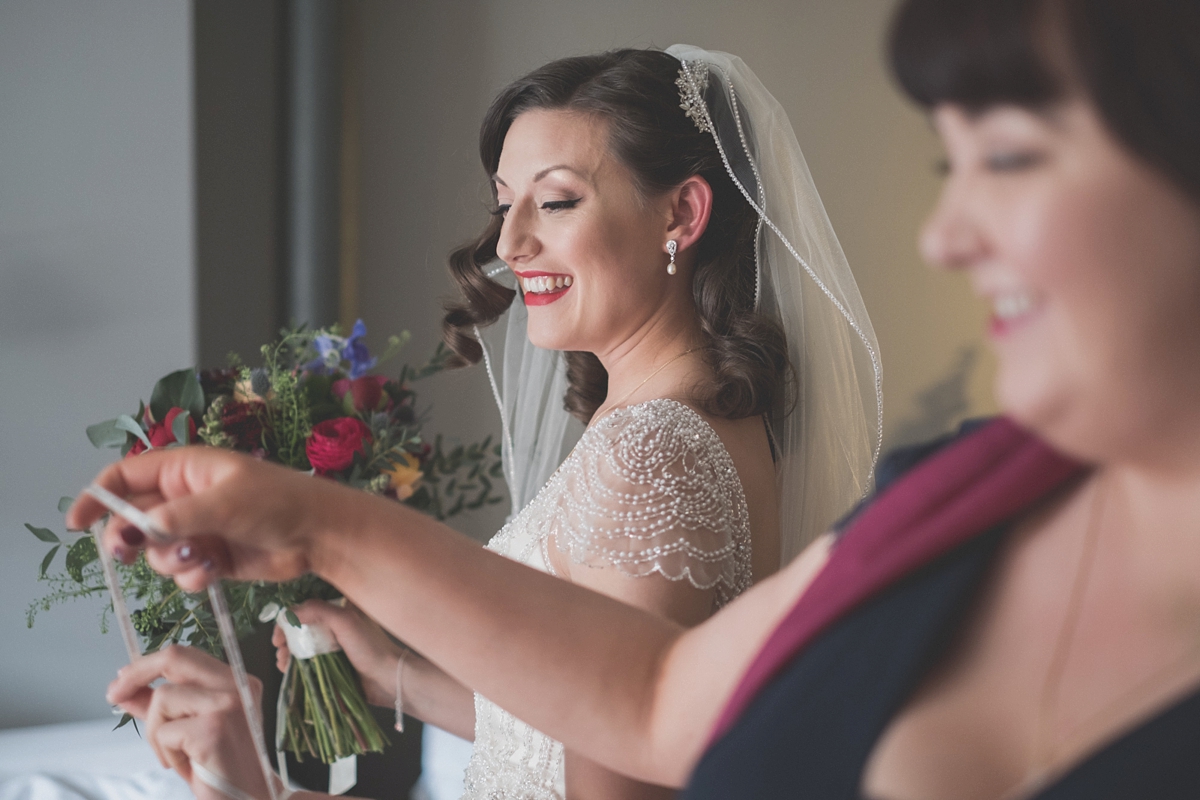 The bride chose a classic design for her bridesmaids' gowns – midi-length, lacy 'Kate' dresses in navy from ASOS, teamed with nude pink shoes and Debenhams hairpieces. I love the pop of colour which the deep pink shawls add, reflecting the colourful bouquets and wedding flowers.
"We chose Passion For Flowers and after an initial consultation with Dale, the team did an amazing job of creating the stunning bouquets to tie in with our deep jewel colours of red and navy with a touch of blush pink."
The couple first met in medical school in Liverpool, and Eoin proposed five years later. Cue wedding planning in their home city, and wedding dress shopping.
"Eoin planned a walking trip to the Lake District where he got down on one knee on a little bridge and asked me to marry him."
The jewel-tones continued in Eoin's suit, a navy blue three-piece from T.M.Lewin worn with a burgundy tie. His Rotary Avenger watch was a gift from Sophie on the day.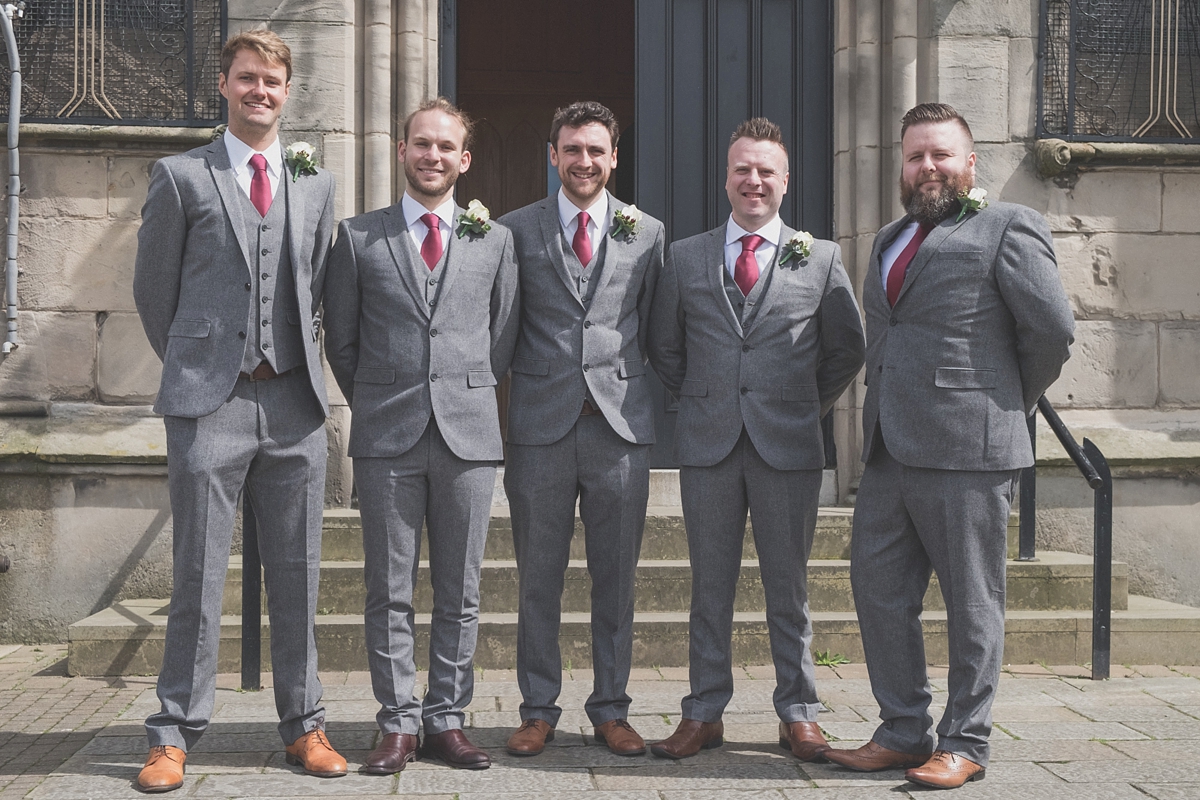 To frame her face, Sophie chose a long crystal-trimmed, double layer veil from Cloud 9 and hung earrings from T.K. Maxx from her ears.
"I had a gold necklace which I used to wear my engagement ring on around my neck on the wedding day. These both came from David M. Robinson jewellers in Liverpool."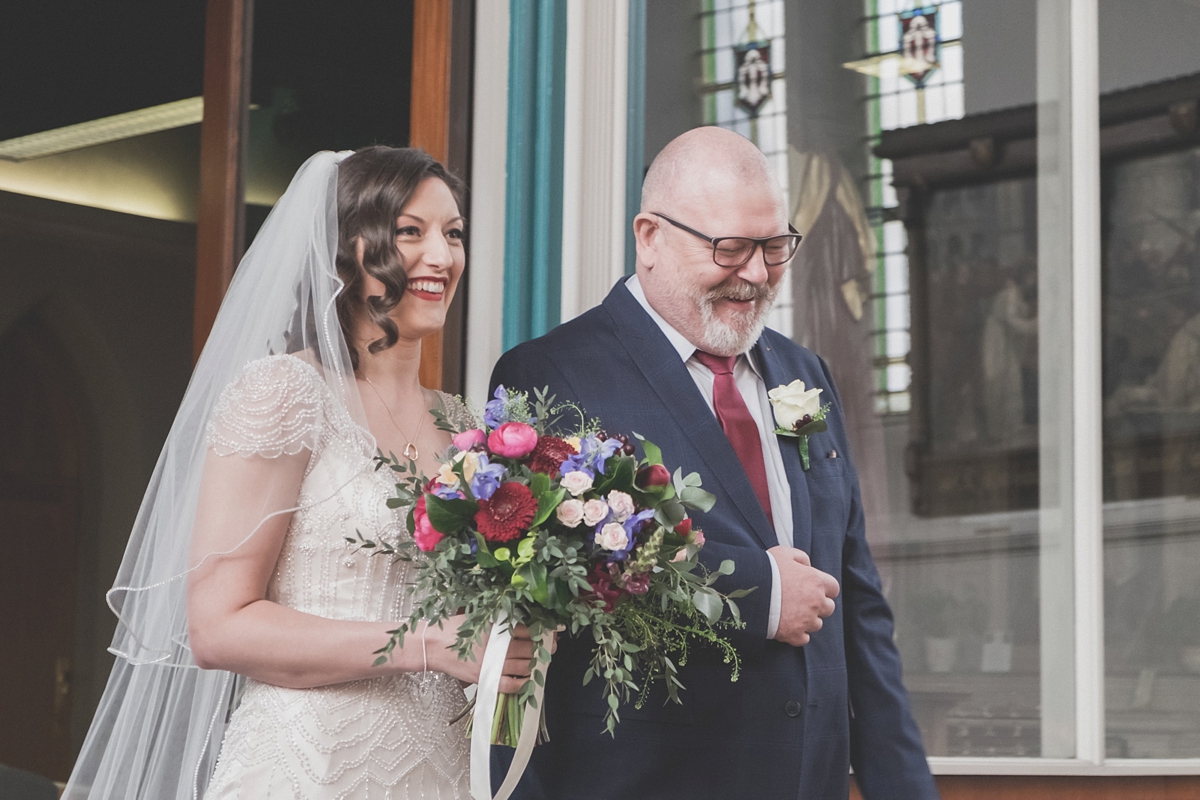 Sophie entered on the arm of her dad, to the classic 'Trumpet Voluntary' played on the organ. Eoin and Sophie married in a traditional Catholic ceremony, with traditional readings from Eoin's family and Sophie's best friends from university. Their rings were from Liverpool jeweller David M.Robinson.
"This is where Eoin bought my engagement ring from and they give really good service there. My wedding ring is made to fit my engagement ring so we were always going to get our rings from them."
These photographs speak volumes about the happiness of Sophie and Eoin, but what were the bride's favourite moments?
"Walking back down the aisle with Eoin to Mendelssohn's 'Wedding March' and getting confetti in my hair, dancing with all of my friends and family to the Irish band and watching my 80 year old Grandad gettin' low to Jason Derulo."
I really love the joyful photographs captured as the newly-weds come out of the church to a shower of confetti.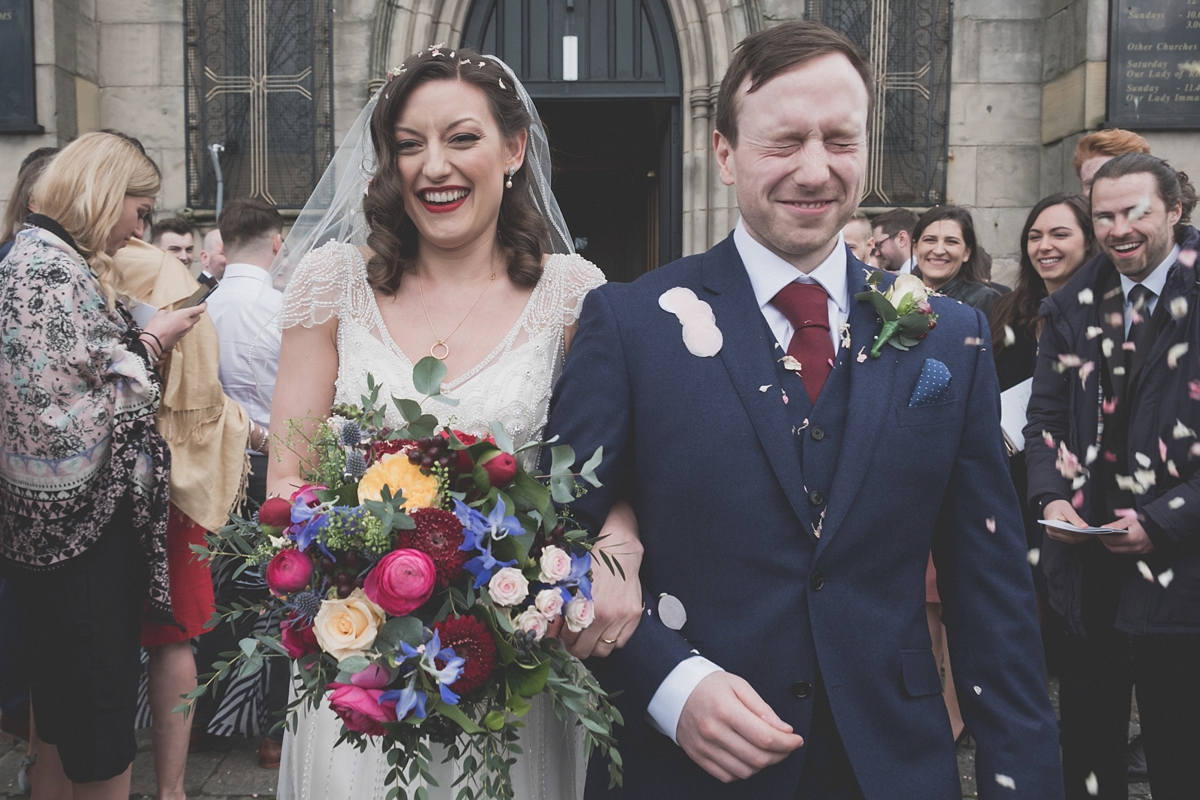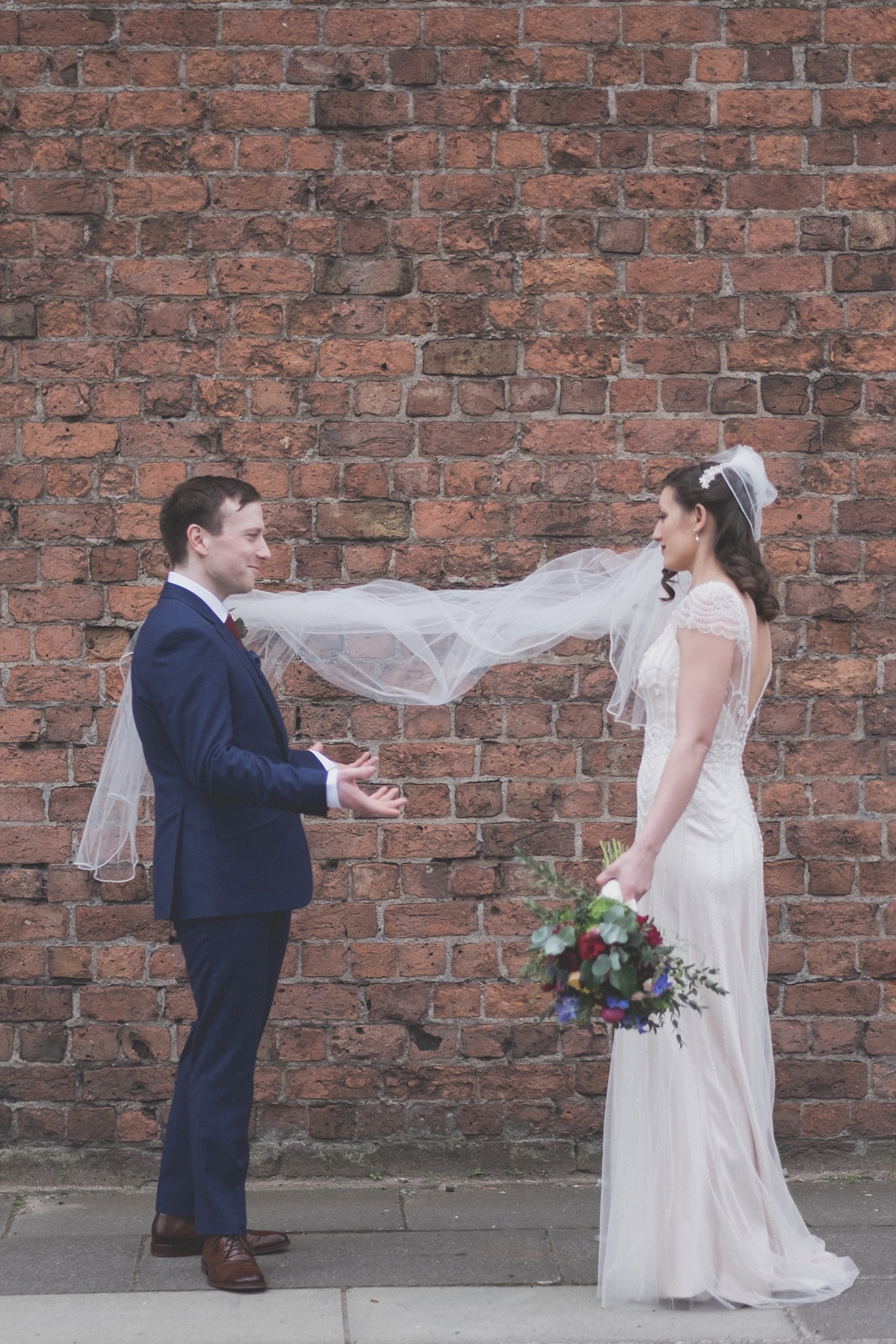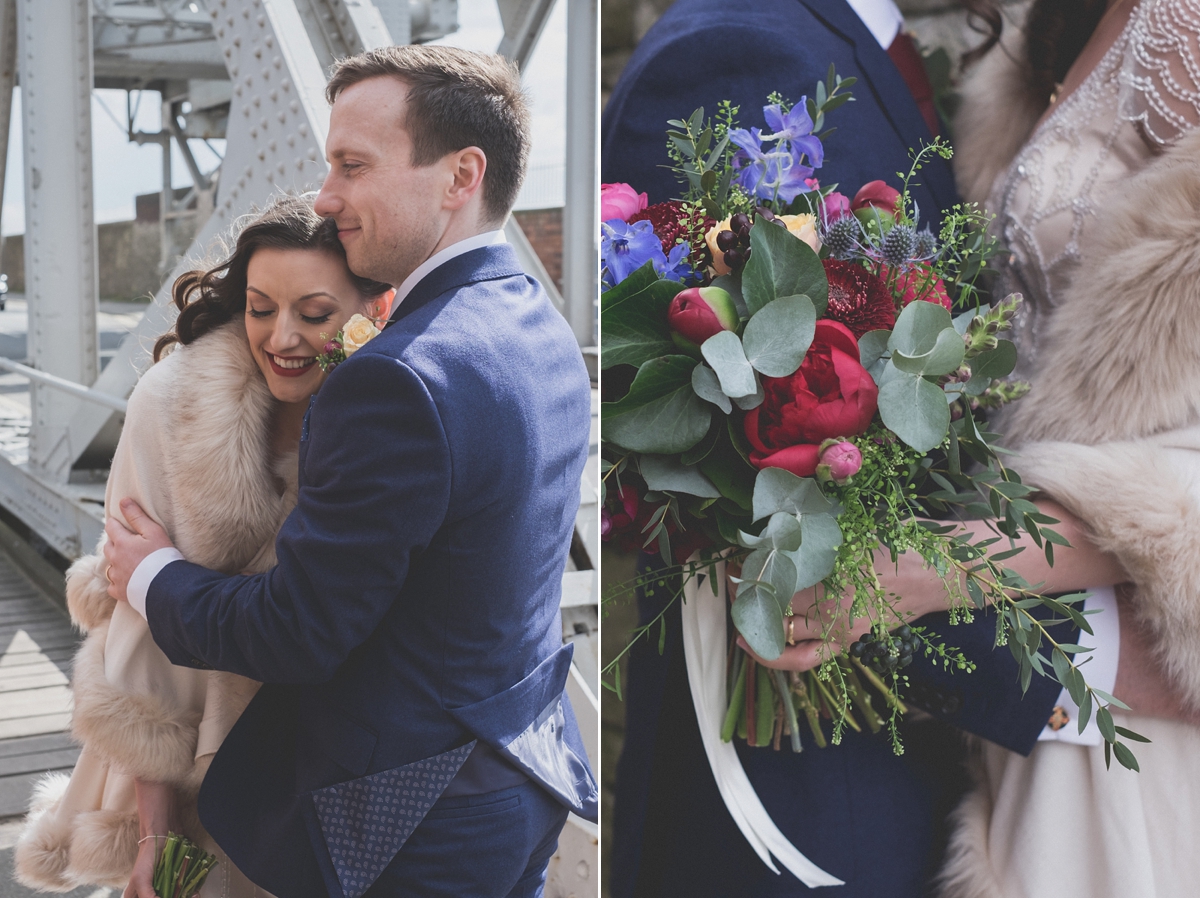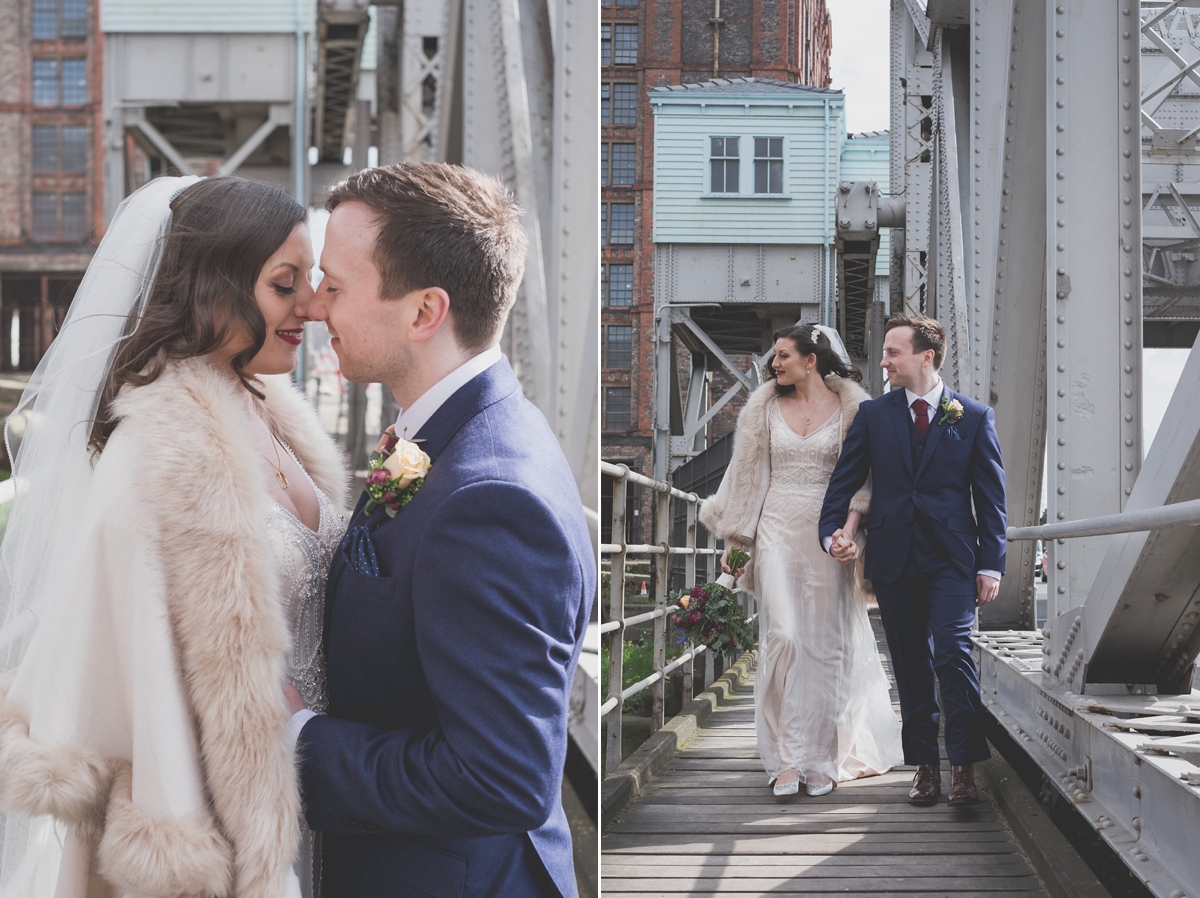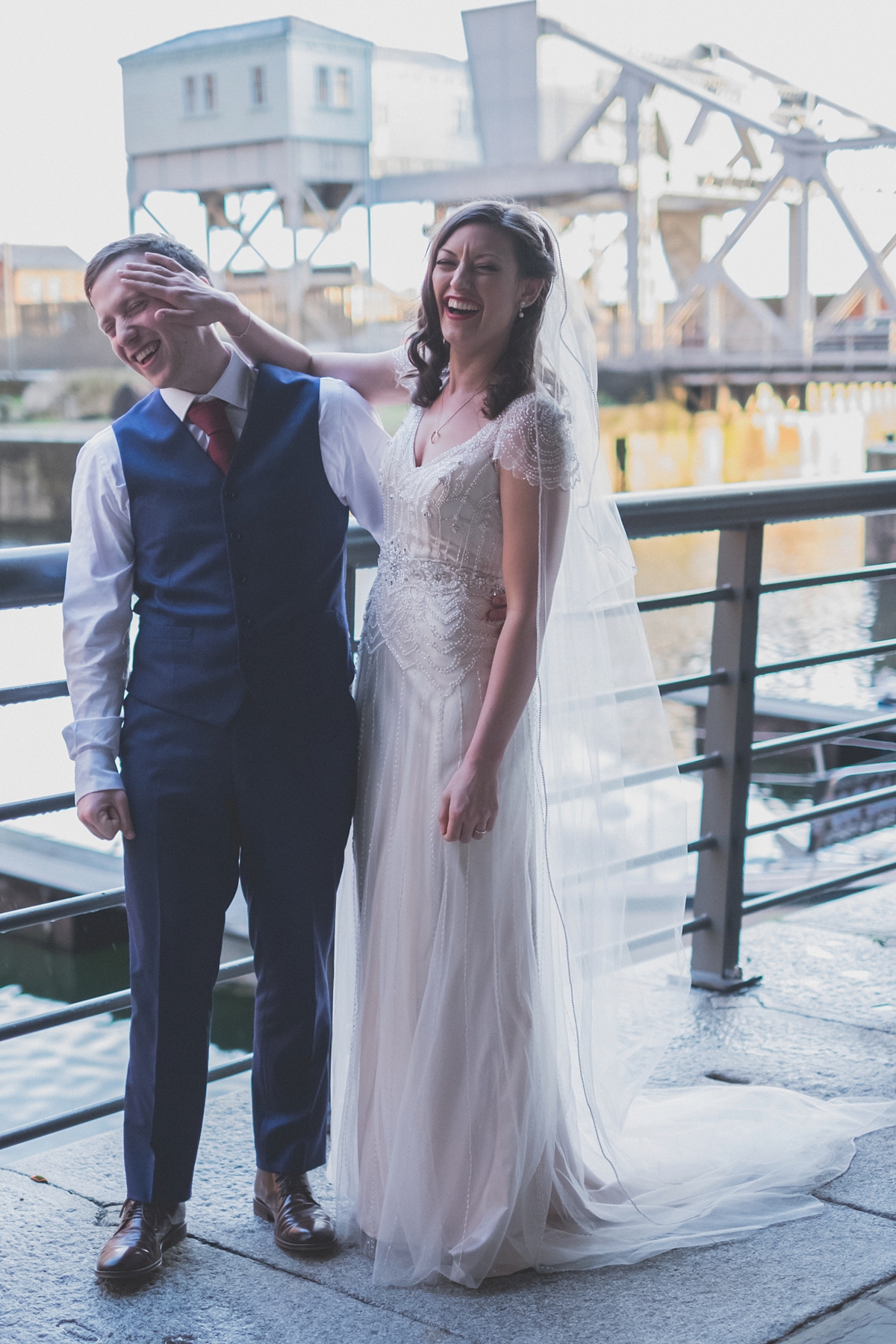 After some gorgeous couple shots (just look at those in front of the brick wall!) it was time to go to the Titanic Hotel, a restored warehouse standing on Liverpool's historic Stanley Dock. The blank canvas was transformed by Sophie, Eoin and their friends and family to create a magical atmosphere.
"Myself and one of my bridesmaids created two huge picture boards of photos of friends, family and Eoin and I. These were on feature tables alongside the instant photo guest book, sweet counter wedding favours and pictures of those that couldn't join us."
"We used more of our gorgeous flowers as centrepieces alongside antique brass and glass hurricane candle holders which added a bit of vintage glamour to the venue, as well as Champagne bottles which we dotted around for tapered candles."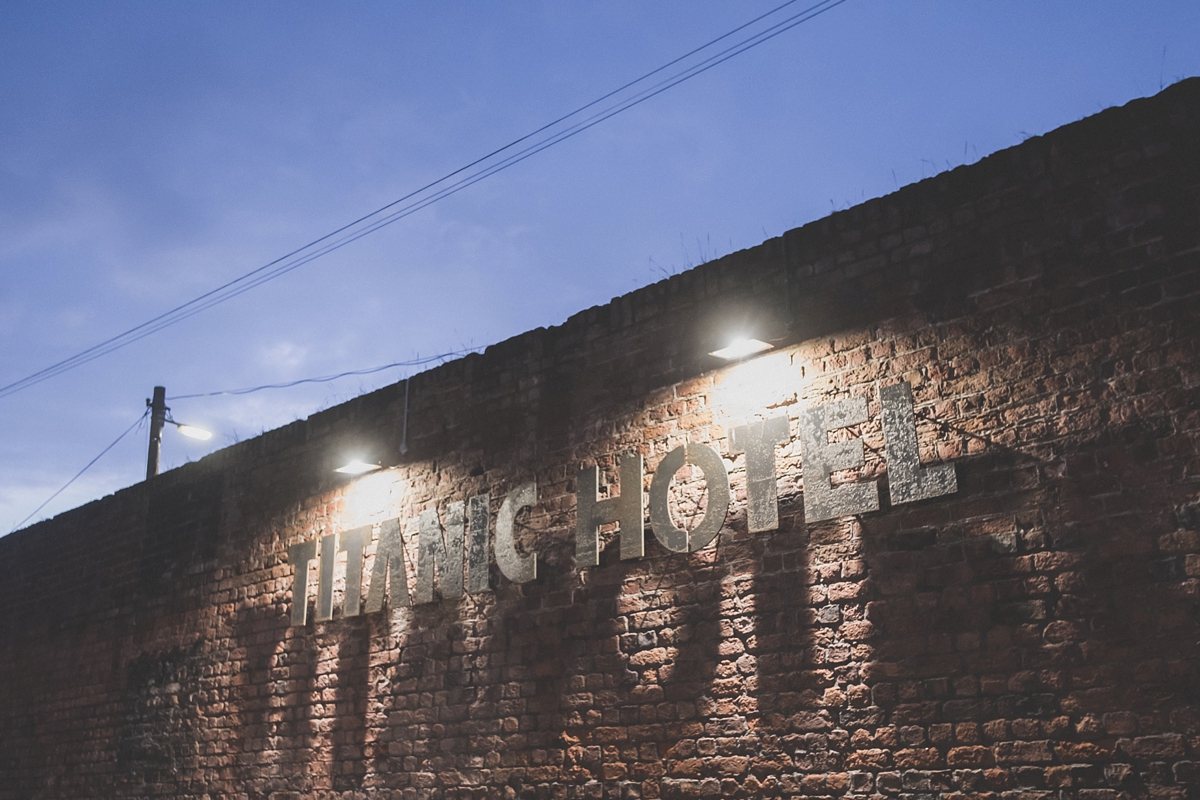 "Red Events Creative hung festoon lighting from the ceiling and later in the evening our guests made use of a photo area with a hydrangea wall provided by Fishlocks Flowers. There were sticks of rock from Cleethorpes (where I am originally from), flip flops for dancing and a sweet shop for people to help themselves."
After a wedding breakfast provided by the Titanic Hotel team, the newly-weds cut in to the elegant, tiered cake which was a team effort.
"My mum made the bottom fruit cake, I made the middle chocolate cake and the top almond and raspberry sponge. I decorated it all with a lot of help from Pinterest and my friend's mum Ruth Watters. Three members of the wedding – Lydia, Lewis and Ruth –  had the stressful task of taking the cake to the venue. I think Lydia has almost forgiven me for that. Maybe."
I love the sound of the Irish band which the couple hired to get the dancing started after their first dance to 'May You Never' by John Martyn.
"This was a song that we have always listened to and loved so it just seemed like the natural choice for us."
"I cannot recommend The Kelly Bros Irish band highly enough. The background music for the reception and later evening disco was Miss D from Chicks with Decks who was absolutely brilliant."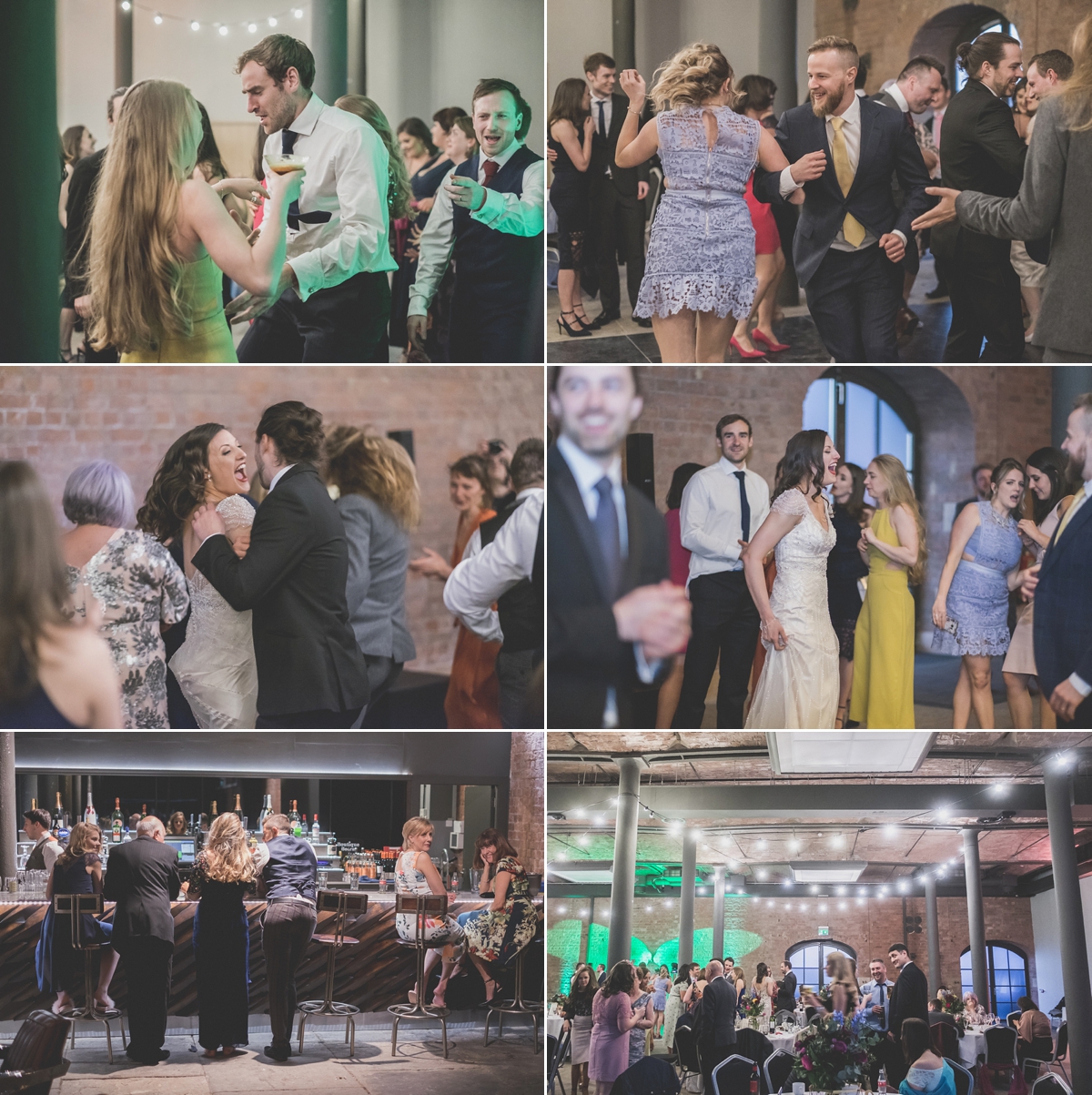 Words of Wedded Wisdom
"Only do what is right for you. Every couples' and family's circumstances are different. Don't let people try to convince you to do things you can't afford or don't want to do because 'that's just what you do' or that's what they did."
"Try and get time off work a couple of days before if you can; there's always more to do than meets the eye."
"Doing things yourself is a great way to save some cash but it does take a lot of time. I was lucky in that Rachael, one of my bridesmaids, came and moved in the week before the wedding. She was my fairy godmother and it was only because of her that I had the time and ability to make all of the menus/picture boards/table place cards/spray paint the picture frames for them to go in and put the finishing touches on the centrepieces."
"Without that help, these extra details wouldn't have happened and they made the venue feel so personal. So, if you're going to do lots of stuff yourself, my advice is to make sure you have the time and people you need to do it all."
"Pinterest is brilliant for finding out what you like and getting an idea of the style you want but it can become too much. Small doses."
 "Try and remember that despite best efforts something might not go according to plan on the day. Just try to remember that as long as you both arrive at the altar and say 'I do' the rest is just detail."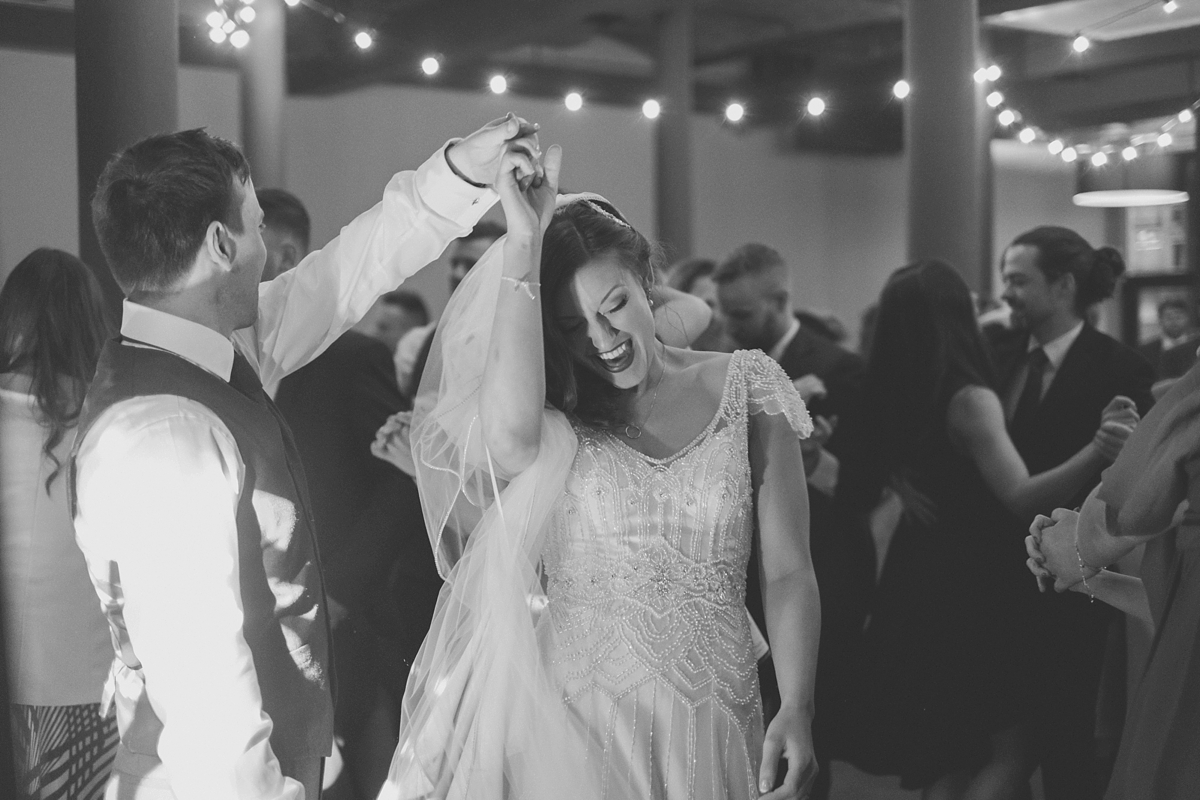 Such valuable words of wisdom Sophie – thank you so much.
it's been wonderful to share this city wedding today; thank you so much Sophie and Eoin, and congratulations too on your marriage. Little Vintage Photography, I've been so interested to see these gorgeously era-inspired photographs. Thank you so much for sharing with us today.
Ele xx