And hello again! It's a joy to be back with you today, particularly with this feature that's all about style. If you're attending a wedding yourself this year or if you have friends and family wondering what they should wear to your big day, look no further.
The wonderful Needle & Thread have launched their SS19 ready-to-wear collection and it's sublime. Get ready to fall for 'Dream Lover'…
Recently, we've had the huge pleasure to introduce you to Needle & Thread's beautiful wedding dress collection and their exquisite range of wedding capes and veils. All of us at Love My Dress have been absolutely blown away by the craftsmanship, the attention to detail and the unique style of these luxury dresses and accessories that all come with a super obtainable price tag. We also know that you love them too so it's fair to say that Needle & Thread have already been a big hit.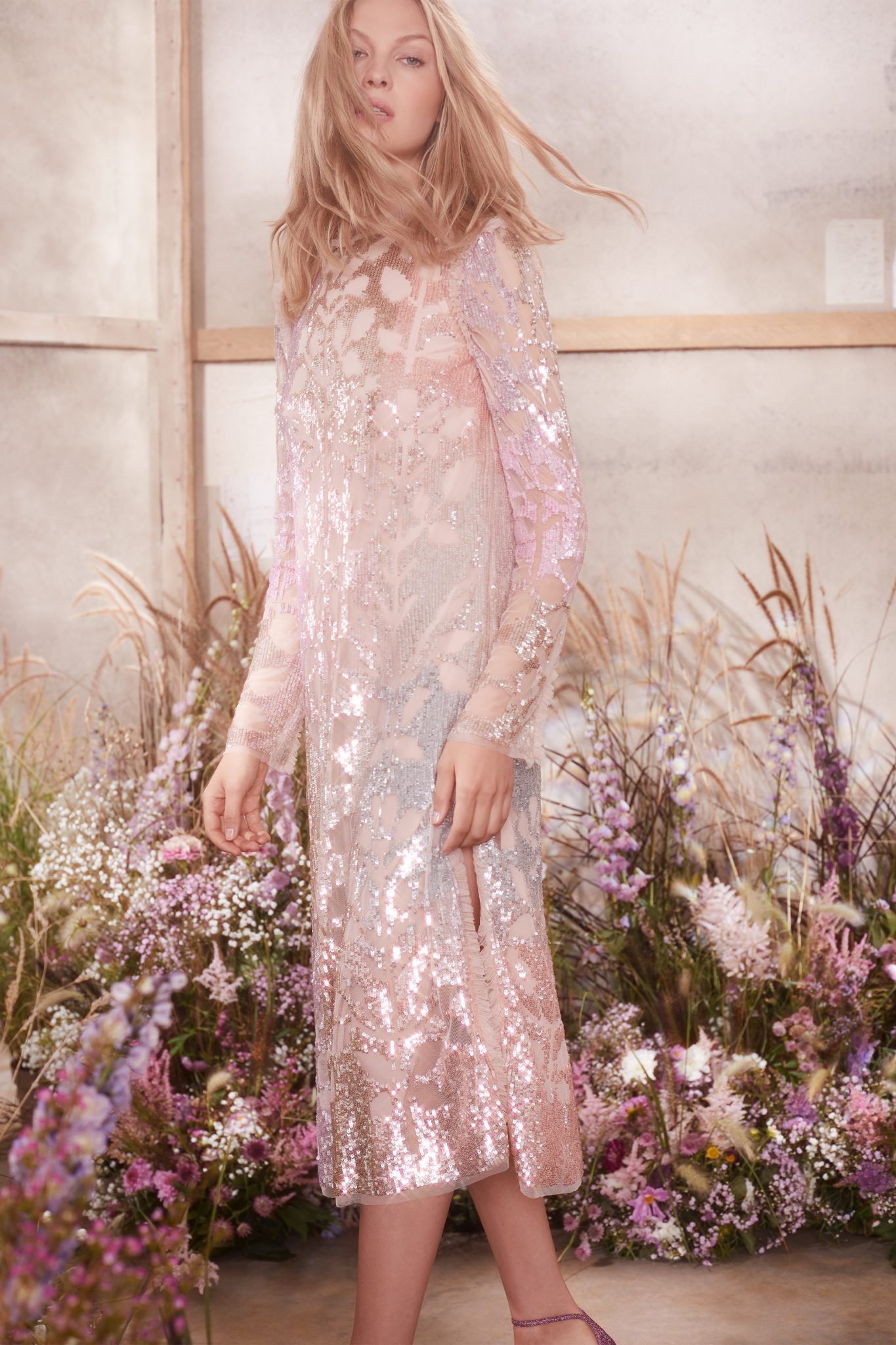 (Tap image for full details on the Needle & Thread website)
However, their offering goes beyond purely bridal designs and I have to say that their new ready-to-wear collection is an absolute knock-out. Completely living up to its name, the heavenly 'Dream Lover' collection takes inspiration from Midsummer Night's Dream and spans a dreamy, hazy palette of soft whites, dusty pinks and blues with the addition of floral prints and iridescent sequins. It's all about romance and you're sure to find the perfect piece for any summer event here but I have to say that this could well be the go-to collection for wedding guests looking for luxury and style. Hannah Coffin, Needle & Thread Founder & CEO tells us:
"Weddings are generally long celebrations so an element of comfort has to come into the mix. We design and cut our dresses carefully to ensure they're enjoyable to wear all day. We always recommend customers check they can sit and dance comfortably in their chosen outfit!"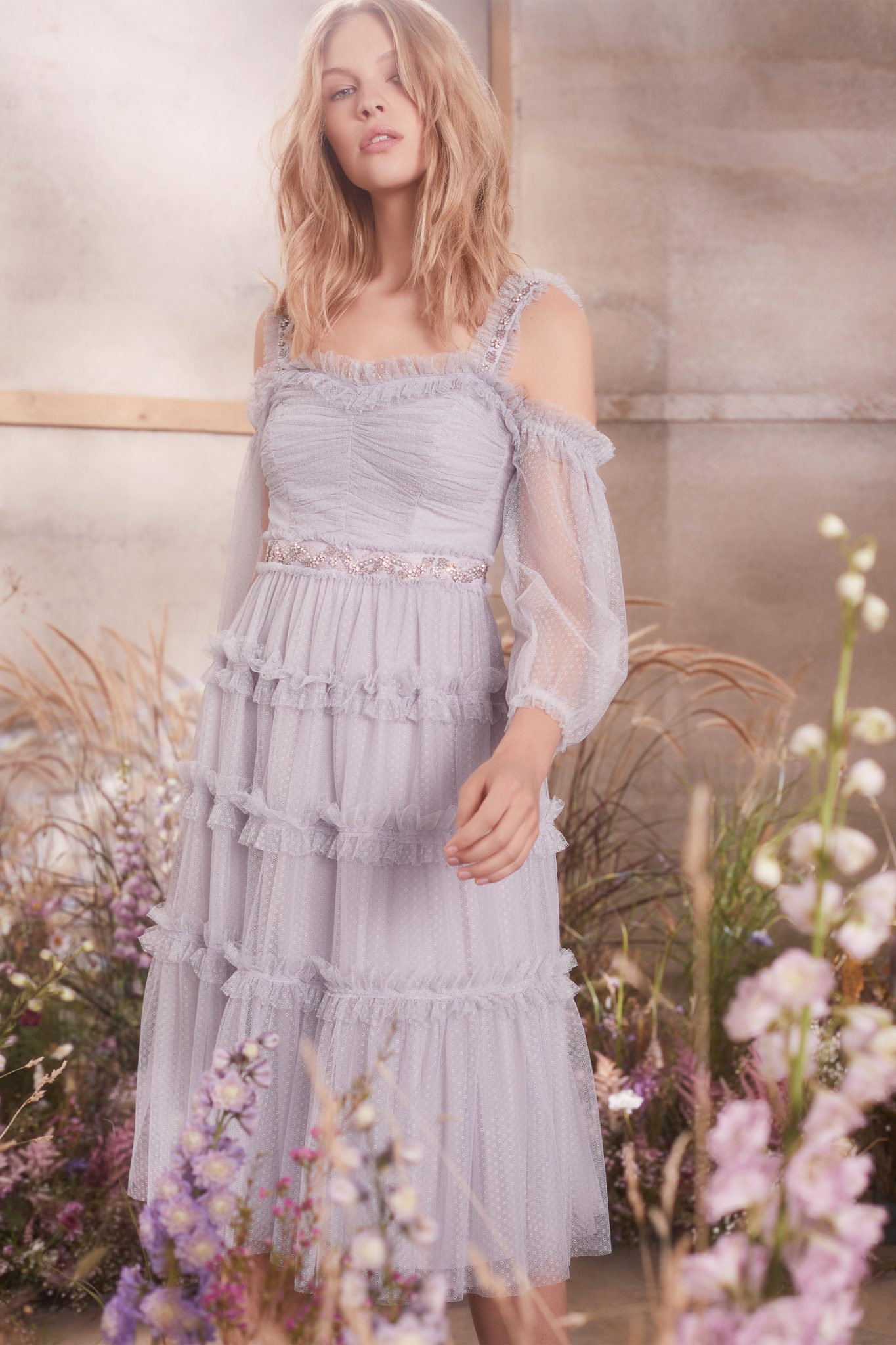 (Tap image for full details on the Needle & Thread website)
Now that's great advice – it's all too easy to choose something after standing for a few minutes in front of a mirror! Although, I know from my current experience that actually, choosing the right wedding outfit isn't always that easy. However, Needle & Thread's ready-to-wear collection does make it blissfully easy because it's packed with outfits suitable for all weddings.
"We often take inspiration from English country garden weddings so Dream Lover is perfect for country weddings. For spring or summer, I would wear the Titania Rose Tulle dress. It's gently voluminous and offers the ultimate English Rose moment. It's made from beautiful layers of printed tulle and can be styled with the matching cape for those unexpected country breezes or more traditional church services."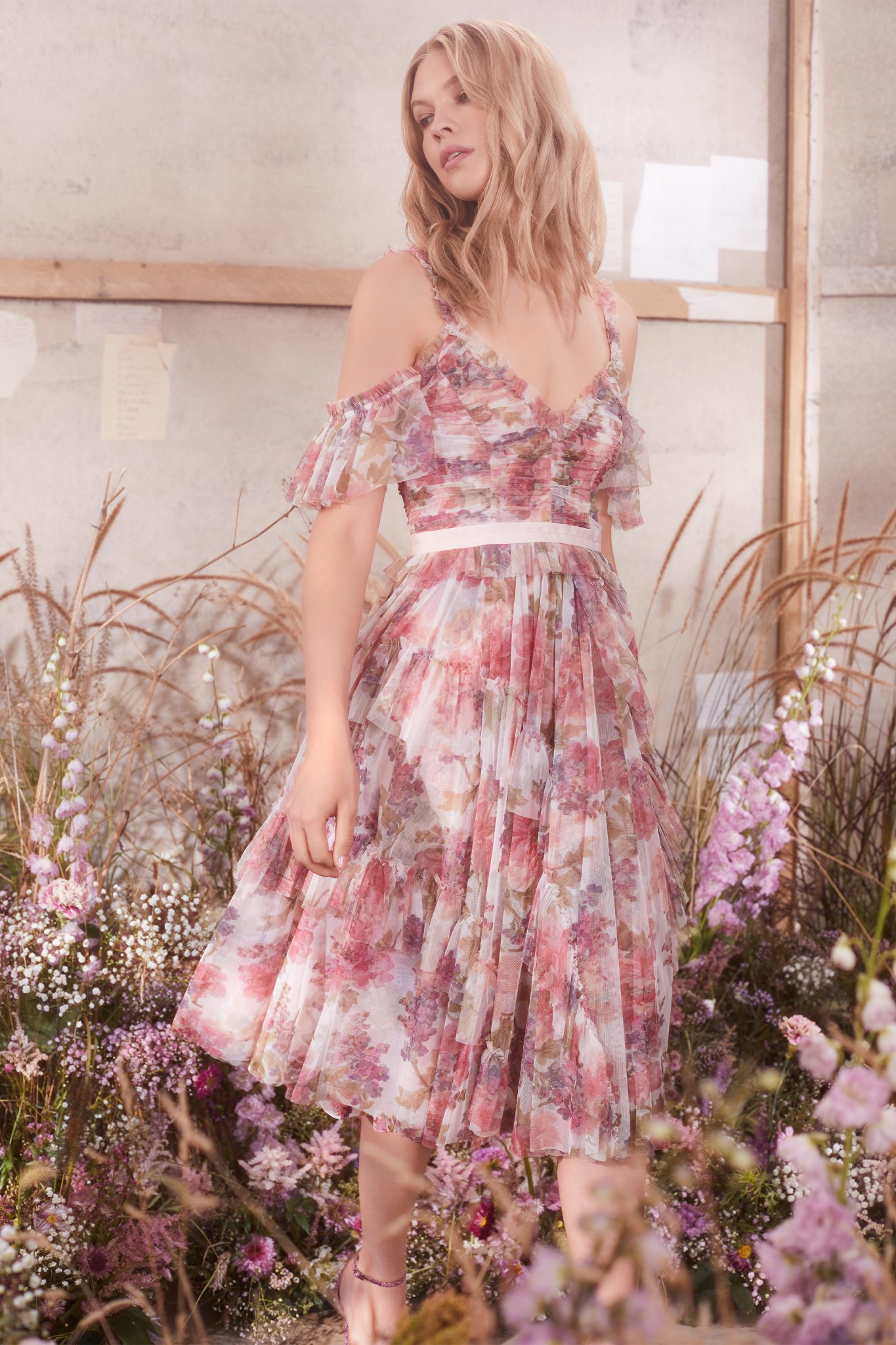 (Tap image for full details on the Needle & Thread website)
"For a city wedding, I'd wear my absolute favourite dress in the collection – the Tiled Sequin dress. Timeless yet striking, it's a contemporary investment piece that will be loved for years to come and styled with a killer heel, it's an effortless statement."
I have to admit that I absolutely adore the knee-length lace dresses in the collection. Perfect for guests, or even bridesmaids, they feature stunning embellishments and embroideries, tiered skirts and crazily romantic sleeves and details. The Midsummer Lace dress in soft pink is my pick but I can't ignore the Dreamer's Lace dress either. I also love the Shimmer Ditsy dress with polka dot tulle, ruffle trims and clustered floral motifs. I'm now looking at these designs wondering if one would be perfect for my own civil ceremony this summer – we're having our legal wedding a few days before the main celebration but I still want to wear something amazing as we sign on the dotted line!
(Tap image for full details on the Needle & Thread website)
But, what are 'rules' for wedding guests these days? Before choosing an outfit, what should we keep in mind? Hannah offers this advice:
"I tend to think of wedding 'rules' more as wedding etiquette these days. I find that couples' wishes vary considerably from wedding to wedding but generally, they all want guests to throw themselves into the celebrations and share the joy of the day."
"I would always recommend sticking to the dress code, providing it's sensitive and doesn't require a new outfit the guest can't afford for example, and the one 'rule' I would never break is to wear white. The bride deserves to be the brightest woman in the room. Oh, and never EVER turn up later than the bride!"
If you'd like to browse the collection and find your favourite from 'Dream Lover', do visit the Needle & Thread website.
Love,
Tamryn x