We're taking you to Spain for this wedding today, and how delighted I am to be able to share it with you. The whole celebration took place outdoors, surrounded by the beautiful warm red walls of a traditional hacienda filled with orange trees and palms. Relaxed, informal, joyful and completely magical – I know you're going to enjoy this!
Meet Sarah, a civil servant and Andrew, who works in advertising, who were married on the 12 May 2018 at Hacienda Molinillos, Seville, Spain. The couple first met through mutual friends nine years ago whilst at university. Unbeknownst to Sarah, Andrew was interested right from the start, but it wasn't until after university that they became a couple.
Images by Andrew Keher Photography
"We were about to become 'Mr and Mrs Lopez', so where else could we get married than Spain?! Andrew's family are Spanish and we spend a lot of time over there visiting his family. We knew that getting married in Spain would get us the weather, the scenery and the tastiest of cuisines. Our wish was just to throw a big party, and this too is something that the Spanish are famous for. Spain was really a no brainer."For her own make-up, Sarah's friend and make-up artist Frankie was on hand to create the perfect look.
"Her wedding gift to me was to do my bridal make-up and it was lovely to have her do this as well as be our guest on the day. She did the most amazing job, she has such a talent, and my make-up was probably my most favourite thing about the way I looked on my wedding day. We went for a bold eye and a natural lippy. Thanks Frankie for painting my face!"
Sarah's elegant, romantic hairstyle was created by Fran Alonso, as well as the bridesmaid's make-up, and Sarah and her party had a great time with him and his team on the morning of the wedding whilst getting ready!
"Fran has a salon based in Seville and he was great fun and made us all feel totally at ease as well as in fits of laughter on the wedding morning. I was worried about finding someone in Seville for hair and make-up in the style that I wanted but he did a brilliant job on my hair and the bridesmaids looked perfect."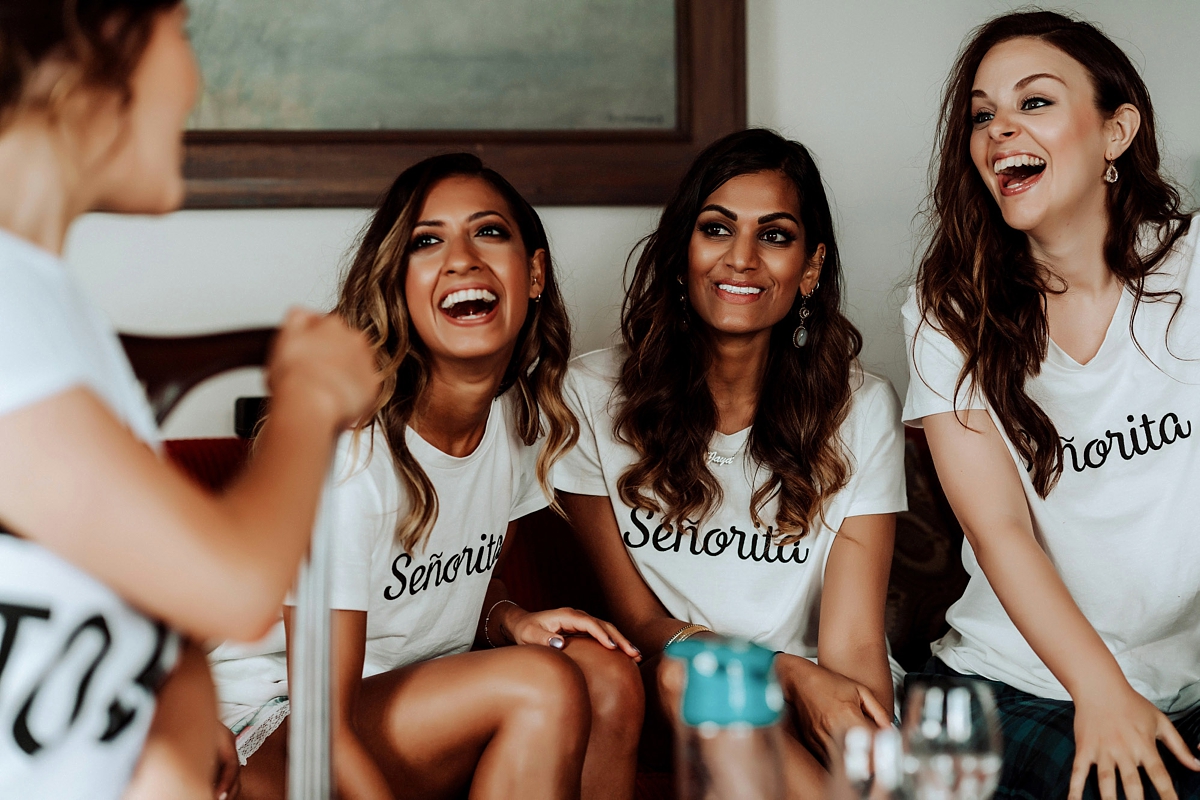 Sarah wore shoes by Vince Camuto (via House of Fraser), and in her hair, accessories from Amazon.
"Andrew's mum is from Iran, and it is an Iranian tradition that the groom's mother gives something of her own to the bride as a wedding gift. I was given a beautiful gold and sapphire bracelet that had been given to my mother-in-law by her dad as a gift for her wedding and is something I will cherish forever. This is the only accessory I wore. I wanted to keep everything simple, unfussy and relaxed."
Sarah chose a classically elegant off-the-shoulder gown by Tara Keely, which she chose at Angelica Bridal in Islington, London, and paired it with a spectacular cathedral length veil trimmed with lace, also from Angelica Bridal.
"I chose the Tara Keely dress because it was simple, classic and timeless.The veil I chose gave it that bit of drama, which I felt was needed for such an incredible venue.The staff in Angelica Bridal were so lovely and friendly, I had such a nice experience in there."
"You could keep on searching for a dress forever. So my advice would be not to worry and not to put so much pressure on finding 'the dress'. Just find a dress that suits you and you feel comfortable and happy in."
I love the shades of pink, burnt orange and rich burgundy in Sarah's bouquet, filled with roses, craspedia, ornamental cabbage, eucalyptus and bay; created by Ainhoa & Co. Exclusive Events.
"I asked for red and orange seasonal flowers and a slightly wild-looking bouquet and that's exactly what I got! I trusted the team at Ainhoa & Co completely and they did the perfect job. I gave them little direction as they knew the venue so well I had no doubts they would deliver, they completely outdid themselves with the flowers and all of the décor."
"I knew that I didn't want all my bridesmaids to look and wear exactly the same thing. I wanted to put the bridesmaids in outfits that represented their style as well as my own. They are all beautiful and I wanted to make sure they were happy and comfortable in what they wore. I liked that the bridesmaid outfits didn't all match but were all of a similar vibe. I was aiming for a laid back, colourful and modern approach."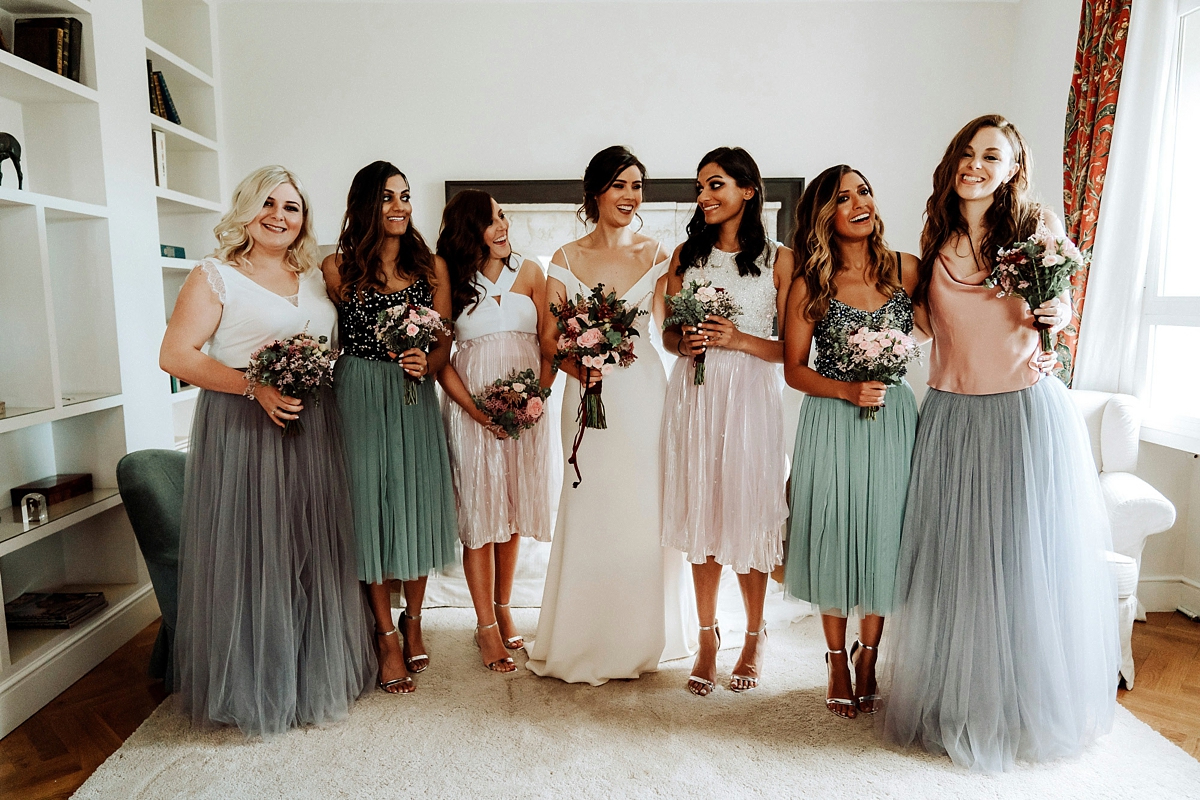 "Of all the places we had visited in Spain, Seville has always been our favourite. It is absolutely beautiful and so quintessentially Spanish in its character."
"We started our search for a venue through some basic internet research and were lucky enough to stumble across the Hacienda Molinillos by Googling wedding venues in Seville on the Spanish Google. Even on a computer screen it completely blew us away."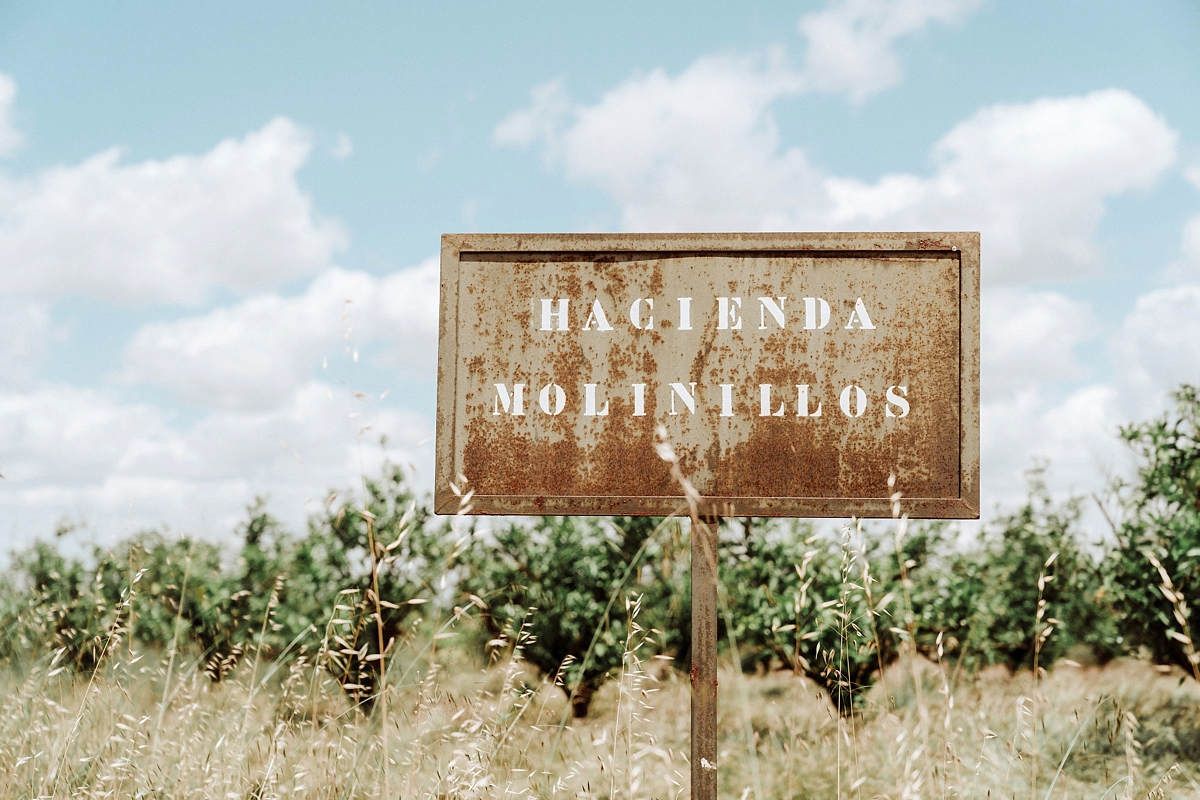 After lots of trying on, the bridesmaids wore a gorgeous mixture of tops with frothy tulle and pretty satin skirts, from ASOS, Topshop and Lace & Beads.
Before the ceremony began, loved ones began to gather outside at the Hacienda in the sunshine. There were tables set up with crates filled with sombreros and fans, as well as water, juices and lemonades to help keep everyone cool.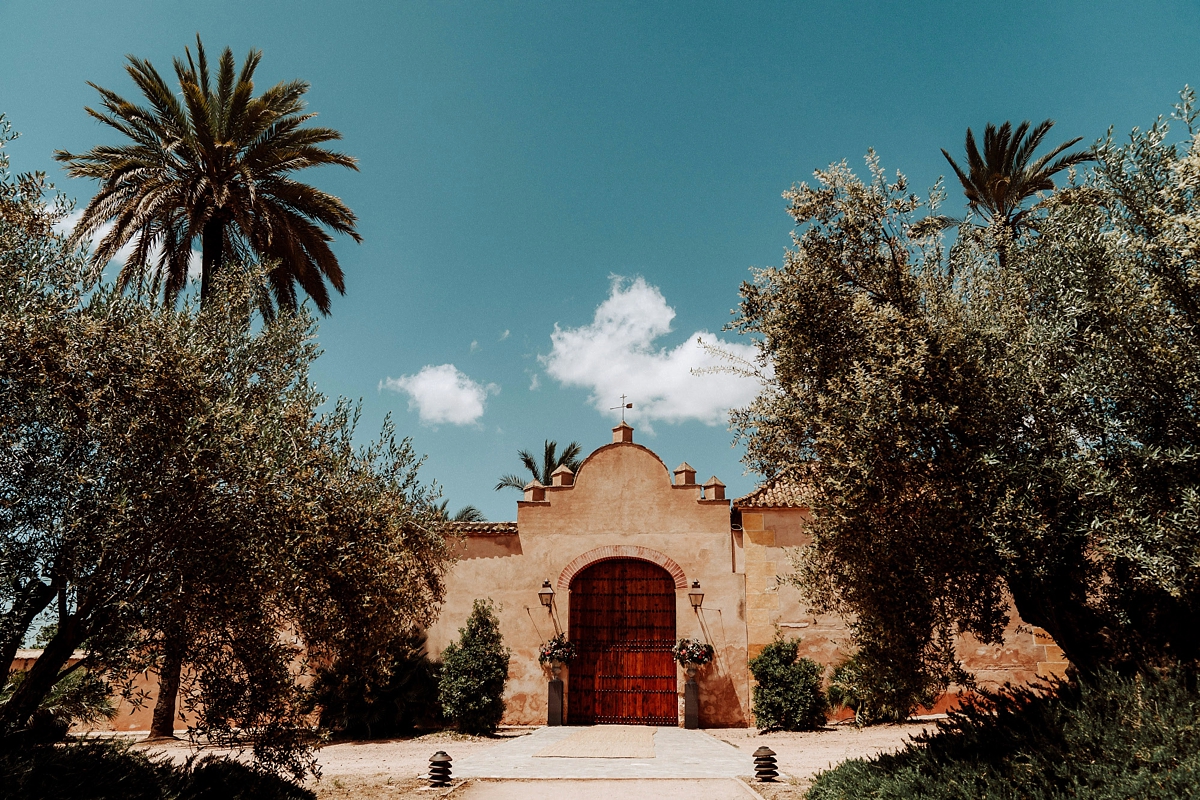 "With its rustic red walls, orange trees and secluded in setting, it was exactly the kind of traditionally Spanish vibe we were looking for. The Hacienda is absolutely massive, and so it felt like we were getting several different venues all wrapped up in one, because of all the different parts of the Hacienda we could use as different zones for the wedding."
"We had a pianist, violin player and cellist for the ceremony who were playing classical numbers and classic takes on modern songs as guests arrived and while we waited for the bride's arrival. They were led by Arturo Artigas who was our musical coordinator for the day."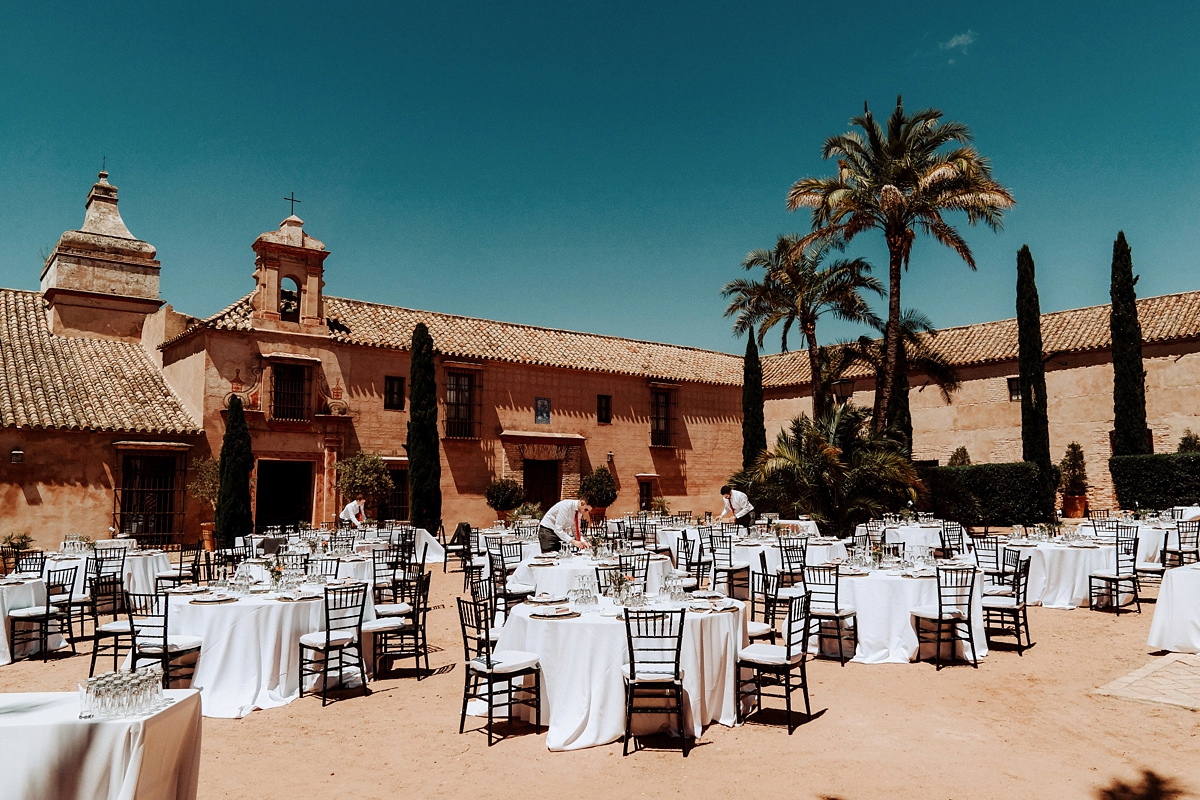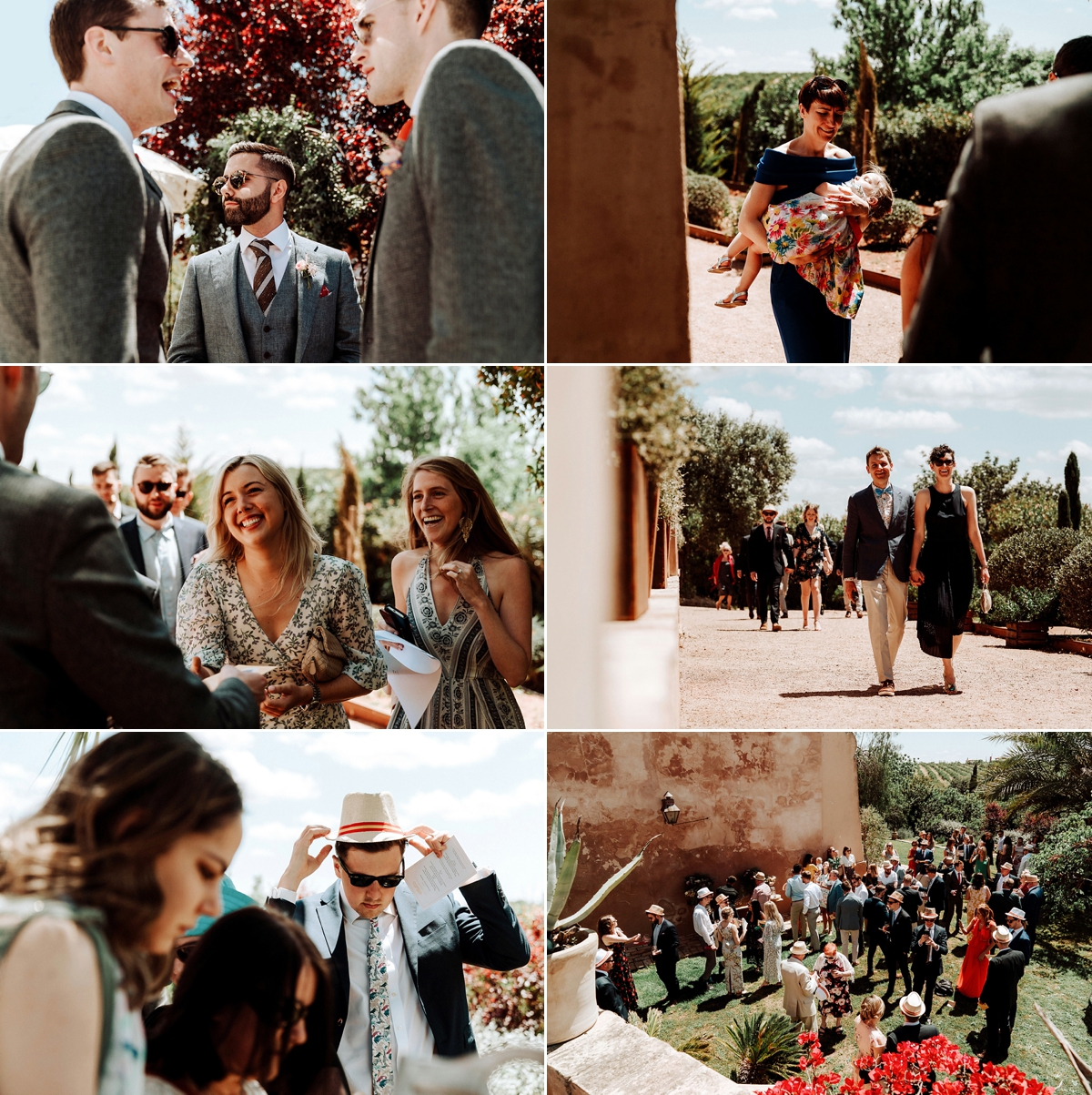 Sarah and her dad arrived at the hacienda in a wonderful 1940s Citroen Traction Avant, which they loved despite the lack of air conditioning.
"My dad walked me down the aisle. I was lucky he was so patient and calm when I thought we'd lost the bridesmaids…We walked down the aisle to Jessie Ware 'Wildest Moments', one of our favourite songs."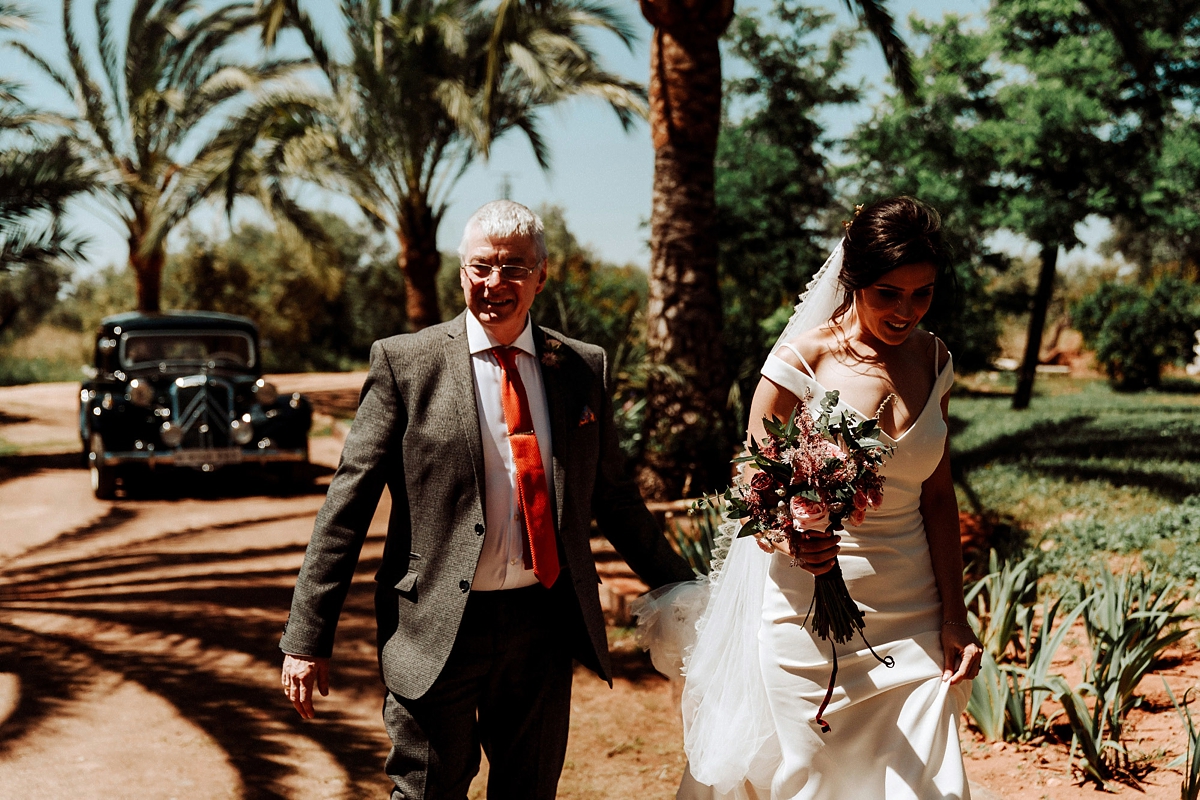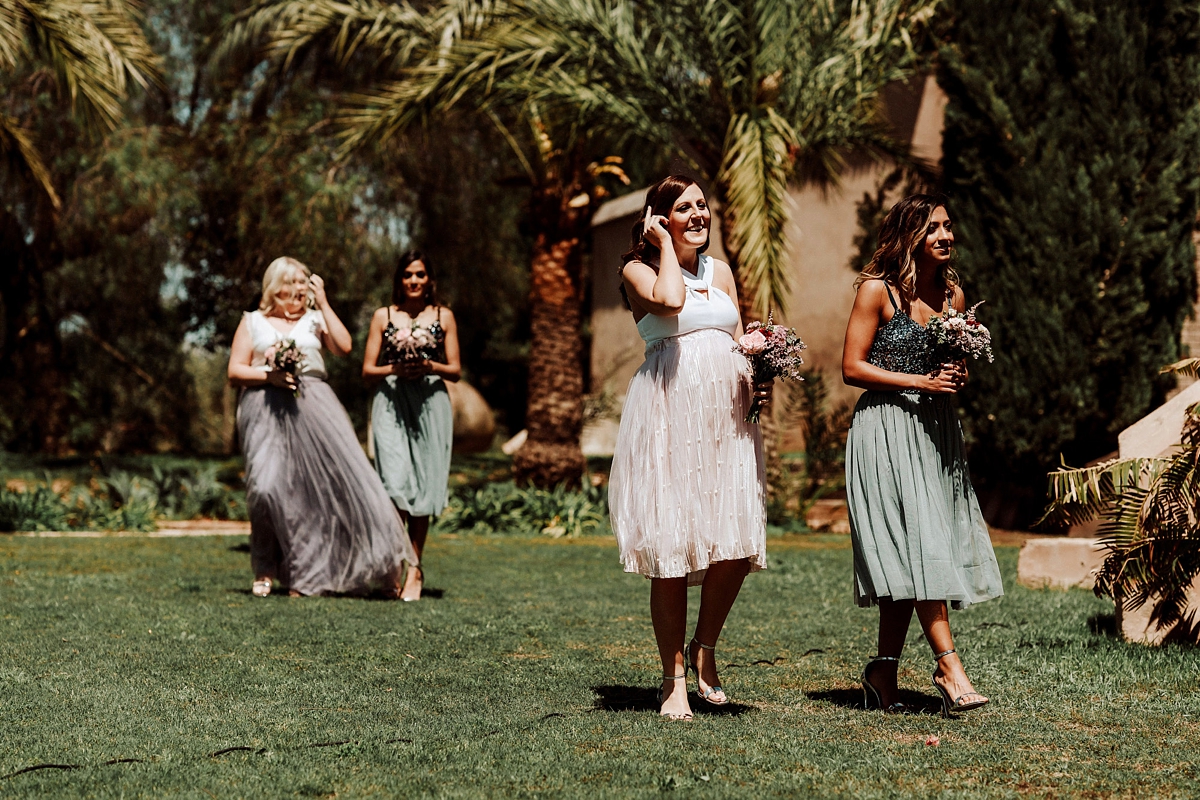 Andrew wore a fantastic blue-grey linen suit from Suit Supply, with a brown, white and blue knitted tie and red and white striped pocket square, and on his feet wore shoes from Clarks. The groomsmen wore complementary grey suits from Red Herring with vibrant orange knitted pocket squares from Marks & Spencer.
The ceremony was conducted by bilingual celebrant Diana Lacroix of Diario de Una Novia.
"Our celebrant Diana wrote the structure for a very relaxed, friendly and informal ceremony. One of the things she asked for us to do was to individually write the story of how we met and our engagement down. On the day she had merged them together as a joint story. This set a great tone from the start that got people laughing and enjoying themselves."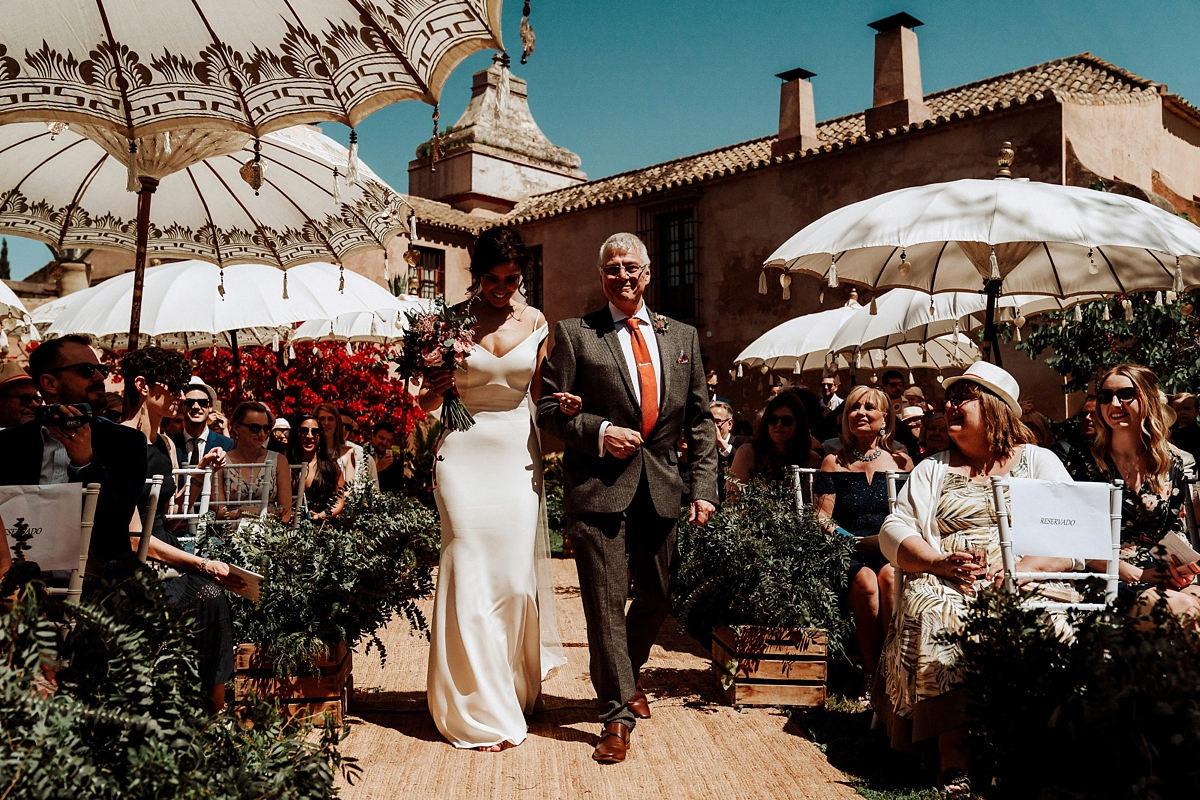 Sarah and Andrew had already legally married in a very simple civil ceremony in the UK, and because of this, choosing just the right, meaningful readings for their Spanish ceremony was very important. They chose an extract from Ernest Hemingway's A Farewell To Arms as well as the lyrics to Marvin Gaye and Tammi Terrell's beautiful song, You're All I Need to Get By.
"We also had one of our close friends Sophie Hytner (who was also fiancée of the best man!) sing a song she wrote herself called Complete… She also led the guests in singing 'All You Need Is Love' by The Beatles."
The couple also exchanged rings, choosing them at Steven Stone in Marylebone, London.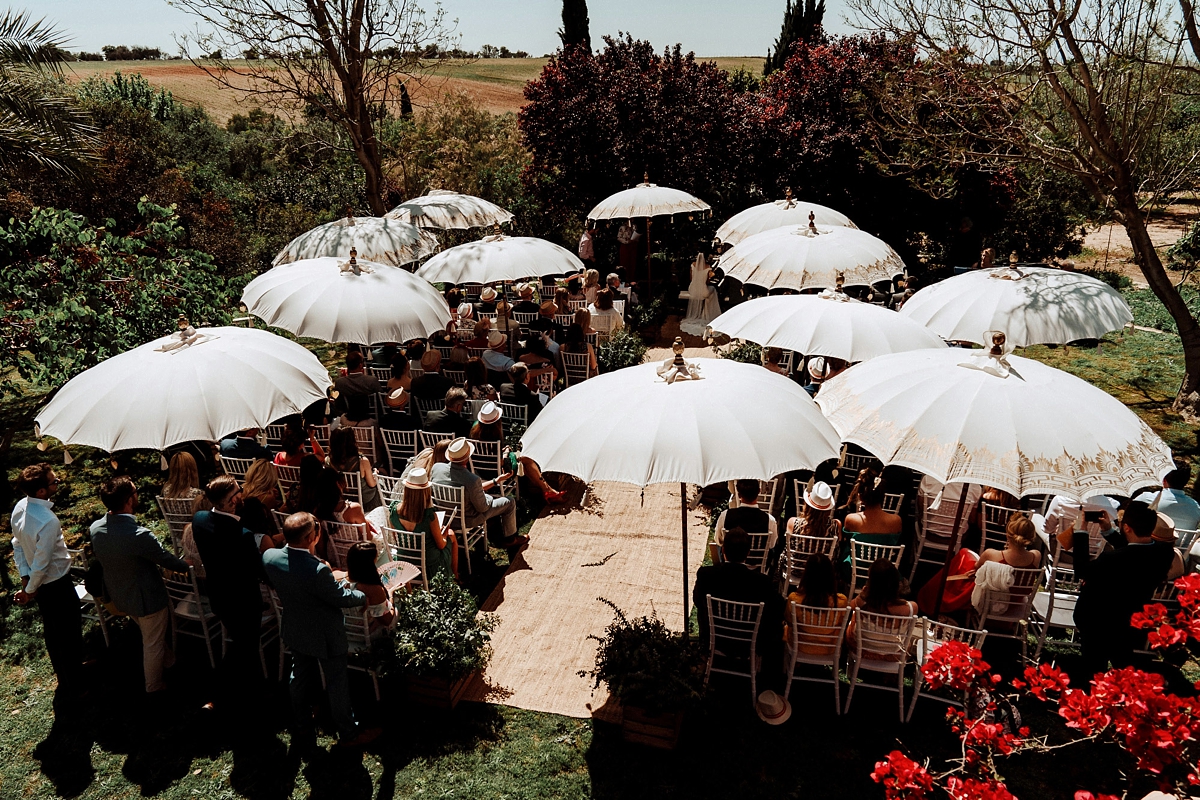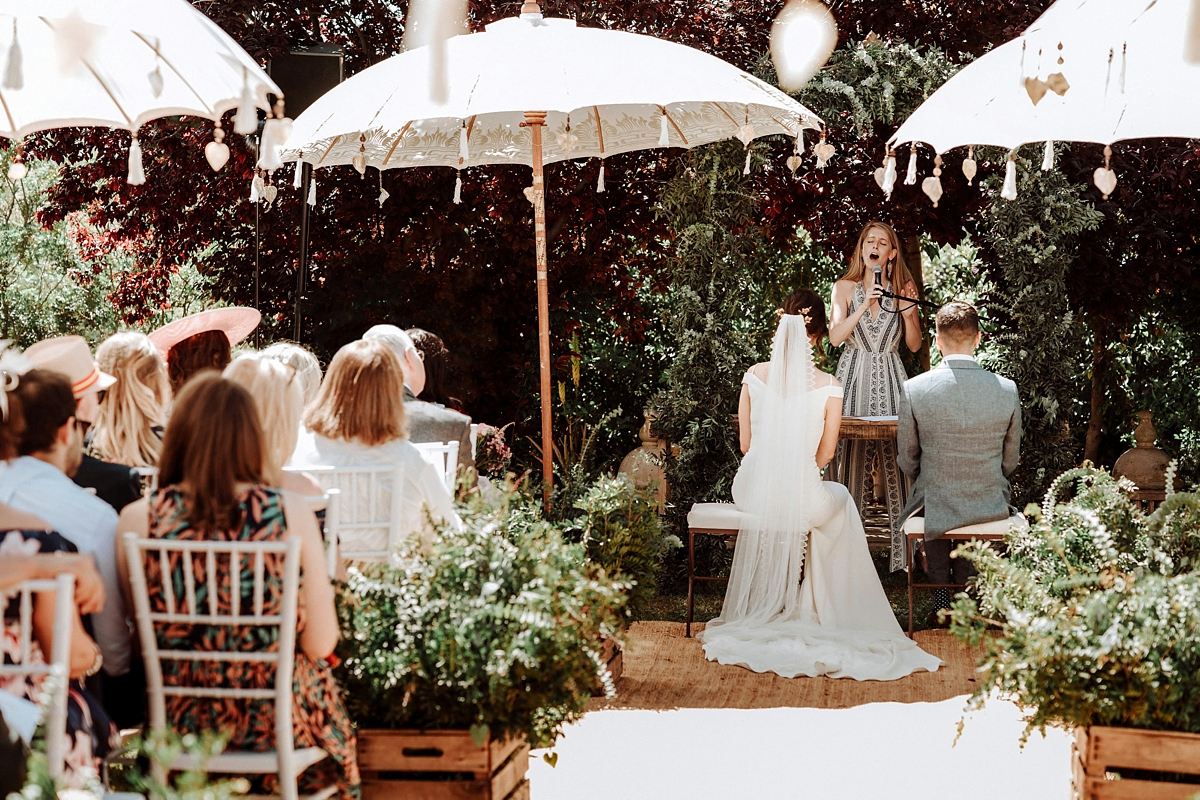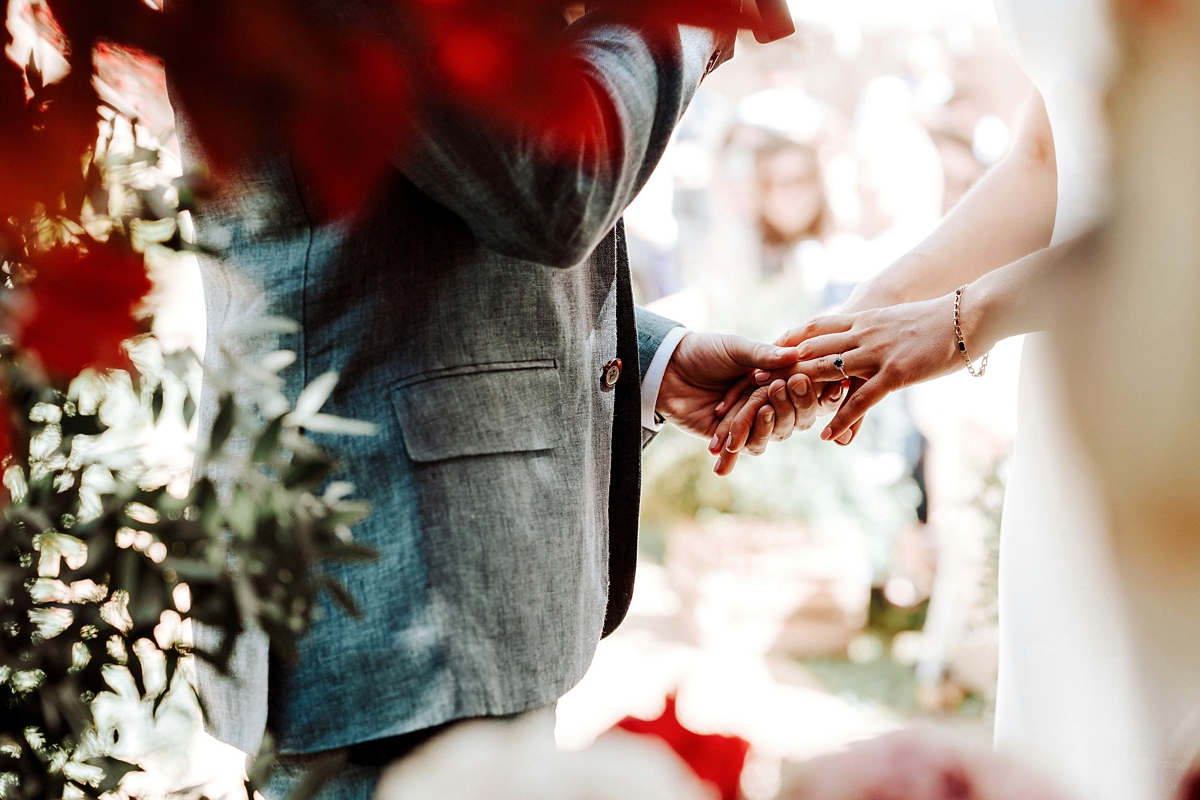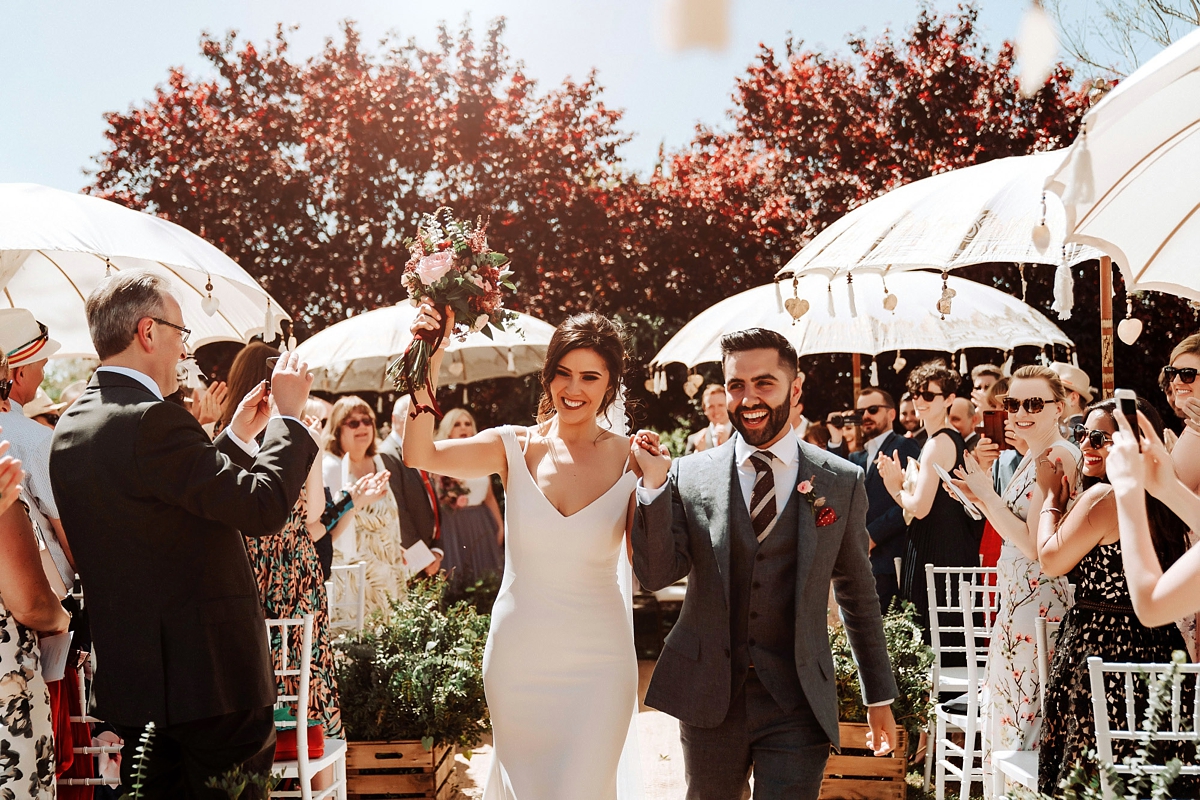 After the ceremony it was cocktail hour, and Saboga Catering outdid themselves with delicious canapes – Iberico ham, cheeses, croquettes, tortilla, chorizo and prawns.
"During the canapes we had a Spanish flamenco player playing which really added to the Spanish ambience (especially as we put him right next to the Iberico ham leg and cutter!) He was joined after a time by a flamenco singer and a 'cajador', which is a percussionist who uses a simple wooden box to keep the rhythm. This was a huge hit with guests as it was so different and quintessentially Spanish."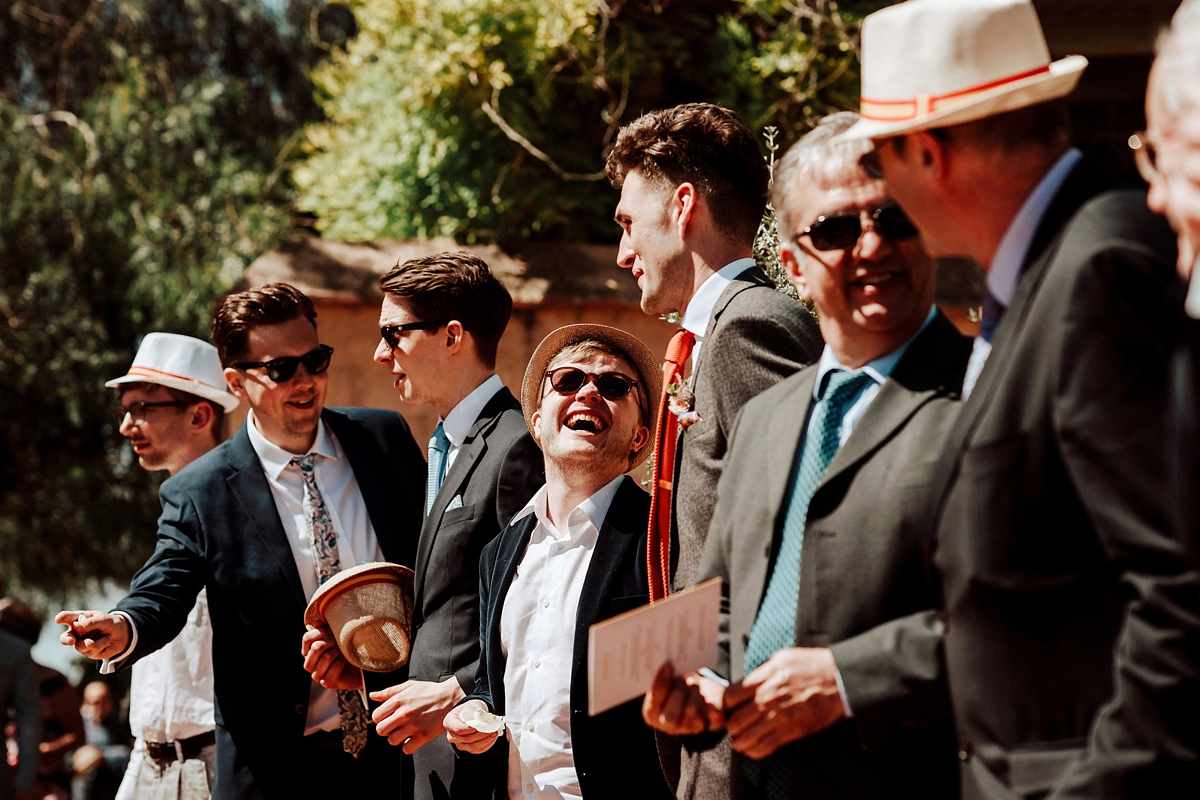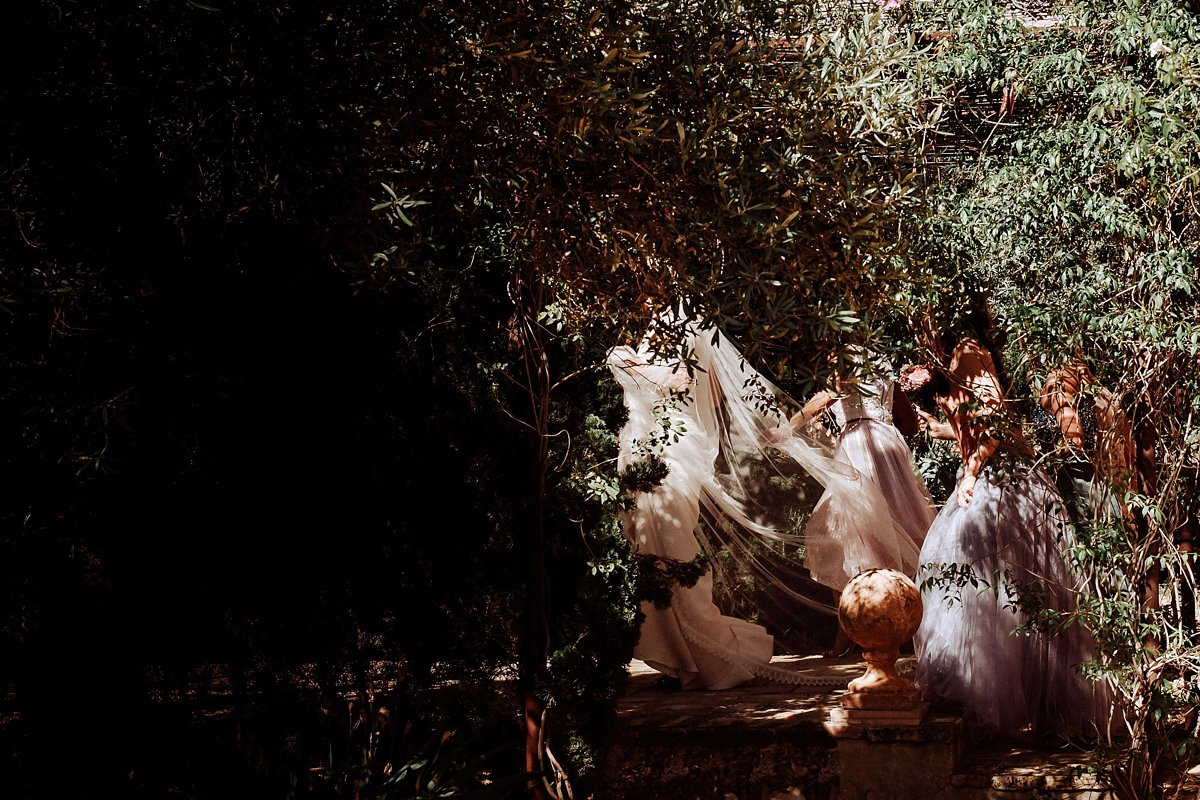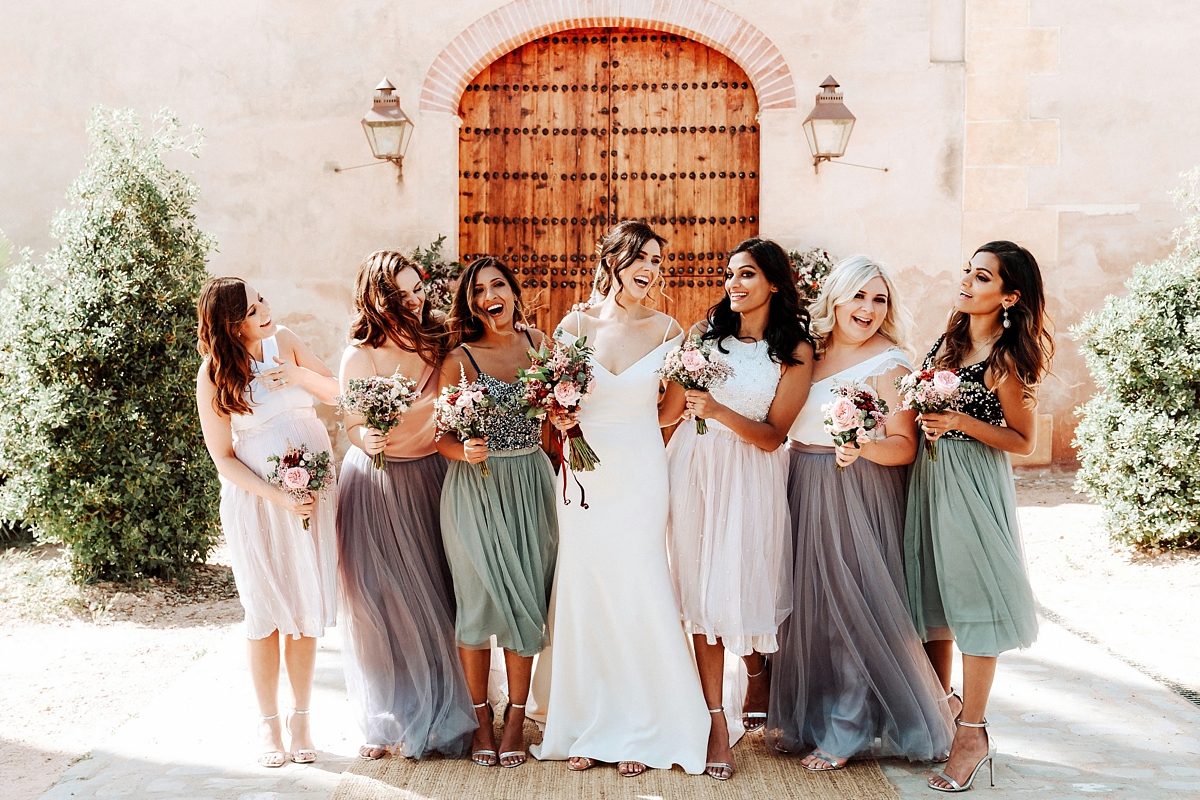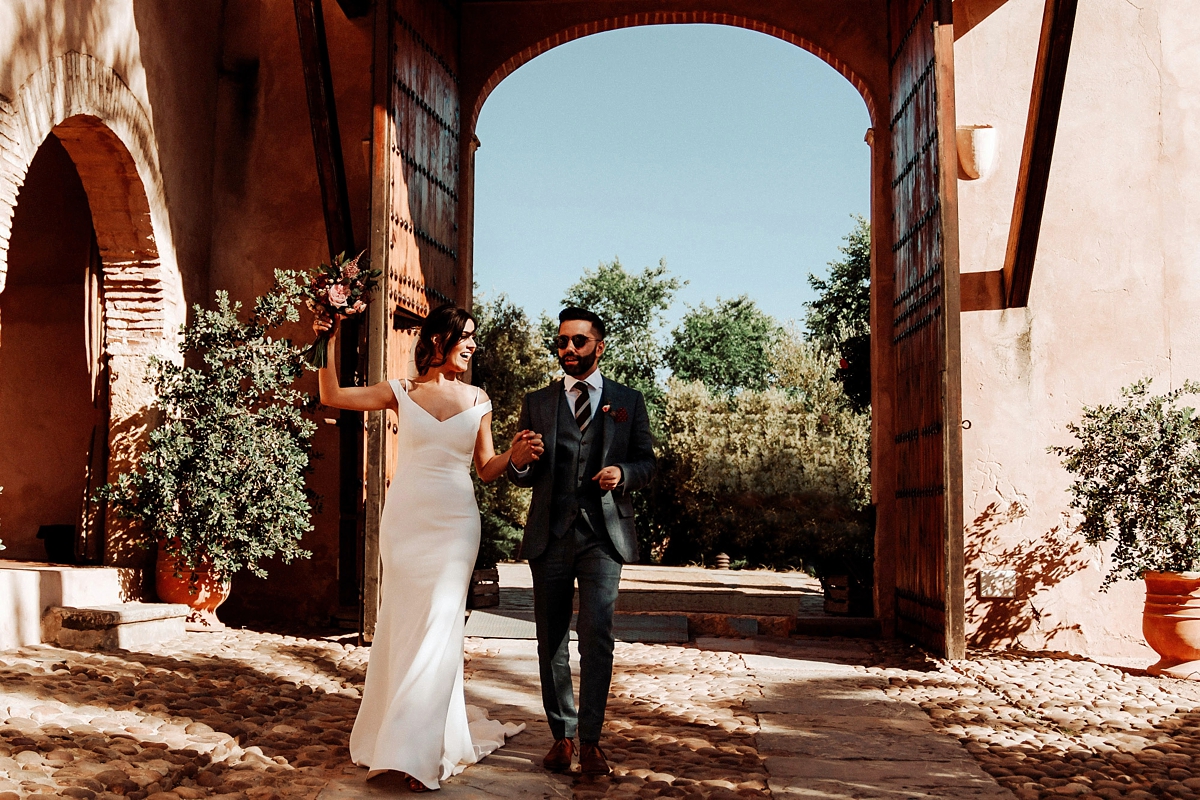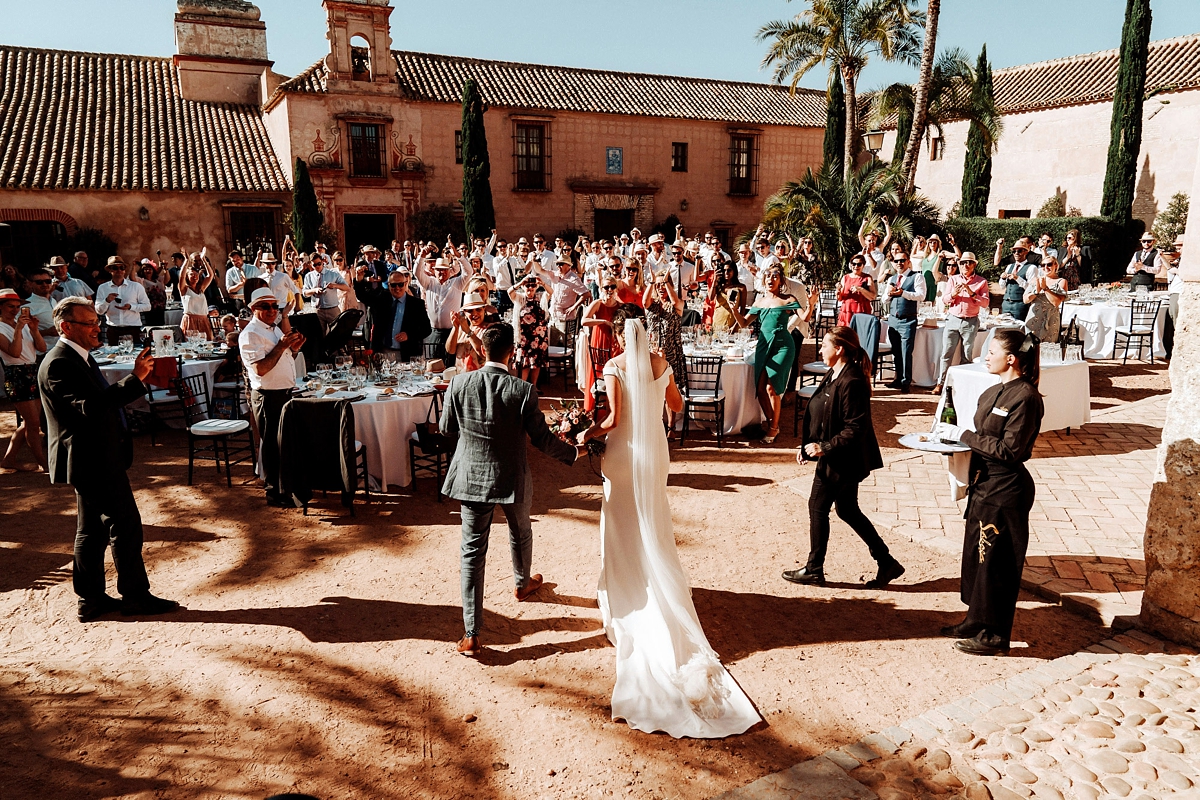 Dinner was held in the Hacienda's magnificent courtyard, surrounded by its rich red walls and overlooked by its bell tower.
"The team at Ainhoa & Co were so friendly, welcoming and very easy to work with. They had styled the Hacienda many times before and we were in total agreement that the Hacienda required very little decoration, we didn't want to take away its natural charm…We kept flower décor fairly low-key, opting for more natural plants that blended in well with the venue."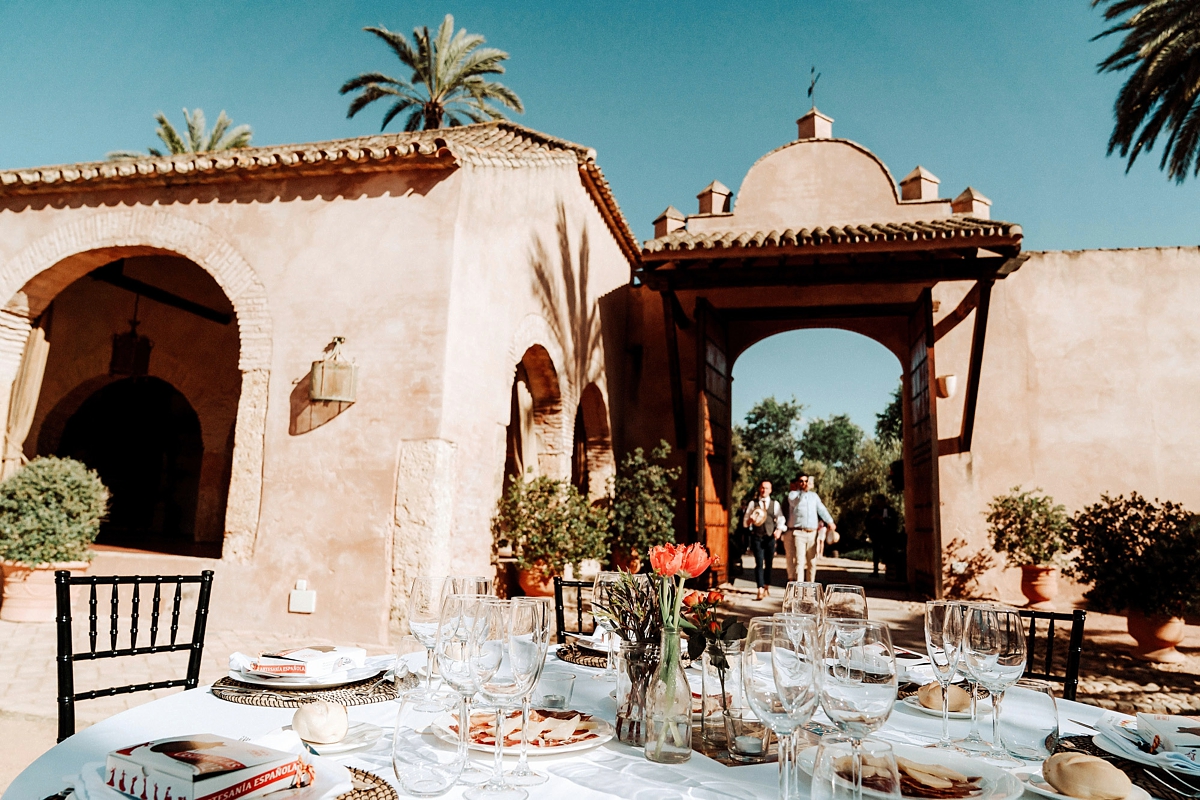 Once again, Saboga Catering did a fantastic job for dinner, with charcuterie plates to share first, followed by starters of loin of hake with mushroom and truffle oil risotto. The main course was a fillet of beef with rosemary potatoes and sherry sauce, followed by mojito sorbet as a palate cleanser and a trio of tarts with coffee for dessert (wow!)
"We cannot recommend our caterers enough. We are both massive foodies and the family has a Spanish food business so our main priority was always the food and the booze. We wanted to make sure everybody was catered for and the guests went away stuffed full of ham and vino tinto . We certainly achieved this as Saboga Catering did an incredible job with masses amount of food."

For table names, Sarah and Andrew chose vintage Spanish travel posters, which they had printed at Vista Print, and for favours, they hit upon a great idea (and one of their first wedding purchases during the planning process).
"They were Spanish castanets in a presentation box that we sourced from Andrew's family business. Andrew's grandad hand painted each one with 'The Lopez wedding' and then the date. When we walked into the courtyard for the meal to "You're All I Need To Get By", everybody was shaking the castanets, it was completely impromptu and made for a hell of a sound, it was amazing and one of our favourite memories of the day."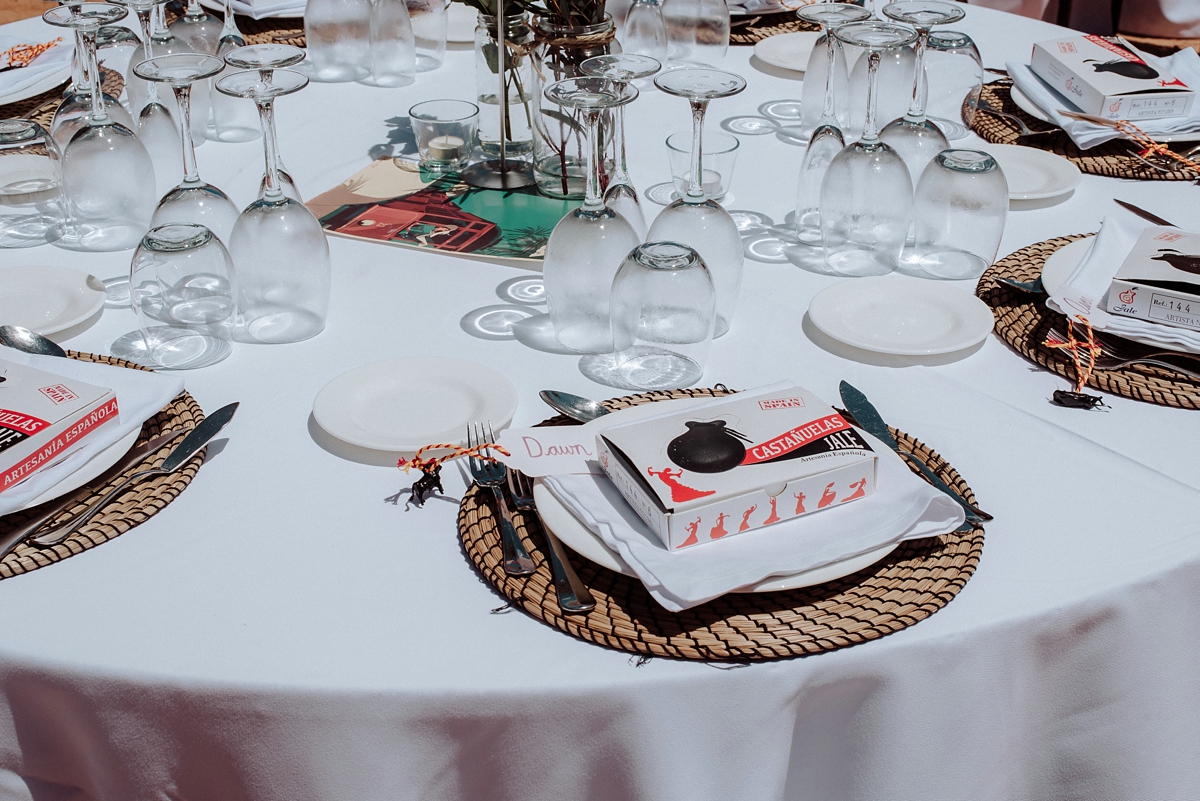 As wedding cake isn't a Spanish wedding tradition (and because Sarah and Andrew were concerned about uneaten and wasted cake), they chose instead to have delicious churros and chocolate served from a mobile van in the evening, as well as Spanish style sandwiches to keep everyone going.
We've featured Andrew Keher's sensitive, romantic work here before on Love My Dress, and it's fair to say that Sarah and Andrew were thrilled with his work.
"If you haven't yet booked a wedding photographer, then make sure you book Andy. I had so many friends say to me after the wedding that they wished they had booked Andy as their photographer. He is so unbelievably easy-going, enthusiastic and easy to chat to, we felt like we had known him for years."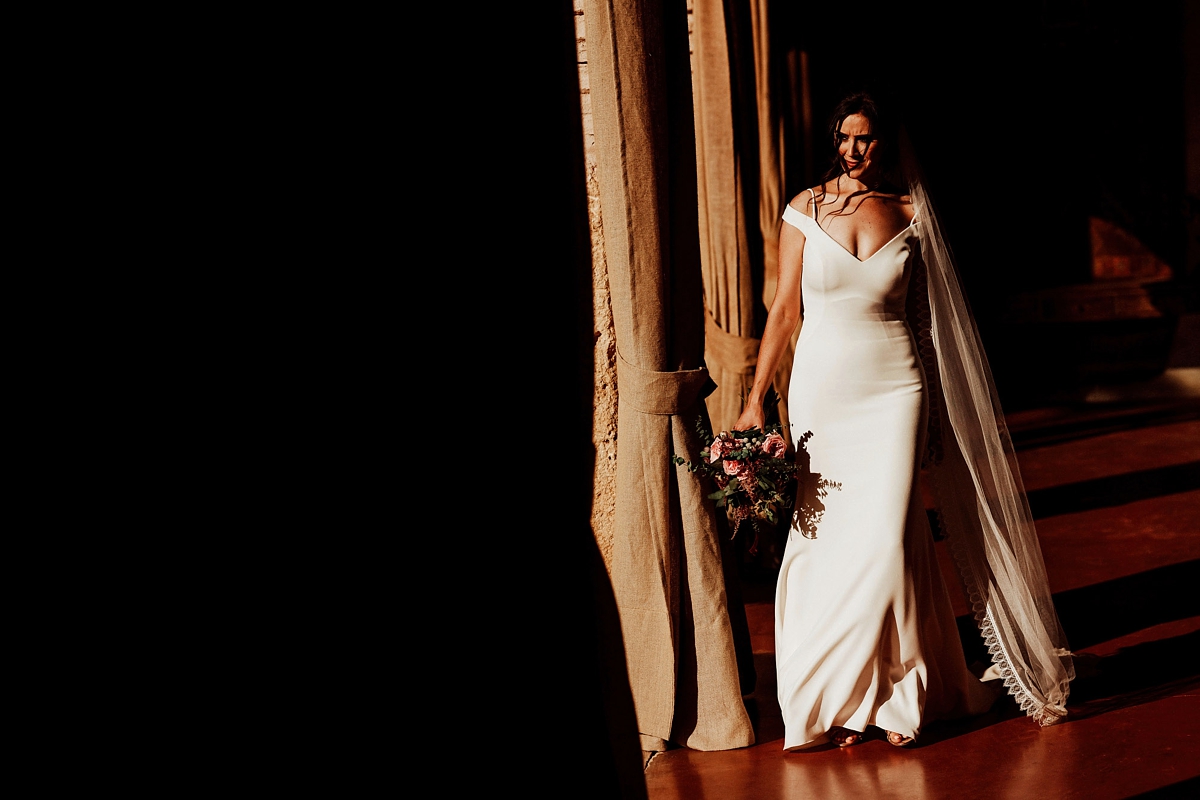 "He put us totally at ease. We are both a bit awkward at having our photo taken and hate public displays of affection; we didn't really want any forced shots and Andy just seemed to naturally understand our whole vibe and that of the wedding."
"The slideshow he sent us as a preview of our photos had everyone in tears. He captured the exact feeling of the wedding within a one minute slideshow. We didn't even know he had captured some of the moments, he somehow made himself invisible."
Videographers Instantanea & Tomaprimera also worked well with Andrew to ensure everything was captured just as Sarah and Andrew wished.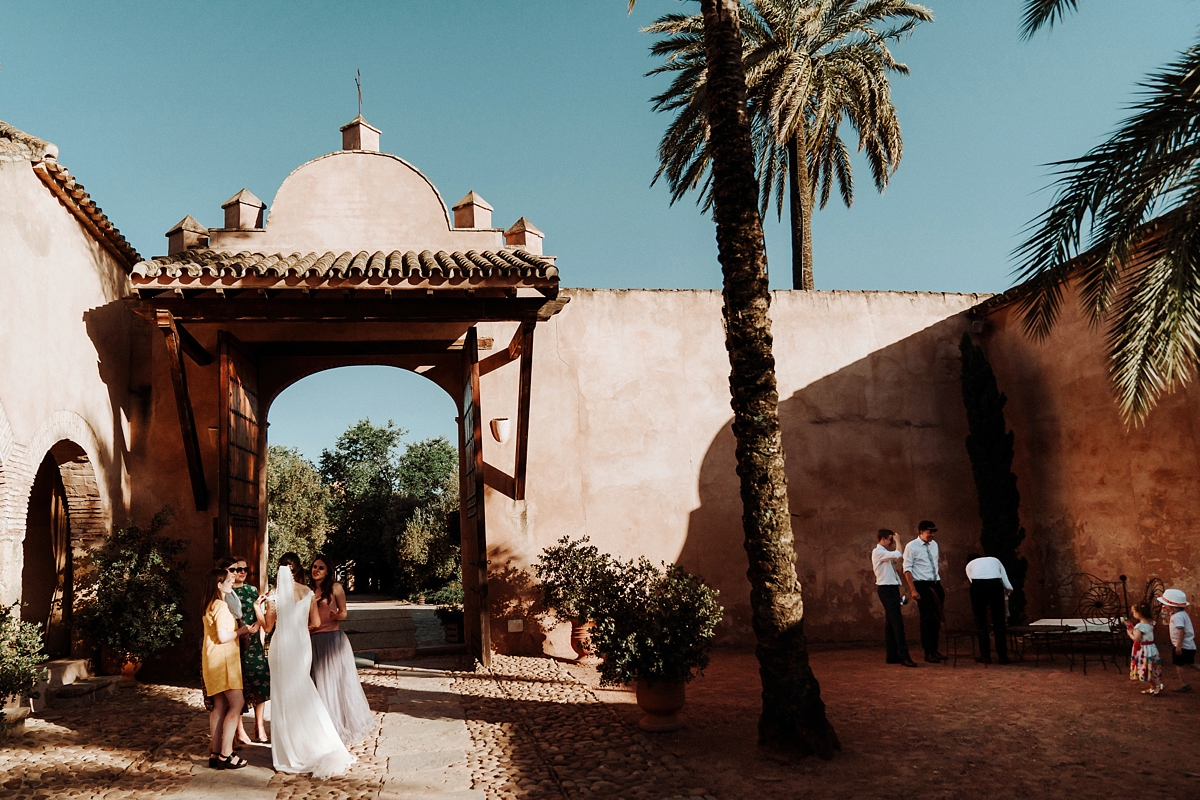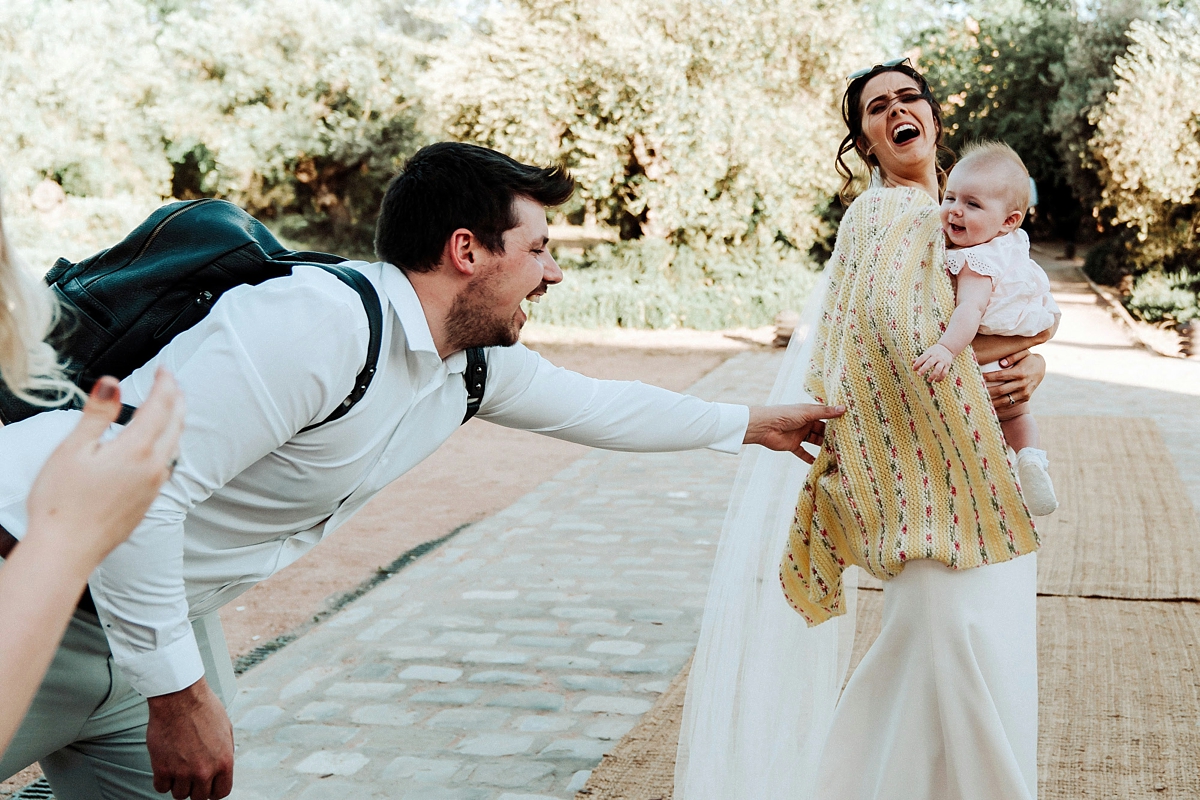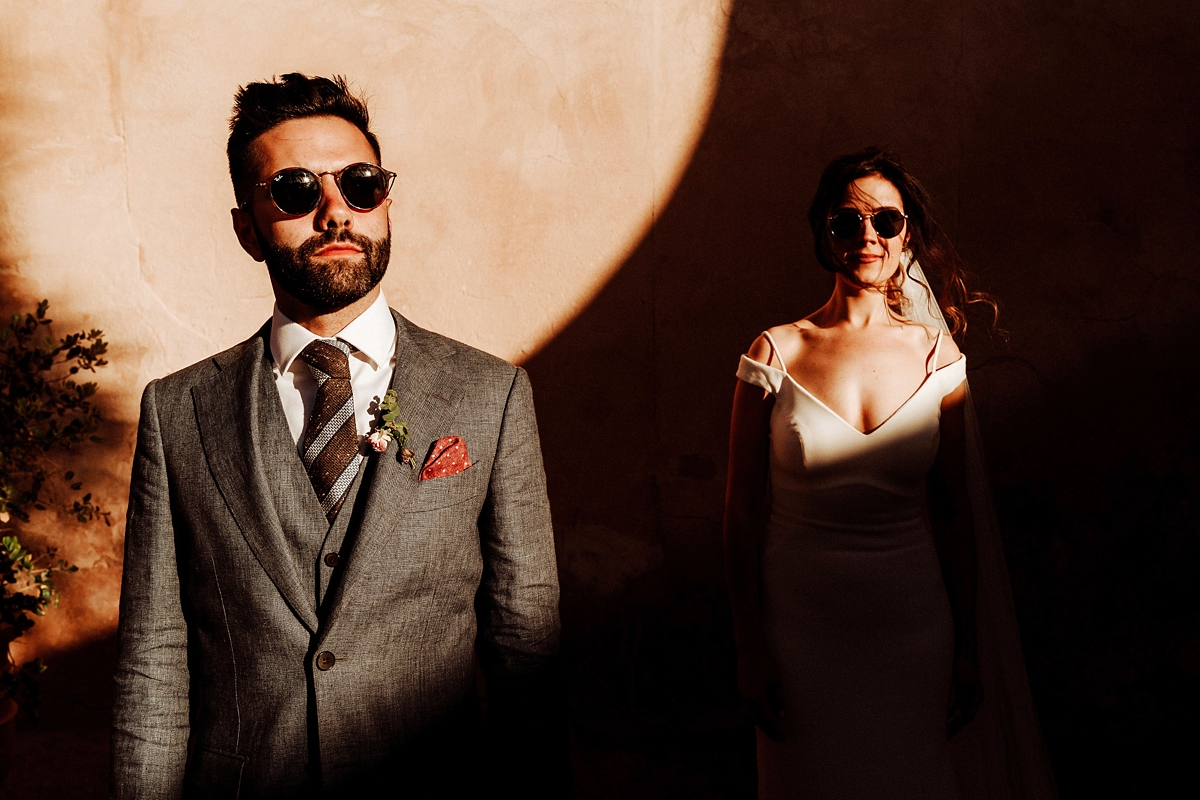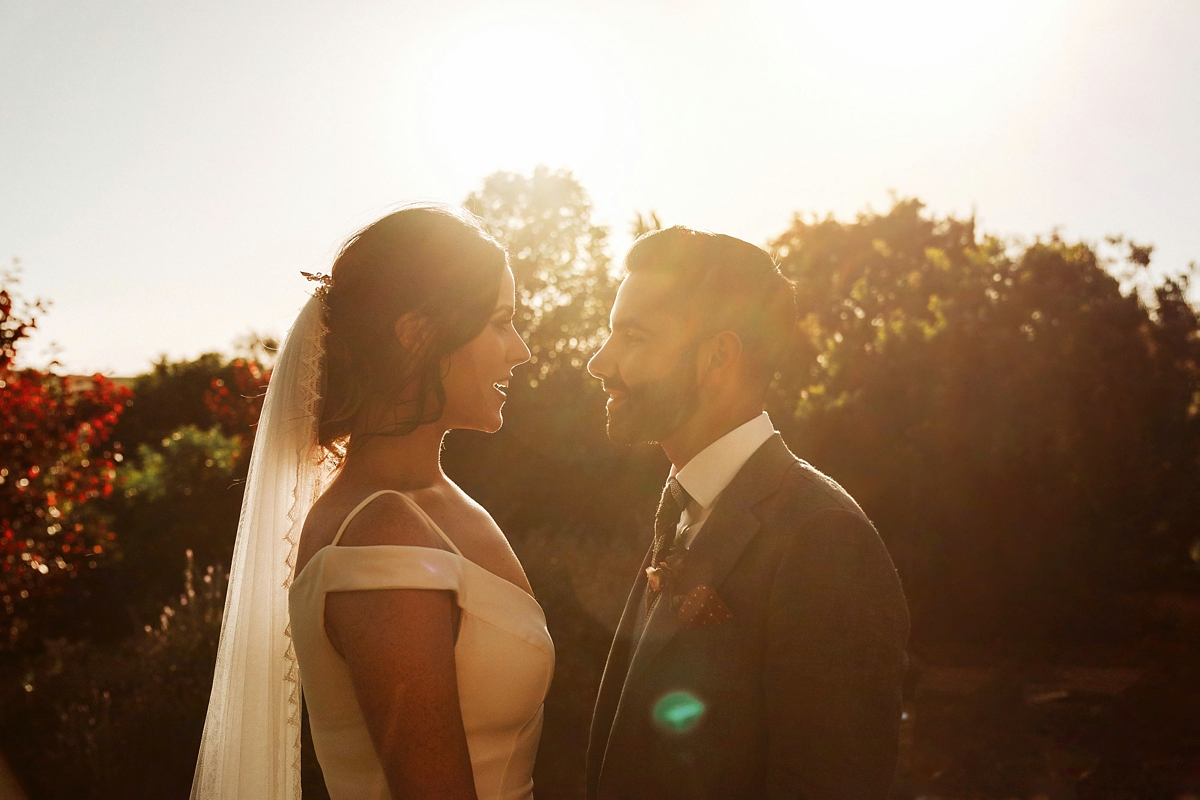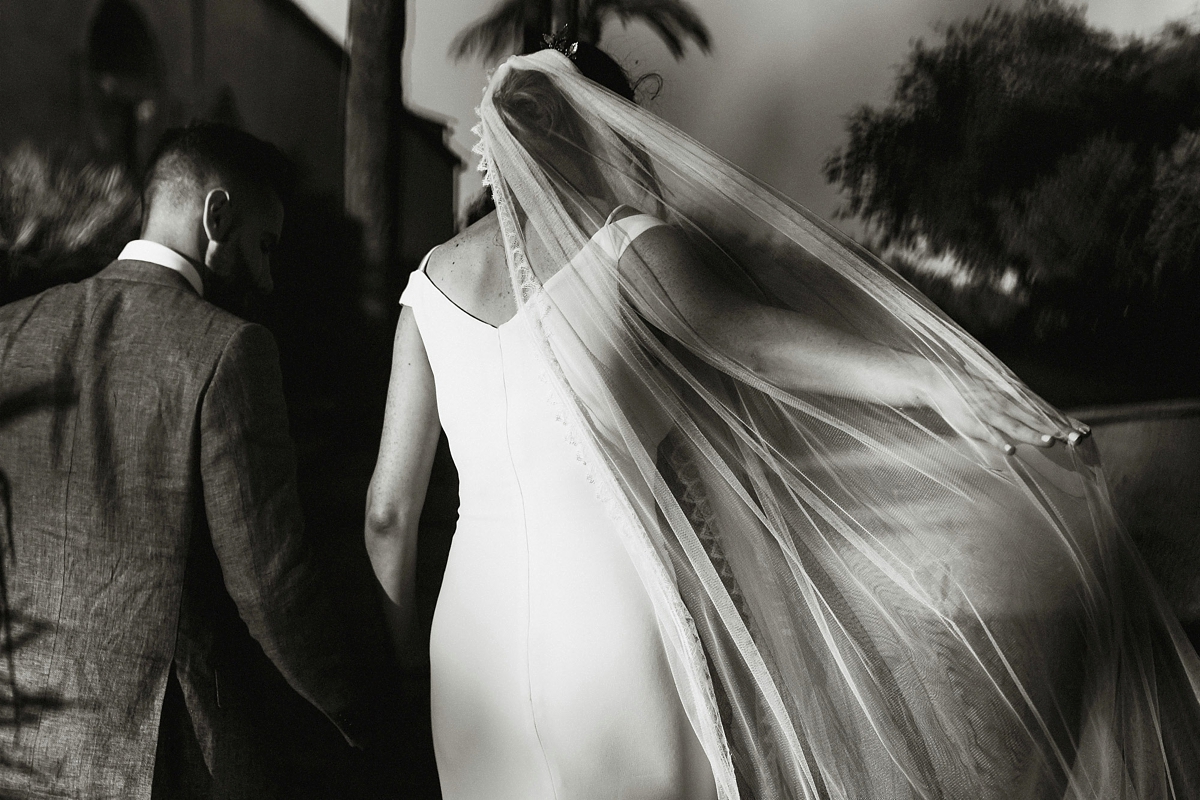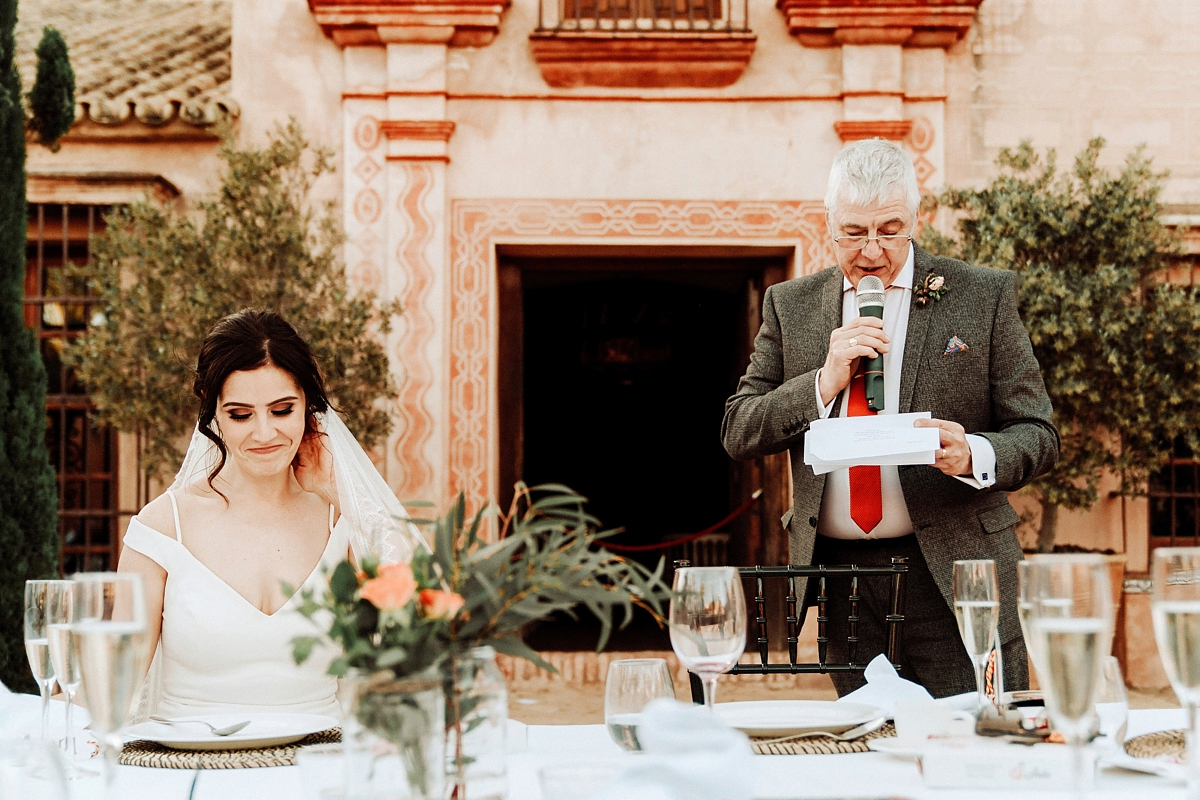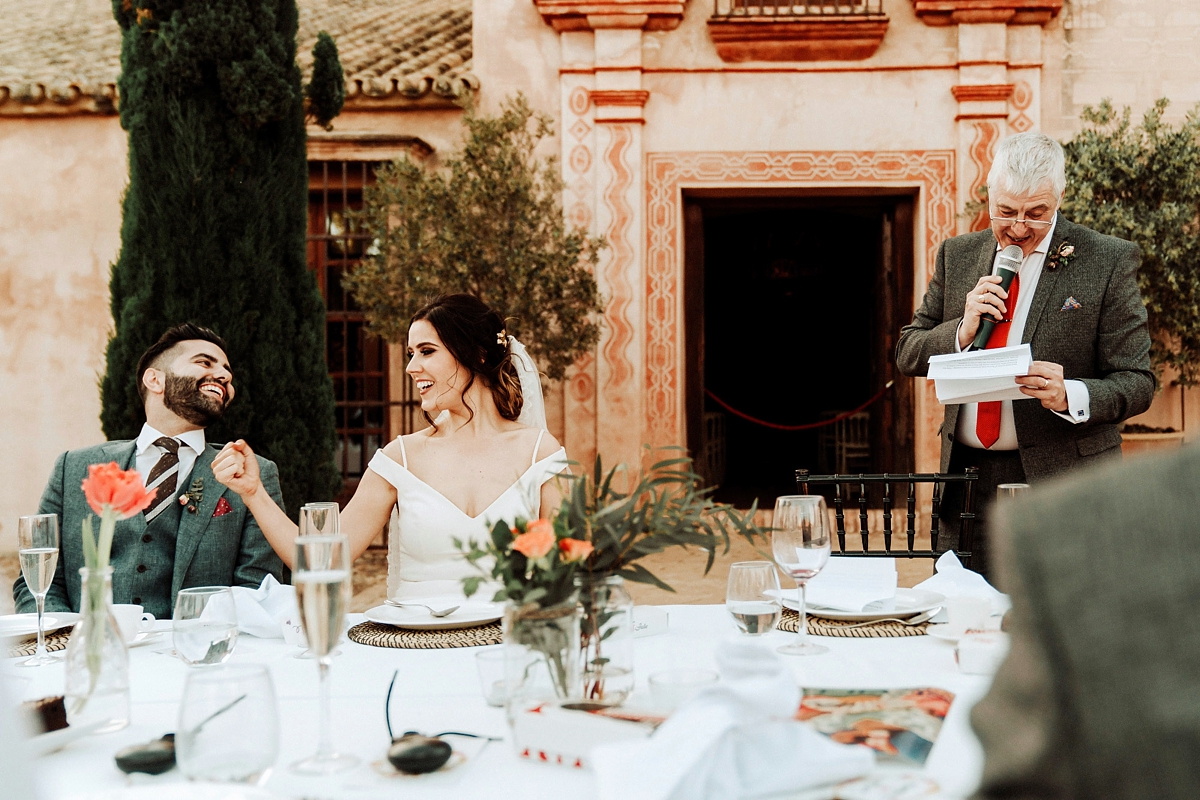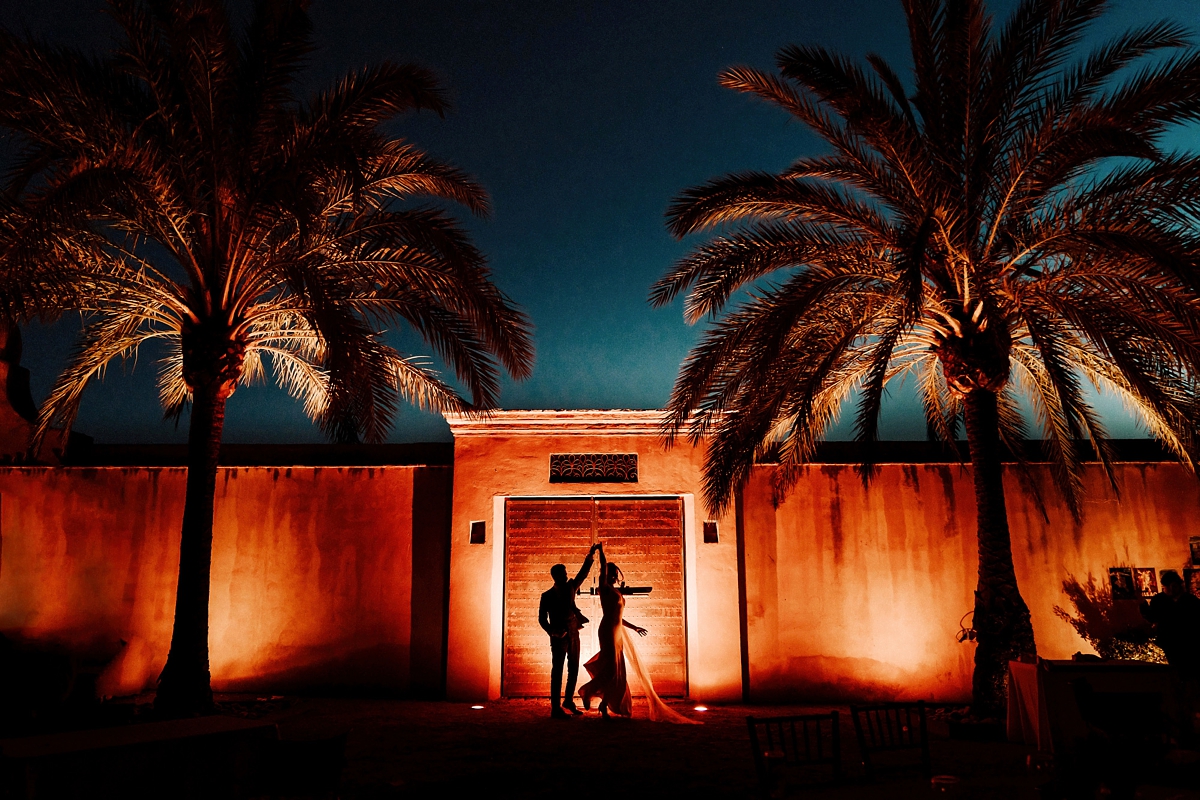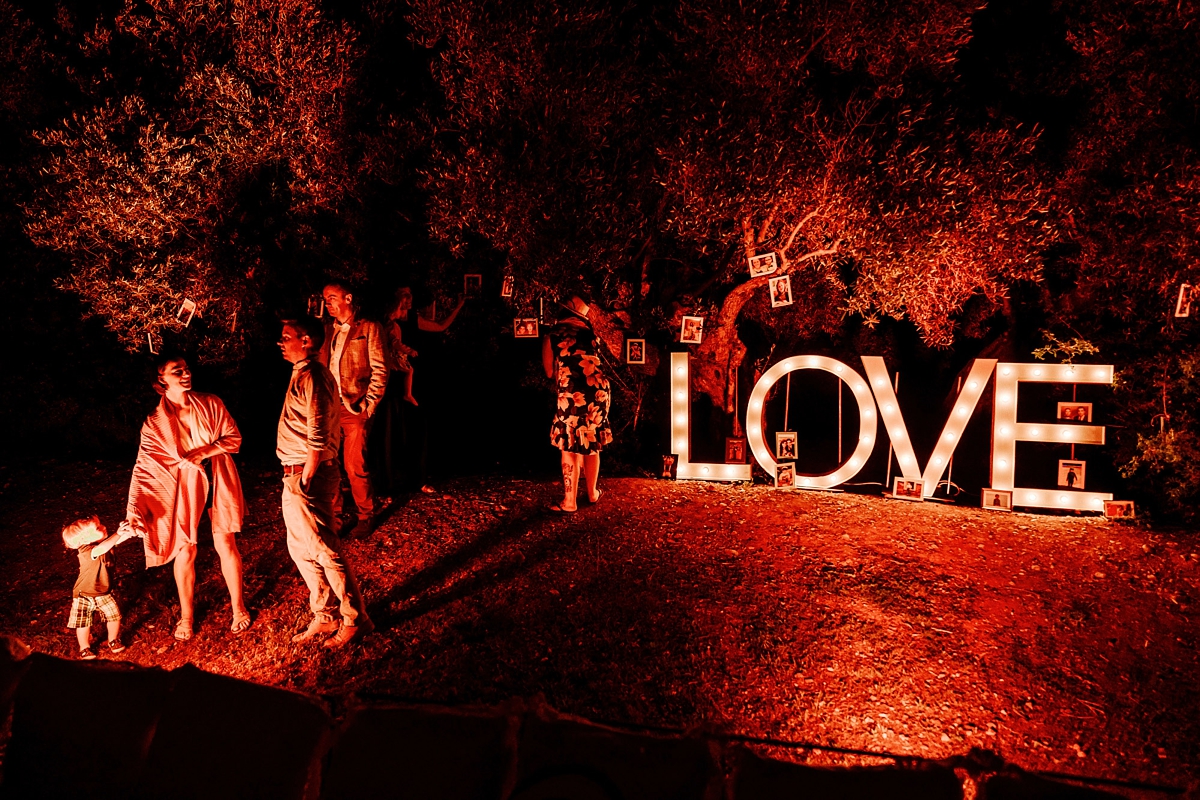 "For the evening we had a DJ callled Pedro who we found through the venue.He had a great sound and lighting set up and played a mixture of our playlist but interspersed with some Spanish style club songs. The big surprise for the evening entertainment was an electric violin player." (sadly no details available)."
"The night-time area was transformed into a stunning area with some clever use of draped hanging lights and sheets of lights around the sides, which gave it a magical look."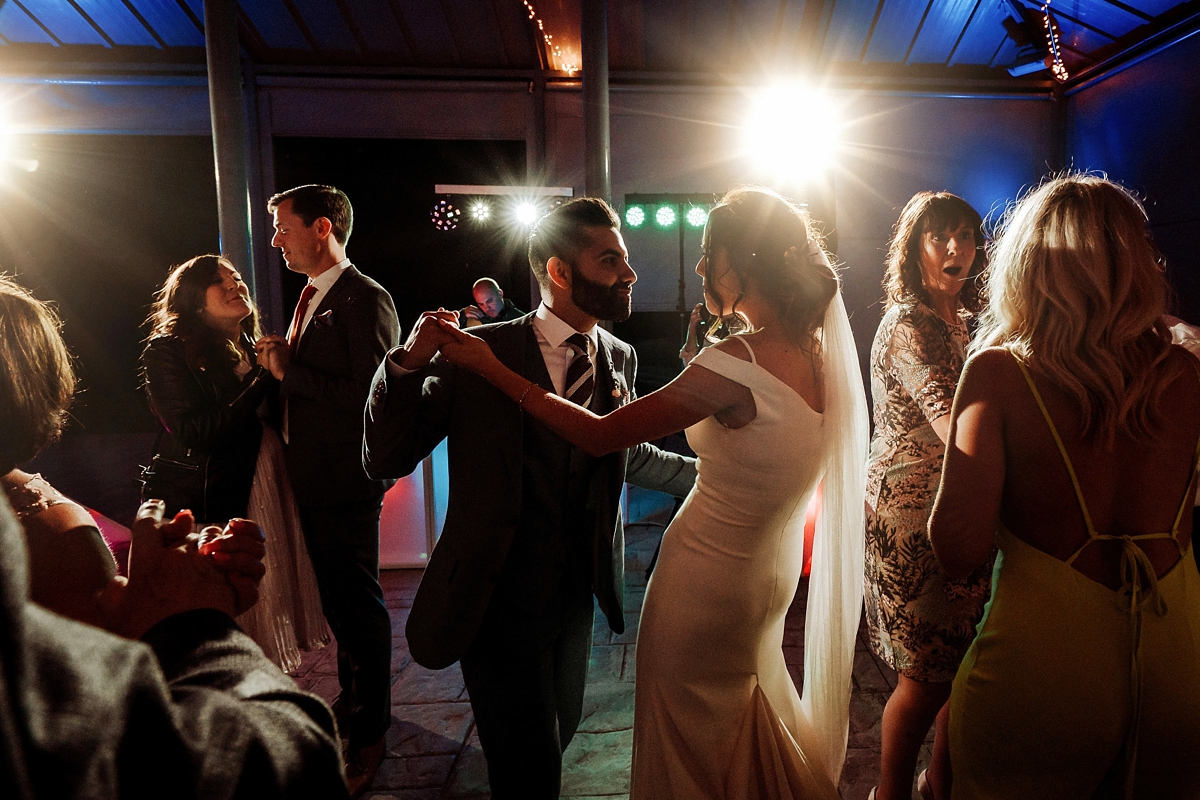 For their first dance together as a married couple, Sarah and Andrew chose Ben E. King's brilliant song, Stand By Me.
"It is a song that we both love and the sentiment, lyrics and style felt absolutely perfect for our first dance. (This was before Meghan and Harry copied us at their wedding!)"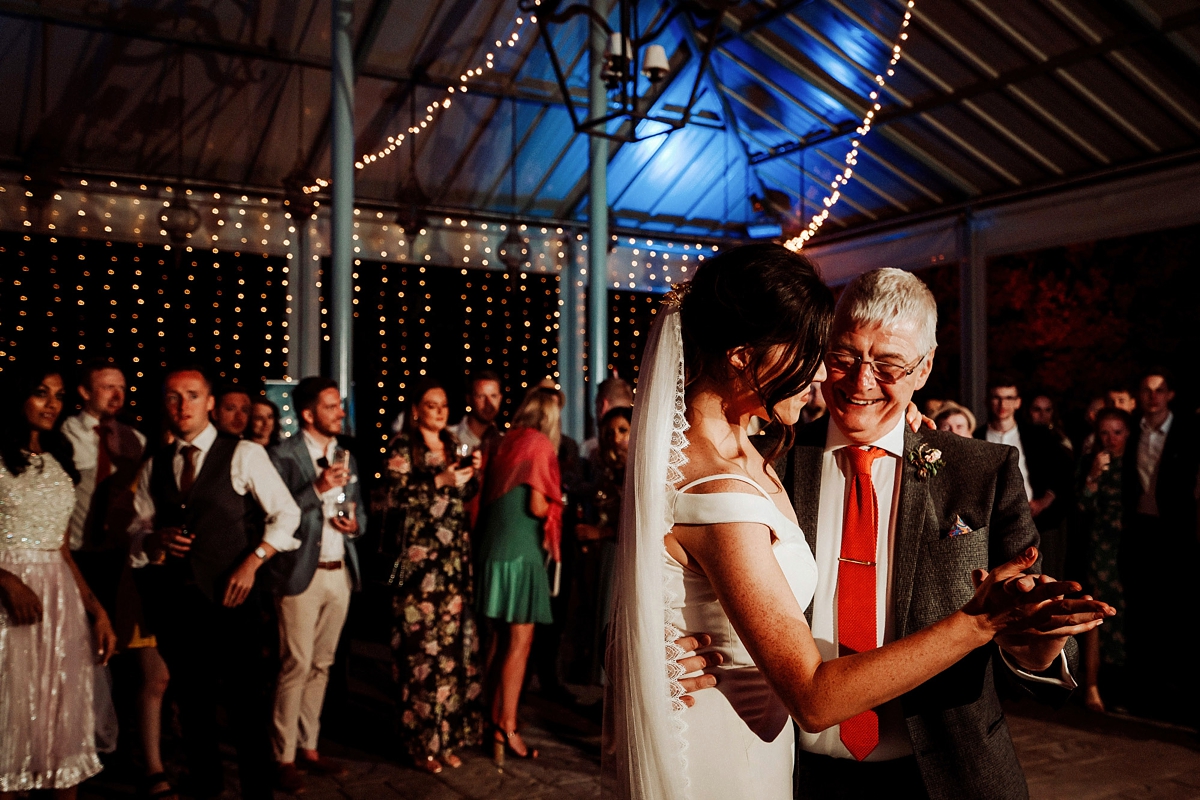 Words of Wedded Wisdom
"A great piece of advice we got from some friends was to make sure we made time for ourselves on the day. It was a brilliant bit of advice we would give to anybody else getting married. During the wedding breakfast, between the starter and main, we sneaked off with a glass of bubbly as the sun was slightly starting to go down, and just walked around the grounds as a couple and soaked it all in for twenty minutes. It was something neither of us will forget and gave us a chance to slow down really appreciate what was happening."
"Try not to get caught up in the worry and stress that can come with planning a wedding. Things might not always go to exact plan, but try to let it go. Always remember the bigger picture and that no matter what happens, you will get married to the person you love. Try and spend as many moments together as possible with your partner, you will get pulled away with family and friends, but it is your day and make memories."
Congratulations, Sarah and Andrew and thank you so much! I hope you've all enjoyed this gorgeous Spanish retreat as much as I have. Many thanks also to Andrew Keher for these spectacular images.
With love,
Laura