Happy Sunday evening lovelies! I do hope the weekend has been well spent? Today we're taking it back to the beginning of last year, with a wedding captured so beautifully by the extremely talented Matt Penberthy – he really captured the essence of the day, I think you'll agree. So, let's take a look at the magic he caught on camera, shall we?
Cruise ship interior designers Hannah and Andrew wed at the stunning luxury hotel Le Petite Chateau in Otterburn, Northumberland on 13th January 2018. And, by the way, this is the second wedding we've shared this wedding at this very special venue (you guys loved the first!)
Photography by Matt Penberthy
"For our wedding we took inspiration from the winter season, the colours and the landscape around us. I was also really keen to have every family member involved in our day; one brother was a groomsman, one brother did the reading during the ceremony and one brother signed our marriage certificate as a witness."
"Both my hair and make up was done by Lisa Jones, who was recommended to me through Le Petite Chateau. From the moment I met her, she was professional and a very down to earth person. She was conscious that I didn't wear too much make up and made everything look very natural."
Having set out on the hunt for the perfect wedding dress with a particular design in mind, Hannah ended up choosing a stunning fitted beaded number from the Little Book member Eliza Jane Howell, a world away from her original vision.
"I bought my dress from a bridal boutique in Southsea called Creatiques and it's by wedding dress designer Eliza Jane Howell. Originally I wasn't going to have this dress. I explained to Kayleigh at Creatiques that I didn't want any beads or lace – just a very simple, strapless sheath dress."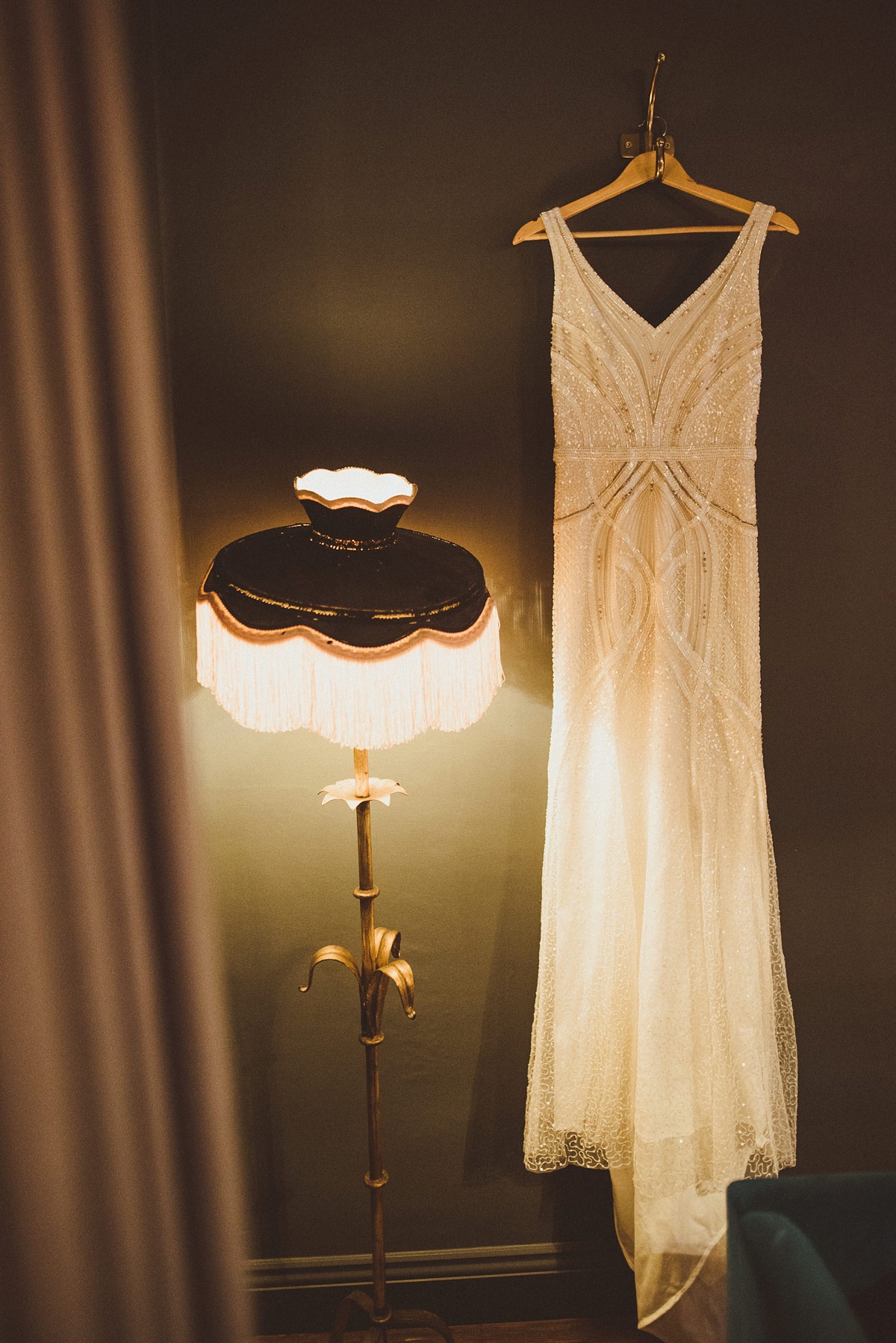 "I was set on one dress like this and visited the store quite a few times with my mother to try it on. During my last visit I went to make the payment on it and when my father joined us and I unveiled it to him, he said it was 'nice'."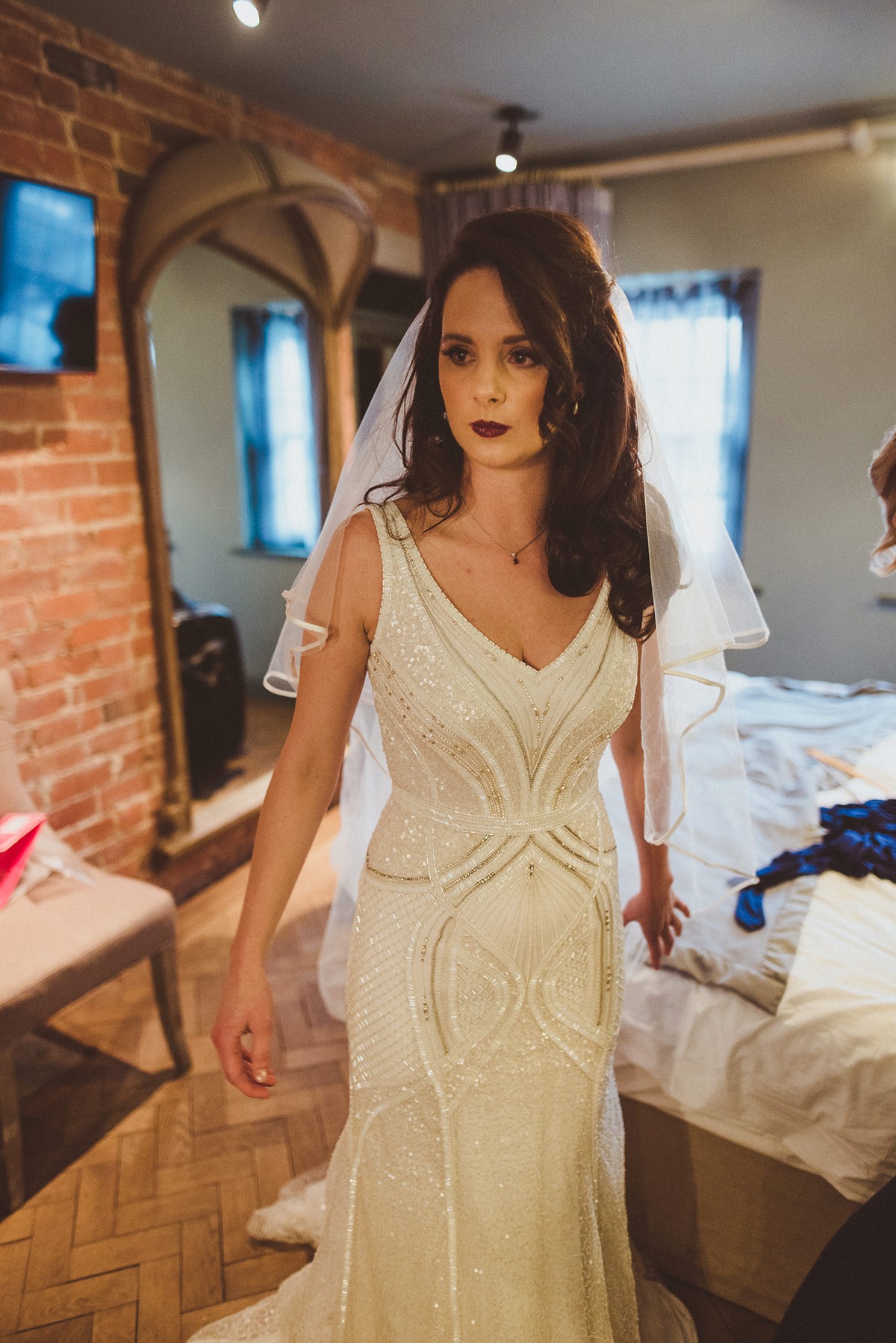 For me this was a disaster of a response so I reverted back to Kayleigh and asked her to bring me lots of different dresses to try on, regardless of them having lace or beads! After what felt like ages, out of the corner of my eye I spotted the most beaded dress I'd seen yet and thought why not try that on."
"Well, once I put it on I fell in love with it. My fathers response this time was 'wow' and my mother had a few tears in her eyes – I knew this was the one. Having a background in design, the things I wear are important to me and I liked the fact the top half of the dress was symmetrical and all the beading was perfectly aligned."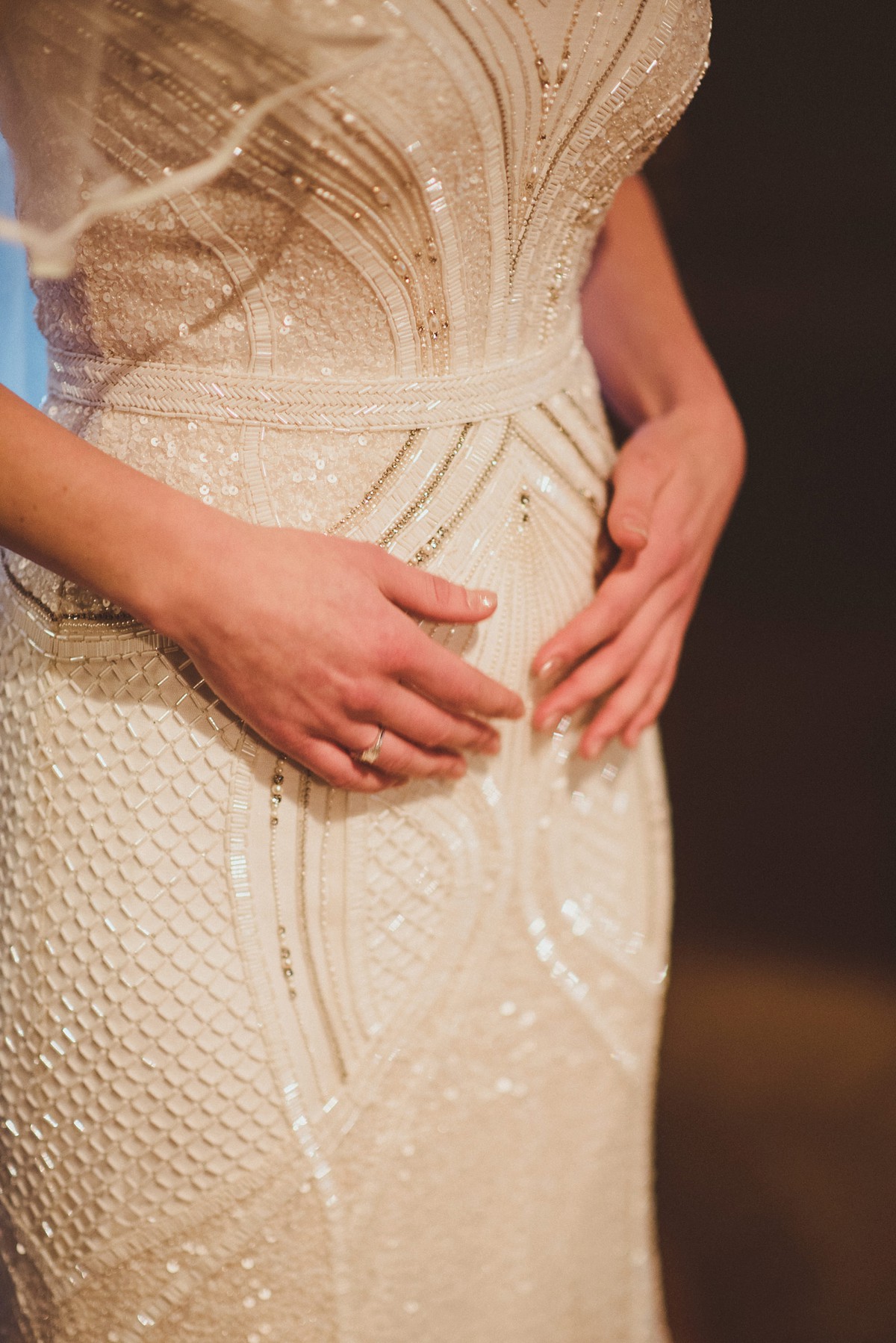 "Now that I had my very Gatsby-like dress, my veil had to be simple. The veil I chose in the end had a 2cm satin trim all the way around it and little bits of diamonds scattered all over it."
"My shoes were from a company called Rainbow and I also wore a little floral hair comb when I wasn't wearing the veil. My other accessories included a necklace that was given to me by my parents for my 21st birthday and a pair of earrings that had been my grandmothers. She had worn them on her own wedding day in 1951! I was keen to wear something that reminded me of my grandparents so it felt like they were a part of the day too."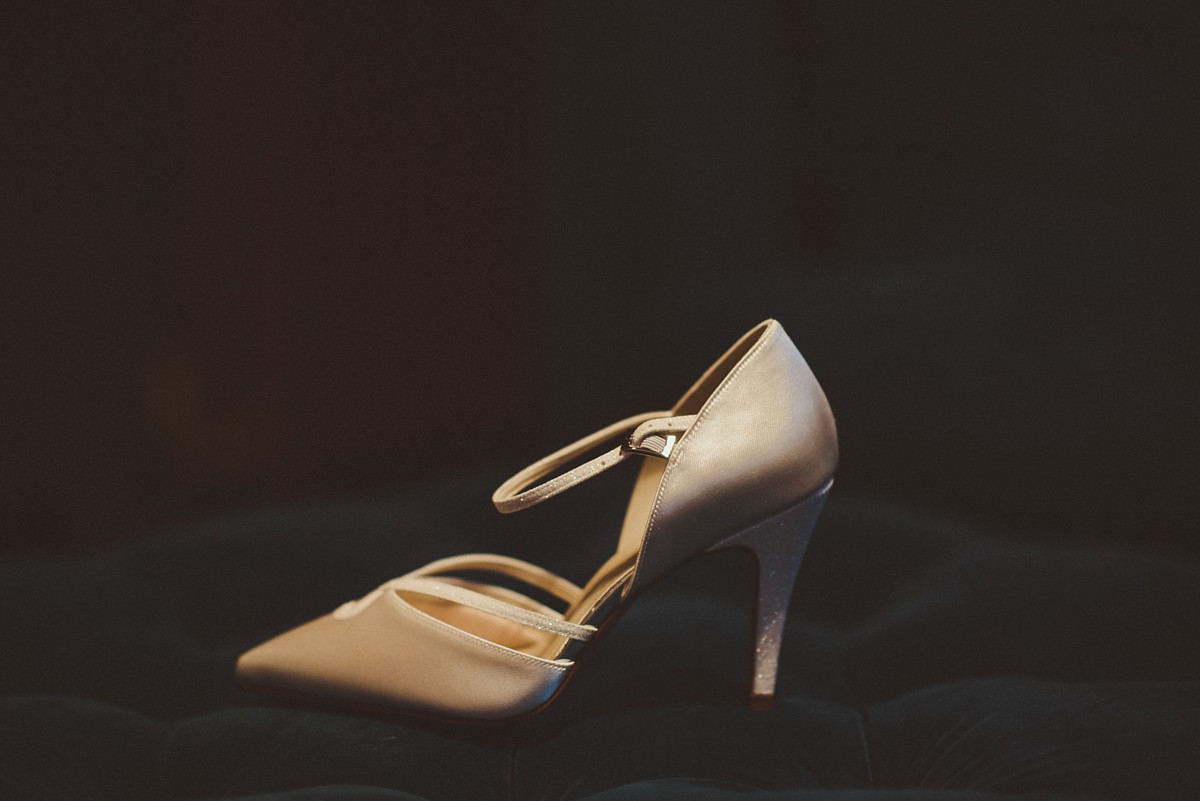 After first meeting at work in 2013, Hannah and Andrew got engaged in 2016 before spending another two years planning the winter wedding of their dreams.
"We met in 2013 but didn't start officially seeing each other until 2015. The proposal took place in Italy whilst on holiday. Andrew had intended to propose early on in the holiday but changed his plans after I got terrible sunburn and thought it best to let me cool down first! Then the castle he wanted to propose to me in was closed for a private event. He eventually found the opportune moment overlooking our hotel courtyard. Obviously I said yes!"
"I asked my bridesmaids to wear whatever would make them feel comfortable. Two of them chose the Claudia dress and one of them chose the Ivy dress, both full length navy blue dresses from Ghost. These dresses were the first thing for the wedding I bought. I knew straight away I wanted them to wear Ghost dresses."
"They are elegant and simple and the girls could wear them again if they wanted to. I bought each of my them a bracelet from Links Of London too, from their Art Deco Gatsby style range brought out in 2017."
"My flower girls both wore velvet bodice dresses from John Lewis and we also bought them each a little sparkly bracelet from Pandora. My nephew was our page-boy and he very carefully carried our rings down the aisle."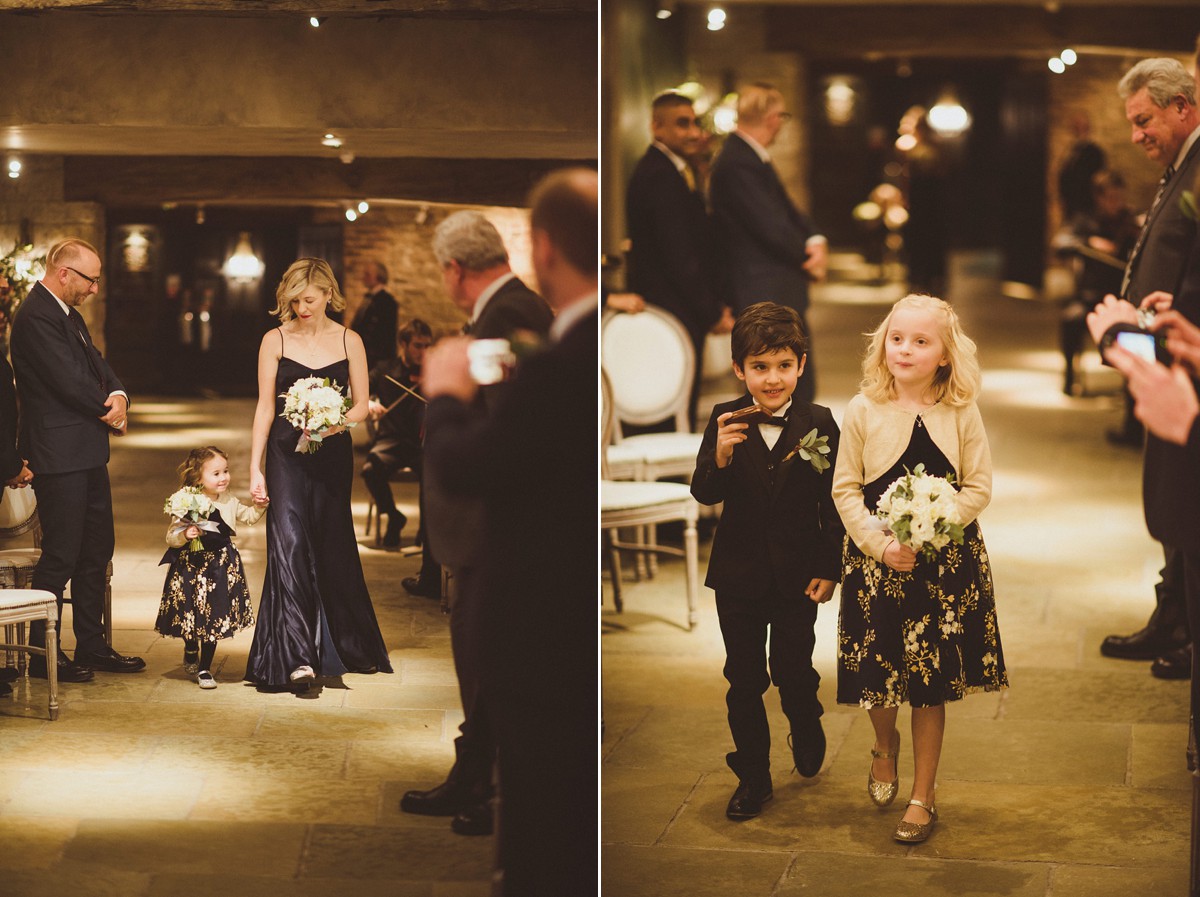 "I hadn't been nervous at all about walking down the aisle on the morning of the wedding. It wasn't until I linked arms with my father and he put his hand into mine that, for a split second, I could feel myself starting to tear up. It only lasted a split second though and my father accompanied me down the aisle with no problem."
"My parents and I spent hours looking through different tracks to walk down the aisle to. As our wedding wasn't very traditional, we felt the classic wedding song wouldn't have been right for us. We finally settled on Mio Bannino Caro. Truth be told, walking down the aisle I remember seeing the string quartet who played the track, but I don't recall any music playing!"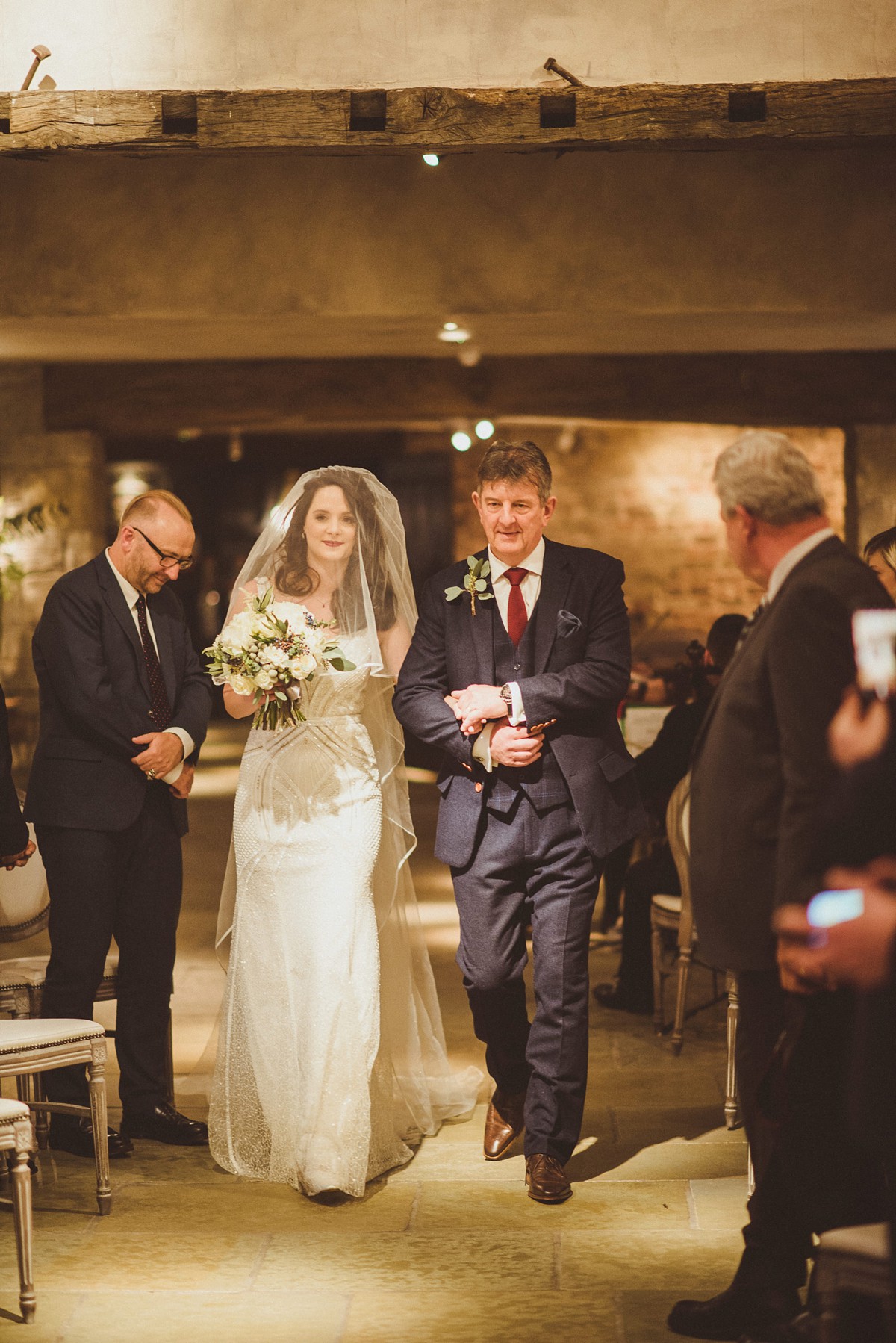 In keeping with the wintry tones and matching the bridesmaids, the groom chose a 3-piece navy suit from Victor Valentine, accessorised with a deep red tie and a pair of brown shoes.
"Both of our wedding rings were from a local company to my family in Titchfield called Hallmark Jewellers. It was also the same place Andrew bought my engagement ring from. My mother and I had been discussing what my ring would look like if I designed it. I love the Art Deco era as it's so timeless, so we put together a sketch of the perfect ring. Andrew then got hold of the sketch and had it made by the jewellers without me knowing."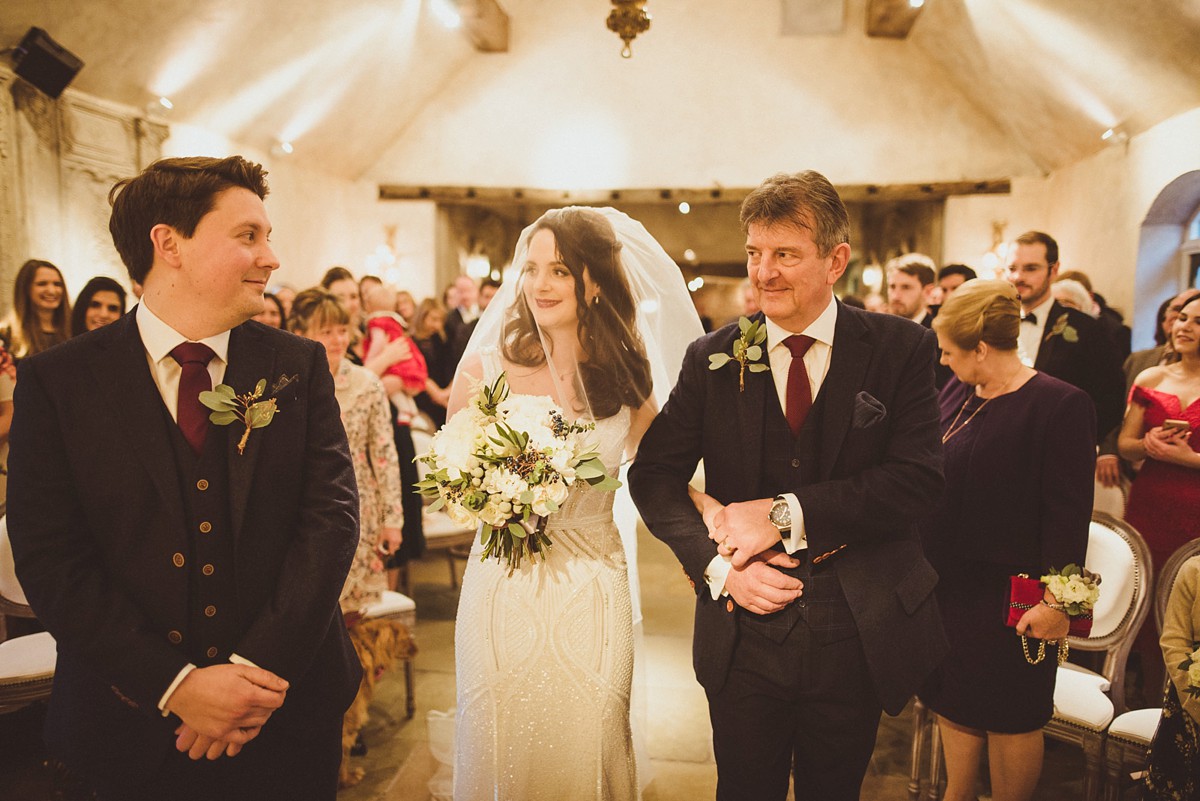 The gorgeous white and green bridal and bridesmaids bouquets were made by Alexander's Flowers, another recommendation from the venue, which were created from a mood board the bride had developed and sent to them in the run up to the wedding.
"We didn't tailor any of our vows. My middle brother read a quote by Albert Einstein; 'Gravitation cannot be held responsible for people falling in love. How on Earth can you explain in terms of chemistry and physics and biological phenomenon as first love? Put your hand on a stove for a minute and it seems like an hour. Sit with the special girl for an hour and it seems like a minute. That's relativity'."
"We chose this reading because a lot of other readings felt too emotional for us, and not reflective of us as a couple."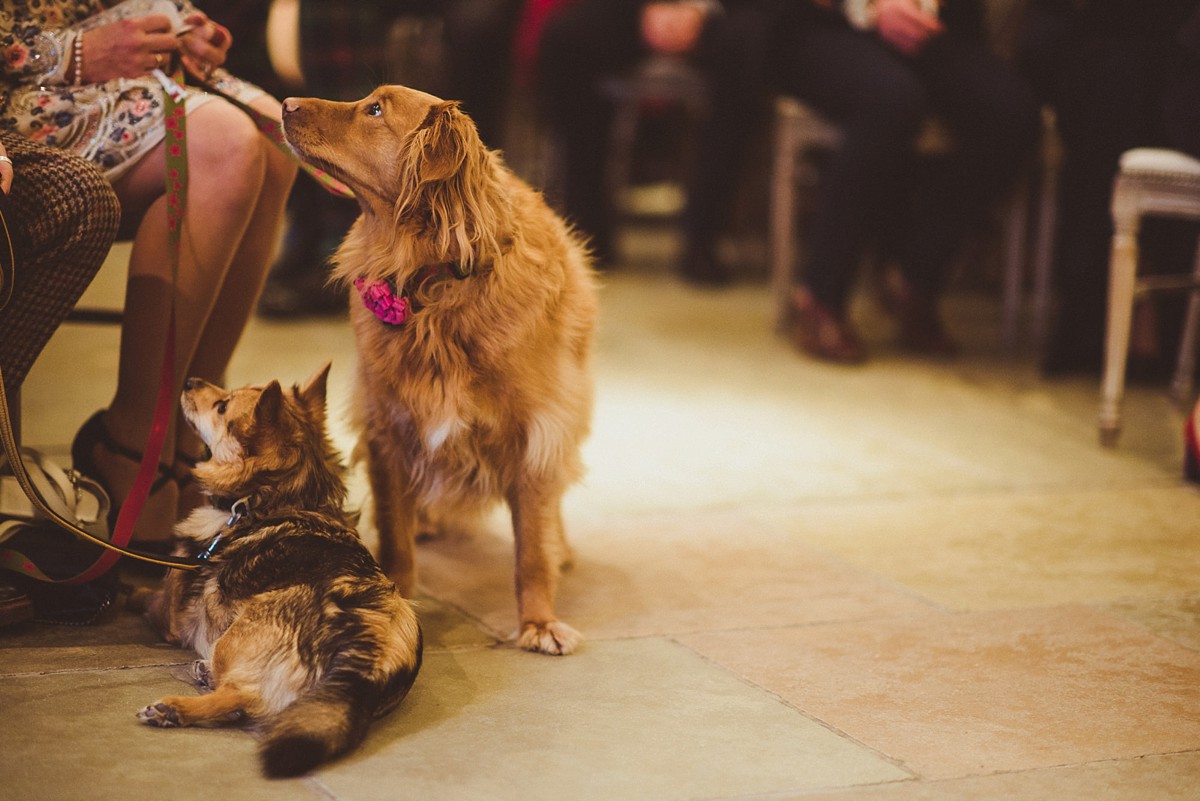 The beautiful dream-like candid photography was done by Matt Penberthy, a creative destination photographer with a penchant for travel.
"Matt was truly exceptional. He used the venue and the landscaping of the gardens at the venue in unique and imaginative ways. He was also extremely discreet on the day but managed to capture all of the key moments perfectly."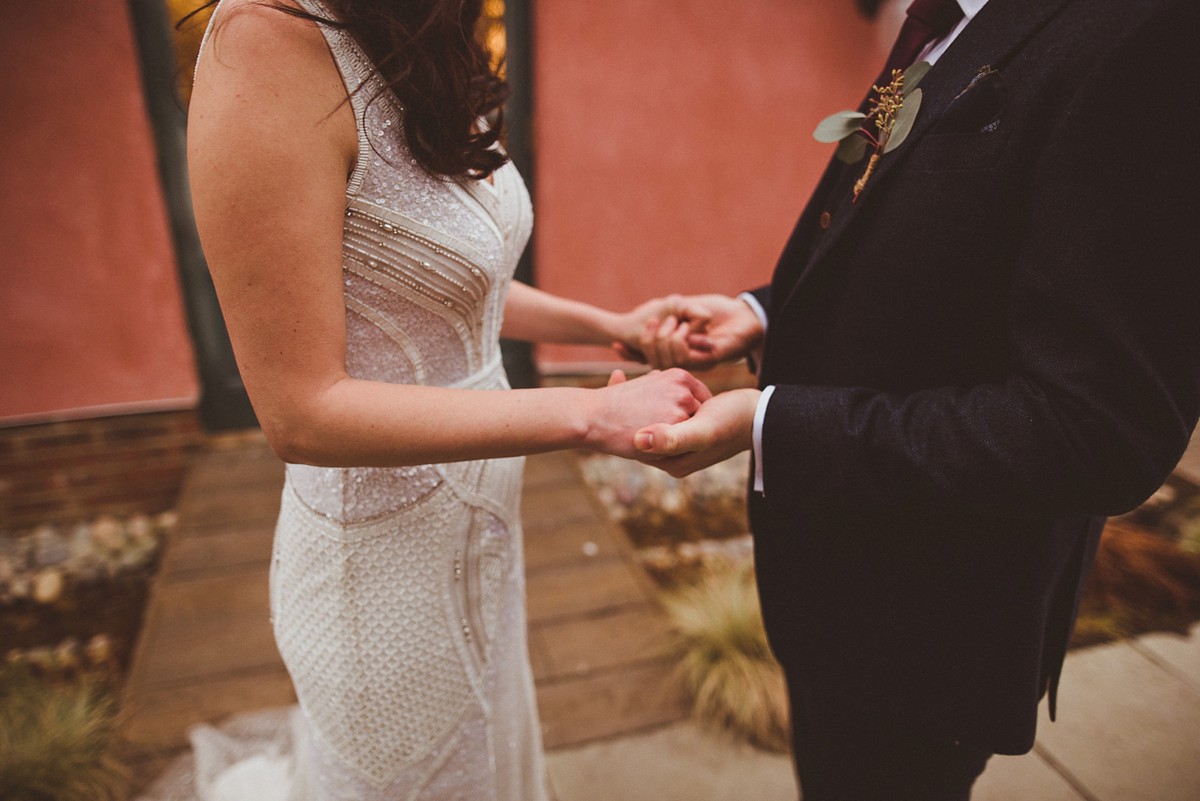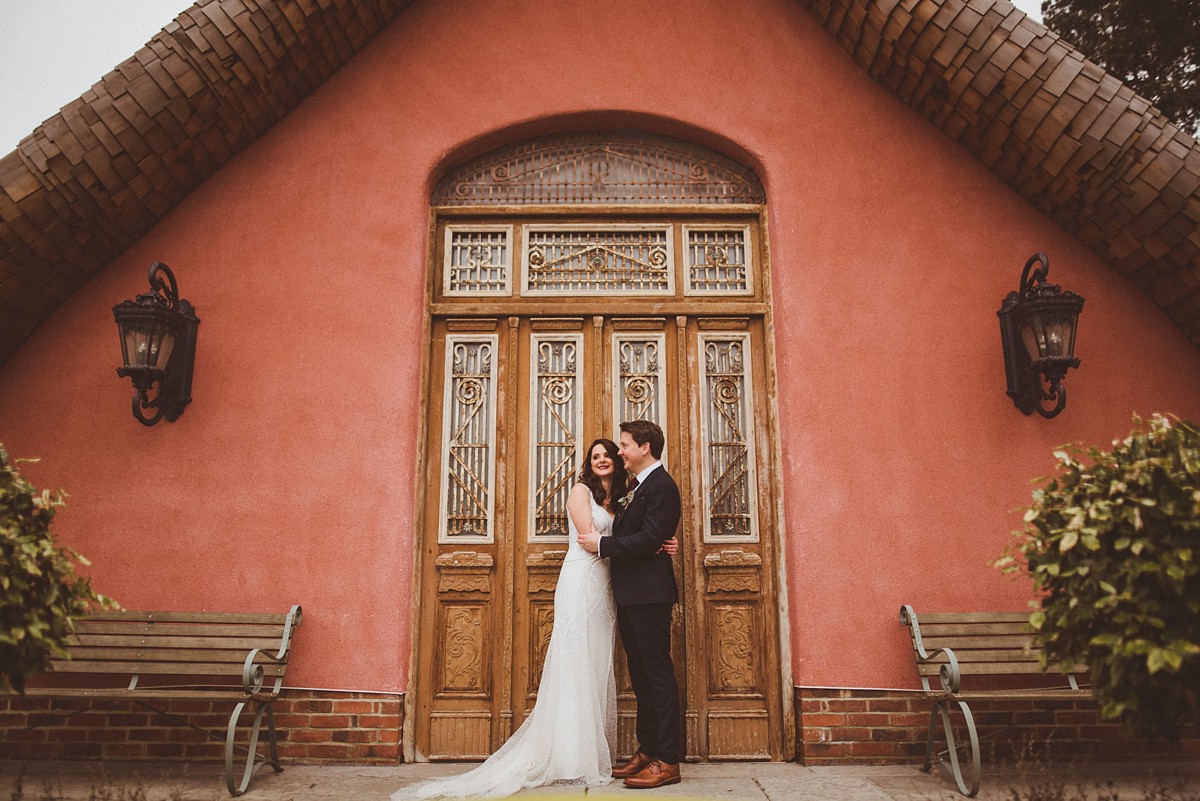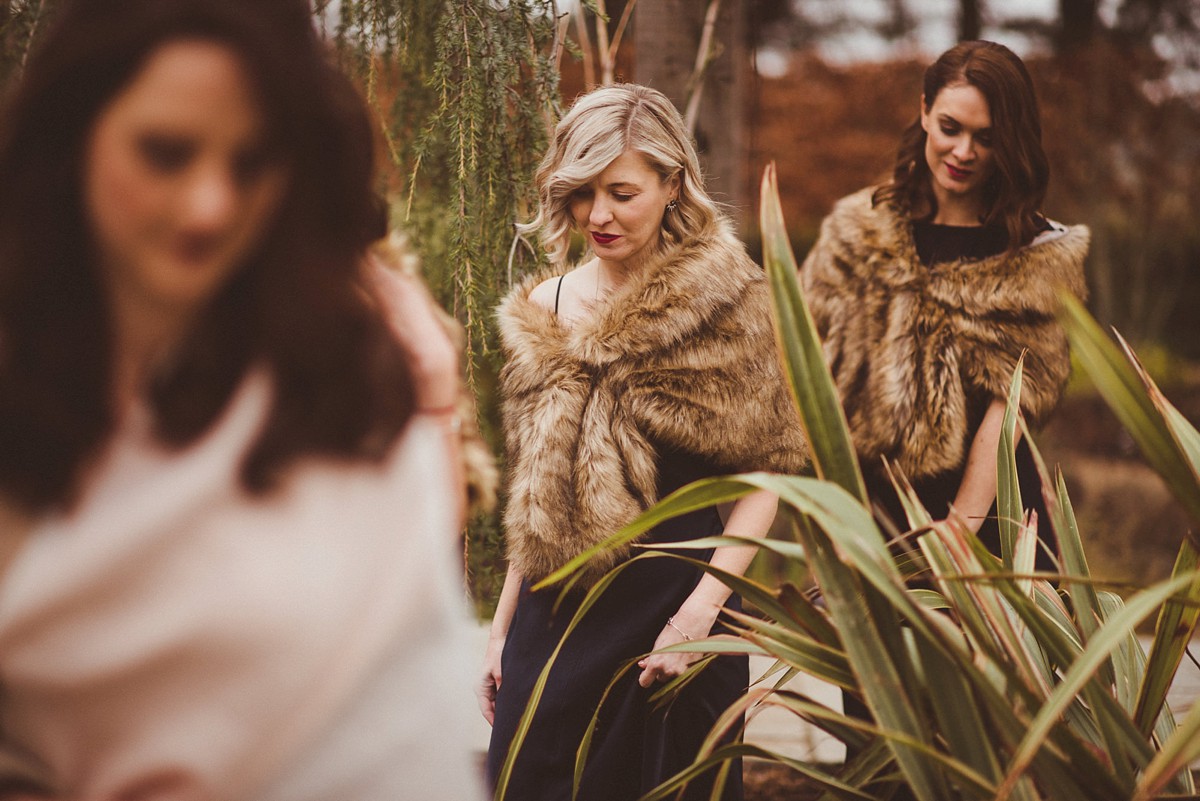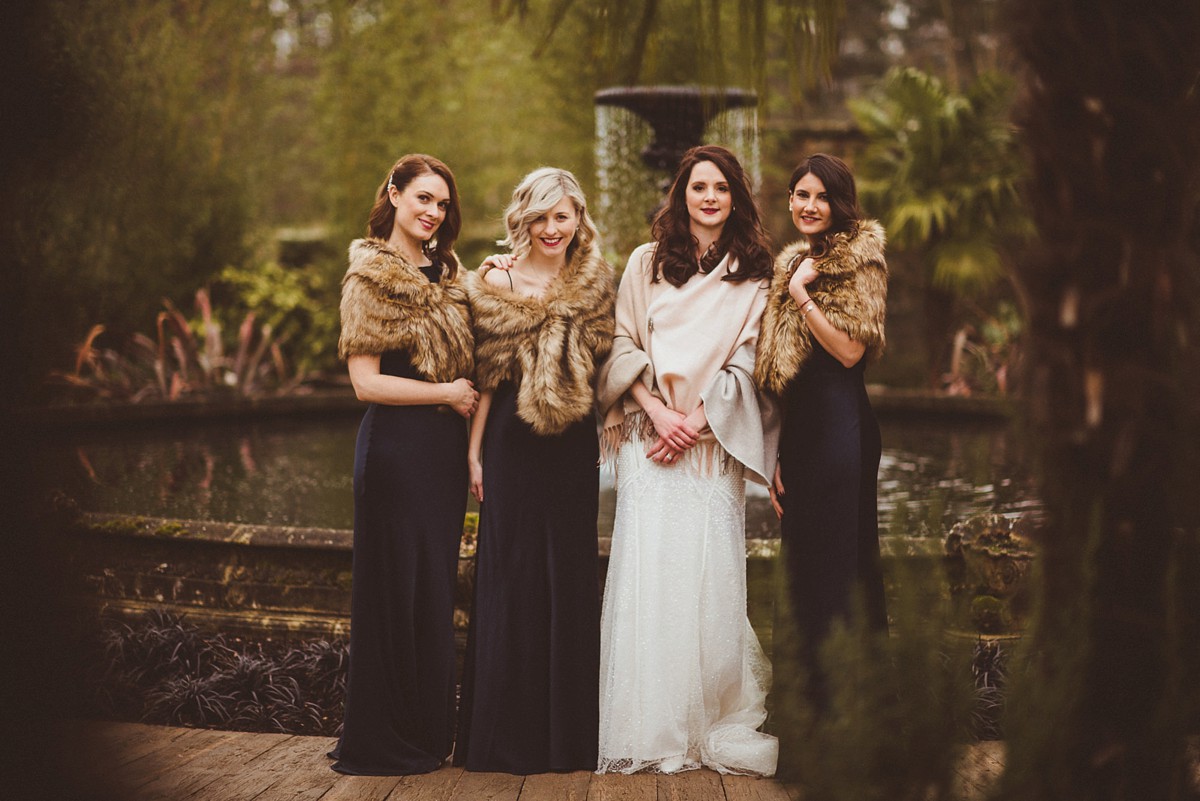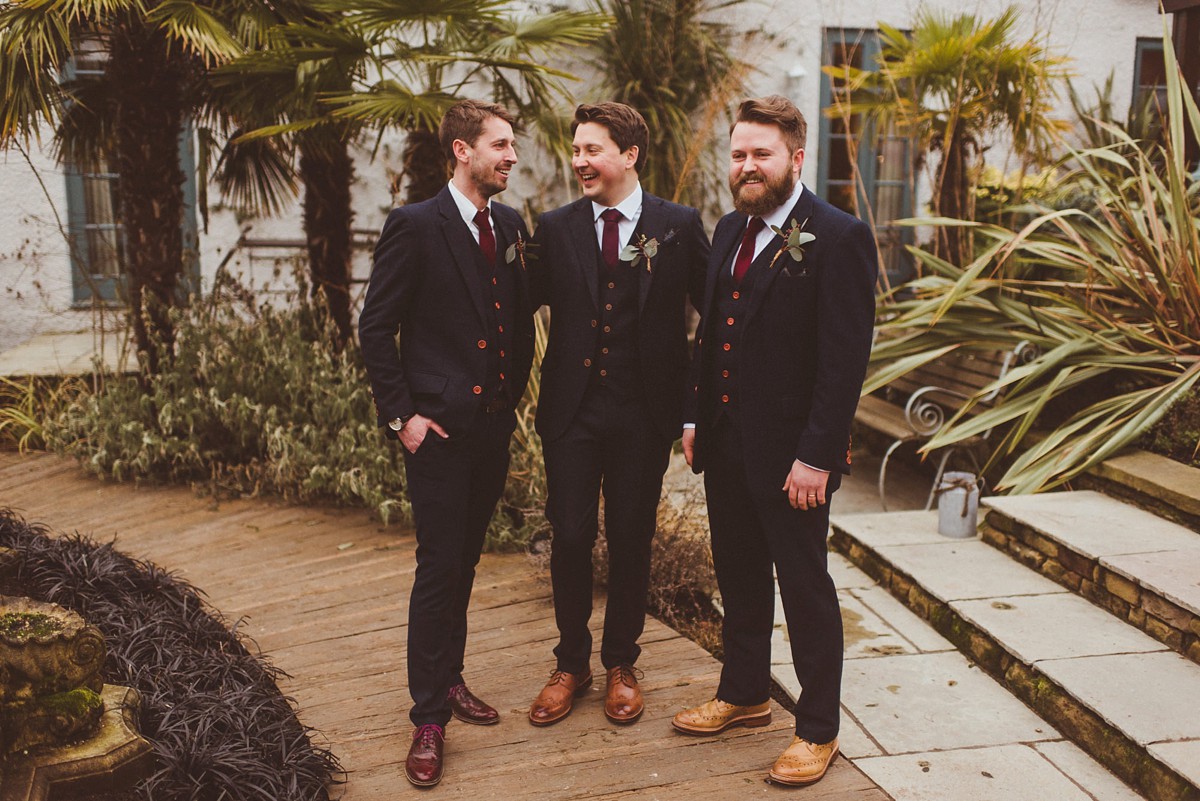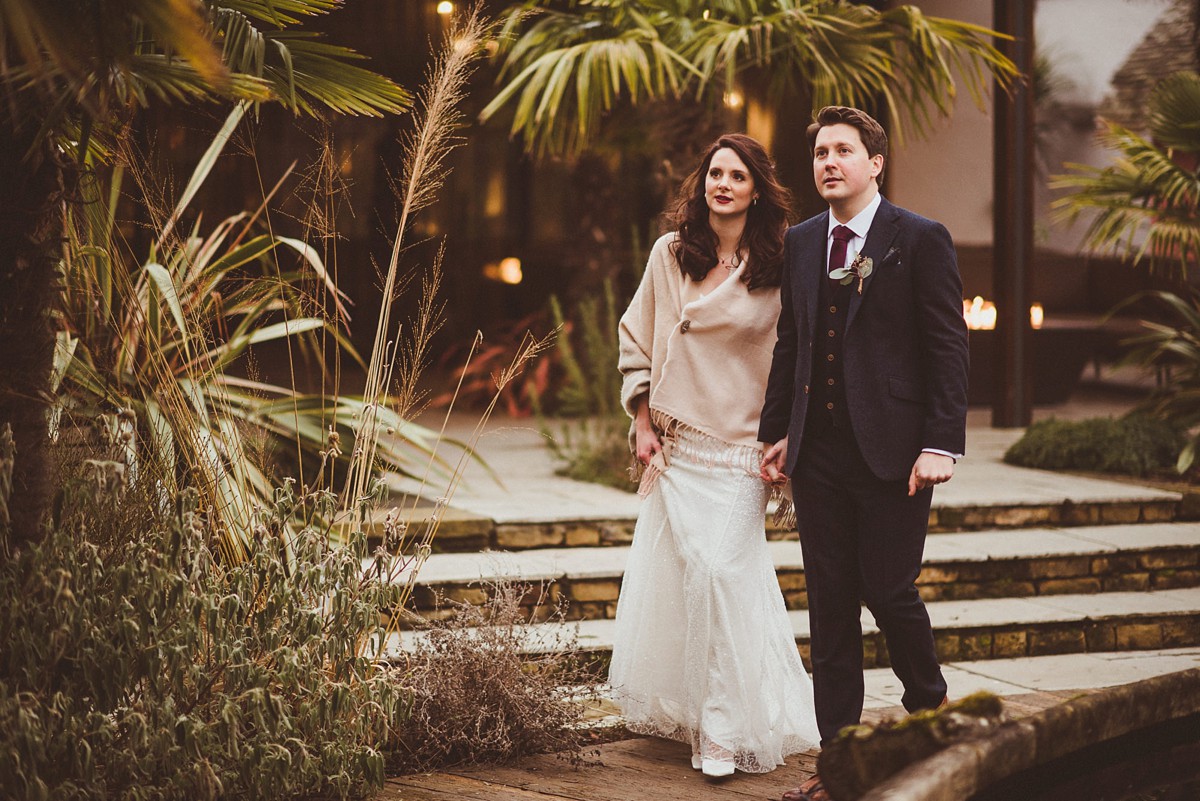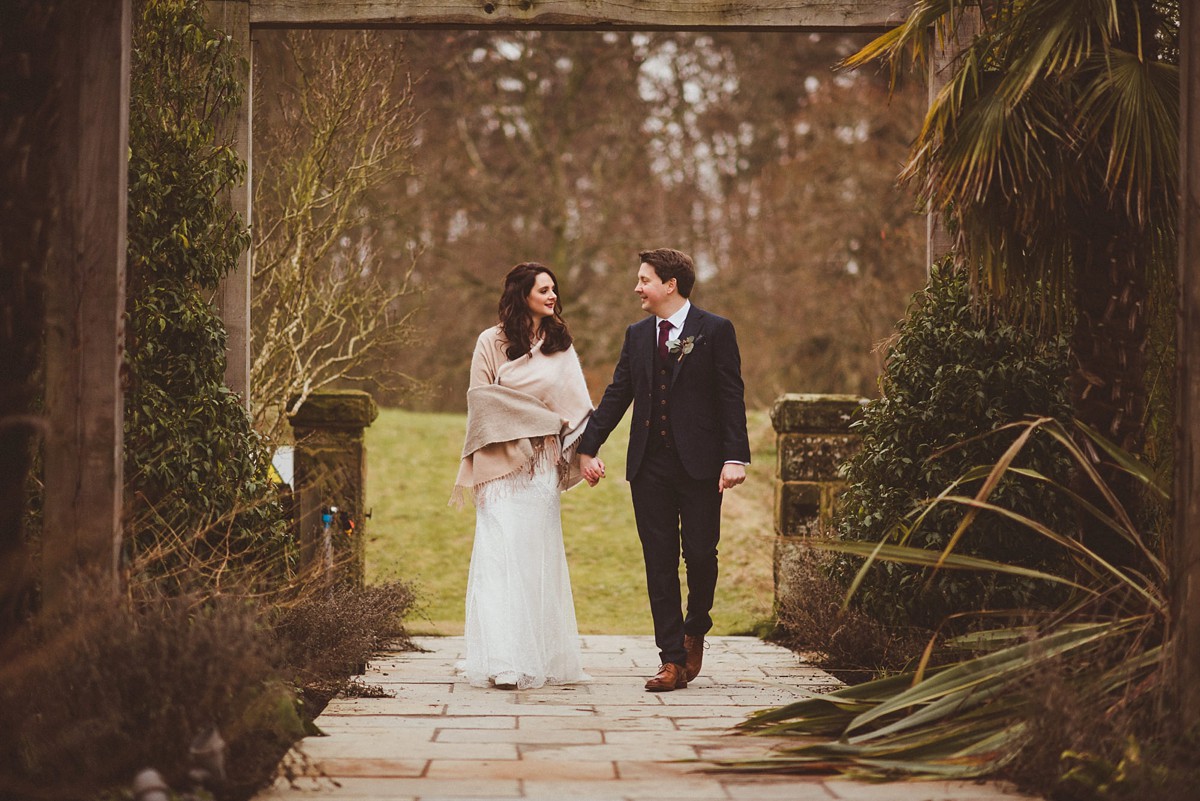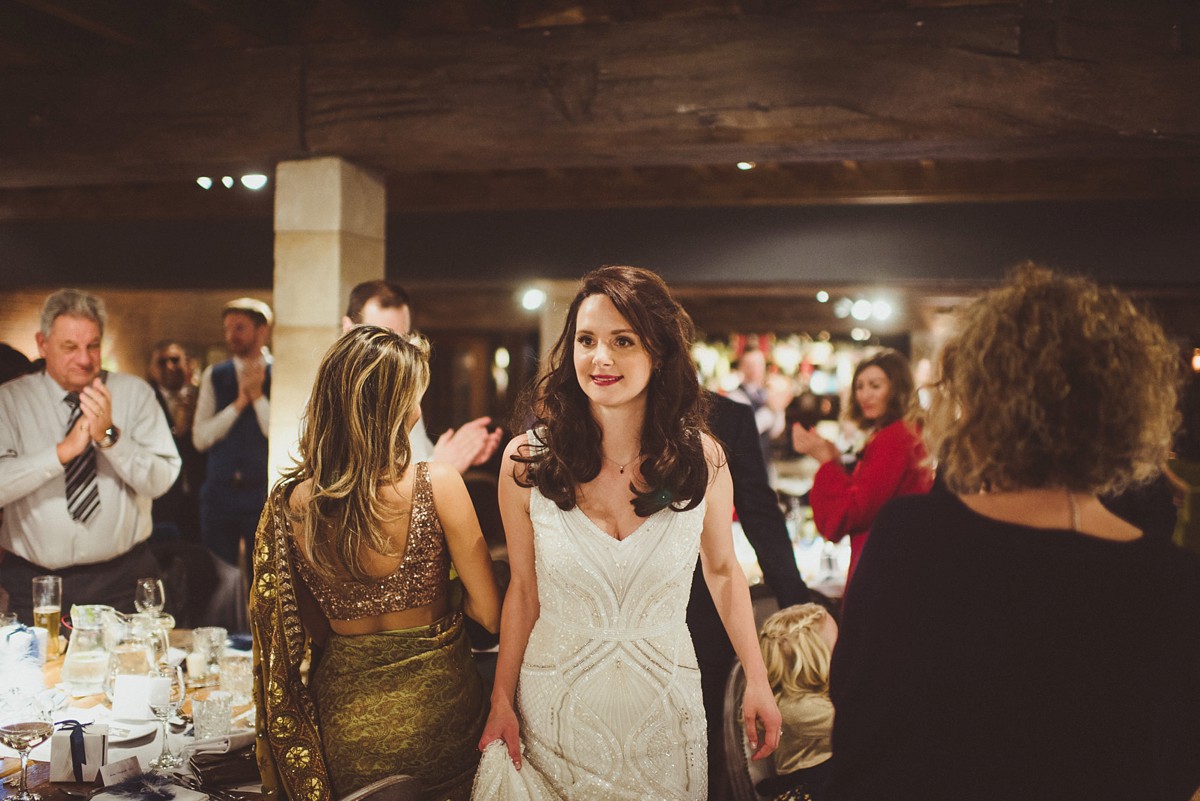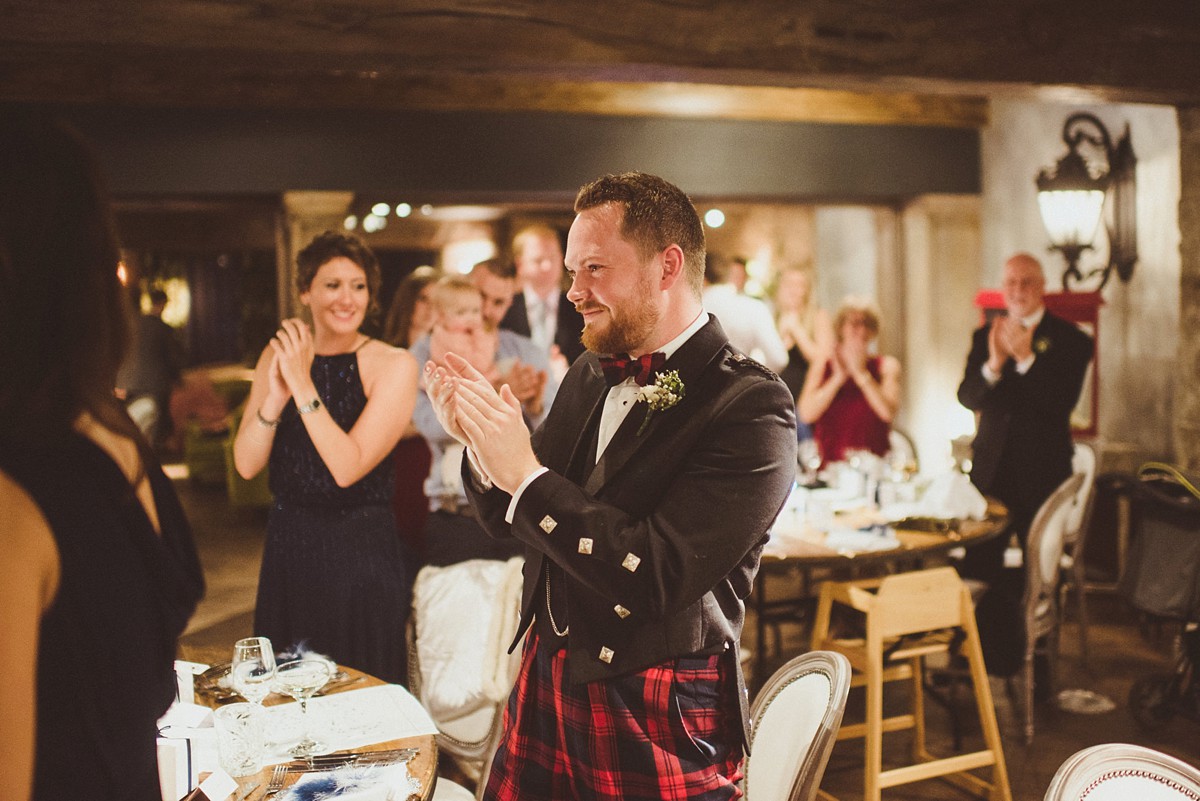 "Le Petit Chateau catered the wedding breakfast and our wedding cake was made by The Master Cakesmith. It was made of three tiers; carrot cake for the grooms family on the bottom tier, coffee cake for the brides family on the middle tier, and blue velvet because Andrew and I love it on the top-tier. The cake was very simple. It was white with lace around the middle tier and a few fern cones around it."

"I liked the idea that the cake didn't give away what was inside. Unfortunately Andrew and I don't live in Newcastle where the cake makers are based, so we didn't get the chance to do the cake tasting. Andrews parents did it for us instead and we heard they enjoyed it very much!"
"Our stationery was put together by one of my bridesmaids who is a graphic designer at SMC Design. One of my other bridesmaids helped put together the favours which were sandalwood and lavender-scented candles which she made herself."
We then wrapped them up in a box and added a blue bow. It felt a bit like a production line the night before with my mother in law and I putting each candle into the boxes and wrapping them up."
"For the table decor we didn't want to put too much on the tables that might interfere with people being able to talk to each other, so instead we scattered some confetti and each place setting had a little blue and grey feather. Again this was something my mother in law and I did the night before the wedding."
"The entire day was amazing from start to finish! It turned out so much better than we expected. The food was fantastic and the service by Le Petit Chateau was extremely good. We invited the right amount of people as we were able to talk to them all."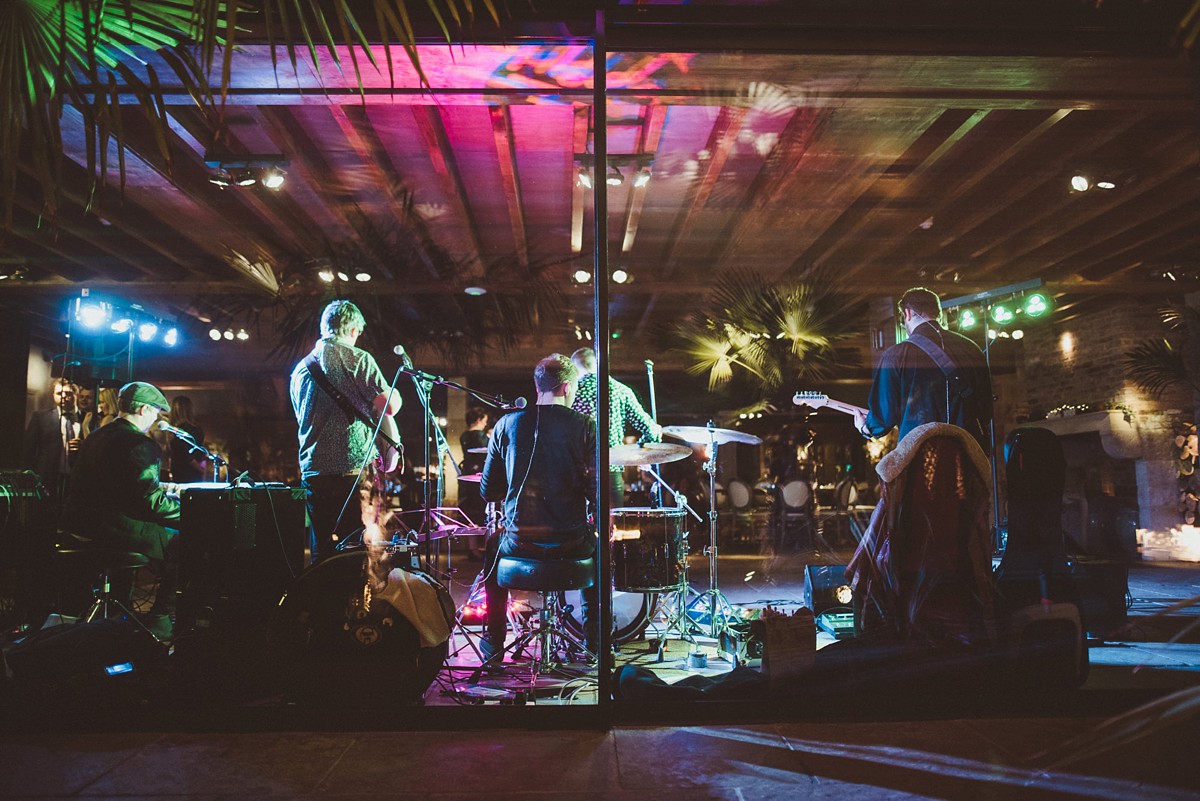 Words Of Wedded Wisdom
"I would suggest putting a mood board together with your vision; some colours, flowers, cakes, stationery ideas, even a few venue types that you and your fiance both like. This will enable you to weed out what you both like and dislike so there aren't any clashes as you near the wedding day."
"Additionally, try not to worry about every little detail. Instead try to delegate some of the tasks out to family members or bridesmaids and don't worry if they don't do it exactly like you wanted. At the end of the day you are marrying the person you want to be with for the rest of your life and sharing that with your family and friends means so much more than those little things."
What a wonderful day! Huge congratulations to the newlyweds and special thanks to Matt Penberthy for capturing all of the little details so beautifully.
Until next time…
Much love,
Holly X