Hello May! Spring has well and truly sprung and I'm revelling in the gorgeous, soft days. Today however, we're going back to late summer for today's marriage at Wedderburn Barns on the Scottish Borders. So, let's get started.
Megan and Ross married on 15 September 2018 at beautiful, countryside venue Wedderburn Barns, Duns, Scotland. The couple, a senior services manager at a charity and partner at a wealth management firm respectively, loved the warm vibe of the barn and its Borders location, where Megan spent time when growing up. We were a little thrilled to have discovered how much Megan loved visiting our site when planning her wedding too…
"I loved reading Love My Dress. It made me so excited for the day itself and I loved hearing the words of wisdom from brides before me. I found Blossom and Bluebird through Love My Dress – and the Pear Paper Co.  too. I also found Sewn Right, who made all the alterations to my dress."
Photography Jen Owens Images + second shooter Fiona Watson Photography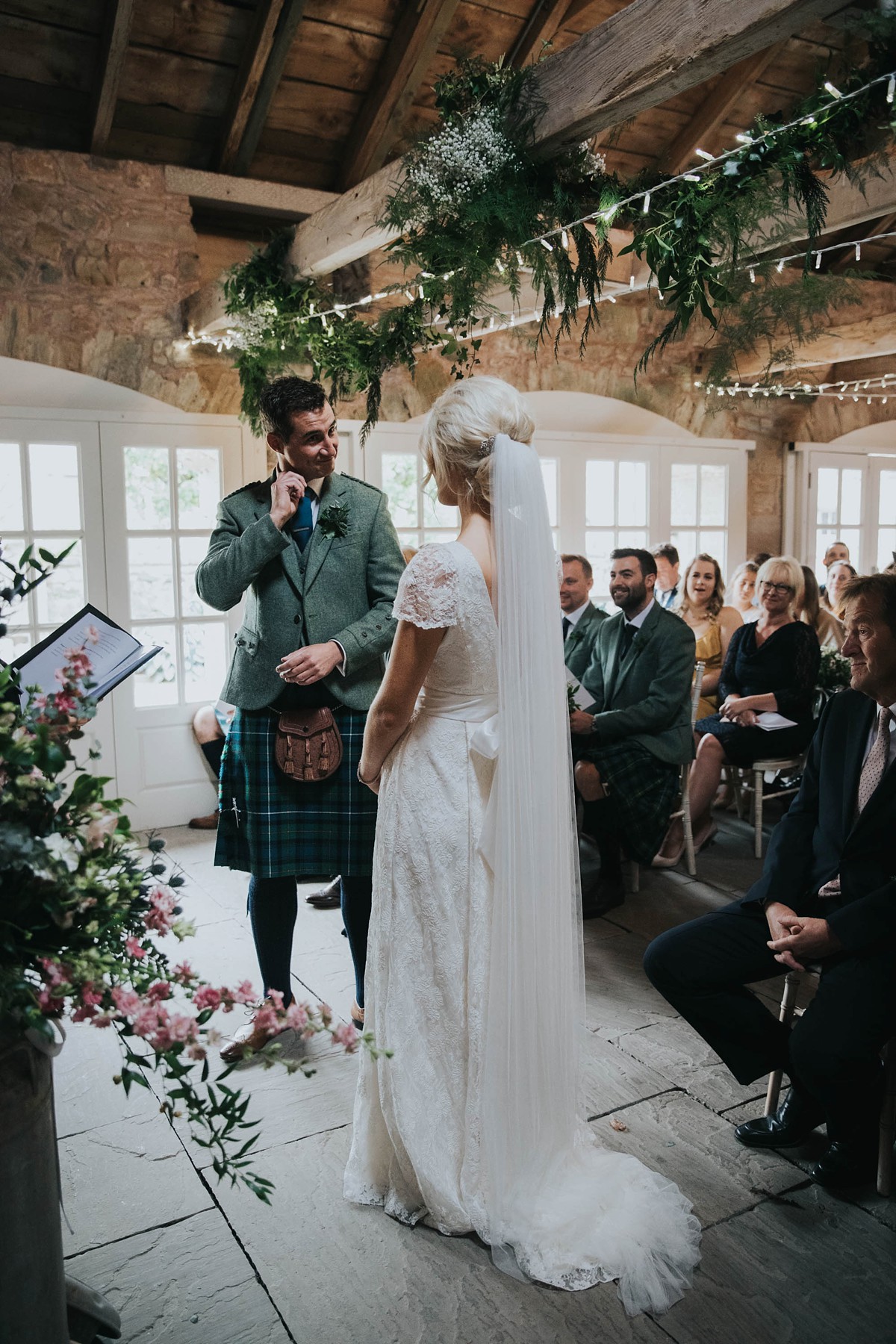 These glorious photographs are the work of Jen Owens, whose light, airy style suits the elegance of the day so well.
"Jen was perfection from start to finish. Not only did she deliver the most stunning, natural photography, she was an absolute joy to be around. I think it's so important to remember you end up spending a lot of time with your photographer, so they need to be a happy part of your memories. Jen most definitely was that. She was so lovely to work with and we can't thank her enough. My nana wasn't able to attend as she is too unwell to travel. It gave me great comfort to know that she would feel the love and happiness in our wedding day because Jen had captured it all in her photographs."
"Strawberry Wedding Films shot our film and delivered the most beautiful edits of our day. It was totally magical reliving it all and seeing all the little moments that we missed! They did a gorgeous job and we adore watching it."
"It was very important to get married in Scotland. My grandparents were farmers in the Borders and so much of my childhood was spent with them enjoying a lovely part of the world. I have so many fond memories and as they are no longer with us, it was important to us to pay homage to them. As soon as we met Cat and walked into the Barns, we were sold. It was such a gorgeous, warm and welcoming space, we knew it was the one for us. As a dry hire venue, we could put our own stamp on it and make it our own."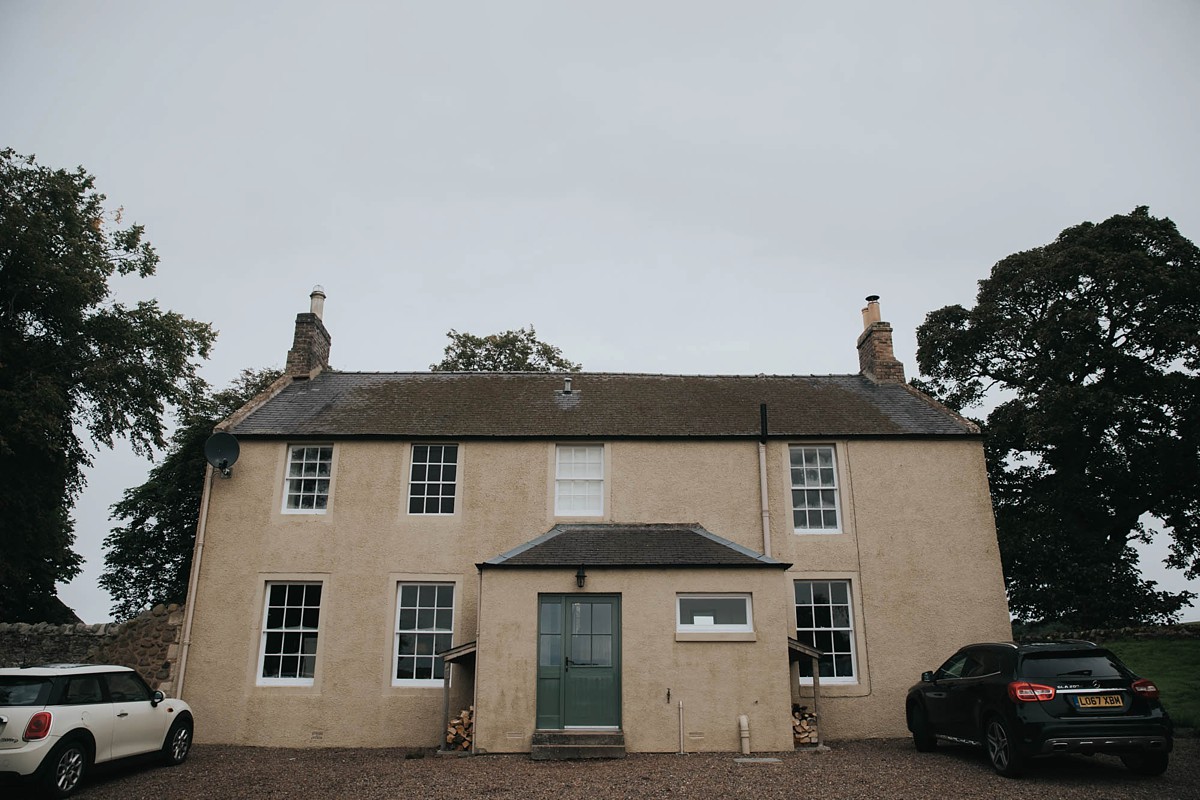 Megan chose an elegant up-do with super-pretty make-up.
"The amazing Nicola at Laura Gray was our magic hair wizard for the day. She brought so much laughter to the morning and made us feel so beautiful. I left my hair pins at the venue the day before in all the chaos and, after a panicked text to her about whether she could bring anything, she shot to Accessorize and purchased a clasp to save the day. She went above and beyond and we're so grateful!"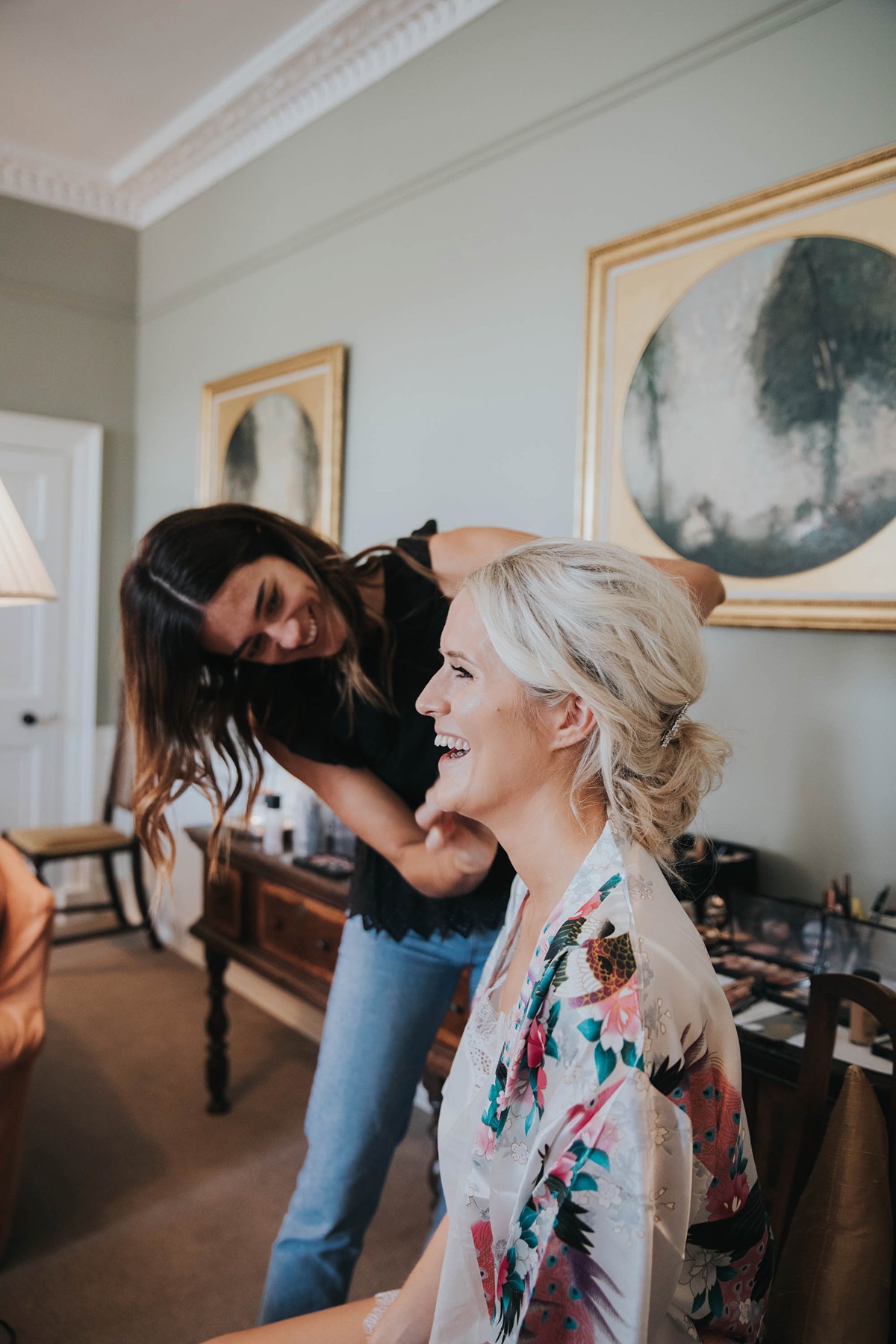 Talking of which, what do you think of Megan's Charlie Brear gown? It's the epitome of ladylike elegance with its subtly-vintage lace cap sleeves and impeccably-tailored bodice.
"My dress was designed by Charlie Brear, purchased from their flagship boutique in Queen's Park. It was the only dress I tried on that I felt myself in."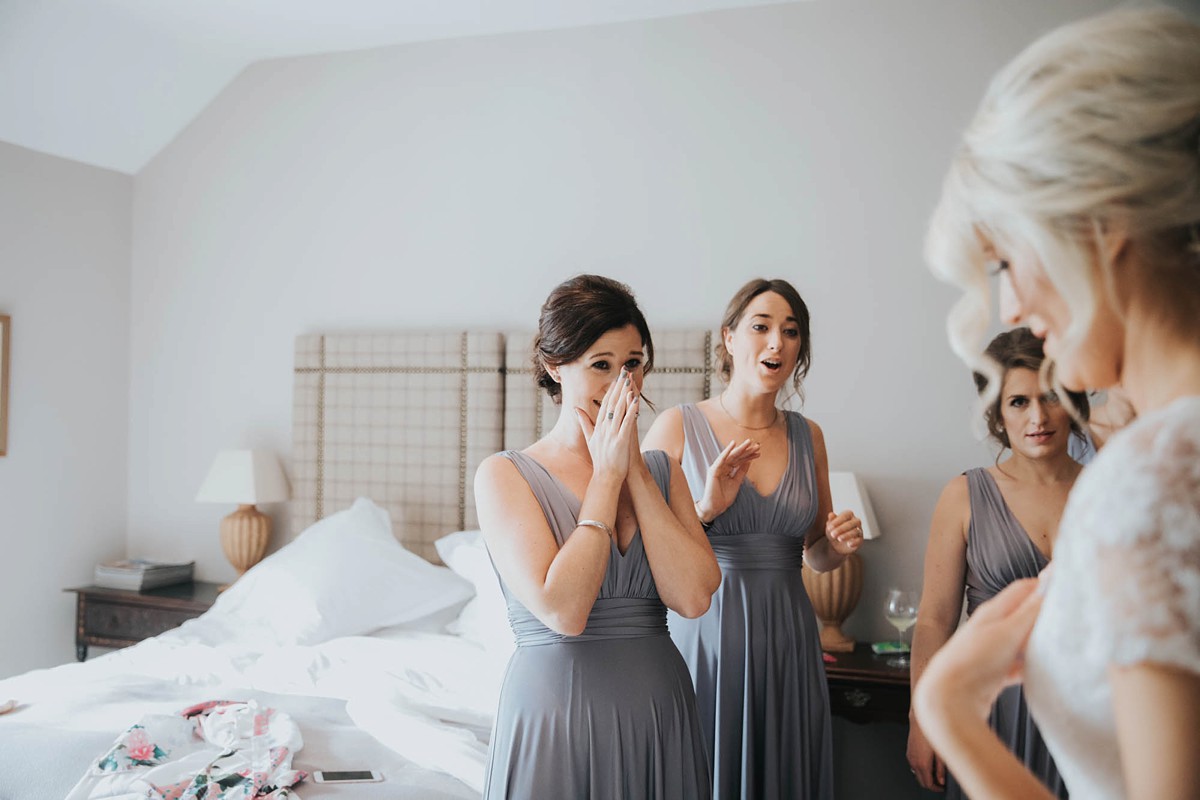 "It was timeless but modern at the same time, with the deep V at the front and back. It was just so beautiful. I loved looking for dresses but found the process quite stressful because I am such an indecisive shopper."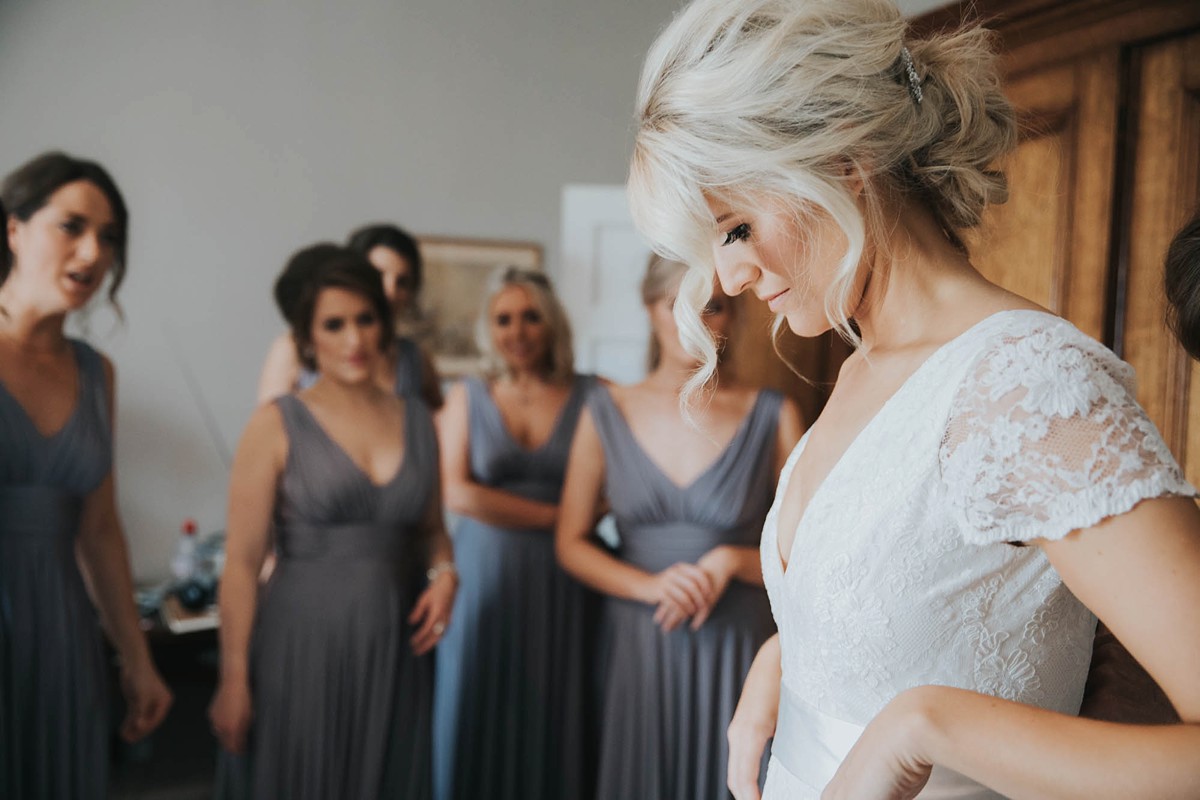 Accessories were simple and elegant, whilst shoes were a last-minute ASOS purchase.
"My earrings were from Carat London, a gift for my 30th birthday from my mum. My bracelet was very kindly lent to me for the day by Bedazzl Diamonds, the jewellers that Ross designed my engagement ring with."
"I left my shoes to the last-minute and kept dithering because I knew I wanted to wear flats. I'm quite tall anyway and wanted to be comfortable all day. In the end I got a cute pair from ASOS."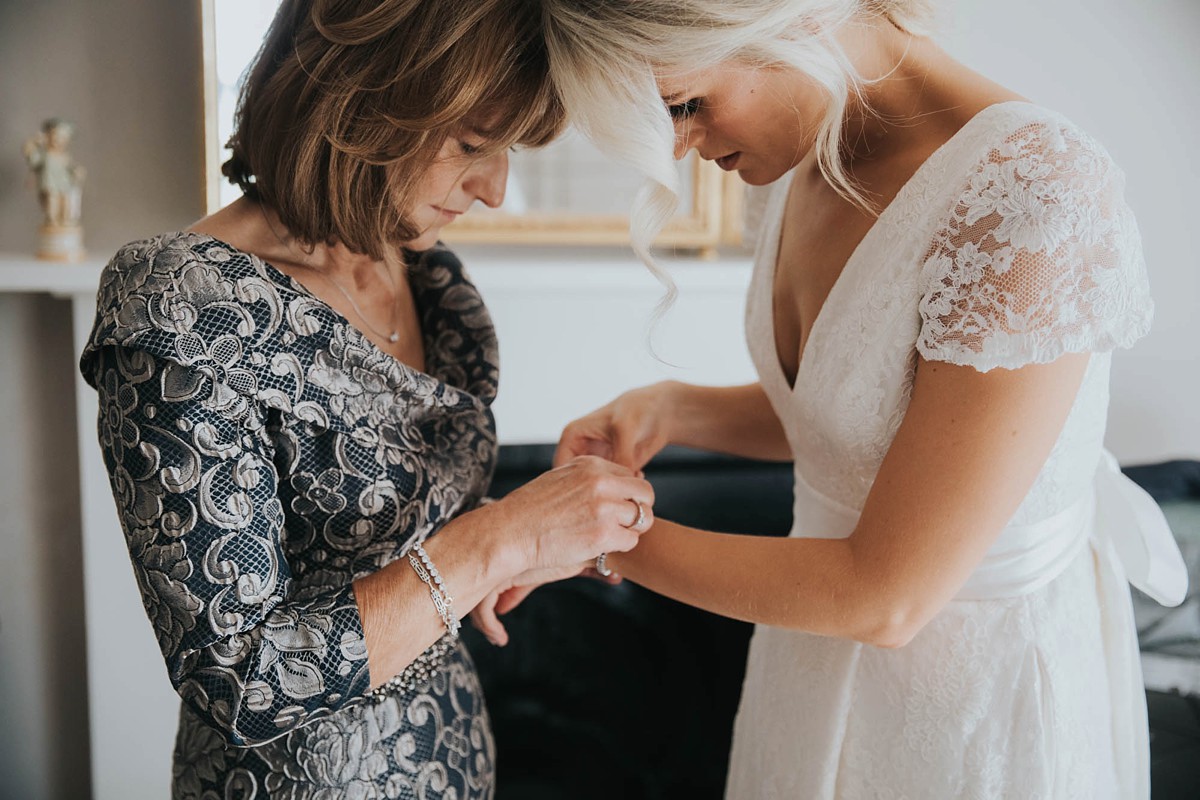 The bride added a bespoke, cathedral-length veil made by Sian at Blossom and Bluebird.
"She is simply the best! I sent her a few photos of what I was hoping to create and she worked with me to create my perfect veil. I wanted the tulle to be super-soft, in a column down my back, with the length allowing the tulle and lace of my dress to layer up in my train. Sian was so unbelievably helpful and lovely, I would 100% recommend her."
"The wonderful ladies at Sewn Right worked with me to make the necessary alterations, including adding the fluttery lacy sleeves that I just adored, and the sash."
"They also added an emblem of lace from my mum's wedding dress into the lining, which was the most stunning feature and so special."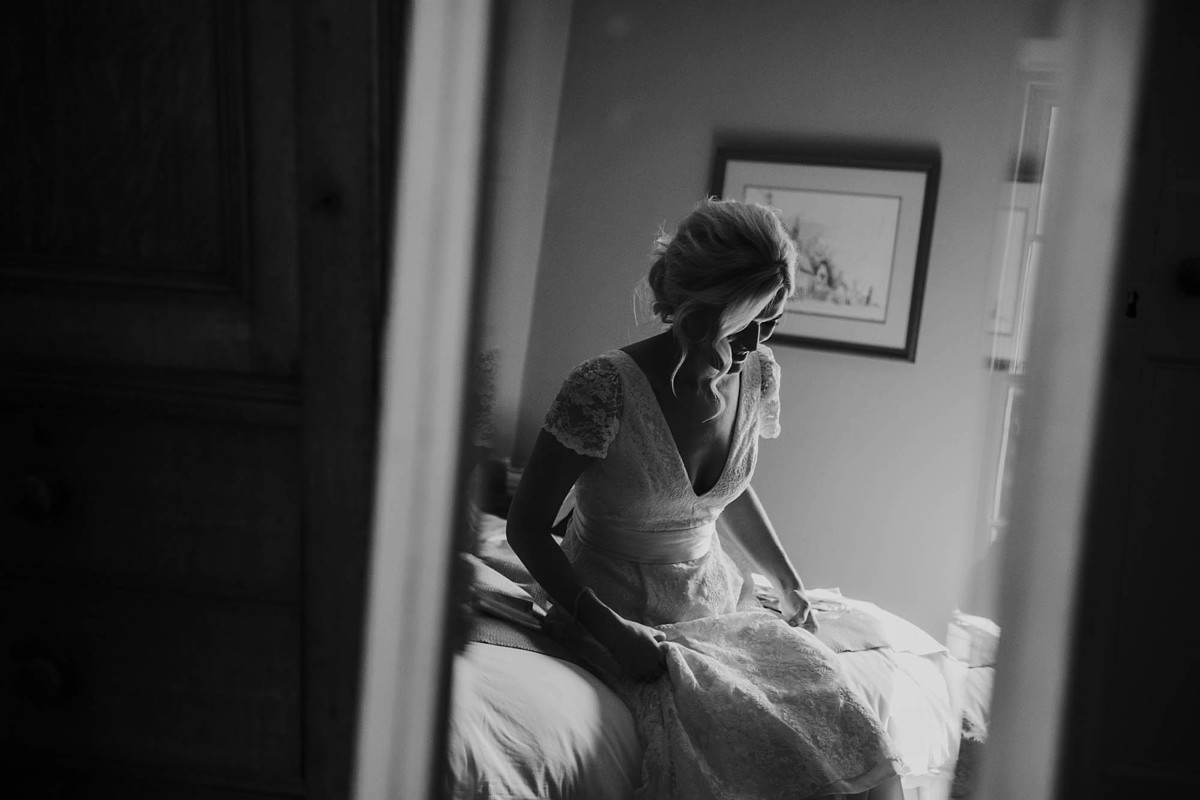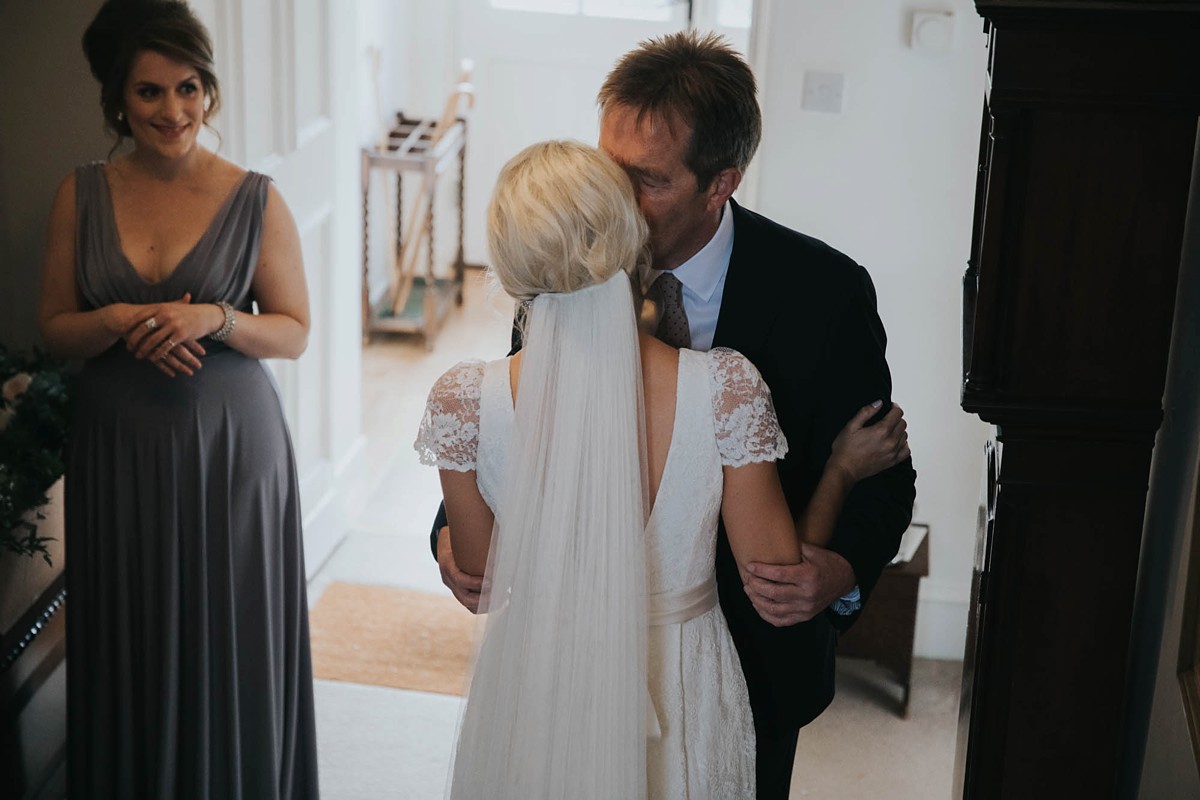 The bridal party was completed by two flowergirls and two page-boys.
"Ross's two wee nieces, Isabella and Layla, wore little tutu dresses from H&M. The boys, Ross's nephew Hugo and our close friend's son Arthur, wore their own kilts."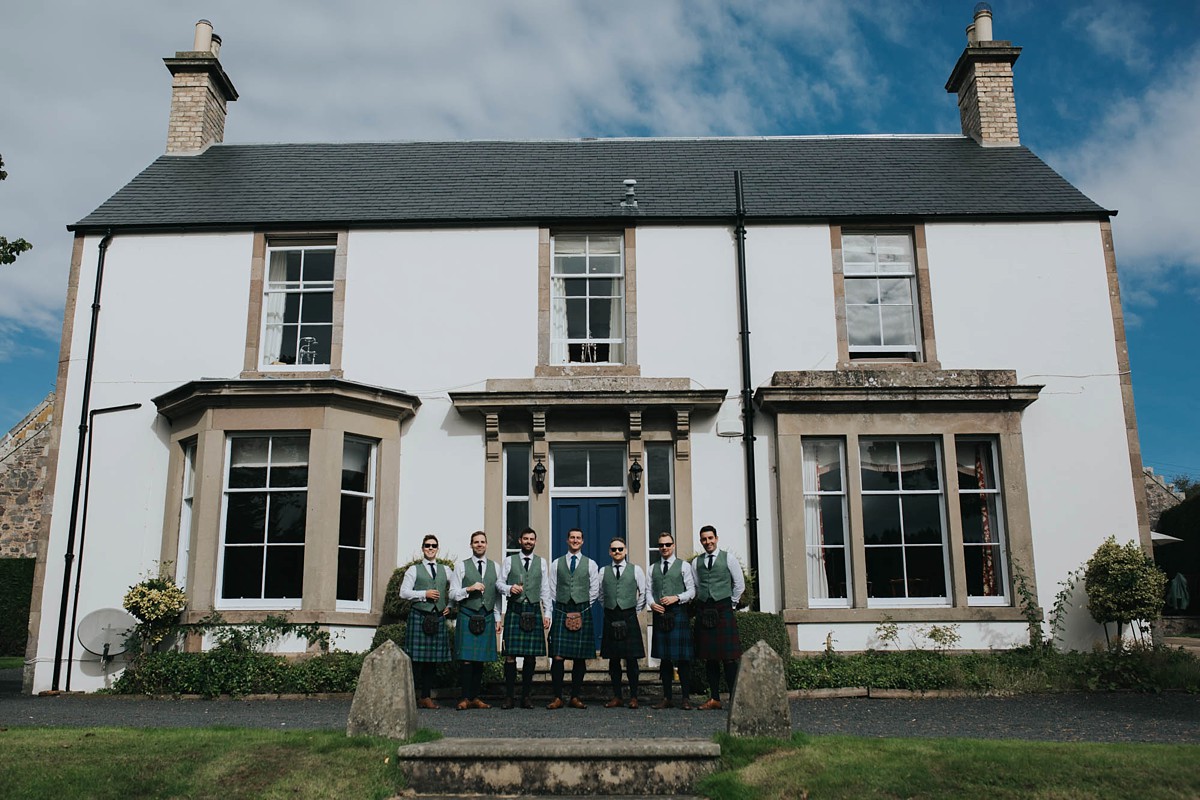 The couple were both at university in Glasgow but didn't get together until after their graduation.
"Whilst we knew of each other, we were never formally introduced. It wasn't until my close friend and bridesmaid Erin and I visited London for the weekend that I met Ross properly. He was living in London and a friend of Erin's, so we met him for dinner and things escalated to a dodgy club in Leicester Square where we partied until the wee hours with American movie stars!"
"We were together for eight years before Ross proposed in the Ladies Pavilion in Central Park, New York. It was a quiet, misty and wet morning and just the two of us. It was utterly perfect."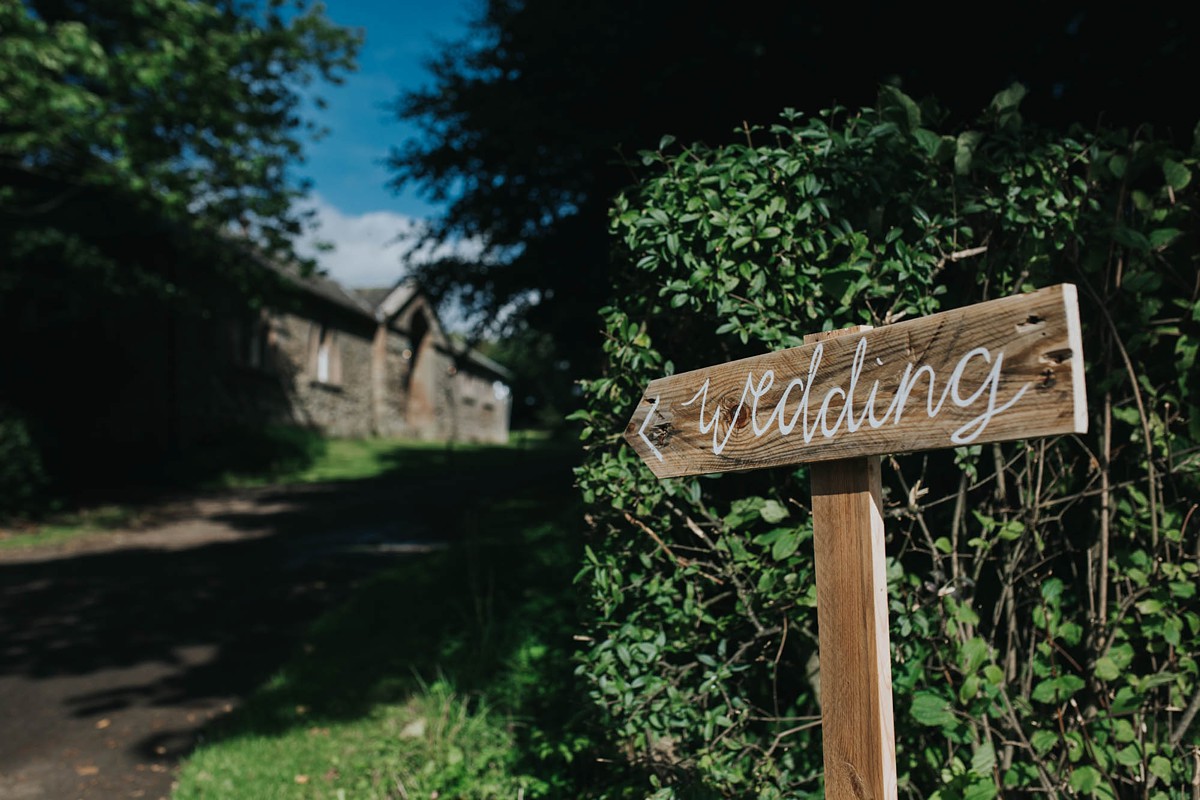 "I wanted to let the beauty of the Barns speak for itself and to steer clear of the vintage/bunting vibe as that's not really me. We decided early on there's nothing more beautiful than candles and flowers and aimed for timeless elegance. We collected an abundance of glassware which we filled with flowers."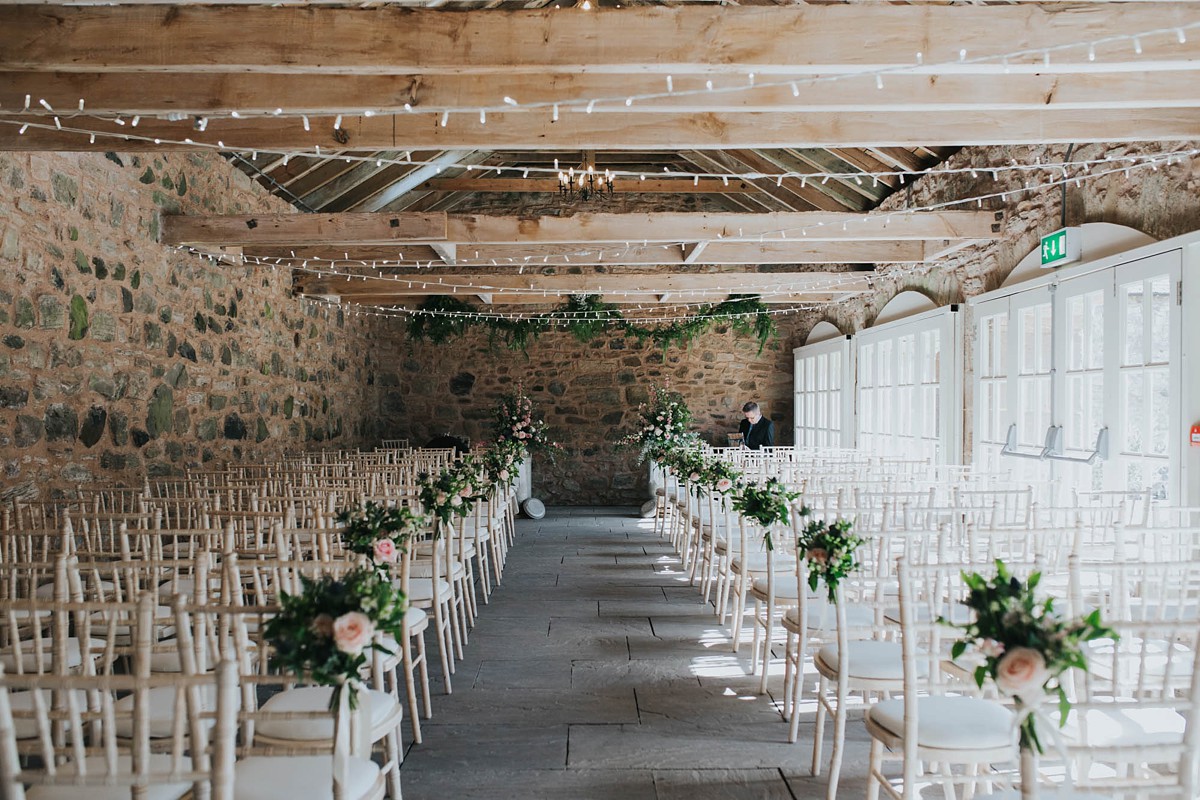 "With tonnes of candles, fairy lights and greenery hanging from the beams, it was absolutely everything we'd dreamt of. My mum was Wedding HQ in the Borders. She poured so much time, love and energy into thinking of all things wedding and we absolutely couldn't have done it without her."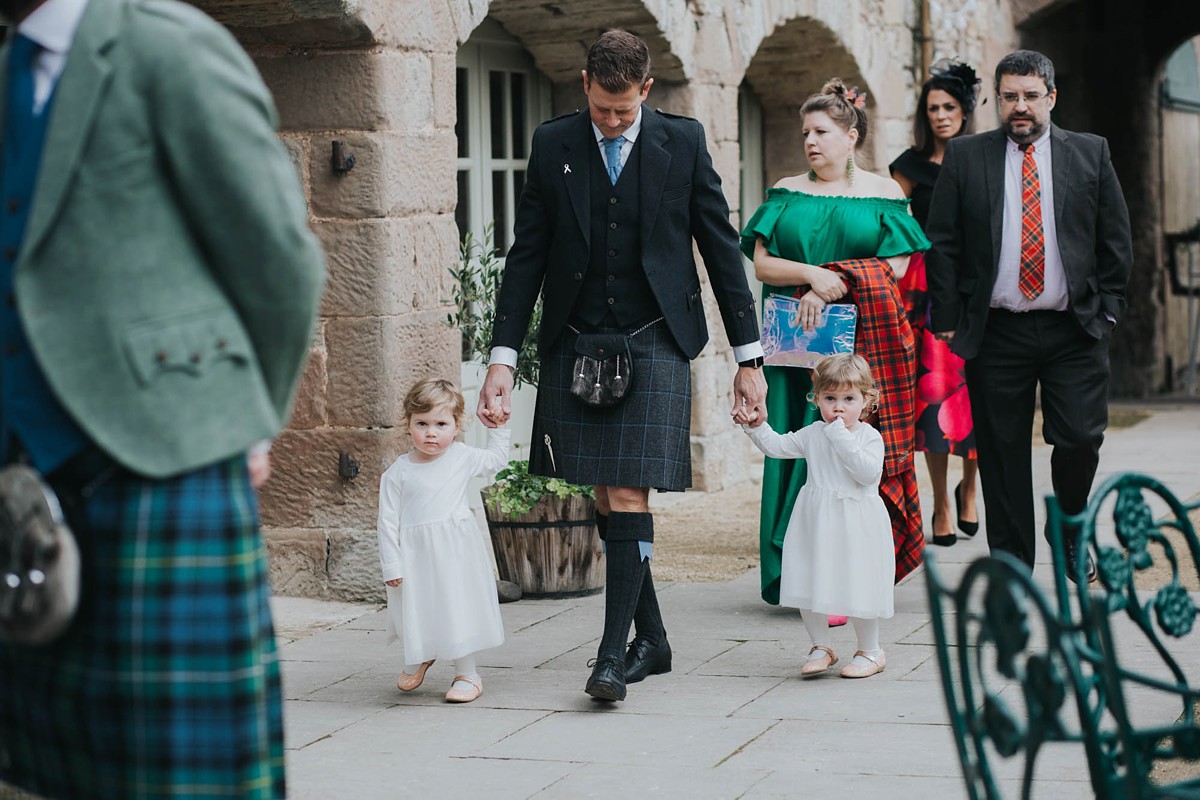 I adore the elegance of the bridesmaids' dove grey gowns from ISSA at House of Fraser.
"I loved the simplicity of the dress. I didn't want anything too fussy, and they were so flattering. I loved that they mirrored the cut of my dress."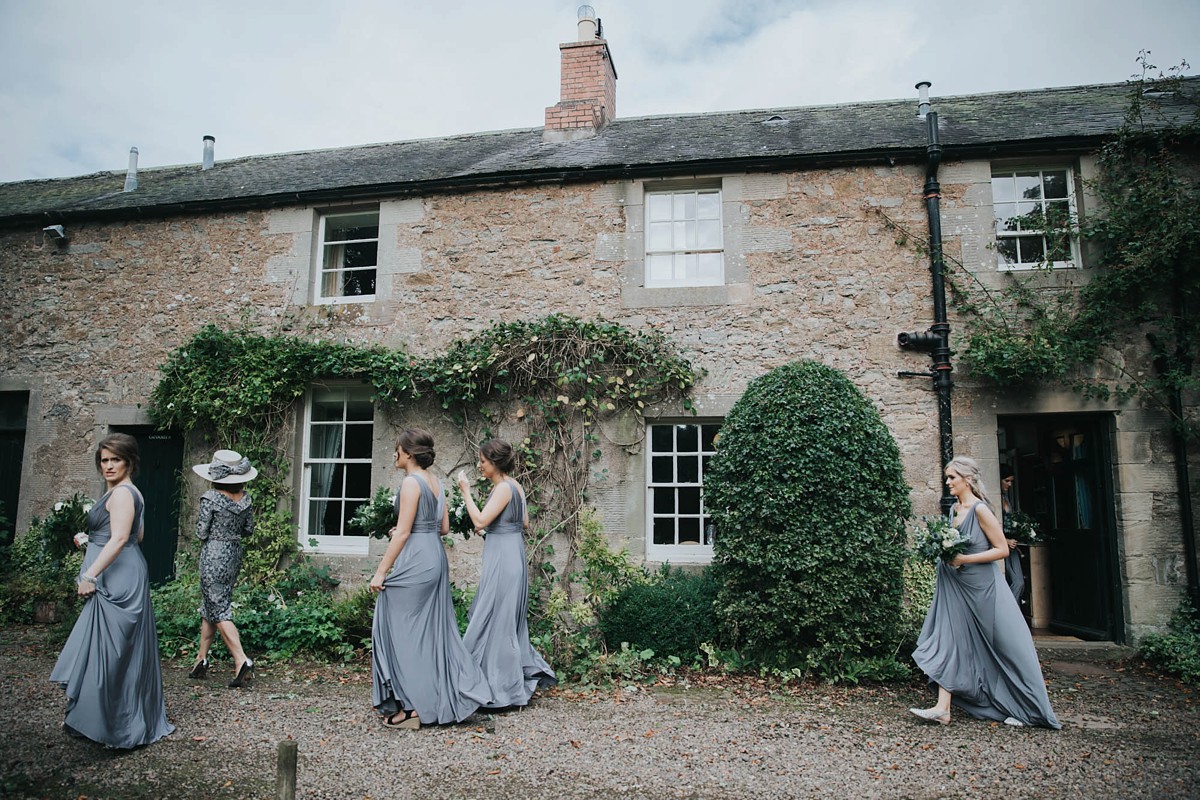 "Lyn Mckenzie Makeup took care of all my bridesmaids' make-up and made them look even more stunning than they already are. I am very lucky that my close friend Becca is the most incredible make-up artist. She has been doing my make-up for years so she was the only person I would trust on my wedding day. She did a beautiful job and it was so special to spend the morning with her."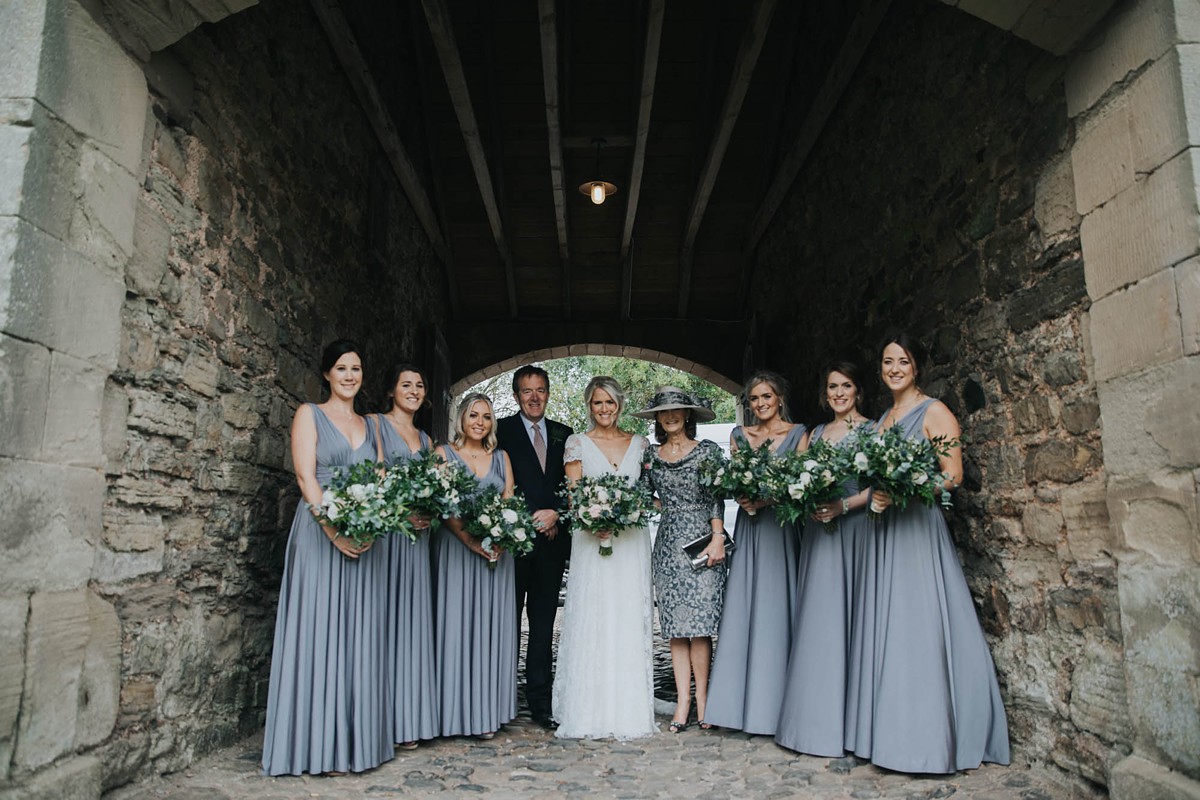 After walking in with her father to 'Berlin Song' by Ludovico Einaudi, Ross and Megan exchanged their vows in a ceremony led by Laura Baird.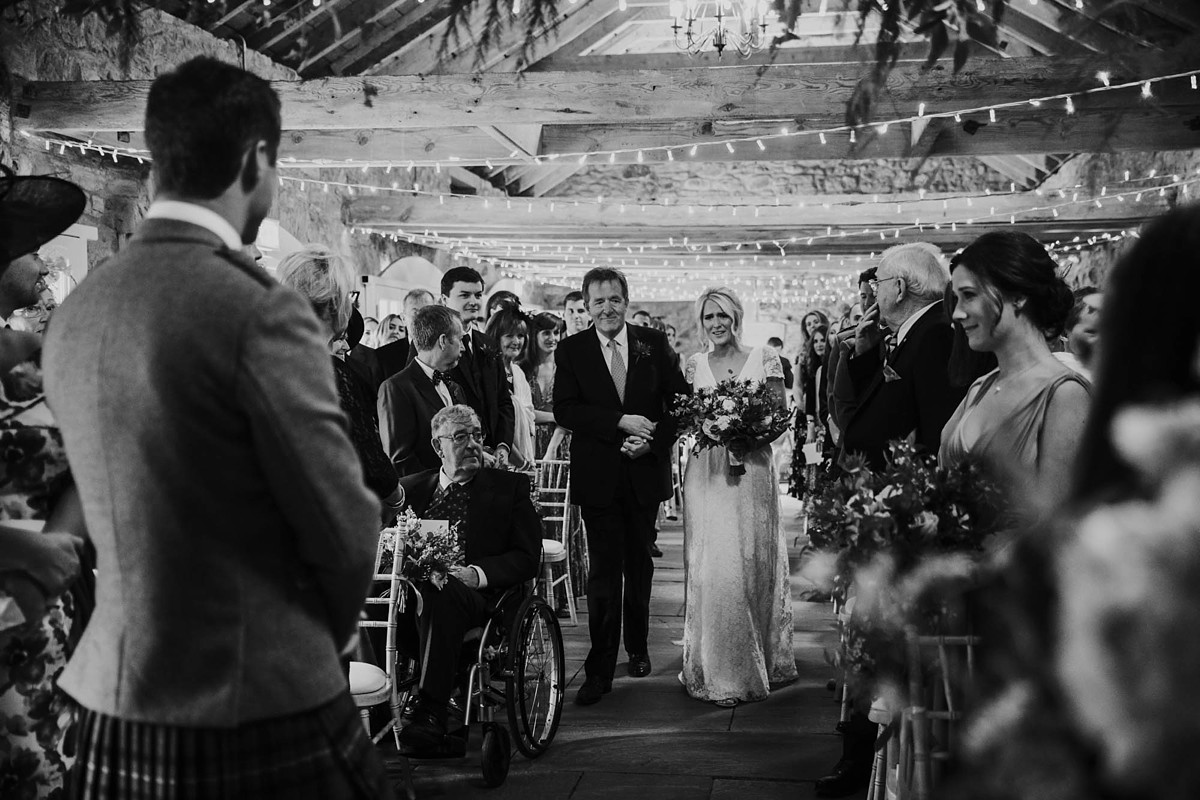 "My mum was one of our witnesses, with Ross's mum. It felt so important to us to make sure such important people in our lives were therefore important parts of our day. My dad was steady as a rock and kept me together as best he could. As you'll see from the photos, I wasn't too successful at keeping my emotions in check!"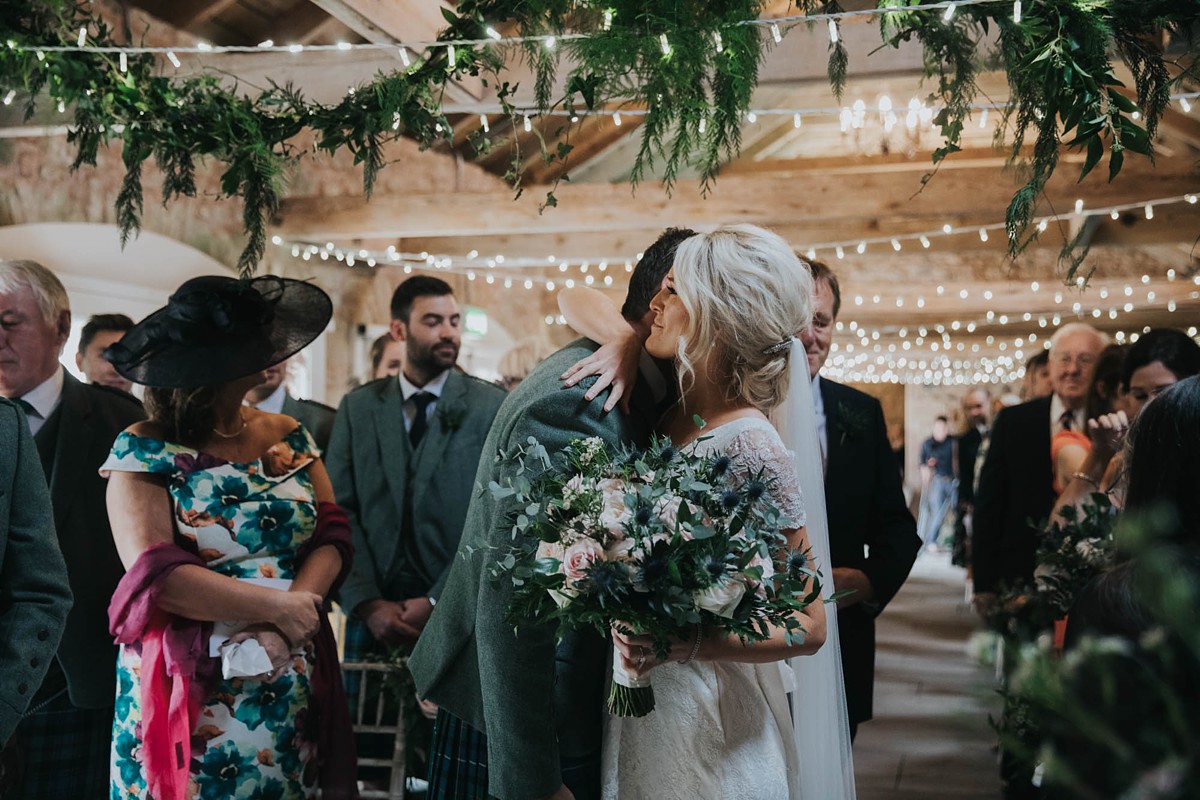 Ross chose to wear traditional Scottish dress – a kilt, jacket and waistcoat rented from David Thompson in Jedburgh.
"He wore Danger Mouse cufflinks – an homage to his nickname gained during playing rugby for Glasgow University! He also wore a Longines watch I gifted to him on the wedding morning."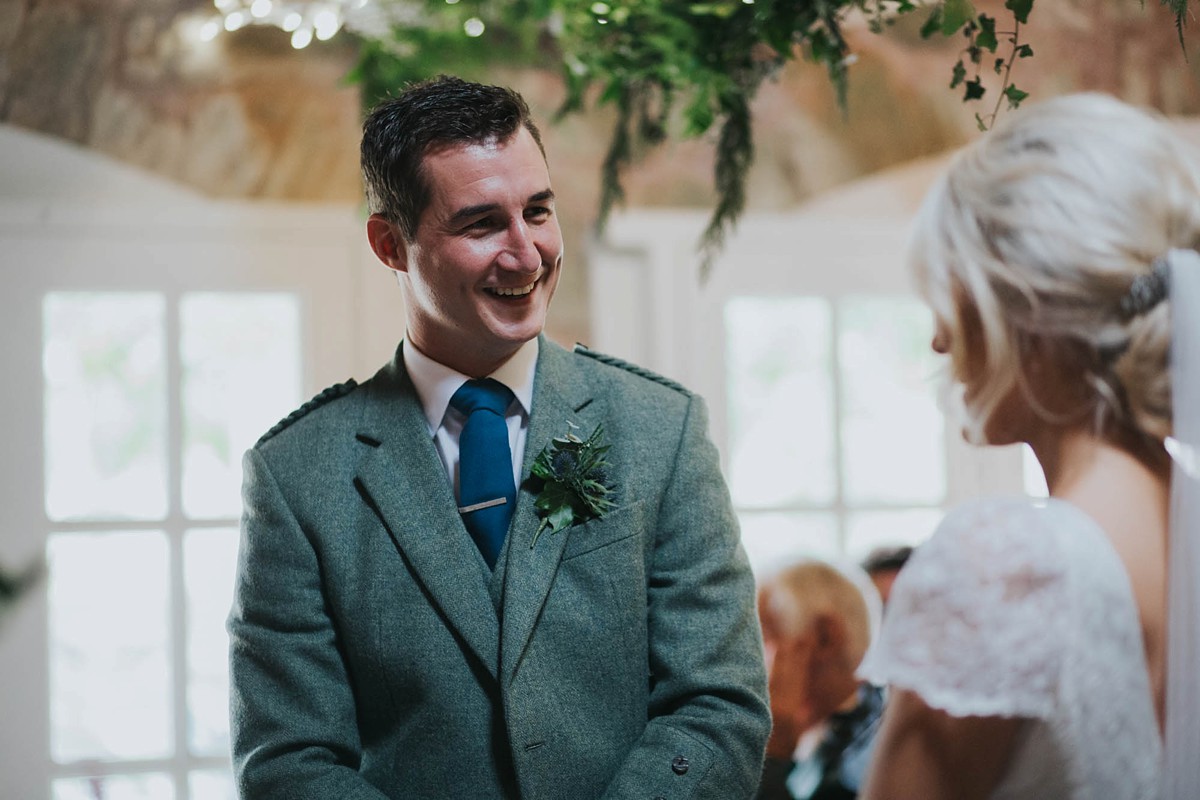 "The ceremony was undoubtedly our favourite part of the day and so much of that is down to Laura. She put so much love and care into crafting our ceremony with us."
"We spent an afternoon at her home in North Berwick, just chatting about us and our relationship, and also what we wanted for our day. She wrote the ceremony from there and we worked together to make it so personal and meaningful."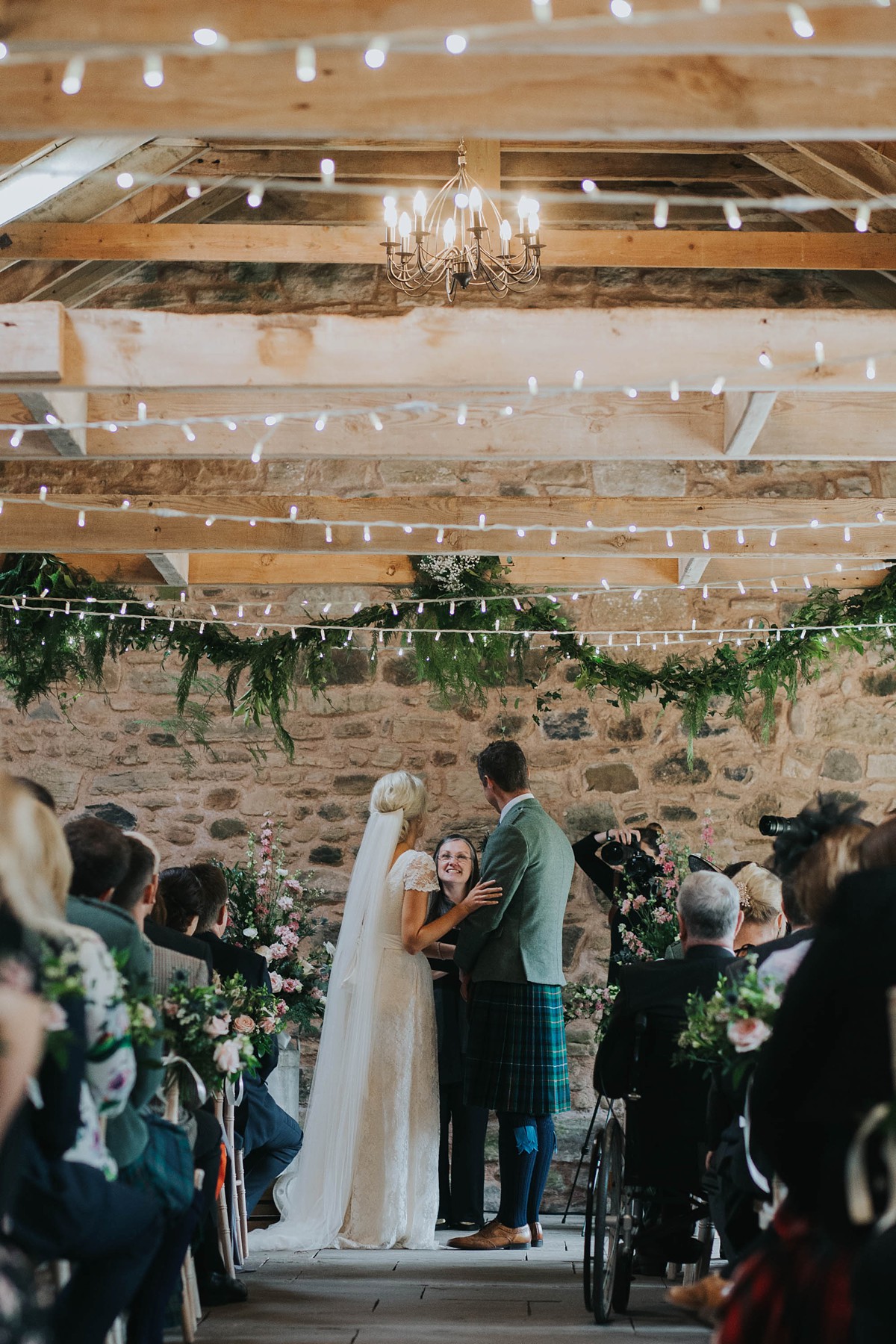 "We spoke the words legally required and then wrote our own vows for after the legal vows. We made sure they spoke to the values we most treasure in our relationship."
"As an English Literature graduate, readings were also going to be tough to choose. I found 'There Will Be No End To The Joy' by Anne Mcleod quite early on and thought it was so romantic. Our close friend Suzi read this at the start of our ceremony. After that, Ross's aunt Sally-Ann read the lyrics to 'If I Should Fall Behind' by Bruce Springsteen."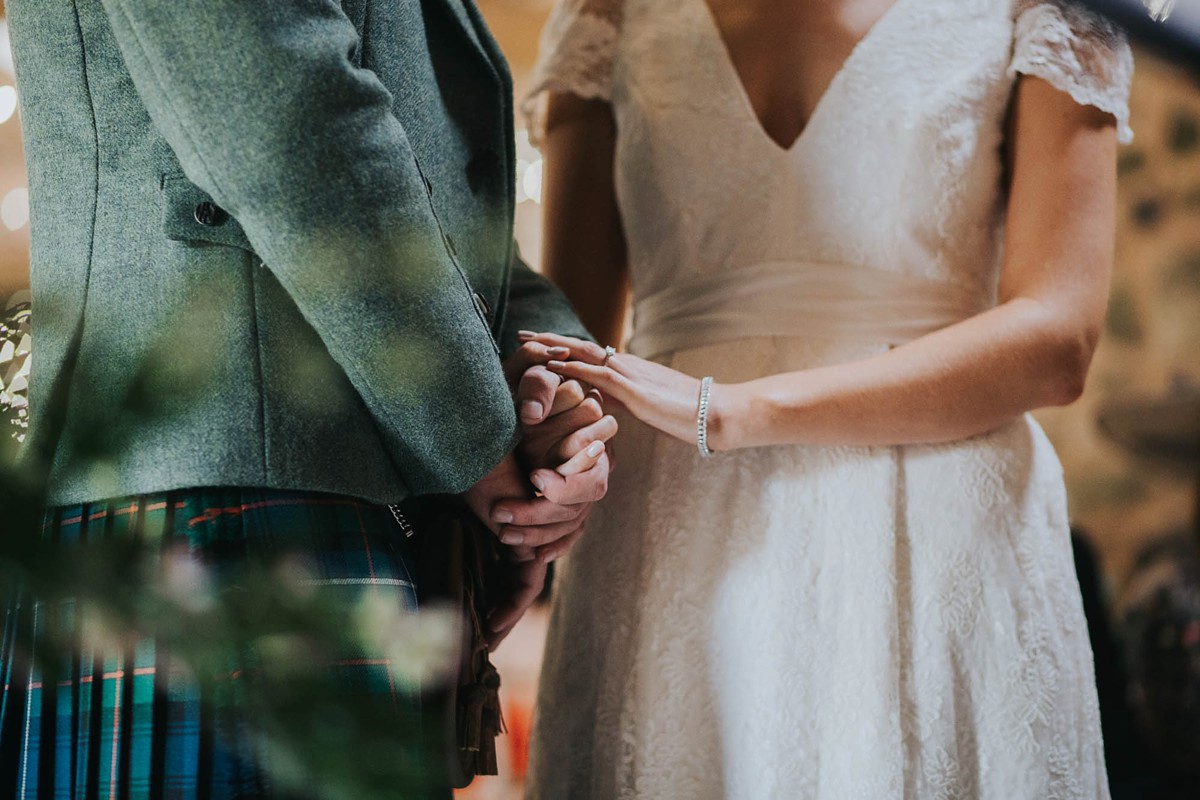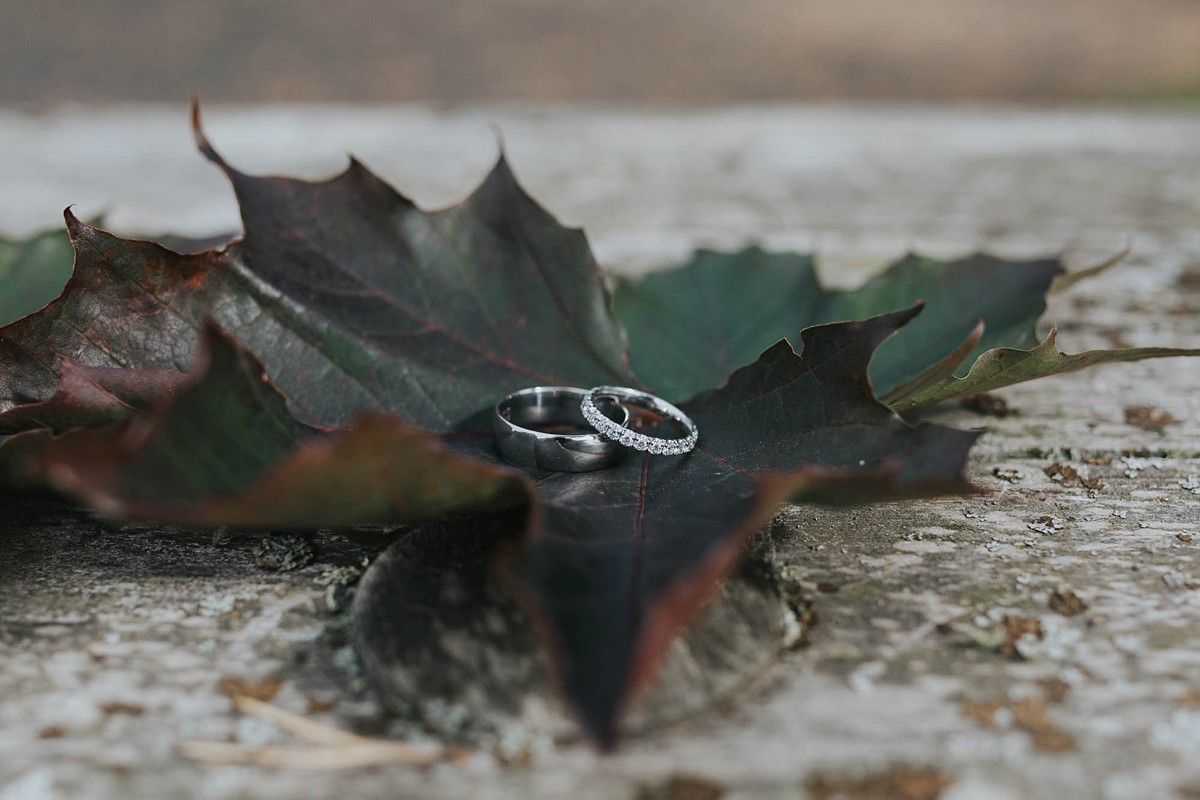 "Our last reading, read by Ross's sister Hayley, was 'Brambly Hedge – Summer Story' by Jill Barklem. It is already the cutest story about marriage but the ending line, knowing Ross's university nickname, was so perfect! This was one of my favourite moments and got a big cheer during the ceremony."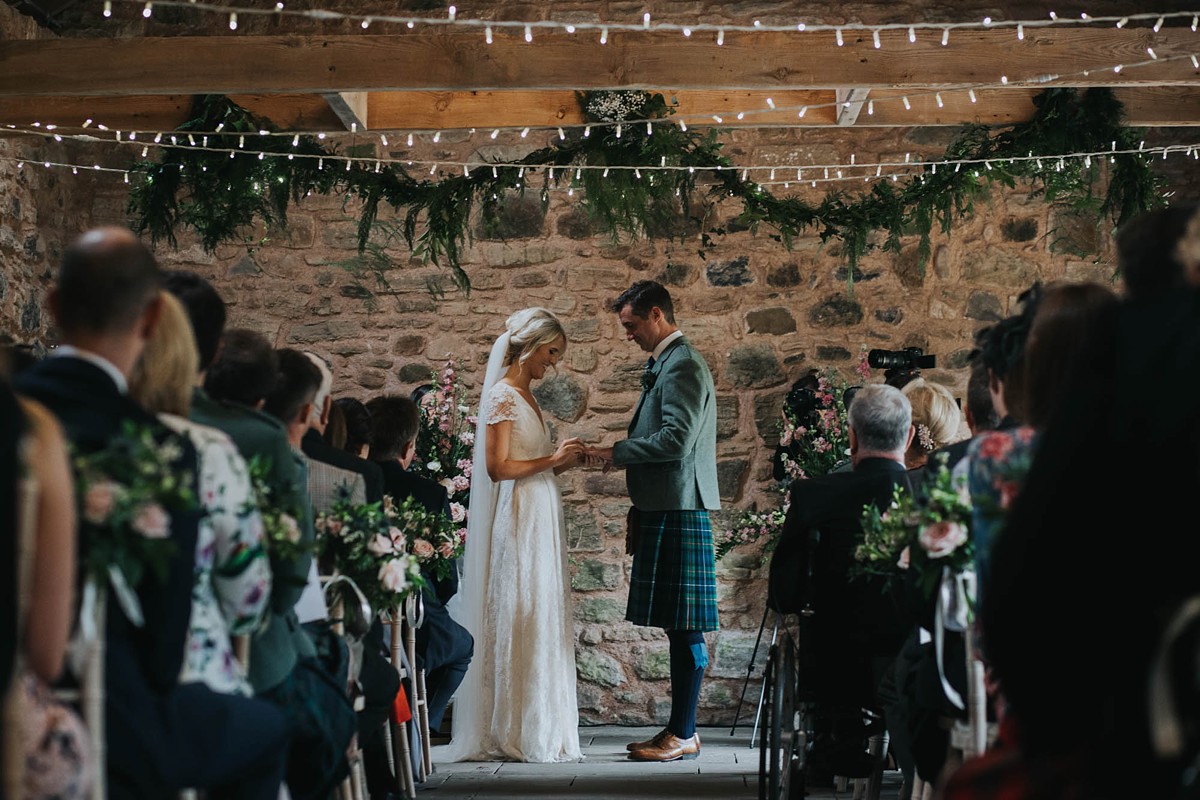 Lovelies, are you looking for inspiration for your wedding readings? Please take a moment to read to our Wedding Readings section of our blog.
Rings were made by the team at Bedazzl Diamonds.
"Charles and Victoria are wonderful people and so lovely to work with. Ross worked with them to design my engagement ring so there's no one else we would have trusted to make our wedding bands."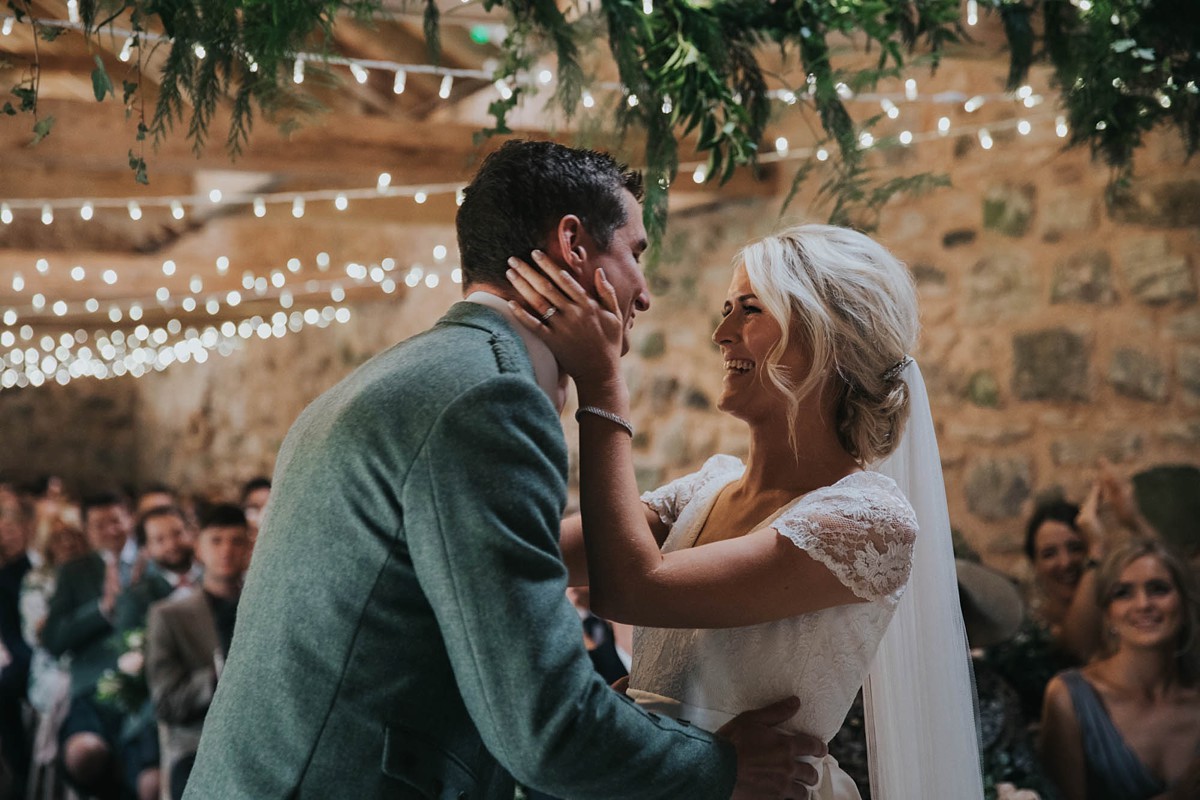 "The ceremony was so meaningful and personal. We both loved standing in front of all the people important to us and making those promises to each other. After the initial aisle emotion, I felt so calm and in the moment."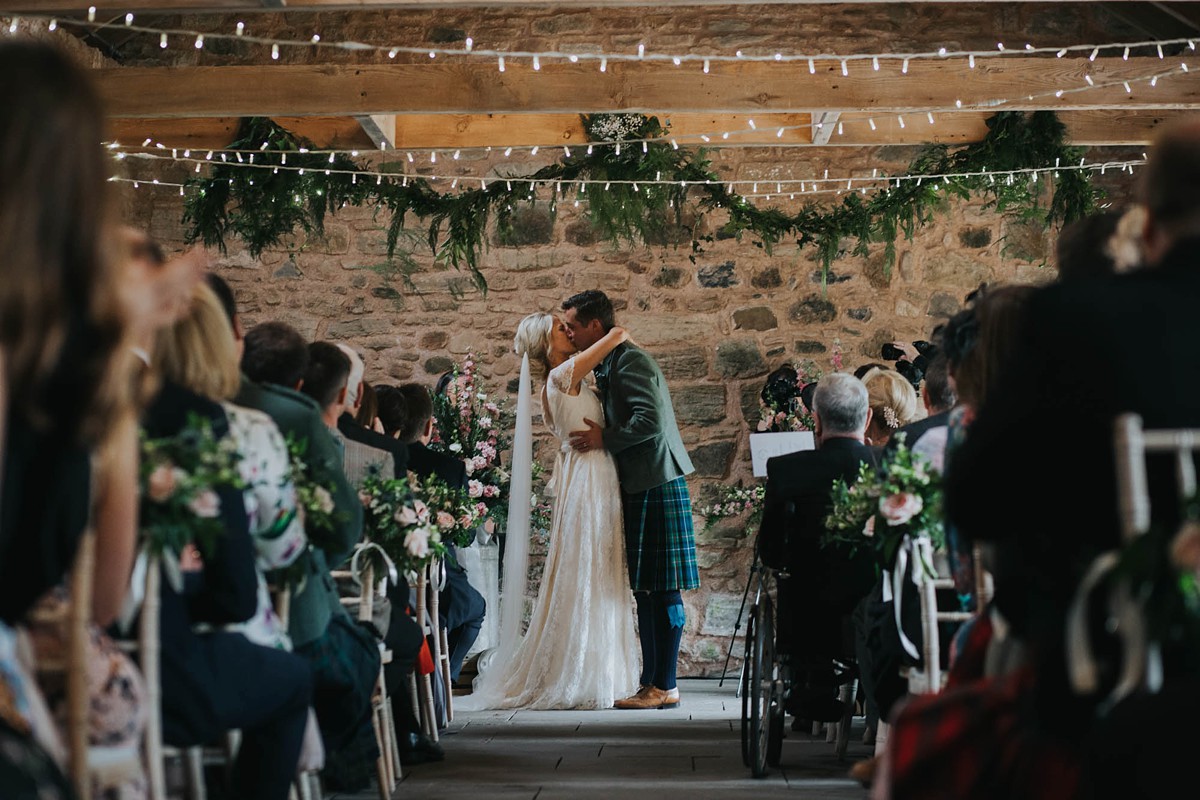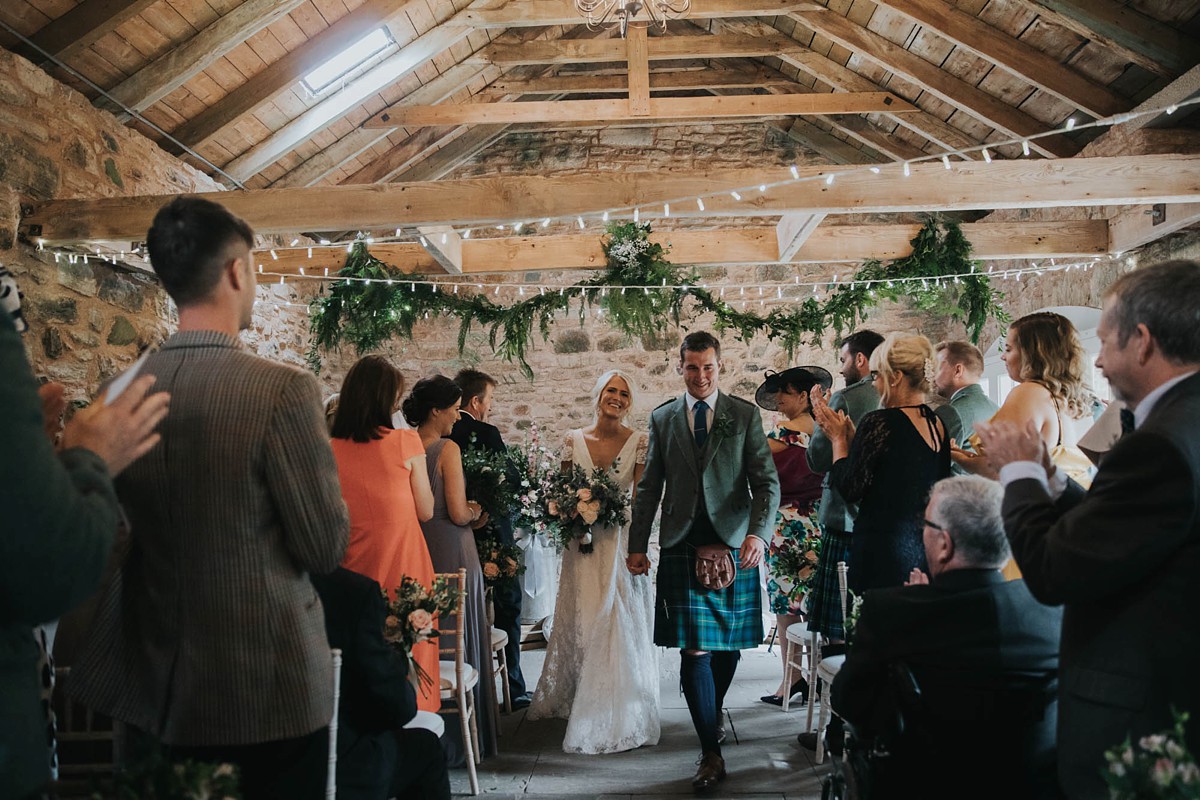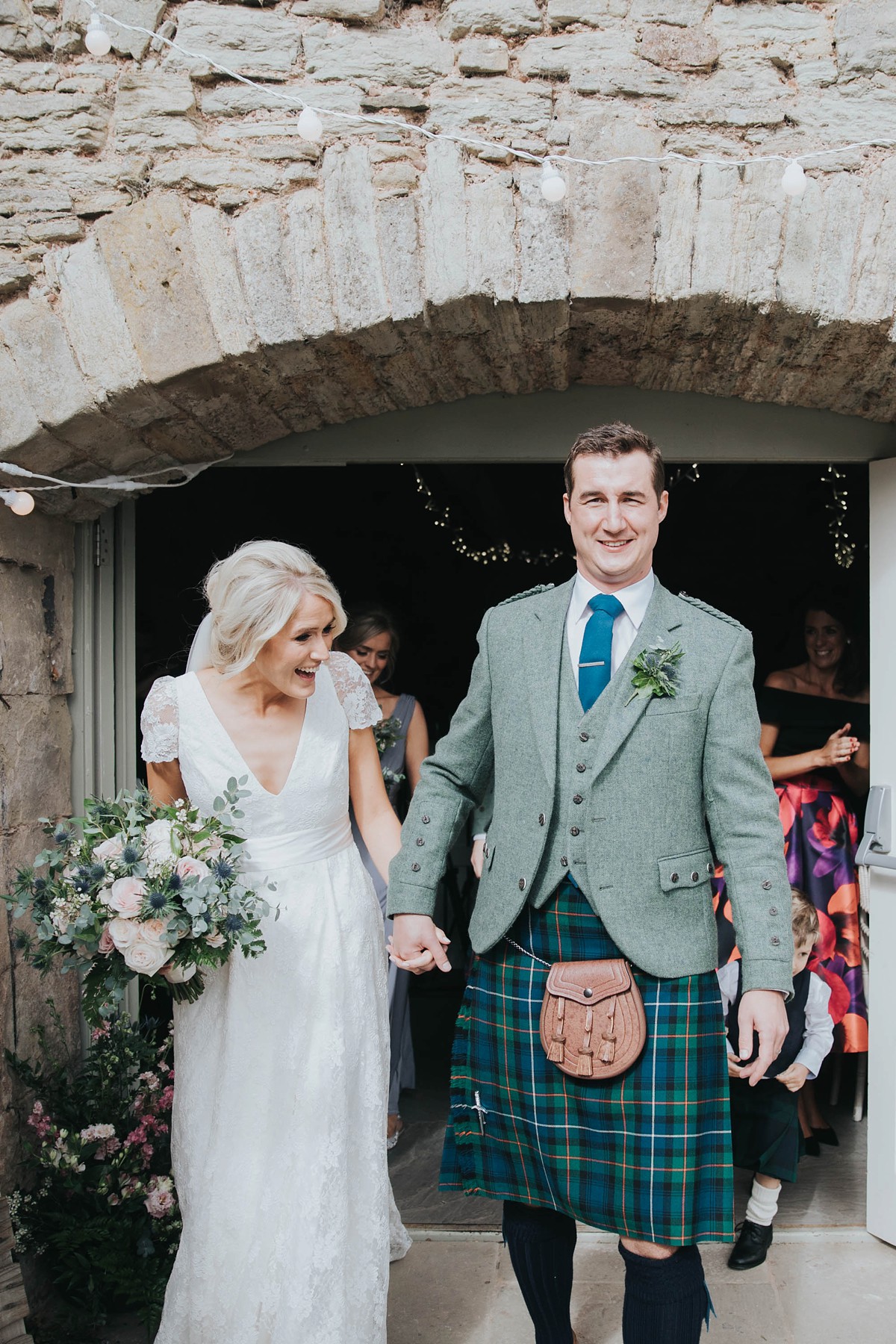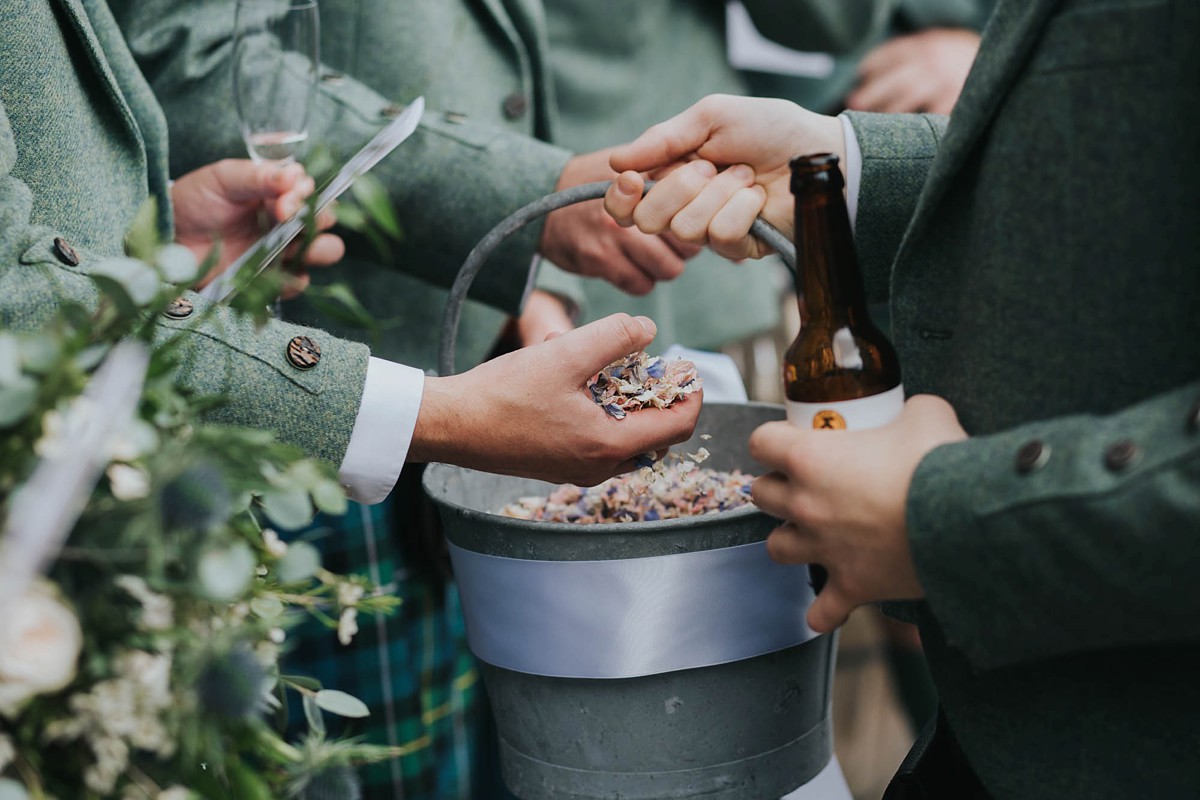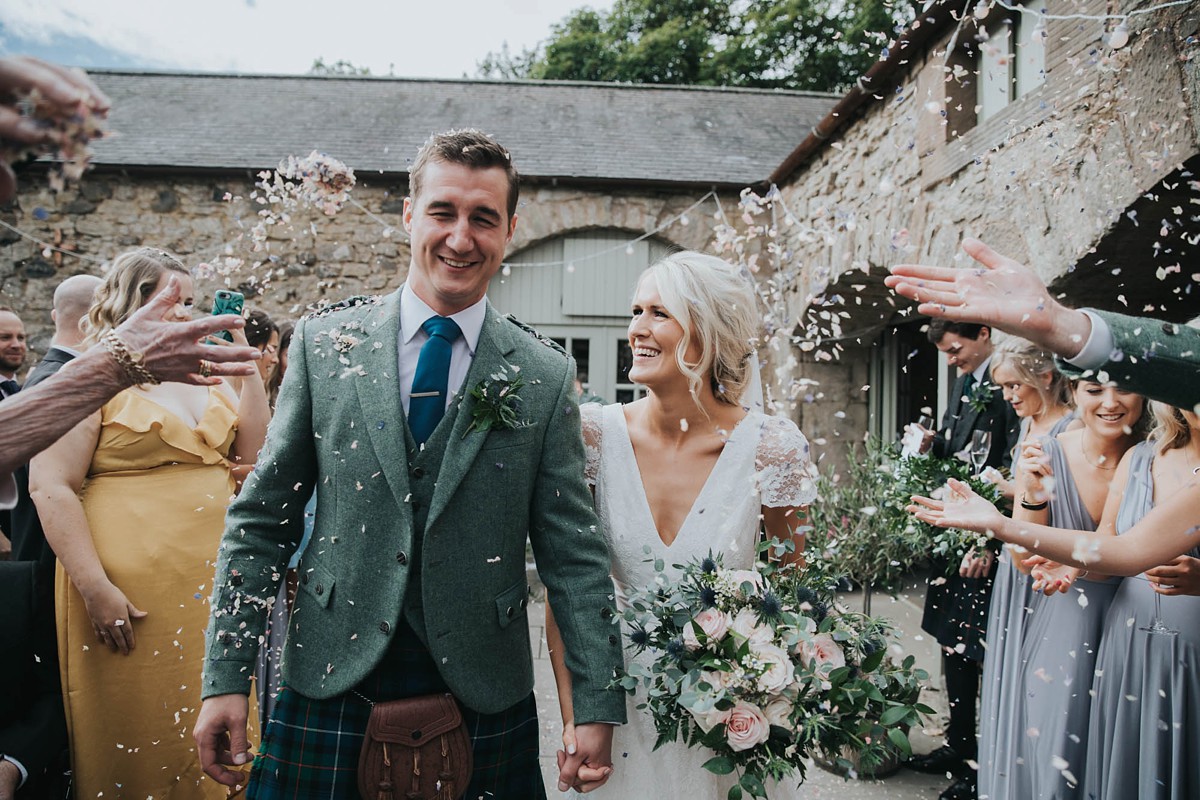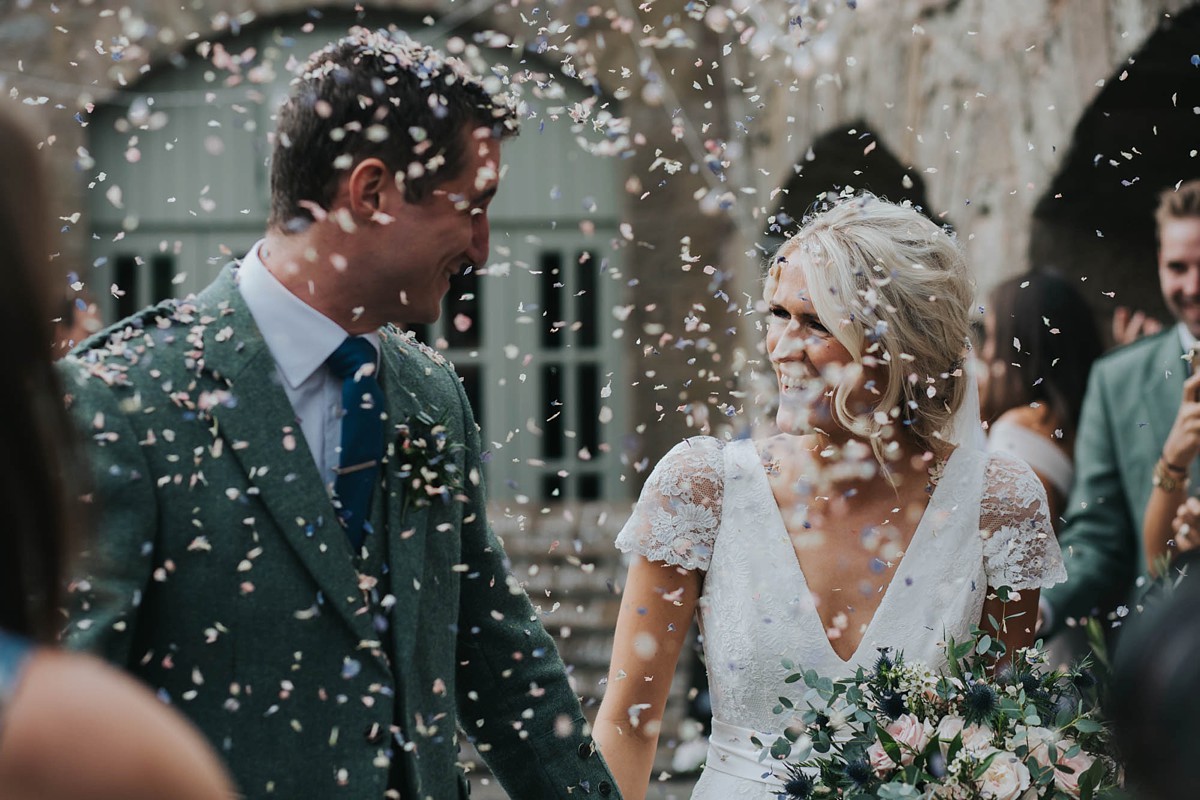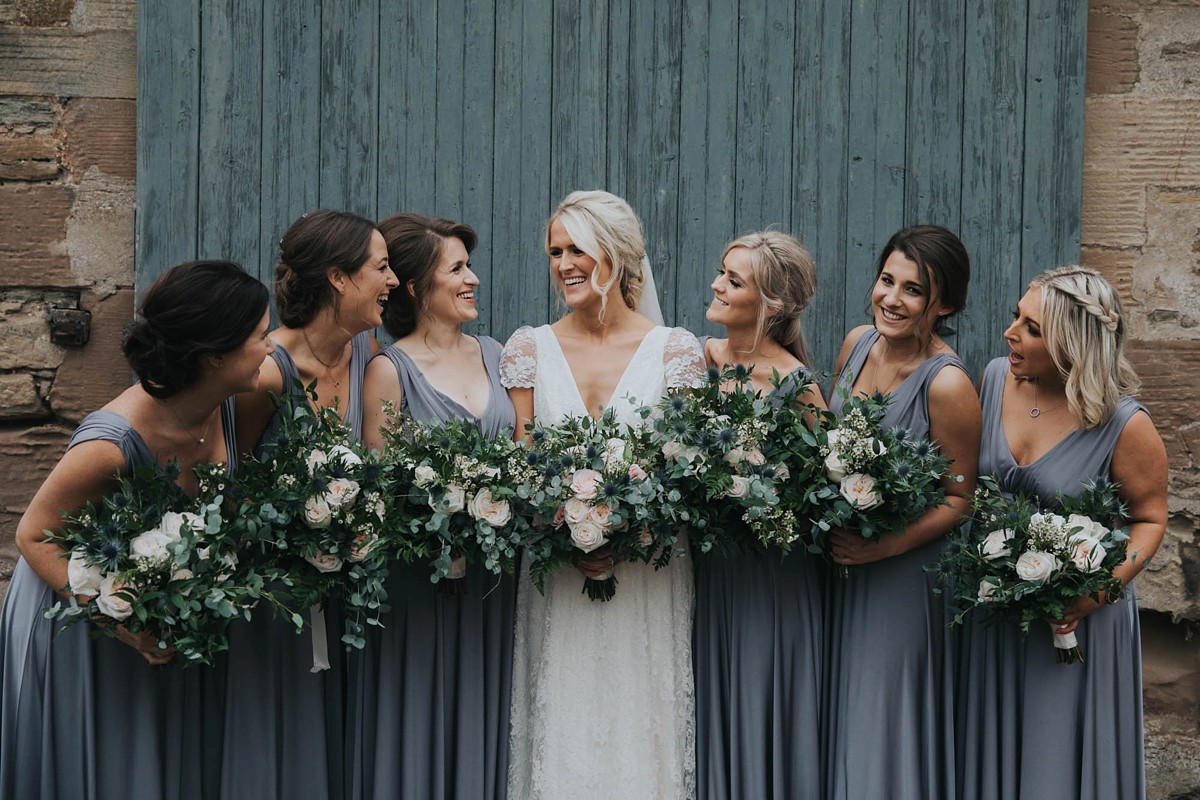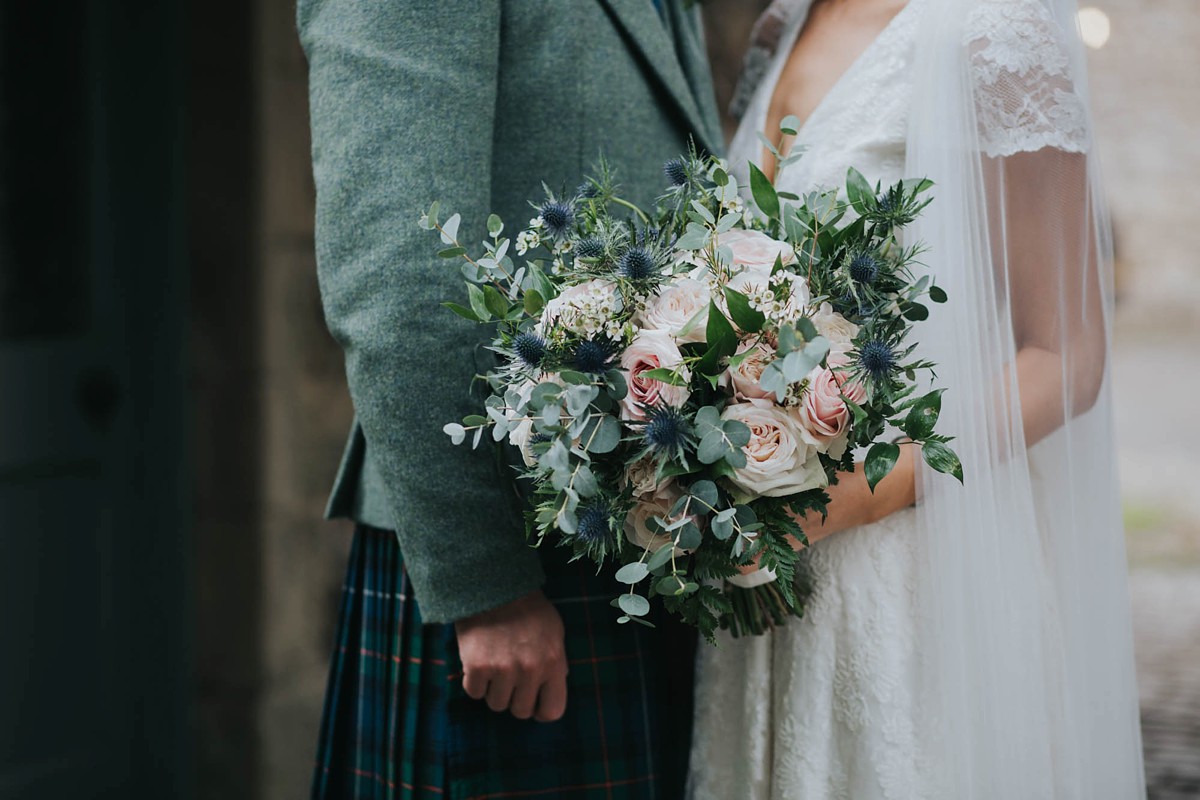 The Barns' picturesque courtyard and the surrounding fields make the perfect backdrop for the gorgeously romantic newly-weds portraits. I love how they were kept fuelled-up by their caterers too.
"From the minute I spoke to Stocks Events and they mentioned a priority of theirs was to make sure the bride and groom were brought canapés during their photographs, I was sold."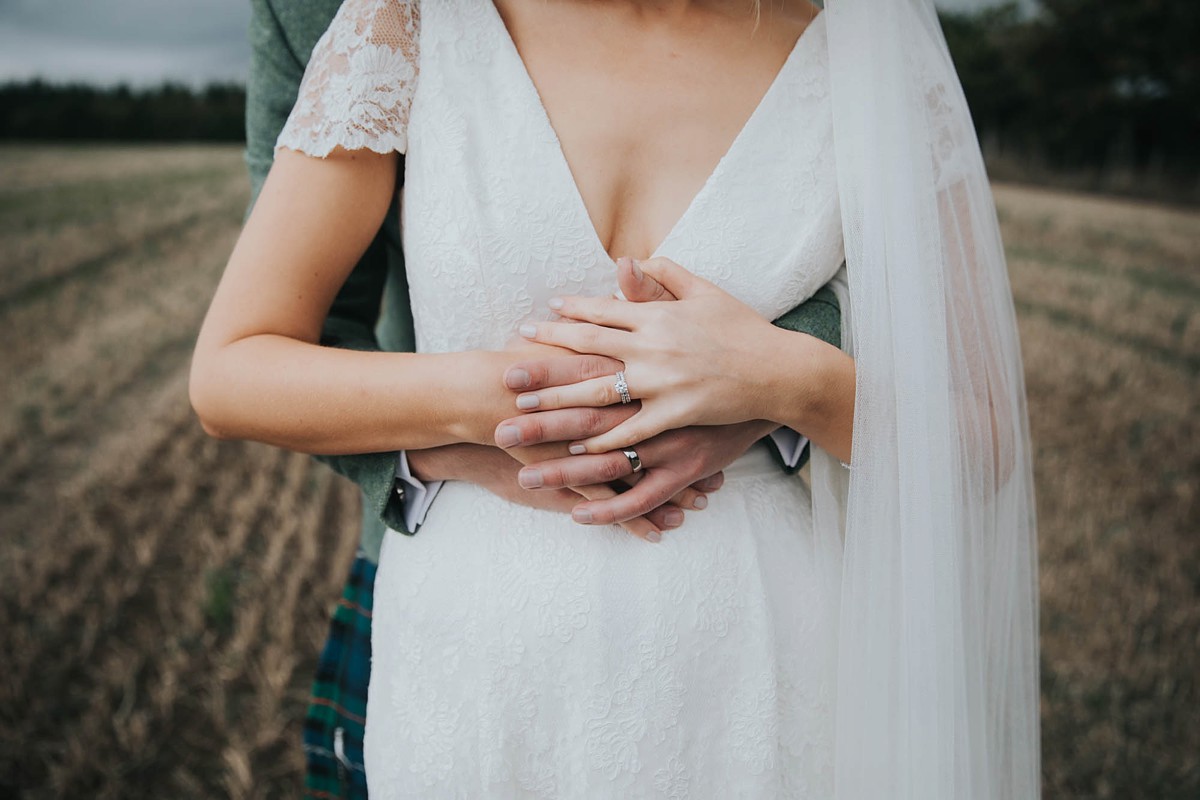 "They specialise in delicious, homemade food which was perfect for us; we didn't want the usual stuffy wedding food. We had sharing starters which people munched on during the speeches and a gorgeous, slow-cooked Italian beef stew with dauphinoise potatoes. Dessert was a chocolate brownie of dreams! We're so grateful to Stocks for lining everyone's stomachs."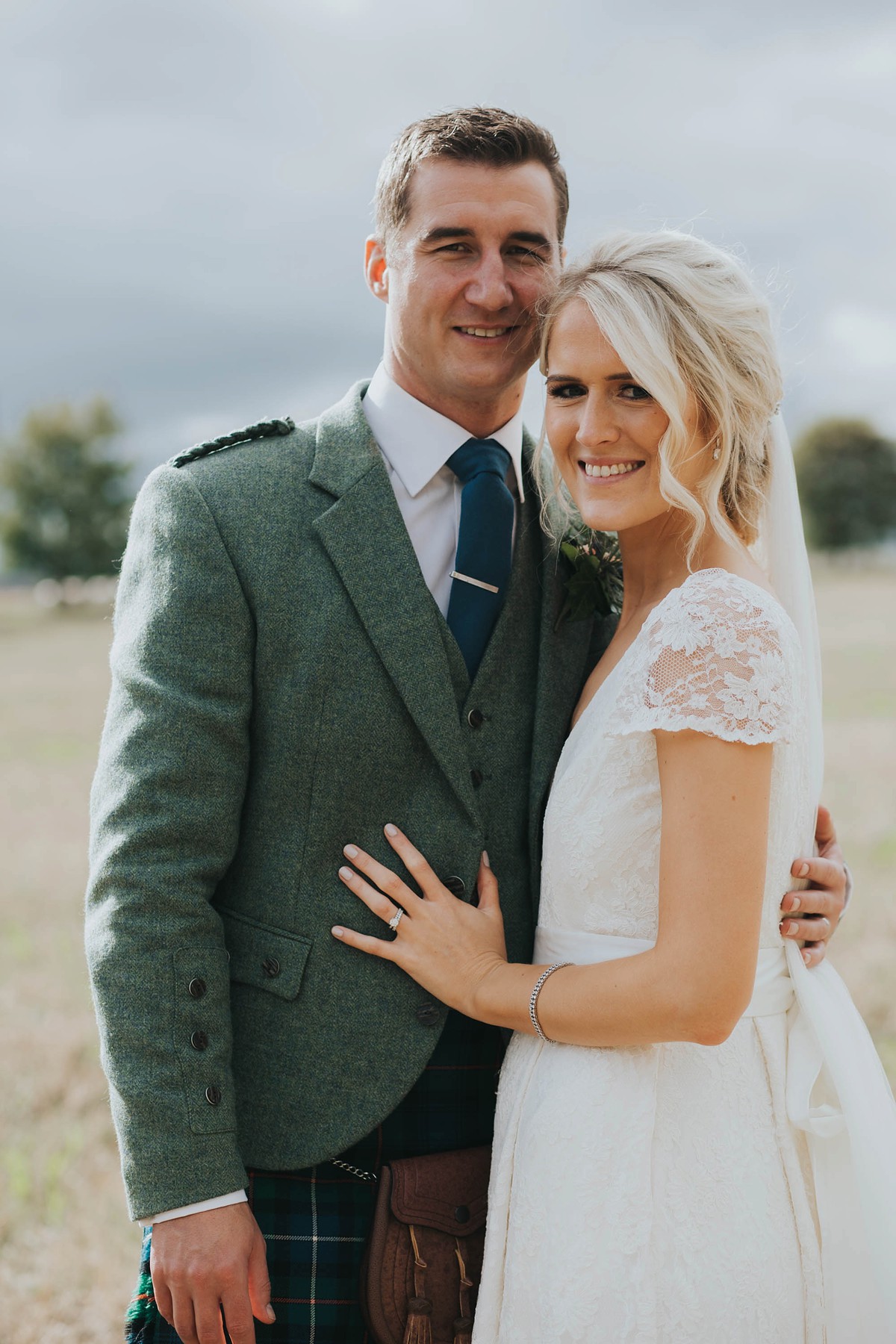 "Mercedes from Scarlett and Bell was with us for the day, and the day before, to help with the finishing touches and to make sure everything went smoothly."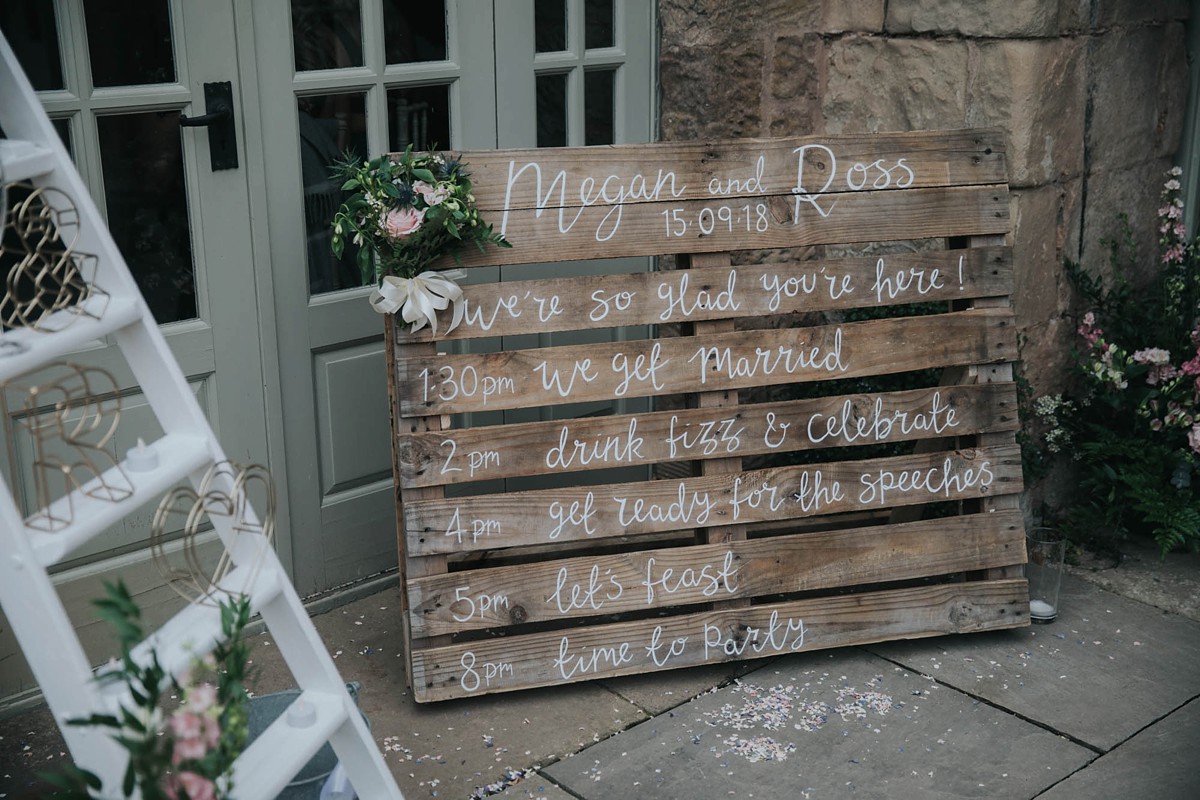 The ceremony, reception and ceilidh were all held in Wedderburn Barns which had been beautifully dressed with masses of fresh blooms and candles. The stationery, with its delicate motif, set the tone for the day.
"Samantha at Pear Paper Co. was such a joy to work with. I'm a bit of printing nerd so she sent me lots of paper samples to make sure we picked the right one. She had endless patience and the end result was stunning."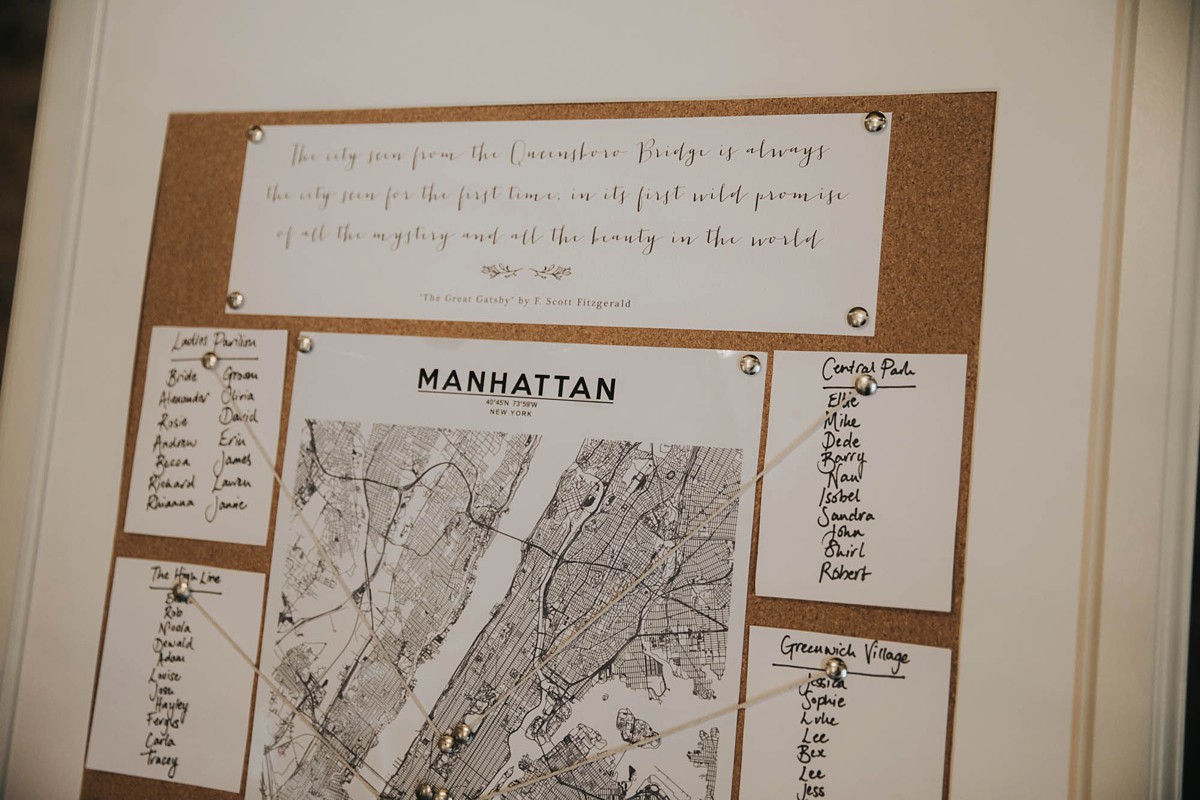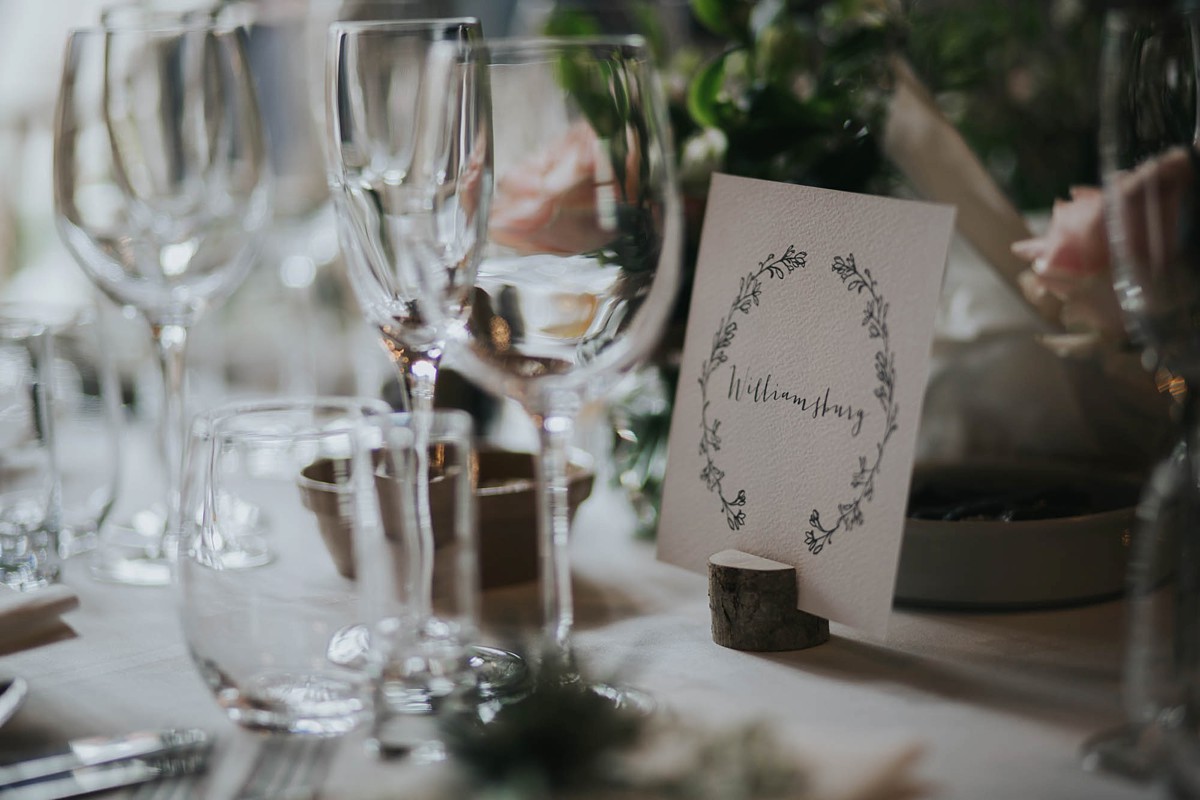 "Emerald Forest Flowers transformed the Barns with their gorgeous flowers. Eilleen was my flower fairy godmother – she understood exactly what I wanted and whipped it all up with minimal further input from me. My bouquet was to die for and she went above and beyond with the volume of flowers she dotted around the venue."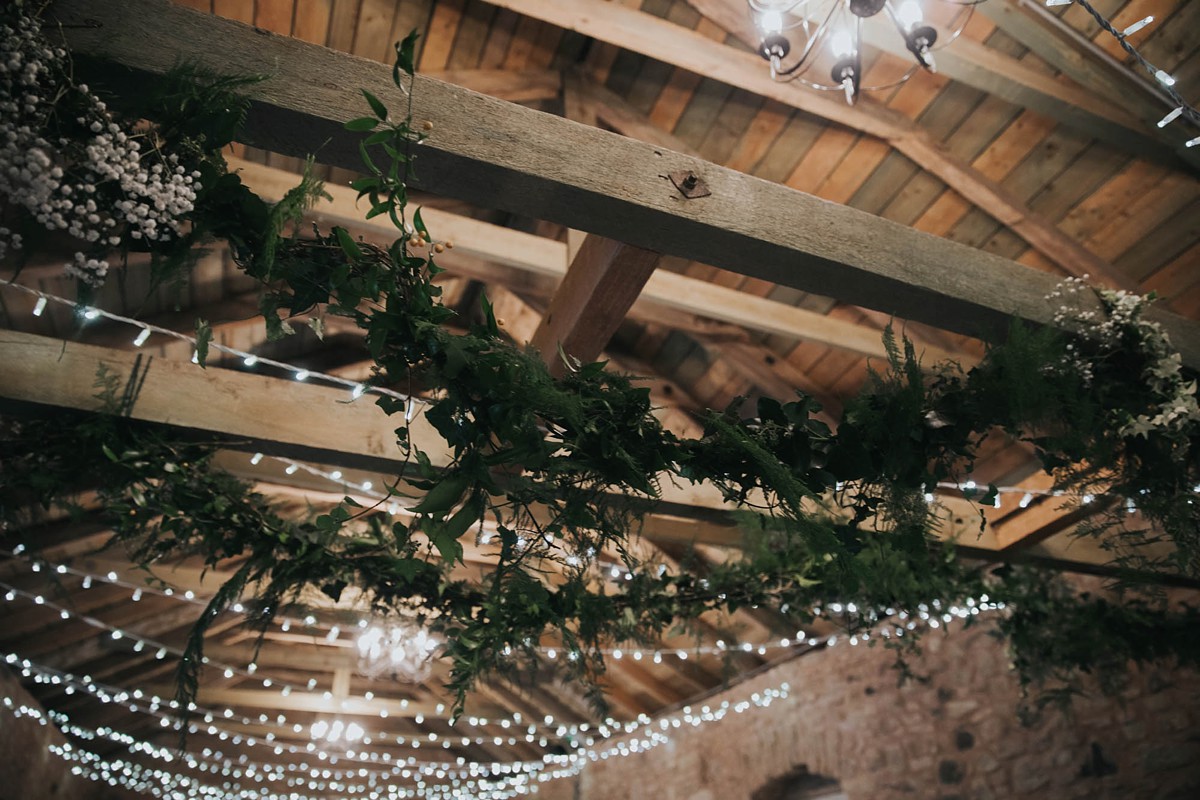 "They looked rustic and gorgeous in their simplicity. Get Knotted came the day before the wedding to install all our fairy lights, festoon lighting outside and the stunning greenery that hung from the main beams of the Barns. This really framed our altar so beautifully."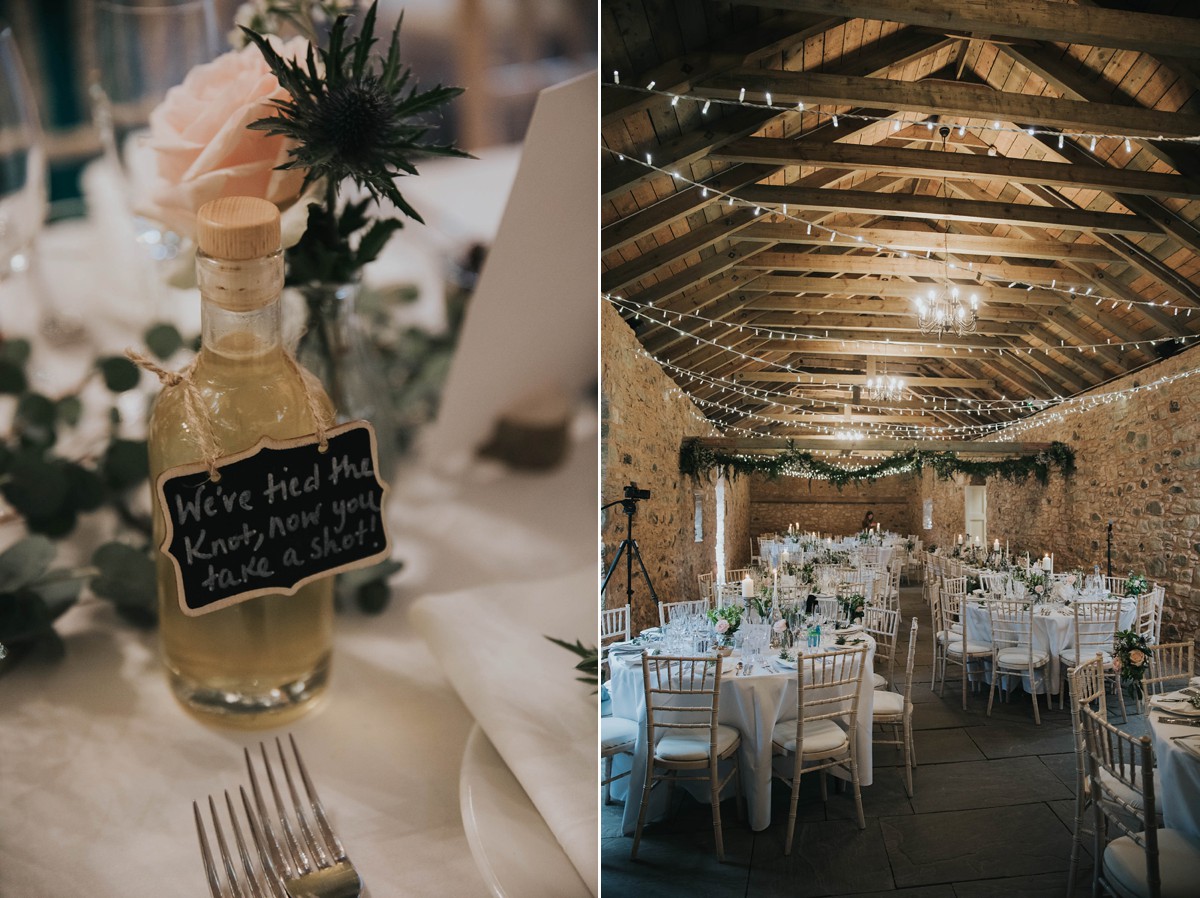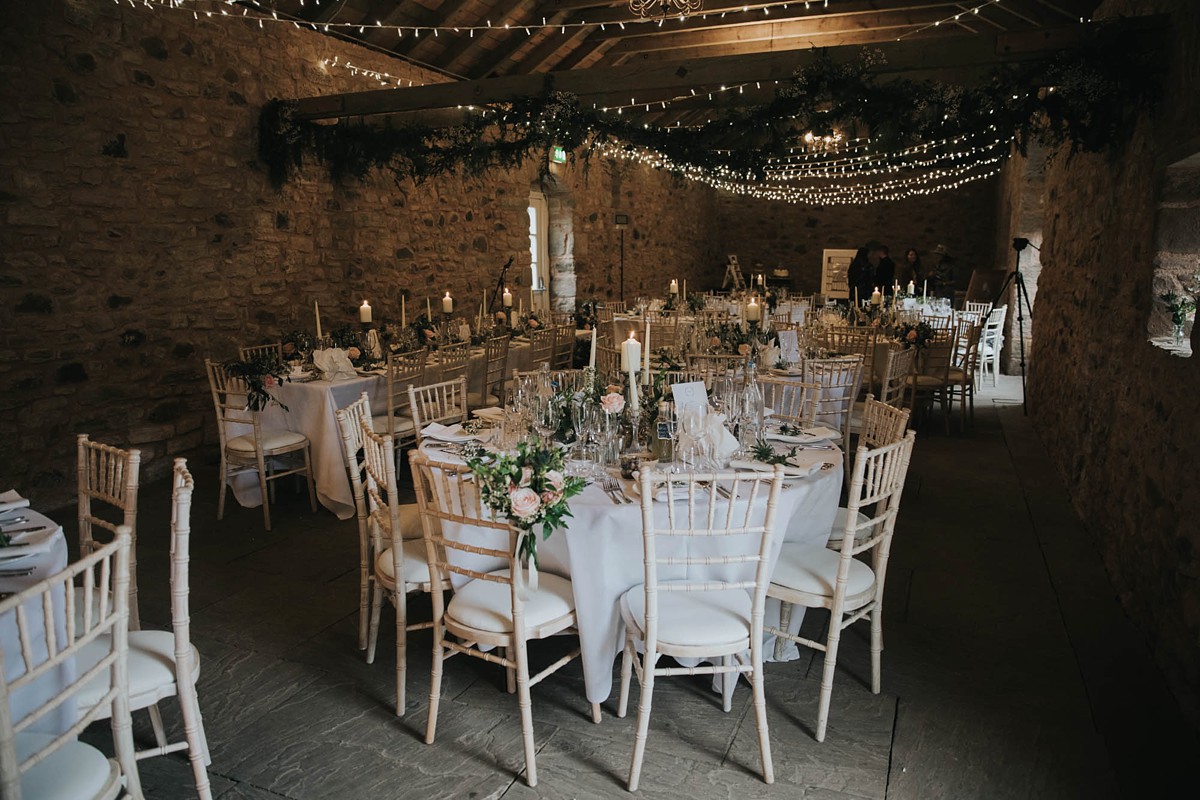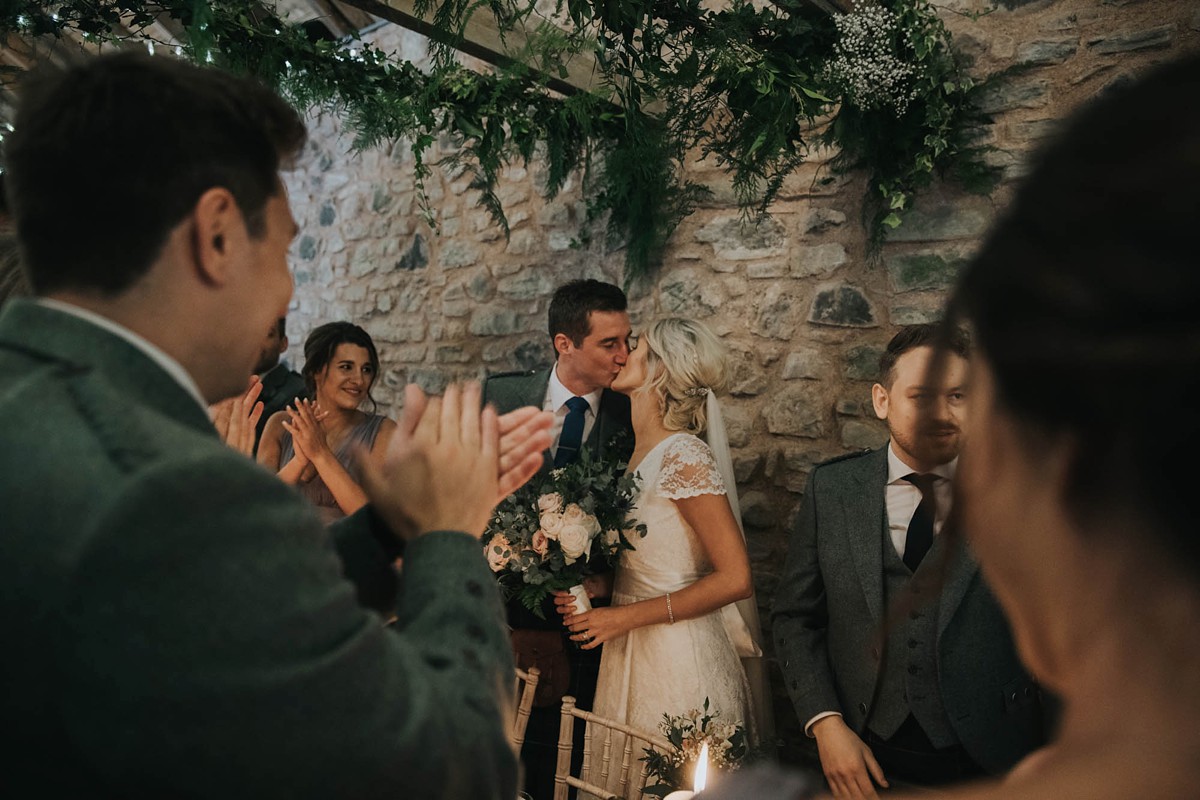 The cake table was lovingly made by Ross's mother whilst favours were handmade by bridesmaid Rosie. Oh, and the personalised bottles of beer were from another friend.
"Jane, Ross's mother, is the most incredible cook, so when we were discussing the cakes for the wedding, Ross was pretty confident his mum could take that on. Jane said she'd absolutely take care of it and just to let her know what we wanted."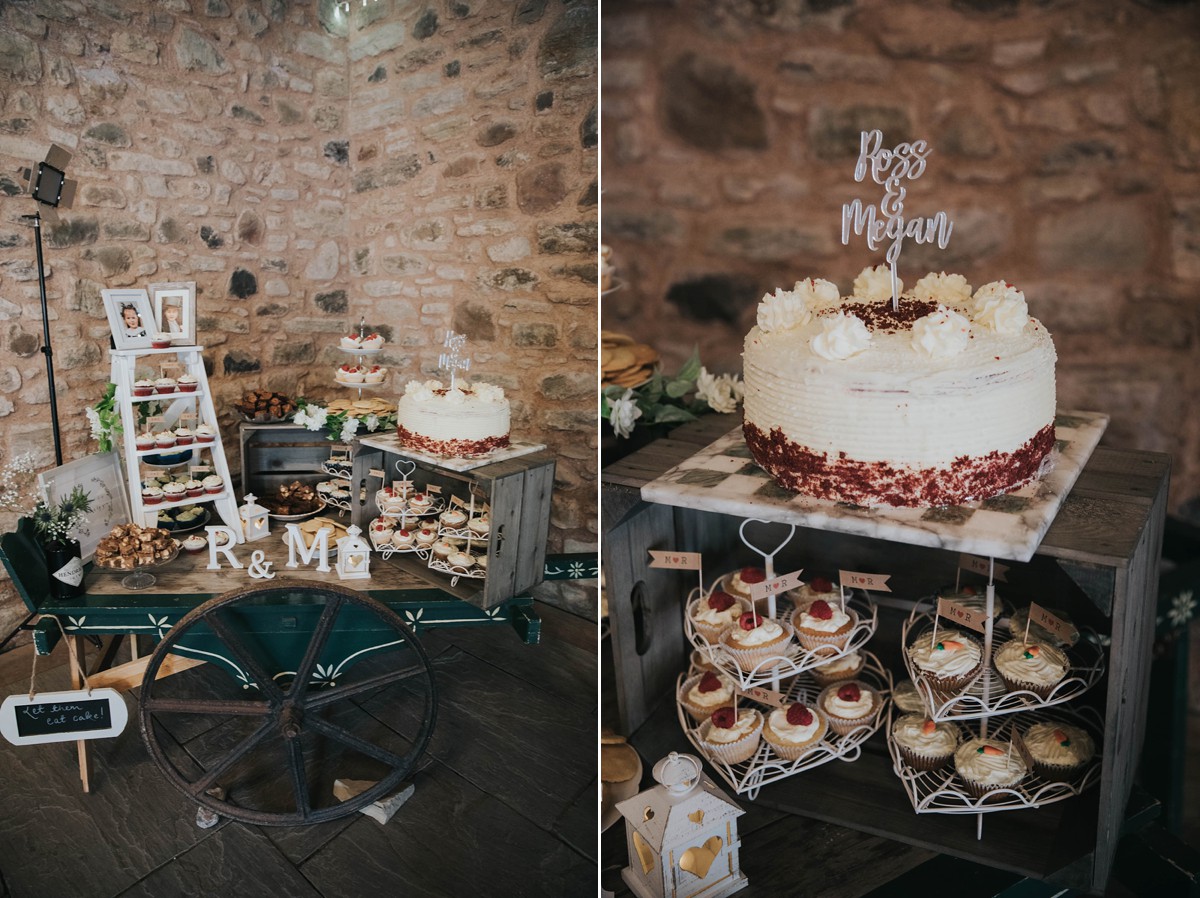 "We then found out she had enrolled in a course to get an SQA in Practical Cake Craft! Every Thursday she trotted off to her class so she could make all our cake dreams come true. All the cakes, cupcakes and yummy bites she made were out of this world and we are so, so grateful for all the love and time she put into it."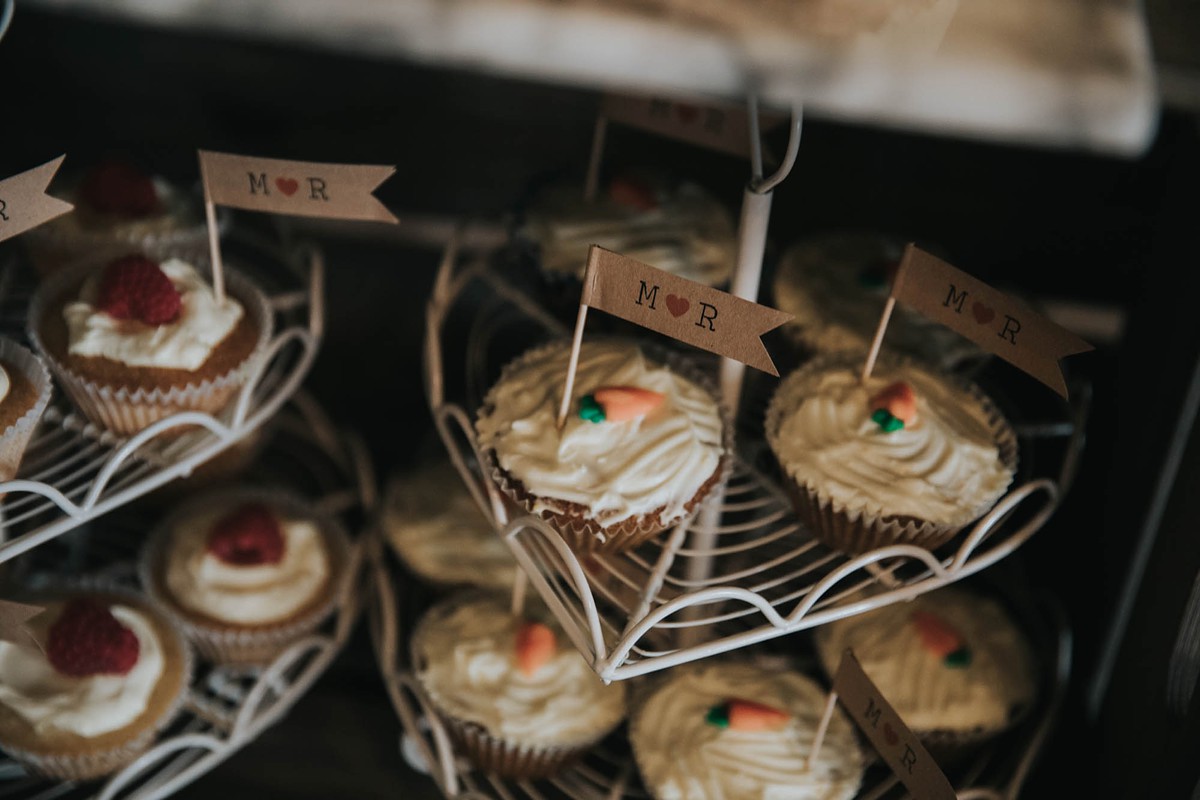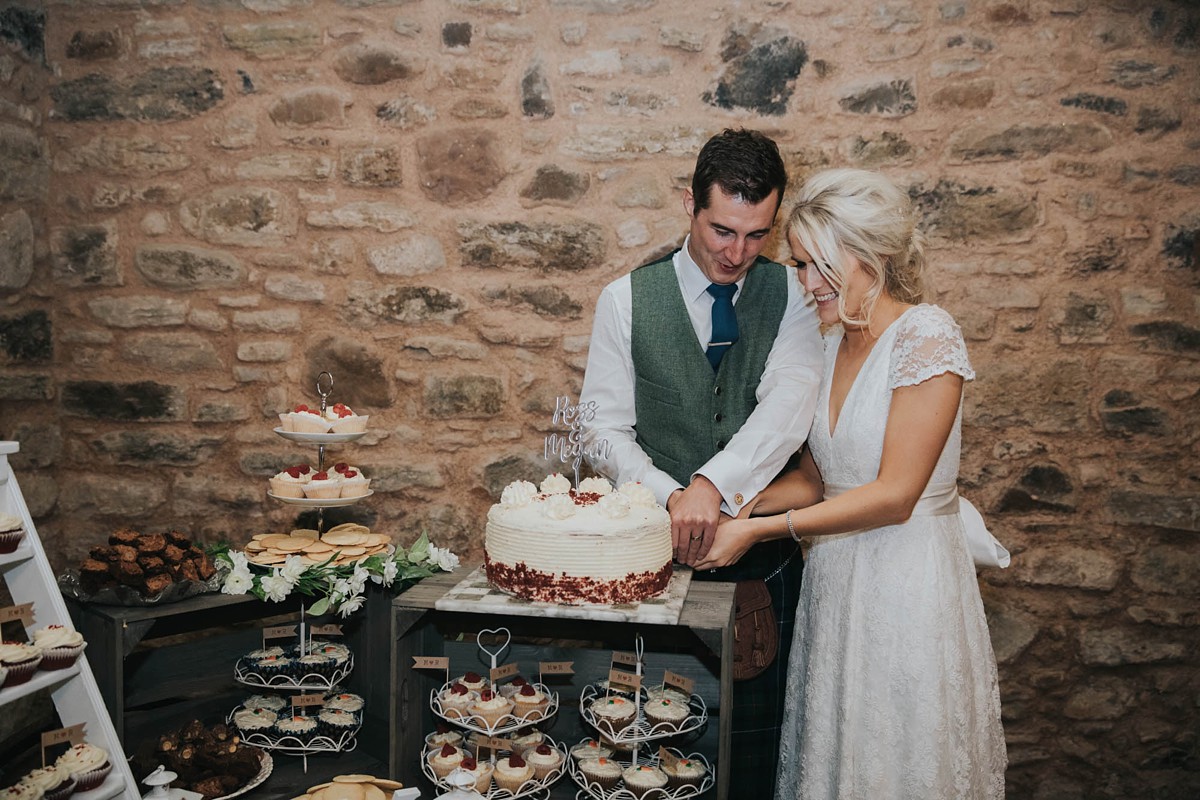 "Rosie made the most delicious limoncello for each table. Ross and I both love Italy and are very partial to a limoncello. Everyone took a shot when the bridesmaids were toasted during the speeches."
"We are very lucky that the family of our close friend Suzi own a farmhouse brewery Rigg & Furrow. They supplied all the kegs for the day and also the amazing personalised bottles, which were totally delightful."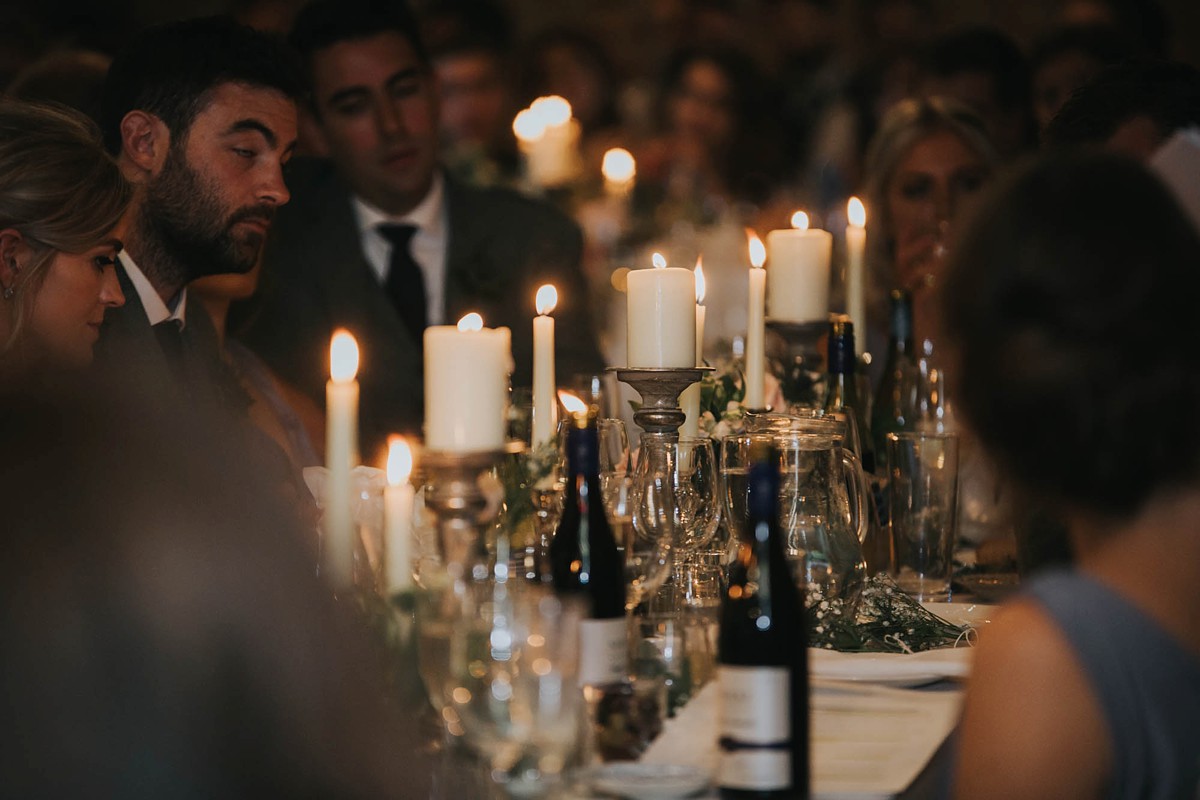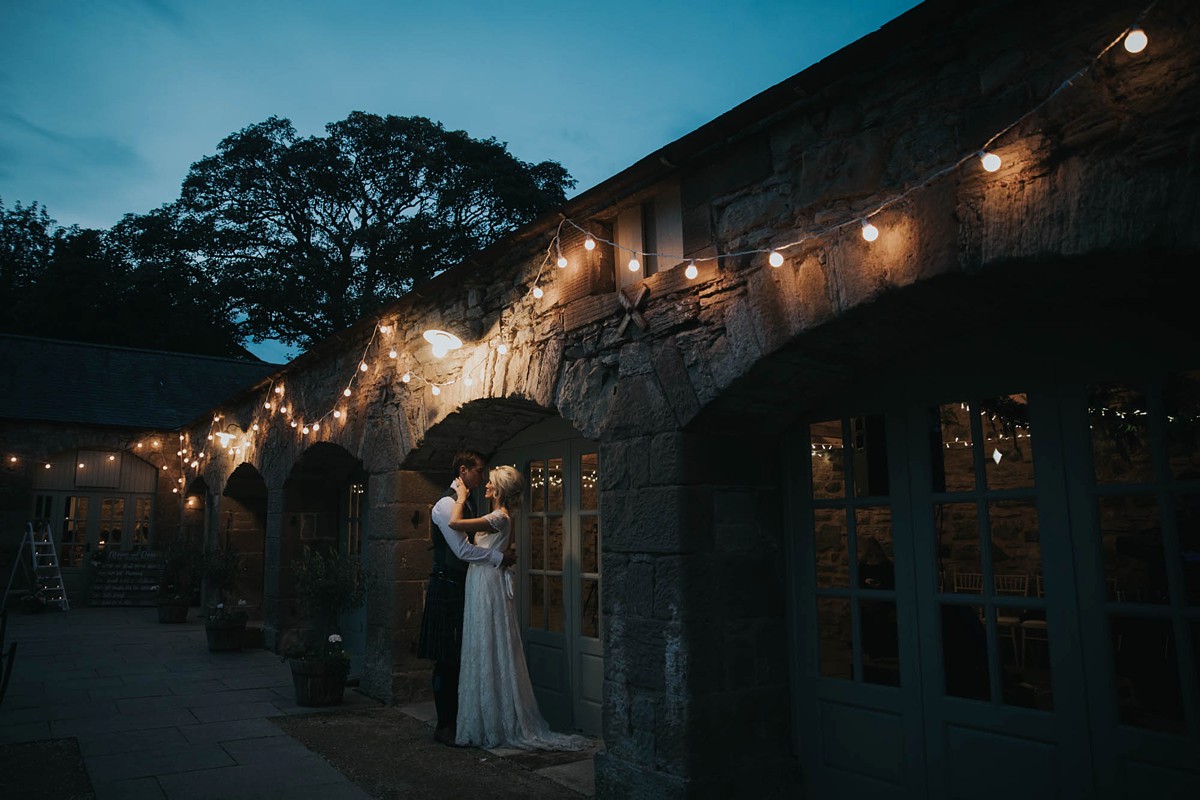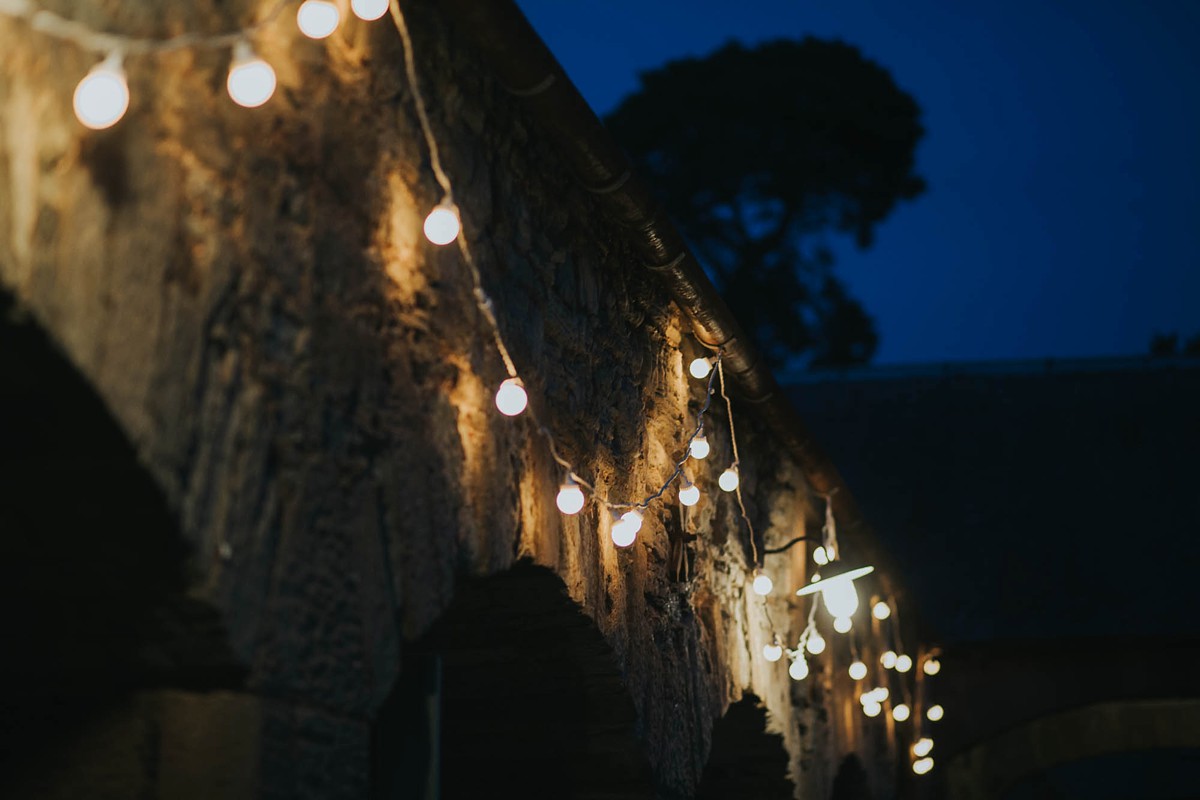 Following the newly-weds' first dance to Tom Odell's 'Grow Old With Me', the whole party took to the dance floor for an energetic ceilidh.
"'Grow Old With Me' has always been one of our favourites and we adore the lyrics. It starts slow and switches to upbeat, so we weren't left swaying awkwardly in front of our guests. Our wedding party joined us on the dancefloor when the beat kicked in. That was such a happy moment for us to be surrounded by special friends."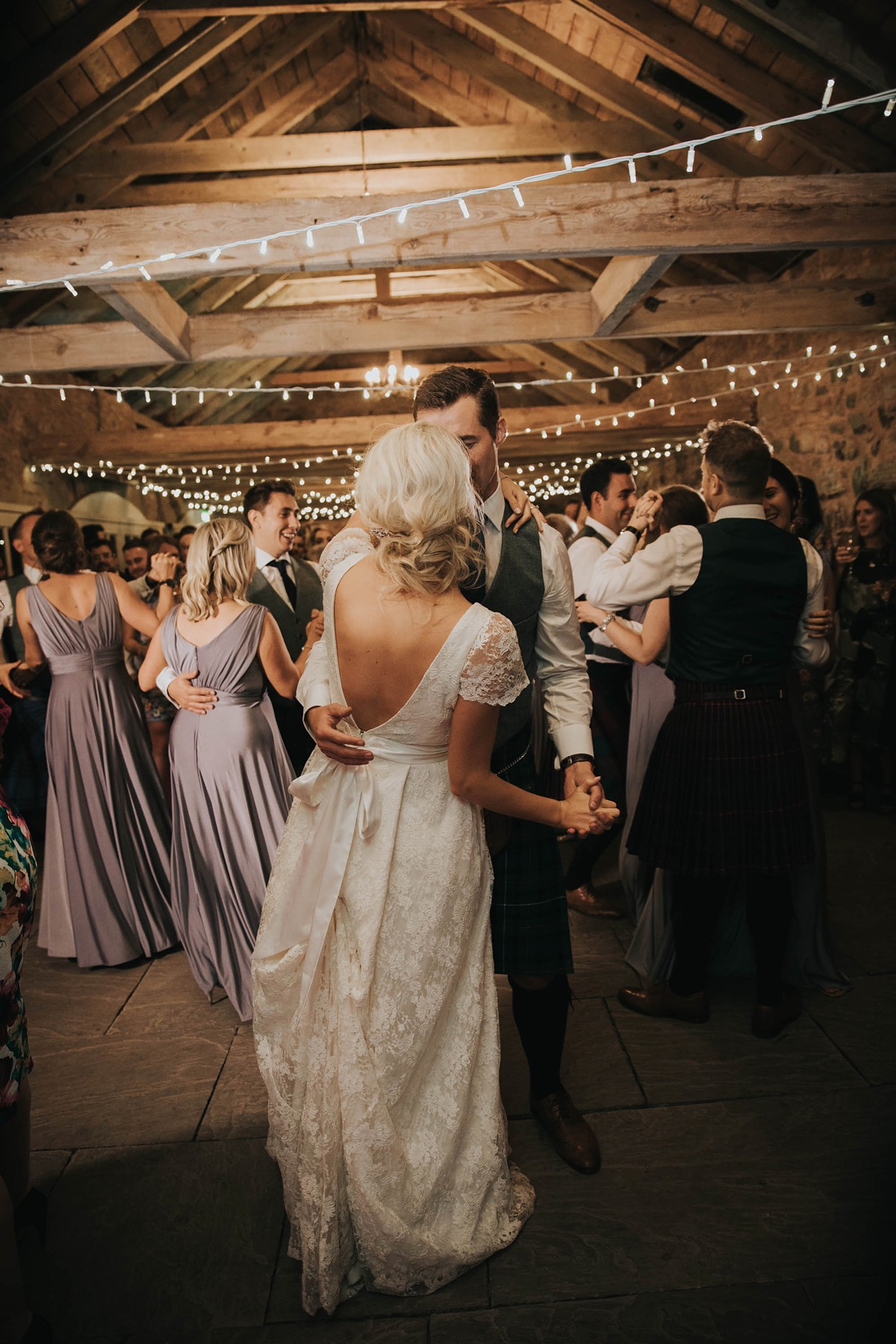 "Real Easy Wedding Band were brilliant – the ceilidh was so much fun, they had so much energy and got everyone on the dancefloor."
It sounds like a truly magical day, even though some parts weren't maybe as planned.
"I would have trusted that things would be right in the end. Even if things weren't how we had intended, that was the way it was meant to be for our day, and I would have saved myself a lot of stress if I'd discovered that from the start! In the last week, things inevitably did change and some elements of the day weren't exactly what I envisaged – but I found I just didn't care. I was so happy to be around all our favourite people and kept saying to myself, what will be will be."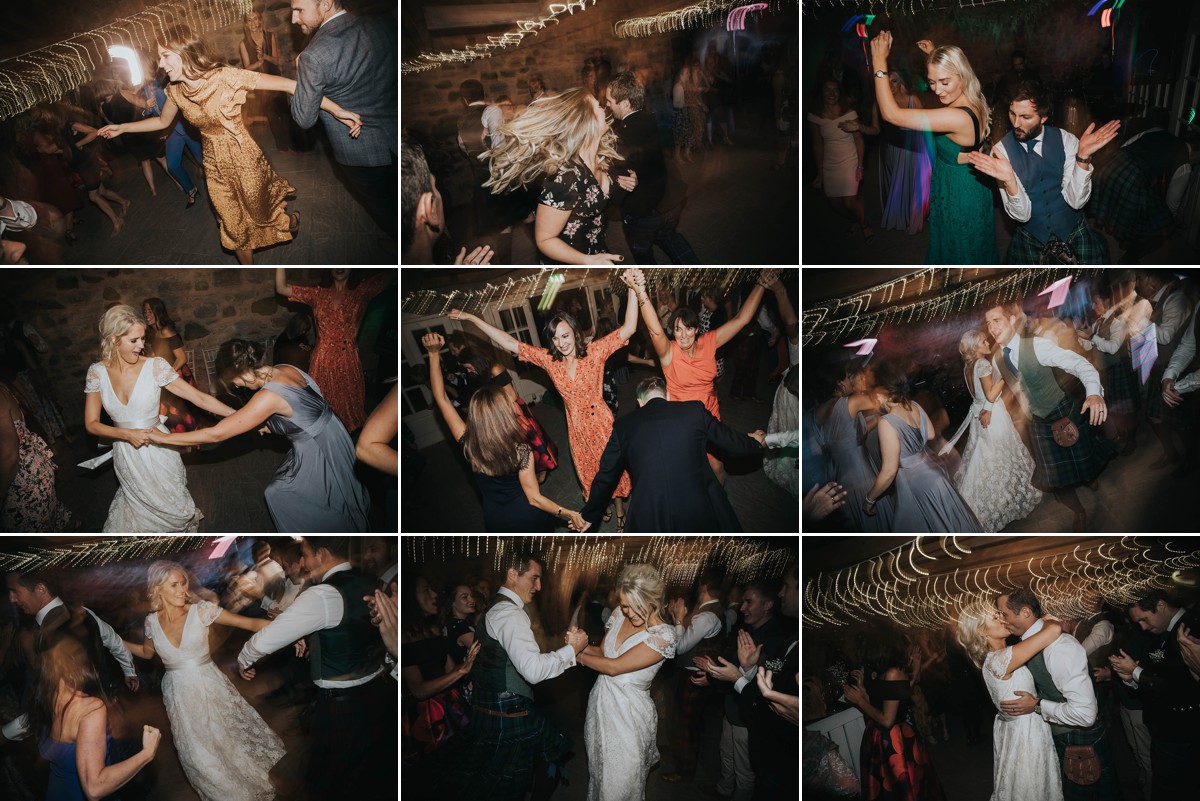 Words of Wedded Wisdom
"Don't stress if you don't have 'the moment' when you find your dress. I absolutely loved my dress and knew it was the one for me but I wasn't overcome with emotion and still had wobbly moments of doubt. That's totally normal! It's a huge decision. Just focus on how you felt when you first tried it on and your gut feeling will keep you right."
"Ross and I made a pact that we would leave the venue by 5pm the day before as we were hosting an evening reception for our wedding party and close family that evening. We wanted to spend that special time with those closest to us, and if something wasn't *completely* finished by 5pm, it didn't matter. This kept us focused on what's most important – having all your favourite people in the world in one place."
"Make sure you love your photographer! We adored Jen and it made such a difference to our day. And book a videographer! Knowing we can watch the whole day back has really helped our post-wedding blues and I cannot wait to watch it all unfold. You'll never regret spending money on memories that you can keep forever."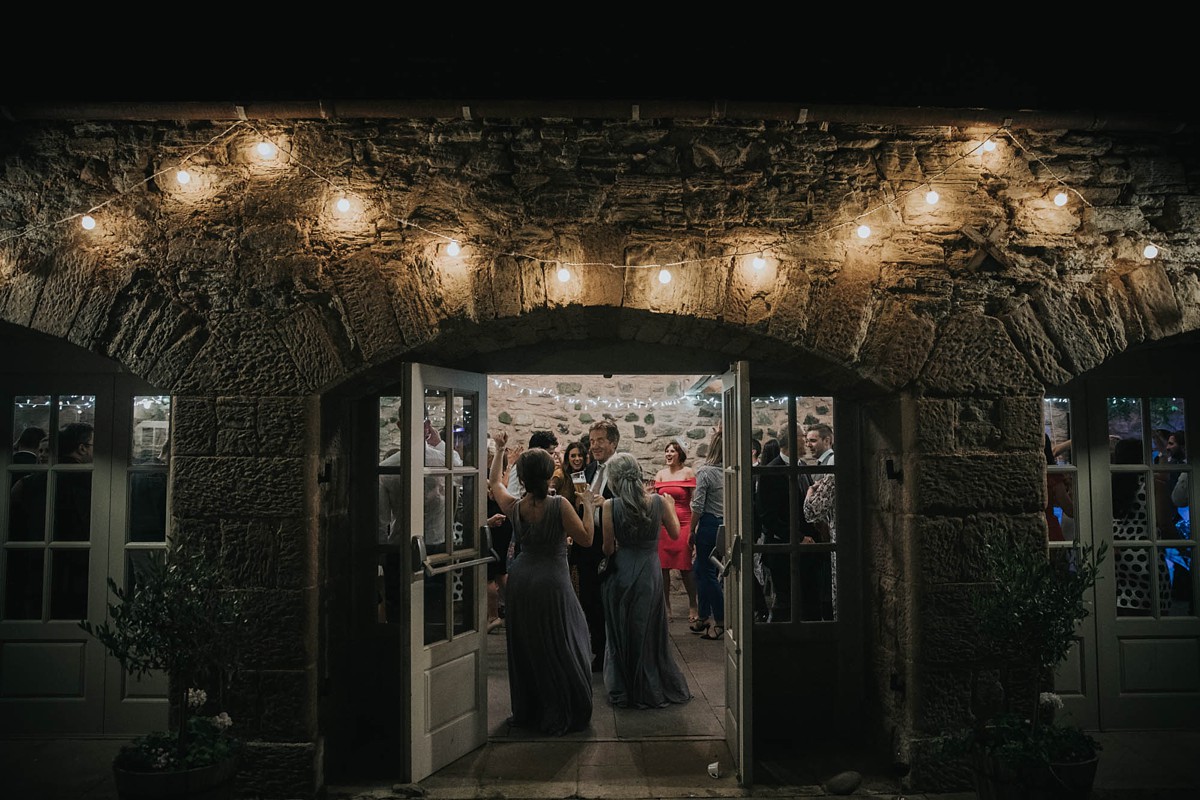 Megan and Ross, thank you so much for sharing your Borders wedding with us; it looks like such a wonderful day, and I loved reading about how you made your dress your own.  Thank you also to Jen Owens Images for your beautiful work. I hope to see it again here.
Ele xx