One of the most popular bridal boutiques amongst our bridal community in the UK is The Mews Bridal and ladies, there is good reason why.
The Mews have boutiques in London, Bristol and New York,  and each of them specialise in chic Parisian and French bridal designers only – that wedding day style with a certain je ne sais quoi. Having such a cool niche has created rather a cult following for this family run business (founder Gail is supported by both of her daughters in managing the boutiques) and brides from all over the UK will travel the length and breadth of the country for an appointment at this welcoming and chic bohemian wedding dress haven.
Aside from these gorgeous ladies – these brides include Fashion Agent Charlotte, who married film industry executive Tom on 17th August 2018 at Morden Hall, an 18th-Century manor house situated in South London.
Photography by Taylor Hughes Photography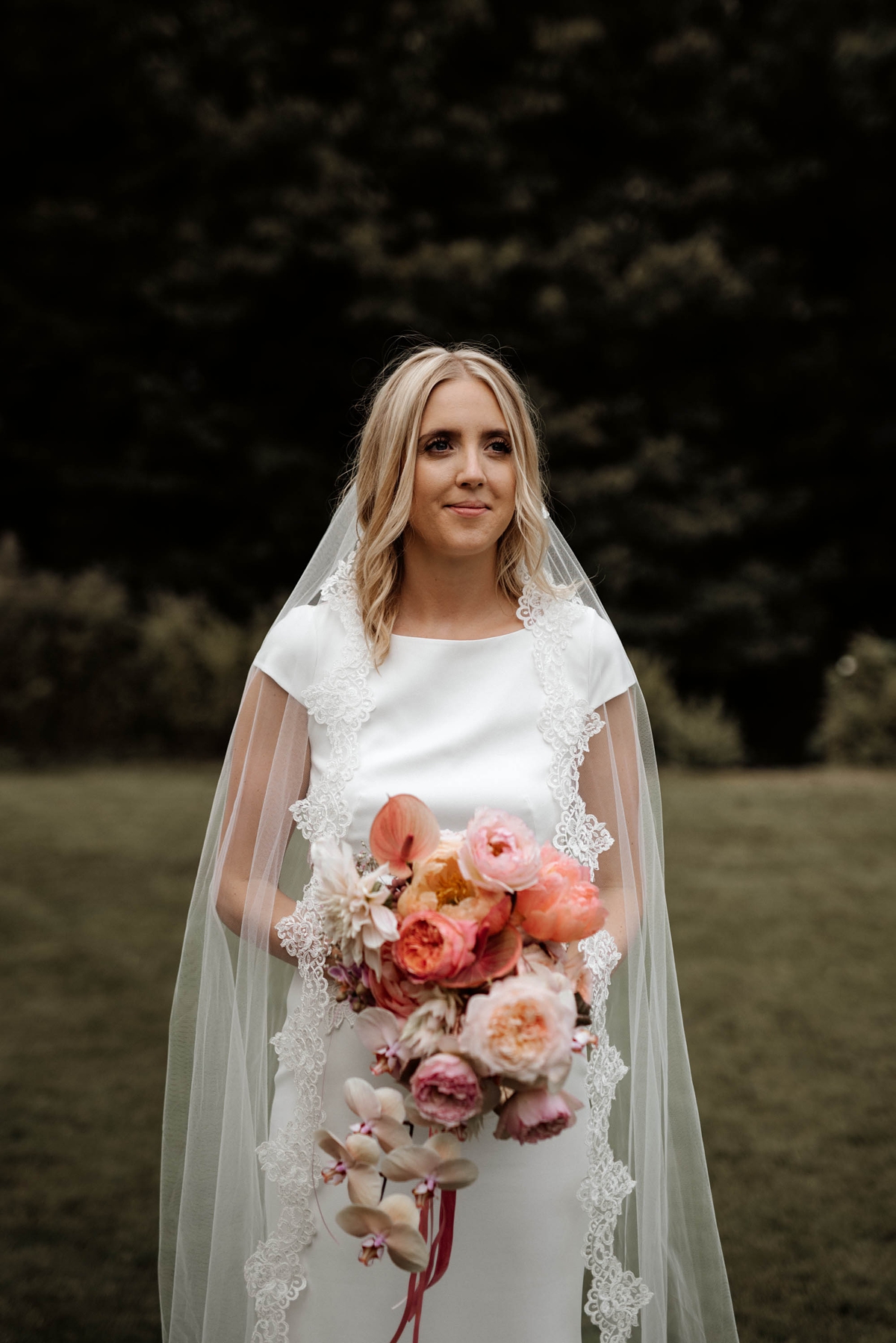 "I chose the Devin dress by Rime Arodaky from Notting Hill Mews Bridal. I knew I wanted a relatively simple and elegant dress with a column silhouette, but I was looking for something a bit special and different too."
[RELATED]
"As soon as I tried on the Devin dress, I knew it was the one before I'd even looked in the mirror. It fit like a glove and made me feel great. I loved that it looked chic from the front but had a statement low back, adding a bit of drama. The applique flowers also fit perfectly with our overall theme."
"We chose Morden Hall because we wanted a London location as it's where we're based. Tom is from South London and we both adore the city. We fell in love with the beautiful old house that is Morden Hall, which still includes some of its original 17th-Century features such as it's dramatic staircase, ceiling roses, mosaic floor etc."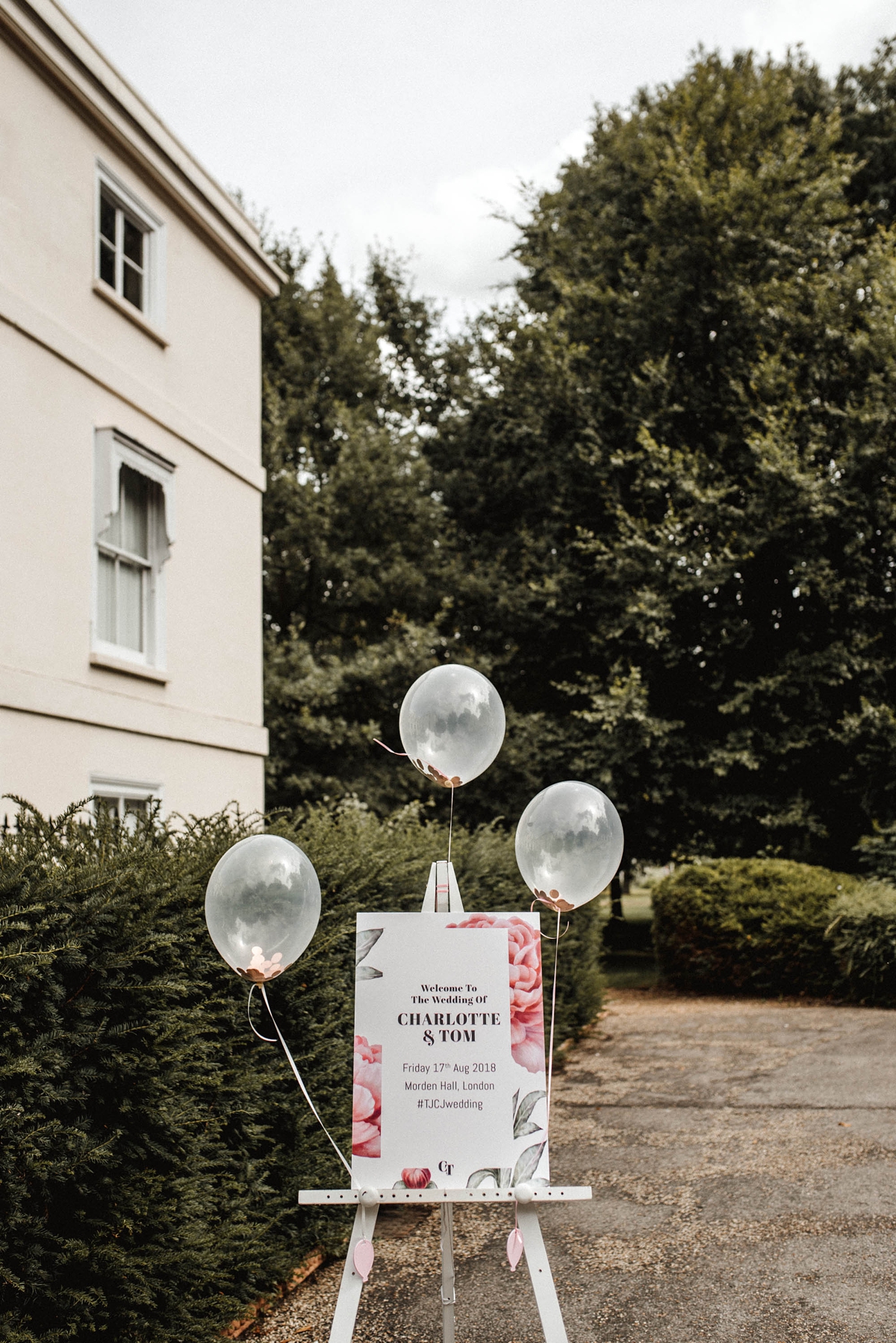 "We also fell in love with the beautiful spacious grounds of Morden Hall which include a charming river and beautiful bridge, enormous spacious lawn for games and treasure hunts, beautiful trees and no small amount of wildlife."
"It allows you to have the space of a country wedding and the grandeur of an old fashioned manor house, whilst still being minutes walk from a tube station."
"We really wanted the vibe of our wedding to be relaxed, fun, informal and colourful – like a really great summer garden party."
"Our dress code was 'sharp and summery' and people came in a variety of amazing prints and florals. I work in fashion so the aesthetics were very important and carefully planned!"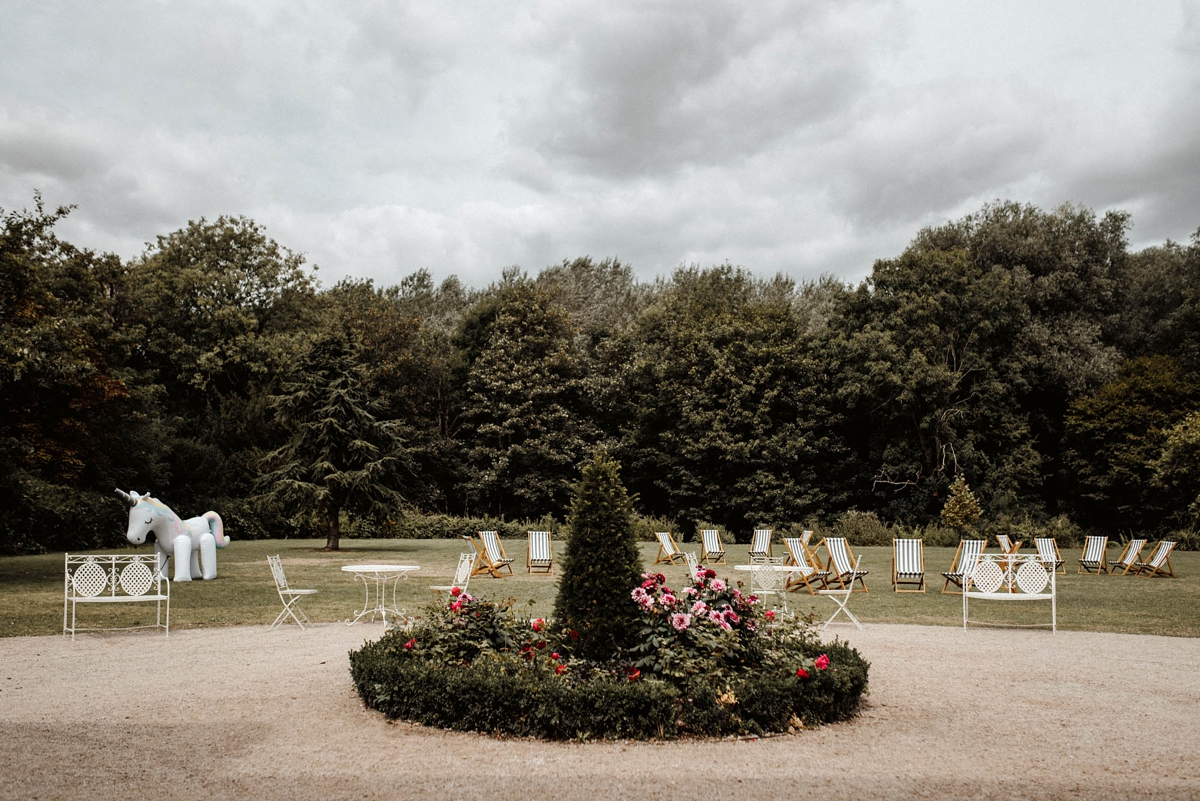 "The focus of our styling was flowers and the colour scheme was dusky pinks as the main focus with pops of fuscia and the natural greenery of the venue."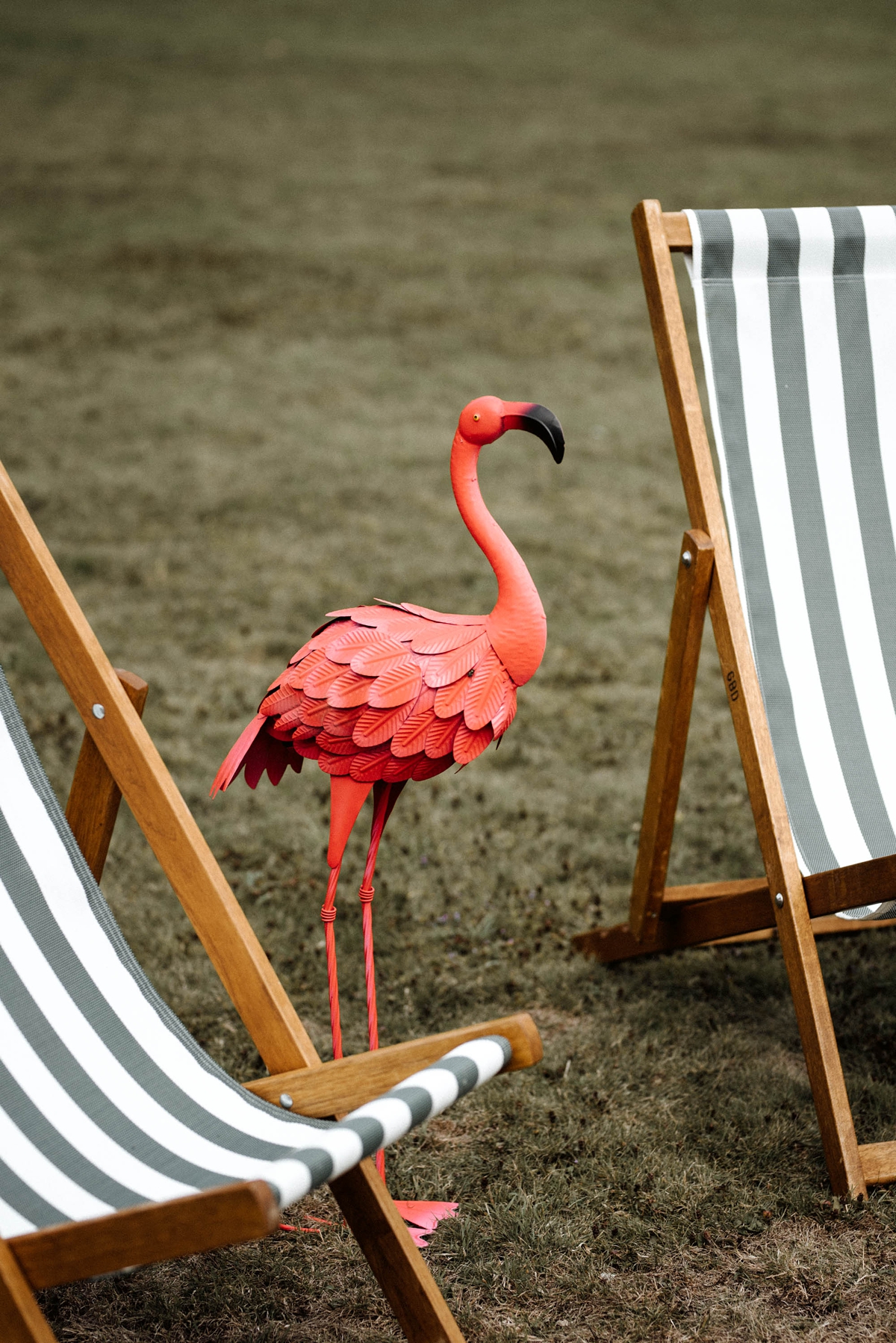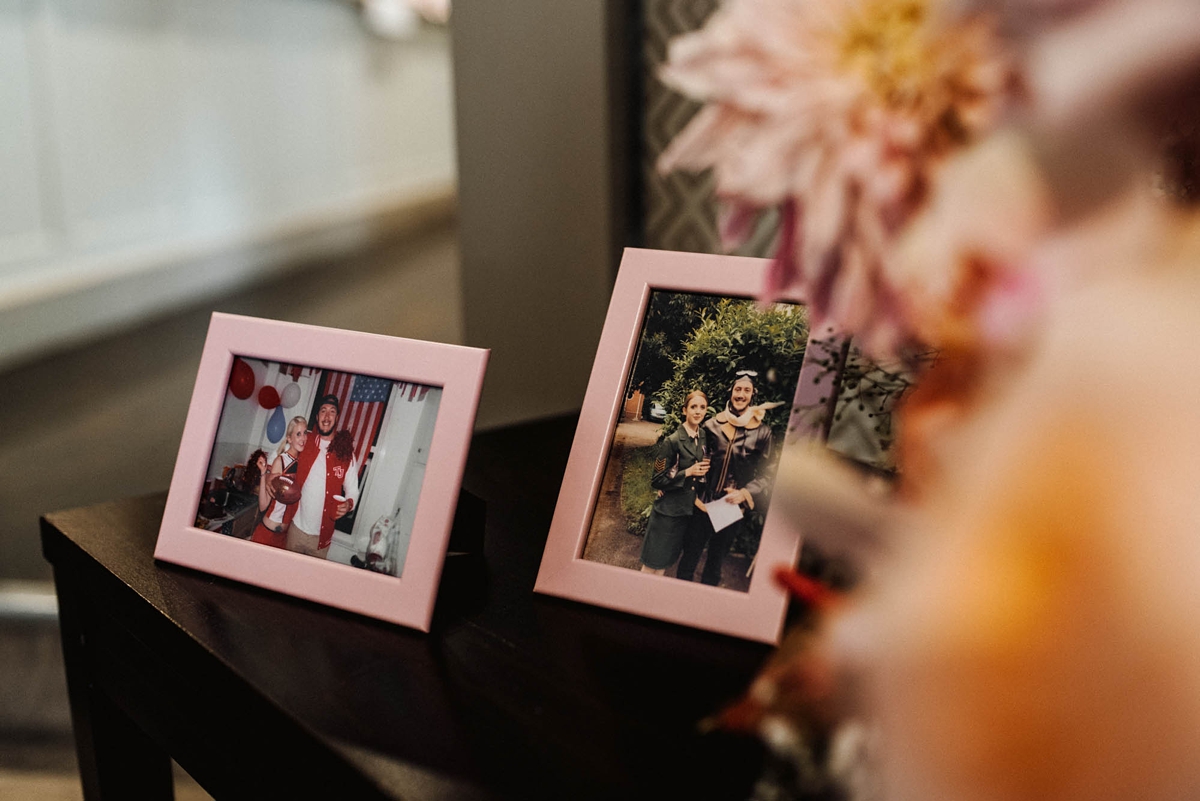 The couple decorated the venue beautifully in their pink theme, including pink flamingos dotted around the lawn, a 7 foot water spouting unicorn, photos of the bride and groom in pink photo frames, pink signage with funny slogans, pink confetti balloons with tassel tails, a 5 foot-high neon LOVE sign and a copper framed seating plan.
"For the meal, the table decor included rose quartz crystals amongst flowers, individual place settings with polaroids of guests different shades of pink tapered candles in brushed gold candlesticks and a chef's hat for the designated carver on each table."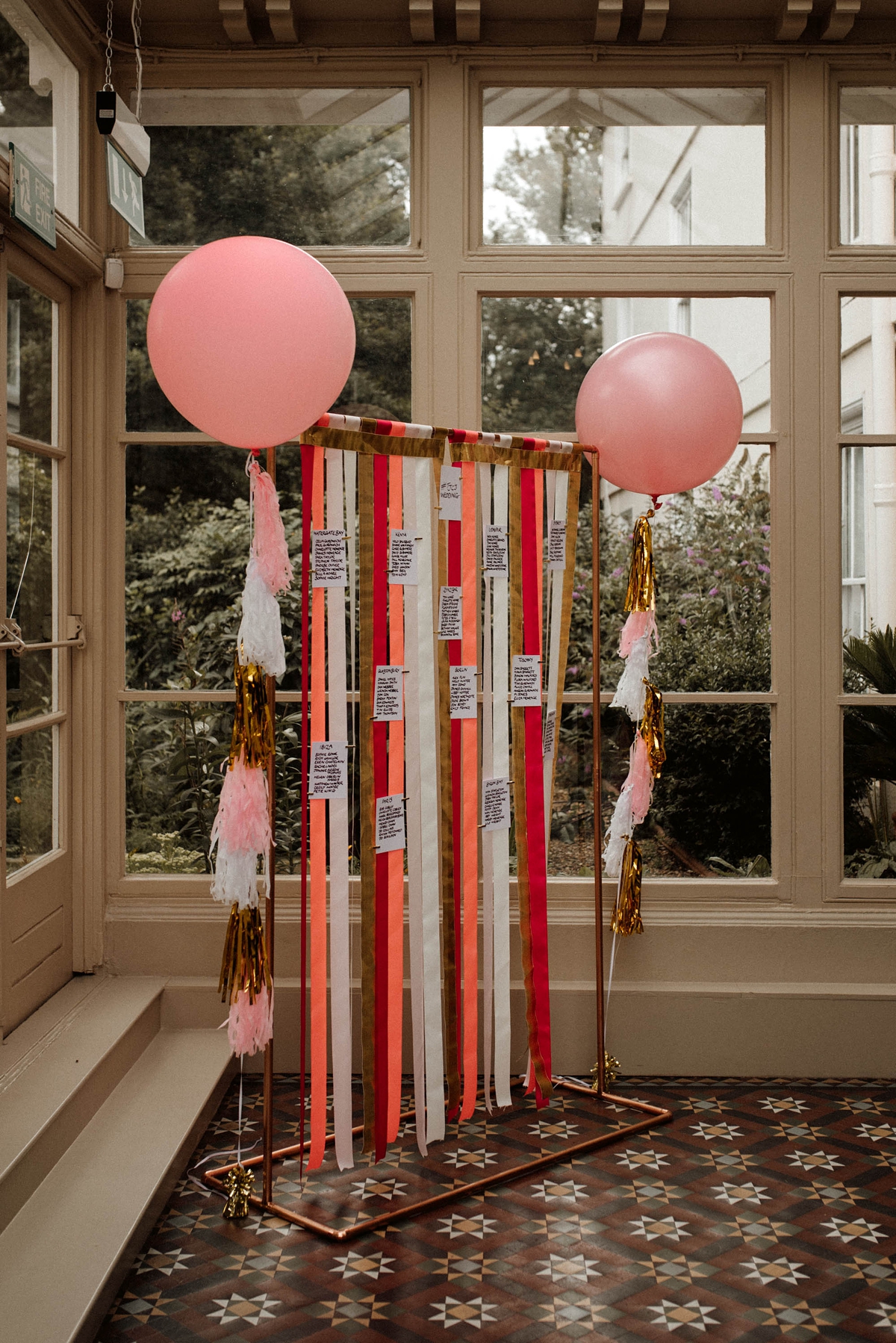 "My accessories included Swarovski crystal earrings also custom made by Tilly Thomas Lux and Glossier's You perfume – it's quite natural and it's my new favourite."
"I also chose a lace trim cathedral-length veil specially made for me by the wonderful Joanna from Woburn Bridal (though sadly the boutique has since closed). I wore a pair of gorgeous white satin detail shoes which were inspired by Valentino rockstuds also bought from Woburn Bridal and had a stunning Swarovski crystal star headband custom made by Tilly Thomas Lux."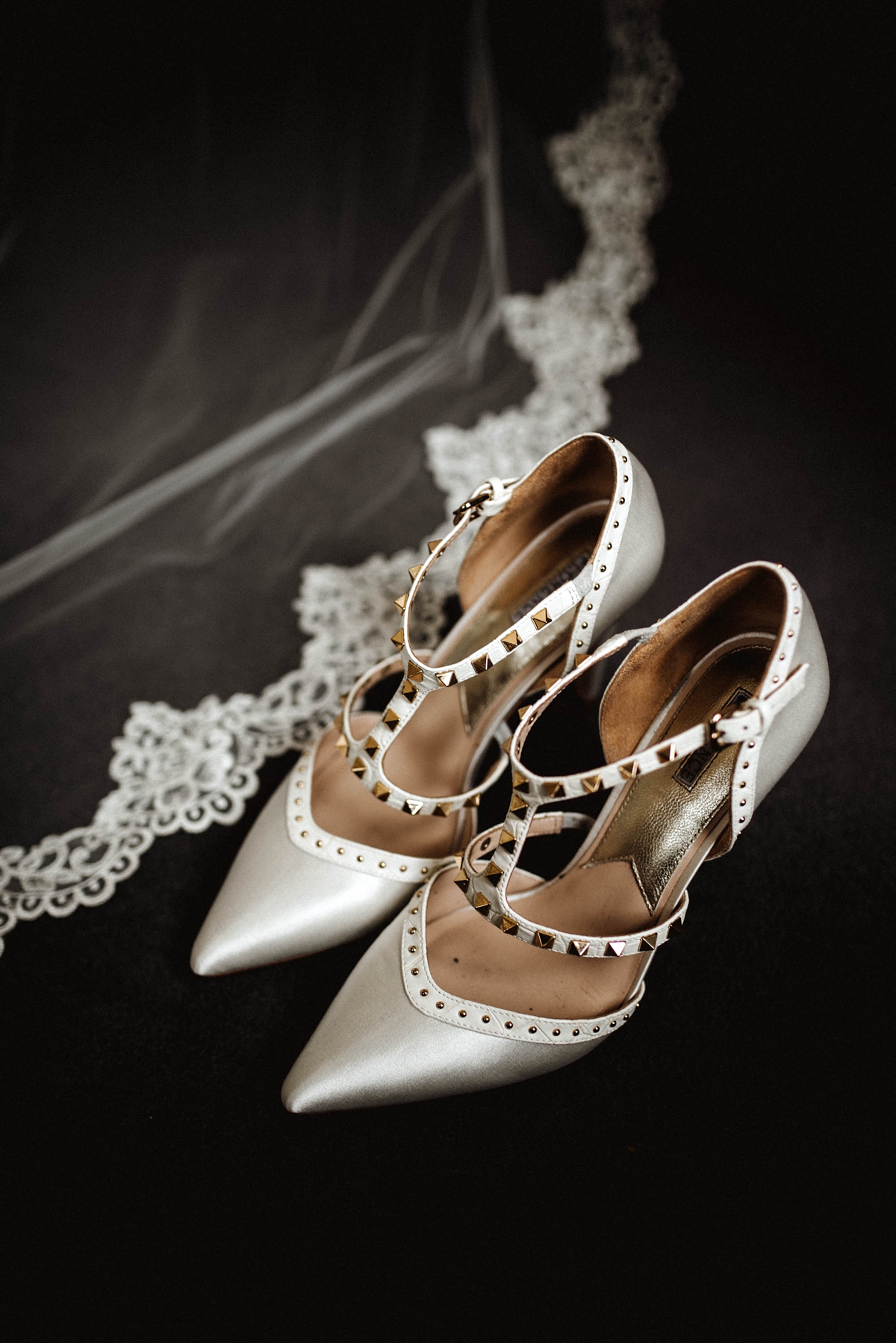 "I wore the headpiece at the back of my head during the ceremony, under my veil, then moved it round to be a headband for the wedding breakfast onwards when I removed the veil."
"Tom and I met at a house party in north London in January 2011 when we were just 22. Tom was living in Sydney at the time but was home in London for Christmas and I was the housemate of a friend who tagged along to the party."
"We immediately hit it off, dancing all night and having a rap battle to a song neither of us can remember now."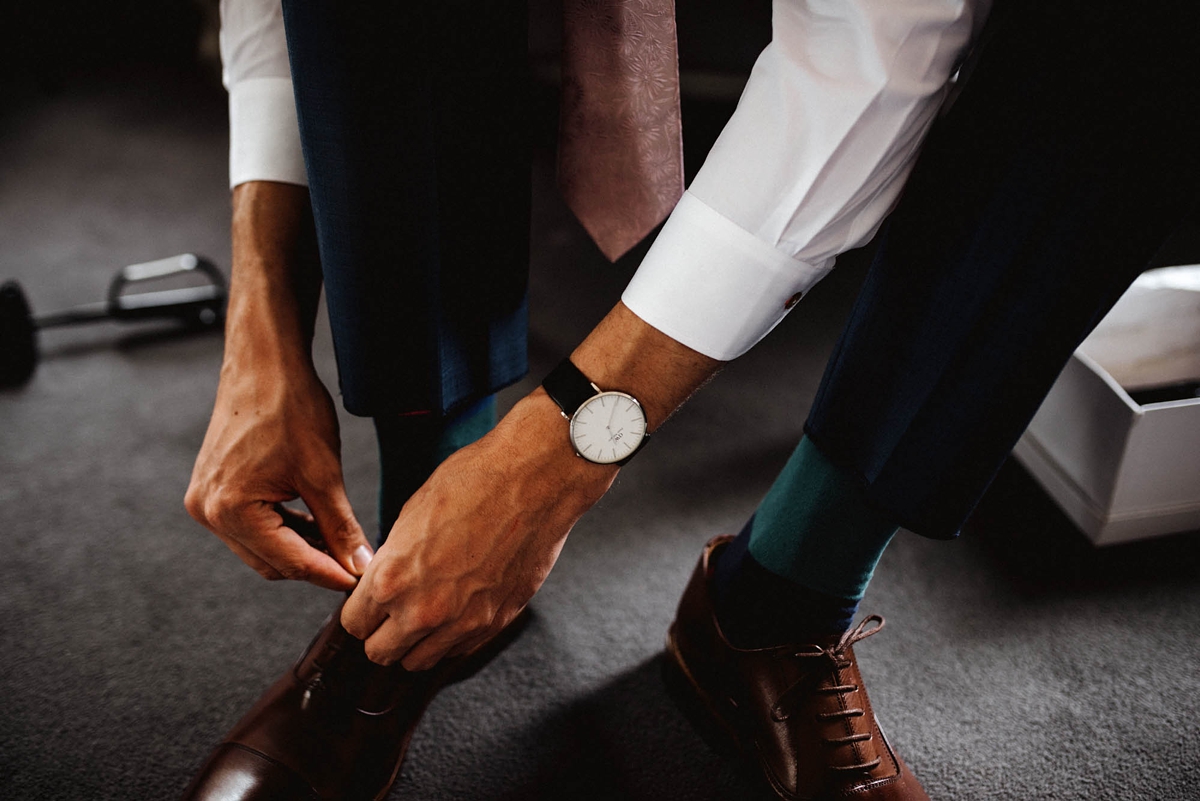 "When Tom moved back to London for good later that year, we began dating almost immediately. Shortly after we celebrated our 5 year anniversary with a once-in-a-lifetime trip around Rajasthan in India, Tom decided to pop the question. After finding the perfect ring he then proposed on Christmas Eve 2016 on the banks of the river Great Ouse on a country walk near to my family home in Bedfordshire."
"We were then engaged for a little over 18 months before getting married in August 2018."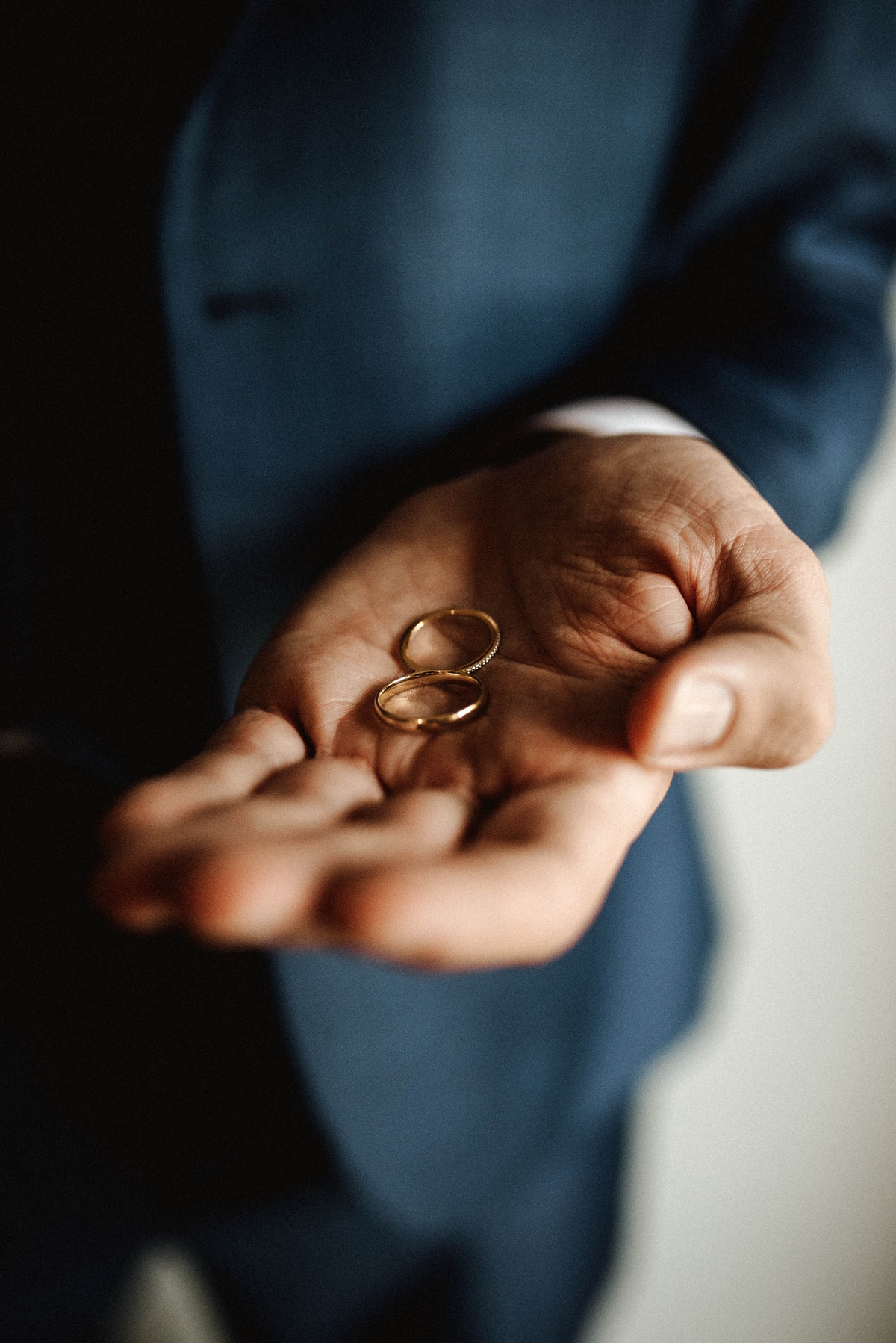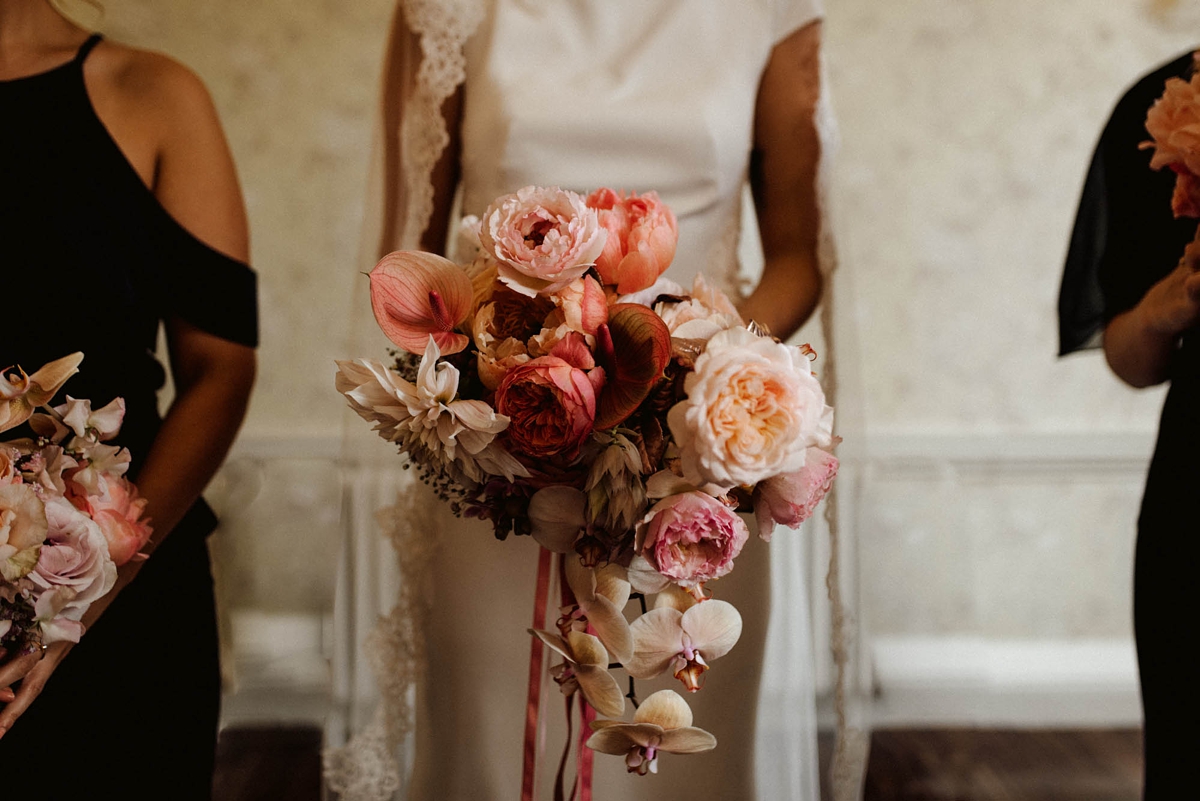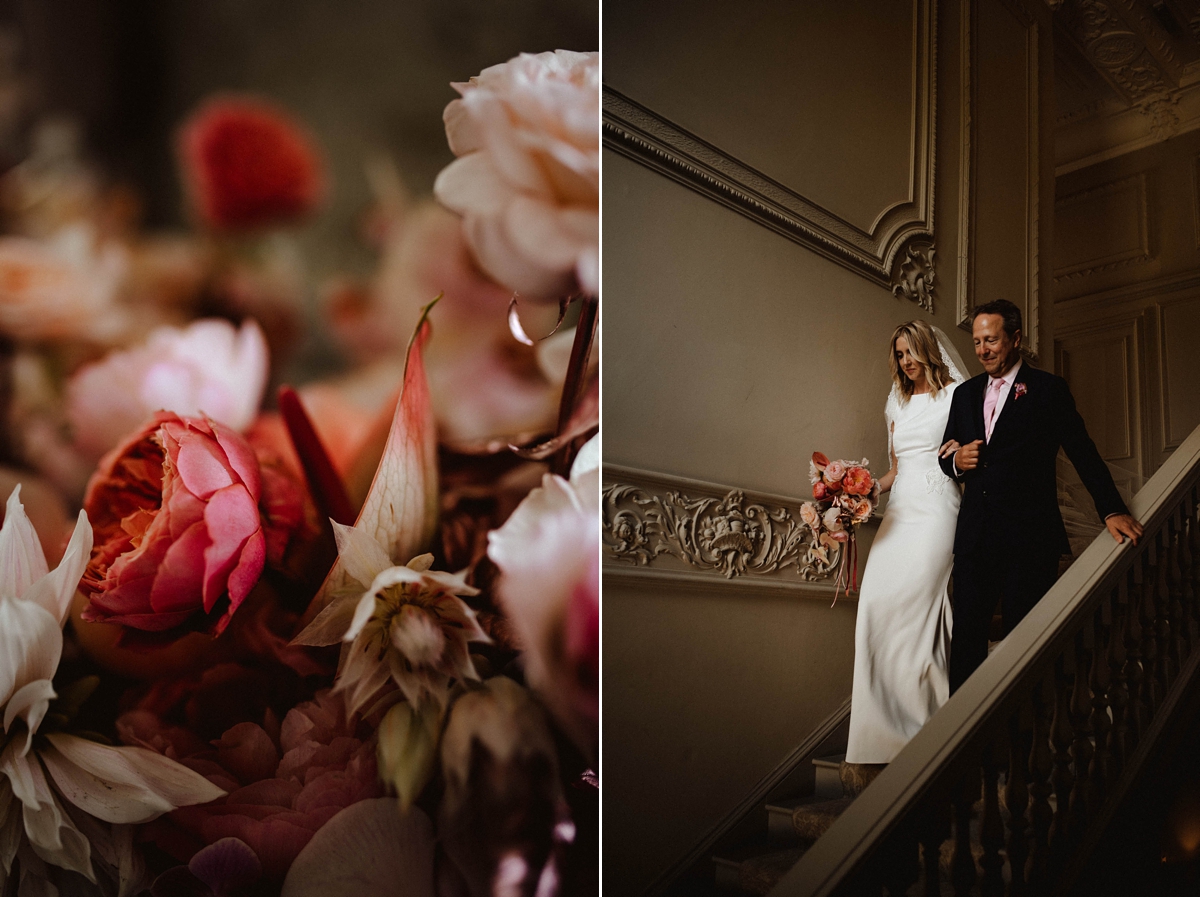 "Tom chose an electric blue tailored suit from Paul Smith, which he wore with a white shirt, a pink floral tie and multicoloured striped socks, again all from Paul Smith."
"Everything was also chosen and fitted by the team at Paul Smith on Floral Street in London. He finished his look off with a pair of classic dark brown brogues by Russell & Bromley."
"My step-father walked me down the aisle to The Wedding String Quartet playing Kissing You by Des'ree."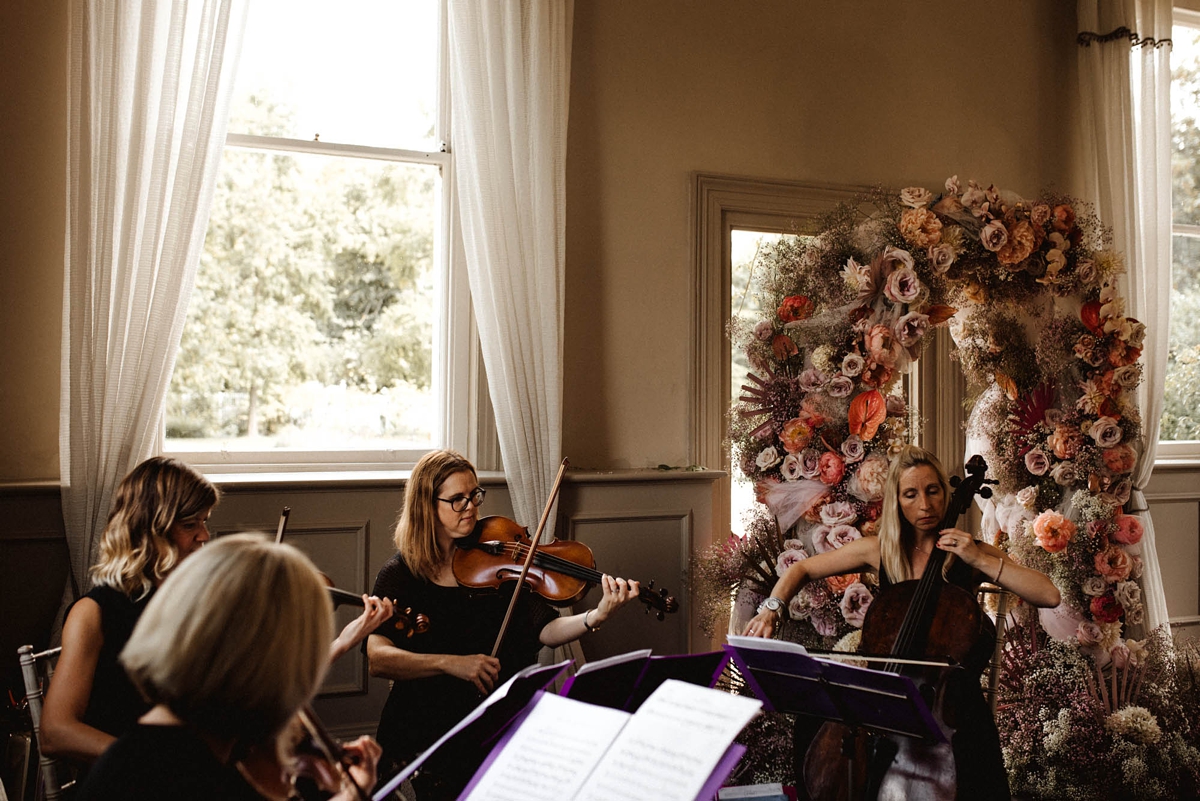 "It's a beautiful song from one of our favourite films, Romeo and Juliet. Katherine Richardson of Merton Council officiated the wedding and we wrote our own vows so they would be personalised promises for our relationship. We included 3 readings during the ceremony; Why Falling In Love Is Like Owning A Dog, read by the grooms brother; I Carry Your Heart, read by the mutual friend who introduced Tom and I; and Union by Robert Fulghum, read by my brother."
"We wanted a mixture of heartfelt and beautiful readings, with a bit of humour."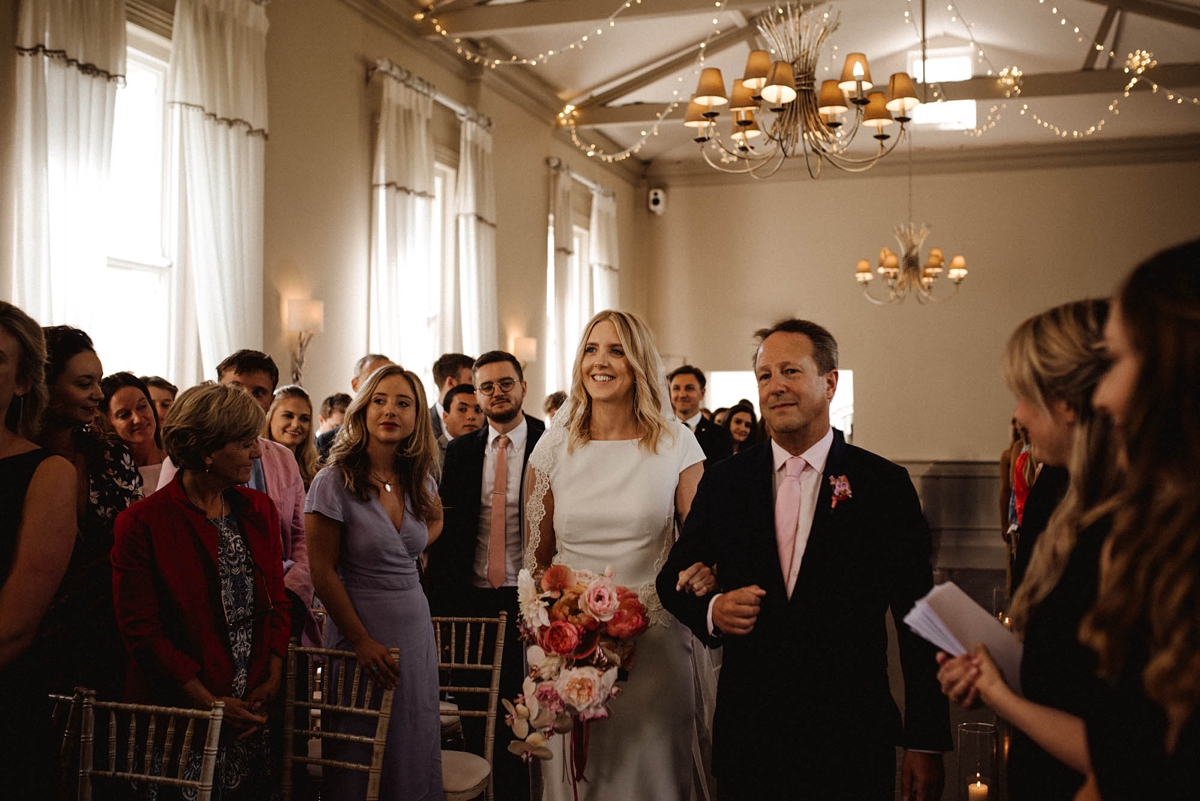 "The best part of the whole day for me was the big kiss at the end of the ceremony – the happiest moment of our lives! In hindsight, we wish that we had arranged a videographer."
"As wonderful as the photos are, the whole day flashes by in such a blur that a video would've been great to capture more details and moments."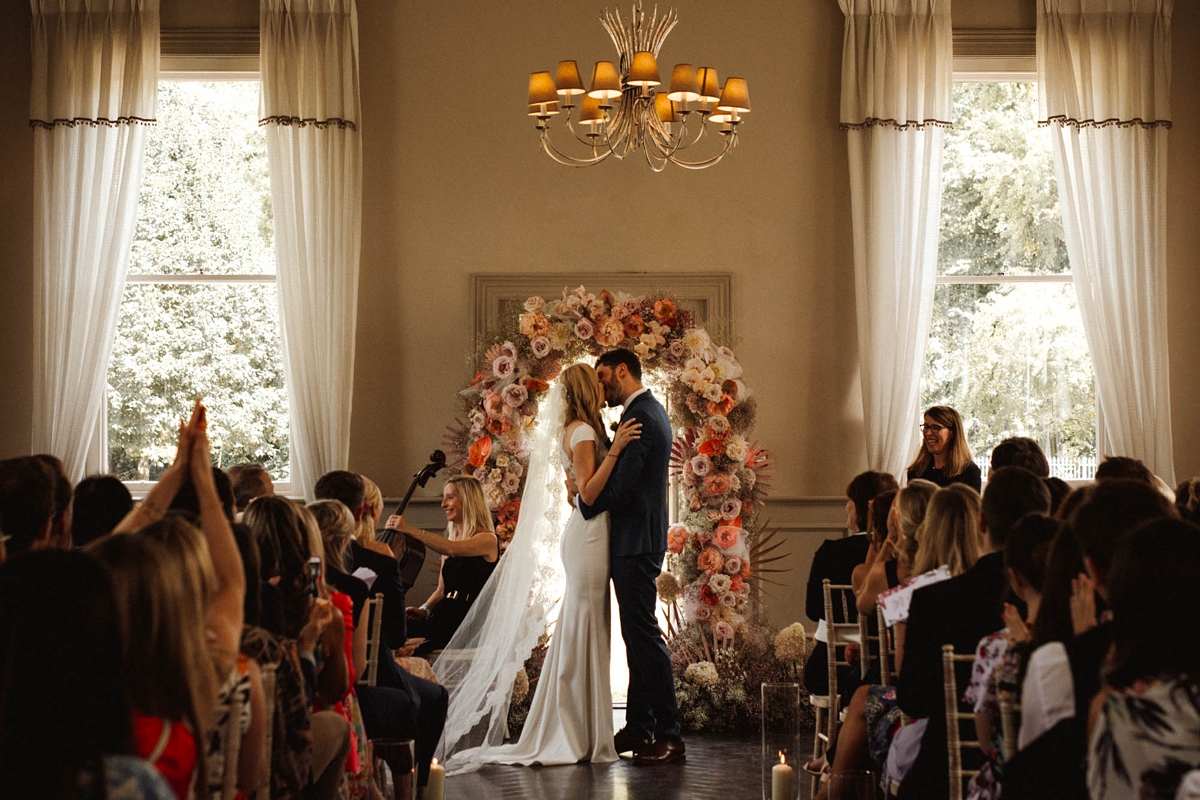 "Taylor Hughes Photography shot our wedding and we couldn't recommend them enough. They really took the time to understand our vision for the day and the photos are first class."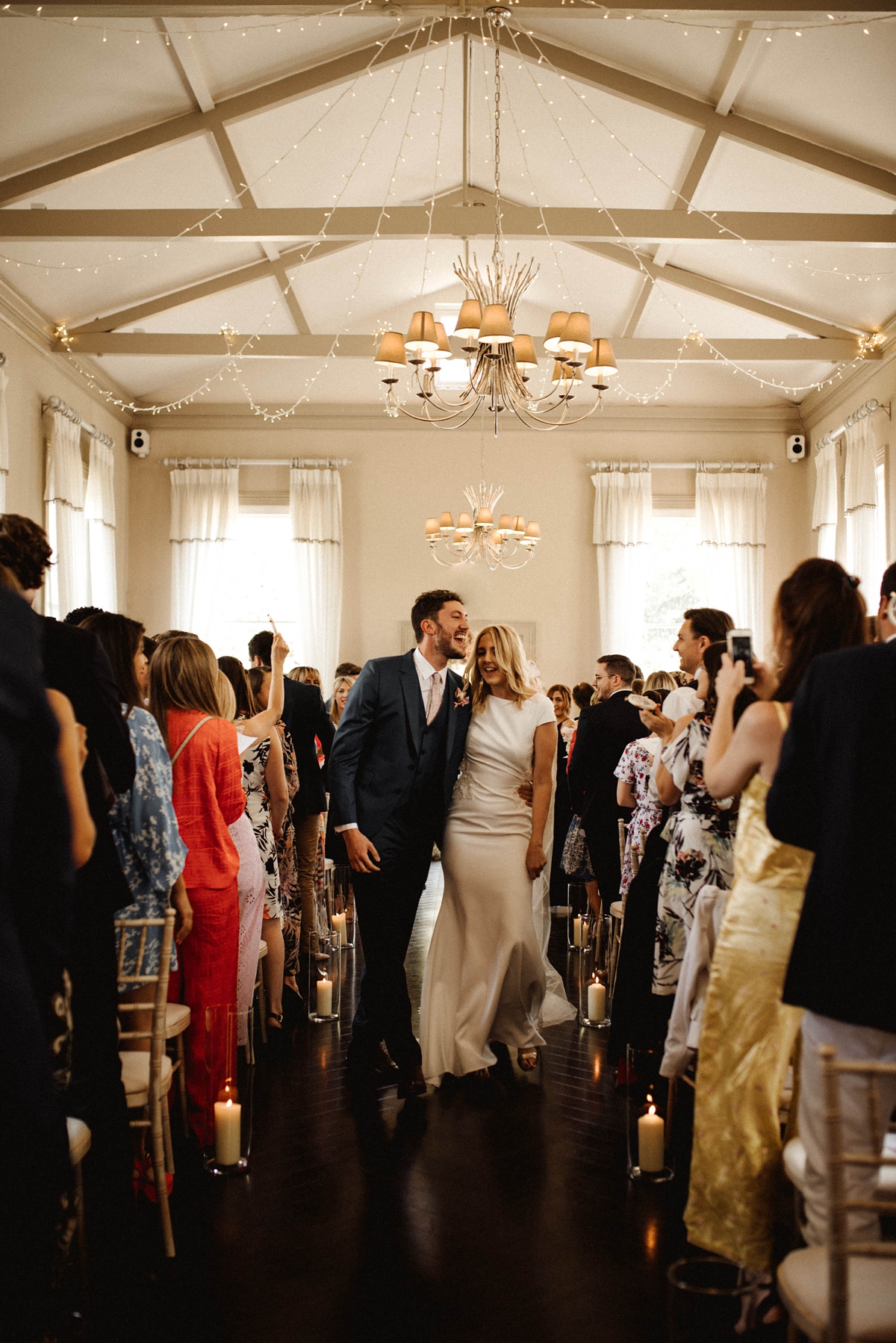 After exchanging rings, the grooms from Heming of Hatton Garden, and the brides from Monica Vinader, confetti was thrown and guests were treated to an outdoor drinks reception accompanied by music before heading indoors for the wedding breakfast.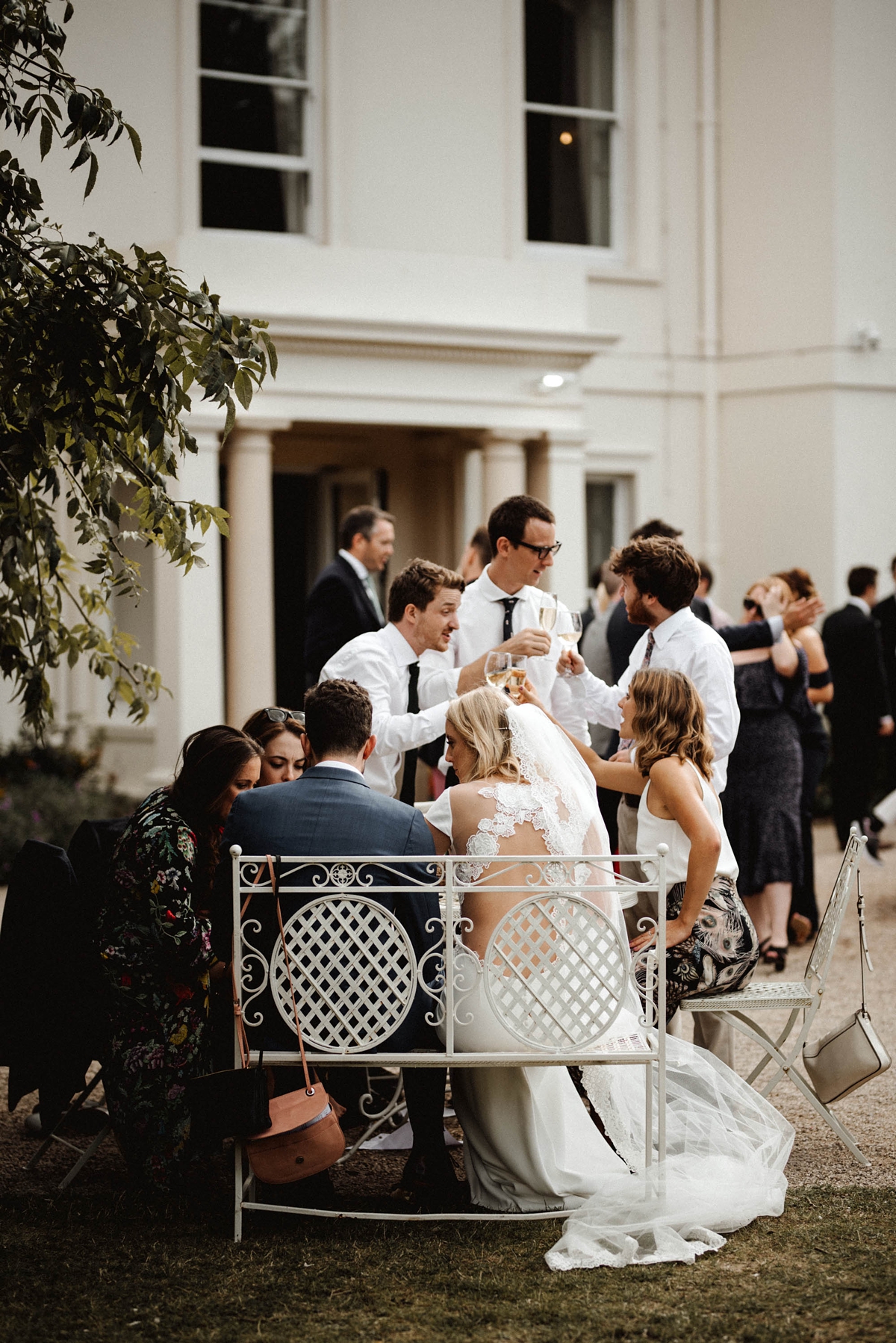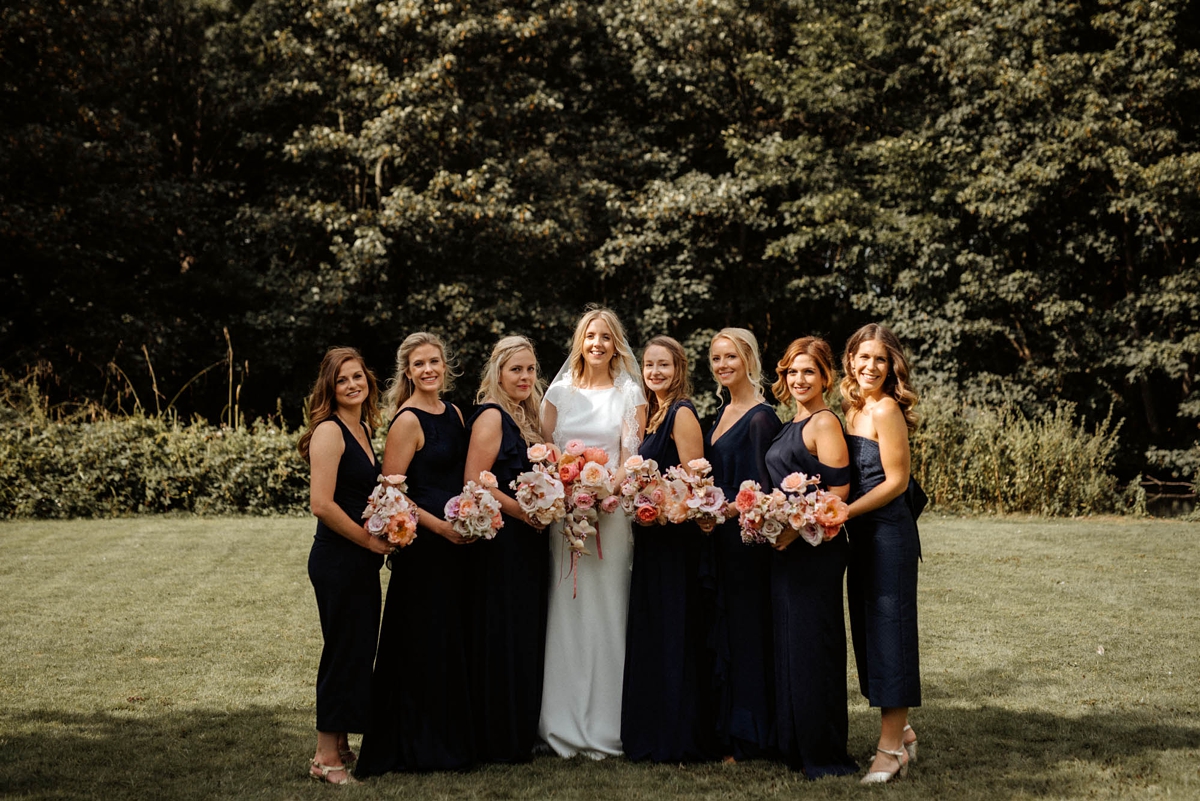 "Tom had both groomsmen and groomswomen. The men wore navy suits of their own choosing, complimented with floral pink ties and an array of colourful socks. The women wore navy blue jumpsuits from Whistles."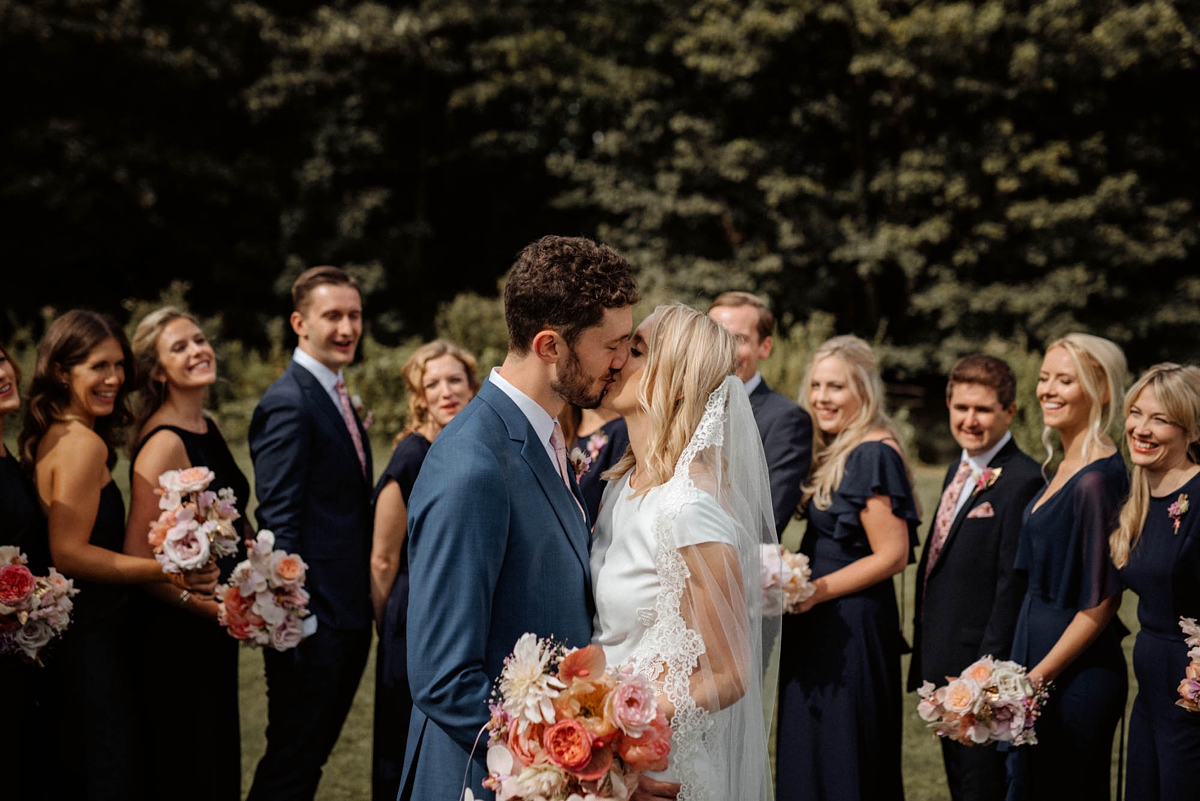 "I had seven bridesmaids altogether and they were given the brief of wearing navy but then they could choose a style that suited them. Some wore jumpsuits and others dresses, but each was reflective of their own personal style."
"Our flowers were created by the brilliant Palais Flowers. I discovered them on Instagram and knew instantly they were the perfect florist to execute my quite particular vision."
"I'd put together an early mood board, inspired by the visuals and events of the beauty brand Glossier – all in a colour palette of different shades of pink but fresh, modern and artistically arranged."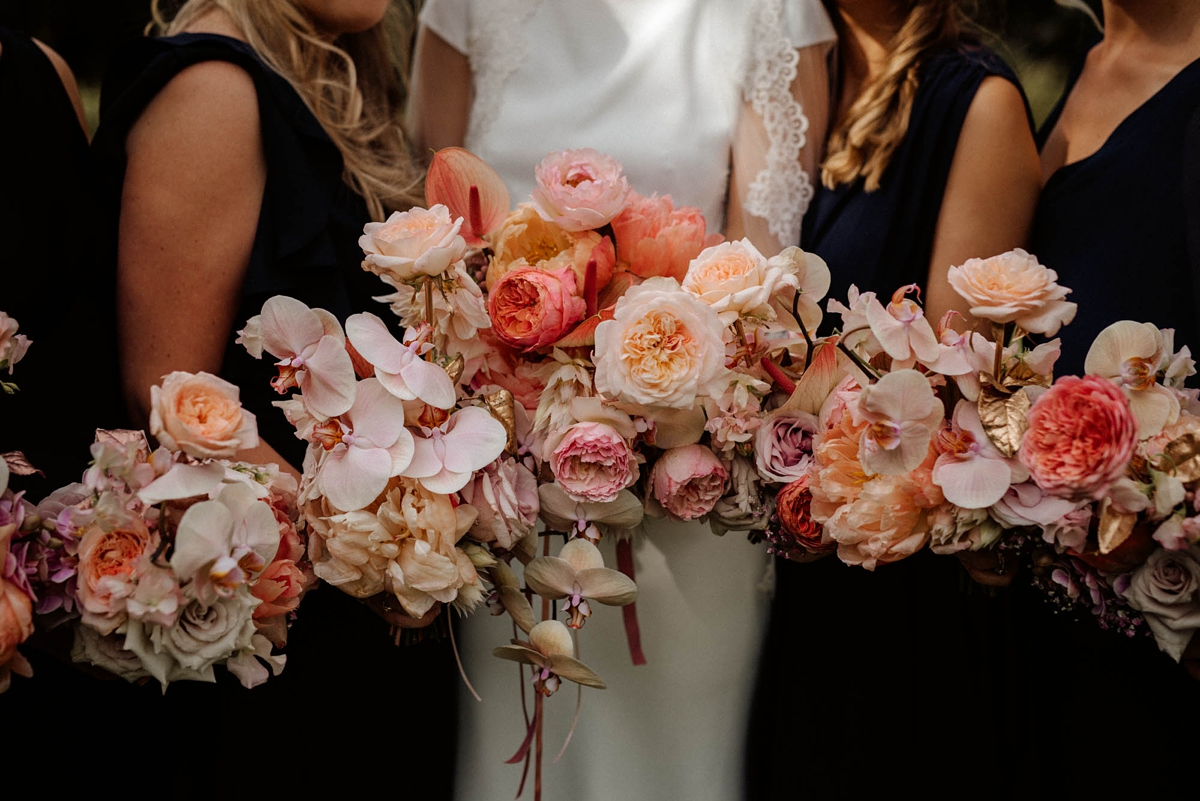 "Emma, the founder of Palais Flowers and who was previously a set designer for the fashion industry, totally got my aesthetic and came up with some brilliant ideas. We mixed a wide variety of flowers in varying pink shades into each element of the floral design – including traditional roses with more interesting choices like orchids."
"The floral arch she designed was the focus point of the ceremony and truly spectacular. It was something every guest commented on."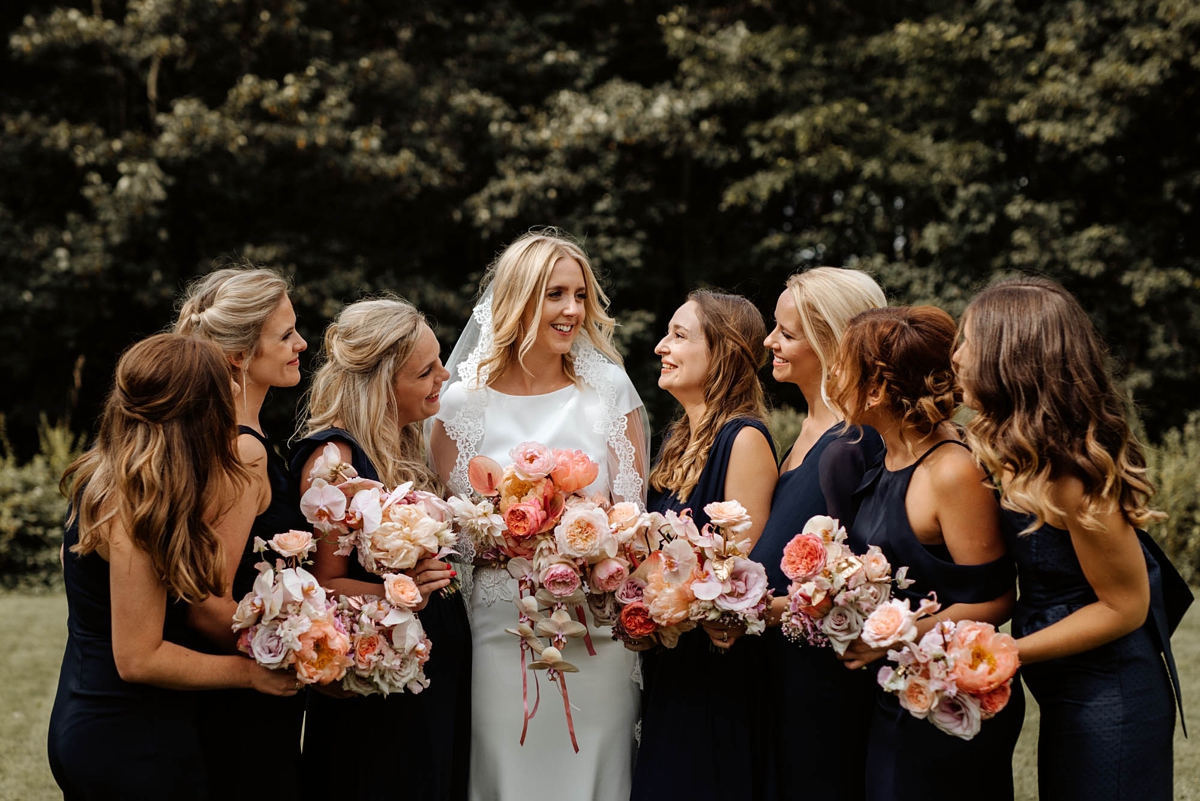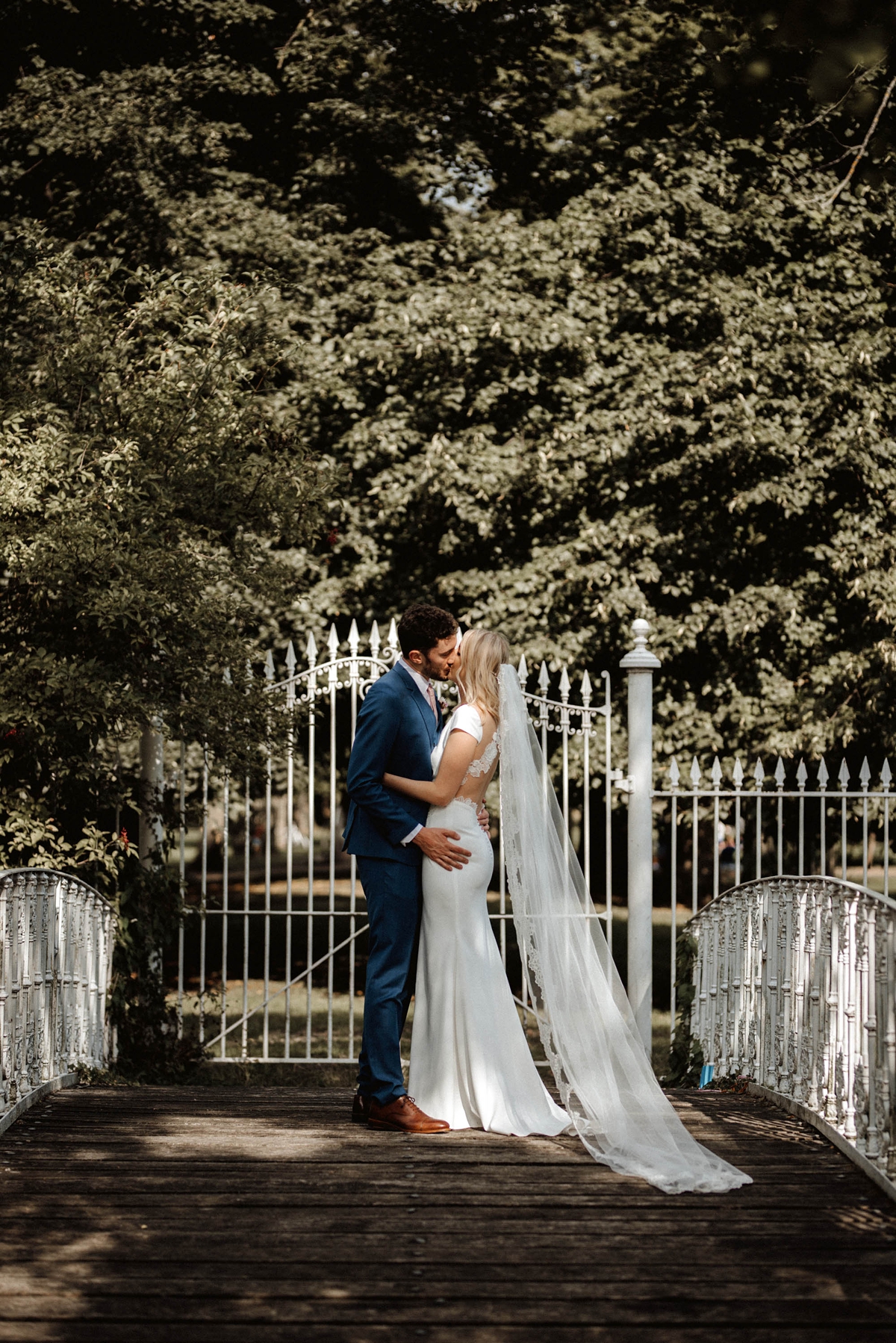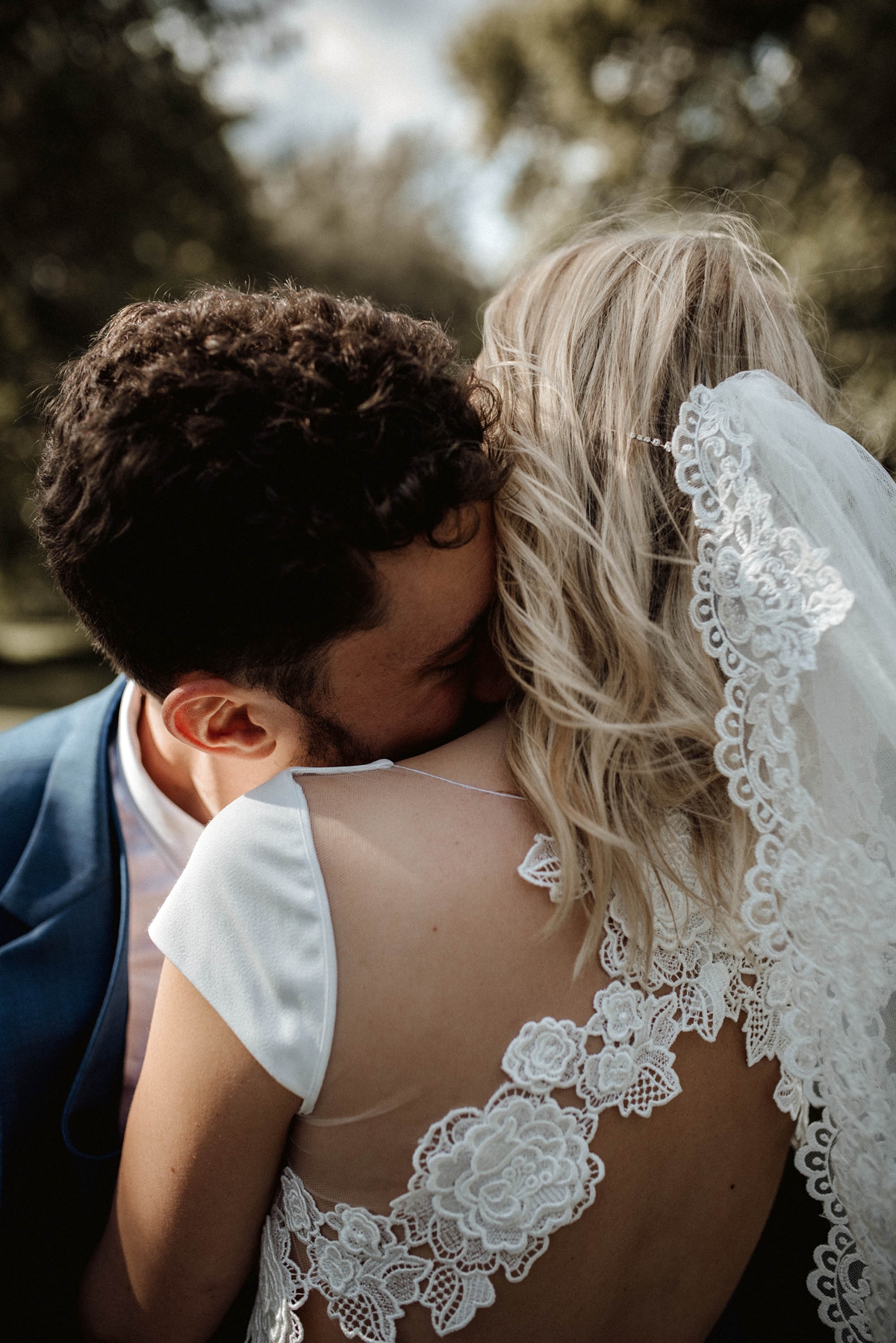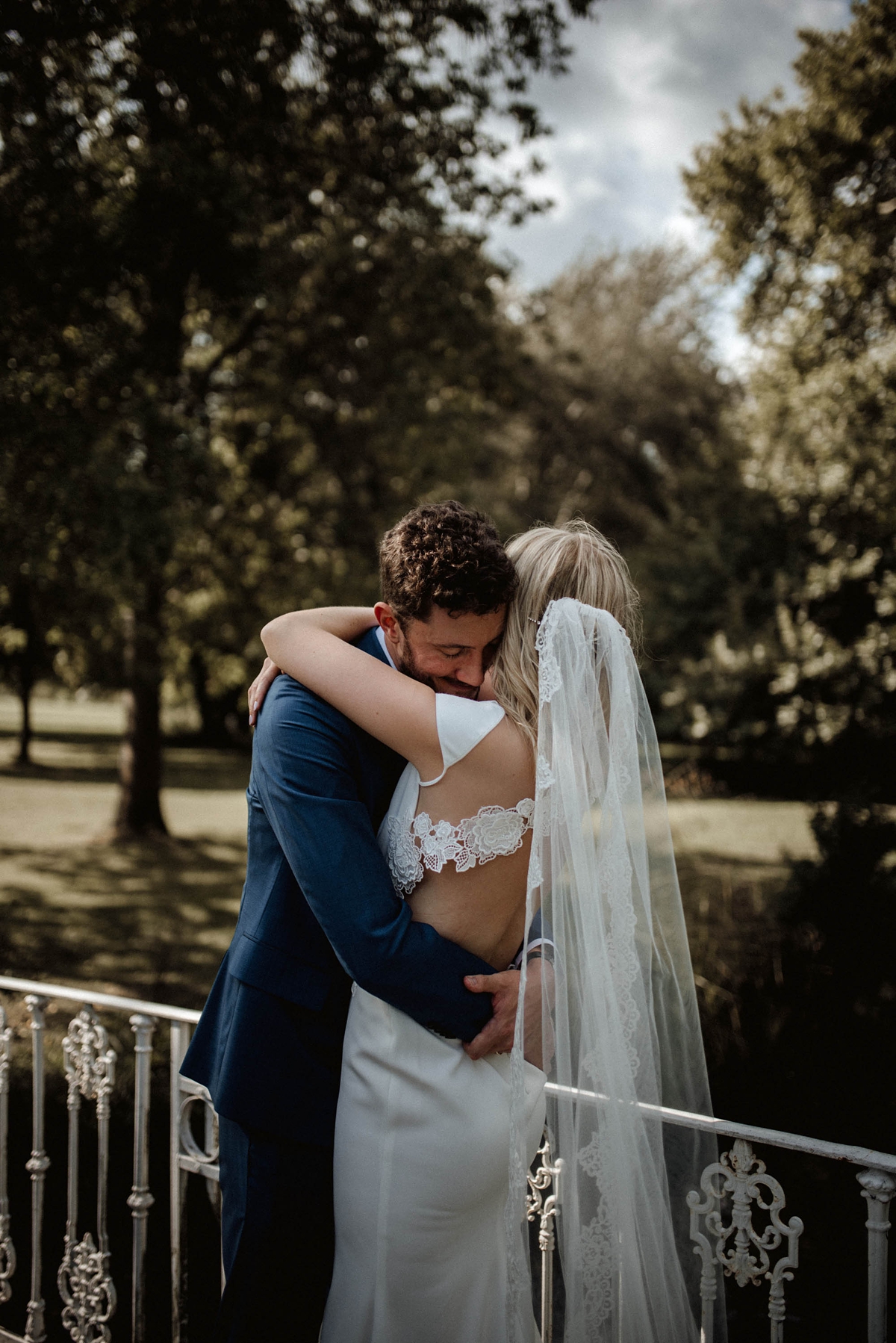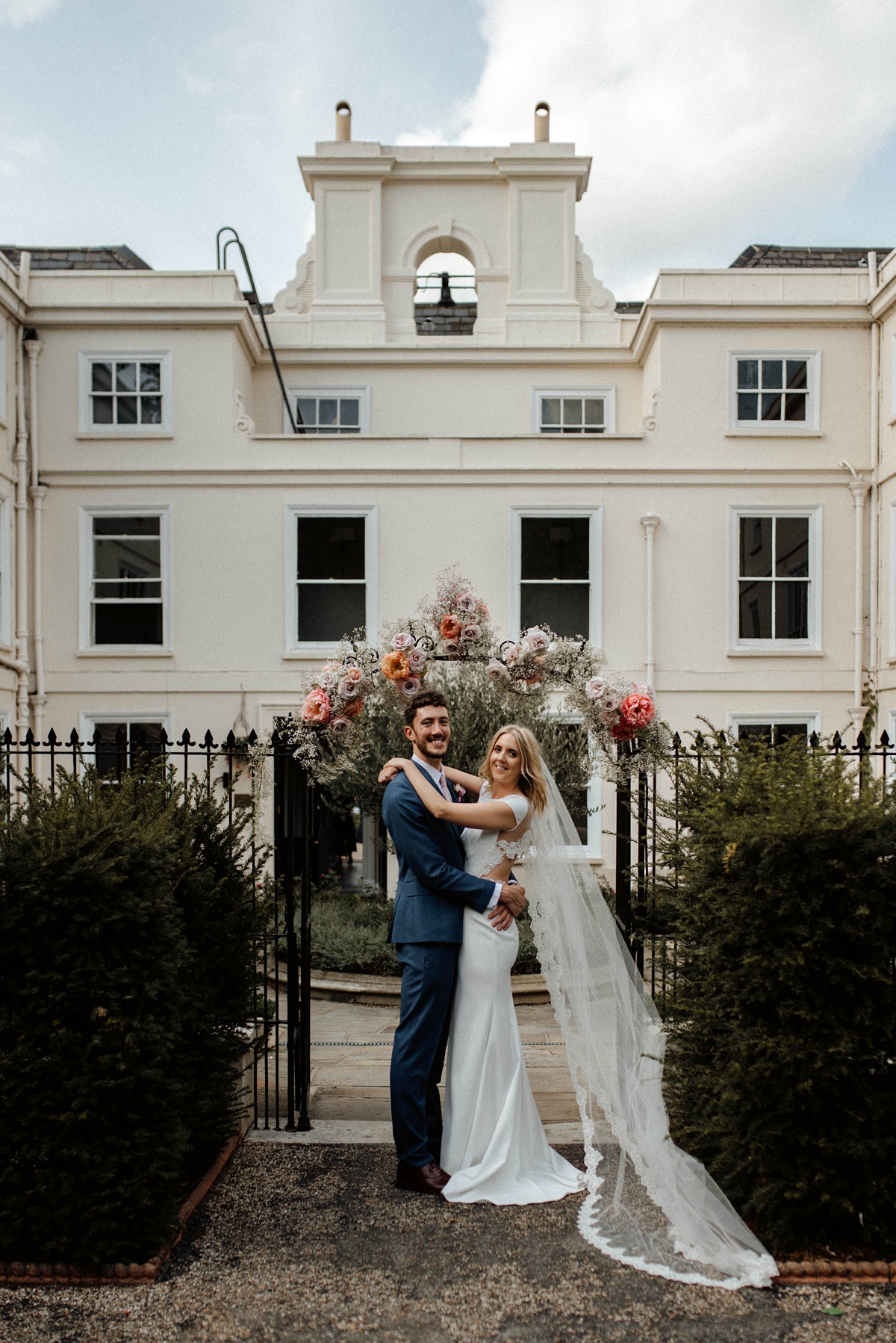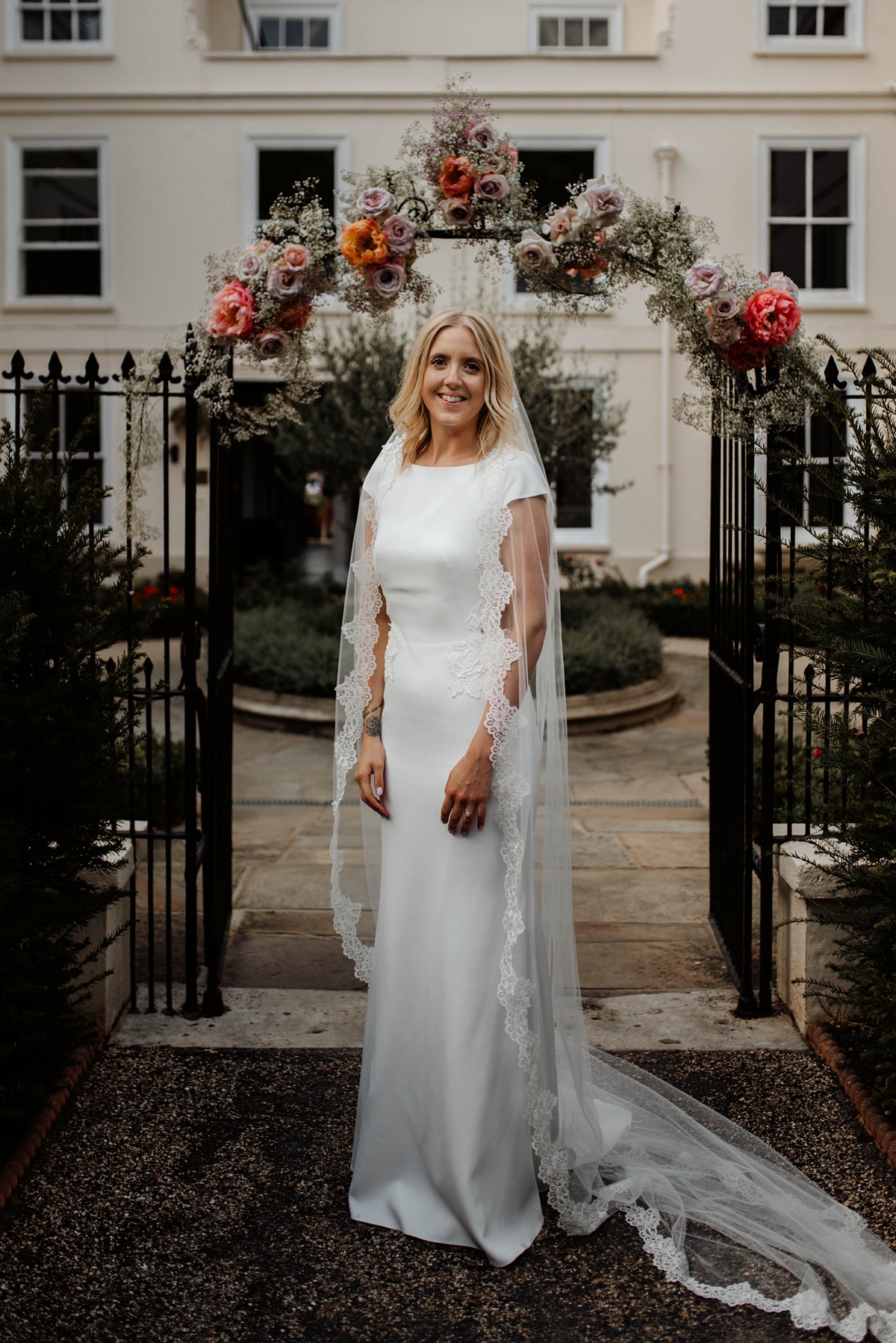 "The expert on-site caterers of Morden Hall provided our wedding breakfast. They prepared a sumptuous dinner of beef and chicken carving boards, served with new potatoes and a range of veg."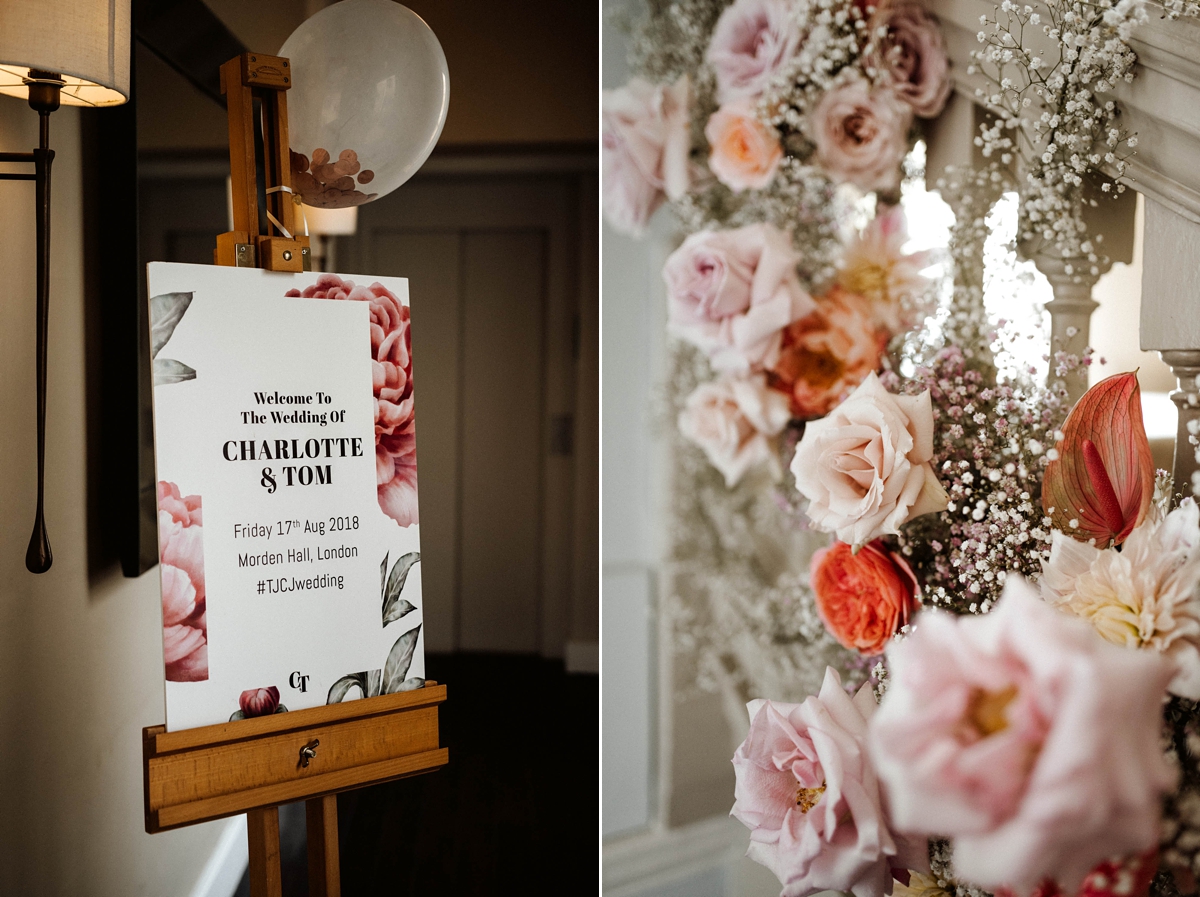 "Claudia of Claudia's Cake Co. is a close friend of ours and made our wedding cake. We had a 3-tier cake made of chocolate sponge on the bottom, lemon drizzle in the middle and white chocolate and raspberry cheesecake on top – three cakes in one!"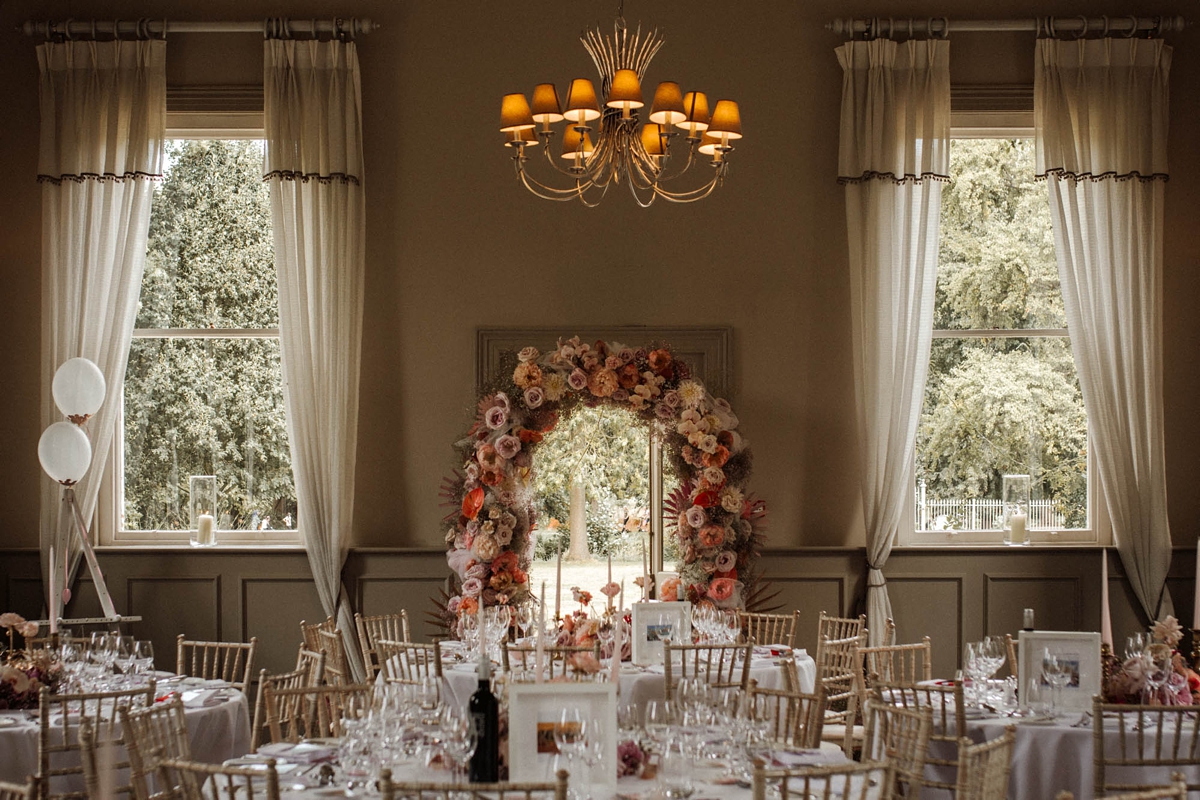 "Our friend Simon Holmes is a creative director and graphic designer and designed all of our stationery for us. For the favours we gave our guests heart-shaped gingerbread cookies iced with our initials and wedding date, again from Claudia's Cake Co."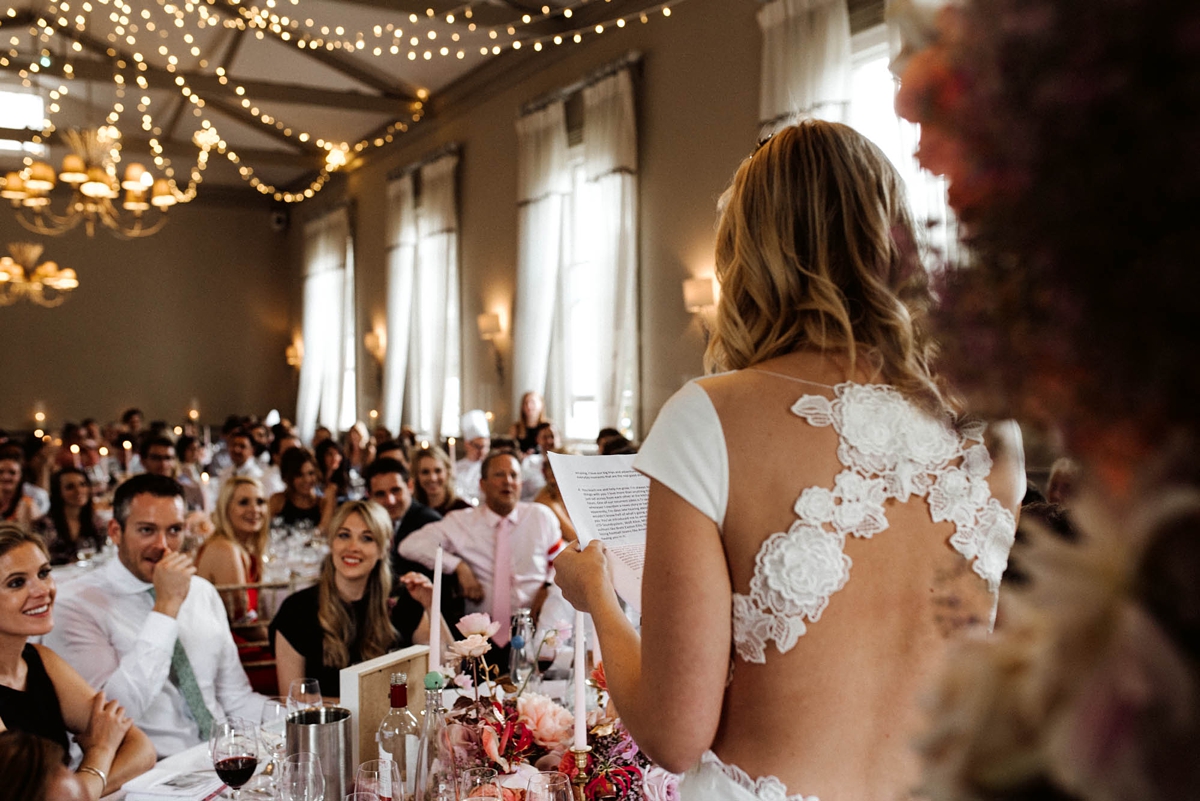 The couple splashed out on the entertainment with a photo booth hired from The Photo Booth Guys, giant Jenga and other lawn games from friends, a treasure hunt organised by the groom and an evening band called The Dominos.
"The Dominos played our first dance song and our friend Amy Dowd who is a beautiful singer sang it for us. The song was Into The Mystic by Van Morrison, chosen because it's the song we always dance around the kitchen to."
Words Of Wedded Wisdom
"Try and split tasks between the bride and groom. We made an early decision that everything visual would be me, and everything entertainment related would be Tom. Also, don't be afraid to rope in your bridesmaids and groomsmen to help. Focus on the fact that it's your day and do things exactly how you want them and don't let anyone else influence your thinking."
A band is always better than a DJ and in our opinion, totally worth the cost! We had a master spreadsheet on Google Docs with multiple tabs for budget, guest lists, suppliers etc. which was invaluable. Closer to the day we had a 'production bible' with every suppliers names and numbers, a schedule for the day etc. A well defined aesthetic is also really important and makes the day feel even more special and memorable. Don't make the music too modern or too old – make sure you play the classics that both your younger mates and your older relatives will want to dance to!"
What an amazing day! One I wish I could have been a fly on the wall at. Big thanks to the bride and groom and special thanks to Taylor Hughes for capturing all the magic on camera.
Until next time…
Much love,
Holly x