Are any of you lovelies looking for something a little different for your wedding gown? Then we may have the answer for you, as today's bride wears the most beautiful Rime Arodaky gown featuring sexy, illusion panels for an unexpected twist on the simplest of silhouettes. Yes, yes, yes!
Meet Emily and Rob, both investment professionals at Private Equity Funds in London, who wed on 13 October 2018 in an elegant day full of sunshine and smiles.
Film Tynegate Films
The ceremony was held at St. Margaret's Church in Putney, near the bride's parents' house, with a reception afterwards at Hampton Court House, Surrey. The House's opulent beauty shone through, with the couple adopting a minimal approach to styling and adding just a few touches of metallic and gold to complement its wonderful Park setting.
"We were married at St. Margaret's Church in Putney, the local church to my parents' house so it felt right, plus it feels like a country church whilst being in a London location with a lovely lawn at the front."
Photography Jonny MP Photography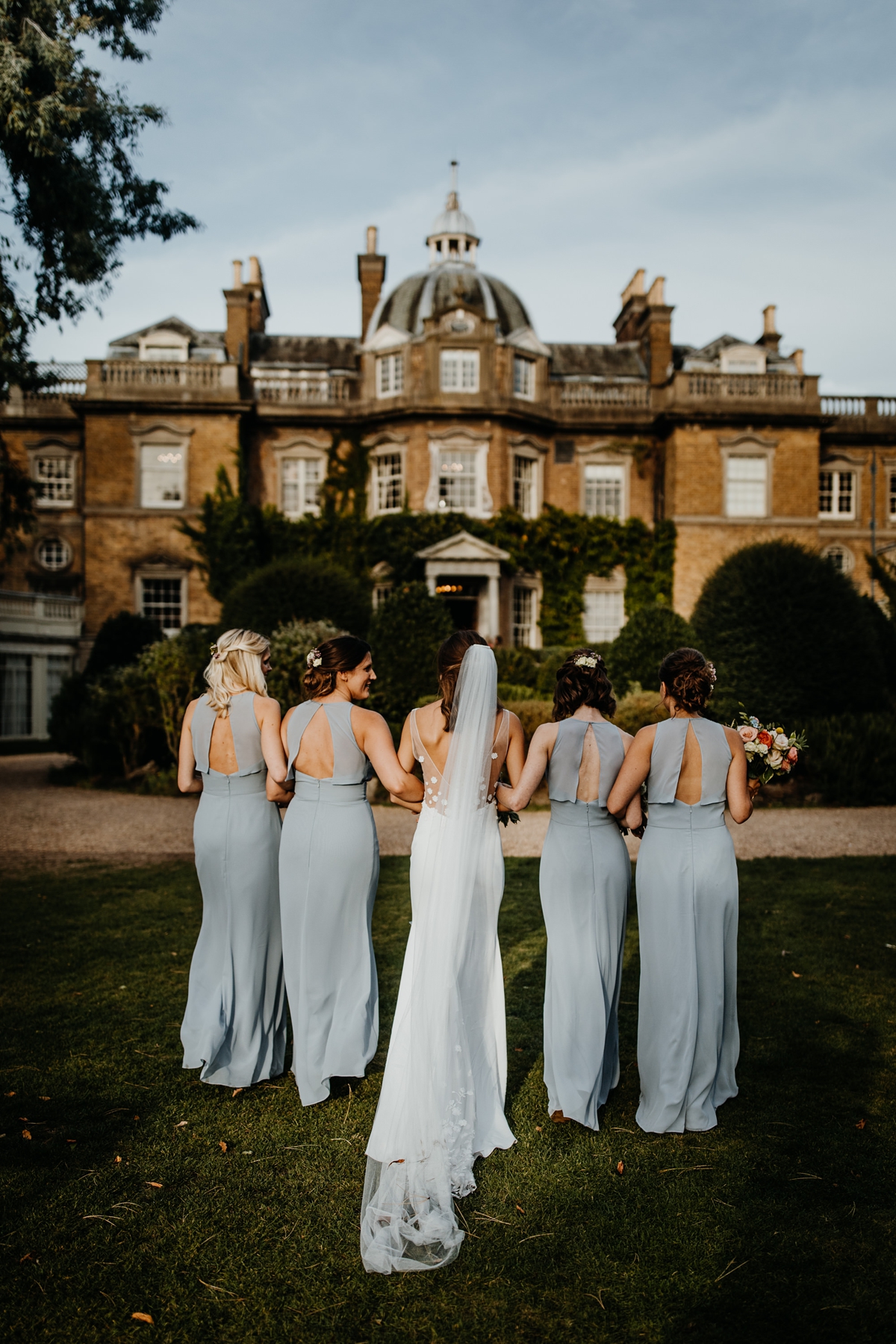 Are you a member of the Love My Dress Facebook group yet? An incredibly special and safe space for brides that we are proud to host. The members have cultivated such a warm and friendly community. Emily was a very active member and found it so valuable during her own engagement.
"The Love My Dress Facebook group was an absolute godsend! It is a fantastic group of supportive girls who are amazing for wedding tips. I used it find everything from sparklers and letter-boards to décor inspiration. I think my wedding planning would have been much more boring without it. I loved reading girls' questions, helping others with their planning and getting tips. It was fab."
The girls' hair and make-up were styled by the Spence & Oliver team, who also added in wax flowers and roses from the florist.
"They provide both a hair and a make-up artist who always work together which was great, rather than having to book both."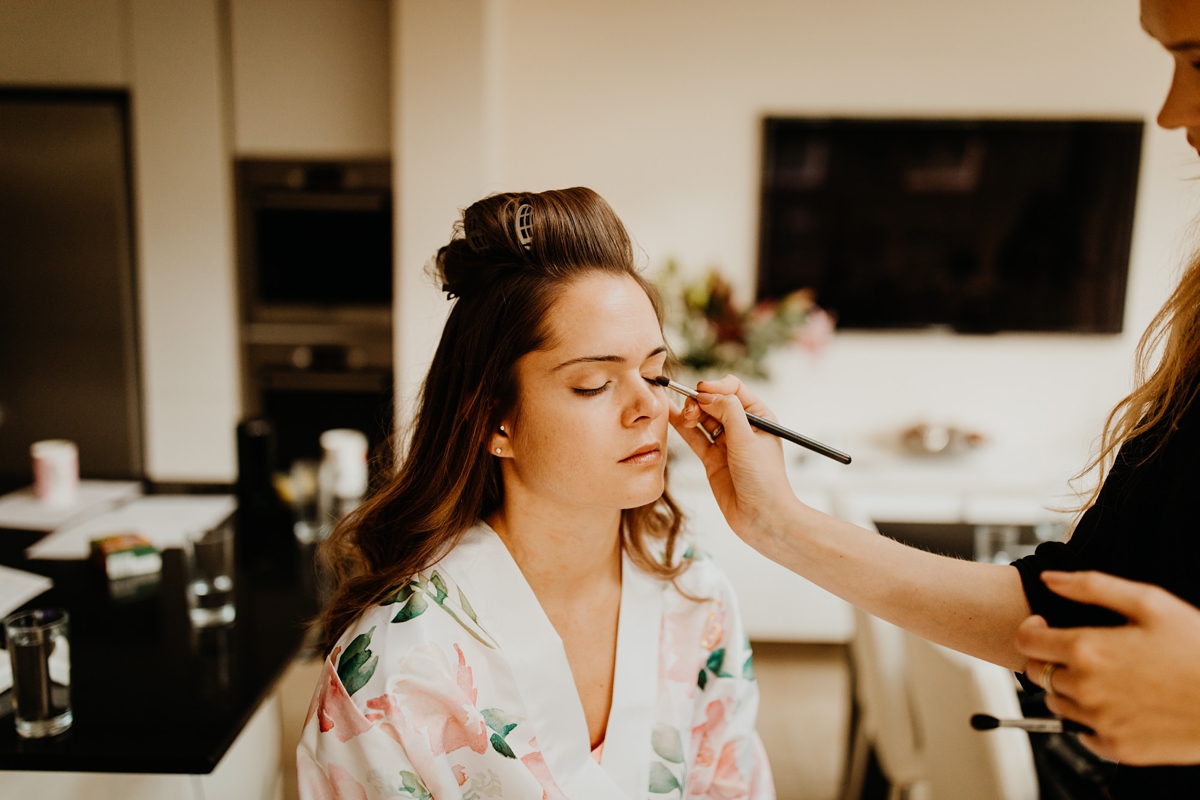 It's time to focus on Emily's fitted, crêpe Aston gown from Rime Arodaky. I love its simplicity and modern cut, whilst the hand-embroidered tulle panels are so sexy and romantic. Emily visited The Mews Bridal in Notting Hill to select her gown.
[RELATED]
"After getting engaged I had been looking at all of Rime's designs online and could totally picture myself in one of her dresses. I immediately fell in love with this one when I put it on. I wanted something simple and elegant and a little bit different. This ticked all of the boxes. As soon as I stepped out of the changing room my mum and sister started getting teary and I knew it was the one. I also loved that it was a little bit risqué with the slits up the legs with lace inserts. Completely different from anything I had seen before!"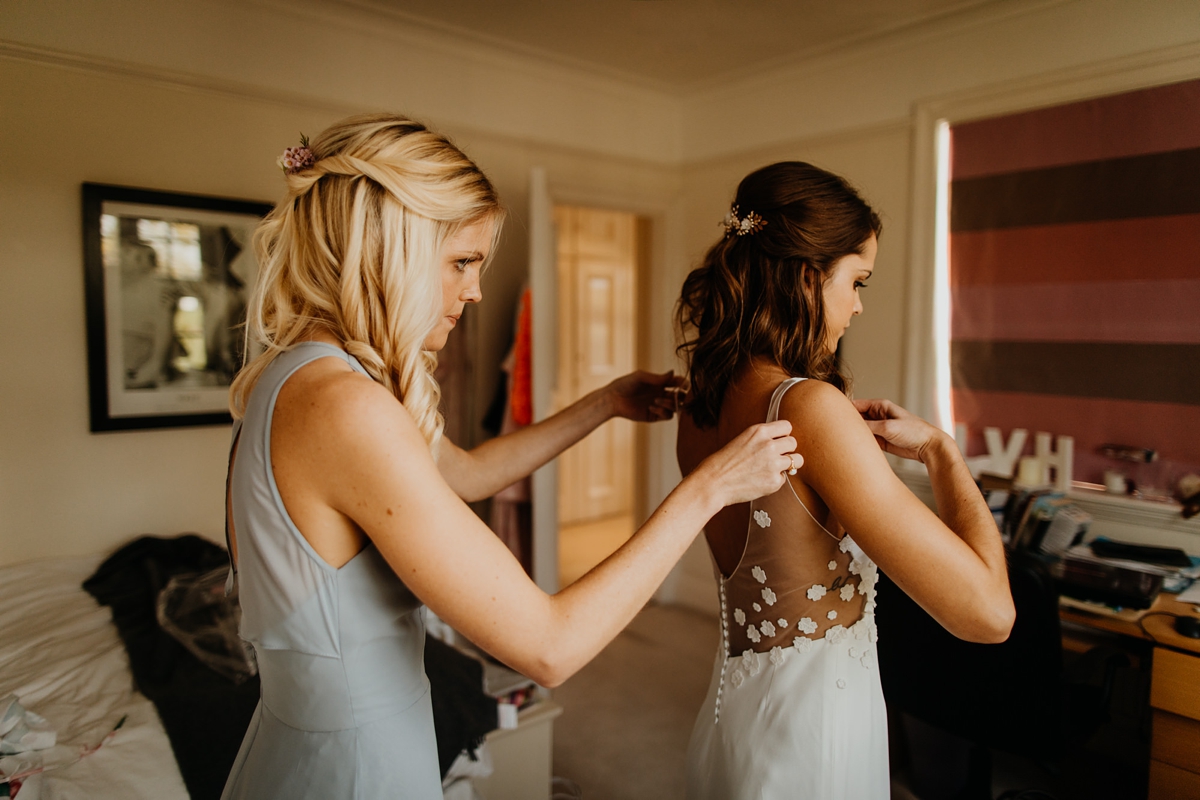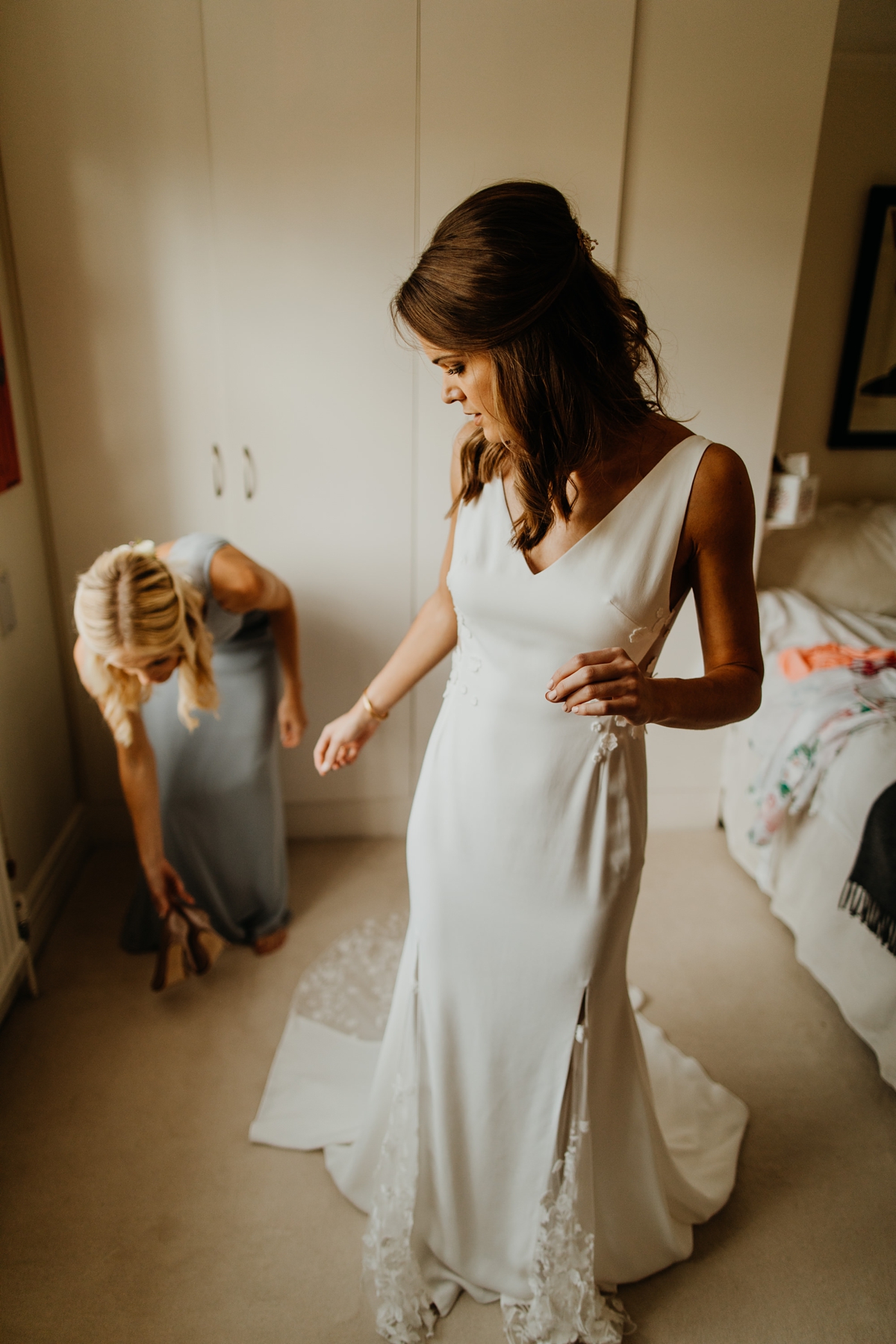 Emily's fragrance was Jo Malone English Pear and Freesia Cologne layered over Wood Sage and Sea Salt body cream.
"I did the 'Scent Your Wedding' experience at Jo Malone before the wedding with a friend who was also getting married. It was amazing! We got two glasses of English fizz and tried all of the scents and the lady was so lovely. I wanted a new scent to wear on the day which would always remind me of the wedding and when I put it on now, it takes me back to the day."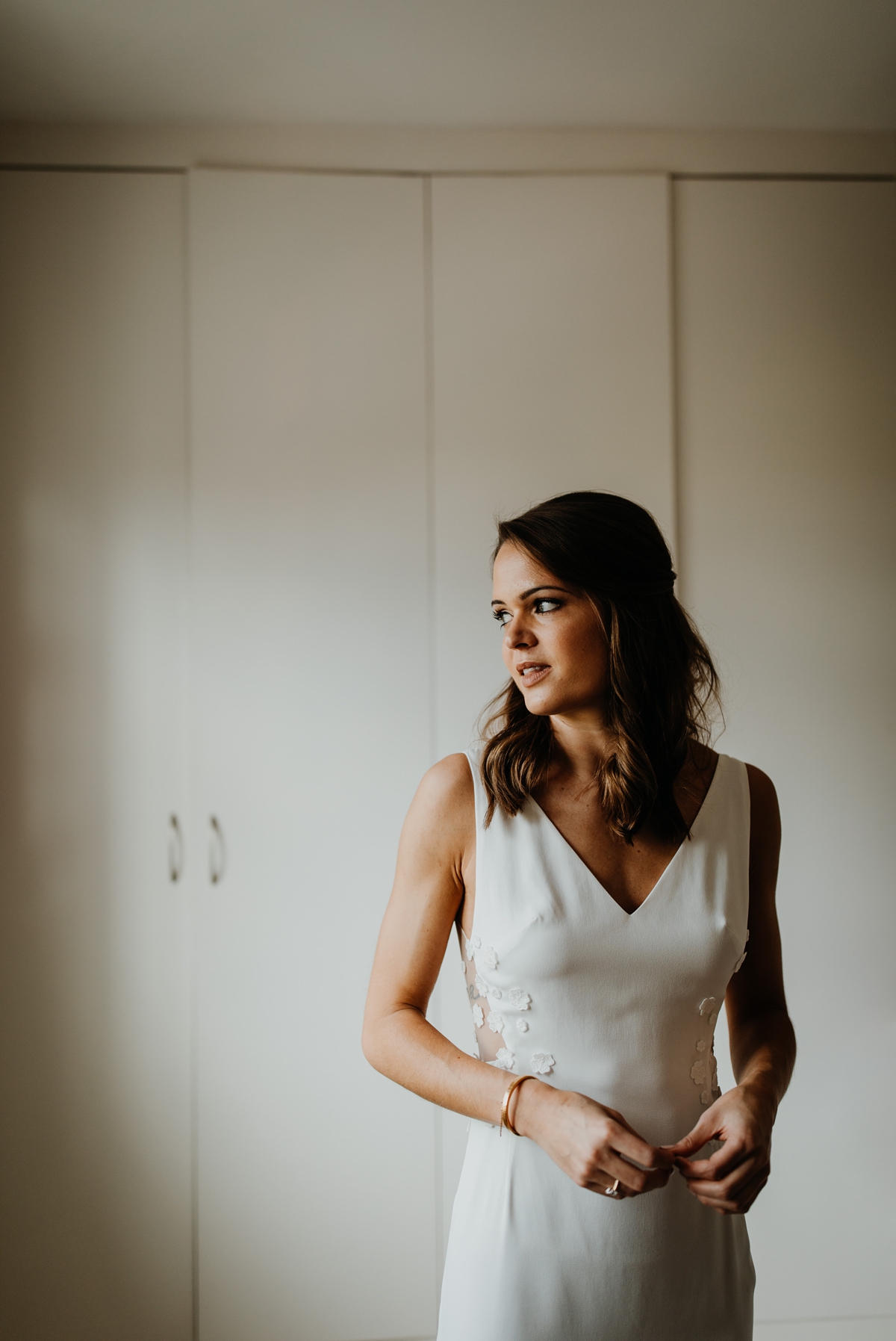 For a modern twist on the traditional, the bride's shoes were rose gold satin courts by Karen Millen.
"They were in the sale. I decided not to splash out on shoes and spend on other things, although you could see them through my dress! I loved that they were like traditional bridal shoes, but rose gold."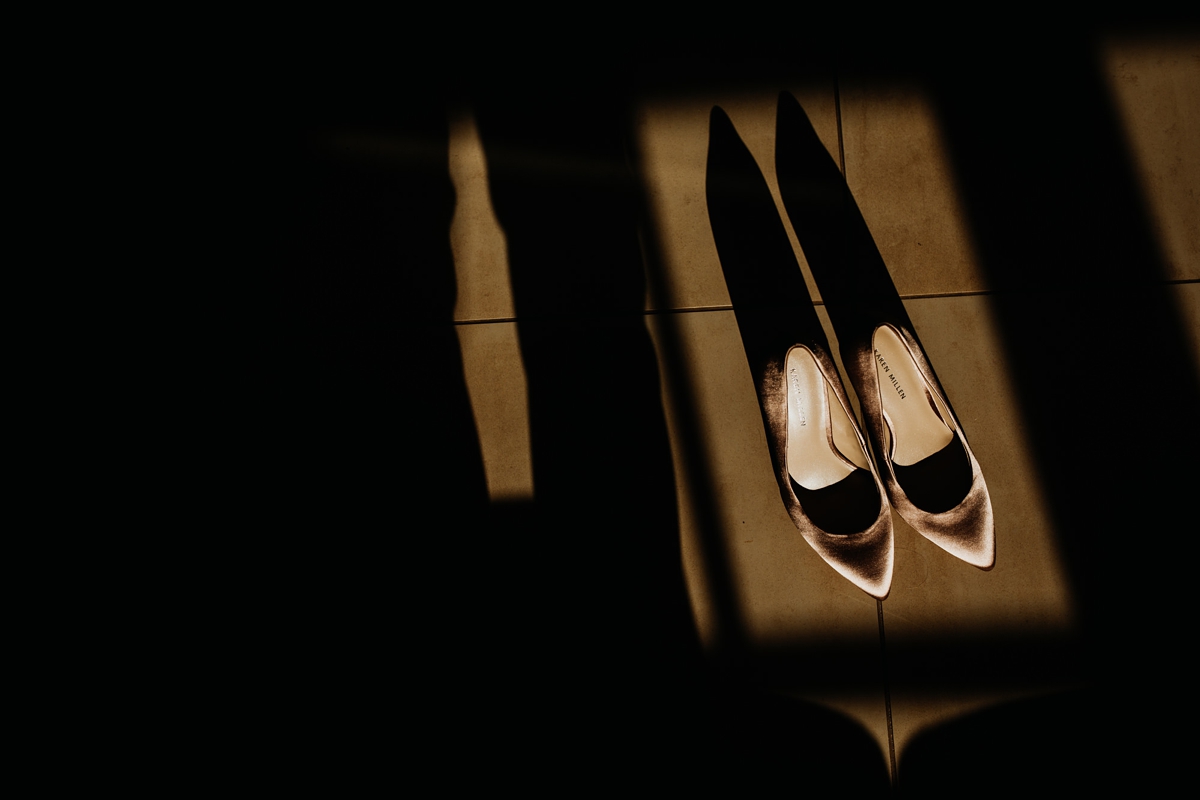 The bride's hair was caught back from her face and fixed with a delicate hair vine from Donna Crain, featuring Swarovski crystals and pearls with lucite flowers against a bed of gold leaves.
"I kept accessories simple as the dress was the main event. I wore diamond stud earrings which my parents gave me for my 30th birthday (made by Nicholas Major) and a gold, hammered Victorian bracelet as my 'something borrowed' from my mum. My dad bought it for her when they were younger. My godfather also gave me a sixpence for my shoe."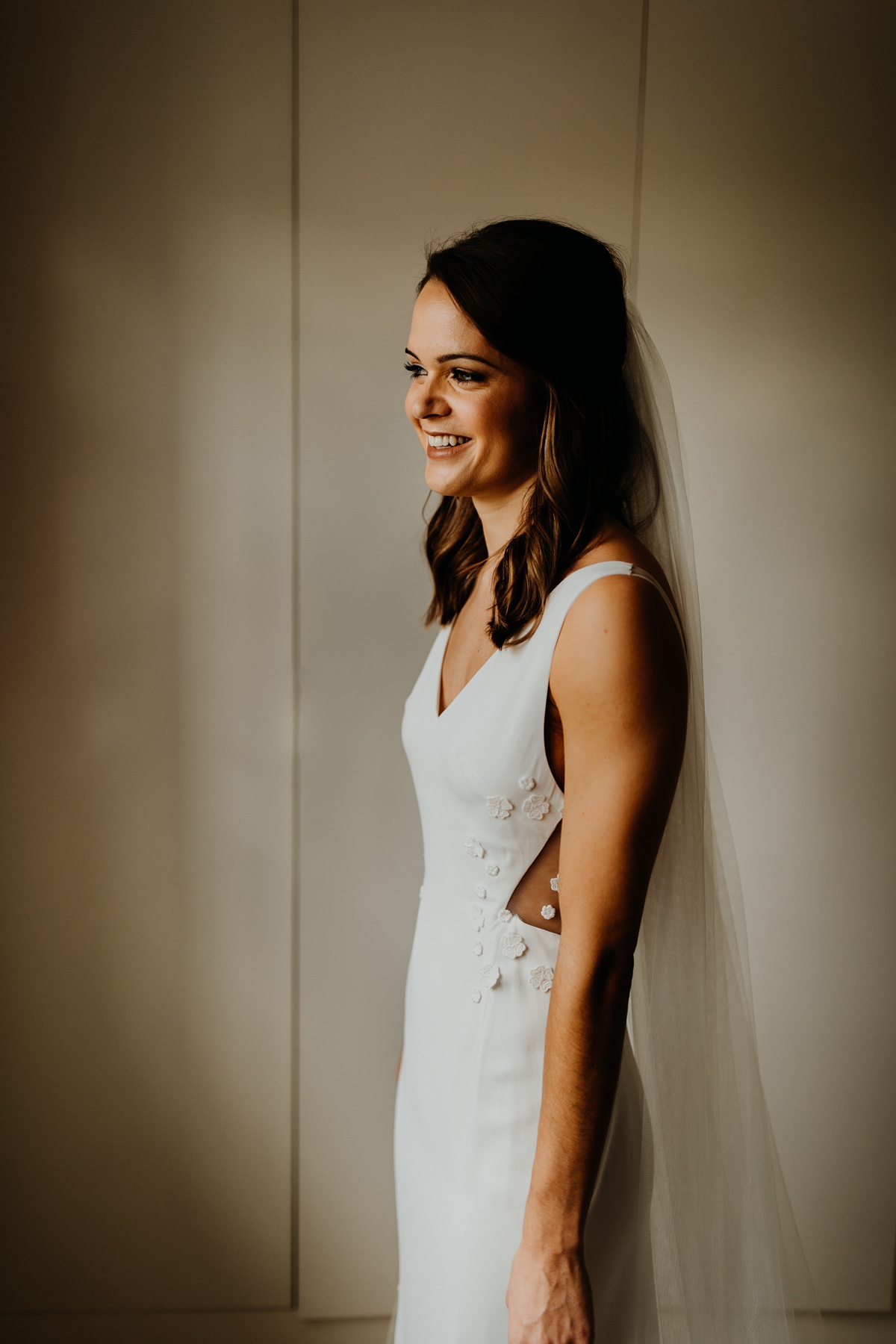 For her veil, Emily turned to the wonderful Britten Weddings, whose service and quality are second to none.
"I had the Isabella church-length veil from Britten Weddings. Britten are amazing for veils – great service, take the time to chat to you over the phone and will send out three at a time for you to try on."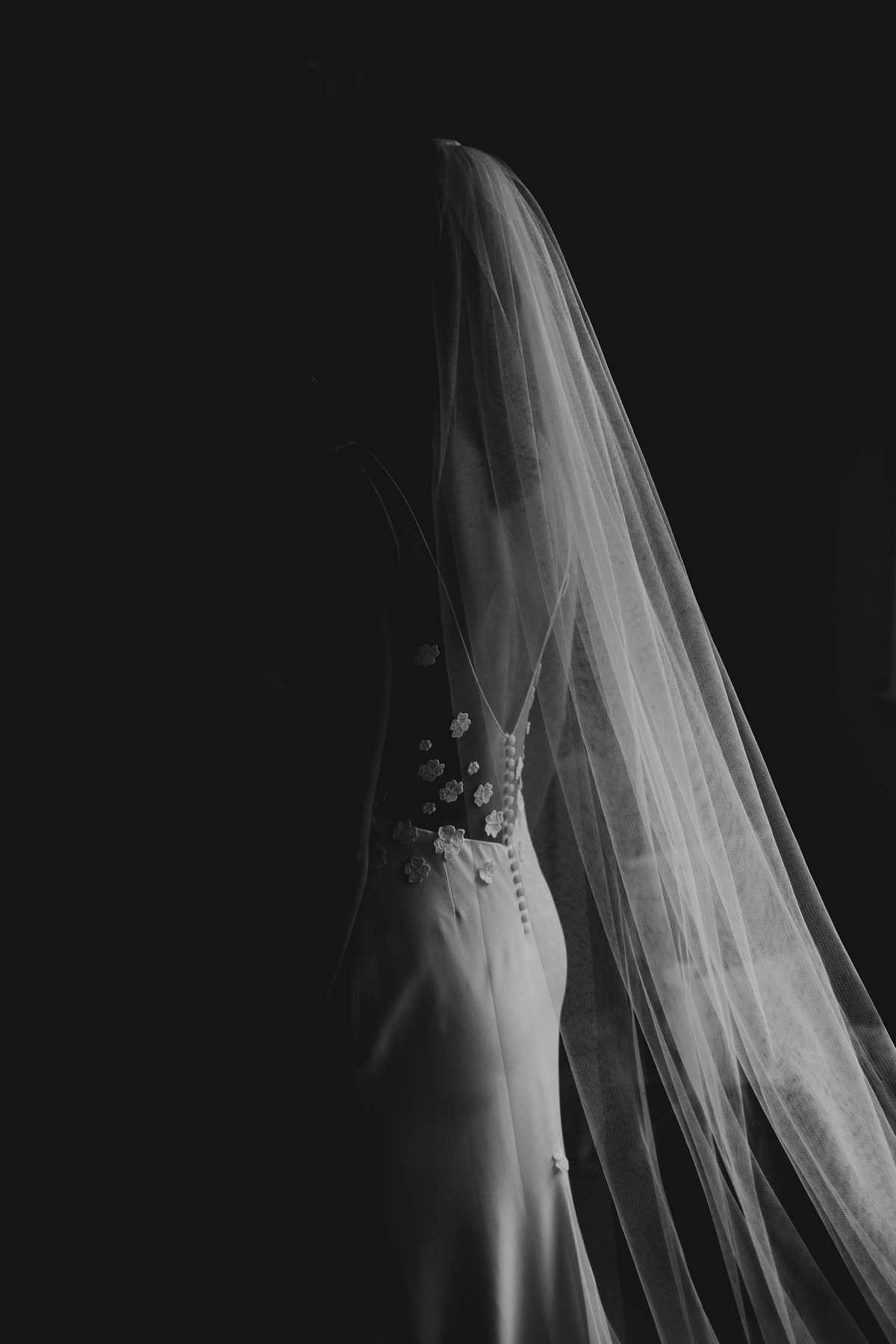 The modern fit of Emily's gown was mirrored by these sleek, silvery Hayley Paige gowns worn by the bridesmaids.
"They were bought from a lovely bridesmaid dress shop in Wimbledon that I really recommend, called Not Another Boring Bridesmaid Dress. They stock so many dresses from different brands and then order in the right colour (and they have all the fabric swatches there)."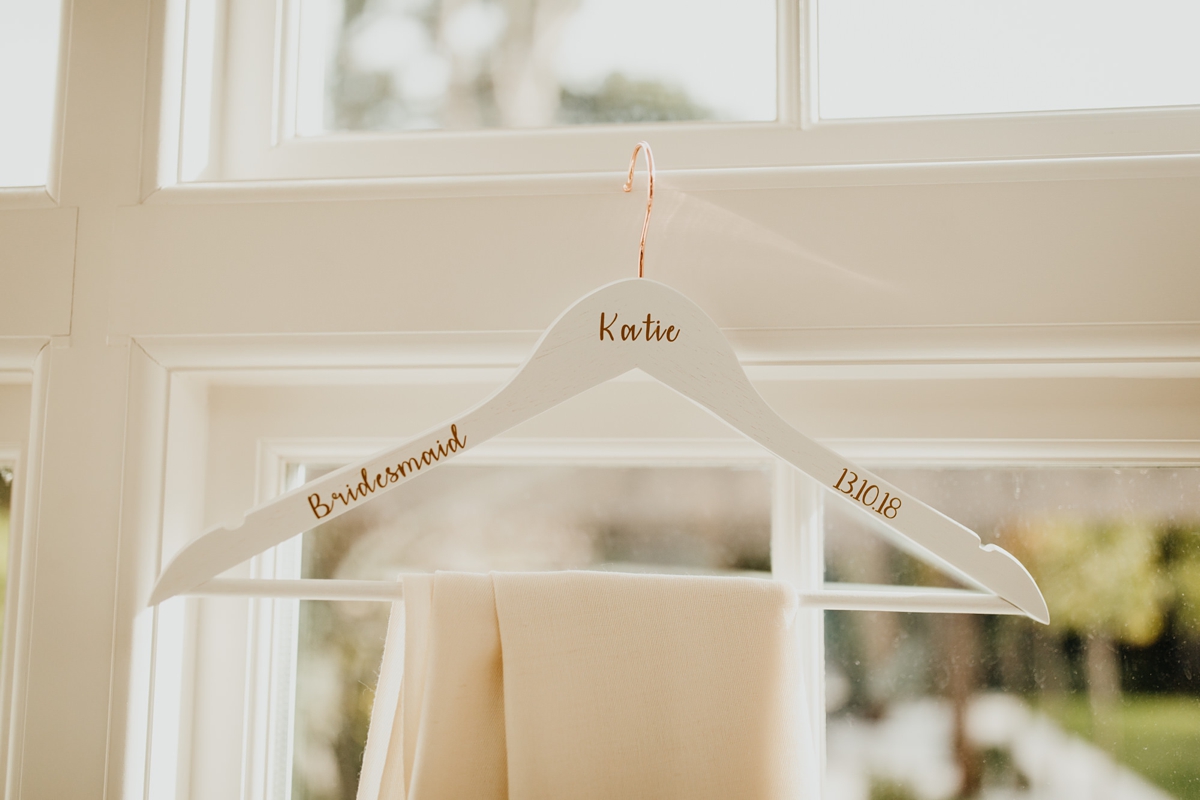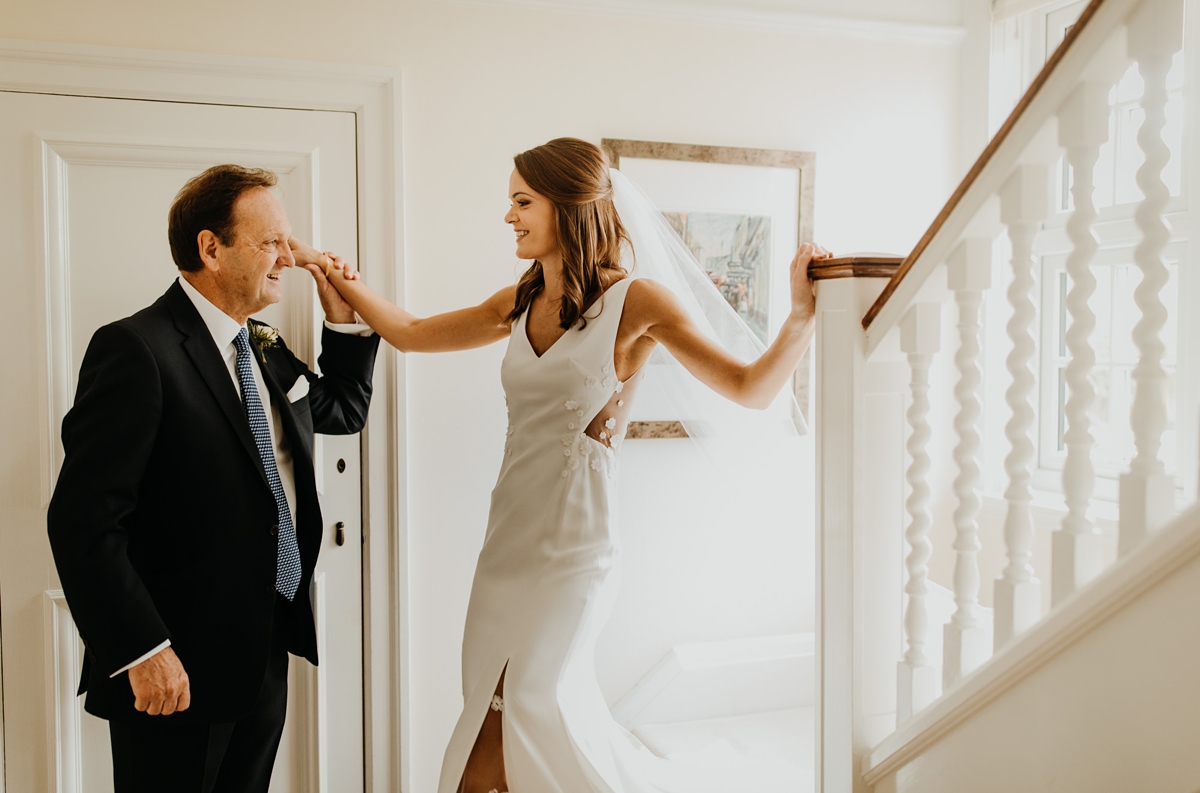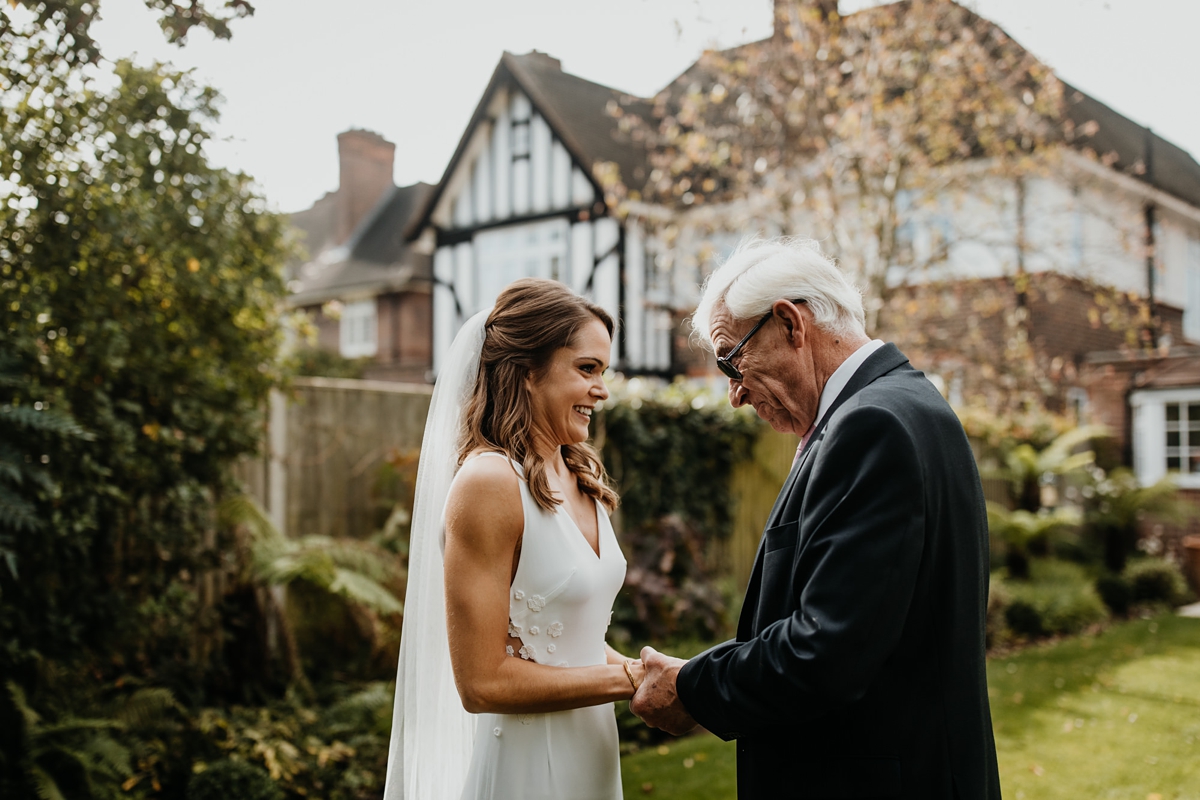 Millie Richardson Flowers, a friend of the bride's family, put together these wonderful bouquets featuring peach and cream roses, delicate leaves and touches of yellow and blue. I love the look of the wild 'meadow' in the church; it must have smelt wonderful.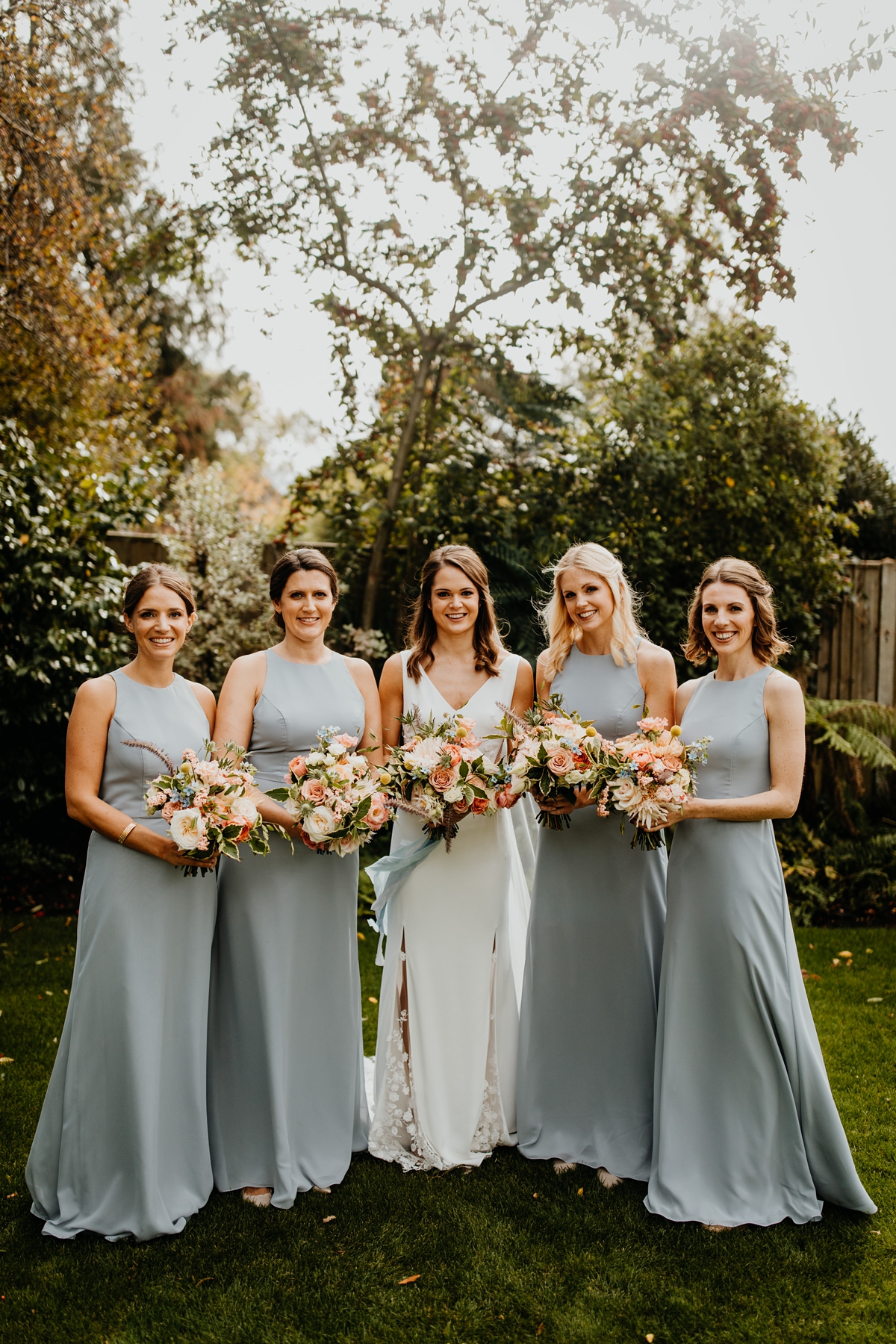 Rob and Emily met on the graduate scheme of an accountancy firm in October 2010 and were engaged one year before the wedding.
"Rob fell in love and chased me for about a year before I gave in and we started dating in October 2011 (initially keeping it quiet at work but it all came out quite quickly). We got engaged on 28 October 2017. Rob arranged a walk on Leith Hill in Surrey and at the end of the walk he proposed."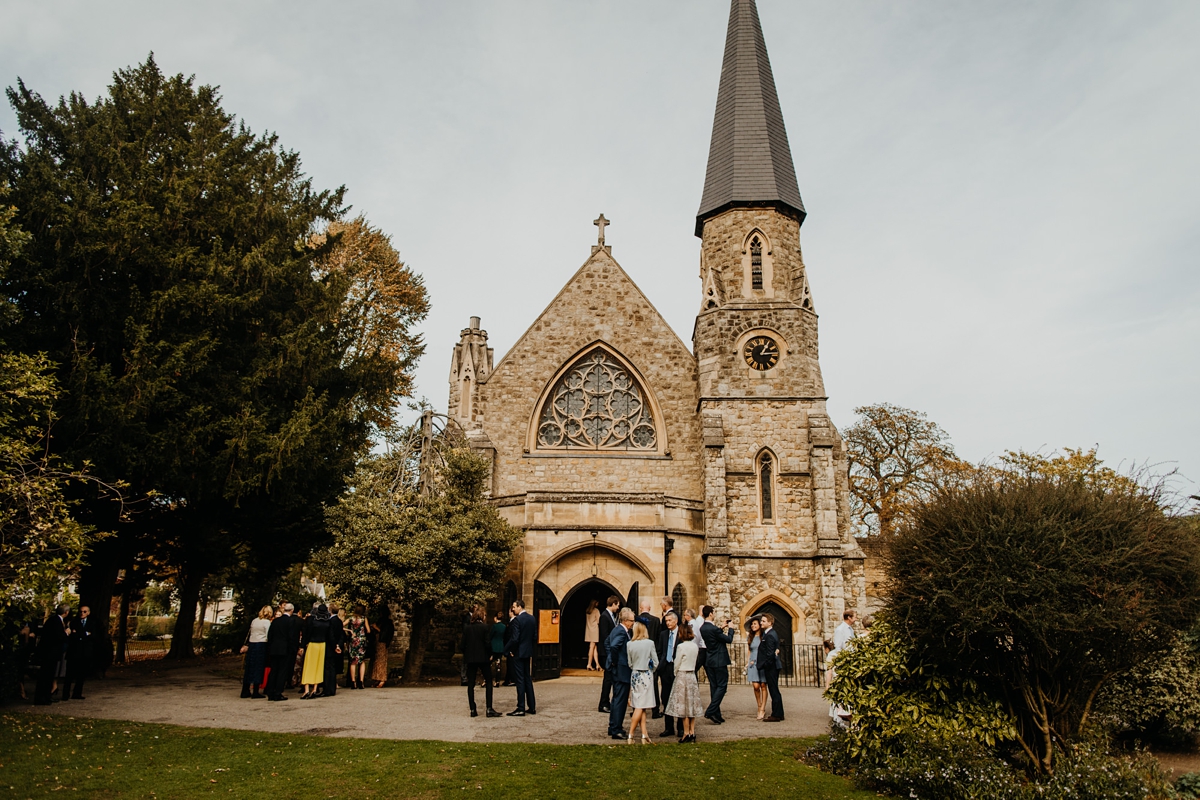 The couple's elegant stationery suite featured rose gold calligraphy and was created by Jinny Howarth at Vine in the Wild.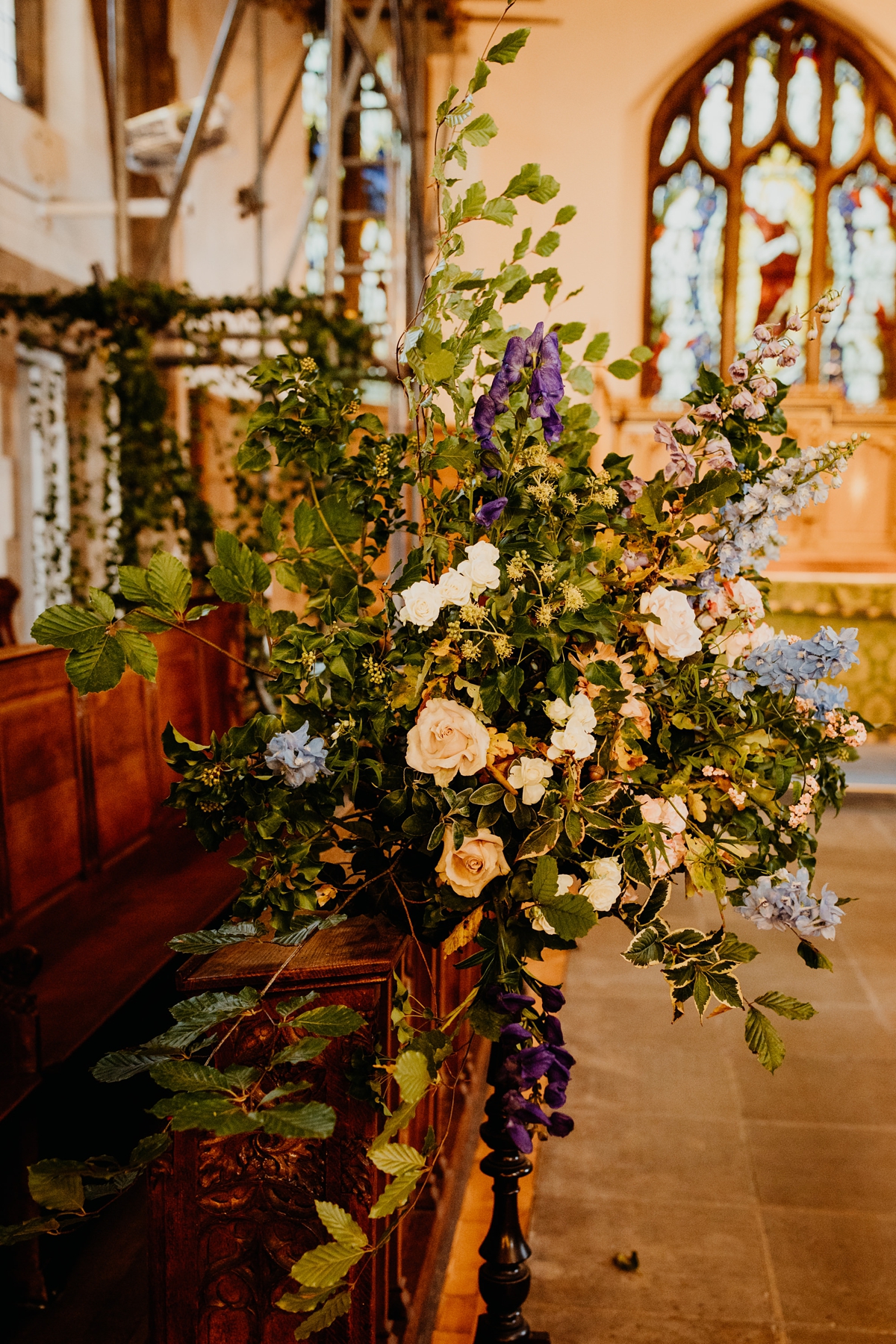 After preparing at home, the bride travelled to St Margaret's in a Rolls Royce Silver Cloud III from Alpha Class Wedding Cars before entering with her father to an organ version of 'PM's Love Theme' by Craig Armstrong  from 'Love Actually'.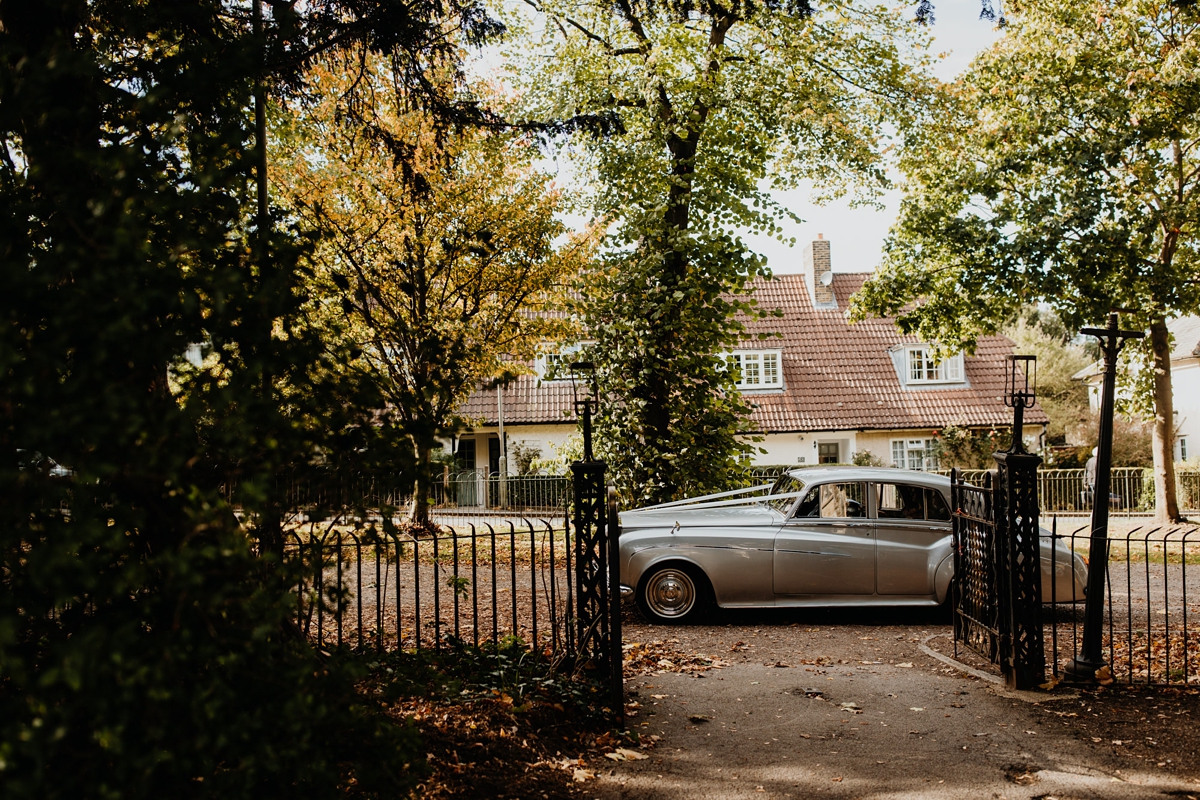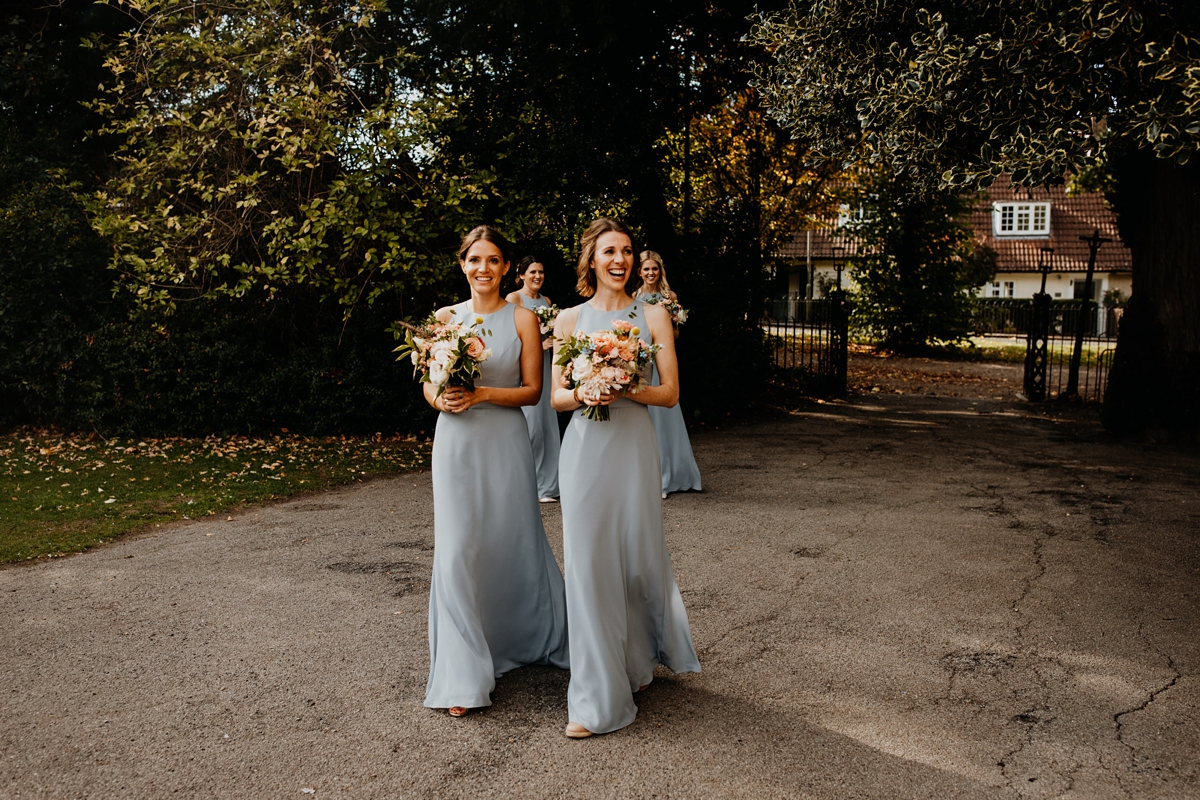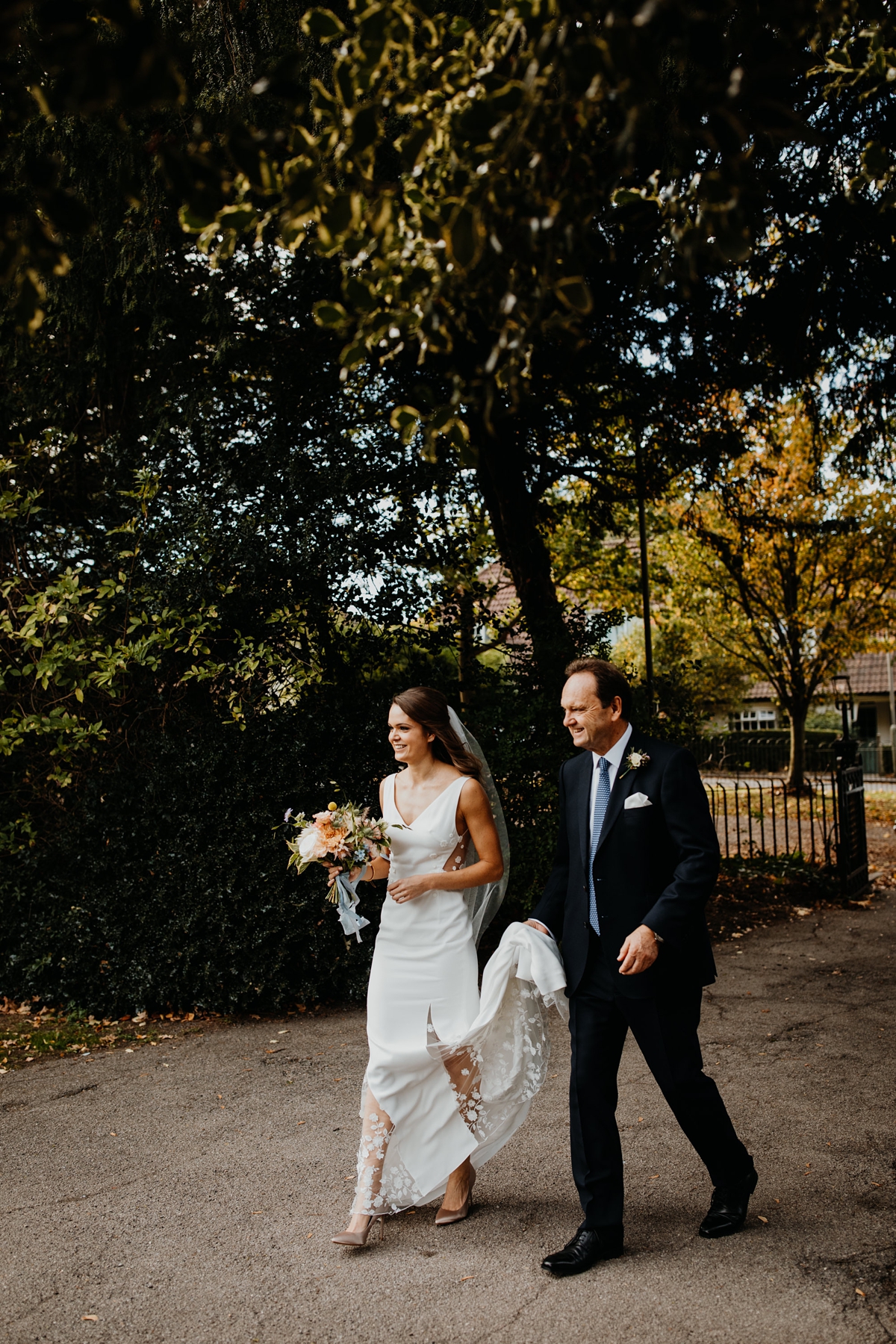 Standing at six foot nine, the groom opted to have a bespoke wedding suit made by Redwood & Feller in London. His light blue tie was from Reef Knots, and his groomsmen wore matching ties.
"Rob really recommends this father and son team. He looked very smart in his dark navy flannel suit."
The couple exchanged traditional vows and rings made by Nicholas Major.
"Rob had my engagement ring made in secret by private jeweller Nick Major who was recommended by a friend. I had shown Rob a ring I liked on Instagram which was three oval diamonds on a gold band and he had it made exactly like that one which was really special."
"I found out he had had secret meetings with Nick to choose the diamonds and Nick had even been to our house, without me knowing a thing. Nick also made our wedding bands and we both went for a yellow gold plain band, with engravings of our initials and the dates on the inside."
Emily and Rob chose three readings, and if you're looking for inspiration for your own ceremony then you may like to visit our Wedding Readings pages.
"'Union' by Robert Fulgham: as soon as I read this I cried and so did my mum. It wasn't rhyming and silly like a lot of them so I really liked this. It meant a lot to us."
"'I Love You Because' by Johnny Cash, read by two friends so they could read two verses each. We liked the lyrics and it was simple."
"'ROMANS 12:10 – 16′: our vicar said we didn't have to have a religious reading but it felt right as we were in a church. We chose these specific verses of Romans as a change to the usual Corinthians (which we have heard at SO many weddings this year!) and because they were meaningful."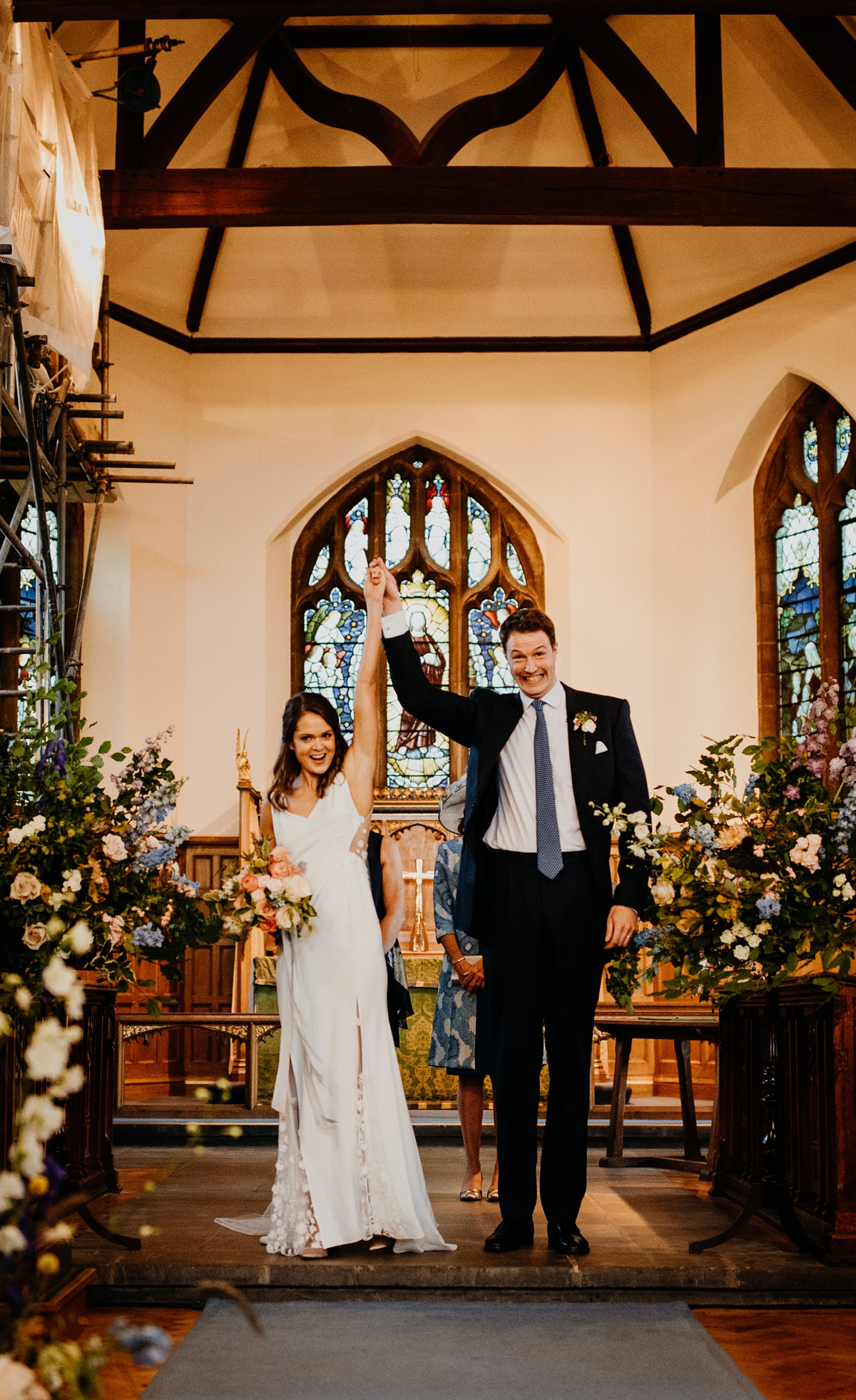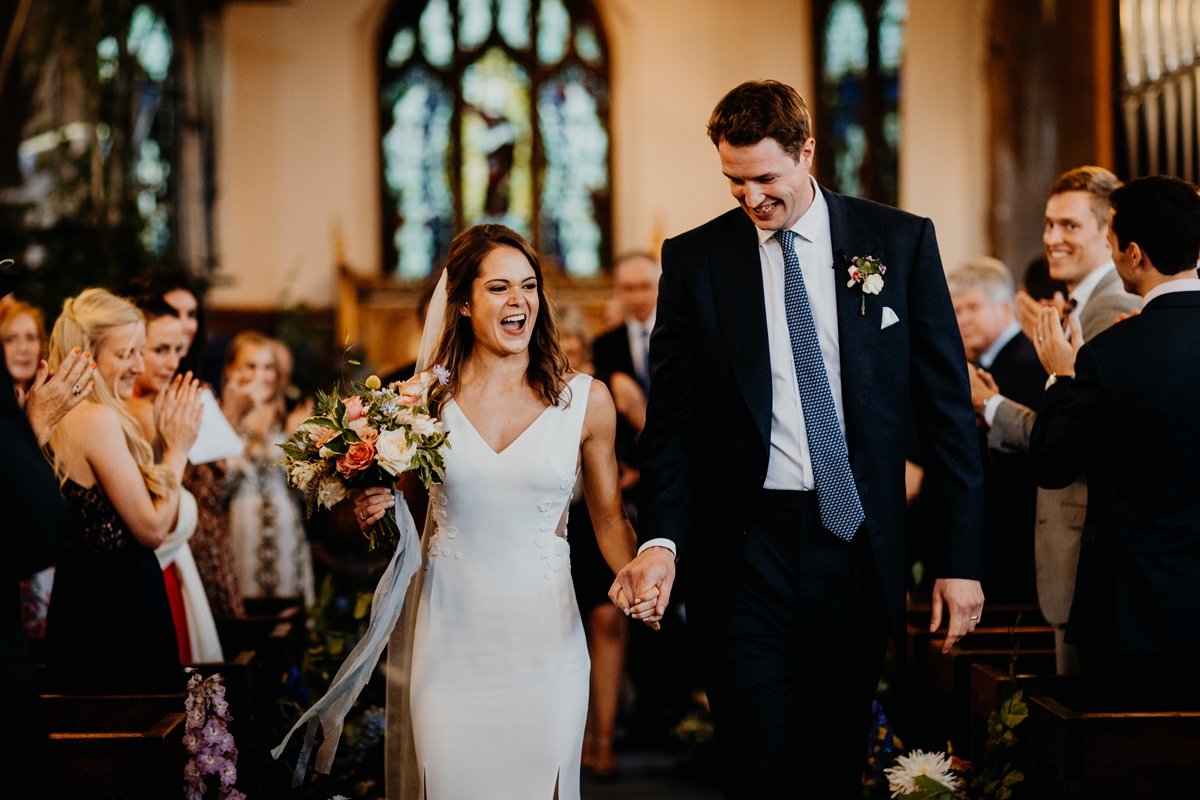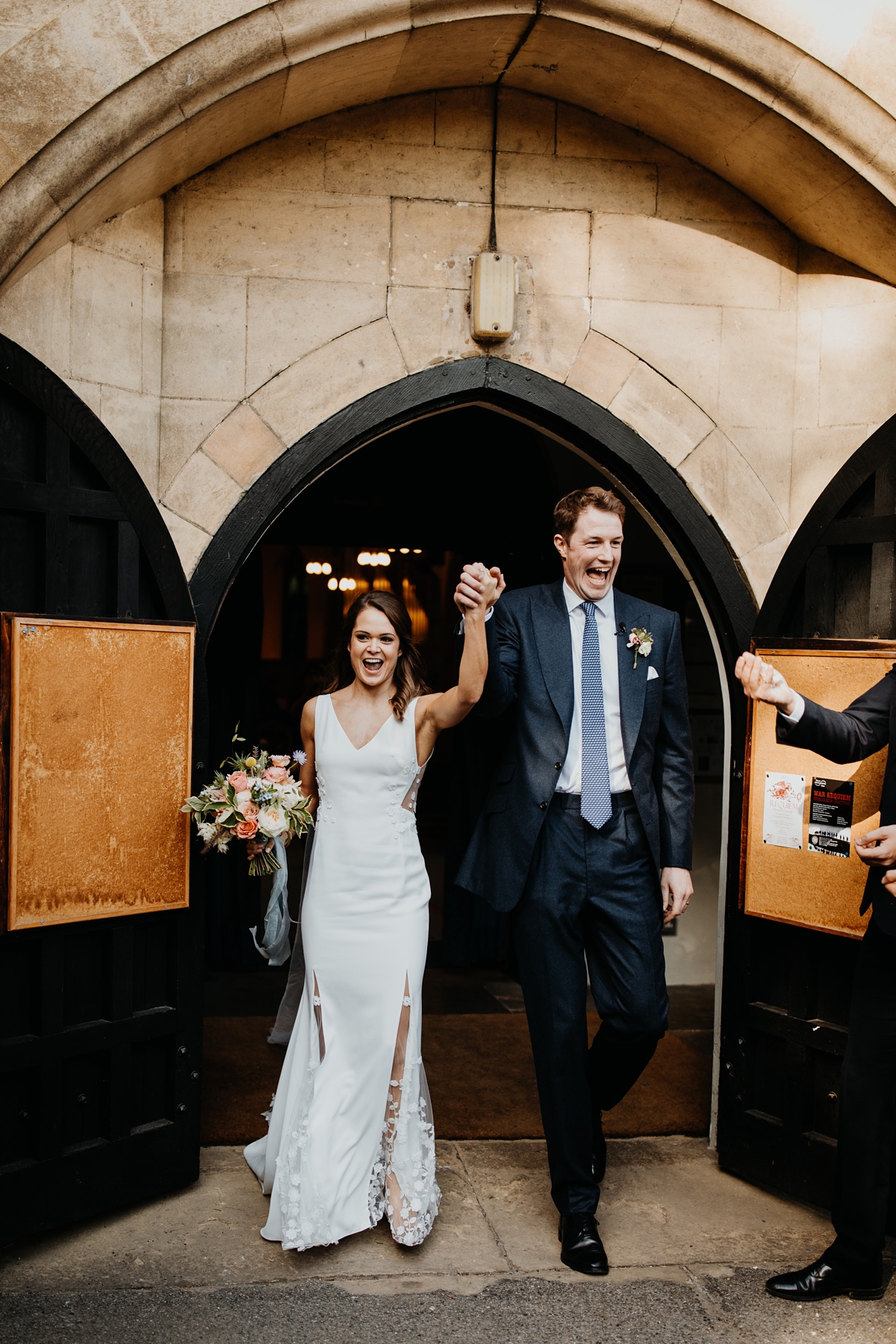 "Hampton Court House was the second venue we viewed and as soon as we saw it we fell in love. It is a house that was built in the 1700s, set in beautiful grounds and you have completely exclusive use of the venue which is very private."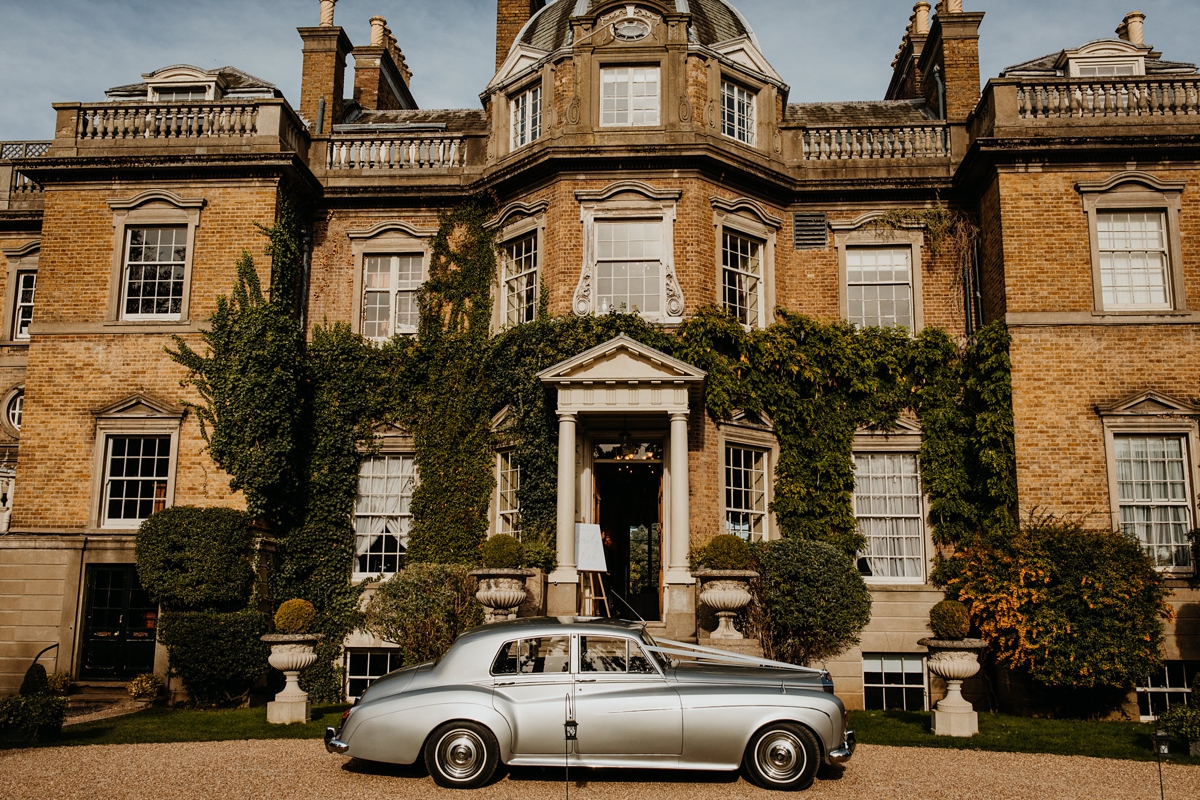 "The house is stunning and it looks onto Bushy Park, one of London's Royal Parks, so we knew our drinks reception would look out onto deer roaming."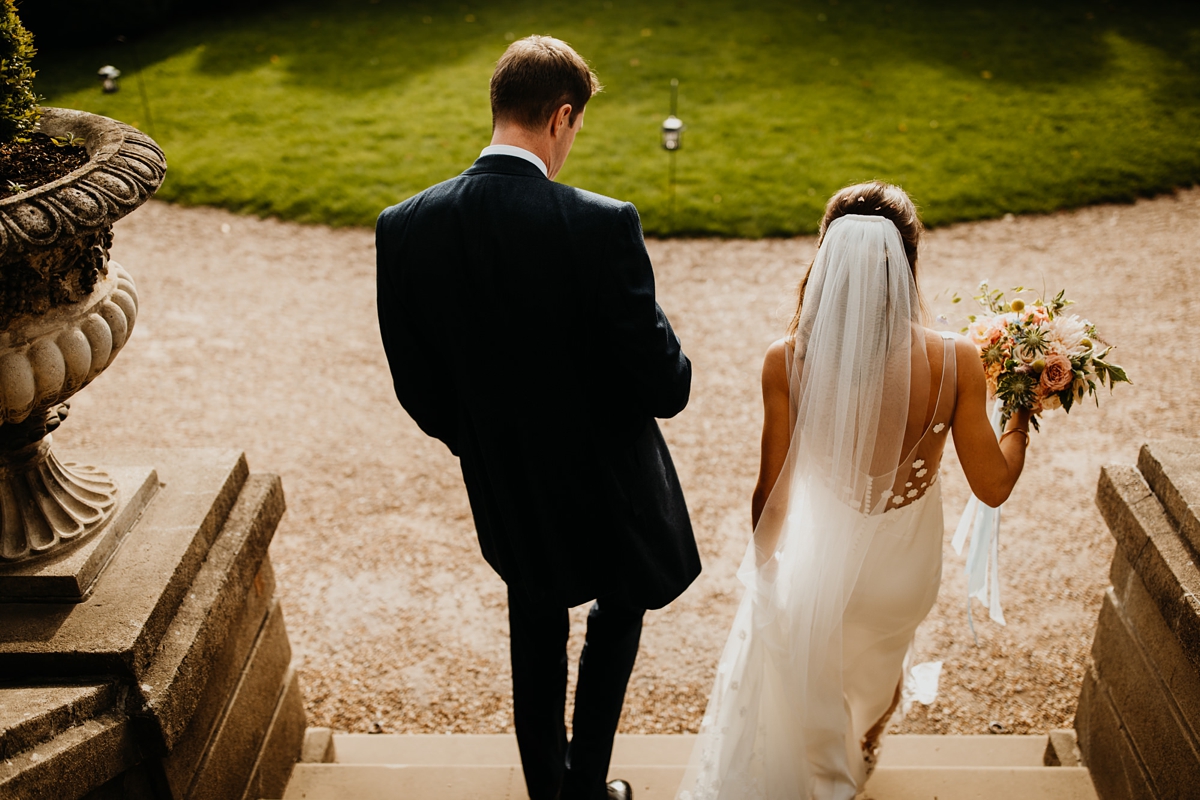 "It has a shabby chic feel, with a gorgeous room upstairs for reception drinks and a huge dining room for dinner, which adjoins a conservatory for dancing later. We didn't want a venue where the tables had to be moved out of the way to dance and it ticked that box too. There was no corkage fee which was a massive plus for us as we wanted to bring in a variety of drinks and have free-flowing booze all night with lots of different gins."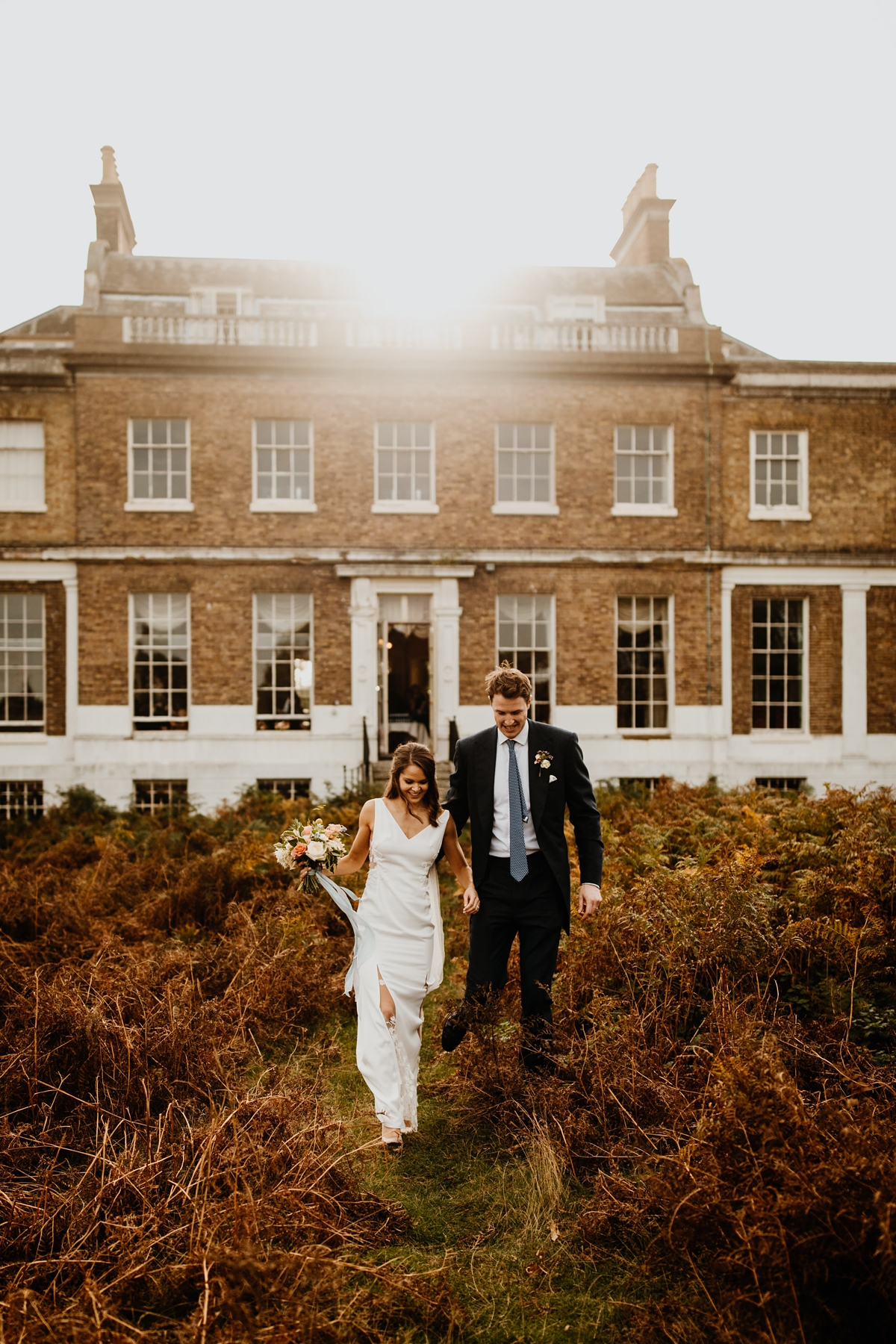 Capturing their sunny, autumn celebration was Jonny MP Photography, whose work is fresh, modern and oh-so romantic.
"Jonny is one of the best wedding photographers out there. He is amazingly professional and at the same time so friendly and nice, it's like having a friend at your wedding. He was super-responsive, sent us a full portfolio to view and had a Skype call with us before we picked him as our photographer."
"On the day he was great – energetic, personable and enthusiastic and made us completely relax in front of the camera. We had completed a questionnaire in advance and he had learned everyone in the wedding party's names and connections to us which was such a fab touch."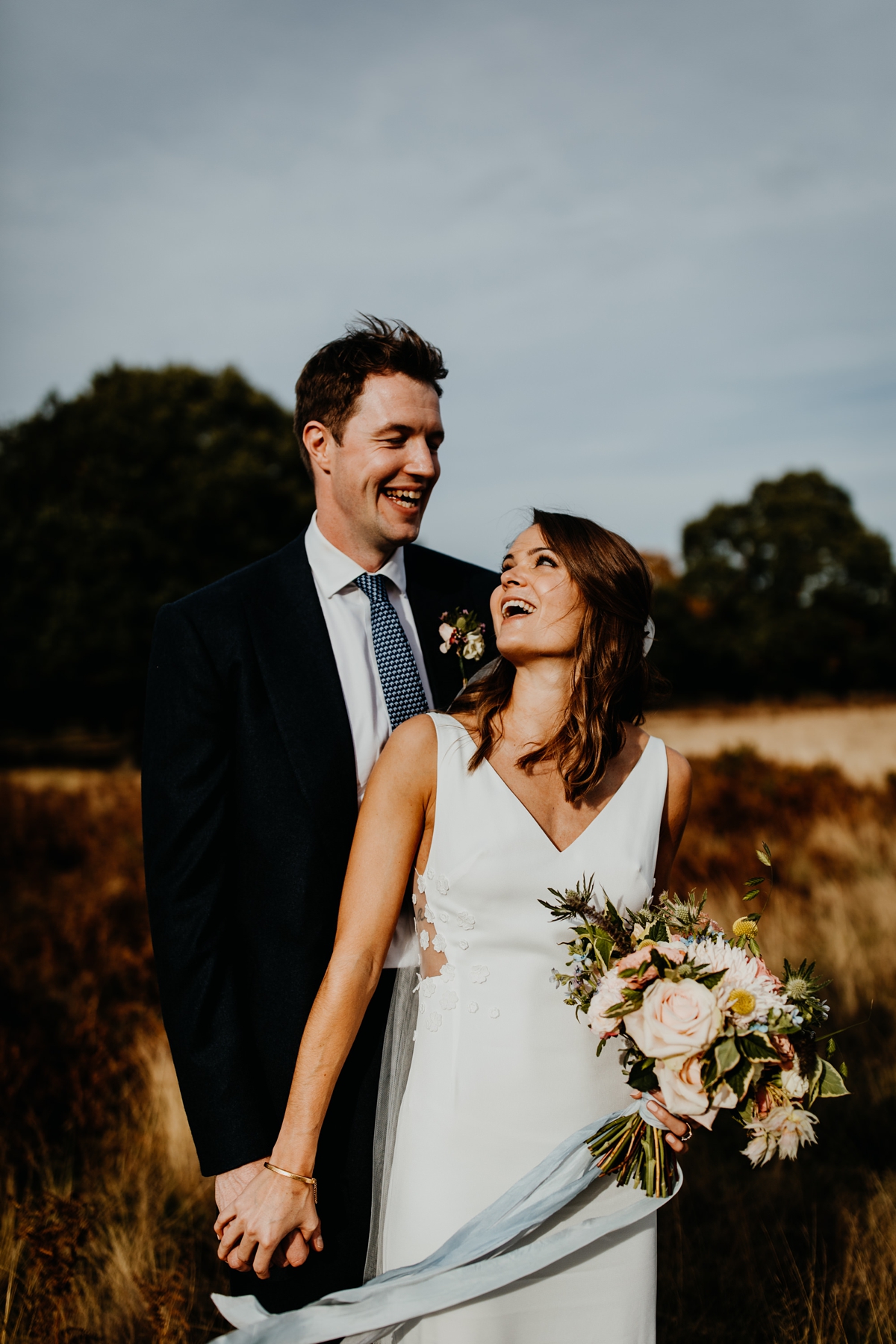 "He got us 30 preview pictures within 48 hours of the wedding and the full album back for the day we landed from honeymoon (2.5 weeks later!). His shots are stunning – the light is amazing, there are loads of natural shots and the dance floor ones are incredible and really capture the spirit of the night. Jonny also gives you a website for all your friends to access and order the prints and there are free downloads – no watermarks all over every shot so you can't share them. He was one of the best suppliers we chose."
As well as still photographs Emily was keen to have a film of their day, and what a beauty this edit is from Tynegate Films.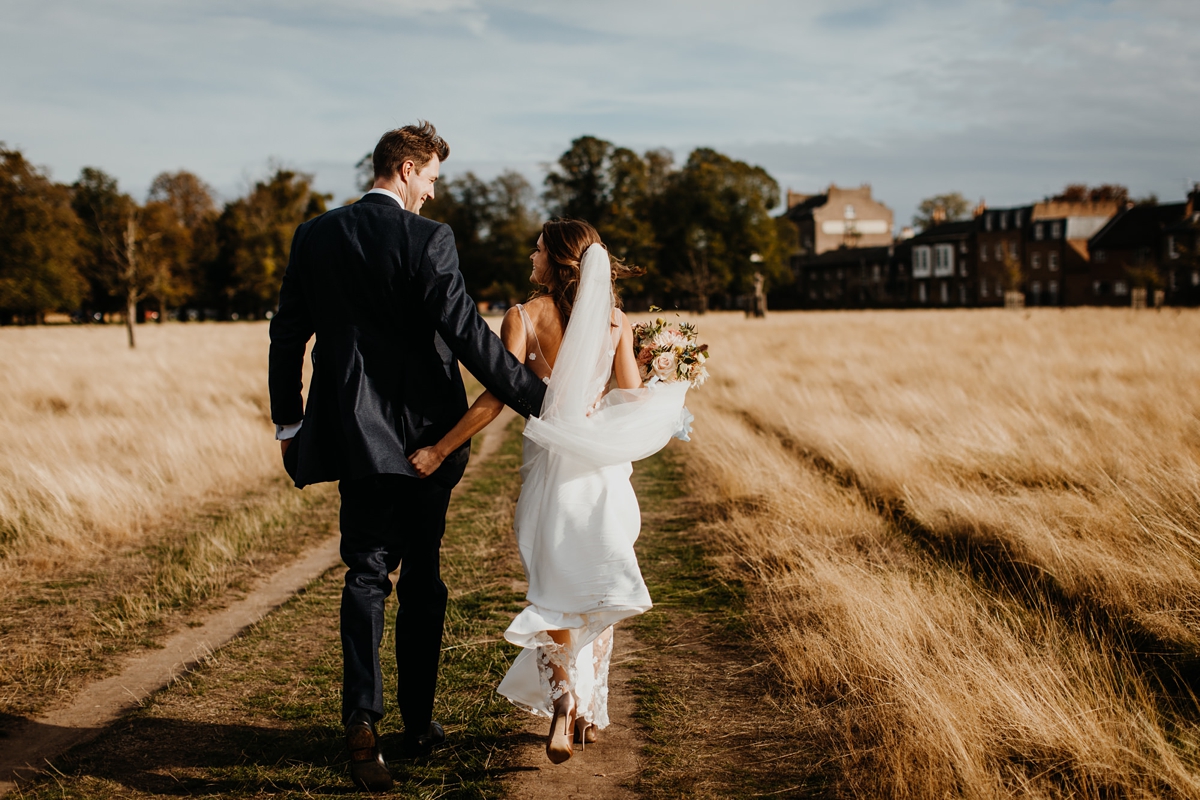 "We found Ben Tynegate on Instagram and, after watching a lot of wedding videos from various suppliers, instantly knew he was the one. His videos were the only ones we liked. Ben was an amazing videographer and is such a lovely guy too. We met him in the pub before the wedding (as Rob was unsure about having a video) and we knew we had made the right choice."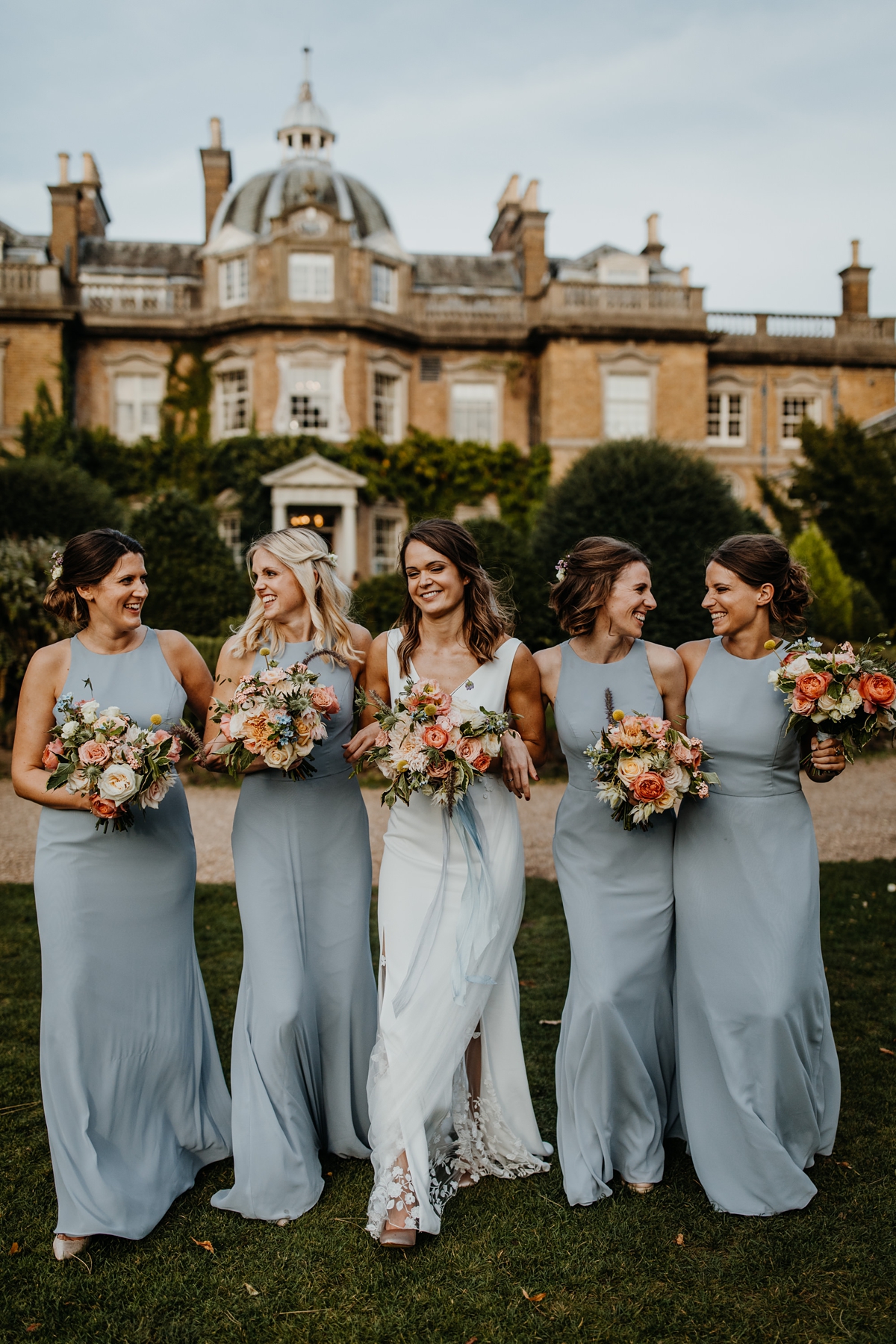 "His videos are stylish and classy and really capture the mood of the wedding without being cheesy. The way he layers the speeches over the videos is also amazing. We highly recommend him."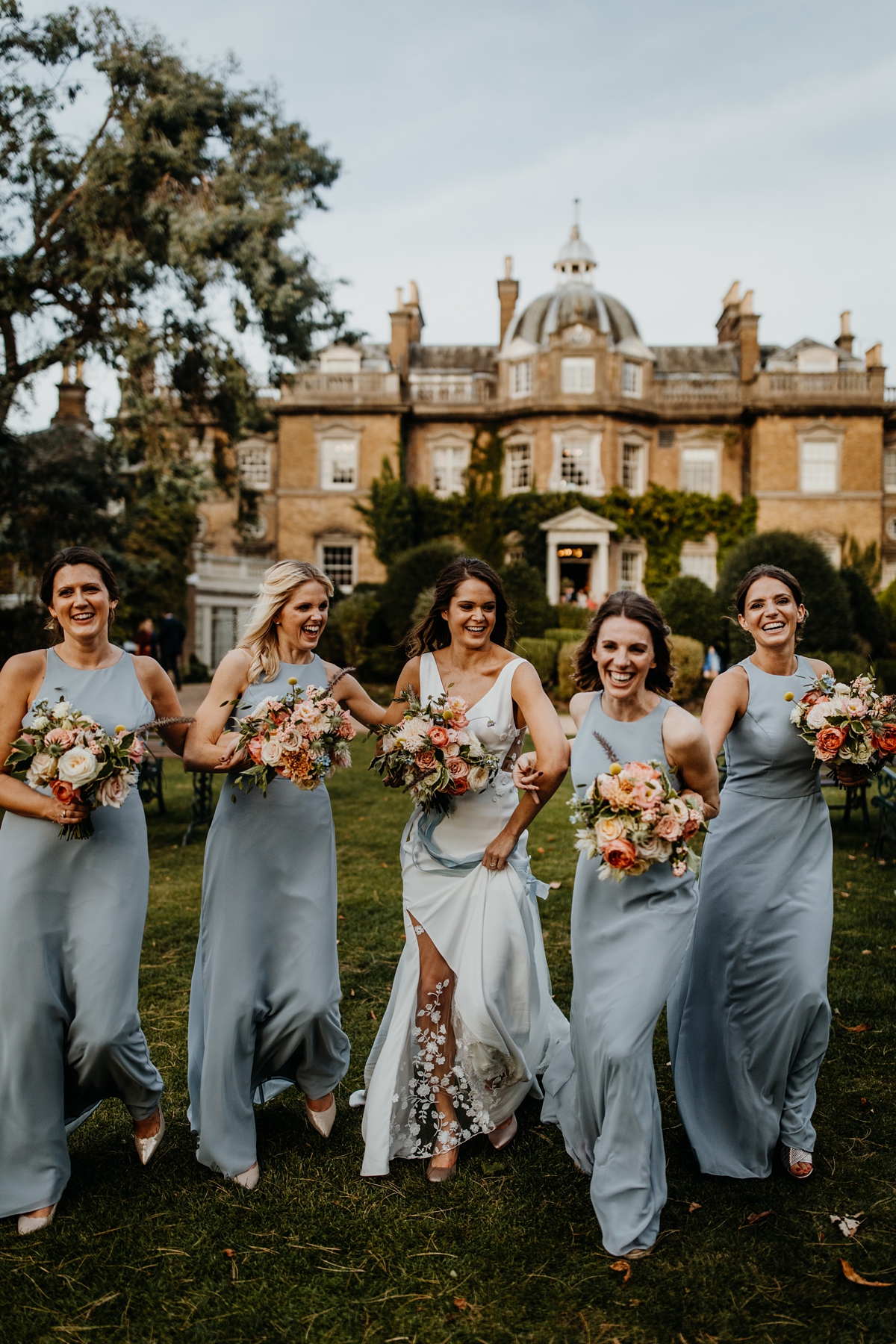 "I have known our florist Millie Richardson for a long time as she is my godmother's niece. As soon as she become a florist I started following her on Instagram and knew she had to be my wedding florist. She has a wild look to her flowers; I didn't want anything too sickly sweet or 'weddingy' which she got immediately. Millie is also known for creating her meadows up the aisles of a church which I knew I wanted as I often find church flowers quite boring."
"She also did some incredible stands on the tables which were tall enough to still let everyone on the table chat. Millie visited both venues with me and we talked through where flowers would look best, came up with a quote within budget which included set-up and take down and was fabulous from start to finish. I didn't give her too much direction on the types of flowers that I wanted – I left this up to her as I totally trust her."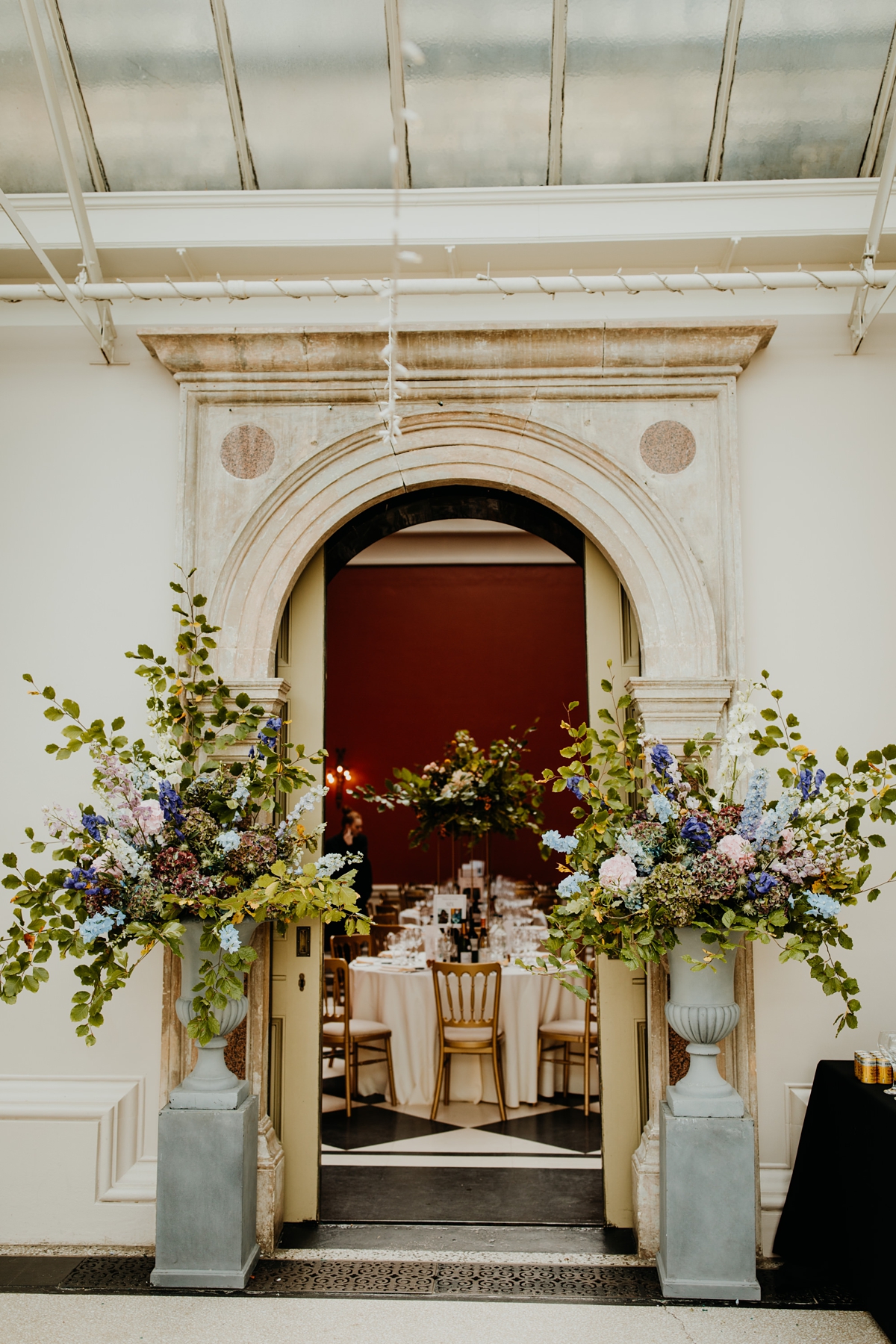 "We didn't really have a colour scheme or type of décor that we wanted and Hampton Court House is such a stunning house that you don't really need much decoration – another plus for us as we knew we weren't the arty type of people to have a DIY wedding."
"As we started buying small items to decorate the house, we realised we had bought lots of gold/bronze/copper and glass, nothing twee and quite minimalist."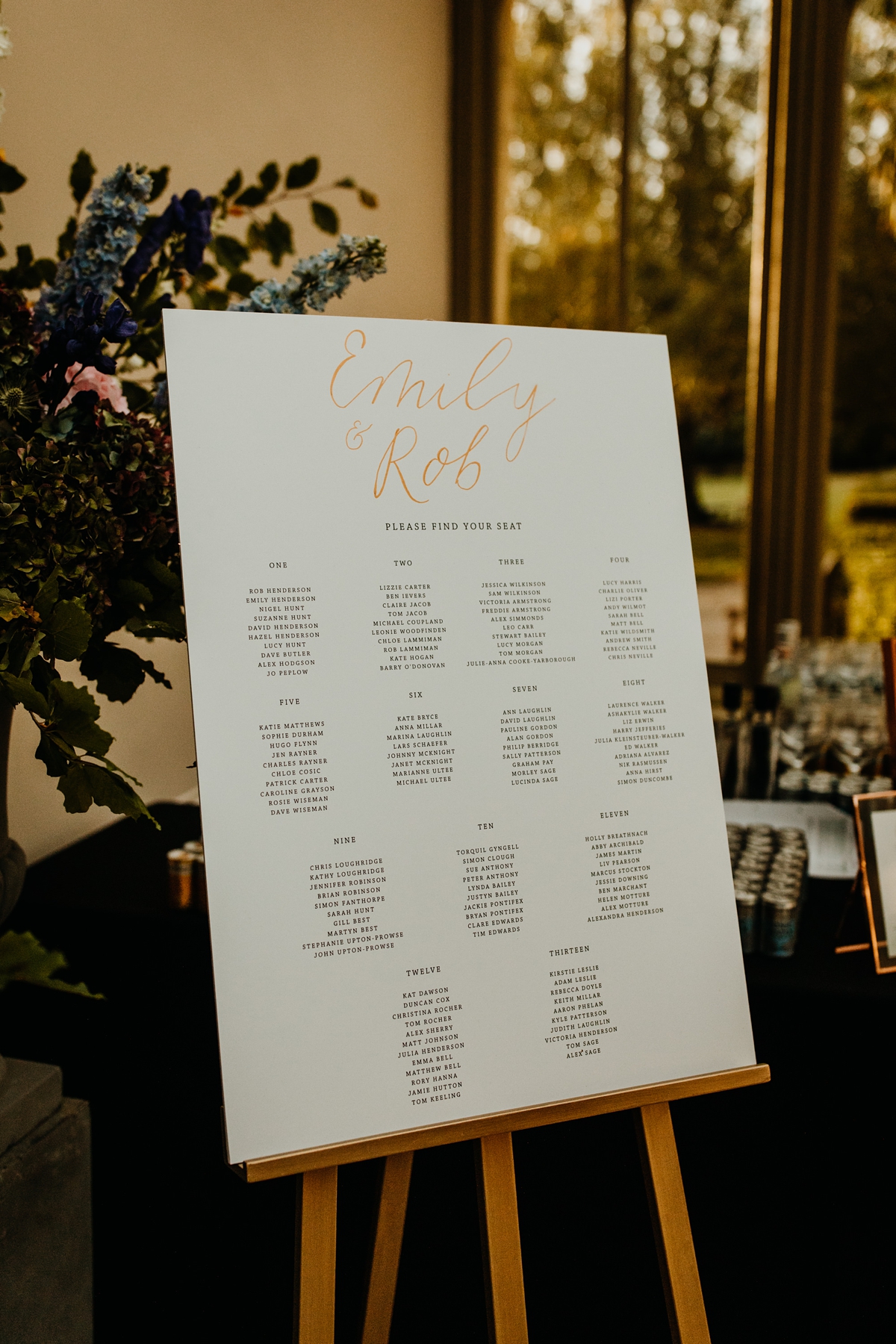 "We had a Gin Bar which was a highlight of the evening. Four different types of gin and served with four different garnishes in Copa gin glasses. It was great to see everyone picking their favourite and drinking them on the dance floor. To choose the gins we went on a date night at a gin bar in central London and this was a really fun part of the planning process."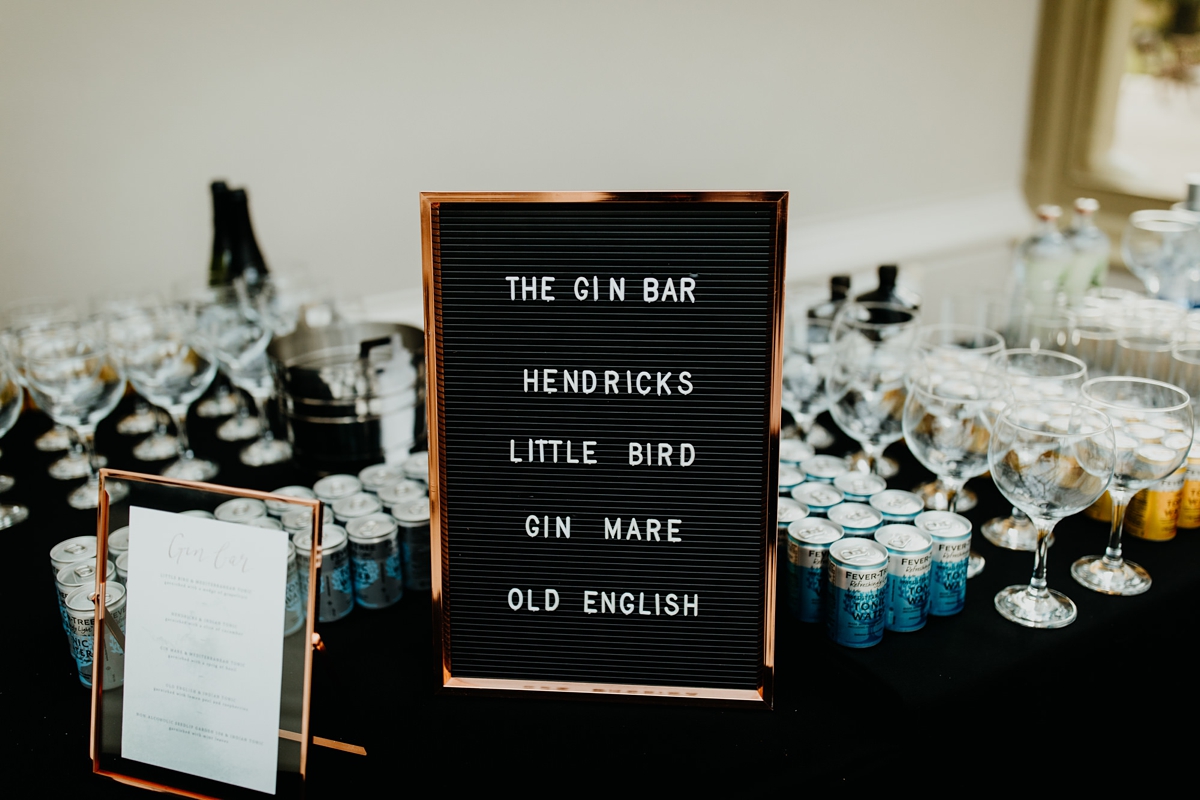 The couple chose some thoughtful, elegant details to dress the House.
"We didn't need much apart from flowers as the venue was so stunning and quite ornate inside. We bought gold, glass and mirror tea-light holders from Nkuku and The Wedding Of My Dreams to decorate the conservatory. We also had letter-board signs around to show where the bar was, flip flops, cake and cheese. Our place names were slate coasters with each guest's name written in gold calligraphy and we encouraged them to take them home. They were from the lovely Danielle at LittleCardShopUK on Etsy."
"I kept all design and décor minimal as I knew the venue would speak for itself and Millie the florist would be amazing. We also had to deliver it all and collect it the next day, which is something to bear in mind. I didn't think we had much but as we supplied all booze ourselves and decorations we had four cars worth of deliveries to do on the day before. So, you need some helpful family, bridesmaids and ushers!"
During the wedding breakfast, provided by Acclaim Events, the guests were serenaded by Jeremy Sassoon.
"Jeremy was fantastic during dinner on his electric piano. He sang well-known jazz and pop songs from people such as The Beatles and Elton John. He had everyone waving their hands and singing along was so much fun."
As they chose a dry hire venue, Emily and Rob could choose drinks to suit their tastes.
"Our wedding wine was from Majestic Wine. They have a fantastic service where you go and try the wines, order it and it is delivered straight to your venue. Whatever you don't drink, you can return and get a refund on."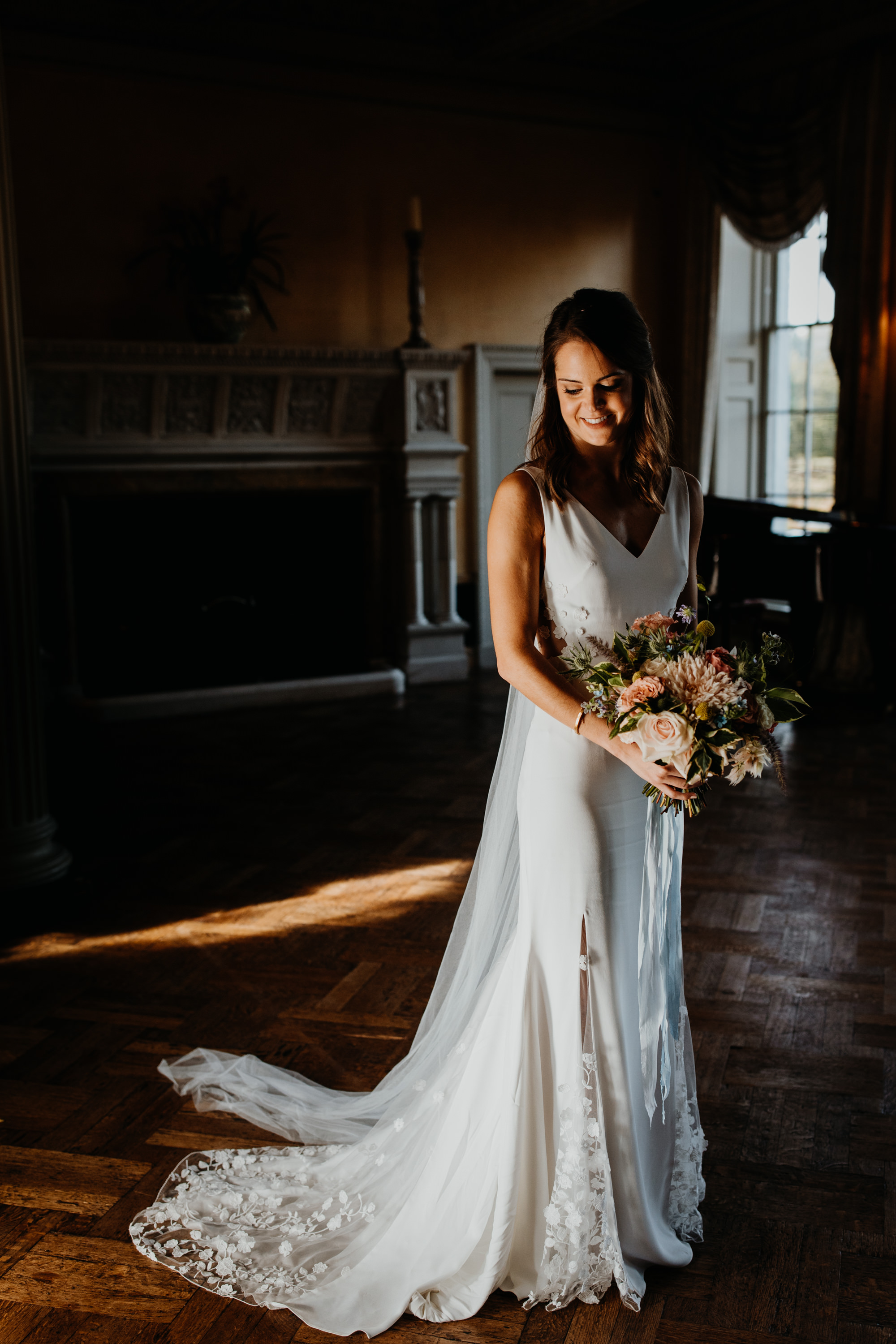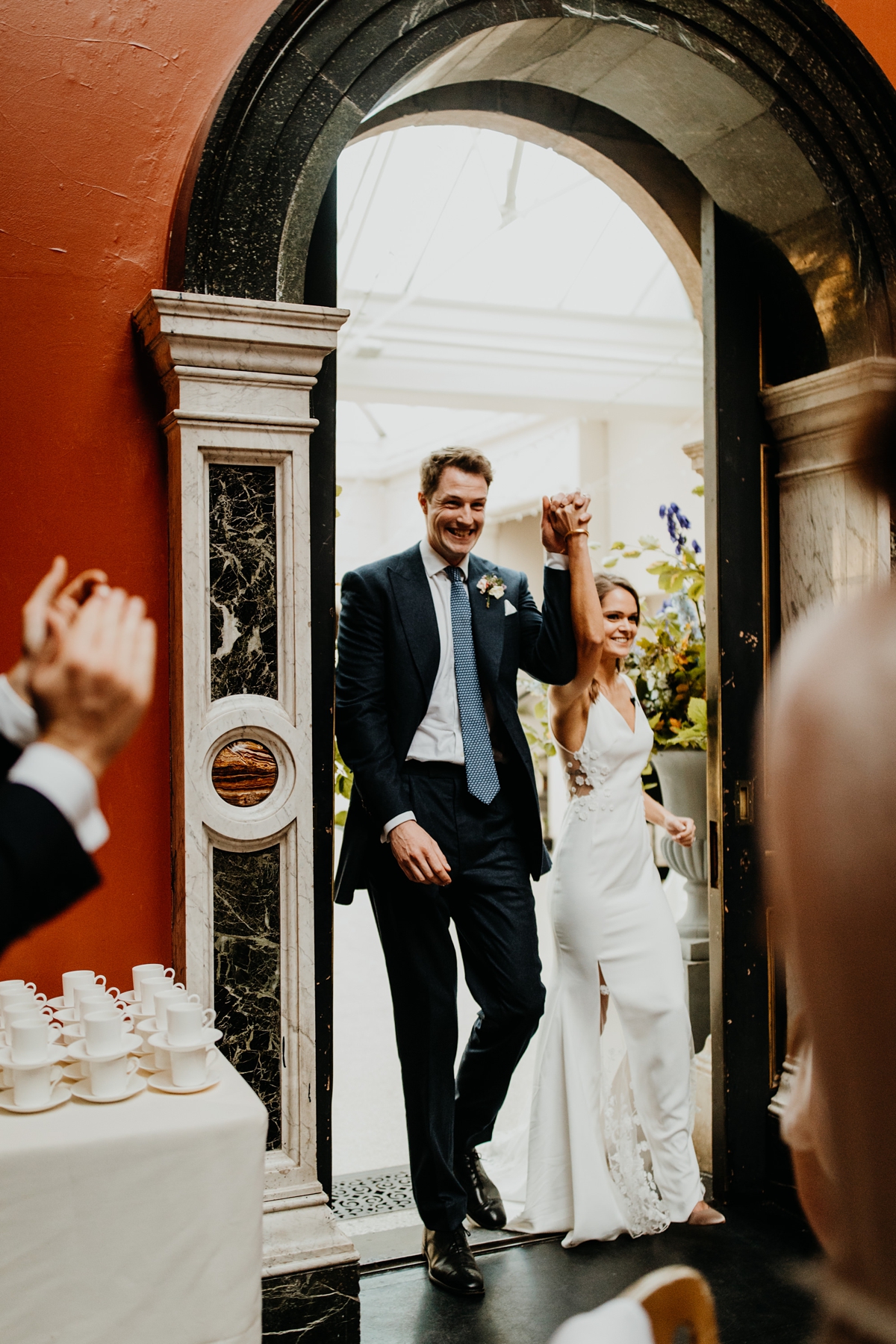 Emily chose to do a speech and for her, it was the best part of the day.
"I was so, so nervous in the weeks leading up to the wedding about doing it. However, when I took the microphone and saw everyone smiling at me and encouraging me I felt so relaxed and happy and excited that I really enjoyed doing it (and I normally hate public speaking!). For me, it was a chance to thank everyone for coming, thank those closest and most special to me and of course talk about Rob. You truly are so grateful to everyone coming to your day and it's great to express it. It was such a memorable part of the day."
The magnificent frosted wedding cake was decorated with fresh flowers.
"Our three tier, semi-naked cake of chocolate, vanilla and lemon was made by one of the chefs at my dad's golf club."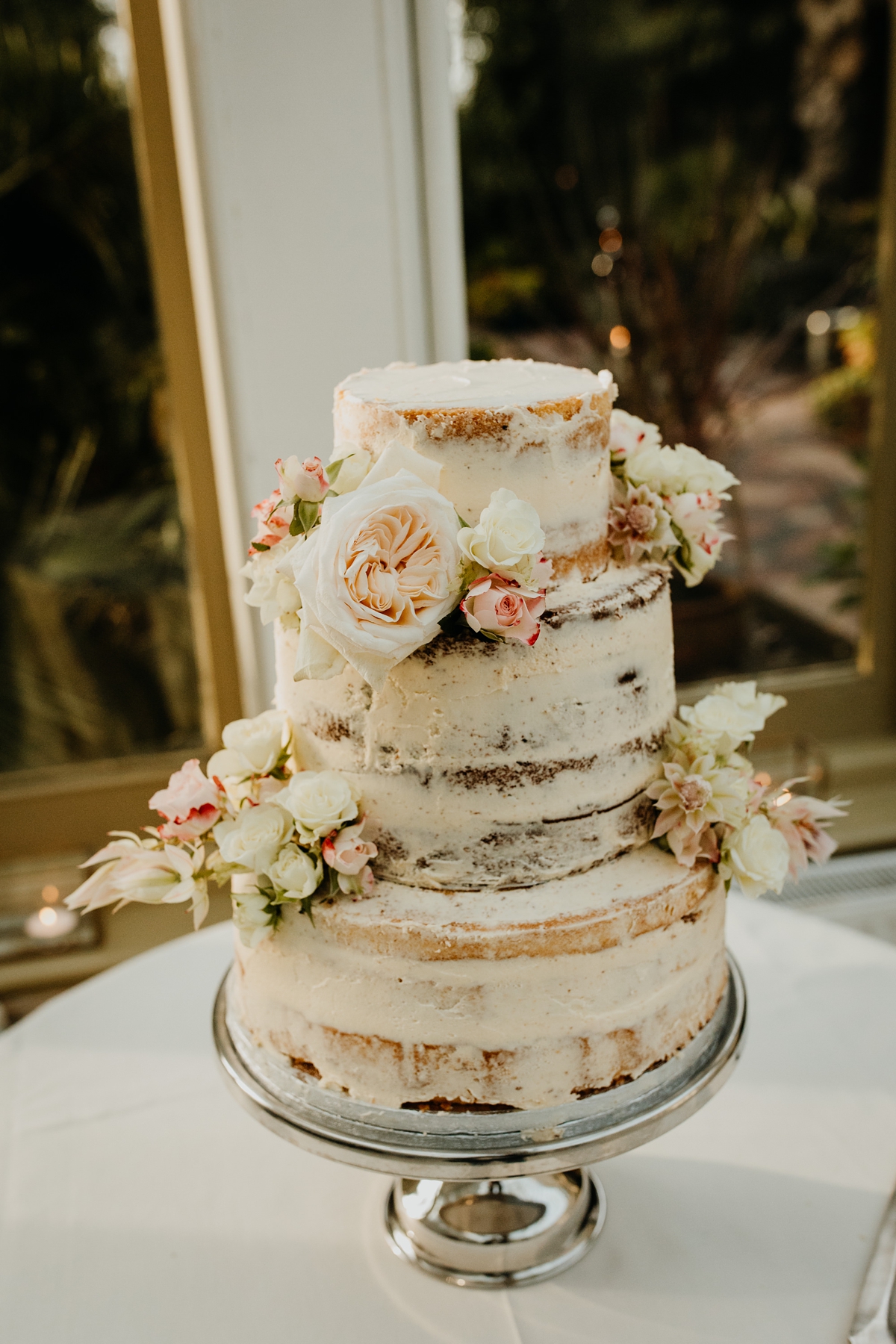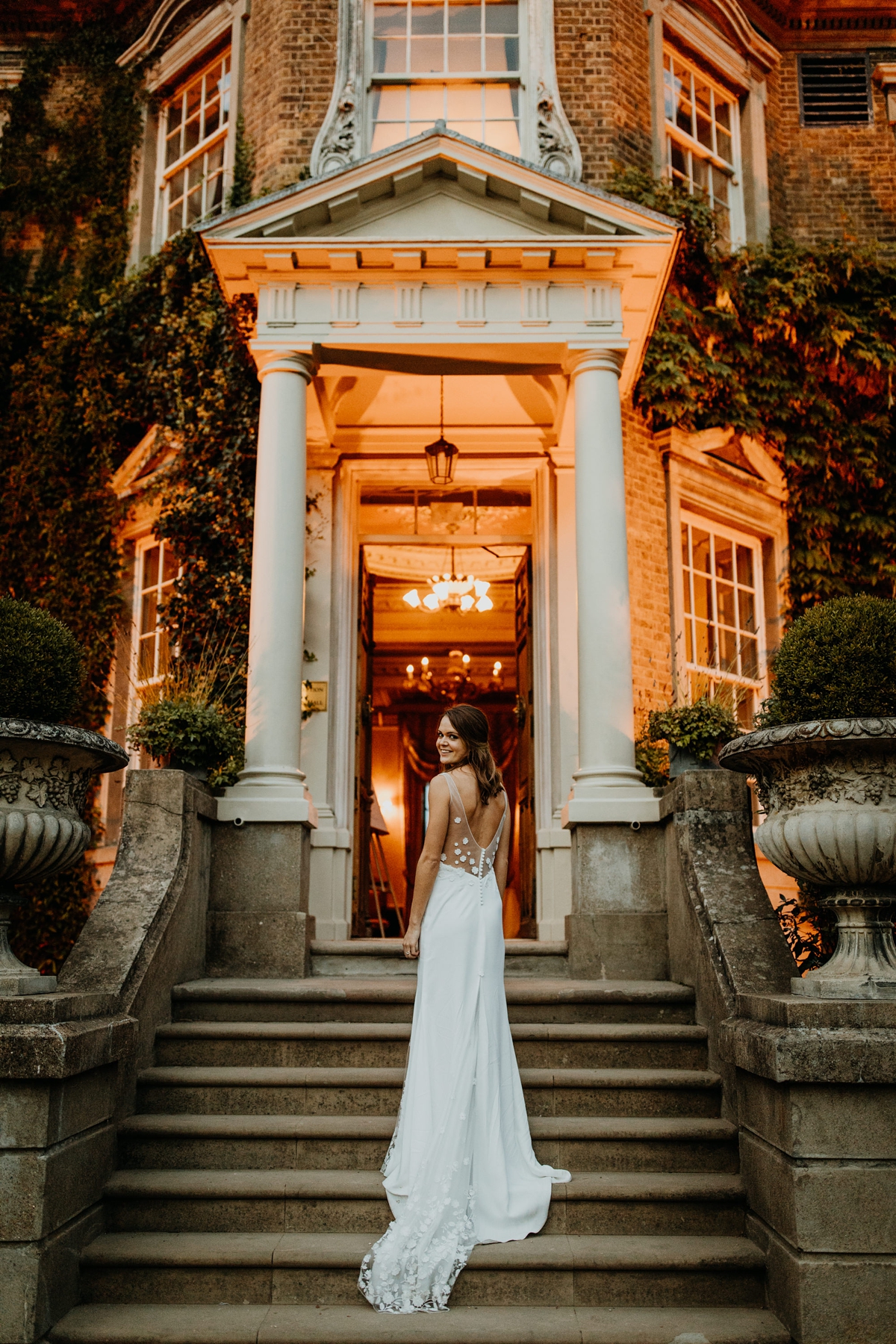 After-dinner music came from band and DJ Soul Beat but first came the bride and groom's dance to Luther Vandross' 'Never Too Much'.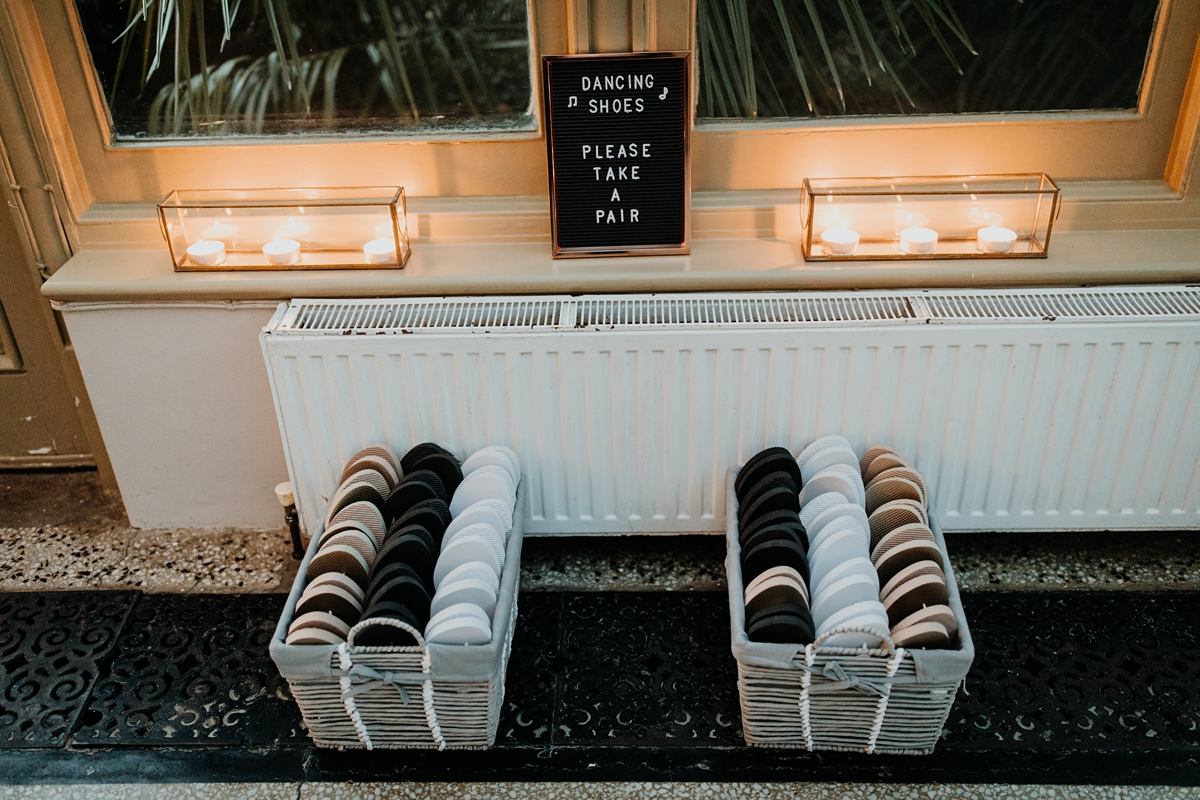 "We wanted something upbeat and that others could join in with. We heard this in a bar on holiday shortly after we had got engaged and we knew immediately this was the 'one'. The lyrics are good too, especially 'We've come a long way and yet this is only the beginning' – fitting for the length of our relationship and a wedding!"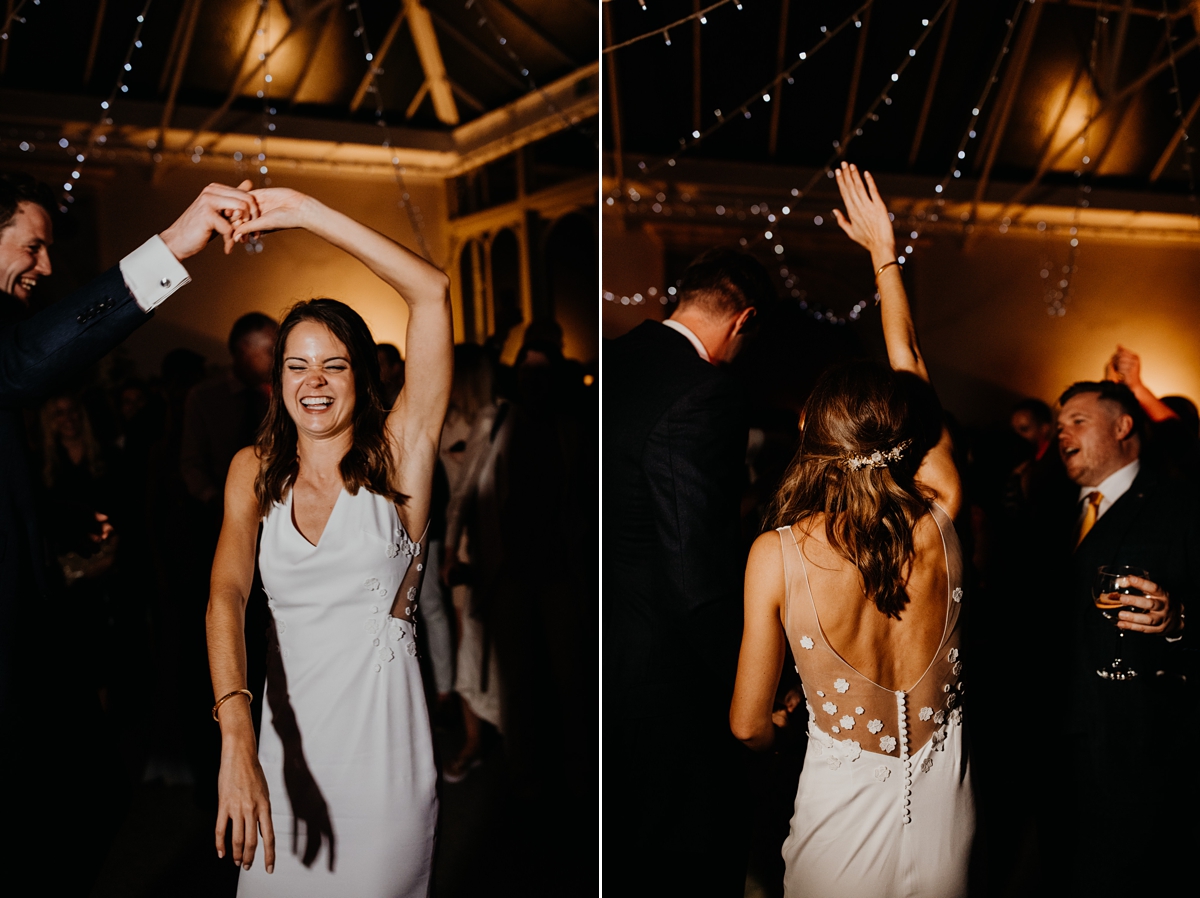 Words of Wedded Wisdom
"These are all very practical tips but things that kept me calm and organised during planning, whilst also having a demanding job working 10-12 hours a day and a busy social life which I wanted to maintain.
Make a joint email address you both have access to – then you can both liaise with suppliers, do all admin from here and you both feel involved. It also keeps all wedmin separate from other everyday emails.
Make a shared spreadsheet you can both edit on laptops/phones/ iPads on OneDrive with a To Do list that is constantly updated on-the-go so that you both stay on top of everything. There should be tabs for budget, order of the day, honeymoon, to do… everything!
If you have a stressful job with long hours and also want to have a social life, then don't take on more DIY than you can handle. I didn't want it to take over my life so I kept it minimal.
Do bits of wedmin as and when you can, even if it feels too soon. I ordered confetti from the beach five months in advance, or chose my hair piece on a bus and ordered from my phone whilst I was on the move. Tick as much off as you can! Even the order of the day can be started well in advance. I'd done everything a month or so before and it made the build-up really chilled."
"Make a REALLY detailed on the day schedule for the ushers and then you don't have to worry (although on the day you won't care about anything – I didn't even see the cheese I had spent hours deciding on, I just spent my time on the dance floor). If you have some ushers who have got married before that's also a bonus as they will understand that they need to follow the schedule in detail.
Do a speech. It was a true highlight of my day and I actually enjoyed doing it.
Make planning into dates. The food trials, wine tasting, gin tasting, décor shopping can actually be made into fun date days and evenings if you want it to!
If you're feeling really stressed about the wedding planning, remember why you are getting married; to spend your life committed to the person you love. Take a break, do something different and breathe. It will come together and be fine in the end."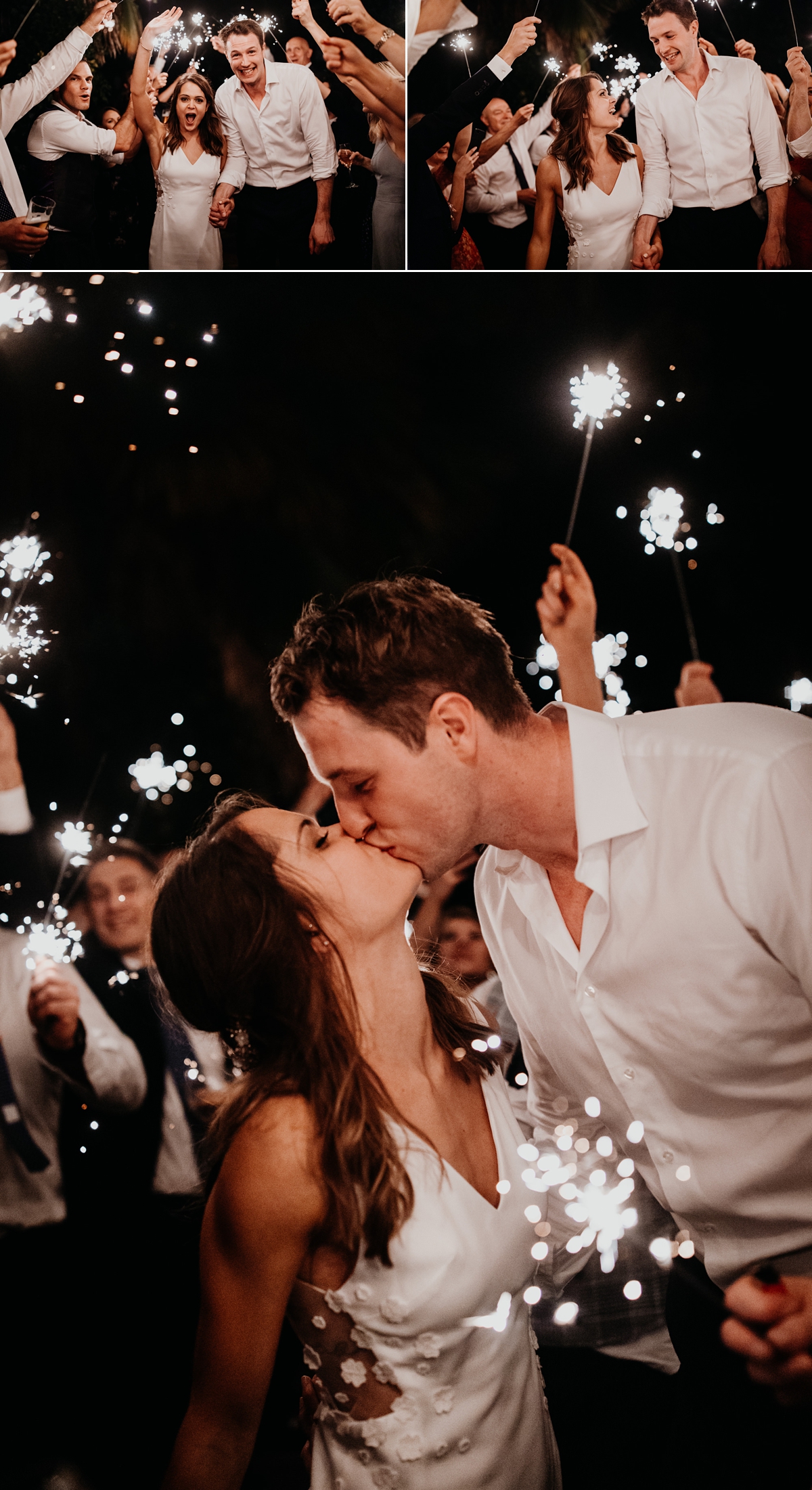 Please join me in sending thanks and congratulations to Emily and Rob for letting us publish their wedding today; it's been wonderful to see these images from Jonny MP and I'm so glad that you found our Facebook group so useful throughout your engagement.
Ele xx