Today's bride has some really important wisdom to share that's well worth reading. It can be a tricky subject to broach when you're in the midst of wedding planning; to stop and say you're actually finding things difficult, and also how to bounce back when things go awry?
In the end though, despite the hurdles they faced, our lovely couple had a wonderful, relaxed day in an idyllic rural location full of natural beauty. Kerrie, a full time mum, and Lee, who owns a construction company, were married on the 2 June 2018 at Wilderness Wood, East Sussex – 62 acres of glorious woodland, and home to small businesses, a cafe, workshop, kitchen garden, marquee, and camping.
Images by Georgina Piper Photography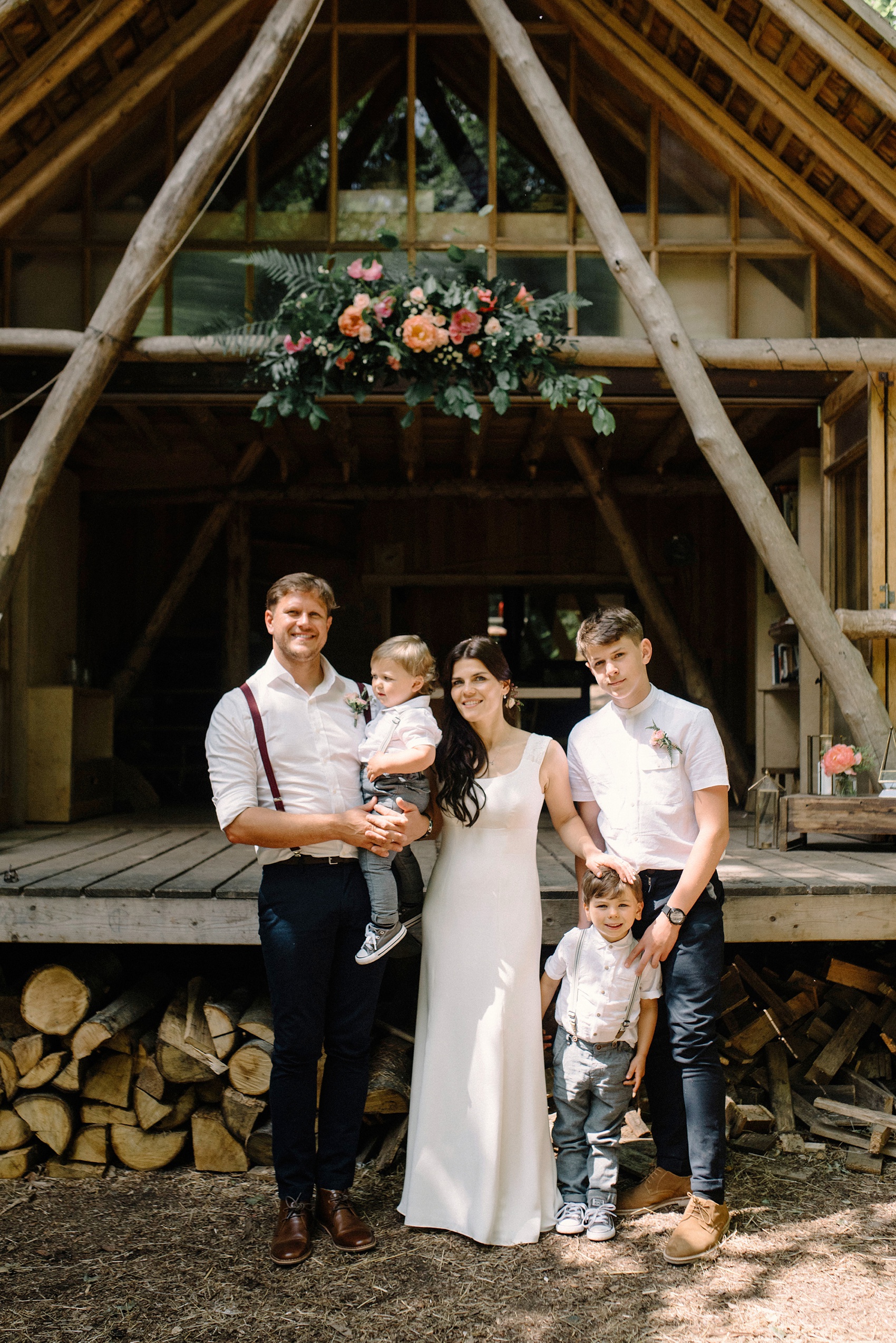 One of the aspects of planning that Kerrie found difficult was in deciding on a wedding dress, but what a beauty she ended up with – an elegant, clean-lined sleeveless Empire line design, with a touch of subtle and delicate lace on the shoulders. It was a magical, bespoke creation by Tara Deighton (who incidentally also designs and makes beautiful pieces of lingerie).
[RELATED]
"I had a hard time with the dress. I went to see Tara about having a dress made but didn't really know what I wanted, so went to a couple of shops to have a look and see if there were any designs I liked. I ended up buying one and then decided it wasn't for me."
"Back to Tara I went and asked her to make me a dress. I really struggled with the whole process because I'm so indecisive and quite hard on myself, so never thought I was going to look nice in anything. I decided on something very simple. Once I had the dress on the day I loved it. Tara was great through the whole process."
Kerrie also wore natural leather and wood 'Dansare' clogs by Kitty Clogs Sweden, classic pearl earrings borrowed from a friend, and a diamond necklace previously gifted to her by Lee.
Pretty make-up was taken care of by eco-friendly and natural make-up artist, Ellie Gill, and Kerrie's hair was styled beautifully by Ally B, and adorned with fresh flowers by Wild Rubus Floral Styling.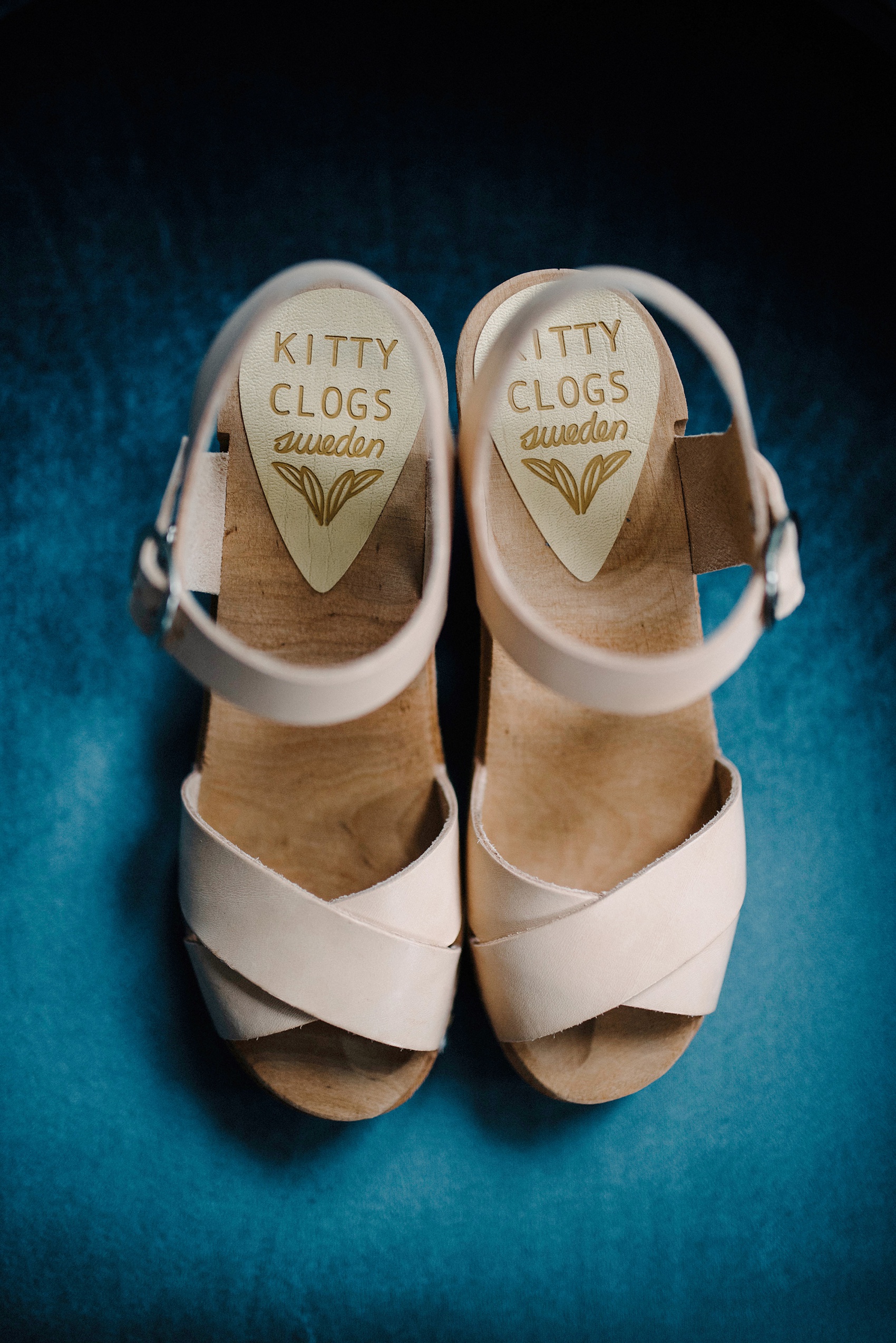 "Neither of us wanted a traditional wedding with a formal feel to it. I searched for lots of different outdoor venues across the country but eventually came across Wilderness Wood, 45 minutes from our home. We wanted a wedding with a relaxed festival feel to it, and somewhere with space for bell tents so we could all camp. We were lucky the weather was perfect, and we couldn't have been happier with the venue."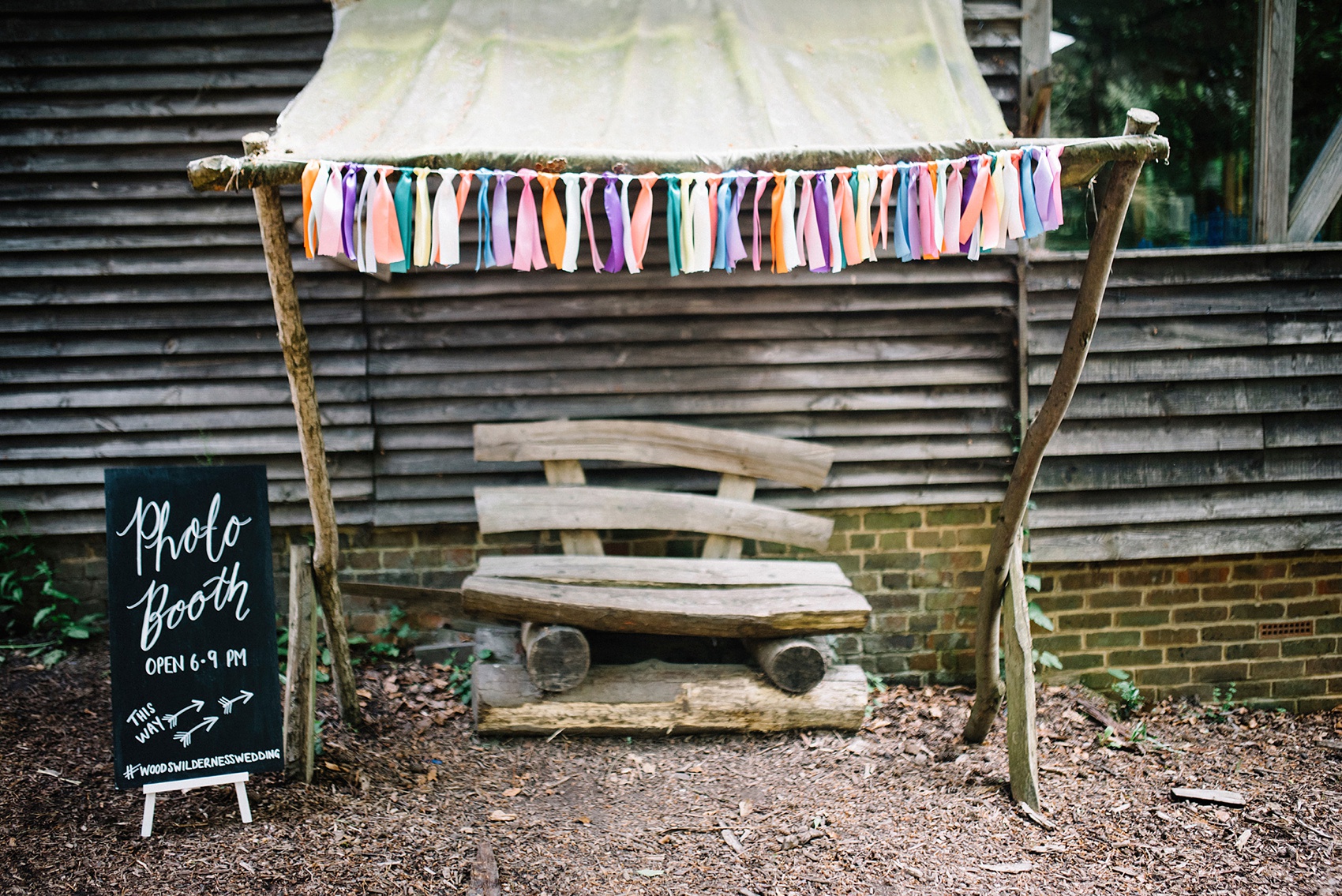 All was set for an enchanting outdoor ceremony, with brightly coloured paper pom poms and ribbon bunting, hay bale seating arranged with hessian coverings (to make things more comfortable!), and wondrous floral arrangements of summer foliage and ferns, roses and peonies by Wild Rubus, who stepped in at last minute with spectacular work.
"We were let down badly by our original florist, so really thought we would end up with no flowers on our wedding day. I asked around and Wild Rubus were recommended. We were so lucky that Caroline only had a small wedding booked in on our day, so could fit us in. She did a great job. I wanted corals, whites and deep pinks with dark green foliage, and flowers with a bohemian style."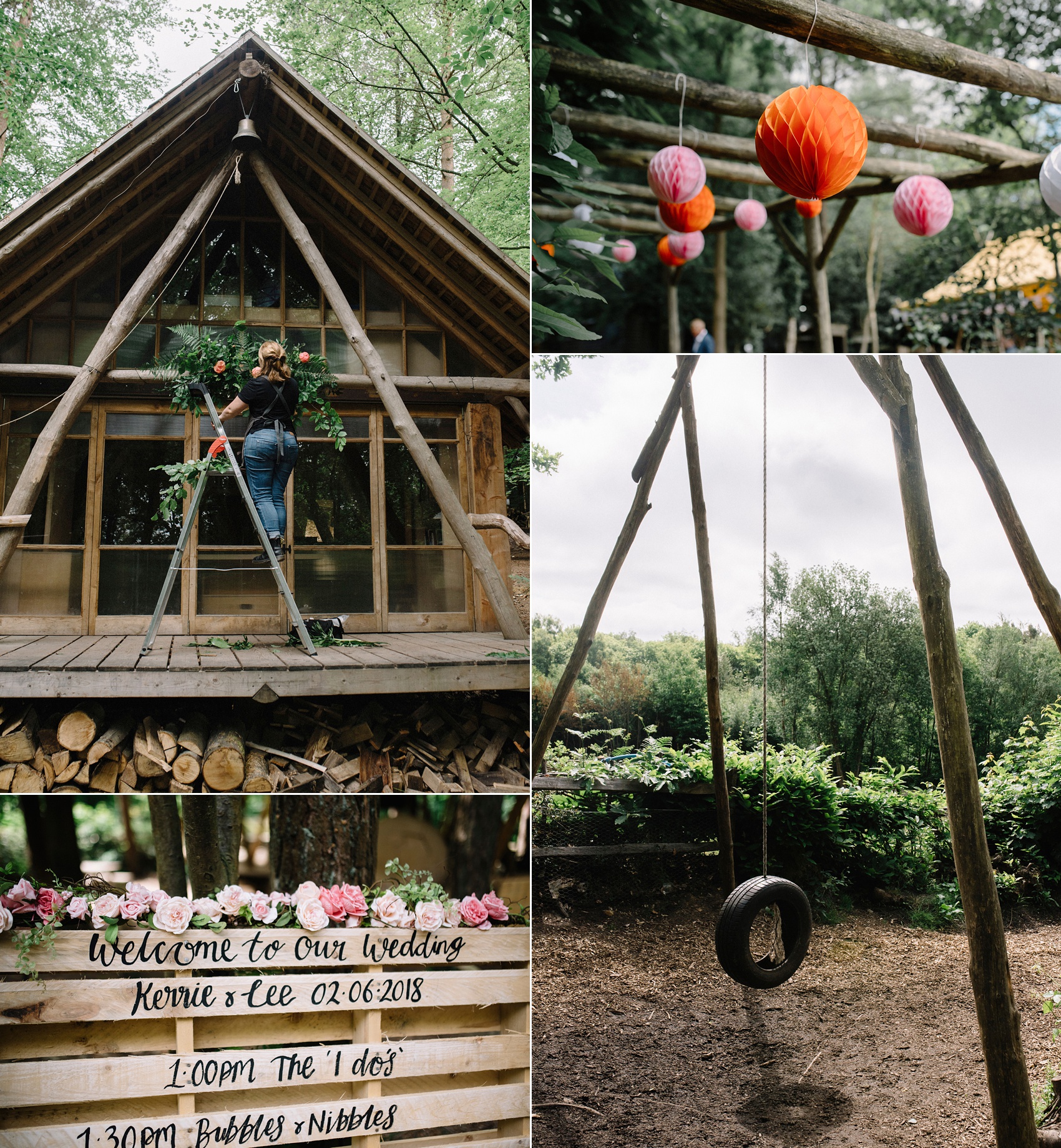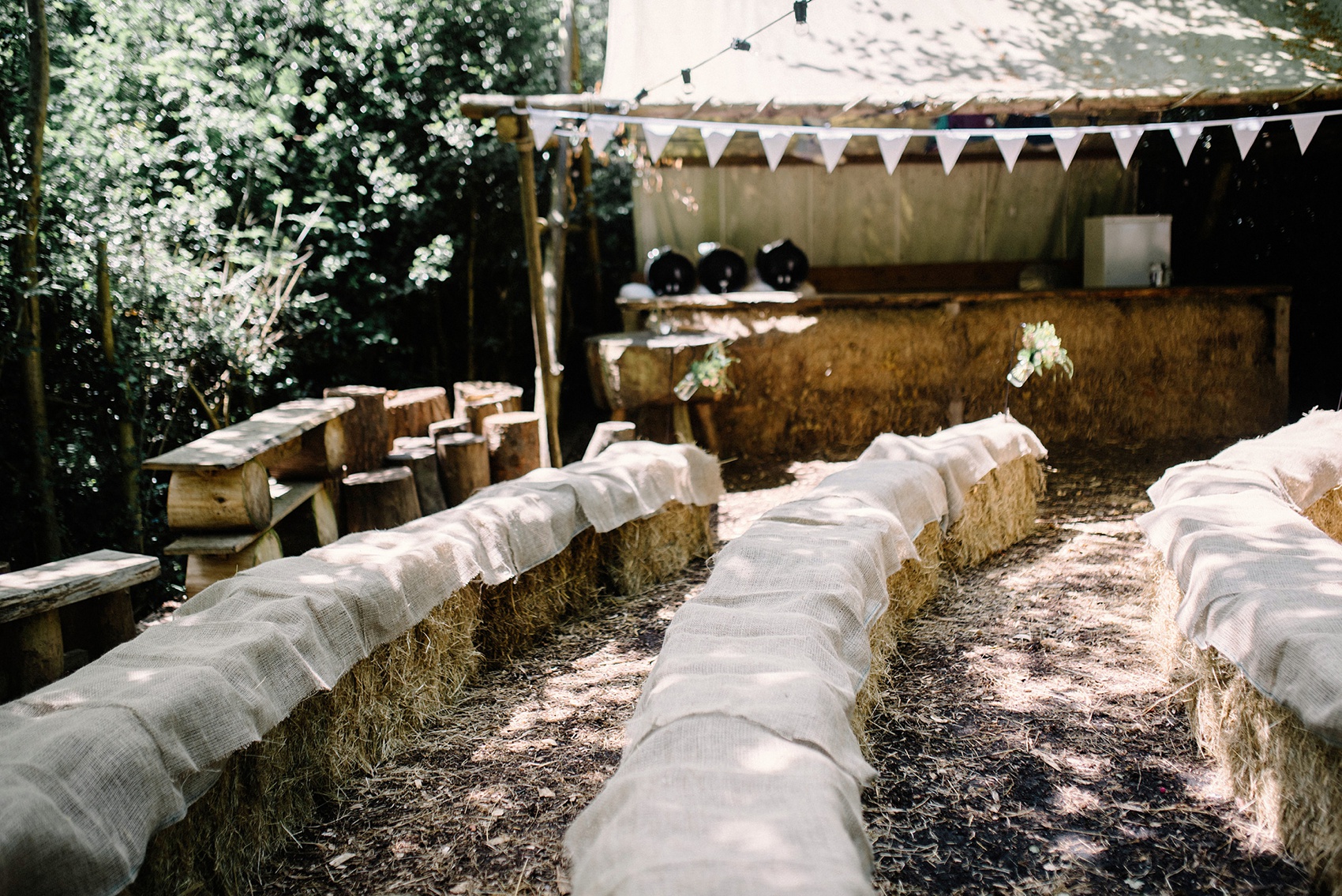 I think Lee's more relaxed and casual groom attire is fantastic, with a shirt and trousers from Ralph Lauren paired with burgundy braces from Debenhams.
Lee's two Best Men wore a combination of matching outfits from Ralph Lauren, alongside some other pieces from Next.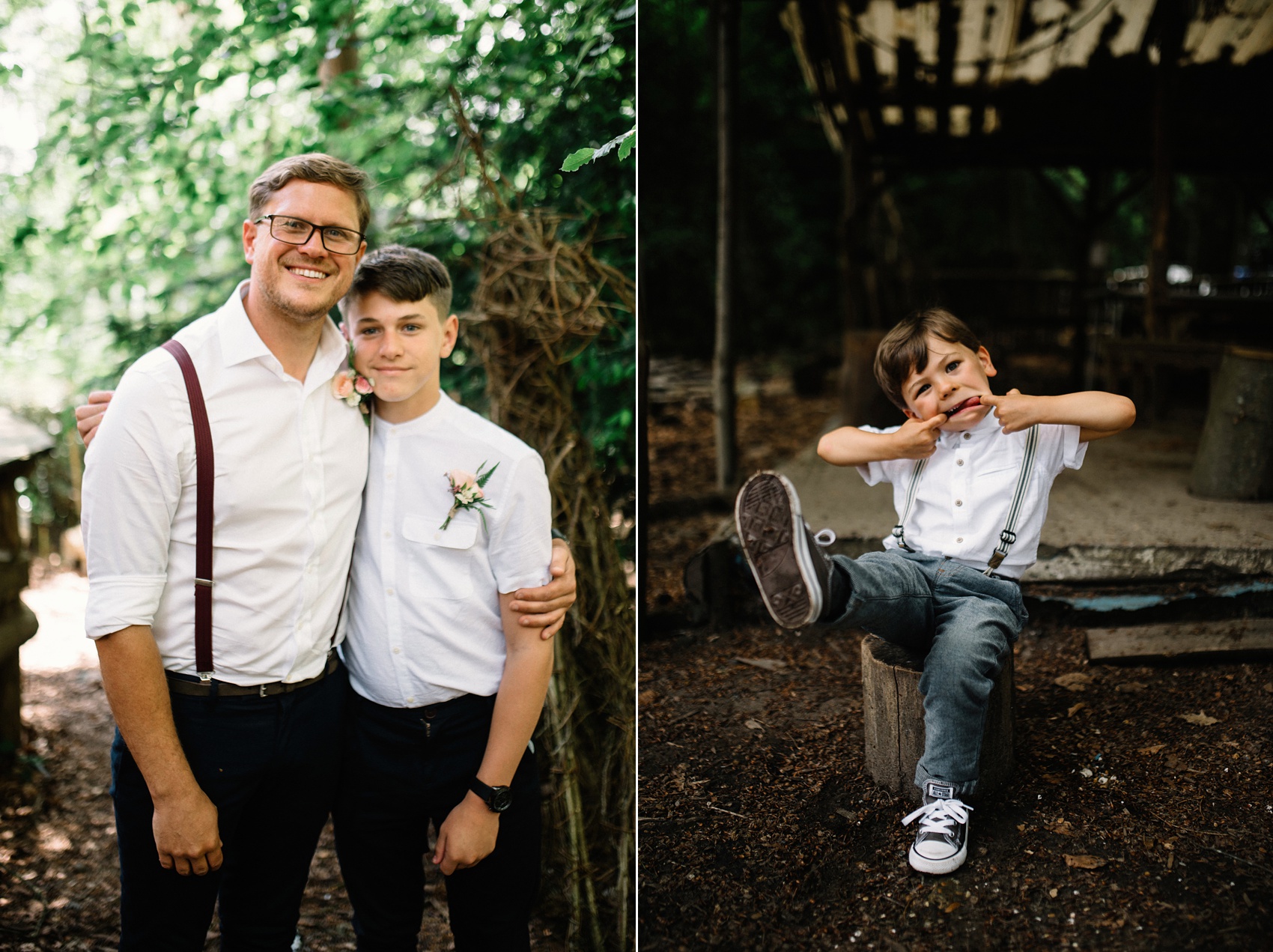 The couple first met in London on a night out, when Kerrie was living there, and Lee was based in Hastings.
"We got chatting, and he reminded me of Olly Murs (I do not fancy Olly Murs, by the way!) and he was just really lovely. My friend did the match-making, she gave him my number and he called straight away just to check it was a real number!"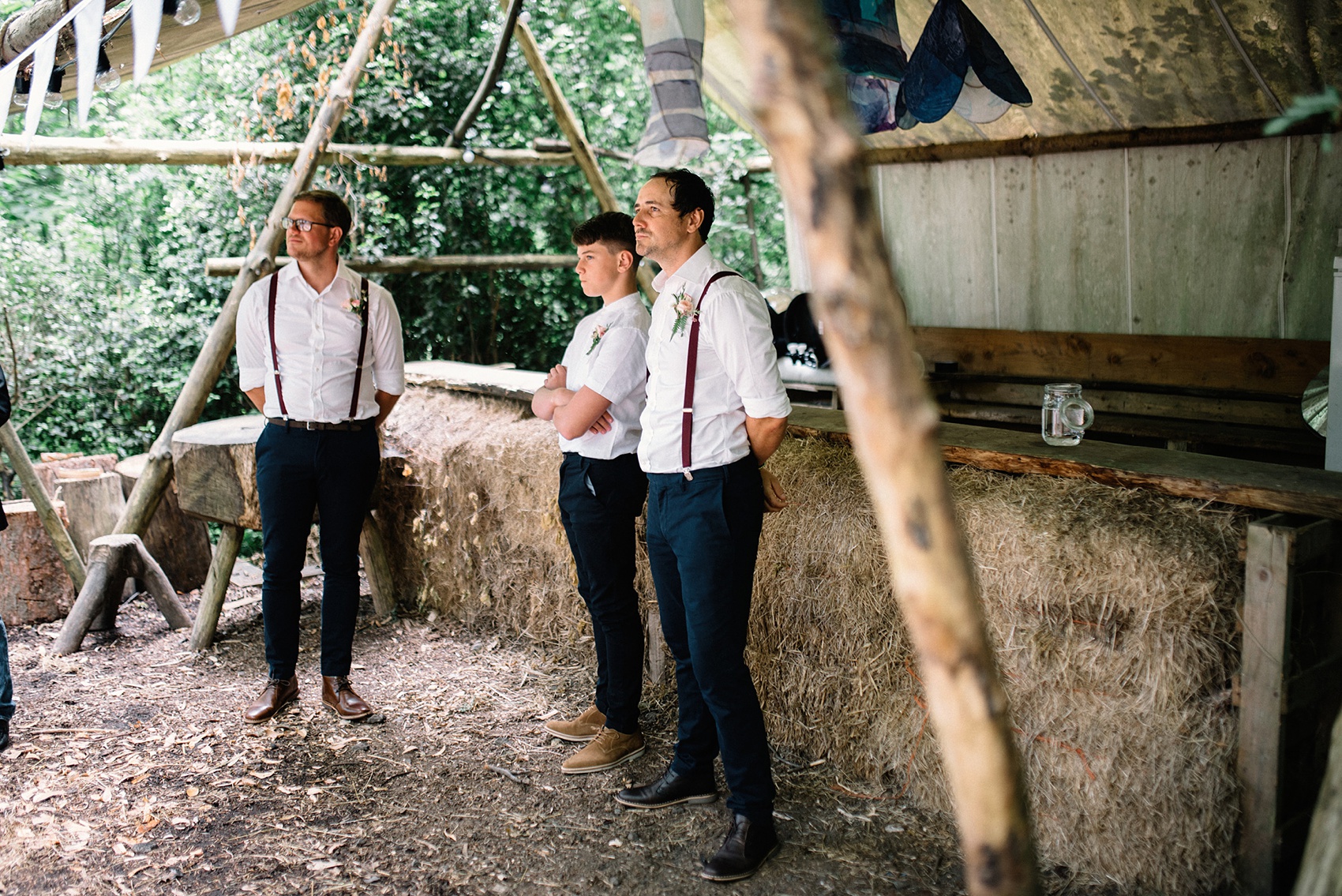 They enjoyed their first date together in London a month later, and both had a fantastic time (leading to more dates!)
"This led to more visits, a pregnancy (oops) and 3 months later I moved to Hastings. Lee proposed to me when I was pregnant with our second child. We went to watch Coldplay and Lee had arranged to propose on the stage, but it couldn't go ahead last minute so he proposed to me at home before we left for the gig. It was a great day! We married 2 years later."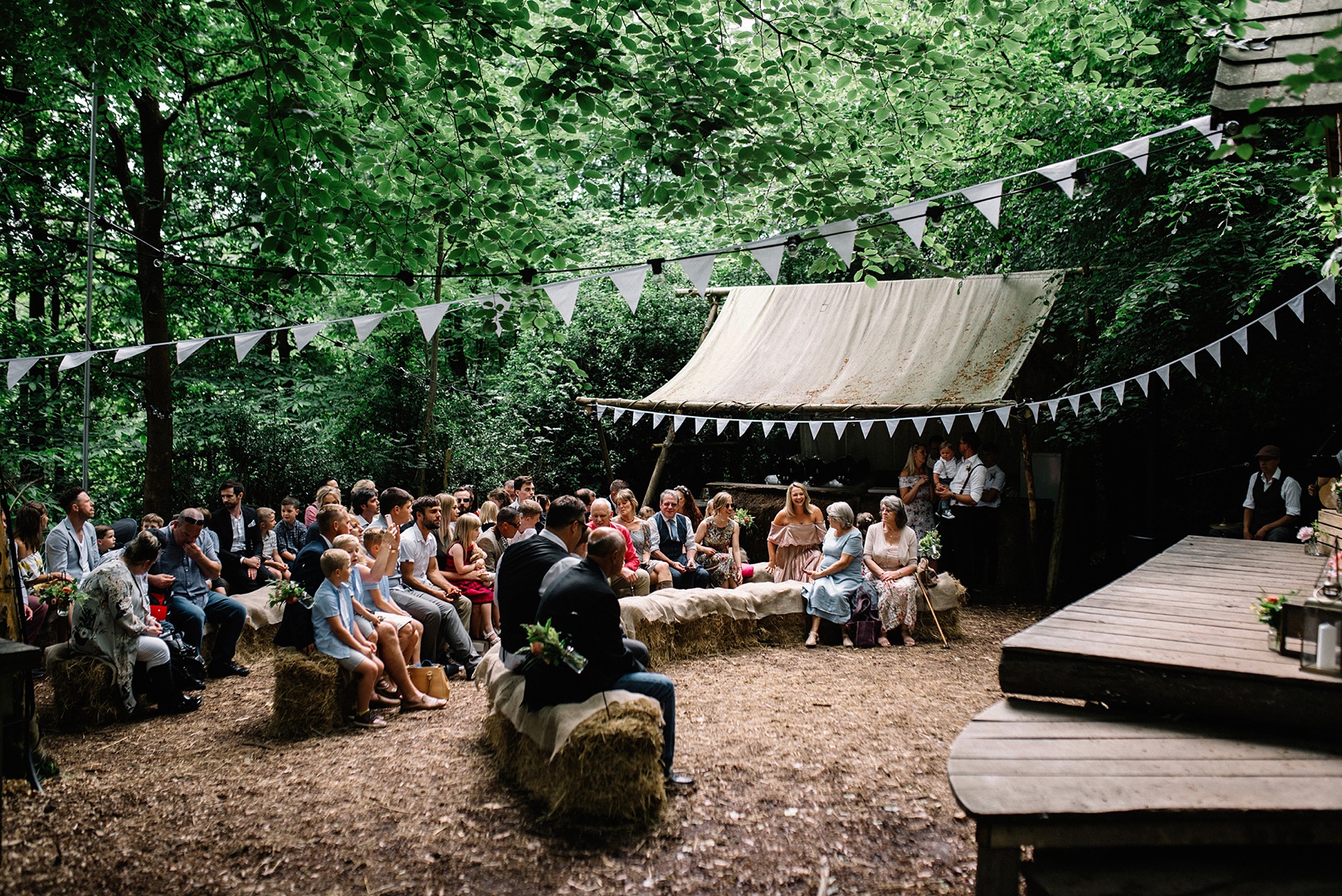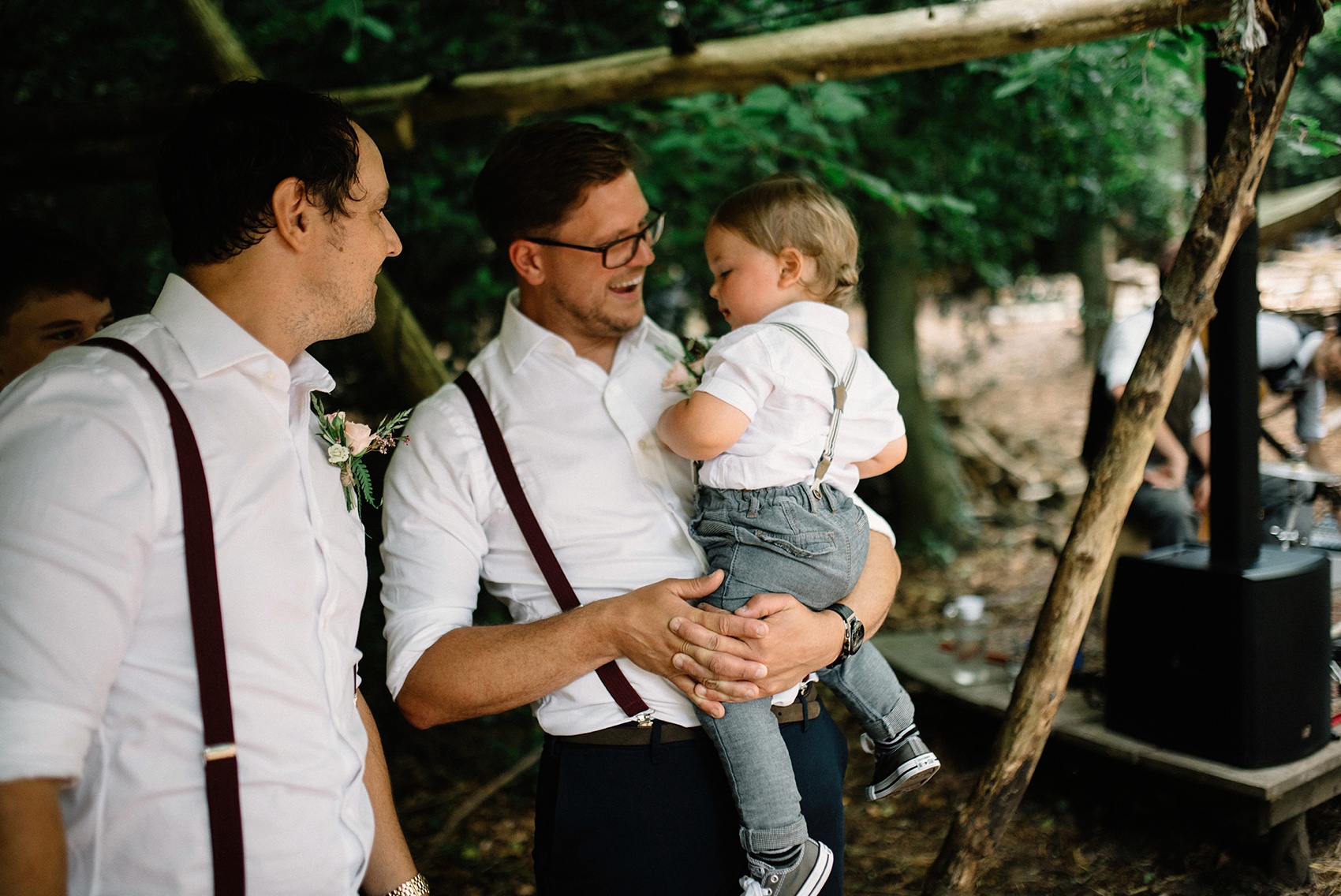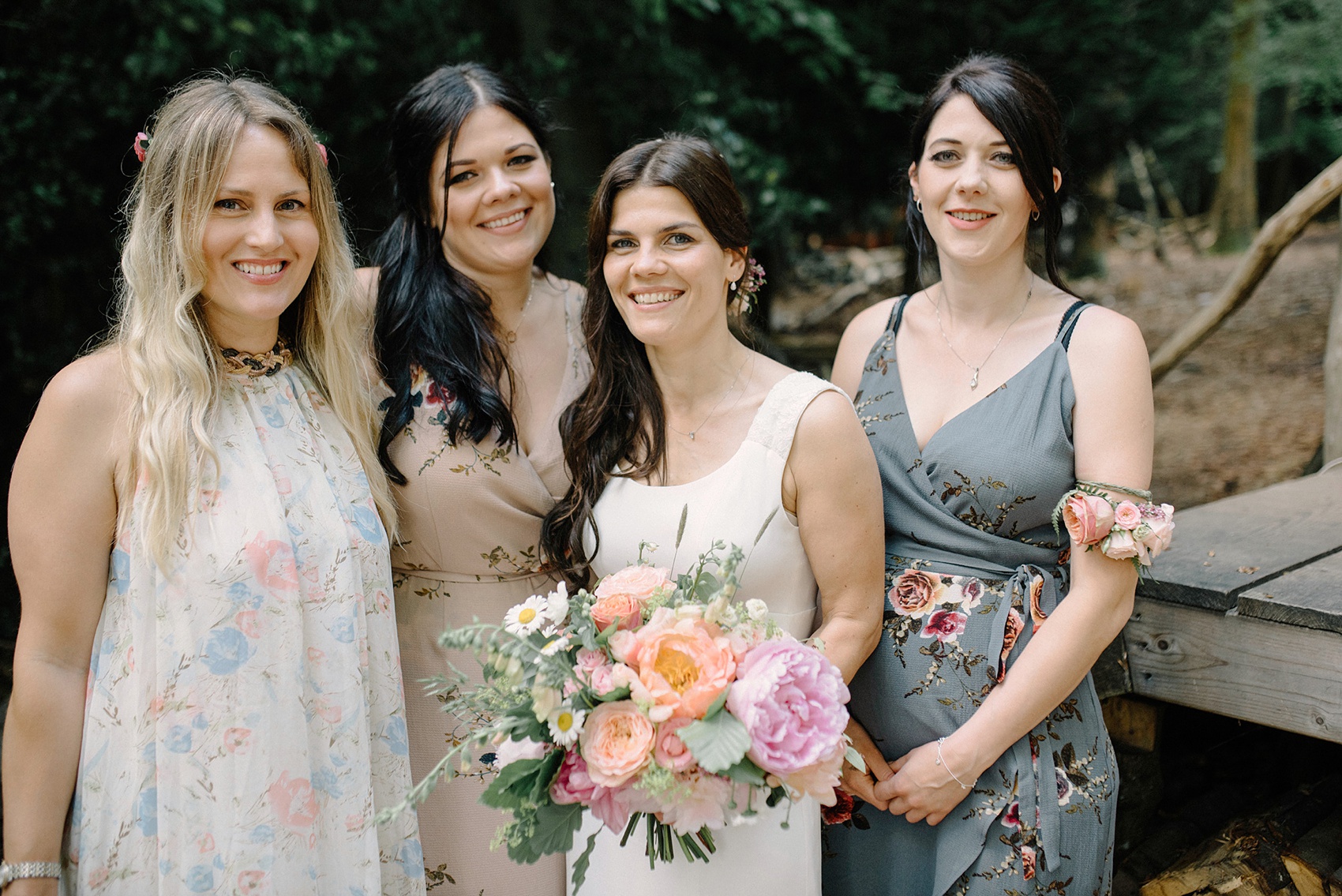 We've featured the vibrant and romantic work of photographer Georgina Piper before on Love My Dress, and it's brilliant to be able to share more of her absolutely charming work with these images.
"Georgina is lovely. We have used her previously for family photographs, so always knew we would use her for own wedding. We both love her work and everything about her, and would highly recommend her. "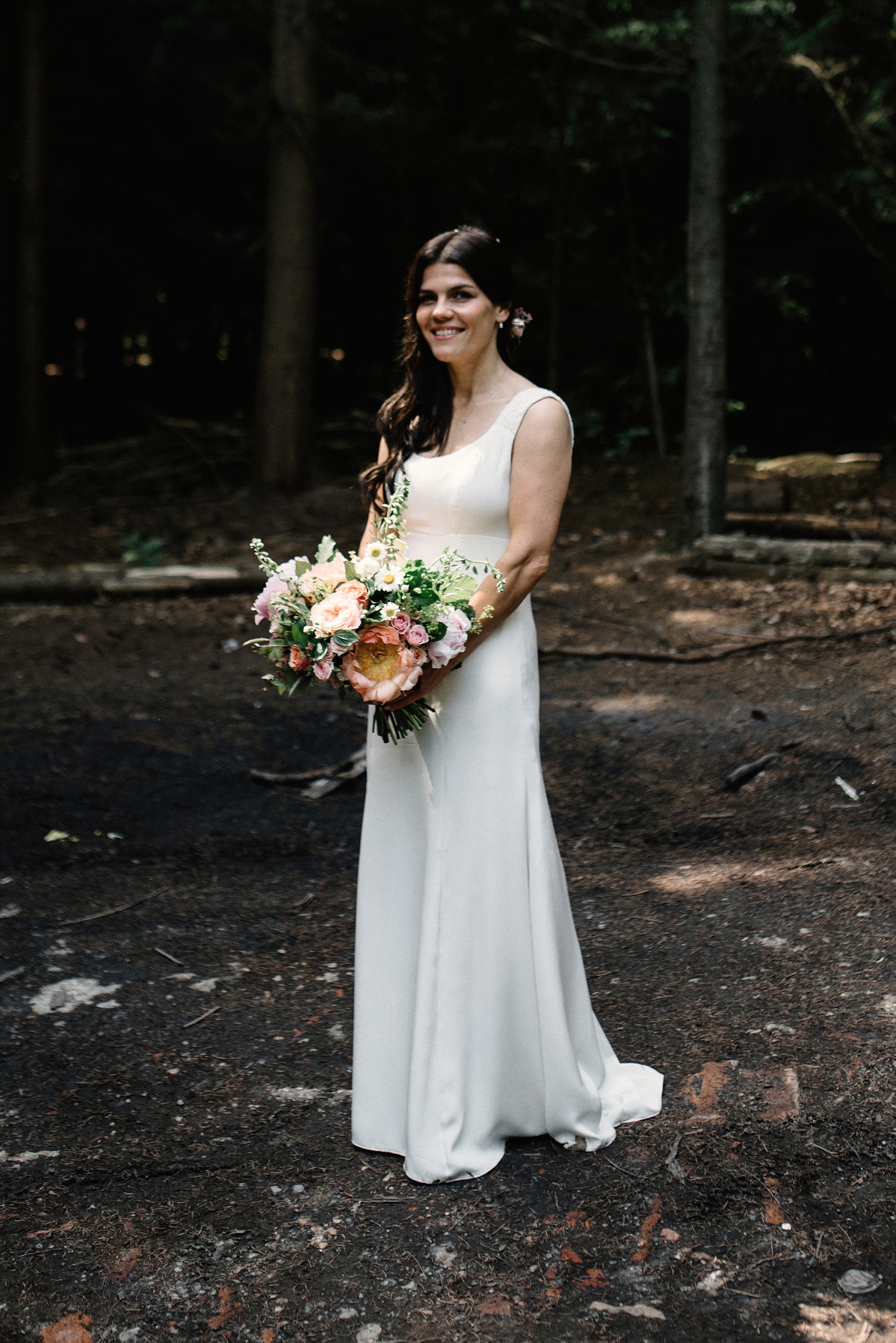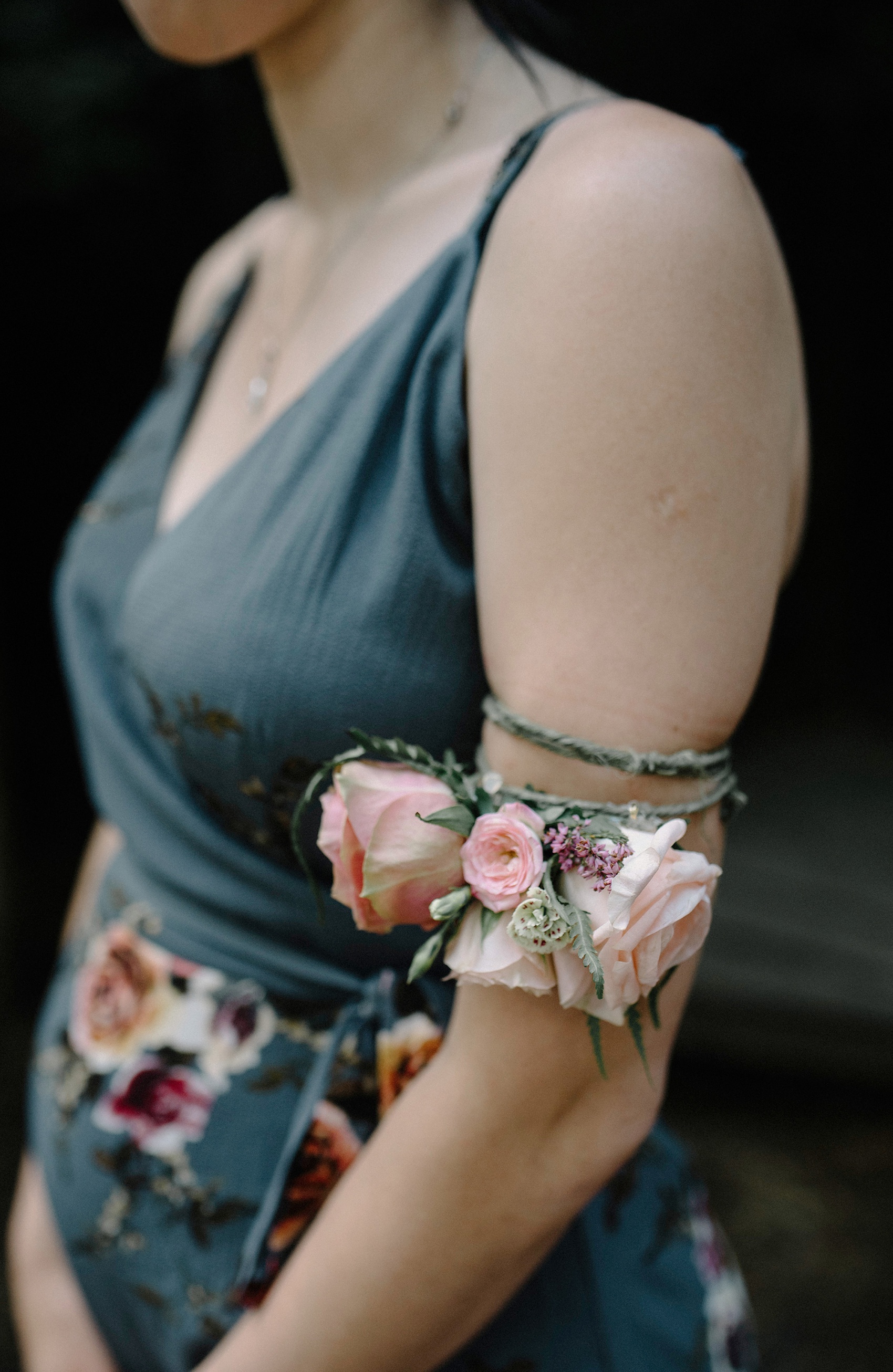 Carrying a dreamy bouquet of roses, peonies, daisies and greenery, Kerrie walked through the trees to begin the ceremony, choosing the Oasis song, Let There Be Love as her entrance music.
"I walked in holding hands with my 4-year old, Jacob, who held the rings, and my sisters (bridesmaids) and Maid of Honour (best friend) followed behind."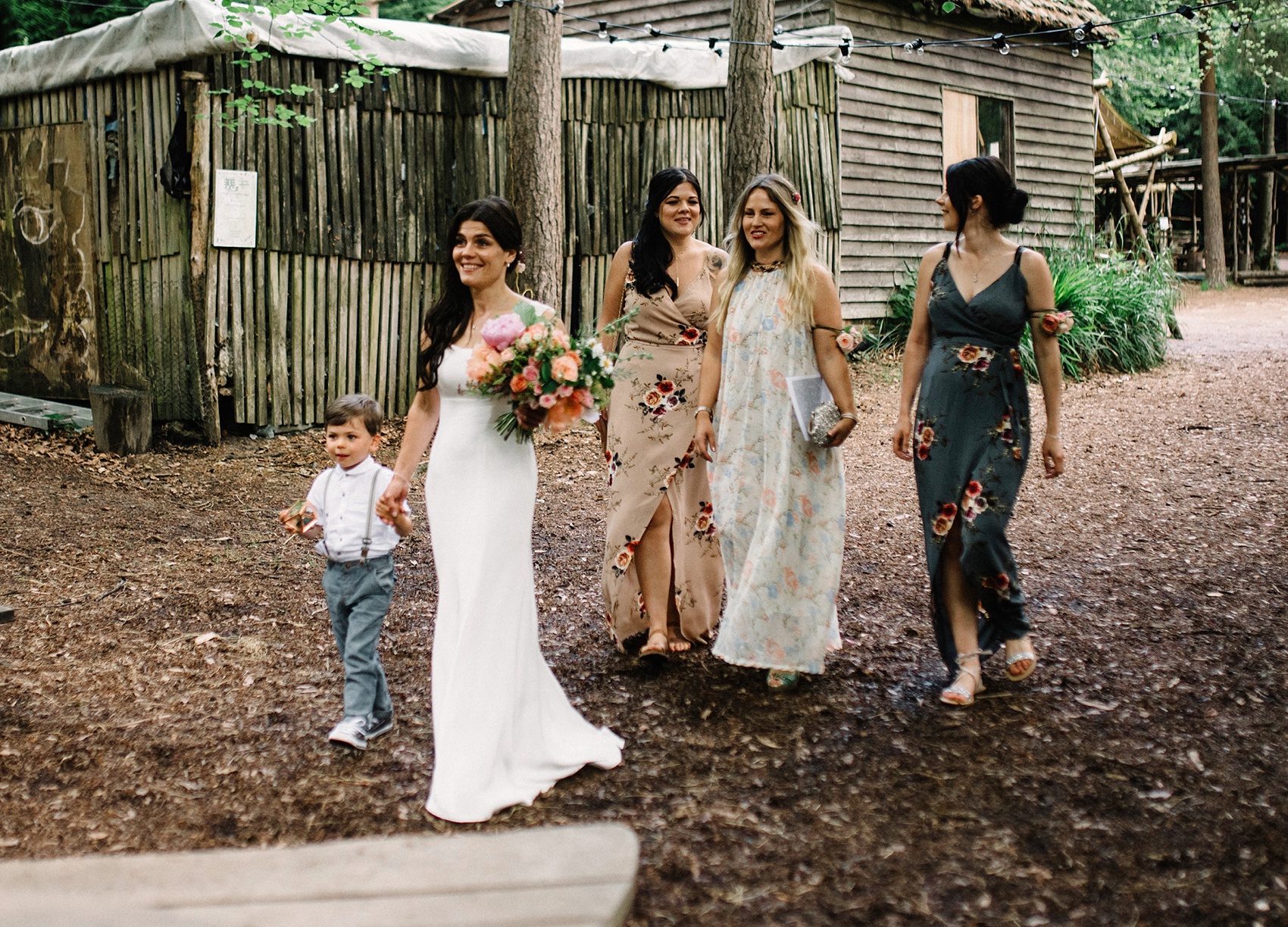 "We went with the standard vows, which were very short and sweet. Neither of us are very mushy so would have felt awkward, and I was so nervous about the ceremony, I wanted to get it over and done as quickly as possible!"
Kerrie and Lee exchanged their vows on a rustic open air stage, and there were touching readings, too – He's Not Perfect, by Bob Marley, and The Future, by Emma Salmon.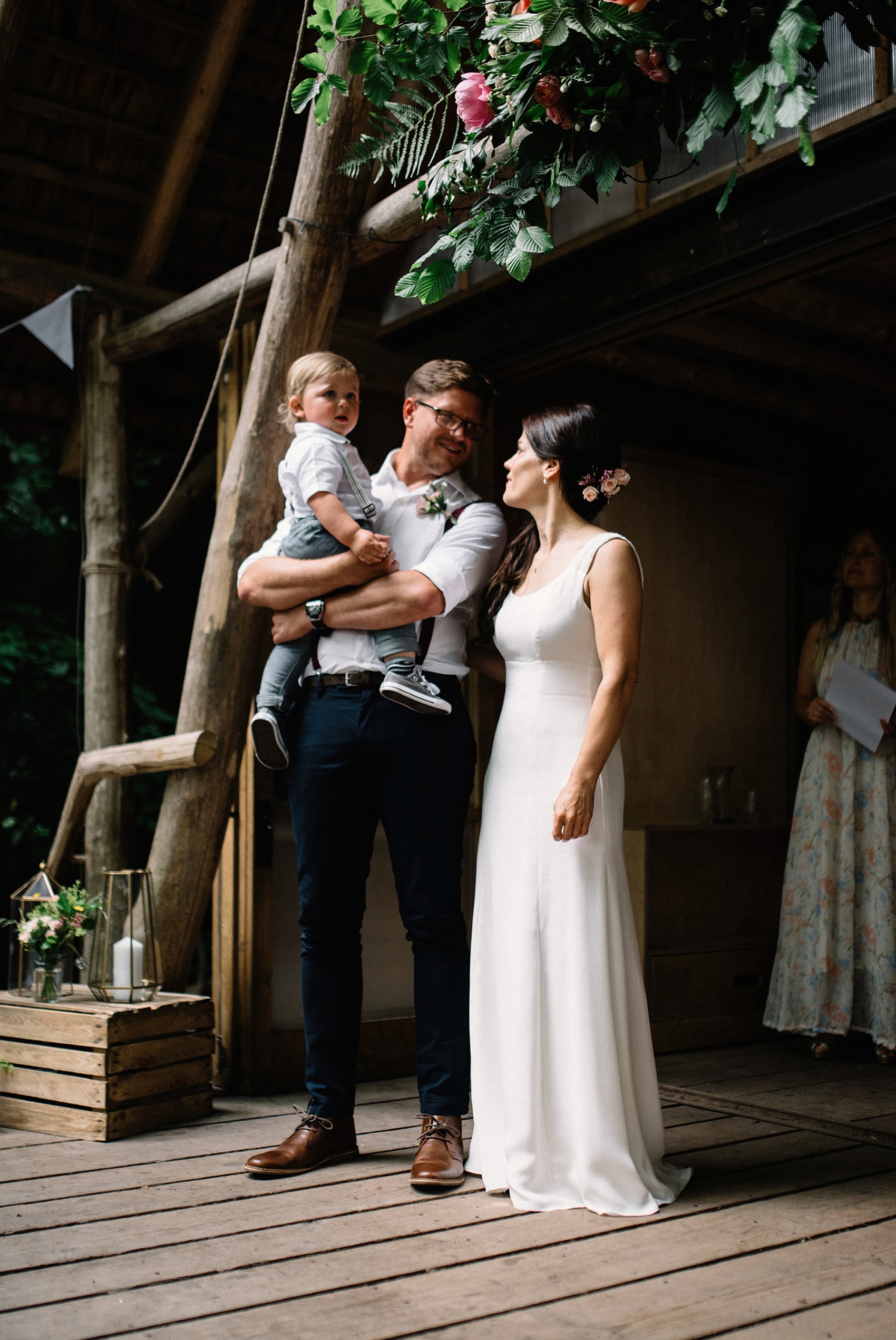 "They were lovely readings, and again not mushy, just really nice and very us. We had them read for us by Lee's sister and my Maid of Honour."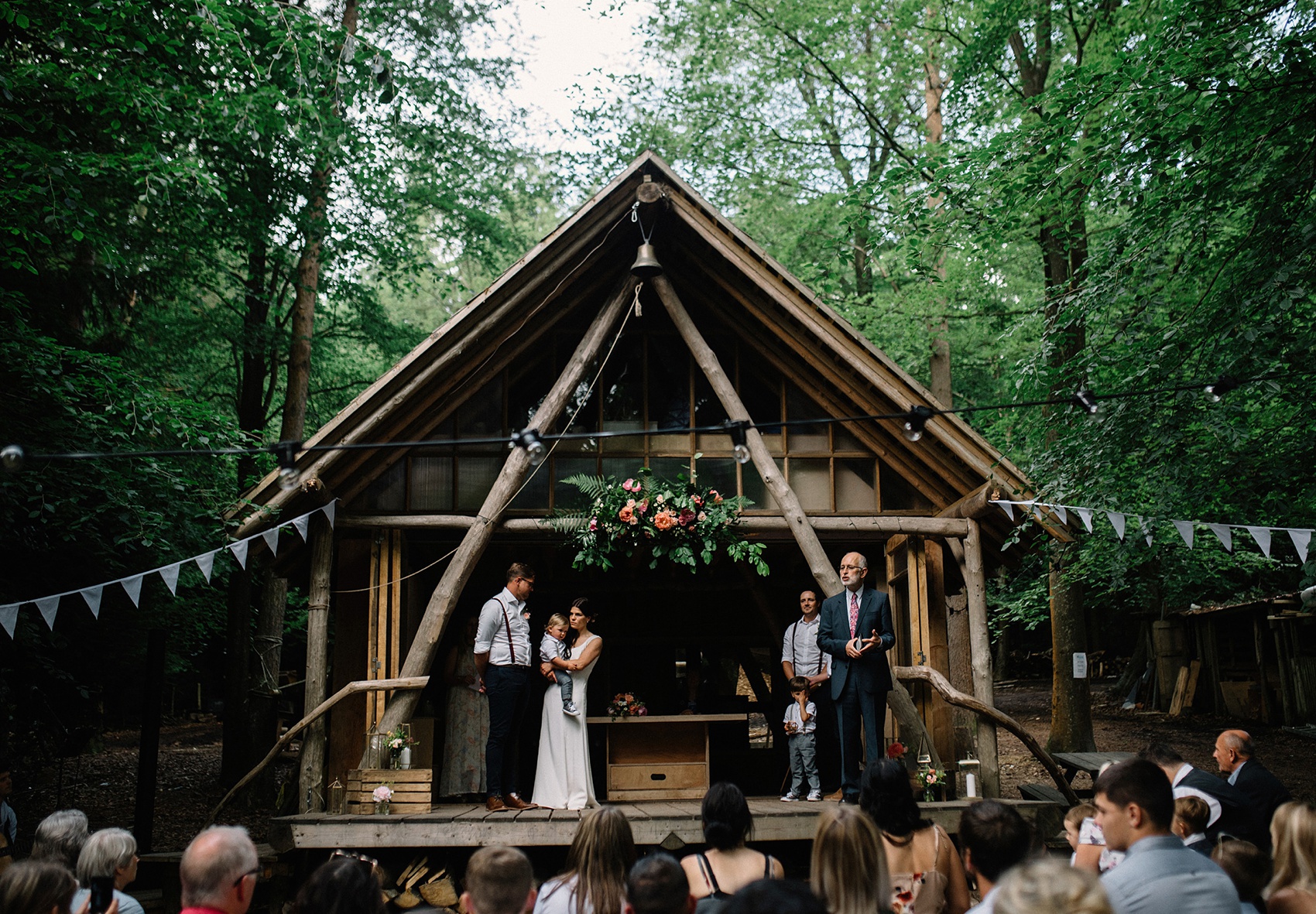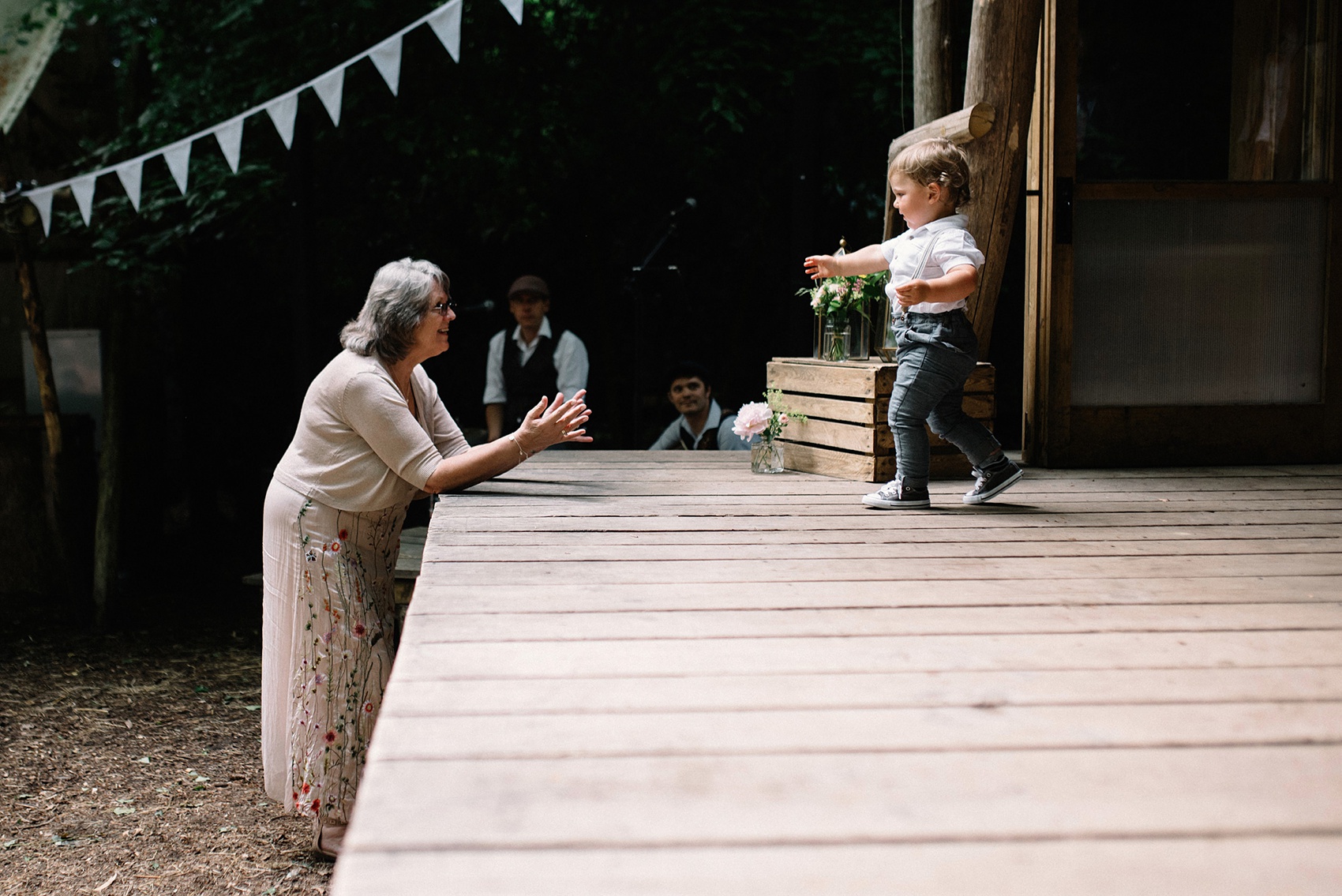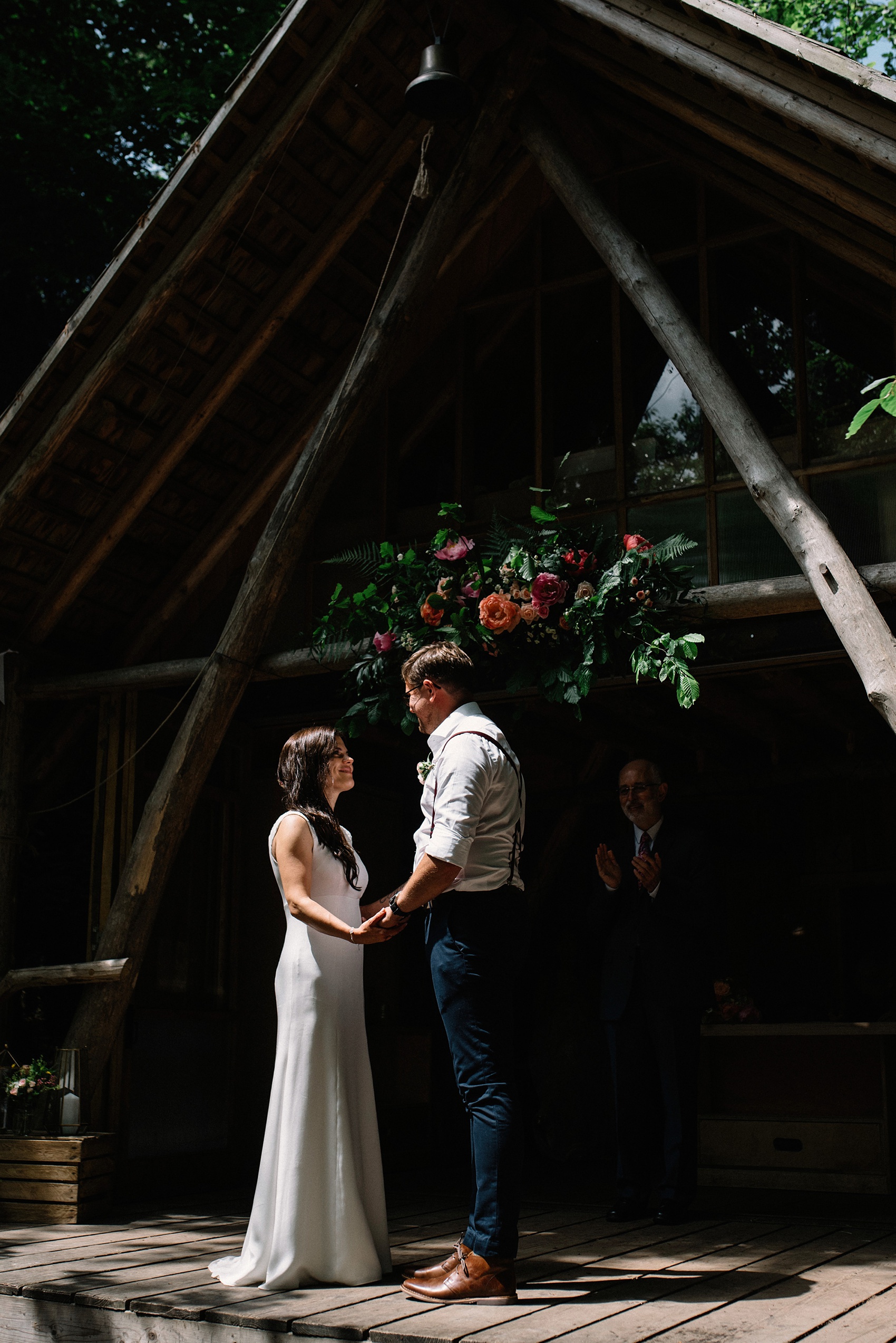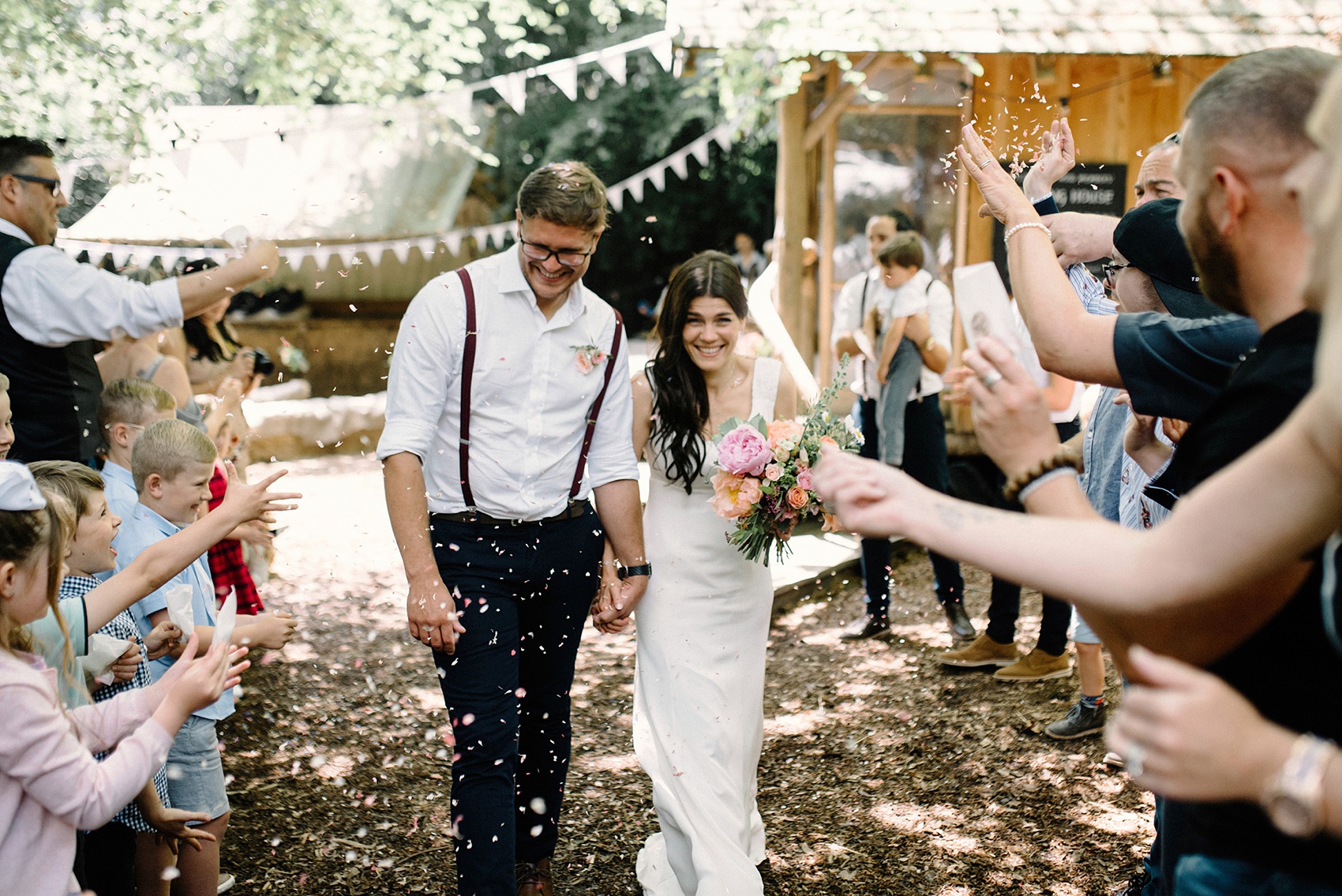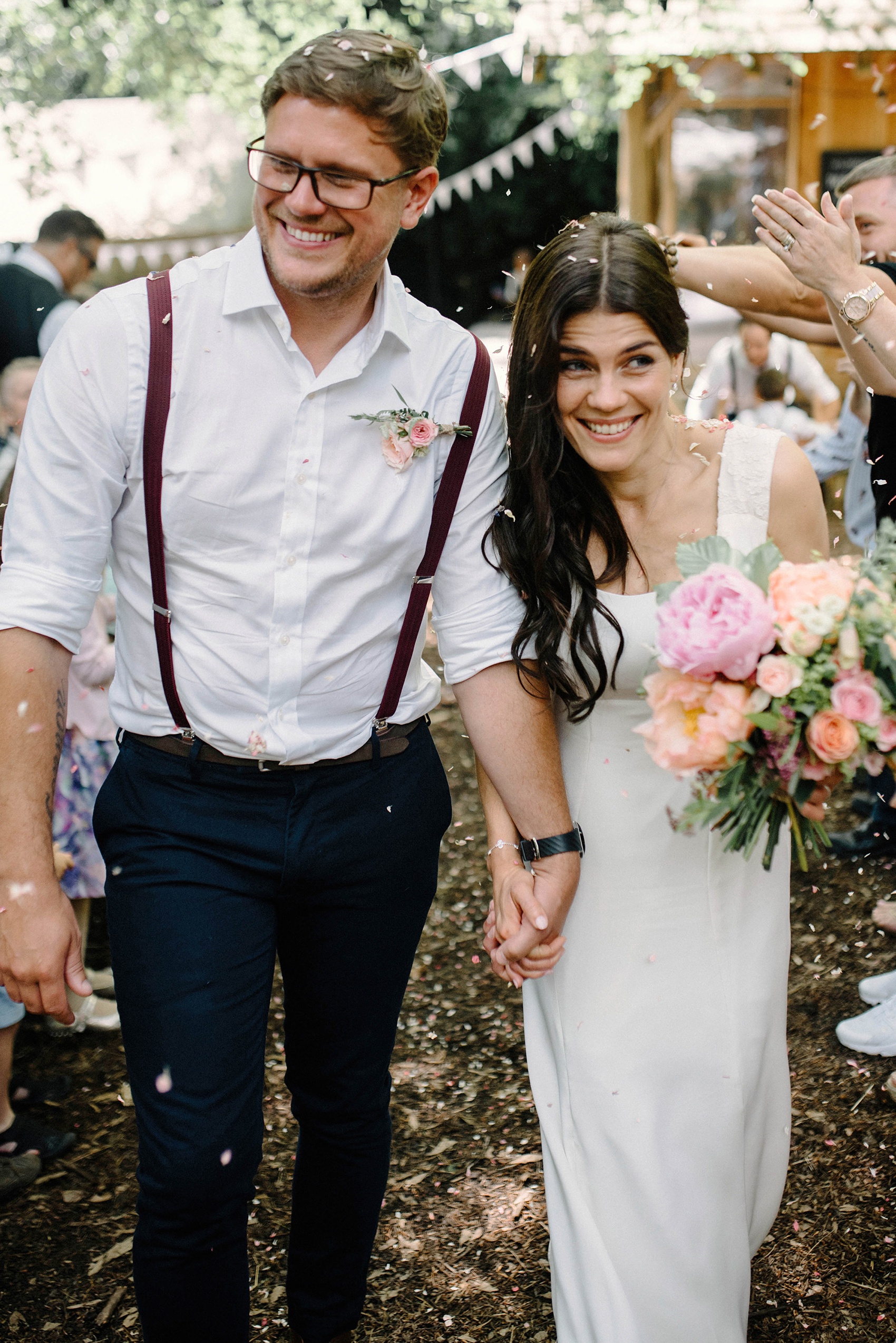 Canapes and other treats were enjoyed after the ceremony, with loved ones mingling in the gorgeous woodland setting, and live music from Just Tom & Pete.
"I struggled with the whole design of the day. I spent hours creating boards on Pinterest, but there is so much to choose from, I then couldn't decide on anything. Although I had festival style in mind, I didn't want anything too themed either, so I just went with different elements that I liked."
Kerrie, Lee and their guests sat down in the beautiful permanent marquee at Wilderness Wood, for a plant-based Moroccan buffet feast created by the team at Wilderness Cafe.
"We couldn't have been happier with the food. All the guests commented on how good it was. The favourite by a mile was the butternut squash and lentil curry. Everyone loved it. We had pizza and sweet potato chips in the evening (take-out style) so all very relaxed and informal. I was very particular in what I wanted (or didn't want) and they did a great job."
The lovely and colourful rustic styling of the venue was by Emma of Lulabelle Wedding & Event Hire, with an order of the day hand painted onto a wooden crate, a floral and gin inspired table plan by Emmy Designs, and menus designed and made by Kerrie.
"We don't drink gin, but I loved the idea of gin bottles and candles so went with the gin bottle table plan. I used Pen & Pringle to design our invitations. I wanted something a bit different to fit in with the festival feel, and loved what Jen put together for us. The good thing about the woods is it didn't need loads to make it look nice."
"I sent emails to all the local bars and had them saving gin bottles for me in the weeks before the wedding. I ended up with loads, but I loved them on the tables with the candles."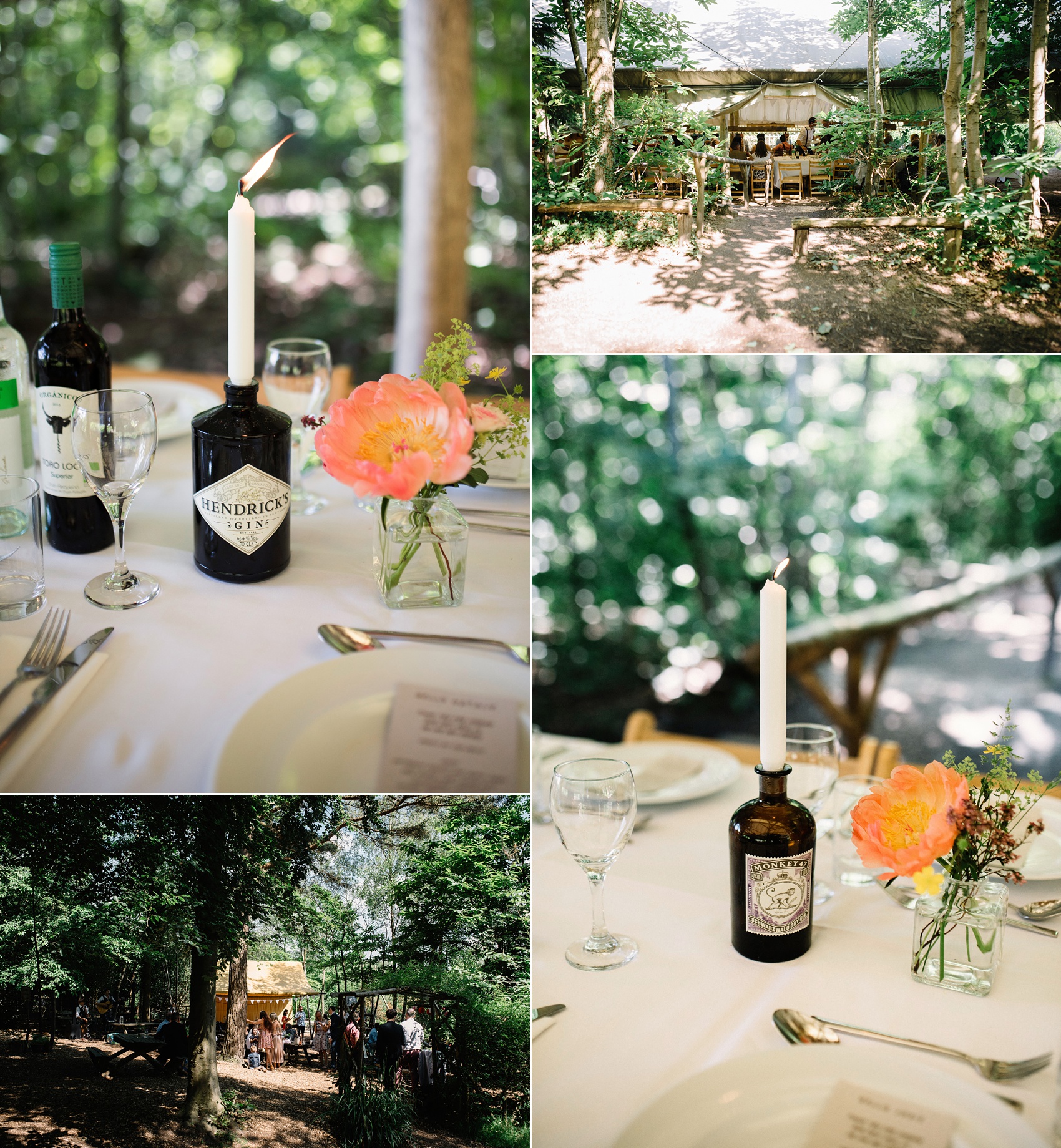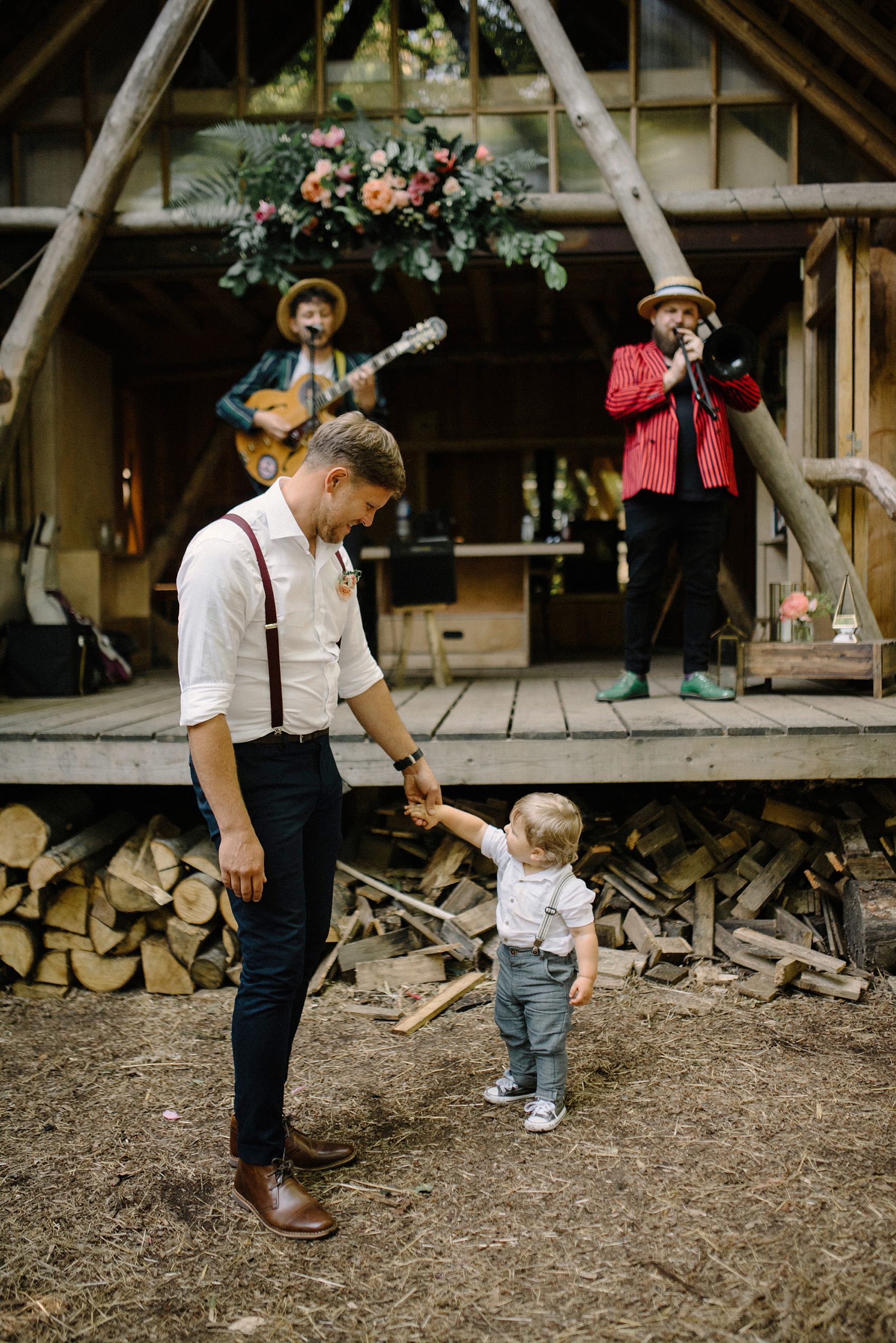 There was also brilliant entertainment during the meal, in the shape of hypnotist Ritchie, of Hypnotix!
"He hypnotised Lee, which had us in stitches. By far the funniest part of the day. He definitely kept everyone entertained and was great value for money."
There was more after-dinner fun, with Lisa from face and body artists, Orange Purple painting incredible designs on both children and adults alike.
"The Human Jukebox played after our meal. We wanted something different and fun for this part of the day and they were amazing. They were great for the kids, making songs up about the characters they had painted on their faces."
As everyone enjoyed evening snacks under that heavenly canopy of trees and glowing festoon lights, there was more live acoustic music from The Ozones.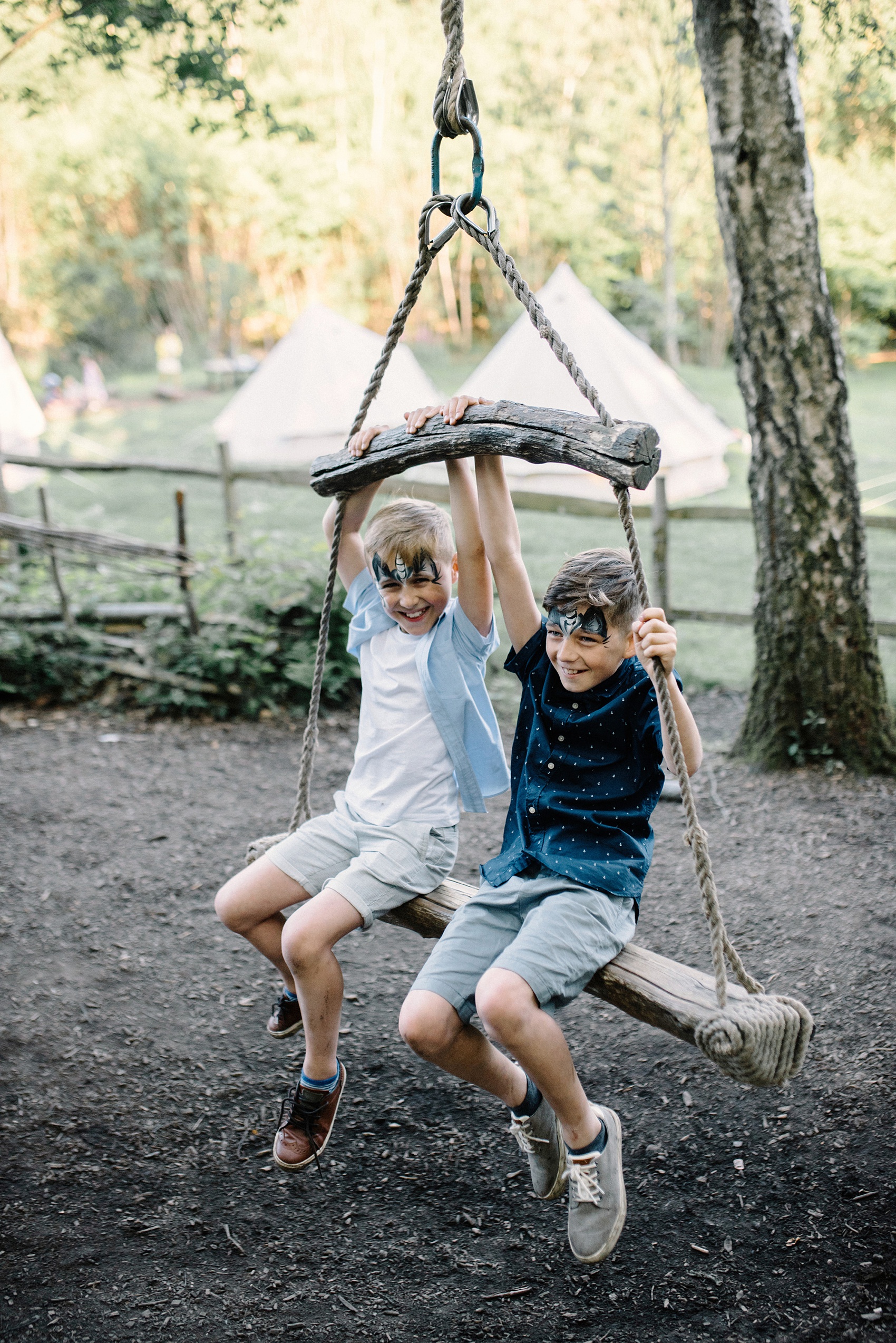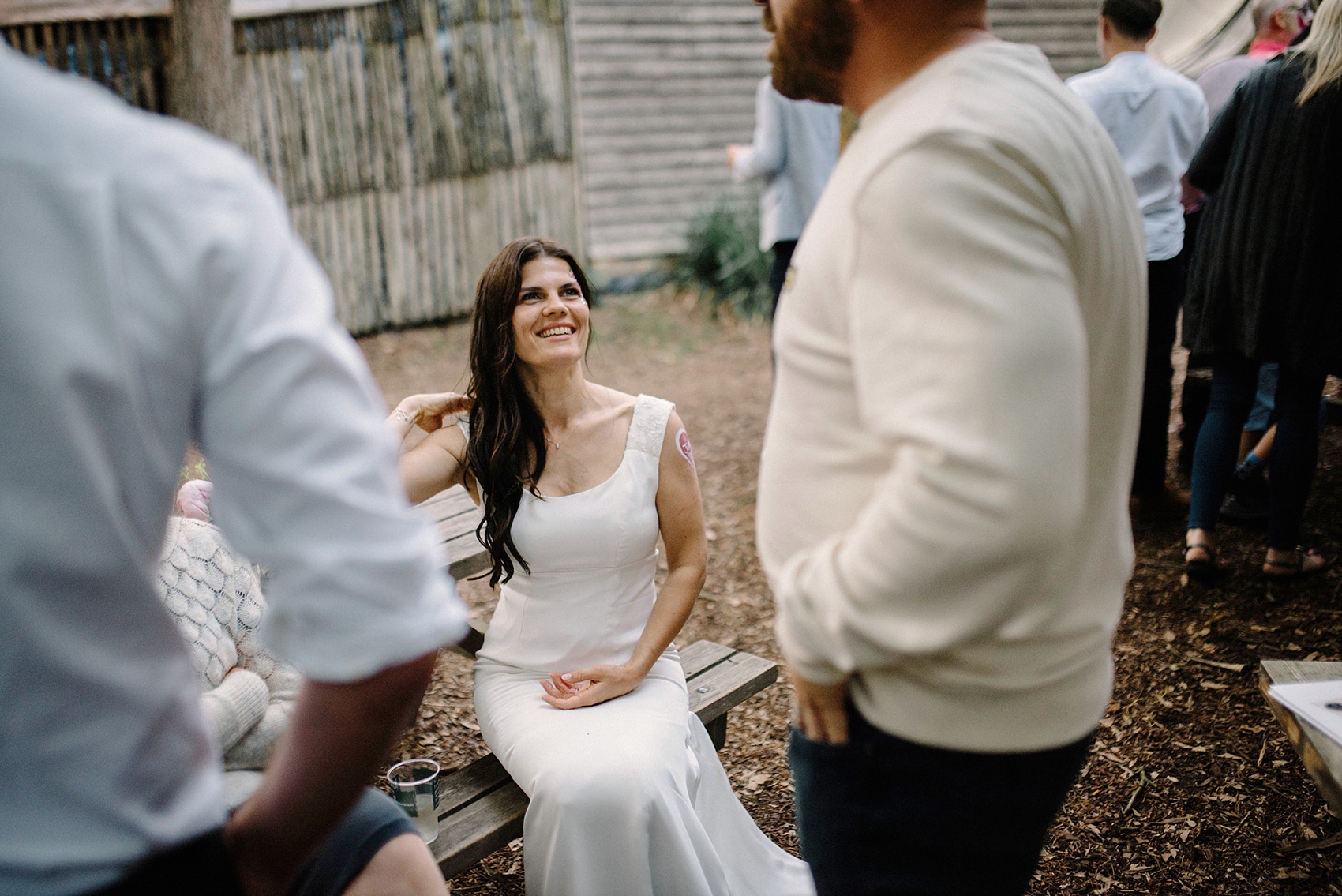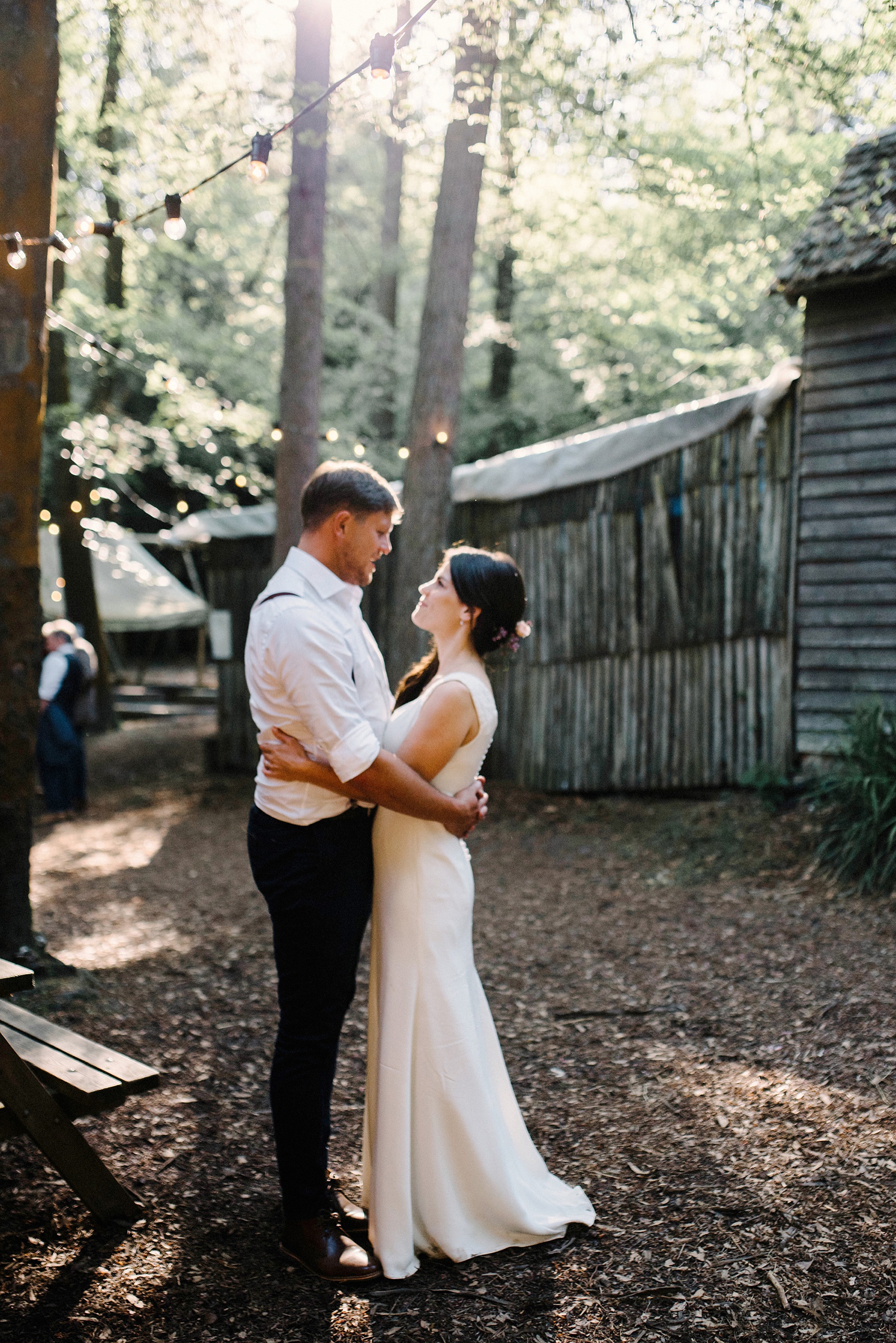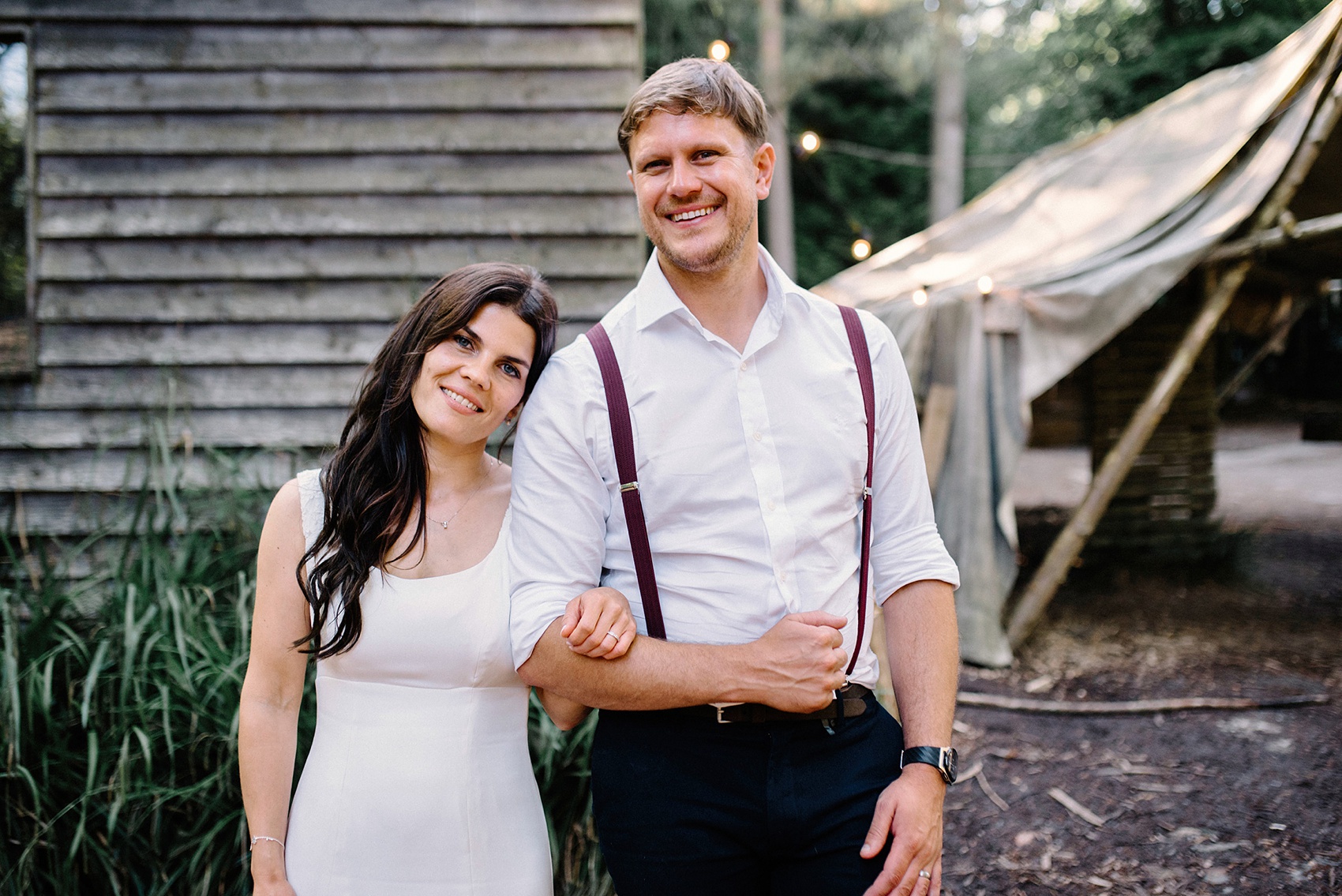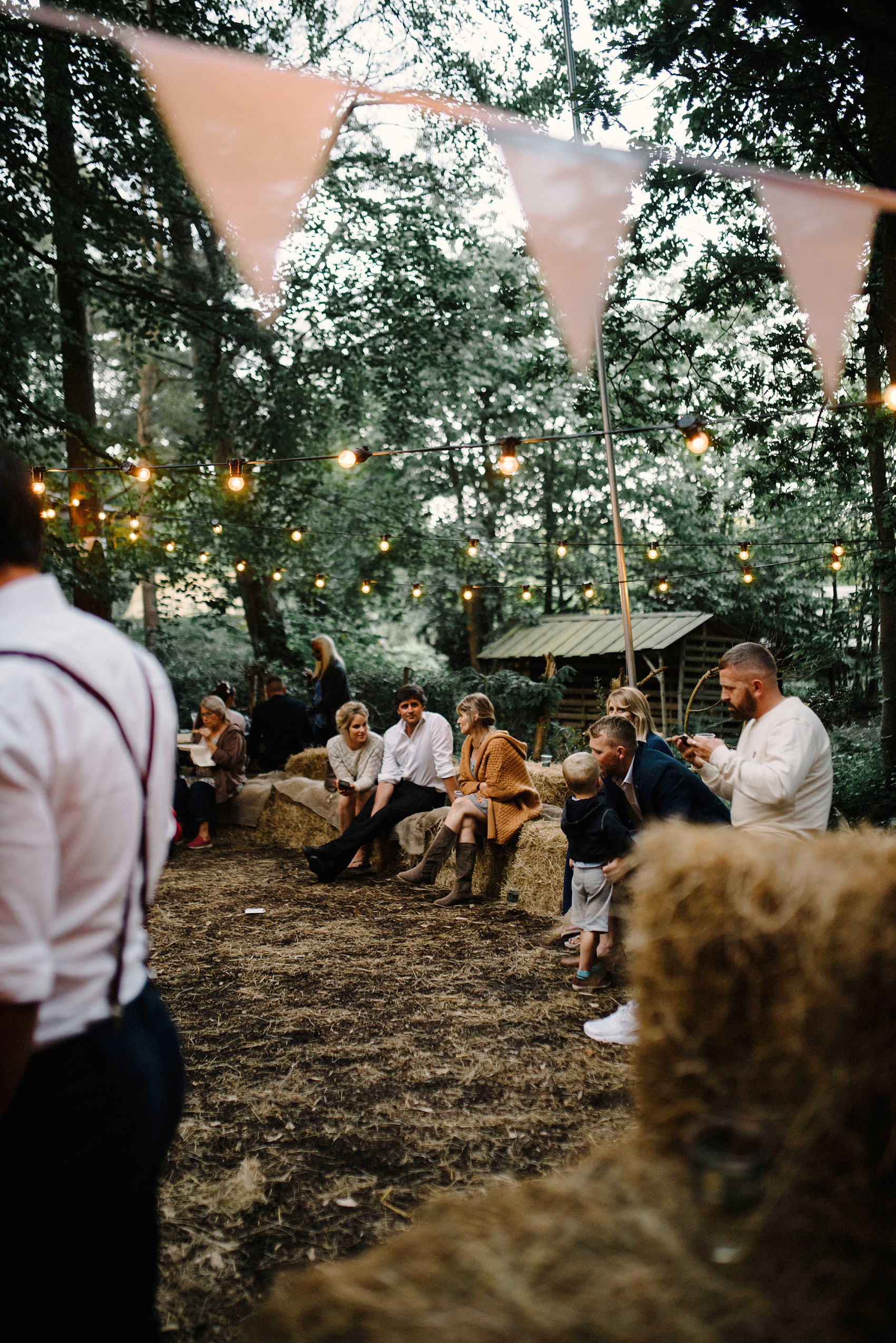 Instead of a wedding cake, Kerrie and Lee decided to have a delicious dessert bar instead, with a variety of raw, vegan and sugar-free treats for everyone to try, like chocolate and avocado mousse and brownies.
"We didn't have a first dance, but we had a last one instead. We wanted to get everyone up with us rather than just a dance on our own, and it was such a good way to end the evening. We had Oasis, Don't Look Back In Anger. We chose a song from the band's set list, and that was a favorite – we both love Oasis."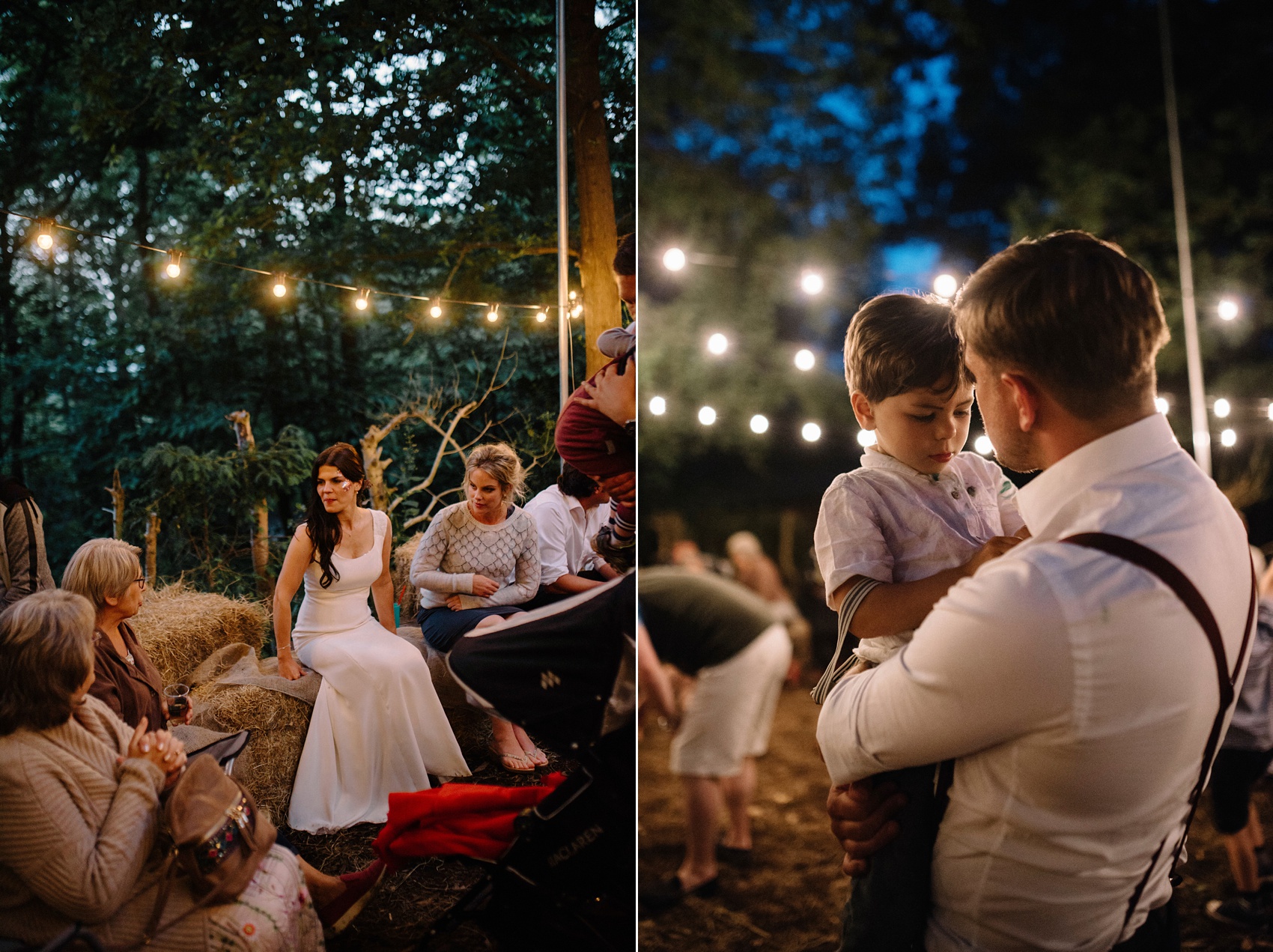 "We've both tried to pick a favourite part of the day and really can't. We loved the whole day more than we could have imagined. I dreaded the ceremony, but I actually loved walking onto the stage and seeing everyone sitting there. I also loved everyone together when we had the last dance, even though it did mean that the day was over."
Words of Wedded Wisdom
"I know its been said lots of times already, but don't sweat the small stuff. On the day there were a few things that weren't in the right place, or had been forgotten about, but it really didn't matter at all."
"The day went so quickly, so just make the most of every moment."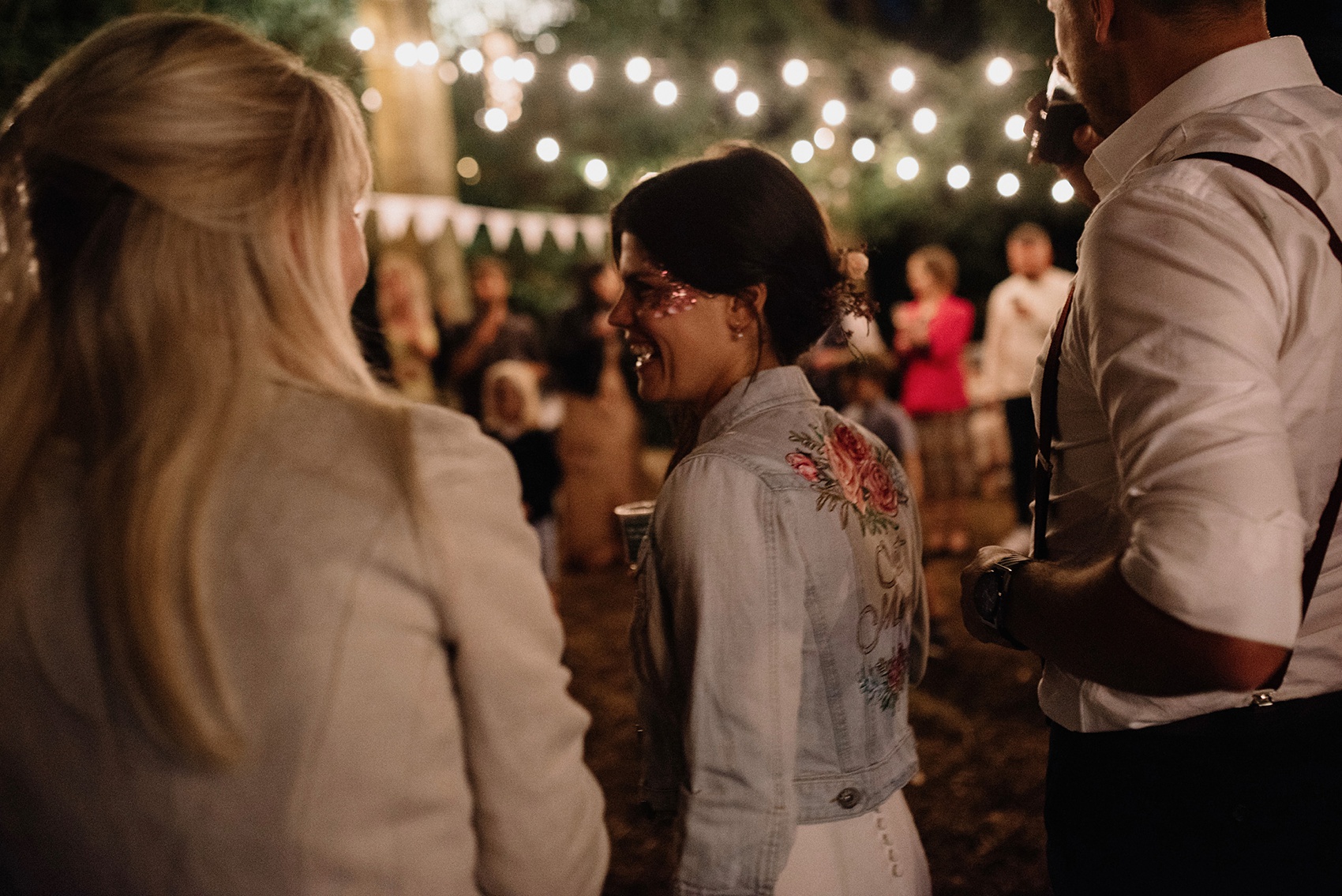 Kerrie and Lee, thank you and many congratulations. What a spectacular location you found in Wilderness Wood, with such a great ethos, too. Kerrie, thanks also for such honest words throughout, from talking about difficulties with your dress and styling, through to how you found a brilliant new florist at such a late stage. Many thanks also go to Georgina Piper for these fantastic images, too.
With love,
Laura