Don't you love it when you meet people and totally spark off them? It sounds as if that's what happened for today's bride Clare, who found so many of her wedding suppliers through our Love My Dress Facebook group. Not a member yet? I hope today's wedding convinces you to head over and request to join.
Please meet Clare, a communications manager for a social mobility charity and Sam, a BBC radio broadcaster. They wed on 5 May 2018 in St Margaret of Antioch Church in Barley, North Hertfordshire, then celebrated with their friends and family at The Granary Estates, Woodditton near Newmarket, Suffolk. It really makes my heart sing when I learn about how useful and supportive our Love My Dress Facebook Group is for brides-to-be.
"Most of the recommendations and ideas I got were from the Facebook group. The dress shop I went to was highly recommended and a lot of the people we used for the 'details' were recommended too. I had endless tips and hints from my fellow brides – it was invaluable."
Film by Miki Studios
The couple got super-creative to create their relaxed day, adding in nods to their backgrounds in radio and sports journalism with a beautiful over-arching influence of the fresh Spring season. Think bright, locally-sourced, seasonal flowers, plenty of football references and hand-made cakes and décor.
Sam and Clare's marriage service was in the village where Clare grew up and they fell in love with the unusual flint barns at The Granary Estates.
Photography Lina + Tom Wedding Photography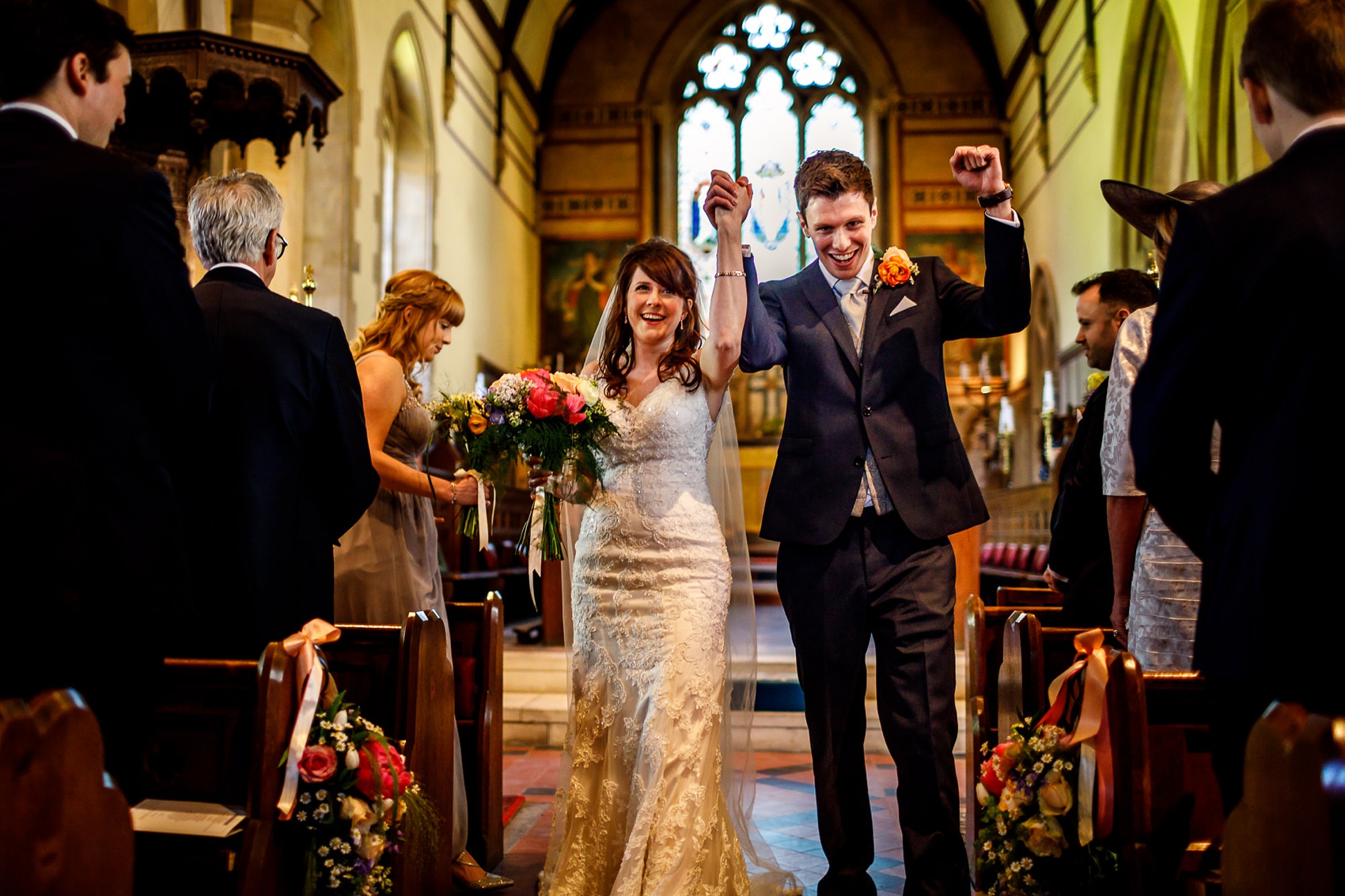 Lina & Tom recommended London Wedding Photographer  Mick Shah of Miki Studios, who created the beautiful highlights video we've shared above.
"Videographer, photographer and absolute legend. We had decided a little late that we wanted a videographer. So many we approached were already booked and we were beginning to panic. Luckily, Lina and Tom introduced us to Mick, an accomplished photographer who had been dipping his toe into the video world. We had the most brilliant first phone call and immediately loved him. He seemed taken by our radio theme and explained he loved getting to the bottom of a couple's 'story' and sharing that through his videos."
"He offered to come and do some pre-filming of Sam at work in the radio studio with me 'listening' at home – with our bunnies featuring too. He spent about four hours between the studio and our home and put together a brilliant little intro to our highlights film that basically told our 'story' and explained our radio theme. It's fun, lighthearted and cleverly put together – we love it. On the day, he gave his all. Again he felt like a member of the wedding party, blending in, totally unobtrusive, rocking a waistcoat and bow tie and generally being a joy. Neither of us like the limelight but he put us at ease and we felt totally safe in his hands. The videos he has created absolutely blew us, our friends and our family away."Clare's make-up artist, Sarah Henning, was another recommendation from the photographer.
"I am no make-up expert so I wanted someone who would know their stuff, who I felt I got on with and would love being part of the whole 'getting ready' experience. Lina and Sarah have worked together many times and Lina recommended her for her work ethic, epic personality and skill."
"She also did my mum's make up, which my mum was super-nervous about but during our trial she spent so long listening to my mum, tweaking it 'til she was totally happy and even helping my mum decide on which jacket to wear with her outfit. On the morning she was so calm and organised. She brought one of her colleagues who did my bridesmaids' hair and did a perfect job. The atmosphere was so happy and warm and Sarah played a big part in that. My hair and make up lasted all day and I felt like a million dollars."
Clare found her Maggie Sottero 'Venita' gown at Brides by Solo, and what an exquisite design it is. Just look at that beautiful train and all-over embellishment. I'm so glad to hear that she found something she loved, even if it was something completely different from her vision.
"I found dress hunting so stressful. I'd been so excited about it but it ended up being quite overwhelming. I always thought I'd go for A-line as I'm not hugely body-confident and felt that shape would be more flattering. I said I'd never go tight and figure-hugging. However, dresses I thought would suit me looked awful and I thought I'd never find the right thing." 
"In my sixth shop my bridesmaid picked a wildcard – a sleek and figure-hugging dress. To make it worse, the sample was in a size 6 so it was something of a squeeze. I instantly loved it and felt ten times more amazing then I'd felt in any other dress. I loved the exquisite detail, the beautiful lace back and the scalloped neckline. It was like nothing else I'd tried, and such a relief!"
She paired the gown with a chapel-length tulle veil, adding in a rose gold hair vine from DaisyChainsUK on Etsy.
"With my dress being heavily detailed I felt the softness and delicacy of the tulle was enough – it made me feel like a proper 'bride'."
Clare's bridesmaids wore pretty Little Mistress gowns in soft grey with beaded bodices. I wore this very design myself, in midnight blue, last year so it was a lovely surprise to see them. The grey gowns really do make these beautiful, colourful flowers pop so wonderfully. I love their wild and natural style, put together by Julia Pasfield at The Little Wedding Shed.
"I was so worried about bridesmaid dresses. I knew I'd like them to be a neutral colour so the flowers could really pop but I was quite relaxed about the style – I wanted them to all feel really good and confident. I ordered about six designs from ASOS and they tried them on – magically, all loved the same one! They looked stunning. I bought the girls all a really delicate, fine bracelet from Oliver Bonas as part of their gift."
"We met Julia at an otherwise rather strange wedding fair. Her display caught our eye and we really liked her as we chatted. We explained we didn't have a massive budget and she immediately talked us through how we could save us some money – such as using seasonal and locally-sourced flowers. She seemed really down-to-earth and honest (plus a dab-hand with flowers) so we booked a meeting where she served us the most mouth-watering lemon drizzle cake. The deal was done!"
To complement her hair-vine, she added rose gold drop earrings from Ivory & Co and some very personal jewellery.
"I wore my favourite silver bangle and my grandma's gold bracelet. I also wore a ring on my right hand that belonged to a close friend of mine who sadly died a few years ago."
"We wanted our flowers to be bright, colourful, beautiful. We weren't really decorating the barns much so we wanted the flowers to be the stars. Julia absolutely understood what we were after and that she was really excited to be working with us. She started a Pinterest board with me and over the next year we both pinned flowers, bouquet ideas and styling ideas."
"On our final planning meeting, we bought a radio with us as we weren't sure how the flowers would work with the radio as a centrepiece, and she sent me photos over the next few days after she'd had a play. I always felt so reassured by her ideas and commitment. Needless to say, she delivered the goods. The flowers were breathtaking, I adored my bouquet, the church and table displays looked incredible and we could not have been more thrilled."
Sam's modern suit was brought to life by the bright coral of his buttonhole.
"Sam purchased his Remus Uomo from Gray Palmer in our home town of Saffron Walden. I wanted him to feel as special in his suit as I did in my dress. He loved the colour and modern style and I think he felt pretty good in it. Sam hired his waistcoat, tie and handkerchief from Gray Palmer, which is where he purchased his shoes. He also wore engraved, bespoke, gold cufflinks from Steven Charles Quance."
"Sam's best man was his best friend Nick and his groomsmen were his close friend Tom and our brothers, Karl and Charlie. They, plus our dads, all wore hired suits from Gray Palmer and we think they looked rather smart."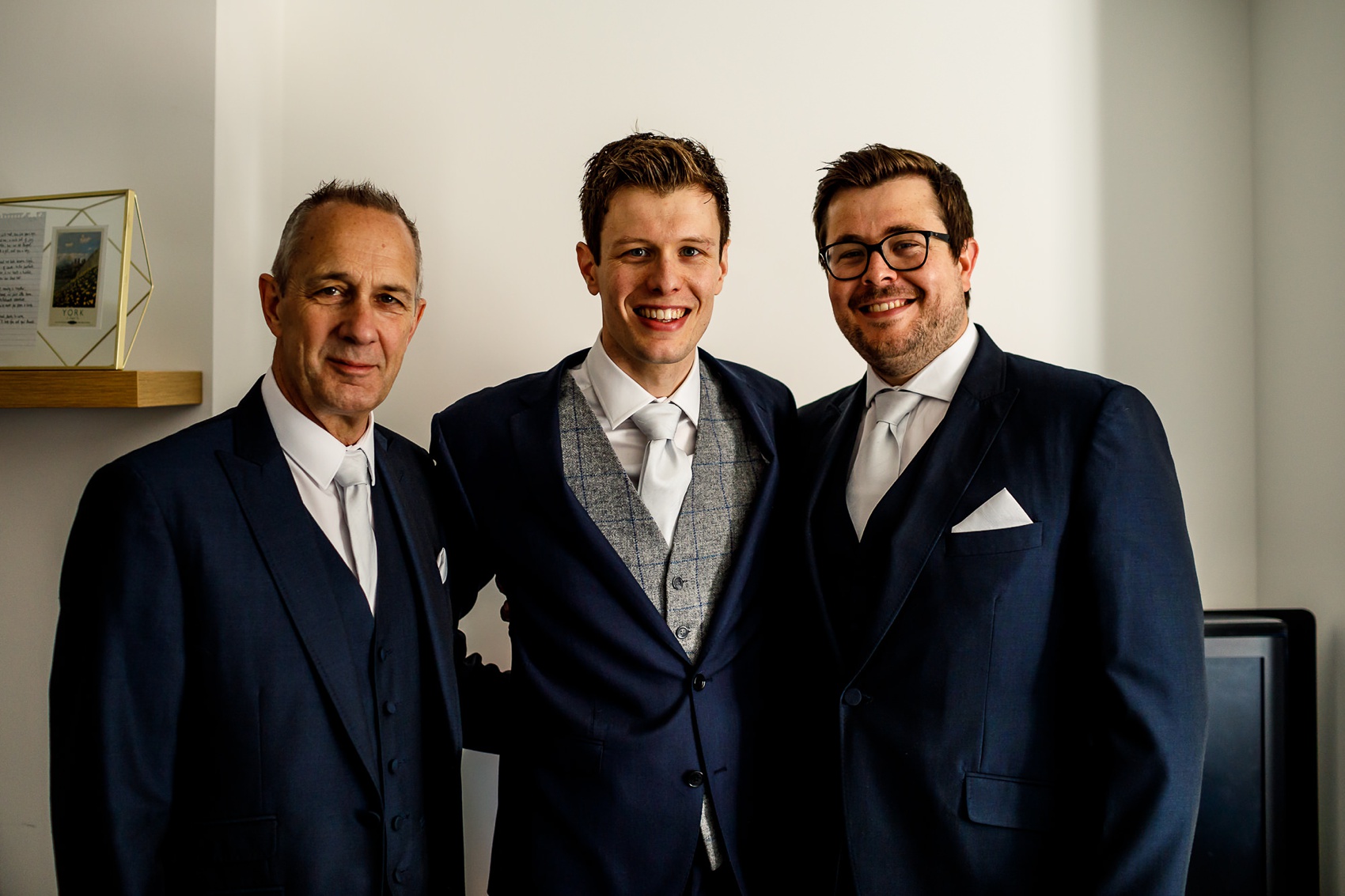 Clare and Sam met in 2012 when they both worked at BBC Radio Cambridgeshire as journalists and got engaged in the beautiful city of York.
"We became friends really quickly and it blossomed into romance. We moved in together in 2014 and got engaged on 15 November 2016 outside the Minster in York, one of my favourite cities. It was freezing and I'd been moaning about wanting to go into a warm pub. Sam was so nervous we're still not really sure what he said but it was still the best moment."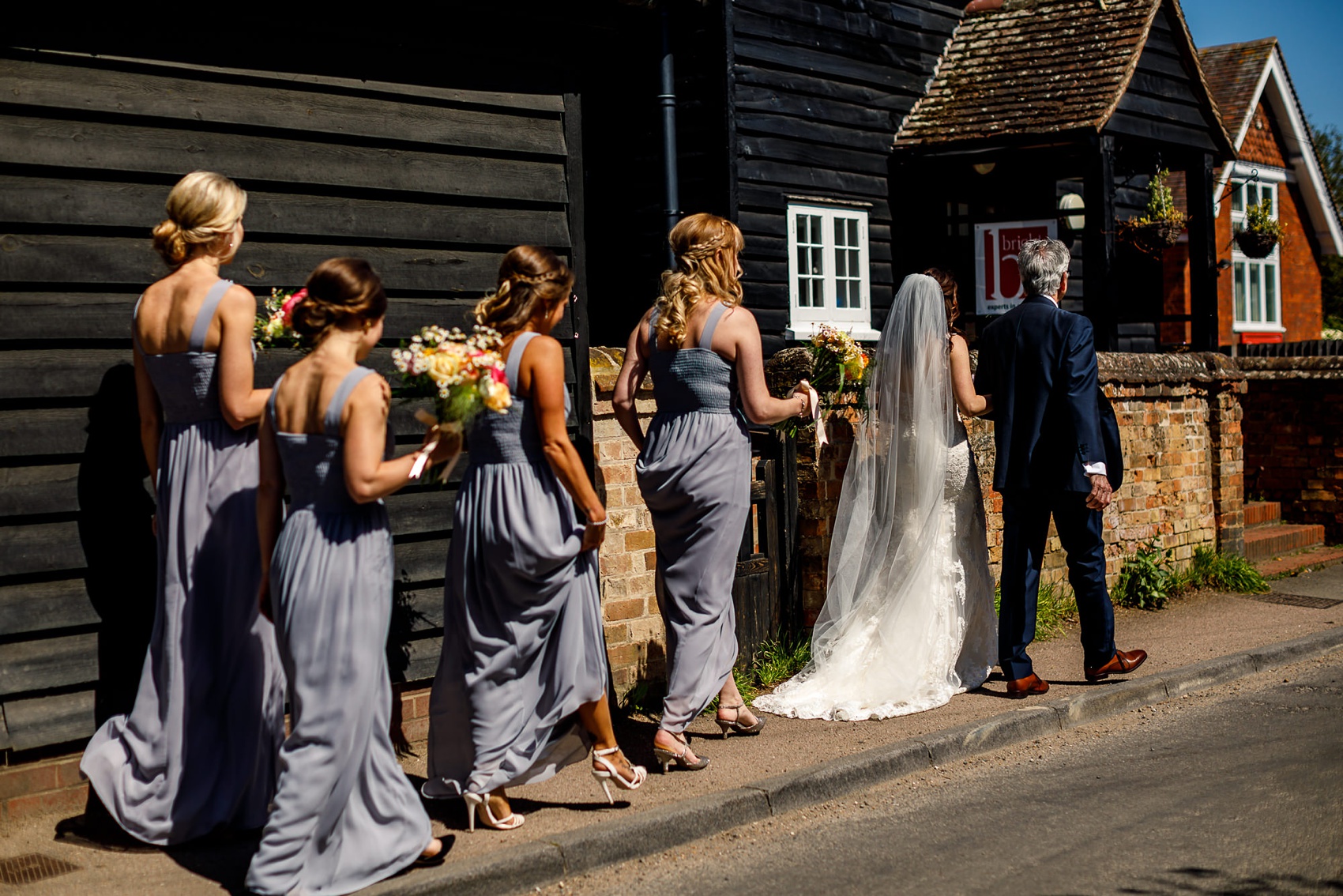 Clare and her father walked down the aisle to Bach's 'Air On G String'.
"We weren't 100% sure about a church wedding because we're not regular church-goers. That said, the symbolism and significance of a church wedding – plus the lovely touches like wedding bells and hymns – meant it was our first choice. After meeting the Vicar and getting on so well with her, we decided to book. I loved that I could get ready at my mum and dad's house (my childhood home) and walk up the road to the church where I used to sing in the Christmas nativity, too."
Sam and Clare chose two readings and a poem to add a personal touch to their Church of England service.
"We had one Bible reading, which was 'Song of Solomon'. It was perfect as it was the first properly sunny weekend of the year."
"Sam's dad read Eric Monkton's 'That Still and Settled Place'. We both loved it and it totally suited Sam's dad's personality too. It's so simple but is a beautiful summary of what love feels like to us."
"My mum read a poem that she'd written herself. She's always loved writing and I asked if she'd like to put pen to paper. I think she spent the best part of a year on it and had everyone in tears, even my bridesmaid who never cries. It meant the world to us and we now have it framed as a memoir."
Their wedding bands were two very special pieces of jewellery.
"As a result of the savvy brides on Love My Dress, we decided to go to the jewellery quarter in Birmingham. A friend of mine recommended an independent jeweller, Steven Charles Quance. Sam knew he wanted a plain gold band. I wasn't sure what I wanted and Stephen patiently listened to the inner musings of my brain."
"I tried a few rings on and in the end opted for a plain band in rose gold, which looks amazing with my halo diamond. He hand-made the rings and they were perfect. His service was second-to-none and we've recommended him to quite a few brides. I went back to Stephen as I wanted some bespoke cufflinks to give Sam. He hand-made a beautiful pair of gold-plated silver cufflinks that were simple, modern and personalised with a message from me. Luckily, Sam loved them."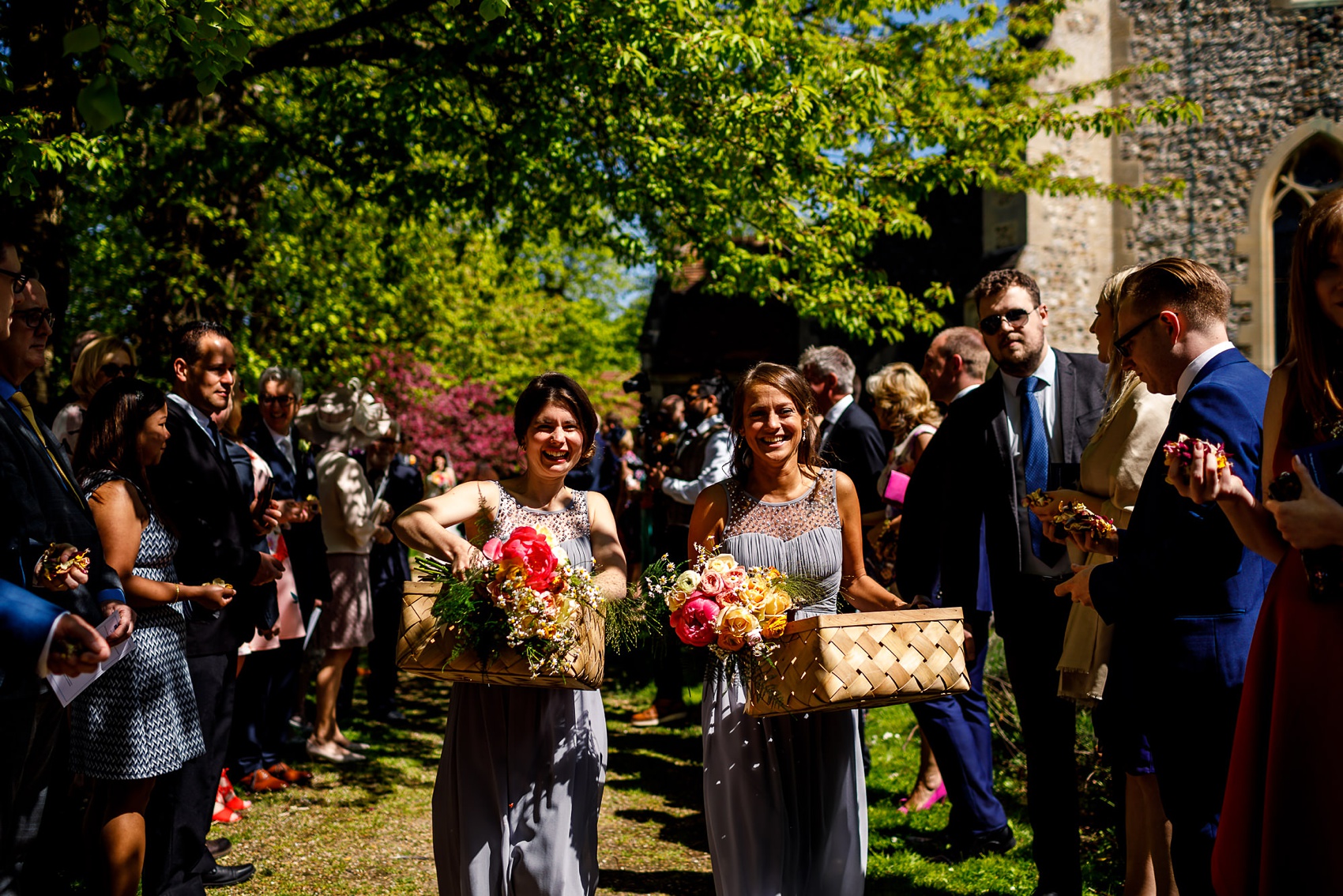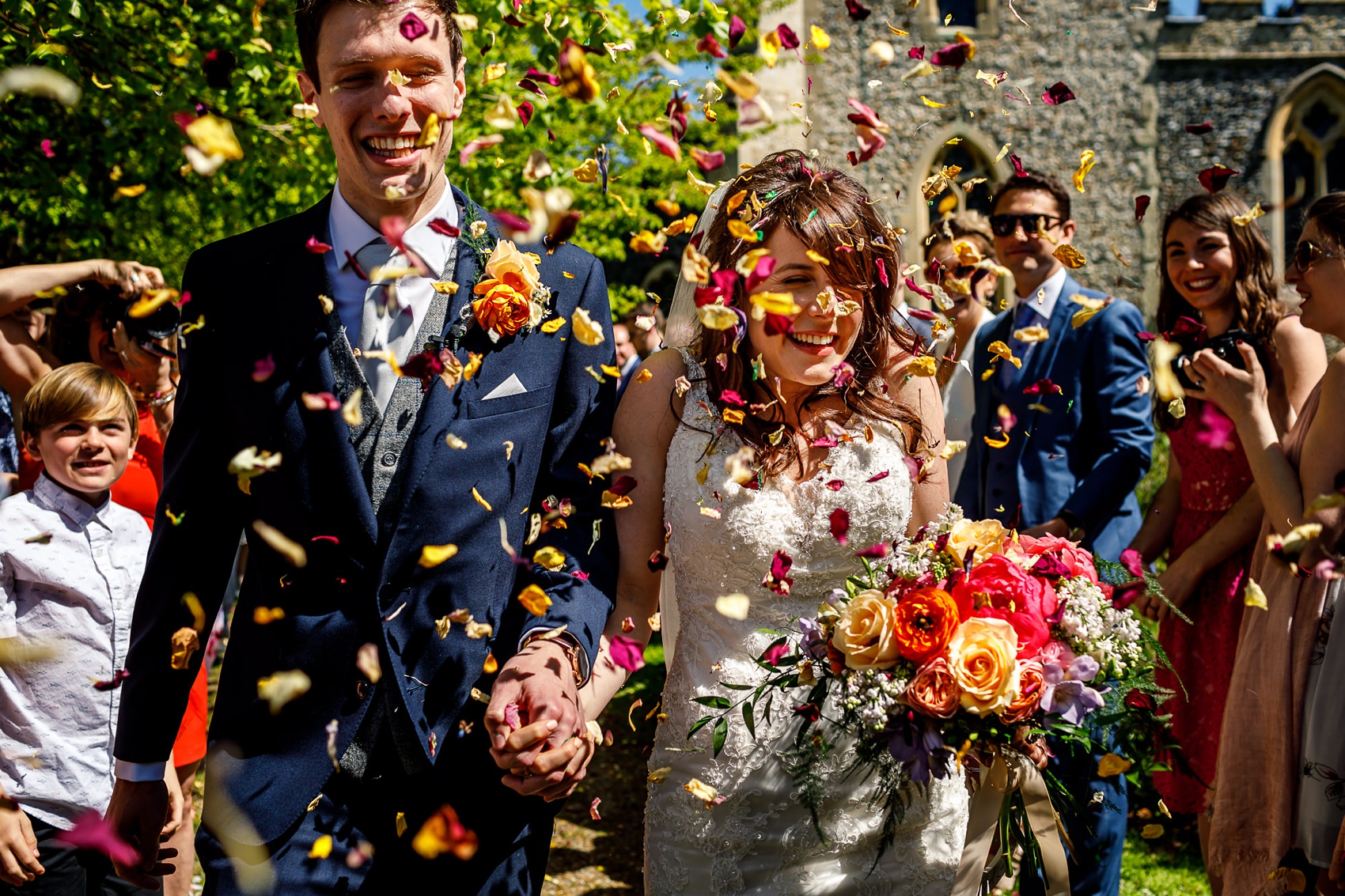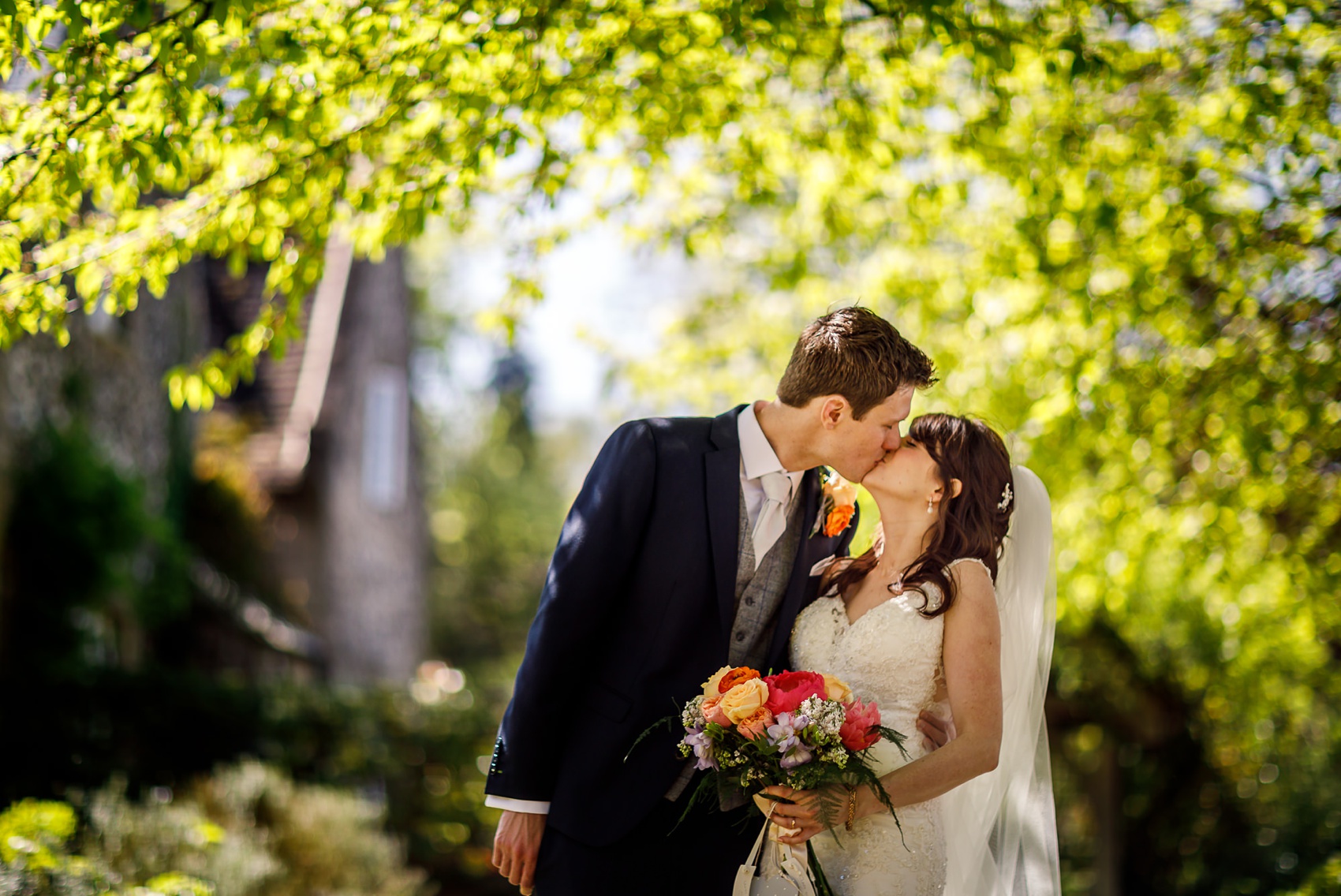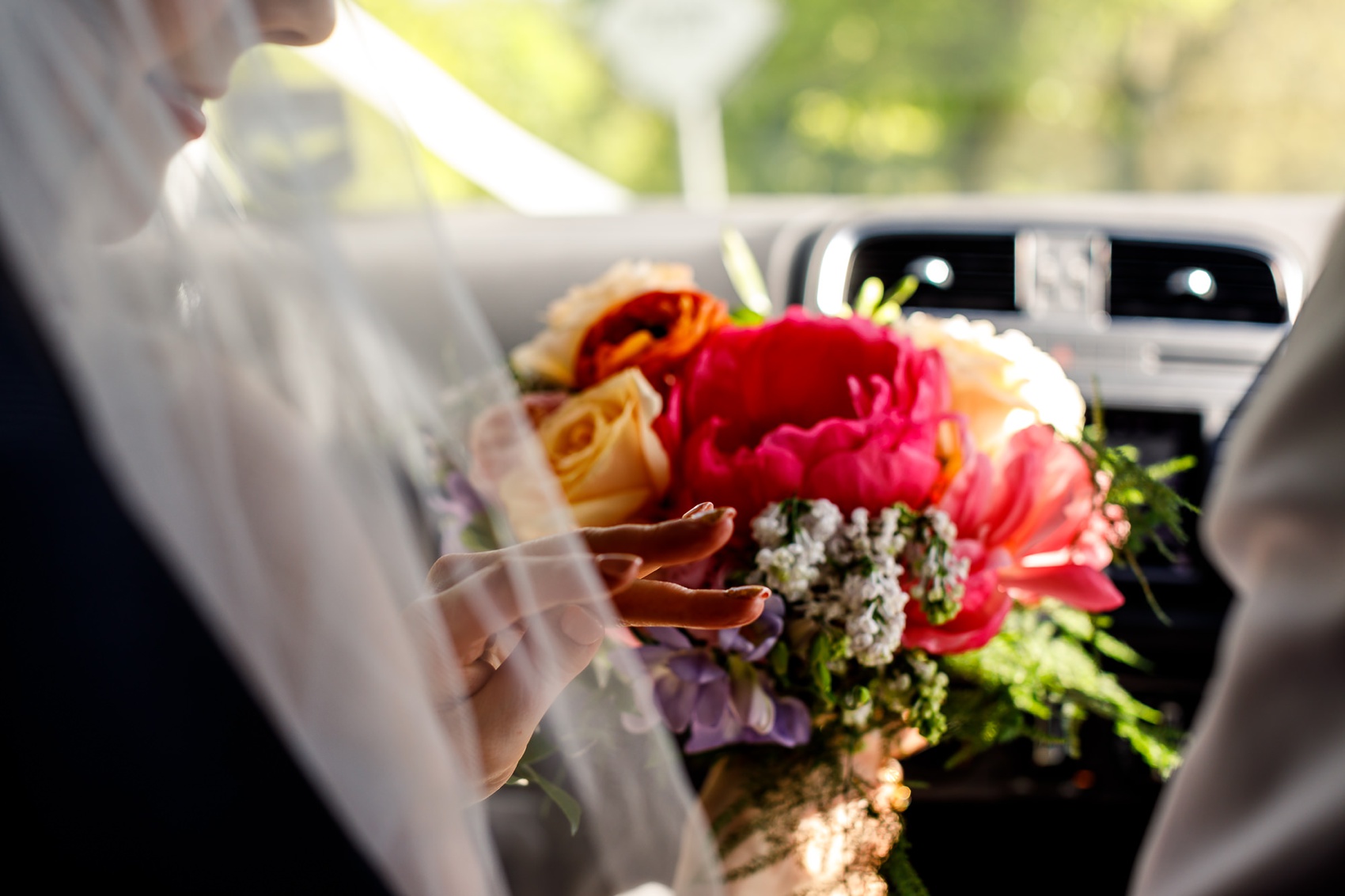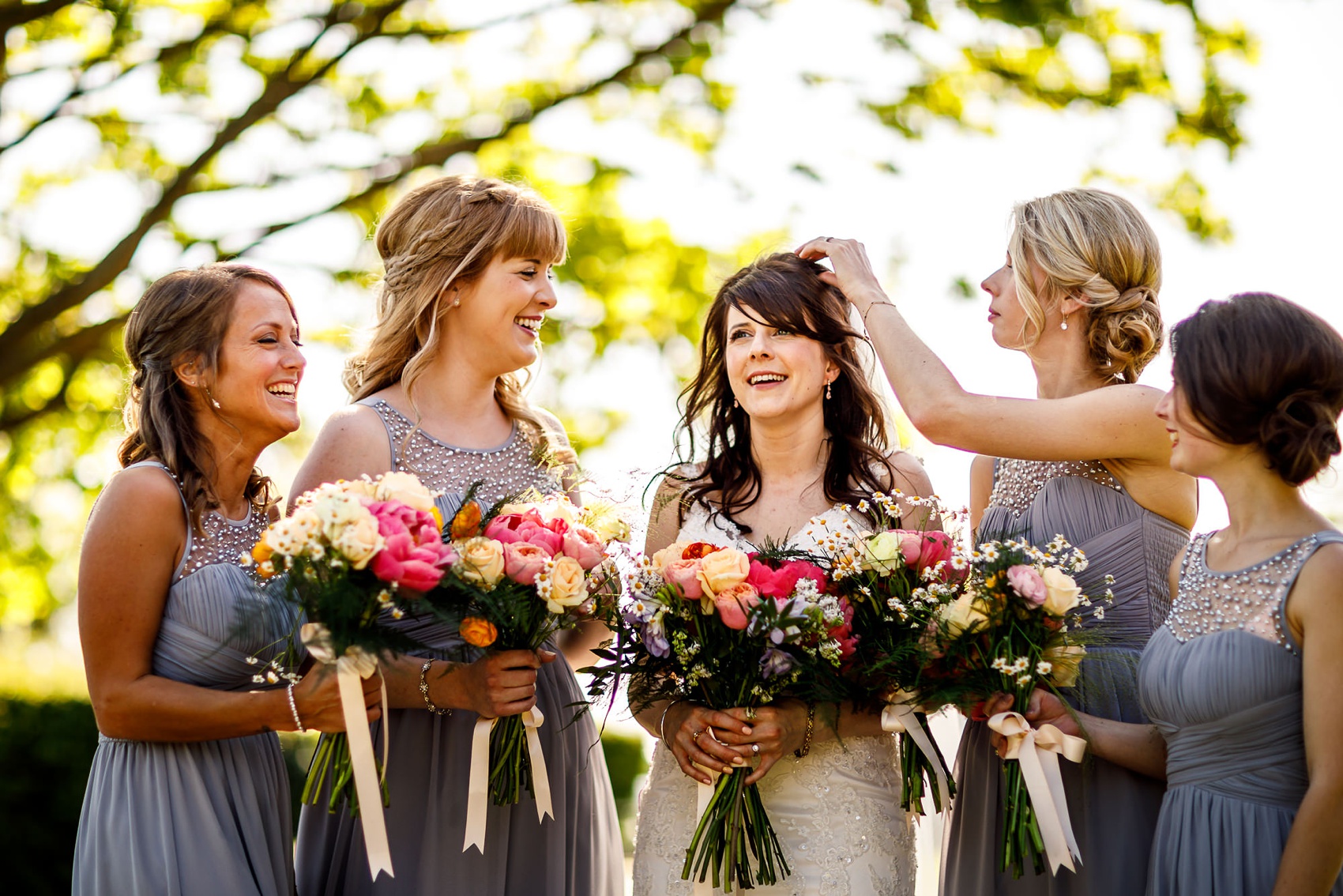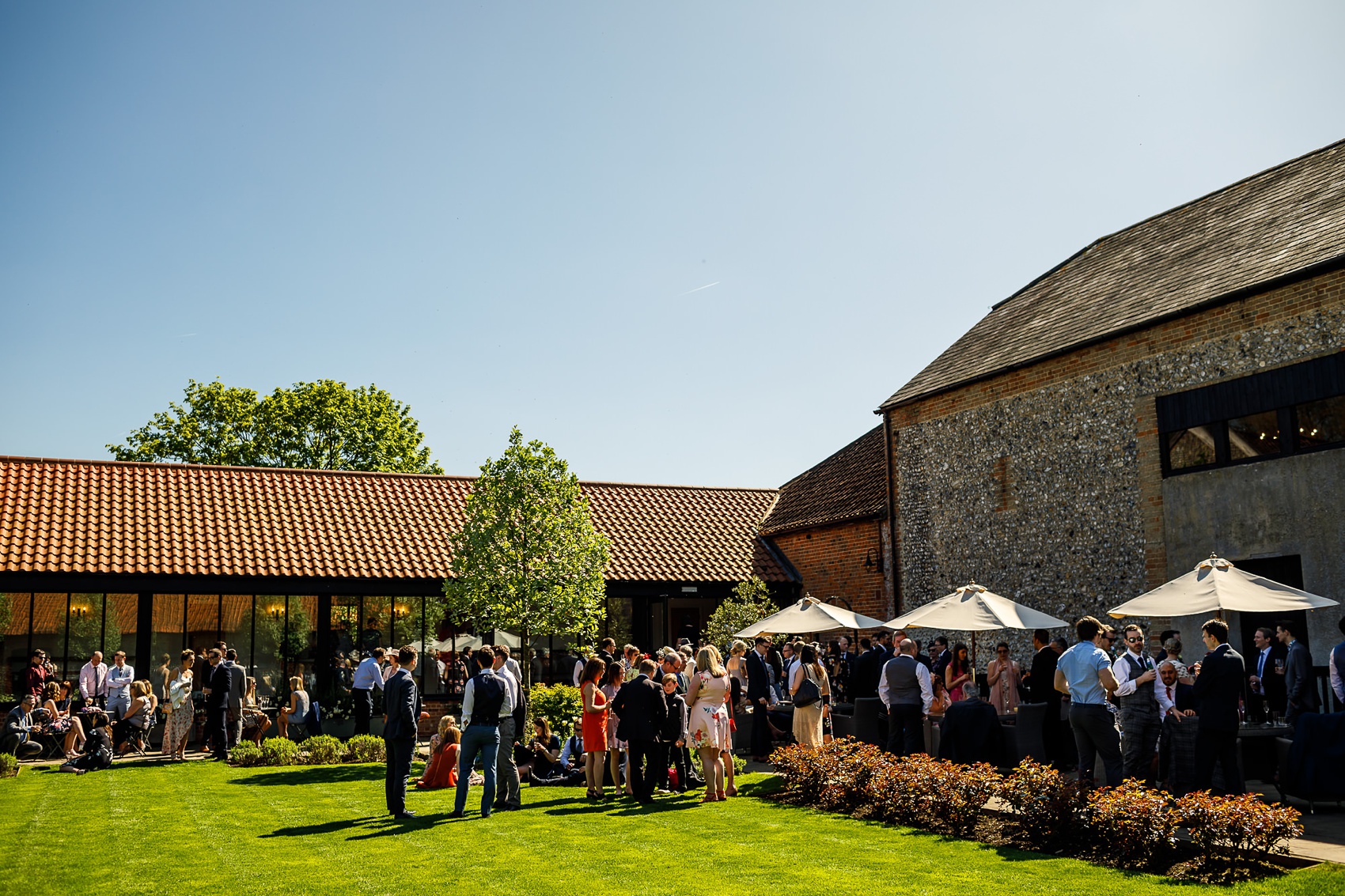 "We had a 'Wish You Were Here' table which featured photos of close family who have died, and we had photo boards featuring photos of Sam and I as children and of us together. Our caterer, who also does venue styling, happened to have an old radio sideboard in her garage which we obviously had to use! One of the bridesmaids' bouquets in a vase is all it took to decorate it."
"We were blown away by the striking beauty of the flint barns at The Granary Estates. The venue was understated but stunning, with so much attention to detail (like a bridal toilet!). Combined with their attentive and friendly staff, we instantly fell in love."
The Estates' flint barns needed little decoration but Clare and Sam got crafty to make it truly 'them' along with the bespoke wedding stationery. Keep an eye out for the little nods to their shared love of radio.
"I wanted to save funds by creating my own stationery, plus I thought it would be a fun project. We asked one of Sam's best friends, Joe, to draw a silly cartoon picture of us and the rabbits. I then worked to incorporate the image into an invite design. After showing my original invite designs to my close friend who is a graphic designer, she offered to create something herself. She, with input from her boyfriend who is also a graphic designer, created a clever, bright, totally personal and stunning invitation. Using the invite as my guide, I created the menus and other signage to match."
"We set out to make our wedding as representative of us as a couple as we could. We met working in radio and we are both major radio geeks so our tables were named after radio shows, decorated with old fashioned radios we'd collected online and from antique shops. I even started my day by doing a live interview on BBC Radio Cambridgeshire as part of their 'Bride of the Week' feature. I couldn't really refuse when they asked me as it's where this all started."
"Sam is a sports journalist so we had little nods to his love of football and sport; I designed our order of service to look like a football match day programme, the vicar used loads of football puns in her speech and we had table football at the reception, which we personalised with stickers so the players all had names and were either Peterborough United or Manchester United – Sam's teams. It was the scene of quite a few upsets as my 11-year-old cousin thrashed most of his opponents!"
"As it was a spring wedding and we were both born in May, we wanted to celebrate the season with our colours. We opted for the brightest, locally-sourced and in-season flowers and my bridesmaids wore grey to allow the flowers to pop. Our stationery mirrored this colourful theme. It was designed by a close friend and she incorporated another big element of our lives – our house rabbits – into the design. They also featured on our card box and Clifford made it into the wedding photos too."
"We pushed ourselves to ensure all the people we loved were there and this resulted in us both getting very creative and making a lot ourselves. We wanted everyone to have the best day and wanted it to be super-relaxed but also really fun. One of the touches that went down the best was their place cards. We spent hours sourcing photographs of us with each guest, which we had printed as Polaroids. On the back, we wrote when and where the photo was taken to help evoke the memories and create conversation. We're still getting people today telling us how much that meant to them."
For vegetarian Clare, it was important to find a caterer who would create something truly delicious.
"Our venue was tied to three caterers and we contacted each for their prices and ideas. As a vegetarian (who has eaten many rubbish meals at weddings!) I really wanted to love my wedding meal and Elizabeth at Hall & Co Event Design was definitely the most on board with that idea. We loved her menus and the look of her food on Instagram, and felt like she'd be really fun to work with too."
"Our food tasting was one of the most epic parts of our wedding, served in a purpose-styled room in the back of her cafe, Little Acre Kitchen in St Ives. We ate like a King and Queen and left very full and SO excited about our wedding food. We opted for four of six of our canapés to be vegetarian and they went down an absolute storm. They thought of everything – even waiting outside our venue for us to arrive with a glass of Prosecco and our own selection of canapés to ensure we got some."
"We didn't provide favours but made a donation to four charities close to us instead. Also, we put a little extra effort into our place cards. We spent hours sourcing photos of us with each wedding guest and scanned them into the computer. We had them printed 'Polaroid-style' and on the reverse of each place card included the date, location and any extra info about the photo."
"Our guests spent ages comparing photos and chatting about them when they first came into the room, which is exactly what we wanted. Our number one priority was having all of our favourite people there with us on the day, and this was our main way of showing each person there how much they meant to us. Everyone took their card home and people still tell us now how much that meant to them. It was worth every minute we spent on it."
The wedding cake came courtesy of Clare's own baking skills.
"I made my own cake. I've seen so many cakes go to waste at weddings and we really only needed something 'to cut'. For us, that was an area we chose to save money. I made mini Victoria sponge cupcakes and a slightly wonky rainbow layer cake. They wouldn't have won any awards for presentation but they all got eaten!"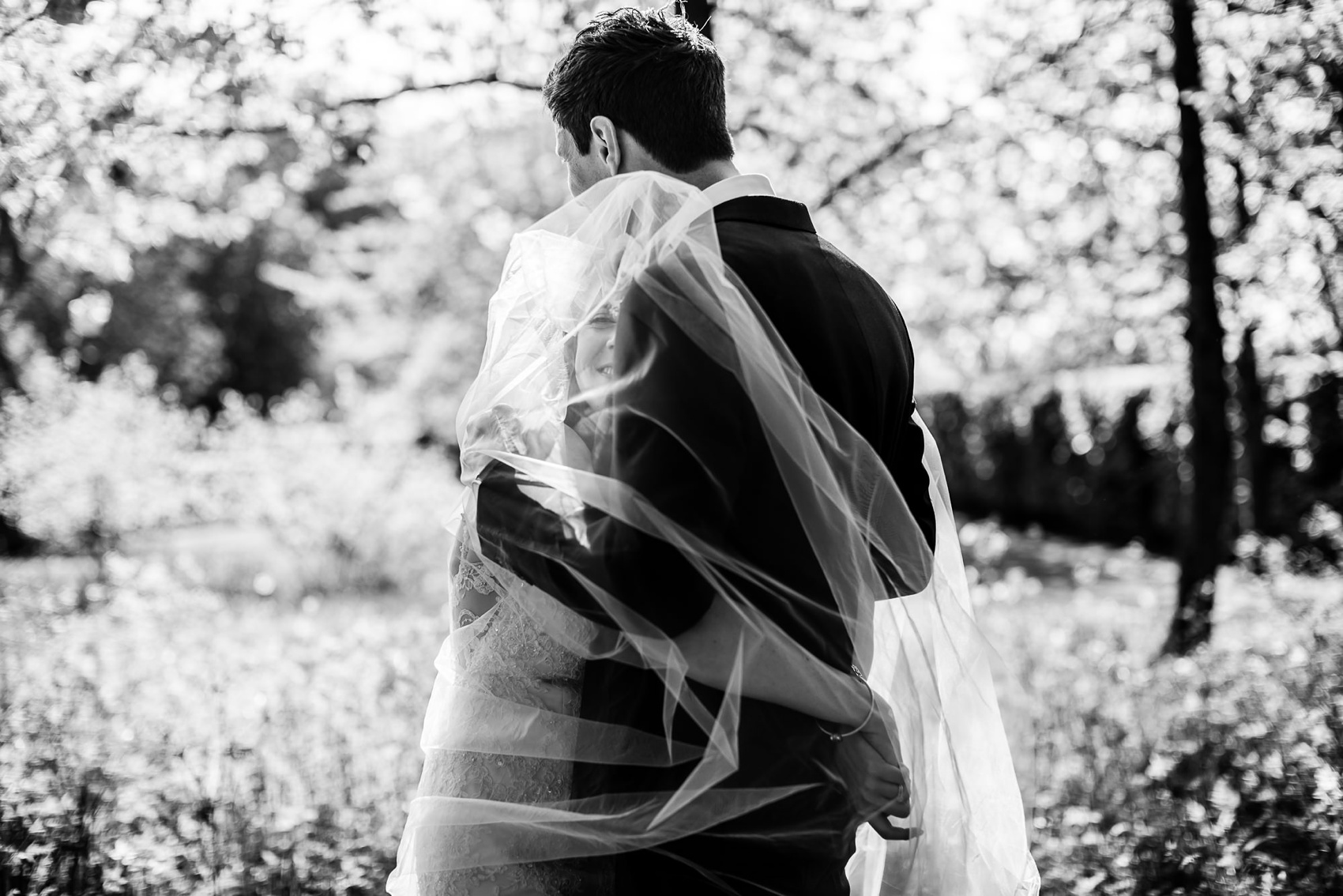 The couple's wedding was photographed by Lina & Tom Wedding Photography, who Clare came across through work a few years ago.
"I spent ages viewing her and Tom's stunning wedding photos – they blew me away. Sam and I hadn't been together long but I told him they'd be our wedding photographers. Luckily it didn't scare him too much. They are just the most wonderful people to work with. You feel like you're their only clients and they invest all of their time in making sure they understand YOU and what you want."
"I emailed Lina the day after we got engaged to ask about their availability for May 2018. Amazingly they were free on our first choice of date, so they were booked immediately. It was like working with old friends. We spent hours with them both times we met in local pubs to discuss plans and Lina kindly gave me so much wedding-related advice too."
"On the day, it felt like she was a vital part of the wedding party as we got ready. We felt like they were as excited about our day as we were and they stayed so late into the party to capture as much of the day as they could. When their photos arrived it was like Christmas; they're so special and they'd managed to capture so many moments. Their energy, creativity and talent knows no bounds. I could not recommended them more highly and we will always treasure our photos."
"I absolutely loved doing a speech. What other opportunity do you have to say thank you to your family and let the world know why your husband is the best man in the world? Sam does so much for me and it felt like the most brilliant opportunity to thank him. We planned it so that Sam thanked my parents and I thanked his – which went down really well."
"I also worked on a surprise for him – a video. He's a football commentator for Peterborough United and 5 May was the last game of the season, which he was missing. In secret, I went to the club and made a video that featured hardcore fans, his colleagues and players, criticising him for missing the game… but then wishing him well too. I was SO nervous about him seeing it and also how our guests would react, but it got loads of laughs and Sam in tears, so I saw that as a great result."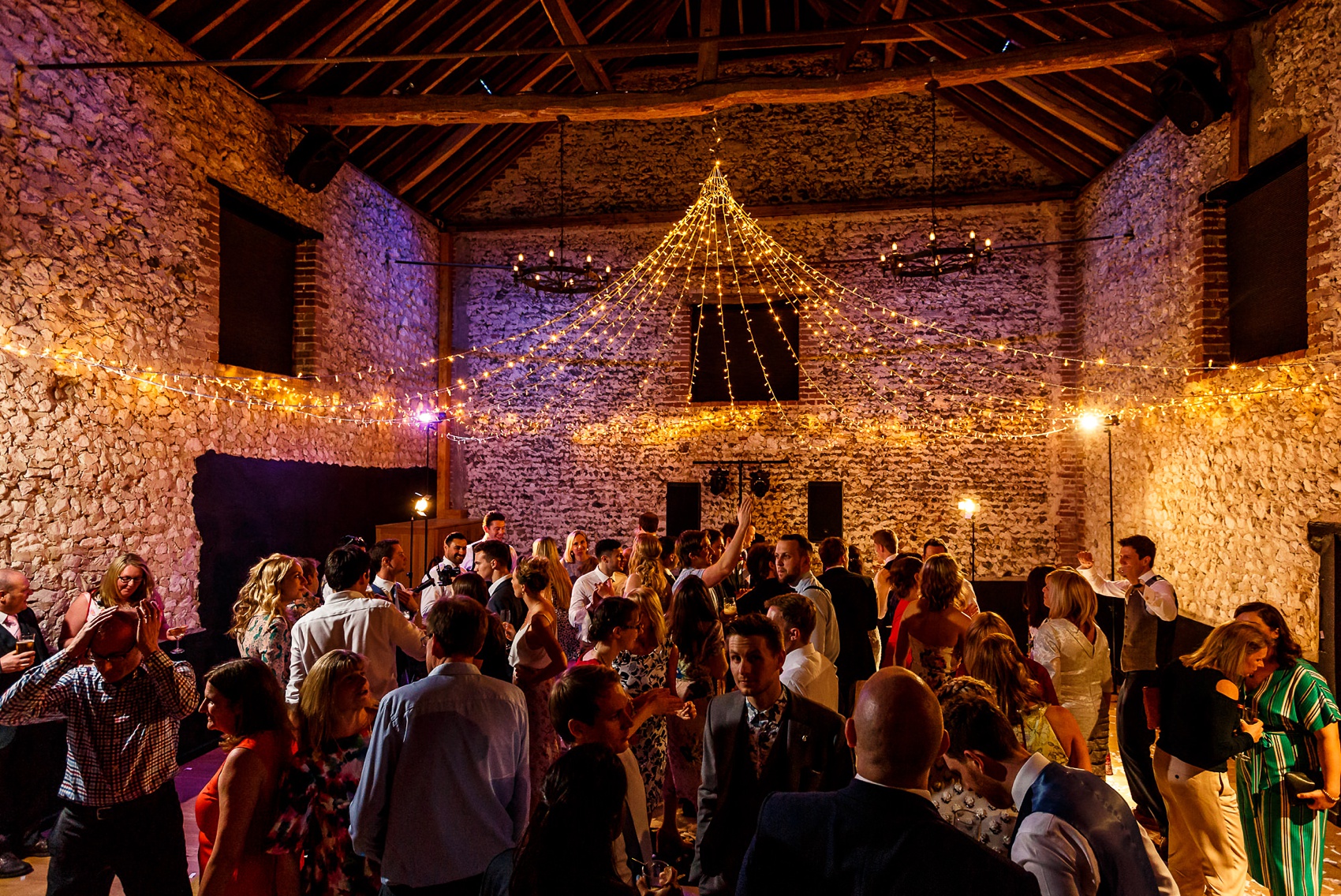 "The venue was dotted with fairy lights. We brought our pew ends from the church so they could be enjoyed outside and we had a stunning fairy light display above the dance-floor. Otherwise, we let the beauty of the flint barns speak for themselves."
Clare and Sam asked a friend to DJ the evening party.
"We had a friend of a friend as a DJ for the evening entertainment. All we wanted was brilliant music all night long to encourage a busy dance floor. It was one hell of a party! We found choosing a first dance song to be agonising. We didn't want to have an awkward slow dance and weren't confident enough to have a routine created for us. We also found that most of our favourite songs were about heartache, people being bad, or nothing to do with love at all. In the end, we chose 'Symphony' by Clean Bandit. They're one of our favourite bands and we just love the lyrics. We bounced about like loons and didn't care one bit."
"It is so difficult to pick a favourite part of the day . The moment we walked down the aisle as husband and wife was just epic, but we'd both say one of the most emotional moments was when we walked into our wedding breakfast. To see all of our favourite people standing, clapping and cheering was just overwhelming. Throughout the meal I kept looking round the room at everyone enjoying their food, chatting, laughing. It just felt like the most special day ever and the best thing to have everyone we love in one room."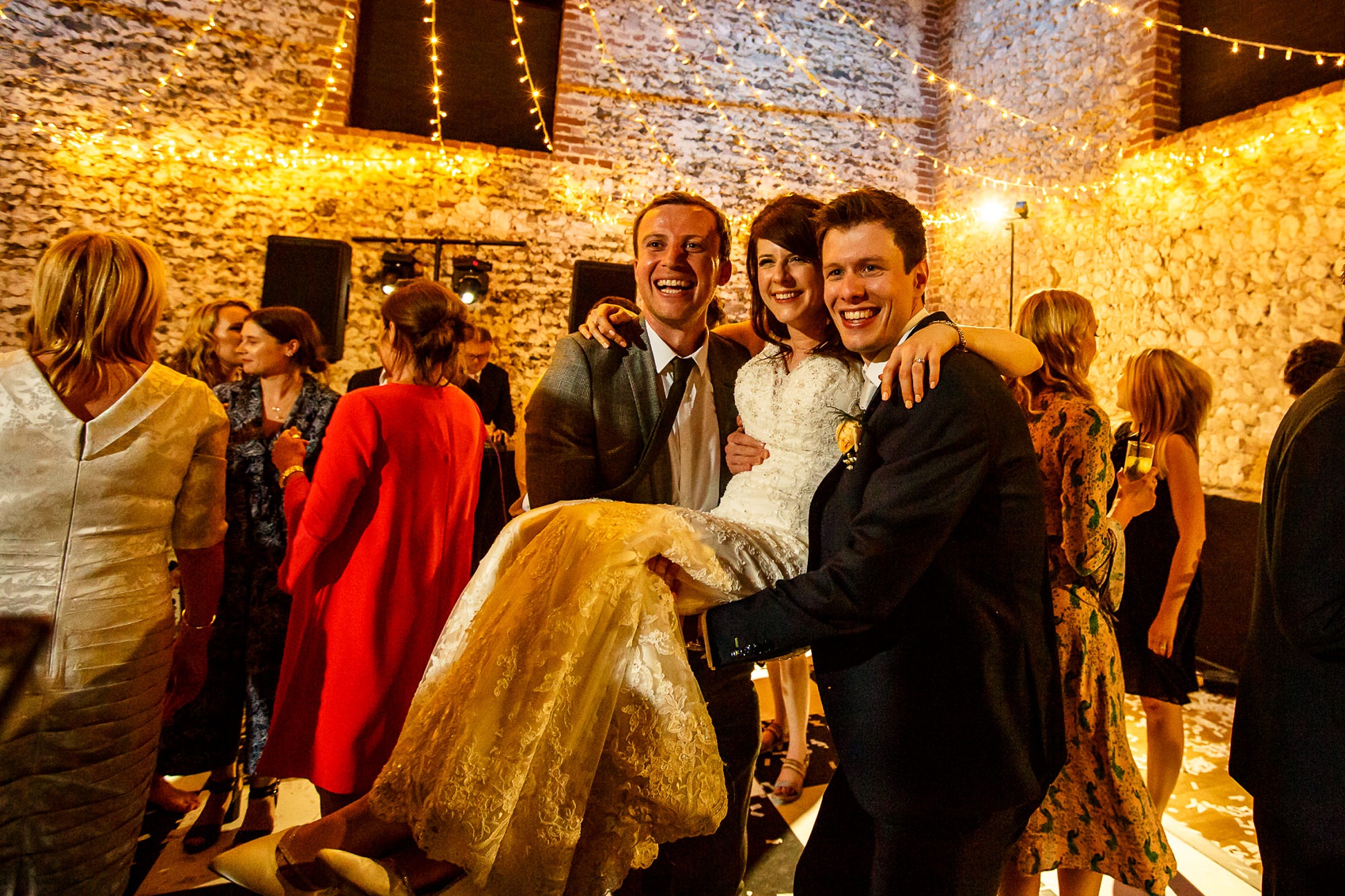 Words of Wedded Wisdom
"Make it your day. The minute you get engaged the questions will start flooding in – as will the opinions! Sam and I talked loads about what we did and didn't want and we thought really carefully about the decisions we made. They didn't please everyone though and sadly, we had some negative comments along the way. That said, we don't regret any of those choices and we are so pleased the day represented us as a couple from start to finish."
"Think carefully about any photos you want from the day. I am gutted I don't have more casual selfies of me with my friends and family – I've not got a single one with just my mum or my brother, let alone most of my friends. With hindsight I should have asked more of them for selfies whilst we were talking."
"Get a videographer. If you can stretch to it, do it. I adore our wedding photos but they only tell part of the story. I love that we can watch our ceremony and speeches again, and watch the highlights of our day and the little moments we may have otherwise forgotten."
"Budget carefully. If your budget isn't bottomless, be really honest about where you need to spend and where you can save. For us, having a posh car drive us from one venue to another seemed pointless but for other people, that will be the highlight of their day! It's all about your preferences. Wedding fairs can be super-tempting so go with a plan of what you hope to book and try to resist tactics such as discounts on things you don't actually need. I found costs suddenly stacked up in the last few months – I hadn't thought about random things such as PJs to get ready in, gifts for the wedding party and or the cost of reprinting place cards when you make spelling mistakes (!)."
"Do a speech!"
"Enjoy it. Yes, there will be stressful moments. Yes, it takes over your life – but it's the most amazing event to plan and it's a day you'll never forget. We felt so shrouded in love for weeks after. Whether your idea of enjoying it means handing all the work to someone else or organising every last detail yourself, make the most of it and soak it all up. That includes the day itself, because it really does fly by and there genuinely is nothing better than marrying your best friend in the world."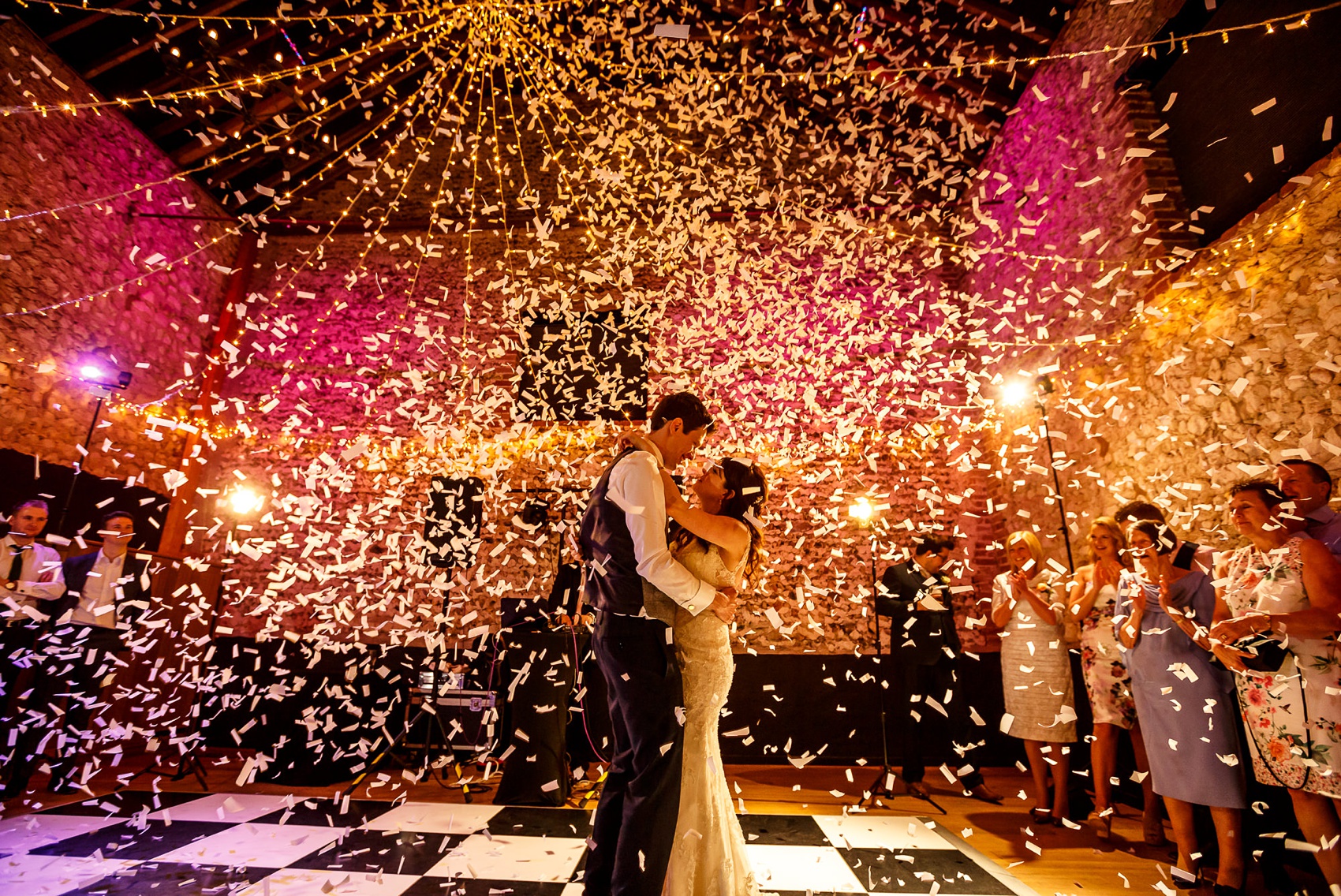 Clare, I'm so glad that you found our Facebook group such a source of inspiration, and thank you so, so much; both for passing on your own recommendations and for sharing yours and Sam's day with us here. Thank you also to Lina & Tom Wedding Photography for these bright and joyful images. If you're thinking about getting creative, I think
you'll love these other handmade weddings here
.
Ele x