I recently celebrated one year of writing for Love My Dress, and in that year I've written about more than a hundred incredible real weddings, each one filled with its own distinctive and special magic.
I have another spectacular celebration to share with you all today, and it's beautiful! Our couple took a wonderful country house venue in Northumberland, and added their own brilliant, quirky and personalised touches along a tropical theme, with an outdoor ceremony and a fantastic tipi reception. This is the wedding of Mr and Mrs Jordan, a restaurant manager and sales manager, who celebrated their marriage on the 21 July 2018 at Woodhill Hall. Bride Emma was so inspired by the planning of their day that she's started her own wedding planning and coordinating business, Emma Jordan Weddings.
"Growing up, my wedding day was not something that bothered me, and to be honest I hadn't really thought about it all until Ben popped the question. I'm quite quirky – silly things like pineapples and flamingos make me happy, so I made it my mission to showcase my style throughout our wedding, by incorporating a classy tropical theme."
Images by Dan McCourt
I'm delighted to share the work of photographer Dan McCourt today, and am in awe of the thoughtful yet natural way he captured Emma and Ben's day, with beautiful use of light and shade and the glorious rural location.
"We couldn't recommend Dan enough! He was on my wavelength in terms on my vision and executed the whole day beautifully. We didn't even know he was there, and he wasn't pushy at all in getting the shots that he wanted. He made it all about us and made us feel super comfortable."
Emma says the only person able to tame her (frankly magnificent) curls is her trusted hair stylist, Jo, of MoJo Hair Design, and her gorgeous, glamorous make-up was by Art by Lucy Maria.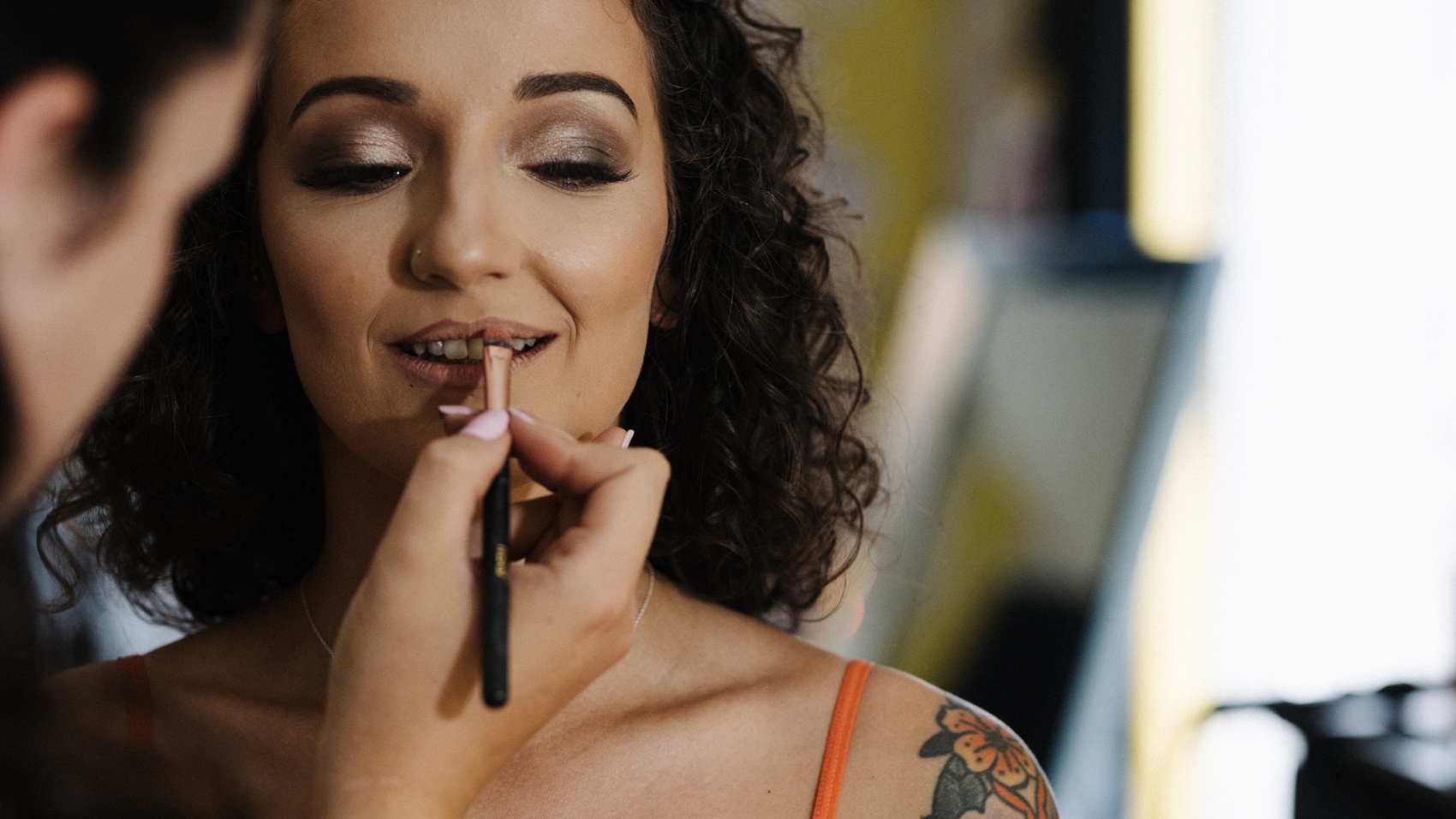 With her dress, Emma wore a simple tulle veil from Sì Bridal, shoes from River Island, and for jewellery, a delicate pearl pendant necklace, gifted to her by her Maid of Honour.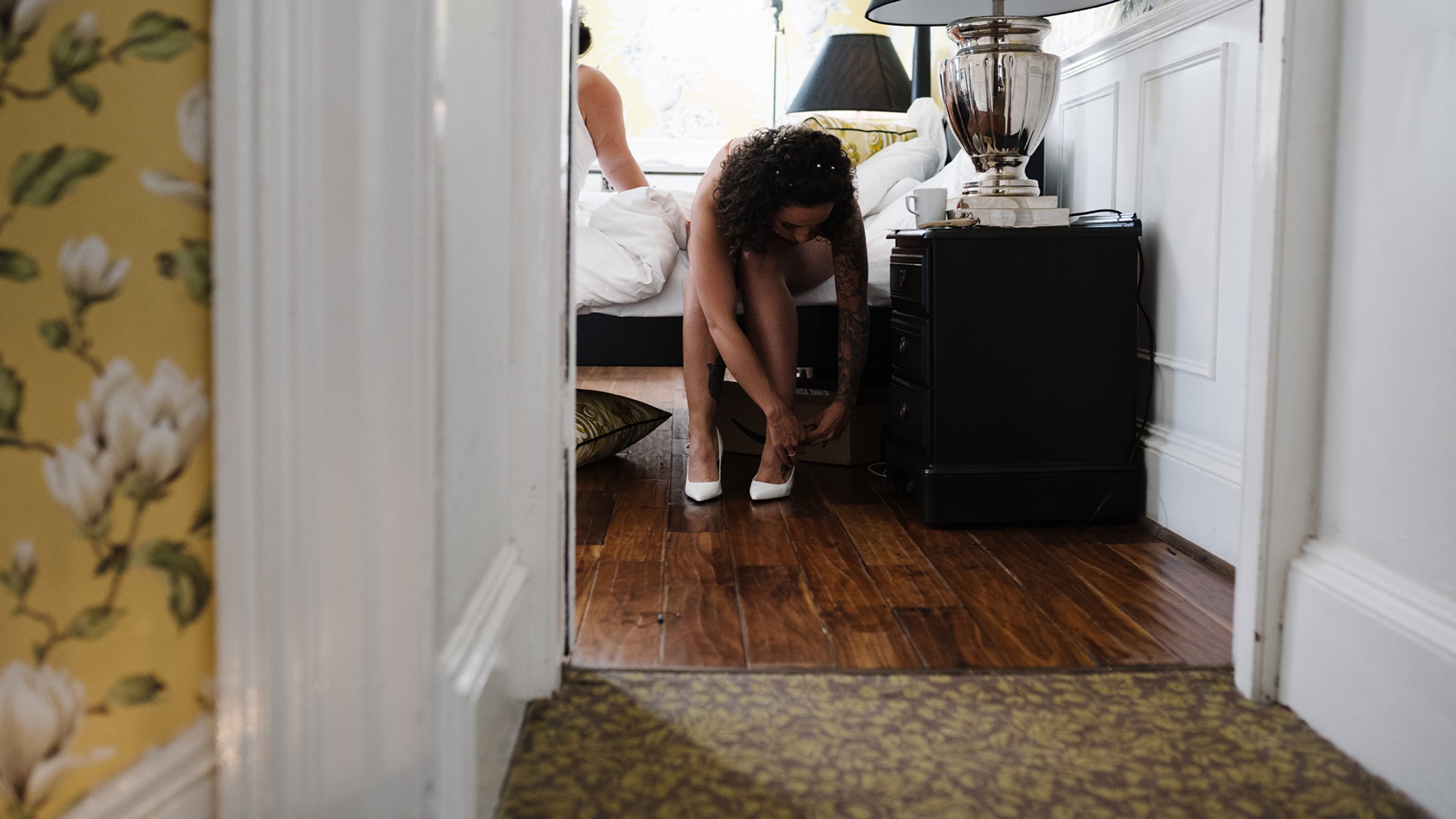 I absolutely love Emma's wedding bouquet, and how it tied into the couple's brilliant tropical styling. The bridal bouquet was packed with exotic delights; a giant Monstera leaf, huge pink protea flowers, orchids, and a peace lily bloom, as well as ethereal pink astilbe and fragrant roses and rosemary branches.
This, and all of the exquisite floral work was by Primrose & Promises, who also happens to be a good friend to the couple.
"She was great at being able to execute my vision! We spent many nights on Pinterest trying to make it all come to life."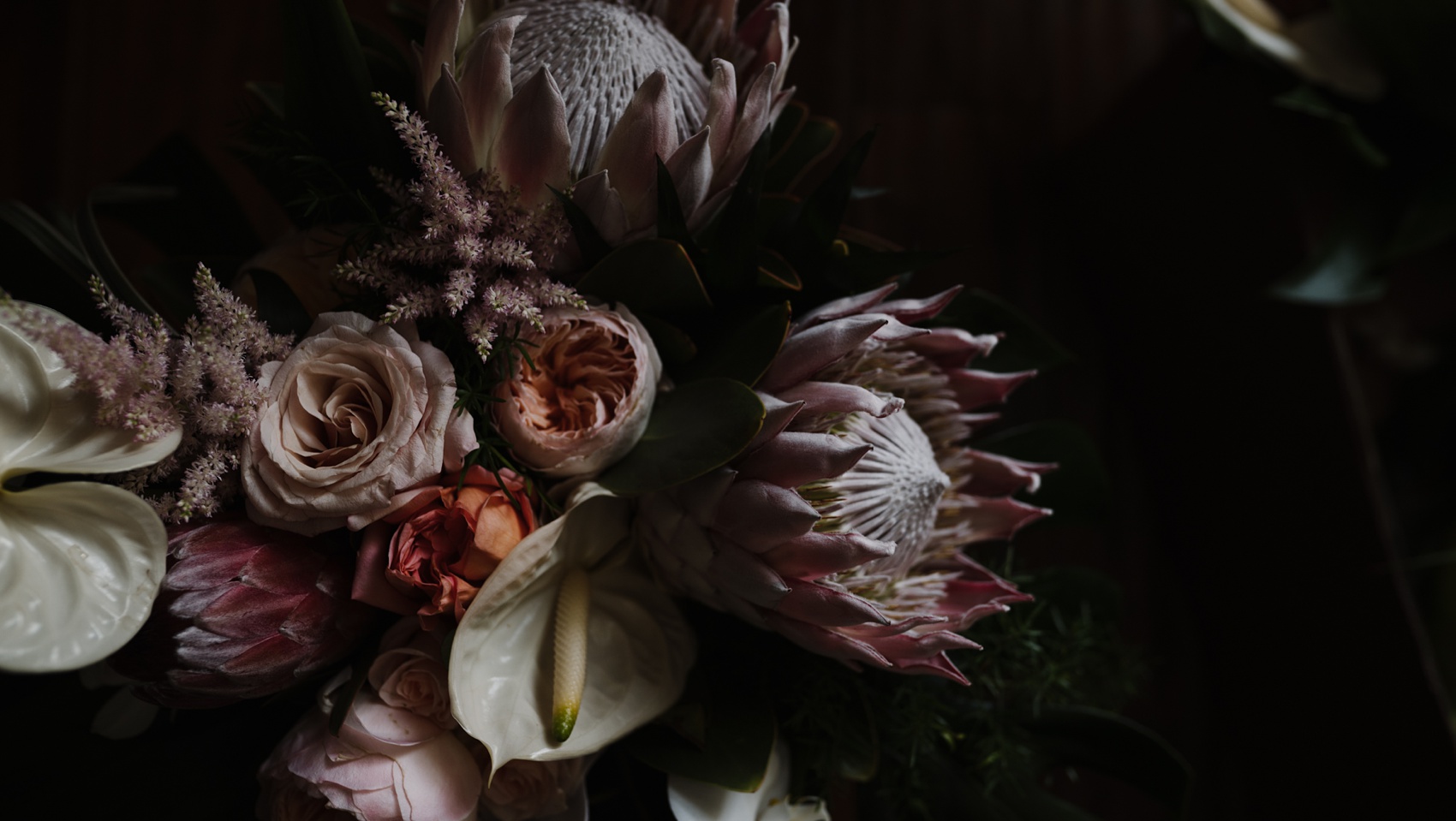 From boutique Sì Bridal & Co., Emma Chose a beautiful dress by Riki Dalal, with a soft, flowing skirt, sweetheart neckline and a wonderfully detailed satin lace collar.
"I knew as soon as I stepped into Sì Bridal, with their great selection of haute couture dresses, that this was the route I would go down. I wanted something to reflect my girly, sparkly personality without being too over the top, and as I have a full sleeve tattoo, I had to find the right dress for that also. I loved the detail across the top, the delicate pearls and floaty skirt."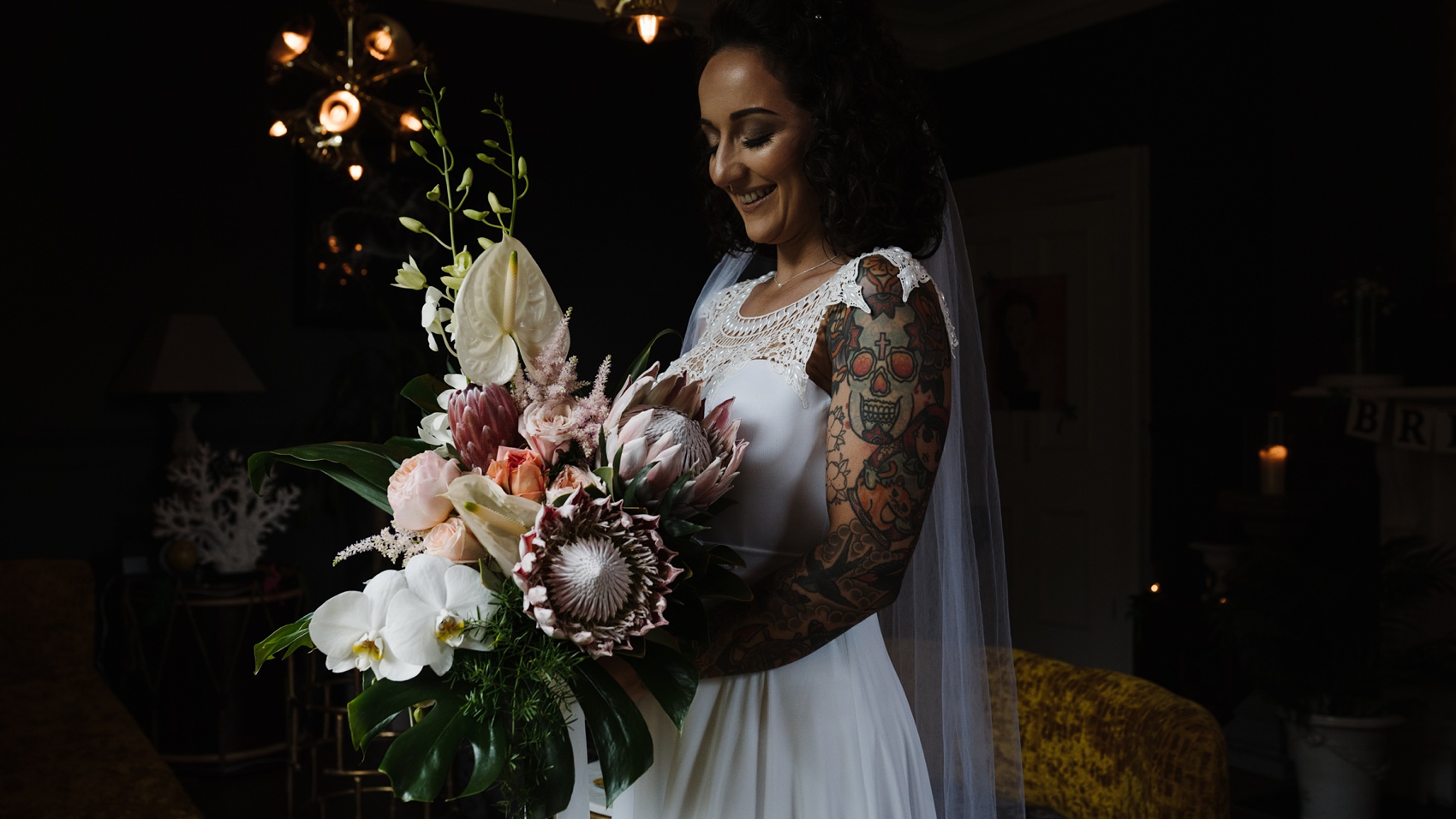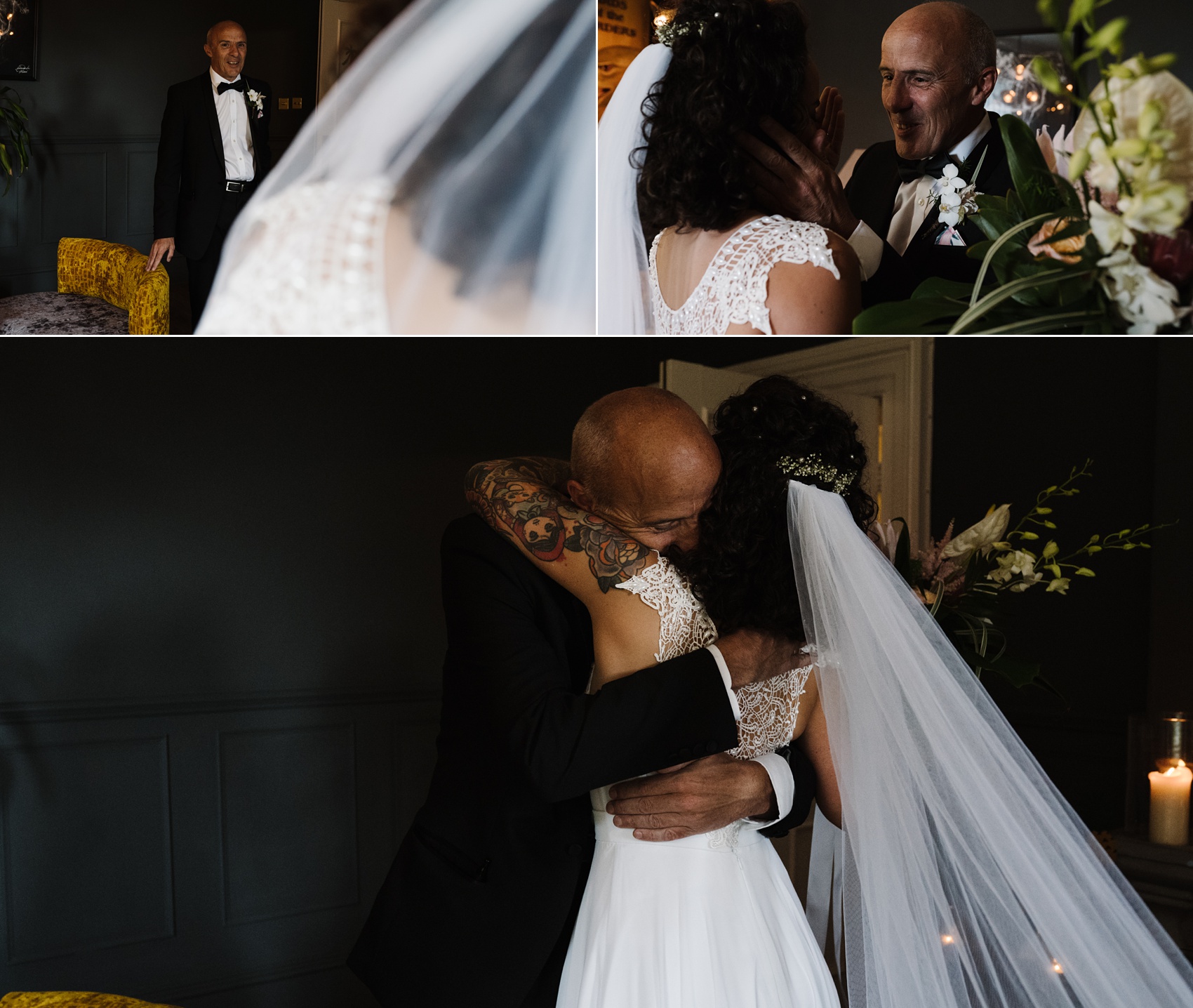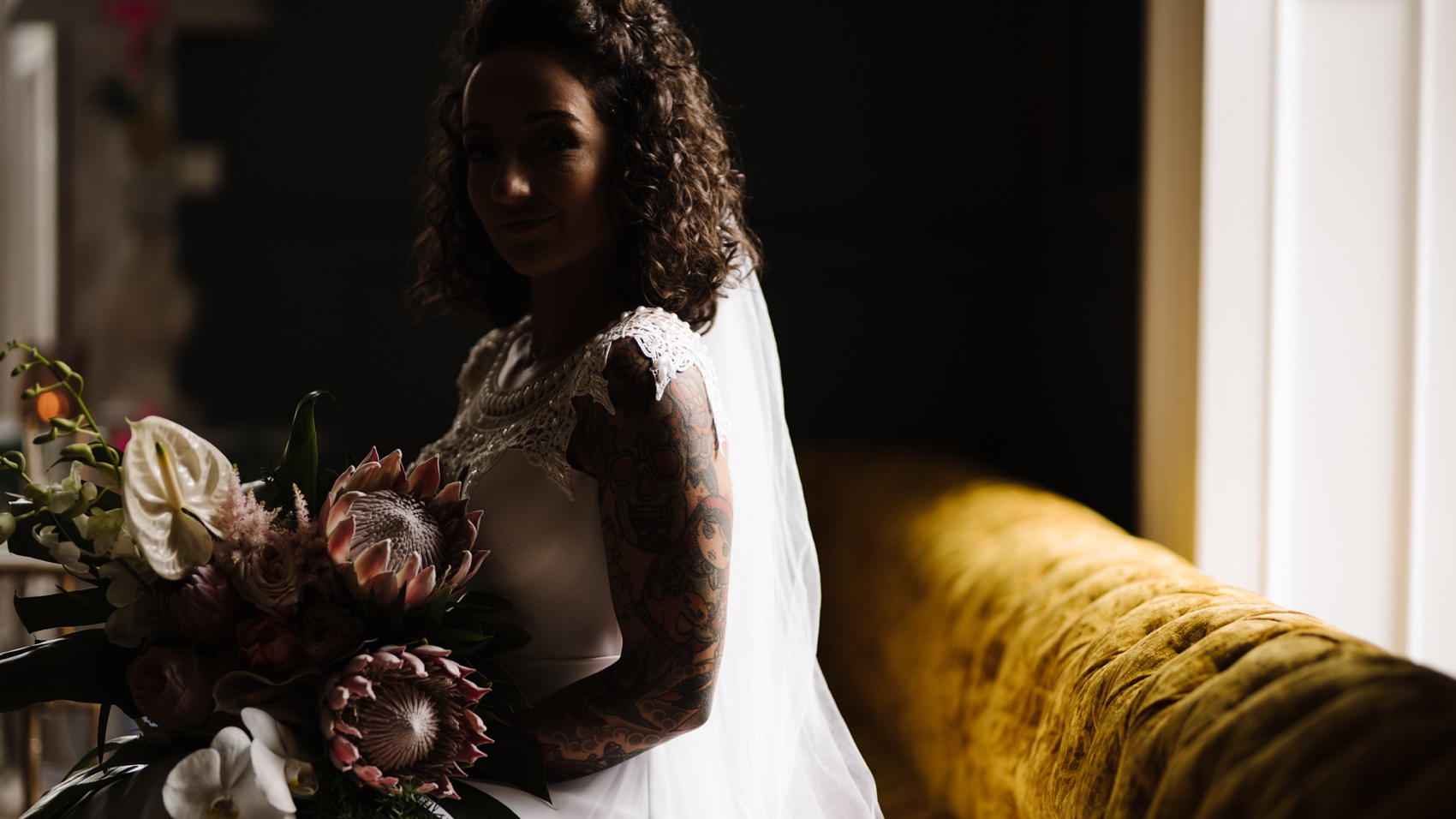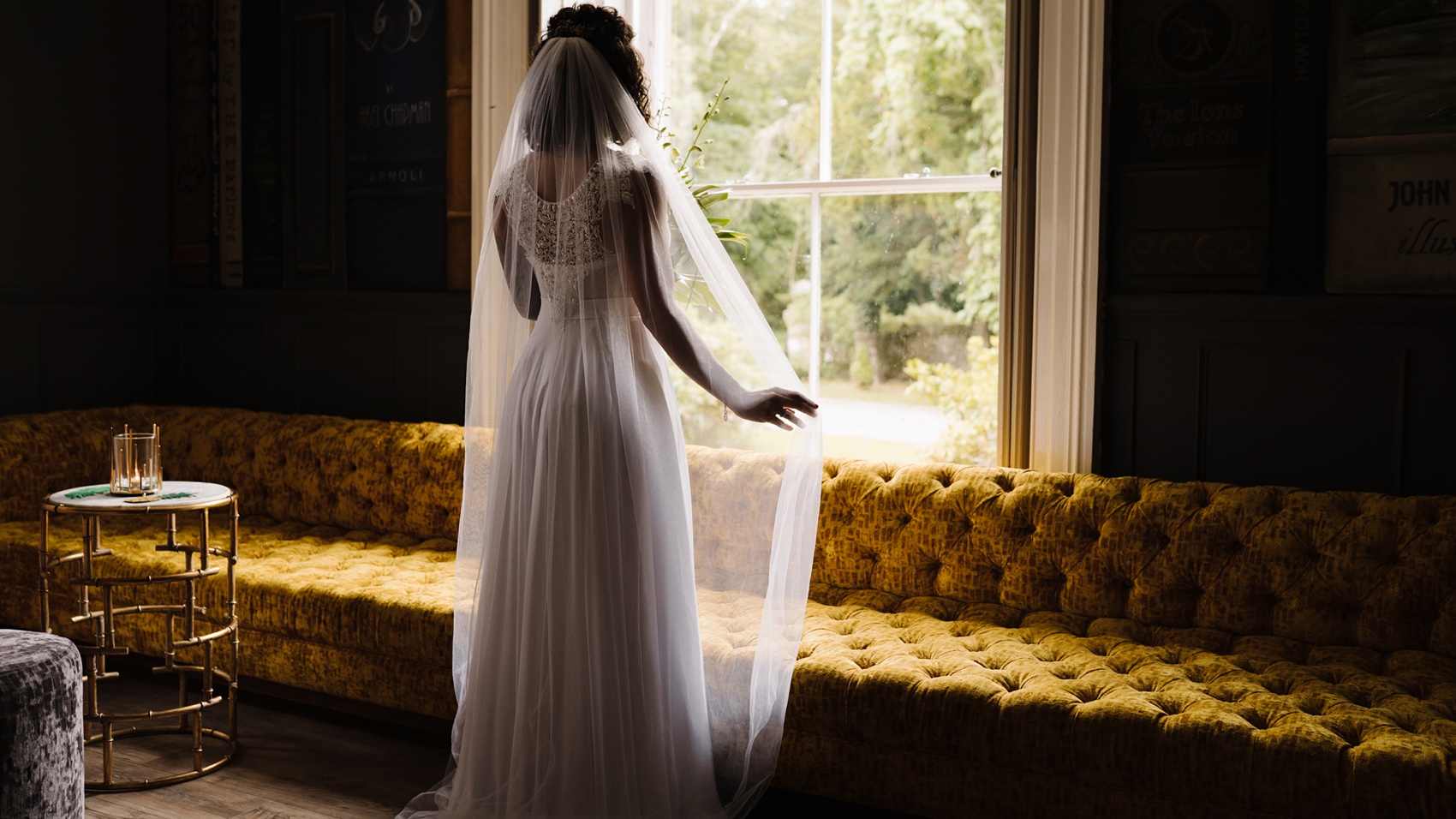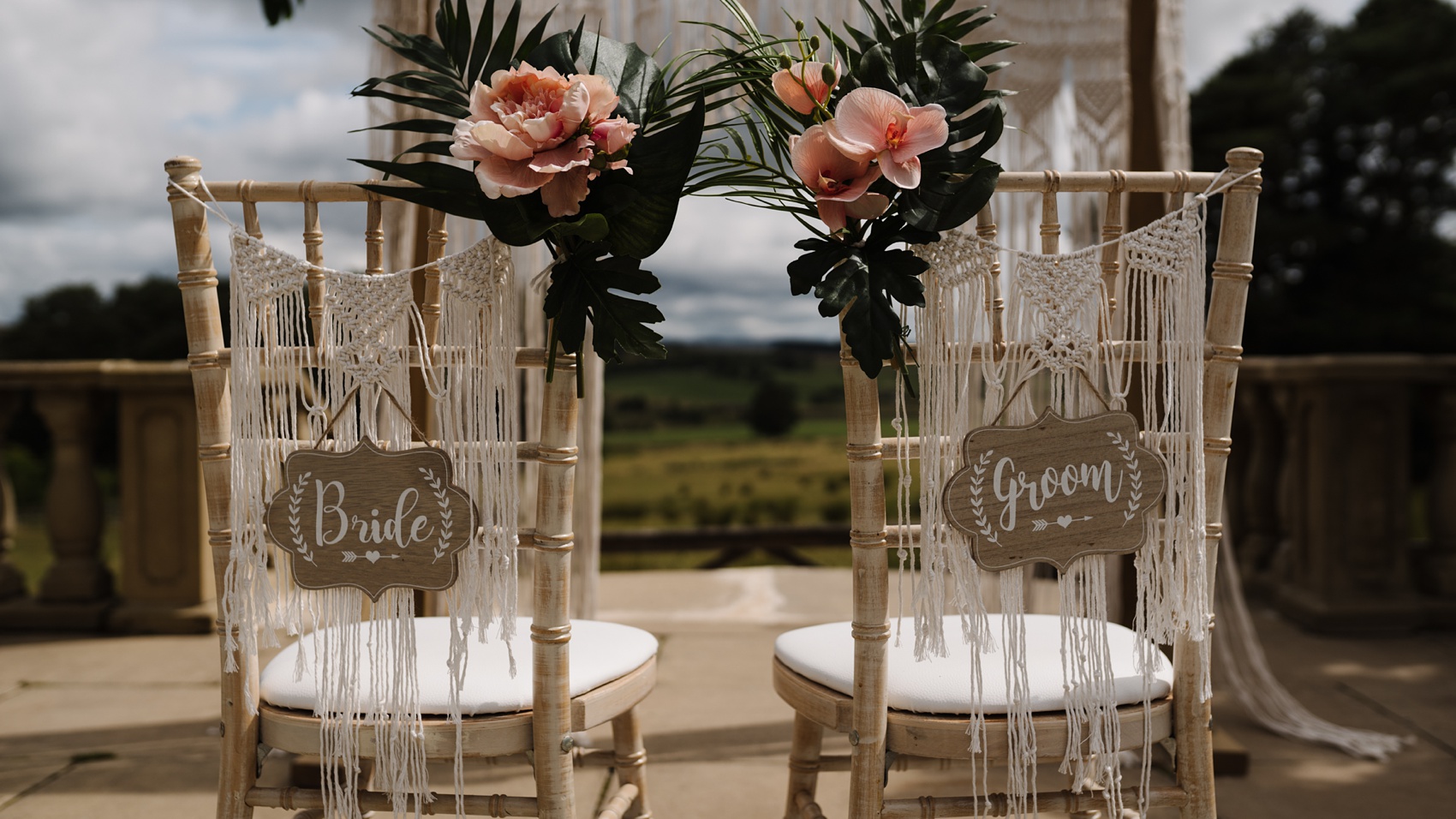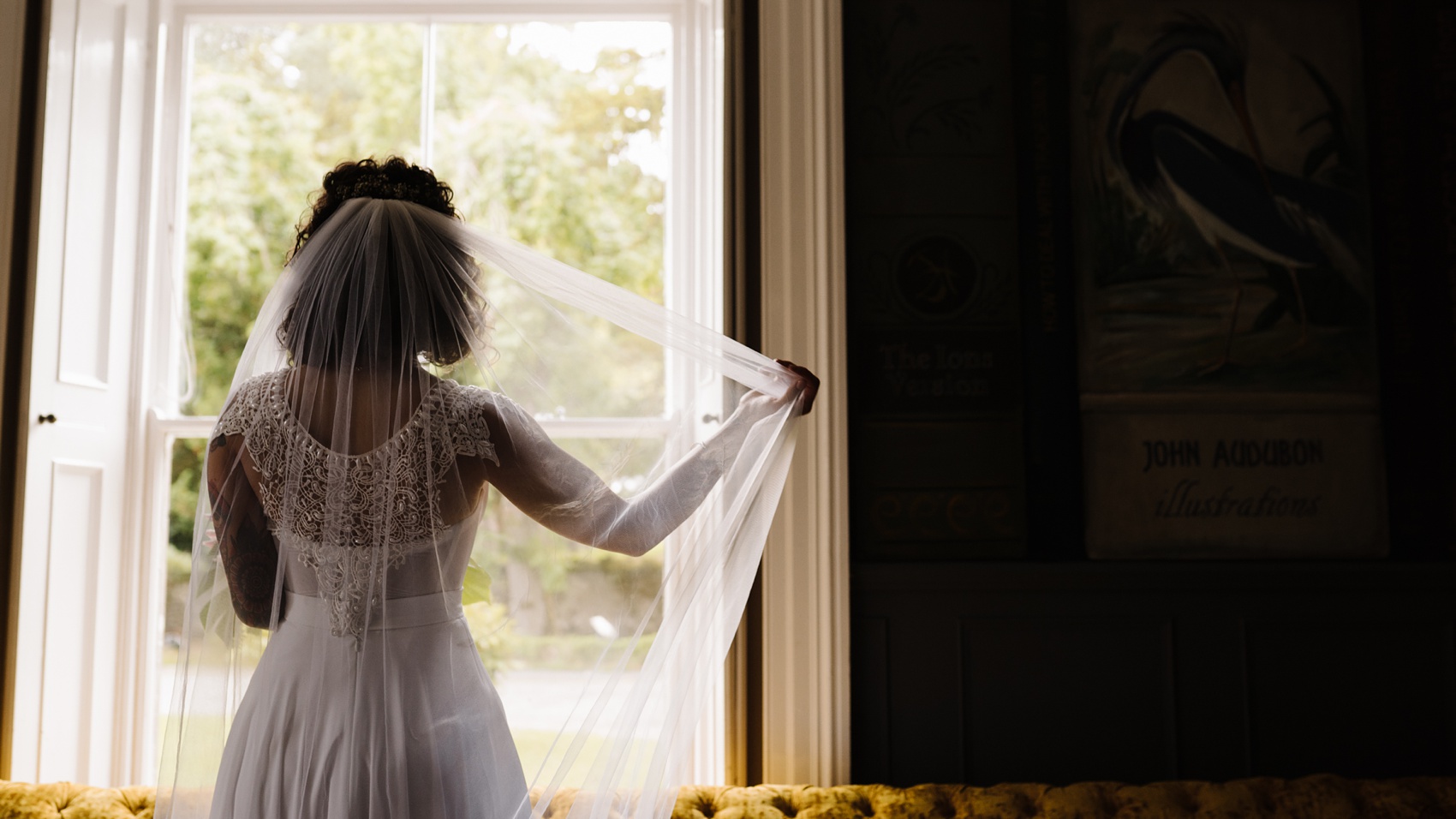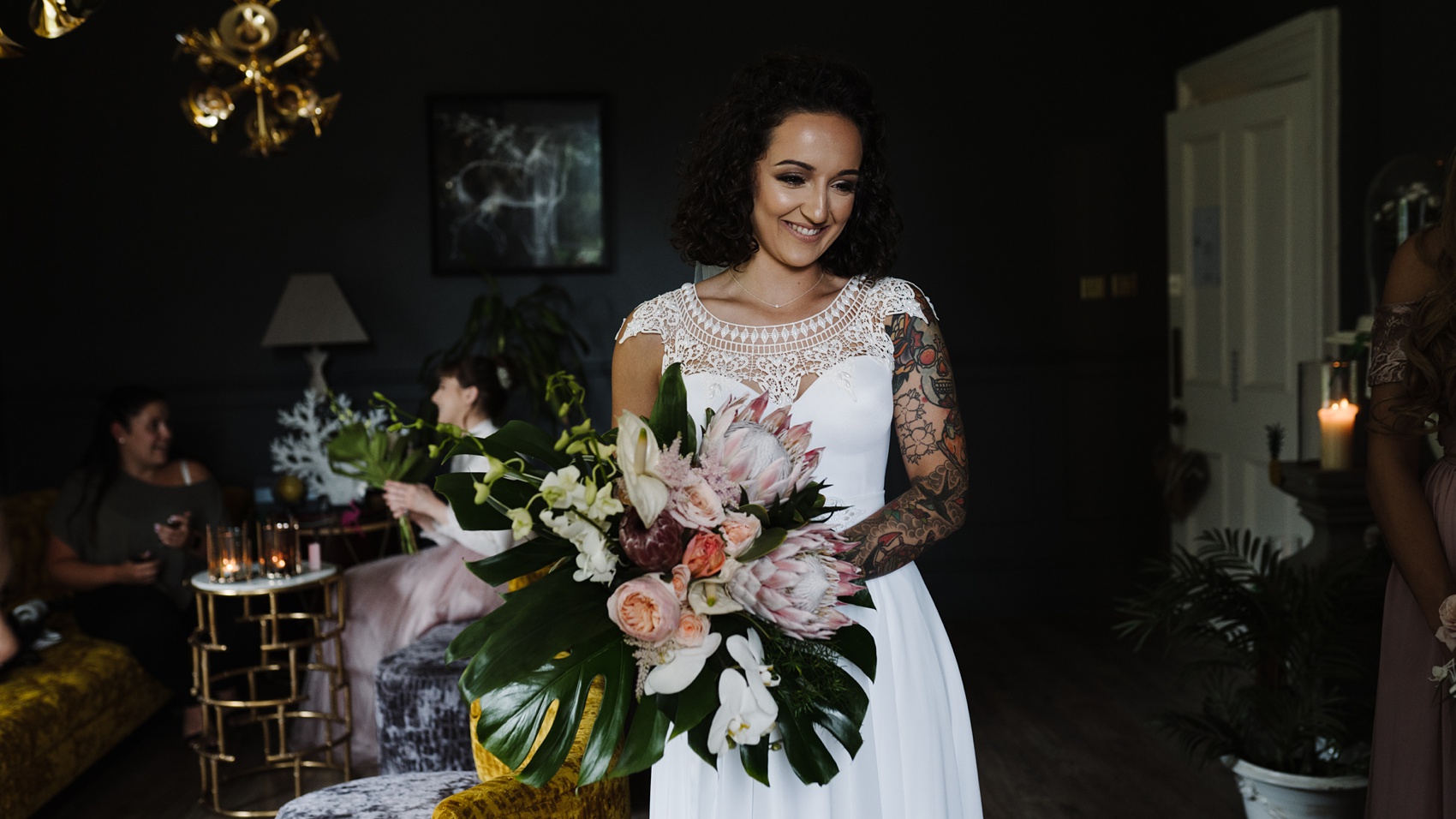 Groom Ben looked handsome in classic black tie, with his suit sourced from Marks & Spencer, and bow tie and braces from ASOS.
Mr and Mrs Jordan chose to hold their ceremony outdoors on Woodhill Hall's spectacular terrace, with magical views of the Northumberland countryside. I love the focal point created by the macramé arch, decorated with luscious flowers and greenery. There was even macramé adorning the couple's ceremony chairs!
"Ben and I met on the dancefloor! We had been in touch before that, as I sold tickets for a music event he was interested in buying, and we met in a club where I was supposed to sell him a ticket. Instead we danced together all night and no tickets were bought – we've been inseparable ever since! Five years on, we're happily married!"
Emma was accompanied down the aisle by her dad, and chose Ed Sheeran's song, Wake Me Up, for that special moment.
"When we listened to the track for the first time, we both cried a little and knew it was the song for me to walk down the aisle to."
Ben had chosen Emma's engagement ring at Goldsmiths Jewellers, and so the couple decided to return to choose their wedding rings.
"We both decided to write our own vows, and with a little help from a guideline on the internet, I found my beginning middle and end. Over a few months I tweaked them with some private jokes and meanings to make them more relevant to us."
"'You are my best friend, my mentor, my playmate and my 'two for joy.' But most importantly, you are the love of my life and you make me happier than I could ever imagine, and more loved than I ever thought possible.'"
"'Two for joy' is a reference to seeing two magpies and it bringing you good luck. Mainly it's just a silly joke between us, but it went down a treat."
It was an emotional ceremony full of kisses, laughter, hugs and tears, and afterwards the newly married Mr and Mrs Jordan enjoyed drinks on the terrace with their loved ones.
The bridesmaids wore a dreamy selection of  blush pink and cream dresses, skirts and tops from ASOS, and I love the choices they made; long tulle skirts, asymmetric gowns and lots of lace. They wore their own choice of rose gold footwear, and the lovely flowergirl wore a dress from Monsoon.
"I chose mix-and-match outfits for my bridesmaids. My reasons behind this were because they all have different tastes, styles and shapes, so I wanted each of them to feel that they looked unique, as well as being in a style that suited their body shape."
Emma and Ben chose Woodhill Manor for its quirky and cool interiors, as well as the fantastic tipi in the gardens.
"I decorated the tipi myself on the evening before with my Maid of Honour, which is everything I had dreamed of. The thought of putting it into someone else's hands made me nervous!"
"I bought tiny little pineapples, which held the place cards. We had a beautiful frame with the foiled table number in, and lots of tropical plants and candles."
Elegant blush pink and rose gold foil stationery was created by another talented close friend of Emma's – Once Upon a Print.
"Our wedding favours were two little macaroons in a cute box made by our cake maker, Cocoa Moy."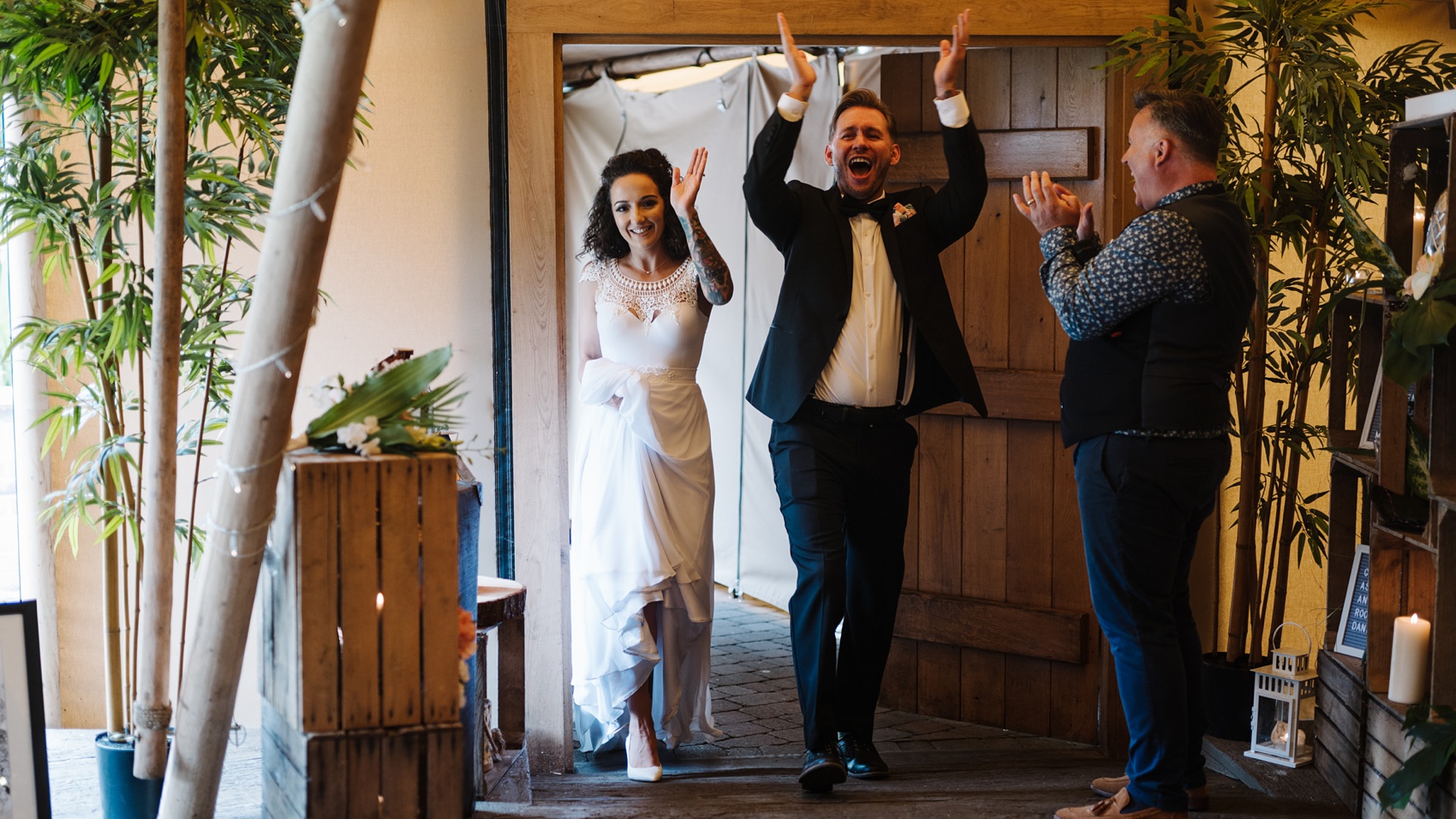 "I feel like I could cry thinking about how special the full day was, and trying to find just one moment is proving difficult! Probably sat down at the top table and looking around at how everything had all come to life, and seeing how much of a great time my family and friends were having – there is no better feeling in the world than knowing everyone was there to celebrate our love for each other."
The team at Woodhill Hall served a delicious sounding wedding breakfast of prawn salad with mango salsa, lamb shank with minted greens and creamy mash or roasted vegetable lasagne, and for dessert, sticky toffee pudding with fudge chunk ice cream.
"Cocoa Moy made our cake, and again, she's a family friend! She was able to see exactly how I wanted it to look and she did a great job in doing that. It tasted so beautiful too! Would highly recommend."
"Another great time was escaping the madness before our evening guests arrived. We had around two hours of photo time and chill time – just us two. It was magical."
After their golden hour walk in the woods and fields, and quiet moments spent together, it was time to take to the dancefloor for the evening party (sadly, no details provided about the entertainment).
"We kept with the Ed Sheeran theme for our first dance track (Ed Sheeran was playing when Ben proposed, too). It seemed fitting to keep it throughout our wedding! For our first dance we chose Kiss Me from one of his older albums, as the lyrics were very fitting to the whole day."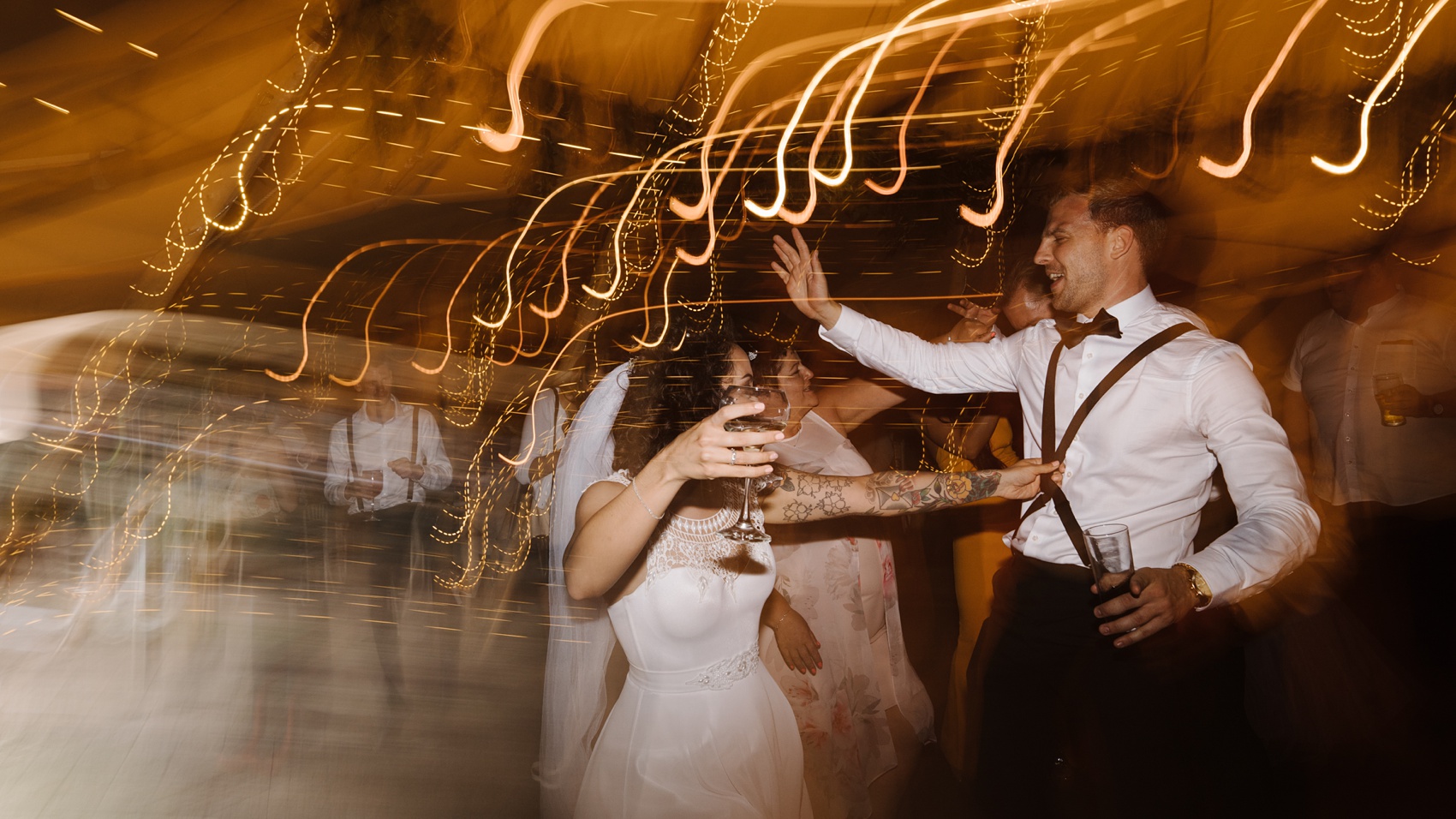 Words of Wedded Wisdom
"My words of wedded wisdom to future couples would be to embrace every single second of the morning getting dressed, and don't get too caught up in the smaller details if something is missing or doesn't go to plan."
"Make time for you and your new spouse to escape the madness, to just be with one another."
"Bring some flat shoes to dance the night away!"
Well, Mrs and Mrs Jordan, it's been a pleasure to share your cool, tropical inspired day – thank you so much! Many thanks also go to Dan McCourt for his truly beautiful images. If you'd like to see more brilliant weddings in Northumberland, then we have lots to enjoy, right here.
Until next time.
With love,
Laura