Hello lovely ones. Today we're hopping across the pond and following the bride and groom to their new home country of Canada, where they chose the most beautiful venue to be married in. Number 1 priority for this bride and groom was to make their wedding day as fun, playful and colourful as possible, and I think they may have just hit the nail on the head…
Photographer Kat and student Ryan were married on 26th August 2018 at the gorgeously green Secret Garden at Woodbridge Ponds in their new relocation home of Abbotsford, Canada. This is a look and vibe we feel could be achieved at any British country house with a beautiful outdoor glasshouse or with a botanical/garden focus.
Images by Amber Hughes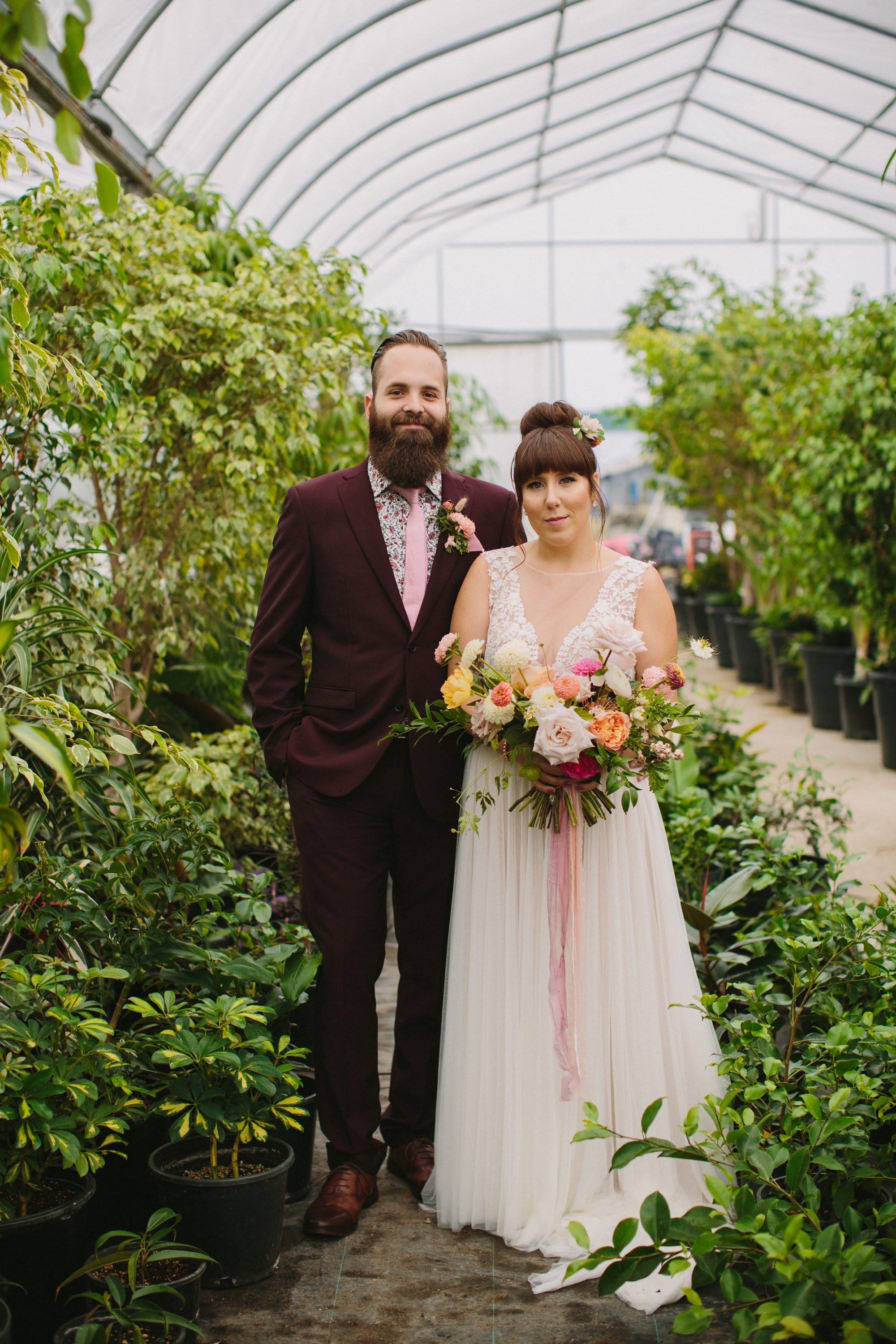 "The venue is so gorgeous! As soon as we walked into the tented reception area and saw how bright it was with all the greenery, I knew we had to book it, for the pictures alone! It's a working nursery and winery too, so they were able to supple all the wine as well as the wonderful backdrop. One of my favourite things about the venue is that it has a lot of different nooks and crannies for guests to explore. The main criteria for the day was playful, with lots of colour!"
"I loved my wedding shoes, which were a pair of pink braided leather comfy block heels that I could wear into the night. They were by Rebecca Minkoff and I bought them from Nordstrom."
"I was so happy with our flowers on the day, created by Blossom and Vine Floral Co. I felt like Michelle (and her fab team) had climbed into my head and brought my ideas to life. I wanted the florals to pop with colour against the greenery of the venue. I adore ranunculus, so Michelle featured lots of those. I went with hoops for the bridesmaids because I've been to a lot of weddings myself and know how heavy those bouquets can be, so I decided on a bit more of a practical route and they loved them."
Because of the rain we had to change the ceremony venue from the garden lawn to the reception area so Michelle made a makeshift arch. It was honestly more beautiful than the garden arbour we were supposed to get married under. I can't say enough great things about her skills – she's just fab."
"I found my Watters dress at The Bridal Gallery and I just really loved the soft and floaty tulle and lace motif detail. I also really loved that the underskirt was a rose gold colour and very subtly showed through the tulle."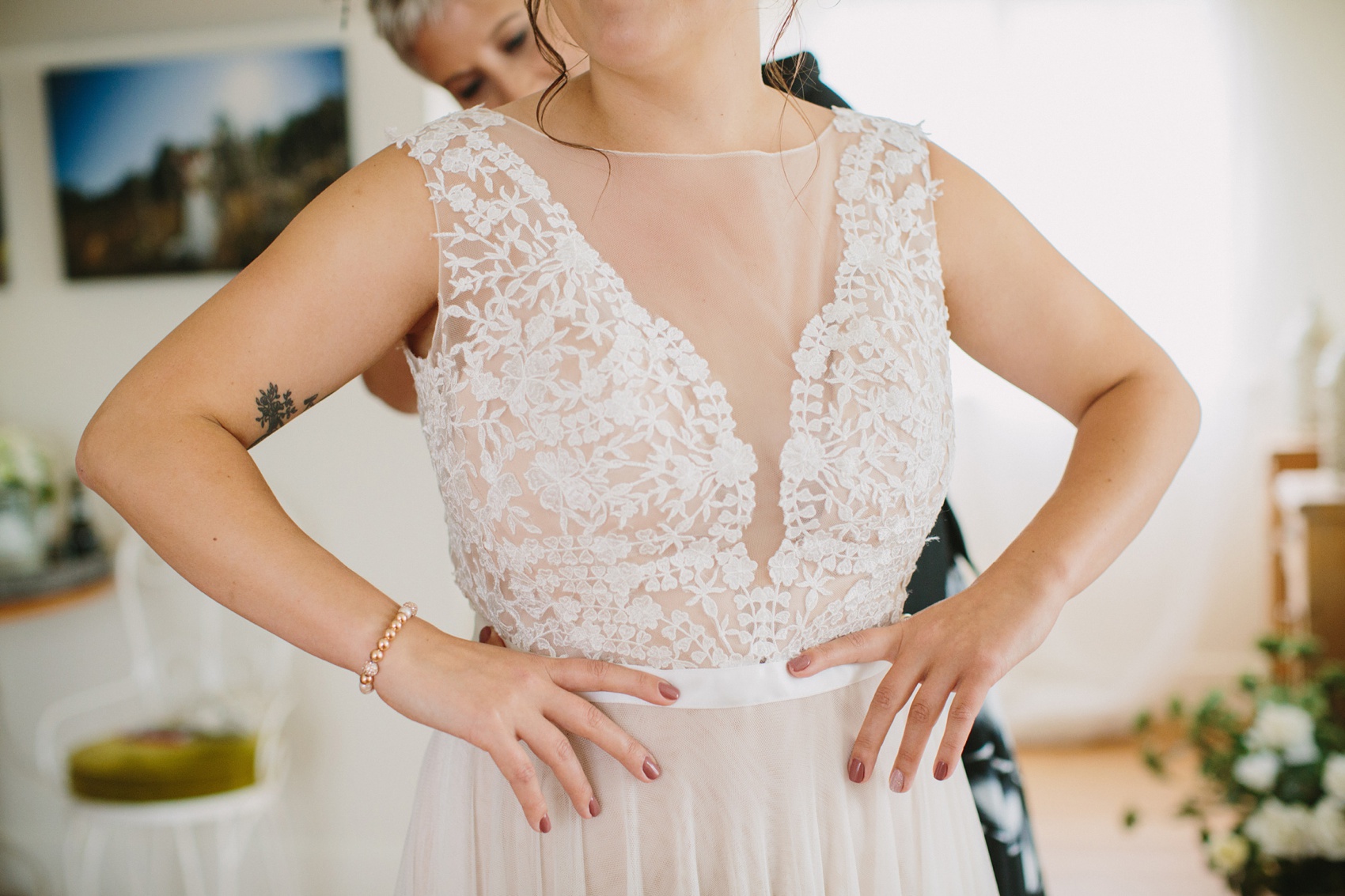 "The bridesmaids all chose the dresses/jumpsuits themselves. I just gave them a brief and a palette and let them pick what they felt most comfortable in. I loved the mismatched look and they were from a mixture of H&M, Get Plenty and Urban Outfitters."
"I also bought all the girls a gold necklace with a disc pendant each. They were engraved with a little mountain scene and I bought them from Etsy. I went with mountains because at some point in our lives, we've all lived in Vancouver."
"I wore fresh flowers in my hair and D&G light blue as my scent as it's so fresh smelling. My only accessories included my engagement ring, a pearl bracelet, a diamond bracelet and a pair of costume earrings."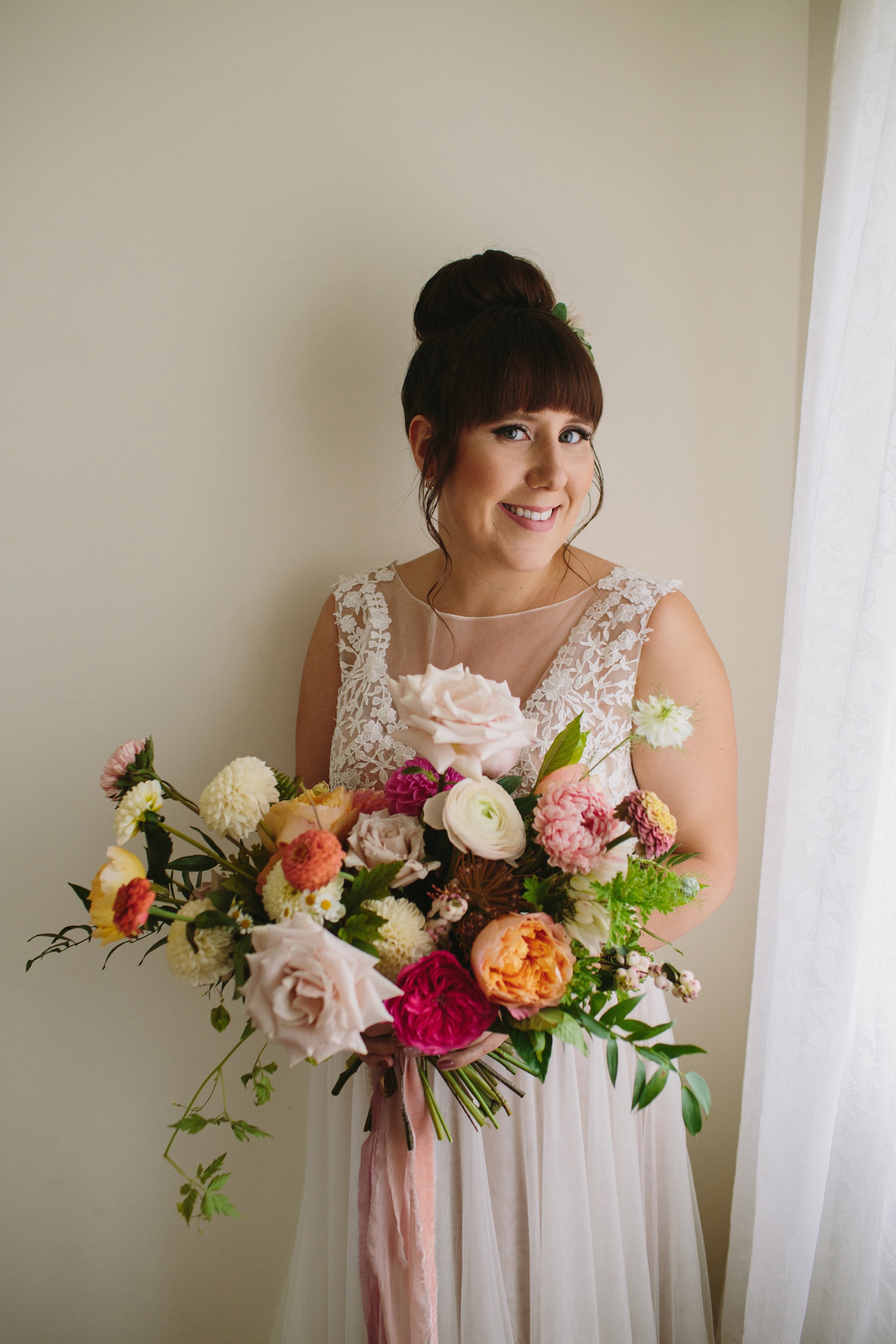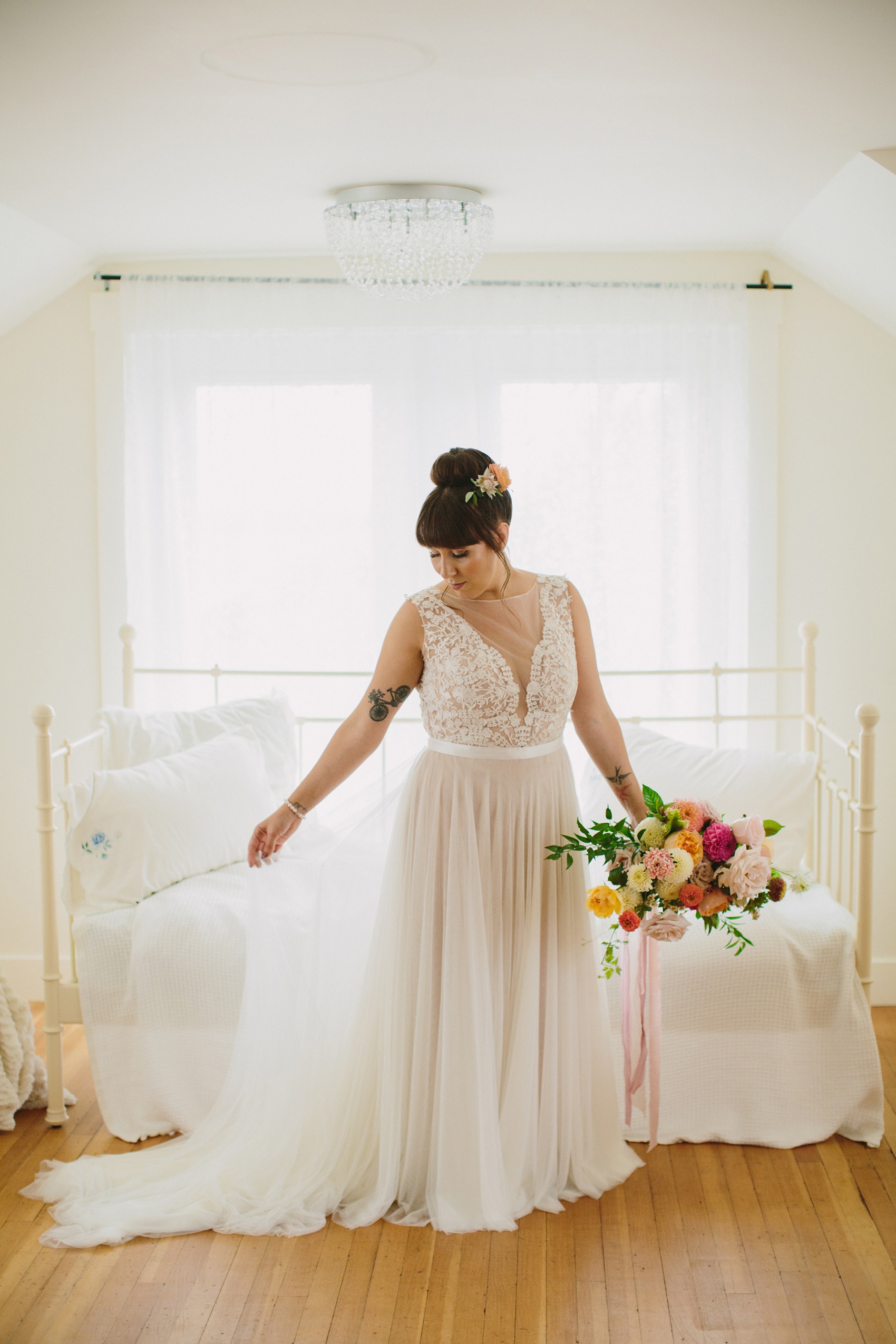 "As a photographer myself and a lover of colour, it was important to me that the colours were true to real life and didn't become altered in the editing process. We found Amber Hughes and her wedding work is colourful, creative, heartfelt and candid. Amber herself has a really calming presence and she's just generally a soothing character to be around."
"I really appreciated that she was so calm and collected on the day. I asked her to focus on getting lots of candids of our guests and just adored sharing them with our friends and family. Showing our people these photos and seeing their reactions was almost as good as the day itself!"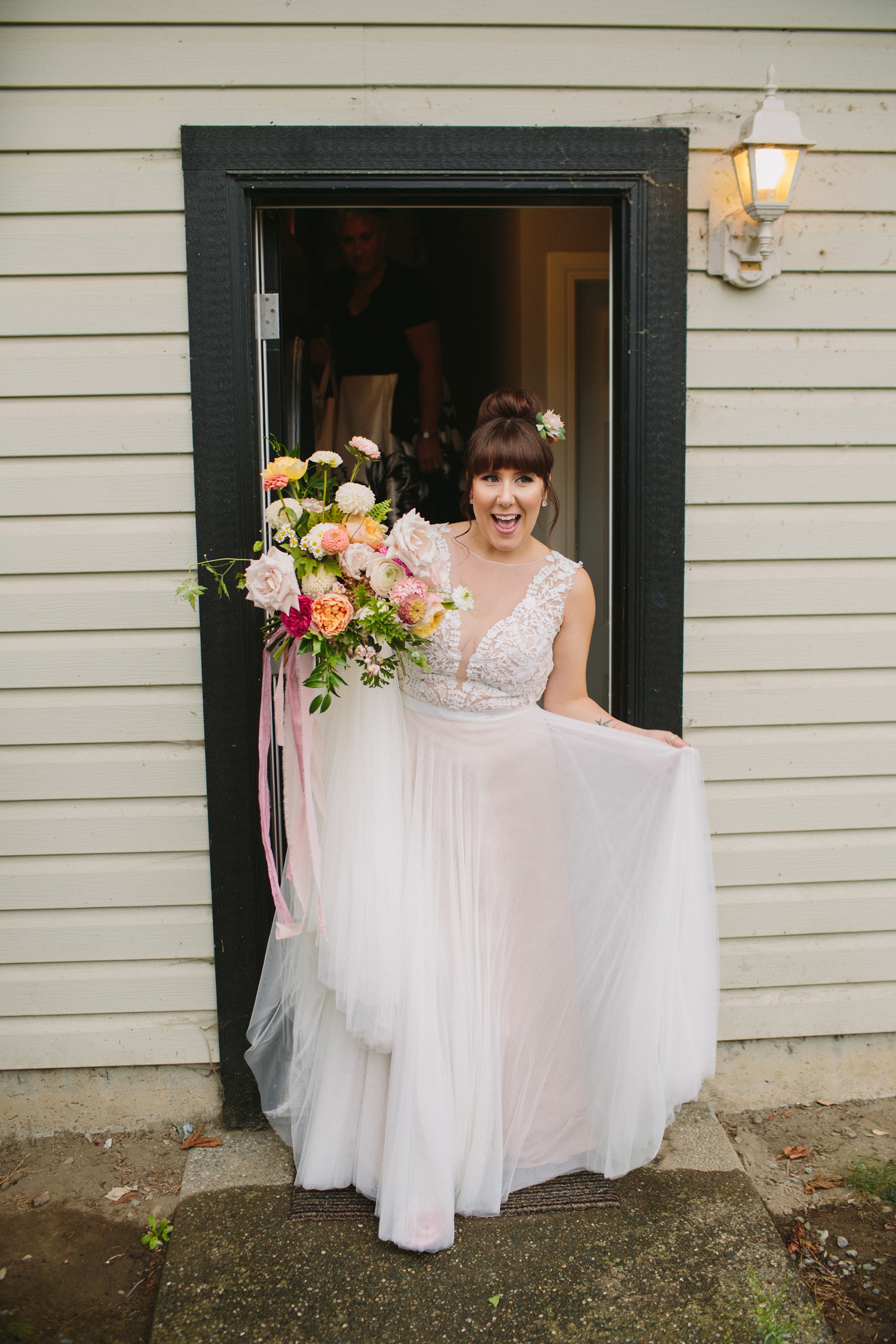 "Ryan and I met whilst working for the same company. I was on the marketing team as their in-house photographer and Ryan worked for their web department. As soon as I locked eyes on him, I was interested."
"We dated for 2.5 years then on my birthday, in August 2017, Ryan slid a ring box across the table whilst we were having drinks and said absolutely nothing! He was so nervous he couldn't speak! Inside the box was an antique sapphire ring and I had to ask Ryan which finger it was for. We eventually figured it out but I did not see it coming! We married in August 2018 so we had a year of being engaged and wedding planning."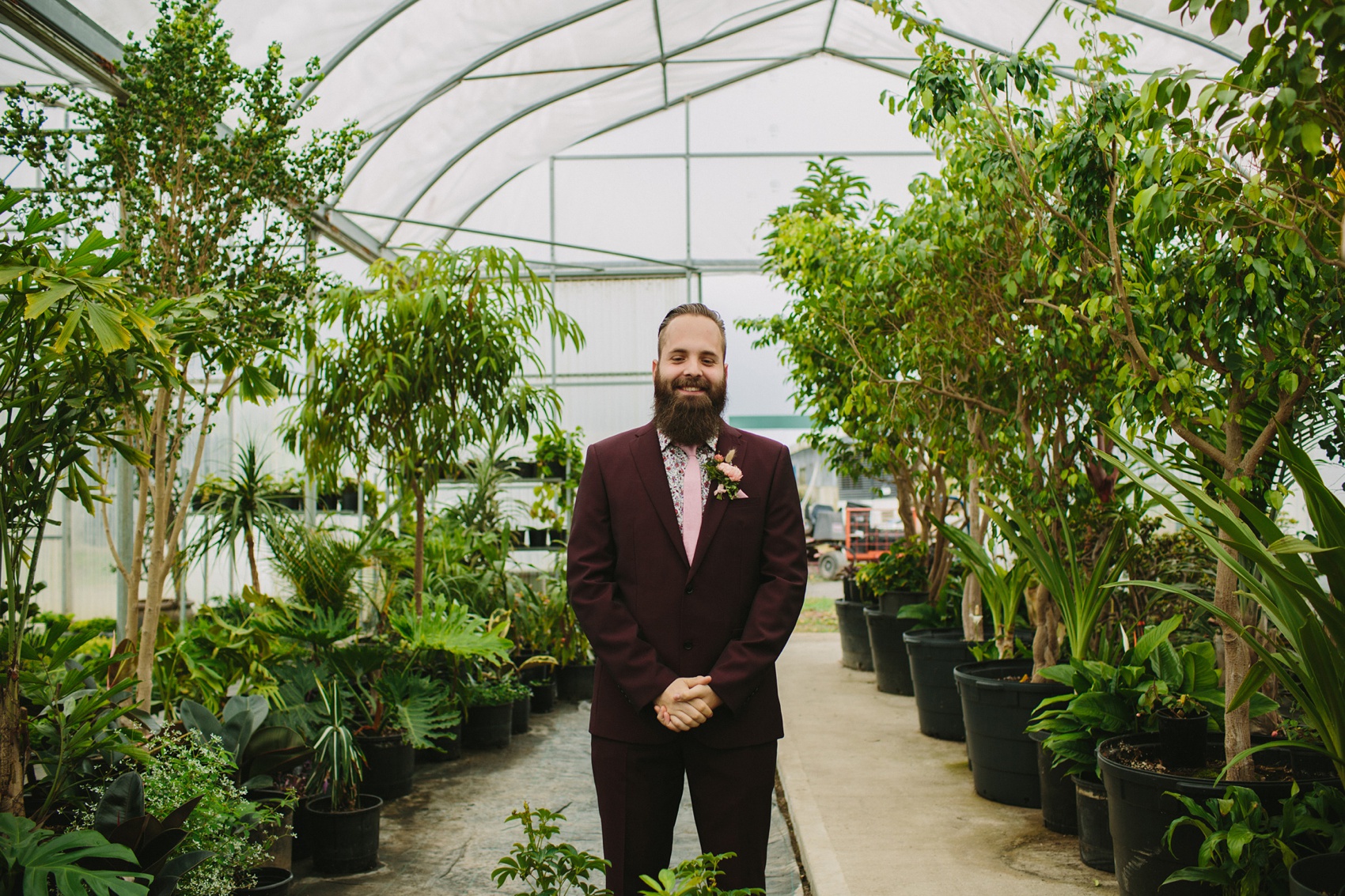 "Ryan's suit, tie and shirt were all from Next. We bought them whilst shopping in the UK on our last trip home and Ryan spotted the burgundy shirt and suit. I was very impressed with his choices – especially the pink ties!"
"All the groomsmen wore the same trousers from Next, as well as bow ties and braces from RW&CO. We thought the wedding day was going to be really hot so we planned for just a causal shirt look (though in the end it actually rained!)."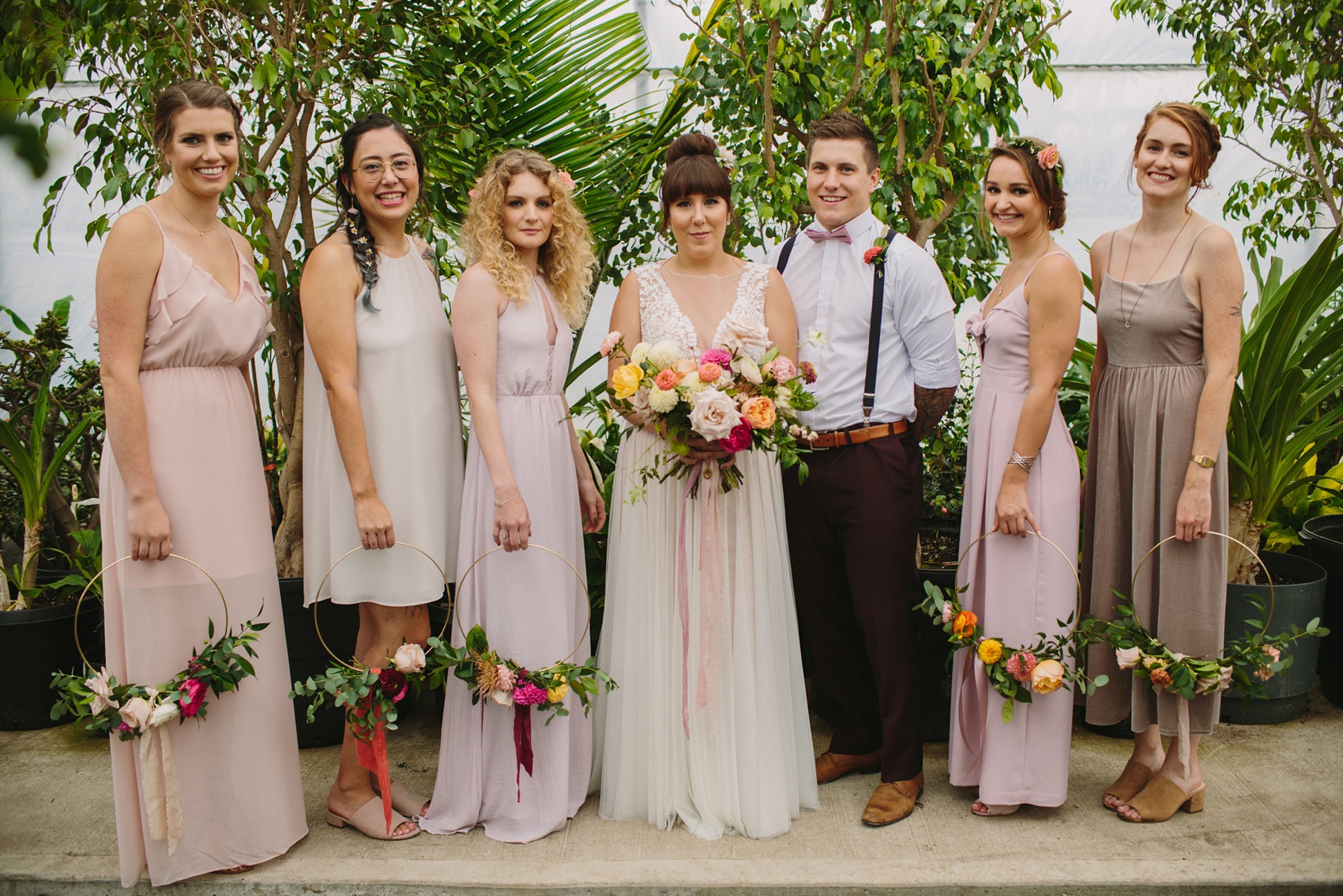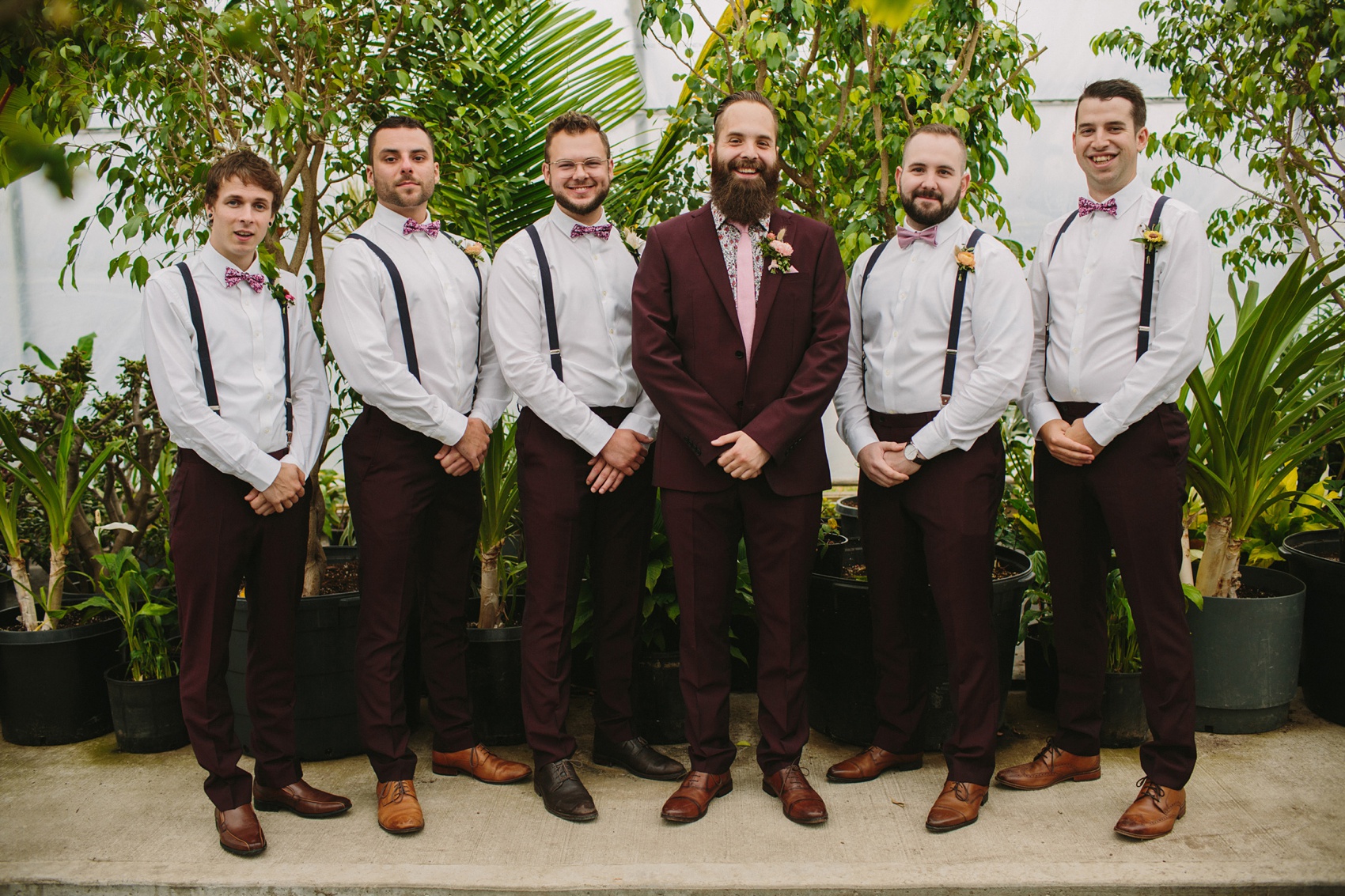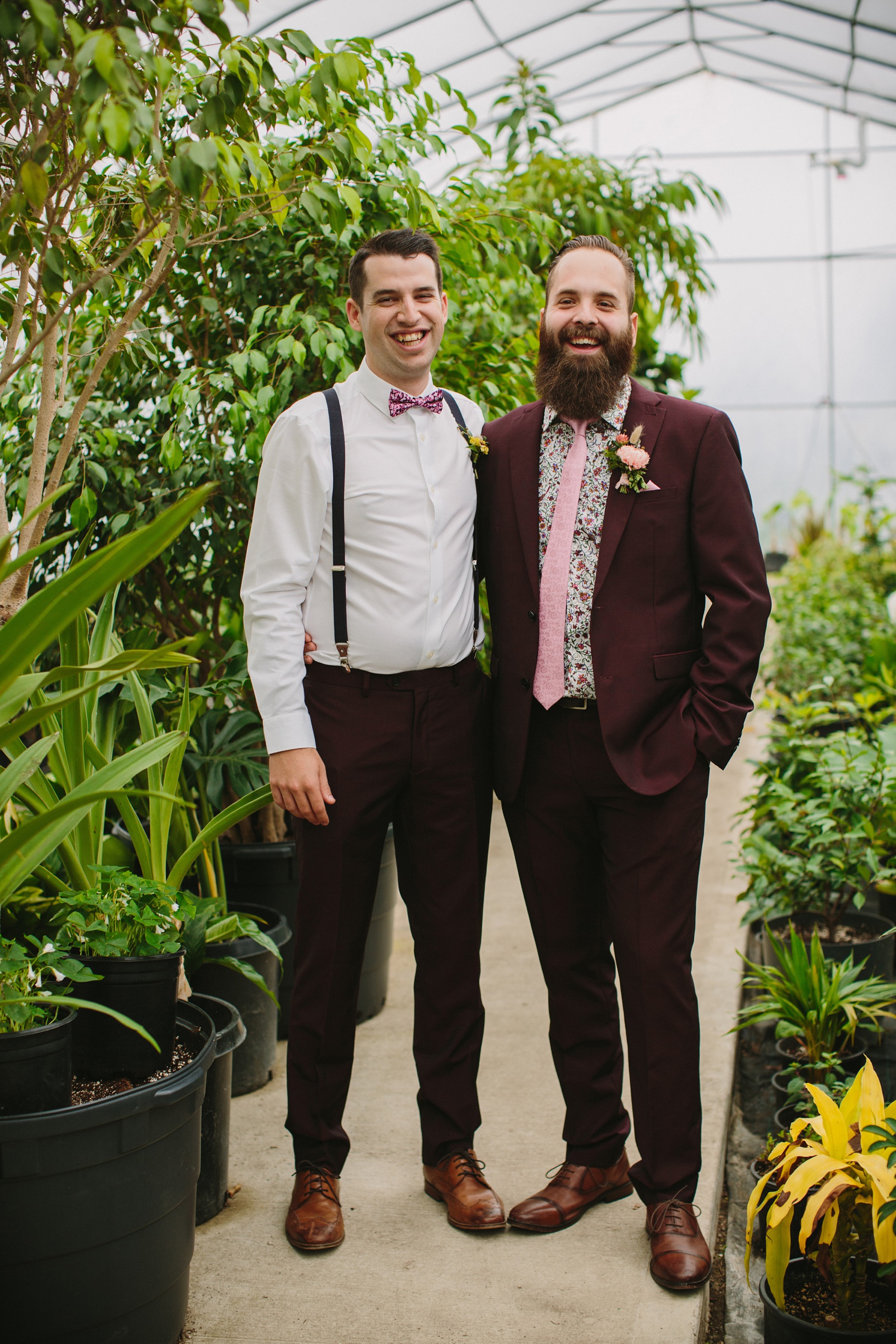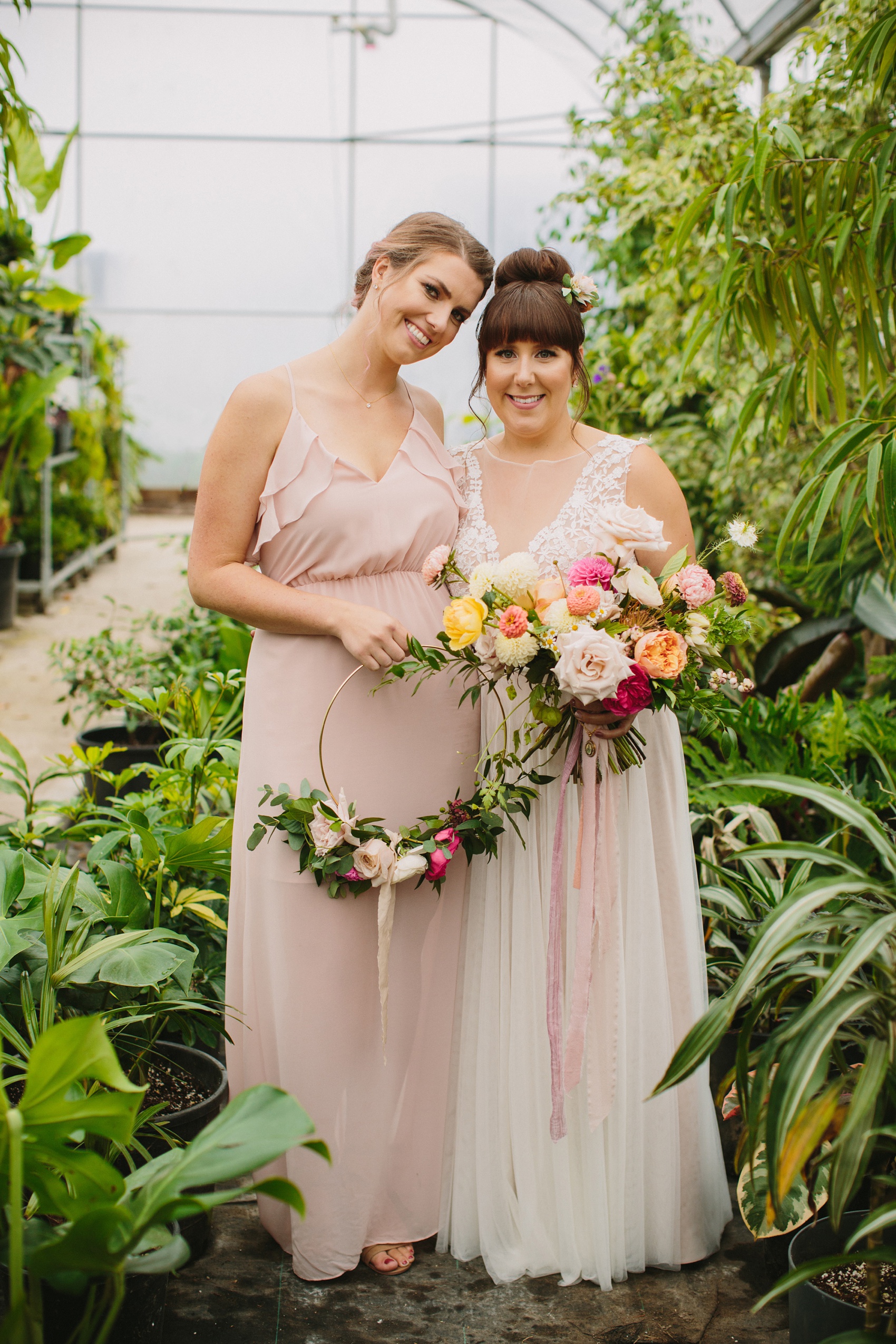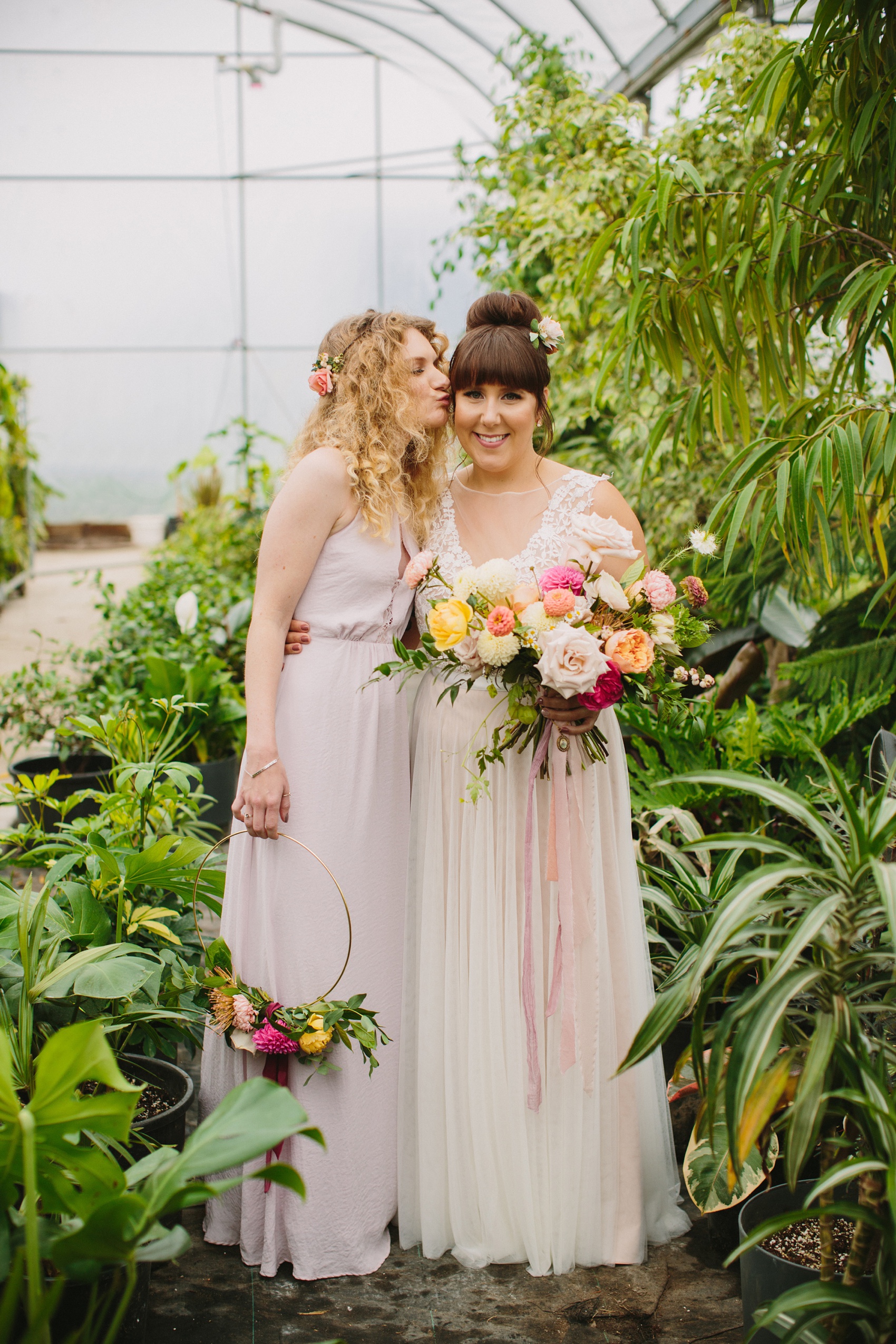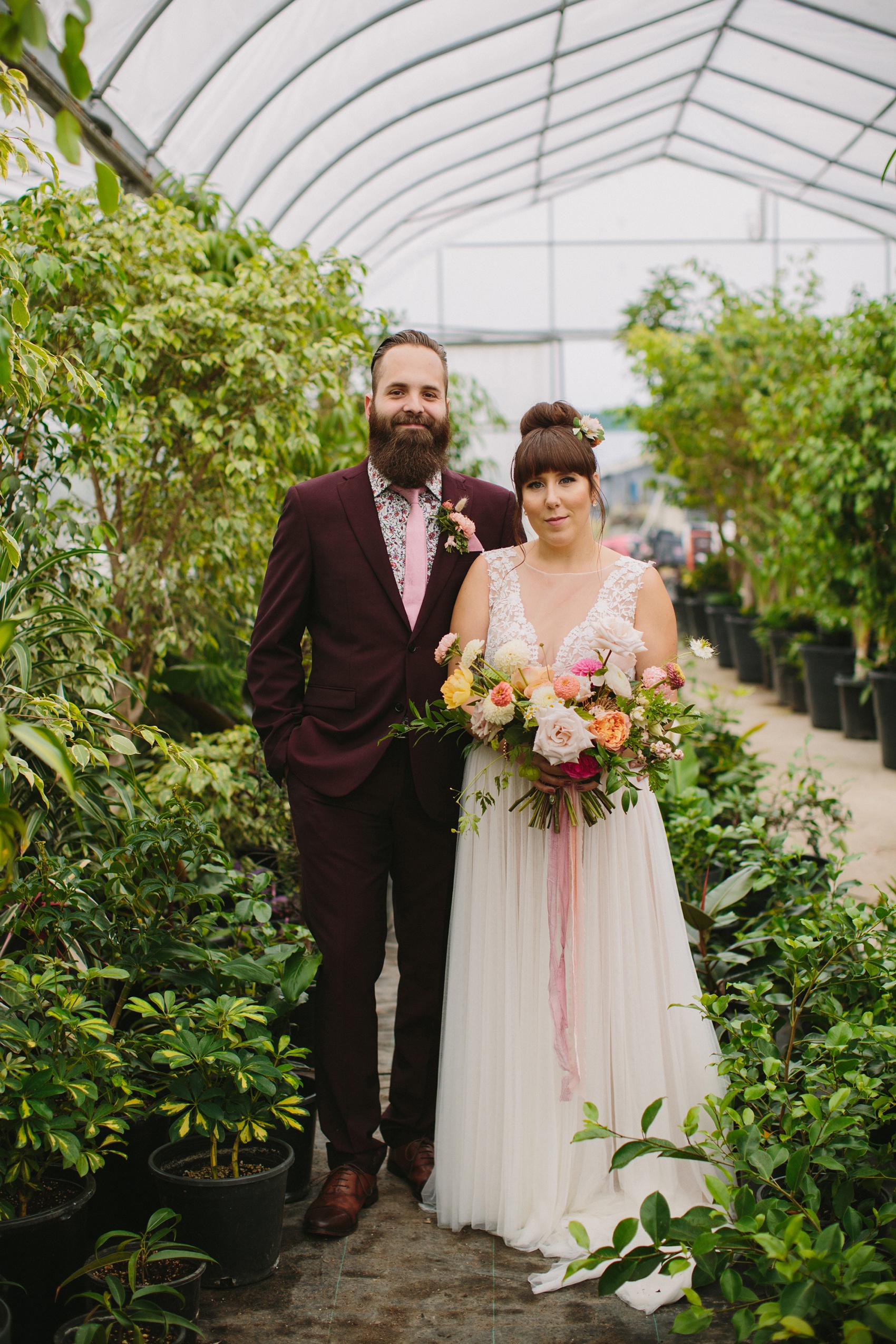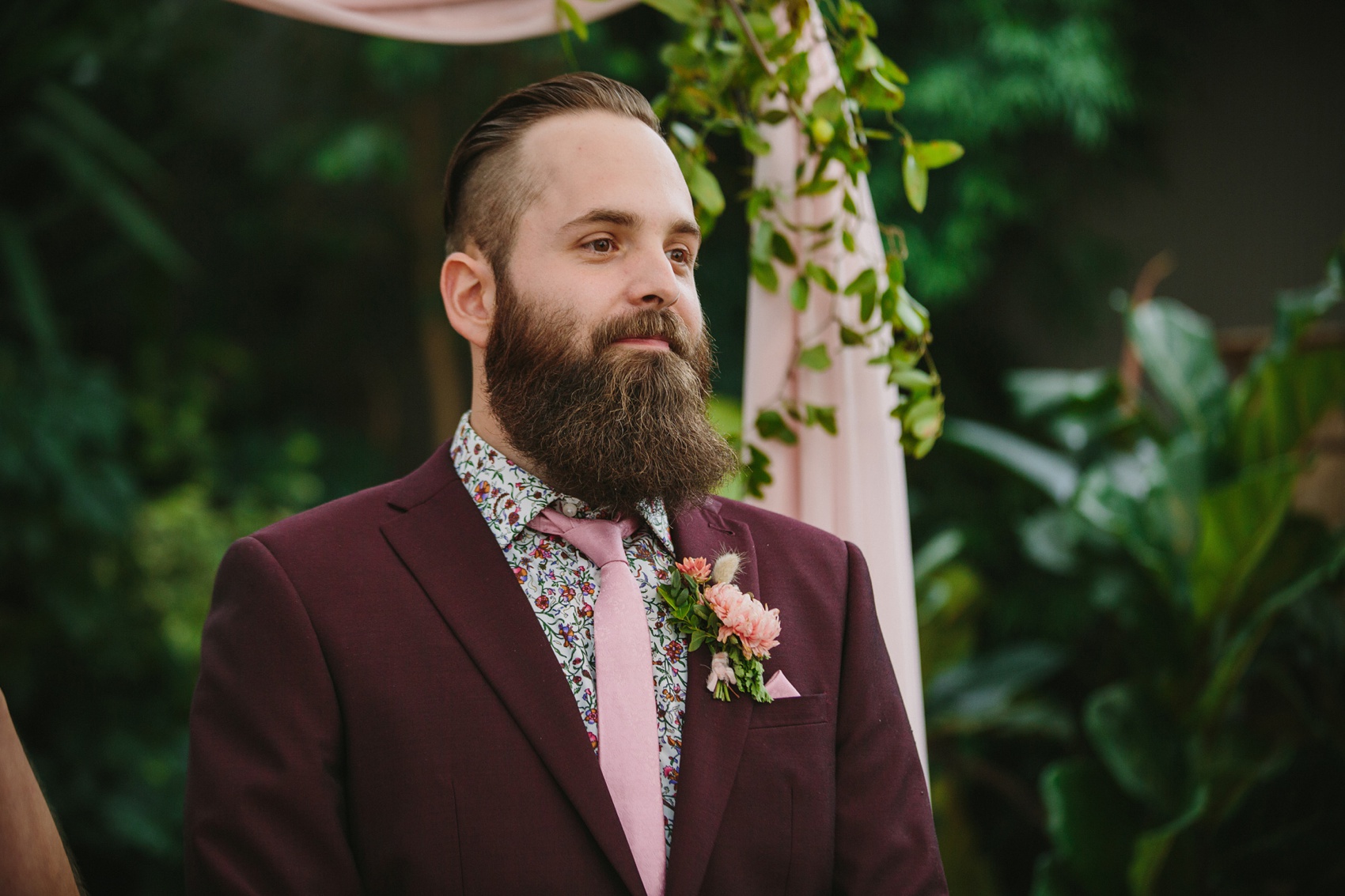 "My very excited dad Stan accompanied me down the aisle to John Mayer's version of XO sang by Evan Kennedy, a local musician. Lisa Hartley officiated the wedding who I found after seeing her officiate friends weddings, and I adored her style."
"When we became engaged I just knew we had to have Lisa. She met with us for an hour or so and chatted very casually in her living room and pulled together the most beautiful and personal ceremony for us. We both teared up reading just the first draft. After the wedding was over, Lisa sent us a bound copy of the ceremony, which was such a lovely gesture and keepsake."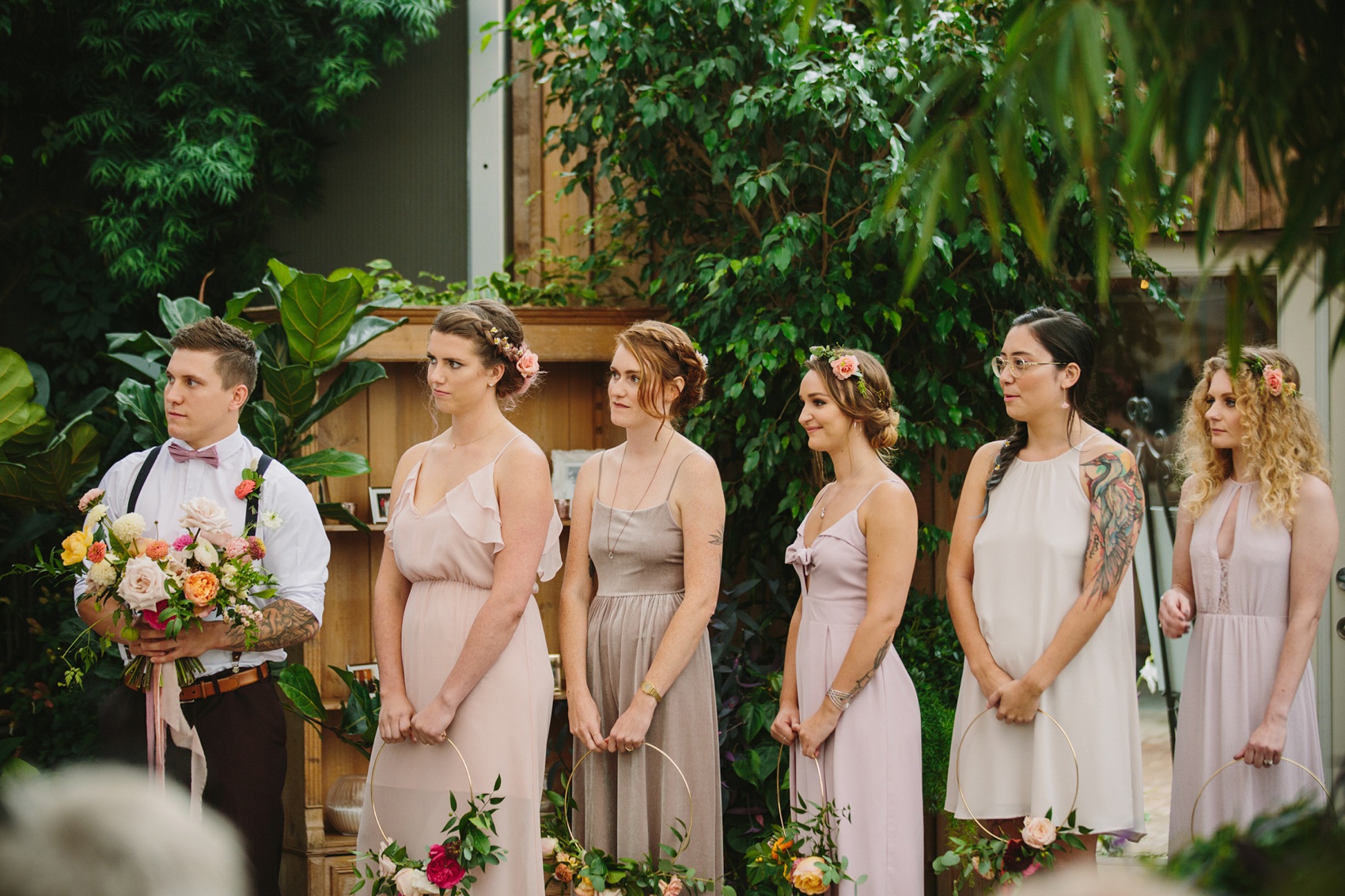 "Ryan took some vows that Lisa had suggested and edited them, whilst I wrote my own and took inspiration from the Internet. I wanted mine to feel true to our relationship and feature a few inside jokes too."
"My friend Cat, who was also a bridesmaid, read The Wonder Of You by Elvis Presley during the ceremony. We didn't want any religious elements to our wedding, so we turned to lyrics of songs we liked and this song was the perfect ticket. It just sums up love so perfectly."
"Our rings were simple gold bands from TW Willcox. Michelle, the owner, is a family friend so we got our rings on our last trip to the UK from her."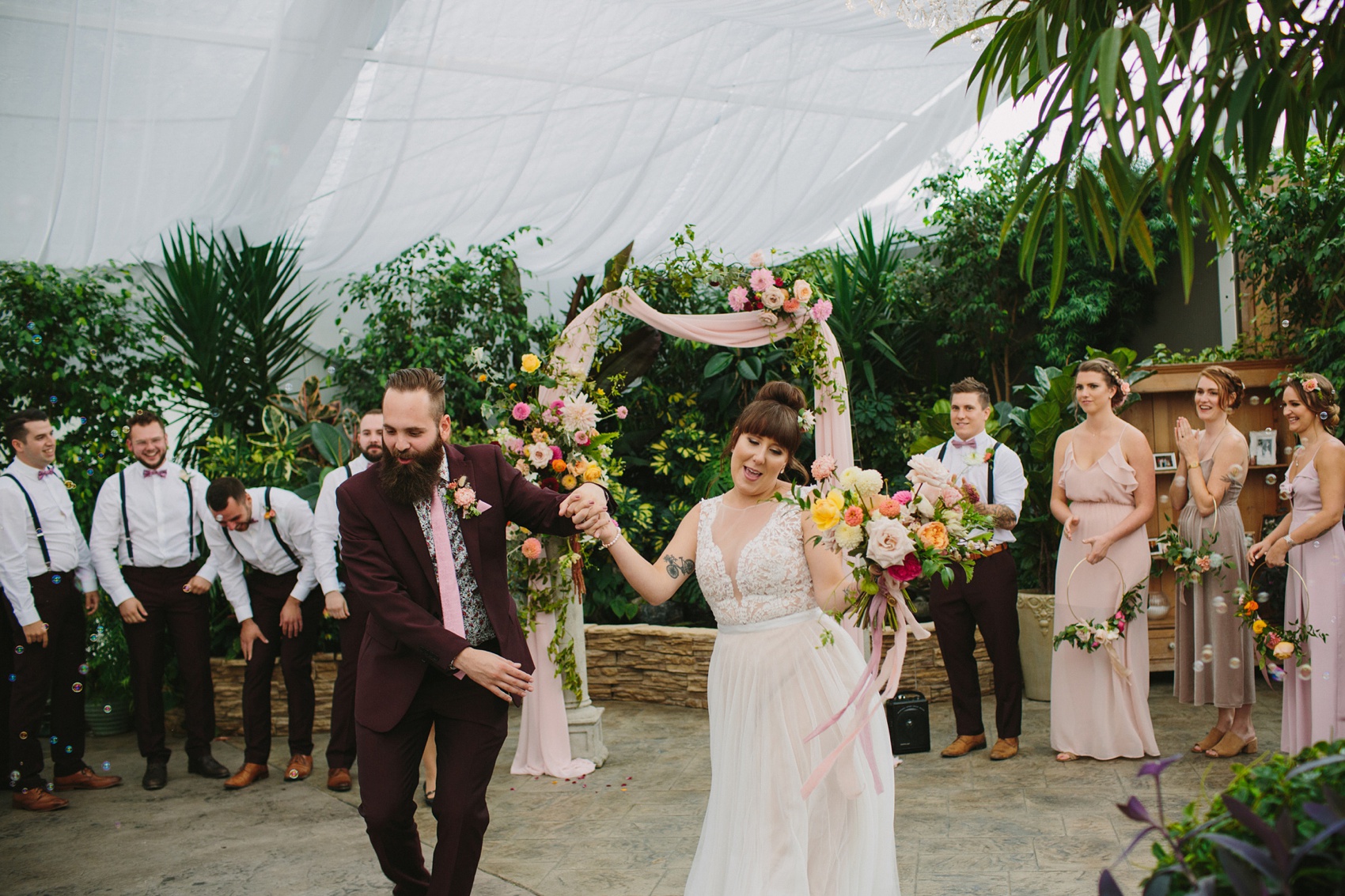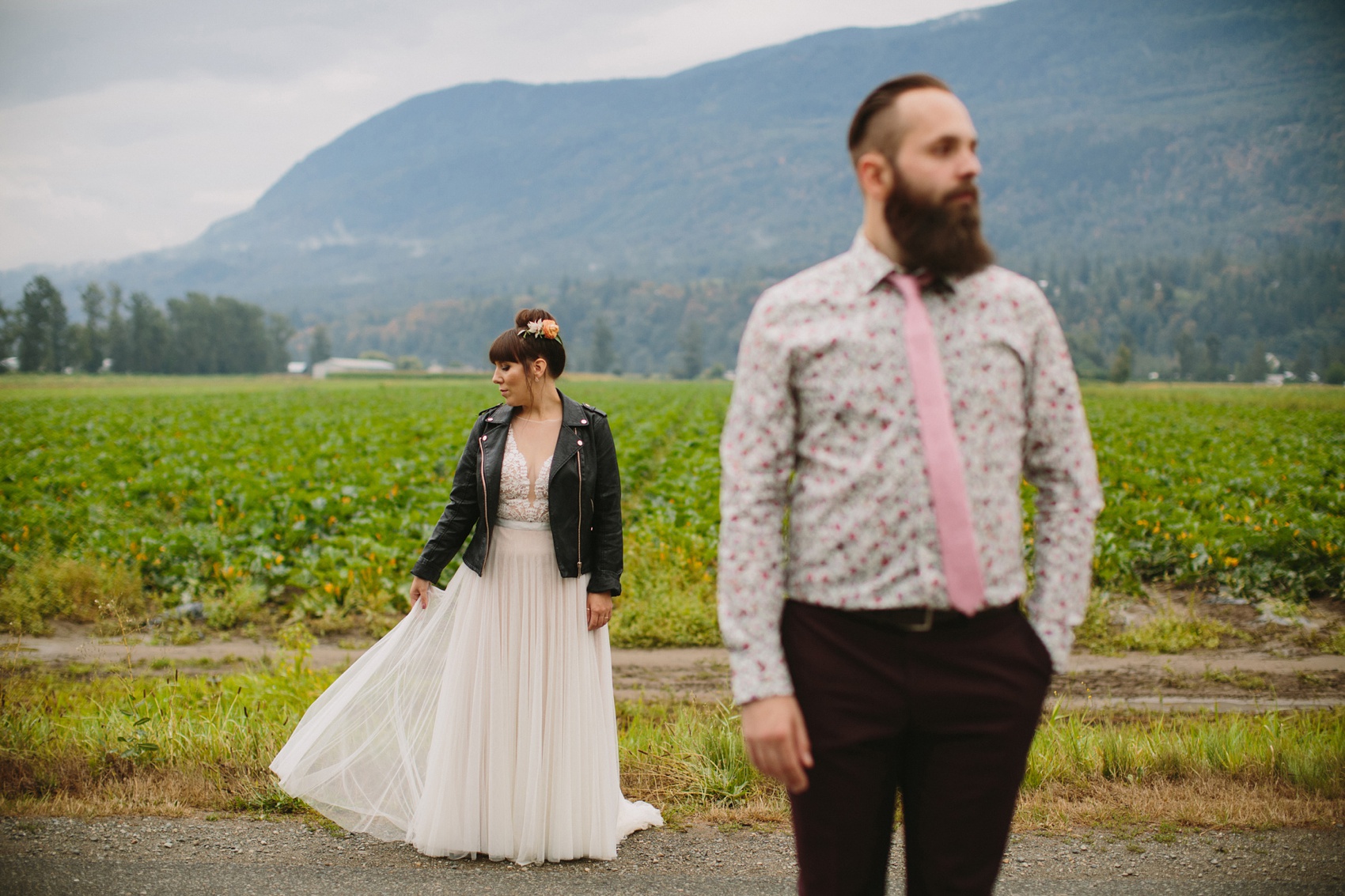 "Evan Kennedy from Musos Entertainment played the guitar for our guests as they arrived, and then he sang us all down the aisle and back again. He was so wonderful! He learnt 3-4 songs at our request too. To get the dance party started in the evening, my good friend Ben, who is also from the UK, span us some soul, Motown vinyl. It was a hit!"
"Our catering for the wedding breakfast was provided by Tacofino Truck and it's one of our favourite spots to hit up in Vancouver!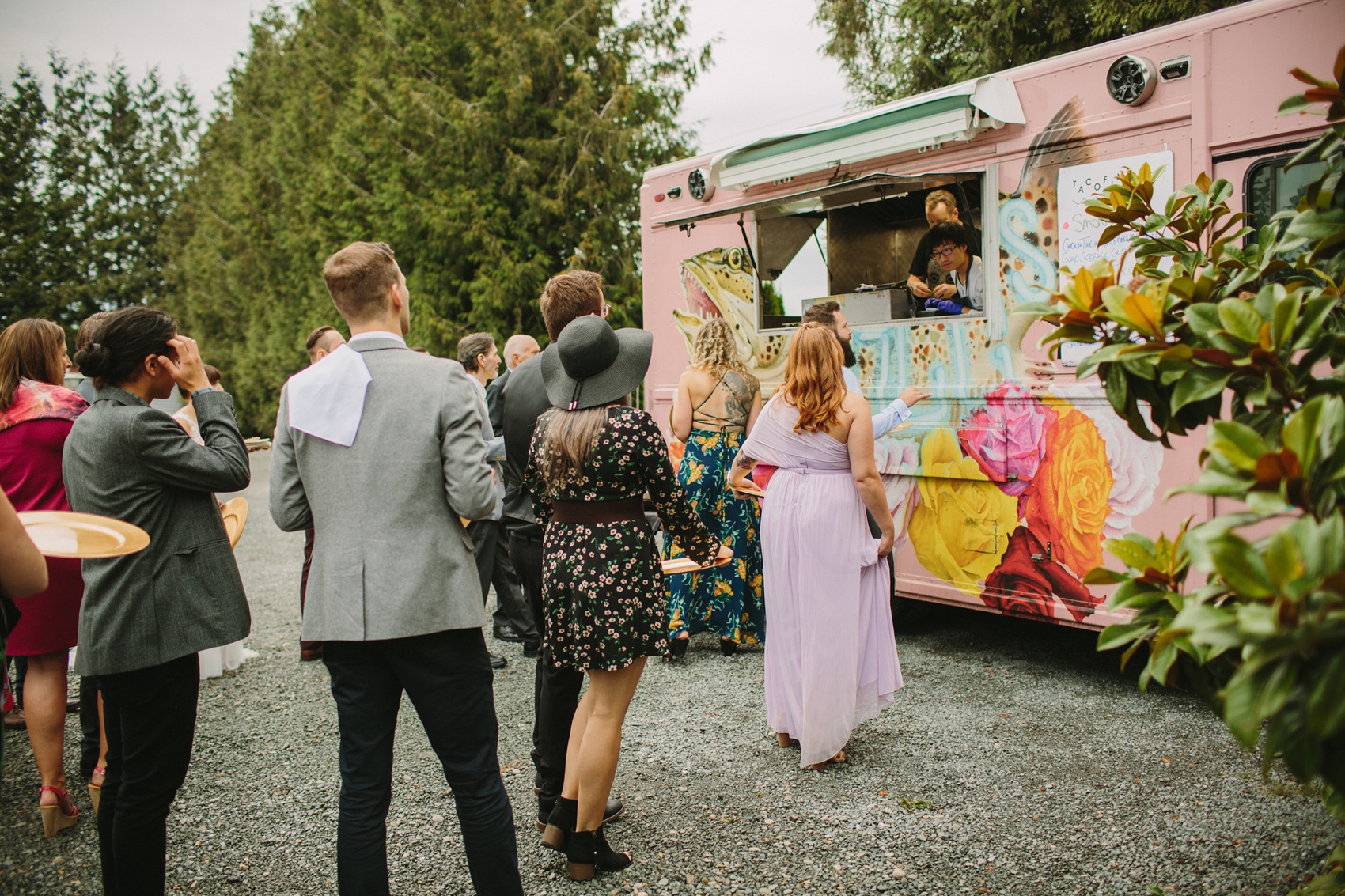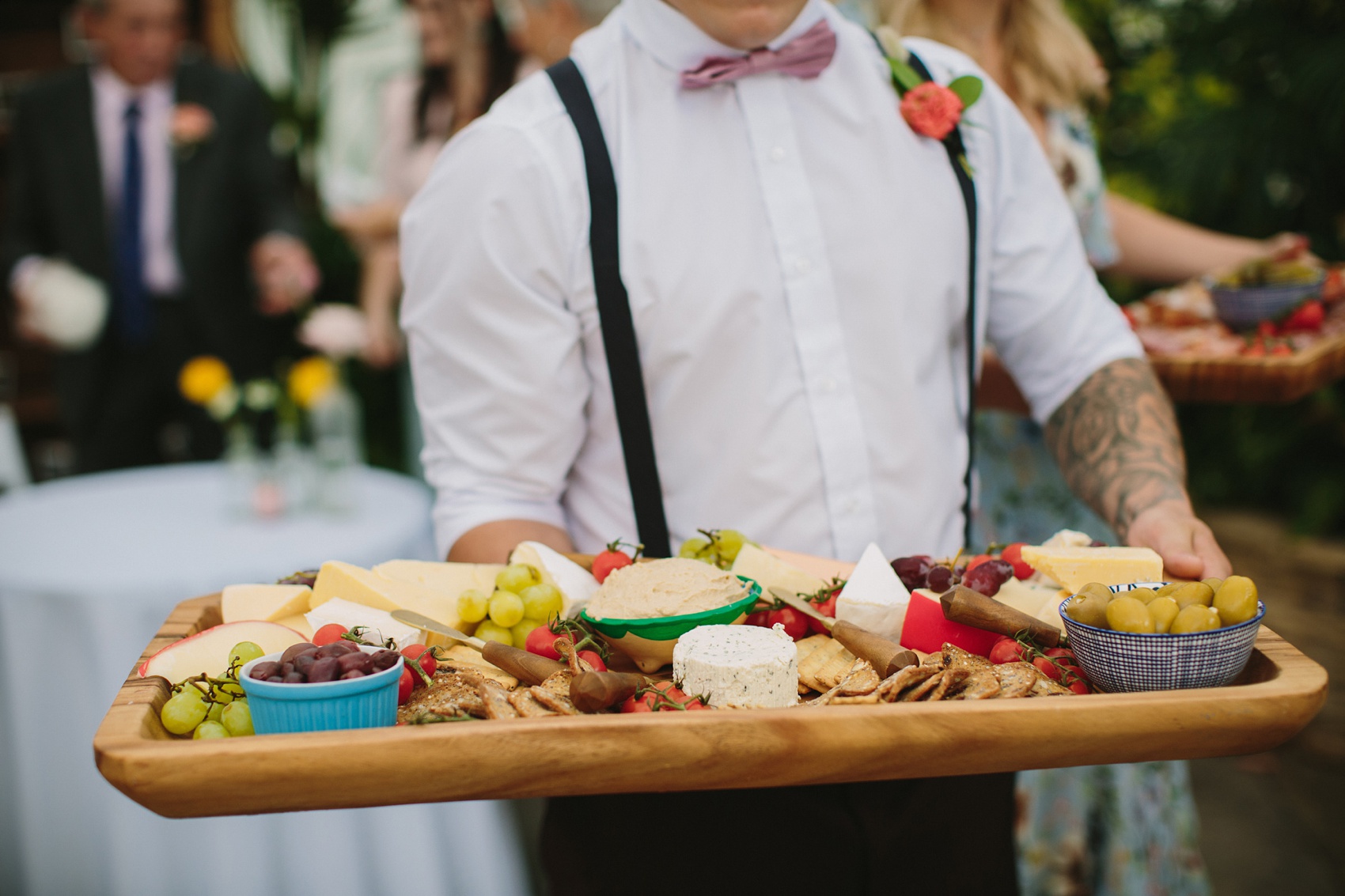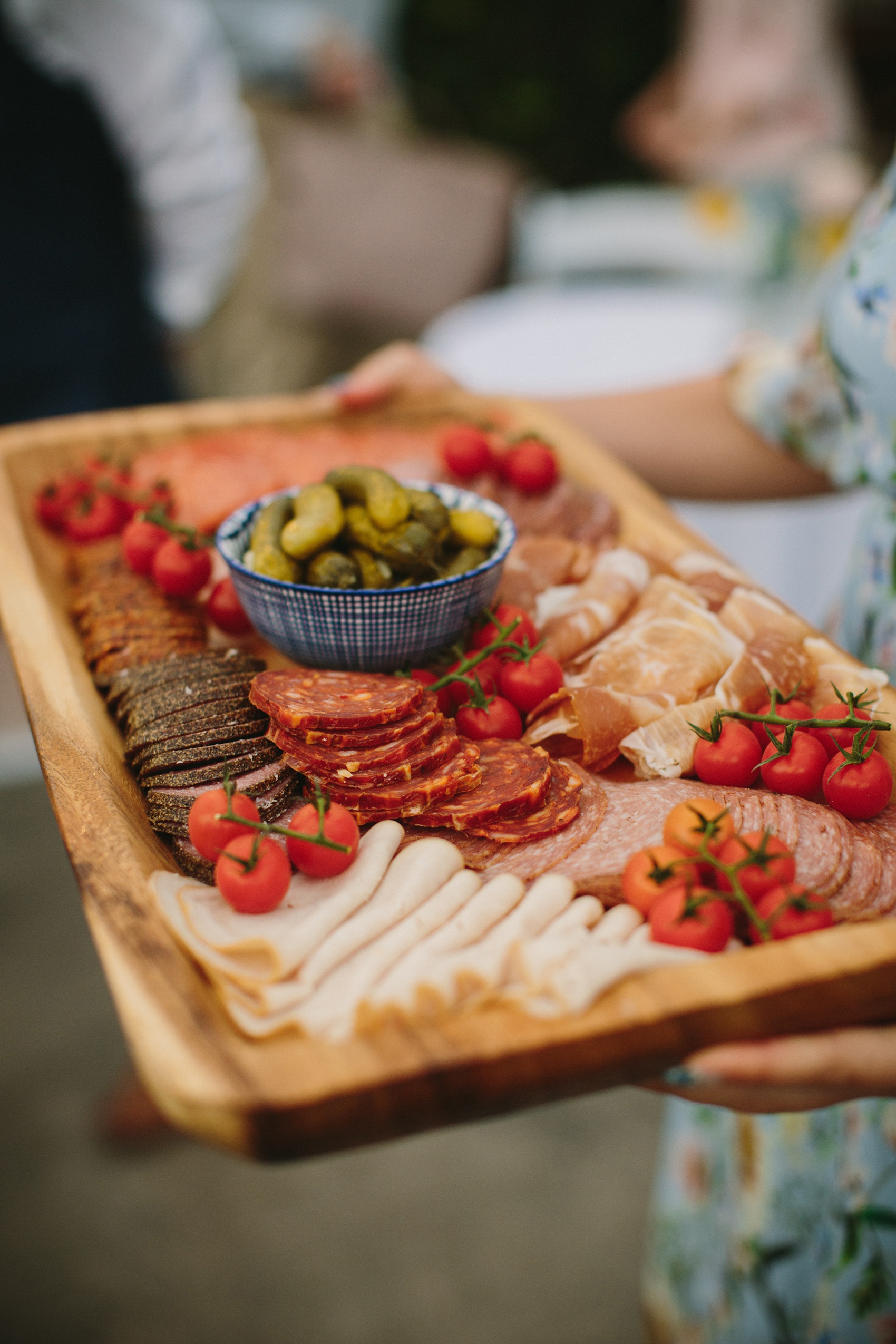 "We chose the venue as it was already so beautiful and filled with greenery, but we did add a few additional decorations. I spray painted an old bike and added flowers to the basket for the entrance of the venue, and collected candles, frames, jars, cake stands, old books, cheese cloth and wooden boxes from various places in the time leading up to the wedding. I had all my ideas and items collected and then I asked Amanda from Chase Events to execute the decor and do the wedding day set up."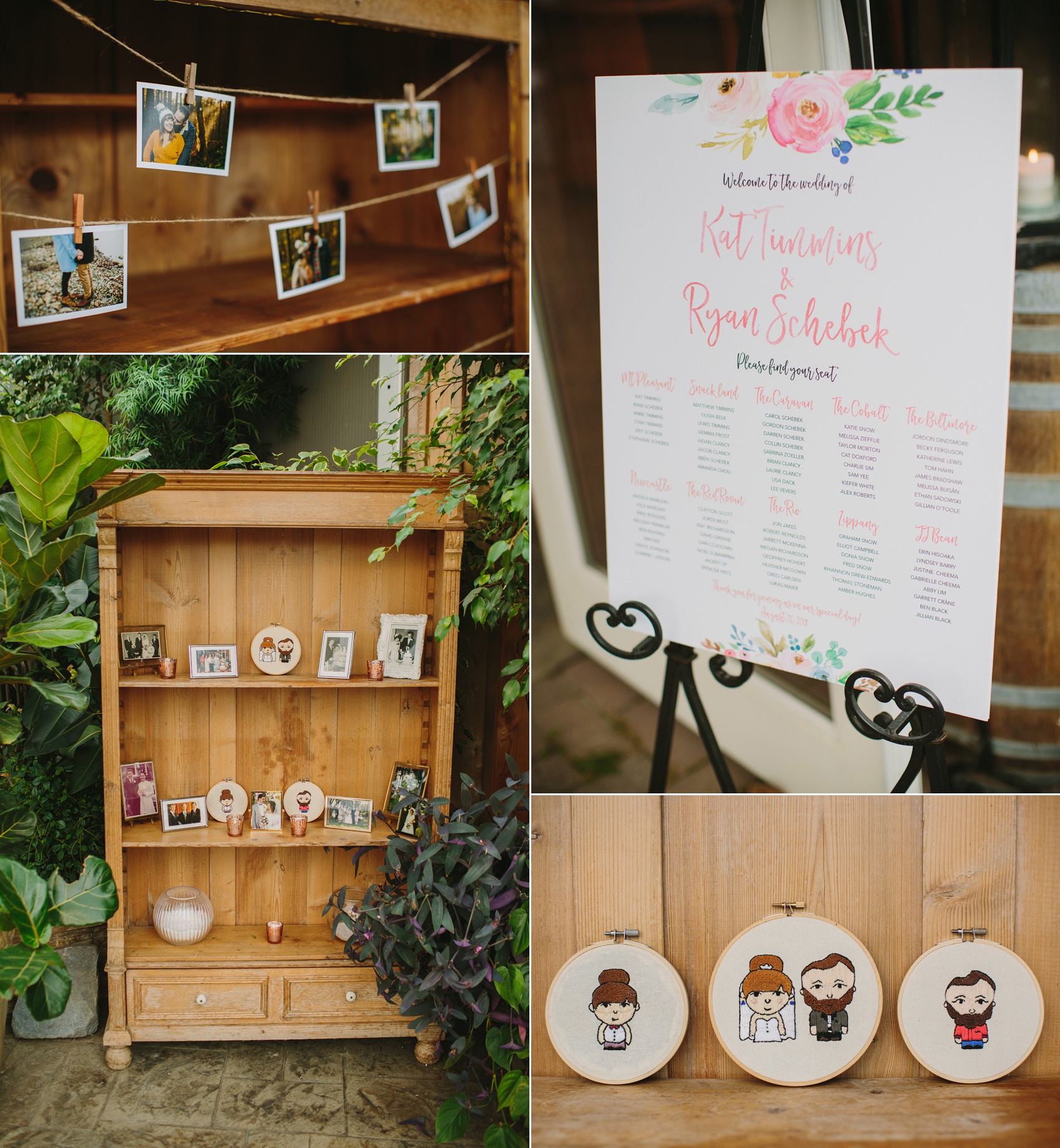 "Our wedding cake was made by Reddy Made Cakes. My all time favourite cake is a classic Victoria sponge, but unfortunately it doesn't seem to be a thing in Canada, so we ordered a strawberry shortcake instead."
"Crystal at Reddy Made advised us that it was the closest thing to a Victoria sponge and it was amazing, so delicious! We also ordered additional treats for our vegan friends, and some gluten free options. We also had a donut wall because, well, donuts!"
"Looking back I think the speeches were one of my favourite parts of the day and were really special. Because I now live 4000 miles away from my family, they don't really know our friends and didn't have a true understanding of the special friendships I've made since being in Vancouver."
"So having our friends stand up and say the most wonderful things about us and our relationship, as well as sharing stories, was truly touching. Both sets of parents looked proud as punch! It was also very entertaining watching our guests trying to understand my dad (who has a very thick Geordie accent) during his speech. It was hilarious for those of us who could understand!"
"We used Etsy for the table plan, invites, guest book and cards, and my amazing friend and bridesmaid Cat Doxford designed all of the table names for us. I asked her to design them based on locations that had a significant meaning to us. I wanted them to be playful and colourful and she knocked the brief out the park."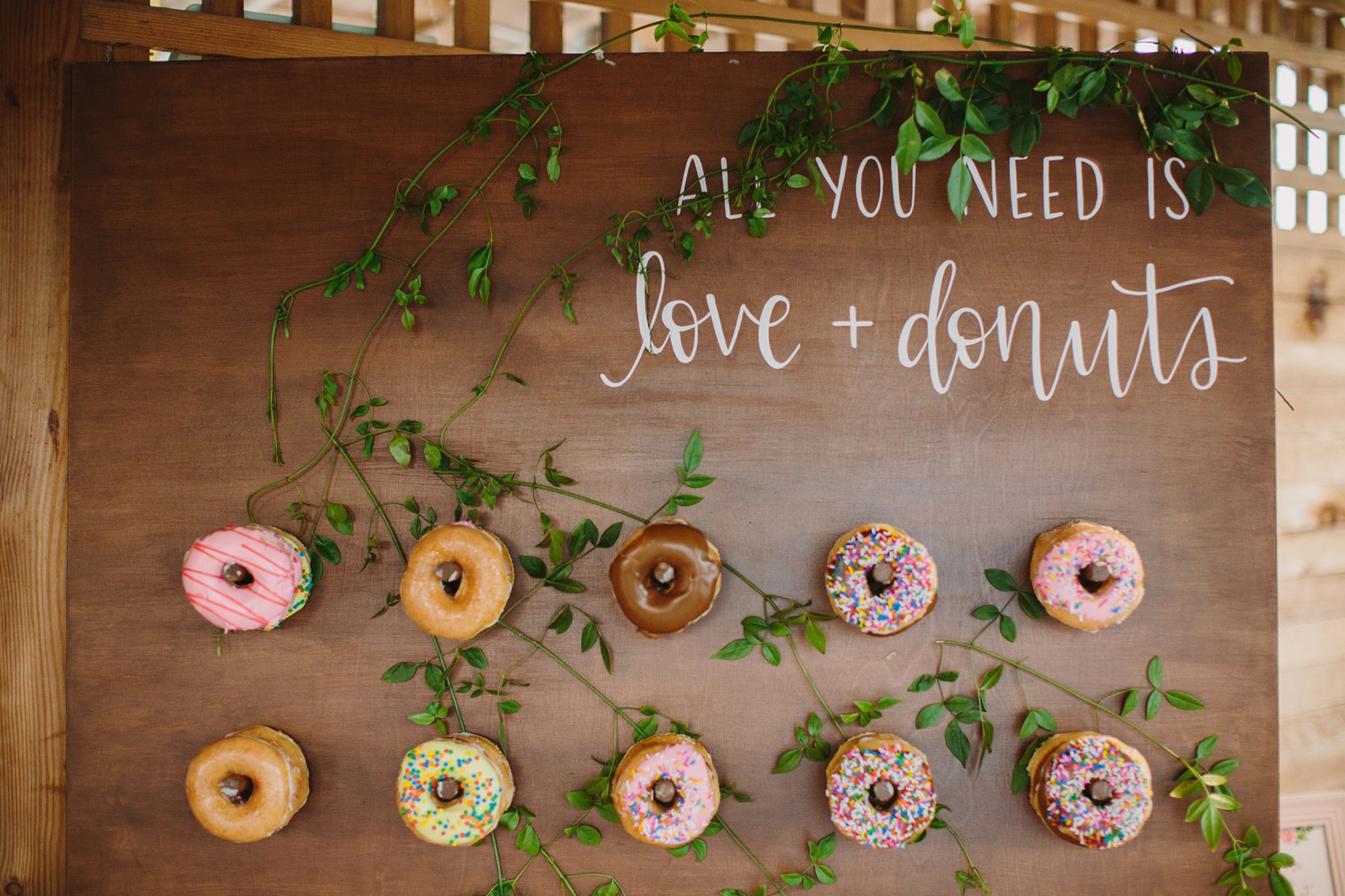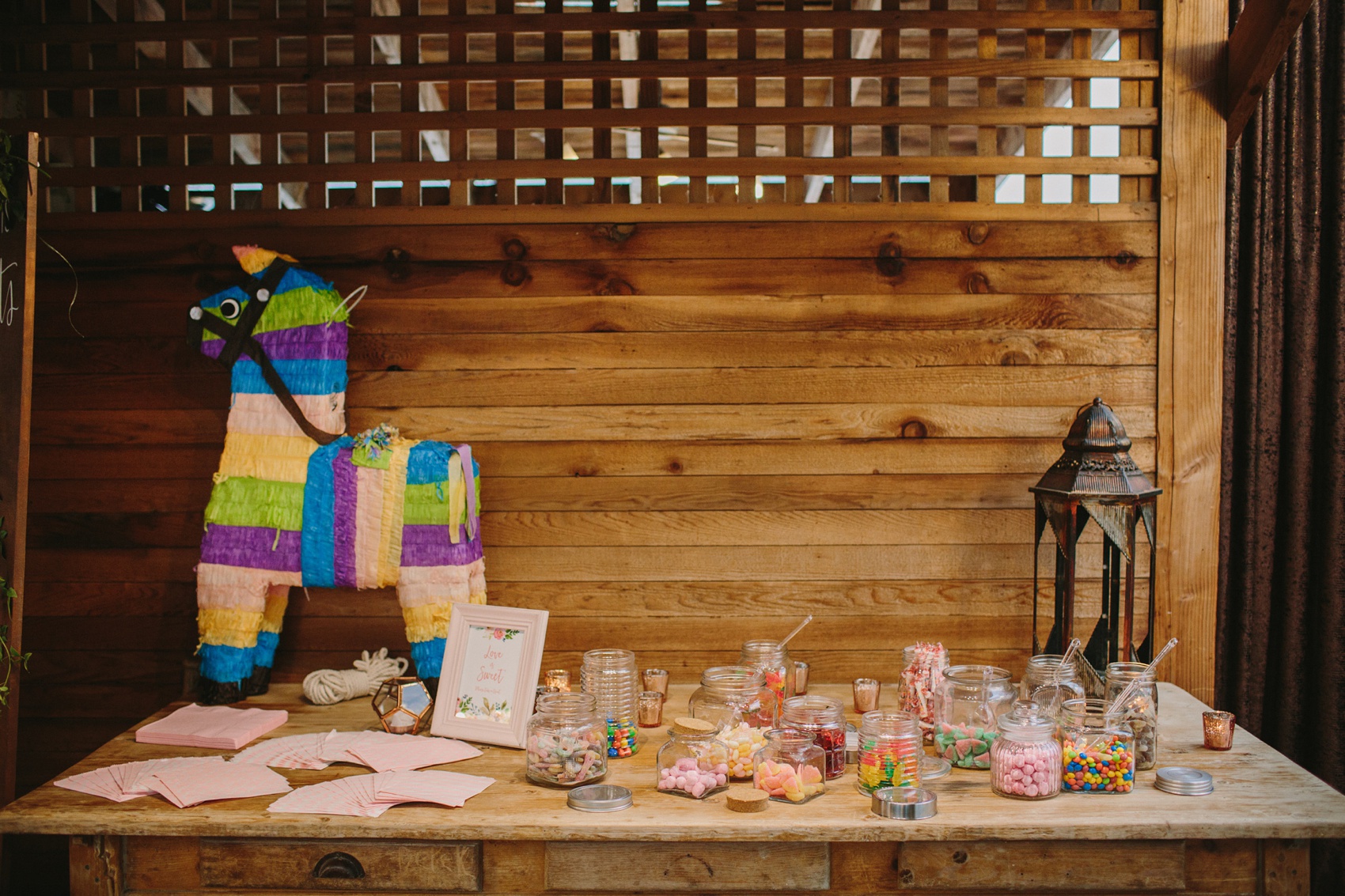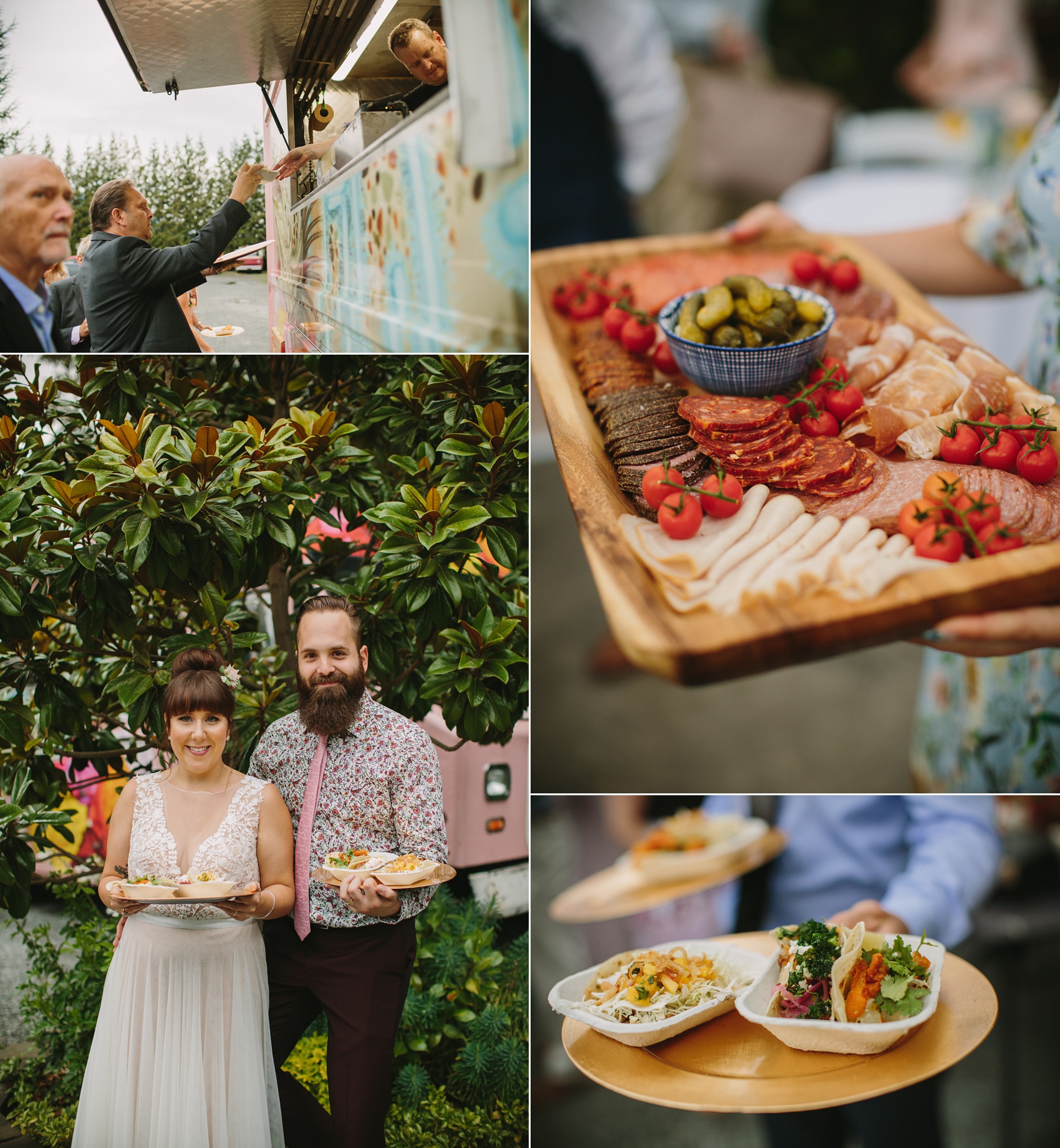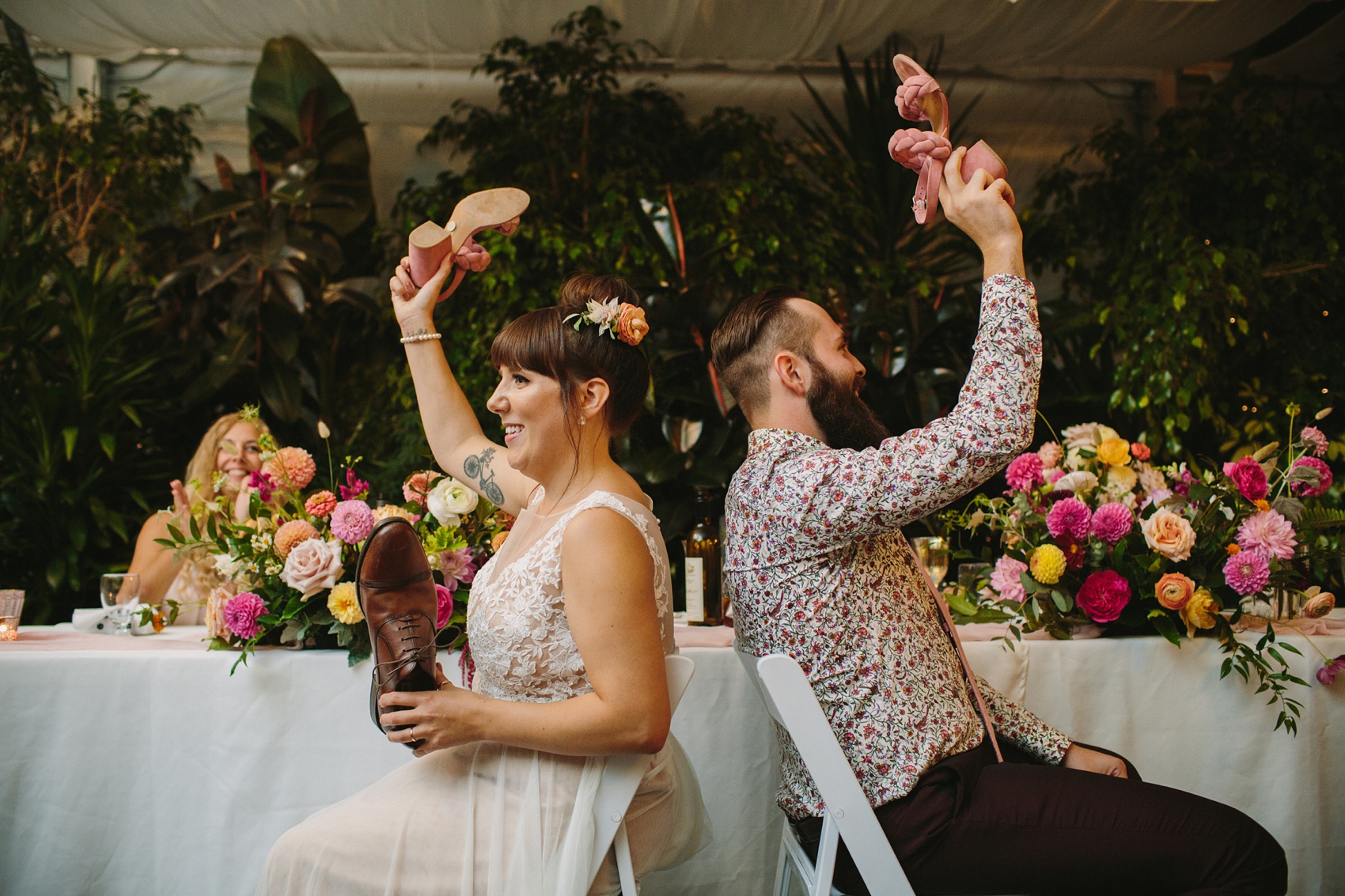 Words Of Wedded Wisdom
"I had a very particular vision in mind and sometimes it's really hard to communicate that to other people. I recommend searching vendor options and meeting with them to ensure they're on the same wavelength as you are before booking them."
"Keep a binder of all your contracts and invoices so you an refer back to them whenever needed, because you will need to at some point! I also recommend handing out detailed schedules and timelines of the day to different vendors and the wedding party, so everyone knows when and where they need to be. My wedding party really appreciated this!"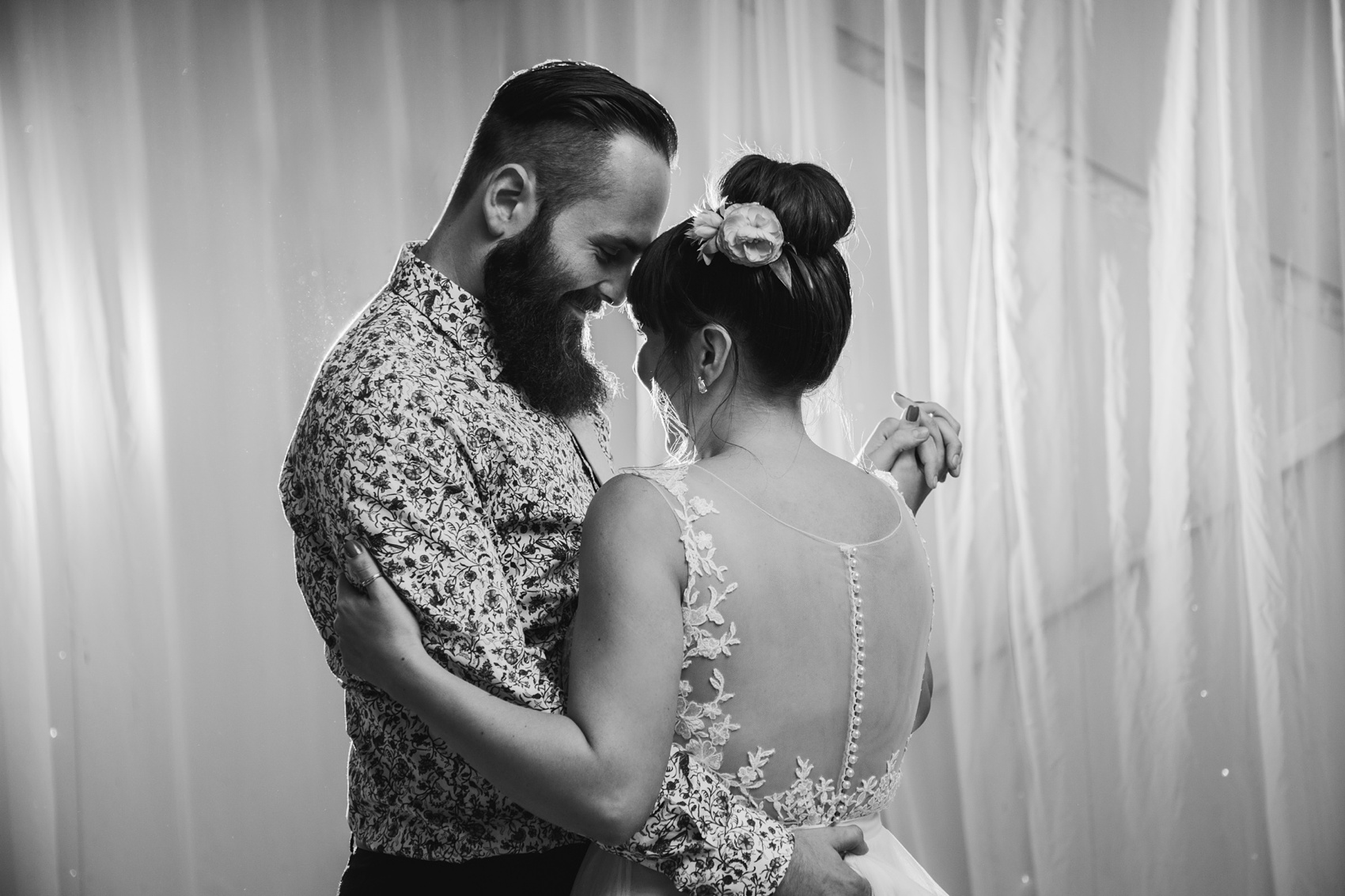 What a wonderfully vibrant wedding! Big thanks to the bride and groom for sharing such a special day with us, and to Amber Hughes for capturing it all on camera as perfectly as the bride had hoped for.
Until next time…
Much love,
Holly x