Happy hump day lovelies! And with a slightly tedious but fun link, talking about humps, we're off to Loch Ness today (Nessie had a hump, right?), for a gorgeous Humanist ceremony in the Scottish Highlands.
With the bride an events veteran having worked in the industry herself, it was bound to be a wee cracker of a wedding, and it doesn't disappoint… Head of events Nicola and head of accounts Stuart were wed on 2nd June 2018 at Urquhart Castle Ruins in Loch Ness, Scotland.
Images by Shutter Go Click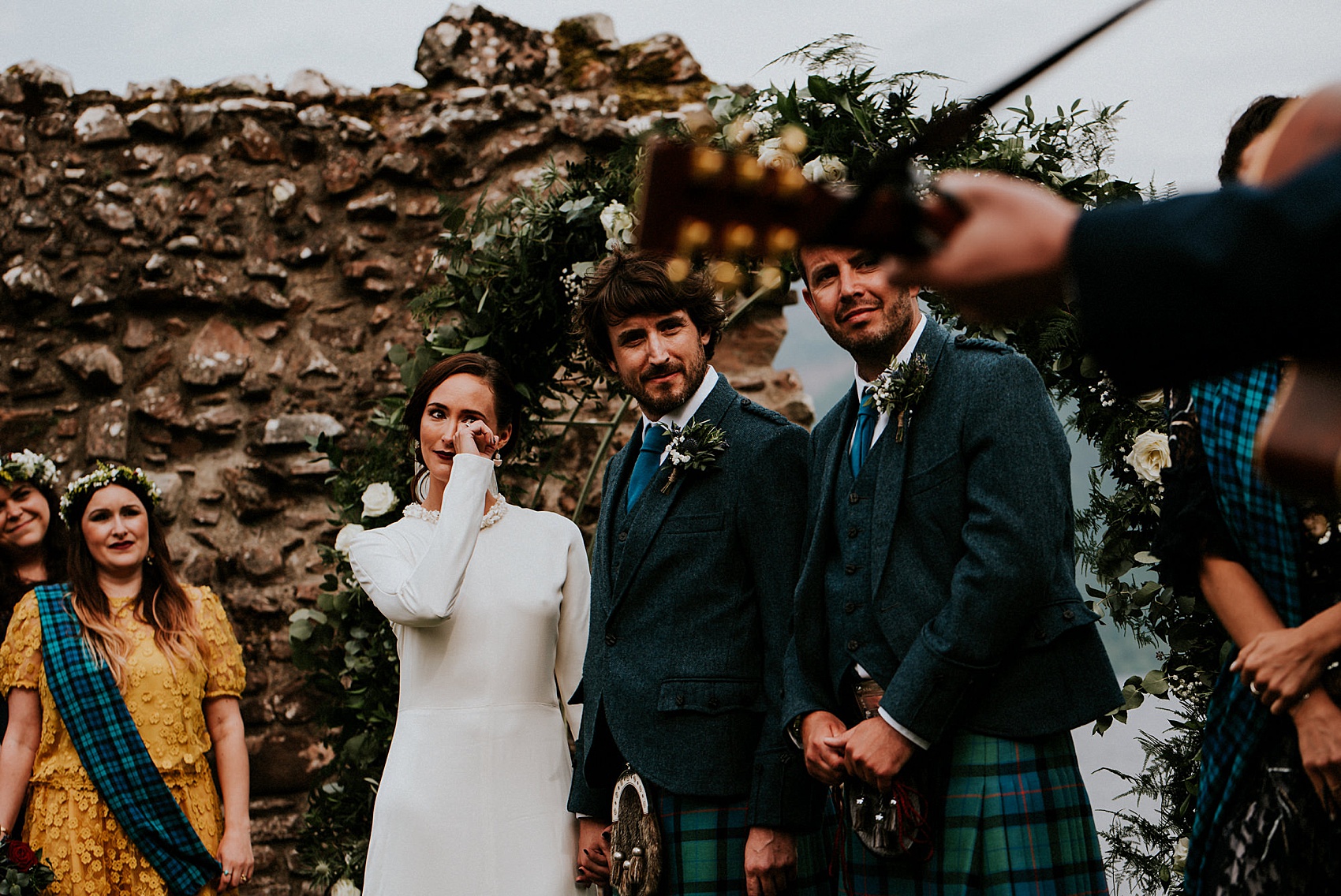 "Loch Ness is where we first went on holiday together over 10 years ago and subsequently fell in love. We knew we wanted to tie the knot back where it all began."
"I work in events and so was lucky enough to persuade an awesome events manager and friend, Beth Prescott, to deliver our wedding for us on the day."
"Even though I'm an events planner by trade, I can't recommend getting one enough to all brides out there. Getting someone on board to coordinate the day for you will really allow you to relax and enjoy being the bride!"
"For the floral displays we chose white roses, thistles, lavender and eucalyptus. We also had a circular floral arch to represent infinity with clusters of storm lanterns, candles and greenery. I didn't think I wanted a bouquet so opted for three long stem red roses to carry, just in case I changed my mind. However, on the day my florist surprised me with a beautiful bouquet containing three roses, which was even better!"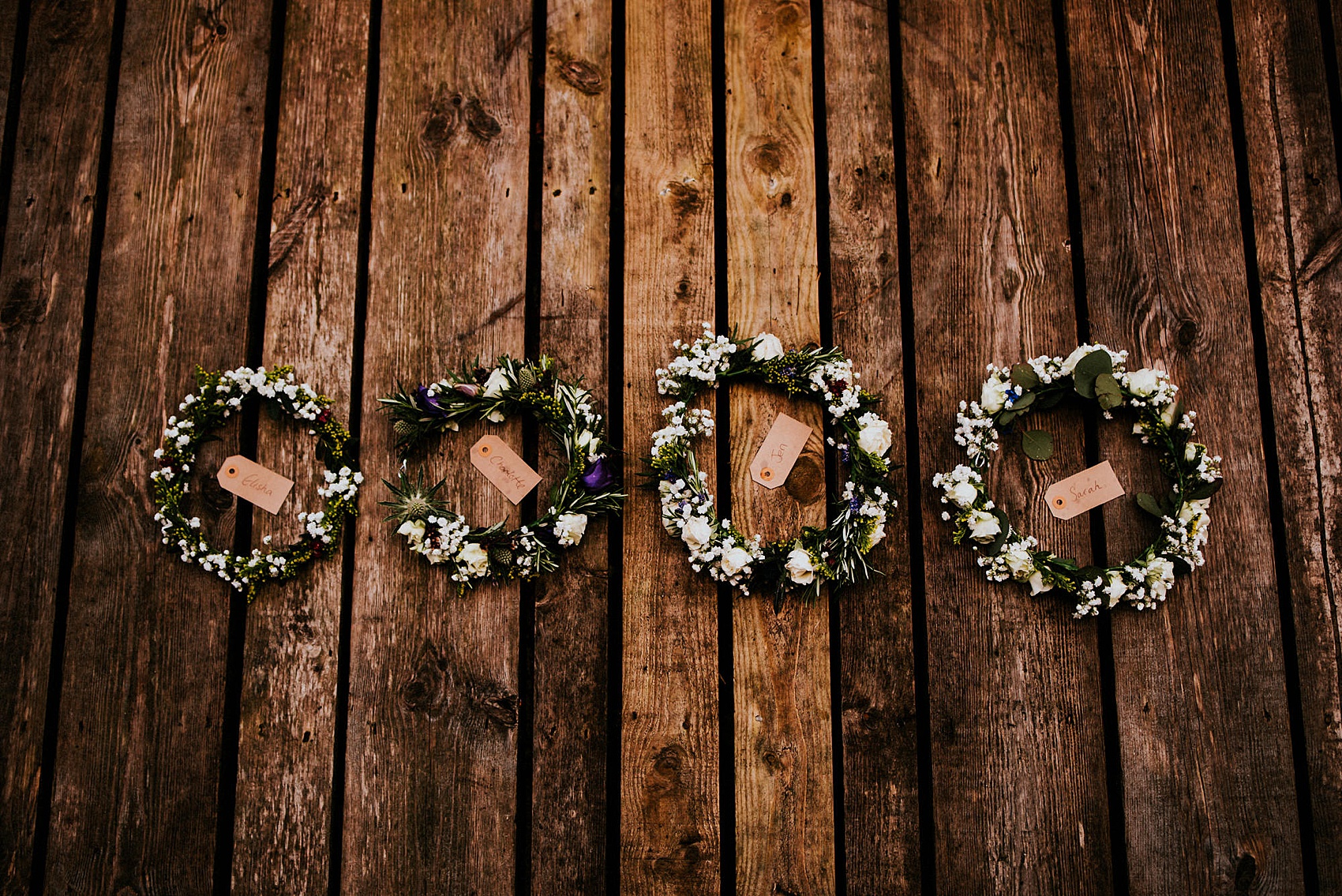 "My dress was by Charlie Brear from her flagship store on Lonsdale Road. I have always thought that the most beautiful bride was Olivia Palermo. She looked so elegant yet effortless so I knew I was drawn to beautiful fabrics and understated dresses."
"I always dreamed of wearing a British designer but didn't think I would ever be able to afford to. Initially I thought that I would just get something from an evening wear collection as opposed to wedding dress design, to save on costs and get something more low key, however my bridesmaid Charlotte suggested we go to Charlie's trunk show at her store to take a look at as her designs are classic and contemporary."
"The moment I put on the Talaia dress, I knew it was the one. It was perfect; simple, understated but created in the most opulent sandblasted ivory silk. I felt like myself in it and even better, Charlie herself was in that day and the stylist managed to persuade her to sell it to me with a 70% discount. It was pretty special to get to meet the person who designed the dress too so thank you Charlie!"
"I picked up a pair of great bargain shoes in the January sales from Nine West. They were blue in colour (inspired by Olivia Palermo) and comfy to deal with all of the uneven floors at the ruins."
"My bridesmaids each chose their own dresses from various stores, using a jewel colour palette as inspiration. Our flower girl's dress was from Marks and Spencer and the page boys waistcoats were in black watch tartan with matching bow ties. The bridesmaids also added a sash in the same tartan to their dresses which tied in nicely with the boys."
"The boys all wore kilts of Flower of Scotland and Black Watch and the bridesmaids each picked their own dresses with a jewel tone pallet to complement the kilts, to tie in with the Scottish theme. I also love the opulence of the 1920s so I had dark plum nails and lip colour, but other than that we avoided any one particular style or era."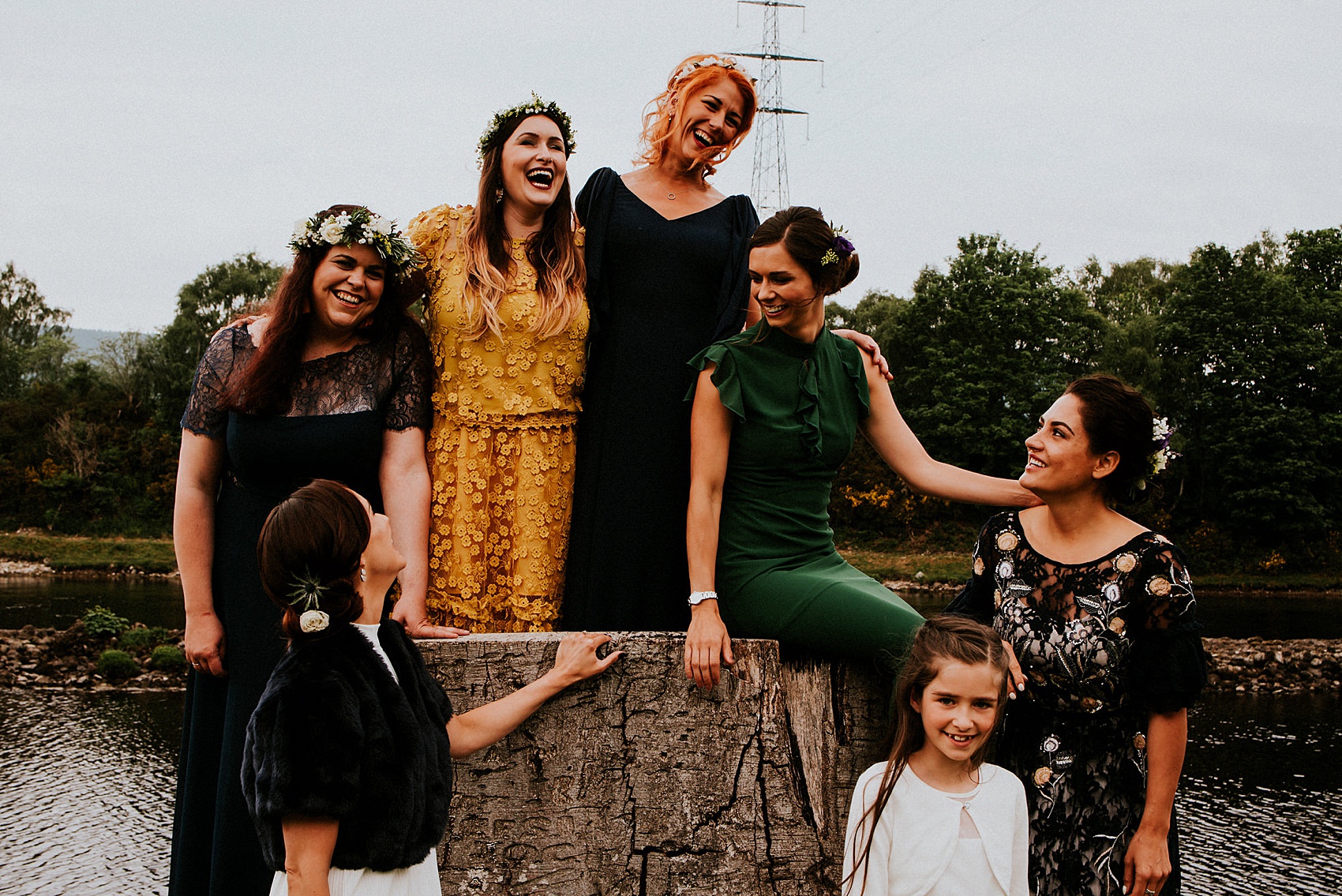 "I had dreamed of wearing a cape, but again, had a strict budget so found a cathedral length veil in Oxfam whilst shopping with Stuart's mum instead."
"I sewed some beading to the clip and hey presto, good as new! I liked wearing a veil more than I had anticipate but I'm sure most brides would say that."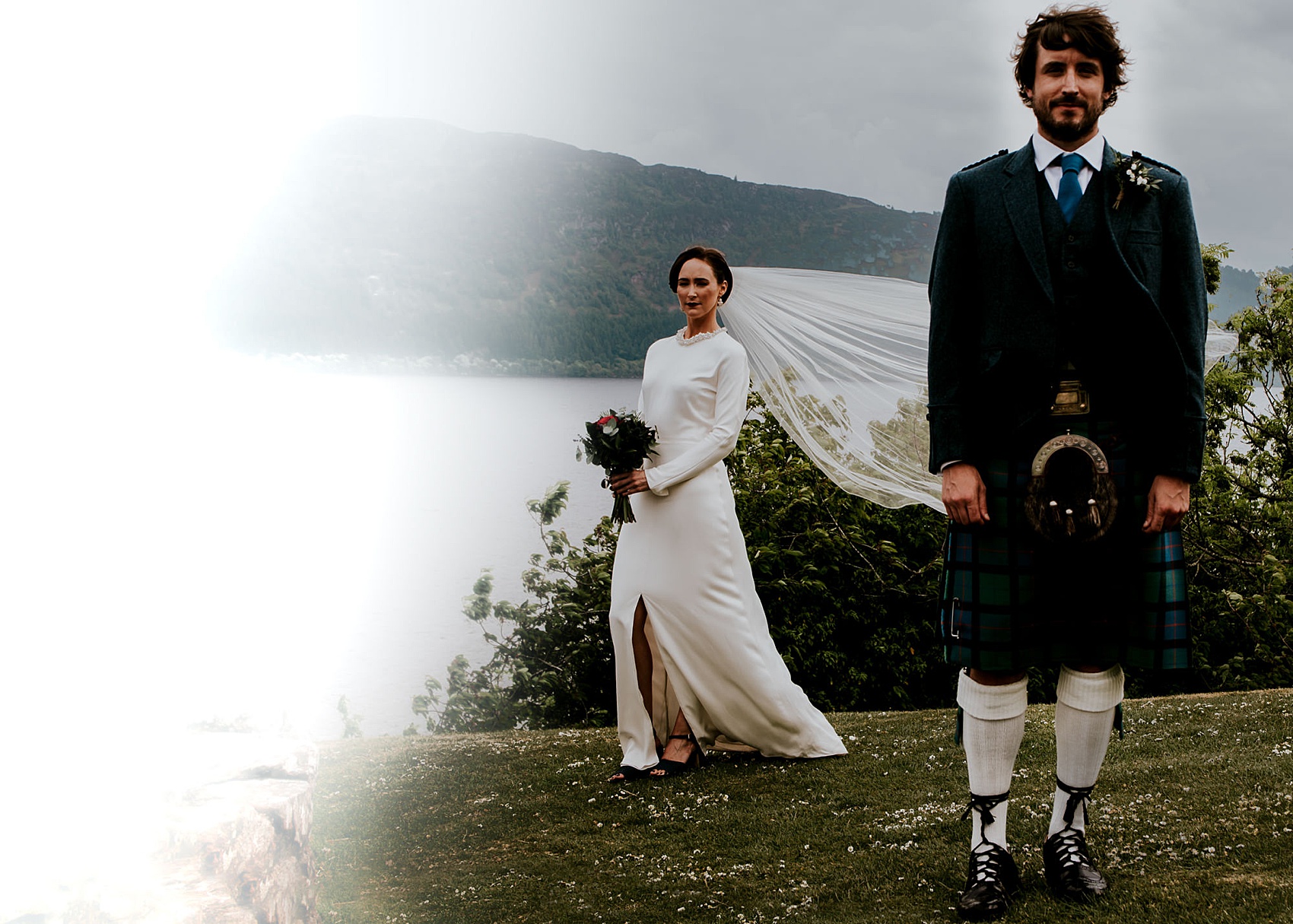 "Stuart and I chose to wear the same unisex fragrance from Jo Malone cologne intense collection. It was myrrh and tonka and we loved its intense and decadent scent and how different it smells on each of us."
"I had a beautiful shell necklace sewed into the neckline of my dress. The necklace was a gift from my dad when I was a little girl, so it was important that I wore it. My earrings were by Oliver Bonas and I bought them at the airport on the way to Scotland."
"My hair was by Sophie Gorgiou-Pecce who is a close friend, which made it extra special. We enjoyed a nice glass of fizz together whilst she set to work making me a bride for the day."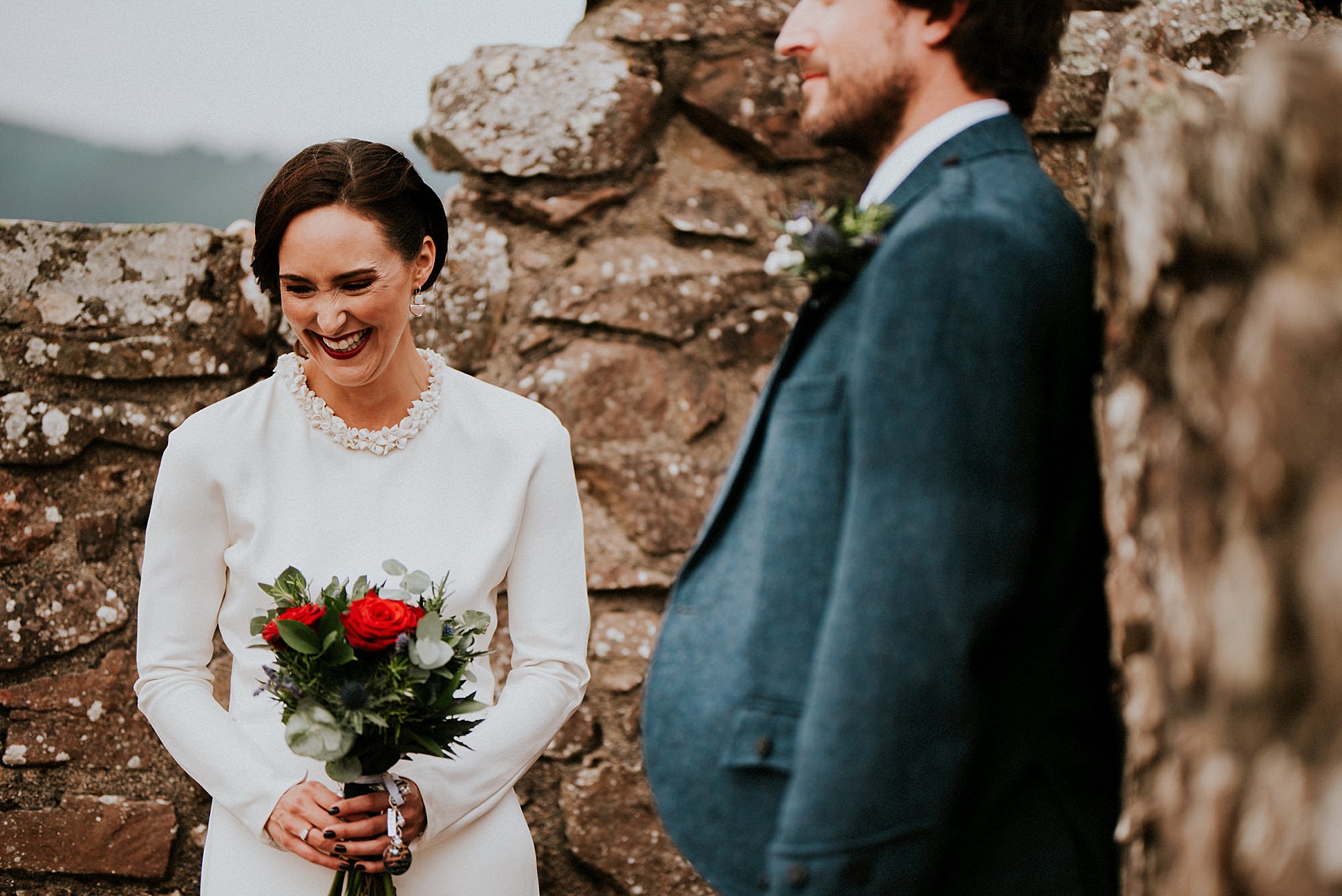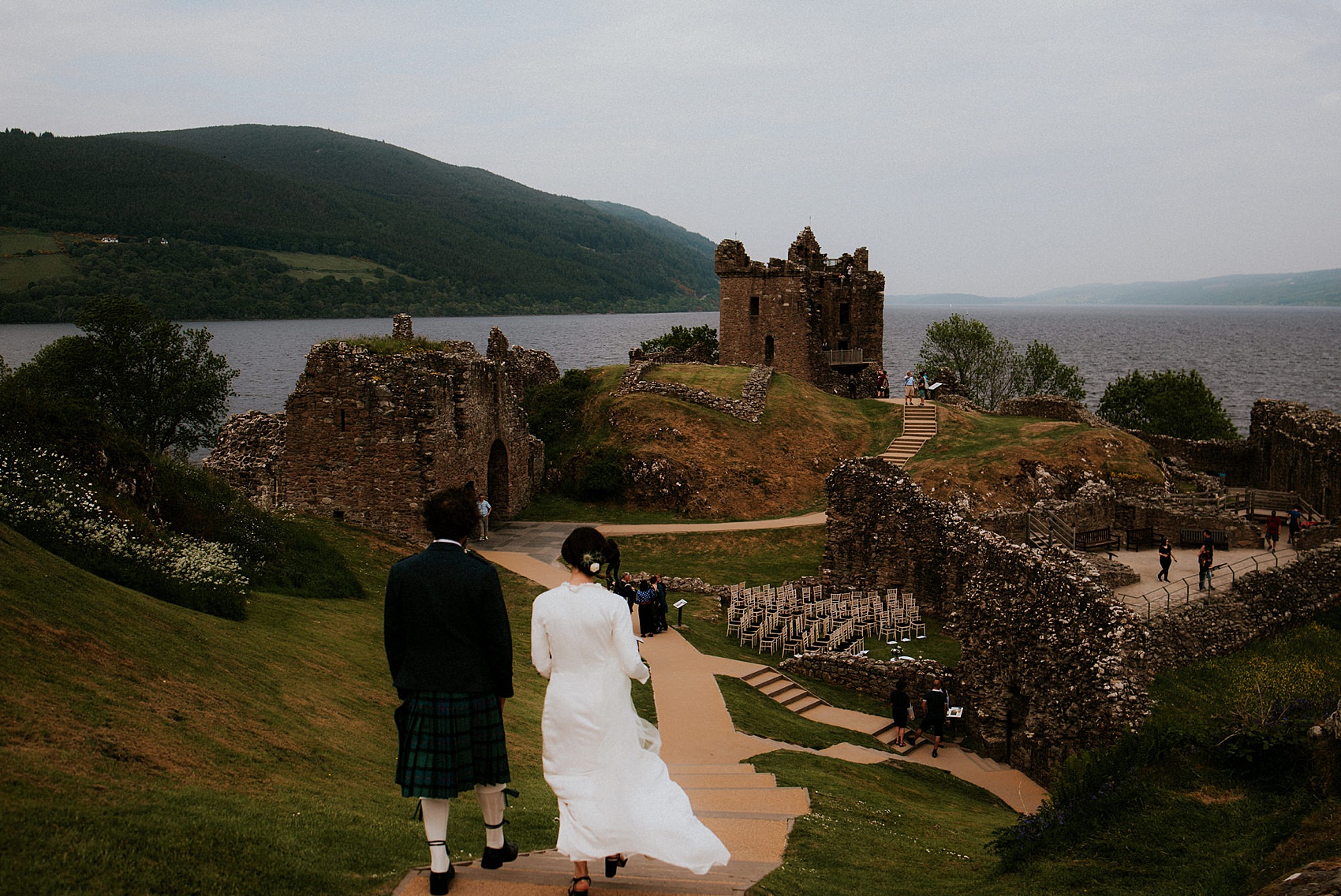 "Stuart and I met in the summer just after I had lost my dad to cancer. It been an awful and traumatic year that had turned my life upside down."
"At that time the last thing I thought would happen would be that I would meet the man I would go on to marry."
"It's strange how these things happen and I will always believe that my dad sent me an anchor to weather the storm. In true cheesy fashion, I saw Stuart from across a crowded room and thought he was the most beautiful man I'd ever seen."
"Later on we both happened to be stood at the bar so I plucked up the courage to speak to him and the rest as they say, is history."
"Eight years on, we went on an epic holiday in Indonesia and Stuart got down on one knee and proposed at a secluded beach. We decided to get married on our 10 year anniversary and gave ourselves 2 years to save and plan."
"We had my engagement ring made in Hatton Garden. It was a 1920s style emerald cut diamond. I wear my grandmother's gold wedding band alongside it so it's a nice mix of old and new."
"Stuart and I walked together hand in hand down the aisle to a Highland piper playing For The Love Of A Princess. Before we walked down the aisle, we got to watch all of our friends and family process down the castle ruins towards us, lead by Sandy the Piper, which was pretty cool to watch."
"Angie Alexandra was our celebrant and she was so thorough and really spent time in the run up to the big day getting to know us both and our story. We couldn't recommend her more highly."
"We had a humanist ceremony, which meant it was very personal to us. In Scotland, you can marry outdoors legally with a humanist ceremony so it was very unique for us to be able to marry outside overlooking Loch Ness."
"It was the last wedding Urquhart will ever do as they are now too busy as a historical site to allow this kind of thing, so we were very fortunate."
"As well as a ring warming, ancient hand tying and a song about our story, written and performed by our friend Matthew, our celebrant allowed us to create our own vows and pepper the ceremony with a unique mix of our favourite lines from various blessings she had shared with us."
"We ended the ceremony with The Apache Blessing. It's ancient meaning is still very relevant and touching."
"The entire ceremony felt very intimate and inclusive, which was exactly what we had hoped for."
"Instead of a reading, our friend Matthew, who writes music, sang during the ceremony as mentioned. It was instead of a reading and was a truly special moment that Stuart and I will treasure forever."
"I won't ever forget the lyrics that sent everyone into a frenzy of laughter, 'Stuart's in charge of cleaning and Nicola's in charge of wine' – it sums us up perfectly!"
"Our photographer Ryan at Shutter Go Click was an absolute gem of a find. He does really cool images and was so funny and chilled to work with."
"He made everyone totally relax and we had lots of fun creating some arty shots. We were absolutely delighted with his pictures and have created a wall of them in our home. We love you Ryan!"
"We also hired a young fun couple from Essex, Groovy Wolf Media, as our videographers for the day. We hardly noticed that they were there at all but they captured some incredible drone footage of the scenery and were lovely to work with."
"Following the ceremony we hopped on a cruise and sailed over Loch Ness with Jacobite. Kelly and the team were fantastic and really made the cruise special. I love the pictures Ryan got of this part of the day too."
"The styling inspiration for the wedding was simple and laid back, ensuring that the focus was on exploring the beautiful surroundings and landscapes of Scotland with our guests."
"Whilst we both really love all the little details people do to personalise their day, we wanted the landscapes to do the talking and chose not to overdress the venue."
"The fabulous Beetle Juice made us fantastic cocktails on arrival and even let me select the glassware! I couldn't praise this company more."
"We broke all traditions when it came to the wedding cake and started the celebrations with an afternoon tea and had a selection of beautiful cakes from the Bad Girl Bakery."
They included a three-layer raspberry and rose cake and a traditional Victoria sponge. We did our official post marital cake cutting on the Sunday (day after the wedding) around the fireplace at Ness Castle Lodges with friends and family chilling alongside us and a friend playing an acoustic guitar whilst we sang along."
"Our stationery included images of the venue featured on a backdrop of marble, all designed and hand drawn by my friend and artist Maria Damico."
"For our favours we had handwritten notes and personalised gifts sent to each guest on the morning of the wedding. They ranged from Jo Malone candles, tartan themed shawls, photo books, bottles of whiskey and jewellery."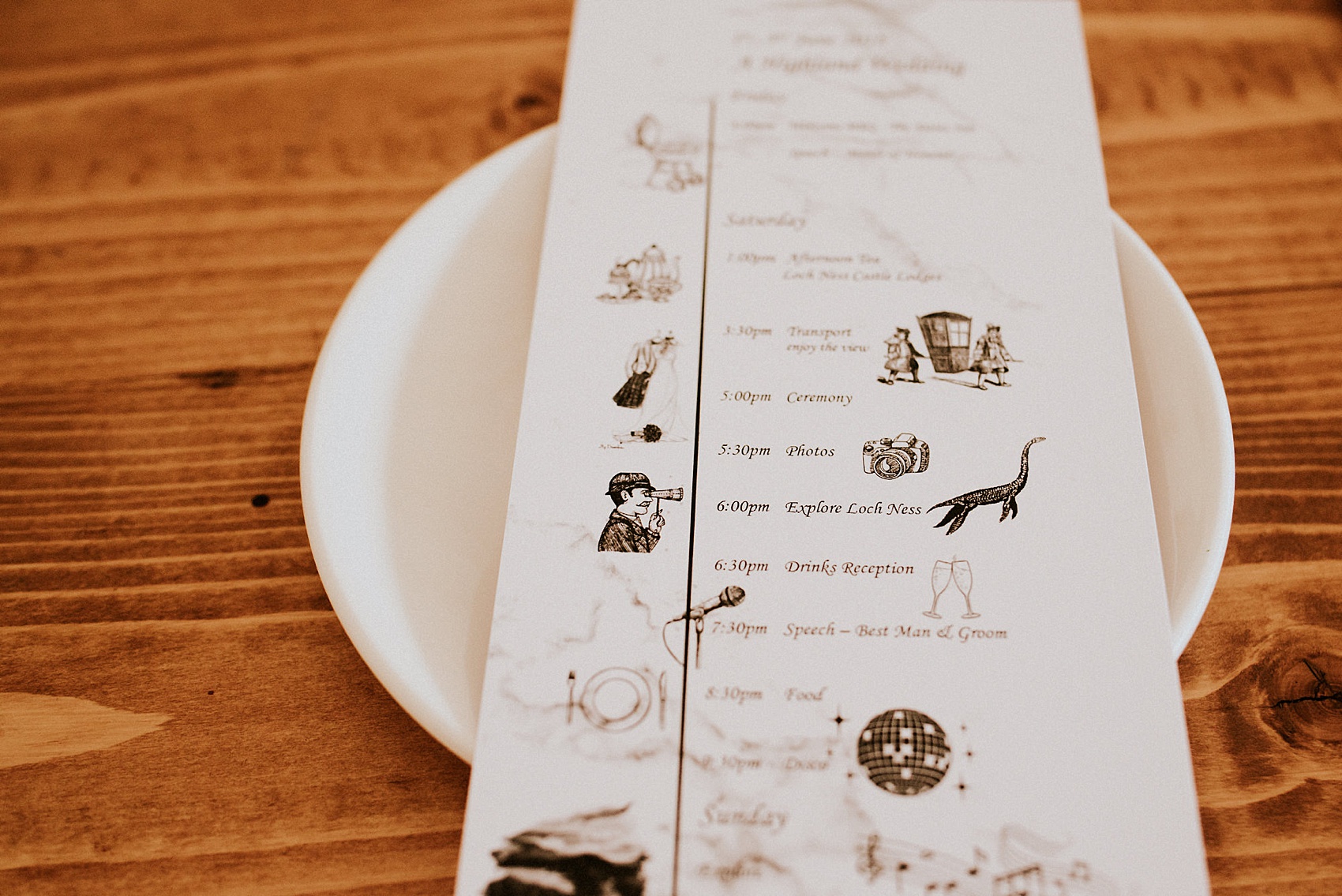 "It's so so hard to choose just one favourite moment from the whole day. I'm sure everyone says it but there were so many funny and wonderful moments. My top 5 include Matthew's song, our friend Adam's acoustic set during the afternoon tea, the beautiful yoga session my friend Jodie designed and lead outside first thing in the morning, all the speeches spread out throughout the day."
But if I had to choose just one moment, it would be the time we spent alone with our photographer, who made our experience really special."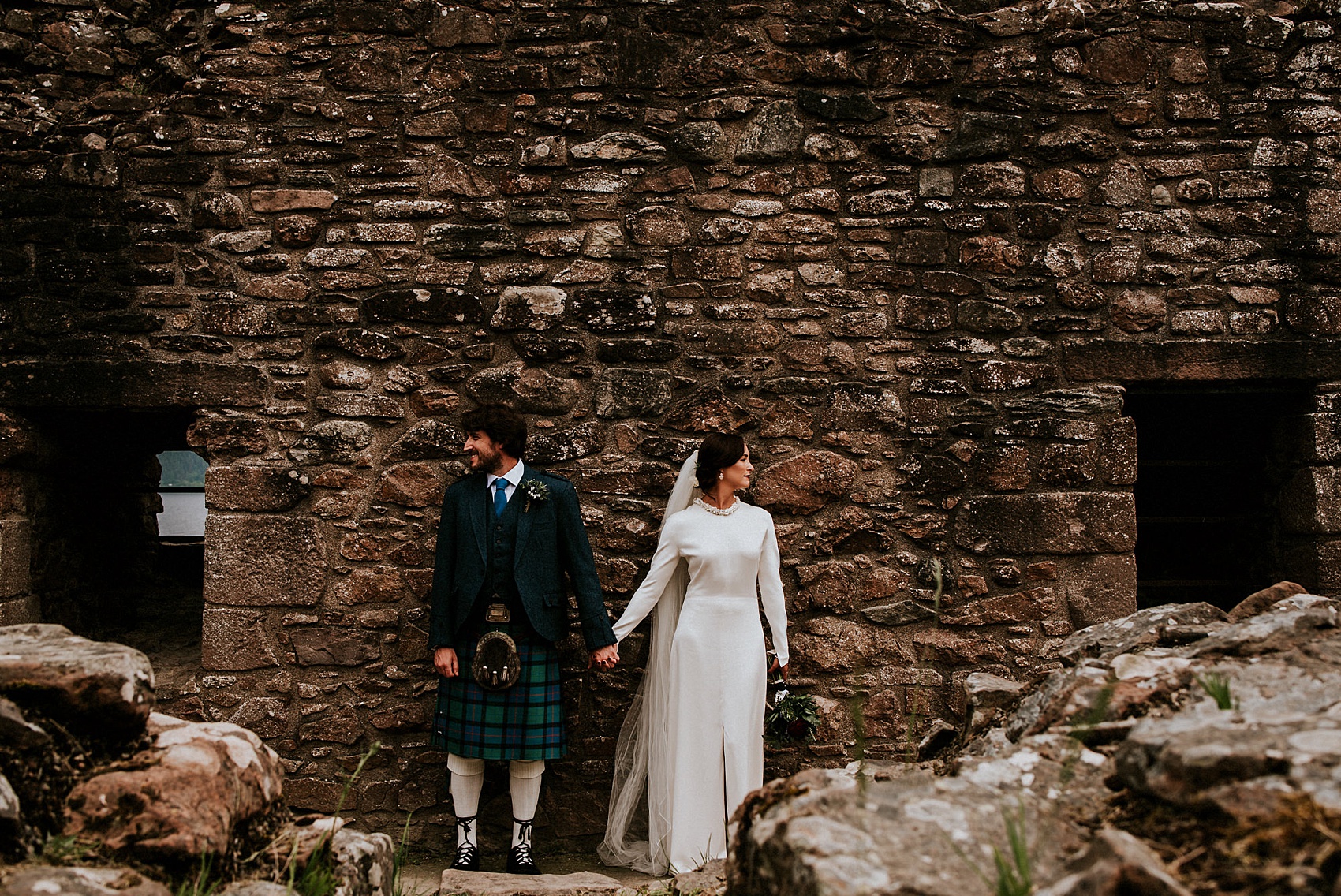 "The three of us went to the castle ahead of the ceremony and when we arrived there were lots of members of the public there as the venue had decided to extend their opening hours for the first time that weekend."
"At first we were really unnerved by it as we didn't want to be a spectacle, but Ryan really helped us relax and see the funny side."
"I also loved how everyone was so happy for us and so many people congratulated us, had pictures with us and wished us well, which we felt overwhelmingly grateful to be surrounded by such love and kindness."
"At one point the wind blew my veil off into the Loch but one of the incredible members of staff at the castle managed to climb down the wall to retrieve it – what a legend!"
"For our first dance, we created a mix of two versions of Praise You by Fatboy Slim. It started with the slow version by Hannah Grace, and then went into the full on version by Fatboy Slim."
"Guests were given huge confetti cannons and at the transitions they set them off. I could hardly see through the confetti for a good few seconds! It was fantastic!"
"We invited 60 guests altogether, most of which stayed on site with us at Ness Castle Lodges. Having a whole weekend all together really took the pressure off and created a more relaxed vibe. On the Friday night before the wedding we started with a BBQ at The Dores Inn, which overlooks Loch Ness and had a fun quiz to get everyone talking and mixing together."
"We then had the wedding on the Saturday and finished the weekend off on the Sunday with bacon butties, walks in the stunning highlands and time spent in the hot tub overlooking the River Ness."
Words Of Wedded Wisdom
"At the start of your day, find some time to yourself to breathe and ensure you're grounded. The yoga session we did first thing focused on lots of deep breathing and it really helped me stay calm, relaxed and truly present all day."
"Put your phone away – for the whole day! Time will go quickly so you don't want to waste it with distractions. Let someone else manage your social media if that's important to you."
"Get someone to deliver your wedding on the day for you to shield you from questions and details that will no longer matter to you."
"And lastly, guest list politics. If in doubt, always over invite as you will have last minute drop outs. The more people sharing your big day, the more love and support you're surrounded with. It's a truly energising experience and so special to be able to reminisce together in years to come."
"If we could go back and do one thing differently, we would have better understood the capacity restrictions before we fell in love with the venue. There were some people we were unable to invite for fear of breaching the agreement. I'd advise creating your guest list before looking at venues and always assume everyone will say yes so there's definitely room for everyone."
What a truly gorgeous wedding! Thank you Nicola and Stuart for giving us a glimpse into your perfect day, and to Ryan at Shutter Go Click for the beautiful imagery.
Until next time…
Much love,
Holly x