I just love the inspiration behind the colours and styling of today's brilliant Nordic style summer barn wedding, and as well as this, I'm smitten by our bride's beautiful Halfpenny London dress with its ruffled high-low hem.
Katie, a Marketing Manager, and James, a Customer Experience Team Leader, were married on the 23 August 2018, in a ceremony at St. Wilfrid's Church, Calverton, Nottinghamshire, followed by a reception at Hazel Gap Barn; a gorgeous red brick barn from Cripps & Co., situated on the Welbeck Estate. The couple were influenced by the ultra-cool minimalism of Nordic design, and styled their day with lots of lovely, natural materials.
Images by Pear & Bear Photography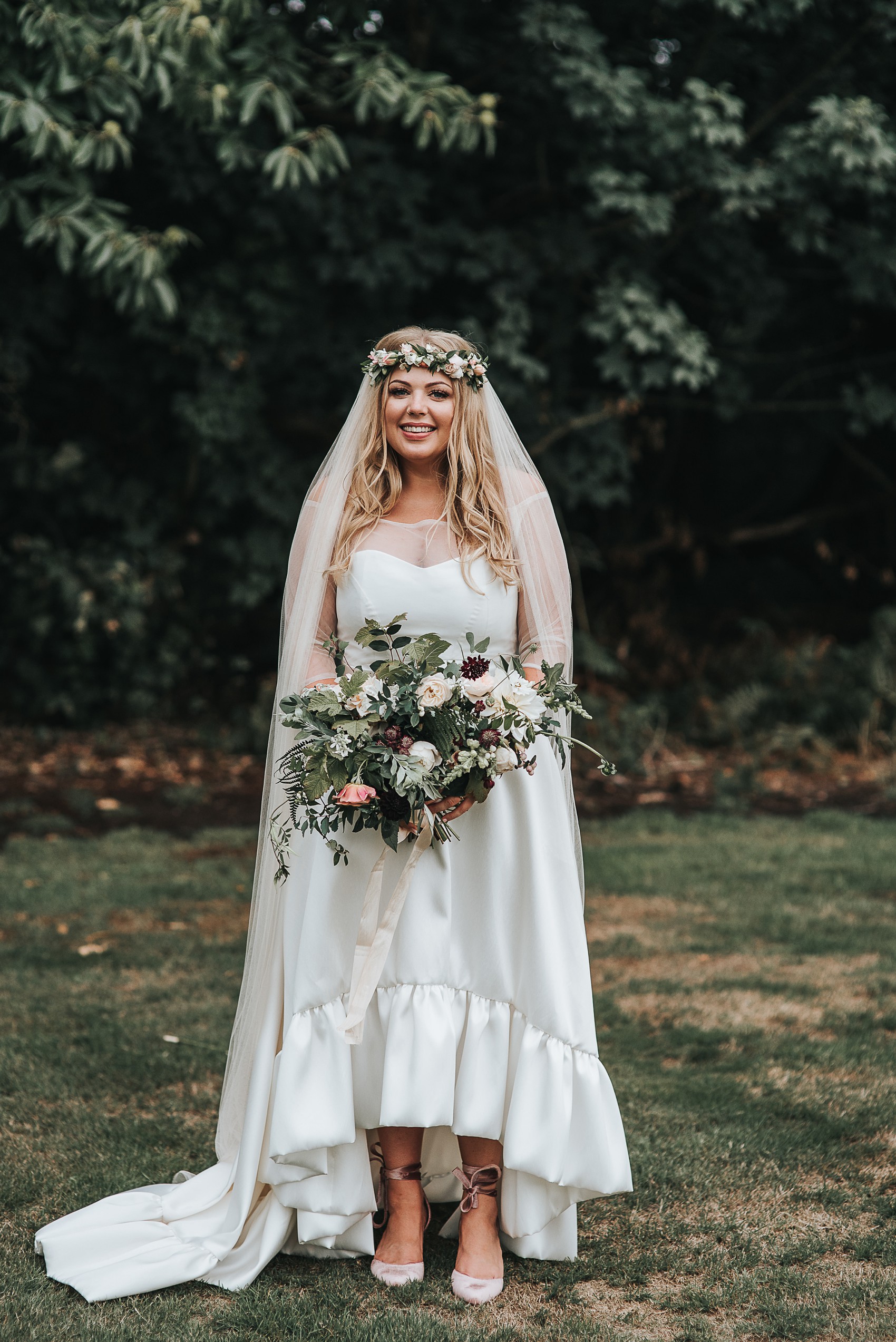 Katie's beautiful bridal look came courtesy of two of our amazing Little Book suppliers, and a designer we have endless love for here on our pages. From Liverpool boutique, White Closet Studios, Katie chose the 'Breeze' dress by Halfpenny London. There's such a lovely contrast between the clean, simple lines and the ruffled high-low hem.
"This was the first and only dress I took a screenshot of on Instagram and sent to my mum and sister. I felt in my gut that this was my dress as soon as I saw it. I wanted something that would stand out and be memorable, something to show my personality and make me feel feminine and sassy at the same time."
"I knew I wanted a very simple fabric. This dress ticked all my boxes: The ruffled hem, the beautiful heavy, luxurious fabric, the strapless style that went with so many different styles of capes, veils, overlay tops etc., and it has pockets!"
"When looking for a wedding venue the main things we decided on were space, natural light, great food and drink, and no fuss. I managed to come across a website for Hazel Gap. Cripps & Co. had only just purchased it, so it was still derelict and falling apart."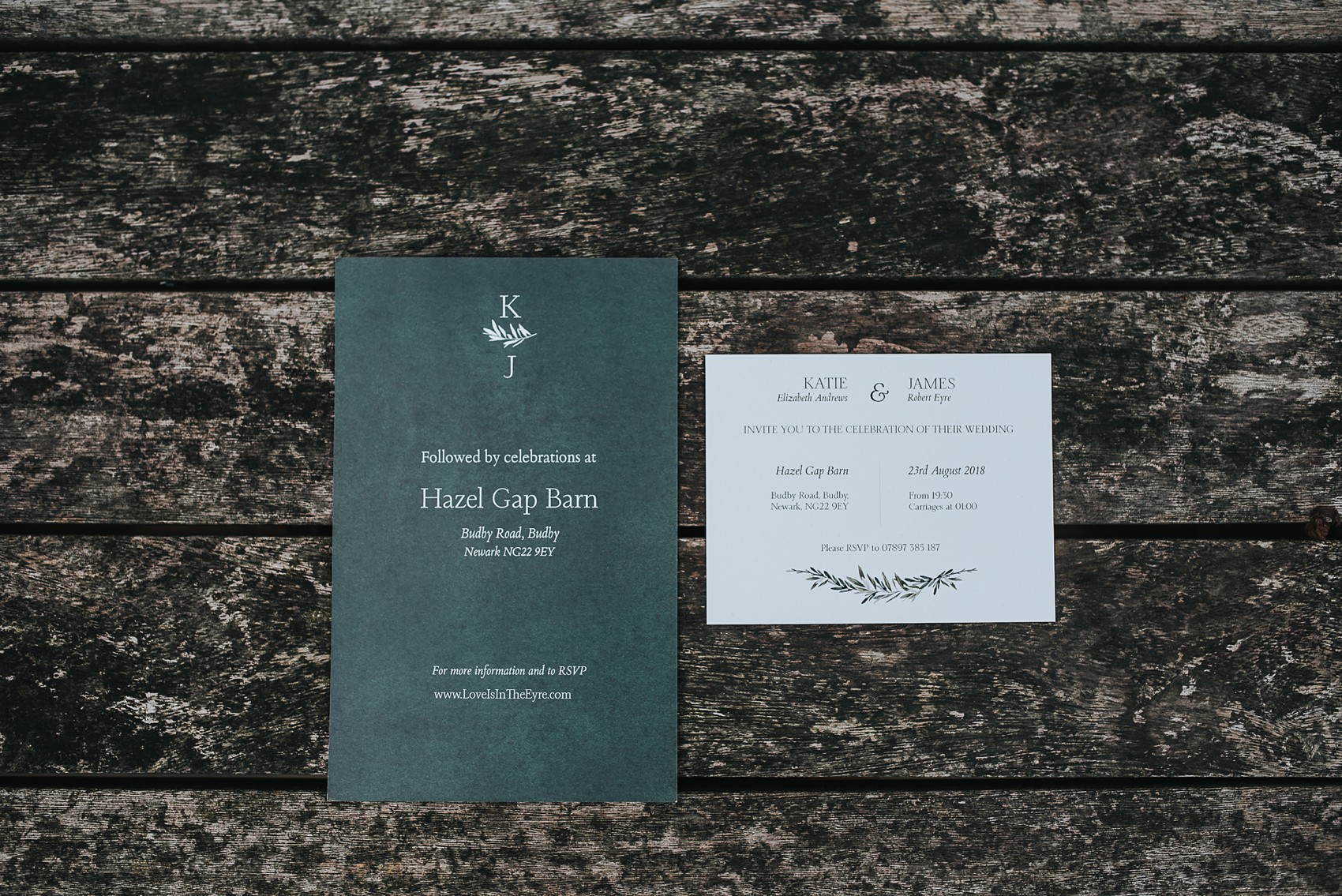 "Naturally we booked an appointment to see it the following week! We actually ended up going on my birthday. We turned up to the site – it was muddy, full of bricks and timber, and we stood in what was going to be the courtyard looking at the plans, and photographs of Cripps' current barns, and we signed up immediately. It was so exciting to watch the venue come to life over the following months."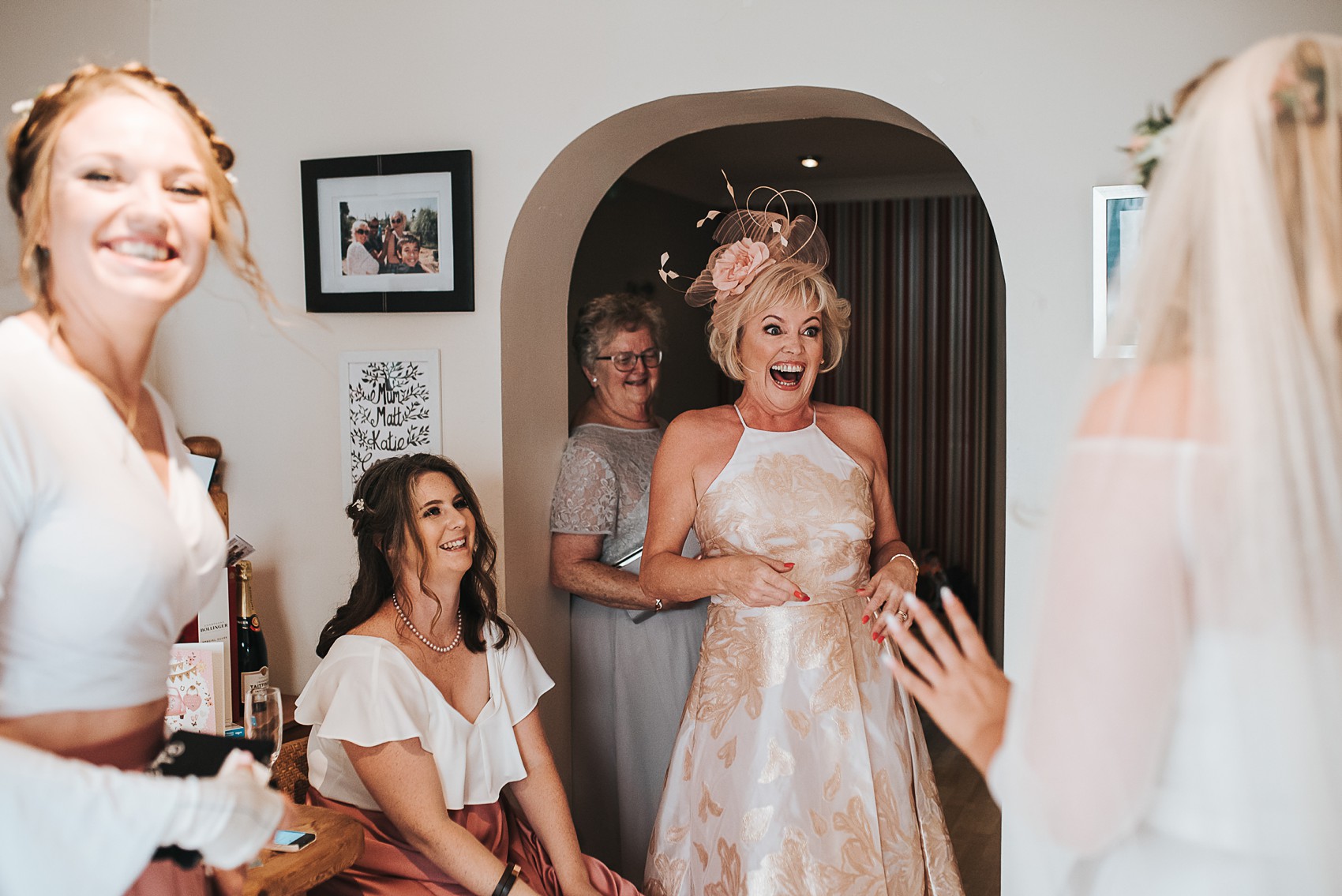 Katie really enjoyed her experience at White Closet Studios, and working with Tusneem, the owner of Boutique Alterations, who designed and made a delicate, off-the-shoulder tulle top to wear with the dress.
"There was never any doubt that I was going to get my dress from White Closet Studios. My friend was the owner at the time, and she wouldn't even consider letting me go anywhere else. When you imagine what your wedding dress shopping experience is going to be like, this is it. The studio is absolutely beautiful. I worked with Zoey the new owner during my fittings, and she helped me select a Jesus Peiro belt to wear, before recommending Boutique Alterations in Bramhall, Cheshire to assist in all final alterations."
"Ruby came for a trial and did a full assessment of my skin. Not only was she knowledgeable and skilled in make-up artistry, but she was really experienced in skincare in general, which was really helpful. She listened to my ideas and what I thought I would like, and then used her skills to enhance my face. That simple really – she made me feel the best I have ever felt, yet also just like me!"
"When we got engaged, this was the only thing I knew for certain; that I wanted to be married in church, and specifically this church. This was my family church growing up."
The bridesmaids wore matching blush silk skirts from ASOS, and then chose a white top of their choice, as well as their own shoes in a neutral shade.
"I was lucky enough to have eight incredible women accompany me on my wedding day, and all I wanted was for them to feel amazing."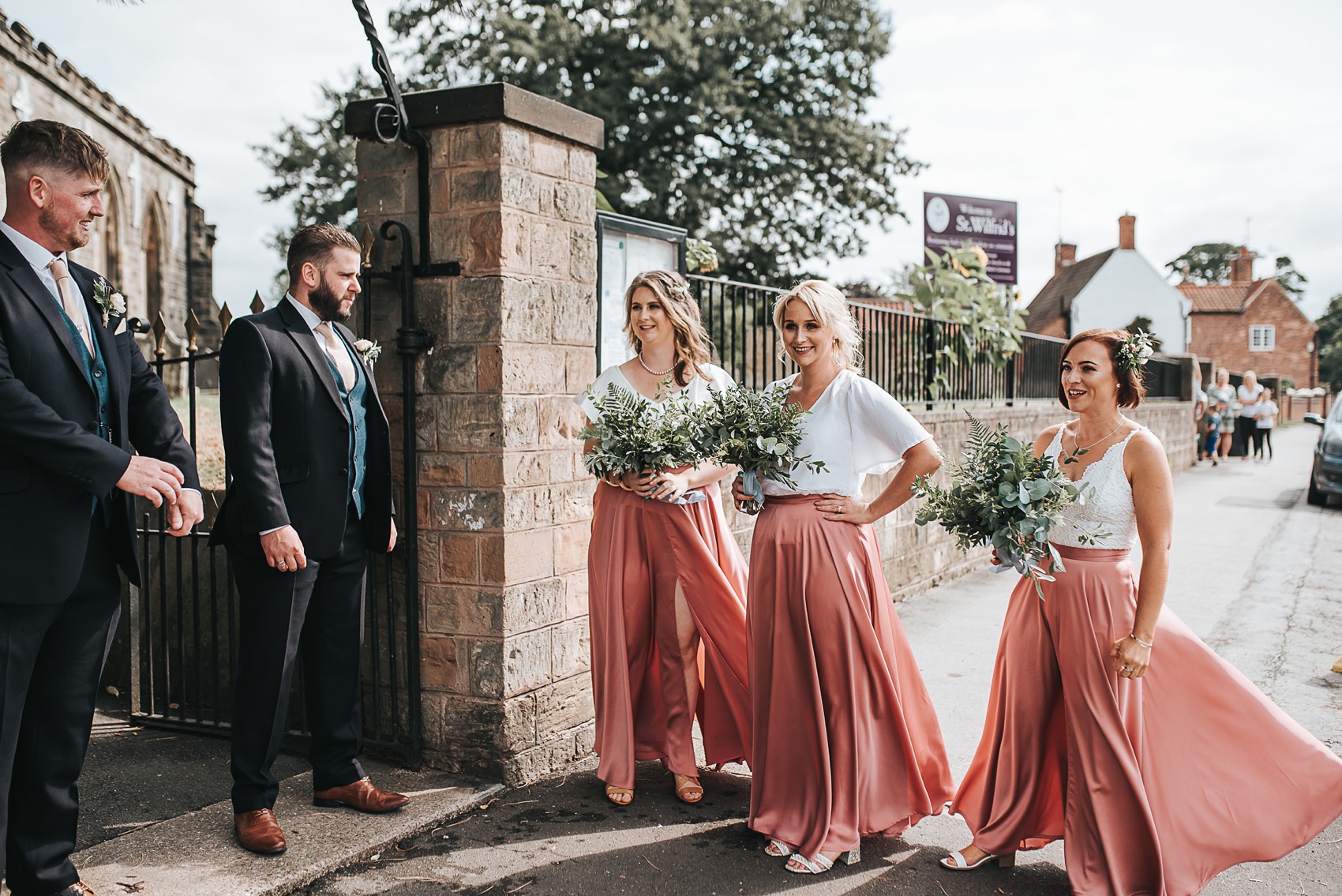 Katie and her bridesmaids carried beautiful bouquets by Number 27 Floral Design, filled with greenery like fragrant eucalyptus and ferns alongside grasses and foraged foliage, and roses, dahlias and waxflower blooms in shades of deep red, white, pink and cafe au lait.
"Louise was recommended to me by a friend who I'll be eternally grateful to! Louise's website and Instagram feed are just stunning, as soon as I saw her online, I knew she was for us. We met up in Nottingham for an initial meeting and ended up talking for over an hour! She was totally on board with our idea of incorporating as much natural greenery as possible, and she really helped me to push boundaries when it came to accent flowers within the bouquets and décor."
In her hair, Katie wore a pastel-perfect flower crown of roses and waxflowers with lovely greenery, which was made for her by Number 27 Floral Design, and it looked lovely with Katie's loosely curled hair, by RocknRoller Hair, and pretty make-up by Ruby J Make-up Artist.
"Sarah was so easy to share my ideas with – she took a lot of emails and photos from me, and turned them into the most gorgeous  bridal/bridesmaids hairstyles ever! Everyone looked absolutely incredible – so far beyond what I even imagined. I felt so fabulous all  day and I'm so grateful for her, and her talent."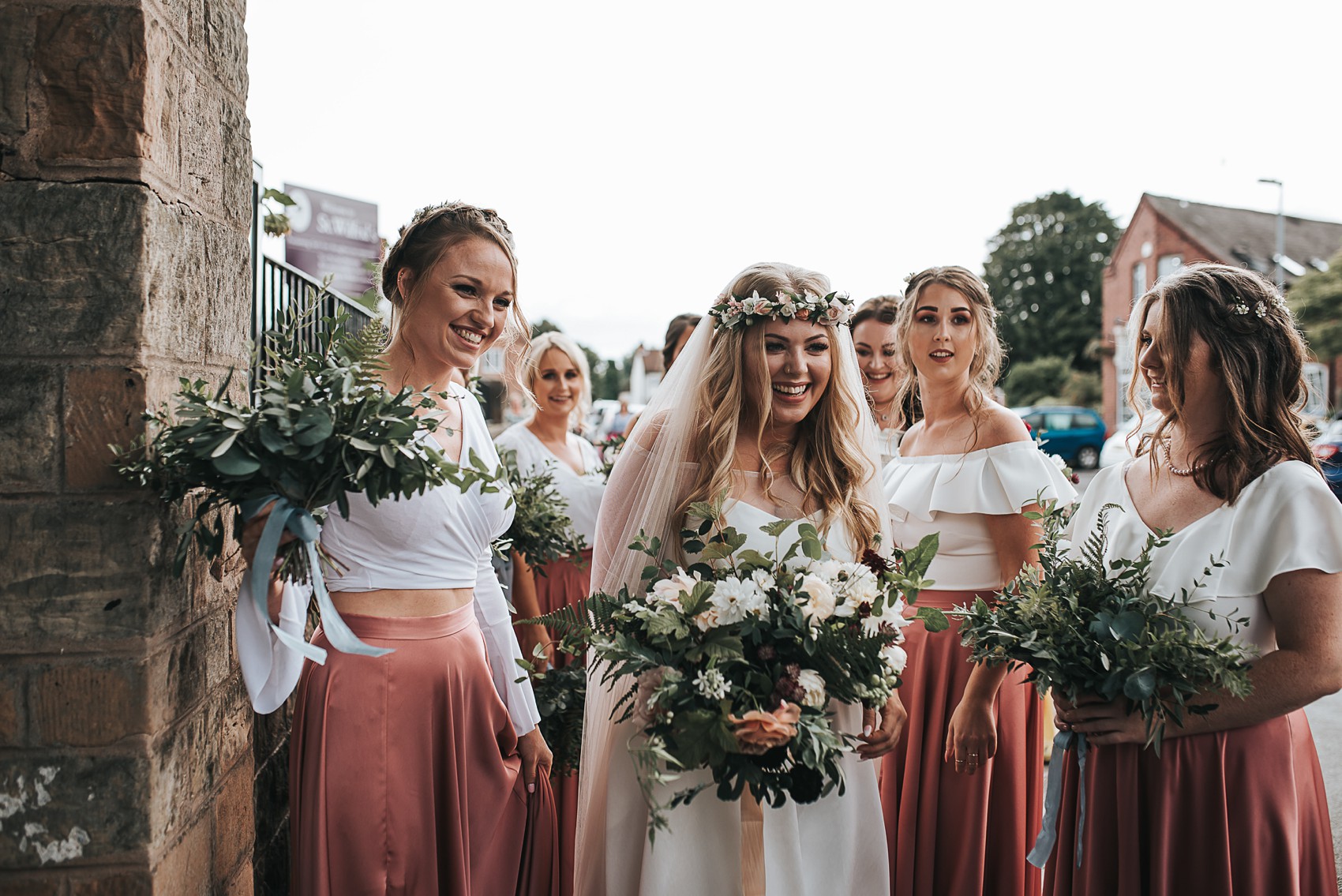 Katie made her way to the church in a vintage Rolls Royce, belonging to and chauffeured by her Uncle Steve, and together with her dad, Bob, made her way down the aisle to meet James, to live music from Katie's pianist stepdad.
"We chose the Vincente Avella Bridal March, which is a soft, twinkly and gentle twist on the traditional bridal march. It was lovely that he got to play this special part in our day. He played our wedding hymns, as well as playing when our close friend Alex sang during the signing of the register."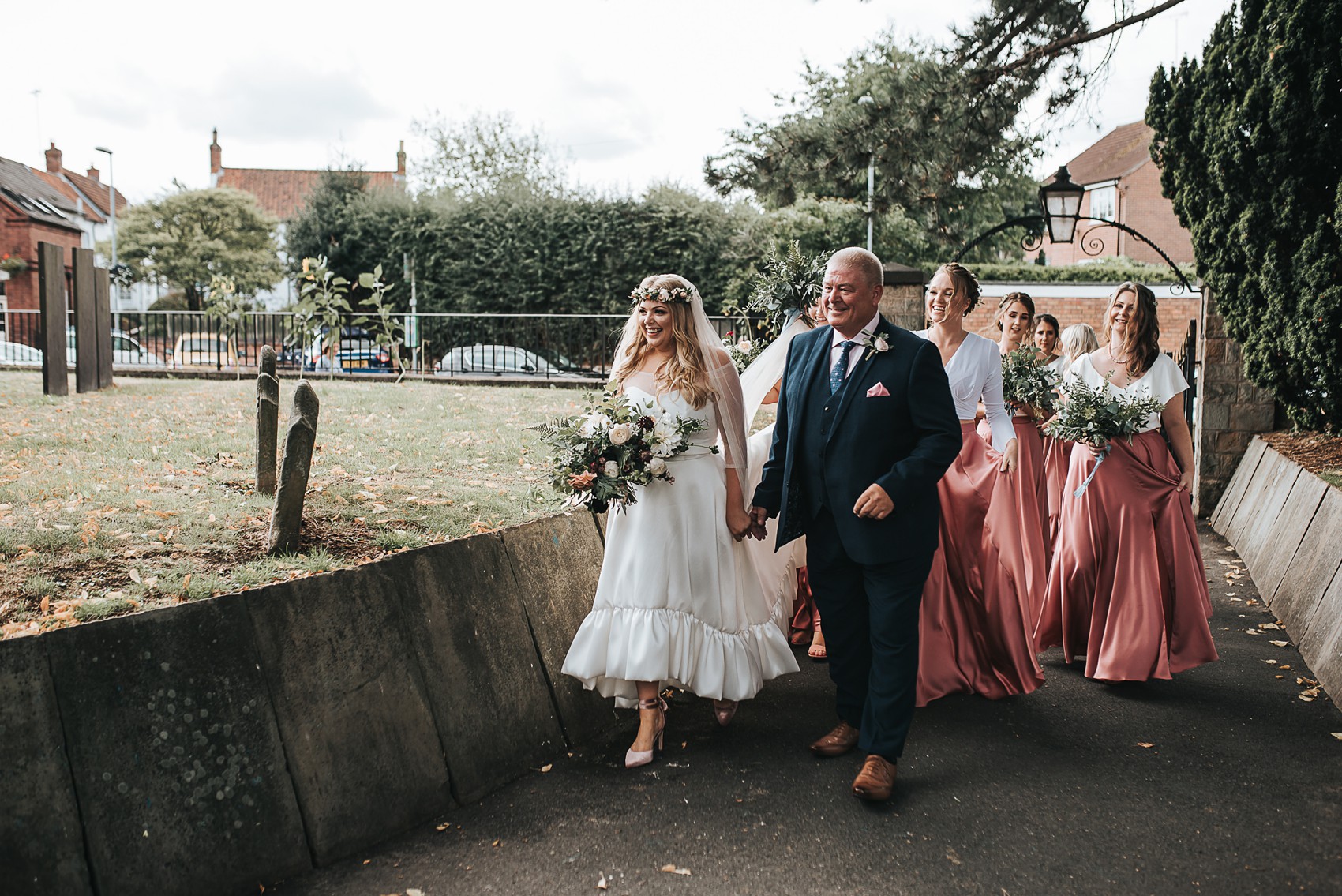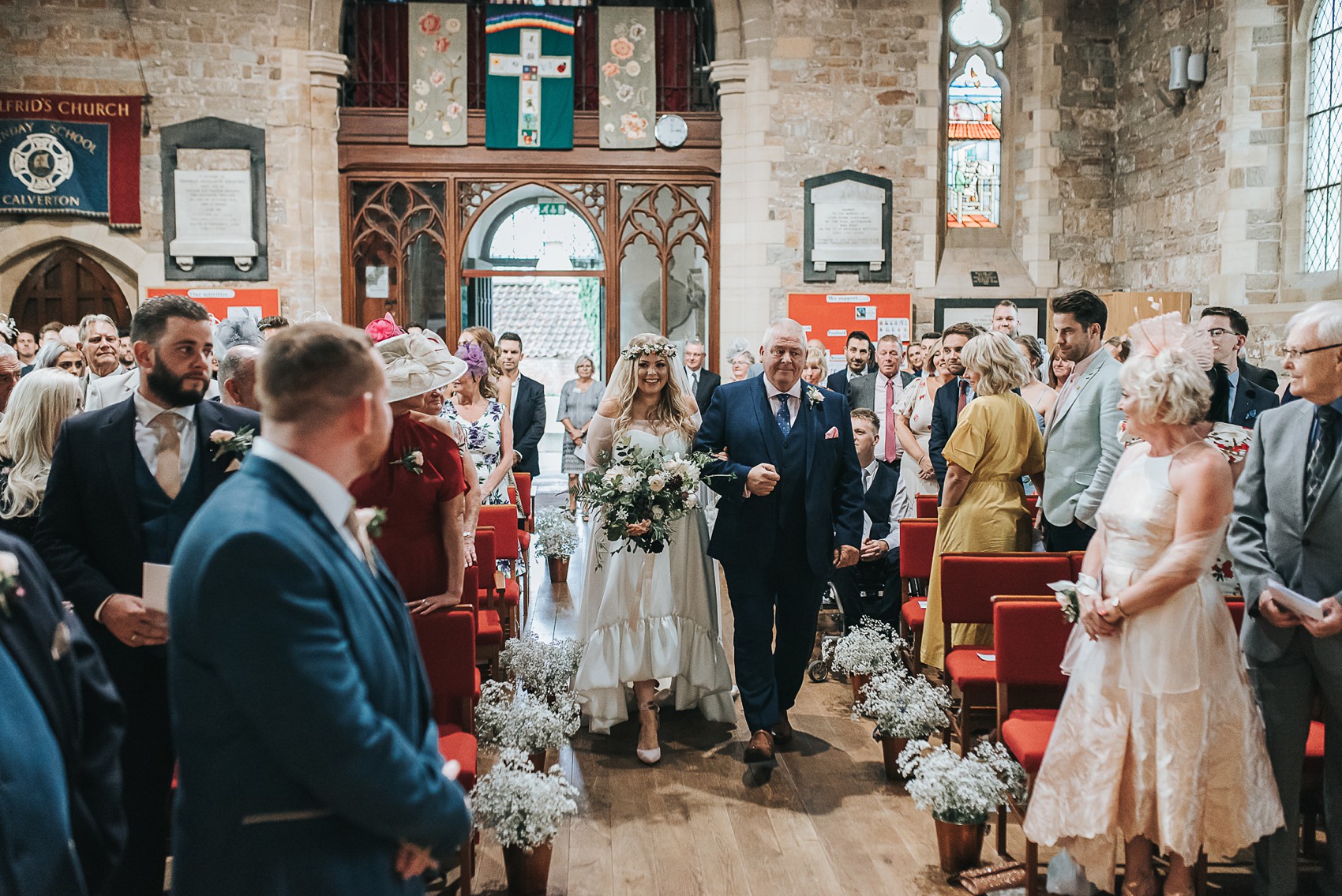 "We met at work in 2013. I'd joined a tech company in Manchester in the July, and in the November James was recruited. For the first 6 months we weren't too keen on each other – he thought I was a bit rowdy (I organised a lot of the social stuff in the office!) and I thought he was a bit of a class clown."
This changed after James began to ask Katie about the homemade lunches she brought to work. Recipes were shared, followed by a mini-PT group in their office, and their friendship grew from there.
"Over time we became pretty inseparable, and by the October became an item, although we kept this secret for ages because we still worked together. Pretty much a year later James proposed at our apartment in Manchester. It was lovely, romantic and sentimental, and we got ready and went out to celebrate over dinner."
"He had arranged for all of our family and friends to be in Manchester at a surprise party that night. It was a brilliant night and shows just how well he knows me! We were engaged in October 2016 and got married in August 2018."
Katie and her family have a special and enduring connection to St. Wilfrid's Church, and it was the only choice when it came to deciding where to hold Katie and Jame's wedding ceremony.
"This was my family church growing up. After moving from the Wirral to Calverton, which is a small village in north Nottingham, we started going to St Wilfrid's Church, and this is where we met many friends who became like family over the years. Growing up, this church was a big part of our life. My dad had been the church warden, my mum, the Sunday school teacher, and we had spent many Saturdays in church where I sang in the choir or played my flute at weddings."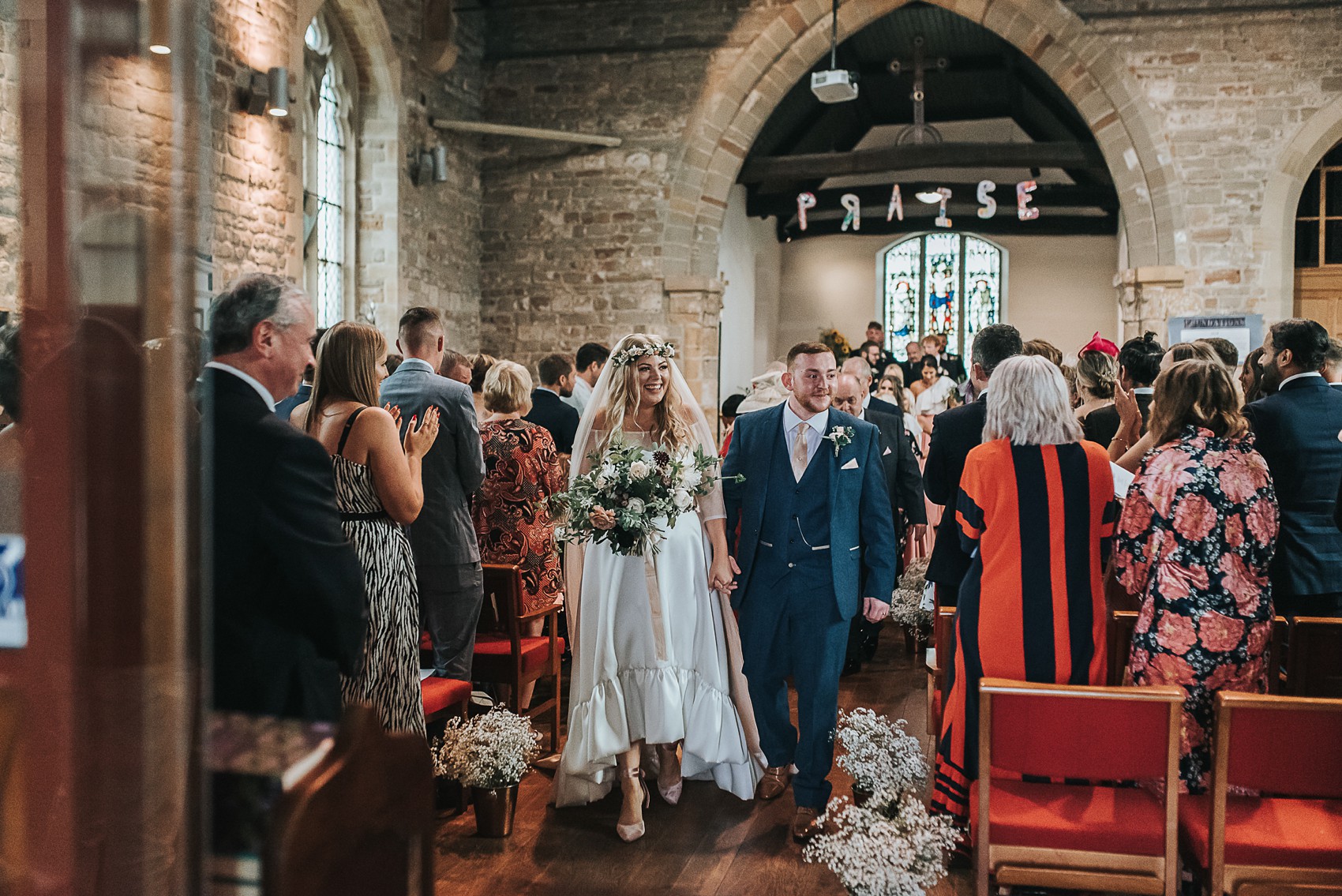 "Unfortunately in 2010 we lost my stepfather, and his funeral was held at St Wilfrid's, along with a police procession, so this bought even more meaning to the church, and in fact on the wedding morning my mum surprised me with baskets full of rose petals that had been fallen from his rose bush in the garden over the last 6 months, which we used as confetti."
The ceremony was conducted by The Revd Sam Hustwayte, and whilst the couple kept their vows simple, Revd Sam included some sweet, family-focused touches throughout.
"Such as asking both sets of parents to stand at the start of our service to promise to support us. I was quite worried about getting through the vows as I am quite emotional at this kind of thing, so the traditional vows felt like not only the safest option, but also simple and lovely."
There were heartfelt readings, too, with friend Ruth reading 1 Corinthians: 1-13, and friend Joe reading the lyrics from the song, I Will Be Here, by Steven Curtis Chapman.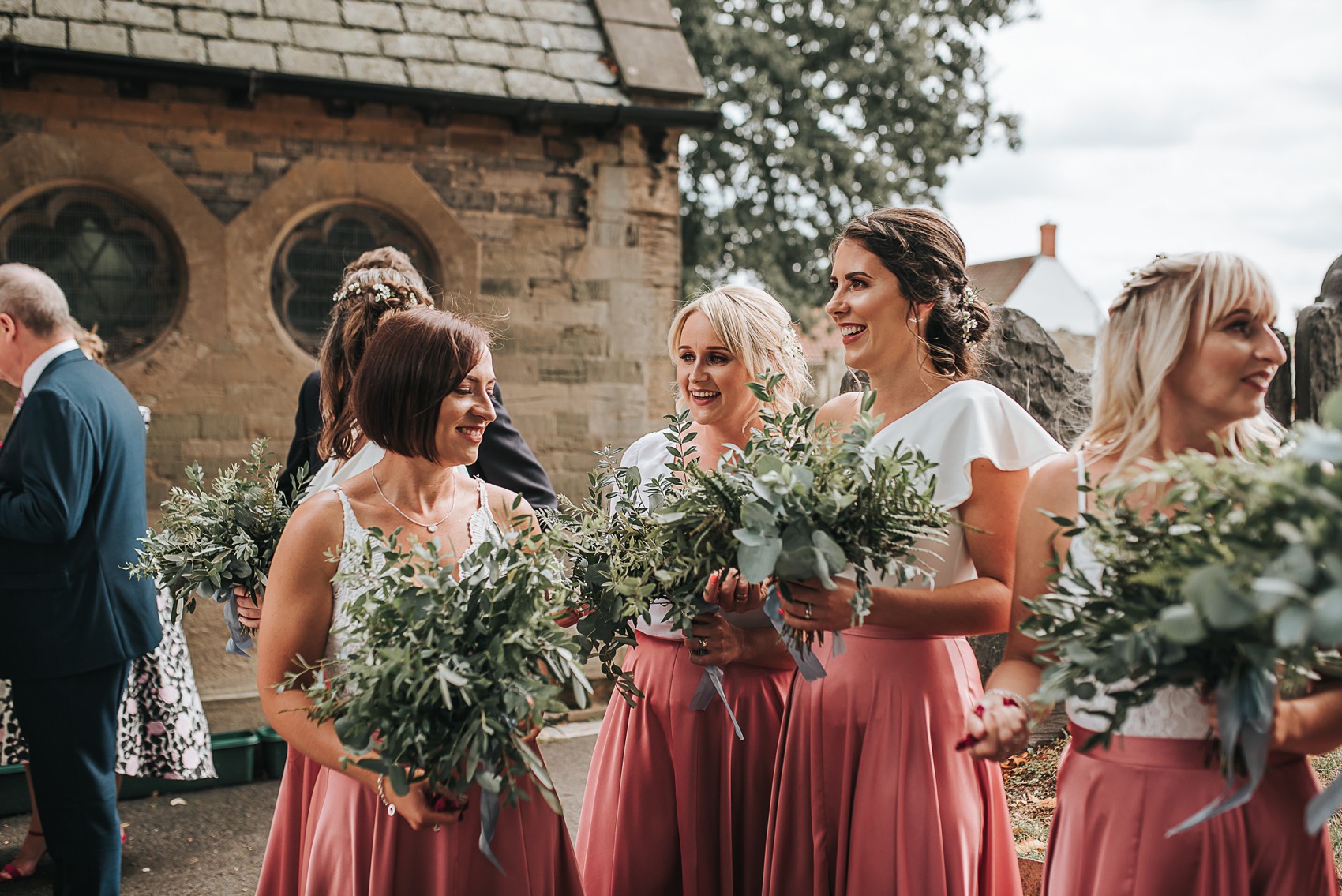 As she was able to show off a great pair of statement shoes with her high-low hem dress, Katie chose a pair of blush pink velvet shoes with ankle-straps, from ASOS, and she finished off her outfit with a custom-made champagne tulle veil by Sash + Veil.
"Heather custom made it the perfect length to rest on my dress train, and attached a rose gold clip and ribbon to fit in with the other finishing touches. She was wonderful to work with!"
James looked great in a slate blue tweed suit from Groom Hire, which he wore with a classic white shirt, pale gold tie and pocket square, and his grandfather's pocket watch.
"James had six groomsmen, including his best man Jonathan, four oldest friends Jake, Danny, Sam and Lewis, and lastly my brother Matt. Our groomsmen love an excuse to dress up, so all personalised their outfits with pocket watches, etc. They looked wonderful."
After the ceremony, there were drinks outside at Hazel Gap barn, with that lovely, warm red brick as the perfect backdrop, and live music from CJ Hatt. Adoring this Bellini bar!
"Two traditional red brick farm buildings – the barn itself and the farmhouse – stood either side of a walled farmyard, destined to be a stunning courtyard with water features, seating, trees and planters, sheltered from the wind and perfect for our post-ceremony drinks."
"We'd purposefully looked for a venue that was beautifully natural – brick, wood and lots of glass for natural light. We were influenced by Nordic styles of greenery, white and candles."
Elegant stationery with a pretty, botanical feel was designed by Katie, and in the months leading up to the wedding, the couple collected lots of decor items to use inside the barn, and as part of their table centrepieces.
"Mainly these were glass vases, large candle holders, and glass and metal test tube style table centrepieces, which were raised on the tables and filled with wild arrangements of blooms. Other than that the tables had some stems of eucalyptus in glass bottles, and candles. There was a high brick wall separating the dining room from the rest of the venue, and we lined this with glass bottles with greenery stems inside."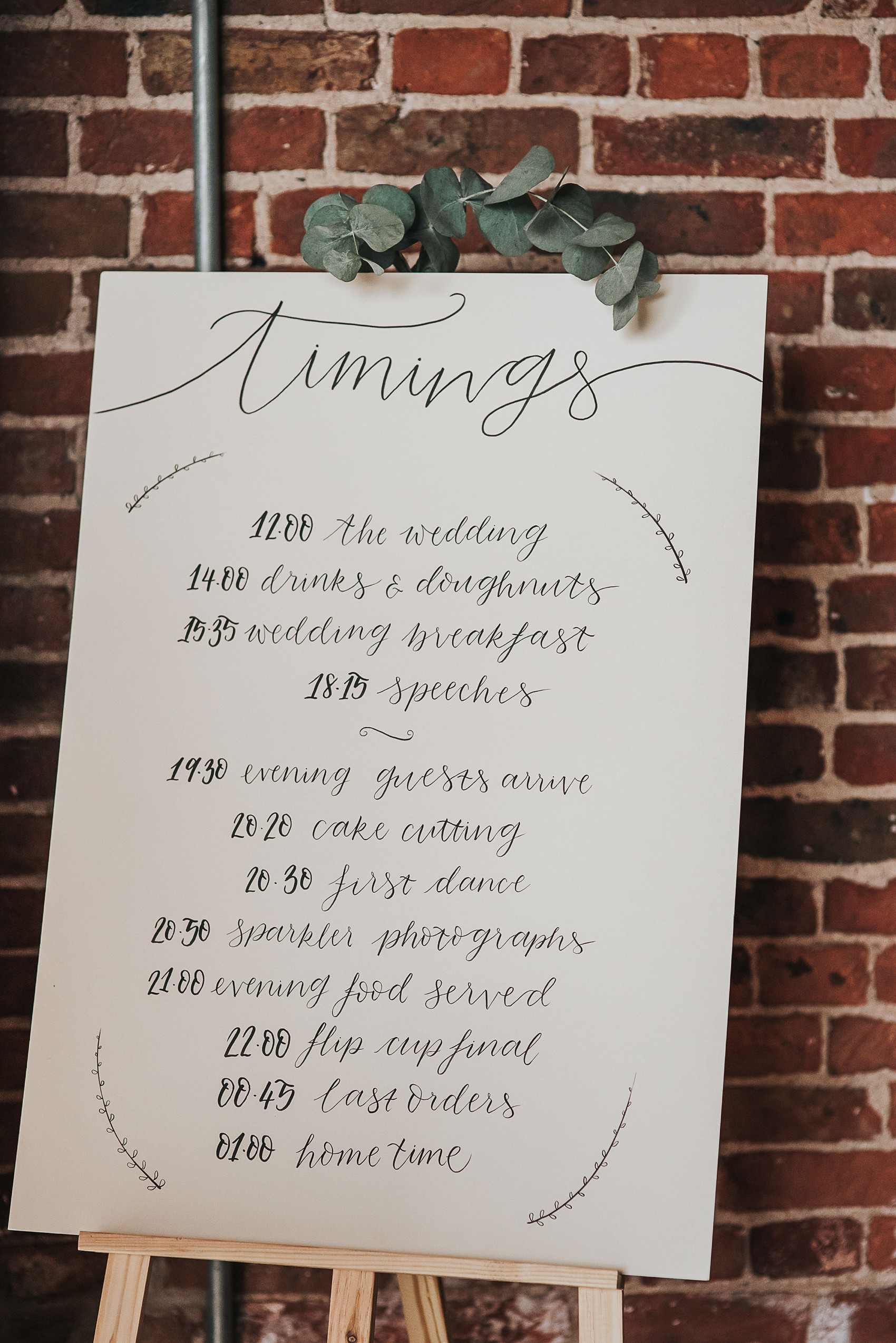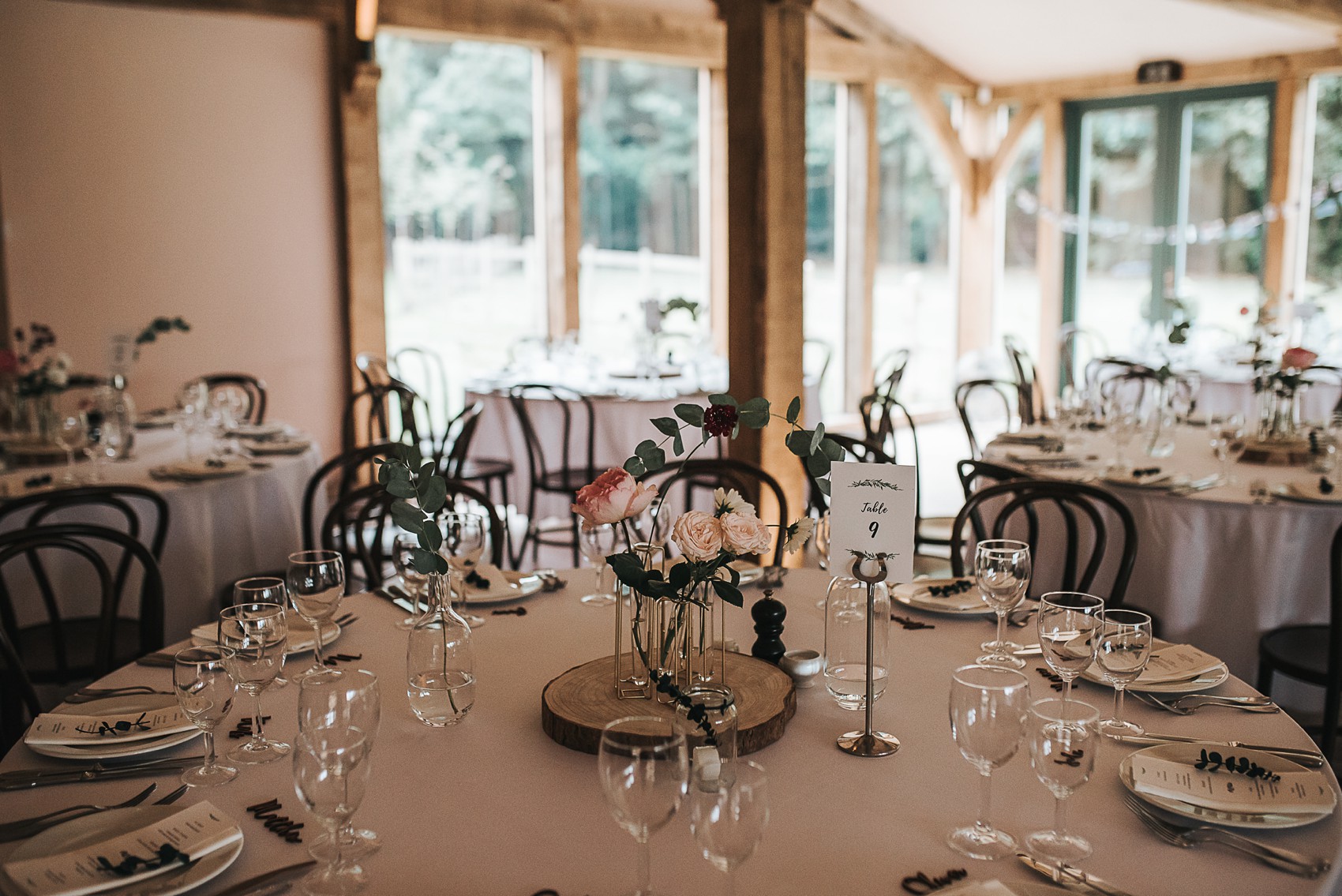 "My mum was our wedding cake supplier! Born of a long line of bakers, there was no chance anyone was baking my cake except my mum. After lots of trials and tasting sessions, she did a three layer cake that included a beautiful carrot cake, a Sicilian lemon drizzle, and finally a St. Germain Elderflower Liqueur cake. It was beautifully decorated in buttercream with fresh flowers grown on a farm in Cornwall that were picked fresh and delivered to Nottingham the day before the wedding."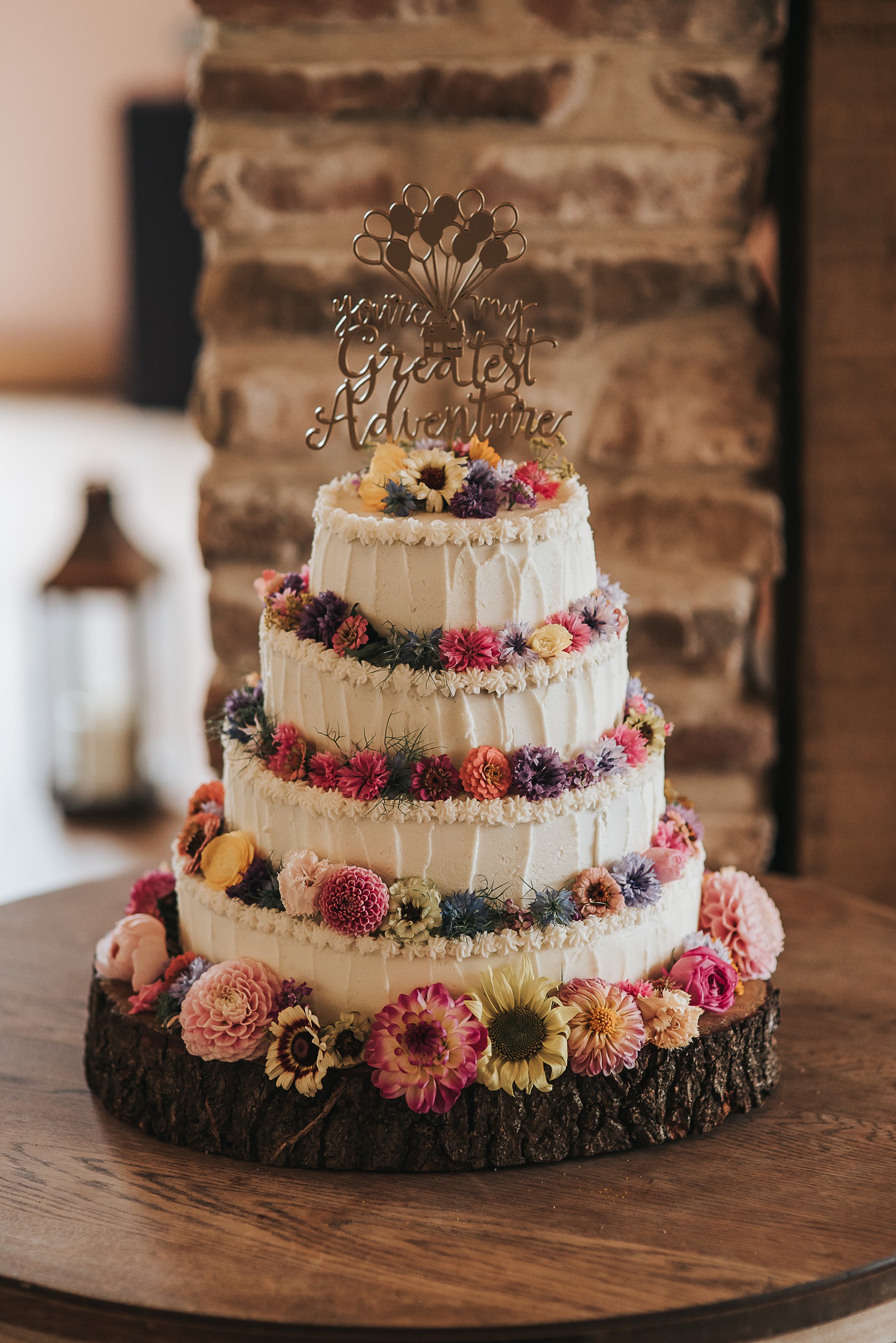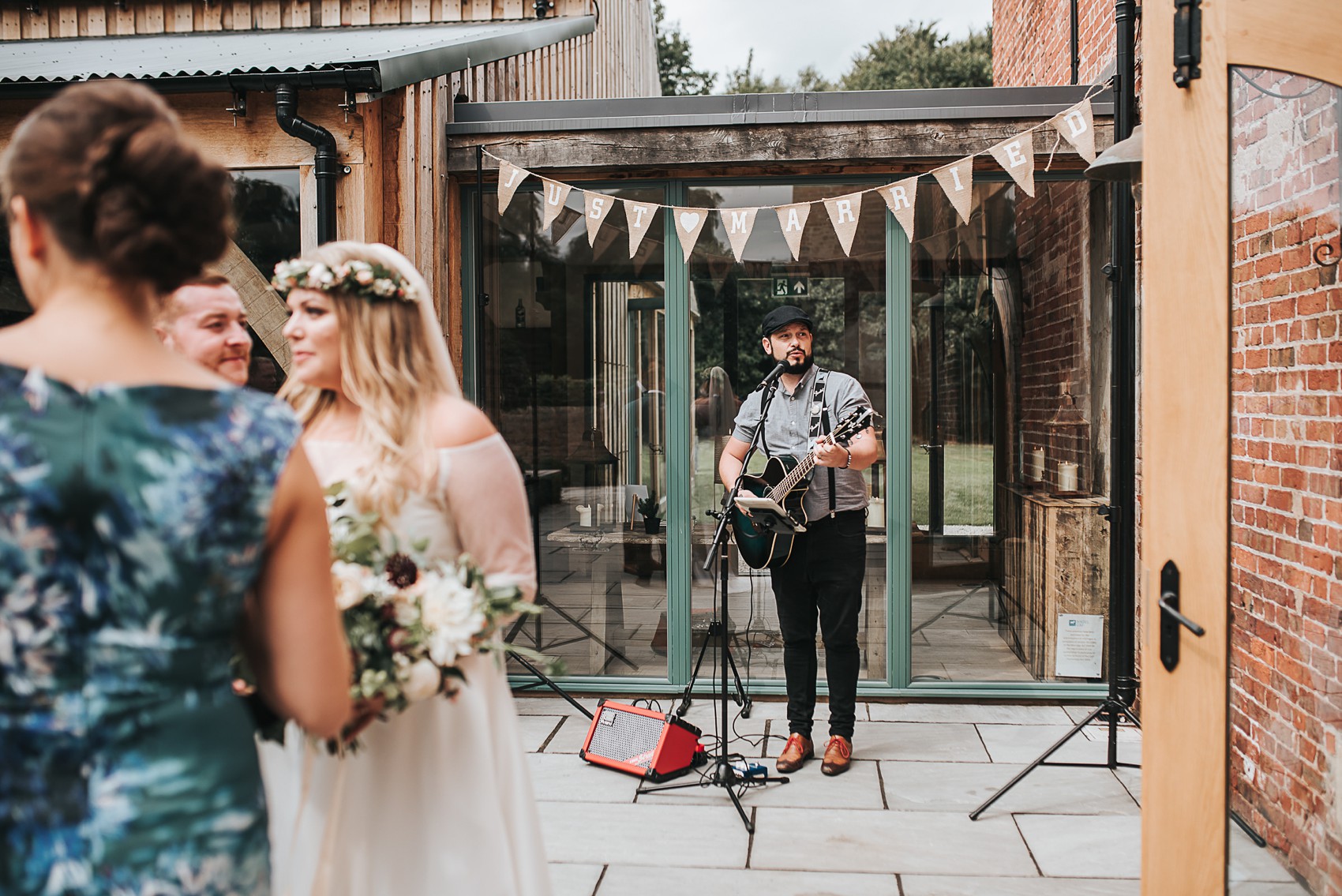 Favours were wooden laser cut place settings (sadly, no details about these), which loved ones could then take home as a souvenir of the day. Everyone sat down to a delicious dinner, with charcuterie board starters, followed by rotisserie chicken with a cream and tarragon sauce, roast potatoes and greens, and for dessert, crème brûlée with shortbread.
"Hazel Gap Barn's style of feasting really resonated with us. Their motto is, 'We buy the best, cook it simple and serve it generously.'"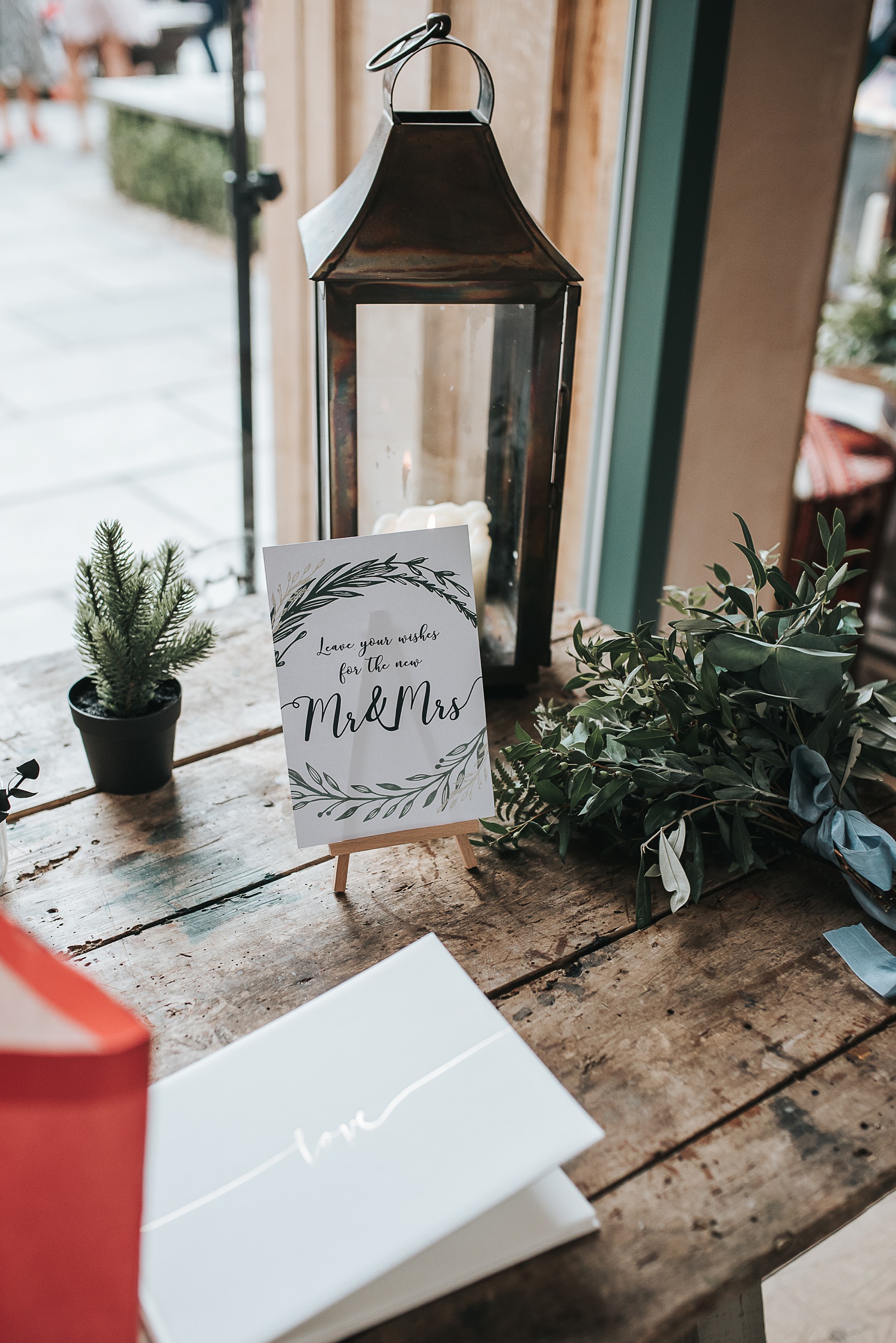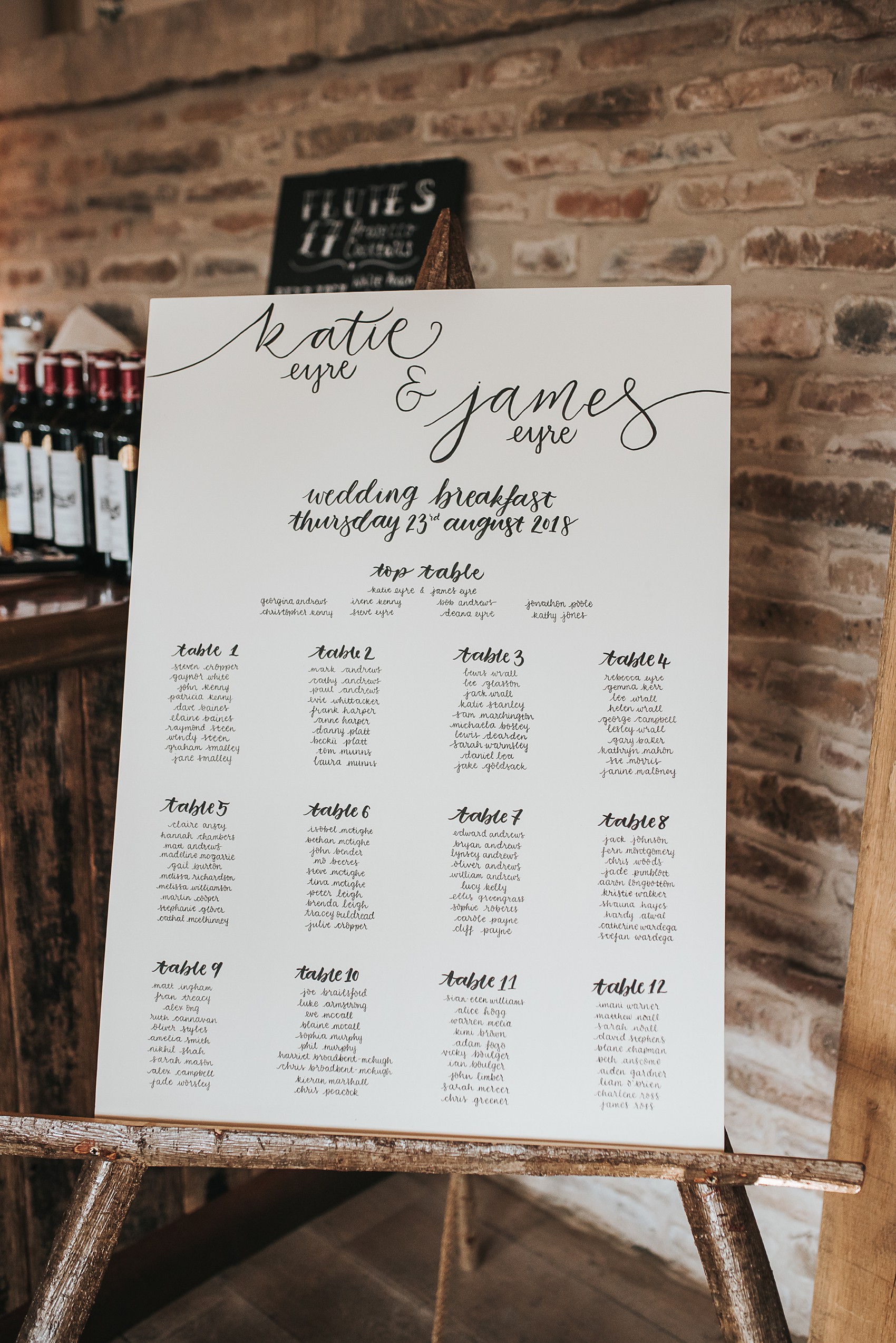 It's fantastic to add to the body of work by the sweetly named Pear & Bear Photography here on our pages, and they did such a wonderful and thoughtful job in capturing Katie and James' day.
"Our photographer Anna was incredible. I had a very definitive idea of what I didn't want, and I really struggled to find an affordable photographer who worked in the style we loved. I was beginning to panic and then I found Anna. I don't know where I had been looking but it clearly wasn't in the right place! Anna booked a video call with James and I to get a good feel for us as a couple – and vice versa."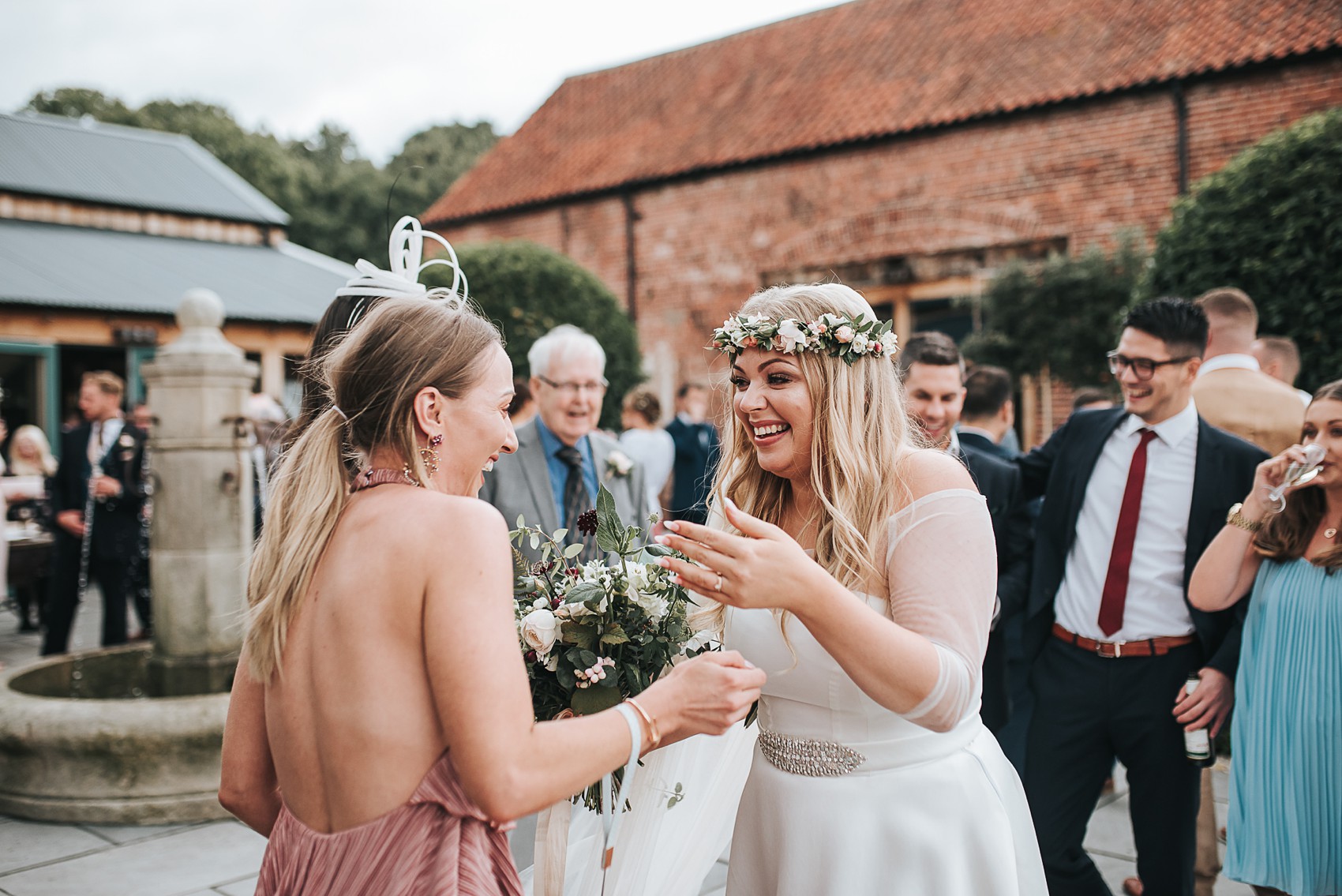 "She listened to what we said we liked and didn't like, she offered great resources in the build up to the wedding to support us with planning, introduced us to other great vendors if required and generally was a bit of a go-to person for me. Her friendly and calming nature were so so welcome and necessary on the wedding day. She made me (and all of our guests) feel at ease, and the photographs we received back from Anna were perfect."
"We didn't want to spend our wedding day taking squashed up family photos. We wanted Anna to capture the emotion of the day, the funny conversations, the laughter, the emotion of our family and all of the other great things we experience at weddings. Our photo album is the best ever collection of our loved ones and their experience of our wedding."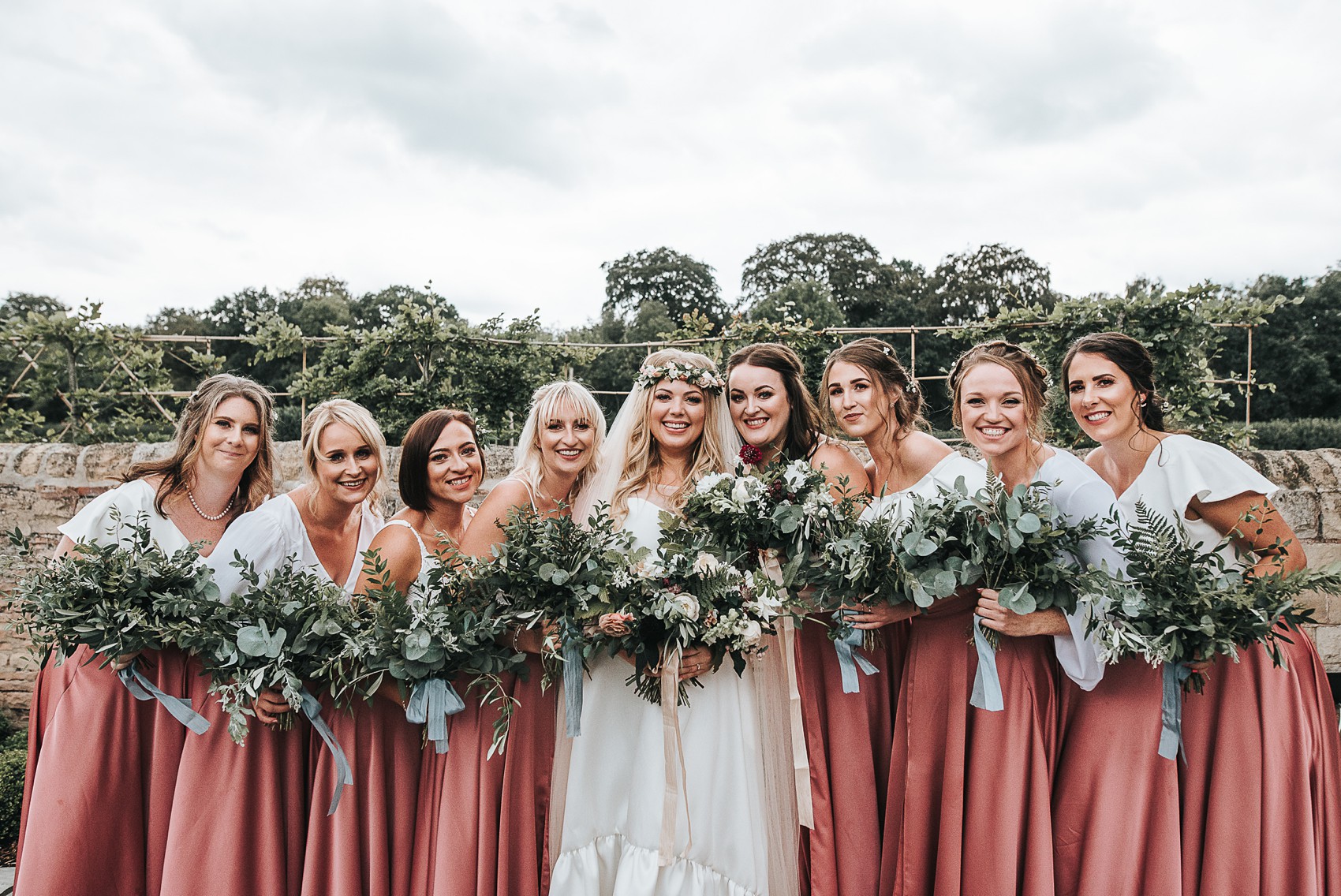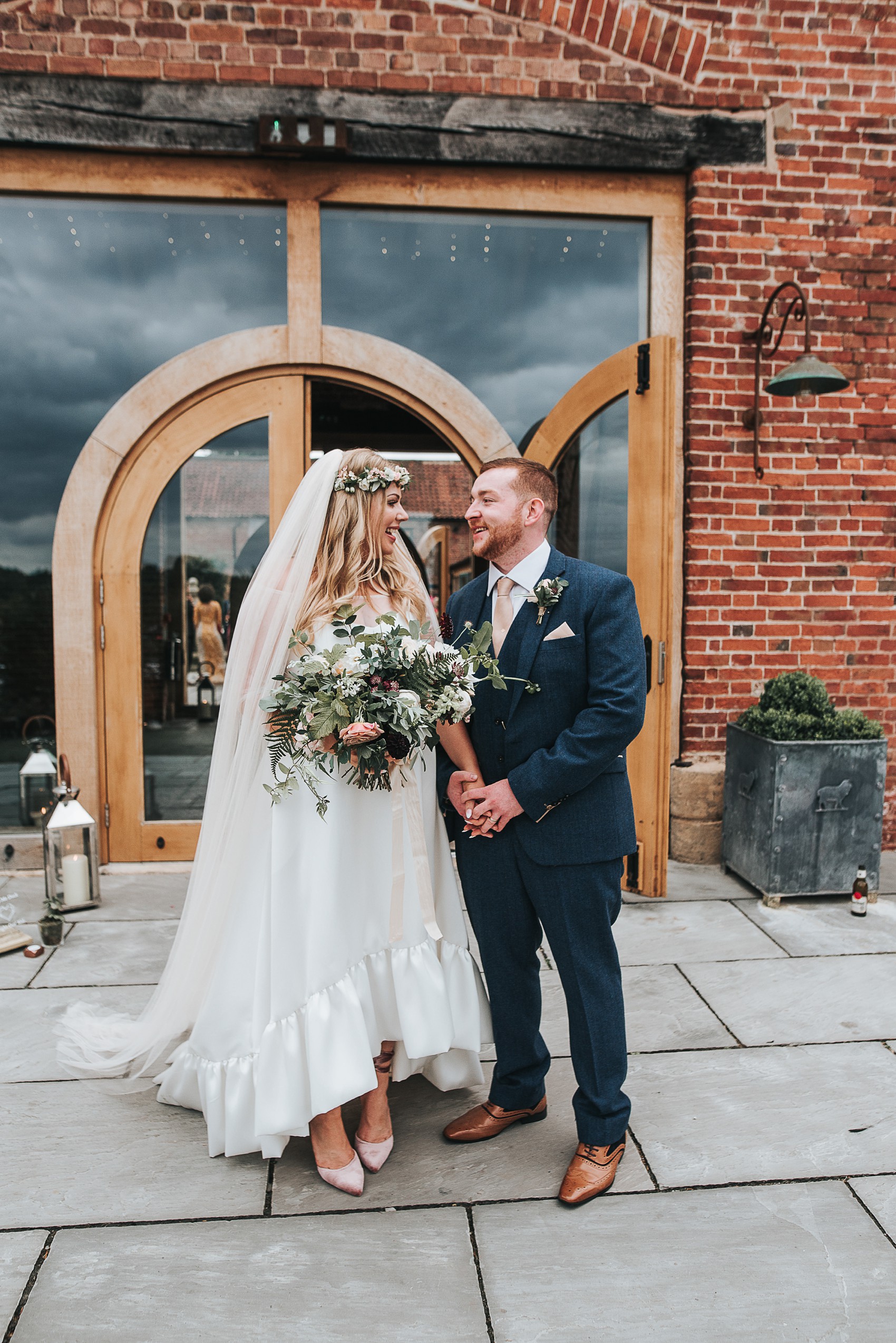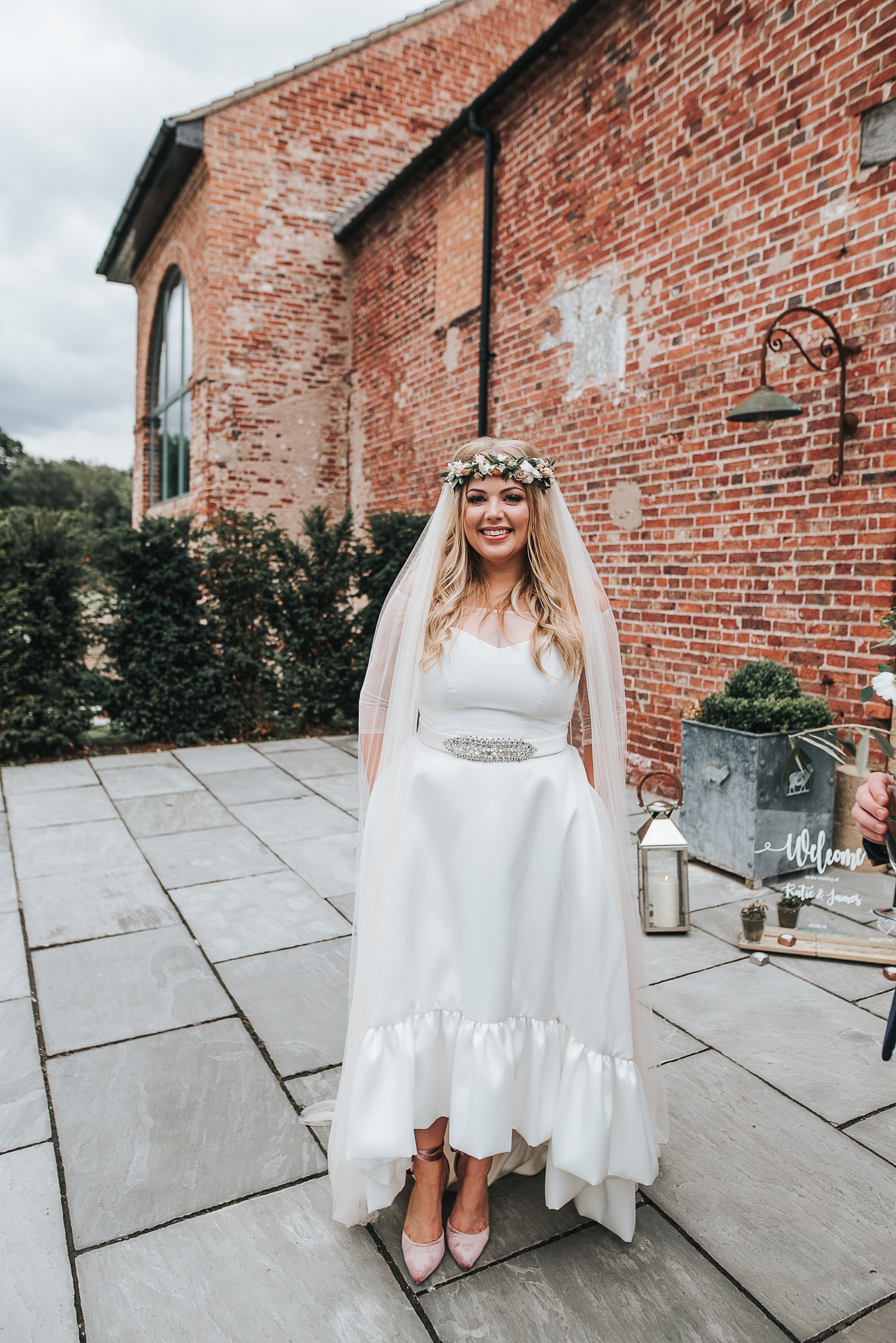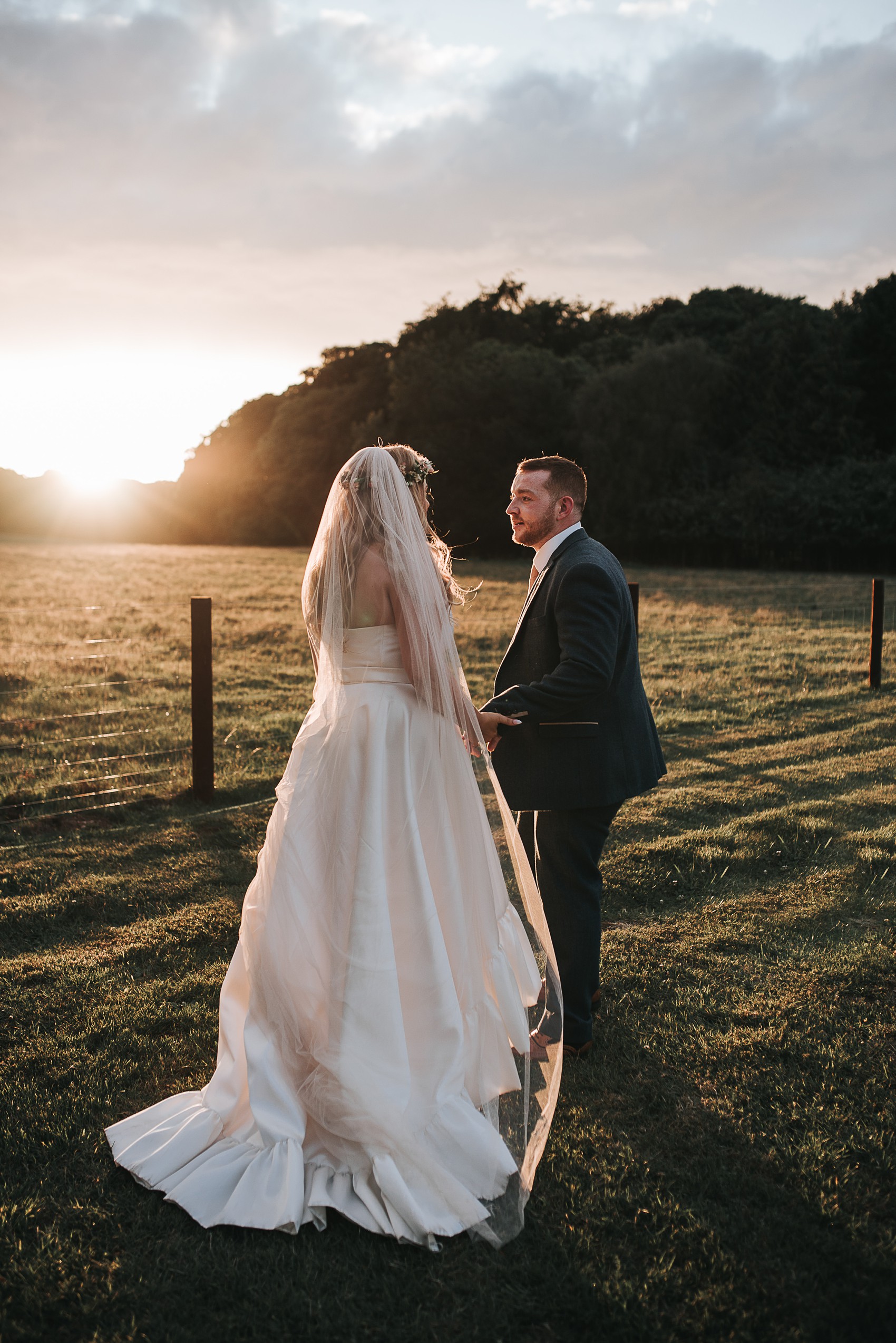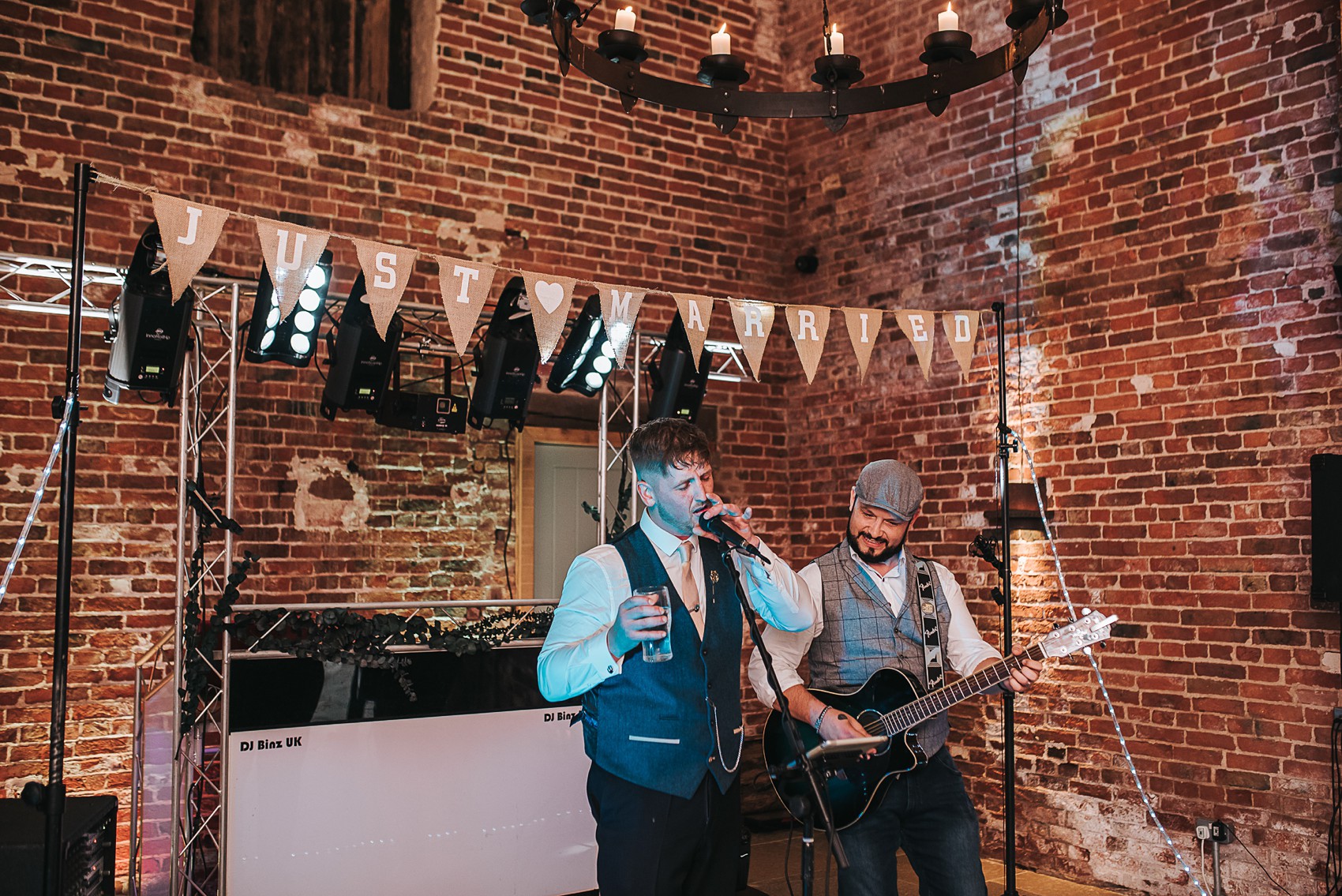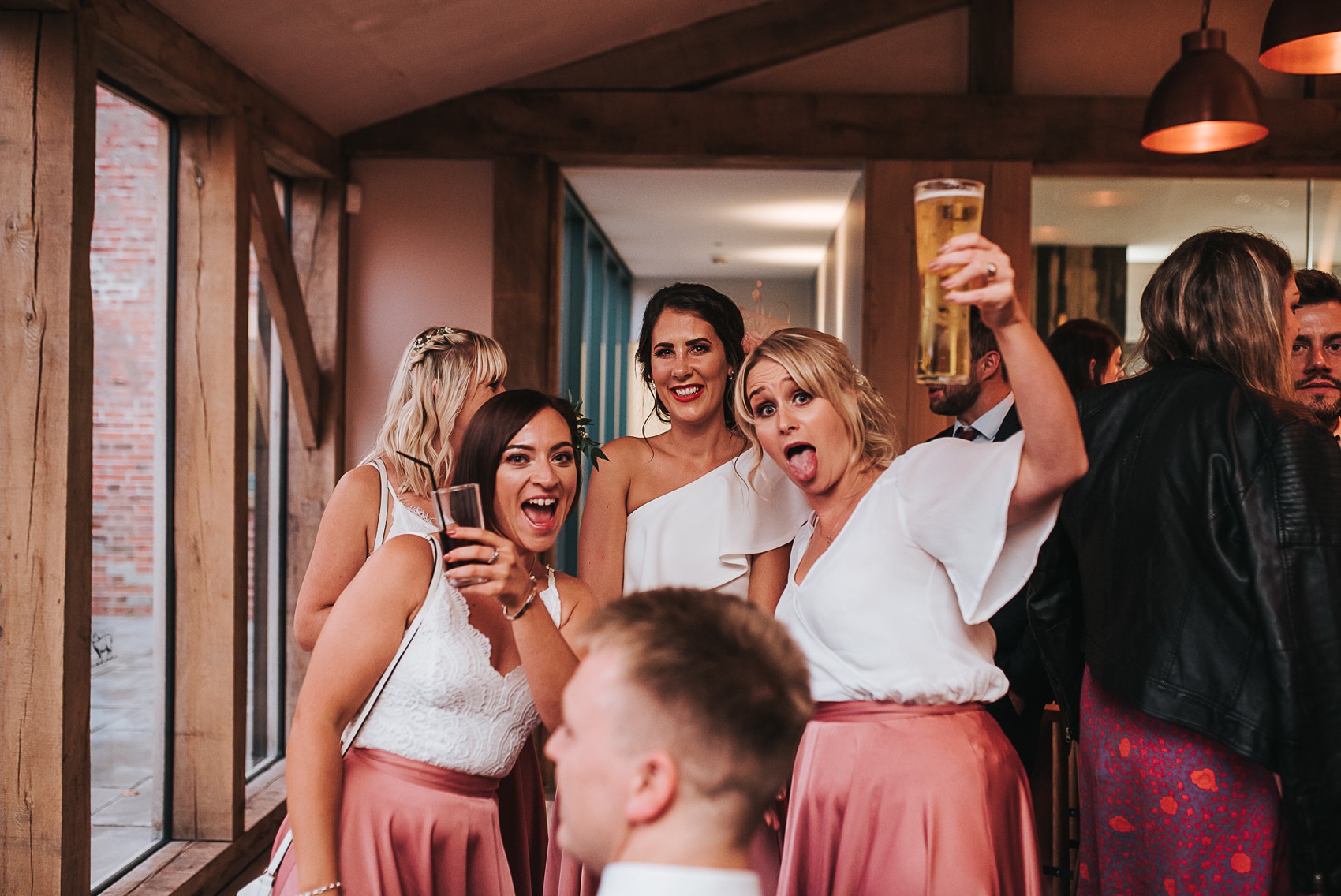 As their amazing day came to a close, Katie and James enjoyed their first dance together, to the song Never Enough by Loren Allred, from the film, The Greatest Showman, and there was more music from Nathan Todd (AKA DJ Binz), which ensured the dancefloor was the beating heart of the evening's celebrations.
"There were so many stages to the day: Waking early with my sister and lying in my mum's bed in anticipation, the bridesmaids all arriving and getting ready together as all the suppliers arrived, the ceremony, the drinks reception, the incredible wedding breakfast, and then a long and brilliant night of celebrating. Even after we left the venue all of our best friends ended up hijacking our car back to the hotel and we sat in the hotel reception drinking G&Ts until the early hours, with me in my wedding dress! "
"At night, the courtyard became a magical place lit with fairy-lights, flares, firepits and lanterns, so the evening party could spill outside – it became the focal point for the day and evening where we paraded around with sparklers laughing and soaking up the magic of the day."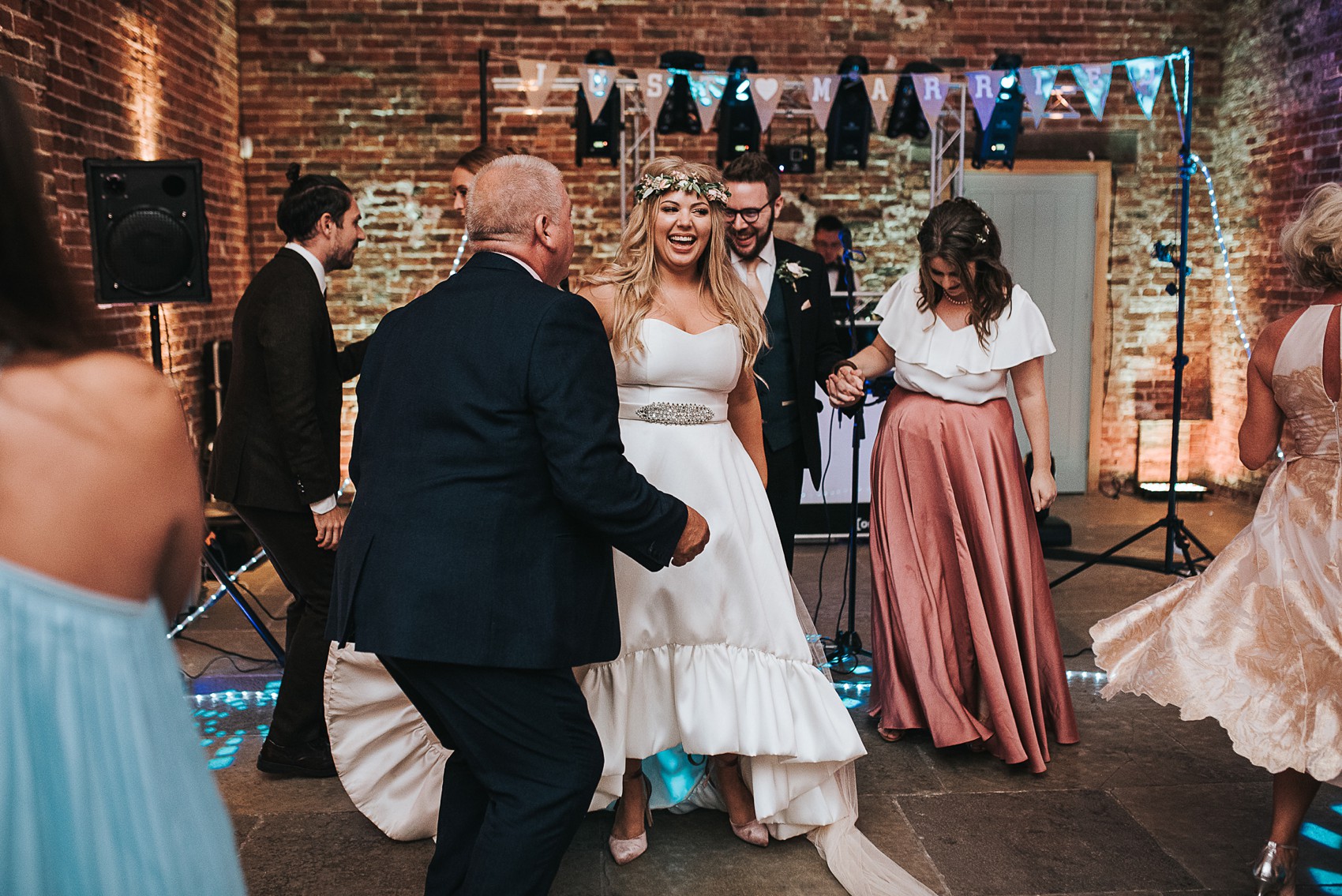 Words of Wedded Wisdom
"Remember why you're doing this. Your wedding day is about sharing your love with your closest family and friends – let people share in it, they love to feel involved, so give people roles to play where possible as you can't do everything yourself."
"Try and get to your venue before everything else and take a moment or two to enjoy everything that you made happen, together!"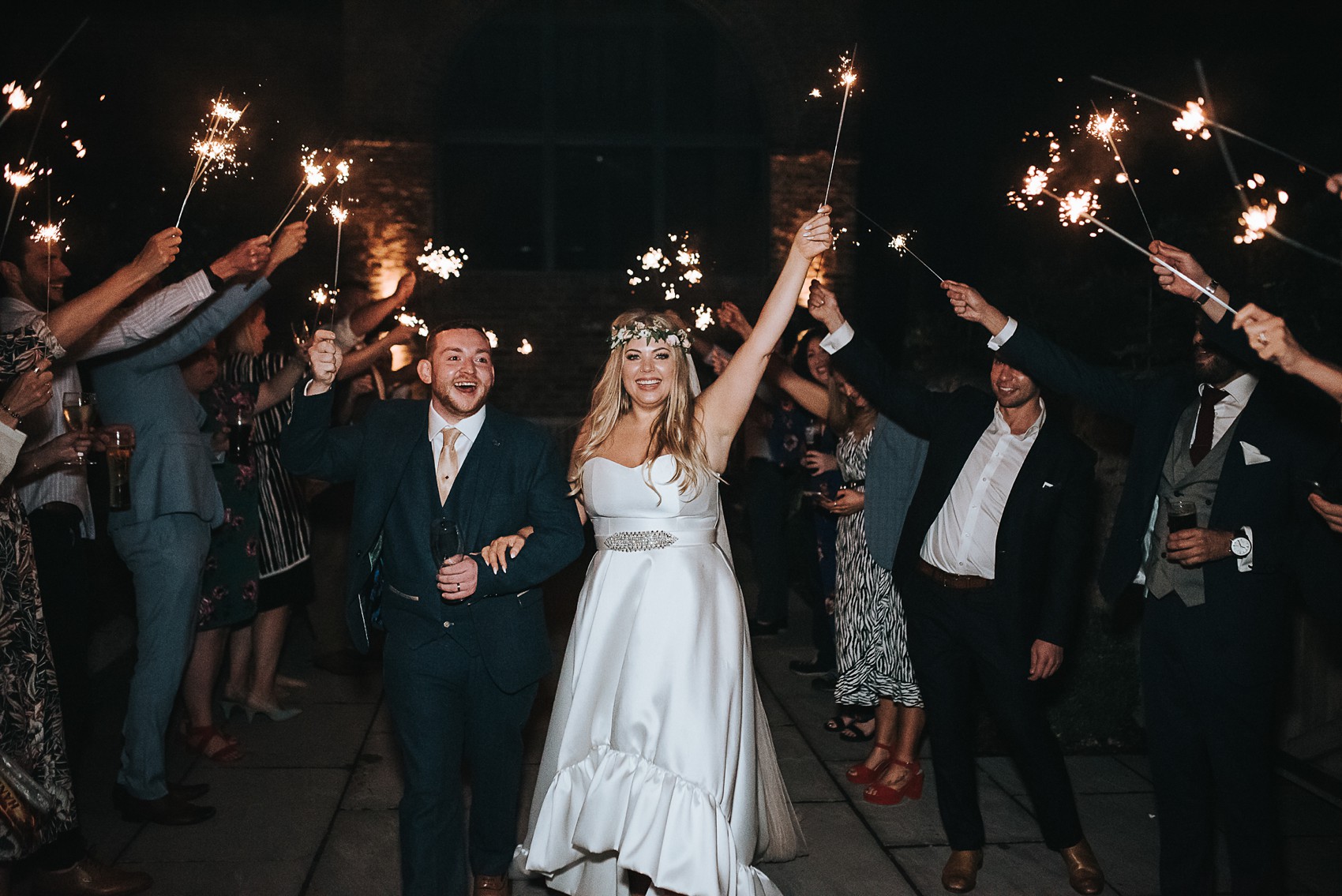 "Have thank you cards ready to send for your vendors because you will want to thank them so much, but the days after the wedding you will be in a big bubble of love and will struggle to find the time to give them the credit they deserve!"
Katie and James, as you approach your first anniversary – congratulations and thank you! Thanks also go to Pear & Bear Photography for these enchanting images, too. If you love the pared back beauty of Scandinavian style, then do take a look at our other Scandi-chic weddings, here.
With love,
Laura