The subtle, autumnal colour palette of today's wedding is so elegant, and features a pretty suite of stationery designed by the talented bride.
This is also a celebration where our couple embraced what went 'wrong' (because really, everything turned out to be wonderful!), and incorporated lots of personalised details, and nods to the bride's Polish heritage, too.
Graphic Designer and Art Director Joasia, and James, an Events Sales Manager were married on the 22 September 2018 at the Cathedral Church of St. Marie, Sheffield, followed by a beautiful marquee reception at Brosterfield Farm, in the heart of the Derbyshire Peak District.
Images by Coralie Monnet
"We wanted a really relaxed, fun day, focusing on our family and friends, so we styled the day to suit that kind of vibe. Our colour palette came from the stationery I'd designed – dusty pinks, autumnal golden hues, mulberries and lots of greenery."
"We just fell in love with Brosterfield Farm on arrival. It's located in the Derbyshire countryside, down a long tree lined driveway that opens up to an idyllic farmhouse with a beautiful garden, complete with a swing under the massive tree (swoon)."
"It had everything we wanted – accommodation for our families (some of whom were travelling from Poland) and an amazing outside area for a marquee and mud free gravel for sipping our pre-dinner drinks on."
"We hired the whole site for the entire weekend, which was just perfect. For us it meant we could have our wedding on the Saturday, and on Sunday we could host our 'Poprawiny' – which is a kind of Polish after party, where we eat and drink again until it's all gone. We ended up having a barbecue because it was such a sunny day."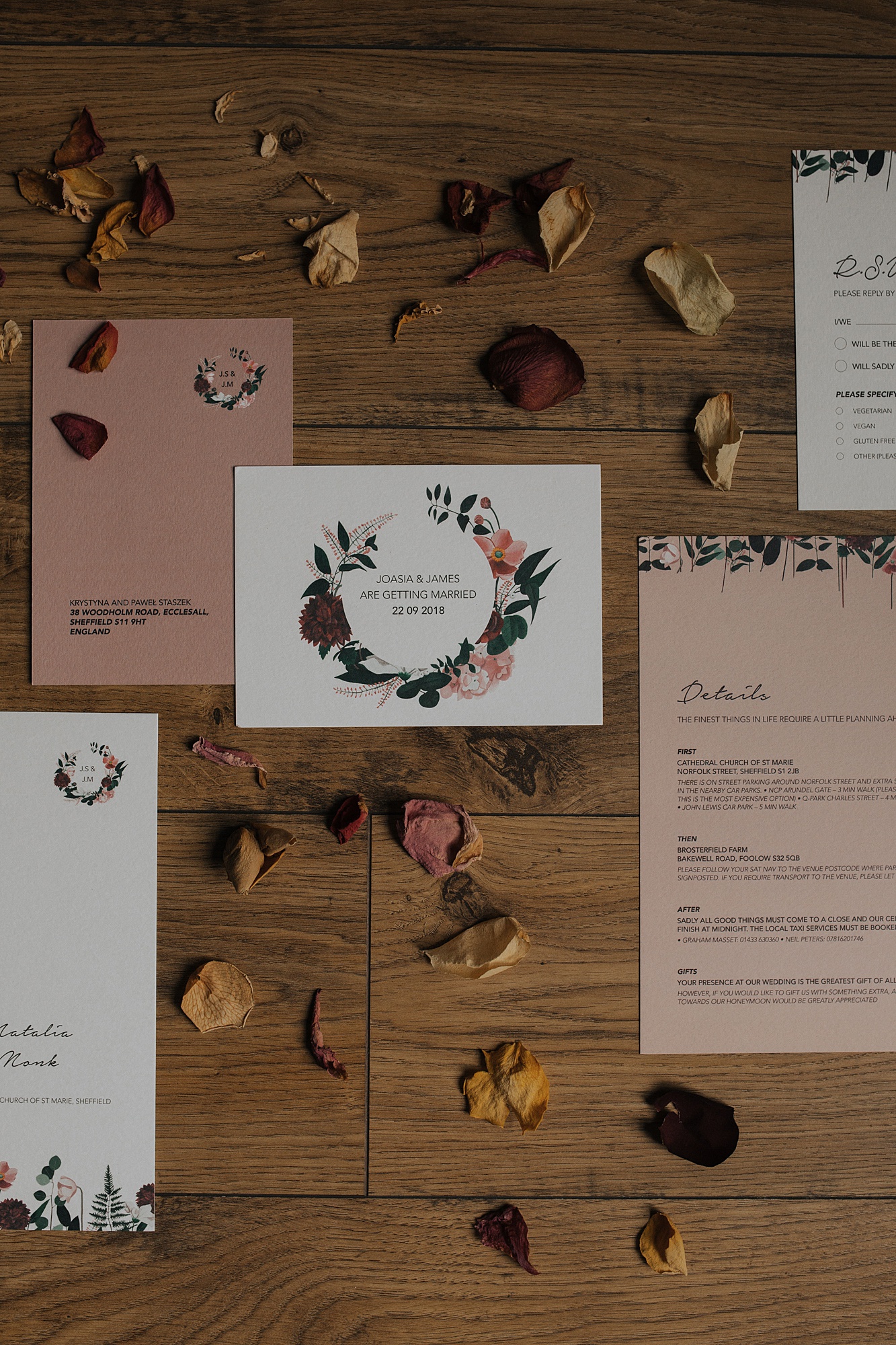 The bridesmaids wore dresses from Monsoon, along with shoes from & Other Stories and jewellery by PDPaola. The lovely flowergirl wore a blush pink lace dress from Next.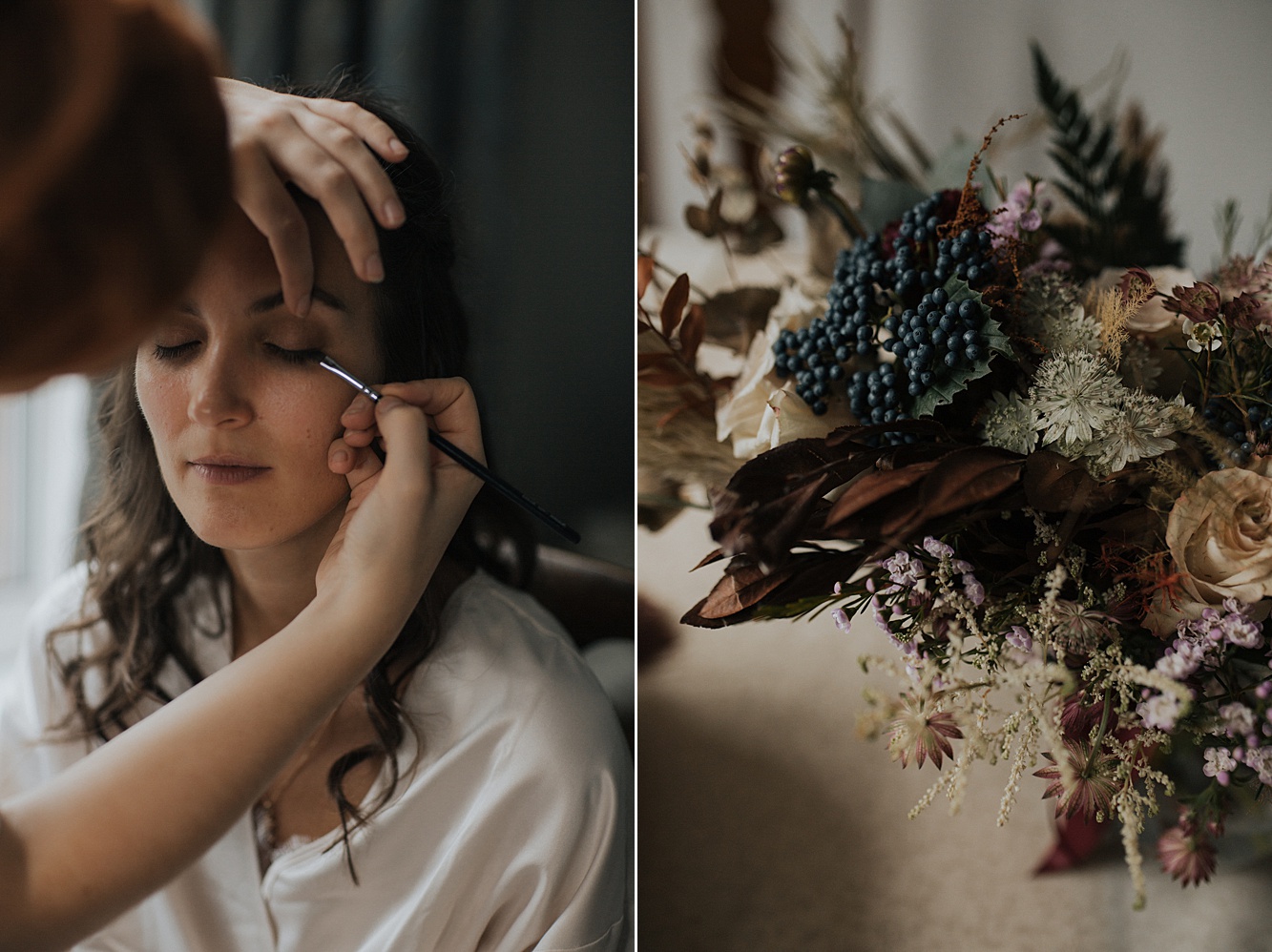 Joasia couldn't have been happier with her soft, romantic make-up by Laura Taff, or her exquisite customised dress by Kate Beaumont.
"After a few visits to more traditional wedding dress boutiques, I was pointed in the direction of Kate Beaumont. Her studio is in an old cutlery factory filled to the brim with other creatives, and as soon as we entered, I fell in love."
"The whole studio is filled with an eclectic mix of vintage furniture and plants – so many plants – and the biggest mirror in the world to stand in front of twirling around in her lovely dresses. She has the most beautiful array of luxury dresses hanging on a simple rail, which gets dappled sunlight, and makes them look even more dreamy."
All of Kate's glorious designs are named after flowers, and Joasia chose 'Astilbe', which was then customised to just the way she wanted. There's such delicacy in this design, from the satin slip to the geometric scalloped lace, all gathered at the back with a row of pearl buttons and a silk sash.
"Kate is the best. Super talented, she understood what I was looking for and created the most beautiful gown that fitted like a glove. She was really accommodating and open to my tweaking her already fab design to make it bespoke (I asked to make the hemline of the top lace shorter so the bottom lace started at my hip). She also makes a bloody good cup of tea and enjoys a chit chat as much as I do. I was so happy I found her, and I would recommend her in a heartbeat."
"I think I tried on every one of her dresses, and I could have worn any one of them, but I went for 'Astilbe'. The dress was so different to everything else I'd seen, and I loved the geometric lace. I knew I wanted a low back, a bit of lace and I also knew I wanted silk, but everything I'd tried on up until that moment had made me feel like I was a little girl trying on First Holy Communion dresses!"
"This one just felt like me. The dress was light as a feather and so intricately designed – it made me feel really happy. It complemented our day beautifully."
Joasia and her dad were chauffered to the church by Steve from Fairytale Wedding Cars, who proved to be an invaluably calming influence, despite the fact that they were running late.
"Steve was a legend. Me and my dad got stuck in traffic, which made us 45 minutes late! Luckily we had a calm driver and we ended up having a great time easing through traffic, waving to passers-by (this was just me having a moment) and shouting at people to move out of the way when we tried to drive down the high street to get to the Cathedral (and this was my dad, getting impatient at slow walkers strolling casually along, oblivious to the wedding car stuck behind them!)."
The time didn't matter at all when it came to walking down the aisle, and Joasia was accompanied by her dad – an amazing moment they will never forget – to Wagner's Bridal Chorus.
"After umming and ahhing about the entrance song (and numerous practice walks with my dad up and down my parents' hallway) I realised I had always always wanted to walk down the aisle to this iconic sound, and decided to go for it!"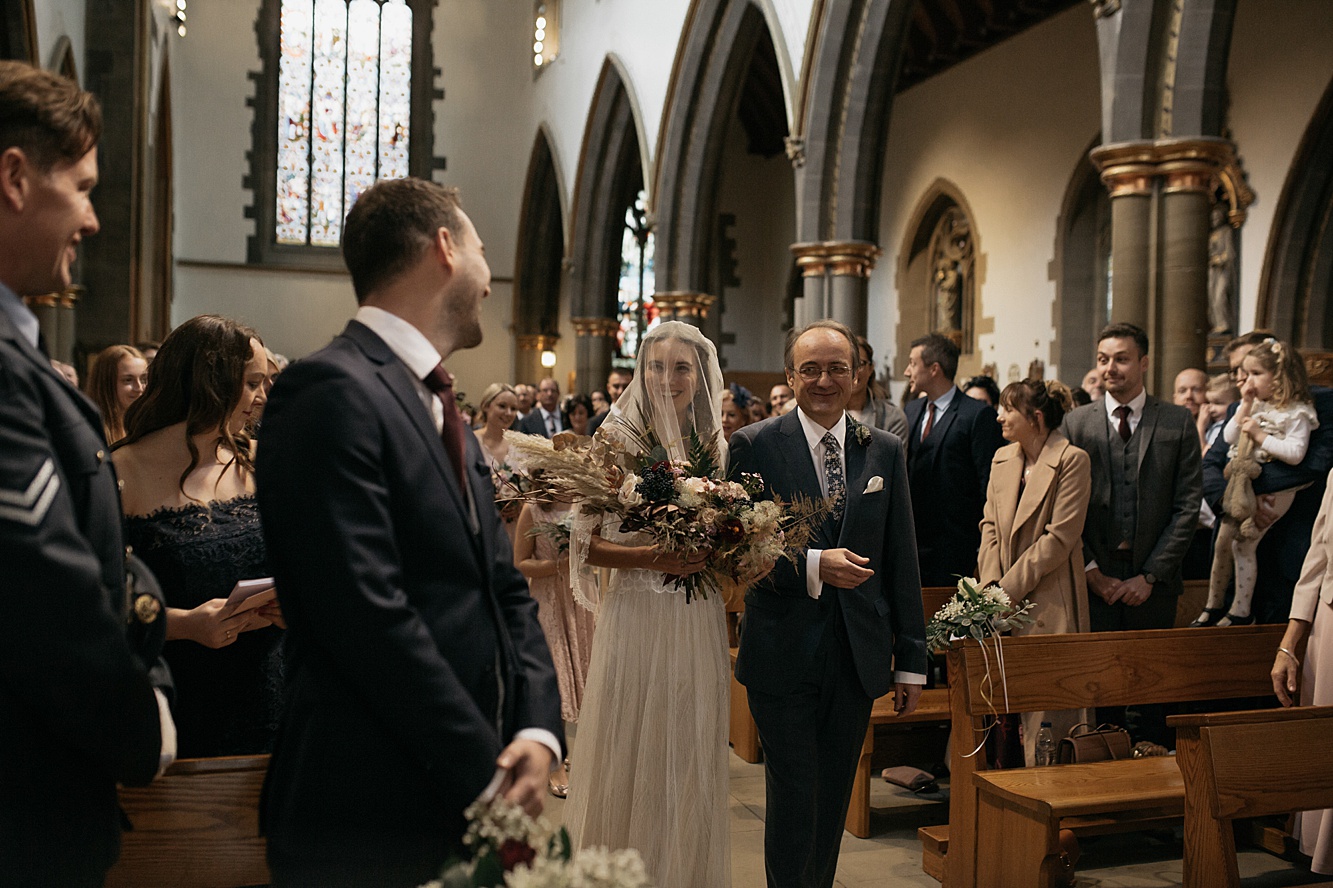 "I have a long family history with the cathedral and I always dreamed of getting married there. Luckily, James agreed it was the place for us.We had a priest who is of Polish descent, like me, so he was able to say a few words to welcome our Polish guests, and he also read the gospel in Polish as well as in English, so they felt really included in the ceremony."
Joasia and James exchanged traditional vows, and after lots of research, chose Bible readings that best reflected their values: Hebrews 13: 1-4a, 5-6b, and John 15: 9-12.
"We met at uni on a night out, which turned into 10 years together. James proposed the night before we were flying on a very last minute holiday to Sardinia."
"We'd just finished packing, and I was cooking some dinner when he came downstairs with his hand behind his back, announcing that there was something we'd forgotten to pack. He'd been away on business in America a few weeks before this, and had claimed he hadn't brought me back a gift."
"At this point I had a bag of rubbish in one hand and probably looked a bit smug at cleverly figuring out that he had brought me back a gift, and I knew what was coming. I didn't know what was coming though, as he came straight over and knelt in front of me and said 'Will you?' I proceeded to throw the bag of rubbish to one side and said, 'Will you what?'."
"We got married one year later to the day. Totally not planned, and we didn't even realise till my mum mentioned it, but now we know, and it's all meant to be isn't it?"
James had chosen Joasia's engagement ring at Trinity Goldsmiths in Nottingham, and this is also where the couple chose their wedding rings, opting for simple, gold bands.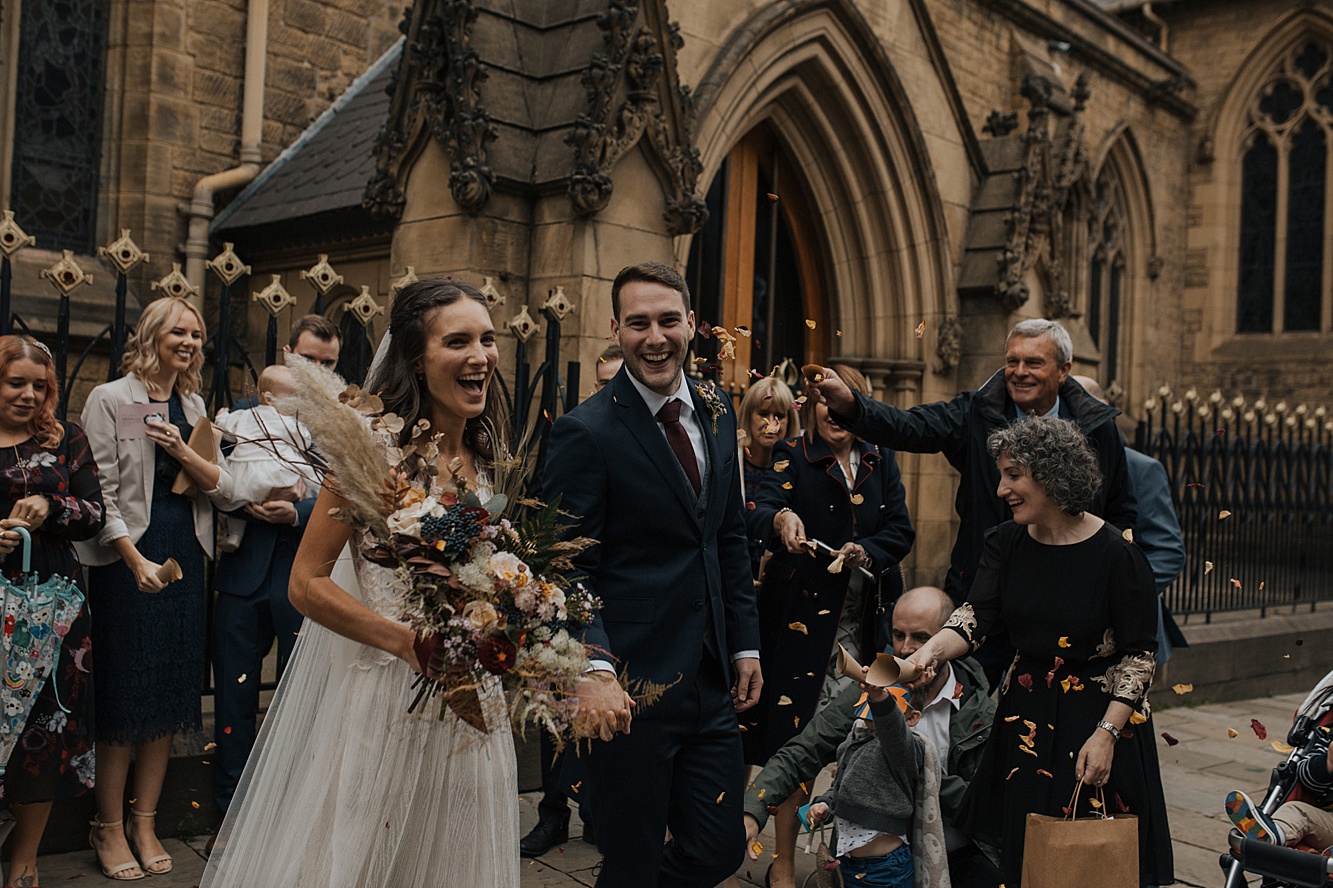 James wore a navy blue suit from DKNY, with a charcoal grey waistcoat from Moss Bros., with a tie, pocket square and socks from Reiss.
Categories"We absolutely loved stopping off and shooting our couples session en-route to the party. We decided to go to a part of Longshaw Estate, where there are not only beautiful views of the Peak District but there is also an atmospheric wooded area. At this point it had started to drizzle, but we barely noticed as we were wrapped in our bubble of happiness."
"It's so amazing to have photos that will always remind us of that crazy happy loving feeling, and we'll be forever thankful to Coralie for doing such an incredible job."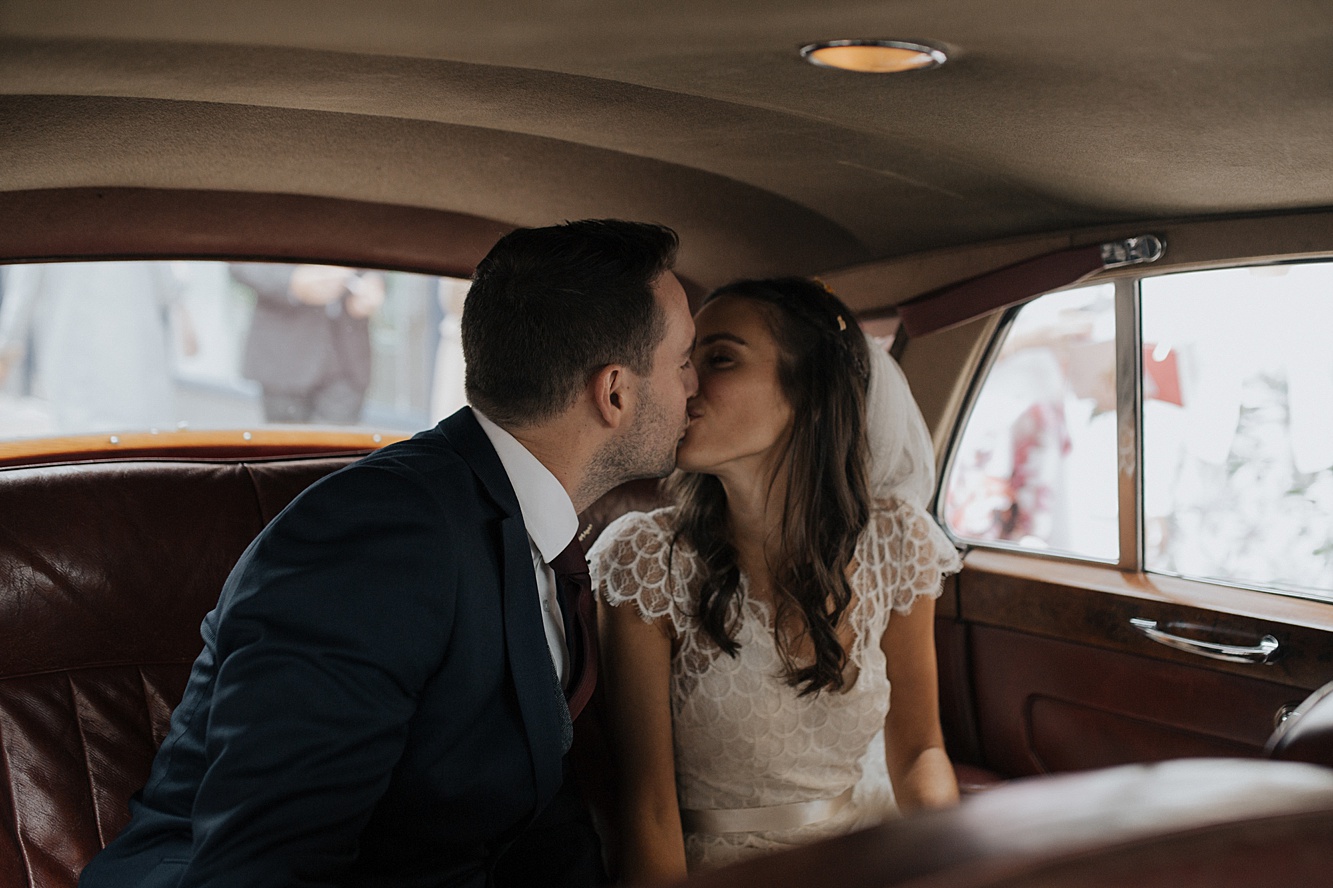 After the ceremony, the newly married couple enjoyed a drink and some quiet time, with a drive and then a walk together into the heather moorland of the Longshaw Estate in the Peak District. I love how the colours of Joasia's glorious bouquet, by Moss & Clover reflected the season, and the wild beauty of the peaks.
"Emma is an absolute dreamboat. She took our concept and ran with it. She nailed our style and delivered the most beautiful bouquet I could have ever imagined. I asked for dusty pinks and deep mulberry dahlias, and autumnal shades with dried ferns and pampas grass, as well as sage/ forest greens."
"I got all this and more. It was a huge, wild selection of autumnal beauty wrapped in a glorious mulberry coloured ribbon."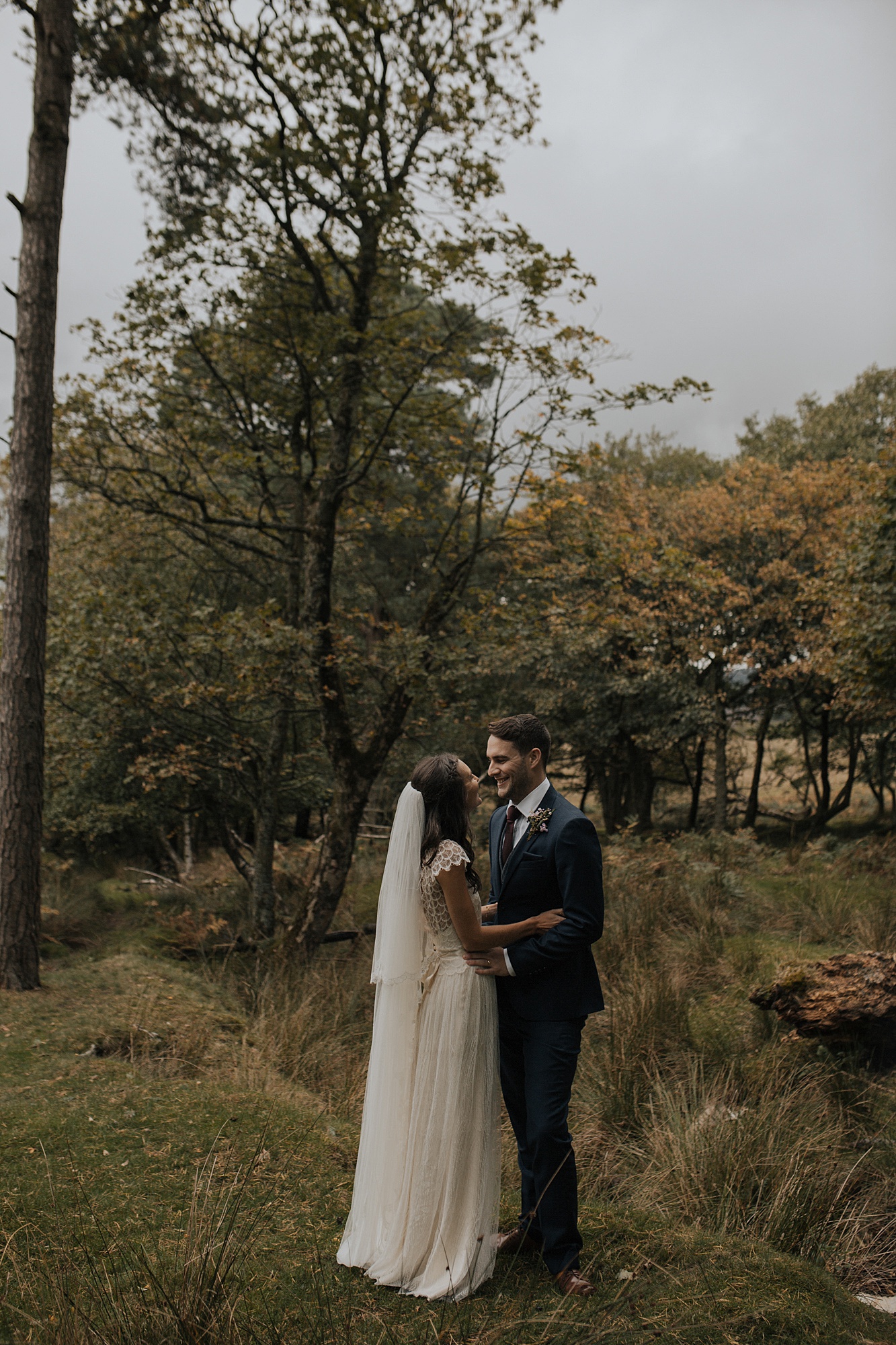 Joasia wore shoes from Sezane, and in her hair, a long, double-tier tulle veil, with scalloped trim to complement her dress, which was made by a seamstress who supplies to Kate Beaumont (sadly, these are all the details provided about the veil).
"I wore gold earrings from my late godfather, and a Maria Black bracelet gifted to me by James for my 30th birthday, as well as a gold cross and chain given as a wedding gift from James on that morning."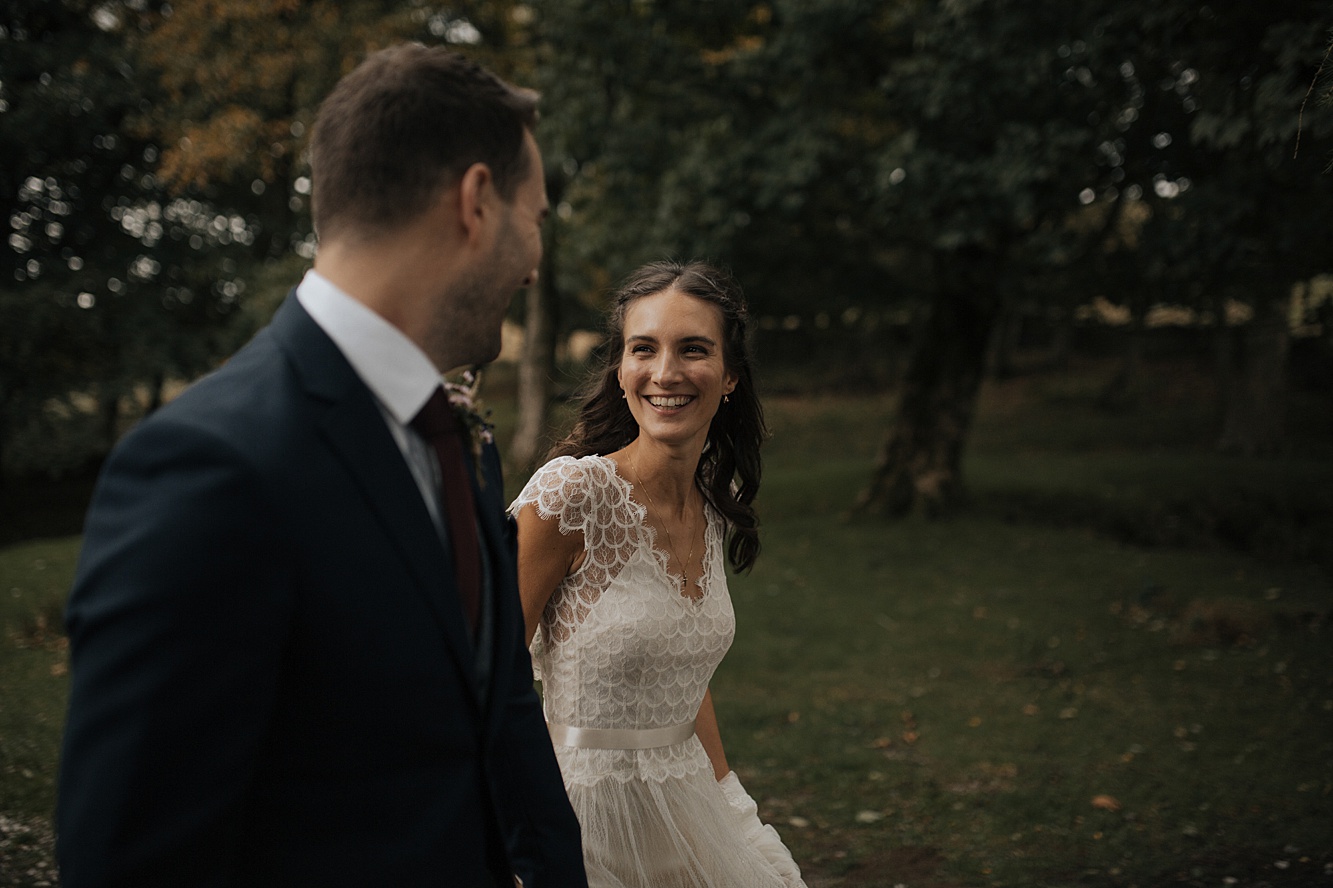 Capturing the many beautiful moments of Joasia and James' day (and the moody and dramatic autumn weather) was photographer Coralie Monnet.
"I stumbled across Coralie on one of my Instagram travels and immediately knew she was what I was looking for."
"James and I sat for a couple of hours and trawled her website (which is beautiful, go have a look!). The style was perfect. We spoke to her initially via Skype, and we instantly connected with her."
"She is one of the loveliest people we met through our wedding planning experience (and we met a lot of lovely people)."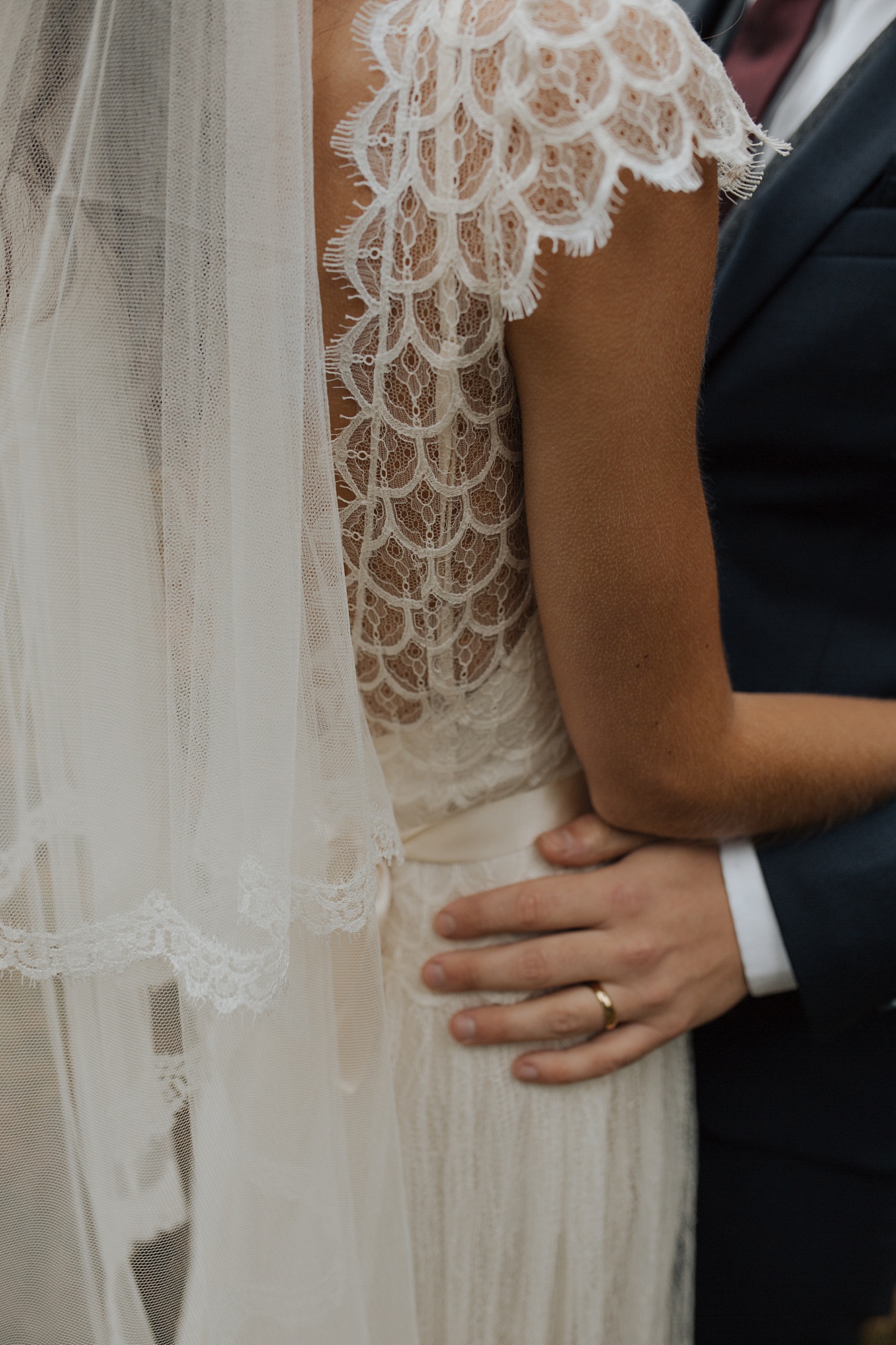 "Coralie suggested doing a couples engagement shoot, so we got to know the process and each other a bit before our wedding day. This is something I would definitely recommend."
"We learned how to relax in front of the camera and it meant that on the day it felt like our friend had come to take our photos."
"The photos themselves are unbelievable. She captured all our emotions and that of our guests beautifully. The atmosphere caught on camera makes the photos look like they could be stills from a film."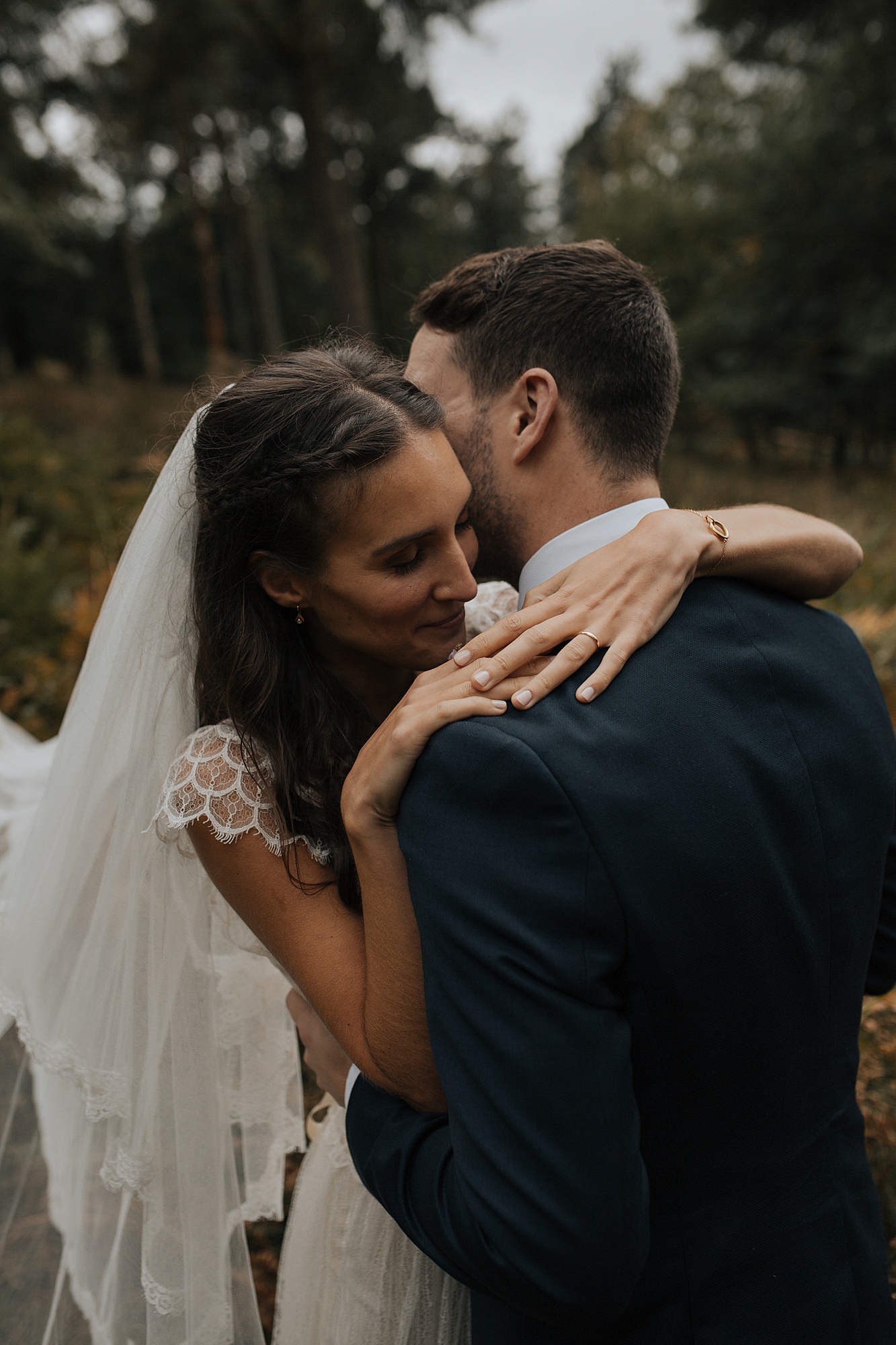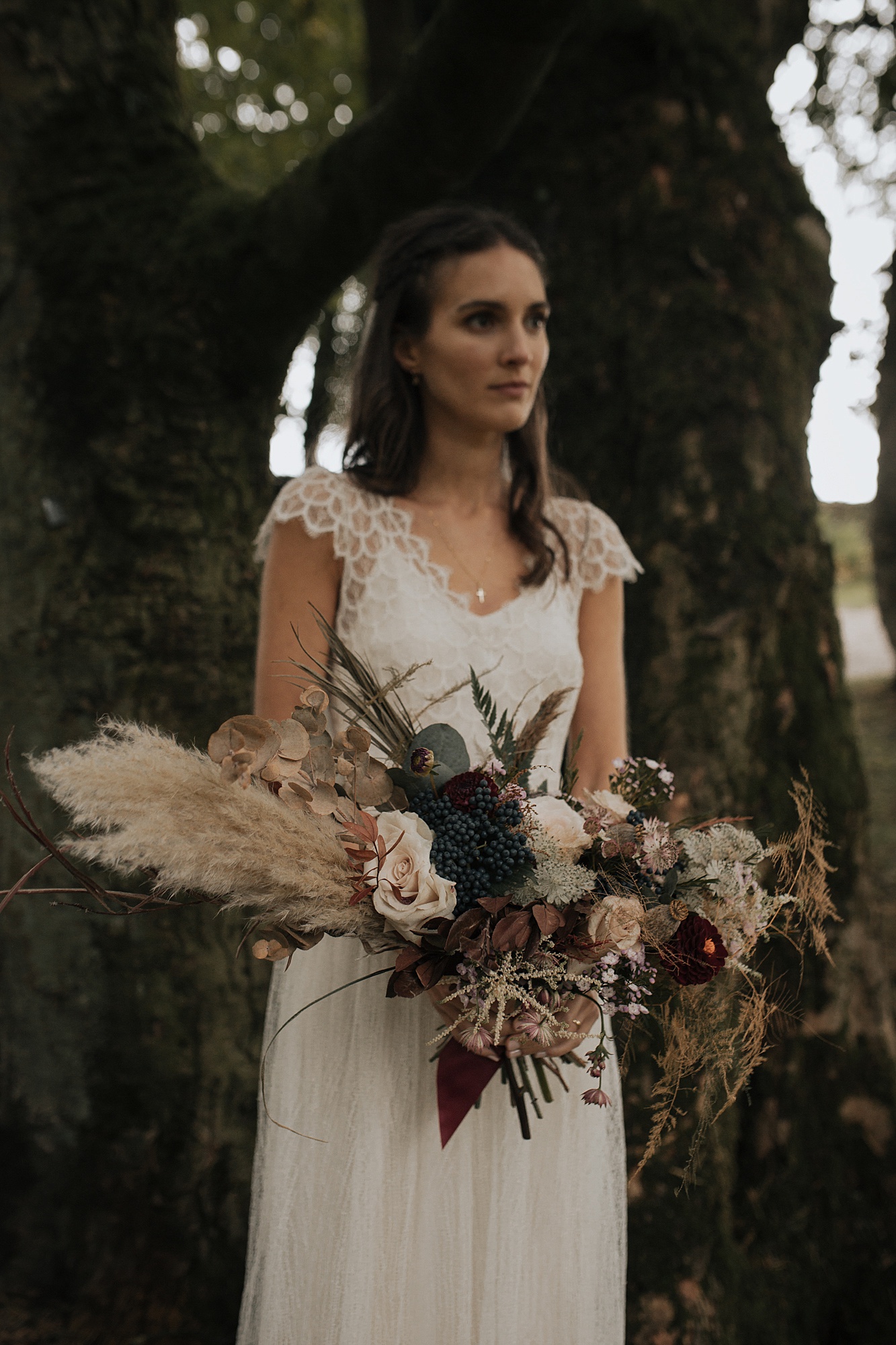 The light and spacious marquee was filled with rustic wooden tables, with posies of flowers and candles running down their centres, and a gorgeous assortment of flowers and special items brought from Joasia and James' home, handmade by talented family members, or sourced from charity shops.
"I am such a plant lady and I love flowers. We used a lot of our own plants to decorate the venue. Luckily my mum's a plant lady too, so we borrowed a lot from her. We also cut down some of the silver birch branches from my parents' back garden and hung them behind the top table to frame the area."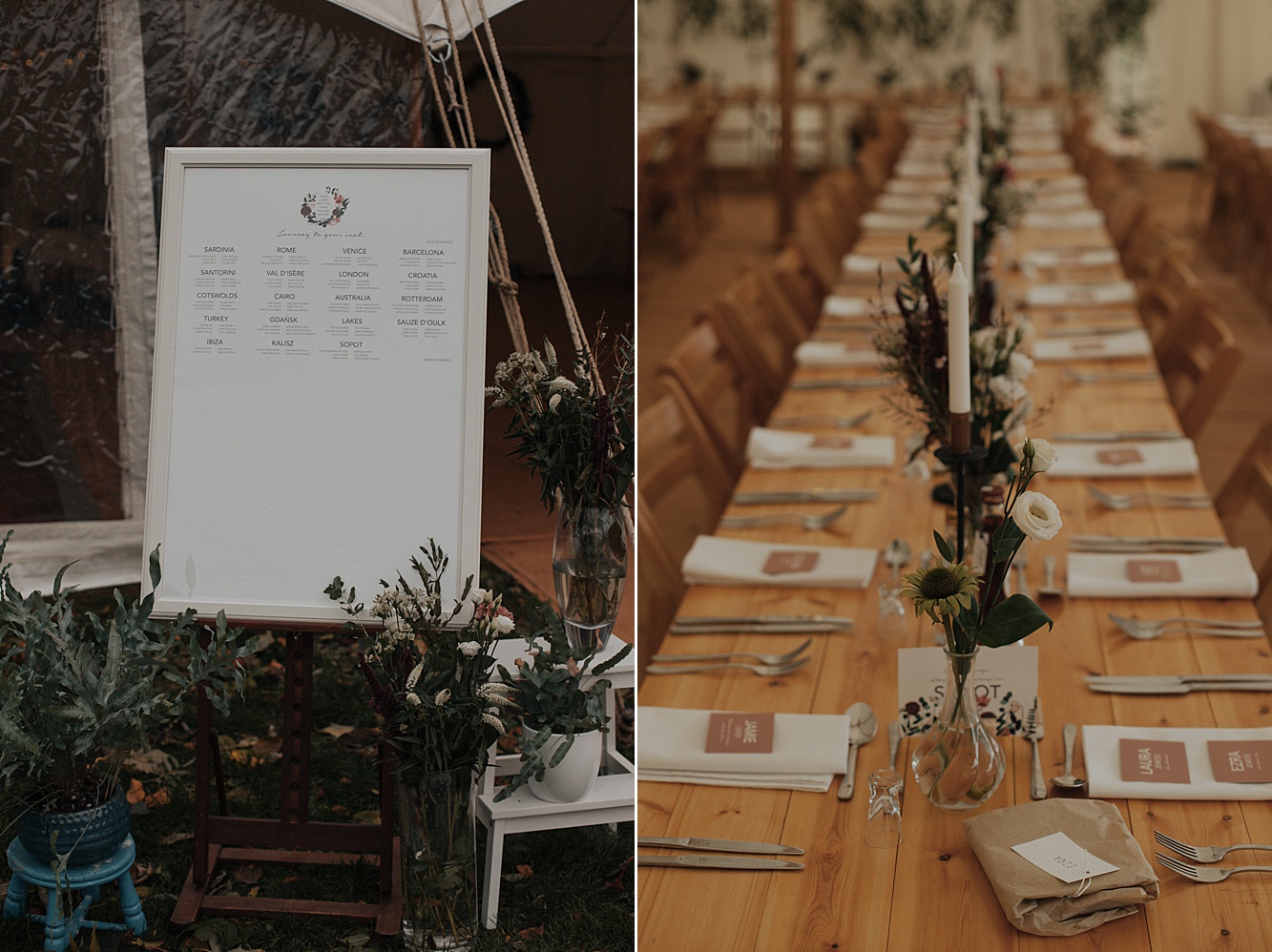 As the couple arrived at the farm for their reception party, their parents were there to greet them with a traditional Polish wedding blessing of bread, salt and wine, along with some cherished words of wisdom from Joasia's dad.
Beautiful stationery, hand illustrated with autumn flowers was designed by Joasia, in those lovely hues of burnished gold, mulberry and green.
"As a graphic designer myself, and having already designed wedding stationery for some of my best friends, I absolutely loved this part of the planning process. I hand painted the flowers for our wedding invitations, spent many happy hours picking out fonts, had some stickers made, and used a wax seal for good measure."
"We had bilingual details cards – one side for the Poles, the other for our English guests. I used the same design across all our wedding stationery for the day, from food and drinks menus, to the table plan and order of service."
"For our bar, I created a new drinks menu in the same style as the rest of the stationery, and also designed a bespoke beer pump label for the moonshine we'd ordered. All of our name cards had a bespoke message to each individual guest to let them know how important they are to us, and how happy we were that they were celebrating our special day with us."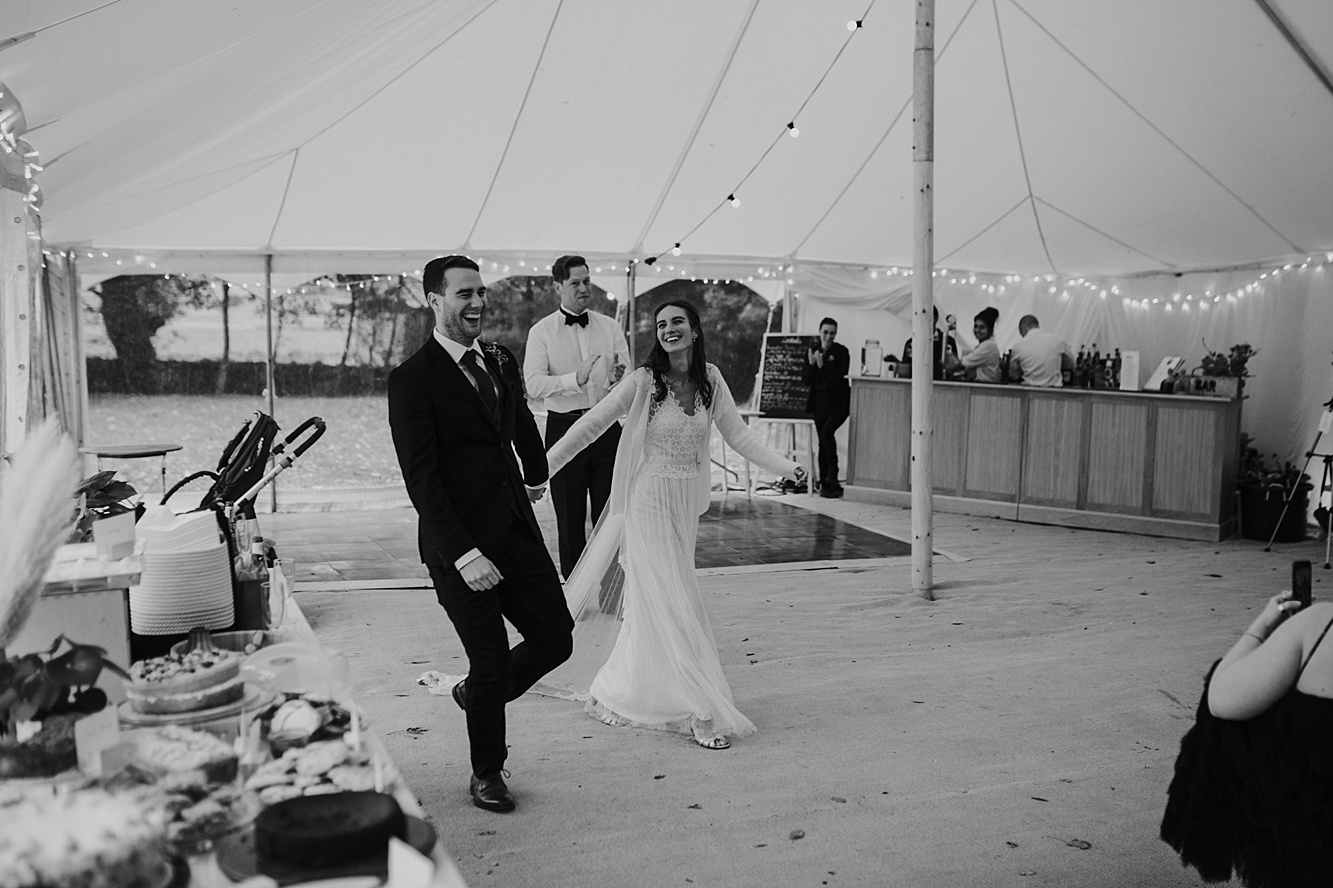 "We chose natural colours and textures, from plant pots and bare wooden tables to bio-degradable plates and cutlery. A lot of our props came from our home, as we styled different areas using accessories such as rattan baskets, ceramic jugs and pinch pots as well, as wooden bowls."
"I really didn't want to spend loads and loads on decoration when I knew we already had a lot of lovely things we could utilise. We spent a lot of time trawling charity shops for vases for a mismatched effect."
"I was keen on using seasonal flowers, dried foliage and pampas grass. All the flowers used were from the flower market in autumnal shades, which we bought and styled the day before the wedding ourselves. It really was a team effort making various things. My clever dad handmade all 48 of our candlesticks from scratch."
"My gorgeous mum and I spent a glorious afternoon in my sunny garden making the foliage wreathes, and James made all the little wooden holders to hold all the menus and table names that I'd designed and had printed."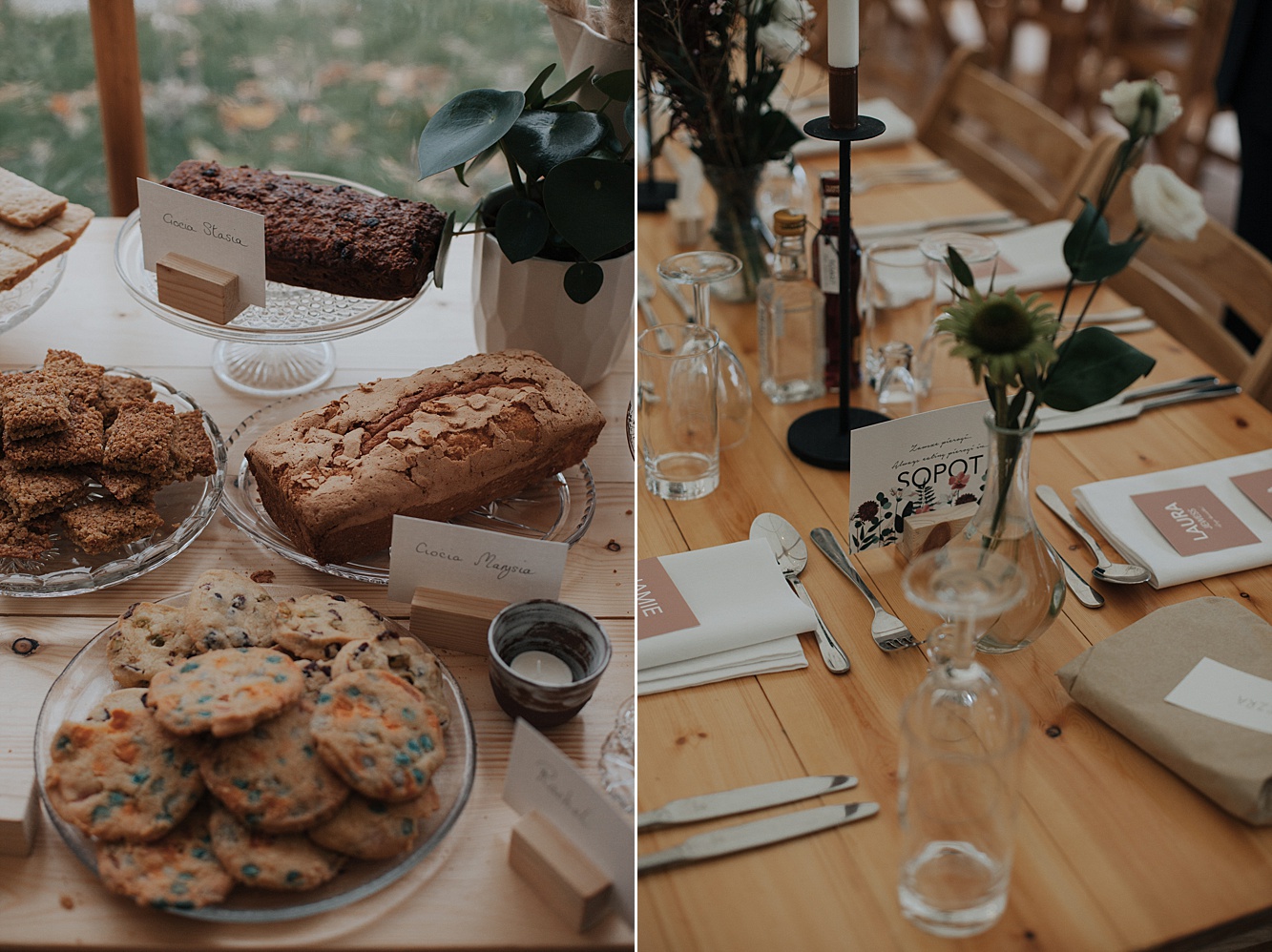 "We had some Polish vodkas on each table. My parents brought back some small bottles of Luksusowa, which is a potato vodka, and Soplica Wisniowa, which is a cherry vodka from a holiday in Poland. We also had goodie bags for the children with some superhero masks and colouring equipment to keep them busy."
"For evening food, my mum and my aunties organised a mega feast of Polish meats, cheeses, breads, olives and gherkins. My cousins and their kids chipped in and helped bring everything out. We also had asked family and friends to bring along a bake so we had loads of yummy cakes and desserts for people to choose from."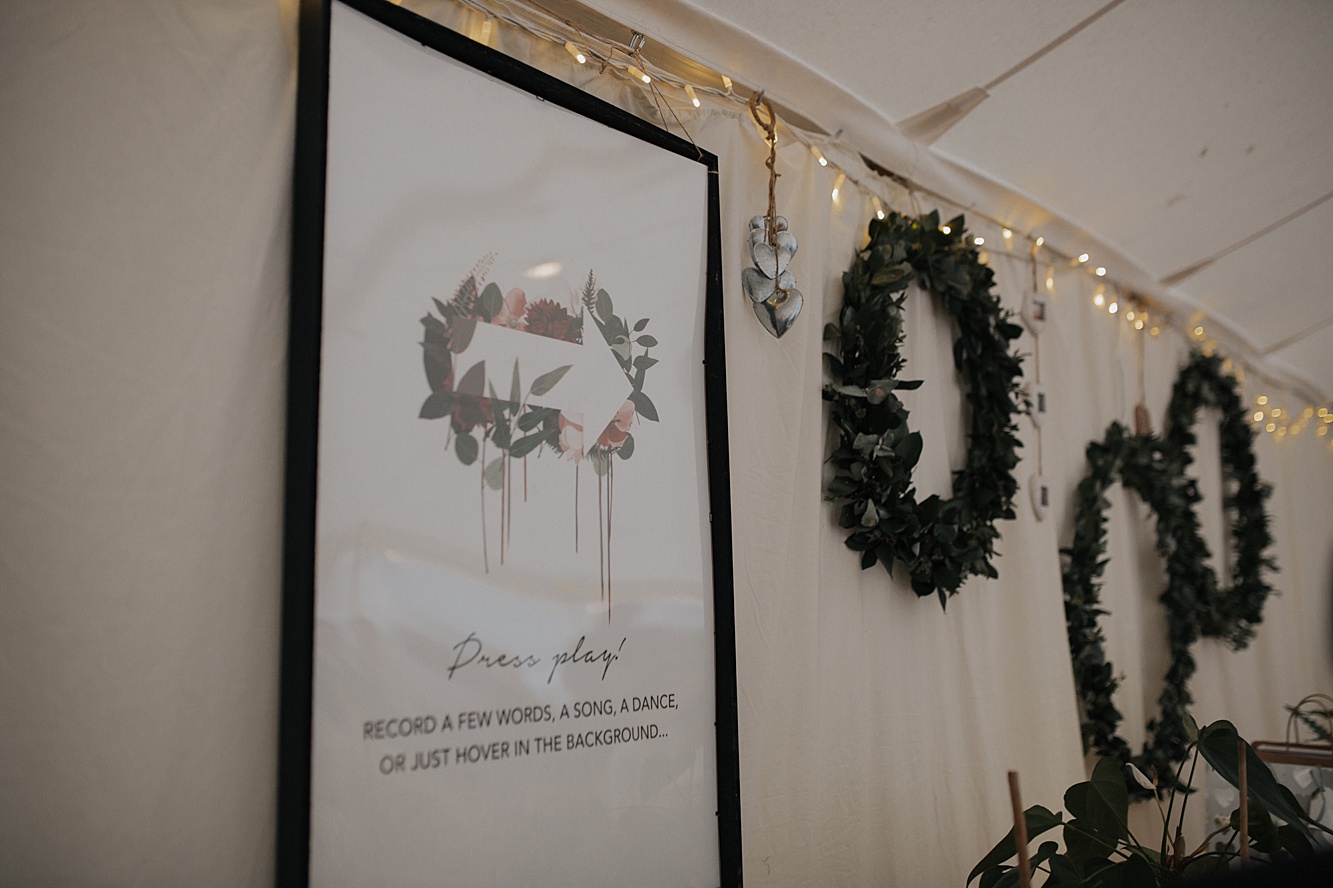 The wedding feast came courtesy of Tracy and her team at PJ Taste, with canapes, followed by a starter of cured duck breast with orange jelly, Halloumi with heritage tomatoes or spiced tofu with heritage tomatoes. Main courses were slow cooked beef brisket, or roast aubergine on a sweet potato fritter, and for dessert there was salted caramel chocolate pecan tart, or a vegan chocolate and pecan tart.
"My friend Francine (who I work with) made our cake for us – she's a baking genius. She made it completely bespoke for us, and the beauty of working with her meant she brought in lots of testers for me to take home beforehand – yum."
"We decided on a two-tier cake: The bottom was Amaretto Sour flavour (my absolute favourite cocktail) and had maraschino cherries and a lemon curd filling, and the top was rhubarb and rose flavour (imagine Parma violets). We froze all the layers and defrosted the day before the wedding, then one of my aunties and James assembled the cake and decorated with buttercream. Delicious!"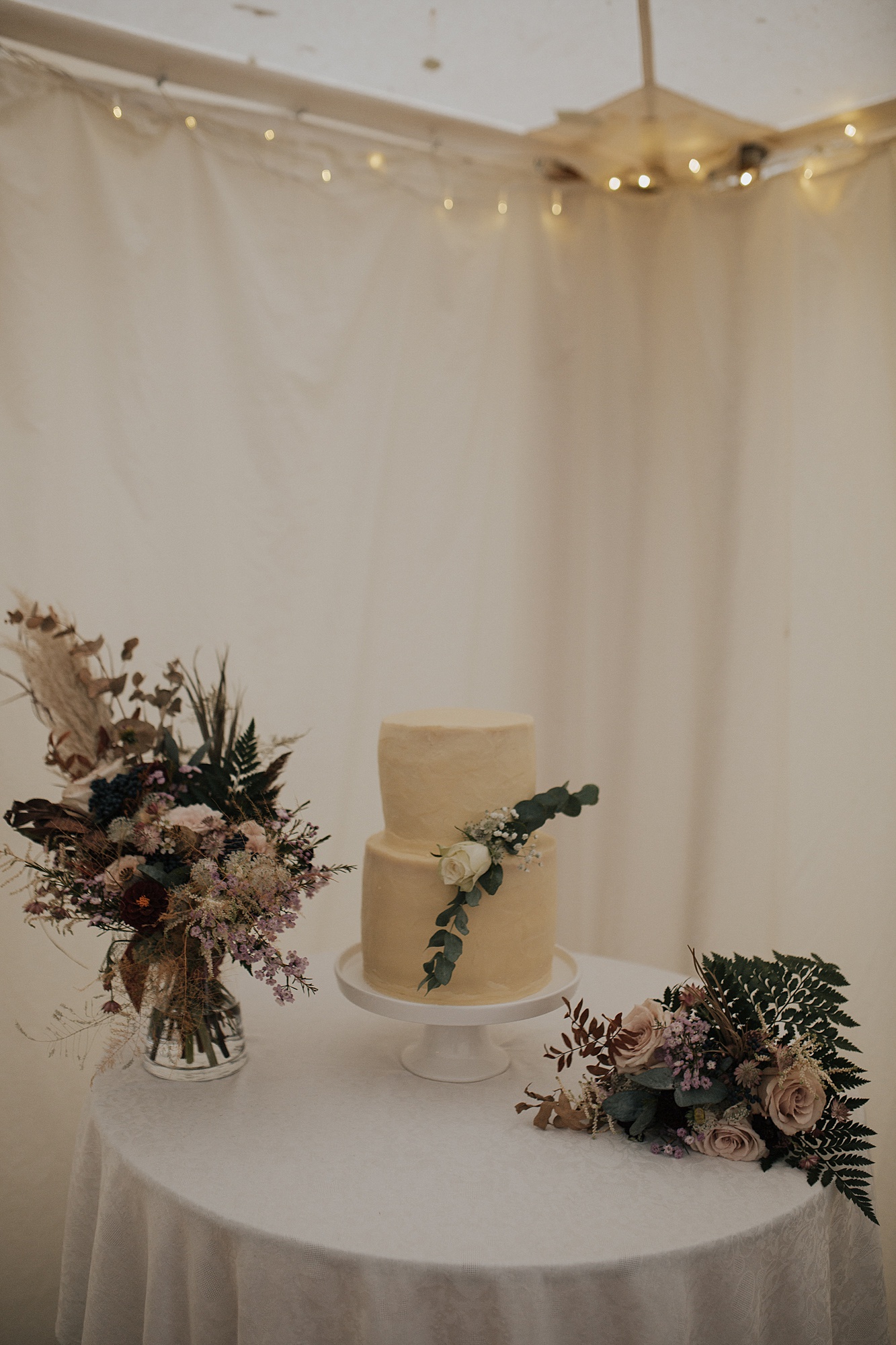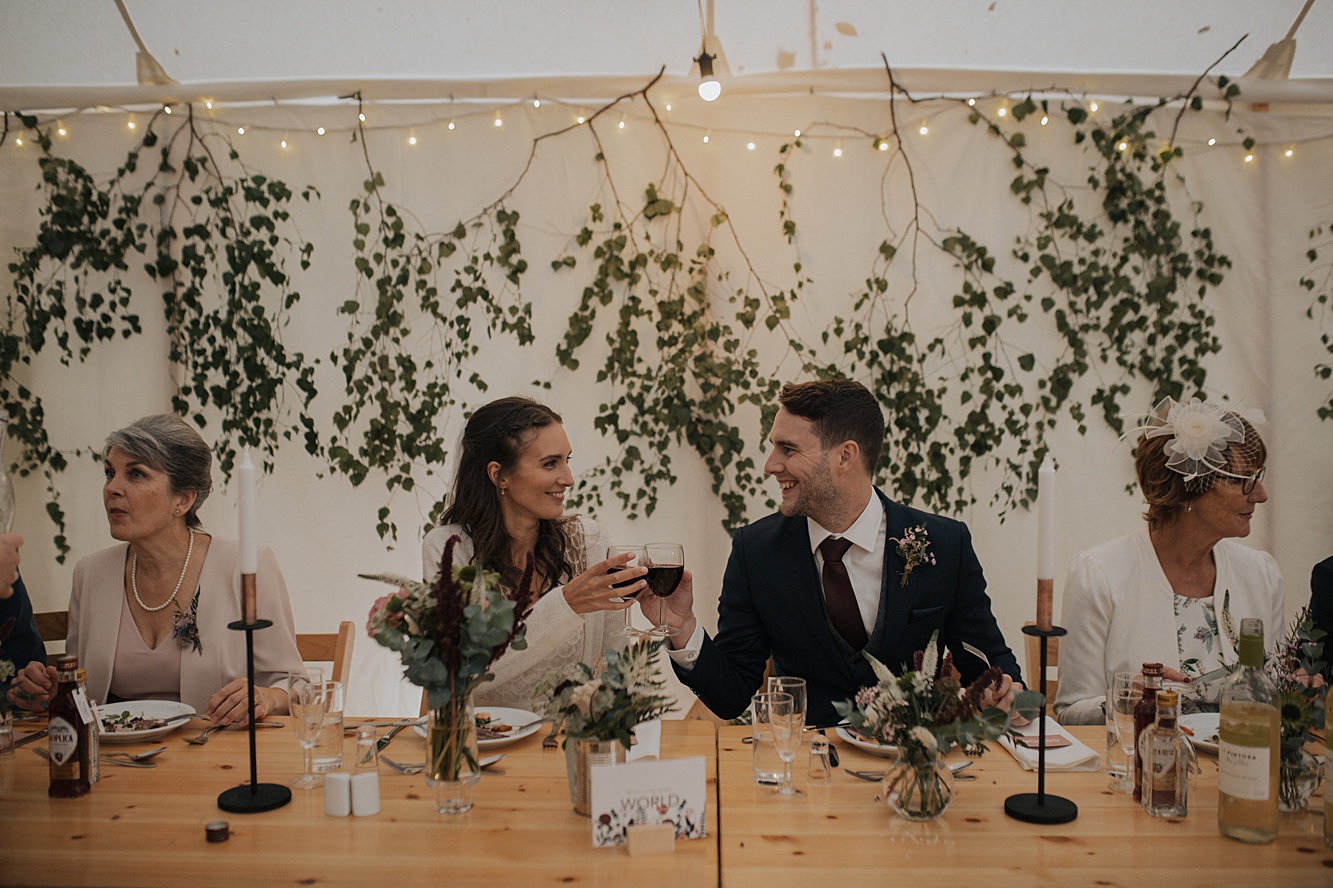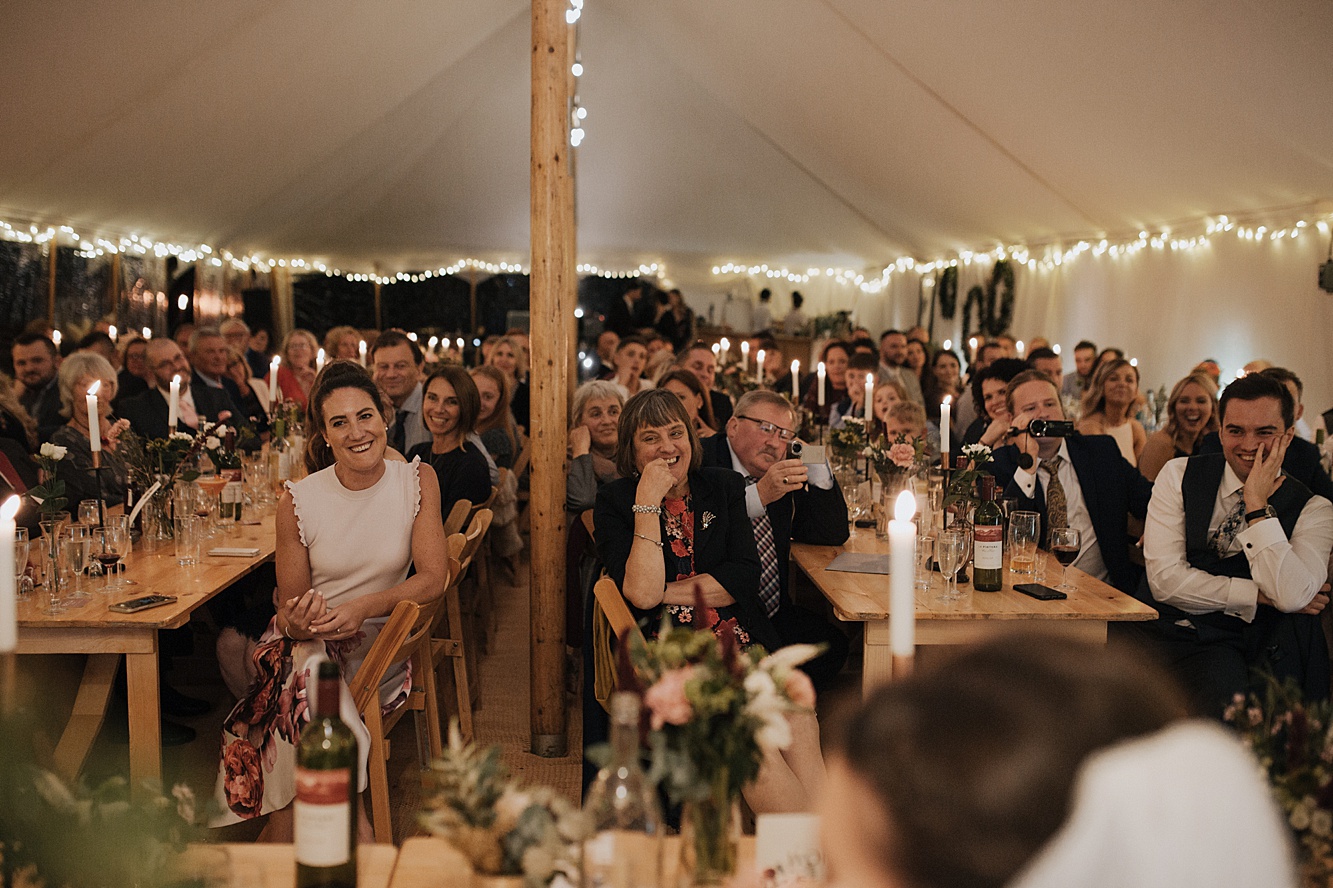 After the candles were lit and speeches were said, there was a final surprise in store for Joasia and James' loved ones, in the shape of traditional Polish folk dance group, Polonez. Joasia's aunt used to dance with the group, and not only that, they also performed at her parents' wedding 32 years ago.
"At the end of James' speech he told everyone that we had one last thank you that we needed fetch, so he asked everyone if they'd make their way to the front of the marquee. We then ran out to the farmhouse where Polonez had been hiding till it was time for their performance."
"James wore a traditional waistcoat and hat, and I donned some 'korale' (beads). My auntie had made me a floral headdress so I popped that on and we were ready to go."
"By this point all our guests had congregated at the front of the marquee, and were no doubt speculating as to what our surprise thank you was. Polonez trooped in to the marquee to loads of applause, followed by James and I who got an even bigger round. James had his arm up in the traditional style and I hung on to my skirt."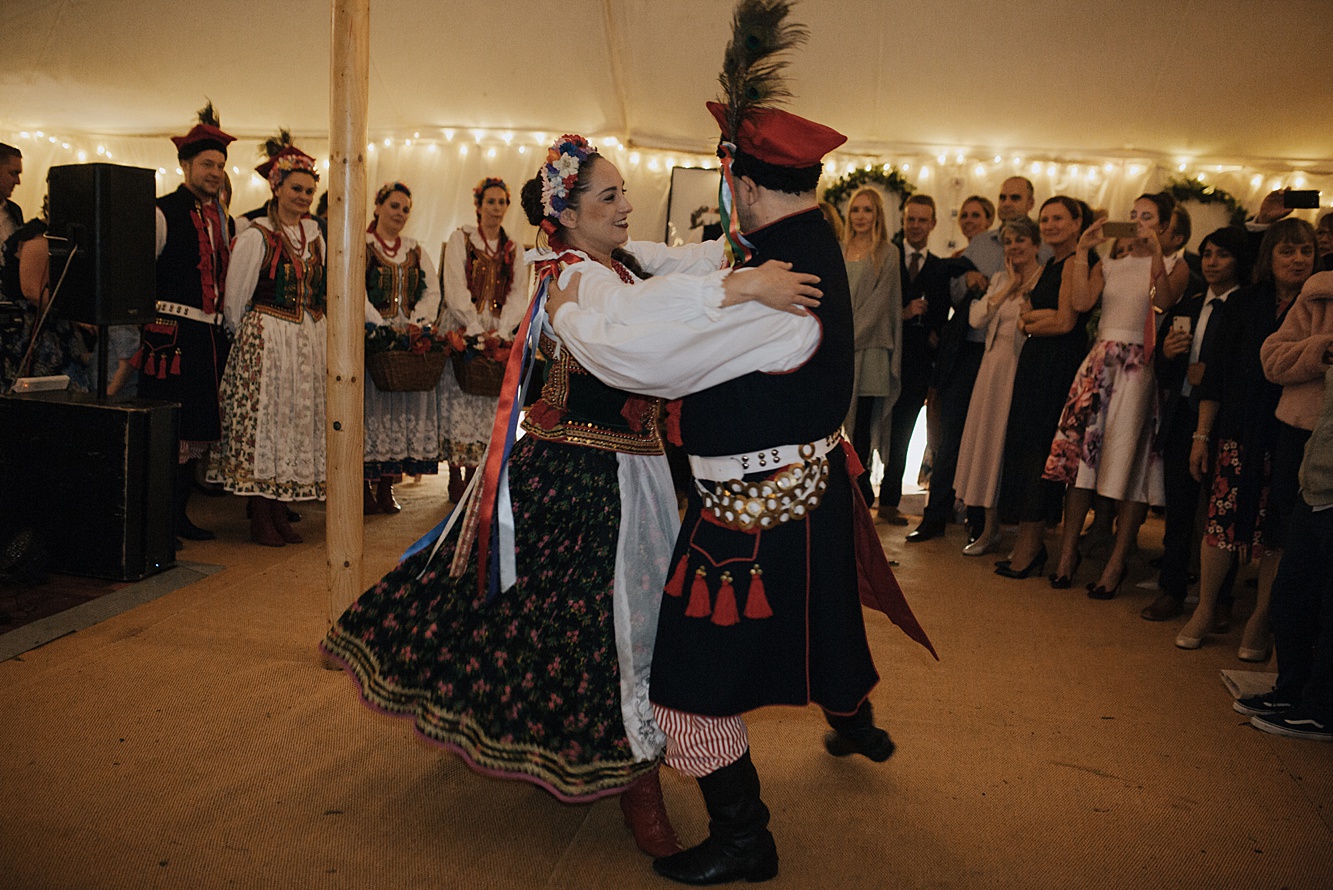 "My auntie, who had danced with the group when she was younger, gave us a 20 minute crash course in folk dancing a couple of days before, so we basically winged it for a minute and a half. Turned out bloody brilliantly I'd like to think! So technically that was our first dance."
The party continued with live music from South West Band (who also gave a surprise live performance of the couple's George Ezra first dance song).
"Brilliant medleys, totally original and definitely would recommend these guys. Actually, we already have! We almost didn't cut the cake because I was having such a good time dancing around and didn't want to stop the fun. In fact, I didn't bother throwing my bouquet for the same reason!"

"Our 'proper' first dance was to George Ezra's Paradise, which we danced to together for about a minute and then both swung off to grab new partners. We kept switching partners until the whole dancefloor was full of people we'd dragged up to dance with us, so a team effort for our first dance and not a slow dance in sight!"
"The ceremony was epic; I loved singing all our songs and saying I do, and I loved the speeches, but my favourite part of the day was twirling round and round and spending the night enjoying dancing with all my favourite people."
"It was one of the weirdest, most heart-warming feelings to look around a room and think, wow, almost everyone I love most is in this room and they're all having a great time. I don't need to message anyone because they're all here (not that I would whip out my phone midway through my own wedding but you know what I mean)!"

Words of Wedded Wisdom
"I'd say what so many said to me – don't worry so much about all the little details you think are so important now (like getting a second pair of shoes for dancing in when your feet get sore. You won't wear them), and everything else you worried about really won't matter."
"Also don't stress about things that are out of your control. Our marquee couldn't go up till the day before due to storms and torrential rain. It meant our decorating time was cut to barely any time, and it was a long night of delegating to get everything in place. Then I was 45 minutes late for our ceremony, due to traffic, it was cold and rained a bit – but it was still the best day of my life."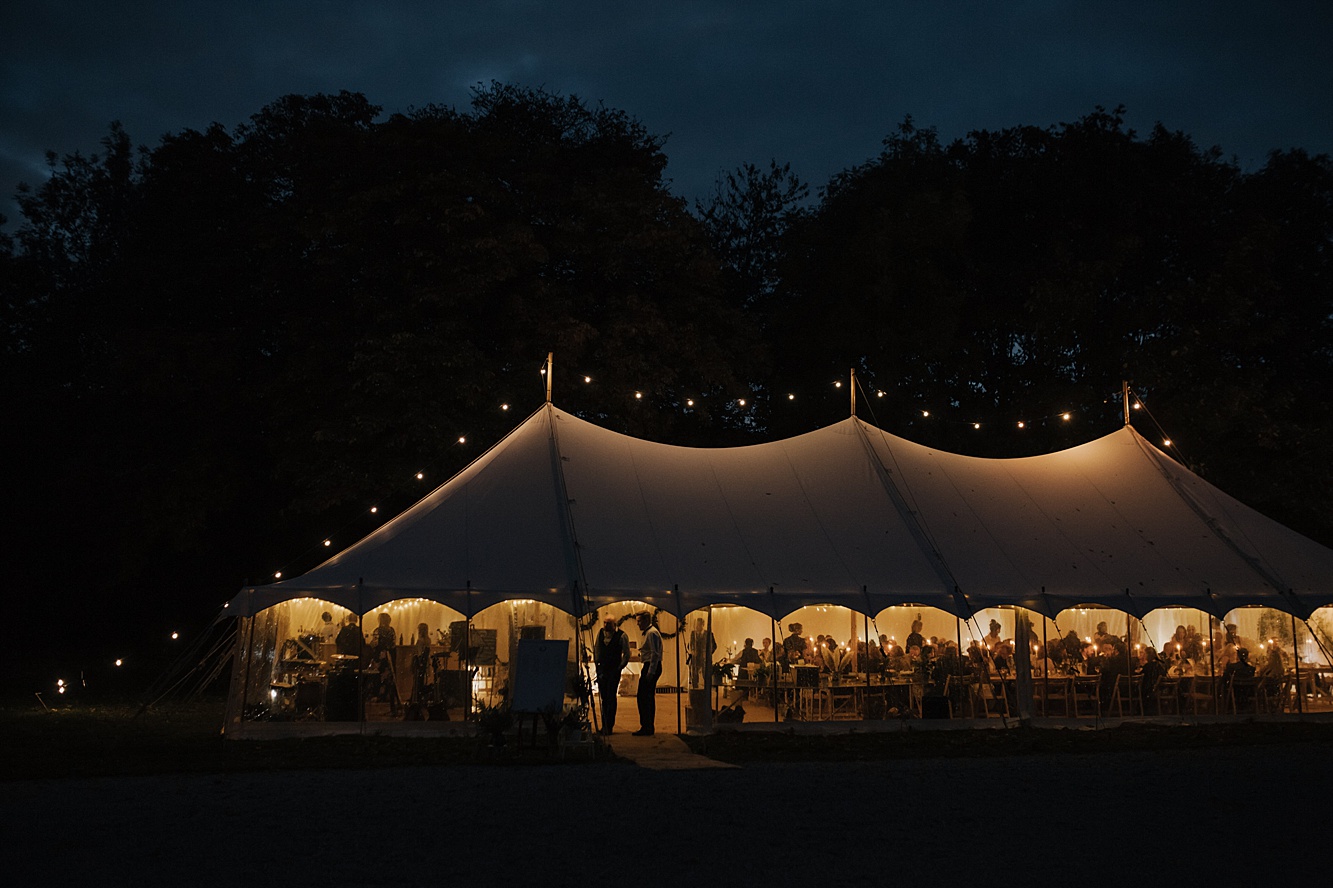 Joasia and James, thanks a million to you both, and congratulations! What a brilliant day full of lovely details. Many thanks also go to Coralie Monnet for her sensitive and evocative images. You can see more of her work on our pages here, and more magical dress designs by Kate Beaumont, right here.
With love,
Laura