Are you a member of the Love My Dress closed Facebook group for brides yet?  It's a thriving and hugely popular community and safe space, where brides are making friends (in real life too) and sharing tips, advice and information on a daily basis.
Of course, one of the most frequently discussed issues in our group is the dress; where to try them on, which designer labels to seek out, which boutiques happened to provide a great client experience that the bride wants to share with her peers. Being founders of the group, we are in the privileged position of being able to advise our group members directly which boutiques and designers we believe make the cut too. And one of those boutiques, is Clementine Bridal Boutique in Kent.
Despite being so new (the boutique opened its doors earlier this year), it is fast becoming a destination for the kind of modern bride who wants to look effortlessly stylish on her wedding day. We got chatting with co-boutique founder Margaret last week about the collection of gowns carried at this lovely, modern bridal boutique that we first introduced to you back in June.
"We are obsessed with the 2020 'Identity' collection, from London based British designer Andrea Hawkes. Andrea's brides favour a more minimal design aesthetic, so these are fuss free gowns where the focus is on the precision cut and fit and supreme quality of fabric.  We just love the clean, contemporary styling of these gowns and know they're going to be very popular with our brides. Some of the coolest bride's we've seen on Instagram this year have been wearing an Andrea Hawkes gown."
"We're also absolutely thrilled to showcase British designer Stephanie Allin's 2020 Eden Collection at Clementine Bridal. Stephanie has created a really gorgeous collection for the modern bride with the most incredibly beautiful, flattering and feminine details. The textures and fabrics are sublime."
"The Natural Soul collection for 2020 from Rembo Styling has taken their signature 'boho chic' look to a new level. These are light and airy dresses that are super comfortable to wear and have the most fluid and feminine movement. I love the romantic broderie anglaise and the cotton lace detail."
"We also carry the sought after Marylise brand – their 2020 Pink Lemonade collection oozes modern bridal vibes."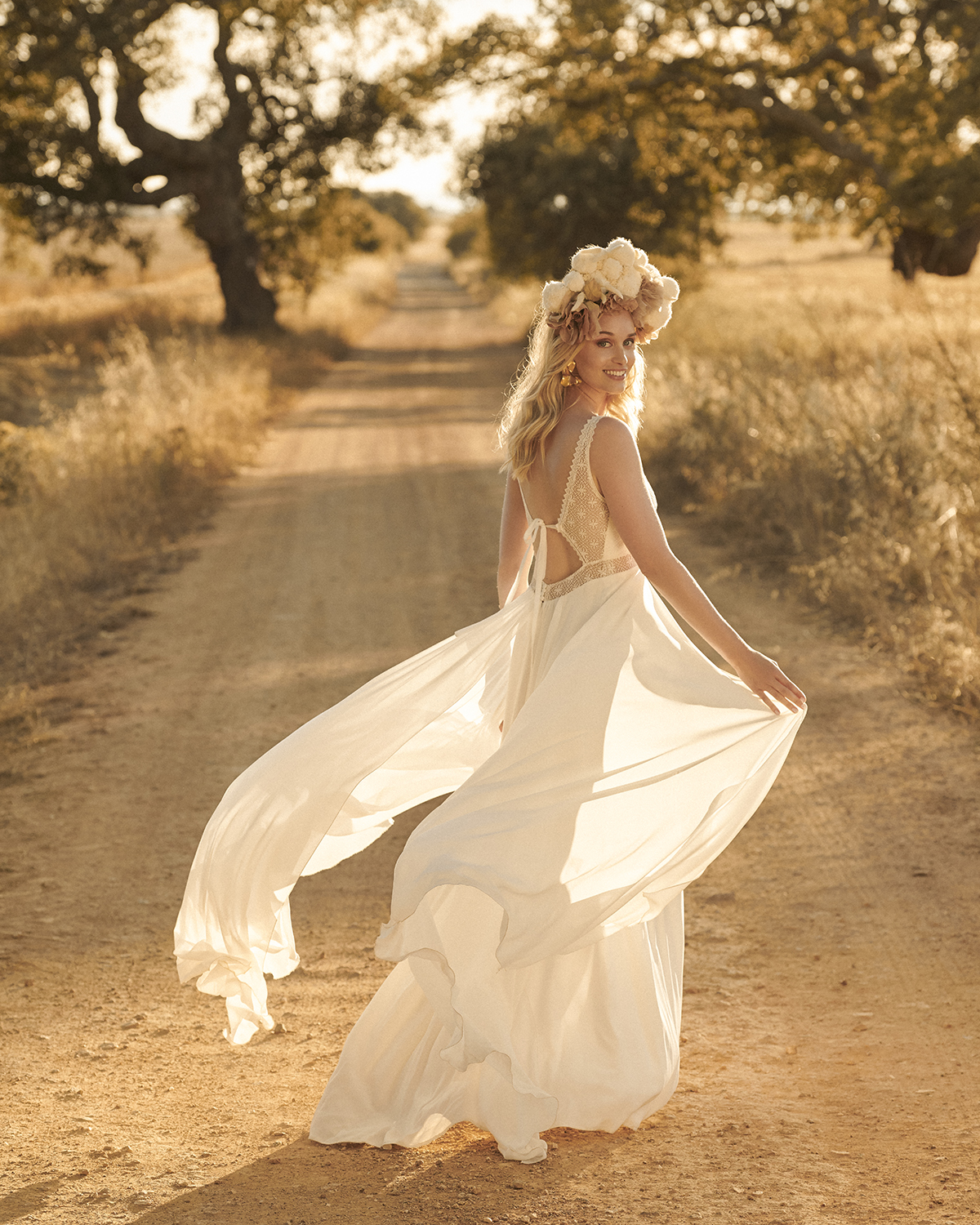 "Aire Barcelona is another superb brand that we're proud to carry and the 2020 collections move so beautifully. There's also a fresh, modern look to these dresses that's perfect for the more free-spirited bride. I adore the sleeved gowns and the full skirts in this collection. If you're looking for a dreamy, fashionable, runway inspired style, you'll love Aire Barcelona."
"Finally, I have to mention Rosa Clara Couture, because these minimal, elegant gowns bring high sophistication back to bridal fashion. Yes, they're opulent and glamorous but the overall look is very cool and modern. There's subtle sparkle, micro-beading and exquisite laces alongside cool necklines and extra-low backs. We absolutely adore and so do our brides."
Clementine Bridal Boutique have a number of upcoming events that we want to share details of with you. These events would make for a lovely experience out with your bestie/s or mum perhaps in the hunt for your wedding dress. These are 'trunk shows' – an event usually hosted at a boutique or pop up space whereby a designer's entire collection (rather than just a few gowns from that collection) is loaned out on a temporary basis for brides to try on:
Stephanie Allin (17-20 October)
Aire Barcelona (7-10 November)
Andrea Hawkes (14-17 November)
Rosa Clara (21-24 November)
Rembo Styling and Marylise (28 November- 1 December)
Savin London (5-8 December)
You'll find details of all these events here.
To find out more about Clementine Bridal Boutique and to book an appointment to see this exceptional collection for yourself, click here to visit their website.
Annabel x