I'm here to kick off your week in style as today's wedding comes courtesy of the supremely talented Big Bouquet Photography, a member of our Little Book Wedding Directory, whose crisp, colourful style we adore.
We're heading to my favourite place, the seaside, for the wedding of Lauren, a clinical psychologist and fashion and beauty blogger at Lauren Loves Blog, and Sam, a learning disabilities nurse. They wed at a favourite beach-side spot of theirs, Highcliffe Castle, Dorset, on 8 June 2019 in a day which combined minimalist styling with a few vintage twists and a pop of azure blue. I'm so pleased to hear that Lauren found lots of ideas through Love My Dress and our private Facebook group.
Images by Big Bouquet Photography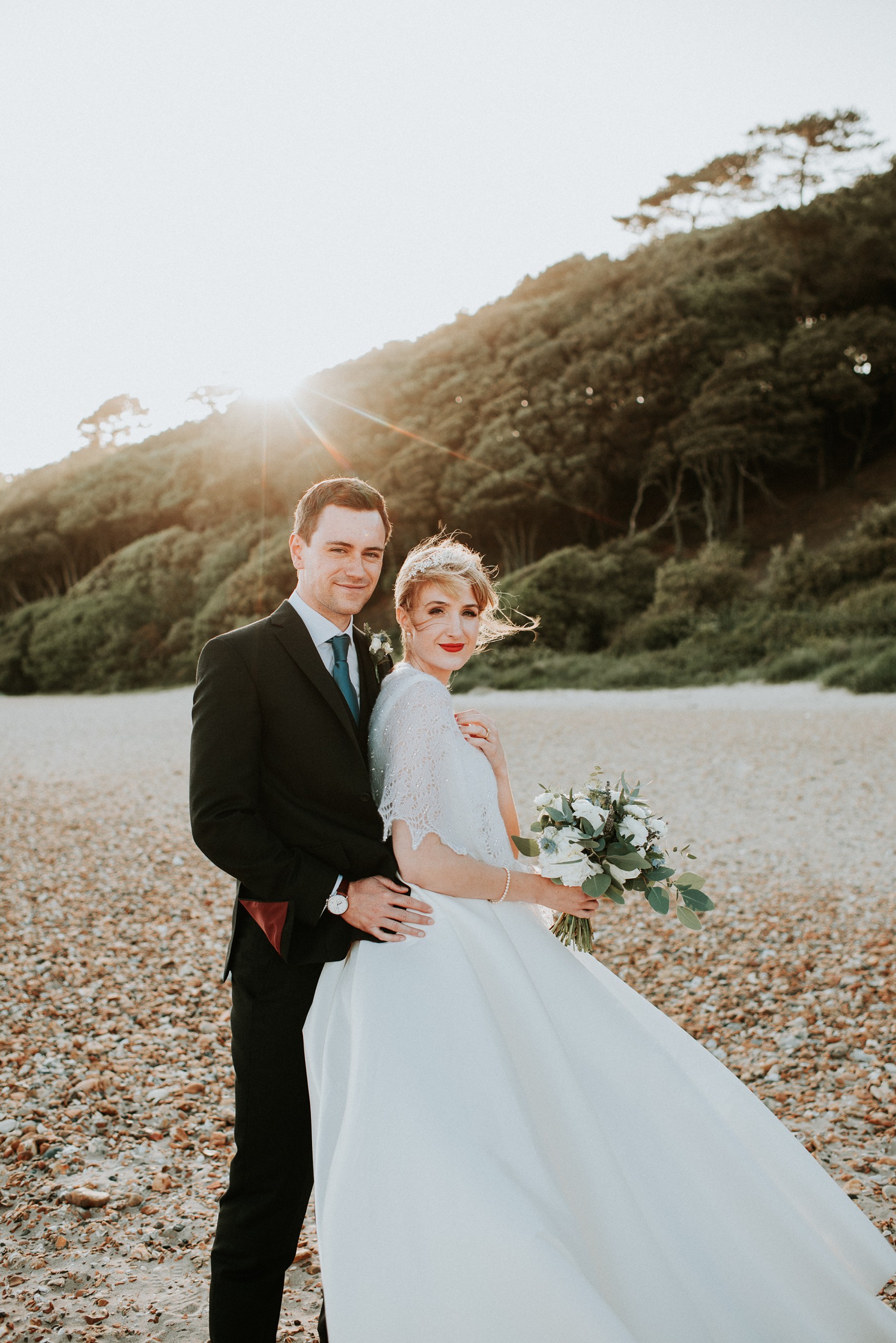 "I found Love My Dress really helpful for seeing how others had styled what I was considering. I bought a couple of wedding magazines but quickly realised I preferred real weddings. Love My Dress was a great source of those."
I adore how Lauren had the toes of her blue suede flats from New Look personalised.
"Zoe from Hetty & Dave Get Hitched customised them with our nicknames Bez and Loz and our wedding date. They're so cute."
As a beauty blogger, it was natural that Lauren go all out for her wedding day and I love her vivid lip colour. Her strawberry blonde hair was piled into a sleek beehive for another touch of 1950s class.
"I took great pleasure in learning how to do my wedding make-up. I went to a MAC bridal lesson and learnt techniques and which colours suited me, then did loads of practice. I wanted winged eyeliner and bright red lippie because they're my normal look. I bought 16 different red lipsticks in my pursuit of the perfect, kiss-proof one. In the end I chose 'Rioja Red' from Sleek and mixed in a bit of 'Heroine' by Maybelline to make the perfect red. It survived the whole day and not a single bit came off when I kissed Sam."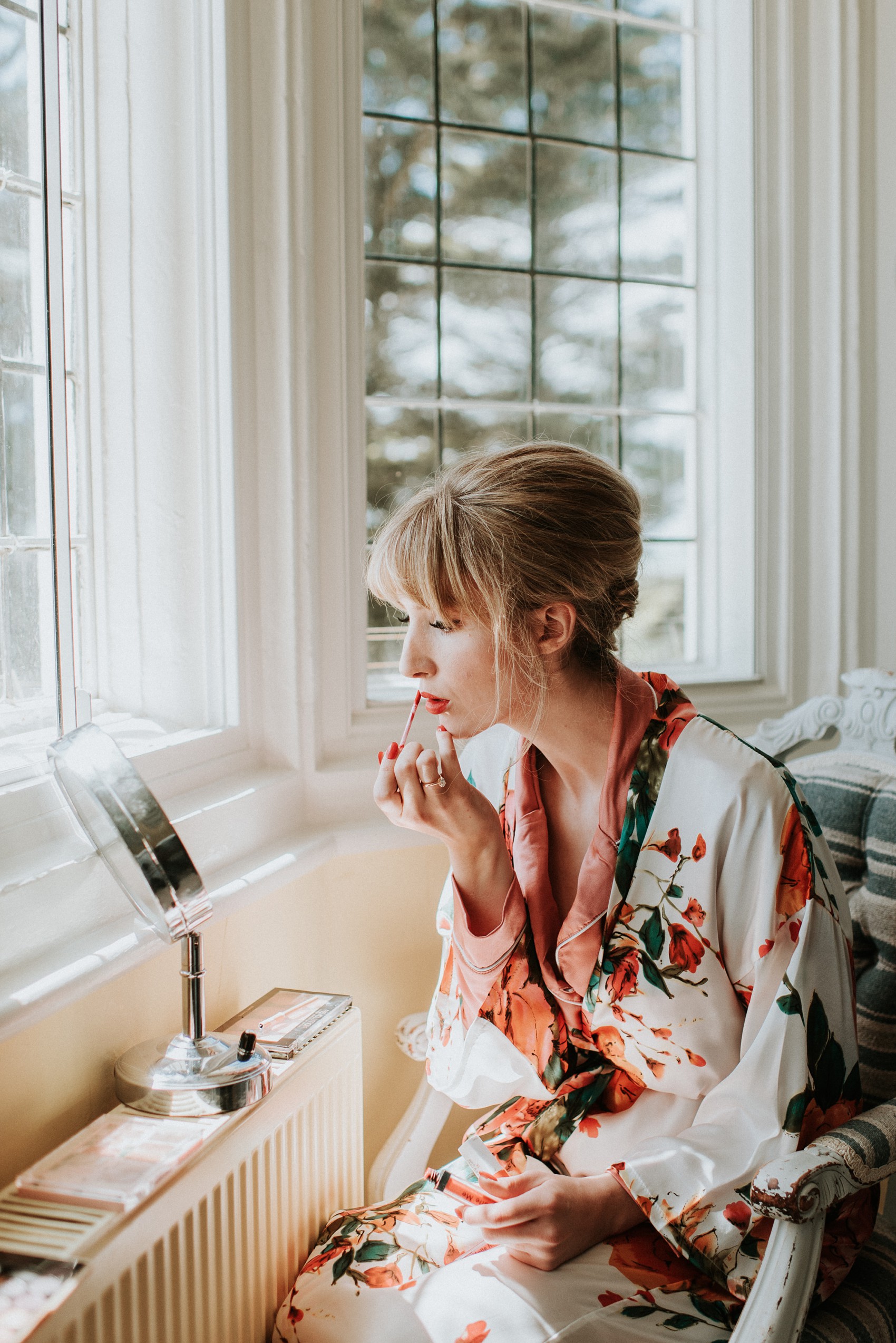 Flowers were kept to a simple colour palette of greens and ivory, and styled by Simply Flower.
"Their warehouse was full to the rafters with flowers, mirrors and gorgeous accessories. We wanted simple styling – lots of greenery and ivory flowers. Ranunculus are my favourite and Maria managed to find some despite them being at the end of their season. I also wanted lavender as it reminds me of my nanny (she used to put it on my pillow as a child). Maria suggested nigella to match the bridesmaid dresses and I love the pop of colour it gave. I also had ivory roses and peonies amongst the eucalyptus and greenery." g
"My bridesmaid Jen is a hairdresser and did my hair. I opted for a beehive style and she did an amazing job, despite me having waist-length hair."
"I went to Isobel's Bridal & Groom three weeks before the wedding and found a tiara from Linzi Jay. Because it was so last minute, they sold me the sample for a third of the price which was really kind. They gave me a bag of crystals and I spent an evening gluing missing ones back in with nail glue."
"I wore Chanel Chance Eau Tendre, my favourite summer fragrance. I wanted to smell like 'me' so didn't want something new. Sam wore his usual fragrance, Boss Bottled, which I love."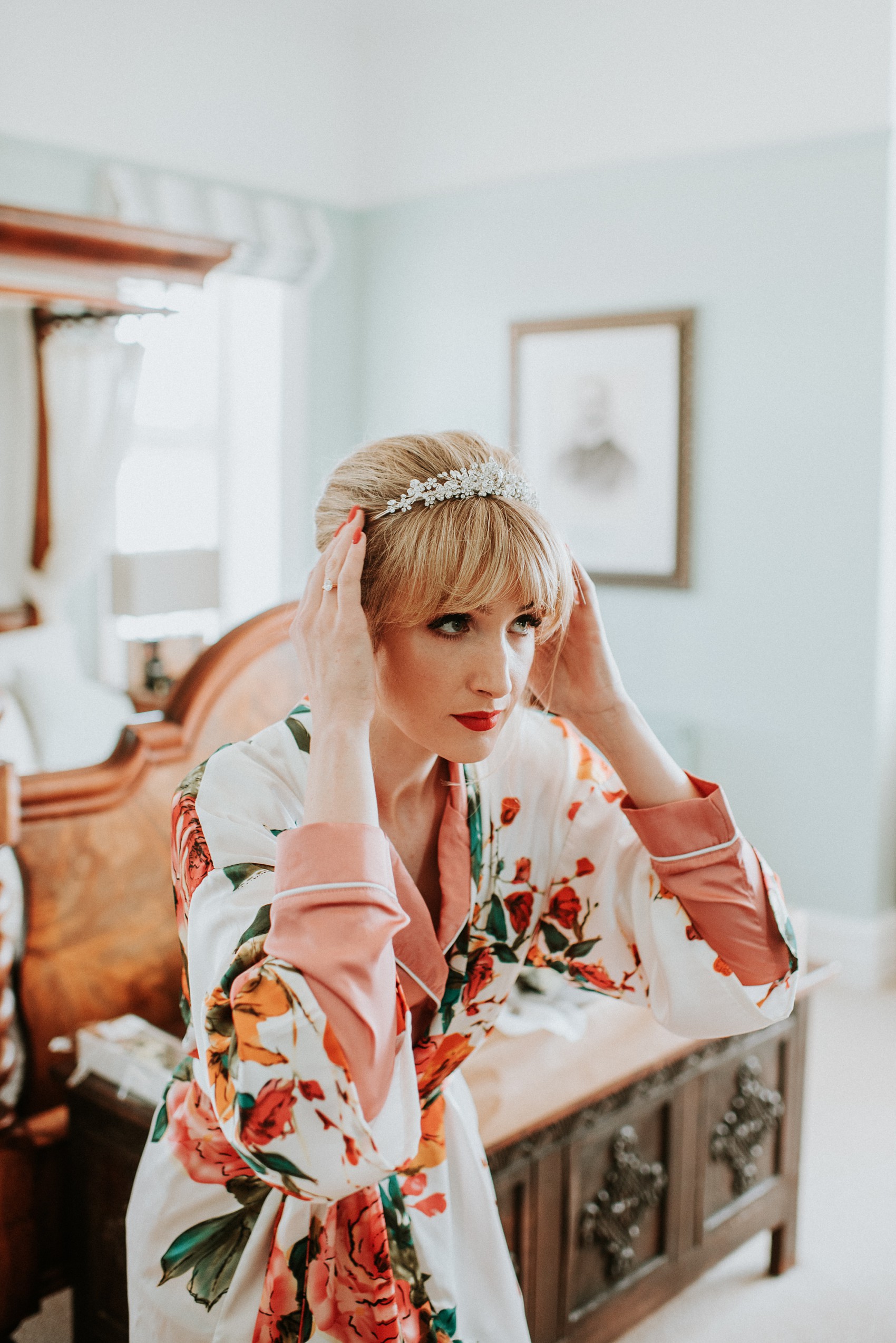 The bride was lucky enough to find a beautifully-cut ballgown whose clean silhouette and bateau neckline suited her day-to-day 1950s style. It really channels an Audrey Hepburn-esque vibe, especially with the wonderful beehive hairdo! She found this Essense of Australia beauty at Anya Bridal in Hampshire. Its classic design allowed her to proudly show off her scar from an operation for scoliosis. Take a look too at the beautiful, lacy shawl which she hand-knitted.
"I thought I wanted a slinky lace dress but after trying on some dresses in other stores I realised they didn't suit me. My friend advised me to go to Anya Bridal. There was a whole rail of ball gowns  – the dream! They were really helpful and let me try on a selection of dresses although I knew straight away which one would be 'the one'."
"I wore a pair of simple pearl earrings because I didn't want to distract from the gown's lovely neckline. They were my graduation present from my parents (my something old). My pearl bracelet was my something borrowed – my mum wore it on her wedding day in 1986."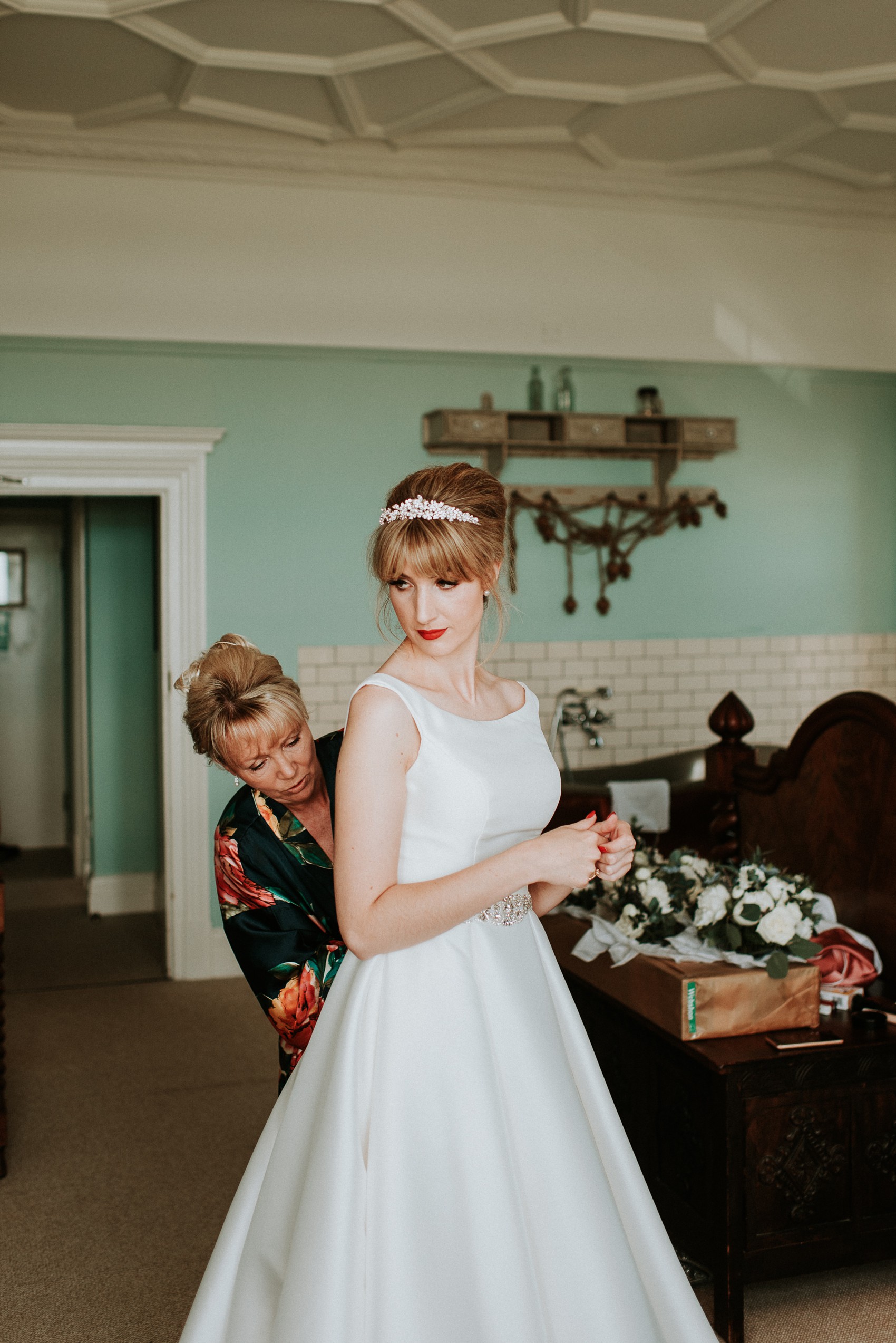 "I dress in quite a classic, 1950s style most the time so I wanted something which fitted that style. I absolutely loved the Bardot neckline and nipped-in waist and adored the long train and low back; I had a spinal fusion operation when I was 16 and I'm quite proud of the scar. Also, have you seen the amazing pleats on the skirt?"
"I took my dress to Ula Litwin in Southampton for the alterations. She did a fantastic job and sewed on the glitzy belt, also from Anya Bridal."
"Sam is from Dover and his family have spent many summers coming to Highcliffe. When we moved to Bournemouth it was lovely to take the dog for walks around there. The gardens are beautiful, it's right on the beach and the building is stunning."
"The castle has burnt down twice so it's a fantastic mix of derelict and restored areas. It was also so easy. Sam and I are very laid-back and they promised they'd sort a lot of stuff as part of the package which really appealed."
"The venue was so beautiful with huge windows, lots of light, bare brick and a huge stained glass window. We didn't want to take away from any of it but let it shine. We love greenery so had lots of it with ivory touches."
We had blue for the bridesmaids for a pop of colour; we chose our photographers because we loved their colourful style and I had a panic there was no colour for them to capture!"
"I got my Richard Designs veil from Anya Bridal. I looked through some lovely weddings on Love My Dress and the closed Facebook group and was inspired to get a very sheer, two-tier veil to go over my face. I chose a waist-length one to go with the Audrey Hepburn aesthetic."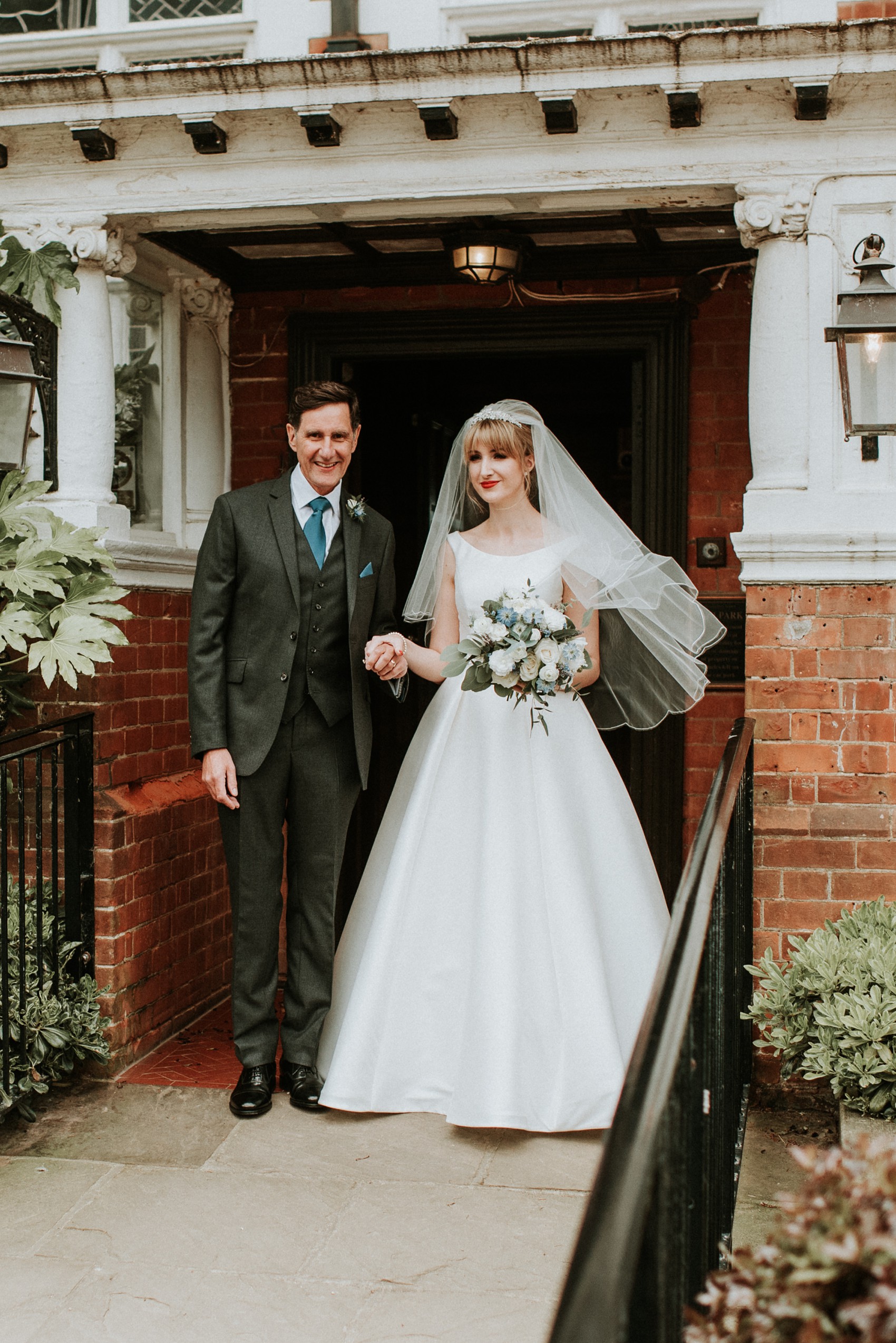 "My parents chose RK Prestige Car Hire and we had two gorgeous, vintage cream and black cars."
"The driver of my car was so calm and passed me mirrors, bottles of water and everything I needed to make sure I walked in feeling prepared. It was so lovely to have twenty minutes with my dad on our own."
To add the all-important splash of colour, Lauren's bridesmaids dressed in made-to-measure, azure blue gowns from Vinibelle.
"I was really pleased with the quality of them – they were made of lovely fabric and constructed beautifully. I asked the girls to wear sparkly gold or silver shoes and bought them silver headbands from Primark and sparkly hair Scombs from eBay."
The civil ceremony was held in the light and airy conservatory at Highcliffe Castle and led by the local registrar, Mary.
"My lovely dad, John, walked me down the aisle to 'Bloom' by Rhodes. It's a gorgeous song about love growing and has a beautiful, swelling end. We made the ceremony as personal as possible by having our favourite love songs."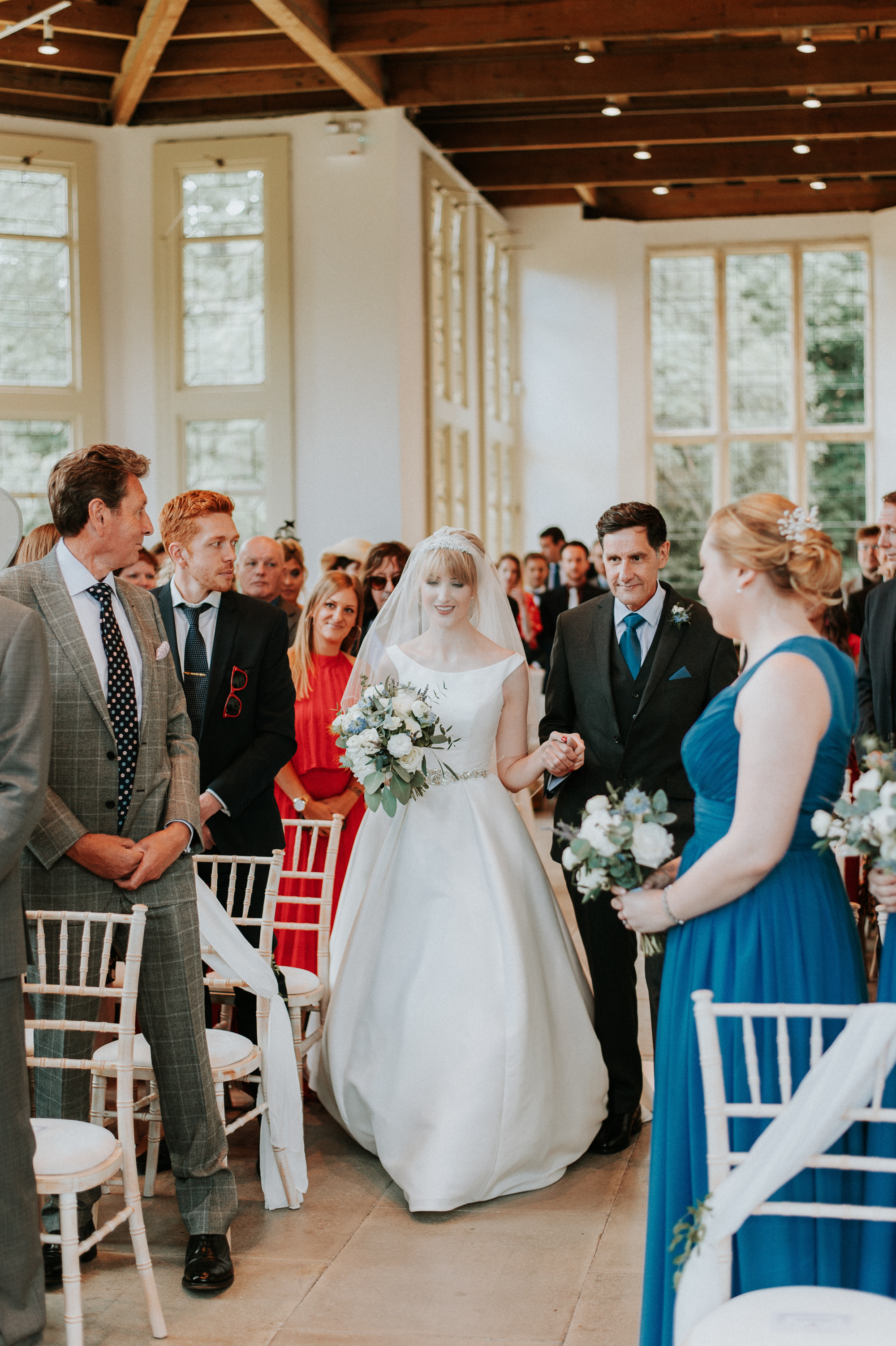 Sam wore a bespoke, tailored suit from Roderick Charles in London with a tie to tone in with the bridesmaids' dresses.
"My dad took Sam and my brother James shopping on Jermyn Street to treat themselves to lovely suits. They all looked so handsome. Sam was really honoured that my family offered for him to wear an heirloom, antique, rose gold pocket watch. He wore a white shirt from Marks & Spencer and his shoes were from Jones the Bootmaker."
"Mary was brilliant and really sensed the informal vibe we wanted, making jokes when the music went wrong and letting us whisper to each other. We didn't write any personalised vows but chose those which met our views on being best friends, a team and being kind to each other."
"My younger brother James read a beautiful extract from 'Captain Corelli's Mandolin'. He did a wonderful job thanks to the coaching of his partner (and my bridesmaid) Beth, an English teacher."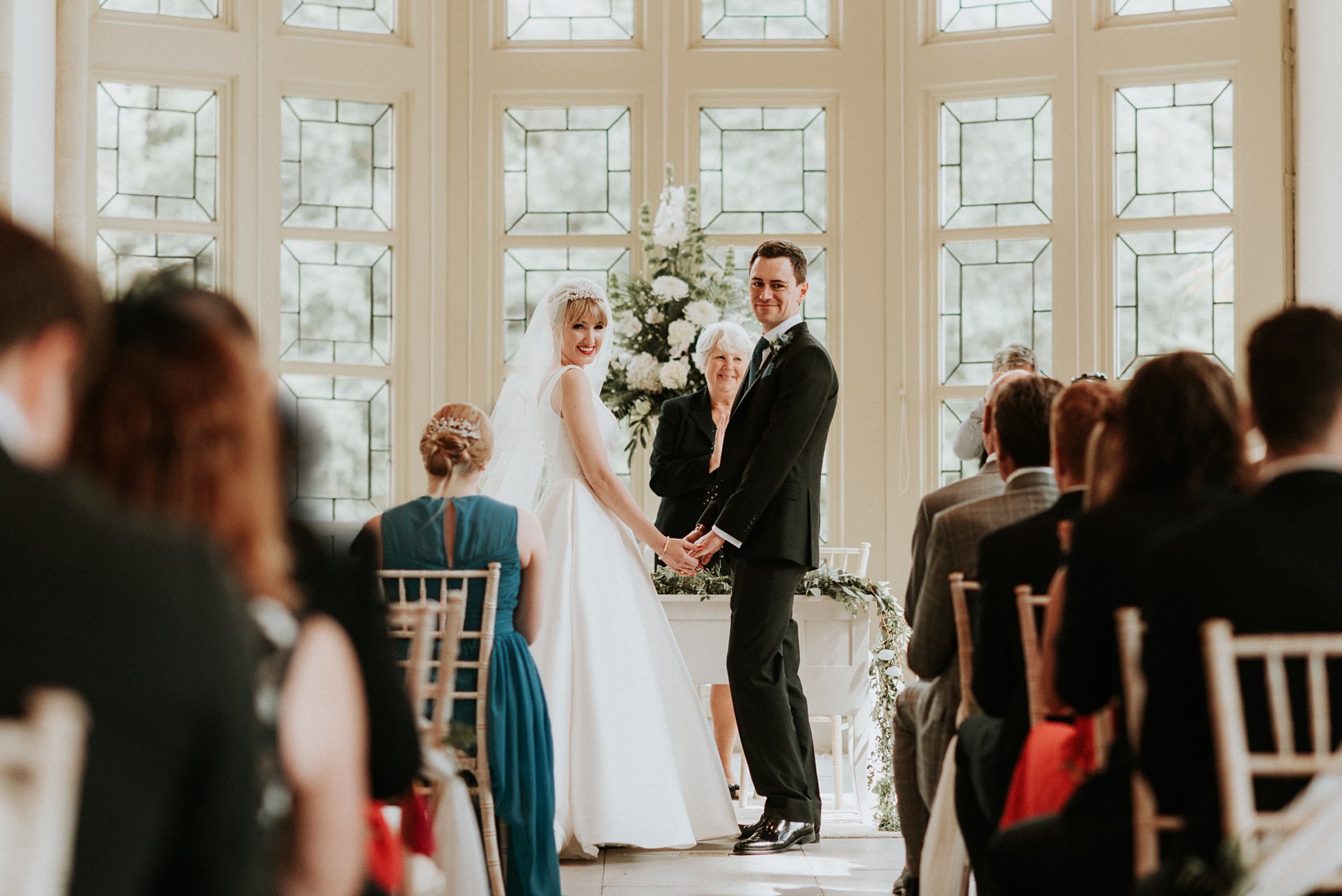 Sam found his ring at Dot Jewellery whilst Lauren chose to receive her nanny's wedding ring.
"I feel so pleased to have some of her with me forever and that she got an important role in our wedding. Sam chose a palladium ring. Dot's Jewellery had the cushion, court shape he wanted and they were very easy to order from."
The castle's courtyard made a beautiful setting for the reception of drinks and canapés, which the guests enjoyed whilst the couple slipped away for these gorgeous, beachy portrait shots.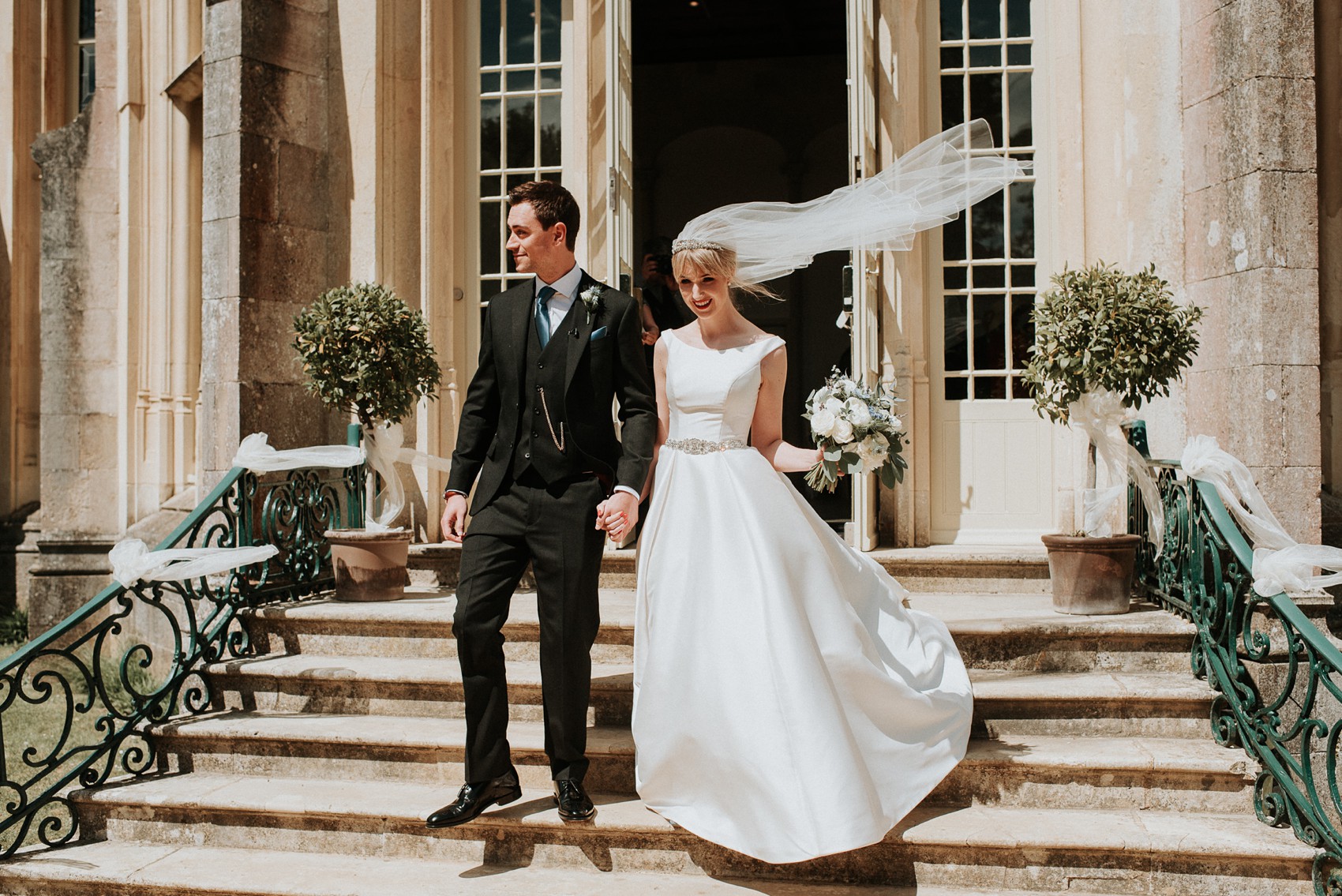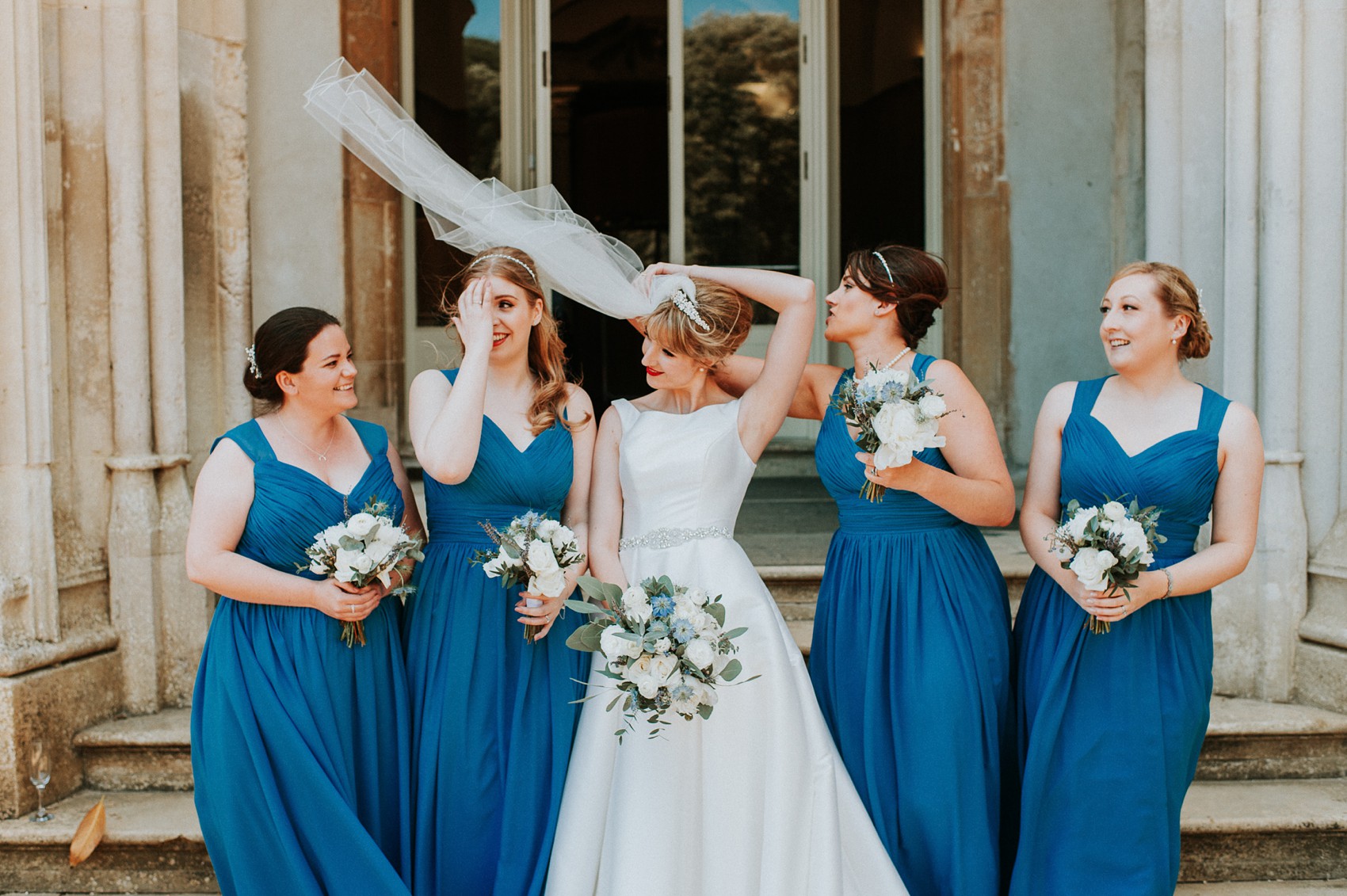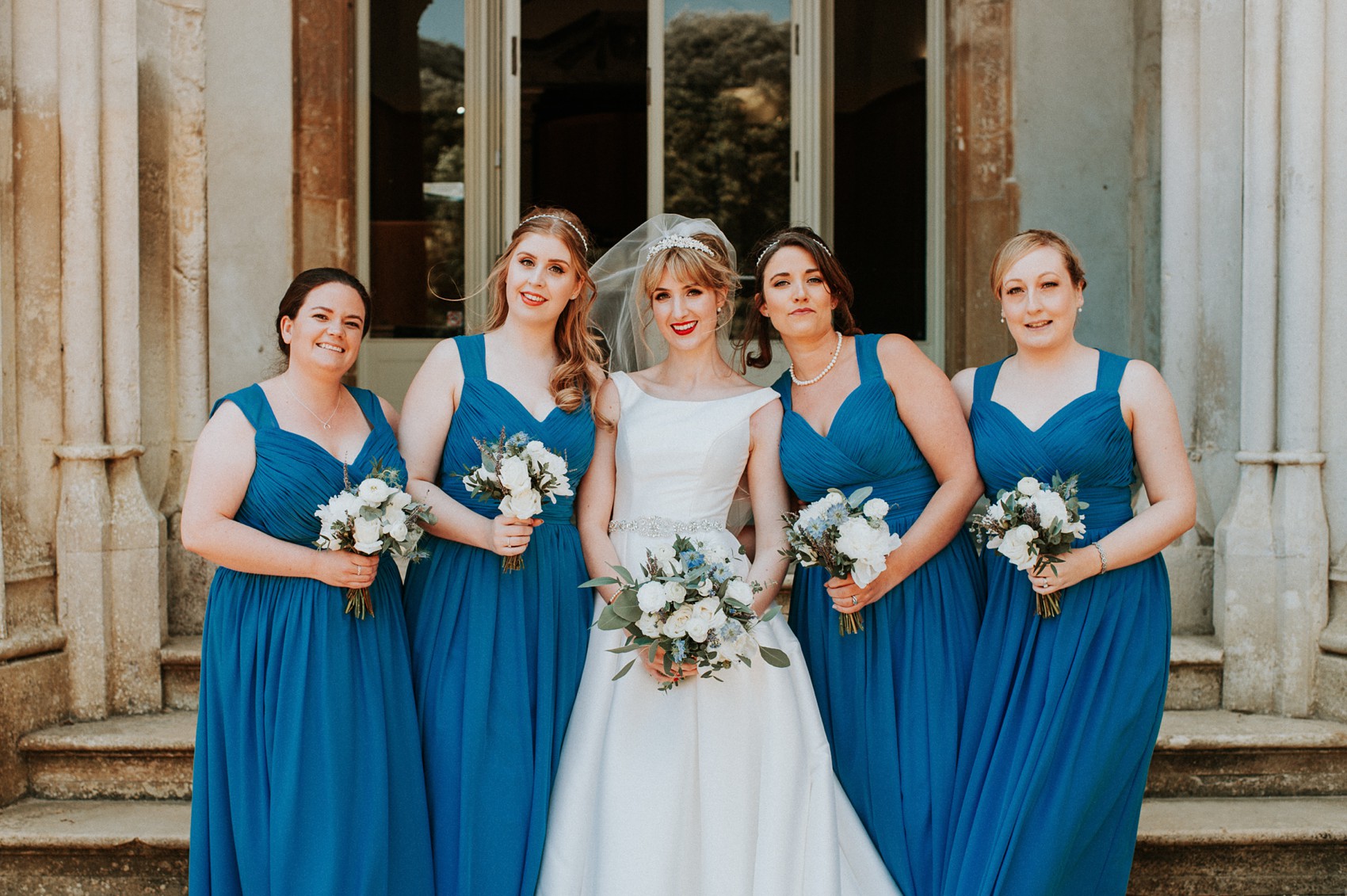 Sitting down in the beautiful, high-ceilinged hall for the wedding breakfast looks like a real treat. It was decorated simply yet beautifully.
"Simply Flower styled the venue with greenery table runners and ivory candles. They also put a canopy of fairy lights over the dance floor. We didn't choose much more as the venue was so amazing and provided little bits like tealights in the nooks of the bare brick walls. I designed a neon sign with our new last name – 'The Berrys' – which Nailed It By Holly made to make a good selfie backdrop. It added a 'wow' moment as the evening guests walked in."
"I designed our stationery and had it printed by Palm Print, a local printing press. The menus and place cards were provided by Beales Gourmet and Highcliffe."
"Beales Gourmet came very highly recommended. It was all so yummy; we were really impressed. In the evening we had hotdogs and burgers – we never got to try them because we were so busy dancing and chatting but I'm told they were brilliant."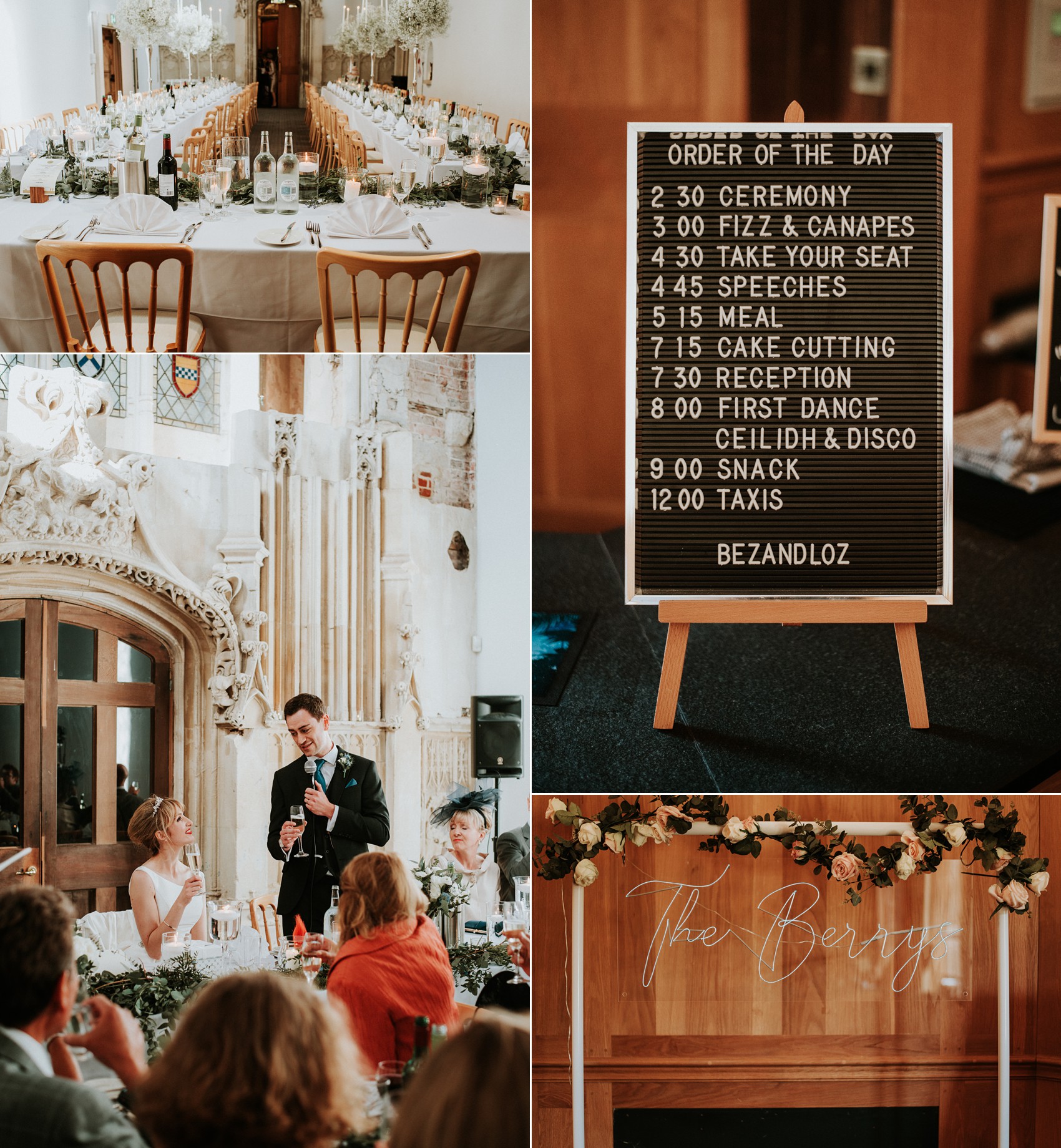 "Sam's Aunty Lesley and I were going to make the cake but we ended up getting one from M&S. I knitted little cake toppers of Sam and I and also knitted a little figure of each of the wedding party and our close families."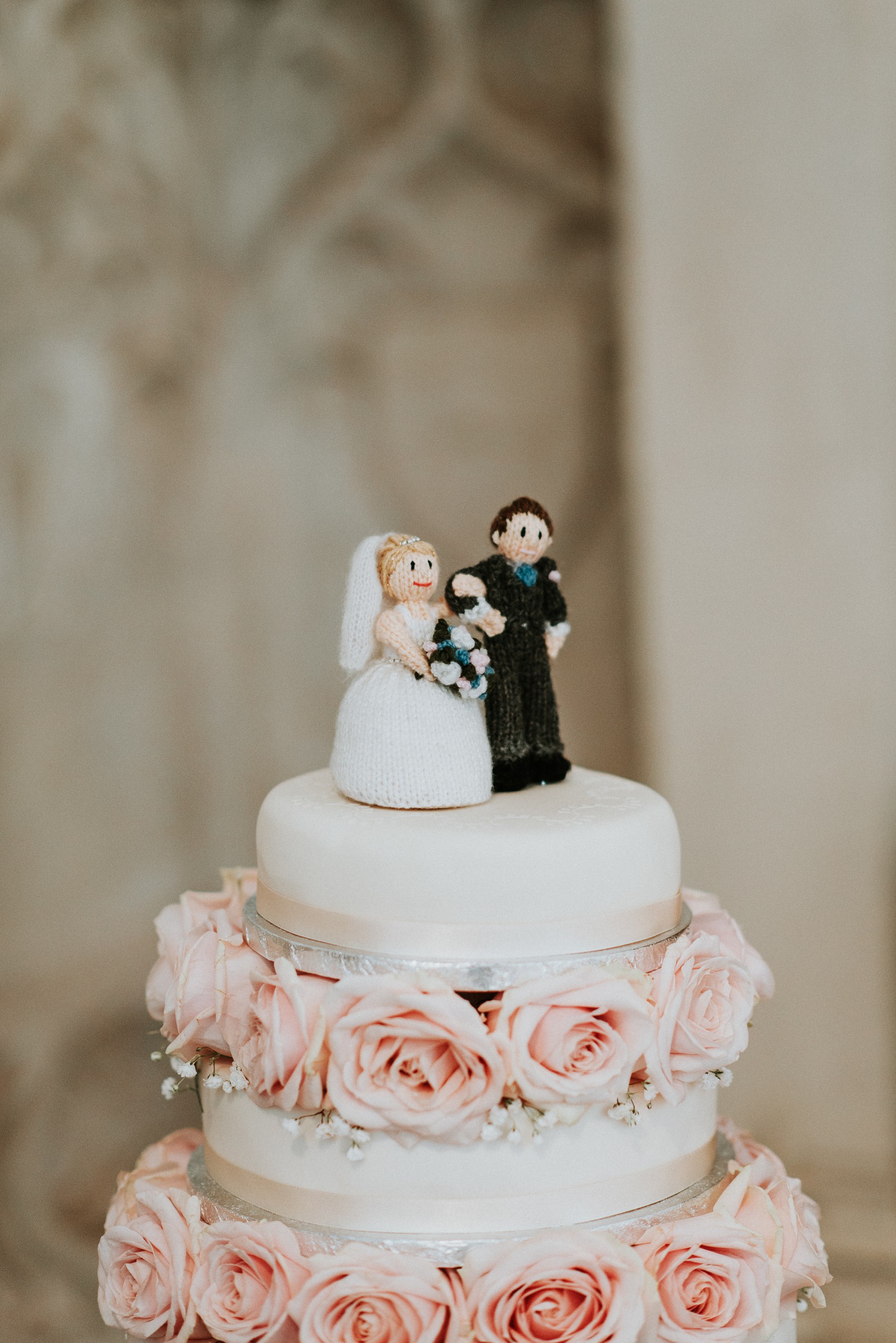 Lauren grew up in the Shetland Isles and really wanted a Scottish element. A ceilidh band for the evening's partying was the perfect choice after a first dance to 'God Only Knows' by The Beach Boys.
"We love this song, we love The Beach Boys and I love the film 'Love Actually' which it features on."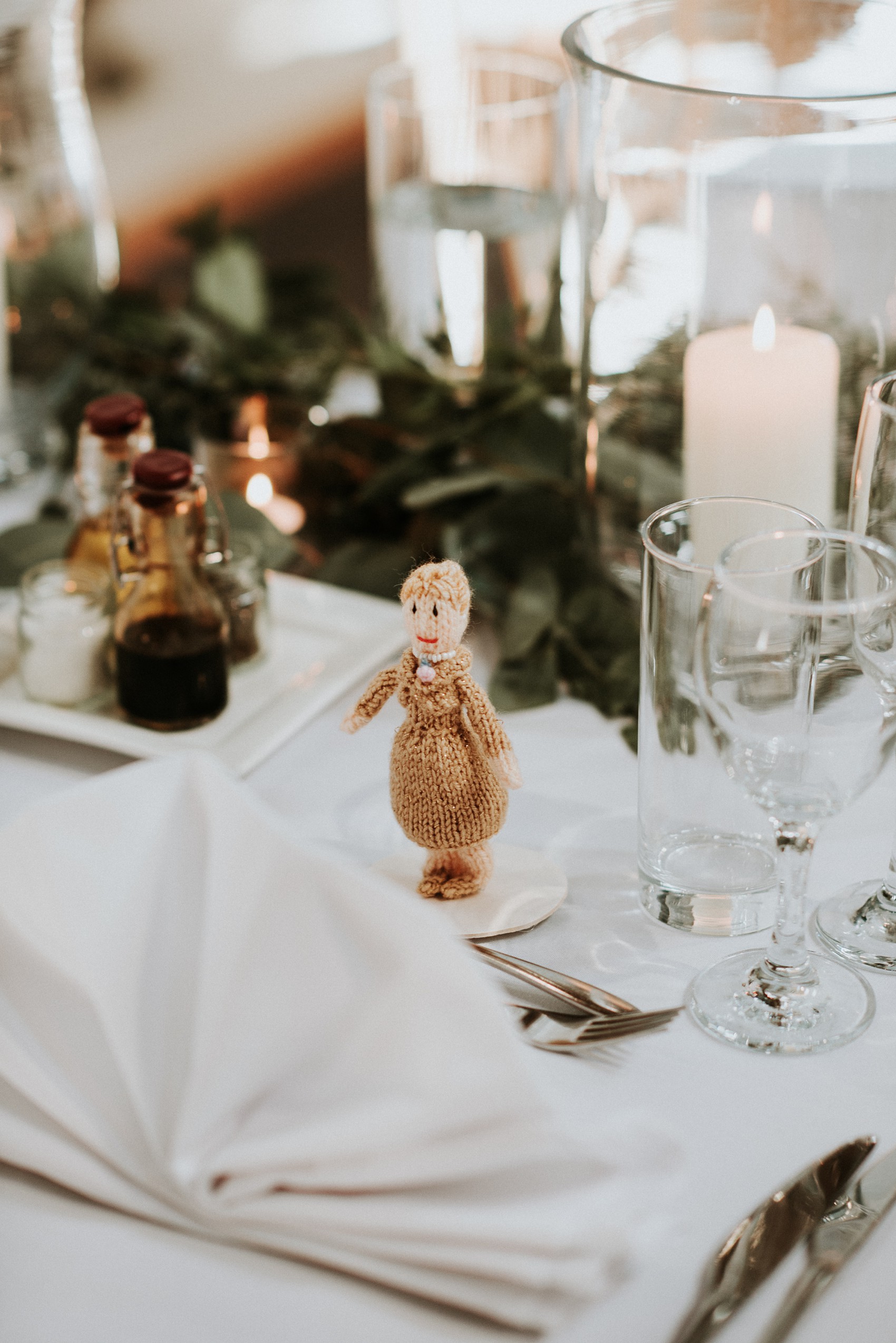 "I had been to a friend's wedding the year before and they had Ceilidh Tree who were wonderful. They played for us and also provided a disco afterwards. Because we hired the caller to explain the dance moves, we had everyone on the dance floor. It was hilarious."
"We had a Polaroid guest book. There are so many funny and wonderful photos in the book which we really enjoyed looking back on."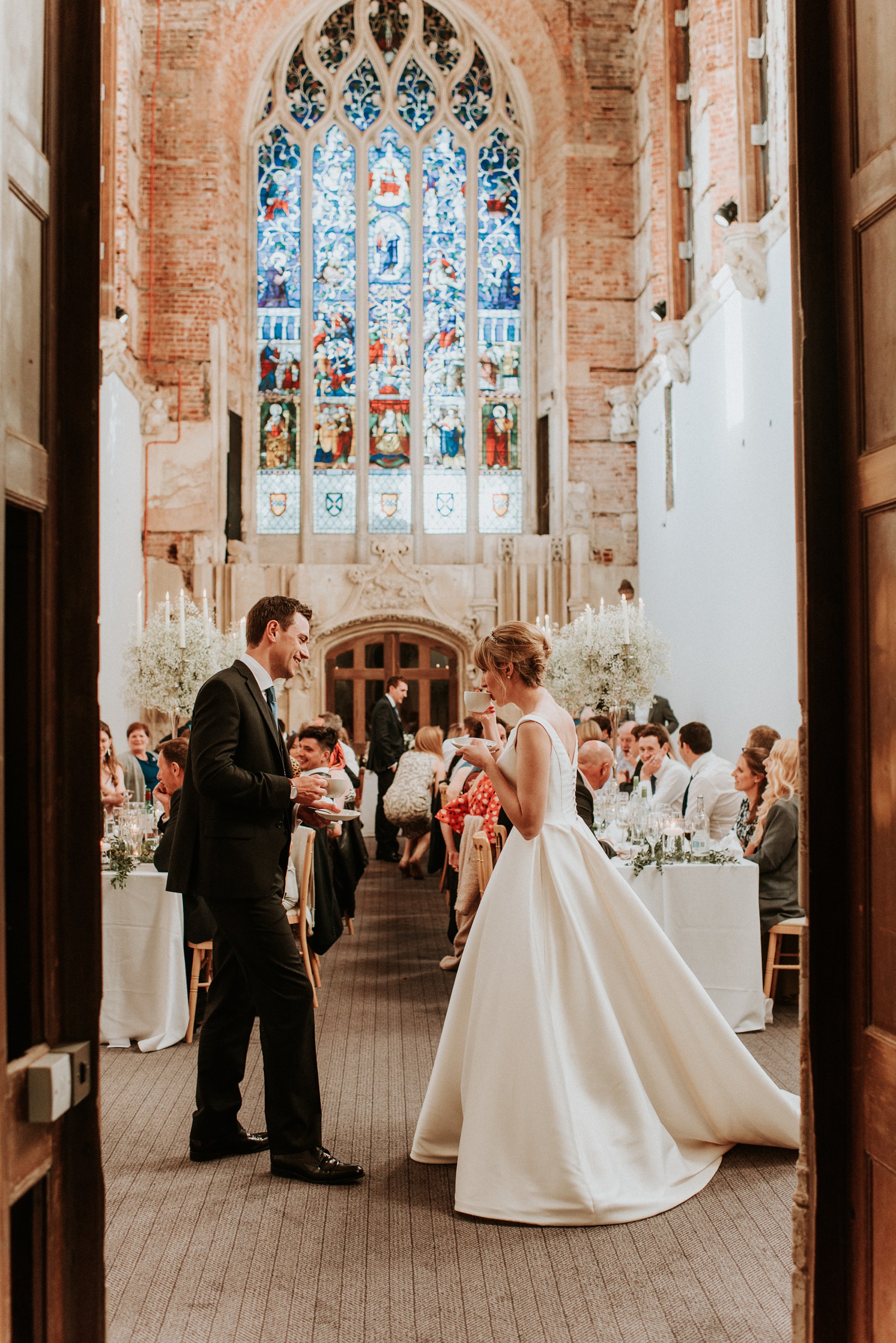 After meeting at work seven years ago, Sam proposed in March 2018 with the wedding planned for 14 months later. What I love about these photos from Big Bouquet Photography is that everyone looks like they are having just so much fun.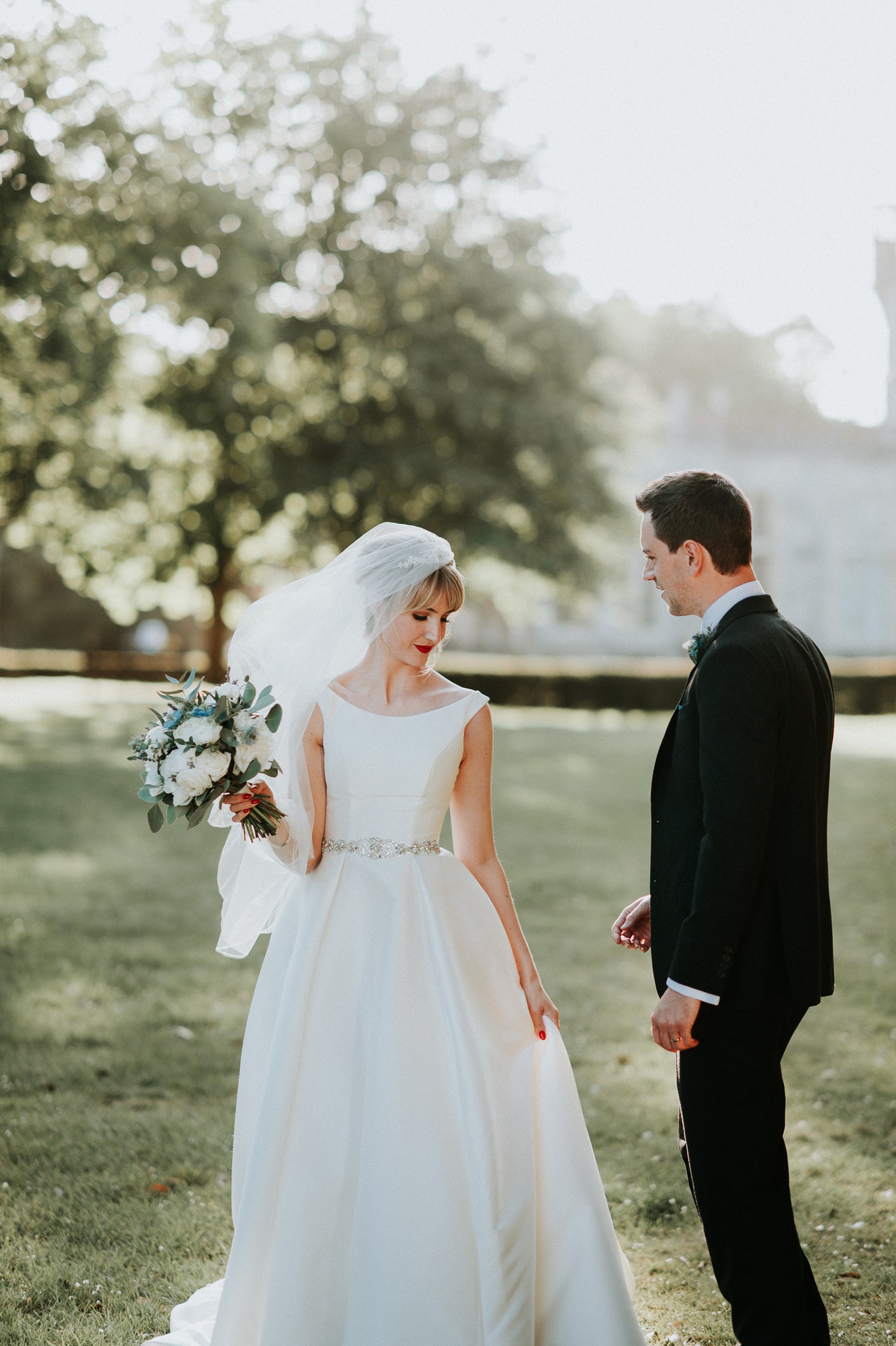 "We loved their photos on Instagram. They photographed one of Sam's friend's weddings and the photos were stunning and natural. I was really keen on having a husband and wife team to capture as much as possible."
"They were so lovely and friendly and shared a lot of our interests which put us at ease. We had a lovely Sunday evening with them doing some prep photos and that really helped me feel Emma was one of the wedding party."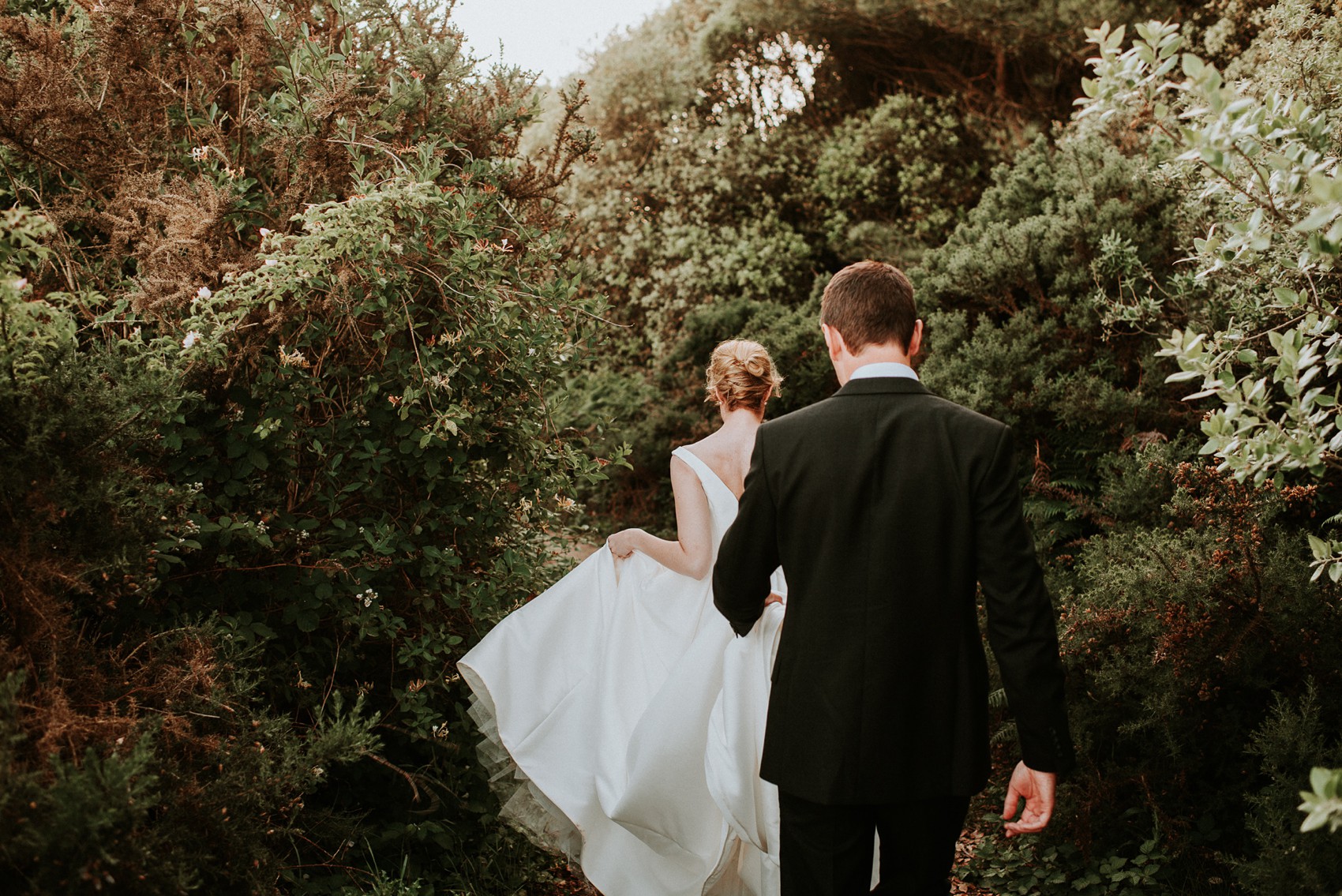 "She did a fantastic job of organising my hectic family and getting all the photos, as well as ensuring we were at each part of our wedding on time. The photos are so wonderful; they really capture the spirit of the day and I love how vibrant they are."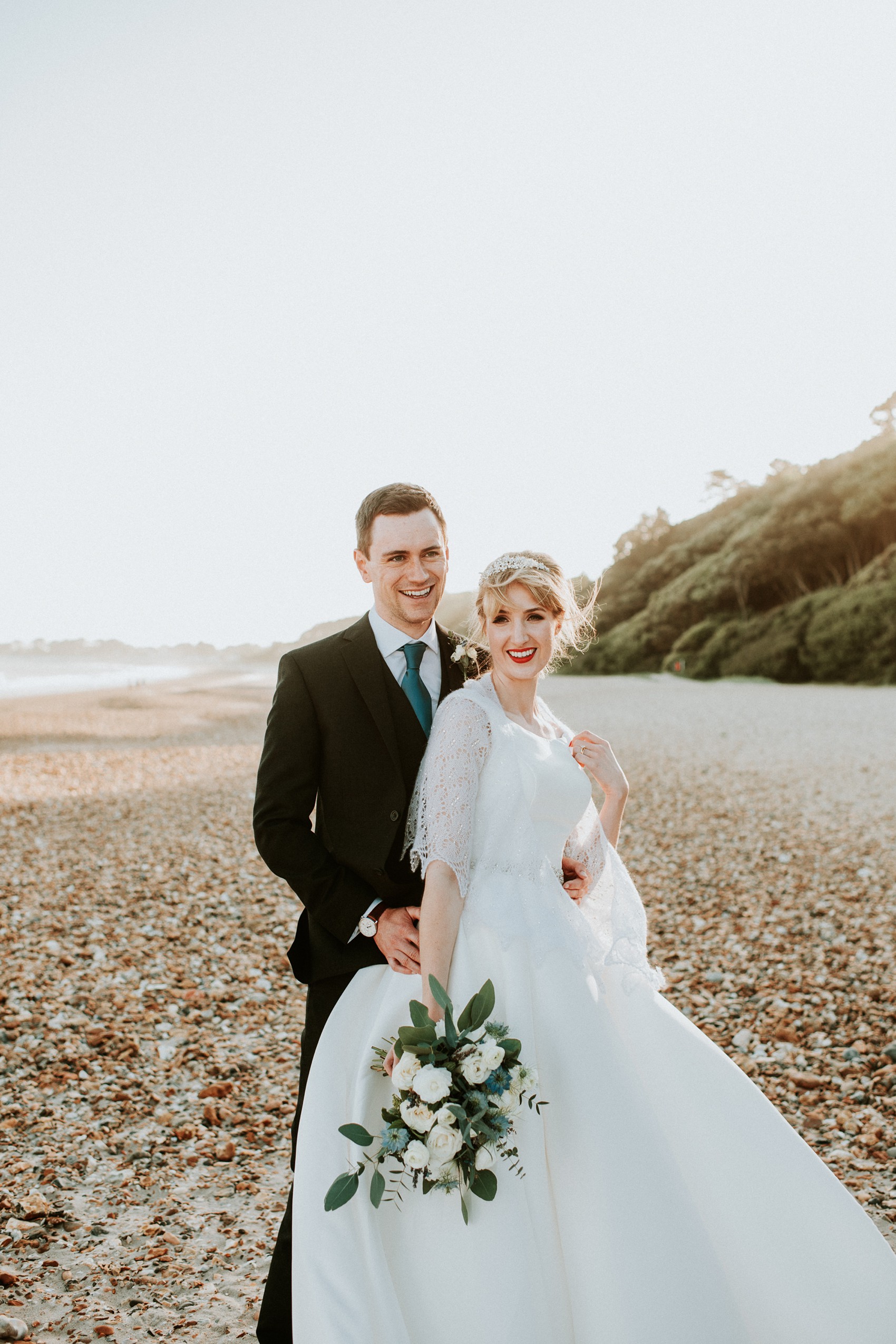 "What a miracle the weather was! The forecast was awful and we were very anxious. On the day, it was very windy but lovely and sunny and we spent most of the day outdoors. I was concerned about our portraits due to the wind but Emma and Ian captured it in a way which really adds atmosphere. I love the photos of my bridesmaids and I wrestling with my veil."
"We asked Alex Haynes Wedding Films to video the day. We didn't notice he was about most the time as he did a fantastic job of capturing things from the background."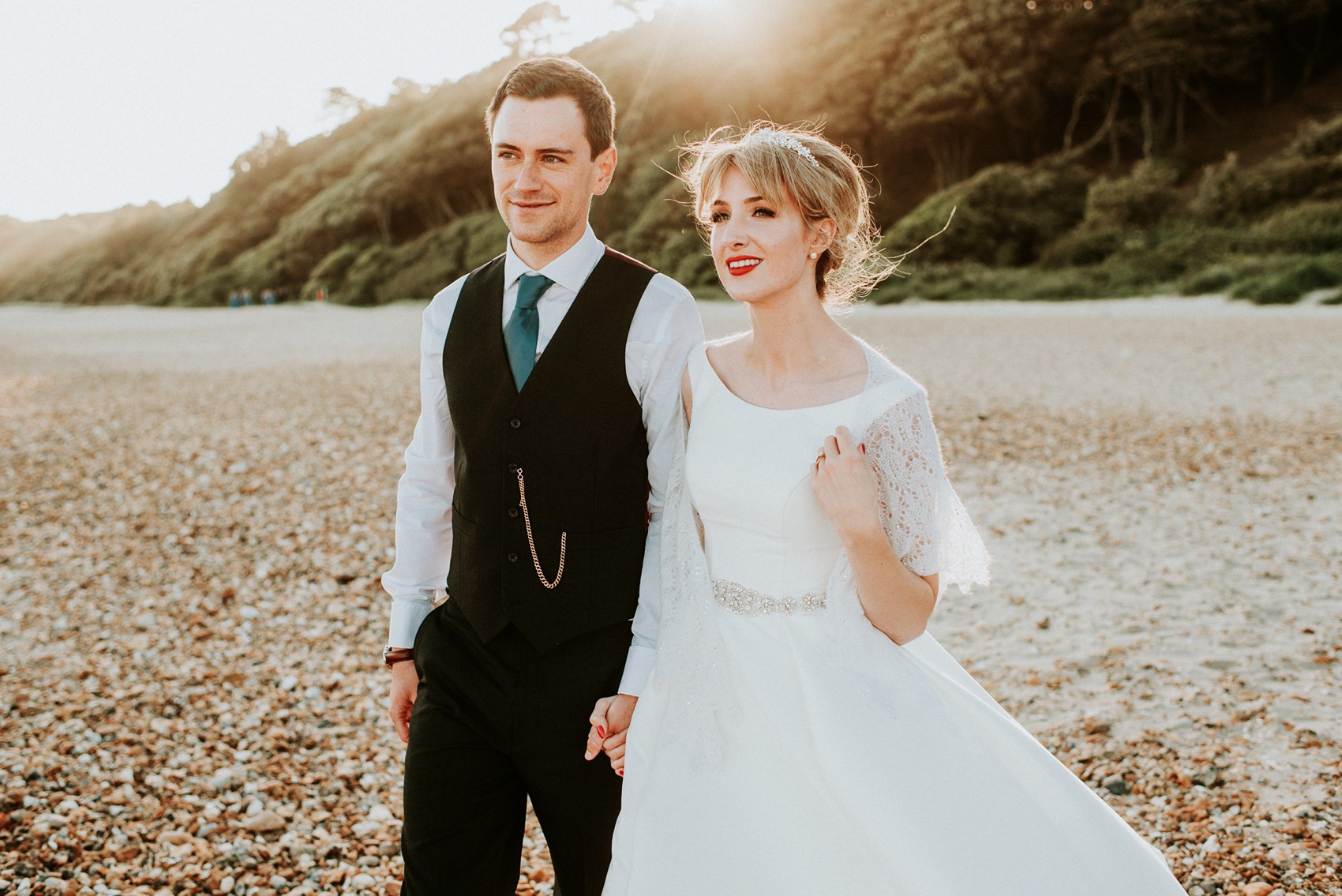 "I knitted a lace shawl to the 'Sweet Dreams' pattern by Boo Knits in an ivory mohair yarn with tiny clear beads. I started knitting once I was engaged and it took months!"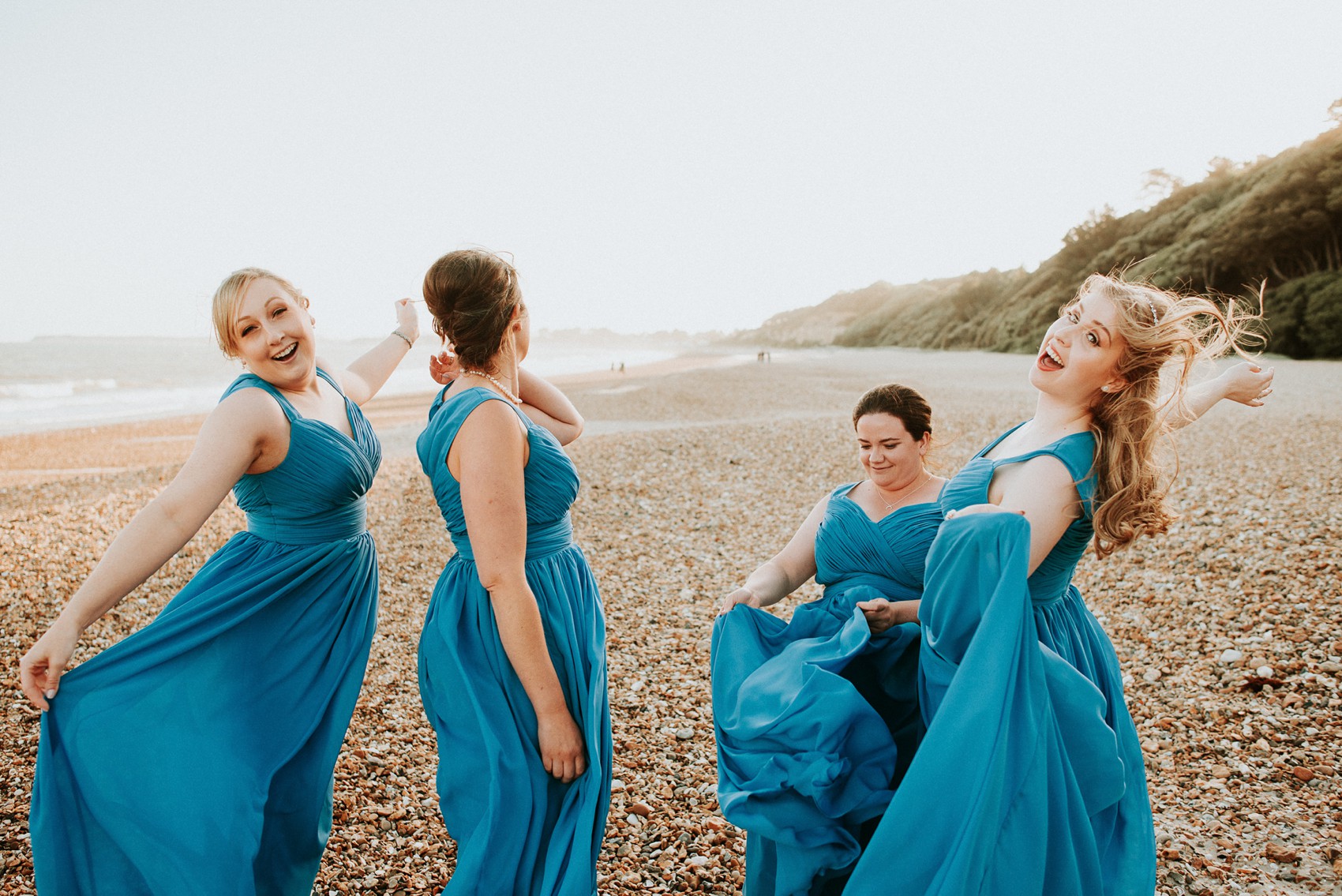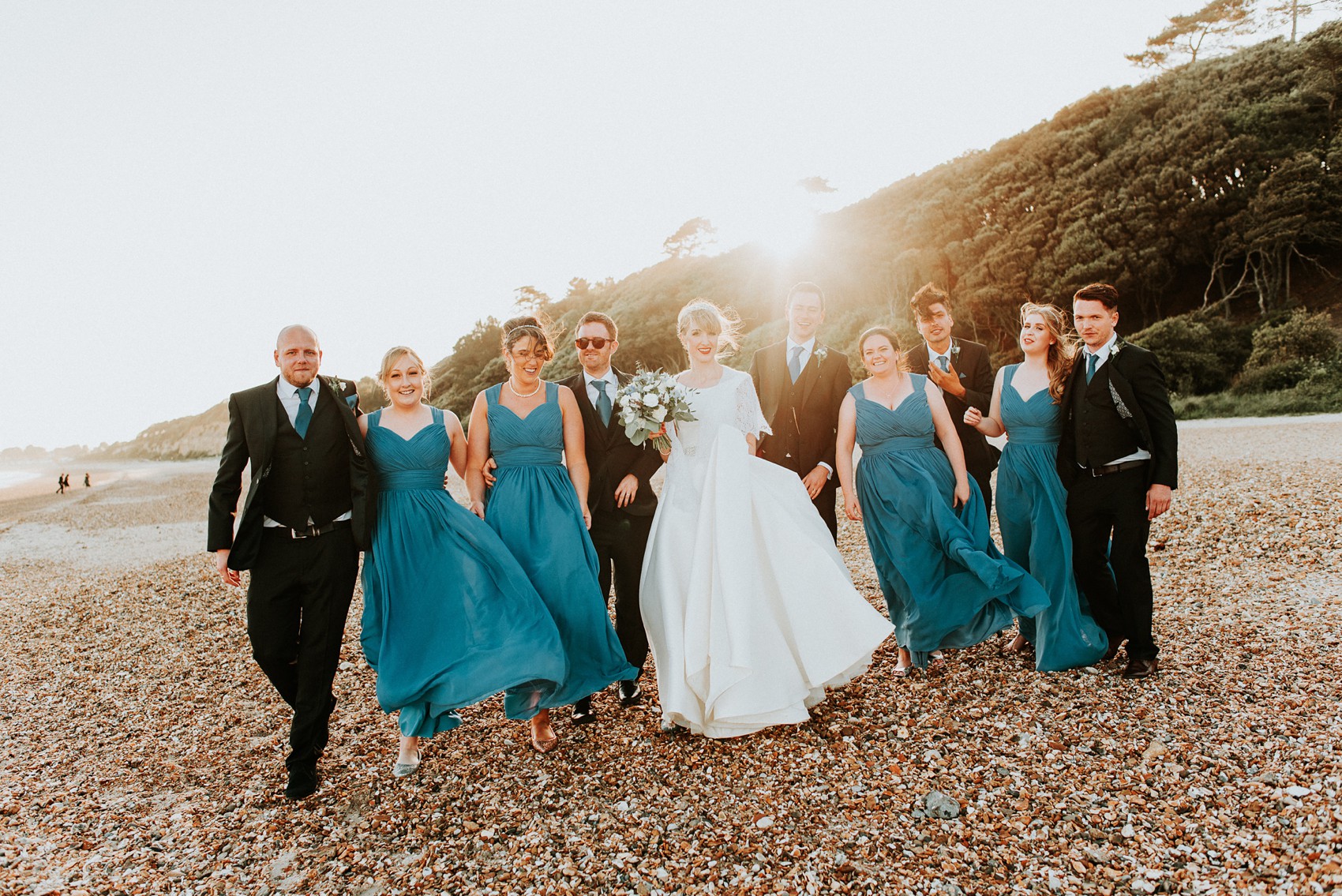 "My favourite parts were walking up the aisle to Sam in the ceremony and the speeches. My dad made reference to a troll I had a paddy over as a four year old and shocked me by bringing it along; I hadn't seen it for 25 years! Sam's favourite part was the ceilidh because it got everyone involved. I've had a few texts from people who twisted their ankles and got bruised from dancing so hard; sign of a good wedding I think."
Words of Wedded Wisdom
"Think about how you make decisions as a couple and use this strength. I am very creative but terrible at decision-making so I would pick two or three ideas I liked with photos from Love My Dress or Pinterest and got Sam to narrow it down to one option."
"Try not to sweat the small stuff. It's really hard when you're getting ready for a wedding and everyone is asking you to make choices about things you might not have an opinion on. Trust your suppliers; they've done this loads before and you picked them for a reason so let them help you make decisions."
"Start a Google spreadsheet with tabs for everything – budget and payment deadlines, suppliers details, your to-do list, guest info including addresses, their RSVP response and meal choices – and share it with your partner. When you open your gifts, make a note of what you were given and by who to is make thank you cards easier."
"On the day, remember you two are a team and you're there to enjoy the day together so try and soak in every second by taking a step back every few minutes."
"After the wedding, make sure you have a whole day to sit and reflect on every small detail of the wedding. Someone told me to write down your memories and reflections as close to the wedding as possible and I think that's a great idea – so much is slipping from my mind already."
"I was quite set against having anyone take photos on their phones because of the horror stories about people having them out in the official photographs. My mum convinced me to not be so strict and instead we requested they didn't take photos during the ceremony, so people videoed and snapped away during the rest of the day. The day after the wedding, the blues were real! Having photos from friends and family really helped cheer us up."
So many thanks Lauren and Sam for your beautiful photographs and story. Emma and Ian, thank you so much too for your vibrant and joyful photographs; it's been a privilege to share your work again here.
Ele xx