Pearls – do you love them? Perhaps you've noticed lately that there's been a bit of a pearl resurgence?
They've been popping up as embellishment on veils, capes, dresses, shoes and headbands, as well as gorgeous and contemporary statement jewellery pieces. Today's brilliant bride rocks them in her hair, ears, around her neck, and she looks amazing.
Images by Ruth Atkinson Photography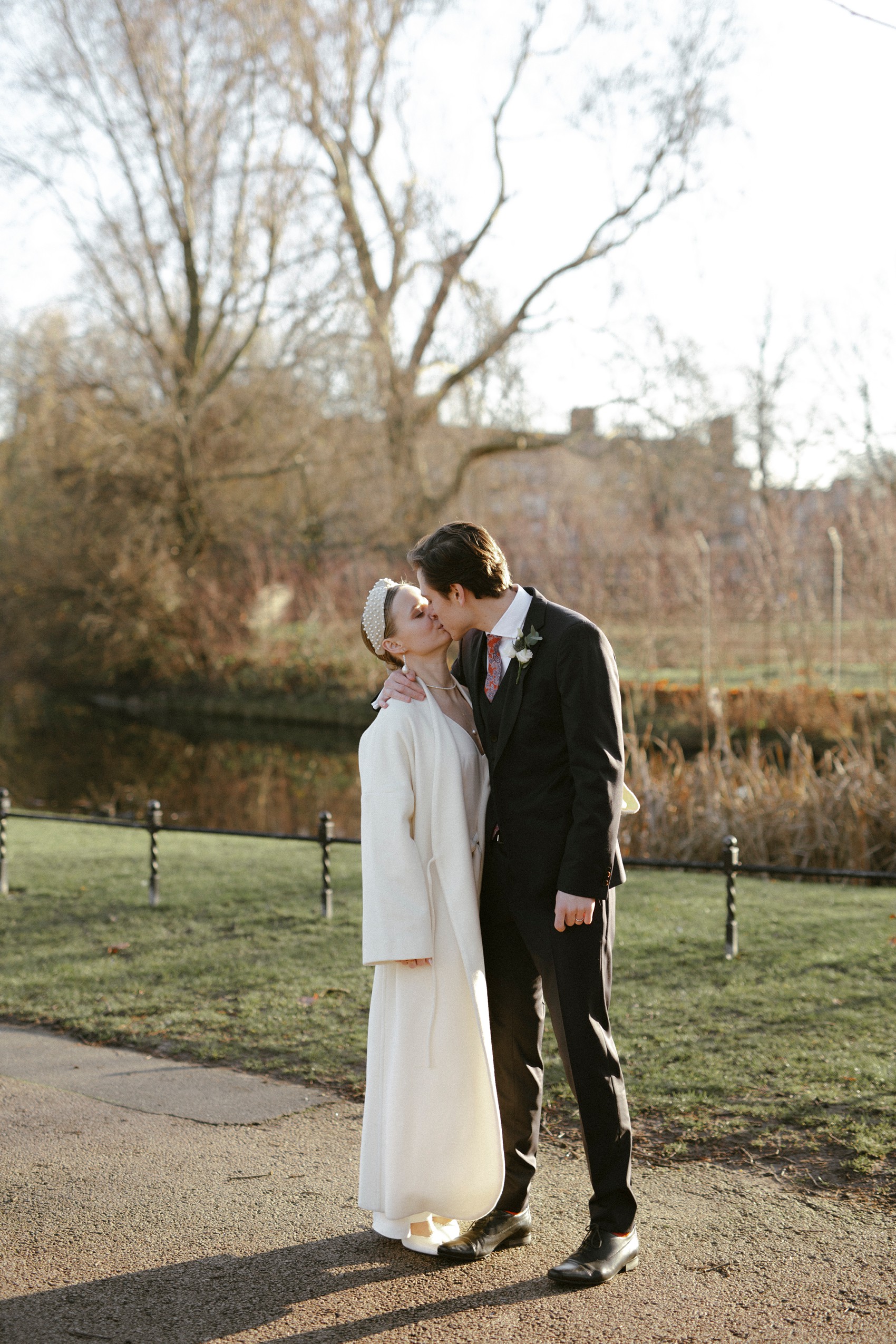 Graphic Designer and Structural Engineer Mr and Mrs Chatterton celebrated their marriage on the 28 December 2018 in the eighteenth century elegance of Clissold House, Clissold Park, in Stoke Newington, London. This was followed by a reception at restaurant Bistrotheque in Bethnal Green, East London.
"As the date was in between Christmas holidays, our choice was very limited as to which registry offices were open. We had to choose between Shoreditch Town Hall and Clissold House, and we thought it would be much nicer for us and our guests to arrive at a lovely park, plus we walk past the house a lot every time we visit our family, so we felt more connected to the area."Capturing the complete joy of the day, not to mention the plethora of super-cool and stylish details was Little Book member Ruth Atkinson.
"We absolutely love her! Couldn't recommend her highly enough. I love the feel of her photography, it doesn't feel edited to me, it feels natural. As soon as I found her website, I knew I wanted her to photograph our wedding. I emailed her before we had even set a date!"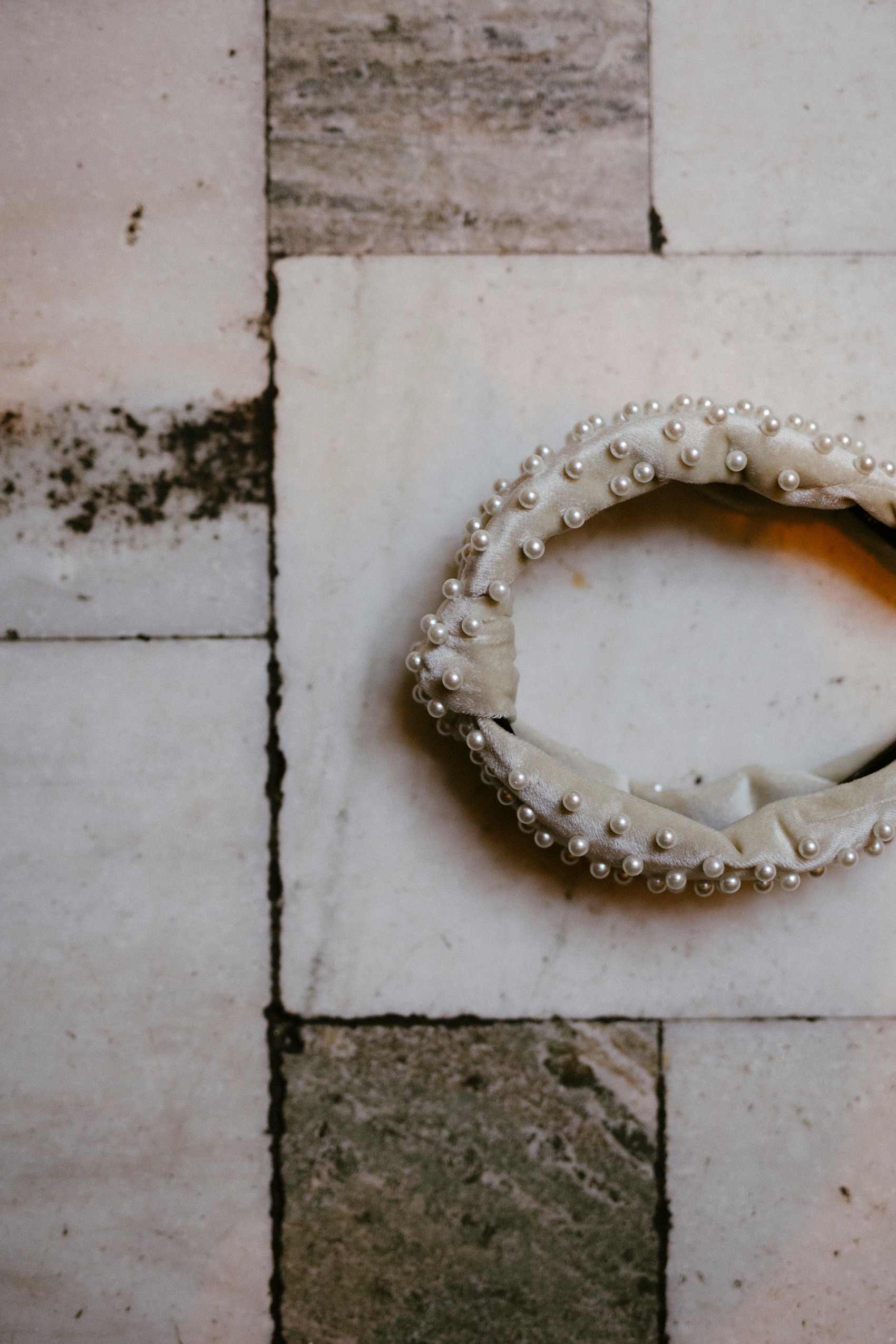 With her hair styled into a simple, polished bun by hair and make-up artist Sophie Higginson, Mrs Chatterton added a knotted and padded white headband covered in pearls by Lele Sadoughi, purchased via Mytheresa.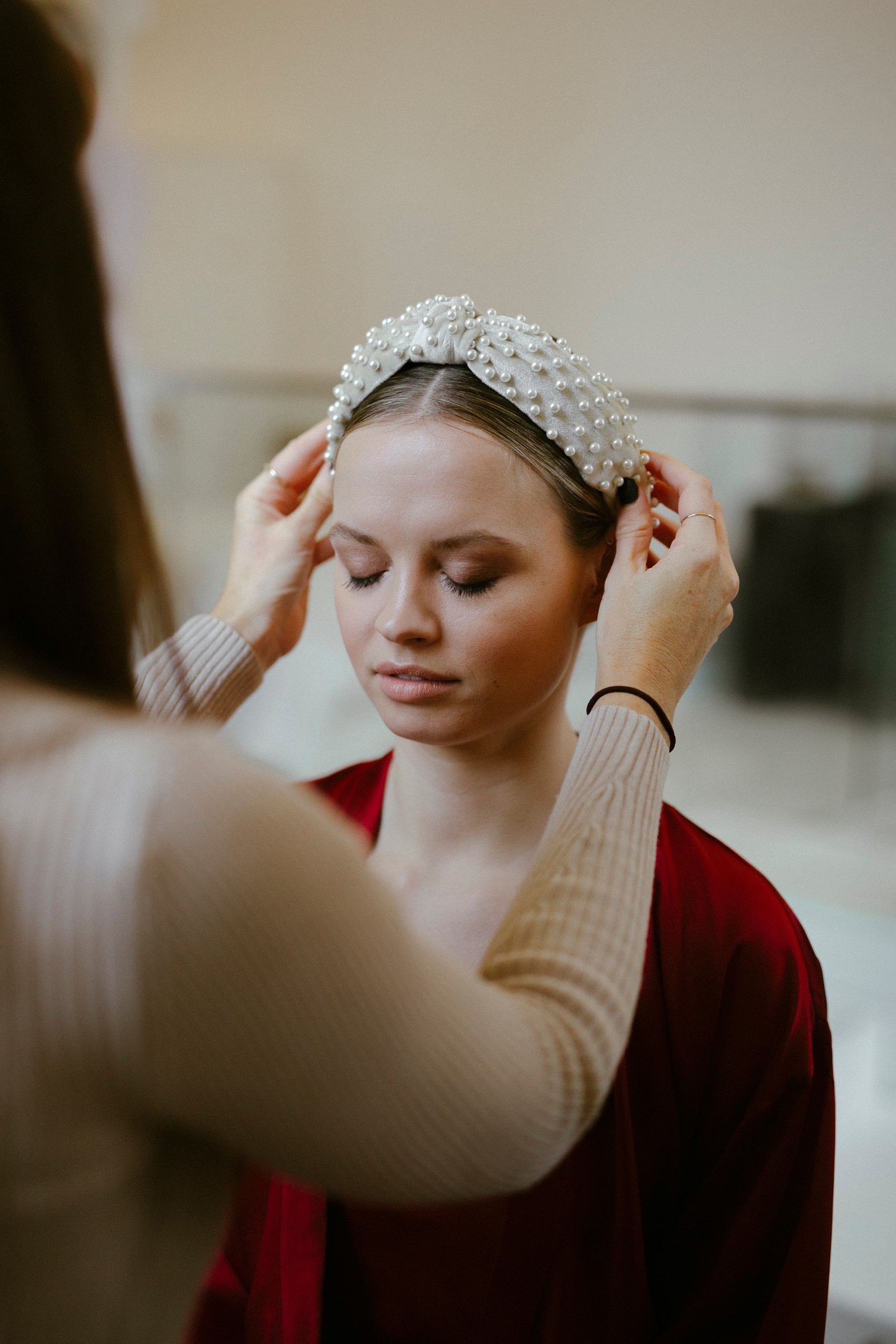 Mrs Chatterton wore the most incredible freshwater pearl drop earrings, as well as a seed pearl choker, delicate pendant necklace and rings by her sister-in-law, Jessie Harris.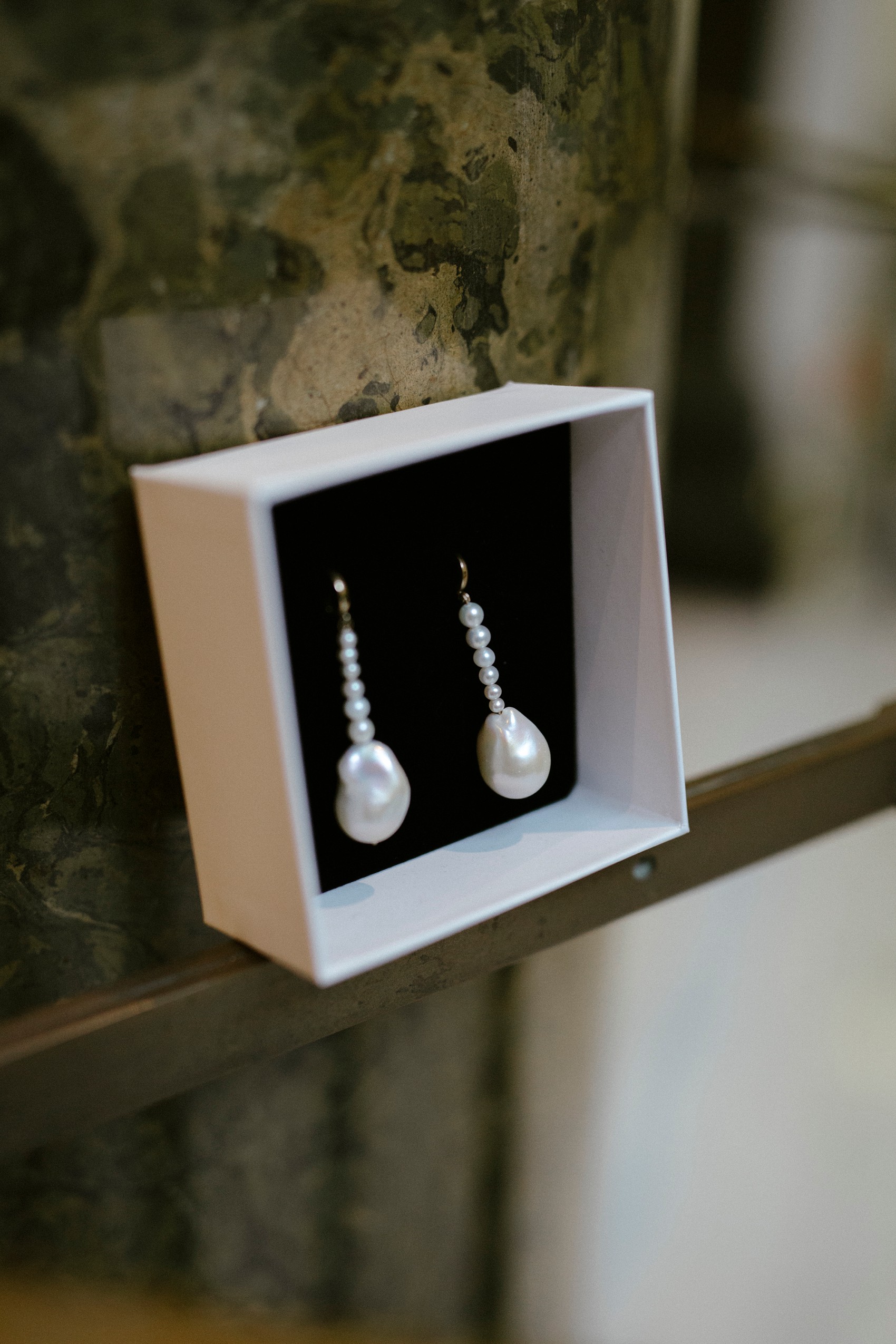 Mrs Chatterton's elegant dress with its fluted sleeves, which was nipped in at the waist with a tied belt, was by Marina London (which is sadly no longer operating).
"I knew I wanted a dress that would complement a lot of jewellery, because my sister-in-law Jessie Harris is a jewellery designer, and she is a huge style muse."
"Together we decided we were going pearl-tastic. When you have big pearl earrings, two necklaces and a pearl headband, everything else has to be simple, otherwise it wouldn't have worked."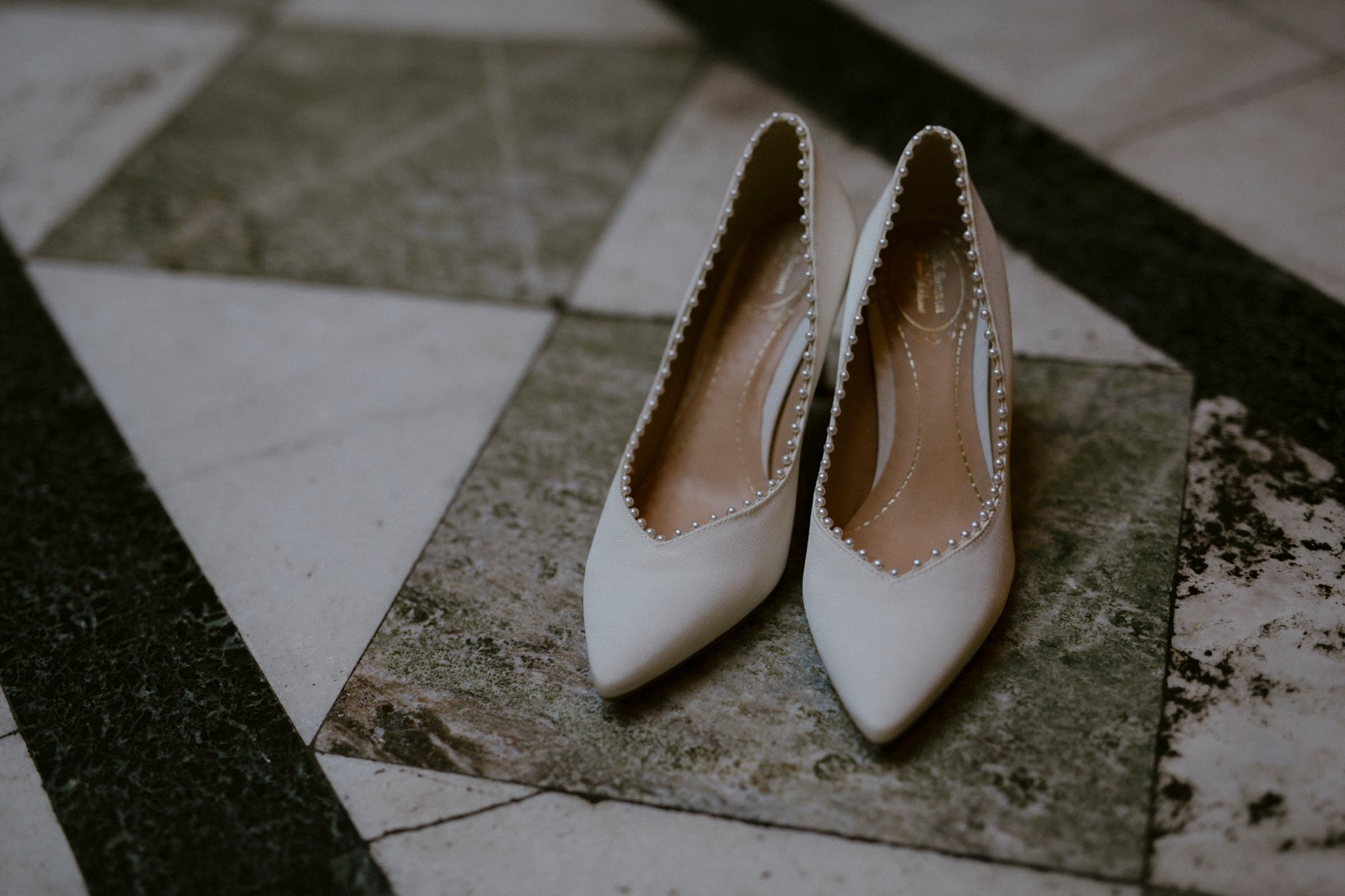 The bridesmaids wore an array of amazing white outfits of their own choosing, and everyone carried bouquets of snowy white blooms and eucalyptus, all made by the bride's mother-in-law (whom she describes as 'Superwoman'!).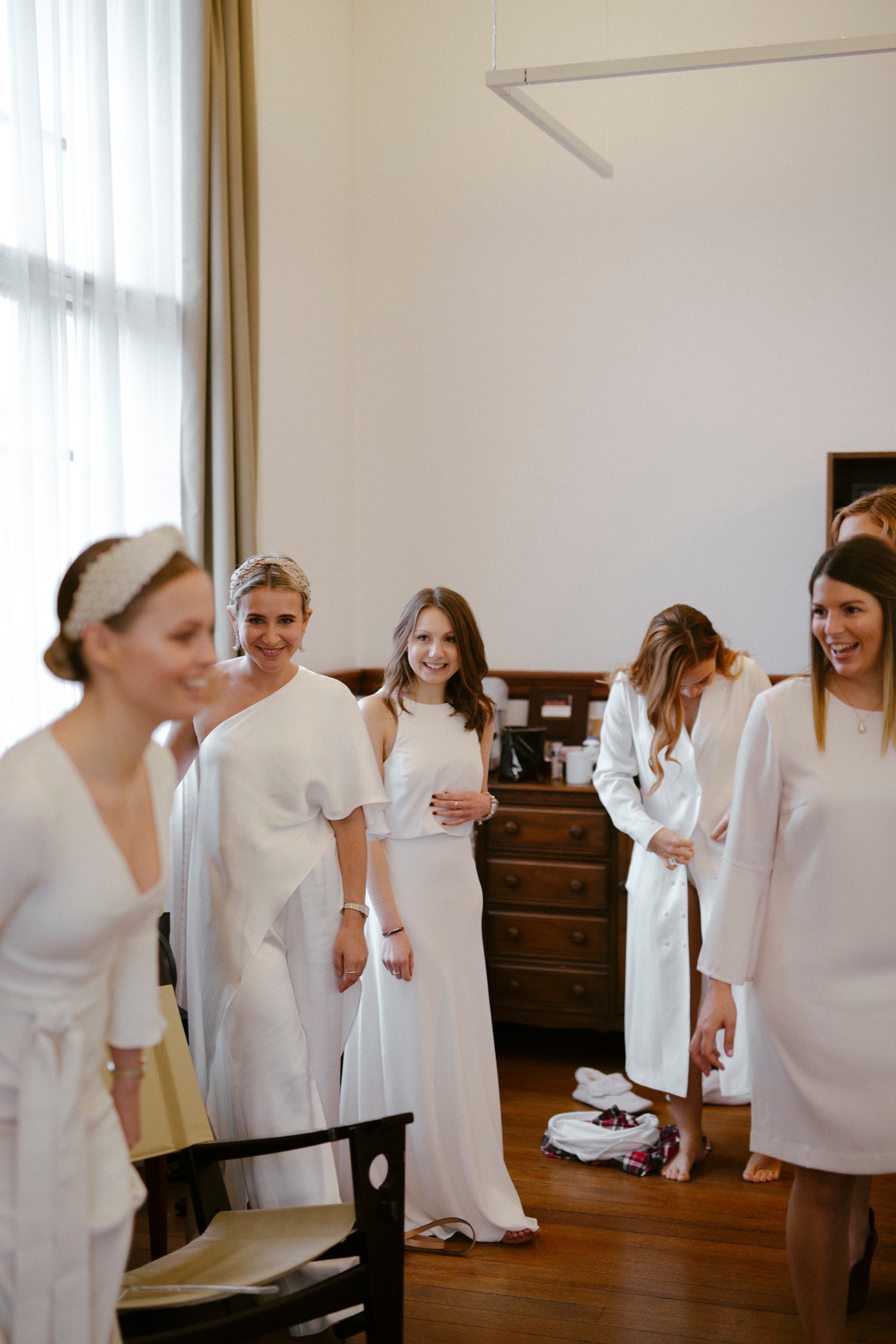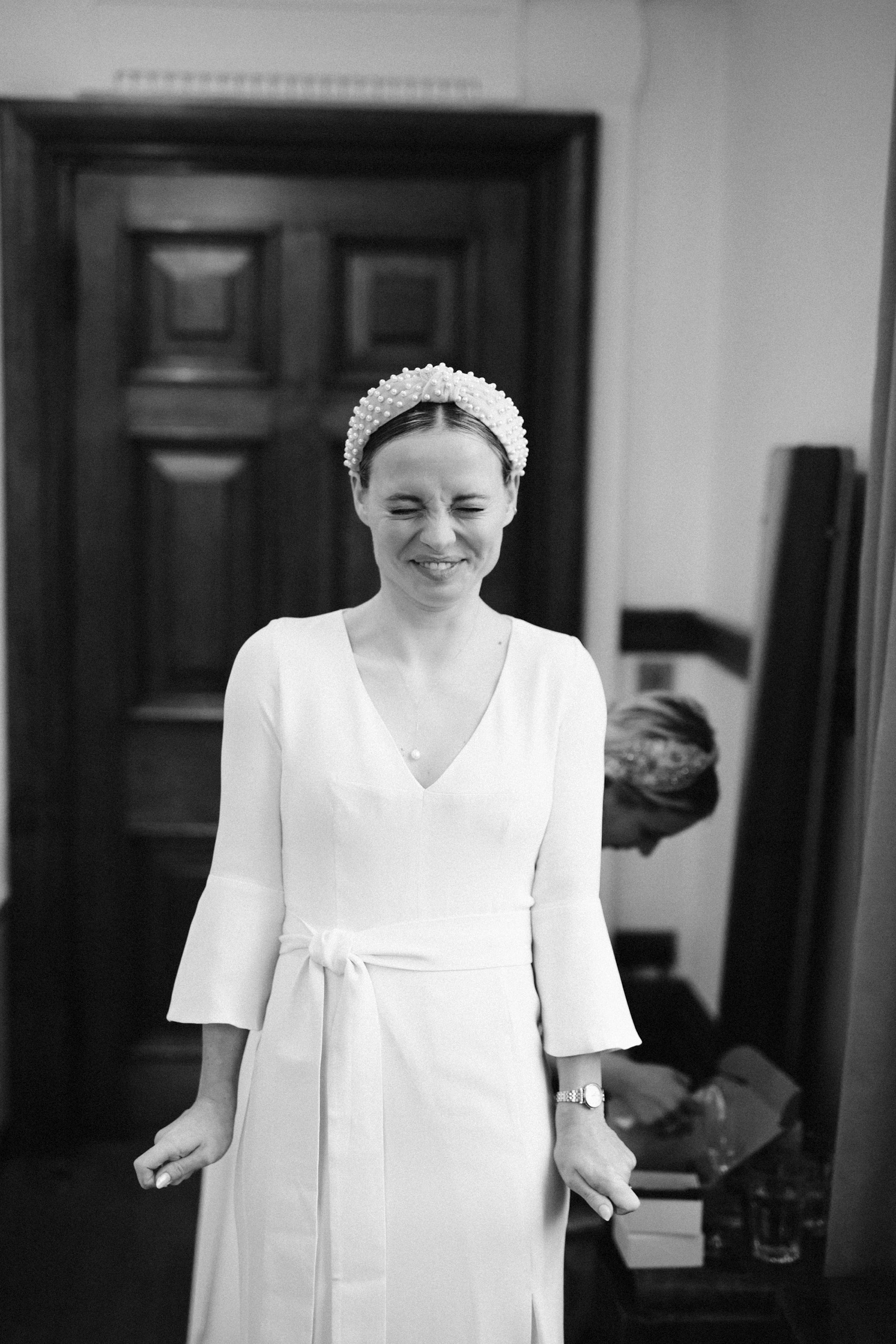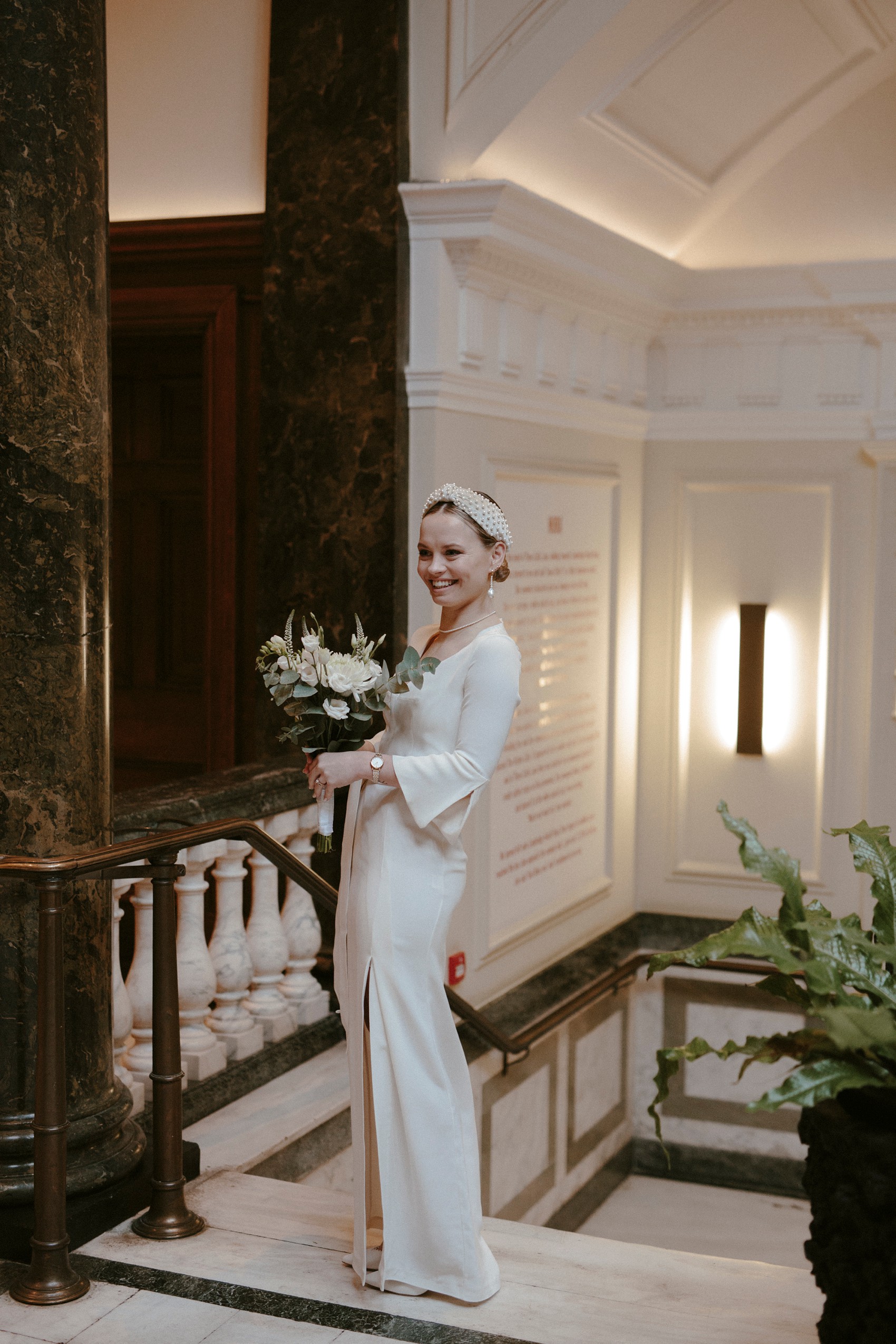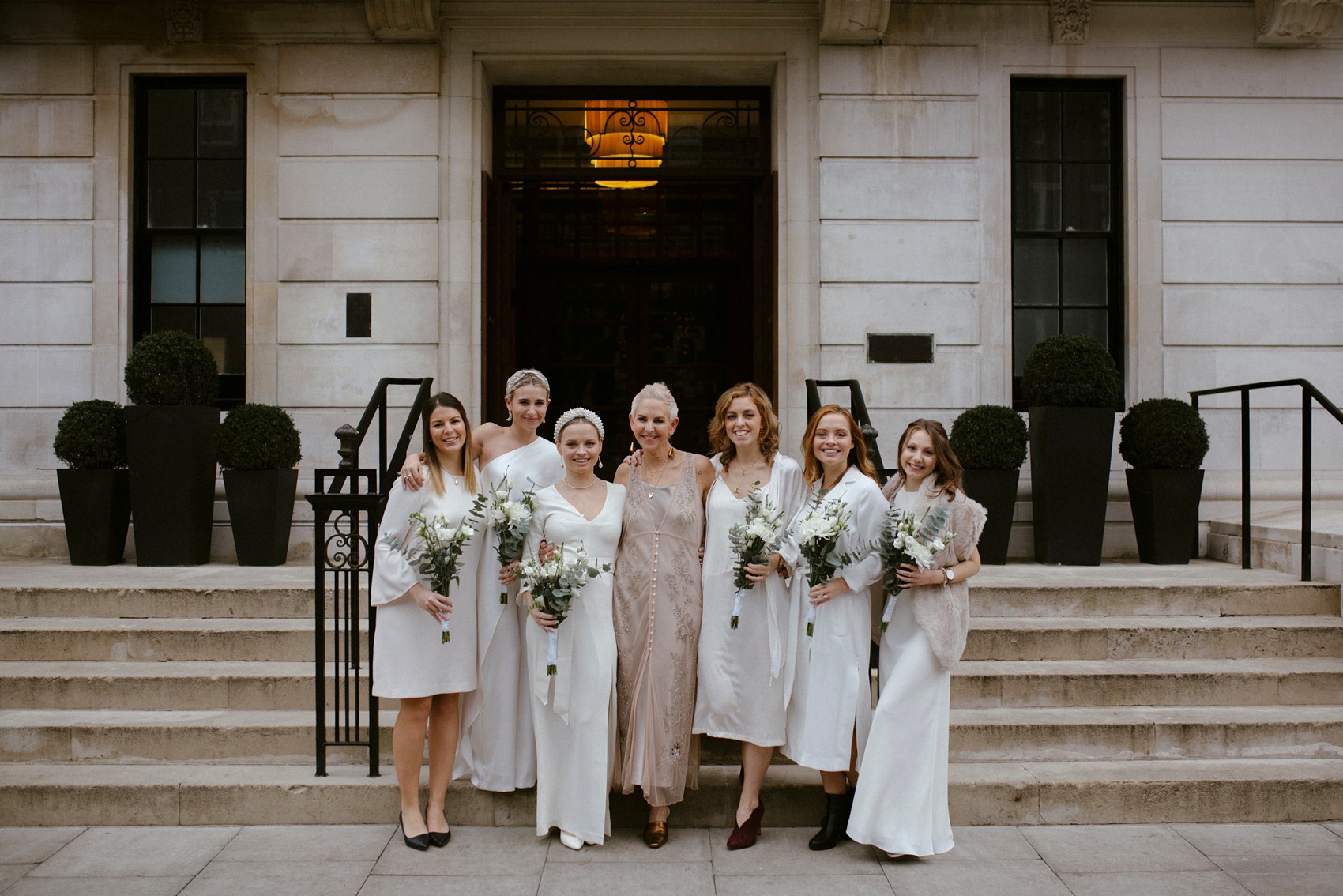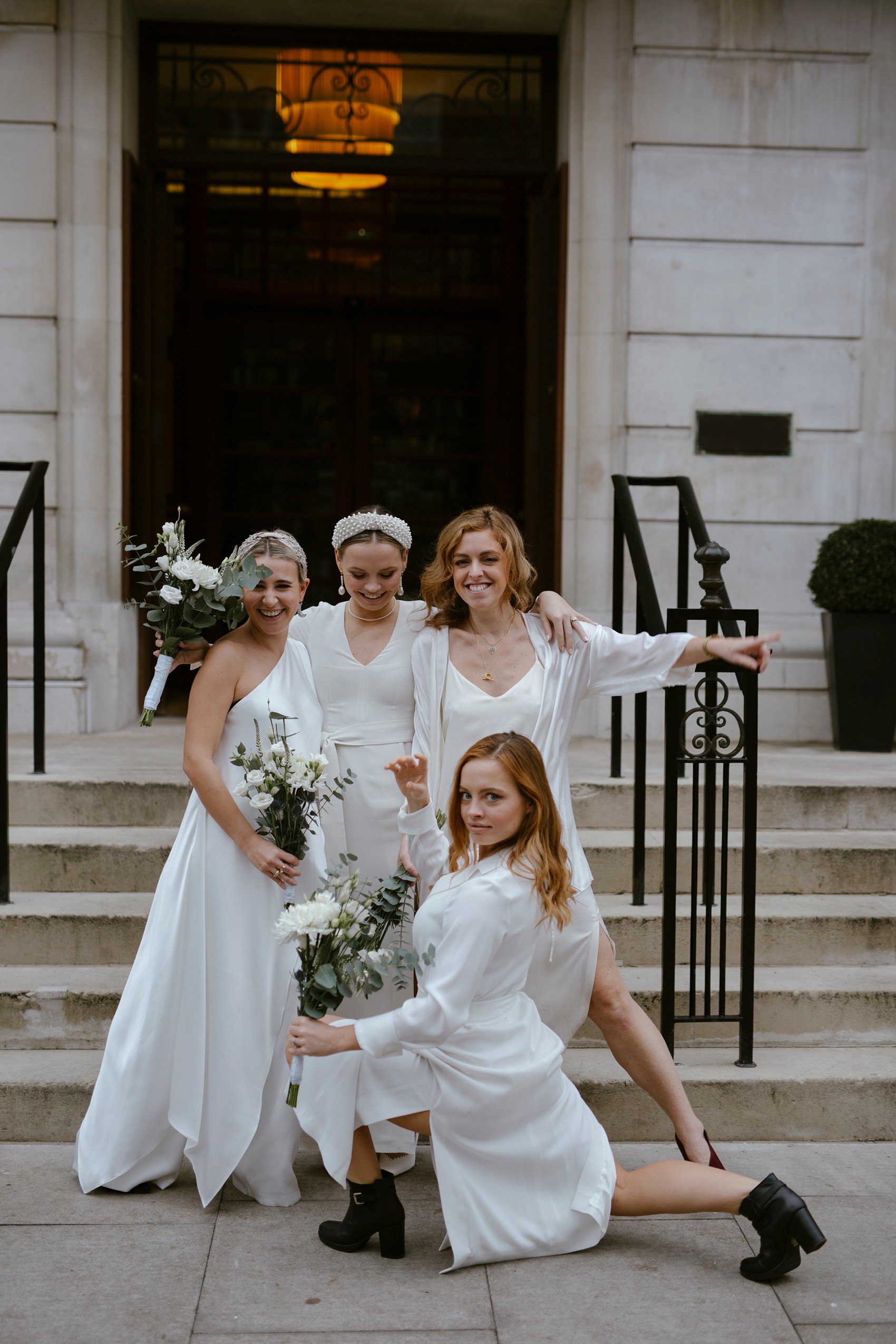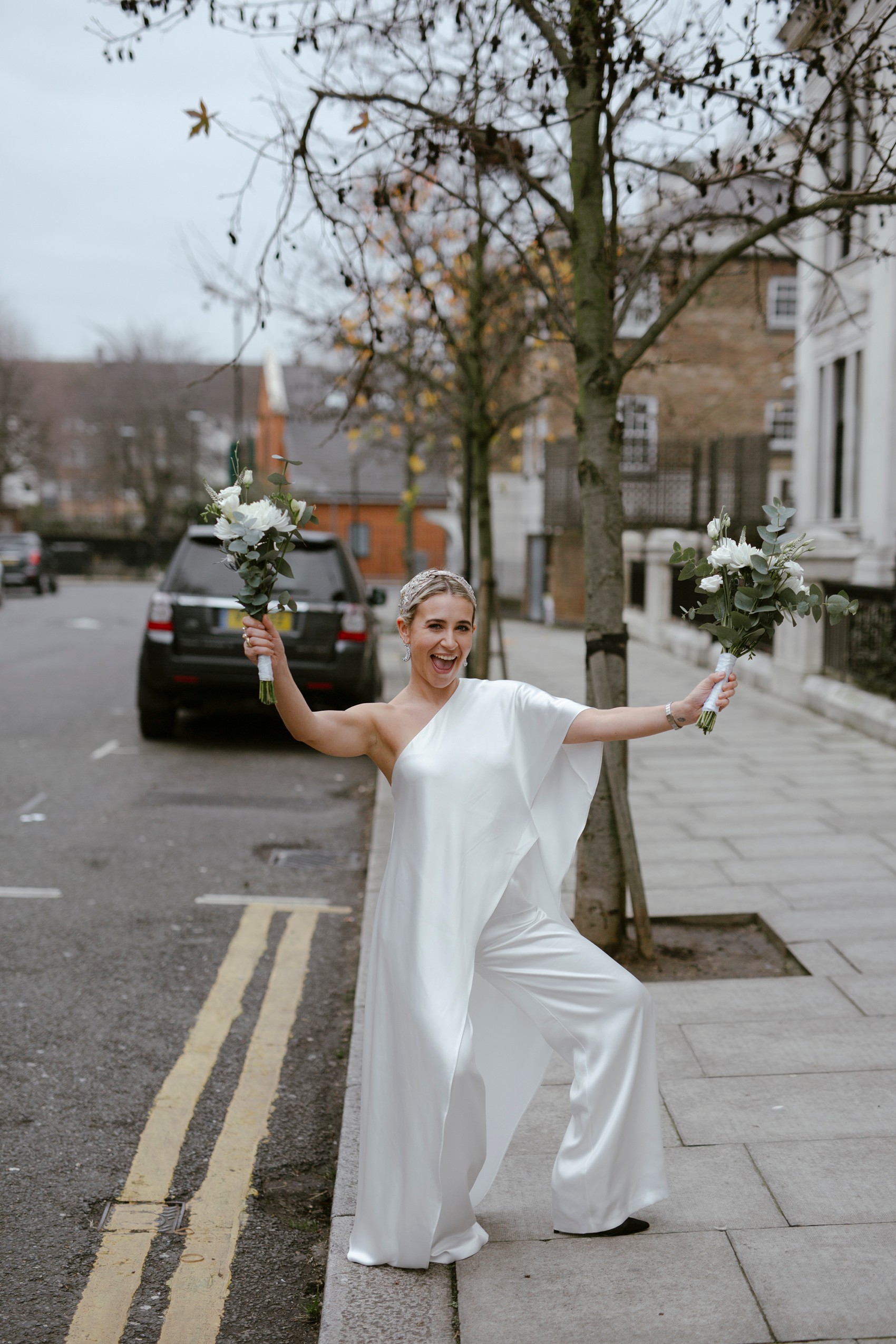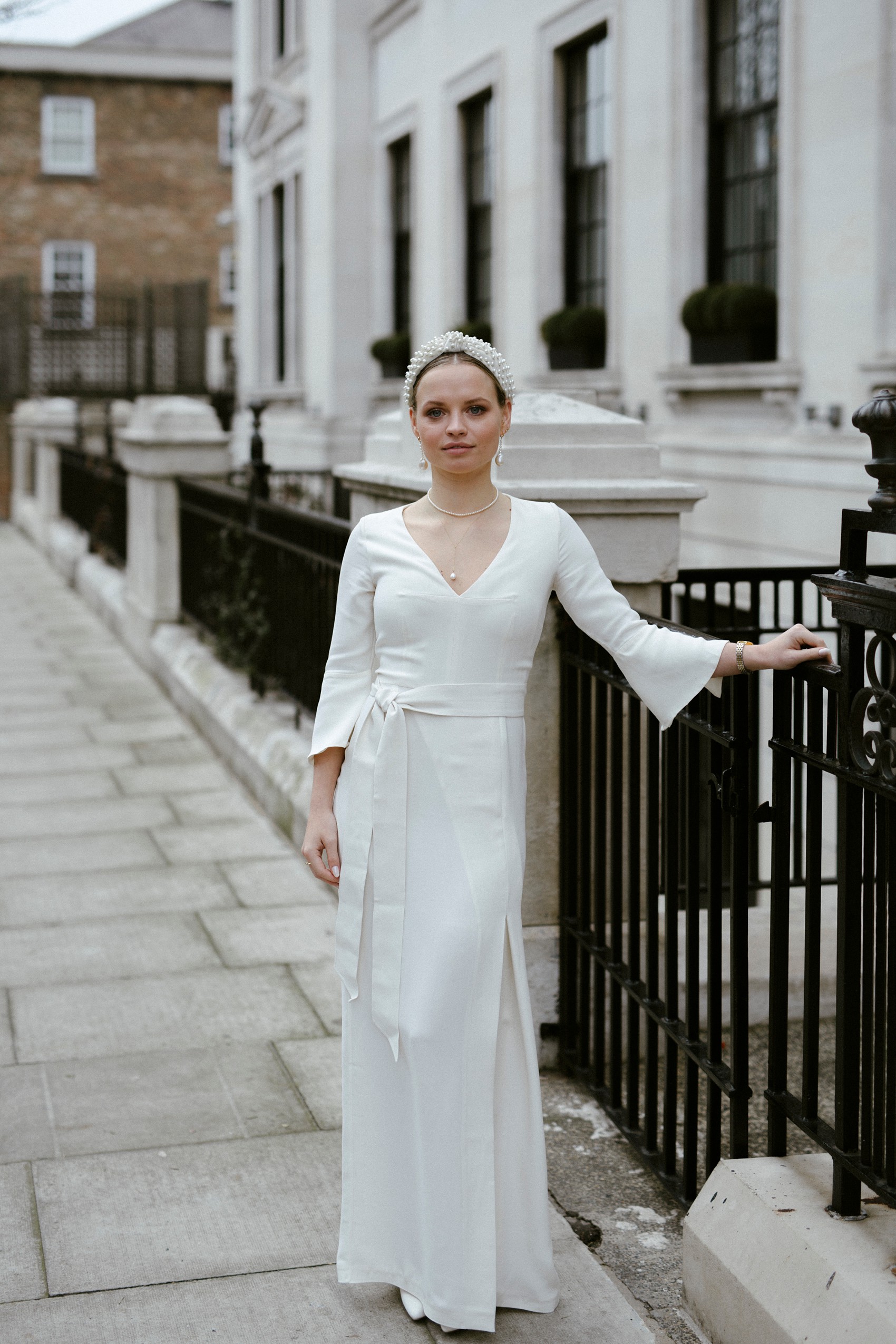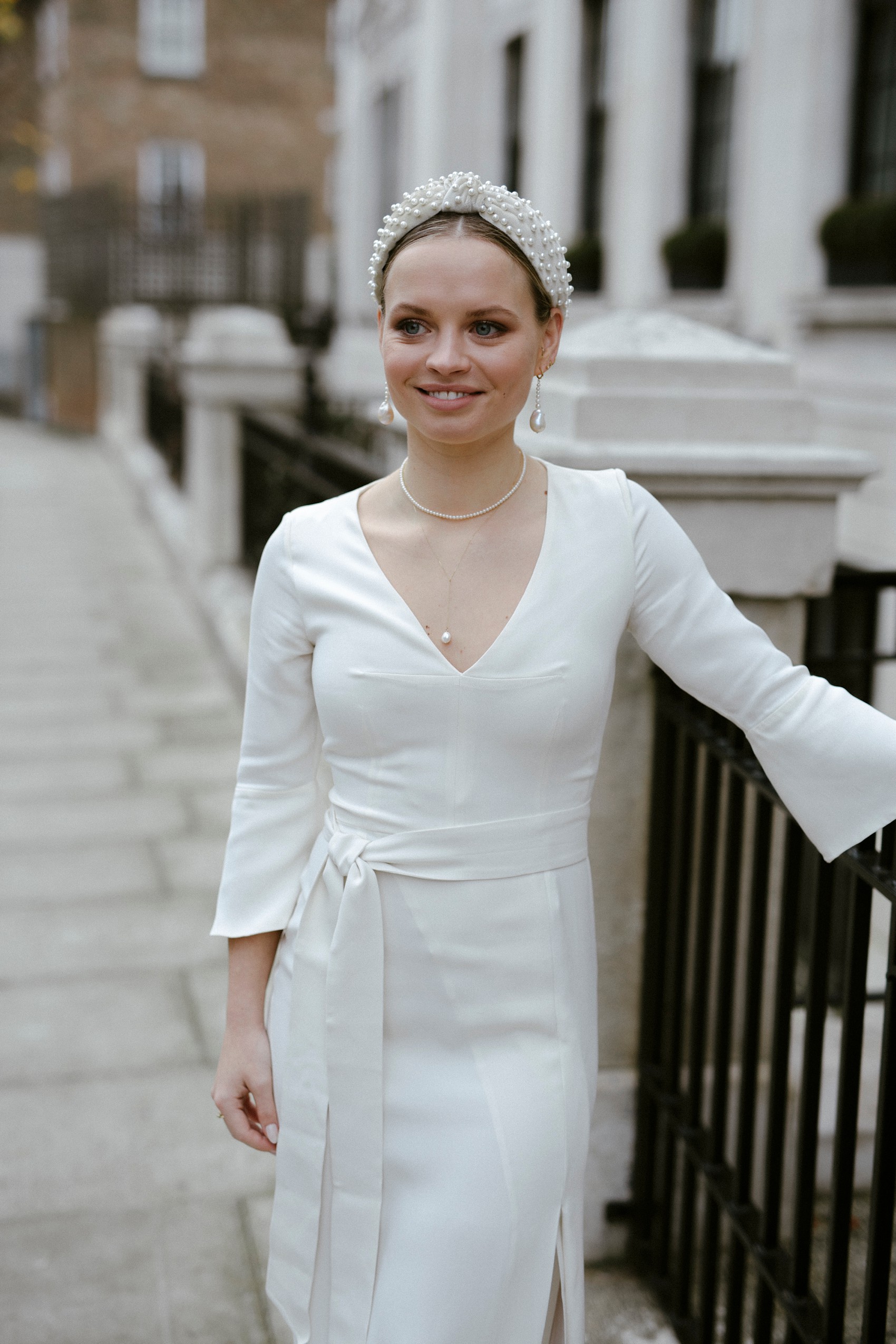 To keep out the winter chill, Mrs Chatterton also wore a beautifully draped coat (sadly, no further details about this), taking inspiration from another modern style icon.
"I have always been very inspired by Ashley Olsen's style – I don't know, maybe because I am an identical twin myself, or maybe because I am a 90s child (!) but the Olsen twins' label, The Row, is what I am forever inspired by, and that is also how I knew that I must have a good coat."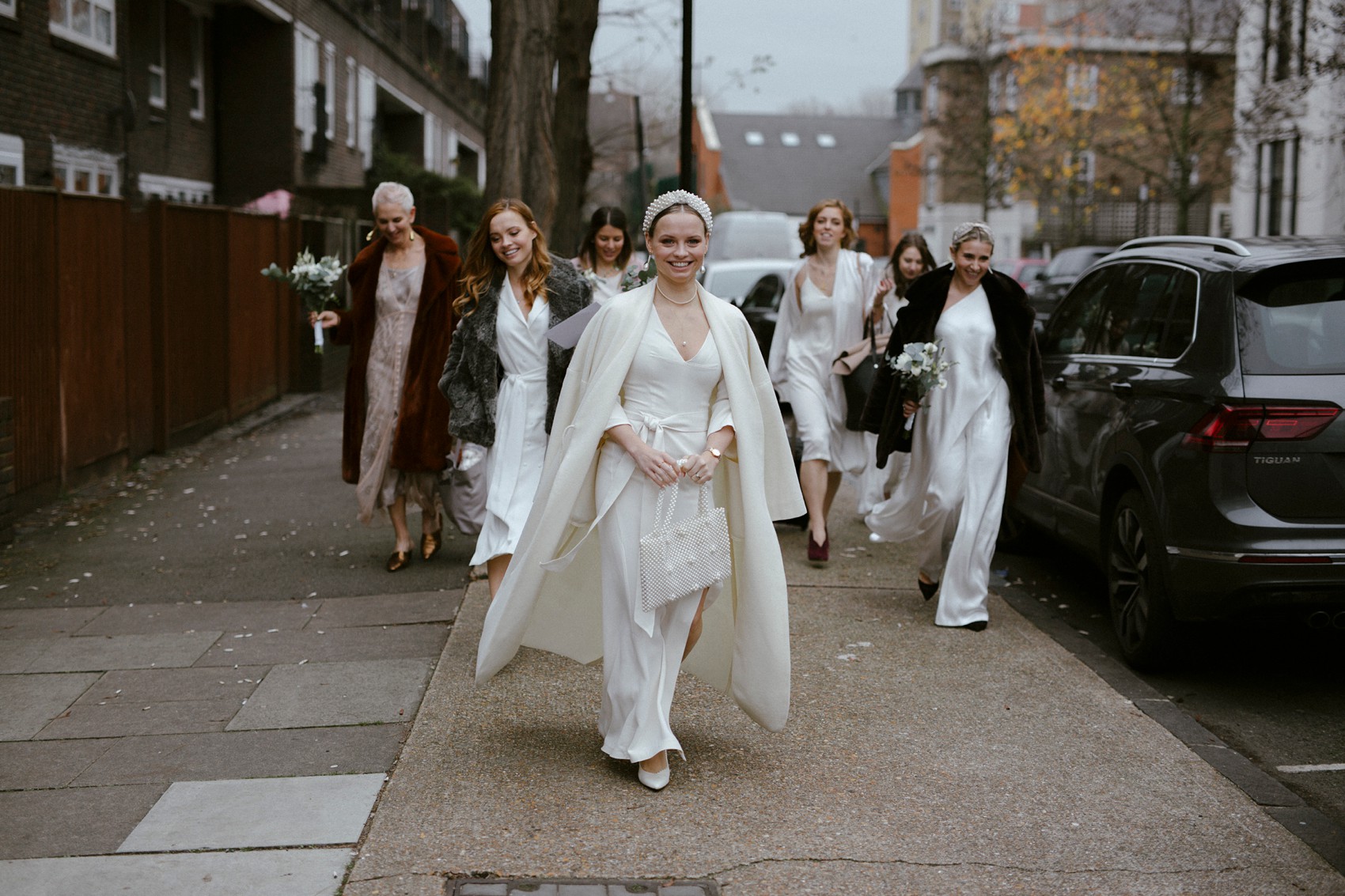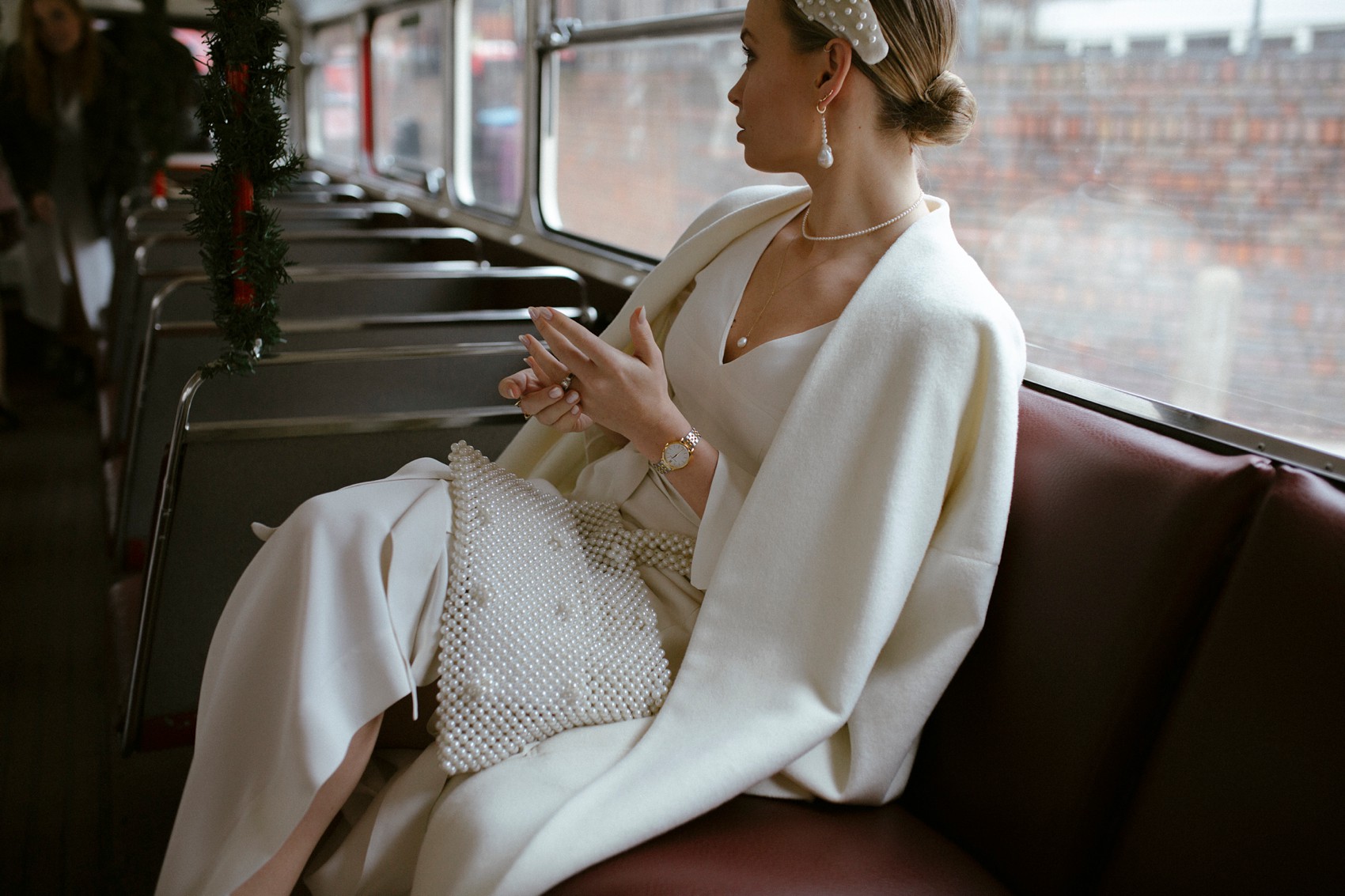 The bridal party made their way to Clissold Park in a white 'Wedding Special' vintage Routemaster bus, hired from London Retro Bus Hire.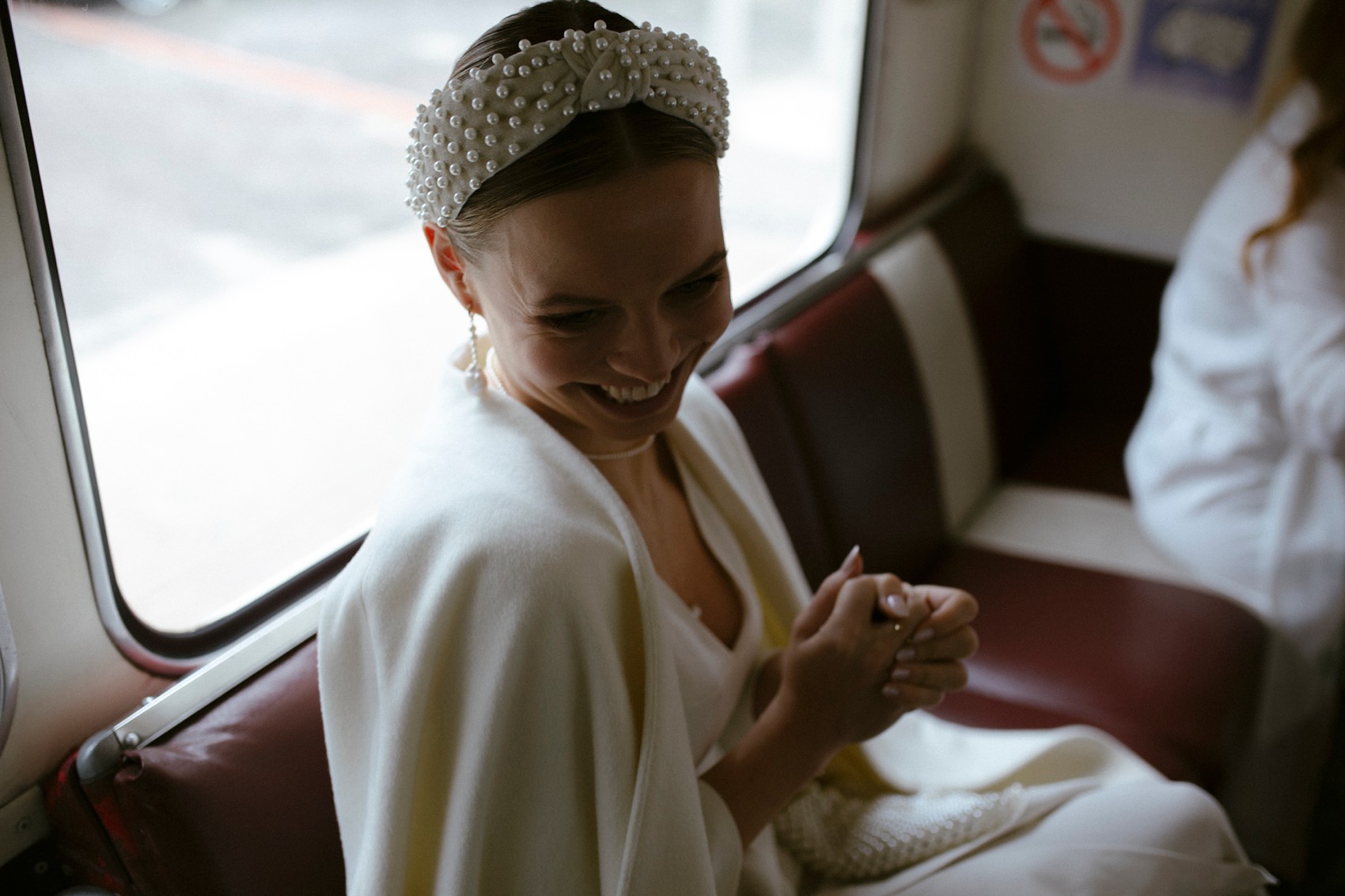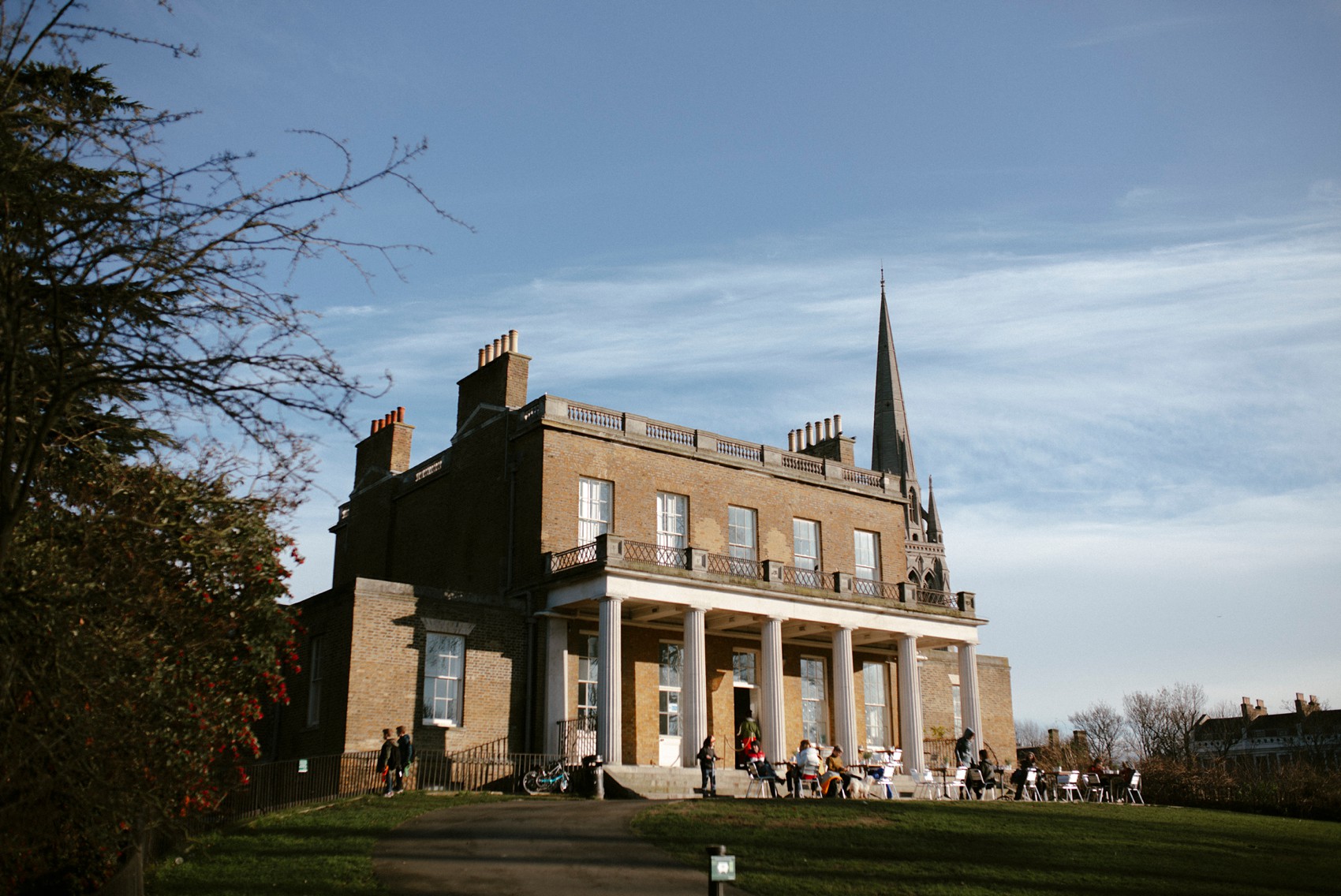 Mr Chatterton wore a smart navy blue suit by Hugo Boss, paired with a white shirt, and brightly coloured Paisley tie from T.M. Lewin. The groomsmen wore their own suits and matching Paisley ties.
]Mrs Chatterton's best friend played the melody from the song A Thousand Years, by Christina Perri, as she and her dad took their emotional walk down the aisle to begin the ceremony.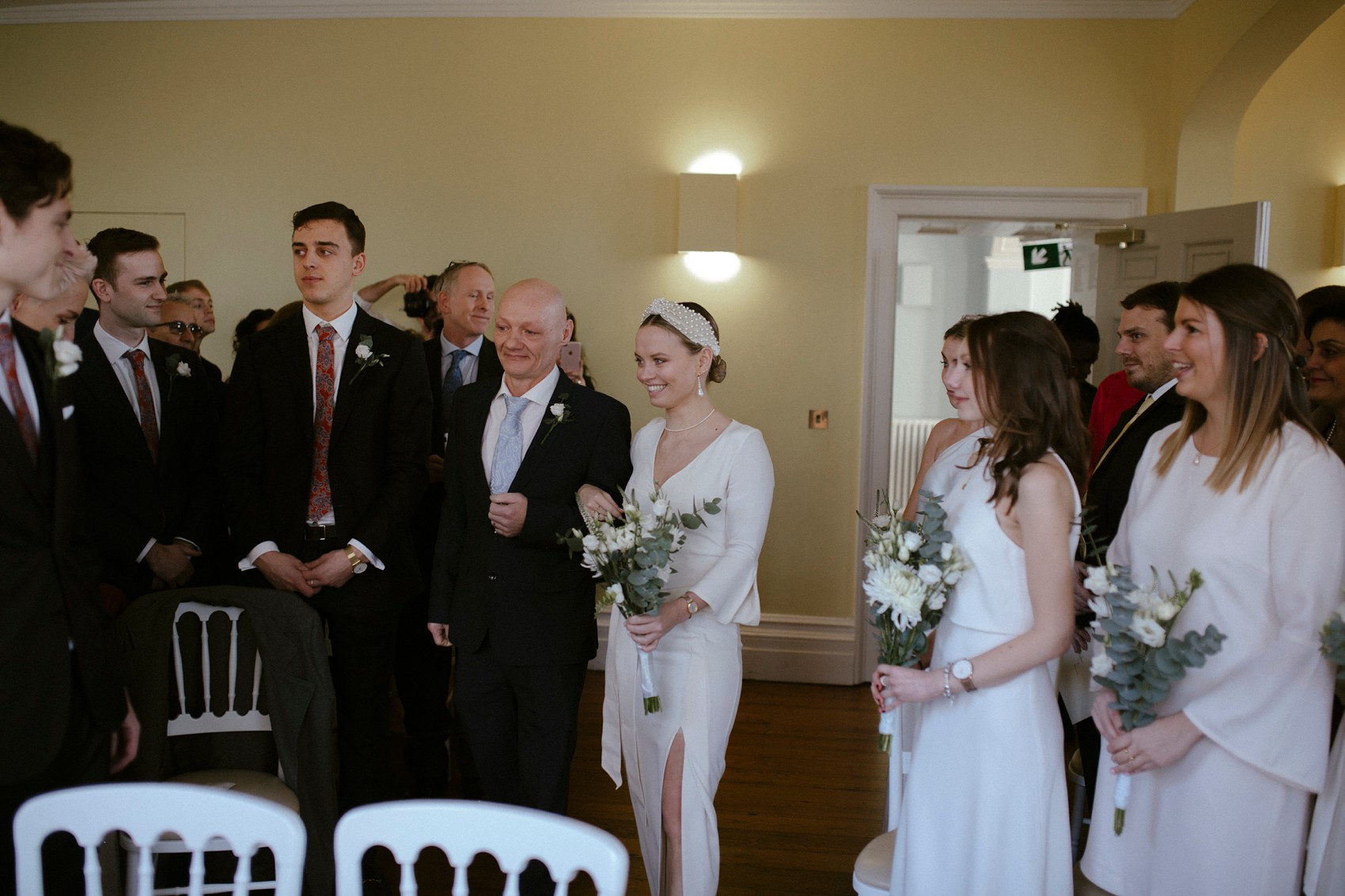 "We met at college when we were only 16, and we spent 2 years of our college lives being best friends. Dylan tried asking me twice in those 2 years, but I was very hesitant because we were best friends and it should stay like that."
"After college finished and the summer before starting university, I had this huge realisation: why am I not with Dylan?!"
"At a friend's house party in July, I walked up to my best friend and told him, 'I want to be your girlfriend'. He smiled and said, 'Okay'. We were 18 at the time, and the rest is history really. We had been together for over 8 years when we got married."
"He proposed on a holiday in Norway, when we were up on a mountain hike, bless him. I totally knew he was going to do it, I even had a bet with my twin sister and told her what day I reckoned during that 2 week holiday he might propose, and I got it right! I just know him so well."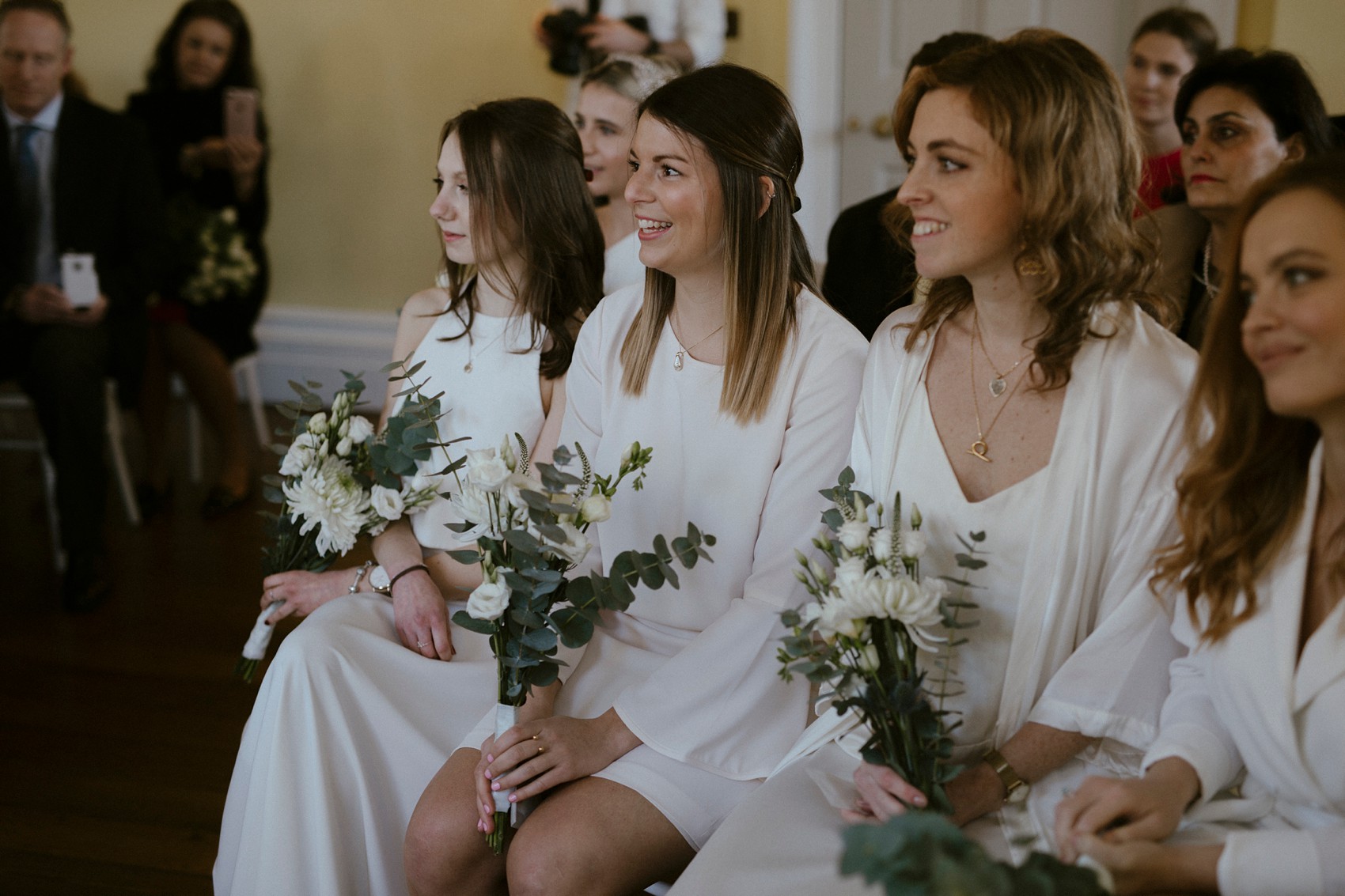 Jessie Harris had designed her sister-in-law's engagement ring, and the couple also asked her to design two beautifully distinctive wedding bands for them, too – a gold twisted design for her, and a simple, platinum ring for him.
The couple said their specially written vows to one another, which they have kindly shared extracts from with us here.
"I promise to listen, to always be the person you can tell anything to; even when you have nothing but silence to offer, I will listen. I promise to share my umbrella with you when it rains, because no relationship is all sunshine, and because sunshine all the time makes a desert."
"I don't expect you the stay the same; I love you for who you are now, and I love the mystery in who we are becoming. I promise to always remain open, open to love, open to growth, open to new perspectives, and never afraid of change. I can't promise you it will be easy, but I promise you it will always be worth it."
"A snippet from my husband's vows: I promise to live beside you, walk beside you, fight beside you. I promise that no matter where our journey takes us, I will stand proudly by you. If you wish to explore, I promise to explore with you; If you wish to lay still, I promise I will lay with you; If you wish take a leap of faith; I promise to jump with you."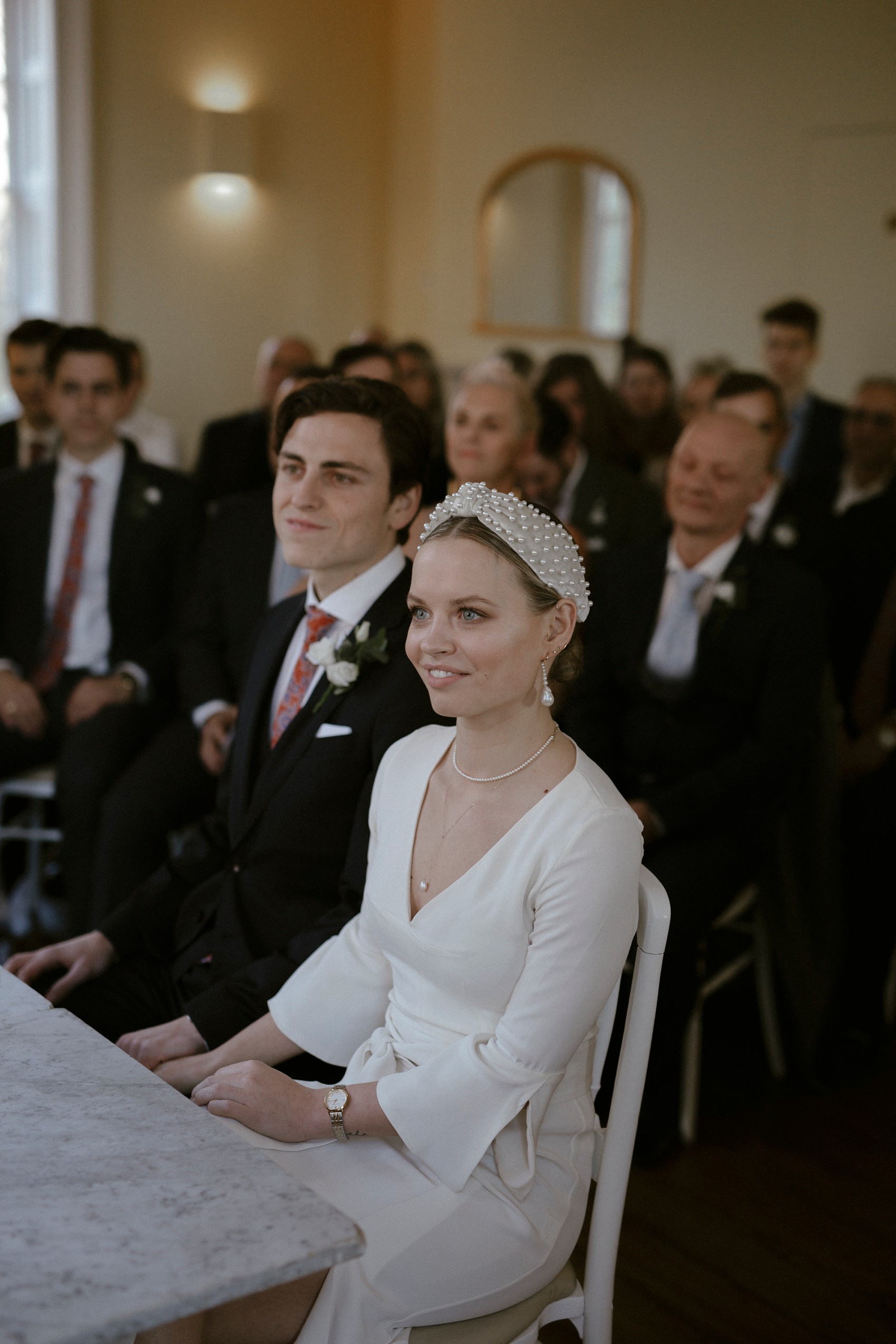 The couple asked three special people to choose and deliver readings during the ceremony, too, which they all kept a surprise until that moment. One of pieces were the lyrics from the song Rhythm Changes, by Kamasi Washington.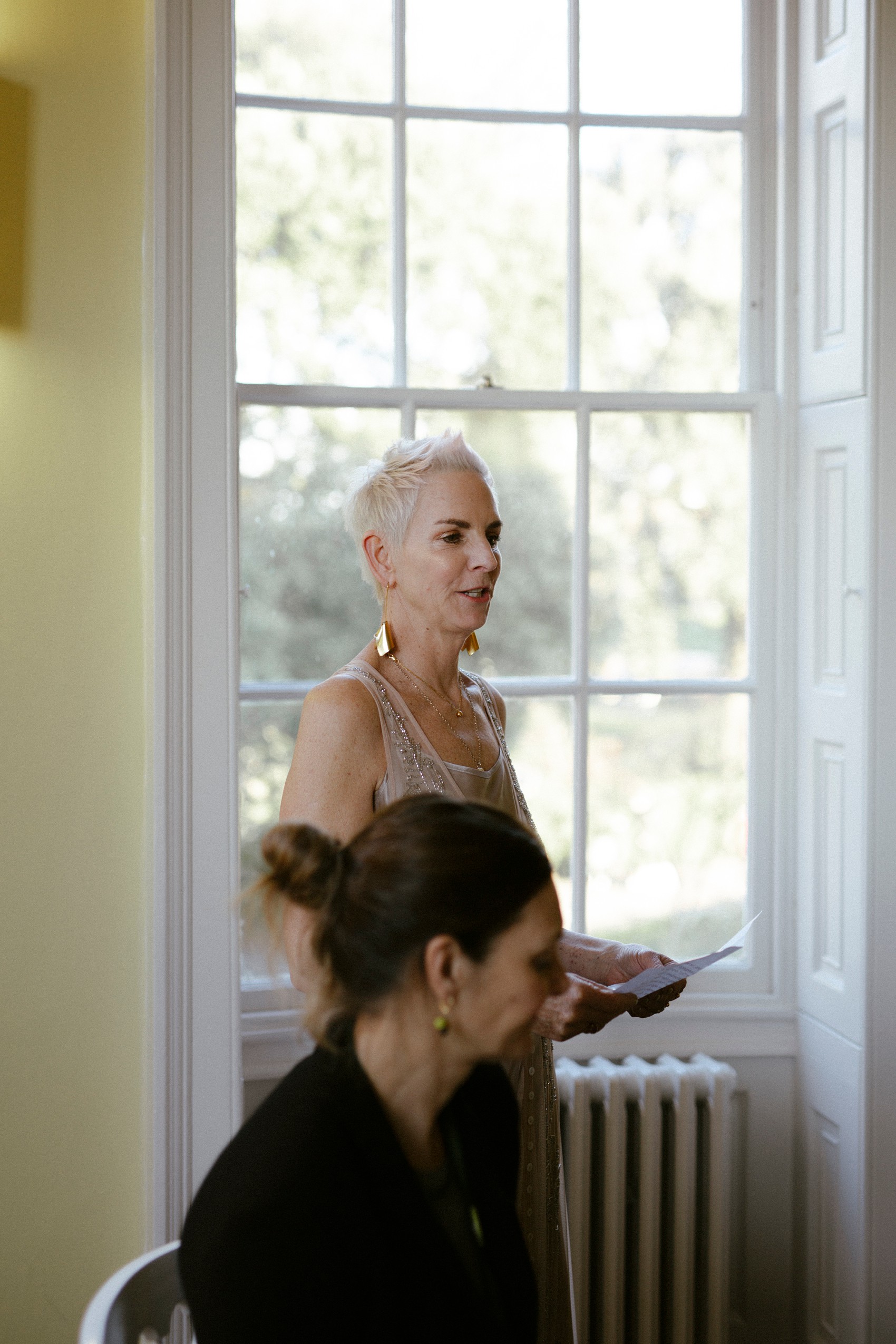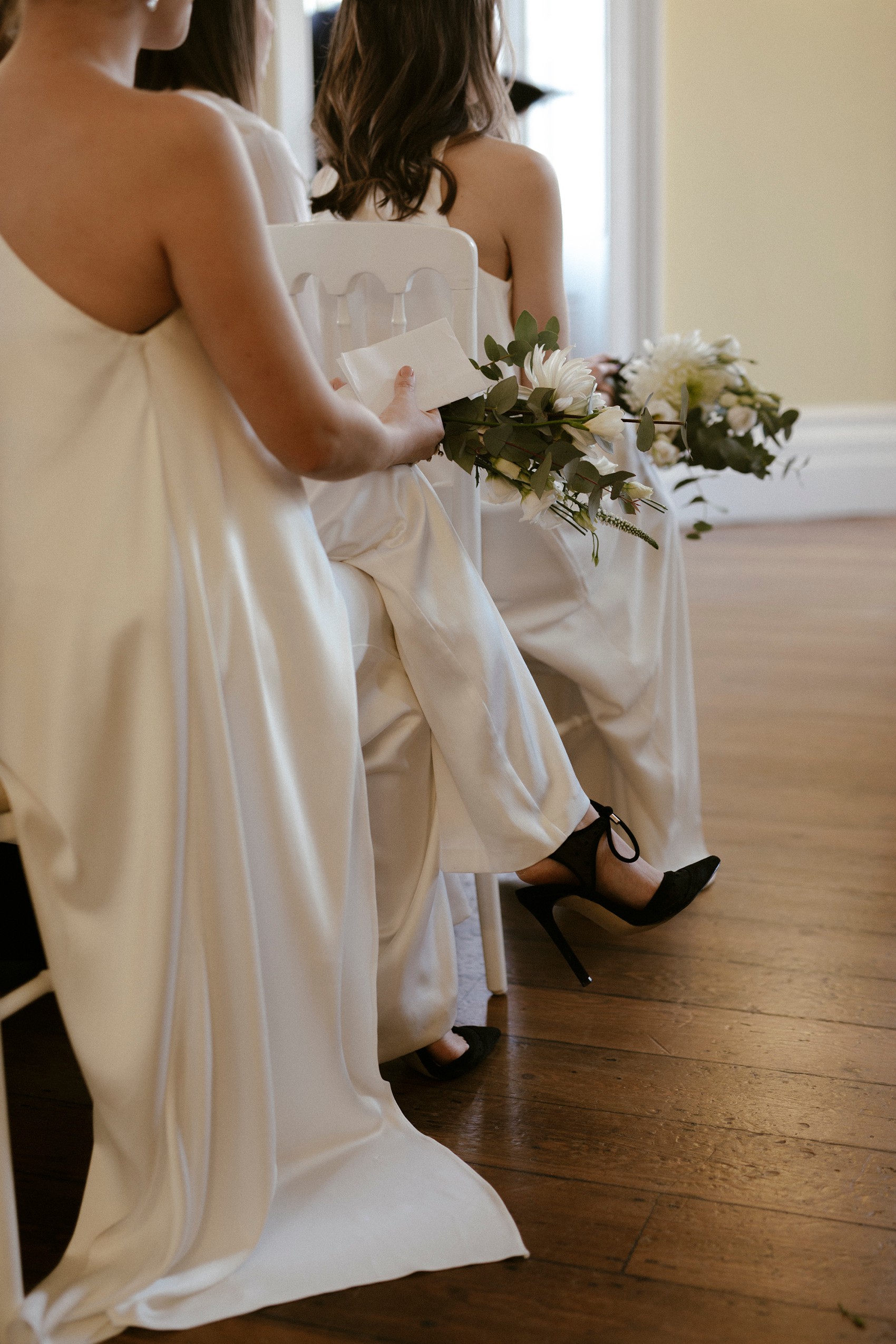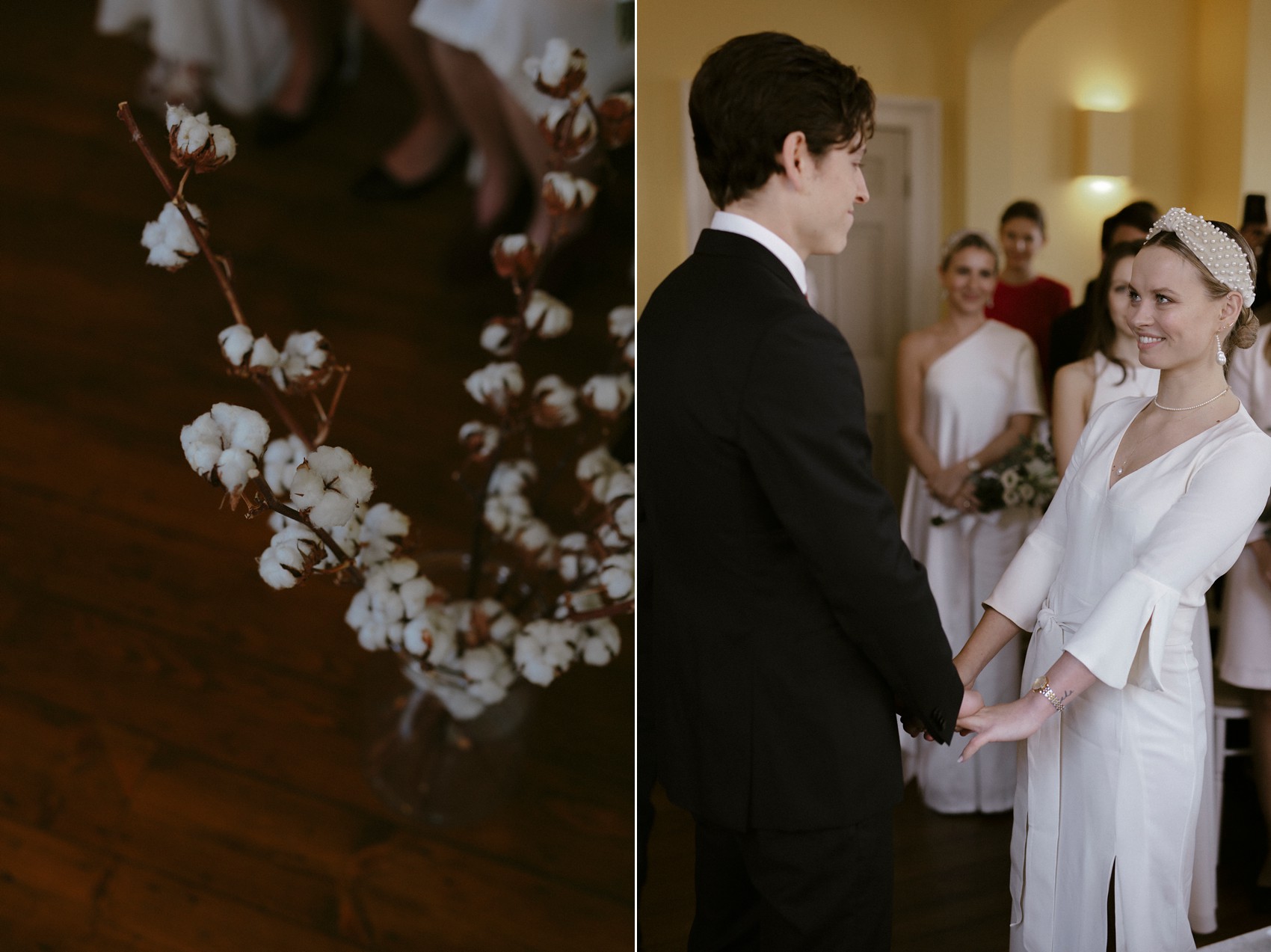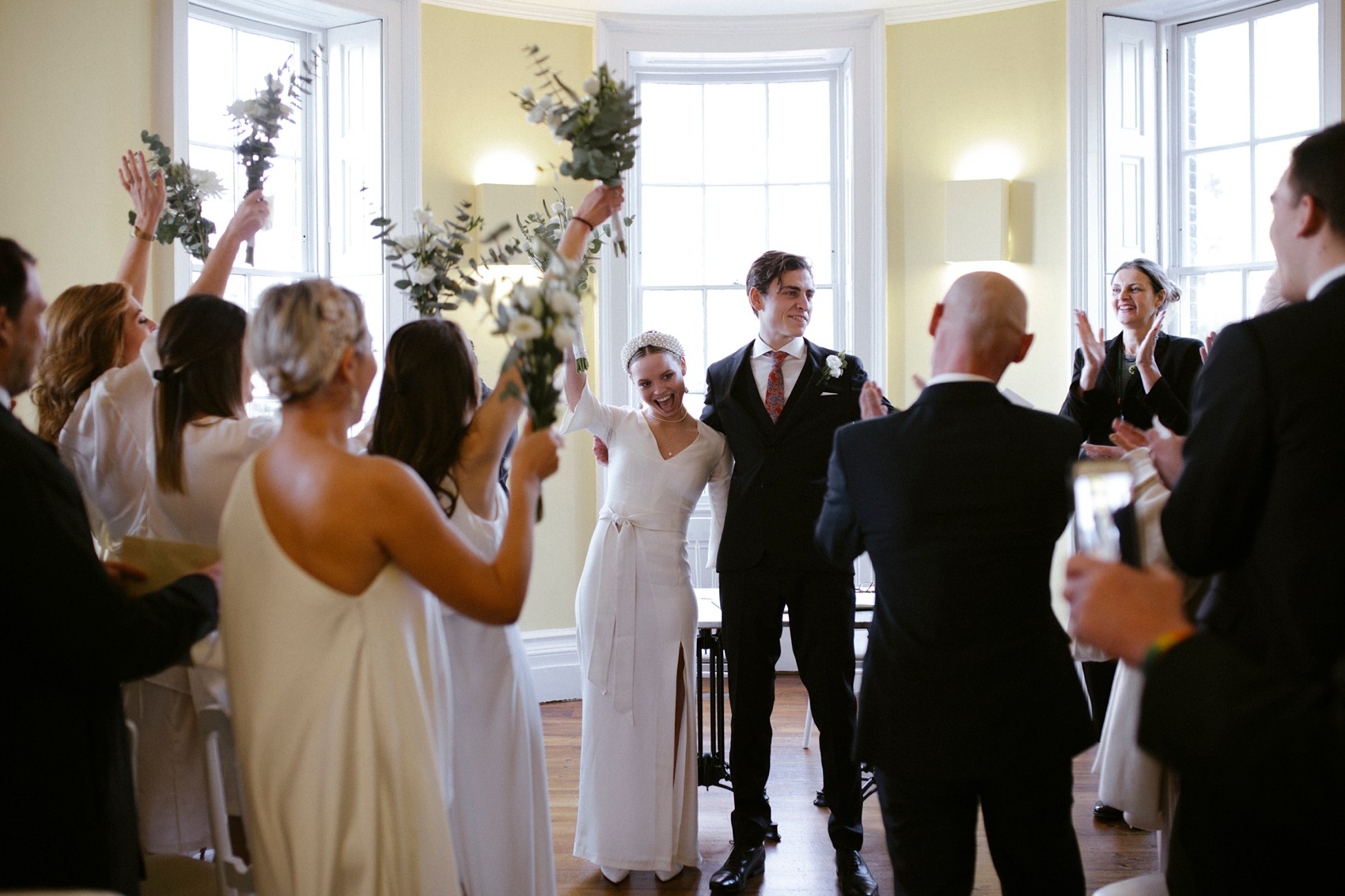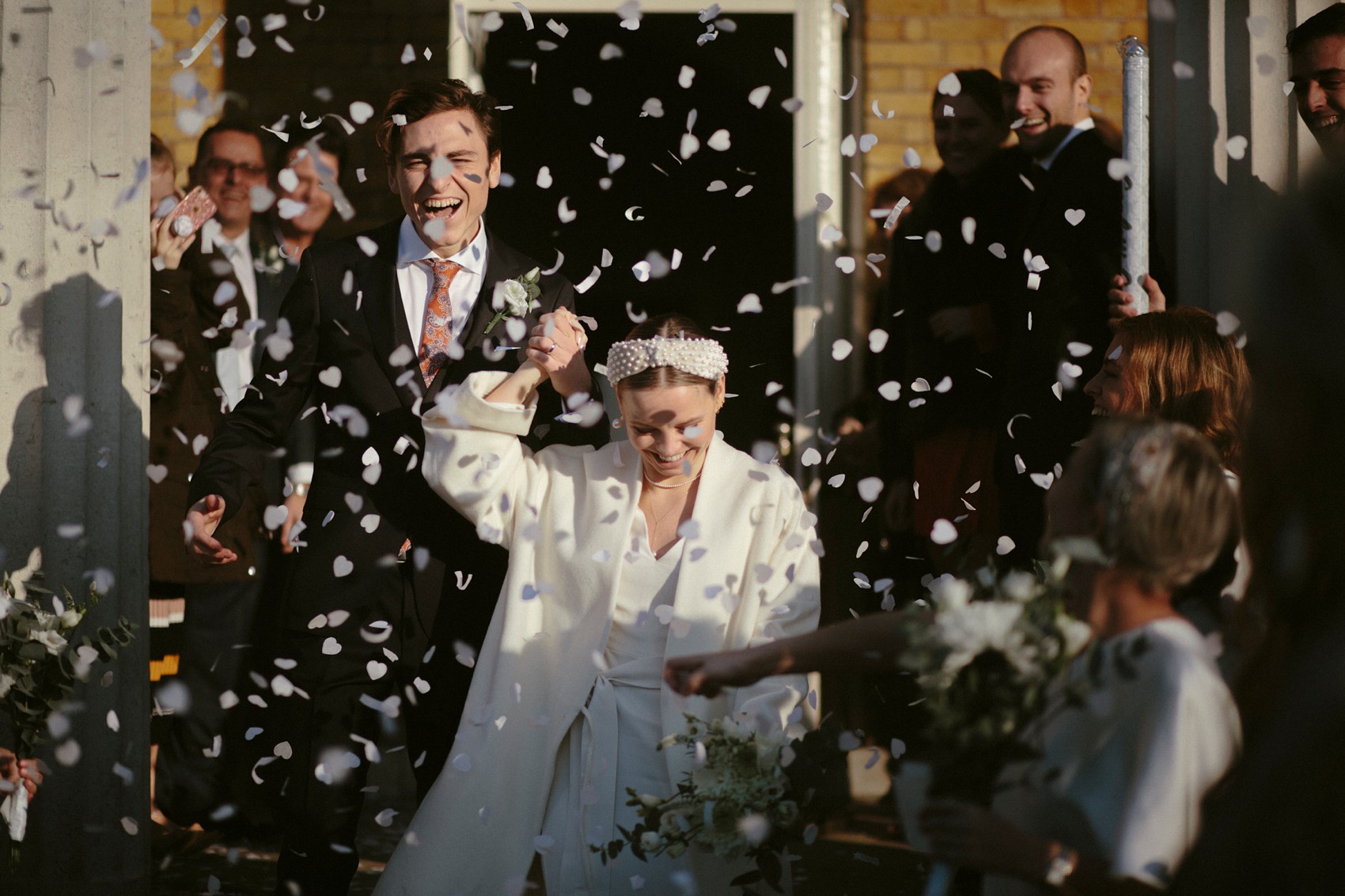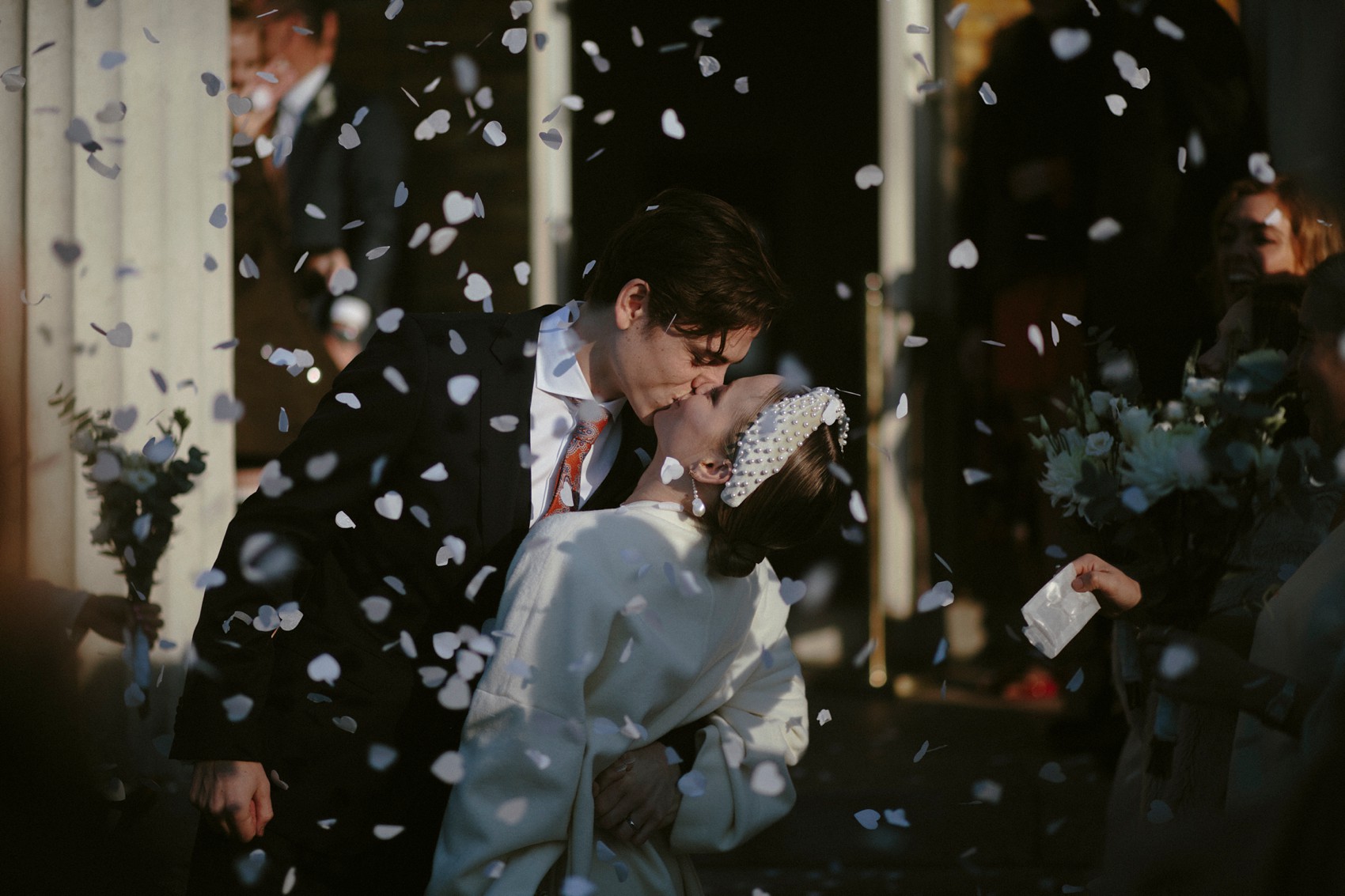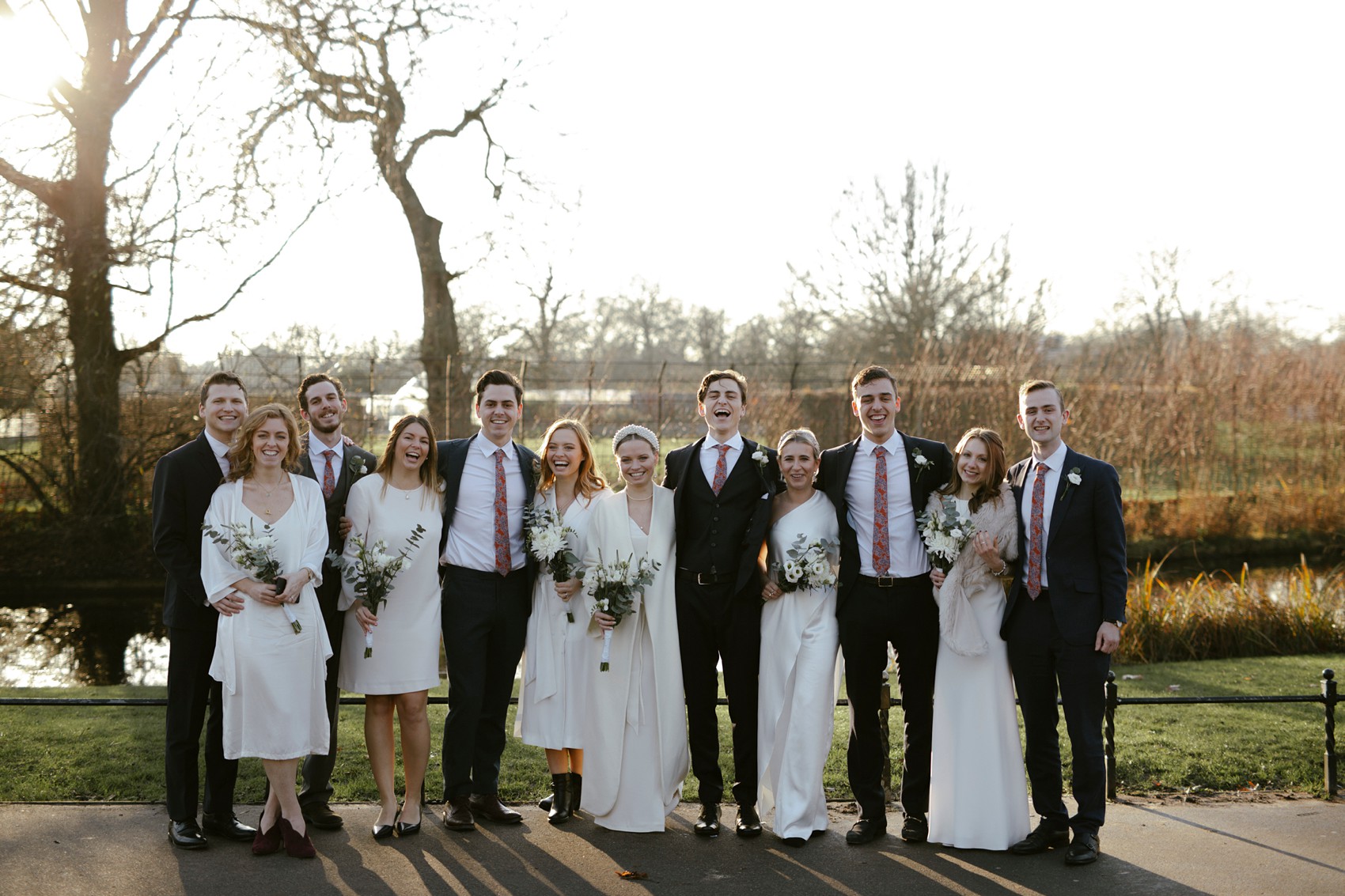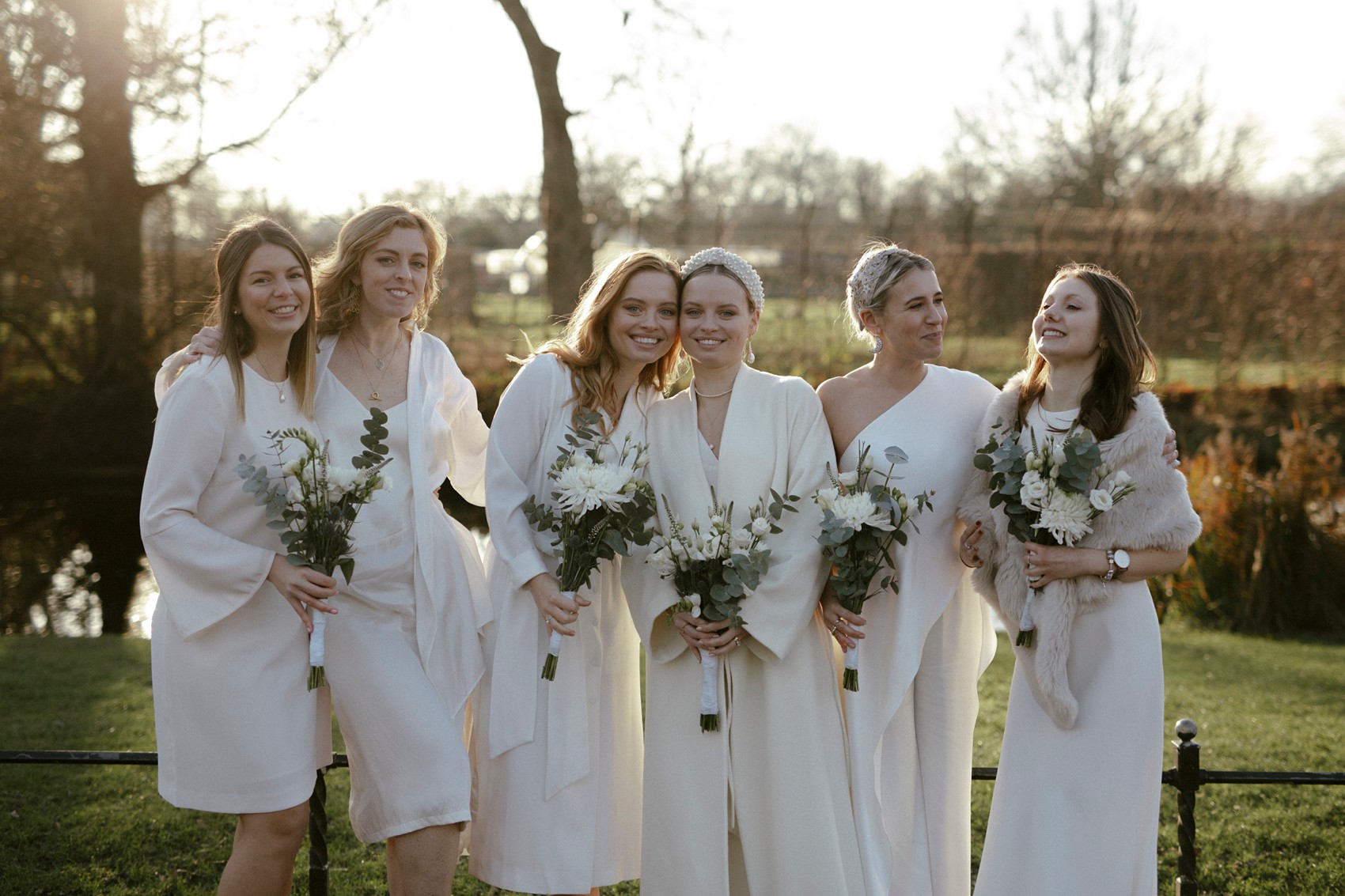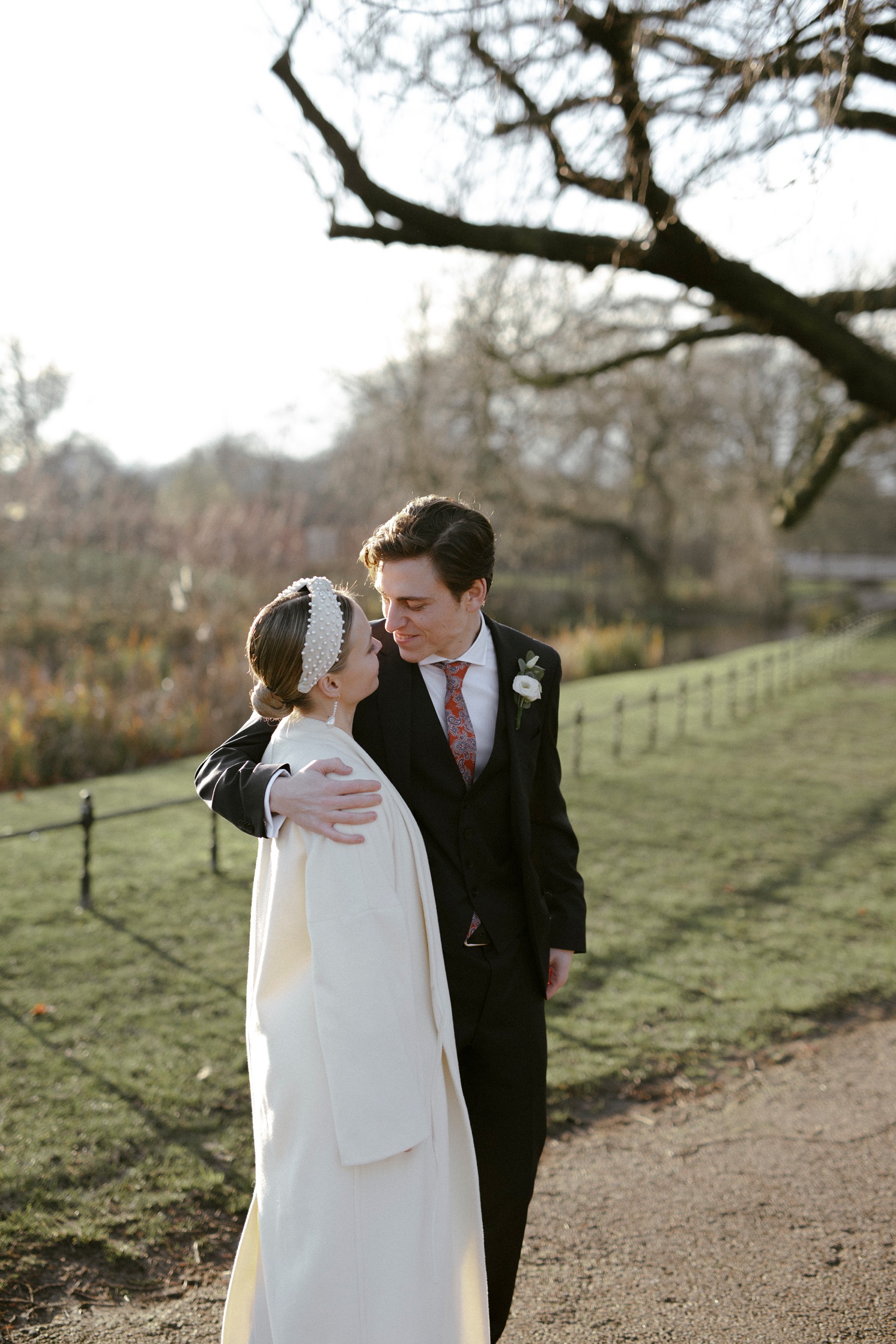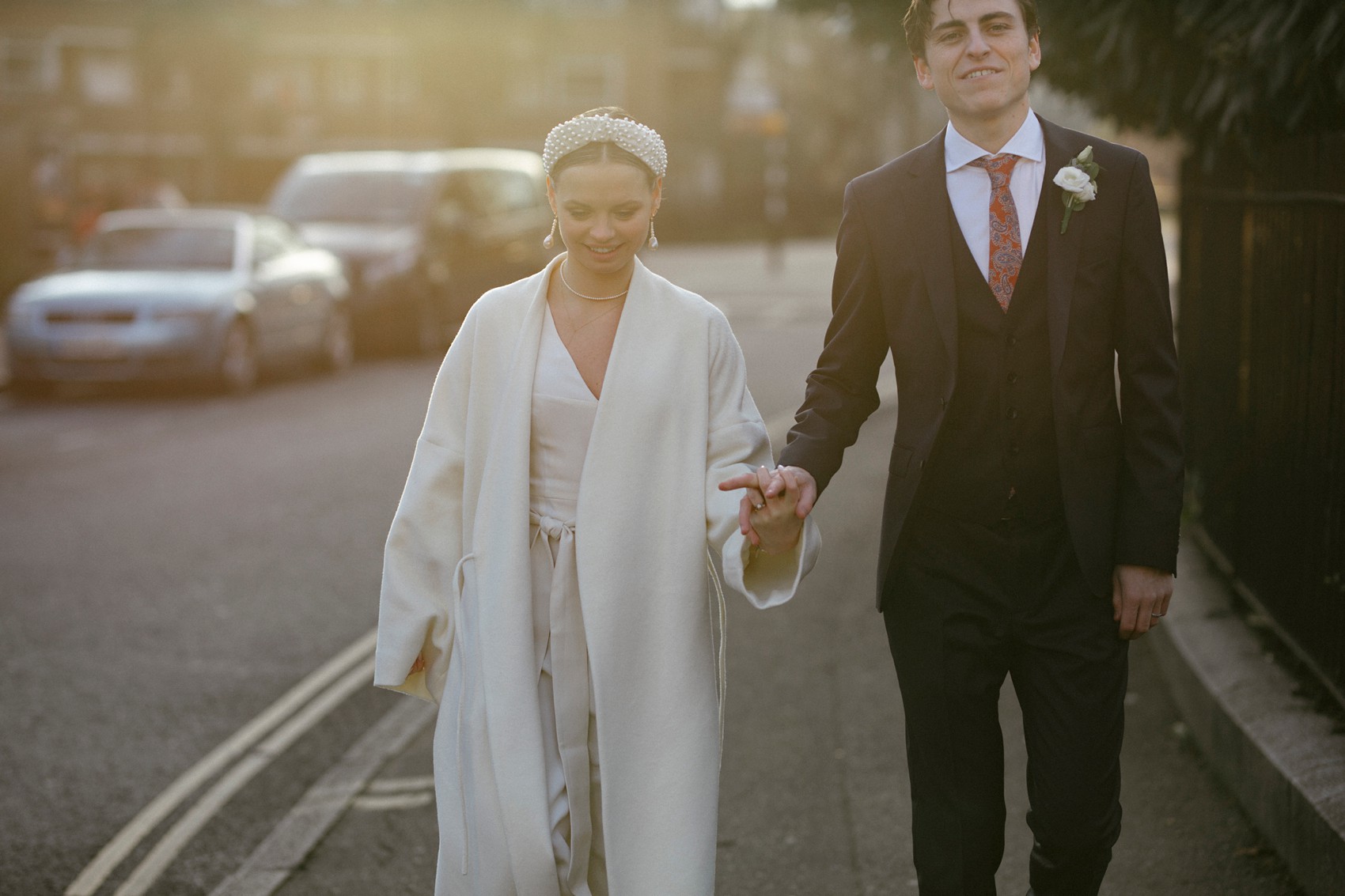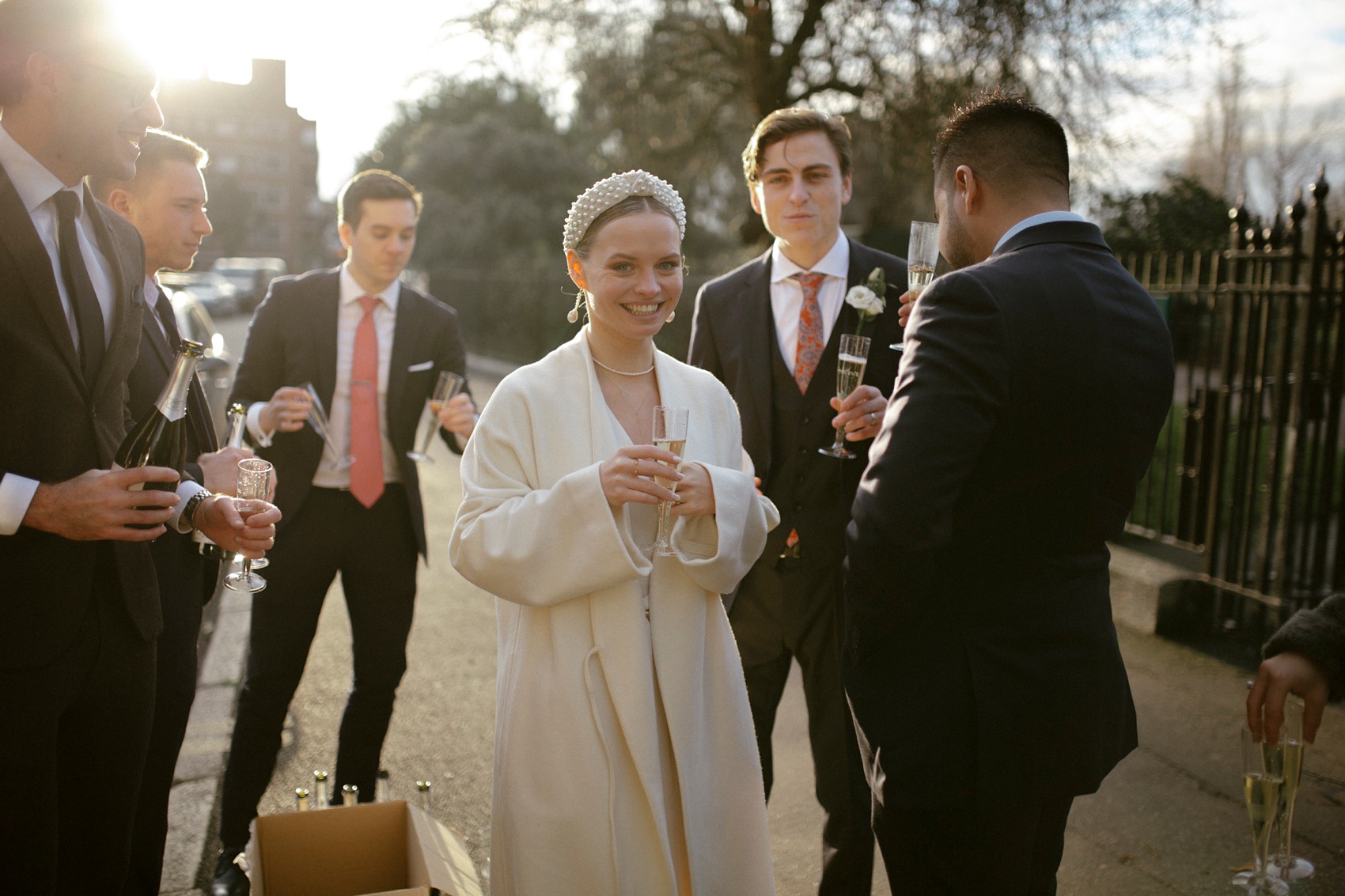 After the ceremony, there was confetti, plenty of hugs and kisses, and a happy stroll around Clissold Park in the crisp, winter sunshine before everyone got onto the wedding bus for the quick trip to Bistrotheque in Bethnal Green.
"My favourite part of the day was the bus ride from the ceremony venue to our reception venue. The prosecco was flowing, everyone was in such an amazing mood, and we just got married – it felt quite surreal."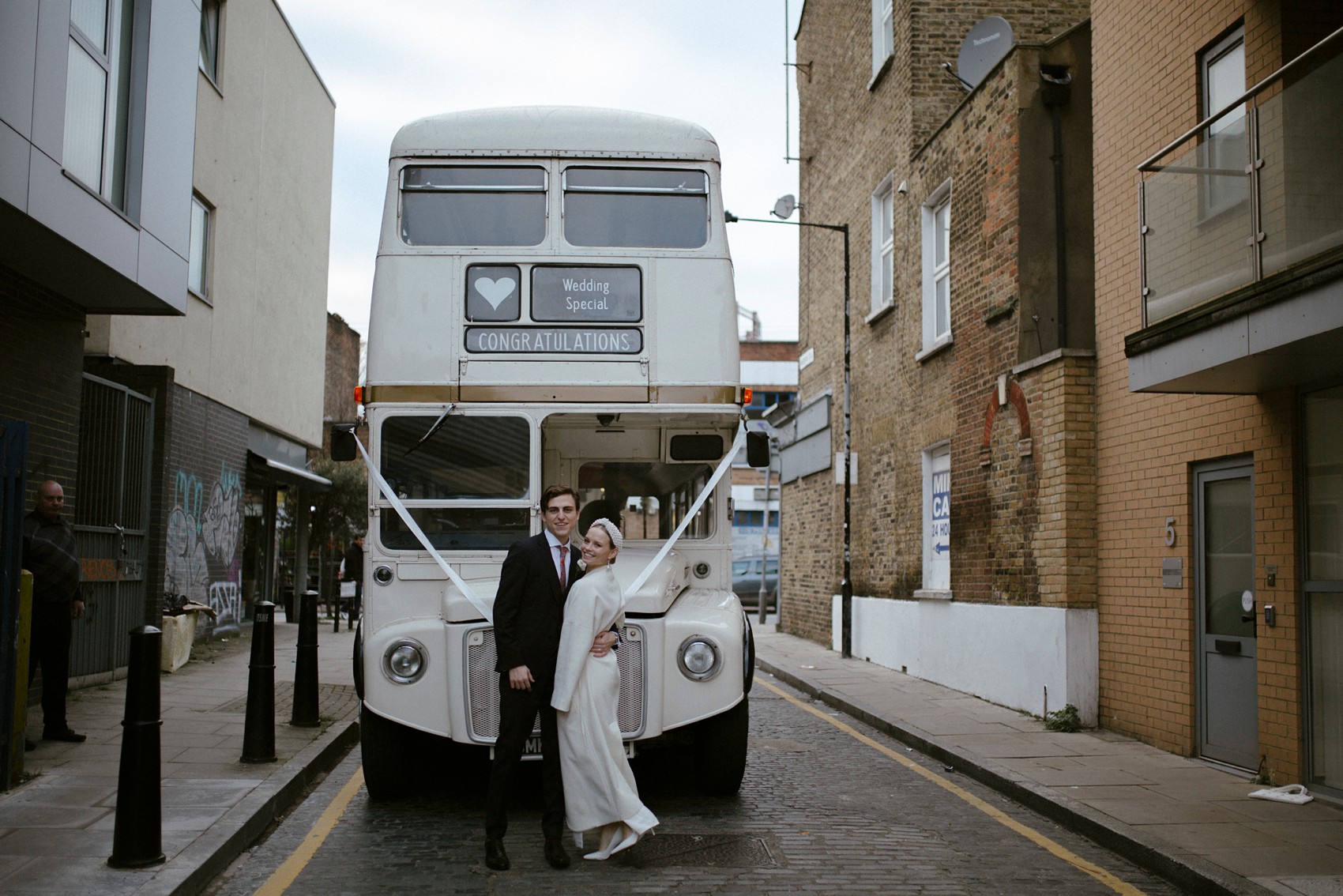 Bistrotheque is housed inside a converted, white painted warehouse, and it looked fantastic all set for Mr and Mrs Chatterton's wedding feast, with long tables dotted with candles and eye-catching, festive gold foil decorating the ceiling beams and pillars, as well as a wall of cascading fairylights.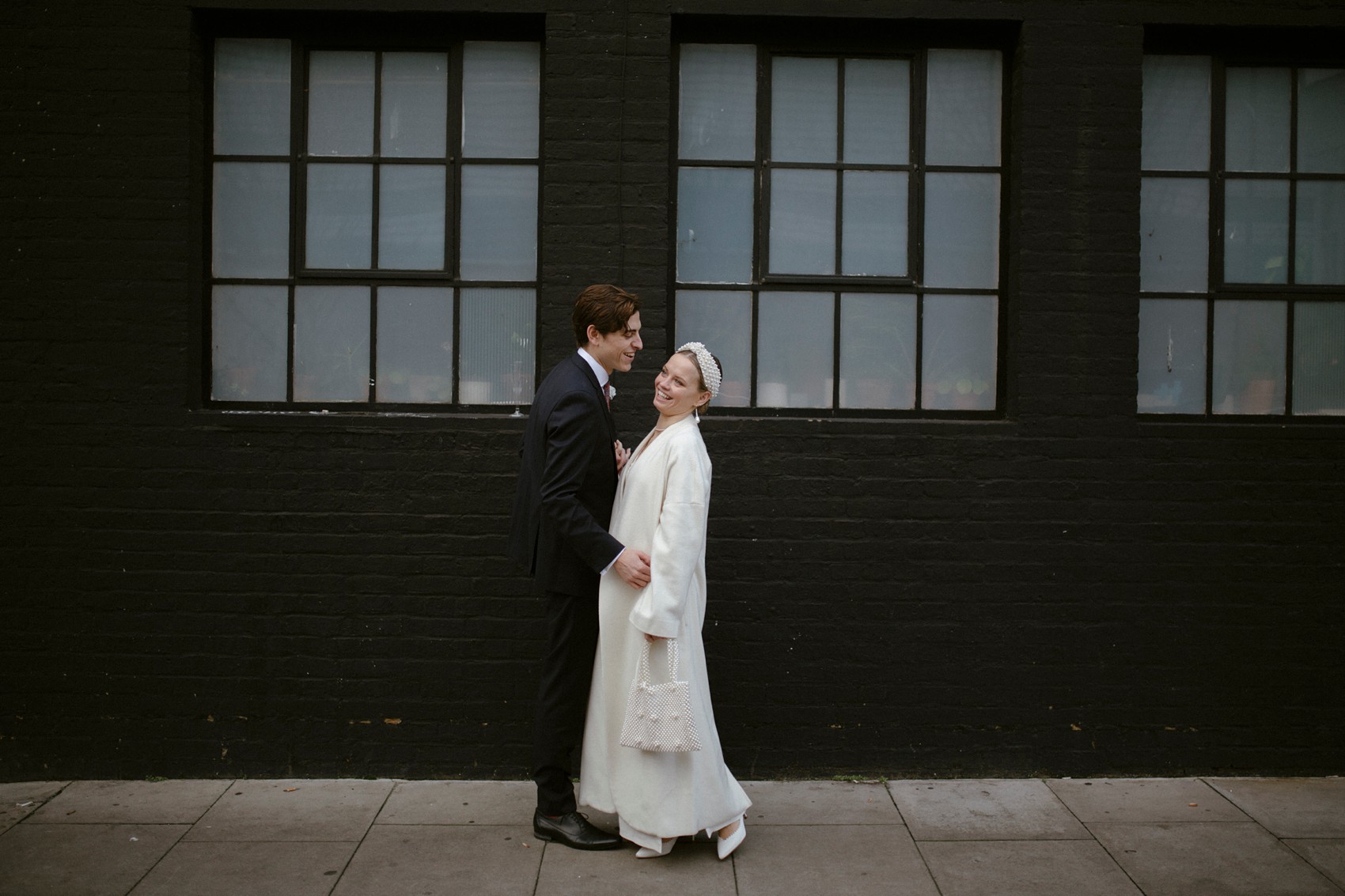 "It was just one of those moments – as soon as I walked into Bistrotheque, I knew that is where I wanted to get married. I love their big windows, and just the whole restaurant is so minimal, and I find that there is a lot of beauty in simplicity."
"The fact that it was only 15 minute walk from our flat was a coincidence, but we absolutely love East London, so we were very excited to be getting married in that part of the city as it holds a lot of history for us."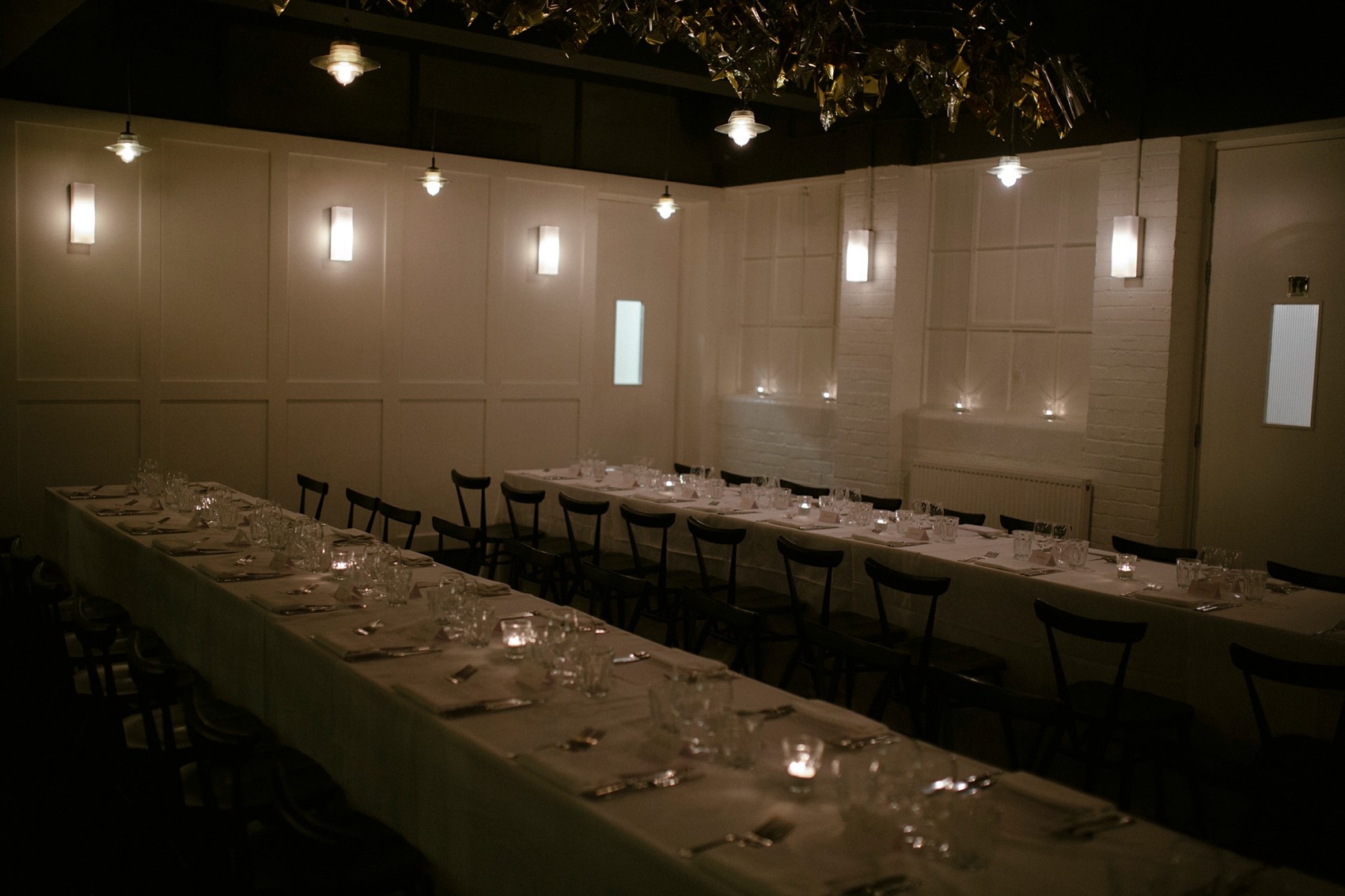 There were drinks and songs around the bar and the piano, before everyone sat down to dinner, and post-meal espresso martinis as favours from the newly married couple.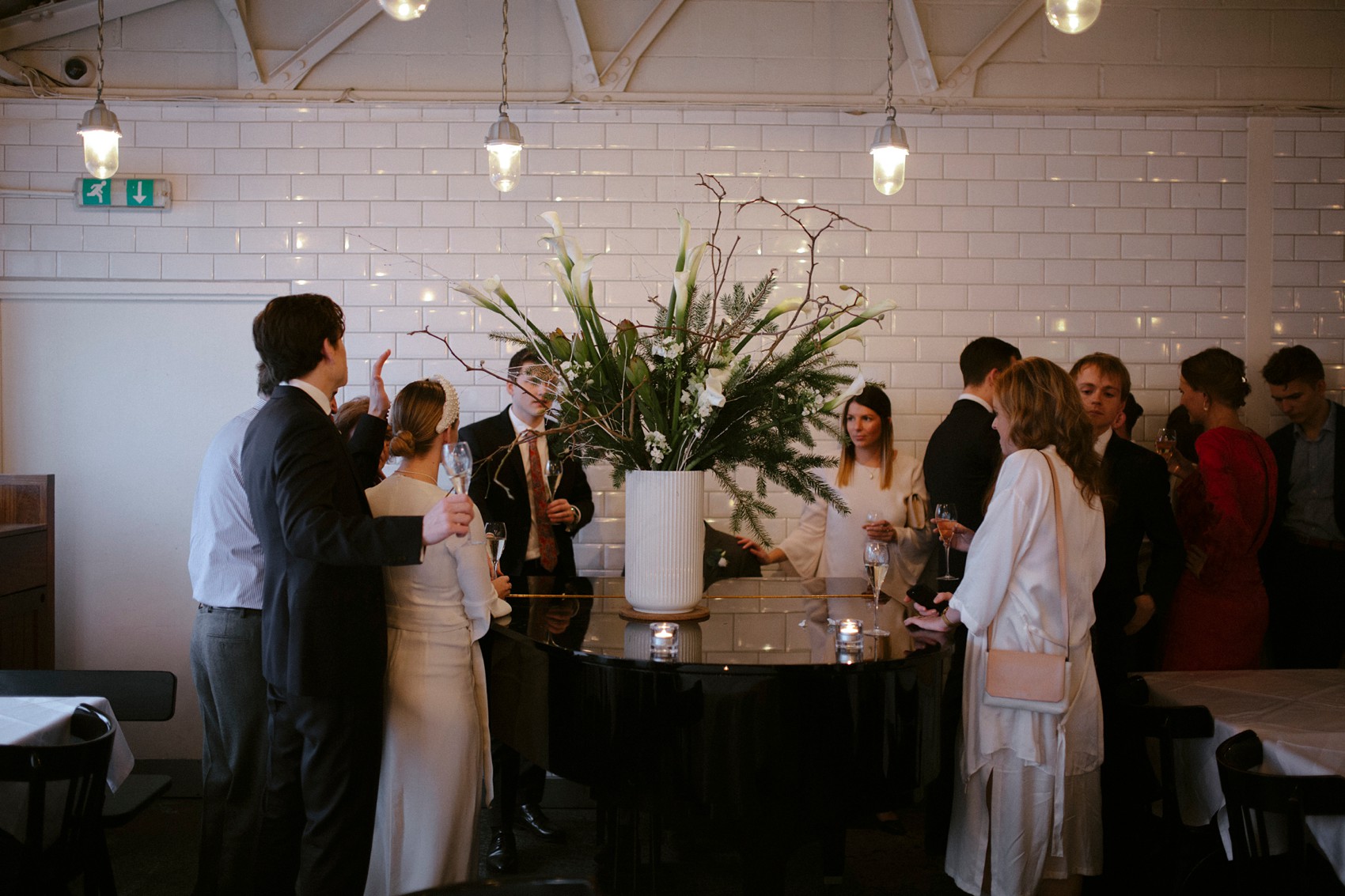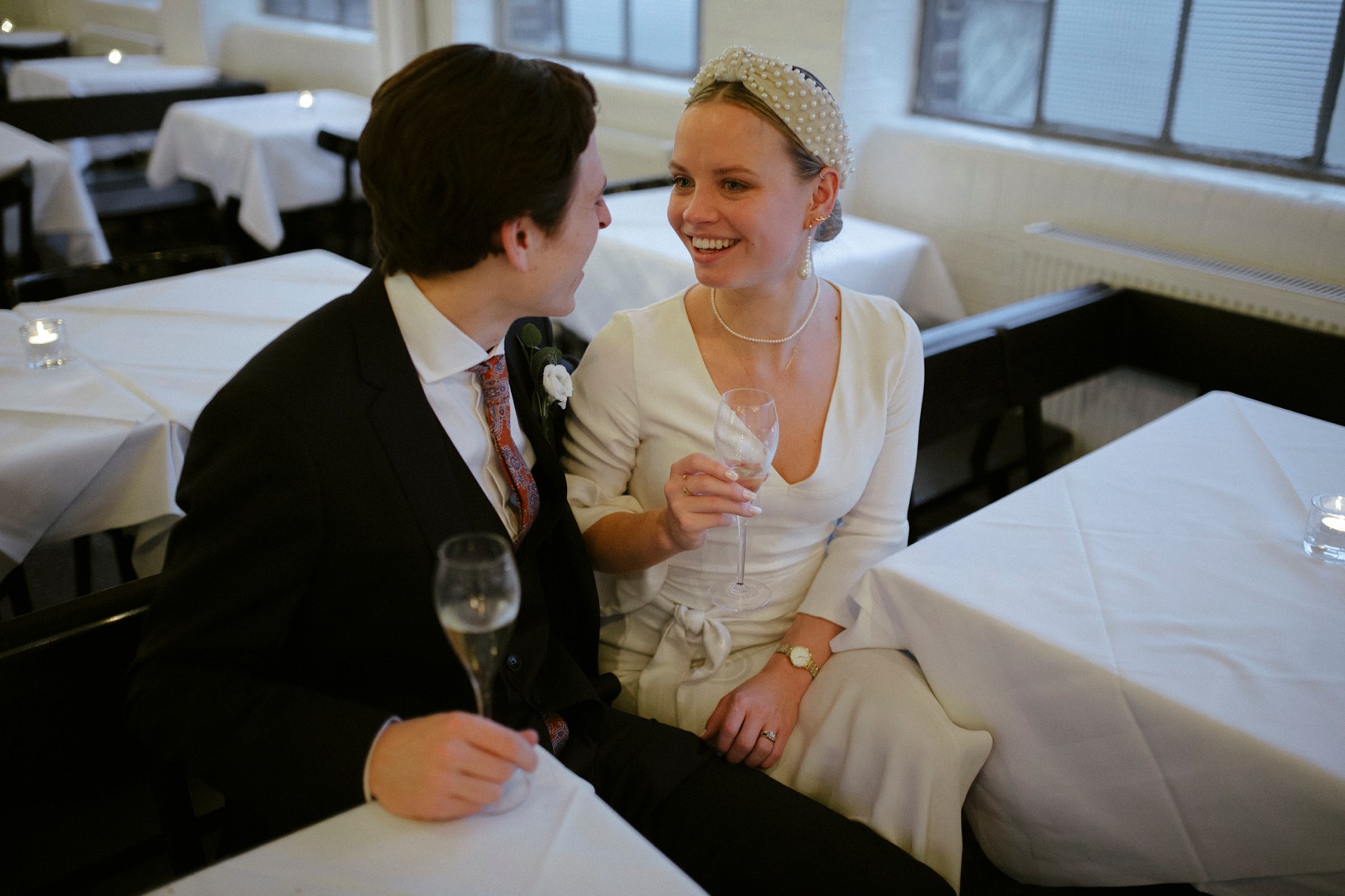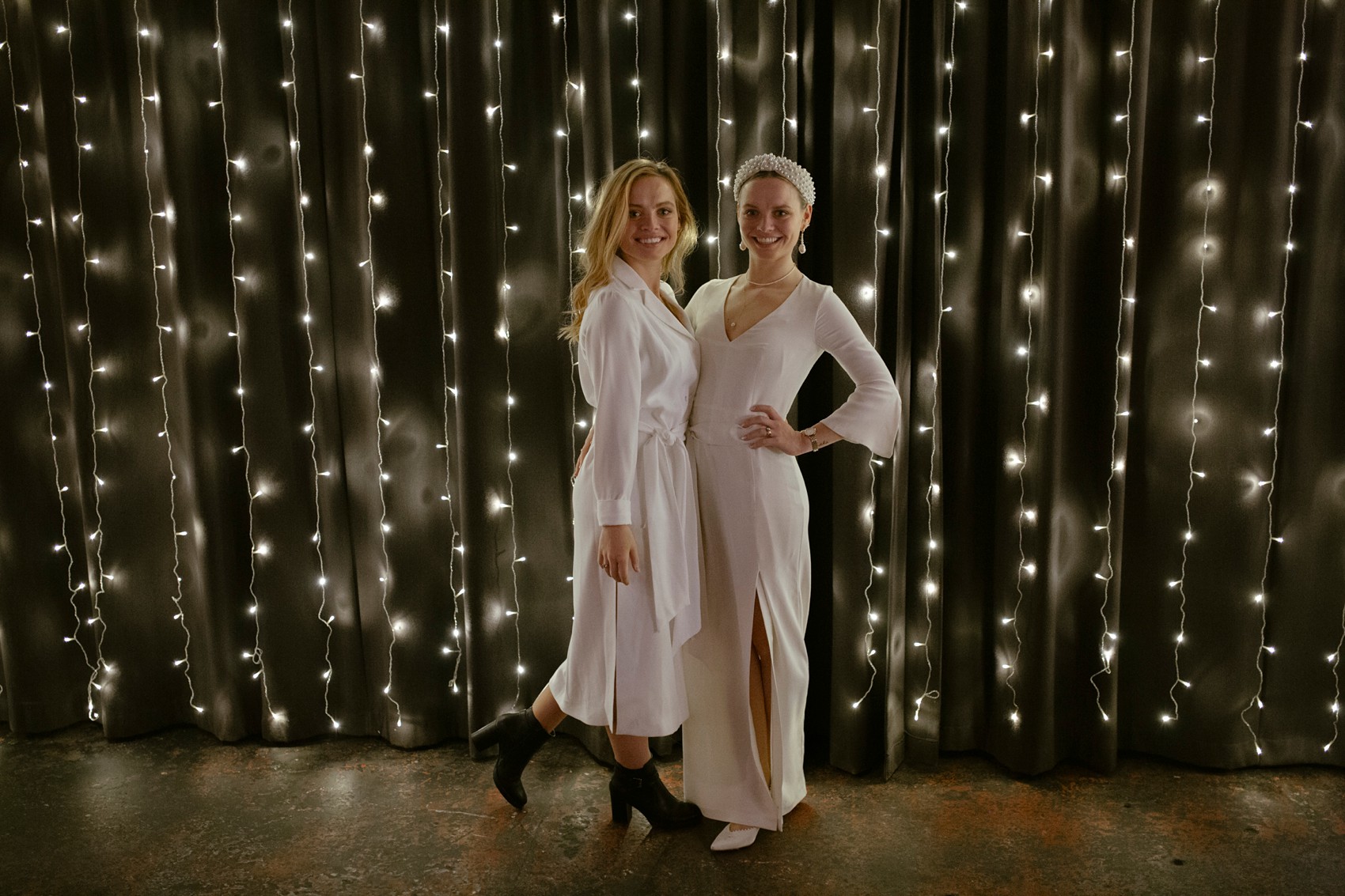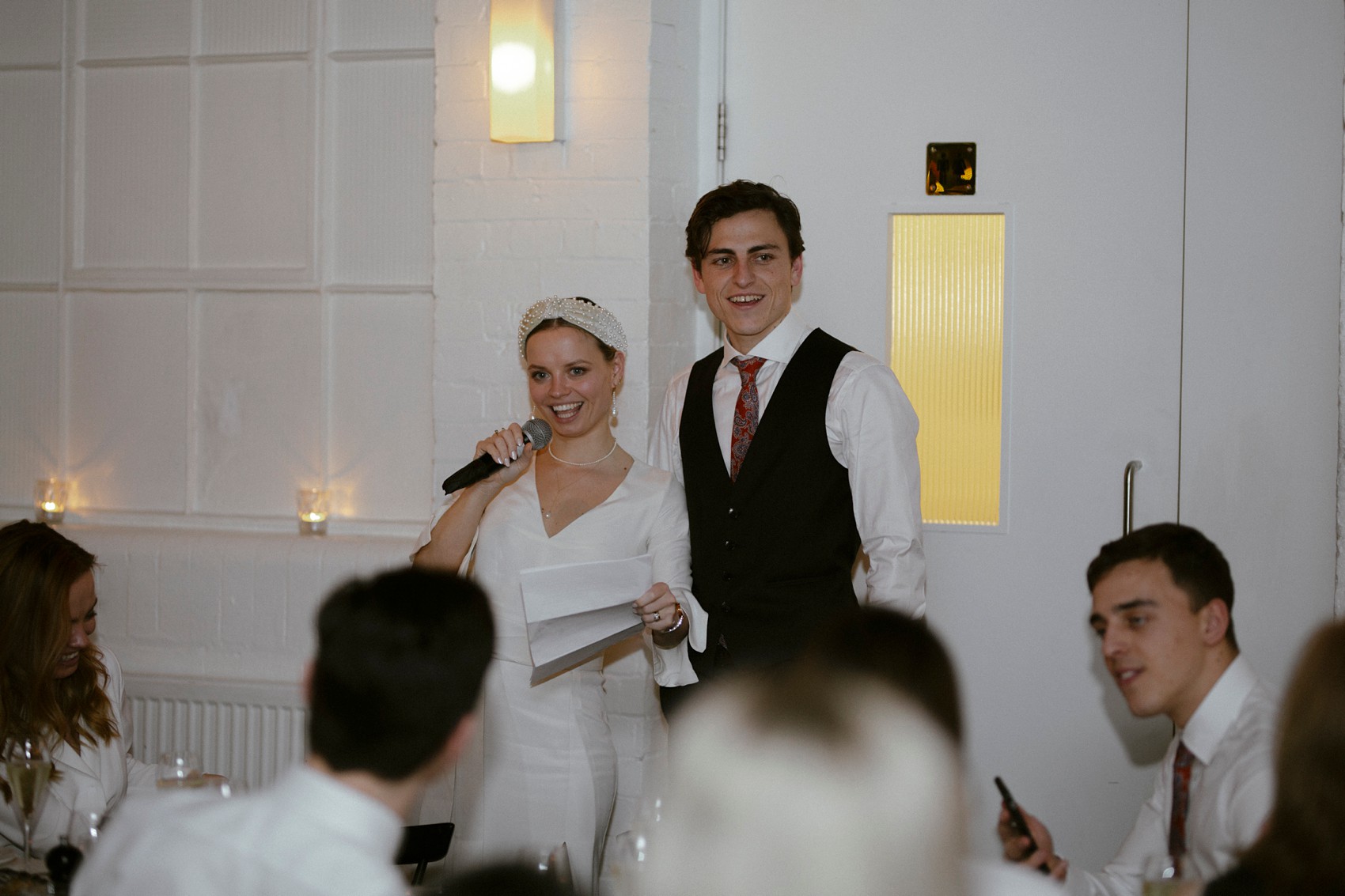 "Dunn's Bakery is is owned by one of our closest friends, and our cake was his wedding gift to us. It was chocolate, and it was absolutely amazing!"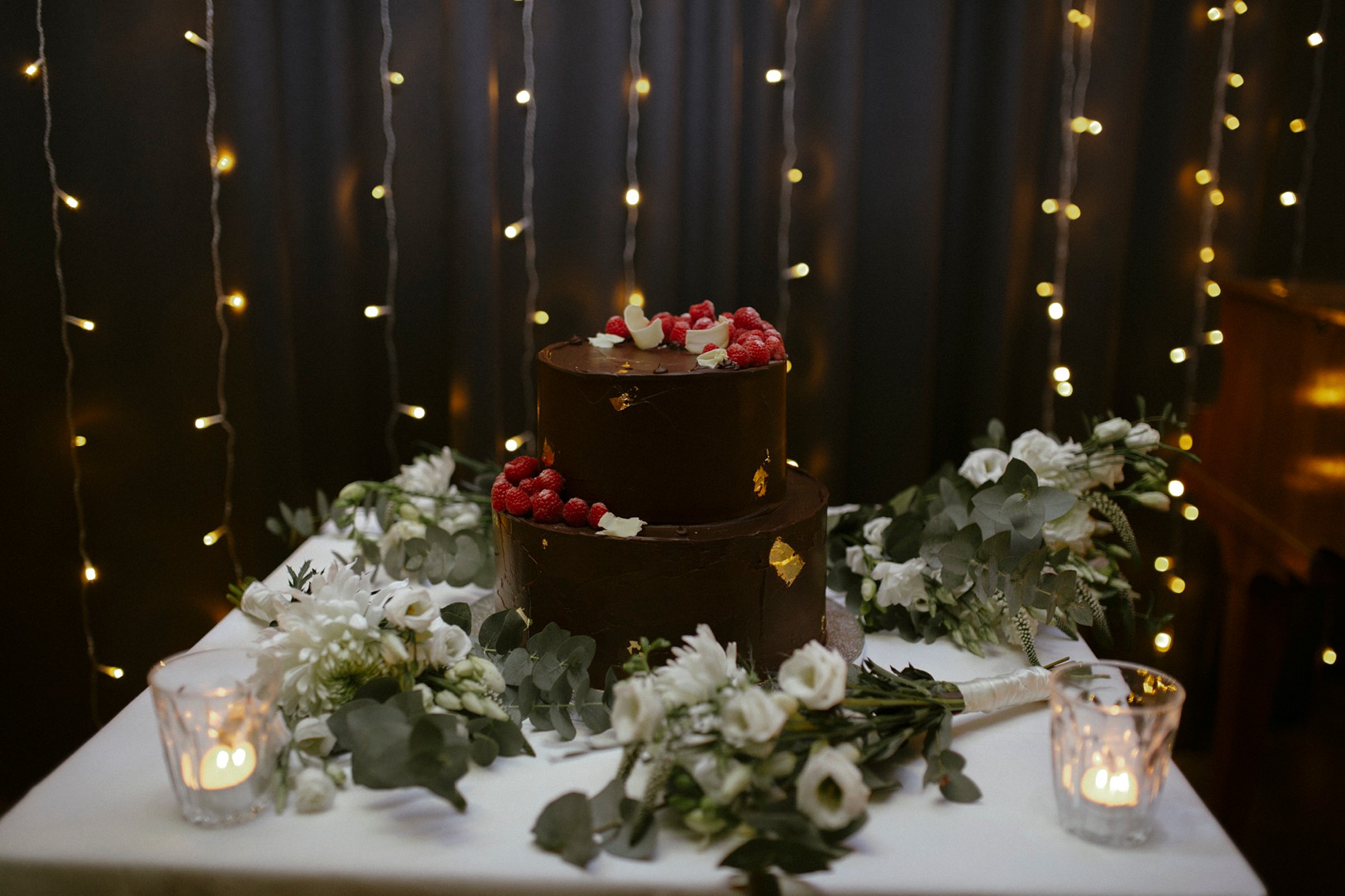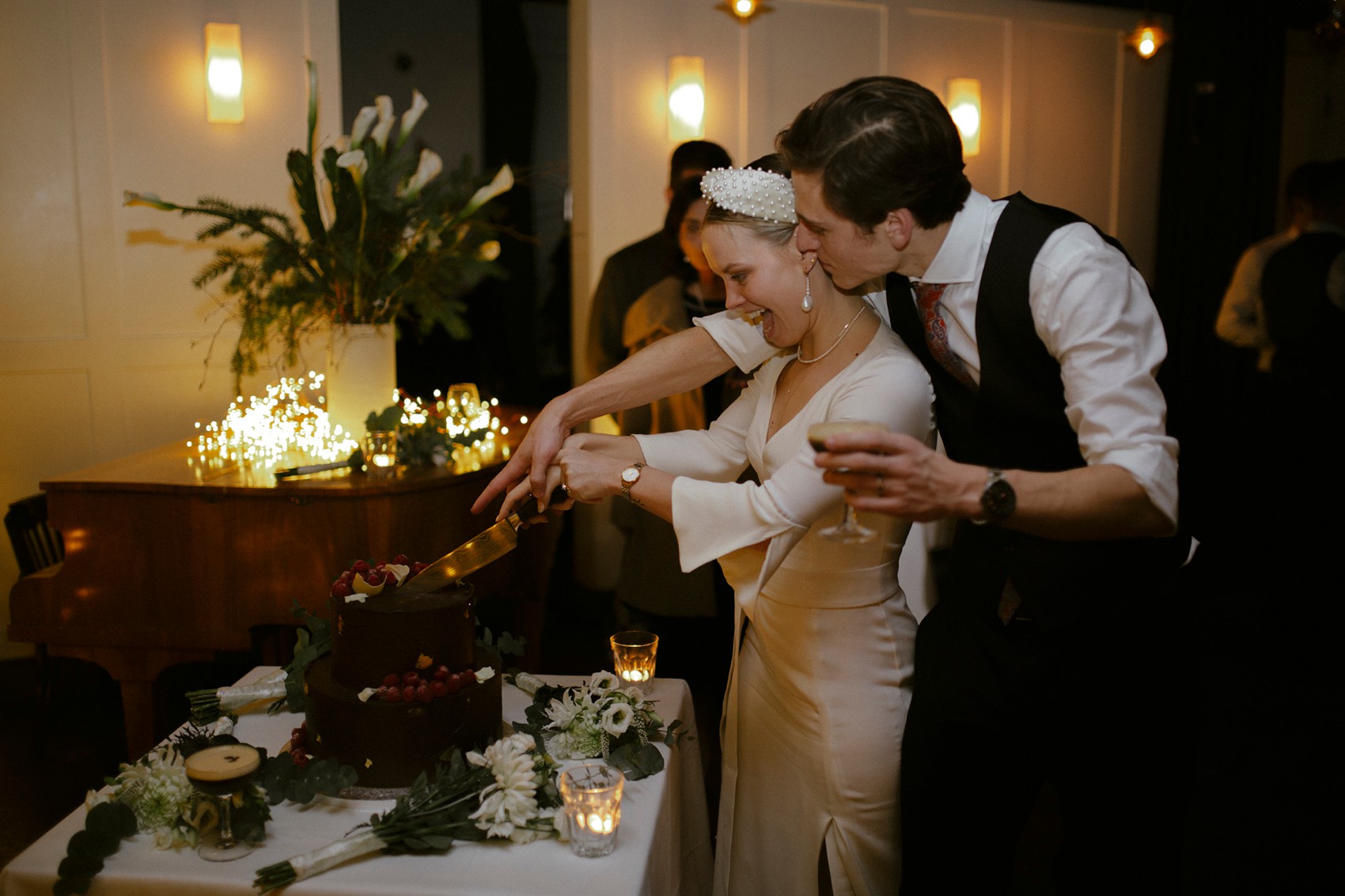 All that remained was for the tables to be cleared away, and for the dancing to begin – which it did as Mr and Mrs Chatterton took to the floor for You Sexy Thing, by Hot Chocolate.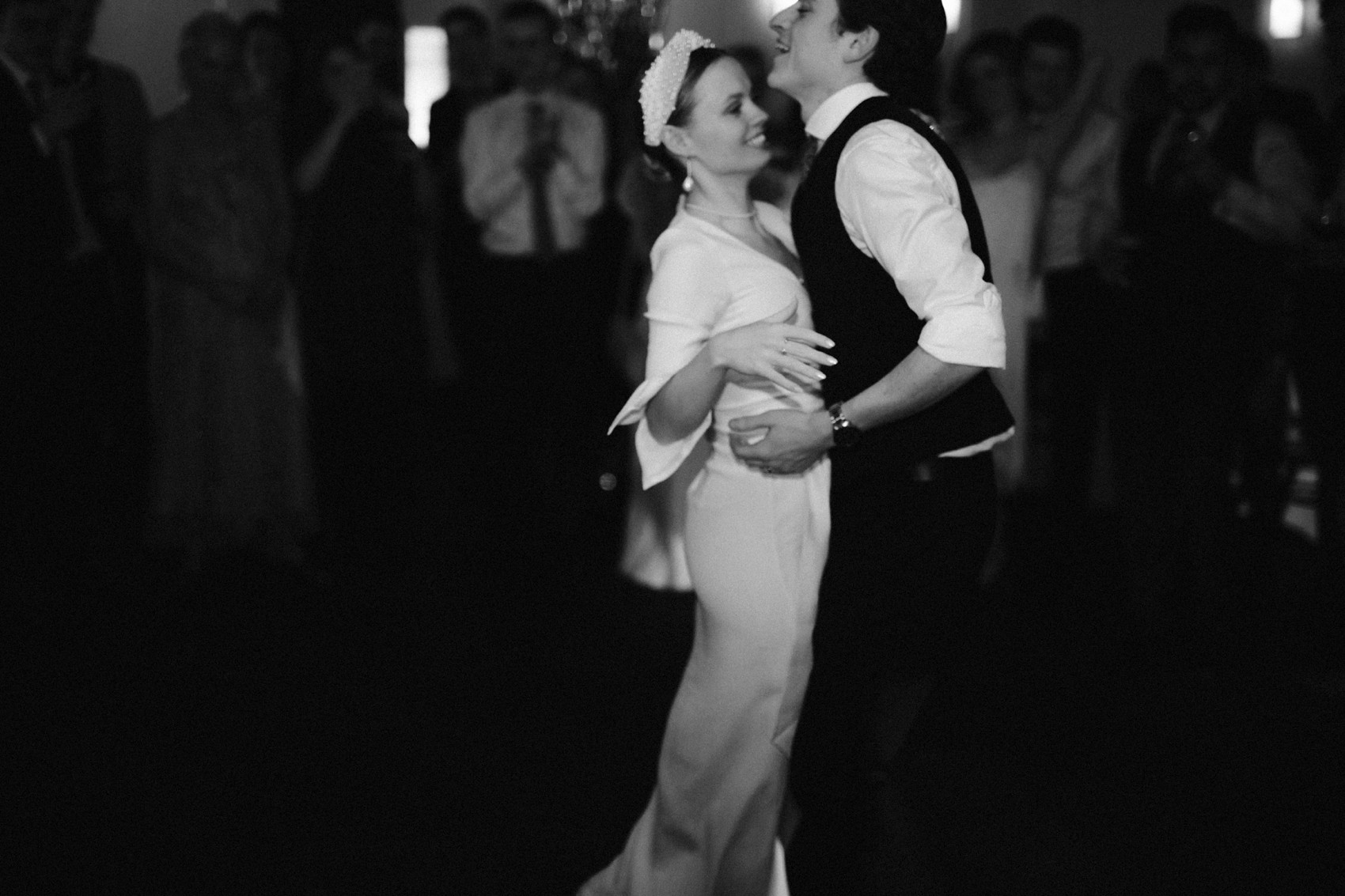 "We wouldn't have done anything differently. There is only so much you can plan and control, and you just have to allow everything else to fall into place, and our day was absolutely perfect. We were surrounded by beautiful family and friends who went above and beyond for us to make it the most perfect day."
Words of Wedded Wisdom
"Don't be afraid to do something that is contrary to normality. Follow your gut and let your day be about who you are. I didn't wear a wedding veil because I didn't want one, and I also did a speech because I wanted to do one, so both me and my husband did a speech to each other. I didn't choose my bridesmaid's dresses because I didn't want to – I wanted my friends to have the freedom to express who they are."
"We didn't know what our readings were going to be because we wanted it to be surprise, we didn't want to know every single moment of our wedding day before it happened, and it was exciting to see what our family would choose themselves. Trust people to help you, and trust in what they have to offer and give. Our closest friend did our wedding cake and we didn't know how it would taste or look until we got to see it on the day."
"Plan whatever you need to plan, but allow the day to have its own flow – and trust me, not everything has to be perfect, because on the day, you won't care if it's perfect anyway. Perfection is overrated."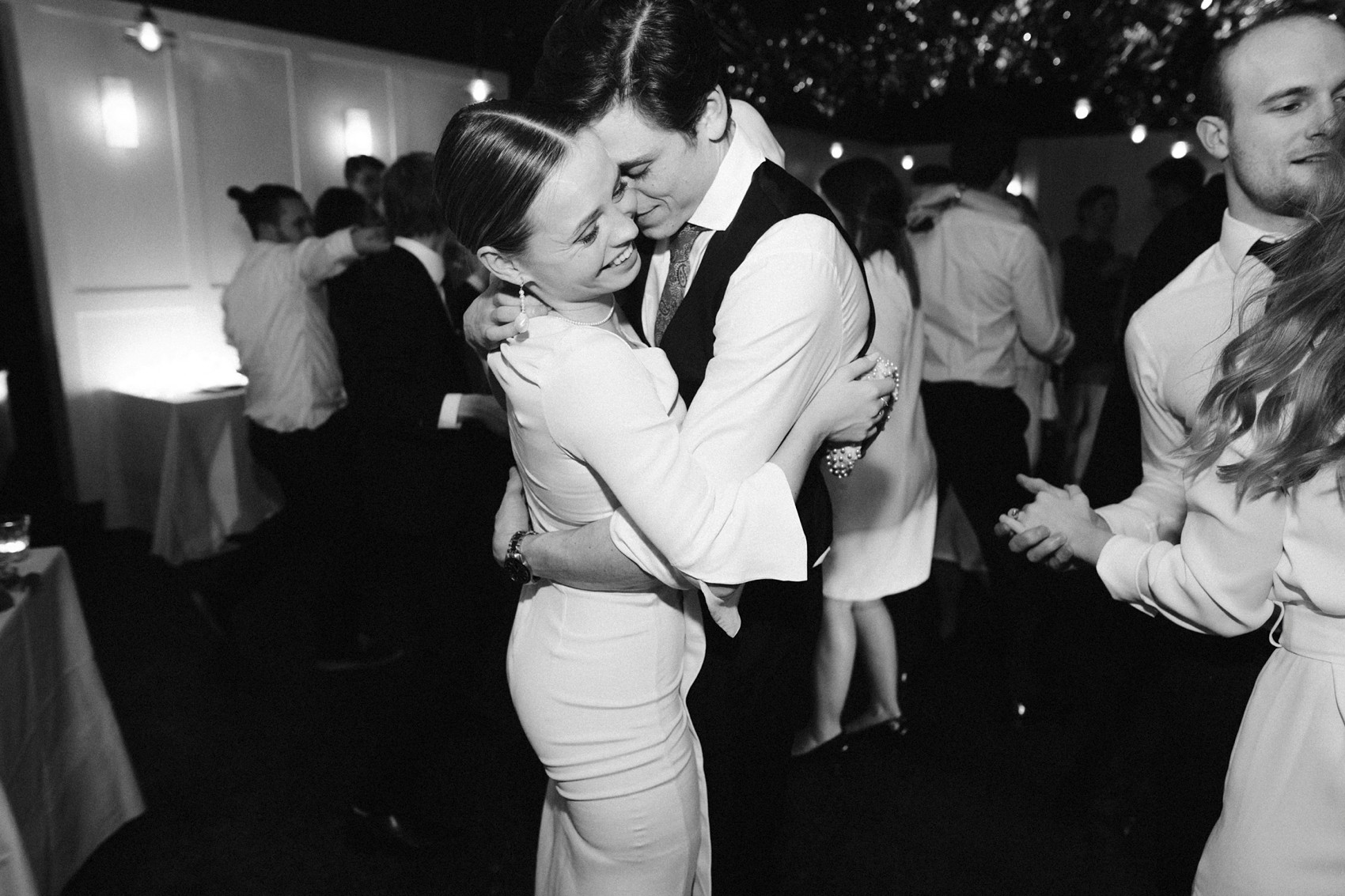 –
Mr and Mrs Chatterton, thanks a million for this pearl of a day – it's been wonderful to share. Huge thanks also go to Ruth Atkinson for her gorgeous images.
Until next time.
With love,
Laura