The bright summer elegance of today's country house wedding will hopefully be just the tonic to the shortening days as we head further into November.
From start to finish, this is a timelessly romantic celebration filled with (as our couple describe) 'modern vintage' touches. Mr and Mrs Bolaji were married on the 23 August 2019 at The Elvetham in Hampshire; a majestic red brick Victorian mansion surrounded by acres of beautiful gardens. Mrs Bolaji is a Diversity and Inclusion Manager, and Mr Bolaji is an Insurance Consultant, and they first met in 2009 through mutual friends whilst at university.
Images by Romy Lawrence Photography
We have the brilliant Gemma, of Romy Lawrence Photography to thank for this collection of beautifully captured images filled with light and elegance, and it's also great to be able to add to her body of work here on our pages.
"I found Romy Lawrence (Gemma) on Instagram, and I loved her work. What struck us is how comfortable every couple (and children) looked in each photograph, which was so natural and just what we wanted. We also like the fact that Gemma really manages to capture every moment and the emotion perfectly. I would not hesitate to recommend to friends and family."
"The Elvetham was our dream venue. It was the first venue we saw online and we fell in love instantly. Being sensible, we thought, let's view more options, but we ended up selecting The Elvetham a year before the wedding."
On her feet, the bride wore a pair of embellished Rainbow Club peep toe heels in a pretty champagne hue, and for the finishing touches, a long veil (sadly, no details provided about this) and her wedding day perfume, Shine Girl by Elie Saab.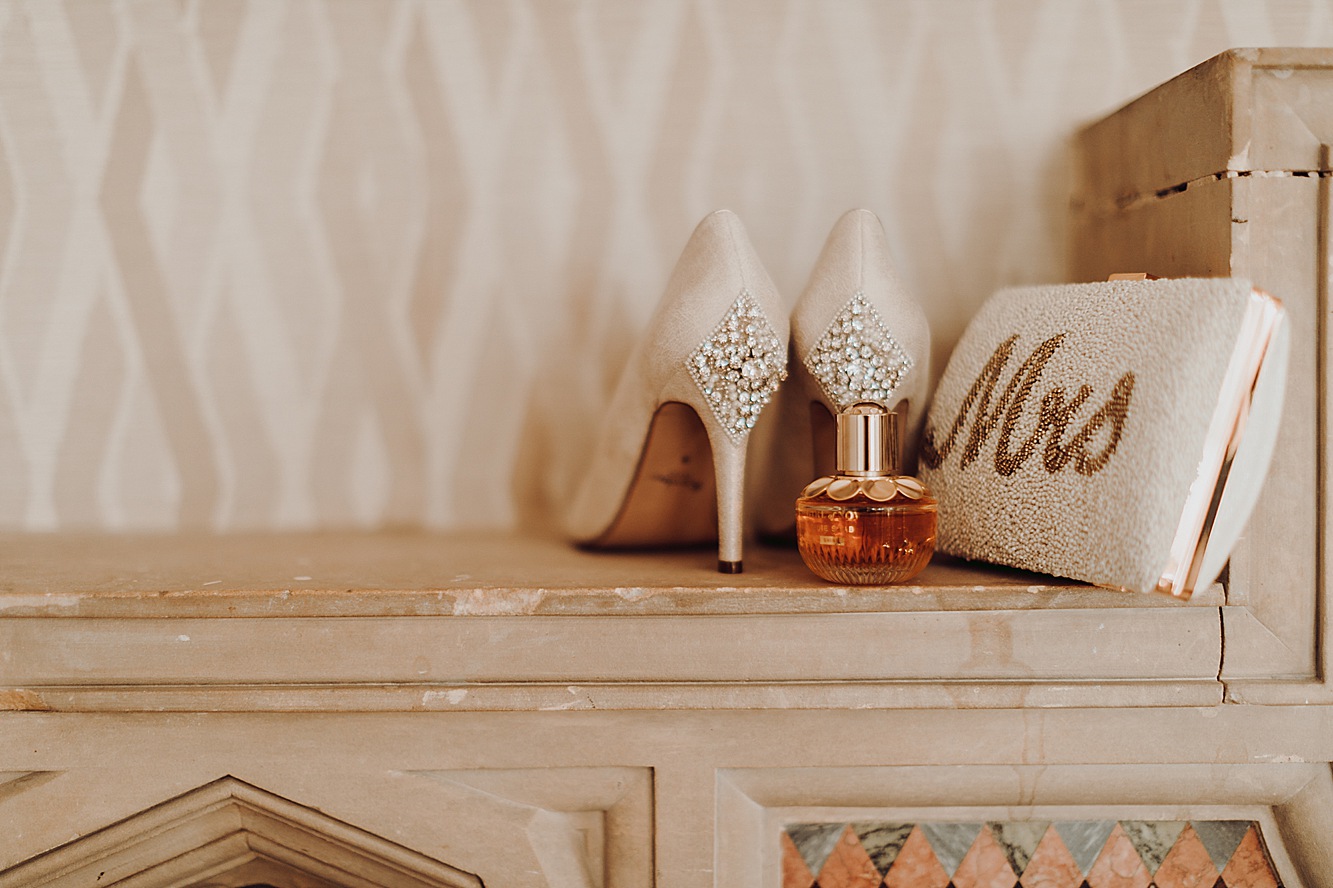 Breathtaking make-up for Mrs Bolaji and her wedding party came courtesy of Rosetta Beauty, who created the natural yet flawlessly glamorous look they wanted.
"My hair was by Her Definition Salon in Streatham. Heather Dapaath is just lovely and nothing was too much. It was like having a family member there on the day. She put me at ease instantly on what could have been a stressful morning. I loved my hair, she truly listened and executed, both for myself and the wedding party, which was incredibly important to me."
The couple's flowergirl looked lovely in a classic white lace and tulle dress, chosen at a boutique in Windsor (unfortunately, the bride can't recall where), which she wore with a floral headband, as well as carrying a satin basket of flower petals.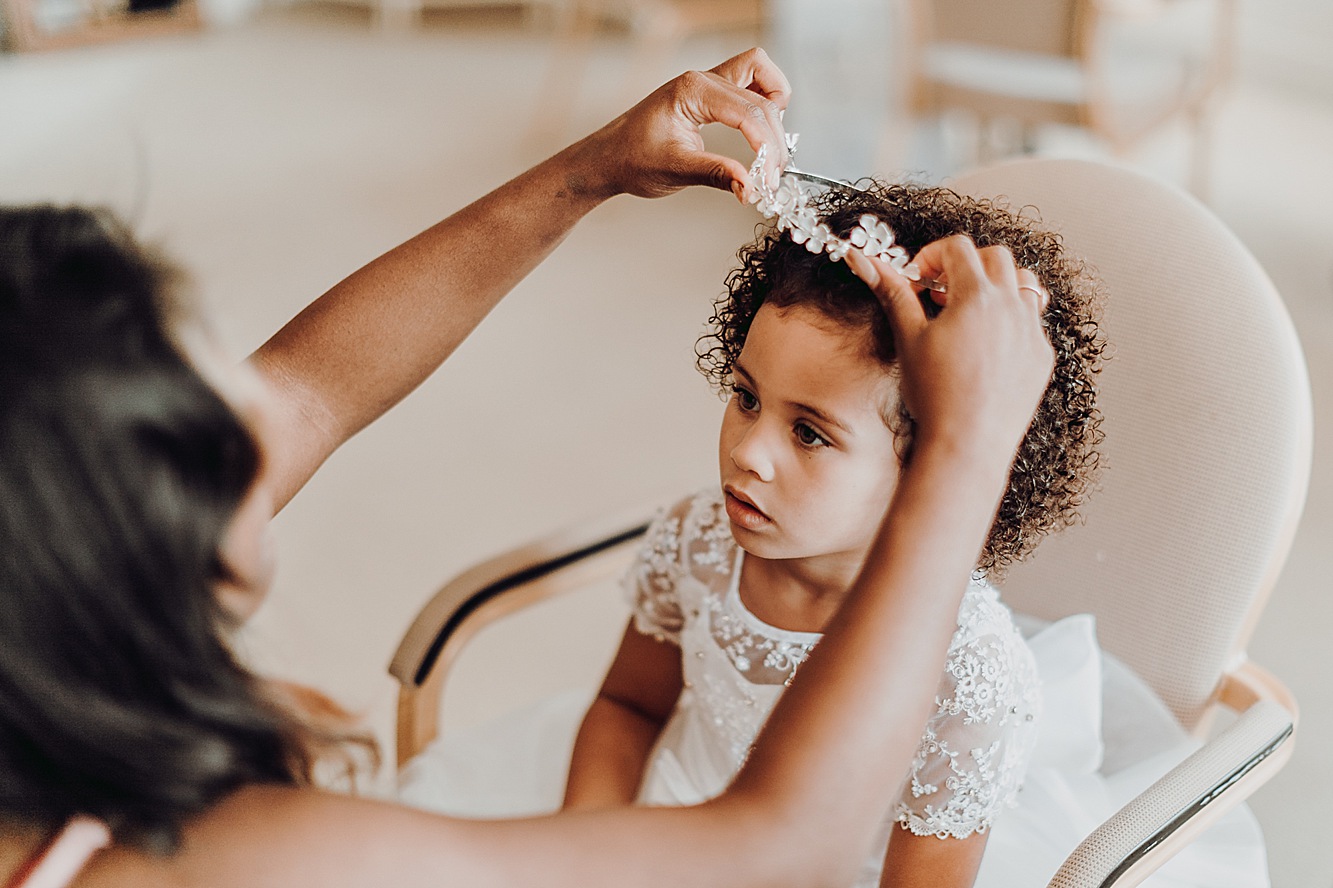 When it came to her dress, Mrs Bolaji discovered her striking Sophia Tolli design at Bridal Caprice Boutique in Hammersmith. Where to even start with this – doesn't she look incredible?!
It's all beautiful, from the lace and tulle off-the-shoulder bodice, with its low back and row of crystal buttons, to the dreamy skirt with layers of tulle and a dramatic train.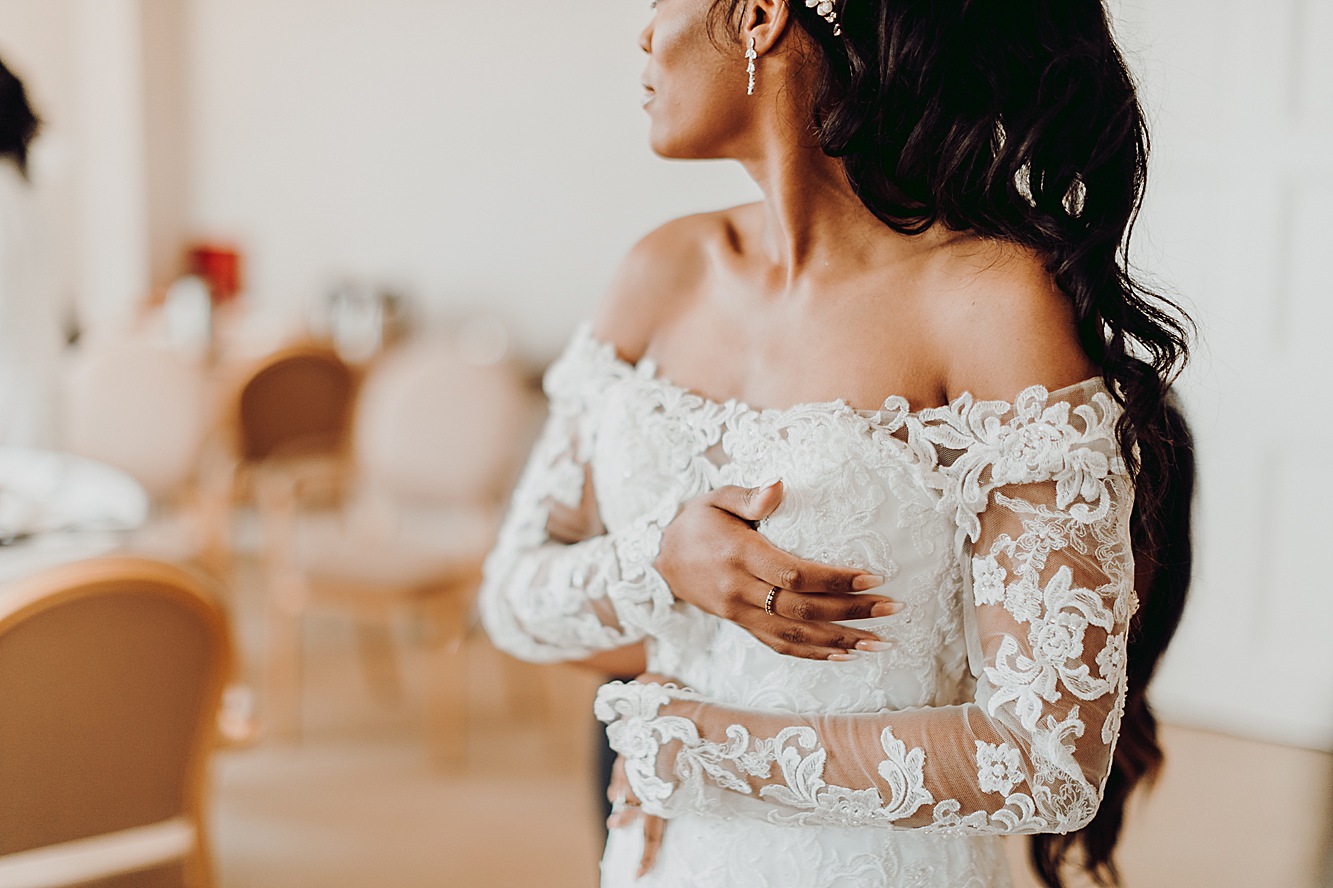 "I had the most exceptional experience at Bridal Caprice Boutique. It's easy to go into a bridal shop and become overwhelmed with the options. The team were so patient and helpful, and pulled out a variety of looks for me. I was quite specific too, but nothing was too much trouble."
"I ended up picking out a full sleeved, lace, fitted off the shoulder number. I was a little nervous about the alterations, but I shouldn't have been – the dress was altered and fitted like a glove, and I couldn't have been happier with the result."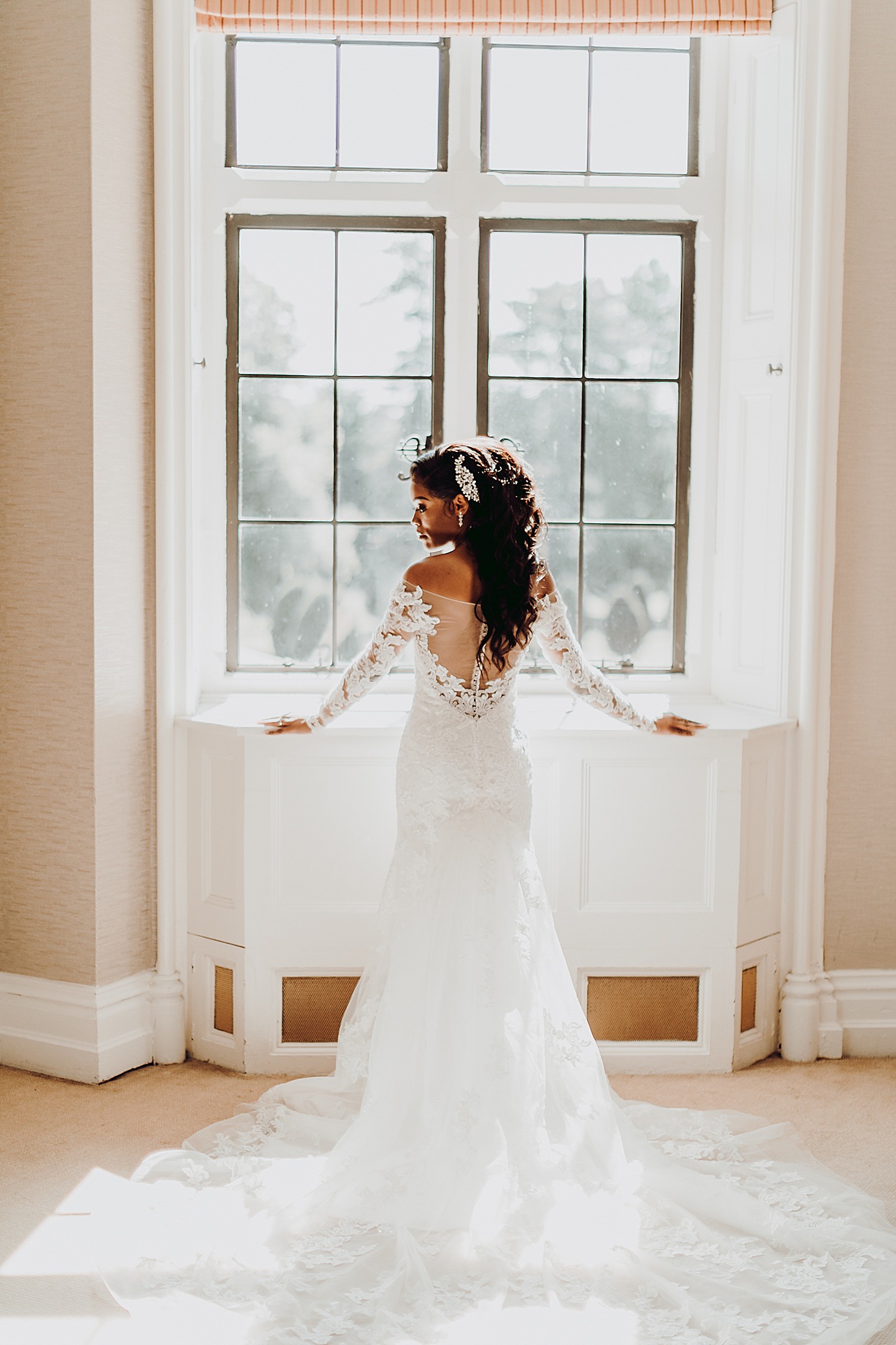 "I loved everything about the dress! The sleeves, the bodice, the train – it just captured everything I wanted for our modern vintage theme. If I had to choose the aspect I loved the most, it would be the sleeves, as it felt very different to what I had seen, and I liked the uniqueness of it."
The bride wore a crystal and pearl floral inspired hair comb by Lace & Favour, as well as complementary drop earrings, also from Lace & Favour.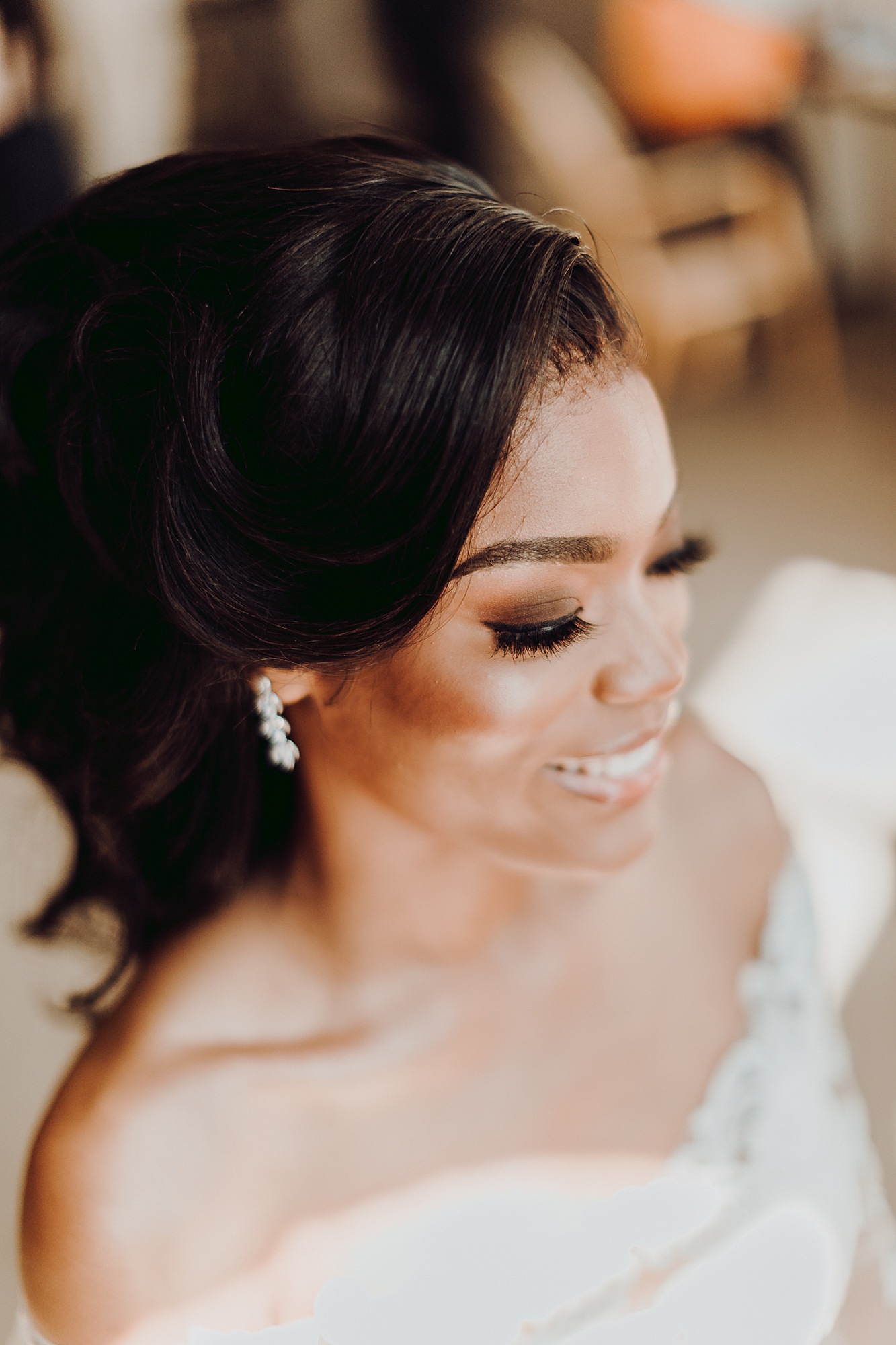 "My veil was dramatic and very long but light to wear. I choose it because of its traditional nature, and it also added an element of romance to the day, which is what I was keen to bring out."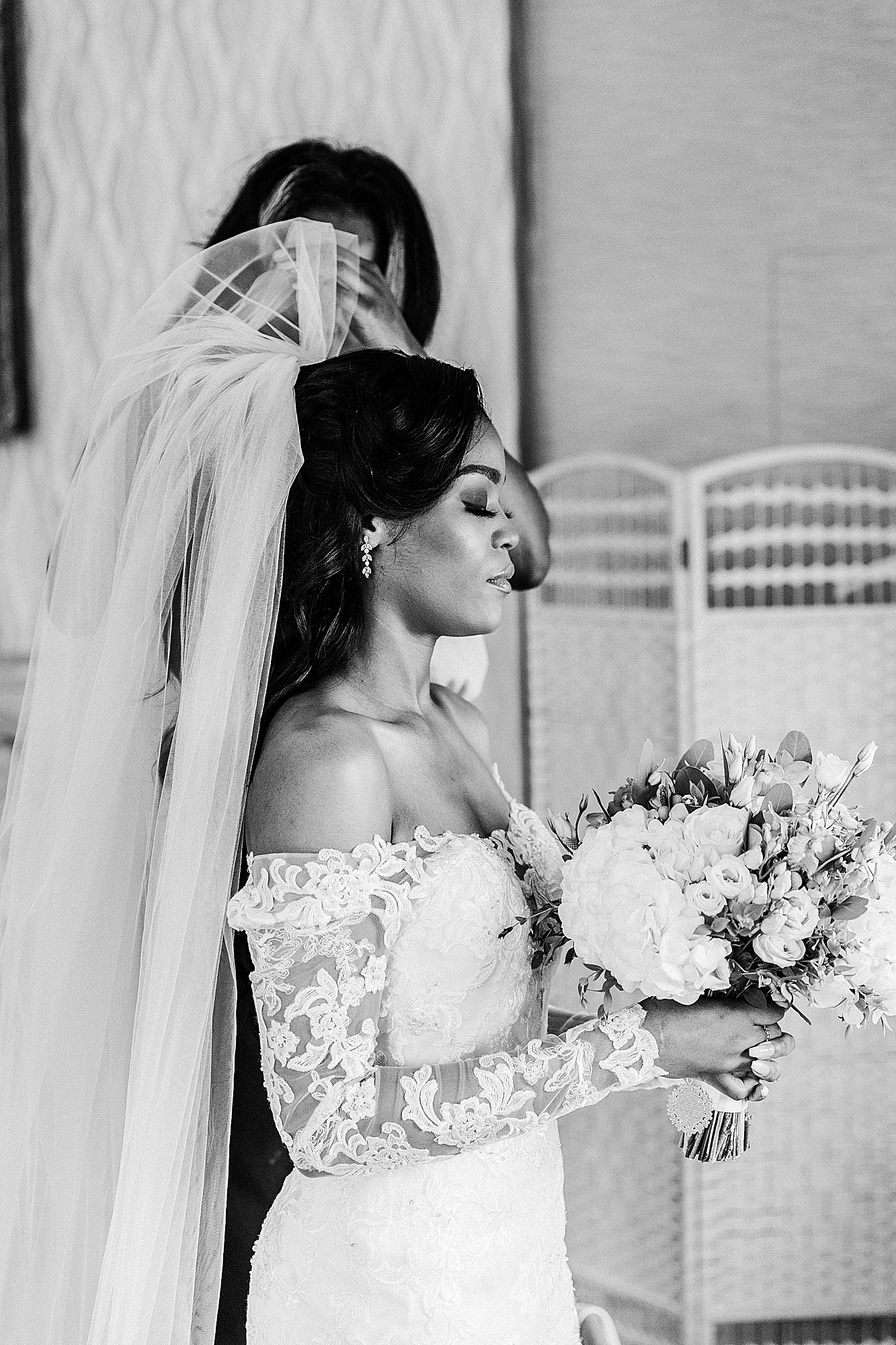 The spectacular Oak Room at The Elvetham was decorated with floral garlands across the stone fireplace, with lanterns lining the petal strewn aisle. Saxophonist Mike Taylor played Back At One by Brian McKnight, as the bride and her father walked down the aisle together.
"My partner is Muslim, I come from a Christian faith, and we held a civil ceremony. It was great to have my grandfather, Pastor Pink, perform a blessing for us both on the grounds of The Elvetham, too."
As they exchanged their heartfelt vows, the couple also gave each other rings, which they chose at jewellers Fraser Hart.
"We had two custom written readings, and I think this was quite important, as it really helped us settle into the ceremony. My mum did the first and my nephew the second."
"The ceremony was without a doubt our favourite part of the day, and the drinks reception where we could fully relax and listen to the saxophonist. It was also lovely to step back, if only for a second and see our friends and family enjoying every element."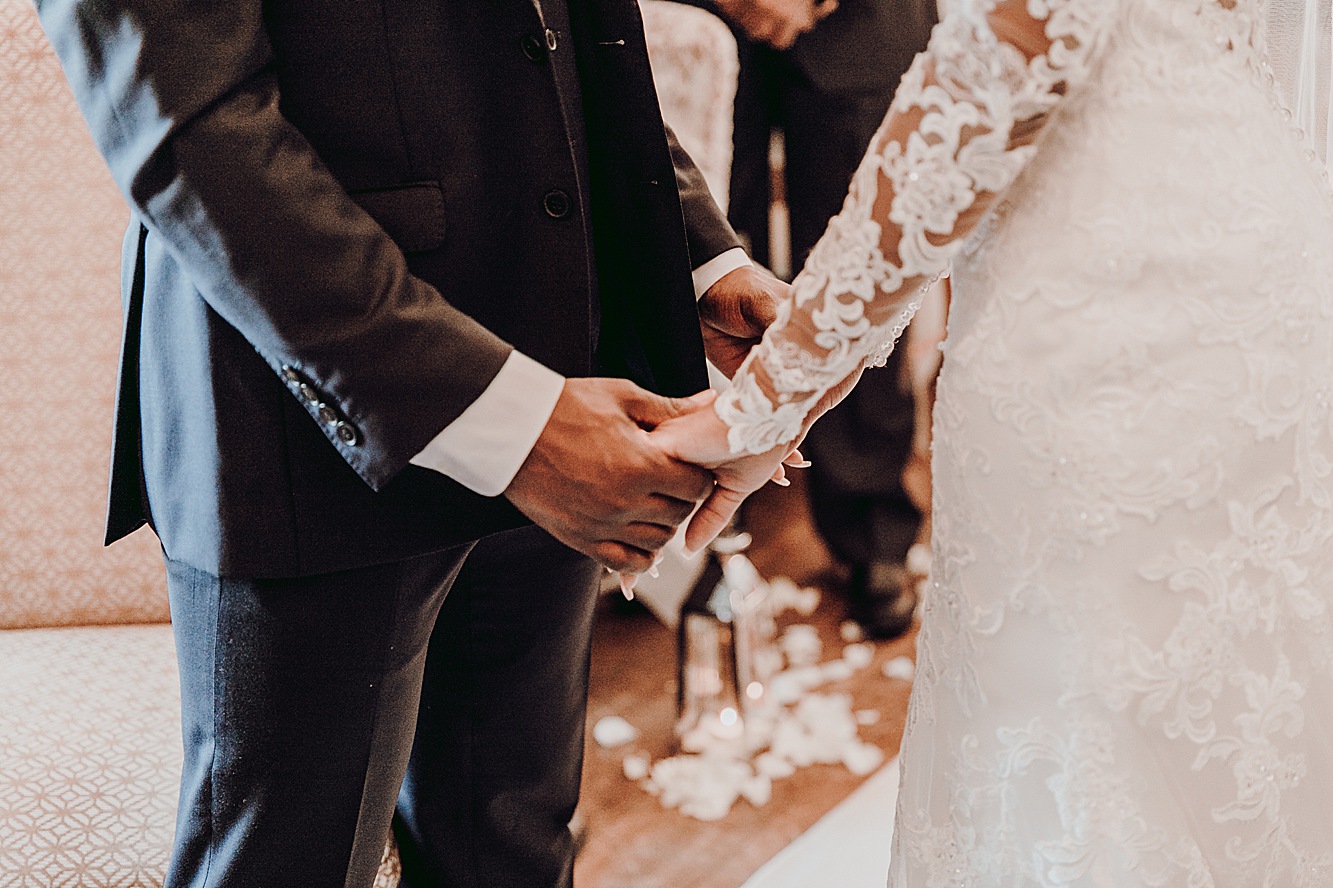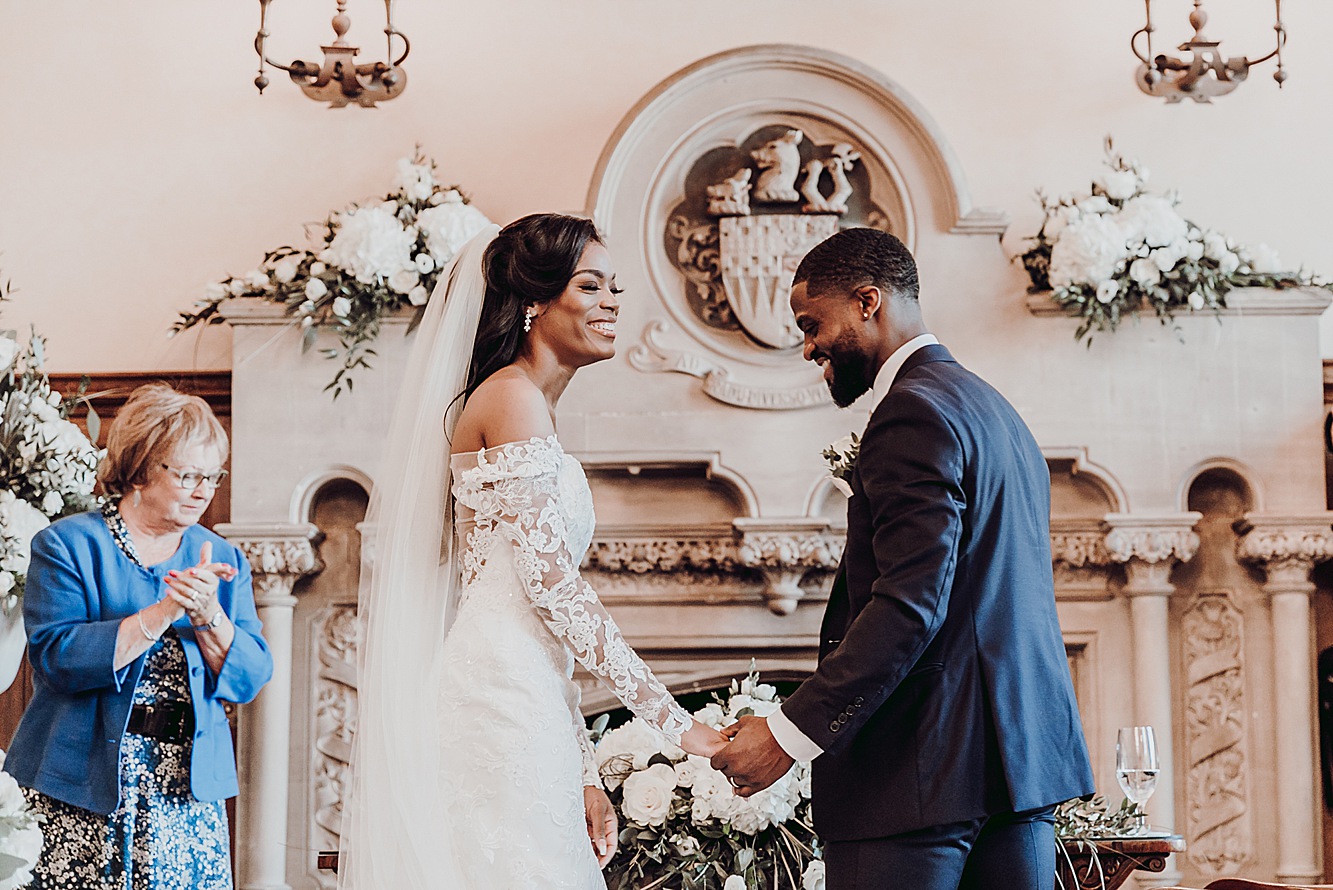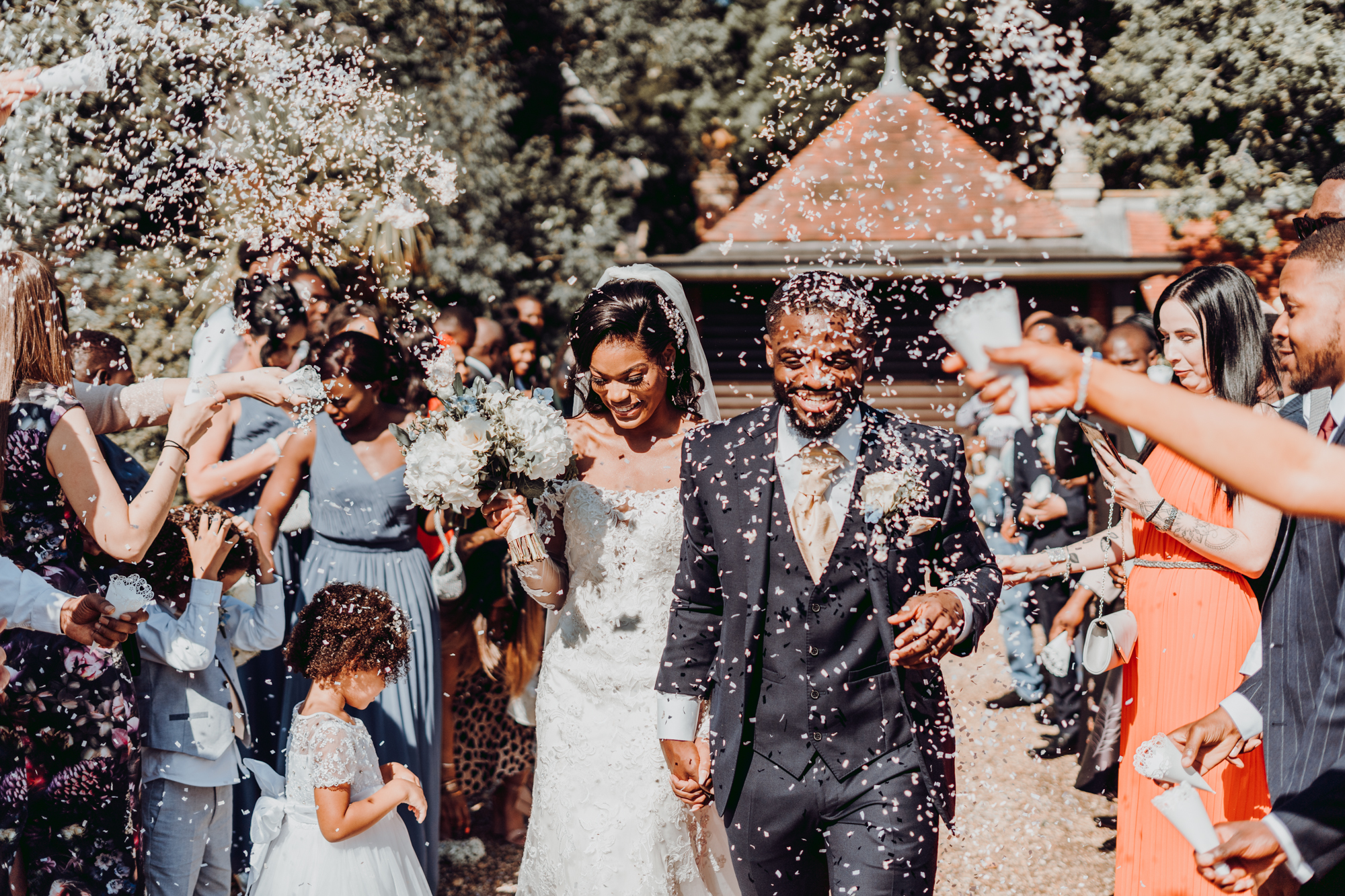 Drinks in the sunshine were followed by dinner, prepared and cooked by the team at The Elvetham, not to mention a whole host of funny and touching speeches.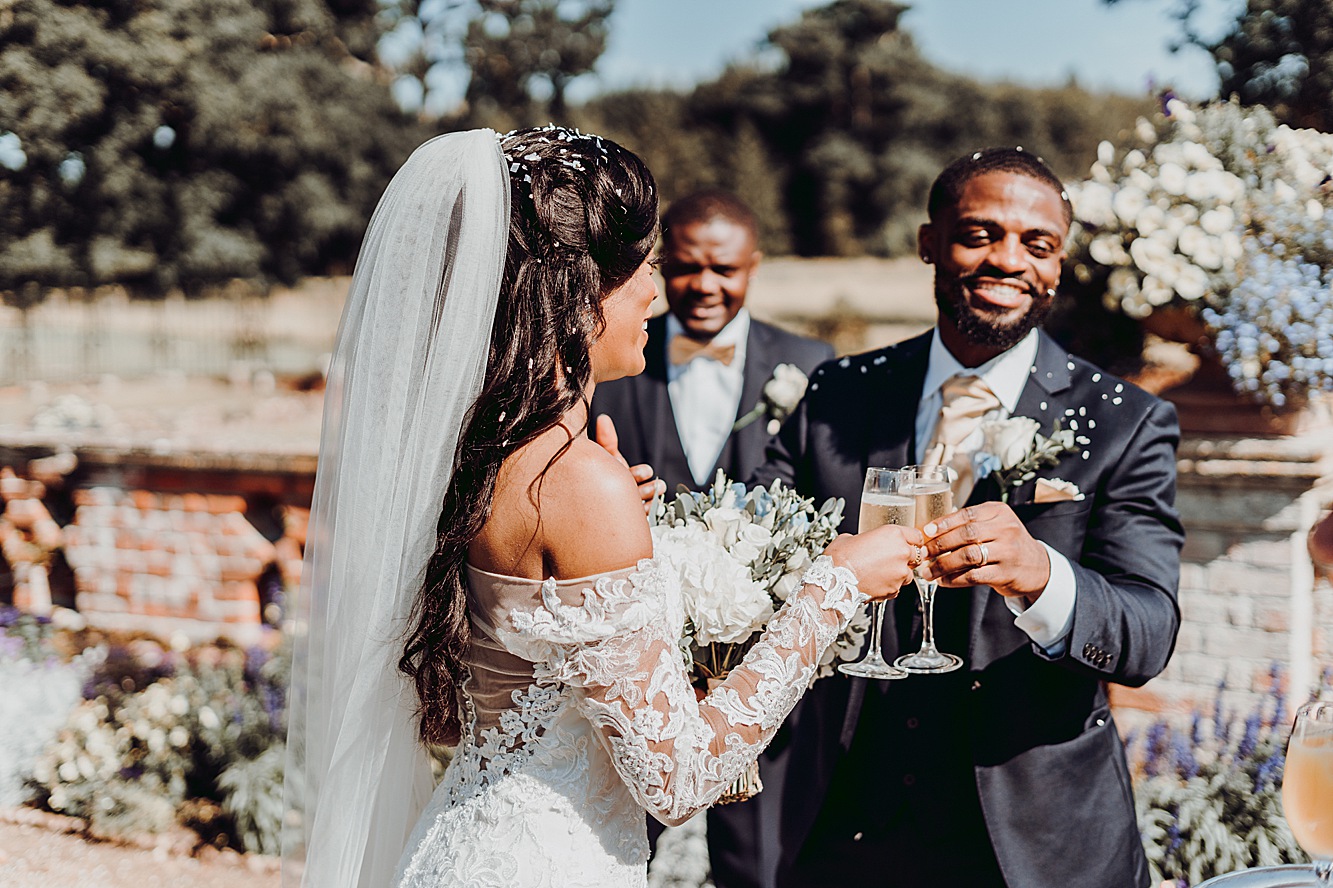 I love the blue-grey colour palette worn by the bridal party, with sharp checked trousers and waistcoat (sadly no details about these) and asymmetrical pleated chiffon dresses from Oasis, worn with shoes from Quiz Clothing, and earrings from Essential Jewellery in Guildford.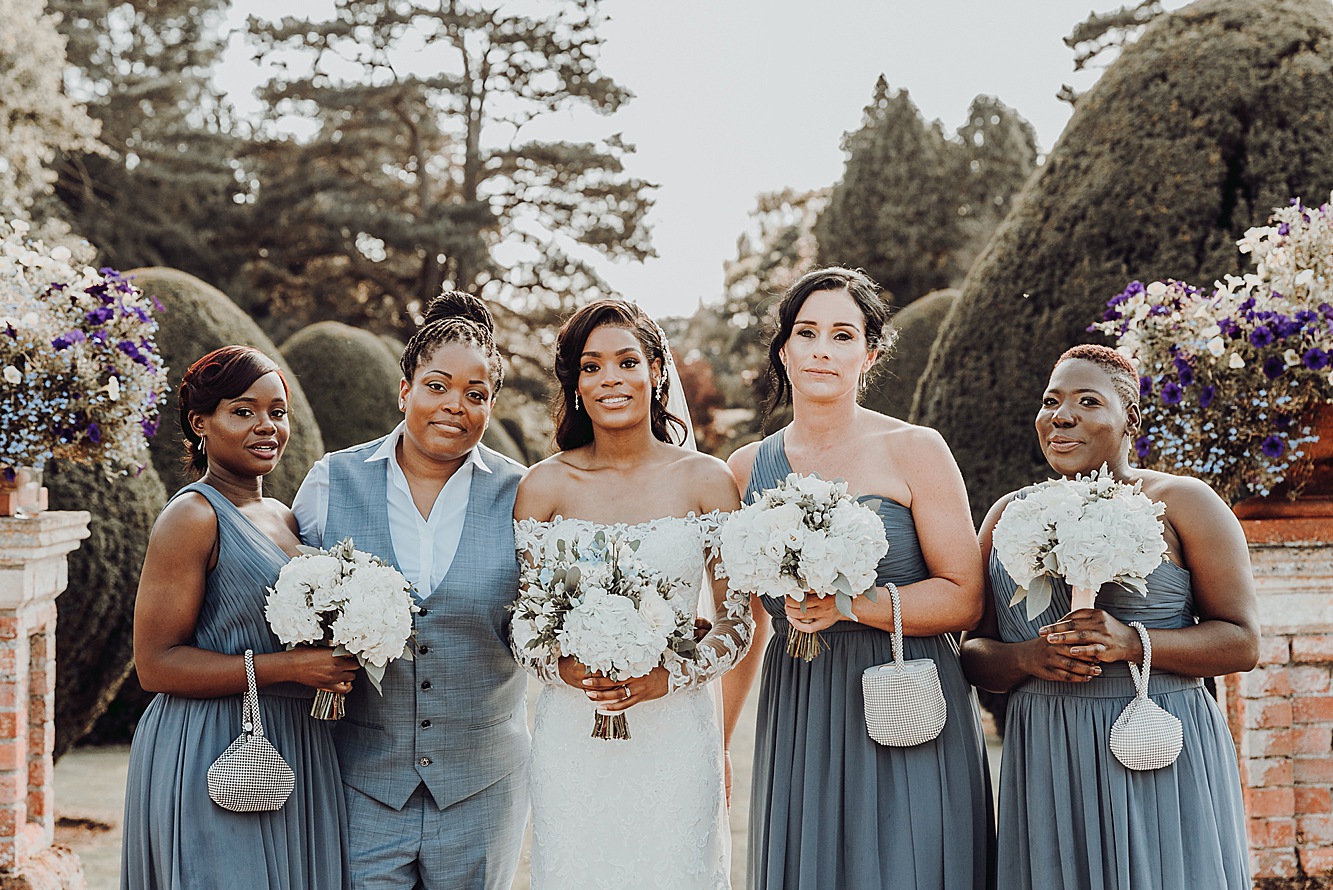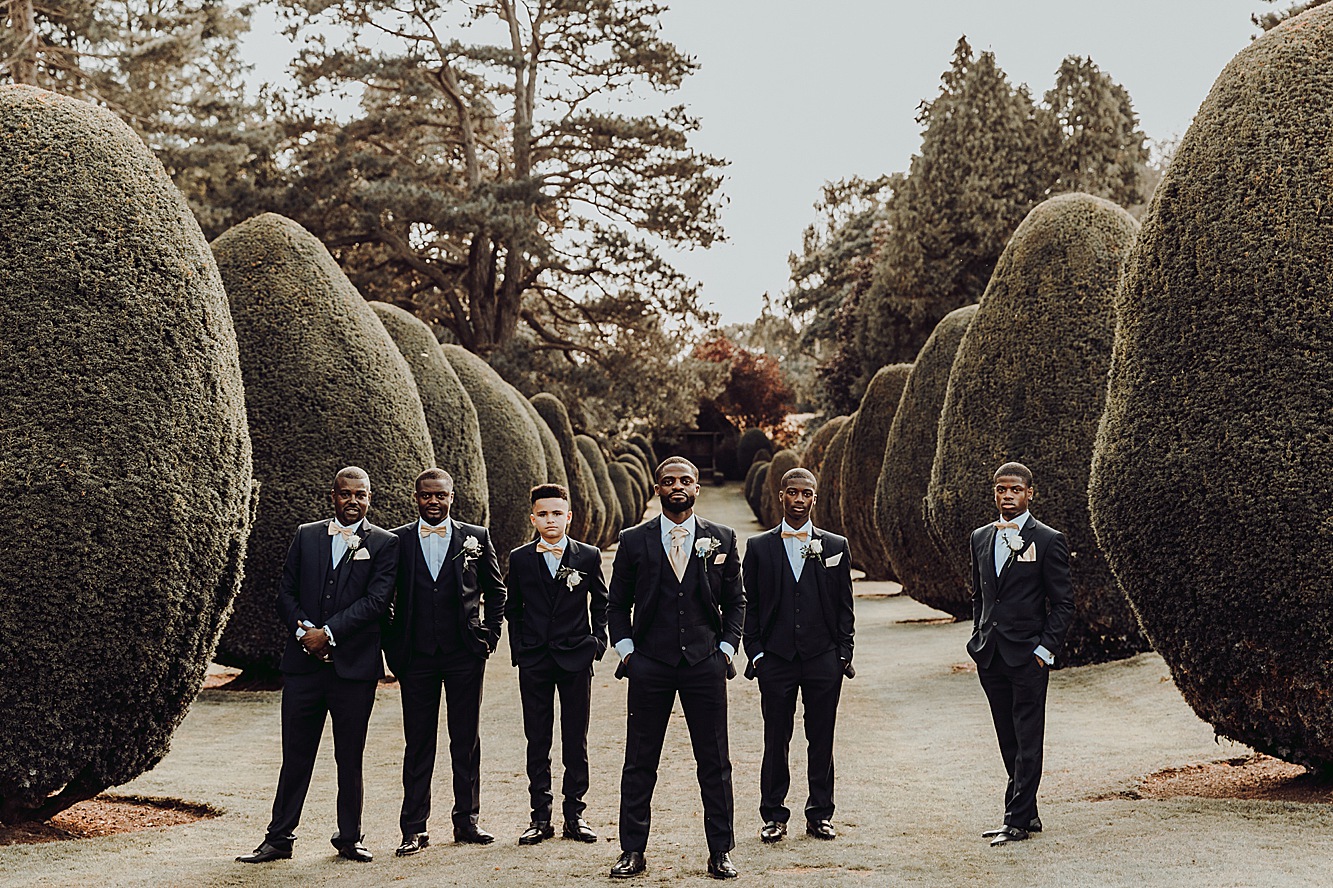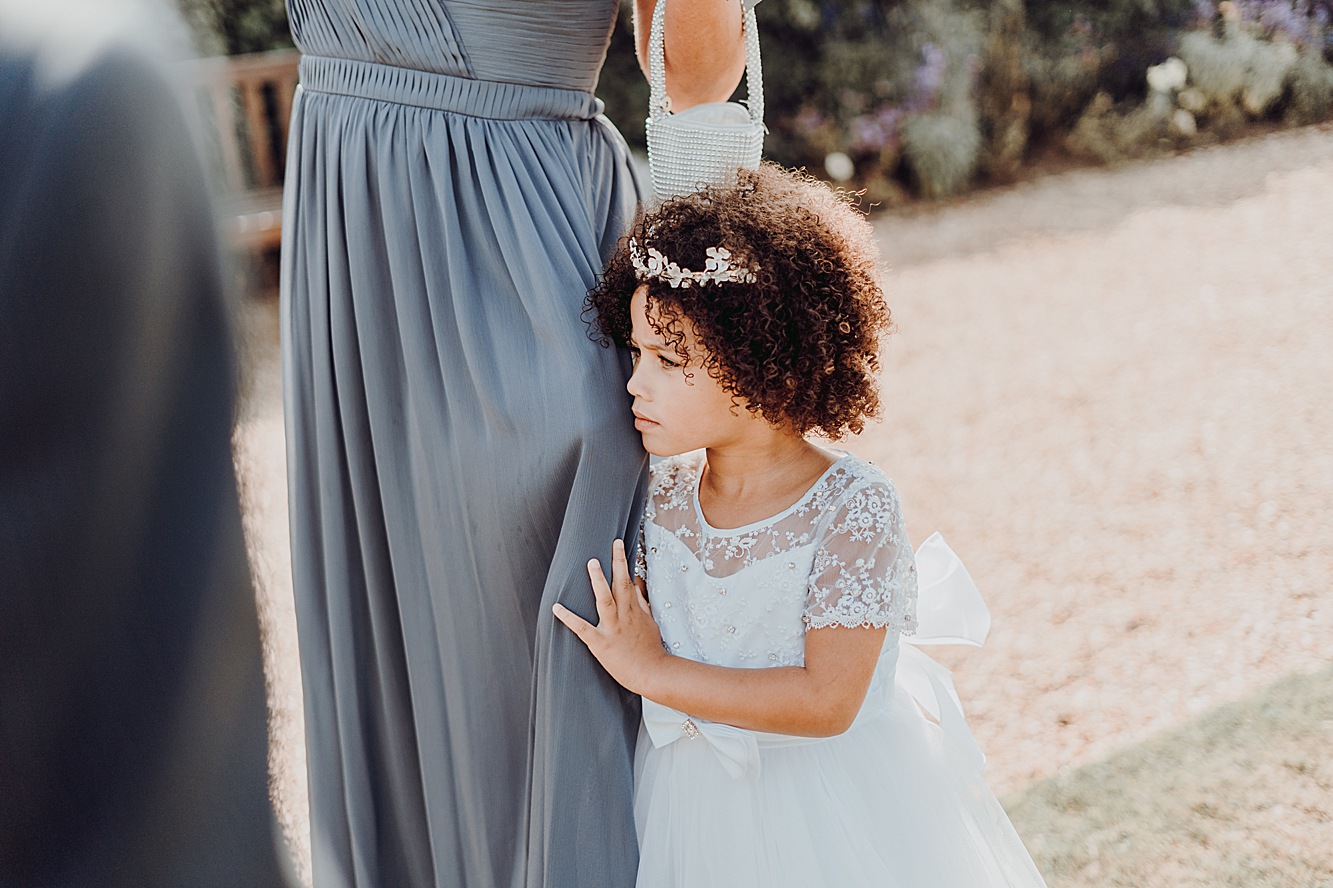 VFB the Florist created a gorgeous bridal bouquet, with creamy hydrangea blooms, roses and lisianthus accented with pale blue and grey-green foliage.
"We wanted romantic flowers, with texture. We opted for lots of foliage in the form of eucalyptus, romance with white Avalanche and Mondial roses, and hydrangea. For the texture we added in grey brunia, and for the bridal bouquet a muted blue cornflower, and in the groom and pageboy's buttonholes."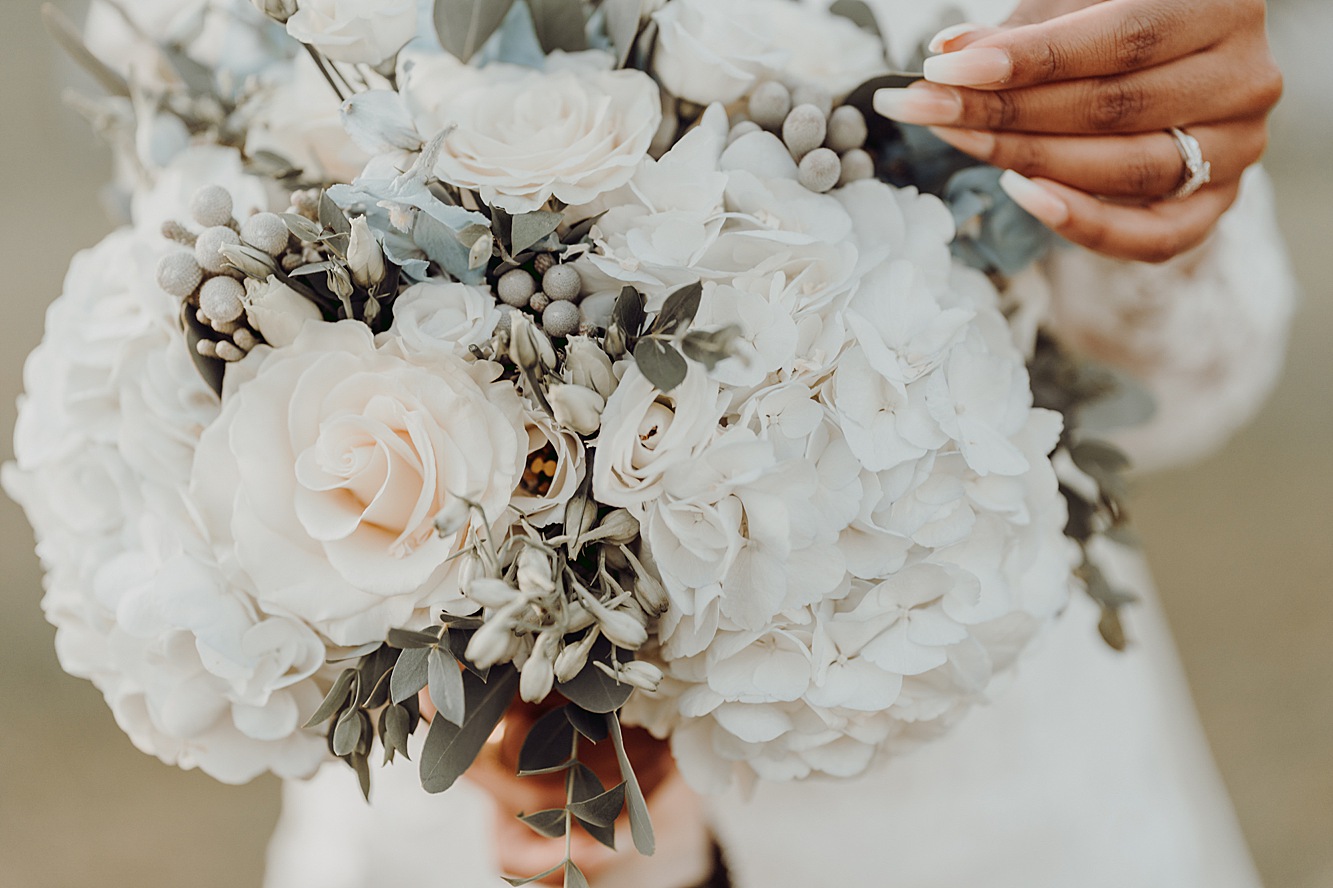 The couple's elegant stationery was from Papier using their customisable templates, and for favours, they filled large jars with sweets, and included personalised messages for their loved ones.
"Our day was modern vintage. We wanted everything to be crisp, classic and elegant. We both like taking a classic style and adding a twist, so instantly wanted to add different textures, colours and depth. To get the crispness, we knew we wanted white, to add softness, we used green and grey foliage, and for vintage elements, ornate gold combined with our 'something blue'."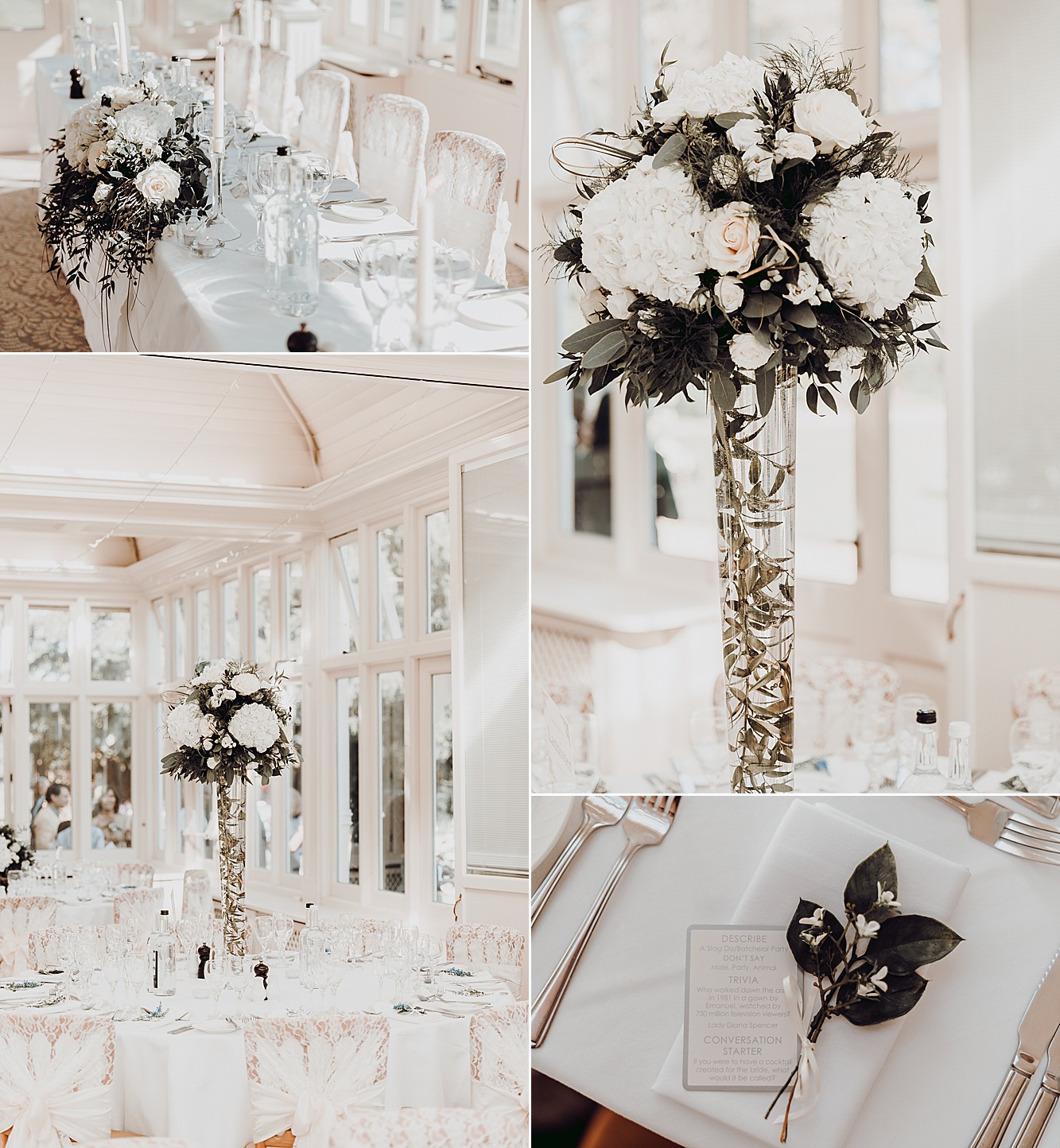 Table centrepieces were floral arrangements in gold, vintage style bowls, or in tall glass vases with pretty greenery floating in the water. Tables were named after houses in Game of Thrones – one of the groom's favourite TV shows, and place settings were decorated with sprigs of greenery and flowers along with a card containing table games, trivia and conversation starters.
"We wanted to add an element of fun, so we provided guests with flip flops and accompanied them with 'Dancing shoes' signs. With so many of our guests staying at the venue, we knew how tempting it could be for time to pass with our guests retreating to their hotel rooms to freshen up, so we filled all of refreshment areas with essentials like deodorant, styling gel, etc.,  so there was more time for dancing!"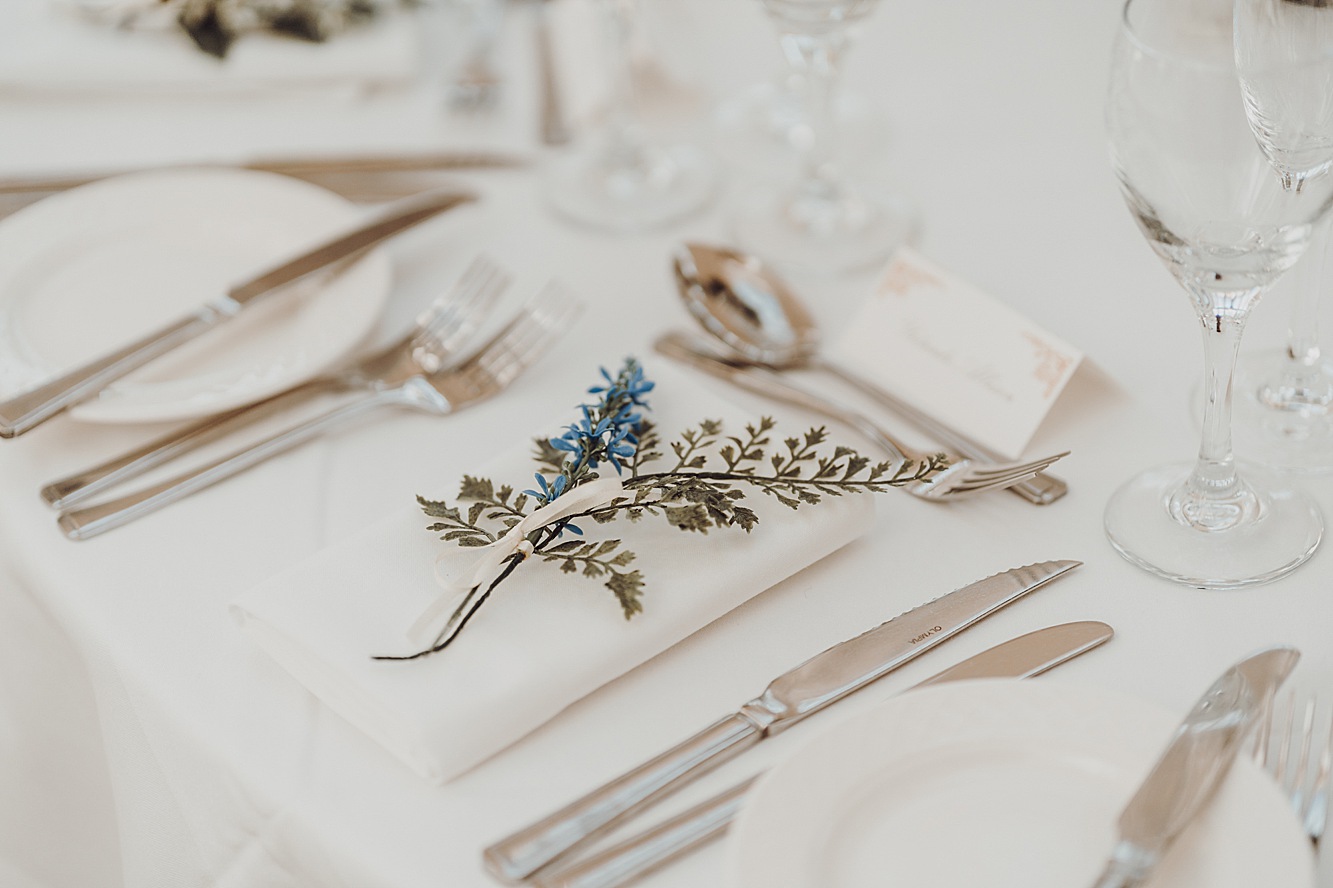 The spectacular four-tier wedding cake included a gold layer, and an amazing marble effect tier on the bottom, created by Liz from Cake Buds.
"Liz was fantastic. We wanted a cake which would match our theme, and I always knew I wanted lots of flowers, so it was important for this to feature on our cake. Liz created the sugar flowers to complement my bridal bouquet and the results were truly amazing! We had so many compliments on the design, including the taste. The passion fruit and vanilla flavour was just delightful."
Mr and Mrs Bolaji enjoyed a golden hour stroll in the gardens before heading back inside to the dancefloor for their first dance together, as well as entertainment from magician Mike Stoner.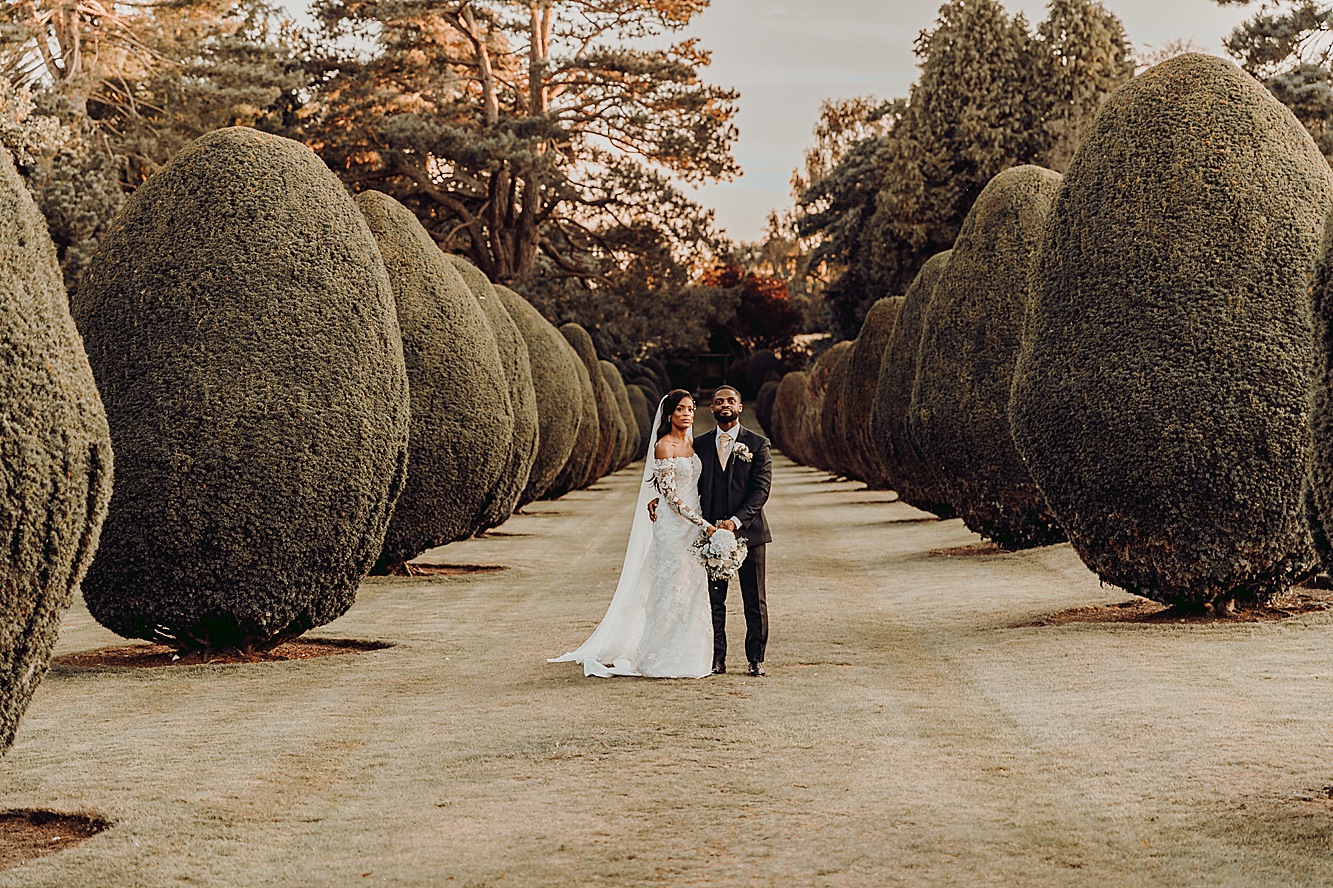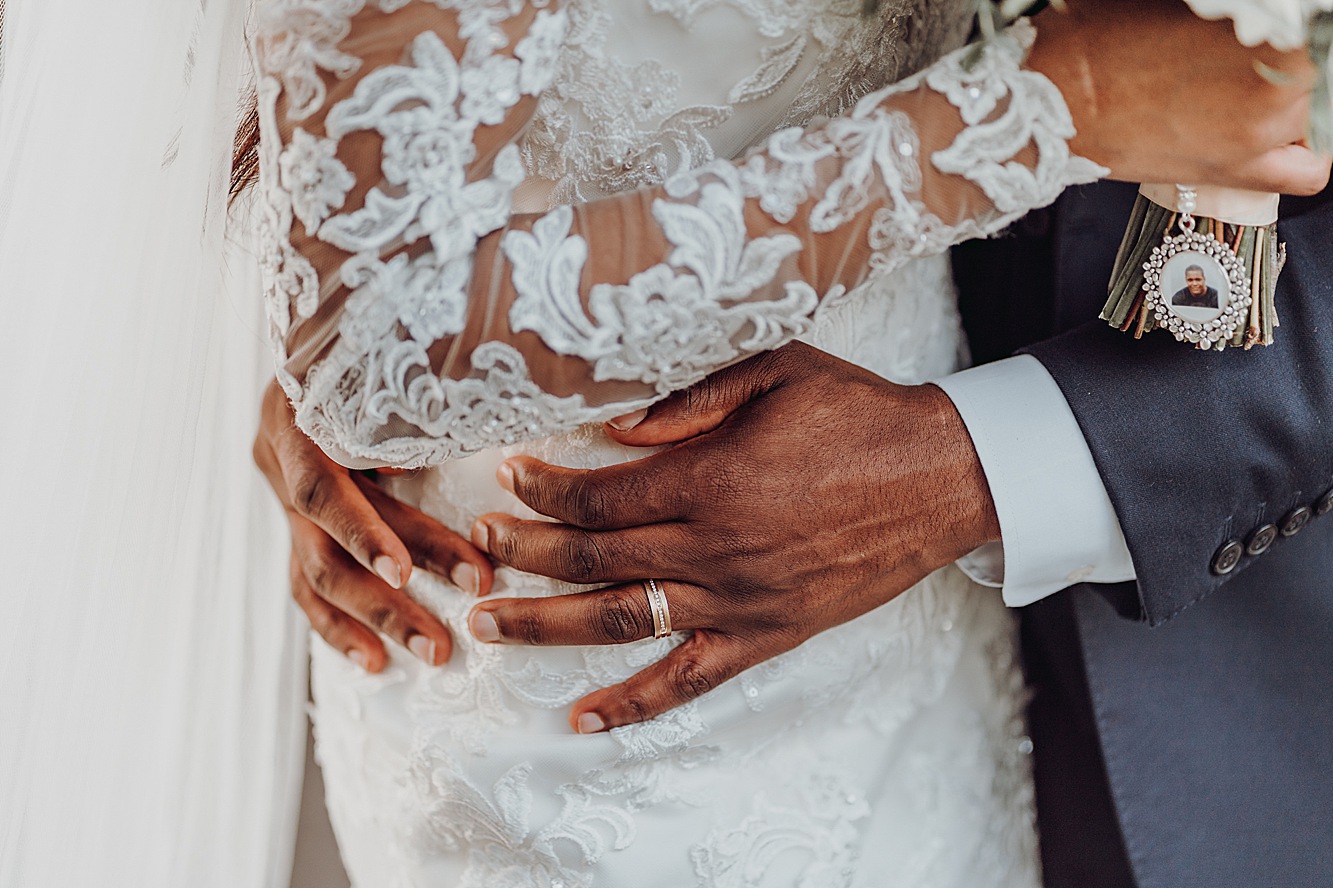 Mr Bolaji looked smart in a Moss Bros. navy blue three-piece suit from their Moss 1851 collection, which he wore with a light gold cravat and pocket square, also from Moss Bros., and cufflinks from Etsy.
"We got engaged on my birthday. It was a lovely surprise over dinner at the Great Fosters Hotel, Egham. We were engaged for 2 years before our wedding day."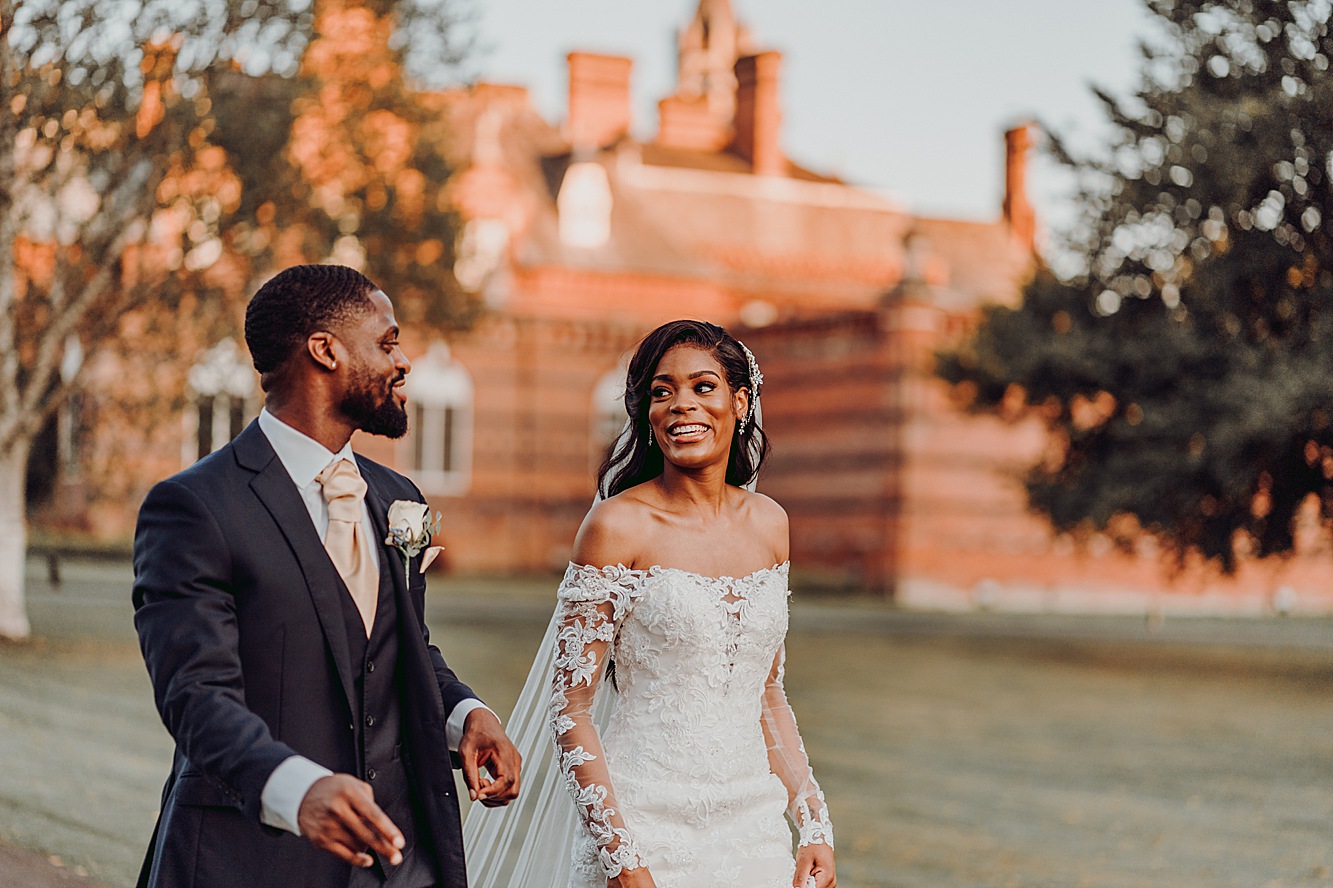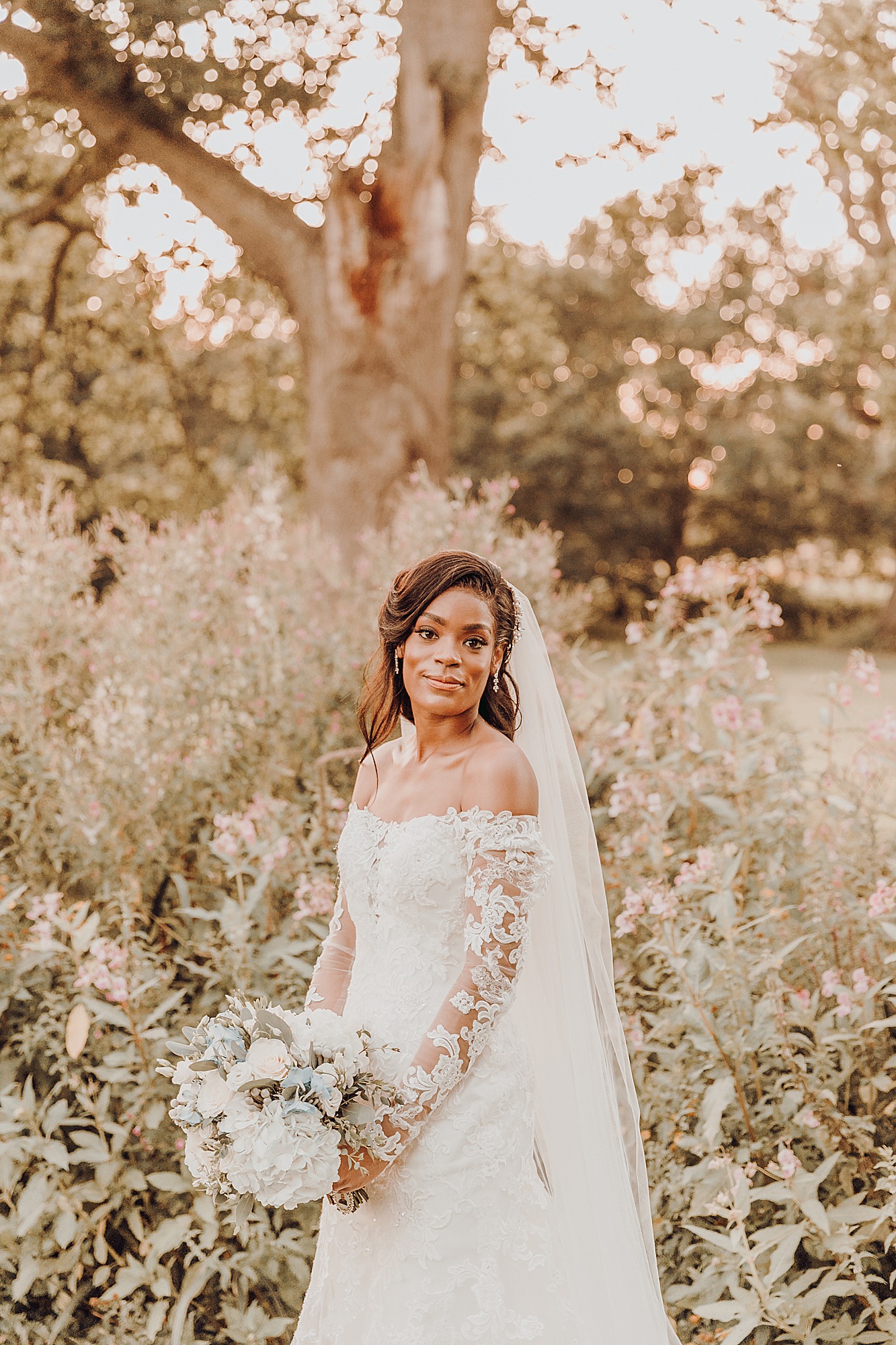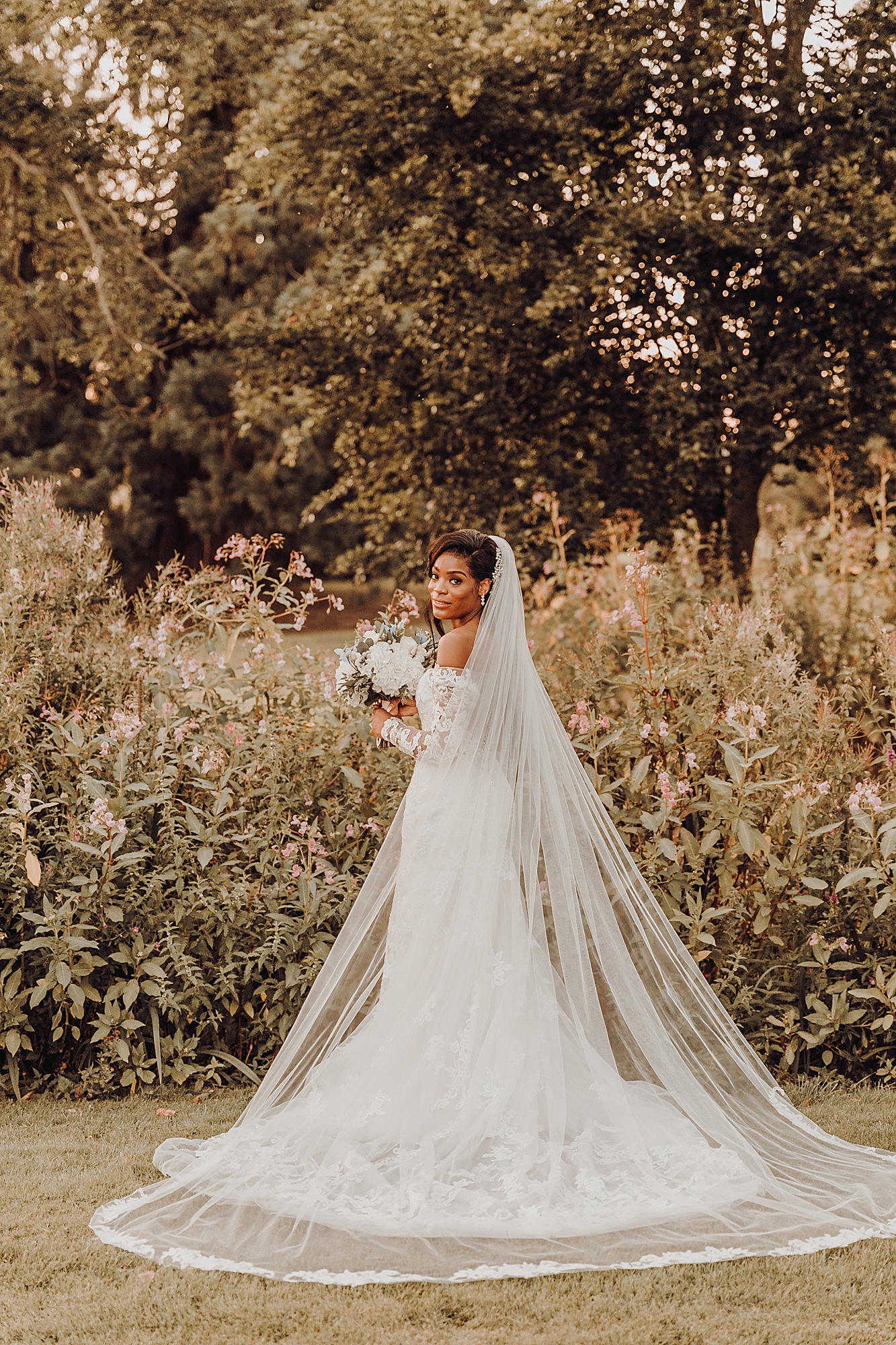 "Our first dance was John Legend, All of Me. We wanted a song that we both identified with, and we both like John Legend, and could identify with all the words. It took us a while to select the song, and so would suggest that you carve out time for this – it did take us longer than expected!"
"We had Dough & Deer for the evening reception food. Everyone enjoyed it, and I'm continuously asked for their details for family celebrations and other corporate events. We loved that they made us two pizzas specially and sent up to our bridal suite!"
Words of Wedded Wisdom
"It's easy to focus on ticking off the big milestones first, like the venue, dress, etc. These are all important but if you want anything custom, from stationery and favours to wedding signs, you might need 6-12 weeks lead time."
"Network with other brides, but also trust you gut! Make sure the wedding reflects your personal style."
"Also, involve your partner, even if they say they don't want to be actively involved! We incorporated one of my husband's favourite shows, Games of Thrones into the day, through the name place and seating charts. When set the task, I wasn't sure where to begin, but as it turns out, we managed to do so simply and tastefully. It was nice to inject both of our characters into day."
Mr and Mrs Bolaji, thank you so much for sharing your spectacular day with us. It's been a wonderful treat! Many thanks also go to Romy Lawrence Photography for these charming, beautifully composed images.
Until next time!
Love, Laura