Cast your minds back to April this year, Easter week in particular. A hot, hazy week with days full of sunshine and the glorious sounds and scents of spring bursting forth.
Today on Love My Dress we are sharing the wedding of Laurann and Iain, who had the good fortune of holding their nuptials deep in the Gloucestershire countryside in that beautiful week. On 17 April 2019 marketing manager Laurann and talent consultant Iain headed to Hyde House, Stow On The Wold, Gloucestershire for their country house wedding.
Photography Green Antlers Photography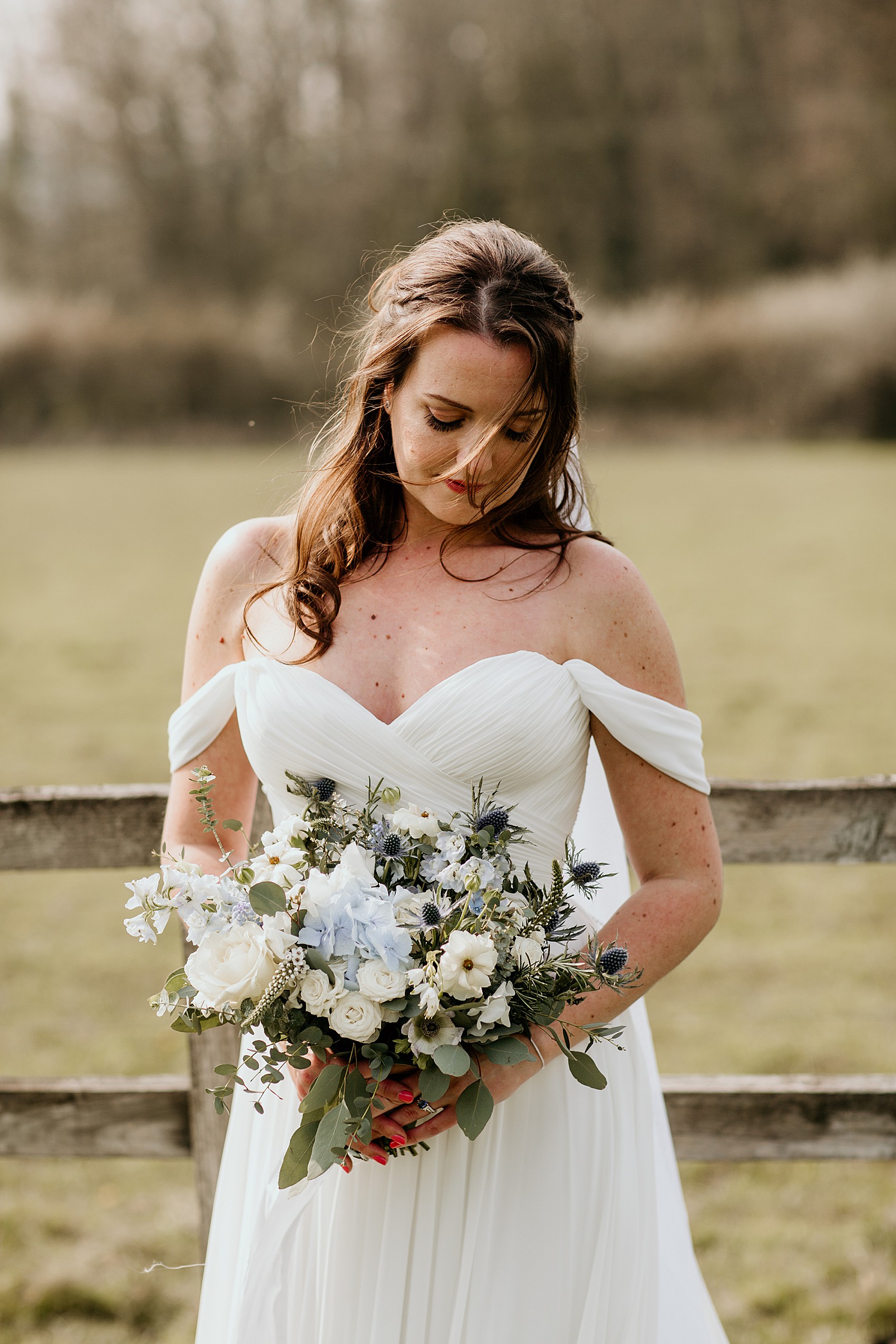 On site to capture the preparations and all the festivities were photography duo Green Antlers Photography, whose light and airy, fine art style was made for the elegant, countryside wedding.
"They were an absolute dream from the beginning – friendly, helpful and professional. We dealt mainly with Diana from a comms/admin perspective and she was fab. We met Sam at our venue prior to the big day and knew straight away that he understood us and our wedding. We had so many comments about how great he was. We are so happy with our final photos and can't stop looking at them."
Central to the wedding décor was an abundance of flowers and a palette of white, grey and blue. Laurann set the tone by designing and making all of her own wedding stationery.
"I am a little obsessed with the colour blue. My engagement ring is a sapphire and this formed the basis of our wedding style. We wanted something simple and elegant – lots of whites and a few greys – with hints of pale blue as highlights. As we were getting married just before Easter we also decided to incorporate a little bit of Easter.""
"We had the save the dates and invites printed on Printed.com and finished them off using velum, thread and a Lindsay crest wax seal. I also designed and made 'Reserved' labels for the chairs in the ceremony, tissue stickers and little tissue packs for the chairs and table quizzes. My favourite things to make were the welcome sign and table plan – white chalk pen on clear acrylic. I love their clean look and it was really fun to make them."
"Hyde House is such a beautiful venue that it required hardly any additional décor. The main styling elements were lots and lots of pillar candles interspersed with foliage so everything felt really natural. For The Grange's entrance we bought two large pillar candles and cylinder vases which we placed on either side of the doors with blue cylinder vases filled with eucalyptus and twigs covered in white sparkle."
Drawing on the bride's love of blue and her sapphire engagement ring, the couple created a simple and elegant colour palette of whites, greys and pale blues, along with a few hints to Easter and lots of candles. The result is this sophisticated and very charming day.
"I'd done a lot of research and had my heart set on a venue that had an orangery or glass house feel. However the pictures of Hyde House online looked lovely so we decided to take a look. We fell in love on sight – mainly to do with the new Grange (not an orangery or glass house anywhere!), and how light and open all of the rooms were. I was also particularly taken with the bridal dressing room – such an amazing feature for a venue."
For a touch of blue, she wore Dune London shoes.
"As I ended up with a white dress I wanted to get blue into the outfit in some way. I found them in the sale and they were perfect."
"My nana had given me a small St Christopher that had belonged to her mum; I attached it to a very fine silver bracelet. I also borrowed a garter from my maid of honour that she wore on her wedding day and had been made by her mum. In the garter I tucked a handkerchief that had belonged to my great-grandmother on my gramps' side, so I had two things with me from great-grandparents that were over 100 years old."
After meeting on Tinder and bonding over 'Star Wars' and a shared 'inner geekiness', Iain proposed eighteen months later on holiday in Scotland. Eight months later, they were married.
"Iain organised a surprise at the beginning of the trip and wouldn't tell me any details. He had booked afternoon tea in a tree house overlooking a loch at a private venue – The Lodge on Loch Goil. We were taken up to the tree house and poured a glass of champagne. Iain took me out onto the little balcony over the loch and proposed."
"The second part of the surprise was that we were staying in their converted boat house for the night and had a private tasting menu in the tree house in the evening."
"After falling in love with Hyde House we realised they didn't have many dates left and, as a large chunk of our bridal party and family worked in education, we needed a weekend or school holiday date. We ended up going for 17 April which meant planning the wedding in eight months."
Now lovelies, who amongst you is looking for your perfect wedding gown right now? I hope that you take inspiration from Laurann's Enzoani number, to which she added removable sleeves to make it just right for her. Its simplicity is exquisite and I love the luxe feel created by the tumbling folds of the skirt.
"My dress was by Enzoani, bought from Ann Louise Bridal in Pinner. I customised it slightly and had removable straps added by Choose Beautiful who also did my alterations."
"I went to Ann Louise because they stocked the Syke Dress by Naomi Neoh. I loved the idea of a blue dress and had fallen in love with it on Pinterest. I tried it on and it just wasn't what I wanted. I had been looking for something with a bit of a sleeve, maybe a Bardot and a bit of pleating on the corset but the main thing I wanted was a light and floaty skirt."
"I tried on the Enzoani as I liked the simplicity of it, despite it being strapless which was the one thing I really didn't want. As soon as I put it on I knew it was the one. It was simple, on the whiter side of ivory, had a little bit of sparkle and it had the skirt. It really helped that I was told that it was a sample piece and half price. I bought it there and then and took it home that day!"
Laurann added an exquisitely simple, ever-so sparkly veil which looks divine as it pools over her gown's puddle train. Further subtle touches of sparkle came from her Swarovski earrings, a gift from Iain on the day.
"My mother-in-law made my veil. I wanted something long and simple and had tried on a diamanté trim one that went perfectly with my dress. My mother-in-law wanted to help out and do something so the veil was her challenge. She did an amazing job."
The delicate blue theme continued in the light and floaty gowns worn by the bridesmaids, found at Mint Velvet.
"I didn't want anything too 'bridesmaidy' and wanted something pale blue, not very easy to find during winter. I also had a pregnant maid of honour (she gave birth six weeks before the wedding) and another bridesmaid who was four months pregnant at the wedding so I needed something that would fit some potentially very different bodies from when they were tried on. I ordered them as a bit of a wild card but they were by far the best and suited everyone really well. I added a little sparkly belt to them to tie them in with mine, from Ebay."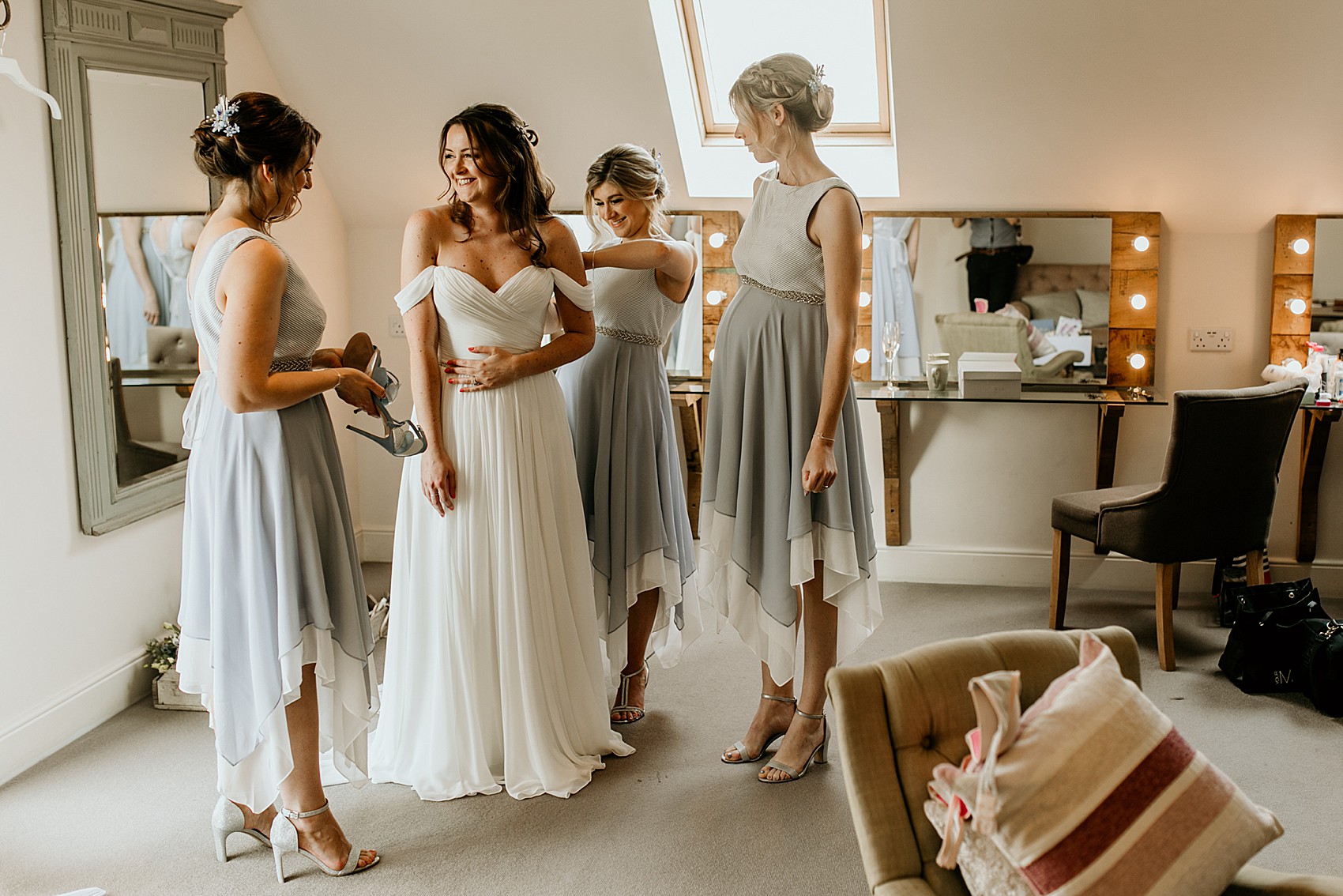 Whilst the bride added just a few sprigs of eucalyptus to her hair, the bridesmaids wore blue and silver feather combs from ASOS.
"I made gift boxes for the bridesmaids that included H&M pyjamas to get ready in, the hair comb, an individual gift and a personalised star bracelet from Tululu."
For the ceremony, Laurann's hair was styled by Amie at The Wedding Hair Specialist, and left down in soft, romantic waves to frame her face. Her make-up look was sophisticated and polished, applied by Clare Moroney Make Up.
In readiness for the ceremony, Iain donned a Ted Baker waistcoat and trousers for a relaxed look, adding a watch gifted to him by the bride.
"I gave him a Fossil watch on the day with an engraved back."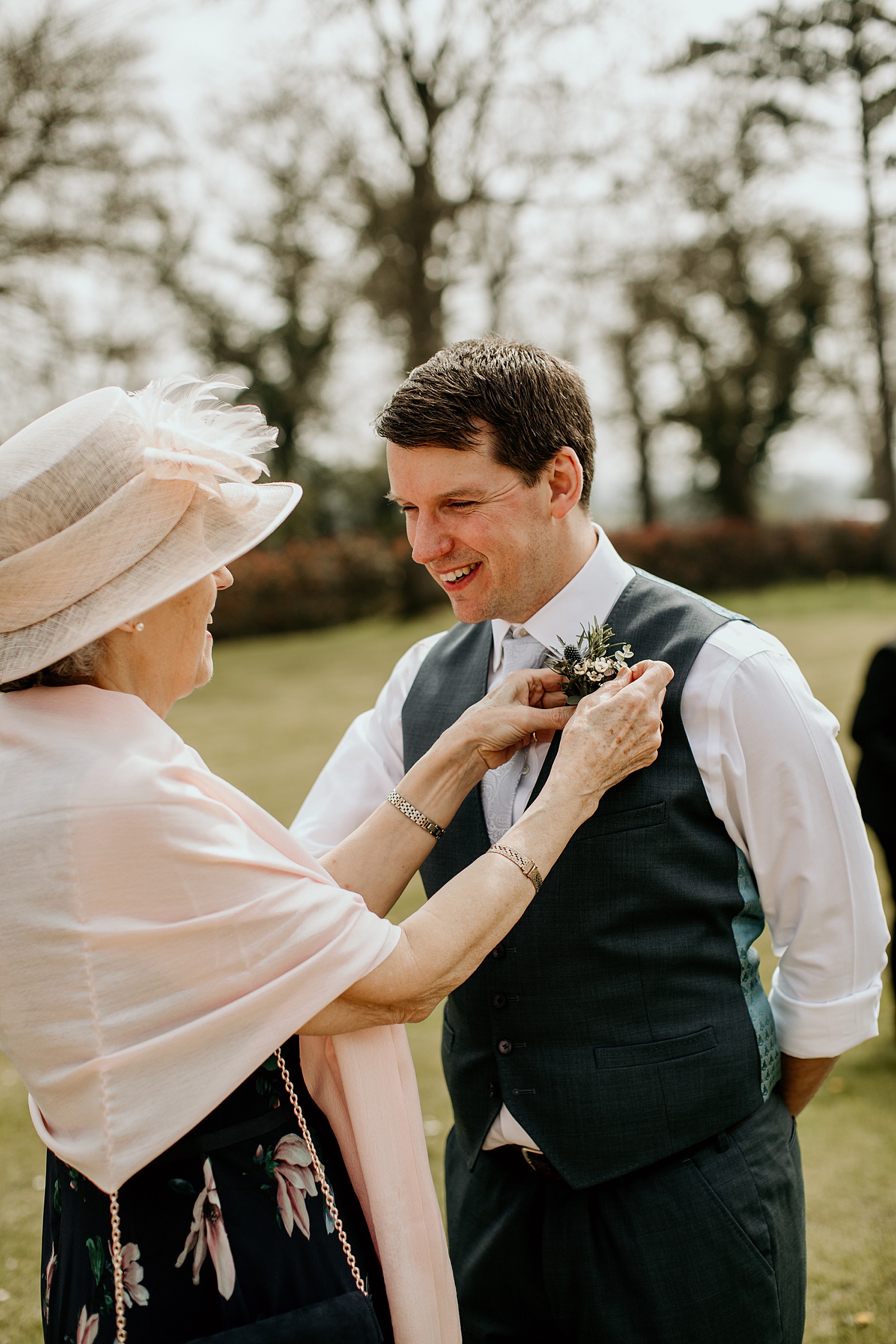 Having got ready in the beautiful bridal dressing room, Laurann had just a short walk to the light, airy barn with her father.
"My entrance music was a private joke between Iain and I. Our second date was to see 'Rogue One' and we joked for a while that if we were to ever get married, I would walk down the aisle to 'Darth Vader's March'. When we started planning I started to get unsure as it's a bit stampy and not very graceful to walk to so we decided to research into other options. We came across a fan-made piece of music, an instrumental heroic version of 'Darth Vader's March'. It was a beautiful piece of music on its own but we loved the fact that it was very subtly Darth Vader and wanted to see if people would realise."
Laurann and Iain chose to exchange marriage vows provided by Gloucestershire County Council for a short and sweet ceremony.
"The vow options from the council were so lovely that we kept them as they were. Iain's sister Helen read 'Why Falling In Love Is Like Owning A Dog' by Taylor Mali as we are both dog-loving families. My friend Cat read 'Love Is A Temporary Madness' from 'Captain Corelli's Mandolin'. We chose it because we liked it."
The story behind the couple's wedding bands, made by the groom's talented cousin Andy Lindsay, is so meaningful.
"Our rings are very personal and there was no-one else we would have had make our wedding bands. Iain's late uncle was a jeweller and one of his sons, Andy, has followed in his footsteps. Iain worked with Andy to design and make my engagement ring, choosing the sapphire from a selection that Andy sent him videos and photos of. I love how personal my ring is and that Iain had a hand in designing it."
"Iain had a simple band and I had a band half-set with diamonds to match my engagement ring. We have the co-ordinates of Hyde House split and engraved inside – half on each ring – so you only know the whole location when the rings are together. Andy also told us that when his dad passed, he left behind a lot of metal and some of it is now in my wedding ring – there were tears at this point."
The newly-weds emerged in to the beautiful April day to get the reception started, and had time together in the glorious spring sunshine for some fun photographs and an Easter Egg hunt.
"We had a lot of children coming and wanted to make sure there were fun things for them to do so we did an Easter egg hunt in the garden during the drinks reception. We also made a few piñatas (which we were still making the at 6am the day before the wedding) which were hung in the arbour in the garden and both big and little kids got involved."
The final touches were some wild and wonderful bouquets, styled so beautifully by Haze Lea Floral Design.
"Katherine at Haze Lea sent over the most detailed and comprehensive proposal and I was so impressed with the detail she went into right from the beginning. I wanted something very informal – pale blue flowers supported by white flowers, eucalyptus (because I love the smell) and thistles (a nod to the Scottish proposal and Iain's family). The buttonholes also featured a thistle and eucalyptus. The floral décor featured lots of greenery – more eucalyptus, herbs and the thistles which we styled with lots of cream pillar candles."
Hyde House provided the wedding breakfast, served up in the light-filled barn, whilst the talented bride made her very own wedding cake. The sentence 'cake is such a big part of our lives' means I'm sure Laurann and I would definitely get on in real life.
"I have a sideline in cake-making and have made a few wedding cakes over the years. Everyone told me I was crazy for making my own but I knew what I wanted and didn't want anyone else to do it when I was capable. We had three tiers of different flavours – the hardest part was choosing what to go for. We decided to go universally friendly – a Nutella bottom tier, lemon drizzle middle with homemade lemon curd and a strawberry and vanilla top tier – all decorated with a textured blue/white ombre buttercream and flowers that matched the bouquet."
"As cake is such a big part of our lives we decided to have a cake table. The centrepiece was the main cake and we had cakes made by our family and one of my bridesmaids; brownies, millionaires shortbread, orange drizzle, whisky and honey, coffee and walnut and my dad made his first ever cake – a chocolate extravaganza topped with crème eggs and chocolate buttons."
In preparation for the evening party, Laurann swept her hair up in to a relaxed bun, removed her sleeves and added a statement Ted Baker necklace. Keep an eye out for her late-night partying in silk PJs too.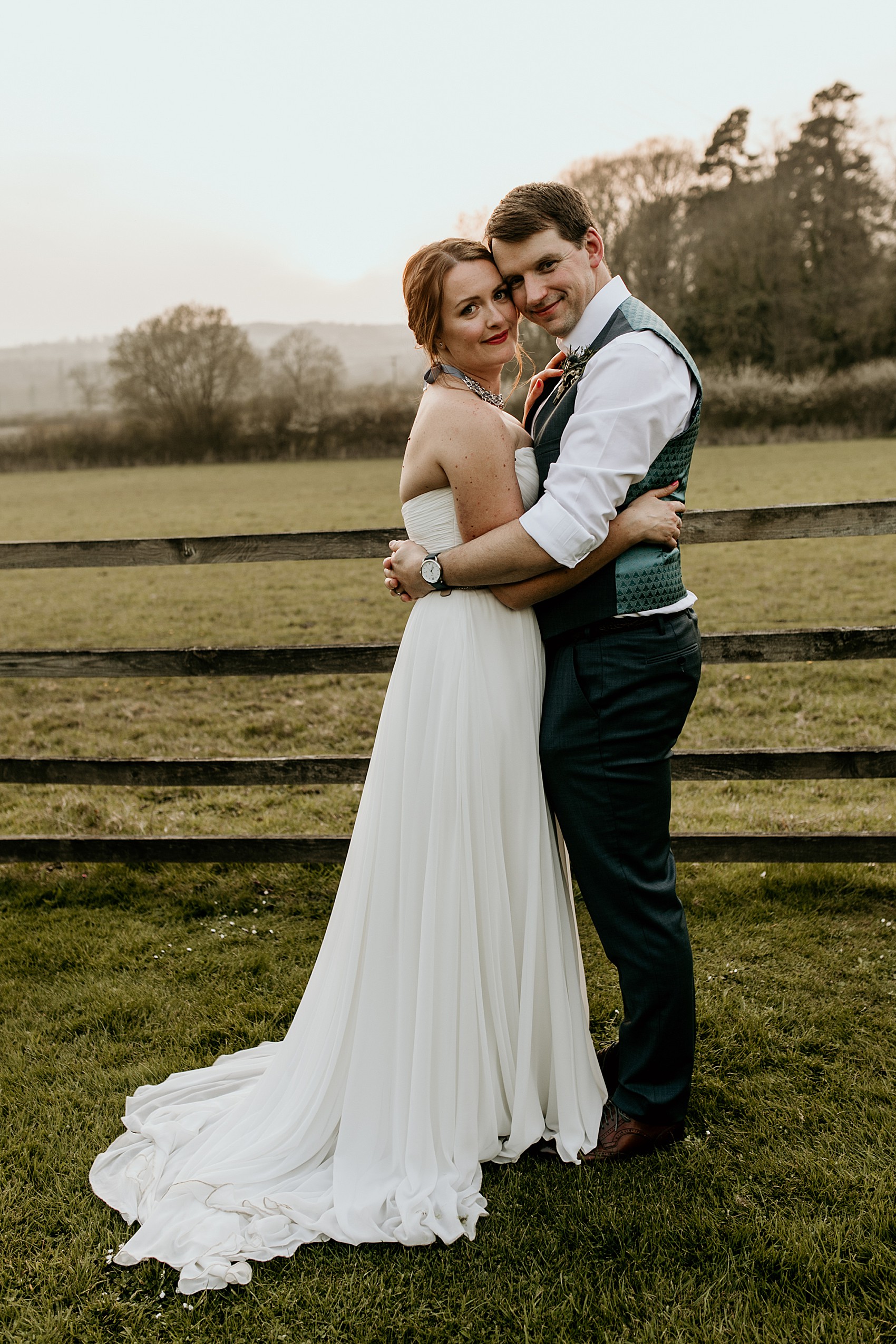 Family is clearly very important to this couple and Laurann took to the dance floor with her grandad before her first dance with her new husband.
"We surprised everyone by asking my gramps to join me on the dance floor ahead of our first dance. He didn't know anything about it and I asked him to dance with me to 'She's So Beautiful' by Cliff Richard, a song that we have danced to since I was a baby. This part of the evening will always be such a precious memory."
"Our first dance was 'Stay Alive' by Jose Gonzalez. It was a song that we started listening to one day and both loved. It ended up becoming our song so it was the only choice."
It was then time for the party proper to get started, led by Wedding DJ Gloucestershire with more fun for the little ones from a face painter, Sunday's Faces.
"Ali was fantastic and everyone got really excited about being able to have their faces painted in the evening, especially with all the glitter!"
"There were so many little elements of the day that we loved – seeing everyone together, especially all the children running around, getting married, the dance with my gramps, spending a day with our closest family and friends. A highlight for me was actually getting changed out of my dress in the evening and coming back downstairs to party the night away in my pyjamas and flip flops! Everyone found it hilarious but if you can't do it at your own wedding when can you?"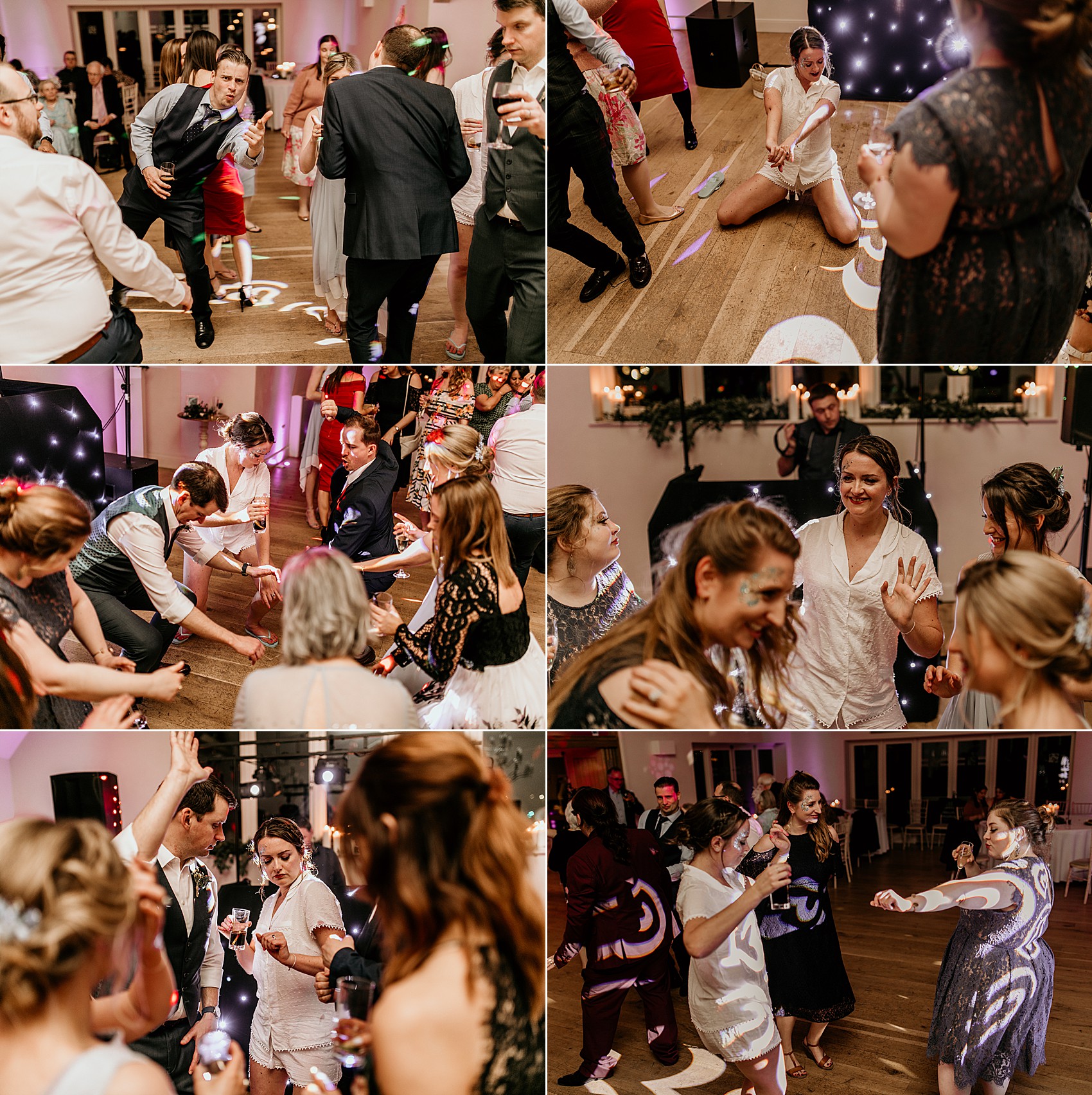 Words of Wedded Wisdom
"Take your time with everything and spread out the planning, especially if you are doing things yourself. I like to be organised and I love a list, so we had a very big spreadsheet and a timeline."
"On the day, don't worry about anything. At this point it's either all done or there's nothing you can do about it if it isn't, so enjoy everything."
"The day goes past so quickly! Take note of all the little moments and make sure you have some time just the two of you. Someone also told me not to worry about making sure you try and speak to everyone there. You'll never manage it so spend the time with the people you want to."
Laurann and Iain, the simplicity and beauty of your day have really blown me away. Thank you so very much, and thank you also Green Antlers Photography, for sharing this celebration. If you've fallen in love with the pale blue highlights of this day, we have other blue-toned weddings to spark your creativity here.
Ele xx