How are you all today Lovelies? I'm snuggles up at home with a cold, wishing I was fit and well. And why? Because fresh air, open spaces and big skies are calling me.
Luckily, I've got just the tonic I need with today's wedding, which took place at the one and only River Cottage. Please welcome creative producer Izzy and graphic designer Will, who wed on 10 March 2019 in the glorious countryside location of River Cottage in Devon.
Nigel John Photography

+ Follow
A true team effort, the bride, groom, their friends and family hand-made many creative elements for their day which was inspired by the Devon countryside, the spring date and seasonal flowers and greenery.
Having first bought a dress online, Izzy fell in love with these classy bridal separates which have just a touch of edge and cool. Her strappy, sequin top is by Andrea Hawkes Bridal whilst the sumptuously flowing, wide-legged, satin trousers are by the one and only Halfpenny London.Both these designers are ones we love to support through our Little Book Wedding Directory.
"I had originally bought a dress online very quickly after getting engaged, which I did love. However, over time, it started to feel not quite special enough to be THE dress. I saw that Kate Halfpenny were having a sample sale, persuaded my mum to join me and have a day of shopping."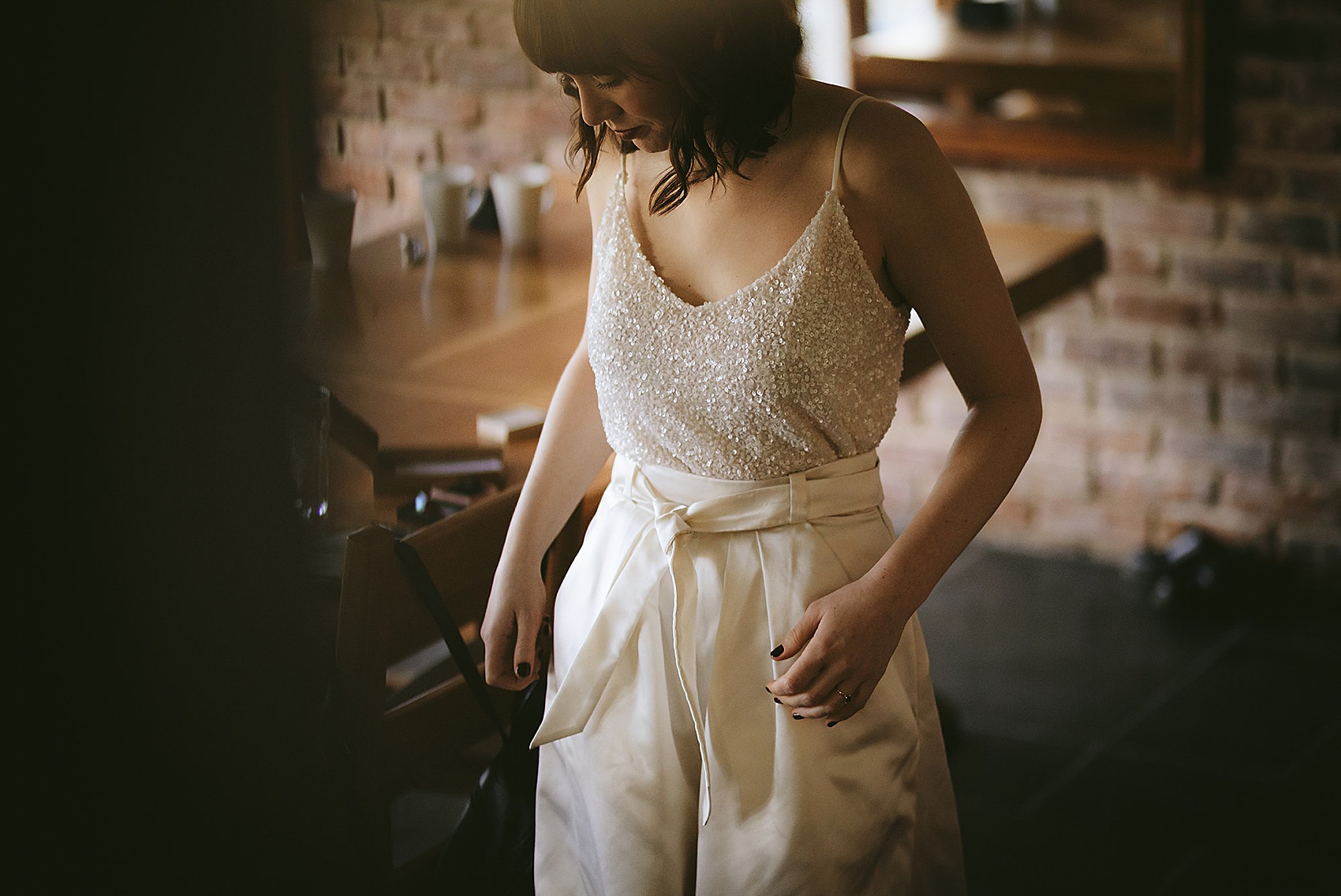 "It was a perfect experience and we had the boutique to ourselves. I picked out a selection of dresses and the lovely shop assistant picked out some extras for me to try on."
"There were lots of beautiful dresses but nothing that felt quite me… that's when the assistant pulled out the Marlene trousers. It was love at first sight. If you can't wear large, white, Duchess satin trousers on your wedding day, when can you?"
Halfpenny London

+ Follow
"They were out of my original price range which made me hesitate and leave the shop without them. Luckily, I came to my senses about three minutes later, rushing back into the shop in the hope they hadn't gone as they were the only pair. The shop assistant had to ask for them off the next bride-to-be who came in after me, who was about to try them on!"
"They made me feel like the best version of myself. They were my style, I could dance all night long, they had pockets, they made me feel sexy and they were warm for an early March day. Absolute perfection."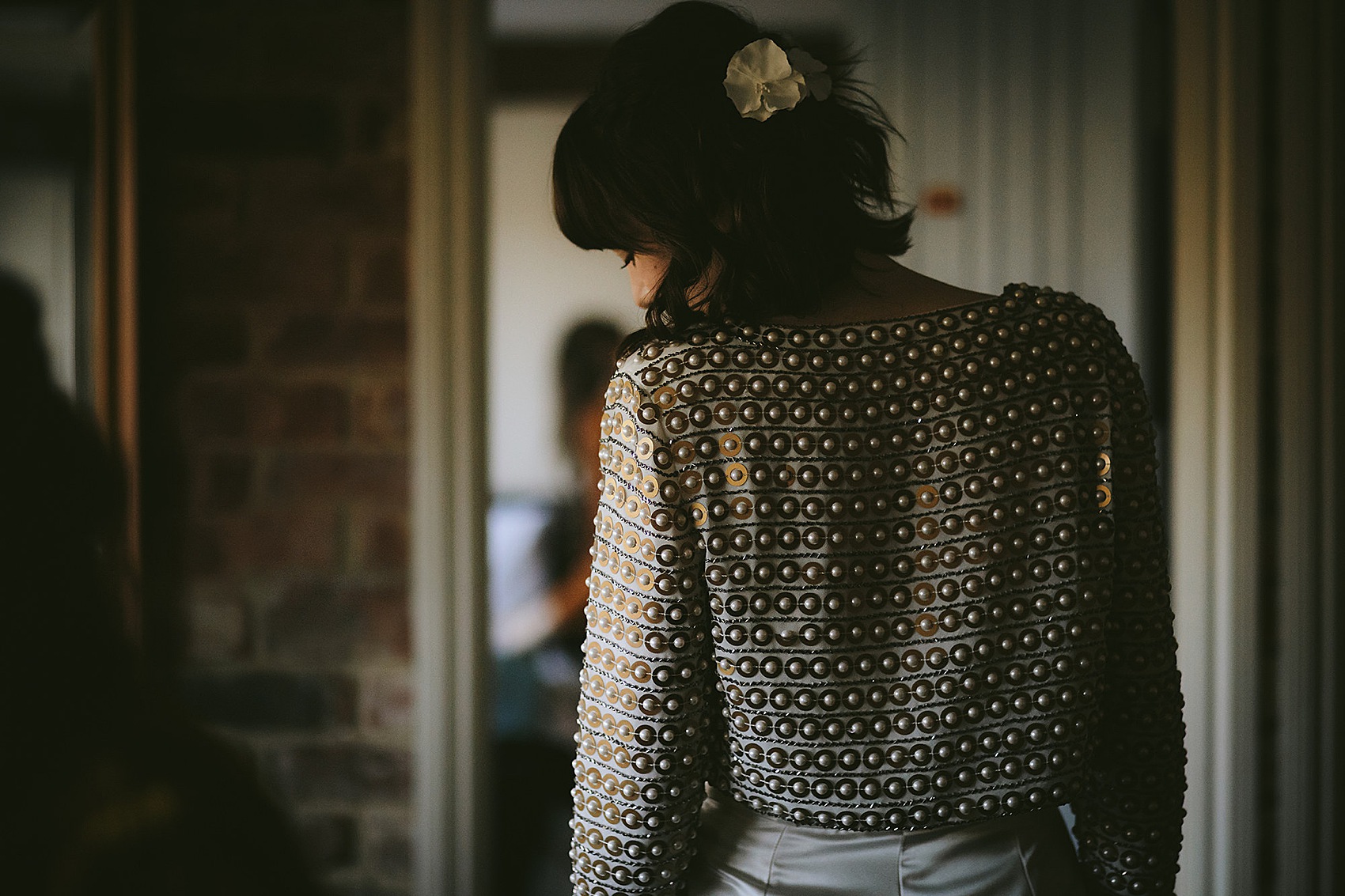 Paired with a simple and sparkling, scoop-back top and a funky embellished jacket from Topshop, Izzy combines bridal and cool so well.
In her hair was a selection of porcelain flowers from Luna Bea Bride and she slipped on a pair of chunky-heeled metallic sandals from Marks & Spencer.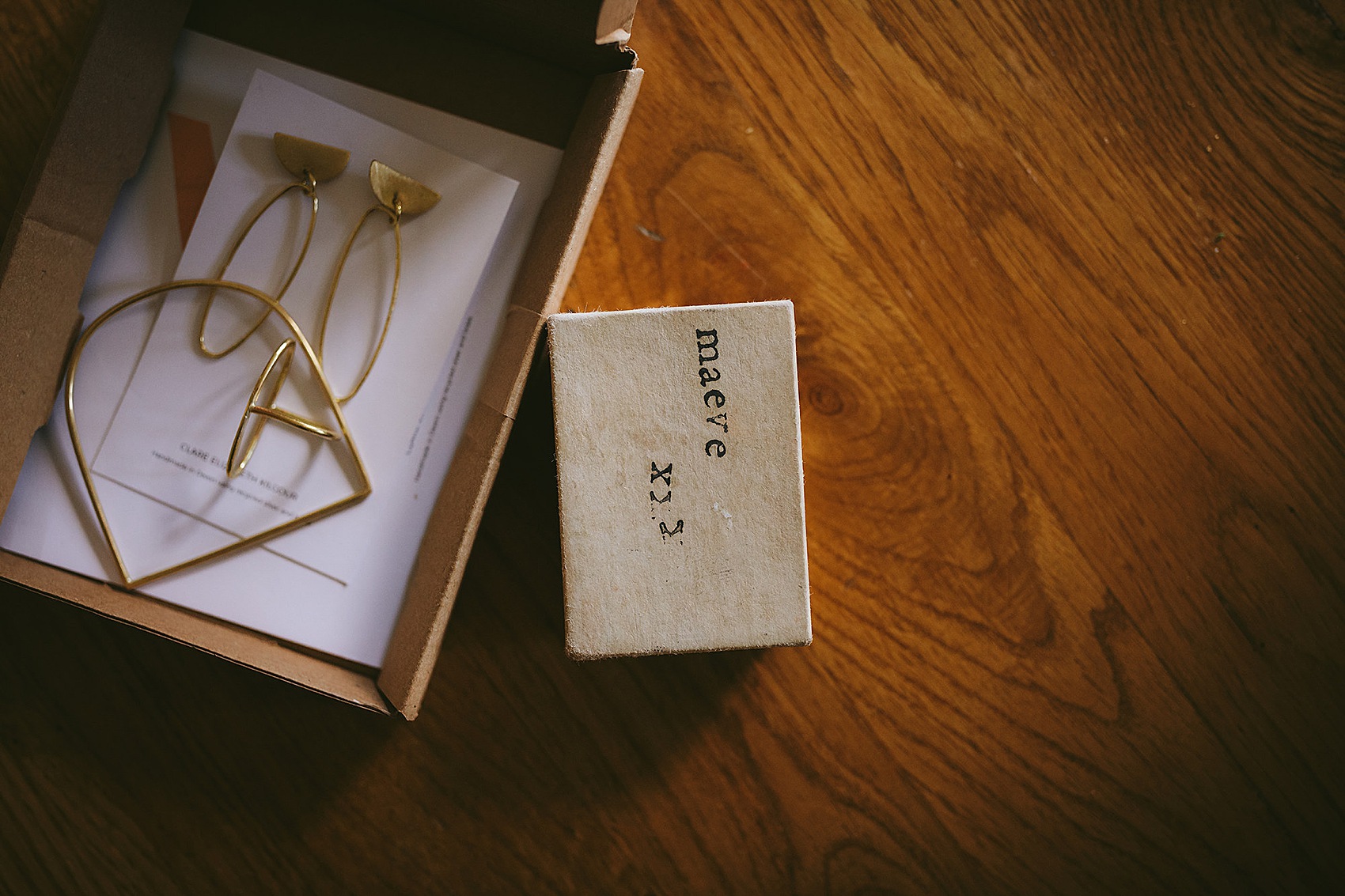 Local and seasonal flowers were key to the style of the wedding day, and these beauties were created by Devon-based The Real Cut Flower Garden. I love the splash of colour given by the tightly-furled ranunculi and open anemones.
"Charlie's style of local and wild floristry really struck with us as a couple. She grows her own flowers and greenery locally in Devon. The time of year, early March, didn't seem to worry her and she really put us at ease that there would be something beautiful out. We left the brief very open – greenery, ferns, blossom, pops of colour. Walking down the aisle and seeing what she had done with the space was overwhelming. The magnolia and fern backdrop where we got married was heavenly."
For a touch of warmth, the bridesmaids wore gowns in gold and burnt umber from & Other Stories and Stine Goya, together with minimalistic jewellery in soft gold from Clare Elizabeth Kilgour.
The girls applied their own make-up and hair stylist Brigitte Fisher created their tousled waves, catching the bride's back from her face in a half-up, half-down do.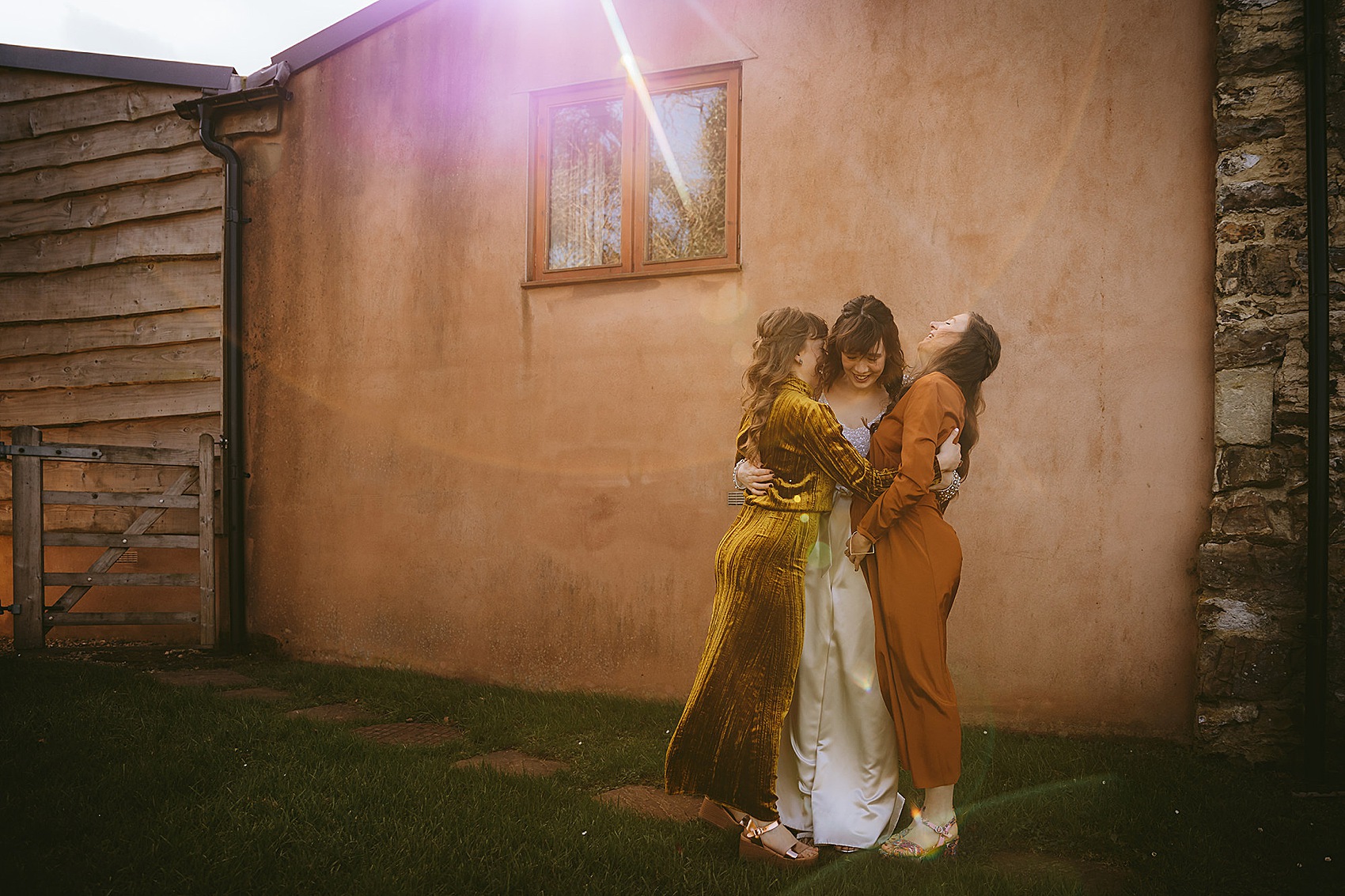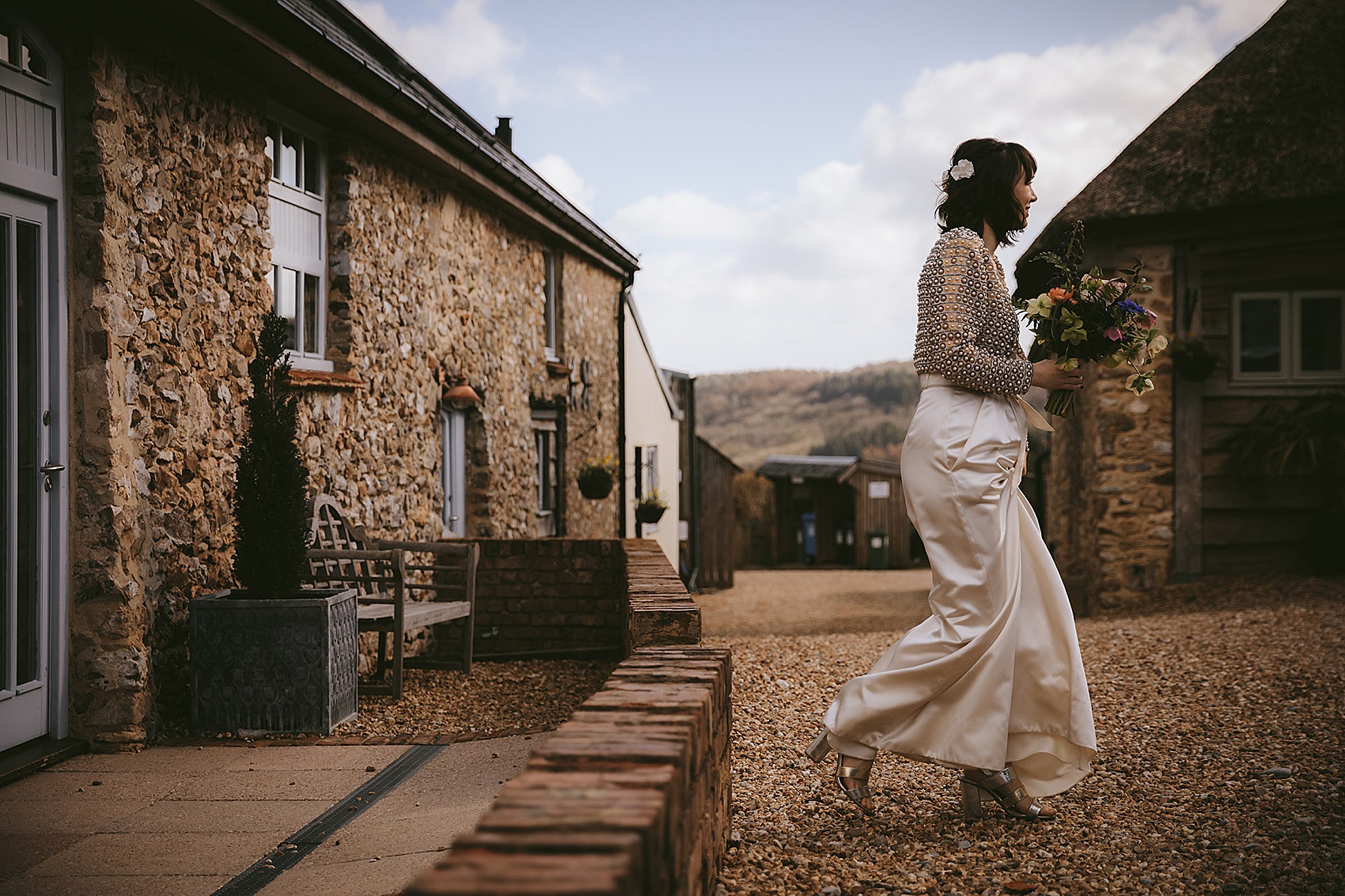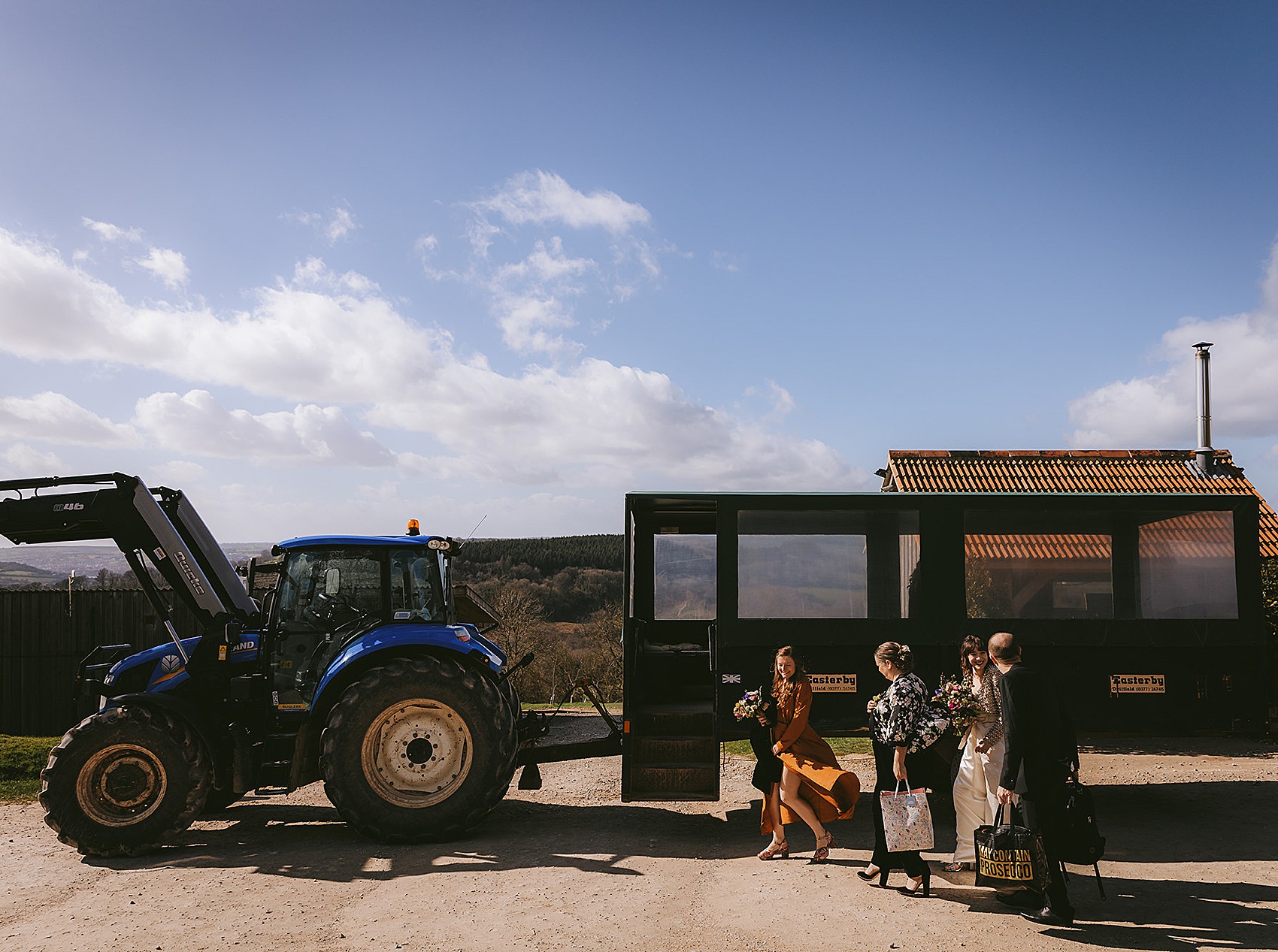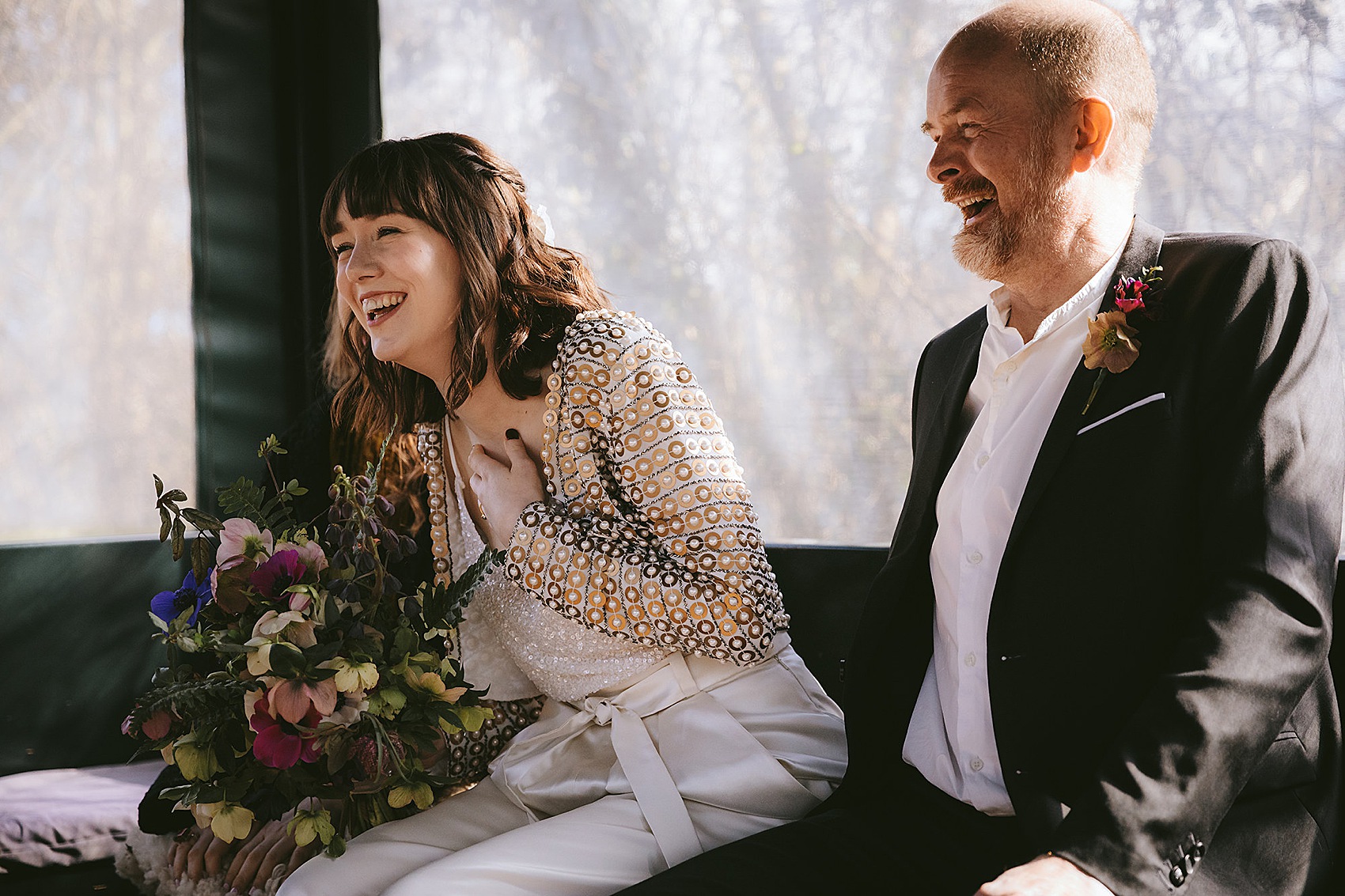 For this couple, their engagement was a natural evolution of their relationship which began at Art School in Glasgow in 2009.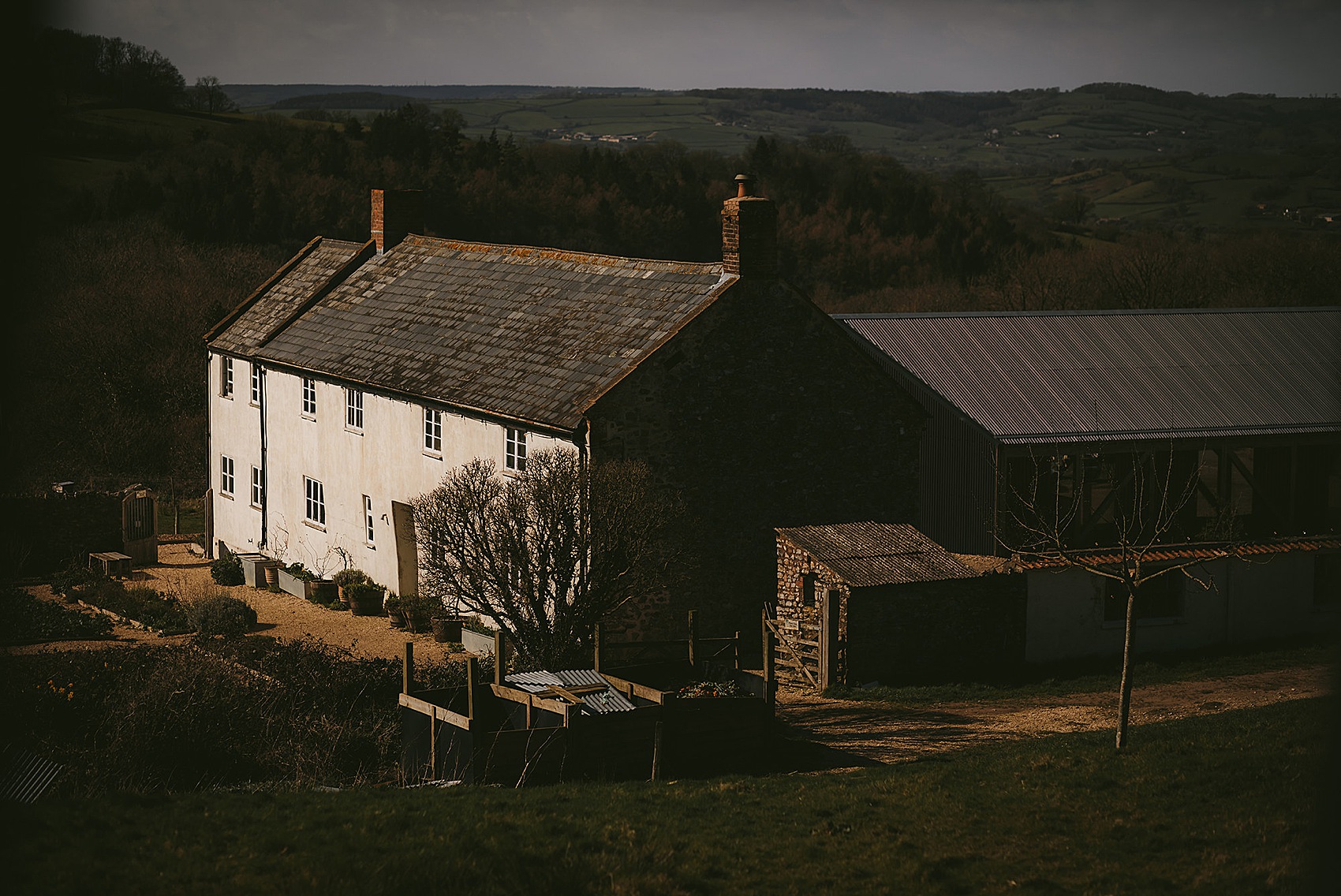 "We were flat mates and also on the same course, so always together! We got engaged after having a red wine-fuelled chat in a pub in South London where we live in January 2018, marrying 15 months later."
"There was no big speech or getting down on one knee, just a conversation about the future. It was a decision which we made together which was perfect for us."
Will visited London tailor Beggars Run for his bespoke suit and shirt, and his groomsmen wore their own suits or kilts with matching green ties from Arket.
"Beggars Run did a great job – a nice experience going for fittings at their showroom."
After taking a taxi to River Cottage, Izzy was walked down the aisle by her father, John, to 'A Sunday Kind of Love' by Etta James. The threshing barn, with its simple pendant lights and sprays of greenery, looks so pretty and rustic.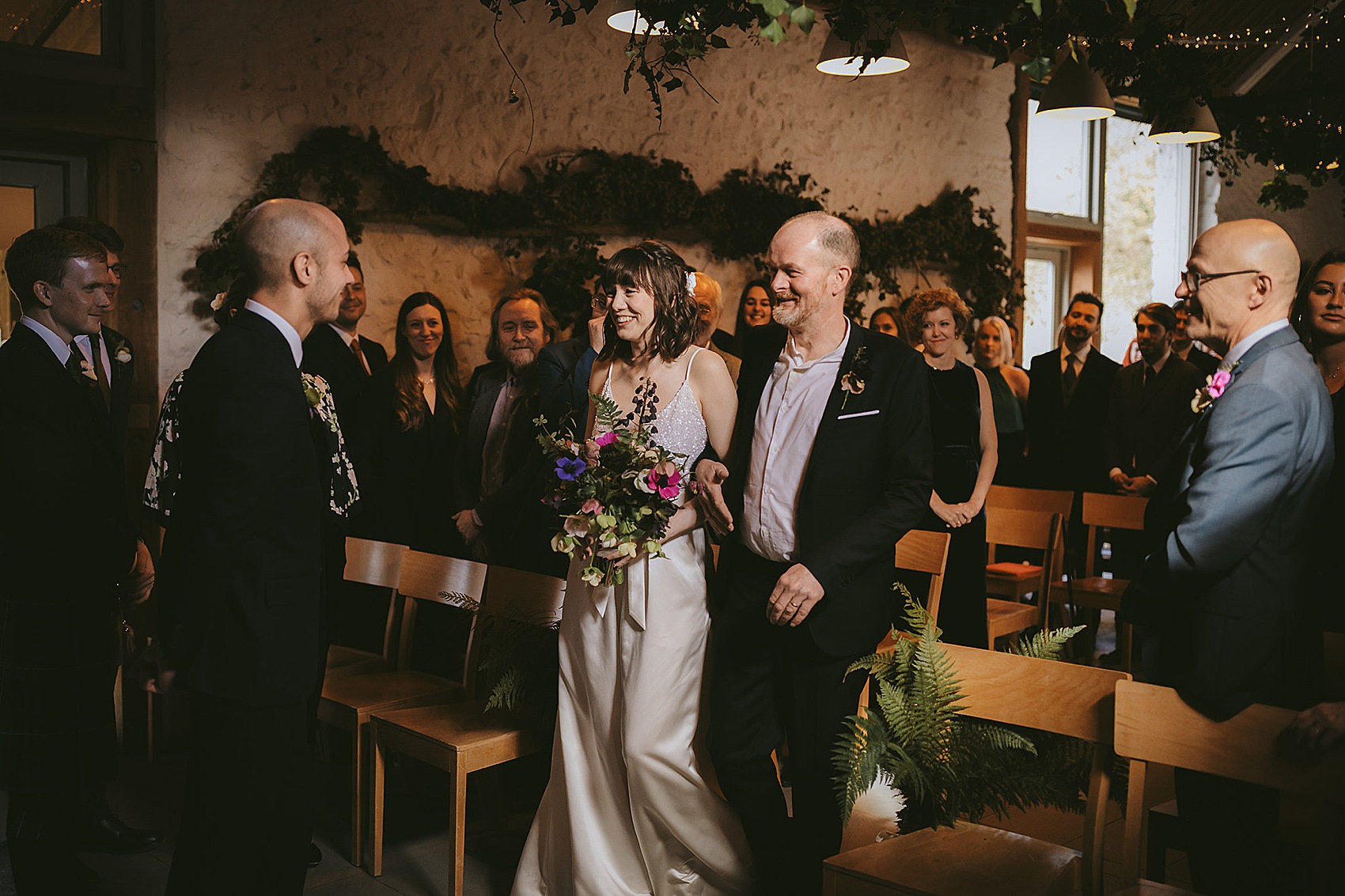 "We didn't tailor our vows. We requested to read the service by our registrar and felt it said everything we needed. We both did speeches at the dinner so felt that was the time to say all the smooshy bits."
The couple selected three readings; 'Let Me Put It This Way' by Simon Armitage and an extract from 'The Amber Spyglass' by Philip Pullman. The final reading was 'X' from 'Songs of Travel' by Robert Louis Stevenson.
"We went to Rachel Boston to design my engagement ring – a bespoke grey diamond on a simple gold band. Rachel's whole process was very inclusive; she sources the diamonds and designs the ring around it. We purchased my simple matching gold band (designed to fit alongside the engagement ring) and Will's hammered finish band from her."
Both Will and Izzy named the ceremony as one of their favourite parts of the day.
"The ceremony was incredible. Seeing the room decorated so beautifully, everyone you love wishing you well, saying those words to each other in front of everyone. Unforgettable."
Will: "I wasn't expecting it to be quite that intensely emotional – the love in the room was palpable."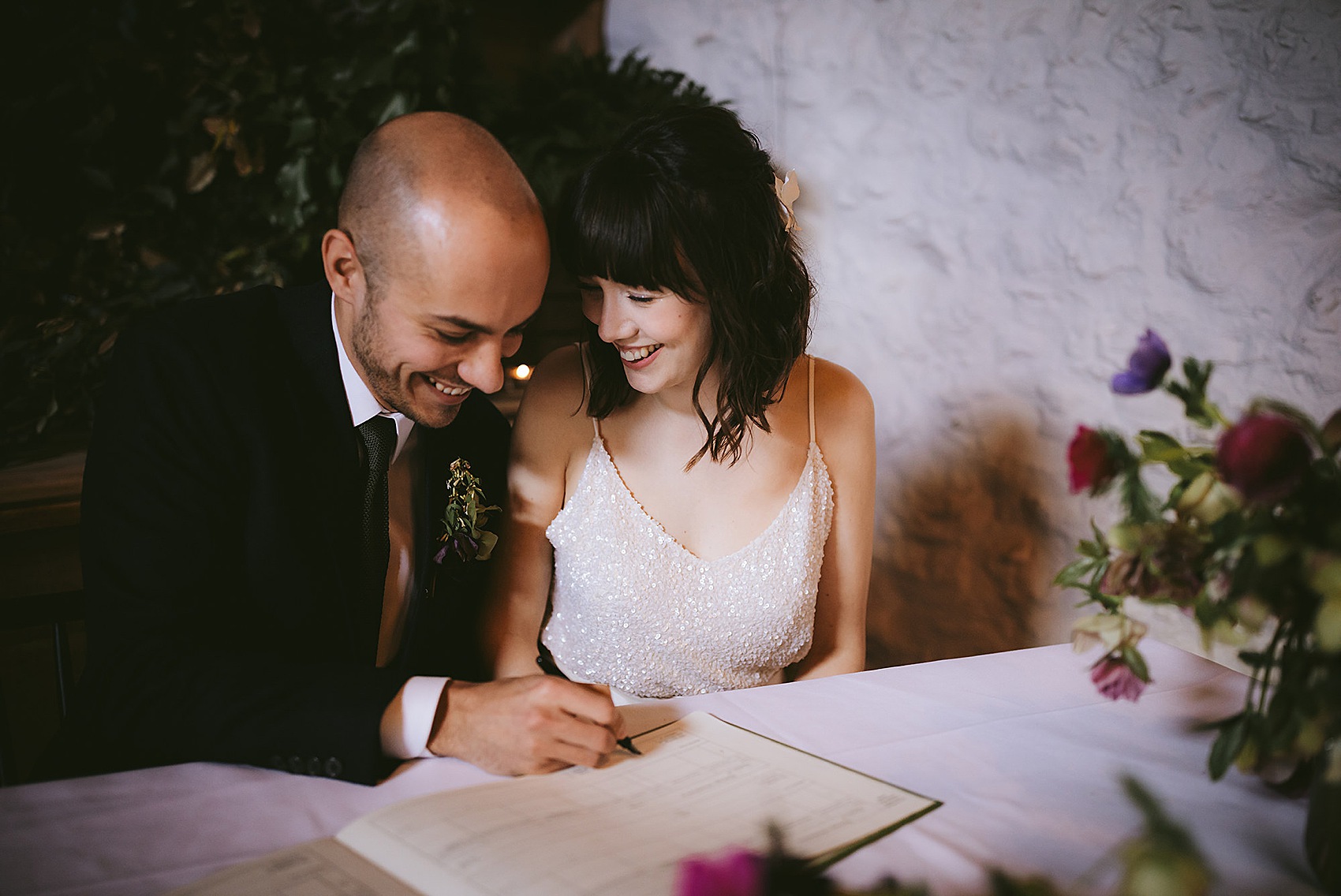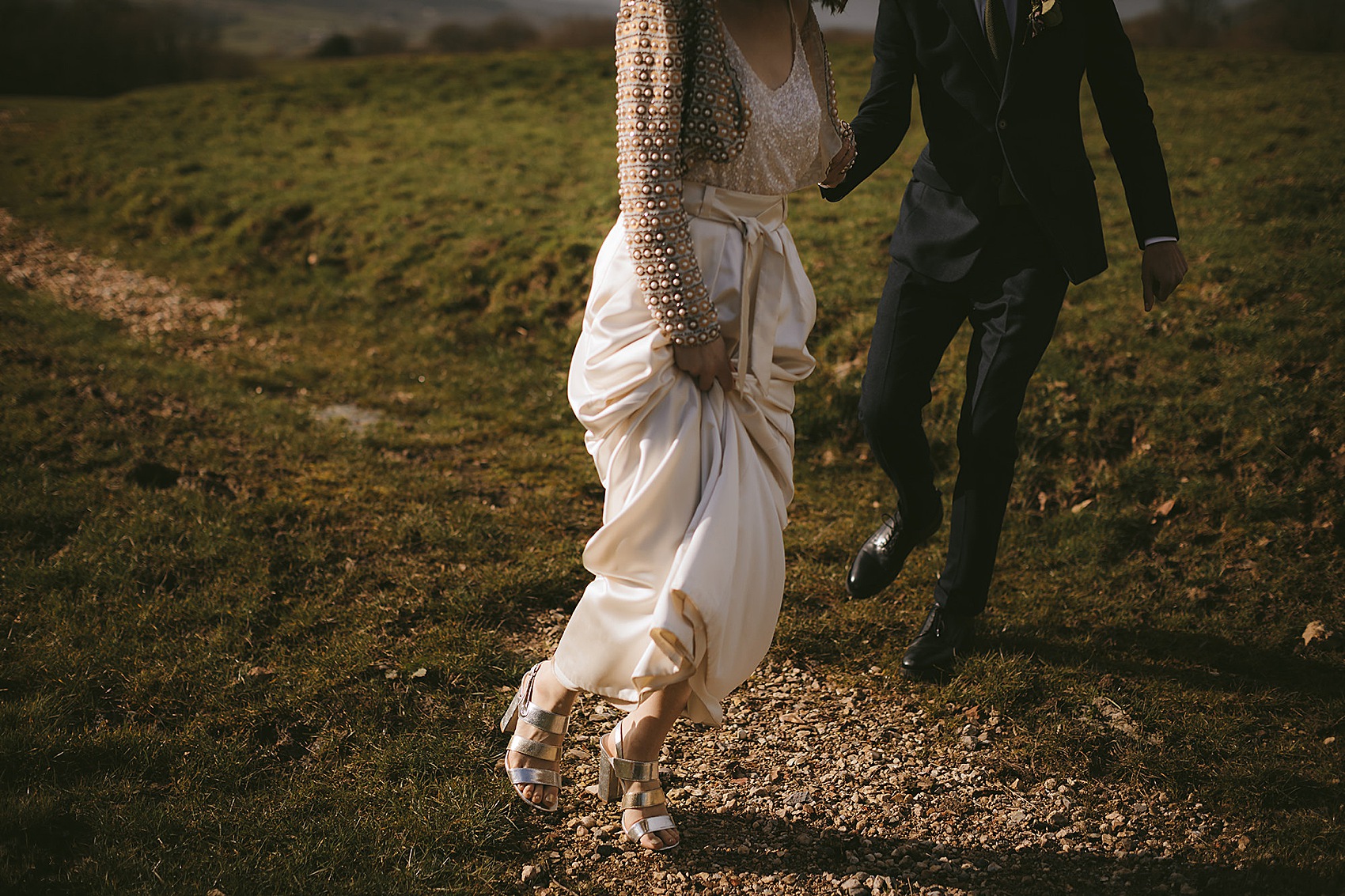 "We chose River Cottage because of the delicious food and beautiful location. We wanted our day to reflect the location in the countryside and the time of year, lots of greenery and seasonal local flowers."
"We have some very talented friends and family who helped shape the look of our day. One of the best men made the blackboards, Izzy's cousin illustrated them, Will's mum made the glass favours with insects on, Izzy made all of the pots for the tables and Will designed the invitations."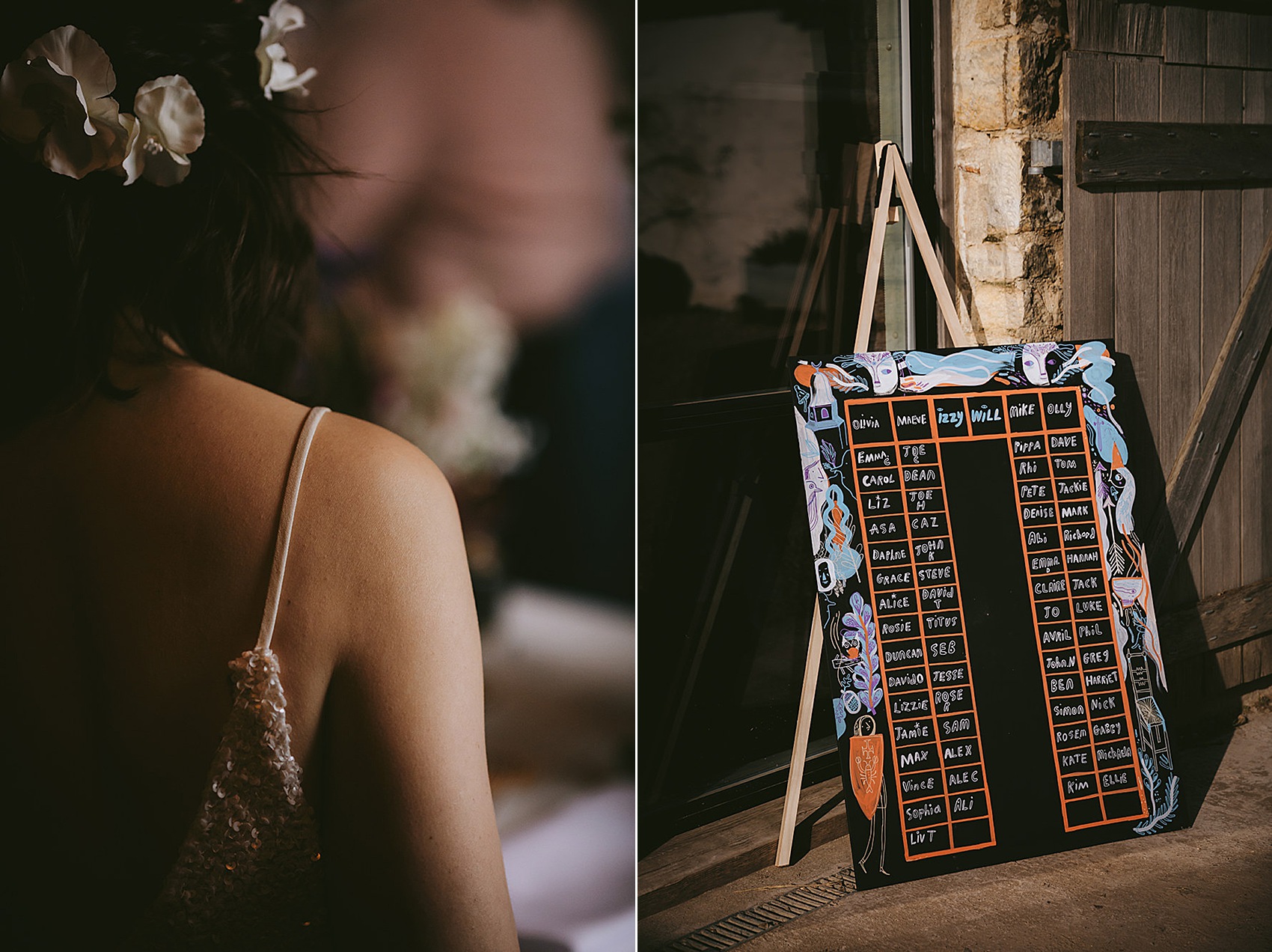 The threshing barn had been simply dressed with more greenery and foliage, as well as hand-made elements by the couple.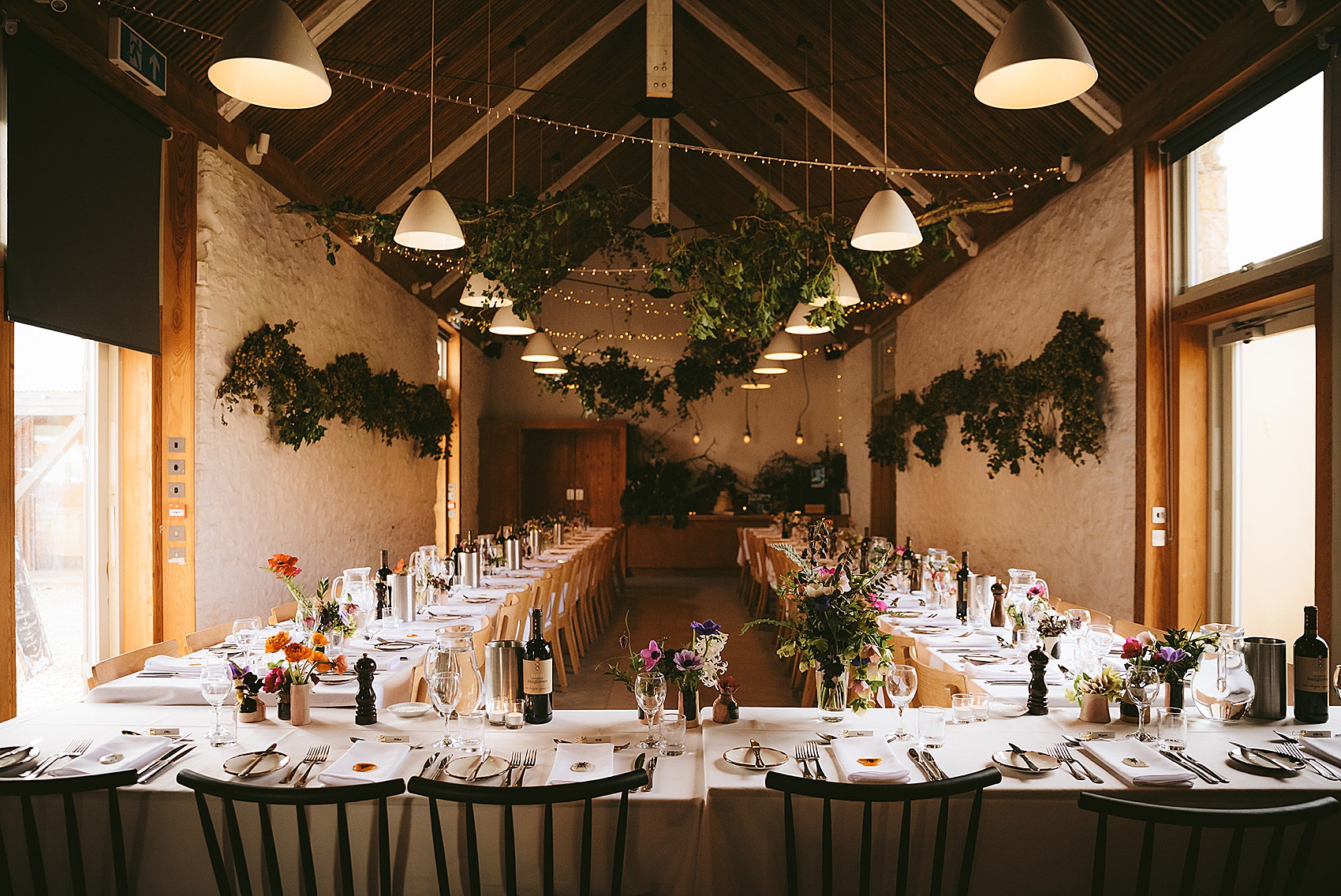 "We wanted to keep the decor very natural; lots of greenery and flowers. I made all of the pots for the tables at my pottery studio Pot Party in South London.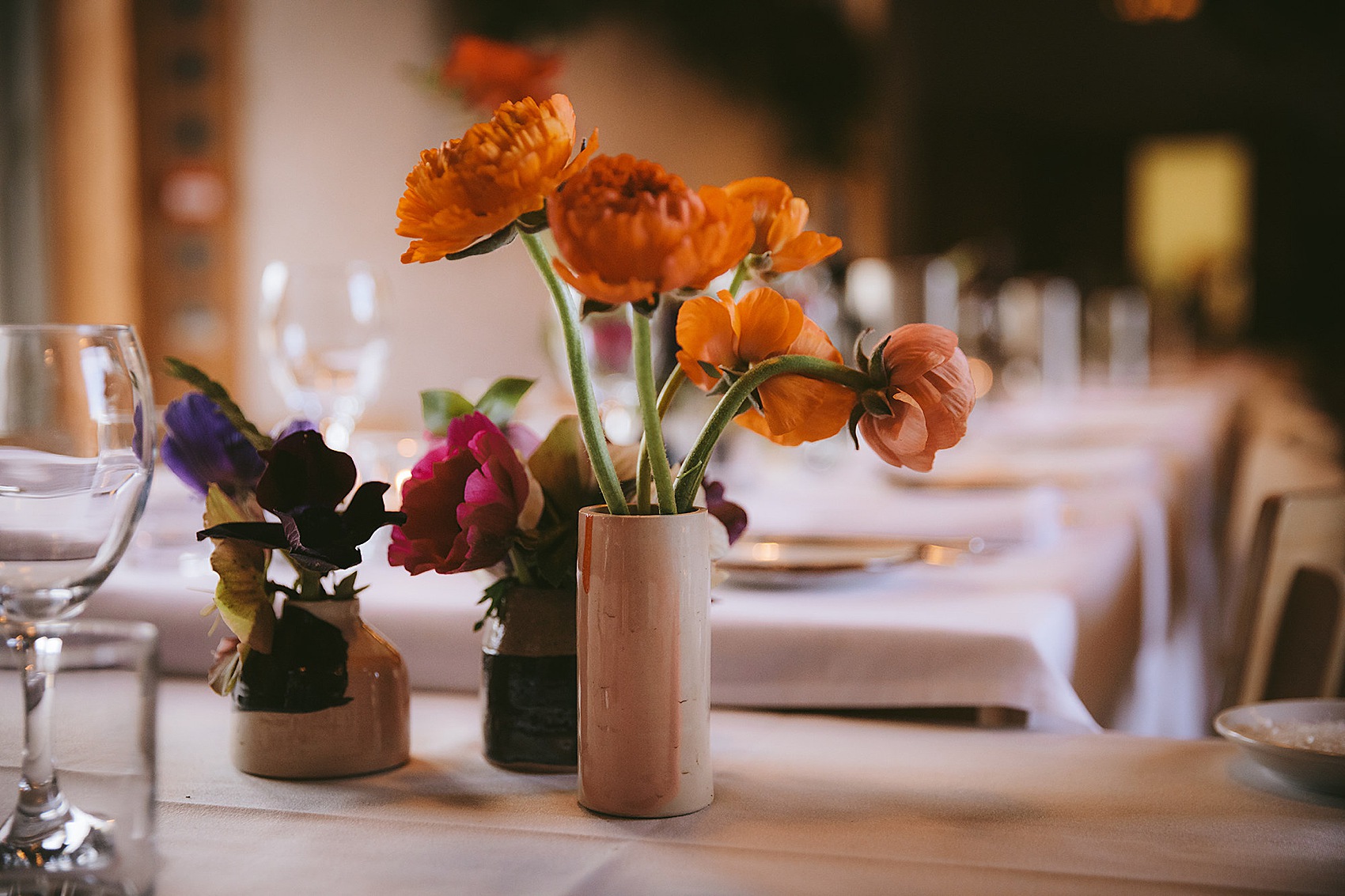 Will designed the invites and place cards. My cousin Liv Bargman did all of the blackboards. So talented! Will's mum, Pippa Stacey, made the favours – a glass tile with a bee or a stag beetle."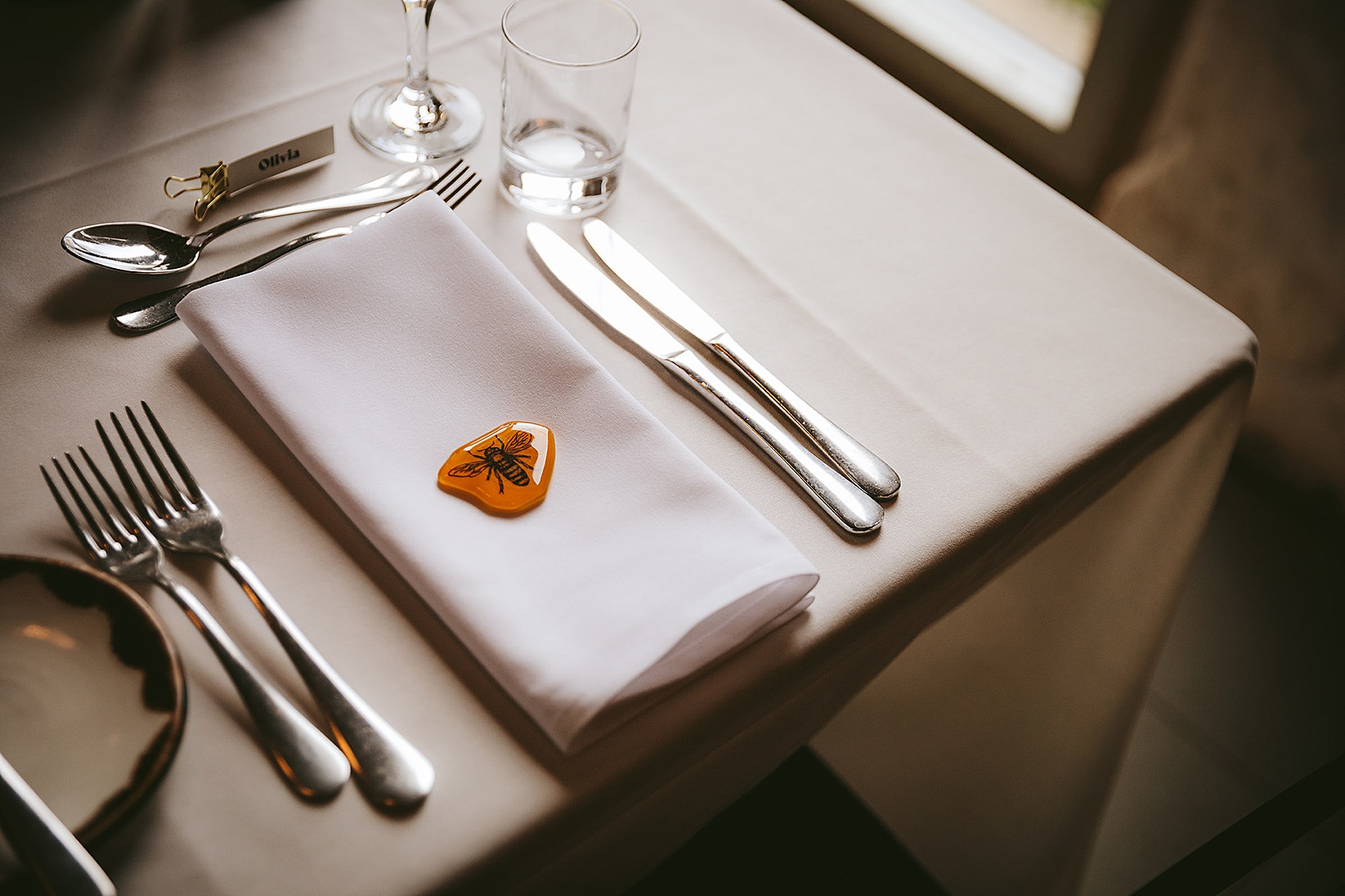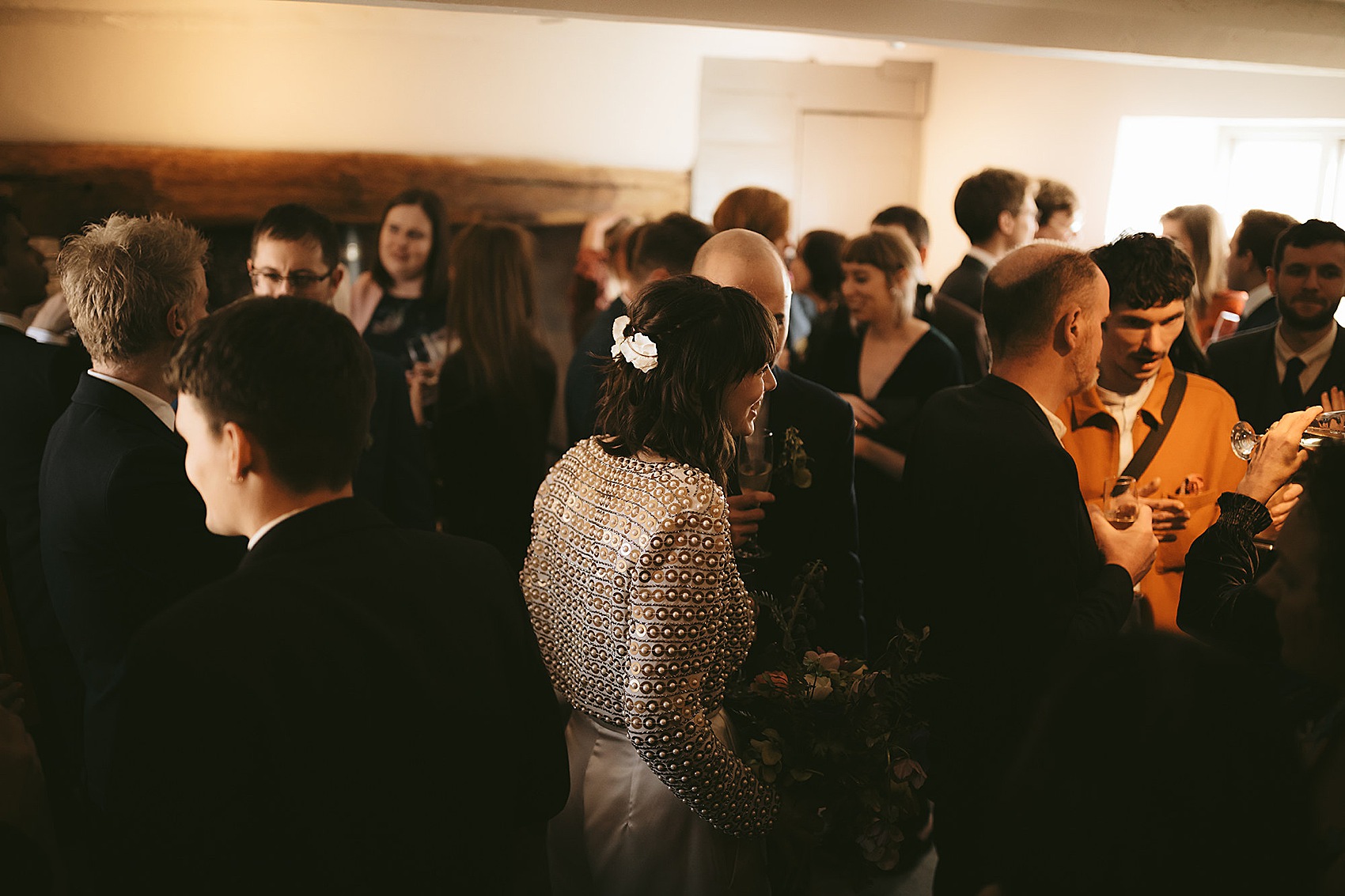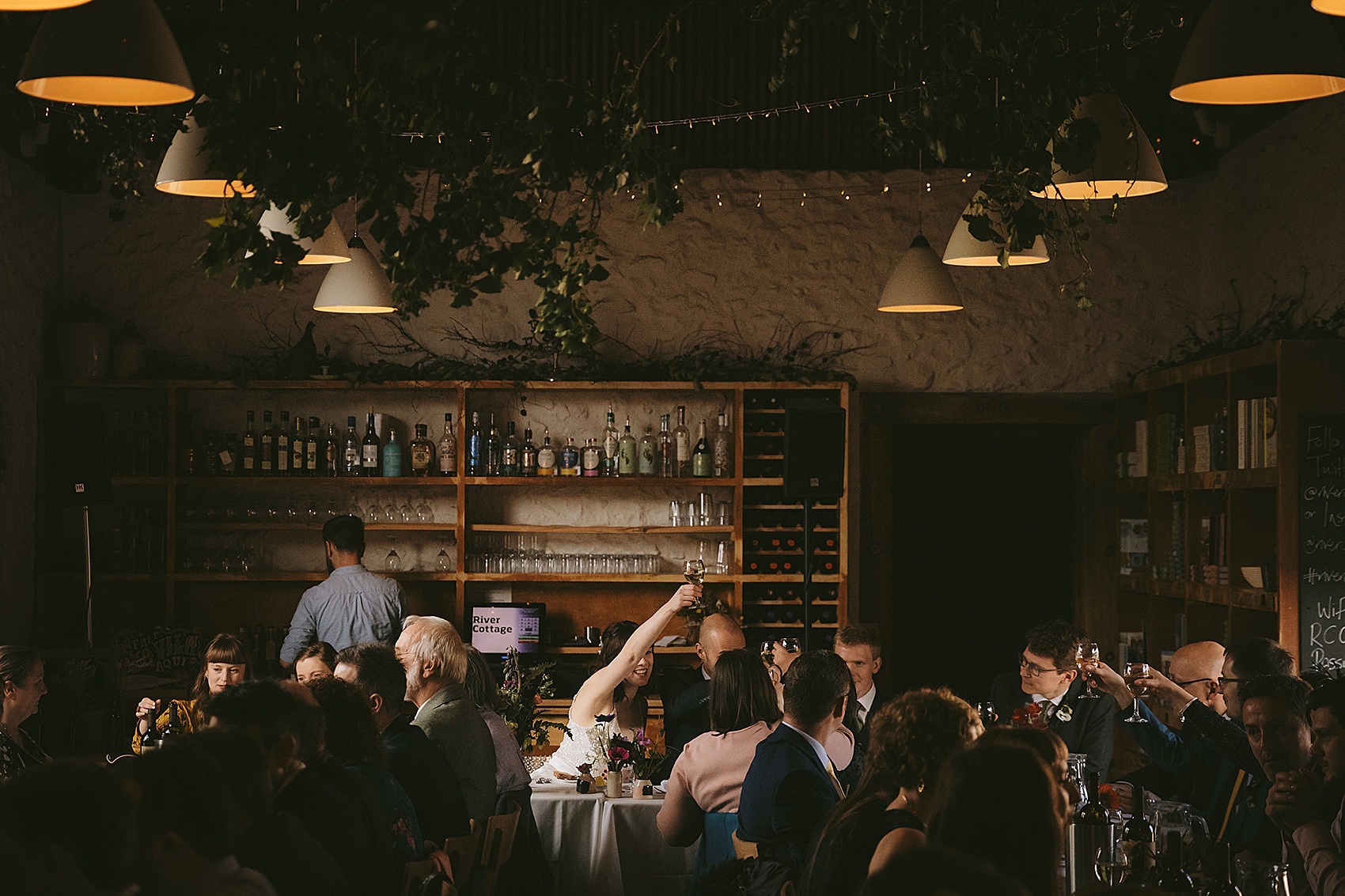 The River Cottage chefs cooked up a banquet for the wedding breakfast, revolving around fresh, local, seasonal produce.
"We designed the menu around our favourite seasonal foods with the Head Chef Andy. We had a delicious hake and crab starter, Moroccan-spiced lamb cooked on the BBQ grill with salads and green sauce and then rhubarb and custard cake for pudding."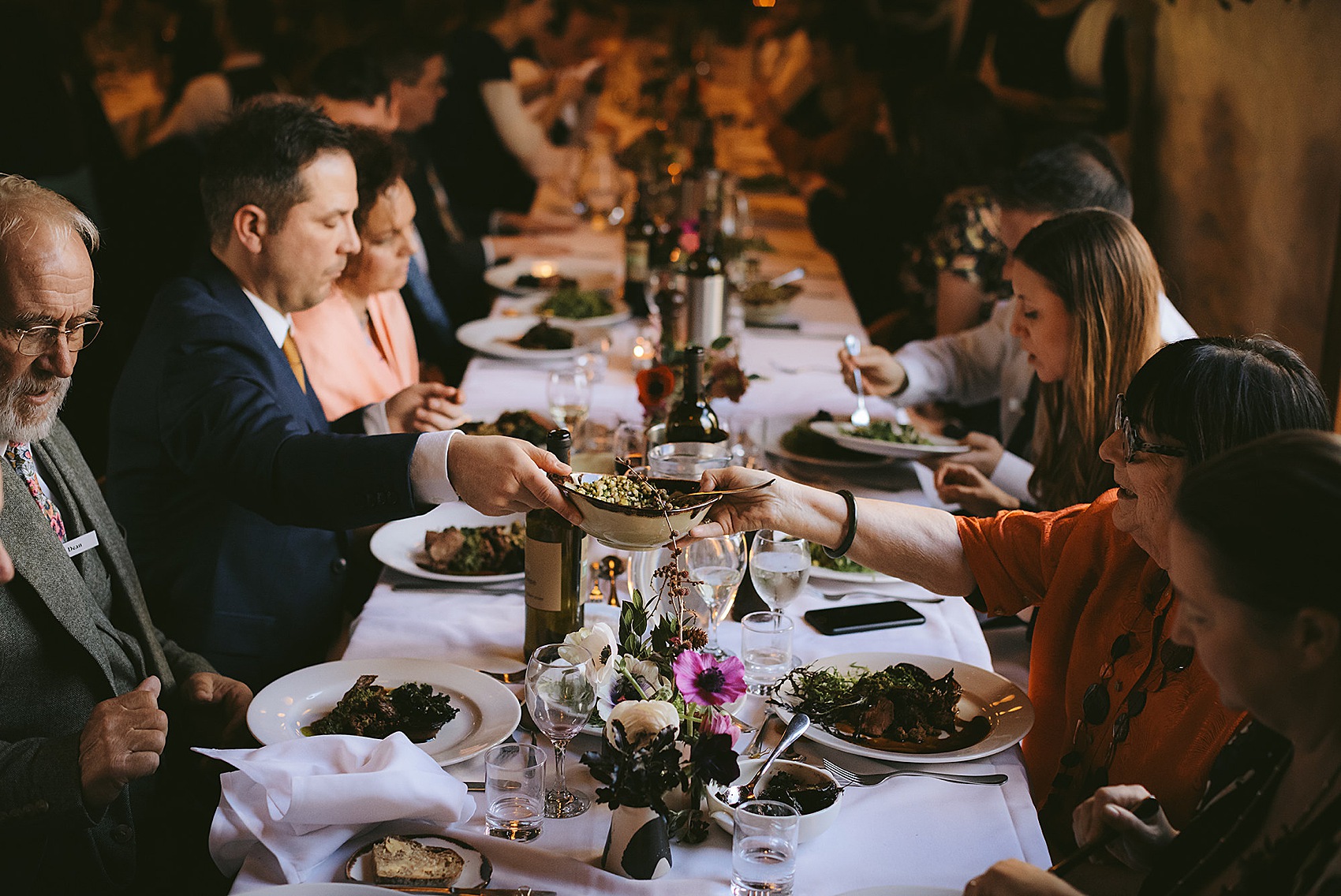 The tiered wedding cake looks spectacular; what a way to end the meal.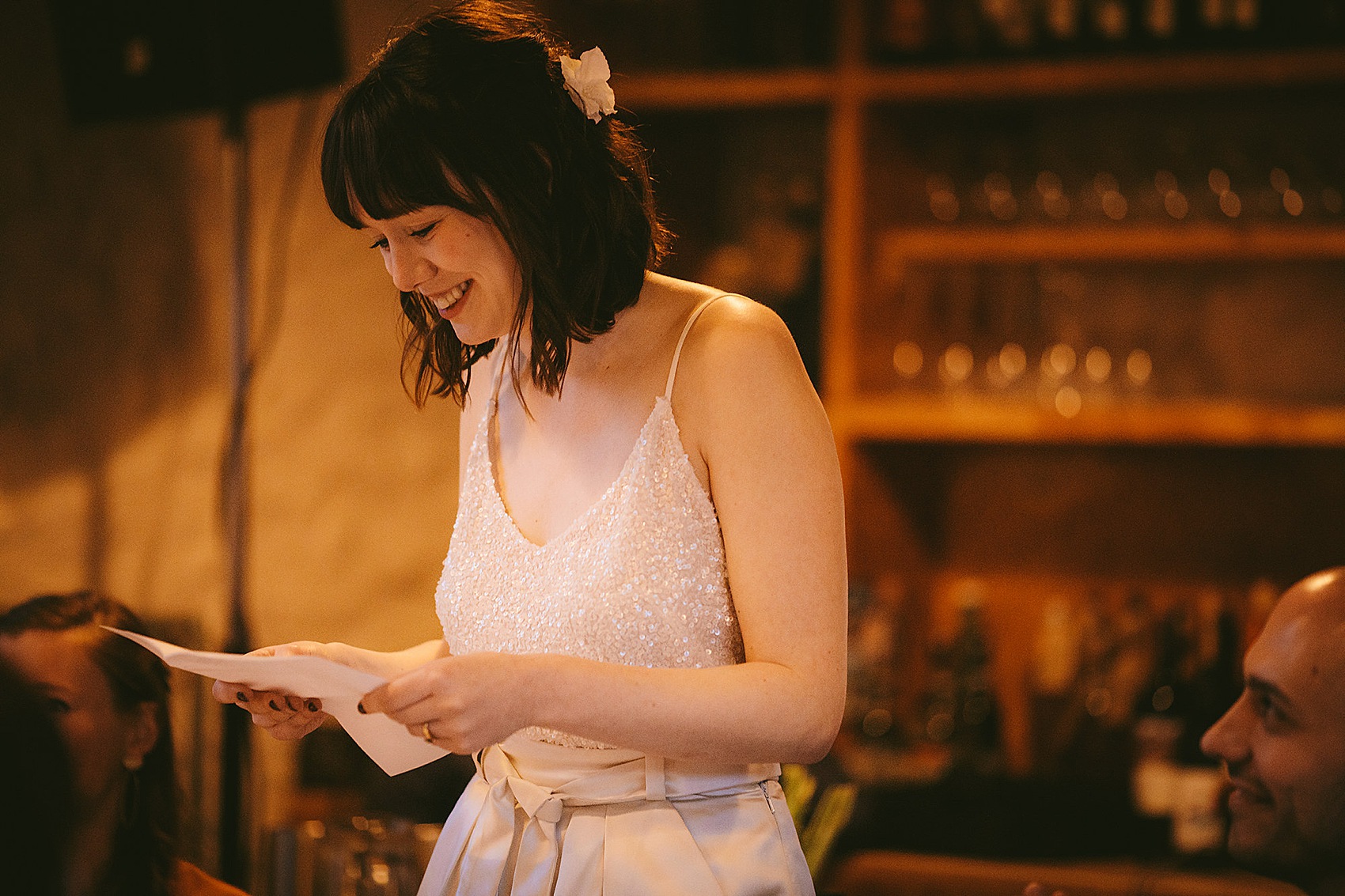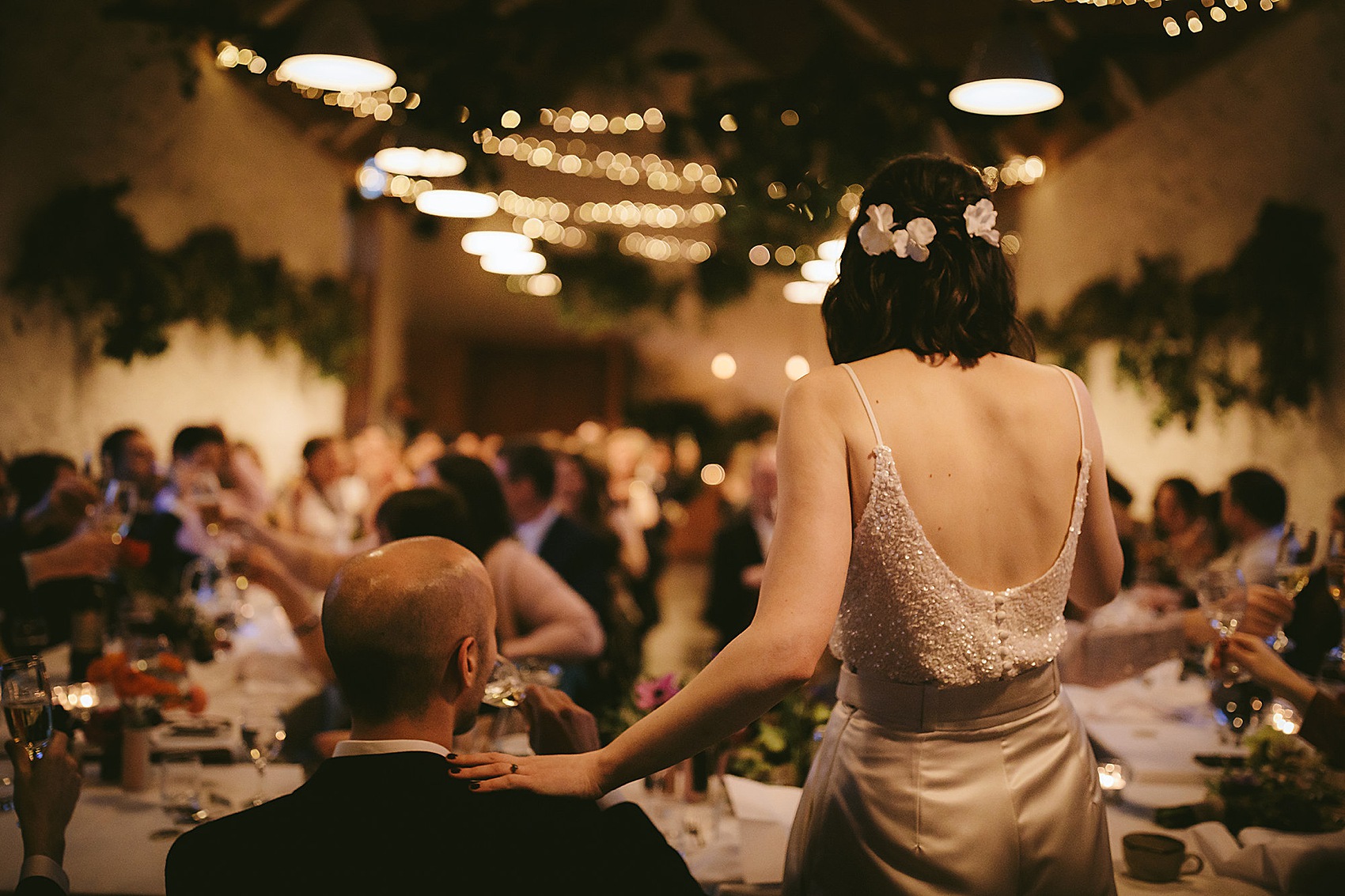 I've been reading a lot about the 'golden hour' and photographer Nigel John has done a truly beautiful job of capturing this very special light in this series of photographs. His intimate, warm style is so perfect for this barn wedding, too and I adore the dramatic images of the sweeping Devon countryside.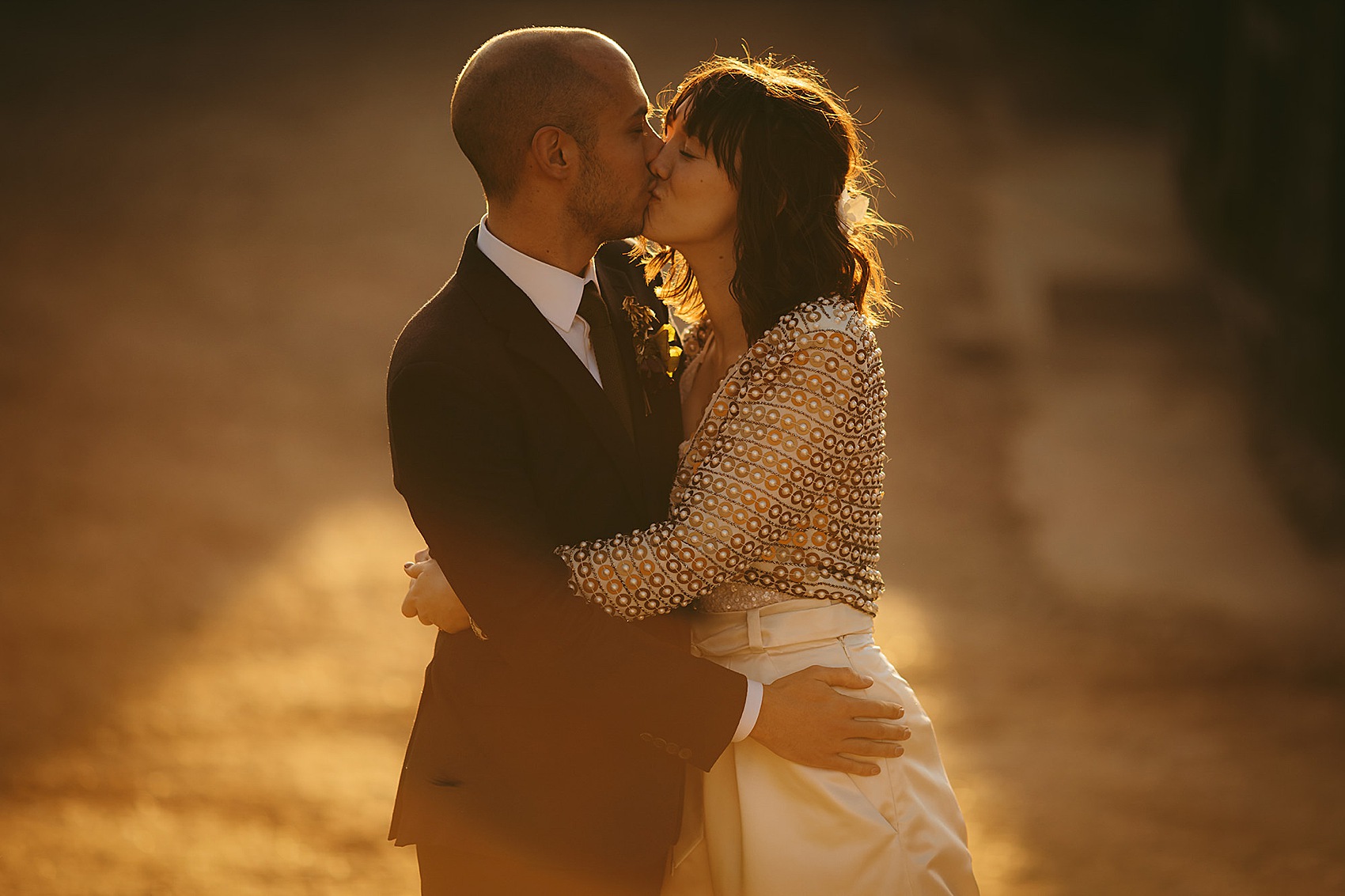 "Ah, what to say about Nigel! He is a photography ninja. He was everywhere all at once and his style is just so beautiful. Cinematic, documentary, observational photography that won't date, he captures emotions and light perfectly."
"He was a lovely man to have around on the day too. We were completely overwhelmed with how he captured the day and can't recommend him highly enough."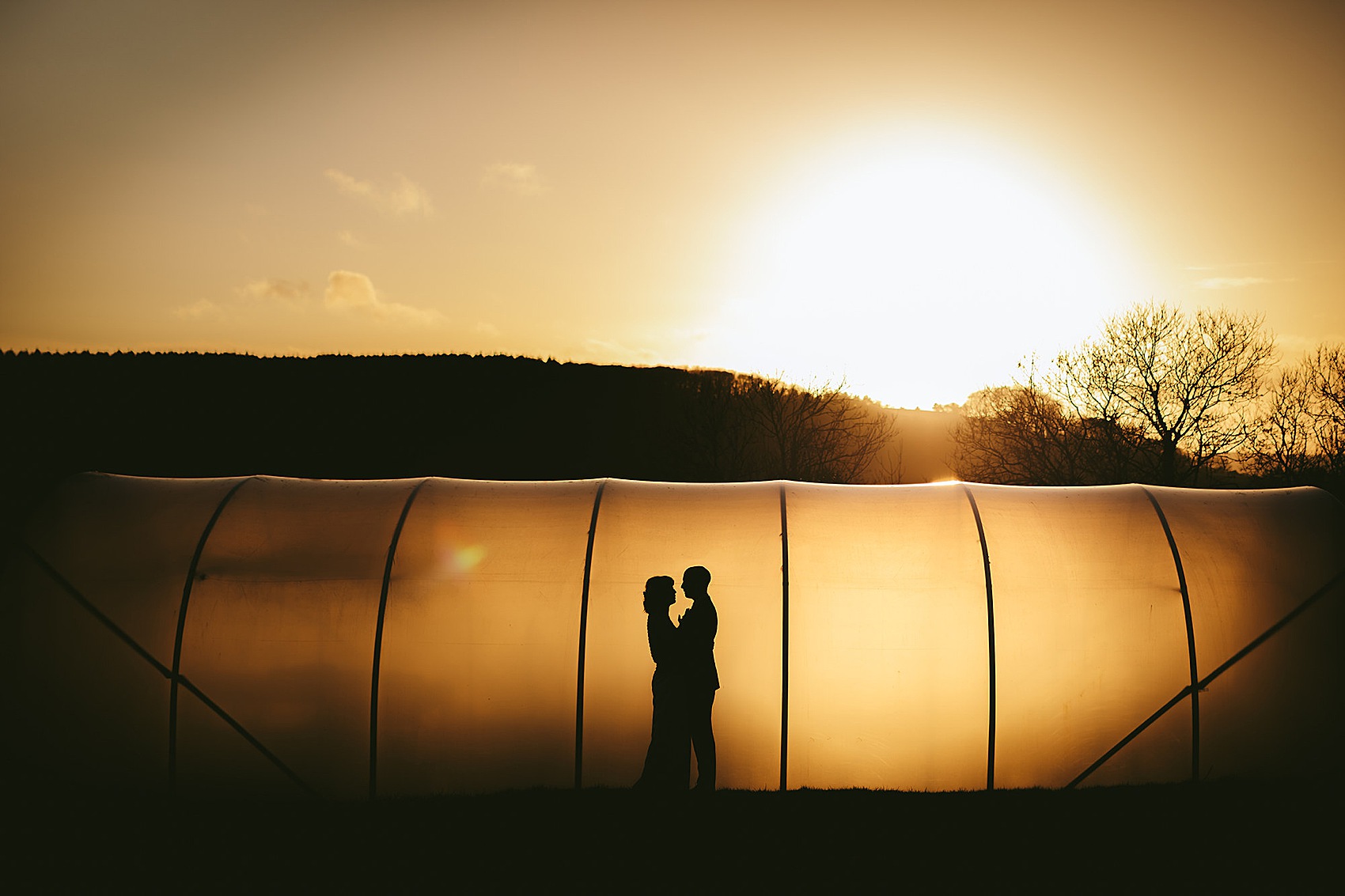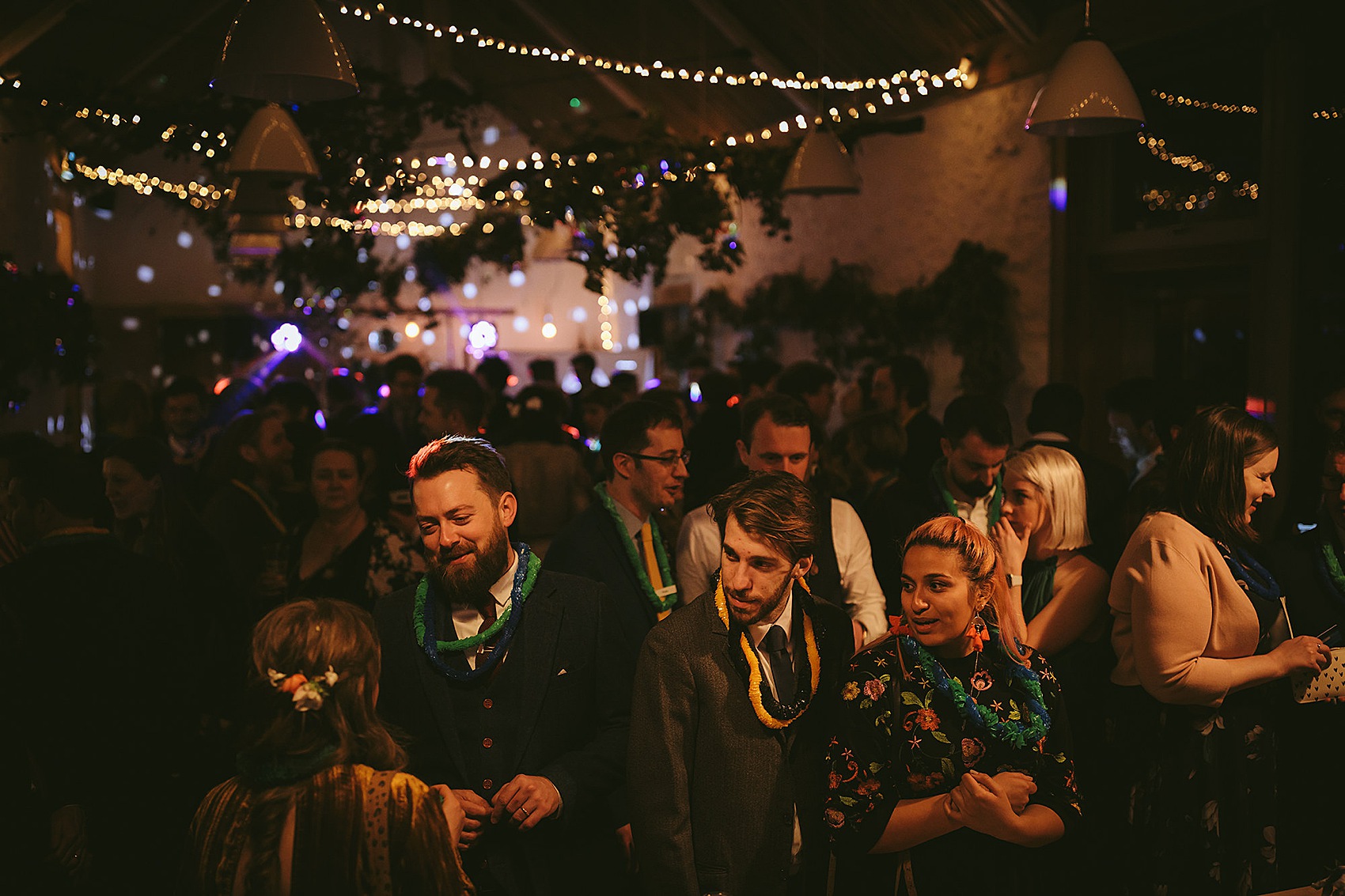 After their first dance, to 'Take Another Little Piece Of My Heart' by Dusty Springfield, no less, the bride's talented father took to the decks to DJ for the first couple of hours of the evening party.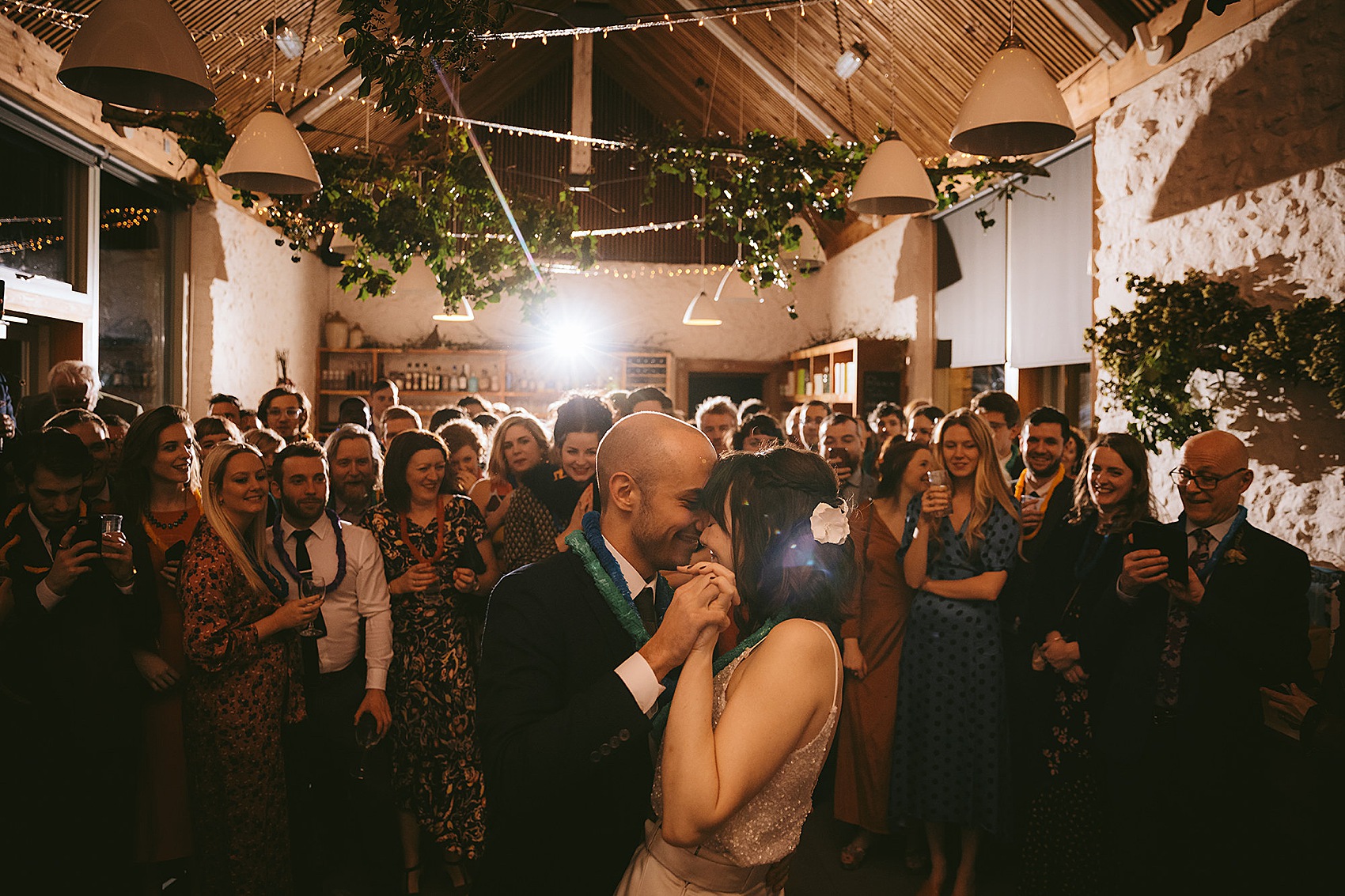 "Then we had Paddy from DiscoWed to carry the night on. The conga to Lionel Richie at the end of the night was a highlight."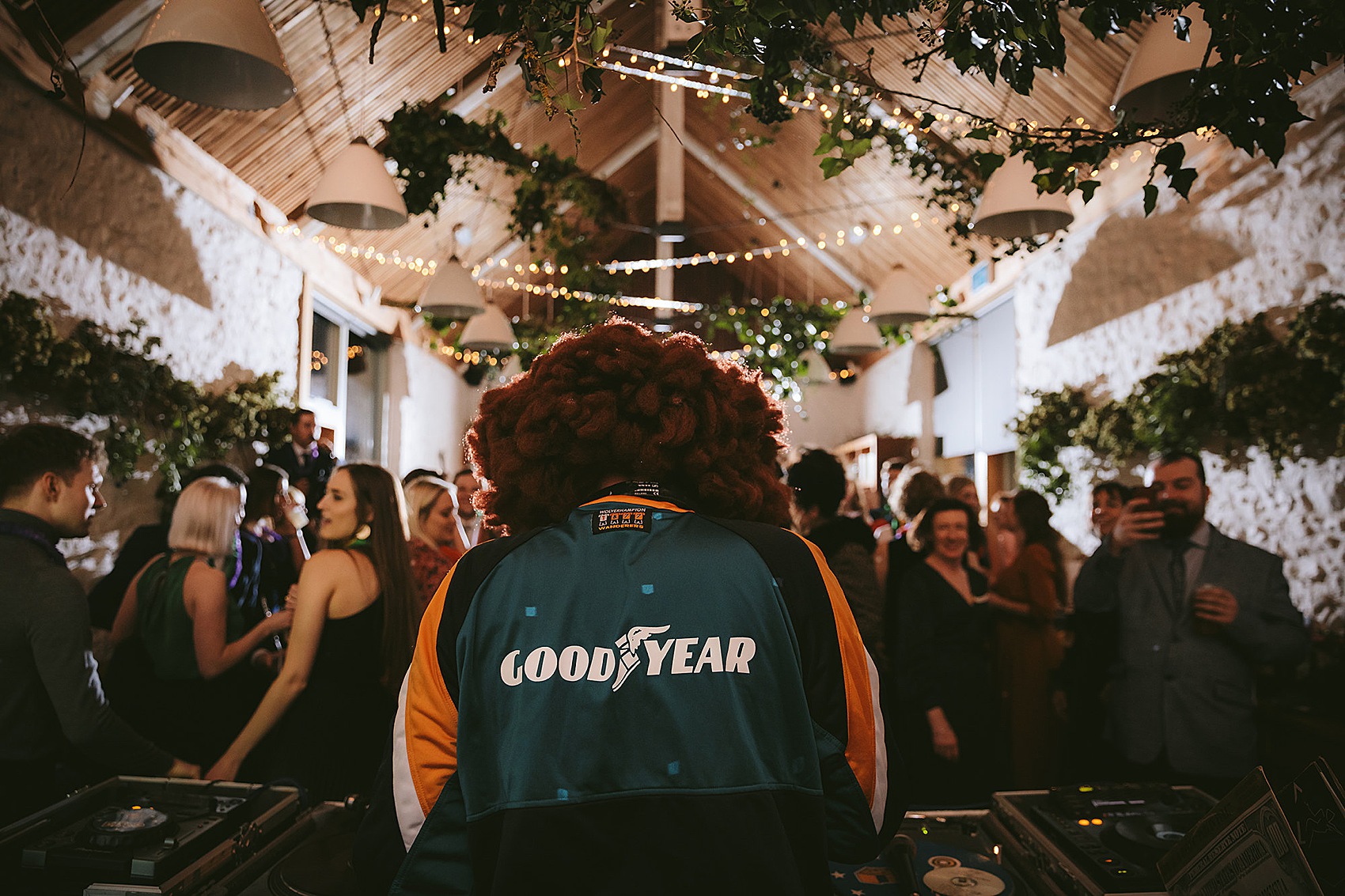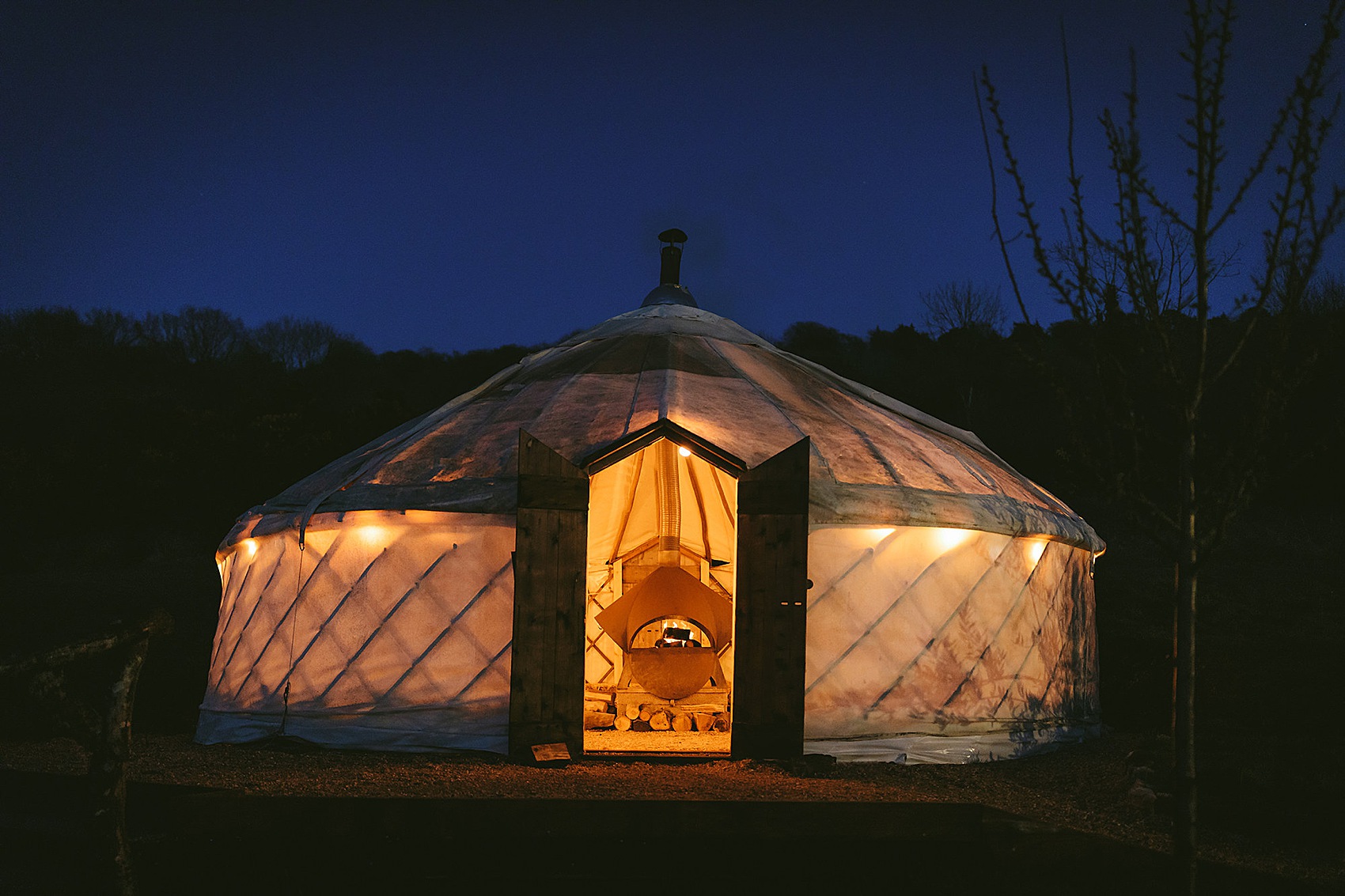 Words of Wedded Wisdom
"At the beginning decide on what is important to you as a couple. For us it was all about the food and having all parts of the day in the same location, so we could spend as much time as possible with our guests. We got an amazing deal with River Cottage doing the winter package on a Sunday too. All our guests raved about the food and the location."
"The ceremony and speeches were super-emotional, a lot more than we ever imagined. Make sure your 'waterproof' mascara is tried and tested."
"If you are toying with the idea of doing a speech, do it! When else do you get all those people in a room to tell them you love them?"
Thank you for these fantastic words of wisdom, Izzy, I know they are so valued by our readers. Thank you to you and Will for sharing your beautiful day, and thank you Nigel John too; I really hope we see more of your wonderful work soon – that golden light.
Ele xx