There is so much to love about today's wedding; a quintessentially English lakeside setting, shades of hot pink and tangerine orange, tropical streamers fluttering in the breeze and a whimsical floral moon arch.
I have a feeling that this vibrancy will inject a huge amount of joy and happiness into your day. This was the second wedding for both the bride and groom, and Lucy has some insightful words of wisdom to share with all of you currently planning, and maybe even worrying, about how to wed second time around.
Travel writer and blogger Lucy wed author and editor Jason in a vibrant outdoor ceremony on the banks of Bewl Water at Waterside Manor, Wadhurst in East Sussex on 6 July 2019 with dinner and dancing after at The Boat House Bistro. The couple created a day that was 'them' through and through – colourful, vibrant and fun – all inspired by the sights, sounds and smells of India, where Jason lived for three years.
"We decided to have a really relaxed, fun, colourful day celebrating our second chance at love. The day really was just glowing and alive with happiness and joy!"
Pink Daisy Weddings

+ Follow
I'll pass over to Lucy to explain more about their vibrant, colourful style and nods to India and Bollywood, as well as her concerns about arranging a second wedding for them both.
"I was nervous when planning my wedding. After a painful divorce, I felt battered and jaded about marriage. Both Jason and I have been married before and had big traditional weddings with many of the same people in attendance. I felt embarrassed that so many of the same people would be there. Should we just slink off to a registry office? Should we do it quietly? Neither option was very us – we are both fun loving, larger than life people and doing a subtle affair made me feel sad and like we weren't being true to ourselves. The love Jason and I have is large and loud and colourful. We needed a wedding to reflect us, a wedding that was us."
"Waterside Manor is just stunning. Right on the lake and a gorgeous, stately, country house, it made the weekend. Our families and our best friends stayed here and our guests were blown away. The Boat House Bistro is an amazing restaurant and bar overlooking Bewl Water with huge glass windows, balconies and terraces. They also provided boat rides, wow!"
"Jason is a successful author in India and lived there for three years. I visited with Jason when he was asked to be a speaker at the Jaipur Literary Festival and fell in love with it too; the colours, the sites, the smells, the whole experience. We decided to create a real nod to our love of India. Most of the traditional Bollywood/Indian wedding marigold garlands and decorations were sent from Delhi from friends we have there."
Lucy planned the wedding with the help of her mum and, for the reception, Thomas Charles Noble at The Boat House Bistro. I love that she took inspiration from reading Love My Dress, too.
"Thomas was particularly fab and the best co-ordinator. My mum was amazing – she really is the best. I looked at Etsy and got inspiration from Bollywood films we watched. I have always loved Love My Dress – mainly to see the pure love and joy on the faces of all those amazing couples."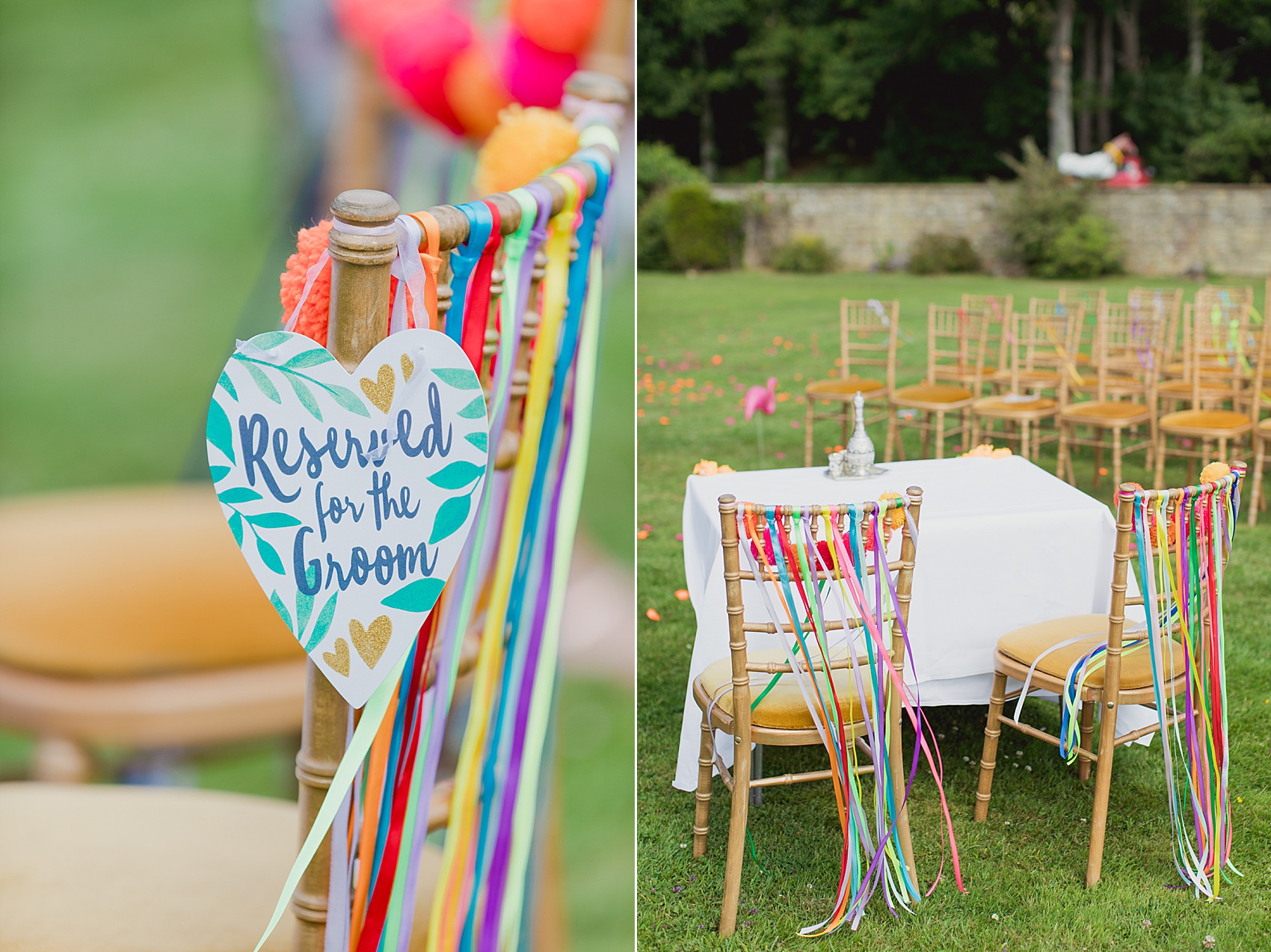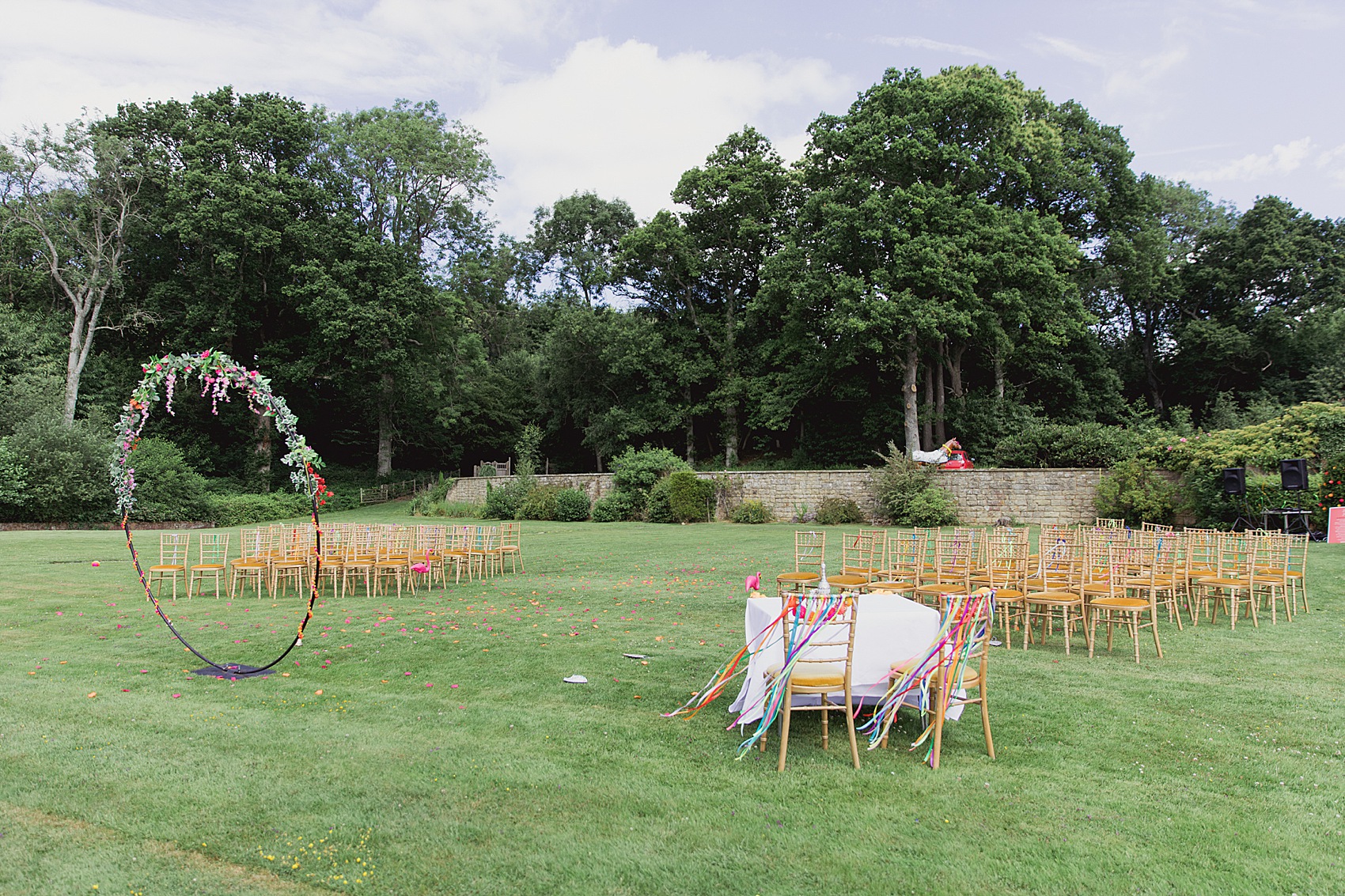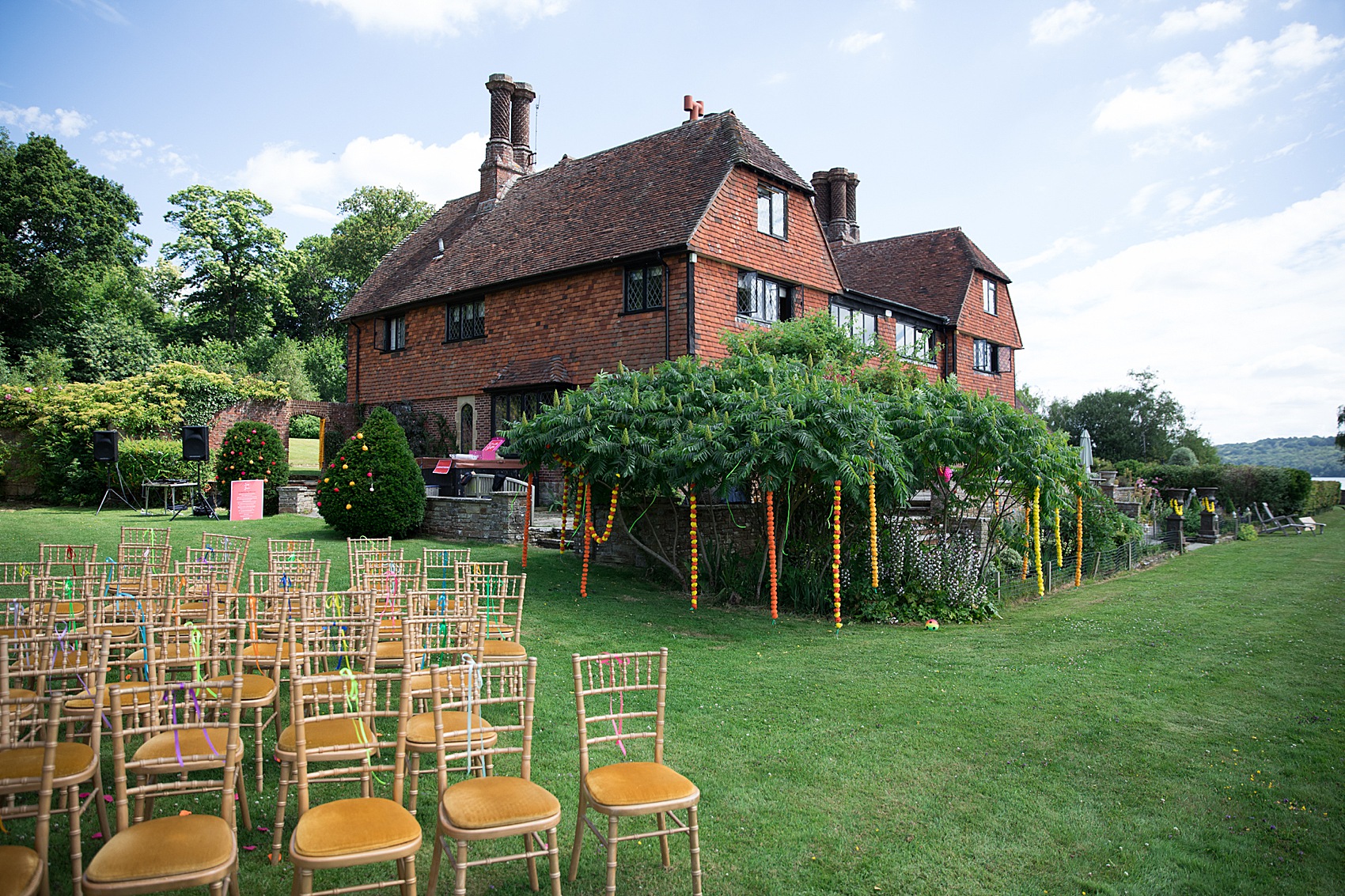 The bridesmaids look sensational in their gowns in a range of tropical colours, all accessorised with rose gold flamingo necklaces from ASOS, to complement the flamingos in the rest of the day.
"I let my girls choose their own dresses and said to pick bright coral or bright pink. They were from Little Mistress, Zara, ASOS and most off the high street. They went so well together and the bright pinks and corals added to the colourful summery Indian/ tropical vibe."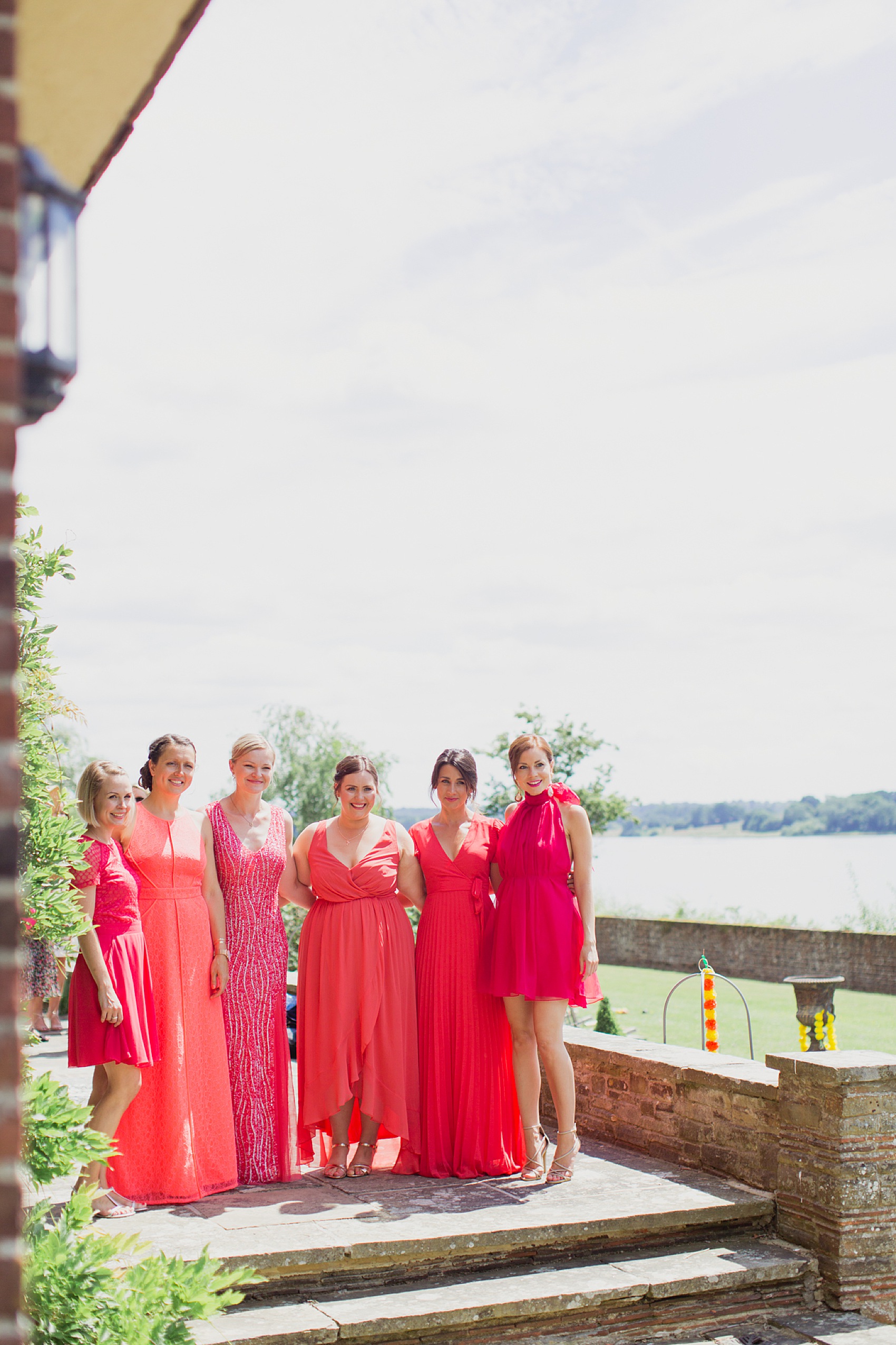 The flowergirl dressed in a pearlescent, rose gold, layered party dress from Monsoon and the pageboy was in a bright orange bow tie and braces from Etsy, and cool deck shoes from Next.
"I had my goddaughter Poppy as a flower girl and my nephew Henry as a page boy."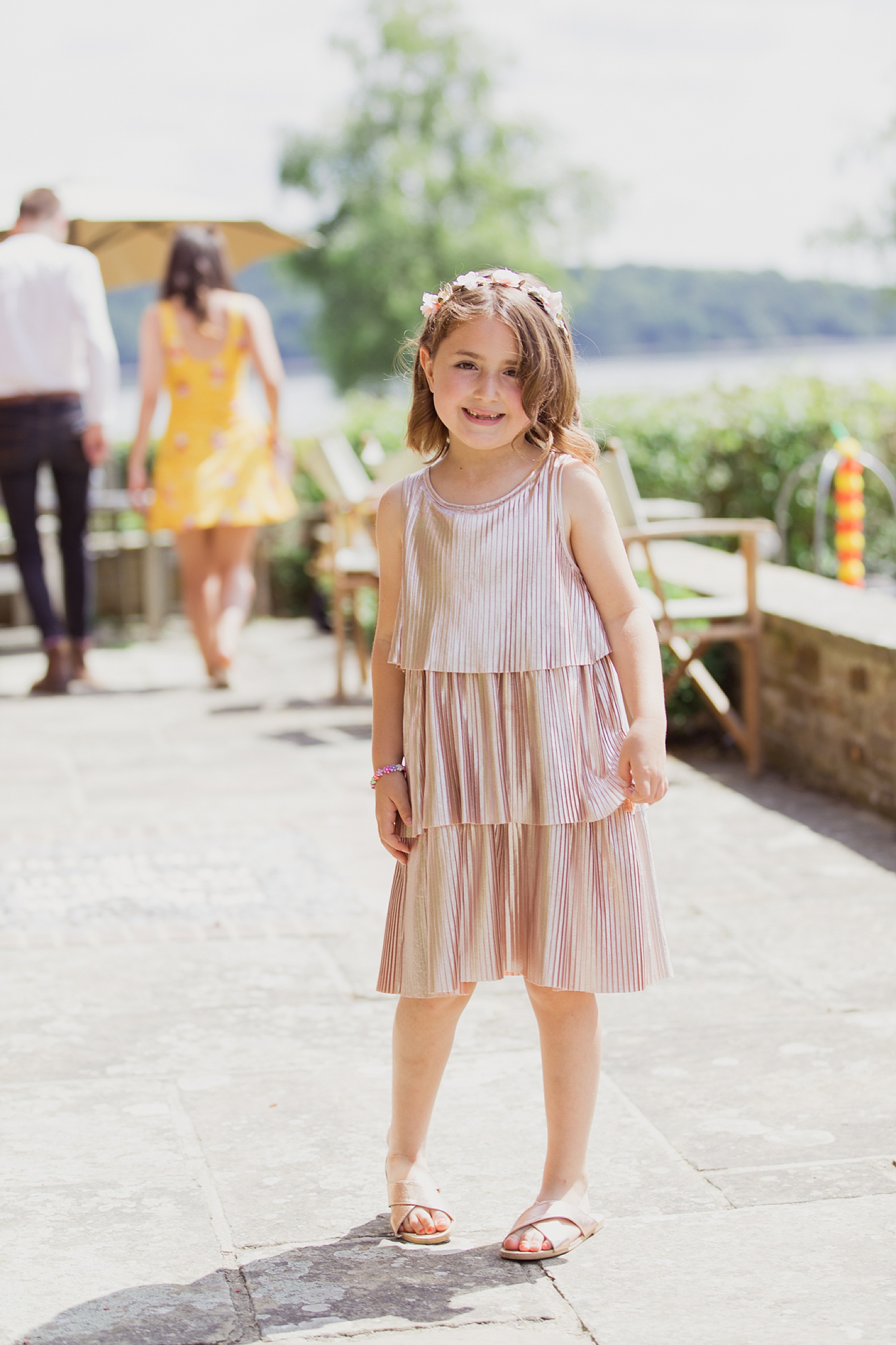 The bride selected a pure white, era-inspired gown from A Star Is Born via ASOS. Its gorgeous drop-waisted bodice and draped skirt have a whimsical era-inspired vibe and those delicate tassels and fringing infuse a subtle Indian feel.
"I loved my ceremony dress. The fringing and tassels had a 1920's Art Deco vibe but also felt bohemian. They had an East meets West feel when teamed with the Indian jewellery and head piece."
As well as jewelled sandals from ASOS, Lucy wore a traditional Indian bridal necklace (how beautiful is it, by the way?) and bangles, statement earrings and an intricate headpiece. For a pop of colour, she carried a few stems of artificial flowers.
"I went for artificial flowers from Hoopers in Tunbridge Wells. I couldn't deal with fresh flowers in the middle of July and as it was so hot I'm glad we went fake."
Her Chanel No 5 fragrance was a gift from the groom, and she did her own, glowing make up and super-bright, coral lip.
"My hair was styled by Rosie Baylis Hair. Rosie is fab and I cannot think of anyone I would rather have spent the morning with. She was so chilled and my hair stayed in place all day, even on the speed boat ride. I had my nails done at Permanent Makeup By Tina. Tina and Sophie are so fab. I went for a really bright, neon, coral colour which I loved – not very 'bridal' but I don't do subtle nail colours."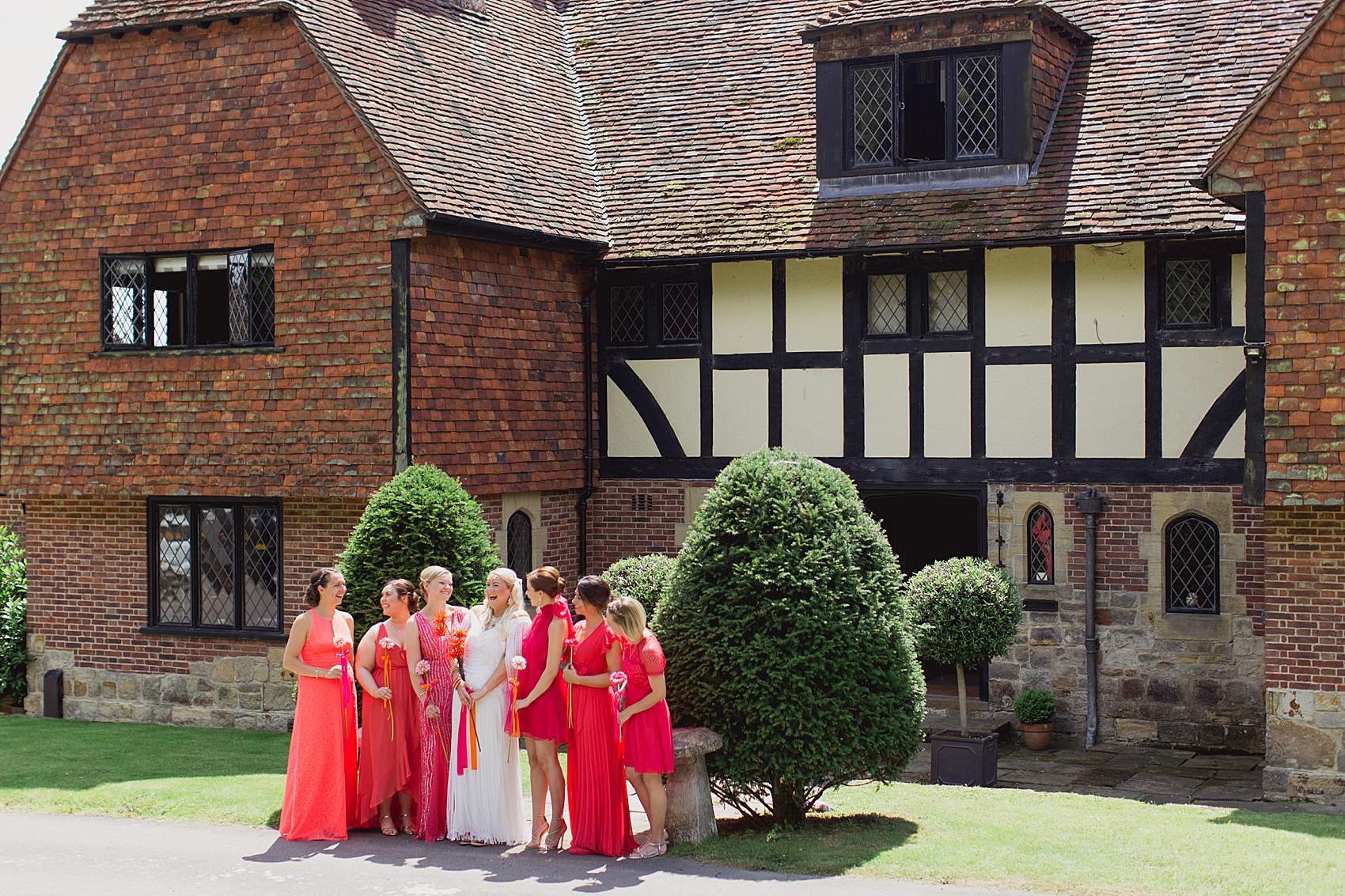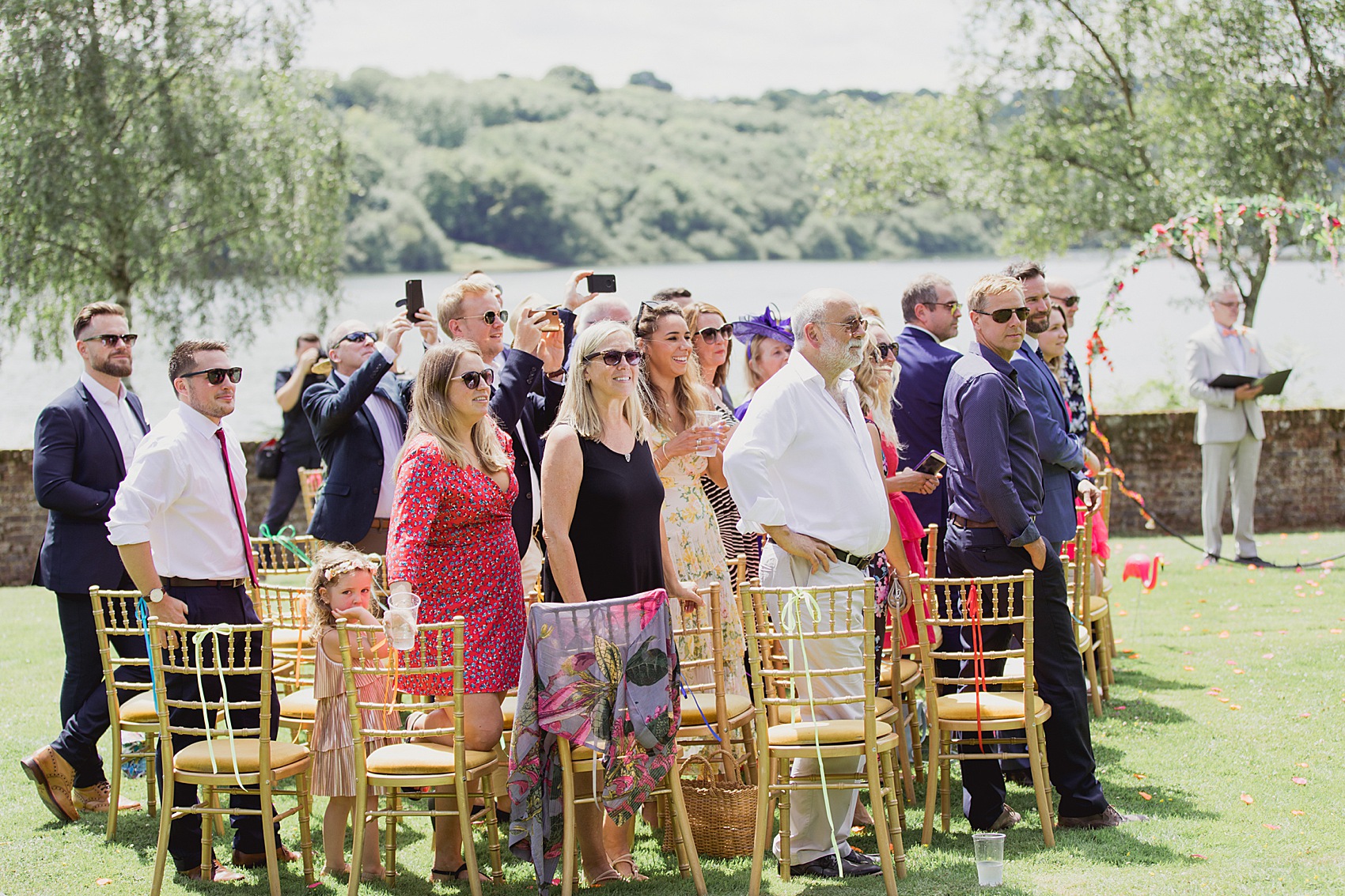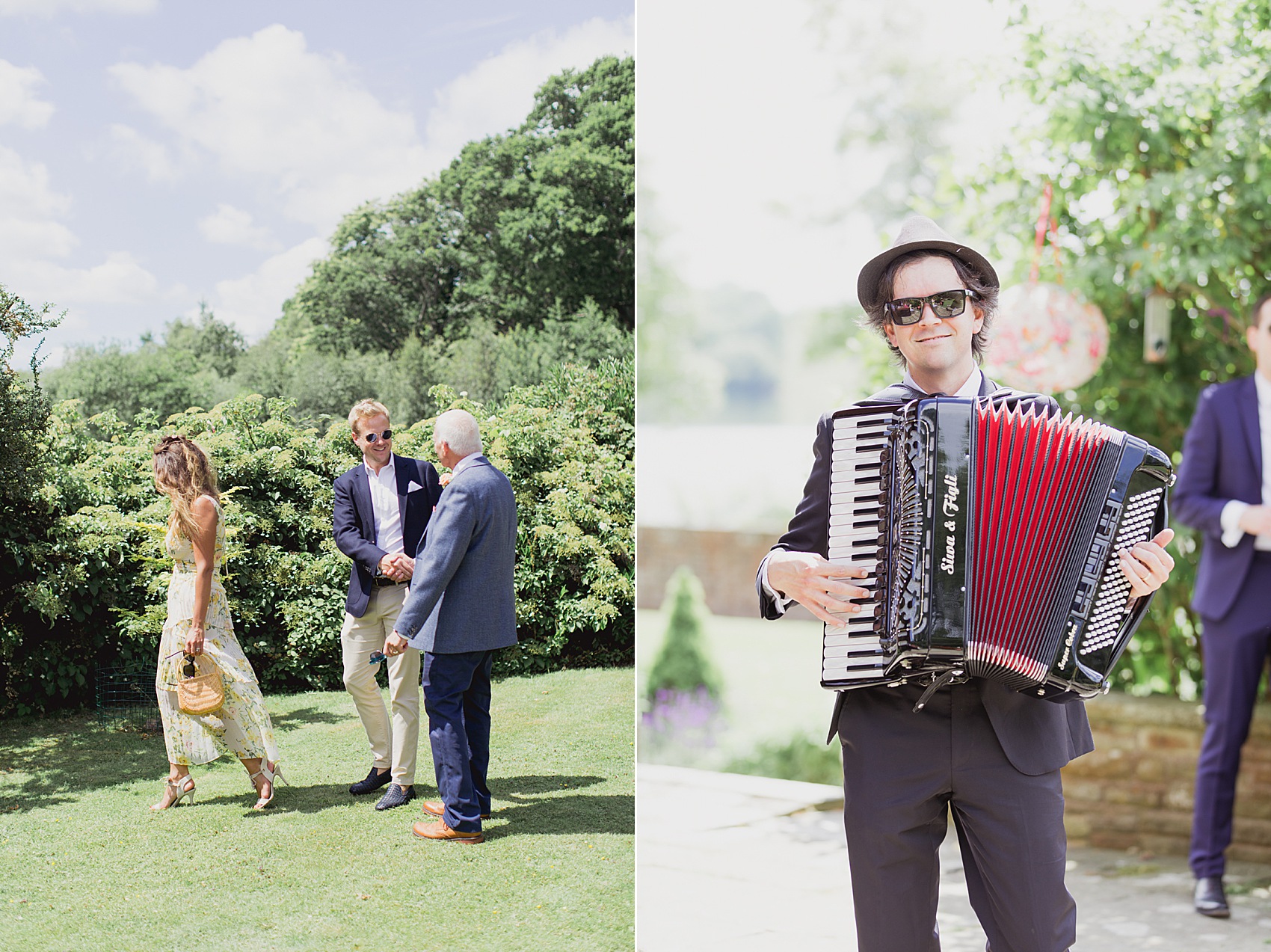 The groom looked magnificent and oh-so comfortable in his traditional Indian groom's suit.
"Jason got his traditional wedding kurta from an amazing Indian store in Tooting Beck."
To surprise Jason, Lucy secretly arranged for a traditional tuk tuk from Southeast Tuk Tuks to transport him, along with his best men (his son and Lucy's nephew) down the aisle.
"The sight of my future husband arriving rock and roll style in a traditional Indian kurta, sparkling and shimmering, golden in the sun, riding on a tuk tuk to the entrance music of 'Mr Big Stuff' will forever be seared in my mind. I love him so much I was happy to let him have the grand entrance because the day is just as much about the groom. It was such a highlight of the day and really set the tone. Everyone was laughing and smiling so much."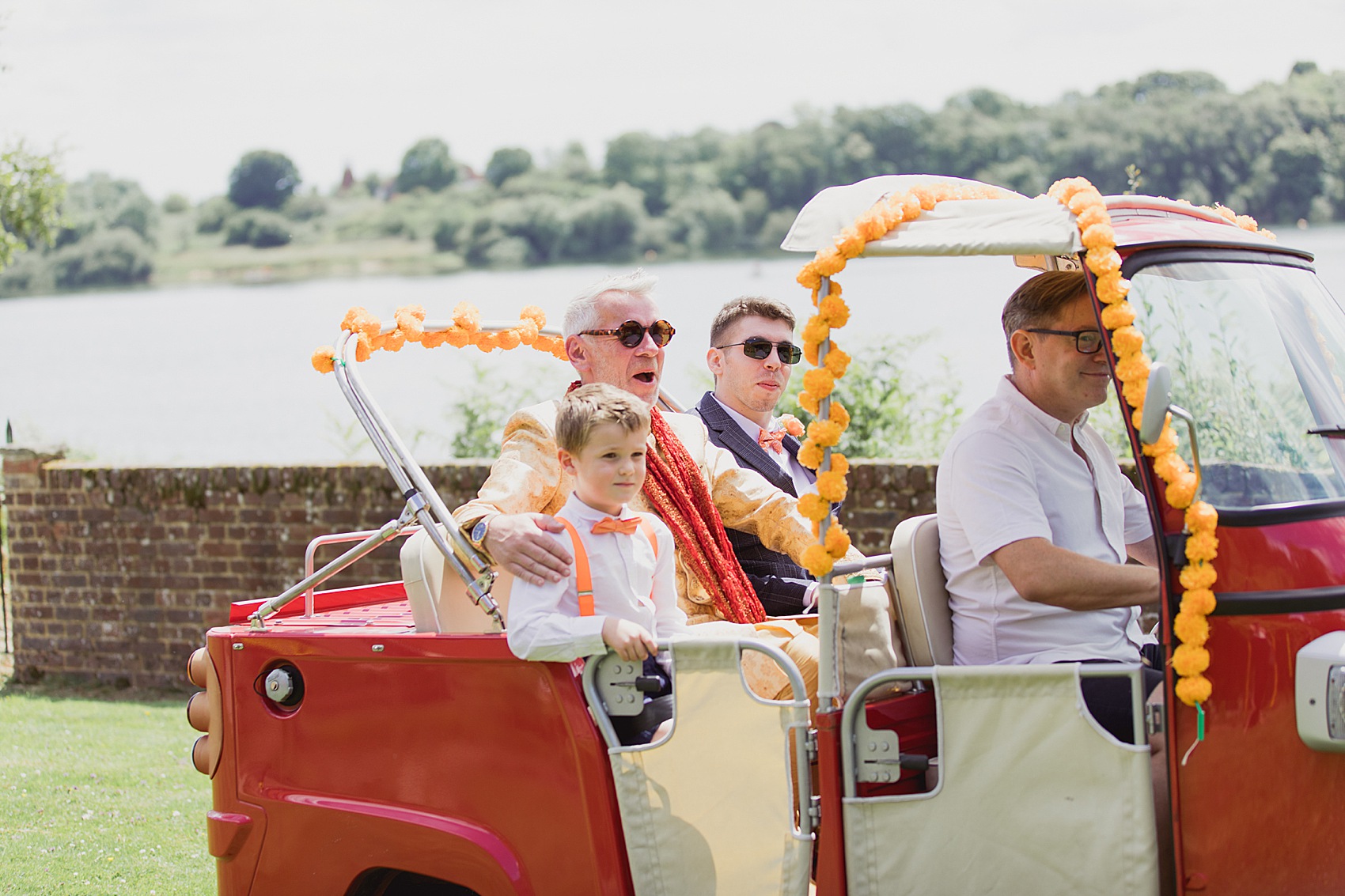 With such beautiful July sunshine, the couple's ceremony was held outside with the calm lake as a beautiful, quintessentially English backdrop. The Indian style had been set by designer Kate of Little + Sarj, who was also a bridesmaid.
"My best friend Kate Sarjeant did all of the design. There was no specific brief but I asked to go colourful and with a bright, Indian, Club Tropicana-style vibe. I love her style and she is the most talented designer out there. Her stationery was so fab and we especially loved the amazing Indian God table plan."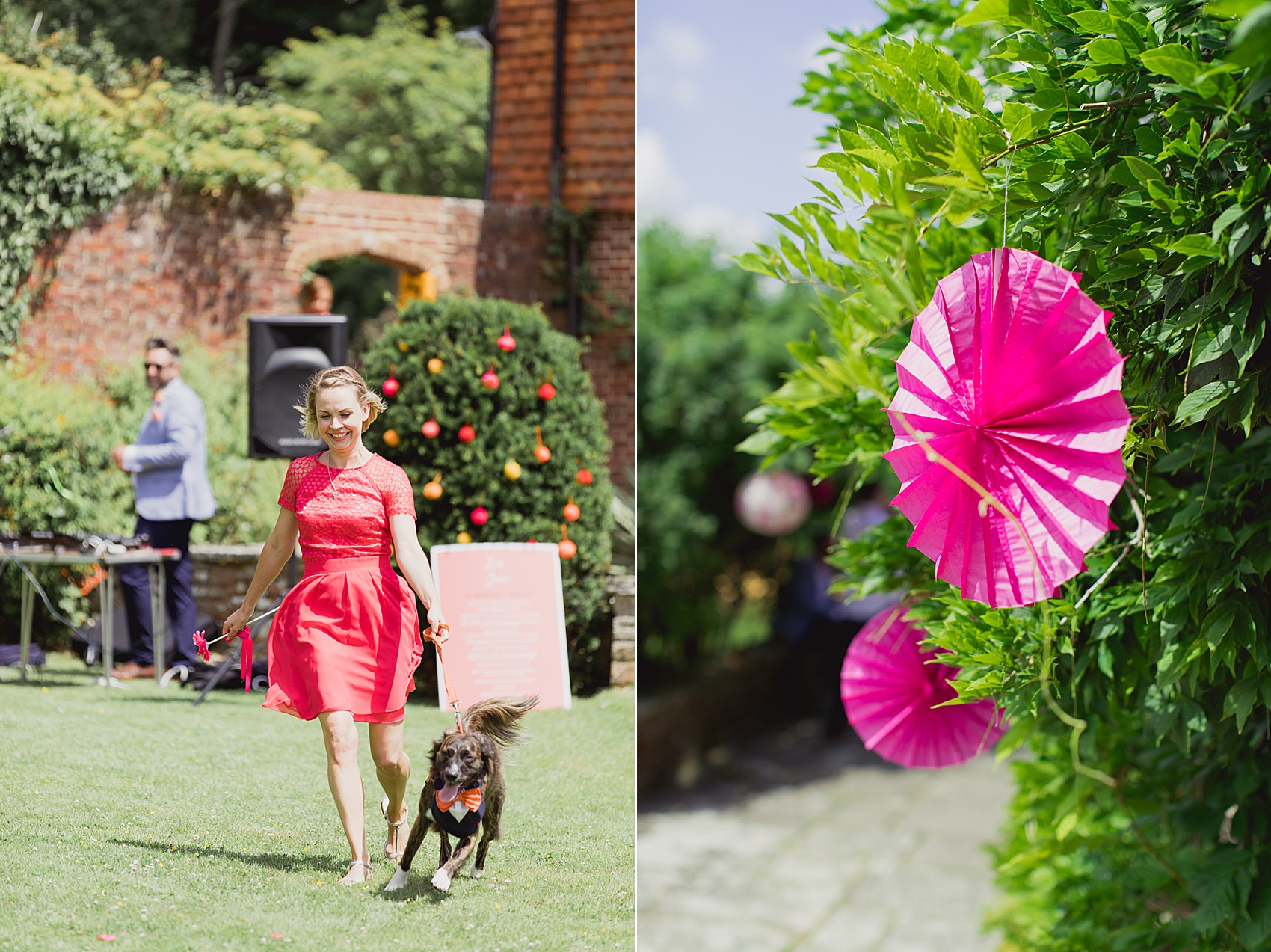 The couple's rescue dogs, Bonnie and Clive, were designated dogs of honour and preceded the bride to meet Jason by the moon arch.
"They dragged my bridesmaids down the aisle. Clive even ran back down and surprised us at the top of the aisle just before we said our vows."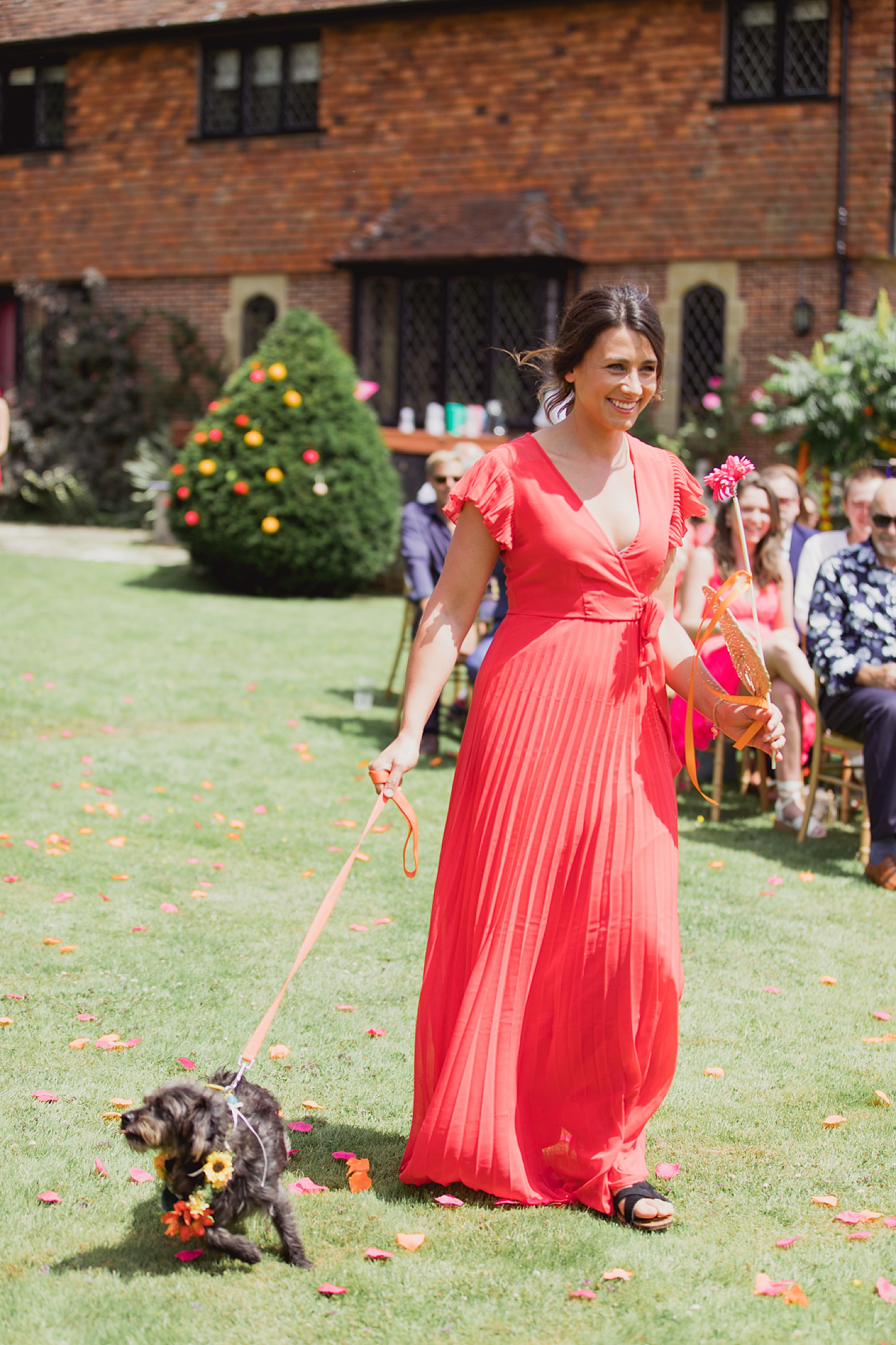 "I walked down the aisle to The Ramones' 'Baby I Love You' with my gorgeous bridesmaids and my dad, Mark Saxton. It was so special. I had some cufflinks made for him that said, 'Of all the walks we have taken together, this one is my favourite'."
"It was such a beautiful moment and I will never forget the sea of smiling faces, the stunning lakeside backdrop and my groom in full on Indian attire also sparkling in the sun."
The ceremony was led by Mark Aiken.
"Jason's best friend, who he met at drama school, was ordained. He was amazing and did the best job. We wrote our own vows which was really special. I wasn't prepared for how emotional we would be when reading these and I don't think there was a dry eye in the house."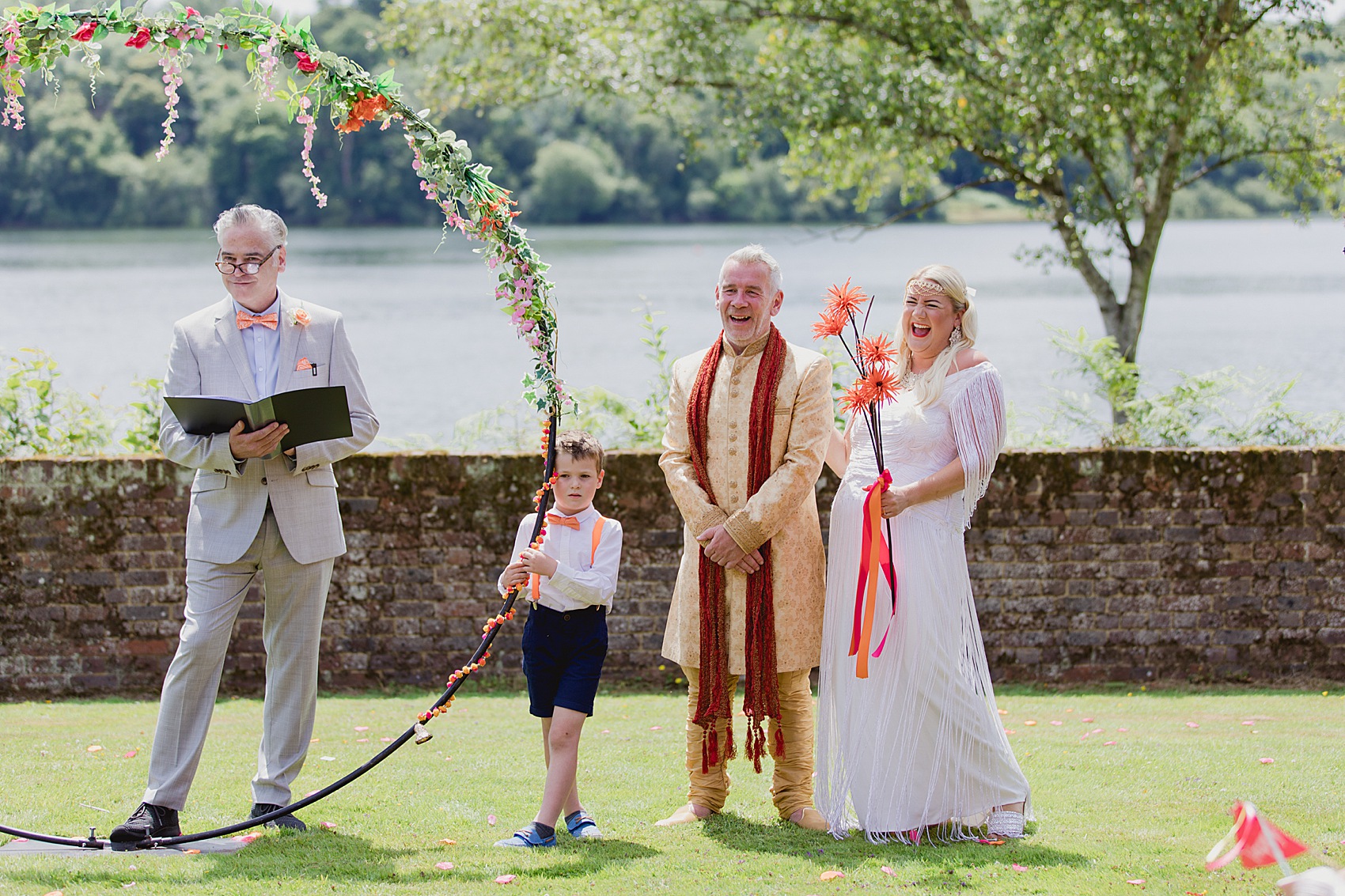 "My mum read 'Being In Love Is Like Owning A Dog' as a nod to our two rescue dogs and our friends from India, Jayshree and Keshav Thirani, read 'The Amber Spyglass' by Philip Pullman. This reading is such a tearjerker. It is one of the most beautiful pieces of writing."
"We got our rings from the Isle of Man whilst on a holiday for Jason's birthday. Jason's late mother used to spend summers there with Jason as a child and it means so much to him. We had our rings made at Celtic Gold so they have so much symbolic value. Jason's ring even has the Isle of Man Celtic symbols on."
For the bride, the ceremony was incredibly special and put her previous worries to rest.
"All of my worries about having a second wedding blew away in that warm July breeze. As I watched my guests tearing up, emotional and crying with laughter and joy for us I realised that if anything it made it all the more special – these people had all been on our journey with us, rooting for us and willing us on. Marriage for a second time isn't a taboo; it is proof that there can be a happy ending and a second chance of love, even if you have to go back, forth and sideways to get there. In the words of my new husband during his wedding vows, 'Here's to love, laughter and unbridled lunacy."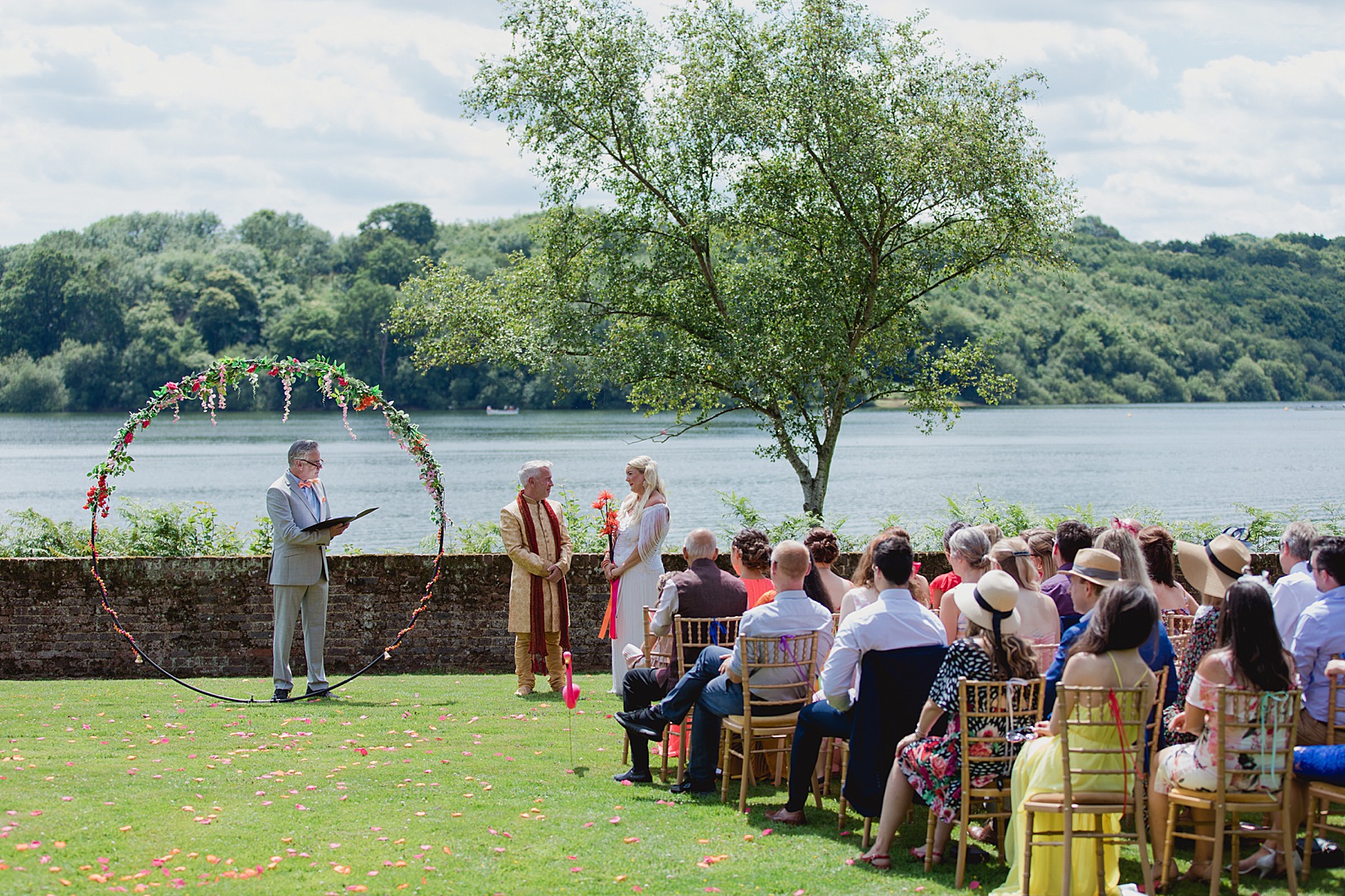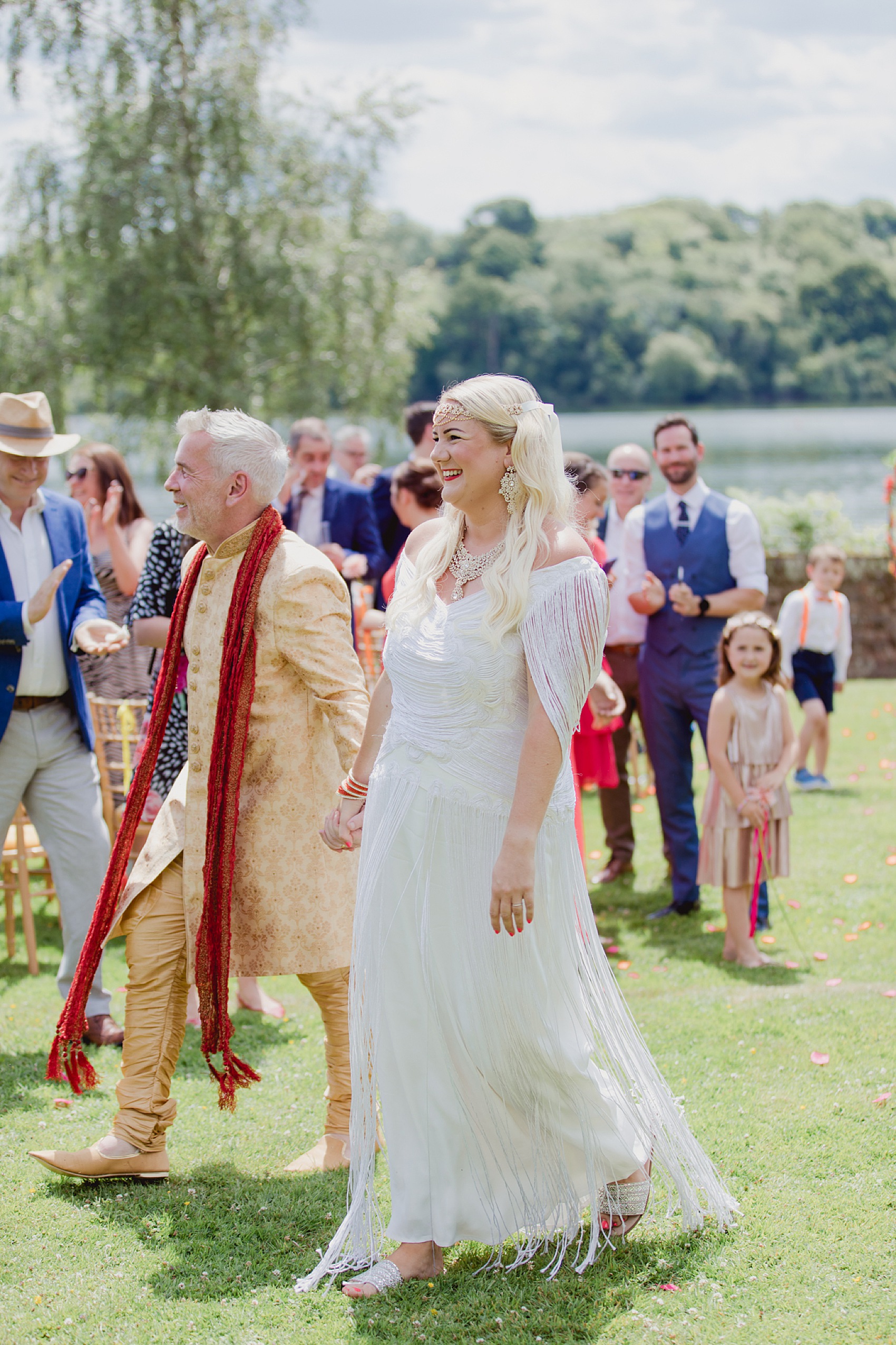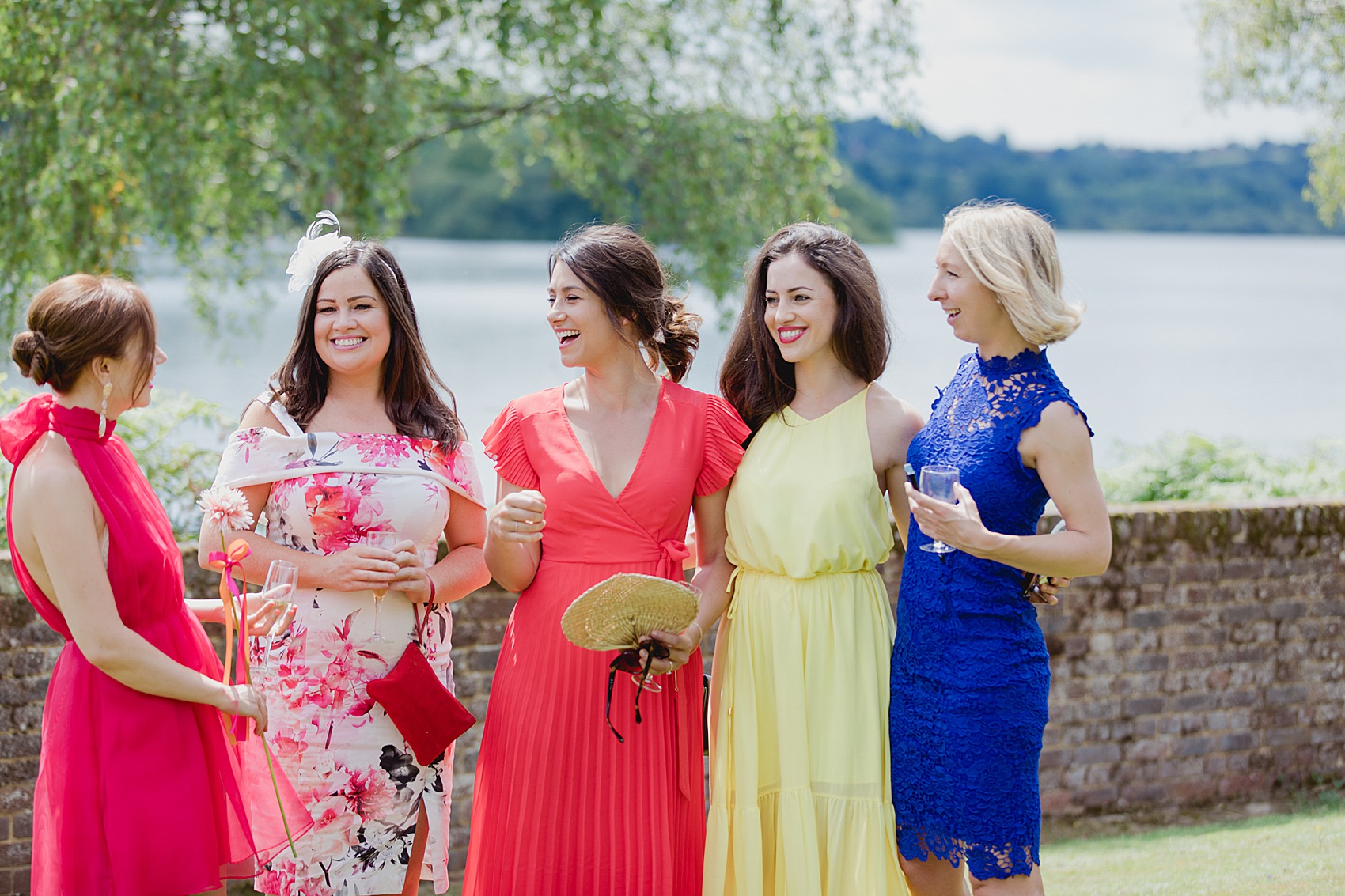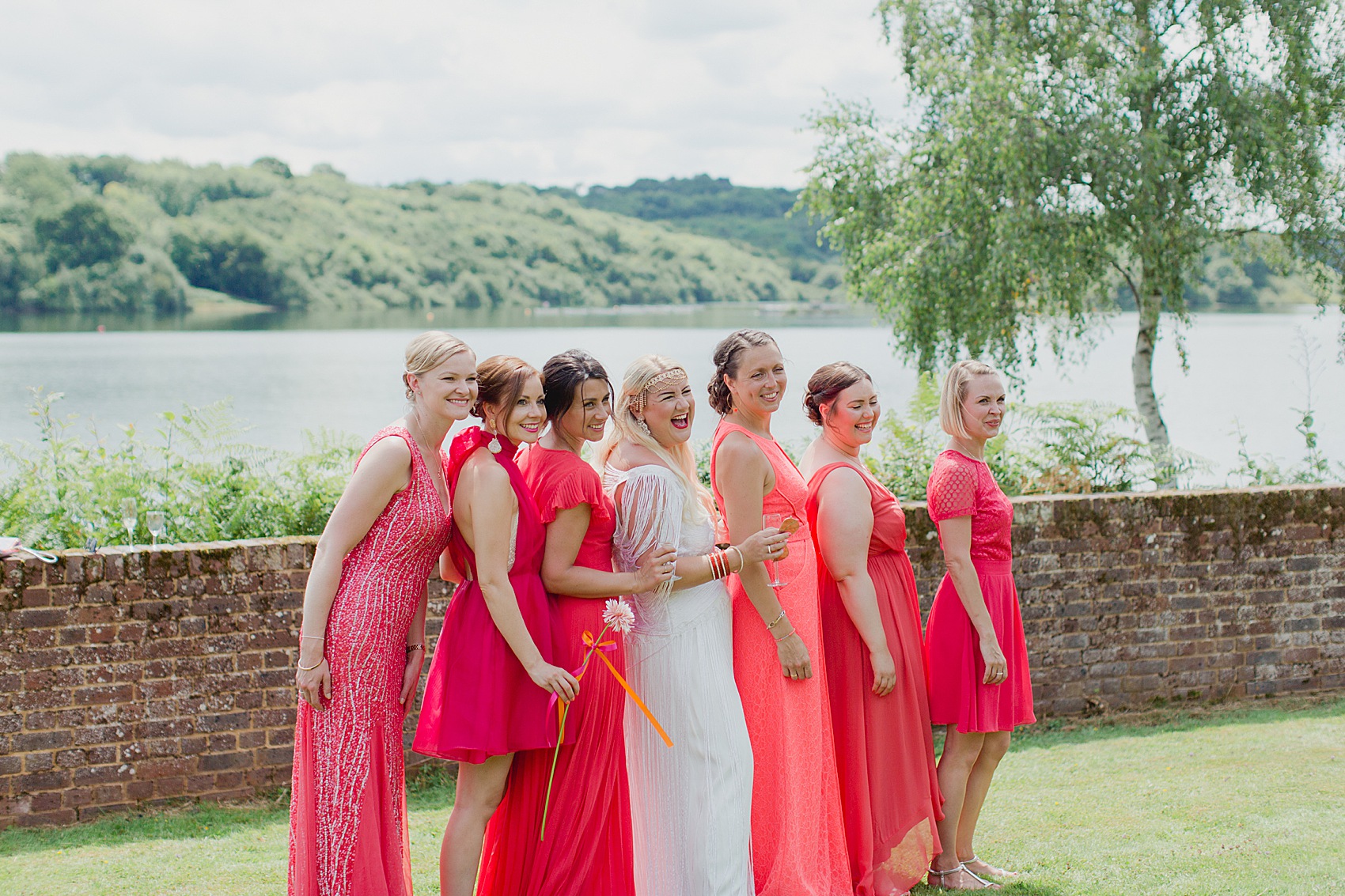 "We had traditional Indian marigold garlands sent over from Delhi, hung off trees and walls. We had colourful fans and lanterns and my friend Chloe of Pom Pom Penny made pompoms and put colourful ribbons on all the chairs. The moon arch, from Not Your Average I Do, was decorated with artificial flowers by my friend Rowena."
The gorgeous colour and unbridled joy of the day was recorded by the super-talented Lottie of Pink Daisy Weddings. I for one love the clarity and modern vibrancy of her work, but she's captured all of the romantic, emotional aspects too.
"Lottie was amazing – such a gorgeous soul who was so positive and excited over every element of the day. We just loved her, her vibe and outlook. I think even if we had told Lottie we were jumping out of a plane she would have been like 'ok cool!'. Paige Birnie who runs and owns the company is also the sweetest and so kind and caring of her brides! I adore these girls so much."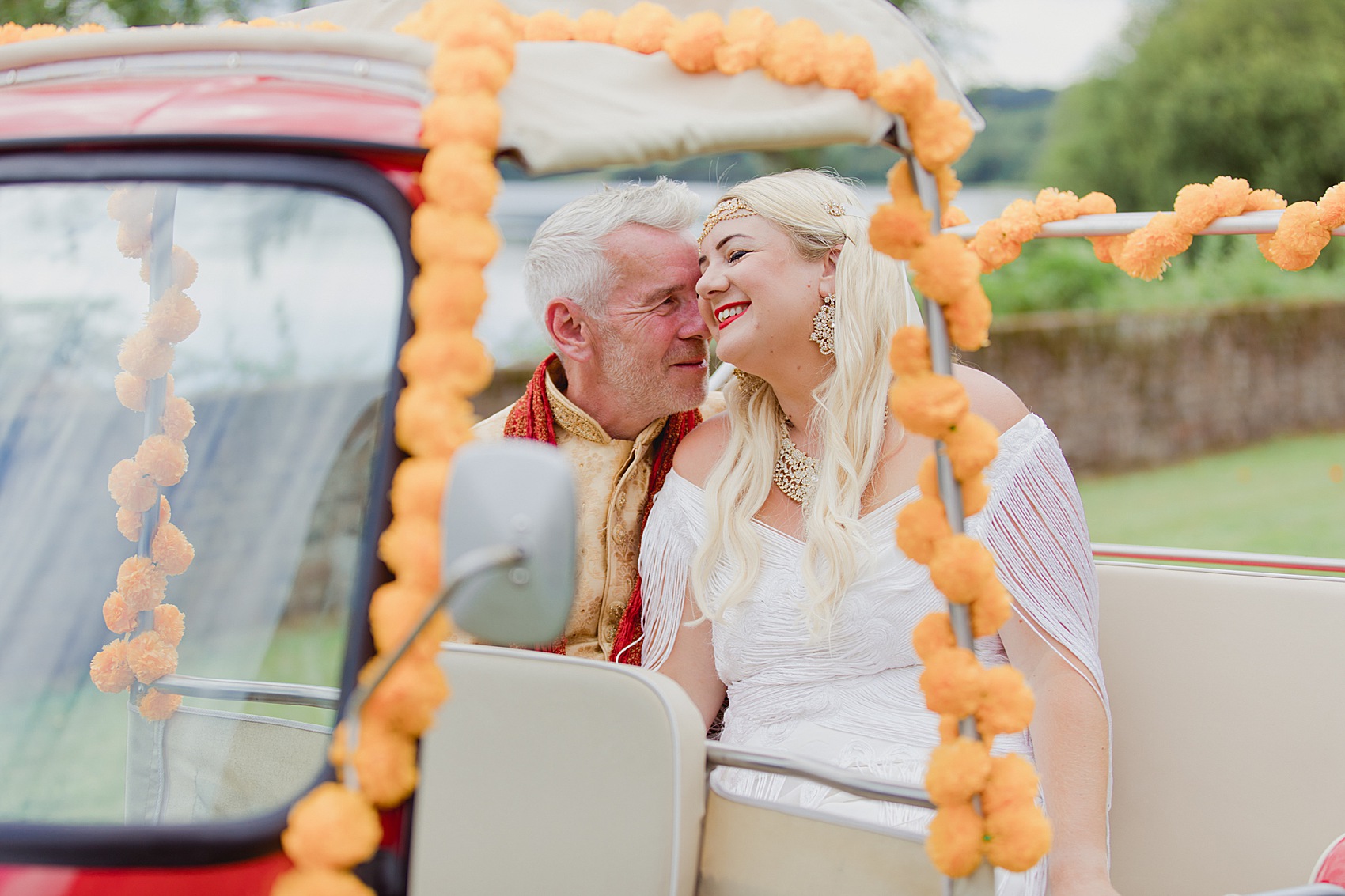 Jason and Lucy also chose to have a wedding video filmed by Emmanuel Films, with the teaser being ready the day after the celebrations.
"Emmanuel was beyond amazing. So laid back and sweet, he just seemed to love the whole day. We woke up the next day to our wedding teaser already made. He is such a legend and we recommend him so highly; professional, efficient and wonderful and also so smiley and positive"
Before heading over the Bistro, the guests and the newly-weds got the party started in the great Sussex outdoors.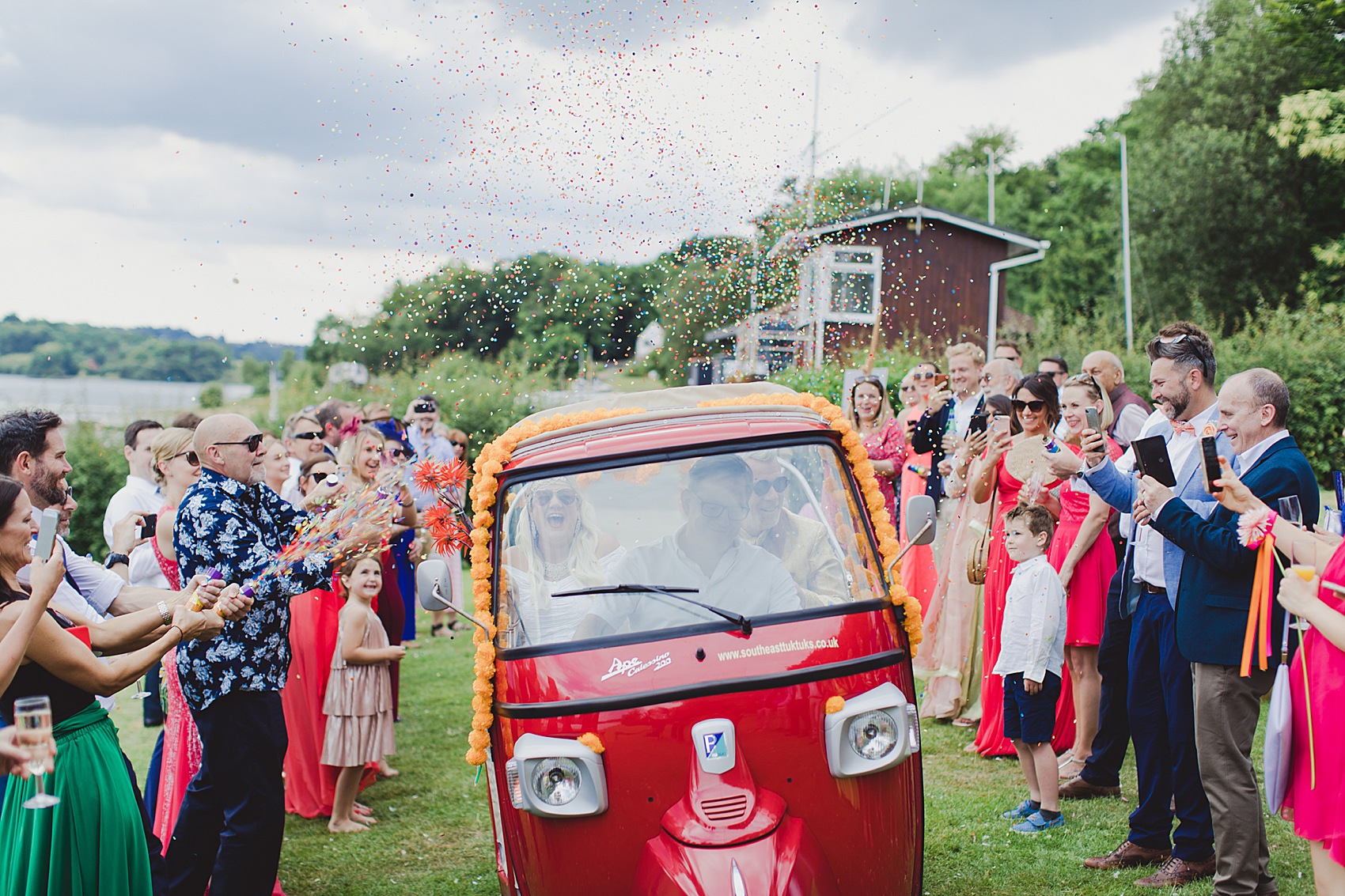 The guests took a short walk through the magical woods to The Boat House Bistro, whilst the newly-weds took another trip in the tuk tuk.
"Jason and I arrived on our tuk tuk and had confetti fired over us. We had more drinks by the summer house and the venue arranged boat rides for the guests. The venue also arranged a surprise speed boat ride for Jason and me. We recreated the 'Titanic' moment and guests said I looked like a mad pearlescent Valkyrie whizzing around the lake."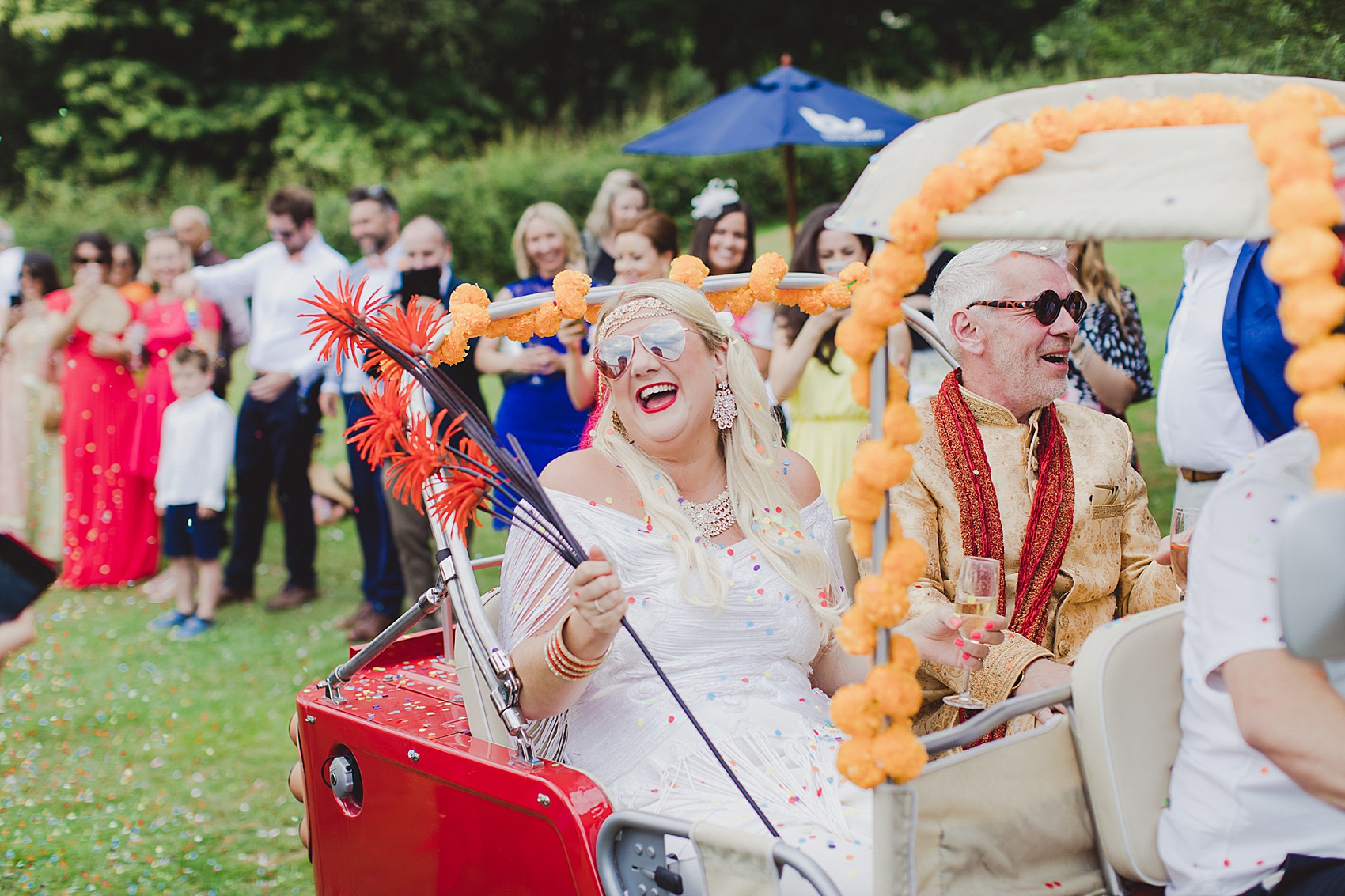 The interior of The Boat House had been transformed into an Indian paradise.
"I went for laser-cut glitter names for everyone. Everyone loves something with their name on it and they doubled as a favour and place name. These were made by Laser Cut For You– a fab store I found on Ebay. They were so meticulous and fantastic."
"After the ceremony, Sue Hewlett and her team did a marvellous job of serving our M&S canapés and fizz by the lake. Because we had such hot and sunny weather, it felt like we were abroad. It was the Sussex countryside at its best and we loved watching all the boats coming past on the water, waving and shouting congratulations as we sipped our champagne. We had an amazing accordionist, Mike Guy, who wandered around playing the accordion. This gave such a great vibe and everyone was desperate to get photos on the tuk tuk."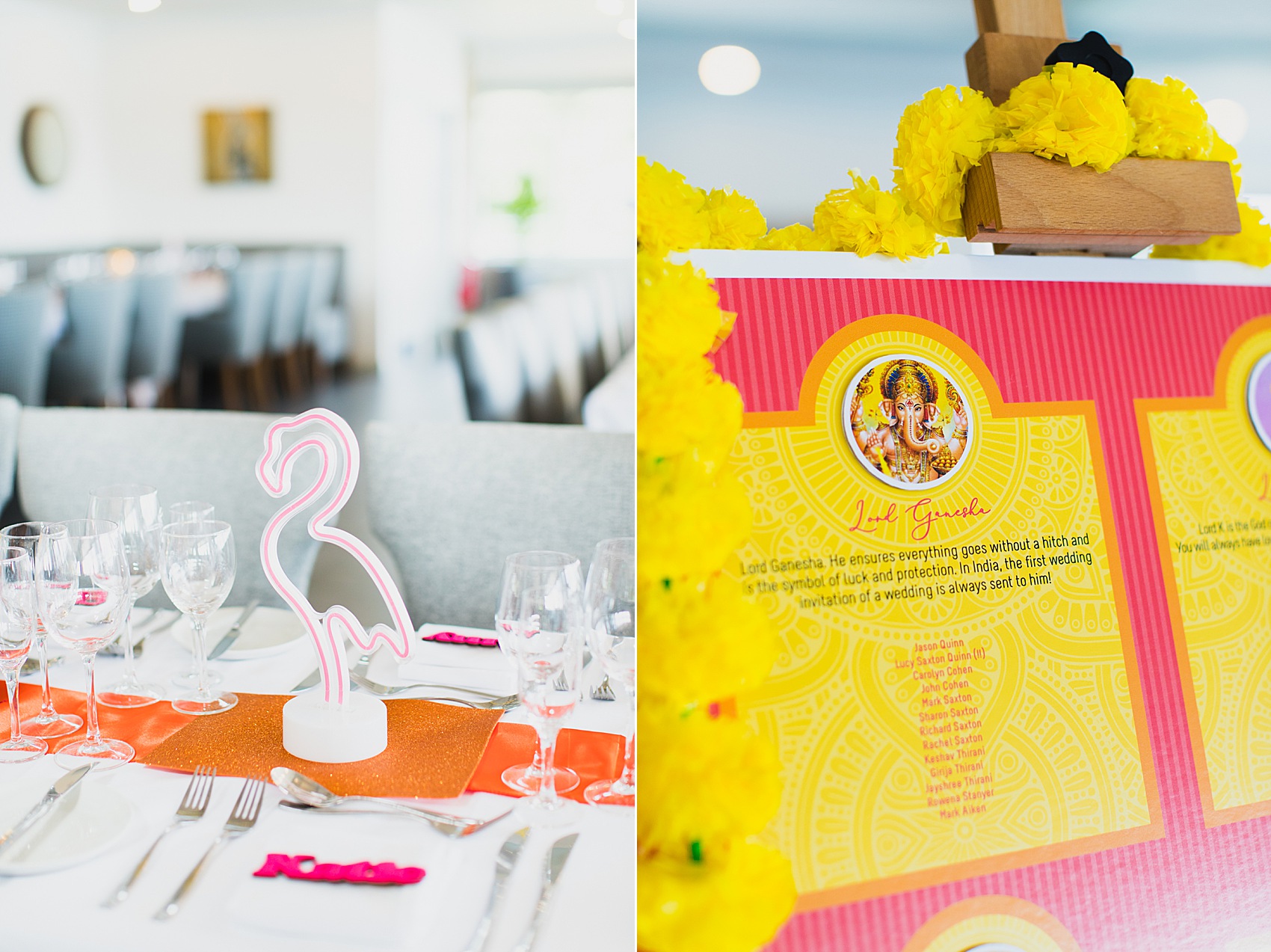 The Boat House Bistro provided the food and drinks for the reception whilst the stacked cake of pink and green, topped off with an incredible cake pineapple, came from Noble Bakes. This has to be the most fun wedding cake I've ever seen.
"Naomi is incredible. I said we wanted something mad and fun with pineapples and flamingos and to just go wild. The end result was the most fun and brilliant cake. It was a full-size gold pineapple with Pina Colada sponge and was a pop of colour and fun, like a kid's party cake gone mad."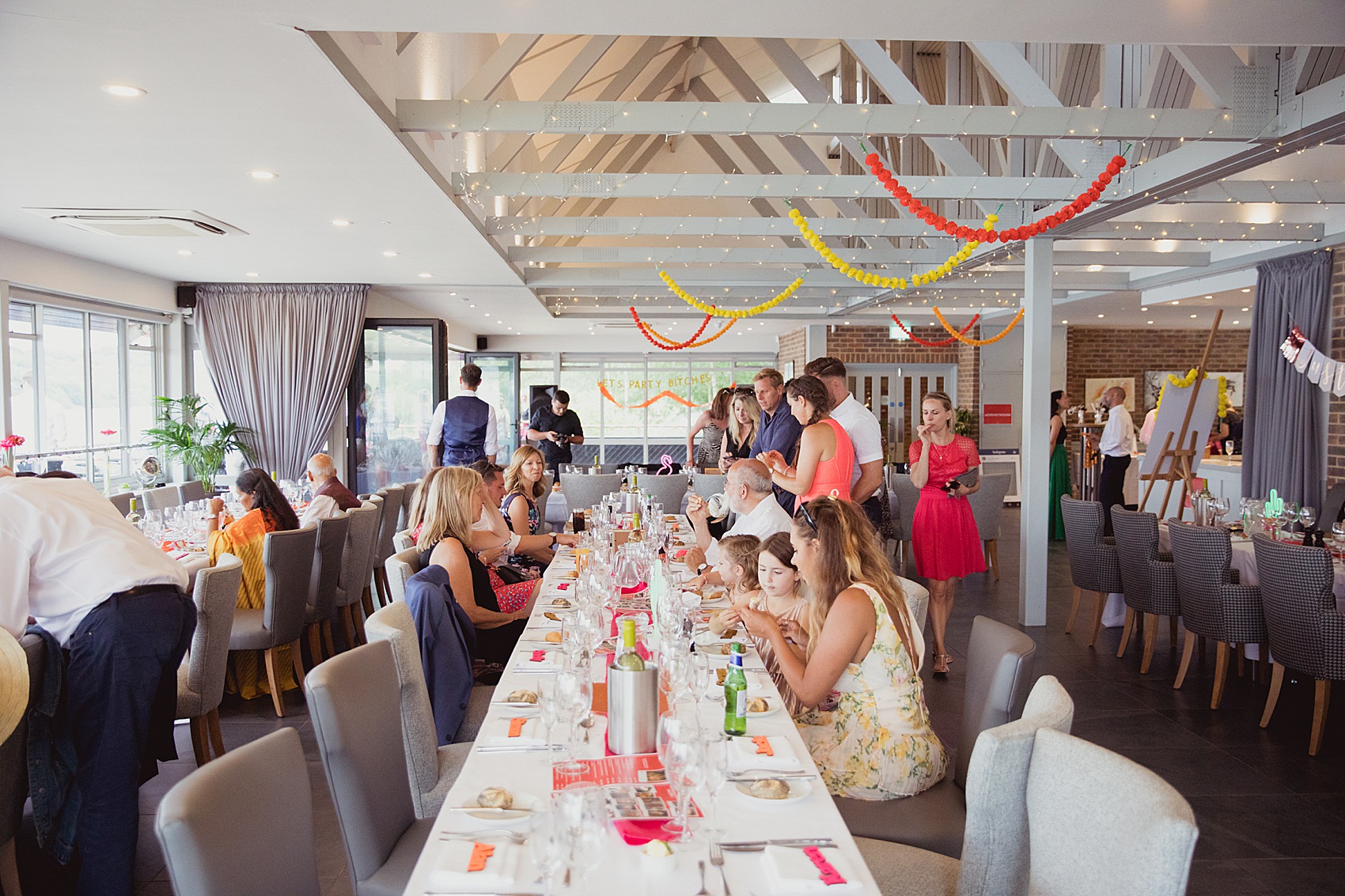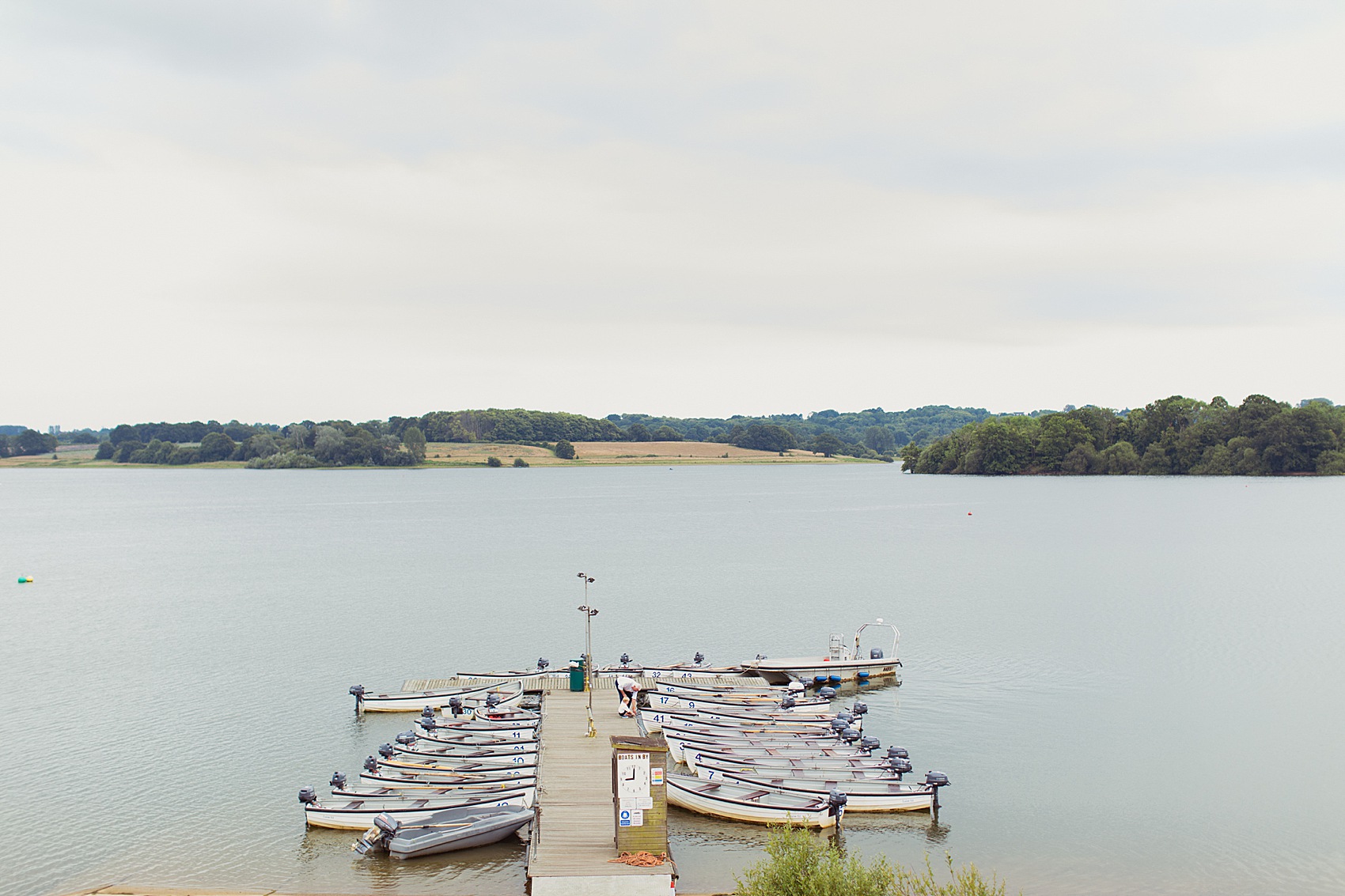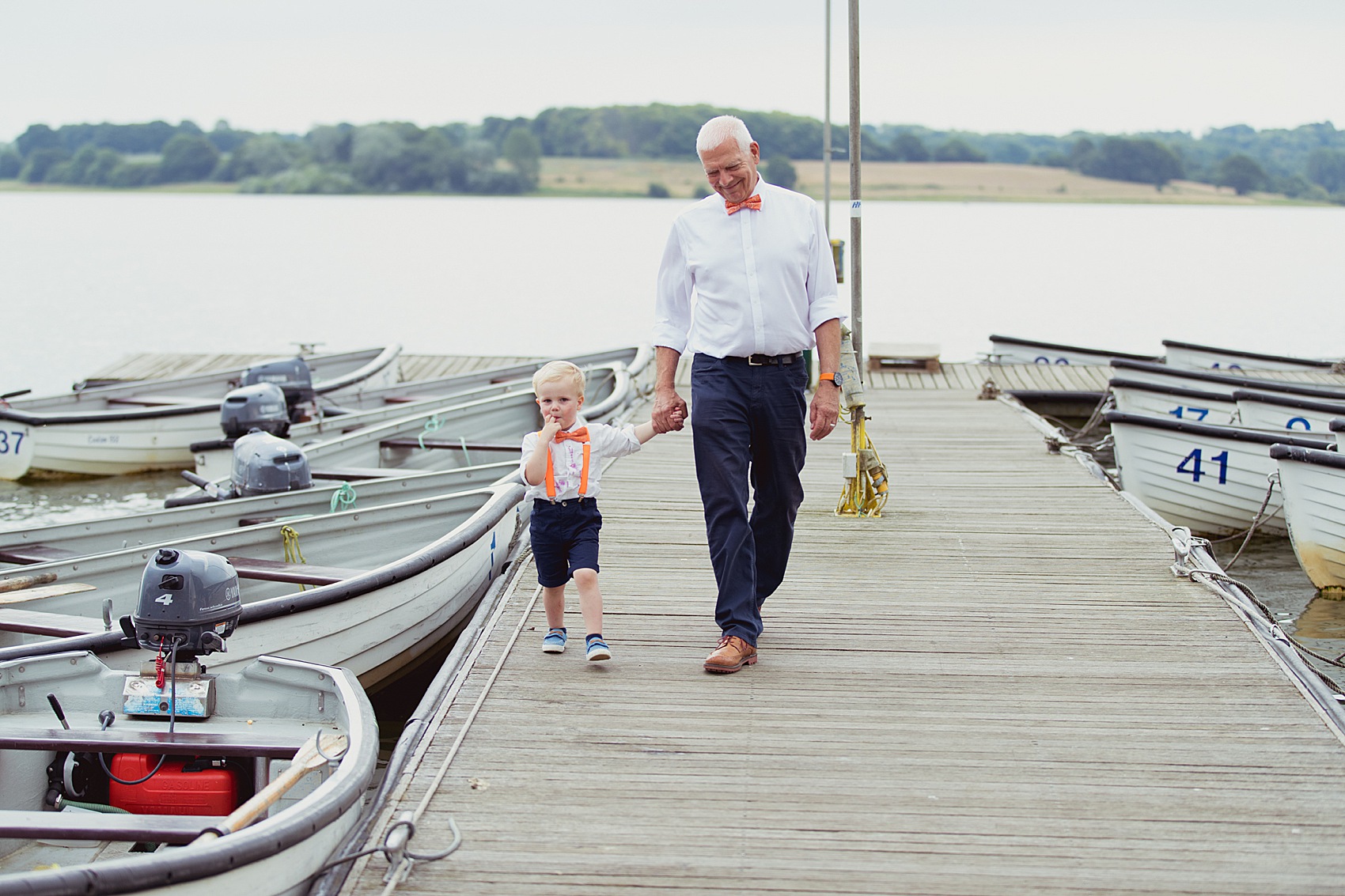 In time for the evening party and their first dance, a tap dance no less, the bride and groom had a swift costume change.
"Jase changed in to a white tuxedo and red carnation and I had a really showy, tasselled dancing dress from ASOS and sparkly silver tap shoes."
"For the band we had Lipstick & Beatniks fronted by the amazing Kerry Evenden. They were incredible and rehearsed 'Let's Face The Music And Dance' for our first dance. It was so much fun and they even added a trumpet for the full swing band experience. It was such an epic moment and we loved learning to tap dance."
"We had Jason's usher, Nick Clark, Djing and he is so talented. It made for an amazing atmosphere!"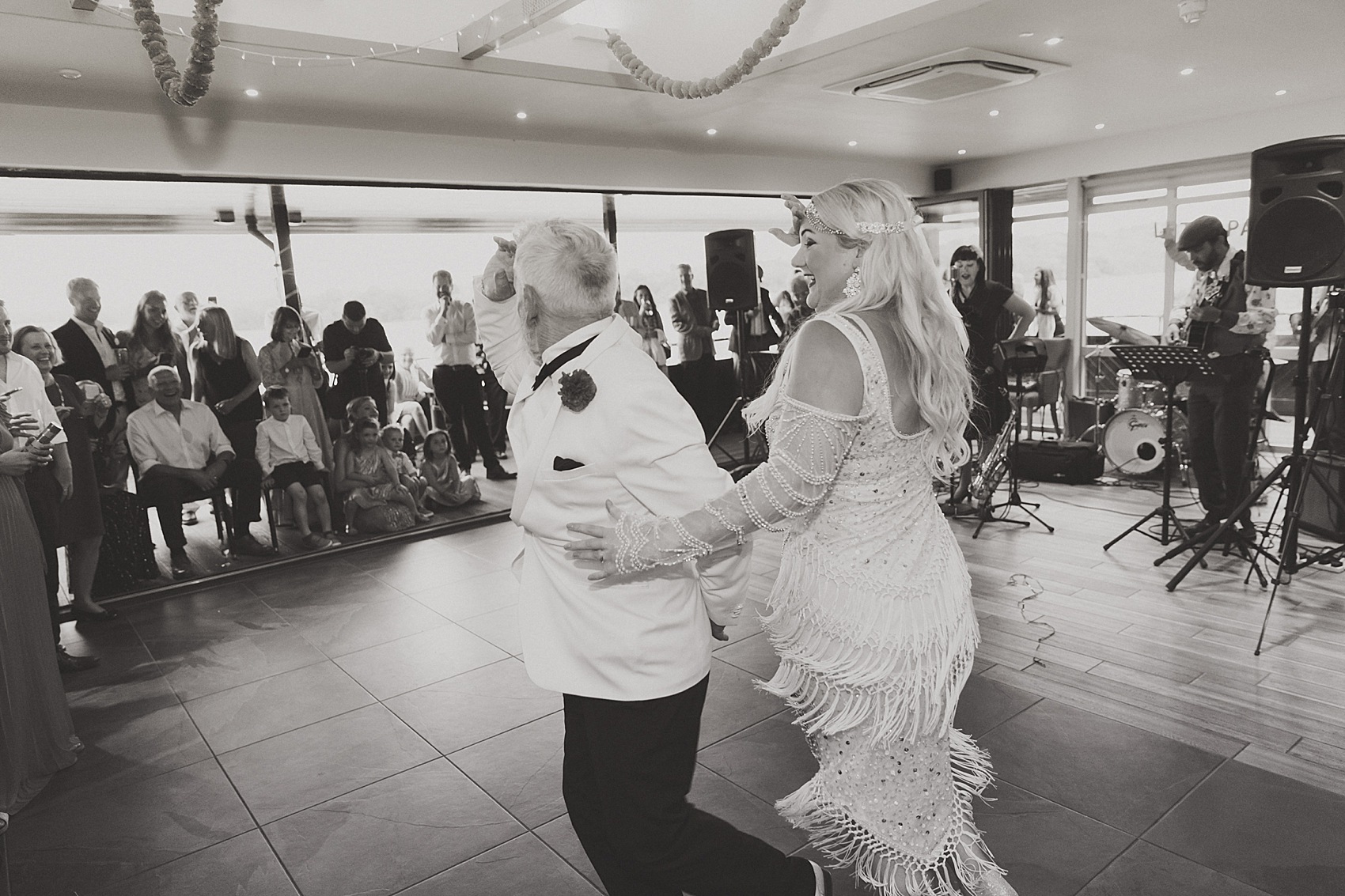 It looks as if Lucy and Jason made so many fantastic memories with their friends and family.
"My favourite part of the day was having all of the people that we love there rooting for us and enveloping us in love and joy. After two hard divorces, the thought of a wedding and marriage again can be hard. I battled with how we should celebrate our union but I am so glad we chose to do it our way in front of those who have been on this journey with us. I feel like the sun was shining for us and showing us that there really is a second chance at a happy ending. The love Jason and I have for each other is huge and larger than life and our day really reflected that."
Words of Wedded Wisdom
"Be yourself! Our day reflected us through and through. We didn't want to do anything too traditional or anything we were 'supposed' to do. We wanted the day to be about us and our love and sharing that magic with those we love dearest. We didn't want regimented plans; we wanted a flexible, fun day where people could laugh and enjoy the experience. Our guests came away saying it felt like they had been on holiday."
"Don't stress about the small stuff, no one else knows if things go wrong. The guests look to the bride and groom and if you are laughing and having the time of your life, you can bet your bottom dollar everyone else will be too."
"People can get hung up on styling weddings, especially in this social media world. The little details are fab but don't stress about it too much because what you, your new husband and all your nearest and dearest will remember is that mad love, that emotion, that joy… not whether the chair back ribbons matched with your bridal bouquet ribbon (but hey, it's lovely if it does)."
"I want to send a big shout-out and hug to those getting married for a second time. Don't be embarrassed and don't shy away from celebrating your love, whatever the journey or circumstances. All love is to be celebrated and a second chance at a happy ending and happy marriage should be celebrated more than anything on this earth! Be proud. Be you. Be happy. You made it!"
Lucy, thank you so, so much for your fantastic words of wisdom and your clear enthusiasm for love and living your life fully and joyfully. I've been so inspired by your approach to life, and I do hope that you enjoy reliving yours and Jason's wedding day today. Pink Daisy, thank you too for such modern, vibrant photography – what a breath of fresh air on this February day.
Ele xx