Today's wonderful wedding is the perfect rainy day read to curl up with, and we do seem to he having rather a lot of those lately.
This is a cosy and inviting autumnal celebration at an elegant Scottish country estate, full of the season's beauty, a sweetly personalised humanist ceremony, and a delicious dinner by candlelight. Oh, and did I mention the couple's charming dalmatian, Cilla was there, too?! This is the wedding of Ali, an actress, and her love Jonny, who works in advertising. They were married on the 2 November 2019 at the beautiful, family-run Cambo Country House & Estate, surrounded by woodland on the Fife coast in Scotland.
PJ Phillips Photography

+ Follow
"We both wanted a cosy, autumnal wedding in Scotland. Cambo was further away than we initially planned, but it ticked all the boxes. It looks quite grand, but is actually a very relaxed place with no set rules or way of doing things. The event planner Louise was so chilled out (but insanely efficient!) and it didn't feel like a factory for weddings."
"We loved the grounds and gardens, and that lots of our friends and family could stay in the house with us over the whole weekend. I had a casual dinner with all my side at the house the night before, and we did a beach walk with fish and chips for all our guests on the Sunday. It meant we got to spend quality time with everyone. Having no cut-off time for music was also key!"Hair and make-up artist Kate Elliot-Muir styled a beautiful, naturally glamorous look for Ali, and added peachy-hued roses and dried hydrangea blooms in a lovely, softly faded blue to her hair, along with a pop of red lipstick.
"Having worked in theatre, I'm a pro at doing my own make-up under pressure, so wasn't keen to spend money on this part, but friends convinced me that getting pampered in the morning was a luxury I'd probably never have again, and I knew if left to my own devices with my hair I'd probably look a state!"
"I'm so glad I booked Kate. Her style is very natural, so I felt just like me, and in the end I had a really bad breakout (due to early pregnancy hormones!) which she worked some magic on. It was money well spent."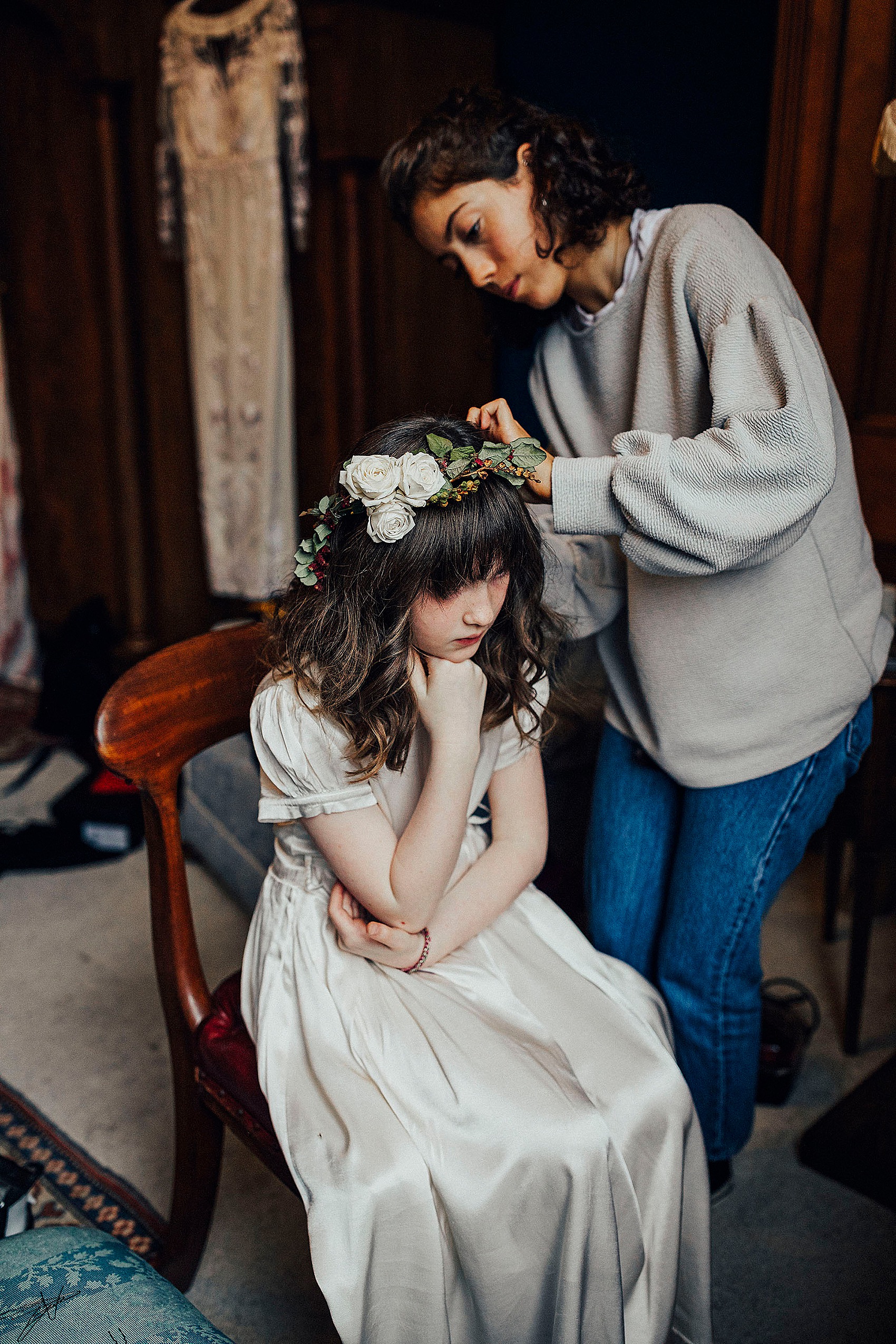 Ali wore a pair of pearl hoop earrings borrowed from her Mum, and blue velvet block heels picked up in the Whistles sale, and added a spritz of fragrance – Do Son Eau de Parfum, by Diptyque.
"I wanted my wee crew of best women to all feel amazing, and wear something they'd wear again, so I just said to them to choose their own outfit, and go for a vaguely autumnal palette."
"My Maid of Honour ended up choosing a Cos dress from my own wardrobe, and my sister ended up going for a sparkly dress from Mango, which looked lovely with my niece's Ghost London flowergirl dress, and Boden cardi – both bought on sale."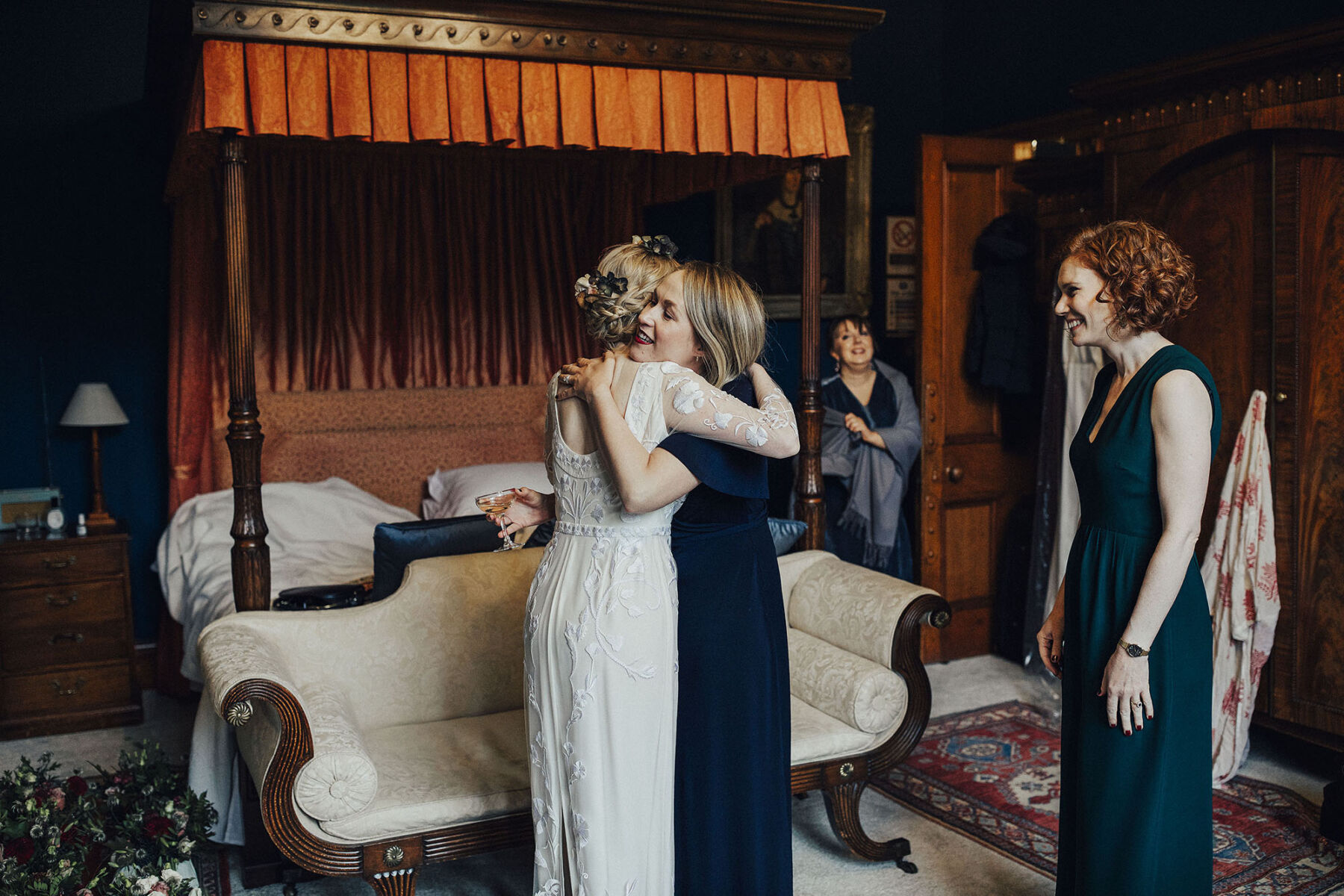 I just adore all the different textures in the bouquets carried by Ali, her bridesmaids and flowergirl, all the work of the brilliant Myrtle & Bracken. Not only is founder Di an incredibly talented florist, she also has her own cutting garden in the Ayrshire countryside, and Ali first came across Di's work on our pages right here.
"Di only uses seasonal, British flowers and foliage, and told me she works best without restrictions, so I didn't dictate anything (which suited me!). There are so many decisions to make with weddings, and it was so lovely to hire someone you just completely trust, and let them do their thing."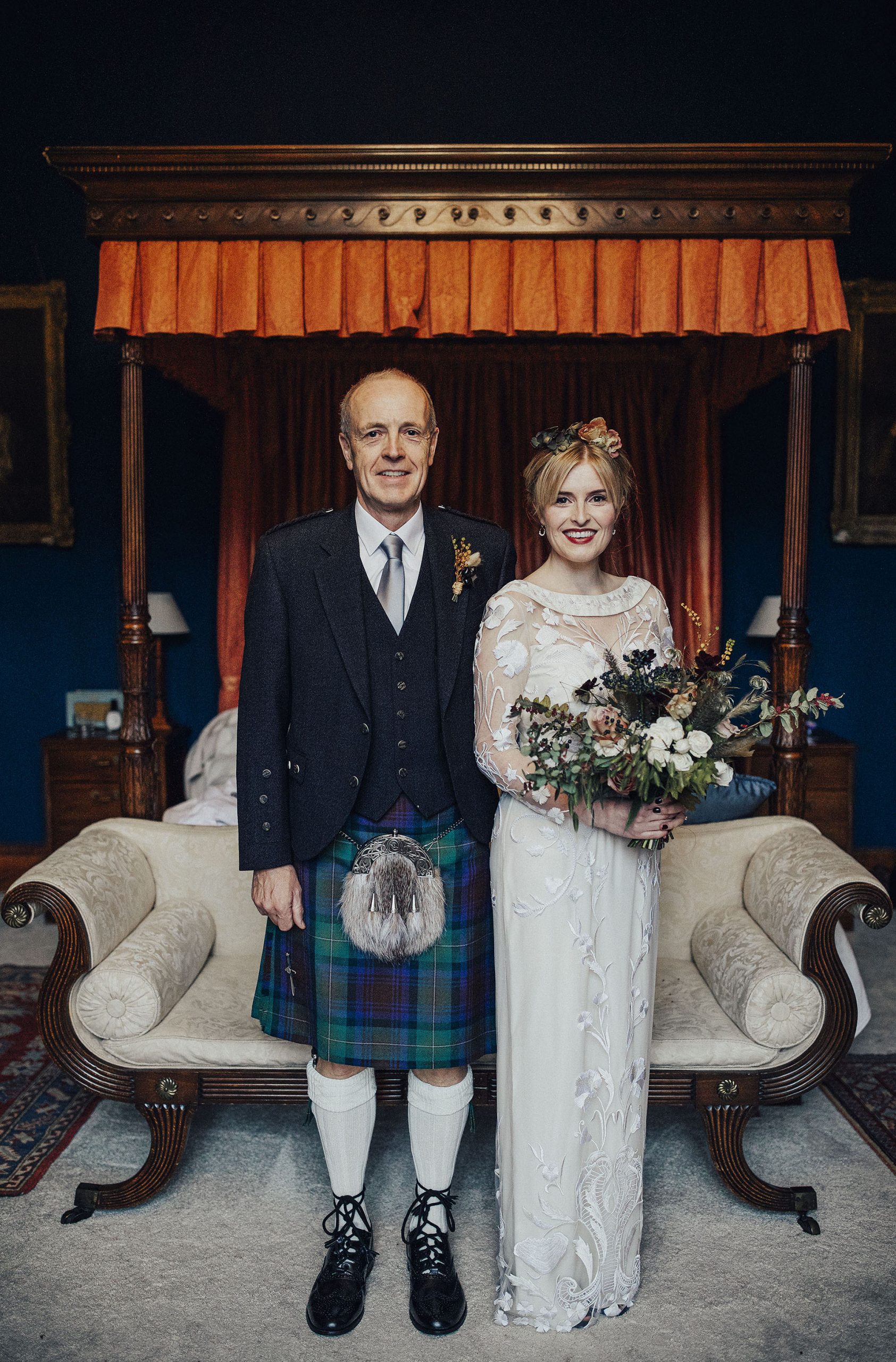 The bouquets were filled with the rich hues of chocolate cosmos, dahlias and berries, alongside blush pink and ivory roses, oak leaves, grasses and greenery.
"I sent Di some photos of my dress, and gave her some dried hydrangeas that we'd collected from ours and my friend Ruthie's garden. Some of those ended up in an incredible installation she made for our ceremony, and others ended up in my hair."
The floral installation in Cambo's lovely inner courtyard was a marvel! By the double doors sprung a spectacularly wild creation of beech branches dotted with spray roses, intermingled with lots of different grasses, as well as those lovely dried hydrangeas. It led the eye upwards to more golden beech branches suspended from the ceiling.
Jonny wore a smart blue wool and cashmere blend with a burgundy silk tie from Suitsupply, and his groomsmen wore coordinating blue suits of their own choosing.
"Suitsupply offered a diverse range of high quality, well fitting suits that don't cost the earth, and look good on the day. All the ushers decided to coordinate wearing their own blue suits, which we actually had nothing to do with – good work lads!"
"Our great friend Shelley designed our invitations, order of ceremony and menus with our personalities, and the setting for our wedding in mind. Shelley is a total perfectionist, and what she produced was stunning. We were so lucky!"
"My Dad walked me down the aisle wearing a kilt, which I'd never witnessed before. He looked absolutely amazing! I chose to walk down the aisle to an acoustic version of September Fields by Frazey Ford."
It's also worth noting that as Ali and her Dad walked down the aisle, a fire alarm went off! Although initially startling, it did serve as a great ice breaker!
"I was a little disorientated at the start! Having this absolutely amazing group of people contribute to our ceremony brought me straight back into the room, and helped me focus on why we were there. Looking back, I think the alarm broke the ice for what was to be a very personal ceremony with a lot of laughter and sincerity at the same time."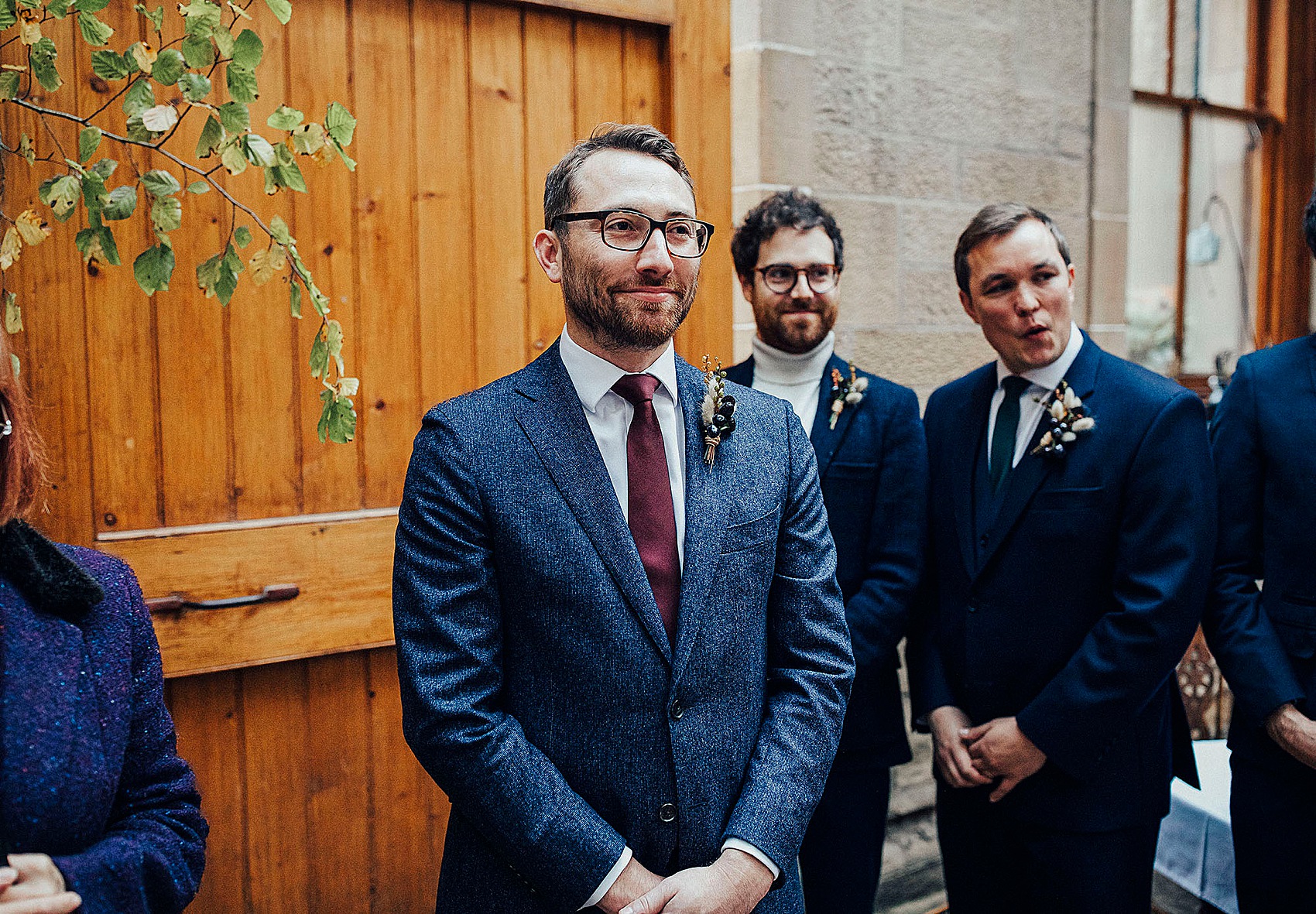 "I actually then totally forgot about the alarm until someone joked about it a few hours later, and it turns out my Dad rather enjoyed it, as he's not one for
the limelight!"
Ali and Jonny opted for a humanist ceremony, conducted by Dorothy Nowak, from Humanist Society Scotland, and were able to write their own vows (they did this together) which served as a special reminder to them both about why they were getting married.
"Having a humanist ceremony (and a very adaptable celebrant in Dorothy) meant we could make it completely personal."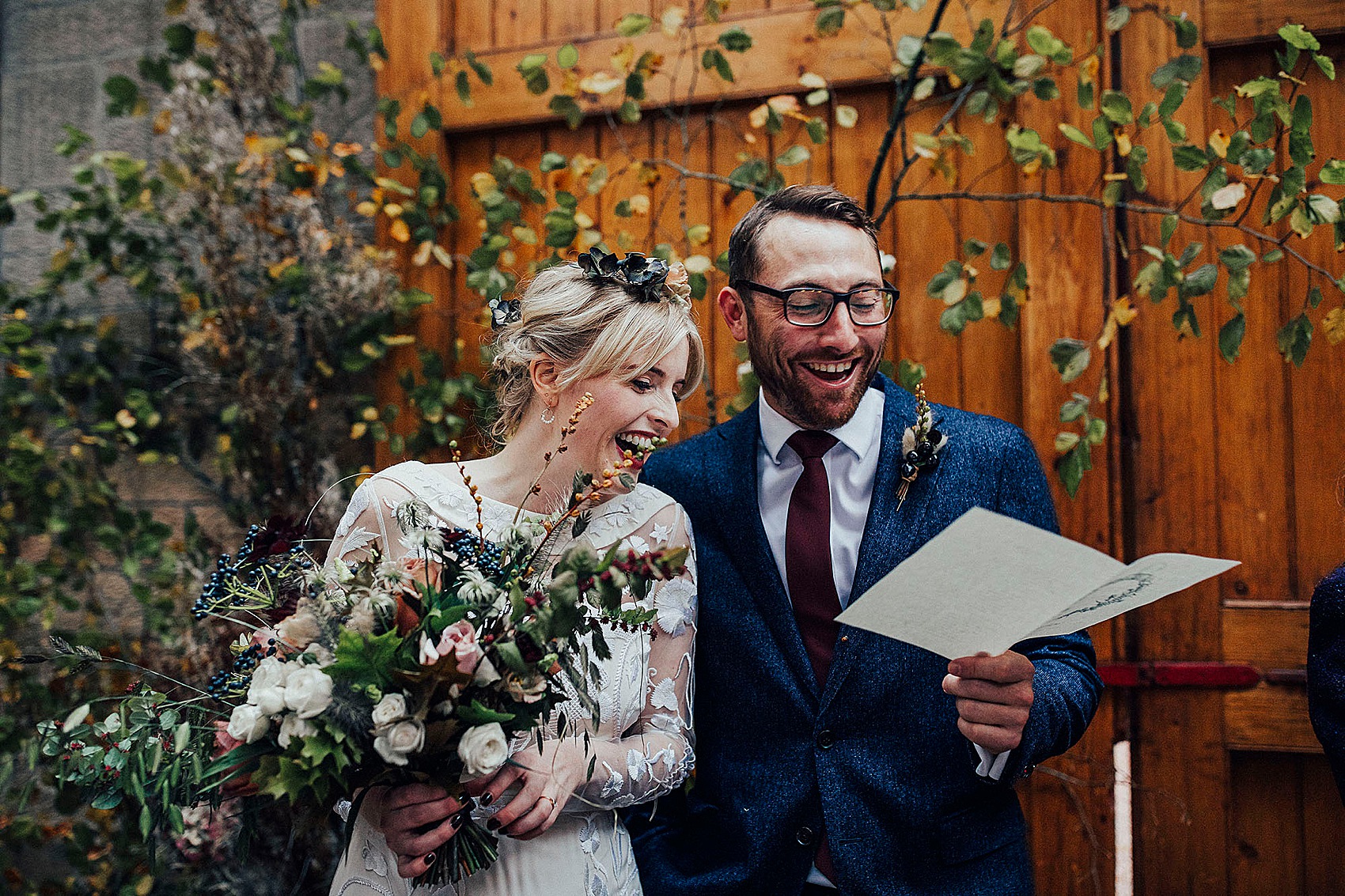 "We chose the Hot Priest's speech from Fleabag, by Phoebe Waller-Bridge, which was read by my actress friend, Jen. Some close London friends made a little choir and led all our guests in a rendition of Abba's Super Trouper – a song we regularly belt out together in our kitchen."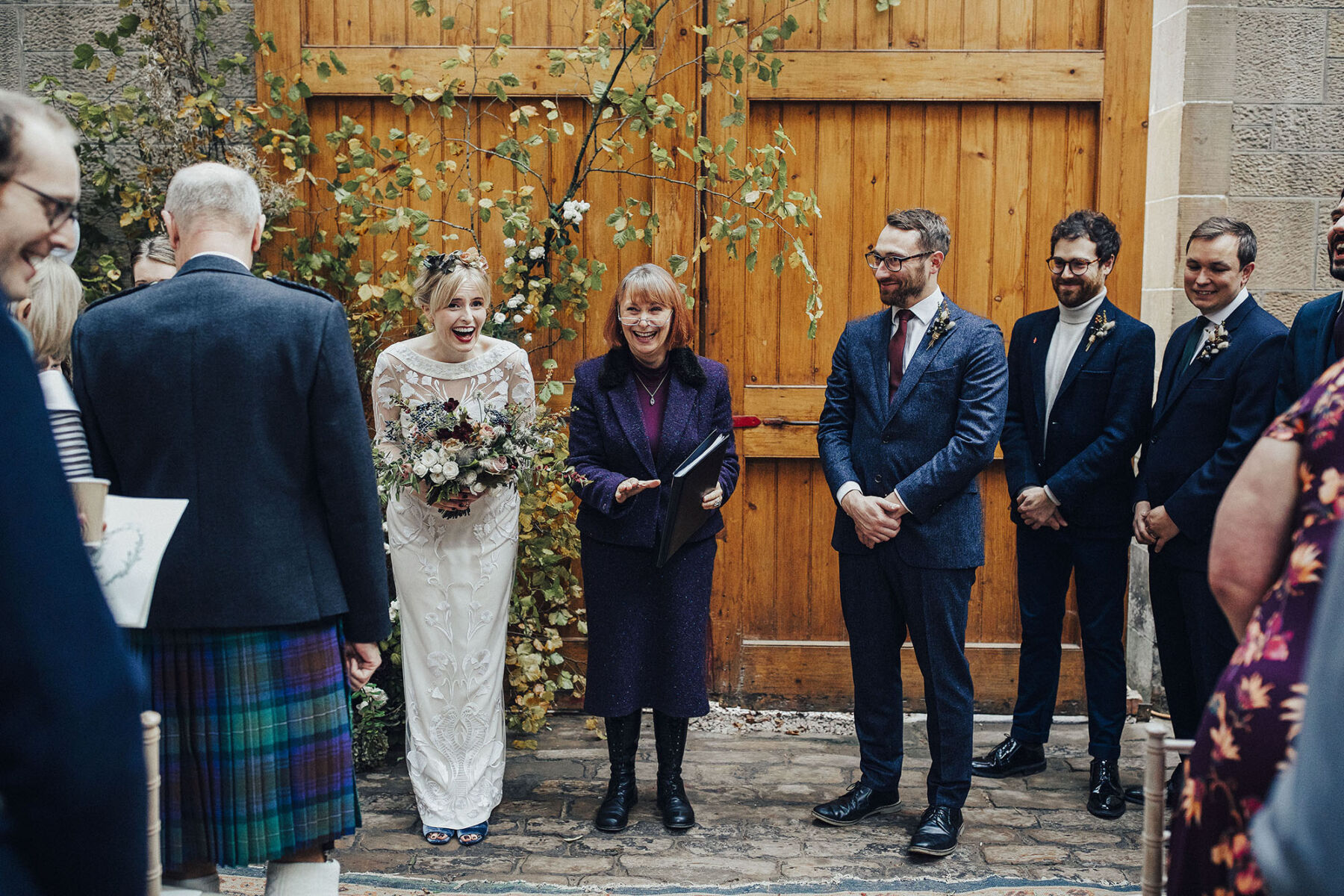 I'm happy to be sharing the work of PJ Phillips Photography today, whose natural, documentary style lent itself perfectly to Ali and Jonny's relaxed celebration.
"Patrick suggested we spent the time going for a little walk, just us, and it was a moment of calm I really enjoyed. We wanted the photographs to be candid and authentic, and that's exactly what we got. He was amazing on the day, everyone felt really chilled around him, and looking back at the photos we think he really captured the love and the fun! I'd highly recommend him to anyone."
"My cousin played the fiddle whilst we signed the register, and our great friend Mel wrote and read an absolutely incredible piece about us, how we met, and our relationship."
Ali wore a bespoke engagement ring by Jessie Harris, and the couple returned to her for their wedding bands, too.
"I'd rave about Jessie to anyone – she's so lovely to chat to, and her designs are incredible."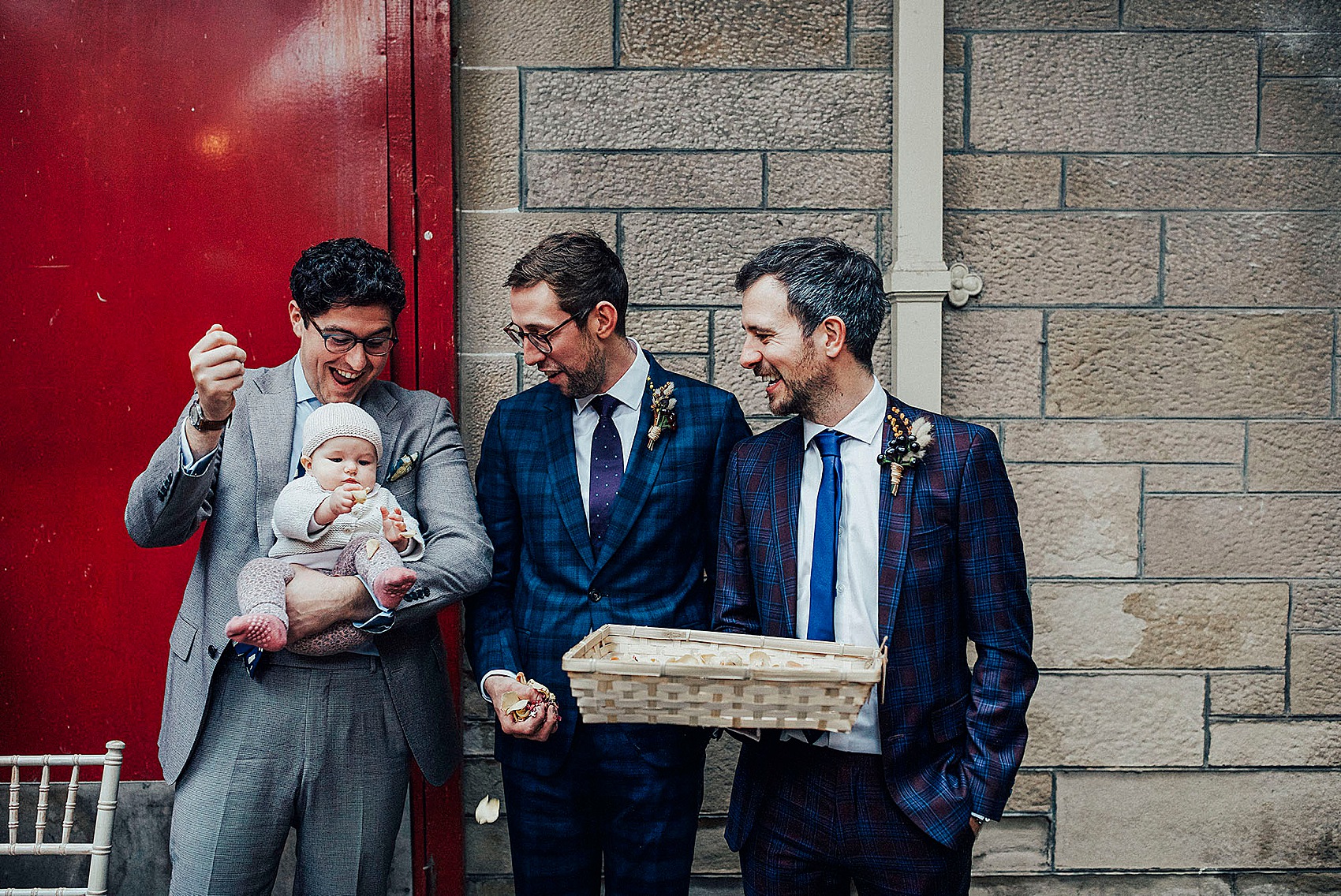 Family and friends showered Ali and Jonny in flower petal confetti as they made their way back up the aisle at the end of the ceremony, and they headed off for a walk in Cambo's walled garden with their lovely dog, Cilla.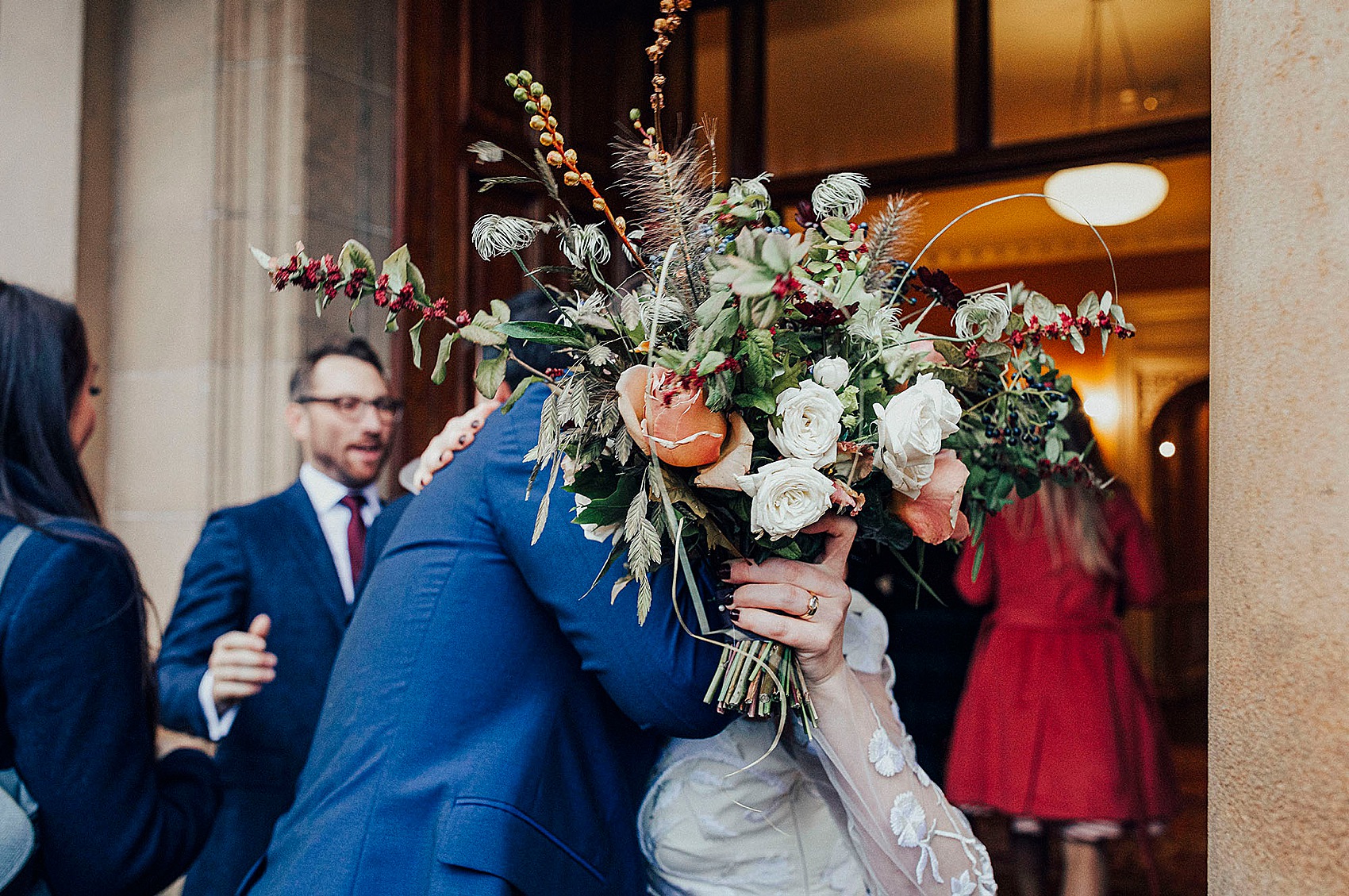 Ali's splendid dress was by Temperley London – their 'Toledo' design. The exquisite, floral satin embroidery is inspired by an eighteenth century Spanish chasuble – so ethereal and romantic, with a lovely, contrasting bateau style neckline.
"The floral embroidery on it, the 1960's style neckline, and slit at the back just felt like an amazing combination that I felt really good in, and the quality of the dress just felt so special."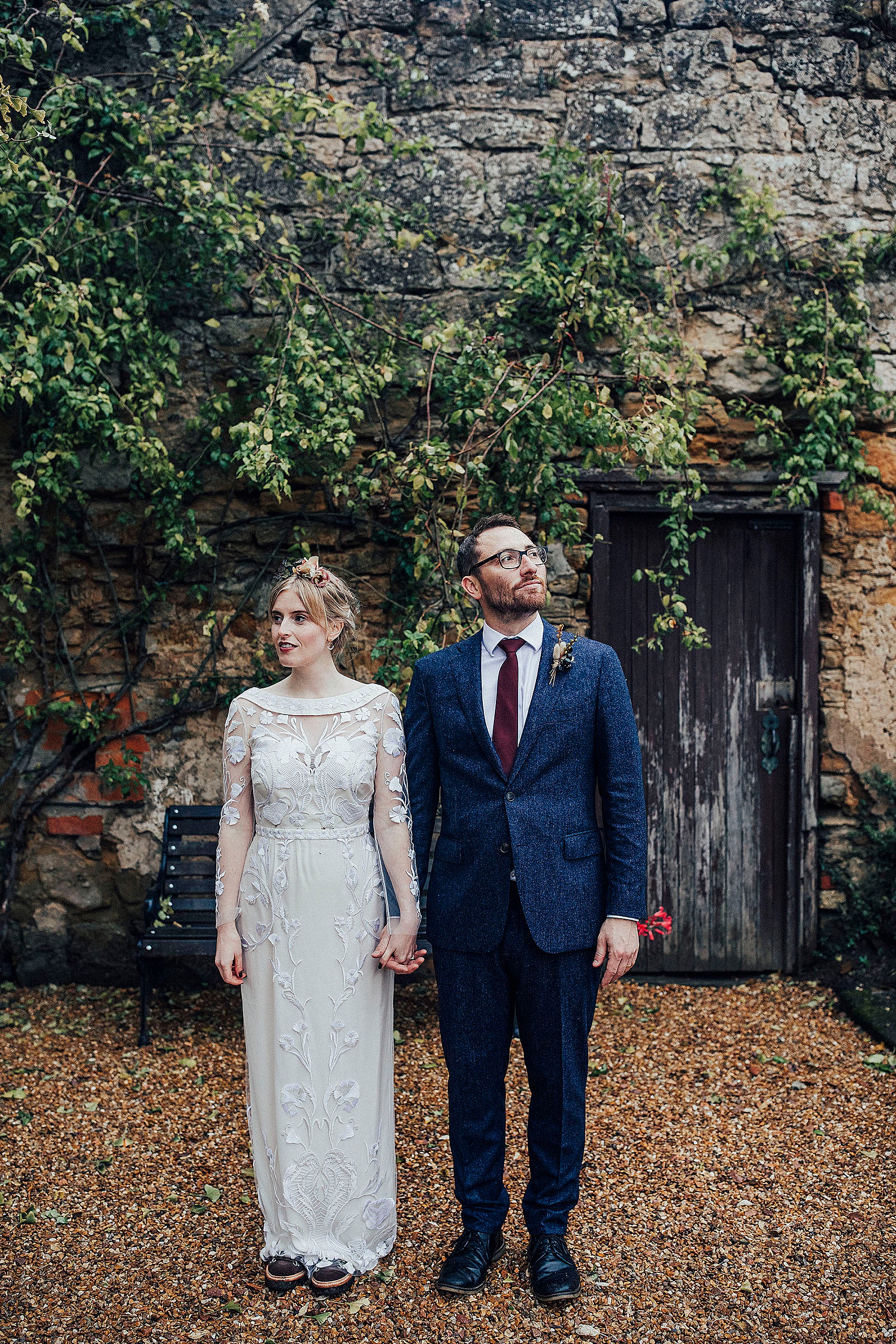 Ali changed into a pair of Grenson walking boots, which she also wore the next day for a beach walk – they're now a staple wardrobe item. She kept warm with a Black Watch tartan blanket from The Tartan Blanket Co.
"We met in London in 2015 through our great mutual friends, who were both in the wedding party. We got engaged after 3 years of dating. Jonny proposed to me in our bedroom one morning in December with ring tied round our dalmatian's collar. We planned the wedding in about 10 months, knowing we wanted to get hitched in autumn."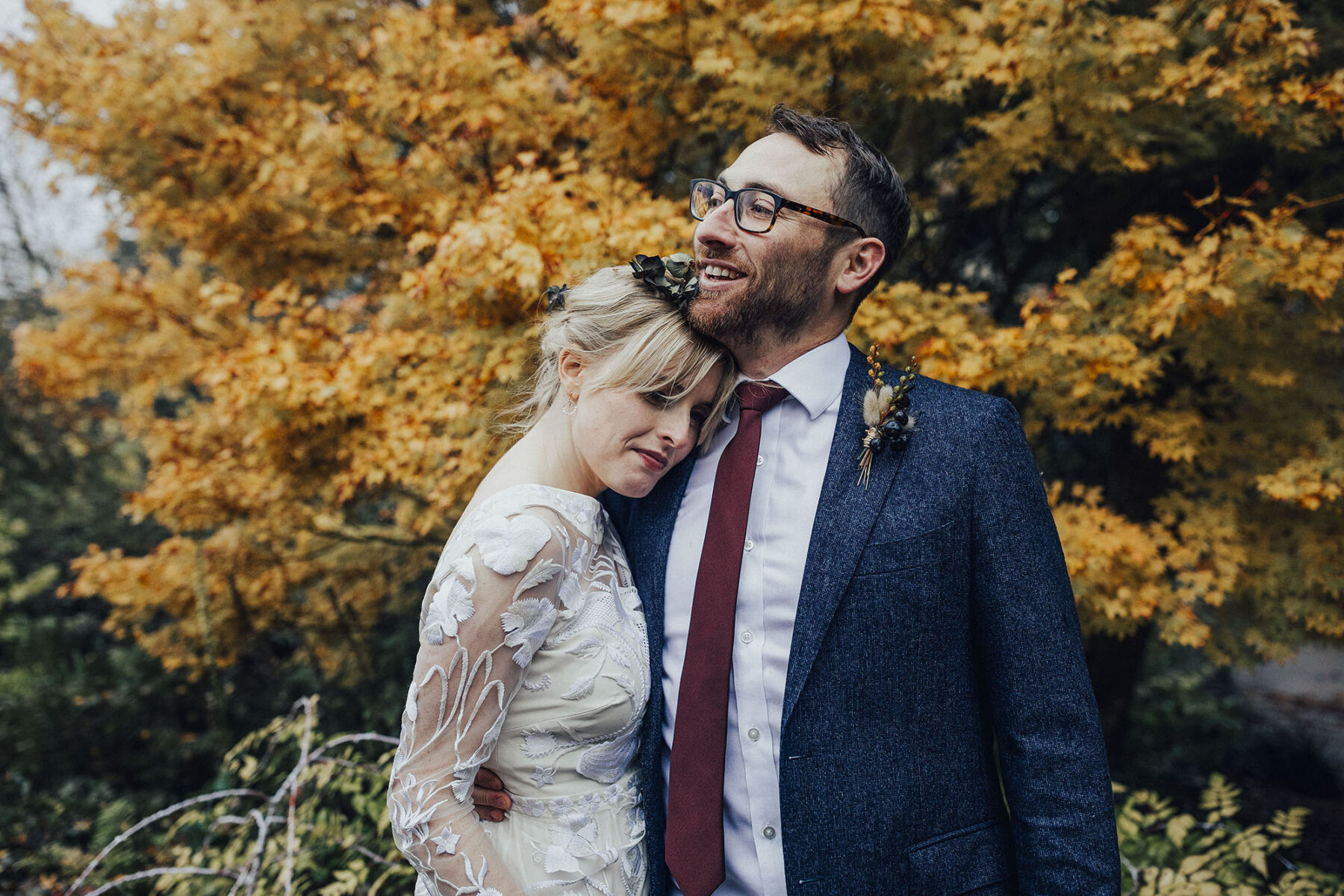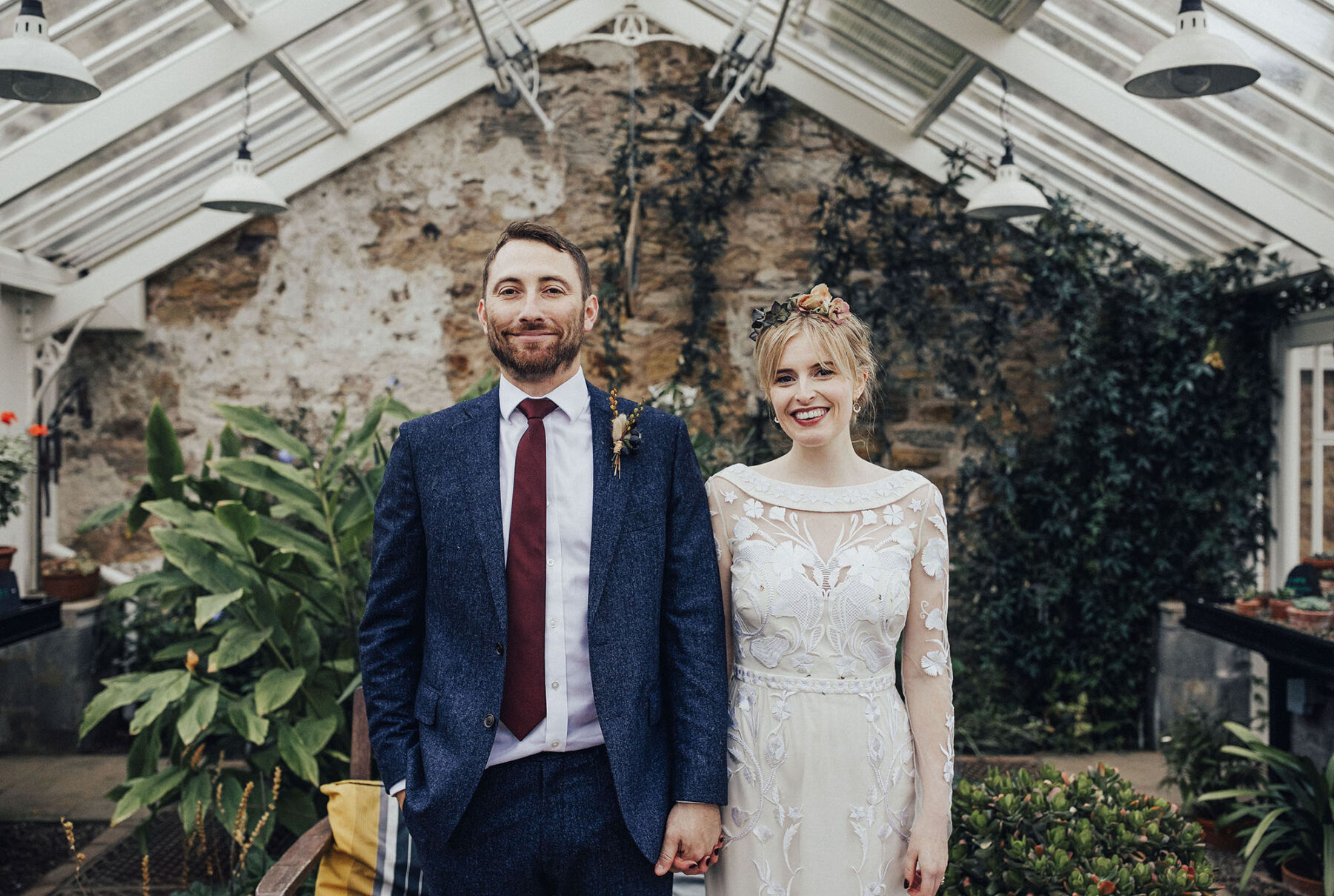 Highland Piper Max Stewart piped the newly married couple into dinner, which they both agree was their favourite part of the day, and made them feel like rock stars!
The wedding breakfast was held in the Victorian splendour of Cambo's Drawing Room, with long dining tables laid with simple white cloths, and decorated with vintage candlesticks hired from Pops & Piaf.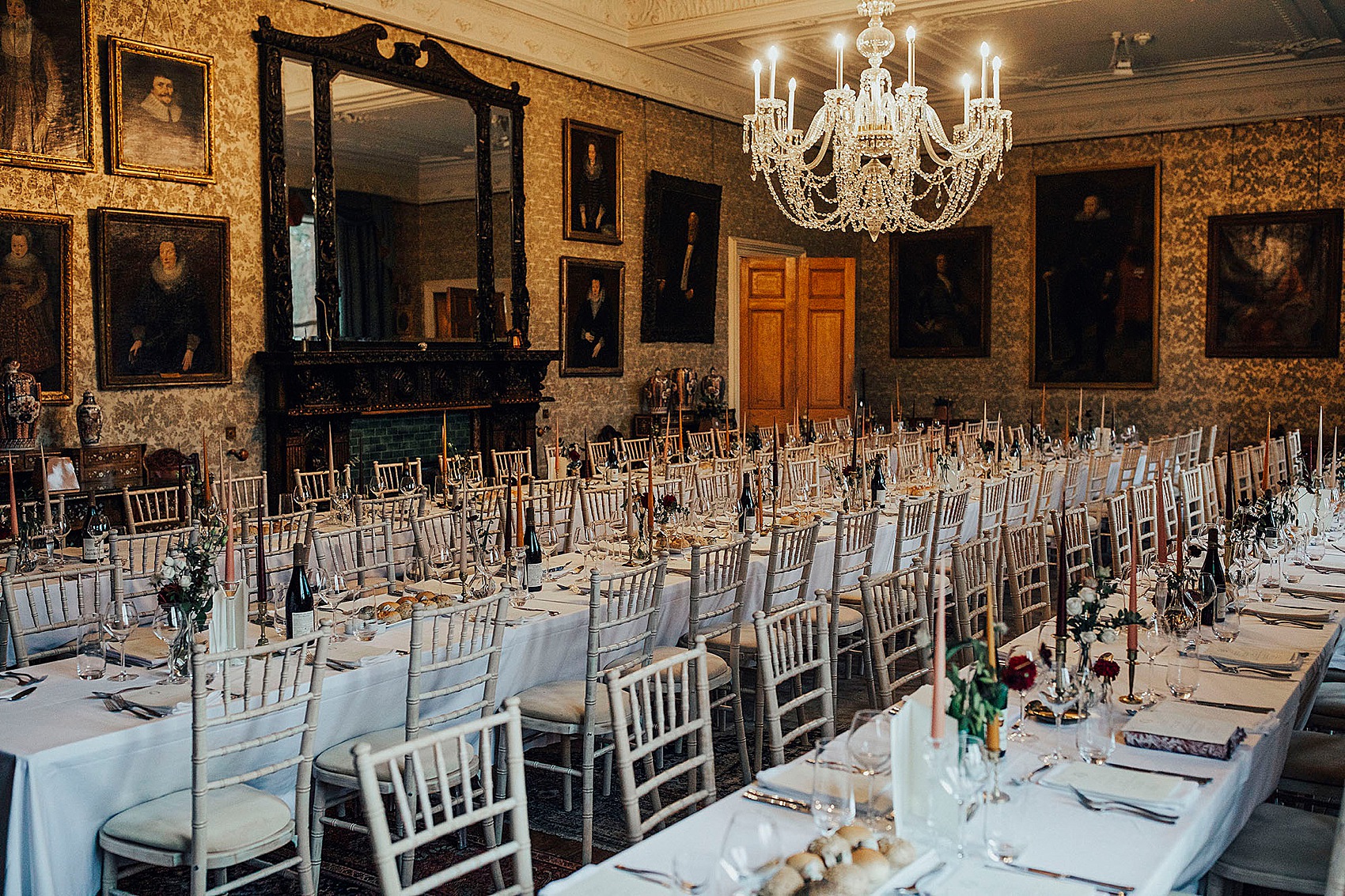 "We wanted the day to feel relaxed yet sincere, and for all our friends and family who had travelled so far to feel treated to a great party that was just as much about thanking them as it was about celebrating our marriage. We didn't have any set themes, but just chose stuff we liked, and it ended up being very cosy and autumnal."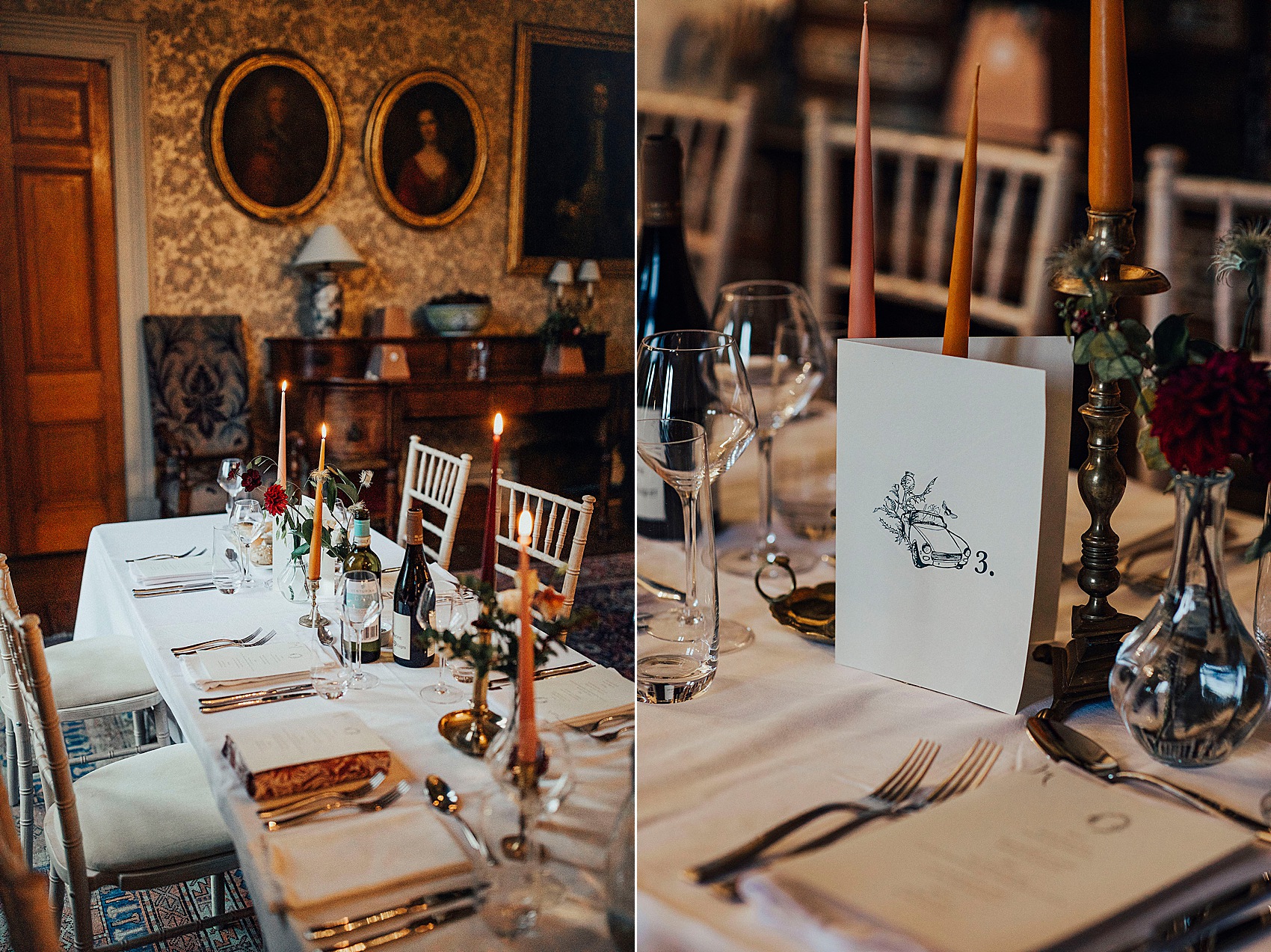 Autumnal hued candles were from Blomster Designs, and posies of flowers were placed into vases from IKEA.
"I am a sucker for décor and design but I held back as Cambo itself is already fairly elaborate! Decorating the long tables the evening before was one of my favourite moments. My best friends all helped lay everything out, and it got me really excited about the day ahead."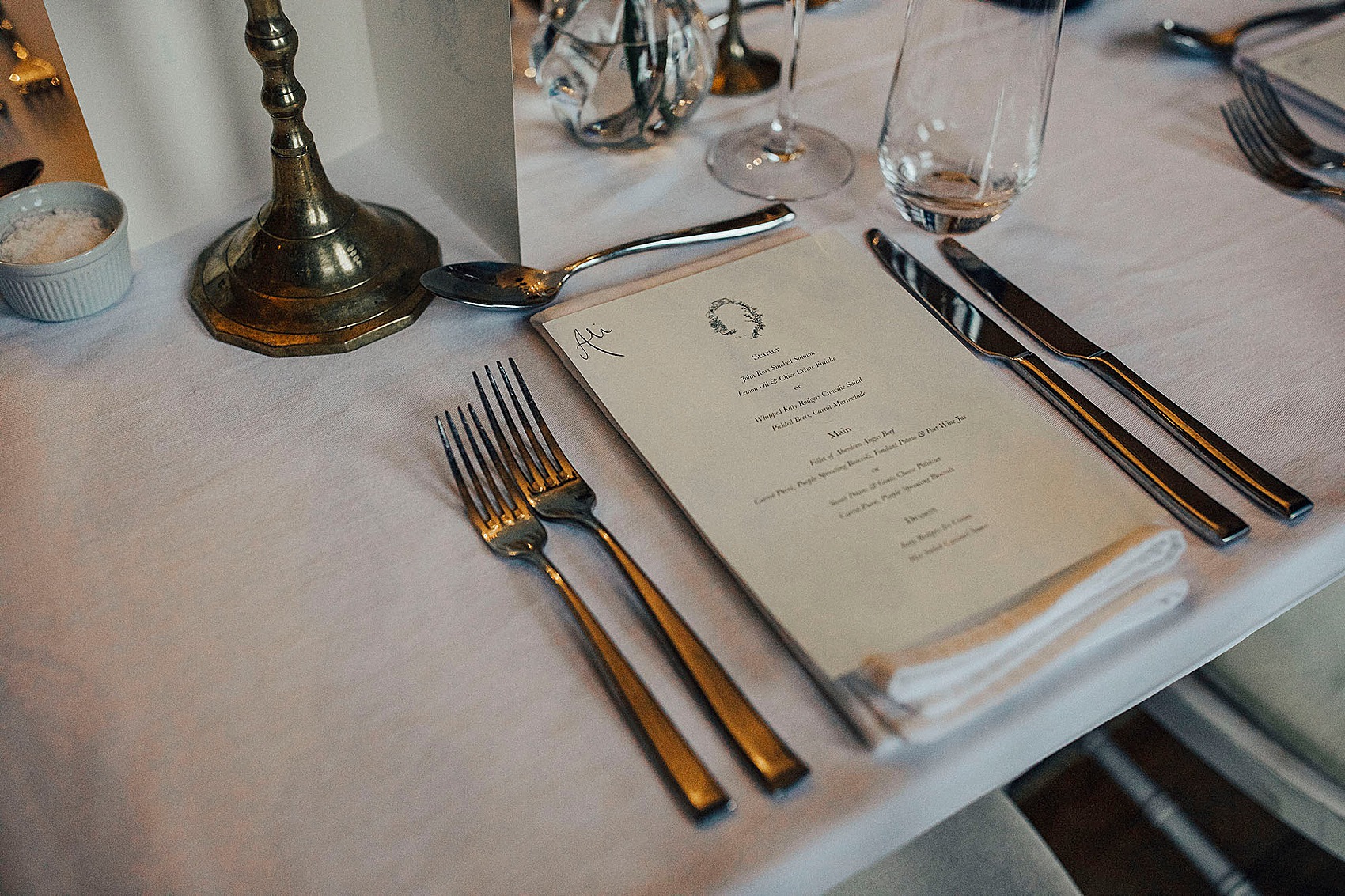 "I would say being pregnant actually saved me from getting too stressed out about all the extra little details. There were other bits I wanted to do, but in the end I got hungry, and abandoned the extras in favour of food and hanging out with my family."
Bespoke Catering & Events served a delicious dinner, which began with smoked salmon with lemon oil and chive creme fraiche, or whipped Katie Rodgers Crowdie salad, followed by fillet of beef.
"I can't sing their praises enough, and a lot of our guests commented on how amazing the food was. Kelly, who was our contact there, was an absolute dream to deal with, and a total pro. I'm so glad I had a change of dress after that three-course dinner – I ate every scrap!"
"My Mum was totally in charge of cake! She chose us a delicious Victoria sponge from Liggy's Cake Company in Edinburgh. One of our ushers had four pieces, which says it all."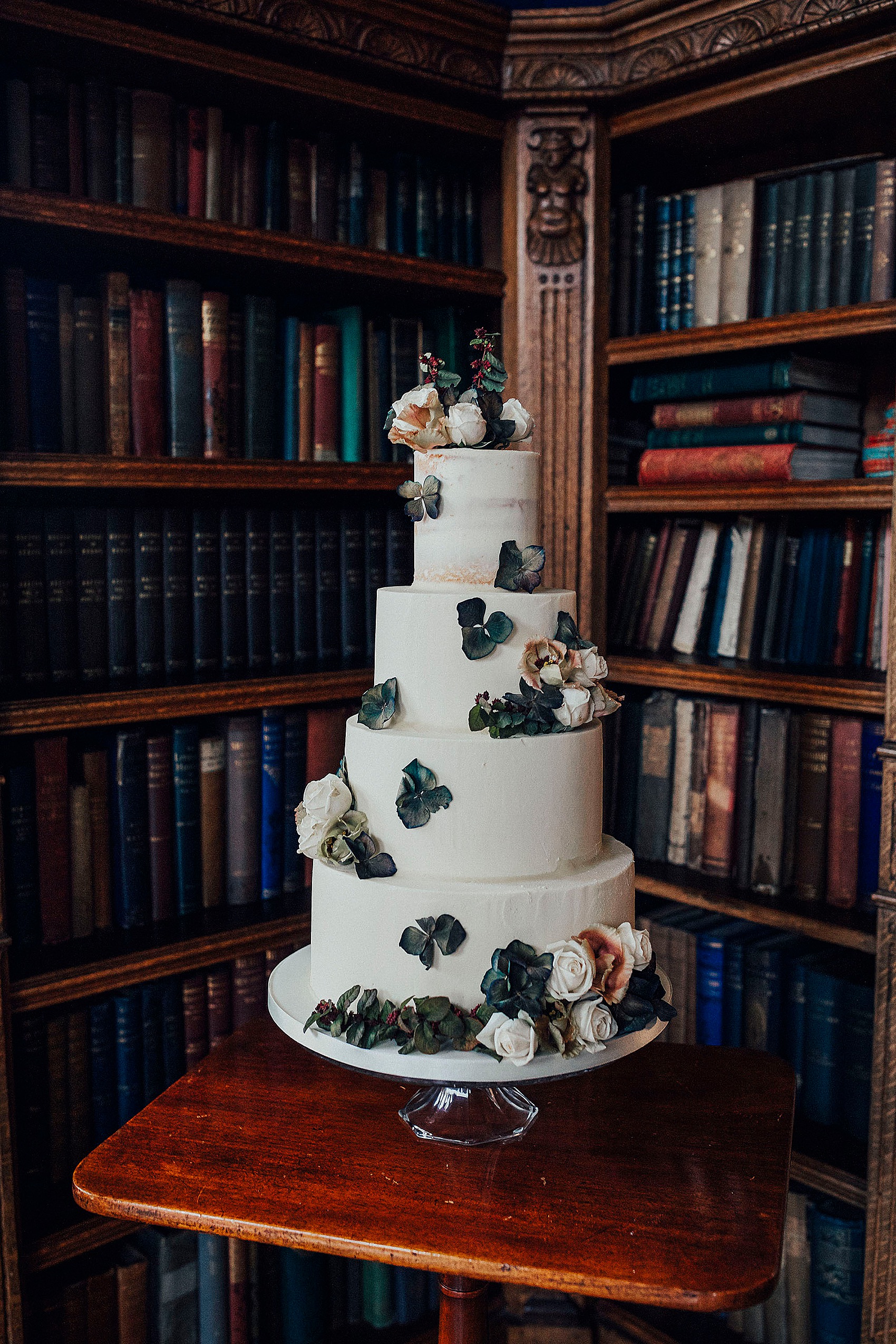 After dinner, a local ceilidh band (sadly no details supplied) played an hour long set in the ballroom.
"It was completely raucous and chaotic, and absolutely brilliant. We then went back to the courtyard where we had our ceremony, where Nick Bruce and His Blinding Lights played their amazing funk into the wee hours." 
It was at this point that Ali swapped her embroidered dress for a simple, stylish slip dress by Andrea Hawkes; a piece she had actually chosen before the Temperley dress. She decided she might be too cold if she wore it during the day, but kept it for dancing, and now plans to dye it, or turn it into a jumpsuit.
"We didn't even discuss having a first dance – it just wasn't us, so instead we had a big fun ceilidh dance with everyone. The band later opened with September by Earth, Wind and Fire which got everyone back on the dance floor."
Words of Wedded Wisdom
"Have someone in your wedding party know the running order and timings of your day so you don't clock watch, or find your food is cold because speeches have run on. Even though we had the incredible Louise at Cambo running things for us, we were glad that we allocated our great friend Dan to be her right hand man for timings, as he was the one sitting near us at dinner. You want things to run on time, but without it feeling like a military event!"
"Relax and put your trust in those people so you can just enjoy the whole day yourselves. Stuff will go wrong, but take it in your stride. We had a fire alarm go off, and I continued walking down the aisle, and we laughed about it. What else can you do?!"
"Allocate time to yourselves on the day. Taking our dog for a walk to the gardens at Cambo was a moment of calm that we're really glad we did."
"Everyone says 'Your day, your way', and we dropped a few traditions, and did what we felt suited us, but I'm glad I compromised on a few wee things for my parents. It made me incredibly happy that they had such a wonderful time too."
"We ran a very cheap evening bar with proceeds going to charity."
"Enjoy the planning together, and don't let it take over your lives in the lead-up, as there's life (and marriage!) on the other side of a wedding, and that's the whole point."
Ali and Jonny, thanks a million to you both for sharing your beautiful day with us, and many thanks to PJ Phillips for his gorgeous photography.
We have so many real weddings in Scotland to enjoy, do dive right in!
Until next time.
Love, Laura