On 20 July 2019 engineer Tom and accountant Sarah wed at St Mary's Church at Appleton Wiske, Northallerton in North Yorkshire, the village in which the bride grew up.
After their Church of England ceremony, the newly-weds and their guests travelled to Sarah's uncle's farm for a colourful, relaxed and joyful knees-up in a light and spacious marquee from Yorkshire Yurts. Their day had a eucalyptus green hue running through it, with pops of colour from the seasonal floral decorations and bunting that fluttered in the wind.
Mr & Mrs Wedding Photography

+ Follow
"We wanted to create an occasion that was one-off and allowed us to have as much freedom over the rest of the day as possible so having a marquee seemed like the best option. I always wanted to get married in the village that I grew up in and the family farm was a perfect setting for the rest. We both loved the eucalyptus green colour and so that was the colour theme, and then a splash of colourful flowers for the bouquets and table pieces."
"We wanted a mix of where we come from (Yorkshire) and where we live (Derby) in the food and drinks that were on offer."
Our very own Little Book Wedding Directory member, Eliza Jane Howell, designed Sarah's sophisticated and relaxed 'Lucille' gown, pretty with its cap sleeves and delicate embellishment. She found it at The Wedding Room in Beeston, Nottingham.
"I loved the detailed beading on it; the design was really beautiful. The shape was amazing and it made me feel really graceful. I liked how it was a bit vintage in style too so had a timeless element to it. I loved the fit of the dress. It was really comfy too which was perfect for dancing later on!"
If you love this era-inspired vibe then please do visit Eliza Jane Howell's Little Book listing for more information and beautiful gowns.
She wore a pair of Jolene, peep-toe shoes in glitter and cream by Emma Go, a gold necklace which belonged to her grandmother and her usual scent, Chanel No 5 L'Eau.
"So comfy I didn't have to change out of them all day and they held up well in a field usually occupied by sheep!"
"I only wore one other accessory, a gold necklace belonged to my late grandma. I wore it as a bracelet."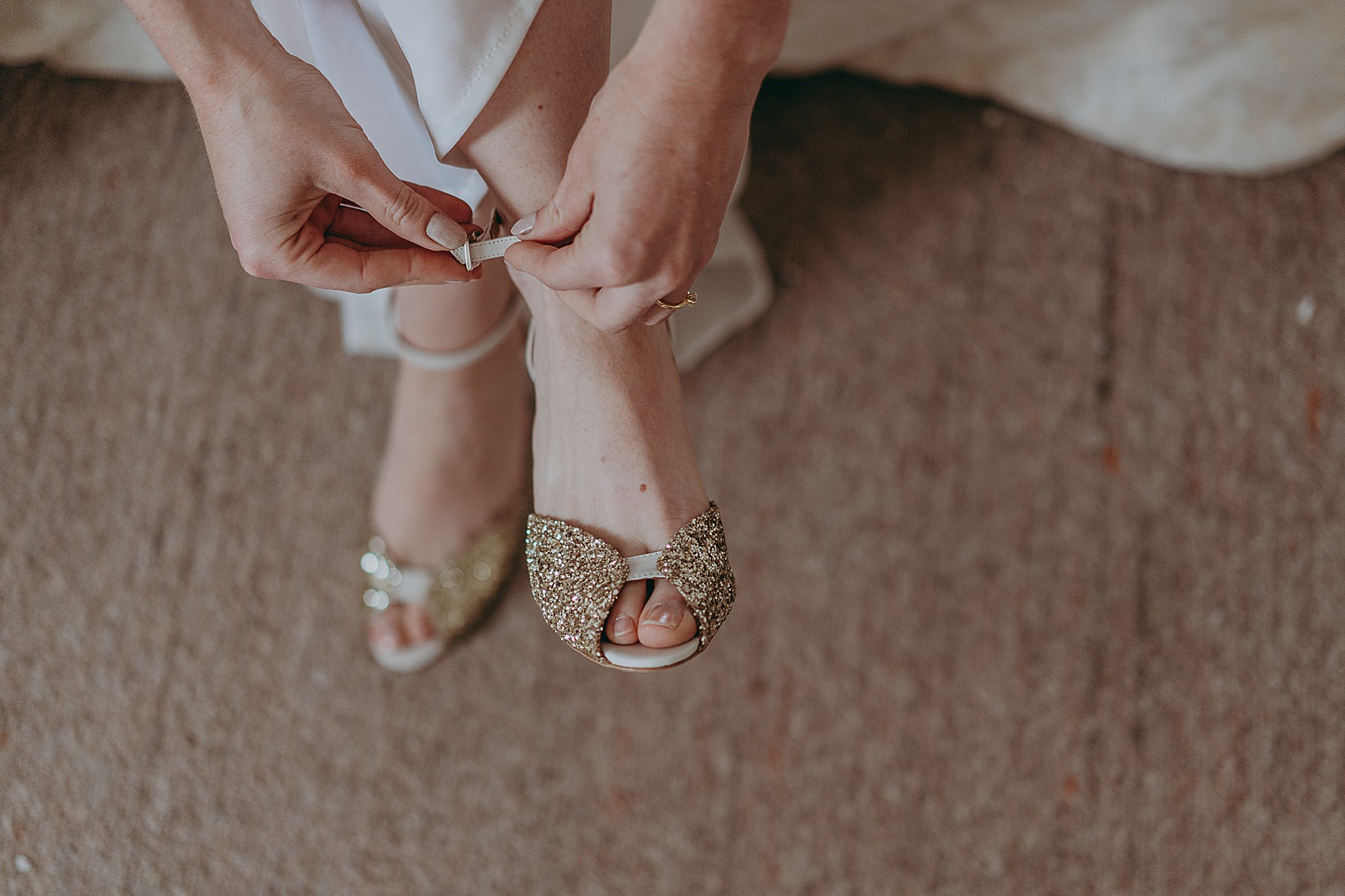 The bride and her bridesmaids did their own hair and make-up and Sarah created relaxed waves, caught back from her face with some fresh flower and a Rainbow Club veil, bought at The Wedding Room.
"My crystal-scattered, raw edge, 88 inch veil was held in place with a small flower hairpiece."
Monsoon had perfectly matching, twisted-front gowns in green for the bridesmaids, which they wore with their own shoes and their hair swept-up from their faces.
A splash of glorious colour came from the bride's loose, hand-tied bouquet which, along with the bridesmaids' bouquets, buttonholes, hair pieces and cake flowers, were by Hutton Flowers in Northallerton.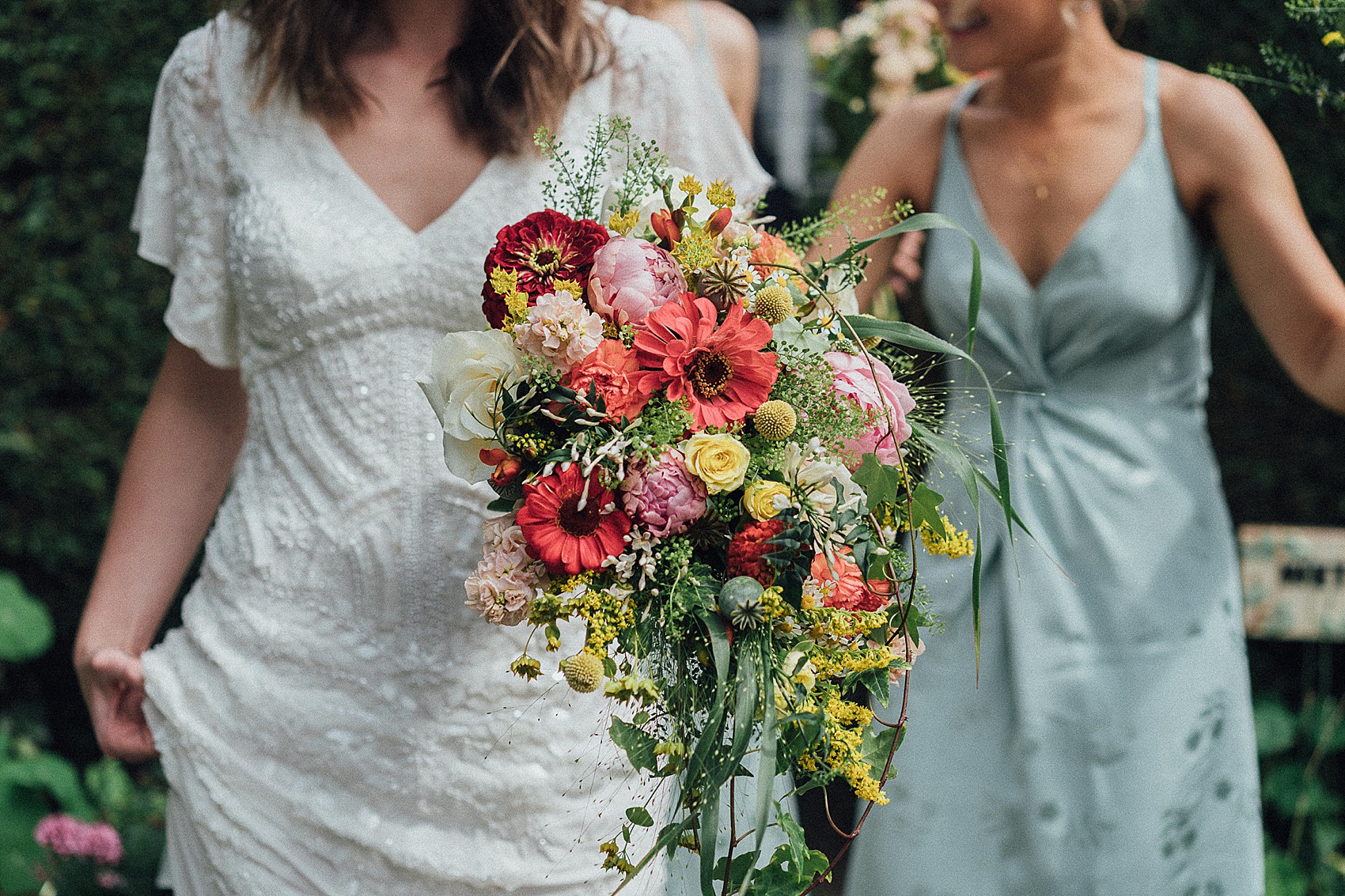 The groom turned to Mrs Bow Tie to source his eucalyptus green tie, which was set off perfectly by his fresh white iTailor shirt and navy blue suit from Magee 1866 via Brigdens in Derby.
"His best man Alex Steed was a friend from university. He wore the same suit as Tom and, along with the other immediate family members, wore a tie from Mrs Bow Tie in the same eucalyptus green. They also custom-made a mini bowtie for our nephew Oscar."
After meeting on their first day at Durham University, the couple swiftly became a couple and got engaged on a return trip to the city in 2018.
"We were on the same corridor in our college halls. It took a few months for us to get to know each other and by the end of first year were a couple. Tom took me back to Durham almost eight years later to propose in a snow storm (the Beast from the East) on a bench overlooking the city and beautiful Durham Cathedral. We were engaged for sixteen months before the wedding."
"All the church flowers and table settings were arranged by me, my mum and a team of helpers from the village. The flowers were bought from a local flower market. All the eucalyptus for decorating the marquee poles and the base of all the flower arrangements was taken from a tree in my parents' garden and all the ivy too. All the sweet peas and lavender was grown in a friend's garden."
"We chose a mix of colourful flowers with a loose natural style on a base of eucalyptus. The flowers included roses, carnations, golden rod, wax flowers and peonies; a real mix."
"We also had wild flowers lining the field, which had been grown in my mum and dad's drive for several weeks beforehand."
The couple chose a classic, Pachelbel's 'Canon In D', played on the organ for the processional. The bride walked down the aisle with her father, with bridesmaids in front and behind her.
The marriage service was led by the Rt Hon Simon Golding OBE and Tom gave Sarah a ring from Samson Gold in Birmingham's jewellery quarter.
"The vicar tailored his sermon around it being the 50th anniversary of the moon landing on that day, which we didn't know until then."
"We had three readings, '1 Corinthians 13' read by my Aunty Karen, 'The Apache Wedding Blessing', read by my brother Thomas and an Albert Einstein quote read by our friend Neil Stewart. We chose the first two because they have a lovely meaning and sentiment and thought the last one was a bit of fun. Tom has a science background so it's a nod to that, too."
"Gravitation cannot be held responsible for people falling in love. How on earth can you explain in terms of chemistry and physics so important a biological phenomenon as first love? Put your hand on a stove for a minute and it seems like an hour. Sit with that special girl for an hour and it seems like a minute. That's relativity."
"I got my ring after six hours of looking. I ended up choosing something quite different from what I originally imagined but absolutely love it now. Tom decided he didn't want a ring so we just exchanged one ring on the day."
"Appleton Wiske is the village that I grew up in and it has a beautiful Norman church. The reception was held on the farm grounds of my Uncle Malcolm who kindly let us take over for a bit. My dad grew up there too."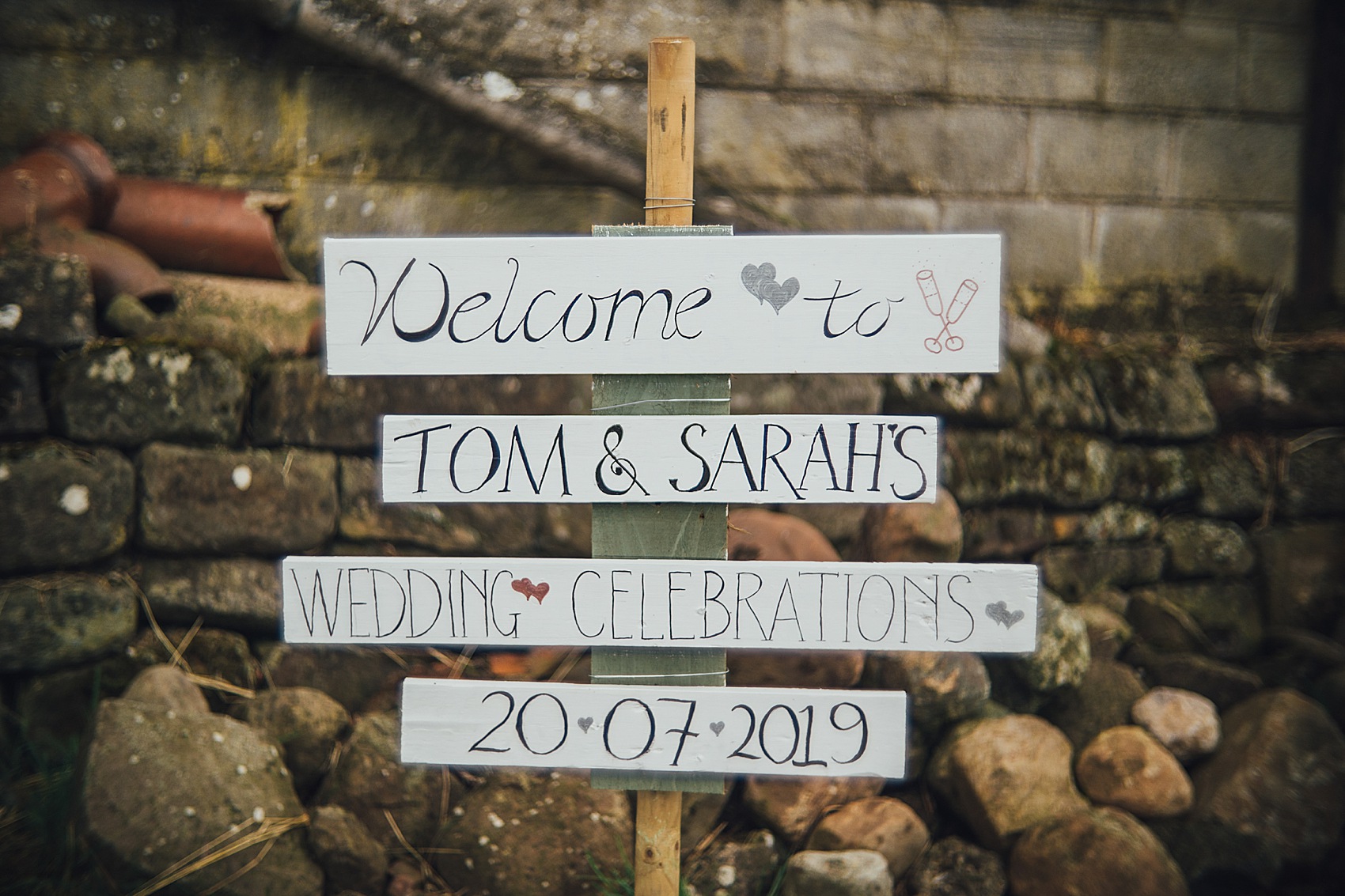 "The marquee was a Celeste marquee from Yorkshire Yurts. We loved that the Celeste had a good height and that the side panels were clear to make the most of the view across the Yorkshire countryside."
The marquee looks simply glorious against the wide Yorkshire sky and with its metres of bunting fluttering in the breeze.
"The bunting was made by my mum, all 100 metres of it! That was hung in the farm yard and in the marquee."
"We had a fire pit and bales from hay grown just around the corner of the farm for our guests to sit on later. The bales were covered in old coffee bean bags from a local roaster."
"The view from the fire pit was amazing at sunset as you looked over miles of open countryside. We had fairy lights all around the farmhouse garden, too."
The couple were keen to have Yorkshire and Derbyshire influences running through the wedding breakfast which was catered by Baba Ganoush Dining.
"We chose them as they were dedicated to using local produce and so flexible in what they could do the whole way through the process. They were excellent. We had a Yorkshire sharing board to start (meats, breads, cheeses), then feather blade of beef followed by champagne and strawberry cheesecake. It was delicious. My mum made some chocolate truffles to go with the tea and coffee."
"Save the dates and invites were from Zazzle. The table plans, beer list, menus and place cards were all designed, printed or hand stamped by me and Tom. We designed a 'T and S' logo which featured throughout which we got made from a provider on Etsy."
Sarah's mum also got baking to make the wedding cake which was decorated by the bride's aunt.
"There was one layer of fruit cake, one chocolate and one Victoria sandwich, iced by my Aunty Susan with royal icing, finished off with flowers from Hutton Flowers. We wanted classic flavours that would taste amazing."
"In the evening we had a hog roast provided by Hutchinson Hobbs."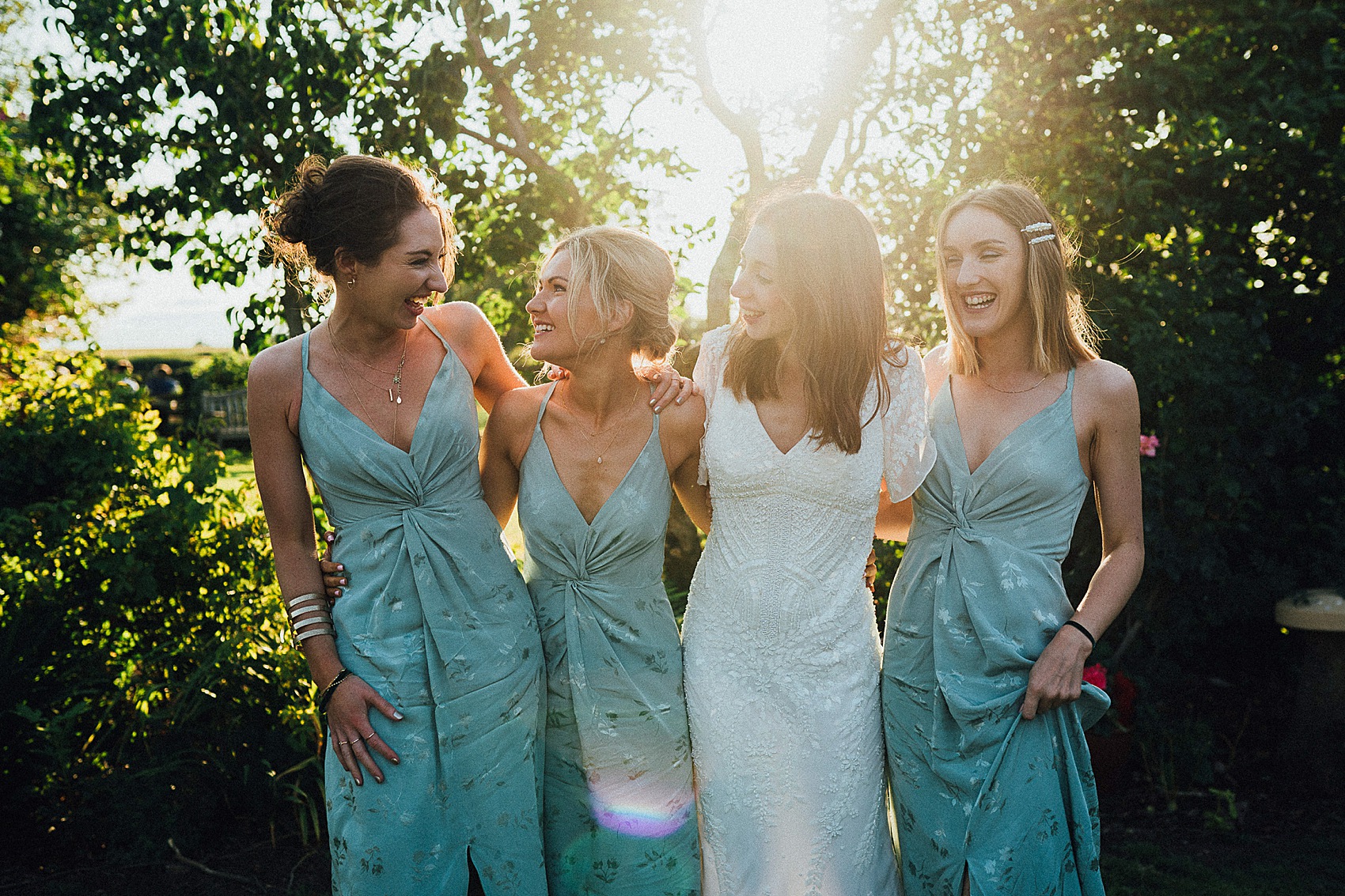 Please join me in thanking Craig Goode of Mr & Mrs Wedding Photography for this bright, breezy and joyful set of fine art-style photographs, which have such an airy and delicate feel.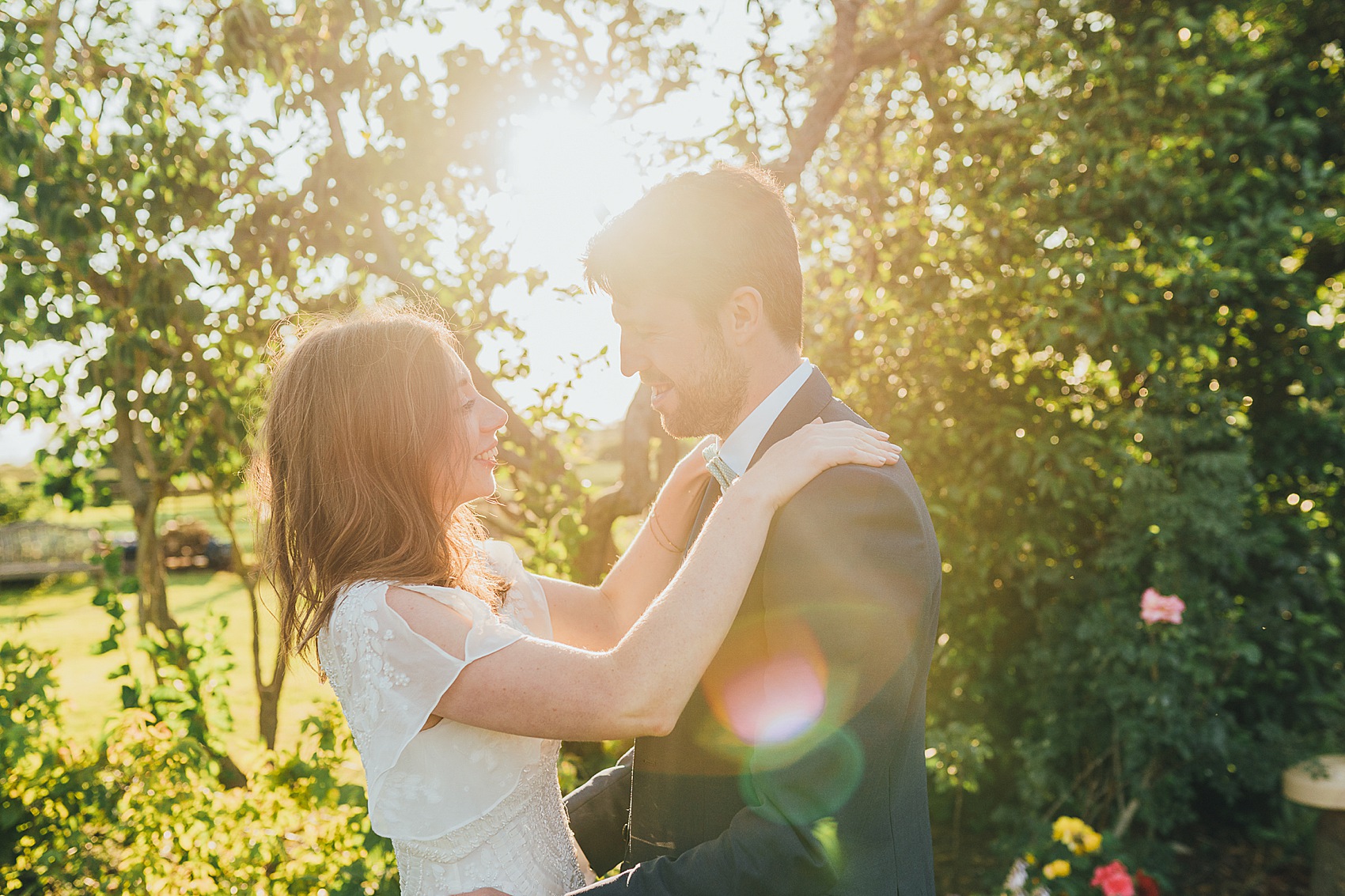 "Craig was absolutely brilliant from start to end. He was really lovely and put us all at ease the whole time."
"We absolutely loved his pictures, he captured the whole day perfectly and his artistic relaxed style was exactly what we were looking for. He did a scout round the farm and found some excellent backdrops for our photos."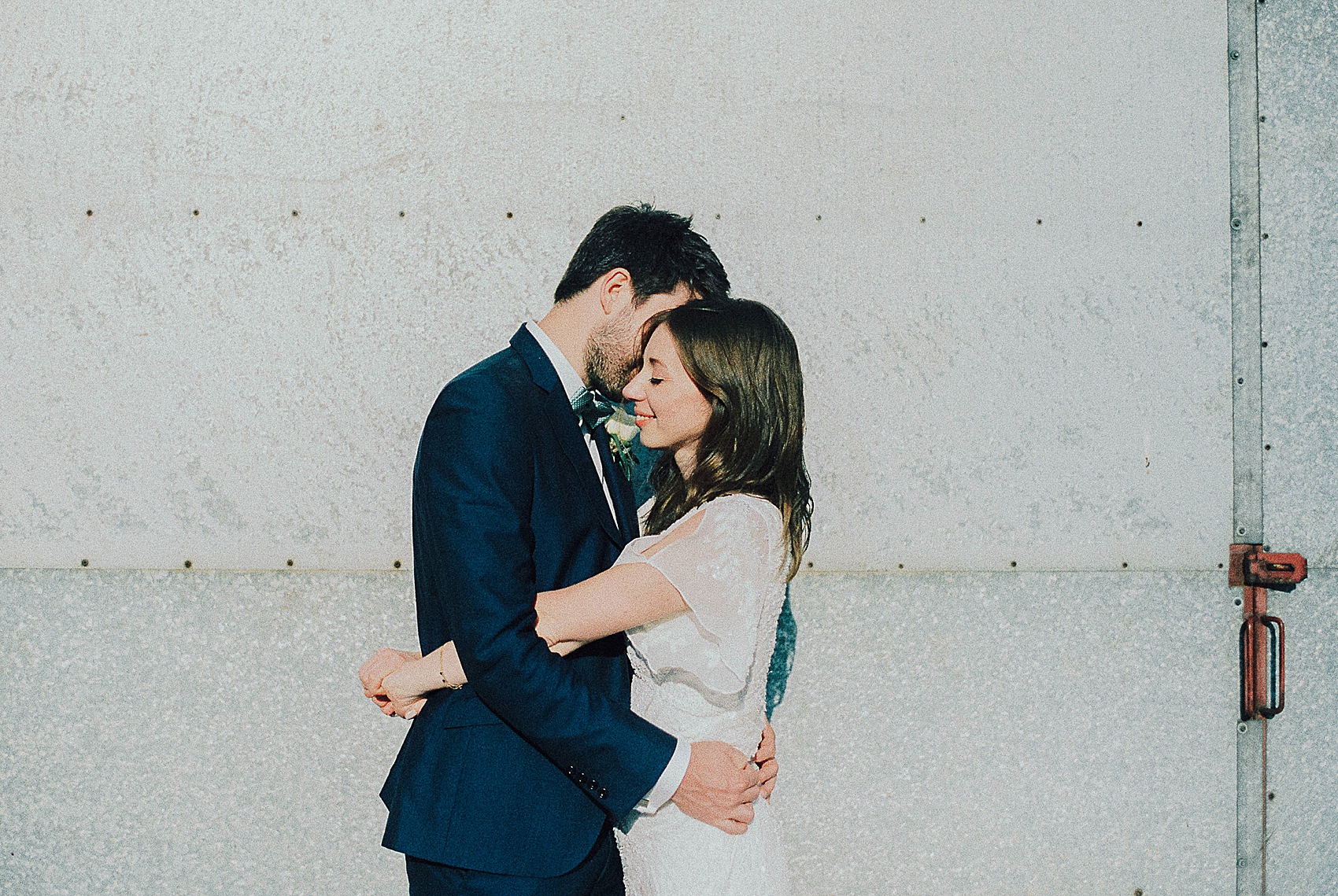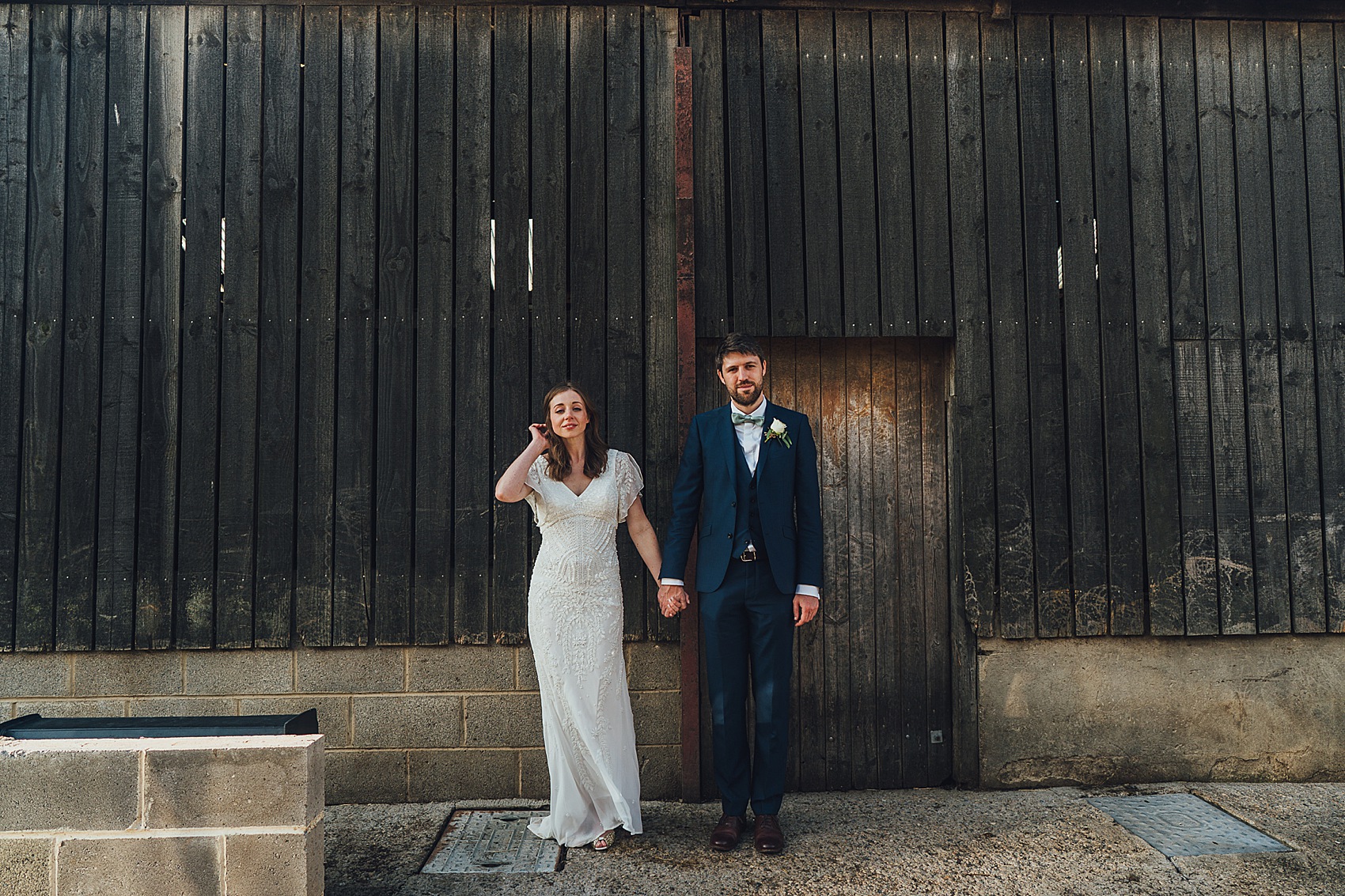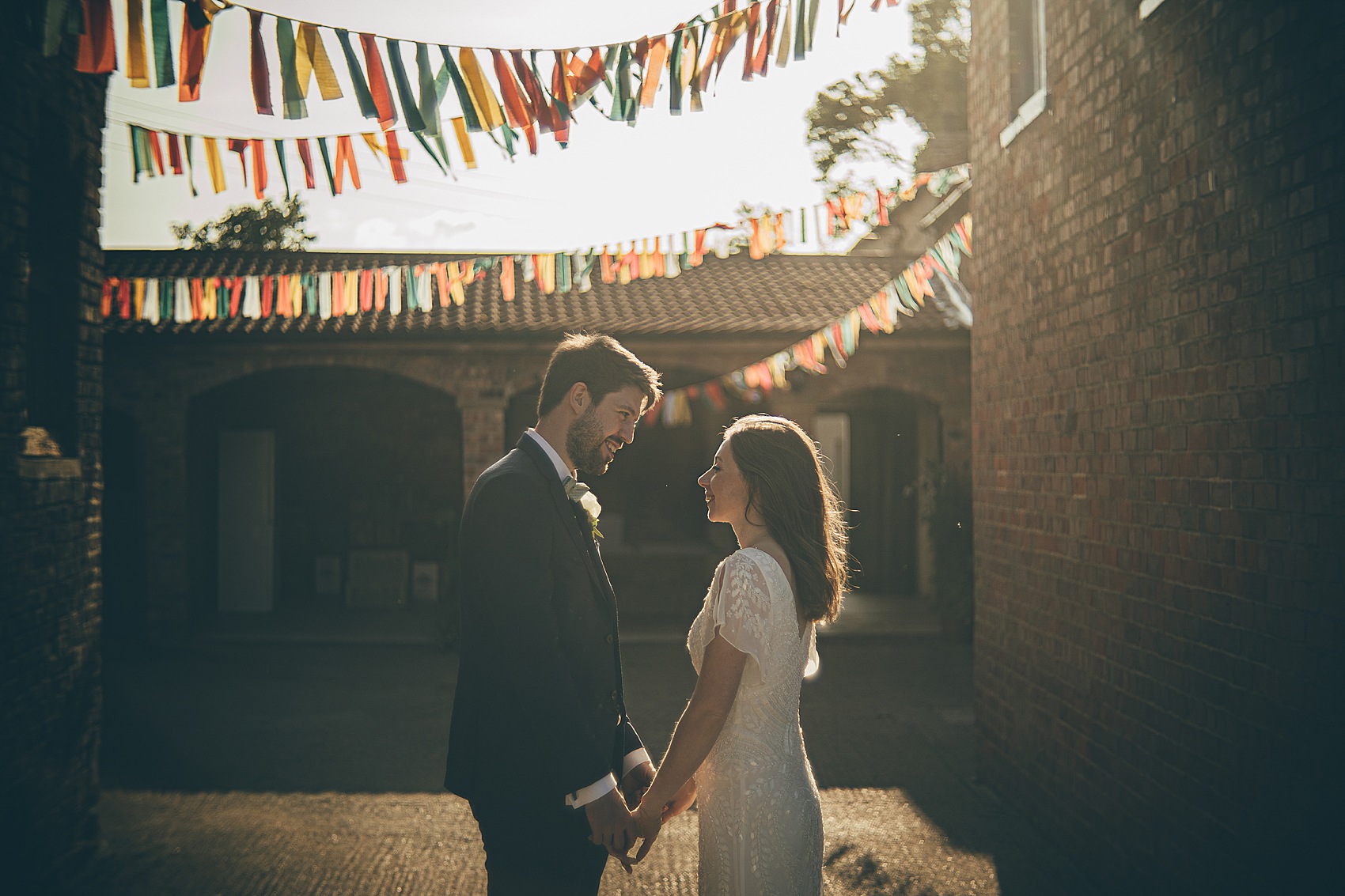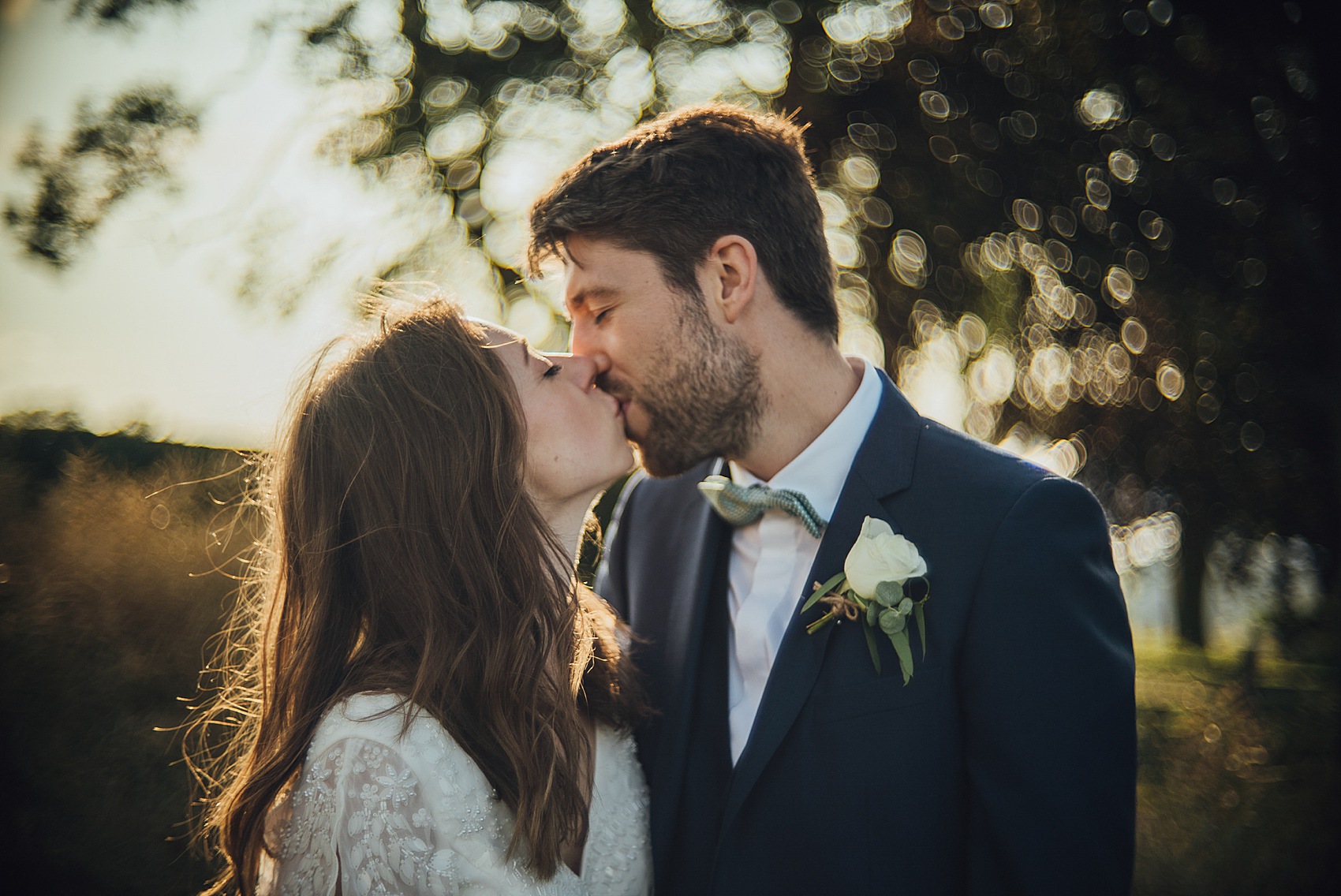 For their first dance, Tom and Sarah chose the upbeat 'Lovely Day' by Bill Withers before partying the night away to live music from band Charming Louise, found via Alive Network.
This entertainment agency have a range of musicians and bands in so many styles, and you can find out more about them on our Little Book Wedding Directory here.
"They were absolutely brilliant. Everyone was up and dancing the whole time. They let us tweak their set list before the day so that we could have the tunes we wanted the most. They were excellent with communication and brilliant musicians. All our guests loved them – a real highlight."
"We didn't want anything too slow or smoochy so 'Lovely Day' hit the perfect balance of meaning and being able to dance too!"
"Having everyone you love most in the same place was so special. I think one of the best moments was later on at night, when the dance floor was full of people merrily dancing. Just looking around and seeing everyone having a great time was something we will never forget."
Words of Wedded Wisdom
"Spend your money on what you think your guests will enjoy and remember."
"Don't try and do too much yourself on the day. Everyone there will be willing to muck in and help out with anything you ask them."
"We were so grateful for our family and friends' resourcefulness and time in helping out on the day."
Colourful days are some of my absolute favourites, so thank you Sarah and Tom for sharing your farm day with us today. As ever, Craig Goode, it's been lovely to see your work so please accept my thanks.
For more farm wedding inspiration please take a moment to browse these other Love My Dress days or, if the riot of colour in this day has captured your heart, I have a suspicion that you'll enjoy these features.
Ele xx