Lovely readers, happy bank holiday Monday to you all. As usual, we're heading into a new week amidst this UK wide lockdown, with more glorious real weddings to share with you.
Starting with this beautiful celebration; a country church ceremony, and a reception at a magnificent and historic medieval castle. Get comfy and read on for all the details. This is the wedding of Olivia and Daniel. Let's start with this beautiful film by filmmaker Andrew of Tregoning Weddings.
"Andrew is absolutely the best in the business. Our wedding video is spectacular, everyone comments on how the video has truly captured the emotion and vibe of our day."
Tregoning Weddings

+ Follow
Originally from the UK, the couple now live in Australia, where Olivia is the CEO of recruitment business Meemee International, as well as being a consultant midwife, and Daniel is a director.
They were married on the 28 July at the Church of St. Mary the Virgin in the Surrey village of Frensham, followed by a reception at beautiful Farnham Castle.
Dominique Bader Photography

+ Follow
I'm so pleased to be sharing talented Dominique Bader's work on our pages again. She has such a wonderful fine art style, and her images are always filled with lovely natural light.
"Dominique was truly the most amazing professional ever. She was the first person that we booked three years before the wedding. When we finally met a few weeks before our big day, it felt like we had known each other forever."
"Daniel and I could have stayed and chatted all day. The service that Dominique provides, and the photos that she presented us with are beyond our wildest dreams."
"We chose Farnham Castle as our wedding venue as architecturally, it is so beautiful, and holds so much history. The gardens are exquisite for entertaining and photos, and the Fox's Steps were the perfect location for our string quartet to play."
"The Great Hall had the biggest hanging chandelier, which we completely covered with fresh flowers, and everyone could stay overnight including a wedding breakfast in the morning, so the party never had to end!"
"My mum and dad were our wedding planners, as we were planning from Australia. They were our rock. Allie from Farnham Castle was also one of the best and most inspiring planners. She will be a friend for life."
Pretty watercolour stationery in pink and gold was custom designed by Wedding Paper Chic, and place settings included marbled chocolate favours made by Olivia's sister-in-law.
Make Up by Polly created a beautiful look for Olivia, and together with her hair styled in waves by Botias, there was more than a nod to the classic glamour of old Hollywood.
"I flew to Sydney, Australia several times to work with Viktoria Novak to create my crown. It was a one-off crown, customised with rare and exclusive vintage Swarovski crystals and pearls."
"This crown was carefully handcrafted by Viktoria, who actually delivered my crown to me in Melbourne CBD. The whole experience was magical. The crown is now an art piece in our house."
Olivia wore ankle-strap sandals by Stuart Weitzman, and I love the way her gorgeous dress, with its under layer in soft blush pink complemented her shoes and crystal crown, as did the intricate lace design and sparkling embellishment.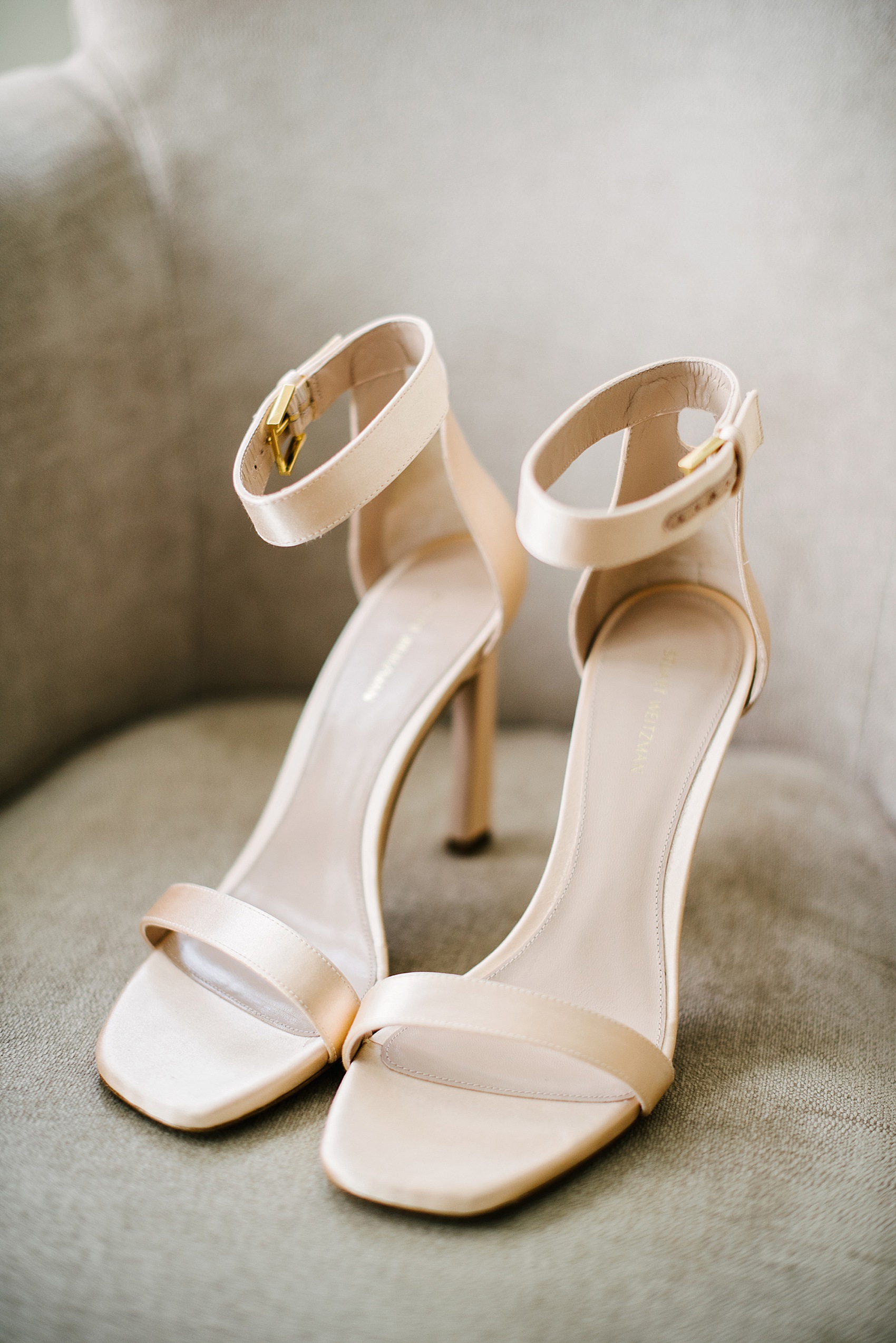 Olivia discovered her dress at Windsor & Eton Brides [no details supplied regarding the designer, sadly].
"I had six weeks in the UK to find my dress. I wanted to experience dress shopping with my mum, sister, and mother-in-law. We had been searching and I was yet to find anything. I really wanted my dress to be made in England."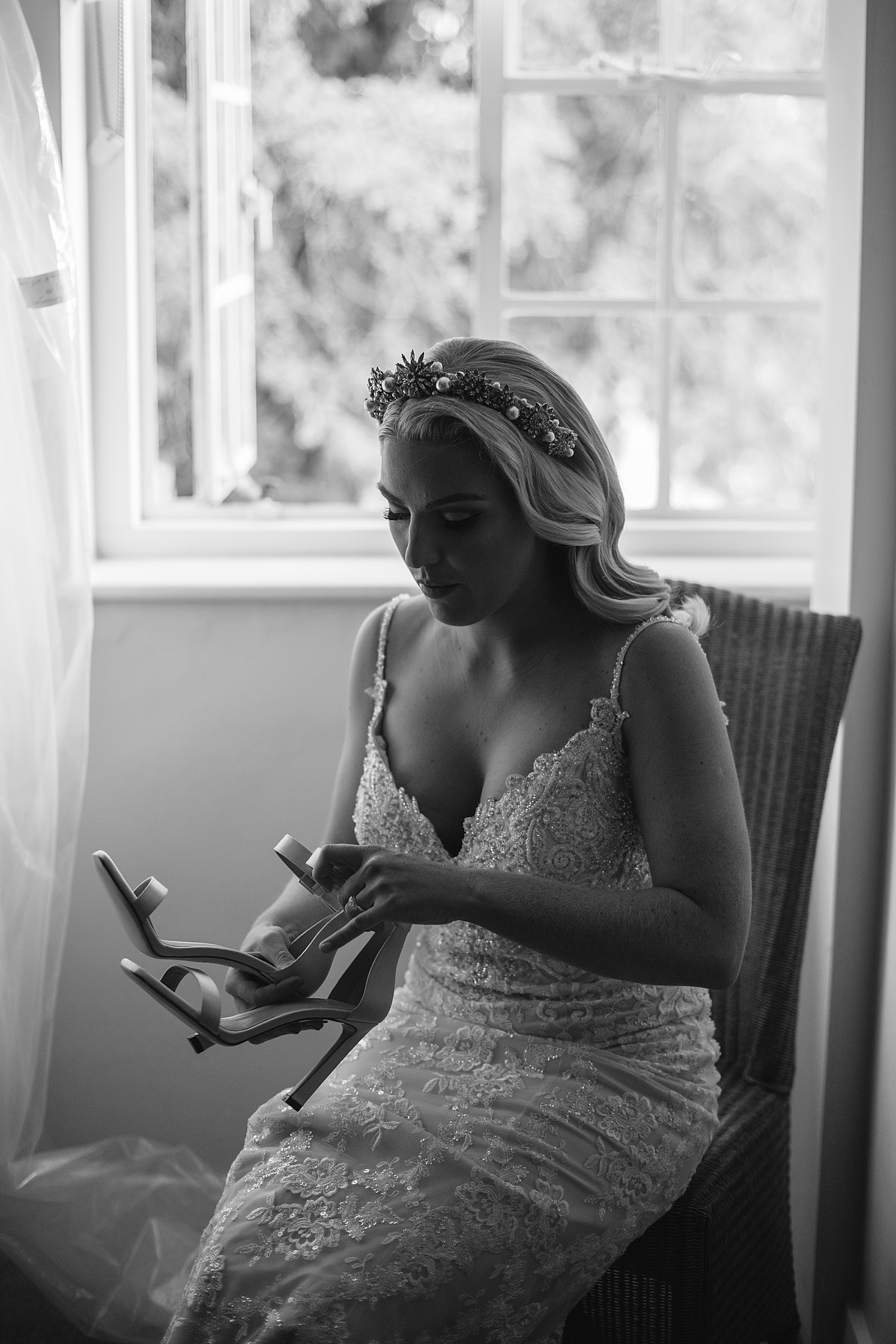 "In the end, with very little luck and multiple trips all over the country, I decided I actually needed to find a dress that I felt beautiful in. When I walked into Windsor & Eton Brides, my dress was the first one I saw and tried on. I felt amazing, and the decision was made."
The flowergirls wore lovely hand knitted dresses made by Olivia's friend Karen, who runs a yarn store in Melbourne, Yarn + Co., and were finished with hand dyed silk ribbon from our Little Book members Lancaster & Cornish, who make exquisite ribbons and hair accessories using natural dyes. The flowergirls also wore soft ballet slippers and white ankle socks.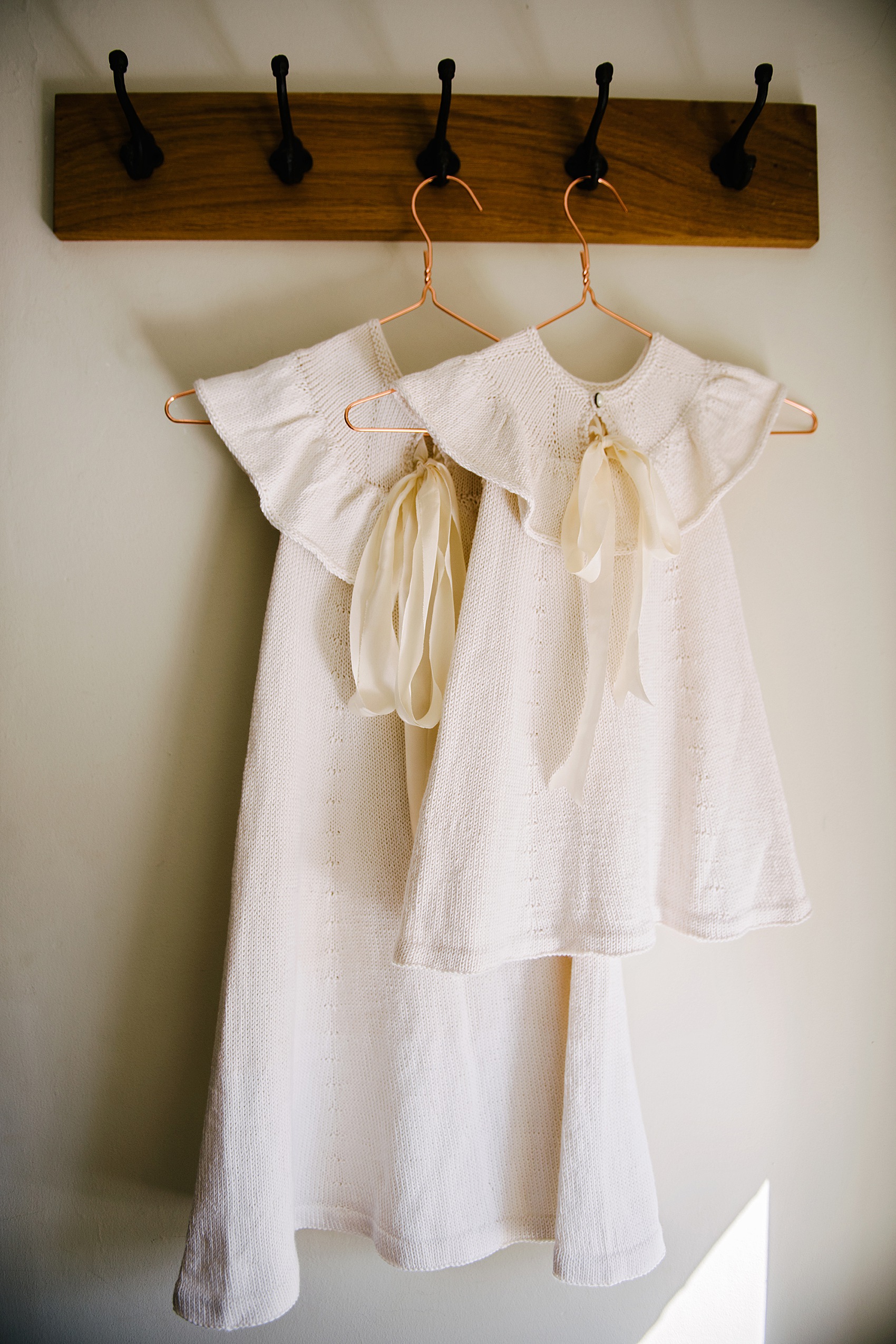 The bridesmaids' blush pink cowl neck gowns were by Ghost London, which they wore with their own shoes, and wired flowers from florist Hannah Berry Flowers.
"Daniel and I met at Brighton University. We quickly realised that we were inseparable, and after graduation Daniel agreed to move to my home county of Surrey, where we lived and worked for 2 years. I secured a job in Melbourne Australia, and Daniel followed me there. We were only supposed to be here for 2 years, and 6 years later we are now Australian citizens!"
"Daniel's proposal was epic. He took me to the Great Ocean Road (one of the wonders of the world) for a weekend away. One morning we went hiking along the coast where the Twelve Apostles are located."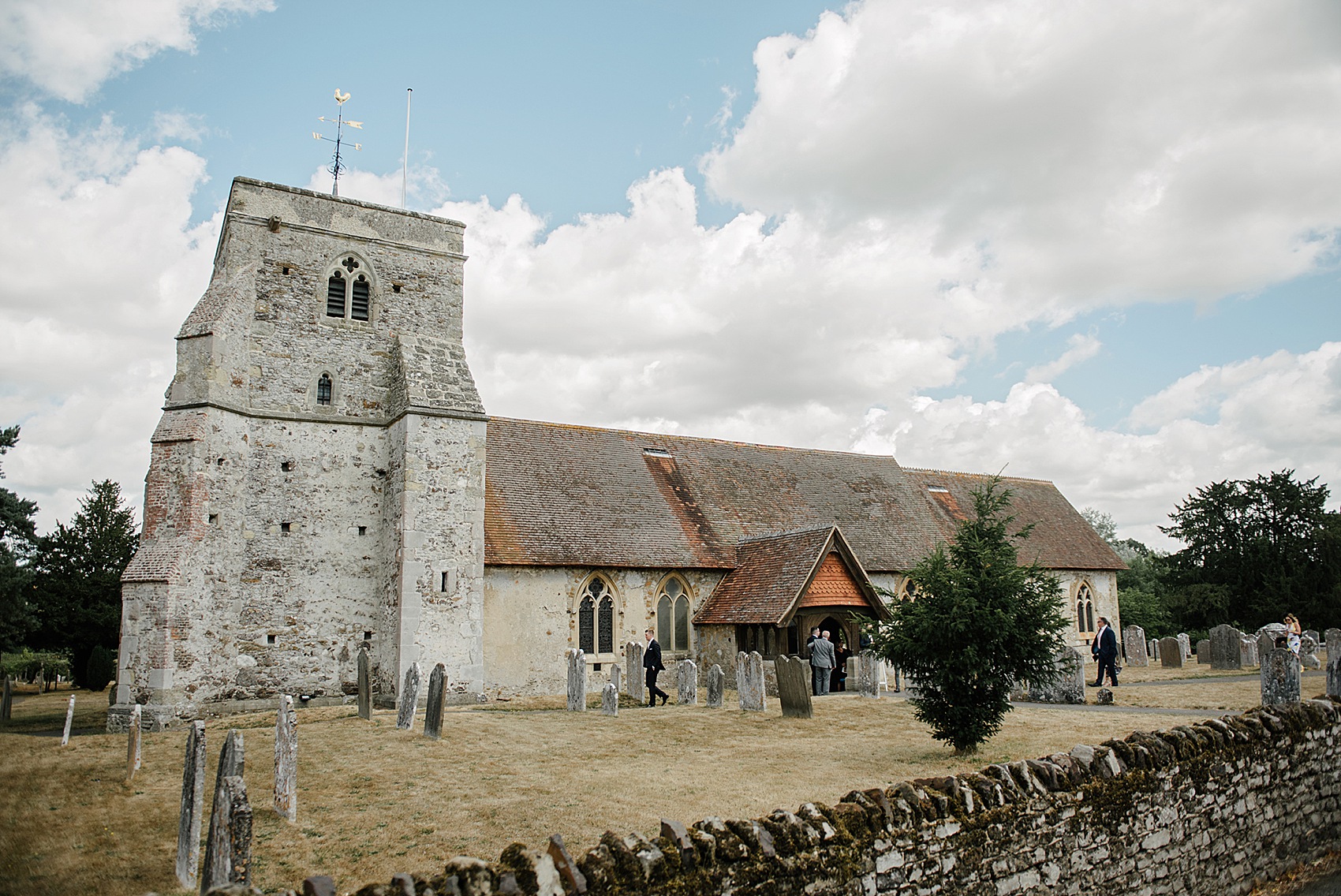 Florist Hannah Berry did such a brilliant job, with a spectacular array of arrangements; bridal party bouquets filled with roses, dahlias, stocks, love-in-a-mist, gloriosa, and pincushions (accented with pheasant feathers); buttonholes, and pretty pew ends and urn arrangements for the church.
"Dan wanted to propose on Gibson Steps Beach, but it was winter and high tide. After a long conversation reminiscing about our wonderful life together, we came across a deserted lookout directly overlooking the Twelve Apostles."
After taking a few test shots of me with his camera, and checking that it was in focus (hair in my face from the wind) I turned around to Daniel who was now nowhere to be seen, because he was on one knee with the most beautiful custom designed ring I have ever seen. I was totally in love – and in shock!"
Olivia accessorised her sparkling bridal look with diamond earrings borrowed from her mum, which had been a gift from her dad, her nanny's wedding band, and an elegant veil from Windsor & Eton Brides.
She also wore the perfume she'd also been wearing when she first met Daniel, Coco Mademoiselle by Chanel.
"We had a three year engagement, and everyone always asked 'What is your wedding theme?' Daniel and I hated this question, because we wanted the wedding to evolve naturally, and didn't want to be trapped with a theme that we then had to pull off."
"Our flowers incorporated native British and Australian blooms, full of colour, texture and freedom of space."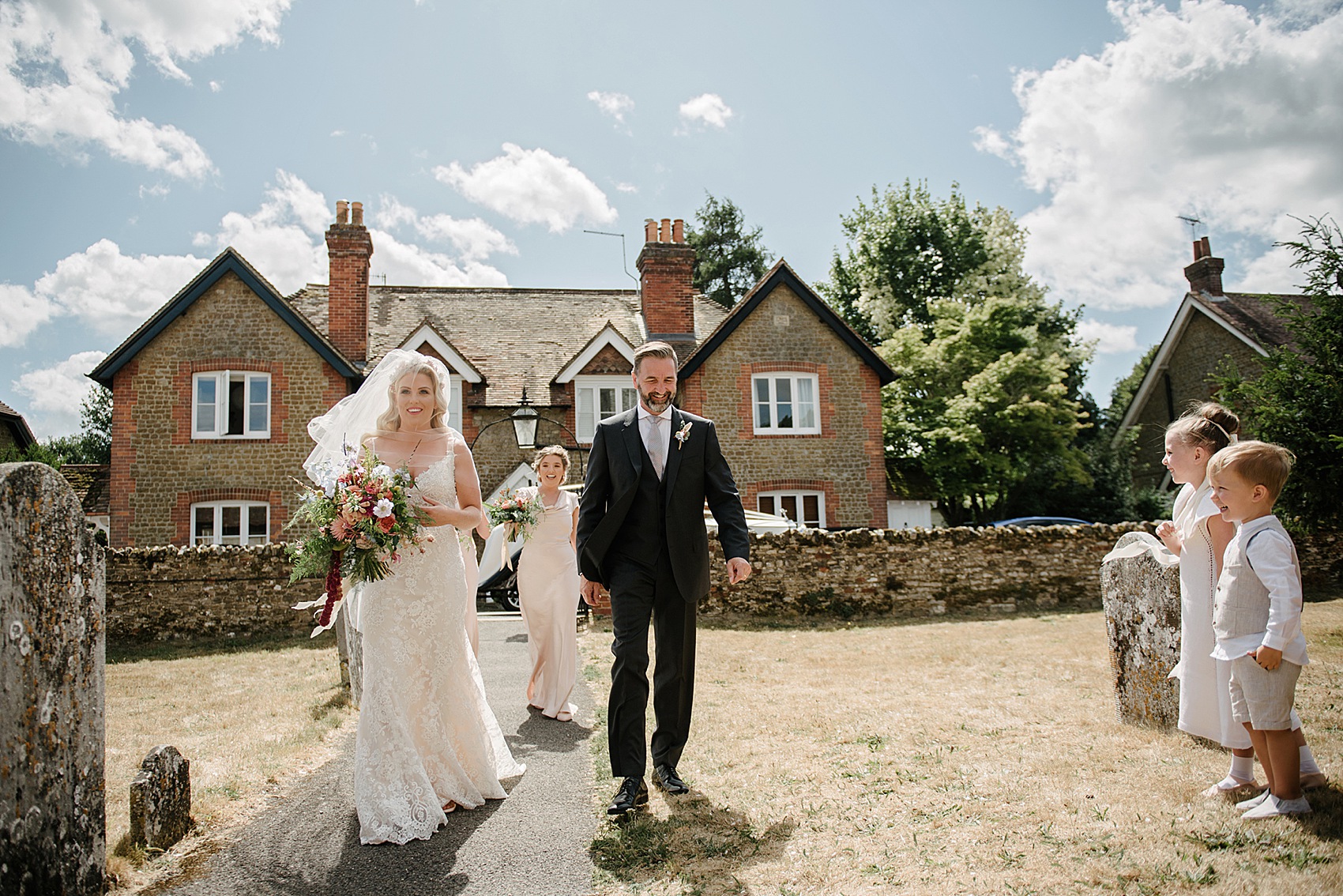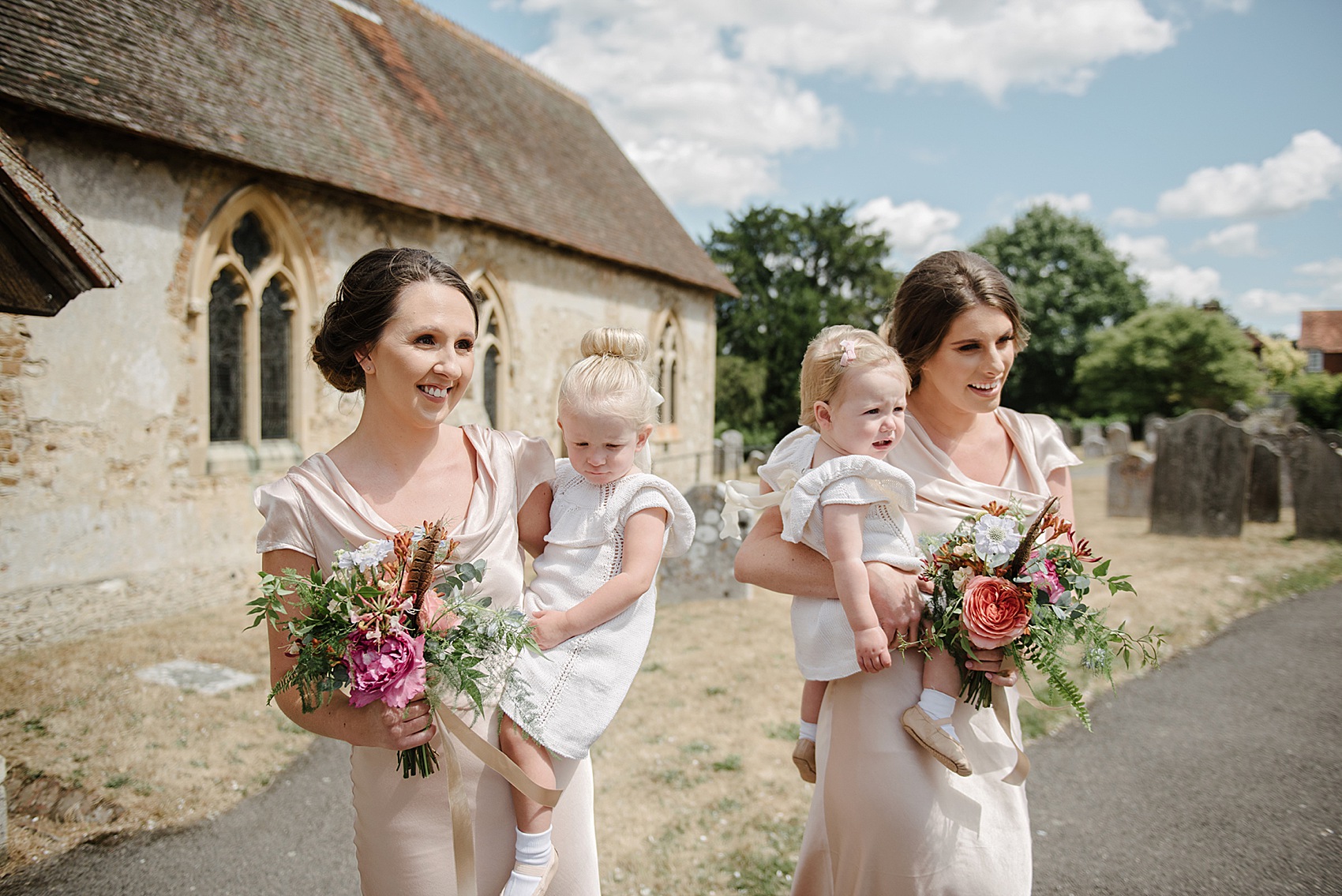 Olivia was driven to the church in a Rolls Royce Wraith from Premier Carriage Wedding Transport.
"My daddy walked with me down the aisle. I wouldn't have had it any other way. I walked down the aisle to Motion Picture Soundtrack by Vitamin String Quartet. A piece of music close to mine and Daniel's hearts."  
At the altar, Daniel eagerly awaited Olivia's arrival, and he looked smart in a navy blue suit from Next, worn with a white shirt, and an ivory knitted tie from Marks & Spencer.
"Daniel had three Best Men, all from Melbourne, Australia. We were very lucky that we had guests fly over from Australia, Canada and New York to celebrate with us."
During the ceremony, loved one Maggie Myatt read a piece she had written specially for the couple, called With You, and they also exchanged rings as they said their vows. Daniel's ring was from Charles Rose, and Olivia designed her wedding band in collaboration with jewellery designer Ele Misko.
"Ele and myself designed and sourced the diamonds for my wedding band. Based in Melbourne, Ele has a fantastic eye for detail and creativity. We ended up calling my ring the 'Crown' ring."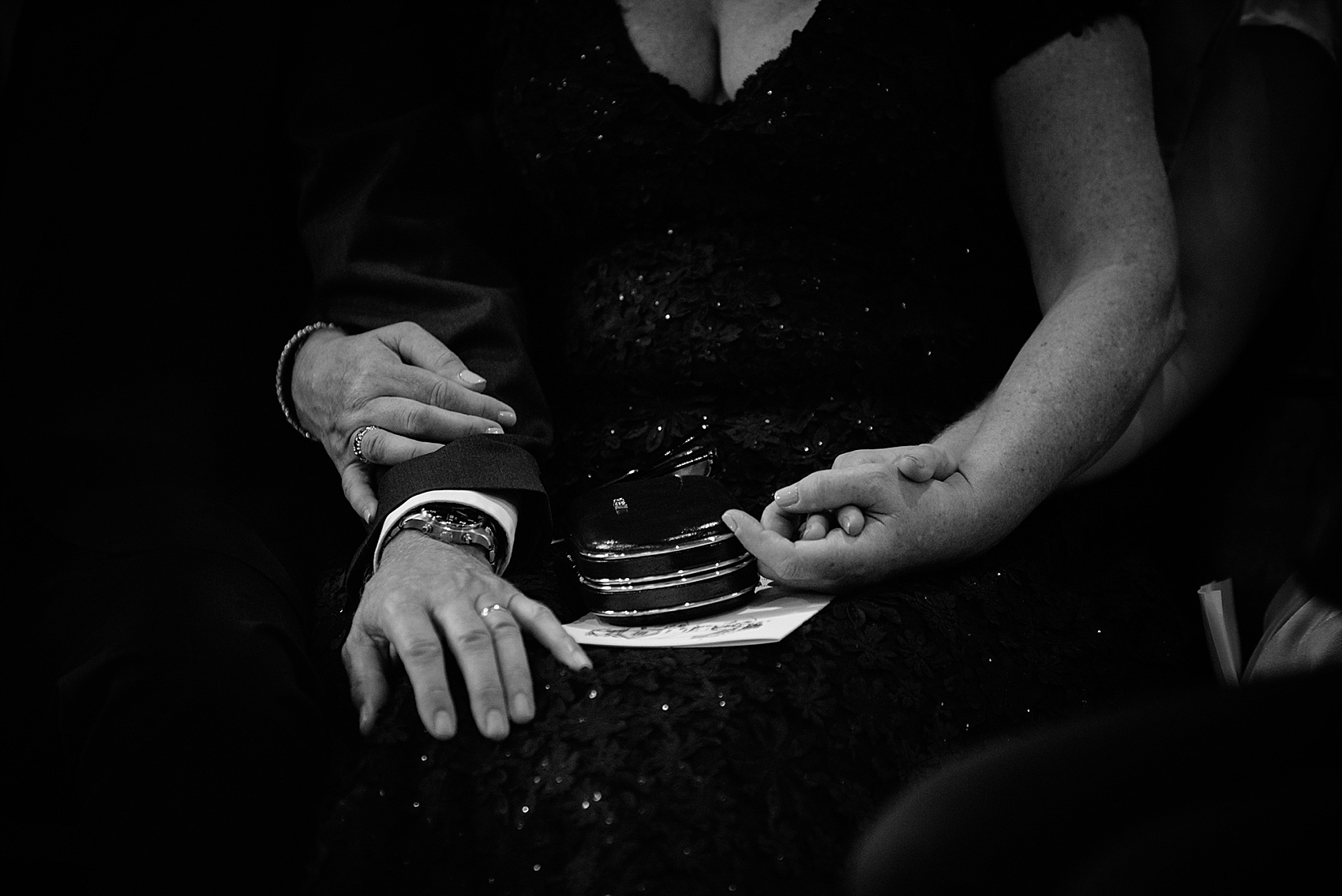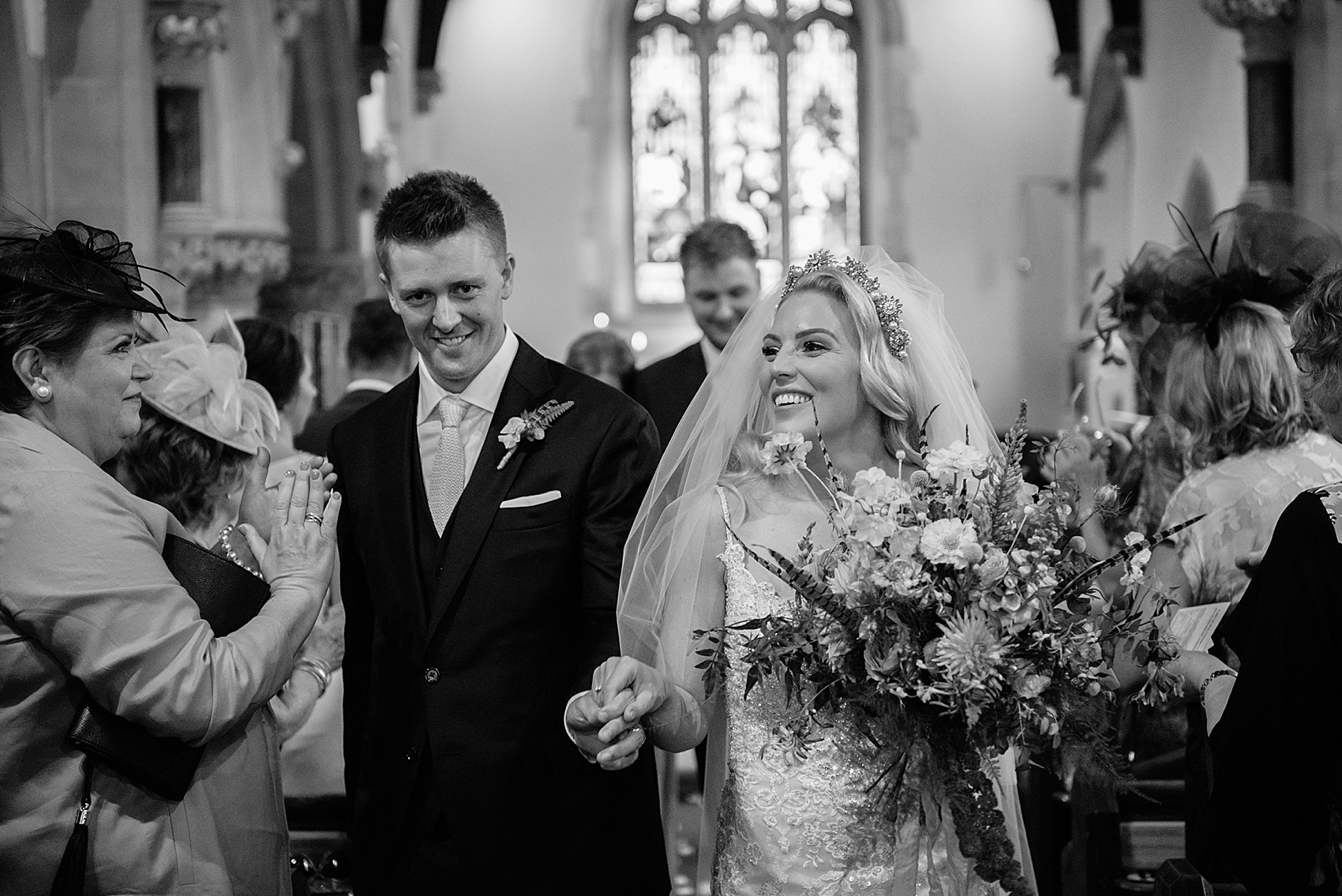 Outside the church, there were kisses and confetti, before Olivia, Daniel and their guests made their way to spectacular Farnham Castle for the reception.
The historic castle provided a beautiful backdrop for drinks and canapes in the gardens, whilst the couple and their best people took time away for photos together.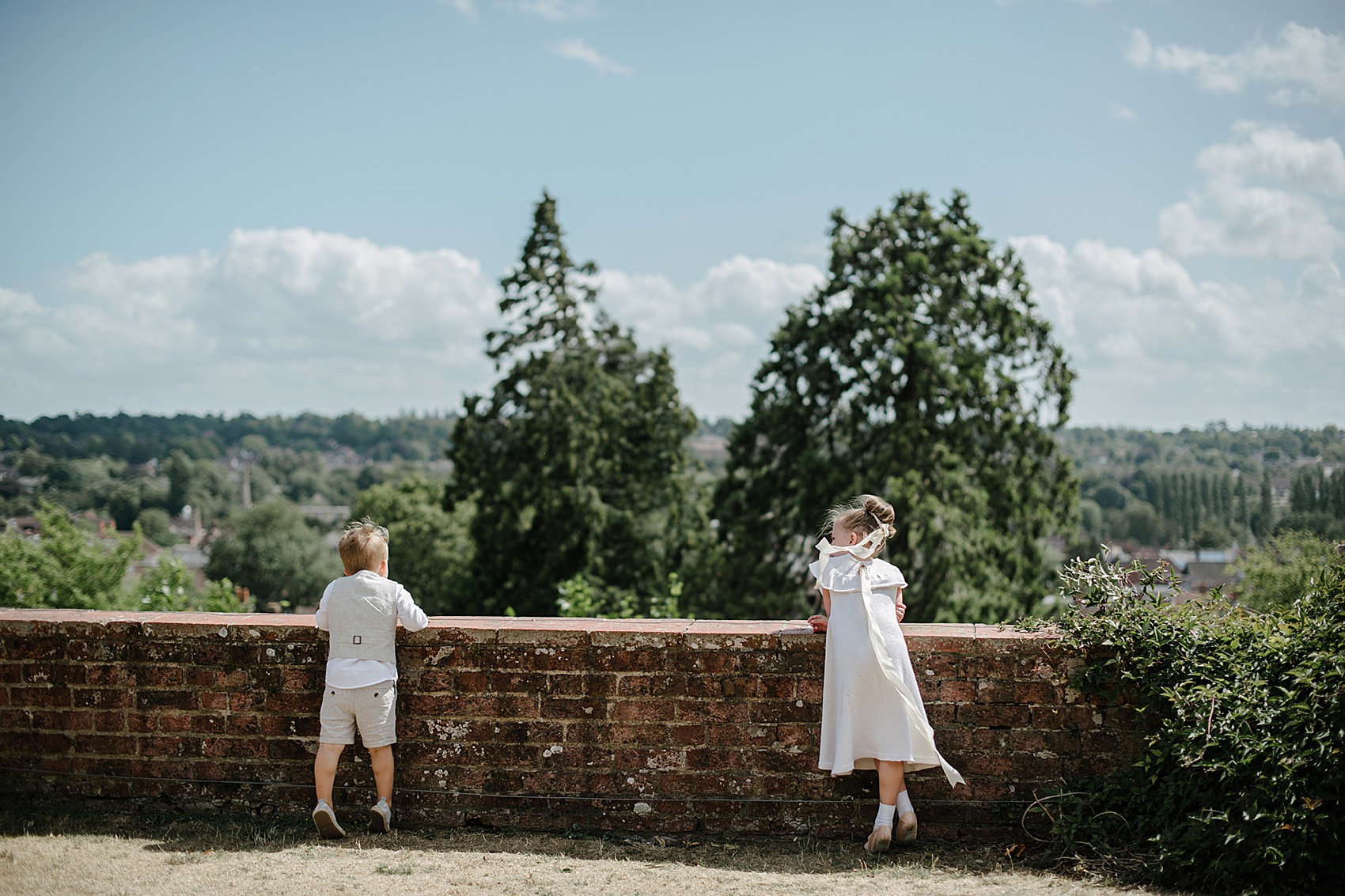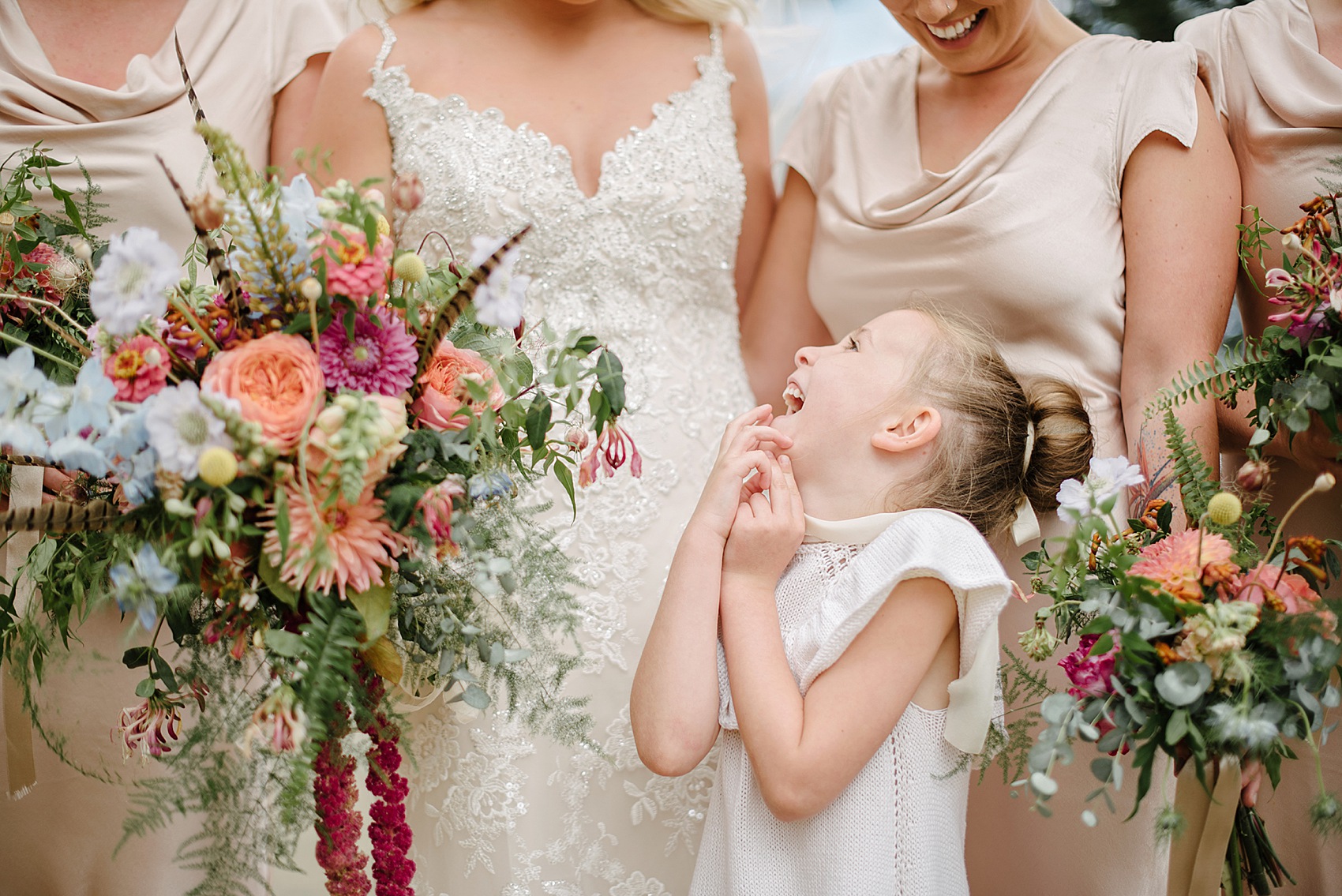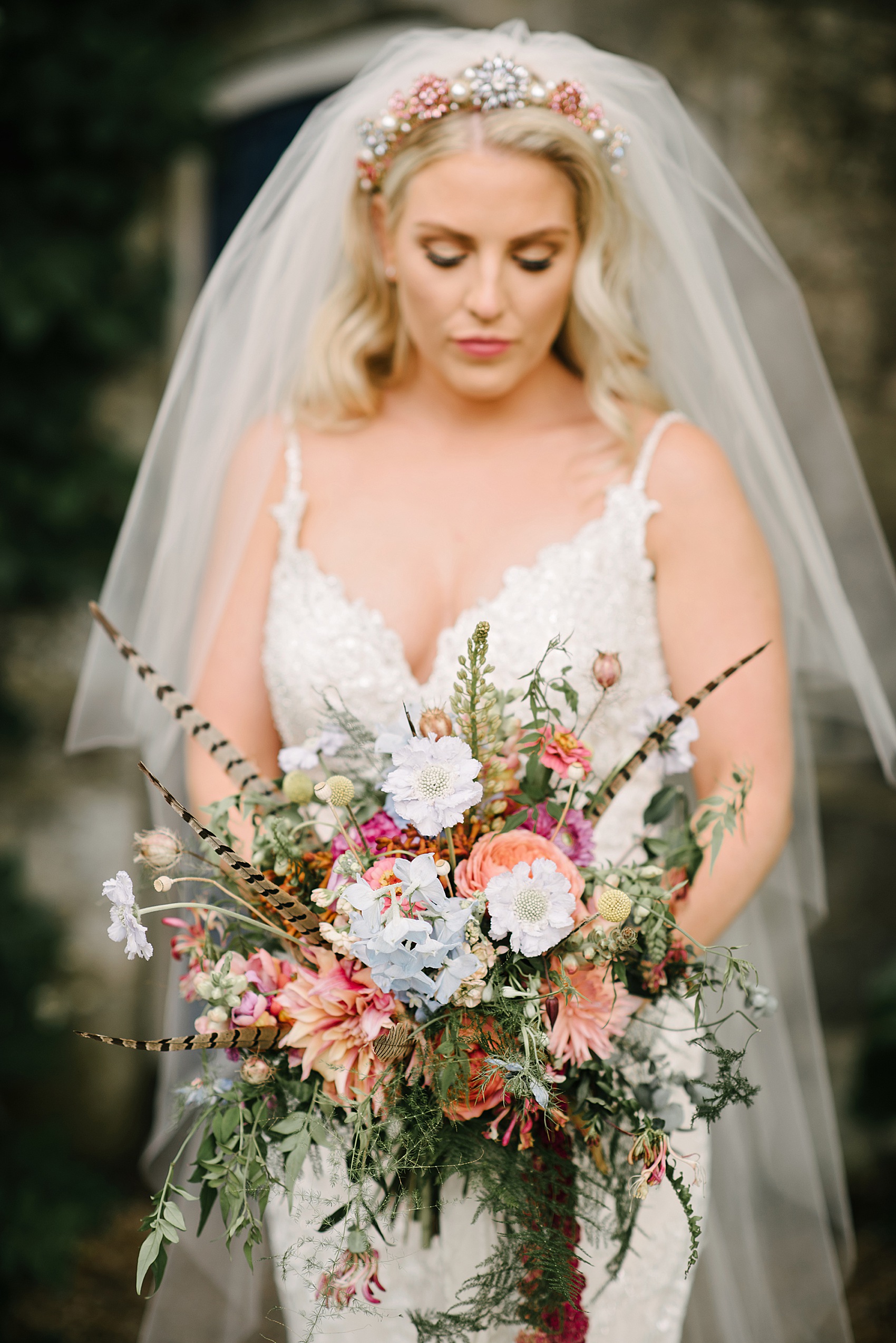 Olivia and Daniel held their wedding breakfast in Farnham Castle's Great Hall, and the space was filled with more amazing flowers by Hannah Berry.
"We always wanted the flowers to be a huge part of our wedding. We had decided on a floral chandelier from the start. I wanted the flowers to represent growth; Daniel and I growing up together, and our family and friends growing around us."
"The flowers moved, and people wanted to rummage in them to see what other beauties they could find! We also had fresh peaches, mushrooms and moss creeping over the tables, adding additional depth."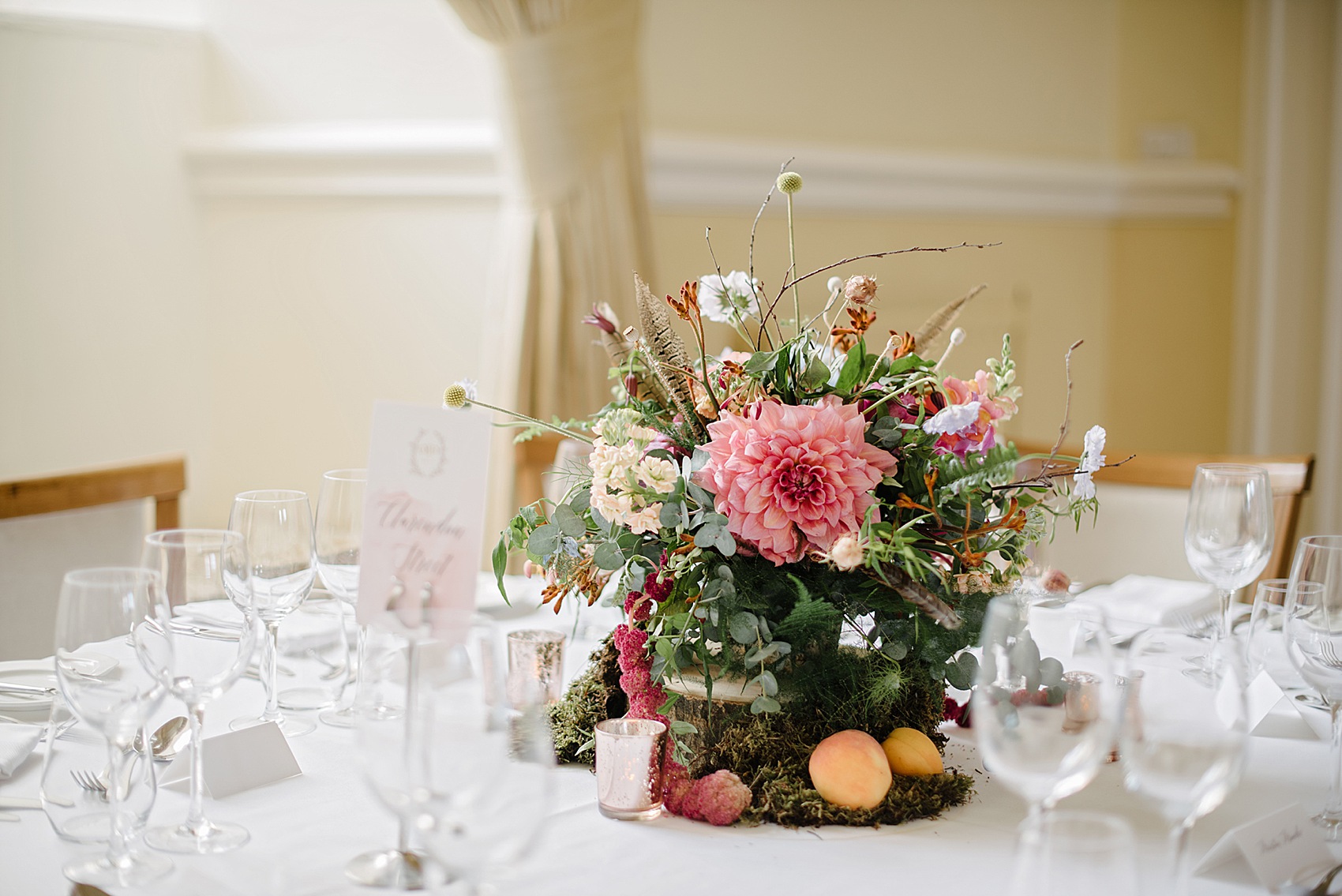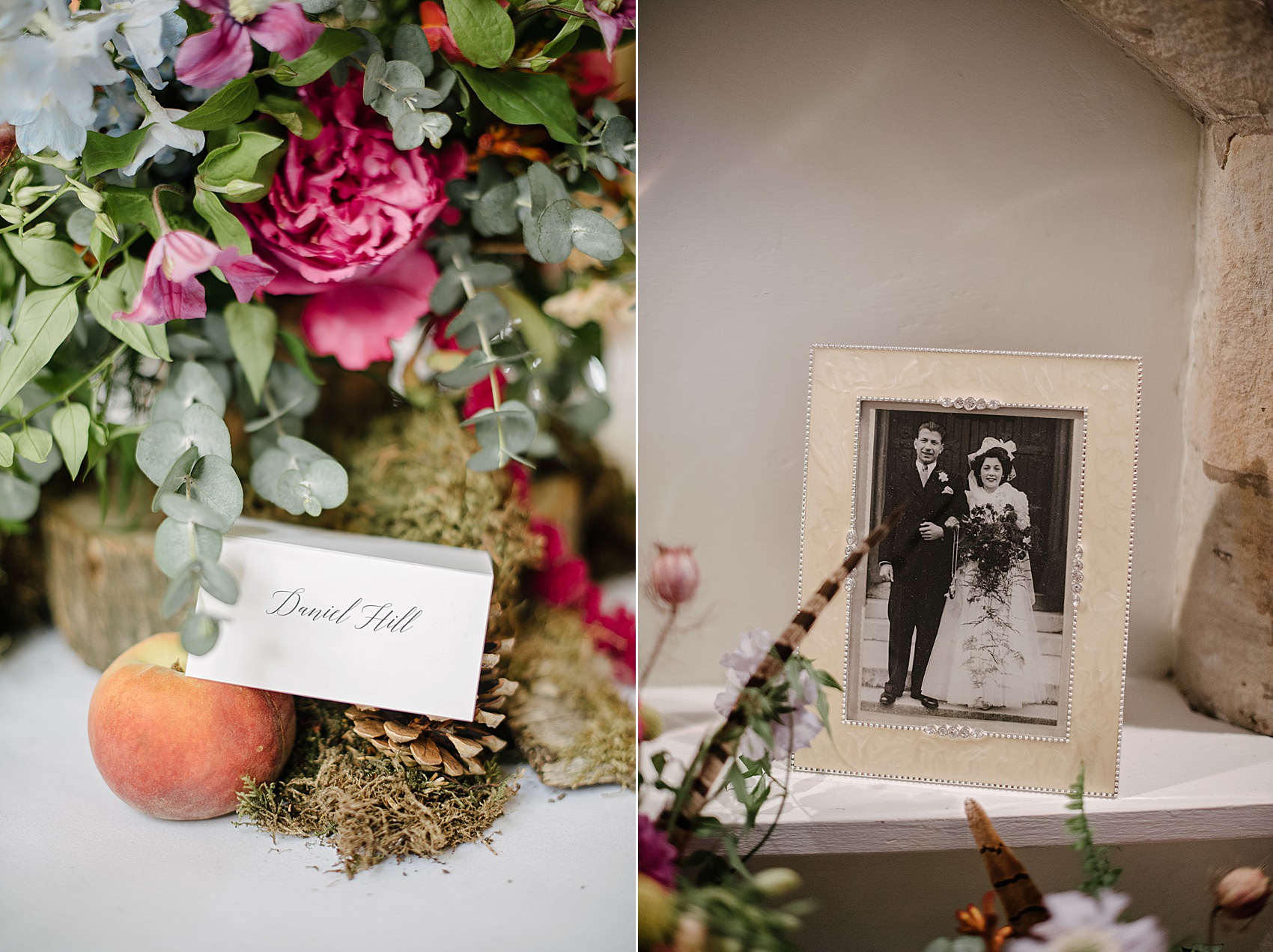 The in-house team at Farnham Castle served a delicious dinner, and there were speeches filled with tears and laughter.
Emma from Gifted Heart Cakes made a magnificent four-tier pink and white cake adorned with flowers for the couple.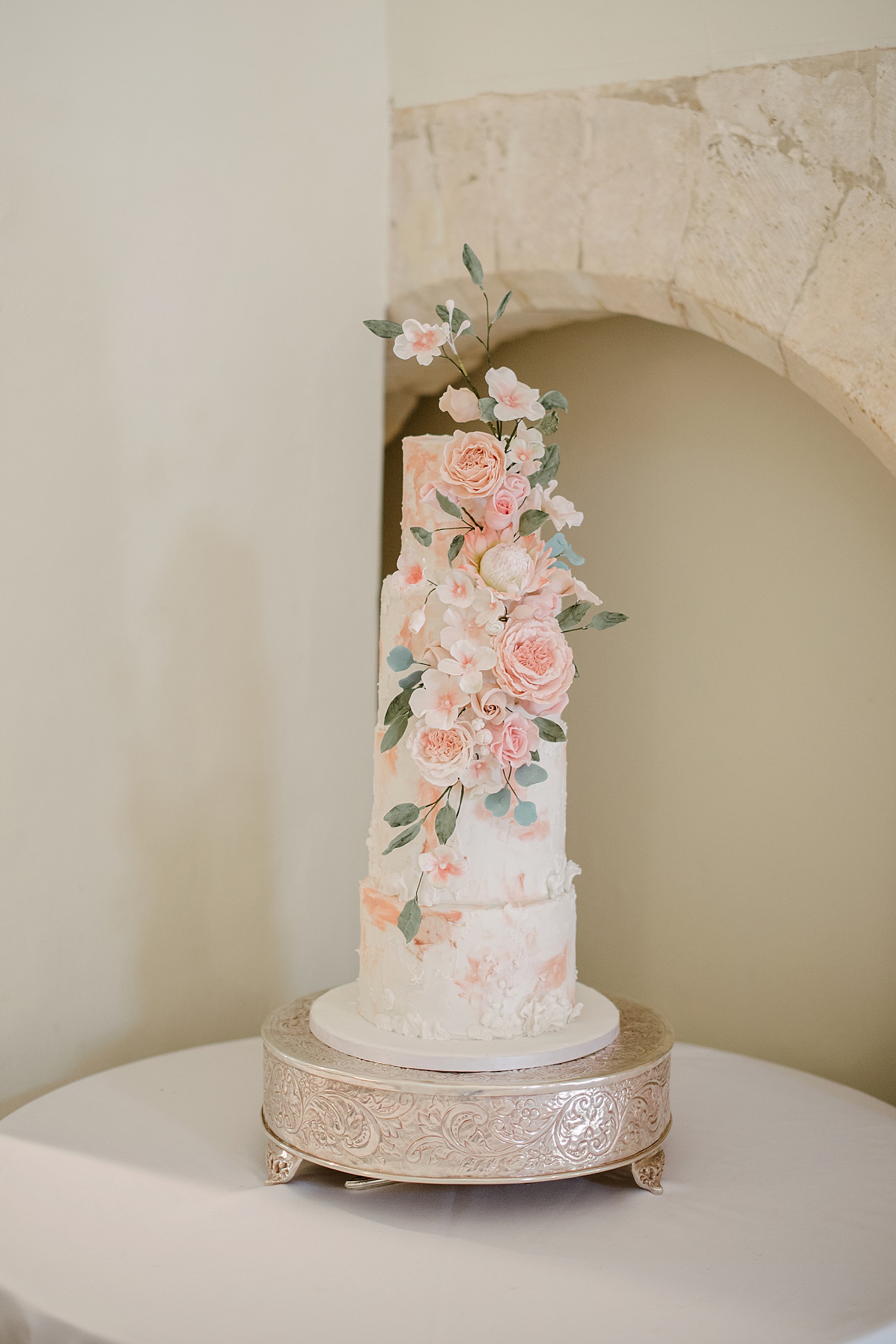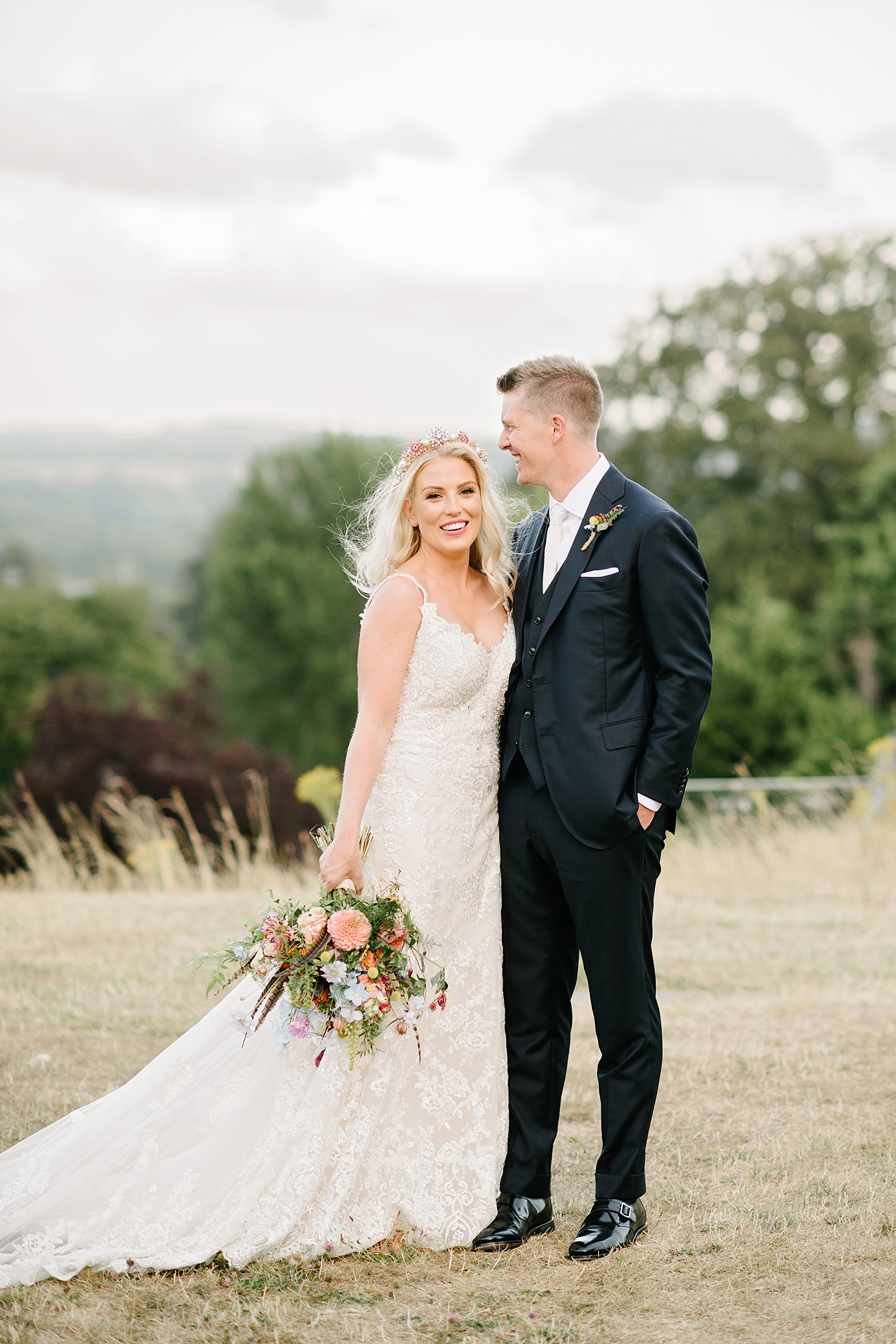 "My dad is the lead singer and rhythm guitarist in his band, The Fogg. Dad has played in a band for my whole life. They are pretty amazing, our wedding wouldn't have been complete if The Fogg were not performing for the night."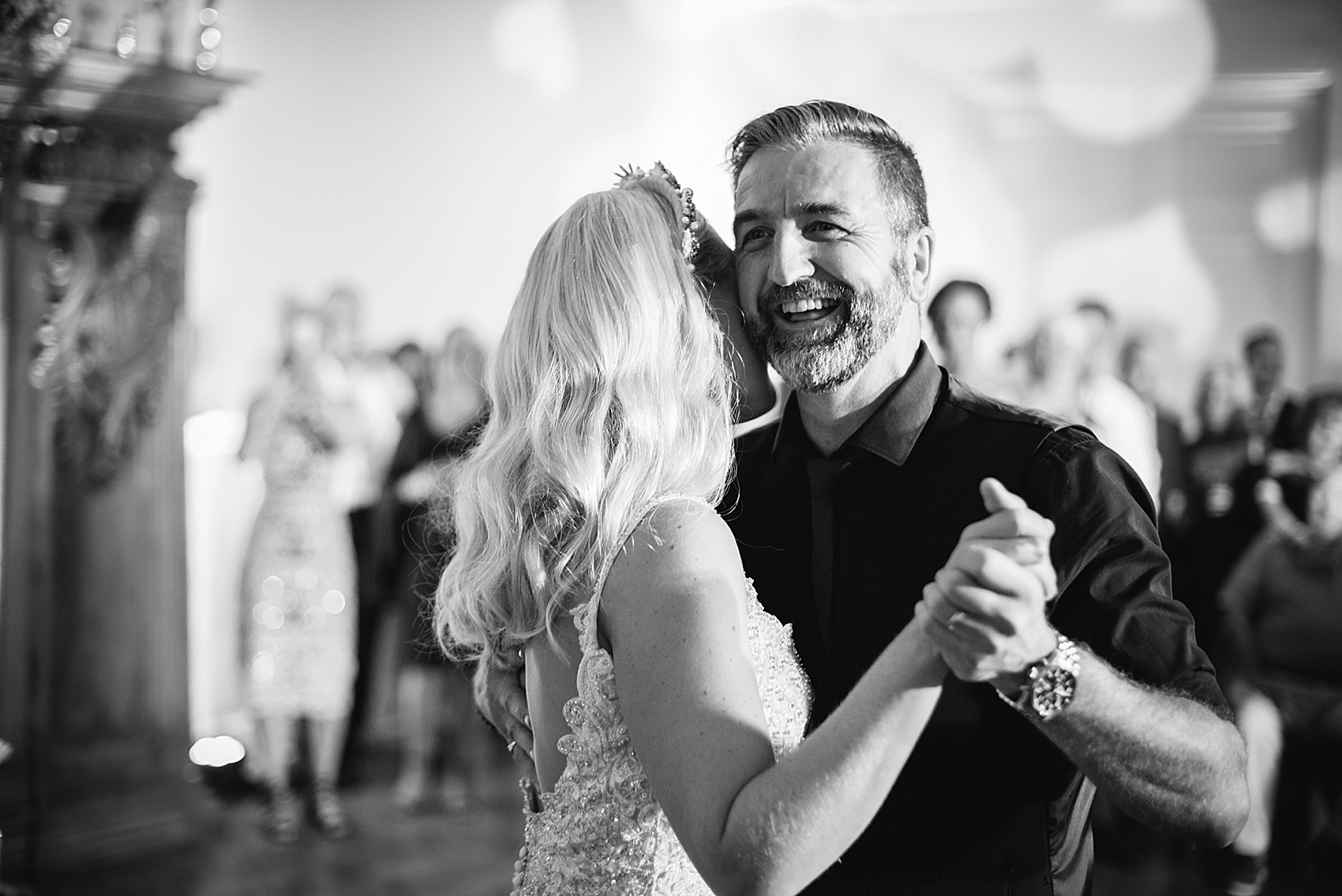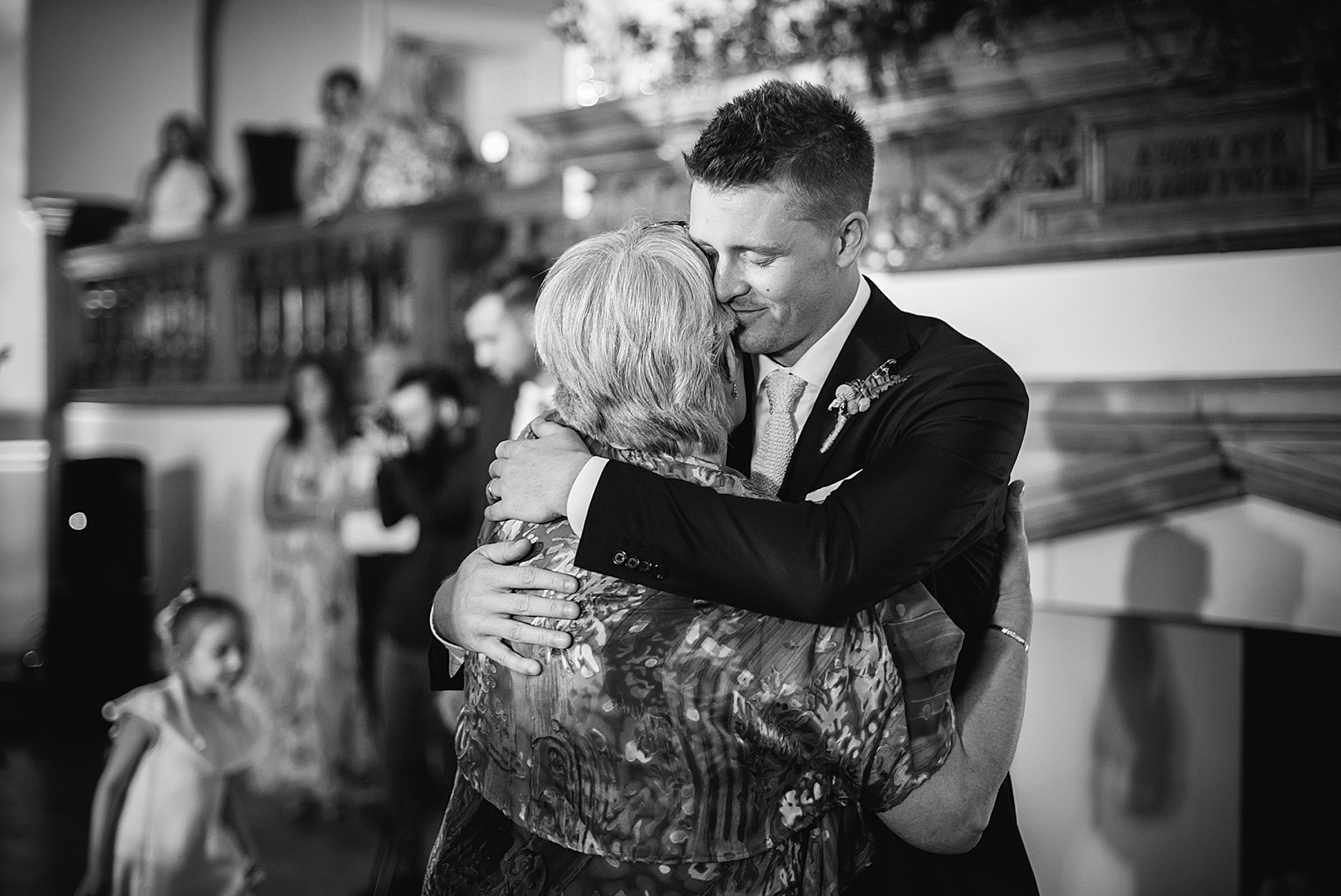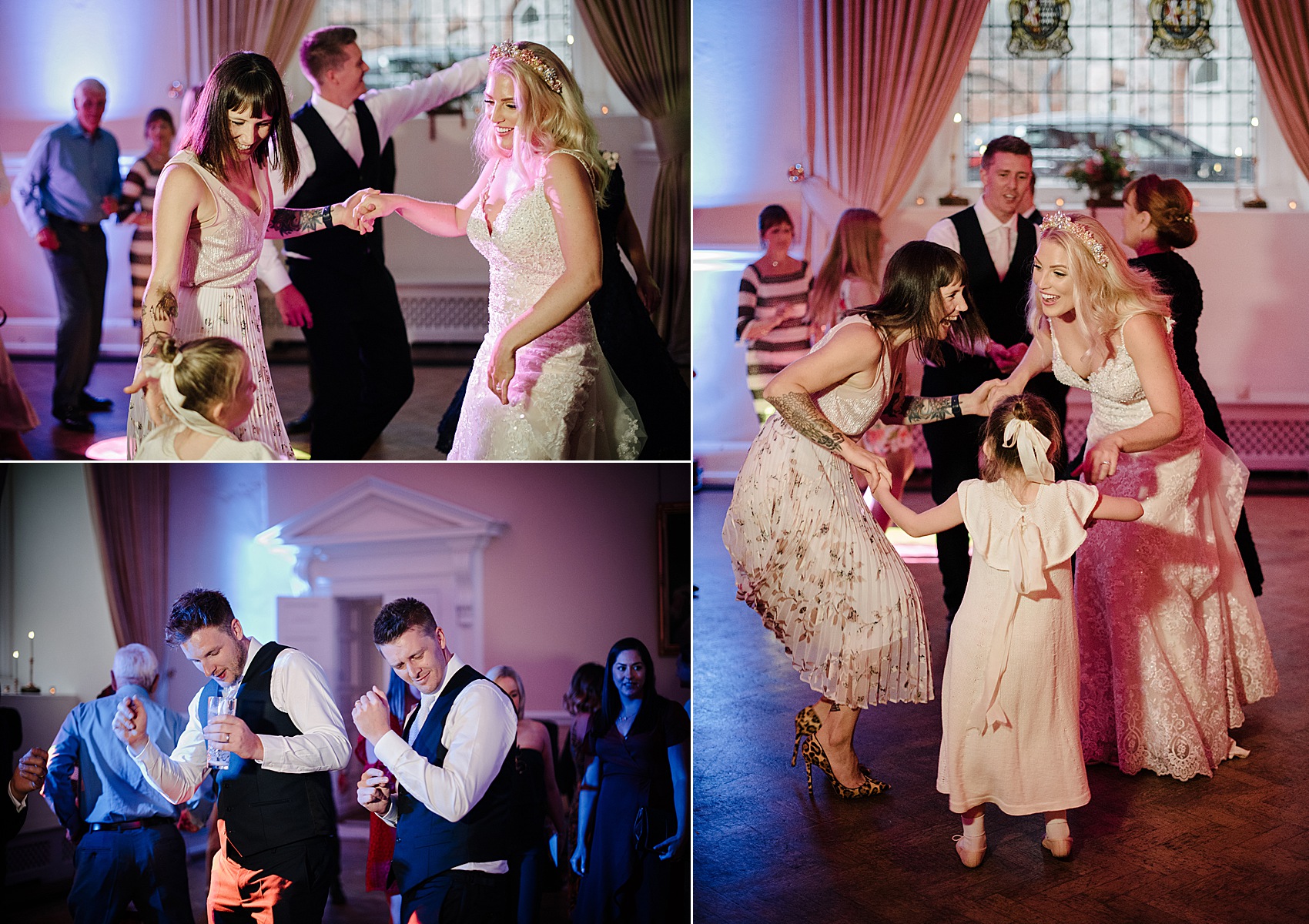 Words of Wedded Wisdom
"Enjoy the lead up to the wedding. I am so glad that we had a long engagement. We could enjoy every minute of planning, and actually changed our minds a few times over the years regarding design and our day."
"Give yourself enough time to find your dress. Whilst some brides find the 'one' very quickly, this was not the case for me. It took me a while, so I'm glad I had allocated the time that I did."
Olivia and Daniel, thanks a million to you both, and for sharing your flower-filled, country castle day with us. Thanks also to Tregoning Weddings and Dominique Bader for the beautiful ways in which they captured every moment.
Until next time,
With love,
Laura