With many of us dreaming of holidays and travel plans, how about a little armchair escapism today with a trip to the beautiful Lake District?
You're going to love this gorgeous, laid back celebration. It's filled with sweet and personal DIY touches, and pared-back naturalism in the stylish foliage arrangements.
On the 31 August 2019, product designer Miriam, and podiatrist Luke were married at Longlands, Cartmel in Cumbria. A country house with holiday cottages, Longlands also has a beautifully restored hay barn in which Miriam and Luke held their ceremony and reception. Miriam discovered Halfpenny London's wondrous dress designs on our pages, and when she saw the beautifully draped 'Daffodil' dress, with its sexy off-the-shoulder Bardot neckline, she set out to find it in her size, which she did at The Dress Bridalwear in Teddington.
Halfpenny London

+ Follow
"The wedding venue was DIY, allowing us to add our own stamp. As a designer, I had quite a strong vision of what I wanted our wedding to look like, so a blank canvas suited us, and it also allowed us to source our own caterers and bar. Although it was more work on our part, a DIY wedding allowed us to realise our vision.""Longlands is a full weekend hire venue, and also has accommodation to sleep 40, which was lovely as many of our family and friends stayed on-site for up to 4 nights. Even my cat Paul was allowed to stay!"
"The price for the venue was really reasonable, the grounds were stunning, and the owner was really helpful and just left us to it."
David Jenkins Photography

+ Follow
"I was Googling for size 14 'Daffodil' dresses to try, and then I saw that The Dress Bridalwear in Teddington had it in an online sample sale for a fraction of the price. So I called up, checked it was all in decent condition, they emailed me some photos, and I bought it over the phone. It was sent, and I received it the very next day."
"I have since been in touch with The Dress Bridalwear, and the lady there said that no-one has ever bought a dress over the phone before, especially without having tried it on in the right size! They obviously thought I was mad, but it was a gamble that paid off, and allowed me to have my ideal dress within my budget."
"I wanted a dress that was elegant, simple, and flattered my shape. The wedding wasn't fussy, and I didn't want to be either. The simplicity of the dress was what drew me to it, and I really like a flattering Bardot neckline."
On her feet, Miriam wore gold studded 'Veto' sandals by Jimmy Choo, choosing a mid-height block heel and supportive ankle straps, as – by her own admission – she's not super confident walking in heels!
"I think they added a subtle edge to the look, and I will be able to wear them again. I bought them on The Outnet at a reduced price."
As well as discovering Halfpenny London through Love My Dress, Miriam also saw lovely Maya dresses from ASOS on our pages, too, which inspired her in the search for her own bridesmaids' outfits. They looked lovely in their blush pink sequin and tulle dresses, which they wore with their own shoes, and simple silver hoop earrings.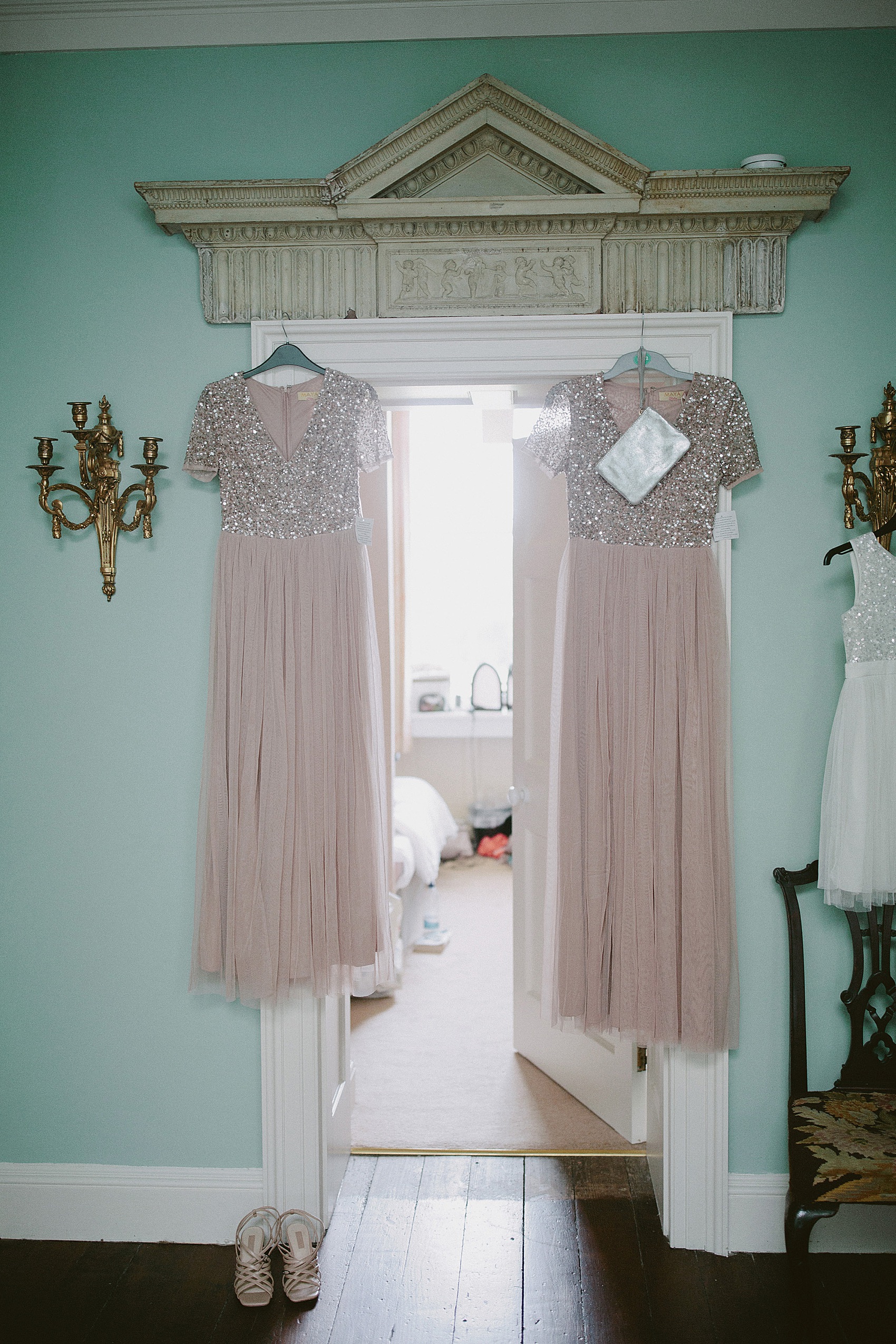 "I had a clear idea of what I wanted regarding flowers. We couldn't afford to spend too much on floristry, and through Love My Dress, I managed to find Flowersmiths in Horwich, which were conveniently right between Manchester and the Lake District, and quoted us very reasonably."
"I turned up with a PowerPoint presentation of ideas, and Maxine at Flowersmiths was so encouraging, and helped to realise my vision, even down to buying a full size 'Moon-gate' hoop to cover in foliage as a backdrop for the ceremony."
"I wanted the bridesmaid bouquets to be only foliage, and mine similar but with more flowers. Maxine created my bouquet using unusual things such as mint and dried wheat, and also blue nigella, which I really liked. The buttonholes were lovely, and matched my bouquet, but each was individual. The mothers had wrist corsages as neither wanted to ruin their dress."
Gorgeous and glamorous make-up came courtesy of Jules Daniels, and her hair was styled in vintage waves by Hair by Mikki.
"I was toying between a veil or no veil, and bought one on eBay for £3.15 to wear to my hair trial to help me decide. I kept shopping around for veils but still wasn't sold on wearing one. I was still in two minds up until half an hour before the wedding, and in the end, encouraged by my hairdresser, I wore my eBay veil! No-one would know how much I paid for it!"
Miriam's favourite accessories were her earrings by Alighieri, which were called 'The Infernal Storm', inspired by Dante's Inferno.
"I had wanted them for ages. Both earrings are gold and pearl, but abstract and asymmetrical. I also had a little gold metal clutch bag shaped like a clam shell from Monki, which I thought added a vintage feel to the look, and allowed me to carry my lipstick. I was set on having red lips and nails on the day to add a bit of colour."
Miriam's flowergirl looked lovely in a white 'Maya Mini' dress from Next, and the page boy wore trousers with braces and a grandad collar shirt, also from Next.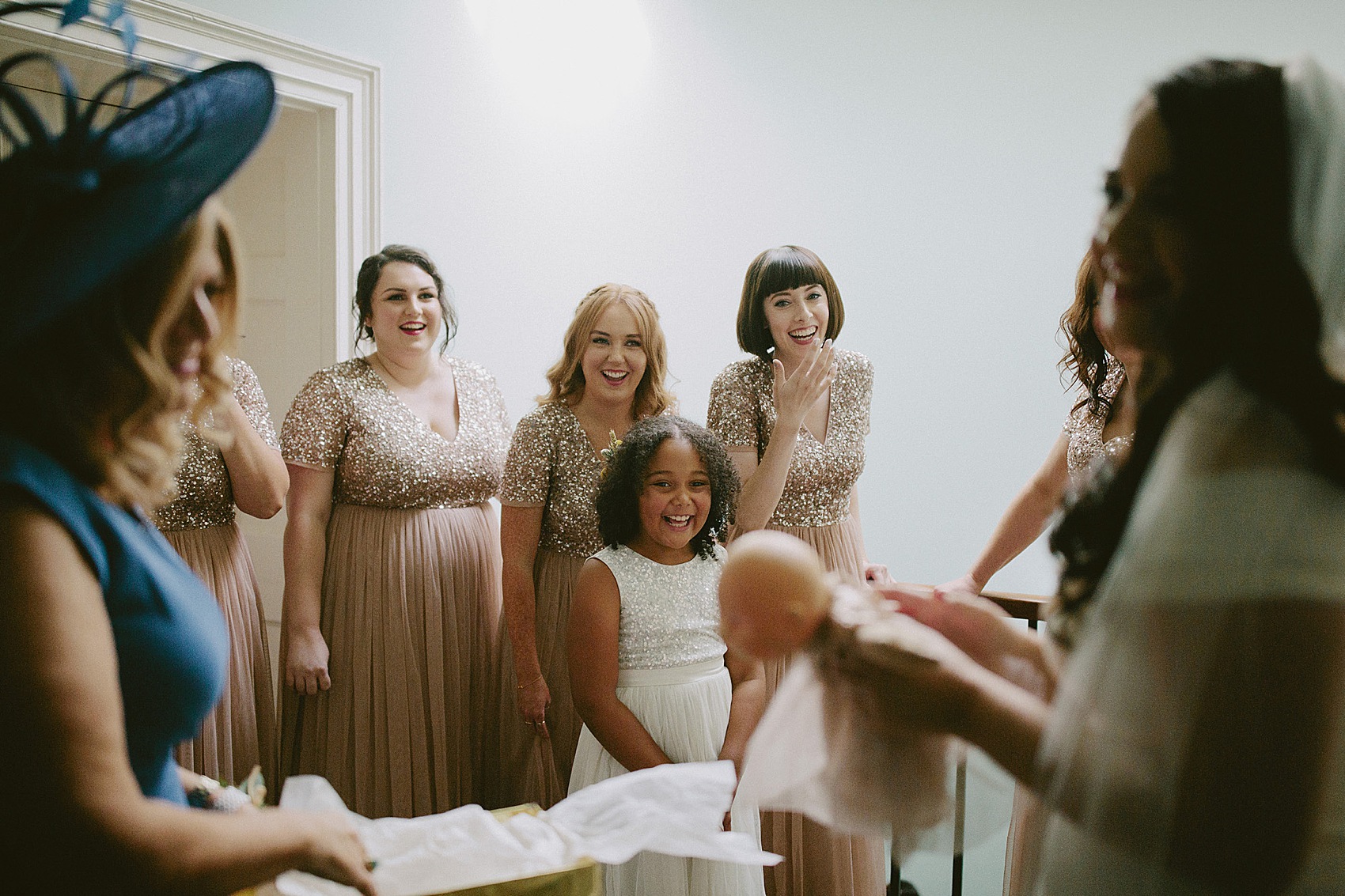 "We went on a trip to Cartmel in August 2018 to visit L'Enclume for Luke's birthday present. We hadn't yet got engaged, but on the journey from the B&B to restaurant we spotted Longlands from the road."
"There was a big wedding going on, and the taxi driver was telling us about the venue. We met another couple at breakfast the next day who had been to the wedding, and said it was a great place."
"When we got engaged later that month in Panarea, off the coast of Sicily, and began to start thinking about venues, Longlands was the first place we thought of. We booked a viewing (our one and only venue viewing) and instantly loved it."
"The venue was full of character and charm, but also felt relaxed. It had a real eclectic feel with lots of art, ephemera and taxidermy in the main house, and a very minimal barn out the back where the wedding would take place."
Miriam is a lighting designer, and turned her talents to designing a beautiful moongate which served as a ceremony backdrop
"My chief bridesmaid Zoe designed and provided all our stationery as her wedding gift to us. She is a graphic designer and her mother paints watercolours, and between them they came up with a lovely set of stationery,
from save the dates to place settings."
"From getting engaged Luke, said he wanted to get married in green. He found his suit in London at Reiss. He chose not to wear a tie, and just had a grandad collar and a pocket square, as his style is quite minimal. In the end, the grandad collar became a theme across all members of the wedding party, with our dads, Best Men, groomsmen, and even little pageboy wearing matching grandad collars."
The gentlemen all wore matching sage green polka dot pocket squares from Reiss, and Luke also wore shoes by Reiss, too. The grandad collar shirts were from Marks & Spencer, and Luke also wore a watch by INSTRMNT.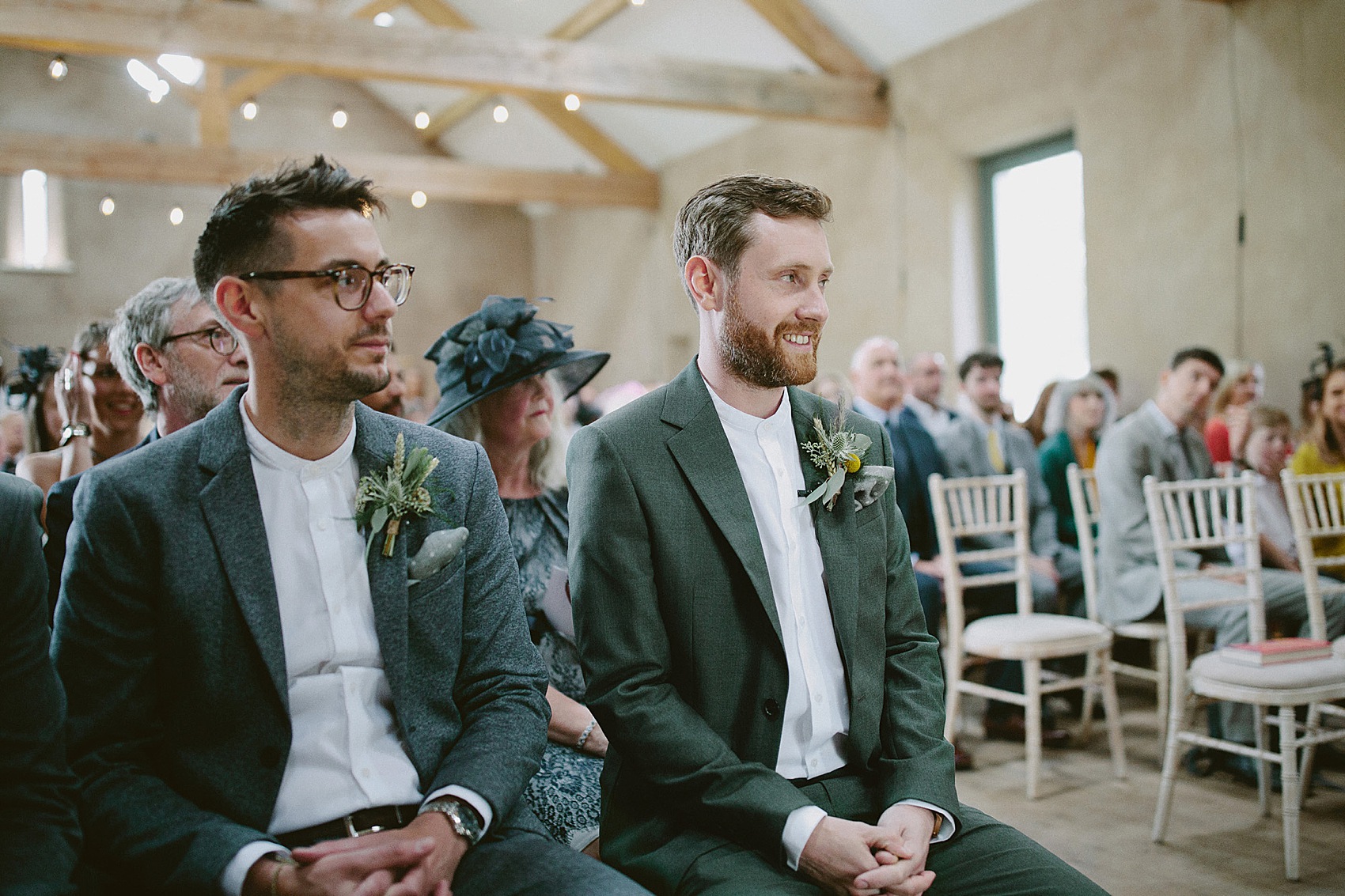 Miriam was accompanied down the aisle by her dad, and chose an instrumental version of the song Edelweiss from the musical The Sound of Music as her entrance music.
"We met at The Gas Lamp bar in Manchester. We got engaged after almost 4 years together, and married after almost 5. We were engaged for exactly 1 year and 3 days."
The registrar team at Cumbria Council conducted the couple's ceremony, and there were also two readings, too. The first was Apache Blessing, and the second was an extract from Dolly Alderton's book Everything I Know About Love.
"My ring is a simple gold band from the 1950s. My grandmother got married with it, and my mum got married with it, and now I have, too! Luke's ring is from Rachel Boston – a slim signet ring in gold. He bought my engagement ring from her, and we felt it was a nice idea for him to have a Rachel Boston ring, too."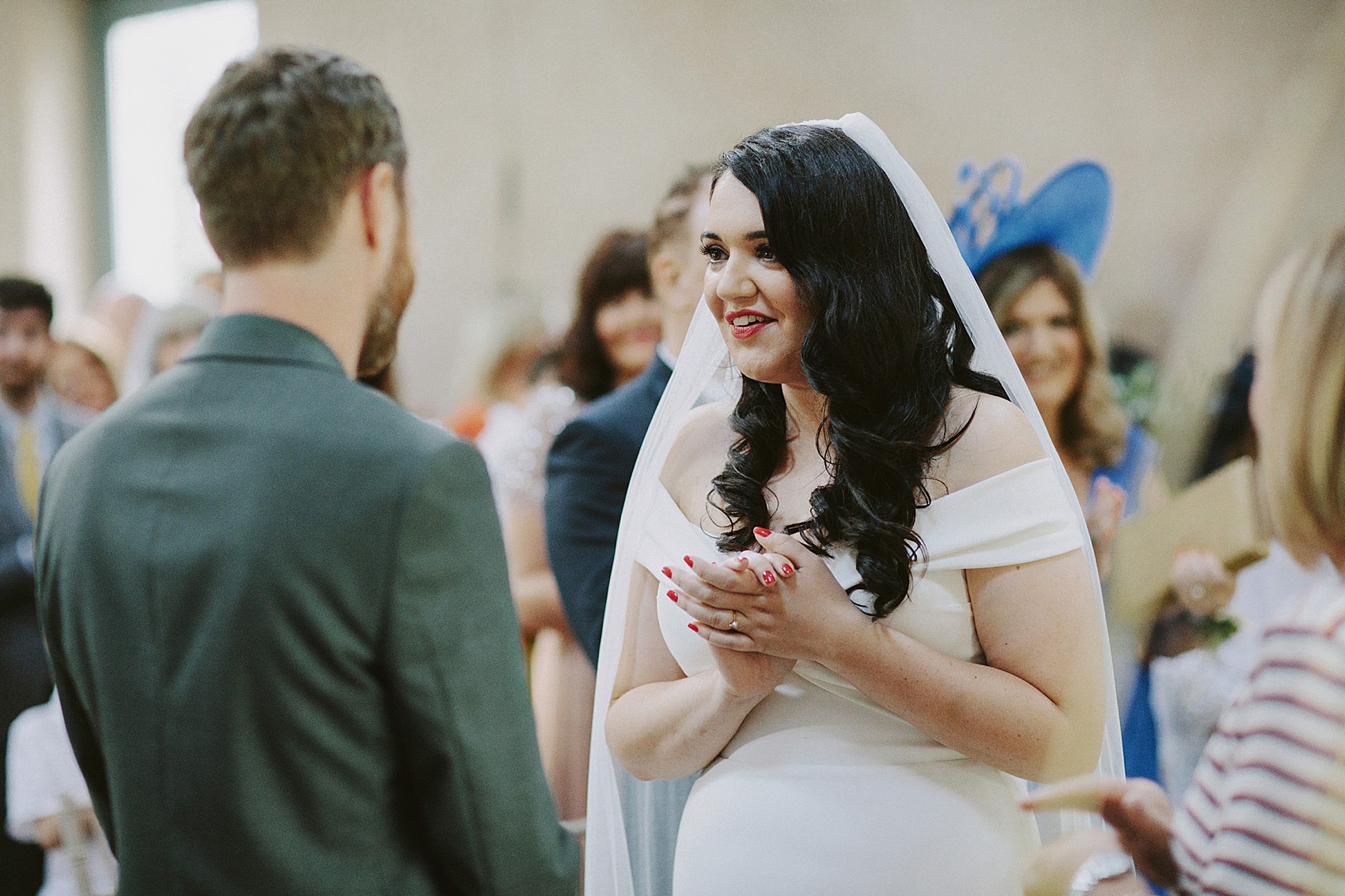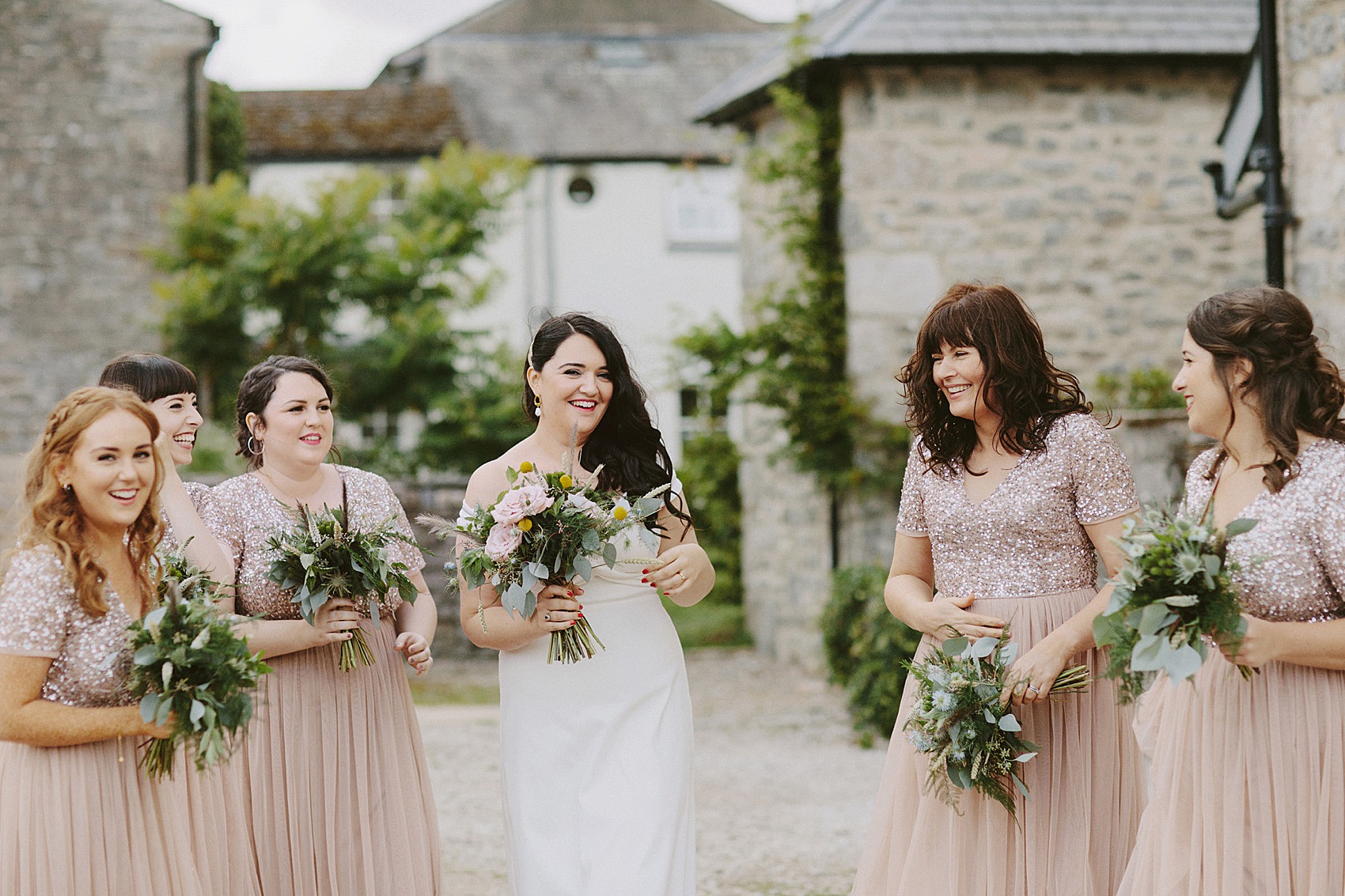 Miriam's auntie made little boxes of sweets as guest favours, and Thyme Outside Catering served a delicious wedding feast. It was rounded off with a classic iced fruit cake made by Miriam's dad, along with delicious cupcakes made by her auntie. What a talented family!
"Dad made his own wedding cakes 35 years ago! I loved the involvement my family had in the wedding, and the cakes were delicious. Flowersmiths provided cake flowers as decoration, and my dad wrapped each tier in eucalyptus."
It's great to be sharing images by photographer David Jenkins today, whose wonderful work has graced our pages many times before. There's such emotive honesty in these photos, and they are all so beautifully composed.
"I chose David after seeing his photos online, and I just loved the way he caught the moment in his shots. He has a more glamorous style than other quite documentary style wedding photographers, and I loved the idea of him capturing our wedding in this way."
"David was great. On the day, he put us both at ease, as we were both quite awkward in front of the camera, and really understood the look and feel we wanted for our images. I would definitely recommend him."
"We didn't want the wedding to be fussy, and wanted to have a lot of control over design decisions and suppliers we hired, so a DIY wedding was ideal for us. We also both agreed that having the wedding over a full weekend allowed us to take time to speak to all our guests, some of whom had travelled from all over the world."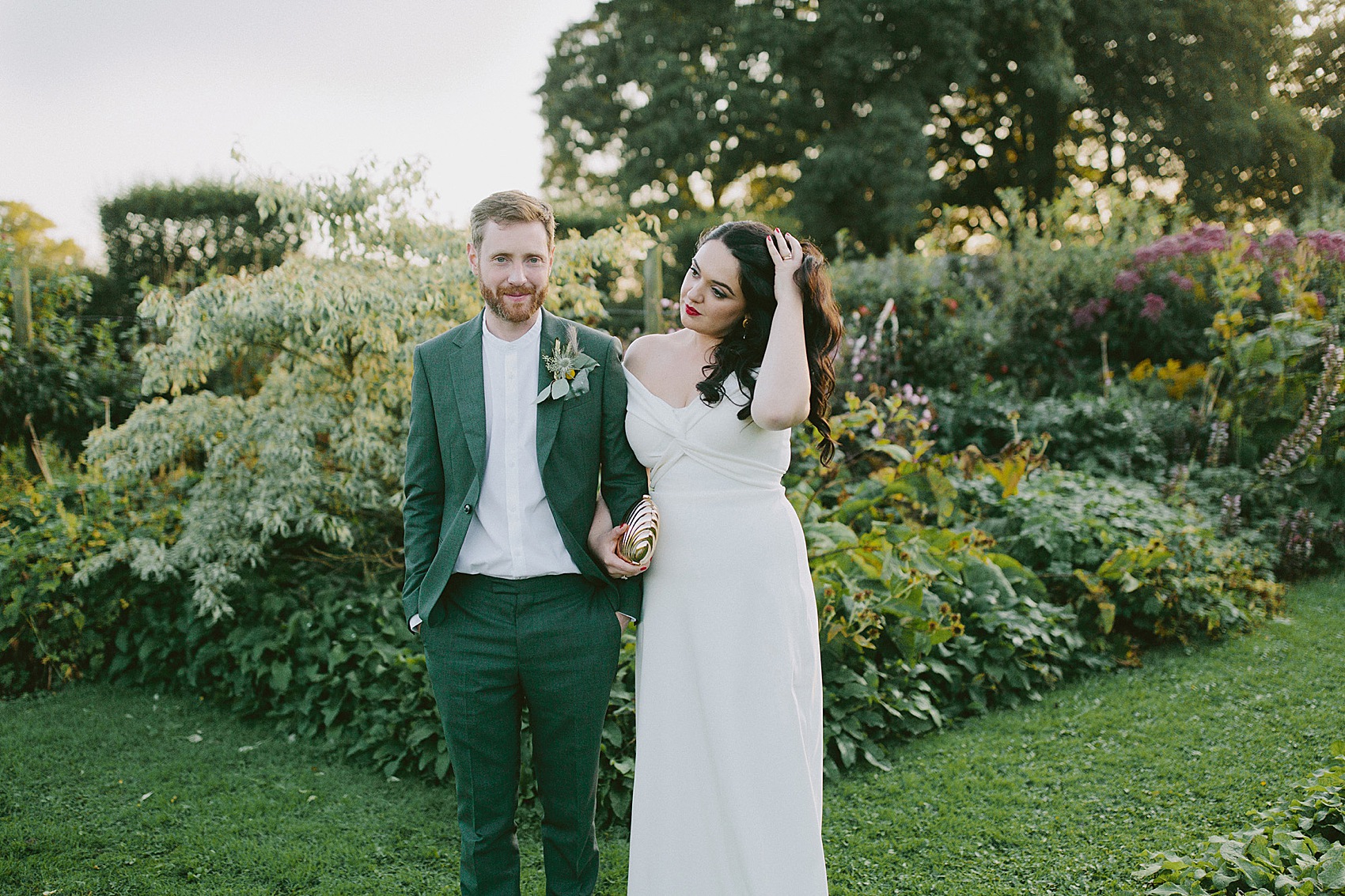 "I was inspired by the greenness of the fells, visible from Longlands grounds, and the simplicity of the barn. Keeping the wedding reasonably simple and minimal, we tried to feature foliage and greenery where possible."
In the evening, there was live music from ceilidh band Mouse's Nest, followed by a DJ set from Deckheds. Instead of a first dance, Miriam and Luke enjoyed a last dance together, and chose a song by The Smiths.
"I enjoyed the getting ready and the party the most. I also loved the day after the wedding where our guests popped into the house to recount the day and chat over some wedding cake."
Words of Wedded Wisdom
"We didn't have much of a budget, we just saved as much as we could each month for the year running up to the wedding. We tried to create a stylish and sophisticated look on a tight budget, which I hope we achieved!"
"Don't get carried away buying wedding things for the sake of it. Weddings can get so expensive, and people only really remember how much of a good time they had. Also, try to stick to your vision and not get too caught up in what other people do, or what some may think your wedding should be."
Miriam and Luke, thank you so much, and all the very best wishes to you both. I just love how the brilliant, complementary talents of loved ones came together and created a truly fantastic celebration. Many thanks also to David Jenkins for the elegant way he captured it all.
Until next time!
Love, Laura