Back in March, as the Covid-19 crisis was becoming increasingly more urgent, designers throughout the bridal fashion world were grappling with whether to launch their new collections.
I vividly recall journeying back from London by train, following a breakfast event on 7th March, and being joined by a woman in the empty seat next to me. "Do you mind if I sit here?", she said "…there's a gentleman in the carriage I was due to be sat at coughing all over the place and I'm worried he has 'the virus'." I obliged, giving it only a few seconds thought, discreetly pulling a little bottle of hand sanitiser my husband had given me and applying it to my fingertips.
Back then, we had no idea how bad things were about to get, and I was looking forward to returning to London again in less than two weeks time for London Bridal Fashion Week, an annual highlight for me, and opportunity to visit multiple designers across the city as they launch their new collections of bridalwear. But, as we all know now, our lives were about to change forever and that return trip was never meant to be. After an agonising next fortnight of tough decision making, all shows were called off, shops were shut and as a nation, we were in full lockdown by 23rd. Yesterday, I chatted with one of the designers – and indeed friends of mine, who had been due to launch a new collection.
Anyone who knows me will know how much I love and admire Kate Halfpenny-Duffy of British bridal fashion brand, Halfpenny London, and I do so for a multitude of legit reasons; her independent spirit and refusal to follow trends, her fierce loyalty to her friends and especially the women in her life, her commitment to family and the way she has built her business organically over the past decade. Kate was also the first designer I ever wrote about on Love My Dress (ten years ago now – excuse the page formatting, this was waaaay back). There is an elegance with which she runs her business that I look up to and am inspired by.
Throughout the 43 minute 'zoomcast' interview below, Kate shares an insight into her personal world and how it's been impacted by the lockdown, how Covid-19 has altered her business plans, her decision to launch her collection digitally earlier this month, open her boutique back up in June, her approach to inclusivity and 'curvewear'/sizing in bridal fashion and her visions for the future.
Within this feature, I also share a written interview with Kate, alongside images from her exquisite new 'Daydreamer' collection, which I think you'll adore. There are details at the end of this feature on how you can get in touch with Kate and her team who are currently offering wonderful virtual appointments too (meaning that by the time you are able to visit the boutique for a safe and enjoyable, socially distanced appointment next month, the experience will be so much smoother, given you'll have already 'met' and chatted with a personal stylist).
I really hope you enjoy listening, as much as I enjoyed chatting with Kate yesterday – go grab a morning coffee, then hit that play button.
Halfpenny London

+ Follow
Kate, please introduce yourself to our community…
I'm Kate Halfpenny and I'd normally introduce myself as the founder and designer of British bridal brand, Halfpenny London but, right now, during this pandemic, I'm mainly a mother, wife and housewife! [Laughs!]. I live in Faversham, Kent and am currently doing exactly the same as everyone else and living in an isolated bubble with my immediate family.
Tell us how you started out in bridal design and what drew you to bridal in particular?
I was always obsessed with dresses and fashion. I grew up in a small town called Ripley, in Derbyshire.  I wasn't very academic and school wasn't the dream for me that it was for many people.  As soon as my GCSE's were over I ran as fast as I could to Art college where I just had the best time.
I then was lucky enough to go to University where I did a four year sandwich degree in fashion with marketing and manufacture – and specialised in bridal wear for my final show.  It was the late 90's and I designed a collection of interchangeable bridal separates as I saw the potential back then for an alternative look to traditional wedding dresses.
After an internship at Vivienne Westwood, I knew I couldn't work for a fashion house and fell into styling and costume. I started styling music videos and TV commercials and making my wedding dresses on the side. Who would have known this dreamy labour of love would ever become my full time job?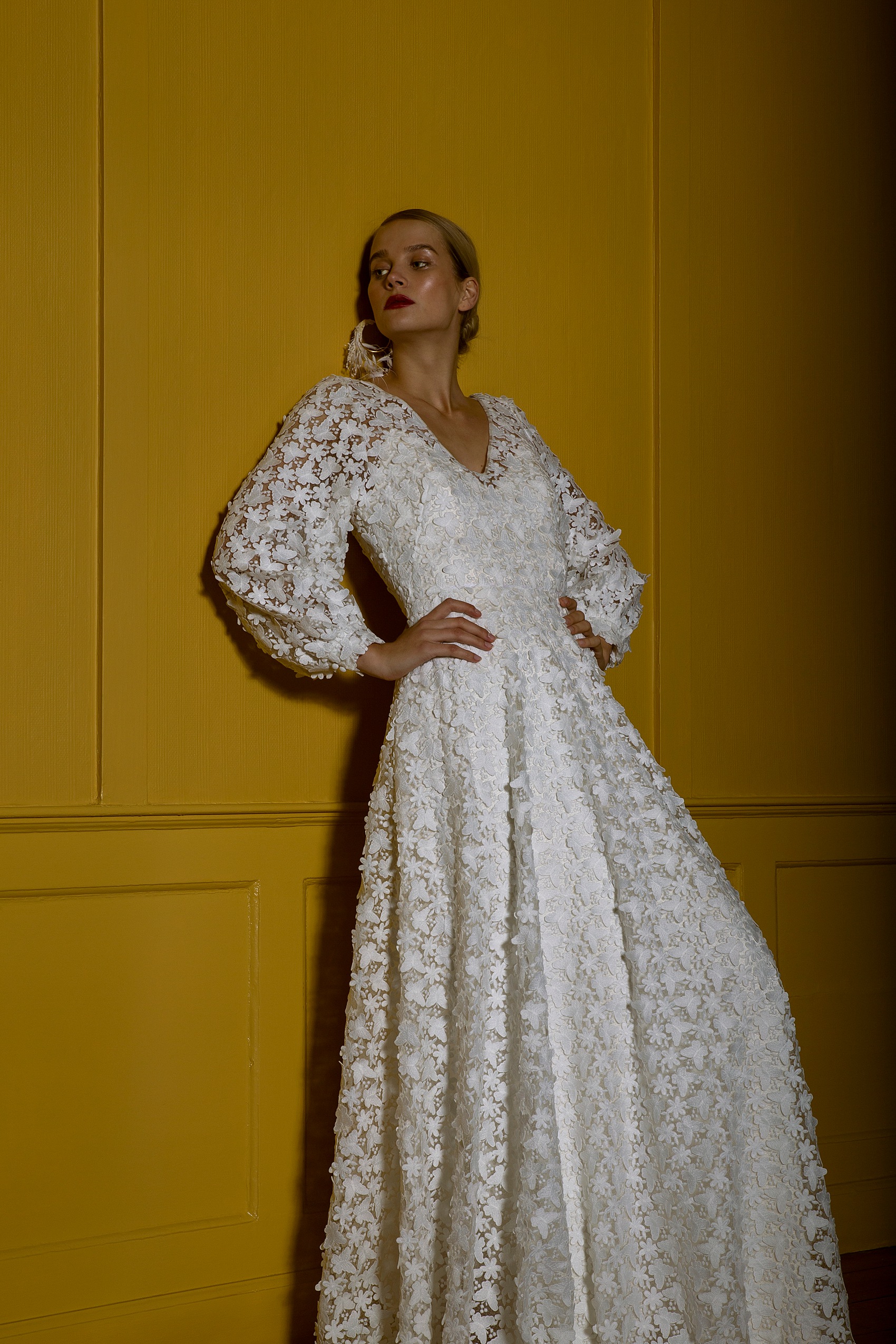 What do you love most about working in the bridal world?
Making real women's dreams come true. Making them feel wonderful and allowing them to be the very best version of themselves, on one of the most special day of their lives.
Can you describe your signature style?
My signature style is all encompassing and difficult to describe because my designs are so versatile. I'm known for the separates and the interchangeable elements of my collection. I always keep my full collection in mind when introducing new pieces and very much design with interchangeability in mind.
I love the way a bride can select a base dress from 2005 and an overskirt from 2020 and they work together beautifully.  This allows brides to express themselves on their wedding day. There is simply nothing you can't do or create with my huge collection.  The brand's DNA is in every one of my designs. It's a mixture of cool and romantic, 'coolmantic'!
What do you think makes your brand so appealing to brides?
The fact that brides can create their own look with the separates. We'd never push the latest trends or anything like that and very much allow brides to be the very best version of themselves and express their personality through their wedding outfit, making them look and feel incredible.
Our bridalwear is also British made which is super important to me. We're obsessed by super high quality, intricate, unique fabrics, that are always exclusive to us. We create our own beading and embroidery in house too. I also think the incredible service we offer brides-to-be when they come to our boutique is so important and special. Our client's experience is paramount and we cherish the love we share with our gorgeous brides.
How would you describe the typical Halfpenny London bride? Does she even exist?!
She exists absolutely everywhere. She's the twenty something sweetheart bride, the thirty something career bride, the second timer, the finally tying the knot after twenty years bride. There are no limits because the collection is so diverse. No matter a bride's age or style, if she loves beautiful fabrics and gorgeous cuts then we'll be ready for her.
Where do you start with each new collection – can you talk me through your process?
It's less of a process and it's more of a natural evolution every time. Something just triggers and inspires. For example, an upcoming, unreleased collection for 2021 which we started designing months ago, before lockdown, is called 'Freedom'. Ironically, it's all about the luxury of time and the luxury of choice. Before the pandemic and lockdown, the status symbol of luxury used to be a handbag – and now it's about having freedom and time.
These ideas just come to me, and it's not something we sit and deliberately research – it's an organic process, we don't force it. I think the skill of being a designer is being inspired by your environment and I've never felt more inspired having this luxury of time.
Tell us about your latest collection, and what inspired you to create it?
Before the world was turned upside down, the idea for my new collection was conceived during my daily commute from Kent into my atelier in Bloomsbury.  Life was incredibly fast paced and I'd forgotten how important it is to unplug and take a breath.  Time was such a luxury then, and the forced solitude of my journey helped me remember the childlike pleasure and freedom of daydreaming.
Gazing at the exquisite landscapes as they sped by, allowed my mind to wander off and explore.  I'm always incredibly inspired by my surroundings and the sheer, untouched beauty of the dawn light twinkling on the morning dew, or rays of sunshine flickering through gaps in the trees, filled me with joy.  From my fascination with this magical, hypnotic light, the seed of an idea grew and blossomed.
The Daydreamer collection is a natural evolution of the brand.  We've continued to develop our own, exclusive beading and embroidery, while my obsession with textiles has reached new heights. The result is a distinctive edit of finely crafted details and ethereal silhouettes, grounded with our signature clean lines and luxury textiles.  Every piece is steeped in the heritage of Halfpenny London and I'm confident our brides will love them as much as I do."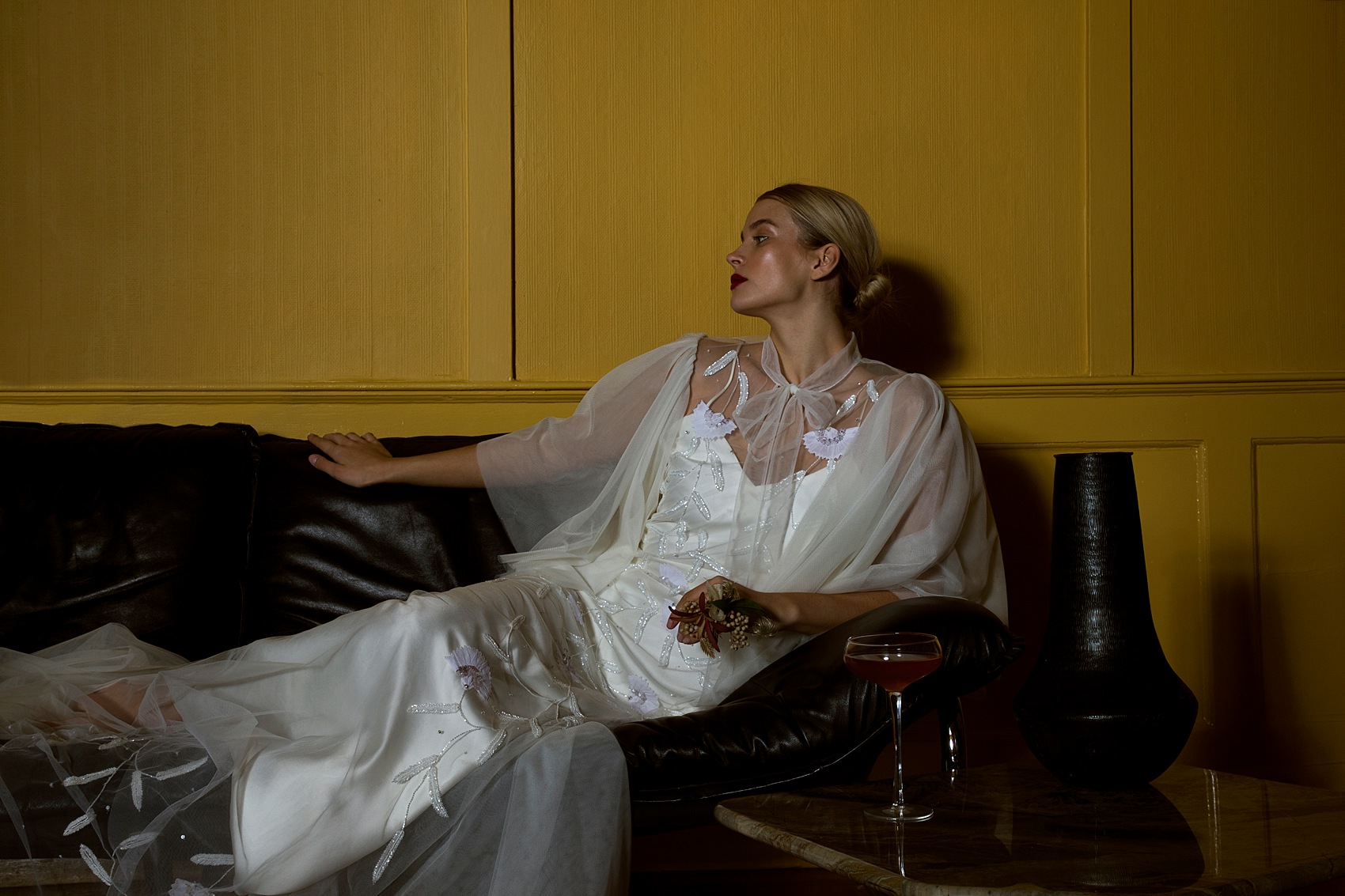 Can you tell us about the materials you use?
We always try to keep things as unique to us as possible so we develop lots of our own beading and embroidery. The new collection is flooded with unique fabrics and hand applique. I'm obsessed with textiles and it's something I can't compromise on.
We use a mixture of the most incredible, luxurious, Italian silks and would never, for example, use a low quality silk just so we can say that it's silk – that's not in our DNA. We use some intelligent fabrics to suit each particular piece, choosing the best fabric for the garment.
Do you have a favourite piece in this collection or maybe one or two pieces you think might be really popular with your brides?
I love the Tulip dress with it's gorgeous sleeves and neck tie because it's so delicious and fashion forward. I also love the beaded Elder dress which is so fun if you're brave enough to wear it. We posted an image of the Hazel dress on Instagram and the number of messages we had about it was crazy so I can see that becoming a bestseller.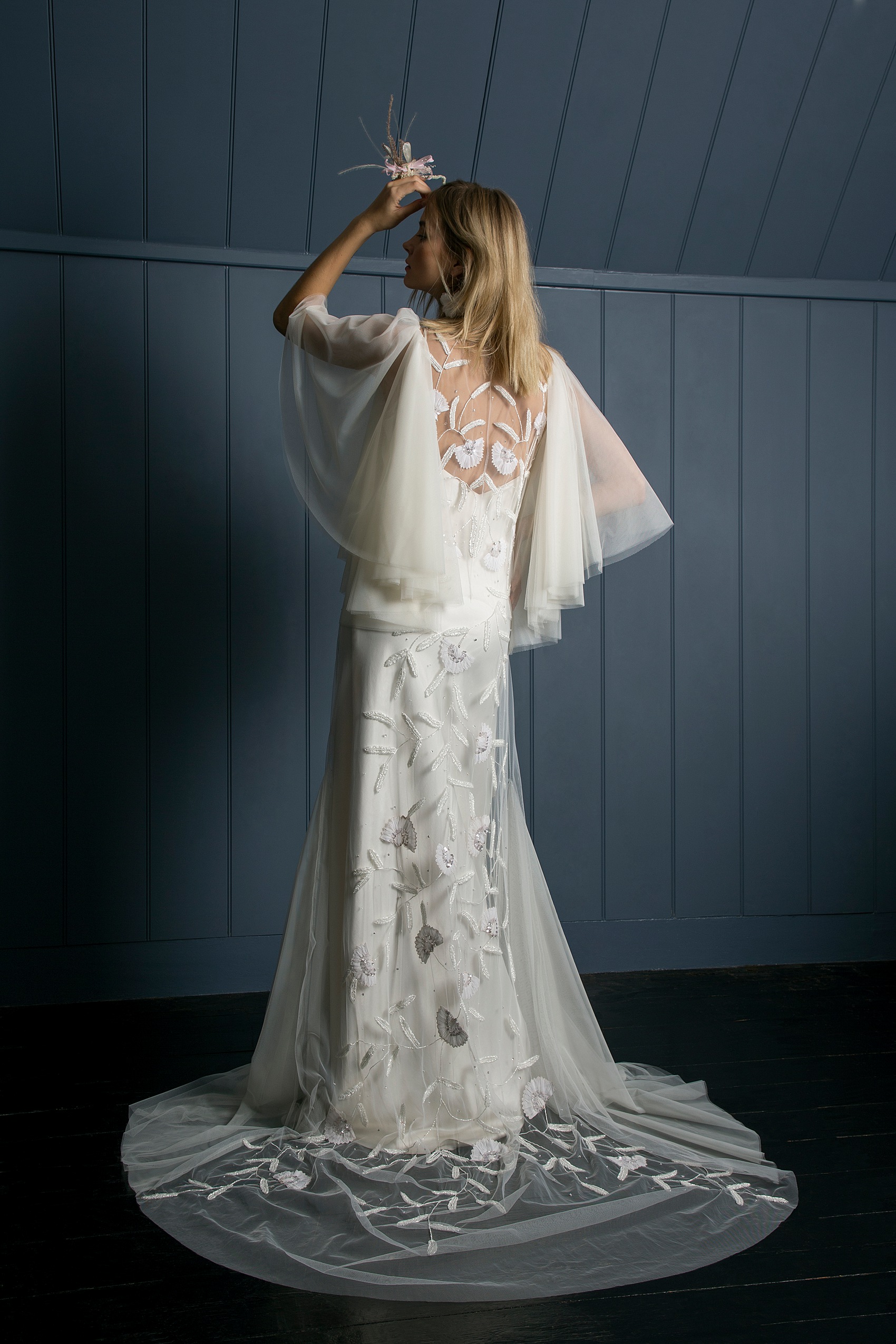 The Tulip Dress
Would you say your designs are for a variety of wedding styles?
Yes, absolutely. For example the dress we just talked about, Hazel, can be worn with an epic veil for a cathedral wedding or with a pair of killer shoes for an Ibiza wedding or with an gorgeous floral headpiece on a Greek island.
For me, the bride should choose the dress based on what she wants to wear rather than let the venue dictate her choice. Anything goes, as long as you feel incredible.
The Hazel Dress
Can you share a bit about your work/creative space with us? What does it look and feel like?
I'm very fortunate to have a studio at home. I always have music playing and I sit at a big, round marble table in the centre of the room, surrounded by beautiful books and moodboards. Pre-pandemic, there would sometimes be six Halfpennys around that table with me, so I miss that.
During lockdown, I'm trying to balance being a mum with work and, although I'm sick of loading the dishwasher, I'm grateful to be able to find some balance there and have this space of my own. When I'm in London, I work from the atelier where my team and I design the dresses and brainstorm when I'm in town. The pattern-cutters and design team are based out of there too.
I'm missing the human contact but I feel like we're smashing it with our Zoom meetings and keeping things on track for when we get back to the shop. I have a very strong opinion when it comes to interior design and I wanted the boutique and atelier to feel like an extension on my home, so it's a relaxed, creative environment for all of us.
How have things changed for you since we entered lockdown?
I'm not in London two days a week with my incredible team – I'm at home every day with my husband and my four year old son. I've found myself reciting the alphabet and making monsters out of cereal boxes rather than moodboarding the 2022 collection. But, to be honest, I feel that it's the only thing I could possibly be doing right now.
I feel like the lockdown has made me look at and reexamine my priorities. I had a good work/life balance before this crisis, but I was always running at 100 miles an hour – so I think it's time to make some permanent changes to that, to slow down some.
2020 was going to be the year of adventure for me and I had a trip planed every month, so I feel sad to not be fulfilling those trips – but it's also made me think there's more to life than jumping on a plane. We need to take more responsibility for our travel actions and we're going to look at exploring the UK more. It's made me re-evaluate a lot of things, to be honest – to the point that I want to push ahead much stronger with Halfpenny London's sustainability initiatives, even if that means making some sacrifices.
Did you contemplate delaying the launch of the new collection? What made you decide to carry on?
Yes, we'd actually decided to push back the launch indefinitely but the bridal industry is such a wonderfully supportive, nurturing world, and we had so many press requests and questions from stockists and brides that we reconsidered. In times of crisis, my default reaction is to immerse myself in everything I find beautiful. I find it comforting to focus on something exquisite, even just for a moment. It helps me to remember that no matter how bad things are, they will always get better.
It's crazy to think that, only a couple of months ago, we were unbelievably excited for London Bridal Fashion Week and New New York Bridal Market, as everything turned upside down so fast. The feedback has been incredible and if these images bring brides-to-be a moment of joy from seeing what the future holds when the time comes to get safely back in the boutique, then that would make me very, very happy.
Has the launch changed at all? Have you launched to stockists? Can brides order the new designs?
Yes, stockists saw it before we released it to everyone else and I'm over the moon with their reaction. It was tricky because, traditionally, bridal market is when the stockists choose new pieces to add to their collection in store but we're not interested in selling right now. It's not the time. We'll figure that all out later and want to support them as much as possible.
We'll see how quickly we can get samples of the new pieces in the boutique for brides when we open. Hopefully it won't take long.
What does an average day for you look like at the moment? What have you been doing in lockdown?
I've been spending a lot of time with my son, Sylvester, having fun and playing. We've been building camps and making monsters in between home schooling. There's a lot of cooking to do for three meals a day so my husband and I tag team and juggle time between us so we can both get into our studios to do some work.
I'm still designing so I always look forward to that and I've been squeezing in time to do Instagram lives and meetings with the team too.
How have you had to change what you're doing and even your plans for the year?
We cancelled all market appointments in London and New York as soon as we could so where we'd normally have spent March and April busy in the boutique and meeting our stockists, we obviously could do that this year.
We've been doing virtual appointments instead, both retail and wholesale but, as I said, our priority isn't selling at the moment. Our priority is making sure our brides and stockists have confidence in us so we've been in constant contact with everyone and are there to hold their hand through this.
What are you missing most about pre-lockdown life?
Having a house full of laughter with all my friends. We didn't move out to Kent and buy an old ramshackle house for all our friends to stay in, only to have it empty. Missing the freedom to be able to walk outside my door and talk to my neighbours without being two meters away from them.
I'm missing human contact, being able to touch people and be there for them. I hugely miss hugging my mother and being in my shop meeting my incredible brides and being with my team.
What are you most looking forward to about getting 'back to normal'? How will things change at your showroom when you reopen?
The obvious thing is that we'll be implementing all of the health and safety guidance in order to allow us to keep people safe and healthy. We'll be looking at ways we can accommodate the team being in the atelier, whether that be working with me in Kent or from home more often, or potentially staggered starting times. We'll be using the government guidelines to make this a safe and healthy transition.
Do you think the pandemic will change how brides shop for their dresses? Maybe even what they value?
I think people will spend their money wisely after this. I think brides will, more than ever, go for exactly what they want for themselves, whether that's the big fairytale princess gown or the trouser suit. Many brides view dress shopping at as many stores as possible as part of the fun so this might make people be a bit more focussed and efficient in where they choose to shop.
I believe brides will look for brands who've really supported them throughout this. I think they'll look for British made and they'll understand the provenance of what they're buying. It'll only re-inforce what we've been doing all these years at Halfpenny London.
What do you love most about working with brides?
When I'm working on a bespoke gown there's a real thrill seeing the creation come to life and watching the bride's reaction as the dress she's seen only in her imagination takes shape. I love seeing every bride feeling happy in her dream dress during the appointment then getting the wedding pictures in and seeing her even more radiant. It's such a personal thing and I love getting to know them and their families throughout the journey and feeling part of the biggest day of someone's life. It's the best job in the world.
If you had one message for readers who have had to postpone their wedding days or delay their plans, what would it be?
You've now got more time to think of all those tiny details that don't necessarily cost money but will just make the day even more magical. Everyone would have been so excited for your original date and now that excitement will build up even more for your new date and just know it'll be completely full of love when it does happen.
__________________________
To find out out how to get in touch with the Halfpenny London team to enquire about an appointment or dress design or anything else at all, visit this page. You can also follow @halfpennylondon on Instagram.
The brand Kate mentions in her interview that is 'smashing it' from an ethical perspective, is Mother of Pearl who you can follow on Instagram @motherofpearl.