Over the past few years, and before then too, we've seen the issue of sustainability and environmental-responsibility becoming more and more discernible in the wedding industry.
Today's bride thoughtfully planned and styled her wedding with sustainability at its heart, and I think you're going to get some great ideas from her. Oh, and in terms of a show-stopping venue, how about Hackney Round Chapel?
Saint James Clerkenwell and the Round Chapel, Hackney were the magnificent venues for actor Ellie and consultant Rowan's wedding celebration on 8 February 2020.
After a legal ceremony the previous day at Tower Hamlets registry office, the couple wanted to create a real celebration of London, East London in particular, and emulate a good, old fashioned music-hall vibe, with touches of French inspiration as a tribute to the bride's heritage. Behold this relaxed and informal, music-filled celebration complete with a cabaret performance.
"I love London with all my heart, especially East London. The plan was to make it as accessible for our friends as possible and to show off all the parts of the East that we love so much. I wanted a good, old fashioned East London music-hall vibe, with my friends performing and lots of dancing."
"I also wanted to include the French side of my family by having wine from my grandparents' house in Paziols and paella for our food. We take our faith very seriously so getting married in a church by a pastor we both knew was really important to us."
Sustainability was central to the decisions that this couple made, and Ellie found her lacy gown by Truvelle at Heart Aflutter. We are so proud to champion this East London bridal boutique on our Little Book Wedding Directory. You can find out much more about them here. I just adore the delicate lace and sheer cap sleeves; they look so wonderful with her pixie-crop hair.
"I was originally trying to find a Leanne Marshall dress through StillWhite but was struggling to find one that fitted me. I then stumbled on Heart Aflutter Bridal Boutique and they have a huge selection of sustainable designers, plus an incredibly affordable sample room."
"I turned up on my own, determined to find a dress and Portia was like my new best friend. I quickly fell in love with the romance and the fit of Truvelle dresses and was completely sold by the back of 'Jordan'."
"I returned a week later with two of my friends and we laughed, gasped and admired it all over again.  It felt wonderful to show of the parts of my body that I was proud of. THE LACE! I then went to Miki at Studio 62 Workroom to get it fitted. I tell all newly engaged brides to visit Heart Aflutter."
The bride styled her cute pixie crop herself and asked her housemate to apply her radiant makeup, really enhancing her eyes.
"I bought some supplies from Charlotte Tilbury and MAC Cosmetics. My own hair is pretty simple with the pixie."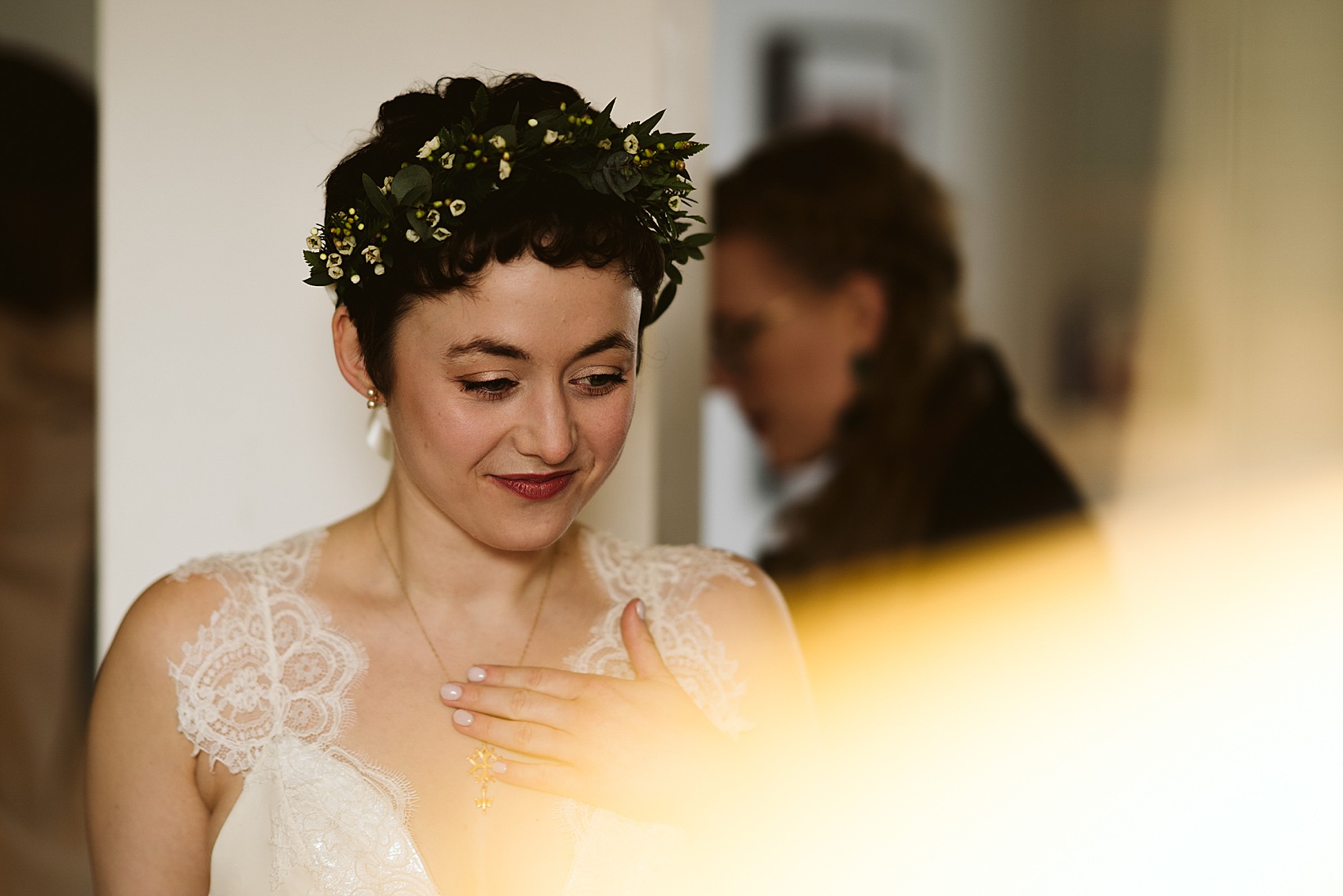 "I love Heart Aflutter's Instagram account because it's so body positive and gave me the courage to embrace my physique and not work against it. I honestly didn't feel the need to lose weight for the big day and that was in a large part down to how they promote their dresses."
"Once I'd planned the day, I actually unfollowed a lot of wedding-related accounts as I found it gave me a lot of anxiety."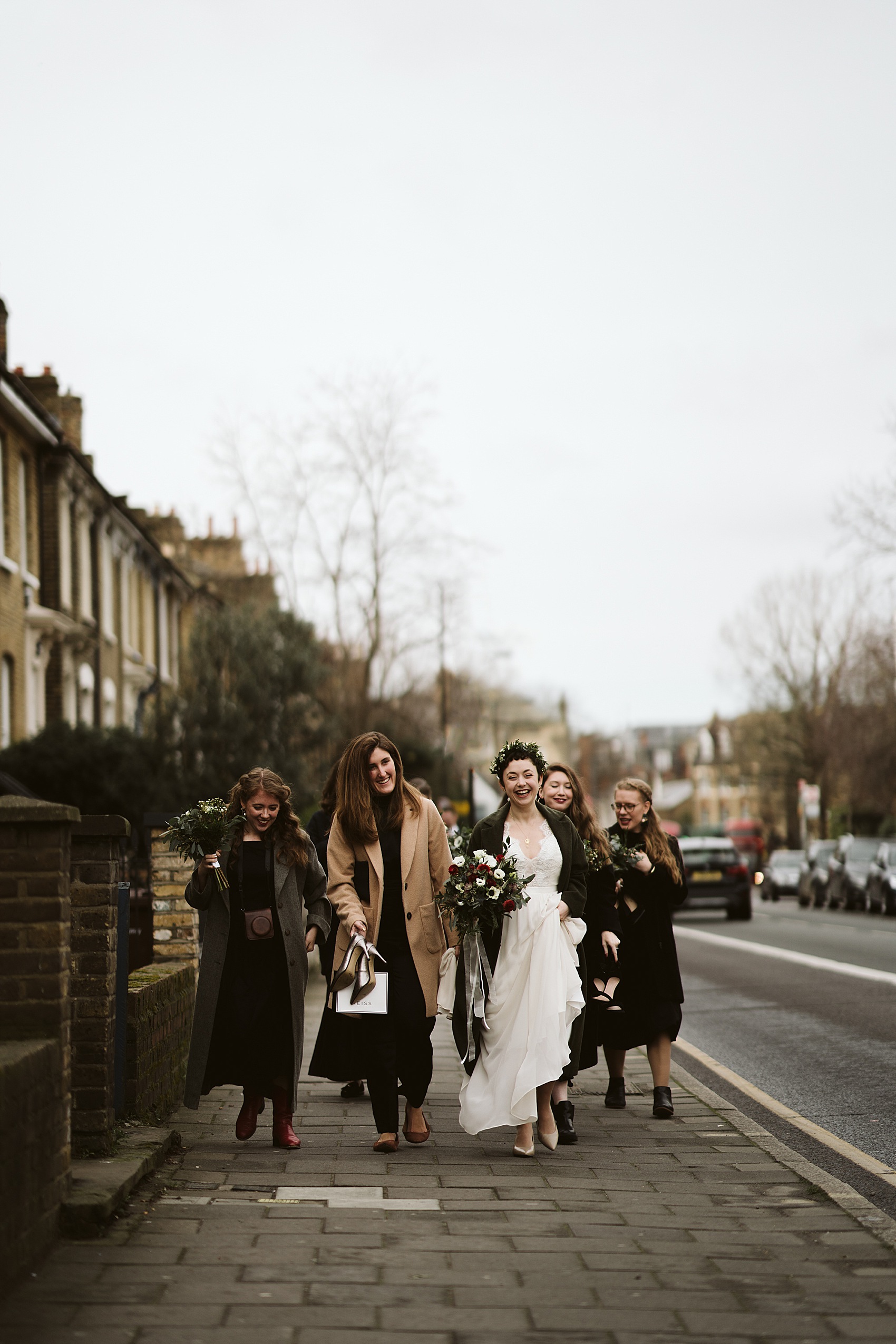 "Sustainability was really important to both of us when it came to picking our wedding clothes. We wanted to pick pieces that we would wear again. I'm actually going to go back to Miki and ask her to change my dress into a midi so I can wear it out for dinner."
Having known each other since 2015, Rowan and Ellie became a couple two years ago and, nine months later, were engaged.
"Rowan first drove me to an event called SHIFT in 2015. We got on well but there were no sparks. Each year we would bump into one another and have a very intense, deep conversation but nothing else would follow, until Summer 2018 when Rowan drove me down to SHIFT and something was different. We agreed to go for breakfast a few weeks later and have been inseparable ever since."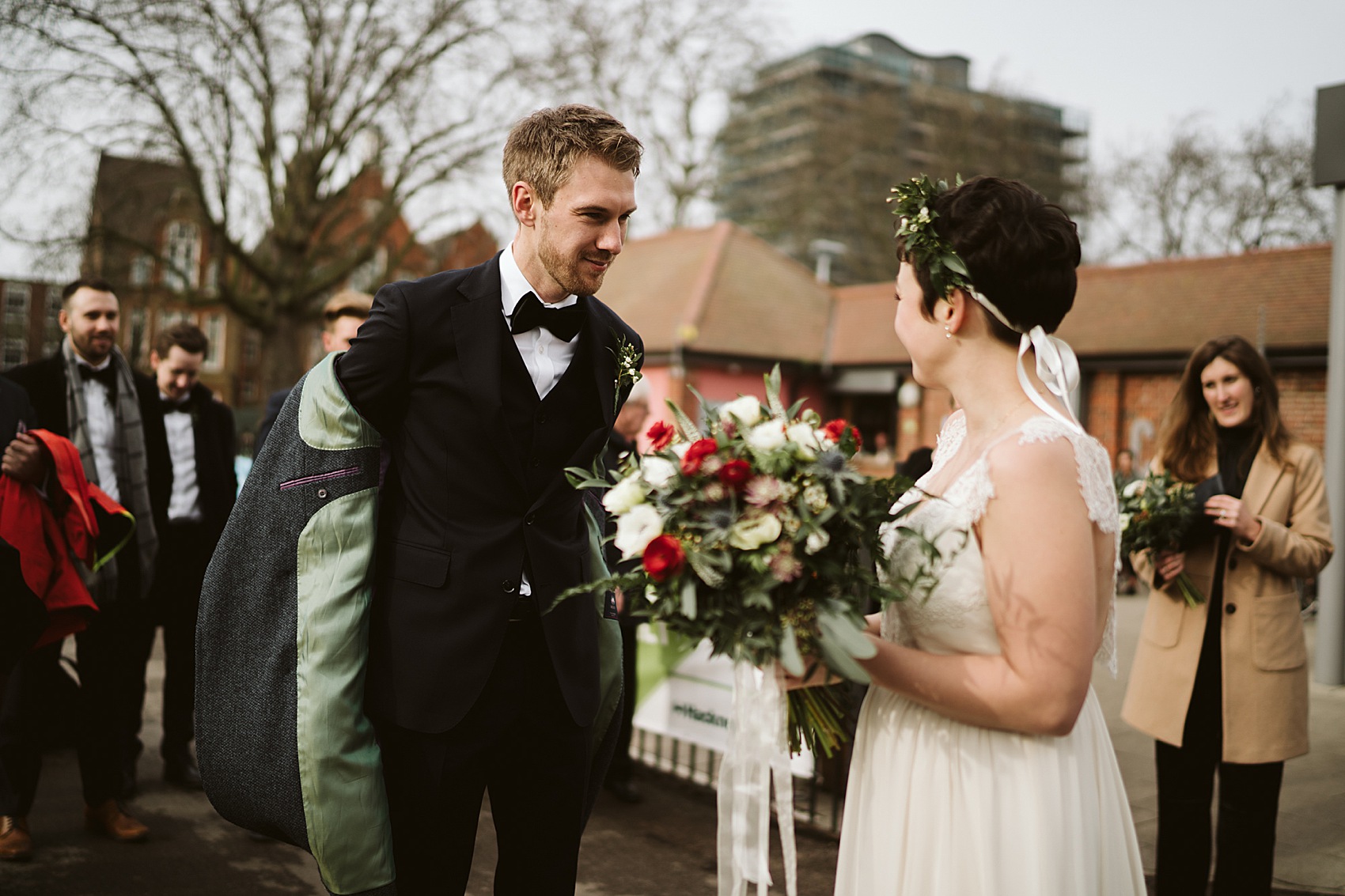 Like many brides, Ellie really wanted her bridesmaids to feel true to themselves and wear something that they'd re-wear.
"They all wore black dresses or jumpsuits that suited their figure, shape and personal style. (one of my bridesmaids was eight months pregnant and there are always black maternity dresses). I wanted them to wear something they already had or buy something they would actually wear again."
"My girls are all so gorgeous and unique. So, I said wear dangly earrings, bold lipstick and shoes of your choice. One of my bridesmaids wore her red cowboy boots! I loved it."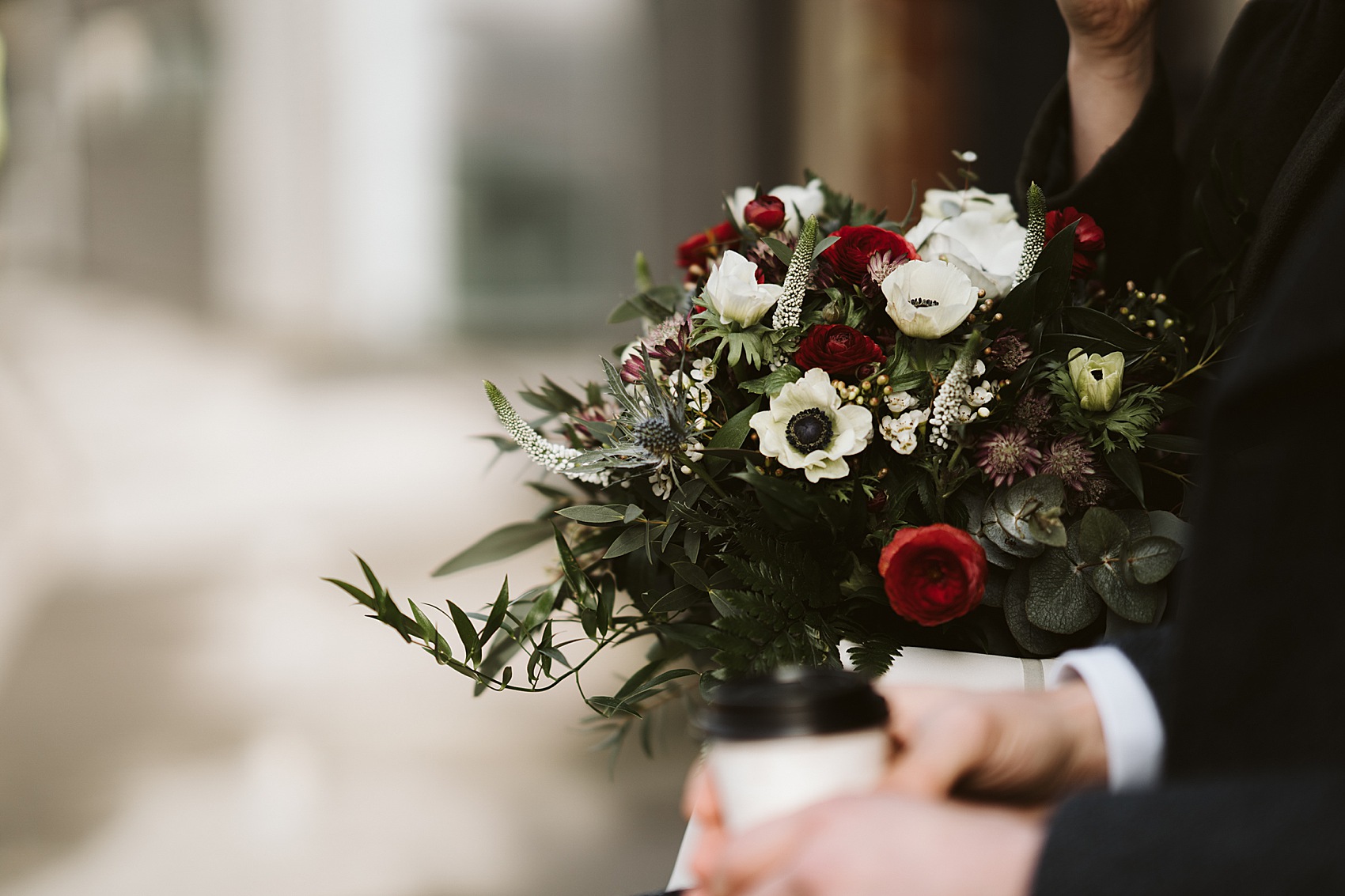 For shoes, a rummage at TK Maxx unearthed a beautiful pair of nude Geox court shoes.
"My bridesmaid Karina got her elbows out and found them on the bottom shelf. She was like, 'you'll definitely wear these again!'."
Every single, joy-filled moment was captured on camera by Lewis Membery in his signature modern romantic style, and I love his photographs of the Round Chapel – what a beautiful space.
"Lewis was the photographer at our friend's wedding in September and we just fell in love with his photographs. I particularly love his journalistic style and the way he captures movement and moments. The whole wedding album feels alive and present."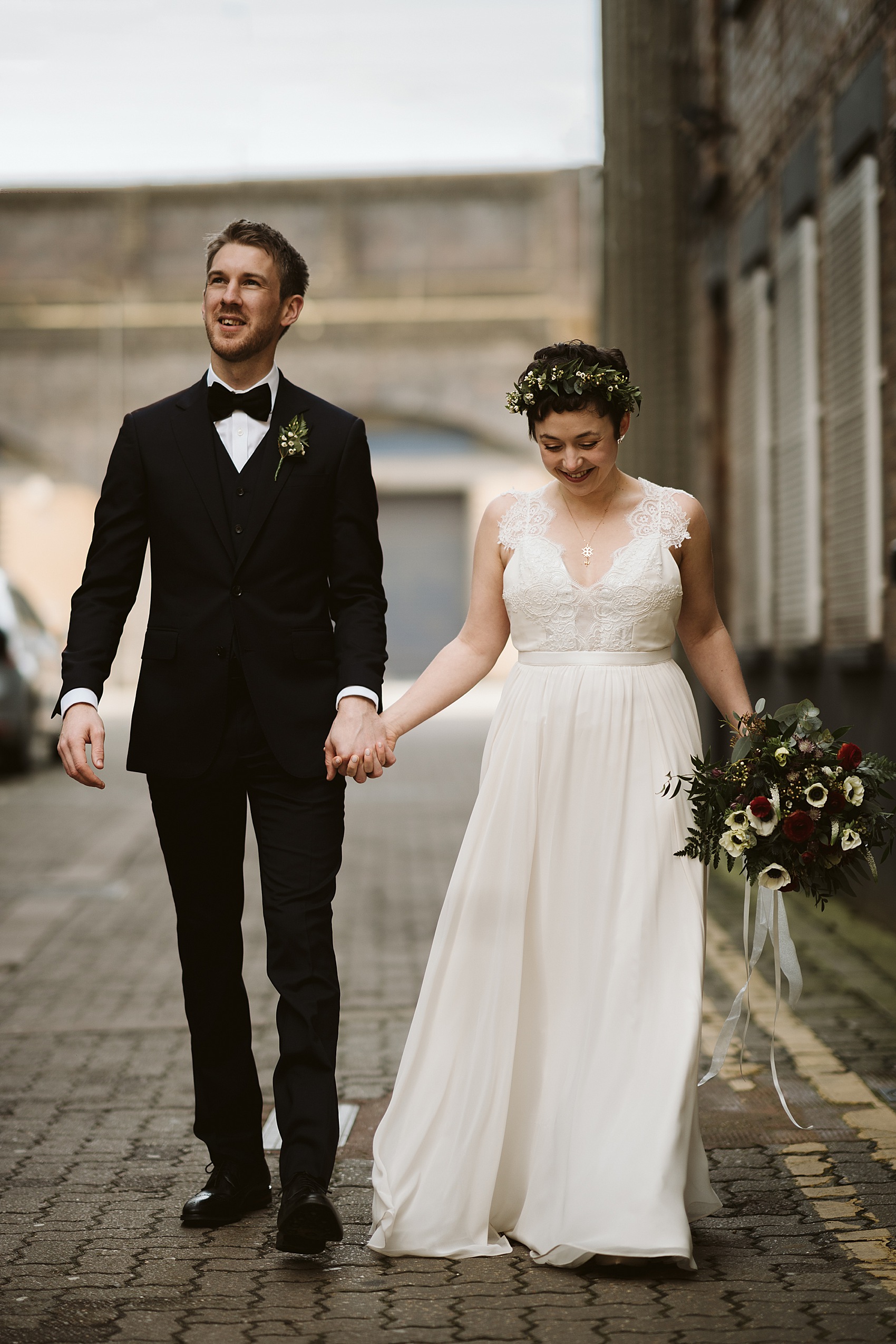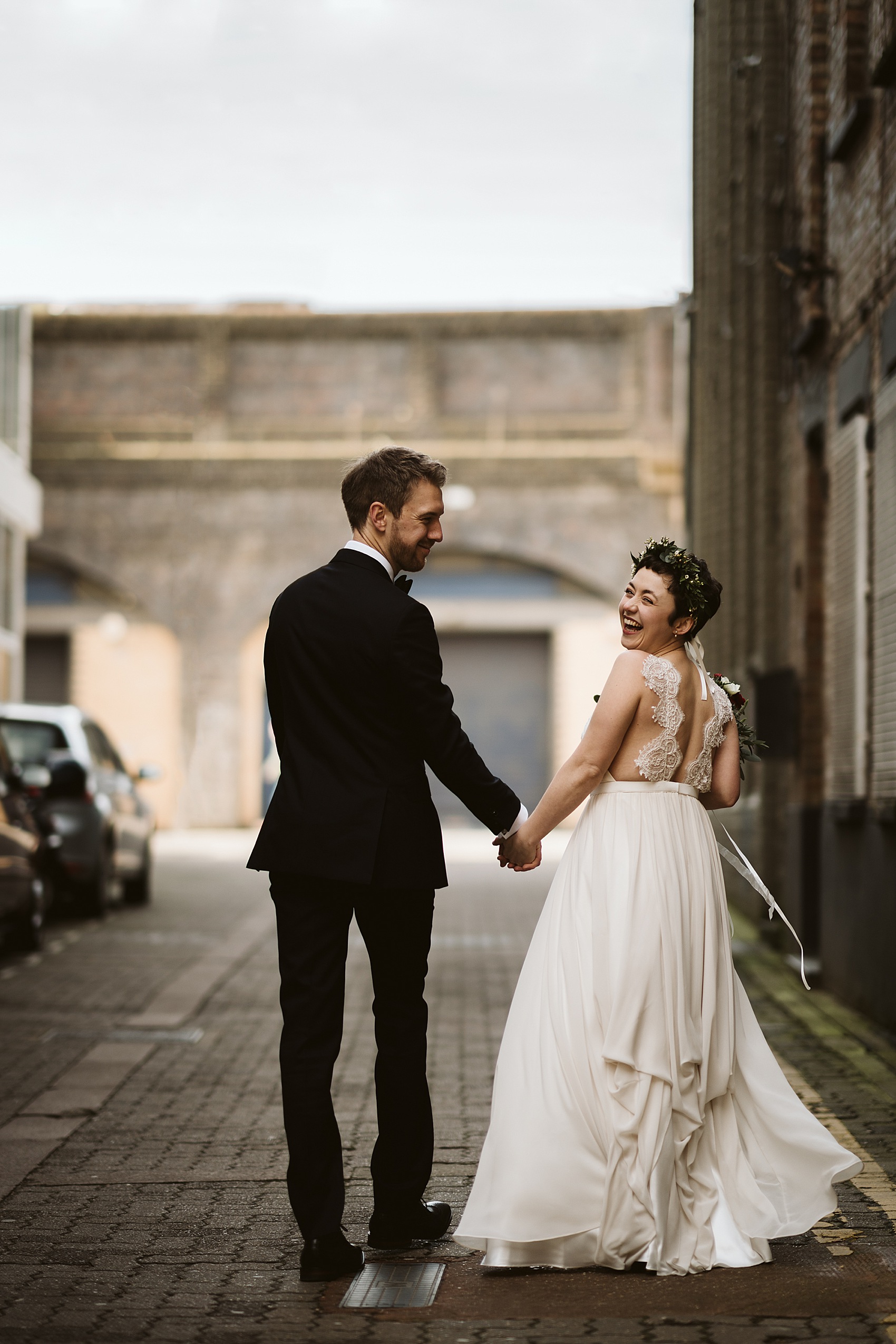 As well as putting together the bride's wonderful, seasonal bouquet of crimson and cream flowers, Ellie's friend Hannah, from Lily & Liz created this whimsical flower crown.
"My amazing friend Hannah made me a flower crown for my hen-do a few weeks before the wedding and we both decided that it would be the perfect way to complete the wedding outfit, so she made me another one! I am still obsessed with it."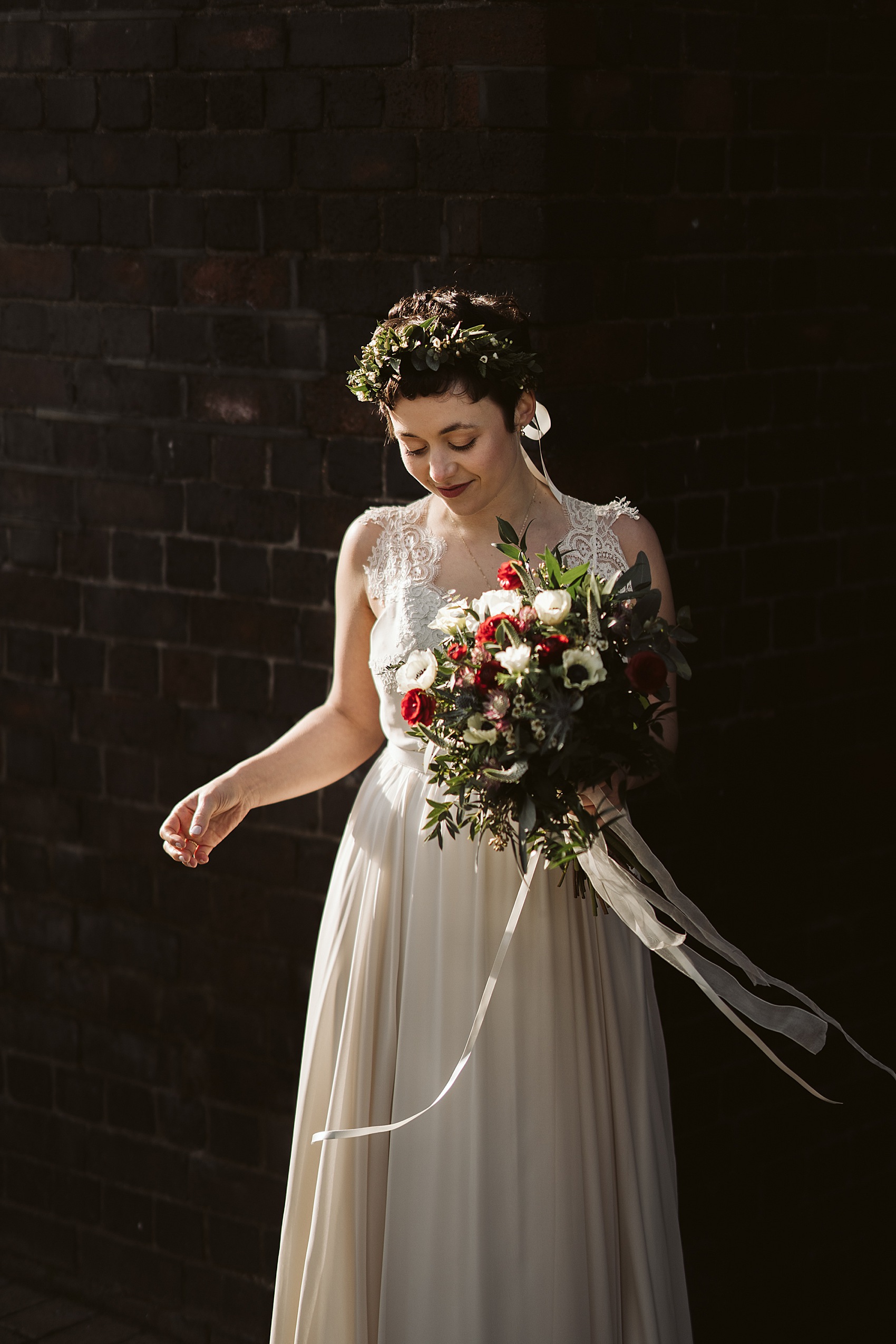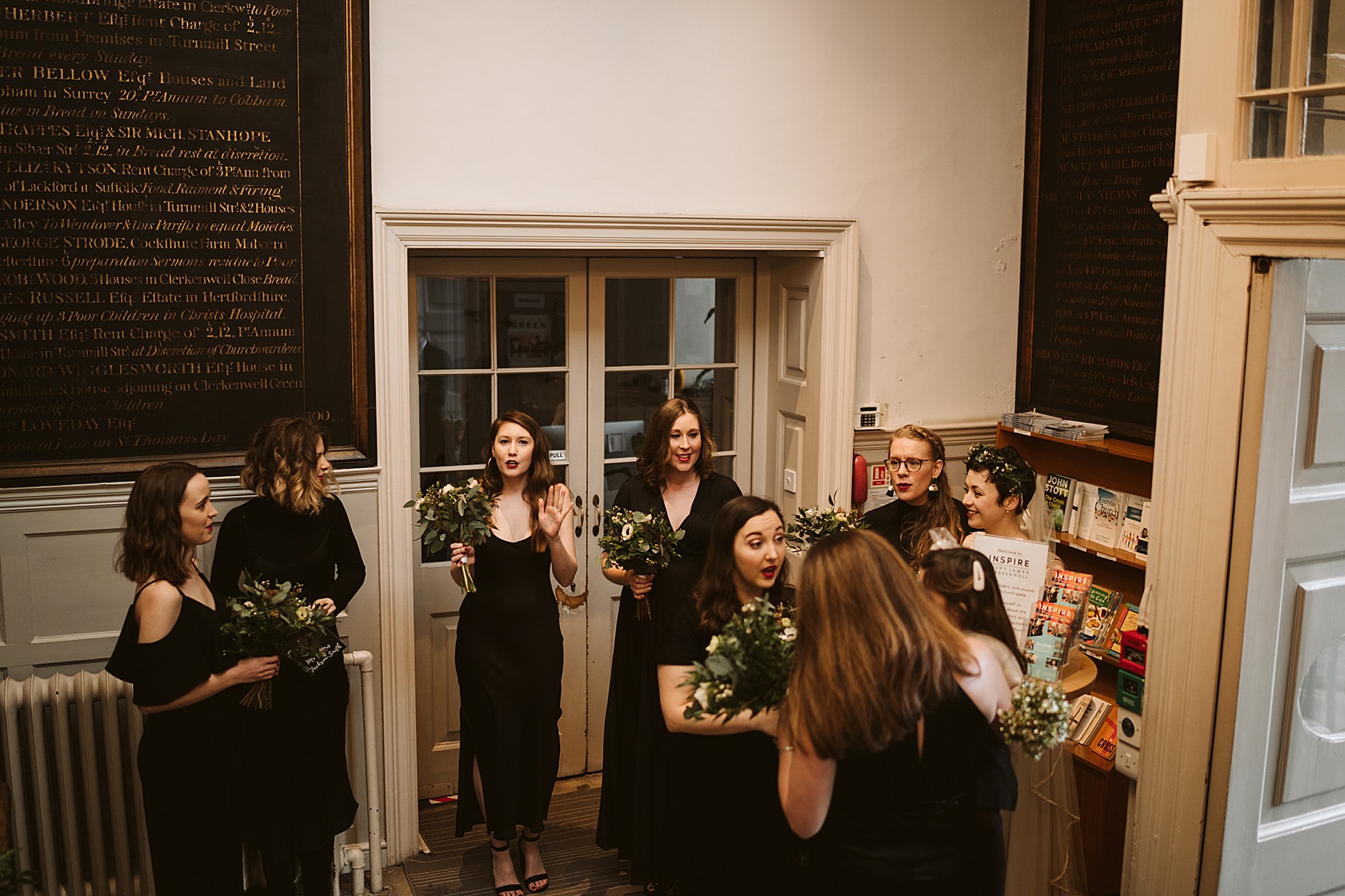 Just like Ellie, Rowan was keen to wear something that would last for many years so he chose a warm, fitted suit from T.M. Lewin along with John Lewis shoes, a coat found at TK Maxx and a quirky Hawes & Curtis bowtie.
 "We've both worn Chanel for years, so we stuck to our favourites; Chanel Bleu and Chanel L'eau."
After a relaxing morning of swimming and coffee, it was finally time for the ceremony. The bride entered Saint James in Clerkenwell, a beautiful, historic church, with her father and was given away by both her parents, as was Rowan.
"I walked down the aisle to 'The Beatitudes' played by the Kronos Quartet. It's a piece from one of my favourite Italian films, 'The Great Beauty' and it always moves me. The first time I played it to Rowan he loved it too."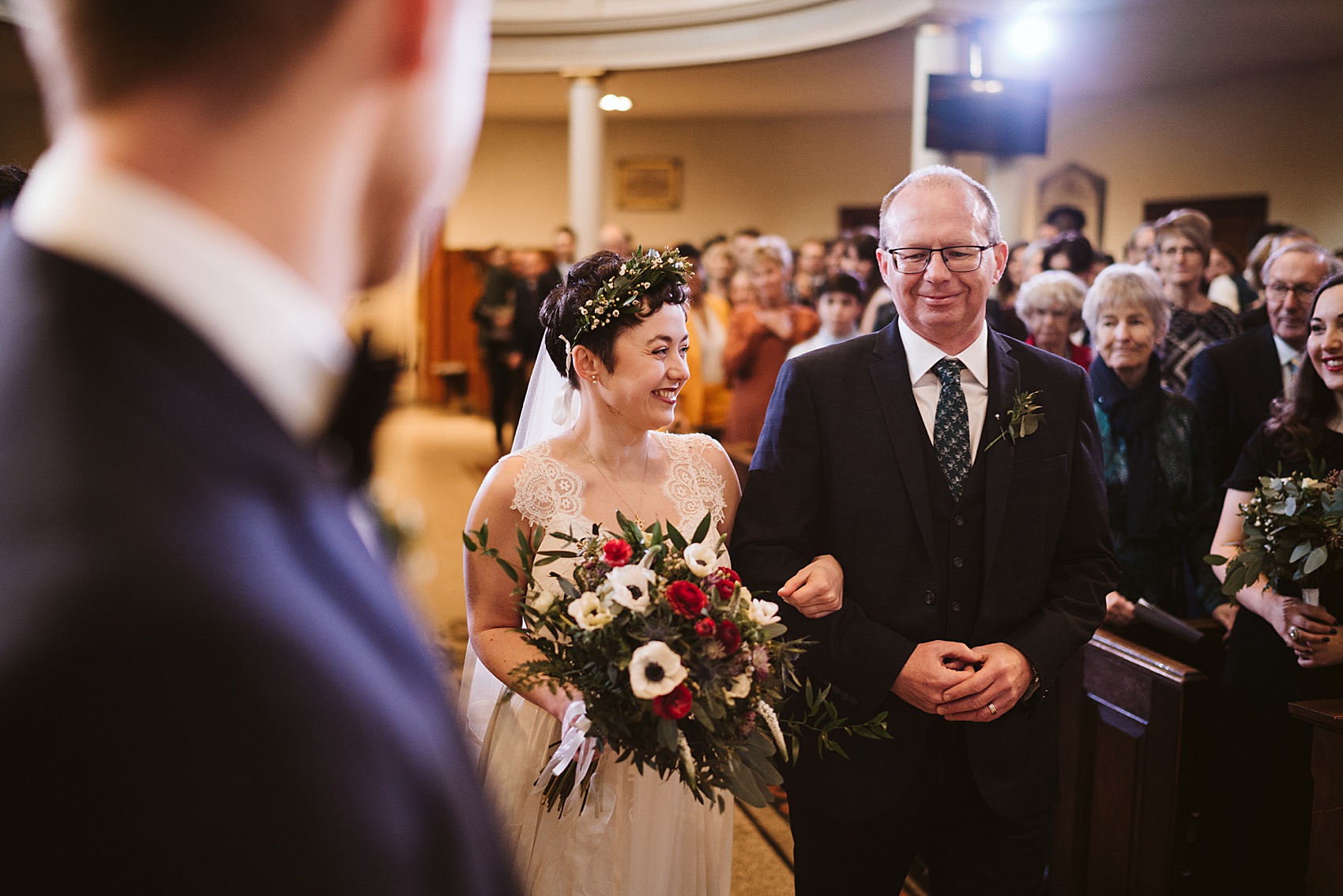 "My dad walked me down the aisle. I wanted both my parents to walk me down but as my mum is an amputee, that was a little complicated. They did both give me away and Rowan's parents also gave him away too."
Her ribbon-edged veil was her mum's, originally from Laura Ashley, and her jewellery pieces were also family heirlooms.
"The veil went perfectly with the colour of the dress. I struggled to find accessories that felt timeless and significant. In the end, I asked my mum if I could wear her Huguenot cross and then my grandma offered her gorgeous pearl earrings.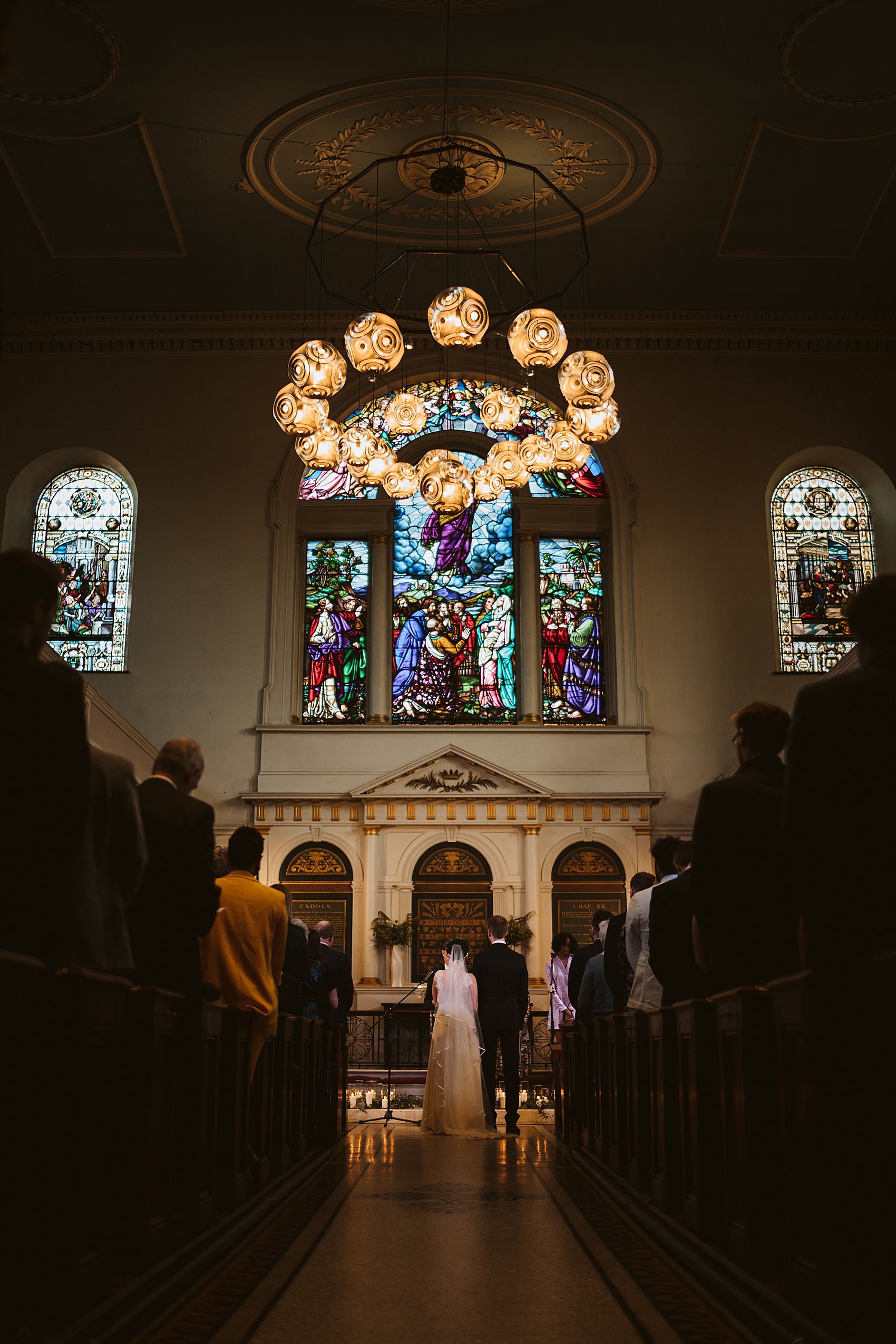 "We are both feminists so we spoke to our pastor about how we could tailor the vows to reflect the equality that we believe our faith expresses. He was brilliant and everyone remarked on how the vows reflected our views. I loved that!"
"We had a number of readings: 'Song of Songs 8:6-7', an extract from 'The Irrational Season' by Madeleine L'Engle, '1 Corinthians 13' and 'Touched By An Angel' by Maya Angelou."
"We had our rings made from a family heirloom ring by Phoebe Walsh Jewellery. They have the date engraved on the inside."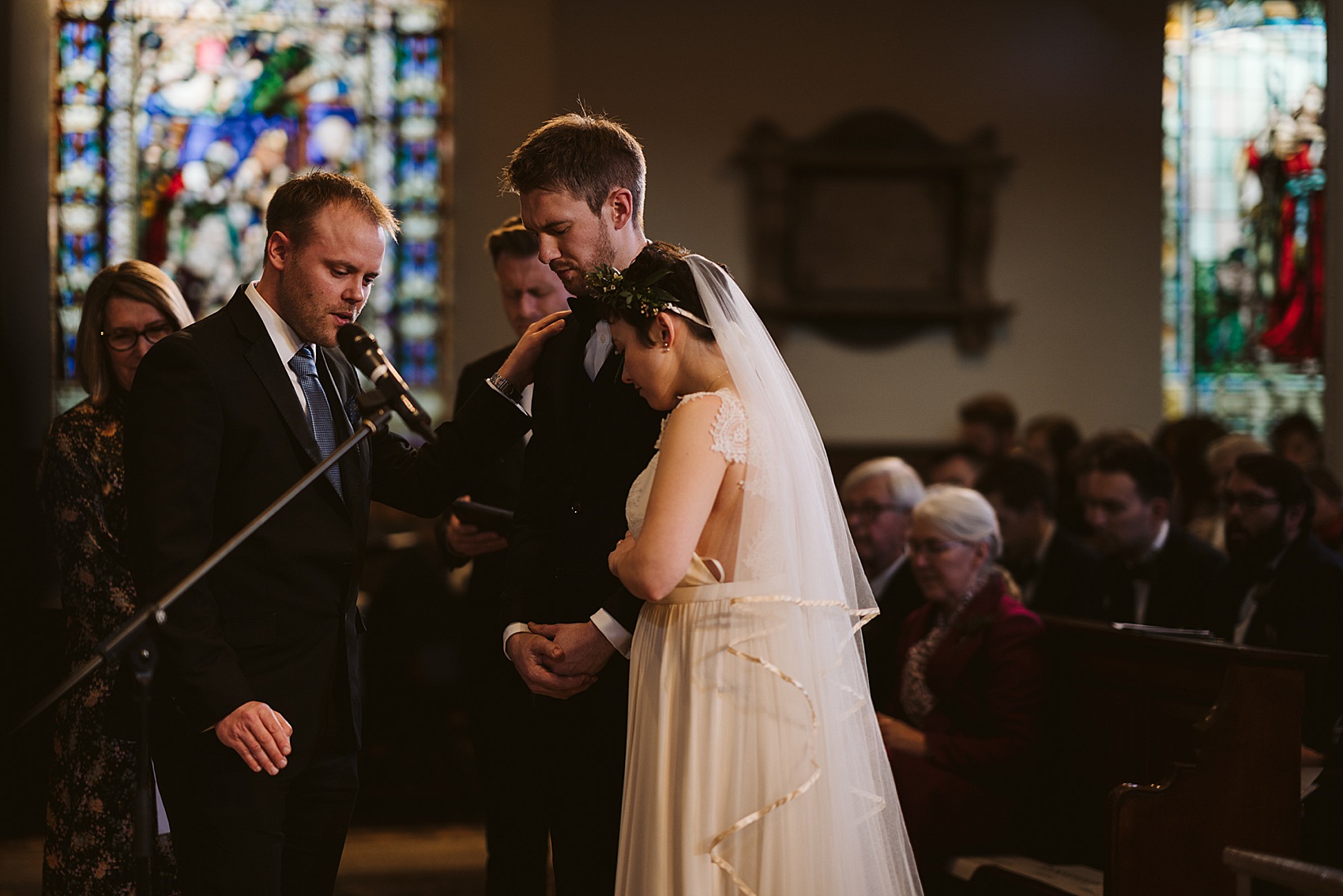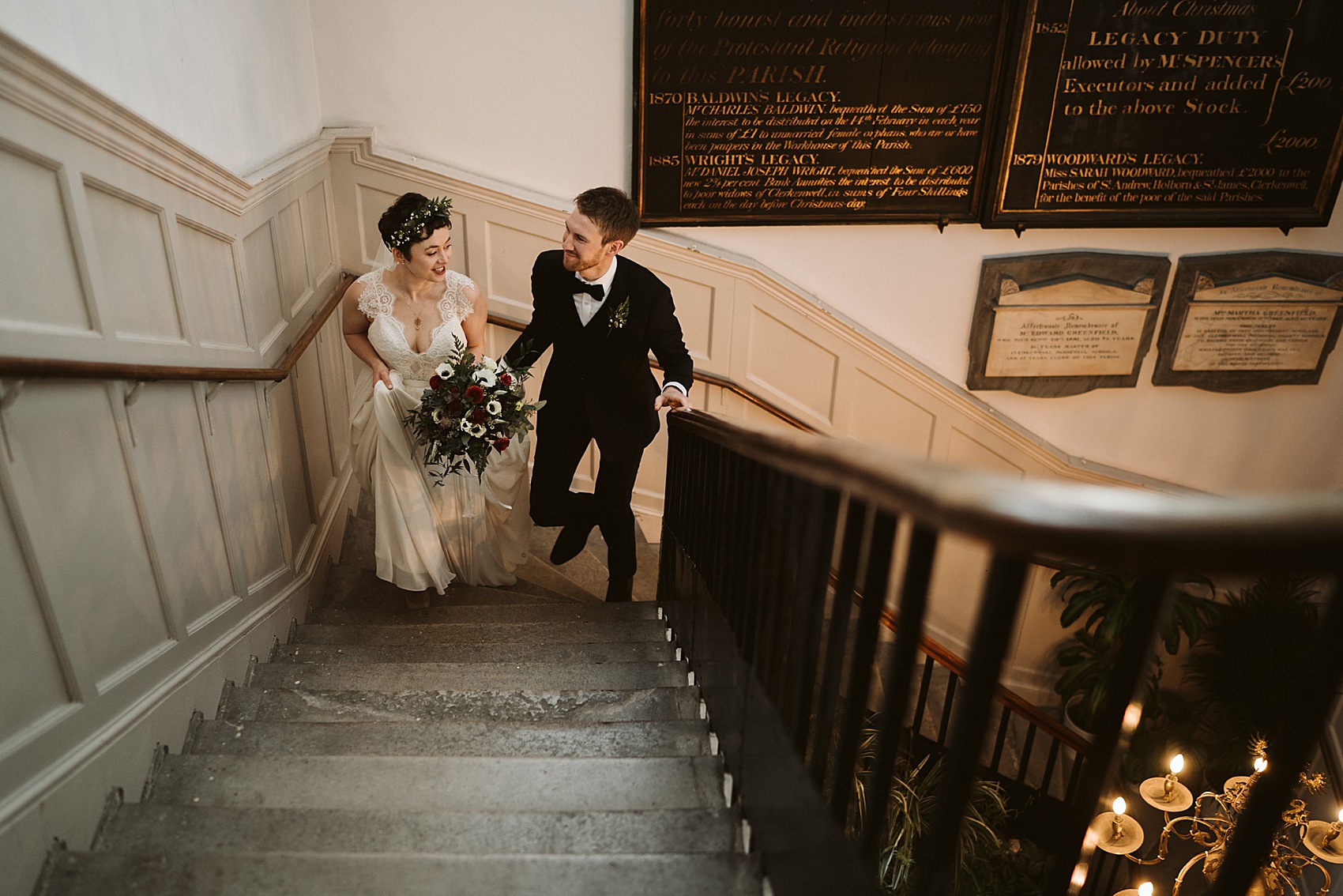 Between the ceremony and reception, the couple took to the East London streets for some fantastically atmospheric couple shots.
"We probably wouldn't have chosen to have our wedding photos in London Fields on a busy Saturday morning but honestly, Lewis did such a good job of rounding up the troops and getting through it all, that with hindsight it didn't bother me that much."
The couple hired Attabara event studio to help them achieve their Music Hall vision, leaving them free on the day before and on the morning itself to really relax and do everything that was important to them.
"One thing we did spend money on was an event organiser. Amy and Iyesha from Attabara are friends of ours and because of our venue restraints (we couldn't afford to hire for the whole day) we knew that we would need an extra pair of hands."
It also meant that our family and friends were really able to relax and enjoy the day. We would also thoroughly recommend having a coffee or a moment alone before the ceremony. Those moments are so precious to us and Lewis captured them perfectly."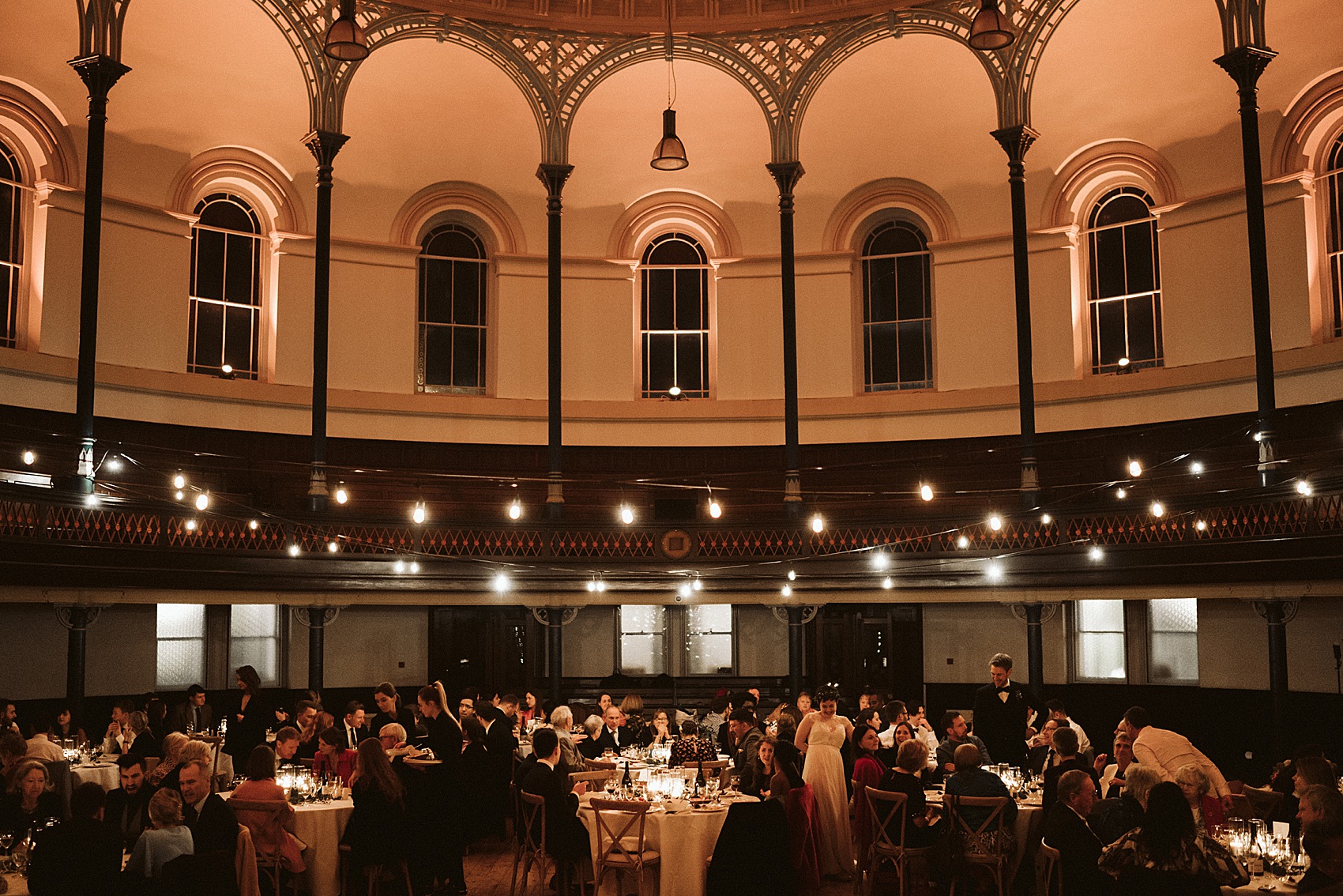 "The day before, we got married in Tower Hamlets registry office, then had dinner with our friends in our favourite local, The Lord Tredegar. Our AirBnB was close to London Fields and Broadway Market, where we love to sit in the summer and get coffee on Saturdays."
"So, on the morning of the wedding, my cousin and I went for a swim in the Lido and before the ceremony, Rowan and I went and got coffee from Earl of the East, interrupting a candle-making workshop (would highly recommend!)."
"We did our invitations online through Paperless Post and used WithJoy.com to keep everyone up-to-date. I designed the order of service and menus through Moo.com and one of the bridesmaids used Etsy to create a seating plan and welcome sign."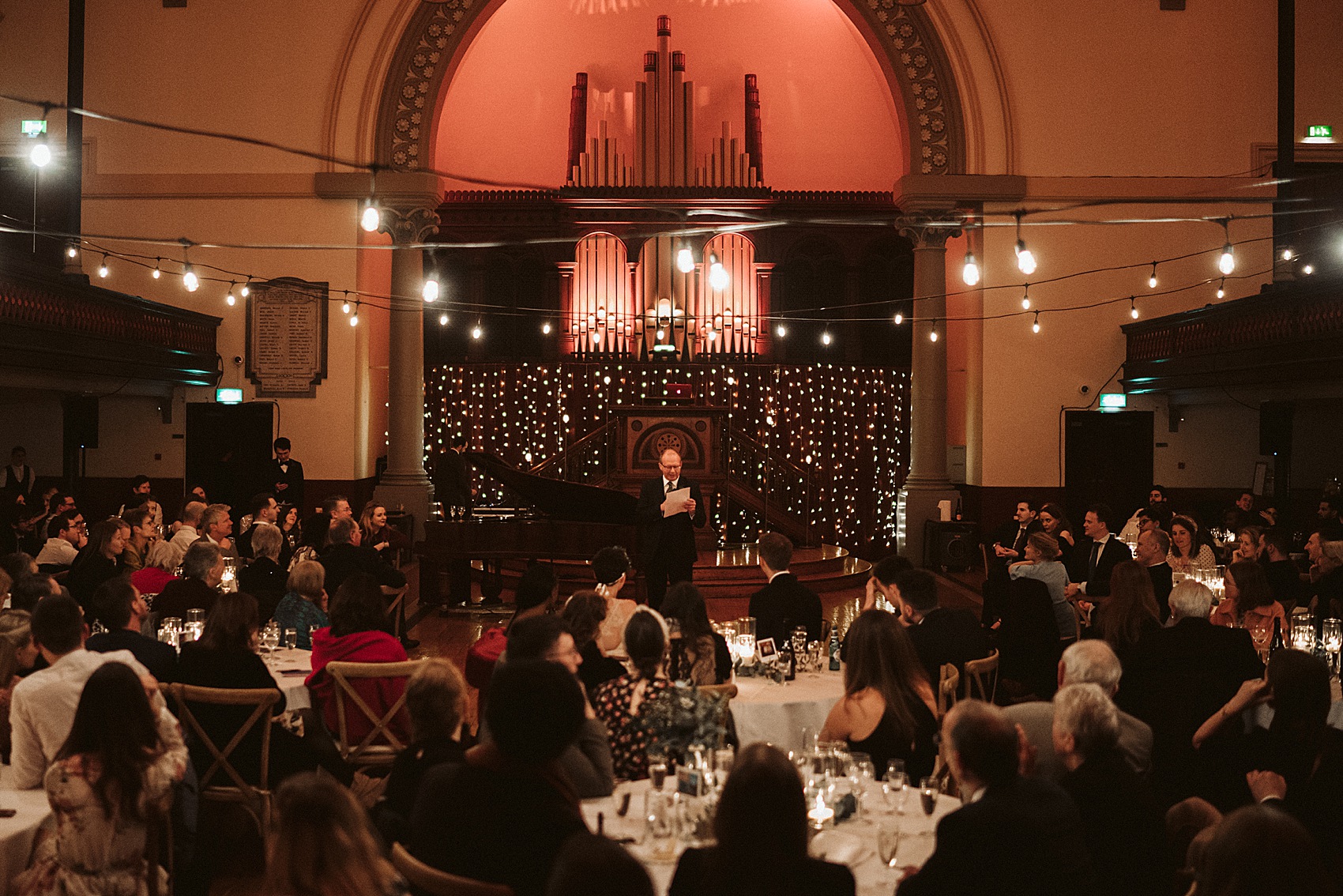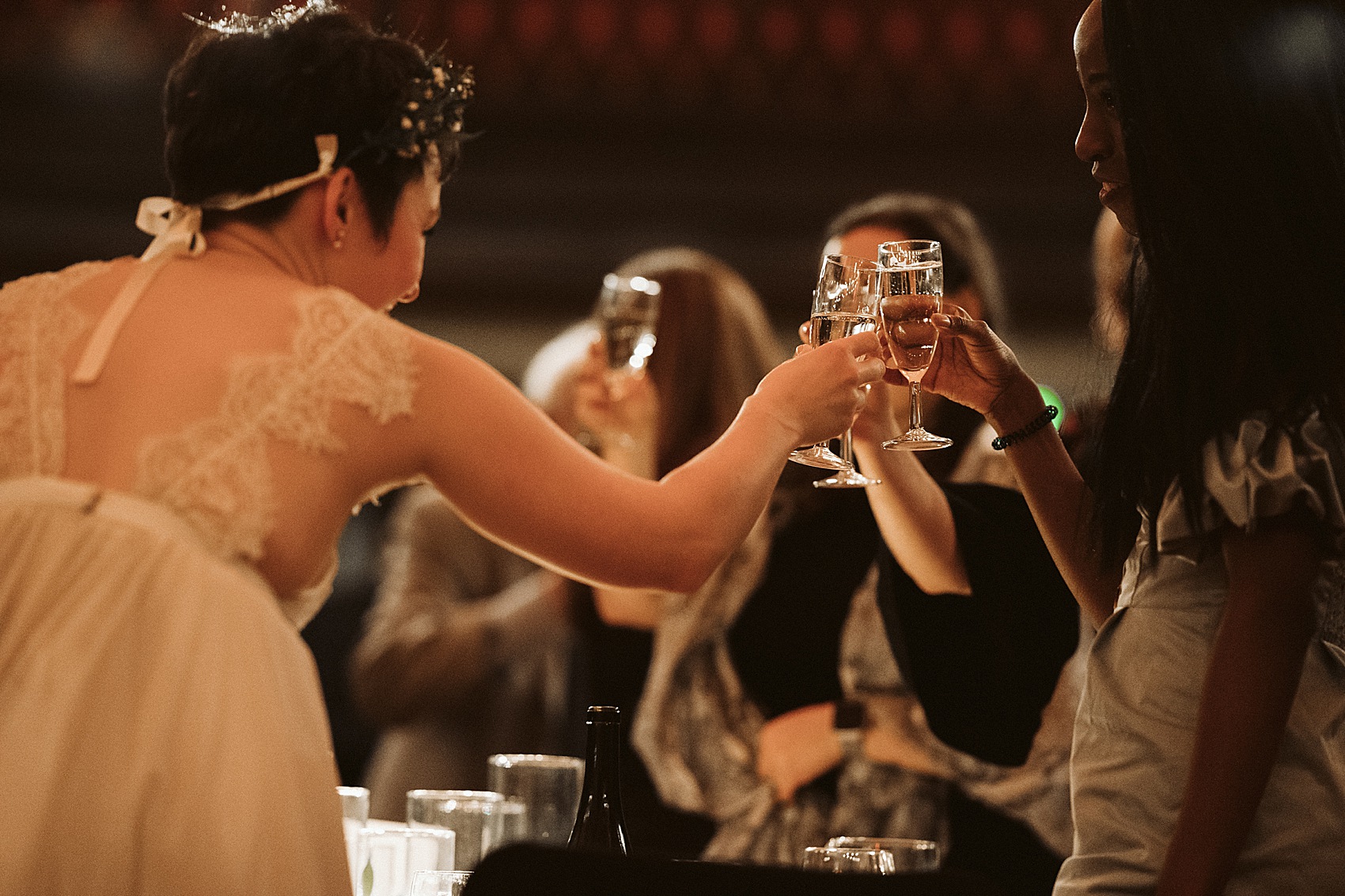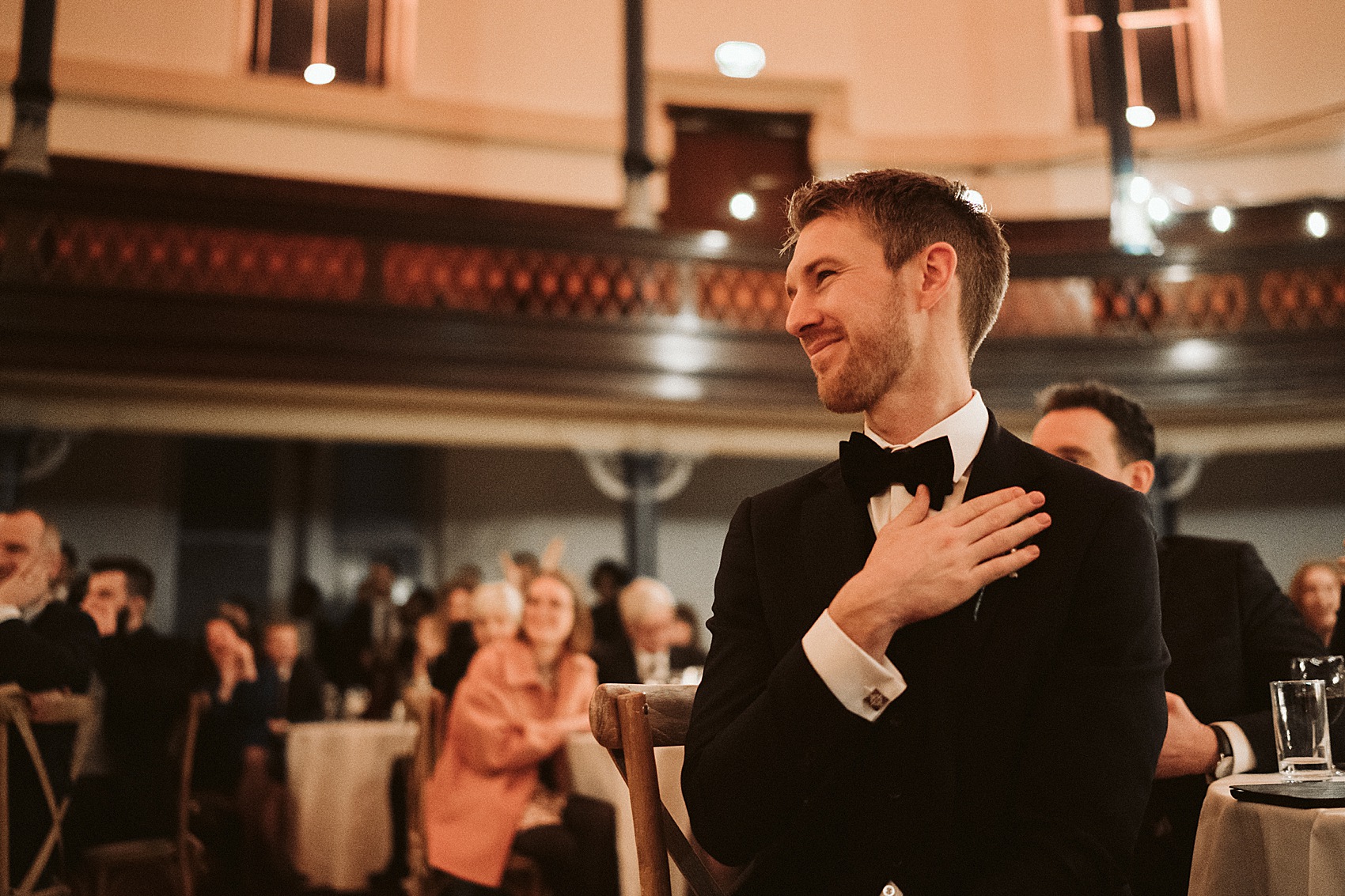 Such a magnificent venue, it would be hard to beat the ambiance of Saint James, but the Round Chapel has to be one of the most unexpectedly wonderful venues in East London, especially with the simple fairy lights and foliage which the couple added.
"We kept decor simple and affordable with foliage and tall candles in hurricane glasses. Each table was named after a cafe or bar that we love. I printed off Polaroid-style pictures of us at each of them as table signs."
As well as the wine from the bride's family's home, there was paella from Paella Fella. I also love the story behind the couple's elegant, two-tiered cake.
"They were fabulous! Everyone remarked on how simple and tasty the food was."
"Our wedding cake was by Luminary Bakery, a social enterprise that supports women from social and economic disadvantage gain entrepreneurial skills through baking. The rest of the cakes were baked by our friends and family. One of our friends, Sally, made cake for 150 people as a wedding present."
Live music and entertainment were central to the celebration, and what a space there is in the centre of the Round Chapel.
"Our incredibly talented friends performed a cabaret for us and our friend Nat did a DJ set using a playlist compiled from songs chosen by our guests."
"Our first dance was to 'Our Love Was Here To Stay' because we love the lyrics and I'm a huge 'When Harry Met Sally' fan. I also sang 'So Many People' by Stephen Sondheim to Rowan as part of my speech."
"There are so many favourite moments to choose from. I loved going for coffee with Rowan in the morning. It felt so fabulous to be so dressed up and walking around our usual haunts together. Standing at the front of St James, with all the beautiful winter light flooding through the windows, was magical."
"Turning up at our reception and seeing the magnificent Music Hall vibes that Amy and Iyesha had created at Hackney Round Chapel was amazing. To be honest, just being able to see all of our favourite people in one place was extraordinary."
Words of Wedded Wisdom
"Pick your battles and try not to stress over the small stuff. We each picked two areas where we wanted to spend money and the rest we were willing to skimp on. We both chose photography and 'having all our friends & family there' as our two. I have a big family, so I knew that catering and venue costs were going to be the main squeeze. I decided to have a smaller budget for my wedding dress, borrow things where we could and do all of our invites paperless."
"Our bridal party wore outfits they already owned and we kept our flowers seasonal and foliage heavy. We kept food simple, with one course of three different paellas, wine from my grandparent's house in France and then a cash bar for the evening. Our friends were so willing to help and get involved! It makes the day so special."
"Being married is so much better than the wedding day itself. I loved every minute of ours but I'm glad I didn't put too much weight on it being 'the best day of my life'. It was special, fun, happy and glorious but being husband and wife far exceeds it all."
"I still believe that it's really important to be considerate to vulnerable guests, particularly those arriving on their own, those who've just had a break up or a difficult time and those who can't afford to travel half way across the country. Just checking in on them a few days before can really help them feel seen and enjoy the day."
I think I'm going to have to go back to the beginning to drink in these wonderful images again; what a wonderful venue and Ellie, you are so beautiful in your lacy gown. I really hope that you enjoy wearing it many more times.
Thank you Ellie and Rowan, and thanks of course to Lewis Membery. For more information and ideas about creating your own sustainable and ethical wedding, there are plenty of Love My Dress celebrations here.
Ele xx