Hair dresser Michelle tied the knot with Business Analyst Ryan on 30th August 2019 at the Asylum Chapel in Peckham, London, followed by a reception at The Antelope pub in Tooting.
"We fell in love with Asylum Chapel as soon as we went to an open viewing, and the Antelope has played a large part in our London lives. We always planned on the wedding being minimalist and when we found our venue, we were inspired by how beautifully rustic it was."
Made With Love Bridal

+ Follow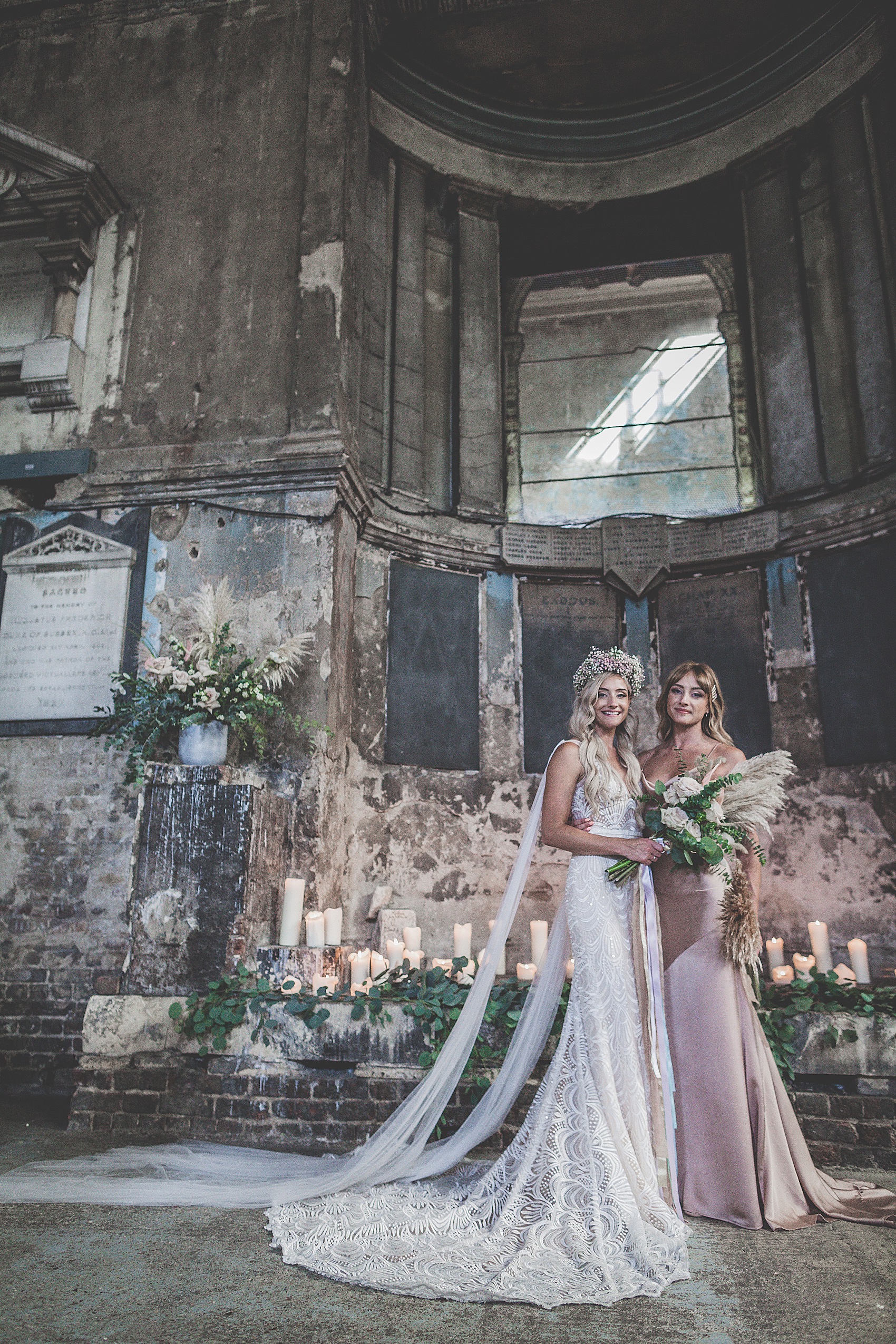 "We also love music festivals and witnessed a hand fastening at Glastonbury and wanted to incorporate this into our day, as we loved how romantic and symbolic it was.""To continue the festival theme I had a flower crown made with pink and white gypsophila, and I decided on comfortable, but statement gold glittery Michael Kors heels."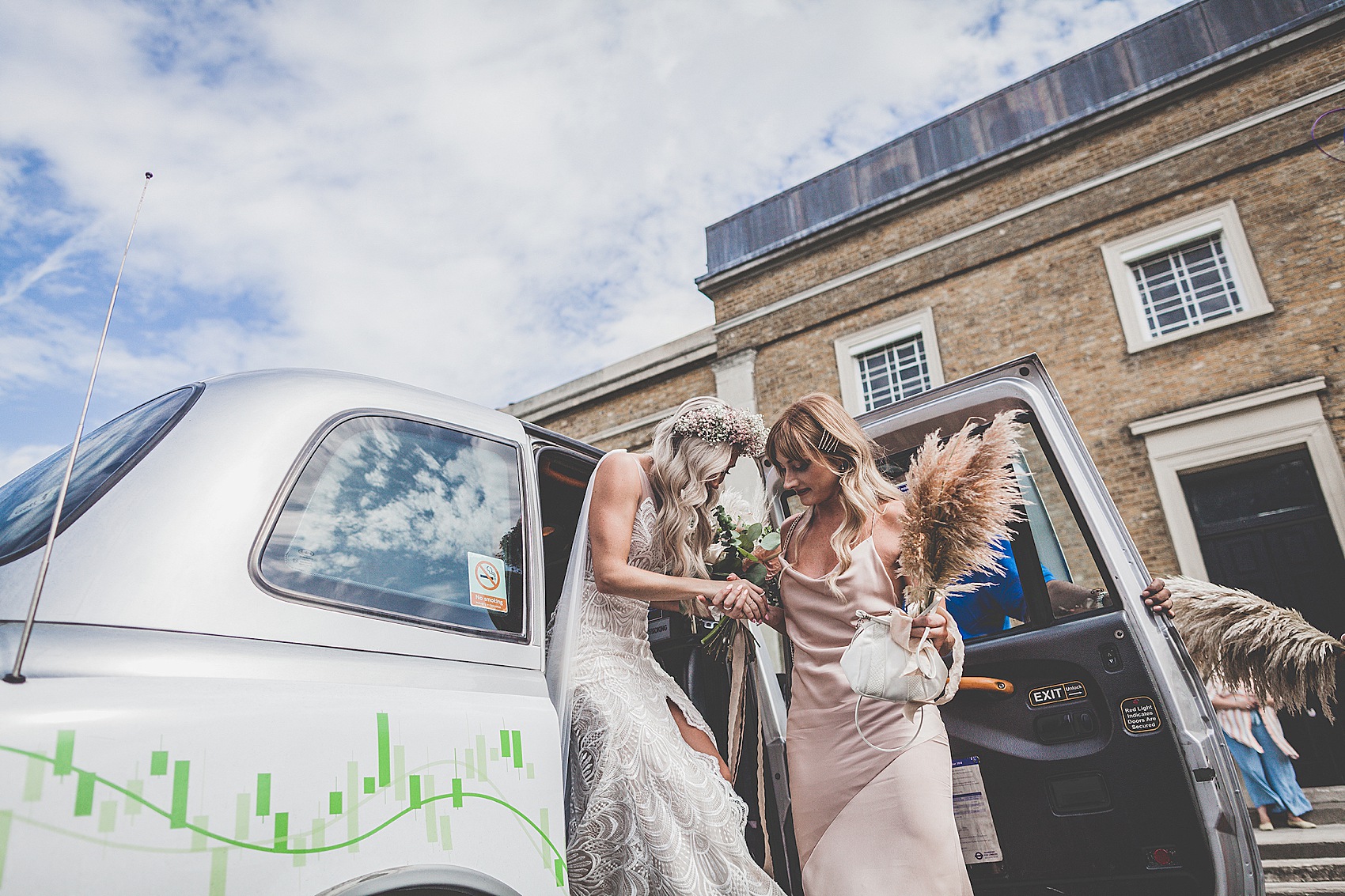 Michelle's dress was the Harley dress by our absolute faves, Made With Love Bridal – a gorgeous discovering our one of our very fave bridal boutiques, Heart Aflutter in London.
"My dress was from Heart Aflutter in London – it was such a lovely experience; the girls there were extremely helpful and professional, and it was completely stress free with no hard sells."
"Instead of having a veil, I decided on having tulle wings attached the straps of my dress. These were removable and supplied by Made With Love Bridal.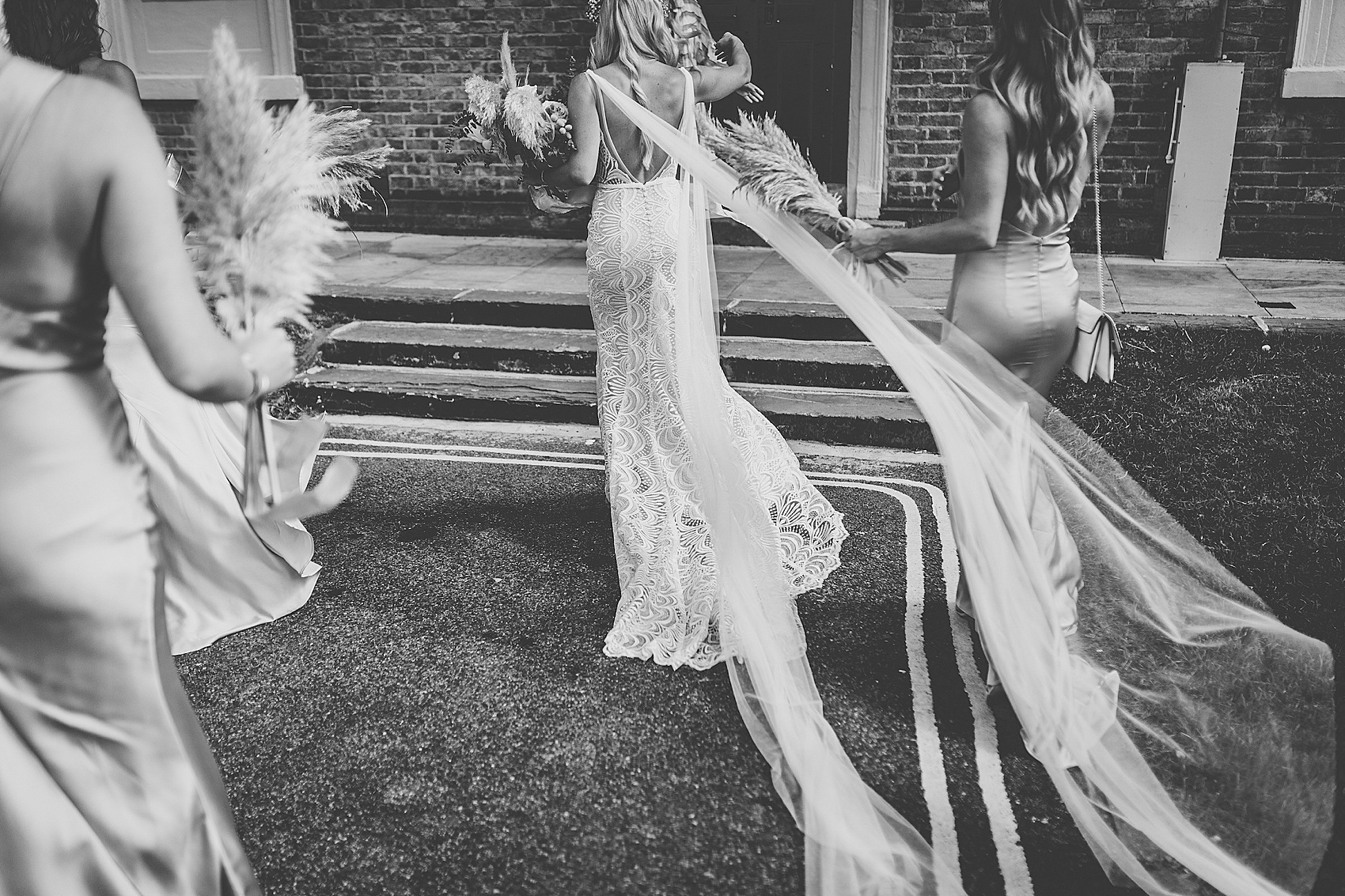 "Heart Aflutter made it all about me and I felt very relaxed. They also allowed me to face time my twin sister who lives in Sydney, so she should be part of the process. I love my dress so much; I always knew I wanted sparkles and vintage lace and this dress had it all. As soon as I tried it on, I was overwhelmed."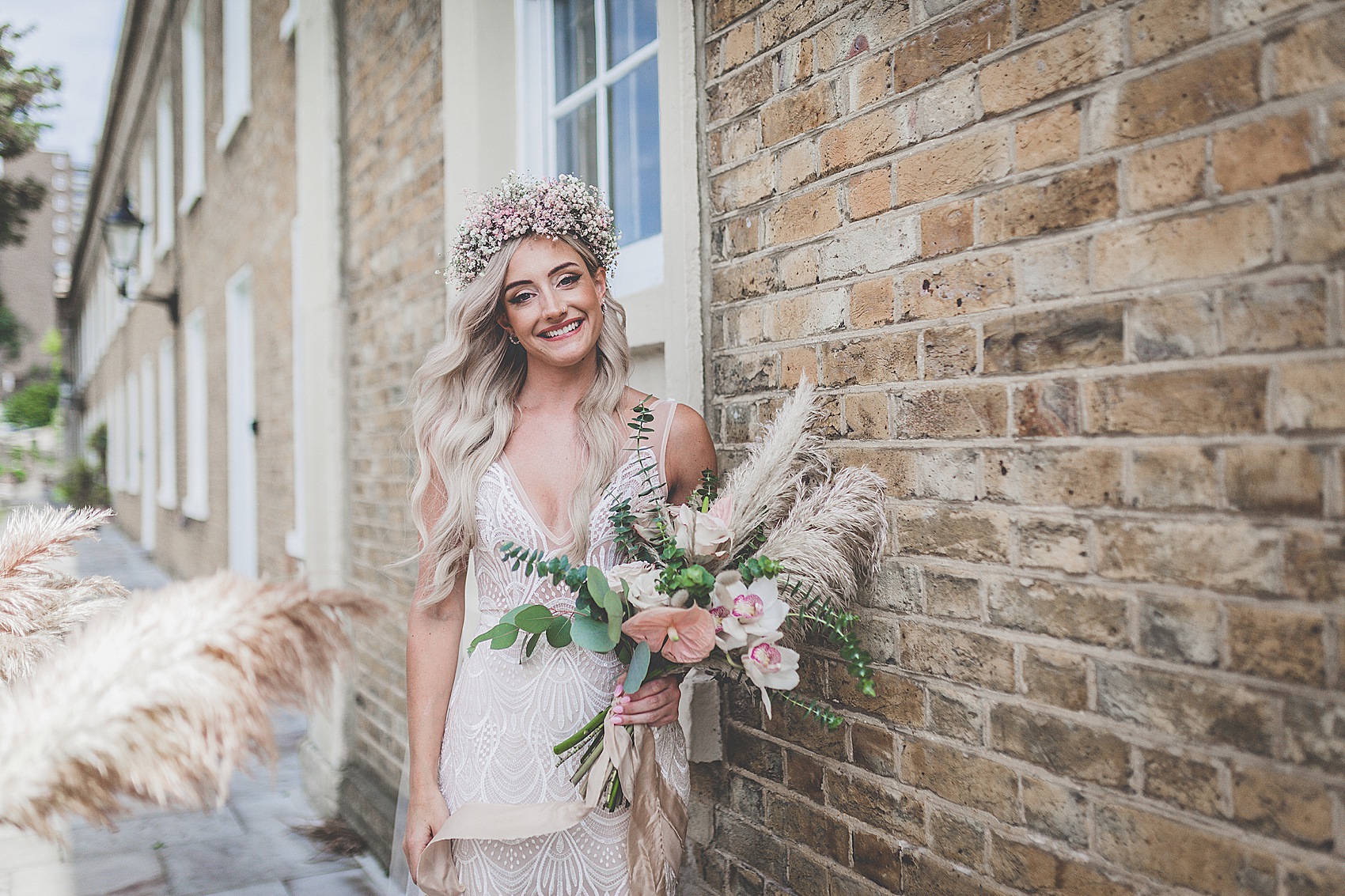 "Our florist was Catherine Short. We met Catherine at the underground wedding fair and really liked her display, as it contained many of the elements, we had been looking at on Pinterest."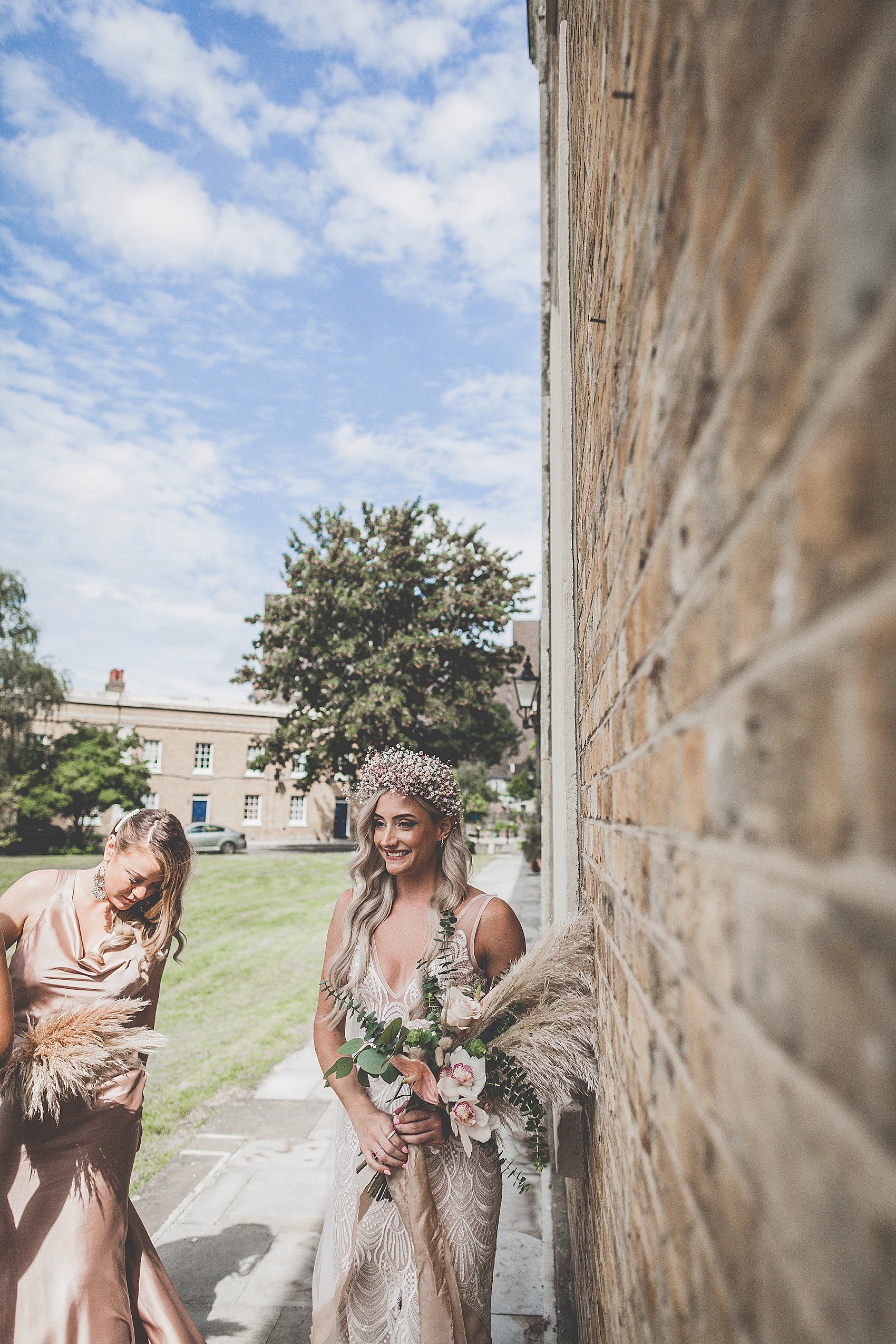 "We loved how passionate she is about creating authentic bespoke designs. We didn't want anything too neat, we wanted romantic but lots of texture and heavy foliage. We fell in love with the vintage look of pampas grass and muted tones like eucalyptus and blush pink orchids and roses."
"The embroidery and style were vintage but timeless, I knew I would never look back and regret my choice. I had a middle split so that my legs were free for dancing, which is a must for me."
Michelle's bridesmaids wore dresses by Jarlo London. She let her maids choose the dresses they felt most comfortable in, and the wore them in blush pink.
"I wore Le Labot perfume – Santal 33. It was bought for me by work colleagues which was really special."
"Katie my sister chose my evening earrings from Ruby & Sage."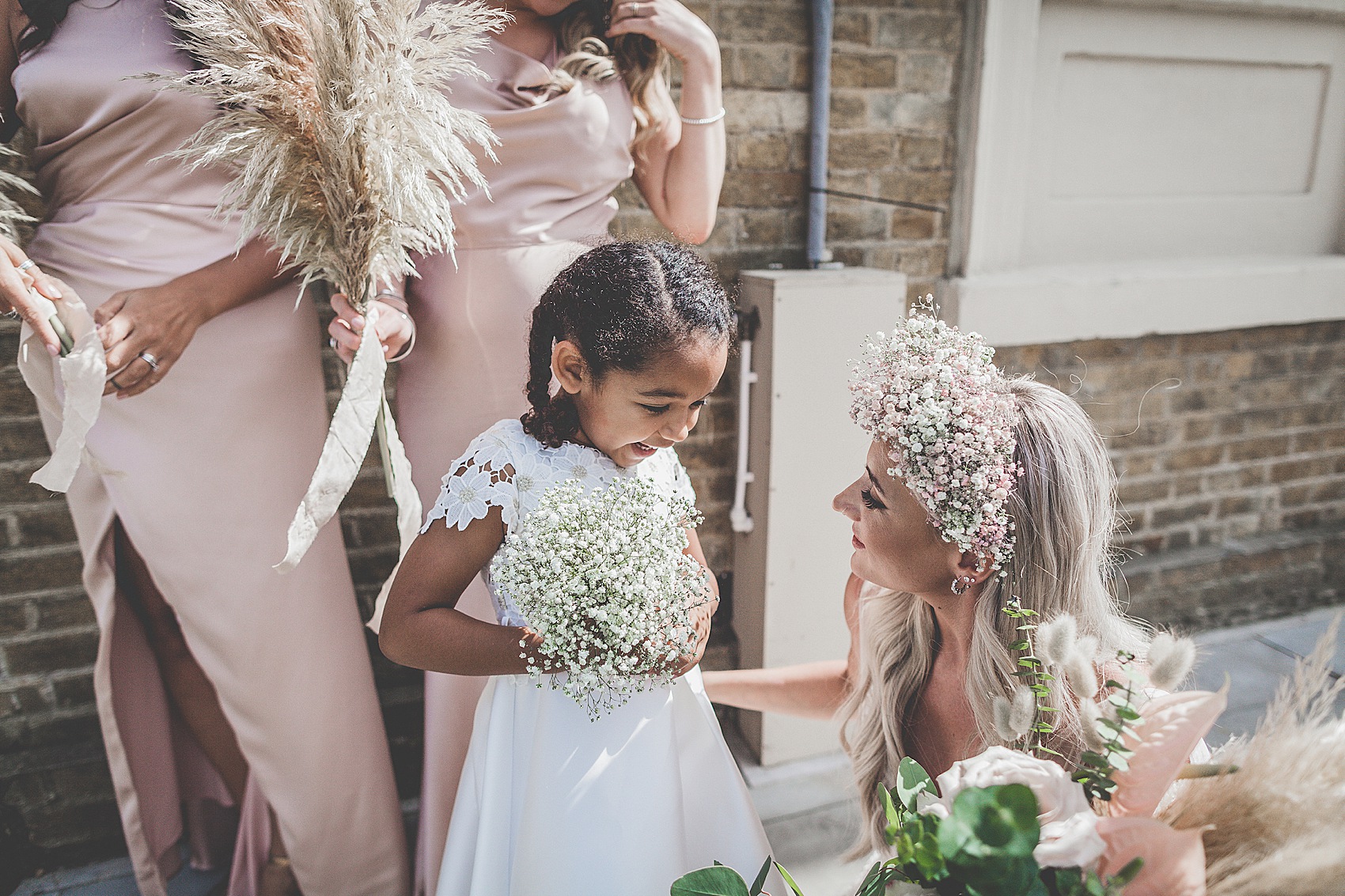 The sweet flowergirl wore a white and gold dress from Monsoon, with gold sequinned high-top Converse trainers.
"We met at Hull's legendary nightclub Spiders, in February 2008. We quickly made plans to move to London together made the trip down to our first flat in the following July."
"On our 10-year anniversary we went to stay at the Elephant Nature Park in Chiang Mai, Thailand where Ryan proposed at sunrise overlooking the beautiful scenery and Elephants. We got married 18 months later."
"Ryan wore a bespoke made to measure double breasted burgundy suit from Suit Supply London – who were extremely helpful throughout the full process and let him make sure he got exactly what he wanted."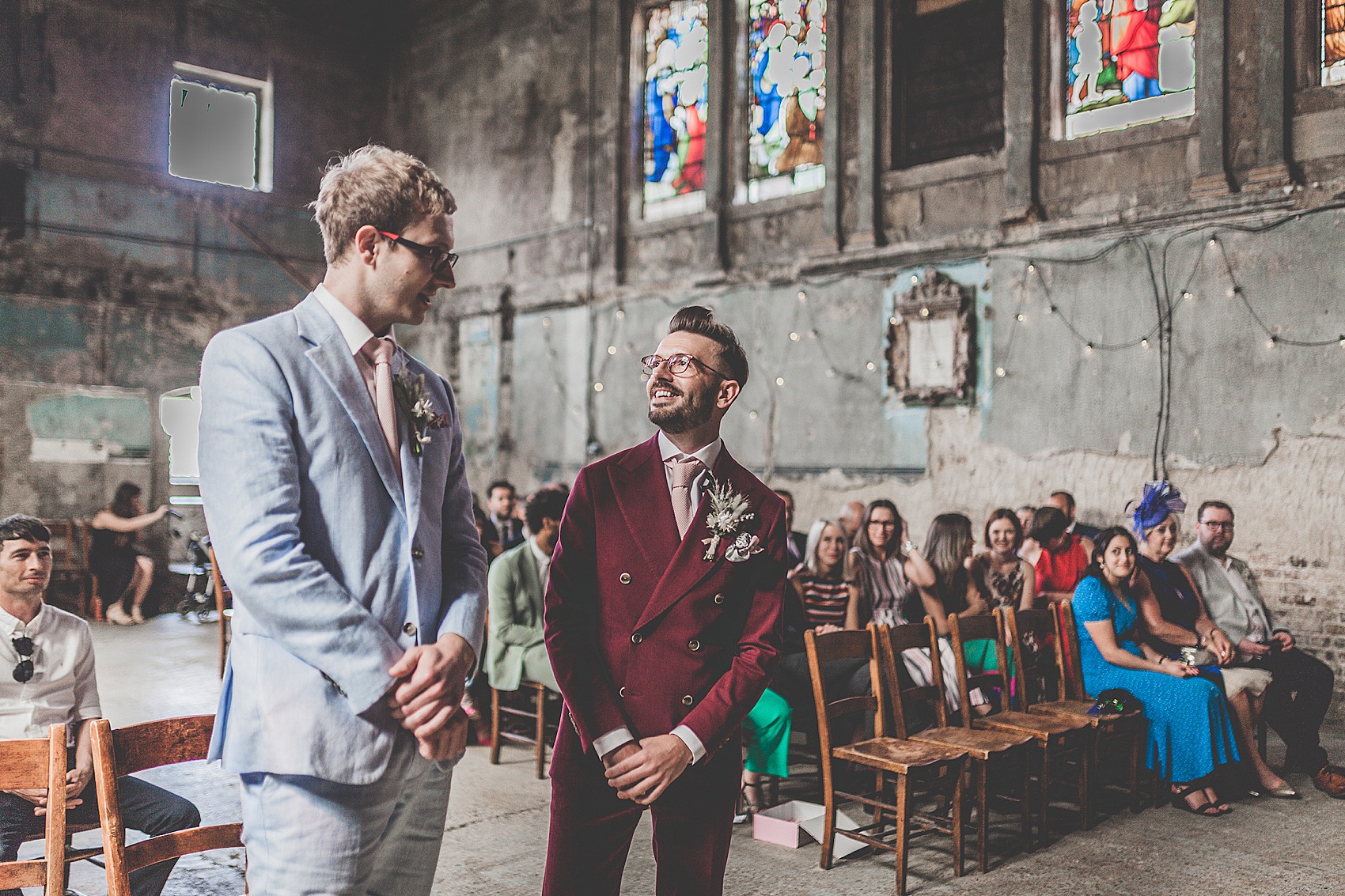 "He also wore a pink paisley silk pocket square from Hawes & Curtis and double monk-strap Loake tan brogues, which were bought from eBay."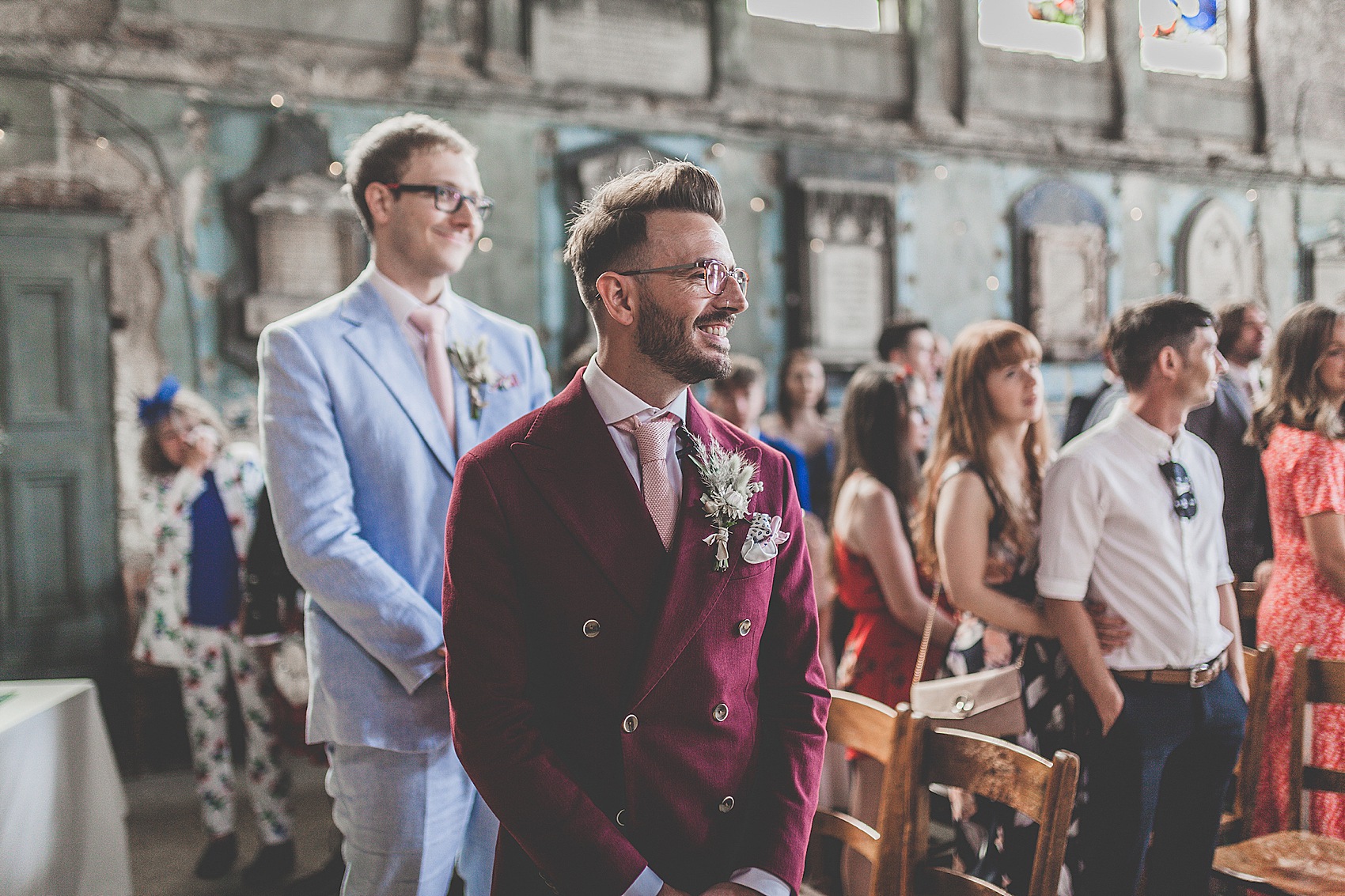 "My identical twin sister walked me down the aisle; we are inseparable, and it was only right that she should give me away. We came across a song 'My Lover' by Birdtalker. The lyrics really suit our personality and the vocals are beautiful."
"We tailored our own vows, and we didn't reveal these to each other until they were read on the day as we wanted them to be a surprise. We had our friend perform a hand fastening ceremony with 5 different coloured ribbons each representing a strand of our relationship. Friendship, Support, Comfort, Family, Laughter and Time."
"One of our closest friends read 'All I Know About Love', by Neil Gaiman."
"It was important for me to have a cruelty and conflict free diamond, so we chose to go with a lab grown solitaire diamond engagement ring from Made Diamonds."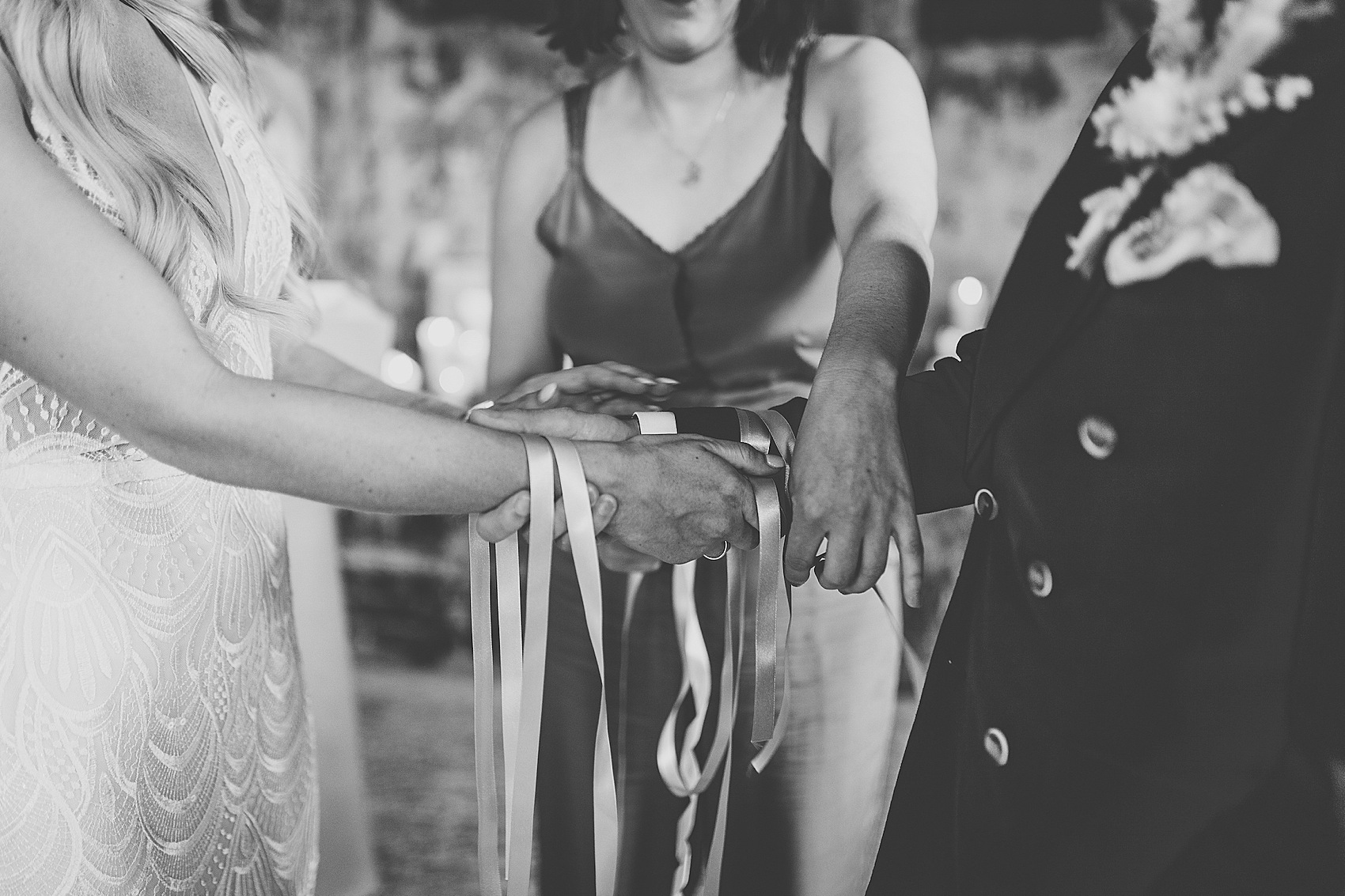 The couple invested in alternative wedding photograpers, Lase Photography.
"I would absolutely recommend the girls at Lase Photography to everyone. After seeing one of old friend's wedding photos, we saw that it was my childhood friend who had taken the photos, which we really liked."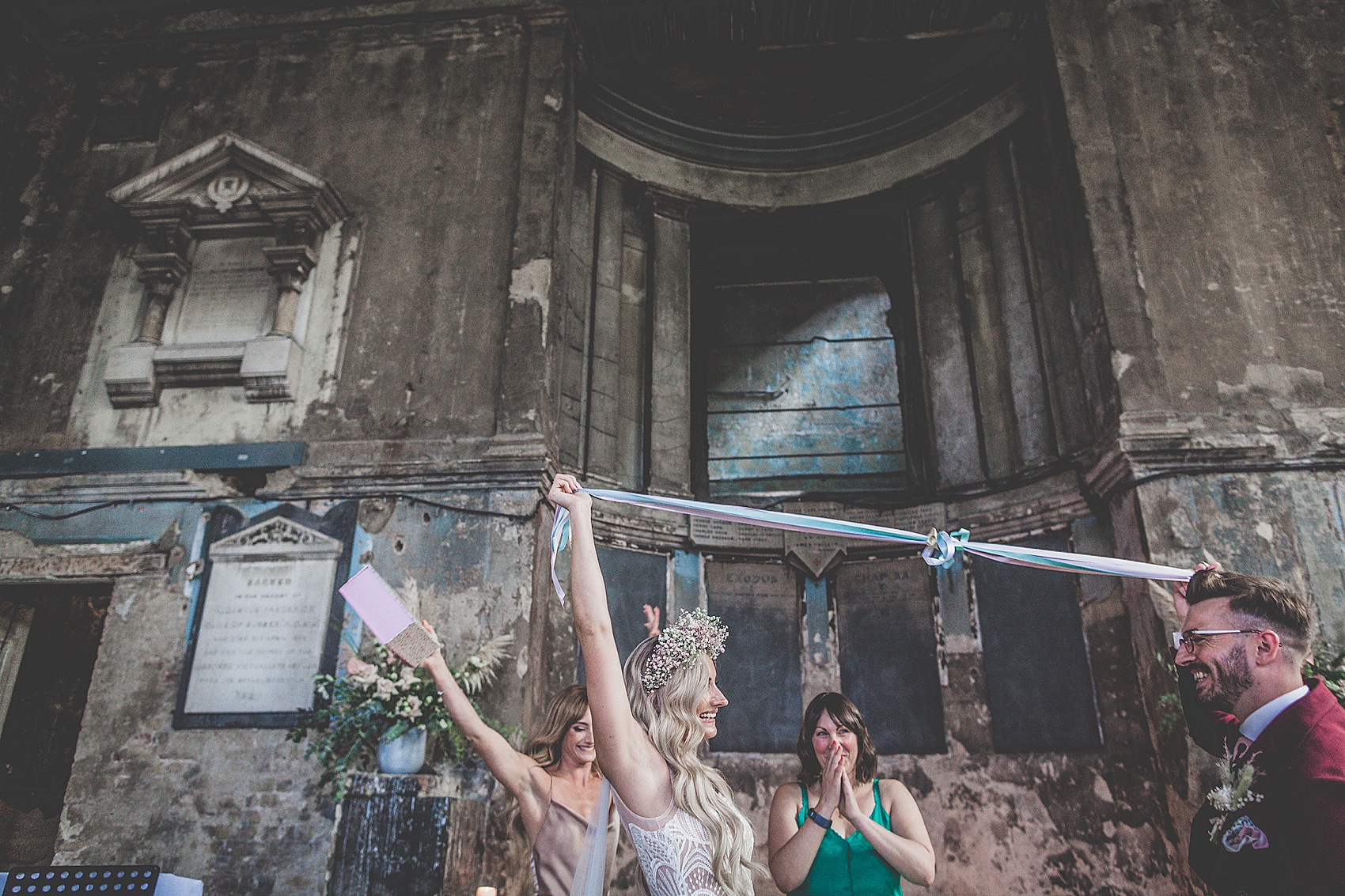 "We were able to reconnect and luckily, they were based in London and we were delighted we could use them. The girls are so kind and really encourage you to have your own style and loved the idea of documentary style photography with nothing to staged and LASE did that perfectly, capturing all the special moments."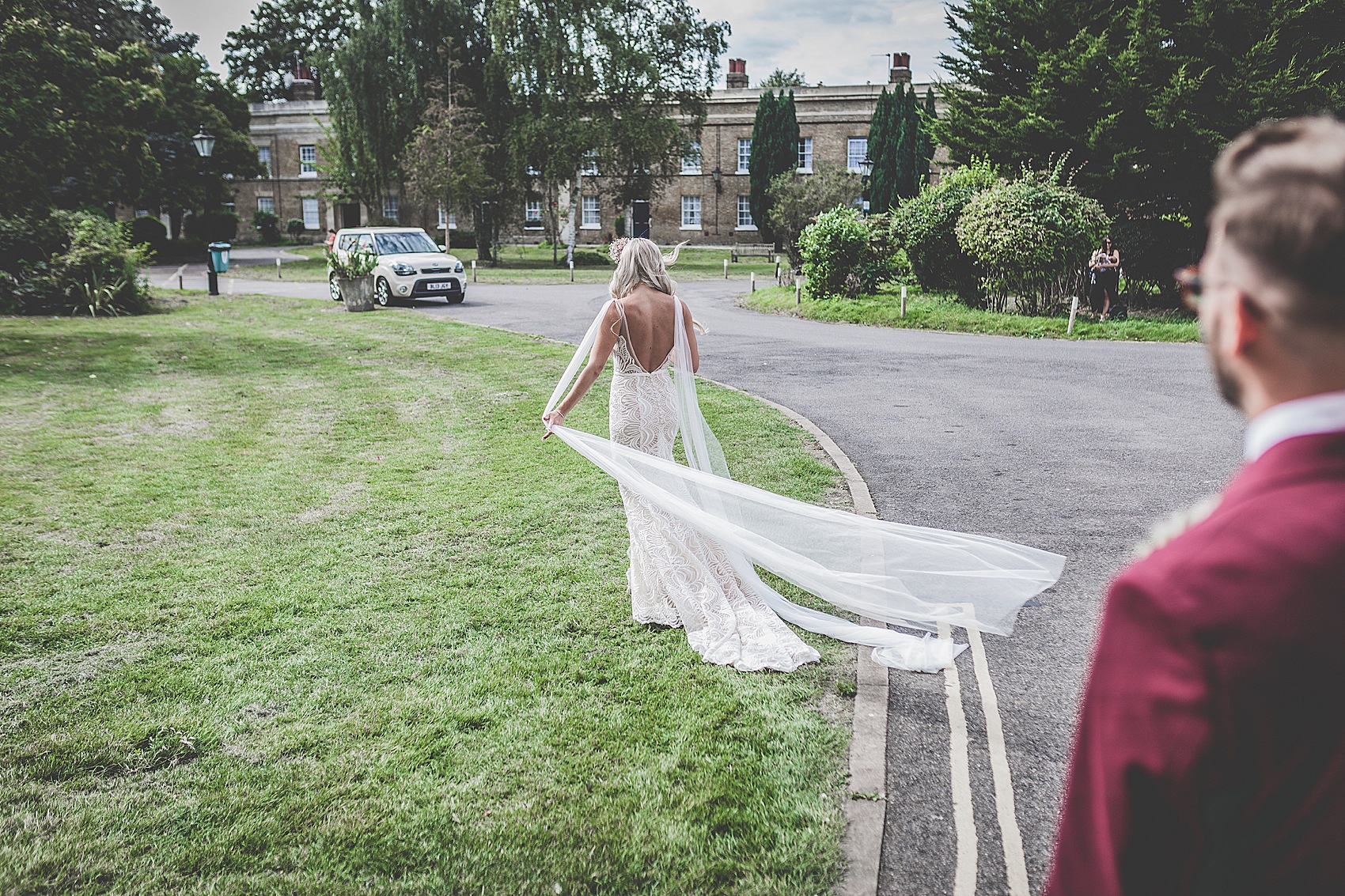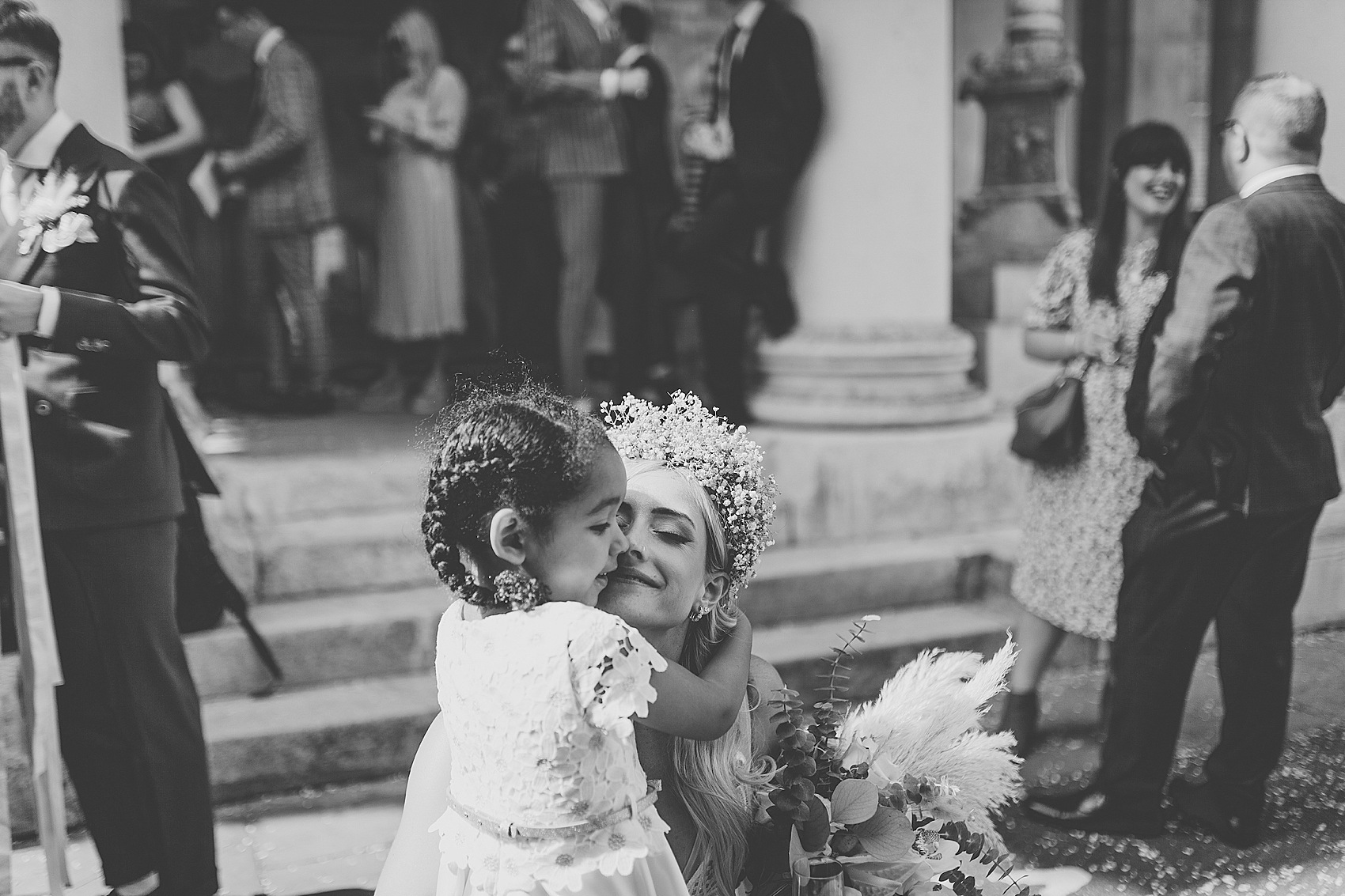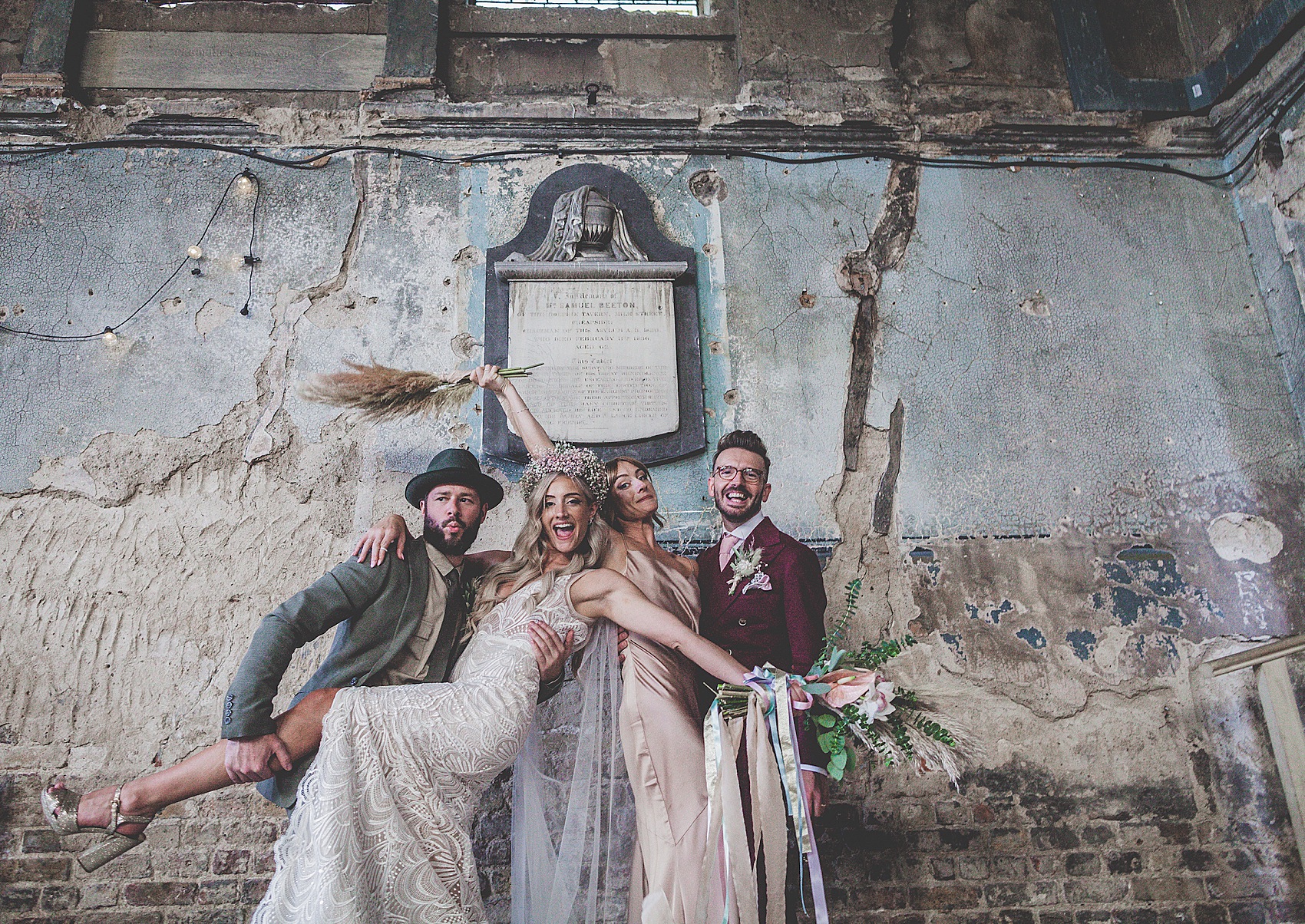 "We had vintage London route master for transporting guests from the chapel to the reception venue."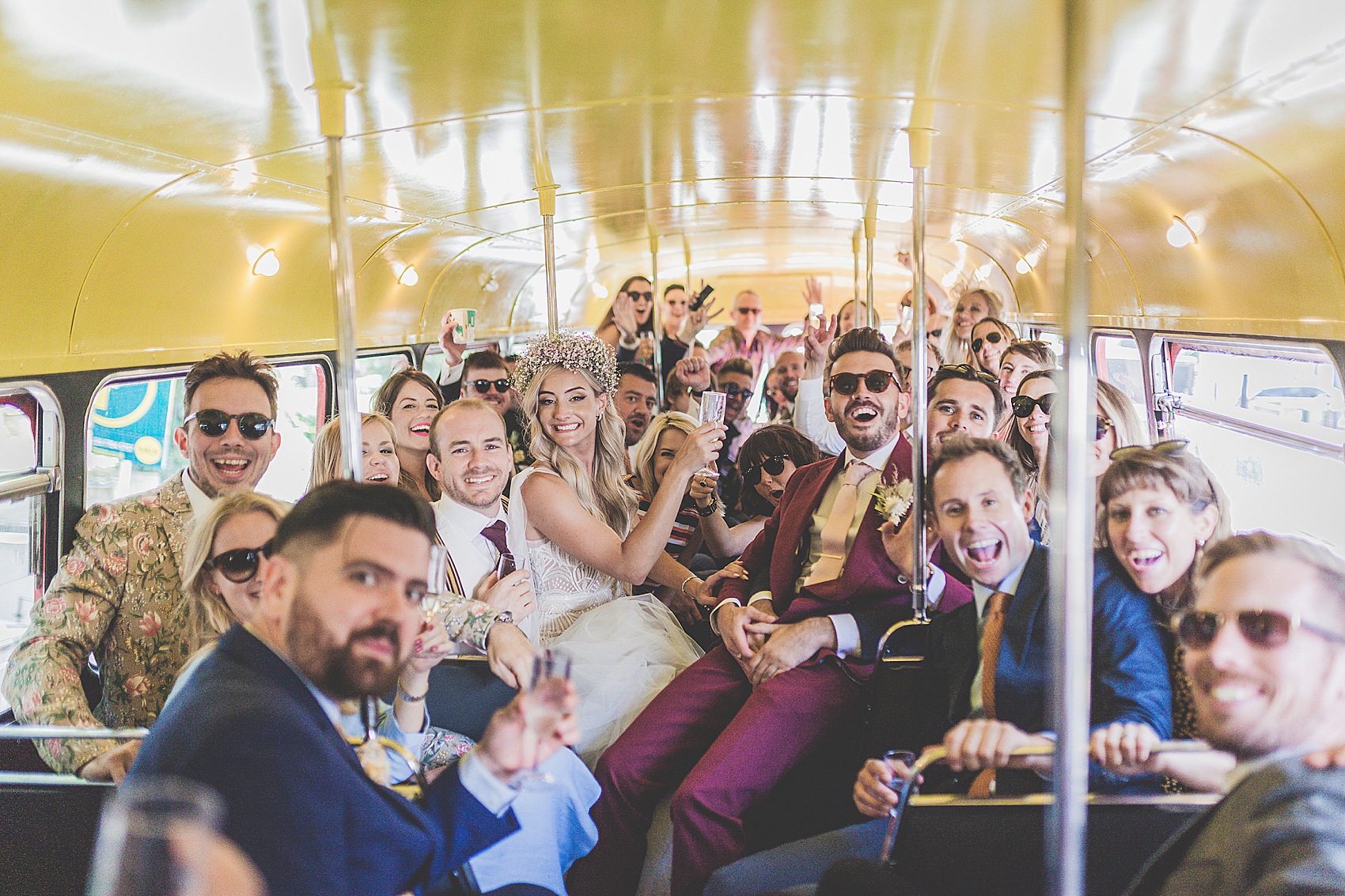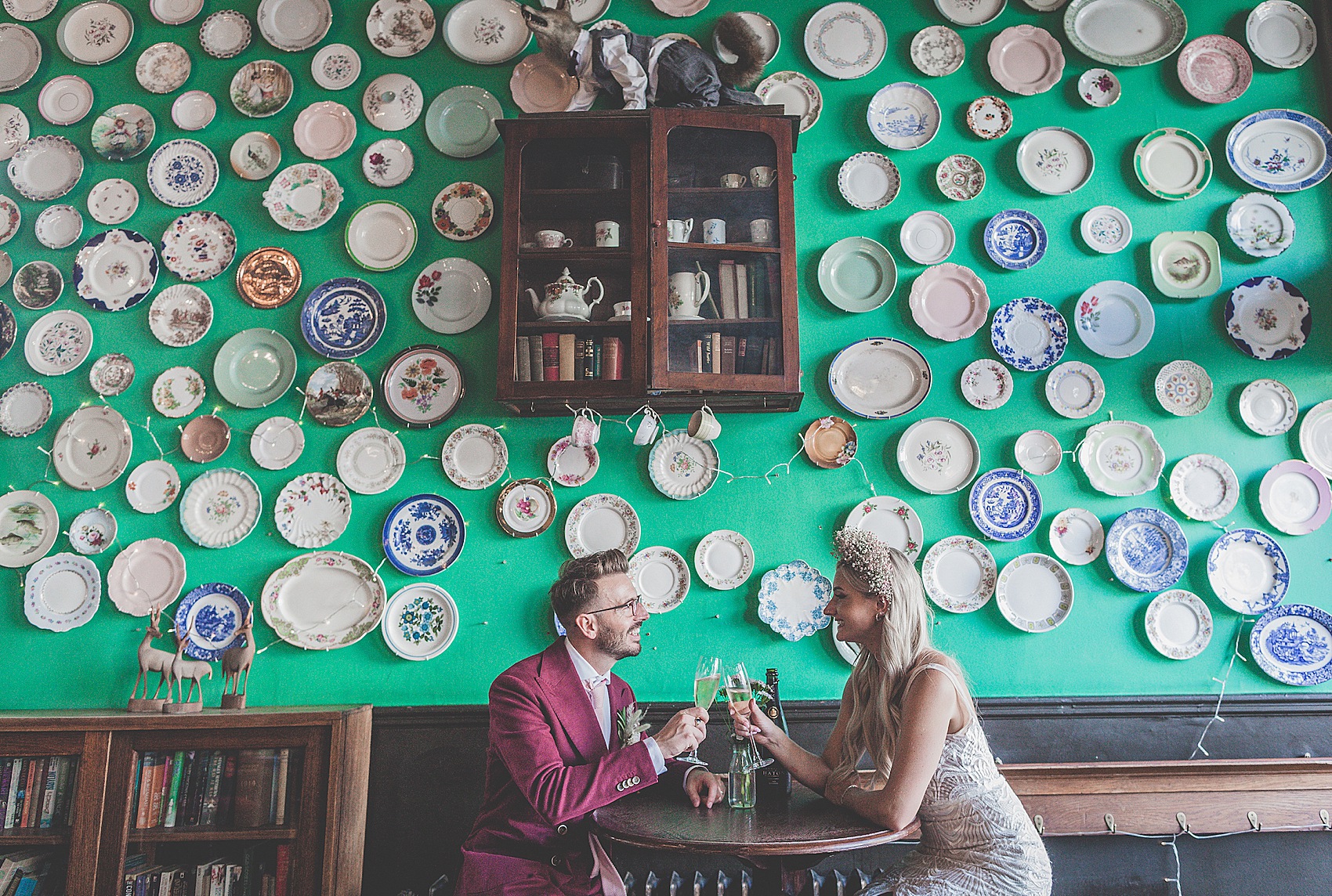 "We didn't have wedding favours – we made a charitable donation to the dogs' trust in honour of Michelle's grandad and we provided an open bar for the guests.
"We made all stationery ourselves – which included learning how to do hand lettering for use on the cotton paper place names and Perspex and copper pipe table numbers."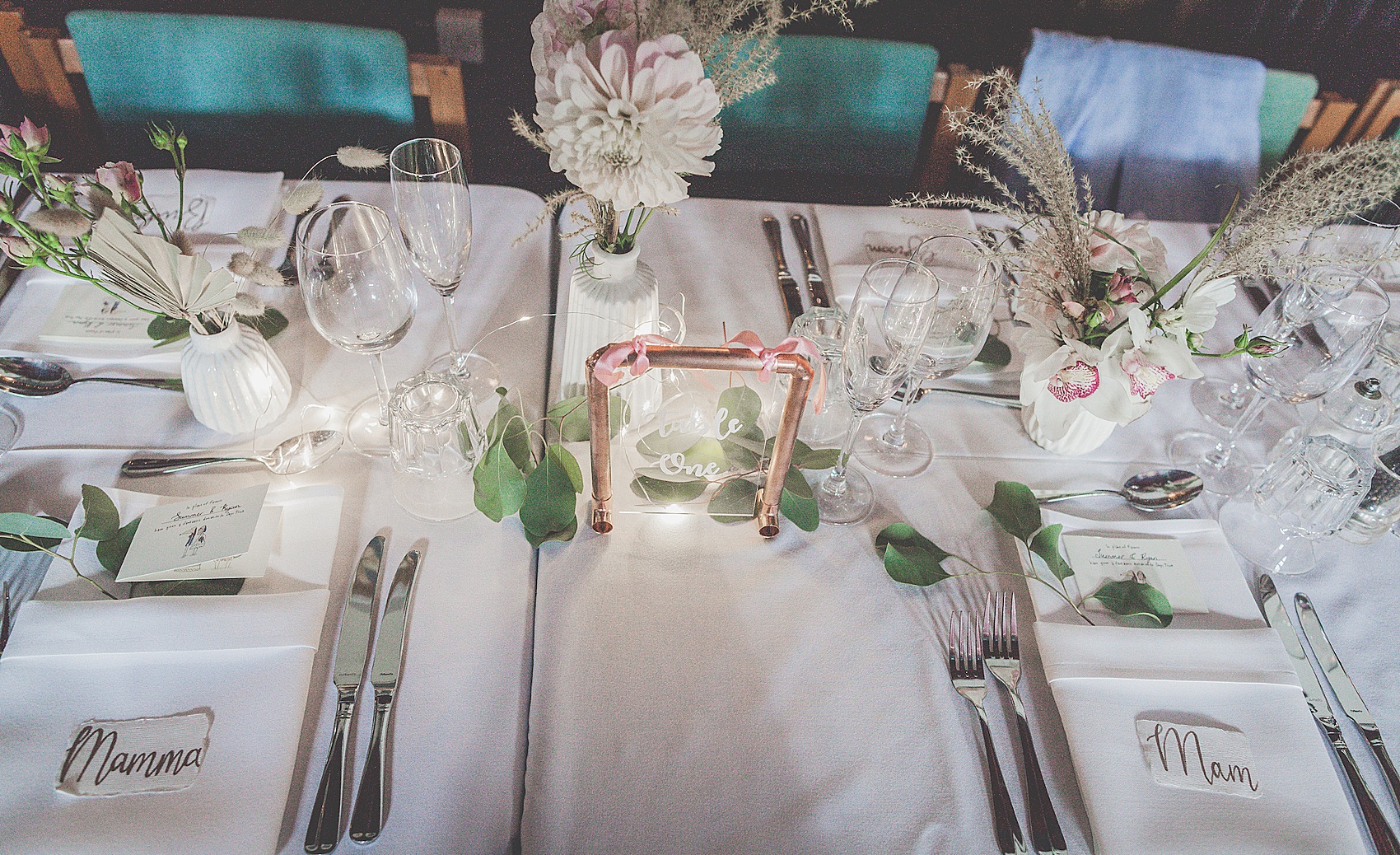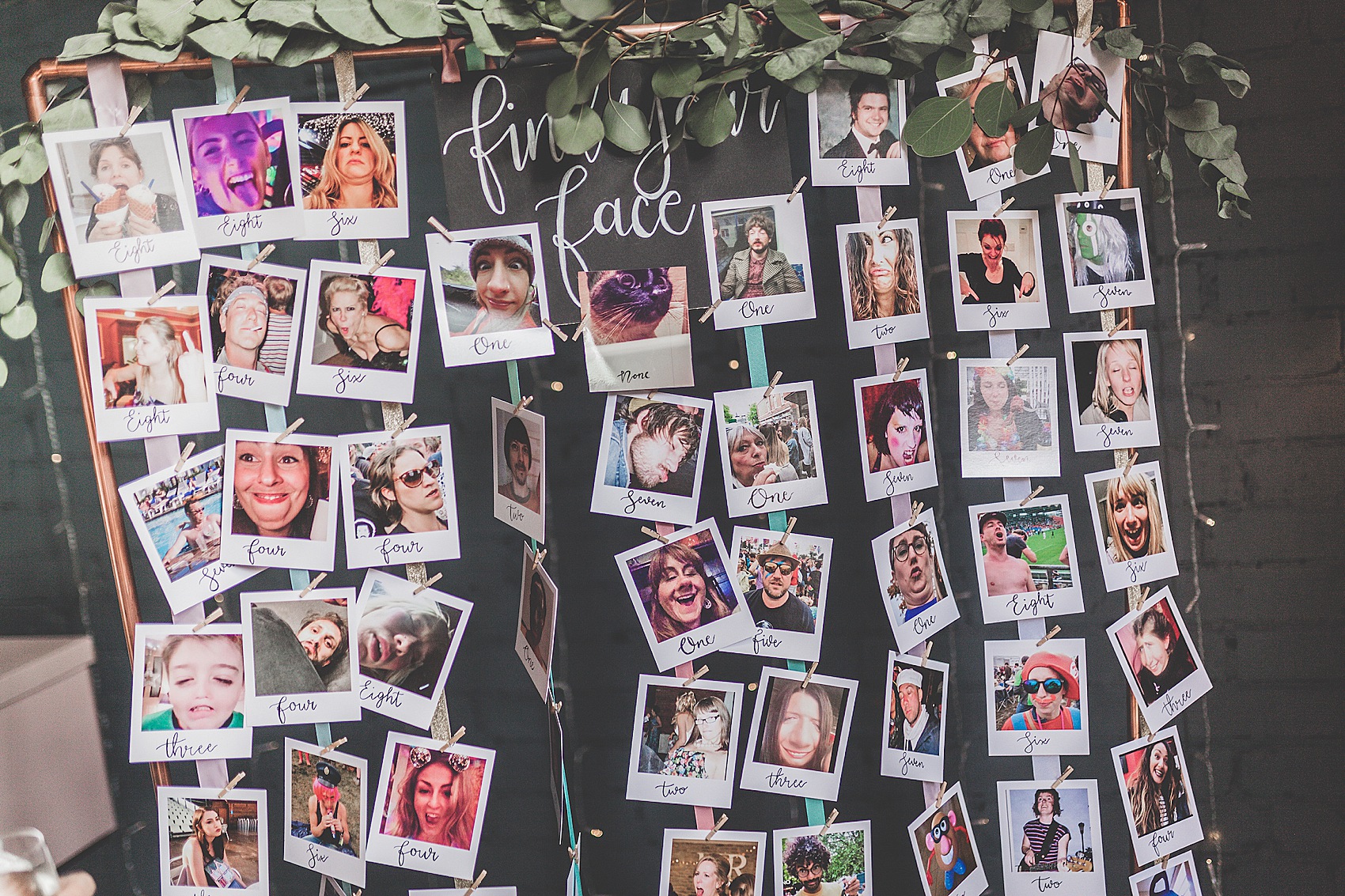 "We used lots of fairy lights, and we also had a ribbon curtain using hundreds of pastel coloured ribbons, which were matched to the colours we used in the hand fastening ceremony."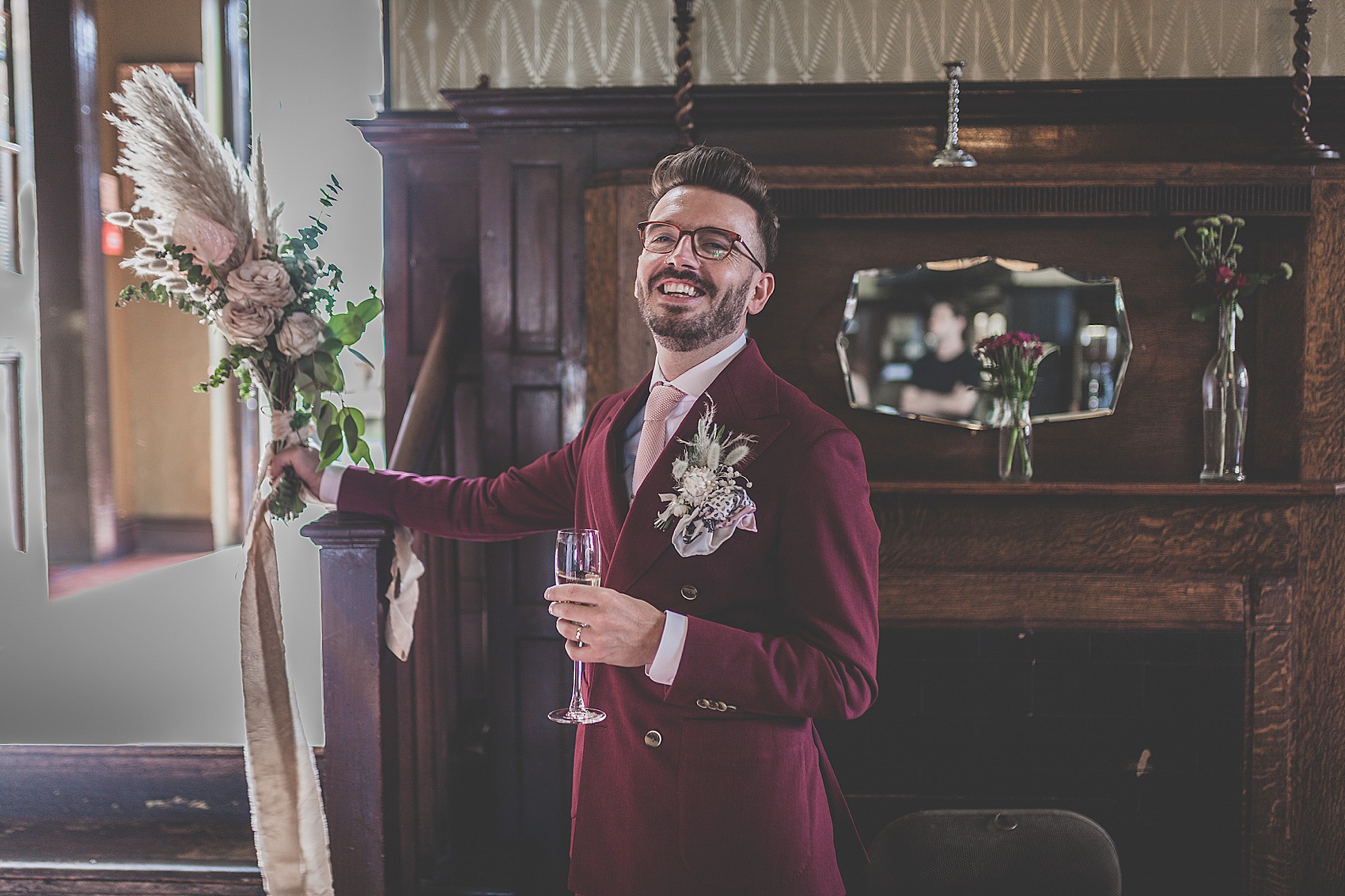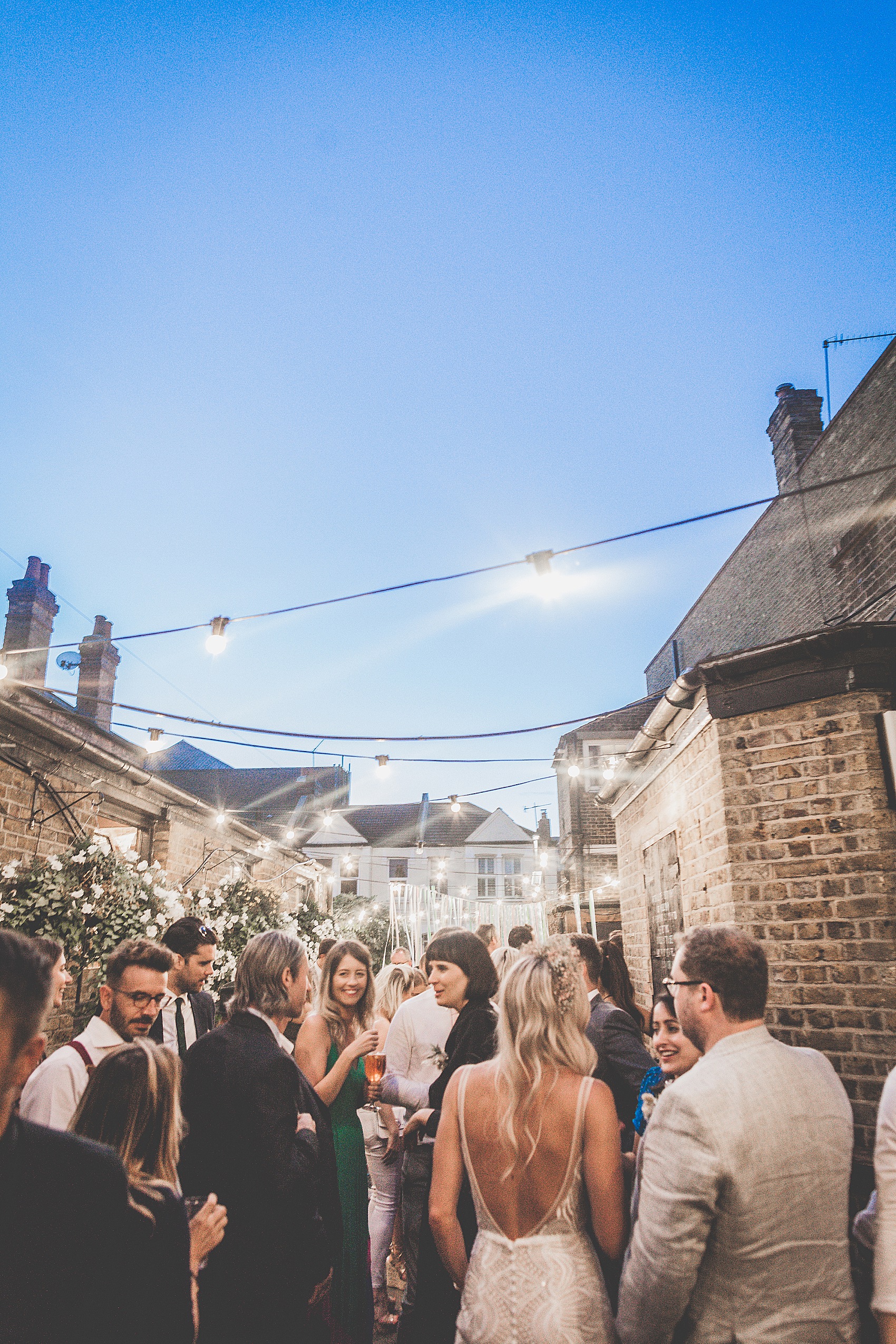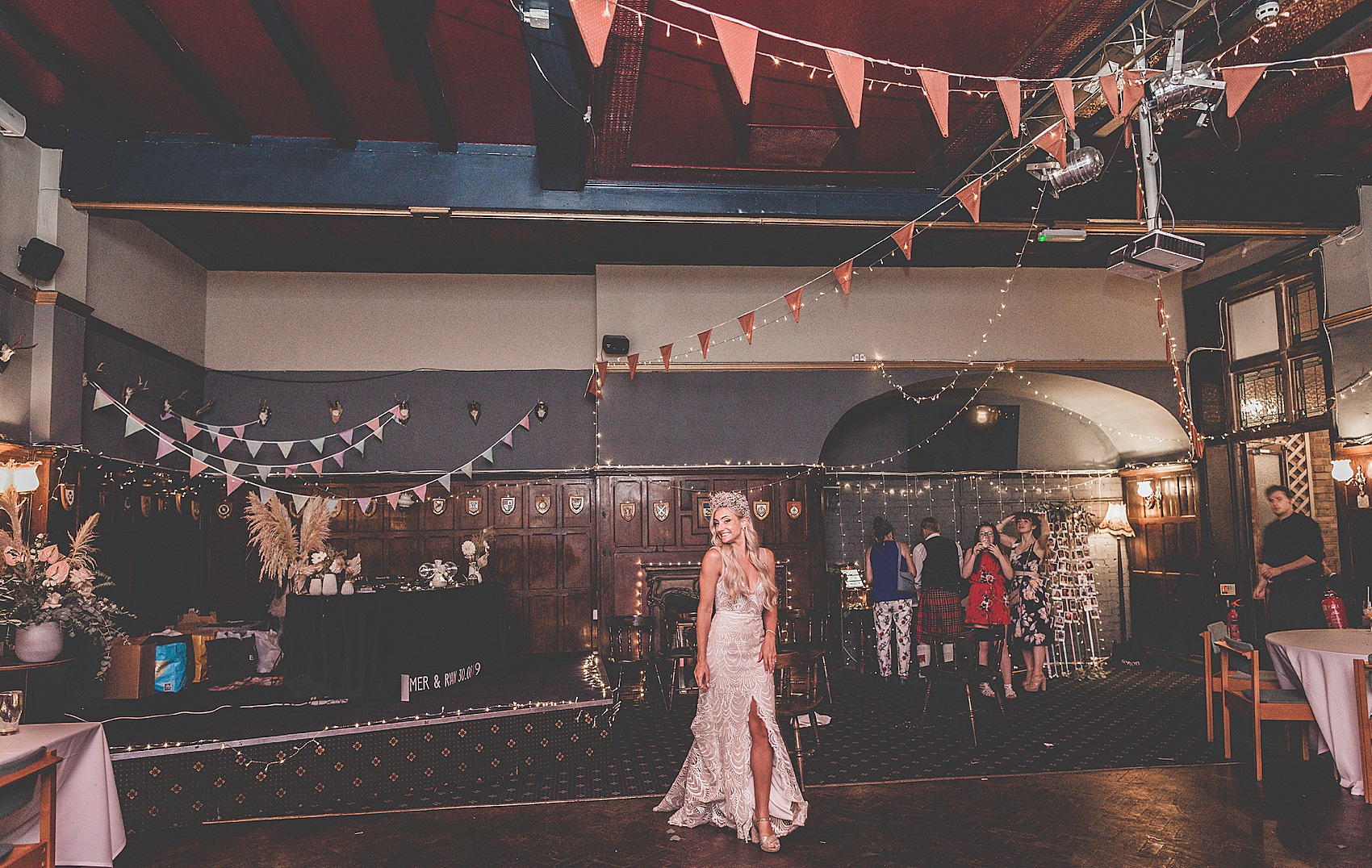 "We decided to have two cakes – we had a cheese tower which was supplied by Rippon Cheese, Pimlico, who were brilliant at helping us choose the right cheese and right amount to cater for our guests. The cake topping was a vintage porcelain Siamese cat in honour of our beautiful cat, Twiggy."
"We also had a beautifully decorated jam and cream sponge cake from Cake Junkies."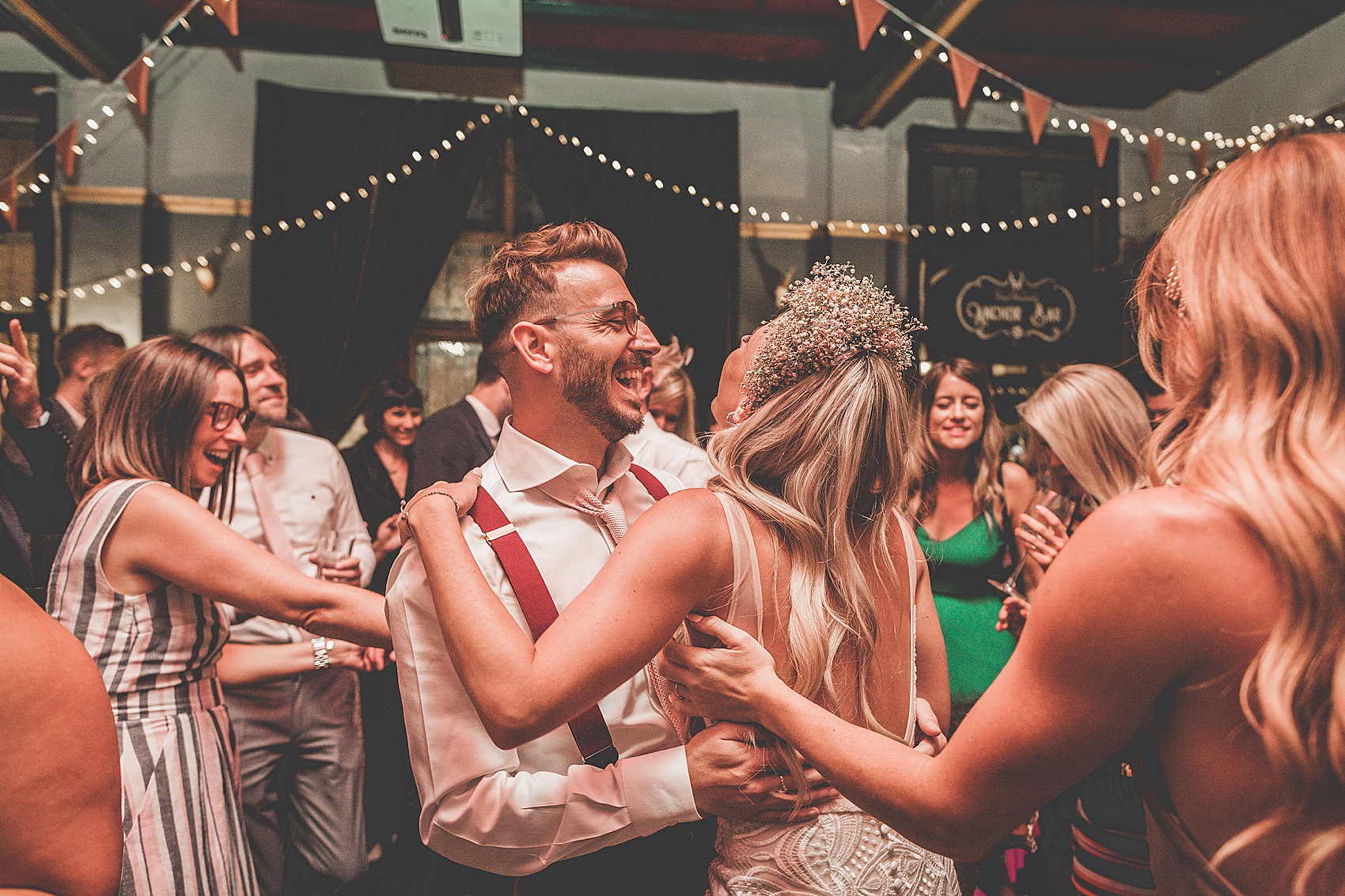 "Luckily for us, some of our friends are DJ's so they all put in a shift at the reception. Ryan was also in a band and managed to get his own back after having performed at 2 weddings, by making those two perform at our wedding, as we were signing the register."
"They played piano and violin versions of the Beatles songs 'Here, There and Everywhere' and 'I Will'."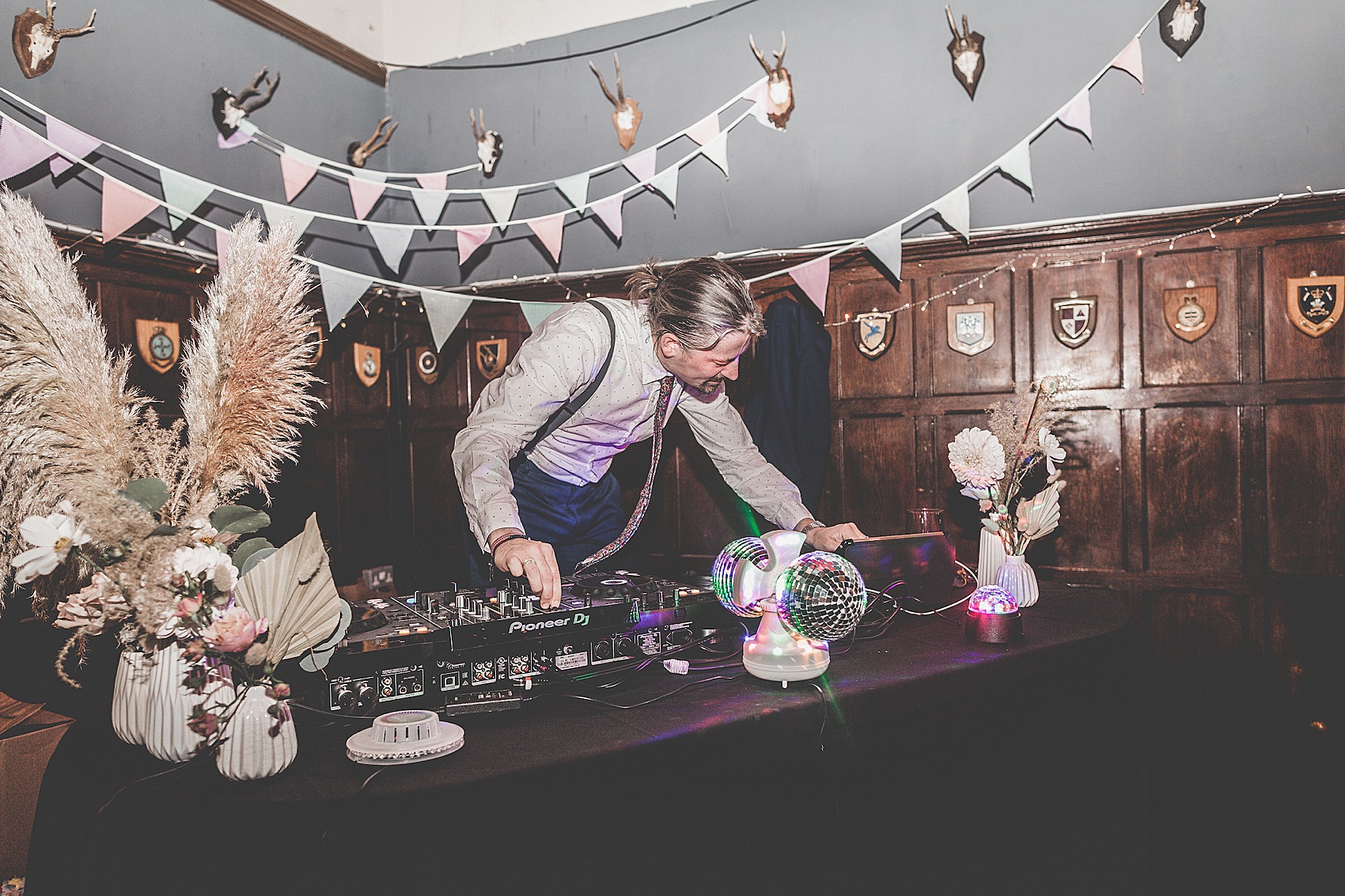 "Our first dance was 'Sunny' by Boney M. My nickname is summer, and the although we love the version by Bobby Hebb, we wanted to do an update and fun dance and when we heard Boney M's version, we knew it had to be that."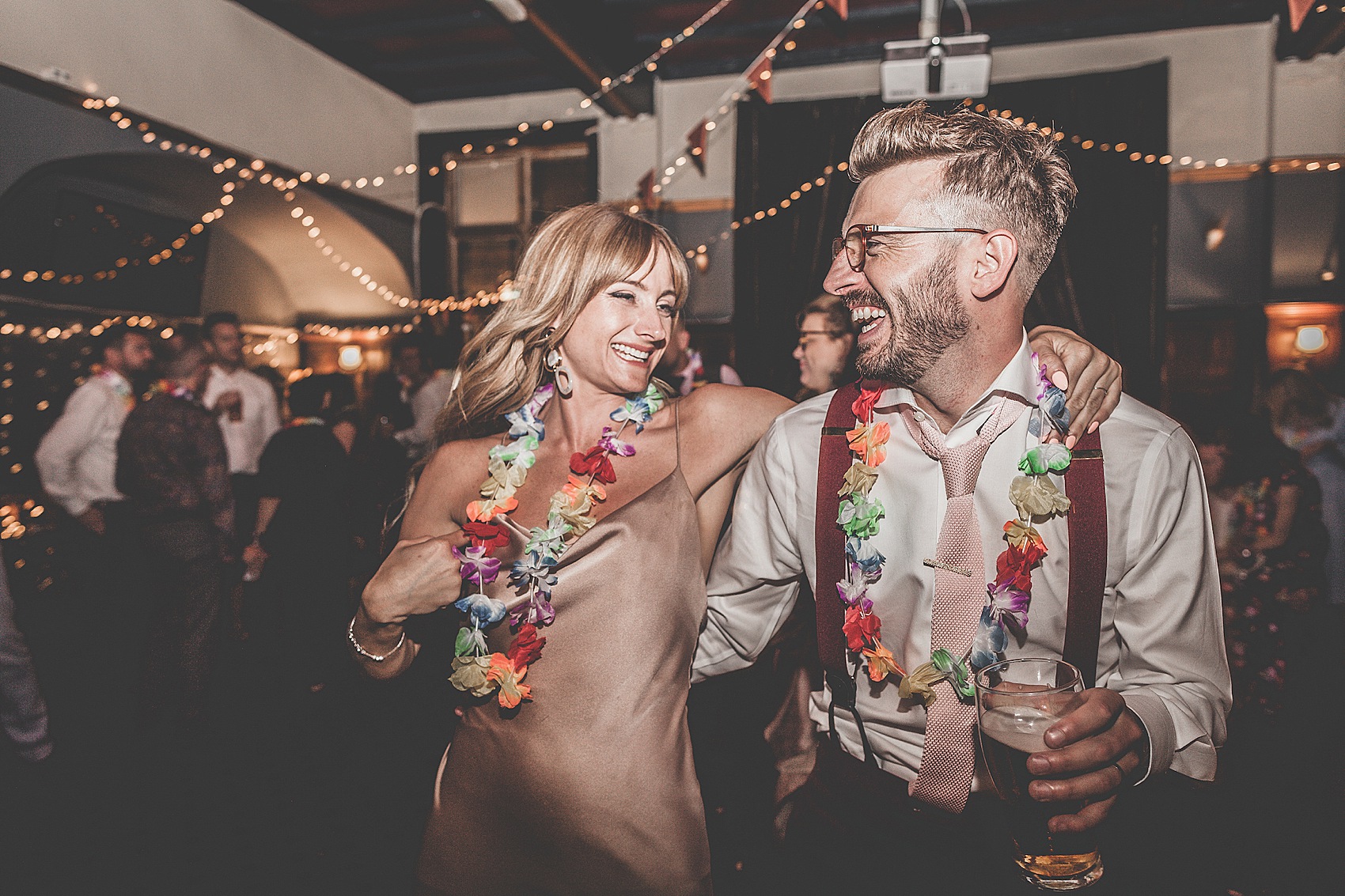 "Without being too cliché, it was all amazing. We had such fun, but if we were forced to pick a specific part, then the party bus was a highlight – made even better by friends getting off the bus and running into random off licenses on the route to get more fizz making sure everyone was topped up."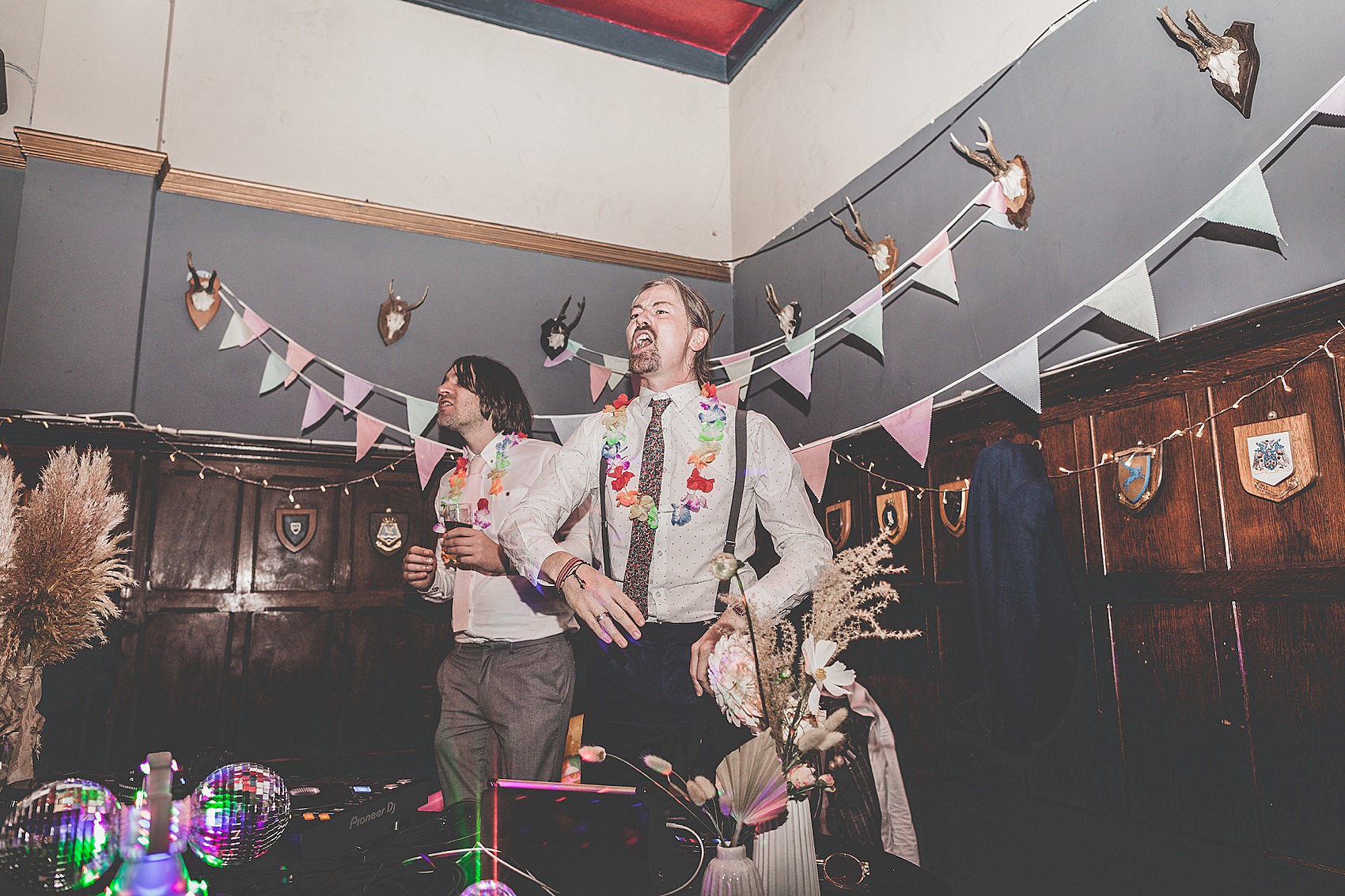 Words of Wedded Wisdom
"At the start of planning, we both wrote down 5 things that were most important to us about the big day. This was really helpful in making sure we didn't get carried away and lose sight of what was important to us."
"Also, let your friends help you – they want to be involved and it can relieve a lot of stress! Most of all, enjoy it, it's about you and in the end, what you want is what you should try and make happen!"
So super gorgeous! Michelle and Ryan, thank you SO much for letting us share your day. I truly hope it brings hope and lifts the spirits of all the many couples waiting to celebrate their own wedding.
Brides, we are huge fans of Made With Love Bridal – check out their other appearances here on Love My Dress, and if you love this venue, you can see many more weddings held at The Asylum right here.
Love Annabel x