Lovelies, how are you all? I'm a real sucker for a beautiful historic house; how about you?
I love seeing them have a new lease of life as wedding venues and today we're exploring Northbrook Park in Surrey, a quintessentially English manor house which has been dressed so elegantly, taking inspiration from Italy, for today's stylish and elegant wedding. Let's take a look.
James Richard Photography

+ Follow
On 11 May 2019, Laura and Micah wed in a Christian service at St John the Baptist Church in Godalming, Surrey and afterwards hosted a simple and elegant, Italian-inspired reception at Northbrook Park for their guests. Choosing a sophisticated colour palette of white and green, the couple's Christian roots were at the heart of their wedding.
"We are both Christians so this guided a lot of the traditional elements and being married in a church, especially the one we were married in as it was where I had gone to church growing up and my parents married there. I was inspired by Italian-style weddings and simplicity was key. That is why we chose many of the features as white and green."
The bridal party all got ready at Barnett Hill Hotel in Guildford, the bridesmaids slipping into glam White by Vera Wang gowns in deep blue, their style mirroring the bride's so well. The flowergirls wore mint-green dresses from Roco Clothing.
"I let my cousin (my eldest flower girl) choose the dresses."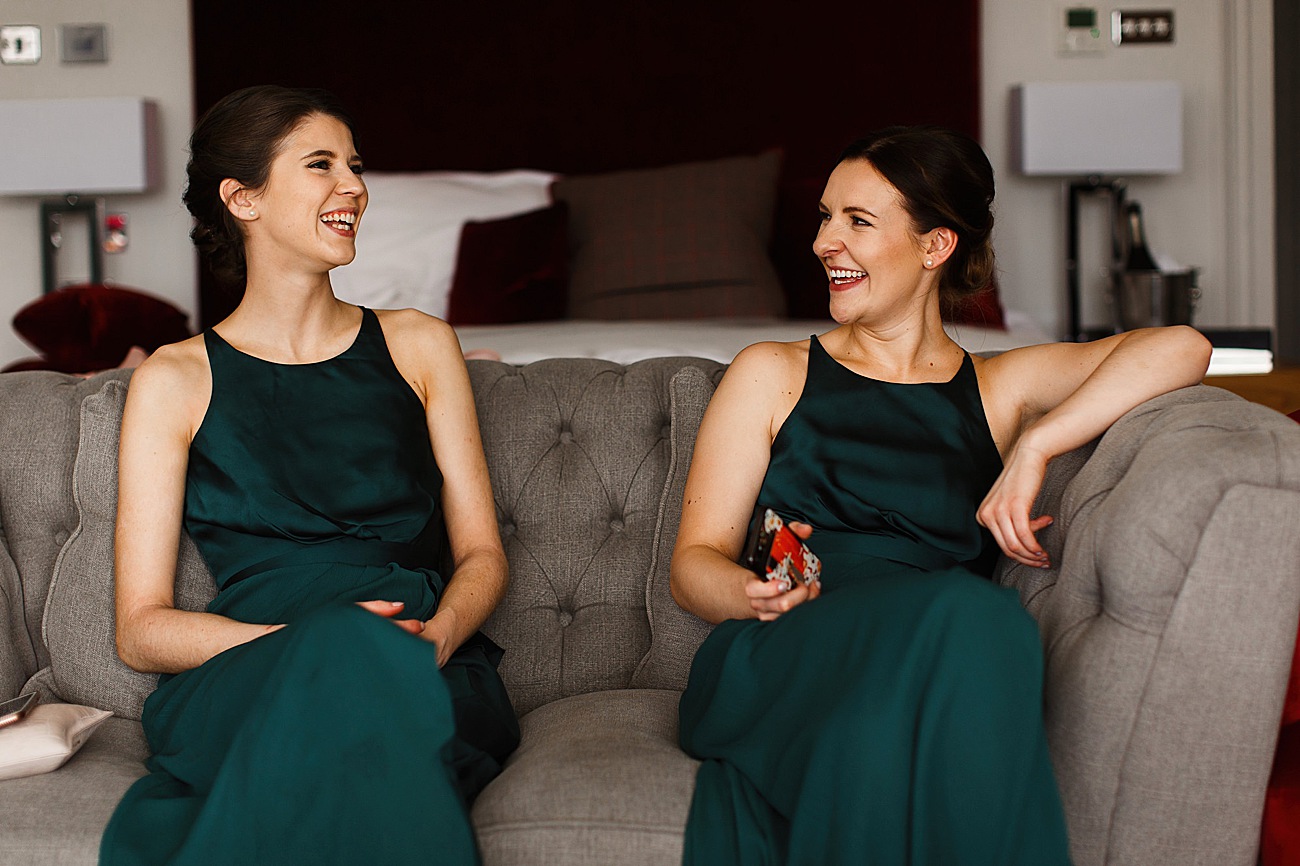 Hair and make-up artist Natasha Sheridan styled the bride's hair into a super-elegant chignon and created a beautiful bridal look, accentuating Laura's beautiful eyes.
Her drop earrings were from Liberty London and the final touch was Estée Lauder 'Belle'.
The bride chose a popular designer amongst Love My Dress brides – Pronovias – for her mermaid, halter-neck 'Drabea' gown which is the epitome of the wedding's simple, elegant and refined vibe.
Exquisitely-cut, her gown is so modern with its gold gemstone appliqué edging and deep V-back.
"I struggled to find a dress I fell in love with when I went to bridal stores. I ended up looking online to get a feel of the designers I liked and found my second-hand dress on Stillwhite.com."
"I ended up meeting the owner in London and taking it home that day! I got it tailored so it was a perfect fit. It was simple, it was comfortable and it suited me."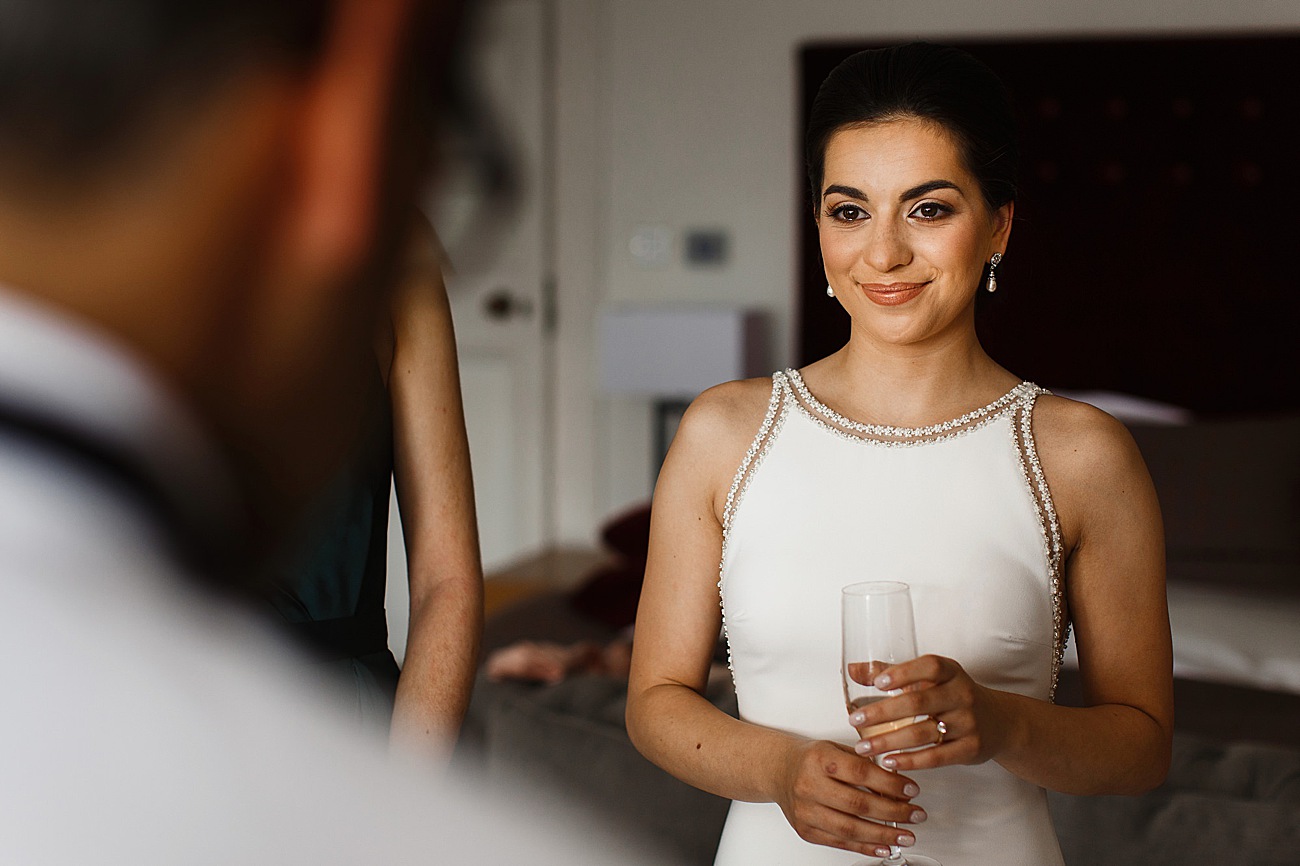 For a touch of softness, she wore a satin-edged Cathedral veil from The Dress in Teddington and slipped on super-high platform shoes with diamanté straps from Dune London.
"Micah is over a foot taller than me so the five inch heels were needed!"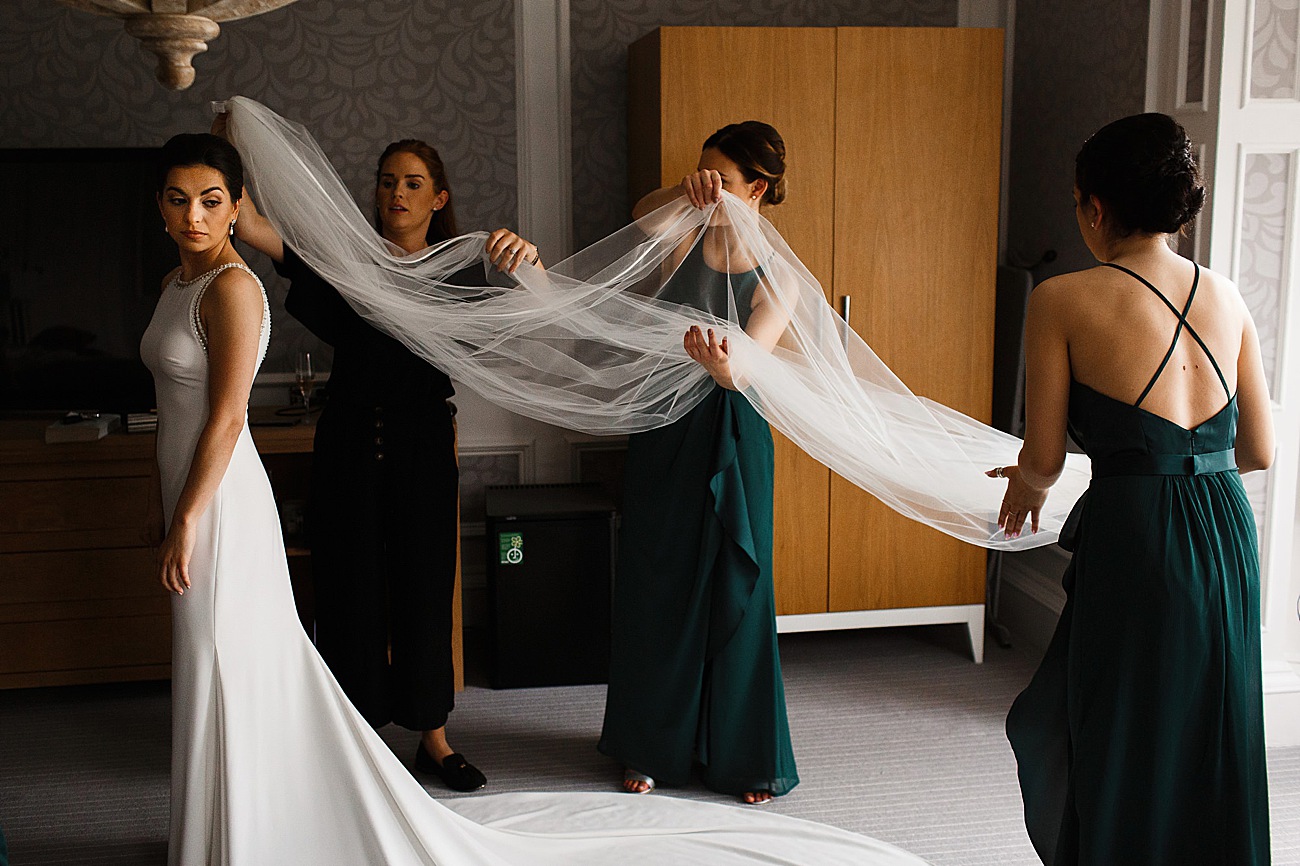 The couple met in their second year at university, where they were both members of its Christian Union.
"We met handing out tea and toast to people coming out of the student union at 3am as we were both a part of the Christian Union. Five years later Micah flew out to New York (for 35 hours) to surprise me at the Gapstow Bridge in Central Park and proposed."
I love that Laura was a regular visitor to Love My Dress throughout her wedding planning.
"I loved reading about real wedding stories! It was such a good place to get inspiration and learn from others – an absolute must-read while engaged"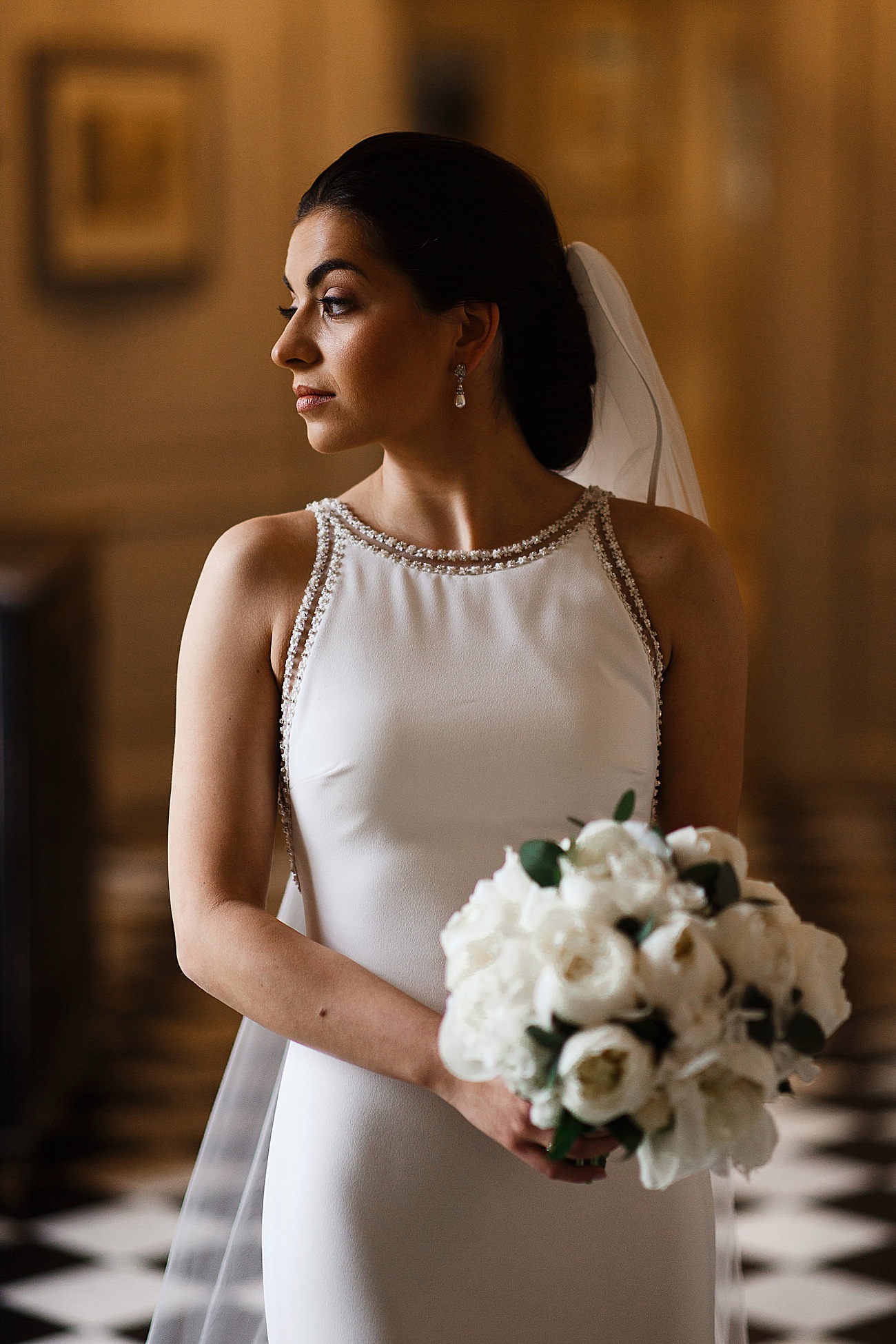 I adore Micah's suave style which he looks to comfortable and confident in. His tailor-made velvet jacket was from Moss Bros, his tuxedo from Ted Baker and shoes from Loake. He also wore green socks from London Sock Company to match the colour scheme.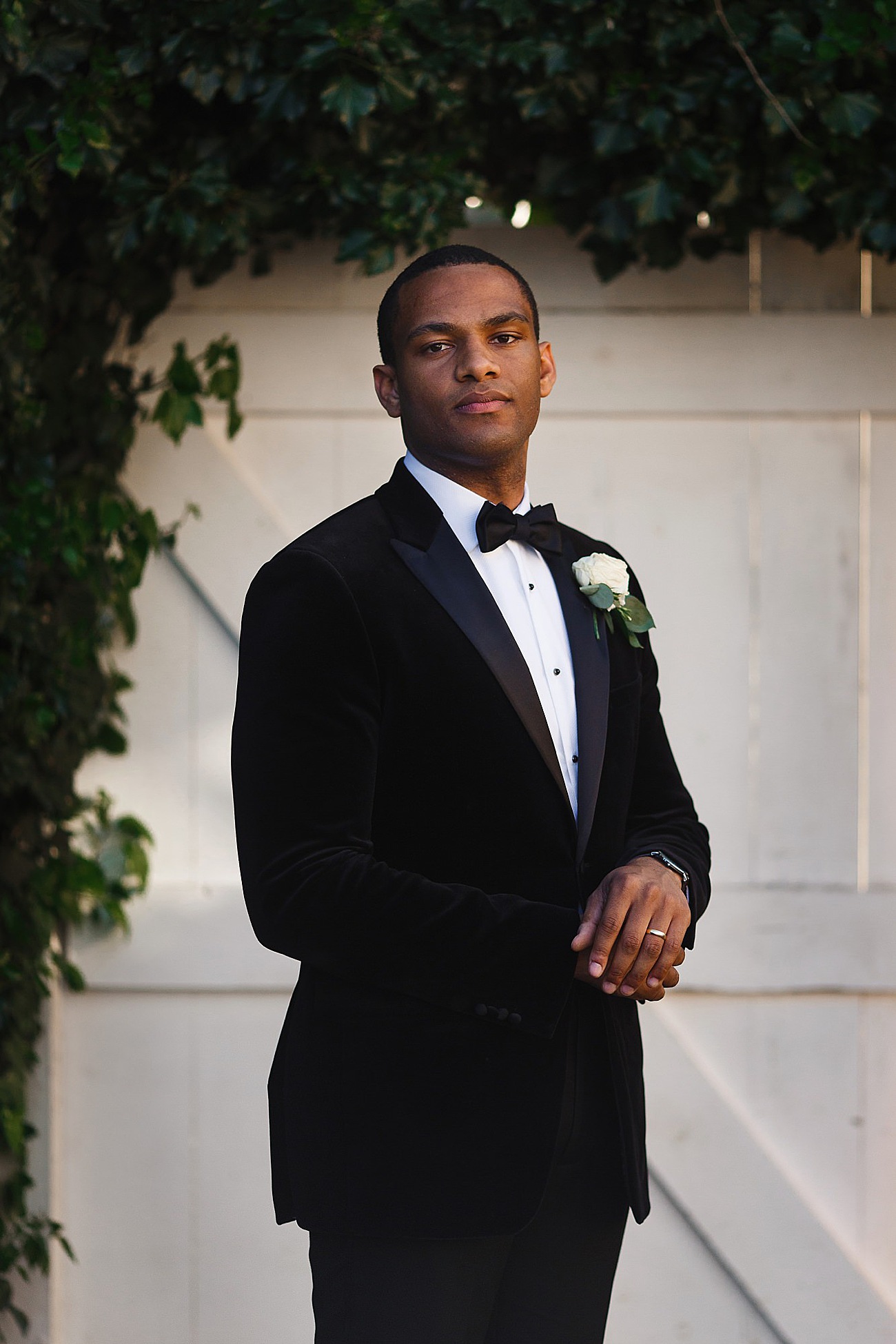 The bridal party carried bouquets of pure white and green, created by Rhubarb & Bramley.
"I have always loved peonies so wanted these to be front and centre! My two favourite items were the flower arrangement on the church arch and the centrepiece at the venue."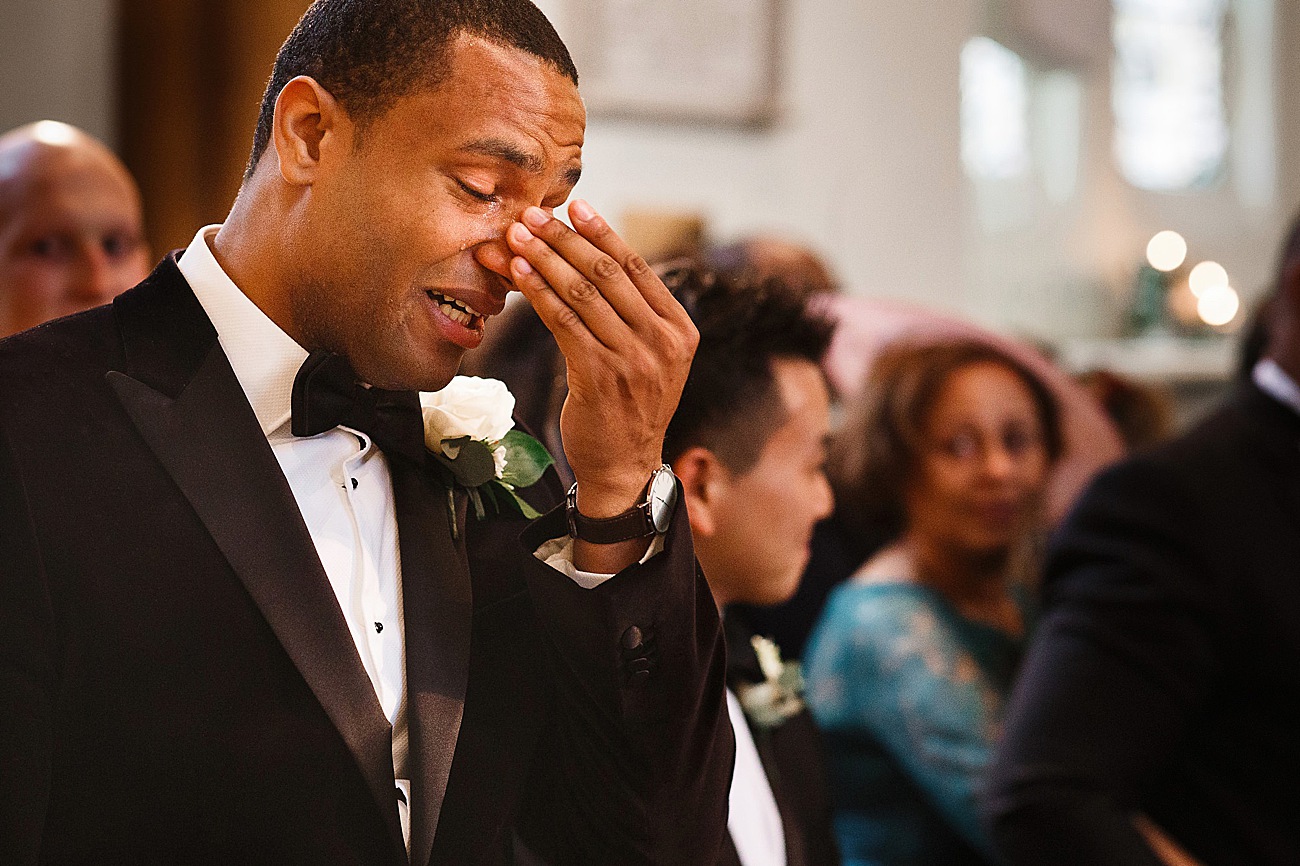 Laura's father is a vicar, so he had the honour of both accompanying the bride down the aisle (to 'Flicker' by The Piano Guys) and performing the service.
"My father who is a vicar married us which was really good fun. We kept our vows in a pretty standard form to the traditional Church of England vows."
"We did have a choice but felt it represented us as a couple and we were happy to leave well enough alone! We had a reading from the Bible from Phillipians Chapter 2 v 1:13 which discusses humility and Christ-like love of putting others before ourselves."
"My brother also read a poem he wrote which worked out really well and was really warming and humorous – just a bit different from the normal readings we are used to."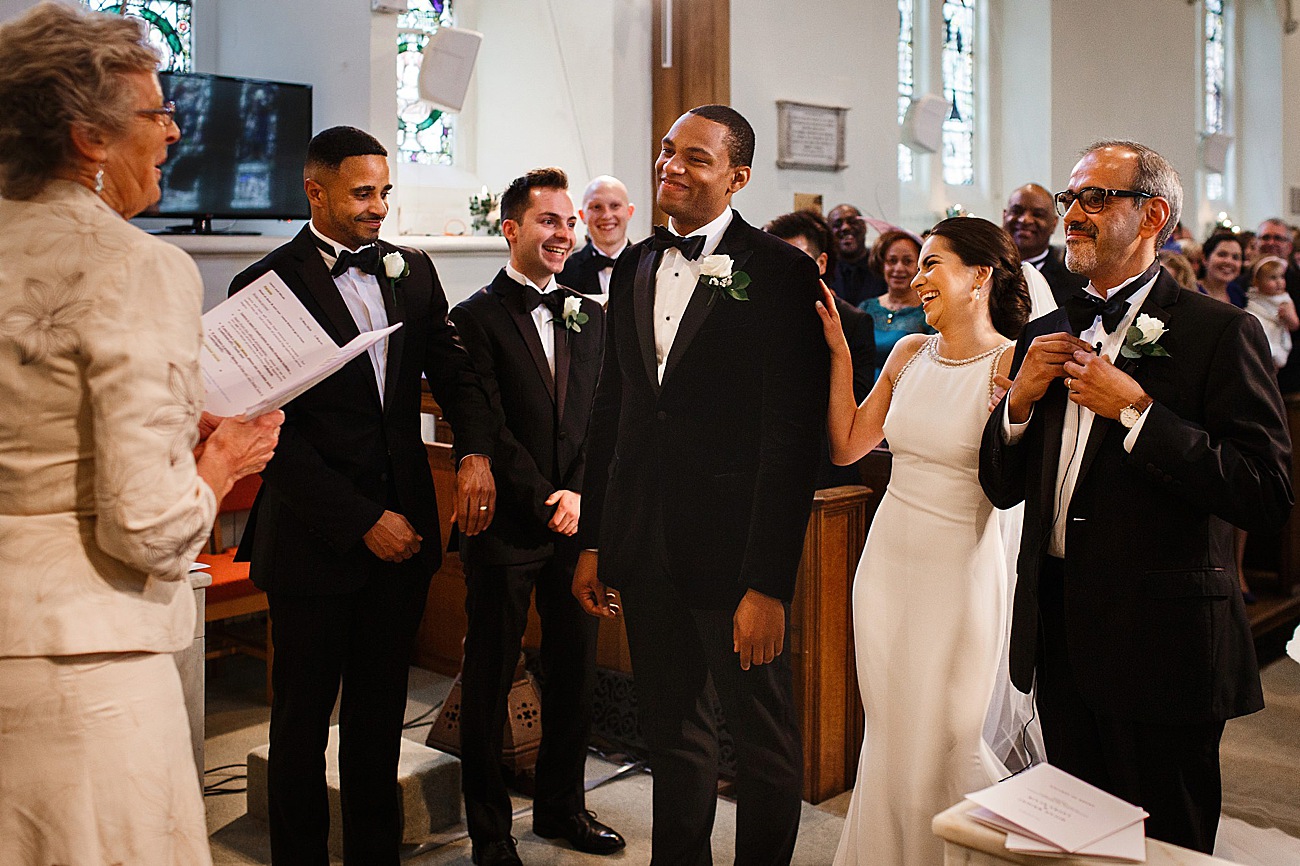 The rings were from Mappin & Webb.
"I had pointed them out to Micah who got the engagement ring from there so we decided to go the whole hog."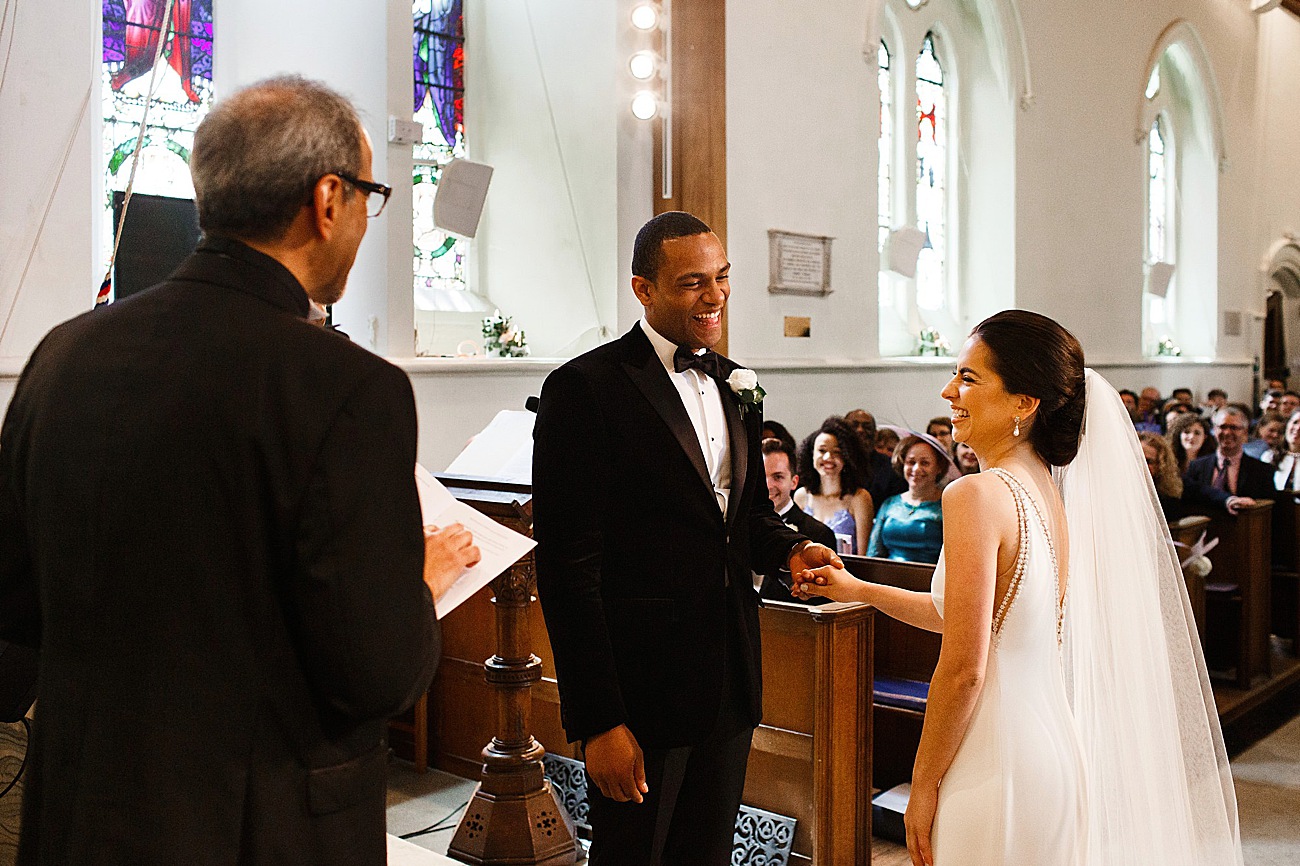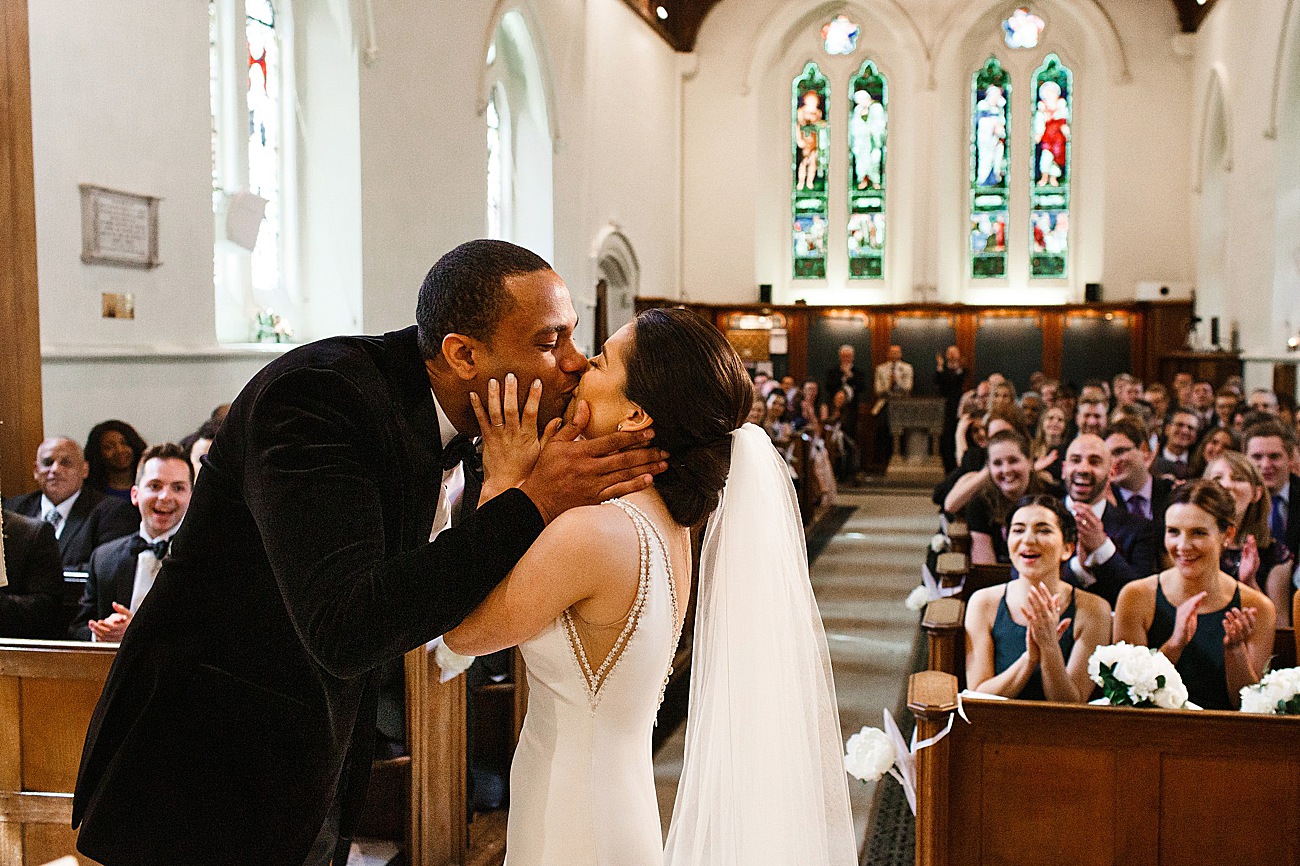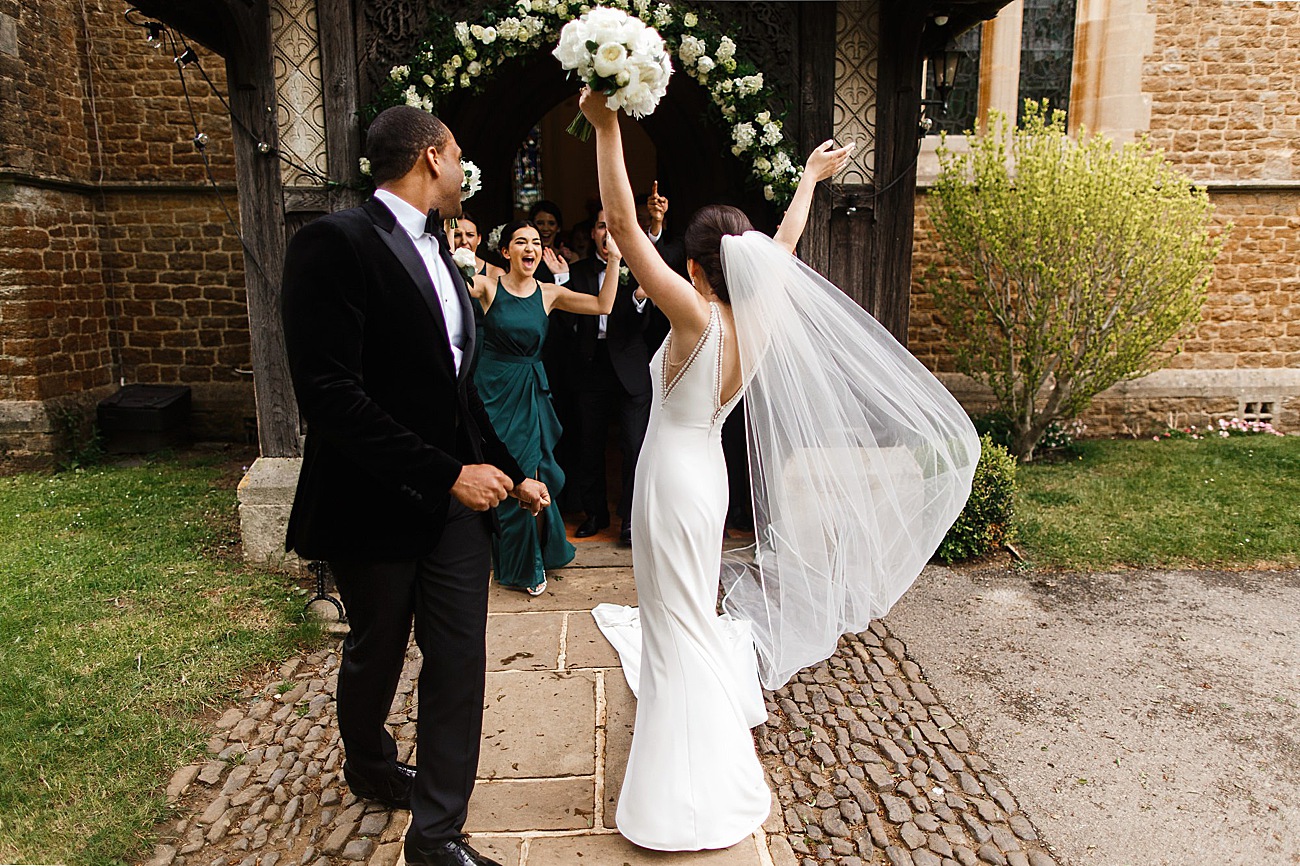 Now, I've always said that when I get married I'd love to have a VW Beetle as a wedding car; in honour of my car 'Belinda the Beetle'. So, I'm lusting after this particular wedding car; Laura's mum's convertible VW beetle.
The newly-weds hopped into the Beetle to travel to Northbrook Park, which was beautifully decorated with pure green foliage and white roses, as well as pillar candles and little bottles of homemade elderflower cordial and raspberry cordial, made by Laura's mother as favours.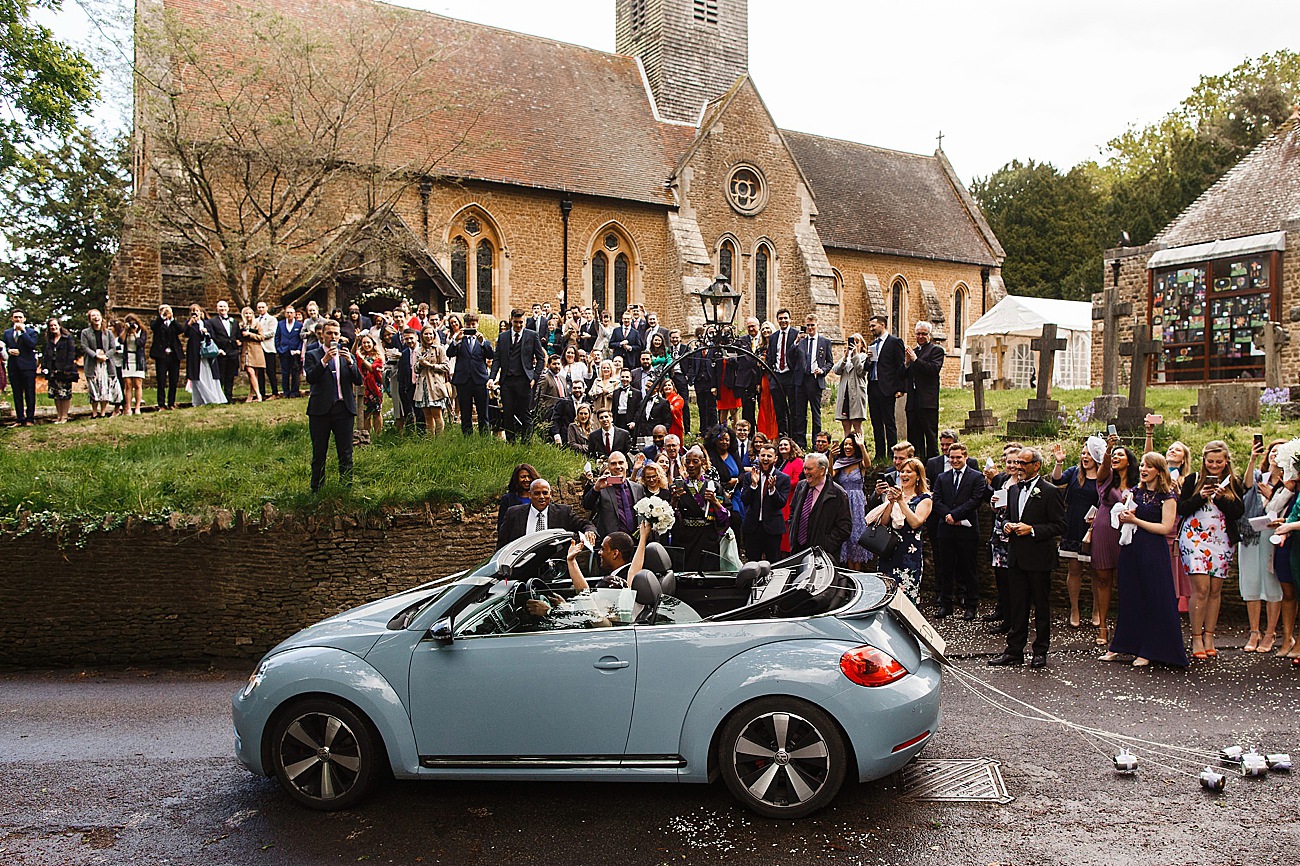 The couple's old university friend, James Richard Photography, was called on to record the day and I love his vibrant, movement-filled photos.
However, the ones I keep looking at are the couple's newly-wed portraits; just so gorgeous.
"We actually knew James from our time at university so had already been following him on Instagram. We decided to try him out and it turned out to be one of the major reasons why the day itself went so well."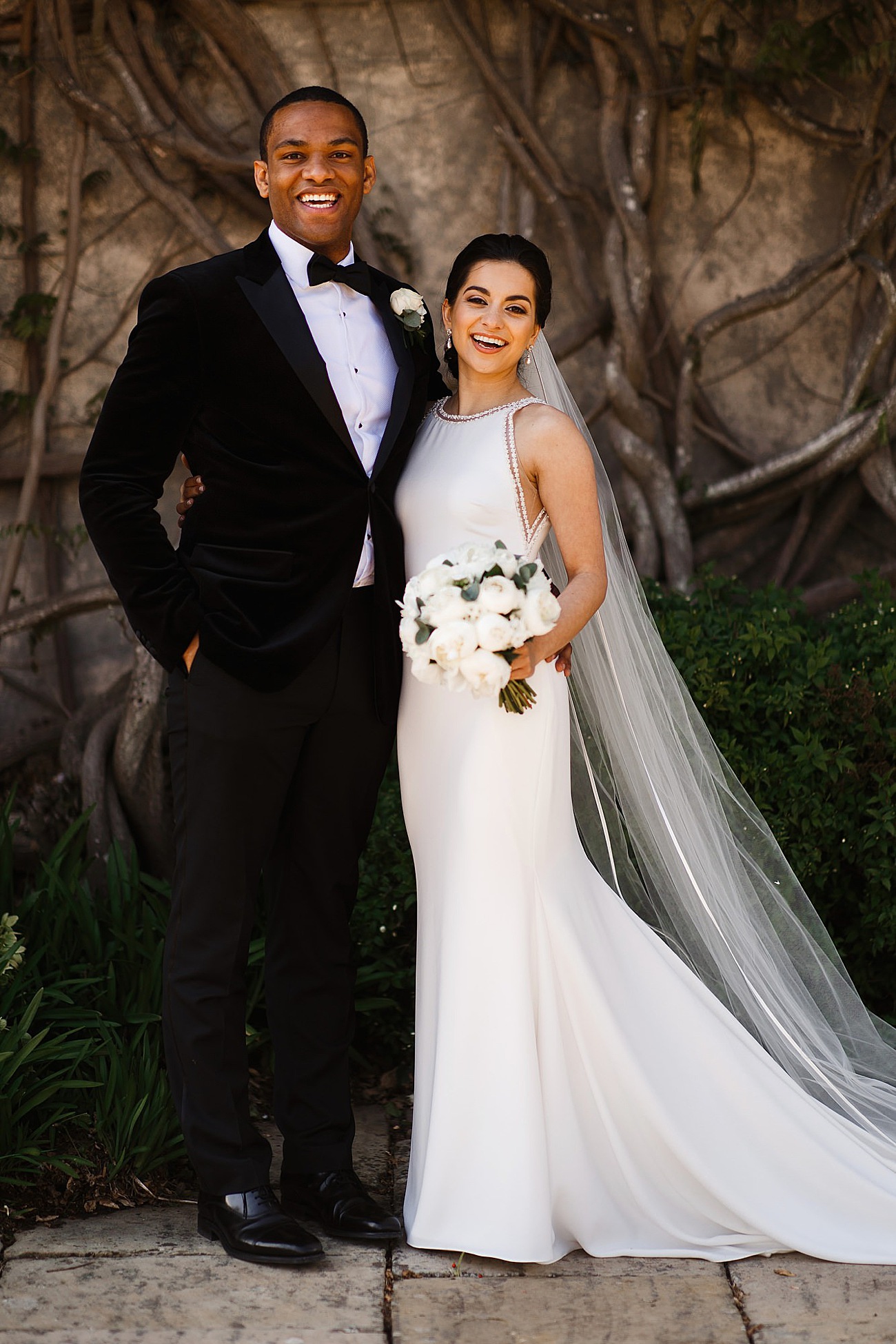 "The engagement shoot was very helpful to get used to being in front of the camera and he worked tirelessly all day for our wedding. A lot of guests had many positive things to say about him. We would absolutely recommend him to anyone."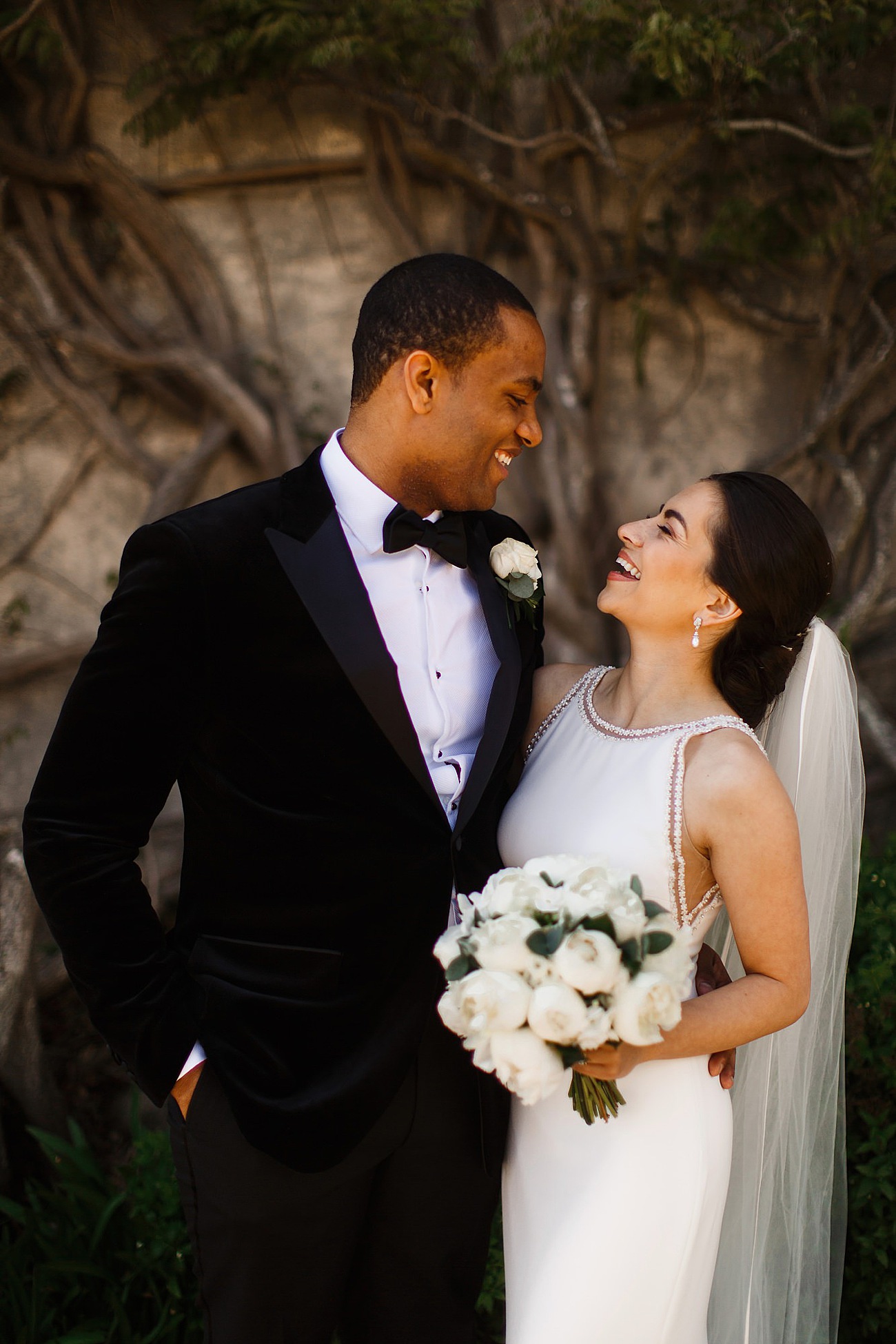 'My mother made the centrepieces, replicating an idea from Pinterest with upside down vases, a candle and foliage."
"I loved all the content from Papier who do wedding stationary but as I am quite creative I decided to replicate it myself. The only thing I did purchase were the wedding envelopes which were lovely and tied in with our theme."
The bride, groom and their guests sat down to a wedding breakfast from White Truffle Events (who also served up an afternoon tea). The three separate tiers of wedding cake, with their floral decoration, were made by Micah's mother and Celia Jesshope, who has since sadly passed away.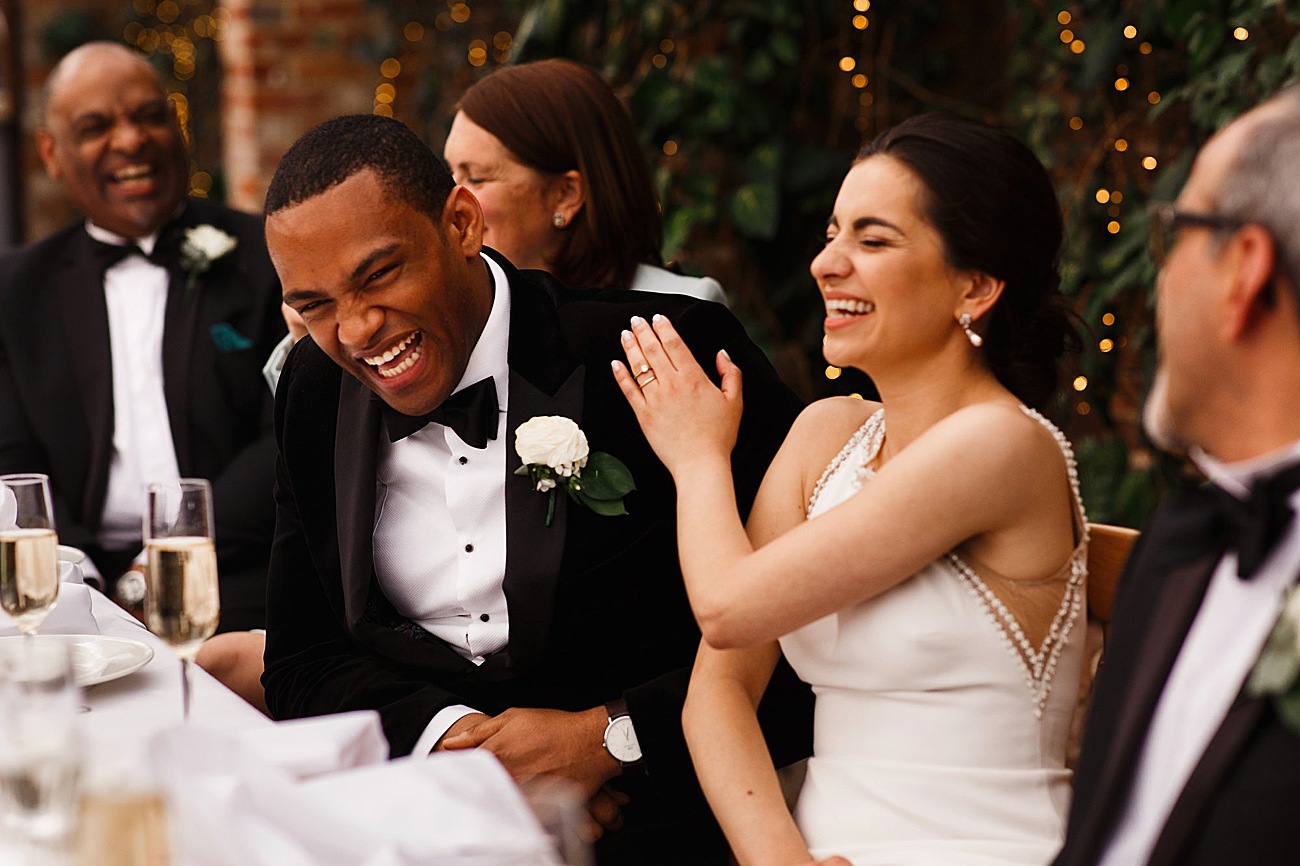 "Pork & Co were our favourite eatery in Canterbury where we were at university! They travelled all the way to Surrey to cater the evening for us."
The wedding party's music came from Cinco Magic Band, who had learned a song especially for the first dance. During the evening there was also food from Pork & Co, a favourite of Micah and Laura.
"Tom Misch's 'Movie' was from an album we had listened to quite a lot in the car and we thought it was personal and unique to us. Amazingly, the band learnt it in preparation and so played a live rendition for our first dance."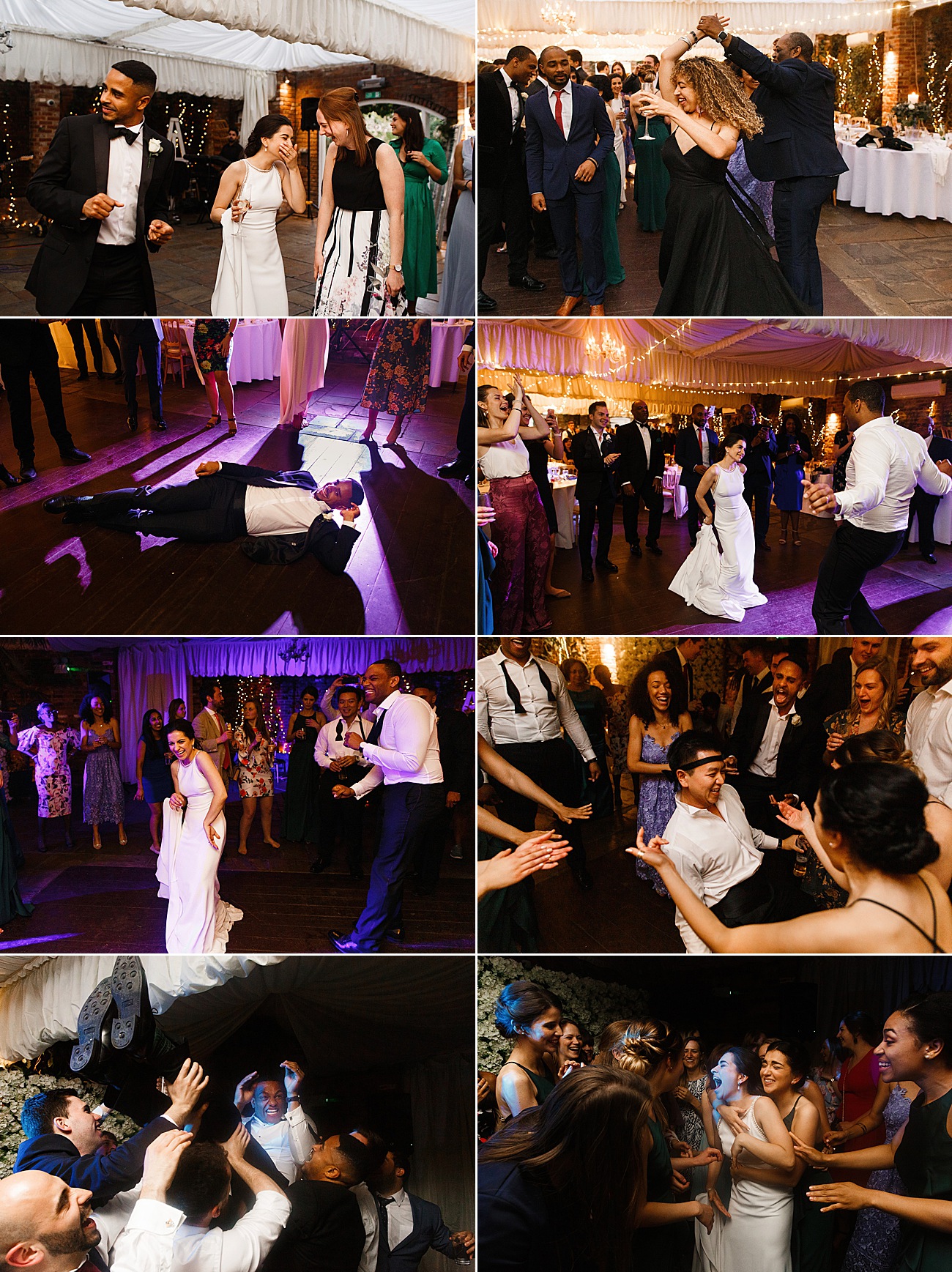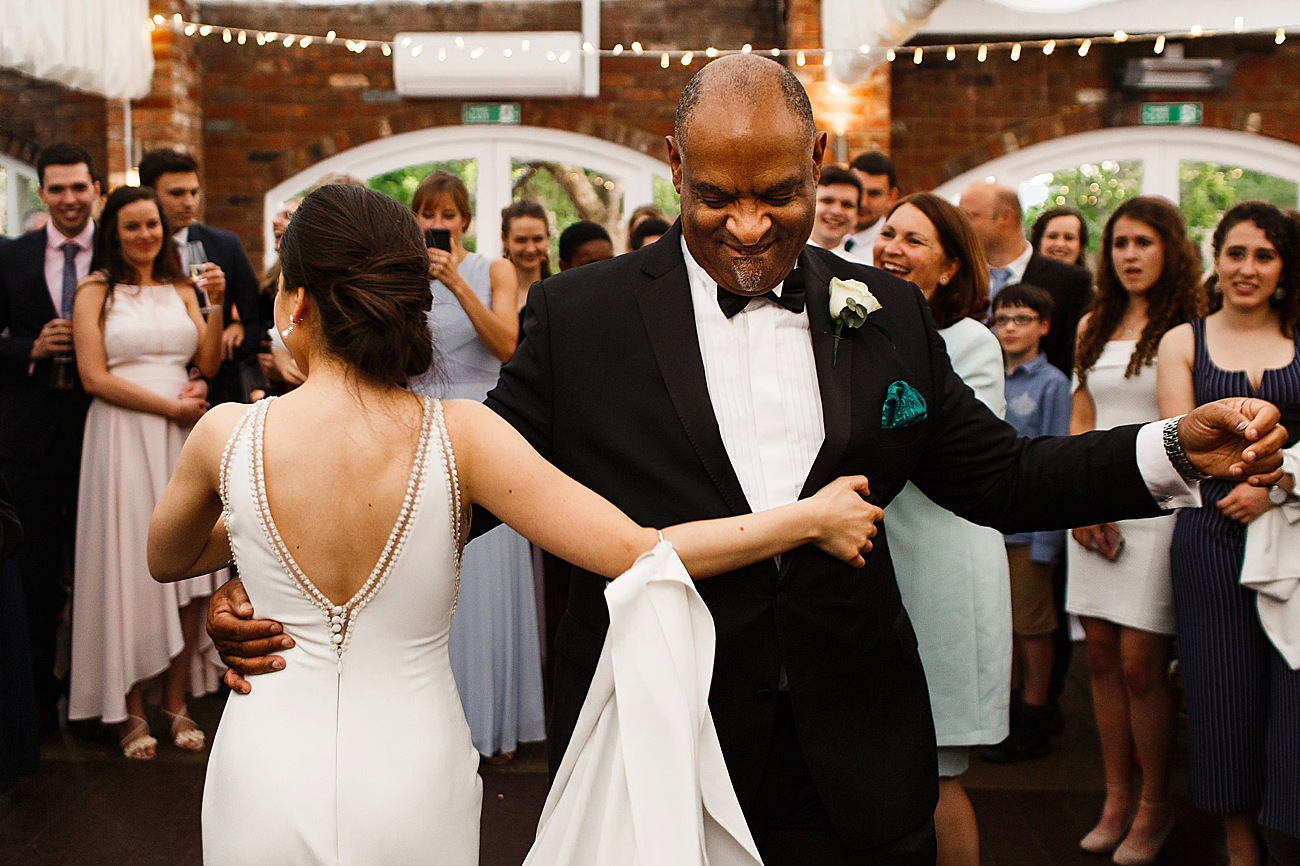 The couple have so many favourite moments, which they would like to share.
Micah: "For me it was meeting everyone at the church before the bride arrived (don't take anything from this!). It was so nice seeing everyone be so happy for you and was actually one of the few opportunities we had to speak to people during the day." 
Laura: "We loved having all our favourite people together in one room. It was such a joy to celebrate with so many people who have been so generous to us over so many years."
Words of Wedded Wisdom
The bride and groom also have some invaluable words of wisdom for all couples currently planning their own special days.
Micah: "For me it is to recognise each other's strengths. There are certain things we can individually get on with as we know best. Often we got caught trying to do everything together and in agreement."
"Also, delegate. We realised that there are so many people who are genuinely overjoyed to help out and be part of your day. It meant that we had minimal rushing around on the last day and day of the wedding."
"Take time for yourselves. What quickly happened was that each time we met we ended up solely wedding planning and so our relationship was put on hold in many respects. It's often good to just take time out and have dinner or hang out without talking about planning and just enjoy being with each other."
Laura: "Pre-marriage courses. Often your relationship becomes all about the wedding. We had to do one as a precondition of getting married at the church but we also did one separately to that. It was a great way of giving time to discuss important issues and go into the day on the same page."
Finally, Laura has some thoughts on how her view of weddings has changed since her planning her own.
"When we now go to weddings we are so much more appreciative and try to look for their individual touches. Once you've planned a wedding, you know how much thought and effort goes into it and we are so touched to be invited and part of someone's special day."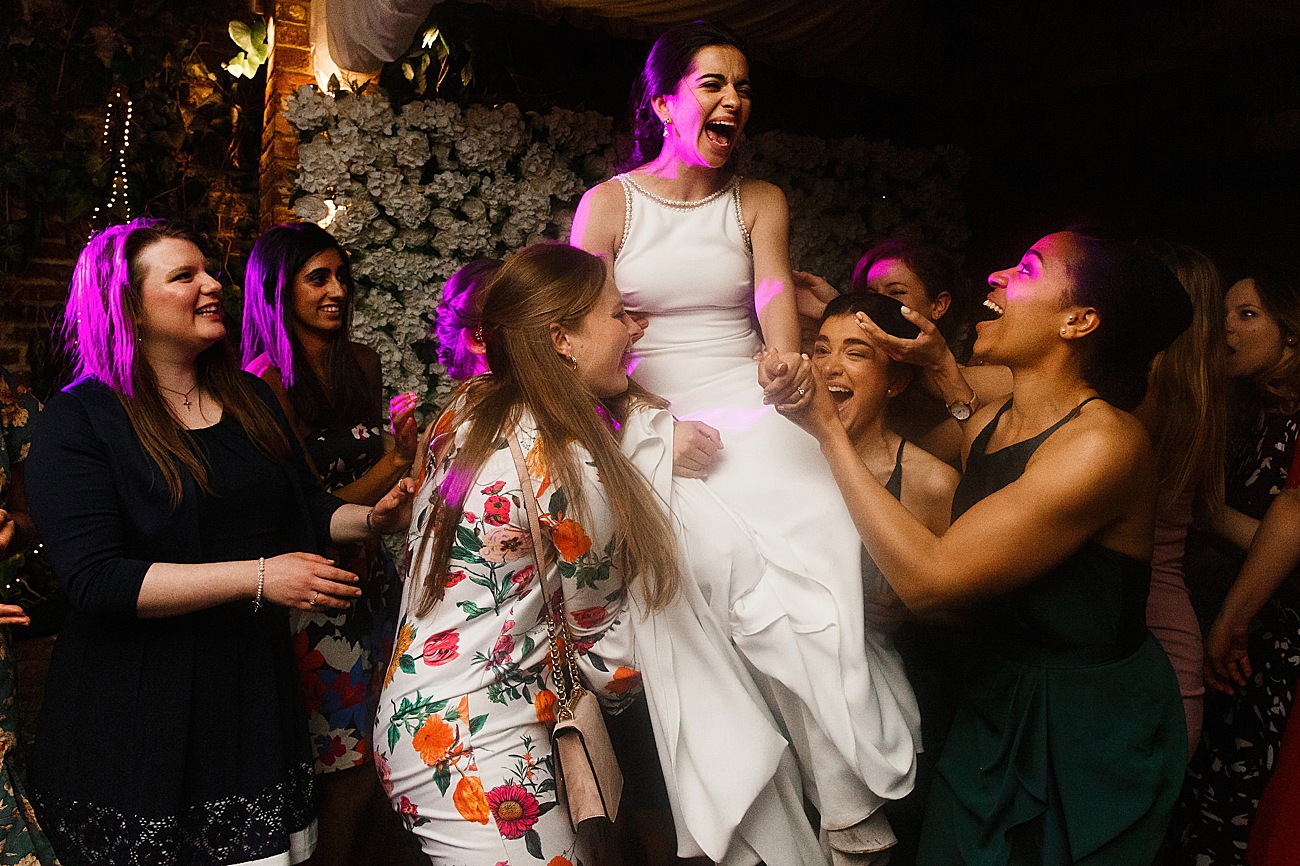 Laura and Micah, it's been wonderful to have an insight into your day and hear both of your advice and viewpoints. On behalf of everyone at Love My Dress, thank you so much, and thanks also James Richard Photography.
If you've fallen for Laura's Pronovias gown, you can see more brides wearing their designs on Love My Dress here.
With love,
Ele xx