Taking the greatest of pleasure supporting wonderful, talented and hard working wedding suppliers currently – and always here to prioritise the work of our Little Book members first and foremost.
These gorgeous images were sent in by our Little Book member, the wonderful Katherine Yiannaki Photography, a documentary and fine art wedding photographer based in South Northamptonshire. They feature the work of another of our recommended suppliers the super talented accessories designer, Rachel Sokhal Bridal.
Until our basic human right to marry again is restored, I hope that these images both inspire you and encourage you to support suppliers going through such a tough time right now – please take a moment to follow their accounts, like and comment on their work – you have NO idea how much this means right now – thank you.
Katherine Yiannaki

+ Follow
"I'm so excited to share this intimate, elegant and romantic escape to this stunning English country house with you. The concept behind this editorial was to show how beautiful an 'intimate' wedding at home can be, and to provide inspiration to couples who are currently considering changing their plans from a large wedding to something much more intimate."
"We wanted to show how, even with a small guest list, you can create a beautiful, elegant and romantic event at home."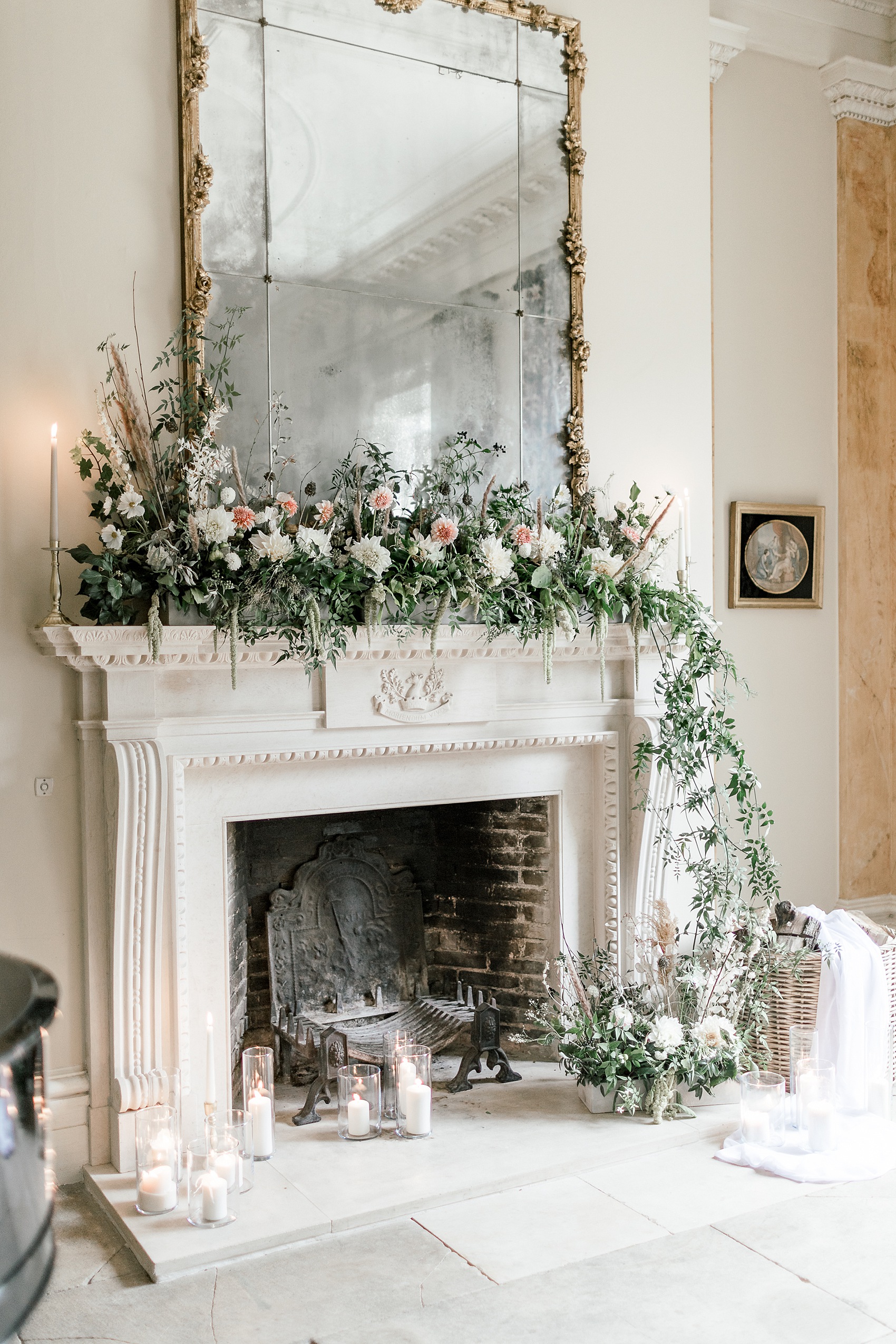 "The venue for our shoot is a beautiful private country house in Bedfordshire, England. There, within beautiful walled gardens – lies Howbury Flower Farm, supplying British grown seasonal flowers to many local florists."
"Of course, being on a flower farm, we wanted the flowers to take centre stage of this shoot. Laura from Wild Blossom Floral Design, worked her magic, creating softly structured, romantic and abundant floral displays with a mixture of cut stems and foraged foliage, all taken from the grounds at the house."
"The Dahlia "Café au Lait" was our hero bloom, the very last of the late autumn crop, and we used this to influence the overall colour pallet for the shoot – soft peach, blush and sage greens."
"Laura incorporated a few dried flowers were also incorporated to add further texture and softness."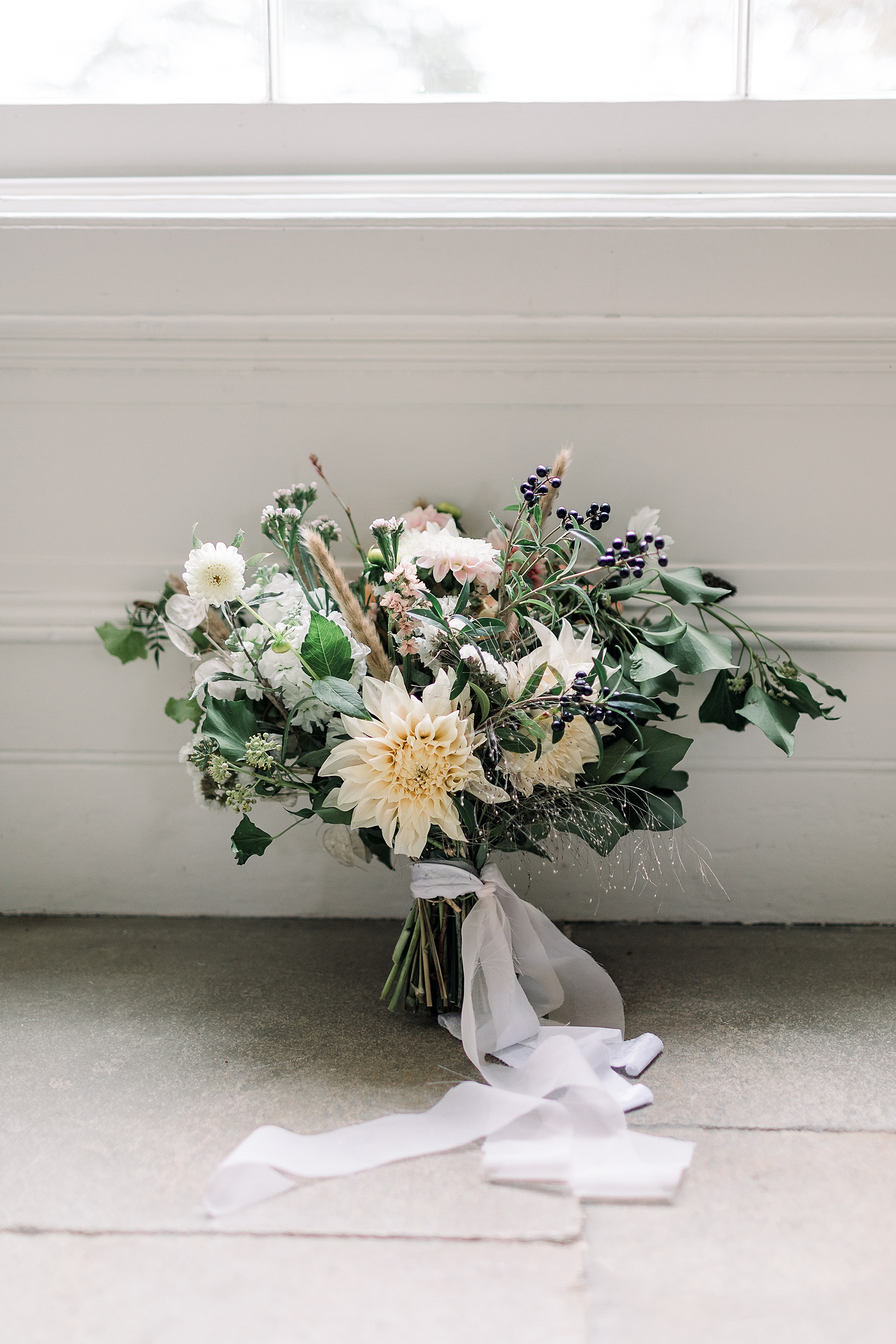 "The mood for the shoot was relaxed and romantic, with hints of opulence and paired back luxury. We wanted a strong theme of home and family to come through in the images, so many of the items used in the shoot belong to the house, including the antique glassware, beautiful furniture, and even the family dog, Margot, who everyone fell a little bit in love with!" 
"The house provided such stunning backdrop to the shoot. Victoria from Very Special Events, lead the creative styling for the day,  and focussed on dressing 3 main areas, including the stunning fireplace, sweeping staircase and the more intimate drawing room for our sweetheart wedding breakfast table."
"For the wedding breakfast, we used a small oval table, draped with soft ivory and blush fabrics.  Low level floral arrangements, opulent gold candle sticks, gold and cream tableware, gold cutlery, and antique crystal glassware all came together beautifully to create a soft and romantic feel with a nod to the heritage of the house."
"Once again, flowers were the hero, with loose flowers on and around the place settings and a tall flower arrangement at the front of the table giving a soft, fresh and romantic feel, and a reminder of our flower farm location."
"Thankfulness was also a theme that we wanted to come through in this shoot, so we incorporated messages of thanks both within the stationary and in a bespoke sign by Bluebell Lettering."
"The handmade papers of the stationary by Lula Bee Weddings, featured gold accents, a family crest and gold wax seals which carried through the heritage feel, and the strong sense of family that we wanted to achieve."
"Beautiful calligraphy and soft peach ribbon added romance, and complimented the soft autumnal pallet."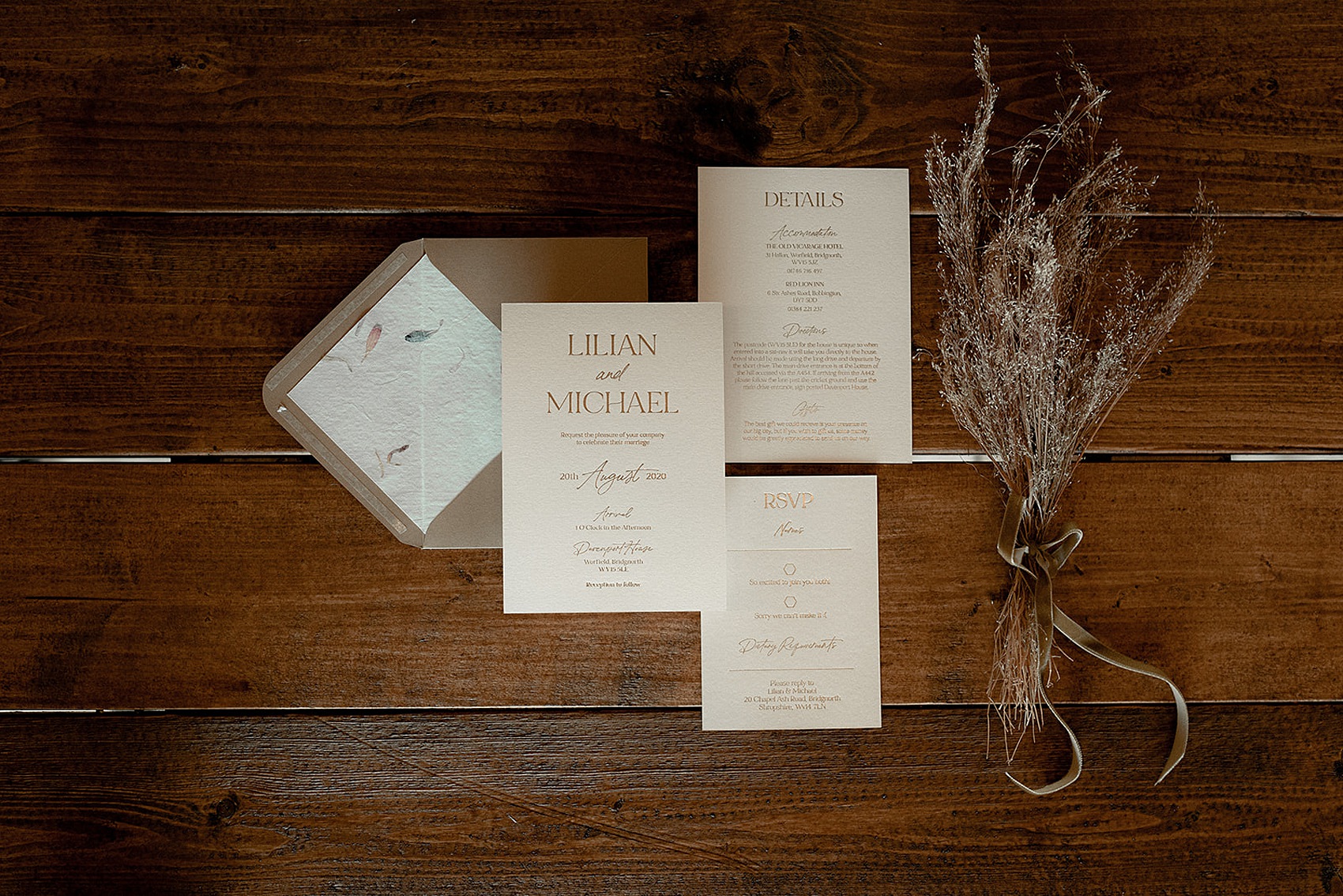 "Lindsay Pemberton designed a single tier cake, with gold edged fold detail, and adorned with a display of sugar flowers as an ode to our flower farm location."
"The cake was displayed on an antique table, with soft draping fabrics, candles, and more delicious goodies, including beautifully decorated iced biscuits and peach macarons."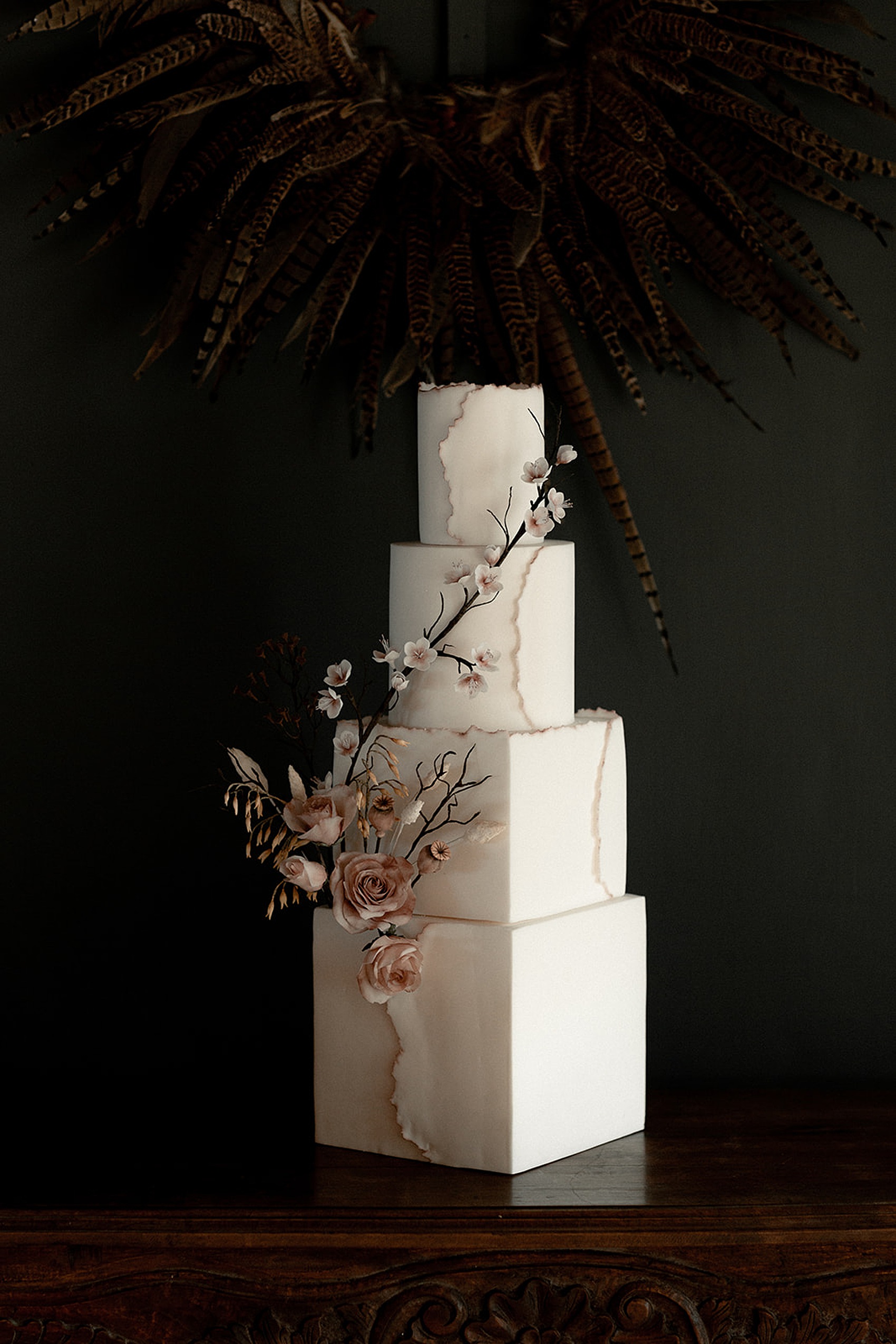 "We wanted to keep the bridal styling classic and in keeping with our surroundings, so Aimee from Rachel Ash, chose the Andrews dress from Pronovias' 2021 collection."
"The dress features beautiful lace, and has a has a vintage, Edwardian and romantic feel with gorgeous detailing."
"We knew it was just perfect for this shoot as soon as we saw it, it seemed to suit the house perfectly, even mirroring some of the details in the original doors and cornicing."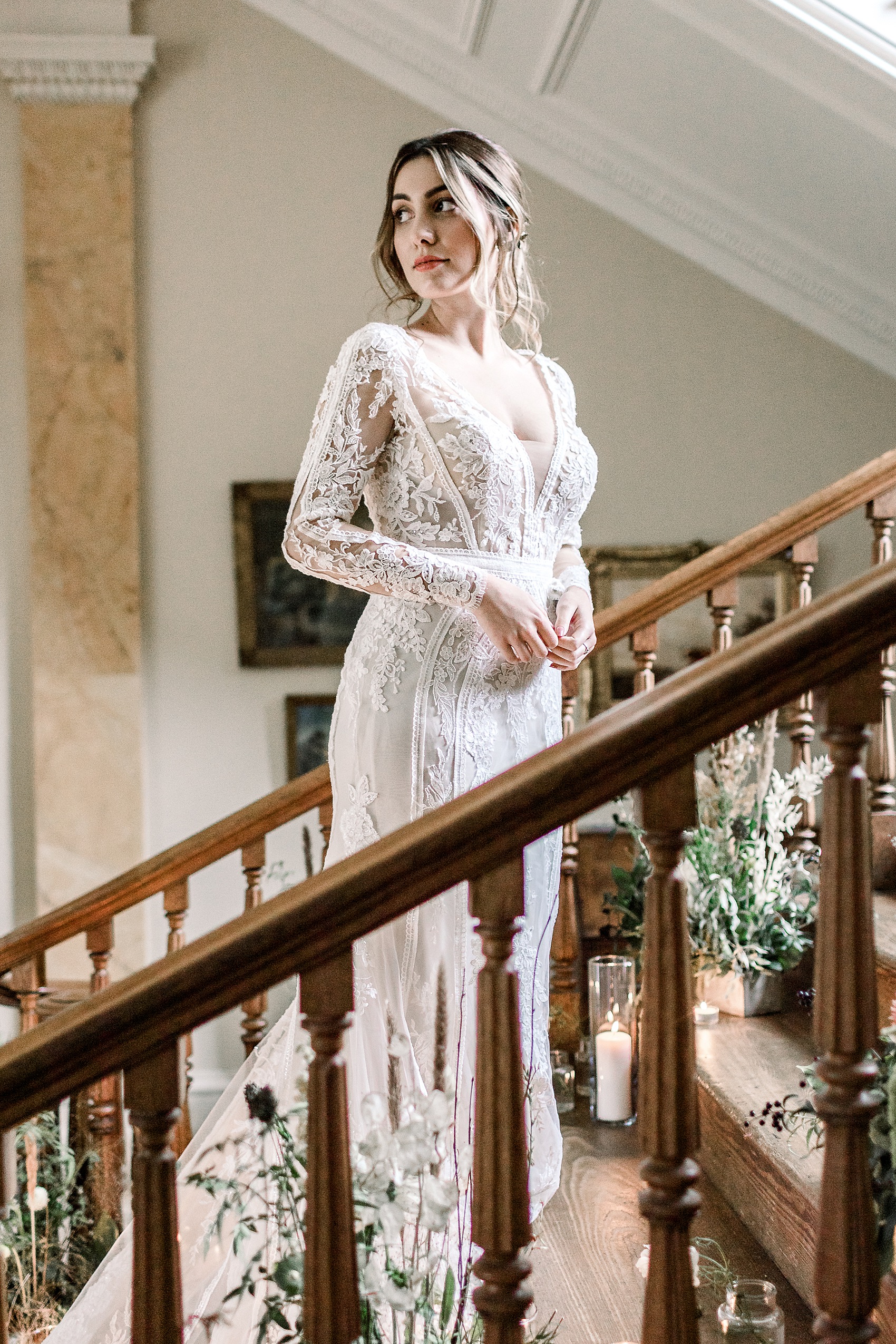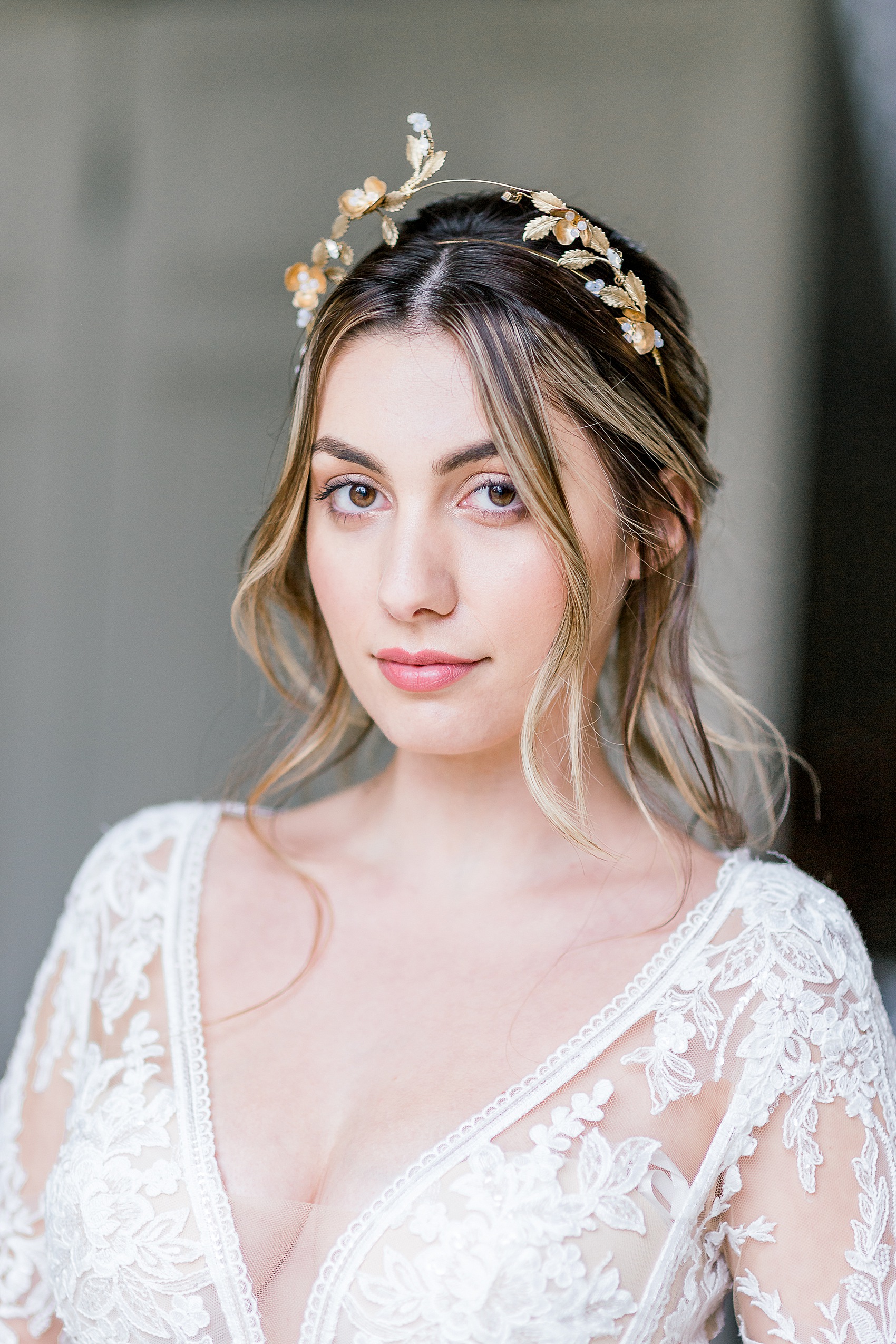 "The dress was beautifully complimented by the Anita shoes from Bella Belle. We chose simple accessories, and the small floral gold and pearl earrings and matching hair pins by Rachel Sokhal Bridal, were just perfect, adding a hint of opulence, but keeping the look paired back, and romantic."
"The stunning veil by Helen Martin in Picot Silky Tulle, allowed the lace of the dress to show through beautifully."
"Finally to finish the look, Emma Page created a beautiful soft make up look, and romantic, swept up hair, reflecting the relaxed feel of the day."
"Overall, the shoot came together so beautifully and just as I had imagined, thanks to the talented team of creatives on board."
"Even in these hugely uncertain times, everyone was so passionate and positive, and together we created some stunning wedding imagery that I hope your readers will enjoy, and take inspiration from."