What a week! And what a night last night! These drop-dead Studio 54 inspired images seem so fitting to share today, following last nights incredible #Party4Parity disco celebrations.
I'm talking about the What About Weddings live streamed disco – an end of week celebratory event after a 6 day long charity auction that raised a whopping £17,052! I am still trying to process that! But right now, let's get our eyes feasting on some visual goodies, courtesy of the very charming and lovely Constance Taylor, aka, Mrs T Weddings.
Words by constance follow, but I'm incredibly delighted that the film and imagery in this editorial were produced by our wonderful directory members, Zach & Grace.
"The Palm Residence styled shoot focuses the ethereal magic of summers in Ibiza blended with old-school disco. The Balearic Islands meets Studio 54 in this south London set that offers a bold, fresh take on boho-brides. Giving brides the inspiration to embrace their free-spirited style."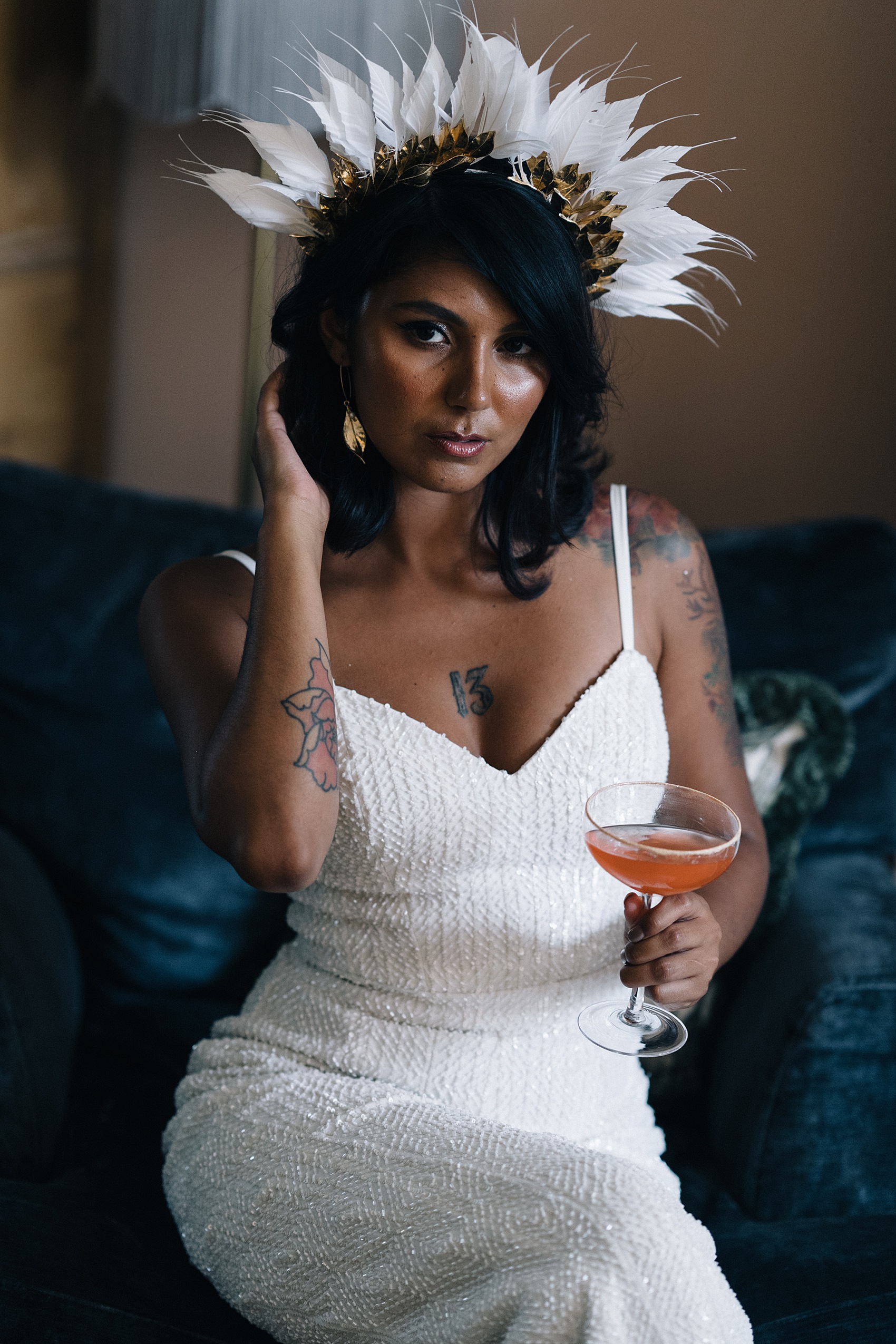 "Destination weddings have long been alluring for couples that want to escape the UK and get married on foreign sands. With Covid-19 disrupting international travel for the foreseeable future, Beauty Stylist Carla Francesca from Cesca teamed up with planner and stylist Mrs T Weddings, to set about proving that you can bring that globe-trotting style to your back door."
"Using top of their game British suppliers, they have created a taste of the exotic on home ground."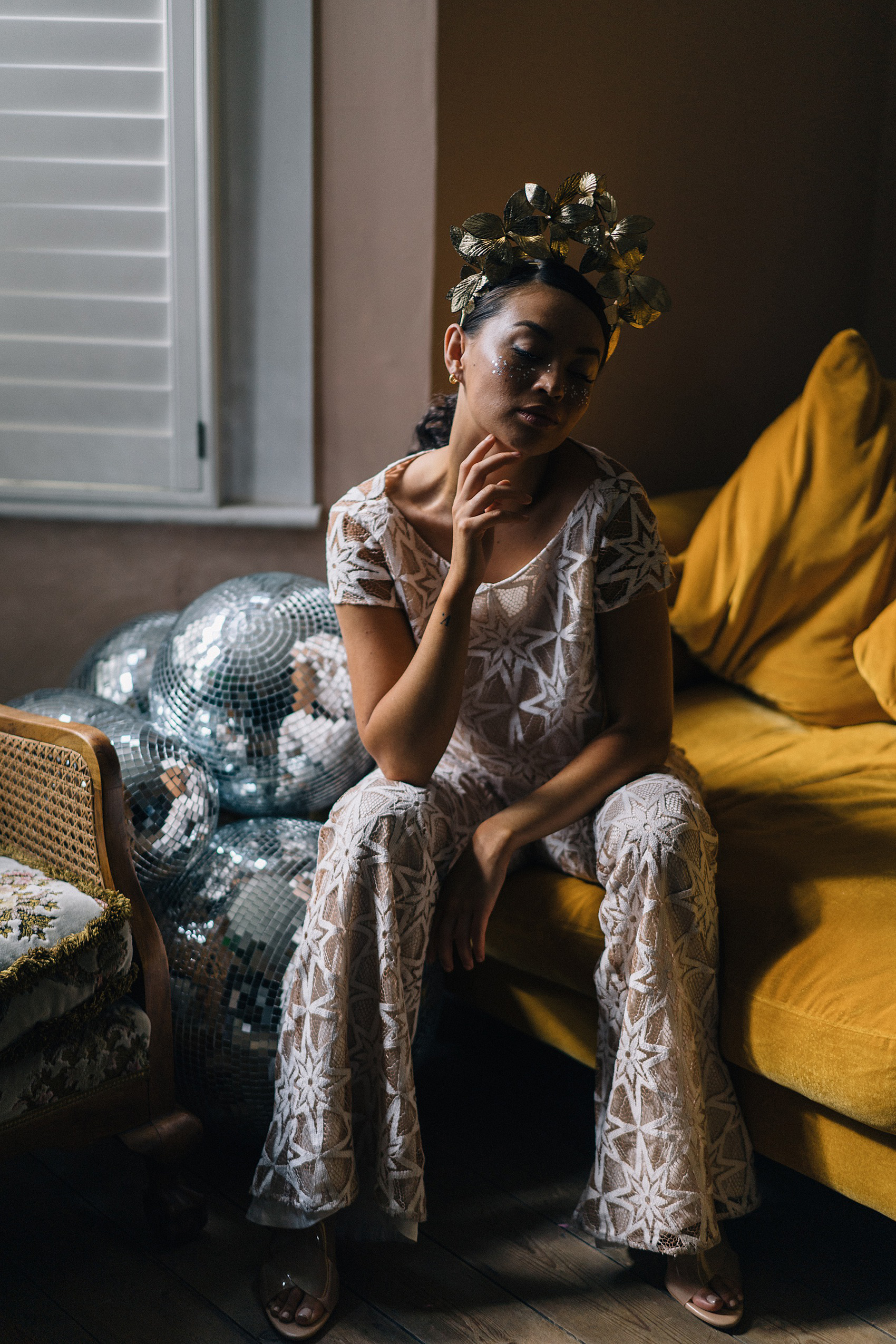 "The Palm Residence shoot is centred around the ethereal magic of summers in Ibiza blended with old-school disco. The Balearic Islands meets Studio 54 in this south London set that offers a bold, fresh take on boho-brides. When planning and styling the shoot, Constance Taylor, founder of Mrs T Weddings had a clear vision in mind,
"This shoot is purposefully for the non-traditional bride seeking an informal, unstructured wedding. I have so many couples who say they want their big day to be one long party, and that's exactly what we're showcasing here."
"Opting for a quirky and alternative choice of venue that created the essential ambience for the shoot was The Palm Residence in London's SE postcode, close to Crystal Palace. This venue exudes vintage tropicana from floor to ceiling, with walls blanketed in retro botanical prints and music paraphernalia."
"The house comes with its own bar, decked in bamboo with a smoky glass top that encapsulates the buzz of cocktail hour for city socialites. The spirit of disco glamour is brought to life by enormous glitterballs hung from the ceiling, which were further amplified by a variety of different sized mirror globes supplied by Stingray Events that can be seen across the shoot."
"The Palm Residence's outdoor areas provided a perfect hazy mirage of 1970s bourgeois with features such as the palm plants, wicker chairs and bamboo swing becoming natural focal points to centre around. Every room, open-air space and unique feature of The Palm Residence was utilised to capture this vintage summer editorial."
"With the stage set, Mrs T Weddings and Carla from Cesca styled each of the models in a range of free-spirited ensembles that showcase individuality and flair. Rebecca Anne Designs provided a series of elaborate veils adorned with feathers, delicate silvery thread work and encrusted with sparkling glitter." 
"For some daring and unconventional headwear, Victoria Louise Accessories provided architectural headdresses, carnivalesque millinery and ornate botanical crowns. "We like to rip up the rule book, break traditions, and push the boundaries to create more exciting, fresh and contemporary pieces."
"This fab Studio 54 inspired shoot was just screaming fun, so we decided that large statement headpieces and earrings were in order, incorporating white feathers, golden accents and a touch of sparkle to echo the call of disco ball!"
"Working with such delicate and elaborate pieces called for simple and effective hair from Maxx Anderson at Cesca, who used soft waves to create a fuss-free low maintenance look that fits beautifully with the Ibizan summers and beach beauty aesthetics. Additional glamour was added using long chain hair pieces in neat low ponytails."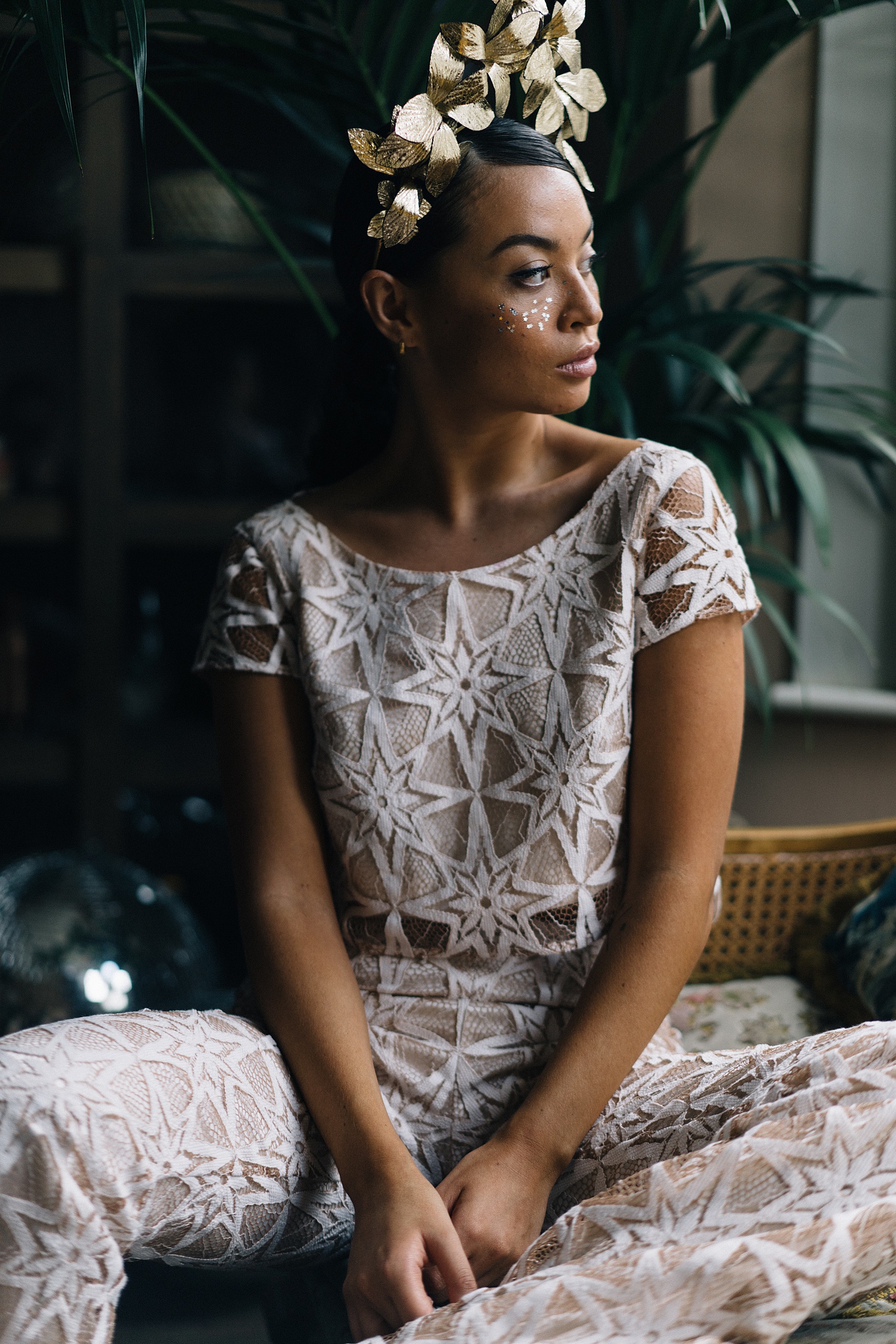 "Carla at Cesca carefully created sun-kissed skin with just the right amount of bronzing to give a natural glow, and the party spirit was brought to life using glitter and gloss. "We wanted to blend modern boho glamour with the luxe and glitz of the timeless Studio 54. Skin is bronzed, freckles enhanced, and a balmy finish gives models that desert sun look. Touches of gloss, silver stars, and a 70s blown out eye incorporates the ultimate disco era that was born in Studio 54."
"Based on a 1970s inspired fashion aesthetic, the brief was perfect for the team at House Of Ollichon that specialise in bridal jumpsuits and separates. The Giulieri wide-flare trousers and top with cut-away back exudes the pizazz of the 1970s silhouette, complete with a geometric star-scape pattern and intricate lace detail."
"The Izzard two-piece channels the timeless spirit of the city socialite with clever tasselling creating movement and flow and modern options on sleeves and skirts."
"The Melendez jumpsuit features many traditional elements of French lace, corsetry and capped sleeves in an alternative wide-legged trouser piece. Further garments were supplied and feature in the shoot. "We like to think we're pioneers of alternative, all-inclusive bridal, so from the moment we saw the first mood-boards we knew this was totally on brand for House Of Ollichon, and knew we had to be involved."
"The Floral Editor supplied the flower arrangements for the shoot, using a neutral palette to blend rather than compete with the busy walls, prints and palm fronds of the surroundings. The bouquets use soft, muted colours to partner with the creamy tones of the jumpsuits and dusky golden accessories. A range of delicate pink and white tufted grasses mixed with more traditional wedding blooms accentuate the bohemian inspiration."