This small and intimate day saw the bride and groom stay true to their sense of self, and relax surrounded by the love of their nearest family and friends.  Photography by Matt Ebbage Photography.
On 1 October 2020 Megan, a workforce planning assistant wed Jamie, a civil servant, in a non-traditional celebration at Canterbury Registry Office, with a garden party afterwards. With their original wedding having been planned in the seaside town of Whitstable, the couple were keen to incorporate the subtle tones of the sea into their scaled-down celebration. The result is a sublime blend of the deep blue hues inspired by sea thistle, rich burgundy in a nod to Autumn and blush pinks, just for the bride.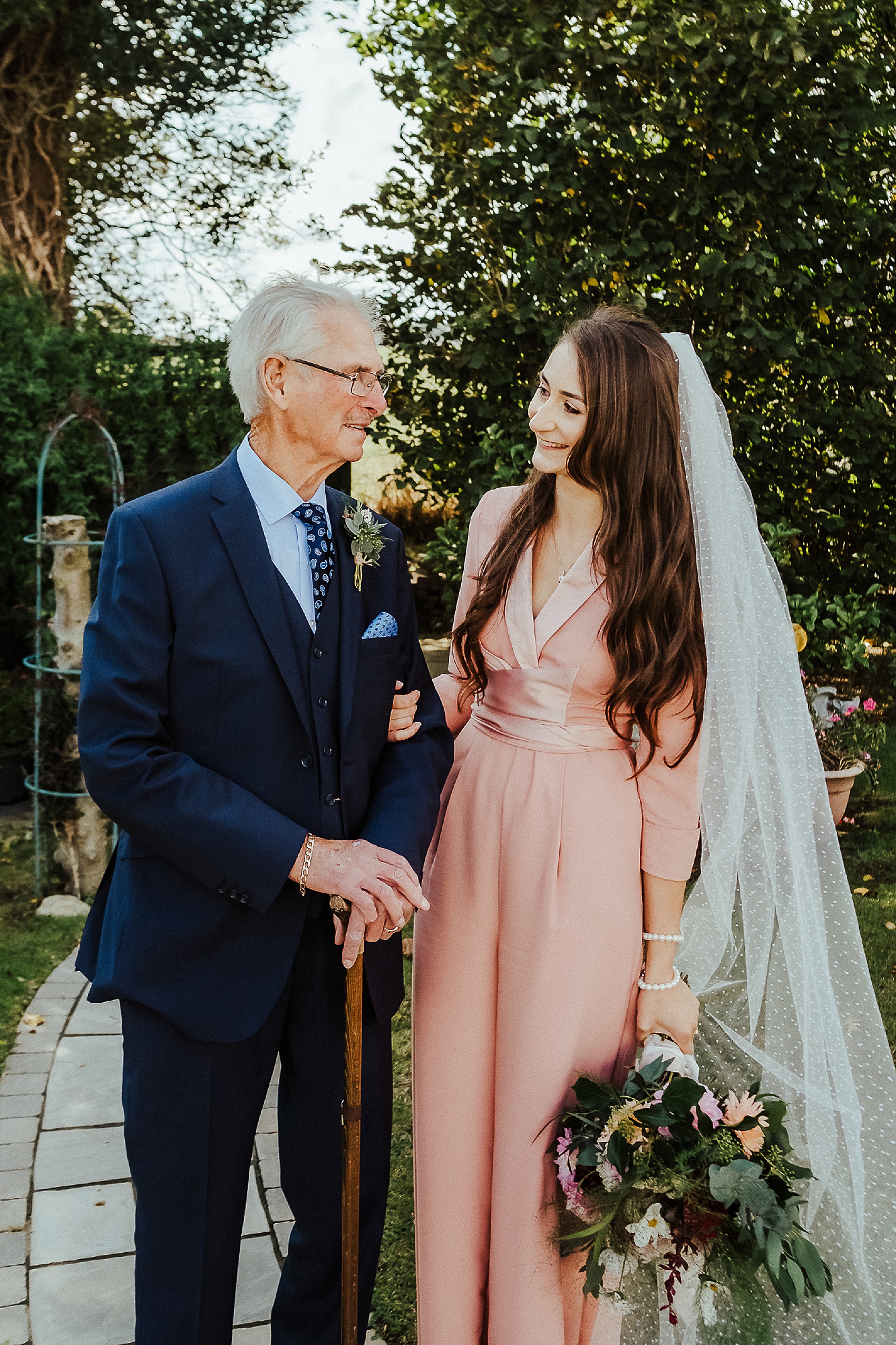 "With the pre-Covid plan being to marry in my home town of Whitstable it only seemed natural to have a nod to the sea. We came across the sea thistle which led us down a path of deep blue hues, rich burgundy for Autumn and blush pinks just for me."
"Although I spent a lot of time looking for inspiration, if you stay true to yourself and your own preferences it will all come together in the end to represent the two of you. Thankfully, a lot of things lent themselves to our smaller Covid wedding.
Megan's hair was styled into a glamorous down-do by Jessica Hawkins Makeup (who, by the way, is married to the couple's fabulous photographer) and adorned with a simple pearl clip from ASOS. Her make-up, with that pure Hollywood lipstick, was by Emilie Morrissey MUA.
Having had to change plans for a smaller, more slick ceremony, Megan also chose to switch up her outfit. Staying true to her usual, no-fuss dress code, Megan donned a classic and elegant outfit with a touch of cool. Her choice was this tux-style jumpsuit in blush-pink from ASOS.
"I always knew I wanted my outfit to be sleek, simple and classy with a little bit of edge. Although I had purchased a white dress, something always felt off for me. Because of the pandemic, we changed our entire day and I jumped at the chance to wear something different."
"I'm well known for my ASOS addiction so it only seemed right to start there: enter a blush pink 'tux' style jumpsuit!  The ladies in my family knew I was concocting up an outfit that would be anything but traditional and I managed to keep it a secret until a couple of weeks before the wedding."
"If I didn't love the jumpsuit enough already, when I showed my Nan she said it looked really vintage and very 1940's. As if by magic this entire vintage Hollywood vibe just crept into my new look and I love how it all came together."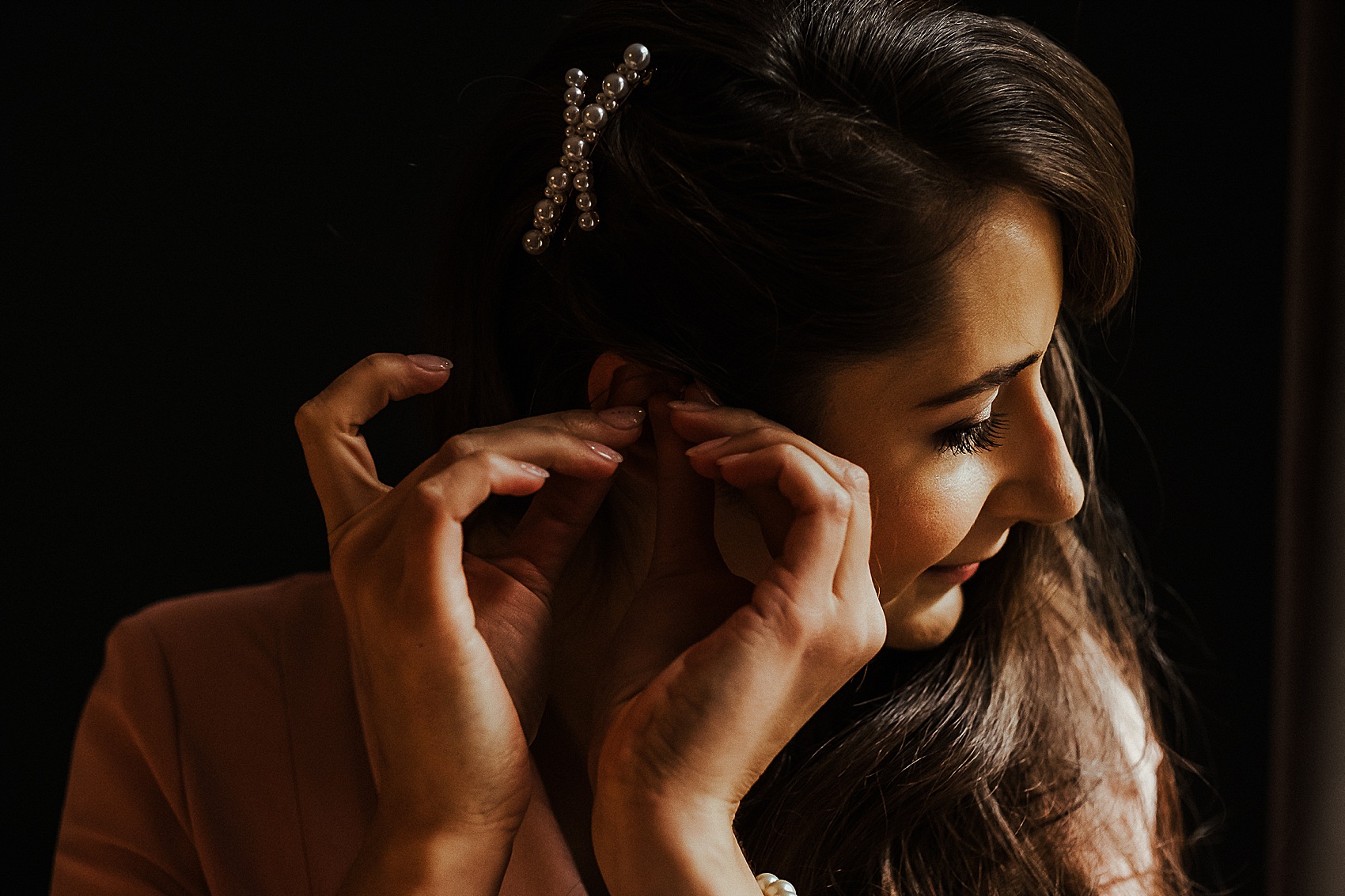 For a bridal touch, she added a chapel-length little dot veil in ivory created by Tulle & Flo, purchased from Coco Bridal Boutique in Nottingham. 
"My shoes were a simple, low, block heel from New Look. When I purchased my veil from Rami she kindly included a lucky sixpence which I had my dad stick to the underside of my shoe."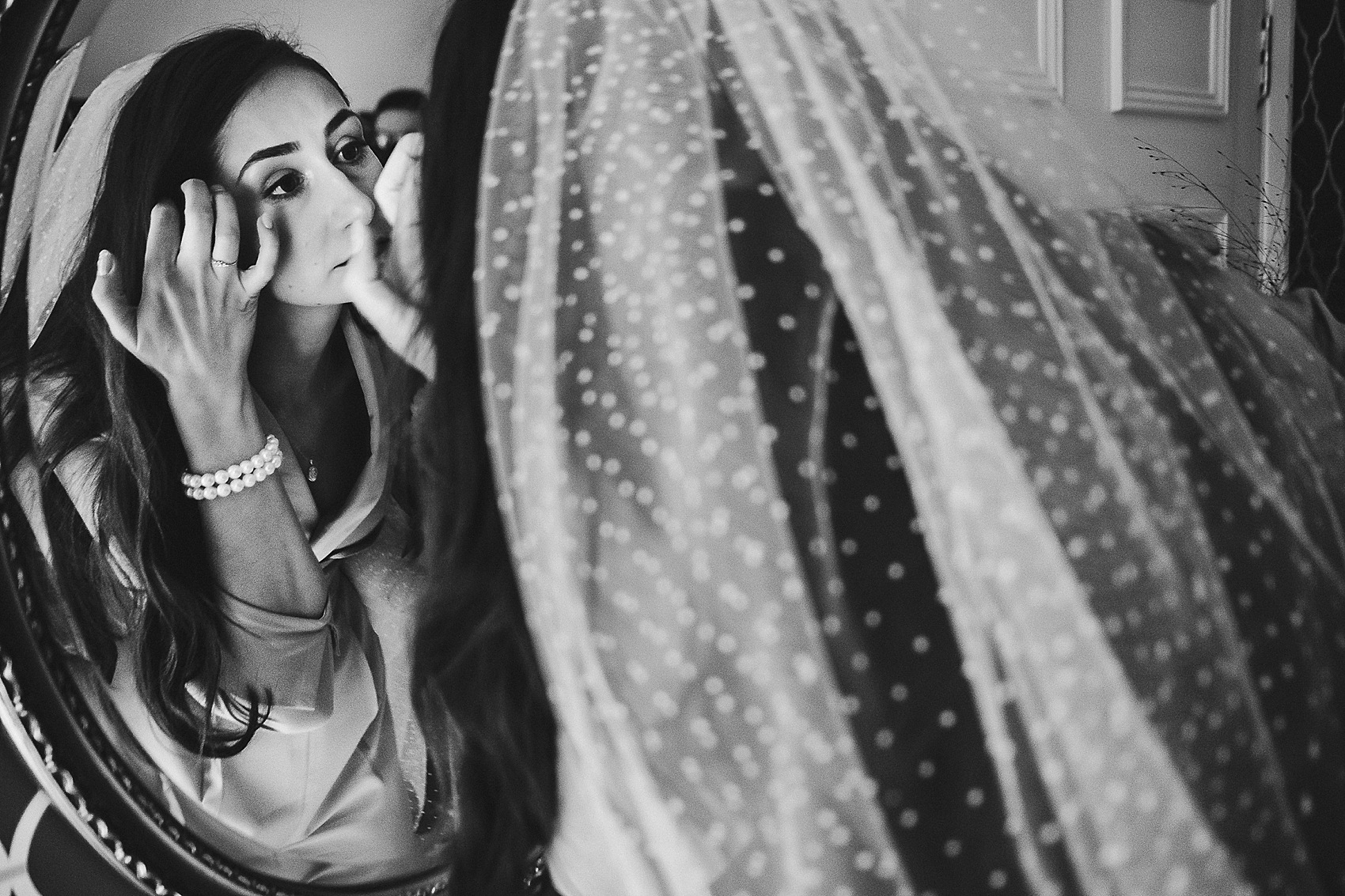 For extra Hollywood glam, Megan added a selection of carefully-chosen accessories.
"I borrowed Nan's pearl bracelets and the garter that she wore for her wedding more than fifty years ago. I also wore a gold pendant necklace which was my late Nan's. My grandad had given it to me many years ago and it was lovely to wear it in her memory. My dad had a bracelet made for me by Duttson Rocks –  the owner happens to live opposite him. Dad and I had worked for many months designing something that represented me and my style. I'll treasure it and hope it's something that will be passed down."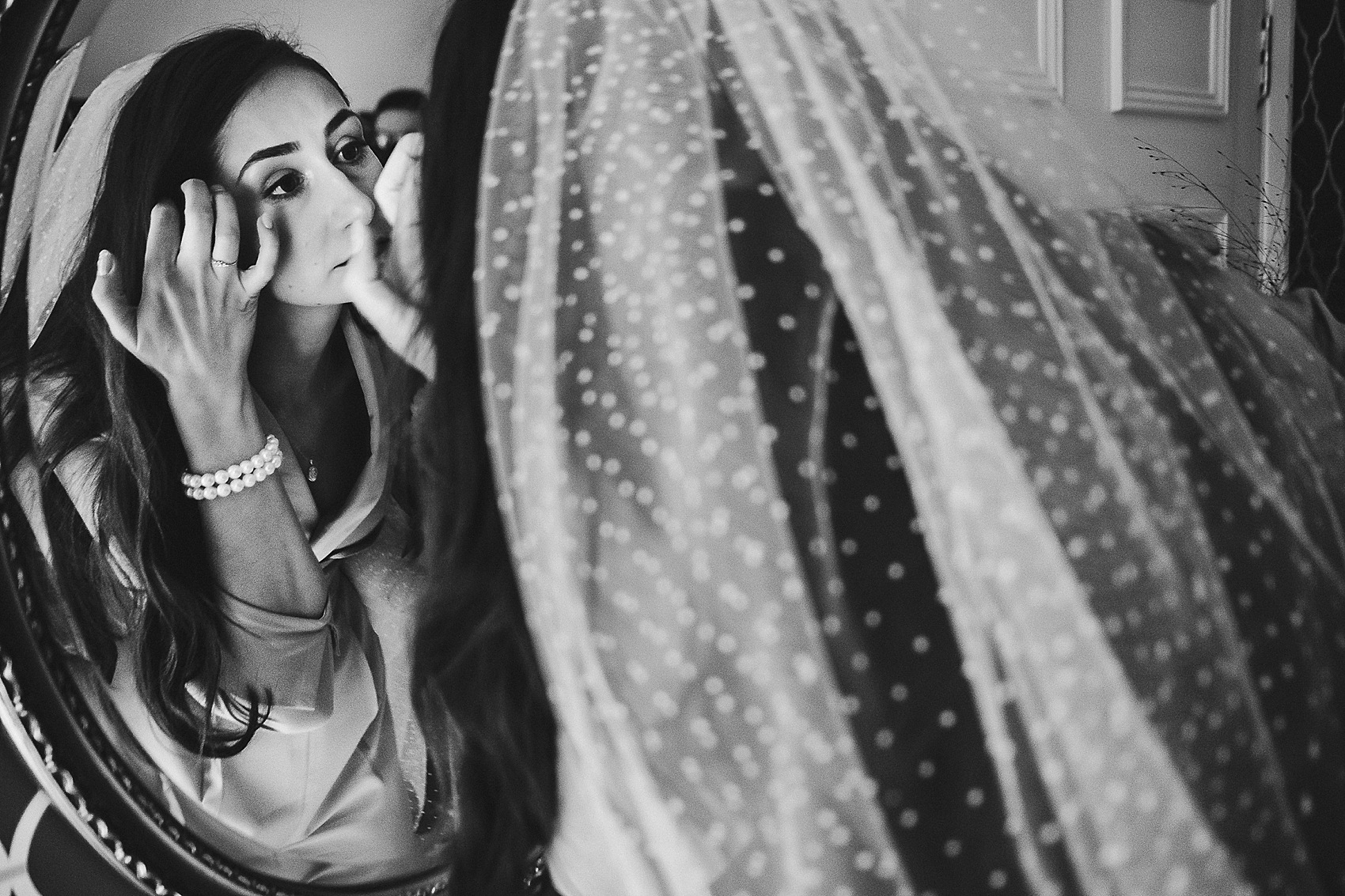 Jamie elected to wear a traditional groom's suit and looks oh-so dapper. His watch was Skagen and his finishing touch was a pair of Baltic amber cufflinks.
"Jamie wore an eco-friendly (recycled material) grey with blue check suit from Moss Bros and tan coloured, hand-made McClean shoes with a paisley pattern from Barker's shoes of Earls Barton, Northampton. His tie was from Reiss and it matched the best man's tie."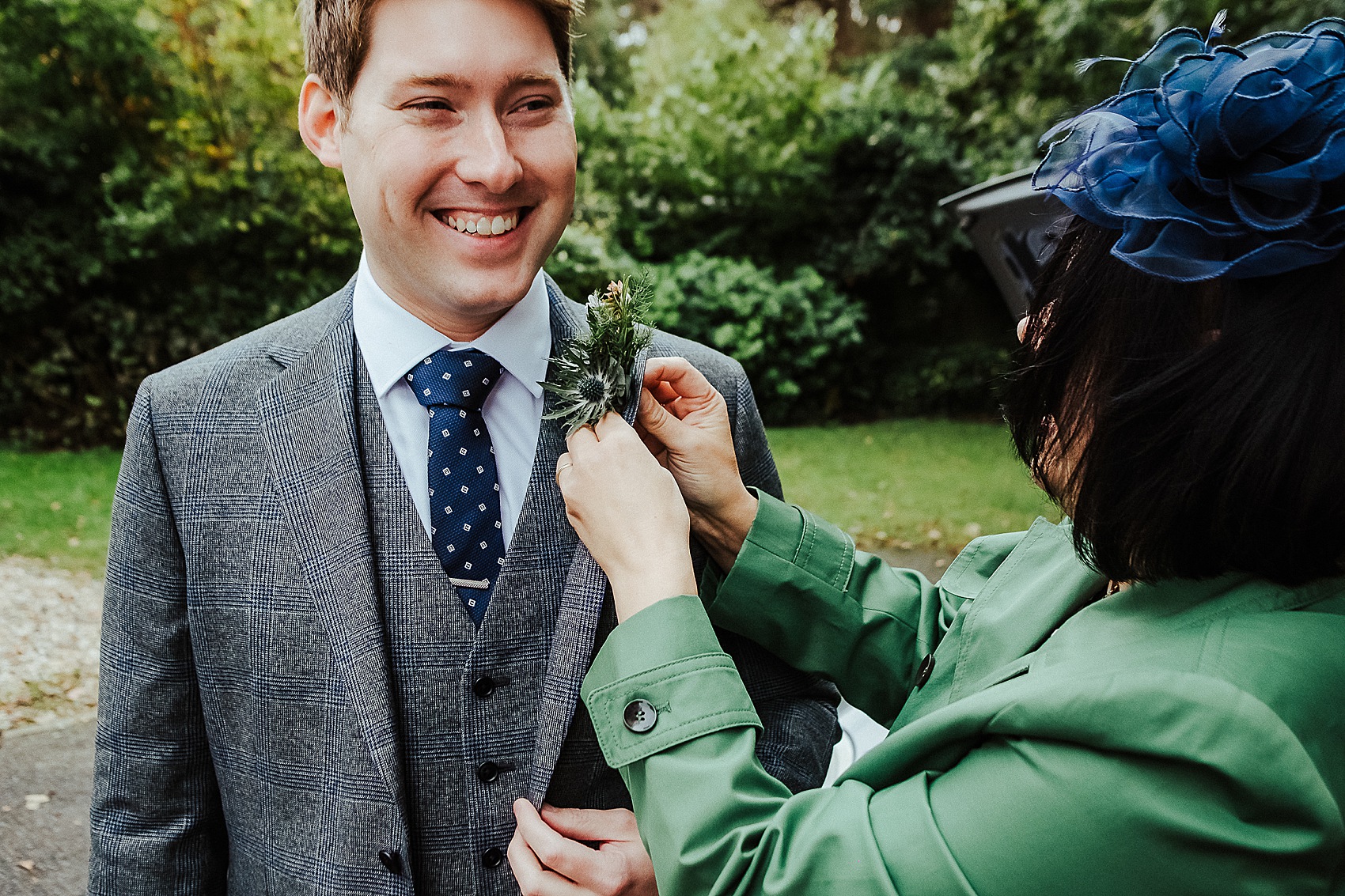 I love that the couple travelled to Canterbury Registry Office together.
"Jamie owns a Porsche Boxster so that was always going to be the wedding car. I love that we got to arrive at the registry together. Jamie gave the car a good clean and polish ready for the big day."
"We purchased a 'just married' decal from Etsy for the back window and I created tassels from ribbons to tie around the mirrors that helped mark the car for the occasion."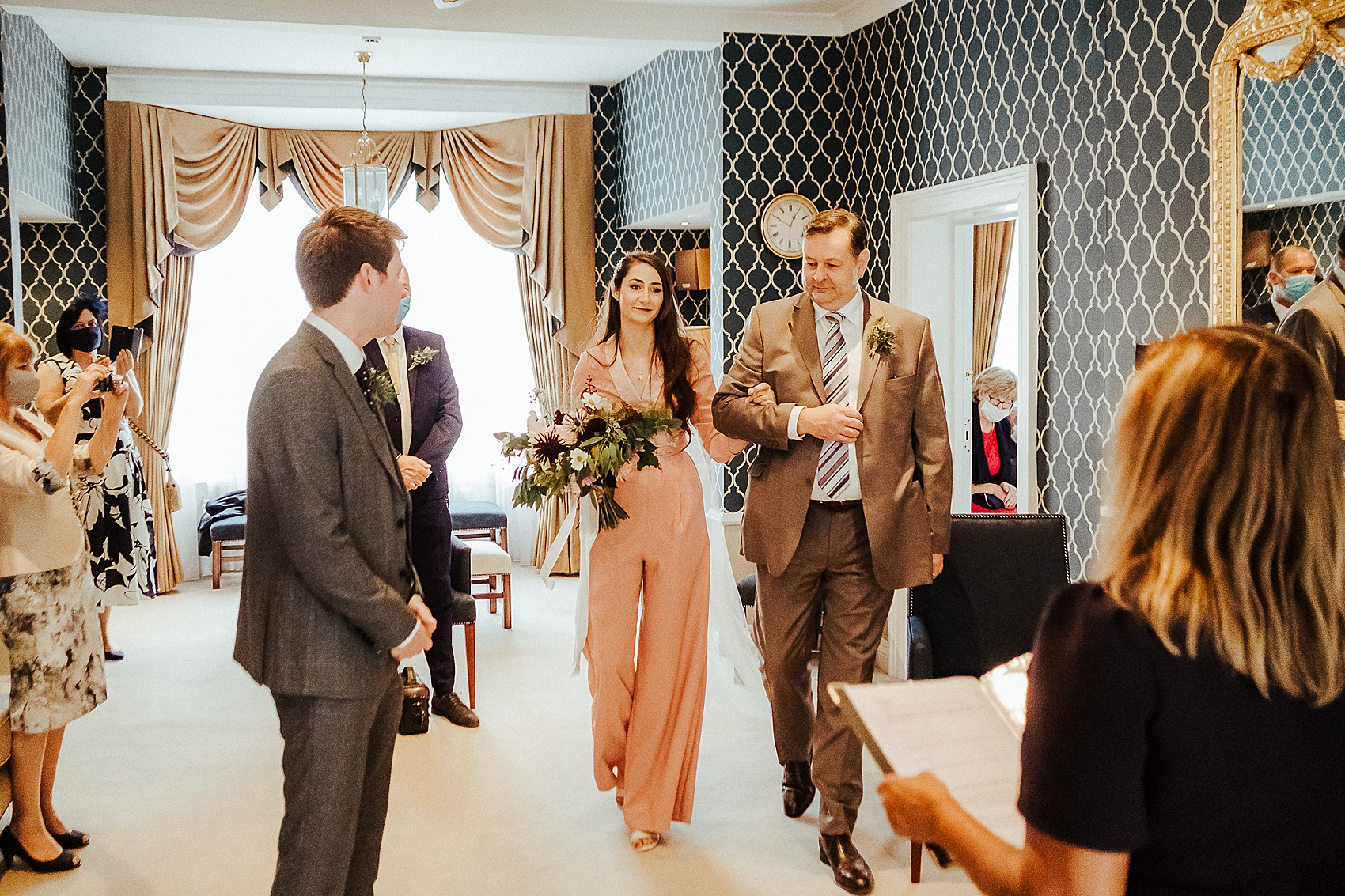 "My dad walked me down the aisle to an acoustic version of 'Nothing's Gonna Stop Us Now' by Grace George. I thought it was apt given what we had gone through to still get married this year."
"Because of Covid we couldn't use our own vows as the ceremony had to be really simple. Instead, I chose to write my vows to Jamie in a card which he opened the morning of the wedding."
"As a couple, we have had a tough year due to some personal circumstances and that's why it was more important to marry than ever. I wrote my vows with this in mind: 'With this one life we have, I vow to spend mine with you. Through every adventure and trying time, I will laugh with you, I will cry with you and I will grow with you."."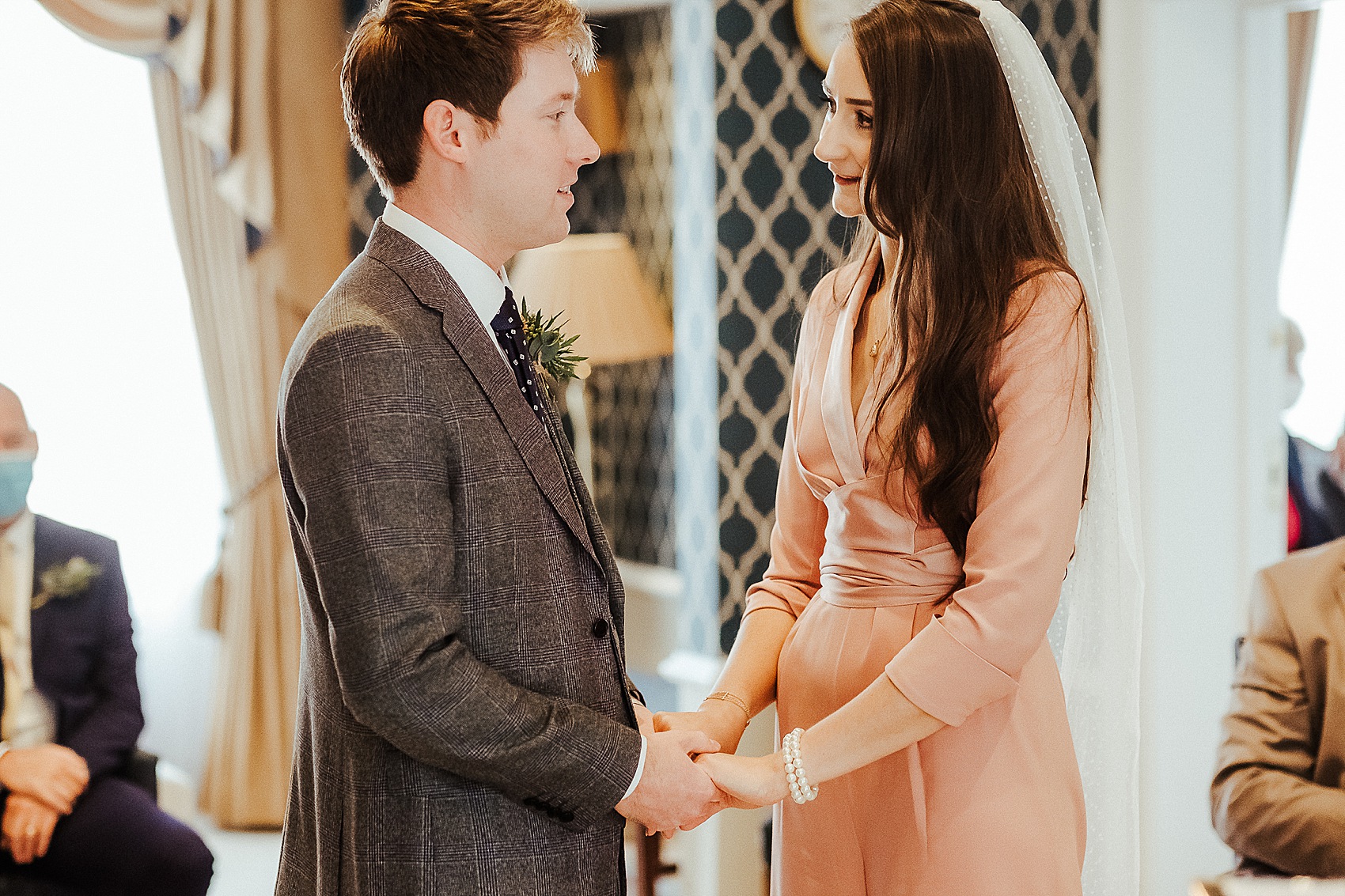 "Jamie's twin brother did a reading for us. We chose 'As Time Goes By' by Jenny Dalleywater. We chose it because it seemed to really speak to us after the year we had and it's just sounded like a grounded piece of writing about marriage."
"We flew out to Canada for a friend's wedding in 2019. We all stayed in a big house just off Yonge Street in uptown Toronto. There was a fine jewellery shop down the road called Blu Boho."
"I begged to pop in as our trip ended so, with all our friends in tow, we had a look. It was the first ring I tried on and I got really emotional. I really love that memory of finding my wedding band."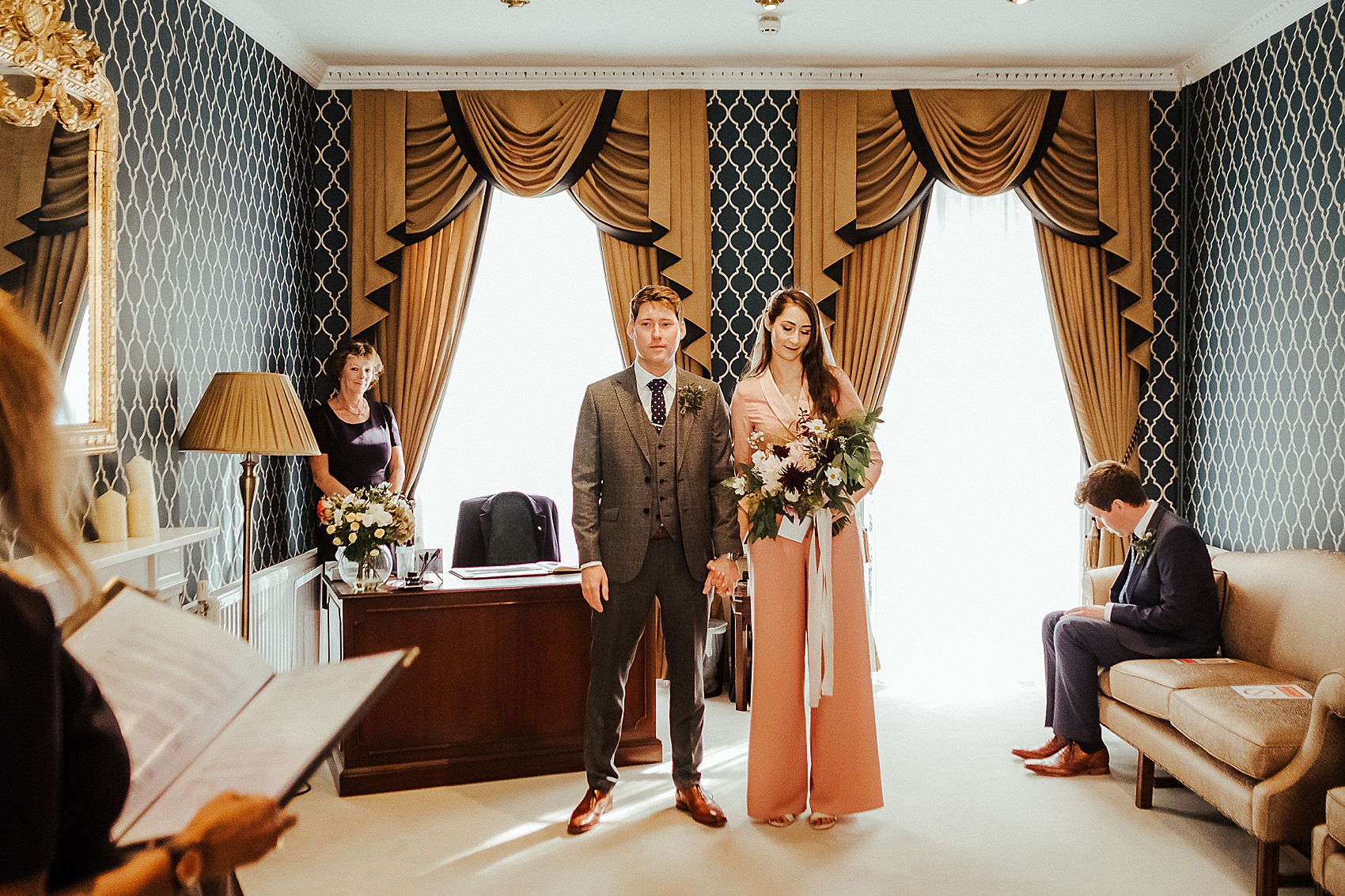 As mentioned, Megan and Jamie were due to wed in the midst of the global pandemic, so over to the bride to tell us more about the impact of the governmental regulations on them and how they adapted their day.
"We had to make significant changes due to the pandemic. Our guest list would have been drastically reduced and we felt it was best to postpone East Quay Venue in the hopes we can have a larger party next year. Despite this, we very much wanted to marry on our original date."
"It had been such a long time coming and we just wanted to start the next chapter of our lives. We didn't want to pass up the opportunity, especially considering the constant changes and restrictions that Covid brought, so when we could still do the 1st October – we took it!"
"It was a chance to have a smaller, intimate and more casual day. We felt that weddings in general had become increasingly large and no matter how hard you try they usually tend to get out of hand – with pressures from family and social media they can lose their focus. Ultimately, we felt it should be about two people making a commitment to one another."
"It was, in a way, a breath of fresh air to bring it back down basics – to what really mattered."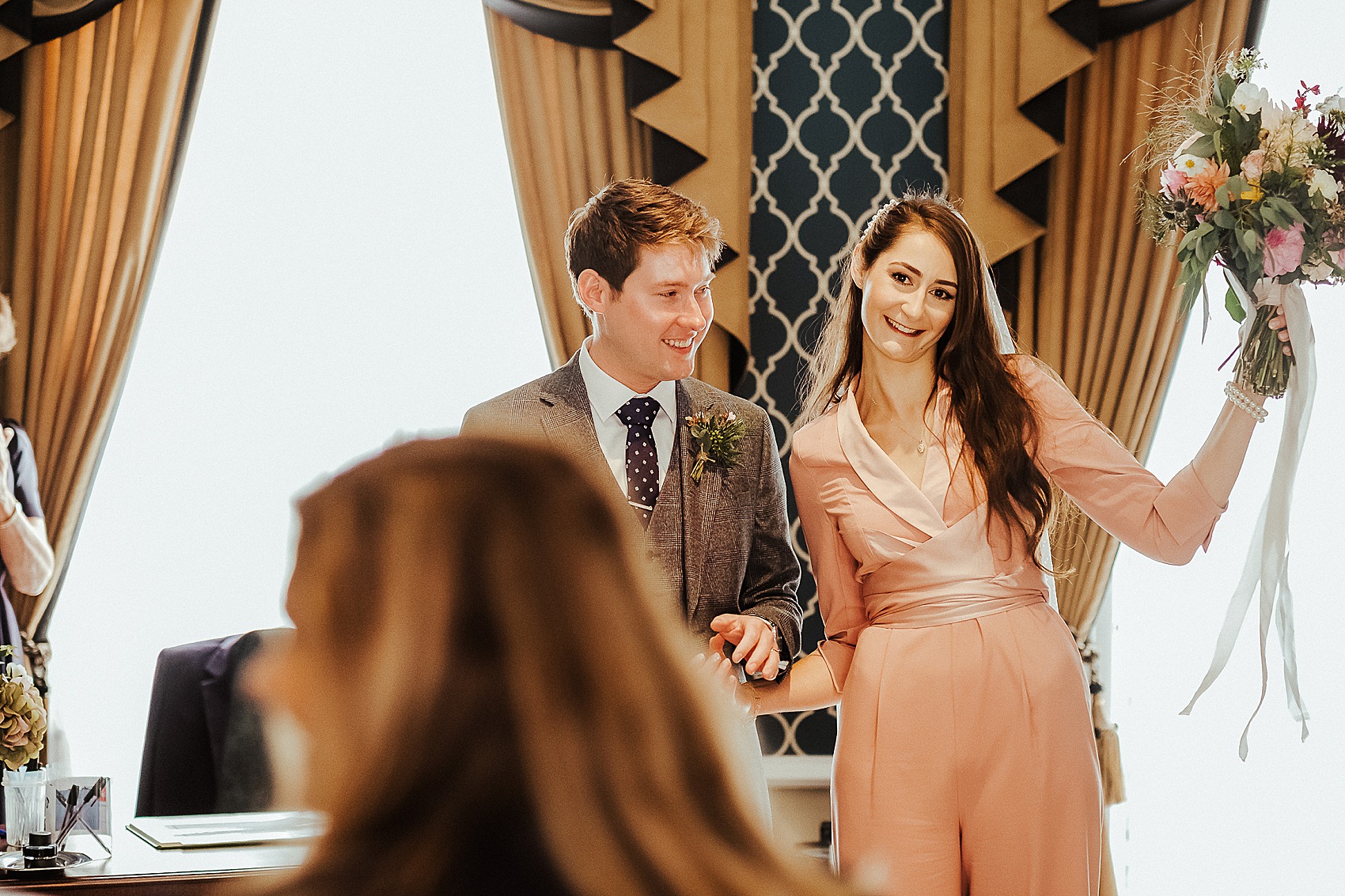 "Jamie had always wanted a larger wedding because for him, it's important to bring people together. However, I had always wanted something more intimate, which is what our lockdown wedding brought us. It's nice that we could have the chance to have a day that suited both our tastes now. It will also take the pressure off next year's larger celebration, now the actual wedding ceremony is done!"
The decision was made ten weeks before the wedding date and we wasted no time making the new arrangements. We opted to move our ceremony to Canterbury Registry Office and host a BBQ in my nan's garden for thirty guests. I drafted up new PDF invites in a word document and sent them to a local printers in Northampton. We also took to using Whatsapp to get word around quickly."
"Just as we started to get everything in place and around one week before the wedding, the government announced guests would be cut in half again down to fifteen from thirty. This was a devastating blow."
"The thought of telling people they couldn't come at this late stage… it got to the point where we felt relieved to hear people drop out from the wedding! I don't honestly know how we got through."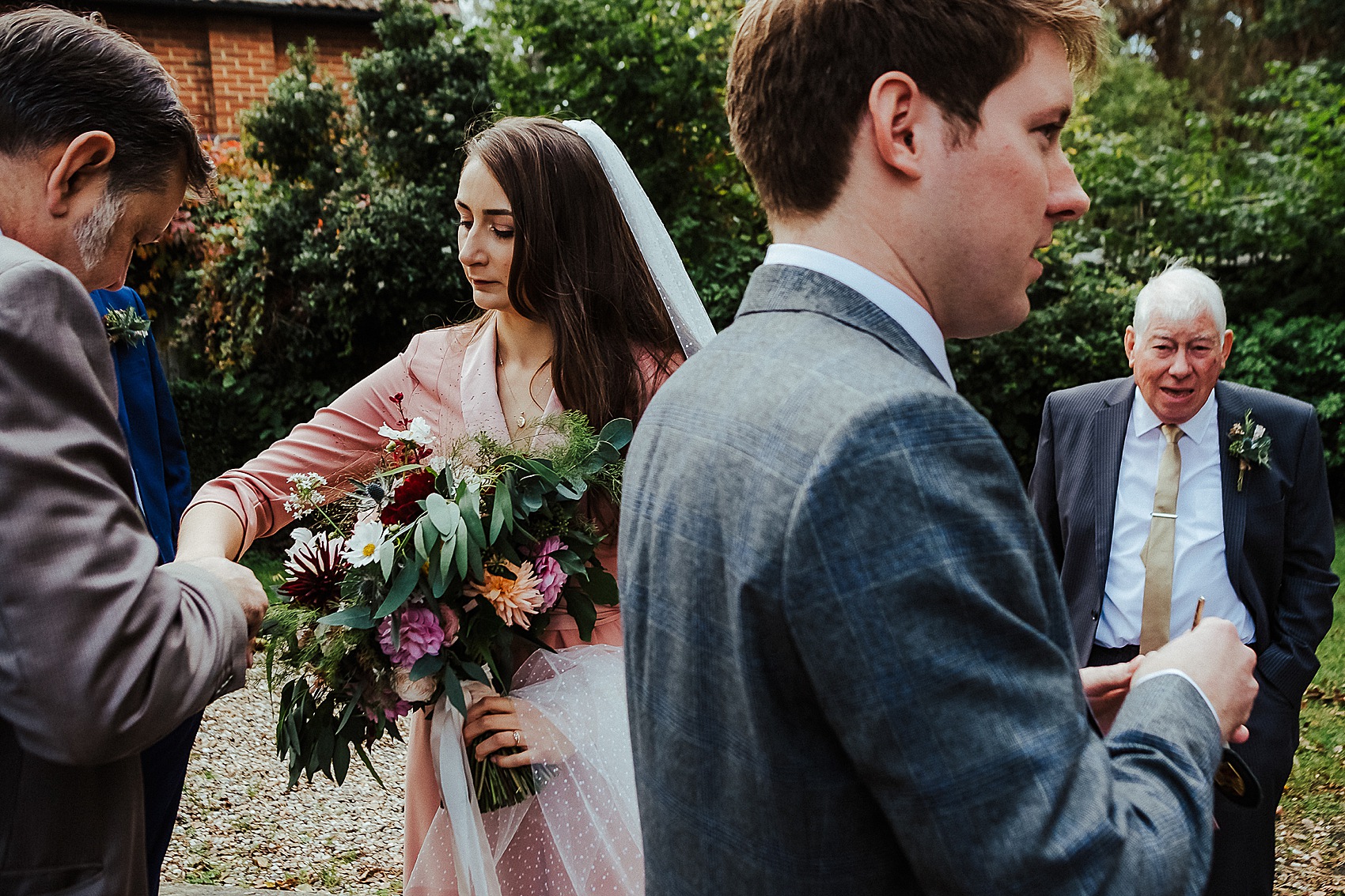 "Jamie was working the weekend before the wedding and it was down to me to revise everything again."
"The only thing that kept me going, strangely, was seeing Jamie acting so out of character. The news that we had to drop guests and change our plans hit us both hard and I just wanted him to have a good day too, no matter what."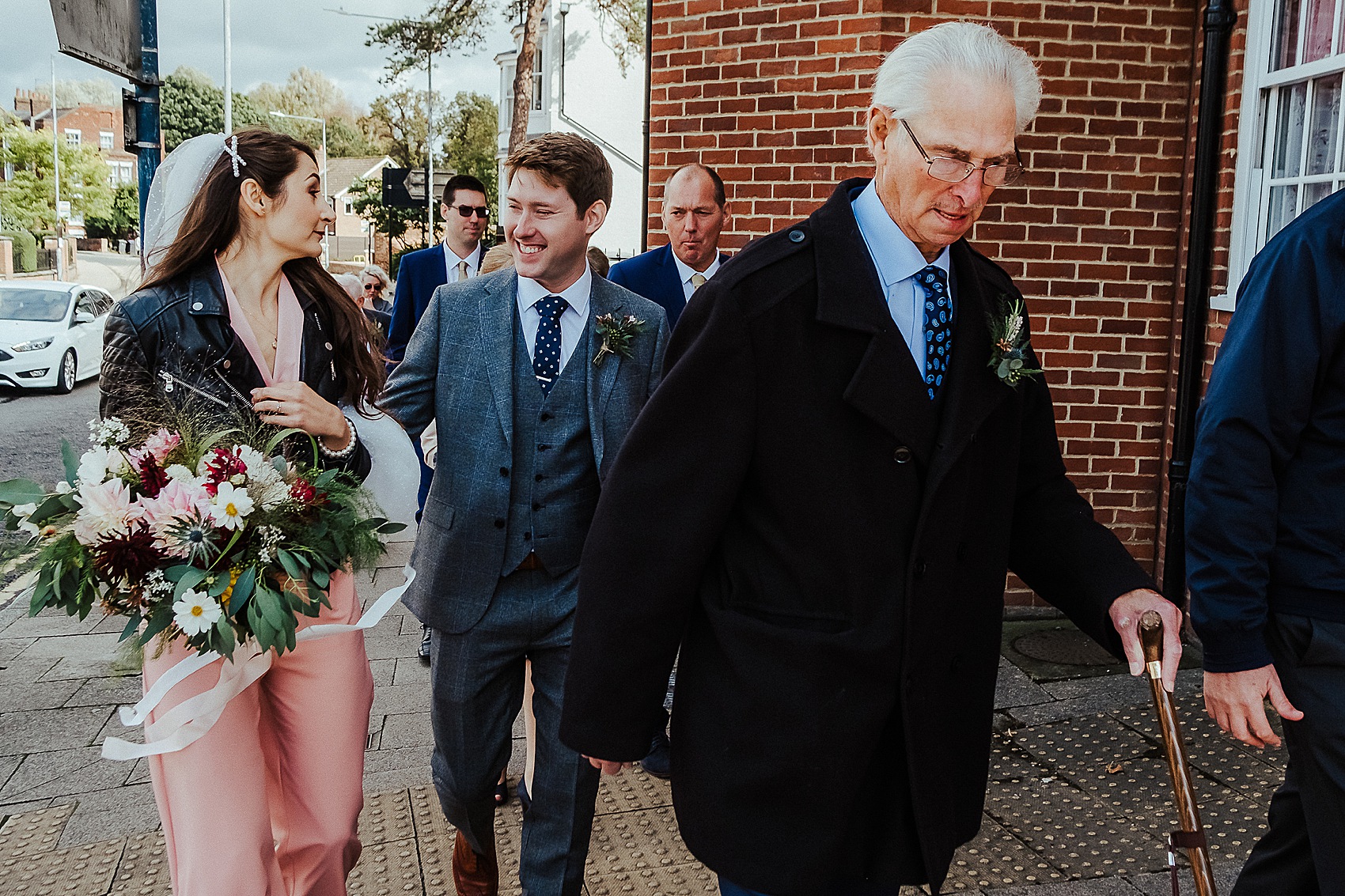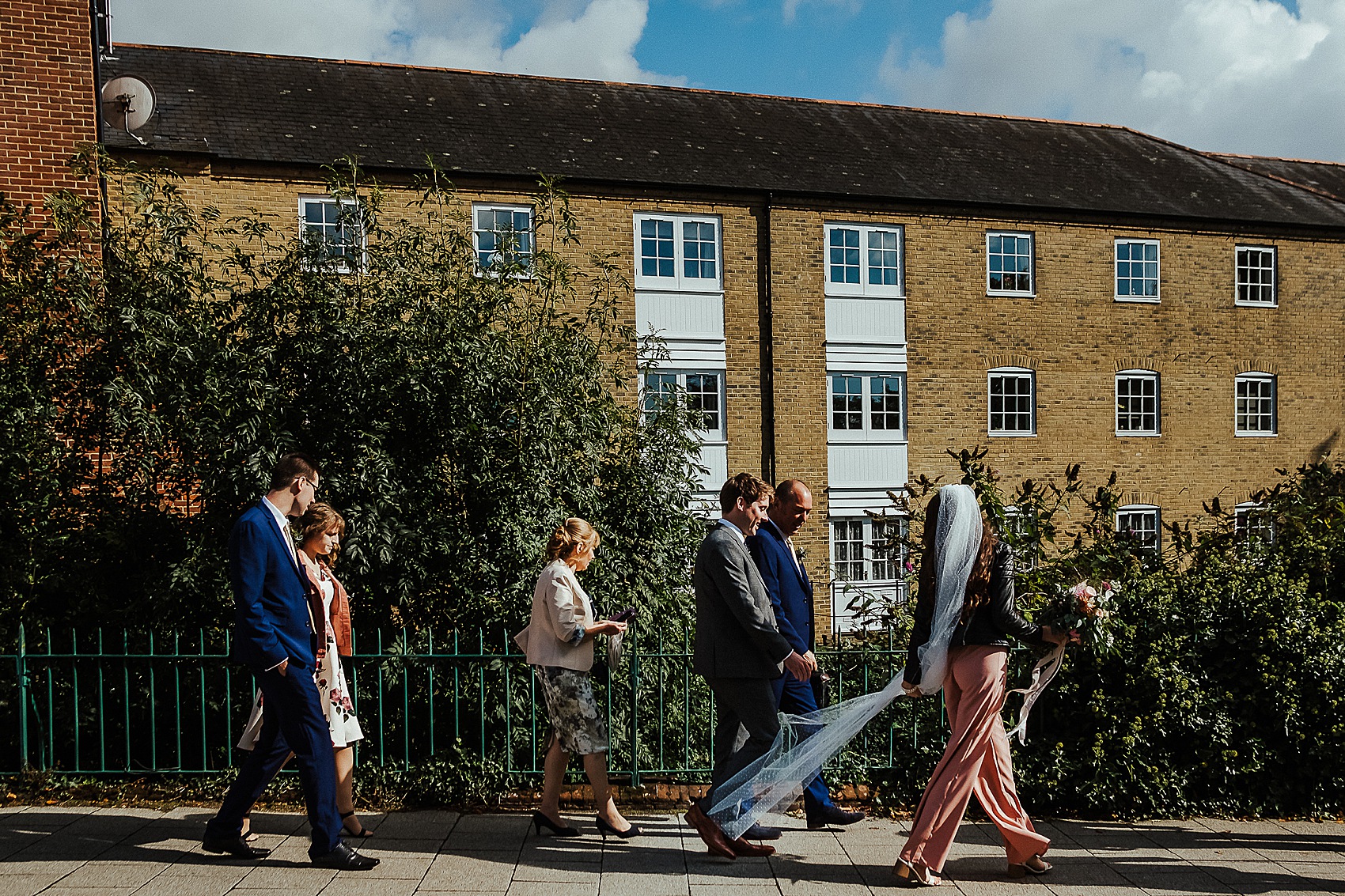 A smaller wedding meant that Megan was able to go with the florist of her dreams, who created a luxe and natural, hand-tied bouquet. I just love the vivid colours and their informal, overflowing feel.
"Having more time to save for the big event allowed us to use some of the budget on things that I knew would make our smaller wedding feel more special. I contacted Helen at Blubelle Creative who was happy to create a beautiful bouquet and button holes using locally-grown flowers from Country Lane Flowers in Faversham which made it all the more special."
"I was gutted when I couldn't fit her into the budget for the big day at East Quay, but our small Covid wedding allowed me to have a little bit of Helen's magic. Helen knew my vision and I completely trusted her to make a bouquet like no other. We used Pinterest for inspiration and asked for sea holly as a nod to my home town. I also asked for yellow roses as this is the flower that made up my Nan's bouquet on her wedding day."
Every single special moment was captured forever by Matt Ebbage Photography. His work is crisp and vivid, and he blends his relaxed approach with a fine art photographer feel that is so timeless.
"I came across Matt through a work colleague and he had the style we were looking for. Matt's approach is super casual. He's just looking to capture the precious moments of the day."
"When we met up with him, we quickly realised we had little ties such as Jamie and Matt going to the same school in Northampton. It was such a natural fit. We got on immediately and he has a great energy about him."
After the ceremony, the couple exited via a gorgeous tunnel of confetti, one of the bride's favourite moments of the day.
"The confetti tunnel after the ceremony was a favourite moment; being able to walk alongside one another as husband and wife whilst being pelted with confetti was good fun!"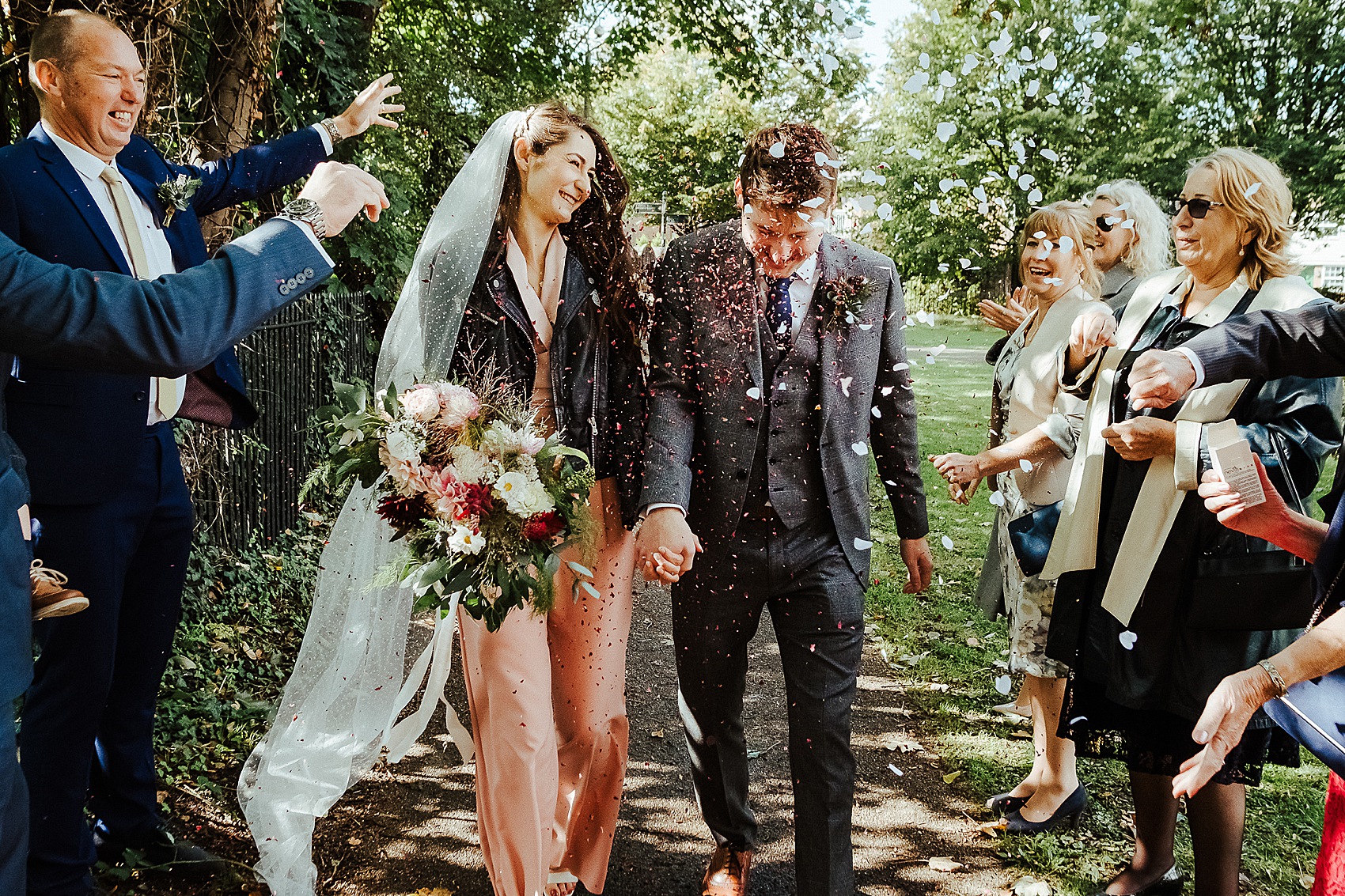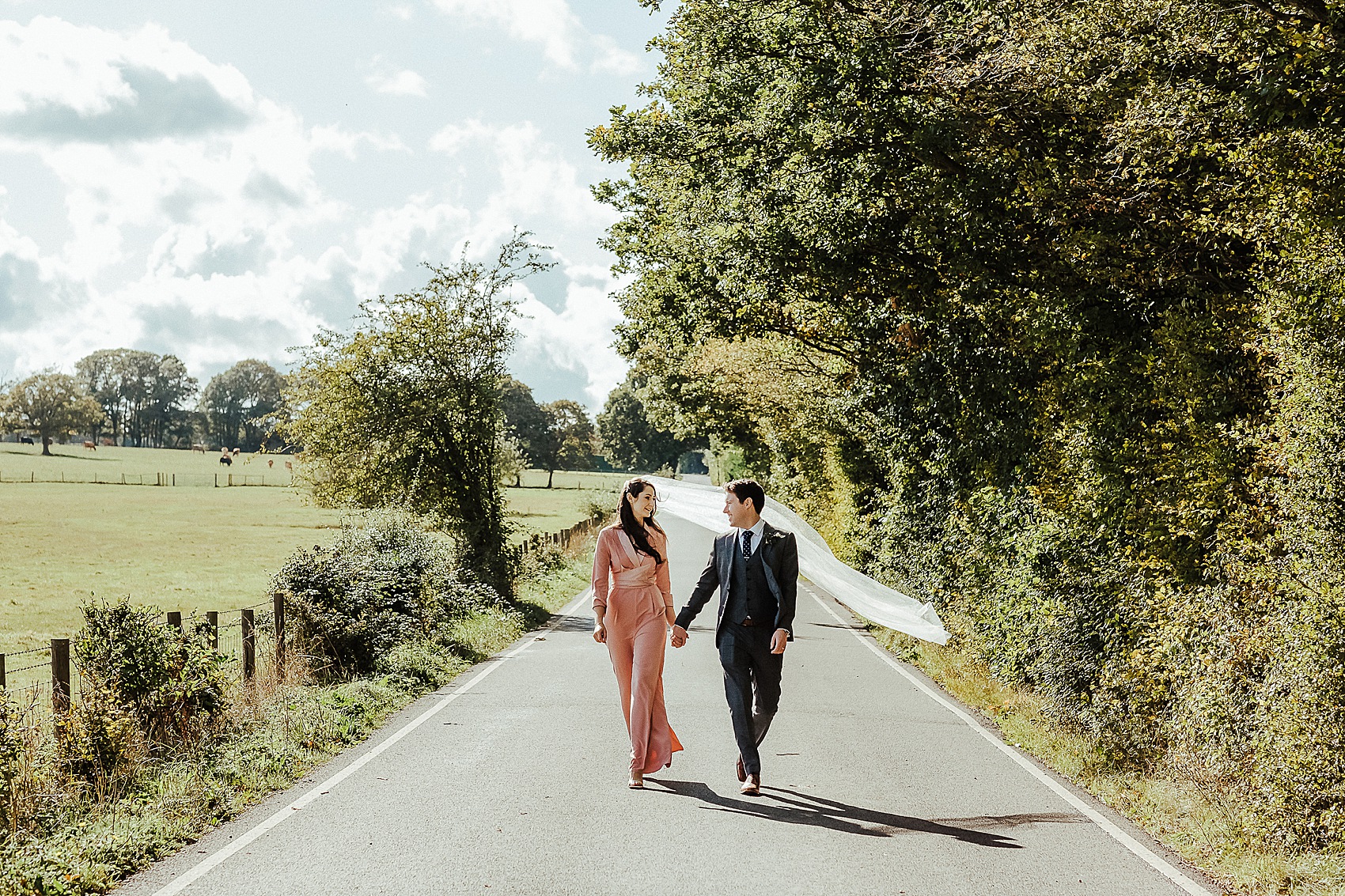 Just as many bride will already know, the addition of a special scent can evoke so many feelings and memories.
"Scent and perfume were important to us on the wedding day. We found Jamie's on a day out in London. We popped into Fortnum & Mason for a special treat and came across Penhaligon's Roaring Radcliffe."
"This summer we went to purchase Jamie's at Bicester Shopping Village and by chance they put in an Elisabethan Rose sample. It was just the scent I was looking for and the bottle is gorgeous."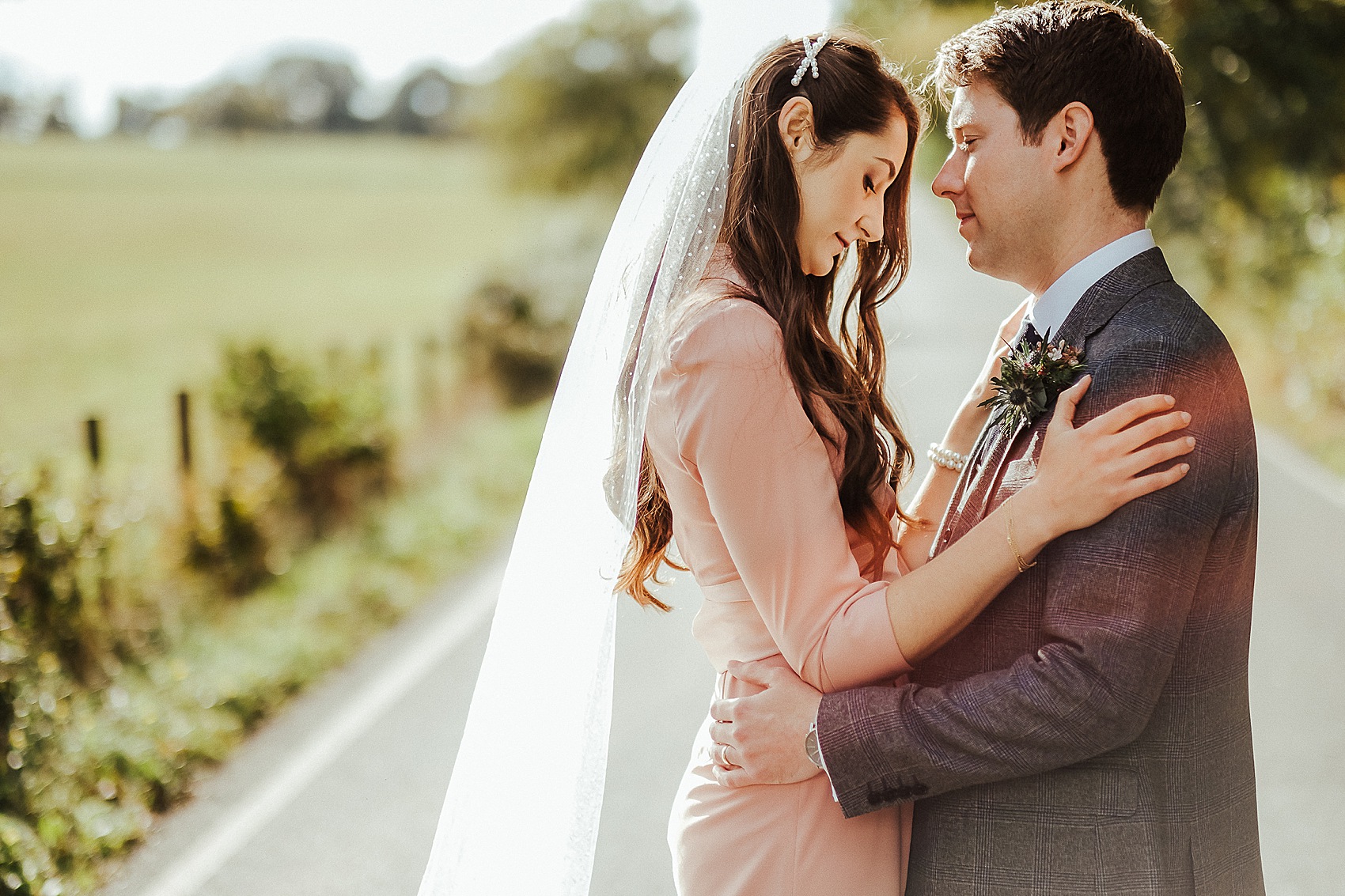 "We went ahead with a very limited number of guests at my family home, kept it fully outside, provided sanitisers and had a one-way system in and out. For those that couldn't attend the ceremony we set up a Zoom video call. It was so great for all of those – they really enjoyed it. Around forty people joined in on the Zoom call – glasses were raised and signs were made to hold up to the camera. It really brought everyone together at a time that we couldn't physically be in the same place."
"My family stepped up hugely and it was a great joint effort. We scrapped the BBQ and ordered DIY Pork & Co based in Canterbury. It was such a strange turn of events as when we got engaged we said we just had to have Pork & Co cater our wedding but it's not something we could have done at our chosen venue. They were fantastic and really delivered an amazing meal on the day. The staff were great and would always ask how we were feeling with everything going on."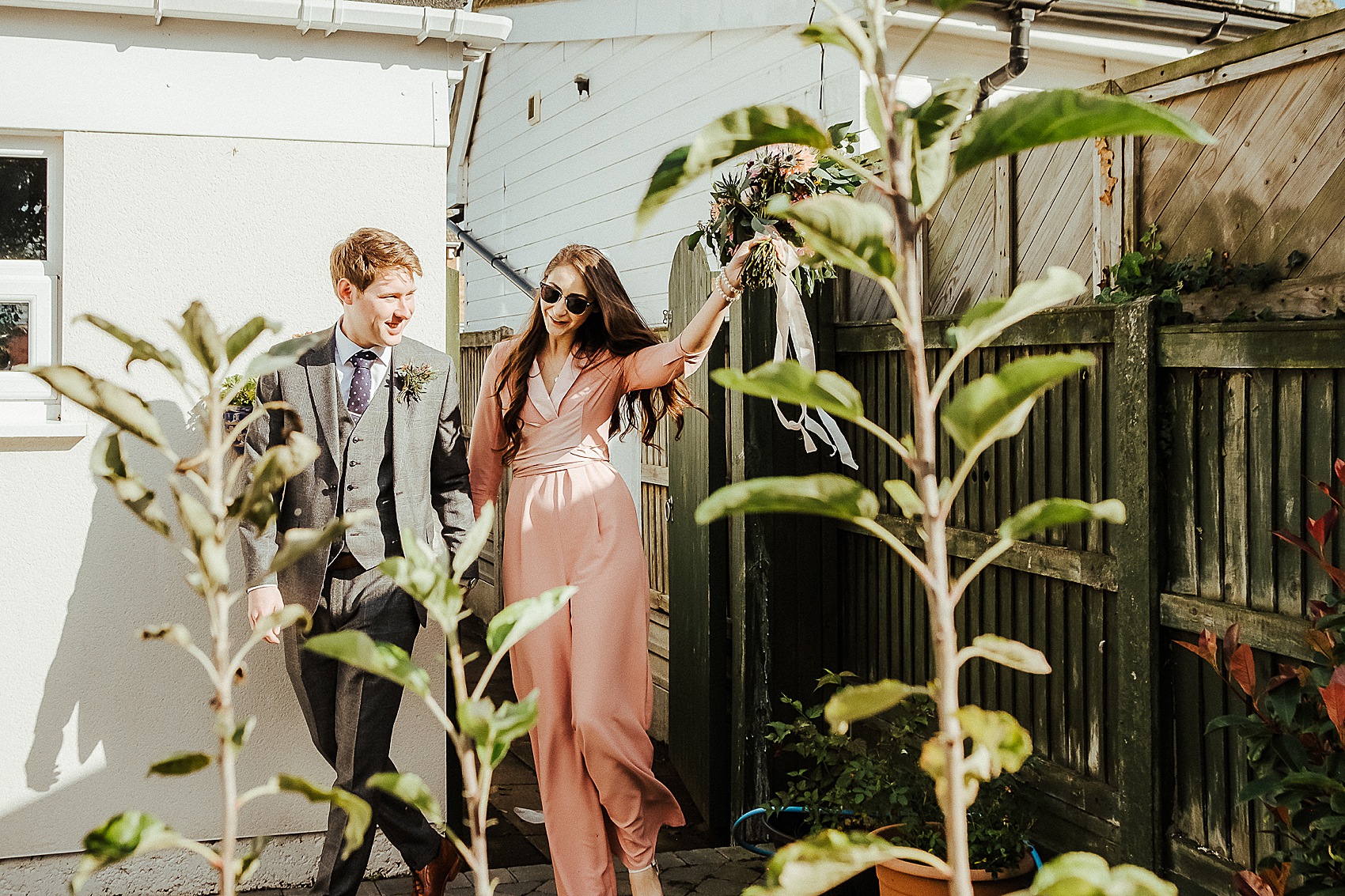 After they wed, the couple hosted a relaxed celebration at the family home, complete with sumptuous food from Pork & Co and a cake made by Meghan herself.
"I took over making the family Christmas cake each year so it was an obvious choice to make our wedding cake; it's also Jamie's favourite. I used ribbons from London's VV Rouleaux. We spent a lot of our dating time in London and I'm obsessed with the chef Nigel Slater who highly recommends a ribbon from here for a very special occasion. I found a rabbit-themed topper from normadorothy on Etsy, we also own two lovely little bunnies ourselves so they had to be featured."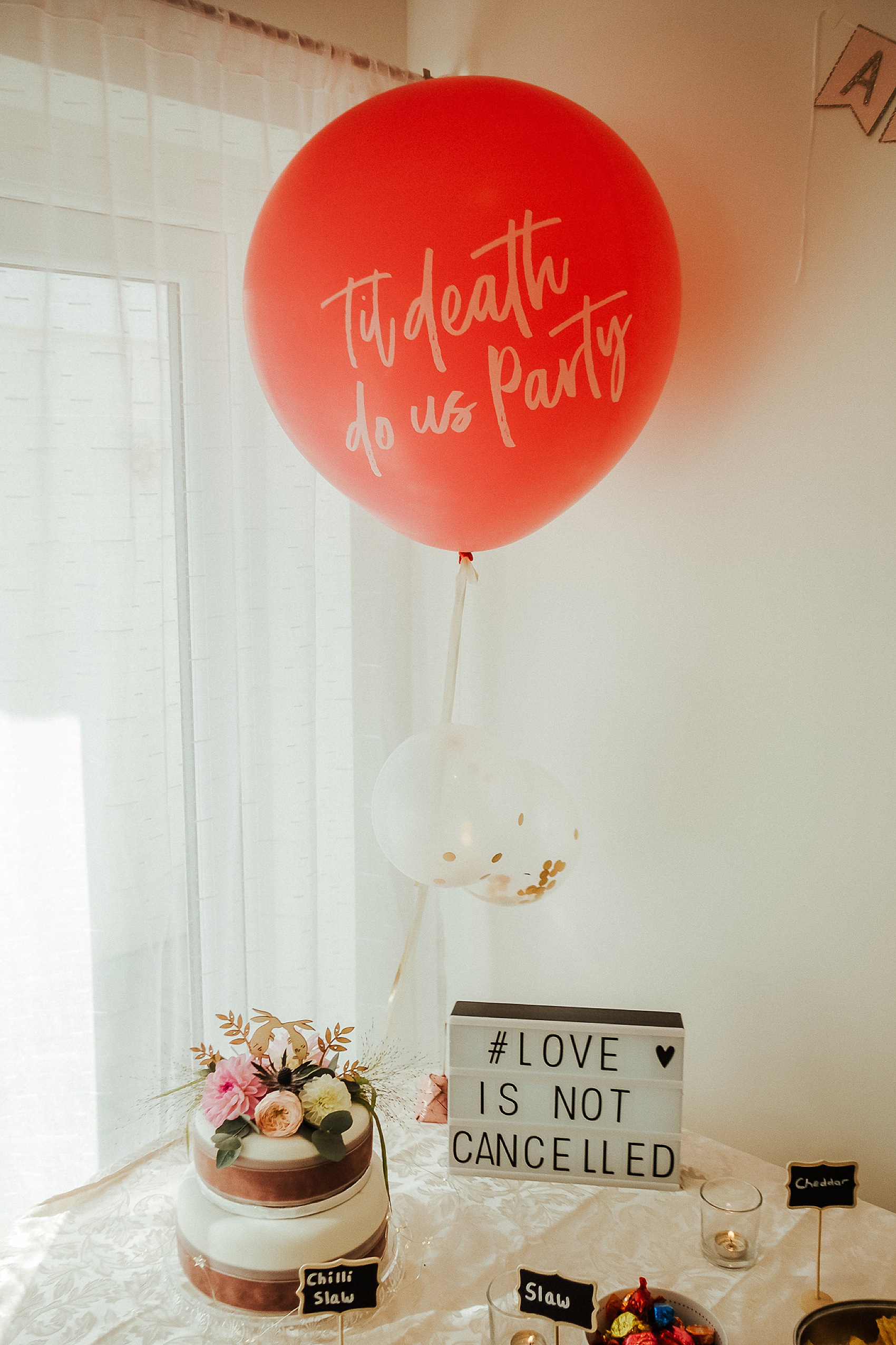 By the way, did you know that Norma & Dorothy is one of our much-loved directory members? Their website is a treasure trove of pretty and personal things, so please don't hesitate to find out more about them here.
"From the moment we got engaged I started collecting glass jars and bottles. We used a lot of what we had already for the main event or at home to decorate my Nan's conservatory."
"This included a cinema light box for '#love is not cancelled', a photo frame from our mantel piece, our Christmas tree fairy lights and a gin bottle we brought back from Tenerife where we met and got engaged. We also used cake stands from our close friends who married last year."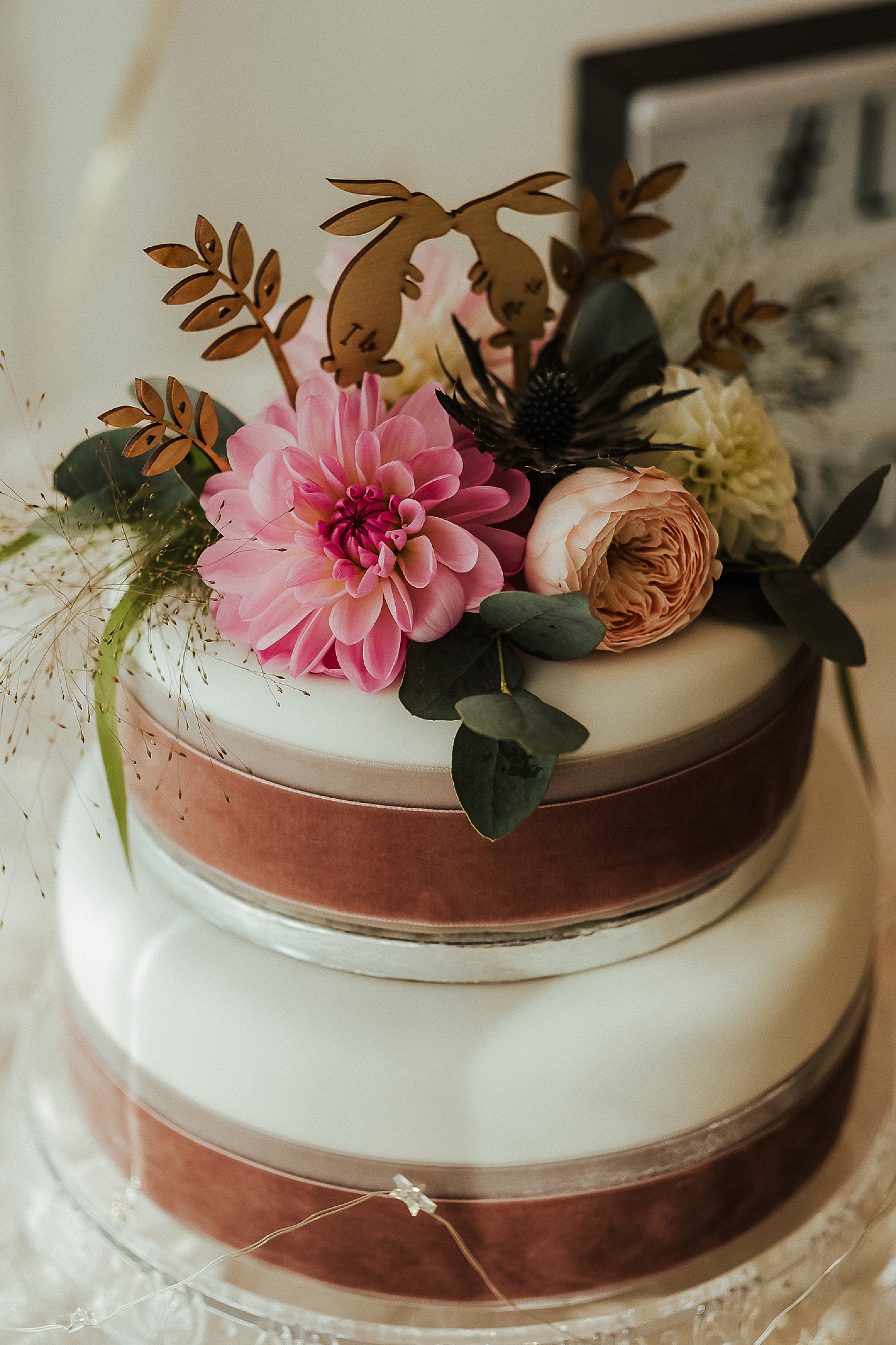 Naturally, the scaled-down wedding meant that the couple spent less on it and have some left over for a bigger celebration next year in their original venue, East Quay.
"Originally, we had a budget of up to 15K for everything, including a honeymoon. Our small wedding was just a fraction of that at around 2K. I think if we go ahead with a celebration at East Quay next year we will still meet the budget."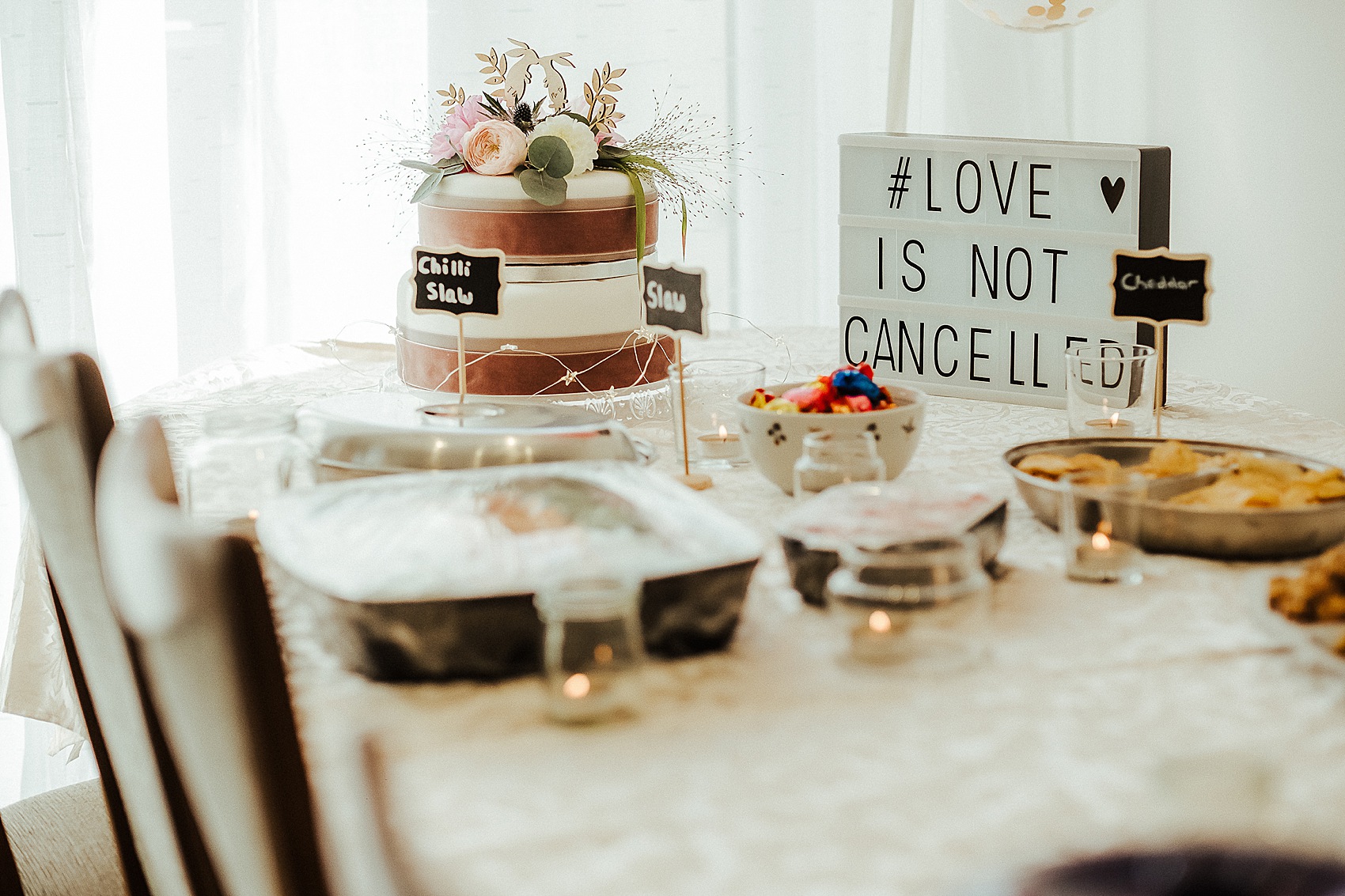 Words of Wedded Wisdom
"It's cliché but go with your gut, more so now than ever. If you want to wear that crazy outfit, do it. Want to throw tradition out? Do it! Weddings aren't the same anymore; anything goes so make it your own.
Weddings don't need to be big or follow a set of rules. It's good to keep some of the structure to your day but be relaxed."
"Focus on what's important to you. Less is literally more. A smaller wedding doesn't make it any less special."
"Work with suppliers you connect with. There are some out there who care just as much as about your day as you do. Find these people and, no matter what happens, you'll be in safe hands."
"When they say it goes by in a fast blur it really does! Try and take it all in."
Megan, I love your advice to other brides and wholeheartedly agree. Congratulations, and thanks, to you and Jamie on your wedding and I'm so glad you went ahead with your original wedding date and had a celebration that you loved. Matt Ebbage, thank you too for your glorious work. I hope to see more of it on Love My Dress soon.
Finally, for more brides in super-cool jumpsuits to fuel your style, drink in these Love My Dress weddings.
Ele xx