This is the wedding of Stef, and Occupational Therapist and Josh, a Software Developer, who tied the knot at the very beautiful Broadfield Court in Herefordshire, in August last year.
Stef wore a beautiful 1930's inspired Ghost wedding dress for her nuptials as this stunning West Midlands country house wedding venue and carried the most sublime, colourful, summer bridal bouquet.
Broadfield Court

+ Follow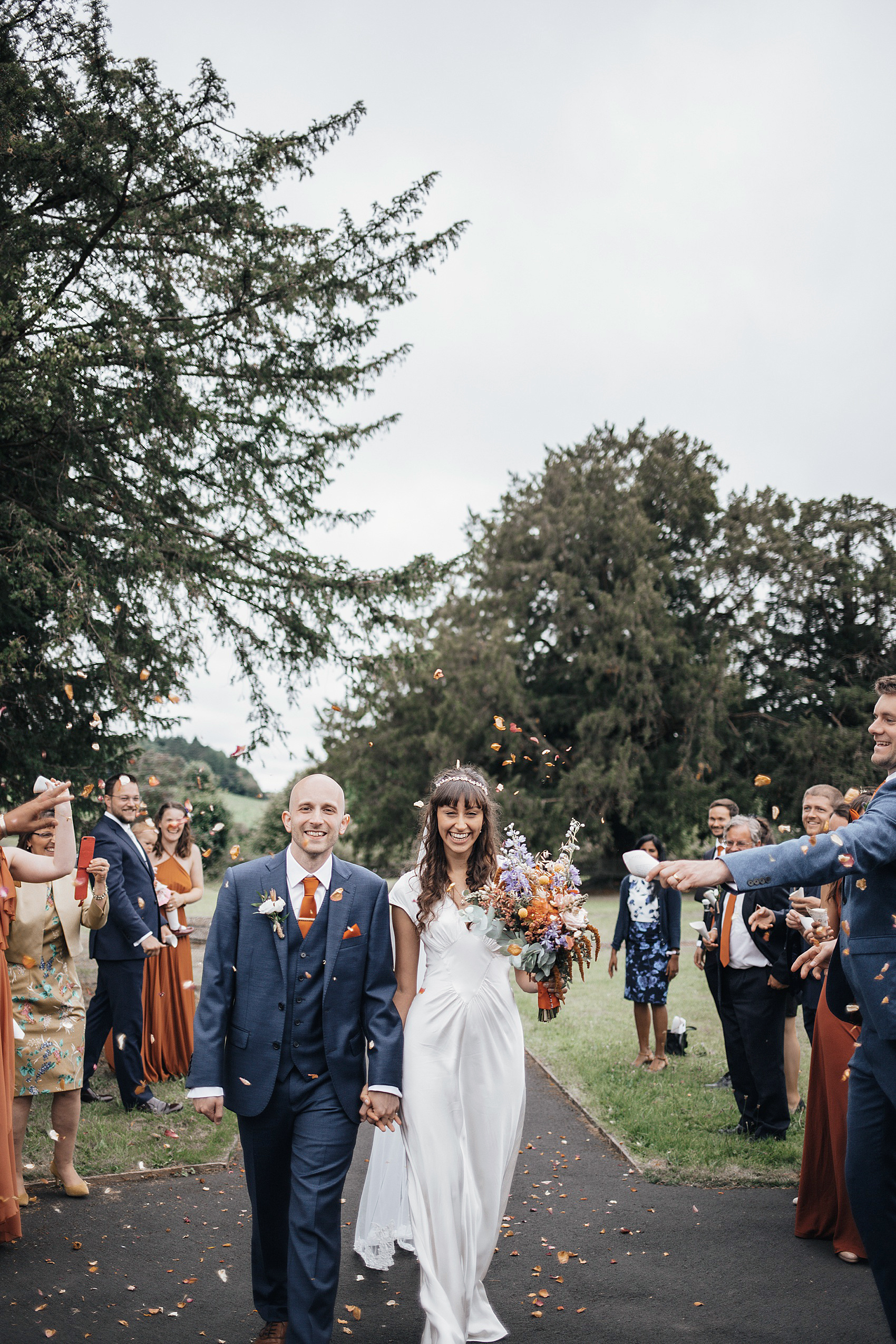 "Herefordshire is one of the most beautiful places in England for its scenery, and Broadfield Court sits beautifully in its surroundings. It's an enormous house which could sleep many of our guests and it had plenty of outdoor space to help with social distancing and safety."
"When we met with the owner, Frances, she was incredibly flexible and supportive so we knew it was the right place for us. Josh's Dad also lives close to Broadfield which meant we could legally marry in a church nearby on the day and this made everything a bit smoother for us!"
"I always wear Cinema by Yves Saint Laurent perfume, mainly because this is the only perfume I own! But I liked wearing this because it made me feel like myself on my wedding day!"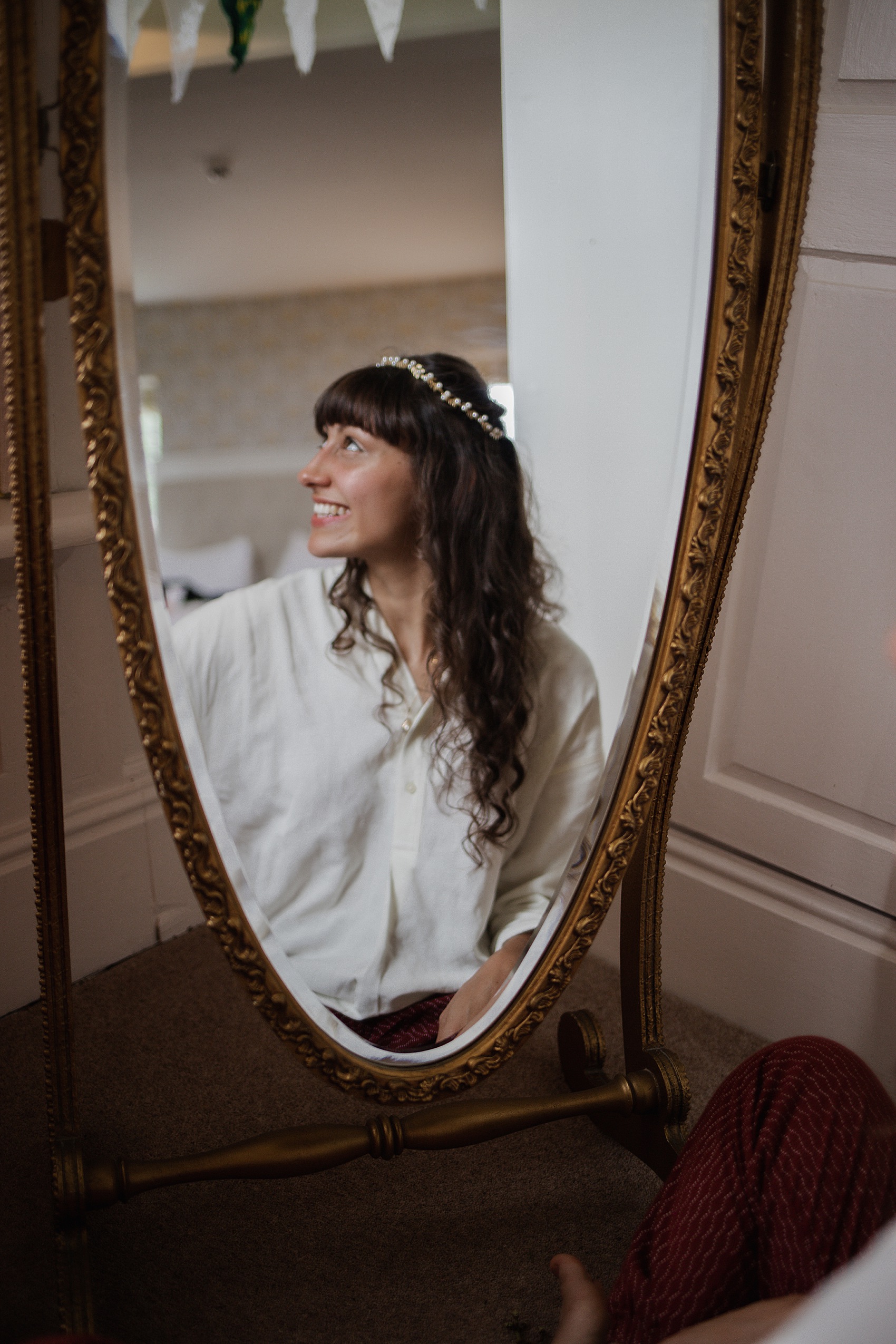 "I bought a lovely dress in the sale from Ghost which thankfully didn't need any altering at all because it was a lovely relaxed fit. I loved wearing it because it was flattering, but incredibly relaxed which was right for the style of our wedding. It was easy to put on and comfortable all day."
"My original dress was from Betty Gets Hitched, a small bridal boutique in North London that sells very reasonably process sample dressed. The seamstress there is called Candace and she was absolutely fantastic – very skilled. The dresses in there are all beautifully made and you don't want to take them off!  Candace was shielding by the time we got married so the dress couldn't be adjusted to fit."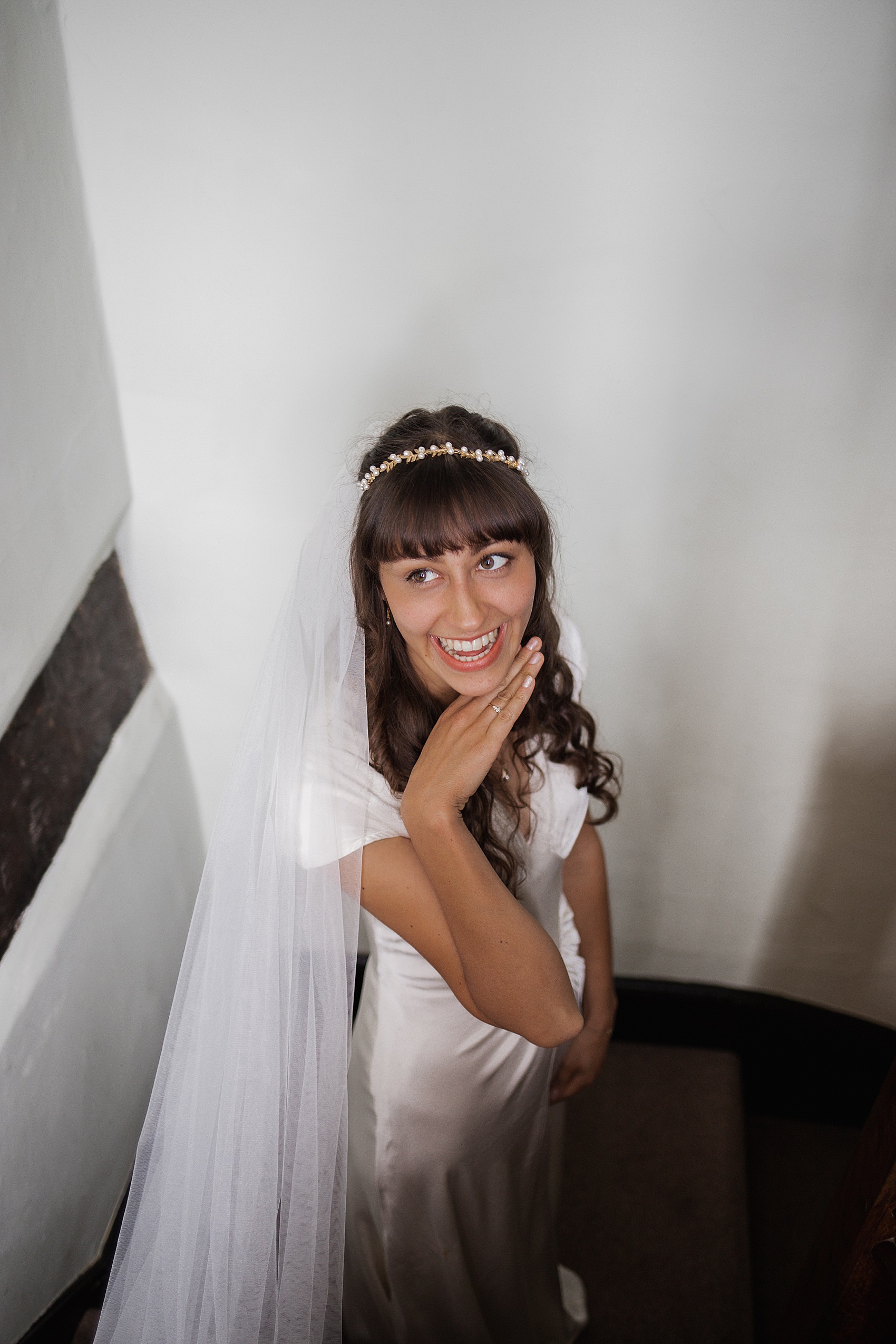 "My grandmother bought me some beautiful pearl drop earrings for my wedding day and I borrowed my mother's pendant pearl necklace. My grandmother couldn't come to my wedding because of the number restrictions, so I loved wearing jewellery that she had bought for me."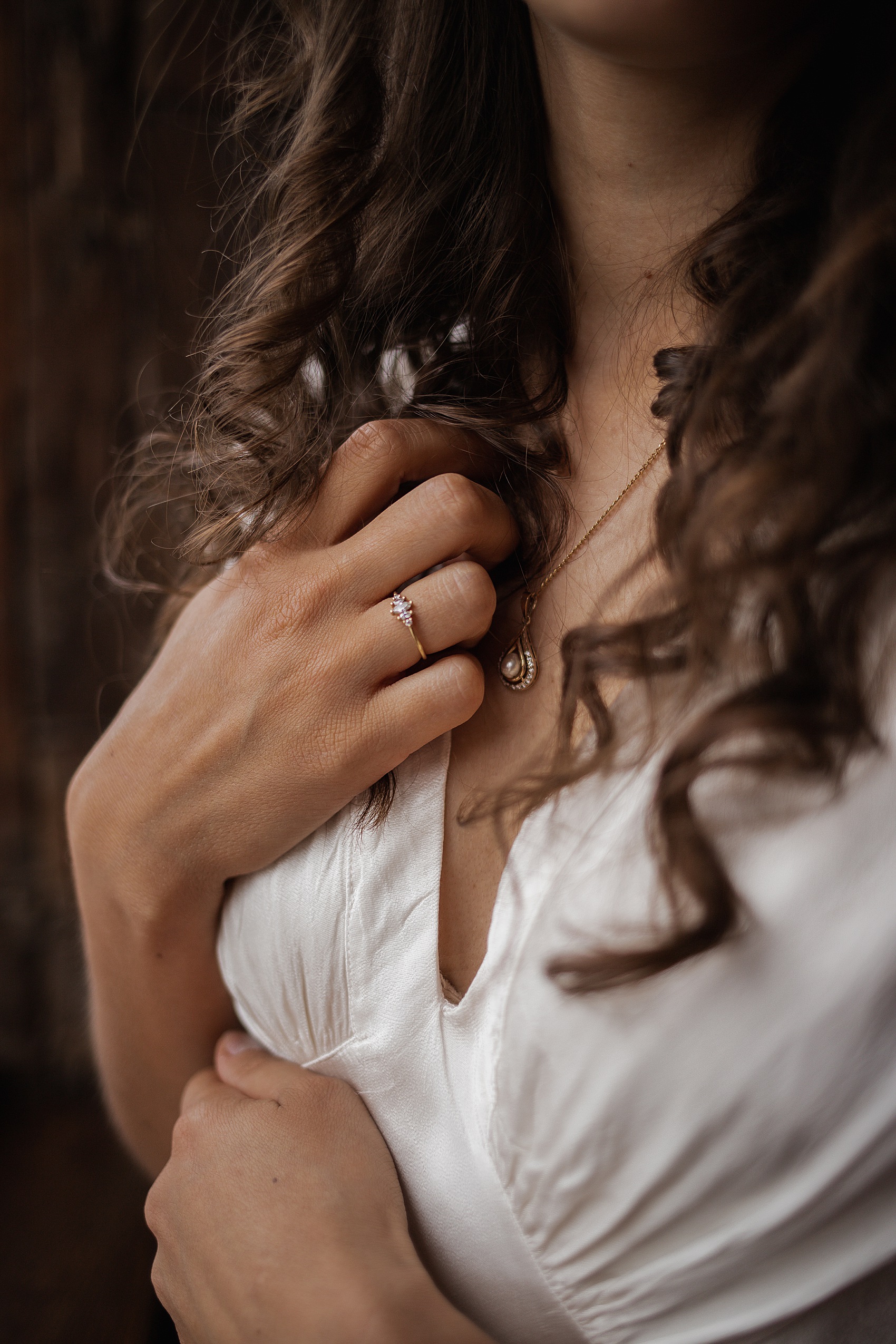 "With all the bridal shops closed, I bought my veil from a shop on Ebay that makes them – it was a beautiful one as well. In the afternoon I wore a flower crown which I had made myself. I bought a golden leaf and pearl wire headband that attached to my head while I wore my veil and in the afternoon"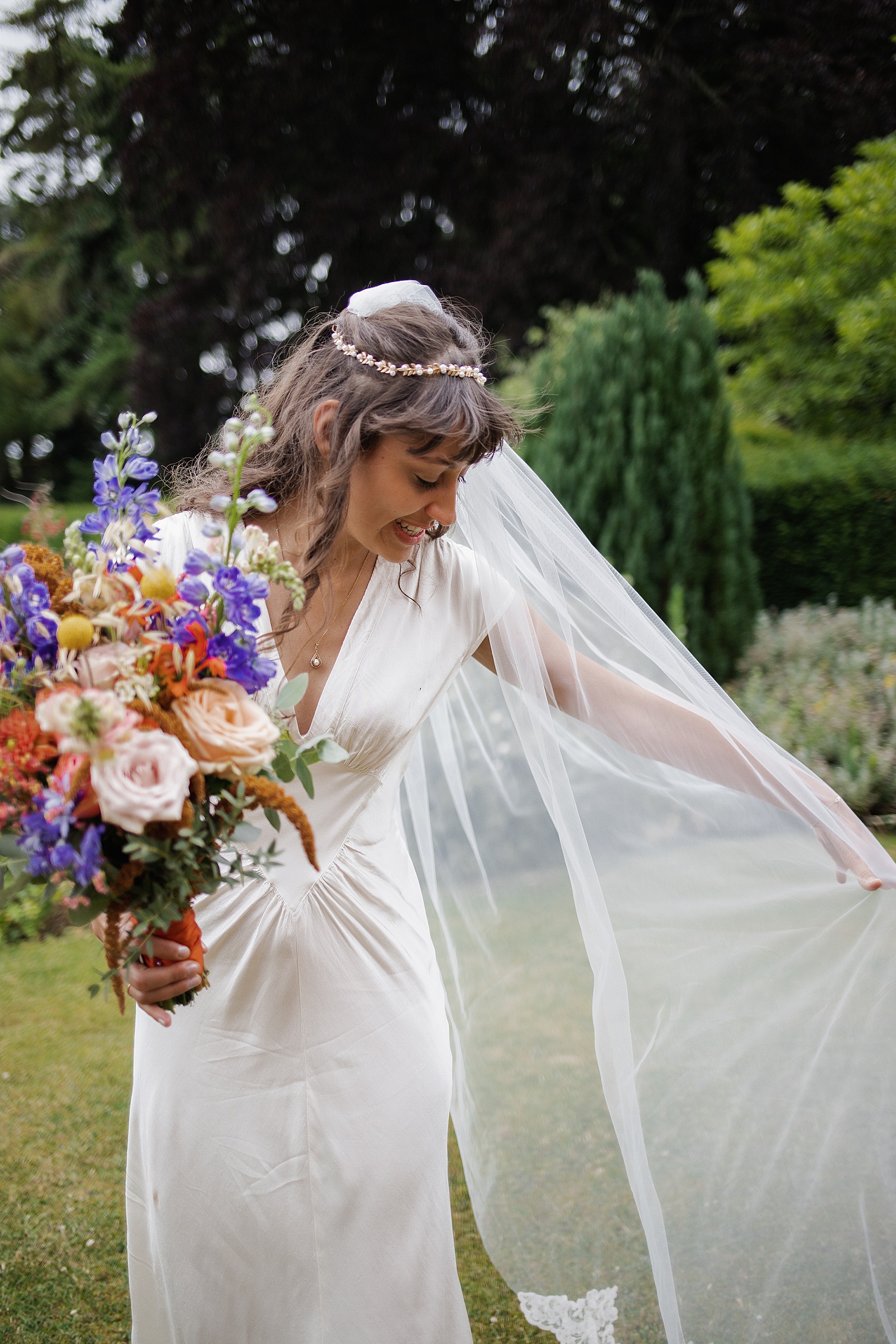 "All of the bridesmaids bought their own dresses! They are all different people with different bodies and we wanted them to feel happy and comfortable all day. We asked them to get a dress that was burnt orange or a similar shade."
"A few of them got theirs from ASOS or H&M. I bought my sister's one second hand from Ebay and that looked lovely on her. They were all slightly different shades but the dresses together looked beautiful and each bridesmaid individually looked incredible."
"They all had a pearl and gold bracelet bought from jomajewellery.com. They all wore their own shoes."
"My mother, sister and I are all reasonably experienced with flowers so bought our flowers a few days before at Vauxhall Flower Market and then made the bouquets, button holes, corsages and table arrangements the day before the wedding."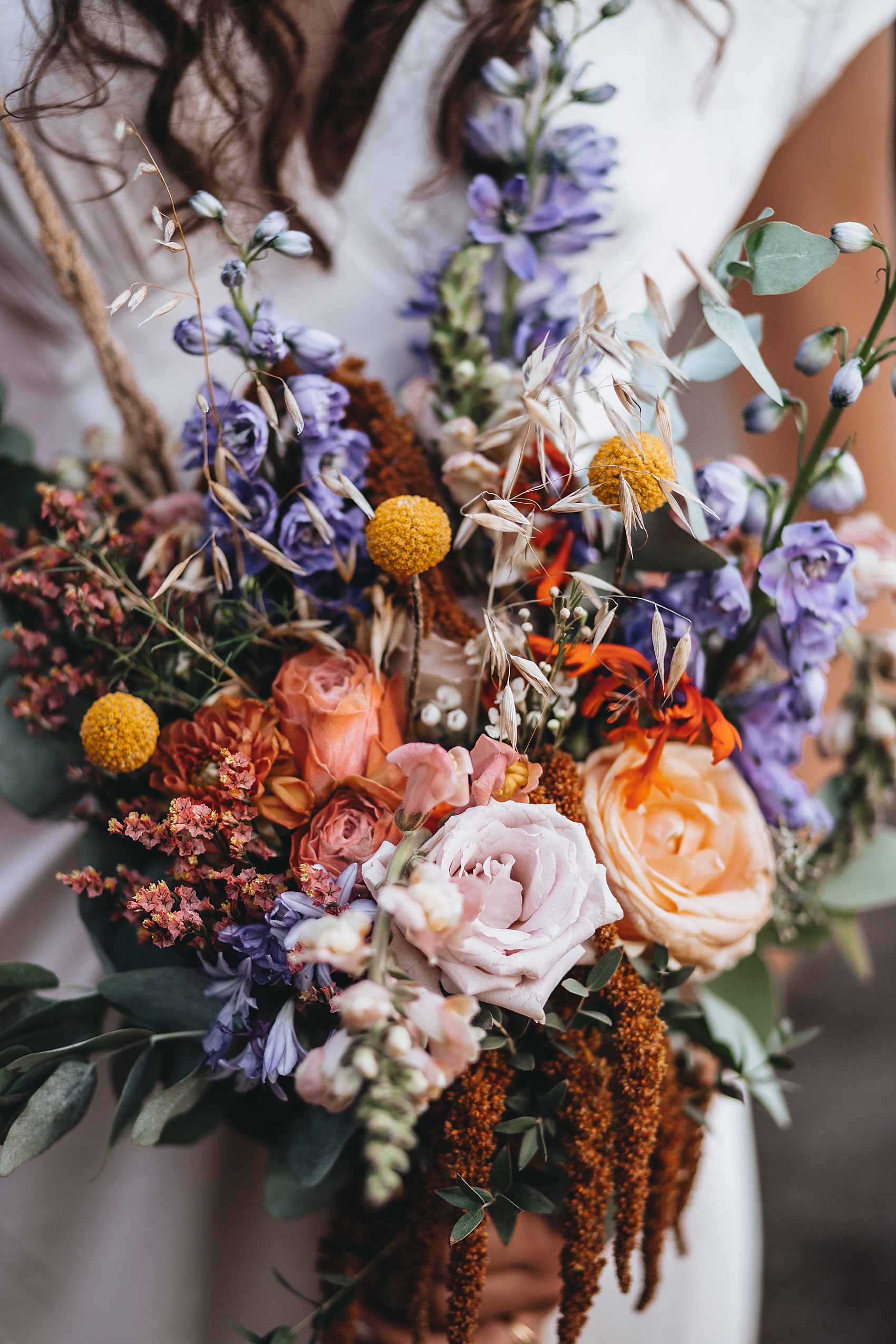 "My sister taught all the bridesmaids how to make their bouquets themselves and it was a really lovely activity. It also saved quite a bit of money – the flowers were under £400, and that made 7 large bouquets, and the rest with quite a bit leftover."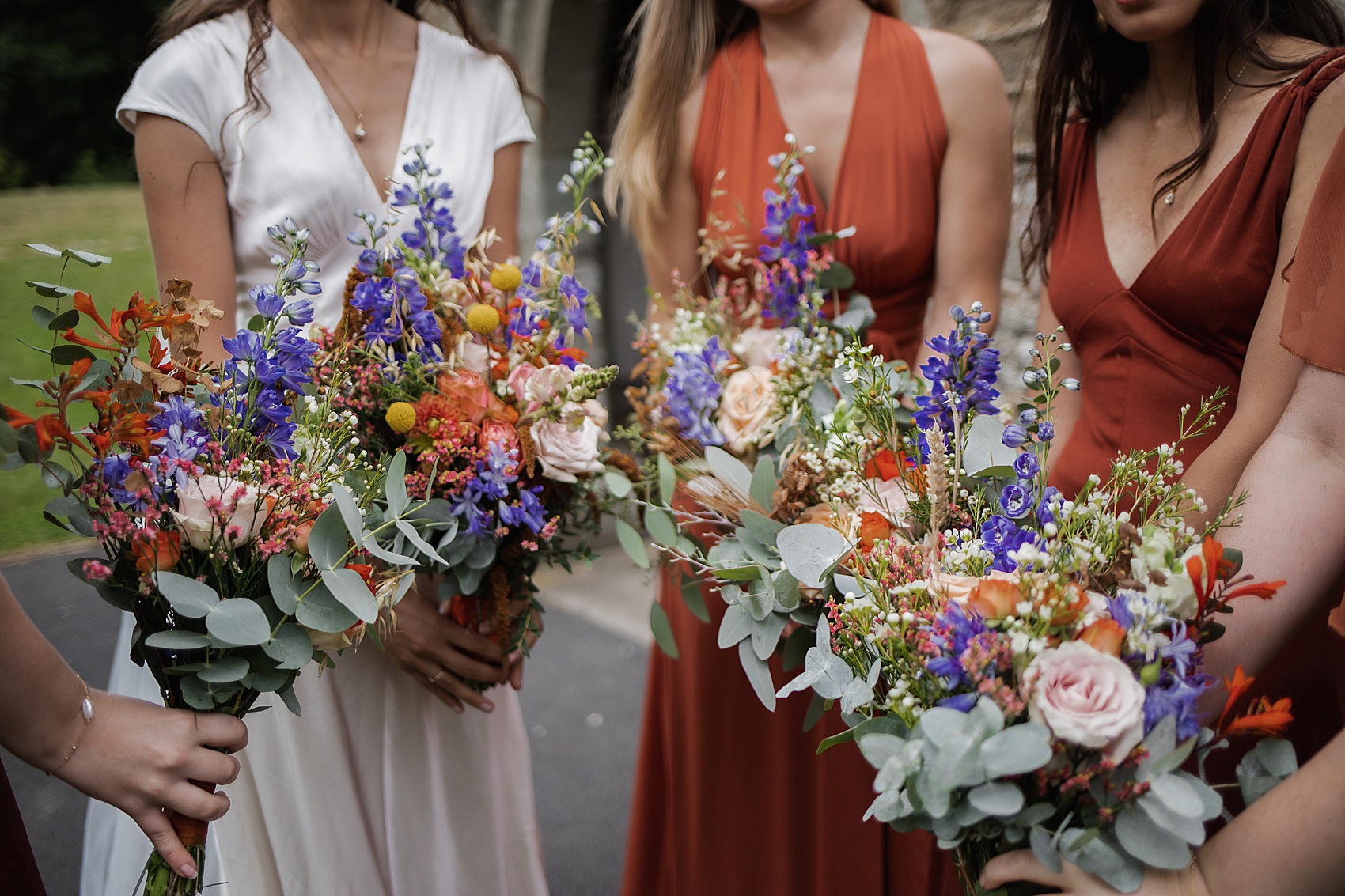 "My shoes were bought on Oxfam's online wedding shop – bit of a gamble because I couldn't try them on given that everything was closed, but it paid off just fine."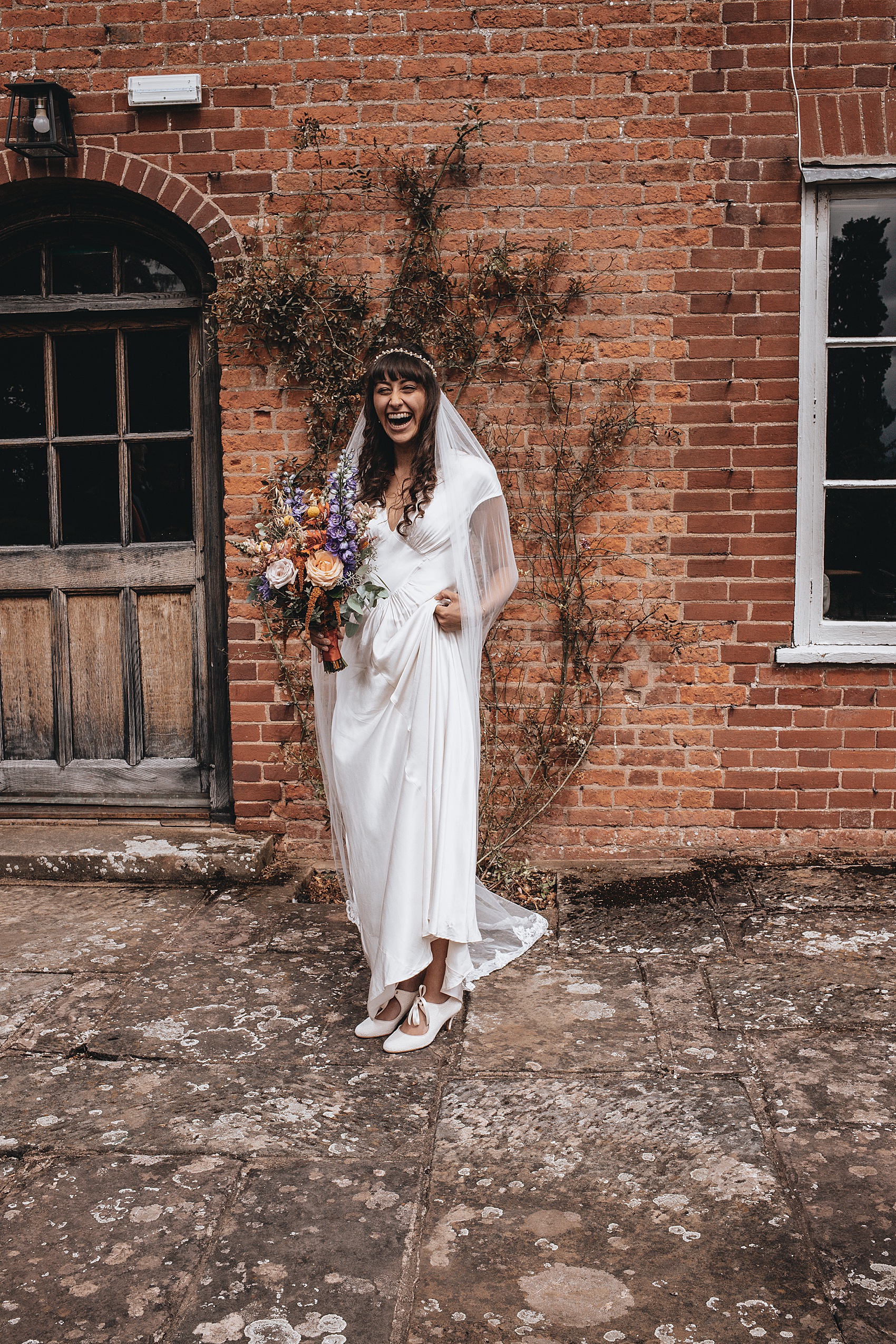 "Josh wore a blue suit from Moss Bros, a purchase from years ago. He also wore some beautiful little fox cufflinks from notonthehightstreet.com."
"They were beautifully made, but we would advise being careful when wearing these because one broke when Josh was diving to catch a prosecco cork!"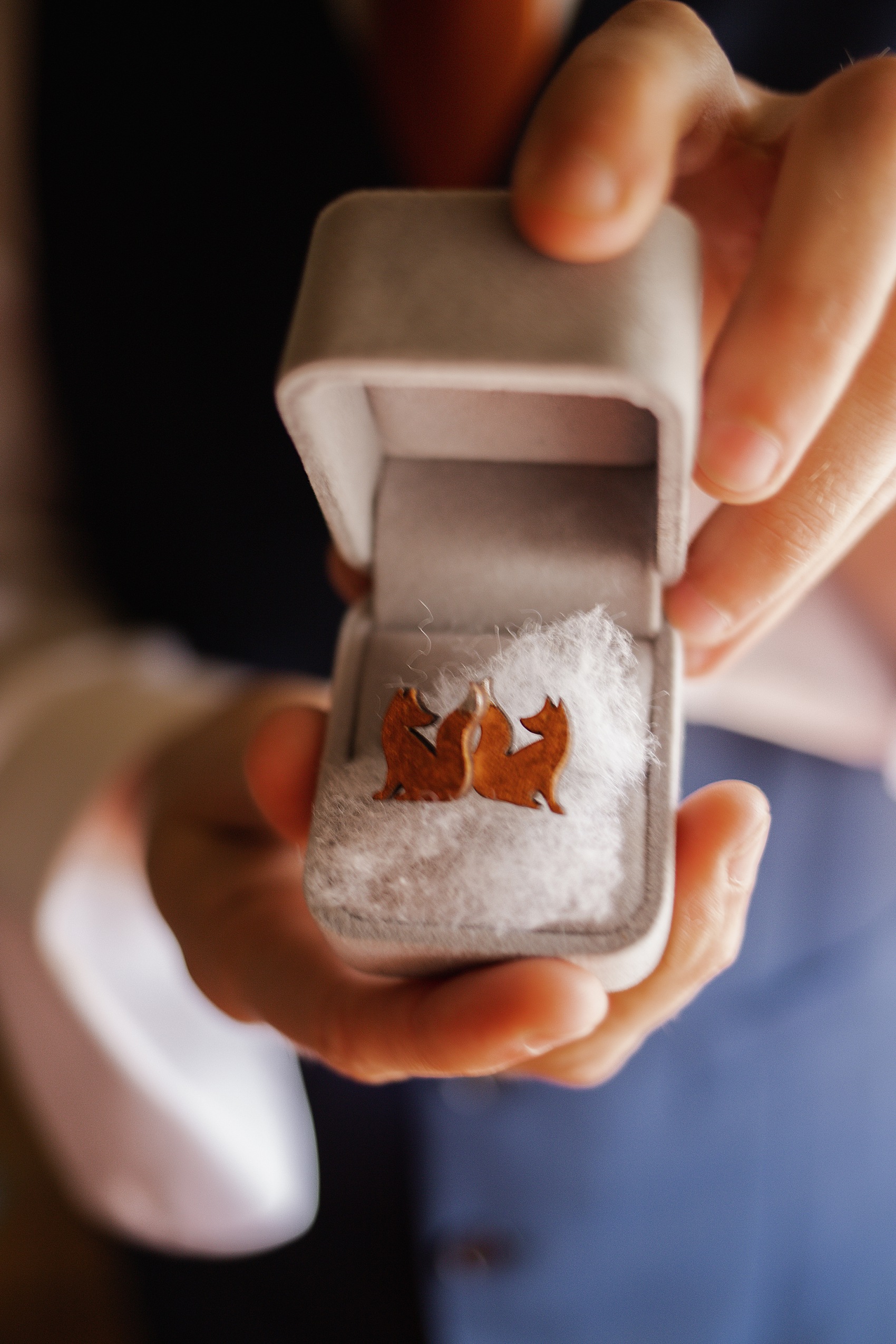 "We met through my sister – Josh was part of a house share with her and quite a while after we initially met, we started talking and that eventually led to a few dates. Josh decided to live in New Zealand for a year and this meant that we were apart for most of this time."
"About 6 weeks before he came home, in October 2018,  I flew out to New Zealand and during this time we decided to officially start dating. The next year was so lovely and we had so much fun together, learning about each other and going on adventures. In November 2019 Josh proposed by the canal at King's Cross, where we'd had our first date."
"It didn't go exactly as planned because just as he was about to get down on one knee, we were thrown out by some police officers who were closing the towpath, but we managed to relocate and once Josh asked, I said yes!"
"We planned to marry in July 2020 but in the end got married in August, so our engagement lasted around 9 months."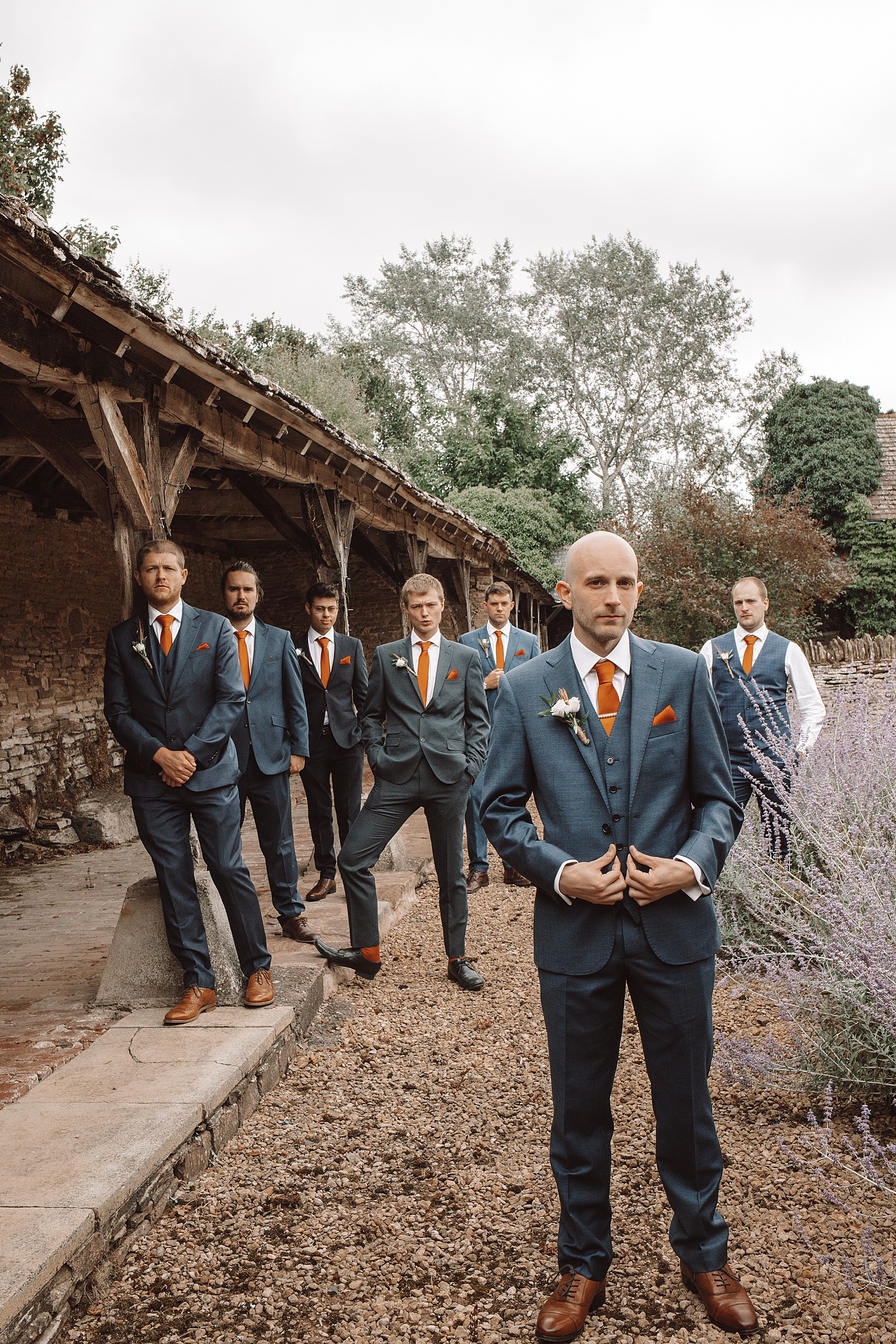 Stef's Dad walked her down the aisle. The plan was for both of her parents to walk down the aisle with her but the aisle was too narrow for 3 people!
"We persuaded our vicar to allow us to learn the Church of England vows so that we didn't have to repeat after him as we felt they were the most important bit of the day, and of our marriage. We also said our own vows which my parents said to each other; 'From this day, I will treasure you as mine. Where you go, I will go and Where you stay I will stay. Whatever we face together in the future, I will always be there to encourage you in Christ and as your husband/wife, I will always love you.'"
"We had two bible readings at our wedding – From Psalm 84 and Psalm 103. These are both passages of worship and given that we were not able to have sung worship, we wanted to have passages that reflected songs that have encouraged us in our faiths."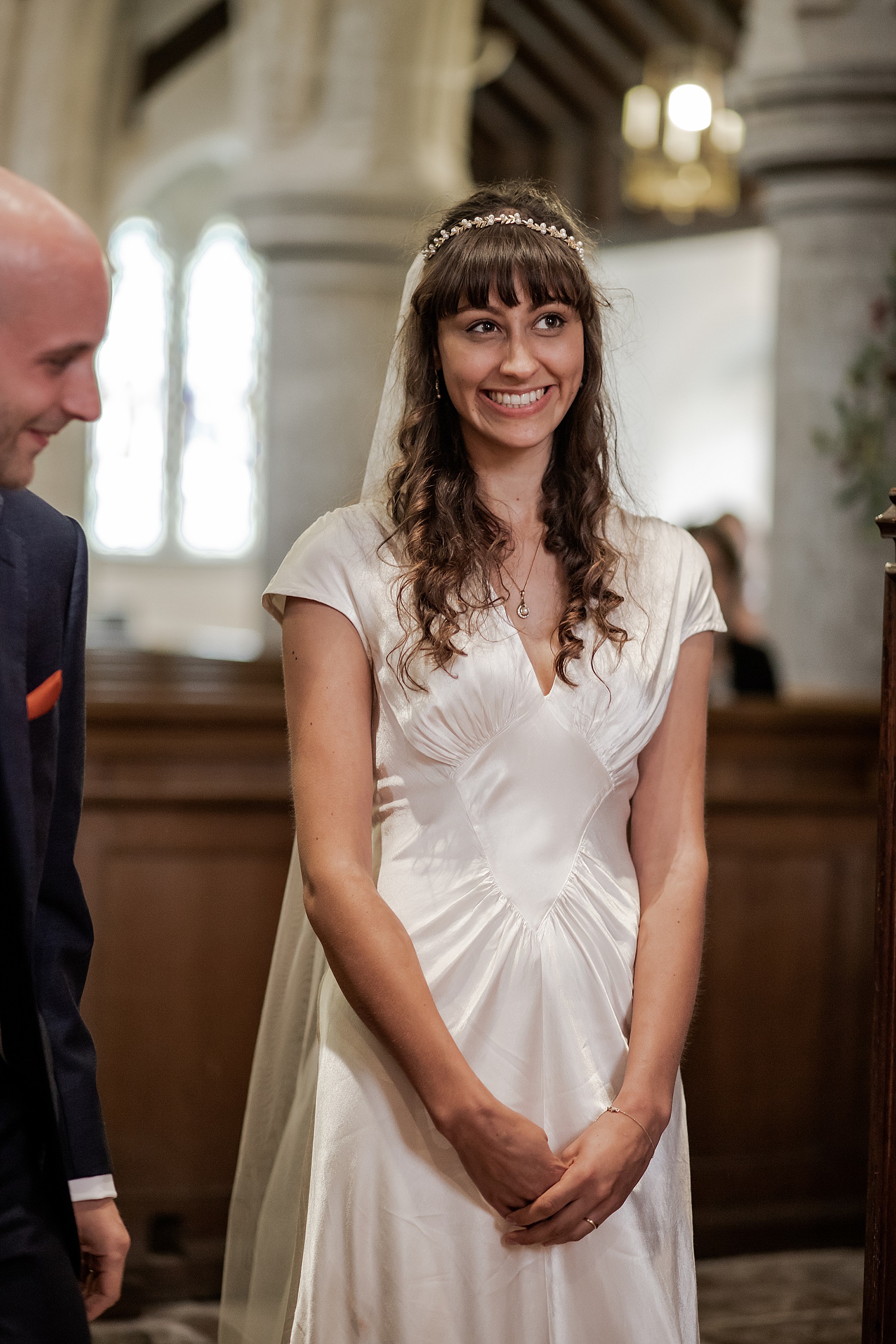 "My engagement ring is from a beautiful shop in Muswell Hill called Tomfoolery London – with some lovely unique designs. Our wedding rings were bought from Nikki Stark. Nikki met with us to work out what we wanted in terms of material and design and then made some beautiful rings for us."
"My ring had to be a wishbone shape to accommodate my engagement ring and Nikki made it perfectly. She was reasonably process and her jewellery is ethical as she uses recycled gold."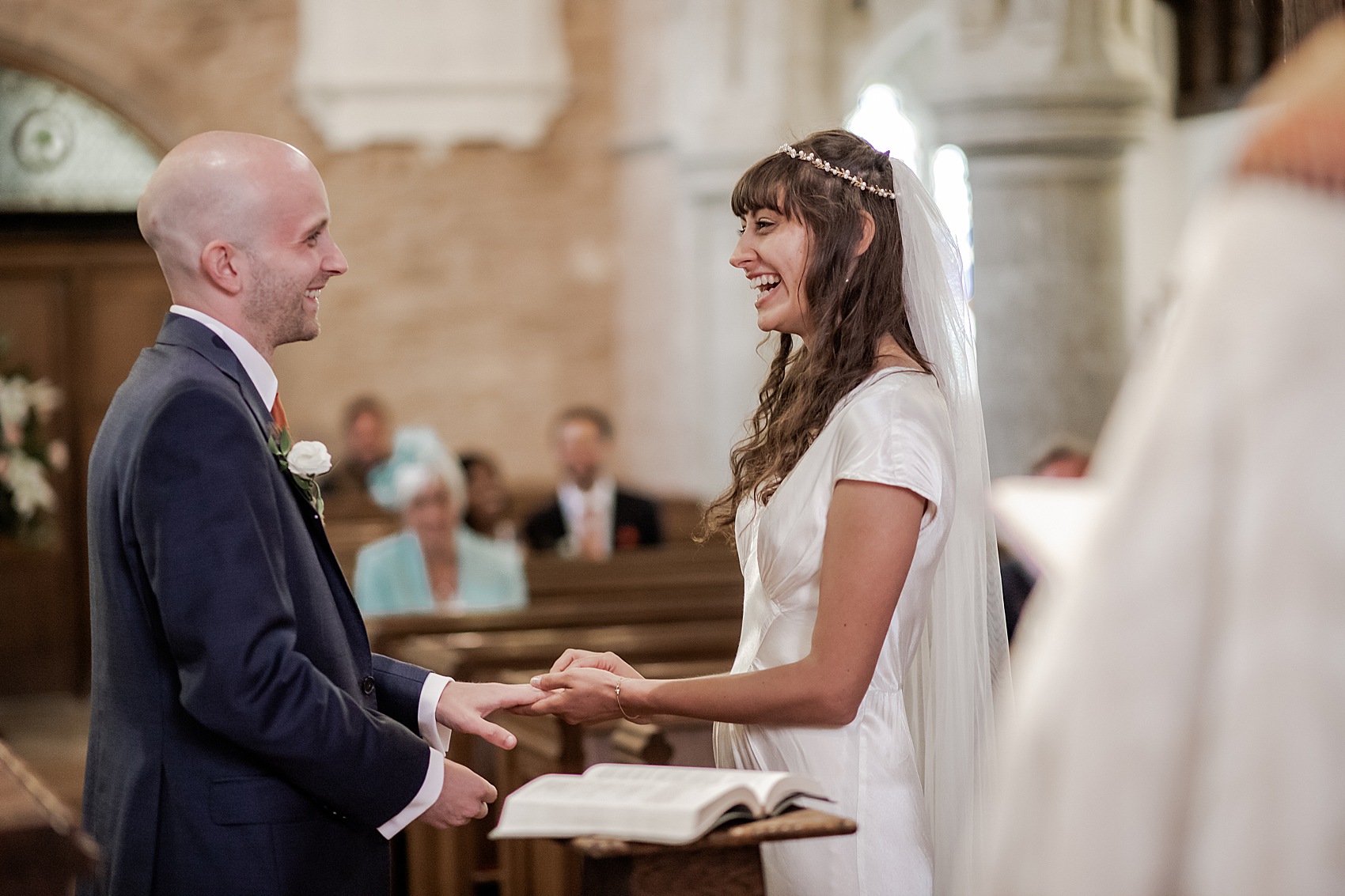 "We both have a strong Christian faith and our service and reception was very much guided by this; we had a church ceremony with a short sermon and prayers. Stylistically, we both love burnt orange and this was a general theme."
"I love wild flowers which meant that the bouquets were big and colourful, and the wild flower garden at Broadfield was used a great deal."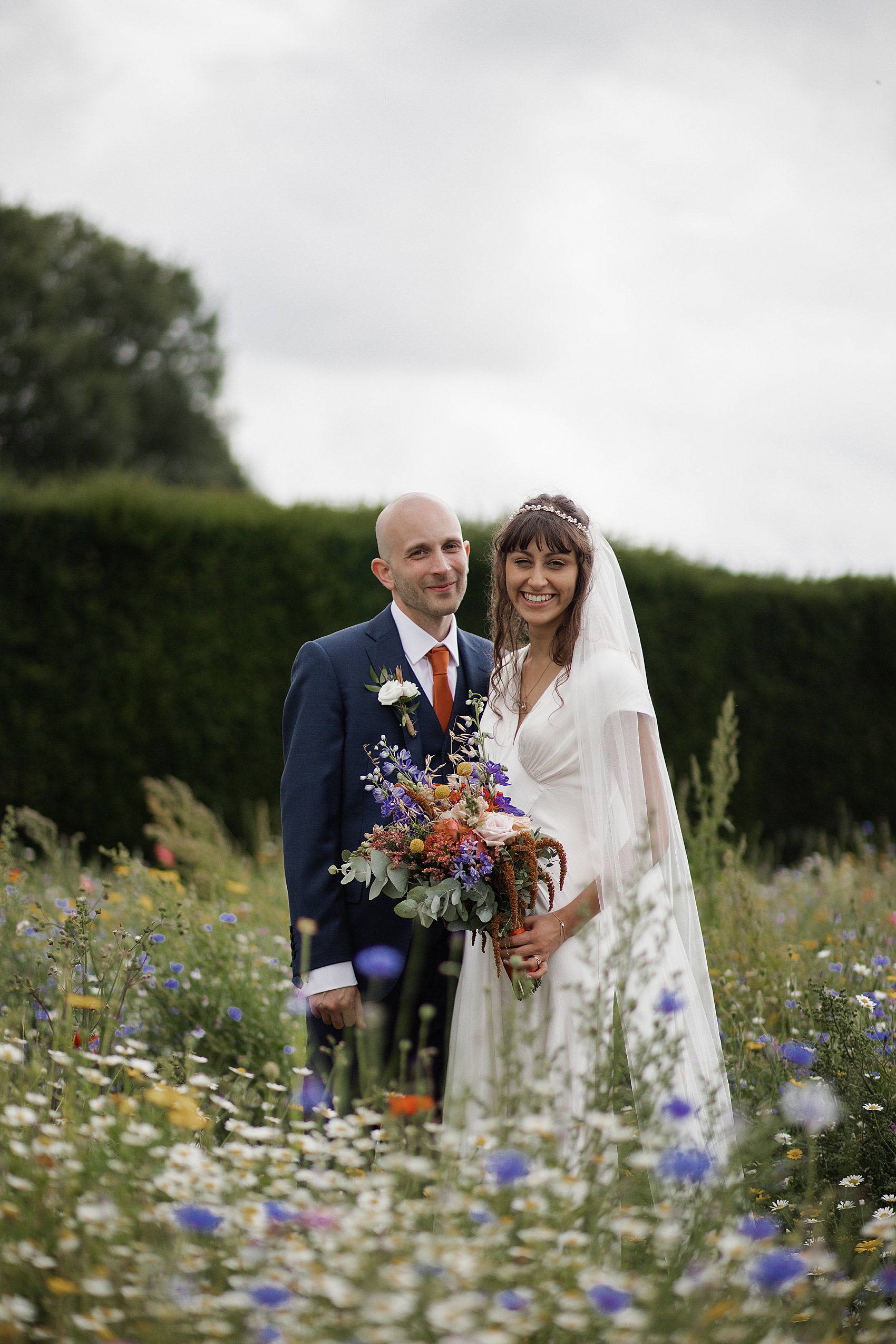 "Our photographer was actually one of our Bridesmaids – Lydia Joiner. She is an incredibly talented photographer, and she offered to do our wedding for us which was perfect, given our restrictions on numbers."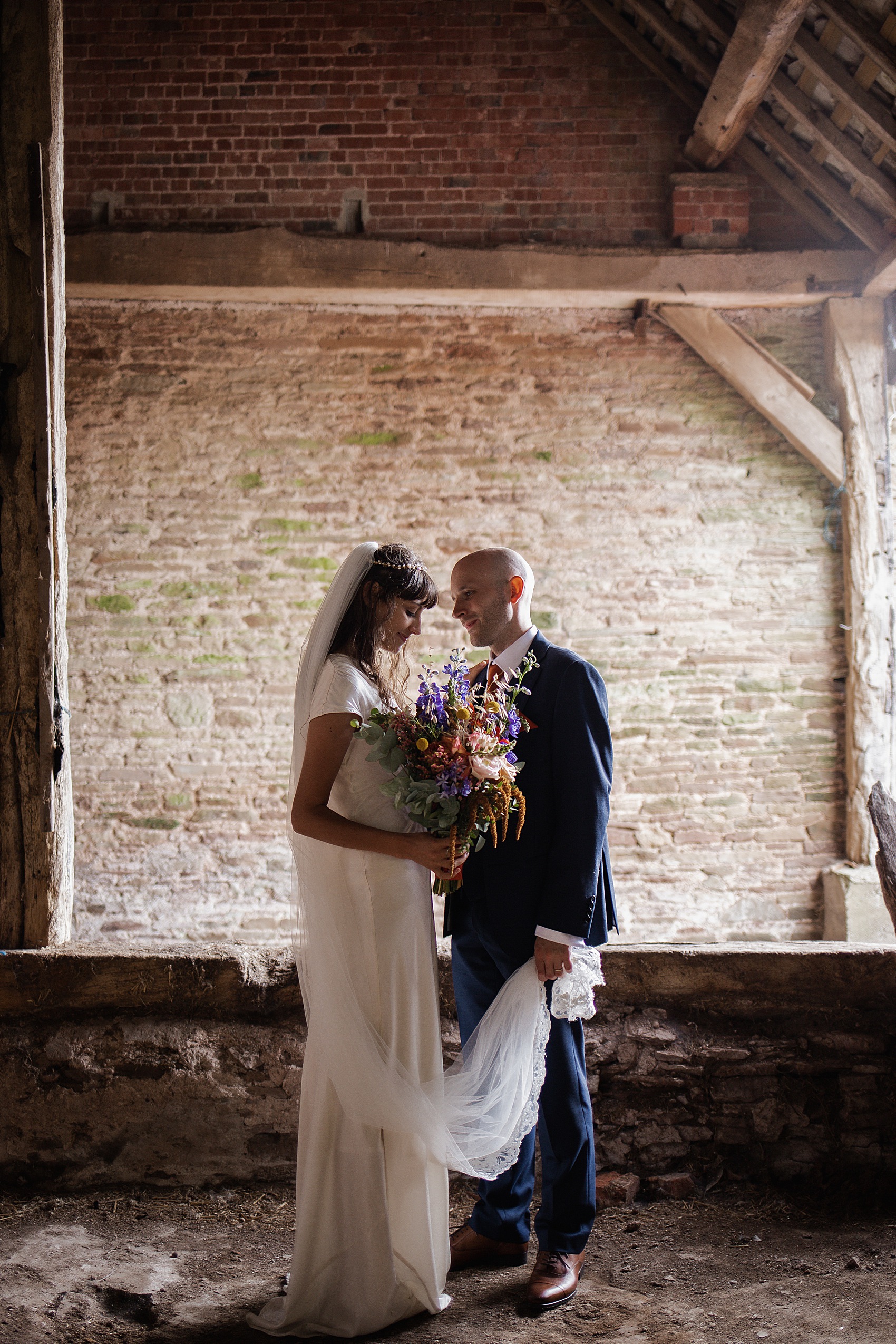 "Lydia didn't know all of the guests, but spent time getting to know them and got a wonderful picture of every single person. She has a relaxed style of photo and loves to capture real moments. She's really subtle so doesn't make a big deal but got some incredible photos of our day."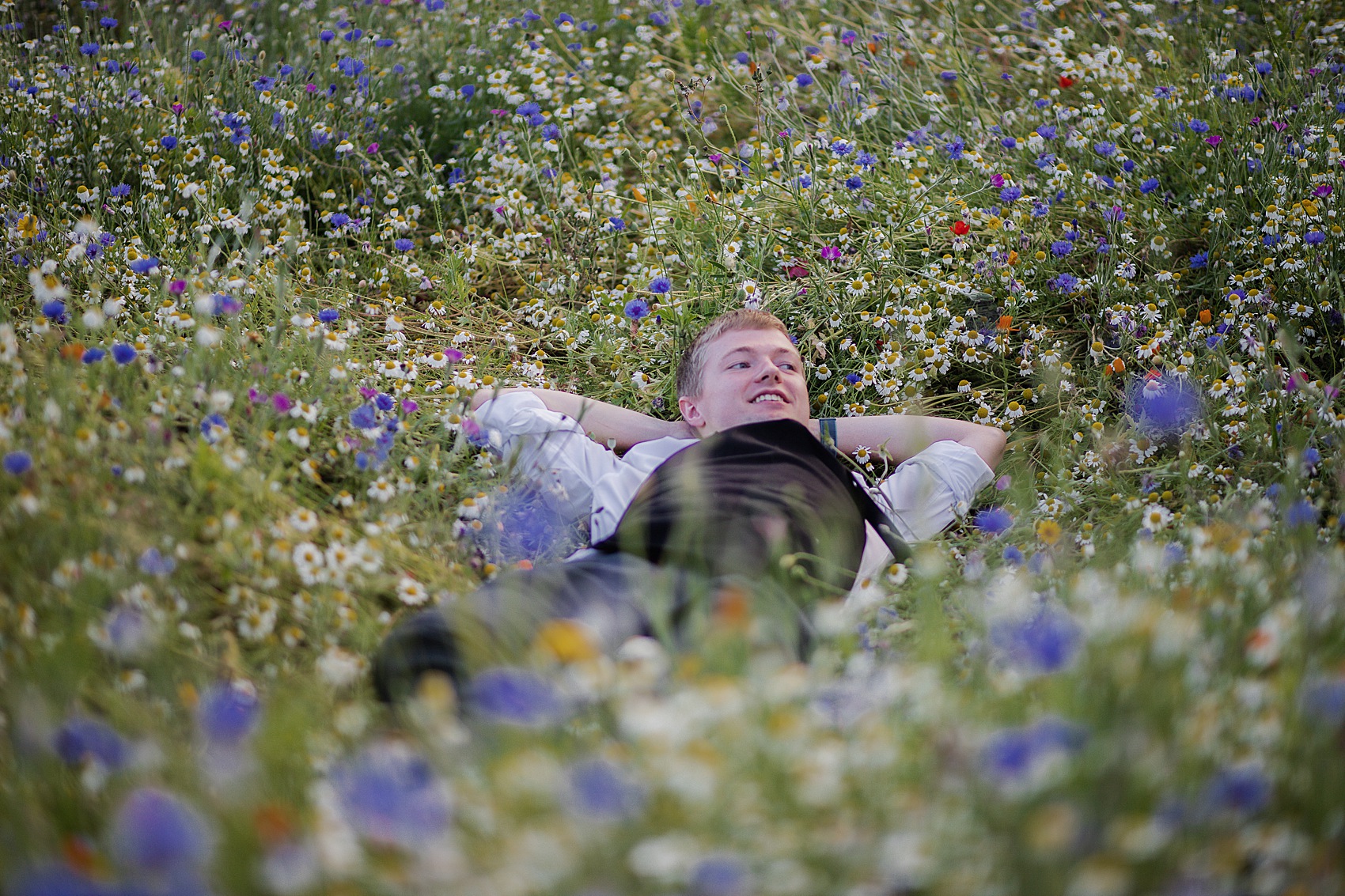 "We had planned a lovely 170 – 200 person wedding that was going to be held at a lovely farm location in the North Wessex Downs on 18th July. We were fairly last minute planners so the accommodation, venue and church were the main bookings we had confirmed by the time the pandemic hit."
"In March we were hoping for things to be fine by July but quickly realised this wouldn't be the case and spent a little while considering our options before deciding that we would indeed want to get married if and when it was allowed with as many people as could be safely involved."
"We booked Broadfield in part because it is so spacious and in part because we felt that we trusted the owners to enable us to have a covid-secure wedding. In the end we had 30 people. Everything was socially distanced and as much as possible was done outside."
"The food was all prepared by my family which meant that they had to work very hard, as they couldn't realistically have a lot of help from everyone else. We had to place people in specific positions in the church so that they could all be at safe distances from each other and similarly at the reception, each household was paced 2 meters away from the next one!"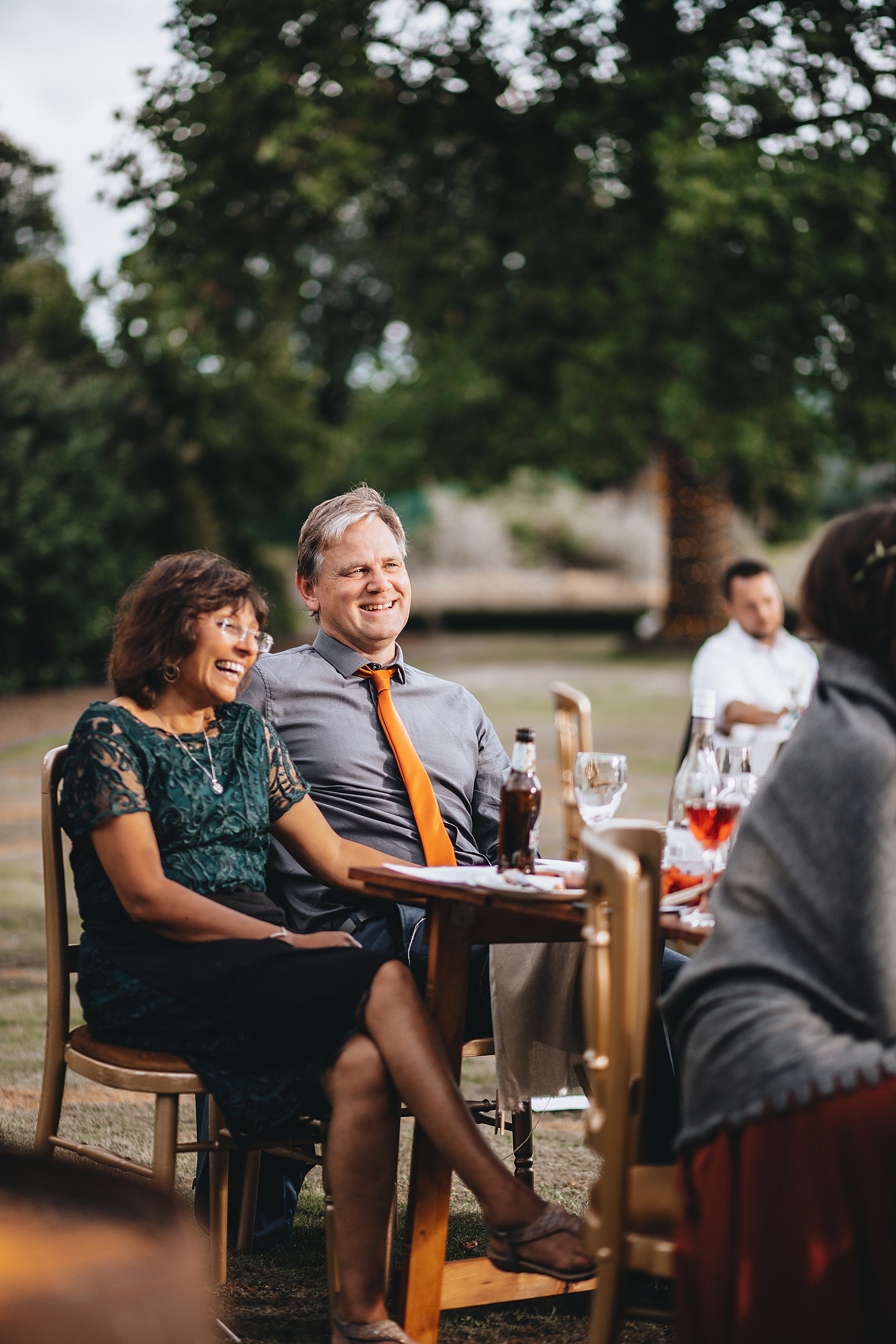 "We are genuinely so pleased that we got married when we did. We didn't live together beforehand which made the lockdown particularly difficult for us and so getting married was a weight off of our minds."
"Struggling with the 'can we, can't we' of our original wedding plans was so difficult, and once we made the decision to do it, it was wonderful. It was so sad not having 150 of the guests that we wanted, but in the end, we had our close families and many of our close friends and it didn't feel like a 'half wedding' or 'not the real thing' – it certainly was and we loved it."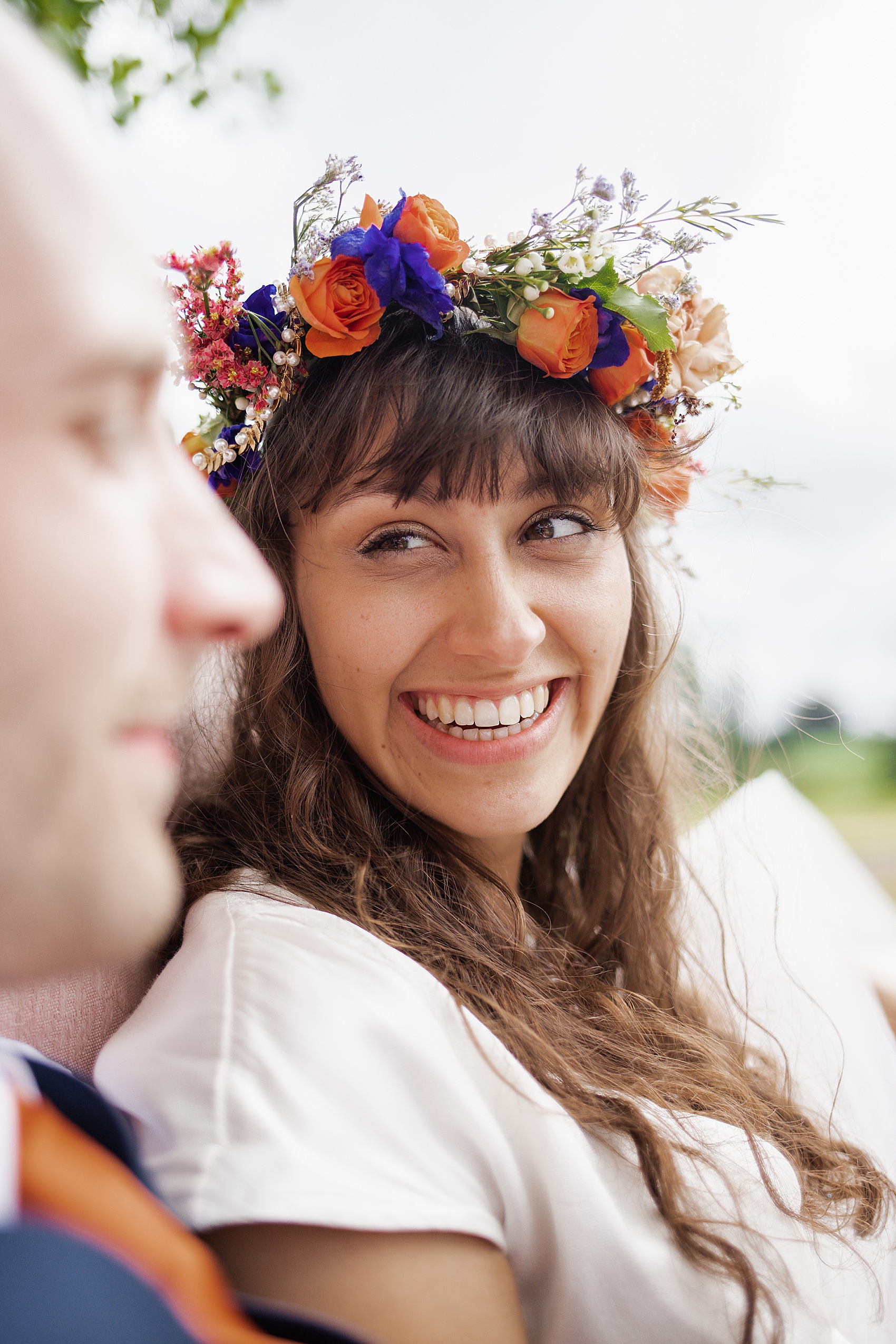 "We hired the house for three days which meant that we had plenty of time to spend with our friends and family and it was relaxing for nearly everyone (except my parents who were the onsite chefs!)."
"We also didn't have that guilty feeling of not having spoken to all of our guests which can happen at a big wedding – we were naturally able to spend time with all of them."
"Having now done it is not just an enormous relief, but is also such a joyful memory in the midst of a painful year. One thing that swayed us was the realisation that we are unable to predict the impact of Covid-19 on things like weddings, so waiting around until everything that we wanted would be possible again would be more stress than it's worth – we're so glad that we just went ahead with it."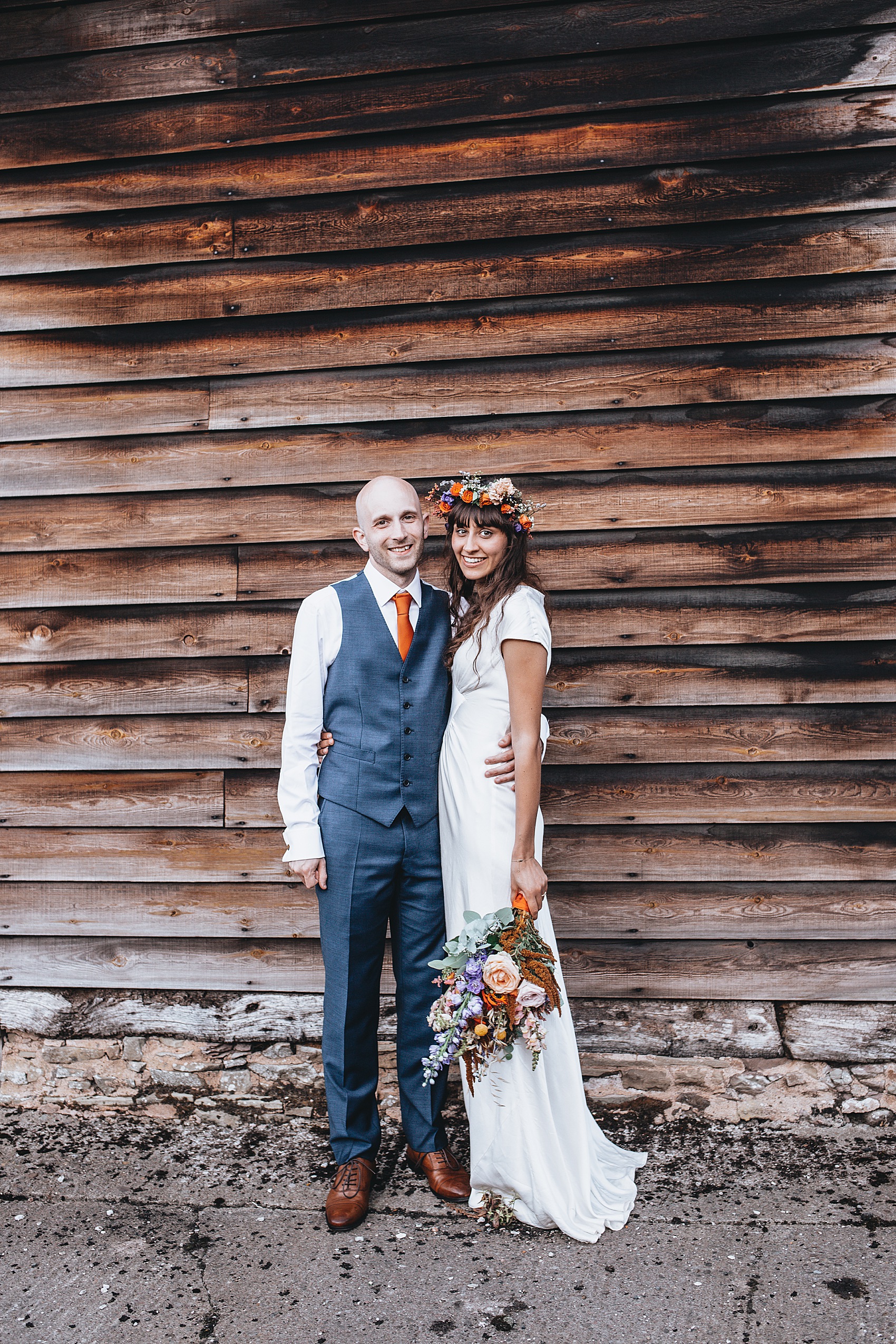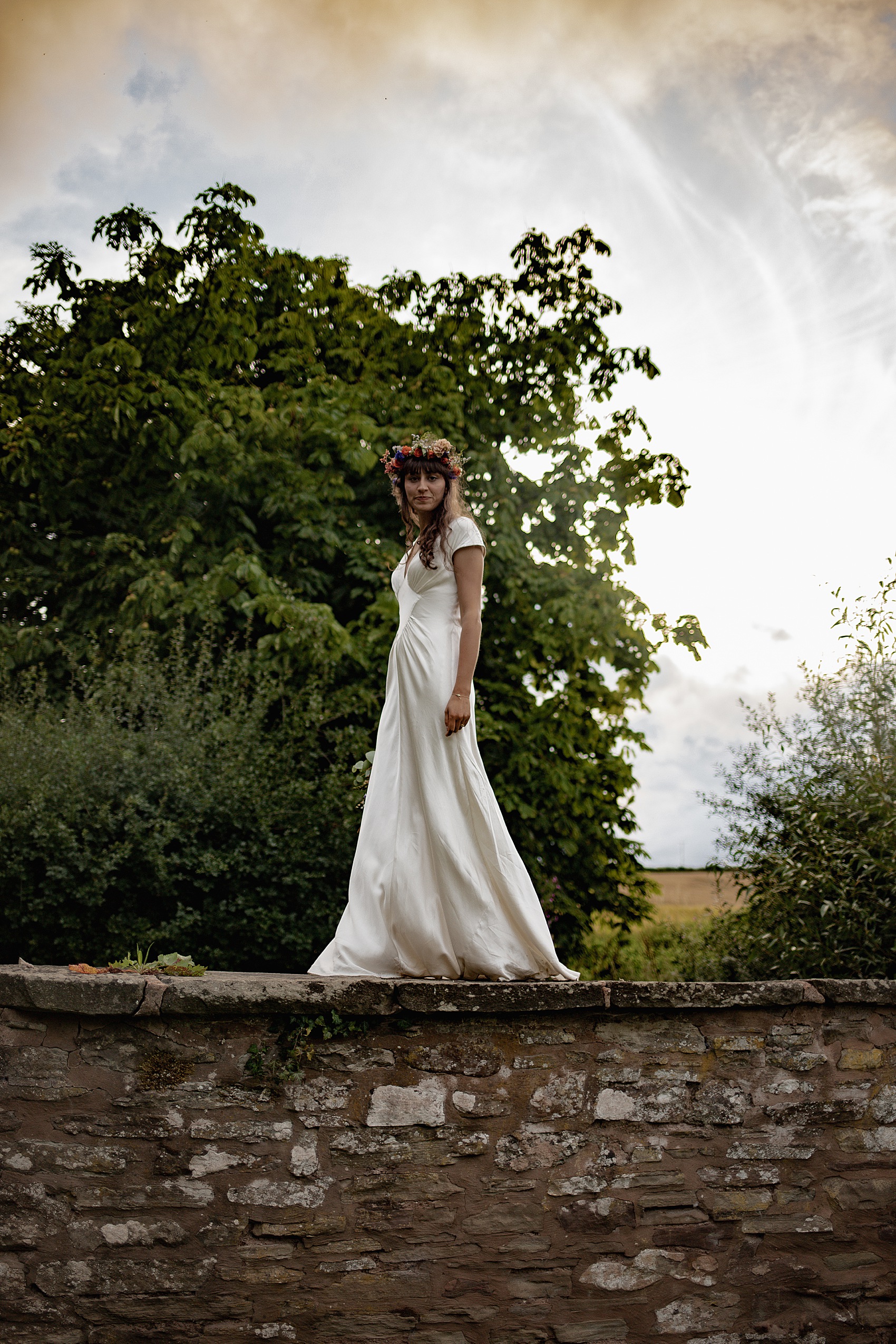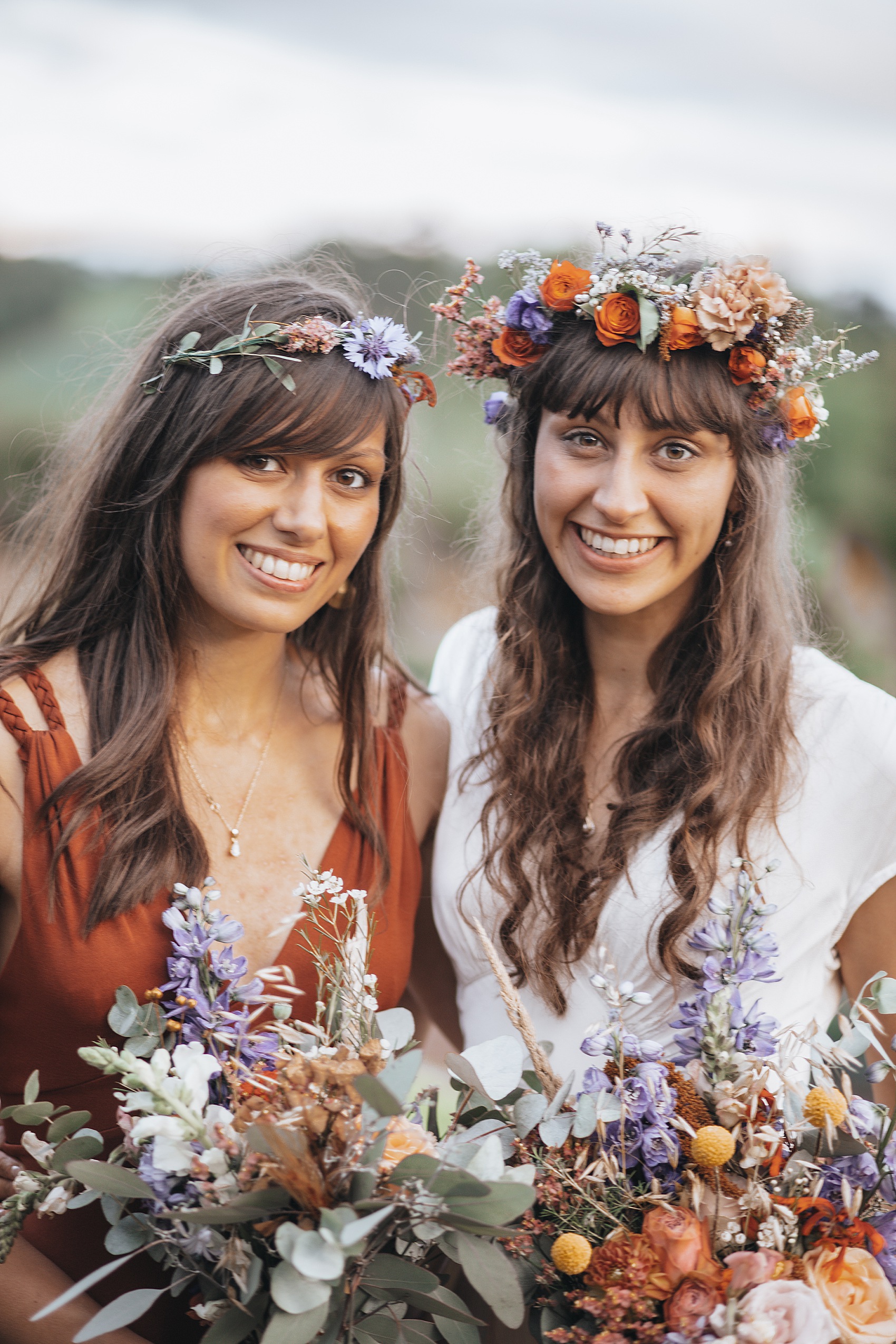 The couple took a first dance to Eva Cassidy's beautiful 'Songbird'…
"Josh loves this one and my amazing housemate taught us a dance for it so that we didn't just have to awkwardly stand and sway. As it turned out, we did a terrible job of the dance but it was at least fun and entertaining to our guests."
"Towards the end of the day, we had some 'impromptu' speeches – most of them unprepared – while we were all sitting, sipping drinks on some blankets."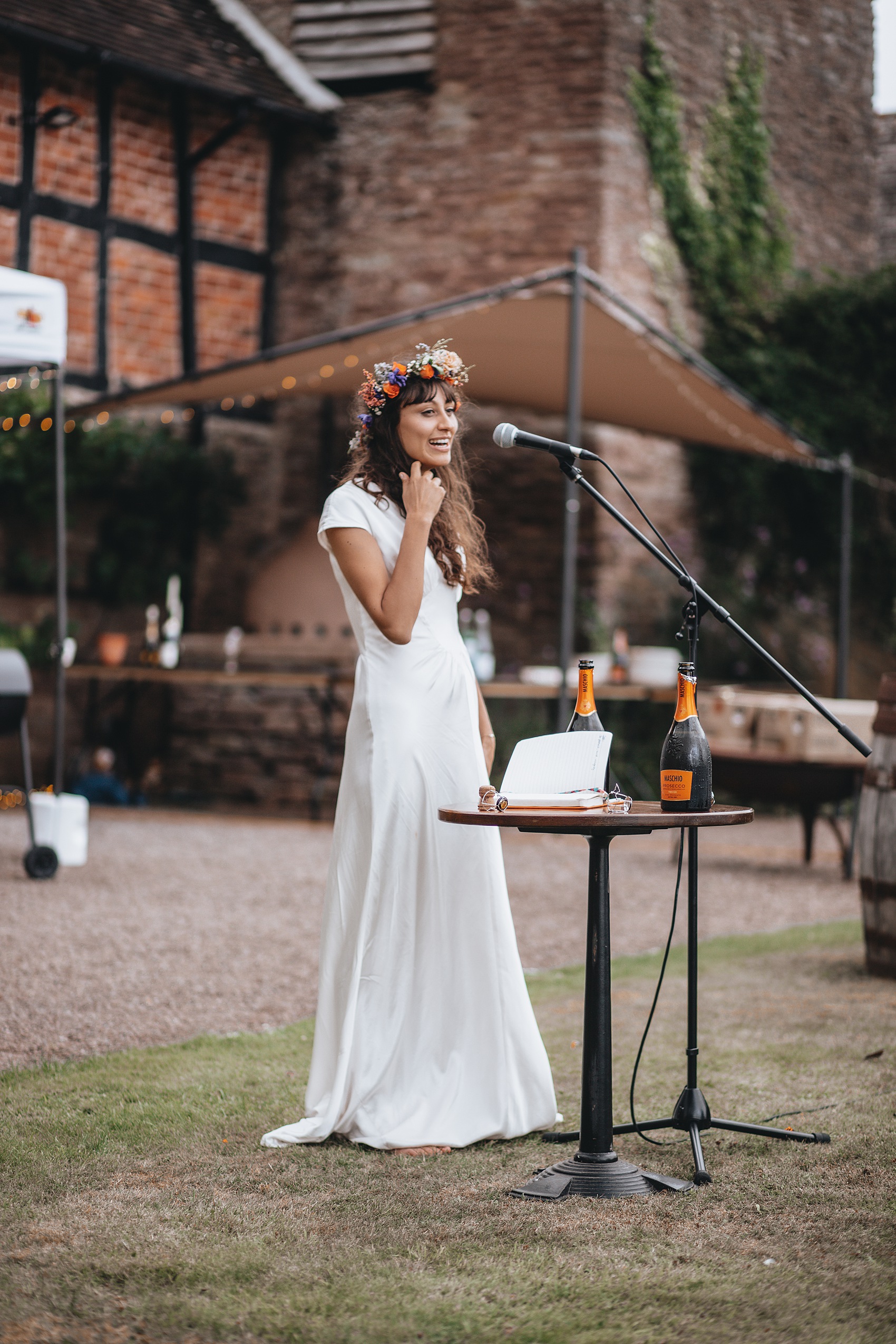 "Our family and friends said the most wonderful, encouraging things and there was lots of laughter and a few tears. It was incredibly supportive and something that wouldn't necessarily have worked if it had been a larger gathering as we had originally planned. "
"The original budget (for the large wedding) would have been around £15k, and I imagine we would have exceeded this by £2-£3k.  Overall, on this wedding, we spent around £7k, which included paying for all the accommodation for our guests at Broadfield and a lovely pub down the road."
Words of Wedded Wisdom
"This is something that someone said to us and it was so helpful; 'Don't sweat the small stuff!' Nobody notices it and it really isn't worth it. Things like favours and tiny decorative details – unless they make you inordinately happy, the work is too much and you won't remember to notice it on the day."
"Choose the things that are most important to you and your partner, focus on those and don't worry about the rest of it."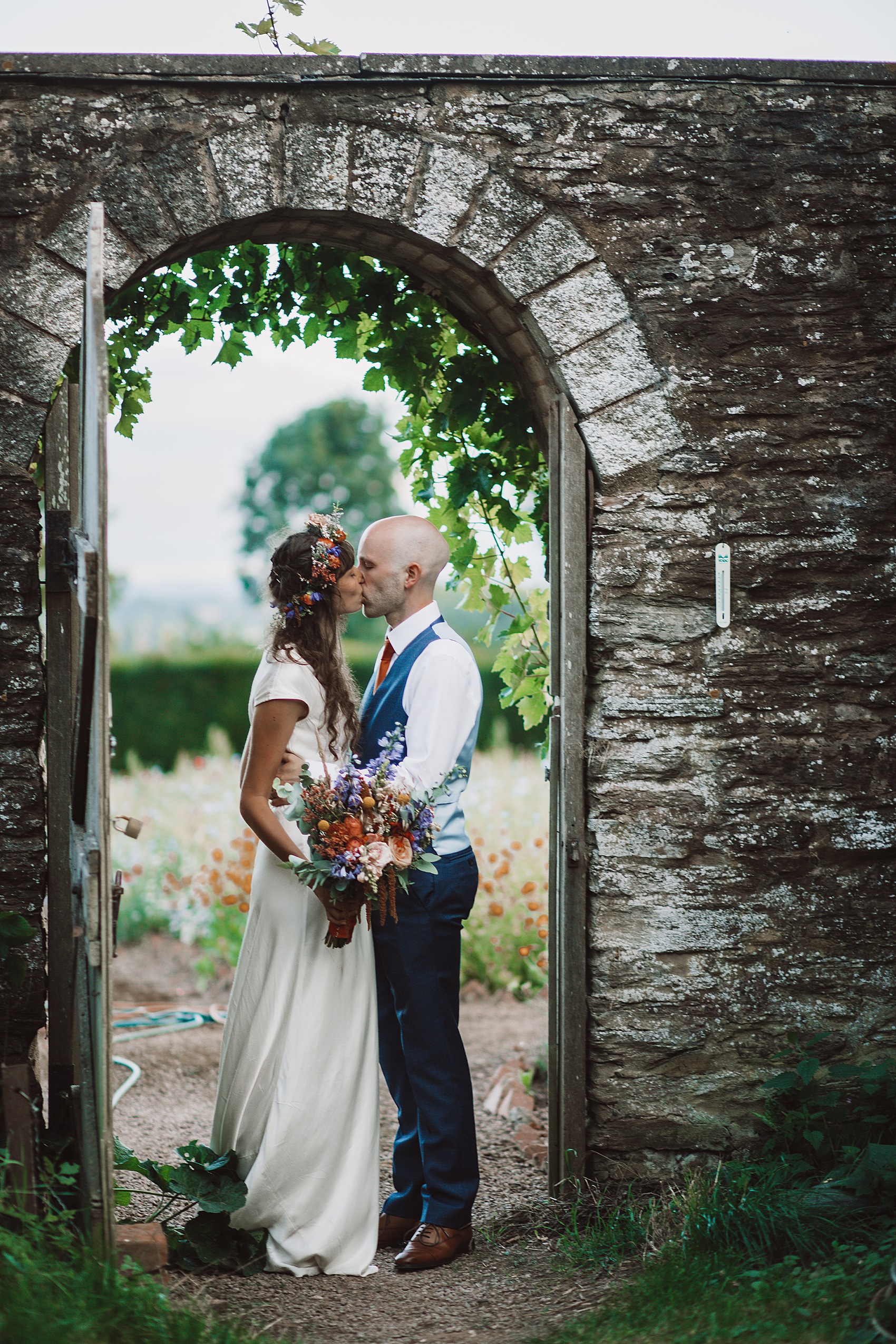 My thanks to the very lovely Frances at Broadfield Court for sharing this gorgeous wedding, and to couple Stef and Josh for sharing their wedding day experience.
Love Annabel x