Whatever you're doing, stop right now and give your full attention to the magical celebration which is my utter privilege to share with you today.
From the relaxed, holiday vibes to the whimsical, watery yellow that edged the bride's gown, from the medieval Italian town setting to the enchanting lanterns which lit up the inky night sky at the evening party, let yourself be whisked away by this charming wedding in Umbria.
Please meet head pastry chef Sophie and tax advisor Marcus, who invited their guests to Castello di Titignano in Umbria, Italy for their colourful, three-day wedding weekend which celebrated love, family and friendship. Their marriage service took place on 7 June 2019 and the whole weekend focused on making the most of the exhilarating Italian landscape, with an emphasis on a sustainable and plastic-free approach.
The bride was keen to use local, seasonal flowers and what a beautiful result; so fresh, wild and colourful.
"We spoke with a flower wholesaler about what flowers were in season and were most colourful. We were fortunate that Marcus' mum is an extremely talented florist. She created the flower designs, the bouquet and the buttonholes from the flowers that were delivered and from some foraging in the local area."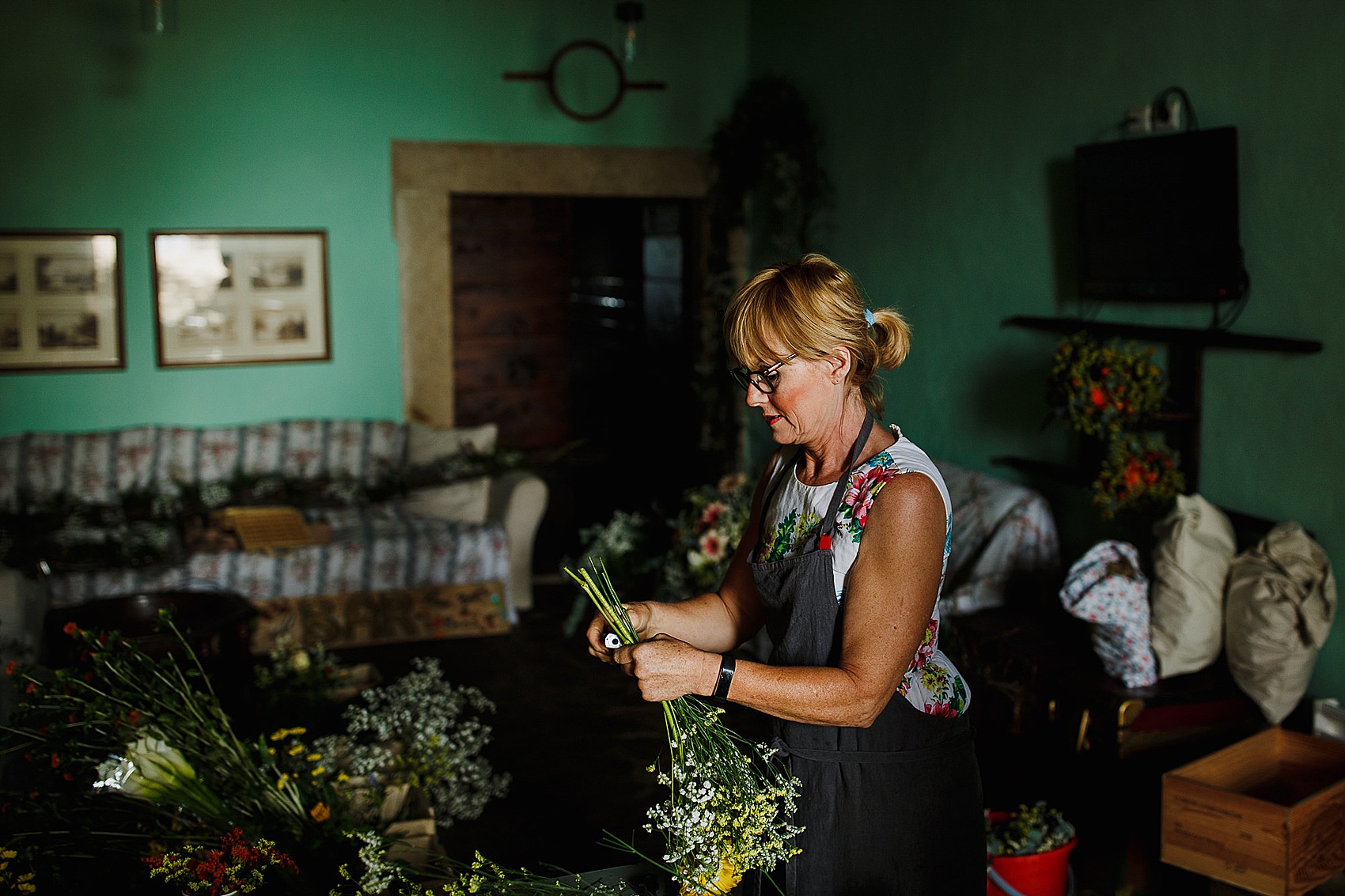 The scenes on the morning of the wedding look utterly dreamy – views for miles, a pool dip before getting ready and a delicious feast cooked using locally sourced foods.
For Marcus and Sophie, a sustainable and ethical weekend celebration which gave their family and friends a chance to relax, have fun and soak up the surroundings was of upmost importance.
"We gave ourselves quite a long time to plan things which allowed us to have lots of fun in getting into the small details of planning a three-day wedding weekend."
"We wanted to make it feel like a mini-holiday for our guests, many of whom had travelled from far and wide."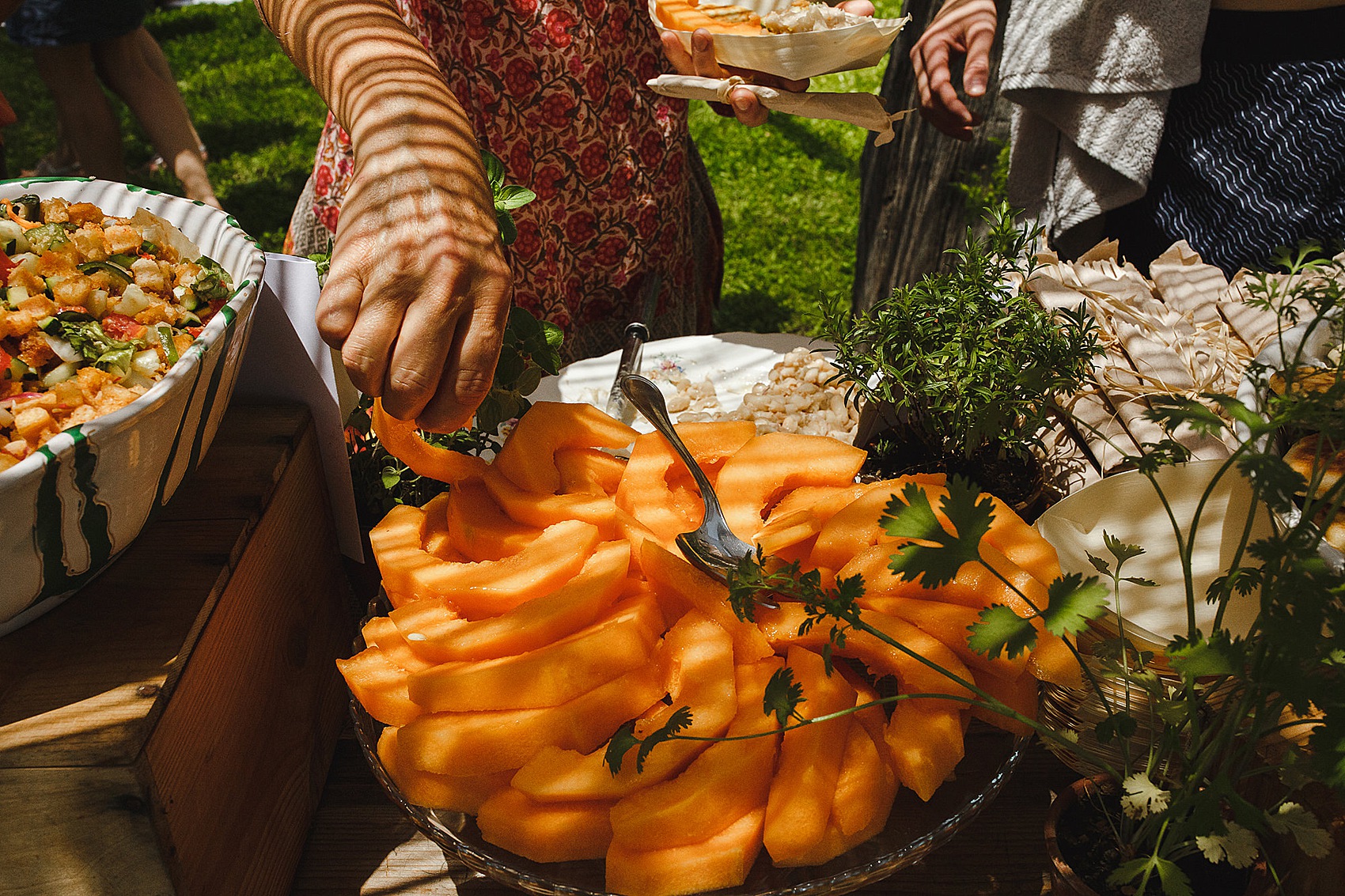 "We did not want it to feel like a traditional wedding but more like a big colourful party celebrating love, family and friendship. The styling was therefore focused on accenting and staging the already stunning surroundings, using local suppliers and reclaimed items from second hand-shops, with a hard line of no plastic and reducing any unnecessary wastefulness."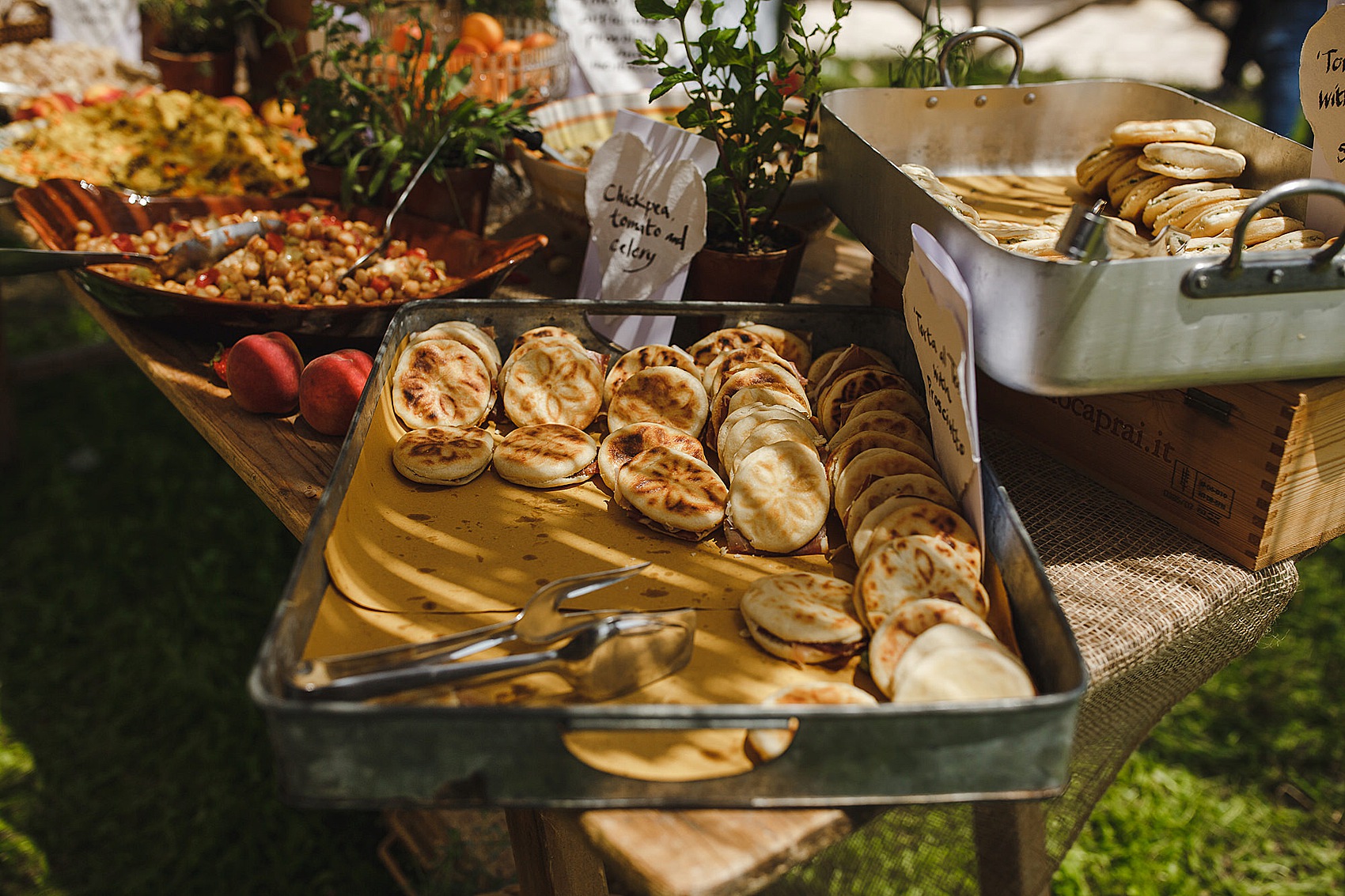 "We did the event planning ourselves, making the most of the talents of our friends and family, with some helpful input from the event coordinator, Fiorenza at Titignano."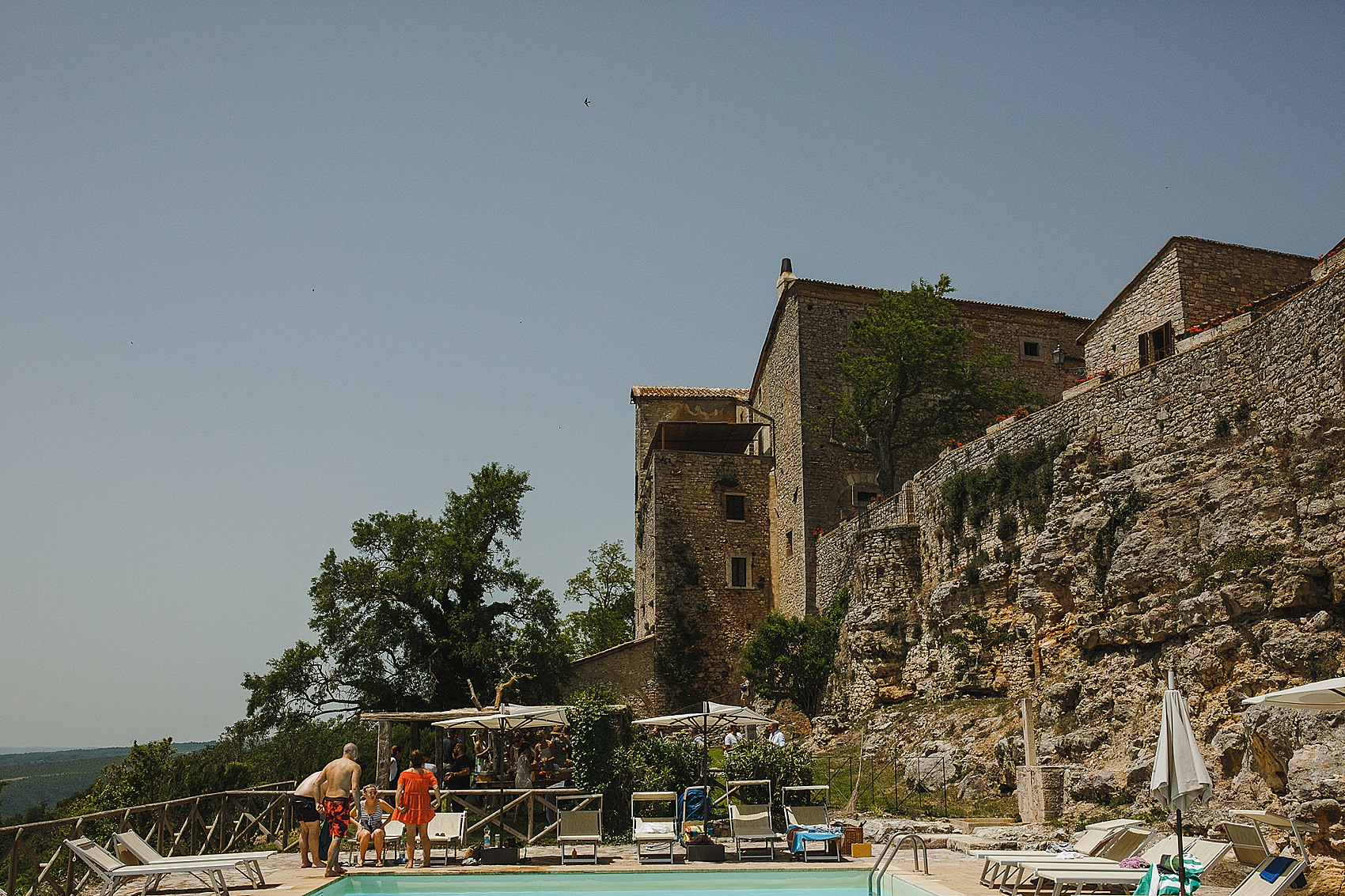 The bridesmaids were in an assortment of gowns, with their remit just being to be colourful and comfortable.
"It was sunny and we were going to be dancing!"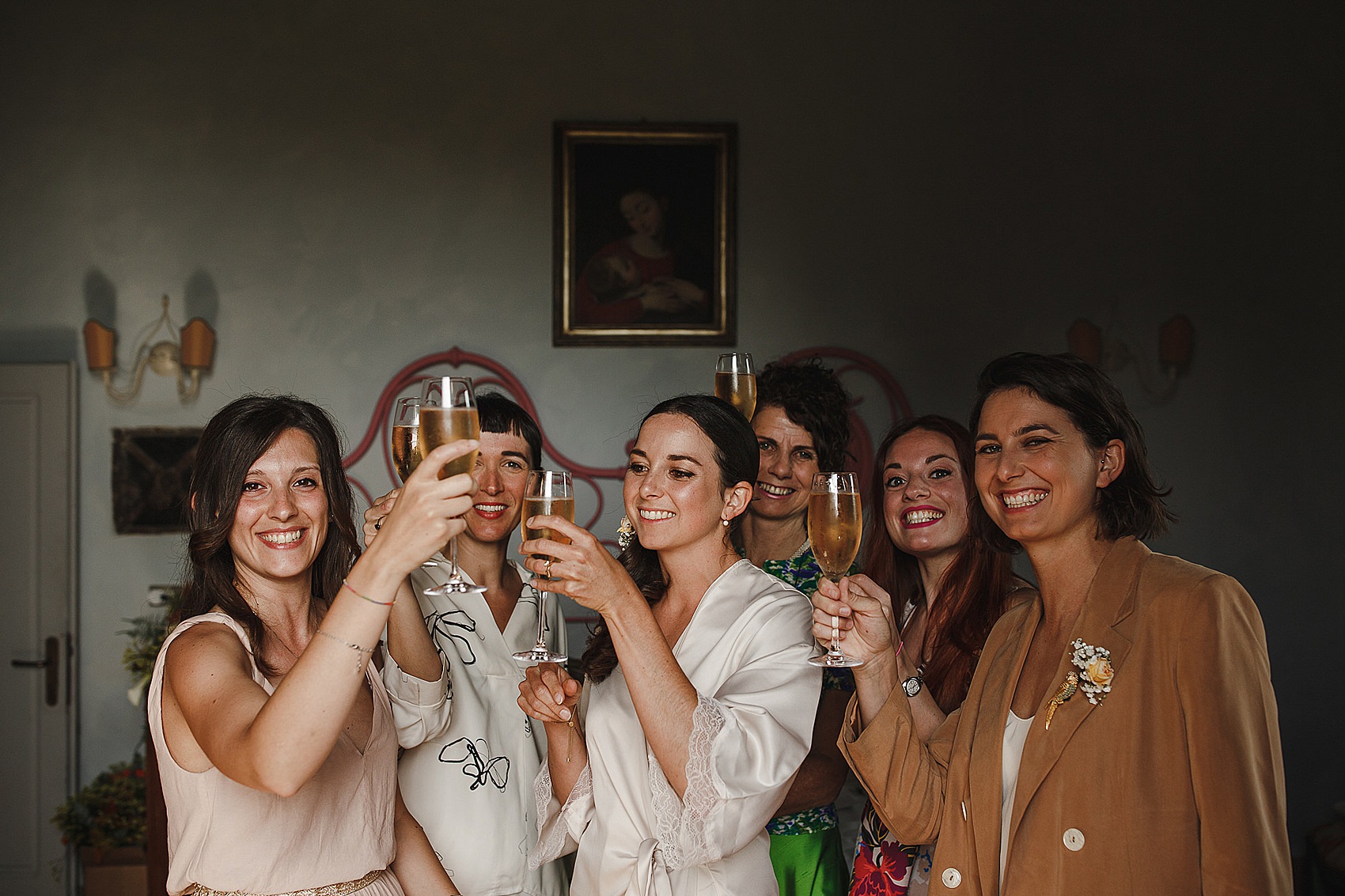 The bride's ankle-tie shoes were from Etsy and she added a beautiful, feathered hairclip from Headwings. A family friend created the contemporary and pretty hair style and also made Sophie look totally radiant.
"Whilst on holiday in Ibiza we stumbled across a small stall at a market that had the most beautiful feather accessories."
It's no surprise that I've fallen in love with Sophie's gown, in particular the hand-painted silk chiffon overskirt which transforms an already enchanting gown into something truly glorious. I love the deceptive simplicity of the gown with the pretty, tulip sleeves and relaxed fit.
"Starting out, I found it quite difficult to find what I had in mind and I always had dreamt of designing my own wedding dress. I found Larimeloom (a small atelier in Reggio Emilia, Italy run by the lovely Lucia) whilst doing some research online, looking for a wedding dress maker that uses sustainable materials."
"I enquired about the possibility of making the dress from a sketch I had drawn and she sent me a few different options of how we could do it and what textiles we could use. She uses unbleached silks, hemp, or other very natural textiles."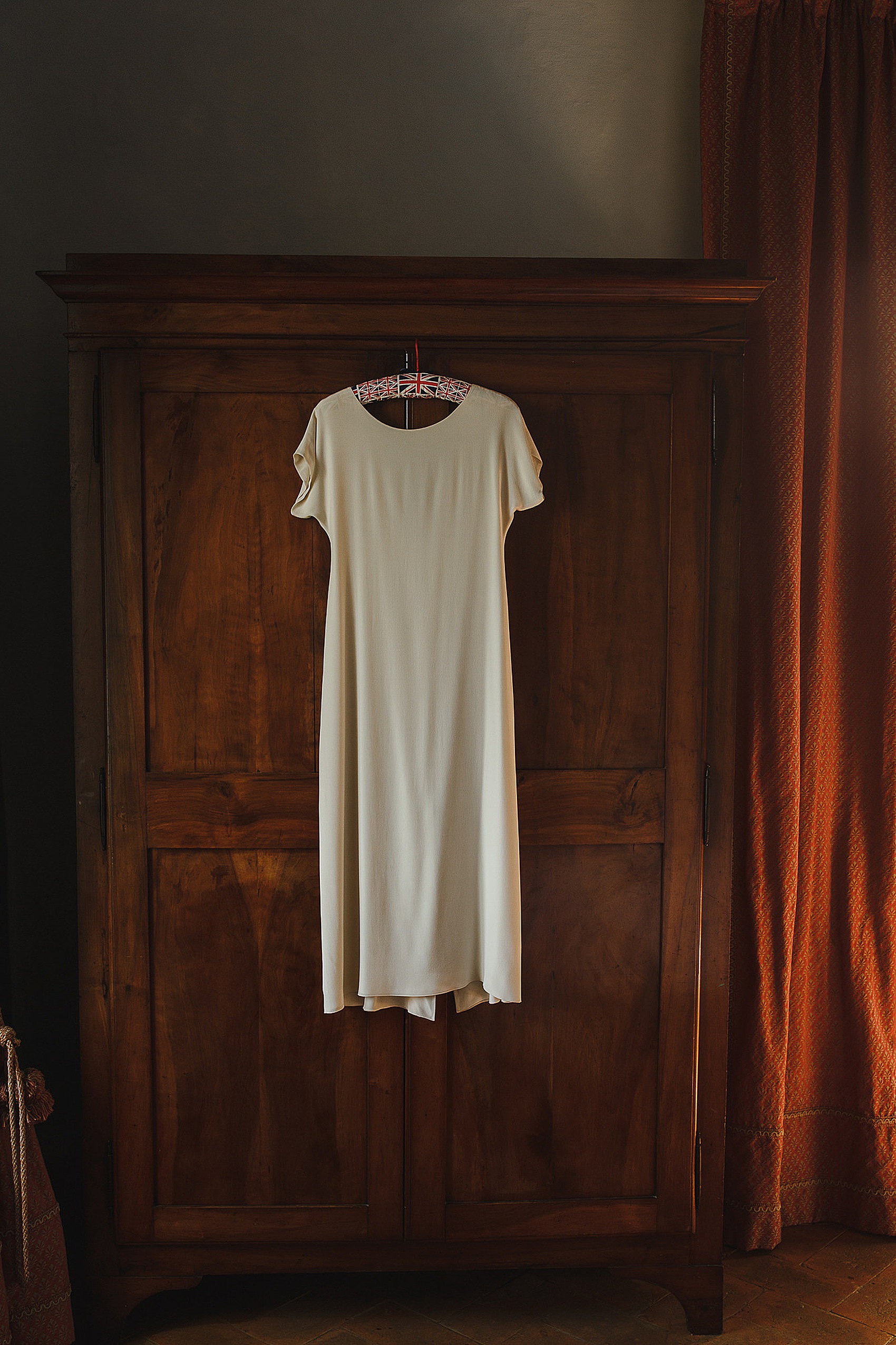 "Whilst Lucia was in Italy, I was actually in the UK for the whole process and I was amazed at how straightforward and cost-effective it was. After providing some measurements, choosing from material samples and discussing things over email (in English), the dress was beautifully made and I was very happy with the result. It was an experience I would definitely recommend to other brides."
"I really wanted to wear something that I would feel comfortable in and that was easy to dance in! I did not have a change of outfit but I changed some accessories throughout the day. The hand-painted silk chiffon overskirt was probably my favourite piece of the dress."
To fit the hot June day, the groom selected a summer suit from Paul Smith, along with WANT Les Essentiels shoes and a quirky, cute bow-tie from Joshua Kane.
"Our venue was a castle and surrounding medieval village with an incredible view, lots of staging areas, a pool and a tennis court. It felt really special to have everyone staying in one place over a long weekend. This remote spot is near where I grew up and it is also where we had our first date."
"After initially meeting in a house-share in Highbury and Islington, we had our first date in Umbria. Marcus had been very quick to book a flight after a casual invitation to visit me during the summer I was spending in Italy."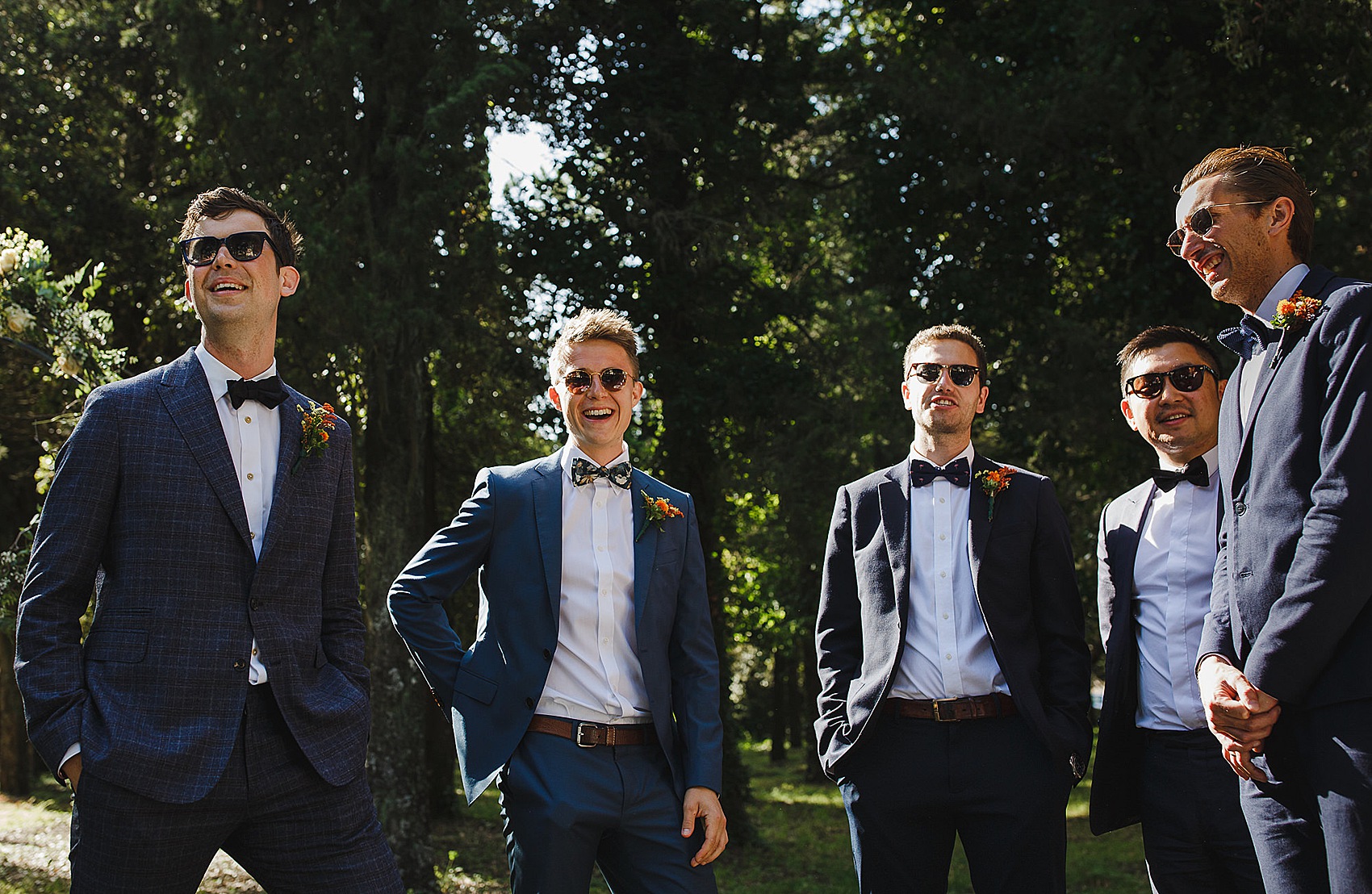 "After some homemade pasta and aperitivo at the beautiful Castello di Titignano it was a memorable start to the relationship. We were engaged three years later in a vineyard in Stellenbosch, South Africa."
After a few days in Cape Town and driving the garden route to visit Marcus' grandparents, we stopped in a vineyard and after some wine and lunch (in that order), we took a walk around the vines. Marcus got down on one knee and popped the question somewhere between the rows of Cabernet Sauvignon and the Malbec."
Surrounded by the tall trees and their friends, Sophie and Marcus exchanged their vows, which they wrote themselves.
"My dad walked me down the aisle to 'Nuvole Bianche' by Ludovico Einaudi. As we started walking he said, 'I am gonna show off my Tanguero moves!'. He recently started going to Tango classes with my mum."
"Our good friend Sofia offered to be our wedding officiator. She wrote a really beautiful poem that she surprised us with at the start of the ceremony."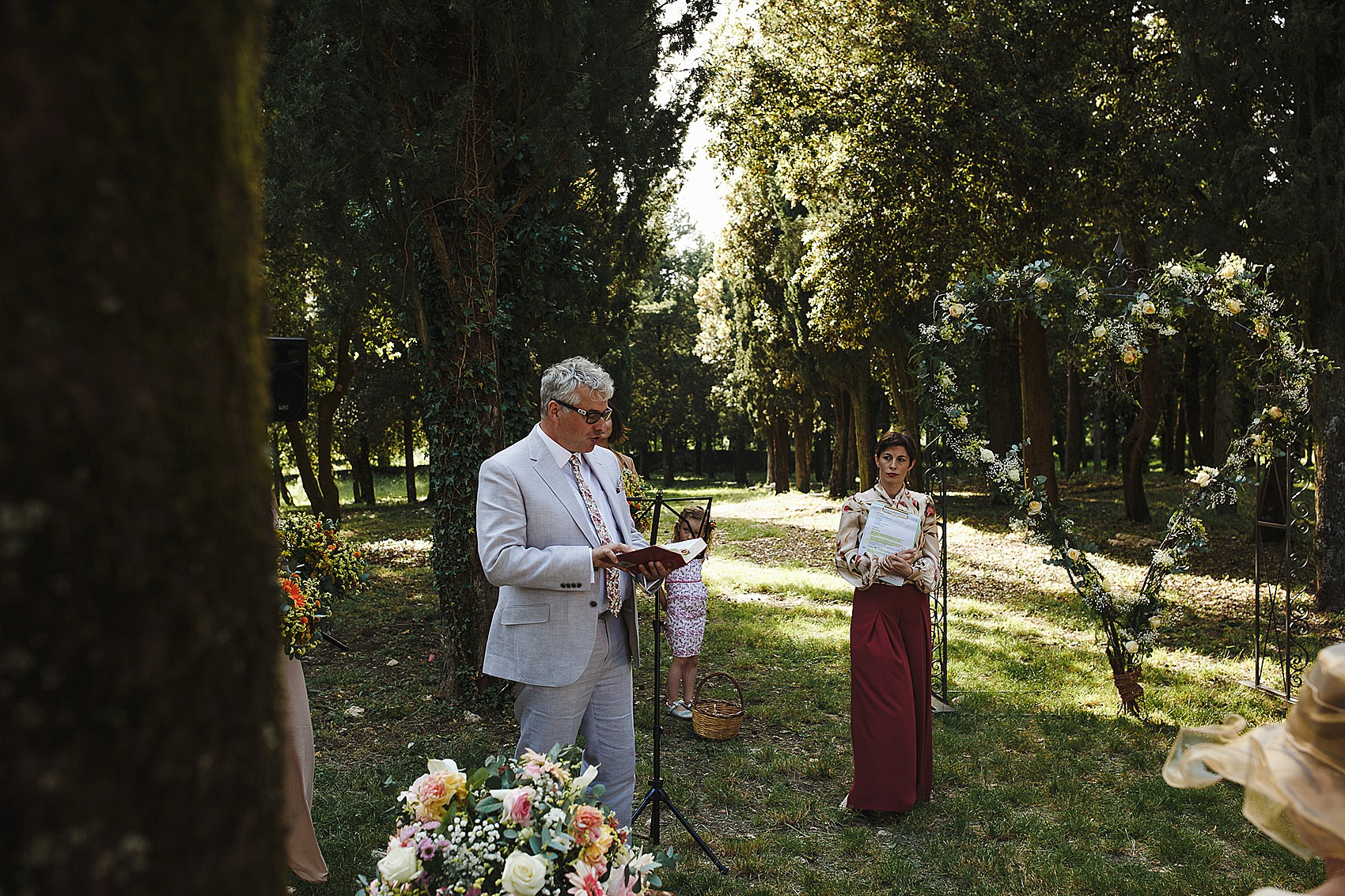 "I was really happy that Marcus decided to surprise me with a ring. The ring designer is Anna Sheffield, who offers really beautiful stackable wedding and engagement rings that you can customise."
"When Marcus proposed, the box had two rings inside. In the mix of emotions, I told him I would be happy with the smaller one, at which point he said, 'It's a stackable engagement ring – they are both for you!'. Marcus' wedding band was custom-made by Liberty London."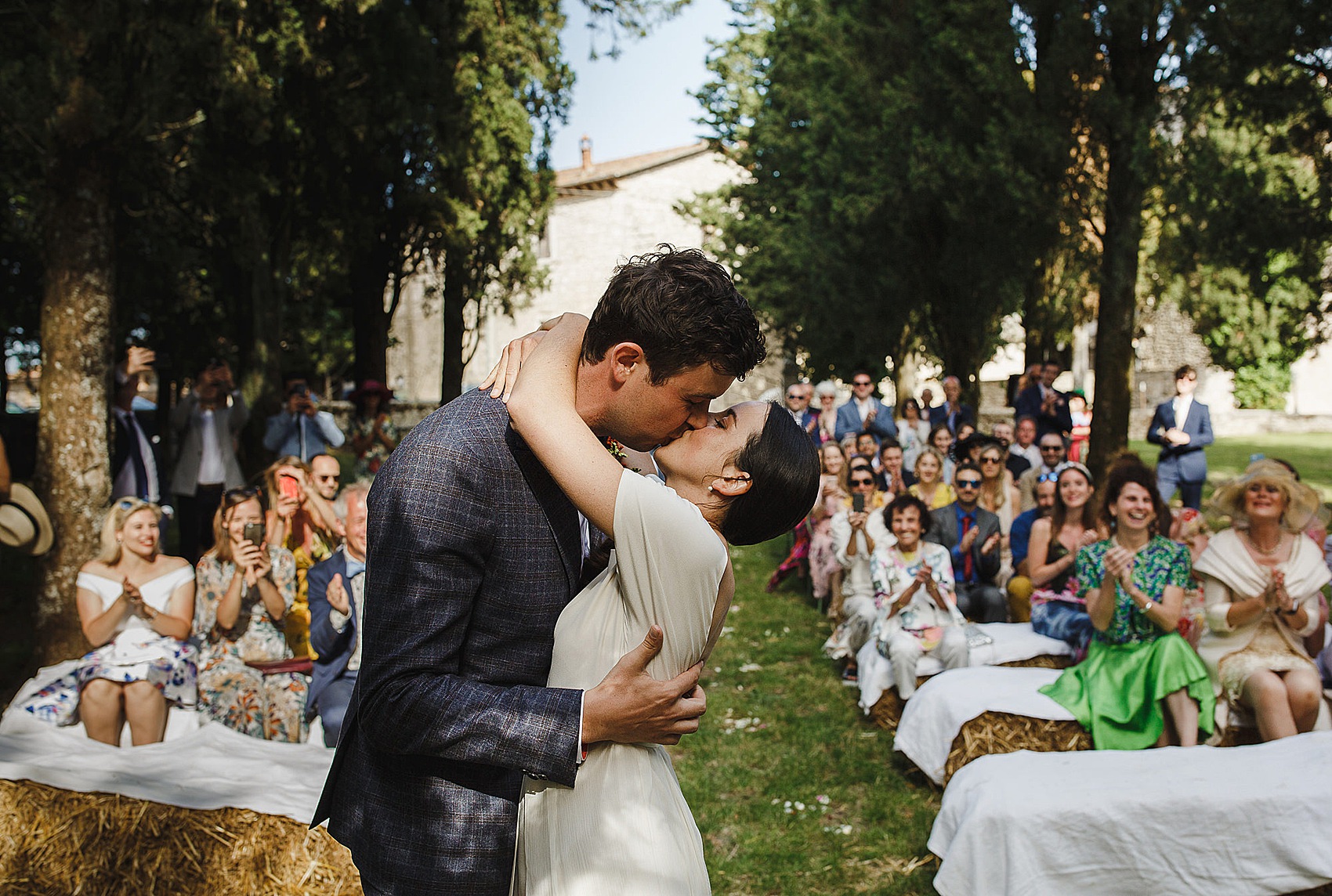 After the wedding ceremony, there was plenty of time for the newly-weds to relax with all their guests over a drinks reception in the fresh air, with a classical musical soundtrack provided by students from the local music college, Great Sounds.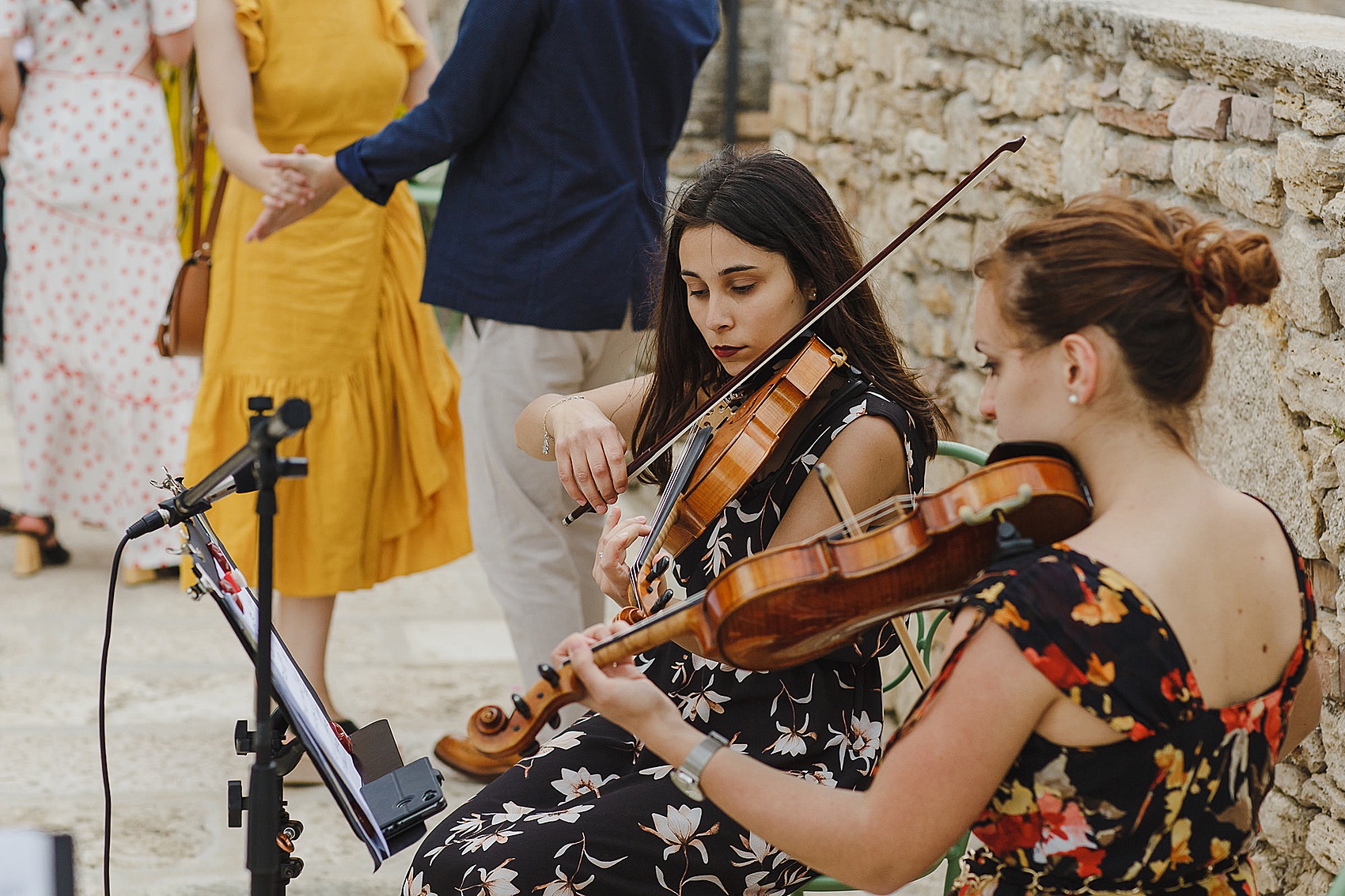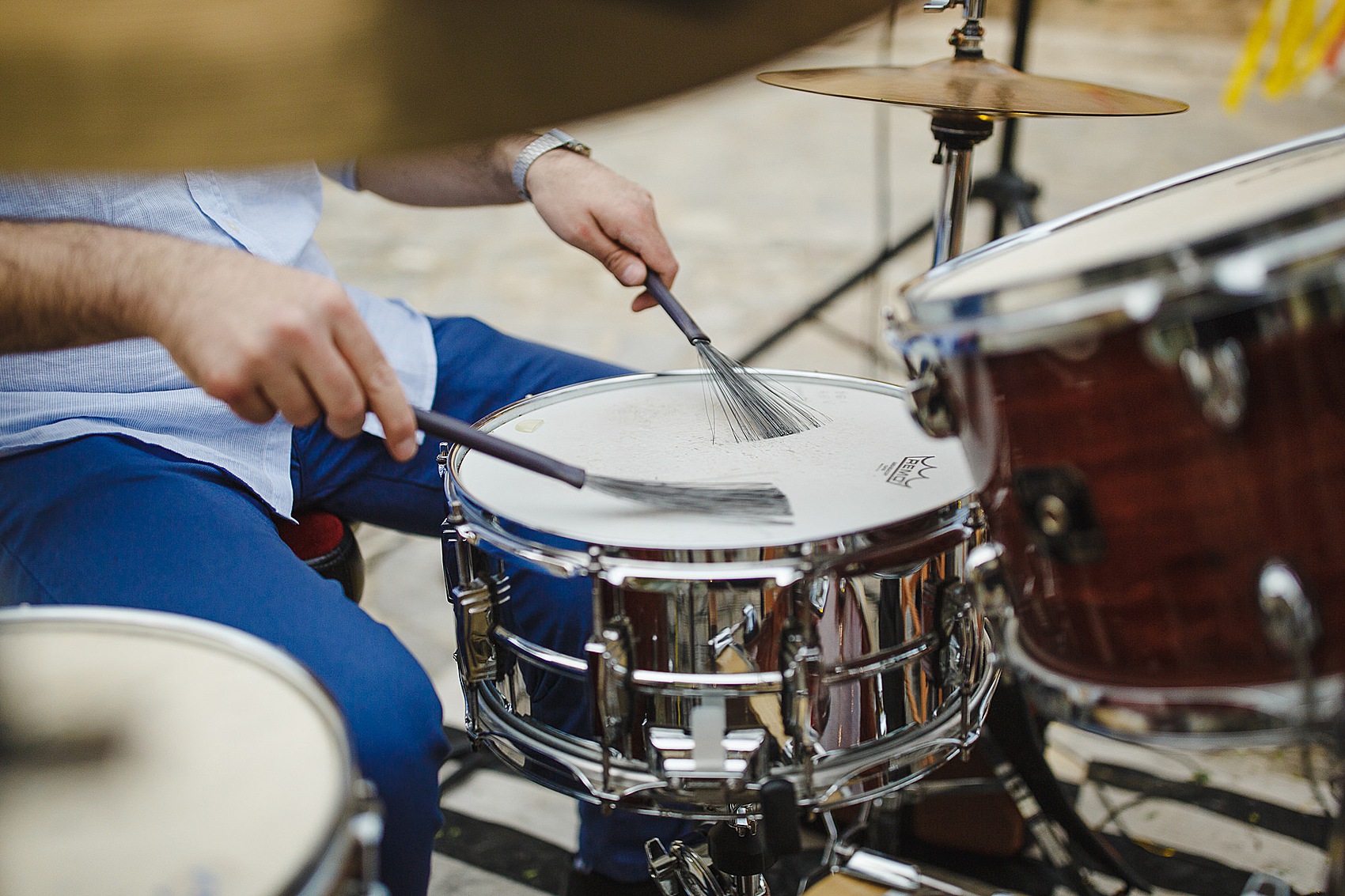 The couple were lucky enough to stumble upon photographer Mark Crayden at a friend's wedding, and knew he was the perfect person to capture not only the love shared, but also the historical setting and the dreamy, little details which the couple had taken such care over planning.
"With many great photographers in the family and as the wedding was over three days, we were in two minds of whether to get a professional photographer or not."
"This was all changed after attending a friend's wedding in Yorkshire where we met their wedding photographer Mark Crayden."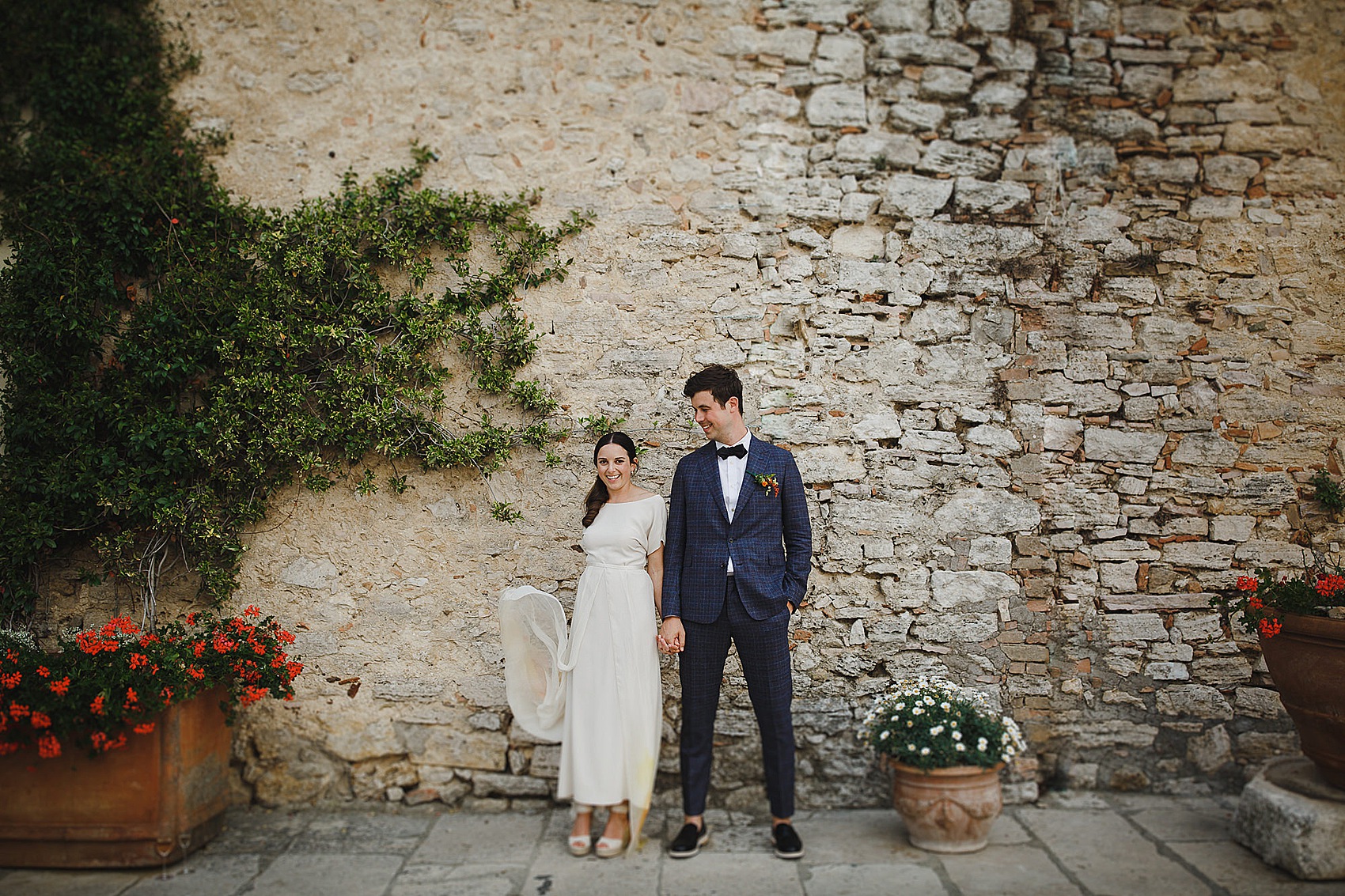 "His pictures of the wedding were stunning and really captured the emotion of the day. More than that, he was so personable and easy-going that he felt like one of the guests allowing him to capture some great moments of the event."
"We talked to Mark about our vision for the wedding and the venue and somehow convinced him to take a train, a plane and a hire car to capture our wedding in Umbria. The photos he captured over those three days were amazing and the best memory of things."
As Sophie is an Italian pastry chef, it was inevitable that food, and an abundance of it, would be central to the celebrations. Just reading the descriptions is making my mouth water.
"We had a very particular menu in mind for each of the days. Our wedding venue was very flexible to our menu requests and did most of the catering, including the wood oven pizza on the first night and the wedding reception buffet. The breakfast spread was a real feast and the buffet-style dinner of most vegetarian food worked really well for the less formal theme of the weekend. "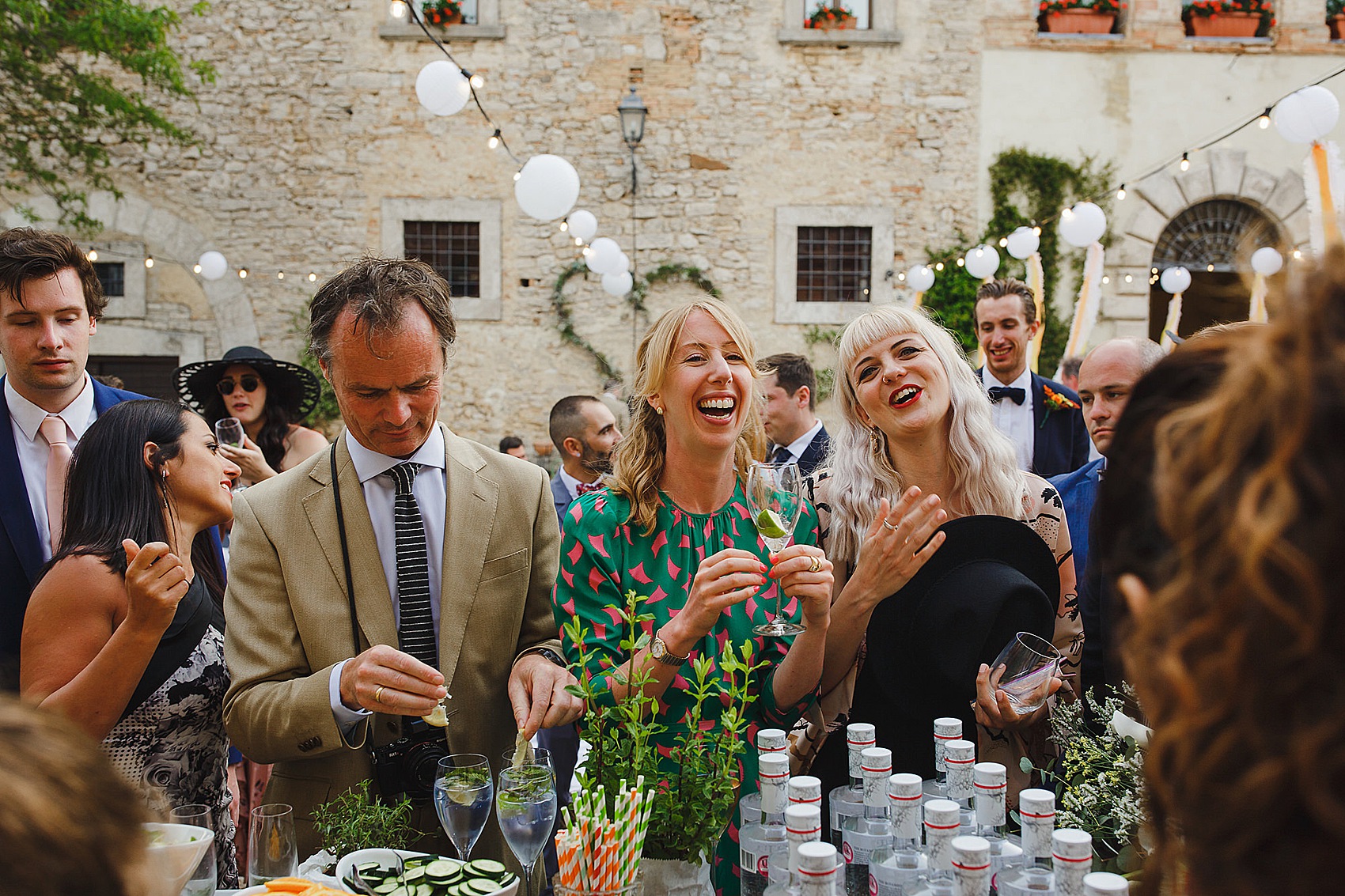 With such a beautiful day and an incredible garden setting, it was only natural that the couple should wed outside. They had a few stationery touches from artist Fiona Charis Carswell.
"Fiona provided a lot of the artistic touches for the wedding, from the artwork on the invite and the room booklets to a beautiful hand painted wedding day itinerary."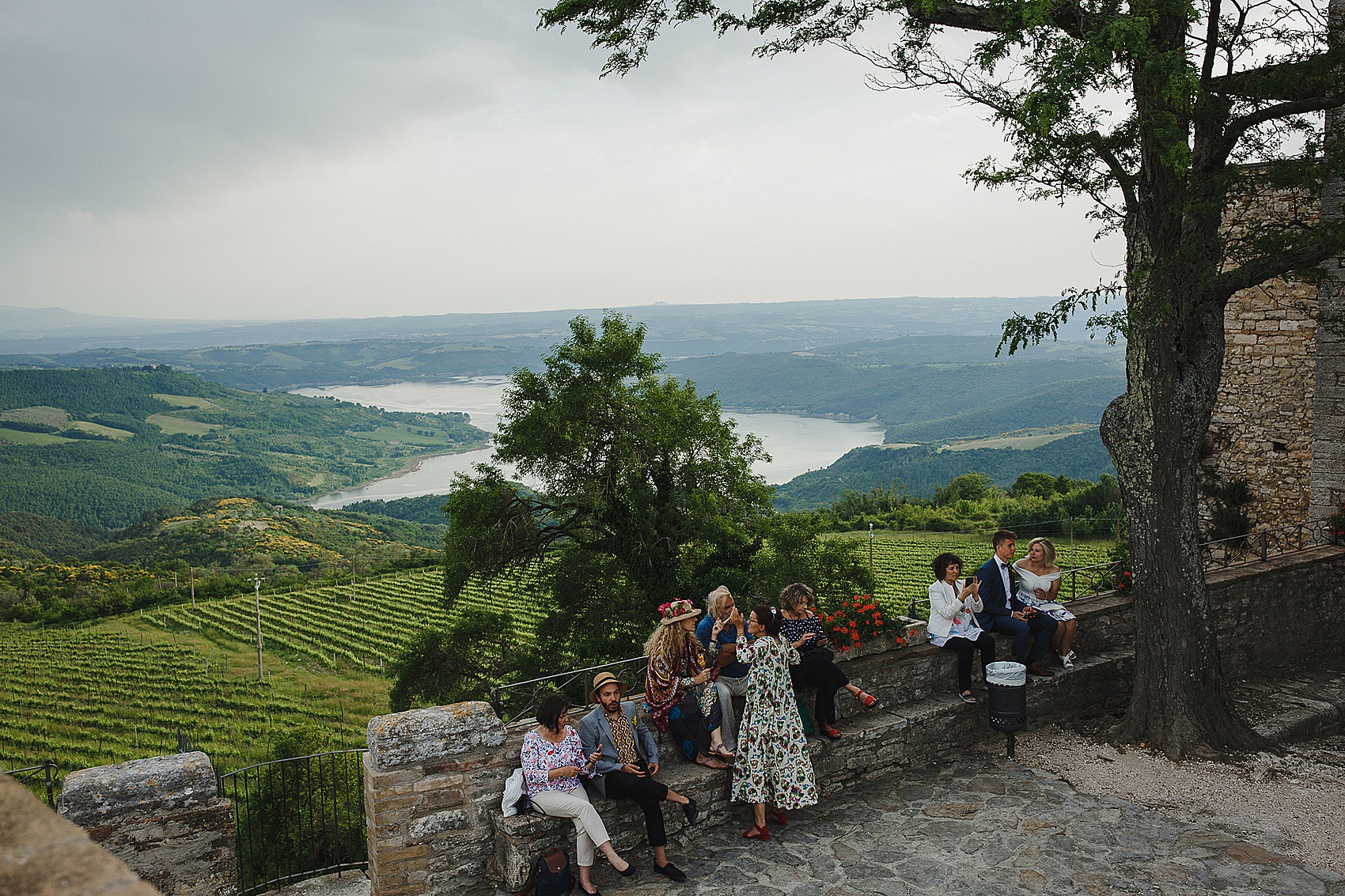 "We had aperitivo after the wedding ceremony – small canapés, bruschetta and pizza. After some photos and speeches, the hot pasta course came out – vegetarian lasagne, summer vegetable risotto and wild boar tagliatelle."
"After the pasta course the buffet was opened. We opted for a variety of different dishes from local cheeses, grilled peaches with honey and burrata to salads, Mediterranean grilled vegetables, Umbrian roast sausages and so on."
"We also used a few local suppliers who provided some memorable additions such as a picnic, a gelato van and the buffet at the celebrations we had the day after the wedding where we combined the wedding guests with our local friends living in the nearby village of Doglio for a big street party."
The bride called on her professional friends to help with the wedding cake, which took the form of a tower of choux buns.
"As a pastry chef, I am lucky enough to have a number of pastry chef friends. As a wedding gift, I had asked a number of them to create five different flavours of filled choux buns. I had the choux pastry made in a local pasticceria (pastry shop) in the nearby town of Todi and my friends finished them off on the day. We had hazelnut and caramel, tiramisu, yoghurt and strawberry, passionfruit, lemon curd and raspberry. We found this to be a really nice alternative to a traditional wedding cake. All the choux buns had different colour icing and garnish, fresh flowers and edible gold. All 300 of them were gone in five minutes!"
As the day wore on, the celebrations got more joyful with live music and dancing, under the magical awning of the starry night sky and the glowing lanterns.
"A local band, Trouvez Margot, played at the start of our wedding reception and Lauren from On Repeat Music did a DJ set in the wine cellar at the end of the wedding day."
"Local band Outside Band played in the piazza for the party in the beautiful village of Doglio."
"We danced our first dance to a cover of James Blake's 'Can't Believe The Way We Flow' sung by our friend Anna of Animai Music."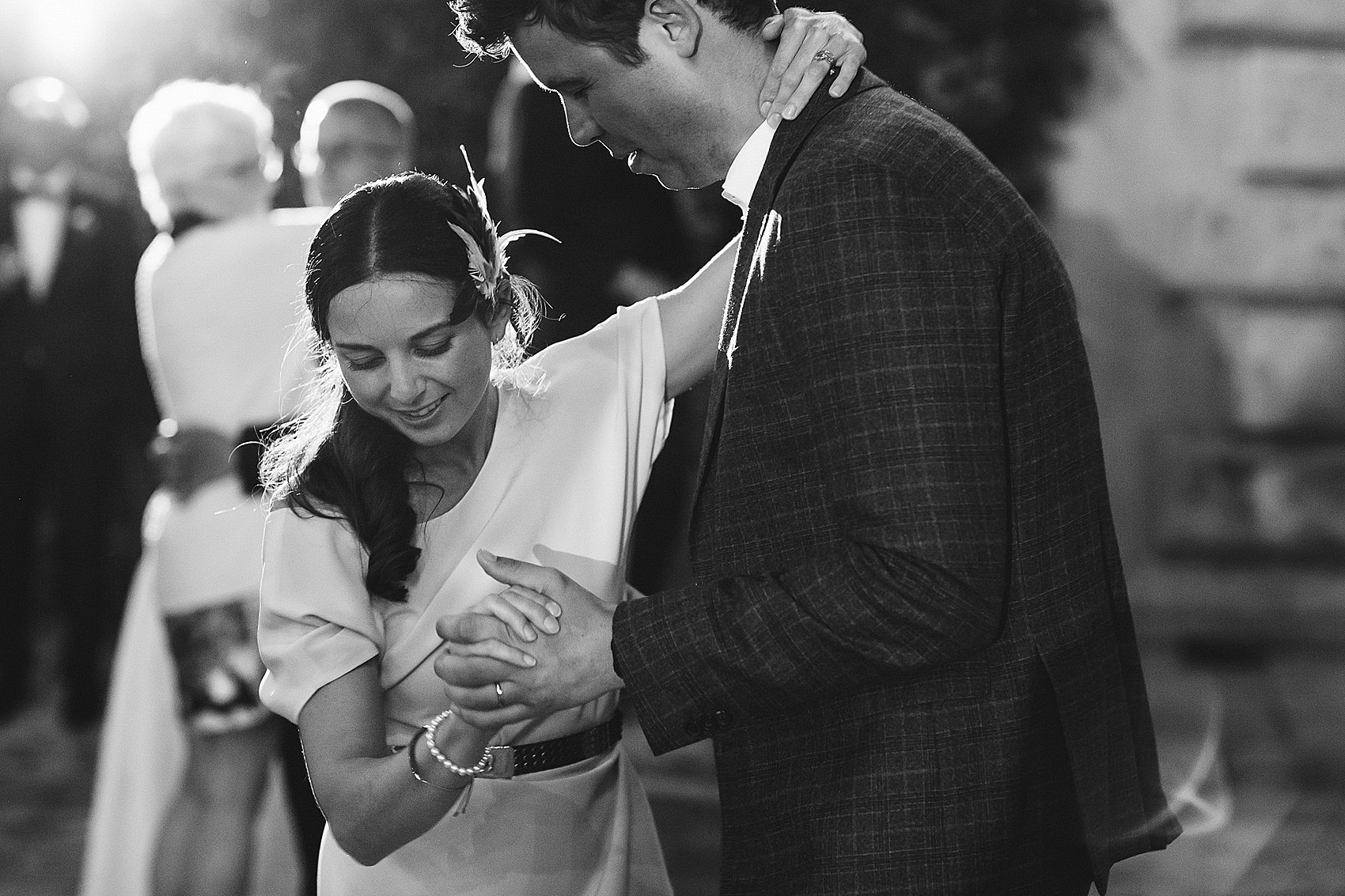 I can just feel the love and joy emanating from these photos, and it sounds as if Marcus and Sophie relished every moment of their wedding weekend.
"The whole day was just so special that it is hard to choose a favourite part. Exchanging vows and the whole ceremony in general was probably the highlight, together with the 'in the forest' themed after party in the old wine cellar organised by the maid of honour."
"We love weddings and having our own really opened our eyes even more to the experience of it. Views are often initially focused on the traditions that come with a wedding but we found that by being more relaxed about the structure and doing what we felt worked best really helped to personalise the time we had with our friends and family and take a lot of the stress out of it."
Words of Wedded Wisdom
"Get friends and family involved and let them help you… and do get a wedding photographer!"
Excuse me whilst I spend another hour drinking in every single detail, including the water-colour, jasmine-hued skirt which has utterly caught my fancy. For more gowns by the incomparable Larimeloom, take a look at these other Love My Dress brides, and for more destination wedding inspiration, I'm sure you'll enjoy this selection.
Ciao,
Ele xx