This beautiful editorial that captures the spirit of the latest Christie Nicole Bridal collection is all kinds of visual delight.
Captured by talented photographer Carla of The Unbridled, and featuring videography by our highly recommended suppliers, Zach & Grace, this stunning editorial was captured at Devon's Brickhouse Vineyard – one of our highly recommended venues. I love and utterly adore everything about it.
These delicious gowns were supplied by the beautiful new bridal boutique, Amare – and if you have any kind of perception of boutiques, bin them. Amare founder Lyndsey is leading the way in redefining the boutique presence and experience. Watch this space….
"In celebration of the new contemporary barn at Brickhouse Vineyard in Devon, this high-end editorial was brought together in essence of an elegant, romantic and decadent celebration of love between soul mates; an almost dream-like ethereal romance captured in a modern, contemporary form."
"The shoot plays heavily with contrast and texture, which represents the various contrasting materials used for the barn itself."
"A mixture of restored wood against the industrial style concrete flooring and black steel frames provided an unconventional backdrop."
"We wanted the shoot to almost feel as though there were no boundaries whilst pushing the concept as far as it could go creatively, all within keeping a minimalist and refined approach to the overall finish."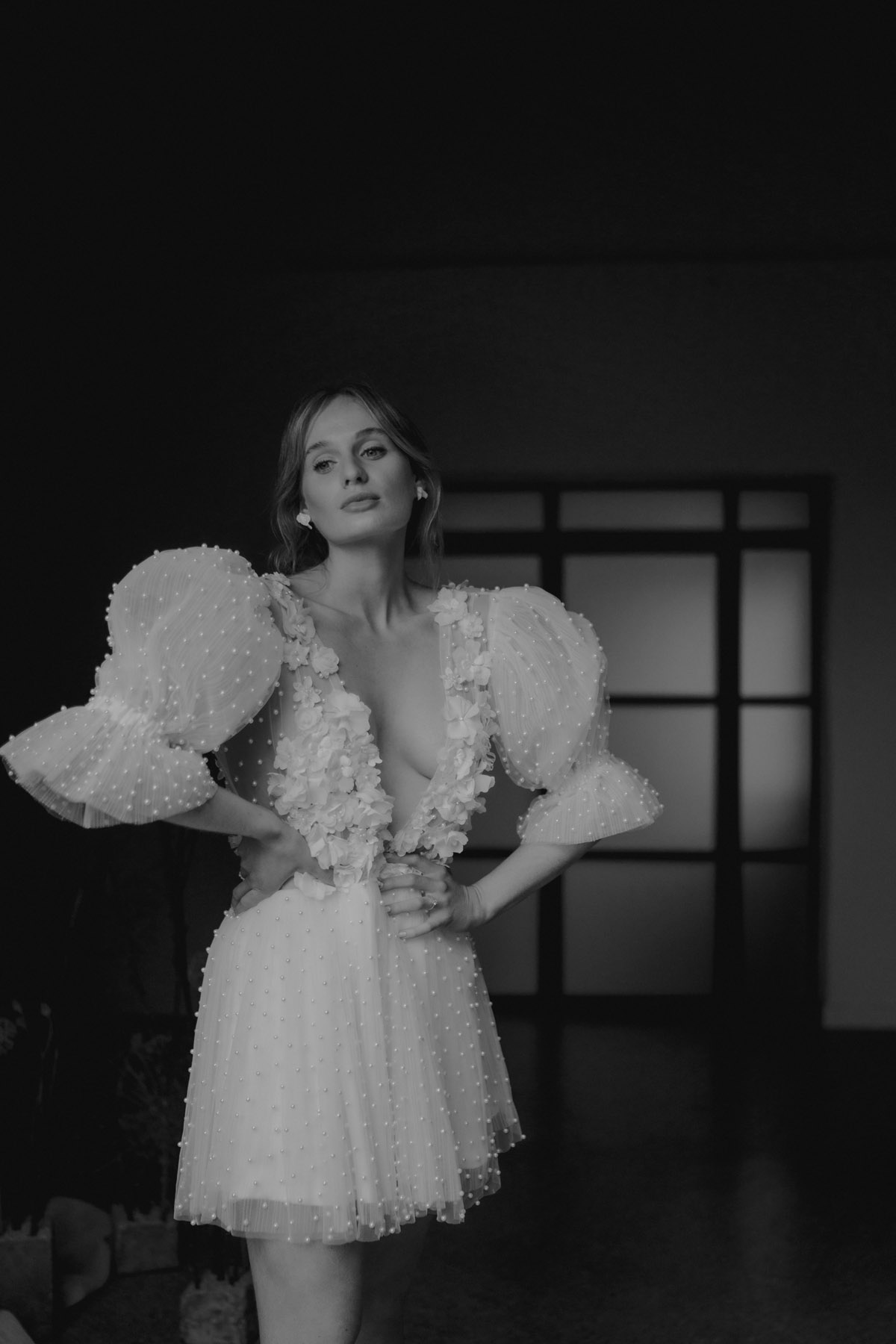 "The styling was kept natural and loose, highlighting items in their most natural form."
"Neutral fabrics and materials provided softness throughout, which contrasted beautifully against the harshness of the concrete floor and wire-like hanging clouds."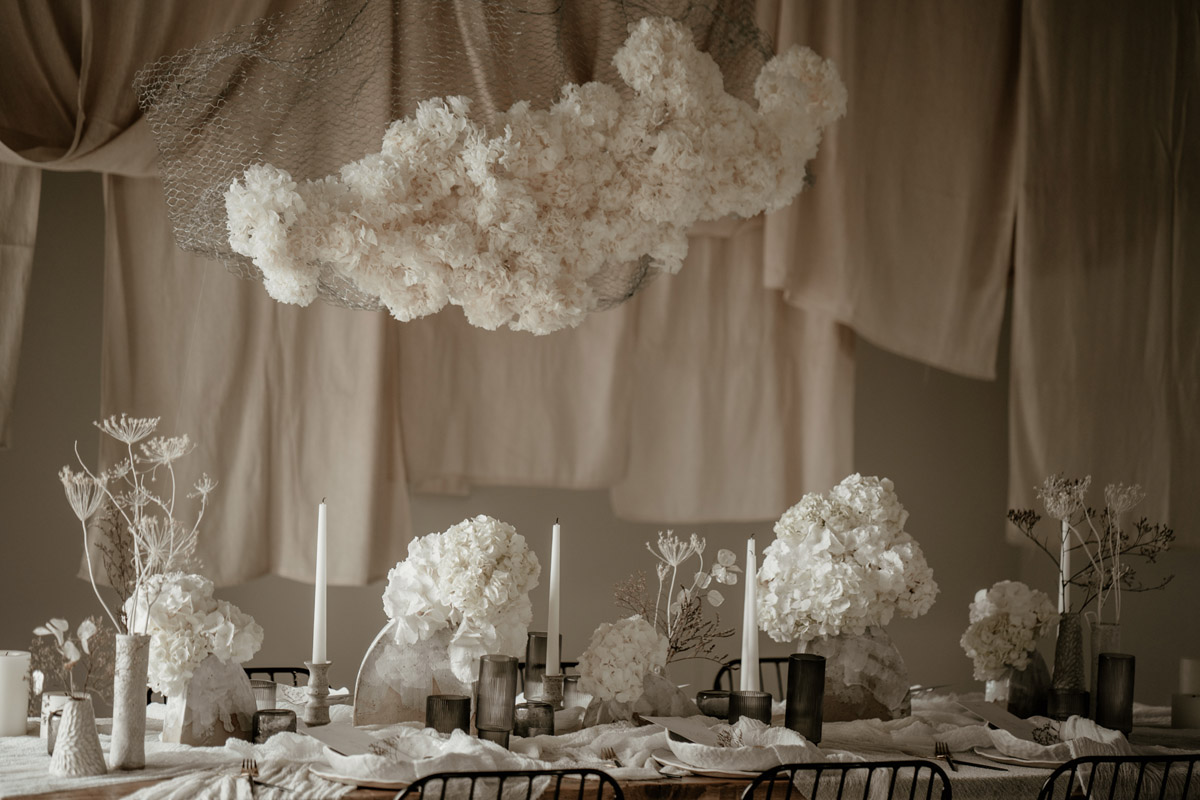 "The florals provided a modern statement, with large headed hydrangeas dominant throughout, which again contrasted well against the more rigid dried lotus heads and crisp lunaria."
"Key to the shoot and integral to the concept, Every Story provided a range of bespoke hand-made crockery, vessels and candlesticks which offered a unique and contemporary setting for our luxury table."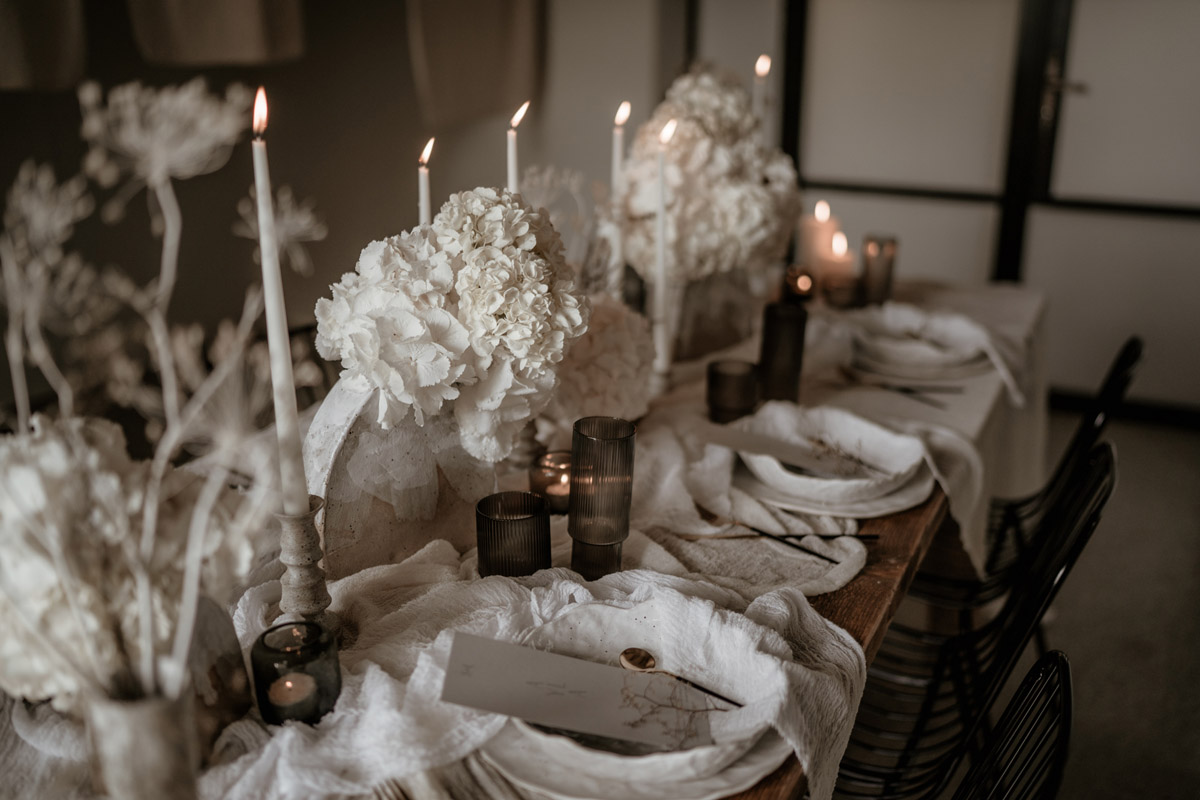 "Almost every item provided a different texture and abstract form. Another key element that played an incredible part of the day was the addition of four Christie Nicole Bridal gowns"
"The fashion was provided and styled by Amare, who is the only exclusive UK bridal boutique to feature the full collection in a three-week trunk show at the end of May."
"These refined couture looks, full of texture, fullness and elegance, brought a touch of decadent magic to the beautiful rolling Devon countryside."