I always find that autumnal weddings have an especially warm and welcoming feel. There's something about the twinkling lights, the still, crisp autumn air and the magic of the seasons changing.
These elements, and many more, are epitomised in the celebration I have the pleasure of sharing with you today. And, for anyone looking for autumn styling inspiration, you can't get any better than the wedding of a wedding co-ordinator.
Sarah Williams Photography

+ Follow
Hawthbush Farm, Gun Hill, East Sussex was the venue for farrier Sam and wedding and events manager Amy's late autumn, pre-covid November wedding. Following a Church of England service at Warbleton Church, Heathfield, East Sussex the couple, who have been together for fourteen years, hosted a cosy, warm reception in the purpose-built wedding barn, inspired by the colours and flowers of a countryside autumn.
The bride tried on only three gowns before deciding on her long-sleeved, illusion-neckline Maggie Sottero 'Toccara' gown from Go Bridal in Tunbridge. Her alterations were made by Miss Kay Seamstress.
"I instantly loved it! This made me nervous and little disappointed as I was loving the whole dress experience and didn't want it to end. I always knew I wanted something different with lace and sleeves."
"I was surprised I chose a modern dress over vintage. I loved the simplicity of the dress and the detail of the lace which created a bodice with the skirt taking on elegant individual style. I felt the sleeves created a romantic and feminine touch towards the hands."
"Miss Kay enhanced the gown and added to the design, making it unique. I added beading to the illusion silk edging to give a finish across my collarbone and down my back."
"I wore a full-length veil and always wanted to walk into church with the veil over my face."
"During my time as a wedding coordinator, it occurred to me that you rarely see a bride with her face covered in the veil for the ceremony."
"We had a traditional church service and felt the veil would reflect this. Sam is also a very traditional man and I knew that this would be a little touch he would really appreciate."
"The thought of walking down the aisle made me very nervous but having the veil over allowed me to hide behind it and let me walk down the aisle more confidently."
Thanks so much, Amy, for sharing your reasoning behind your choice. I love the way your veil falls over your hair, twisted into an elegant up-do by Alex at Huckleberry Hair. Her natural, radiant make-up was applied by Molly Peters.
Amy wisely let the beautiful design of the lace gown shine, adding minimal yet sentimental jewellery.
"I wore long diamond earrings and a horseshoe ring on my little finger that Sam brought me as a wedding present. Sam is a farrier so the horse shoe ring is not only lucky but also a link to him. I brought my hair pins with pearls from Etsy. My bridesmaid also wore the same hair accessories and I gave them to them as gifts. My ivory shoes were Rainbow Club. With a strap going around the ankle, I was able to go up two sizes to make sure they were comfy. I then changed footwear at the reception venue and wore my Hunter wellies in the woods."
The bridesmaids look so elegant in their ballerina-length, off-the shoulder gowns, which were from Coast.
"I chose navy dresses from Coast but because I loved the style more than the colour. We did, however, have them taken up to just above the ankle. I felt this gave the dresses elegance and an individual look."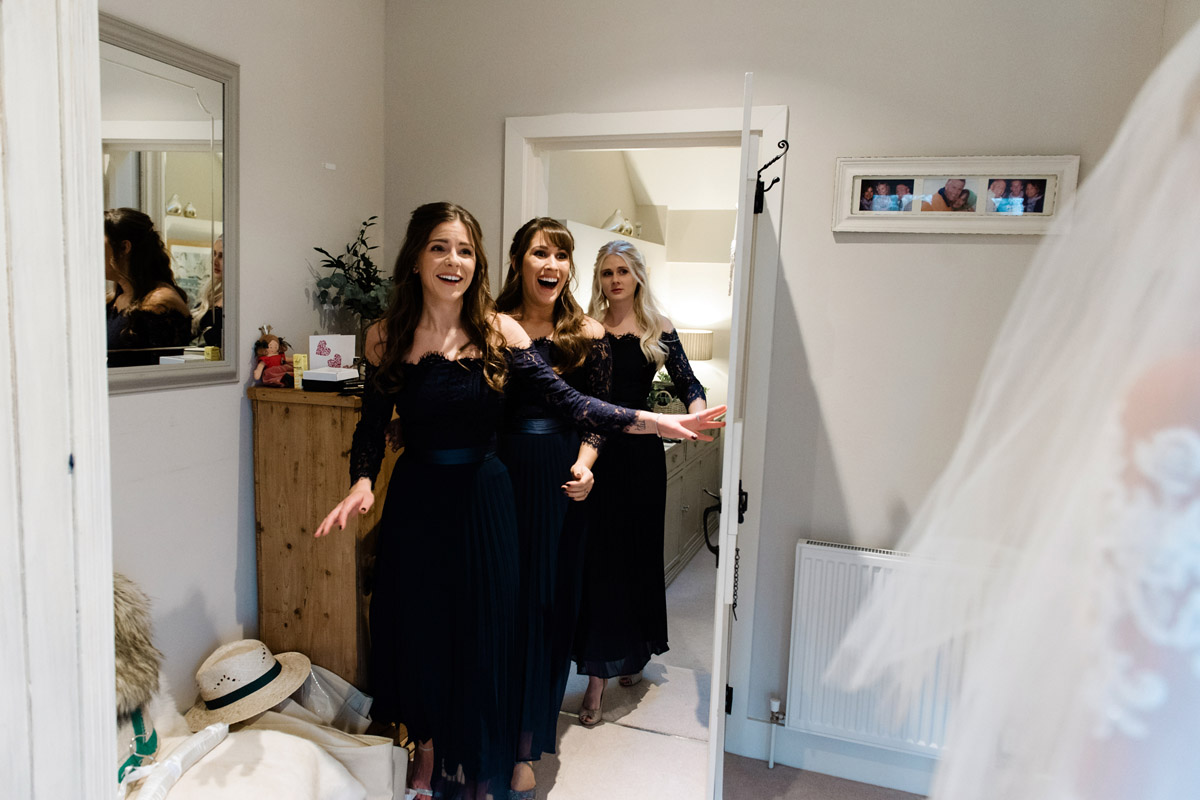 "Our flower girl Olivia is Sam's younger sister. She wore a dress that she wore to Sam's brother's wedding when she was a flower girl back in August 2018. It was a lovely gesture from Ollie and Danni (Sam's brother and his wife) and it made sense to use it again."
"We just added a beautiful ivory cardigan with a fur collar and unicorn sequin pumps. Instead of flower petals we brought her woodland deer Jellycat toy which she carried down the aisle."
To suit the cool November day, Sam dressed in a warm morning suit from Moss Bros.
"We hired tails from Moss Bros but altered Sam's so he was different from the ushers and fathers. Sam wore the charcoal grey tails jacket with Gresham Blake tweed waistcoat and a vintage gold tie."
"All the groomsmen, including Sam, wore a pheasant feather and gun cartridge buttonhole, however Sam had a jay feather too. He wore rose gold, horseshoe cufflinks that were my mother's great-grandmother's first husband's who died after the First World War. It was a privilege for Sam to wear them, especially with the connection to his vocation."
Whilst the bride travelled to the church, the guests were lulled by live harp music.
"At the church, the lovely Fiona Horsford played the harp for guests on arrival and the signing of the register. This created a peaceful calming atmosphere in the church as guests rushed in out of the rain. My brother Ollie drove me and my dad to church in my dads' car. I wanted Ollie to drive us as he would provide humour for an emotional journey to our local village church."
Both the church and barn looked wonderful with their dressing of fresh, seasonal flowers and foliage.
"Our florist was the lovely Cara from The Enchanted Flower. She is so creative and is a pure artisan. Her knowledge of floristry and her genuine passion for nature in all its form flow into her final designs."
"When the flowers arrived in vintage apple crates, it was a moment I, my mum and bridesmaids will never forget. The bouquets created a magical moment and brought wedding threads together. Cara carried through the colours and gentle reflection of our bouquets in the stunning hoops suspended from the beams in the barn."
With Amy's experience and knowledge of the wedding industry, she already had her suppliers in mind. Over to the bride to explain more about what inspired her and how she referenced them in the decor and styling. I really think that anyone who is looking to create a beautifully-scented and welcoming day will find her ideas immensely useful.
"I must mention the support of my mum. She was my rock in the planning process and supported my vision for our wedding from day one. Working in the wedding industry and juggling my lovely weddings at work and then planning, it was a great help having my mum take on different tasks. Nothing was too much trouble."
"Warbleton Church is beautiful as it is with colourful stained-glass windows and stunning architecture. There was no need to go overboard with decorations and flowers."
"The biggest emphasis was making the church twinkle and smell beautiful. We kept the flowers simple and had eucalyptus, rosemary, sage and ruscus in pewter jugs with pewter candlesticks either side and dark grey pillar candles."
"On the tables at the entrance of we used fallen oak branches with lichen, taken from ancient folklaw that oak and lichen bring good luck for a long and happy marriage."
"We scattered crystal glass wear and tealights amongst the oak branches. To make the church smell beautiful we used an atomiser to fill the air with rosemary and bay."
Sam and Amy had a traditional Church of England service, and the bride entered on the arm of her father.
"We walked down the aisle to 'Songbird' by Fleetwood Mac. I chose it due to the words which reflected our story. Even though we have been together since we were fifteen, the lyrics in the song contain the words, 'I love you like never before'.'"
"The wedding day was a dark grey day which was perfect for the church setting and created a candlelit service and autumn atmosphere."
"We stuck to the traditional church vows and they were perfect. Sam's dad Jon did a reading for us – 'Love in Action, Romans 12 v 9-16'."
"My bridesmaid, Felicity, works at the Queen's jeweller in Tunbridge Wells, G. Collins and Sons. She helped Sam with the engagement ring and there was never any question where Sam would purchase the rings from."
"Felicity was fantastic and has a real in-depth knowledge of style and design. Being a close friend and family member, she understood what we were looking for and gave such valuable advice."
"Sam chose a rose gold ring and I chose a platinum, diamond cut ring."
After the service, the party stepped out in to the rain, which didn't stop the traditional confetti throwing. Afterwards, a short journey took them to the Hawthbush Farm, where music and food awaited them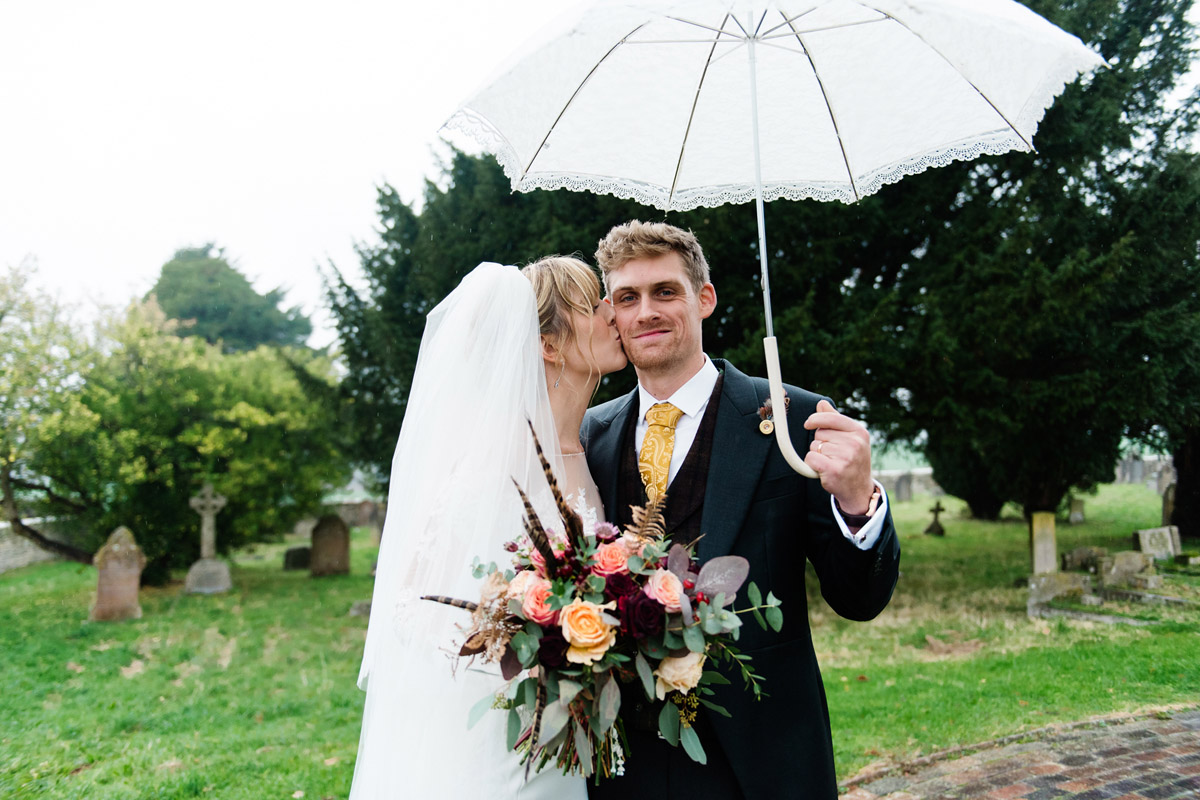 Sam and Amy also chose to have a moving memento of their day, created by CDH Productions.
"We were Charlie's first wedding and he was brilliant. Charlie captured the day in a really authentic way, highlighting the energy and atmosphere which built and built. Charlie seemed to have a good insight into the moments that we would want to look back on. He was unobtrusive and a gentle personality to have around. He was very accommodating with editing and discussing the final edit."
"As a surprise from my mum and dad, they arranged for a Beauford car which took me and Sam to Hawthbush Farm, from Finest Wedding Cars in Hailsham."
Capturing every lovely detail was Sarah Williams Photography, and I love the clarity and colour of her work.
"I have known Sarah for a long time through my work and always admired the way she put her heart into every wedding. She has a lovely calming way and makes you instantly relaxed in front of the camera. When selecting a photographer, it is really important to choose someone you click with."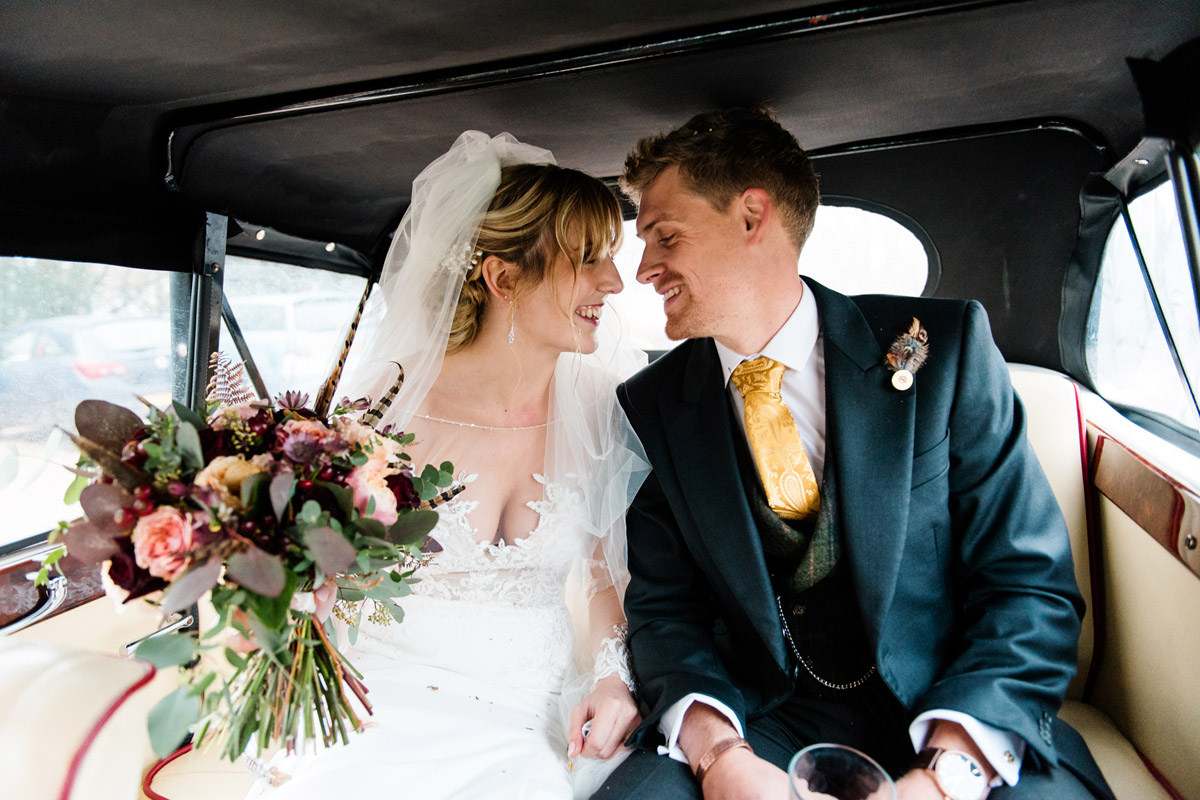 "A photographer is a big part of your day and probably the one person who is with you throughout it. Sarah was brilliant and captured the wedding day perfectly. I feel Sarah is an observer of the wedding and predicts so well the moments which need to be captured forever."
"Sarah and her husband Alex work so brilliantly as a team and Sam and I loved enjoying our day with them. Throughout the whole process nothing was too much trouble for them, from the pre- wedding meeting to aftercare of how she presents the final wedding photos. Their energy and commitment is second to none."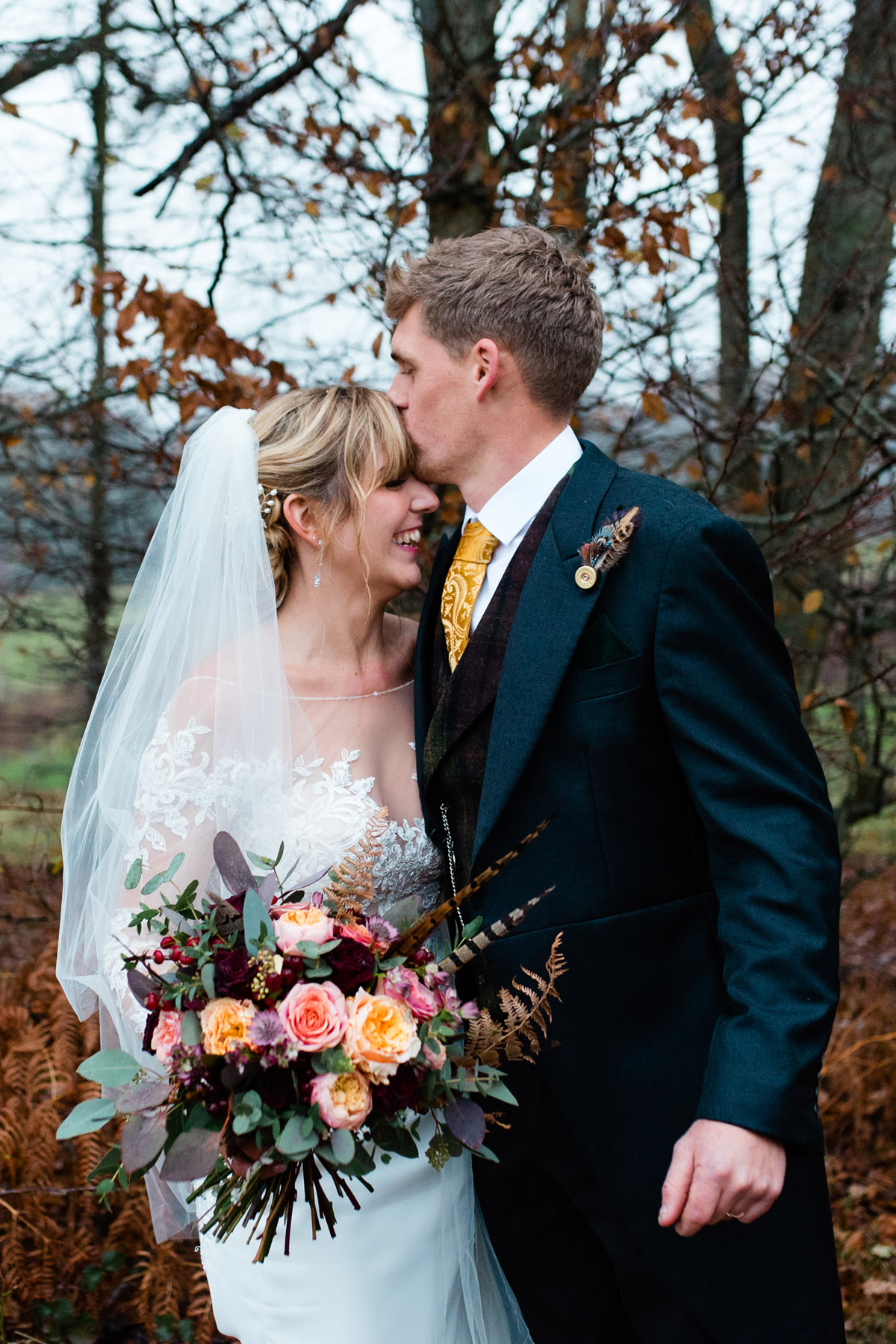 "Both Sam and I grew up in the countryside and feel very lucky to be surrounded by such beauty. Sam grew up on a dairy farm, therefore getting married surround by beautiful countryside and woodland was very important to us."
"The countryside was heavily influenced throughout our wedding. Working in the wedding industry also gave me a great understanding of the important elements for planning."
"I have watched so many brides stress about the little things that really don't matter on the day. The most important thing is getting married to one another surrounded by your closest family and friends."
"With this in mind it was really important to keep things simple – a less is more approach. All our flowers and decorations were autumnal and I made sure everything was re-useable."
The couple recruited Food Glorious Food to cater the dinner.
"I have worked with them many times and am always so impressed with their service and food. They were fantastic. Hannah, who was front of house, was brilliant. I knew I didn't have to worry about a thing as Hannah and Julia had it all under control."
"All the staff were so relaxed and felt part of the celebrations. The food was beautiful and felt like it had been individually cooked for each one of us. Due to the time of year, Sam and I wanted a wholesome Sunday lunch meal which you would enjoy at home. Food Glorious Food definitely delivered this."
"When the guests arrived at Hawthbush Farm we had a modern folk band playing well-known songs on the stage during the drinks reception. El Banda Burros were fantastic and created such a great atmosphere whilst we had our photos, keeping our guests entertained."
As soon as Sam and I finished our photos in the woods, we asked the band to stop playing and gather guests around the entrance to the barn where our friends Charlie and George welcomed us into the barn."
This was the first time we saw the guests after the church service and was our first welcome. As we walked in the band played our first dance and Sam and I went straight to the dance-floor. We chose The Lumineers' 'Hey Ho' and quickly the dance-floor was flooded with friends and family."
"We danced for an hour before dinner. Guests even thought they had missed the food! El Banda Burros lit the fuse to our celebrations. Sam and I decided we didn't want a formal greeting before dinner and this was the perfect way to put everyone at ease."
"The reception venue, Hawthbush Farm, was an American oak barn built purely for the celebration of a wedding, therefore a great space perfectly designed. The barn was one big room on a split level so I wanted to create the wow factor from the moment the guests stepped inside. When choosing our venue, my priority was to have a space where everyone was together. We create different zones such as a dance-floor, bar area, dining area and cake area."
"It was important to create a warm, cosy environment. I decided to bring the ceiling to the tables by hanging foliage hoops, decorated with roses, foliage and pheasant feathers to represent my autumnal bouquet. The tables were four long trestle tables that created a relaxed, informal dinner. We ran cream organza along them which was draped in ruscus. I collected vintage crystal decanters from local charity shops and filled them with copper wired fairy lights which lit up the tables."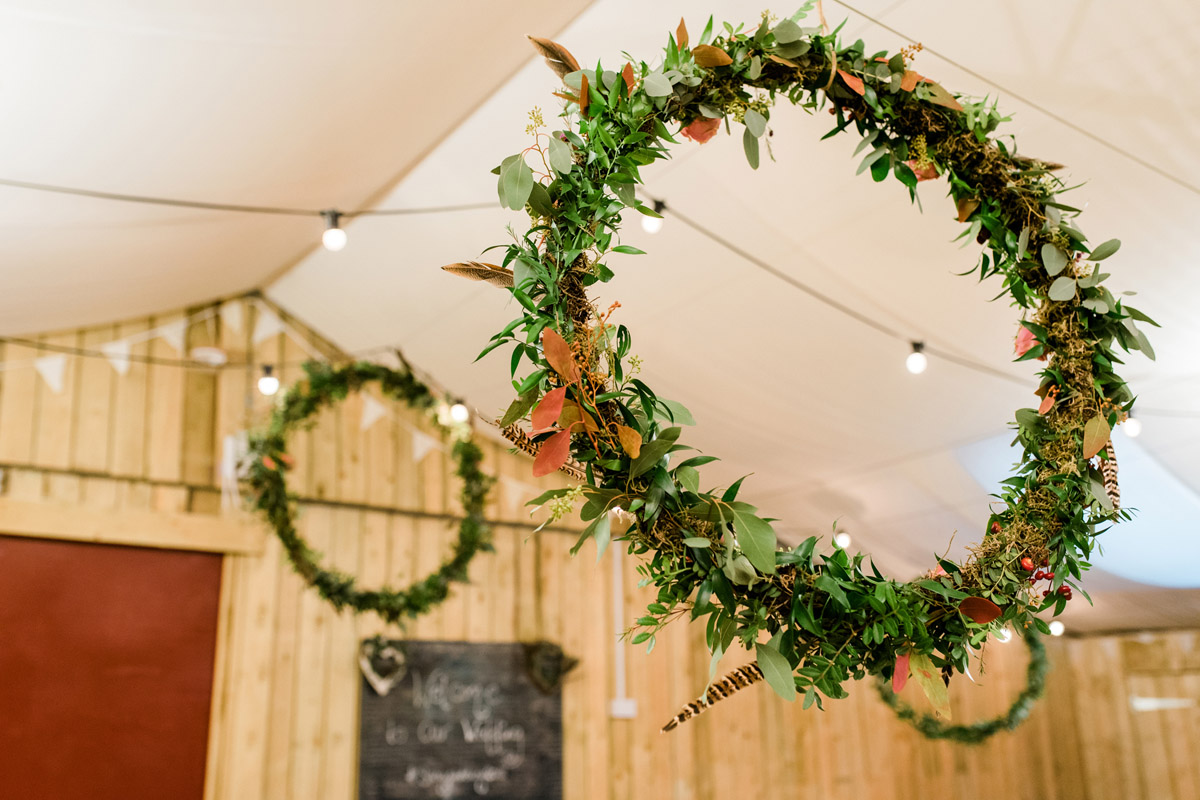 The two-tiered, gold-foiled cake is absolutely exquisite, and looks so fresh and elegant.
"It was really important to me to keep things simple and involve family and friends as much as I could. My mum took control and between her, Sam's mum and my mum's two best friends, who are like my aunties, made a layer each. The flavours were a combination of pink gin and tonic sponge and lemon and elderflower drizzle cake."
"They were delicious and not a piece of cake was left at the end of the night. The lovely Nicky from Bonney's Cakery stacked the cake and decorated it beautifully with butter icing and gold leaf decoration with a corsage of flowers. Nicky was brilliant and followed through with our vision perfectly. The cake was understated and simple with elegance."
The evening continued late in to the night with more dancing under the twinkling lights of the barn.
"For the evening reception we had The Salvation band, who were fantastic and electric. They literally rocked the night and we didn't want the evening to end."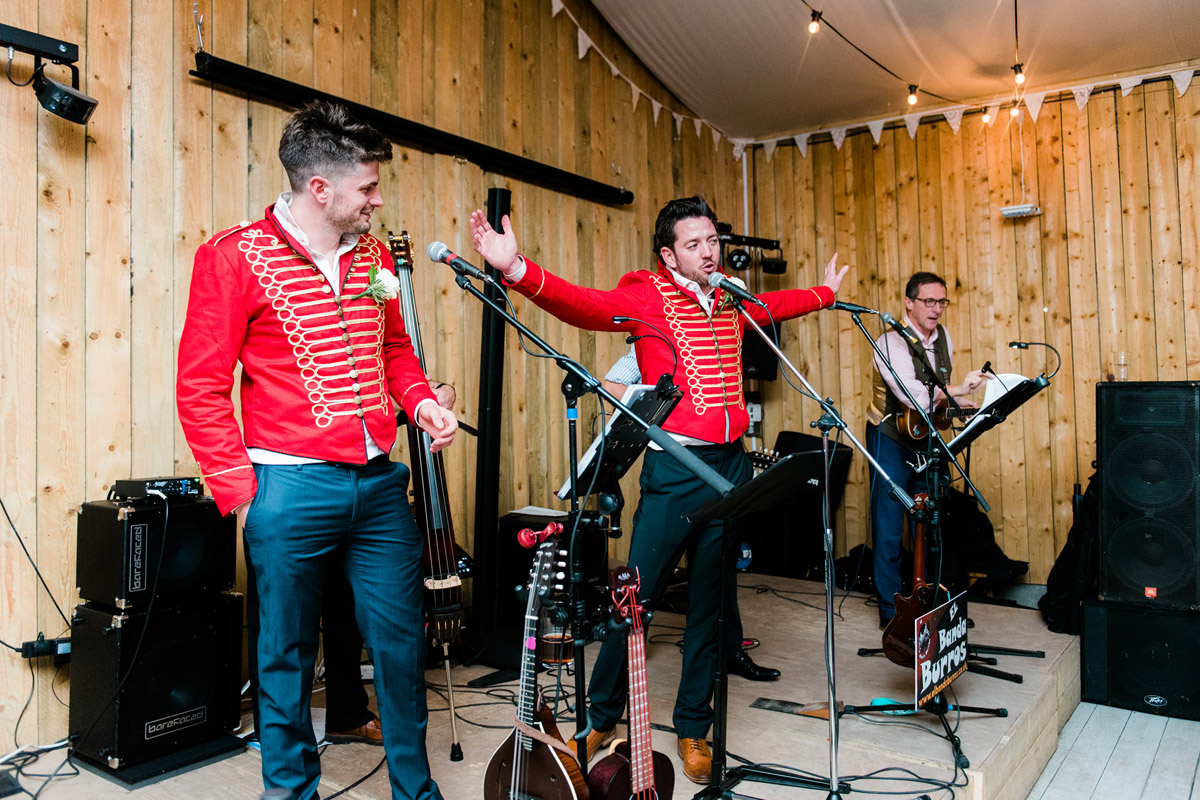 "The music they played was current indie and rock. We finished the night on our friends' shoulders dancing to Queen's 'Don't Stop Me Now'. During their break my brother Ollie, who is a popular local DJ, played and kept the energy and atmosphere on the dance-floor going to another level ready for the band's finale, which didn't disappoint. The dance-floor was packed all evening."
As well as the pre-dinner first dance, there was an additional one for the evening reception.
"We chose 'Catapult' by Jack Savoretti. We love his music and it was one of the first tracks we heard and both love it."\
"I loved every minute of the day and it more than fulfilled our expectations. The feeling of celebration continued to grow hour by hour until we made to leave in our taxi at midnight. The energy in the room was overwhelming with joy and laughter. There is nothing I would change, I just want to relive it all over again!"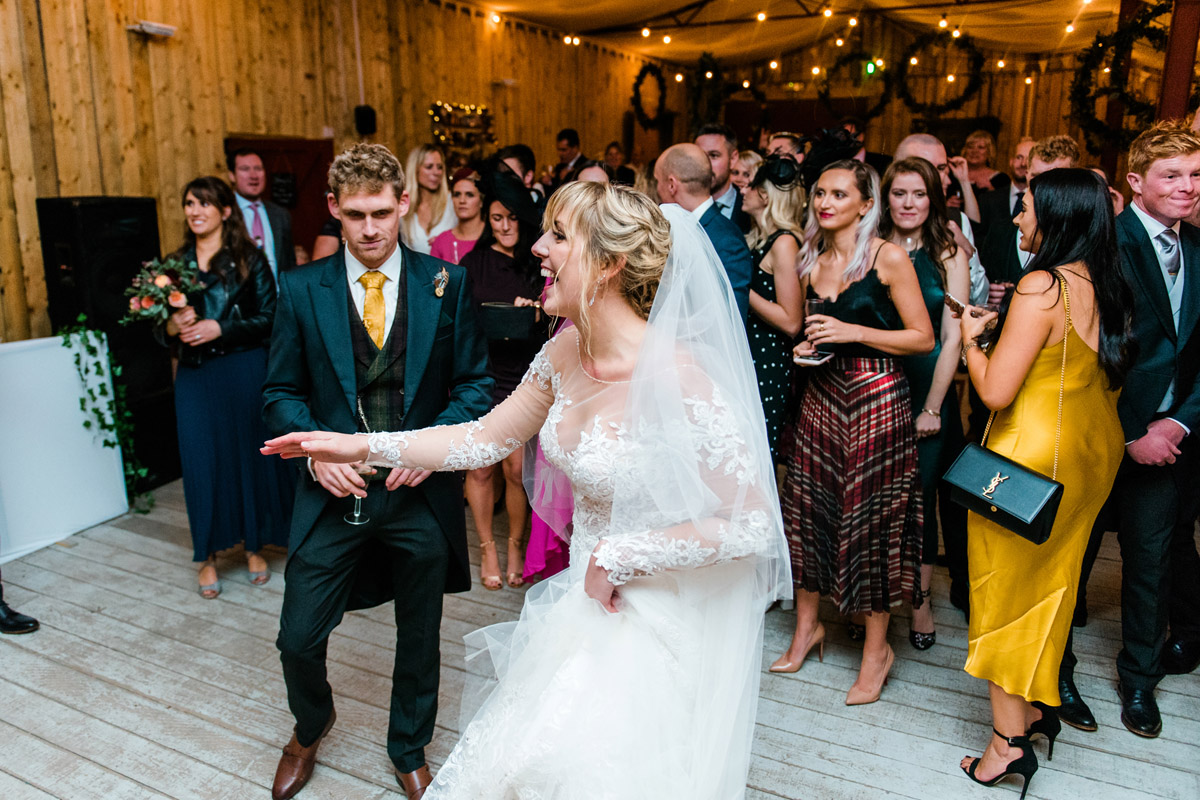 Words of Wedded Wisdom
"Keep it simple and true to who you both are. There is no need for elaborate themes. What is important is your friends and family."
"Sam and I made sure we shared and enjoyed every moment together. If your guests see you both relaxed and living the moment, your guests will relax and join in with celebrations too. Don't forget to have fun and keep it real!"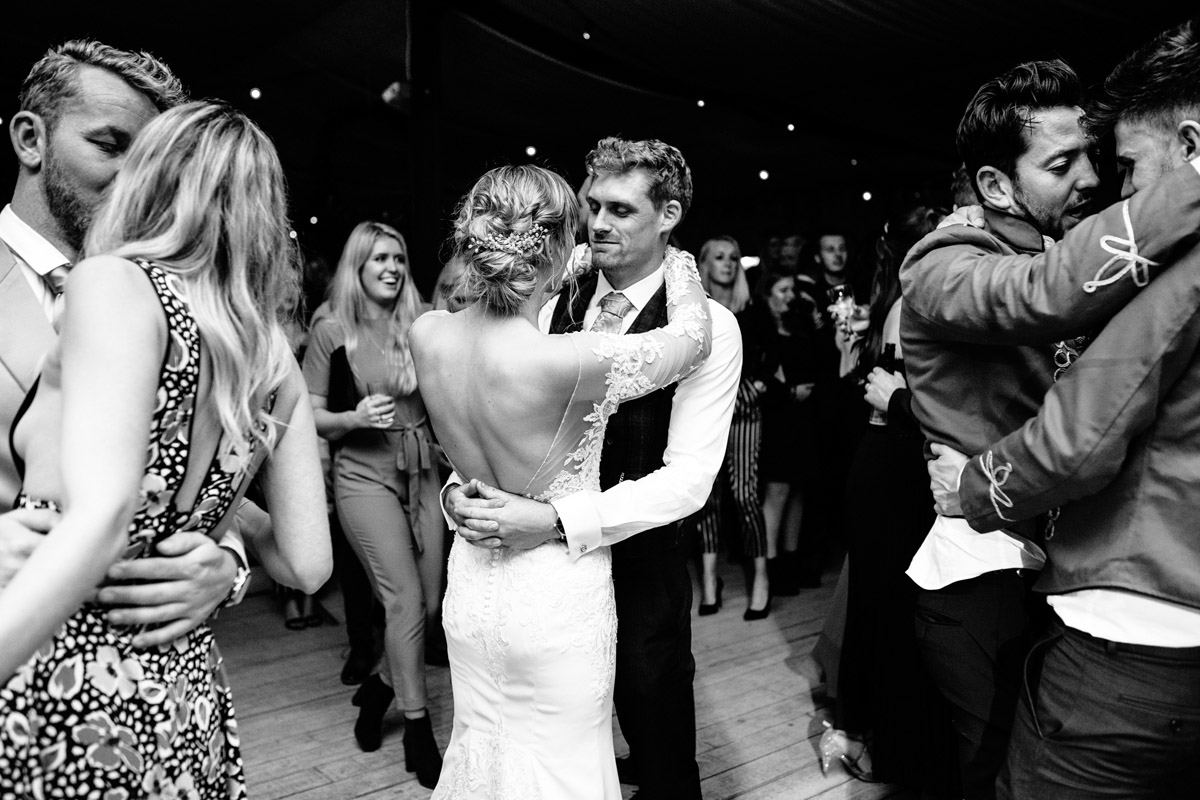 What a wonderful, autumnal wedding. Amy, you are clearly so talented and I've loved hearing how you wove your beliefs and threads of inspiration through the styling. Thank you to you and Sam, and thank you Sarah Williams Photography for your work.
If you'd like more autumnal wedding inspiration I think you're going to love these Love My Dress weddings, and for more brides in Maggie Sottero, take a look here.
With love
Ele xx