Hello everyone! Last Friday, we gave you a little advance notice about an incredible project we have been working on with shoe designer Freya Rose, that comes to fruition today.
Today, on Summer Solstice, I am absolutely thrilled and so incredibly proud to share with you the result of this incredible competition, and also to let you know that as of now, you can purchase your own copy of the winning show design with all proceeds going to the wonderful Together For Short Lives charity.
Watch the 13 minute long video interview with Freya to learn the story about how this beautiful pair of shoes came to life, why she chose this charity to support and how you can buy one of the 40 pairs that have been produced, that will never be produced again. This is a complete one-off design and once they are gone my friends, they are gone!
Let's go back to April last year when we invited the Love My Dress community to design their own pair of shoes. Several hundred applications later, we found a winner, the very lucky Hannah Kelmsley, whose winning entry is below:
"My perfect shoe is what I have designed! I love the classic silhouette of a pointed toe stiletto, and the lady-like and yet modern Freya Rose London mother-of-pearl heel inlay. My dream shoe would have to be high as I love to have extra height, made with quality materials and of course comfortable if I'm going to be dancing all night! I truly believe shoes are works of art and my perfect shoes would be just that."
"I have designed a classic pointed toe stiletto featuring the iconic Freya Rose London mother-of-pearl heel inlay. The heel and toe both feature a celestial design with a subtle nod to Art Deco, drawing inspiration from some amazing 1920's costumes."
"The premise of the celestial design of moons and stars comes from my fiancé often saying that he loves me to the stars and back, and this motto will be subtly represented throughout our March 2021 wedding. I have gone for a pale blue silk or suede outer fabric, as I want the shoe to stand out against my white wedding dress (and also act as my something blue!)."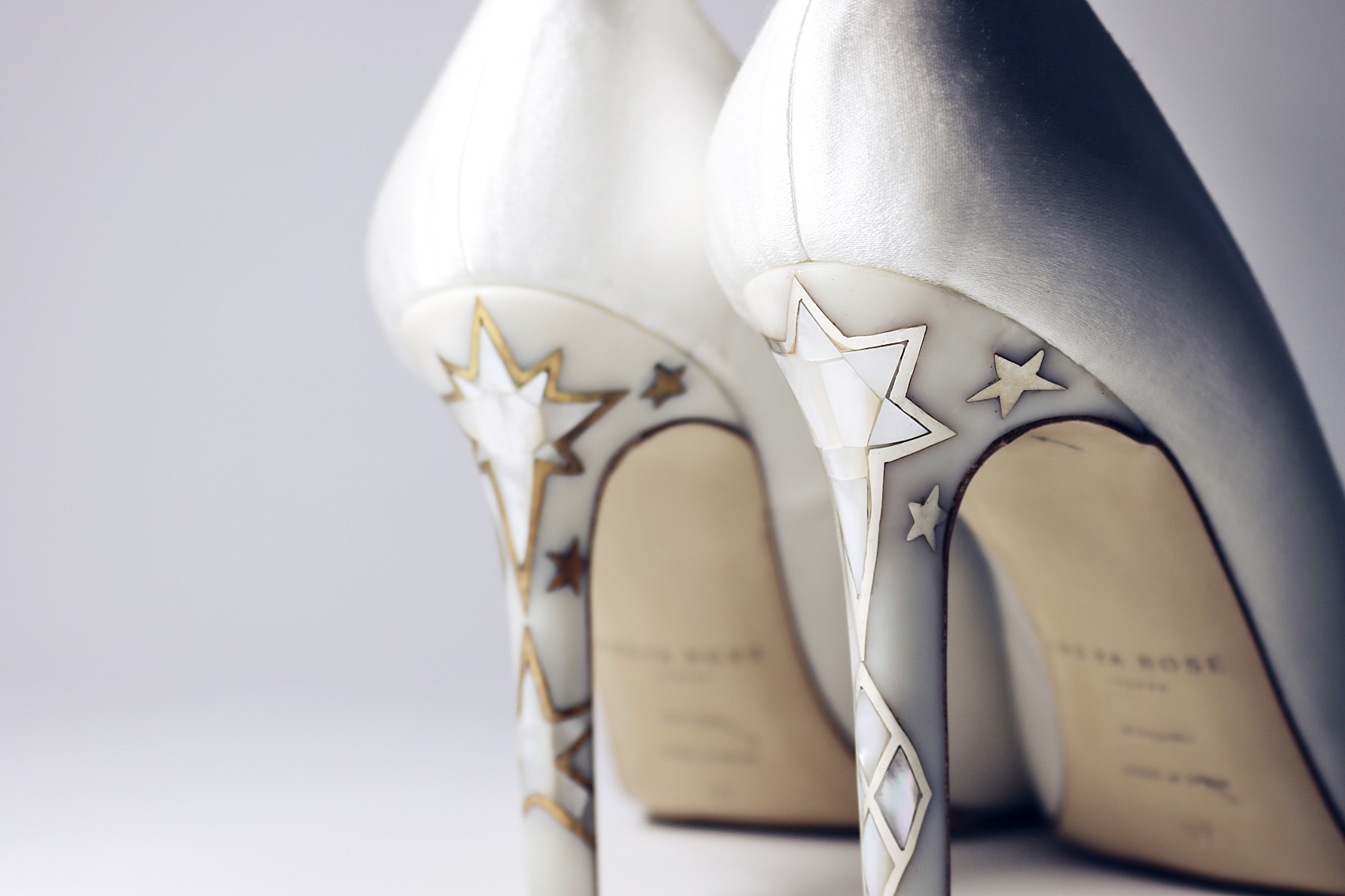 Hannah has now received her winning pair of shoes, but Freya has produced 20 pairs of the shoe in ivory/silver and 20 pairs of the shoes in black/gold.
You can purchase your own pair of these beautiful shoes now here on the Freya Rose website. Each pair costs £495 with all proceedings going to the amazing Together For Short Lives charity.
I would like to thank Freya Rose for her immense generosity on this occasion. It has been such a pleasure to work with her and to once again help highlight the incredible work she does that brings employment to talented artisan crafts people  and families of Bali, without whom, these unique shoes crafted from mother of pearl and brass heels would simply not be possible.
Ladies – go, go, go – there are only 40 pairs of these shoes in the world. Make one of them yours!
All my love,
Annabel xXx