On 26 June 2019 Steph, chief of staff at a Fintech company wed Rahoul, sales director at a sports data company, at La Vieille Maison D'Art, Vallabregues, Provence in France.
The day's styling was created by the couple, their friends and family, all inspired by the ancient and charming French architecture and the fresh wildflowers in the surrounding meadows.
Mediterranean Photography + Follow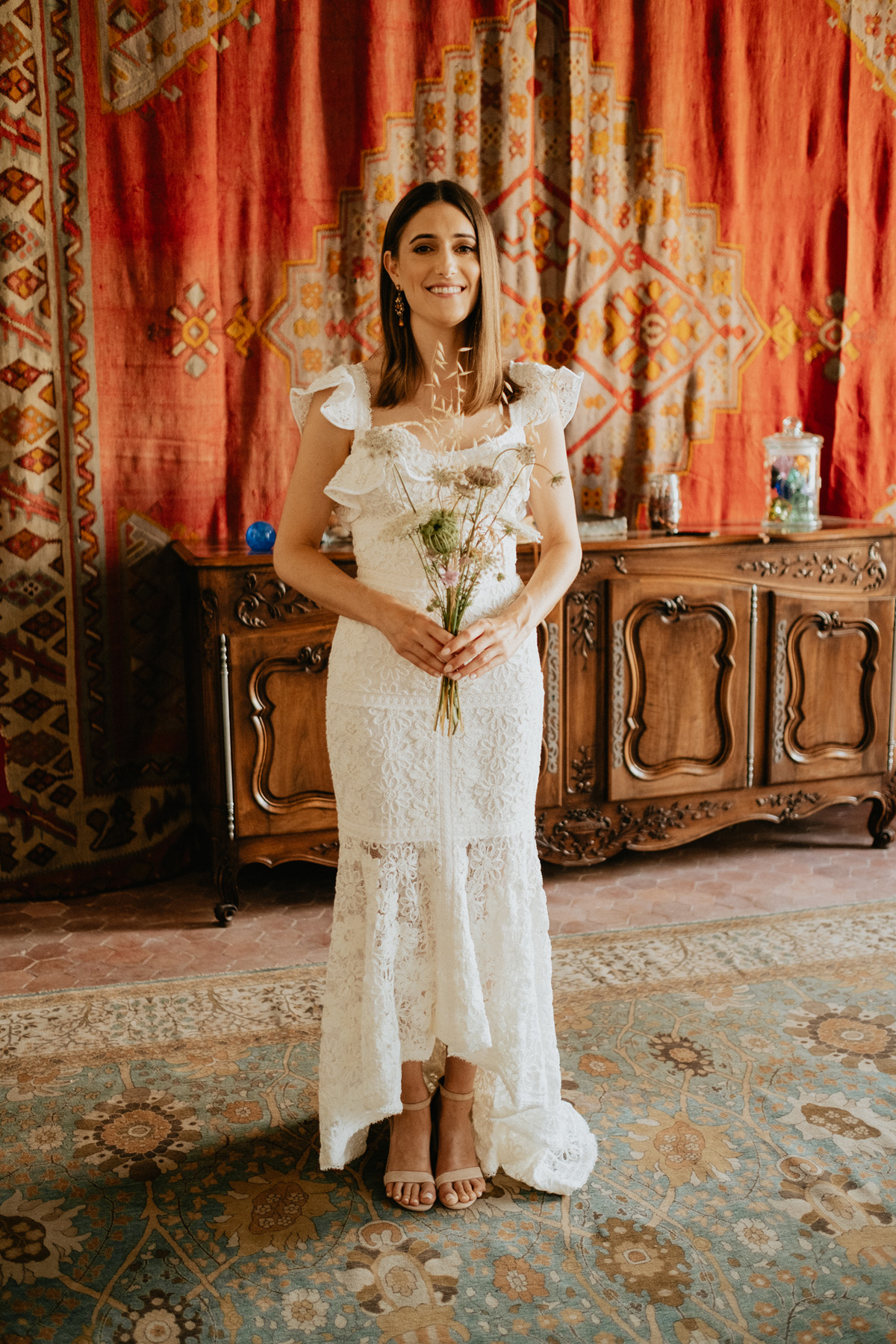 As creative souls, it was natural for the bride and groom to take on the decor and DIY styling themselves, to gorgeous effect.
"Rahoul and I both really love being creative and doing DIY and craft projects at home. We also really wanted our friends and families to be able to feel involved in our day, the way weddings used to be before they became so commercial."
Over to the bride for details about why they fell in love with this gorgeous French maison which is over 600 years old.
"We fell in love with La Vieille Maison D'Art the moment we saw it."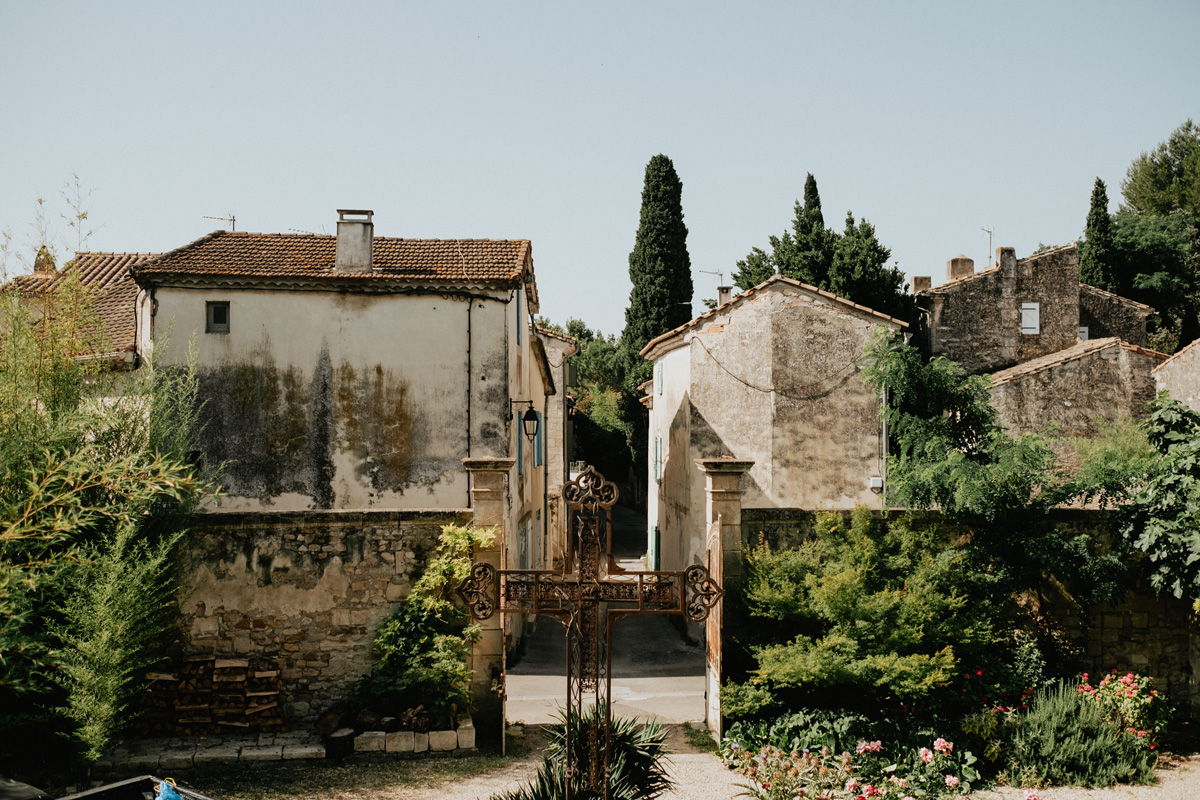 We are both very creative people who love art and beautiful architecture and the chateau had such charm and character."
"We could really sense the history which had taken place there. We loved all the art that filled the rooms and the beautiful big cross which is a centrepiece in the courtyard."
"We love French food and wine more than anything and we love France as a country."
It appealed to us to do a destination wedding because we loved the idea of making a whole week-long celebration of our wedding."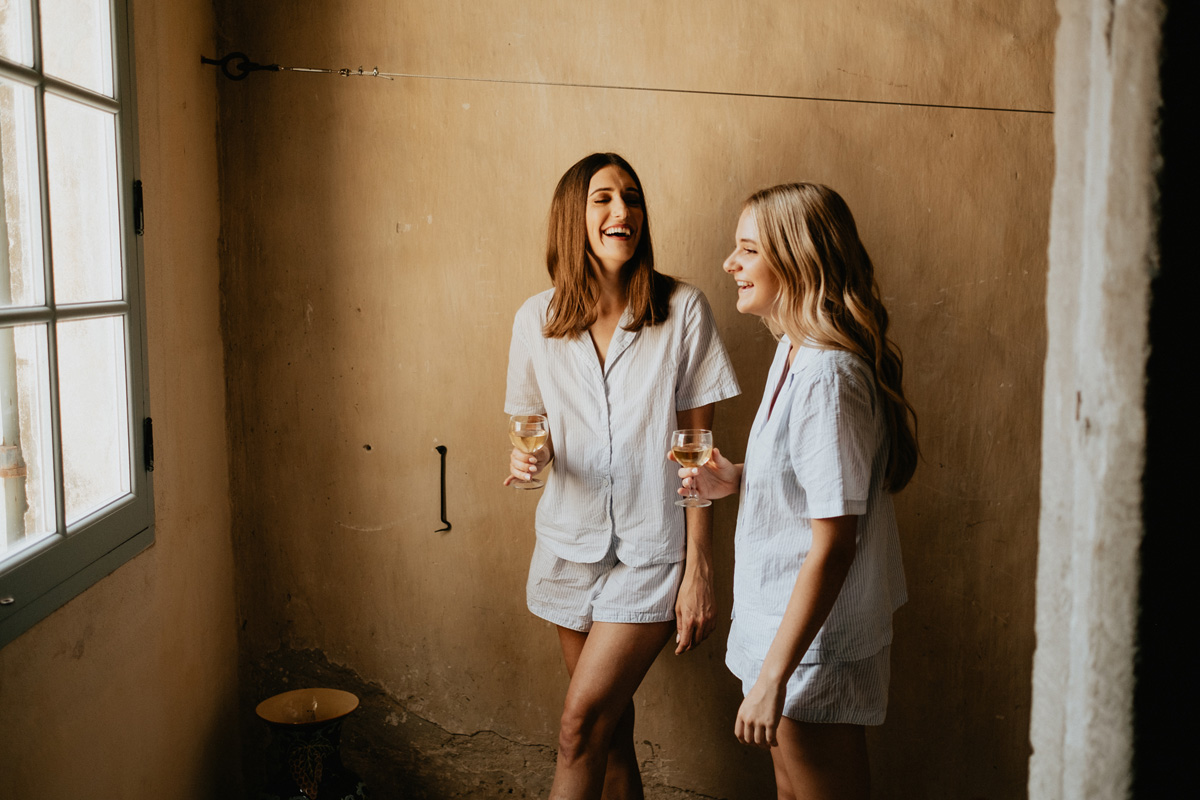 "We had friends and family travelling from South Africa, Zambia, London, USA, and it worked just as we had hoped in that everyone came for the full week and made the most out of a holiday in Provence."
"I wanted something comfortable and not too fussy, and a dress that worked well in the space."
"I loved the fact that my dress had the most beautiful fabric that was striking and really complimented the aesthetics in the space.  It came from Alexis on Revolve."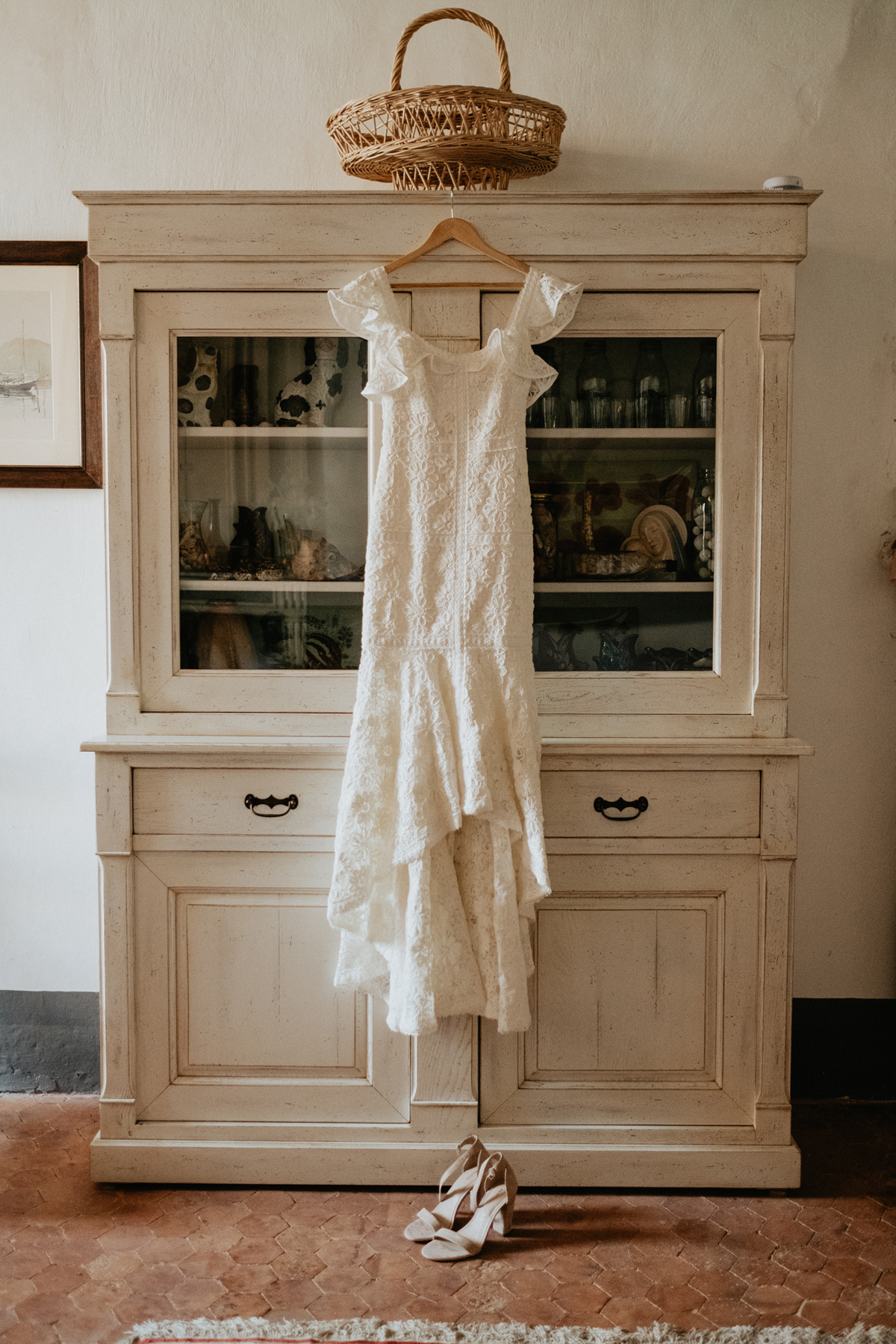 "I wanted something comfortable and not too fussy and a dress that worked well in the space."
"I loved the fact that my dress had the most beautiful fabric that was striking and really complimented the aesthetics in the space."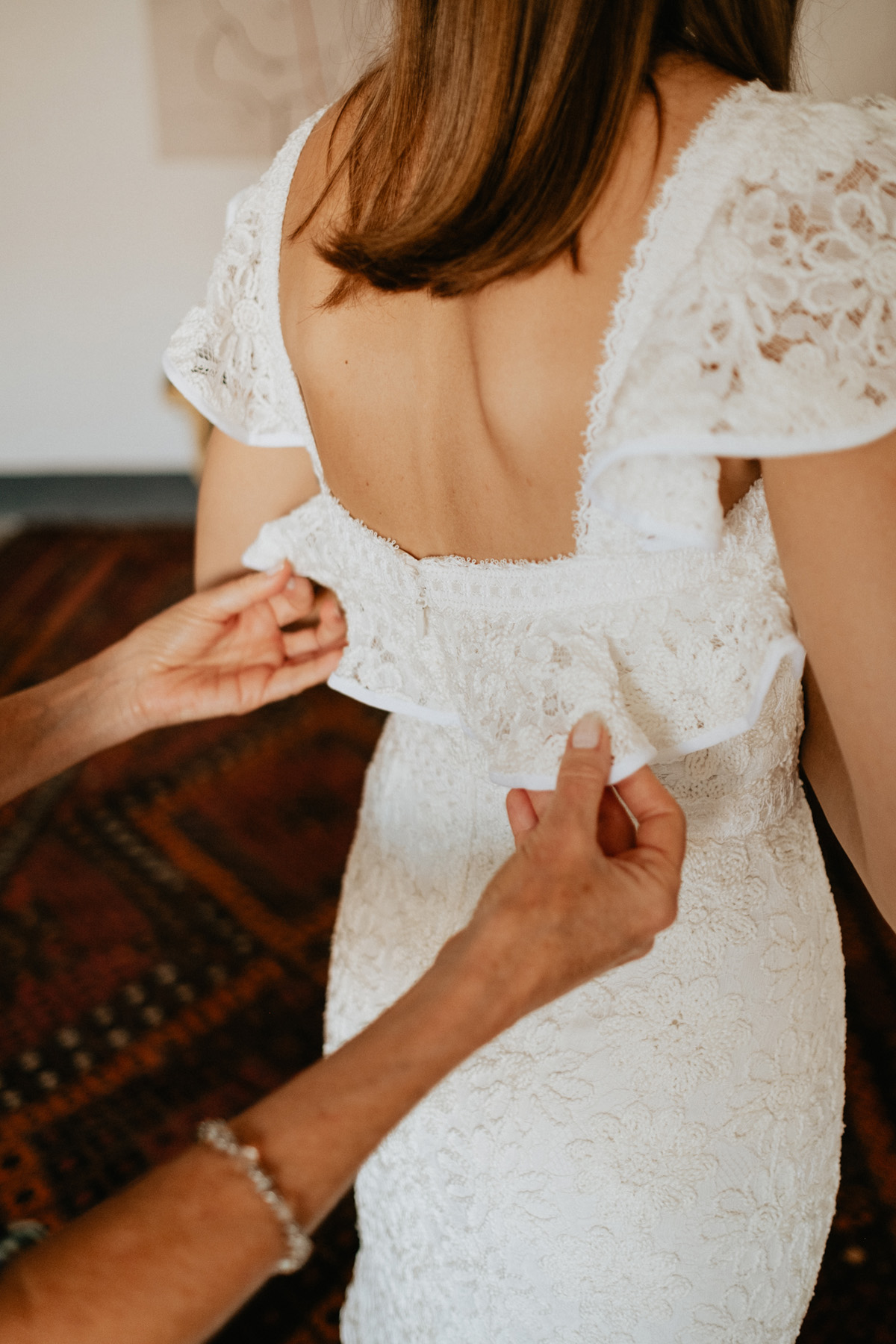 Her high strappy shoes were from Aldo and she wore the delicious scent of Issey Miyake L'Eau D'Issey.
"This is the scent I always wear during the summertime. It's lovely and fresh and worked really well in the hot Provence weather. Rahoul wore Chanel Antaeus Pour Homme."
"Rahoul's mother bought me a traditional Indian hand-made, embroidered silk bag which she got when she was in India which was really special."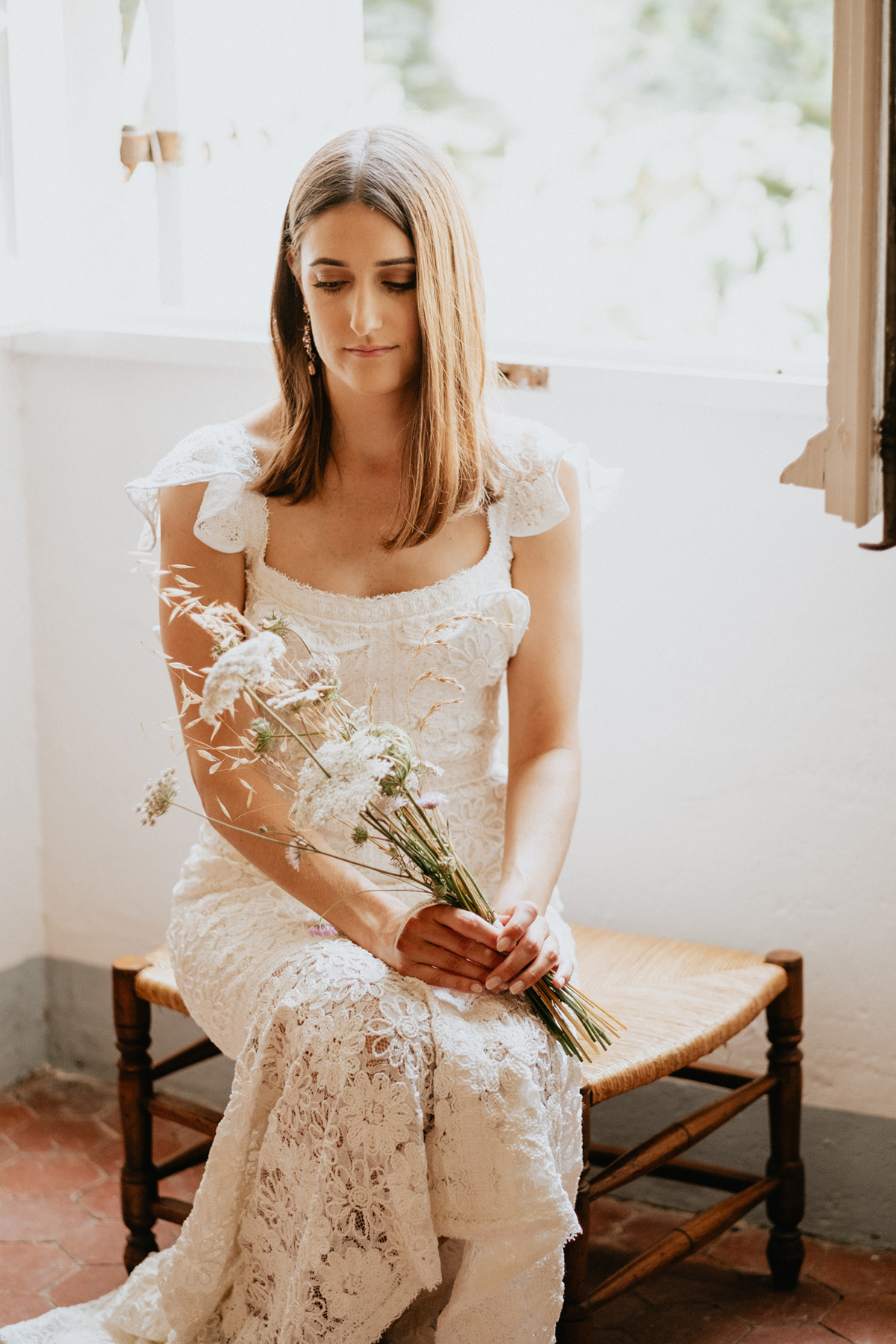 The bride wore her hair in a shiny, long bob, styled by Aglaia Hair & Beauty. I adore the look of mis-matched bridesmaids, and this group each chose their midi dress in a different colour.
"They were in dark green, rich yellow, black and dusty pink. They looked gorgeous and tied in well with the bright colours reflected in the chateau artwork and chandeliers in the dining hall. They looked incredible."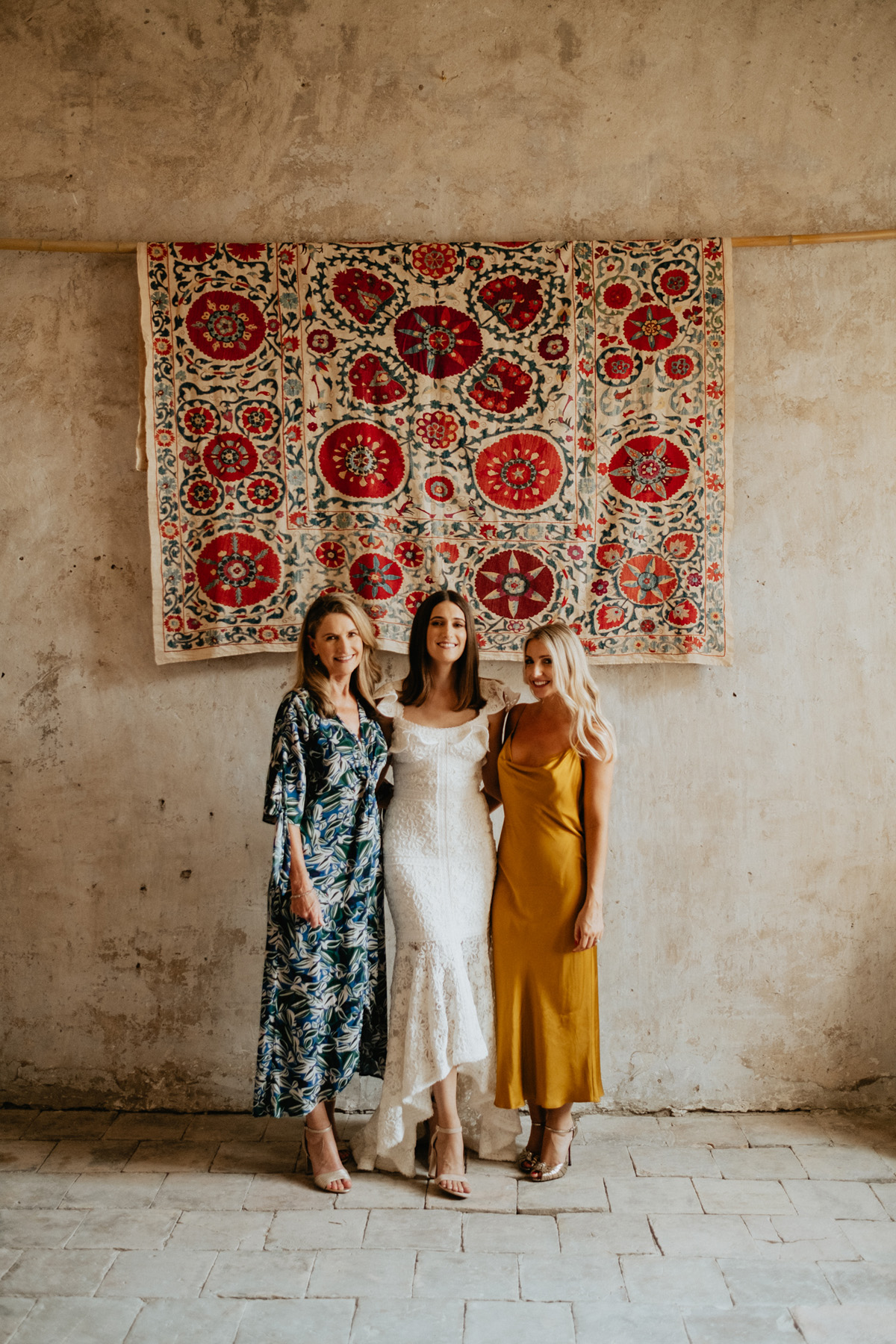 "We did this by not having a florist or anyone doing our décor. Of course, the venue itself was so beautiful it didn't need a lot of decoration."
"We wanted a really natural aesthetic that complimented the chateau with its beautiful stone, peeling away wallpaper and light coming through old French shutters."
"My bridesmaids, my mother and I went out into the fields surrounding the village and foraged for wild flowers and greenery the day before the wedding. We found the most beautiful flowers and shrubbery in shades of pink, purple, green and earth shades which worked perfectly with the venue and feel we wanted."
Steph and Rahoul were engaged for a year before their wedding day, and first met years ago back home in Cape Town, South Africa.
"Rahoul went to school with one of my brothers and he used to spend lots of time at my house."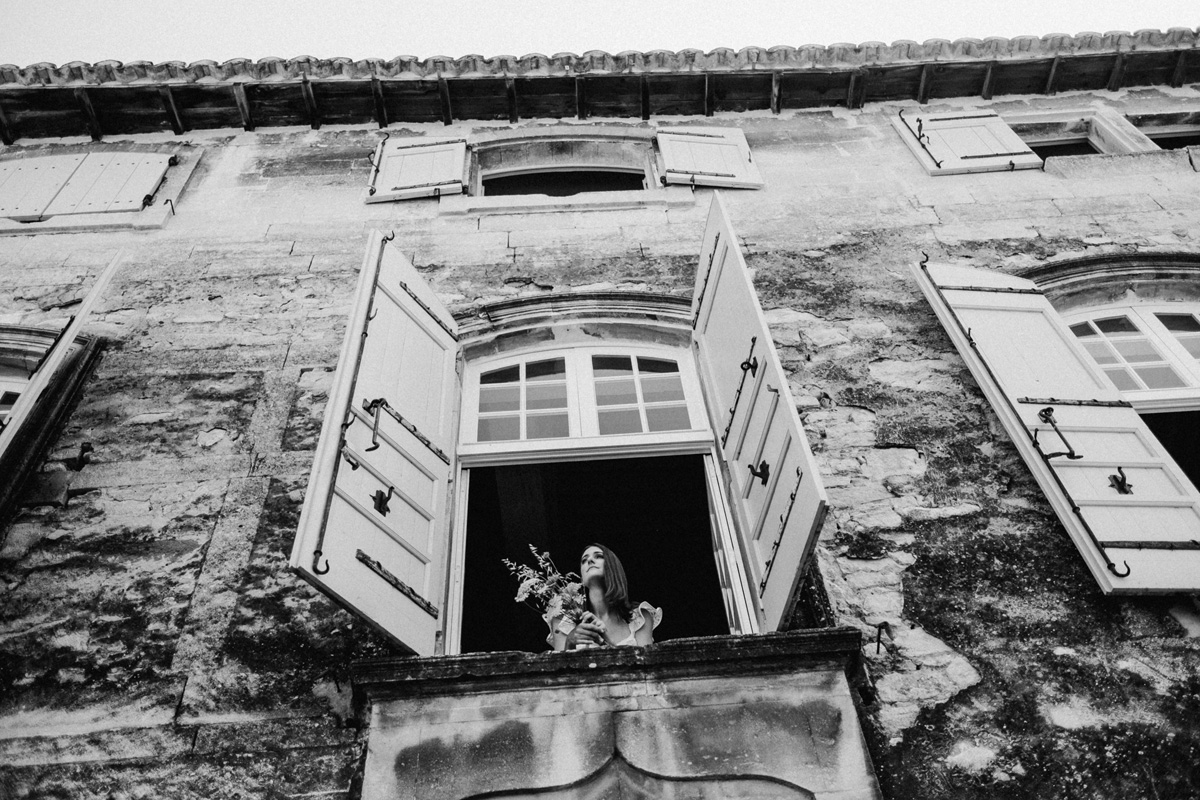 "We were friends for a few years, during which I lived in France and worked on a few super yachts, and Rahoul worked as a carpenter in Cape Town."
He moved to London six years ago and we met up when I was visiting a friend. The rest is history."
"We didn't actually do a proposal. We just decided one day over lunch that we would get married."
"We are both so glad that this is how we made the decision as it's important to us to be ourselves and not feel we need to conform to ways of doing things just because everyone else does them. I guess this also carried through to our day."
"The band were set up in the back of the ceremony room, and played 'All You Need Is Love' by the Beatles as I walked down the aisle with my father."
"This was so special as this song just felt happy and genuine and really represented the kind of wedding we wanted to have."
The ceremony was led by Celia Drummond of The English Celebrant and included vows written by the couple and their choice of readings. For Steph, this was the most special part of the day.
"Both our mothers did readings which was really special. Rahoul's mother read 'The Profit' by Kahlil Gibran and my mother read something that she wrote herself. The celebrant also read the below 'The Blessing of Hands'."
"The ceremony, saying our vows standing there in the chapel holding hands and smiling was my favourite part – we were both so happy."
"Our rings were bought from a little family-run jeweller in Hatton Garden."
These post-ceremony photographs are my favourite. They are so full of life and love, with such vibrant colours and atmosphere.
As they were staying at the venue, Steph and Rahoul got ready on site, so it was just a short walk down to the ceremony space, held in one of the chateau's stone-walled rooms.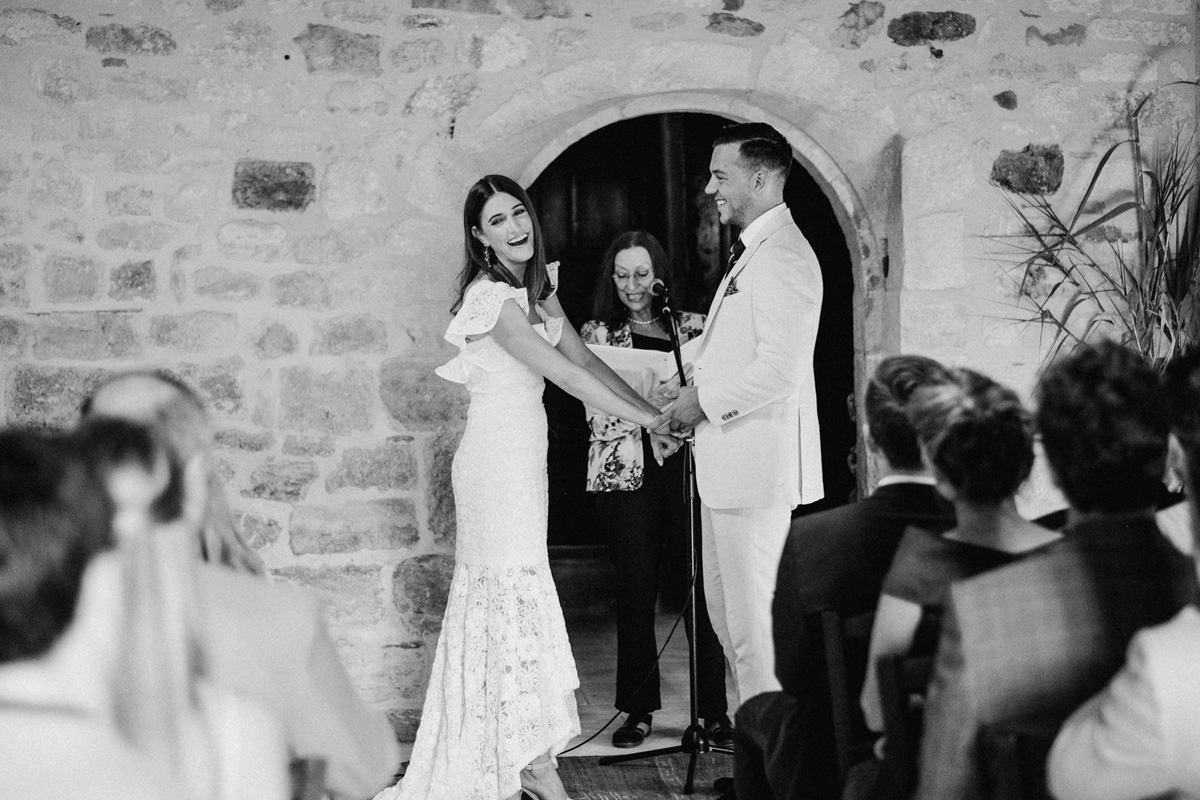 "The ceremony took place in a beautiful stone room with high ceilings and large exposed wooden beams, leading out to the main courtyard."
"Next to the ceremony room is a tiny little chapel that fits only three or four people in, with a chandelier that holds candles. It was perfect."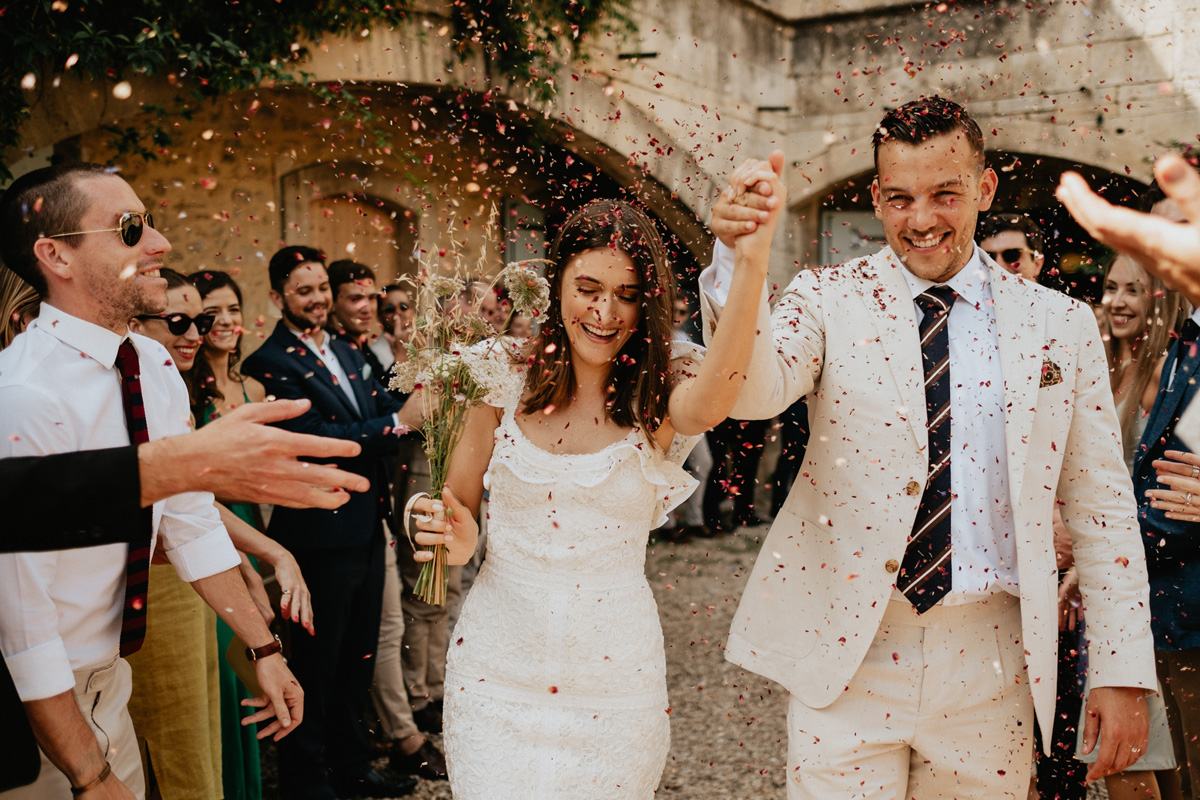 Ideal for the hot June weather, Rahoul dressed in a light, linen summer suit from Suit Supply.
"It was in the perfect shade of light stone. He looks so handsome and timeless, like he could have come straight out of the Gatsby era."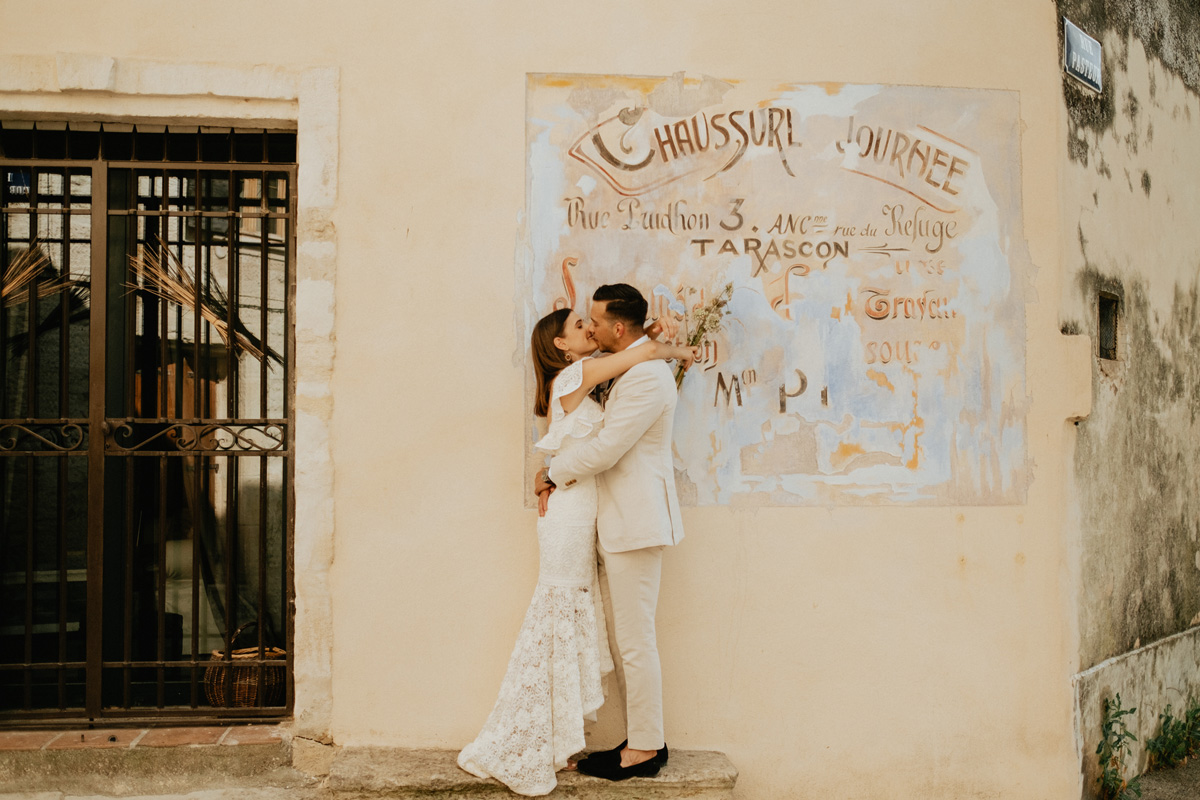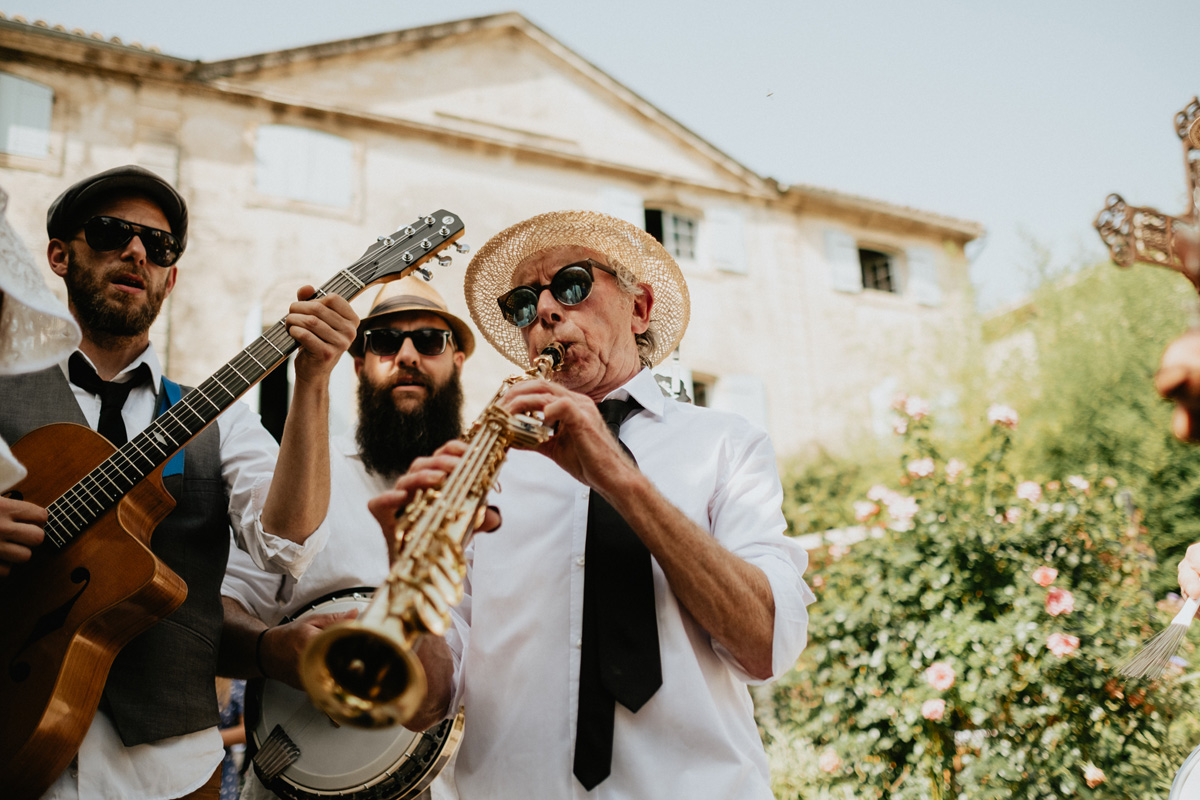 Just look at the dining room, set so beautifully with lots of bright flowers and chandeliers. The stationery was by Olive Weddings.
"My step-mother got us made eighty beautiful stone-coloured linen serviettes embroidered with our initials in white. These really added something special to each place setting."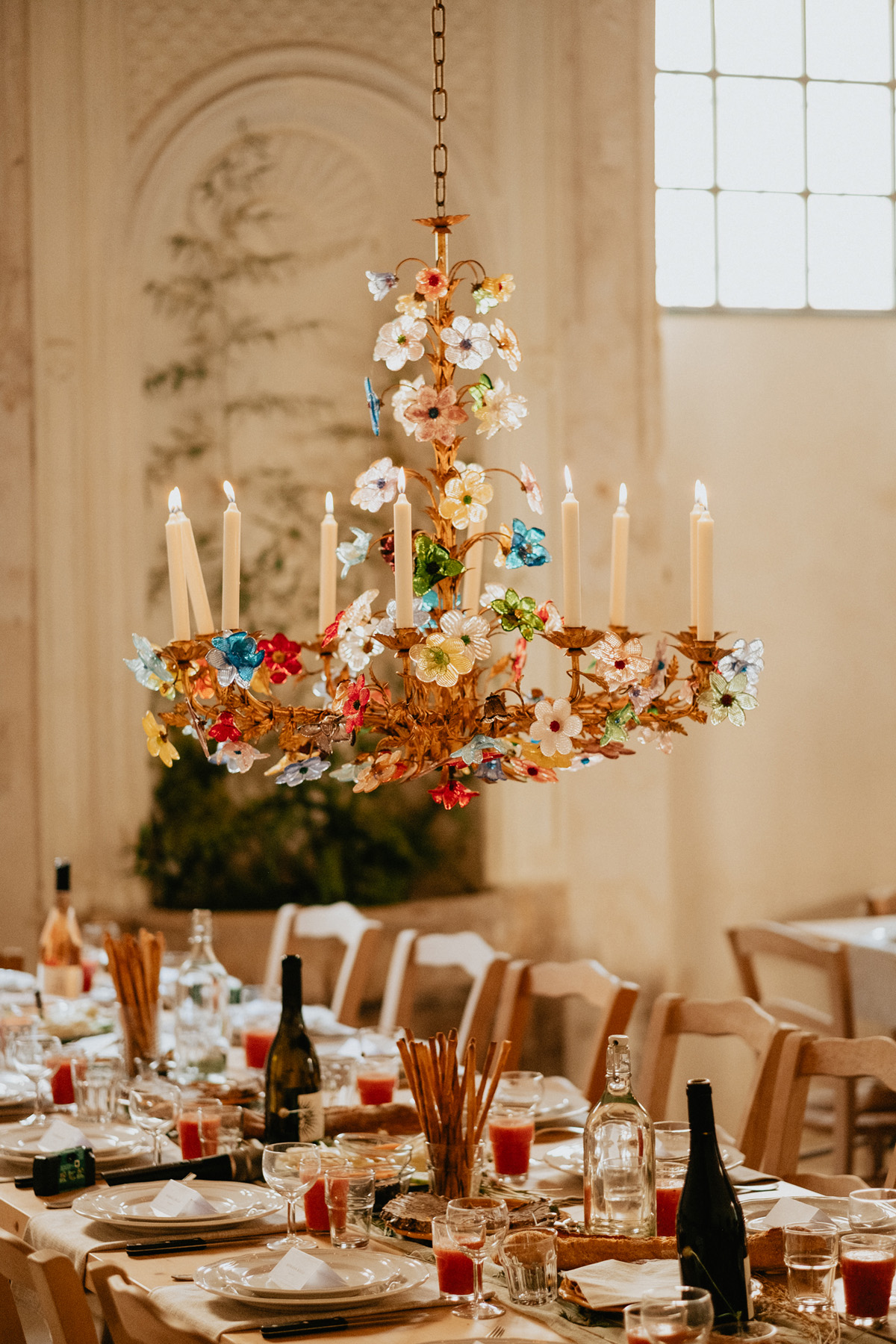 "We bought crushed linen table runners for each table in different colours. These really brought out the colours of the chandeliers."
"We also bought loads of large white balloons which the boys spent the wedding morning blowing up."
"We then hung these and filled the ground with them in the ceremony space to soften it which worked really well."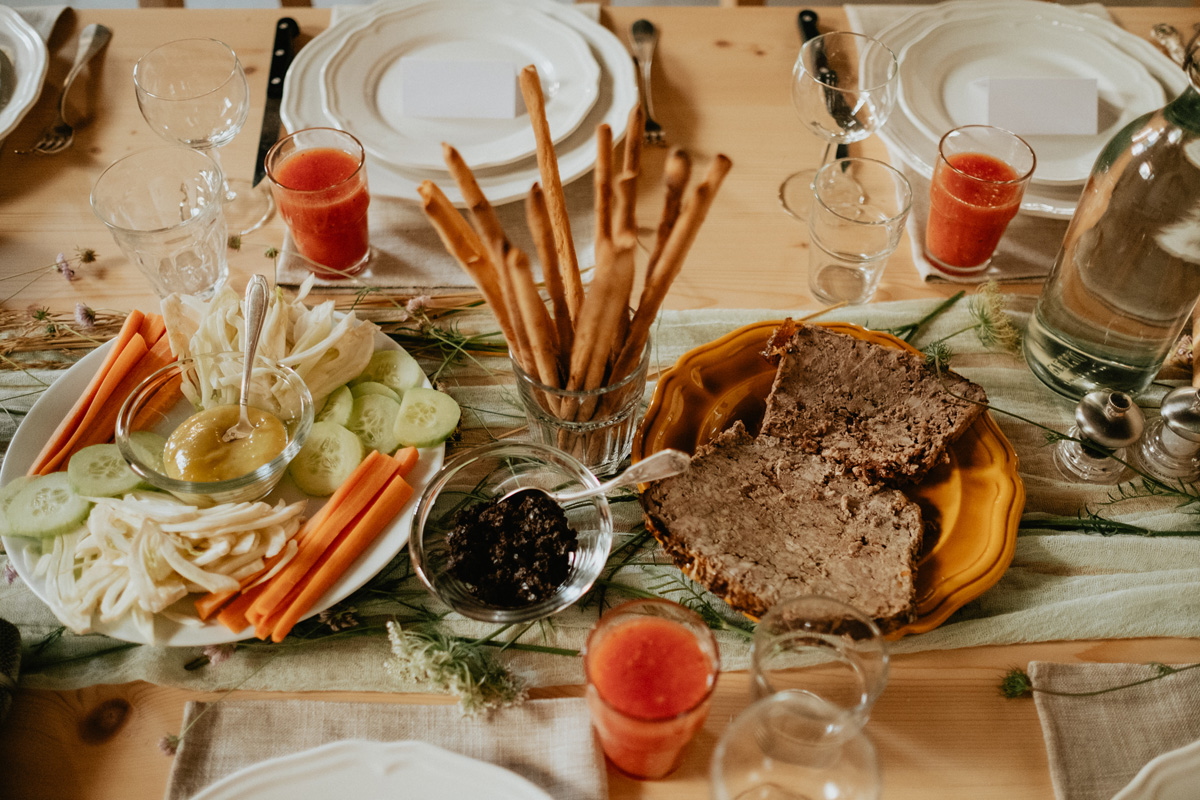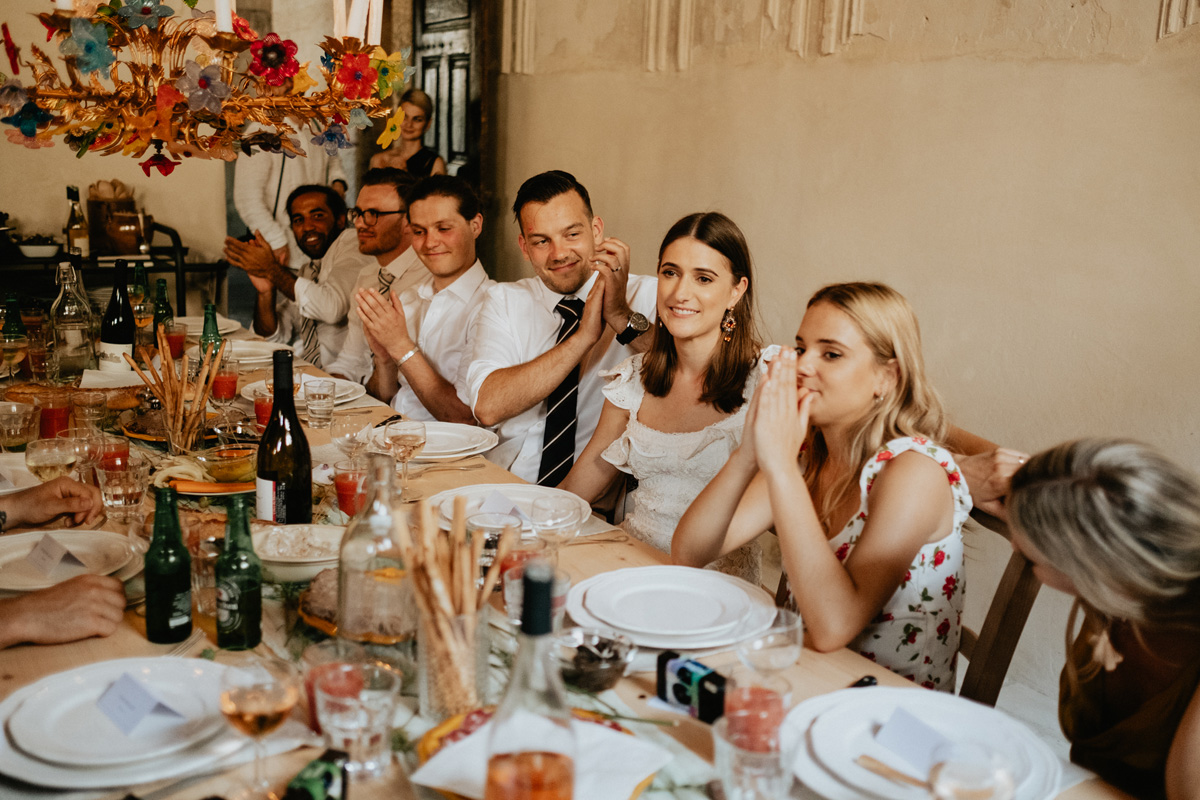 As dusk fell, the guests hit the dancefloor to live music. I love how they transitioned into the fresh evening air as the temperature rose.
As most of the guests stayed locally, they could all walk home after the evening party.
"The band was Band in France Hicksville, led by George Smith. They were incredible and when it got too hot on the dance floor, they unplugged and went out into the courtyard and serenaded the guests."
For their first dance, Steph surprised Rahoul with a very personal choice.
"Our favourite movie is 'A Star is Born'. I organised for the band to learn to play 'You're Music To My Eyes' from the movie. It took Rahoul a few moments to realise which song it was and it was a very special moment."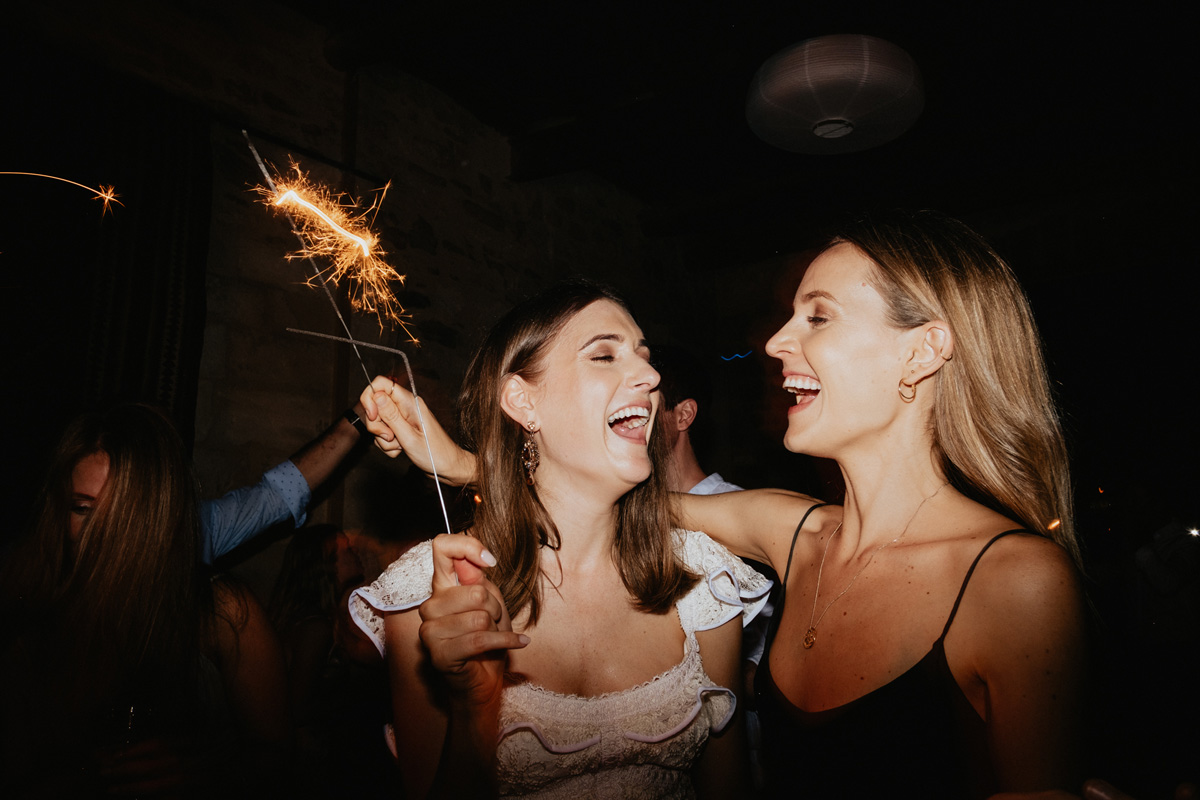 The chef was a local French women from the village and instead of a cake, Steph and Rahoul chose a traditional French Croquembouche made by the local village baker.
"It was delicious and a huge hit with the guests."
Words of Wedded Wisdom
"Choose the traditions that you want and leave out the ones that you don't. We did this and it made our day feel like our own and really genuine to us which we are so happy about."
"Just be yourself when it comes to your wedding and don't be afraid to challenge the norms that you don't necessarily agree with when it comes to wedding planning."
I've been well and truly transported to the beauty of a rural French village. Steph and Rahoul, it's been such a privilege to share your day so thank you to you and your photographer Mediterranean Photography.
For more French chateau ideas, please browse through this beautiful selection here.
Ele xx