Our hearts are so full right now, seeing weddings resume in all of their happiness, joy and beauty.  These beautiful images, featuring bride Rebecca in her 'Amber' gown, by Suzanne Neville, epitimose all the joy and newlywed excitement.
Please welcome sports journalist and broadcaster Rebecca and Luke, who works in finance. They wed on 29 May 2021 in the beautiful Farm Street Church in Mayfair with a glamorous, flower-filled reception at Kimpton Fitzroy, Bloomsbury, London.
The couple had originally planned a black tie New Year's Eve wedding in the Fitzroy's ballroom but its Palm Court orangery was the perfect place for their pared-back spring celebration with a small group of guests.
The bride chose a sleek, fitted, long-sleeved gown with cut-out back from Suzanne Neville.
"I had the most incredible experience with the ladies at Suzanne Neville, particularly Hattie who was with me from my very first appointment right through to collecting the dress."
Paulo Santos Photography

+ Follow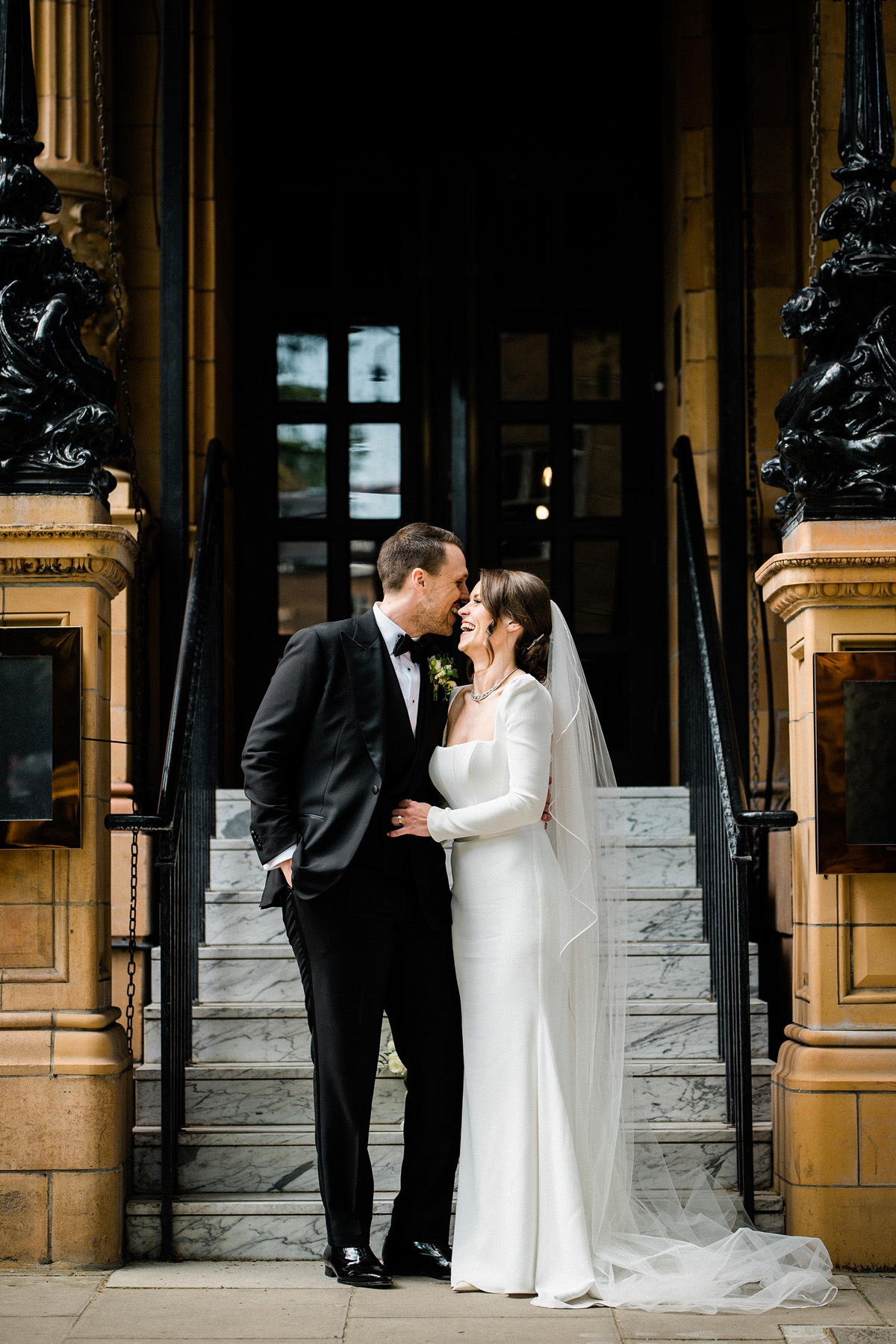 "It made the whole process so much more enjoyable. I first tried on dresses in December 2019 with my mum and aunt and instantly fell in love with two dresses! One was a traditional, classic dress and the other was a 'Hollywood' style dress that I felt was perfect for NYE."
"At this point, I had planned to wear both – one in the day and one in the evening (this was when the large wedding was still going ahead)."
Kristina Gasperas Makeup Artist, another member of our Wedding Directory, created the bride's flawless and glamorous look, whilst Kasia Fortuna swept the bride's hair up into an elegant up-do.
"Our families also had four other hair and make-up artists from Kristina's team. They were all incredible. This was the third time we have worked with Kristina and Kasia for special family occasions and I can honestly say they get better and better. They are our favourite hair and make-up artists; they're absolute magicians."
"They're also so calm and are a wonderful presence to have before an event – the morning with them was so much fun!"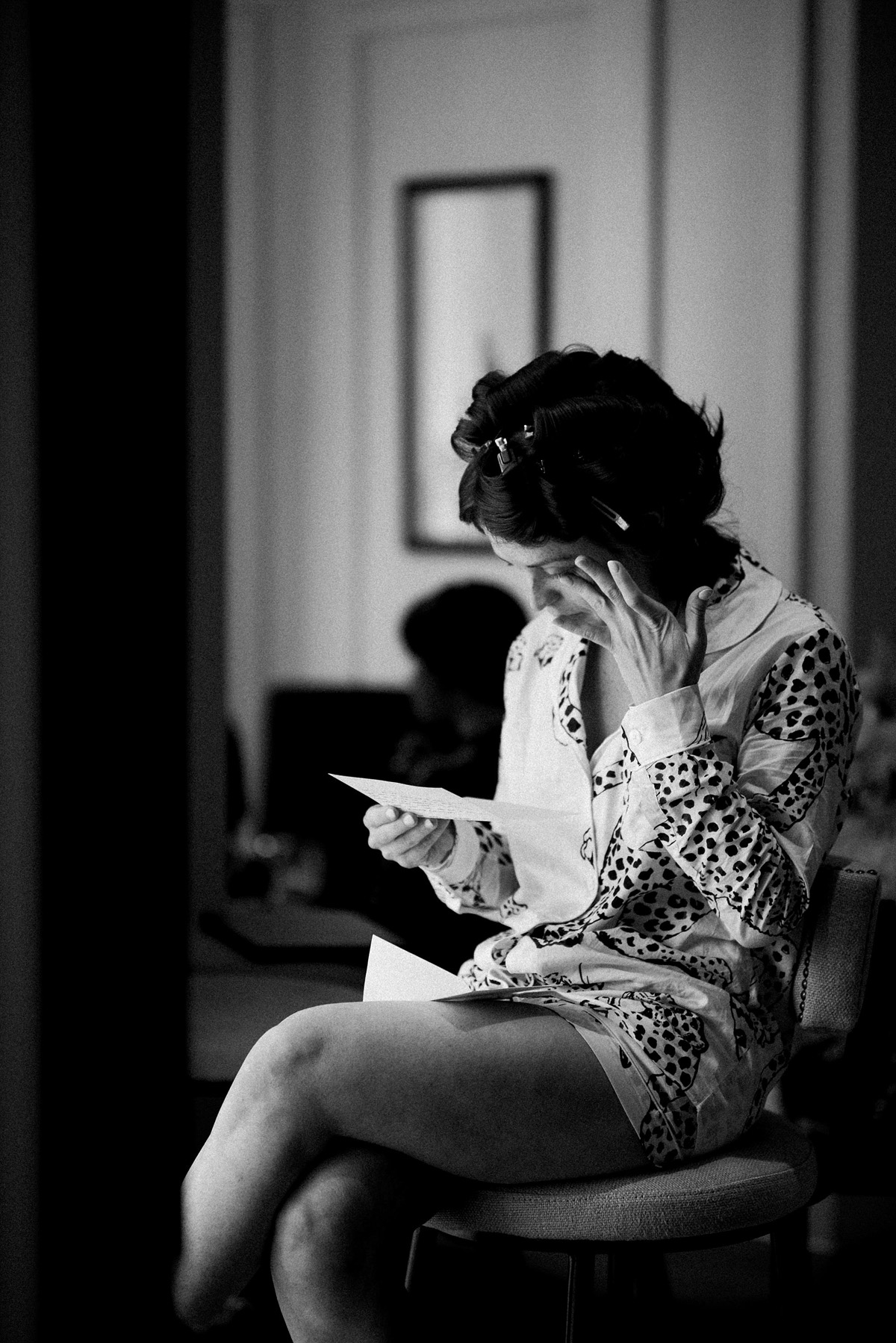 "I went to several other wedding dress shops in London but nothing compared and nothing made me feel as special as the Suzanne Neville dresses. In 2020, after the first lockdown, I returned with my brother and sister-in-law."
"When they cried at the dresses, I knew they were the ones. As the pandemic worsened and we had to inform our guests that we were going ahead with a smaller wedding, I settled on the Hollywood-style dress that I felt was perfect for New Year's Eve.
"My next appointment was with Suzanne Neville herself and I then returned for my next fitting in the autumn. On 19 December, when news broke that we were due to go into a lockdown in London, the ladies at Suzanne Neville called me to say the shop was shut but we decided that it would be good to collect my dress in case the wedding could still go ahead."
"They were incredible at squeezing me in, even though the future was uncertain. It was while we were in the shop that news broke that all weddings (including ceremonies) were to be cancelled and the ladies were simply incredibly kind at such a frustrating time. I was devastated and the staff in the shop were incredible."
"They were so kind and gifted me a ' Suzanne Neville' perfume which I wore on the day to remind me of the wonderful people who helped me."
"When we decided on a new date, I tried the dress on at home and returned to Suzanne Neville to make a couple of minor tweaks and to have the dress steamed as it had been in my house for the past four months. They were wonderful at each appointment then too – even when I wobbled that the dress was too tight. I eventually took the dress home a matter of weeks before the wedding."
"Being a large chested lady, I was thrilled that there were built-in corsets so I didn't have to worry about a bra. The style of the dresses perfectly suited the vision I had for our initial NYE wedding, but it eventually worked perfectly with our spring wedding as it was so glamorous – exactly the vibe I was after."
Rebecca added a waterfall veil, also from Suzanne Neville, and Jimmy Choo heels.
"I tried these shoes on in the Suzanne Neville shop when trying on the dress and instantly fell in love with them! They are such a special pair of shoes and so comfortable."
"My sister-in-law's mother lent me a beautiful diamond and sapphire pin to wear in my hair. It is a family heirloom of theirs and my sister-in-law had worn it to her own wedding. It was such a special piece and was also my 'something blue'."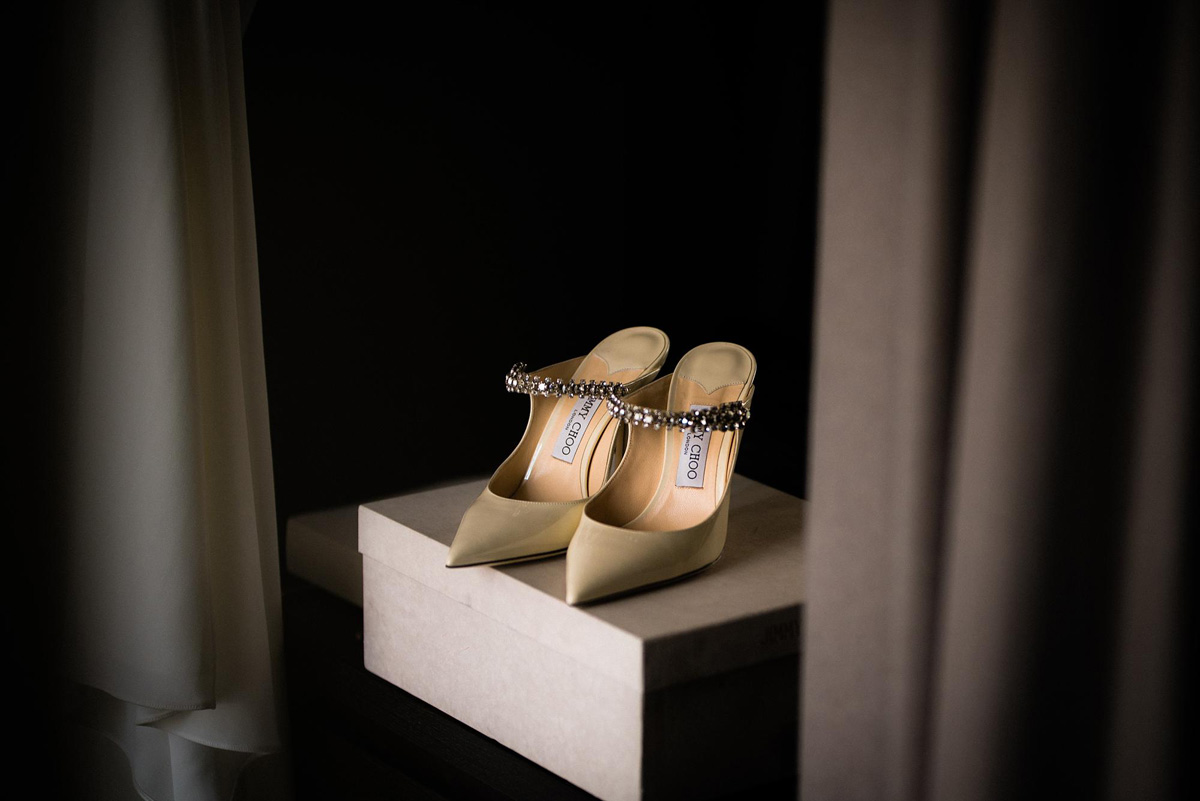 "I was lent the most stunning diamond necklace by a friend. My brother and sister-in-law brought me a beautiful diamond bracelet and I wore some diamond stud earrings. I felt all the diamonds matched the style of the dress perfectly."
"My incredibly thoughtful friend, who arranged the necklace, also sorted a silver locket for my bouquet with a picture of my two grandmothers who had sadly passed (one recently). It was so touching to have that on my bouquet on the day."

Kristina Gasperas Makeup Artist, another member of our Wedding Directory, created the bride's flawless and glamorous look, whilst Kasia Fortuna swept the bride's hair up into an elegant up-do.
"Our families also had four other hair and make-up artists from Kristina's team. They were all incredible. This was the third time we have worked with Kristina and Kasia for special family occasions and I can honestly say they get better and better. They are our favourite hair and make-up artists; they're absolute magicians."
"They're also so calm and are a wonderful presence to have before an event – the morning with them was so much fun!"

"London is very special to us and we knew we didn't want to get married anywhere else. We chose the church as it had such a stunning interior and the community and priests were so incredibly welcoming."
"We absolutely loved getting married there. "We wanted a central London wedding that oozed glamour and the Kimpton Fitzroy ticked all the boxes – it is a truly stunning hotel."
"Our original save the dates, postponement letters and order of service were from Mount Street Printers. We were recommended this traditional printers in Mayfair and we're so glad we went with them."
"The quality of the stationery was incredible and tied in so nicely with our theme. The staff were also so friendly and helpful with every request and change we made."
"We had originally planned for a black-tie New Year's Eve wedding in the ballroom, with a drinks reception in the beautiful Palm Court, but when we rearranged it due to Covid the beautiful orangery-type space of Palm Court fitted our bill perfectly."

Luke wore a custom made three-piece tux from Suit Supply, London, with Suit Supply patent black shoes and a satin bow tie from Tom Ford.
"Luke's grandad passed away suddenly at the beginning of this year so Luke wanted to honour him and chose to wear his cufflinks on the wedding day."

As Rebecca shares, their wedding planning took many twists and turns due to Covid and the ever-changing restrictions.
"We returned to the UK in September 2019 and had planned to get married on 31 December 2020. As the pandemic wreaked havoc across the world, we made the difficult decision in the summer months to reduce our wedding to a much smaller affair, with just immediate family and our bridal party."
"We wrote letters to all of our original guests to explain our plans. As winter arrived, there was even more uncertainty."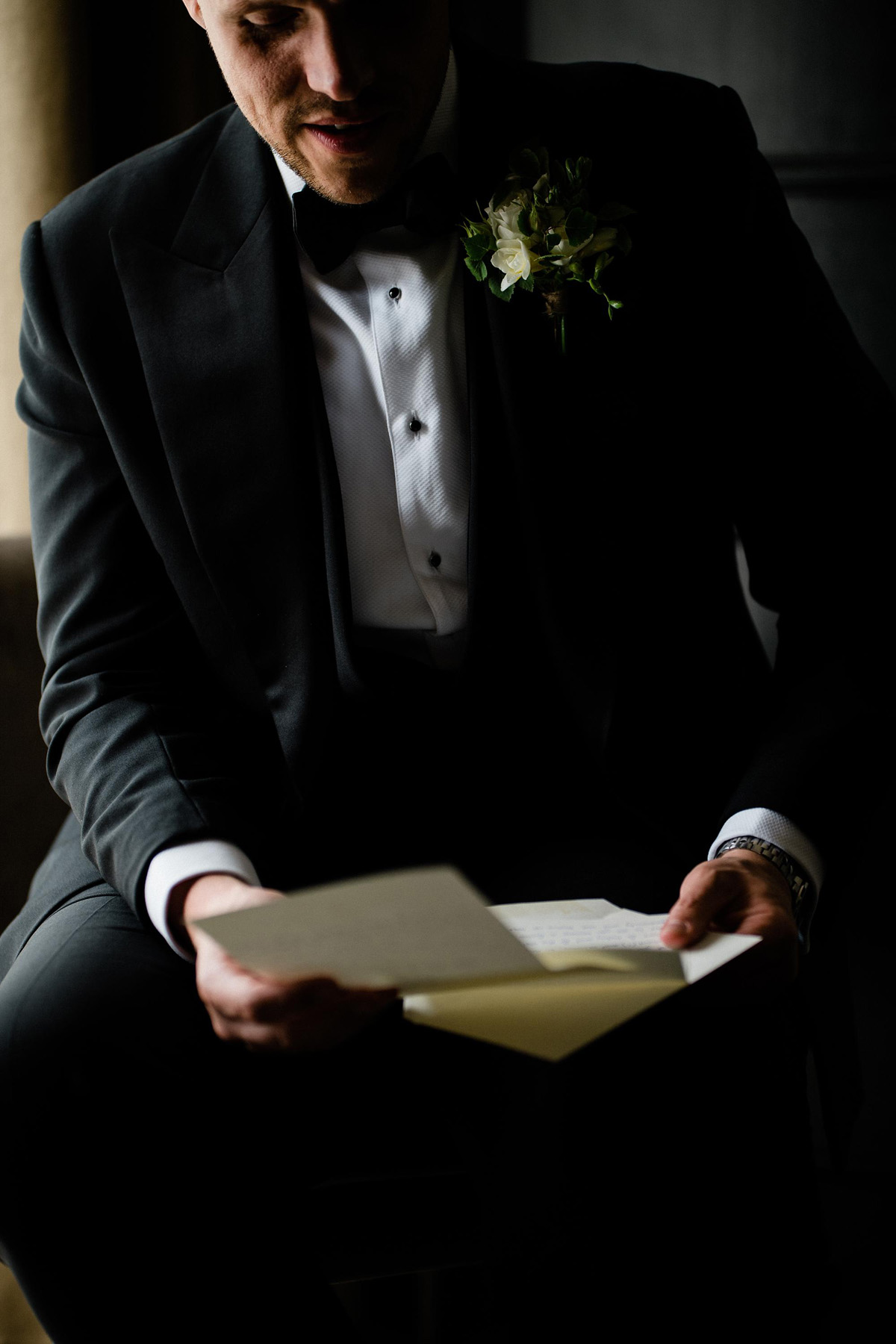 "We met with the venue and agreed we would go ahead based on a certain number of guests."
However, it became clear in November that we wouldn't be able to have as many guests so we were devastated at having to cancel. As our date edged ever closer, we decided we still wanted to get married in whatever shape or form we could, so we decided to stick with our church wedding and have a reception at my brother's house."
"We put all of the plans in place with suppliers."
"By this point we had to drastically reduce our numbers four times to accommodate the ever-changing rules and the plan was to get married in front of our immediate families."
"Just twelve days before we were due to get married, London was plunged into lockdown and we were forced to cancel every aspect of our wedding. Our wonderful wedding planner liaised with all of our suppliers and took the stress out of our hands in what was a very challenging time. Luke and I still managed to enjoy plenty of champagne and even some fireworks on what would have been our wedding day."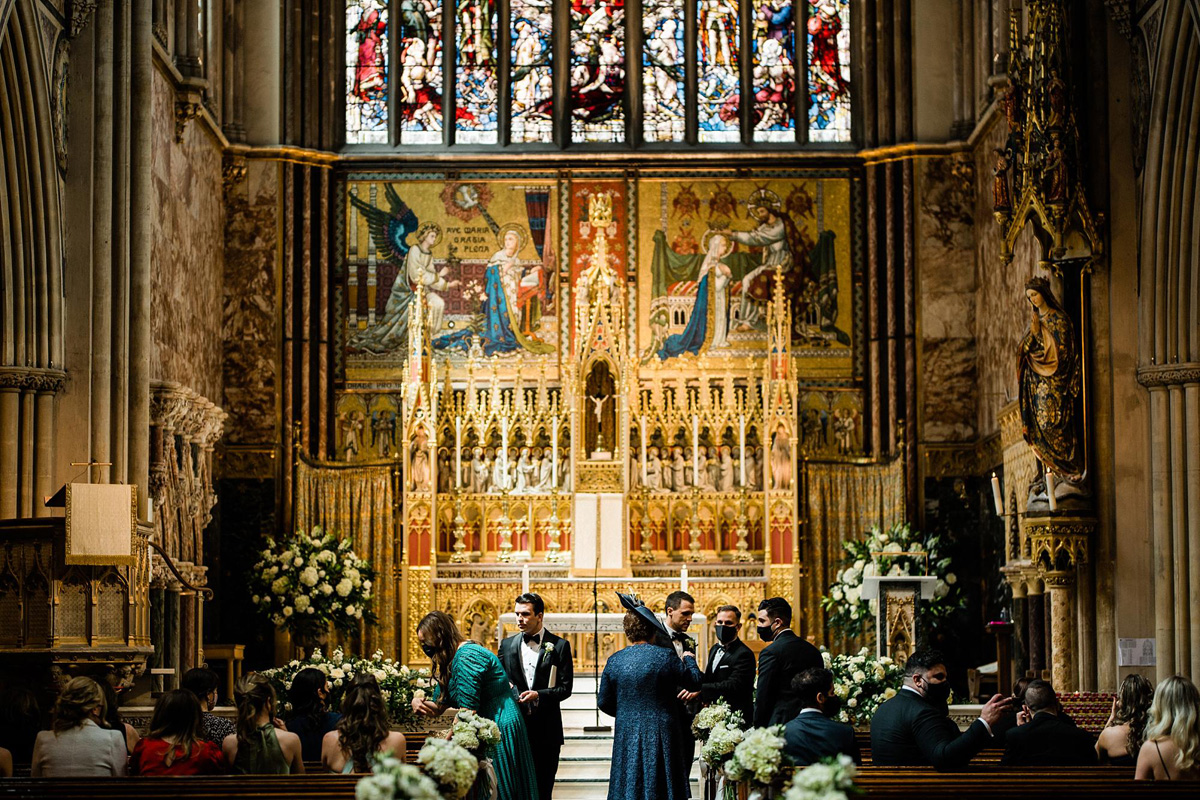 "As 2021 rolled around and restrictions begin to slightly lift in spring, we decided that we would go full-steam ahead with getting married as soon as we could and that we would party at a later date. We spoke to the church and they so happened to have availability on Saturday 29 May so we jumped at the chance."
"This was six weeks before the wedding, where guidance was still very unclear, there were lots of restrictions in place and only a handful of guests could attend."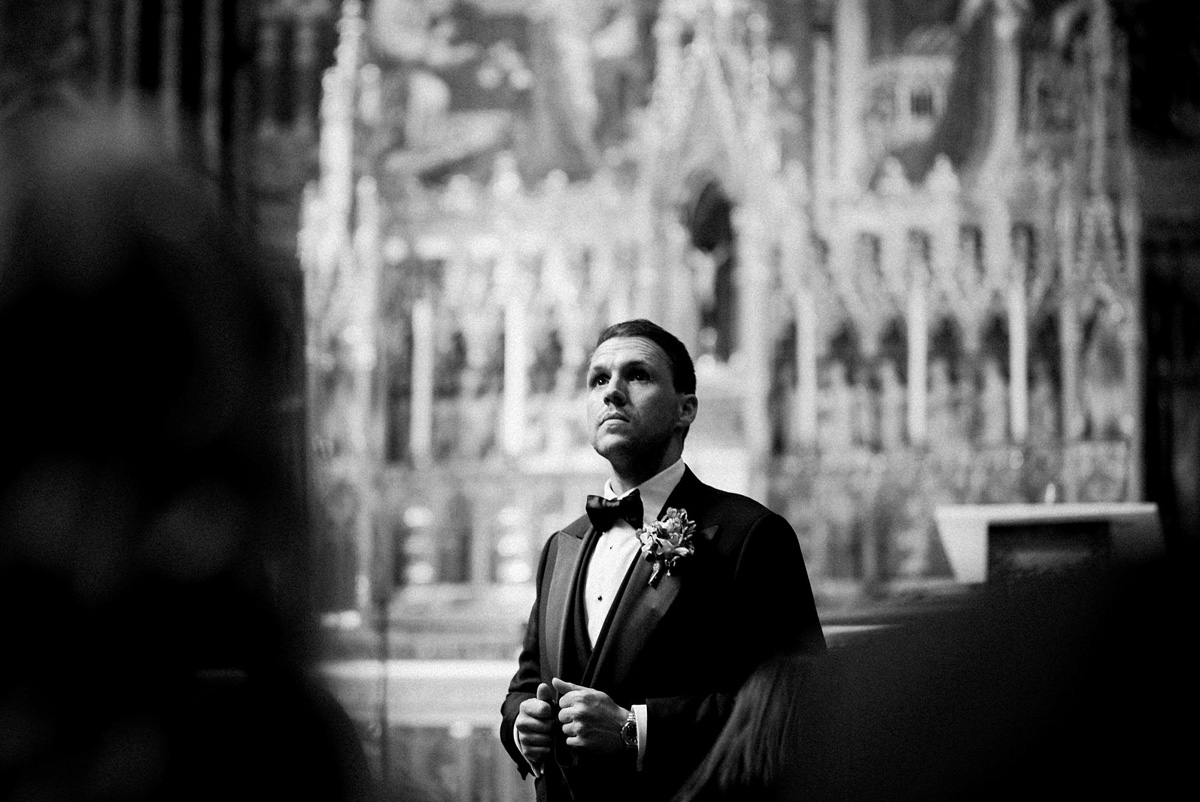 The bride travelled to the church with her father in a Rolls Royce Silver Cloud II.
"The driver was great and we were spent the latter half of the journey talking and laughing about the protests that had got in our way.  My father and I managed to find humour in a frustrating situation and laughed about it just before we walked down the aisle."
"Our wedding car set off at the same time as the car my mother was in from the hotel but we got caught on Shaftesbury Avenue with thousands of anti-lockdown protestors (the last thing we needed the morning of the wedding)."
After twenty minutes, our driver managed to hoot his horn and find a way through the crowds allowing us to get to the church. While it was stressful at the time, my father and I laughed about it as we arrived at the church."
"But we decided it was worth the risk and we wanted to go ahead with thirty. It was a risk that paid off! Our wedding planner set about finding appropriate venues for our reception and we were so unsure as to what we wanted at this point – it felt so far away from our original plans."
When we heard that our initial venue, the Kimpton Fitzroy, had availability on our date, we jumped at it. It felt like it was meant to be and everything had come full circle!"
"Emma, our wedding planner, dealt with all of the logistics and went about contacting our suppliers to check they were available for the new date."
"The only supplier that we had any issues with were our photographers. They clearly had another wedding, but refused to admit it and claimed we now weren't a 'good fit' – they even kept our deposit."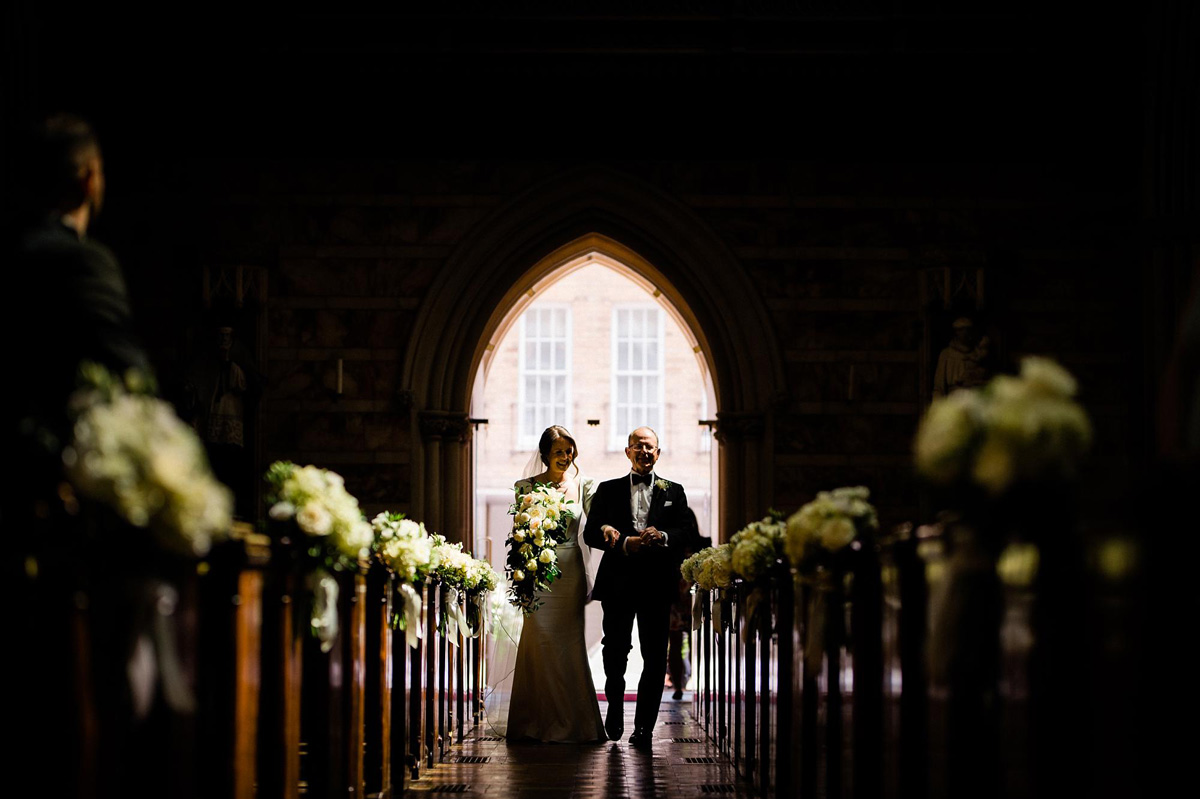 "We were so grateful that we found a new photographer, who was recommended by our videographer. Paulo turned out to be one of the best people we worked with – his photos were incredible!"
"We had to ensure all of the guests and suppliers provided all of their information for track and trace and we encouraged them to take a lateral flow beforehand, for everyone's safety."
"
"Father Christopher Pedley, a priest from Farm Street church, officiated our ceremony. He was so wonderfully accommodating throughout the run-up to the wedding and really put us at ease."
""Our rehearsal was pain-free and we knew we'd be comfortable on the day thanks to it. He delivered a wonderful wedding for us."
"We had a Catholic wedding but due to Covid restrictions it was much shorter than a traditional one."
For example, there were no bidding prayers and we could only have three hymns. We exchanged traditional church vows and didn't tailor them."
"My mother and Luke's sister both did readings. They are both wonderful readers so their voices really carried in the large church."
"My mum read a traditional Catholic reading, 'Letter of Paul to the Corinthians', which is specifically about marriage."
"My sister-in-law read the 'Apache Wedding Blessing', including the extended version where it talks about travels and adventures together, as we felt that was very appropriate for us."
"Our very close friend is a jeweller who helped us with our rings. It was so special to have her involved as she had helped Luke select my engagement ring."
I wanted a gold wedding band to complete the set (as my engagement ring is a diamond with gold band) and it sits perfectly underneath my other ring."
Luke also opted for gold and went for a chunkier band.  We chose gold as my parents have gold rings too."

After being declared husband and wife, the newly-weds headed out into the London sunshine and, with their guests, piled into a London bus to get the celebrations started.
"We decided that we couldn't get married in London without a red Routemaster bus."
"We didn't want it just to transport our guests, we wanted to turn it into a party so we created party bags with snacks, sweets and soft drinks in for the journey and had our wedding planner on hand to give our champagne."
"The bus is now referred to as the 'party bus' as we had both floors singing and dancing, with the music blaring. Every time we stopped, passers-by would stop and cheer, some even asked to get on. It was one of the best decisions we made."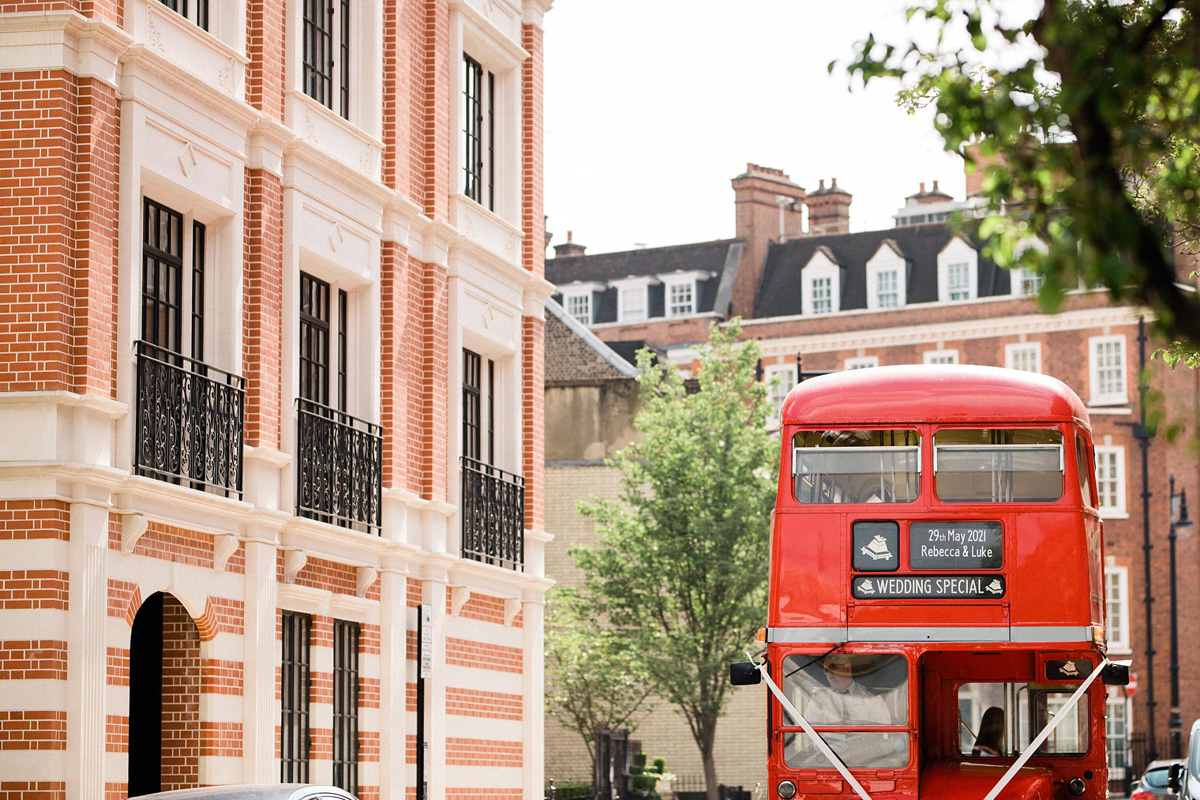 The couple found Paulo Santos Photography through their videographer and we've had the utmost joy to share his work on our pages before. We are so pleased to recommend him and his artistic, emotive and contemporary work via our Wedding Directory.
"We were recommended Paulo Santos by our videographer and it was undoubtedly the best suggestion we were given. We absolutely loved the style of our videographer so when he suggested Paulo we knew we would be getting an incredibly artistic photographer."
"After checking out his website and his Instagram, we were so excited to chat to Paulo. A matter of weeks before the wedding we scheduled a call and it's safe to say we finished the call feeling very excited."
"Paulo immediately put us at ease, we loved his energy and vibe, and we loved the fact that he'd even looked us up on social media too so we ended up chatting about our shared love of travelling!"
"Paulo's vision for the day and meticulous planning made the whole process incredibly pain-free."
"Paulo and our videographer Richard arrived with such energy and enthusiasm in the morning that they fitted in seamlessly with our small crowd."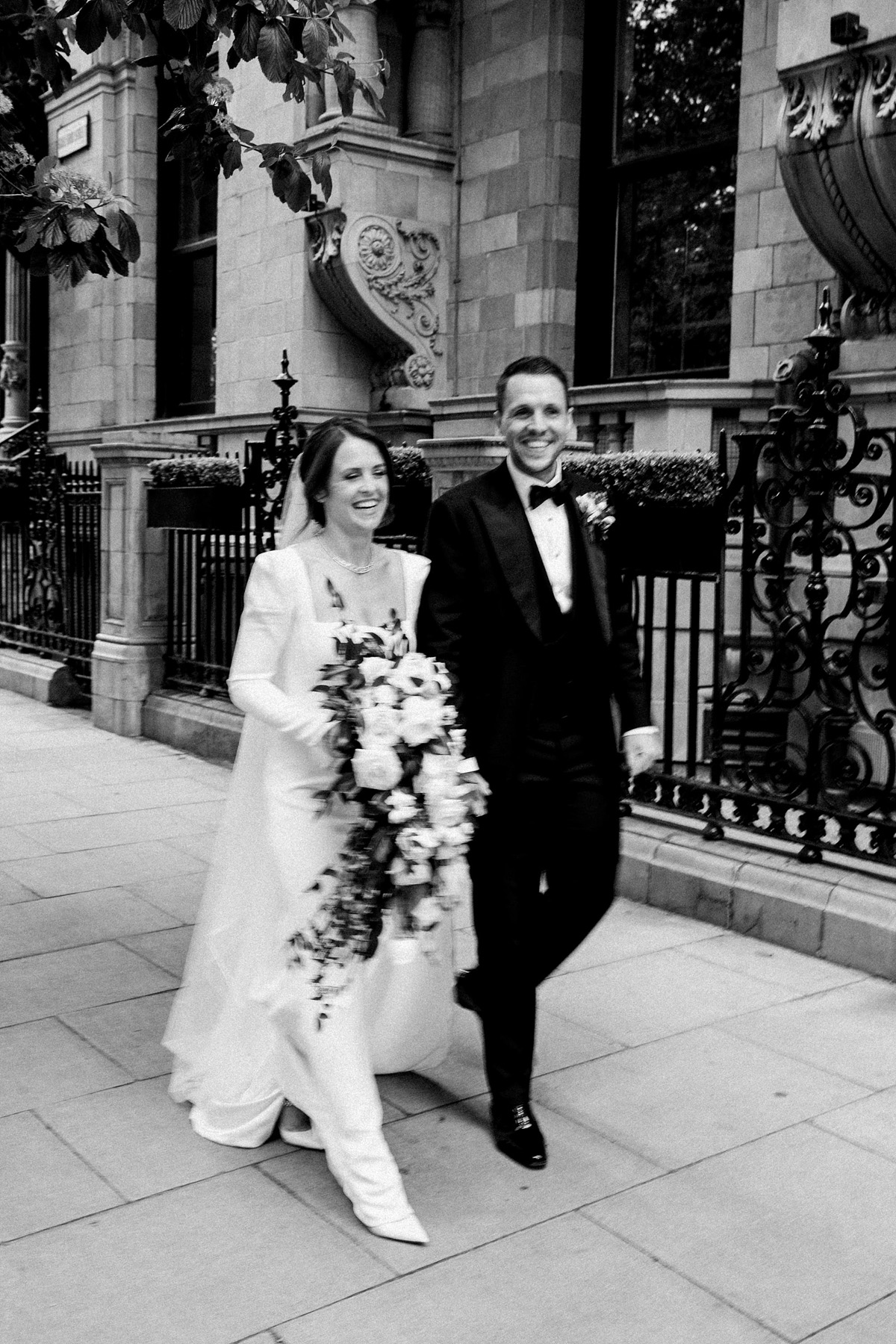 "They were also so sharply dressed! Paulo made us laugh, made us comfortable (particularly Luke who isn't a huge fan of having his picture taken) and made the whole day even more memorable – especially considering how well the photos capture the essence of the day."
"Without a shadow of a doubt, we would recommend Paulo to anyone! We're also really hopeful that we can work with him again – that's how much we loved him."

Each detail was captured by RL Films Co.
"We spent ages looking for a videographer before Luke found Richard and we instantly fell in love with the style of videos he produced. Our video is simply beautiful!"
"It's so artistic, beautifully shot and really captures the essence of the day – it's safe to say we both cried watching it, as we felt we were reliving the day."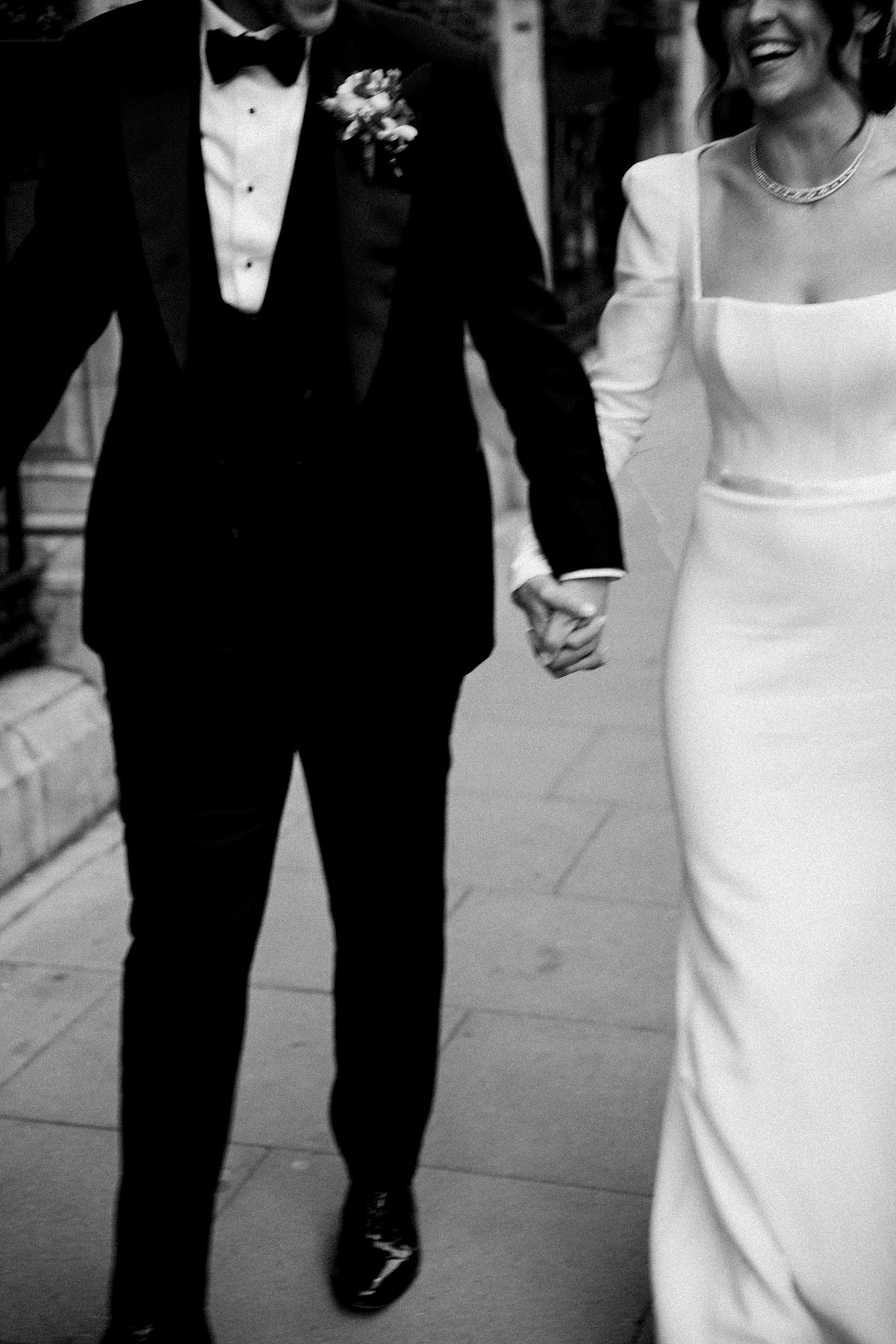 "The video was everything we wanted and more! Richard couldn't have been more awesome to work with if he tried. "
"Paulo and Richard were the ultimate tag-team on our actual wedding day and were amazing to work with."
"They really did make our day, subsequent photos and videos even better than we could have ever imagined."

Palm Court at the Fitzroy had been transformed by all of those wonderful flowers and some other touches too.
"Palm Court itself is pretty stunning but we decided to flood it with flowers – my father did the drinks reception and evening area flowers and we also had an abundance of candles around them."
"The other two florists did the central area where we ate and that was covered in stunning flowers."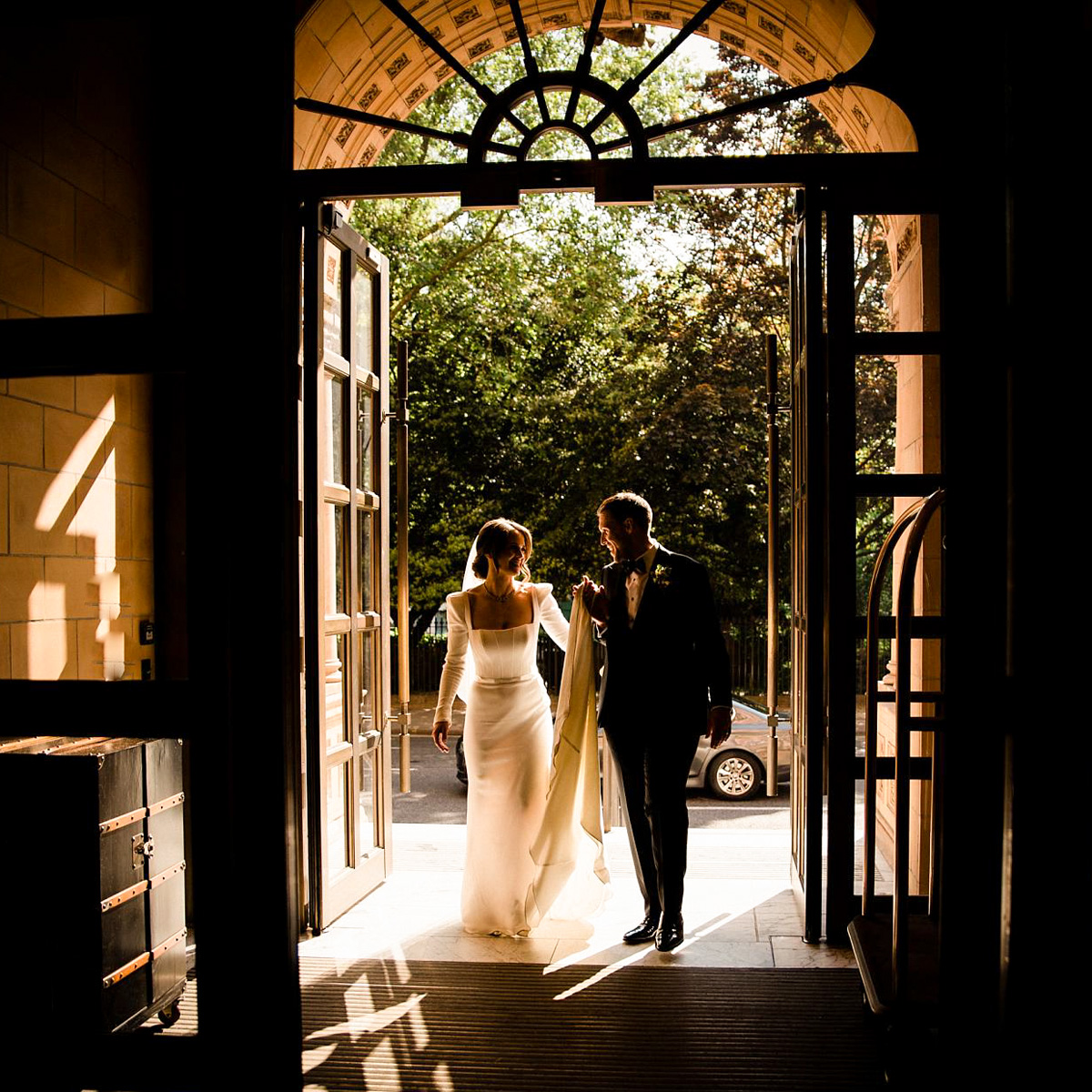 "We hired Louis chairs from Great Hire to tie in with our theme. We selected textured table cloth and contrasting napkins from Just 4 Linen and a gold charger plate, with pearl and gold crockery, from Great Hire."
"We inserted a pop of colour with our menus and placecards and used purple and pink uplighters around the dance floor to change the mood – while we had warm cream and green ones in the rest of the areas."
The uplighters were provided by Premier AV. We only engaged with them a week or two before the wedding and they went over and above to accommodate us."
The couple worked with wedding planner Emma Murray Jones Weddings And Events to plan and style their day, using masses of opulent white flowers for a fresh but glam look.
"Emma had worked with my brother and came highly recommended – she was simply incredible! She's quickly become a go-to planner for any family celebration."
Over to Rebecca to explain more about their vision.
"Farm Street Church's florist was with us through each adjustment and cancellation and Helen Aristidou of The Flower Shop couldn't have been lovelier. We exchanged pictures, ideas and costs each time and the flowers she delivered on the day suited the church and our style perfectly. They smelt and looked amazing."

"The venue florist was Pascal Lavorel. Pascal has worked with our family for many of our special occasions over the last few years and each time he leaves us amazed with his arrangements: the wedding was no different. We only booked his services a few weeks before the wedding but he absolutely understood our vision perfectly and went above and beyond."
Pascal was responsible for the top table flowers, the cake table, the petals around the room and he also worked with Luke to deliver me the biggest and most beautiful bouquet I've ever seen on the morning of the wedding."
"The second florist at Kimpton Fitzroy was Emma Soulsby Flowers. We wanted opulent flowers and an abundance of them. Emma certainly delivered! Emma is one of the recommended florists at the hotel and we met with her way back for our initial wedding. In fact, Luke met her and loved her energy and vision that we booked her without me even having met her.  Emma adapted for each of our planned weddings and had plans to bring each room to life for each one."
"When we eventually settled back at the Kimpton, in Palm Court, we knew Emma would have plenty of vision. When we spoke about wanting height with candelabras on one of the long guest tables, Emma gave us ideas and on the day absolutely smashed it! She also created beautiful variety on the other tables and created height with vases of different sizes and tapered candles. I cried when I received my bouquet as it absolutely blew me away and the flowers in the room were similarly impressive."
"We ended up having a lot of flowers, but the smell and the vision that they created was just perfect."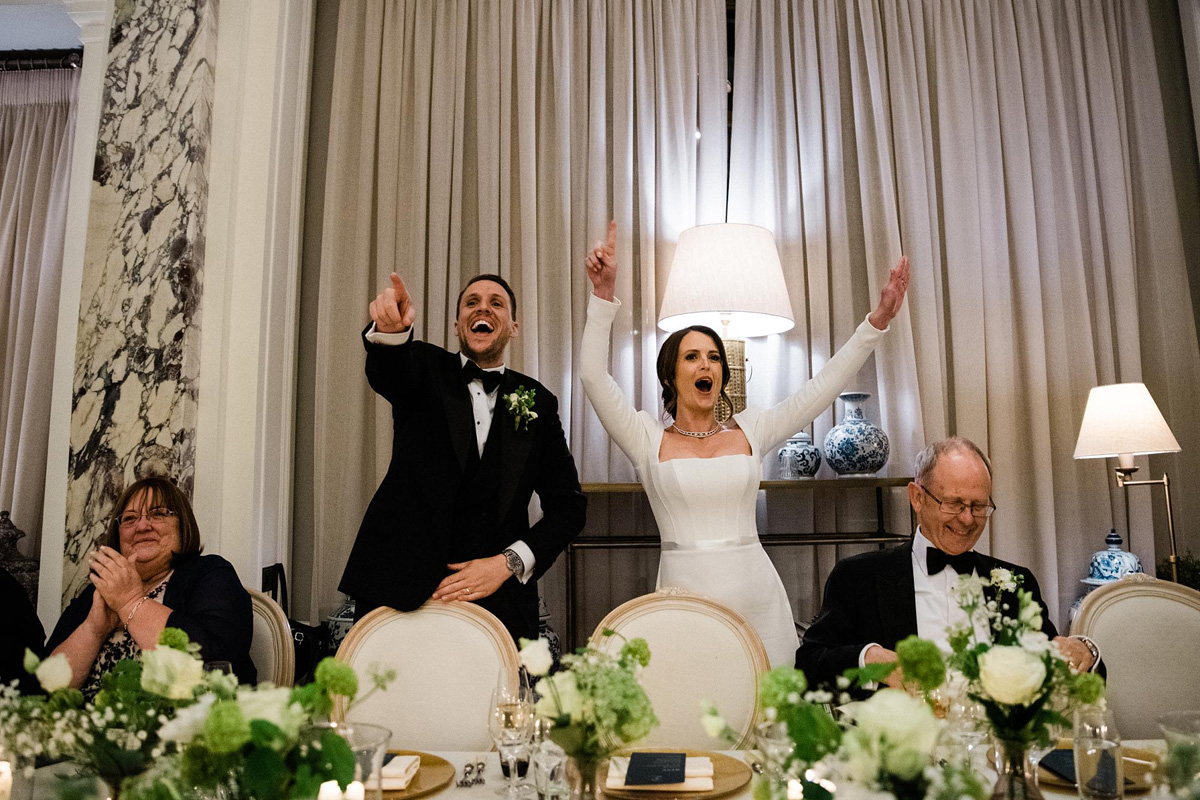 During the reception drinks, the couple had classical musicians from Guildhall School of Music playing.
"The cello and violin really fitted the bill well and the musicians were so talented."
"Our place cards and menus were by Dimitria Jordan. We were recommended Dimitria's services by the venue and after seeing a sample, we knew that they would be perfect."
"The colour of the place cards and menus went perfectly with our colours and she personalised each one; they were so well executed.

The tall, ruffled cake was by Mama Gal Cakes.
"We tried miniature cupcakes of Gal's cakes in November when we were deciding on flavours. It was incredibly hard to choose as the flavours were so good! We settled on chocolate cake with toffee filling and salted caramel buttercream, Victoria sponge and lemon drizzle with lemon cream."
"We also had several, additional gluten-free cupcakes made of the same flavour for some guests. With a matter of weeks to go, we decided to alter the design of the wedding cake to be more fitting with a spring wedding and Gal came up trumps."
"We had a four-tier, rouged effect wedding cake with each tier a different flavour. It was sumptuous and looked incredible."

The evening party kicked off with music from live DJ band Truly Medly Deeply.
"They got our party started! For our initial wedding, we had booked a ten-piece band but it wouldn't have worked for our smaller wedding. We unfortunately lost a fair amount of money there. We were recommended Truly Medly Deeply by the hotel and everyone commented on how great they were. They mixed medleys from the eras and genres that Luke and I pre-selected and got all thirty guests up on the dance floor."
"We had originally chosen 'All You Need Is Love' for our NYE wedding. We felt it was very 'us' as we both love the Beatles and Luke was born in Liverpool. But, when we changed the wedding to a spring date, we changed many things including our first dance song."
"We don't actually have 'a song', so we spent a while researching something that we felt was appropriate for us. We eventually settled on 'At Last' by Eta James as we felt it was so poetic with all we had been through with the wedding and summarised that it was worth the wait."
The party continued with sweet surprises before the newly-weds and their guests stayed overnight to prolong the celebrations.
"Luke and I are sweet fiends so we had to have a sweet table and hampers filled with a whole variety of sweets for late-night snacks. We also had cake, sweet dessert evening food and a bar whipping up cocktails to satisfy our sweet cravings!"
"As we held our reception at the Kimpton Fitzroy hotel, our guests and us decided to stay and it was such a treat. The hotel is beautifully decorated, the food and drink impeccable and the staff an absolute dream! We hope to go back as soon as possible."
"We actually don't know the final figure of what we spent, due to everything with the cancellations and almost just 'rolling' with the new date and costs. We anticipate it was over £60,000."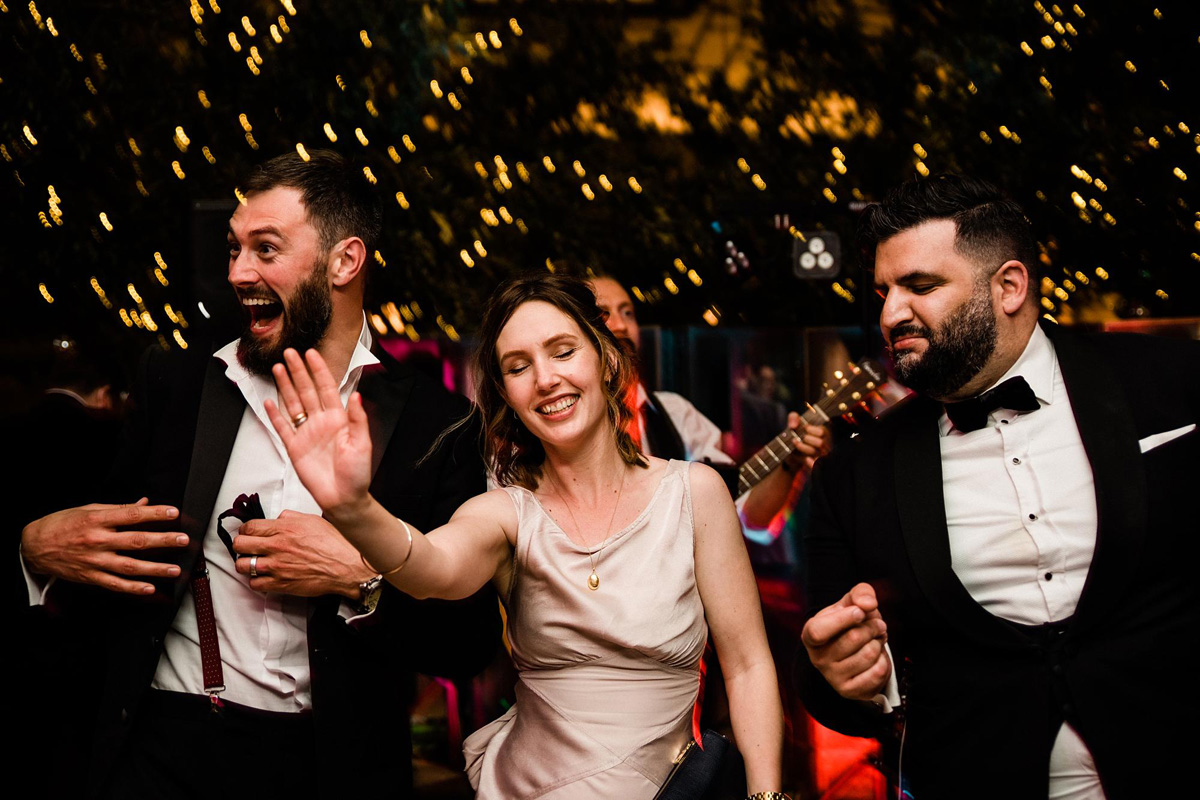 Words of Wedded Wisdom
"Enjoy the process! Even in these uncertain times (where you may have had to plan your wedding several times) try and find enjoyment in the moment, as it really is such a special experience. Work as a team, as it ensures the day is about both of you and is a reflection of you both."
"I would wholeheartedly encourage brides and grooms to have a wedding planner in the build-up to the day to take care of any last-minute stress and dramas. On the actual wedding day, they are worth their weight in gold as it means you are free (and carefree) to enjoy your day."
"I didn't really understand the 'best day of your life' hype before getting married – but it truly is. There's so much love and excitement – plus you're surrounded by all your friends and family who are there to celebrate you and your partner.  Good luck and congratulations!"