We adore Miss Bush here at Love My Dress, so what a pleasure to hear that bride Lottie discovered this utterly brilliant bridal boutique right here.
Lottie tied the knot with George on 2 July 2021 at Millbridge Court near Farnham in Surrey and their day was imbued with a modern, minimal and natural vibe and lots of gorgeous sage green and soft creams. Lottie's gown was a breathtaking design by sought after Spanish brand, Jesus Peiro, that came with detachable puff sleeves, which she removed to effortlessly transition her look from daytime to a very cool and elegant evening vibe.
Olivia Mills Hair & Makeup did the bridal party's make-up and Lottie wore her hair in an elegant up-do for the day.
"Olivia is amazing, so professional yet so fun and relaxed to have on the wedding morning. My make-up stayed on perfectly considering it was so hot as well."
"I would absolutely recommend Olivia – she was so lovely. A family friend did all of our hair."
"I really wanted a uniquely modern dress and came upon Love My Dress. There were so many amazing dresses for me to scroll through and I spent hours reading all the different posts before stumbling upon Miss Bush bridal boutique, which happened to only be a twenty-minute car ride from my parents' home."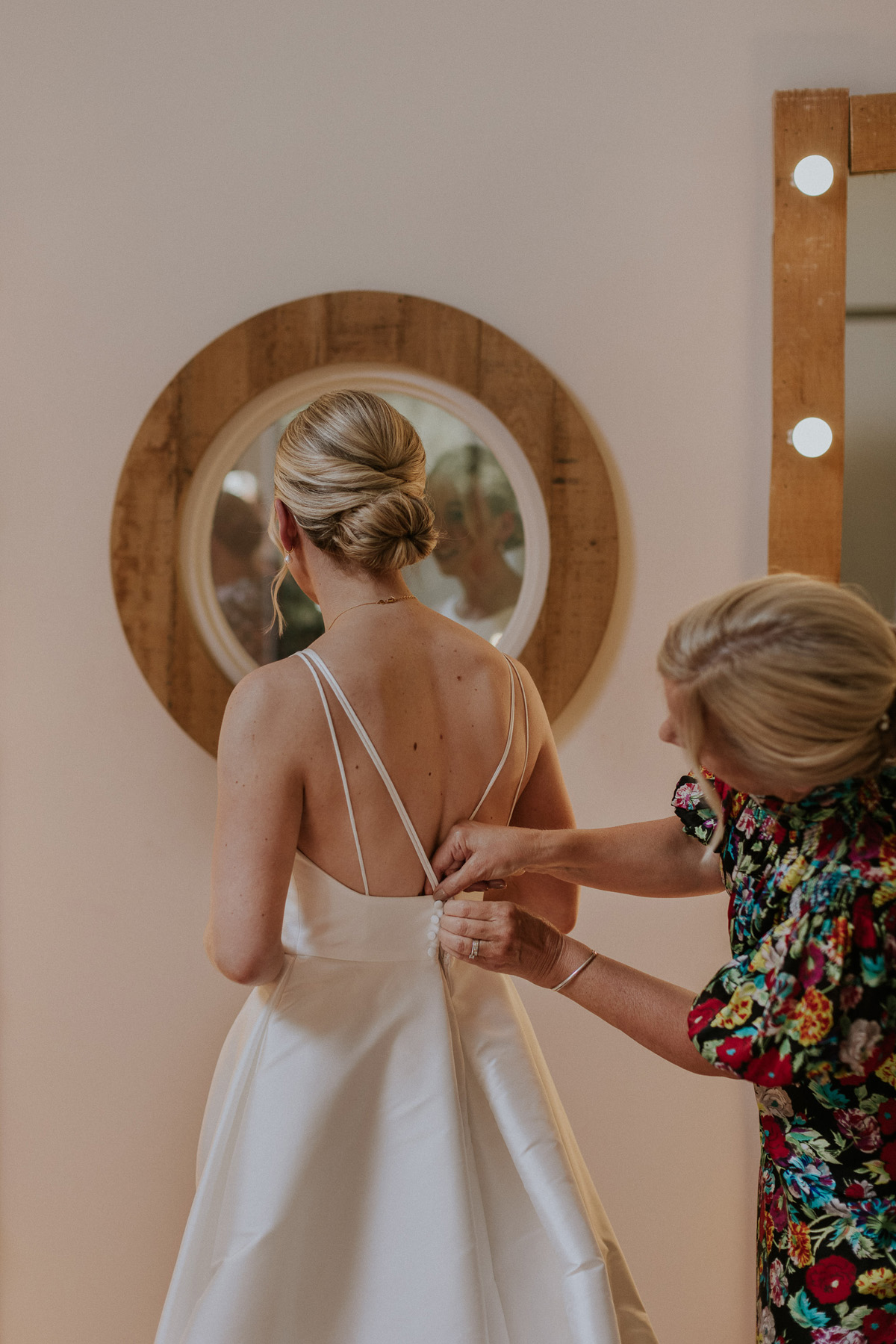 "Miss Bush was the first dress shop I went to and from the moment I stepped into the chapel, I knew this was where I was going to get my dress."
"I wasn't entirely set on the style I wanted and before I arrived, I filled out a dress questionnaire to help the stylists pick out some dresses for me."
"Corrine had picked five dresses for me to try on and the second one I tried was the one! I absolutely loved it and felt completely myself in it. I loved the pockets and the fact that it had a split."
"The only thing I really wanted was some sleeves and that's when Corrine brought out the sleeves, which sold me completely."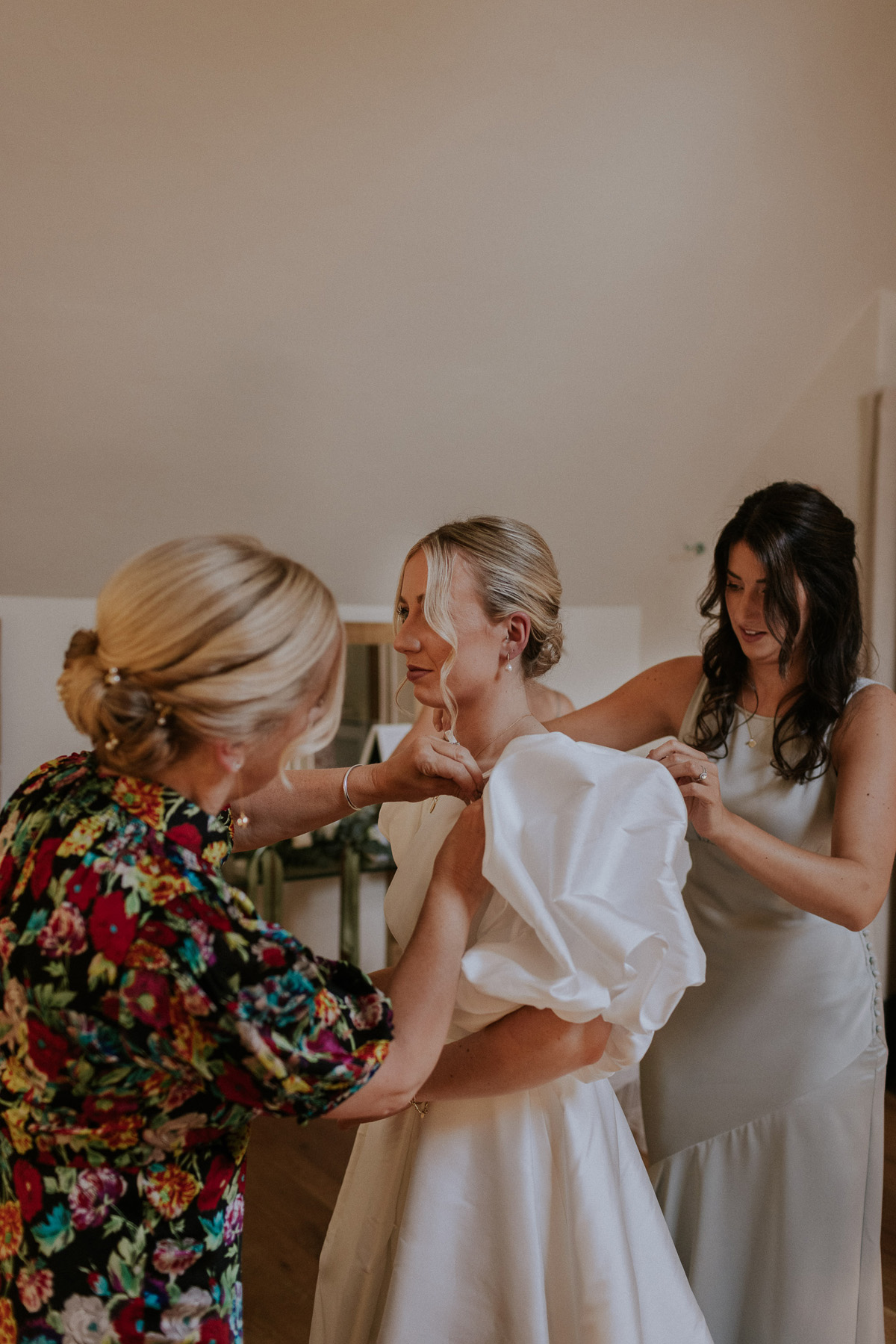 "Miss Bush were so accommodating throughout, from the first appointment and setting up a Zoom call for all my bridesmaids to see me trying on a wedding dress for the first time to storing my dress for those extra months and making sure it was absolutely perfect."
"They encouraged me to be bold and filled me with confidence to be completely myself."
"I really wanted a dress that was completely unique and modern but equally I wanted to feel like myself in it. I also really wanted to wear sleeves but wasn't entirely sure I could pull them off."
"I loved that my dress allowed me to have two completely different looks: the sleeves and hair up for during the day, and sleeves off and my hair down to dance the night away!"
"I was so thankful to take the sleeves off as it was so hot, plus I loved having the element of surprise when I took them off and the dress was completely transformed for a more casual look."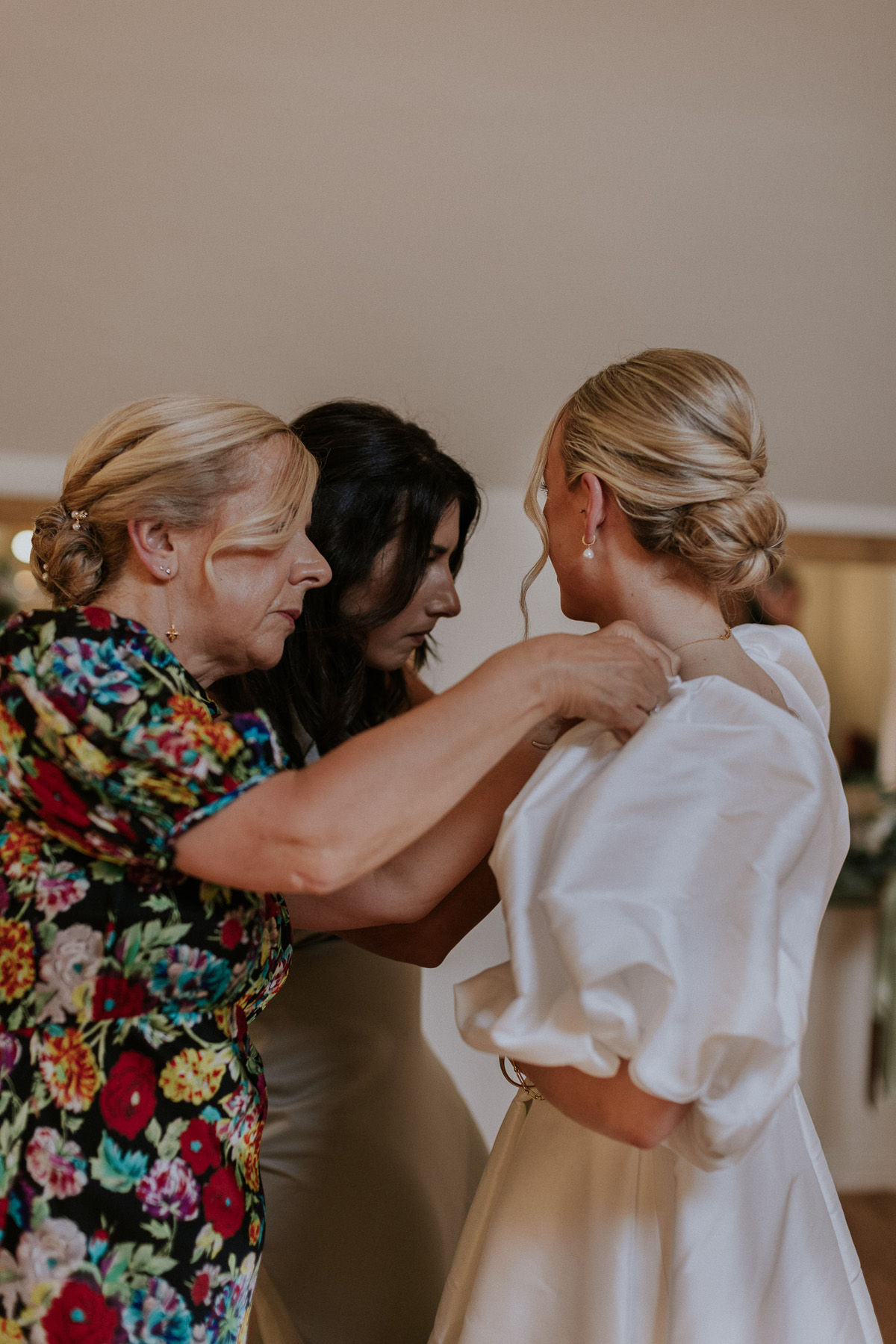 "I wore my grandma's engagement ring on the day which was so incredibly special since she never got to meet George. I also wore a Lily & Roo necklace with my initial on that my auntie gifted me in addition to Lily & Roo gold huggie pearl drop earrings, which were also a gift from my auntie."
"My mum kindly gifted me Jo Malone Peony & Blush perfume as a birthday gift just before the wedding. I have always loved the scent but never purchased it."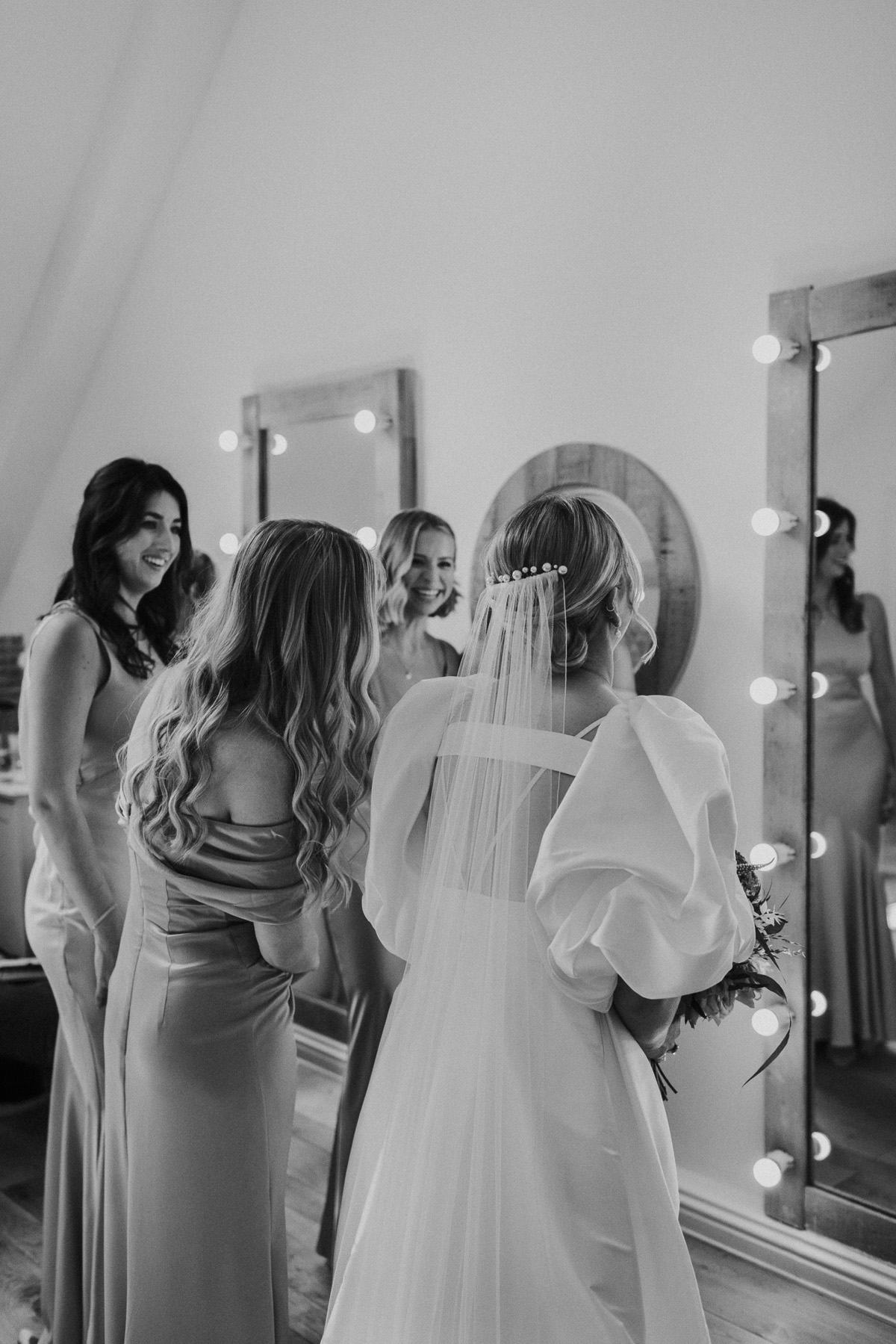 Lottie added a simple veil from Miss Bush and selected sage green heels from ASOS to match her bridesmaids' gowns.
"My veil was super simple as I wanted the sleeves to do all the talking."
"I have a slightly unhealthy obsession with shoes and loved picking these heels, although they definitely weren't for the faint-hearted as they were so high."
The bridesmaids wore a selection of satin gowns in sage green from ASOS.
"They all wore their own shoes and I gifted them a necklace as a thank you from Oliver Bonas – my favourite shop."
"We wanted it to feel more informal than traditional weddings so we picked what we really liked and felt most 'us'."
"I love the colour sage green and wanted everything to feel quite minimal and natural. Our décor was fresh greenery and flowers to keep it simple but modern."
"We decided to have banquet-style dining tables for our meal which was such a fun and informal way for guests to interact and feel comfortable."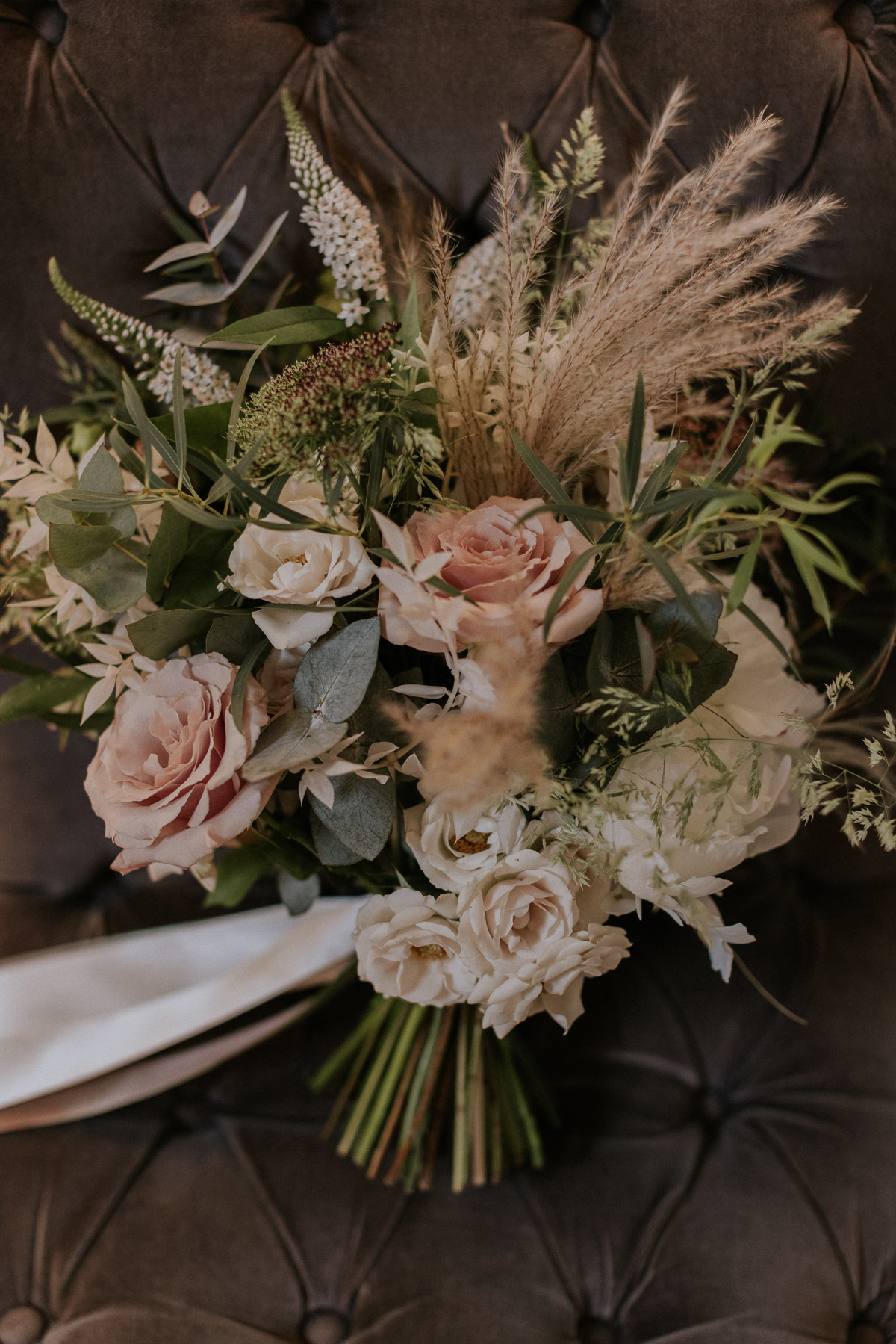 George's suit was Ted Baker from Moss Bros and he complimented it with black patent dress shoes from Dune London.
"We wanted our guests to have the best day celebrating with us so we prioritised ensuring there was lots of good food and plenty of great wine to celebrate the night away.
"My parents are graphic designers and kindly did all the stationery for us."
The bride walked down the outdoor aisle with her father to 'Touch of Heaven' by Hillsong Worship.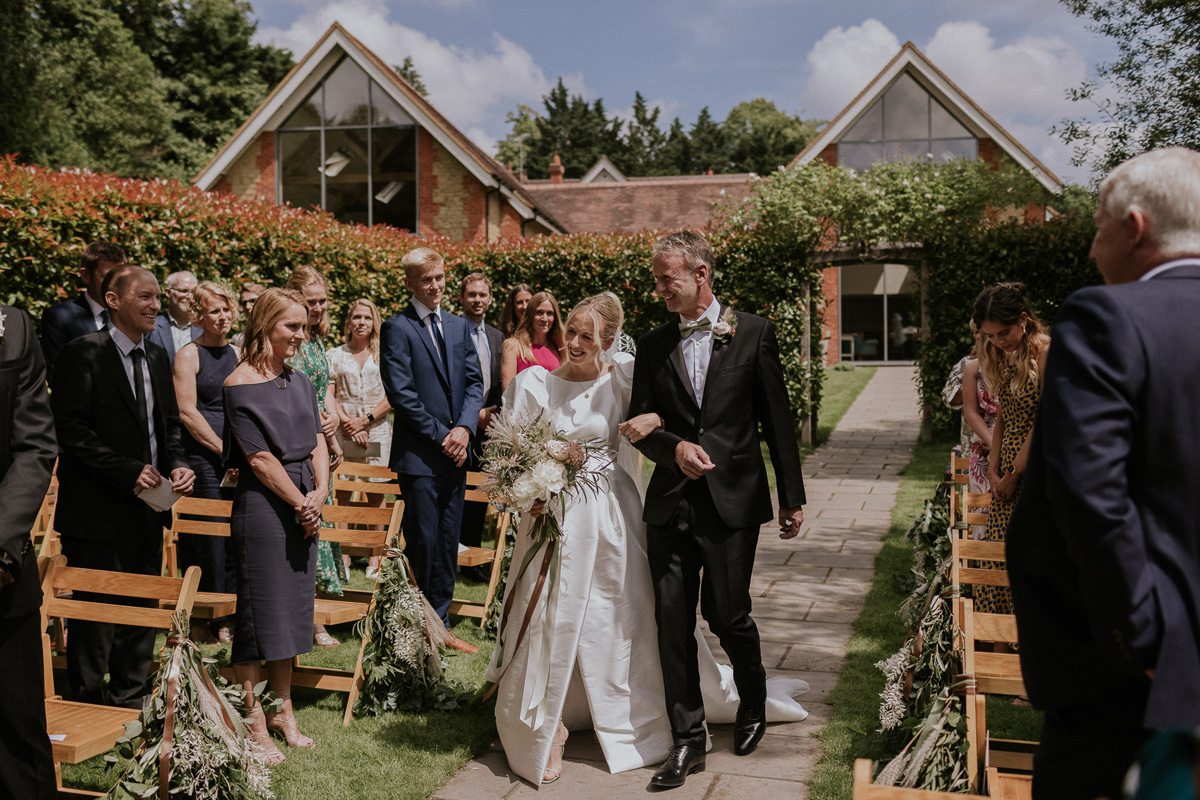 The ceremony was led by the couple's pastor and they spoke vows that they had written together.
"We are so glad we did this as it really affirmed what we wanted to establish the foundations of our marriage on."
"Our wedding bands are from David's Jewellers, a family ran jewellers in Richmond."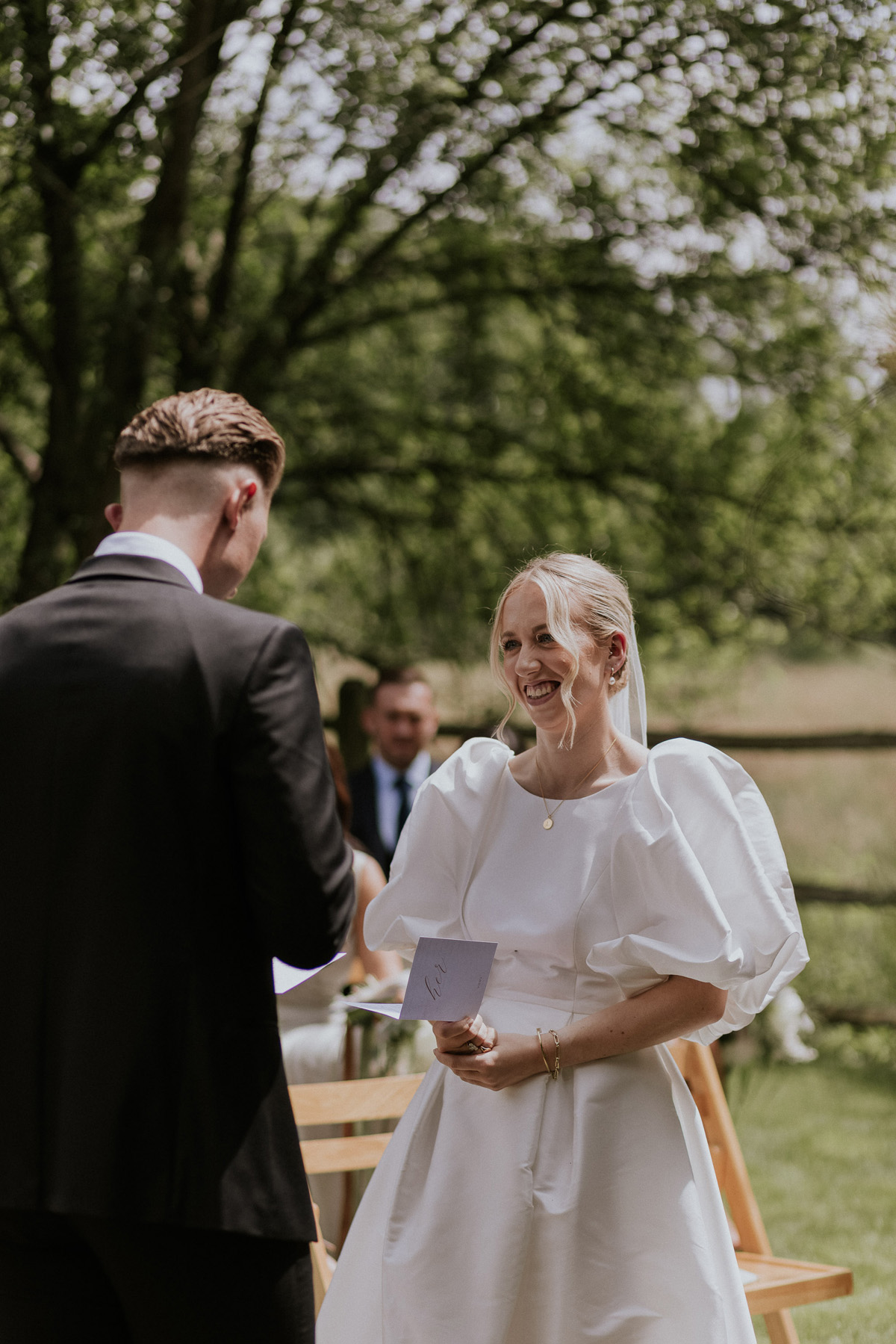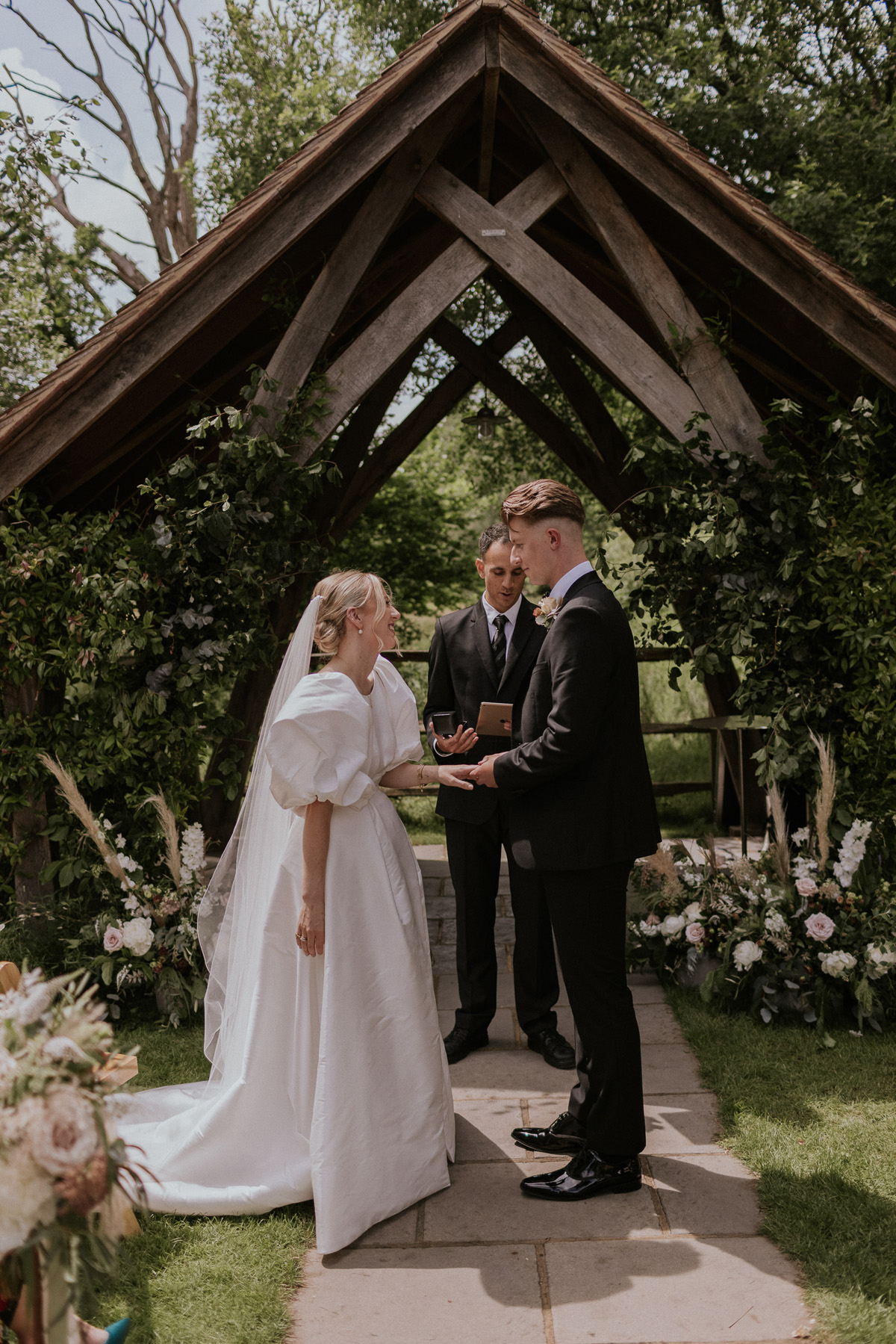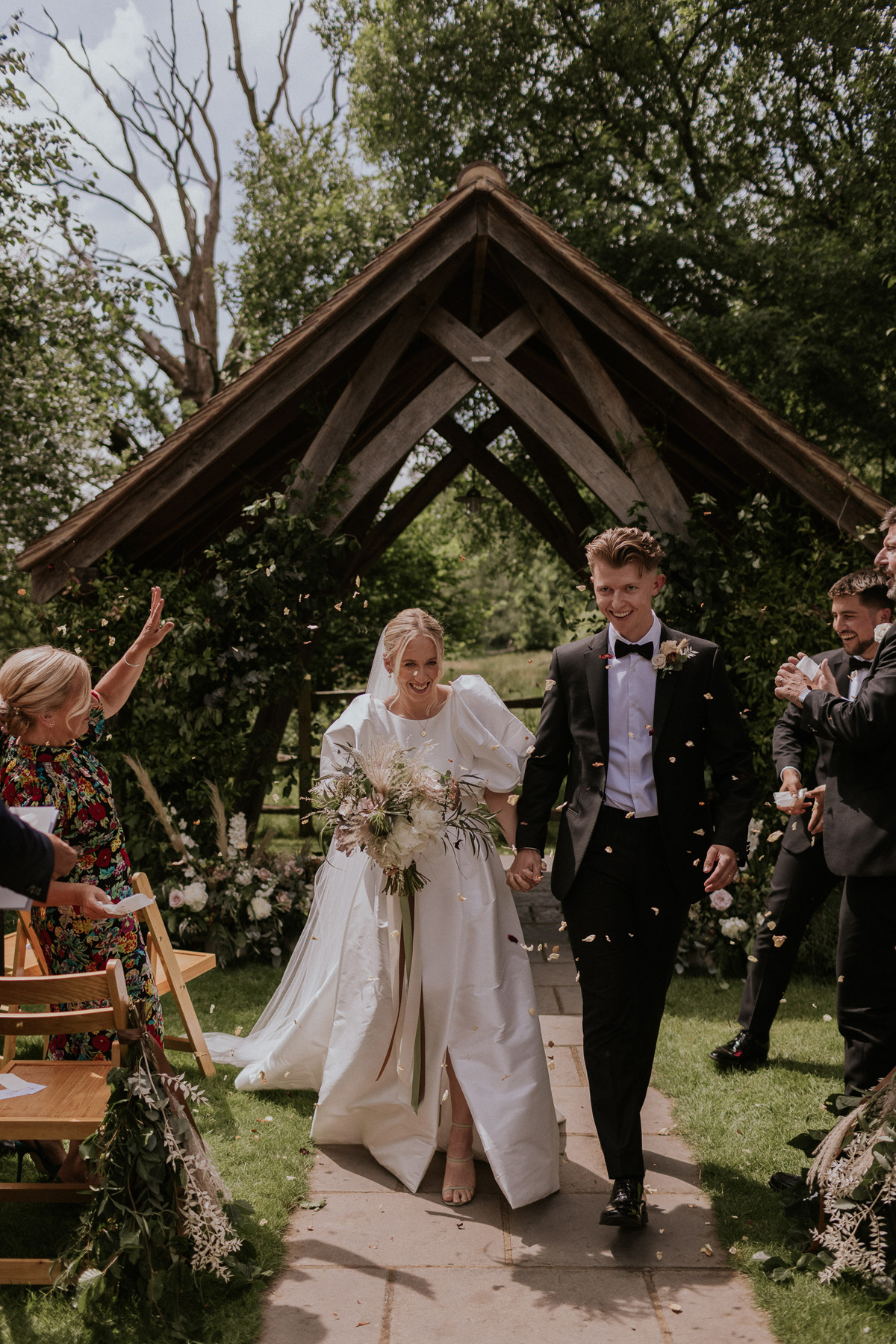 The florals and greenery added such atmosphere to the venue. They were created by Mad Lilies.
"Mad Lilies did our beautiful wedding flowers. They were beyond amazing and nothing was too much trouble even after moving from a winter to a summer wedding, which changed the whole brief."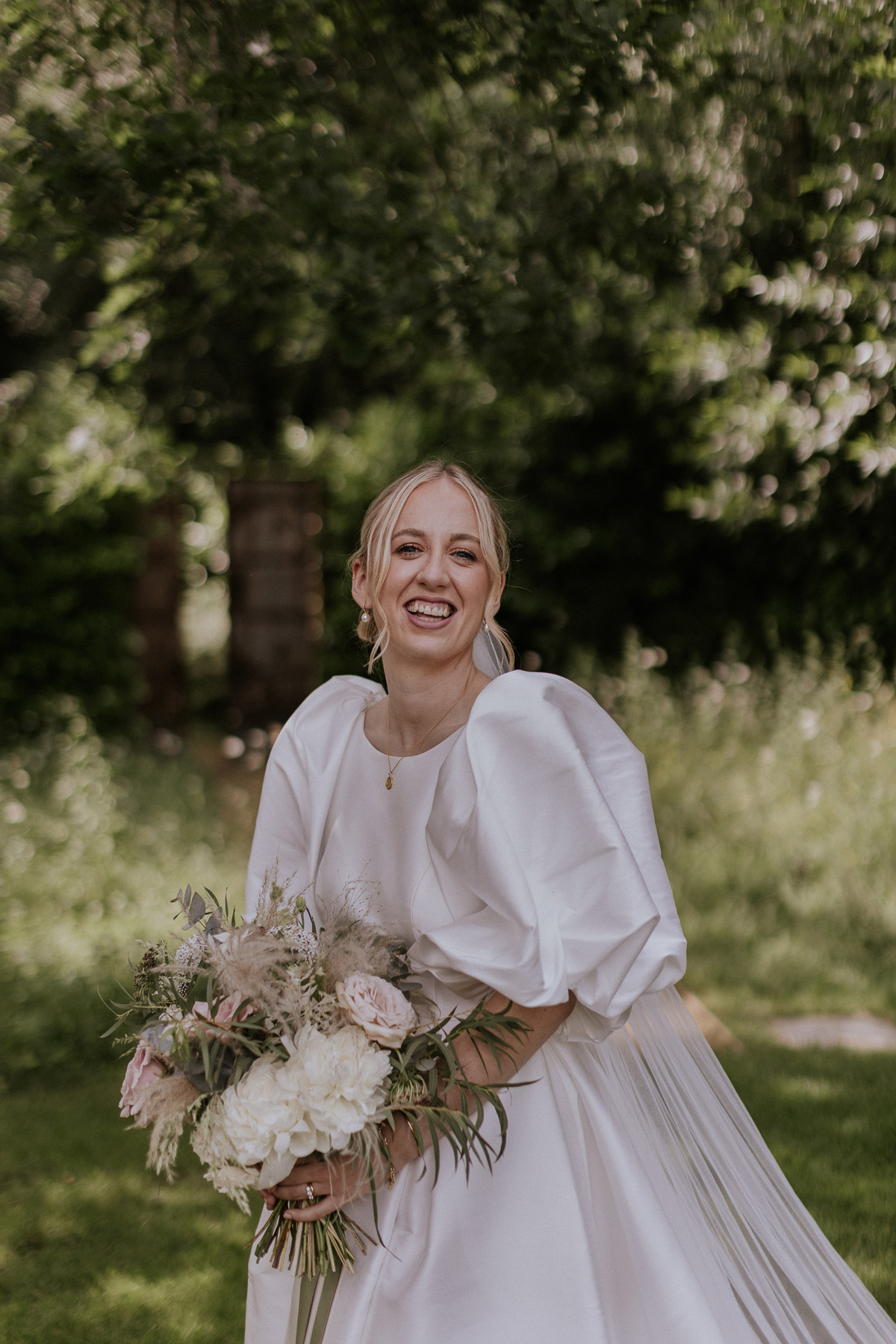 "We decided on Mad Lilies after seeing them decorate another wedding venue. Their creativity is on another level and brought our vision to life."
"They have since become family favourite florists. The best florists in Surrey, Alison (the owner) is incredible and was so kind and encouraging throughout."
"Since the flowers were our only decorations, they brought the whole venue to life."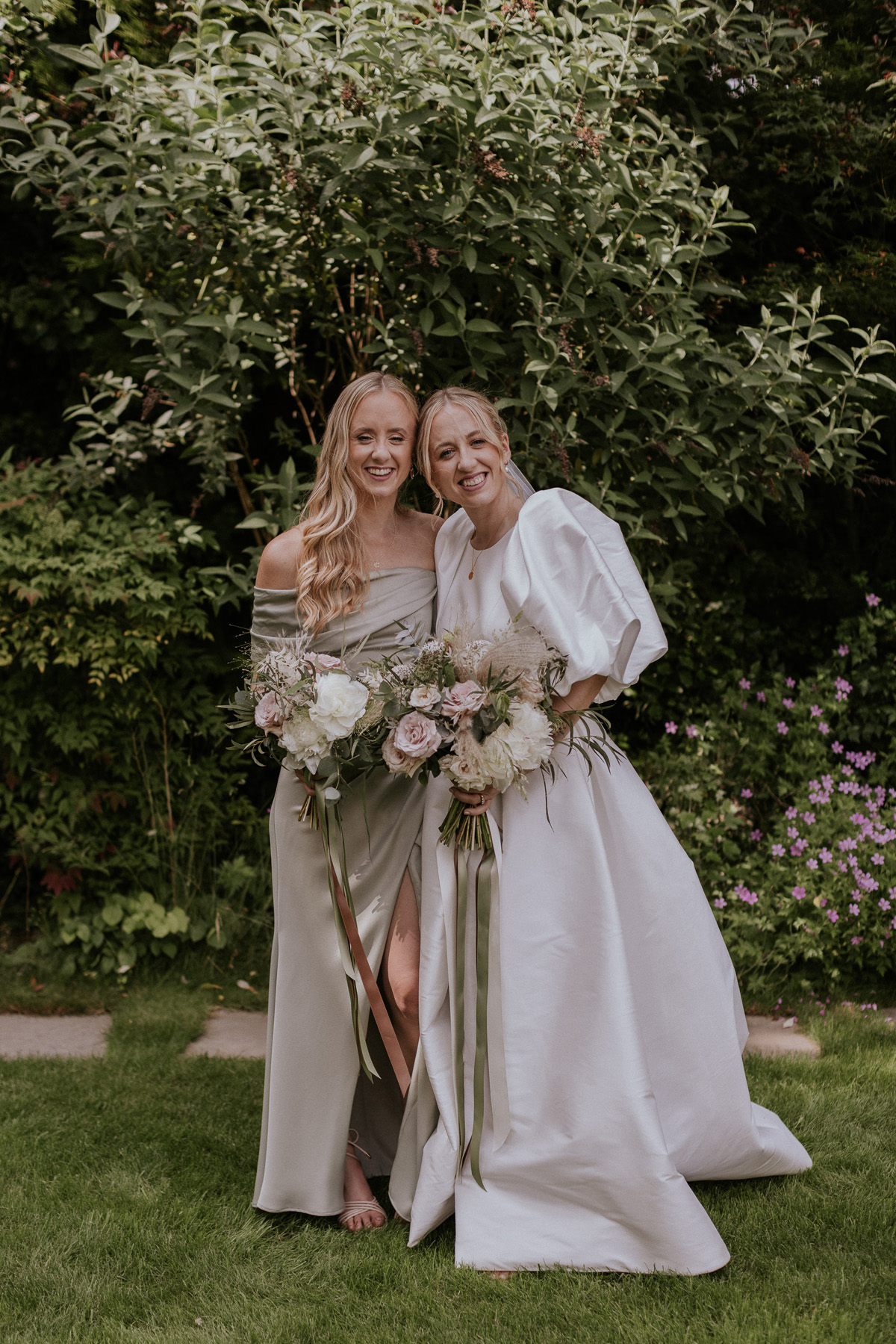 Capturing the day was Maja Tsolo Photography, whose work we have loved sharing in the past. Take a look here for more of her crisp, modern work.
"Maja Tsolo was our wonderful photographer. After postponing our original wedding, we were looking for a new photographer."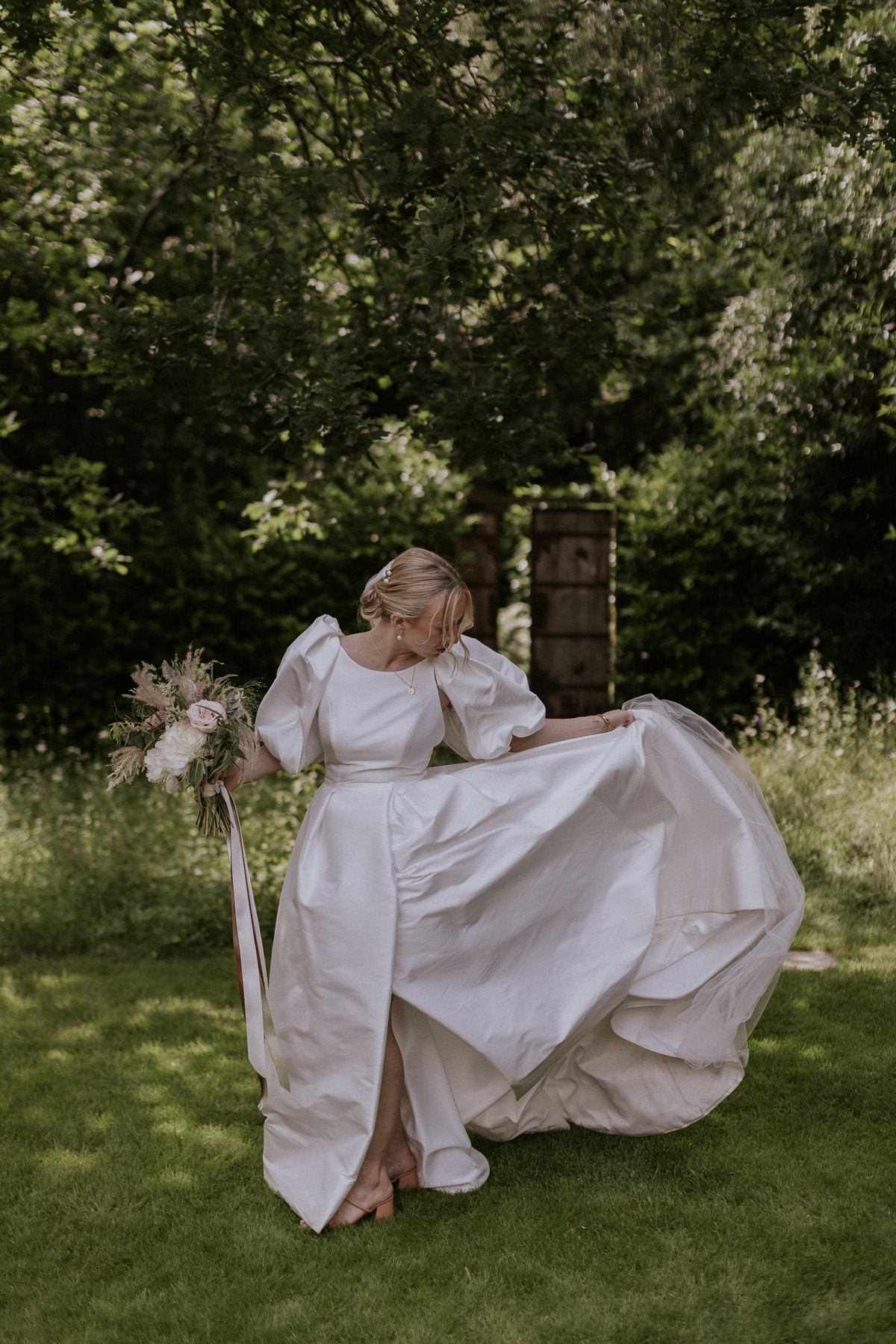 "I have known Maja for a long time as I used to babysit her children and I knew that there would be no one better than her to capture our special day."
We would 1000% recommend Maja. Her relaxed approach makes you feel so calm and confident."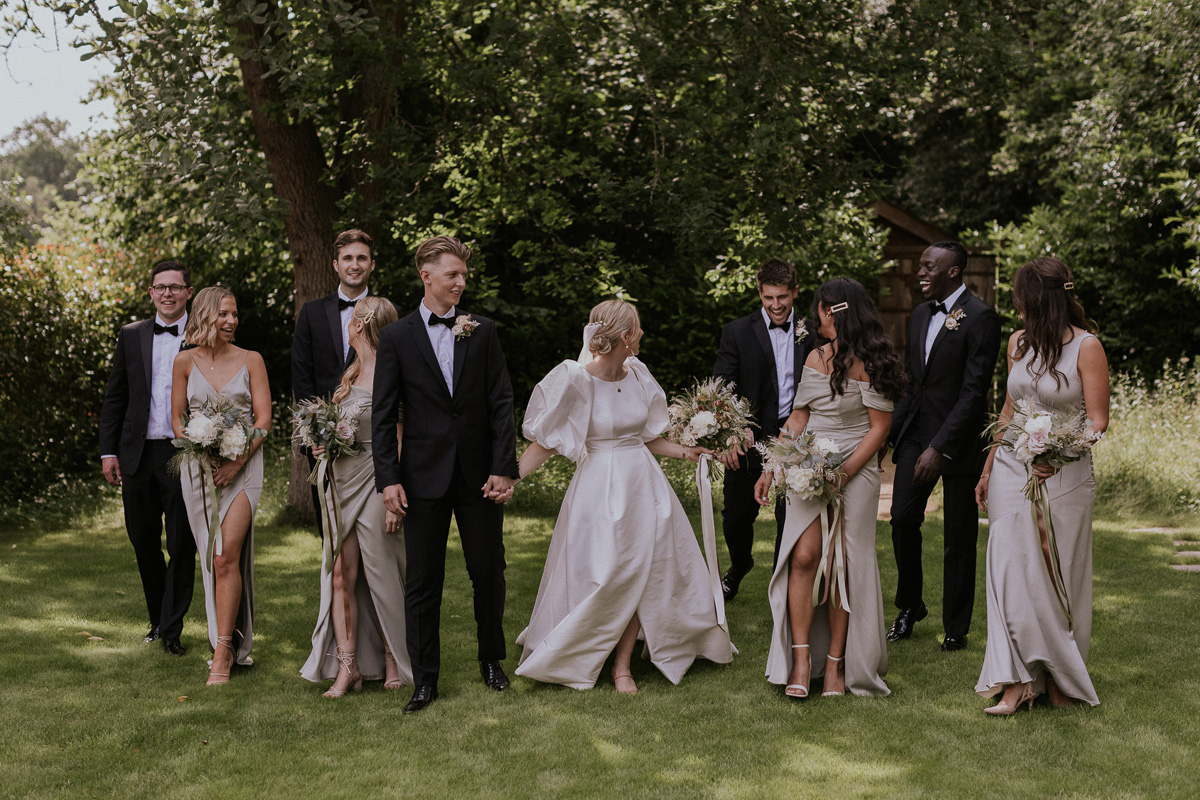 "She captured our day perfectly, capturing those intimate moments that tell the story of the day so beautifully."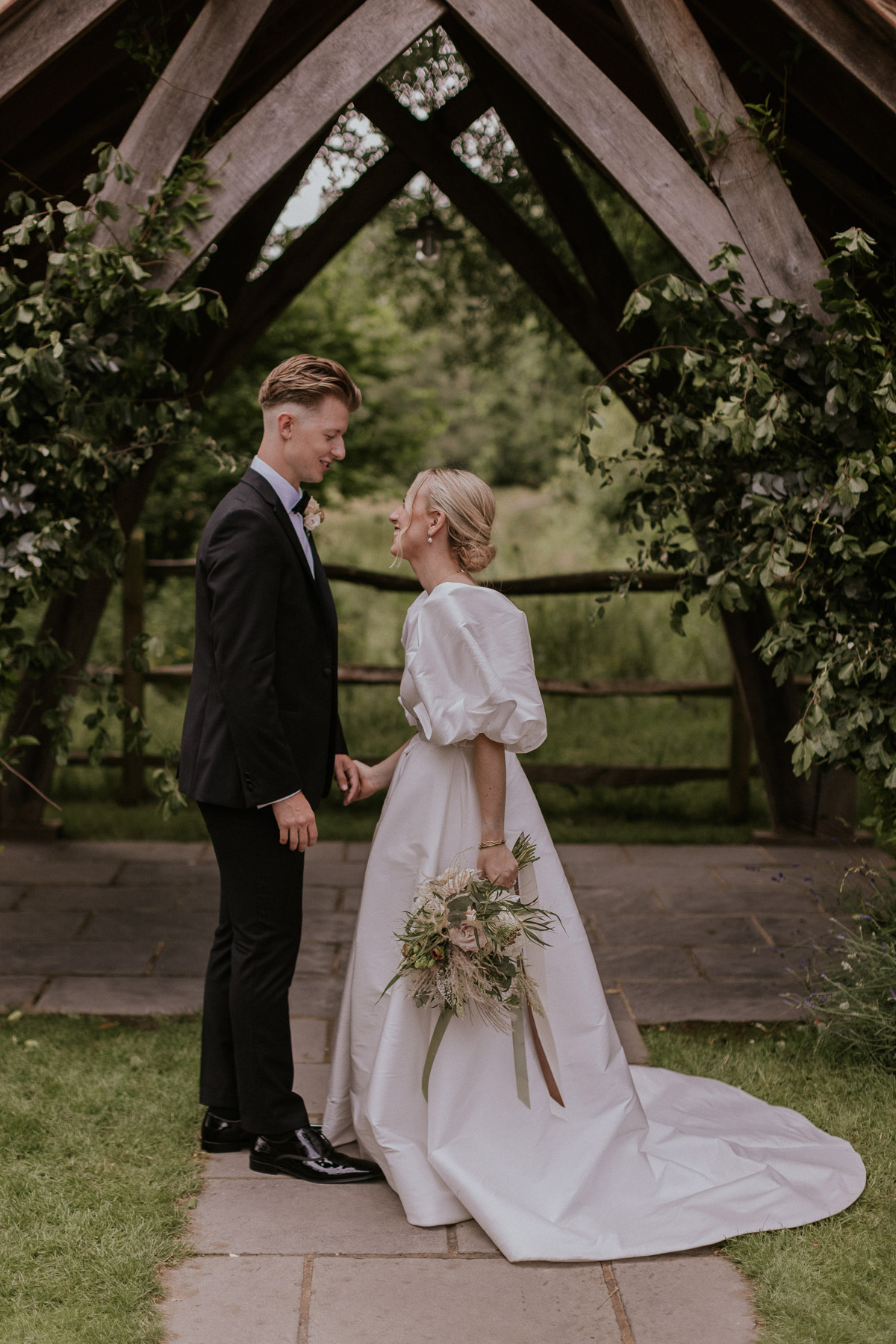 The pictures are beyond what we could have hoped or imagined and take us right back to each and every moment of the day."
"We absolutely love Maja and the way she captured the joy of all our wedding guests. We couldn't recommend her enough – the best of the best!"
The couple met when they were fourteen and fifteen year olds at their local youth ministry.
"We were best friends before we started dating at sixteen, quickly fell in love and the rest is history. George took to me Richmond Park one Saturday morning."
"It was really cold and super muddy and I am pretty sure I moaned the whole walk before, much to my surprise, George got down on one knee and asked me to marry him."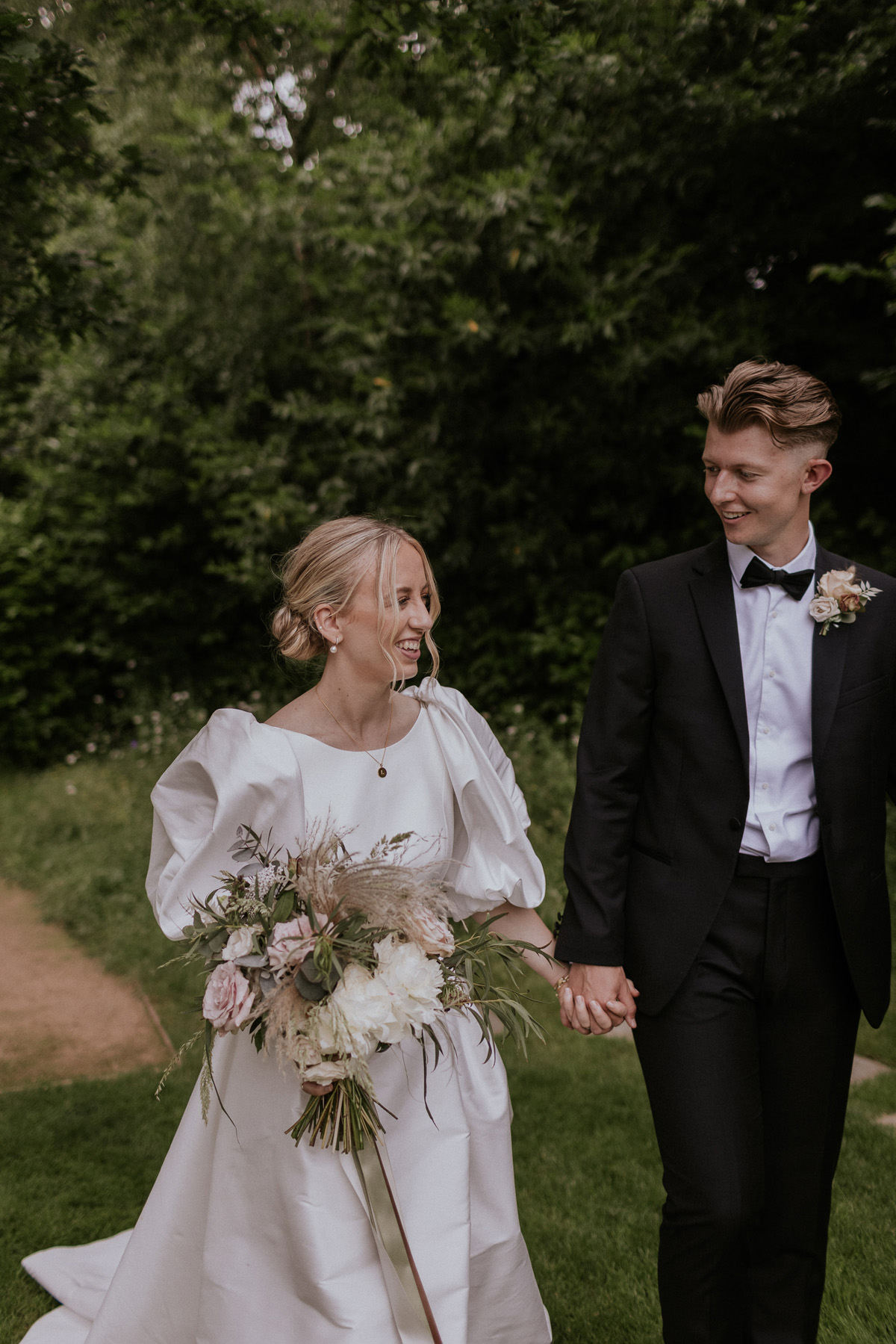 "I was completely shocked but it was the easiest and best YES ever. George had organised for his best friend to hide in the bushes to take some pictures."
Richmond Park has always been such a special place for us both; we had our first date and kiss there and it has always been a place of such precious memories."
George went on to surprise me in the evening with an intimate dinner with our parents and closest friends to celebrate. It was the most amazing day! We had a 19-month engagement, prolonged by Covid-19."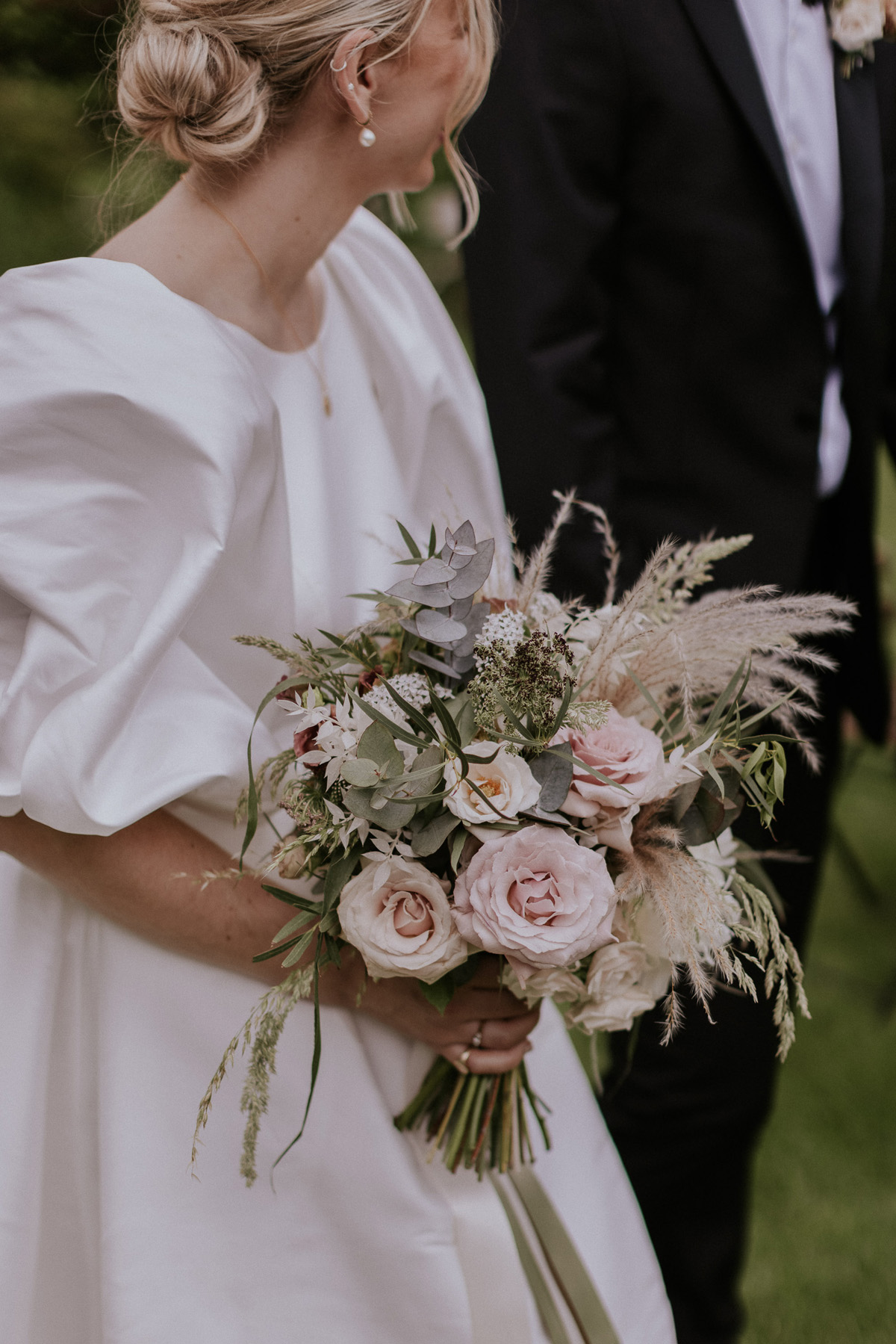 "We both grew up in Surrey and wanted a local venue for the ease of our family and friends. We loved that Millbridge Court felt homely but also modern, super spacious with the diversity of both the indoor and outdoor space."
"We both absolutely LOVE eating and fell in love with the dining hall space with the amazing light and tall ceilings."
"We couldn't wait to fill it with our loved ones. Plus, the bridal and groomsmen getting ready rooms were a fab bonus!"
"We really wanted our guests to feel comfortable attending, so by postponing by just a few months we were hopeful that we could have more of our friends and family there."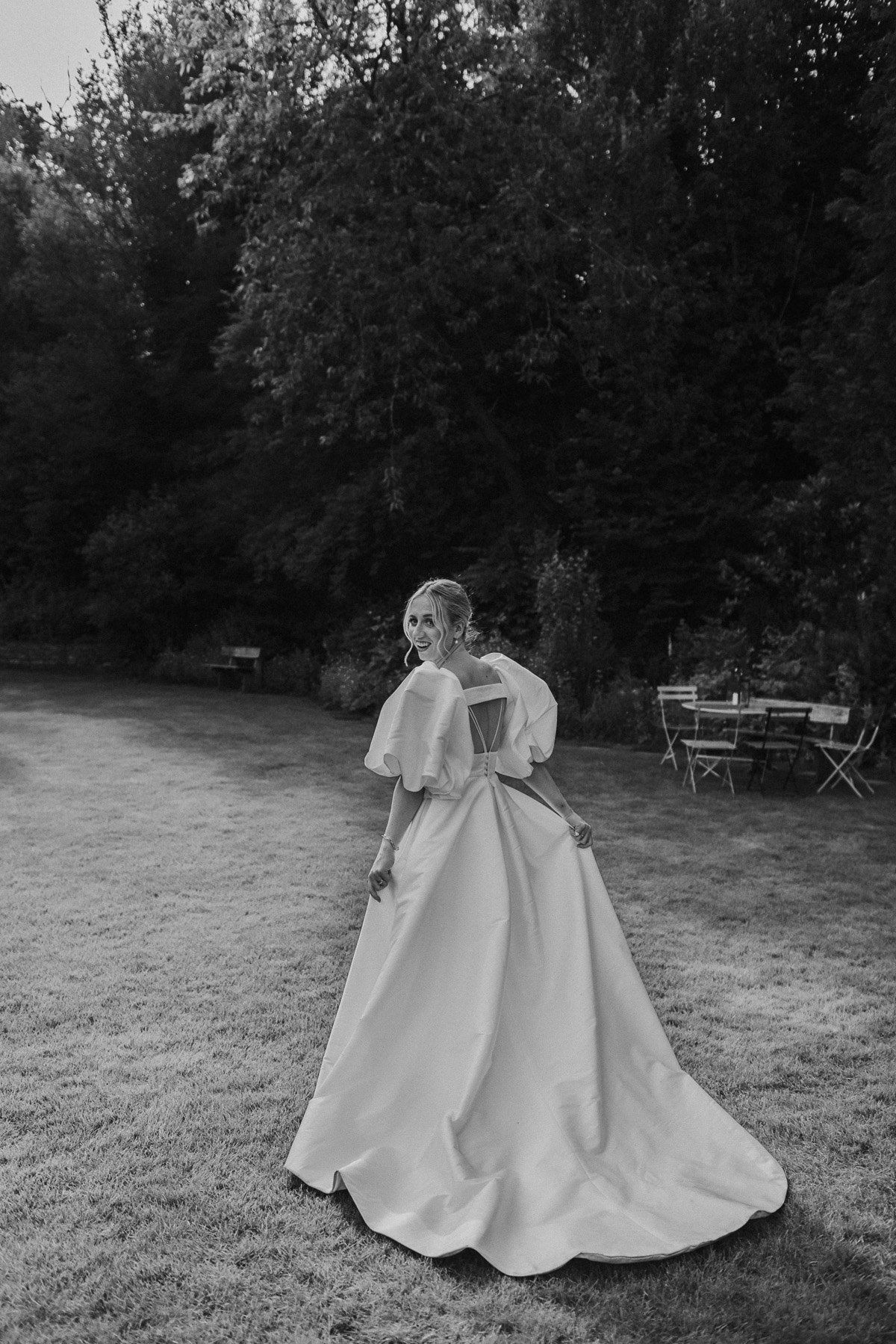 "We encouraged everyone to do a lateral flow test before they came, we were also upfront and honest with our 75 guests before the day to make sure they were aware of the restrictions and procedures in place on the day."
"Most of our day was outside where thankfully the sun shone all day long! Our ceremony took place outside in addition to our drinks reception where our venue had set up loads of different seating areas before heading in for our dinner."
"Our band had set up outside where we danced under the stars (literally)."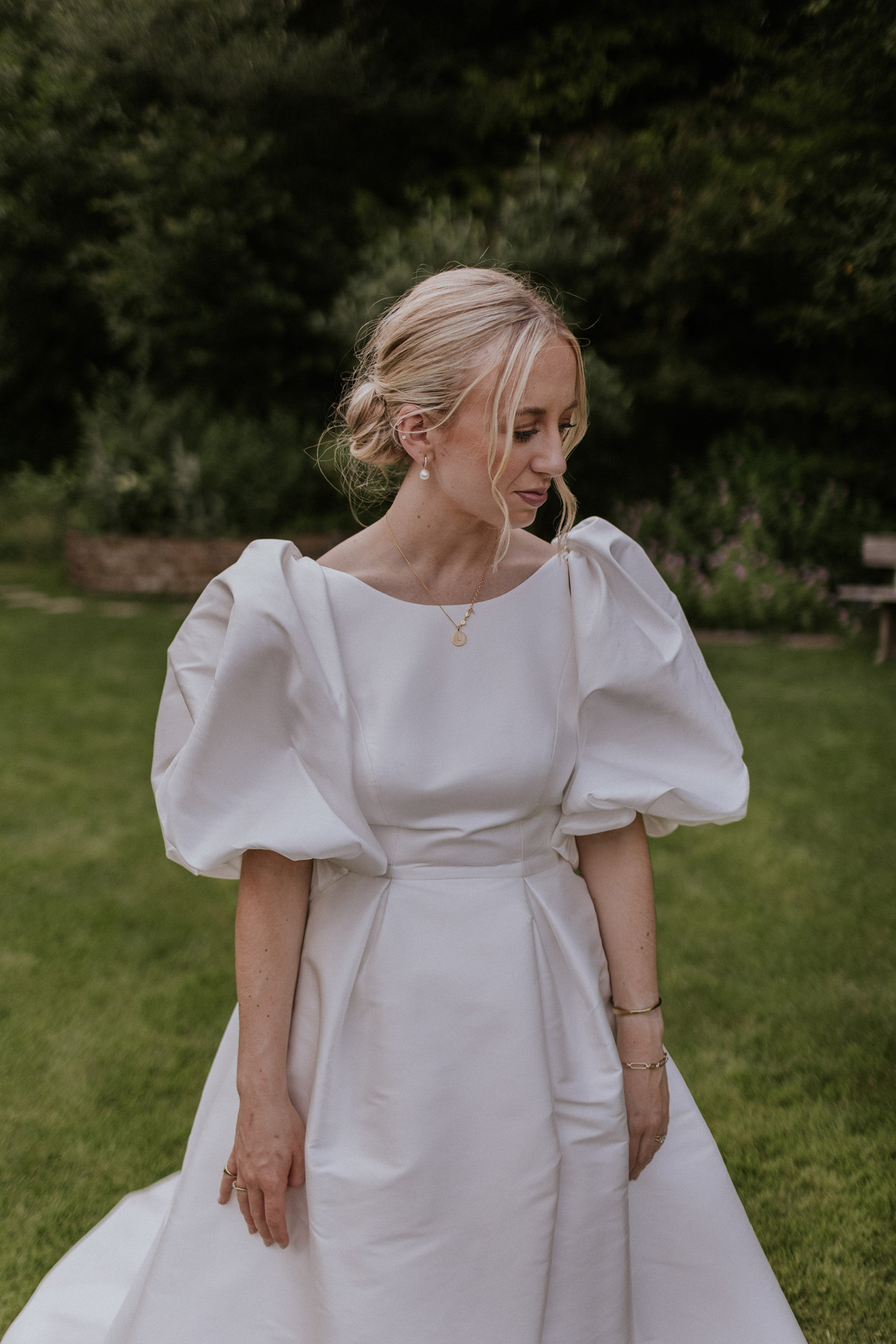 "If anything, the COVID restrictions worked in our favour and we made the best out of them while also ensuring our guests' safety."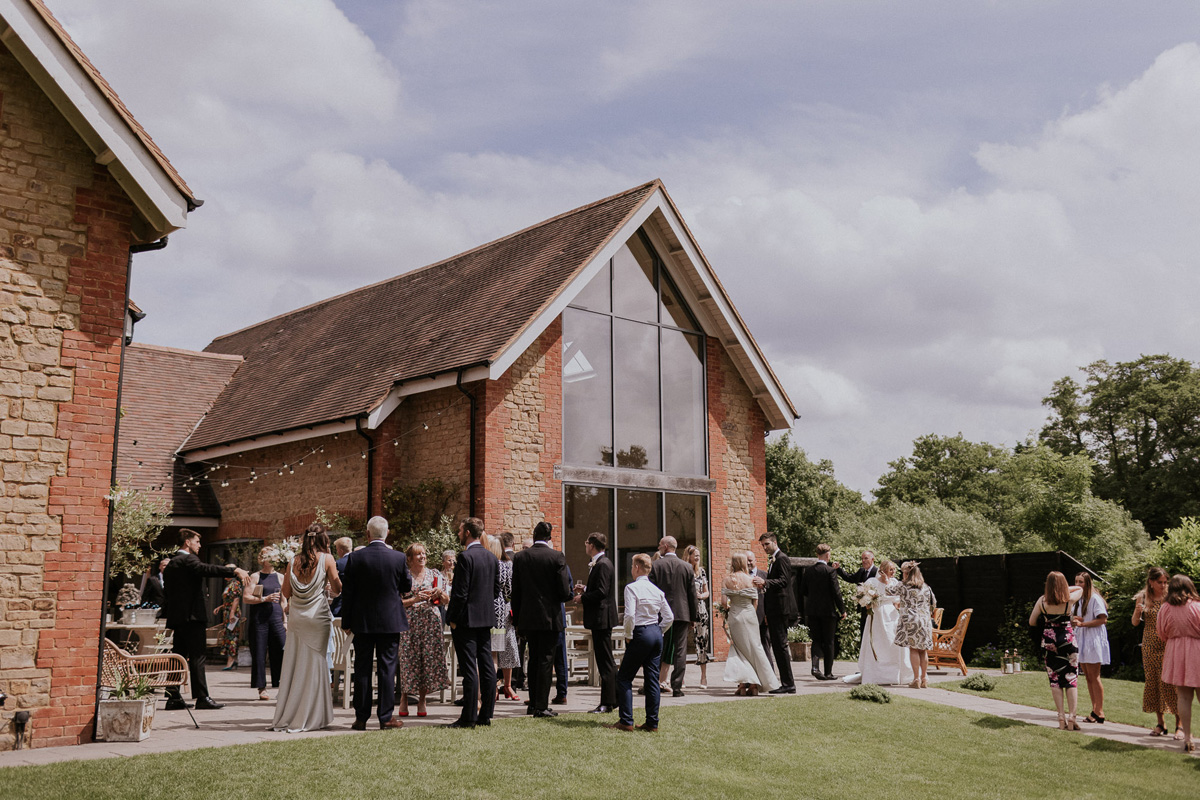 "We had five different sanitiser stations around the venue and gifted everyone a hand sanitiser at the dining table."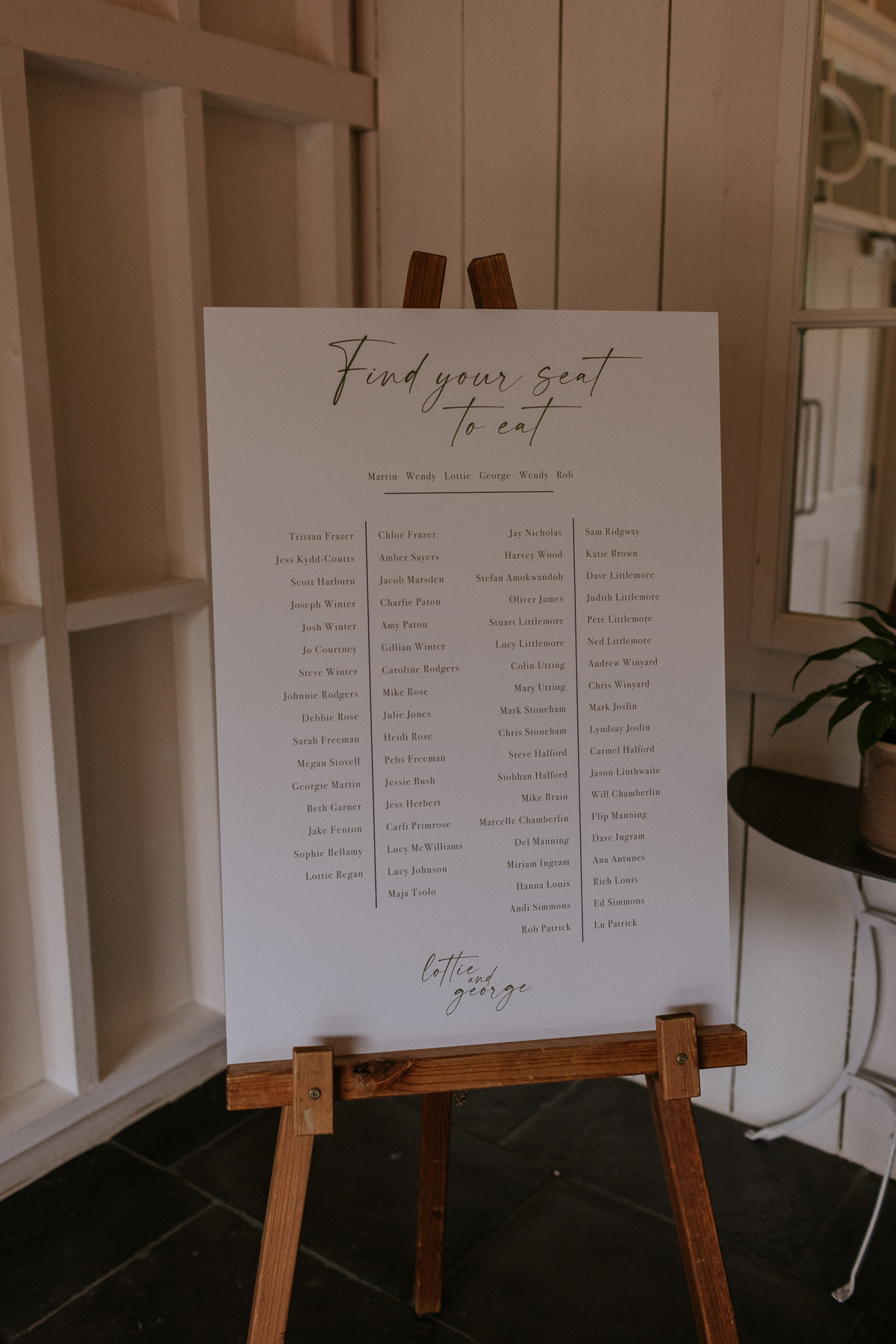 Lottie has some reflections on planning a wedding in a pandemic and words of advice to other brides affected by Covid.
"Due to the restrictions, we had to cut down our wedding list from 200 to 75 people. Whilst this was gutting, it really highlighted to us the reason why we wanted to get married."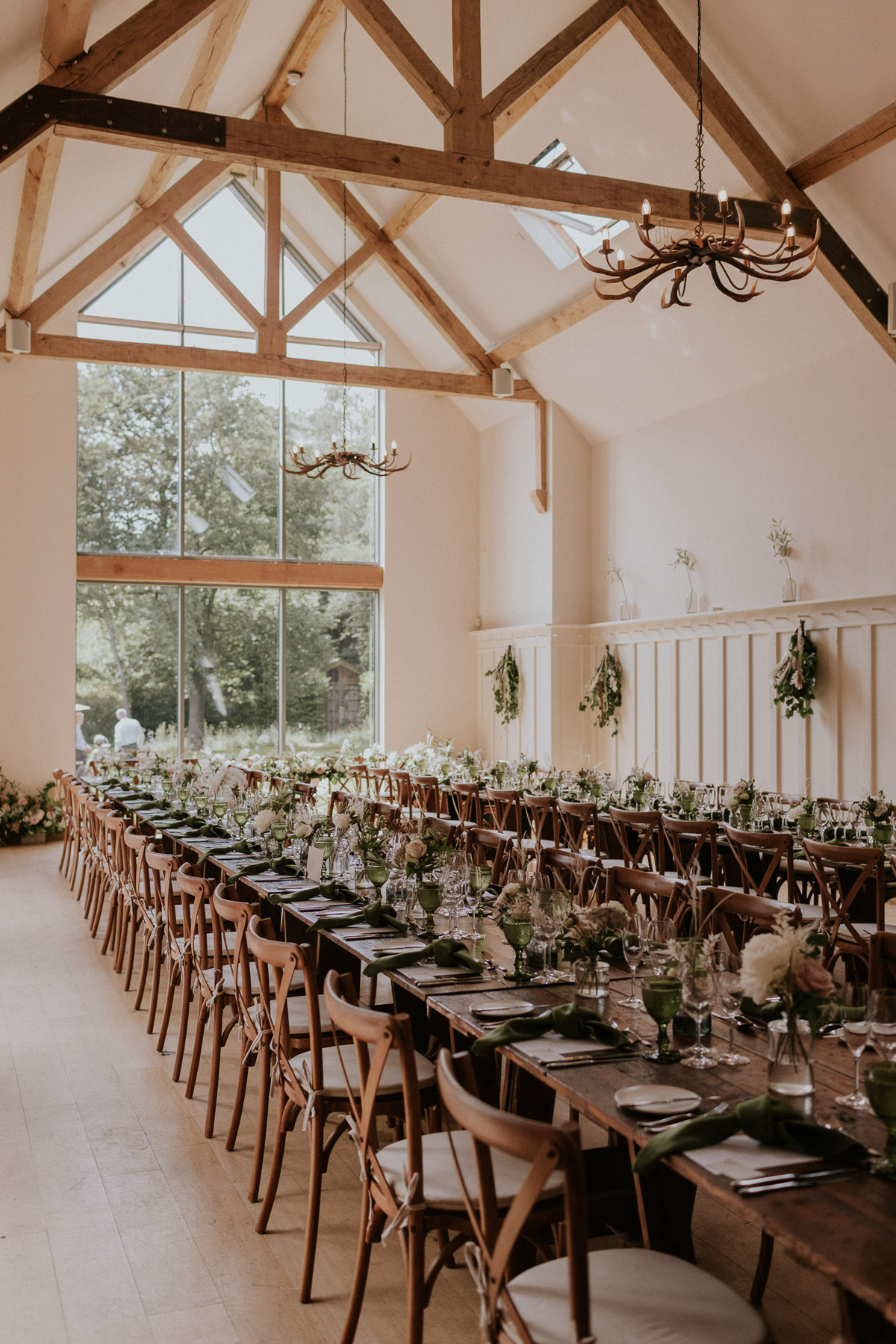 "Throughout all the changes in guidance and despite it being super-frustrating, it always made us focus on why we were getting married and it really did highlight how much we loved each other."
"On the day, we were so happy that we had made it (the stress of planning a wedding in Covid times is fully real)."
"The people that were there with us so desperately wanted to celebrate with us after such a difficult year and half for everyone."
"It was such a privilege to all be together to celebrate something so happy, you don't even focus on what you can't do. Instead, we made the most of what we could do and used the restrictions to our benefit."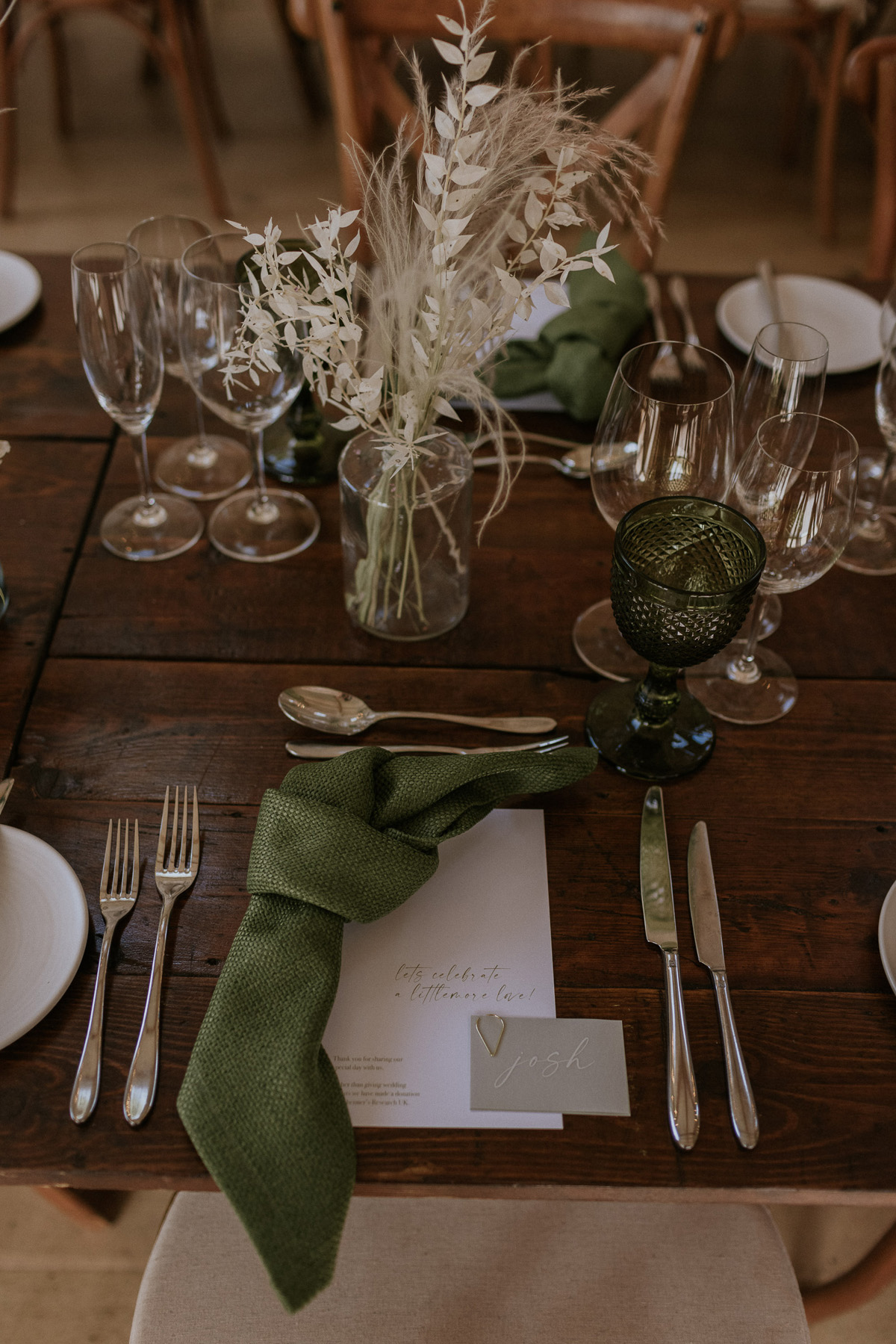 "We decided to not let the wedding become about what we couldn't do, instead focusing on what we could do and made the most of every single second of the day."
If anything, after the impact of Covid, our wedding day was so much sweeter and we felt so incredibly blessed and thankful to be able to celebrate with so many loved ones – something we didn't take lightly and will forever be so thankful for."
"We made sure that we celebrated individually with the people who couldn't be there on the day."
"We have some vulnerable family members who sadly weren't able to come so had multiple celebrations which we absolutely loved – we took any excuse to celebrate!"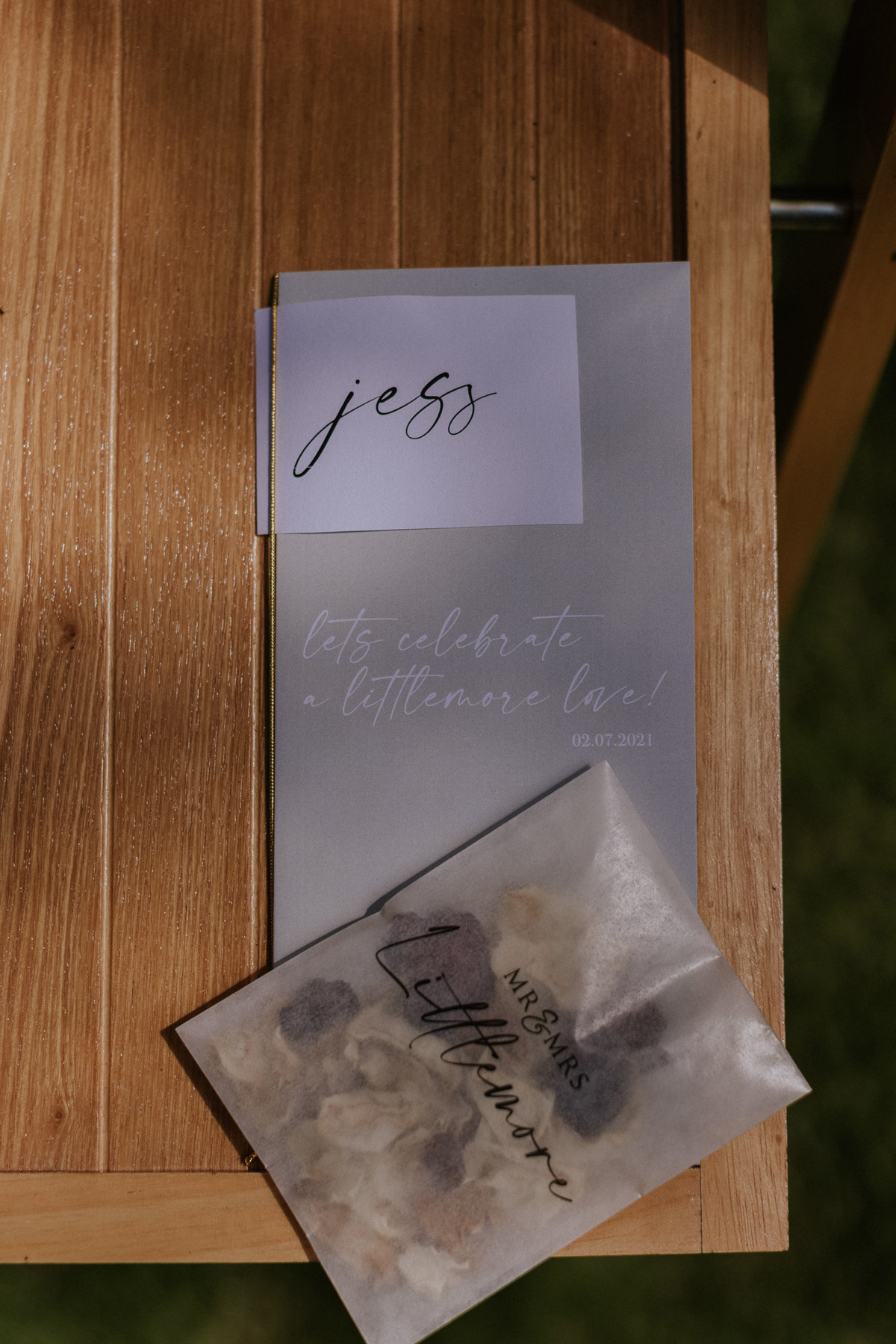 The guests made the most of the summer gardens before heading inside for the wedding breakfast, catered by Kalm Kitchen.
"Kalm Kitchen provided sage green, knotted napkins in addition to green water glass goblets, alongside wooden banquet tables and wooden cross back chairs with white cushions which were provided by Millbridge Court."
"They were amazing and the food was so yummy! A particular highlight was our salted caramel sharing dessert, which was brought out on wooden boards for all our guests to share."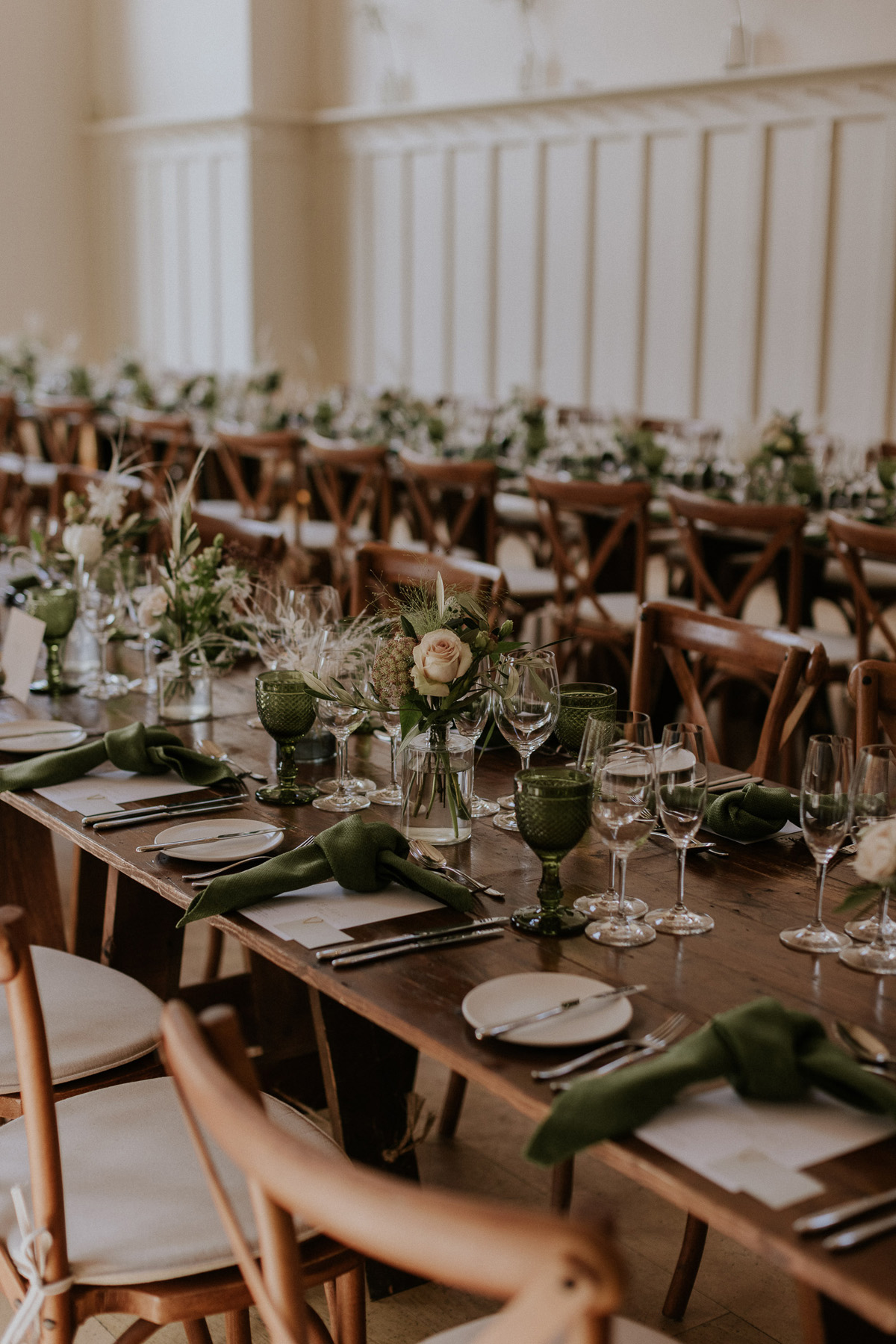 "Our wedding cake was by the amazing Amalina Bakes. Our flavours were Lemon & Elderflower and Caramel Latte."
"George loves coffee and I loved the summery, lemon flavour, so it was a win win for us. Amalina was amazing. We loved trying the cake flavours and nothing was too much trouble for her."
"George has a severe nut allergy and we really struggled to find a baker who would commit to doing a cake for us."
"Amalina designed a super-simple but beautiful, two-tier, white buttercream cake which was finished off with fresh flowers from Mad Lilies."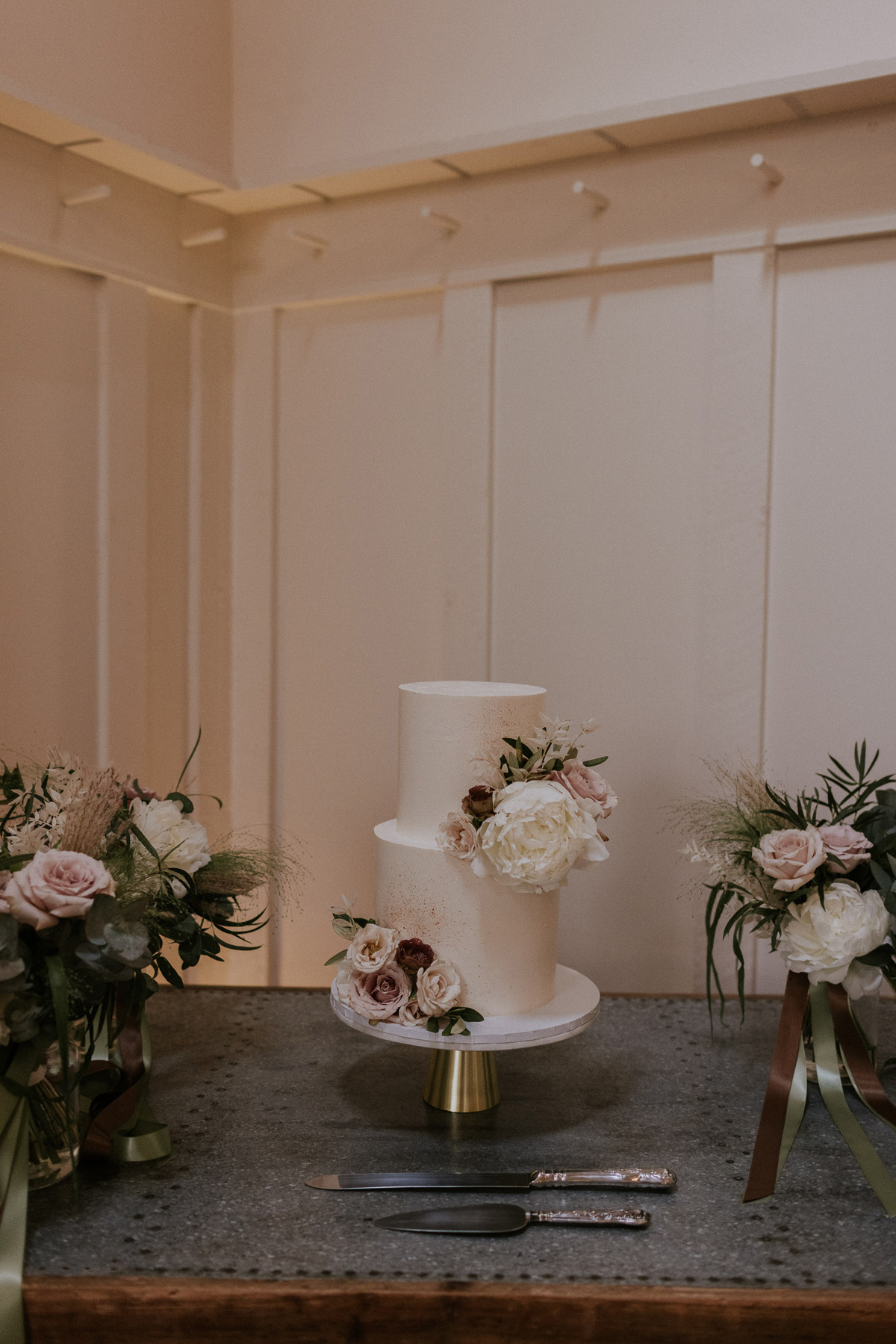 In preparation for the evening party, the bride slipped into lower, nude block heels from Ego, removed her sleeves and let down her hair, adding in a gold floral 'Thea' headband from Rubie and Grace Bridal on Etsy.
The dance floor was created outside in the courtyard, lit beautifully by Bethel Productions.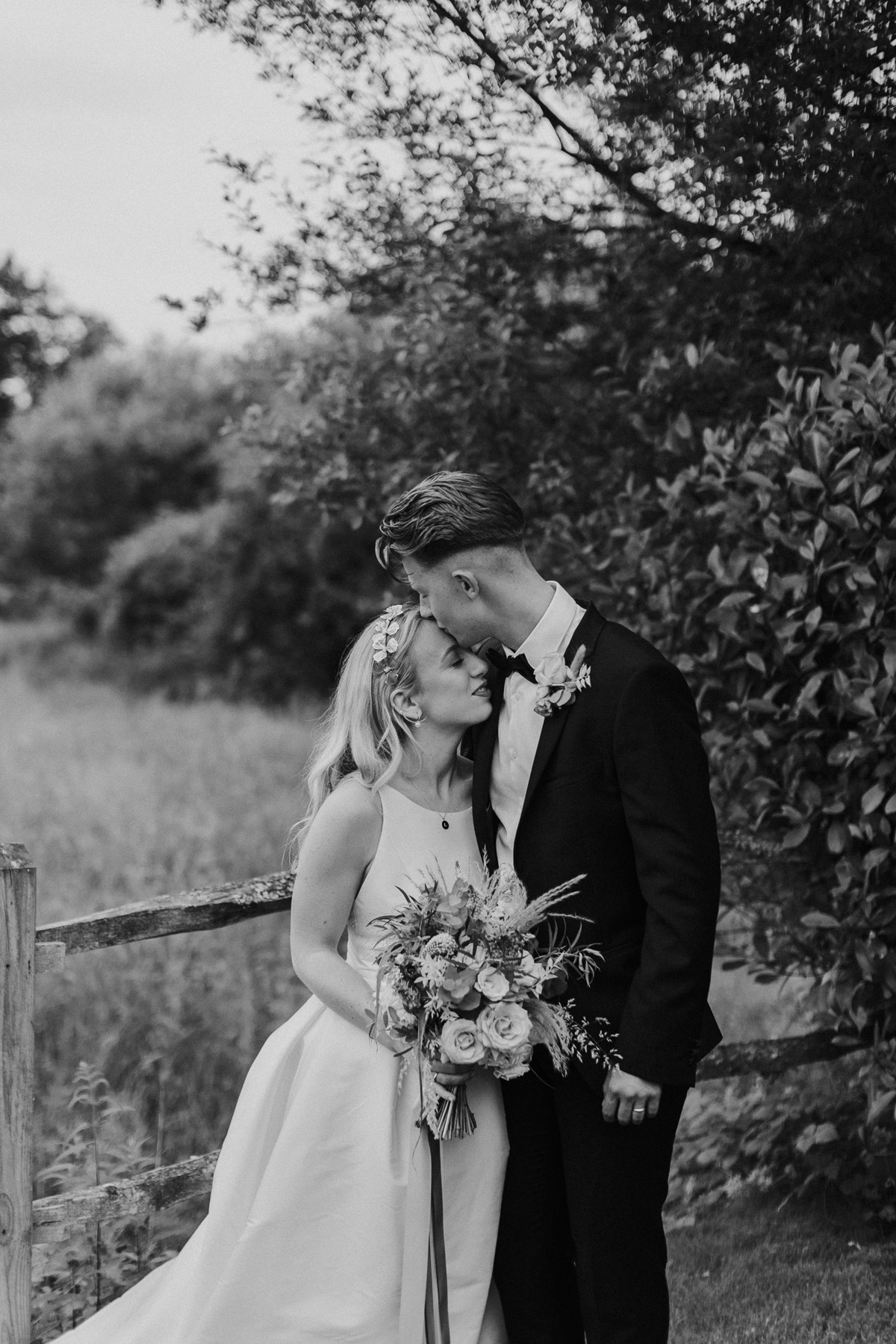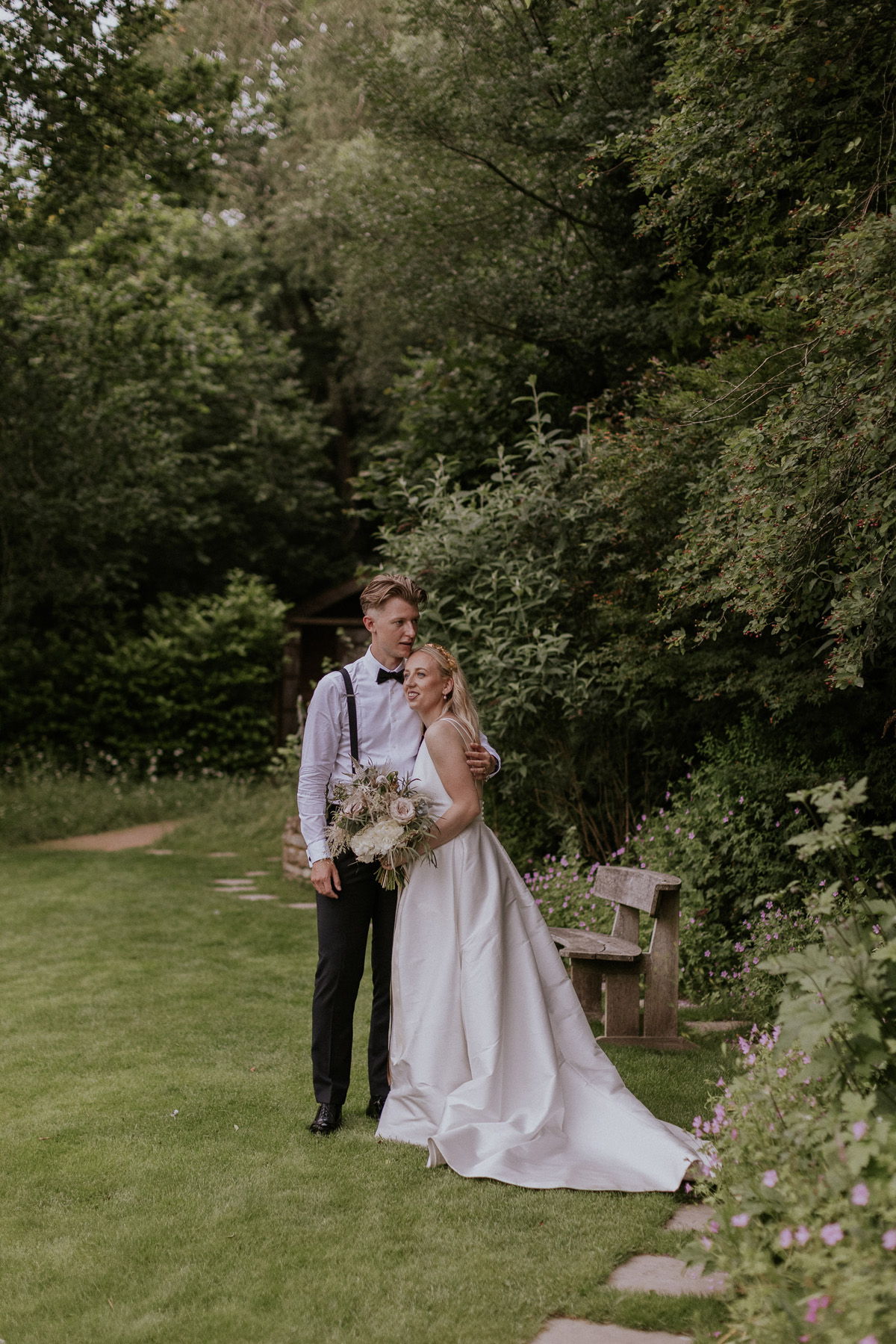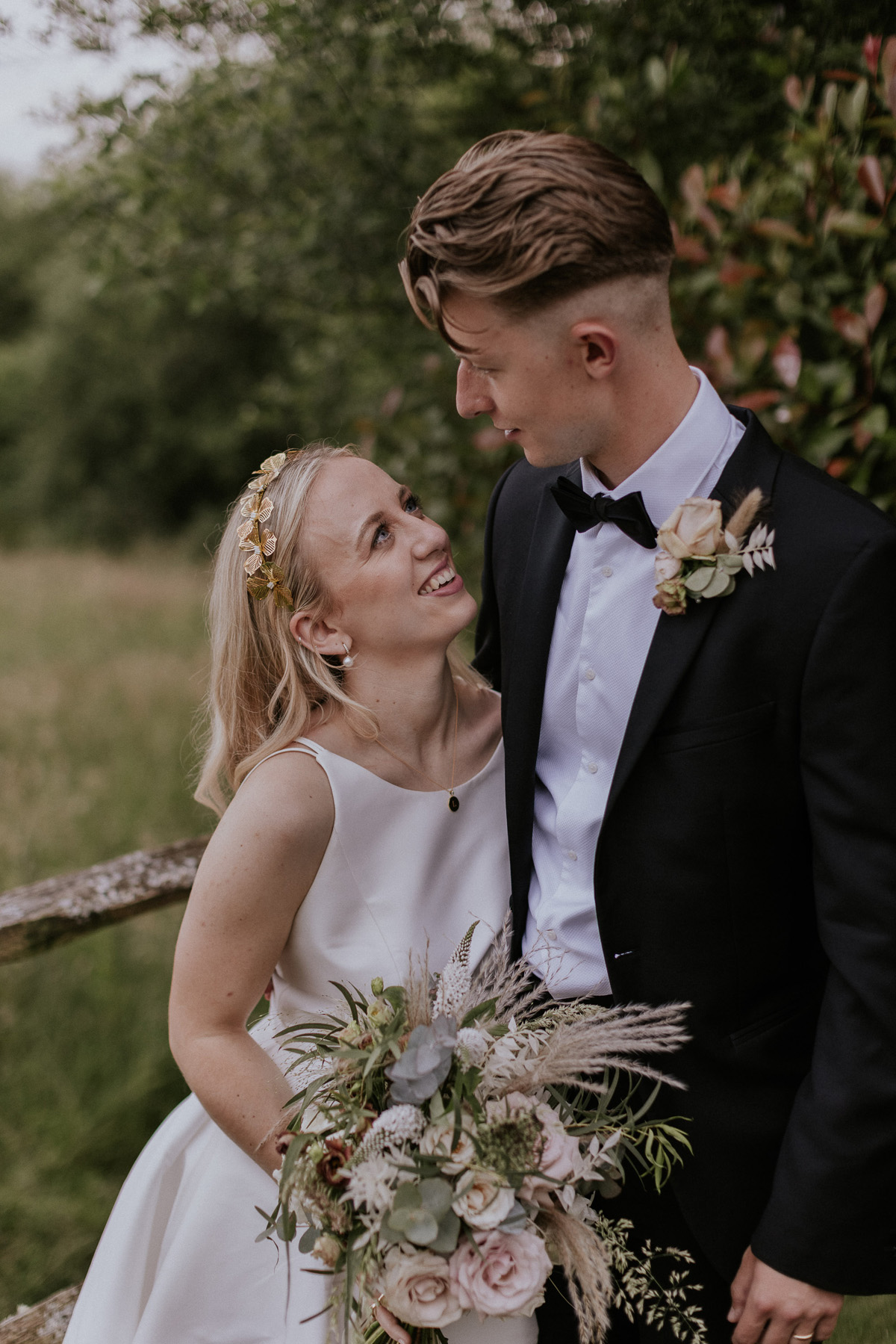 "Our friend Jerry Brown who has some close connections in the music industry put together an amazing funk and soul band who were insane!"
"We danced to 'Can't Take My Eyes Off You (I Love You Baby)' by Frankie Valli. This song is special to us as it's Fulham's football anthem (George's team) and it was the first dance song of my godparent-like figures when I was their flower girl."
"This was probably our favourite moment of the whole wedding as all our guests joined in on the chorus and it was just such a happy, surreal moment with our closest loved ones dancing to our favourite song with such meaningful lyrics."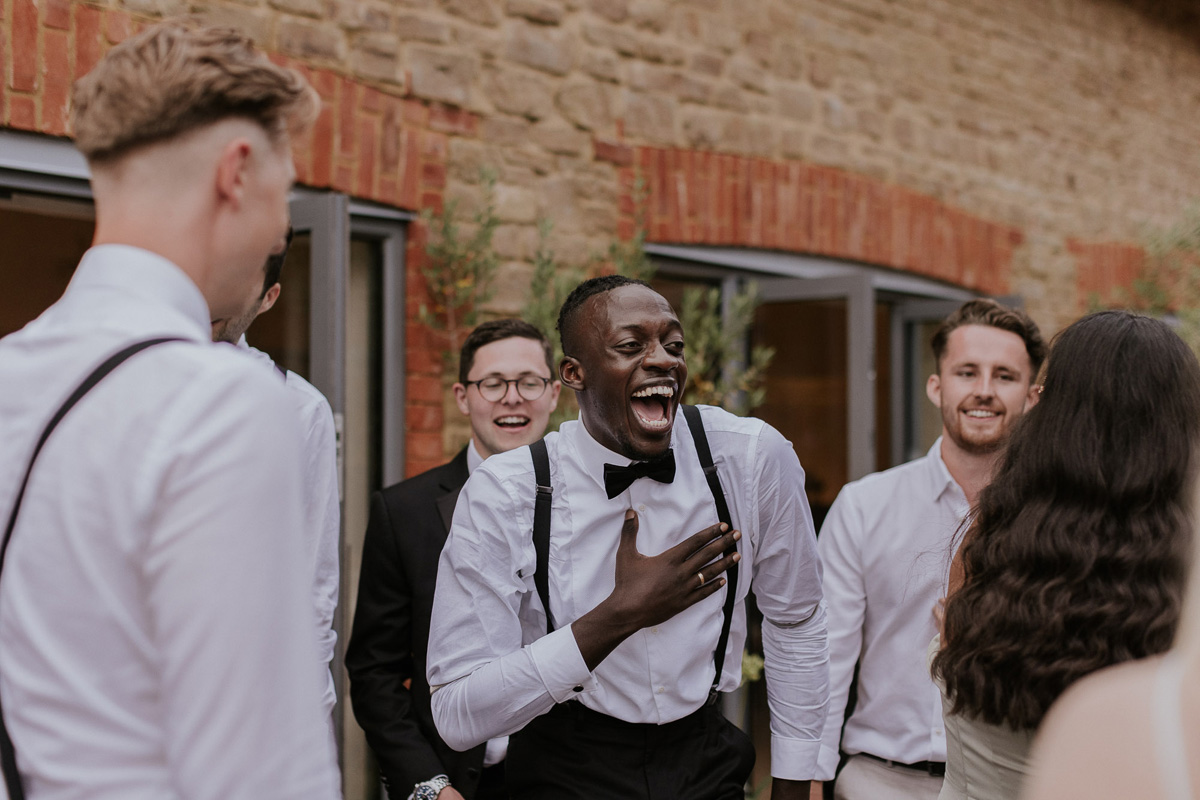 Words of Wedded Wisdom
"Enjoy every single moment of the day. It flies by in a flash so make sure you and your partner take a second during dinner to take it all in."
"George and I sat back during the meal and were totally overwhelmed by what an honour it was to be surrounded by our closest loved ones."
"We decided not to gift wedding favours. Instead we made a charity donation on behalf of our guests to Alzheimer's Research UK, in honour of my lovely grandad who could not be at our wedding and sadly passed away just two weeks after."
"When it comes to weddings, there is so much pressure to stick to tradition but it's your day so make sure you do something because it's meaningful to you and your partner. Stick to your guns and be yourself."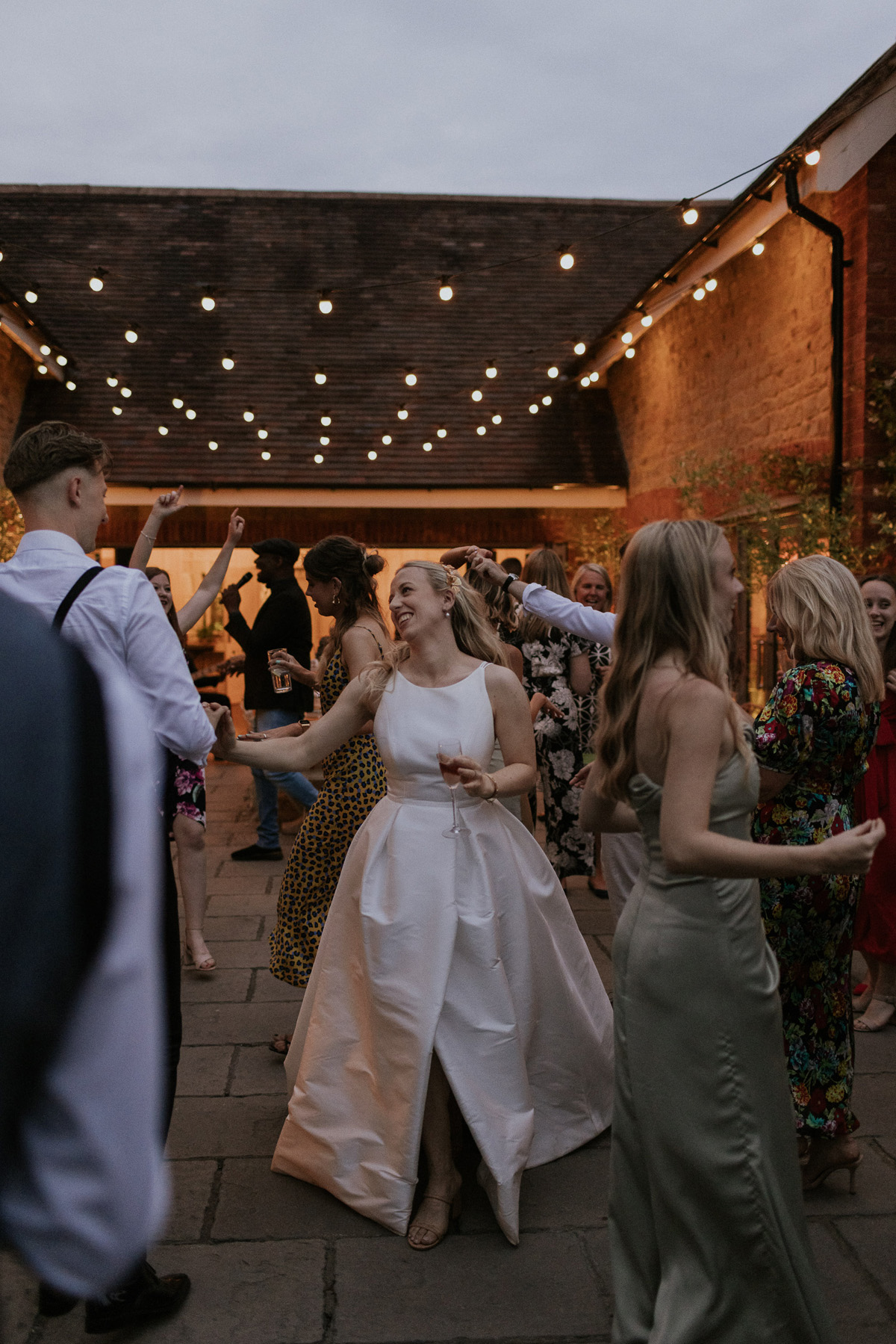 You'll find many more Jesus Peiro brides here and more Miss Bush brides here too.